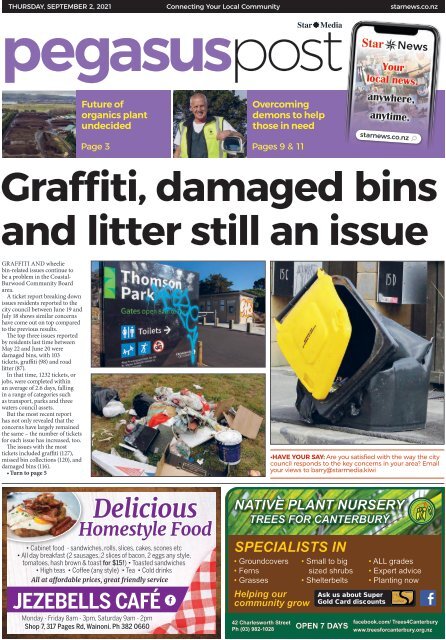 Pegasus Post: September 02, 2021
Create successful ePaper yourself
Turn your PDF publications into a flip-book with our unique Google optimized e-Paper software.
THURSDAY, SEPTEMBER 2, 2021

Connecting Your Local Community

starnews.co.nz

Your

local news.

Future of

organics plant

undecided

Overcoming

demons to help

those in need

anywhere,

anytime.

Page 3 Pages 9 & 11

Graffiti, damaged bins

and litter still an issue

GRAFFITI AND wheelie

bin-related issues continue to

be a problem in the Coastal-

Burwood Community Board

area.

A ticket report breaking down

issues residents reported to the

city council between June 19 and

July 18 shows similar concerns

have come out on top compared

to the previous results.

The top three issues reported

by residents last time between

May 22 and June 20 were

damaged bins, with 103

tickets, graffiti (98) and road

litter (87).

In that time, 1232 tickets, or

jobs, were completed within

an average of 2.6 days, falling

in a range of categories such

as transport, parks and three

waters council assets.

But the most recent report

has not only revealed that the

concerns have largely remained

the same – the number of tickets

for each issue has increased, too.

The issues with the most

tickets included graffiti (127),

missed bin collections (120), and

damaged bins (116).

• Turn to page 5

•HAVE YOUR SAY: Are you satisfied with the way the city

council responds to the key concerns in your area? Email

your views to barry@starmedia.kiwi

Delicious

Homestyle Food

• Cabinet food - sandwiches, rolls, slices, cakes, scones etc

• All day breakfast (2 sausages, 2 slices of bacon, 2 eggs any style,

tomatoes, hash brown & toast for $15!) • Toasted sandwiches

• High teas • Coffee (any style) • Tea • Cold drinks

All at affordable prices, great friendly service

JEZEBELLS CAFÉ

Monday - Friday 8am - 3pm, Saturday 9am - 2pm

Shop 7, 317 Pages Rd, Wainoni. Ph 382 0660

natiVe plant nurSery

treeS for canterbury

SpecialiStS in

• Groundcovers

• Ferns

• Grasses

Helping our

community grow

42 Charlesworth Street

Ph (03) 982-1028

• Small to big

sized shrubs

• Shelterbelts

Ask us about Super

Gold Card discounts

OPEN 7 DAYS

• ALL grades

• Expert advice

• Planting now

facebook.com/ Trees4Canterbury

www.treesforcanterbury.org.nz
---
2

Thursday September 2 2021

Latest Canterbury news at starnews.co.nz

PEGASUS POST

Dog owners hit the parks and pavements throughout the city with their best

friends last week, making the most of the late-winter sunshine and the extra

time that many found they had under the Covid-19 alert level 4 lockdown.

Reporter Fiona Ellis and photographer Geoff Sloan were there with their

cameras.

How have you and your pets been spending time during lockdown? Send your

photos to fiona.ellis@starmedia.kiwi

A couple walking their dogs on Grimseys Rd, Redwood.

ock

Ben Reid

MISCELLANY

Tania

28

Bostock

August

– Ben

- 22

Reid

September

– Hamish

2021

Southcott

Little River Gallery

August 28 – September 22

Hamish Southcott

Main Rd, Little River | 03 325 1944 | art@littlerivergallery.com | littlerivergallery.com

Hamish Southcott and Tania Bostock first exhibited

together at Little River Gallery in 2014 and since have

had a number of duo shows. Ben Reid joins them in

'Miscellany' after a five year exhibiting hiatus at Little

River Gallery.

Hamish Southcott seeks to create well-crafted,

beautiful pieces of art that highlight the inherent

beauty of reclaimed materials. Recently his works

explore the human influence on New Zealand's rich

and diverse natural landscape.

Tania Bostock is drawn to texture and contrast. Her

process consists of straightening and perfecting, then

pushing the paint in a freer, less controlled manner

working in multiple layers on bold geometric shapes.

Ben Reid is a Canterbury based printmaker

whose interest lies in the fragile relationship that

New Zealanders have with the natural world.

The complexities are beautifully explored in the

technically challenging medium of print.

Sandy Sladen, of Parklands, with Ruby, takes a break from

gardening.

YOUR ONE STOP SHOP!

TYRES

NEW & USEd

WoF

FLAGS

TYRES

bOOk

IN NOW

FULL MECHANICAL

SERVICES

WHEEL

ALIGNMENTS

SPECIALISTS$49

Wigram - 341 1226 104 Hayton Rd

Woolston - 384 0000 49 Garlands Road

Tania Bostock

Ben Reid

Hamish Southcott

MISCELLANY

28 August - 22 September 2021

Main Rd, Little River | 03 325 1944 | art@littlerivergallery.com | littlerivergallery.com
---
PEGASUS POST Latest Canterbury news at starnews.co.nz

Thursday September 2 2021 3

Future of organics plant undecided

A REPORT on whether the

odorous organics processing

plant in Bromley should be

redeveloped or relocated

altogether will be considered

next Thursday.

The city council was expected

to have finalised a contract for

the redevelopment of its plant

last month, but the proposals so

far have been

above the

$21.5 million

budget.

It is required

to stop

the discharge

of offensive

Helen

Beaumont

odour beyond

Living Earth's

site boundary

by January next year after

mounting complaints from

residents that lead to an abatement

notice from Environment

Canterbury.

"Through the recent multistage

tender process for the

organics plant upgrade project

we received some great proposals

from the market. However, all

compliant proposals were above

the $21.5 million budgeted for

the works," Helen Beaumont,

city council head of three waters

and waste said.

"We are looking at whether

we can refine the scope of the

redevelopment to bring costs

DECISION: The city council will consider a report this month on the future of its Bromley

organics processing plant, run by Living Earth.

PHOTO: NEWSLINE ​

down without compromising

our commitment to reducing the

odour issues."

Due to the higher than expected

costs of upgrading the

existing facility, the city council

is also assessing the viability of

building a new facility in a different

location.

"We know the Bromley

community want the odour

issues associated with the

plant addressed as soon as

possible, so we are working

at pace to collect all the

information needed to enable the

elected council to make a call on

whether we push ahead with the

redevelopment, or build a new

plant at a different site," she said.

"We are aiming to bring a

report to a council meeting in

September that outlines all the

options and their advantages and

disadvantages."

That report will be considered

in the publicly excluded section

of the meeting due to commercial

sensitivities around contract

pricing.

However, any decision

reached will be communicated to

residents at the earliest possible

opportunity after the meeting.

"We understand this process

may be frustrating for residents

in the Bromley community,

however, this is a complex multimillion

dollar project and we

want to make the right call,"

Beaumont said.

If the case for a new site stacks

up, and the city council decides

to build a new facility, any

potential location would require

a resource consent, "which was

likely to be notified."

"This would mean that people

living or working nearby would

have the opportunity to provide

feedback," she said.

"Whilst staff are exploring

the possibility of building a new

plant on a different site, we are

still actively working on plans for

the redevelopment of the Bromley

site and working through

the final stages of the tender

process.''

Up

to

16¢ off

all supermarket discount dockets

INStANt 6¢ off

Super Gold Card Discount

LpG RefILL 9kG foR $28

tRAILeR HIRe

6 hours $30 12 hours $50

Terms and conditions apply on all promotions

175 Wainoni Road, Avondale

Phone: 03 388 4373

FREE ScOOp

OF chIpS

When you buy

two cheese or

two pineapple

burgers

*with this coupon. Expires 30th September 2021.

Cooked

Pacific

Oysters

6 for $10

NUMBER ONE SUPPLIER

TO THE NZ JET BOATING

COMMUNITY FOR OVER

50 YEARS

• Part Boats & Hulls

• Turn Key Packages

• New Jet Units

• Custom Fabrication

• Expert Advice

SERVICING

Peter Tonkin

03 962 0505

peter.tonkin@hamiltonjet.nz

• Spare Parts Retailer

• Jet Unit Refurbishment

• Engine Tune-Ups

• Insurance Repairs

• Impellor Reconditioning

GOURMET SEAFOODS QEII

Ph: 388 2531, QEII Shopping Centre, 251 Travis Rd

Mon - Wed 11.30am - 8.30pm (Tues from 4.30pm), Thurs - Sat 11.30am - 9.00pm

Sun 12noon - 8.30pm, Daily break 3.15 - 4.30pm

FREE

PRESCRIPTIONS *

No $5 prescription charge

*Other charges relating to partially funded or

unfunded medicine prescriptions may apply.

EASTGATE PHARMACY

Phone (03) 963 7910

Eastgate Shopping Centre
---
4 Thursday September 2 2021

Latest Canterbury news at starnews.co.nz

PEGASUS POST

We have some great book and gift ideas for Your Dad this

FATHER'S DAY

SUNDAY 5 SEPTEMBER

GIFT IDEAS

JIGSAW

PUZZLES

COLOURFUL

NOVELTY SOCKS

FATHER'S DAY

CARDS

1005 Ferry rd

Ph 384 2063

CLOSED SUNDAY

while stocks last (see instore for terms and conditions)

We Wish

you Well and

hope to see you

all soon!

Barry & kerry
---
PEGASUS POST Latest Canterbury news at starnews.co.nz

Thursday September 2 2021 5

•From page 1

City council staff also completed 1468

tickets, 236 more jobs than last time, over

an average of 2.9 days.

Residents did not change much in the

way of how they reported their concerns

compared to the last report.

WASTE:

Water leaks

continue

to concern

residents in

the Coastal-

Burwood

Community

Board area.

Reports similar to previous month

Similar to before, 59 per cent (955) of

residents chose to report issues by phone,

email and walk-in, while 41 per cent (677)

did so online through Snap Send Solve and

Hybris Online.

But as last month's report concluded,

417 tickets were still open, or had not yet

been completed.

McMaster & Heap

Veterinary practice

Sad case of animal abuse

Number of tickets (issues)

reported in the Coastal-Burwood

Community Board area between

June 19 and July 18:

Number of tickets (issues)

reported in the Coastal-Burwood

Community Board area between

May 22 and June 20:

1 Graffiti – 127

2 Bin not collected – 120

3 Damaged bin – 116

4 Litter (road) – 104

5 Leak (water supply) – 80

6 Residential property files – 71

7 Residential LIM (Land

Information Memorandum) – 68

8 Litter (park) – 52

9 Missing bin – 47

10 Found dog – 41

11 Graffiti on utility box – 41

1 Damaged bin – 103

2 Graffiti – 98

3 Litter (road) – 87

4 Bin not collected – 64

5 Residential property

files/information – 64

6 Flooding (road) – 52

7 Leak (water supply) – 50

8 Litter (park) – 47

9 Road asset (footpath, road,

furniture) – 47

10 Found dog – 44

"EDDY", a much adored 10 month

old Tabby was rushed to McMaster

& Heap vets on a Sunday, after

alerting his owners that something

was up when he hopped on their

bed early one morning and started

moaning loudly. One of the owners

had worked as a nurse for us, so she

didn't waste time in getting Eddy

seen. Steve Heap was called in when

it was clear there was a severe injury

to Eddy's right eye.

The lens material was removed by

a machine that performs cataract

surgery - A Phacoemulsification

Machine. The eye was irrigated and

the corneal wound sutured carefully.

Then the eye was reinflated. X-rays

performed identified the slug pellet

and Steve realised he'd been shot

through the eye. The bullet was

lodged in a downward angle, and it

blew out the animal's lens, meaning

Eddy would have been looking

directly at the offender at close

range.

Suffice to say Eddy is recuperating

excellently being cared for round the

clock by his dedicated owners. Steve

thinks the surgical eye is comfortable

and Eddy is back to his crazed, manic

antics. He won't see in the eye but

we are hoping he gets to keep his

eye. Once his eye is stable and he's

recovered , a second surgery would

be advised to remove the slug pellet

that sits very close to his cervical

spine.

Dr Michele McMaster

When Steve saw Eddy, he identified

a ruptured right eye with a large

piece of lens protruding through

the cornea. This would have been

excruciatingly painful. A penetrating

eye injury was suspected but the

cause was not initially apparent. He

was immediately anaesthetised,

placed on intravenous fluids and

given pain medications. Steve

became suspicious of a slug pellet

injury due to the unusual corneal

injury and the fact the lens had

totally exploded! Steve hadn't seen

anything like this in 30 years of

Ophthalmology practice.

Open 7 days

Cnr Hoon Hay & Coppell place

phone 338 2534, Fax 339 8624

e. mcmasterandheap@yahoo.co.nz

www.mcmasterheap.co.nz

McMaster & Heap
---
6

Thursday September 2 2021

Latest Canterbury news at starnews.co.nz

PEGASUS POST

Construction set to start

soon on prosthetic facility

CONSTRUCTION is scheduled

to start soon on a new $4.3

million state-of-the-art colocation

facility for prosthetics,

orthotics and rehabilitation in

Christchurch.

Sited opposite Burwood

Hospital, the facility will replace

Peke Waihanga – Artificial Limb

Service's existing centre.

It will include a location

space for Burwood Hospital

to carry out rehabilitation and

orthotics.

The build is expected to be

completed next year.

Peke Waihanga chief executive

Sean Gray said the design

team had worked alongside

experts to design an accessible,

healthy and safe environment

for staff, patients and their

families.

Said Mark Bruce of the

Amputees Federation: "Having

attended the centre for the

last 36 years, I am thrilled

that a new building is finally

under way after it and the

staff have gone through many

trials and tribulations. I am

positive that the exciting

design and form of the new

facility will provide a superb

environment for amputees and

staff alike."

We have a

creative design

solution for you

Star Media Creative are an experienced

team with a range of creative skills. From

rebranding all the way through to posters and

billboards, we create compelling branding

with thoughtful and creative design to make

you stand out from your competition.

Get in touch to discuss your project!

creative@starmedia.kiwi

When: Friday 24th September 2021

Doors Open 7pm for a 7.30pm start

Venue: Tait Technology Centre

245 Wooldridge Road, Harewood

$25 per person

Ticket price include ONE bingo card to get you

started, with snacks & nibbles also provided.

Contact one of the Pioneers of Canterbury

Masters Team members NOW to get your

ticket. Limited numbers!

Phone: Noelene 027 295 1555

Loads of

raffles,

chocolate

wheel & prize

balloons

Working towards a positive future
---
16 TH AUGUST - 5 TH SEPTEMBER

PEGASUS POST Latest Canterbury news at starnews.co.nz

Thursday September 2 2021 7

Happy father's day

STEVE HANSEN: THE LEGACY

Gregor Paul

NEW

NATIONAL

IDENTITY

Simon Bridges

In-store from 18/08/2021

Win a 12 month

subscription to

Sky Sports

Terms & Conditions apply.

Visit www.paperplus.co.nz/competitions

for further details

TOGETHER

Jamie Oliver

In-store from 27/08/2021

$

37 99 NEW

$

60

RRP:

$49.99

PRE-ORDER

A COPY FOR

YOUR DAD THIS

FATHER'S

DAY

NEW

FISH OF

THE DAY

Mike Bhana &

Clarke Gayford

In-store from 24/08/2021

$

55

NEW

TAKE ONE

FISH

Josh Niland

$

60

OUR

PRICE

OUR

PRICE

NEW

THE CELLIST

Daniel Silva

PUBLISHER'S RRP $35

$

29 99

BILLY

SUMMERS

Stephen King

PUBLISHER'S RRP $34.99

FAST TRACK

Stephen Leather

$

29 99

$

34 99

Not a Member?

Sign up In-Store or Online & start earning e-vouchers.

For every dollar spent, you earn 1 point!

72 Brighton Mall, New Brighton Phone: 03 388 1809 Mon to Sat 9:00am-5:30pm Sun 10:00am-4:00pm ww.paperplus.co.nz
---
8 Thursday September 2 2021

Latest Canterbury news at starnews.co.nz

PEGASUS POST

Daffodil Day

To make a donation, please visit

www.daffodilday.org.nz

Proudly supported by

and the below businesses

Trees for

CanTerbury

COMPENSATIONADVISORYSERVICES Ltd

LIFELINKS

Jewellery & Giftware

TRUE GRIT

87 Manchester St

03 377 7889

www.truegrit.co.nz

WARREN AGENCIES

79 Wrights Road

03 338 0171

www.warrenagencies.co.nz

VENLUREE

99 Sawyers Arms Rd, Papanui

03 365 4666

www.venluree.co.nz

TREES FOR CANTERBURY

42 Charlesworth St, Chch

03 982 1028

www.treesforcanterbury.org.nz

LIFELINKS

PO Box 2379, Chch

0800 866 877

www.lifelinks.co.nz

THE ELMWOOD TRADING CO

1 Normans Rd, Chch

03 355 5345

www.theelmwood.co.nz

PIERSONS REFRIGERATION

& AIR CONDITIONING

8 Marylands Place, Chch

03 338 6200

www.piersons.co.nz

HANMER SPRINGS

THERMAL POOLS & SPA

0800 4 HANMER

www.hanmersprings.co.nz/

experiences

MUSGROVES

MUSGROVES

3 Musgrove Close, Wigram

03 322 7922

www.musgroves.co.nz

CAS'n'OVA

PRODUCTIONS

021 462 744

www.casnova.co.nz

NEW BRIGHTON

KAIAPOI CLUB & MSA

113 Raven Quay, Kaiapoi

03 327 7884

www.kaiapoiclub.co.nz

FRESHCHOICE

www.freshchoice.co.nz

SUPERVALUE

www.supervalue.co.nz

SNAP FITNESS

NEW BRIGHTON

185 Bower Avenue

021 612 556

www.snapfitness.com/NZ

ASPIRING KITCHENS

+ MORE

0800 202 171

www.aspiringkitchens.co.nz

NEW BRIGHTON CLUB

202 Marine Parade

03 388 8210

www.newbrightonclub.co.nz

AFFORDABLE

CONCRETE & PAVING LTD

0508 873 7483

www.affordableconcrete.co.nz

MENZ MEDICAL

912 Colombo St, Chch.

03 981 8181

www.menzmedical.com

SAVE MART

Battersea St, Cranford St,

Shands Rd

PAPER PLUS

NEW BRIGHTON

72 Brighton Mall

03 388 1809

www.paperplus.co.nz

03 349 5050

Ilam

Watchmakers

PETER RAY HOMES 03 348 1994 www.peterrayhomes.co.nz

TALL POPPY REAL ESTATE

Debi Pratt, Business Owner

Christchurch North

021 480 155

BETTER DENTURE

6 Brynley Street, Hornby

03 349 5050

www.betterdenture.co.nz

ILAM WATCHMAKERS

207 Waimairi Road, Ilam

03 357 1002

www.ilam-watchmakers.co.nz

THANK YOU FOR YOUR CONTINUED SUPPORT
---
PEGASUS POST Latest Canterbury news at starnews.co.nz

Thursday September 2 2021 9

Overcoming demons to help needy

Wayne Gibson's battle

with his own demons

pushed him to help

people with disabilities

and mental illnesses

experiencing longterm

unemployment.

The PEEEP Trust yard

manager speaks to

reporter Bea Gooding

about finding your voice

in the face of adversity

WAYNE GIBSON is still healing

from the wounds that depression

left behind nearly three decades

ago.

But in spite of the stigma men

face about their mental health –

both nowadays and back in the

1990s – Gibson has learned to

cope, coming out the other side

of it a better person.

It is a message of hope he

now instils in the volunteers

he leads at PEEEP Trust, who

are experiencing long-term

unemployment as a result of

mental illness or disability.

The People Empowerment and

Environmental Enhancement

Programme is a safe space for

people

263

to gain skills leading to

x 180

job opportunities that might not

have been there otherwise. a lift in life, makes them feel confidence and self-esteem,"

"Our jobs give them a bit of important, and builds up their said Gibson.

FRESH START: After turning his own life around, PEEEP yard manager Wayne Gibson now

helps others.

PHOTO: GEOFF SLOAN

"A lot of the guys that come in

here are really reserved and not

sure where they're going in life.

My job is to make sure they leave

here happy every day, feeling

more positive about themselves."

The trust has provided

training and work experience for

unemployed people since 1993,

with a focus on improving the

local environment.

Referred from agencies

such as the Ministry of Social

Development, all volunteers

have experienced long-term

unemployment.

Many are recovering from

drug or alcohol addictions, have

physical or social disabilities,

or are dealing with mental

illnesses.

PEEEP offers stability,

purpose and belonging,

contact with nature,

teamwork experience, and

staff encouragement through

contracted work.

It could be graffiti removal for

the city council one day, grounds

maintenance at parks, businesses

or homes the next, or beach

clean-ups and dune management.

Said Gibson: "It's the simplest

of things they can lack that we

help them with. Most have never

used a computer so we show

them how to go on Google –

things people would take

for granted."

• Turn to page 11

Need To Get Fit Fast?

Tone Up or Body Build, Get A Total Body Workout

One Machine...

That Does it All

Easy Storage

Easily Folds Away

Effective Workout

Fun, low impact workouts.

For All Ages

Personalised Settings For

Beginners and Advanced

Includes

Pilates Kit

& DVDs

Up to

50 % Off

Off

*

*Call for Terms

& Conditions

Call Now! 0800 665 665
---
10

Thursday September 2 2021

Latest Canterbury news at starnews.co.nz

PEGASUS POST

We need your

help now more

than ever.

Multiple Sclerosis and Parkinson's

Canterbury provides support and

services to thousands of Cantabrians

affected by these two debilitating

diseases, in order to help them

maintain health and wellbeing

throughout their journey.

Our Annual Street Appeal is

NOW ONLINE to maintain

the vital, fundraising lifeline

which supports our work.

Please support us by

donating at:

ms-pd.org.nz

Proudly supported by
---
PEGASUS POST Latest Canterbury news at starnews.co.nz

Thursday September 2 2021 11

'I enjoy helping people'

As yard manager, Gibson loves

balancing his time between coordinating

future jobs from the

office and working side-by-side

with the volunteers.

After all, he has been in

their shoes, starting as a casual

volunteer eight years ago mowing

lawns at the former Queen

Elizabeth II Park while battling

his own demons.

Before PEEEP, Gibson was a

labourer.

"I enjoy helping people less

fortunate than myself. I've been

in a position in my younger years

where I've been down that road,

where I've been very depressed

and low," he said.

"It's not a good place to be. If

I can help somebody to get out

of that zone, I feel like my job is

done."

Gibson eventually worked his

way up to become the supervisor,

before accepting the manager

role earlier this year.

The new role was a full-circle

moment for the father of three

because the supervisor who

initially hired him happened to

be his son Tristan.

"When I first started here as

a casual he was my boss, but

his son's boss.

Having a close working and

personal relationship did not

get in the way of putting the

volunteers first.

It was about finding the right

time to "take my boss hat off and

put my father hat on," and vice

versa.

"It's great, we're more like best

friends and we work really well

together as a team," Gibson said.

"We don't bring any issues we

have into work, we talk about

it after work. We don't want

the volunteers to pick up any

negative vibes."

A growing reputation has

meant the number of referrals

has climbed, with many more on

the waiting list.

Along with the trustees, the

team of three-to-four staff work

alongside eight volunteers at a

time.

Gibson has always been a

"people person at heart," but

empowering others to find their

voices for the first time made all

the challenges he faced worth it.

"They don't know it, but I get a

lot from them as well."

He recalled with pride a young

man who went from being

"We carried him under our

wing, and over a few months,

we lifted his spirits so much you

couldn't keep him quiet," said

Gibson.

"This place helped him so

much he doesn't get on the Xbox

anymore now that he has a job."

Having been encouraged by

his own co-workers, friends and

family to take on a leadership

role for the first time, Gibson

could relate.

"My self-esteem was a bit low

before I became manager, I didn't

think I would cope."

The macho mentality expected

of men, especially in the past,

made it difficult to address the

trauma he experienced sooner.

"I was in a very bad situation

and I was a broken man. Back

then, a man was a man," he said.

"It's not really a thing you need

to hide anymore."

Gibson could spend all day

tinkering away on one of his

muscle cars if he did not have a

trust to worry about.

In spite of his brighter outlook

on life, there are concerns he

simply can't shake off.

"Funding is drying up – since

Covid, applying for funding is

only

260

until 4 o'clock – I stipulated socially withdrawn

x

to securing

180

less successful these days."

that."

an apprenticeship on his

• To get involved with PEEEP

Eight years later the tables have own, thanks to newfound

Trust, phone 021 0623 722 or

turned, with Gibson becoming confidence.

email accounts@peeep.org.nz

GEOGRAPHY WINNERS: Shirley Boys' head of faculty social

sciences Mike Skinner, Jack Druery, Jacob Knoef and Adam

Marriott. ​

Champs at last

SHIRLEY BOYS' High School

has taken out the ultimate prize

at an inter-school geography

competition.

Eighteen schools from around

Canterbury competed in the

recent Maatangi Whenua Geography

Quiz Olympiad.

The champion team of Jacob

Knoef, Jack Druery and Adam

Marriott finished with a total

score of 155 out of a possible 178.

The event challenging the year

11 students' geographic knowledge

was hosted at Canterbury

University.

Shirley BHS head of faculty

social science Michael Skinner

said the three hour-long event

had 10 rounds.

"There was a wide variety of

tasks requiring current knowledge

of events and people around

the world, but also a great

memory of the usual geographic

building blocks of country

knowledge, flag expertise and

capital city recall," he said.

"This year's team broke the

'bridesmaid's tag' gained over

previous years and it was the first

victory for the school since

back-to-back wins in 2009 and

2010."

Christchurch Boys' High

School was second with 151

points, and St Andrew's College

third with 147 points.

Need Heat Fast?

The Fastest, Warmest Indoor/Outdoor Heater You Will Ever Own!

Buy One Get One Free! *

+Plus

Free

Floor

Stand!*

worth

$199.99

• Heats Up Instantly

• Suitable for Indoors or Outdoors

– In Rain, Fog, Wind or Snow

• Carbon-Fibre Bulb Technology

• Multi-Directional Stand

• Includes Remote Control &

Built-In Timer

• Motion Detection Function

1.8m High

• Commercial Grade

• Multi-Directional

• Easy Install

• Portable

• Indoors & Outdoors

*Call for Terms

& Conditions

CALL NOW! 0800 665 665
---
12 Thursday September 2 2021

Latest Canterbury news at starnews.co.nz

Warming casseroles

to fend off winter

With a week or

two of winter

still with us, this

tangy tomato and

lamb casserole

would be a

welcome dish on

a cold day

Lamb and tomato

casserole

Serves 3

Ingredients

3 lamb leg fillet or shoulder

chops (browned)

2 tbsp olive oil

1 large onion

1 400gm tomatoes (any

flavour)

1 lamb Oxo cube

Cracked pepper to taste

1 teaspoon sugar

1 heaped teaspoon

oregano

40gm tasty cheese

55gm breadcrumbs

(wholemeal is best)

27gm butter (melted)

Directions

Line ovenproof dish with

2 thicknesses of non-stick

tin foil.

Place browned leg fillets/

chops into dish, put onions

over top of meat, then pour

tomatoes/Oxo cube/peppercorns/sugar/oregano

over onions, then

cover with cheese/breadcrumbs/butter.

Bake, uncovered, at 140

deg C for 2½ hours.

Steak stew

Ingredients

2 tablespoons olive oil

Stews and casseroles make a hearty mid-winter

meal.

1kg sirloin steak, diced

Salt and freshly ground

black pepper, to taste

1 medium onion, diced

2 large carrots, peeled and

diced

2 celery ribs, diced

3 cloves garlic, minced

250gm mushrooms,

halved

3 tablespoons all-purpose

flour

2 tablespoons tomato

paste

1/2 cup dry red wine

2 1/2 cups beef stock

4 sprigs fresh thyme

2 bay leaves

1 large potato, peeled and

cut in 1cm chunks

2 tablespoons chopped

fresh parsley leaves

Directions

Heat olive oil in a large

fry pan on medium heat.

Season steak with 1 teaspoon

salt and 1/2 teaspoon

pepper.

Working in batches, add

steak to the fry pan and

cook, stirring occasionally,

until evenly browned, about

6-8min; set aside.

Add onion, carrots and

celery. Cook, stirring occasionally,

until tender, about

3-4min.

Add garlic and mushrooms,

and cook, stirring

occasionally, until tender

and browned, about

3-4min.

Whisk in flour and

tomato paste until lightly

browned, about 1 minute.

Stir in wine, scraping any

browned bits from the bottom

of the fry pan.

Stir in beef stock, thyme,

bay leaves and steak. Bring

to a boil; reduce heat and

simmer until beef is very

tender, about 30min.

Stir in potato; simmer

until potatoes are just tender

and stew has thickened,

about 20min.

Remove and discard

thyme sprigs and bay

leaves. Stir in parsley;

season with salt and pepper,

to taste.

HOME & HEATING

Keep cosy with

RD Petroleum

this winter

RD Petroleum (RDP) is a familiar sight

for farm and rural residents around the

Canterbury region, however now days urban

residents also enjoy the same excellent

customer service for which RDP is known for

in rural communities, through their home

heating diesel.

RDP began its home heating diesel delivery

service to the lower South Island's main urban

centres of Christchurch, Timaru, Dunedin

and Invercargill a number of years ago.

Customer demand has continued to increase

year upon year, and RDP has responded

with specialised improvements to its delivery

equipment.

The trucks that deliver RDP's home heating

diesel in each urban centre are drawn from

the company's extensive vehicle fleet. This

PEGASUS POST

means they have the latest communication

and GPS tracking technology on board, so

the operations team always know where they

are and how far away they are from their next

delivery stop.

RDP's home heating diesel trucks come

equipped with a specially-designed hose,

through which the diesel is pumped from

the truck into house tanks. The length of

the hose allows the trucks to access tanks

without having to enter the property, avoiding

damaging the driveway. RDP is the place to

go if you require diesel conveniently delivered

to your home and as a loyal RDP customer

you're offered discounted pricing and can

become eligible for value-added benefits.

For all enquiries please phone

0800 44 00 14, or visit the RDP website at

https://www.rdp.co.nz/home-heating or

signup at apply.rdp.co.nz/home-heating

Read local
---
PEGASUS POST Latest Canterbury news at starnews.co.nz

Thursday September 2 2021 13

HOME & HEATING

Get the balance

right this winter

Enviro Master has been helping

Cantabrians get the balance right when it

comes to choosing the perfect heat pump or

air conditioning system for their home or

office since 2002.

Their team of expert sales people, qualified

electricians, heating and refrigeration

engineers, help to supply and install

Christchurch's widest range of heat pumps,

and because they have no affiliation with any

one brand, you can be assured their advice

on the benefits and differences between each

product is unbiased.

They will recommend the most energyefficient

and cost-effective system for your

individual situation, and will have you

regulating the heat in your home or office in

no time.

Nowadays, customers are often wanting

whole home solutions to be able to maintain

even temperatures throughout the home both

in Winter and Summer. This can be achieved

by using ducted systems or multi systems

and Enviro Master are experts in designing,

installing and commissioning these systems.

Help is currently available with a

government subsidy covering 80 per cent of

the cost of a new heat pump up to $3000.

The subsidy is part of the Warmer Kiwi

Homes initiative and is available to Home

owner/occupiers with a Community Services

Card, a SuperGold combo card or who live in

a low-income area as determined by deciles

8-10 on the New Zealand Deprivation Index.

The applicant's home must also have been

built before 2008, have insulation up to code

(insulation subsidies also available) and have

no fixed heating in a living area, such as an

existing operational heat pump or fireplace.

With new regulations now in place for

Landlords to provide heating in rentals, it's

time to ensure you are meeting the new

standards.

Inadequate heating and ventilation can

lead to mould growth and dampness in your

property, leading to costlier maintenance

and an unhealthy living environment.

Providing a fixed heater with a higher heat

output and lower running costs, like a heat

pump, will enable your tenants to heat the

area effectively. Enviro Master are well

experienced with the Tenancy Services

software to ensure that you are meeting your

requirements.

To ensure you choose the right system

for your home or business, one of Enviro

Master's experts will visit to assess your

individual situation, offer advice and

answer any questions you may have. This

consultation is at no cost to the customer

and is always provided before a heat pump is

installed.

Anyone wondering about their eligibility

for a subsidised heat pump are welcome to

get in touch for details and help with the

application process. To find out more, call

Enviro Master on (03) 366 0525 or visit

their website www.enviromaster.co.nz

The facts about home ventilation

Balanced Pressure

vs Positive Pressure

Under the New Zealand Building Code,

all buildings, including residential, need

to be suitably ventilated, either with

opening windows or forced ventilation.

Clause G4.1 states: "The objective of this

provision is to safeguard people from

illness or loss of amenity due to lack of

fresh air." There are many benefits to

forced, or mechanical, ventilation over

opening windows, including warmth,

security, reduction of outside noises and

reduction of condensation.

Traditional domestic ventilation systems

are 'positive pressure'. They bring air in

from outside via the roof space and force

the stale air out through gaps around

windows and doors. The incoming air

from these systems

has to be heated

or cooled to keep

the house warm in

winter or cool in

summer.

The Smooth-

Air HEX390 is a

'balanced pressure'

system. It extracts

air from the house

and at the same

time brings in

fresh air. These

two streams of air

pass through a heat

exchanger, which

warms incoming air in winter and cools in

summer if air conditioning is being used.

This means that up to 80% of the energy

which would be wasted using a traditional

positive pressure system is recovered,

resulting in significant energy savings and

therefore lower heating or cooling costs.

Until recently, balanced pressure

ventilation systems have been considerably

more expensive than traditional positive

pressure systems. However, with Smooth-

Air's unique manufacturing capabilities, a

HEX390 balanced pressure system can be

installed for a similar price as a traditional

positive pressure system.

You can contact Smooth-Air on sales@

smooth-air.co.nz or 0800 SMOOTH.

HEAT PUMP

SALE NOW ON!

Amazin' spring Specials!!

80%

SubSidy

Warmer KiWi HomeS

Programme

*Eligibility criteria apply

• We will offer you the best quality brands and

option of heat pump for your home/business

• Providing Heat Pump solutions for over 19 years to Cantabrians

• We personally guarantee all our products & installs for 5 years

(providing annual maintenance has been completed)

Phone us today for your free consultation & quote

41A SHAKESPEARE RD, WALTHAM

PHONE 03 366 0525

www.enviromaster.co.nz

"A local team for local people"

Smooth-Air

Ventilation Equipment Suppliers

totrade

retail

The most efficient way

to ventilate your home

HEX 390

For Healthy Indoor Air

Heat is transferred to the

incoming filtered fresh air

&

ATTACK RISING DAMP

Made in New Zealand,for New Zealand conditions

Fresh air

from outside

Exhaust air

to outside

Warm, stale

air from house

Warm fresh air

to house

Substantial energy savings

over traditional domestic

ventilation systems.

T. 03 376 4608 E info@foamconcrete.nz

W. www.foamconcrete.nz

0800 SMOOTH

(0800 766 684)

sales@smooth-air.co.nz

264 Annex Rd

Riccarton

Christchurch

03 343 6184

Monday - Friday

7.30am - 5pm

www.smooth-air.co.nz
---
14

Thursday September 2 2021

Latest Canterbury news at starnews.co.nz

PEGASUS POST

152,504 reasons

to advertise with us!

2021 ABC average issue circulation — Star Max vs Press

200,000

The Star

Max *

152,504

circulation

100,000

The Press *

The latest NZ Audit Bureau of

Circulations report is out and

it shows that The Star Max

provides you more circulation

than any other newspaper in

New Zealand.

0

30,256

circulation

Grow more customers, sales and profits for your business,

Call us now for a free advertising consultancy.

Here's what our customers have to say:

We advertise Affordable Furniture specials

in The Star every week and are extremely

pleased with the results.

We find that the large circulation and

readership, really works for reaching our

target market and growing our customers.

We get people coming in with our ad and

asking about the specials we advertise.

We have been benefiting from the

Christchurch Star and Community papers

for 20 years and see no end to it.

Andrew Idour – Managing Director,

Affordable Furniture

After 4 years advertising in the Bay

Harbour News, I decided to widen

my audience by using the Star.

I am very happy with new ad

placement.

My husband Tim was in the shop

today and 2 ladies had come in

to check us out because they had

seen the ad!!! Oh yes they did buy

some goodies!!

Rose Lindley – Mumma Bear

We have advertised with The Star

over the years.

Advertising in The Star we feel we

get more response and feedback

than any other marketing.

We are lucky to have such a great

free paper in the community.

Thanks team Star.

Mark Glanville FDANZ CERT

– Manager and Funeral Director

Phone 03 379 7100

Email shane@starmedia.kiwi

Office Level 1/359 Lincoln Road, Addington

*Source: 2021 ABC Audit Report — Star Max vs Press ANP average total circulation each issue

*Star Max — The Star, Bay Harbour News, Selwyn Times, North Canterbury News
---
PEGASUS POST Latest Canterbury news at starnews.co.nz

Thursday September 2 2021 15

Classifieds Contact us today Phone our local team 03 379 1100

Health & Beauty

Trades & Services

Trades & Services

KATANG

Fitness

Held at St Faiths Church Hall,

46 Hawke Street, New Brighton

Sit & Be Fit

Monday 1 – 2pm

$4 per class

Movement to Music

Thursday

9.30 – 10.30am

$5 per class

For more info contact Katrina 3811704 or 0274966845

Real Estate

HOME WANTED 3-4

bedrooms. Looking in Nor

West areas, Beckenham

or Somerfield. Prefer

permanent material brick

and post 1990 build. Don't

mind if it needs some TLC

- anything considered.

Cashed up buyer. Phone

021 372 479

Wanted To Buy

TOOLS Garden,

garage, woodworking,

mechanical, engineering,

sawbenches, lathes, cash

buyer, ph 355-2045

Trades & Services

FOR ALL YOUR

★Garden Clean-ups

★Pruning

★Lawn Mowing

★Garden Maintenance

Call us today for a FREE quote

PH 0800 4 546 546

(0800 4 JIMJIM)

Trades & Services

HALSWELL

GLASS & GLAZING 2017 LTD

THE PET DOOR SPECIALIST

• PET DOORS

• NEW GLAZING

• FRAMELESS SHOWERS

• MIRRORS

• INSURANCE CLAIMS

• RETRO GLAZING

• BALUSTRADING

ALL SUBURBS COVERED FOR

ALL YOUR GLAZING NEEDS

PHONE GAIL ON

322 7999 OR 021 CAT DOOR

(228 3667)

BRICKLAYER

George Lockyer. Over

40 years bricklaying

experience. UK trained.

Insurance work, EQC

repairs. Heritage

brickwork & stonework

a speciality. No job too

small. Governers Bay.

Home 329 9344. Cell

027 684 4046. E mail

georgelockyer@xtra.co.nz

CARPET LAYING

Exp. Repairs, uplifting,

relaying, restretching.

Phone John on 0800

003181, 027 240 7416

jflattery@xtra.co.nz

ELECTRICIAN

Prompt & reliable

registered electrician

with 24 years experience

for all residential and

commercial work, new

housing and switch board

replacements. Phone Chris

027 516 0669

VHS VIDEO TAPES

& all camera tapes

converted to DVD or

USB. Video taping

special occasions, www.

grahamsvideo.co.nz ph 03

338-1655

ROOF REPAIRS

Locally owned & operated with

over 30 years experience.

• Extensions & repair • Roof coating

• Concrete & clay tiles • Butynol

• Malthoid • Asbestos Certified

• Coloursteel • Old iron • Guttering

Phone Dave 981 0278

or 021 223 4200

E: dave@beaumontroofing.co.nz

BEAUMONT ROOFING LTD

SCRAP METAL

Dominion Trading Co Ltd

• Scrap metal buyers

• Canterbury owned & operated

• Top prices paid $$$

• Open Saturday morning

Open Mon-Fri 8am – 4.30pm Sat. 8.30am-12.30pm

www.happyscrappy.co.nz

03 343 9993 333 Blenheim Rd

ADVERTISE YOUR BUSINESS HERE

Phone for further details

(03) 379 1100

Up to

50 % Off

*Call for Terms

& Conditions

Off

*
---
16

Thursday September 2 2021

Latest Canterbury news at starnews.co.nz

PEGASUS POST

Richmond discount FuRnituRE

The Best Little Furniture Shop in Town

BEDS TALLBOyS MIRRORS CABINETS cHESTS STORAgE SHElvES

BOOKCASES BuFFET uNITS DINING TABLES HAll TAblES SIDE CABINETS & MORE!

Ther-a-pedic Mattress & Base

Reversible pillowtop innersprung.

Single

$549

King Single/Double/3/4

$649

Queen

$749

Queen

Frame &

Pocketspring

Mattress

ONLY

$699

Sleepyhead Base & Mattress Set

Single

$399

Legacy

Single

Frame

Bed

Mattress not

included.

ONLY

$300

Lowboy 6 Drawer

1130 x 410 x 820.

7 Drawer

Scotch Chest

1140 x 800 x 410.

Also available in black.

Midi 7 Drawer Scotch Chest

975 x 760 x 410. With metal runners.

Duchess

with

Mirror

1090 x 410 x 820

NZ made.

Coffee Table

1060L x 550W x 420H

2 Drawer Buffet Unit

ONLY

$499 EaCh

ONLY

$329

ONLY $299EaCh

ONLY

$599

ONLY

$199

ONLY

$399

Bedside Cabinet

With metal runners.

Jumbo 4 Drawer Chest

1140 x 800 x 400. NZ made. Metal runners.

Tallboy 4 Drawer

600 x 400 x 900.

2 Drawer/4 Shelf

Entertainment Unit

ONLY $429

Pine Display

Cabinet

with 4 Glass

Shelves

(1800 x 400 x 900)

$179

Large

690H x 460W x 410 D

EaCh

Small

510H x 460W x 410 D$140 EaCh

ONLY

$299

EaCh

ONLY

$239

Coffee Table

ONLY$429

2 Drawer Ent/Unit

ONLY$349

ONLY

$799

Foundry Coffee

Table

1200 x 600

ONLY

$499

7 Drawer TV/

DVD Chest

760 x 1140 x 410.

(Gap 150)

Towerboy 6 Drawer

1260 x 460 x 410.

With metal

runners.

Also available

in Black.

7 Piece

Dining

Suite

1500 x 900

7 Piece

Dining

Suite

1500 x 900

Foundry

hall Table

1500 x 420 x 810

ONLY

$599

ONLY

$329

ONLY

$249

ONLY

$799

ONLY

$799

Legacy Bedside

Cabinet

Bookcase

1200H x

600W

Coffee Tables

1200 x 650 x 400H 1200 x 550 x 430H

ONLY

$199

ONLY

$149

Emma 5 Piece

Dining Suite

Student Desk

Available in black or white.

1000w x 690h x 500d

$129

$269

ONLY

$599

ONLY

$349

White

Shelving

Unit

1980H x 800w

x 300

Pearl headboard

1500H

Queen $399

King $499

3 Piece Dining Suite

750 x 750.

Entertainment Unit

1100 x 400 x 480.

White 2 Drawer

Entertainment Unit

1115 x 480H x 400D

ONLY

$249

Black headboard

1200H

King only

$299

ONLY

$399

ONLY

$299

233 STANMORE ROAD • PHONE 03 389 0536

WE ACCEPT EFTPOS, VISA AND MASTERCARD... PARKING AT REAR

OPEN MON-FRI 10AM–4.30PM SAT 10–1PM

ONLY

$299
---
PEGASUS POST Latest Canterbury news at starnews.co.nz

Thursday September 2 2021 17
---
18 Thursday September 2 2021

Latest Canterbury news at starnews.co.nz

PEGASUS POST
---
PEGASUS POST Latest Canterbury news at starnews.co.nz

Thursday September 2 2021 19
---
20 Thursday September 2 2021

Latest Canterbury news at starnews.co.nz

PEGASUS POST