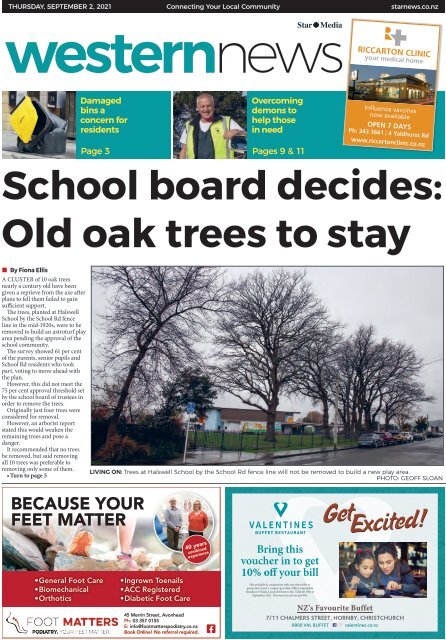 Western News: September 02, 2021
You also want an ePaper? Increase the reach of your titles
YUMPU automatically turns print PDFs into web optimized ePapers that Google loves.
THURSDAY, SEPTEMBER 2, 2021

Connecting Your Local Community

starnews.co.nz

Damaged

bins a

concern for

residents

Overcoming

demons to

help those

in need

Influenza vaccines

now available

OPEN 7 DAYS

Ph: 343 3661 | 4 Yaldhurst Rd

Page 3 Pages 9 & 11

www.riccartonclinic.co.nz

School board decides:

Old oak trees to stay

• By Fiona Ellis

A CLUSTER of 10 oak trees

nearly a century old have been

given a reprieve from the axe after

plans to fell them failed to gain

sufficient support.

The trees, planted at Halswell

School by the School Rd fence

line in the mid-1920s, were to be

removed to build an astroturf play

area pending the approval of the

school community.

The survey showed 61 per cent

of the parents, senior pupils and

School Rd residents who took

part, voting to move ahead with

the plan.

However, this did not meet the

75 per cent approval threshold set

by the school board of trustees in

order to remove the trees.

Originally just four trees were

considered for removal.

However, an arborist report

stated this would weaken the

remaining trees and pose a

danger.

It recommended that no trees

be removed, but said removing

all 10 trees was preferable to

removing only some of them.

• Turn to page 5

LIVING ON: Trees at Halswell School by the School Rd fence line will not be removed to build a new play area.

PHOTO: GEOFF SLOAN

BECAUSE YOUR

FEET MATTER

• General Foot Care

• Biomechanical

• Orthotics

• Ingrown Toenails

• ACC Registered

• Diabetic Foot Care

40 years

combined

experience

Bring this

voucher in to get

10% off your bill

Not available in conjunction with any other offer or

promotion. Limit 1 coupon per table. Offers redeemable

Monday to Friday, Lunch & Dinner only. Valid till 30th of

September 2021. Discount can not exceed $50.

45 Merrin Street, Avonhead

Ph: 03 357 0155

E: info@footmatterspodiatry.co.nz

Book Online! No referral required.
---
2

Thursday September 2 2021

Latest Canterbury news at starnews.co.nz

WESTERN NEWS

Dog owners hit the parks and pavements

with their best friends last week, making

the most of the late-winter sunshine and

extra time many found they had under the

Covid-19 level 4 lockdown. Reporter

Fiona Ellis was there with her camera.

Lottie, Stella, 16, and Lulu get some fresh air

with owner Mike Pero in Burnside Park.

Robyn teaching eight-month-old Millie how

to play fetch in Avonhead.

Avonhead's Elise (left) and Deb Batt with

Figgy.

Ronald and Dumpling out for a stroll in Avonhead Park.

Read local

When: Friday 24th September 2021

Doors Open 7pm for a 7.30pm start

Venue: Tait Technology Centre

245 Wooldridge Road, Harewood

$25 per person

Ticket price include ONE bingo card to get you

started, with snacks & nibbles also provided.

Contact one of the Pioneers of Canterbury

Masters Team members NOW to get your

ticket. Limited numbers!

Phone: Noelene 027 295 1555

Loads of

raffles,

chocolate

wheel & prize

balloons

Sensational service, absolutely tremendous.

We so appreciate how accommodating and considerate

Cam and his team have been.

You have made a stressful process easy! Thank you!

- Stewart Family -

Phone or text 027 555 7079

REINZ Salesperson of the Year across all brands in NZ

cameron.bailey@harcourts.co.nz

No.1 Harcourts Canterbury 2012-2021

No.1 Harcourts New Zealand 2017-2021

www.cameronbailey.harcourts.co.nz No.1 Harcourts International 2017-2021

Licensed Sales Consultant REAA 2008
---
WESTERN NEWS Latest Canterbury news at starnews.co.nz

Thursday September 2 2021 3

Leaking water top concern

• By Fiona Ellis

DEALING WITH leaky water

supplies and damaged bins,

as well as issues relating to

residential property files, are

the top three concerns for the

Fendalton-Waimairi-

Harewood Community Board

area.

A ticket report has revealed a

breakdown of issues that residents

have contacted the city

council about between June 19

and July 18.

In that time, 1639 tickets, or

jobs, were completed within an

average of 3.2 days.

Issues fell in a range of

categories, including transport,

wheelie bins, graffiti, and three

waters council assets.

Leaky water supplies came

out on top with 167 tickets,

while damaged bins was second

with 159 tickets and residential

property files third with 158

tickets.

Phone, email and walk-ins

were the most common way

residents chose to contact the

council, at 55 per cent.

Meanwhile, 31 per cent used

Hybris Online and the remaining

14 per cent used Snap Send

Solve.

Megan Woods

MP for Wigram

We are renovating!

My office will be undertaking

renovations starting Monday 19 th

July. My team and I will be working

remotely during this time.

If you need any assistance please get in

touch at megan.woodsmp@parliament.

govt.nz or 03 338 6347

/MeganWoodsWigram

@megan_woods

/megancwoods

Authorised by Hon Megan Woods MP,

Parliament Buildings, Wellington

At the conclusion of the

report in July, 429 tickets

HORNBY SOUTH

FAMILY STORE

were still open, or not

completed.

Te Ope Whakaora

pRELOVEd qUALiTy cLOTHiNG,

FURNiTURE & HOUSEHOLd iTEmS

We can arrange

pick-up of

donations simply

by phoning us.

VOLUNTEERS REqUiREd

wOULd yOU LikE TO SUppORT yOUR cOmmUNiTy?

Cnr Columbia Ave & Halswell Junction Rd

Ph 344 2530

Hours Mon - Fri 9am - 4.30pm

Sat 9.30am - 1.30pm

ISSUES:

Leaking water

supplies and

damaged

bins concern

residents in

the Fendalton-

Waimairi-

Harewood

Community

Board area.

Number of tickets (issues)

reported in the Fendalton-

Waimairi-Harewood

Community Board area

between June 19 and July

18:

1 Leak (water supply) – 167

2 Damaged bins – 159

3 Residential property

files – 158

4 Bin not collected – 125

5 Residential LIM – 90

6 Missing bins – 79

7 Road asset (footpath,

road, furniture) – 66

8 Litter (road) - 60

9 Tree (road) – 54

10 Graffiti – 35

In Brief

SUMMER FUNDING

THe Fendalton-Waimairi-

Harewood Community Board

is making small subsidies

available for neighbourhood

gatherings being held in its

area between October 29,

2021, and March 31, 2022,

under its Summer with your

Neighbours programme.

Applications for funding close

on September 10.

WORM FARM

A new worm farm and

compost bin at Wigram

Primary School is up and

running after a term of work

on the project by the school

community, including the

Garden club and Eco club.

The project aims to reduce

waste and help to fertilise the

garden.

PHOTOS WANTED

South Hornby School is

seeking scanned copies of

old school photos, school

reports or memorabilia for

its 60th reunion, set to take

place in November 2022. It

is also seeking indications of

interest from those who plan

to attend as planning gets

under way.

YOUR ONE STOP SHOP!

TYRES

NEW & USEd

WoF

FLAGS

TYRES

bOOk

IN NOW

FULL MECHANICAL

SERVICES

WHEEL

ALIGNMENTS

SPECIALISTS$49

Wigram - 341 1226 104 Hayton Rd

Woolston - 384 0000 49 Garlands Road
---
4 Thursday September 2 2021

Latest Canterbury news at starnews.co.nz

August 2021

WESTERN NEWS

Commitment,

Achievement,

Resilience,

Respect

Cluster to

accelerate

learning

Kia ora koutou. Talofa. Kia Orana. Malo e lelei. Bula Vinaka.

Fakaalofa atu. Namaste. Kumusta. Haere mai haere mai ki

Te Kura Huruhuru Ao o Horomaka. Warm greetings to the

Hornby High School community.

Have you heard of Uru Mānuka? That is the name for our

Kāhui Ako, our cluster of eight schools that work together

to create coherent learning pathways for tamariki from ECE

through to the end of secondary school. We are:

• Gilberthorpes School

• Hornby High School

• Hornby Primary School

• South Hornby School

• St Bernadette's School

• Templeton Primary school

• Wigram Primary school

• Yaldhurst Model School

Our collective objectives cover:

• Student wellbeing

• Transitions through the learning journey

• Cultural responsiveness

• Digital Fluency

It brings to mind that beautiful whakataukī:

Ehara taku toa, he takitahi, he toa takitini –

My success should not be bestowed onto me alone, as it was

not individual success but success of a collective.

Of our eight schools, seven of us participate in the

Manaiakalani Programme, a pedagogy-based programme

that uses digital devices to amplify the impact of our shared

pedagogy to accelerate the learning of your children. Our

underlying pedagogy is 'Learn Create Share', and the impact

of the pedagogy, and the digital devices – Chromebooks – is

to accelerate progress in writing by twice national averages.

We accelerate progress in reading and mathematics by one

and a half times national averages.

But this is not enough, and we are working collectively to

improve this even further. Our focus at the moment is on

reading. To this end 192 staff members from across our

cluster came together to develop joint strategies to improve

reading for your children. The power of consistent and

coherent learning pathways and strategies across all year

groups cannot be underestimated. It is a rarity in education in

Aotearoa.

The 'Learn Create Share' pedagogy supports our own school

aspiration to be a centre of creative excellence. Aspirations

are always lofty ambitious things. However, they provide a

"pole star", something by which we steer our ship as we head

into our future. We may never be that centre, but we will

aspire to get ever closer to it.

The Manaiakalani Programme is central to our journey of

creativity, exploration, and learning.

Robin Sutton

Tumuaki

The Community Adventure for

the Graeme Dingle Foundation

Stars-opoly is all about exploring

the opportunities in the school

and community and learning what

organisations there are in the

community to explore.

The Community Adventure

aims to connect young people

with their community by giving

them the opportunity to explore

resources and supports through

interviews and challenges.

Groups have two hours to

complete a series of challenges

across a Monopoly-style board,

designed to simulate their

school journey and connections

with their community.

Stars is a 12-month interactive

programme that supports,

motivates and positively

reinforces Year 9 students.

Research shows that Stars

helps strengthen the sense of

Camp challenges students

"What are my next steps?" is a

question often asked by many

students here at Hornby High School,

especially those in the senior school

(Years 11-13). For many the next steps

here at school will be the basis for

their steps beyond school.

For more than a decade, Hornby

High School has run a camp aimed at

helping our seniors be more secure

in their next steps – wherever those

steps take them. It is offered to all

Year 12 students.

The camp has several main aims:

• To enable us to choose the best

possible leaders for the many

leadership positions here at school.

• To help students be better role

models to junior students.

• To help students be better support

those in leadership roles.

• To prepare our students for

whatever next steps they take in life

– be those steps here at school

or beyond school.

The three-day camp starts

Thursday and finishes early

Saturday afternoon.

The camp begins with a

challenge, "The Great Hornby

Race", in which small groups of

students are given bus fares,

and then have to use the city

bus system to get themselves

to the camp site. On the way

they have questions to answer

at various points around the

city – harder questions take

more time, but are worth

more points. Groups choose

which questions to answer.

They all need to be at camp

by a specified time, with

receipts and change equalling

the money each group received. The

group with the most points, on time,

with the correct money "wins". It

is an exercise in time management,

money management, and team coordination.

At camp reshuffled groups continue

with the challenges, all designed to

help students discover more about

themselves and how to work best

with others, with some finding the

impromptu speech the largest hurdle.

We also have time for unwinding

and getting to know each other with

our bonfire night a highlight. Past/

community in schools by bringing

younger and older students

together. The Graeme Dingle

Foundation aims to inspire all

school-age children to reach their

full potential through programmes

current school student leaders and

senior staff attend and share their

experiences. Senior hospitality

students gain valuable experience by

running the kitchen and feeding the

participants.

The camp has become part of

Hornby's school culture. It is

completely run by Hornby High School

staff. A big thanks must go to Blue

Skies Camp in Kaiapoi who provide a

great venue for us.

Pupils build community links with Stars-opoly event

Smoothie anyone? Sports

Canterbury's bike in action during

Stars-opoly at Hornby High School.

Music making with City Libraries.

Some of the activities undertaken at the

Next Steps Camp.

First aid training with St John.

that build self-esteem and

promote good values, and

which teach valuable life,

education and health skills.

Current programmes include

Kiwi Can, Project K, and Stars.

This year's event at Hornby High

School was a huge success with

25 organisations participating.

The main aims for the students

for the day were to:

1. Define community and

explore their relationship to

community

2. Explore services, opportunities

and supports available within their

community

3. Apply a range of skills which

connect them to community –

communication, problem solving

and team work.

Highlights on the day were

the smoothie bike from the

Green Prescription from Sports

Canterbury; the search and rescue

lads and dog from LandSAR; the

music making from the CCC libraries;

and rugby drills from NZ Rugby, to

name a few.

We were very lucky to have ex-

Hornby High students and ex-Star

Mentors attend and share what they

love. Shardey who is now working

at "What Now" had some "goo"

for the students to experience, and

Hannah-Mae was back with Paris

sharing their love for St John and

how to save lives using CPR.
---
WESTERN NEWS Latest Canterbury news at starnews.co.nz

Thursday September 2 2021 5

Old oak trees granted

a reprieve by school

• From page 1

Board chairman Rob Dixon said

the importance of the decision meant

the board chose to consult the school

community.

"This included providing them with

all available reports to allow for the most

informed decision possible,"

Dixon said.

The play area was planned to

be 32m long by 20m wide and

be bordered by native plants to

replace the oak trees.

Creating it was one way the

school proposed to spend a

$400,000 Government school

investment package.

This needed to be allocated by

the end of the year in order for the

school to retain funding.

"The money tagged for this will go

towards other projects around the school,"

Dixon said.

Principal Stuart Cameron said the

school had an expanding roll of more than

700 pupils, and the astroturf court aimed

to provide more space for them to play

in winter.

Stuart

Cameron

"The area proposed is underutilised

for playing compared to the rest of the

school."

He denied that online criticisim of

the plan was behind the move to put

the decision in the hands of the school

community.

"First and foremost in all

decisions made is the best interest

of the students."

Parents who recently talked to

Western News about the plan to

remove the trees were divided.

"I'm fine with that. They're

planning to put a court there. It's

for the children," Jex said.

"It looks good, what they're

planning on doing," Nicole said.

Junghyun said he would be sad

to see historic trees go.

Emily said that as the trees were

expected to live another 15-25 years

according to the arborist report, they were

likely to outlive the proposed synthetic

court.

"It's just a really bad message to send to

kids, with the climate crisis, that it's okay

to chop down 10 large trees."

Outward Bound

'transformational'

CHALLENGING:

Hornby High

School's Mijieli

Okusi (left)

and Mairehau

High School's

Samantha

Fawcett-Kay were

among those who

took part in youth

Outward Bound

course Takere. ​

"EDDY", a much adored 10 month

old Tabby was rushed to McMaster

& Heap vets on a Sunday, after

alerting his owners that something

was up when he hopped on their

bed early one morning and started

moaning loudly. One of the owners

had worked as a nurse for us, so she

didn't waste time in getting Eddy

seen. Steve Heap was called in when

it was clear there was a severe injury

to Eddy's right eye.

McMaster & Heap

Veterinary practice

Sad case of animal abuse

The lens material was removed by

a machine that performs cataract

surgery - A Phacoemulsification

Machine. The eye was irrigated and

the corneal wound sutured carefully.

Then the eye was reinflated. X-rays

performed identified the slug pellet

and Steve realised he'd been shot

through the eye. The bullet was

lodged in a downward angle, and it

blew out the animal's lens, meaning

Eddy would have been looking

directly at the offender at close

range.

Suffice to say Eddy is recuperating

excellently being cared for round the

clock by his dedicated owners. Steve

thinks the surgical eye is comfortable

and Eddy is back to his crazed, manic

antics. He won't see in the eye but

we are hoping he gets to keep his

eye. Once his eye is stable and he's

recovered , a second surgery would

be advised to remove the slug pellet

that sits very close to his cervical

spine.

Dr Michele McMaster

TAKING PART in Outward Bound's

Takere youth course was a complete

change of mindset, according to Mairehau

High School student Samantha Fawcett.

"I now am ready and keen to do

anything . . . and to always think about the

positive not the negative," Samantha said.

She and Hornby High School student

Mijieli Okusi spoke about their experience

of the Anakiwa course during an event

celebrating those who participated.

In July 14 secondary students from Canterbury

took part. The course was one of

13 involving 111 schools nationally.

Mijieli said meeting new people was the

best aspect of completing the course.

The activities were fun but difficult, especially

the kayaking and tramping, she said.

"It was a wonderful opportunity. I'm

honoured to have been selected to go to it."

Other pupils came from Avonside Girls'

High School, Catholic Cathedral College,

Haeata Community Campus, Hillmorton

High School, Linwood College, and

Kaiapoi High School.

Samantha did not know much about

Outward Bound before she went but felt it

was such a good opportunity she "had to

take it up".

"It was amazing," she said.

"It was physically challenging for me . . .

but I overcame those challenges and found

strategies to stay positive."

While at Outward Bound Samantha

said she learned a lot about setting goals.

"I thought a lot about my values and

how I need to set goals and to stay

motivated."

Outward Bound has been running

courses to develop youth leadership and

personal skills for 59 years. Since the

school's inception in 1962, more than

65,000 New Zealanders have attended.

Outward Bound chief executive Malindi

MacLean said most students find the

course transformational.

"For the majority of our schools

programme students, Outward Bound is

three weeks of 'firsts'.

"They tell us that the course provides

a safe, encouraging and stimulating

environment in which they can . . . push

the boundaries of what they believe they

can achieve."

When Steve saw Eddy, he identified

a ruptured right eye with a large

piece of lens protruding through

the cornea. This would have been

excruciatingly painful. A penetrating

eye injury was suspected but the

cause was not initially apparent. He

was immediately anaesthetised,

placed on intravenous fluids and

given pain medications. Steve

became suspicious of a slug pellet

injury due to the unusual corneal

injury and the fact the lens had

totally exploded! Steve hadn't seen

anything like this in 30 years of

Ophthalmology practice.

Open 7 days

Cnr Hoon Hay & Coppell place

phone 338 2534, Fax 339 8624

e. mcmasterandheap@yahoo.co.nz

www.mcmasterheap.co.nz

McMaster & Heap
---
6 Thursday September 2 2021

Latest Canterbury news at starnews.co.nz

WESTERN NEWS

Richmond discount FuRnituRE

The Best Little Furniture Shop in Town

BEDS TALLBOyS MIRRORS CABINETS cHESTS STORAgE SHElvES

BOOKCASES BuFFET uNITS DINING TABLES HAll TAblES SIDE CABINETS & MORE!

Ther-a-pedic Mattress & Base

Reversible pillowtop innersprung.

Single

$549

King Single/Double/3/4

$649

Queen

$749

Queen

Frame &

Pocketspring

Mattress

ONLY

$699

Sleepyhead Base & Mattress Set

Single

$399

Legacy

Single

Frame

Bed

Mattress not

included.

ONLY

$300

Lowboy 6 Drawer

1130 x 410 x 820.

7 Drawer

Scotch Chest

1140 x 800 x 410.

Also available in black.

Midi 7 Drawer Scotch Chest

975 x 760 x 410. With metal runners.

Duchess

with

Mirror

1090 x 410 x 820

NZ made.

Coffee Table

1060L x 550W x 420H

2 Drawer Buffet Unit

ONLY

$499 EaCh

ONLY

$329

ONLY $299EaCh

ONLY

$599

ONLY

$199

ONLY

$399

Bedside Cabinet

With metal runners.

Jumbo 4 Drawer Chest

1140 x 800 x 400. NZ made. Metal runners.

Tallboy 4 Drawer

600 x 400 x 900.

2 Drawer/4 Shelf

Entertainment Unit

ONLY $429

Pine Display

Cabinet

with 4 Glass

Shelves

(1800 x 400 x 900)

$179

Large

690H x 460W x 410 D

EaCh

Small

510H x 460W x 410 D$140 EaCh

ONLY

$299

EaCh

ONLY

$239

Coffee Table

ONLY$429

2 Drawer Ent/Unit

ONLY$349

ONLY

$799

Foundry Coffee

Table

1200 x 600

ONLY

$499

7 Drawer TV/

DVD Chest

760 x 1140 x 410.

(Gap 150)

Towerboy 6 Drawer

1260 x 460 x 410.

With metal

runners.

Also available

in Black.

7 Piece

Dining

Suite

1500 x 900

7 Piece

Dining

Suite

1500 x 900

Foundry

hall Table

1500 x 420 x 810

ONLY

$599

ONLY

$329

ONLY

$249

ONLY

$799

ONLY

$799

Legacy Bedside

Cabinet

Bookcase

1200H x

600W

Coffee Tables

1200 x 650 x 400H 1200 x 550 x 430H

ONLY

$199

ONLY

$149

Emma 5 Piece

Dining Suite

Student Desk

Available in black or white.

1000w x 690h x 500d

$129

$269

ONLY

$599

ONLY

$349

White

Shelving

Unit

1980H x 800w

x 300

Pearl headboard

1500H

Queen $399

King $499

3 Piece Dining Suite

750 x 750.

Entertainment Unit

1100 x 400 x 480.

White 2 Drawer

Entertainment Unit

1115 x 480H x 400D

ONLY

$249

Black headboard

1200H

King only

$299

ONLY

$399

ONLY

$299

233 STANMORE ROAD • PHONE 03 389 0536

WE ACCEPT EFTPOS, VISA AND MASTERCARD... PARKING AT REAR

OPEN MON-FRI 10AM–4.30PM SAT 10–1PM

ONLY

$299
---
WESTERN NEWS Latest Canterbury news at starnews.co.nz

Thursday September 2 2021 7

Intensive housing concerns residents

• By Fiona Ellis

GREATER HORNBY Residents

Association members voiced

their concerns about increasing

housing density at a recent city

council briefing on the subject in

Riccarton.

Hornby currently has an average

13.4 households per hectare,

but association chairman Marc

Duff said this could be set to increase

under incoming changes.

The city council has until

August 2022 to bring its planning

regulations in line with the

Government's urban development

plans.

Examples of intensification

could already be seen in Hornby,

such as in Amyes Rd, where

a house had been replaced by

seven two-storey units.

Residents were worried about

the changes, Duff said.

"We've been getting concerns

every day."

Intensification should take

place in the central city, where

people would live near their

work, he said.

It would not suit suburban

areas such as Hornby.

More people would mean

more traffic, and the roads and

infrastructure in Hornby were

in no condition to support this,

he said.

Under the coming changes,

buildings could be at least six

storeys high if they were near

transport links.

Transport was undefined, and

bus stops might fall within this

category, which would mean

"real change" for Hornby, he

said.

The association was writing

to the city council, which they

wanted to address their concerns

in writing.

"We're forming that letter

now."

However, there may not be a

•HAVE YOUR SAY: Email

fiona.ellis@starmedia.kiwi

to share your thoughts

on the issue of housing

intensification.

lot the city council could do, he

said.

"Their hands are tied, they're

being pushed by the central

government."

"It's now up to the residents

association and residents to

lobby their MPs."

The association wanted to

hold a meeting with MPs to talk

GROWING

CONCERN:

Greater

Hornby

Residents

Association

chairman

Marc Duff (left)

and member

Ross Houliston

at an Amyes

Rd location

where seven

two-storey

units are

being built.

PHOTO:

GEOFF SLOAN ​

about their concerns, although

this was still to be planned, he

said.

City council head of planning

and strategic transport David

Griffiths said Government

policy impacted on what could

be done at a local and regional

level.

"We know residential intensification

is a concern for

Christchurch residents."

"This roadshow is the start

of what will be an ongoing

conversation between the

council and residents about how

and where our city grows."

Construction

to start soon

on prosthetic

facility

CONSTRUCTION is scheduled

to start on a new $4.3 million

state-of-the-art co-location

facility for prosthetics,

orthotics and rehabilitation in

Christchurch.

Sited opposite Burwood

Hospital, the facility will replace

Peke Waihanga – Artificial Limb

Service's existing centre.

It will include a location

space for Burwood Hospital

to carry out rehabilitation and

orthotics.

The build is expected to be

completed next year.

Peke Waihanga chief executive

Sean Gray said the design team

had worked alongside experts

to design an accessible, healthy

and safe environment for staff,

patients and their families.

Said Mark Bruce of the

Amputees Federation: "Having

attended the centre for the last

36 years, I am thrilled that a

new building is finally under

way after it and the staff have

gone through many trials and

tribulations. I am positive that

the exciting design and form

of the new facility will provide

a superb environment for

amputees and staff alike."

For everything

AUTO ELECTRIC

CARS • BOATS • TRUCKS

CARAVANS • TRAILERS • 4WDS

ELECTRIC & HYBRID VEHICLES

• Starter Motors

• Alternators

• Central

Locking

• electric

Windows

• ABS & Airbags

• Stereos/

Alarms

• Batteries

• tuneups

• engine

Management

Amazing

Auto USUALLy

AAE Electric SAMe DAy

ServiCe

65 Coleridge St, Sydenham

Phone 03 379 4250

www.amazingautoelectric.co.nz

NUMBER ONE SUPPLIER

TO THE NZ JET BOATING

COMMUNITY FOR OVER

50 YEARS

New season styles

arriving daily

SERVICING

• Part Boats & Hulls

• Turn Key Packages

• New Jet Units

• Custom Fabrication

• Expert Advice

Peter Tonkin

03 962 0505

peter.tonkin@hamiltonjet.nz

• Spare Parts Retailer

• Jet Unit Refurbishment

• Engine Tune-Ups

• Insurance Repairs

• Impellor Reconditioning

03 322 4548 | Easy Parking

17 Lillian Street, Halswell

www.maxwellfashion.co.nz

Open Mon-Fri 9.30am - 5.00pm

Saturday 10.00am - 1.00pm

LAYBY WELCOME
---
8 Thursday September 2 2021

Latest Canterbury news at starnews.co.nz

WESTERN NEWS

Daffodil Day

To make a donation, please visit

www.daffodilday.org.nz

Proudly supported by

and the below businesses

Trees for

CanTerbury

COMPENSATIONADVISORYSERVICES Ltd

LIFELINKS

Jewellery & Giftware

TRUE GRIT

87 Manchester St

03 377 7889

www.truegrit.co.nz

WARREN AGENCIES

79 Wrights Road

03 338 0171

www.warrenagencies.co.nz

VENLUREE

99 Sawyers Arms Rd, Papanui

03 365 4666

www.venluree.co.nz

TREES FOR CANTERBURY

42 Charlesworth St, Chch

03 982 1028

www.treesforcanterbury.org.nz

LIFELINKS

PO Box 2379, Chch

0800 866 877

www.lifelinks.co.nz

THE ELMWOOD TRADING CO

1 Normans Rd, Chch

03 355 5345

www.theelmwood.co.nz

PIERSONS REFRIGERATION

& AIR CONDITIONING

8 Marylands Place, Chch

03 338 6200

www.piersons.co.nz

HANMER SPRINGS

THERMAL POOLS & SPA

0800 4 HANMER

www.hanmersprings.co.nz/

experiences

MUSGROVES

MUSGROVES

3 Musgrove Close, Wigram

03 322 7922

www.musgroves.co.nz

CAS'n'OVA

PRODUCTIONS

021 462 744

www.casnova.co.nz

NEW BRIGHTON

KAIAPOI CLUB & MSA

113 Raven Quay, Kaiapoi

03 327 7884

www.kaiapoiclub.co.nz

FRESHCHOICE

www.freshchoice.co.nz

SUPERVALUE

www.supervalue.co.nz

SNAP FITNESS

NEW BRIGHTON

185 Bower Avenue

021 612 556

www.snapfitness.com/NZ

ASPIRING KITCHENS

+ MORE

0800 202 171

www.aspiringkitchens.co.nz

NEW BRIGHTON CLUB

202 Marine Parade

03 388 8210

www.newbrightonclub.co.nz

AFFORDABLE

CONCRETE & PAVING LTD

0508 873 7483

www.affordableconcrete.co.nz

MENZ MEDICAL

912 Colombo St, Chch.

03 981 8181

www.menzmedical.com

SAVE MART

Battersea St, Cranford St,

Shands Rd

PAPER PLUS

NEW BRIGHTON

72 Brighton Mall

03 388 1809

www.paperplus.co.nz

03 349 5050

Ilam

Watchmakers

PETER RAY HOMES 03 348 1994 www.peterrayhomes.co.nz

TALL POPPY REAL ESTATE

Debi Pratt, Business Owner

Christchurch North

021 480 155

BETTER DENTURE

6 Brynley Street, Hornby

03 349 5050

www.betterdenture.co.nz

ILAM WATCHMAKERS

207 Waimairi Road, Ilam

03 357 1002

www.ilam-watchmakers.co.nz

THANK YOU FOR YOUR CONTINUED SUPPORT
---
WESTERN NEWS Latest Canterbury news at starnews.co.nz

Thursday September 2 2021 9

Overcoming demons to help those

with mental illness and disability

Wayne Gibson's battle

with his own demons

pushed him to help

people with disabilities

and mental illnesses

experiencing longterm

unemployment.

The PEEEP Trust yard

manager speaks to

reporter Bea Gooding

about finding your voice

in the face of adversity

WAYNE GIBSON is still healing

from the wounds that depression

left behind nearly three decades

ago.

But in spite of the stigma men

face about their mental health –

both nowadays and back in the

1990s – Gibson has learned to

cope, coming out the other side

of it a better person.

It is a message of hope he

now instils in the volunteers

he leads at PEEEP Trust, who

are experiencing long-term

unemployment as a result of

mental illness or disability.

The People Empowerment and

Environmental Enhancement

FRESH START: After turning his own life around, PEEEP yard manager Wayne Gibson now

helps others.

PHOTO: GEOFF SLOAN

Programme is a safe space for

people to gain skills leading to

job opportunities that might not

have been there otherwise.

"Our jobs give them a bit of

a lift in life, makes them feel

important, and builds up their

confidence and self-esteem," said

Gibson.

"A lot of the guys that come in

here are really reserved and not

sure where they're going in life.

My job is to make sure they leave

here happy every day, feeling

more positive about themselves."

The trust has provided training

and work experience for unemployed

people since 1993, with

a focus on improving the local

environment.

Referred from agencies such as

the Ministry of Social Development,

all volunteers have

experienced long-term

unemployment.

Many are recovering from

drug or alcohol addictions, have

physical or social disabilities,

or are dealing with mental

illnesses.

PEEEP offers stability,

purpose and belonging, contact

with nature, teamwork experience,

and staff encouragement

through contracted work.

It could be graffiti removal for

the city council one day, grounds

maintenance at parks, businesses

or homes the next, or beach

clean-ups and dune management.

Said Gibson: "It's the simplest

of things they can lack that we

help them with. Most have never

used a computer so we show

them how to go on Google –

things people would take

for granted."

• Turn to page 11

the reassurance of quality

The Russley Village is known for premium design, layout and extensive facilities that deliver an

uncompromised lifestyle during retirement. The reassurance of quality is built into everything we

do. At the Russley, you will live in a safe and supportive community, with freedom and independence,

while knowing that the Ashley Suites care facility is on-site to provide care up to hospital level.

Offering a blend of crafted independent villas, terraced houses, apartments and care, The Russley

is a complete and comprehensive community.

you simply have to see to fully appreciate
---
10 Thursday September 2 2021

Latest Canterbury news at starnews.co.nz

WESTERN NEWS

nEED FinancE?

wE can hElP! Easy finance for a Work Visa,

bad credit history & Learner Licence holders

BaD crEDiT? no ProBlEm!

ONLY

$19,999

ONLY

$14,999

T&C's AppLy

ONLY

$15,999

1997 Toyota Land

Cruiser 80 VX LTD

Get in quick for this one! 4.2lt,

Diesel, Auto, 4WD, Tow bar,

Rev. Camera, Front airbag, Sun

roof, Back & side steps, Recently

serviced, New WOF!

ONLY $29,999

ONLY

$14,999

2002 Toyota Hilux SR5 Double Cab

CHECK OUT THIS BEAST! 3.4lt Petrol, V6,

4WD, SUV, 5 seater, Auto, Flat deck 2 inch

lift, Bull bar, fitted LED spot lights, Snorkel,

35" tyres, ultimate 4WD driving machine.

1988 Nissan Safari

Diesel, manual, towbar, alloys, in mint

condition.

1990 Nissan Safari 4WD

TD42 IN MANUAL, TIDY INTERIOR &

EXTERIOR NO OIL LEAKS! 4.2lt, Diesel, 5

Spd Manual, Power steering, Tow bar, front

bull bar, Comes with new WOF & Service!

$119pw.

1992 Nissan Safari TD42 LWB

Hard to get a hold of – 4WD Safari! 4.1lt,

Diesel, Auto, 4WD, Tow bar, Allows, Only

170,000kms, Well maintained, Will come with

new WOF & Service!

ONLY

$26,499

ONLY

$15,999

ONLY

$6,999

P.O.A

SOLD

SOLD

2006 Land Rover Vogue TDV8

UK IMPORTED, x2 OWNERS SINCE! 3.6lt,

Diesel Turbo, Auto/Tiptronic, Tow bar, Digital

Display, ABS, Rev. Camra, Steering controls,

Leather interior, Parking sensors – Great for

towing! $226pw.

ONLY

$10,999

1985 Toyota Landcruiser

2dr, 5 seats, p/steer, hard top,

immaculate condition.

ONLY

$5,199

1994 Isuzu Mu 5dr

bulbar, fog lights, new front tyres,

runs and drives well.

ONLY

$9,999

1990 Nissan Safari Grandroad

power steer, new hard top, mint cond, will

come fully serviced Price on contact

ONLY

$6,999

2005 Toyota Rav4 AWD

Chain driven, cruise control, fully serviced,

136,000kms, excellent condition!

ONLY

$15,999

1997 Toyota Rav4 2WD

2dr, new WOF, power steering, serviced,

tidy condition!

ONLY

$7,699

2012 Toyota Estima Silver Station

Wagon 2.4lt, Petrol, Chain driven, Auto, 5

Dr Wagon, Rare 8 Seater, ABS, Push button

start, Keyless entry, Cruise control, Alloys,

Front airbags, Tidy condition with New WOF

& service! $78pw.

ONLY

$12,999

2006 Toyota Allion

97,000 kms, chain drive, super economical,

a/conditioning, electric mirrors.

ONLY

$5,299

2006 Mazda Roadster

Low 55kms, auto, 2dr convertible, paddle

shift.

2011 Toyota Prius Hybrid Hatchback

Auto, alloys, airbags, Push start, new WOF

IMMACULATE CONDITION!

2008 Mercedes Benz C

131kms, diesel, alloys, parking sensors, leather

trim.

2012 Nissan Tiida Latio Silver

Saloon GRAB A TIIDA BARGAIN! 1498cc,

16 Valve Petrol, 4 door sedan, Auto, Electric

mirrors, Central locking, WOF till September

21, Reliable & economical!

ONLY

$11,999

ONLY

$7,699

ONLY

$9,999

ONLY

$9,999

2014 Toyota Corolla Fielder

Auto, 5 seats, 96,900kms, near new in

immaculate condition, Fresh Import READY

FOR FIRST NZ OWNER!

2007 Toyota Estima

Auto, 8 seats, reverse camera, keyless entry,

new WOF, new service WHOLE FAMILY IN

ONE CAR!

1981 Honda Accord

5dr 4cyl sedan, only 61,315kms, economical,

comes with new WOF. IMMACULATE

CLASSIC!

1975 Austin 1100

tidy original classic, new wof prior to sale.

Two locaTions

www.careacar.co.nz

Experience the Care A Car difference

55 LINCOLN ROAD, SpREYDON (NExT TO LINCOLN NpD)

301 MAIN SOUTH RD, HORNBY (CORNER GARVINS ROAD)

Phone 0223 445 778
---
WESTERN NEWS Latest Canterbury news at starnews.co.nz

Thursday September 2 2021 11

'I was a broken man'

• From page 9

As yard manager, Gibson loves

balancing his time between coordinating

future jobs from the

office and working side-by-side

with the volunteers.

After all, he has been in

their shoes, starting as a casual

volunteer eight years ago mowing

lawns at the former Queen

Elizabeth II Park while battling

his own demons.

Before PEEEP, Gibson was a

labourer.

"I enjoy helping people less

fortunate than myself. I've been

in a position in my younger years

where I've been down that road,

where I've been very depressed

and low," he said.

"It's not a good place to be. If

I can help somebody to get out

of that zone, I feel like my job is

done."

Gibson eventually worked his

way up to become the supervisor,

before accepting the manager

role earlier this year.

The new role was a full-circle

moment for the father of three

because the supervisor who

initially hired him happened to

be his son Tristan.

"When I first started here as a

his son's boss.

Having a close working and

personal relationship did not

get in the way of putting the

volunteers first.

It was about finding the right

time to "take my boss hat off and

put my father hat on," and vice

versa.

"It's great, we're more like best

friends and we work really well

together as a team," Gibson said.

"We don't bring any issues we

have into work, we talk about

it after work. We don't want

the volunteers to pick up any

negative vibes."

A growing reputation has

meant the number of referrals

has climbed, with many more on

the waiting list.

Along with the trustees, the

team of three-to-four staff work

alongside eight volunteers at a

time.

Gibson has always been a

"people person at heart," but

empowering others to find their

voices for the first time made all

the challenges he faced worth it.

"They don't know it, but I get a

lot from them as well."

He recalled with pride a young

man who went from being

"We carried him under our

wing, and over a few months,

we lifted his spirits so much you

couldn't keep him quiet," said

Gibson.

"This place helped him so

much he doesn't get on the Xbox

anymore now that he has a job."

Having been encouraged by

his own co-workers, friends and

family to take on a leadership

role for the first time, Gibson

could relate.

"My self-esteem was a bit low

before I became manager, I didn't

think I would cope."

The macho mentality expected

of men, especially in the past,

made it difficult to address the

trauma he experienced sooner.

"I was in a very bad situation

and I was a broken man. Back

then, a man was a man," he said.

"It's not really a thing you need

to hide anymore."

Gibson could spend all day

tinkering away on one of his

muscle cars if he did not have a

trust to worry about.

In spite of his brighter outlook

on life, there are concerns he

simply can't shake off.

"Funding is drying up – since

Covid, applying for funding is

casual

263

he was my boss, but only socially withdrawn

x

to securing

180

less successful these days."

until 4 o'clock – I stipulated that." an apprenticeship on his

• To get involved with PEEEP

Eight years later the tables have own, thanks to newfound

Trust, phone 021 0623 722 or

turned, with Gibson becoming confidence.

email accounts@peeep.org.nz

ON TRACK: Brothers Ryan, 8, and Jack Palfi, 3, of Halswell,

Lawson Galt, 10, of Rolleston, and Zoe Wilcock, 7, of

Halswell take part in the recent Christchurch City BMX Club

day.

Kids tackle BMX track

RIDERS AS young as threeyears-old

took to their bikes

recently at Hornby's Kyle Park

for a Christchurch City BMX

Club event.

The have-a-go and registration

day gave people to opportunity

to try a new sport and was also a

get together for members of the

Hornby based club.

Club committee member

Katrina Harman said about 60

riders took part, and there were

plenty of spectators.

"The highlight of the day

was watching the kids who

started last season helping others

who were first-timers at the

track.

"It was fantastic to see so

many adults and kids riding the

track. Roll on the season."

RIDING

HIGH:

Burnside's

Vincent

Head in

action at

Kyle Park.

PHOTOS:

KATRINA

HARMAN

Need To Get Fit Fast?

Tone Up or Body Build, Get A Total Body Workout

One Machine...

That Does it All

Easy Storage

Easily Folds Away

Effective Workout

Fun, low impact workouts.

For All Ages

Personalised Settings For

Beginners and Advanced

Includes

Pilates Kit

& DVDs

Up to

50 % Off

Off

*

*Call for Terms

& Conditions

Call Now! 0800 665 665
---
12 Thursday September 2 2021

Latest Canterbury news at starnews.co.nz

WESTERN NEWS

Shopping is easy at...

Try our four beautiful New Zealand made

natural skincare products

INSTORE NOW AT...

Wonderfully fragranced with natural essential oils, our

range will brighten your mood as well as your skin.

Cleansing Cream | Protective Day Cream

Collagen Clay Mask | Overnight Repair

Now available at...

Avonhead Mall, Withells Rd/Merrin St, Christchurch, Phone (03) 358-5449

Avonhead Shopping Centre Ph.358 8598 Mon-Sat 9am - 5pm Sun 10am-4pm

facebook.com/missbondclothing

essential reading for

father's day

CLICK & COLLECT

www.piccadillybooks.co.nz

FREE DELIVERY

for homes between Yaldhurst & Wairakei Roads

EMAIL ORDERS TO: shop@piccadillybooks.co.nz

Shop 1, Avonhead Mall,

Corner of Merrin St & Withells Rd, Avonhead

Ph: 358 4835 | www.piccadillybooks.co.nz

friendly

Staff

beautiful

flowerS

CLICK AND COLLECT

www.piccadillybooks.co.nz

FREE DELIVERY

to homes between Yaldhurst & Wairakei Roads

Cnr Withells Road and

Merrin Street, Avonhead

Phone. 03 358 7775

AvonheadShoppingCentre

www.avonhead.co.nz
---
WESTERN NEWS Latest Canterbury news at starnews.co.nz

Thursday September 2 2021 13

Hospo group takes over historic hotel

MAJOR HOSPITALITY player

The Oxford Group now has

a foothold west of the CBD

after finalising the purchase of

Craythorne's Hotel in Halswell.

It owns and operates the

venues Fat Eddies, Original

Sin, Kong, The Bog and The

Bealey Quarter, and group

managing director Max Bremner

now has a prime site in one of

Christchurch's fastest growing

suburbs.

Craythorne's had been on the

market since April 2019 after

its long-term

owners, Brian

and Ida Hill,

decided to

retire.

The transaction,

confirmed

by group

Janelle

Pritchard

general manager

Janelle

Pritchard,

includes the bar,

adjoining hotel and the bottle

store which occupy the site at the

corner of Halswell and Nicholls

Rds.

"Our plan is to operate each

business as usual while we get

to know the community and do

local research," Pritchard said.

"It's important for us to get the

redevelopment right and give

the community what they want.

SOLD: Craythorne's Hotel in Halswell has been bought by Christchurch hospitality venue

owner The Oxford Group.

PHOTO: GEOFF SLOAN

We'd like to provide an extension

of their living room that

will eventually become a new

institution – a title you can only

earn. It's likely there'll be some

changes from early next year.

"It's not in our plans to bowl

the building over, it's how we can

redevelop it and use the bones of

it to make it work," she said.

An outdoor area to "maximise

the sun" is expected to be among

the initial modifications.

Craythorne's location ensured

it was a target for the group's

sixth hospitality venture.

"We have recognised the

massive growth in this part of

Christchurch as the largest and

fastest-growing suburb, bringing

together a diverse demographic

within a short distance of the

site," Pritchard said.

"Diversifying our portfolio

and geographic locations also

strengthens our group and

reduces our risk, especially with

overexposure in the inner city in

challenging times."

The acquisition of a bottle

store has proved timely with

the Covid-19 lockdown hitting

revenue streams hard.

"We've worked out 95 per cent

of our revenue has disappeared,

so we've got a small amount

coming through our Super

Liquor store," Pritchard said.

The Oxford Group is among

the leading hospitality property

investment companies in the

South Island, with assets valued

at more than $50 million.

It currently employs 180 staff,

including 35 inherited from

Craythorne's.

The hotel stands on the site of

the original ale house built in

1863 by English settlers Mary

and William Craythorne.

Locally known as Mother

Craythorne's pub, the original

hut was superseded by a twostorey

hotel that was trading

as the Halswell Junction Hotel

when it was partially burnt down

in 1954.

Hill, who took ownership of

the hotel 20 years ago, changed

the name from the Halswell Tavern

to Craythorne's Hotel after

consulting with William and

Mary's descendants.

It had been rumoured

that fast food giant McDonald's

was interested in purchasing the

site for redevelopment, though a

company spokesperson in

New Zealand insisted: "Nope,

nothing to do with us" when

contacted.

Bec | Perfect Fit Bed Customer

This bed is amazing! I used to wake up with a lot of pain. Now I spring

"out of bed and my day begins! …The best purchase I've ever made!"

ADJUSTABLE MASSAGE BED

by

Up to

50 % Off

*Call for Terms

& Conditions

Off

*
---
14 Thursday September 2 2021

Latest Canterbury news at starnews.co.nz

WESTERN NEWS

YALDHURST HEALTH

22 SIR JOHN MCKENZIE DRIVE, YALDHURST

We are all about teeth!

"We are all about teeth!" is the motto General dentistry

Dental as they are

which greets people when they walk into Sedation

in the process of

Yaldhurst Dental. Located at 7 Filly Place Extractions including wisdom teeth preparing a second

in Yaldhurst, Yaldhurst Dental is part of Orthodontic aligner treatment such as surgery room

the medical complex Yaldhurst Health Invisalign

where they will

Centre.

Crown work

provide further

"Our patients become like family, and Bridge work

services. They have

I love helping them with their dental Restorative implants

Duchenne Dental

needs and to do my small part toward Cosmetic procedure such as whitening services joining

their quality of life," says Dr. Janet Chou, High school students also get free dental them very soon who

dentist, and practice owner.

care under the MOH scheme.

will be providing

At Yaldhurst Dental they genuinely Dr. Chou says, "We are very lucky to be everything to do

believe good oral health is the first step to part of a multi-dispensary health centre with dentures and

a person's general well-being. They strive where together we can better look after are the first dental

to provide high quality dental care for our patients' health and general wellbeing. lab in New Zealand

you and the entire family. They practice a That is why we jumped at the chance incorporating 3D

caring, positive, and stress-free approach when the opportunity came up over two technology.

which looks after your oral health for life. years ago. We are very blessed looking Call today to take advantage for their

Yaldhurst Dental opened in January of back at the journey which started with an Christchurch Star newspaper promotion

this year offering services in all aspects of initial concept on paper to building the for the month of August. $99 for a full

people's dental needs.

centre over the covid pandemic, and now comprehensive exam with x-rays and

Dr Chou has been practicing in

we have been open for six months. clean. Plus receive a small gift to help with

Christchurch over 15 years and speaks We appreciate the warm reception we your at home dental care, if you mention

both English and Chinese/Mandarin. have received by the neighbourhoods and you saw the Western News article.

She prides herself in providing quality people are now realizing we are open and Yaldhurst Dental – the dental

dental care in a friendly and stress free stopping in to check out the practice and practice with heart. Call 03 925 8127

environment.

our offerings."

or book an appointment on

Treatments they provide:

Expansion is coming to Yaldhurst www.yaldhurstdental.co.nz

Clinic Hours Monday 9am - 7pm, Tuesday 9am - 5pm, Wednesday 9am - 5pm, Thursday 9am - 7pm, Friday 9am - 4pm, Closed Saturday, Sunday and Public Holidays.

Committed to the

health & wellbeing

of our community

New

patients

welcome

Yaldhurst Dental

all about teeth

SPECIAL

Full comprehensive

exam

$99

1 Filly Place, Yaldhurst Health Centre

Phone 03 372 5190

www.inspirehealth.nz

New OpeNiNg Offer:

Join Kiwi prescription club for $100

ANd receive $100 credit tO speNd iN-stOre

*conditions apply*

free local delivery • the pharmacy your doctors trust

free Medicines use review • free flu vaccination for over 65 years old

7 Filly Place, Yaldhurst in Yaldhurst Health Centre

Phone: 03 925 8127 Email: info@yaldhurstdental.co.nz

www.yaldhurstdental.co.nz

3 filly place

yaldhurst health centre

facebook.com/Green-Stripes

Phone 03 925 8128

www.pharmacykiwi.co.nz

22 Sir John Mckenzie Dr, Yaldhurst

(Located within Inspire Health

Medical Practice)

Phone: 021 233 6422

Website: www.gudchifeetpodiatry.com
---
WESTERN NEWS Latest Canterbury news at starnews.co.nz

Thursday September 2 2021 15

We need your

help now more

than ever.

Multiple Sclerosis and Parkinson's

Canterbury provides support and

services to thousands of Cantabrians

affected by these two debilitating

diseases, in order to help them

maintain health and wellbeing

throughout their journey.

Our Annual Street Appeal is

NOW ONLINE to maintain

the vital, fundraising lifeline

which supports our work.

Please support us by

donating at:

ms-pd.org.nz

Proudly supported by
---
16 Thursday September 2 2021

Latest Canterbury news at starnews.co.nz

Warming casseroles

to fend off winter

With a week or

two of winter still

with us, this tangy

tomato and lamb

casserole would

be a welcome

dish on a cold

day

Lamb and tomato

casserole

Serves 3

Ingredients

3 lamb leg fillet or shoulder

chops (browned)

2 tbsp olive oil

1 large onion

1 400gm tomatoes (any

flavour)

1 lamb Oxo cube

Cracked pepper to taste

1 teaspoon sugar

1 heaped teaspoon

oregano

40gm tasty cheese

55gm breadcrumbs

(wholemeal is best)

27gm butter (melted)

Directions

Line ovenproof dish with

2 thicknesses of non-stick

tin foil.

Place browned leg fillets/

chops into dish, put onions

over top of meat, then pour

tomatoes/Oxo cube/peppercorns/sugar/oregano

over onions, then

cover with cheese/breadcrumbs/butter.

Bake, uncovered, at 140

deg C for 2½ hours.

Steak stew

Ingredients

2 tablespoons olive oil

Stews and casseroles make a hearty mid-winter

meal.

1kg sirloin steak, diced

Salt and freshly ground

black pepper, to taste

1 medium onion, diced

2 large carrots, peeled and

diced

2 celery ribs, diced

3 cloves garlic, minced

250gm mushrooms,

halved

3 tablespoons all-purpose

flour

2 tablespoons tomato

paste

1/2 cup dry red wine

2 1/2 cups beef stock

4 sprigs fresh thyme

2 bay leaves

1 large potato, peeled and

cut in 1cm chunks

2 tablespoons chopped

fresh parsley leaves

Directions

Heat olive oil in a large

fry pan on medium heat.

Season steak with 1 teaspoon

salt and 1/2 teaspoon

pepper.

Working in batches, add

steak to the fry pan and

cook, stirring occasionally,

until evenly browned, about

6-8min; set aside.

Add onion, carrots and

celery. Cook, stirring occasionally,

until tender, about

3-4min.

Add garlic and mushrooms,

and cook, stirring

occasionally, until tender

and browned, about

3-4min.

Whisk in flour and

tomato paste until lightly

browned, about 1 minute.

Stir in wine, scraping any

browned bits from the bottom

of the fry pan.

Stir in beef stock, thyme,

bay leaves and steak. Bring

to a boil; reduce heat and

simmer until beef is very

tender, about 30min.

Stir in potato; simmer

until potatoes are just tender

and stew has thickened,

about 20min.

Remove and discard

thyme sprigs and bay

leaves. Stir in parsley;

season with salt and pepper,

to taste.

HOME & HEATING

Keep cosy with

RD Petroleum

this winter

RD Petroleum (RDP) is a familiar sight

for farm and rural residents around the

Canterbury region, however now days urban

residents also enjoy the same excellent

customer service for which RDP is known for

in rural communities, through their home

heating diesel.

RDP began its home heating diesel delivery

service to the lower South Island's main urban

centres of Christchurch, Timaru, Dunedin

and Invercargill a number of years ago.

Customer demand has continued to increase

year upon year, and RDP has responded

with specialised improvements to its delivery

equipment.

The trucks that deliver RDP's home heating

diesel in each urban centre are drawn from

the company's extensive vehicle fleet. This

WESTERN NEWS

means they have the latest communication

and GPS tracking technology on board, so

the operations team always know where they

are and how far away they are from their next

delivery stop.

RDP's home heating diesel trucks come

equipped with a specially-designed hose,

through which the diesel is pumped from

the truck into house tanks. The length of

the hose allows the trucks to access tanks

without having to enter the property, avoiding

damaging the driveway. RDP is the place to

go if you require diesel conveniently delivered

to your home and as a loyal RDP customer

you're offered discounted pricing and can

become eligible for value-added benefits.

For all enquiries please phone

0800 44 00 14, or visit the RDP website at

https://www.rdp.co.nz/home-heating or

signup at apply.rdp.co.nz/home-heating

Read local
---
WESTERN NEWS Latest Canterbury news at starnews.co.nz

Thursday September 2 2021 17

HOME & HEATING

Get the balance

right this winter

Enviro Master has been helping

Cantabrians get the balance right when it

comes to choosing the perfect heat pump or

air conditioning system for their home or

office since 2002.

Their team of expert sales people, qualified

electricians, heating and refrigeration

engineers, help to supply and install

Christchurch's widest range of heat pumps,

and because they have no affiliation with any

one brand, you can be assured their advice

on the benefits and differences between each

product is unbiased.

They will recommend the most energyefficient

and cost-effective system for your

individual situation, and will have you

regulating the heat in your home or office in

no time.

Nowadays, customers are often wanting

whole home solutions to be able to maintain

even temperatures throughout the home both

in Winter and Summer. This can be achieved

by using ducted systems or multi systems

and Enviro Master are experts in designing,

installing and commissioning these systems.

Help is currently available with a

government subsidy covering 80 per cent of

the cost of a new heat pump up to $3000.

The subsidy is part of the Warmer Kiwi

Homes initiative and is available to Home

owner/occupiers with a Community Services

Card, a SuperGold combo card or who live in

a low-income area as determined by deciles

8-10 on the New Zealand Deprivation Index.

The applicant's home must also have been

built before 2008, have insulation up to code

(insulation subsidies also available) and have

no fixed heating in a living area, such as an

existing operational heat pump or fireplace.

With new regulations now in place for

Landlords to provide heating in rentals, it's

time to ensure you are meeting the new

standards.

Inadequate heating and ventilation can

lead to mould growth and dampness in your

property, leading to costlier maintenance

and an unhealthy living environment.

Providing a fixed heater with a higher heat

output and lower running costs, like a heat

pump, will enable your tenants to heat the

area effectively. Enviro Master are well

experienced with the Tenancy Services

software to ensure that you are meeting your

requirements.

To ensure you choose the right system

for your home or business, one of Enviro

Master's experts will visit to assess your

individual situation, offer advice and

answer any questions you may have. This

consultation is at no cost to the customer

and is always provided before a heat pump is

installed.

Anyone wondering about their eligibility

for a subsidised heat pump are welcome to

get in touch for details and help with the

application process. To find out more, call

Enviro Master on (03) 366 0525 or visit

their website www.enviromaster.co.nz

The facts about home ventilation

Balanced Pressure

vs Positive Pressure

Under the New Zealand Building Code,

all buildings, including residential, need

to be suitably ventilated, either with

opening windows or forced ventilation.

Clause G4.1 states: "The objective of this

provision is to safeguard people from

illness or loss of amenity due to lack of

fresh air." There are many benefits to

forced, or mechanical, ventilation over

opening windows, including warmth,

security, reduction of outside noises and

reduction of condensation.

Traditional domestic ventilation systems

are 'positive pressure'. They bring air in

from outside via the roof space and force

the stale air out through gaps around

windows and doors. The incoming air

from these systems

has to be heated

or cooled to keep

the house warm in

winter or cool in

summer.

The Smooth-

Air HEX390 is a

'balanced pressure'

system. It extracts

air from the house

and at the same

time brings in

fresh air. These

two streams of air

pass through a heat

exchanger, which

warms incoming air in winter and cools in

summer if air conditioning is being used.

This means that up to 80% of the energy

which would be wasted using a traditional

positive pressure system is recovered,

resulting in significant energy savings and

therefore lower heating or cooling costs.

Until recently, balanced pressure

ventilation systems have been considerably

more expensive than traditional positive

pressure systems. However, with Smooth-

Air's unique manufacturing capabilities, a

HEX390 balanced pressure system can be

installed for a similar price as a traditional

positive pressure system.

You can contact Smooth-Air on sales@

smooth-air.co.nz or 0800 SMOOTH.

HEAT PUMP

SALE NOW ON!

Amazin' spring Specials!!

80%

SubSidy

Warmer KiWi HomeS

Programme

*Eligibility criteria apply

• We will offer you the best quality brands and

option of heat pump for your home/business

• Providing Heat Pump solutions for over 19 years to Cantabrians

• We personally guarantee all our products & installs for 5 years

(providing annual maintenance has been completed)

Phone us today for your free consultation & quote

41A SHAKESPEARE RD, WALTHAM

PHONE 03 366 0525

www.enviromaster.co.nz

"A local team for local people"

Smooth-Air

Ventilation Equipment Suppliers

totrade

retail

The most efficient way

to ventilate your home

HEX 390

For Healthy Indoor Air

Heat is transferred to the

incoming filtered fresh air

&

ATTACK RISING DAMP

Made in New Zealand,for New Zealand conditions

Fresh air

from outside

Exhaust air

to outside

Warm, stale

air from house

Warm fresh air

to house

Substantial energy savings

over traditional domestic

ventilation systems.

T. 03 376 4608 E info@foamconcrete.nz

W. www.foamconcrete.nz

0800 SMOOTH

(0800 766 684)

sales@smooth-air.co.nz

264 Annex Rd

Riccarton

Christchurch

03 343 6184

Monday - Friday

7.30am - 5pm

www.smooth-air.co.nz
---
18

Thursday September 2 2021

Latest Canterbury news at starnews.co.nz

WESTERN NEWS

152,504 reasons

to advertise with us!

2021 ABC average issue circulation — Star Max vs Press

200,000

The Star

Max *

152,504

circulation

100,000

The Press *

The latest NZ Audit Bureau of

Circulations report is out and

it shows that The Star Max

provides you more circulation

than any other newspaper in

New Zealand.

0

30,256

circulation

Grow more customers, sales and profits for your business,

Call us now for a free advertising consultancy.

Here's what our customers have to say:

We advertise Affordable Furniture specials

in The Star every week and are extremely

pleased with the results.

We find that the large circulation and

readership, really works for reaching our

target market and growing our customers.

We get people coming in with our ad and

asking about the specials we advertise.

We have been benefiting from the

Christchurch Star and Community papers

for 20 years and see no end to it.

Andrew Idour – Managing Director,

Affordable Furniture

After 4 years advertising in the Bay

Harbour News, I decided to widen

my audience by using the Star.

I am very happy with new ad

placement.

My husband Tim was in the shop

today and 2 ladies had come in

to check us out because they had

seen the ad!!! Oh yes they did buy

some goodies!!

Rose Lindley – Mumma Bear

We have advertised with The Star

over the years.

Advertising in The Star we feel we

get more response and feedback

than any other marketing.

We are lucky to have such a great

free paper in the community.

Thanks team Star.

Mark Glanville FDANZ CERT

– Manager and Funeral Director

Phone 03 379 7100

Email shane@starmedia.kiwi

Office Level 1/359 Lincoln Road, Addington

*Source: 2021 ABC Audit Report — Star Max vs Press ANP average total circulation each issue

*Star Max — The Star, Bay Harbour News, Selwyn Times, North Canterbury News
---
WESTERN NEWS Latest Canterbury news at starnews.co.nz

Thursday September 2 2021 19

Classifieds Contact us today Phone our local team 03 379 1100

Real Estate

HOME WANTED 3-4

bedrooms. Looking in Nor

West areas, Beckenham

or Somerfield. Prefer

permanent material brick

and post 1990 build. Don't

mind if it needs some TLC

- anything considered.

Cashed up buyer. Phone

021 372 479

Wanted To Buy

AAA Buying goods

quality furniture, beds,

stoves, washing machines,

fridge freezers. Same day

service. Selwyn Dealers.

Phone 980 5812 or 027

313 8156

TOOLS Garden,

garage, woodworking,

mechanical, engineering,

sawbenches, lathes, cash

buyer, ph 355-2045

Trades & Services

BATHROOM

Renovations, complete

service from start to finish,

free quotes, ph Dave 027

334 4125

BRICKLAYER

George Lockyer. Over

40 years bricklaying

experience. UK trained.

Insurance work, EQC

repairs. Heritage

brickwork & stonework

a speciality. No job too

small. Governers Bay.

Home 329 9344. Cell

027 684 4046. E mail

georgelockyer@xtra.co.nz

Trades & Services

ROOF

PAINTING 24/7

Rope & harness

a speciality,

no scaffolding

required,

30 years of

breathtaking

experience.

FREE QUOTES

20% OFF other

roof quotes

Exterior staining,

exterior painting,

water blasting.

Moss and mould

treatment $300.

Phone Kevin

027 561 4629

CARPET LAYING

Exp. Repairs, uplifting,

relaying, restretching.

Phone John on 0800

003181, 027 240 7416

jflattery@xtra.co.nz

PAINTING

Indoor / Outdoor, over 30

yrs exp, same day quotes,

ph Steve 021 255 7968

STUMP GRINDING

Best price guarantee Tony

0275 588 895

TILING

Flooring - Splashbacks -

Wall incl tile removal, reg

master tiler, ph Dave 027

334 4125

Trades & Services

Driveways

Over 22 Years Experience

Quality

Workmanship

• Driveways

• Kerb &

Channel

• Garden Edging

SWAINS

KIWI KERB

(Since 2005)

Freephone: 0800 081 400

swainskiwikerb@gmail.com

ELECTRICIAN

Contact for a free quote

phone 027 331 0400

dave@davesimpsonelectrical.co.nz

davesimpsonelectrical.co.nz

Trades & Services

PLUMBER

NEED A PLUMBER

Call us now for fast friendly service.

Get your problems sorted out

quick smart - on time!!

Phone for a

FREE

quote now.

Phone 03 377 1280 | Mobile 021 898 380

SCRAP METAL

Dominion Trading Co Ltd

• Scrap metal buyers

• Canterbury owned & operated

• Top prices paid $$$

• Open Saturday morning

VHS VIDEO TAPES Experienced Domestic Electrician

260

& all camera tapes converted

x

Quality

180

Workmanship

Open Mon-Fri 8am – 4.30pm Sat. 8.30am-12.30pm

to DVD or USB. Video • New Build • Power

taping special occasions, • Renovations • Lighting

www.happyscrappy.co.nz

www.grahamsvideo.co.nz • Fault finding • Switchboards

03 343 9993 333 Blenheim Rd

ph 03 338-1655

ADVERTISE YOUR BUSINESS HERE

Phone for further details

(03) 379 1100

Need Heat Fast?

The Fastest, Warmest Indoor/Outdoor Heater You Will Ever Own!

Buy One Get One Free! *

+Plus

Free

Floor

Stand!*

worth

$199.99

• Heats Up Instantly

• Suitable for Indoors or Outdoors

– In Rain, Fog, Wind or Snow

• Carbon-Fibre Bulb Technology

• Multi-Directional Stand

• Includes Remote Control &

Built-In Timer

• Motion Detection Function

1.8m High

• Commercial Grade

• Multi-Directional

• Easy Install

• Portable

• Indoors & Outdoors

*Call for Terms

& Conditions

CALL NOW! 0800 665 665
---
20 Thursday September 2 2021

Latest Canterbury news at starnews.co.nz

WESTERN NEWS

PROBLEMS WITH YOUR EARS?

Come and meet the highest rated hearing care provider in Christchurch

You can buy hearing aids in lots of places these days: on

TradeMe, through mail order, on the internet, even at the

Optometrist! But if you have a problem with your ears or your

hearing, it is very different to buying a pair of reading glasses.

In most cases hearing aids are only a small part of the solution.

Hear Again at the Hub in Hornby are the team who have been

trusted by thousands of local residents to care for all their

hearing needs. From a simple removal of earwax to the highly

specialized fitting of the very latest hearing instruments, the

100% NZ owned team never cease to delight their clients.

Their long list of 5 star Google reviews speak for themselves.

NZAS Audiometrist Neil Hardisty is frequently praised for his

patience and expertise. Neil has a vast knowledge of all makes

of hearing aids and is never satisfied until you are. He will

make sure your new hearing devices are accurately matched to

your needs and providing the very best improvement for you.

• EARWAX REMOVAL by Microsuction

• HEARING TESTS & Independent Advice

• HEARING AIDS fitted and personalized

• ACC & VETERANS' AFFAIRS approved

Now you can be at the forefront of a new era: Intelligent Hearing.

HEAR AGAIN are proud to bring a world first to New Zealand.

A leading Danish hearing aid manufacturer has recently

launched the only hearing aid that keeps learning from users

around the world, while improving your listening experiences

in real life and real time. The most natural hearing possible.

Machine learning makes these devices really smart. They

constantly work to perfect every hearing event by combining

your own realtime input with what has already been learned

both from you and from millions of other listening experiences

around the world. A global network of hearing help.

Simply use your smartphone to select the sound level that

best suits your environment: the devices remember this for

the next time you find yourself in a similar place; easy!

Call for your FREE DEMONSTRATION

• SMART PHONE CONNECTIVITY

• EASY VOLUME ADJUSTMENT

• HANDS FREE PHONE CALLS

• 6 WEEK RISK FREE HOME TRIAL

03 974 1658

SHOP 125, THE HUB, HORNBY WWW.HEARAGAIN.CO.NZ
---
WESTERN NEWS Latest Canterbury news at starnews.co.nz

Thursday September 2 2021 21

Think new friends

in every neighbour.

Summerset at Avonhead

03 357 3202 | summerset.co.nz/avonhead

For the latest information on visiting our villages please call the village,

or visit summerset.co.nz/covid-19

SUM3330_FCW
---
22 Thursday September 2 2021

Latest Canterbury news at starnews.co.nz

WESTERN NEWS

Brand-new

serviced

apartments

available now!

Summerset at Avonhead have a stunning range of brand-new serviced

apartments available now!*

Nestled in the beautiful suburb of Avonhead, our newest Christchurch

village offers relaxed retirement living with easy access to

supermarkets and shopping centres.

Our serviced apartments are some of the largest available in the

market, offering light and spacious open plan living, a kitchenette

and separate double bedroom with a large ensuite.

Located in the heart of the village, our serviced apartments are

designed to create the perfect balance between independence

and services to support your needs.

Free from the hassles of upkeep and ongoing maintenance,

our homes are all about stress-free living, where time is yours to live

the life you choose.

If you'd like to find out more about our serviced apartments, get in

touch with Anne today on 03 357 3202 or visit summerset.co.nz

*Licence to occupy.

Get in touch today!

Summerset at Avonhead

120 Hawthornden Road, Avonhead

Call Anne on 03 357 3202 or visit

summerset.co.nz to find out more

For the latest information on visiting our villages please call the village, or visit summerset.co.nz/covid-19
---
WESTERN NEWS Latest Canterbury news at starnews.co.nz

Thursday September 2 2021 23

Love the Summerset life

Love the Choice

At Summerset, you'll find a wide range of homes specifically

designed for the over 70s. Choose from one of our stylish, modern,

purpose-built homes, then make it your own. All our homes are

designed with accessibility as a priority.

Love the Community

At Summerset, you can continue to live the life you choose

with the added peace of mind of living in a warm and friendly

community where you'll feel completely at home.

As a Summerset resident, you'll enjoy all the benefits of being part

of a thriving community, including easy access to village facilities,

events, activities and community spaces. And there's support on

hand should you need it in the future.

Love the Confidence

At a Summerset village you can live fully independently or, should

you need it, you can receive support and care in your own home

or apartment, or in our fully certified care centre. So, if your needs

change, you can be confident you'll get the support you need

without having to leave the village.*

As a Summerset resident, you'll have access to

a range of community facilities, including:

*Subject to availability.

Divine Café

Exercise room

Communal vegetable

gardens

Residents' bar

All-weather bowling green

Residents' workshop

Hair and beauty salon

Swimming pool and spa pool

Regular visits from

health practitioners

For your free information pack visit summerset.co.nz

For the latest information on visiting our villages please call the village, or visit summerset.co.nz/covid-19

SUM3330_FCW
---
24 Thursday September 2 2021

Latest Canterbury news at starnews.co.nz

WESTERN NEWS

Love the Community

When you move into a Summerset retirement village, you're not just moving

house – you're joining a vibrant and welcoming community where you'll feel

completely at home.

Summerset homes are warm, modern, and designed with everything you

could need for the perfect retirement lifestyle. And there's no need to worry

about maintenance and upkeep. We take care of the little things, so you can

continue to live the life you choose.

When it comes to activities and events, there's always something happening

to keep our residents involved and entertained, and you can choose to do

as much or as little as you like.

So, what are you waiting for? Enjoy the peace of mind of living in a warm

and friendly community at Summerset at Avonhead.

We have a range of homes to choose from and we're sure there's an option

that's right for you*. To find out more about our available homes get in touch

with Anne today on 03 357 3202 or visit summerset.co.nz

Get in touch

today!

Summerset at Avonhead

120 Hawthornden Road, Avonhead

Call Anne on 03 357 3202 or visit

summerset.co.nz to find out more

*Licence to occupy.

Don't miss your chance to join this vibrant community!

For the latest information on visiting our villages please call the village, or visit summerset.co.nz/covid-19

SUM3330_FCW