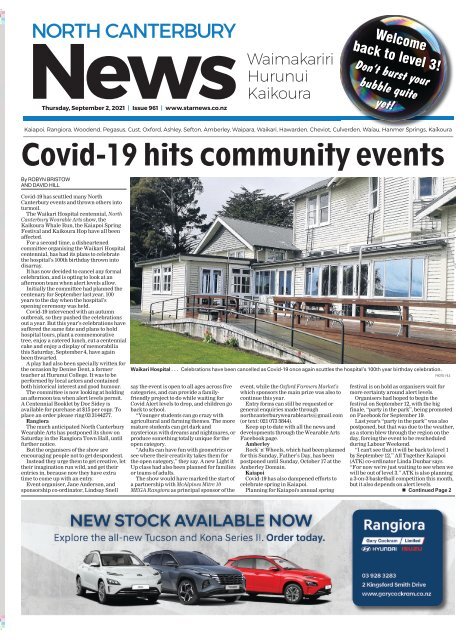 North Canterbury News: September 02, 2021
Create successful ePaper yourself
Turn your PDF publications into a flip-book with our unique Google optimized e-Paper software.
Welcome

back to level 3!

Thursday,September 2, 2021 | Issue961 | www.starnews.co.nz

Don't burst your

bubble quite

yet!

Covid-19 hits community events

By ROBYN BRISTOW

AND DAVID HILL

Covid­19 has scuttledmany North

Canterbury eventsand thrown others into

turmoil.

The Waikari Hospital centennial, North

Canterbury Wearable Arts show,the

KaikouraWhale Run, the Kaiapoi Spring

Festival and Kaikoura Hop haveall been

affected.

For asecondtime, adisheartened

committee organising the Waikari Hospital

centennial, has had its plans to celebrate

the hospital's 100thbirthday thrown into

disarray.

It has now decided to cancelany formal

celebration, and is optingtolook at an

afternoonteam whenalert levels allow.

Initially thecommittee had planned the

centenary for September lastyear, 100

years to the day when the hospital's

opening ceremony was held.

Covid­19 intervened with an autumn

outbreak,sothey pushed the celebrations

out ayear. Butthis year's celebrations have

suffered thesame fate and plans to hold

hospital tours,plant acommemorative

tree, enjoy acatered lunch, cut acentennial

cake and enjoy adisplay of memorabilia

this Saturday, September4,have again

been thwarted.

Aplay had also been specially written for

the occasion by Denise Dent, aformer

teacher at Hurunui College. It was to be

performed by localactorsand contained

both historical interest and goodhumour.

The committee is now looking at holding

an afternoon tea when alert levels permit.

ACentennialBooklet by Doc Sidey is

available for purchase at $15 per copy.To

place an order please ring 03 3144277.

Rangiora

The much anticipated North Canterbury

Wearable Arts has postponedits showon

Saturday in the Rangiora Town Hall,until

further notice.

But the organisers of the show are

encouraging people nottoget despondent.

Instead they urge them to getcreative,let

their imagination run wild, and get their

entries in, becausenow they have extra

time to come up with an entry.

Event organiser, JaneAnderson, and

sponsorship co­ordinator, LindsaySnell

Waikari Hospital ... Celebrations have been cancelled as Covid­19 once again scuttles the hospital's 100th year birthday celebration.

say the event is open to all ages acrossfive

categories, and can provide afamilyfriendly

project to do while waiting for

CovidAlertlevels to drop, and children go

back to school.

''Younger students can go crazy with

agricultural and farming themes. The more

mature studentscan get darkand

mysterious withdreams and nightmares, or

produce somethingtotally unique for the

open category.

''Adultscan have fun withgeometrics or

see where theircreativity takes them for

the opencategory,'' they say.Anew Light it

Up class hadalso been planned forfamilies

or teamsofadults.

The show would havemarked the startof

apartnership with McAlpines Mitre 10

MEGA Rangiora as principal sponsor of the

event, whilethe OxfordFarmers Market's

whichsponsors the mainprize was alsoto

continuethis year.

Entryforms can still be requested or

general enquiriesmade through

northcanterburywearablearts@gmail.com

(or text: 021 073 5844).

Keep up to date with all the news and

developments through the Wearable Arts

Facebookpage.

Amberley

Rock`n' Wheels, which had beenplanned

for thisSunday, Father's Day, has been

postponed until Sunday,October 17 at the

Amberley Domain.

Kaiapoi

Covid­19 has also dampenedefforts to

celebrate spring in Kaiapoi.

Planningfor Kaiapoi's annualspring

PHOTO: FILE

festival is on hold as organisers wait for

more certainty aroundalert levels.

Organisers had hopedtobeginthe

festival on September 12, withthe big

finale,''party in the park'',beingpromoted

on Facebookfor September19.

Last year's''party in the park'' was also

postponed, but that was due to the weather,

as astormblew through the region on the

day, forcing the event to be rescheduled

during Labour Weekend.

''I can't see that it will be back to level 1

by September12,'' All Together Kaiapoi

(ATK)co­ordinator LindaDunbar says.

''Fornow we're just waiting to see when we

will be out of level3.'' ATK is alsoplanning

a3­on­3 basketballcompetition this month,

but it alsodepends on alert levels.

Continued Page 2
---
NEWS

2 North Canterbury News, September 2, 2021

Grow

customers,

salesand

profits

with North

Canterbury's

bestread

newspaper

Readership: 48,000 weekly

Circulation: 30,150copiesdelivered

to EVERY farm, RD, lifestyle block

and home inWaimakariri, Hurunui

&Kaikoura every Thursday.

news

Robyn Bristow

Managing Editor

027 312 1581

robyn.bristow

@ncnews.co.nz

Reporters

David Hill, Shelley Topp.

advertising

DaynaBurton

Sales Co-ordinator

027 312 0089

dayna.burton

@ncnews.co.nz

AmandaKeys

Advertising

027 536 6224

amanda.keys

@ncnews.co.nz

Kerryn Clark

Advertising

021 586 138

kerryn.clark

@ncnews.co.nz

JillianDickie

Advertising

022 024 3092

jillian.dickie

@ncnews.co.nz

getintouch

Editorial

info@ncnews.co.nz

Advertising

sales@ncnews.co.nz

Graphic Design

heather.hood@ncnews.co.nz

Distribution/Deliveries

03 314 8335

Rangiora: 03 313 2840 /03314 8335

14 Ashley St, Rangiora

Christchurch: 03 364 7460

www.starnews.co.nz

Post-lockdown in the spotlight

By DAVID HILL

Planning remains in place, should the

Waimakariri district's economy need a

boost following the latest Covid­19

lockdown.

Waimakariri District Council

recovery manager Simon Hart says last

year's Covid­19 recovery plan remains

in place, but given the way the region

bounced back last year it may not be

required.

Last year's post­lockdown bounce

saw Waimakariri's retail spend get

back on track quickly and end the year

well ahead of 2019 levels.

''We do have arecovery plan that

still sits in the background with 27

candidate projects which could be

called on to stimulate the local

economy, but I'm not picking that it's

going to be needed at this stage.''

Under Alert Level 4the council was

in the response phase under the

leadership of emergency management

adviser Brennan Wiremu.

''We've been monitoring it pretty

closely through Civil Defence and

working alongside our local agencies

to assess whether there's any need in

the community,'' Mr Hart says.

Council staff assessed whether there

were any isolation issues with people

Iconic Kaikoura events postponed

From Page 1

Two iconic Kaikoura events have

beenpostponed due to Covid­19

uncertainty.

The Kaikoura Hop will now be held

fromNovember 24 to 28,while the

Whale Runhas been postponed until

March.

Lastyear's Kaikoura Hop went

ahead under Alert Level2,but

organiserDoug O'Callahan saysthat

was aone off.

''We'vegot to be practical. We lost

money last year running it under level

2, so we need to do it under level 1.

''I think moving it to November is

going to be the best thing for Kaikoura,

so we are going to put apositivespin

on it.''

While the timing willnot suit

everybody, Mr O'Callahan is confident

there willbebenefits with the move.

''There's lotsofadvantagesand

disadvantages with the timing. At that

timeofthe year we should get better

weather and more daylight hours

which willallowfor moreactivities.

''Wehad to push it out farenough

awaytoensure we didn't have to do

another rolloverorcancelit.''

For now, Mr O'Callahan is in ''crash

mode'' as he back tracksonthe event

planning.

For more information, like Kaikoura

Recovery manager ...

Simon Hart.

PHOTO:FILE

unable to access key supplies, but

found no issues.

Mr Hart says social recovery

planning put in place by the council's

community team, working alongside

local social service agencies, following

last year's lockdown had paid off.

''The sense is there's no great

immediate need that can't be managed

by our existing structures. It means

Kaikoura Hop ... Iconic event pushed out until November.

Hop on Facebook.

Kaikoura SuburbanSchool has been

feeling asenseofdeja vu, afterlast

year'sWhaleRun was cancelled due to

the region being under Alert Level 2.

The uncertainty aroundalert levels

again this year has createdsome

anxiety, but rather than cancel the

event for the second year running,

The Widest Music Variety

Tune in nowtolistenon104.9 North Canterbury

and103.7 Hanmer Springs andKaikoura

most people are coping for the time

being.''

While the immediate focus was on

wellbeing and public safety, Mr Hart is

keeping awatching brief on any

possible economic fallout from the

latest lockdown.

''There will be some economic

activity concerns, but for now it

remains alittle unclear because it's

still quite early.

''But the economists are starting to

get their heads around what concerns

there might be.''

Mr Hart is confident lessons learnt

in last year's lockdown will help local

businesses come through.

''A lot of people have learned alot of

things in both the private and public

sectors and we saw some amazing

transformations from businesses being

able to trade online and keep

operating under Covid restrictions, so

Iimagine those businesses will be

going back to those playbooks.''

For now Enterprise North

Canterbury is working with local

employers to offer advice around what

support is available, including wage

subsidies.

The move to Alert Level 3has

allowed more businesses to trade,

albeit with restrictions.

WE ARE OPEN AND

OFFERING THE FOLLOWING

SERVICES AT ALERT LEVEL 3

•Mower,ride-on, chainsaw etc repairs -wecan

collect or you can drop off in acontactless

manner. Ring or email for details

•Mower,chainsaw,trimmer etc sales –Sales

via email or phone only

See

• Partssales

us now toarrange you FREE, NO OBLIGATION

quotetohave your log fire fully installed, including

• Log firesales

obtaining council consent. FINANCE AVAILBLE.

• Log fireinstallations

•Log fire quotes at your house

2413749

360 FlaxtonRoad, Rangiora

Ph 03 313 5563

www.kingsmowersheating.co.nz

PHOTO: FILE

organisers have optedtohold it on

Saturday, March 12.

Thosewho havealready registered

can email kaikourawhalerun@ks.

school.nz to advise if they would like

to have theirregistration held forthe

new date, or it can be fully refunded.

For more information, likeKaikoura

WhaleRun on Facebook.
---
Hurunui attractive to visitors

By ROBYN BRISTOW

Lockdown has been asetback for

Hurunui Tourism. but it is not all bad

news.

In ayear of challenges and hurdles

for the tourismindustry, Hurunui

Tourism has claimed the top spot for

spend,setting businessesupfor success

post lockdown.

The regionaltourism operator

recorded an increase of 28.6 percent on

electronic cardspend, making Hurunui

New Zealand's leading region for the

year ending June 2021.

Visit Hurunui spokesman Shane

Adcocksays the strong spendwill

hopefully meanlocal operators are in a

far better position to facethe next

phase of the country's fightagainst

Holiday ruled out to make face masks

By SHELLEY TOPP

When JanneClare's 7­day­a­week business

was ruled''non­essential''during last

year's Covid­19 lockdown she considered

taking aholiday.

''To begin withIdid think Ishould use

the time in lockdown to have aholiday,''

she said.

But instead of that the ownerofJannz

CraftShop, in Oxford's Main Street,

decided to do something to helpothers by

making reusable, biodegradable face

masksand the sidelineisnow an

important part of her business.

Initially Janne had searched online to

find aface maskshe could buy just for

herself.

She found plenty to choose from, but

none of them impressed her.

''They had too many layers,the qualityof

the fabric and lining were not greatand

many were using gauze as alining which is

dangerousasyou can breathe in gauze

fibres,''Janne says.

She decided to make her own mask

usingher sewing machineand materials

available in her craftshop and eventually

decided to sell them through her business.

Making the masks was achallenge,but,

as a''non­essentialbusiness'', getting

Government approval to sell them

provided an even bigger hurdle to clear.

''I hadtoget accreditation fromthe

Ministry for Primary Industries (MPI)and

the Ministry of Business,Innovation and

Employment (MBIE) to change this(non

essential business) status so Icould sell

the masks,'' she says. ''Thisinvolvedalot

of emails,phone calls and research.''

Although face masks have been

declared mandatory during the current

Covid­19 lockdownrestrictions, during last

year's lockdown Government officials told

Jannemasks did not provide protection

against the virus so they werenot

considered to be an essential item she

Covid­19.

''Our tourismoperatorshave worked

tirelessly this past year to ensureour

region remains attractive to domestic

visitors and these figures prove they

havecracked it.

'' Despite the current lockdown,

which Iknow has beenahuge blow for

operators,Iamconfident our region

will pull through and be ready to host

visitorswith that unparalleled North

Canterbury hospitalityonce more, Mr

Adcock says.

Visitorsare beingdriven to the region

across arange of channels, with traffic

to the Hurunui Tourism websiteup96

percent at the same time last year.

The spending datashows the high

value of tourismfor the region, Mr

Adcock says.

Janne Clare ... Face masks have become an important part of the Oxford retailer's

business.

could sell online.

''So Idid more research and changed

the thinking from 'it won'tstop you getting

the virus' to 'itwill stopyou –the wearer–

spreading your bugstoothers'.''

Eventually she was given Government

approval to sell her masks with

accreditation from MPI and MBIE.

Janne provides apamphlet with each

mask outlining how to carefor it and how

long the maskcan be used.

Each mask comeswith acustom­made

strap,made by Kaiapoi­based

TechMedics, using 3D printers,which

enables the wearer to adjustitfor a

comfortable fit.

''The strap alsostops any chafing or

''As aregion, we have taken some

risks this year to attract new and

existing visitors, launching abrand new

event in the HanmerSpringsAlpine

WinterFestival being one of them, and

it is reassuring to see that Cantabrians

and those visiting from out of town are

supporting us in these ventures.''

Spending in the region has continued

to increase overthe pastyear.

For the year ending April 2021 Visit

Hurunui experienced the third­ highest

growthinvisitorspendingat19.6%

(comparedtothe rest of NZ).

For the year ending April 2021

tourism spend for Hurunui was

$118.3m, up 20% on April2020.

Hurunui Tourismisnow working on

new marketing campaigns to attract

domestic visitors post­lockdown.

NEWS

North Canterbury News, September 2, 2021

PHOTO: FILE

discomfort from the elastic behind your

ears,''she says.

Janne also sellsface shields, made by

TechMedicsand hand sanitisermade by

Cust's BackRoad Soap.

Although demandfor Janne's masks

dropped off after New Zealand's lockdown

restrictionswere lifted last year, interest

has increasedagainduring this lockdown.

''There is alot more information now

fromhealth professionals aroundthe

world that masks might be agood idea –

evenjust to stop the spread of colds,''

Janne says.

Her masks can be boughtfrom Jannz

Craft Shop49a Main St, Oxford, or online

fromjannzcraftshop.com.

MattDoocey

MP for Waimakariri

Kaiapoi Office

03 3270514•kaiapoi@parliament.govt.nz

137 Williams Street

RangioraOffice

03 3107468•waimakariri@parliament.govt.nz

Level1Conway Lane,188 High Street

Ienjoy holding constituent

clinicsinOxfordand in

Belfasttobeaccessible;

pleasering my officeifyou

would liketomeetwith me.

Authorised byMatt

Doocey, Parliament

Buildings, Wgtn.

CDMP

3

HILUX, HIACEAND

EVERYTHING IN

BETWEEN

68 FalsgraveStreet,Woolston

W: nzvanspares.co.nz

E: nzvanspares@hotmail.com

Ph: 03 3793932/0508 698267

100% Canterbury Owned

NZ's favourite home for

Recycled Hilux &Hiace Parts

Community Driver

Mentor Programme

BECOME SAFER

ON OUR ROADS.

Need Help to gain

your Restricted or

Full Licence?

Contact Us Now.

Contact: Julia Graham on 021 953 754

e: julia.graham@salvationarmy.org.nz

2403109v1

We need your

helpnow more

than ever.

Multiple Sclerosis and Parkinson's Canterbury

Annual Street Appeal is NOW ONLINE to

maintain the vital, fundraising lifeline which

supports our work.

Please support us by donating at:

ms-pd.org.nz

Proudly supported by

SATURDAY

11 TH

SEPTEMBER

AT 1PM*

Bring your family and friends and have a go!

To register your interest, please call

Garry Atkins: President: 027-566-3824 or

Warren Fitchett: Captain: 027-494-9529

Email bowlskaiapoi@outlook.com for more information

*Covid Level permitting

Address: 113 Raven Quay, Kaiapoi 7630

2413623

LAWN

BOWLS

OPEN DAY
---
NEWS

4 North Canterbury News, September 2, 2021

Taking Covid in their stride

By DAVID HILL

There are positive signs local

businesses can bounce back

quicklyfrom the latest

lockdown.

North Canterbury businesses

have largely been taking the

latest Covid­19lockdown in

their stride, says Enterprise

North Canterbury (ENC)

business developmentmanager

Miles Dalton.

''The general feeling is that

businesses are much better

prepared this time around, and

alreadyknow whatfinancial

supportisavailable from the

Government,''hesays.

''Last timewewere all thrown

into an unprecedented

situationand businesseswere

understandablystruggling to

make senseofitall on the fly.

''This time, mostbusinesses

know what's available, how to

apply and how to manage their

business and staff, whether

they are required to close or

are operating as an essential

supplier.''

Supportagencies, such as

ENC, arealso better prepared

this time around, Mr Dalton

says.

''Across the board, the

applicationprocesses,

eligibility criteria and support

pathways haveall been

thoroughlytried and testednow

so it'sall running abit more

smoothly.''

Earlierthisyear ENC was

awardedacommendation from

Economic Development New

Zealandfor the efficient and

responsive system it created for

Lockdown ... Miles Dalton is supporting local businesses from his home

office.

PHOTO:SUPPLIED

responding to more than 900

businessesduring the 2020

lockdown.

''Thissystem is always ready

to swing backinto action,'' Mr

Daltonsays.

Despite dire economic

predictions during last year's

lockdown, the Waimakariri

economy hasfaredsurprisingly

well in the months since.

The latesteconomic report

showing the region'sGDP was

up 5.4 percent for the year

ended on June30, ahead of the

national growthrate of 4.2%.

''The 2020 lockdown affected

North Canterbury lessthan

some other parts of New

Zealand largely because we

rely less on international

tourism,'' Mr Dalton says.

''The continuedreportingof

economic growth shows we are

also aresilient and robust

community, and thisisn't going

to change.''

Businesses requiring

information, assistance, advice

or support are encouragedto

visit the Enterprise North

Canterbury website at www.

northcanterbury.co.nz, or

email office@enterprisenc.co.

nz. Businessoperators

concernedabout the viability of

their business shouldcontact

the Ministry of Social

Development at www.msd.govt.

nz/.

Spring time ... Floral and craft entries at aprevious Scargill

Horticultural and Home Industries Society spring show. PHOTO:FILE

Spring time show

The historic Tipapa

Woolshed, at Greta Valley,

will again be home to the

Scargill Horticultural and

Home Industries Society's

annual spring show.

The annualspring

celebrationwas movedtothe

Tipapa WoolshedatGreta

Valley after the Scargill Hall

was battered by the 2011

earthquakes.

Organisers have yet to

settle on adate because the

Covid­19 level willhave to

drop to Level 1beforeitsafe

for the show to go ahead.

The show was postponed

last yearbecause of Covid­19

restrictions, so organisers

are hopingthe 111th show

can go ahead with its theme

''Bubbles'' in the near future.

Therewill be daffodil, cut

flower, decorative,

needlework, cookery,home

produce,art, craft and

photographysections, along

withclasses for children, and

openand noviceclasses.

New classes this year

include Creations fromthe

Shed,such as metal, craftor

woodcrafts,and abottle of

home­brewed beerinthe

homeproduce section.

Entriesare open to

everyone, and you do not

needtobelocal.Thereare

children's classes, and open

and novice classes.Children

can enter free, whileitis$3

an entry for adults.

There willbestalls outside

of the woolshed—Scentsy,

Rawleighs, vegeseedlings,

herbs, plants, localhoney, a

coffee cartand an icecream

cart, along with live music

and araffle. The society's

facebook pagewill keep

everyone up to date. Acopy

of the schedulecan also be

found there.

ABOUT

REPRESENTATION

REVIEW

The Council is seeking your views

about representation arrangements

ahead of the October 2022 Local

Body Elections.

The Council are considering our current

arrangements to ward boundaries, number of

elected members, including community boards,

and names of wards, subdivisions and boards.

We're proposing to retain our current

arrangements with only one minor amendment to

the Rangiora-Ashley Ward subdivision, to better

represent the ratio of urban and rural residents.

To find out more about the proposed change or

the Representation Review, ortosuggest other

changes, please visit our Let's Talk website.

what do

you think?

Three Waters Reform Programme -

What does it mean to you?

Let us know what you think before

5pm on Monday 27 September 2021.

Find out more and have your say at

waimakariri.govt.nz/letstalk or email to

representation@wmk.govt.nz

We'd love to

hear from you

waimakariri.govt.nz/letstalk
---
Simple steps to learn te reo

NEWS

North Canterbury News, September 2, 2021

Well prepared

5

By SHELLEY TOPP

Last year 30 million people

worldwide began learning anew

language during the Covid­19

global pandemic lockdown

restrictions.

In New Zealand, the Ministry

of Education figures showed

record enrolments for te reo

lessons in schools last year and

twice as many students on

waiting lists to learn the

language. Desray Lithgow, a

teacher at Oxford's View Hill

School, who is also studying Te

Putaketanga oteReo at

Christchurch's Te Wananga O

Aotearoa, and holds community

te reo classes at the Oxford Art

Gallery, says interest in learning

te reo is also growing in the wider

community.

For those people who want to

test their language­learning

skills in alow­key way during

lockdown Desray recommends

peppering sentences with te reo.

''Pop in the words that you

know. Ra instead of day, for

example. Get comfortable with it,

then add another kupu/word,''

she says.

''My dad is a70­plus year­old

pakeha, he lives in the North

Island, and Ifind it delightful

that he pops in kupu, not forced,

not complicated, just the odd

word here and there.

''He has been doing it for years

and has built up quite abit of

knowledge, so it has become

natural,'' she says.

''Peppering your sentences

also gets you speaking some te

reo and takes the pressure off

needing to know sentence

Learning together ... Te reo tutor Desray Lithgow, centre, with pupils in

September, 2020. From left: Graeme and Margaret Martin, with Joanne

(front) and Bob Gumbrell (back), Miranda Hales, and Cathy Batchelor, far

right.

PHOTO: SHELLEY TOPP

structure and tenses etc.''

When learning anew language

keeping things simple to start

with is the key, Desray says.

''As an adult you have a

sophisticated language that you

use but when you learn te reo or

any second language, remember

that you need to enter at an

infant level.''

Desray recommends making

good use of the online Maori

Dictionary to find new words in

te reo for everyday use.

But she cautions that words

may have many meanings so it is

important to read through each

to ensure you understand exactly

what you are saying.

Easy listening radio station

Tahu FM (which is 90.5FM

Christchurch or 90.7FM

Kaikoura and nation­wide on

Channel 423 Sky).

Desray also recommends the

free 20­week Te Wananga o

Raukawa University online te

reo course. ''It is amazing but the

demand is huge. You are either

fast or you are last,'' she says.

By DAVID HILL

Local secondaryschools say

theywere prepared for

lockdown.

Lastyear's lockdown

experience meant local

schoolshad plans in place,

which theywere ableto

implement quickly, despite the

speed of going into lockdown,

principals say.

Kaiapoi HighSchool

principalBruce Kearney says

hisstaff were abletooffer

online lessonswithin two days

of lockdown.

''It wasarelativelyquick and

simpletransition.Wehave

beenplanningfor this since

thestart of theyear.

''Wehaveafairly

comprehensiveCovid plan,so

it wasaquick

implementation.''

Staff are nowteaching four

daysaweek, with dayfive an

opportunity forstudents to

checkinwith tutors (form

teachers).

Asurvey of parents found

there were justfourstudents

without laptops, whilesome

areas havelimited internet, Mr

Kearney says.

''The waythat we work, we

plan forthe worst and hope for

thebest, so we are settling

down forafourweek lockdown

andanything shorter willbea

bonus.''

Butthe biggestchallenge is

thetransition to Alert Level 3,

which seesasmallgroupof

staffoncampus teaching

childrenofessential workers,

he says.

Rangiora High School

enjoyed asmoothtransition to

operatingunderAlertLevel4,

associate principal Paul

Donnelly says.

Theexperienceoflastyear's

lockdown andamovetohaving

teachingresources available

online madethe transition

easierhesays.

''The Google suiteispartand

parcelofour learning

platform,sowhether students

areatschoolornot, they can

access learningmaterials.

''The major differencewillbe

teachingstudentsusing Google

Hangout, however, we have

donethisbefore so it is not

new.

''Pastoralcare of our

families is veryimportant so

thepastoralteams,Wananga

teachersand guidance

councillors are checkingin

with students andoffering

help where needed.''

Theschool'ssenior

leadership hasplanningin

placefor all alertlevels,Mr

Donnelly says.

Oxford Area Schoolmoved

to online classesonMonday,

with staffbusyover the

weekend ensuring allstudents

hadaccess to devices and

learningmaterials,principal

Mike Hart says. ''Inow have an

appreciation of howfar our

students have to travelto

school eachday.'' Internet

accessinrural areas remains

thebiggest challengeto

learning, he says. Its

anticipated there willbetwo

learningbubbles at school

underlevel3.

ABOUT THE

GOVERNMENT'S

THREE WATERS REFORM

Quality drinking water and better environmental

outcomes are agood thing for the country.

But we're not clear yet whether the Government's proposed Three Waters Reform

is the best way to achieve this, and what the advantages are for our District.

We want to know what's important to our community and hear what you think.

Find out more about what the Three Waters Reform could mean for the

Waimakariri District and have your say before 5pm on Sunday 5September

waimakariri.govt.nz/letstalk
---
OPINION

6 North Canterbury News, September 2, 2021

In the Electoratewith

MattDoocey

MP forWaimakariri

Authorised by MattDoocey,Level1ConwayLane,188 High Street,Rangiora.

Be careful, keep safe

Thank you Waimakariri, we didit

again.

As we look to the easing of level

restrictions,itisimportant we all

continuetobecarefulsowedon'tlose

the gains we'vemade in keeping our

communities safe.

Level 4was abusytimefor my team

and Iasweset up to work remotely

fromday one, responding to phone calls

and emailsfromour residents who

reached outfor help.

As local MP, I'mabletoescalate

concerns up to ahigh level,which can

often helpingetting an issue moving

again.

At thestartoflockdown, Ireceived

manycallsfromolder residents, and

someessential workers, who found they

had been senttothe back of the

vaccinationqueue when theirjabswere

cancelled.

Iagree thatthis is unfair, and it is

something Ihavebeen highlighting: to

get on top of Delta,wehave to ensure

our peopleinthe regions like

Waimakariri areable to accesstheir

vaccinations.

As Chief Whip,ithas beenhelpfulfor

me to drive theseissues thatI'm seeing

on theground up to Caucus level,and

I'vebeenarranging meetings via Zoom

so we can continue to challengethe

government on its strategies in

confronting Covid­19.

My Caucus and Iweredevastated

whenthe government ruled out thereconveningofthe

Epidemic Response

Committee under safeprotocols.

The committeehad buy­in fromevery

party butLabour. If the government is

makingthe right decisions around

Covid­19, then it should welcome

openingtheseuptoscrutiny.

We owe it to New Zealanders who are

makingsacrificestokeep us safe.

Manyofour small businesses in

Waimakaririare doing it tough as a

resultofhaving to close during

lockdown.

During the 2020 lockdown,weowed a

debtofgratitudetoour small

businessesinWaimakaririwhichkept

local residentsinjobs and which

supported our recovery.

As National's MentalHealth

spokesperson, Ihavecalledonthe

government to partner with

BusinessNZand regional Chambers of

Commerce to deliveraprogramme to

provide mental­health support to our

small business owners.

Small businesses don'thavethe same

access to EmployeeAssistance

Programmes suchasmental­health

support, so I'mcallingonthe

government to urgently fund support

for small businesses wheremental

health issueshavebeenidentified.

Lastly,with thelockdown,many of

our community eventswerecancelled

to keepour residentssafe.

Someoftheseevents wereto

celebrate important milestones, both

for our community organisationsas

wellasfor individual volunteers,to

recognise andacknowledge their

contributions.

To all those volunteers and

community organisationswho had to

cancel or postpone your events, we say

thank you and Ilookforward to being

abletoattend and celebrate with youas

soonasweare able to meetsafely.

Waimakariri

Focus from Dan Gordon, Mayor

Councillors and staff

ready to support

As Iwrite this columnweare in Level

4and abouttogotoLevel 3.

Iknow we are all looking forwardto

moving down Alert Levels and I'd ask

that everyone continue to follow the

rulestoensurethis lockdown is as

shortaspossible.

Over thistime council staff,

councillorsand myself are working

remotely to make surewecontinue to

support our community.

We are here to help if needed. Phone

0800 965 468 or emailoffice@wmk.

govt.nz.

The council websitewill alwaysbe

up­to­date with what services we can

offerateach Alert Levelsohead to

waimakariri.govt.nz for updates.

Whilewecan't see people outside

our bubble we can call or message

neighbours, friends and family and

keep in touch.

We have got through thisbefore and

will do so again.

Ihave spent my time in video

conferences which has meant

continuing to meetpeople and help

locals just not in person.

Like most of us, the garden has hada

bit moreattention than usual and the

garage has beentidied.

My catRupert hasenjoyed having

me around home morethan usual and

he has set up afavourite position in

the bookcase of my homeoffice.

Take care.

3Waters Reform

As you will have read, the

Government is proposingchanges to

the way our drinking­water,

stormwater and wastewaterservices

are delivered to residents through a

Three Waters Reform process.

The Governmenthas givencouncils

until the end of September to provide

feedback on whether we as aDistrict

wishtoopt­in or opt­out of the

proposed reform.

Before we makeadecisionabout the

nextstage of the reform process we are

keen to hear what our community

thinks.

All ratepayers should have received

aletterwhich lays out the best

information we know to date regarding

the reform proposal.

Included withthe letterisa

feedback form.

You canalso provide feedback

online by visitingwaimakariri.govt.nz/

letstalk.

We had planned aseries of

communitydrop­ins to discussthe

reform proposalsand answerany

questions you may have.

Unfortunately Level 4preventsthis

and thesesessions have been

cancelled.

Your views areimportant and we

strongly encourage receiving your

feedback beforeSeptember 5before

we make aformaldecision on

September 28.

Irrespective of AlertLevels, I

welcome contact from anyone who

needsassistance or has an issue that

you may want to discuss.

Emailmeatdan.gordon@wmk.govt.

nz or phone 021906437.

I'm alwayshere to help.

Hospital centennial

DearEditor,

It is very sadand very frustratingfor allthe hardworking committeemembers and others

involved to have to canceltheWaikariHospitalCentennial for the second time because

of Covid. Could away be foundtostill celebratethecentennial?

Iwouldliketosuggestthe creationofaWaikari Hospital Centennial fund to be

administeredbythe FriendsofWaikariHospital and used by them to benefit the hospital

—perhaps for aspecialised piece of medical equipment.

Iamprepared to donate my registrationfee of $35 to theFriends for thispurpose,and

Iknowthere areafew people who might also be prepared to do the same, so that some

recognition can be given to mark the greathistoryofthis hospital.

Yours, VScott,Hawarden

McALPINES MITRE 10 MEGA RANGIORA -OCEAN WATCH

This

Week

Sun

Fishing

Guide

Moon

Wind

Swell

Pegasus Bay

Tide Chart

3

2

1

Ok

Thursday Friday Saturday Sunday Monday Tuesday Wednesday

Sep 2 Sep 3 Sep 4 Sep 5 Sep 6 Sep 7 Sep 8

Rise 6:54am

Set 6:03pm

Best

Times

8:17am

8:43pm

Ok

Rise 6:52am

Set 6:04pm

Best

Times

9:09am

9:35pm

Ok

Rise 6:50am

Set 6:05pm

Best 10:02am

Times 10:28pm

Fair

Rise 6:49am

Set 6:06pm

Best 10:54am

Times 11:19pm

Rise 6:47am

Set 6:07pm

Rise 6:45am

Set 6:09pm

Best 12:09am

Times 12:34pm

Rise 6:43am

Set 6:10pm

Rise 3:56am

Rise 4:47am

Rise 5:32am

Rise 6:09am

Rise 6:41am

Rise 7:09am

Rise 7:35am

Set 12:37pm

Set 1:33pm

Set 2:36pm

Set 3:45pm

Set 4:56pm

Set 6:08pm

Set 7:21pm

Gentle Sbecoming Gentle SE becoming

Gentle Wbecoming

Moderate SW Moderate Sturning

moderate E

moderate NE

Moderate S

moderate S becoming fresh S

SW

Moderate S

E0.7 mturning

E1.1 m SE 0.7 m E0.8 m SE 0.6 m

SE E0.8 m SE 0.9 m

3 6 9 NOON 3 6 9 3 6 9 NOON 3 6 9 3 6 9 NOON 3 6 9 3 6 9 NOON 3 6 9 3 6 9 NOON 3 6 9 3 6 9 NOON 3 6 9 3 6 9 NOON 3 6 9

Fair

People urged to hang on to their rubbish

People arebeing urged to hangontotheirold clothes and rubbishuntil Transfer

Stationsstartoperating normally.

Localcharity shops are finding hordesofunusable household items and rubbish

piling up outside their doorsteps,aspeople dump items from lockdown decluttering

afterhours.

Waimakariri Solid WasteManager KittyWaghorn saysit's alwaysbeen an issue,

but lockdown has caused abig spike.

''A lot of peopledothe right thing, but there are some who think acharity shop

is arubbish dump.It's not ok to leaveunwanted household goods and rubbish at the

Salvation Army, or any other charity shoporclothing bin.'' The Transfer Station and

ReSale Store willre­open for business as normal, as soon as Covid­19 alertlevels

allow.

Best 11:44am

Times

Good

Good

Best

Times

12:58am

1:22pm

0

Highs Lows Highs Lows Highs Lows Highs Lows Highs Lows Highs Lows Highs Lows

Waimakariri 12:36am 2.0 6:44am 0.7 1:25am 2.0 7:31am 0.7 2:11am 2.0 8:18am 0.7 2:56am 2.1 9:04am 0.6 3:40am 2.2 9:51am 0.6 4:24am 2.2 10:38am 0.5 5:11am 2.3 11:25am 0.4

Mouth

1:02pm 2.1 7:22pm 0.8 1:50pm 2.1 8:08pm 0.7 2:36pm 2.2 8:53pm 0.6 3:19pm 2.3 9:36pm 0.6 4:02pm 2.3 10:19pm 0.5 4:46pm 2.4 11:04pm 0.5 5:32pm 2.4 11:51pm 0.4

Amberley 12:36am 2.0 6:44am 0.7 1:25am 2.0 7:31am 0.7 2:11am 2.0 8:18am 0.7 2:56am 2.1 9:04am 0.6 3:40am 2.2 9:51am 0.6 4:24am 2.2 10:38am 0.5 5:11am 2.3 11:25am 0.4

Beach

1:02pm 2.1 7:22pm 0.8 1:50pm 2.1 8:08pm 0.7 2:36pm 2.2 8:53pm 0.6 3:19pm 2.3 9:36pm 0.6 4:02pm 2.3 10:19pm 0.5 4:46pm 2.4 11:04pm 0.5 5:32pm 2.4 11:51pm 0.4

12:45am 2.0 6:53am 0.7 1:34am 2.0 7:40am 0.7 2:20am 2.0 8:27am 0.7 3:05am 2.1 9:13am 0.6 3:49am 2.2 10:00am 0.6 4:33am 2.2 10:47am 0.5 5:20am 2.3 11:34am 0.4

Motunau 1:11pm 2.1 7:31pm 0.8 1:59pm 2.1 8:17pm 0.7 2:45pm 2.2 9:02pm 0.6 3:28pm 2.3 9:45pm 0.6 4:11pm 2.3 10:28pm 0.5 4:55pm 2.4 11:13pm 0.5 5:41pm 2.4

12:47am 2.0 6:55am 0.7 1:36am 2.0 7:42am 0.7 2:22am 2.0 8:29am 0.7 3:07am 2.1 9:15am 0.6 3:51am 2.2 10:02am 0.6 4:35am 2.2 10:49am 0.5 5:22am 2.3 11:36am 0.4

Gore Bay 1:13pm 2.1 7:33pm 0.8 2:01pm 2.1 8:19pm 0.7 2:47pm 2.2 9:04pm 0.6 3:30pm 2.3 9:47pm 0.6 4:13pm 2.3 10:30pm 0.5 4:57pm 2.4 11:15pm 0.5 5:43pm 2.4

12:46am 1.6 6:50am 0.6 1:32am 1.6 7:36am 0.6 2:16am 1.6 8:21am 0.5 3:00am 1.6 9:06am 0.5 3:44am 1.6 9:51am 0.5 4:30am 1.7 10:38am 0.4 5:16am 1.7 11:25am 0.4

Kaikoura 1:10pm 1.7 7:29pm 0.6 1:56pm 1.7 8:14pm 0.6 2:40pm 1.7 8:57pm 0.5 3:24pm 1.8 9:40pm 0.5 4:08pm 1.8 10:23pm 0.4 4:53pm 1.9 11:08pm 0.4 5:40pm 1.9 11:55pm 0.4

*Not for navigational purposes. Wind and swell are based on apoint off Gore Bay. Maori Fishing Guide by Bill Hohepa. www.ofu.co.nz www.tidespy.com Graphic supplied by OceanFun Publishing Ltd.

2118223
---
HDC in September

Thelatest local news,viewsand announcements from the council

Meetings,

Events,News.

September meetings

(Zoom)

8th South Ward Committee 7.00pm

(Venue: Council Chambers, Amberley).

15th Amuri Community Committee

7.30pm (Venue: Hillcrest Chambers,

Culverden).

16th Audit and Risk Committee 9.30

(Venue: Council Chambers, Amberley).

17th Performance Review Committee

(Public Excluded) 3.00pm (Venue:

Councillors' Lounge, Amberley Office).

22nd Hurunui Community Committee

7.30pm (Venue: Hawarden Community

Library).

23rd Operations Committee 9.30am

(Venue: Council Chambers, Amberley).

27th Hanmer Springs Community Board

1.00pm (Venue: The Gallery, Hanmer

Springs Library).

28th Cheviot Community Committee

6.00pm (Venue: Cheviot Library/Service

Centre).

30th Council Meeting 9.30am (Venue:

Council Chambers).

Lockdown news

from HYP

Hurunui youth have been baking up a

storm during lockdown. HDC Youth

Coordinators ran aKiwiana bake off

where youth were to send inphotos of

their baked masterpiece, with prizes to

be won. Below are first, second, and

third place.

Online competitions and activities have

provided great ways to keep our youth

engaged and supported during these

uncertain times.

1st

2nd

Amakeoverfor Carters Rd

It has been more than adecade since Amberley's main

road upgrade was completed. Increased traffic levels has

meant a more comprehensive Traffic Management plan

has been imposed byWaka Kotahi/NZTA.

The South Ward Committee has decided to remove the

corokia hedging and replace with grass, to the existing

riverstone edging and mown. The grasses along Carters

Rd will be removed and replaced with lime chip or

riverstone.

Please email info@hurunui.govt.nz with your ideas.

In brief

BUILDING SAFETY ALERT:

The construction industry has restarted under Alert Level 3.

You can book an inspector, including for your

woodburners. Please book through the usual channels,

and you will be asked additional questions to make sure

the inspection can be undertaken safely.

Phone 03 314 8816 / 027 808 6319, email

building@hurunui.govt.nz

RATES PENALTY RUN DEFERRED:

Council rates were due for payment on Friday 20 August,

however the country was placed inAlert Level 4.Under the

Council's rating policy, a 10% penalty would have been

charged for any non-payment of rates on Monday 23

August. Recognising that some ratepayers were unable to

physically make the payment, it has been determined that

the penalty run will be deferred until afull week after any

change to alert Levels.

If there are concerns from ratepayers, please contact the

rates department at rates@hurunui.govt.nz or 03 314

8816.

MTFJupdate

Council is seeking more businesses and youth in our

District to join the Mayor's Taskforce for Jobs (MTFJ)

programme, so we can create positive outcomes and

sustainable work for both parties.

If you are alocal business or know ayouth who would be

interested in joining this venture, please contact Joni or

Chris at HDC, 03 3148816 or email mtfj@hurunui.govt.nz

Asnowystart to lastmonth

At the beginning ofAugust we were living in astunning snow covered

District.

Although scenic, snow comes with its hazards.

It was agreat team effort throughout the District to ensure everyone

kept safe, whether this was keeping off the snow affected roads,

clearing them, or looking out for neighbours and helping with stock.

Thank you everyone, what awinter wonderland it was.

Aword fromyour Mayor,MarieBlack

"Hence this week we launched an

informal conversation' with everyone

across the Hurunui District, inviting you

to tell us about your initial thoughts on

the Three Waters Reform Programme

proposed by central government."

We have spent some months now looking out from within our safe

shores of New Zealand, grateful for the freedom.

However, during our recent time in lockdown, we were lucky we could

enjoy recreation from our doorsteps to some beautiful local spots. Our

essential workers kept the cogs rolling, and I'm sure Ican speak on

behalf of the entire District when Isay abig thank you.

Ahuge thank you also to the District's Health centres and volunteers

who are carrying out avery efficient vaccine drive by. Iwas helping

out on Saturday in Waikari and it was anabsolute pleasure to see

such an effective system in place.

We have all become rather creative in keeping 'normal' life rolling as

much as we can.

Hence, this week we launched an 'informal conversation' with

everyone across the Hurunui District, inviting you to tell us about your

initial thoughts on the Three Waters Reform Programme proposed by

central government.

Many of you have already contacted either myself, councillors and

staff which I welcome, all helping to shape our thinking when we

report back to central government on the proposal.

Due to COVID-19 restrictions we have made creative means to

communicate. We have an information page on the website along with

aFacebook post this week, and information in print which all outlines

how to get in touch; email, phone, and Zoom chats.

Our final two Zoom chats are tomorrow, one during the day and one in

the evening, where you can join in and share your thoughts –please

ring in, email, or see our website for details.

Once we return to 'normality' there may be some drop-in sessions too,

and later in the year we will be carrying out aFormal Consultation

process on the Reform proposal, much like how we did for LTP.

Kia kaha, and thank you.

3rd

Fun

fact!

St Helen's Homestead in Hanmer Springs was established in 1858. The third homestead on the site was built

in 1917. White limestone blocks extracted near Waikari were carved onsite and used to insulate the building,

which are still featured within the historic homestead today.

Contact us :

www.hurunui.govt.nz

info@hurunui.govt.nz

03 314 8816
---
COVID-19 vaccinations

arenow open foreveryone

12 yearsand over

They're completely free and areone ofthe mostpowerful tools

againstCOVID-19.

Playyour partinprotecting everyone in NewZealand and giving us

moreoptions in the future. Book yourvaccination today.

BookMyVaccine.nz

0800 28 29 26 (8am –8pm, 7daysaweek)
---
KaikōuraDistrict Council News

Three Waters Reform Proposals

The Government is proposing changes to theway NewZealand's Three

Waters(drinking-water, wastewaterand stormwater) services are delivered to

thecommunity.The proposedchanges affect allcouncils acrossNew Zealand.

KaikōuraDistrictCouncil will not be making anydecisions with regardtothe

reforms without full consultation with ourcommunity. At this stage we are

anticipating thiswilltake placelater in the year.

Rightnow,wewanttobringtoyour attentionsomeofthe current information

provided from central governmentwithregardtothe proposal and to seek

your initialfeedback andviews.

What We Know About The Proposals

Currently most of these services in New Zealand aredelivered by

67 local councils and are paid for by rates. Government is

proposing thatresponsibility for providing these services is

removed from local councilsand transferred to 4large multiregional

entities.

Under this proposal ThreeWaters servicesinthe Kaikoura District

wouldbedelivered byanew entity that covers most ofthe South

Island (covering the Ngāi Tahutakiwā),serving around 900,000

people.

Central government considers that such achangeisrequired

becausesomecommunities currently face very substantial

challenges to renew their infrastructure, provide and maintain

ThreeWatersservices to the higherhealth and environmental

standards that government believes peoplewant.

TheThree Waters Reform proposal is based onabelief that

havingmuch larger organisations deliver these serviceswill

substantially improve efficiencyand resilience, enabling higher

standards to beconsistently provided forrelatively little

additional cost.

The Questions WeHave SoFar...

What exactly are the higher health and environmental standards for

water that the government is proposing,and whatwouldamove to

those standards mean at alocal level?

How could local communities retain astrong say or influenceinrespect

of how their water services are provided under asingle entity that

coversnearly all of the South Island?

How confident can we be that the new entity will achieve the

suggested large cost efficiency improvements?

If the new entity can't achieve the suggested cost efficiency

improvement, will people be willing to meetthe much highercosts

required to achieve any higher health and environmental standards

being proposed by government?

What assurance is there that smaller communitieswon't receive poorer

service from an entity that may be strongly focussed on the larger

towns?

Where are the additional skilled personnel required for the new entity

going to come from when there are already severe skills shortages in

NZ?

To what extent will particularcommunities be required to subsidise

other communitiesthrough charges for water?

Whatabsolute assurance is there that thenew large water entities

would not be privatised at some time in the future, recognising that

governments can change laws?

How has the Department of InternalAffairs come up with such high

estimated costs for growth and enhancementofour water

infrastructure whensomuch of our Three Waters

infrastructure has been renewedalready?

Proposed Entity Boundaries

Three Waters Assets and Services transferred from

67 local councils to 4large multi-regional entities.

We Want To Hear From You... What Do You Think?

Currently central government has indicated to councils that they will

be given achoice as to whether or not they opt in or out of the Three

Waters Reform. This is undoubtedly the biggest decision faced by NZ

Councils and their communities in ageneration and could potentially

have consequences that extend beyond just the delivery of three

waters services.

Whilst Kaikōura District Council is not yet at astage where we have to

make this difficult decision, the Government has given councils until the

end of September to provide some initial feedback on the proposed

reform. Before we report back to central government, we want to hear

from you.

You can provide feedback online atwww.kaikoura.govt.nz/ourservices/three-waters-reform,

email CEO@kaikoura.govt.nz or

post to PO Box 6, Kaikōura, 7340. Feedback closes 5pm Sunday

19th September.

More details of the proposalare available on our website which also

includes links to the Department of Internal Affairs (DIA) reform

information. You can also sign up to our newsletter to receive monthly

updates. www.kaikoura.govt.nz

What are your thoughts on...

How important is it for the community to be able to have a

say in respect of how their local services are provided?

How important to you is the continued improvement of

health and environmental standards in respect of Three

Waters (drinking water, wastewater and stormwater

services) relative to what is currently provided?

How willing are you to pay more for any higher standards,

either through rates or water charges?

Are you comfortable with the possibility that by spreading

costs for water services over avery large area that some

communities may be substantially subsidising others?

Are there other aspects of this proposal that are of concern

to you and on which you would like further information to

be provided?

Ph: 319 5026 | www.kaikoura.govt.nz | @ KaikouraDistrictCouncil
---
NEWS

10 North Canterbury News, September 2, 2021

Lockdown opening

New World has opened its first

supermarket in lockdown ­

Ravenswood New World ­north of

Woodend.

It was adifferent kind of opening to

the usual fanfare surrounding the

opening of anew store.

Head of Retail Operations at

Foodstuffs South Island, Ross Martin,

says there was no ribbon cutting, or

crowds of shoppers watching on.

''But it was still amomentous

occasion for all. The team has been

working hard to get the store built and

open for this awesome new community

and we really didn't want lockdown to

stand in the way of that,'' Mr Martin

says.

Foodstuffs and owner operators of

the store, Justin and Melissa Blackler,

have worked closely with the Ministry

of Business Innovation and Enterprise

at Alert Level 4, and everyone is really

proud to be able to open on time and on

schedule, he says.

All New World stores are 100%

locally owned and operated, with store

owners and their teams having the

flexibility to cater to the specific needs

of their community.

Justin and Melissa Blackler, who live

in Kaiapoi, have moved minutes up the

road from their previous store,

Raeward Fresh Harewood.

''We are looking forward to getting

behind this awesome new community

and are excited to share with them

what is on offer in­store,'' Justin says

''For us finally to bring this store to

the community is pretty special and

the feedback we have received to date

has been outstanding.''

The new supermarket employs about

100 locals including in­store butchers,

bakers and deli experts.

Justin and Melissa Blackler

''We are all looking forward to

providing fresh food, great value and

excellent customer service,'' Justin

says.

The New World Ravenswood

supermarket was built in just over 12

months and features an in­store cafe, a

spacious fresh foods hall, an extensive

craft beer and local wine selection, a

zero­alcohol zone and an Eco Store

refillery station.

It will provide afull­scale grocery

offering for the Ravenswood

community and also cater to the wider

North Canterbury community with the

ability to grow as families move into

the residential developments in

surrounding areas.

New World Ravenswood is located at

10 Bob Robertson Drive, Woodend

7691 and will be open seven days a

week from 7am to 9pm.

Walkie Talkies receive grant

The Walkie Talkies have a

spring in their step.

The Kaikoura Netball

Centre's walking netball

club has been awarded an

ANZ Netball Grant.

ANZ invites netball

clubs and teams

nationwide to apply for a

grant to help them advance

their training and put their

best foot forward on game

day.

Kaikoura Netball Centre

umpire co­ordinator Toni

Batey applied on behalf of

the Walkie Talkies to help

kit out the new walking

netball team which

includes training and

match balls, bibs, spot

markers and agear bag.

Toni says gaining the

grant has been a''bit of a

boost".

''It relieves the

fundraising pressure and

effort needed to get the

walkers off the ground,''

she says.

Walking netball is a

recent rule change to the

classic game that removes

running and jumping,

appealing to those unable

to keep up with the fast

pace in regular netball.

Toni says she would love

to be able to play the

senior games, but

physically she can't.

''This group of ladies

wouldn't have been

playing any netball ayear

ago,'' says Toni.

''We've tried to contact

other centres near us to

encourage them to make

All ages ... Kaikoura's Walkie Talkies netballers are taking

it all in their stride.

PHOTO: SUPPLIED

up ateam.

''We did ademo game in

Culverden and we all

laughed so much. There's

good banter, and we're all

very supportive of the

other players,'' she says.

Toni says club secretary

Demelza Sweeny has been

"instrumental" in getting

the walking team off the

ground and will be

accompanying the team to

the National Masters

competition later this

year.

''We're working on our

plays and honing our

skills.

''We've got agroup of

ladies who haven't played

together before as ateam,

but we really gel,'' says

Toni.

Walking netball is totally

new and the Walkie Talkies

hope there will be other

teams formed to compete

against.

ANZ head of

sponsorship, Sue

McGregor, says ANZ is

proud to be supporting

netball from walking

teams like the Walkie

Talkies,right up to the

ANZ Premiership and

Silver Ferns. ''We hope

this grant helps keep the

passion for netball alive in

the community for many

seasons to come.''

NEW LAND ROVER DEFENDER 110

CAPABLE OFGREAT THINGS

AVAILABLE NOW

New Land Rover Defender relishes challenges and doesn't care much for impossibilities. With permanent all-wheel-drive and

world-first configurable Terrain Response tech, it has the capability to push boundaries even further.

Tested in every condition, in every environment, and on every surface you might encounter, it always comes out the

other side, ready for the next challenge. The new Defender crowned 2021 World Car Design ofthe Year as unstoppable

all-terrain model beats shortlisted rivals to win coveted award. Defender. Anicon inacategory ofone.

To book atest drive, please contact Corey Gray at Archibalds.

38 Tuam St, Christchurch |03377 5200 |cgray@archibalds.co.nz | archibalds.co.nz

Own apre-2015 Land Rover Defender? Book aservice now from just $425. Call our team on 03 977 8146.

*Terms and conditions apply. The standard scheduled 5Year servicing isincluded (different terms and conditions apply to different models). Contact Archibalds for more details orvisit www.landrover.co.nz.
---
Light

Festival

16 -18

SEPTEMBEr

Victoria park,

rangiora

Experience alight&sound wonderland. Afairylandof

laser lights, neon, disco lights, interactive lighting displays, glow toys

&more. On the main night, food, UV dance floor, licensed bar, stalls,

kid's activities, rovingentertainers, live music &anoutdoor movie.

ENTRY: Just $5, $15 per family.

BIGGER,BETTER, BRIGHTER

Limited Numbers, Get Your Tickets Now

rangioralightandsound.co.nz

Rangiora
---
NEWS

12 North Canterbury News, September 2, 2021

New role for artist

Local artist Mandy Palmer is

enjoying supporting the

community in anew role.

Ms Palmer took over as

TimeBank Waimakariri coordinator

in July, after the

previous co­ordinator,

Waimakariri District Council

community development

facilitator Martin Pugh,

encouraged her to apply.

''Martin's great. He's the one

who sold the role to me and I

decided it would be agreat

way to be apart of the

community.''

She already has strong

connections through the local

art world, including being

instrumental in establishing

the Pegasus Bay Art Show and

continues to chair the

organising committee.

This year's art show is the

fifth one and is due to this next

month, with over 80 artists

from throughout Canterbury

as afundraiser for the school.

She describes atimebank as

acommunity of individuals

and organisations, who share

their time rather than paying

for someone.

''The important thing to

remember is that everybody's

time is equal ­it's your time

that's of value.''

People earn ''time credits''

by volunteering their time and

they can use those at alater

time or gift them to someone

else.

Since taking over the role,

Ms Palmer has been touching

base with the more

established TimeBank

Hurunui and the Lyttelton

Time Bank to get some ideas

Mandy Palmer

to help TimeBank

Waimakariri to grow.

Established three years ago,

TimeBank Waimakariri now

has 109 members and is

continuing to grow.

''The majority of members

are aged 50­plus, but we would

definitely love to see more

young people. We take people

of any age and schools could

even join,'' Ms Palmer says.

''There's so many different

talents in the community. I

just met with the Pegasus

Woodend Women's Institute

and they want to share

because several of their

members knit and they've got

no­one to knit for.''

To find out more, follow

TimeBank Waimakariri on

Facebook and Instagram or

sign up at waimakariri.

timebanks.org.

Lifeline for Cancer Society

By SHELLEY TOPP

CancerSociety New Zealandhas

been given adigitallifeline after

the charity had to cancel its

Daffodil Day street collections.

The collections were

scheduled for August27and 28,

but had to be cancelled because

of the Covid­19 level 4lockdown

restrictions.

CancerSociety North

Canterbury fundraising and

eventsmanager Tiffany Wafer

says having to cancelthe Daffodil

Day street collectionswas ahuge

setback, but the digital daffodil

app initiative would be amassive

help.

''Itisgoing to make ahuge

difference''.

In North Canterbury there are

plans to reschedule many

fundraising events.

The ANZ Bank, which has been

the main DaffodilDay supporter

for 31 years, raising almost $20

million in that time, matched

Friday's Daffodil Day donations

made through its ANZ Digital

Daffodilapp dollar­for­dollar up

to $500,000.

The bank was joined in its

DaffodilDay onlineinitiative by

asmall groupoftechnology

entrepreneursand investors,

who want to remain anonymous.

Together they will donate $3 for

every $1 donatedbythe public

through the digital daffodil app

with agoal of raising $1.5 million

for the Cancer Society.

CancerSociety brandand

communications manager Deb

McPherson said although the cut

off for the ANZ Bank's digital

daffodil initiative was last

Friday, donations and

fundraising via its website www.

daffodilday.org.nzisongoing

with many schoolsindicating

they intend to still do aDaffodil

Day fundraiser onceschools

reopen.

Vaccination delays frustrating -MP

Cantabrians are voicing

frustration over Covid­19

vaccination delays, which will

be further compounded if the

roll­out is scaledback,

WaimakaririMPMatt Doocey

says.

Cantabrians have already

been penalised in the Covid­19

vaccine roll­out, the

Canterbury District Health

Board(CDHB) recordingsome

of the lowestvaccination rates

for priority groups, he says.

Mr Dooceysays the

Government's failuretoto

orderenoughvaccinations will

likely slowthe process even

more.

''I haveeven heardfrom a

medical professional who is

furious Canterbury is lagging

behind other regions,'' he says.

''While sheisvaccinated,

neither her husband nor her

elderly parents havehad their

jabs yet, despite following all

the guidelines.''

Thosewho havecalledonMr

Doocey for help include

frontlineand essential

workers, teachers and the

elderly.

''I'mgetting calls from

residentswho had bookings

cancelled when we wentinto

lockdown, and whenthey try to

rebook they havetogotothe

back of the queue.''

Some were unabletorebook

theirfirst jab before their

scheduled second jab. Mr

Doocey says the CDHB should

have prioritisedcancelled

bookingswhichresultedfrom

the lockdown announcement.

''Last month Ihad elderly

residentsreaching out to me to

say,wewantthis vaccine, we

needit, but we cantget it.

''Now here we are, in

lockdown, with many of them

facing another longand

anxious wait.

''Lets face it, if the vaccine

roll­out had been effectively

managedfrom the start, many

of these now evenmore

vulnerable residents would

havehad their two vaccinations

longago.

''I cannot speakhighly

enough of the great workbeing

carried out by our vaccinators,

local pharmacists and GPs.

''But I'm callingonthe

Governmenttoclearupthis

shambles before more people

findthemselves either at the

backofthe line, or havingtheir

currentvaccination date

delayed.''

Checkout ourlatest

deals

$

EVERYDAY

PRICE!

$

17 99

each

WITHER HILLS

PinotNoir or Syrah

750ml

Also available:Merlot

$ 50

2 for

MT DIFFICULTY

ROARING MEG Pinot Noir

750ml

Single bottles prices apply

Weekendbeersies,

sorted!

39 99

each

STEINLAGER CLASSIC or ASAHI

24 x330ml Bottles

Great giftideaSfor

FATHER'S DAY

SUNDAY5 TH SEPTEMBER

EVERYDAY HOT DEAL!

$

37 99 PRICE! $

54 99

HOT DEAL! EVERYDAY

PRICE!

$

39 99

each

HOT DEAL!

$

1LITRE

1LITRE

54 99

$

39 99

1LITRE

NEW

PRODUCT

HOT DEAL!

$

59 99

each

HOT DEAL!

$

29 99

BILLY MAVERICK

&COLA

18 x250ml Cans, 7%

HOT DEAL!

$

39 99

each

WOODFORD RESERVE

700ml

DEWAR'S

White Label

1Litre

GORDON'S 1Litre

GORDON'S Sicilian Lemon or

Premium Pink 700ml

SMIRNOFF

RED NO.21

1Litre

JACK DANIEL'S

1Litre

THE GLENLIVET

Caribbean Reserve

or Founder's Reserve

700ml

LONG WHITE

VODKA Range

15 x320ml Bottles, 4.8%

Shop local with

AMBERLEY, ASHBURTON, BARRINGTON, BELFAST, BRIGHTON, BURNSIDE,

COLOMBO ST, EDGEWARE, ELMWOOD, FERRYMEAD, HALSWELL, HANMER

SPRINGS,HORNBY, ILAM, KAIAPOI, LEESTON, LINCOLN, METHVEN, OXFORD,

SHOP LATESTDEALS at WWW.SUPERLIQUOR.CO.NZ

NATIONWIDE DELIVERY NOWAVAILABLE

PAPANUI, PEGASUS, RANGIORA, SEASIDE, WOOLSTON

Exclusions mayapplyonsomebrands advertised. Offers end close of trade 5th September 2021, while stockslast.Availableatparticipating stores only.Multi Deal only available in store.

Varietals mayvary by store. Limits mayapply.Wholesale (other liquorretail banners)not supplied. Terms and conditions may apply. Available 23rd August -5th September2021inclusive.

Pleasesee www.superliquor.co.nzfor details.

SUP2366_C11
---
PAINTERS

RegTradesman • Interior,exterior.

North Canterbury Painters

specialising in decorating for

over 65.

Discounts

for Seniors

Free quotes.

Covering North Canty,Oxford,

Kaiapoi, Rangiora, Amberley.

Ph Rob 03327 7899

or 027 432 3520

2289726

Petrol &Diesel

Use your SuperGold card or

supermarket docket for 12

cents off Petrol &Diesel only

COMPLETE AUTO REPAIR SERVICE

WOF

Light Engineering

Tune-ups

Repairs

Lube-Oil changes Ride-on Mowers

Full Diesel Service Pick up &Delivery

Brakes &Clutches

Sell &Sharpen

Motor Work

Horse Clippers &

Warranty Work

Sheep Shears

Oils &Automotive Accessories, Postal

Services, Hot Pies, Sandwiches, Rolls,

Groceries and Sweet Treats

For your convenience

Sefton Garage

571 Upper SeftonRoad, Sefton

North Canterbury.Ph03312-9713

GOLDEN YEARS

14 North Canterbury News, September 2, 2021

Social connections important

By JOANNE GUMBRELL

Chairperson

Waimakariri Age­friendly

Advisory Group

An email from afriend said

she haswritten alist of

chores to do duringthis time

and hopes it will be over

before shegetstothe one

thatsays, ''Wash bathroom

walls.''

Iremember two friends

years agowho would get

together and springclean

their houses.

Whatagreatidea.

Perhaps thisissomething

we could thinkaboutwhen

we areaskedtohave contact

withonly thoseinour

''bubble''.

It doesn'tneed to be just

doing chores. Sharing

meals,writingand telling

eachother's life stories,

gardening, crafts, sorting

photos and papers.

I'm cleaningout drawers

justnow andthe op shops

willbenefitfromthat when

the lockdown is over.

The WaimakaririAgefriendly

Advisory Group,

scheduledtomeet this

week, didn'tdue to the

lockdown.

Madeleine Burdon,our

Age­friendlyfacilitatorwith

the WaimakaririDistrict

Councilcommunity teamis

one of the Civil Defence

team.

Theyare available to

assistanyone needinghelp.

Joanne Gumbrell

We canall helptoo by

makingsureour friendsand

neighboursare OK.

Give themacall,

especiallyifthey livealone.

Socialisolation is not good

foranyone.

Andifyou need help call

someone. One of the

council's brochures,

entitled Getting Advice,

Shows Strength,has lots of

helpful contacts: seethe

lists on www.waimakariri.

govt.nz or phone 0800 965

468.

Ibelongtothe localU3A

whichhas lecturesevery

month,with ongoing,or

short­term, interestgroups

at othertimes.

Socialising at adistance ... There are lots of ways to

connection, even during lockdown, such as phone calls or online.

Anew one Ihave joined is

Singing for Health andisfor

anyone.

It is not astructured choir

andyou don'tneed to be

able to sing.This activity

hasbeenproven to be good

forour health and is fun. It

also brings us into contact

with other people,also

necessary for our health.

PHOTO: FILE

The threethingswecan do

for ourselvesand others

during this time of

uncertaintyare stay at

home, contact othersand get

vaccinated.

Thisisnow availablefor

everyone over the age of 12.

To makeabooking go to

www.bookmyvaccine.govt.

nz or phone 0800 28 29 26.
---
GOLDEN YEARS

North Canterbury News, September 2, 2021

15

BloomfieldCourt

Homelysettingproviding

personalised care,delicious

home cooked meals &rooms

with alovelygarden outlook.

Privatelyowned and

operatedwithin the heartof

NorthCanterbury.

Aged care ... Support is available for elderly people on their own during lockdown. PHOTO: FILE

Support available

By DAVID HILL

Presbyterian Supportiscontinuing to

offer support in lockdown.

Staff are workingfromhometoconnect

withclientsand offeressential services,

but arefindingthereislessdemand

compared to lastyear's lockdown,

Presbyterian SupportupperSouthIsland

areamanagerVicki Lucassays.

''This time aroundolder peopleare able

to get out anddotheirown shopping,so

there hasn't been quite as muchdemand.

''Weweredoingquiteabit of that last

timeand picking up medications.

''The only transportrequest we'vehad so

far is someonewantingaride for a

vaccination, so we hadtoget himcovered

up.''

As an essentialservice,Presbyterian

Supportcan provide transporttomedical

appointments under lockdownwithsocial

distancing and canaccessthe North

Canterbury Mini Bus Trust vans if

required.

Under Alert Level 4, staff have been in

contact withclientsbyphoneorZoomto

check on them.

''Our day programme clientsare getting

aphone callonthe day theywere due to go

to their programmetokeep up the

connection,'' Ms Lucassays.

''Most peoplelookforwardtothe regular

phone call.''

Withthe move to level 3staff will be able

to conductsocial distance visiting,she

says.

''Wecallthem 'driveway visits'because

it'sreally standing in the driveway to check

up on people.

''Evenunderlevel4wedid have some

concerns, so we've visitedtwo people. We

justknockonthe doorand thenstand

back.''

Covid places expo on hold

Covid­19 hasplaced theannual older

person'sexpoonhold.

Funding has been securedfrom

local community boards forthe

WaimakaririOlder Person's Expo,

which is duetobeheldonOctober 7

at the RangioraBaptistChurch.

''Weneedtobeatlevel 1tobeable

to holdit, so here'shoping it will be

backtolevel 1bythen and people will

feelcomfortable coming out,''

PresbyterianSupportupper South

Island area manager Vicki Lucas

says.

''Wecertainly like runningthem

and it's an awesome thing to do.''

The olderperson's expo is a

partnershipbetweenPresbyterian

Support, North Canterbury Citizens

Advice,the Waimakariri District

Council'scommunity team,

SeniorNetand U3A.

Around 25 service organisations

areexpected to run stalls on the day,

with up to 300peoplelikely to attend.

''We've kept it small because we

didn't know how people feltabout

goingout after Covid­19,''MsLucas

says.

''We were justkeepingittoservice

providers, but we thought if it went

well we would go gangbusters next

year.

''It didn'thappen last year, so it

wouldbeashame if we had to cancel

it again.''

134 Rangiora-Woodend Road,Woodend

Forfurther information phone Lyn-Nurse Manager 03 312 7088

Email: nmbloomfield17@gmail.com www.eldernet.co.nz/bloomfieldcourt/

Come and see our

professional friendly

team at Central

Physiotherapy for all your

treatment requirements

General Physiotherapy

Sports Injuries & Massage

Posture & Muscle Imbalance Correction

Surgery Rehab

Acupuncture

ACC Accredited Provider

CENTRAL PHYSIOTHERAPY

36 Ashley Street, Rangiora |Phone (03) 313-7053

centralphysio@xtra.co.nz

2393781

2413874

We're your local hearing experts.

The team has grown to include an

independent ear nurse and anew audiologist.

Aone-stop shop for all your hearing health

and healthy hearing requirements.

This FREE classroom-based course will help you re-familiarise yourself with

traffic rules and safe driving practices. It will also increase your knowledge

about other transport options and help you remain independent forlonger.

Grab your friend or partner and join us on Wed 15 Sep2021from10.00am -

2.30pm,atthe Culverden FireStation. RSVPtoWendy Fox, AgeConcern

03 331 7808 by Fri10Sep 2021. Morning teaand lunch provided, we just ask

fora$10.00 pp contributionplease. Supported by the Hurunui DistrictCouncil.

Call 03 423 3158 •Amberley /Rangiora /Cheviot /Hanmer •verasetzaudiology.co.nz
---
Trees and vegetation

What are you responsible for?

Treestoo close to powerlines areahazardand amajor causeofpower failures duringbad weather.

They canbreak powerlinesand network equipment, resulting in risk of seriousinjury or death as

well as causing widespread powerinterruptions.This inconveniencesfarms and households, affects

business productivity and causes damage to customers'electronic equipment and appliances.

Tree Owners' Responsibilities

Under theElectricity(Hazards fromTrees) Regulations,

tree ownersare responsiblefor theirtrees; the results

of tree damage to powerlines can beasignificant

cost to atreeowner.Please check your trees,hedges

or shelterbelts regularly. If youare not sure whatto

lookfor,please call us so we can help.

Remember, trees need to be kept asafedistance

away frompower lines and other electricity network

equipment because:

•Children thatclimb trees close to powerlines are at

risk of serious injuryordeath.

•Insevereweather conditions,vegetation can

become electrically 'live' and mayelectrocute

anyone comingintocontact withit.

•Treesand vegetation coming into contact with

powerlines cancausepower outages,not just for

the tree owners,but the widercommunity.

•Inbad weather, treescan toppleorbranchesbreak

away causing damagetopowerlines resulting

in apoweroutage. In snoworicy conditions, the

additional weightonthe treecan cause asimilar

scenario.

•Treesclosetolines maycause electricalsparking

resulting in fire.

•Tree roots can grow around underground electricity

cables,rupturingthe insulation and causing power

outages.

WhatdotheElectricity (HazardsfromTrees)

Regulations mean to you?

These regulations are to provide asafe electricity

supply to you and to protect the security of

electricity supply to everyone in the community.

The regulations place responsibilities on tree

owners (you) and the electricity network operator

(MainPower)

Following the regulations will helpensuresecurityof

supplytoyou andthe wider community.

Please don't wait to be reminded that your trees

needtobecut.Beproactive,regularly inspect your

trees andiftheyare in eitherthe Notice Zone or the

Growth Limit Zone they must be trimmed safely.

Calluson0800309080for afree inspection and a

quotefrom our utility arborists. Be aware that if your

trees cause anyproblems on our network,you can be

charged forall costsofrepair.

Always remember: Touching live

powerlines,ortreesclose to the

lines,can result in serious injury

or death. Please ensurethatyou

engage qualified contractors to

carryout anytrimming work near

powerlines.

Notice and Growth Limit Zones

Theregulationsspecifydifferent zones fortrees

growing close to powerlines andother electricity

network equipment: the Notice Zone and the

Growth LimitZone (illustrated below).

Tree "A"

In Notice Zone

needs trimming soon

Overheadline

Notice

Zone

Tree"B"

In Growth Limit Zone

must be trimmed

Growth

LimitZone

66,000V(high voltage) 5.0 metres 4.0 metres

33,000V (high voltage) 3.5 metres 2.5 metres

11,000V (high voltage) 2.6 metres 1.6metres

400V /230V(lowvoltage) 1.5metres 0.5metres

Notes:

•These distances are from the power line, not the

power pole.

•Thesedistancesare aminimum andapply in all

conditions, including highwind or snow.

•Inmostinstances, thepowerlines that go to a

house or building arelow voltage powerlines.

•Powerlinesthatgodown astreetmay be lowor

highvoltage.

Cut/Trim Notice

If your treeisgrowingwithin the Notice Zone

(TreeA)youwill receive alegal noticefromussaying

that it must be trimmed soonbecause it is growing

tooclose to powerlinesand equipment.

If your treecontinuestogrowinto the Growth Limit

Zone (TreeB)youwill receivealegalnotice from

us requiring the tree to be trimmed (byaqualified

contractor) within aspecified time frame. This is

becausethe treeisnow too close to powerlines and

equipment, and could cause apower outage and /

or harm the public. As youmightexpect, the notice

zones vary depending on thevoltage of the power

lines.

Offences CommittedbyTreeOwners

There are penalties fortreeownerswho do not

comply with awritten request to cut theirtrees, or do

not advise MainPoweron0800 30 90 80 of the time

and locationofthe cutting work.

On summaryconviction, treeowners maybeliable

for afine not exceeding $10,000and afurther fine of

$500 forevery dayonwhich the offence continues.

If your trees are considered an immediatedanger to

ournetwork,MainPowerhas an obligation to remove

anyhazard. If youhave failed to keep your trees

clear of powerlines, or have notresponded to our

requests, thenasthe tree owneryou are responsible

forall costsincurred by us to remove anyhazard.

Cutting Trees NearLiveLines

Trimming treesand vegetation close to powerlines

can be extremelydangerous andmustbeundertaken

by acompetent worker.When selecting acontractor

please ensure theyare trainedtocarry out this work.

MainPowerhas ateamofexperienced andqualified

utilityarborists(arborists trained to work near live

lines).Youmay engage MainPowerarborists, or other

arboristsofyour choosing, butitisessential to ensure

thatanyone working near powerlines is suitably

trainedand qualified to do so.

Fall Hazard Zone

Tree owners should be aware that treespresenta

hazard if theyfall and damage powerlines.Theclosest

atree canbelocatediscalculated on the basis of the

height of treeplus4metres. Check thatyour trees are

outsidethe fall hazard zone andconsider trimmingor

removaltoavoid causing damage and incurring future

costs.

Tree "C"

Tree Cisoutside

the fall zone.

Contact us:

mainpower.co.nz

info@mainpower.co.nz

0800309080

Tree "D" is inside

the fall zone and

would damage

the network.

Further information on the Electricity (Hazards from

Trees) Regulations can be foundonour website:

mainpower.co.nz.

MainPowerprovides afreecomplaintsresolution

service. If youhave anyconcernsoracomplaintabout

aMainPowerservice, please call us on 0800 30 90 80

or email us at feedback@mainpower.co.nz.

If youare not satisfied withthe outcome after

contacting MainPower. UtilitiesDisputes provides

afree andindependent dispute resolution service

forelectricity complaints. MainPower is amember

of this scheme. Contact Utilities Disputesat:

utilitiesdisputes.co.nzorphone0800223340.
---
House

and Home

SICK &TIRED OF

YOUR DRAPES?

Contact us for curtains, Romans rollers,

cushions &much more.

For afree consultation and

free installation during level two

UNDER NEW

MANAGEMENT

Phone Maureen 03 327 4919

Mauds Soft Furnishings

88 Williams Street,

Kaiapoi

(up long driveway)

www.mauds.co.nz

Property –Buying and

Selling

We can provide advice:

•First Home buyers –Kiwisaver

withdrawal and Kainga Ora

Subsidy

•Detailed Title and LIM reports

•Pre Auction checks

•Subdivisions

•Retirement Village –Licences to

Occupy

PROVEN -PERSONABLE

PROFESSIONAL

2350098v8

7Ashley Street, Rangiora | 03 310 6464

admin@law4you.co.nz | www.law4you.co.nz

2351968v5

Blaze King's Chinook ... The ultra low emission burning status of the Chinook CK30,

shielded burner, allows it be installed into any home.

PHOTO: SUPPLIED

Clean air technology

Winter is here, so if youneed to turn up the

heat,the Blaze King from Heatstore brings

long lasting,sustainablewarmthtoyour

home.

Acosy home is ahappy home and a

blazing woodfire that lastsall night can

make all the difference.

BlazeKing fires do just that with new

catalytic technology enabling thefire to

produce thermostatically controlled heat

all nightlong.

''People really enjoywakinguptoa

warm home without worrying aboutthe

fire going out during thenight.

They can then add more woodtothe fire

when they get up, turn up the heatand

they're in acosy home no matter what the

time of the day is,'' saysHeatstore

commercial manager David Chalklen.

BlazeKing logburners canlast 12 or

more hours without having to be stoked up

and work by using aclean air technology

that raisesthe temperatureofthe smoketo

burning point.

''Being abletogenerate heatfrom

otherwisewasted energy in smoke allows

for amuch cleaner burn, easily meeting

and raising the bar for log burners

available in New Zealand and

Environment Canterbury's ultra­low

emission burner (ULEB) standards.''

Customer feedback has been

phenomenal with customers saying that

they never had afire thatheatsthe whole

home and keeps going all night.

Even thosewho liveinrural areas and

don'tneed to meet the low emission

standards buy Blaze Kings.

BlazeKing hasa40­yearhistoryof

making wood fires and a30­year award

winning history of making catalyticwood

fires, mainly to heat homesinthe freezing

Canadian winter. They arealso very

energy efficientburning up to 30 percent

less wood than aconventional fire.

Heatstore's showroomisat2/472

BlenheimRoad has over 20 different types

of log and pellet burners on display and

the team are happy to providetheirexpert

knowledge to ensure you make the right

choice for your homeand lifestyle.

The showroom is open Monday to

Saturday, give them acall on 03 3431651or

visittheir website at www.heatstore.co.nz.

2352423v4

QUALITY KITCHENS

AND JOINERY TO SUIT

ALL STYLES AND BUDGETS

19 Beach Road

Ph: 03 319 5562

E. info@thejoinershop.co.nz

www.thejoinershop.co.nz

"Exclusive"

Ravelli ULEB Wood Pellet Fires

Allan Pethig

For all your electrical needs.

Residential &Commercial

Phone 03 313 7144 | 027 432 1534

2278923

Fax 03313 2144

Pellet and Wood Fire Specialists

472 Blenheim Road

Sockburn

Phone: 03 343 1651

Open 8:30am -5pm

Sat 10am -3pm

www.heatstore.co.nz

rgrantelectrical@gmail.com

PO Box 69, Rangiora

www.rgrantelectrical.co.nz
---
NEWS

18 North Canterbury News, September 2, 2021

Food rescue service essential

By DAVID HILL

NorthCanterbury's food rescue

service is continuing to operate

during the lockdown to ensure local

families don't go hungry.

As an essential service, it is

business as usualfor Satisfy Food

Rescue in redistributing food to

food banks throughout North

Canterbury, distributioncoordinatorMichelle

Campbell says.

Volunteers are continuingto

make non­contact collections of

excess foodeach day fromlocal

supermarkets and arereceiving

bulk deliveries from the New

Zealand Food Network.

''We havejust enough food to

service the food banks and other

organisationsweare supporting in

lockdown, but we couldalwaysdo

with more," Ms Campbell says.

Whilethere has beennoincrease

in demandfrom foodbanks across

the Waimakariri district, "there has

been adefinitespikeinHurunui,''

Ms Campbell says.

Satisfy Food Rescue supplies

threefood banks in the Hurunui

district, withagrowth in demand

beingexperienced at Culverden

and Cheviot.

In spite of the speed of this year's

lockdown, Hurunui District Council

community activator Roger

Hornblow says food banks across

the regionhave not faced the levels

of demand experienced last year, so

far.

''Satisfy Food Rescue are the

Thumbs up ... Satisfy Food Rescue distribution co­ordinator Michelle

Campbell gives the thumbs up to supporters of the food rescue service.

PHOTO: SATISFY FOOD RESCUE

absolute legends in all of this.

''There is aslight spikeatthe

moment, but we are monitoringthe

situation and thereisnothing out of

the ordinary.''

But the pressures on food banks

may changethe longer the

lockdown goes on and its ongoing

impactishard to predict,Ms

Campbell says.

Some localorganisationshave

already made some generous

donations since the lockdown

began, withMainPower Stadium

donating asupply of milk and

Happy Hens hasbeen providing

eggs it would otherwise have been

sellingatfarmers' markets, she

says.

''Satisfy can help with noncontactcollections

and can

distribute any excess to support

individuals and families in need.''

To support SatisfyFoodRescue

contact027­9516052 or go to the

websitesatisfyfoodrescue.org.nz.

Spring flower show

Planningiswell in hand for the

WoodendSpring Flower Show

in October.

Covid­19 restrictions forced

the postponementoflast year's

show, but the show committee is

confidentthis year's show will

go aheadonSaturday, October

2.

It began 88 years ago when a

group of farmers' wives, many of

whom were members of the

WoodendAnglican Church, got

together to stage ashow.

At one point the group was

named the Woodend

Horticultural Society. Light

green vases used for the

daffodilsand some trestlesstill

have WHSmarked on them.

Several cups and trophies

SPORTS RESULTS

Rangiora Bridge Club

Individual: North/South:

DesSteere/JanelleCrawley 1,

Denise Lang/Julie Day2,

Warwick Wyatt/Margaret

Barson 3. East/West:Ken

Johns/Gaynor Hurford 1, Tom

Rose/RonaMaslowski2,

Pauline Miller/Bunty

Marshall 3.

Club OpenTeams: Doctors

(FernMcRae/David McRae/

Tony Biddington/Nic van der

Mespel), 1.

RataPairs: N/S:Denise

have the names of people and

families of those involved­

Barker, Bourne, Edwards,Jelfs,

MacDonald, Moody and Percy.

The early schedulescatered

for farmers, with classes for

grains,root crops, eggs,

potatoes, and vegetables. The

wivescould enter in baking,

preserves, handcrafts, daffodils

and cut flowers.

Over time other classes were

added ­more daffodil classes,

children classes,photography,

decorative floral classesand the

''blokes section''. This year

features anew intermediate

decorative class, with acup

presented in memoryoflong

committee member, the late

ShirleyTull

Lang/JulieDay1,Ant Lilley/

Gail Hallams 2, SueSolomons/

JanRoose 3. E/W: Pat Green/

Noreen Thompson1,Robin

Hassall/Heather Waldron2,

Dave Tocker/AndrewFindlay

3.

Junior Evening: N/S:Kerryn

Lange/KarenManson1,Lynne

John/JohnKennedy2,Jan

Cameron/BernieLukken 3.

E/W:Wayne Hutchings/Stuart

Atkinson 1, Murray Davis/

SharynDavis2,Desley

Simpson/JudithRobinson3.

Advertisement

adult human female

Say 'NO'tosex self-identification

Visit speakupforwomen.nz by14September
---
SECURE YOUR

TODAY

Secure your pick of the range in the colour you

want, we have good stock arriving this year and

are taking forward orders today.

Beat the proposed fuel tax and get the Triton

you've always wanted.

Contact us for more details.

*PriceslistedareforTriton2WDGLXRdoublecab,Triton4wdGLSBdouble cab andTriton 2WD

VRX double cab.Prices exclude on road costs which includes WoF, registration, 1,000km road user

charges and afull tank of fuel.

$48,990 +ORC

• Factory-fitted black body kit

• Black 18 inch Alloy Wheels

• Front and rear parking sensors

• Running Boards

• 7" Touch Screen Smartphone

Link Display

• 18 inch Alloy Wheels

• Black Sports Bar*

• Multi-Around View Monitor

• Leather-Appointed Interior

CHRISTCHURCH MITSUBISHI

386 Moorhouse Avenue, Christchurch

Tel: 03 379 0588 | christchurchmitsubishi.co.nz

FROM

FROM

GLXR

$39,990 +ORC

VRX

$44,990 +ORC

*On VRX4WDonly

10 year /160,000km Powertrain Warranty(whichever comes

first)(nontransferable). 5year /130,000kmNew Vehicle

Warranty(whichevercomesfirst)(nontransferable).

RANGIORA MOTOR GROUP

NEW DEALERSHIP OPENING LATE 2021

CNR Southbrook Rd &CoronationSt

POSITIONS AVAILABLE

•Sales

•Service Technicians

•Admin/Reception

•PartAdvisor

•Service Advisor

•Grooming

Expressions of interest to

steve.hammond@mbmg.co.nz

DRIVE A NEW

NISSAN

STOCK AVAILABLE TODAY

STOCK AVAILABLE NOW

*Price shown is for the Nissan Qashqai ST excludes on road costs.

RANGIORA NISSAN, 321 High Street, Rangiora

Ph: 03 941 3175

www.rangioranissan.co.nz

AVAILABLE

$33,990

FROM

*

THE ALL-NEW

IN STOCKNOW

PRO-4X

rangioranissan.co.nz
---
THE BELLEVUE

Discover

Papanui'snew

standout lifestyle.

Brand new, luxury apartments available now.

Oceania's newarchitecturally-designedvillage, TheBellevue,isset in beautiful gardens,close

to your favouriteshopsatNorthlands and Merivale, as well as the city centre andthe airport.

Localresident, Kate Fraser,recently movedtoThe Bellevue and lovesthe convenienceof

apartmentliving. "When Iwalked in the door,Iknewimmediately Iwas going to livehere."

On atypical dayyou could startout with abarista-made coffee and atreat at the café,

getinyour stepsatthe gym, then join neighboursfor agame of pool before moving to

happy hour."The village hasafeeling of aresorthotel. Ithought—itreminds me of that

hotelinSpain." Kate added.

TheBellevueisnow open, so come in foracoffee andsomething delicious from the chefto

getatastefor why Kate lovesliving here.

Fixed weekly fee for life -Guaranteed.

For residents 70years and above.

Getintouchwith Russelltoday on 0800333 688.

21 Windermere Road, Papanui, Christchurch

oceaniahealthcare.co.nz
---
NEWS

North Canterbury News, September 2, 2021

21

Supporting local producers

Enterprise North Canterbury has been

supporting local producers to keep

operating during lockdown.

Using its Made North Canterbury

provenance brand, Enterprise North

Canterbury has been connecting

consumers with local food and beverage

businesses.

''Very soon after the lockdown was

announced it became apparent that

North Canterbury consumers were

wanting to continue to support local

producers,'' Enterprise North

Canterbury food and beverage business

development manager Alissa Wilson

says.

''We had enquiries as to which Made

North Canterbury members were able to

deliver during Level 4and we also had

members contacting us to see if we could

notify consumers that they were open for

business.''

Checking the Made North Canterbury

member database, Ms Wilson found most

were deemed essential food and

beverage businesses by the Government

and compiled an online database.

The database features 39 local

producers who can offer contactless

delivery during lockdown, ranging from

eggs, meat and dairy to pantry staples,

honey, coffee, wine, beer and even gin.

''All of our members offer quality,

fresh, locally produced items,'' Ms

Wilson says.

''By choosing to support them you are

guaranteed atasty addition to your

pantry or fridge and you're supporting a

local business, whose profit will go back

into the local economy, which is just what

we all need right now.''

Since lockdown, Ms Wilson has also

been inundated with local producers

keen to sign on as Made North

Canterbury members.

''I think the value of becoming aMade

North Canterbury member and being

Alissa Wilson

part of acommunity of like­minded

businesses becomes very apparent at

times like this.

''As well as helping to extensively

promote our local producers, we work to

connect our members to suppliers and to

create relationships and collaborations

within our member base.

''Outside of lockdown we also create

and engage in large scale food and

beverage events, giving our members an

opportunity to get their name and

products out to wider audiences.''

The move to level 3means more local

businesses will be able to operate, with

restrictions.

To find out more, contact Alissa Wilson

on alissa@enterprisenc.co.nz

The database of Made North

Canterbury members operating in

lockdown can be found here: https:/

/madenorthcanterbury.co.nz/businessdirectory

and enter 'lockdown' in the

search box.

ARA INSTITUTE OF CANTERBURY

Many opportunities for lab technicians

Over thepasttwo years,

more than twomillion

COVID-19tests have been

performedinNew Zealand

alone. However, the

importantworkdoneby

laboratory techniciansgoes

farbeyondhelping fight

global pandemics.

"COVID-19 hasshown

theworld theimportance

of high-quality labtesting,

but labtechnicians do

importantworkacross

many othersectors,"says

Dr GrantBennett, Ara

InstituteofCanterbury's

programme leaderfor laboratory science.

Food manufacturing, environmental

monitoring,quality assurance, human

health,veterinarydiagnostics andproduct

developmentare just some of areaslab

technicians work in."Thisprofessioncan

take youinsomanydirectionsand you

canmakeareal differencebyhelping

ourcommunity,our environmentand

supporting localindustries,"Grant says.

AraInstitute of Canterburyoffers three

qualifications foraspiringlab technicians:

twodiplomas andagraduate diploma. Each

is industry drivenand heavilyhands-onwith

afocus on employment.Workplacements

areincludedwiththe Level 6diploma and

thegraduatediploma.

"Our classsizes aresmall,our programmes

arehighlypractical,and ourlabsare

equipped with thesamegearthat'susedin

industry," Grantsays. "Students gain abroad

range of labskills, but also many transferable

'soft'skillsessential to employment,such

as workflow management,teamworkand

communication."

Michelle Knowler studied Ara's Level 5

DiplomainAppliedScience."It's agood

optionifyou'restraightfrom high school,"

shesays. "It'smuchmore practicalthan

theoretical,whichIreallyliked." Michelle's

goal is to takeher skillsbacktoVanuatu and

to encourage more womenthere into science

careers.

After completing aBachelorofScience

at OtagoUniversity, SamSuzuki studied

Ara'sGraduateDiploma in Laboratory

Technology. He knew that theadvanced

laboratory experience he'd gain, along

with theexperience he'd getfrom thework

placement,would equiphim with hands-on,

industry relevant skillsthatwould make him

work-ready.

Samwas right. Hisworkplacementwas

at Plant&FoodResearchand nowhe's

employed thereasalabtechnician/research

associate within itsannualcropsgroup.

Allthree laboratorytechnology

programmes startatAra in February.For

more details, seeara.ac.nz.

Millie

Ara graduate

Nina

Ara student

foracareer in nursing

Equip yourself to makeadifference tothe lives

of others with aBachelorofNursingfromAra,

starting in February.

Applicationsclose on 30 September,

places arelimited.

to support your

community

If youhaveapassion for supporting individuals

and families duringchallengingtimesand adesire

to createpositivechangeinyourcommunity,

Ara'sBachelor of Social Work will equip youwith the

skills and knowledge needed to make adifference.

This highly practical degree has astrong bi-cultural

focus and includesextensive work placementsto

ensureyou graduatework-ready.

TheBachelor of Social Work

starts in February.

For details and to apply

visit ara.ac.nz

Check itout today

at ara.ac.nz
---
From homes to farm buildings and

far beyond -BGBeaven do it all!

Forthe past 43 years BGBeaven, a

well-established Rotherham-based

building company,has been providing

building services throughout North

Canterbury.

Its expertise is sought from Amberley

in the south to Kaikoura in the north,

and everywhere in between.

Today it employs 12 builders based

in Kaikoura, Rotherham, Hanmer

Springs and other North Canterbury

centres.

Barney and his wife Wendy are

Kaikoura-based, where they are

building their own home to eventually

retire in.

Barney Beaven began building

woolsheds as a21-year-old. Today,he

has replaced many with calf sheds as

dairying has become more prolific in

the region.

However,the company's work extends

far beyond farmbuildings.

It now provides everything from

repairing weatherboards to building

$2 million architecturally designed

homes.

BGBeaven continues to be in

demand. It has several new homes

on the go, with one in Culverden, and

one in Amberley being built for people

whom the company has built houses

for before.

The company continues to do EQC

repairs on homes and buildings

damaged in the 7.8 magnitude

November 2016 quake, which had its

epicentre in Waiau.

''Wecare about these people. BG

Beaven is now trusted and listened to

by insurance companies,''

Wendy says.

BGBeaven can get

plans drawn up

for clients from

reputable

Outdoor

companies

it subcontracts

to, and has

project

Living

managers

based in the

Rotherham

office to do

pricing and guide

clients, while also

ensuring buildsmeet

all the building standards,

Kaikoura home ...Progress on the Beaven's home at

Avoca Street, Kaikoura.

Photo: Supplied

rules and

regulations. A

vacancy is being

advertised for a

project

manager at

present.

Barney andhis wife

Wendy remainthe foundation

of the business. Their move to

Kaikoura follows decades of service

to their local Amuri community.

Wendy an accountant, manages BG

Beaven's finances. Barney,who was

in the office for about 20 years, has

returned to building in recent times,

while endeavouring to finish their

retirement home.

See your

experts

in Rangiora!

2386035a

Gardens

PLUS

We Install &Service

Everything We Sell!

Landscaping

Free Quotes

Phone 027 537 2733

or 03 327 6850

www.easylawn.co.nz

Need aQuality Builder in Kaikoura, Hanmer

&Hurunui? Full Builds, Extensions and Repairs

We have offices based in Rotherham and Kaikoura.

2325750v2

www.tiw.co.nz

03 313 0408

308 Flaxton Rd,

Rangiora

Jobs Large and Small

We are happy to help!

Contact ustoday for a

quote or to discuss

your next project

BGBeaven Builders

03 315 6346

www.hurunuibuilders.co.nz

wbeaven@amuri.net

2325172v1

Residential and Commercial

Installation, Repairs, Maintenance &Alterations

Services we offer for all door types:

New Garage doors: Sectional, Roller,Tilt &

Cedar

Partsand Maintenance

Door Upgrades

Supply and install automatic door openers for

sectional tilt &roller doors

Phone 027 207 6128 |03310 6577

hamish@abelgaragedoors.co.nz

www.abelgaragedoors.co.nz

2257749v1

Don't know where to start orhow to do it?

Gardens &Lawns doing their own thing –

not your thing?

Property maintenance falling behind?

No time for life on alifestyle block?

CALL IN THE EXPERT

LET AL-MOW AND MORE FOR YOU!

Regular maintenance or one off work

No job too big or small

Call Al Today!

P: 021 249 9495 |E:al@almows.co.nz

www.almows.co.nz

2325634v1

Spring is fast approaching -

give Brett acall to discuss your

interior and exterior needs

Day Bros

Painters and Plasterers rs are

able to

handle your whole job -Nomore dealing with

two different trades!

We offer free quotes andservice Canterburywide.

Residential and commercial

properties.

We specialise in: painting

plastering roof spraying

specialised coating system

airless spraying water blasting

Local, family owned business who has been in business

for over 30 years. Members of master painters.

Please contact Brett on 0275 340 878

Email: office@daybrospainters.co.nz

www.daybrospainters.co.nz

2387068a

Inspiration

comes from

within...

See your outdoor living

dreams become areality by

supporting these fantastic

local businesses.

For advertising info contact

info@ncnews.co.nz
---
SERVICED APARTMENTSAVAILABLE FROM $350,000*

Brand-new

servicedapartments

available now!

SummersetatAvonhead have astunning range of brand-new

serviced apartments available now!*

Nestled in thebeautiful suburbofAvonhead, our newest

Christchurch villageoffers relaxedretirement livingwitheasy

access tosupermarkets and shopping centres.

Our serviced apartments are some of the largest available

on themarket, offeringlightand spacious open plan living, a

kitchenetteand separatedouble bedroom withalarge ensuite.

Locatedinthe heart of thevillage,our serviced apartments are

designed to create theperfect balancebetween independence

andservicestosupport your needs.

Free from thehasslesofupkeepand ongoingmaintenance,

ourhomes areall aboutstress-free living,wheretimeisyours

to livethe life youchoose.

If you'dliketofindout moreabout ourserviced apartments,

getintouch withAnnetoday on 03 3573202orvisit

summerset.co.nz

Get in touch

today!

SummersetatAvonhead

120Hawthornden Road,

Avonhead

Call Anne on 03 3573202 or visit

summerset.co.nztofindout more

*Licence to occupy.

03 3573202 |summerset.co.nz/avonhead

Forthe latest information on visiting ourvillages pleasecallthe village,orvisitsummerset.co.nz/covid-19

SUM3330_FP
---
MainPower

Live Lines

Issue 199 September 2021

AnnualMeeting

rescheduled

Duetothe nationwidelockdown, theAnnualMeeting of

MainPower New Zealand Limited (MainPower) has been

postponed.

The Annual Meetingwillnow be held at 172FernsideRoad

at 5:30 p.m. on Thursday 23 September 2021.

The safety of our staff and community is our priority. If the

region's lockdown status makesholding aphysical meeting

impractical, theMainPower Boardmay determine to hold

themeeting online.

Notice of anychanges will be published at mainpower.co.nz

ahead of themeeting date.

MainPower'sCOVID-19

response

As an essential serviceprovider,MainPower is responsible

for maintaining asecure supplyofelectricitytoNorth

Canterbury.

Our 24-hour fault responseservicecontinues to operate

throughoutall COVID-19Alert Levels.

At AlertLevel 3, some plannedmaintenance work will

resume.

Please do not approach our teams while they areworking

as we have strict safetyguidelines in placetomaintain the

healthand wellbeing of our staff and the community. If you

do have queries, please visit mainpower.co.nz or call

0800 30 90 80 to get in touch.

At AlertLevels 2and 1, allplanned outages willproceed as

scheduled.

Vote now!

We recognise outages may be difficult forsome customers

to manage, however we must ensure we can maintaina

safe, reliable,quality supply of electricity throughout the

network.

Information about currentfaults and planned maintenance

outages is availableatoutages.mainpower.co.nz.

Voting in the MainPowerCommunity

Fund is nowopen.

The $30,000 fund will benefit

communitygroups andschools that

aredoinggreat things forthe North

Canterbury region.

Please visit mainpower.co.nz to vote

before Friday 10 September.

MainPower fault response team during snowstorm, early August 2021.

MainPower24HourFaults Line

0800 30 90 80
---
Business as usual under Covid

By DAVID HILL

While it is largely business as usual for

the region's farmers, Covid­19 is having

an impact on the rural sector.

While the move to Alert Level 3isa

step in the right direction, it is still

lockdown and its impact will depend on

how long it remains in place, Canterbury

Rural Advisory Group chairperson

Winton Dalley says.

Covid­19 is just the latest challenge to

knock the sector, on top of drought and

flooding.

''I'm not getting any reports of serious

issues. The shearing sector is carrying on

with social distancing and those who I've

spoken to have systems in place,'' Mr

Dalley says.

''I'm not hearing of any issues in meat

processing in Canterbury and I

understand that as an essential service

they have been given priority for Covid

vaccinations.

''And I'm not aware of any supply chain

issues yet. Most products are moving OK.

Things will be abit slower, but there's no

reports of any serious shortages.''

Rural sector leaders are continuing to

hold regular Zoom meetings to keep up to

Winton Dalley

date on the multiple challenges facing

the rural sector.

Level 4restrictions meant shearing

gangs and freezing works operated at a

reduced capacity and Level 3would

make little difference, so aprolonged

stay in lockdown will potentially lead to

abacklog, Mr Dalley says.

''I wouldn't be surprised if we are in for

tighter restrictions under Level 3than

we were last time and we could be there

for awhile yet.

''For farmers needing to de­stock and

lambs contracted for the spring period, it

will be impacted, so any slow down in

those processes will cause some stress.

''We're also at the peak of calving,

which means the bobby calf kill may be

held up, so there's alot of potential

issues.''

Covid­19 is causing some delays for

international shipping, impacting on

New Zealand's primary exports and the

ability of farmers and contractors to

import new machinery.

Recruiting staff for the new season is

also achallenge due to border

restrictions and New Zealand's relatively

high employment rate.

After the autumn drought and flooding,

farmers were holding out for some spring

growth, Mr Dalley says.

''All we can do is plan for the worst and

hope for the best and anything better

than that is abonus.''

The best farmers can do is look after

themselves, their families and staff to get

through the latest challenges.

Shearing essential service in lockdown

By DAVIDHILL

Shearing has continued amid the

lockdown.

North Canterbury shearing

contractor Mark Herlihy says the Alert

Level 4lockdown could not have come

at aworse time for local shearing gangs.

''We're into the last of our pre­lamb

shears, so we're on apretty tight

schedule. It's all hands on deck, but

with the restrictions we've had to cut

down on numbers in our teams''

Under level 4, teams of two shearers

and two shed hands have been

operating in travelling bubbles and

wearing masks, he says.

''Normally we would have double that

number in ateam and get through the

work alot quicker, so we are pretty

lucky that the farmers are patient, but

they understand there's restrictions''

The restrictions mean farmers are

putting up QR codes, hand sanitisers

and masks and then staying out of the

sheds.

Some farmers prefer to do their own

woolclassing, which is not possible

under level 4restrictions, so some are

choosing to postpone for acouple of

weeks, Mr Herlihy says.

It also means the shearing teams are

taking their own food and missing out

the usual farm homebaking, as some

Essential service ... Mark Herlihy says shearers were better prepared after the

experience of last year's lockdown.

farmers ''go out of their way to spoil us''.

Level 3will make adifference, but

there will still be restrictions, he says.

''The rules will come out through the

contractors association, but it's just

something we have to adapt to.

''It's the new normal. We've been here

RURAL LIFE

North Canterbury News, September 2, 2021

PHOTO: FILE

before and to be fair, it's probably never

going to be the way it was acouple of

years ago.''

But after last year's lockdown

experience, Mr Herlihy says most

shearing contractors would have been

better prepared this time round

2410273

25

FARMBIKE SPECIALISTS

Servicing North Canterbury for over 25yrs!

•Sales, Servicing &

Parts

•All Makes &Models

•Qualified Motorcycle

Engineers

(NCME, TRADECERT)

•Electrical &Mechanical

fault testing

•Quality 2nd Hand Bikes

&UTV's

•Repairs &Dismantling

•Insurance Repairs

2177981

ONLINE MEAT SALES

MEAT2U.NZ

HOME KILL

&WILD GAME

MEAT PROCESSING

313 0022

Possum Fur

GOOD PRICES -PROMPT PAYMENT

Minimum quantity 5kg -Machine or Hand Plucked

If Hand Plucked, no skin or epidermis.

No Tail Furand No Belly Fur

Buying FurHarvested up to Oct 31 st

Weft Knitting Co. Est. 1982 Christchurch

2400832v2

Merino Possum Knitwear Manufacturer

Phone (03) 379 5314 hugh@weft.co.nz

MASTER BUILDER

LocaltoNorth Canterbury.

CALL ARTHUR 027 2451601

arthur@robertsonbuilding.co.nz

www.robertsonbuilding.co.nz

BARNS/FARM BULDINGS•RIB RAFT FLOOR SYSTEM INSTALLATION

PROJECTMANAGEMENT•ADDITIONS•NEW HOMES

HOME MAINTENANCE•EQC REPAIRS•ALTERATIONS

FREE QUOTES

163 Stokes Road, Balcairn

Ph (03) 312 9844 or 027 205 5724 (AH)

farmbikesnc@orcon.net.nz

www.farmbikeservices.co.nz

2021055

CERTIFIED ORGANIC COMPOST

Living Earth compost is ahigh

performance, nutritious brew

made from organic garden waste.

It's 100% seed and weed free and

ideal for topdressing,vineyards,

orchards and all types of gardens.

LivingEarth compost is perfect if youare looking to:

• Savewater by increasing soil waterretention

• Reducenitrateleaching

• Add organic nutrients whichwill improve soil health

• Improve plants' resistance to drought

• Reduce soil loss and erosion

Living Earth has been producing quality compostfor over25years. Our compost is produced

to NZS4454:2005 standardand is certifiedorganic.

Get in touch with one of the team today. Asitevisit can be arranged to discuss your needs.

Contact Tony Poole: M021 657992 Etpoole@livingearth.co.nz
---
North CanterburyNews

PROPERTY

Boundary lines are indicative only

Established with sheds galore

580 Rangiora Leithfield Road, Sefton

Sitting in abeautiful sunny setting on this amazing established property is this great three bedroom

Summerhill stone home.

Built to last, this home offers massive potential for incoming purchasers with large spaces that

could be enhanced plus there is already an upgraded kitchen.

Outside the sun-drenched patio and low maintenance gardens are well fenced helping to keep in

your four-legged family members.

There are sheds galore, double garaging and aworkshop space offering several options to store

the essentials and any toys or adapt for hobbies or even an art studio.

All this is set on approximately 4.46 hectares and is the perfect example of afamilylifestyle property

with great shelter, specimen, fruit, and walnut trees plus room for pets and animals and children to

roam and play.

Call today for more information.

Deadline Sale

1pm, Thursday 16 September 2021

(unless sold prior)

3 3 1 2

For further information contact:

Brook Yates

027 807 8093

George Black

027 315 8214

Dean Pugh

027 335 6303

View online @

https://www.bayleys.co.nz/5515925

2397219
---
PROPERTY

North Canterbury News, September 2, 2021

27

Rangiora 143 Percival Street

Quilters Quarters

Thisbusinessoffers theopportunity to turn your passion intoanincome. Locatedinthe oldcourt housewhichhas

had atotaltransformation, the businessenjoys bright and airy premises with plenty of display space for ahuge

range of fabrics, sewing supplies, knittingsupplies, books andmagazines, needleworkkits, buttons and more.

There is adedicated sewing machineroomwhere machinescanbetried before you buy plusaroom forregular

classes, alwayswellpatronised by enthusiastic hobbyists.Along-withanoffice, staff room and storage the leaseis

for afurtherfouryears with three xthree yearsavailable. Knowledgeablestaff are in place, there'sopportunity to

increaseonlinesales and promote on socialmedia.For priceguidance pleasecall the agent to discuss.

Price by Negotiation

Phone for viewing times

KateMullins 027248 8456

kate.mullins@bayleys.co.nz

WHALAN AND PARTNERS LTD,BAYLEYS, LICENSED UNDERTHE REA ACT 2008

bayleys.co.nz/5516083

Need To Get Fit Fast?

Tone Up or Body Build, Get ATotal Body Workout

One Machine...

That Does itAll

Easy Storage

EasilyFodsAway

Folds Effective Workout

Fun, low impact workouts.

ForAll Ages

Personalised Settings For

Beginners and Advanced

Includes

Pilates Kit

&DVDs

Up to

50 % Off

Off

*

*Call for Terms

&Conditions

Call Now! 0800 665 665
---
What's happening in your

community…

All info onchanges to Council services and facilities can be found at waimakariri.govt.nz/covid19

Update onServices at Level 3

As acommunity we will be looking forward

to amove into Alert Level 3this week and we

encourage everyone to continue to follow the rules

and support local businesses when you can who

will have been under pressure.

Council continues to provide arange of services

with the majority of staff working remotely from

home. Full details on how Council services are

operating is available at waimakariri.govt.nz

Some key service changes include:

Transfer stations

Southbrook Resource Recovery Park -Open for

green waste, rubbish disposal and limited recycling

only –expect delays in the first few days. Oxford

Transfer Station -Open for recycling and drop-off

of official Council branded rubbish bags in the skip

during normal opening hours. If you have large

loads of household rubbish you will need to drop it

off at Southbrook.

Kerbside recycling

This service continues as normal. Please make sure

your bins are out by 7am on collection day and

that they are spaced at least 50cm apart.

Rates

Rates instalments

Thank you tothe many people who have already

paid their first instalment rates invoice for the

2021/22 year.

Council service centres will remain closed forcash and

epos payments during Covid Levels 4and 3. If you

usually pay your rates across the counter at aservice

centre we recommend that youconsider an alternative

method of payment. Youcan use our online portal, set

up adirect debit or use internet banking.

Rates rebates

Rates rebates processing will not take place while

Covid restrictions are in place. We will contact you

to re-schedule your appointment when it is safe to

start rebate interviews again.

Remember, you have until 30 June 2022 to claim

your rates rebate.

If you are having trouble paying your rates please

contact usonrates@wmk.govt.nz or 0800 965 468

if you have questions about rates payments or to

discuss apayment plan –we're here to help.

Parks, reserves and community facilities

At AlertLevel 3, youcan exerciseinyourlocalarea

on your own, or with people in your householdbubble.

If you are exercising outside, try to keep a2metre

distance from people who are not in your bubble.

The most important thing is to stay safe and stay

close to home. Go to your local park or beach, not

your favourite one. We encourage people to use

or carryaface mask when out walking due tothe

high numbers ofpeople out and about, and at times

difficulty maintaining physical distancing guidelines.

While our parks and reserves are open –please

don't use playgrounds, skate parks or dog parks.

These are closed and where possible locked or

have signage in place. Please make sure that your

kids stay out of these spaces too.

And again please clean up aer your dog when you

are out and about –your dog, your mess!

Libraries

Our librarians are keen to connect from their

bubble to yours. You can reach them by email on

library@wmk. govt.nz, by phone on 311 8901, or

via Facebook at facebook.com/waimakaririlibraries.

Please note that libraries are unable to take any

returned items during Alert Level 3. Hold on to

your items and we will let you know when we

are accepting returns again. All loans have been

extended and there will be no overdue fines.

Roading,maintenance and capital works projects

You will notice Council staff and contractors will

be restarting key projects and maintenance work

across the District where it is safe todoso. Site

inspections will be carried out for construction

sites and building inspections completed within

guidelines to keep everyone safe. You can find out

more information at waimakariri.govt.nz/covid-19

Household Junk Burdens Charity Shops

Local charity shops are finding hordes of unusable

household items and rubbish piling up outside their

doorsteps, as people dump items from lockdown

decluttering aer hours.

Solid Waste Manager KittyWaghorn says it'salways

been an issue, but lockdown has caused abig spike.

"A lot of people do the rightthing, but there are some

who think acharity shop is arubbishdump. It's not ok

to leaveunwantedhousehold goods and rubbishat

charity shops or clothing bins. They shouldn'thaveto

deal with that kindofthing", says Kitty.

People are urged to hold onto their rubbish for now

until Transfer Stations can operate normally for

dumping unwanted household rubbish. The ReSale

Store will re-open for dropping off household items

in good useable condition as soon as COVID-19

Alert Levels allow. Updates will be posted on the

Council's Facebook page and website.

Kitty said dumping materials took money away

from the stores' crucial funding for community

initiatives. Stained mattresses, food, odd shoes,

broken furniture and toys and general rubbish

oen end up becoming acharity shop's problem.

Proposed Three Waters Reform

There is still time to let us know what you think

about the Government's Proposed Three Waters

Reform. The Council is encouraging residents to

head online (waimakariri.govt.nz/letstalk) to learn

more about the pros-and-cons of reform and share

their feedback before 5September.

Roadside Spraying

Chemical control of

vegetation all areas

Residents are advisedthat our vegetation

control contractor(Sicon Ltd) will start roadside

spraying in all areas in September 2021.The

chemical used is aglyphosate base(Lion

Herbicide and LI-1000).This willcontinue when

required and weatherpermitting throughto

April 2022.

If any resident has any legitimate concern

about this work, they should contact the

Waimakariri District Council Customer

Services team on 0800 965 468.

Carl Grabowski

Roading Operations Team Leader

ABOUT STOCKWATER

RACES

The Stockwater Race Bylaw 2019 isunder

review, we've draed some changes and

want tohear your thoughts.

This reviewconsiders the following broad topics,

with somepossible amendments proposed as

aresult: works in private property,road reserve

race maintenance,managed aquiferrecharge,

environmental benefits, ponds, fencing of water

races and biosecurity and contamination risks.

Share your feedback before 5pm on

Tuesday 7September 2021.

Have your say waimakariri.govt.nz/letstalk
---
Give usyour

feedback

The Dangerous, Affected and Insanitary

Buildings Policy 2016 is under review.

We've draed some changes and want to

hear your thoughts.

We welcome your feedback on thedra Policy to

make surewe're on the right track before it gets

finalised.

Before adecision is made, we'd like to know

what you think. Share your feedback before

5pm Friday 24 September.

Keep your

organics and

recycling

loose.

Recycling and organics

should beloose in

the bin, not in bags.

Plastic bags belong

in the rubbish. That

includes compostable

or biodegradable bags

or packaging.

—

Find out more

collection tips at

rethinkrubbish.co.nz

ABOUT DANGEROUS,

AFFECTED AND

INSANITARYBUILDINGS

Have your say waimakariri.govt.nz/letstalk

rethinkrubbish.co.nz

YOU

COULD

BE

HERE

Advertise

your business

in our Trades

and Services

Phone

Amanda Keys

on

03 313 2840

NEWS

North Canterbury News, September 2, 2021

Public Notices

29

Promote wellbeing

By LOUISE LEITCH

The team at Community

Wellbeing North Canterbury

Trust have been on deck and

working remotely to support

the wellbeing needs of

families, children, young

people and the North

Canterbury community during

Level 4and as the region

moves to Level 3.

Trust manager Deirdre

Ryan says people should

prioritise self­care at this

time.

''Self­care isn't selfish, it's

essential,'' says Deirdre, ''You

can't pour from an empty

cup.''

The Five Ways to Wellbeing,

are five simple actions you can

introduce into your life, any

time, and you will begin to feel

the benefits, says Deirdre.

Research shows that the

Five Ways to Wellbeing are

building resilience, boosting

wellbeing and lowering the

risk of developing mental

health problems.

Connect, talk, and listen,

be there, feel connected.

Take notice and

remember the simple things

that bring you joy.

Give your time, your

words, your presence.

Keep learning, embrace

Botanical Expo

An expo, hosted by the

New Zealand AlpineGarden

Society (NZAGS), Avon

Floral Art Group and

National Daffodil Society

and Canterbury Daffodil

Circle, is plannedfor

September 11 and 12 at the

Lincoln EventsCentre.

The NZAGSwill hold its

Spring Showatthe event,

and the Avon Floral Art

group will hold a

competition to select

participants for the Floral

Artist ofthe Year

competition. There will be

experts to talk to, and

new experiences, see

opportunities, surprise

yourself.

Be active, do what you

can, enjoy what you do, move

your mood.

''We're all feeling arange of

emotions right now and that's

to be expected,'' says Deirdre.

''Let's keep up the kindness,

look after each other, and if

someone you know is finding it

particularly tough right now,

maybe check in with afriend

or whanau member.''

Useful resources:

Free apps, toolkits and

other digital resources to help

you look after your mental

wellbeing: uniteforrecovery.

govt.nz/wellbeing/mentalwellbeing/free­toolsresources­and­apps/.

You can free call or text

1737 at any time to speak with

atrained counsellor. It is free

and confidential.

Any young person, or

anyone supporting ayoung

person, can call Youthline for

free 24/7. Call 0800 37 66 33.

Youthline also offer text

counselling between 8am and

midnight. Text 234.

The Parenting Helpline is

also free and you can call 0800

568 856 for parenting support

and advice between 9am and

9pm daily.

numerous plantsellers,and

treasuresonsale, stalls, and

workshops on potting up,

garden design,floral art,

vege gardening, tool

sharpening, trough building

and pruning. See Facebook

or Instagram for more

information. Subject to alert

level status.

Covid­19

Community events cannot

be held while the region

remains in Alert Levels 3and

4, but someevents can

resumeunder Alert Level 2

with restrictions.

Larger community events

cannot be held until the

regionreturns to Level 1.

WarMemorial Hall

1AlbertStreet, Rangiora 7400

PO Box 351, Rangiora 7440

www.bsnc.org.nz

(Levels 3&4)

Covid -19 and maintaining asafe space for all

Dear Clients and prospective clients,

•Weremain "open" and ready to provide you with budgeting

supportand advice.

•However, the way we provide this service will be alittle

different to normal.

•Wewon't beable to come to your home or meet face to

face.

•Wewon't be able to see walk-in clients.

•PLEASE call us on 03 313 3505 and we'll contact you

as soon as we can.

•We'll contact you by phone, mobile, text, Skype, Zoom

or email.

•Wewill try to continue advocating on your behalf with

WINZ, banks, creditors etc.

•Wewill attempt to work with all the other agencies and

food banks and trytodeliver all our normal services.

Email: servicemanager@bsnc.org.nz

Monday to Thursday 09:00 am to 4:00 pm

•However,Ifyou cannotwait to talk with us, then please call

the MoneyTalks helpline on 0800 345 123

BudgetingServices North CanterburyInc., gratefully acknowledges the support

of: MinistryofSocial Development, Oranga Tamariki -Ministry forChildren

and the Rātā Foundation.Affiliated member of:The NationalBuilding Financial

Capability Charitable Trust. Registered Charity Number: CC10710 2407100

Have you recieved

your copy of the North

Canterbury News? No?

Let us know at

info@ncnews.co.nz

Public Notices

Notice of Annual General Meeting

Notice is hereby given that the

Annual General Meeting of

TE RŪNANGA OKAIKOURA INCORPORATED

is to be held at

Takahanga Marae

7TakahangaTerrace, Kaikoura

On Saturday 25 th September 2021

at 9.30am

Subject to the covid alert levels this may change.

However we will notadvertise againbut it will be rolled

over to the third week of the following month

The business of such meeting shall be as follows;

1. To receive, consider and approve the annual report

of the Officers.

2. To receive, consider and approve the annual financial

statements from the Treasurer.

3. To appoint an auditor for the ensuing year who shall

audit the financial accounts of the Runanga.

4. To consider such other business as may be accepted

by amajority of the members present with power to

vote at such meetings.

5. There will be aconstitutional change this year on

page 11 section 16, Notices. "Notices of Annual,

Special, Shareholder and Directors Election meetings

called by Rūnanga shall be given (and deemed to

be given) by public notice in those newspapers

circulated within Kaikōura takiwā and no later than

fifteen (15) working days prior to the meeting".

Proxy votes will not be valid

Hariata Kahu

Chairperson

CONWAY WAIAU TB MANAGEMENT AREA

POSSUM DETECTION SURVEY -WARNING

Vector Free Marlborough Limited wishes to advise that a

ground-based possum detection survey operation is taking

place as we work towards eradicating TB from New Zealand

over the long term. This operation will be conducted as apart

of OSPRI's TBfree programme.

Before the operation, Vector Free Marlborough staff will seek

written permission from landowners within the operational

area to gain permission before undertaking work. They will

discuss the proposed detection survey methods and answer

any questions.

Amap of the area can be found on the Vector Free Marlborough

website under the Current Operations tab.

Description of control area

Amuri Dog Creek -located immediately to the northwest of

Waiau Township from Lottery River in the East then along the

Waiau River to Cabbage Tree Island in the West and up into the

foothills of the Amuri Range in the North.

Operation date

12 July 2021 to 30 September 2021 (approximate)

Control methods, equipment used and nature of work

• Detection Devices (non-toxic chew cards affixed to trees

and structures such as fence posts presented with a

blaze of flour and icing sugar from the ground up to the

detection device) will be deployed for 7-8nights

• Leg-hold traps or sentinel kill traps will be deployed for 3

nights at the site when possum activity is detected

• Concurrent Survey -animal carcasses will be retrieved

and submitted for post-mortem

General warning

• Follow advice stated on warning signs

• Donot touch detection devices and traps

• Donot touch possum carcasses

• Keep children under strict supervision in the control area

• Keep pets under supervision.

Warning signs will be erected at all main public entry points

and the public are reminded that it is an offence to remove

any of these signs. Please follow the instructions stated on

the signs.

Forfurther information please contact

Vector Free Marlborough Limited

Free Phone: 0508 548 008

Email: communications@vectorfree.co.nz

Website: www.vectorfree.co.nz

OSPRI helps protect and enhance the reputation of New Zealand's

primary industries and currently runs the TBfree and National

Animal Identification and Tracing (NAIT) programmes.

2412807
---
CLASSIFIED

30 North Canterbury News, September 2, 2021

Public Notices

WOODEND Spring

Flower Show, Saturday 2nd

October 2021, 1 - 4pm.

Woodend Community

Centre, School Road. See

gorgeous spring flowers,

photography, crafts, floral

art, and lots more. Enjoy a

Devonshire Tea, browse

plant /craft stalls and buy

Daffodil bulbs for next

season. Entries welcome.

Schedules at Paws Vet

Woodend, Veg NOut and

Libraries in Woodend and

Rangiora also on line and

Facebook. Admission $2

Adults, Children free.

Phone Lyanne Wheeler

0210 306 460. Email

lyannewheeler@gmail.com.

Entertainment

Exhibition and Festival 2021

Ad# 38665

THE GREAT NZ/AOTEAROA

FAKES AND FORGERIES

EXHIBITION AND

FESTIVAL 2021

It is time to dig out your

Artists' materials and get

creating your Artworks and

Masterpieces for aprize pool

of over $1000+ in CASH and

other goodies at an established

day of fun events and Art

exhibitions. Mark October

23, 2021 in your diaries Now!

Search postanote.co.nz

for more details.

Educational

TUITION available. Primary

and secondary up to

NCEA level 3. In centre

(Rangiora) or interactive

online from your home.

Each student on an individually

tailored programme.

Kip McGrath Rangiora has

been serving the local community

for 30 +years. Give

us acall (03 313 3638) or

book your free assessment

online https://www.kipmcgrath.

co.nz/rangiora

Gardening

A+ GARDEN hedges cut

to perfection. Tree &arbor

work. Also spraying. Free

quotes. Ph 03 312 0668 or

021 111 4322.

Buying?

Selling?

Trade?

Youcan

find it

all here

in our

classified

section.

Phone

Amanda

todaytosee

howwecan

help you

with your

advertising

313 2840

Public Notices

Proposed Licence -PortRobinson

Coastal Reserves

Pursuant to Section 48A ofthe Reserves Act 1977,

Council propose togrant aten-year licence with two

rights of renewal of ten years plus anadditional right

of renewal of 5years, to the Rural Connectivity Group

Limited foratelecommunicationsfacility.

The land is described as:

•Port Robinson Coastal Reserves -Section 49 BLK

XI Cheviot SD (NZGZ 1982 p2784) situated at45

Cathedral Road, Port Robinson over part ofthe

reserveanarea of approximately36m 2 .

Acopy of the deed of licence and site plans are

available online or for inspection at Hurunui District

Council's Amberley Office at 66 Carters Road and

Cheviot Library &Service Centre at 39 Hall Street,

Cheviot, during normal opening hours. Any person

objecting or submitting tothis proposal can do so in

writing nolater than 5pm on the 8October 2021. To

make asubmission or objection orto find out more

about thisproposal pleasevisit

www.hurunui.govt.nz-Have your say.

Please direct any queries to Liz Atkins, Ph 027 733

2237 or email at liz.atkins@hurunui.govt.nz

2413716

Notice of Annual General Meeting

Notice is hereby given that the

Annual General Meeting of

TE RŪNANGA OKAIKOURALIMITED

is to be held at

Takahanga Marae, Kaikoura

On Saturday 25 th September 2021

at 10.30am

Subject to the covid alert levels this may change.

However we will not advertiseagain but it will be rolled

over to the third week of the following month.

The business of such meetingshall be as follows;

1. To receive, considerand approve the annual report

of the Company.

2. To receive, considerand approve the annual

financial statements of the Company.

3. To appoint an auditor for the ensuing year who

shall audit the financial accounts of the Company.

4. To consider such other business as may be

accepted by amajorityofthe members present

with power to vote at such meetings.

Proxy votes will not be valid

Darran Kerei-Keepa

Director

2413639

NOTICE OF POSTPONEMENT

MainPower New Zealand

Limited Annual Meeting

Due to the nationwide COVID-19

lockdown,the Annual Meeting of

MainPowerNew ZealandLimited

(MainPower) will nowbeheldat

172FernsideRoadat5:30p.m. on

Thursday23September 2021.

The safetyofour staff andcommunity

is ourpriority. If theregion's lockdown

status makesholding aphysical

meeting impractical, theMainPower

Boardmay determinetoholdthe

meeting onlinebyaudio-visual

or audio means. Notice of this

determination will be published on the

Company's website by 5:00 p.m.on

Tuesday 21 September2021.

0800 30 90 80 | mainpower.co.nz

Situations Vacant

School Bus DriversRequired

Would youliketoearnextra income while still

havingmostofyourday free and at the same

time do your community aservice by helping to

provide asafe,highstandardofschooltransport

forour region'schildren.

TorlesseTravelhas positions available forpart

time busdriversinRangiora.

If youhaveaClass 2license, aPassenger

Endorsementand areinterestedindriving on a

part timebasisthenthiscouldbefor you.

Alternatively,ifyou areinterestedinbecoming

abus driver,wecan provide assistance to help

youachieve thecorrect licencing.

If youare interested in this role or wishformore

information, pleasecontact.

manager@torlessetravel.co.nz

Phone: 021 198 7358

Trade Quotes Co-Ordinator

and

Sales &Rep Support

Can you work hard and smart?

Do you want to be part of asuccessfulteam?

Do you know the difference between trade and retail?

Can you "live" not just talk, excellent customer service?

Can you help turn our customers and trade partners into

advocates for our business?

Do you want to be apartofagrowing business where you

are valued, can make adifference and are important?

Great, and do you have:

•Experience with trade building supplies

•Experience with residential building

•Experience with quotations and pricing

•The ability to read house plans, and make decisions

from them

•Experience with Microsoft excel, word &outlook

•Exceptional organisational skills

•Ability to problem solve

•Strong people skills

If so, please send us your CV as we are currently looking

for suitable applicants for the position of Trade Quotes Co-

Ordinator at McAlpines Mitre 10 Mega Rangiora.

We offeragreat working environment in North Canterbury,

with ongoing training and competitive remuneration.

McAlpines have an active drug &alcohol policy in place,

apre-employment drug test and medical will be required.

If you think you can add value to our team please forward

your application including an up to date CV to: Trade

Quotes Co-Ordinator, McAlpines Mitre 10 MEGA, Private

Bag 1003, Rangiora 7440 or email

applications@mcalpines.co.nz

2406993

Public Notices

Notice of Annual General Meeting

Notice is hereby given that the

Annual General Meeting of

TAKAHANGA PA TRUST

is to be held at

Takahanga Marae

7TakahangaTerrace, Kaikoura

On Saturday 25 th September 2021

at 11.30am

Subject to the covidalert levels this may change.

However we will not advertise again but it will be rolled

over to the third week of the following month.

There will be elections for two Pa Trustees

MaaniStirling

Chairperson

2413641

Cars Wanted

ANY old cars, anything pre

1990, unfinished Hot Rods,

Classic Cars. Please call

027 258 8366.

CASH 4CARS

and 4WD'S

Phone

Automotive

Parts

03 313 7216

CARS, vans, 4WD's

wanted for dismantling or

repair. Phone 027 258

8366.

FALCONS &

COMMODORES

WANTED

Suitable for

dismantling or repairs

Ph 313 7216

2412522

Pets

BICHON HOMESTAY

for smaller dogs. We look

after your dog in our home.

"No kennels". Phone today

03 314 6110.

BIRD FEEDERS

½PRICE -$25 for 10

Plus - DOG BONES

and more

313 0022

2410274MEAT2U.NZ

Livestock

HOMEKILL & Wild

Game meat processing. Ph

313 0022. www.meat2u.nz.

Situations Wanted

CAREGIVER available,

wider Rangiora area. Thirteen

years' experience,

specialist in Manual Handling

and working with

Spinal Bifida, Amputees

and Full-care patients from

teenage to age 60. Contact

for details, referees and

qualifications, phone on

021 596 167.

Trade&Services

A PAINTER WITH

PASSION! Local painter

with 30 years of quality and

integrity in all aspects of

painting. Phone Mike on

021 0903 8546.

ABEL &Prestige Chimney

Cleaning. Nth Cant owned

& operated. Covering all

areas from Waimak to Hanmer.

Professional, guaranteed,

service. Firebox

repairs, carry most parts. Ph

0800 661 244.

WINDOW TINTING

tintawindow

advanced film solutions

99% uv block

fade protection

heat control

reduce glare

25 Years Experience

privacy films

frosting designs

non-darkening films

Workmanship Guaranteed

Lifetime Warranties on Most Films

UV

block

Free Quotes Canterbury and Districts

03 365 3653 0800 368 468

Wanted To Buy

$$$

Amalgamated Scrap Metal

Ltd. Specialists in farm

machineryand farm clean

ups, old vehicles etc.

100% locally owned.

Ph 0800 030 712 or

027 695 0480.

2312759

Situations Vacant

reporter

Balclutha – Clutha Leader

Full-time

Motorcycles

SOUTH PACIFIC Motorcycle

Services. Local family

business since 2003. All

types of service and repairs,

all makes and models. Collection

service available.

Please phone 03 312 0066

office@motorbiketours.co.nz

www.motorbiketours.co.nz.

Areyou areporterwith aclear eyeforthe facts,butcan

also spinacolourfulyarn tellingthe storiesthatmatter

to YOUR community?

TheBalclutha team has anexcitingopportunityfor an

ambitiousandadaptablereporter to join them at theClutha

LeaderandOtago Daily Times office. Asamember of

ourBalclutha newsroom youwillworkonwiderange of

storiesandfeatures, coveringthe full gamut of hyper-local,

communityandbreakingnews.

AlliedPress Limited is the largest, independently-owned

media companyinNew Zealand. Employing more than

1100 staffandcontributors acrossits15South Island

locations, the grouphas significantinterestsindigitaland

print media, web, regionaltelevision andcommercial print

operations.The Clutha Leader is publishedonce aweek

anddelivered to 8,000 homes.

Theideal candidate willbeaself-starter posessing:

•Excellentwritingability withakeen interest in news and

storytelling,bothinprint andonline.

•Ahigh degree of personal responsibility and initiative.

•The ability to progress multiple paralleltasksand meet

regular deadlines

•Photography,videoand socialmedia/web skills are

valued.

•Arelevant journalism qualification (orequivalent

experience) wouldbeviewedfavourably.

Aclean, full NZ drivinglicenceisessential.This full-time role

includes rosteredeveningand weekend work shared within

the team.

Acopyofthe job description canbefound at

alliedpress.co.nz/employment.Informal enquiriesaboutthe

role arewelcomedand shouldbedirectedtoSouth Otago

BureauChiefRichardDavison, at richard.davison@odt.co.nz.

If youthink thisrole is foryou, please apply with acovering

letterand CV by Friday, 10 September 2021 eithervia SEEK

or by emailingrecruitment@alliedpress.co.nz.

Pleasenoteyou musthavethe right to workinNew

Zealand to apply for thisrole. Disclaimer: AlliedPress is

unable to provide sponsorshiporvisa supportatthis time.

2413934
---
Trade&Services

Log Fires

Pellet Fires

Heat Pumps

Sales

Service

Installations

Free Quotes

03 343 1651

472 Blenheim Rd

www.heatstore.co.nz

Trade&Services

DRESSMAKING Bev's

Sew Good Services. For all

your alterations, repairs,

dressmaking, curtains.

Phone 327 5535.

KITCHEN,

renovations,

bathroom,

decking,

ARBORIST

pergolas, fencing. Honest

reliable licenced builders.

Ph Don 027 727 9162.

METAL WORX. Flashing,

Sheetmetal Fabrication,

Wrought Iron,

Welding, Custom Trailers,

General Metalwork. No job

too big or too small. Ph 021

265 5428 or 03 314 6908.

Find us on facebook/

Glenmark Metal Worx.

glenmarkmetalworx.ltd@gmail.com.

AFFORDABLE

cutting with quality and

removal work. Free quotes.

No job too small. Ph 027

442 2219, Fax 03 359 6052

or A/H 03 359 4605.

Trade&Services

ALL TREE SERVICES,

arbour work, pruning, tree

removal. Affordable &

friendly service. Telephone

021 111 4322.

qualified.

Copper Beech Tree

Services. Tree removal,

pruning, height reduction,

hedge trimming, shaping,

tree planting, firewood.

Free quotes. Contact Angus

Edwards 027 259 6741

copperbeechtreeservices@gmail.com

CHIMNEY SWEEPS

Time to service your fire.

Accumulation of soot seriously

affects performance.

Latest rotary brush technology.

Free moisture check

concrete on wood. Safety inspection.

All work insured and guaranteed.

From $70 single

story. 0800 SWEEPME or

021 0277 1927. Visit

www.sweepnz.co.nz.

Trade&Services

PAINTERS

Reg Tradesman

Interior,exterior.

North Canterbury Painters

specialising in decorating for

over 65 at adiscountrate.

Free quotes.

Covering Nth Canty,Oxford,

Kaiapoi, Rangiora, Amberley.

Rob 03 327 7899

or 027 432 3520 2227597

VALUATION -

Specialising in North Canterbury.

Contact Geoff at

Maxwell Valuation. Phone

03 310 8541 or email

geoff@maxval.co.nz.

BRIAN'S Tree Services.

Tree felling, topping,

shaping, firewood cut, rubbish

removed, stump grinding,

branch chipping.

Affordable rates. Phone 03

327 5505 or 021 124 4894.

Trade&Services

PAINTER. Qualified local

professional, Int / Ext,

roofs, wallpaper. Call or

text Corban 027 846 5035.

POWER TOOLS repairs,

parts &sales for over 40

years. All main brands serviced.

Grossman Trade

Tools, 23 Watts Road,

Christchurch. Ph 389 9230.

RANGIORA Rubbish

Removal and RRR skips.

Wheelie bins any frequency

and skips from 1.5 cube to

9cube. Skips and wheelie

bins for any use, rubbish,

greenwaste, building sites

or just cleanups. Give us a

phone call 313 6957 or for

skips 021 313 255.

PAINTER & Decorator.

25 + years experience.

Interior /exterior, roofs &

waterblasting. For a free

quote, please ph Steve 03

314 4620 or 027 477 1930.

Trade&Services

SCREEN PRINTING.

For all your printing

requirements. T-shirts,

Hoodies, Hi-Vis vests and

polos, Overalls, Caps etc.

Please phone Heather 03

313 0261 or email heather.

norstar@gmail.com.

SUMMERFIELD

FENCING

IN YOUR AREA NOW.

Lifestyle or farm, sheep, cattle,

horse, all types of animals.

Fences, yards, sheds, arenas,

shelters, runs.

30+ years contract fencing.

Steve is available to help with

your design &planning.

Ph office03312 4747

2091848

PAINT & wallpaper

services. Wayne Bryant,

exterior, interior. Qualified

tradesman. Free quotes. Ph

313 5337 or 027 654 4568.

CLASSIFIED

North Canterbury News, September 2, 2021

Trade&Services

ANTHONY SYMONDS

Forall your painting &

plastering requirements

Local with 30 years

experience

All workmanship

Guaranteed.

Phone 021 344 023

2220615

SEPTIC TANK

CLEANING

Bill's Liquid

Waste

You dump it...

Blair pumps it...

Blair Tavendale

Ph 03 314 9371

0275 379-694

2225862

31

Trade&Services

SHEARER. Hap'sFarm &

Lifestyle Services. Shearing,

crutching, drenching,

tailing, feet trimming &

health check. — Ph. 03-

423-3713or021-267-4025.

Pride &Quality Painting

&Decorating Services

20 yrs exp, fast and friendly

service. For all your painting

needs, phone: Martin 310

6187 or 021 128 9867

2362002

027 216 0000

Trusted Trades &

Professional Services

Guide

To book your spaceinthis guide,phoneAmanda Keys 313 2840 or email amanda.keys@ncnews.co.nz

Appliance Repairs

Builder

Builder

Butchery

•REGISTERED TECHNICIAN

•AUTHORISEDLOCAL SERVICE

F&P, Bosch, Smeg,

Ariston,LG, Classique,Haier,

Samsung andmore....

"For best results be sure to useauthorised service"

NORTHCANTERBURY APPLIANCESERVICES

Rangiora: 03 313 4420 Kaiapoi: 03 327 3810

2332343v2

• New Builds &Renovations

• Light Commercial /Re-strengthening

• Project Management

• Bathrooms

• Farm Buildings

• House Lifting Re-piling

• Shop Fit Outs

2408831

40+ years experience

027 222 5078

markw.hills@xtra.co.nz

OxfordButchery

Shane and Leanne Frahm

We cankill&process yourstock

FourGenerations of Frahms

since 1957

Ph 312 4205

Oxford

Number one

old-fashioned bacon

&ham curing.

A/H 312 4709

WE ARE OPEN, WEARE AESSENTIAL SERVICE

2227889v2

Construction &Concrete

Electrician

Engineering

All Construction & Concrete Work

•Driveways, patios &paths

•Bridges and Culverts

•Floors, foundations

•Sheds and buildings

•Dairy Sheds, Herd homes

•Silage pits, effluent ponds

•Excavation and cartage

•Precast concrete

•Insulated panels

Daryl Power

027 230 9401

concretepower@scorch.co.nz

www.concretepower.co.nz

2273277

2089195v2-4/4-S

Allan Pethig

For all your electrical needs. Residential &Commercial

Phone 03 313 7144

027 432 1534

Fax 03 313 2144

rgrantelectrical@gmail.com

PO Box 69, Rangiora

2269236

For your Engineering needs

187d Ohoka Road, Kaiapoi

Phone 03 327 5246 |027 495 2821

toppeng@xtra.co.nz

YOU

COULD

BE

HERE

Advertise

your business

in our Trades

and Services

Phone

Amanda Keys

on

03 313 2840

Glass &Windscreens

UNDER NEW

MANAGEMENT

Landscaping

For all your landscaping needs

All Landscaping, Retaining Walls (Engineered and

Non-Engineered), Timber Fences, Landscape Structures

and more...Lifestyle Block, Rural and Residential.

Phone Jeremy 021 169 9394

www.blackhill.co.nz

www.facebook.com/blackhillltd

2372616v2

Scrap Metal

CASH PAID FOR SCRAP

•Car Bodies •Scrap Steel•Specialists in Farm

Machinery•All non Ferrous

MAINLAND

METALS LTD

Ph (03)338 7000

Mike0274 818544 •Robbie 0274818 027

Locally owned and operated

1902273

CAP 65

CAP 40

CAP 20

Shingle

SHINGLE SUPPLIES

Quarry Prices

DRAINAGE CHIP

from $40 per cube

from $23 per cube

from $25 per cube

from $30 per cube

all +gst

Plus all excavation and truck hire

house excavations, driveways, subdivisions

CONTRACTING

Ph: KEN 027 201 3302

Email: stress@xtra.co.nz

2009594

To book your spaceinthis guide,phone Amanda Keys 313 2840 or email amanda.keys@ncnews.co.nz
---
RangioraToyota

Signature

CLASS

2017 Corolla GX Hatch

•1.8L PetrolAuto

•Bluetooth, Camera

•Cruise Control, 37,100km

$

22,995

2013Toyota Prius C

•1.5LHybrid Petrol, Alloys

•Camera, Satnav

•69,100kms

2015Yaris GX Hatch

•1.3LPetrol5-speed manual

$ •Camera, Bluetooh

14,995 $

10,995

•NZ-new

2019 Corolla ZR Hybrid

•1.8L Hybrid Petrol Auto, ElectricBlue

•18" Alloys, Toyota SafetySense,Leather/Suede Interior

•Heads Up Display,Only 35,600km

$

37,995

2015Corolla GX Hatch

•1.8L PetrolAuto,

•Rear Camera &Sensors

•62,000km

$

18,995

2015Toyota Ractis

•1.3LPetrolAuto

•45,550km

NOW

•CD/AUX/USB Connectivity

2014 TOYOTA SPADE

WAS$15,995

•1.5Lpetrolauto,

• 4-door/ left side door

•Climate, 5-seater

$

14,995

$

13,995

2016 Corolla GX Sedan

•1.8L PetrolAuto,

•Camera ,Bluetooth

•4.5-Star Safety

$

19,995

2011 Toyota Sai

•2.4LHybridPetrol, Auto

•Camera,Keyless NOW

•43,300km

2010 Toyota SaiG

WAS$15,995 •2.4LHybridPetrol, Auto

•Camera, Cruise Control NOW

•Alloys, 62,550km

$

12,995

WAS$15,995

$

12,995

2011 HyundaiElantra Elite

•1.8L PetrolAuto, Alloys

•Leather,Sunroof

•Camera

$

12,995

2014 Toyota Corolla GX

•1.8L PetrolAuto,

•NZNew,Bluetooth,

•Cruise Control

$

13,995

2016 Corolla GX Sedan

•1.8L PetrolAuto, Bluetooth

•ReverseCamera&Sensors

•60,000kms

$

19,995

2021 CorollaSXHatch

•2.0L PetrolAuto, Satnav

•SafetySense,5-star

•Only 350km

$

33,995

2019 CorollaGXHatch

•2.0L PetrolAuto

•Satnav ,Radar Cruise

•Only 23,500km

$ 26,995 36,995

2011 Toyota Avensis Wagon

•2.0L PetrolAuto,

•Alloys, Camera

•Bluetooth, Keyless

$

14,995

2018 Corolla GX Hatch

•2.0L PetrolAuto, Alloys

•Satnav,Bluetooth,Camera

•78,850kms

$

22,995

2014 CamryGLSedan

•2.5LPetrolAuto

•Cruise Control, Bluetooth

• 7 Airbags

$

12,995

2011 Toyota Wish Z

•1.8L PetrolAuto, 6-Seater

•Sunroof,Alloys, Camera

•82,300kms

WAS$15,995

Signature

CLASS

2012CamryGLSedan

•2.5LPetrolAuto

2009 Toyota Wish Z

•2.0L PetrolAuto, 6-seater

•Alloys, Keyless NOW

•88,500km

NOW $ •CD&USB Connectivity

14,995

$

13,995

$

13,995

•Bluetooth

WAS$14,995

2010 Mitsubishi Lancer VRX

•2.4LPetrolAuto

•Alloys, Leather

•80,750kms

$

12,995

Signature

CLASS

S

2016 HiluxSR5 4x4

•2.8L Turbo Diesel Auto

•Sat Nav

•Cruise &ClimateControl

$

46,995

2017 LandCruiser PradoVX

•2.8L Turbo Diesel, Leather

•NZ-new,Sat Nav

•Only 43,500km

$

71,995

2019 Peugeot 3008 Active

•1.6L TurboPetrolAuto

•Satnav,5-StarSafety

• Only 21,300km

$

36,995

2007 Toyota Rav4

•2.4LPetrolAutoAWD

•Satnav, Camera

•Cruise Control

$

15,995

2018 Toyota Rav4 GXL

•2.5LPetrolAWD,SafetySense

•Camera, Keyless

•69,600kms

$

34,995

2013Toyota AlphardSC

•2.4LPetrolAuto, 7-Seater

•DualElectricDoors

•25,250kms

2019 Nissan Navara ST 4WD

2018 Nissan Navara RX4x4

•2.3LTurbo Diesel Manual

•Alloys, Bluetooth

•Only 58,100kms

2017 HiluxSRPreRunner

•2.8L Turbo Diesel Auto

•Alloys, Camera

•Only 60,050kms

2016 Toyota HiluxSR5 Ltd

•2.8L turbodieselauto

•2WD,alloys,leather

•Satnav,hardlid

•2.3LTurbo Diesel Manual

$

36,995 •Camera, Satnav $

44,995

$

41,995

$ $

•61,000kms

71,995

42,995

Percival Street,Rangiora • Ph (03) 313-8186any time • www.rangiora.toyota.co.nz

2404201

Signature

CLASS

FINANCE &INSURANCE AVAILABLE