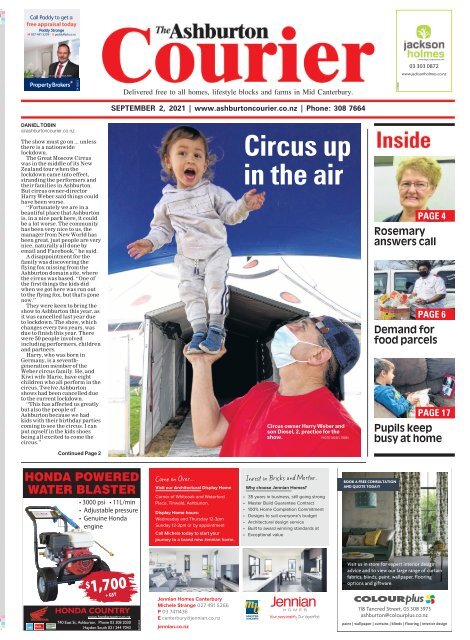 Ashburton Courier: September 02, 2021
You also want an ePaper? Increase the reach of your titles
YUMPU automatically turns print PDFs into web optimized ePapers that Google loves.
free appraisal today

03 303 0872

www.jacksonholmes.co.nz

2413813

Delivered free to all homes, lifestyle blocks and farms in Mid Canterbury.

SEPTEMBER 2, 2021 |www.ashburtoncourier.co.nz |Phone: 308 7664

2379686

DANIEL.TOBIN

@ashburtoncourier.co.nz

The show must go on ... unless

there is anationwide

lockdown.

The Great Moscow Circus

was in the middleofits New

Zealand tour whenthe

lockdown cameinto effect,

stranding the performers and

their families in Ashburton.

But circus owner­director

Harry Weber said things could

have been worse.

''Fortunately we are in a

beautiful place that Ashburton

is, in anice park here, it could

be alot worse. The community

has been very nice to us, the

manager from New World has

been great, just people are very

nice, naturally all done by

email and Facebook,'' he said.

Adisappointment for the

family was discovering the

flying fox missing from the

Ashburton domain site, where

the circuswas based. ''One of

the first things the kids did

when we got here was run out

to the flying fox, but that's gone

now.''

Theywere keentobring the

show to Ashburton this year, as

it was cancelled last year due

to lockdown. The show,which

changes every two years, was

due to finishthis year. There

were 50 people involved

including performers,children

and partners.

Harry, who was bornin

Germany, is aseventhgenerationmemberofthe

Webercircus family. He, and

Kiwi wife Marie, have eight

children who all perform in the

circus.Twelve Ashburton

shows had beencancelled due

to the current lockdown.

''This has affectedusgreatly

but also the people of

Ashburton because we had

kids with their birthdayparties

comingtosee the circus. Ican

put myself in the kids shoes

being all excitedtocome the

circus.''

Continued Page 2

Circus up

in the air

Circus owner Harry Weber and

son Diesel, 2, practice for the

show.

PHOTO DANIEL TOBIN

PAGE 4

Rosemary

answers call

PAGE 6

Demand for

food parcels

PAGE 17

Pupils keep

busy at home

HONDA POWERED

WATER BLASTER

•3000 psi •11L/min

•Adjustable pressure

•Genuine Honda

engine

Come on Over...

Visit our Architectural Display Home

Join us for the Grand opening of

Corner Jennian's of Whiteoak New Display and Waterford home

Place, Tinwald, Ashburton.

Display Home hours:

Wednesday and Thursday 12-3pm

Sunday 12-3pm or by appointment

Call Michele today to start your

journey to abrand new Jennian home.

Invest in Bricks and Mortar.

Why choose Jennian Homes?

• 35years in business, still going strong

• Master Build Guarantee Contract

• 100% Home Completion Commitment

• Designs to suit everyone's budget

• Architectural design service

• Built to award winning standards at

• Exceptional value

BOOK AFREE CONSULTATION

AND QUOTE TODAY!

$1,700

+GST

HONDA COUNTRY

www.hondacountry.co.nz

740 East St, Ashburton. Phone 03 308 2030

Haydon South 021 244 7043

2413234

Jennian Homes Canterbury

Michele Strange 027 491 5266

P 03 7411436

E canterbury@jennian.co.nz

jennian.co.nz

Visit us in storefor expertinterior design

adviceand to viewour large rangeofcurtain

fabrics, blinds, paint, wallpaper,flooring

options and giftware.

118 Tancred Street, 03 308 3973

ashburton@colourplus.co.nz

paint |wallpaper |curtains |blinds |flooring |interior design
---
NEWS

2 Ashburton Courier, September 2, 2021

www.ashburtoncourier.co.nz

BUSINESS OWNERS

Build customers,

sales and profits

with us ...

Delivered

to all homes,lifestyle

blocks and farms in

MidCanterbury

and Geraldine

news

Daniel Tobin

Editor

308 7664

027 628 7679

daniel.tobin@ashburtoncourier.co.nz

Reporters

Mick Jensen

mick.jensen@ashburtoncourier.co.nz

Toni Williams

toni.williams@alliedpress.co.nz

advertising

Jann Thompson

Sales Manager

308 7664

027 587 6351

jann.thompson@ashburtoncourier.co.nz

Karen Gane

Sales Account Manager

308 7664

021 510 804

karen.gane@ashburtoncourier.co.nz

getintouch

Editorial

daniel.tobin@ashburtoncourier.co.nz

Advertising

info@ashburtoncourier.co.nz

CreativeManager

murray.thompson@ashburtoncourier.co.nz

Accounts

accounts@alliedpress.co.nz

Distribution/Deliveries

mary.summerfield@ashburtoncourier.co.nz

Office

office@ashburtoncourier.co.nz

03 308 7664

199 Burnett Street,Ashburton

www.ashburtoncourier.co.nz

2407046

Stress relief, not in abottle

TONI.WILLIAMS

@ashburtoncourier.co.nz

''It's avery stressfultime

for people at themoment...

and alot of people do

reach foralcohol to solve

that,''Ashburton

CommunityAlcohol and

Drug Service (Acads)

generalmanagerChris

Clark says.

''Alcohol by farisstill

our most widely used drug

of choice,'' Mrs Clark said,

of those seeking help

throughthe agency.

''And probably alcohol

by far causes the most

problems.''

Amongthem increased

domestic violence

incidents, general health

deterioration, mental

health and dependency

issues.

Mrs Clark, whoalong

with agencystaffwere

working from their homes

under lockdown

restrictions, said family

bubbleswerenot easy for

everyone.

After the last lockdown

there was an increase in

the number of people

seekinghelp for drug

dependency, she said.

Andgiven record alcohol

sales nationwide, it was

GREAT

RATES

PC Repairs, Set-up and Tutoring

Icome to youday or evening!

Chris Clark

NewPCs

and Laptops

forsale

•PCRepairs/Sales •Networks/Servers

•Firewalls/Security •Spyware Clean-up •Training

20 YearsExperience Microso Cerfied Professional

NETWORKS FIREWALLS AND PCS LTD

Robin Johnstone 67 Aitken Street, Ashburton

P: 03 308 1440 C: 027 768 4058

robinbj@xtra.co.nz

believed this time would

be no different.

''We'represuming

because of the sales of

alcohol at the moment

there could be issues

coming our way in the near

future too,'' Mrs Clark said.

''I think that the anxiety

levelsare higher this time

than they werelast time,

andalot of people do

reach for alcohol to solve

that,''she said.

''And when peopleare

stressed they tend to drink

more butthat can leadto

more problems.

''Thereisalot of

pressure on the financial

side of things that come

into it after alockdown as

2380047

well.

''Families beingall

together in one house, it's

stressful on mumstrying to

handle kids, so yeah it's

not an easy timefor

people.''

Police did refer people

to the agencyiftheyhad

concerns about them, butit

wasuptothosepeople if

theywanted to takeup

counselling.

''We seethe peoplewho

want help,and that's

usuallythe tip of the

iceberg really,'' MrsClark

said.

It could sometimes lead

to helpingothers inside

family groups,but that was

not agiven.

''It is astressful time for

people so we are trying to

putthe messages out there

for peopleto be kind to

themselves, takecare, look

after their ownwellbeing.''

While alcohol, followed

by cannabis, werethe most

common drugs used by

people seeking help

through the Ashburton

agency, wastewater testing

in theAshburton

catchmenthad picked up

traces of

methamphetamine and

MDMAand afew people

had presented to Acads for

help. Those drugs plus

cocainewereamong the

seven drugs tested for

regularly in Ashburton's

wastewater system since

2018. In the first three

monthsofthisyear

Ashburton's drug use

detection showed levelsof

methamphetamineand

MDMA.

NationalDrug

Intelligence Bureau

manager Detective

Inspector Blair

MacDonald said the

wastewater testing

programme included46

testing sites nationwide,

coveringupto75percent

of the total population.

''Ashburton (testedevery

two months) wasadded to

the national wastewater

testing programmein

November 2018, when the

pilot programme was

extended to include wider

nationallocations.''

Acads is offering phone

counselling to peopleuntil

face to face counselling

can resumeatAlert Level

2.

Anyone wanting help ­

for themselvesorothers ­

can contact the agency by

phone (308 1270), or

throughthe website

(acads.co.nz).

Behind the curtain in lockdown

From Page 1

Harry Weber wouldlike the

circus to stay openafter

lockdown is lifted.

''Once we openupagain

we arehoping thecouncil

willallow us to stay herefor

an extra weekafter

lockdown,sowecan honour

ticketsand letall these

people, especiallythe kids,

comeand see the circus.''

His family andother

performershave kept

occupied duringlockdown

practicing and training. The

childrenget plenty of

playtime andwalks around

the park.

Whennot in lockdownthe

familyhave afullschedule

withthe circus on the road

48 weeks of theyear,

touring throughoutNew

Zealandand

internationally.

Theyhave also found

timetostarintheirown

reality TV showcalledThe

Circus whichairedon

Bravo,showing the lifeof

the circus family and

earning themthe 'Kiwi

Kardashians' nickname.

Seasonone is available

online at ThreeNow.

The wholeWeber family is

involvedwiththe show.

Circus owner Harry Weber

and daughter Rosie,6,

practiceashis wife Marie

and other children watch.

batteryshop.nz
---
WE ARE AVAILABLE FOR SALES

Just phone

308 9019 or 0274 354 625

to arrange contactless collection or delivery

Only available 9am to 5pm Monday to Saturday

•All items we stock areavailable for purchase

• No customers areallowedinourstore,

therefore please just phone or email us and wewill take care of you.

Phone 308 9019 or email jacky@smithandchurch.co.nz

308 9019 or

0274 354 625

ALOCAL BUSINESS TAKING CARE OF ITSLOCAL COMMUNITY

BEST BUYS...FAMOUS BRANDS

TVS

WHITE

GOODS

BEDS

E-BIKES

HEAT

PUMPS

FROM

FROM

FROM

FROM

FROM

FROM

If youare looking to purchase TV,whiteware, beds or bikes, phone308 9019. We areanAshburtonowned

and operated business thereforeyou aredealing with local people who have their own"skin in thegame", who

understand the importanceoflooking aftercustomers from the sales process to the deliverytoinstallation and the

aftersales service..."Wejust makeiteasy foryou ..."

FRIDGES

$ 399

DISHWASHERS

$ 798

$

399

FROM

FROM

WASHERS

$ 599

OVENS

$ 898

$

698

$

2450

$ 1297

2413085
---
NEWS

4 Ashburton Courier, September 2, 2021

www.ashburtoncourier.co.nz

Rosemary answers call for vaccine help

MICK.JENSEN

@ashburtoncourier.co.nz

Rosemary Moorehas come out

of nursing retirement to lend a

hand with the covid vaccine

roll­out.

The66­year­old is acasual

staffmember with Eastfield

Health and has been

immunising people since the

endof July.

She has flexible hours and is

part of ateam of three or four

that works at avaccine clinic

running three times aweek.

Typically between 150and

320jabsare given at each

session.

Theformerpracticenurseis

based at theAshburton

Racecourseand is gownedup

andwearing PPE gear. She last

worePPE during theSARS

virusoutbreaknearly two

decades ago.

Rosemaryput her name down

to be part of theCovid­19

vaccination workforce earlier

this year, but heard nothing

backfor along time.

''Eastfield asked me if Icould

help with the rollouthereand I

said yes.

''I'mreally happy to be

involved because I'm helping to

make asmall difference in

fighting thevirus.''

Shehad never expectedtoget

back into any type of nursing,

andalthough her working days

werebusy, she was quite

enjoying it.

Rosemaryhas had to renew

herannualnursing practising

licence and insurance andhas

updated her skills and

knowledge throughonline

courses.

She is limited to whatshe is

allowed to do and does notplan

on nursingbeyond her current

assignment.

Rosemary's nursing career

beganinChristchurch in the

early 1970s and straight from

school.

Shelatermoved south and

worked at Ashburton Hospital

for 20 years. Another stint

followed as apractice nurse at

Allenton MedicalCentre and

she ended her career doing

casual nursing.

Above: Rosemary Moore.

Left: Rosemary gives Nicholas Treleaven

adose of Covid­19 vaccine.

PHOTO EASTFIELD HEALTH

In retirement Rosemary has

been very active in service club

Altrusa andisalso avolunteer

at Mid Canterbury Citizens

Advice Bureau.

New date set

for bird sale

Ashburton BirdClub's birdandaccessories

sale has beenrescheduled from august 28 to

September 17.

The saleincludes birds, seed and

accessories. It runs from 9am until 1pm at

Tinwald MemorialHall. Entry is free.

Support open for businesses

AshburtonDistrictCouncil is

encouraging local businesses to

apply for government support

during escalated Covid­19 alert

levels ­thisincludes financial

support aswell as advice on making

decisions regarding staffingand

compliance.

Council community services

group manager Steve Fabish said

council's economicdevelopment

unit had beenhelping spread the

word about available support.

"Some business owners might be

reluctanttoapply for financial

supportorfeel isolated about

making decisions. We wouldlike

peopletoknowthat thereissupport

and adviceavailable."

Financial support includes: the

Wage Subsidy Scheme, Resurgence

SupportPayment,Leave Support

Scheme, ShortTerm Absence

Paymentand Small Business

Cashflow Scheme.

General business adviceis free

and available from the Canterbury

Employers' Chamber of Commerce

on 0800505096.

Councilhas set up aweb page

withkey links to financial support

andinformation(Covid­19Business

Support).

Meanwhile, employersofforeign

nationalstaff withtemporary visa

status that ended yesterday are

encouragedtoassist those staffto

seekhelp fromtheir home country's

consulate or embassy.

General employment information,

some of which is translatedinto

several languages for staff, canbe

found at www.employment.govt.nz.

The MinistryofBusiness,

Innovation and Employment(MBIE)

has set up acallcentreto

specifically support queries related

to escalated Covid­19alertlevelsfor

businesses and services.This

centreiscontactable by phoning

0800424 946.

2380035

2379950

Water purifiers

Home &Office–Underbench and Benchtop

Reduction of nitrates and

heavy metals •Giardia safe

•Asbestos safe

ARTHUR

CATES

LIMITED

26 McNALLYSTREET,

RIVERSIDE INDUSTRIAL

PARK,ASHBURTON

TEL 308 5397

www.arthurcates.co.nz

While our doors may not be open, we can

still put our gorgeous shoes on your feet.

Orders can be made via phone,emailorour website

with an added bonus of

20% OFFSTOREWIDE

Approavailable.

All localorders canbecontactless

delivered or collected.

Moana 0274626676 l Carolyn 0276088246

info@steppingout.co.nz l www.steppingout.co.nz

2413886
---
www.ashburtoncourier.co.nz

NEWS

Ashburton Courier, September 2, 2021

5

Plenty of potential for large property

TONI.WILLIAMS

@ashburtoncourier.co.nz

Theformer Tuarangi Home

property, on theoutskirts of

Ashburton,isgoing underthe

hammer.

The4.125 hectaresite was

onceowned by businessman

Paul Clark.

He had theproperty for

around28years. It was sold in

late­July.

Mr Clark, the fourth owner,

once hadplans to subdivide it

himself, but itspotential is

nowuptoothers; thesignsare

up and theproperty willgo

underthe hammer ­unless

sold prior ­through Bayleys

real estate from their Deans

Avenue, Christchurch office.

Bayleys leadagentMick

Hydes said there had been a

lotofinterest nationwide in

theproperty,which hadalot

of potential.Under Alert Level

3interested partiescould

arrange aviewing of the

property with restrictions, he

said.

The auction, on September

16,atnoon, would go aheadvia

Zoom.

Thesite, which is freehold

land with residential Czoning,

is adjacent to theestablished

Braebrookresidential

subdivision.

It has asubstantial brick

buildingofabout 2590sqm

whichwasconstructed around

1901.

In itsheyday, Tuarangi

(named fromthe Maoriword

forold)was the former home

to thousands of menand

women.

The building was used as a

men's home (orinfirmary) and

thenasarest­homefacility

beforeitclosed and movedto

Cameron Streettoamodern

hospital with aspecialised

psychogeriatric care facility

for theelderly.

It wasalso ownedbythe

Moule/Twigger Trust, the

North CanterburyHospital

Board and the Canterbury

Buyers of the former Tuarangi Home property could have many opportunities with the significant

Ashburton property.

Hospital Board.Atimecapsule

removedfromthe site had

been giventothe Ashburton

Museum.

The sitehas manyouthouses

and fronts Tuarangi Road,

widening tothe back of the

property and along the

northern edge of Braebrook

subdivision. WakanuiStream,

morecommonlyknown as Mill

Stream, runsthroughthe site.

The propertyhas beenonthe

radar of many organisations

andindividuals overthe years

and advertisingfor its

upcoming sale is in fullswing.

''This property provides a

widerange of opportunities for

purchasers including

redevelopment of thesite in

whole or part, possible

utilisationofthe existing

buildingetc.''

''Bringyourplanners,

builders,yourvision and

maybeyourarchitectto

maximise youropportunities

withthis significantAshburton

property.''

Checkout ourlatest

deals

$

EVERYDAY

PRICE!

$

17 99

each

WITHER HILLS

Pinot Noir or Syrah

750ml

Also available: Merlot

$ 50

2 for

MT DIFFICULTY

ROARING MEG PinotNoir

750ml

Single bottles pricesapply

Weekendbeersies,

sorted!

39 99

each

STEINLAGER CLASSIC or ASAHI

24 x330ml Bottles

Great giftideaSfor

FATHER'S DAY

SUNDAY5 TH SEPTEMBER

EVERYDAY HOT DEAL!

$

37 99 PRICE! $

54 99

HOT DEAL! EVERYDAY

PRICE!

$

39 99

each

HOT DEAL!

$

1LITRE

1LITRE

54 99

$

39 99

1LITRE

NEW

PRODUCT

HOT DEAL!

$

59 99

each

HOT DEAL!

$

29 99

BILLY MAVERICK

&COLA

18 x250ml Cans, 7%

HOT DEAL!

$

39 99

each

WOODFORD RESERVE

700ml

DEWAR'S

White Label

1Litre

GORDON'S 1Litre

GORDON'S Sicilian Lemon or

Premium Pink 700ml

SMIRNOFF

RED NO.21

1Litre

JACK DANIEL'S

1Litre

THE GLENLIVET

Caribbean Reserve

or Founder's Reserve

700ml

LONG WHITE

VODKA Range

15 x320ml Bottles, 4.8%

Shop local with

AMBERLEY, ASHBURTON, BARRINGTON, BELFAST, BRIGHTON, BURNSIDE,

COLOMBO ST, EDGEWARE, ELMWOOD, FERRYMEAD, HALSWELL, HANMER

SPRINGS,HORNBY, ILAM, KAIAPOI, LEESTON, LINCOLN, METHVEN, OXFORD,

SHOP LATESTDEALS at WWW.SUPERLIQUOR.CO.NZ

NATIONWIDE DELIVERYNOW AVAILABLE

PAPANUI, PEGASUS, RANGIORA, SEASIDE, WOOLSTON

Exclusions mayapplyonsomebrands advertised. Offers end close of trade 5th September 2021, while stockslast.Available at participating stores only.Multi Deal only available in store.

Varietals mayvary by store. Limits mayapply. Wholesale (other liquorretail banners)not supplied. Terms and conditions may apply. Available 23rd August -5th September2021inclusive.

Pleasesee www.superliquor.co.nzfor details.

SUP2366_C11
---
NEWS

6 Ashburton Courier, September 2, 2021

www.ashburtoncourier.co.nz

Donna steps up to help in lockdown

Lockdownhas once againseen

St Vincent de Paul Ashburton

shopmanagerDonna Collins

step up to be amulti­tasker.

With the shopclosed and a

sizeable pool of volunteers

stayingsafely athome, she is

the one answering phone

inquiries and assisting those in

need.

Donna puts together and then

delivers food packages to

families and individuals

around Ashburton.

Her twosons, who areintheir

early 20's, have been her

supportcrew, as they were

duringthe last lockdown.

So far thenumbers needing

foodparcel assistance had not

risen noticeablythistime

around, she said.

There wasasteady and

constant need butitwas the

logisticsthat had changed

duringthe covid lockdown.

St Vincent de Paul Ashburton

shop manager Donna Collins

has been busy supporting

people in need during

lockdown.

Deliveriesthat have been

made have followed the strict

non­contact regulationsin

place.

St VincentdePaulAshburton

president Mike Hanham said

Donna wasdoingatremendous

job.

Shehad taken it uponherself

to keep things running and was

doing the work normally done

by volunteers.

''Our volunteers are in the

older age bracket andwe don't

wanttoo manypeopleatthe

foodbank during lockdown.

''Donna'sabit younger and

she's getting on with it,'' he

joked.

Itemsgoing into the St

Vincent de Paul food parcels

are carefully selected and

typically have avalueofaround

$120.

Demand varies eachweek.

People needing assistance

cancall Vincent de Paul

Ashburton on 027 607 0107.

They may be asked to leavea

message but will receive acall

back and short interview to

determine their needs.

Demand for Sallies food parcels increases

The emergencyfoodbank run

by theSalvation Army in

Ashburton has seen an

increaseindemandduring

lockdown, but reserves are

good andpeopleare being

askedtocallahead to access

food parcels.

Demand wastwo or three

timeswhat it normally was,

saidElizabethRatu, whowith

husband Semi, is theco­officer

overseeing thecorpsservices

in town.

Mrs Ratu said theSallies

weregratefulfor the donations

of food that continued to come

in.

Demand hadbeensteady,but

had spikedalittleafterthe

announcement of extending

level4.

Shesaid thefoodbank had

good reserves andnormally

bulk bought, something it could

notdoatthe moment.

Freshvegetableshad in

come and been distributed.

Strict covid restrictions were

in place and 90 percentoffood

parcels were picked up by

people at an allocated time,

she said.

Deliveries had gone asfar

afield as Rakaia and Mt

Somers andwerecontactless.

Mrs Ratu said there was still

aneedfor support in

lockdown,but anxietylevels

werenoticeablyless the

secondtime around.

Because of the free lunch

schemethatran at some

schools,parents were now

faced with providing lunches

at home fortheir children that

they didnot usually have to

budget for.

CivilDefence,social service

agencies andthe hospitalhave

allreferred clients to the

SalvationArmy.

Clients are singles, couples

andfamilies.

The AshburtonSalvation

Armyisasking people in need

to call ahead on 03 308 7610 or

to message throughthe

Facebook page.

Salvation Army Ashburton

corps officer Lt. Semi Ratu

prepares to deliver afood

parcel.

Installation and Servicing of:

•Heatpumps •Electrical Appliances

•DairyRefrigeration •Ventilation

•Refrigeration

2413826

We have procedures in placeto

keep staffand clients

safeasper COVID-19

guidelines and requirements.

Phone 308 7182

On Call 021 597 517

211/D Alford Forest Rd,Ashburton

admin@stewartandholland.co.nz

www.stewartandholland.co.nz

German Style Handcrafted

SAUSAGES

Pork flavours include cumberland,jalapeno and

cheddar (not hot), caramelised onion and apple,

roasted pumpkin and walnuts Venison and pork

Lamb,mint,garlic and caramelised onion

Oursausages have no

preservatives,flour or water.

Allnatural ingredients,salt,

pepper and spices.They are

filled out into natural hog

casings –not synthetic.

027 206 0503

Phone todayfor contactless delivery.

2413799
---
www.ashburtoncourier.co.nz

Rock opera show in 'limbo'

MICK.JENSEN

@ashburtoncourier.co.nz

There wasjustaweek left of rehearsals

when covid haltedthe progress of the

local productionofrockopera Jesus

Christ Superstar andnow organisersare

waiting,andhopingalertlevels come

downquicklyand anewperformanceslot

canbefound.

The castof65, alivebandand many

volunteers haveclocked up countless

hours in preparingforthe musical.

Ashowbudget of$120,000 alsoputs

pressureonVariety Theatre Ashburton

andAshburtonTrustEvent Centre,which

areusing theproduction asajoint

fundraiser.

Show director and event centre

managerRoger Farr saidlockdownhas

putabig dampenerofthings andnowthe

productionwas in limbo.

For the show to go ahead later in the

year there needed tobesomecertainty

around alert levels.

''A lot of ducks have got to line up over

the nextfew weeks.

''Thereisalsothepossibilitythat we

mighthavetopull theplug,butwedon't

want to dothatunless absolutely

necessary.''

Mr Farrsaid therewaslot at stake

financiallyand that wasaconcern.

''We can'treallyafford to cancel it,but

we'llhavetosee howthingspanout.''

Hesaid so mucheffort hadbeenput in

by some many peopleoverthe last few

months.

The wardrobeand set werefinished

and therewas onlyaweek remainingof

Minister steps up

technology use

MICK.JENSEN

@ashburtoncourier.co.nz

rehearsalsandfinal technical workwhen

lockdownstruck.

Mr Farr saidrehearsals couldstart

againunder level2,but it neededlevel 1

to be abletoperformthe show andto

bringinthe audience.

November is beingeyedasapossible

monthforthe production.

Ashburton Trust Event Centre manager

Roger Farrand Variety Theatre Ashburton

president Nicky Milmine were in ahappier

mood when they announced the rights had

been securedfor Jesus Christ Superstar

back in May.

NEWS

Ashburton Courier, September 2, 2021

7

Survey

uptake

best ever

Asurvey conducted by the

YMCA South &Mid

Canterbury has had itsbest

everuptakewith hundreds

completingthe three­part

biennial survey.

The survey asked

questionsaboutattitudes,

educationand employment,

andwell­being.

Data to dateshows1243

respondentscompleted

partone,862 part two, and

853 part three.

The high uptakeispartly

attributedtothe decision to

splitthe survey into three

parts making it more

manageabletocompletefor

the first time and also

becauseofthe YMCA's

decisiontospeakatsome

school assembliesabout the

survey for the first time.

Thesurvey seeks to givea

voicetoyoung people and

the results will be shared

with decision­makers in

government,business,

health, education and

social sectorssothat the

collective youth voiceis

represented.

The full results are

expected to be revealedin

the next week or so.

Rev HeatherKennedy has

adapted her usual

communication methods

duringlockdown and

technology has become her new

friend.

TheMethodist minister is

confident online, aregular at

Zoommeetingsand has found

browsing Facebookand

YouTubeuseful and

entertaining.

''The older generation, like

myself, have generally learnt

technology as they've gone

along andatafairly slow pace.

''For me, andanumber of

others, lockdown has forcedus

to change theway we do things,

particularly they way we

interactwith others.''

Rev Kennedy said churches

in generalhad become more

innovative because there were

no face­to­faceservices and

contact.

''The Methodistchurch, for

example,has been sharing

information andlinks about

servicespeople can watch

online at home.

''Others arelive streaming

servicesfromthe homes of

ministers.''

Rev Kennedy's typical

Sunday service forthe Baring

SquareMethodist Churchhas

beenemailedout to the

congregation along with

YouTubelinkstohymns.

Mostofthe congregationare

on email andthose not online

have been givenprinted

material.

As well as being aMethodist

minister, Rev Kennedy is

involved withadministration

for the Presbyterian Church

General Assembly, which has a

Rev Heather Kennedy

bi­annual conference lined up

in Christchurchatthe endof

this month.

Zoom meetings have allowed

her andothers to discuss and

put forward businessagenda

items for the conference, which

is shapinguptobeadigital

event.

Rev Kennedy also has abig

Methodist church conference

lined up in November and a

decision on whetherthat goes

aheadisstillbeing debated

throughonline conferencing.

''Sometimes there willbe30

people online at Zoom

meetings andit was the same

lastyearinlockdown,''she

said

Rev Kennedy said level 3

wouldbenodifferent from

level 4for the church

community, or the country as a

whole.

There was someangst in the

community andmembers of her

congregation wereconcerned

for fellow Tongans caughtupin

the spread of covid froma

church gathering in Auckland.

Rev Kennedy said shefelt for

those in rest­homes whocould

not receivevisitors at this time.

Proudly supportedby

2414143
---
Ashburton College

Individual Excellence in aSupportive Learning Environment

News

Issue 28

2September 2021

DeputyPrincipal Message

Good Wishes in DifficultTimes

It is my sincerehope thatyou and your family arein

good health and are coping with the complexities

andchallengesassociatedwith this pandemic.

Prepared forCOVID Lockdowns

We have been moreprepared this timefor aCOVID

lockdown, having learned and reflected on last

year's lockdownand from the morerecentflooding

school closurealso.

Abilityfor Students to Work Online

Staff have used the tools available to put work online sothat students

can work from home.

As this is becoming common practice inthe classroom, students are

familiar with the tools and how to access and use Google Classroom,

documents and Zoom calls.

Paper resourcesare available fromthe MinistryofEducation forstudents

who do not have access to online learning. During last week Collegehas

undertaken contactlessdeliveries of hardcopypacks.

Routines

We realise that parents can find supporting their child with learning

very challenging, but know you will also understand the importance of

routine for your family. Ifyour routine has been shaken up, itisoften

helpful to structure your time. Routines are reassuring and promote

health and mental and physical well-being.

Staff Availability

Staff have been available between the hours of 9:00am and 3:00pm to

supportonline learning.

Adjustments to Events Calendar

As advertised in last week's newsletter there are adjustments to event

dates.

Cancelled:

Secondary Schools' Winter Sports Tournament Week, 27 August–

05 September.

AkoInterviews,Thursday09September. This will be anormal teaching

day, depending on our COVIDlevel.

NCEA and College Internal Exams –please notechanges

NCEAExternal Exams

• End of Year external exams will now start two weeks later,

commencing Monday 22November and running through until

Tuesday 14 December.

• External Portfolios in Art, and Design and Visual communication

deadlines will also be pushed out by twoweeks.

InternalCollege Examinations–PushedBack One Week

These will now be held from Monday 20September through to

Tuesday28September, inclusive, forYear11, 12 and 13 students.

Details have beenemailed to staff and parents.

These examinations aresignificant as not only arethey abletoprovide

studentswith averyaccurate gauge as to their current performance, but

the result maybeused as evidence of thestandardoftheir work should

they, forsome reason, not be abletosit the NCEAexamination laterinthe

year andtherefore have to apply fora'derived grade'.

This year we are offering some English classes the opportunity to

completetheir exam online. They will also have apapercopyduringthe

exams and can switchbetween the twomediums. This hopefully will also

eliminate the anxietyaround internet or batteryand powerfailure.

With Appreciation

Take care and look after each other. Weappreciate your understanding

and supportofeach other at this challenging time.

Helen Shore-Taylor

Deputy Principal •Tumuaki Tuarua

At COVID Level3–College Remains

Closed Except For….

• Thereisprovision, under Level3,oflearning forasmallgroup of up

to 14 year olds who are children of essential workers who are not

abletomake otherarrangements fortheirchildren'scare.

• These students will be accommodated inone oftwo pods, inthe

same pod for the day, undertaking online learning. Breaks will be

available during the day, andmasksmust be worn at all times.

• Cleaning willbeundertakenwherethe pods areoperating out of.

• College Management meets after each major Government

announcement, andwill adviseany relevant changes.

The

AshColl

Way

BoardofTrustees News ...

COVID Impacts

It is disappointing, although unavoidable,

to again have aschool year interrupted with

a COVID-19 lockdown when it had gone so

smoothly thus far!

We commendthe staffand students on the way

they cope with this, and hope students have

managed to continue to keep working where

possible.

It is unfortunate that we've had asecond year of being interrupted but

these challenges, if nothing else,teachusresilienceand howtodeal with

theunexpected. This is nowour new normal!

Appreciation

For the last term wehave had Deputy Principal Jono Hay step-up as

Acting Principal whilstRossPreecewas on Sabbatical Leave.

We thank Jono for his good work in that time. The Board has enjoyed

working with him and having another viewpointfromthis position.

We also acknowledge and thank the other staff who stepped up into

rolesduring this period –AngelaMitchell (Acting DeputyPrincipal) and

Greta Hampton (Acting Social Sciences Head of Faculty) andhope they

also enjoyed this opportunity.

We nowlook forwardtoreviewing the report from Ross'SabbaticalLeave

and investigating what (if any) improvements we can implement at

AshburtonCollege.

SecondarySchools' WinterTournament

This past week anumber of students should have been away at the

SecondarySchools'WinterTournament week.Unfortunately,the decision

was made, onceweentered lockdown, to cancel these tournaments.

We feel forall thoseteams who,for the second year in arow,have been

unable to go away to compete againstteams fromoutside their region.

Tournament Week is agreat experience for these students and tobe

impactedonbyCOVIDagain is very disappointing.

We do, however, congratulate everyone who made these teams and I

would like to think we'llget therenextyear!

AshburtonCollege Rebuild Plans

The Ashburton College rebuild plans are still progressing and hopefully

we will have information/plans soon to putout to our wider community.

We were hopingtohaveinformation available earlier thanthis. However,

withsomedetails still to be worked throughitisimportantthatwetake

the time needed toensure these plans are correct as, importantly, they

need to take us well into the future.

Youmay, however, have seen that the new premises for the Phoenix

Pre-school aretohavebuilding started soon (on the old netball courts),

beingthe first stage of this project, so we aremaking progress!

Take careand keepsafe!

Jen Muir

BoardChair•Heamama

Information

COVID Level3Arrangements

Please notethatfamilies have been issued with full details aroundthe

followinginformation:

RemoteLearning

• Asasolution to an emergencysituation.

• Encouraging our students to demonstrate our AshColl Values by being

responsive, self-managing and resilient.

• Acknowledging online access to learning may not be easy, or possible,

forsomelearners at some times.

• During this time, students operate best inastructured environment,

which can include aregular wake-up time, dedicated time for learning

and timetolook afteroneselfand whānau.

Communication betweenTeachersand Studentsand/orCaregivers

• Will be via Collegechannels–either Kamar and Gmail.

• Teaching staff will do their besttoanswer emails between 9:00am and

3:00pm. A48-hour turnaroundtime shouldbeallowedfor.

• Full details issued to families outline more specific information for

SeniorStudents, andfor JuniorStudents,plusarrangements foronline

learningmeetings.

• Ako teachers will have, orwill bemaking contact with their Ako Class

members,mostlikely throughKamar.

Issues or Concerns

• Please contactyour of HeadofSchool:

SeniorSchool -Mrs Bruce (br@ashcoll.school.nz);

JuniorSchool -MrsClough (cg@ashcoll.school.nz).

• Michelle Hosking (hg@ashcoll.school.nz) and the Counselling team are

available to assistwith concerns.

Be kind,becalm,besafe. Kia manaaki, kiamārie, kiamarutau

Information

Office Closureat3:20pm, Tuesday07September

(Note: Changed from Thursday19August)

Please note: the College Office will be closed from

3:20pm on Tuesday07September.

This is to allowall staff to attend aStaff Briefing

relatedtothe College re-build programme.

We thank youfor your supportofthis timing.

LIKELYCHANGE TO THIS DATE,TOBECONFIRMED

Studylink TertiaryEvening

Monday06September,7:00pm, College Staffroom

This is an opportunityfor Year 13 students intending to undertake

tertiarystudyin2022,toattend apresentation,

with their parents/caregivers,bystafffromStudylink.

Studylink is responsible forStudent Loans andAllowances and their staff

will outline the application process and requirements.

An information form has beenmade available to students,inorder to

gauge numbers attending.

Studentsare asked to return thisform to the TransitionOffice(T12)

or email responses to cy@ashcoll.schoolbyFriday03September.

Events

POSTPONED DUE TO COVID

RESTRICTIONS AND IMPLICATIONS.

NEWDATETOBEADVISED.

Year 11 and 12 Outdoor Education

Rafting Trips

On 03 and 06August both the Year 12and 11 Outdoor Education

classes respectively,went WhiteWaterRafting as part of their Safety in

theOutdoors andRisk ManagementUnits.

This time ofyear is not usually the season to white water raft but, teacherin-charge

Luke Martin said it suits the units well when looking at risks.

Fortunately both days provided some decent weather for this time ofyear,

which made both trips not so cold. What was great, he said, was there had

beensome rainearlier in the week,sothe RangitataRiver was flowing with

some decent rapids.

The Peel Forest Outdoor Centre Guides were fantastic, when working with

us, tohelp emphasise the risks involved and sharing some oftheir own

experiences.

(Pictured above): Year 12 briefing at the Peel Forest Outdoor Education

Centre.

On arrivalthe students got their gear sortedand discussed the importance

of wearing the correct warm clothing. Once everyone was geared up and

checked, itwas on to the bus tohead up river tothe start. Students were

debriefed on whattodoincertain situations and,importantly,how to stay

in the raft and not fall out!

What followedwas twohours of adrenaline-filled whitewaterrafting. With

no mishaps and afew bravesouls jumping in the wateratthe end,both trips

were ahuge success. All students enjoyed their day, and gained valuable

information fortheir assessments.

Then the fun partcomes -ofbeing back at schooland completing write-ups

fortheir assessments!

Forthcoming Events

As will be understood,datesregarding Coming Eventsare very much

in limboatpresent. Once thereisopportunitytoprovide adegree of

certainty,wewill recommencethe listingofactivities.

As advised in last week's newsletter, School Sport NZwas scheduled to

review the viability offuture events onthe School Sport NZCalendar on

Wednesday01September,orasappropriate in relation to changes to the

alertlevelprotocols.

Term ThreeTerm Date 2021– remains:

Term Three - Friday01October

Anyadjustments to Term Four year level

finishingdates will be advised.
---
Ashburton College

Individual Excellence in aSupportive Learning Environment

News

Issue 28

2September 2021

Events

Year 13 StudentVolunteer/ServiceProjects

This year,aspartofthe Year 13 Akoprogramme, College aimed for

everyYear13student to takepartinavolunteering/serviceproject.

Aprojectcouldbewithin or outside of school.

Head ofSenior School Abbey Bruce said College believes such projects

are important, as volunteering is away the Year 13 students can give

back to theschool and/or local community.

Such activities also connect the students toothers, giving asense of

fulfilment, and can also help advance job opportunities and university

applications.

Students were requiredto:

• Decide andfind avolunteer project.

• Submit aproposal to theirAko teacher.

• Partake in at least eightvolunteer sessions during Term Two.

• Submit ablog weekly to their Akoteacher to track their progress,with

aminimumof100 wordsand twophotos.

• Present to Assembly during Week 10 of Term Two.

In this newsletter we look at some of the projects

undertakenmainlybystudents in 13GBD -

Teacher Clair Bedward'sAko Class:

AbbeyWilliams –Volunteered at Hinds Scouts Group

Abbeyvolunteered at the Hinds Scouts

Group, initially planning the term's

activities. These included helping with

painting apiece ofwood to place on

the outside of the den to 'make the den

look better', organising games, playing

spotlight inthe Hinds School hedge and

capturing aflag. Abbey said she really

enjoyedthis activityasitwas 'reallygood

to be hanging out with the Scouts and

playing agame with them'. Cooking food

from $12 purchases from the dairy was

another activity.

Abbey said that, unfortunately, she was

unable to volunteer for most of the term because ofthe flooding, which

damaged the den.

She was, though, able to help with the clean-up, and throwing away

damaged items.

The positive ofchoosing Scouts as aproject was that she 'got to hang out

with some cool kids and teach them things about Scouts'.

Dante Vannini –HockeyCoach

For his Volunteer Project, Dante coached primary school student

hockey.

Over the course of Term Two, he coached both atrainingand agame every

week foraYear 7and 8Tinwald team.

He also assisted with one training and two games for the Mid Canterbury

Hockey Under 13 Boys' Team, and also volunteered to coach the Boys'

Year 8 Town team in the annual Mid Canterbury Town vs Country

competition.

This is Dante's fourth year of coaching,and he said 'itdid notpresentmuch

of achange to my usual schedule'. However, the weekly write-up aspectwas

new and,due to afull schedule,this wasanaddedchallenge.

(Pictured left): TheMid

CanterburyUnder 13

boys aftertheir 7-a-side

game vs the West Coast.

(Pictured below): Year 8

Town and Countryboys

aftertheir game.

JacobSwan–StJohnYouthLeader

Jacob's Volunteer Project was being aleader at St John Youth. Jacob

hasbeeninvolvedinStJohn Youth forabout eight years,beingaleader

forapproximately three years.

This term they were working towardsthe Community ServiceBadge.Jacob

explained that Community Service iscompulsory inworking towards their

Grand Prior Award, with only the Gold Group [13-17 year olds] eligible to

obtain this prestigious award.

The Blue and Green groups were where Jacob

was teaching. The Community Service Badge is

not compulsoryatthis level, but is agood badge

to earn, and he said thatmost of the Cadets at St

John have donethe work to gain theCommunity

ServiceBadge.

As partofhis Volunteer Projecthehad to go each

week on Thursday nights, from 6:30-8:00pm, at

the St John building on Tancred Street. Aswith

anumber of projects,the flooding stymied afull

tenweek programme.

(Pictured left): Jacob Swan.

During his VolunteerProject commitment Jacob's input included–

Giving lessons about the CommunityService Badge. The basic overviewof

the lesson wastoask whatthe group thoughtacommunitywas,after which

theydiscussed tenthingsacommunityneeds.

The ten aspects were: protection, leadership, health care, knowledge,

facilities, space for beliefs, sustainable activities, support groups, supplies

and everyone doing their part within the community. This included a

discussionabout roles or jobseach of the tenaspects would require.

Duty NCO: An NCOisacadet who is under 18, with arank.The order of the

ranks areCorporal,Sergeant, and Cadet Leader.Jacob is at Sergeantlevel.

The duty NCO's job is to run the night and make sure everything goes to

plan, and run theCadet paradeatthe start and endofthe night, take the roll

callfromthe 6:30pm parade,and hand-over each parade to aYouth Leader

(over18years).

Supporting teaching by ayounger Cadet and Corporal-in-training. This

Cadet had attended aCorporal training camp earlier in the year and, on

return, is required to do one lesson teaching, command drill/be Duty NCO

and run agame. ACorporal-in-trainingwillalways have someone working

with them while they perform these tasks, for any help and guidance

needed.

Forthis lessontheysplit the Cadets into groups of three and gave the team a

big pieceofpaper. Theteams then had to draw acommunity andtalk about

whatthingsacommunityneeds,and thenpresenttheir communitytothe

wider group,explaining what they added and whythey addedit.

Helpingwith teaching of the Green Group: Thegroup had to create their

ownsuper,brand new ambulance!

Firstly the group each thought of one thing that the ambulance needed.

Once they got the list of items needed they split into pairs or singly, got

one piece ofA3paper and some coloured pens and spent about 25-30

minutes drawing their ambulance and adding all the items needed in it. In

conclusion each person or group presented their ambulance, explaining

each part. The'best ambulance' wasselected, with an explanation as to why

this should be chosen. Agroup could not choose theirown ambulance!

Game Duty: This involved, once lessons were finished, running agame;

this time apaper,scissors,rockgame involving

twoteams running around abox made of four

chairs, with paper, scissors, rock having to be

playedonceapair met in the middle.

Presenting Projects and making aPoster:

Projects from the previous week were

presented, plus aposter made onwhy people

should come to their town.

RubbishCollectionwasaCommonThemeUndertaken

by aNumber of Students

Kyle Muncal

Kyle started inWeek One collecting rubbish

by himself,onthe field.

For the second week he joined forces with

John Radan, John Magyaya (of 13GWZ),

RJ Pasion, Yash Patel (13GWZ) and

Harrison McKee(13RMM). Ian Jerao joined

this group also for six weeks, with rubbish

collectedaround various areas of the College

and the AshburtonDomain (pictured right).

RJ Pasion

RJ outlined the decision to pick

up rubbish from different areas

of the Ashburton Domain as his

Volunteer Project, with the group as

above.Armed with tongs and black

rubbish bags they were able to

achievetheir task without touching

the rubbish.

(Pictured right, lefttoright):

Yash Patel, Kyle Muncal,

John Radan and John Magyaya.

NewProject

By mid-waythroughthe project they had transferredtothe newKai forKids

Volunteer Project.

Zedrick Agreda

Also undertook rubbish collection, around the Ashburton Domain, with

friends.

BenSimons

Ben was another student who, for his Volunteer Project, decided to better

the environment and pick up rubbish in the Domain. Ben said that,

often hewould have the company of afew mates onhis rubbish-picking

adventures,withmain appearances including BuddhikaEkanayake and and

Dennis Nguyen.

Sayime Metuatini and Te Rira Wikohika

Sayime outlined her Volunteer Project, also picking up rubbish around

school, with Te Rira Wikohika (of Ako class

13OSU).

Armed with a bucket and tongs (pictured

right), on their first day, they started picking

up rubbish around the Canteen, then moved

to the backofSBlock,tothe field,the mini and

big gym,ABlock,the Chessboardand TBlock.

Sayime did note they were unaware of how

many students in Ashburton College leave

their rubbish lying around, despite some

being totally responsible. Students going to

the trouble of sticking and hiding rubbish

within the connected chairs by T Block was

something Sayime found disgusting, but

she also said she enjoyed volunteering and

picking up rubbish for the school, and making

this her project.

Shasha Watageadra-Volunteering in an Ashburton

Borough School Class

Throughout this term Shasha decided to help with her little sister's

Year 5class at Borough School. Shasha said her sister's teacher, Ms

Stephens,'wasone of the kindest and most amazing teachers I've met.

Shegot alongwith the kids very well and theypaidsomuch attention

to whatshe said,which made it easier formetowork withthem'.

Shasha was able to see them start the day bydoing asong for the week,

and awaiata and akarakia as well. MsStephens greeted each student

individually, which Shasha found very nice, saying 'that it's good for the

kids,asthey know thatthe teacher pays

attention to them'.

Overall Shasha stated that she loved

going in everyThursday and trying her

best to help them as much as she could,

saying this experience was something

she had never expected todosoitwas

'quitehard'forher at first.

Shasha thought that ifshe helped at

her sister's class, she would be able to

see how primary classes worked as she

didn't go to aprimary school in New

Zealand, having straight-away joined

College after coming to New Zealand

from SriLanka.

Towards the end of the term, Shasha became busier with College internal

assessments and other activities,sosometimes found it stressful to go in to

help but,looking at the positiveside, shesaidithelped her to improveher

time managementskillswhich willbeneeded in the future.

Shasha also said she wasquiteshy at first and embarrassed to interact with

the kids but,asthe time went by,she was able to become morecomfortable

with them and enjoyedhaving moreofthe students starting to talk with her.

As shegained moreconfidenceshe wasalso able to help agroup with their

reading,and pronunciation of wordsfor aplaybeing rehearsed,and howto

read the sentences correctly.

Other involvements included helping with shapes and colouring; being part

of the eclipse discussionand sharing her ownphotos of this event; helping

with essay-writing spelling or grammar; cutting out students'goals to put

on aboard; being apart ofthe students working on their chrome books

using aMaths programme called Prodigy which the students really enjoy

as it combines the use of games and

maths problems; helping with games;

awarding mihi pai to best dancers.

Overall, this experience was quite

interesting and she said it helped

her to improve asaperson, helping

her to become more confident and

learnhow to lead others who areway

different toher. Shasha concluded by

saying she was able to learn how to

be agood role model and to see the

different learning strengths between

the students and how well they all

worked together.

(Pictured right): Two students busy at

work in theYear 5AshburtonBorough
---
Family Notices

Deaths Deaths Deaths Deaths Deaths

ANDREW, Howard Russell,

63, passed peacefully

on 24/08/2021, after

courageously enduring long

standing illness.

Beloved husband of

Carolie, brother to Robert,

father of Emma, Rudyard,

Caitlin and Thurza, uncle to

Jessica. Loved Oupsie to12

grandchildren.

Full of fun, wisdom, and

knowledge, hewas acaring

father figure tomany. He will

be greatlymissed.

"For neither death nor life, nor

anything else in all creation,

will be able to separate us

from the love of GodinChrist

Jesus our Lord"

BENNETT, Robert Reginald:

With great sadness, Robert

peacefully passed away

on August 28th, 2021, at

his home in Ashburton.

Caring and loving husband

of Celeste. Devoted and

supportive father of Sean.

Dear brother of Graeme.

Uncle of Shieldon, Mark and

Marlene in the Philippines.

The family wishes to express

their heartfelt thanks to

the medical teams and

carers who assisted Robert,

providing continued care

at his home in the midst of

current restrictions.Messages

to the Bennett family c/o P

OBox 472, Ashburton 7740.

A private Catholic Requiem

Mass and burial is to be held.

Paterson's

Ashburton

FDANZ

03 3077433

BENSDORP, Evelyn May,

21.12.1931 – 31.08.2021.

At Ashburton Hospital. In

her 90th year. Dearly loved

wife ofthe late Janus. Loved

mother and mother-in-law

of John, Nick and Lynne,

Bruce and Jillian, Leo, Trevor

and Rachel, Richard and

Rachael, Gina and Paul,

Neville and Karen, and friend

of Brenda. Loved Gran ofall

her grandchildren and great

grandchildren. Sadly missed

by all her family. Thank you

to the wonderful staff of

Ashburton Hospital and

Radius Millstream. Messages

to the Bensdorp Family, P.O.

Box 472, Ashburton 7740. A

private funeral will be held

Friday 3rd September, due to

covid restrictions.

Paterson's

Ashburton

FDANZ

03 3077433

HUSBAND Nelori Winifred

'Mum',' Grandma Husband',

'Aunty Nelori', passed away

peacefully at 1.00pm,

Thursday August 26, 2021

at Rosebank Lifecare,

Ashburton, aged 85 years.

Loved wife ofthe late Ernest

John, much loved mother of

Suzanne, Graeme, and Jenny.

The best Grandma to Jake,

Jessie, Scott, and Kate. To

all the caregivers and nurses

who were there for Grandma

in her finals years, especially

Rosebank, we thank you

for your support and love.

Messages to the Husband

family, 53A Morgan Street,

Methven 7730. A private

burial at Methven has been

held.

Paterson's

Ashburton

FDANZ

03 3077433

HUSBAND Nelori Winifred,

on August 26, 2021. Loved

daughter ofthe late Francis

and Jessie Ridge. Sister and

sister-in-law ofthe late John

Ridge and Anne, Margaret

and Mervyn. Much loved

aunty to all her nieces and

nephews.

HUSBAND Nelori Winifred,

on August 26, 2021. Dearly

loved aunty of Kaye, and

Karen, and adored 'pseudo

Grandma' of Brega, and

Nianh. They will miss her

cuddles, glorious knitting,

and Pavlovas.

MANUEL, Mana Kohia, on

August 26, 2021. Passed

away peacefully at Rosebank

Lifecare, Ashburton, aged 85

years. Dearly loved husband

of the late Lesley. Much

loved father and father-inlaw

ofTony and Tessa, Riki

and Viv, Sally, Susan, Simon,

the late Wayne and his many

Mokopuna. Messages to

Mana Manuel's Family c/- PO

Box 472, Ashburton 7740. A

private cremation has been

held which will be followed

by a Memorial service to

celebrateMana's lifeatalater

date.

Paterson's

Ashburton

FDANZ

03 3077433

McLAUCHLAN, Marlene Edith

(nee Parsons). It is with heavy

hearts we wish to advise that

on 28/8/21, Marlene passed

away peacefully at home,

surrounded by love, with her

children beside her. Aged

81 years. Much loved wife of

the late Barry, dearly loved

mother and mother-in-lawof

Nicola and Steve, Simon and

Judy,and thelate Paul. Loved

Nana and Granny ofElla and

Taylah; Ashleigh and Hemi,

Courtney, Sam and Jaime;

and step- grandmother

of Kent and Tess, Melanie

and Steve, Paula and Trim,

and the late James. Loved

great-grandmother of Piper,

Tahliah and Willow; Mollie,

Payton, Gabriella and Felix,

and Theodore. And stepgreat-grandmother

of

Anabel and Zoe, Robin and

Eddie, Rubi and Maya, and

Dallis. Marlene fought a

huge battle with her health

for several years and is now

finally at peace and reunited

with Barry and Paul.

Rest

easy lovely lady. The family

would like to thank the most

amazing Dr PennyHoldaway,

the District Nursing team

and Access Community

Health for enabling Marlene

to continue living at home,

as was her wish. Messages

to the McLauchlan Family

c/o 126 Tosswill Road,

Prebbleton, 7604. Due to

Covid restrictions a private

cremation has been held,and

aMemorial Servicewill follow

at alater date when levels

allow tocelebrate Marlene's

life.

Paterson's

Ashburton

FDANZ

03 3077433

McLAUCHLAN, Marlene

Edith: Most beautiful Mum

and Mum-in-lawofNikki and

Steve and beloved Granny of

Ella andTaylah. It is absolutely

devastating to have you

leave us, but you have been

so unwell forsolong, and you

have fought and fought. But

the battle just got too much.

My biggest hope isyou are

reunited with Dad and Paul.

You will always bemyrock,

my confidant, but most of

all my Mum. Love you with

all my heart Iwill miss you

dreadfully. Those we love

never truly leave us.

Family owned,

locally owned

22 MooreStreet,

Ashburton

0800 263 6679

2413353

PETHIG, Wilfred Stanley

(Stan): Peacefully at Terrace

View Retirement Village,

Ashburton on August 28th,

2021. Age 93 years. Dearly

loved husband of the late

Gladys. Loved father and

father-in-law of Frank and

Adair, John [deceased],

Colleen and Alan Scott,

Yvonne [deceased] and

Robin Gray, Lyndia Tull and

Crawford MacDonald, and

Dianne and Alastair McIntosh.

A much-loved Grandad

(Beaky) of his grandchildren,

great-grandchildren, and

great-great-grandchildren.

A special thank you to the

staff at Terrace View for their

careand support

Messages to: The Pethig

Family, c/- PO Box 6035,

Ashburton 7742. A private

cremation has been held

and a memorial service to

celebrate Stan's life will be

held at a later date, to be

advised.

0800 2MEMORY

027 637 1229

SCOTT, Ailsa Evelyn (nee

McLaren). 08.01.1946 -

28.08.2021. Ailsa passed

away peacefully in Ashburton

with her children by her

side. Very much loved

mother and mother-in-law

of Dianne and Gerard Lilley,

Trevor and Andrea Scott,

and Darrell and Kylie Scott.

Adored Nan of Madeline

and Sophie Wyatt, Kurt and

Amie, Luke and Brooke.

Treasured by

her brothers

and sisters-in-law, her nieces,

nephews, and all family.

Cherished friend to many. She

will be so dearly missed by

all who knew her. Messages

to Ailsa Scott's family c/- PO

Box 472, Ashburton. 7740. In

Ailsa's memory donations to

the Mid-Canterbury Riding

for the Disabled would be

greatly received.Due to Covid

restrictions a private family

servicewill be held.

Paterson's

Ashburton

FDANZ

03 3077433

SCOTT, Ailsa Evelyn (nee

McLaren) 08.01.1946 –

28.08.2021. Dearly loved

daughter ofthe late Alan and

Evelyn McLaren. Much loved

sister and sister-in-law ofIan

(deceased) and Alice, Ken and

Patricia, Alister and Judith

McLaren. Andlovedbyall her

nieces and nephews. Ailsa will

be so dearly missed by us all.

SMITH, Helen Esmé (Esmé)

12/4/1931 –30/8/2021. Left

peacefully with all our love.

Dearly loved Wife ofthe late

Keith Smith. Dearly loved

Mother of the late Kevin

& Nina, Karen & Mark, the

late Margaret & late Brian,

the late Wayne &late Debz,

Grant & Rhonda, Brent &

Janice and Vicki & Grant.

Dearly loved Nana of Rhys,

Wesley, Tracy &Dan, Michael

&Janelle, Kieran &Mel, Nikki

& Ross, Toby, Miranda &

Cohan, Matt &Sarah, Corey

& Emma, Charlotte, Josh &

Chelsea, Caleb and Jared.

Dearly loved Great Nana of

Ben, Samantha, Izzy, Nicole,

Alisha,Jeremy, Jethro and

Lincoln. Great Great Nana of

Aylah. Messages to:30Middle

Road, Ashburton. Aprivate

cremation has been held. A

send-off will be held at alater

date.

"You made your life

beautiful by kindly deeds,

Always ahelping

hand in others needs.

Youtouched all our

hearts,likenoother,

Always acaring friend, akind

soul and aloving Mother

We gave youall our love

to send youonyour way,

hoping we'llsee youagain

some sunnyday"

Love you always and ever

Esme.

Paterson's

Ashburton

FDANZ

03 3077433

Birth notices listed by

parents will continue to be

free in the Family Notices

column. The initial death

notice lodged by afuneral

director will be listed

without charge.Therewill

be asmall charge of $15

for subsequent notices

related to the samedeath,

up to a maximum of

35 words and on aperline

basis after that. The

same low charges apply

to other family notices,

such as engagements,

acknowledgements, in

memoriam notices and

anniversaries.

Supporting

the

community

96 Tancred Street, Ashburton.

Phone 307 8317

Real Estate Mid Canterbury Property Limited

Licensed (REAA 2008)

NEWS

10 Ashburton Courier, September 2, 2021

Downtown Ashburton under Alert Level 3.

Slow return

to business

in Level 3

Retail stores, cafes and takeaway operators

able to operate at Alert Level 3have thrown

open their doors to the public; with

restrictions.

Ashburton was abusy hive yesterday as

essential workers around the district were

joined by the throng of businesses able to

operate contactless services under Level 3.

Builders were back on sites, roading

contractors returned and schools had

limited openings for students and pupils,

aged under 14, of essential workers without

child care available at home.

Ashburton District mayor Neil Brown said

the district was slowly moving towards

returning to normal socialising.

''Let's not go backwards ­keep wearing

your masks, keep your social distancing, and

stay home as much as possible,'' he said.

''For those returning to the workforce,

stay safeand pleasedon't hesitate to get

testedifyou are not feeling well (obviously

don't go to work ­but let your employer

know).''

''All going well this time next week we will

be looking at Level 2!

''Remembertosupport local,and be kind

if thereare delays in getting your deliveries

or getting your goodsatpick up, everybody

is operating in difficult circumstances.

''We've got this Ashburton!''

Complete

Local Care

Since 1982
---
www.ashburtoncourier.co.nz

Thinking outside the farm gate

Well, here we are again, back

in lockdown, albeit at this point

into Level 3for areas outside of

Auckland.

Some would say that spring

time on afarm is much like a

lockdown anyway, we are all

too busy working everyday to

have any social life!

Covid­19, particularly the

Delta variant, is asignificant

health risk to all of us and

demands the highest level of

response to protect ourselves,

our families and our

communities.

Farmers are no different and

while we have had exemptions,

and rightfully so, to continue to

operate and look after our

livestock and plant our crops

as essential food producers, we

should not look past the health

threat that covid is and not only

jeopardise our exemption

regime, but our own health.

The difficulty we will

encounter will be if covid

started to circulate in the

farming community or in our

processing facilities. The

Ministry of Health will look

David Clark on farm shifting breaks with eldest sons, Sam, at left,

and James.

PHOTO SUPPLIED

beyond the economic impacts

when forcing farmers to

isolate. Please give that some

thought with regards to

contingencies within your own

business.

But all of this does also pose

some questions, we have

enjoyed relative freedom with

no Level 3or4lockdown in the

South Island for over ayear,

and other than acouple of

blips, near the same for North

Island.

So, what did we do to prepare

for the inevitable reintroduction

of covid into New

Zealand given the

infectiousness of the Delta

variant? Why is our vaccine

programme trailing the OECD?

What has been done to

increase the hospital and ICU

capacity given the scenes of

overwhelmed hospitals

overseas?

If asingle case in Auckland

justified anationwide

lockdown with six hours

notice, why did we continue to

allow travellers to arrive from

NSW when covid was

circulating un­contained in

Sydney? Why did we have a

public walkway alongside an

outdoor area of an MIQ facility

and why was the Atrium of that

MIQ hotel partially open to

public access? This lockdown

is that price we pay for

questions such as these.

My advice is to take Covid­19

seriously, this disease poses a

significant risk to your health

and those around you.

Put your protocols in place to

meet the requirements of

whatever the level of

restriction we are in and settle

into aroutine.

Focus on the basics on farm

and regard anyone who comes

on to your farm as potentially

infected.

Look at the lockdown as a

marathon and settle into a

stride, we might be in this for a

long period of time.

Look out for your

neighbours, ayarn, at a

distance over the fence is more

important than ever as folk

begin to feel very isolated.

We also have our awesome

little people on farm helping

out while school is closed.

Their safety is the most

important thing you can look

out for today.

Seeking consent to do river works

Rakaia contactorand landowner Philip

Brown is seeking ariver consent to allow

him to do his ownriverprotection works.

Mr Brown,who has anearthworks

company,lives on the south side of the

Rakaia River and is amember of the lower

Rakaia rating district.

He is athirdgeneration landowneron

thefarm property,whichexceptfor a

smallparcel where he lives, he hasleased

outtofamily.

Thewhole property hasaroundhalf a

kilometre of riverfrontage.

He has, forthe past few years,

questioned stafffrom Environment

Canterbury(Ecan)about thewaythey

maintain the RakaiaRiver, including

their river protection with the planting of

willow tree poles, which he believed

should be dug into water for higher rate of

success.

''I have shown (Environment Canterbury

staff) theresultsofwillows which have

Landowner Philip Brown

been planted in adequate water and other

sites where moisture is alimiting factor,''

he said.

''The results are quite spectacular.Ecan

still insistontheir way of planting the

poles.''

Mr Brown was now seeking permissions

­there wereafew stakeholders to contact

­toresume theprotection work on his own

section of the river,and was working

throughthe necessary paperworks.

''Weare told that large rate increases

arerequired to do more extensive flood

protection workwhenthis is not the case,''

he said.

''Before the ResourceManagement Act

(RMA)came into existence it waspossible

to protect one's property from flood

erosion,which Idid very successfully.

''Myinitial protection work was avery

cost effective method and held for a

number of years.

''After theRMA was enactedIparked up

all the machinery forfearofprosecution

and let Ecan manage the flood protection.

The result now, is that most of my work has

been washed away due to lack of

maintenance,'' he said.

Mr Brownsaid the only way to move

forward for the ratingdistrict was to get a

river consent so ratepayers could do their

own work ­ontime andat arealistic

budget ­whichwas what he was under

taking to do.

NEWS

Ashburton Courier, September 2, 2021

Funds

to help

rural

revival

11

Farmers and growersaffected

by drought or floods

Canterbury this year can

access additional funds

through rural assistance

payments.

They are also available for

those from Marlborough,

Tasman,WestCoast, Otago

andtheChatham Islands.

Social development and

employment minister Carmel

Sepuloni, who announced the

funding, said the funds were to

help ease financial pressures

on farmers and growers.

It would help securetheir

recovery from the weather

events that had affected their

incomes.

The droughtin

Marlborough, Canterbury,

Otagoand the Chatham

Islands was classified as a

large­scale adverse event by

the minister on March 12, 2021.

The flooding in Canterbury

was classified as amediumscaleadverse

eventonJune1,

2021; while the floodinginthe

West Coast,Marlborough and

Nelsonwasclassifiedasa

medium­scale adverseevent

on July 18, 2021.

"The RuralSupport Trusts

in allthese areashavebeen

doing greatwork in the region,

and the Ministry of Social

Development will be working

closely with them to get

support to those who need it,''

she said.

Enhanced Taskforce Green,

Temporary Accommodation

Service and investment of $6

million had also been made

available to help rural

communities recover from

recent adverse events, she

said.

Agriculture ministerDamien

O'Connor acknowledged

recovering from droughts and

floods didtakealongtime.

''We encourage farmersand

growerstomakecontactwith

their RuralSupportTrust to

see whatsupportmay be

available forthemtoaccess,''

he said.
---
ASHBURTONDC.GOVT.NZ/NEWS

5BaringSquareWest, Ashburton |POBox 94, Ashburton, NewZealand 7740 | Telephone (03) 307 7700 | Website ashburtondc.govt.nz

Thursday,2September 2021 | ISSUE 44

Council services operating in Alert Level 3

Everywhere south ofthe Auckland

boundary isnow in Alert Level 3.

This measure remains in place for

oneweekand willbereassessedon

6September.

Learn how Ashburton District Council

services will be affected during this Alert

Level3period:

1

Contacting Council

Ourcustomerserviceteamisworkingfrom

home and is setuptotakecallsand emails

remotely to assistyou with your enquiries.

2

PublicVenues and Facilities

The EA Networks Centre, Ashburton Public

Library, Art Gallery and Museum, and

Community Halls remain closed.

All publicplaygrounds will remain closed

and taped off.

Public toilets on main freight routes

remain open (and where requested by

essential services) and willhaveincreased

cleaning frequency.All other public toilets

will be closed.

Council's Administration building on

Baring SquareWestremains closed. Many

Council staff are working from home so

thatessential services cancontinue.

3

Rubbish and recycling:

Services are being reduced to a

restricted level of service to allow

Council, its contractor EnviroWaste, and

the Ashburton community to comply

with the Government's guidelines and

requirementsunder Alert Level3.

Kerbside collections:

Red (weekly) and Yellow (fortnightly)

collections will operate as normal.

Yellow bin recycling must becorrect and

mustbeclean.

Green glass crates will be collected from

the kerbside on its usual fortnightly

schedule beginning on Wednesday 1

Septemberasglass will be recycledatthis

time.

Wheelie bins left behind parked cars and

obstacleswill notbecollected.

Statutory holidays will be collected as

ordinarydays.

4

Resource Recovery Parks

Resource Recovery Parks are open for

refuse and green wastedisposal.

Only three vehicles will be allowedon-site

at any one time, there will be queuing at

the weighbridge, please be patient or wait

until Alert Level Two when restrictions

ease.

Cash will not behandled oraccepted

at the Resource Recovery Parks and

weighbridges.

Bagged Rubbish canbedroppedoff.

All visitorswill need to registerfor contact

tracing.

Prepaid Council bags can bedropped off

for free. Ordinary bagged rubbish will be

weight (minimumchargesapplies).

5

RatesPayment Due

Council is aware that rates were due

on 20 August. Given Council offices are

closed,you areencouraged to payonline

(ashburtondc.govt.nz) if possible.

Ashburton District Council has also

decided to delay applying penalties for

late ratesbecause of the country's move to

AlertLevel 4, and nowAlert Level3.

6

Water

Drinking water, stormwater, stockwater,

and wastewater services are being

delivered as normal. Council continuesto

provide samples of its wastewater tobe

tested forCovid-19.

7

Roads

Roading maintenanceand repairstokeep

the roads safewill continue. Road rehabs

andsmallcapitalprojectscannowresume.

8

Regulatory services

Regulatory services such asbuilding and

resource consents remain operational,

with building inspections now able to

resume under Alert Level3.

9

Council /Public Meetings

Council will continue to meet remotely

via Zoom, for any regularly scheduled

meetings. Public meetings will be live

streamed on the Council's YouTube

Channeland Facebook Page.

The Council will continue to communicate

with the community about any potential

changetoour services or activities.

Follow our Facebook page

(@AshburtonDC), visit the Council website

(ashburtondc.govt.nz), and sign up to our

free text/SMS alert service(by texting your

postcode to 4196) to stay informed.

For additional information, visit

the Ministry of Health's website

(health.govt.nz)and the COVID 19 website

(covid19.govt.nz).

Can Ivisit aresource

recovery park?

Recycling

Your usual kerbsiderecyclable

materials will be accepted

Glass

Glass canbedropped off in the

glass bins

Hazardous waste

Notaccepted fordrop-off at this

time

Re-useable household items/

whitewarewaste

Notaccepted fordrop-off at this

time

Re-useableelectronic goods

(batteries, appliances, etc)

waste

Notaccepted fordrop-off at this

time

Re-use shop/drop-off

Shop is closed, no drop-offsat

this time

Bagged rubbish

Prepaid Council bags canbe

dropped off forfree. Ordinary

bagged rubbish will be weighed

(minimum chargesapply)

Green waste

Green wasteyardisopen

Refuse

Refuse pit is open

Paying at weighbridge

No cash transactions willbe

accepted

Residentsurged to be diligent as recycling quality dips

Cameras on collection trucks are

recording an increasing level of

rubbish in yellow recycling bins,

which could lead to whole truck

loads being rejected at sorting

plants.

Council contractors have reported

polystyrene, shredded paper, greenwaste

andblackbagsinrecycling binscollected

overthe past week.Recordingequipment

on the collection trucks is abletocapture

images andpinpointhousesthatthe bins

belong to.

Infrastructure Services Group Manager

Neil McCann said the quality of recycling

had deteriorated during lockdown and if

it continued, it wasonly amatteroftime

before aloadwas rejected.

"Thingslikegrass clippings and shredded

paper are the worst asthey gothrough

whole loads asthe truck packs in more

material andthe material is tumbled."

The yellow recycling bin is for recycling

hard rigid plastic (grades 1, 2 and 5),

cardboard, newspaper, tins and metal

cans. All recycling must beclean of food

scrapsand loose, notbagged.Nolids are

allowed inrecycling.

The redrubbish bin is foreverything that

is notrecyclable, including household and

organicwaste.Items likedrinkingglasses,

ceramics, crockery, porcelain and glass

cookwareandovenwarearenotrecyclable

and mustgointhe redbin.

Redand yellow bins arebeing emptied as

normal in Ashburton, Methven, Rakaia,

Hinds, Mayfield andMtSomers, and under

AlertLevel 3glass cannow be recycledin

green crates. Resourcerecovery parks are

also open,withlimited services.

At the end of July,about 1000 properties

in the district were being monitored

after receiving arecycling warning from

Council. Repeat offenders can have their

binsremoved.

While recycling auditors are not on

the ground during lockdown checking

yellow bins prior torecycling and issuing

warnings, images from the collection

trucks can gotowards astrike against a

property.

Prior to lockdown, contamination was

about 6per cent.Loads arerejectedat10

per cent.

"Residents need to recycle correctly to

reduce the volume of non-recyclable

material contaminating kerbside

collections,"MrMcCannsaid.

"Every load of contaminated recycling

rejected by sorting facilities costs

ratepayers as it then has to go to landfill."

If you're not sure what belongs in each

bin, check the list on Council's website

(ashburtondc.govt.nz).

1

We only accept hard plastic

containers/bottles marked either

1, 2or5.

NO soft scrunchable plastics.

1 ashburtondc.govt.nz/news

Thursday,2September 2021 |ISSUE 44
---
NeilBrown -Mayor

Planning positively for

parking

Parkingisonour plate at the

moment andit'sasubjectwe

always getalotoffeedback on,

whenever changes aremade.

We will be consulting on adistrictwideparking

strategy and aparking

management plan forthe town centre;

both aredesigned to strikeabalance

between parkingclose to whereyou

want to be and encouraging more

pedestrians to move aboutinour

nearly-finishednew town centre.

The newdigitalparkingsensorswill

provide alot of accurate information

oncetheyare up and running but we

already knowparkingisimportant

to both businesses and customersin

Ashburton.

CBDworkresumes, no vehicles on EastSt

Contractors resumed work in

Ashburton's central business

area (CBD) at one minute past

midnight on Wednesday morning

(1 September) to make up time lost

in covid Alert Level4.

East Street will be closed to all through

traffic from just south ofMoore Street to

HavelockStreetforatleast aweekandTru-

Line Civil crews will work day and night

shifts to dig outand reform the road on the

shopside.

Work on footpaths will start Wednesday

morning between Tancred and Burnett

Streets, with ramps provided to those

businesses thatare operating.

Pedestrian access around the CBD will

remain atall times and the West Street

carpark is accessible via railway and

pedestriancrossings.

Work on the East Street/Moore Street

intersection also resumes in Alert Level

3, with paving to be laid this week and

asphaltic concreting on Monday 6

September. The new traffic signals will

Someofthe changes arebecause

Government hasremovedthe

requirementfor developersto provide

parking in an urban setting -itisaimed

at residential apartmentliving but the

changewas also an opportunityfor

us to updateour current strategy and

plan.

The CBD revitalisation has resultedin

the loss of somecar parks butCouncil

wantstocreate more parking and has

put aside moneyinthe Long Term Plan

to do so.

One of the ideas is to create asecond

WestStreetcarpark on KiwiRail land

oppositeBaringSquare West.

The changing waywemove about

means we mustalso think about

making spacetocharge e-bikes,

then be installed andcommissioned.

The CBD work is part of a$15 million

revitalisation project for Council and

Infrastructure Services Group Manager

Neil McCann said contractors were

working hard toget the East and Moore

streets intersectionopen again as soon as

possible.

"Unfortunately Alert Level 4has resulted

in atwo-weekdelay,which has altered the

programme of works. Tru-Line will have

extra crews working day and night todo

as much ofthe work as possible during

level 3tocause the least interruption as

scooters and vehicles; lock-up cagesfor

bikes andplenty of signstelling people

where theycan park while theydotheir

jobsintownorgofor coffee.

Whileconsidering the numberofcar

parks,not only inthe CBD but in the

wider inner town area,wemustthink

about development in the futurethat

mightaffect parkingspace.Inthe

future, there mightalsobeparking

management plans forother towns,

likeMethven andRakaia.

We look forwardtoyour feedback

when these documentsgoout for

consultation.

possible to businesses.

"Weall want the work to be finished by the

endofNovember,asoriginally planned."

With East Street closed, Tancred Street

will also be temporarily closed to through

traffic for atleast this week. Pedestrian

access remains.

Burnett Street remains open, though

vehicles cannot exit via East Street. They

will be diverted down the alley beside

SomersetGrocertoHavelock Street.

See the full projectupdate on the Council's

website(ashburtondc.govt.nz).

Mayoralemergencyrelieffloodfund ends

TheMayoral ReliefEmergencyFund

forthe Mayfloodevent has officially

closed, having distributed $86,000

to helpinthe aftermathofthe onein-200

year flood.

Ashburton District Mayor Neil Brown

said $86,000 had been distributed to36

deserving families and organisations

seeking some relieffundingastheydealt

with the aftermathand clean-up from the

devastating floods.

"Being able to support our most

affected residents with asmall financial

contribution is great.

"Whileweneverhadthefundingtobeable

to fix all the problems our most affected

residents faced, this funding enabled

recipientstopay bills, getoffthe farm for

afew nights, orbring in specialised help

to deal with some immediate issues, like

damaged driveways.

"We were also pleased to be able to

support the local Rural Women who have

been doing anexcellent job of ensuring

our affected residents were cared for

through regular meal deliveries.

"We also acknowledged the impact

the flood had on local community

infrastructure like walking and cycling

trails, so provided some seed funding for

flood recovery to the Mountain Biking

Ashburton club, Ashburton Motorcycle

Club,andtheAshburtonLionsClubsothey

can get on and repair what are valuable

community recreationspaces."

Mayor Brown thanked all those who

donated to the Mayoral Relief Fund

following the flood.

"Weliveinagreat community thatrallies

around thoseinneed at times of crisis,"he

said.

The distributed funding came from the

Mayoral Relief Fund from NEMA($58,000),

ADC Give-a-little page $8,000, and donated

funds of $20,000, and funding decisions

were made by the ExecutiveCommitteeof

Council.

PUBLICNOTICE

ROAD CLOSURE

Pursuant to theTransport (Vehicular

Traffic Road Closure)Regulations 1965,

noticeisherebygiven that forthe

purposeofallowing Enduranz Events

to hold the Mission Mt SomersRace

the following roads will be closed to

ordinaryvehicular traffic (with the

exception of emergencyvehicles) forthe

period indicatedhereunder.

Roadtobe closed:

• SYMESROAD,for thewhole length

Period of Closure: From 5.30am until

3.30pm on Saturday, 30 October2021.

It will be an offence underthe above

regulations forany person otherwise

than under authorityofanauthorised

permit to usethe roads forordinary

vehicular traffic during the period of

closure.

NEIL McCANN

GroupManager InfrastructureServices

COMMUNITYNOTICEBOARD

UPCOMINGMEETINGS

Meetings areheld in the Council

Chambers,137 HavelockStreet,

(unless otherwiseadvised).

Methven CommunityBoard

TheMethven CommunityBoard meeting

scheduled forMonday6September has

been postponed duetothe Alert Level

3restrictions.The meeting hasbeen

rescheduledtoMonday20September,

10.30am in theMtHuttMemorial Hall.

Youth Council

Wednesday 8September,4.00pm.

CouncilActivity Briefings

Wednesday 22 September,9.30am.

Audit &Risk Committee

Wednesday 22 September,1.30pm.

(live-streamed)

MT

SOMERS

HALL

SUNDAY12SEPT

AFTERNOON

TEA

2-4pm

The Mt SomersCommunityis

invitedtoaspecial afternoon

tea on Sunday12September, to

see the Provincial GrowthFund

and Earthquake Strengthening

Renovation of theMtSomers

MemorialHall.

Light refreshments will be provided.

If needed duetoCOVID-19restrictions,

postponement date is Sunday10October2021.

COUNCIL OFFICE

5Baring Square West

Mon,Tue, Wed&Fri8.30am-5pm, Thursday 9am -5pm

ASHBURTONPUBLIC LIBRARY

180 Havelock Street,Ashburton 7700

Mon -Fri 9am-8pm, Sat10am -1pm, Sun 1pm -4pm

EA NETWORKSCENTRE

20 River Terrace

Mon -Fri 6am -9pm, Sat&Sun 7am-7pm

ASHBURTONMUSEUM

327 WestStreet

10am-4pm daily. Closed PublicHolidays.

ashburtondc.govt.nz/news Thursday,2September 2021 |ISSUE 44

2
---
NEWS

14 Ashburton Courier, September 2, 2021

www.ashburtoncourier.co.nz

Grieving in lockdown

DANIEL.TOBIN

@ashburtoncourier.co.nz

Losing aloved one is hard

enough, but when it happens

during lockdown the normal

grieving process is not

possible .

While funeral directors are

an essential service, under the

Alert Level 4families could

not gather together and say

goodbye.

Paterson's Funeral Services

manager Barry Hayman said

guidelines to be followed were

set by the Ministry of Health

(MOH), can mean losing any

personal touch.

In lockdown, directors were

limited to phoning the family.

''We had to phone the family

rather than sitting with them,

which is more challenging

because you can't interact.

''It's not personal like it

would normally be,'' he said.

Under Alert Level 3,

numbers at afuneral are

limited to 10 people.

''It is very difficult for

people who are grieving, we

feel awkward because we can't

provide the service we would

normally provide to families,

we have to do it in atotally

different way.''

One such option wasthe

chancefor onlineviewingsof

the deceased; anecessity for

someincovidtimes.

Millie

Ara graduate

Viewing conditions:

Be from the same bubble as the

deceased

Wear masks inside the funeral

home and maintain physical

distancing

No touching the deceased

Not have symptoms of Covid­

19

Not be waiting for aCovid­19

test

Not required to be in isolation

''You only getone chance to

say goodbye and at the

moment thatopportunityis

being taken awayfrom

families,'' he said.

FuneralDirectors

AssociationofNZchief

executiveDavidMogersaid

he was acutely aware of the

distress causedtofamiliesby

covid and had petitioned

government for change.

''Wehave alsosubmitted

documentstothe MOH about

the change to Alert Level 3,

seekingtoensure that

families have some certainty

about whattheycan or cannot

do.''

It hadbeendeemed a

success with changes

confirmed yesterdaythat

allow forfamily viewing at a

registeredfuneral home

duringAlert Level 4, but only

if they are in thesame

bubble.

"There areother

conditionsfor funeral

directors," Mr Moger said,

"andtheyare allinlinewith

our proposal except for one.

''There is arequirement that

the funeral director

supervisingthe viewing must

be fully vaccinated.

''Thisisproblematic

becausewhen we asked for

early accesstothe

vaccination programme for

funeraldirectors as an

essentialservice earlier this

year, we were denied."

The Funeral Directors

Associationasked the

Government foraccess to the

vaccinationprogramme for

funeraldirectors in March

2021but were deniedbythe

MOH,citinglimited

community transmission as

the reasonand thefact that

funeraldirectors were not

deemed to be an essential

health service.

"This means that the

number of funeral directors

availablethat arenow fully

vaccinated is limited,and we

are trying to assesswhat

impact that delay will have."

"We do believe thatour

members shouldberegarded

as an essentialhealthservice

and that if they were, this

problem would not have

occurred."

Ted had afew activities for passing children.

Ted keeps busy

during lockdown

Alarge furry feature of last

year's lockdownhas made a

reappearance on McKenzie

Street in Geraldine.

Ted, alife­size teddy bear,

kept the neighbourhood

entertained duringthe 2020

lockdownwithhis antics

outside Andorra Motel.

He hasreturned againthis

year.

Andorra Motel owner Sally

Millar tookTed along to her

covidtest, and since then he

has beenback in action every

day.

Sally said many people

contacted her at the start of

lockdown askingifTed would

makeareappearance.

''Kidslove him,but oldies

also love him,they all comment,

you can actually hear people

talk to Tedit's really funny.''

Last lockdown people would

leavenotes and even money for

Ted which was donated to other

causes.

Tedhas been abusy bear this

time around, each day he can

be seen doing avariety of

things, including fixingacar,

PHOTO MURRAY THOMPSON

Ted having his covid test.

cleaningthe gutteringorjust

chilling outwithacoffee

watching the world go by.

''Last year we used to spend a

lot of timedeciding on what he

was doing,this timeitisalittle

bit cruiser,Ijustthink of things,

and think yeah we'll do that

tomorrow.''

foracareer in nursing

Equip yourself to makeadifferencetothe lives

of others withaBachelor of NursingfromAra,

starting in TimaruinFebruary.

Applications close on 30 September,

places arelimited.

For details and to apply

visit ara.ac.nz

Want to get

paid for your

weeklywalk?

I'mMarythe Delivery

Supervisor forthe Courier.

I am looking for reliable people

to deliver the Courier each

Thursday in the Tinwald area.

If you are keen to find out more

about this opportunity, please

send me an email or give me a

call and we can talk further.

Please email mary.summerfield@ashburtoncourier.co.nz

or phone Mary on 03 308 7664

forfurther details.

2409686
---
COVID-19 vaccinations

arenow open foreveryone

12 yearsand over

They're completely free and areone ofthe mostpowerful tools

againstCOVID-19.

Playyour partinprotecting everyone in NewZealand and giving us

moreoptions in the future. Book yourvaccination today.

BookMyVaccine.nz

0800 28 29 26 (8am –8pm, 7daysaweek)
---
FEATURE

16 Ashburton Courier, September 2, 2021

www.ashburtoncourier.co.nz

HOME &GARDEN

Take advantage to sow on fine days

Crops

Frequent hoeingand

loosening of the surface soil

helpsall crops, enabling air

and warmthtoget into the

upper layersofthe soil.

Sowlettuceregularly from

now on, afew at atime, to keep

aregular supplythroughthe

comingmonths.

Thebestlettuce plantsare

thosesown wherethey areto

mature.Thin the seedlings so

thoselefttomature will

produce ahighly developed

root system. Liquidmanure

helpsgivegood leaves.

Rhubarb will be starting to

sprout but leavetheearlystalks

to mature and waterthe bed

well in dry weather.

Watch any early potatoesnow

pushingthroughthesurfacein

areaswhere frosts might still

occur. Cover withpea strawor

hoe up some soil over them and,

whenthey becomestrong,

mound them up. This month,

main­crop potatoes canbesown

in districtsthatusually

experience dry summers.

Thin autumn­sownonions

andweed thebed when soil

conditions allow.

Flowers

Plant pansiesand violas.

Regularly remove faded

flowers and seed pods to

prolong theflowering displays,

apractice alsoinvaluable with

Rhubarb will start to sprout but leave early stalks to mature.

other annuals and perennials,

such as dahlias, sweet peas,

asters,rosesand calendulas.

Dahliasleft in the soil during

winter canbelifted and divided

for replanting during the next

fourweeks. Lift clumps of

tuberswith afork and, witha

sharp knife,remove individual

tubers, ensuring eachhas a

large pieceofstem (neck)with a

sturdygrowth bud(eye)

attached.Before replanting,

add plenty of compost or wellrottedstablemanure.

Addlime, at the rate of 100g a

square metre, andreplant the

tuberswith the growth bud

(eye) about5cm below the

surface.

Plants suitable for damp

spots in the garden include

Astilbe, globe flower (Trollius),

Himalayanblue poppy

(Meconopsis), perennial phlox,

primulas, japonica, leopards

bane (Doronicum), Anemone

japonica, lilyofthe valley,

Solomons seal, hellebores and

penstemons.

Roses should have been

prunedbynow.Ifnot,this

should be done as soon as

possible or floweringwill be

late and bloomsdisappointing.

Fruit

Theseason for planting

tomatoesunder glass is almost

here.

Unless youhavethe luxury of

aheated glasshouse or asunny

conservatory thatstayswarm

overnight, do notbeinahurry

to put in tomatoes.

Modern tomatoes come in two

types, bush (determinate) and

indeterminate.

Determinate varieties, such

as BeefBoy,are bred to grow to

acompactheight, usually

about1.5m.

They stop growing when fruit

sets on the terminal or top bud,

ripen alltheir cropatornear

thesametime(usually overa

two­week period), then die.

Indeterminate tomatoesare

vinesthatcontinuegrowing in

length throughout theseason

andincludemany ofthe smallfruited

varieties.

Whatever type you choose, if

buying plants, look for sturdy

specimens about astallasthey

arebroadand with mid­to

dark­green leaves.

If tomatoesare grown in the

ground, freshsoilortomato

mixisneededevery year, so

growing theminpots or heavy

blackplastic bags is more

economical.

Do not over­water.

•Manufacturer and supplier of

Rylock aluminium windows and doors

•Retro double glazing installers fora

drier,warmer, quieter home

• Additions and Renovations • All types of maintenance

• Commercial and Farm buildings • New Housing

2405612

Forafreequote, contactDavid &Lorayne Oakley

PHONE 308 8493. EMAIL: owdrylock@gmail.com

8A John Street,Ashburton

STOP BIRDS

leaves, hail and vermin from blocking

and damaging your spouting

Qualitymaterials: BHP Colorbond steel mesh

with unique patented louvrewill even keep

out pine needles.Will not rust or sag with age

or load.10year warranty,range of colours

Proven in Australia &New Zealand

over the last 15 years.

FOR SAFE, PURE DRINKING WATER

FROM YOUR ROOF.

NOWAVAILABLE:STAINLESS STEELMICRO MESH

Call Rohan anytime Mon-Sat for

ano-obligation assesssment&quote

0800 486532 03 982 8850

www.gumleaf.co.nz

2396063

2379534

Kitchen Dreams

Your dream kitchen is

easiertoachievethan

you think!

Our highlyexperienced

teamishappytowork

withyou on your

renovation or new build.

The Renovation Experts

Talk to

us now!

2404582

Free Quote

BOOK NOW

606 East St, Ashburton P: 307 7131

www.kitchenexpress.co.nz

9am-5pm Mon-Fri9.30am-12.30pm Sat

>>

2404348

2404583
---
www.ashburtoncourier.co.nz

NEWS

Ashburton Courier, September 2, 2021

17

Hampstead pupils busy at home

Hampstead School pupils have

been keepingbusyduring

lockdownand sharedlearning

feedbackand fun photos of

activities andchallenges

they've beendoing.

While some have been

sewing on cushions, making

snakenamesonthe footpath

and going forwalks, others

have been painting, reading,

drawing andexercising.

Paige Walkerpostedaphoto

of an impressivebirthday cake

made forher dadand Riley

Martin read to his

grandmother via an online

connection on his iPad.

Colton,Tayla and Skylah

Jensen enjoyed ajumpsession

and Will Broker madehis own

Great Wall of China from

buildingblocks.

Hampstead School principal

Peter Melrosesaid pupils had

accessedworkposted on

school dojos andwereinvited

to post up how they were going.

Learning hard packs in stock

from last year hadbeengiven

out to some pupils and new

packs were arriving soon.

Children were being

encouraged to watch Home

Learning TV, which had

recently started up again.

Lockdown was amatter of

staying in contact,keeping

familiesup to date and

keeping children occupied and

productive at home, Mr

Melrose said.

Children were being

encouraged to read and to read

to otherfamily membersand to

enjoy time as afamily.

Under Level 3students and

Riley Martin reads abook to to his gran via his iPad.

Will Broker with his building block project.

pupils around the district are

continuing homelearning,

with limited options at schools

PHOTOS SUPPLIED

for children, agedunder14, of

essential workers withno

other at homeoptions.

Paige Walker with abirthday

cake made for her dad.

Jump jammers Colton, Tayla

and Skylah Jensen in action.

Library running competition to find

best community lockdown stories

AshburtonLibrary wants to

knowhow the 2021 lockdown is

goingand has acompetition

running to findthe best stories

usingwords or art.

TheLiving in Lockdown

competition was about finding

waysfor peopletosharetheir

experiences, said council

communityservicesmanager

SteveFabish.

It is opentoall agesand

there willbeprizes in fourage

groupcategories.

Entries need to be submitted

by 5pm on September 10 with

winners to be announced on

September15.

Writingcan be shared ina

short story, article or poem and

drawings should illustratea

landscape of lockdownlifeand

important aspects of lockdown.

Creative pieces like acollage,

astop motionmovie,3Dmodel

or lockdownart arealso

welcome.

Thecompetition will be

judged under the following age

groups: 8years and under, 9­

12 years, 13 –16yearsand 17

years plus.

Prizeswill be a$25

Whitcoulls gift voucherfor the

winner of eachage category.

All entrieswill need to be

submittedwith your full name,

age group, title of piece, and a

short description if your entry

is not apiece of writing.Email

them to library@adc.govt.nz.

Entrieswill be publishedon

the library's Facebookand

Instagram pages.

STAY AT HOME

Stayhomein yourbubble,other

thanfor essentialpersonal

movement, includinggoingtowork

or schoolifyou haveto,orfor local

recreation.

WEAR MASKS

Wear amaskwhenon public

transport, and inside any business

thatinvolves customer contact.

WHEN OUT

Useyour covid tracerapp or signin

to record yourmovements.Keep 2

metres apartfrom people you do not

knowoutside home, or 1metrein

controlled environments such as

schools andworkplaces.

IF YOU FEEL UNWELL

Stayhome,ifyou havecold or flu

symptomscall yourdoctor to

organise atest.

TRANSPORT /TRAVEL

Only travel for essential reasons,

suchasget food or medicine,goto

work or connect withclose family.

EVENTS

Gatherings of up to 10 people can

go ahead for weddings and

funerals.

BUSINESSES

If your businessrequires close

physical contact it cannot operate,

staff should work from homeifthey

can.

SERVICES

Visit the Ashburton District Council

website or call them forinformation

on rubbish collectionand public

transportetc.

COVID­19 WEBSITE

Visit the covid-19.govt.nz for up-todate

information.

Rothbury Insurance Brokers

are Ashburton's local business

insurance specialists

The team at Rothbury understandthe uniqueness and diversity of businesses in our region.

Weare passionate advocates for our clientsand wanttoget to know your business.

So,for quality advice from unparalleled experience, get in touch today.

Peter McAuliffe

Commercial Broker

P: 021 288 8303

E: peter.mcauliffe@rothbury.co.nz

rothbury.co.nz
---
Supporting the community

96 Tancred Street,Ashburton.

Phone 3078317

Real Estate MidCanterburyPropertyLtd Licensed REAA 2008

OH BABY!

Lett

MidCanterbury

knowabout your

newarrival...

...in the Courier's monthly

Baby Page completely free of charge.

Simply post or email aphotoofthe new

arrival along with the birth details to:

office@ashburtoncourier.co.nz.

Photos forOctober 7to

be received by 12 noon

TuesdayOctober 5

SarahCrispin-Naish and Jeff Naish welcome

Charlie Crispin Naish, 8lb 5oz. Arrived

28th July at11.09am,Christchurch Women's

Hospital.Special thanks tothe wonderful

team atAshburtonMaternity.

Janene Priceand KarimKaufman areexcited to

welcome Franklin Jean Kaufman on 26th July in

Murwhulumbah, NSW,7lb 12oz.

At Tiddlywinks Preschool

children areencouraged to

exploreand develop asense

of wonder through natural

resourcesand experiences.

In our new purpose built facility

teachers areable to "stepback"

and empowerchildren to make

their owndecisions and take

responsibilityfor collaborative

playbut still be theretoguide

and supportwhen needed.

We have separate under two's

and over two'swith ashared

kaiareawhich fosters the

relationships between the older

and younger children as well as

the teachers which in turnmakes

the transition process relaxing

foreveryone. Our outdoor area

provides mud,water, sand,grass,

loose parts,hidey holes,rocks,

logs and nativetrees and plants

which allowthe children to gain

confidenceinthemselves,create,

exploreand assess their ownrisk.

We provide wetweather gear

forthe children so they can be

outside in all types of weather

and enjoyrainy days as much as

sunnydays.

Contactuson

307 0420 or visit our website

www.tiddlywinks.co.nz

Asmall homely centre,

with anature based philosophy.

Stephanie Hansen Amanda Moore

Centre Directors

7Roxburgh Place Tinwald Ashburton

phone 03 307 0420 twpreschool@gmail.com

Play is work

and work is fun

Where Children Learn

ENROL NOW -2YEAR OLDS WELCOME

Contact: Kindergarten

Association Manager

Ph: 308 3779

Email: association@ashkindy.co.nz

www.ashburtonkindergarten.org.nz

2413274

2413271
---
Connecting

COMMUNITIES

Local

people

Local

news

Local

team

Local

opinion

Free every week

PLUS ...more news and digital editions at

www.ashburtoncourier.co.nz

The Ashburton Courier.

Your community newspaper,

part of the independent community newspaper network.

www.cna.org.nz

2330953
---
PUZZLE PAGE

20 Ashburton Courier, September 2, 2021

www.ashburtoncourier.co.nz

CRYPTIC CROSSWORD

1 2 3 4 5 6

7

8 9

10

11 12

13 14 15

16 17 18

19 20 21

22 23

3/9

Across

1. Toomuch in thescale to have

toppled? (12)

8. Raised in status from bone,lend it

somechange (8)

9. Getthe pitch rightfor suchanair (4)

11. Avoid leadingVenetianbygoing

round theDuomofirst (5)

12. I'm afavourite American providing

one with push (7)

13. It is thedevil of apolice station(4)

15. Perfectplace putinagreedending

(4)

19. Arow no longerfashionable on the

rugby field (7)

20. Getone mired downbymob,for

example,inthe confusion (5)

22. The way one walkssoundly met with

on the way in (4)

23. We old,sad as canbe, go at asnail's

pace(4,4)

24. Weaponmakes slit in the ground

with something likecement(6,6)

Down

2. Havingfins,five getthe Dean upset

(5)

3. Aman who has taking ways(6)

4. Giveone axleaturn throughinability

to read (6)

5. It wasimportant,solisted how many

there were (7)

6. Robe that may be worn getting up

and retiring (8-4)

7. The best sort ofale is theone

outstanding in agroup(7,5)

10. Copy aprimate(3)

14. It is brief, once (sic)itisarranged

(7)

16. Aparent of modern musicfor the

masses (3)

17. Flow out of thestreet with twenty

quires(6)

18. Freed, around 1stNovember,in

ordertoprovide aprotection(6)

21. Corkwoodisusedamongtribal

savages(5)

SUDOKU

Fill the grid so that every column, everyrow and 3x3

box containsthe digits1to 9.

24

QUICK CROSSWORD

1 2 3 4 5 6

7

8 9

10 11 12 13

14 15

16 17

18 19 20 21 22

23 24

25

26 27

Across

1. Figure representing

love (5)

4. Notcertain (6)

7. Fled (3)

8. Wild horse (6)

9. Limp (6)

10. Alet down (13)

14. Instruct (5)

15. Glint (5)

18. Up and down ride

(6,7)

23. Someone

inexperienced (6)

24. Sieve(6)

25. Animal park (3)

26. Show disloyalty(6)

27. Gentle push(5)

Down

1. Royal dog(5)

2. Blackand white

mammal (5)

3. Wilting(6)

4. Not just (6)

5. Portly (5)

6. Mature (5)

10. Put off (5)

11. Little (5)

12. Motionless (5)

13. Person whoplays

online(5)

16. Uncontrolled

excitement (6)

17. Toxin (6)

19. Delayed or

postponed (2,3)

20. Light-coloured

beer (5)

21. Rip up (5)

22. Chosen few(5)

CODECRACKER

QUICK CROSSWORD

Across: 1. Cupid, 4. Unsure, 7. Ran, 8. Bronco, 9.Floppy,10.

Disappointing, 14. Teach, 15.Gleam, 18. Rollercoaster,23.

Virgin, 24.Strain,25. Zoo, 26.Betray,27. Nudge.

Down: 1. Corgi, 2. Panda, 3. Droopy, 4. Unfair,5.Stout,6.Ripen,

10. Deter, 11.Small, 12.Inert, 13.Gamer,16. Frenzy,17. Poison,

19.Onice,20. Lager,21. Shred, 22. Elite.

CRYPTIC CROSSWORD

Across: 1. Overbalanced 8. Ennobled 9. Tune 11. Dodge 12.

Impetus13. Nick 15.Eden19. Lineout 20.Embog 22.Gait23.

Dead slow 24. Trench mortar.

Down: 2. Vaned 3. Robber 4. Alexia 5. Counted6.Dressing-gown

7. Leading light 10. Ape14. Concise 16.Pop 17. Stream 18.

Fender21. Balsa.

TARGET

ambo arbor barroom boar

board BOARDROOM boom

boor broad brood broom

doom door dorm mood

moor ramrod road roam

roar rood room

MEDIUM HARD

EASY

TARGET

D B O

M O A

R O R

Good 11

Very Good 16

Excellent 19+

ALL PUZZLES ©THE PUZZLE COMPANY

How many words of four letters or more can you

make? There is at least one nine-letter word.

Each letter may be used only once and all

words must contain the centre letter.

No words starting with acapital, no plurals

ending in sunless the word is also averb, e.g.

he fires the gun.

Kim

Miller

Meet Kim Miller,owner of RayWhite Mid

Canterbury for one year.Sales specialist for

12 years, aMum of two for 23 years and

living her best life for 52 years. Kim's positive

and professionalapproach is infectious, and

along with her talentedteam, Kimisalways

getting the best results for her clients.

027 236 8627•kim.miller@raywhite.com

Ashburton•Tinwald•Methven •rwashburton.co.nz •03307 8317

Real Estate Mid Canterbury Property Limited Licensed (REAA 2008)
---
Properties of the Week

17 BakerStreet,Ashburton Set Date of Sale

Locatedinthe ever popular Baker Street in centralAllenton,this

qualityred brick home provides youwith all the room youneed

foragrowing family.New Double Garage with Automatic Door

along with an adjoining HobbyRoom.

E: armand.vandereik@raywhite.com

34 Geoff Geering Dve, Ashburton $667,000

Appreciation of the qualityfinish and extras in this home you

will also enjoyand relax with the seamless flowtooutdoor

living,ideal forthose summer evenings with friends and family.

Gardens,paths,patios,lawnand drives areall included.

E: kim.miller@raywhite.com

37 Geoff Geering Dve, Ashburton $675,000

Oftenoverlooked,this home has consideredfamily storage

with ample internal allowance, wardrobes and walkin Master

robe.A large open area, is complimentedbytwolounge /

living areas with the dining spaceseperating them, and an

entertaining kitchen, all flowtothe extensiveoutdoorpatio.

E: kim.miller@raywhite.com

8Parkdale Close,Ashburton

Set Date of Sale

Beautifully presented 2003executivehome is aperfect blend

of style and easy family living.Updatedsleek kitchen with

generous bench tops,ample storage and qualityappliances.

Open plan living with the seperate lounge connects to the sun

soaked patio and privategardens.

E: chrissy.milne@raywhite.com

9Alma Place, Methven

POA

Open plan executivekitcheninneutral timber tones with all the

extras,double Bosch oven, large gas fiveburner hob,feature

designsplashback,separatedrinks fridge.Alargebutlers kitchen

with its ownsink,dishwasher and plenty of cupboards. Family

room plus media room. Stereo system &securityfeatures

E: margaret.feiss@raywhite.com

AshburyGrove,Tinwald

POA

StageOne -Nearly all SOLD! AshburyGrove consists of lots

ranging from approximately 600m2 to 1130m2 and priceto sell

from $170,000with titles due 2022.EntranceoffGrove Street.

Be quick to secureyour placeinthis new community.

E: bruce.mcpheson@raywhite.com E: kim.miller@raywhite.com

47 AshburyGrove, Tinwald Enquiries over $625,000

AshburyGroveinconjunction with Jennian Homes offers the

opportunityfor adiscerning purchaser to consider their futureat

Tinwald's newest development. Packageincludes: classic series

brick &Linea weatherboardexterior.

E: bruce.mcpheson@raywhite.com E: kim.miller@raywhite.com

23 PeterStreet,Ashburton Set Date of Sale

Time has come forthis lovely three bedroom brick townhouse

to have anew owner.Built in 1999 &situatedinaverycentral

ashburtonlocation, so close to shops, town, churches &

restaurants,this is ahighly desirable easy careproperty.

E: armand.vanderrik@raywhite.com

106 SpaxtonStreet,Methven Set Date of Sale

Areyou looking to buy afour bedroom home on abig 1819m2

section? Very seldom do these properties like this hit the market.

Large open plan kitchen, dining and living area with separate

lounge.Two heatpumps and log fire. Loadsofoffstreet parking.

E: shirley.fitzgerald@raywhite.com

5Hugh Street,Ashburton

POA

*Three bedroom with greatstorage,Open plan kitchen/dining,

living

*Double glazed with heatpump &eco panel

*Sizable garage (laundry in this area)

E: kim.miller@raywhite.com

28 Geoff Geering Drive, Ashburton $697,000

Owning this home,you will also be positively contributing to our

climate change with solar panels and water capture. Your lawns

and gardens will look greatyear round with a5000litrewaterstorage.

(Excludes -Drapes, Blinds, Curtains,Clothesline )

E: kim.miller@raywhite.com

87 Grove Street,Tinwald POA

Areyou looking forapermanentmaterial home as afirst home

buyer,for thefamily or an investmentproperty? The owner

has gone the extramile to ensurethis home is toasty warm

throughout. Asingle garage is adjacenttothe home.

E: cheryl.fowler@raywhite.com

18 Coniston Drive, Ashburton PBN

Aroad frontage section of 828 squaremetres (or thereabouts

Matureplantings and lawn

Qualityfencing all round (one to be built prior to settlement)

Water, electricityand communications services available

Very sheltered and peaceful location

E: bruce.mcpherson@raywhite.com E: denise.mcpherson@raywhite.com

DuetoCovid-19lockdown,

please register your interest

in apropertybycontacting

one of our sales people.

Kim Miller

SalesConsultant

027 236 8627

Denise Russell

Sales Consultant

027 432 9717

ChrissyMilne

Sales Consultant

027 290 6606

Cheryl Fowler

Sales Consultant

027 461 2614

Margaret Feiss

Sales Consultant

021 751 009

ShirleyFitzgerald

Sales Consultant

027 220 1528

Denise McPherson

Sales Consultant

027 242 7677

Janene McDowell

Property Manager

027 287 3388

Armand vander Eik

Sales Consultant

021 597 527

Lynne Bridge

Sales Consultant

027 410 6216

Mike Grant ncre

Sales Consultant

021 272 0202

Mark Totty

Sales Consultant

021 664 113

BruceMcPherson

Sales Consultant

027 438 4250

JustinWaddell

Sales Consultant

027 437 1111

Carey VonLubke

Property Manager

027 697 6948

96 TancredStreet, Ashburton 03 307 8317 Main Road,Tinwald 03 307 8317

rwashburton.co.nz

Real Estate Mid Canterbury Property Limited Licensed (REAA 2008)

36 McMillan Street,Methven 03 303 3032

2271313
---
Your LOCAL real estate

company is CELEBRATING!!

st

1in NZ to bring you 3D virtual

reality marketing 4years ago!

Trevor &the TEAM at RENZ

are giving away $2000

from EVERY sale to CELEBRATE

this GREAT achievement !

*

That's right... just LIST &SELL with

your LOCAL that puts YOU first and

get $2000...SIMPLE !

T&C's apply

Starts 1August and ends 31 October 2021

*information supplied byMatterport and based on packages sold to NZin 2017

Contact: admin@renz.net.nz

308 6173 or do it online with our

FREE no obligation market appraisal

Scan for free appraisal

191 Burnett St, Ashburton
---
view anyofour

properties fromthe

comfort of your home

in 3D...becauseyou can!

RESIDENTIAL

LIFESTYLE

PROPERTY

MANAGEMENT

3D VIRTUAL

REALITY TOURS

191 BurnettSt, Ashburton

308 6173 •realestatenewzealand.net.nz

Trevor Hurley Real Estate Ltd LREA 2008 -MREINZ

OPEN

Lockdown doesn't mean you

can't view properties!

With us there's always openhomes!

Take a3Dvirtual tour from the

comfort of your own

home...anytime

51 Aitken Street

•Well presentedthree bedroom home with small sunroom.

•Log fire, insulatedtop and bottom. Bathroom plus separateshower

•Situatedinapopular central location handy to town

•All offers considered after 2pm, 14 September 2021

OffersOver$319,000

OPEN TO VIEW ONLINE -SCAN QR CODE TO VIEW

OPEN

ID: E732

3 1 1

CONTACT: admin@renz.net.nz or 308-6173

We BELIEVE our SUCCESS is

aTEAM effort....HELPING our

COMMUNITY is EVERYONES

78 ChalmersAve

•House divided into twoflats, currently rented for$560p/w.

•Open plan kitchen/dining. Insulatedceiling & underfloor.

•Fantasticinvestment opportunity with potential to add value

OffersOver$469,000

OPEN TO VIEW ONLINE -SCAN QR CODE TO VIEW

LAKE BRUNNER

OPEN

ID: E731

3 2 2

• Heart Foundation of New

Zealand

• Cancer Society

• Ronald McDonald House

• Relay For Life

• Ashburton Multi Cultural

Bite Nite

• Zonta Ashburton FemaleArt

Awards

• Christmas In The Park

• Mid Canterbury Youth

Charitable Trust

• EAMid Winter Swim

• Ashburton Fanciers Club

• Fairfield Softball Club

• RENZ Children's Duckling

Race

• Dog Day Out

• Big Smoke Rural Folk -

Town Vs Country

• Easter Egg Hunt

• Teddy Bears Picnic

• SPCAReport

• Mid Canterbury Children's

Day Out

• Mid Canterbury Newcomers

Network

• Mayfield Golf Club

• Ash Intermediate School

Mountain Bike Race

• New Life Church

• Ashburton Youth Council

• More FM Workplace Shout

• Ashburton 9Holers

• Hampstead Softball

• Pink Shirt Day

1946 Arnold ValleyRoad, Moana, LakeBrunner

ID: LB05

Surrounded in nativebush with wildlife rightonyour doorstepthis exceptionally

privateproperty offersthe ultimate lifestyle!

This would be agreat business ventureoffering exceptional opportunities for

the buyer,this property could be utilised as alodge,anAir BnB,huntinglodge,

weddingvenue,wellness retreatoreven anudist camp...it's thatprivate! Five

bedroom lodgeplus fully contained one bedroom cottage.

OffersOver$759,000+GST (if any)

OPEN TO VIEW ONLINE -SCAN QR CODE TO VIEW 5 3 2

Without your support from our free no-obligation

appraisals, selling or buying real estateorour

property management department,

this would not be possible.

Scan the code and book your

FREE no-obligation market

appraisal today!

Proud supporters of the HeartFoundation of NewZealand! Wedonatefromevery property sold!

Manager/Sales Consultant

Trevor Hurley

0275 435 799

Sales Consultant

Manu Otene

022 308 6885

Sales Consultant-Lincoln

Linda Cuthbertson

0274087965

Sales Consultant

Stephen Watson

027 433 9695

Sales Consultant

Julie Srhoy

021 354 885

Sales Consultant

Manoj Rana

022 453 1964

Sales Consultant

Deborah Roberts

0210 752 180
---
CLASSIFIEDS

24 Ashburton Courier, September 2, 2021

Brothers support

for hospital chairs

Agenerous donation from

Ashburton brothersAlan and

Bob Johnston has supported an

initiative by Maia Health

Foundationtoprovide

specialist lie­flat chairs at

Christchurch Women's

Hospital.

The farmingbrothers are

well­known localbenefactors

and their support for the

project has funded the

purchase of two chairs that will

now go to the community

maternity unit at Ashburton

Hospital.

The fundraising drive by Maia

was launchedinJuly and

surpassed the original target of

$44,000needed to purchase 20

specialist chairs for maternity

services on Level Five at

Christchurch Women's

Hospital.

More than $65,000 was raised

in one month and 30 specialist

chairs will now be purchased.

The chairs willprovide a

comfortable place for asupport

persontostayalongside anew

mother and baby.

Currently support peopleare

welcome to stay at Christchurch

Women's Hospital but sleep on

avinyl mattress on the floor or

in an uncomfortablechair.

One of the 30 chairs will go

directly to Kaikoura Health

CLUB NEWS

Ashburton MSAPetanqueClub

Due to lockdownweare

unable to play in Levels3and 4

so as aresult we havenot been

meeting for the last coupleof

weeks and quite afew of our

upcoming tournaments have

beencancelled or postponed.

Wewereable to playin

Round Oneofthe Interclub

TournamentatPapanuithe day

before lockdown wherethe

ChristchurchClubs earned

morepoints thanus!!

Thisconsistedoftriples and

doubles forour 7memberswho

played.Atleast it didn't rain as

forecast andweenjoyedgreat

hospitalityatalovely venue.

Round Two on 31 August has

beencancelled,and adecision

on Round Threeon9

September is still to be made

depending on thecovid level.

Wehaveour fingers crossed

to be abletohold our Club

SinglesCompetition on 12

September,and to hostLochlea

at ourClub on 15 September.

Whenweare up and running

again we would welcome youto

watch any of ourtournaments,

and to attendorjoin our

friendlyclub games on each

TuesdayandThursday, starting

at 1.30at115 Racecourse Road.

Boules are available foryou

to playand to learnabout the

game.

AshburtonCombined

FriendshipClub

Ourfirstspeakers were the

BNZscam ladies, Tania and

Phillipa.Scammers usually try

to contact the target by email,

phone,orFacebook. Anyone

scammedshould contacttheir

bankimmediately.

Other adviceincluded

"hover"the mouse over the

incoming email's addressand if

it looks suspiciousmark as

spamand blockthe sender,

check thatwebsitesshowthe

safesite locked padlock symbol,

check yourbankaccount

Alan and Bob Johnston

Centre Birthing Unit thankstoa

generous donation from

MainPower.

Another chair will go to the

Garden Room,aspecial room at

Christchurch Women's Hospital

wheremothers deliver babies

that have diedinutero.

Mia Health Foundation

fundraising and marketing

manager Anna Galvan said the

campaignwas aboutmorethan

achair, it was about bringing

families together at the most

vital time andsupporting

dedicated maternity services.

regularly (daily)for strange

transactions,neversave your

bankpasswordstoyour

computer and if your computer

is scammedget it professionally

"cleaned" by acomputer

technician.

Our mainspeakerwas Dr

Dianne Young whospent 15

years in Malawi working as a

missionary doctor. Malawi,

population about18million, is a

landlockedcountry in south

westAfrica borderedonthe

east by LakeMalawi. The

population is young witha

median age of 16 compared to 36

in NZ.The capitalLilongwehas

apopulationofabout 1.1

million.

Dr Youngworked at the

African BibleCollege medical

centrecommunityclinic. Some

staffwere clinicalofficers with

threeyears of formaltraining

and very strong practical skills

inanarrowerarea of medicine.

The clinic treated private

patientswhose feeshelped

subsidise the community

patients. Malnutrition, HIV/

AIDSand malaria are big

challenges. Malaria canbe

treated if diagnosed early.

Malawi is apoorcountry and

Dr Youngquotednumerous

statistics to highlight the

differencesbetween NZ and

Malawi. Perhaps the most

striking is that NZ has 317

doctorsper 100,000 people

while Malawi has two. Maize is

the staple food, the womenhand

strip the dried kernels fromthe

cob and take them to the local

maize mill for grinding.

Meat, usually goat, is seldom

available.

Tobaccoand tourismwere

economically important but are

now in decline.

Meetings second Tuesdayof

month,Senior Centre 206

CameronSt, 9.30 am. Visitors

welcome. PhoneJoe 0274339

018 or email

ashcomboclub@gmail.com

HEALTH &BEAUTY

HEALTH &BEAUTY

DebraCurtin

Chiropractor

03 308 9516

www.ashburtonchiropractic.co.nz

URGENT CARE CLINIC

WEEKEND DUTYDOCTORS

IN THE EVENT OF AN EMERGENCYPHONE 111

Forall othermedicalassistance outside of normal

hoursplease phone your generalpracticeteam,24/7,

to speak withahealth professional whowill giveyou

free health advice on what to do or where to go if you

need urgentcare.

If youdon't have aregular generalpractice, call any

GP team 24/7 forfreetelephone health advice.

All non-residents and visa holders please bring your

passporttoyour surgeryappointment.

New Zealanders'tobringsome form of ID.

TheAshburton Duty Practice for...

Saturday4th September is

ThreeRivers Health, 7-11 Allens Road,Ashburton

Consultations will be by appointmentonly.

To make an appointmentcallyour regular GP 24/7.

Sunday5th September is

ThreeRivers Health, 7-11 Allens Road,Ashburton

Consultations will be by appointmentonly.

To make an appointmentcallyour regular GP 24/7.

Methven and Rakaia: Formedical attention on the

weekend and public holidays please telephone

MethvenMedical Centre on 03 302 8105

or Rakaia Medical Centre on 03 303 5002.

Details foraccessing the afterhoursservices will be

on the answer phone.

PHARMACIES

Wises Pharmacy,CountdownComplex,

East Street will be open on ...

Saturday from 9.00am until 1.00pm

Sunday from 10.00am until 1.00pm

At Geraldine: TheGeraldine Pharmacywill be open

normal trading hours during the week,and on

Saturdaymorning from 9.30am to 12.30pm.

Closed Sundays and Public Holidays

Forfree24hour Telephone Health Advice

Phone the healthline on 0800 611 116

Brought

toyouby

CountdownComplex, East Street, Ashburton

Phone: 03 308 6733 Fax: 03 308 6755

ENTERTAINMENT

Exhibition and Festival 2021

Ad# 38665

THE GREAT NZ/AOTEAROA

FAKES AND FORGERIES

EXHIBITION AND FESTIVAL 2021

It is time to dig out your Artists'

materials and get creating your

Artworks and Masterpieces for a

prize pool of over $1000+ in

CASH and other goodies at an

established day of fun events and

Art exhibitions. Mark October 23,

2021 in your diaries Now!

Search postanote.co.nz

for more details.

SELL

LPG

REFILLS

Small LPG cylinders

Off Street Parking

Available

Arthur Cates Ltd

26 McNally Street

Ph 308 5397

Riverside Industrial Estate

2395596

LPG REFILLS

9kg cylinders

$27.50

Askaboutour

deliveryservice

Anysizecylinder filled

17 Grey St,Ashburton

Phone 307 2707

Phone 308 7664

office@ashburtoncourier.co.nz

2379296

2379300

www.ashburtoncourier.co.nz

AUTOMOTIVE SERVICES

QualityEuropean

Vehicle Servicing

•Advanced

Diagnostics

•Experienced

Technicians

Bruce McIlroy Limited

309MethvenHighway, Ashburton7776

Tel: 03 3087282•E:bruce.mcilroy@xtra.co.nz

EveryHome

EveryWeek-that's

Phone 308 7664

199 Burnett Street

Ashburton

FIREWOOD

FIREWOOD

OFFCUTS

$140 PER CORD

FIREWOOD

SLABWOOD

3cordgreen

$330

1cordgreen

$110

1corddry

$140

C.O.D. in town

Adams Sawmill

Malcolm McDowell Rd

Phone

308-3595

SAVE $100. on next winters

firewood. Old Man Pine 6m 3

$495.00. Limited supply.

WINZ accredited. Free

delivery to most of Mid-

Canterbury. Phone 027 297

7563.

PUBLIC NOTICE

2414491

HOSPICE Mid-Canterbury -

Here when you need us. If

you or someone you care

about has a life limiting

illness, phone 307 8387 or

027 227 8387

•Collection/Delivery

'Free of Charge'

in Ashburton

MTAAPPROVED

2376123

FOR LEASE

RENT ME!

Ideal as an extra

bedroomoroffice.

Fully insulatedand

double glazed forwarmth.

Threeconvenientsizes:

Standard3.6m x2.4m,

Large 4.2m x2.4m

Xtra-large 4.8m x2.4m.

Visit our displaycabin

418WestStreet or callfor a

freebrochure.

www.justcabins.co.nz

2379729

AUTOMOTIVE SERVICES

Call us for a

FREE

QUOTE

0800 58 78 22

STORAGE available, Ashburton.

Self storage, variety

of sizes. Phone Rainbow

Storage 03 307 0401 or

phone/text 021 554 570

STORAGE: Secure self storage

units available, long or

short term. Ashburton Storage

Facilities. Contact us

on 0274 362 636 or www.

ashburtonstoragefacilities.

co.nz

PUBLIC NOTICE

ACUPRESSURE

CLINIC

Enhances your

body's own natural

self-healing

Pain relief/Speeds recovery

from illness, injury and surgery.

•Noneedles/safe for all ages

•Good-Health Maintenance

•Affordable/flexible hours

•Home visits on request

Janet Hayes

Ph 308 6951

registered practitioner

EnrolmentScheme

and Cohort

Wakanui School is likely to have 7places forOut of

Zone enrolments in 2022 forNew Entrants and 5

places foreach of Years 3, 4, 5and 6.

Application enquiries can be madebyemailingthe

school officeatoffice@wakanui.school.nz whereby

youwill be forwarded theappropriate documents

to be returned by the 23 September 2021 deadline.

AllInZoneapplicationsshould also be made by this

date to assist in determining the exactnumber of

OutofZoneplaces.

If OutofZone applications exceed the number of

places,aballot will be required.This will takeplace

on 30 September.

2413349

CohortEntry

Wakanui School operates aCohortEntry Policy.

Therewill be 8entry points fornew entrantswho

have had their 5th birthday:

31 January 14March 2May 7June

25 July 29 August 17 October 21 November

Forenquiries regarding either the Enrolment

Scheme or CohortEntry,please contactthe school

officePh3023899.

2362037

2413719
---
www.ashburtoncourier.co.nz

PUBLIC NOTICE PUBLIC NOTICE PUBLIC NOTICE PUBLIC NOTICE

Peter Blacklow

PETE'S

PICK

Full range of engineering supplies and accessories forall your repairs

&maintenance. Kerrick hot &cold waterblasters &industrial vacuum cleaners.

Esseti welders &accessories. Stockists and distributors of Trailer Equipment.

Locally owned &operated family business for 68 years

ASHBURTON

South Street, Ashburton PHONE (03) 308-3147

Email office@blacklows.co.nz FREEPHONE 0800 452 522

E- info@talbotsecurity.co.nz 519 East Street,Ashburton

P-(03) 307 2409 Anytime 24/7

-Alarm Response and Patrols

-Alarm Monitoring

-Alarm and CCTV Installation

-Alarm and CCTV Servicing

FOR LEASE

Father's Day vouchers in-storefor the hardtobuy for!

-Data and Networking

- Fire Extinguishers

- Key Cutting

- Locksmithing

Ashburton'sonly100%locally owned and operatedsecuritycompany

GARDEN SUPPLIES

BUSINESS FOR SALE

GARDEN SUPPLIES

FOR LEASE

2404590

MUSHROOM COMPOST

Nowisthe time to dig in our topqualitymushroom

compost to your vegetable garden. Ideal to replenish nutrients

used by previous crops and improvethe soil structure.

It also adds beneficial micro-organisms to thetired soil.

$50 per cubic metreor$10 bag.

Freedelivery within town boundary.

Open 6daysaweek at our Tinwald yard,

208 Maronan Road. Phone 021 129 8936 or 03 308 3331

BUSINESS FOR SALE

Do youwanttocontrol your ownfuture?

My well established lawn and

garden business is forsale.

Genuine enquiries to 027 206 0503

2404460

2413798

EXCLUSIVE

FOR LEASE

GEARWRENCH

111 PIECE 1/4" &1/2"

90T METRIC &SAE

SOCKETSET

Check out all this qualityand

exclusiveset has to offer!

$299+GST 83069

Dr Christopher McGrath

PhD(Otago), MSc, DO(UK)

Expert

musculoskeletal care for your pain

Consulting Osteopath, Ashburton

Appointments/contact through web site

021 0222 6378

www.countrypractice.nz

TRAVEL

MOLESWORTH Safari,

October; White Herons,

Westland, November; Kaikoura

Whale Watch,

December; Transport, D.B.

B. accommodation. John &

Kathleen Lawler, Rakaia.

For details, bookings 03

302 7328.

GARDEN SUPPLIES

GARDENERS Specials.

Sheep or Cow manure

$8/bag. Medium-square linseed

straw $50. Mediumsquare

pea straw $60.

Phone Alan 027 496 7136,

Ian 027 286 3697. AHinds

Lions Project.

PAUL'S Garden Nursery,

101 Harrison St, Ashburton.

14 varieties of seed

potatoes, seed yams and

farm fresh, free range eggs

available. Enquiries to Paul

027 278 1354. Open 7

days.

PROPERTY WANTED

PERMANENT material family

sized home wanted in

Ashburton. Open plan kitchen/dining/lounge,

three/

four bedrooms or second

lounge/sleepout/rumpus

room, bathroom with

shower, bath and vanity,

separate or second toilet,

compliant logfire and/or

heatpump(s), double

garage or single with extra

storage, fully fenced for

children and pets, up to 1 ⁄4

acre section. Price

$400,000.00-$450,000.00.

Phone/Text 021 120 1927

EDUCATIONAL

2386391

SITUATIONS VACANT

CLASSIFIEDS

Ashburton Courier, September 2, 2021

SITUATIONS VACANT

bureau chief

Gore

25

SITUATIONS VACANT

AlliedPress Limitedisthe largest independently owned Media

CompanyinNew Zealand. Employing over 1,100 staff and

contributorsacross its15South Islandlocations. We operate across

multiplemediaplatforms (print, on-line,digital) delivering news,

informationand entertainment through our variousregionaland city

publications,including The Ensignand the Otago Daily Times.

Reporting to theEditors ofThe Ensign(Regional Editor) and

ODT(EditorinChief), this role plays akey role in thegrowth and

strengthening of The Ensign, aweekly localpaper establishedin

1878,representingthe localareainthe OtagoDaily Times and

supportingtheeditorialteamintheGore office. Sub-editingand

layoutskillswould be an advantage butare notessential.Thisis

an exciting timetobeworking for this leading independentNew

Zealand media company.The Otago Daily Times' regionalcoverage

andThe Ensign'slocal coverageare at theheart of its success.

Some of the keyaccountabilitiesinclude:

•Staff supportand performancemanagement

•Sourcing andwriting stories

•Copy tasting

•Meeting productiondeadlines

•Point of contact for thelocalcommunityand Allied Pressstaff

In addition to your interestinsupporting yourteam to succeed,

youwill demonstrate:

•Video, photography and website skills

•Commitment to accuracy andquality

•FullNZdriver licence

Thisisafulltime,permanentposition based in Gore, central to the

bestofthe SouthIsland'snatural landscape with all of itsleisure

opportunities, affordable housing and access to plenty of local culture

and sport. Relocationassistance wouldbeconsidered for theright

candidate. As wellasworkingalongside professional colleagues

throughoutthe South Island, there aredevelopmentopportunitiesand

an opportunitytotake ownershipofasuccessfuland wellsupported

local newspaper.

Acopyofthe fulljob description canbefoundat

alliedpress.co.nz/employment.

To apply pleaseemailyour cover letter andCVvia SEEKorto

recruitment@alliedpress.co.nz.

Applicationswillclose on Friday, 17 September 2021.

Pleasenoteyou musthavethe right to workinNew Zealand

to apply for this role. Disclaimer: Allied Press is unabletoprovide

sponsorship or visa supportatthistime.

EDUCATIONAL

L2D Driver Training

Teaching driving skills

and road craft

Allstages –beginner to full

Block booking discounts

Dave Campion

027 543 7632

2404572

SPRAY PAINTER/PREPPER

Afull time position has become available in our

Panel and Paintshop foraQualified Spray Painter.

Theposition requires

• Good work ethics

• Have ahigh standardindetail and finish

• Tobereliable

• The abilitytoworkunsupervised

• Toworkinateam and meet production deadlines

• NZresidencyorvalid NZ work visa

Please send resume and coverletter to

TheGeneral Manager

Bus and Truck Body Work Ltd

PO Box51, Ashburton7740

Phone Keith on 0274 274 007 or 307 0378

Email busandtruckbodywork@xtra.co.nz

2413350

2414273

FOR LEASE

Modern Multi Purpose Warehouse Ashburton

51 Robinson Street, Ashburton, Canterbury

Riverside Industrial Estate Ashburton

•488m² workshop •112m²receptionand offices

•112m² mezzanine with largeofficeand smoko room

•4container heightdoors •3phase power

•Current tenant vacates30th August

•Empty 2000m²section at 53 Robinson Street

next dooralso available if required

•51RobinsonStreet $5798 per month plus GSTand outgoings.

•53RobinsonStreet $2500 per month plus GST andoutgoings.

Available from 1stOctober

ContactTonyWorsfold,ph0274 508191

2411716

MEETINGS

MEETINGS

NOTICE OFAGM

The 37th ANNUAL GENERAL MEETING

of the Ashburton Art Gallery Inc

will be held at the

Ashburton Art Gallery

on Thursday 16th September 2021

at 5:30pm.

Guest speaker, artist Michael Armstrong

will join us for an Artist Talk.

All welcome.

Ashburton Art Gallery, 327 West Street

2413738

WANTED TO BUY

BOOKS, LP Records, C.D's.

Phone 03 324 2999 and

leave amessage.

SOUTH/MID-Canterbury

Fotonews-Vol 1 No's 1-9,

Vol 2No's 1-5 plus No. 8.

To lady with 27 copies,

happy to pay same for No's

3and 8only, please phone.

Also horse racing magazines,

daley newspapers

1950-1970. Phone Darcy

03 348 1783.

WHAT better place for a

public notice than Ashburton's

The Courier! Simply

clip the form for a run-on

advert like this or telephone

us on 308 7664 if you

require adisplay advertisement.

REGISTERED

NURSE ­PART

TIME WITH

FLEXIBLE HOURS

TO SUIT

Seniorcare Geraldine Inc

(Waihi Lodge Care Centre)

requires a

Registered Nurse.

If you enjoy working within a

friendly, warm and caring

team and have empathy for

the elderly, we welcome

you.

For further information

please phone Tina, our

Manager on

03 693 8131 or email:

manager@waihilodge.co.nz
---
CLASSIFIEDS

26 Ashburton Courier, September 2, 2021

SITUATIONS VACANT SITUATIONS VACANT SITUATIONS VACANT

General Manager Position

Pluck's Engineering Ltd isanagricultural engineering business based in Rakaia,

we arespecialists in farmmachinery.Have been in business since1966. With15

staff we manufacture and repair of alarge range of agricultural machinery as

well as producing asignificant range of dairyeffluentproducts,our products are

respectedand sold all throughout NZ.

This is an excellentopportunityfor an experienced and motivatedmanager with

experience inthe engineering/agricultural industry to join our team. Planning,

developing, and managing our business activities to achieve the desired

business strategy and financial performanceisthe overall objectiveofthe role.

Youwill also be involved in:

• Building strong relationships with Pluck's key customers, proactively driving

the sales team's performanceand customer serviceactivities

• Business planning and reporting, translating the company'sbusiness planand

goals into action

• Monitoringbusiness trends forfutureopportunities

• Improving operational systems, processes, and policies tosupport company

growth

• Having astrategicfocus on revenue and on stock levels,ensuring thatpeople

and resourcesare available

• Overseeing and liaising with internal senior staff including, Production,

Technical, Projectmanagement,R&D,Sales and Admin.

• Managing and working withcompanyHR, IT and Financesupport services.

Aboutyou

Youwill have proven management experience with atrack record of success

–preferably in the engineering/agricultural sector. You will have the ability to

communicate effectively and identify key result areas,aswell as howto achieve

thedesired results forthe company. And,importantly,you will have management

values thatmatchthoseofPluck's Engineering:

Workmanship

Quality&Value

LEAN

Health &Safety

CommunityCommitment

High personal integrityand productivity

Please apply nowbyemailing Neil Pluck -neil@plucks.co.nz

reporter

Balclutha – Clutha Leader

Full-time

Areyou areporter withaclear eyefor thefacts, but canalso

spin acolourfulyarntellingthe storiesthatmattertoYOUR

community?

TheBalclutha team has anexcitingopportunityfor an ambitious and

adaptable reporter to join themattheCluthaLeaderandOtago Daily

Times office.Asamember of ourBalcluthanewsroomyouwill work

on wide range of stories and features,covering thefull gamut of

hyper-local, community andbreaking news.

AlliedPress Limitedisthelargest, independently-owned media

company in NewZealand. Employing more than1100 staff

andcontributors across its15South Island locations, thegroup

hassignificant interestsindigitaland print media,web,regional

television andcommercialprint operations. TheCluthaLeader is

published onceaweekand deliveredto8,000 homes.

Theideal candidate will be aself-starter posessing:

•Excellentwriting abilitywithakeeninterestinnewsand

storytelling,bothinprint andonline.

•Ahighdegree of personal responsibility andinitiative.

•The abilitytoprogressmultiple parallel tasksand meet

regulardeadlines

•Photography,video and socialmedia/web skillsare valued.

•Arelevant journalismqualification(or equivalent

experience) wouldbeviewedfavourably.

Aclean, full NZ drivinglicenceisessential.This full-timerole includes

rosteredevening and weekend work shared withinthe team.

Acopyofthe job description canbefound at

alliedpress.co.nz/employment.Informal enquiriesaboutthe role are

welcomedand should be directed to South OtagoBureauChief

RichardDavison,atrichard.davison@odt.co.nz.

If youthink thisrole is foryou, please apply with acoveringletter and

CV by Friday,10September 2021 eithervia SEEKorbyemailing

recruitment@alliedpress.co.nz.

Pleasenoteyou musthavethe right to workinNew Zealand

to apply forthisrole. Disclaimer: Allied Press is unabletoprovide

sponsorship or visa support at this time.

2413998

2413926

SITUATIONS VACANT

SITUATIONS VACANT

Charge Nurse,VincentWard

Dunstan Hospital, Clyde

Come andlive the dream in CentralOtago!

Permanentfull-time position(1.0FTE)

MondaytoFriday,8am to 4.30pm

We have an exciting opportunity for aregistered nurse

with Charge Nurse or Associate Charge Nurse experience,

interested inthis key leadership position for our Vincent

Ward at Dunstan Hospital.This is afantasticopportunity to

secure arole immersed in the rural environment and show

youcan makeadifference and meetthe unique challenges

thatrural healthcare provides.

Specifically, the Charge Nurse is responsible for the

management ofthe ward including clinical leadership &

coordination, operational functions, quality and financial

performance, human resource management, quality and

risk management, clinical pathway development and other

service delivery improvements within the ward.

Formoreinformation on this role andtoapply,please visit

our website: www.cohsl.co.nz/joinourteam

RegisteredNurses

Dunstan Hospital

Come and live the dream in CentralOtago!

Various fixed term, part-timeand permanent

roles available

Dunstan Hospital is arural trust hospital based in

Clyde, Central Otago. We have excitingopportunities

for registered nurses to secure arole on our highly

impressivewardwhere youwill receivethe best rural

healthcare experience ever.

We areofferingopportunities forregisterednurses to

join our wonderfulnursingteam in the acuteinpatient

area. Our ward comprises 24 beds, including a3bed

High Dependency Unit. Weprovide acute medical

care, trauma/emergencymedical care(no walk in ED)

rehabilitation and palliative care throughout the age

spectrum.

For more information or to apply, please visit our

website: www.cohsl.co.nz/joinourteam

TURN THE PAGE TO VIEW

MORE CLASSIFIEDS

2413264

2412782

2413287

www.ashburtoncourier.co.nz

HOME SERVICES

ROOF COATINGS: All roof

types, specializing in

Decramastic and Long Run

Iron, Coloursteel etc, steep

roofs not a problem. —

Spraymaster 027-433-7780.

FRUIT &PRODUCE

POTATOES; Nadine, Red

Rascall and Agria $1.25kg,

or pre-ordered 10kg bags

$10. Phone 03 308 3195 or

027 531 9103. 81 Elizabeth

Street, Ashburton.

TRADE &SERVICES

ALTERATIONS; Sewing,

mending and trouser hemming,

curtain alterations

and curtain making. Call

Michelle on 027 352 7248.

AWESOME OFFICE space

for lease, rent or hire. Park

like setting. Indoor and outdoor

areas. North West

town boundary. Must view.

Phone 0274 754 241

BUILD work to do? Contact

Kiwi Building and Maintenance

Ltd. Alterations,

Renovations, New builds.

Qualified Tradesmen.

Phone Cawte 027 418

7955.

CARPET Cleaning. Powerful

equipment and fast drying.

Upholstery, mats and rugs.

GARDENING, mowing,

pruning, fertilising, projects

or general spruce ups? Call

Andrew at Spruce Gardens

to get the job done right.

owner/oper-

027 765 2899 or 03 307

1693.

sprucegardens@xtra.co.nz

Experienced

ator. Phone John Cameron

at Supersucker. 027 435

1042 or 308 1677

CARR'S Chimney Cleaning,

servicing Ashburton and

surrounding districts, $60

per chimney. Phone

Rodney on 03 324 2999

and leave amessage.

CHIMNEY Sweeping.

Includes full firebox inspection

and internal flue

camera inspection. An

inspection report can be

issued on completion. Call

Allan on 027 209 5026

COMPUTER Problems? For

prompt reliable computer

servicing and laser engraving,

contact Kelvin, KJB

Systems Ltd, 4 Ascot

Place, Ashburton. Phone

308 8989. SuperGold discount

card accepted.

COMPUTER repairs, sales,

training, setup wirelessnetworks,

spyware

cleanup. On-site day or

evening. Low fees. Call

Robin Johnstone, Networks

Firewalls and PC's Ltd, 308

1440 or 027 768 4058

CONCRETE Services -

Driveways, paths, patios,

mowing edging. Decorative

Concrete Specialist operating

locally with 30 years

experience. No job too big

or small. Contactless service

offered. Phone Paul

021 152 1966.

TRADE &SERVICES

DENTURES; Dr Peter

Rumping repairs existing

dentures and also provides

new dentures. Phone 027

220 9997.

DRIVEWAYS, Patios and

Paths, Plain Concrete, Coloured

Concrete or Exposed

Agregate Concrete.

Paveco, 13 Robinson

Street. 100% local. Phone

307 6466 for aquote.

ENGINEERING repairs, fabrication,

farm equipment

service and maintenance,

WOF repairs, machining

and welding. Odd jobs a

speciality. Mobile workshop.

Can collect. Phone

Malcolm 0274 754 241.

FLY control and spider

proofing. For all your

domestic and industrial

pest control needs phone

AJ Kerr at Ashburton Pest

Control on 03 308 8147 or

027 432 5447

FURNITURE Removals. For

all your household removal

needs - urban, rural lifestyle,

office relocations -

call Nudges Furniture

Removals, phone 027 224

0609.

INTERIOR

PLASTERING

New or existing,

level 4finish, full skim

plaster or repairs

The Finishing Company

03 307 8870 2390665

LOCKSMITH/Door repairs.

Keys/locks, sliding and bifold

door roller repairs.

Mobile service. Call Nigel at

Doors and More. Ph 027

516 7104

PAINTER for all your painting

needs. No job too small,

inside or outside. Professional

friendly service.

Phone Pete 03 308 1672 or

027 200 1619.

SUN Control Window Tinting:

Privacy, UV, glare, heat

control for homes, offices

and cars. Phone Craig

Rogers 307 6347, member

Master Tinters NZ. www.

windowtinter.co.nz

TINT-A-WINDOW, fade, UV

block, glare, heat control,

safety, security, privacy,

frosting films, solar protective

window films. Free

quotes, 20 years local service.

Phone 0800 368 468

now, Bill Breukelaar, www.

tintawindow.co.nz

0800 WIDE SPAN www.sheds.co.nz

ashburtoncranes2015@gmail.com

2413265
---
We have everything for your home

Hardfloor and

wool carpet

specialists

Louis Redmond

Kelli Aldridge

SAVE

15%

Ranfurly

Call our

curtain

consultants

today

Free

making

*T&C's apply

•Roller Blinds •Shutters •Duette •Automation

Burnett Street,Ashburton l Phone (03) 308 5269 l www.redmonds.co.nz

2413686
---
QUALITY USED VEHICLES

KEITH'S

PICK

1345ccpetrol,5door,

auto, easy access,

ABS, 65,090kms

2007 TOYOTA

RACTIS

$6,495

5 stars

2014 SUZUKI

SWIFT XG

2012 TOYOTA

AQUA G

2008 TOYOTA

MARK X

2013 TOYOTA

SPADEF

• 1200cc,petrol

• Auto

• Cam chain

• Pushbutton start

• 76,556kms

$10,995

TOYOTA

• 1500cc, hybrid

• Auto

• Cam chain

• ABS

• 76,000kms

• 2400cc, petrol

• Auto

• 7seater

• 8air bags

• 89,065kms

$11,995 $9,995 $10,995

WARRANTIESAA APPRAISEDFINANCEBIGGEST YARDBEST SELECTIONTRADE-INS

SUBARU

• 1500ccpetrol

• ABS

• Cam chain

• Easyclose doors

• 53,100kms

5 stars 6 stars

5 stars

2012 TOYOTA AQUA,1500cc, hybrid,auto, cam chain, ABS,

76,000 kms........................................................................................................................... $11,995

2013 TOYOTA SPADE, 1500cc, ABS, air con, cam chain,

53,100 kms........................................................................................................................... $10,995

2013 TOYOTA AQUA S,1500cc, auto, 2wheel drive, ABS, reverse camera,

106,173kms............................................................................................................................$8,995

2008 TOYOTA MARK X, 2400cc, 7seater, ABS, air con, S/W,89,000kms....................$9,995

2013 TOYOTA RACTIS,1500cc, hatchback,ABS, air con, cam chain,

67,000 kms........................................................................................................................... $11,995

2007 TOYOTA RACTIS, 1300cc, auto, cam chain.................................................................$6,495

MAZDA

2010 MAZDAPREMACY, 2000cc, 7seats,auto, timing chain, 126,000kms............$9,995

2013 MAZDADEMIO13-SKYACTIVE,1300cc, air con, ABS,

cam chain, 96,600 kms......................................................................................................$9,995

2009 MAZDAAXELA SPORT20S,2000cc, auto, ABS, body kit, 81,000kms......... $12,995

2007 MAZDACX7, 2300cc, SUV,tiptronic,reverse camera, ABS, 67,000kms............... POA

MITSUBISHI

2001 MITSUBISHIDION, 1500cc, hatchback,auto, ABS, air con..............................$4,995

HONDA

2008 HONDACRV ZX, 2400cc, 2WD,ABS, cam chain, 105,000kms............................ $10,995

2008 HONDAFIT RS, 1500cc, auto, hatchback,alloys,53,000kms............................. $10,995

2013 HONDACRV, 2400cc, 4WD,ABS, cam chain, air con, 79,000kms ...................... $20,995

2012 SUBARU LEGACY,2500cc,auto, cruise control, ABS, 96,000kms................$11,995

2013 SUBARUOUTBACK, 2500cc, 4X4, cruise control,reversecamera,

91,000km............................................................................................................................$13,995

2012 SUBARU IMPREZA SPORT, 2,000cc, auto, 5door, rear spoiler,

98,000 kms........................................................................................................................... $9,995

NISSAN

2013 NISSAN SYLPHY, 1800cc, petrol sedan, cam chain, ABS, 18,984kms ...........$11,995

2012 NISSANNOTE, 1200 cc,auto, skyblue, ABS,

60,000kms............................................................................................................................. $9,995

2013 NISSAN SYLPHY, 1800cc, 4doorsedan, auto, ABS, air con, 48,000kms......$10,995

2016 NISSAN TIIDA,1200cc, auto, cam chain, autostop, ABS, 6,000 kms.......... $10,995

2012 NISSAN BLUEBIRD –1800cc, AA appraised,ABS, camchain,

43,000 kms........................................................................................................................ $10,995

SUZUKI

2014 SUZUKI SWIFT XG, 1200cc, cam chain, rear spoiler,air con, 76,556kms .. $10,995

DUE TO ARRIVE

2015 NISSANNOTE

2007 HONDA INSPIRE

2012 NISSANNOTE

2013 TOYOTA COROLLAAXIO

AUTOSLTD

&RENTALS

ENQUIRE NOW

-about our range of rental vehicles

3081396

Family,Sports, School or Social Trips

We have 8, 10 &12seaterminivans available.Cars and 3trucks forsmall or big

loads also available.

470 West Street, Ashburton

A/H Keith Drummond 0274 367 646

www.atob.co.nz

2413039