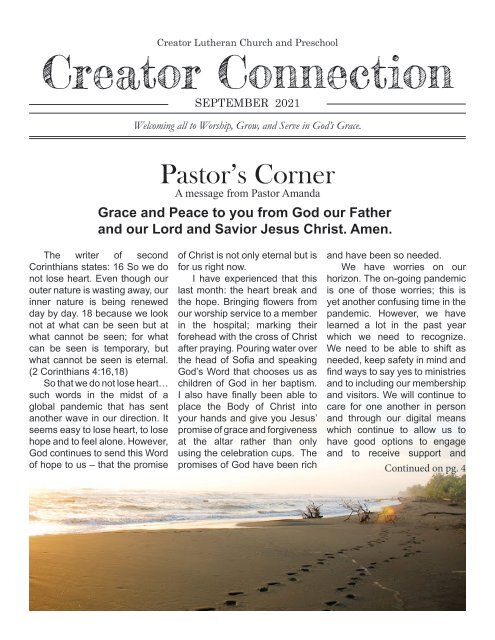 Creator Connection September 2021
The official newsletter of Creator Lutheran Church and Preschool.
The official newsletter of Creator Lutheran Church and Preschool.
SHOW MORE
SHOW LESS
Create successful ePaper yourself
Turn your PDF publications into a flip-book with our unique Google optimized e-Paper software.
Creator Lutheran Church and Preschool

Creator Connection

SEPTEMBER 2021

Welcoming all to Worship, Grow, and Serve in God's Grace.

Pastor's Corner

A message from Pastor Amanda

Grace and Peace to you from God our Father

and our Lord and Savior Jesus Christ. Amen.

The writer of second

Corinthians states: 16 So we do

not lose heart. Even though our

outer nature is wasting away, our

inner nature is being renewed

day by day. 18 because we look

not at what can be seen but at

what cannot be seen; for what

can be seen is temporary, but

what cannot be seen is eternal.

(2 Corinthians 4:16,18)

So that we do not lose heart…

such words in the midst of a

global pandemic that has sent

another wave in our direction. It

seems easy to lose heart, to lose

hope and to feel alone. However,

God continues to send this Word

of hope to us – that the promise

of Christ is not only eternal but is

for us right now.

I have experienced that this

last month: the heart break and

the hope. Bringing flowers from

our worship service to a member

in the hospital; marking their

forehead with the cross of Christ

after praying. Pouring water over

the head of Sofia and speaking

God's Word that chooses us as

children of God in her baptism.

I also have finally been able to

place the Body of Christ into

your hands and give you Jesus'

promise of grace and forgiveness

at the altar rather than only

using the celebration cups. The

promises of God have been rich

and have been so needed.

We have worries on our

horizon. The on-going pandemic

is one of those worries; this is

yet another confusing time in the

pandemic. However, we have

learned a lot in the past year

which we need to recognize.

We need to be able to shift as

needed, keep safety in mind and

find ways to say yes to ministries

and to including our membership

and visitors. We will continue to

care for one another in person

and through our digital means

which continue to allow us to

have good options to engage

and to receive support and

Continued on pg. 4
---
Table of Contents

Ministry

Pastor's Corner...............................................

Terri's Two Cents...........................................

Pastor's Corner cont. .....................................

Fellowship

Church in Society, Altar Guild..........................

Church Council Highlights...............................

Thoughts on Stewardship..................................

ELCA YAGM 2022-2023.................................

Children, Youth, and Family

One on One.......................................................

High School Bible Study, Children's Book of

the Month, Confirmation...................................

Hike & Picnic, Blessing of the Backpacks.......

Preschool News.........................................

1

3

4

5

6

7

8

9

10

11

12

Staff

Pastor:

Amanda Olson de Castillo

pastoramanda@creatorlutheran.net

Children, Youth,

& Family Director: Terri Heckroth

creatorterri@comcast.net

Office Ministry: Donna Reynolds

office@creatorlutheran.net

Communications Coordinator:

Marion Gil

communications@creatorlutheran.

net

Bookkeeper: Marcie Reid

creatorbooks@creatorlutheran.net

Custodian: Leslie Noborikawa

Nursery Attendants: Debbie

Eikland and Cynthia Lowe

Sunday School Coordinator:

Terri Heckroth

creatorterri@comcast.net

News and Education..............................

Birthdays and Reminders.......................

Calendar............................................................

13-17

18

19

Preschool Director:

Andrea DeDominces

Preschool Teachers:

Andrea DeDominces, Ragan Allen

& Cheri Farrer

Baptism Coordinator:

Briana Halaas

Funeral Coordinator:

Janee Theleman

2

Ministry teams and program leaders, please think ahead about what is coming up and

submit information, pictures or stories of impact to office@creatorlutheran.net by the 20th

of each month. Our Office Ministry Coordinator, will collect, format, and get the newsletter

out to the congregation by the first of each month. If you have any further questions,

please feel free to call the office (253) 862-7700.
---
Terri's Two Cents

Do I have to be perfect

at everything I try to do? Or

perfect at ANYTHING I try to

do? I worry about that most

of the time. When socializing

with friends, I worry that I may

say the "wrong" thing. When

I speak in public, I worry that

I will not convey my meaning

well. When I invite my family

or friends over for dinner, I

worry that my food will be

less than tasty and that my

house will be less than Martha

Stewart clean.

I sure hope I'm not

expected to be perfect. I

am human, after all. Which

means that I make mistakes.

My wish is that my mistakes

make me even more lovable,

more approachable, and more

relatable to those people with

whom I come in contact.

With his permission, I'd

like to share the story of my

husband and my first date.

Andy and I met at a church

Young Adult group meeting.

We didn't know much about

each other, but we had

crossed paths in the narthex

before Worship several

times. One Sunday, I spotted

him in the crowd waiting

to go into the sanctuary. I

approached him and began

a casual conversation about

Photo credits: lifehacker.com.au

the fun outings our young

adult group was planning. He

mentioned that going to watch

a Hockey game could be fun.

Enthusiastically, I agreed. So,

the two of us planned a Hockey

game event. Eventually, we

decided not to invite anyone

else to our outing.

I was very nervous

about going on a date with

Andy because he seemed

so perfect. He was always

impeccably dressed, spoke

intelligently, and had lots of

friends in the church. The

anticipated day came, and

Andy picked me up at my

house. We drove several

miles into Seattle to watch the

Thunderbirds Hockey team

play. As we neared the Mercer

Arena door, Andy discovered

that he had forgotten to

bring the tickets that he had

purchased weeks before.

After tons of apologies, we

both laughed and laughed.

That little mistake made all

the difference in our attitudes

toward each other. It really

lightened the mood and

helped us to be vulnerable

and caring with each other.

Because of that little

blunder, we continued to

deepen our relationship,

became best friends, and

eventually partners in life.

After 31 years together, we

don't expect perfection from

each other, just love.

"All of us have sinned and

fallen short of God's glory."—

Romans 3: 23

3
---
Ministry

Continued from pg. 1

community connection. Some

of you are worried about our

finances; we are in a place where

awareness is important, but the

ditch of scarcity is tempting. Our

general balance amount allows

us to move out in faith this fall –

a good place to find ourselves.

Many of us, maybe even

you, have lost heart and have

settled into expecting hardship,

loneliness and disconnect.

Naming our worries is important

because it allows us to work

together as a Body of Christ, so

let's also name our resources

and our hopes. We have an

important call right now to shine

that light of Christ, to share the

promise that renews us day to

day with our congregation, our

families, and our community.

We can go out in faith because

we don't go out alone, we go with

Christ who is not only along with

us but ahead of us preparing the

way forward.

I look forward to the fall with

hope. God's faithfulness to us

continues to bring me awe and

thankfulness. Some things I

am looking forward to are the

Families in Faith Beach Day

at church on September 12th,

moving back to two services on

September 19th, and starting

up Sunday School and Adult

Education in the building once

again! I look forward to inviting

each of you to serve in new

ways or return to the familiar

rhythms of assisting in worship,

supporting ministry teams or

helping with our community

partnerships. I look forward to

continuing to walk with each of

you at Creator into this time that

we are living through together as

we share Christ's love.

Peace be with you,

Pastor Amanda

"We can go out in faith because we don't

go out alone, we go with Christ who is

not only along with us but ahead of us

preparing the way forward. "

4
---
Church

In Society

Fellowship

This summer we have continued to

provide a monthly lunch for our neighbors

at New Hope Resource Center. In addition,

a group of volunteers helped at Pacific

Lutheran University by weed removal and

clean up in preparation for the new school

year. Also, we collected food and personal

care items for the food bank.

We will celebrate God's Work, Our

Hands by volunteering on September 11th

in the Prairie Ridge Community by painting

picnic tables and benches. Watch for the

sign up information which will be coming

out soon. The traditional Apple Cup food

drive is scheduled for November and plans

for the Christmas season are in the works.

Please plan to stop by and learn more

about Church in Society during the Ministry

Team Fair in September. Team members

will be available to answer your questions.

The CIS team approved $2200 for

distribution to local agencies, including

White River Family Center, White River

Community Outreach, the Sumner and

Bonney Lake Food Banks and Backpack

Programs, and Pregnancy Aid.

It is time to think about

increasing services at Creator.

We will be having two services

starting September 19th. If you

attended church service in person

in August, you have experienced

communion by stations. You

know that it takes more people to

do this and Altar Guild is looking

for more volunteers to serve.

Current members will prepare the

trays so we really need people to

help hold the trays, but are ready

to train you for all of Altar Guild's

activities. We would like to have

a training of less than a half

hour after service on September

12th. If this is not convenient,

an individual session can be

arranged at your convenience.

Please contact Linda

Reed with any questions or to

volunteer by leaving a voice mail

at H: (253) 862-8658 or text to

C: (253) 820-1757. If email is

easier, 84lkreed@gmail.com is

her email.

5
---
Fellowship

Church Council Highlights

Following are highlights from our Council meeting held on Tuesday August 17, 2021. These

are not the official meeting minutes, but a brief summary to aid communication. Approved

minutes will be posted on the bulletin board across from the office.

Council Reports:

Finance Committee

Treasurer, Deon Knickerbocker,

Presentation of July 2021

Financial Reports

• Total Income........$22,451.91

• Total cash Bal. Sheet line

1000 .................$161,130.18

• Total Expense.....$28,479.86

• Less Bal. Sheet Total Des.

Funds..................$60,235.97

• Net Income (Loss)

.............................$ 6,027.95

• General Fund Balance

..........................$100,894.21

Benevolence Decision:

• Contributions (P&L Line

4000) ..................$22,451.91

• Local Benevolence (6%)

.............................$ 1,347.11

• Synod (4%)..............$898.08

• Total......................$2,245.19

Council Reports:

Personnel Committee

We are looking to hire a new Director of Worship with an

emphasis on someone who can lead us with traditional

and contemporary services. A few candidates have been

interviewed. We look forward to the next steps with both

candidates.

Pastors Report

It has been a busy month with a lot going on Pastor

Amanda was very happy to announce a baptism. The

hope after the storm events have had some mixed

results. A few of the get-togethers had a great response

though and an overall positive effect. We will be doing

a sunrise service at 8 on September 12th at Driftwood

Point. We also will be moving back to having two

services Starting on September 19th. Things have been

getting a little crowded at the one service, so it is a great

time to move back to two services. This also allows us to

return to having a traditional and contemporary service.

And the best news is that we have seven new members

that will be joining the congregation

Covid Committee

Is recommending that we return to encouraging

people to wear masks and continue to safely distance

ourselves.

6
---
Fellowship

Thoughts on

A Request of Prayerful Consideration for Stewardship

Though we continue to hope

the worst of the pandemic is

behind us, no one needs to

remind us that this is a unique

time. Creator has survived,

and even thrived through

many changes over the years,

however Covid has brought new

and different challenges. While

we work to re-connect safely and

cautiously as a church, the need

for a Music Director in order to

flourish has become clear.

Most report missing live

music during worship, and the

importance of this ministry is

evident in its absence. Summer

months are notorious for

decreased attendance, and

coupled with Covid, our financial

giving has netted a shortfall for

the past few months. Studies

show congregations look to the

church for financial transparency,

while church staff need a safe

and stable environment in which

to pursue their calling.

The Stewardship Committee

is reaching out to all members

at this time. Whether you are a

family that has not yet returned

to in-person worship, or possibly

giving on a less than regular

basis due to worshiping virtually,

"Every generous act of

giving, with every perfect

gift, is from above."

- James 1:17

or even being busy over the

summer, we are sending a plea

to re-consider making regular

giving part of your stewardship

practice.

We hope to welcome a Music

Director in the near future, and

with this, the hope of increased

attendance during two services.

Filling the sanctuary with our

voices lifted in praise and

worship to God is a significant

part of the service that ministers

to our hearts and inspires our

faith. Filling the position of music

director will mean stepping

out in faith. The importance of

increased giving in order for

the church to meet budgetary

obligations and function in a

financially solid manner cannot

be overstated.

Creator continues to serve

and generously give in our

community. Please watch for

reports and stories of impact

shared by our ministries and

committees over the coming

weeks during the church

service. Our intention is to

increase awareness of how

your generosity enables these

programs to operate. Prayerful

consideration in giving, while

putting our trust in God and His

provision is Stewardship. For

questions, please review the

Financial Report or you may

contact the church office or

Finance Committee.

"Every generous act of

giving, with every perfect gift, is

from above." James 1:17

7
---
Fellowship

ELCA YAGM 2022-2023

We are so EXCITED to

announce the return of our

YAGM service year! Applications

for the 2022-2023 service year

open November 1st, 2021 and

close February 1st, 2022! Stay

tuned for more updates!

The ELCA Young Adults in

Global Mission program invites

ELCA young adults ages 21-29

into a transformative, year-long

journey in international service.

As they offer themselves in

service, ELCA young adults are

shaped by the witness of our

global neighbors. They share

in the journeys of companion

churches and organizations in

one of ten countries around the

world.

A year of service through the

Young Adults in Global Mission

program invites young adults

to become the hands and feet

of Jesus in the world, providing

critical support to ministries

and projects in communities of

need. It also invites volunteers

8

into a journey of self-reflection,

providing space to consider their

sense of identity, God's work in

the world, and their place within

it all.

Young adults serve in the

spirit of accompaniment, walking

alongside global companions

in a manner that practices

mutuality, interdependence

and solidarity. Areas of service

include, but are not limited

to, health and development,

congregational ministry, human

rights, education, homelessness,

addiction recovery, women's

issues and children and youth.

All site placements provide

opportunities for young adults

to confront issues of wealth

and poverty, racial privilege,

economic disparity and

globalization, all through the

lens of faith.

Candidates for Young Adults

in Global Mission apply to the

program at-large rather than

to a specific country. Applicant

preferences are taken into

account but the final decision

about where volunteers serve

is made by Global Mission staff

and YAGM country coordinators

in mid-April. Current YAGM

country programs include:

Argentina/Uruguay, Australia,

Central Europe, Jerusalem/West

Bank, Madagascar, Mexico,

Nepal, Rwanda, Senegal and

United Kingdom

Applications for the program

are open from Nov. 1 through

Jan. 15 each year, for service

starting the following August.

We are a church that believes

God is calling us into the world

– together. Come, imagine

yourself in the world!

To learn how you can support

Young Adults in Global Mission,

visit their sponsorship page here.

For more information contact

YAGM at 1-800-638-3522, ext.

2861 or by email.
---
Children, Youth, and Family

One on One

SEPTEMBER 2021

A monthly interview with one of

our church members to help get

to know each other

Name: Connie Russell

Profession: Director of Activities

Life Care of South Hill

Birthday: May 16

What are some of your hobbies?

Reading and wine tasting

Where have you lived?

Born and raised in Washington with

the exception of three years in Arizona

when I was newly married, I have lived

here my entire life.

What is your favorite food?

Chinese

Who is one person who has influenced

your life decisions?

My husband Bob.

What three things do you value the

most?

My faith, my family, and my ability to

see the good in people.

What do you like most about Creator?

I have been a member of Creator for

20 plus years and no matter what season

my life has been in I have felt welcomed

and included.

Where do you see God in your life?

In the ordinary, morning walks,

hanging out with friends, the smile on my

granddaughter Nora's face.

What is the biggest challenge you face?

Aging parents and the recent loss of

my mother.

How do you relax/recharge?

I spend time in my kitchen, day trips,

and sitting on my deck.

Who do you admire the most?

I admire anyone who is able and

willing to see things from another's point of

view or perspective.

Who is your favorite Super Hero?

Mighty Mouse!

9
---
Children, Youth, and Family

Senior High

Bible Study

Returns Sunday,

September 19

9th through 12th graders:

Come join our fun-loving group!

We meet every Sunday evening

from 6-8 at Terri Heckroth's

house. We gather for dinner,

fellowship, and faith discussion

time. For more information or a

map to Terri's call 253-862-7700

or 253-312-7219.

Get ready for FUN,

FELLOWSHIP, AND FAITH

FORMATION! Our 2021-2022

Confirmation program year

is about to begin. If you are

entering grades 6, 7 or 8 (or

higher if you have not already

been confirmed), please plan on

attending an orientation meeting

on Wednesday, September 15

at 7:00 pm. Bring your parents!

We will discuss the particulars

of Confirmation Ministry here at

Creator. We have a wonderful

year planned! Remember:

Friends are always welcome!

Confirmation Students

will use the Student Study

Bibles ($25 each) and Lutheran

Handbooks ($15 each) which

will be on sale at the orientation

meeting.

Children's Book of the Month!

10

This month, I'd like to

recommend the Children's

book, "You Are So Wonderful"

by Jacqueline J. Lewis and

Jeremy Tugeau. This book

explains how God created

and loves each person

uniquely and wonderfully.

Its illustrations capture the

diversity and beauty of our

world while helping kids to

understand how much God

loves every one of us.
---
HIKE AND PICNIC

SUNDAY, SEPTEMBER 26

FROM 12:15PM - 5:00PM

Children, Youth, and Family

God's creation is Amazing! Let's appreciate the beauty

of this world by spending time in the great outdoors.

Join us for a picnic and hike at Denny Creek Trail to

Franklin Falls. Meet here at the church at noon (right

after second service) on Sunday, September 26th.

We'll drive to the trail head of Franklin Falls Trail at

Denny Creek. We will hike some of the trail before

we stop for a picnic lunch. Bring a lightweight day

pack that you are comfortable carrying, a sack lunch,

water bottle, and dress in layers. Friends are always

welcome! You will need to sign up on the bulletin board

outside the youth room so we can arrange for enough

drivers. For students in Kindergarten and Preschool

or younger, we ask that parents accompany your little

ones. We should return to the church by about 5pm.

All youth need to have a current medical release form

filled out and returned before (or at the start of) the

event. For more information, call Terri Heckroth 253-

312-7219.

Students, Teacher, and

Education workers:

It's time to return to school!

And Creator wants to send you

on your way back to school

with a blessing.

Please bring your backpacks

to church on September 12,

and the entire congregation

will pray for your successful

new year.

11
---
Preschool

Preschool News

SEPTEMBER 2021

IMPORTANT DATES

Parent/Guardian Meeting

Wednesday, September 8th

10:00 am – 11:00 am OR 7:00pm-8:00pm

All questions will be addressed, as well as an informational

booklet given. PLEASE, NO CHILDREN

Parent/Guardian and Child Drop-in Open House

Thursday, September 9th

• 9:00am-10:00am Tues/Thurs class

• 10:30am-11:30am Tues/Wed/Thurs class

Friday, September 10th

• 9:00am-10:00am Wed/Fri class

• 10:30am-11:30am Mon/Fri class

The Drop-In Open House is a time to become comfortable with

the teachers, classes, classroom, and new friends without the

worry of separation. Parents, please plan to stay with your

child. Stop by any time during your child's one hour time period.

Creator Preschool is

enthusiastically preparing for

our 2021-2022 school year.

Please mark these special

dates on your calendar. The

parent meeting is optional for

returning families.

In September we will be

learning about apples and

salmon. Our letters are A,a

and M,m. The numbers are

0 and 1, the shape is a circle,

and the color is yellow.

We welcome our new

families to the Creator

Preschool family!

Your teachers,

Andrea (Mrs. D), Cheri (Ms.

Farrar), and Ragan (Mrs.

Allen)

First Day of School

September 13th

• Mon/Fri class 12:30 pm – 3:00 pm

September 14th

• Tues/Thurs class 9:00 am – 11:30 am

• Tues/Wed/Thurs class 12:30 pm – 3:00pm

September 15th

• Wed/Fri class 9:00 am – 11:30 am

12
---
News and Education

RALLY

DAY

Let's celebrate and kick

off a new season of Family

Sunday School with a party!

We rejoice as we gather

again (in person) to hear

Bible stories, wonder about

God's word in our lives, and

sing songs about God's great

love. Rally Day includes a

bouncy house, games, and

individually wrapped treats!

Come join your Creator family on Saturday, September 11 at 9:00AM as we

join in a God's Work Our Hands project. We will be painting the picnic tables and

benches at Prairie Ridge Community Center. The address is 14205 215th Avenue

E., Bonney Lake, WA 98391. It will take about three hours to complete this project

so come and take part in helping out our neighbors and enjoying an opportunity

to gather with other members of Creator in a pleasant, outdoors setting where we

will be able to socially distance and enjoy working together.

If you would like further information please feel free to contact Judi Richardson

at (253) 862-9005 or (253) 318-2450. You can sign up for the event at:

https://www.signupgenius.com/go/20F044FA8AC2EA5F85-gods

13
---
News and Education

Volunteer sign up link: https://

www.signupgenius.com/

go/20f044fa8ac2ea5f85-

newhope

New Hope Resource Center Meal

THANK YOU to everyone who

donated food for New Hope

Resource Center in July. Our

next lunch will be September

3rd.

Creator will provide cooked

lasagna, rolls, fruit cups and

cookies. All food should be

dropped off at the church no

later than Friday morning at

10:00 AM (everything except hot

14

dishes can be left at church on

Thursday during office hours).

Lasagna should be cooked

and delivered to the church on

Friday Morning by 10:00 AM and

everything will be transported to

New Hope. Volunteers at New

Hope will serve the meal. Please

sign up below. You will get a

reminder email.

**** On the sign-up sheet click

the "sign up button" next to what

you want to bring, then go to the

very bottom of the page and click

"Submit and Sign up" and there

you will enter your information.

New Hope Resource Center is in

downtown Puyallup and serves

the homeless in East Pierce

County. The mission of New

Hope is to assist adults in their

efforts to find safety, health, and

stability.
---
News and Education

Daily Devotions

Morning Prayer will continue

throughout the month of January at

9:00am. You are invited to watch

the recordings which are posted or

consider joining us at 9:00am via

zoom. Pastor Amanda turns off the

recording after her reflection on

the reading and we have a time of

discussion and connection with one

another.

Join Zoom Meeting https://zoom.

us/j/633840757

Meeting ID: 633 840 757

One tap mobile

+12532158782,,633840757# US (Tacoma)

All worship services and devotions will be

posted after completion on both YouTube

and the creator website: https://www.

youtube.com/user/CreatorLutheran and

www.creatorlutheran.net

Adult Education

I Love to Tell the Story

Pastor Amanda will be posting a

short video each week diving into

the Bible Narrative and specific

readings for the upcoming Sunday.

The videos will be posted on

Facebook, YouTube and linked

to our website. If you have any

questions or comments about the

bible study please send them to

pastoramanda@creatorlutheran.

net.

15
---
News and Education

Thursday

Morning

Bible Study

Good news! Bible study will

begin on September 16th

from 10-11:30 am. We will be

studying the book of Matthew

which should be very interesting.

Please contact Lisa Wire,Janee

Theleman or the church office

if you'd like to join. We will then

know how many books to order.

Due to the Covid increase it will

once again be held on zoom.

Look forward to having you join

us!

Join Zoom Meeting

https://us02web.zoom.us/j/9668

069876?pwd=MlAvSUcxeFpUa

nlFdWJKekNHemZvUT09

Meeting ID: 966 806 9876

Passcode: 1DMKSi

One tap mobile

+Dial by your location

+1 253 215 8782 US (Tacoma)

Meeting ID: 966 6 9876

Passcode: 419391

16

Allowing for the national holiday, the next meeting of the

Creator Men's Club will be Monday, September 13- Jochen

Funk Host, 16816 43rd St. Ct. E., Bonney Lake, (2 blocks

east of Creator), 6 p.m. In addition to the meal and fellowship,

the group will discuss work projects at the church campus and

in the community. Besides current members, the meeting is

open to new members.

Men's

Fellowship

During "All things Covid"

the Wednesday night

Men's group has been

using Zoom. The meetings

start at 7:00 PM and get

over by 9:00PM. If you

are interested in joining

the meeting please contact

Scott Perkins with your

email address and he will

send you a link for Zoom.

Scott.perkins@hotmail.

com or 253-230-3416
---
News and Education

Creator Sunday School Is Back!

For families with young children:

This new approach to learning

and exploring God's Kingdom

comes from a desire to

• Equip families to carry out

Christian practices at home

• Combine Christian Education

with Mission and Service

• Incorporate Faith formation

into the Worship Service

• Facilitate multi-generational

discussion and wonderment

about Bible Stories and

God's message for us today.

For these reasons, we would

like to invite ALL to join us in

Creator Family Sunday School.

All ages are welcome! Parents,

Grandparents, and siblings will

eat a light breakfast together,

hear a Bible Story, ponder and

discuss the story, and learn

some new music—all together!

Service projects and crafts will

also be a big part of our time

together.

Although all are invited to

Family Sunday School, Adult

Education will also offer an hour

of Christian Education for Adults.

Children may also attend without

parents as our High School

students will be "Big Buddies".

Adults without children may also

attend as there may be kiddos

who could use an adult mentor.

Join us beginning Sunday,

September 12 from 9:45am-

10:45am!

ADULT BIBLE

STUDY RETURNS

2nd and 4th

Monday of each month

7pm-8:30pm

at the home of the Heckroths'

All are invited to be a part

of this loving and supportive

community. We meet twice a

month to delve into scripture,

share life stories, and enjoy each

other's company. Call the

office for address.

17
---
Birthdays and Reminders

Remote Worship

Worship will continue to be live-streamed on Facebook Live and

Zoom. To join via Zoom, follow the link below:

https://us02web.zoom.us/j/89375602512?pwd=M3hPK0pIMGIz

Z2M0eEhmTitoM3NQdz09

Meeting ID: 893 7560 2512 Password: 435230

One tap mobile:

+ 12532158782,,89375602512#,,,,0#,,435230# US (Tacoma)

Call in option: Zoom offers the option to call in to listen to the

service. Call into worship while it is open - usually a minimum of

five minutes before 9:30am until 11:00am - +1 253 215 8782 and

enter the meeting number: 89375602512 when prompted. You

will be able to hear the worship service.

Pastoral Emergency Fund

Creator has a fund available to be used at the discretion of Pastor

Amanda to support congregation members and the community

as needed. If you or a member another member of the Creator

Community has a particular financial need at this time, please

reach out to Pastor Amanda for support. We are here for one

another at this time. This fund is also open for additional

donations from the congregation.

Recycle Your

Ink Cartridges

Don't throw away those printer cartridges or used cell phones.

The Youth will recycle them for you. It's good for the

environment and the youth program receives a small concession.

Just deposit old cartridges in the drawer in the narthex.

Are You Looking for a Little Serenity?

I now have four special places for those who need a quiet time apart.

Come and experience water, trees, roses and the mountain as you sit

and pray. There is a guided meditation for each serenity station if you

wish. Or, just come and "Be still and know that God is God." Please

call in advance and we will plan around the weather. Elaine Swigart

253-431-1086.

18

September

Birthdays

01 - Hannah Bickford

01 - Patrick Jacobsen

02 - Leigh Hensley Seez

02 - Grace Winsor

04 - Jack Romero

05 - Ellianna Nelson

05 - Neil Ransford

06 - Kurt Marquiss

06 - Kathy Phon-Daniel

07 - Garrett Feroy

08 - Karl Bartlett

09 - Sydney Carter

10 - Trevor Perkins

11 - Holly Gardner

11 - Levi Nesbitt

13 - Joan Collman

13 - Eric Lindgren

14 - Jane Liedtke

14 - Ruby Liedtke

15 - Cathy Coleman

16 - Kyle Nesbitt

16 - Ben Roller

17 - Bob Rutkosky

18 - Gracie Magnusson

19 - Norm Huffman

23 - Robert Russell

25 - Carol Green

25 - Bob Hoeck

26 - Ryan Noborikawa

26 - Don Swanson

28 - Brytzana Pena

28 - Douglas Sanford

29 - Judy Bial
---
SEPTEMBER

Sunday Monday Tuesday Wednesday Thursday Friday Saturday

7pm Men's

Fellowship

1 2 3 New Hope Lunch 4

9am Morning

Devotions

10am Thursday

Morning Bible Study

11am Janice

Harlor Funeral

5

9:30am Sunday

Worship Service

6

Office Closed

7 9:00am Weekly

Devotions via

Zoom

8 9:00am Weekly

Devotions via

Zoom

7pm Men's Fellowship

9 9:00am Weekly

Devotions via

Zoom

10am Thursday

Morning Bible Study

10

11

9:00am God's

Work. Our Hands

Project

12 8am Driftwood

Worship Service

9:30am Worship Service

9:30am Blessing of the

Backpacks

10:30am Rally Day

13 6pm Creator

Men's Club

7pm Adult Bible

Study

7pm Adult Bible Study

14

6pm Finance

Team Meeting

15 9:00am Weekly

Devotions via

Zoom

7pm Confirmation

Orientation

7pm Men's Fellowship

16 9:00am Weekly

Devotions via

Zoom

10:30am Thursday

Morning Bible Study

7pm CYF Ministry

Meeting via Zoom

17

18

19

8:30am Worship

Service

9:45am Ministry Team

Fair

11:00am Worship Service

6:00pm High School

Bible Study

20

21 9:00am Weekly

Devotions via

Zoom

6pm Church Council

Meeting

22 9:00am Weekly

Devotions via

Zoom

6:30pm CIS Meeting

7pm Confirmation

7pm Men's Fellowship

23 9:00am Weekly

Devotions via

Zoom

10:30am Thursday

Morning Bible Study

24

25

26

8:30am Worship

Service

9:30am Lord's

Prayer Class

11:00am Worship Service

12:30pm Hike and Picnic

6:00pm High School

Bible Study

27

7pm Adult Bible

Study

28

9:00am Weekly

Devotions via

Zoom

29 9:00am Weekly

Devotions via

Zoom

7pm Confirmation

7pm Men's Fellowship

30 9:00am Weekly

Devotions via

Zoom

10:30am Thursday

Morning Bible Study

19
---
Creator Lutheran

Church and Preschool

Welcoming All to Worship, Grow, and Serve in God's Grace

creatorlutheran.net (253) 862-7700 office@creatorlutheran.net

Office Hours: Mon-Fri 9:00AM - 3:30PM

16702 South Tapps Drive East, Bonney Lake, WA 98391