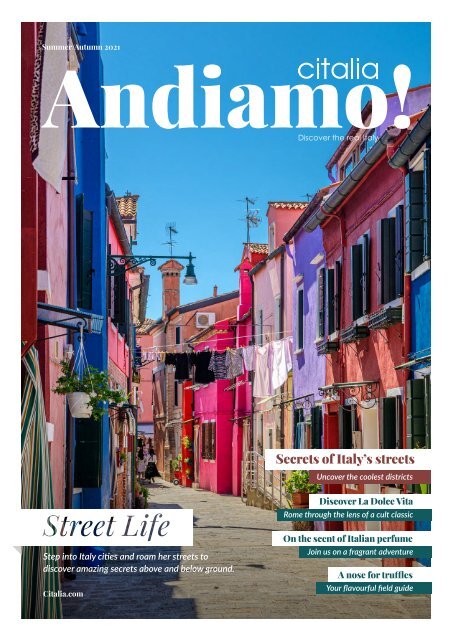 Andiamo! | Citalia Magazine Autumn 2021
This season, we celebrate everything that the streets have to offer, not least because it's Italy's cities that can provide you with a perfect winter holiday. In our article, Secrets of Italy's Streets, we'll take you to the coolest urban neighbourhoods, and share with you some underground networks that are steeped in history. Italy's cities bring with them an epic industrial past, which you can explore through automobile innovation with our feature, In the Hot Seat: Italian Cars. Make your next Citalia holiday extra special with our pick of Iconic Luxury Hotels. You can also receive some additional tips from our Personal Travel Planner Raggy Singh in Tailormaking Italy, and from one of our favourite guests, renowned archaeologist Dr Holley Martlew in Digging Up Italy. We continue our Book with Confidence guarantee so that you can book your holiday with a refund guarantee while still able to make any changes to your future bookings with ease. Andiamo!
This season, we celebrate everything that the streets have to offer, not least because it's Italy's cities
that can provide you with a perfect winter holiday.

In our article, Secrets of Italy's Streets, we'll take you to the coolest urban neighbourhoods, and share
with you some underground networks that are steeped in history.

Italy's cities bring with them an epic industrial past, which you can explore through automobile innovation with our feature, In the Hot Seat: Italian Cars.

Make your next Citalia holiday extra special with our pick of Iconic Luxury Hotels. You can also receive
some additional tips from our Personal Travel Planner Raggy Singh in Tailormaking Italy, and from one of our favourite guests, renowned archaeologist Dr Holley Martlew in Digging Up Italy.

We continue our Book with Confidence guarantee so that you can book your holiday with a refund guarantee while still able to make any changes to your future bookings with ease.

Andiamo!
SHOW MORE
SHOW LESS
Create successful ePaper yourself
Turn your PDF publications into a flip-book with our unique Google optimized e-Paper software.
Summer/Autumn 2021

Andiamo!

Secrets of Italy's streets

Uncover the coolest districts

Discover La Dolce Vita

Rome through the lens of a cult classic

Step into Italy cities and roam her streets to

discover amazing secrets above and below ground.

Citalia.com

On the scent of Italian perfume

Join us on a fragrant adventure

A nose for truffles

Your flavourful field guide

Summer/Autumn 2021
---
Our

commitment

to you

Many of us share a mixture of feelings surrounding the realies of going on holiday once again.

At Citalia, we are commied to working with trusted partners and making sure their hotels

meet our standards to give you the peace of mind that you can holiday safely.

£

Free amendments

Be able to change your holiday up to three

mes with no amendment fee (any extra

holiday costs incurred are payable).

Free cancellaon

If COVID-19 has affected your travel

plans you can cancel your holiday up to

three weeks before departure for free.

Refund guarantee

If we have to cancel your trip,

we will refund you.

Guaranteed.

Curated by experts

ABTA and ATOL bonded, we've been

creang holidays for over 45 years, offering

a 24/7 concierge service for peace of mind.

Trusted partners only

We make sure that our partners

have your safety and wellbeing

at their core.

Privacy opons

Private accommodaon and dining

opons are available. All holidays

come with private transfers to resort.

Desnaon knowledge

We will only offer you desnaons

that we know are safe to travel to,

underpinned by FCDO advice.

Health and safety

All of our partners must adhere to

local health and safety standards,

which we closely monitor.
---
WELCOME

Andiamo!

STREET LIFE

There are secrets to be found in Italy's streets.

Turn a corner and you'll come across a scene that feels like

something out of an old Italian film, whether that's hanging laundry,

quaint balconies with flowerpots and flowing curtains, or street

vendors serving up heavenly cannoli or trapizzino.

All the Citalia team are delighted with the announcement that the

quarantine period for UK travellers to Italy has ended. More than

ever, our Personal Travel Planners are here to advise and support

you so you can have a hassle-free holiday.

This season, we celebrate everything that the streets have to offer,

not least because it's Italy's cities that can provide you with a

perfect winter holiday.

In our article, Secrets of Italy's Streets, we'll take you to the coolest

urban neighbourhoods, and share with you some underground

networks that are steeped in history.

Learn a thing or two about vintage Rome as we take you behind the

scenes of Italy's cult classic in Discover La Dolce Vita.

And, as the spooky season comes upon us, for something a little

different, we couldn't ignore the Cursed Island of Gaiola, off the

coast of Naples. Our Regional Destination Manager Stefano Nirta has

reassured me that the curse never targets visitors, only its owners!

Make your next Citalia holiday extra special with our pick of Iconic

Luxury Hotels. You can also receive some additional tips from our

Senior Personal Travel Planner Raggy Singh in Tailormaking Italy,

and from one of our favourite guests, renowned archaeologist

Dr Holley Martlew, in Digging Up Italy.

Feeling inspired? Ourselves and our local partners are ready to

provide you with accommodation and services that are to the

highest of health and safety standards.

We continue our Book with Confidence guarantee so that you can

book your holiday with a refund guarantee while still able to make

any changes to your future bookings with ease.

Citalia is always here for you.

Italy's cities bring with them an epic industrial past, which you can

explore through automobile innovation with our feature, In the Hot

Seat: Italian Cars.

Plus Venice, Florence, and Milan wouldn't be the same without their

fragrant history, as we share in On the Scent of Italian Perfume.

Speaking of aroma, it's almost that time of year when the world

goes in search of the prized white winter truffle, and we venture

into the undergrowth in A Nose for Truffles.

Helen Adamson

Managing Director

Citalia.com

Summer/Autumn 2021

Andiamo!
---
AOSTA

VALLEY

TURIN

PIEDMONT

LIGURIA

LO LC LM

LI

LG

LOMBARDY

MILAN

SARDINIA

TRENTINO-

ALTO ADIGE

BOLOGNA

EMILIA-ROMAGNA

FLORENCE

TUSCANY

VENETO

VERONA

VENICE

FRUILI-

VENEZIA

GUILIA

UMBRIA

ROME

MARCHE

LAZIO

ABRUZZO

MOLISE

CAMPANIA

NAPLES

SICILY

BASILICATA

PUGLIA

CALABRIA

Andiamo! Street Life

COVER FEATURE

KEY FEATURES

08 17 24

Secrets of Italy's Streets

Step into Italy's cities this winter as Citalia

highlights chic urban neighbourhoods and

hidden secrets above and below ground.

Discover La Dolce Vita

The 1960s cult classic film is in the

spotlight. We take you behind the scenes

and find the true meaning of the sweet

life in Rome.

Iconic Italy:

Our Pick of Luxury Hotels

Discover our pick of Italy's luxury hotels.

From historical hotels to contemporary cool

resorts, you're spoilt for choice.

INSIDE

OUR SUMMER/

AUTUMN

2021 EDITION

6

8

Into Italy with

the Citalia team

Secrets of

Italy's Streets

17

21

Discover La

Dolce Vita

Festive Florentine

Favourite:

Brunelleschi Hotel

12

Tailormaking Italy

with Raggy Singh

22

Authentic Tuscany

with Marie Kidd

14

Avis Road Trips:

Luxury Piedmont,

Liguria &

Lake Como

24

Iconic Italy:

Our Pick of

Luxury Hotels

Andiamo! is a publication of Citalia | Citalia.com | Travel with Confidence | 01293 839110 | customerrelations@travelopia.com

Connect with us

Managing Director: Helen Adamson | Publisher: Madhatter Creative Co. – Jen Marsden | Design: K8 Design & Marketing Ltd – James Palmer

Cover image: Burano Island, Venice Province, Veneto (Aliaksandr Antanovich, Shutterstock)

4 Citalia.com
---
CONTENTS

30 36 42

In the Hot Seat: Italian Cars

Whizz into the world of Italian automobiles

and know your Lamborghini from your

Ferrari, and your Fiat from your Alfa Romeo.

On the Scent of

Italian Perfume

Quintessentially Italian, Citalia takes you

on a fragrant adventure into the world of

alchemy and love potions.

A Nose for Truffles

With the most prestigious truffle hunting

season about to begin, we've prepared

a field guide to these earthy culinary

treasures.

28

Digging into

Italy with Dr

Holley Martlew

36

On the Scent of

Italian Perfume

48

Perfect Dinner

Wine Pairings with

Gennaro Contaldo

30

32

34

In the Hot Seat:

Italian Cars

Unearthing

Ancient Italy:

Liguria

Italy's Obscure

Art Scene

41

42

46

Instagram:

Followers

Favourites

A Nose for Truffles

The Cursed Island

of Gaiola in Naples

50

51

Nonna Tonda

Recipe:

Delicious Bucatini

alla Gamberi e

Pomodoro

Travel Further

Afield

with Citalia's

Friends

ABTA No.V4068

Images courtesy of: Antica Erboristeria San Simone, AVIS, Baglioni Hotel Regina, @basilandcoffee, Brunelleschi Hotel, Carthusia, Cassandra Vizza, Castel Monastero Resort, Daniella Cascio, Dr. Holley

Martlew, Gennaro Contaldo, Giorgio Perottino – Getty Images for Ente Fiera Internazionale del Tartufo Bianco d'Alba, Grand Hotel Excelsior Vittoria, Hotel Danieli, Hotel Il San Pietro, Hotel Palazzo Avino,

Hotel Santa Caterina, Hotel Villa d'Este, Kate Ailey, Liz, Marie Kidd, Metropoliz Museum of the Other and the Elsewhere (MAAM), Monteriolo Coppo, Nonna Tonda, Raggy Singh, Ramona Gales, Riviera

Winery, Shutterstock, Sireo, Splendido, A Belmond Hotel, Vermentino Tenuta Guado al Tasso, Villa San Michele A Belmond Hotel.

Prices are estimations based on 2021/22 travel and are correct at going to print but are subject to change. Please note that any flight or travel times included are approximations.

Summer/Autumn 2021

Andiamo!
---
IntoItaly

with the Citalia team

Do you ever wonder where the Italy experts choose to

holiday? We found our Personal Travel Planners huddling

around a map of Italy as they shared their favourite

destinations with one another. This is what we heard.

LAKE COMO

"Lake Como is undoubtedly my favourite place. I was lucky

enough to live there for 10 months and it's definitely the

most stunning of the Italian lakes. It's filled with quaint

little towns where you can easily spend an afternoon

relaxing and enjoying some gelato on the lakefront."

Lara Crowe

Destination Executive

VENICE SIMPLON-ORIENT-EXPRESS

"After a beautiful time soaking up the atmosphere

and strolling through Venice, my husband and I

returned home on the Venice Simplon-Orient-Express.

What can I say but AMAZING! We were greeted and

spoiled with Prosecco from the moment we departed

Venice. Our porter was fantastic, always smiling and

helpful. Our cabin and the exquisite timeless décor

throughout was like stepping back into another era.

We had great fun meeting other passengers in the bar

carriage before dinner. Our cabin was turned into

comfy beds while we enjoyed our dinner - the food was

incredible. The train was so relaxing and we both felt it

was the perfect end to a few nights away. I would jump

at the chance to go again!"

Miranda Jump

Personal Travel Planner

LIGURIA

"The region of Liguria is one of my favourite spots.

There is so much to see, learn, taste and enjoy here,

and what's great is that most of Liguria's towns

have good rail connections. I really love staying in

Santa Margherita and taking the five minute train

to the lesser-known Camogli for dinner."

Lisian Gianni

Destination Executive

SICILY

"At the toe of Italy's boot, I love Sicily as it stays sunny

throughout the year. I love to visit all of Sicily's triangle:

Palermo, Sicily's triangle: Palermo, Agrigento and Taormina.

For me, a walking tour or street food tour of the capital of

Sicily, Palermo, is a must, while Agrigento's Valley of the

Temples takes me back in time. Taormina, with Mount Etna

perched in the background, offers a great mixture of culture

and relaxation offering both the third century theatre,

Teatro Antico di Taormina, and the beach."

Raggy Singh​​

Senior Personal Travel Planner

6 Citalia.com
---
INSIDE ITALY

TO LONDON

TRENTINO-

ALTO ADIGE

FRUILI-

VENEZIA

GUILIA

AOSTA

VALLEY

TURIN

MILAN

LAKE COMO

LOMBARDY

VERONA

VENETO

VENICE

PIEDMONT

LIGURIA

BOLOGNA

EMILIA-ROMAGNA

FLORENCE

TUSCANY

MARCHE

UMBRIA

ABRUZZO

ROME

LAZIO

MOLISE

CAMPANIA

NAPLES

PUGLIA

BASILICATA

SARDINIA

CALABRIA

PALERMO

AGRIGENTO

SICILY

TAORMINA

Summer/Autumn 2021

Andiamo!
---
Secrets

of Italy's Streets

This winter, why not step into Italy's cities? Filled with delight both above

and even below ground, the streets reveal amazing secrets.

There are several major cities in Italy,

yet each one has a distinct character

that's worth exploring in its own right.

"Italy's cities are quieter in winter

and give you the time to explore them

at a much slower pace as you'll be

able to move around more freely.

With this gentler tempo, you'll also

have the chance to interact more

with the local people."

Heather Green

Regional Destination Manager at Citalia

In winter, average temperatures in Italy's cities

are around 6ºC, so you'll find them cooler than

the summer but still very pleasant.

It's really easy to travel between the major cities

as they're all connected by Italy's high speed

train network, so why not include a few on the

same Citalia holiday?

Most Italian cities are made up of a patchwork

of neighbourhoods.

NAPLES

Naples is a really vibrant and, at times, gritty

city. Among the youthful creatives who

were inspired to follow in the footsteps of

contemporary greats like Ernest Hemingway

and Andy Warhol, you'll find a strong

community and artistic spirit.

"While it's not everyone's cup of tea", says

Heather, "if you like to appreciate avantgarde

street art, religious architecture and

archaeology, and absolutely delicious street

food , then this is the place for you."

Home to over 700 domes, Naples has more

churches based on the population size than

any other Italian metropolis. The most famous

is the 13th century Duomo di Napoli, located

in the city's centro storico (historic centre),

which is dedicated to the city's patron saint

San Gennaro, whose alleged blood rests in a

glass vial within the cathedral.

Chiaia

"One of my favourite neighbourhoods is the

affluent Chiaia, located along the seafront,

which is bursting with designer shops and cool

boutiques," says Heather.

"Chiaia's really atmospheric in the

evening with its many bars and seafood

restaurants. If you keep walking along

the seafront you'll find the ancient

castle Castel dell'Ovo located across

the waters on the island of Megaride."

Rione Sanità

For a completely different side of Naples,

head to the bustling district of Rione Sanità.

This is Naple's foodie centre but it isn't for the

faint-hearted. Among tightly-packed streets,

you'll stumble upon street markets, trattoria,

and gelateria, and there are flower-adorned

shrines to native saints on every street corner.

Go underground into the spooky catacombs of

San Gaudioso and San Gennaro to trace history

through its layers, and connect with the city's

ancestors, or venture into the volcanic caves of

Fontanelle Cemetery.

Dig further into history in Rione Sanità,

home to Italy's arguably most impressive

archaeological museum, Museo Archeologico

Nazionale di Napoli (MANN). As Naples is in

close proximity to the ancient archaeological

cities of Herculaneum, Pompeii and Oplontis,

you'll find primarily Greek and Roman

antiquities, but also on permanent display

are Egyptian artifacts, bronzes, mosaics, and

classical Farnese Marble sculptures.

Quartieri Spagnoli

Another authentic neighbourhood is the

16th century Spanish Quarters. It feels like

you've stepped into an old Italian movie, with

its laundry lines, shuttered windows, quaint

balconies, and hardy vendors on the streets.

Amble around its alleyways at leisure and you'll

stumble across art by renowned street artists.

Suggested Stay

Hotel Palazzo Alabardieri

8 Citalia.com
---
COVER STORY

TURIN

For a city that's predominantly linked to industry, with many automobile

and manufacturing factories, you might be surprised by just how graceful

Turin is.

Set against a beautiful backdrop of the Alps, you'll find dramatic

grandeur in a city filled with Baroque architecture. There are boulevards

reminiscent of Paris and elegant arcades housing galleries that make

wonderful shelters for rainy days, such as the sensual Galleria Subalpina.

"Residents in Turin remain dedicated to their sacred

aperitivo 'hour', which runs from 6-9pm each day."

Aurora

The aperitivo ritual became established in the 1920s when factory

workers marked the end of their day with a bitter tipple and nibbles

before dinner. Today this humble practice has developed into a delicious

buffet that is included in the price, so be sure to bring an appetite.

Quadrilatero Romano

The hip neighbourhood of Aurora is home to plenty of local flair, where

young and old Italians mingle to play a game of bocce (bowls). Explore

Europe's largest flea market, Balon, or head to Turin's grandest and

oldest marketplaces, Porta Palazzo, which once served as the city's

refrigerator and nods to its ancient past. The stalls here are heavily

influenced by the city's early Moroccan immigrants, with exotic spices

among fresh Italian produce.

Join the locals in historic bars where tables spill out into the street in

the historical and mostly pedestrianised centre of Quadrilatero Romano,

which holds an exciting labyrinth of narrow streets.

In Turin's main square, Palazzo Madama, lies a gorgeous Renaissance

cathedral, Duomo di Torino. This houses the Holy Shroud, which some

believe to be the burial linen that Jesus was wrapped in after crucifixion.

For top-notch shopping, head to Via Roma, which is lined with high

fashion designers.

Centro

The neighbouring Centro district is home

to the Egypt Museum, which is second

in the world after Cairo for displaying

Egyptian treasure.

Lingotto

For a more authentic experience of Turin,

head further south of the city beyond

Via Lagrange, which is where all the

locals go.

Every two years, Turin brings

the Slow Food movement to

life, where you can hear and

taste what it's all about at the

mouthwatering international

event, Terra Madre Salone

del Gusto.

Get a flavour for Slow Food at

Eataly Torino Lingotto, a large

emporium, market and restaurant

in the commercial district of

Lingotto. This is also where

you'll find the famous former

FIAT factory and futuristic

design by visionary architect

Renzo Piano.

Borgo Po

Turin's trendiest street right now is Via Monferrato in the Borgo Po

district, with its Belle Époque buildings and lavish display of colourful

umbrellas, which is well worth a visit.

San Salvario

Turin's green lung is Valentino Park, where you'll stumble across a fake

medieval village, complete with cobbled lanes, a castle, and even a

drawbridge. It's situated in the gentrified neighbourhood of San Salvario,

where former industrial sites have been revamped into happening

boutiques and cafés, while retaining its older aperitivo bars.

You'll find some unique museums in this district, including the

somewhat macabre Museum of Criminal Anthropology, and the

Museum of Human Anatomy.

Suggested Stay

Grand Hotel Sitea

Summer/Autumn 2021

Andiamo!
---
"The Duomo is at the centre of the city and is truly stunning

with its gothic architecture. I highly recommend you

explore the rooftop terrace for great views."

MILAN

Milan lost much of its classical architecture to destructive bombs during

World War Two, so you'll find more contemporary buildings here than in

other Italian cities.

Navigli

"Milan was never one of my favourite cities," admits Heather, " but it has

changed so much in the last decade, and feels far more welcoming."

Centro Strorico

The historic centre is where you'll find Poldi Pezzoli Museum, home to

the world's largest private art collection, and the famed opera house,

Teatro alla Scala.

Brera

Milan celebrates fashionistas with their own fashionable shopping area,

Quadrilatero della Moda, known locally as Quad d'Oro.

However Brera is the district that boasts the classier yet artistic side

of Milan, packed with wonderful independent boutiques, delicious

contemporary restaurants, and concert venues. The Austrian composer

Mozart lived here in his youth, so you'll find mentions of him around.

Don't miss the Pinacoteca di Brera Museum, where you'll find art works

by Raphael and Caravaggio.

Fiera

Naturally, you'll want to head to Il Cenacolo to see The Last Supper by

Leonardo da Vinci, as it is a must-do, but do book ahead.

San Siro

Get lunch in neighbouring San Siro, which has plenty of local trattorias

and is also the neighbourhood of choice for AC Milan and Inter Milan

players, so if you're lucky you may rub shoulders with the odd famed

football player.

"Not to be missed is the up and coming historic

area of Navigli, where you can find the old canal

network and some great bars and restaurants.

It's particularly vibrant in the evening."

Ticinese and Città Studi

Near to Navigli lies arguably Milan's hippest district, Ticinese, where you

can enjoy street art, galleries, and romantic gardens.

While predominantly an area for students, Città Studi is an ideal spot if

you like local ales, as it serves up many craft brewery tours and tastings.

Suggested Stay

Sina Hotel De La Ville

10 Citalia.com
---
SECRETS OF ITALY'S STREETS

Underground Mysteries

BARI

Near to the Puglian city of Bari lies Italy's longest natural subterranean

network, the Grotte di Castellana, which delves 60 metres deep.

Teeming with legends of magics and demons, you can go on an

incredible tour of these limestone limestone caves. They are believed to

have started forming over 90 million years ago and have been known

about since ancient times.

You'll discover unusually-shaped stalactite and stalagmite formations

that resemble familiar objects.

The focal point of your tour will undoubtedly be

Grotta Bianca (White Grotto), a spooky cavern,

teeming with hundreds of jaw-dropping stalactites.

If you're feeling particularly brave, you can even join an

evening tour with specialist 'speleonights'.

Suggested Stay

Palco Rooms & Suites

PALERMO

Palermo has the misfortunate title of most conquered city in the world,

but actually what this brings is many influences - and even more secrets.

While the capital of Sicily is best known for its Baroque architecture,

underneath its streets you'll find something incredible: the ancient Qanat.

Dating back to a time when the Arabs reigned over Sicily, the Qanat are

ingenious tunnels that once transported water from the countryside into

the city.

As you stroll along Via Nave or Corso Calatafimi, you'd never know that

under your feet once hosted royal palaces and tropical gardens with

epic fountains.

At 15 metres below ground, while not suitable for claustrophobics, this is

a fun experience for everyone else.

To enjoy this unique tour, you'll need to don waterproof clothing, a

helmet, harness and rubber boots, which is all provided for you. You're

guaranteed to get wet with water flowing down from the walls and up

from the floors!

Suggested Stay

Borgobianco Resort & Spa

Summer/Autumn 2021

Andiamo!
---
ITALY

Tailormaking

Citalia's very own Senior Personal Travel Planner

Raggy Singh shares with us his love for travelling in

Italy and offers some sage advice and top travel tips.

12 Citalia.com
---
Ifirst fell in love with Italy on a personal

holiday. I woke up in Tuscany to an

espresso and the mist rolling off the

vineyards. From them on I was hooked.

Whether I'm getting lost in the

streets of Rome or in the vineyards of

Tuscany, I'm happy. Throw in a food or

wine tour, and I'm ecstatic!

I also love to travel with my wife (she told me

to say this). Honestly though, we're a good

travel duo, and my ultimate travel memory is

proposing to her in the Dominican Republic -

she told me to say this too!

Our go-to travel destination is Florence, always

with a stay at Brunelleschi Hotel. We usually

travel by train or car, as it's convenient and

allows us to explore every nook and cranny at

a slower pace and on our terms.

It's now been over seven years since I began

working for Citalia. I love getting to discuss

holidays all day long and help create trips of a

lifetime for our guests. I especially love helping

plan honeymoons.

One of many Citalia highlights was when a

guest asked me to help plan a proposal to his

other half in Venice. We organised everything

to the minute, running through every possible

scenario. At one point, he asked me to come

with him, but it wasn't required as the plans

went like a dream. The newlyweds were

enjoying a honeymoon on the Amalfi Coast

with us two years later!

I can't deny that the regular trips to Italy aren't

a perk of the job, they really are! Through my

role, I've been lucky enough to explore most of

Italy in a really in-depth way - I know the hotels

in our collection intimately. There are just two

regions that I'm not an expert in - Liguria and

Puglia - which I'm hoping to rectify soon.

I also really enjoyed meeting our brand

ambassador Gennaro Contaldo. He's just

brilliant!

My top tip is to really make the most of

each holiday. While a four day trip is good,

it never gives you the time to really experience

the culture, slow down, and replenish

your batteries.

I absolutely love Sicily too. One of

my all-time favourite moments was

standing at the top of the activeyet-sleeping

volcano, Mount Etna,

and seeing the views. I won't go into

more detail as I don't want to spoil it

for anyone, but it really did feel like

standing on the top of the world.

While there are loads of gorgeous traditional

hotels in Italy, my favourite accommodation

style are modern hotels, ideally with a

smattering of Italian Art Deco.

Over the past few years, I've adopted Italian

customs that show no sign of disappearing

anytime soon. For example, I could never order

a cappuccino anymore, it has to be an espresso.

And, if I had to eat one cuisine for the rest of my

life it would be Italian.

An authentic Napoli pizza - woodfired,

thin and with plenty of prosciutto on

top? There's nothing like it!

Nothing beats a fortnight or so away -

you can spend a week exploring a few

cities, and then finish with a few nights

stay somewhere really relaxing. The

great thing about Italy is its so diverse,

it offers something for everyone.

Travel definitely defines my life. Even when I'm

not working, I'm watching travel videos, and

my two favourite YouTubers are the American

couple Kara and Nate who travel the world

together - in fact they just got back from Italy,

so you might want to check them out!

My advice is don't let this pandemic stop you.

As soon as you can, get travelling. There are

experiences and memories to be made.

Raggy and his fellow Personal Travel Planners are here to help you plan your next Citalia holiday. Call us today on 01293 765061.

Summer/Autumn 2021

Andiamo!
---
ADVERTORIAL

Ultimate Road Trips

Luxury Piedmont,

&

When you dare to get lost, you'll be amazed by what you find

Liguria

Lake Como

With the help of our friends at Avis, our new Ultimate Road Trips itineraries

have been carefully designed so that you can easily explore our favourite

hidden destinations across Italy. There's always plenty to do at each stop,

so if you wish to swap any details or add more nights to our suggested

itineraries then our Personal Travel Planners are here to help.

This season, we take you on a luxury road trip across Piedmont, Liguria, and Lake Como.

Stay in our handpicked selection of luxurious five star accommodation as you tour

through these wonderful regions.

Avis offers strategically located pick-up points across Italy, so whether you arrive by air, land or sea, you can enjoy a quick

and easy check-in, giving you more time to spend exploring Italy's incredible landscapes and historic sites.

14 Citalia.com
---
Days 1-3 GAVI | PIEDMONT

Start your trip in Turin, the capital of Piedmont. Not far from the Italian

Alps, this city is known for its Renaissance and Baroque architecture

and grand squares as much as it is for heady barolo wine and gianduja

(hazelnut and chocolate paste).

Pick up your Avis car at Torino Airport and head to Gavi, just an hour and

a half away from Turin. Considered the gateway to Piedmont's incredible

fine wine culture, Gavi is surrounded by dramatic mountains and is an

absolute hidden gem of a destination.

If you're keen to learn about Gavi's ancient folklore and legends, then

head to its fortress, which stands proudly atop a hill overlooking the valley.

For most of the year, this town sleepily carries on with its time-honoured

agrarian traditions, until the summer months when it comes to life. Wine

cultivation is at the heart of everyday Gavi, so it's the perfect place for a

few days of relaxing vineyard experiences.

Gavi's renowned white wine, which is dubbed as white barolo on the

international wine scene, proudly holds the quality DOCG label, and is

made with the native cortese grape variety. Enjoy a bottle as you sip on

local dishes that blend Piedmontese and Ligurian flavours, such as ravioli

al tocco and fresh pesce povero.

Suggested Stay

Albergo L'Ostelliere - Villa Sparina Resort

★★★★★

Days 4-6 ALASSIO | LIGURIA

A few hours south of Gavi lies the coastal town of Alassio. This used to

be a popular holiday destination but in recent decades has eased back

into a quiet hidden gem with a wonderful provincial atmosphere.

Alassio's natural beauty paints a romantic scene. You'll find pastelcoloured

houses and elegant gardens surrounded by lush verdant hills.

Stroll along the stretching sandy beachfront, or step inside beautiful

boutiques and historic churches that allude to the town's story.

Wander through the cobbled lanes that traverse behind the beach and

you'll discover authentic trattorie (informal restaurants) that serve up

delicious dishes, and trendy Italian hotspots.

You may want to take a day trip to a local olive factory and learn

about how quality olive oil, pesto and sundried tomatoes are made.

Or you could spend a few hours sailing around the Ligurian coast,

before anchoring up in a beautiful bay where you can go swimming

and snorkelling.

Suggested Stay

Grand Hotel Alassio

★★★★★

Summer/Autumn 2021

Andiamo!
---
AVIS ULTIMATE ROAD TRIPS

Days 7-9 RAPALLO | LIGURIA

Relax on the Italian Riviera, with your next few days spent in Rapallo,

which is located less than two hours away. Spend time on the many

inviting beaches found up and down the coastline, and perhaps consider

lingering on a bench to watch the world go by.

Rapallo has an eclectic mix of historic buildings, villas, and museums to

explore. Built in the Art Nouveau period, they have distinctive splashes

of mustard, sienna and pink.

Discover Lungomare Vittorio Veneto, a most picturesque palm-lined

promenade, where you'll find the fairytale Rapallo Castle (see page 32).

Many distinguished visitors spent time in Rapallo, including novelist

Ernest Hemingway and his brilliant yet troubled American poet friend,

Ezra Pound.

Suggested Stay

Excelsior Palace

★★★★★

Days 10-13 MENAGGIO | LAKE COMO

The perfect place to end your luxurious trip has to be Menaggio in

Lake Como. While only its crumbling fortified walls show its ancient

Roman past, Menaggio's heart-stirring beauty and serenity will leave an

impression on you.

Glittering Lake Como is known for its lakefront mansions that attract

celebrities and jetsetters - in fact George Clooney owns a villa nearby.

That's why you'll find a glamorous edge within this 19th century town

with its rustic terracotta-shaded houses and bustling little harbour.

Whether you find yourself sipping an espresso in the main square Piazza

Garibaldi, taking a gelato to enjoy by the waterside, or going golfing at a

nearby club, there's always a hint of prestige involved.

Why not ferry-hop across to Lake Como's other pretty towns, or go

sailing in a luxury yacht or kayaking? You can also head to nearby tranquil

mountains for hiking, horse riding, and cycling.

Head to the city of Como, where you'll find an amazing Gothic cathedral,

a funicular railway, and museums dedicated to the Italian silk industry and

the Italian physicist Alessandro Volta. You'll also find plenty of inspiring

art galleries, museums, and gardens, from the lakefront mansion of Villa

Melzi, to the 18th century Villa Carlotta.

One of our favourite spots in Menaggio is its modern lido, which boasts

incredible lake views. With several large swimming pools, a miniature golf

course and comfortable loungers for idling away the day, it's the perfect

way to spend your last full day on this luxurious road trip.

On your final morning, relax at the pool before taking the leisurely one and

a half hour drive to Milan Malpensa Airport, returning your car in time for

your flight home.

Suggested Stay

Grand Hotel Victoria

★★★★★

Our 14 day Avis Road Trip itinerary of Piedmont, Liguria and Lake Como, starts from £2,299 per person.

Speak to one of our Personal Travel Planners on 01293 765061

16 Citalia.com
---
DISCOVER

La Dolce Vita

The 1960 film, La Dolce Vita, portrays the decadent lifestyles of Rome's elite.

Join Citalia in shining the spotlight on this cult classic as we uncover the true meaning of La Dolce Vita

Summer/Autumn 2021

Andiamo!
---
When Italian director Federico Fellini released La Dolce Vita,

the timing couldn't be more perfect, as the film heralded

the hedonistic embrace of life after the harsh suffering

that Italy, and Rome in particular, had undergone in World War Two.

During the late 1950s, Rome really did undergo a

resurgence, with cabaret bars and nightclubs of

striptease and gin-fizzes taking centre stage, all to the

soundtrack of the perky Perez Prado song, Patricia.

Hollywood actors and wannabe celebrities flocked to Rome, followed by

a trail of reporters.

Rather than being a defined story, La Dolce Vita is more a montage of

events in the life of its protagonist, a handsome journalist called Marcello,

who has abandoned his literary ambitions for work as a gossip columnist.

Moving in upmarket circles of celebrity, aristocracy and even royalty,

Marcello is always seeking out the cause célèbre of the moment, from

glamorous affairs and the supposed miracle vision of the Madonna, to the

sombre death of his friend, a renowned intellectual.

What is La Dolce Vita?

The literal meaning of La Dolce Vita is the sweet life. While the film

captures the darker side of hedonism and debauchery, director Fellini

stated that he was not using the phrase La Dolce Vita ironically but

referring to the sweetness of life.

However the English language today uses the phrase La Dolce Vita

mockingly and somewhat scathingly against libertarian and heavily

materialistic lifestyles.

The film begins with a monument of Jesus Christ being flown over Rome

by helicopters towards St Peter's Basilica, as young women sunbathing

on the rooftops ask: Where are you taking Jesus?

La Dolce Vita was intended as satire, a neo-realist film that was the first

of its kind from Italy, as Marcello battled between two worlds, one being

the traditional values of Catholic morality and family, the other a glitzy

yet godless society, which he falls deeper into as time goes on.

"Personally, I like Rome very much.

It's sort of a moderate, quiet jungle

where one can hide well."

In fact, when La Dolce Vita was released, it was both simultaneously

celebrated and criticised for its open approach to sexuality and

irreverence. It was a box office hit that brought in millions and won the

Palme d'Or, but it was also censored by the Vatican and banned in Spain.

It's Marcello's sidekick, a photo reporter called

Paparazzo, one of a gaggle of photographers

who always sticks their lens in the face of a scoop,

who lent his name to the modern-day term, paparazzi.

With the film's release Rome became an epicentre of cool where wellheeled

visitors flocked.

The Eternal City became a place where it was deemed vogue to drink

cappuccinos and drive a Vespa by day, and wear sunglasses and hit the

clubs by night. An adjective for this lifestyle emerged: Italianate, and

firmly placed Italy on the map for global style.

Today, La Dolce Vita remains to stand the test of time and is well worth

watching. It also lives on, being referenced in popular modern films,

including Good Bye Lenin!, Pulp Fiction, and Lost in Translation, and was

even reversioned in Woody Allen's 1998 film, Celebrity.

18 Citalia.com
---
DISCOVER LA DOLCE VITA

On Location

Since the 1960s, while the cabaret scene has died down, the

foundations of Rome haven't changed all that much and you will still

find jaw-dropping, monumental buildings, and neighbourhoods that

hang onto the seduction of La Dolce Vita.

Cinecittà Studios

The majority of La Dolce Vita was filmed on expensive sets in Rome's

Cinecittà Studios, the hub of Italian filmmaking and Europe's largest

film studio. But there were also a few areas of Rome that prominently

featured in the film.

The studio has an exciting museum where you can go on a guided tour

and explore the backstage perspective of film and witness vast film sets,

including one that represents Ancient Rome.

Parco Degli Acquedotti, Via Lemonia

In the opening scene when the helicopter carries the statue of Jesus,

it flies over the Parco Degli Acquedotti, which are ruins of a Roman

aqueduct. Why not enjoy a picnic here and witness the various Roman

towers, villas, tombs and even parts of an ancient road?

​Via Vittorio Veneto & Harry's Bar

Much of the film is based around ​Via Vittorio Veneto, colloquially known

as Via Veneto, a lavish and fashionable street in Rome where Hollywood

actors, gigolos and mobsters alike congregated in real life, only to be

hounded by flâneurs like Marcello and the paparazzi.

Today, while you may not see international superstars

all too often, this wide avenue still offers much buzz

with its immaculately turned out crowd.

Pay homage to La Dolce Vita and visit the celebrated and often copycatted

Harry's Bar, which was the destination in the 1950s and 1960s.

Frank Sinatra once played the piano at Harry's Bar, while Orson Welles,

Marlon Brando, Richard Burton, Elizabeth Taylor and Ava Gardener were

all regulars. Always ready to capture the bar's inebriated celebrities, the

real king of paparazzi, Rino Barillari, was usually found lurking here.

While Harry's Bar has lost its original sparkle, you can still sip on a Bellini

cocktail or enjoy fine dining in this luxury antique-laden venue.

Trevi Fountain

The most famous scene of this three hour long film is when Marcello

follows the jaunty famous Hollywood actress Sylvia into the waters

of the Trevi Fountain, a large Baroque fountain in central Rome.

Sylvia was portrayed by the renowned Swedish actress Anita Ekberg

and critics believe this role mirrored her own life at the time, drunk

husband included.

When the fountain scene was filmed, it was a cold spring night and actor

Marcello Mastroianni allegedly wore a wetsuit under his clothing, and

downed a bottle of vodka in order to continue filming.

If the cold doesn't deter you from being tempted to reenact the scene

and dip into the fountain water, then perhaps the armed guards stationed

on site will!

Summer/Autumn 2021

Andiamo!
---
DISCOVER LA DOLCE VITA

St Peter's Basilica

The famous 16th century church of Vatican City, St Peter's Basilica,

features prominently in the film, but most of it wasn't filmed on location -

the impressive dome of St Peter's Basilica was reimagined on set.

However, you can ascend up the hundreds of steps, just as the 'human

elevator' Sylvia did in the film before arriving under the open-air dome.

It's worth it for the astounding bird's eye views over Rome.

Piazza del Popolo

In an early part of the film, Marcello and his mistress Maddalena pick up a

prostitute from the Piazza del Popolo or People's Square.

Visit this grand square, which features Rome's second oldest obelisk, and

the Renaissance church, Santa Maria del Popolo, which features artwork

by Caravaggio. You can also get an impressive view of the piazza in all its

entirety by climbing the stairs to Pincio Park.

Baths of Caracalla

Without wanting to dash your excitement, it's unlikely you'll find tuxedodonning

supper clubs or the vivacious cabaret acts seen within La Dolce

Vita. You could however head to Raspoutine, a 1930s-themed nightspot

that is considered Rome's most stylish club, and where you'll find the

occasional celebrity or footballer.

One nightclub that might have caught your eye in the film was that

of an atmospheric underground club, which was filmed at the Baths

of Caracalla. Never knowingly used as a nightclub except during the

shooting, these are ancient thermal baths located along the Appian Way.

The baths don't attract the same crowds as Rome's other ancient

attractions but are really interesting to explore and, occasionally, they

are used as a unique backdrop for theatre and live music events.

Rome's quirky streets

What La Dolce Vita delivers loads on are scenes of tipica Roma - cobbled,

narrow lanes filled with character and merriment. The neighbourhood of

Trastevere, located across the River Tiber, delights with this vibe, home

to pavement cafés, jazz bars, and delicious Roman restaurants.

Fregene

Just outside of Rome on the Tyrrhenian Coast, you'll find the

small, seaside town of Fregene, which is where the final scene of

La Dolce Vita was shot. While it no longer has the bohemian allure

that the film once captured, it remains a wonderfully charming place to

spend an afternoon.

A 3 night holiday in Rome, staying at SINA Bernini Bristol, starts from £665 per person.

Speak to one of our Personal Travel Planners on 01293 765061

20 Citalia.com
---
ADVERTORIAL

BRUNELLESCHI HOTEL

Festive

Florentine

Favourite

Delightful Florence, Italy's city of flowers and lovers, is teeming

with history. Why not experience a luxurious and historic stay

in one of its landmark locations this winter?

Florence is truly magical in the winter, with its twinkling

shops and festive street markets, making it a perfect city

escape this Christmas.

Situated in the heart of the city just a few steps away from the historic

duomo, and the city's main square, Piazza della Signoria, Brunelleschi

Hotel is not just any luxury hotel in Florence, it's the hotel to stay in.

You'll be swept away the minute you arrive, as you discover the

impressive structure that's composed of two ancient buildings, an

iconic sixth century circular Byzantine Pagliazza tower, and an adjacent

medieval church, known as San Michele.

While entirely sympathetic to its original founding features, Brunelleschi

Hotel received a complete refurbishment in 2019, so that classical and

contemporary design perfectly intermingle.

Stay in any one of the 96 rooms and suites, some of which boast

breathtaking views of the Duomo. If you're travelling with your family,

then interconnecting family accommodation is also available.

When you're not exploring Florence's streets, you can observe the

hotel's own private collection of Roman remains, or enjoy a cocktail or

two in the stylish bar.

Brunelleschi Hotel is home to two exceptional restaurants, and dinner

is often a memorable highlight of your stay. Head to the two-starred

Michelin Restaurant Santa Elisabetta, which boasts just seven tables

in the exclusive and elegant setting of the Byzantine Pagliazza Tower.

For a more informal setting and traditional Tuscan cuisine, dine at

Osteria Pagliazza.

Stay over Christmas and New Year and tuck into traditional festive menus

that are served up in the hotel's unique medieval celebration halls. You

might like to join the special gourmet New Year's Eve Gala Dinner too.

There's so much to do in Florence during the winter.

Venture to Uffizi Gallery, or regale on the beauty of

Michaelangelo's David at the Accademia. Revamp your

wardrobe with Italian designer labels in the New Year Sales,

which run from January right through to February, or book a

wine tasting experience in the nearby Chianti Hills.

A 3 night holiday in Florence, staying at Brunelleschi Hotel, starts from £639 per person.

Speak to one of our Personal Travel Planners on 01293 765061

Summer/Autumn 2021

Andiamo!
---
INFLUENCER FEATURE

Authentic

TUSCANY

INTO

To help showcase the beauty Italy has to offer, we partner with local experts

who are devoted to where they live and provide insider tips on local gems.

with Marie Kidd

@authentictuscany

Marie Kidd, our Tuscany expert, moved to Italy 22 years ago

and settled in beautiful Tuscany 15 years ago. She lives in

a little medieval village called Vicopisano, which is located

near Pisa and Florence. Marie knows just about everything about this

region and collates all of her discoveries and top tips on Instagram. She

loves to show her audience hidden hilltop towns and local beaches and

coves, sharing her knowledge to help others get the most unique and

authentic experience out of this rustic region.

22 Citalia.com
---
How long have you lived in Tuscany and why did you

choose to live here?

I've been in Tuscany since 2006, but I've been in Italy since 1999! My

husband and I decided to move to Italy for a better quality of life - and to

escape the English weather and food!

In springtime you'll find yourself hiking between poppies and wildflowers

and foraging for wild asparagus and garlic. In May there's a free trekking

festival, and in October you'll get to see the olive harvest and pressing!

Why have you chosen to partner with Citalia?

Citalia offers real authentic Italian holidays, and I want to be able to show

the Citalia audience all of my hidden gems and secret spots to truly make

your Citalia holidays a unique, local and original experience!

Where's your favourite place in Italy?

I'm not biased, but it would have to be where I currently live. Vicopisano

is full of authenticity and character, and I love the charm of the area

and exploring the hidden hilltop towns and countryside. It's also located

conveniently close to Pisa, Lucca and Florence, and we are also only 30

minutes from the Tuscan coast, so it's easy to delve into the city and

escape to the sea.

What's the best thing about Tuscany?

It would have to be the varied landscape, olive trees and the hiking trails,

to the typical Italian hidden beaches and coves. It really does have it all!

What's your favourite place to eat/drink in Tuscany?

It's hard to pin down because there are so many fantastic places in our

region. One of the main reasons we left England was to escape the British

food, and I can say that I've never been disappointed with a meal out

here. I love having a drink during 'golden hour': as the sun dips below the

rolling hills and everything turns orangey-amber.

My favourite foodie market is Il Mercato Centrale in Livorno, Tuscany's

important port city and only 30 minutes from Pisa. It was redesigned

under the reign of the Medici family during the Renaissance period and

is one of the oldest covered markets in Europe sitting alongside the main

canal. You'll find 30 odd shops and over 200 stalls that line the corridors

of this huge food hall, which has an amazing selection of the freshest fish

and seafood.

What's your favourite thing to do in Tuscany?

I love all the hikes and nature trails around me, and one of my favourite

activities is to go foraging! I also love visiting all the local farms, and

learning about how they create their produce.

My region is all about slow and organic living, and I love this way of life.

It's so easy to grow your own vegetables here and create your own olive

oil, due to the culture of the region, which focuses on nature.

One of my favourite places to explore and go hiking are around the

hills of Monte Pisano, a small range of hills that separates the plains

and cities of Pisa and Lucca. It's here where you'll find a route called

Strada dell'Olio Monte Pisani, which winds between the olive groves and

wildflowers with distant views out to sea and the Tuscan island of Gorgona.

It's the perfect territory for nature lovers, hikers, and mountain bikers.

What's a few must-do activities in Tuscany?

Visit Lucca, one of Tuscany's best loved cities and walk or cycle along the

famous walls! These walls date back to Roman times, and the 'Princess

of Lucca' restored them back in the 16th century, turning them into

wide walkways for the locals to enjoy. These walkways are now part of

everyday Lucca life. There really is no better way to explore Lucca than

on foot or peddling away, as this city is mainly a car-free zone!

If you're seeking relaxation, then have a spa day at Bagni di Pisa Palace

and Spa in the waters of San Giuliano Terme. This luxury hotel was a

former summer palace built for a Grand Duke of Tuscany in the 18th

century, and has so much history and amazing grand interiors.

The spa really does take you back in time as you follow the Salus per

Aquam Circuit, a small complex of pools filled with naturally warm spring

waters rich in healing minerals. Imagine bathing in pools of thermal

waters that were first enjoyed by the Etruscans, then the Romans, and

then the Medici family!

If you're looking for a unique experience and something you wouldn't

expect to do when visiting Tuscany, explore the coast. Tuscany may be

known for its rolling hills but it also has 142 miles of beautiful coastline!

My top tip is to find and book a stabilimento balneare (beach club) in

advance as they often get booked up by the locals, especially at the

weekends. Beach clubs are the ultimate way to enjoy Tuscany's most

stunning sandy beaches.

Read stories from Marie Kidd and Citalia's other inspiring experts on Instagram @citalia_holidays.

You'll also find all the latest Italy travel information, giveaways, and exclusive Citalia offers.

Summer/Autumn 2021

Andiamo!
---
OUR PICK

ICONIC

LUXURY

HOTELS

Whether you're seeking a classical indulgence or a contemporary

haven, Italy boasts some of Europe's most luxurious

accommodation. Whether you've got a special occasion

to celebrate or just want to make your next holiday count,

here's Citalia's selection of tried and tested luxury hotels.

Splendido, A Belmond Hotel | Portofino

A former 16th century Benedictine monastery is the grand setting for your luxurious stay at one of the world's highest acclaimed hotels.

From a heady hilltop that overlooks the romantic bay and harbour of Portofino, you'll be resting your head in rooms furnished with antiques

and hand-painted trompe l'oeil interiors, while the cliffside swimming pool, wellness centre, and first-class service are a dream.

24 Citalia.com
---
Grand Hotel Excelsior Vittoria | Sorrento

In the heart of Sorrento and affording views of the glistening Bay of Naples, this decadent family-run hotel is situated on the site of

ancient Roman ruins and is ensconced in a centuries-old citrus garden. Experience old world charm and grandeur with period furniture

and frescoed ceilings, just like many distinguished guests before you, including Oscar Wilde, Luciano Pavarotti and the hotel's namesake,

Queen Victoria of Sweden. Dinner at the Michelin-starred Terrazza Bosquet seafront restaurant is a must.

Hotel Santa Caterina | Amalfi

Facing out over the Neapolitan Riviera with fairytale terraced

gardens cascading down the cliff face, you can expect sweeping

vistas from this splendid converted 19th century liberty-style

villa, which sings of its aristocratic heritage. Everything about

your experience here is intimate and peaceful, from the citrusscented

hideaway terraces that are filled with the vibrant pink of

bougainvillea, to a panoramic bathing platform. Tuck into the fresh

flavours of the Amalfi Coast in the Michelin-starred Ristorante

Glicine, or seek out the sun deck at the hotel's exclusive beach club.

Hotel Palazzo Avino | Ravello

A sumptuous stay awaits you in this clifftop hotel, which

perfectly exudes contemporary style in a structure that dates

back to the 12th century. The white and aquamarine interiors

echo the freshness of the Amalfi Coast, and spectacularly

showcases contemporary art. Your ultimate haven will likely

be the rooftop with its magnificent sun terrace, swimming

pool, and stunning scenic sights. Treat yourself to a natural

spa day, head to the beachfront clubhouse, or feast at the

Michelin-starred Rossellinis Restaurant.

Summer/Autumn 2021

Andiamo!
---
Hotel Villa d'Este | Lake Como

The peaceful shores of Cernobbio await you in this regal 16th century converted villa, which for a time was the home of Caroline of Brunswick,

Princess of Wales. Grandeur can be found in the distinctive architecture, exquisite interior furnishings, and sprawling gardens. Whether you're

sipping a glass of champagne on the terrace or taking a dip in the floating swimming pool, every moment feels magical here. A member of the

Leading Hotels of the World, this is the epitome of lakeside luxury with its stunning views over the lake.

Castel Monastero Resort | Tuscany

Idyllic luxury awaits you in this traditional

Tuscan resort. Located close to historic Siena

lies this gorgeous 11th century hotel that's

surrounded by 16 acres of manicured grounds.

Experience tranquility within the frescoed

walls or as you wander into the surrounding

countryside. Venture into the ancient vaulted

cellar to discover local specialities and a

bottle of the finest Chianti, or retreat into

the peaceful modern spa that embodies the

region's Renaissance spirit.

Baglioni Hotel Regina | Rome

Reside in the heart of Rome at this refined hotel situated on Via Veneto, near to the famous Spanish Steps. As the former home

of Queen Margherita of Savoy, you'll be mesmerised by the timeless elegance of classic and sleek art deco style. Artists, writers

and actors onced gathered here during La Dolce Vita. Excellent hospitality awaits you, whether you're treating yourself to

Mediterranean-inspired dishes or enjoying a sundowner in the bar lounge.

26 Citalia.com
---
ICONIC LUXURY HOTELS

Villa San Michele, A Belmond Hotel | Florence

Surrounded by woodland and with amazing views over Florence,

you really have the best of both worlds at this converted 15th

century monastery, which was originally designed by Michelangelo.

There's a complimentary shuttle service to take you into the

centre of Florence, but you might find it hard to tear yourself away

from the mouthwatering cuisine found in the elegant al fresco

restaurant, or the heated outdoor swimming pool that boast

panoramic views of the Arno Valley.

Hotel Danieli | Venice

Perfectly positioned in the heart of Venice, minutes from St Mark's

Square and the Bridge of Sighs, this iconic and luxurious 14th century

former palazzo has somewhat of a reputation. You'll understand why

when you witness the stunning golden staircase and magnificent

atrium, or sleep in your lavish guest room that's teeming with regal

furnishings. Dinner at the hotel's rooftop restaurant Terrazza Danieli is

an essential part of your stay as it boasts some of the best views over

Venice and its lagoon. This is pure indulgence with Venetian flair.

Hotel Il San Pietro | Positano

Perched high with views towards the bay of Positano, this opulent cliffside property is part of the prestigious Relais & Chateaux group and had

a former life as a private villa and attached chapel. This family-run hotel boasts amazing service, epic interiors and a pool with wonderful views,

as well as an exclusive beach club. Each guest room is uniquely decorated and features a private terrace where you can gaze over the

Mediterranean Sea that on a clear day stretches as far as Capri's iconic faraglioni (rock formations). Head to the property's Ristorante Zass

for a Michelin-starred culinary experience, or indulge at the sumptuous spa.

Summer/Autumn 2021

Andiamo!
---
GUEST STORIES

Digging Into

ITALY

Lorenzo Quinn's Building Bridges sculpture,

a highlight of the 2017 Venice Biennale,

outside Ca' Sagredo Hotel.

Archaeologist Dr. Holley Martlew has been a Citalia guest

for many years, and has travelled numerous times with us,

often combining her professional work trips with pleasure.

Holley shares with us her experiences of Italy.

28 Citalia.com
---
Ihave loved Italy for as long as I can

remember. Once upon a time I spent

nearly a year in Florence.

I travelled the world with my parents as a child

and have continued the tradition ever since.

I have great experience of travelling on my

own and usually make my own reservations,

but when it comes to Italy I always use Citalia,

and that's for one simple reason, the type

of personal service I receive from my Citalia

Personal Travel Planner, Linda Kulka.

Linda is efficient, really knowledgeable and

professional, and tailors everything to my

taste and needs, which she understands well.

What's not to love about Italy?

I love the architecture, food,

history, ambience, people,

and of course the opera -

Teatro La Fenice in Venice

is at the top of my list.

My favourite destination for both work and

pleasure has to be Venice, but I also love

Rome. Taking place in February each year,

the Carnevale in Venice outshines all others

in elegance.

Because my trips include professional

endeavours I tend to travel to Italy alone,

but my husband has travelled with me for

holidays, including Carnevale, Christmas and

New Year.

I am an archaeologist whose field is Greek

prehistory, Minoan and Mycenaean. I included

the island of Vivara in the Bay of Naples

in a pioneering archaeological project I codirected,

on the scientific analysis of pottery

and skeletal material from the Bronze Age,

as the Mycenaeans had visited Vivara. The

project culminated in an exhibition which was

mounted in seven international museums,

one of which was Naples. We had our biggest

audience in Naples, 34,000 in one month,

which was a coup as only Egyptian exhibitions

usually command such custom!

I have spent a considerable amount of time

in Venice, usually visiting two or three times

a year. The most interesting thing I have

ever done in Venice was to train in mosaics

and micro mosaics at Orsoni Venezia 1888

on Cannaregio.

Orsoni is the premier producer

of glass tesserae in the world.

If you haven't heard of them then

you should, as they make all the

mosaics used for restoration and

upkeep of the Basilica of San Marco.

The company offers mosaic courses and tours

which are absolutely fascinating, both of which

I highly recommend.

I then found myself involved professionally

with a project on the extraordinary wellheads

of Venice, so now my trips to Italy continue

with a work/play balance.

I have stayed at the Hotel Danieli in Venice

since my first visit with my parents when I was

10 years old and even today it reigns supreme.

With the terrace boasting gourmet delicacies

- lunches and dinners - and the best view in

Venice, the Hotel Danieli was my father's

favourite, and now it is mine.

I have had first-hand experience of the

Venetian phenomenon of Acqua Alta, the high

tide that affects low-lying areas like the Piazza

San Marco. The most unusual one occurred

in May a few years ago when I was dining

with friends on the island of Giudecca. It had

started out as the perfect evening, with pink

geraniums cascading over a balustrade, which

separated me from the lagoon.

As a dedicated shopper, over the years I have

friends in many shops in Venice and Rome,

and top of the list are Missoni, Prada, and the

outstanding Venetian designer Gualti whose

exquisite atelier is between the Rio Terà Canal

and Campo Santa Margherita. I am wearing

one of his creations in the photo.

When it comes to food, my favourite restaurant

in the entire world is Harry's Bar in Venice. I

usually order fegeto Veneziana (Venetian-style

liver) or osso buco (a braised veal dish from

Lombardy), which is only available on Sunday's,

and then for dessert, the delectable meringata

(meringue cake).

Gatto Nero has the most memorable seafood

served on the most gorgeous

china, so it just has to be

given a special mention. This

restaurant is on the island of

Burano, which is known for

its painted houses of many,

almost every, colour, and has

great shopping.

I also love ice cream and Giolitti in Rome is my

favourite gelateria, although Florian's in Venice

and Pedrocchi in Padua are close runners-up.

I always order an Aperol spritz,

a cocktail composed of gorgeous

translucent orange Aperol, Prosecco,

and soda, served in the Venetian way

with a slice of orange and

a very large green olive.

There are still many places I wish to visit. On

my next work trip to Venice, I want to extend

my visit to combine Italy's best gardens with

her lakes, such as Isola Bella in Lake Maggiore.

I also plan to explore Sicily further, visiting

the extraordinary mosaics at Villa Romana del

Casale near the town of Piazza Armerina, the

gourmet restaurants in Ragusa, the Baroque

gem of Noto, and a return visit to Palermo,

to the mosaics in Cappella Palatina and the

church known as La Martorana.

A 3 night holiday in Venice, staying at Hotel Danieli, starts from £1,459 per person. Speak to one of our Personal Travel Planners on 01293 765061

Summer/Autumn 2021

Andiamo!
---
In the

Hot

Seat:

Italian Cars

Since the end of the 19th century, Italy has been in the hot seat for automobile design and

manufacture. Citalia takes you on a tour of the birthplace of Italy's most esteemed car brands.

EMILIA-ROMAGNA

Usually identified for its fabulous food culture, the region of

Emilia-Romagna is the beating heart of Italian automotive design and

manufacture, as several major brands were born here. You'll find plenty of

museums showcasing its automobile and motorcycle heritage.

FERRARI

The luxury sports car Ferrari, known as a thoroughbred pedigree in Formula

One racing, was born out of Modena, the same town that gave the world

genuine balsamic vinegar.

Founded in 1947, this Prancing Horse brand has become synonymous

with speed and wealth. The brand's first 125 S iconic two-seater road car -

painted red, naturally - won the Rome Grand Prix that same year, before it

was further developed into a refined GT roadster.

There's no better place to celebrate Ferrari than at Museo Enzo Ferrari, a

museum that's set in the original Ferrari factory in Modena. You'll discover

the story of Ferrari's founder, Enzo Ferrari, who was not only the brainchild

of Italian car manufacturing but also a dynamic and legendary Italian racing

driver in his own right.

Ogle the prized Ferrari collection in its futuristic museum next door, before

tucking into delicious local cuisine, because nothing good is ever done in

Italy without food.

A short drive or shuttle bus away in the small town of Maranello lies Museo

Ferrari, a shrine to the world of Formula One, where you can enjoy racing

simulations and other interactive experiences.

MASERATI

Modena is also home to Maserati, the brand that has a trusty trident for

its emblem.

Founded in 1914, Maserati has long been associated with Ferrari as,

until this year, Maserati was using Ferrari's engines. Unfairly, Maserati is

often called the poor man's Ferrari. Why not judge whether this is true for

yourself? Take a guided tour of the renowned Maserati car factory, where

you can browse both historic and new models of this iconic car.

As if two distinguished brands born in Modena isn't enough, the

contemporary sports car brand Pagani was also established here.

LAMBORGHINI

Notice a quick flash of vivid yellow and you'll know you've been

Lamborghini-ed. For Italy, Lamborghini is a relatively modern brand, as

its luxury sports and SUV vehicles were only born in Emilia-Romagna's

Bologna in 1963.

The brand grew rapidly in its first decade, aided by the Miura model with

its iconic 'eyelashes' - its uniquely designed grills around the headlights.

Lamborghini's renowned Raging Bull logo was inspired by its founder,

Ferruccio Lamborghini, who was born under the Taurus zodiac sign and,

randomly, was also a big fan of Spanish bullfighting.

Today, Lamborghini is owned by the Volkswagen Group, but you can still

visit where it all began at the Lamborghini Museum in Bologna and witness

prototypes, and classic, exclusive models, from the Espada to the Sesto

Elemento.

While you're in Bologna, also visit the Industrial Heritage Museum, which

applauds Bologna's industrial heritage and contribution to the world with

various vintage automobiles on display. You can also enjoy the Italian

Factory Motor Tour, where you'll get the chance to test drive Ferrari and

Lamborghini models.

30 Citalia.com
---
PIEDMONT

FIAT

There's one punky car that absolutely dominates Italy's automotive

industry today - and that's Fiat.

Fiat first came onto the scene in 1899 in Turin, the capital of Piedmont,

when an Italian entrepreneur founded Fabbrica Italiana Automobili Torino

(FIAT) - the Italian Automobile Factory of Turin.

Fiat proceeded to become the bestselling car across Europe for the next

100 years. The brand became the forefather of economy cars in 1936

when the first Fiat 500 was born - the A Topolino, which translates as

little mouse and is the Italian name for Disney's Mickey Mouse.

From the 1920s until the late 1970s, the original Fiat Lingotto Factory in

Turin employed thousands of workers and still stands in Turin today as

an entertainment complex. It also boasts a three-quarter mile test track

on its rooftop, which was made famous by the 1969 film, The Italian Job,

featuring Michael Caine. Plans are underway to convert the track into a

hanging garden.

LOMBARDY

ALFA ROMEO

While most young Italian car aficionados had their hearts set on the Ferrari,

the more affordable motor was naturally, the trustworthy Alfa Romeo.

Founded in Milan in 1910, the brand successfully took part in endurance

races, Grand Prixs and Formula One. The brand's logo is the Visconti

serpent, a heraldic symbol of Milan's medieval noble family.

What made Alfa Romeo stand out and continues to do so to this day is its

iconic trilobe front and clear aerodynamically designed lines. Unlike many

brands, Alfa Romeo's models over the last century have never added in

design details just for the sake of it.

You can witness a historic collection of models and learn about the brand's

history on a private tour of the Museo Storico Alfa Romeo, located in the

town of Arese, near Milan, which also houses a café.

ELSEWHERE IN ITALY...

All across Italy, you'll find automobile museums honouring Italy's rich

contribution. In Verona, the Museo Nicolis has an epic collection of

Formula One race cars and motorbikes, including Fiat's regal 1929 model,

the Isotta Fraschini.

To uncover more of Fiat's history, head to the Centro Storico Fiat Museum,

which is located in a gorgeous Art Nouveau building and boasts a selection

of not only Fiat's legendary automobiles, but also other items the company

produced, from war technology and ship engines to aeroplanes, tractors

and even washing machines!

Turin is also home to two other esteemed and historic Italian car brands,

Lancia and Abarth.

Why not let Citalia help you create a unique Italian automobile lovers holiday?

Speak to one of our Personal Travel Planners on 01293 765061

Summer/Autumn 2021

Andiamo!
---
Unearthing

Ancient Italy

LIGURIA

Italy is a treasure chest of ancient worlds. This issue, Citalia unearths the

region of Liguria, where the sea plays a dominant role in its history.

Liguria is considered to be the Italian Riviera. You'll find a

slower pace of life in its charming villages, and can tap into

luxury with the chic bars, boutiques and super yachts that line

the harbours. It's also filled with unique historic riches that are well

worth witnessing - even below the waters.

Rapallo Castle

Witness the castle on the sea. The picture-perfect town of Rapallo has

a guardian, standing in memory of bygone days. This old castello (castle)

stands on rocks surrounded by the waters of the Gulf of Rapallo.

Constructed from solid stone with two-metre-thick walls, its compact

rectangular shape with rounded corners is dominated by its wide square

tower that rises out from the coast.

Its aura is straight out of a medieval fairytale, even though the castle was

built outwith the Middle Ages.

In the 16th century, a Turkish pirate called Dragut invaded the city,

kidnapped a hundred of Rapallo's inhabitants, and threatened death on

anyone who challenged his crew's mass looting. Without any defense

fortifications, many residents were forced to flee to the hills.

The need for a fortress was promptly established, and Rapallo Castle was

built within a year of this historic event. For a long time, the castle was

also used as a prison.

Today, Rapallo Castle is best viewed with a gentle amble along the

promenade and, if you're lucky, you might find the odd exhibition here. In

early July each year, a marvellous fireworks display is held at the castle to

honour the city's patroness, Our Lady of Montallegro, as part of the local

Apparition Day celebrations.

Rapallo Castle's story is of

buccaneering Treasure Island style,

as it was built to defend the city

from pirate invasions.

32 Citalia.com
---
Christ Of The Abyss

San Fruttuoso is a strange little place. Tucked between the towns

of Camogli and Portofino, it's neither a port or a town. It's also very

secluded, as it's only accessible by foot or from the sea. Yet it's wellworth

visiting because, etched out of the mountains, San Fruttuoso is

home to an ancient Benedictine monastery.

What's more, just off the shore you'll find a highly unusual sight: a statue

of Jesus Christ rising two and a half metres tall and praising the heavens

while under the blue of the Mediterrean Sea.

While you may think the statue appeared as a result of a tragic shipwreck

many centuries ago, in fact it was intentionally submerged here in 1954.

Sitting 17 metres under the waves, the statue, known as Cristo degli Abissi

(Christ of the Abyss) was cemented to the sea floor.

Castello Brown Museum | Portofino

Perched high over the harbour of Portofino lies Castello Brown, a historic

castle that dates back centuries and has had several reconstructions and

enlargements over time.

Surrounded by prestigious villas of the international jetset, the castle is

ideally placed to observe all the activities below, both on land and water.

Archaeological digs concluded that this eagle-eye site has

been used as a military bulwark since the Roman times.

This spiritual statue was the brainchild of legendary Italian diver Duilio

Marcante, before being created by the sculptor Guido Galetti. It pays

homage to Dario Gonzatti, the first Italian to use scuba diving gear, who

died during a dive near this spot in 1950.

The statue was crafted from the recycled bronze of medals, naval

artefacts, and old bells. In 2003, it was lovingly restored and returned to

the waters two years later.

Castello Brown was abandoned in the early 19th century when Portofino

fell into a more peaceful state. It gets its rather un-Italian name from

the British diplomat who sympathetically remodelled the castle into a

comfortable private villa. It was subsequently held by his descendants

until 1949.

Castello Brown was further restored to its original design and historically

mapped by an English couple, before being sold to the city of Portofino

in 1969.

The castle claimed fame as the setting for the 1922 novel by Elizabeth

von Arnim and subsequent award-winning 1991 film, The Enchanted April.

Today, Castello Brown is a public museum and decadent events

space that brings its rich history to life, from its neo-Gothic tiled

staircase to its wooden coffered roof depicting martyrs and rulers.

It's also surrounded by a marvellous Mediterraean garden filled with

fragrant flowers and pergolas.

Since its installation, the Christ of the Abyss is a symbol for

scuba diving and has become Italy's leading dive destination,

not least because it also happens to be a Protected

Marine Area with a vast array of marine life.

Other copycats have cropped up in other Italian waters, and you'll find

replicas that were created from the original clay cast in the Carribean and

in Florida.

On the last Sunday of every July, a torchlight mass is held on the beach to

commemorate all those who have lost their lives at sea, and divers place

crowns of flowers at the feet of the underwater Christ.

Even if you don't dive, when the waters are calm and clear, it's possible to

peek at the statue through the water from a boat.

A 7 night holiday in Liguria, staying at Grand Hotel Bristol Resort and Spa, starts from £1,059 per person.

Speak to one of our Personal Travel Planners on 01293 765061

Summer/Autumn 2021

Andiamo!
---
ITALY'S

Obscure

ART SCENE

While classical art is what Italy is renowned for, there's also an underground

contemporary art scene that sometimes edges on obscurity. From underground

stations to former slaughterhouses, it's well worth hunting out.

Woodpecker Disco | Cervia

A domed disco club in a seaside resort popular in the 1950s has been reimagined

by artists, including work by Italy's own Banksy, the street artist 'Blu'.

34 Citalia.com
---
Metropoliz Museum of the Other and the Elsewhere (MAAM) | Rome

An abandoned salami factory on the outskirts of Rome is now a collective art space

for over 300 contemporary and street artists, and a shelter for refugees.

Explore more unusual art:

Toledo Art Station | Naples

With its inspiring psychedelic mosaics found 130 feet underground, this

is the crowning jewel of the Naples Metro Stazioni dell'Arte project,

which brings contemporary art into everyday life.

Tuttomondo | Pisa

Acclaimed American pop artist Keith Haring developed a theme of world

peace and harmony on the wall of Sant'Antonio Abate church. In doing

so, he created the largest mural in Europe.

Fondazione Pastificio Cerere | Rome

An abandoned pasta factory in the San Lorenzo district was repopulated

by artist studios and now holds fascinating exhibitions and events.

MACRO (Museum of Contemporary Art of Rome) | Rome

Former brewery and slaughterhouse spaces combined to establish

this imaginative museum. It's currently running a three year exhibition

looking at art that's capable of revolutionising society.

Mosaics of Vincent City | Lecce

Eye-popping recycled tile art and kitsch sculptures showcase the work

of eccentric artist Vincent Brunetti at his estate in the quaint town

of Guagnano.

Summer/Autumn 2021

Andiamo!
---
On the Scent of

Italian Perfume

Move over France. Perfume is quintessentially Italian. Are you ready for Citalia

to take you on a fragrant adventure into the world of alchemy and love potions?

Then let us begin...

36 Citalia.com
---
Scent has the power to make you smell sassy, savvy, or sweet,

and some perfumers believe the right aroma is a mirror of the

wearer's psyche.

The history of perfume all started with a few ships, and some positively

pungent people: during the medieval times, essential oils were used by

the wealthy to mask body odour caused by both infrequent bathing and

clothes washing. Traditional perfume was always ungendered, worn by

both noble men and women.

Italy's Fragrant History

Venice has always been perfectly positioned to receive amazing exotic

spices, herbs, flowers, resins and oils thanks to all the trading ships that

sailed in from Africa, Arabia, Persia, and the Orient. This is the reason

why the Italian city was at the forefront of crafting fragrance.

A groundbreaking discovery in the 14th century changed the course

of perfume when an Italian apothecary, Giovanni Paolo Feminis,

developed aqua mirabilis or miracle water, an alcohol solution that could

be used as a base for natural and synthetic aromas to linger.

This discovery, coupled with its felicitous access to exceptional

ingredients and beautiful Murano glass bottles for storing scents,

established Venice as the global hub of fine perfume-making for several

hundreds of years.

The regions of Sicily and Calabria also contributed to the perfume

industry by growing many of its raw materials.

The young noble lady Catherine de Medici of Florence, took her

personal profumiere, Renato Bianco, to the royal courts in France when

she married the future King of France, Henry II.

In France, Bianco pioneered love potions and a fashion for perfumed

gloves, and this is when aqua mirabilis received a new French name by

Feminis' progressive nephew - eau de cologne.

As perfume's popularity grew, the French town of Grasse became the

new perfume-making scene on the global map.

If the artistic Murano glass blowers were tempted to move to where the

perfume bottling opportunity was or divulge their secrets to the French,

they were soon put off by threat of death by the Republic of Venice.

Summer/Autumn 2021

Andiamo!
---
Medieval Masks, Modern Miracles

When you're in Venice you're likely to see the somewhat comedic long-beaked masks on display in the

city's many boutiques. These are known as medico della peste, a practical fashion worn during the

bubonic plague of the Middle Ages. The beaks were filled with herbs and scented sachets to help perfume

foul odours and were considered an important sanitary precaution by respected doctors of the time.

While these masks only come out to play during masquerade balls today, during the recent

coronavirus pandemic, some Italians have been reclaiming their legacy aqua mirabilis and revived this ancient

miracle water as a refreshing hand sanitizer.

38

Citalia.com
---
ON THE SCENT OF ITALIAN PERFUME

Perfume Mastery Today

While the majority of perfumes today are created synthetically from a

handful of large laboratories, Italy still boasts a traditional handcrafted

perfume culture and is the place to go to find your one-of-a-kind scent.

You can expect long-lasting notes evocative of distant lands and of more

local terroir, such as Amalfi lemons blended with rosemary and thyme.

Italian perfume may seem more expensive but that's because it never

sacrifices quality in its luxurious natural ingredients. For example, one

ounce of rose oil uses a whopping 5,000 rose petals.

In Venice and Florence you can still find some of the original formulas

of fine perfumes, where tradition and a good nose have been passed

down the generations.

Venice

Head to Venice's own perfume museum at Palazzo Mocenigo, located

along Venice's Grand Canal. Discover the world of Venetian nobility as

you explore an entire floor dedicated to the history and craft of perfume,

including a room that resembles a 16th century perfumer's laboratory,

and a collection of rare perfumes that date back to 2,000 BC.

To explore a family-run perfume house, visit Mavive Parfums Venezia

on Via Altinia, which was founded in the 1980s by the grandson of the

esteemed master perfume-maker, Angelo Vidal.

In 2011 the Vidal family established The Merchant of Venice, a project

that celebrates family perfume tradition and Venetian cultural heritage.

This project naturally evolved into its own luxury contemporary perfume

brand, which you can find at its flagship store at Campo San Fantin on the

site of a former ancient apothecary.

On the Venetian island of Sant'Elena you'll find a perfume museum on the

aptly-named Via del Profumo, which was founded by a local organisation,

the Fondazione Cammino Del Profumo, in order to tell its part in Venice's

fragrant history.

The museum holds a collection of over 1,500 modern perfumes from

the 20th century, including unique and first editions. There's also an

adjoining botanical garden, which grows species especially cultivated for

perfume-making, while at the museum shop you can buy the foundation's

exclusive Sant'Elena Sannita fragrances.

An hour's drive north of Venice, in the Friuli-Venezia countryside,

you can visit the creative perfume studio and lab of the last remaining

independent Venetian master perfumer, Lorenzo Dante Ferro.

Florence

There's an entire historic perfume district in Florence, known as La

Corte dei Profumi, or the Court of Perfumes, and it's here where you'll

find a handful of master artisanal perfume houses that date back

centuries, including Antica Erboristeria San Simone on Via Ghibellina,

and Erboristeria Gremonihas on via Fanza, both of which date back to

the 1700s.

Head to Officina Profumo Farmaceutica di Santa Maria Novella on

Via della Scala and get a whiff of Acqua di Santa Maria

Novella, the brand's oldest and most iconic fragrance,

which was commissioned by Catherine de Medici

and is full of fresh citrus notes, including a base of

homegrown Calabrian bergamot.

You can go on a multisensory journey

at Florence's perfume museum, Museo

Villoresi on Via de' Bardi 12, which boasts

the Osmorama scent library, a 1000+

strong collection of ancient and modern

aromatic ingredients from around the world, as

well as an aromatic garden and terrace.

Milan

Milan's perfume museum on Via Messina celebrates

fragrances from the 1900s, telling the stories of both Italian

and international masters, while showcasing the all-important

glassware that bottles these delicate fragrances.

Summer/Autumn 2021

Andiamo!
---
ON THE SCENT OF ITALIAN PERFUME

Worth a Whiff: Italian Perfume Brands

While you'll find many Italian designers with unique Italian fragrances,

including Gucci, Bulgari, Prada, and Bottega Veneta, you'll also want to

take a whiff of our favourite Italian perfume brands.

ACCA KAPPA

First established in 1869 in Treviso, this family brand started out as a

brushmaking factory, before it developed fragrances that take their

inspiration from the rich flora of Italian gardens. Their bestseller is the

unisex eau de parfum, White Moss.

CARTHUSA

Legend has it that monks developed Capri's first perfume for a visiting

queen way back in 1380, although it wasn't until 1948 when the sunkissed

island developed its own renowned fragrance brand, Carthusia. Its

most popular fragrance, Gelsomini di Capri, has a scent of gardenia, orange

blossom, Turkish rose and tuberose, and was a favourite of the former US

First Lady, Jackie Kennedy.

STORIE VENEZIANE

While not strictly Italian due to the fact it's made by the Swiss brand

Valmont, the five scent collection of Storie Veneziane is inspired by

Venice's rich fragrance history, and each scent features a colourful

Murano glass face set into its golden bottle.

ACQUA DI PARMA

Founded in 1916 by Italian baron Carlo Magnani, Acqua di Parma's

first perfume Colonia continues to be an iconic fragrance today with its

sunny Sicilian citrus fruit notes that are married together with rosemary,

lavender, and lemon verbena.

Experience the best scents of Italy on your next Citalia holiday! Speak to one of our Personal Travel Planners on 01293 765061

40 Citalia.com
---
Followers Favourites

We've all been missing those trips to Italy, which is why in August, we asked our followers

to share their favourite holiday photos with us on our Instagram page (@citalia_holidays).

Here are just a few that have us yearning for our next Citalian adventure!

Connect with us:

@citaliaholidays

@citalia_holidays

@citaliaholidays

Get involved in future activities and find out about all things Citalia. Just follow our social channels!

Summer/Autumn 2021

Andiamo!
---
A Nose For

Truffles

Venture into the undergrowth with Citalia's

field guide to truffle hunting in Italy.

What are truffles?

Truffles are rare edible mushrooms and a gourmet delicacy considered the

diamond of the culinary world thanks to their distinctive smell and flavour.

Truffles have been a part of the Italian cuisine since the Roman era.

Wealthy noble families would feature truffles in unique regional recipes at

their grand banquets.

Even today, local dishes hero in on truffles. You'll find tajarin al

tartufo, white truffle shaved over long, thin ribbon pasta featuring on

restaurant menus in Piedmont. In Tuscany, you'll find the traditional

recipe of carpaccio al tartufo, an uncooked marinated beef steak

served with a salad of green leaves, shaved white truffle, pine nuts,

and Parmigiano Reggiano.

If you're visiting Rome, we recommend stopping by Tre Scalini Restaurant

in Piazza Navona to try their signature gelato al tartufo - black truffle

ice cream.

42 Citalia.com
---
Where can you find Italian truffles?

Notoriously hard to find, you'll find truffles growing exclusively

underground close to the roots of trees, particularly oak, willow, hazelnut,

poplar and linden trees.

Truffles can grow between five and 30 centimetres underground, and

they love humid, cold climates.

Wild truffles are found within quite a limited area of Italy - you'll need

to head to the forests of northern Piedmont, central Tuscany, Umbria

(in Orvieto, Perugia and Norcia), and Le Marche (within Acqualagna

and Pergola).

The area where truffles are grown are known as tartufaia, and these are

a closely-guarded secret, known only to the local people and established

trifalau (truffle hunters).

How are truffles harvested?

Italian truffles are harvested using a wonderful traditional method.

Unlike in France, who use pigs for their truffle hunting, the Italian trifalau

use a team of dogs to help them to sniff out their distinctive smell.

Truffles are almost impossible to find otherwise!

It's not just any old dog that's used. A particular dog breed, Lagotto

Romagnolo, are trained to point at the truffle, so that they can be carefully

extracted without any damage to this precious ingredient or the habitats

they grow in.

Truffles are at their best when they are at their freshest, so it's best to

consume them immediately after being removed from the earth. White

truffles only tend to last three days, whereas some black truffles can keep

for up to two weeks if stored carefully.

Summer/Autumn 2021

Andiamo!
---
When is truffle season?

If you want to plan your Citalia holiday around foraging for and

eating truffles, then you need to know your truffle season. Due

to the different varieties available, there's actually more than

one season, which means truffle growing spans seven months

of the year.

White winter truffles: October to early January

Black winter truffles: November to March

White summer truffles: Mid-January to late April

Black summer truffles: May to September

The finest Italian truffles are harvested in the autumn

months, from September to November.

Join a truffle hunt

There are plenty of truffle-based activities in Italy, so there's

no need to start digging up tree roots. The grand Castel

Monastero Resort, surrounded by the beautiful Tuscan and

Chianti countryside, offers a fantastic hunting excursion

during truffle season.

Join a professional truffle hunter and a team of trained

dogs as you explore the stunning fields and wooded

areas in search for the area's greatest treasure.

The experience includes a delicious

truffle-based local lunch, and the

opportunity to purchase the

truffles you've found.

< Lagotto Romagnolo

November is considered the ultimate month for a truffle-themed holiday,

as this is when you'll find the best truffles and most of the truffle fairs

and sagre (food festivals).

44 Citalia.com
---
A NOSE FOR TRUFFLES

What truffle varieties are there?

Italy is home to a whopping 28 different species of truffle, of which eight

are suitable for cultivation and human consumption.

Tartufo bianco

Tartufo bianco (white truffle) is world-renowned. Although the aroma of

white truffle is intense, it's also delicate as it fades quickly when cut or

shaved. This is why white truffles are served fresh and raw, which helps

the aroma linger. You'll often find white truffle shaved on top of risotto,

with pasta, or - our personal favourite - on a traditional stone-baked

Italian pizza.

The crowning glory of the white winter truffle is the Alba white truffle

(tuber magnatum pico), also known as the Trifola d'Alba Madonna (Truffle

of the White Madonna), which is found in northern Italy in the Piedmont

region, or in San Miniato, Tuscany.

Alba white truffles are extremely rare, more so than any other variety,

as they're the most aromatic and flavourful. Irregularly shaped, you'll

find they have an earthy, almost musky, aroma with notes of garlic, nuts,

or honey.

Said to be practically worth their weight in gold,

authentic white truffles can cost between £600 and

£1,300 per pound (lb). If you prefer the metric system,

that's between £1,700 and £4,290 per kilogram.

White summer truffles, known as tartufo bianchetto or marzuolo, are the

same species as the white winter truffle but are more affordable. They're

harvested earlier in the year from the same Italian regions as the winter

variety: Piedmont, Tuscany, and Le Marche. While not as pungent, you'll

find they have a sweet and musky, garlicky flavour.

Tartufo nero

Alba White Truffle Fair

Head to Alba in Piedmont for the annual International Alba White Truffle

Fair. At the heart of this fair is a world market, where you can appreciate

and buy truffles from the Langhe, Monferrato and Roero regions.

Running from mid-October to mid-December this year, the Alba fair is

considered one of the best in Italy, with a whole host of world-famous

market stalls for you to browse, touch, and smell the many truffles from

local vendors and truffle hunters.

International and local chefs come together to put on top-class cooking

shows. It's your chance to discover mouthwatering wines, local cheeses,

egg pastas, and cured meats from the area.

The event is as much a cultural festival as a

celebration of the area's fantastic truffles.

A medieval fair offers a glimpse into the area's history,

which is brought alive through historical enactments,

and the much-anticipated Palio (Donkey) race,

which has been running for decades and makes up

an essential part of the festivities with its parades,

trumpets, and drum rolls.

Compared to white truffles, black truffles have a more subtle aroma that

lasts longer, and this variety actually benefits from gentle cooking to help

release the flavour.

Tartufo nero (black truffle) are the most common truffle variety, as they

can be farmed commercially, and are therefore much more affordable.

Because they travel well, these are often the fresh Italian truffles found

on the British restaurant scene.

However, you will still find wild black truffles in Italy. The best black

winter truffles are the nero pregiato, a sweet black truffle that boasts

earthy notes of chocolate and dried fruit. Found in Norcia and Spoleto,

two historical towns in Umbria, and around the Nera River, this warty

treat can also be found in Piedmont. Nero pregiato is harvested between

mid-November and mid-March.

Once harvested, tartufo nero are often made into a spread or, as is

popular in Assisi, cooked in omelettes.

Black summer truffles - known as scorzoni, are a different species from

black winter truffles, and have a bumpier skin and a mushroom-y smell.

While you can enjoy them from May to September, they are best enjoyed

in July.

If you want to bring your family, then children are also entertained at this

epic event with their own kids' space, where they can enjoy educational

games made of wood and other natural materials.

A 5 night holiday in Piedmont starts from £579 per person. Speak to one of our Personal Travel Planners on 01293 765061

Summer/Autumn 2021

Andiamo!
---
THE CURSED ISLAND OF

Gaiola

Spooky season is fast approaching, so we thought it was time to share with you

the legend of Isola Gaiola, an ill-fated island off the coast of Naples.

Locals won't go anywhere near Isola Gaiola. It's cursed, they

say. Wth a history of disappearances, drownings, murder

and suicide for those who have lived there, you can probably

understand why the locals believe the legend.

Abandoned with only a crumbling villa and occasional silent narrow

streets, this eerie place strangely draws you in.

Perhaps it's the emerald waters that lap its rocky shores,

or the opportunity to glimpse submerged ancient ruins

that attracts brave visitors.

Isola Gaiola sits in the Tyrrhenian Sea, and makes up part of the volcanic

Campanian Archipelago. The island is actually two small rocky islets that

have been connected by a short and narrow arch-shaped stone bridge.

The name Gaiola, originates from Latin for caveola or 'little cave', which

accurately describes the cavernous coastline of Posillipo, an affluent

residential area of Naples.

It's so close to the coast that you can reach it by swimming in just a few

strokes, or you can take a boat out.

The panoramic views from Gaiola are spectacular, which is perhaps why

the island piqued the interest from such prominent figures who suffered

what the locals call the Gaiola Malediction.

The history of the island and its surrounding coastline dates back to the

17th century when noble Romans built their factories and scenic holiday

homes here.

Legend has it that the esteemed Roman poet Virgil taught his

students here, and perhaps even got his divine inspiration

from wandering the island.

In the 19th century, Gaiola was inhabited by a hermit, who went by the

name of Il Mago (The Wizard). Living a solitary existence, relying only on

the almsgiving of local fisherman, one day he vanished without a trace

or explanation.

Not long after this mysterious disappearance, the island was purchased

by a wealthy businessman called Luigi de Negri who owned a large

fishery. He constructed the solitary private villa that still stands today

and then promptly suffered financial ruin.

The island then passed into the hands of the maritime engineer Nelson

Foley, Sir Arthur Conan Doyle's brother-in-law, who sold it onto Norman

Douglas, author of Siren Land, who sold it back to Foley just seven years

later in 1903.

46 Citalia.com
---
In 1911, a ship skipper, Captain Gaspare Albenga, showed interest in

acquiring the island. As he was navigating around it, he crashed his ship

into the rocks and subsequently drowned, although locals say neither

body or ship were ever found.

There's some irony in this part of the legend as Gaiola was once called

Euplea and considered the protector of safe navigation. In fact it even

had a small temple for those who sailed by.

In the 1920s, a Swiss businessman took possession of the island, and was

subsequently found murdered and wrapped in a rug. Not long after, his

wife drowned in the sea.

The island was then purchased by Otto Grunback, a German perfume

dealer. While spending time at his newly-acquired villa, he suffered a

heart attack and instantly died.

The legend of the curse continued to swell, and yet interest

never dwindled from wealthy Europeans looking for a

peaceful place to spend their retirement.

Gianni Agnelli, the Turinese owner of automobile company Fiat, acquired

the island and was probably its most notable owner. Yet, even Italy's

richest man suffered its alleged curse. First, his son's body was found

under the island's bridge in an apparent suicide, then his young nephew,

Umberto, who Agnelli had begun grooming to take over the business,

died of a rare cancer.

Not deterred by its history, Jean Paul Getty, an American billionaire

tycoon, purchased Gaiola. He lost his oldest son to suicide and his

youngest son died under suspicious circumstances.

Then, in 1973, his grandson was involved in a high-profile kidnapping

by the Calabrian mafia. They sent the boy's severed ear to Getty in

the post, which forced the industrialist to pay US$3 million ransom

for his safe return.

Gianpasquale Grappone, the owner of a successful insurance company,

became the final private holder of Isola Gaiola. He ended up imprisoned

due to unpaid debts, while his wife perished in a car accident.

In 1978, the island became the property of the government of the

Campania region, who declared the island part of the Parco Sommerso di

Gaiola (Gaiola Underwater Park), a protected marine area.

Just after buying Gaiola, Maurice Yves Sanzoz, a Swiss pharmaceutical

industrialist, went mad. Ending up in an asylum in Switzerland, he

eventually committed suicide.

A steel industrialist from Germany, Baron Karl Paul Langheim, was next

to take on Gaiola, but, much like de Negri before him, was dragged into

financial ruin, apparently caused by 'wild living'.

As the villa deteriorates and slowly approaches

the fate of the island's ancient structures,

no one's entirely sure that the curse has been lifted.

In 2009, a couple were murdered in the villa that sits across from the

island, which brought the Gaiola Malediction back into the local news.

So what do you think? Is Isola Gaiola cursed? Will you be brave enough

to visit it on your next holiday to Naples?

A 2 night holiday in Naples starts from £399 per person. Speak to one of our Personal Travel Planners on 01293 765061

Summer/Autumn 2021

Andiamo!
---
INFLUENCER FEATURE

Perfect

Dinner Wine

Pairings

with Gennaro Contaldo

Italy is one of the world's foremost wine producers, with a number of renowned

varieties grown in the country. From Pinot Grigio and Prosecco, to Chianti and

Barolo, there's a wine to suit every palate and to pair with every dish.

We asked our expert hotel sommeliers and staff to recommend wines to pair

with some delicious regional dishes shared by our favourite Italian chef,

Gennaro Contaldo. Plan an authentic Italian evening with our regional menu.

POLLO ALLA TOSCANA, TUSCANY

Pollo alla Toscana is a rustic but flavoursome

dish popular in rural Tuscany that makes the

most of locally produced olive oil.

"Use good quality extra virgin olive oil

as the better the flavour of the oil,

the better the dish."

Pollo alla Toscana really heroes in on the few

ingredients needed to put the dish together. In

Tuscany, you'll often find it made with rabbit

instead of chicken. Serve the chicken on or

with bruschetta and enjoy!

The maître d'hôtel at Brunelleschi Hotel,

a luxury hotel in the heart of Florence,

recommends pairing Vermentino from Tenuta

Guado al Tasso. This wine is made from

Vermentino grapes sourced near the medieval

village of Bolgheri in the Maremma area

of Tuscany.

This light wine is bright straw yellow in colour

and boasts notes of citrus fruits and flowers.

Fresh on the palate, this wine has good balance,

defined by a lingering finish.

Gennaro's Pollo alla Toscana recipe:

citalia.com/gennaro/chickenwithgarlicandrosemary

A 3 night holiday in Florence, staying at Hotel Brunelleschi, starts from £639 per person.

48 Citalia.com
---
PORCHETTA NATALIZIA, LAZIO

Porchetta Natalizia is a dish generally eaten

during the festive Christmas period, most

popularly in the Lazio region of Italy. Pork is

stuffed with pork mince, chicken livers and

mortadella, a large Italian pork sausage, before

being rolled and cooked in the oven.

This dish and most pork dishes call for

a wine that can cut through the richness of

the ingredients.

Stefano Nirta, Citalia's Regional Destination

Manager, recommends the 2009 Monteriolo

Coppo chardonnay from the Piedmont region.

This oak barrel fermented chardonnay wine is

fresh and complex, making it an ideal wine to

pair with Gennaro's Porchetta.

Gennaro's Porchetta Natalizia recipe:

citalia.com/gennaro/porchetta

A 3 night holiday in Rome, staying at Starhotels Metropole, starts from £449 per person.

PESCE DI LAGO IN CARPIONE, LOMBARDY

Lakes Garda, Lake Como and Lake Maggiore

are the jewels in Italy's crown. Located

in northern Italy, the lakes are home to a

large variety of fish including pike, trench,

eel, carp, and trout. A local tradition sees

fish preserved in carpione, which means

being cooked then marinated.

"Pesce del lago in carpione is usually

served cold and can be enjoyed

as either an antipasto (starter)

or as a main course."

Luciano Esposito, the sommelier at the Grand

Hotel Excelsior Vittoria's Michelin-starred

restaurant, Terrazza Bosquet, recommends

pairing this and other fish-based dishes with

Sireo Bianco Abbazia di Crapolla.

This wine is pale yellow in colour with notes of

lemongrass, citrus peel, and white apple. Fresh

on the palate with mineral tones and good

drinkability, it is a lovely wine to pair with fish

that has been fried.

Gennaro's Pesce del Lago recipe:

citalia.com/gennaro/marinatedfreshwaterfish

A 7 night holiday in Sorrento, staying at Grand Hotel Excelsior Vittoria, starts from £2,599 per person.

ORECCHIETTE CON CIME DI RAPA, PUGLIA

Cime di rapa (turnip tops) are very popular

during the winter months in southern Italy.

Similar in taste and appearance to broccoli,

this vegetable is often served sauteed in olive

oil, garlic and chilli.

Produced by the Riviera Winery, the Pungirosa

D.O.C.G. is delicate, fresh and juicy, with hints

of wild strawberries and cherry, which are all

balanced with a delicate acidity.

Orecchiette con cime di rapa is a delicious

dish associated with the region of Puglia. This

pleasantly bitter green vegetable is combined

with handmade, ear-shaped pasta known as

orecchiette.

Masseria Montenapoleone's owner, Giuliano

Monteneve, recommends pairing a Puglian

rosé wine with this traditional dish.

"If you can't find cime di rapa you can

use either purple sprouting or long

stem broccoli instead."

Gennaro's Orecchiette con Cime di Rapa recipe:

citalia.com/gennaro/orecchiette-pasta

A 7 night holiday in Puglia, staying at Masseria Montenapoleone, starts from £839 per person.

Tickle your tastebuds with one of our guided street food tours on your next Citalia holiday.

Speak to one of our Personal Travel Planners on 01293 765061

Summer/Autumn 2021

Andiamo!
---
AUTHENTIC ITALIAN RECIPES

Sapori

D'italia

Flavours Of Italy

Delicious Bucatini alla

Gamberi e Pomodoro

with

Puglia

Middle-weight white wine

(Pinot Grigio, Sauvignon, or Frascati) or

medium-bodied red wine

(Cabernet Sauvignon, Zinfandel,

or Rosso di Montalcino)

Serves 4

Preparation time

30 minutes to 1 hour

We love the fresh seafood pasta

dishes that you'll find on the

Puglian coast, whether you're

visiting the small traditional fishing village of

Torre Canne di Fasano or the pretty seaside

town of Savelletri di Fasano.

Our friends at Nonna Tonda share with us

a delicious recipe which uses the famous

datterino, a juicy and sweet gourmet tomato

variety that benefits from Puglia's hot sun. It also

features a crispy pangrattato (garlic crumb) for

extra decadence. Just follow the steps to making

this tasty summer dish.

Nonna Tonda delivers delicious authentic

freshly made pasta and sauces right to your

home with new recipes every week.

Ingredients

• 500g bucatini pasta

• 600g datterino or good quality

cherry tomato, quartered

• 700g prawns with their raw shell on

• 3 tbsp olive oil

• 120ml white wine

• 2 garlic cloves, finely sliced

• Small handful fresh parsley, finely chopped

For the Pangrattato:

• 200g ciabatta/rustic loaf

• 1 tsp fennel seed

• 1 tsp chilli flakes

• 5 tbsp olive oil

Method

Break up the bread and blend in a food

processor to make breadcrumbs. Heat the oil

in a small frying pan. Add the breadcrumbs,

chilli, and fennel seed, and fry until the

breadcrumbs are crispy and golden. Season to

taste and keep to the side.

Peel and devein the prawns, reserving one

quarter of the heads.

Heat olive oil in a separate large frying pan.

Add the reserved heads and garlic then fry

until lightly coloured.

Deglaze the same pan with white wine and

add the tomatoes. Cook for around 5 minutes

until the tomatoes have softened and created

a sauce.

Remove the cooked prawn heads from the

sauce and discard.

Add the chopped parsley and raw prawns

and cook for 1 minute or until the prawns are

cooked through. Season to taste and set aside.

Cook the pasta in a large pan of salted water

according to cooking instructions. Drain the

pasta and reserve half a cup of pasta water.

Return the pasta to the pan with the prawn

sauce and toss well. Add the reserved pasta

water as required to loosen the sauce.

Divide between plates and sprinkle over the

pangrattato. Buon appetito!

New to Nonna Tonda? Receive 50% off your first two deliveries with our exclusive offer.

Use the code CITALIA when you checkout. nonnatonda.co.uk

Keep your eye out for more information

on our partnership with Nonna Tonda,

including our first ever Instagram Live!

50 Citalia.com
---
Inspired?

Where's your next

Holiday?

At Citalia, we are part of a family of brands who live and breathe travel. These include

Sovereign Luxury Travel, offering luxury escapes at every turn, and American Holidays, specialising

in tailor-made holidays to America, Canada and the Caribbean, where the possibilities are unlimited.

Browse their collections of luxury hotels and resorts, and awe-inspiring journeys.

sovereign.com

americanholidays.com

Inspired?

Order your complimentary printed copy today >

Book Your 2022 Holiday Now And Save Later

Call our Personal Travel Planners on 01293 765061

Call our Personal Travel Planners on 01293 765061
---
To book or find out more, visit Citalia.com

or speak to one of our Personal Travel Planners on 01293 765061

WINNER