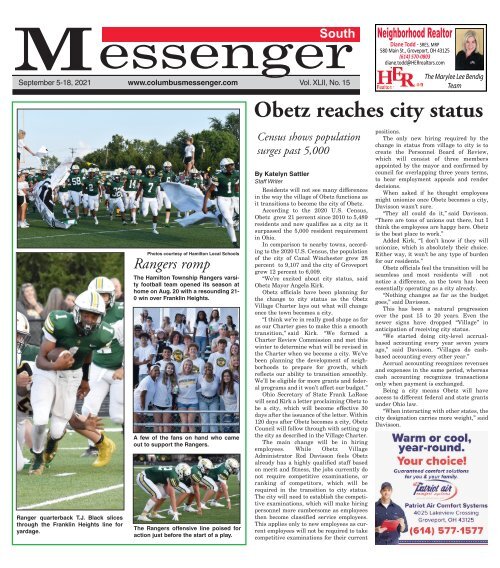 South Messenger - September 5th, 2021
You also want an ePaper? Increase the reach of your titles
YUMPU automatically turns print PDFs into web optimized ePapers that Google loves.
Messenger

South

September 5-18, 2021 www.columbusmessenger.com Vol. XLII, No. 15

Ranger quarterback T.J. Black slices

through the Franklin Heights line for

yardage.

Photos courtesy of Hamilton Local Schools

Rangers romp

The Hamilton Township Rangers varsity

football team opened its season at

home on Aug. 20 with a resounding 21-

0 win over Franklin Heights.

A few of the fans on hand who came

out to support the Rangers.

The Rangers offensive line poised for

action just before the start of a play.

Neighborhood Realtor

Diane Todd - SRES, MRP

580 Main St., Groveport, OH 43125

(614) 570-0803

diane.todd@HERrealtors.com

The Marylee Lee Bendig

Team

Obetz reaches city status

Census shows population

surges past 5,000

By Katelyn Sattler

Staff Writer

Residents will not see many differences

in the way the village of Obetz functions as

it transitions to become the city of Obetz.

According to the 2020 U.S. Census,

Obetz grew 21 percent since 2010 to 5,489

residents and now qualifies as a city as it

surpassed the 5,000 resident requirement

in Ohio.

In comparison to nearby towns, according

to the 2020 U.S. Census, the population

of the city of Canal Winchester grew 28

percent to 9,107 and the city of Groveport

grew 12 percent to 6,009.

"We're excited about city status, said

Obetz Mayor Angela Kirk.

Obetz officials have been planning for

the change to city status as the Obetz

Village Charter lays out what will change

once the town becomes a city.

"I think we're in really good shape as far

as our Charter goes to make this a smooth

transition," said Kirk. "We formed a

Charter Review Commission and met this

winter to determine what will be revised in

the Charter when we become a city. We've

been planning the development of neighborhoods

to prepare for growth, which

reflects our ability to transition smoothly.

We'll be eligible for more grants and federal

programs and it won't affect our budget."

Ohio Secretary of State Frank LaRose

will send Kirk a letter proclaiming Obetz to

be a city, which will become effective 30

days after the issuance of the letter. Within

120 days after Obetz becomes a city, Obetz

Council will follow through with setting up

the city as described in the Village Charter.

The main change will be in hiring

employees. While Obetz Village

Administrator Rod Davisson feels Obetz

already has a highly qualified staff based

on merit and fitness, the jobs currently do

not require competitive examinations, or

ranking of competitors, which will be

required in the transition to city status.

The city will need to establish the competitive

examinations, which will make hiring

personnel more cumbersome as employees

then become classified service employees.

This applies only to new employees as current

employees will not be required to take

competitive examinations for their current

positions.

The only new hiring required by the

change in status from village to city is to

create the Personnel Board of Review,

which will consist of three members

appointed by the mayor and confirmed by

council for overlapping three years terms,

to hear employment appeals and render

decisions.

When asked if he thought employees

might unionize once Obetz becomes a city,

Davisson wasn't sure.

"They all could do it," said Davisson.

"There are tons of unions out there, but I

think the employees are happy here. Obetz

is the best place to work."

Added Kirk, "I don't know if they will

unionize, which is absolutely their choice.

Either way, it won't be any type of burden

for our residents."

Obetz officials feel the transition will be

seamless and most residents will not

notice a difference, as the town has been

essentially operating as a city already.

"Nothing changes as far as the budget

goes," said Davisson.

This has been a natural progression

over the past 15 to 20 years. Even the

newer signs have dropped "Village" in

anticipation of receiving city status.

"We started doing city-level accrualbased

accounting every year seven years

ago," said Davisson. "Villages do cashbased

accounting every other year."

Accrual accounting recognizes revenues

and expenses in the same period, whereas

cash accounting recognizes transactions

only when payment is exchanged.

Being a city means Obetz will have

access to different federal and state grants

under Ohio law.

"When interacting with other states, the

city designation carries more weight," said

Davisson.
---
PAGE 2 - MESSENGER - September 5, 2021

A FREE ESTIMATE

15 10 5

YOUR ENTIRE

PURCHASE *

% % %

OFF + OFF + OFF

Serving Your Community

Malek &

ATTORNEYS AT LAW Malek

Proudly Announcing

Adding New Attorneys

To Serve You!

WORKERS'

COMPENSATION

PERSONAL INJURY

WRONGFUL DEATH

SLIP & FALL INJURY

DOG BITE INJURY

SENIOR & MILITARY

DISCOUNTS

| Promo Number: 285

Since 1972

YEAR-ROUND

CLOG-FREE GUARANTEE

1-855-995-2490

TO THE FIRST

50 CALLERS! **

Douglas, Ed, Jim

and Kip Malek

"Hablamos Español"

FREE Initial Consultation

www.maleklawfirm.com

614-444-7440

1227 S. High St., Columbus, OH 43206

www.columbusmessenger.com

It was a time to look to the sky

By Linda Dillman

Staff Writer

The Borror Observatory in the former

Hoover Y-Park on Rohr Road was once a

mecca for local stargazers who looked to the

skies through the lens of a homemade 10-

inch reflecting telescope.

Built out of concrete blocks in 1961, with

a 14-foot dome donated by Columbus

Astronomical Society (CAS) member

Charles Worch, the observatory was a

memorial to Ed Borror, who passed away in

1960 and whose financial contributions

made the park possible.

According to Charles Legg–who spent

many hours as a teenager volunteering at

the observatory and served as its de facto

director–not long after it was built, the

observatory fell into disuse until Legg was

approached by a member of the YMCA who

told him about the situation.

"When I was16, I volunteered at COSI

doing planetarium lectures and was a member

of the CAS," said Legg, 73. "I met Jim

Wagner, who worked at the Southside

YMCA. He told me about the situation with

the observatory. He expressed concern that

no one was using the observatory for its

intended purpose–to provide public open

houses and its use by amateur astronomers.

I was fairly ambitious back then at 16, so I

expressed an interest in visiting the observatory,

checking the condition of the telescope

and building, and seeing what I could do to

help."

Legg visited the site and found the building

dirty, with spider webs everywhere, but

the telescope was covered and in good condition.

Wagner met with Legg's parents, who

agreed their son could help correct the situation,

although his mother had reservations

about her son having a key to the observatory.

"In the end, it all worked out, and there

was never a problem," said Legg. "However,

my dad had to take me to the observatory

and pick me up until I received my drivers'

license. Since I was still an active member of

the CAS, it was not too much trouble stirring up interest,

primarily with the younger members; the 13-17-

year-olds."

According to Legg, the observatory became a focal

point for younger members of the CAS.

"In some ways, members of the CAS ran its operation

through me, but there was never an official connection

to the CAS, we were just all members of the

CAS," said Legg. "By that time, we had formed the

Prepare for unexpected

power outages with a

Generac home standby

generator

REQUEST A FREE QUOTE!

844-334-8353

FREE

7-Year Extended Warranty*

A $695 Value!

Limited Time Offer - Call for Details

Special Financing Available

Subject to Credit Approval

*To qualify, consumers must request a quote, purchase,

install and activate the generator with a participating dealer.

Call for a full list of terms and conditions.

Photos courtesy of Charles Legg

This is a rear of the Borror Observatory in the former Hoover Y-

Park on Rohr Road back in the days when it was operational.

Young astronomers use a telescope set up just outside the

Borror Observatory. Members of the Columbus Astronomical

Society would often set up their own telescopes around the

observatory for the public to view objects in the night sky.

Junior Astronomers of Columbus. It was a rebellious

time in the 1960s. Over time, I believe we disbanded

and just were once again members of the CAS. We

would meet on Saturday afternoons when we would

clean up the building and kill the wasps who loved to

build homes in the dome. They did not like the vibrations

when we rotated the dome."

Work parties on occasion addressed issues such as

painting old wooden chairs in the room below the telescope

and the weathering dome, which also

needed a new coat of silver paint donated by

a local store. Legg worked out a deal with a

company to donate a gas heater for the wintertime

and the Southside Y to supply the

propane.

The youths were also creative in obtaining

items such as a blackboard, bookcase,

and a table through donations.

"Some Saturday nights, 25 to 50 people

might show up, especially when something

astronomical was in the news, such as a

comet or a meteor shower," said Legg. "Other

See SKY, page 3
---
www.columbusmessenger.com

9/11 Remembrance

A remembrance of the 9/11 terrorist

attacks on the United States will be

observed on the 20th anniversary of the

attacks on Sept. 11 at Motts Military

Museum, 5075 S. Hamilton Road,

Groveport, at 8:45 a.m. The event will

include the Madison Township Fire

Department Honor Guard, flag raising,

Groveport Police Rifle Team, Groveport

Madison High School choir, buglers, bagpipers

from area fire departments, two

members of FDNY EMS - Lt. Dominick

Maggiore and Capt. Jack Boyle, nurse Dan

Burrill who was at Ground Zero, a member

of Ohio Task Force 1 who was at Ground

Zero and lives in Madison Township, and a

bell ringing will follow the events of 9/11.

Everyone is welcome to stay after the

event to talk to the speakers and tour the

museum and the 9/11 artifacts.

School Help Centers

The Columbus Metropolitan Library's

School Help Centers are now open offering

K-12 students after-school help, plus 24/7

access to free tools and resources.

Plus, students can get connected with

virtual tutors for one-on-one help Monday

through Friday from 2-11 p.m. using

HelpNow.

Masks are required to visit School Help

Centers. Hours vary by library location.

Visit columbuslibrary.org/school-help for

information.

SKY

Continued from page 1

members and I were on local TV shows. It

was primarily to promote the observatory

and get people to visit. We were on frequently

for a show that followed Flippo on

Channel 10. We seemed to have better

attendance for a few weeks after doing the

publicity. Scout groups were also frequent

visitors. Some scouts were interested in

getting their astronomy merit badges."

Mini-lectures on astronomical subjects

were often presented before taking visitors

up to the telescope and CAS members

would set up their own telescopes around

the observatory for the public to view

objects.

"With the observatory telescope, you

could see the rings of Saturn, the moons of

Jupiter and its Great Red Spot, the crescent

shape of Venus, the white polar cap of

Mars contrasted with the red surface. All

these were visible at one time or another

during a year," Legg said. "Most visitors

were just amazed at what they could see

when looking into the eyepiece of a telescope.

They would ask, 'Is that real, or is it

a photograph?' We would then put our

hand in from of the telescope, and the

object would disappear."

Another favorite viewing destination

was the moon. Legg said everyone sees the

moon in the night sky all the time, but

until you look at it through a high-powered

telescope, you have not seen the moon.

The theft of the observatory's original

homemade telescope was discovered early

Lithopolis Honeyfest

The Lithopolis Honeyfest will be held

Sept. 10 from 3-7 p.m. and Sept. 11 from 10

a.m. to 7 p.m. in downtown Lithopolis. The

event features bee beards, beekeepers, art,

music, honey bake-off, Ohio Honey Show,

honey extracting, hive inspection, junior

beekeeping, American Honey Princess,

food trucks, photo contest, honey, and

honey tasting. Admission is free. For information

visit lithopolishoneyfest.com.

Wagnalls Memorial Library

Wagnalls Memorial Library is located

at 150 E. Columbus St., Lithopolis. For

information call (614) 837-4765 or visit

www.wagnalls.org.

Southeast Library

The Southeast Branch of the Columbus

Metropolitan Library is located at 3980 S.

Hamilton Road, Groveport. For information

visit For information visit www.columbuslibrary.org

or call 614-645-2275.

Barber Museum

The National Barber Museum in Canal

Winchester is located at 135 Franklin St.

(behind the former CW High School building).

The museum, housed in approximately

5,000 square feet, showcases art, artifacts,

and memorabilia from decades of the

barbering profession. Regular hours are

Friday and Saturday from 11 a.m. to 4 p.m.

or by appointment (614) 837-8400.

one Saturday evening. Security was

always a problem since the site was out in

the country and rather isolated even

though a caretaker lived nearby.

"We found broken windows several

times, but there were not many valuable

items kept there because of the problem,

other than the telescope," said Legg, who

continued to be in charge of the observatory

until 1968, when he graduated from

high school.

A new, smaller, yet more powerful commercial

reflecting telescope replaced the

one stolen, but it, too, was taken after a

few years. Legg believes after the second

telescope disappeared, activities stopped at

the observatory, but is unsure since he was

attending college and no longer involved

with the observatory.

Legg said he had always been a lifelong

learner, and much of that learning started

when he was at the YMCA Observatory

and the COSI Planetarium. The observatory

was special to him because it allowed

him to indulge in all of his passions at one

time.

"I learned from fellow amateur

astronomers," said Legg. "I was doing what

I enjoyed and educated children and older

adults every time we had an open house.

As a side benefit, I made many friends,

young and old. My strength is an extensive

technical understanding; my passion is

learning, doing, and teaching."

September 5, 2021 - MESSENGER - PAGE 3
---
PAGE 4 - MESSENGER - September 5, 2021

Letters policy

The Messenger welcomes letters to the

editor. Letters cannot be libelous. Letters that

do not have a signature, address, and telephone

number, or are signed with a pseudonym,

will be rejected. PLEASE BE BRIEF

AND TO THE POINT. The Messenger

reserves the right to edit or refuse publication

of any letter for any reason. Opinions

expressed in the letters are not necessarily

the views of the Messenger.

Mail letters to: Messenger, 3500 Sullivant

Avenue, Columbus, OH 43204; or email eastside@columbusmessenger.com.

eastside

Messenger

(Distribution: 16,822)

Rick Palsgrove................................South Editor

eastside@ columbusmessenger.com

Published every other Sunday by

The Columbus Messenger Co.

3500 Sullivant Ave., Columbus, Ohio 43204-1887

(614) 272-5422

Keep tabs on the news in Canal

Winchester and Hamilton Twp.

Look for South Messenger on

Become a fan!

www.columbusmessenger.com

Will this be the year for the Browns?

I've been thinking about a conversation

I overheard recently that left me feeling

unsettled — so much so that I decided to

step out of my Reel Deal comfort zone to

share what had occurred.

While there was nothing unfriendly or

threatening about this exchange, I was

overwhelmed with pity for these individuals

for what I assumed was their naïve

enthusiasm regarding the topic at hand.

What follows is the conversation in

question, relayed to the best of my ability.

I ask you, dear reader, whether I am being

unfair to these people and those of a likemind.

Individual A, who will henceforth be

referred to as delusional person one (DPO),

glances at a hat being worn by another and

offers a compliment.

"Hey man," said DPO, "That's a great

hat you're wearing."

"Thanks," said Individual B, who will

henceforth be known as delusional person

two (DPT). "I've been a fan of the Cleveland

Browns my entire life."

"Me too," said DPO. "It's so exciting that

they made the playoffs this year and finally

won a game."

"More so because it was against the

(Pittsburgh) Steelers," said DPT.

"It feels like a new era," said DPO.

"What do you think of their chances next

season? I think if we get all our guys back,

we can make it to the Super Bowl."

"I think so too," said DPT. "I think we're

gonna win the whole thing. We're gonna be

unstoppable."

My immediate reaction to this conversation

was that they were joking. After all, I

too love chanting "Super Bowl" when the

Cleveland Browns do something vaguely

resembling competency. With slowly dawning

horror, however, I realized they were

serious. Against my better judgement, I

closed my gaping maw but offered a silent

prayer for their wayward minds.

"To whatever is out there, please guide

these poor souls," I said. "For at their age,

they really ought to know better."

As the weeks wore on, I kept coming

back to this conversation, especially as the

chorus of high expectations for the 2021

Browns spilled out the mouths of professional

sports analysts. I began to question

my skepticism, wondering whether I was

being too harsh on the admittedly

improved Brownies. Upon reflection, I realized

I may be acting unfairly toward my

beloved team but I just cannot give them

my whole and hopeful heart — not yet at

least, for they have crushed it many times

before.

I was indoctrinated into the Browns fandom

at birth. Part of it was due to my

father, a rabid fan, and another part was

due to the lulling effect the orange painted

walls of our living room had on my psyche.

It was oddly soothing though I wasn't sad

to have painted over it in the future.

I was very young when the Browns were

in their competitive 1980s era, but I do

remember how their losses (especially "The

Drive" and "The Fumble") impacted my

father. He was absolutely crushed and

though I may have been too young to

understand what all was going on, I knew

that he was hurting and thus I was too.

Wanting him to be happy, I cheered on

the Browns and cursed the teams they battled.

Then I would turn coat and root on

those teams, but only if their win would

improve the Browns' standings. This went

on until The Betrayal, which was a dark

time for fans throughout the country.

I don't want to rehash their revival era,

mostly because it is sad and depressing.

But I will say it gave me some great opportunities

to laugh, especially when one of

our many quarterbacks became trapped

under a giant American flag during pregame.

Having given up expectations for this

The Reel Deal

team a long time ago, I

did not have much optimism

for the reign of

General Manager

Andrew Berry and

Head Coach Kevin

Stefanski though it felt

like adults were finally

in the room. But

Dedra

Cordle

then something

bizarre started to

happen — they overcame

challenges (in an odd turn, most not

self-imposed) and started to win.

When they made the playoffs for the

first time since 2002, it was a pleasant surprise

— even more so when they thrashed

the Steelers in the Wild Card game and

made Ben Roethlisberger cry. They gave us

hope in the second round against a tough

opponent in the Kansas City Chiefs but

ultimately came up short.

With the entire coaching staff returning,

the entire starting offensive returning, and

a "re-vamped" defense led by Myles

Garrett, Denzel Ward and veteran newcomers

Jadeveon Clowney and John

Johnson III, it is no wonder why fans and

pundits alike are abuzz with positive chatter

as the start of the 2021 season

approaches. Though I want to hold hands

and join in on this peculiar sensation, I

can't — I just can't.

For me, there is a cloud of strangeness

that always hangs over the Browns (case in

point, promising rookie linebacker

Jeremiah Owusu-Koramoah dropped a

weight on his head and can't put on a helmet

because of his stitches) and I cannot in

good faith believe in good things to come. I

See BROWNS, page 5

BIRTHDAY • ENGAGEMENT • WEDDING • ANNIVERSARY

• GRADUATION • RETIREMENT

IN MEMORIUM • ARMED FORCES

Say it with an announcement ad in

the Messenger and spread the word.

You can download the appropriate form from

our Web site or stop by our office

Monday-Thursday, 8:30 a.m.-5 p.m.

Friday, 8:30 a.m.-2 p.m.

Columbus Messenger

3500 Sullivant Ave.

614-272-5422

www.columbusmessenger.com

Connection

X

I

T

E

T

H

E

R

D

G

B

J

P

S

E

H

K

G

R

I

X

T

K

S

S

O

L

D

E

R

T

A

U

U

X

K

V

D

I

I

T

G

K

L

E

R

S

C

C

F

F

E

L

N

T

C

R

I

K

L

S

I

W

E

U

L

G

I

H

Q

C

B

A

I

A

K

A

P

S

P

Q

A

I

T

C

E

Y

I

P

T

Z

W

Q

U

R

H

D

S

B

X

N

F

F

A

E

X

D

O

F

C

R

B

R

H

H

I

R

B

D

F

I

C

L

A

M

P

I

N

I

O

N

B

G

Y

D

F

Z

T

S

L

D

H

F

A

V

U

C

B

N

P

F

T

J

T

G

L

C

I

O

V

E

R

S

I

D

A

D

H

E

R

E

T

T

E

F

X

T

L

H

P

H

N

J

N

O

M

I

J

A

K

L

C

V

C

R

L

I

N

K

R

E

H

T

E

G

O

T

S

X

N

S

B

O

N

D

S

M

K

C

Y

J

Y

S

H

S

Messenger Word Search

ADHERE

AFFIX

ATTACH

BIND

BOND

BRIDGE

CHAIN

CLAMP

CLIP

COUPLE

FASTEN

FETTER

FUSE

GLUE

HITCH

Solution on page 17 5

JOIN

LASH

LINK

MELD

PINION

RELATE

RIVET

SECURE

SOLDER

STRAP

TETHER

TIE

TOGETHER

TRUSS

YOKE

Created by

Fred Bender

To

advertise

in the

Messenger

call Doug

Henry or

to place a

classified

ad call

614-

272-5422.
---
www.columbusmessenger.com

Red Cross needs

volunteer drivers

The American Red Cross needs transportation

specialists in central Ohio to

deliver blood.

These volunteer drivers will either pick

up blood products from the Red Cross processing

facility at 995 E. Broad St. and

deliver the boxes to area hospitals and/or

pick up blood from drive locations around

central Ohio and deliver it to Broad Street.

Transportation specialists help ensure

that blood products are available when and

where they are needed for hospital use

such as for trauma victims, surgery

patients, those receiving cancer and sickle

cell treatment among other serious medical

conditions.

The American Red Cross is experiencing

a severe blood shortage as the number

of trauma cases, organ transplants and

elective surgeries rise — and deplete the

nation's blood inventory.

"The donation of the blood is the first

step in the process," said Wendy

BROWNS

Continued from page 1

hope that good things happen; I begrudge

none of you who can believe, but I do so

wish you could keep it to yourself. You may

have overcome the past, but what you are

saying is scary and unfamiliar and we have

enough of that in the non-sporting world

already.

Yarbrough, regional donor services executive.

"Once the blood is collected, we need

to ensure it gets to its intended destination

quickly and safely. That's why volunteer

transportation specialists are so crucial to

this lifesaving process."

No special transportation license is

needed for this position. Volunteers will

drive Red Cross cars or standard mini

vans. To be eligible, prospective volunteers

must have a valid driver's license, three

years driving experience and a safe driving

record. Transportation specialists must be

able to lift 45 pounds.

More than 90 percent of the Red Cross

workforce is made up of volunteers.

To learn more about becoming a Red

Cross transportation specialist go to

www.redcross.org/deliver. To learn more

about other Red Cross volunteer opportunities,

visit www.redcross.org/volunteer.

Farmers' Market

The Groveport Farmers' Market will be

held on Tuesdays through Sept. 14 from 4-

7 p.m. at Groveport Madison Middle

School Central, 751 Main St.

(The Cleveland Browns begin the 2021

season at Kansas City on Sept. 12 at 4:25

p.m. They have not won a season opener

since 2004.)

Dedra Cordle is a Messenger staff writer

and columnist.

Sound the Alarm

American Red Cross volunteers will

Sound the Alarm in Columbus as part of a

national effort to educate 100,000 people

about home fire safety in high-risk neighborhoods

this spring.

Columbus area residents are encouraged

to call 844-207-4509 to request a virtual

education appointment and referral

to partner agency for installation of free

smoke alarms.

"Home fires remain the most frequent

disaster, yet most of us don't realize we

have just two minutes to safely escape,"

said Cory Paul, executive director of the

Greater Columbus Ohio Chapter. "Our

volunteers can help residents create personal

home fire escape plans and provide

them with the critical information they

need to protect themselves from these

everyday disasters."

Central Ohio residents are encouraged to

visit SoundTheAlarm.org and pledge to prepare

against home fires. This work is made

possible thanks to financial donations from

Red Cross' regional partners: American

Electric Power Foundation, Columbia Gas of

Ohio, Dayton Power & Light Foundation,

Duke Energ, and NetJets.

Since launching the campaign in 2014,

the Red Cross has helped save 864 lives

across the country by helping families create

escape plans and installing free smoke

alarms.

September 5, 2021 - MESSENGER - PAGE 5

Special Olympics

The mission of Special Olympics Ohio

and its Groveport and Canal Winchester

Special Olympics chapter is to provide year

round sports training and competition in a

variety of Olympic type sports for intellectually

disabled individuals.

For information contact local coordinators

Penny and Cassandra Hilty at groveportspecialolympics@gmail.com

or at (614)

395-8992 or 395-6640.

Donations may be sent to Groveport

Special Olympics, P.O. Box 296, Groveport,

OH 43125.

Puzzle solution

X

I

T

E

T

H

E

R

D

G

B

J

P

S

E

H

K

G

R

I

X

T

K

S

S

O

L

D

E

R

T

A

U

U

X

K

V

D

I

I

T

G

K

L

E

R

S

C

C

F

F

E

L

N

T

C

R

I

K

L

S

I

W

E

U

L

G

I

H

Q

C

B

A

I

A

K

A

P

S

P

Q

A

I

T

C

E

Y

I

P

T

Z

W

Q

U

R

H

D

S

B

X

N

F

F

A

E

X

D

O

F

C

R

B

R

H

H

I

R

B

D

F

I

C

L

A

M

P

I

N

I

O

N

B

G

Y

D

F

Z

T

S

L

D

H

F

A

V

U

C

B

N

P

F

T

J

T

G

L

C

I

O

V

E

R

S

I

D

A

D

H

E

R

E

T

T

E

F

X

T

L

H

P

H

N

J

N

O

M

I

J

A

K

L

C

V

C

R

L

I

N

K

R

E

H

T

E

G

O

T

S

X

N

S

B

O

N

D

S

M

K

C

Y

J

Y

S

H

S

Get out in front of

the 2021 Election

START ADVERTISING NOW

Community Advertiser Get The VOTES You NEED!

Dates to Advertise before the Election:

9/19 • 10/3

10/17—Ad with Free Story • 10/31—Ad with Free Story

BEST BUY FOR YOUR

ADVERTISING DOLLARS

Our papers reach over 81,000 households!

200 Word Story

With Your Ad

COME JOIN US FOR WORSHIP IN OUR

BEAUTIFUL HISTORIC CHAPEL

BRICE

UNITED METHODIST

CHURCH

3160 Brice Road, Brice, Ohio 43109

614-866-3025

Pastor Nick Shaw

Sunday Morning Worship Service - 10:30 a.m.

Please visit the

South/Canal Winchester

Church of your choice.

List your Worship

Services here.

For info. call 614-272-5422

Be a Part of Our Local Worship Guide

Our Worship Guide is geared toward celebrating faith and helping readers connect

with religious resources in our community. Make sure these readers know

how you can help with a presence in this very special section distributed to more

than 19,000 households in the South area.

Contact us today to secure your spot in our Worship Guide.

614.272.5422 • kathy@columbusmessenger.com

Call or Email Doug Henry

Phone: (614) 272-5422

Email: doughenry@columbusmessenger.com

Messenger

South
---
PAGE 6 - MESSENGER - September 5, 2021

www.columbusmessenger.com

Masks now mandated in Hamilton Local Schools

By Linda Dillman

Staff Writer

Dr. Hobbs

3700 Parsons Ave.

Columbus, OH 43207

New Patients & Emergencies Always Welcome

(614) 491-5511

www.ScottAKellyDDS.com

IF IMPLANTS FAILS?

A dental implant is inserted into

the bone in order to support "permanent"

dentures. In effect, it is a

replacement for removable dentures.

The technique is getting better

each year. Records show that

some implants have now lasted

over 20 years.

However, what if an implant fails?

Would it leave your jaws in a worse

state than if you had worn conventional

dentures? The answer depends

on three factors:

1) How much bone was originally

available, and should the implants

have been done in the first place?

2) How well were the implants inserted

surgically and how well were

the teeth made?

Dr. Kelly

3) How long have the failed implants

remained in the mouth? If

the patient was a suitable candidate

to begin with, if everything

was done correctly, and if the failed

implant is removed as soon as possible,

there should be little or no

bone loss. Very often, another implant

can be inserted at a later date.

There is always the option for the

patient to go back to wearing conventional

dentures.

Prepared as a public service

to promote better dental health.

From the office of:

SCOTT A. KELLY, D.D.S.

Phone 614-491-5511

Celebrating canal history

Communities up and down the length of the old

Ohio and Erie Canal are getting ready to celebrate

their canal history and the creation of the new driving

trail that highlights that heritage.

The Scenic Scioto Heritage Trail, Inc., and its partner

communities recently announced the development

of the new Ohio and Erie Canal Southern Descent

Heritage Trail from Buckeye Lake to Portsmouth.

Groveport will hold its kickoff event, Groveport

Canal Day: Celebrating Our Heritage Along the

Southern Descent Trail, for the trail on Sept. 5 from

noon to 4 p.m. in Heritage Park, 551 Wirt Road. It will

include refreshments and possibly acoustic music

entertainment. Heritage Park will serve as the starting

point for people to venture out to view other canal

sites in town including the Sharp's Landing building

across from the Groveport Cemetery; a canal mural

inside KidSpace, 630 Wirt Road; the Groveport

Heritage Museum in Town Hall, 648 Main St.; Lock 22

in Groveport Park; canal channel remnants in

Blacklick Park, and more. Visitors may walk to the

sites or use a shuttle to Lock 22 provided by the city of

Groveport.

The village of Lockbourne's kickoff event is Sept. 25

from 2-6 p.m. at Locke Meadow Park, 154 Commerce

St., which could include guided hikes along the

Magnolia Trail, a talk on the history of the Ohio & Erie

Canal and Lockbourne's significance during the canal

days, activities and games for the children, chili cook

off, and possibly a live band.

The 114 mile driving trail of

the The Ohio & Erie Canal

Southern Descent Historic

District begins at the southern

edge of Buckeye Lake in

Fairfield County. It includes

Bibler lock 8 in Baltimore; locks

11, 12, and 13 in Lockville; lock

22 in Groveport; locks 26, 27, 29,

and 30 in and near Lockbourne;

and remnants of the Columbus

Feeder just west of Lockbourne

in Franklin County.

In Pickaway County the trail

includes Canal Park in

Circleville. In Scioto County the

trail continues south through

Rushtown at lock 48 and lock 50

in West Portsmouth and ends at

Across the nation, confrontations are on the rise

between parents opposing mask mandates and school

boards dealing with increased absences due to COVID-19

quarantines. The Hamilton Local district is no exception.

On Aug. 30, the Hamilton Board of Education

addressed the issue as the high school prepared to shut

down for a second day in the row due to pandemic quarantine

concerns.

Despite vocal opposition to masks from some parents–

a few of whom were removed from the meeting for speaking

out of turn after a public participation session ended–

contrasted by support for masks from students attending

the meeting–the board voted to institute an across-theboard

mask mandate for all school buildings.

The spike in cases and quarantines in Hamilton Local

Schools prompted the board to require masks for all students,

staff, and visitors in indoor spaces, which went into

effect on Sept. 1. Students riding on district transportation

were already required to wear masks while on board.

In an open letter to the district posted to the district's

Facebook page on Aug. 30, Superintendent Mark Tyler

said, "This decision comes after having closely monitored

the data trends impacting our district. The board of education

is aware of these trends and the district's concerns

about preserving the continuity of education. Due to the

Ohio Department of Health's Guidelines for Quarantine

After Exposure in K-12 Classroom Settings, we are focusing

on keeping students and staff in school by reducing the

potential that they would be close contacts and quarantines,

resulting in missing class."

Tyler said Hamilton Local's goal remains to keep as

many students and staff in the classroom as possible and

acknowledged the topic is a difficult issue within the community.

Tyler emphasized the decision was made to keep

students in school, in-person, five days a week.

Despite a number of student athletes in quarantine,

district spokesperson Kaitlin Duncan said there is

not a concentration of positive cases within the athletic

program.

"We have had six games cancelled between both JV and

Varsity teams throughout all fall sports," said Duncan.

"Any league games will be rescheduled. Currently there

are 34 cases within the district, with 19 cases being at the

high school. This can be referenced on our COVID Update

Report: https://bit.ly/HLSDCovidCases."

Case numbers are updated by the school nurse.

Cumulatively, there were 53 positive cases reported since

the start of school. Parents/guardians are asked to report

new positive COVID-19 cases to their child's school.

The district must then notify the Franklin County

Public Health Department within 24 hours of a positive

case reported by a staff or for a student. If a child was

deemed to be in close contact of an infected person, a parent/guardian

will be notified by the health department, not

the district.

lock 55, west of downtown Portsmouth at the Ohio

River.

All of these canal locks, with the exception of lock

55, are listed in the National Register of Historic

Places. Work to list lock 55 is underway. The locks'

function was to raise and lower water levels for canal

boats to meet the changing level of terrain.

Residents and visitors can learn the story of this

important transportation route as they follow the driving

trail. Creation of the trail, which will be launched

this fall, is being funded by the Canal Society of Ohio

and Ohio Humanities grants.

For information about the Ohio and Erie Canal

Southern Descent Heritage Trail, contact project director

Cathy Nelson at cathyd.nelson@gmail.com or visit

seeohiofirst.org.

Obetz Village Council

The Obetz Council is made up of six elected officials

who are elected at-large and serving staggered fouryear

terms under the rules of the Charter of the

Village of Obetz. Council meets the second and fourth

Mondays of each month at 6 p.m. in the Council

Chambers at 4175 Alum Creek Drive, Obetz, to review

and pass legislation and hear concerns from the residents.

If the meeting date occurs on a holiday, the regular

meeting is held on the next Tuesday following the holiday.

Call (614) 491-1080.

Emergency services in Obetz

Emergency medical, fire, and rescue services in the

Obetz area are provided by either the Hamilton

Township Fire Department or Madison Township Fire

Department depending on your location.

For non-emergencies, call the Hamilton Township

Fire Department at (614) 491-1013. The Madison

Township Fire Department may be reached at (614)

837-7883.

Lockbourne Council

Lockbourne Village Council meets the second and

fourth Mondays of each month at 7 p.m. Council meets

in-person at the Lockbourne Historical Hall at 206

Vause St., Lockbourne. The public may join the meeting

virtually through Microsoft Teams. To join the

meeting, go to the village website at www.lockbourneohio.us

and click on the link to the meeting.
---
www.columbusmessenger.com

September 5, 2021 - MESSENGER - PAGE 7

Former Lockbourne school hosts reunion

By Linda Dillman

Staff Writer

Familiar faces filled a familiar place as former students,

who spent an afternoon in a recently renovated former

Hamilton Township elementary school in Lockbourne,

walked through its doors for an annual celebration.

The village of Lockbourne held its second School

Reunion Luncheon on Aug. 25 in what is now known as the

Lockbourne Historical Hall. The building is the former

home of a Masonic lodge that started out as Hamilton

Local Schools' first four-year high school at the end of the

19th century and later educated elementary students.

"The old schoolhouse will continue to be a link to the

past as we move forward to the future," said Lockbourne

Mayor Christie Ward.

The brick building closed as an elementary school in the

early 1950s. Some former students attended the event and

shared memories.

"The Korean War was going on. It was 1951 and we had

bomb drills instead of fire drills," said Frank Peters. "My

dad was on the school board for 22 years and I came down

here to school on Wendell Herron's bus. I totally enjoyed

being in this school. I remember going out at lunch to the

pump to get water and you left your own cup here."

Carolyn Forshey Young, who graduated from Hamilton

Township High School in 1958 and now lives in Florida,

said she still considers Lockbourne home.

"I remember one year when there was a big snowfall,"

said Young. "All the kids in town got together and started

rolling a snowball at one end of the town and then ended

up at the other end with a gigantic snowball. You could do

something like that back then."

Messenger photo by Linda Dillman

Lockbourne Village Administrator Jane McJunkin

(left) and Carolyn Forshey Young, who both attended

the former schoolhouse in the village back in the

1950s, look at art work of a cardinal painted by

Young's mother when the family resided in

Lockbourne.

Young and Lockbourne Village Administrator Jane

McJunkin took time to look at artifacts scattered throughout

the room, including a small painting of a cardinal created

by Young's mother, Mary Forshey, when the family

lived in Lockbourne decades ago.

McJunkin attended first grade in the former schoolhouse

and updated everyone on current village activities

"The Korean War was going on. It was 1951

and we had bomb drills instead of fire drills. My

dad was on the school board for 22 years and I

came down here to school on Wendell Herron's

bus. I totally enjoyed being in this school. I

remember going out at lunch to the pump to get

water and you left your own cup here."

- Frank Peters

involving the building as it now serves as an event center.

"We have really renovated a lot in this old school," said

McJunkin. "We've had a graduation party here and a

birthday party. There were the fish fries and a motorcycle

club event. We already have a wedding scheduled for next

year. We're trying to raise funds now to install a deck outside

and a handicap ramp. We're thinking where council

now meets to turn it into a small museum when council

starts meeting here."

Hamilton Local Schools Superintendent Mark Tyler

helped to bridge the old with the new and provided an

update of what the district now offers to its students as

they prepare for life after graduation, whether it is enlisting

in the military, attending college, or heading straight

to work.

"This building is incredible to me and how quickly this

occurred," said Tyler. "They (village organizers) had a

vision and here it is. A lot has changed in the schools.

Some changes are great, some are less than desirable, but

the pride and the passion has not gone away. There is a

special kind of bond in this community."

Are you or a loved one approaching

Medicare Decisions

Soon?

M ed icare Annual Enroll

ment Period

Oct. 15

th

Dec. 7

• I hear on TV about dental, vision, hearing benefits are offered.

Are they available to me?

• Help you understand how your plan and benefits work!

• Do I qualify for Low Income Subsidy (LIS) to reduce my Rx copays?

You may apply anytime during the year, I can help.

Call me t today... $0 Consultation n $0 Fee

Call me t

Consultatio

$0 Fee

Terr Terri ri

Curcio Curcio 6614-460-0601

460 060

01

Terri

Curcio

614-460-0601

0601

Resident

of Ohio, a representative that i

an 800#! I can mail

you

Local repre your esentative, choice of carrier(s) I can mail

information you your preferre or we can ed carrier(s) meet via Zoom information call.

And, to review. I can enroll

Also, a

I can enrol client l a without client without a face-to-fac a face meeting to face meetin or sched ngdule or schedule a personal a mee one-on-one eting if you meeting prefer. if

you prefer.

OHIO IN. #43449 Available year round to answer questions, or

to help resolve an

issue. NO FEE

Offering different types of plans with top-rated carriers. I will work for you to find the

plan that

Review

fits your

different

needs

types

and

of lifestyle, Medicare

while

plans

offe

with

ring top-rated

the lowest

carriers

copays.

. I work for you to

find the

plan that fits your needs and lifestyle,

while offering low

copays.

OHIO IN. #43449

Do I qualify for

Low Income Subsidy (LIS) to reduce my Rx copays?

Turning 65 and new to Medicare

Or over 65 and

still working

needing answers.

Grove City Chamber Member

th
---
PAGE 8 - MESSENGER - September 5, 2021

Blondie (and her tooth) is currently

available for adoption. This 7-yearold

lovely lady had some dental

issues that may have been causing

her distress. Those issues have been

addressed at the shelter. She has

lived with cats and prefers women. If

you have a quiet home and are looking

for a companion that may take

some time to trust you and her new

surroundings, meet with Blondie.

She is worth your love and is up for adoption at the

Franklin County Dog Shelter.

FYI: franklincountydogs.com

Blue Jay was wandering the

streets in Ironton, Ohio before

someone rescued him. He is a

sweet boy who loves people and

loves attention. He doesn't understand

personal space and likes to

run fast. If you're looking for a cuddle

buddy, contact Colony Cats

about adopting Blue Jay.

FYI: colonycats.org

pets of the week

Han Solo is a funny boy. When he

was in a foster home, he took a liking

to socks. He would steal all his foster

mom's socks and collect them. In

addition to his fondness for socks,

Han Solo is a super affectionate guy.

He is about 5 years old and eager to

find a loving forever family. Adopt

him from Colony Cats.

FYI: colonycats.org

Willow is a very sweet and loving

girl. This 5-month-old kitten is very

affectionate. She loves belly rubs

and ear scratches. Willow gets along

well with children and other cats. She

would make a lovely addition to any

home. Adopt Willow from Friends for

Life Animal Haven.

FYI: fflah.org

www.columbusmessenger.com

These furry friends are available for

adoption at local rescues and shelters.

CLASSIFIED ADS

Deadlines: Groveport and West editions, Wednesdays at 5 p.m., • South/Canal Winchester, Grove City, Madison editions, Tuesdays at 5 p.m.

All editions by phone, Tuesdays at 5 p.m. • Service Directory, Tuesdays at 5 p.m.

ASSOCIATION ADS

ASSOCIATION ADS

Attention Active Duty &

Military Veterans! Begin a

new career & earn a

Degree at CTI! Online

Computer & Medical

training available for

Veterans & Families! To

learn more, cal 888-449-

1713.

ATTENTION DIABETICS!

Save money on diabetic

supplies! Convenient

home shipping for

monitors, test strips,

insulin pumps, catheters &

more! To learn more, call

now! 877-810-0063

Donate your car to kids.

Your donation helps fund

the search for missing

children. Accepting trucks,

motorcycles & RV's too!

Fast free pickup - running

or not - 24 hr response -

maximum tax donation -

Call 888-515-3813

Never pay for covered

home repairs again!

Complete Care Home

Warranty covers all major

systems & appliances. 30-

day risk free. $200.00 off

+ 2 free months! 1-866-

395-2490

Become a Published

Author. We want to Read

Your Book! Dorrance

Publishing Trusted by

Authors Since 1920 Book

manuscript submissions

currently being reviewed.

Comprehensive Services:

Consultation, Production,

Promotion and Distribution.

Call for Your Free Author's

Guide 1-866-482-1576 or

visit http://dorranceinfo.

com/macnet

ASSOCIATION ADS

Donate Your Car To

Veterans Today! Help and

Support our Veterans.

Fast - FREE pick up.

100% tax deductible. Call

1-800-245-0398

!!OLD GUITARS WANT-

ED!! GIBSON, FENDER,

MARTIN, Etc. 1930's to

1980's. TOP DOLLAR

PAID. CALL TOLL FREE

1-866-433-8277

Update your home with

beautiful new blinds &

shades. Free in-home

estimates make it

convenient to shop from

home. Professional

installation. Top quality -

Made in the USA. Free

consultation: 877-212-

7578. Ask about our

specials!

Internet &WIFI Starts at

$49 Call us Today to Get

Started. Find High-Speed

Internet with Fiber Optic

Technology No Credit

Check, No SSN Required.

Call us Today 866-396-

0515

ATTENTION SENIORS:

The average funeral cost

is $9000+ Don't leave

your family to pay your

debts. State Approved,

Final Expense Life

Insurance Plans are now

avaiilable as low as $25 a

month. Hurry and call

before enrollment ends. 1-

877-761-1796. M-F 9am-

6pm EST

Wesley Financial Group,

LLC Timeshare Cancellation

Experts Over

$50,000,000 in timeshare

debt & fees cancelled in

2019. Get free

informational package &

learn how to get rid of

your timeshare! Free

consultations. Over 450

positive reviews. 888-965-

0363

The bathroom of your

dreams for as little as

$149/month! BCI Bath &

Shower. Many options

available. Quality

materials & professional

installation. Senior &

Military Diiscounts

Available. Limited Time

Offer - FREE virtual inhome

consultation now

and SAVE 15%! Call

Today! 1-877-540-2780

Replace your roof with the

best lookng and longest

lasting material! Steel

from Erie Metal Roofs!

Three styles and multiple

colors available.

Guaranteed to last a

lifetime! Limited Time

Offer - $500 Discount +

Additional 10% off install

(for military, health

workers & 1st responders)

Call Erie Metal Roofs: 1-

855-338-4807

HOME BREAK-INS take

less than 60 SECONDS.

Don't wait! Protect your

family, your home, your

assets NOW for as little as

70¢ a day! Call 866-409-

0308

xInformation

Scioto Southland Civic

Meets the second Monday of each month

at 6 PM at Heritage Freewill Baptist Church

575 Obetz Road, Columbus

Columbus Metro Parks has purchased the

old Herr Park off South High and will

attend the Civic Meeting on Sept. 13th

to gather information about what the

community would like to see incorporated

in the park.

Meeting is open to the public

so bring your ideas and plan now to

attend that meeting and share your ideas.

Information
---
www.columbusmessenger.com

September 5, 2021 - MESSENGER - PAGE 9

CLASSIFIED ADS

Deadlines: Groveport and West editions, Wednesdays at 5 p.m., • South/Canal Winchester, Grove City, Madison editions, Tuesdays at 5 p.m.

All editions by phone, Tuesdays at 5 p.m. • Service Directory, Tuesdays at 5 p.m.

xAdult Care

Windsong is committed to providing

high quality, loving care, and affordable

home care services to our clients. With our

assistance, clients can lead

dignified and independent lives in the

comfort of their own home.

Individual needs are carefully assessed,

understood, and met through the selective

assignment of quality, trustworthy and

compassionate service-oriented personnel.

Give us a call today for a free in-home

assessment or visit our website at

www.windsongseniorcare.com

614-820-5000

xInformation

WHAT IS THE SOURCE

OF

IRRATIONAL BEHAVIOR?

Find out BUY AND READ

Dianetics The Modern

Science of Mental Health

by L. Ron Hubbard - $25

Call (614)401-0664 Or come to

1266 Dublin Road, Columbus,Ohio

Information

Adult Care

614-991-0652 614-376-9761

Welcome

Carolyn's Cottage

Private Assisted Living

3036 Woodgrove Dr., Grove City, OH

2 Resident Openings

Available

advertise

ASSOCIATION ADS

Long Distance moving.

Call for a free quote from

America's Most Trusted

Interstate Movers. Let us

take the stress out of

moving! Speak to a

relocation specialist! Call:

888-721-2194

DENTAL INSURANCE

from Physicians Mutual

Insurance Company.

Coverage for 350 plus

procedures. Real dental

insurance - NOT just a

discount plan. Do not wait!

Call now! Get your FREE

Dental Information Kit with

all the details! 1-877-553-

1891

www.dental50plus.com/

macnet#6258

The Generac PWRcell

solar plus battery storage

system. Save money,

reduce reliance on

grid, prepare for outages

& power your home. Full

installation services. $0

down financing option.

Request free no obligation

quote. Call 1-855-

270-3785

YOUR ADULT

CARE SERVICES

Call Kathy

at The Messenger

For More Info

272-5422

ASSOCIATION ADS

Don't let the stairs limit

your mobility! Discover

the ideal solution for

anyone who struggles on

the stairs, is concerned

about a fall or wants to

regain access to their

entire home. Call

AmeriGlide today! 1-844-

317-5246

AMERICAN & FOREIGN

CLASSIC CARS AND

MOTORCYCLES

WANTED. $$PAYING

CA$H$$ Corvettes,

Mustangs, Jaguars, Austin

Healeys, Broncos,

Blazers, Ram Chargers,

AMX, and Triumphs

KRMiller1965@yahoo.com

717-577-8206

Stroke & Cardiovascular

disease are leading

causes of death according

the AHA. Screenings can

provide peace of mind or

early detection! Call Life

Line Screening to

schedule a screening.

Special offer 5 screenings

for $149.. 1-833-549-4540

Best satellite TV with 2

year price guarantee!

$59.99/mo with 190

channels and 3 months

free premium, movie

channels! Free next day

installation! Call 844-842-

4469

xEmployment

BE YOUR OWN BOSS!

INDEPENDENT

CONTRACTORS

WANTED

If you have a reliable car and would like to

earn extra money, then why not deliver?

• Deliver 1 or 2 days a week

• Flexible delivery hours

• Work close to home - often in or

near your neighborhood

CONTACT US

1-888-837-4342

www.thebag.com

Have Something

To Sell?

Need To Rent

That Property?

Try The

Messenger!

For Info On Placing

An Ad Call

614-272-5422

ASSOCIATION ADS

Want Faster & Affordable

Internet? Get internet

service today with

Earthlink. Best internet &

WiFi Plans. Call us Today

to Get Started. Ask

about our specials! 866-

396-0515

IMPORTANT

NOTICE

The following states: CA,

CT, FL, IA, IL, IN, KY,

LA, MD, ME, MI, MN,

NE, NC, NH, OH, OK,

SC, SD, TX, VT and WA

requires seller of certain

business opportunities to

register with each state

before selling. Call to

verify lawful registration

before you buy.

HughesNet - Finally, superfast

internet no matter

where you live. 25 Mbps

just $59.99/mo! Unlimited

Data is Here. Stream

Video. Bundle TV &

Internet. Free Installation.

Call 866-499-0141

• Deliver 7 days a week

• Delivery before dawn

• Work close to home - often in or

near your neighborhood

CONTACT US

614-461-8585

www.dispatch.com/delivery

Employment

ASSOCIATION ADS

READER

ADVISORY

The National Trade Association

we belong to has

purchased the following

classifieds. Determining

the value of their service

or product is advised by

this publication. In order

to avoid misunderstandings,

some advertisers do

not offer "employment"

but rather supply the

readers with manuals, directories

and other materials

designed to help

their clients establish mail

order selling and other

businesses at home. Under

NO circumstance

should you send any

money in advance or give

the client your checking,

license ID or credit card

numbers. Also beware of

ads that claim to guarantee

loans regardless of

credit and note that if a

credit repair company

does business only over

the phone it's illegal to request

any money before

delivering its service. All

funds are based in US

dollars. Toll Free numbers

may or may not

reach Canada. Please

check with the Better

Business Bureau 614-

486-6336 or the Ohio Attorney

General's Consumer

Protection Section

614-466-4986 for more

information on the company

you are seeking to

do business with.

EARN EXTRA

$$$ $$$

MONEY

The Advertising Department at the

Columbus Messenger Newspapers

is seeking a Salesperson.

No Experience Necessary.

Base salary plus commissions, auto allowance.

Seniors welcome to apply.

Please send your resume or call:

Doug Henry, Advertising Manager

Columbus Messenger Newspapers

3500 Sullivant Ave.

Columbus, Ohio 43204

614-272-5422

or

e-mail to doughenry@columbusmessenger.com

ASSOCIATION ADS

DISH TV $64.99 190

Channels + $14.95 high

speed internet. FREE installation,

Smart HD DVR

included. Free Voice Remote.

Some Restrictions

apply. Promo Expires

1/21/22. 1-833-872-2545

New authors wanted!

Page Publishing will help

self-publish your book.

Free author submission

kit! Limited offer! 866-

951-7214

Donate your car to kids!

Fast free pickup running

or not - 24 hour response.

Maximum tax

donation. Help find missing

kids! 877-831-1448

Attention oxygen therapy

users! Inogen One G4 is

capable of full 24/7 oxygen

delivery. Only 2.8

pounds. Free info kit.

Call 877-929-9587

Looking for auto insurance?

Find great deals

on the right auto insurance

to suit your needs.

Call today for a free

quote! 866-924-2397

NEED IRS RELIEF

$10K-$125K+ Get Fresh

Start or Forgiveness.

Call 1-844-431-4716

Monday through Friday

7am-5pm PST

ASSOCIATION ADS

SELL YOUR ANTIQUE

OR CLASSIC CAR.

Advertise with us. You

choose where you want

to advertise. 800-450-

6631 visit macnetonline.

com for details.

AT&T Internet. Starting

at $40/month w/12-mo

agmt. 1 TB of data/mo.

Ask how to bundle &

SAVE! Geo & svc restrictions

apply. 1-888-796-

8850

HughesNet Satellite Internet

- Finally, no hard

data limits! Call today for

speeds up to 25mbps as

low as $59.99/mo! $75

gift card, terms apply. 1-

844-863-4478

VIAGRA and CIALIS

USERS! 50 Generic pills

SPECIAL $99.00 FREE

Shipping! 100% guaranteed.

24/7 CALL NOW!

888-445-5928 Hablamos

Espanol

Directv Now. No Satellite.

$40/mo 65 Channels.

Stream news, live

events, sports & on demand

titles. No contract/

commitment. 1-866-825-

6523

Train online to do medical

billing! Become a

Medical Office Professional

at CTI! Get trained

and certified to work in

months! 888-572-6790.

(M-F 8-6 ET)
---
PAGE 10 - MESSENGER - September 5, 2021

www.columbusmessenger.com

xEmployment

Southeast Healthcare is seeking the following positions:

MAT & SUD Program Manager to oversee multiple MAT and SUD programs and provide program development

and a unifying clinical vision. LISW/LPCC required.

Treatment Team Leader to lead a team of case managers providing support to adults with mental health and

substance use disorders in a community setting. LISW/LPCC required.

FQHC Therapist to provide behavioral health services to adults receiving primary care through our Federally

Qualified Health Center. LISW/LPCC & EMDR expertise preferred.

Primary Care Practice Manager to manage and coordinate functions of our FQHC healthcare clinic at

numerous sites, including participating in revenue cycle functions and quality and service initiatives. Must have

skill set that includes primary healthcare knowledge and experience, knowledge of infection control, practice

workflow, registration, scheduling, and quality improvement.

Project Director to head a transformational initiative, providing oversight and leadership to our new Certified

Community Behavioral Health Clinic. Responsibilities include start-up, implementation, and on-going

operational oversight, with direct supervision of the project. Prior supervisory experience required. Experience

and knowledge in behavioral health and primary care is strongly preferred. LPCC/LISW or MSN/RN required.

Assessment Specialist to provide clinical/assessment and referral services to individuals receiving services at

Southeast Healthcare. Master's degree and LSW/LPC required.

Registered Nurse Lead to utilize and share your experience in care management with BH population. OH RN

license required.

Psychologist to provide clinical services to primary care patients targeting chronic health conditions and

behavioral and lifestyle changes. Position requires experience with the SPMI and SUD populations. Active Ohio

Psychology license required.

RN/Nursing Supervisor to provide leadership, nursing direction, and support to the nursing staff. Will

supervise Central Pharmacy Nurses. Other Agency nurses remain under the direct supervision of their team or

program leader. Must be licensed as a Registered Nurse in the State of Ohio with at least 5 years, Psychiatric

nursing experience. Must have at least 2 years of previous supervisor Experience.

We only hire non-smokers.

We offer many great benefits, including health, dental, vision, 401(k), mileage reimbursement, education

Reimbursement, generous paid time off, and a SIGN-ON BONUS!

For a full list of opportunities, go to https://southeasthc.org/employment

To complete an application, go to http://southeastinc.appone.com

ASSOCIATION ADS

Pest Control

Find Pest Control Experts

Near You! Don't let

pests overtake your

home. Protect your loved

ones! Call to find great

deals on Pest Control

Services - 833-872-0012

Protect your home w/home

security monitored by

ADT. Starting at $27.99/

mo. Get free equipment

bundle including keypad,

motion sensor, wireless

door & windows sensors.

833-719-1073

Life Alert. One press of a

button sends help fast

24/7! At home and on

the go. Mobile Pendant

with GPS. Free first aid

kit (with subscription).

877-537-8817 Free brochure

ASSOCIATION ADS

Wants to purchase minerals

and other oil and gas

interests. Send details to

P.O. Box 13557, Denver,

CO. 80201

Elminate gutter cleaning

forever! LeafFilter, the most

advanced debris-blocking

protection. Schedule

Free LeafFilter Estimate

today. 15% off Entire

Purchase. 10% Senior &

Military Discounts. Call 1-

855-995-2490

DISH TV $64.99 FOR 190

Channels + $14.95 High

Speed Internet. Free Installation,

Smart HD DVR

Included, Free Voice Remote.

Some restrictions

apply. Promo expires

1/21/22. 1-855-270-5098

HEARING AIDS!! Bogo

free! High-quality rechargeable

Nano hearing

aids priced 90% less

than competitors. Nearly

invisible! 45-day money

back guarantee! 833-

669-5806

Employment

ASSOCIATION ADS

Eliminate gutter cleaning

forever! LeafFilter, the

most advanced debrisblocking

gutter protection.

Schedule a FREE LeafFilter

estimate today. 15% off

Entire Purchase. 10% Senior

& Military Discounts.

Call 1-855-791-1626

Attention: If you or aloved

one worked around the

pesticide Roundup

(glyphosate) for at least 2

years and has been diagnosed

with non-Hodgkin's

lymphoma, you may be

entitled to compensation.

855-341-5793

DENTAL INSURANCE-

Physicians Mutual Insurance

Company. Covers

350 procedures. Real

insurance - not a discount

plan. Get your free

dental Info kit! 1-888-

623-3036 . www.dental50plus.com/58

#6258

PART-TIME

DELIVERY PERSON

NEEDED

Looking for delivery person to

deliver our

South Messenger Newspaper

to store locations 2 times per

month. Approx. 2 hour delivery time.

GREAT PAY - GREAT HOURS

CONTACT: DOUG HENRY

doughenry@

columbusmessenger.com

ASSOCIATION ADS

VIAGRA & CIALIS! 60

pills for $99. 100 pills for

$150 FREE shipping.

Money back guaranteed!

1-844-596-4376

BATH & SHOWER UP-

DATES in as little as

ONE DAY! Affordable

prices - No payments for

18 months! Lifetime warranty

& professional installs.

Senior & Military

Discounts available. Call

855-761-1725

Thinking about installing

a new shower? American

Standard makes it

easy. FREE design consulation.

Enjoy your

shower again! Call 1-

833-769-0995 today to

see how you can save

$1,000 on installation, or

visit www.newshowerdeal.com/mac

ASSOCIATION ADS

GENERAC Standby

Generators provide

backup power during

power outages, so your

home & family stay safe &

comfortable. Prepare now.

FREE 7-yr extended

warranty $695 value!

Request a free quote

today. Call for terms &

conditions. 1-844-334-

8353

READY TO BUY, SELL

OR RENT YOUR

VACATION HOME OR

HUNTING CAMP?

Advertise it here and in

neighboring publications.

We can help you. Contact

MACnet MEDIA @

800-450-6631 or visit our

site at MACnetOnline.

com
---
www.columbusmessenger.com

xCome & Get It!

COME AND GET IT

Deadlines are Tuesdays by 5 pm.

Call For Publication Schedule 614-272-5422

Need to Get Rid of Something Fast - Advertise It Here For FREE!

FREE Garden Straw for gardens or bedding. Call for appointment for pickup.

Circle S Farms, 9015 London-Groveport Road, Grove City, 43123

Grove City - 614-878-7980

Pick-up Load of Rocks, small to none larger than a bowling ball; 30-35 Birds and

Blooms Magazines from the last 3-4 yeers, like new condition; Kimball Baby

Grand Piano with bench, needs tuning, may need other work, mahoghany wood.

NA - Grove City - 614-875-8860

Sauder Computer Desk with hutch and chair. Lots of storage, light wood tone,

good condition. Partially assembled.

JG - Columbus - 614-279-9753

. Come and Get It! is a bi-weekly column that offers readers an opportunity to pass

along surplus building materials, furniture, electronic equipment, crafts, supplies,

appliances, plants or household goods to anybody who will come and get them - as

long as they're FREE. NO PETS! Just send us a brief note describing what you want to

get rid of, along with your name, address and phone number. Nonprofit organizations

are welcome to submit requests for donations of items.

Send information to The Columbus Messenger, Attention: Come and Get It, 3500

Sullivant Ave., Columbus, OH43204. Deadline is Tuesdays by 5 pm for following

Mondays publication. Messenger Newspapers is not responsible for any

complications that may occur. Please contact us when items are gone. 272-5422

Come & Get It!

xInformation

The Columbus Test Clinic

extends an invitation to you

to be tested

FREE of any charge.

Your intelligence and aptitude have everything

to do with your income, your future,

your personal relationships and your life.

Such tests would ordinarily cost you $50.

They are offered to you FREE OF CHARGE

if you call (614) 221-5024 to schedule or

come to the Scientology Testing Center at

1266 Dublin Road Columbus, OH 43215

Information

ASSOCIATION ADS

HEARING AIDS!!

Buyone/get one FREE!

Nearly invisible, fully rechargeable

IN-EAR

NANO hearing aids

priced thousands less

than competitors! 45-day

trial! Call1-877-436-0234

The Generac PWRcell, a

solar plus battery storage

system. SAVE money,

reduce your reliance on

the grid, prepare for power

outages and power

your home. Full installation

services available. $0

Down Financing Option.

Request a FREE, no obligation,

quote today. Call

1-855-900-2894

ASSOCIATION ADS

GENERAC Standby Generators

provide backup

power during utility power

outages, so your home

and family stay safe and

comfortable. Prepare

now. Free 7-year extended

warranty ($695 value!).

Request a free

quote today! Call for additional

terms and conditions.

1-855-465-7624

MOTORCYCLE

HONDA 2002 VT 600 M/C

$2,000. 614-406-3021

PETS

HOMING PIGEONS

$5.00 ea. 614-662-8655

HELP WANTED

OFFICE needs an organized

fulltime person who can

multitask in our shop office.

Assist customers, phone,

purchasing, billing, etc.

QuickBooks exp. a plus.

Send resume with pay history

to: cewa@att.net or fax to

614-294-3731 or mail to:

Columbus Electrical Works

1854 S. High St.,

Columbus, OH 43207

614-294-4651

Lincensed Barber Needed

Full or part time. located in

Great Southern Shopping

Center. Call Cindy for

more info 614-239-1976

WANT TO BUY

BUYING VINYL RECORDS.

LPs and 45s - 1950-80s

Rock, Pop, Jazz, Soul.

614-831-0383

We Buy Cars & Trucks

$300-$3000.614-308-2626

We Buy Junk Cars &

Trucks. Highest Prices

Paid. 614-395-8775

WANTS TO Purchase

minerals and other oil &

gas interests. Send details

to: P.O. Box 13557,

Denver, CO 80201

WE BUY JUNK CARS

Call anytime 614-774-6797

VACATION RENTALS

Englewood, Florida

Palm Manor Resort

Within minutes of white

sand Gulf beaches,

world famous Tarpon

fishing, golf courses, restaurants/shopping,

Bush

Gardens. 2 BR 2 BA

condos with all ammenities,

weekly/monthly, visit

www.palmmanor.com

or call 1-800-848-8141

September 5, 2021 - MESSENGER - PAGE 11

xClassified Services

AIR CONDITIONING

AIR CONDITIONING

Complete System

Clean & Check

$49.95

Free Electronic Leak Testing

All Makes • All Models

45 Yrs. Exp. • Senior Discount

614-351-9025

BLACKTOP

9/26 A

BLACKTOP SEALING

Driveways & Parking Lots

614-875-6971

SANTIAGO'S

Sealcoating & Services LLC

Quality Materials Used

SUMMER IS HERE!

Driveway Seal & Repair!

Top Seal Cracks!

Residential & Commercial

Mulching, Edging & Clean-ups

"Ask for whatever you need."

BBB Accredited-Fully Insured

Call or text for Free Est.

614-649-1200

AGM OHIO

ROOFING &

SEALCOATING

Free Estimates

Cell 614-512-1699

CARPET CLEANING

9/12

A/M

CARPET CLEANING

Any 5 areas ONLY $75

Home Powerwash $99-$200

614-805-1084

Specializing in Pet Odors

INFORMATION

ONLY

$50.00

For This Ad In Our

South/Canal Winchester

& Groveport

For Info Call

614-272-5422

INFORMATION

CLEANING

Looking for Mrs. Clean?

For excellent cleaning serv

at reas. rates w/great refs,

dependable. 10% Senior

Disc. Free Est. Gwen

614-226-5229

CONCRETE

www.hastingsnsons.com

Driveways & Extensions

Patio & Walkways,

Porches & Steps,

Garage/Basement Floors

Hot Tub/Shed Pads,

Stamped/colored concrete

Sealing of new &

existing concrete.

FREE ESTIMATES

Contact Adam

614-756-1754

hastingsandsons.

columbus@gmail.com

AJ's Concrete,

Masonry

Good Work - Fair Prices

Block Foundations

Driveways • Sidewalks

Epoxy/Overlay Floors

Bonded-Ins. • Free Ests.

614-419-9932

EDDIE MOORE

CONSTRUCTION

Quality Concrete Work

Lt. Hauling & Room Add.,

Block Work & Excavation

Stamp Patios,

Bsmt. Wall Restoration

35 Yrs Exp - Lic & Ins.

Free Ests. 614-871-3834

Buckeye City

Concrete & Excavating

* Concrete * Foundations

* Waterlines * Drains

*Catch Basins

614-749-2167

buckeyecityconcreteand

excavating@yahoo.com

HAULING

DEAN'S HAULING

614-276-1958

GUTTERS

Bates & Sons

GUTTER CLEANING

5 ★ Google Reviews

614-586-3417

INFORMATION

LOOK TO

THE PROFESSIONALS

IN OUR

SERVICE DIRECTORY

For Service

"That Is Out Of This World"

9/26 A

9/26 A/M

HOME

IMPROVEMENTS

SINCE 1973

Phil Bolon Contr.

Windows & Siding

Decks, Kitchens, Baths

Room Additions,

Flooring, Roofing

Bsmt Waterproofing

Deal With Small Non-Pressure Co.

47 Yrs. Exp. - Refs. Avail.

Lic.-Bond-Ins.

Free Est. - Financing Avail.

Member BBB Of Cent. OH

O.C.I.E.B. ID #24273

614-419-3977

or 614-863-9912

C&JHandyman

Services LLC

Minor Plumbing

& Electric

Install Hot Water Tanks,

Dishwashers & Disposals

Also Fencing &

Interior/Exterior Painting

Free Est. ~ 18 Yrs. Exp.

CDC/EPA Approved Guidelines

614-284-2100

HOME

MAINTENANCE

NEED HOME REPAIRS?

We do it all! Fences, decks,

home repairs, more Just ask!

JOE'S HOME MAINT.

Home Repairs, Roofing,

Siding, Gutters, Soffits,

Misc. Int. Repairs

Int. Painting

Call Joe 614-778-1460

37 Years Exp.

HOME

REMODELING

Handyman Remodeling

Over 35 yrs exp.

Larry 614-376-7006

LAWN CARE

LET US MAINTAIN

YOUR LAWN & GARDEN

FOR YOU

Summer, Spring,

Winter or Fall

WE DO IT ALL!!!!

Lawn Cuts, Edging,

Trees & Shrubs, Garden,

Mulching, Hauling,

Garden Pond &

Home Maint.

Free Ests. Low Rates

$20 & Up

Kevin - 614-905-3117

Classified Services

9/26

A/M

KLAUSMAN HOME

IMPROVEMENT

Siding-Windows-

Doors-Roofing-Soffit-

Fascia-Gutters-Trim

Earn FREE Seamless

Gutters with Siding Over

1000 Sq. Ft.

FREE Shutters with

Soffit & Trim

EPA Certified

Member of BBB

Financing Available

Over 20 yrs exp. • Free Est.

Licensed-Bonded-Insured

Owner & Operator

James 614-419-7500

220-465-2602-local #

9/12 A

7/18 A

PEST

CONTROL

TERMITE &

PEST CONTROL

614-367-9000

TORCO®

TERMINATES

TERMITES

Locally Owned & Operated. Any Pest. Anytime.

$

50 00 OFF Service

Expires September July 11, 2021 30, 2021

Free Termite Inspection

LAWN CARE

The Lawn Barber

Cut, Trim, Blow away

Hedge Trimming, Edging

Garden Tilling

614-935-1466

MOVING

Aaron Allen

Moving

Local Moving since 1956

Bonded and Insured

614-299-6683

614-263-0649

Celebrating

over 60 yrs

in business

PAINTING

A Job Well Done Again

A lic. General Contractor

Some Skilled Services

Incl: Painting • Stucco,

Repair•Carpentry•Exterior

Drainage & Home Maint.

Call Today! 614-235-1819

PLUMBING

ALL IN ONE

PLUMBING LLC

"One Call Does It All"

$25 OFF LABOR

9/12

With This Ad

A

614-801-1508

All Major Credit Cards Accepted

All About Drains & Plumb.

Will snake any sm drain

$145. 614-778-2584

CHRIS'

PLUMBING

"Plumbing & Drain Professional

That You Can Count On"

24 Hrs., 7 Days/Week

No Overtime Charges

24 Yrs. Exp. in Plumbing &

Drain Cleaning Field

Call For A Free Phone Estimate

$100.00 For Any Small Drain

614-622-4482

30% OFF with AD

9/26 A&M

9/12 A

PEST

CONTROL

PLASTERING

DRYW

YWALL &

PLASTER

REPAIR

Textured Ceilings

614-551-6963

Residential/Commercial

BIA

POWERWASHING

ROOFING

Robinson roofing & repairs

30 yrs. exp. Lifetime Cols.

resident. Lic./bonded/Ins.

Reas rates. Member of

BBB. Dennis Robinson

614-330-3087, 732-3100

SEWING MACHINE

REPAIR

TREE SERVICES

9/12

A&M

MDB POWERWASH

We Specialize In Decks.

Clean, stain, reseal,

revitalize any deck.

Quality work at fair prices.

Guarantee All Work 3 Yrs.

25 Yrs Exp. Free Est.

614-327-9425

Bates & Sons

Soft Wash & Powerwash

5 ★ Google Reviews

614-586-3417

MRS. POWERWASH

Any house wash $149+tax

Single deck $69+tax

2 Tier deck $99+tax

Best Wash in Town

Over 45,000 washes

Ashley 614-771-3892

REPAIR all makes 24 hr.

service. Clean, oil, adjust

in your home. $49.95 all

work gtd. 614-890-5296

BURNS TREE SERVICE

Trimming, Removal &

Stump Grinding.

614-584-2164

Brewer & Sons Tree Service

• Tree Removal

• Tree Trimming 9/26

A&M

• Stump Grinding

• Bucket Truck Services

Best Prices • Same Day Service

614-878-2568

8/1 A

9/26 A&M
---
PAGE 12 - MESSENGER - September 5, 2021

www.columbusmessenger.com