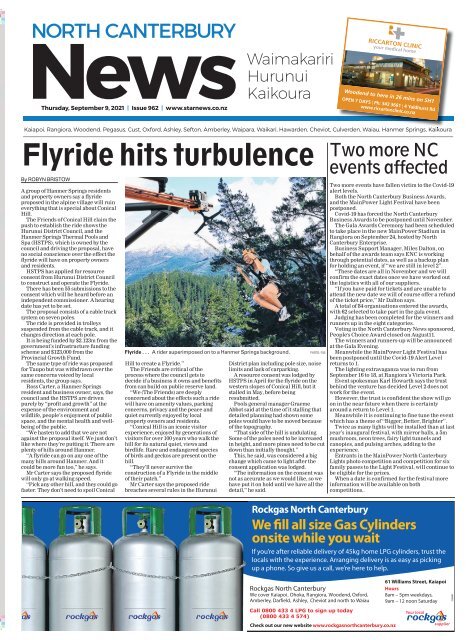 North Canterbury News: September 09, 2021
Create successful ePaper yourself
Turn your PDF publications into a flip-book with our unique Google optimized e-Paper software.
Thursday,September 9, 2021 | Issue962 | www.starnews.co.nz

Woodend tohere in26 mins onSH1

OPEN 7DAYS | Ph: 3433661 | 4Yaldhurst Rd

www.riccartonclinic.co.nz

Flyride hits turbulence

By ROBYN BRISTOW

Agroup of Hanmer Springsresidents

and property owners say aflyride

proposed in the alpine villagewillruin

everything that is specialabout Conical

Hill.

The Friends of ConicalHill claimthe

push to establish the ride showsthe

HurunuiDistrictCouncil, and the

Hanmer Springs ThermalPools and

Spa (HSTPS), which is owned by the

counciland driving the proposal, have

no socialconscienceover the effectthe

flyridewill have on property owners

and residents.

HSTPS has applied for resource

consentfrom Hurunui District Council

to construct and operatethe Flyride.

There has been 55 submissions to the

consentwhich willbeheard beforean

independent commissioner. Ahearing

date has yet to be set.

The proposal consistsofacable track

system on seven poles.

The rideisprovidedintrolleys

suspended from the cable track, and it

changesdirection at each pole.

It is being funded by $2.123mfrom the

government'sinfrastructure funding

scheme and $123,000 from the

Provincial Growth Fund.

The sametype of ride was proposed

for Taupobut was withdrawn over the

same concerns voiced by local

residents,the group says.

Ross Carter, aHanmer Springs

resident and business owner,says,the

council and the HSTPS are driven

purely by ''profit and growth'' at the

expense of the environment and

wildlife,people's enjoyment of public

space,and the mental healthand wellbeing

of the public.

''We hasten to add that we are not

againstthe proposal itself. We just don't

like where they're putting it. There are

plentyofhills around Hanmer.

''A flyride can go on any one of the

many hills around Hanmer. And it

could be more fun too,'' he says.

Mr Carter says the proposed flyride

will onlygoatwalking speed.

''Pickany otherhill,and theycould go

faster. They don't needtospoilConical

Flyride ... Arider superimposed on to aHanmer Springs background.

Hill to createaFlyride.''

The Friends are critical of the

process where the councilgets to

decide if abusinessitowns and benefits

from can build on public reserve land.

''We (TheFriends) are deeply

concerned aboutthe effects such aride

will have on amenity values, parking

concerns, privacyand the peace and

quietcurrently enjoyed by local

property ownersand residents.

''ConicalHill is an iconicvisitor

experience, enjoyed by generations of

visitors for over100 yearswho walk the

hill for its naturalquiet, views and

birdlife.Rare and endangered species

of birds and geckos are present on the

hill.

''They'll never survive the

constructionofaFlyride in the middle

of their patch.''

Mr Carter says the proposed ride

breaches severalrulesinthe Hurunui

PHOTO:FILE

District plan including pole size, noise

limitsand lack of carparking.

Aresource consent was lodged by

HSTPS in April for the flyride on the

westernslopesofConicalHill,but it

stalled in May, beforebeing

resubmitted.

Pools generalmanager Graeme

Abbot said at the time of it stalling that

detailed planning hadshown some

poles wouldhave to be moved because

of the topography.

''That sideofthe hillisundulating.

Some of thepoles needtobeincreased

in height, and more pinesneed to be cut

down thaninitially thought.''

This, he said,was considered abig

change which came to light after the

consentapplication was lodged.

''The information on the consent was

not as accurate as we wouldlike,sowe

have putitonhold until we have all the

detail,'' he said.

Two more NC

events affected

Two moreevents have fallen victim to theCovid­19

alert levels.

Boththe North Canterbury Business Awards,

and theMainPowerLightFestival havebeen

postponed.

Covid­19 has forced the NorthCanterbury

Business Awards to be postponed until November.

TheGalaAwards Ceremonyhad been scheduled

to take placeinthe newMainPowerStadium in

Rangiora on September24, hosted by North

Canterbury Enterprise.

Business SupportManager, MilesDalton, on

behalf of the awards teamsaysENC is working

throughpotential dates,aswellasabackup plan

forholding an event, if ''we arestill in level2''.

''These dates are allinNovemberand we will

confirm theexactdatesonce we haveworked out

thelogistics withall of our suppliers.

''If youhave paid fortickets and areunable to

attend the new datewewillofcourse offer arefund

of the ticketprice,'' Mr Daltonsays.

Atotal of 84 organisationsentered theawards,

with 62 selected to take partinthe gala event.

Judginghas beencompletedfor thewinners and

runners up in the eightcategories.

Voting in the NorthCanterbury News sponsored,

People'sChoice Award closed on August11.

The winners andrunners­up willbeannounced

at the GalaEvening.

Meanwhilethe MainPowerLight Festivalhas

beenpostponeduntilthe Covid­19AlertLevel

returns to 1.

The lighting extravaganzawas to runfrom

September16to18, at Rangiora's Victoria Park.

Event spokesman KarlHowarth saysthe trust

behindthe venture has decided Level2does not

workfor theevent.

However, thetrustisconfidentthe show will go

on in the near future when there is certainty

aroundareturn toLevel 1.

Meanwhileitiscontinuingtofinetune the event

which has athemeof''Bigger, Better, Brighter''.

Twice as many lightswillbeinstalled thanatlast

year'sinaugural festival, with mirrorballs, a5m

mushroom,neontrees, fairy light tunnelsand

canopies, and pulsing arches, addingtothe

experience.

Entrants in theMainPower NorthCanterbury

Lights photo competitionand competitionfor six

family passestothe LightFestival, will continue to

be eligible for the prizes.

When adate is confirmed for the festivalmore

informationwill be availableonboth

competitions..

Rockgas NorthCanterbury

We fill all sizeGas Cylinders

onsite while youwait

If you're afterreliabledeliveryof45kghome LPG cylinders,trust the

locals with the experience. Arranging deliveryisaseasyaspicking

up aphone.Sogive us acall,we're heretohelp.

61 Williams Street,Kaiapoi

Hours

8am –5pm weekdays,

9am –12noonSaturday

2286893

Check out our newwebsite www.rockgasnorthcanterbury.co.nz
---
NEWS

2 The North Canterbury News, September 9, 2021

Grow

customers,

salesand

profits

with North

Canterbury's

bestread

newspaper

Readership: 48,000 weekly

Circulation: 30,150copiesdelivered

to EVERY farm, RD, lifestyle block

and home inWaimakariri, Hurunui

&Kaikoura every Thursday.

news

Robyn Bristow

Managing Editor

027 312 1581

robyn.bristow

@ncnews.co.nz

Reporters

David Hill, Shelley Topp.

advertising

DaynaBurton

Sales Co-ordinator

027 312 0089

dayna.burton

@ncnews.co.nz

AmandaKeys

Advertising

027 536 6224

amanda.keys

@ncnews.co.nz

Kerryn Clark

Advertising

021 586 138

kerryn.clark

@ncnews.co.nz

Businesses agile and optimistic

By DAVID HILL

Rangiora and Kaiapoi retailers are once

again proving to be resilient in the face

of Covid­19.

Last week's move to Alert Level 3

allowed for areturn ''to alittle bit of

normality'' ahead of this week's move to

Level 2, Rangiora Promotions

chairperson Ross Ditmer says.

''I think this time around there's more

optimism. Last time Level 4was for an

initial period of four weeks, but this

time there was always hope it wouldn't

be for as long and it's not as scary

because we've been here before.

''I'm optimistic businesses will survive

and thrive in this environment.''

Level 3allowed retailers and food

outlets to offer ''click and collect'' and

delivery services, with the Rangiora

RSA Club offering aservice where lunch

and dinner meals could be delivered

cooked or frozen, says Mr Ditmer, who is

also Rangiora RSA Club president.

The only event Rangiora Promotions

has cancelled so far is the monthly ''Last

Wednesday Club'' catch­up with

members.

Planning is continuing for Celebration

Night in November and the Santa

Parade and Party in the Park in

December, in anticipation of areturn to

Level 1.

With the Christchurch Santa Parade

already cancelled, Mr Ditmer says the

Santa Parades are expected to provide a

much needed boost to Kaiapoi and

Rangiora retailers.

Deputy Mayor Neville Atkinson says

he is confident Kaiapoi can bounce back

quickly from its latest setback.

''I hope for the sake of our businesses

and people's lives that we can start to

return to some form of normality.

''But I'm not sure what normality is

anymore after the experience of the last

11 years.''

Local retailers reaped the benefits of

apost­lockdown bounce last year, but Mr

Atkinson warns it may not be as fruitful

this time round.

''This time I'm not sure the same

amount of money will be there, but I

guess it will come down to whether

people have saved any money in two to

three weeks of lockdown.

''I suspect that if you were going to buy

ashirt on the Friday, then you will

probably still buy it when the shops open

up, so Ithink retailers will recover

quickly.

''But certainly for those in hospitality

or tourism you can't really make it up.''

During lockdown Mr Atkinson says he

has been conducting the affairs of the

district from his spare room, with

regular meetings on Zoom.

''The best message at the moment is to

be kind because people have different

circumstances and we do need to

acknowledge that.''

NZ Show committee pressing on

By DAVID HILL

Chris Harris has been looking forward to

presiding over the New Zealand

Agricultural Show for longer than most.

The Canterbury A&P Association

president was ready to stepupfor last

year'sshow,until it was cancelled due to

Covid­19 uncertainty.

While the country was throwninto

lockdown againlast month, Mr Harris

says the show committee and

management teamare pressing ahead

with show preparations in the hope the

regionwill return to AlertLevel 1intime

for the November show.

''It'sbeen draggedout, so as long as we

get to do it this year,wewill be happy.

''We are moving ahead in the hopethat

it's going to happen,but we have access to

aloan which we hope we won't haveto

access.

''The biggest worry for ashow

president is normallyawet show.''

The ChristchurchCity Council, which

owns Canterbury Agricultural Park, has

agreedtomake a$1millionloan

available to the associationinthe event

Covid­19 forces the cancellationofthe

show for the second year running.

''We have regular meetings withthe

council, so theyknow whatweare up to

all the time.

''We had to come up with aplan to

make sure we had abackstop.

''The council recogniseshow

important Cup and Show Weekare to the

regionand they wantustoput on the

show.''

The last 18 months have been a

challenging time for the association,with

the iconic show beingcancelled last

November, Mr Harris says.

Experienced horseman ... Chris Harris has

represented New Zealand in show jumping

grand prix international events and in tests

against Australia.

PHOTO': SUPPLIED

''Weare here now because of the work

of the various committees and the

generoussupporttoour 'showsaviour'

campaign and from our sponsors.''

Despite the uncertainty, Mr Harris

saysthe showcommittee and

management team haveopted not to

scale back,meaning the show will have

the usual variety people have come to

expect.

''Inthe woodchopping there probably

won't be as many competitors because

theywon't have the Australiansand

there'sunlikely to be any overseas judges

unlessthey're alreadyinthe country.''

Based on afour hectare lifestyle block

at Aylesbury, betweenKirwee and West

Melton, Mr Harrisand his wife Maria

have had along association with horses.

''I'vebeen with horsesmywhole life.

''We used to haverace horses,

gallopers,and I've always been involved

in the equestrian section predominantly

in the show jumping.

''Thisshow will be the firstyear since

Iwas 15­years­old, 36 years ago,that I

haven't been competing.

''There'sjust too many jobsas

president,soIwill be watching this

year.''

Mr Harris has represented New

Zealand in showjumping grand prix

international events and in tests against

Australia.

These days he is aNew Zealand

showjumping selector.

Aformer racehorse breeder, Mr Harris

now doescontractmowing for aliving.

Over the last few yearsthe couple has

cut backonthe horses and now has just

five show jumpers.

As Mrs Harris works for Harness

RacingNew Zealand, she will be

unavailable for most show events this

year, leaving the couple's14­year­old

daughter Kimberly to tag along with dad

at the show.

''She willprobably comealongand tell

me how bad my speeches are,''MrHarris

jokes.

The New Zealand AgriculturalShow is

due to be held at Canterbury Agricultural

Park from November 10 to 12.

Tickets are now on sale,with children

able to attendthe showfor free thanks to

the support of the KiwiGaming

Foundation.

JillianDickie

Advertising

022 024 3092

jillian.dickie

@ncnews.co.nz

getintouch

Editorial

info@ncnews.co.nz

Advertising

sales@ncnews.co.nz

Graphic Design

heather.hood@ncnews.co.nz

Distribution/Deliveries

03 314 8335

Rangiora: 03 313 2840 /03314 8335

14 Ashley St, Rangiora

Christchurch: 03 364 7460

www.starnews.co.nz

See

your

experts

in Rangiora!

2386026g

www.tiw.co.nz 03 313 0408

308 Flaxton Rd, Rangiora

• Gardens, ,Lawn

&Lifestyle

Irrigation

• Water Pumps

• Water Filtration

&Treatment

• Pool &Spa

Supplies +

Water Testing

PLUS...

We Install &

Service Everything

We Sell!

The Widest

Music Variety

Tune in nowtolisten on

104.9 for North Canterbury

103.7 for Hanmer Springs

andKaikoura
---
Flood technology hits abarrier

By ROBYN BRISTOW

Flood protectionattitudesinmany parts of

New Zealand are frustratingaKaiapoi

businessman.

Hydro Response managing director Clay

Griffin says he has gained little traction for

hisflood protection barriers in New

Zealand.

Instead he has sold the technology to

Australia and beyond, and recently had a

spell in Dubaiwhere he usedittohold

back water while afountain was being

fixed.

Mr Griffin says many districts opt to fill

sandbags, or take a''donothing approach''

as the floodwatersthreaten.

He has 400 metres of the Swedish­made

barriers whichsell for around $1000 a

metre.They are flat­packed, steel­framed

with aluminium panels, can stand up to 2.4

metres, and arelined with tarpaulins.

They can often be seen in waterways,

creating dry zones,and diverting water

while civil projects suchasbridge repairs

arecarried out. These projects are his

''breadand butter''.

But Mr Griffin wants to see them being

used to protect property,particularly as

more floodsare expected due to Climate

Change.

He says his gear, whichincludes

inflatable bladders, could have encircled

the Westport Hospital in the recent floods,

and saved an important infrastructural

asset fromhaving to be evacuated.

Alternatively it could have protected four

or five houses, reducing the flood's impact

on alot of people.

But his offerofhelp went unheeded,

despitebeing ready to transport the gear

before the roads closedand the townwas

under seigefrom the floods.

Mr Griffin is also confident the

technologycouldhelp out if astopbank is

about to breach,buying time for those

trying to plugthe breach or get people to

safety.

''But people seem to prefertothrow

their handsinthe air and run to the hills.''

Mr Griffin heapspraise on the

Waimakariri DistrictCouncil and the local

civil defence teamwho several yearsago

boughta30­metrelengthofinflatable

flood barrier which has been used to

protect roads,houses and variousother

infrastructure.

He has lentthe council his gear,

mentoredNorthCanterbury Civil Defence

personnel on its use,delivered training

sessionstoCivil Defence volunteer teams

andhelped outwith the Civil Defence

cadet programme. His work for the council

is voluntary. Mr Griffin was awarded a

Community Service Awardlast year for his

selfless contributiontoresident's welfare,

and his generosity.

WaimakaririMayorMrGordon saysMr

Griffin has ''unstintingly demonstrated his

goodwill towards civil defence in the

district and care forhis community''.

''In addition to the voluntary

contribution of his personal time to many

FREE FLUE KIT * WITH WOODSMAN FIRES

Woodsman

Coleridge fire

and flue combo

Only $2549

Latest ULEB canbeinstalled installedin

any home in Canterbury

Save $629

Bridge repair ... Hydro Response flood

protection barriers being used near

Kaikoura to hold back water while bridge

repairs were being made.

PHOTOS:SUPPLIED

Flood barrier ... Flood waters diverted

away from the road at the corner of Carleton

and South Eyre Roads in the Waimakariri

district.

CivilDefence trainings and actualevents,

Clay has provided his company's

equipment and resources, but declined

financial compensation for theiruse,

althoughitis his business and sole course

of income,'' says Mr Gordon. Mr Griffin

says there's an acceptance of new

technologyinmany other aspects of our

lives, but there is areluctance to letgoof

sandbagging.

See us nowtoarrange your

FREE, NOOBLIGATIONOBLIGATION quote to

have your log fire fully installed.

Wemanage the whole job,

including the council consent.

*Some exclusions apply

Offer valid until 30th September 2021

360Flaxton Road, Rangiora

Ph 03 313 5563

www.kingsmowersheating.co.nz

2415203

Offering afull range of

plastering services:

•Interior /exterior &modified

systems

•Earthquake repairs &remedial

plastering

•New residential &commercial

Specialist in:

Exterior Cladding, Plastering

and Painting

Servicing North Canterbury

NEWS

The North Canterbury News, September 9, 2021

3

SATURDAY

25 TH

SEPTEMBER

AT 1PM*

Bring your family and friends and have a go!

To register your interest, please call

Garry Atkins: President: 027-566-3824 or

Warren Fitchett: Captain: 027-494-9529

Email bowlskaiapoi@outlook.com for more information

*Covid Level permitting

Address: 113 Raven Quay, Kaiapoi 7630

2413623

STOP BIRDS

hail, leaves, snow &vermin from

blocking &damaging your spouting

Quality materials: BHP Colorbond steel mesh with unique

patented louvre will even keep out pine needles. Will not rust or

sag with age or load. 10 year warranty,range of colours.

Proven in Australia &New Zealand over the last 15 years.

FOR SAFE, PURE DRINKING WATER

FROM YOUR ROOF.

NOW AVAILABLE: STAINLESSSTEELMICRO MESH

Call Rohan anytime Mon-Sat for

ano-obligation assessment &quote

03 982 8850 0800 486 532 www.gumleaf.co.nz

LAWN

BOWLS

OPEN DAY

1637376

TAXRETURNS

Debra Jowsey

Karla Kilner

Tax &Accounting

Consultants

since 1984

Overwhelmed? Confused? With the recent IRD

changes to tax returns, GST returns, rental returns

and pay day filing A-Plus Accounting is here to help.

Give us acall. Friendly,knowledgable staff.

A-Plus Accounting

☎ 03 314 9480

Caring for North Canterbury

Dr John Dehn

Full Mole Checks

using Dermoscopy

Surgical Management

and Aftercare

Comprehensive, Affordable, Convenient

Ph 03 9204060

52 Pegasus Main Street,Pegasus 7612

www.pegasusmedicalcentre.co.nz

Southern Cross

Affiliated Provider

For selected services

PLASTERING THAT LEAVES ALASTING IMPRESSION

Quality plastering at realistic prices

2293781

1890742

Phone for afree quote 021 023 92473

www.horiskplastering.co.nz

brianhorisk@gmail.com

2281227
---
NEWS

4 The North Canterbury News, September 9, 2021

Agricultural industry voice needs reviewed

By ROBYN BRISTOW

The agricultural industry is beinglet

down in the environmental regulation

space, says Rural Advocacy Network

(RAN)chairJamieMcFadden.

Mr McFadden says whileBeef+Lamb,

DairyNew Zealand and Federated

Farmers all operate efficiently in the

research space, throughon­farm

management, environmental issues,

floods and givegood soundemployment

advice, no­one was looking afterthe

farmers at the grassrootslevel of coping

with the avalancheofenvironmental

regulation.

''Farmers are getting cross.

''Farmers are trying to work with aflood

of regulations, but they arehaving to deal

with way too many unworkable

regulations,''hesays.

''They are struggling with the sheer

volume of regulations—impractical stuff

that is coming through.''

Farmers needed to be empowered, not

spendtheir time ticking boxes in an

environmental plan.

''Farmers needed to have buyinfirst

and foremost. That is the golden rule.''

Mr McFadden says it is timefor awideranging

industry review on how the

industry voice operates.

''It needs to happen becauseitisnot

working,'' he says.

The RAN has formed an alliance with

Groundswell NZ, afarmers lobbygroup

whichhas its rootsinSouthland and

Otago.

In recent daystherehas been a

reported rift between Federation

Farmers and Groundswell.

Mr McFadden says Groundswell had

strong support in some provinces from

Federated Farmers for its Howl of a

Protest, and from some individual

Federated Farmer's members. In other

areasFederatedFarmers membershad

been critical.

''Everyoneisentitled to aview.

Groundswell avoided criticising other

organisations.

''We don't bite back, particularly if

other organisations are having pot shotsat

us.''

Mr McFadden saysbehindthe scenes

RANand Groundswell are tryingto

advocateonbehalf of grassroots farmers,

many of whom are members of several

industrygroups.

''Isee alot of farmers questioning the

whole advocacy model.There are too

many groups,'' Mr McFadden says.

There had beenameetingofindustry

groups in Wellington prior to lockdown

where therewas some pretty frank

discussion,hesays.

He strongly believes strongly there

needs to be aposition statement from all

industrygroups.

As he moved aroundNew Zealandprior

to lockdown he discovered groups and

farmers had thesame concernsasRAN

about thestate of an industry voice and

unworkable environmental regulations.

Groups like Groundswell and RAN

would not have needed to begin tackling

these issues if there had alreadybeen a

unified voiceinthe environmental

regulation area.

''Ilovedoing environmental work,''Mr

McFadden said as he planted natives

along aRangiora stream to help protect it.

''But thereisall this otherstuff

happening and we have got to get it right.

Seeingfarmerssuffering is what

mobilises me to keepworkingontheir

behalf,'' he says.

''Iappreciate the texts. That is what

keepsmegoing. We have to get it right

becausethere is so much wrongthat is not

helpingand making it worse, such as

Significant Natural Areas (SNAs).''

''It is adog of apolicy and needstobe

thrown out.''

Jamie McFadden

We need your

helpnow more

than ever.

Multiple Sclerosis and Parkinson's Canterbury

Annual Street Appeal is NOW ONLINE to

maintain the vital, fundraising lifeline which

supports our work.

Please support us by donating at:

ms-pd.org.nz

Proudly supported by

The Widest Music Variety

Tune in nowtolistenon104.9 North Canterbury

and103.7 Hanmer Springs andKaikoura
---
Local group looks to future

By GINA MCKENZIE

Alocal water catchmentgroup is

looking to the future.

Establishing acollectivevoice

and providinganopportunity for

the community to have asay on

freshwater are some of the reasons

behind the formation of the Sefton

Saltwater Creek CatchmentGroup,

whichisdue to celebrateits first

anniversary thismonth.

The group's visionis: ''healthy

waterways, healthy land,healthy

people, healthy future''.

Co­ordinatorCarolyne Latham, a

localfarmer, says the catchment

area contains amix of farms,

lifestyle blocks, industry and the

smalltowns of Ashley, Seftonand

Balcairn.

The catchmentarea is bordered

by Te Aka Aka/AshleyEstuary and

the coast on the easternside and

extends into AshleyDowns on the

western side.

The group provides people from

differentbackgrounds with an

opportunity to get involved in

learningabout and improving the

localenvironment.

''We had 31 peopleatour initial

meeting ayear ago, who gave us a

mandate to form the group and

interestisongoingfromnew

members.''

Ms Latham saysthe first year has

been ''a bit of afact­finding

mission'',with several meetings

and aseriesoffield trips across the

catchment.

''We've had presentations on the

current stateofwaterways

including Te Aka Aka/ Ashley

Estuary and we'velearned how to

take stream water samplesand

assess streamhealth.

Forestry ... Sefton Saltwater Creek Catchment Group members learned

about environmental regulations for plantation forests during arecent

visit to Ashley Forest hosted by Rayonier Matariki Forests. PHOTO: GINA MCKENZIE

''We've also visitedretention

areas on hill­fed Stony and Fox's

creeksand learned howthey

function to capturesediment in

run­off beforeitreaches spring­fed

streams on the flats.

''It's verymuch alocally­led

initiativewith members setting the

directionand deciding whatthey

need to know in terms of meeting

the group's vision for ahealthy

catchment.''

One of the members hosted the

group on their lifestyle blockto

demonstrate how minor

earthworks suchasswales and

bunding could be used to slow

water,soak it into the ground, stop

erosion and settlesedimentout.

In May,the group visited Ashley

Forestwith Rayonier Matariki

Forests.

Ms Latham says thissite visit

covered the entire headwaters of

the catchment and provided an indepth

understanding of the

environmental regulationsthat

plantation forests are required to

operate under, alongwith weed

and pest control and general

forestry management. The group

has discussed expanding water

monitoring networks within the

catchment as there is minimal

monitoring undertaken and

limited knowledge about the state

of Stony and Fox's creeks,which

are bothhill­fed.

''We're keentoestablish a

baseline to enablebenchmarking

and identify trends overtime,

which will increaseour knowledge

of local waterways,'' Ms Latham

says.

NEWS

The North Canterbury News, September 9, 2021

5

Alarm at online

video scam

By SHELLEY TOPP

An online video showing an

elderly woman who avoided

being robbedbyactivating a

personal alarm is believed to

be ascam.

The video has now been

removed, but the woman in it

was saidtobeinaRangiora

supermarket car park where it

was alleged she used her

personal alarm to scare off a

robbertrying to snatchher

handbag.

The woman recommended

the personal alarm and said

she would have beenrobbed

without it. But, the video did

not seem to have been filmed

in any of Rangiora's

supermarket carparks.

Waimakariripolice are not

aware of arobberyattempt,

and say the ''crime repor''is

most likely afake news scam.

''I have not heard of this

particularscam but Iamnot

surprised,'' SeniorConstable

Tony Maw says.

''Thisone differsslightly as

it is more of amarketing scam

as opposedtothe majority we

see.

The latest scam doingthe

roundsiswhere aperson will

call up claiming to be from a

bank advising of fraudulent

actiononyouraccount.,'' he

says.

''Theythen convince you to

allow them accesstoyour

computer wherebythey empty

your account. Some of these

scammers alsouse unwitting

mules to receive the money

before asking them to wire it

overseas.''

Grey Power New Zealand's

national president Jan

Pentecost, of Rangiora, says

people shouldprotect

themselves against scams by

becoming more aware of how

scammers work.

She recommends theyread

the Retirement Commission's

The Little Black Bookof

Scams.

The commission'sfraud

education manager, Bronwyn

Groot, says scamsare

becoming increasingly more

sophisticated, constantly

changing and causing

devastating losses to New

Zealanders.

''We needed aresource that

people could download to

read and sharewith their

friendsand community groups

to help everyoneraise

awareness aboutthe different

types of fraud. The Little

Black Book of Scams is that

resource tool. It outlines how

scammers target theirvictims

and trick them intoparting

with their money,'' she says.

It gives tips on how people

can protect themselves, points

out the 'red flags' that give

away ascam, what to do if you

have fallen for one,and the

variousagenciestowhichyou

can reportdifferent types of

scams.''

get injured?

Take your sprain, cut, break or

head bump to be treated at an

urgent care clinic

• Parking and late-night pharmacies on-site

• X-ray and casts available

• Free medical visits for under 14s at urgent

care clinics after 6pm weekdays and all-day

during weekends

All clinics open 7days aweek:

• Riccarton Clinic 8am–8pm

• Moorhouse Medical (free ACC wound care) 8am–8pm

CDHB06SEP21 ED

Unsure what you need? Call your GP team 24/7 for advice

cdhb.health.nz/urgentcare
---
OPINION

6 The North Canterbury News, September 9, 2021

Business as usual

despite Alert levels

Last time Iwroteitwas just prior to

lockdown and the unfortunate returnof

community infectionofthe coronavirus.

Eventful Hurunui was about to host a

free workshop for eventplanners within

the district, like many events

postponementwas necessary,however

the board has rebooked this session for

Tuesday, September 21 at 6pm at The

BetterHalf, Leithfield.

Bookings are essential and are

dependent on Covid­19 levelsand the

appropriateprotocols that level brings.

We at the Hurunui District Council

were alsoimpacted by planning

community eventsparticularly in regard

to the engagementfor the 3Waters

Reform.

Nevertheless last weekwehostedfour

zoom sessions to enable interaction with

our community.

Fellowcouncillorsand Iare thankful

to membersofour district who took the

time to contact us via zoom, email or

facebook and shared their concerns on

this matter of significance.

Over the past10years successive

governments have proposed that larger

water entities wouldbemore efficient.

The Department of Internal Affairs on

behalfofcentral government have been

charged at looking at the ''casefor

change'' and startedfromapolicy

position, stating that internationally

amalgamated water entitieshave been

provenmore effective and efficientthan

smaller private, or council owned

delivery systems.

The CanterburyMayoral Forum has

written to Minister Mahuta seeking a

''pause and reset''.

If you wish to read through the range

of question's we haveposedthey are

available on the websitefor you to view

alongside otherrelevant information.

Your informal feedbacktodate is

valuable as it tests our assumptions and

the thinking of councillors.

Here, in the Hurunui we believeitis

importanttokeep our small

communitiesaliveand vibrantasit

supports local employment, education,

health, policing, economic activity and

volunteer servicessothey are kept

relevant and accessible.

Many of thecomments sent to me

Marie Black

indicate concerns that the current

thinking to centralisepower is eroding

localdemocracyand is unacceptable –

localdemocracyallows yourvoice to be

heard.

The current environment for

proposed change in Three waters, the

RMA and health,toname only afew,

reminds me of aquote Irecently read

from Dwight Einsenhower:"Farming

looksmightyeasy when your plough is a

pencil and you are athousand miles

away from the cornfield".

On adifferent note there havebeen

reports of rubbishbeingdumped in

some of our riverbeds. Thisisnot

acceptable behaviouraswework hard

to promotegood environmental

outcomes.Itdisappoints me whenthis

occurs. We shouldprideourselves on

better outcomes.

Keep up the great work in rolling out

the vaccinations.The health centres

have really steppeduptosupport us.

Many thanks also goestothe teachers

who are supporting our youngpeople

through thisunsettled period for

learning.

And lastbut not least—farmers and

growers.

We havecome through achallenging

winter, but we lookforward to a

favourable response in spring.

Take care

Wage subsidy delays

Waimakariri MP Matt Doocey says wage

subsidy delays are putting extra

pressure on local businesses already

fighting to stay afloat.

After posting to social media last week

he was inundated with calls for help,

from sole traders to large business

owners, all experiencing delays with

their applications.

''In one case, an employer paid out

more than 80 staff in good faith, and was

left in adire situation when her subsidy

payment did not arrive.

''People are understandably very

frustrated with these delays, with the

added financial strain compounding

their stress at adifficult and uncertain

time''

Doocey said given this was not the first

time the wage subsidy had been rolled

out, it was appalling to be hearing of

such awidespread problem.

''Now these struggling businesses are

told to reapply every two weeks for the

wage subsidy, another bureaucratic

burden adding even more stress,'' he

said.

''Without access to the subsidy in afair

and timely manner, the end result will

be businesses closing and people out of

work.''

On top of the delays accessing the

subsidy, communication to business

owners had been sorely lacking, Doocey

said.

''We have accommodation providers

and tourism operators here struggling to

even find out whether they can open,

and if so, how they should be doing it.

''There is no clear guidance coming

from the Government, at atime when the

sector is already at rock bottom.''

Incentive popular

AMainPower initiative to provide staff

withanincentive to get vaccinated

against Covid­19isbeingimplemented

by other Kiwicompanies.

The goal of the North Canterbury

electricity distribution company's

``Take Two for the Team Challenge''

initiative is to get90per cent of its

workers fullyvaccinated by December

1.

If thatgoal is achieved, the company

willgive every fullyvaccinated

employee an extra dayoff as special

leave.

The initiative is having apositive

effect with 15% of MainPower staff fully

vaccinated,and 80% through their first

vaccination.

Now several othercompanies,

including otherelectricity distributors,

nationwide have also adopted the Take

Two for theTeam initiative.

``It is really positive to see the

initiative takingoff,'' MainPower's

communications and sponsorship

adviser Emma Hyde says.

MainPower chief executiveAndy

Lester says as an essential provider

service for NorthCanterbury it was

important for MainPowerstafftobe

vaccinated againstthe virus.

It only takes onestaff memberto

contract Covid­19 to potentially infecta

large number of people including

workmates, familyand more than 42,000

MainPowercustomers, Mr Lestersays.

The companywantedtooffer special

leave to vaccinated staff to thankthem

for helping to keeptheir colleagues and

the community safe.

Lost and found property

The followingproperty has been reported as lostinNorth Canterbury­have

you seen it?

Asmall brown leather card holder, ablackSamsung cellphone withametal

ringholderonthe back of the phone,acreamleatherwallet and cream and

black insidethe wallet, brownleather wallet,asmall blackbackpack style

backpack containing agoldcoloured wallet/makeup/personal itemsand $250

cash, asmall black purse withzip,black "Guess" wallet with silver writing,

ablueand yellow Torpedo Seven kayak withblack gumboots/``Seipp"dark

grey Tshirt/silverand black oar/20m brightpinkrope,awhite SamsungS10

plus128G, asilver old cigarette case usedasawallet,alightbrownwallet,

and aS10 Samsung phone in ablack case,

The following propertyiswaiting tobeclaimed:

An Apple iPhone (Cheviot),aniPhone with purple back in clear case with

red andyellowsidebuttons (Kaiapoi), agrey DJI MavicMini Drone (Kaiapoi),

ablack Bryton Rider10GPS bike computer(Kaiapoi),ablueWheeler

mountainbike(Kaiapoi), and ablack contractors wheelbarrow (Rangiora).

McALPINES MITRE 10 MEGA RANGIORA -OCEAN WATCH

This

Week

Sun

Fishing

Guide

Moon

Wind

Swell

Pegasus Bay

Tide Chart

3

2

1

Ok

Thursday Friday Saturday Sunday Monday Tuesday Wednesday

Sep 9 Sep 10 Sep 11 Sep 12 Sep 13 Sep 14 Sep 15

Rise 6:42am

Set 6:11pm

Best

Times

1:46am

2:11pm

Ok

Rise 6:40am

Set 6:12pm

Best

Times

2:35am

3:00pm

Ok

Rise 6:38am

Set 6:13pm

Best

Times

3:25am

3:51pm

Ok

Rise 6:36am

Set 6:14pm

Best

Times

Rise 6:34am

Set 6:15pm

Rise 6:33am

Set 6:16pm

Rise 6:31am

Set 6:17pm

Rise 7:59am

Rise 8:24am

Rise 8:50am

Rise 9:20am Set 12:23am

Set 1:38am

Set 2:48am

Set 8:35pm

Set 9:50pm

Set 11:06pm

Rise 9:57am

Rise 10:41am

Rise 11:35am

Gentle SW becoming Moderate SW turning Moderate SW turning Moderate SW turning Moderate SW turning Moderate SW turning

Moderate SW

moderate S

SE

S

S

S

SE

SE 0.9 mturning

SE 1.0 m

S E0.7 m NE 1.0 m E1.4 m SE 0.9 m SE 1.1 m

3 6 9 NOON 3 6 9 3 6 9 NOON 3 6 9 3 6 9 NOON 3 6 9 3 6 9 NOON 3 6 9 3 6 9 NOON 3 6 9 3 6 9 NOON 3 6 9 3 6 9 NOON 3 6 9

4:18am

4:45pm

Good

Best

Times

5:13am

5:42pm

Good

Best

Times

6:12am

6:42pm

Good

Best

Times

7:12am

7:43pm

0

Highs Lows Highs Lows Highs Lows Highs Lows Highs Lows Highs Lows Highs Lows

Waimakariri 6:00am 2.3

6:51am 2.4 12:39am 0.4 7:45am 2.4 1:29am 0.4 8:40am 2.4 2:21am 0.4 9:35am 2.4 3:16am 0.4 10:33am 2.4 4:13am 0.4 11:32am 2.4 5:12am 0.5

Mouth

6:21pm 2.4 12:14pm 0.4 7:13pm 2.4 1:04pm 0.4 8:08pm 2.4 1:56pm 0.4 9:04pm 2.3 2:51pm 0.4 10:02pm 2.3 3:50pm 0.5 11:00pm 2.2 4:52pm 0.5 11:59pm 2.2 5:54pm 0.5

Amberley 6:00am 2.3

6:51am 2.4 12:39am 0.4 7:45am 2.4 1:29am 0.4 8:40am 2.4 2:21am 0.4 9:35am 2.4 3:16am 0.4 10:33am 2.4 4:13am 0.4 11:32am 2.4 5:12am 0.5

Beach

6:21pm 2.4 12:14pm 0.4 7:13pm 2.4 1:04pm 0.4 8:08pm 2.4 1:56pm 0.4 9:04pm 2.3 2:51pm 0.4 10:02pm 2.3 3:50pm 0.5 11:00pm 2.2 4:52pm 0.5 11:59pm 2.2 5:54pm 0.5

6:09am 2.3 12:00am 0.4 7:00am 2.4 12:48am 0.4 7:54am 2.4 1:38am 0.4 8:49am 2.4 2:30am 0.4 9:44am 2.4 3:25am 0.4 10:42am 2.4 4:22am 0.4 11:41am 2.4 5:21am 0.5

Motunau 6:30pm 2.4 12:23pm 0.4 7:22pm 2.4 1:13pm 0.4 8:17pm 2.4 2:05pm 0.4 9:13pm 2.3 3:00pm 0.4 10:11pm 2.3 3:59pm 0.5 11:09pm 2.2 5:01pm 0.5

6:03pm 0.5

6:11am 2.3 12:02am 0.4 7:02am 2.4 12:50am 0.4 7:56am 2.4 1:40am 0.4 8:51am 2.4 2:32am 0.4 9:46am 2.4 3:27am 0.4 10:44am 2.4 4:24am 0.4 11:43am 2.4 5:23am 0.5

Gore Bay 6:32pm 2.4 12:25pm 0.4 7:24pm 2.4 1:15pm 0.4 8:19pm 2.4 2:07pm 0.4 9:15pm 2.3 3:02pm 0.4 10:13pm 2.3 4:01pm 0.5 11:11pm 2.2 5:03pm 0.5

6:05pm 0.5

6:05am 1.8

6:56am 1.8 12:44am 0.4 7:48am 1.9 1:35am 0.4 8:43am 1.9 2:28am 0.4 9:39am 1.9 3:23am 0.4 10:38am 1.9 4:19am 0.4 11:37am 1.9 5:15am 0.4

Kaikoura 6:29pm 1.9 12:15pm 0.3 7:21pm 1.9 1:07pm 0.3 8:15pm 1.9 2:02pm 0.3 9:12pm 1.8 2:59pm 0.3 10:10pm 1.8 3:58pm 0.4 11:08pm 1.7 4:59pm 0.4

6:00pm 0.4

*Not for navigational purposes. Wind and swell are based on apoint off Gore Bay. Maori Fishing Guide by Bill Hohepa. www.ofu.co.nz www.tidespy.com Graphic supplied by OceanFun Publishing Ltd.

2118223
---
Under consideration ... Protestors call on the government to consider the Woodend

Bypass at arally last year.

PHOTO: FILE

Bypass reconsidered

The Woodend Bypassisback on radar,but

MattDooceywantscertainty for

community.

The Woodend communityshould be

proud of itsachievementsingetting the

Woodend Bypassback on to the radar, the

Waimakariri MP says.

But he is disappointed the community

willhave to wait at least three moreyears,

after the project was missingfromthe

National Land TransportPlan 2021/24,

released thisweek.

''Today'sannouncementisakickinthe

gutsbythe government to Woodend

residents with no referencetothe

Woodend Bypassinthe plan,''MrDoocey

says.

''I havebeenfighting for this projecton

behalfofthe community foryears.

''I havetaken thevoices of ourresidents

all theway to the TransportMinister and

haveraised theneed for abypass in

Parliament.''

Mr Doocey sayshehas advocated

consistentlytoWakaKotahiNZTA

includingbringing representatives direct

to the community.

''Residents packedout my rally in

Woodend lastyeartomaketheir feelings

clear that abypass is needednow.

''Weweregutted when it was leftoff the

Canterbury Regional LandTransportPlan

2021/2031, adoptedbyECan in June.''

Mr Doocey saysheput in asubmissionto

the Canterbury Regional LandTransport

committee,making it clearthe Woodend

community did not feelsafewithastate

highway passingthrough it.

''I thenmet withthe committeechairto

drive home theurgencyofthisproject,

withdaily traffic movementsreaching

20,000aday throughthe town.''

In spite of allthe efforts,the draft Plan

listedthe WoodendBypassasan'onthe

horizon' project only, leaving campaigners

feelinglet down.

On Monday thecommitteeannouncedit

had asked Waka Kotahi NZTAtoconsider

bringing the projectforwardinresponseto

the feedback,and Mr Doocey questioned

why it was not in thethree­year plan.

''I'm calling on WakaKotahitodotheir

bit and committothisproject to give our

residents certainty.Iwill notstop fighting

for themuntil the bypassbecomesa

reality.''

NEWS

The North Canterbury News, September 9, 2021 7

Waimak will bounce back

By DAVIDHILL

''We will get through this'', says

Waimakariri Mayor Dan Gordon.

The Waimakariri District Council has

planning in place for all alert levels and

was ready for yesterday's move to Alert

Level 2, he says.

''Great news that we are now at Alert

Level 2and thanks to everyone for their

efforts and understanding.

''Following the rules will mean we get

to Level 1sooner and remember where

you can, please support local .''

The council's website has aCovid­19

page which is regularly updated to

explain what each alert level means, Mr

Gordon says.

''We recommend that people go there

as asource for truth about what it means

for our buildings and services and

libraries, or people can ring our

customer service line on 0800 WMK GOV

(0800 965 468.

''We have been here before and we will

get through it again. We are better

practiced at it than we were last year and

talking to people, they were ready for

Level 2.''

Mr Gordon acknowledged it was a

concern for organisers of large events,

which need to be at Alert Level 1tobe

sustainable.

But he is confident Waimakariri can

bounce back from this latest setback.

"Yes it can. We have aresilient

community and Inoticed how anumber

of businesses instigated 'Click and

Collect' last week when we moved to

Level 3.''

Like many people, Mr Gordon made the

most of the move to Level 3last week,

picking up acoffee from Coffee Culture,

before tucking into McDonalds and

enjoying aChinese takeaway over the

weekend.

During lockdown the Mayor has been

working from home with ''back­to­back''

Dan Gordon

Zoom meetings each day, including daily

meetings with the council's senior

management team.

He has also had regular catch ups

online and over the phone, including

with local police, business leaders and

Grey Power, while acouncil meeting was

due to held on Zoom on Tuesday.

''The disruption has been huge and I

certainly feel for our businesses and

other people who have been impacted,

but I've been impressed at how people

have adapted and supported each other,

and that's how we will survive this,'' Mr

Gordon says.

''Let's all hope we get back to Level 1

soon, but we don't know what's around

the corner, so it's important we stay

positive and adapt to the circumstances

we are presented with.''

Mr Gordon has his first Covid­19 jab

booked in for next week and encourages

others to get vaccinated if they haven't

already.

''I want to thank our essential service

workers, including police, ambulance,

medical people and supermarket

workers for all the work you are doing

during this time.''

PRECISION AUTOGLASS

Jump on board with your

local specialists

PRECISION AUTOGLASS cover all your vehicle's

glass needs -cars, trucks, buses, boats,

motorhomes/caravans and farm machinery

Take advantage of our on-site mobile workshop

For your convenience we offer acomplete

in-house ADAS recalibration service

Put your mind at ease with our

Full Workmanship Guarantee

Open Saturday mornings for your convenience

Don't forget, you are not obligated to use your

insurance company's preferred windscreen

provider - Call usFirst

20 High Street, Rangiora

0800 582 582

contact@precisionautoglass.co.nz

www.precisionautoglass.co.nz

2413878
---
Motoring

Guide

Your local motoring professionals

2387322v3

2318749v8

Petrol &Diesel

Use your SuperGold card or

supermarket docket for 12

cents off Petrol &Diesel only

COMPLETE AUTO REPAIR SERVICE

WOF

Light Engineering

Tune-ups

Repairs

Lube-Oil changes Ride-on Mowers

Full Diesel Service Pick up &Delivery

Brakes &Clutches

Sell &Sharpen

Motor Work

Horse Clippers &

Warranty Work

Sheep Shears

Oils &Automotive Accessories, Postal

Services, Hot Pies, Sandwiches, Rolls,

Groceries and Sweet Treats

For your convenience

Sefton Garage

571 Upper SeftonRoad, Sefton

North Canterbury.Ph03312-9713

WE ARE THE

SERVICINGEXPERTS!

No Need To CommuteToChristchurch

-WeCan Do It All! We can use genuine parts, so

yourvehicleisstill covered under warranty.

We have the latest Diagnostic ComputerSystems

that are compatible withmostvehicles.

Wheelalignments &tyres at verycompetitiveprices.

Need aWOF?

We can

help you!

Book now!

CALL US NOW TO BOOK YOUR SERVICE

Discounts to Superannuates

77 Ivory Street,Rangiora Ph 313-5802

Monday -Friday 8am-5.30pm

Best Brands

-Best Prices

5Star Service

ROTATION /BALANCE

AND WHEEL ALIGNMENTS

FREE

Pressure check on

Cars, Utes, 4WD &

Trailers

FROM $69

Bookings recommended, ts&cs apply.

346a Flaxton Road

Phone 03 310 6666

0800 226 324 for 24/7 Service

The Sefton Garage team ... Judy, (left), Robbie and Nick.

We Do It All!

Your One Stop Mechanical Shop

One Stop WOF Shop

All MechanicalRepairs and Servicing, Tyres,

Exhausts, Automatic TransmissionService

Burbidge Automotive

325 Flaxton Rd |Ph03313 3344

PHOTO: FILE

Friendly faces,top service

Sefton Garage offers good, old­fashioned

country service to its clients.

It is aone­stop­shop for all your

mechanical and repair needs.

The business offers everything from

warrants of fitness, tyre, brake and

engine repairs, to sharpening horse

clippers, hedge clippers, weed­eaters

and chainsaws.

Robbie and Judy Bruerton established

the garage on its high profile site in the

North Canterbury township in 1972.

Today, nearly five decades later, the

couple have been joined in the business

by their son, Nick, and continue to

provide acomplete, quality service to

clients.

Sefton garage has three permanent

workshop mechanics and five front­ofhouse

staff, plus two students who work

weekends, looking after clients and

customers. There is also apostal service

at the garage, including post boxes for

Sefton residents, and awell­stocked

convenience store.

Fresh cabinet food, hot and cold

drinks, and snacks are popular with

passers­by stopping for fuel, and for

stocking up lunch boxes for workers

heading off to work.

High and low octane petrol and diesel

are available on­site, supplied by Nelson

Petroleum Distributors (NPD).

The garage offers a12c fuel discount to

Gold Card holders and accepts all

supermarket fuel vouchers.

There is provision for those with NPD

cards to access fuel 24 hours aday.

Robbie and Judy continue to take an

active part in the day­to­day running of

the busy garage, while Nick runs the

workshop which caters for everything

from modern­day cars to farm

implements and equipment.

The forecourt and shop are open from

7am to 6pm on weekdays, 8am to 5pm on

Saturdays, and 9am to 5pm Sundays.

The workshop is open 8am to 5pm from

Monday to Friday, and on Saturdays

from 8am to noon.

Ample carparking! Courtesy Cars, Van, Automatics Available

2387427v1

NEED TYRES?

• Punctures

• Balancing

• New tyres

• ATV tyres

• Motorbike tyres

(on and off road)

• Barrow tyres

• Mobility scooter tyres

• Bicycle tyres

Give usacall or come

and see us in store!

ARTHUR BURKE LTD

Markham St, Amberley

03 314 0137

FOR ALL YOUR LIGHT

AND HEAVY

TRANSPORT REPAIRS

Breakdown &

After Hours

Service

Available

Phone 03 313 6361

0275 200 711

307 Flaxton Road,

RANGIORA

brooktrucks@xtra.co.nz

COLLISION REPAIRS RANGIORA

2324381

Support Local

Businesses

Recommendusfor Paint&Panel

requirements

Make an insurance claim and choose North

Canterbury Collision Repairs Rangioraas

your repairer. Your Car,Your Choice.

Crash repairs, bumps &scrapes to major

smash work

Commercial&fleet repairs,Buses,Caravans &

Motorhomes, Trucks,Trailers, Buses &Boats

Quality

workmanship &

fastest

turnaround

Fleet of courtesy cars available

Contact John 3136966

639LinesideRoad, Southbrook | www.nccrc.co.nz

2318082v7
---
MASSIVE

PLANTSALE

MONDAY13 TH SEPTEMBER –FRIDAY24 TH SEPTEMBER

MONDAY-FRIDAY8.00AM-5.00PM

75 BoysRoad, Road,RangioraRangiora

240

409

714
---
Tussocks/Grasses

Pittosporums

Tree Selection Large sizes from 35L to 200L

From

$

50

75 Boys Road, Rangiora
---
NEWS

The North Canterbury News, September 9, 2021

Photographers make the most of lockdown

By SHELLEY TOPP

Rangiora Photographic Society

members are finding plenty to

photograph during lockdown.

For Arthur and Colleen

Linnell, afemale blackbird

nesting in aHeuchera plant at

the backdoor of their Rangiora

home has given them aunique

opportunity to photograph her

nesting and raising her chicks

at close range.

Arthur says it was fascinating

watching the bird build her

nest, but when it was completed

she disappeared for two days

leading him to believe she had

abandoned it.

However, two days later she

returned and laid her first egg.

Blackbirds mate for life and

also often reuse their nests. The

blackbird nesting at Arthur and

Colleen's back door also nested

there last year and raised three

chicks.

Fellow members Robyn

Young and Robyn Carter, both

of Pegasus, are also finding

photography agreat source of

enjoyment in lockdown.

But early last Friday morning

their trip to the Waikuku

Estuary to photograph birdlife

took an unexpected ''hilarious''

turn when the friends, who are

nicknamed ''the two Robyns'' by

fellow members, became stuck

in mud after trying to retrieve a

piece of photographic

equipment.

The women have now given

themselves anew nickname,

''the two Ronnies'' after the

Home sweet home ... Afemale blackbird has taken up residence

nesting in apotted Heuchera plant under the porch at the back door of

Arthur and Colleen Linnell's Rangiora home.

PHOTO: ARTHUR LINNELL

British comedians Ronnie

Barker and Ronnie Corbett.

''We had heard that the

wrybills were back and we

wanted to get some photos of

them as they are only there for

ashort time each year,'' Robyn

Carter says.

With whitebait running in the

river that morning the women

were treated to ''a feeding

frenzy of shags, black­billed

gulls, black­backed gulls and

black­fronted terns, all

squabbling over the feast,'' and

providing exciting

photographic opportunities.

But that came to ahalt after

Robyn Carter decided to pull

her monopod (stand), out of the

water and move it to better spot.

Part of it had been dislodged

in the muddy water and after

trying to retrieve it, eventually

gave up.

While washing her hands in a

pool nearby, she got stuck in the

surrounding mud.

''Robyn (Young) offered me

her monopod end and slowly

pulled me to safety. But as Igot

to safety, Robyn (Young) went

over on her back into the mud.

''I couldn't even help her up

because Iwas laughing so

hard,'' Robyn Carter says.

9

Feeding time ... Wrybills at the Waikuku Estuary on Friday morning

last week.

PHOTO: ROBYN CARTER

''We were both laughing. I

haven't laughed so much for

such along time. We were both

absolutely filthy.''

Robyn Carter says having

Robyn Young in her bubble had

been an ''absolute godsend''

during lockdown.

Unplanned mud bath ...

Pegasus photographer Robyn

Young has alaugh after falling in

the mud at the Waikuku Estuary

last Friday morning after rescuing

her friend, fellow Pegasus

photographer Robyn Carter, who

had become stuck in the mud.

PHOTO:ROBYN CARTER

Receive $25 worth of

Wet & Forget

FREE

When you spend over $100 in store

(Bring in or mention this advert)

Exclusive to Wet & Forget Rangiora - Offer expires 10/10/21

700 Lineside Road

Rangiora

03 423 3561
---
NEWS

10 The North Canterbury News, September 9, 2021

District Plan on agenda

Waimakariri's new draftDistrictPlan is

expectedtobeout for consultation soon.

The draft District Plan was due to be

discussed in aclosedsession at Tuesday's

council meeting, which was held on Zoom,

aheadofits release for public consultation

laterthis month.

''It's abig piece of workwhich the council

has been working on for severalyears,''

MayorDan Gordonsays.

Whilehewas unabletoelaborate on

what the draft District Plan will look like,

Mr Gordon noted that there has already

been considerable public engagement on

differentsectionsofthe document during

the District Plan Reviewprocess, including

on the Natural Hazards chapter.

Ahearings panel is due to be announced,

comprising two electedmembers, one iwi

representative and three independent

members,including an independent

chairperson.

Mr Gordon sayswhetherthe consultation

is conducted online or at publicmeetings

will dependonCovid­19 restrictions.

''With the Three Waters Reform

engagement, we had alive onlinesession

on Facebookand we found that it worked

really well, so in futurewemay lookat

doingthatinaddition to public meetings."

Buildings policy reviewed

Public feedback is sought on the

Waimakariri District Council's

dangerous buildings policy.

The council is reviewing it's

Dangerous, Affected and Insanitary

Buildings Policy, with public feedback

welcome until September 24.

The policy provides guidelines for

managing dangerous buildings, or

those located nearby and buildings

that are contaminated or insanitary, in

away that reduces risk to people and

outlines the steps needed to reduce

danger, building unit manager Warren

Taylor says.

''It's an important tool we use to help

us make decisions like if abuilding is

safe to enter, or if fences or hoardings

are needed to keep people safe.

''It was used alot following the

earthquakes with many damaged

buildings fenced off to keep people

away from any danger.''

Dangerous, affected and insanitary

buildings are any where the conditions

mean the building or surrounding

buildings could pose apublic safety

risk.

This could be abuilding severely

damaged by fire which has lost its

structural integrity or it could be one

that causes neighbouring buildings to

be classified as 'affected'.

Feedback can be made on the

council's website, letstalk.

waimakariri.govt.nz/buildingspolicy,

until Friday, September 24. Public

hearings are planned in October.

Property boom defies Covid

Covid­19 has failed to slow North

Canterbury's booming property market.

Even under lockdown restrictions,

houses have been selling like hot cakes,

while supply continues to be achallenge,

Bayleys Rangiora manager Ross Ditmer

says.

''It's slowed down in terms of listings,

but in terms of houses already on the

market it's areal success story.''

Under Alert Level 4all activity had to

be conducted online, with 100 percent of

scheduled online sales run by the

Bayleys Rangiora agents selling either at

auction or in the negotiations which

followed.

''We did virtual viewings on Zoom

which was facilitated by the agent, with

the vendor filming at the property on

their phone and the buyer was able to ask

whatever questions they wanted,'' Mr

Ditmer says.

''We did it during last year's lockdown

and it actually works reasonably well.''

With last week's move the Level 3, real

estate agents were able to host viewings

with strict guidelines, but no open

homes.

''I know we've got an agent with 20+

people wanting to do aviewing on a

house, but we can only do two viewings a

day under Level 3soitneeds to be well

organised,'' Mr Ditmer said last week.

Under the guidelines, vendors left the

property and left as many internal doors

open as possible to reduce contact.

Viewings were restricted to amaximum

of two people per viewing plus the agent.

Community funds available

Voting for applicants seeking support

from the MainPower Community Fund

closes tomorrow (Friday, September

10).

Money from the contestable fund is

available to community groups, cultural

organisations or schools operating in or

serving the North Canterbury region.

In each of the two funding rounds held

annually there is ashare of $30,000

available to be split between the

successful applicants.

There is $20,000 allocated for

community organisations and $10,000

distributed for North Canterbury

schools.

North Canterbury community

members are given the opportunity to

have their say about which charitable

organisations and school projects

should be supported by nominating the

applicants and voting for the finalists.

The recipients will be announced on

the MainPower website once all

recipients have been contacted which is

likely to be about two weeks.

The community fund was launched in

2015 and distributed $10,000 to two local

community groups.

Since then the fund has grown in

value and reach, with around 100 groups

receiving ashare of $130,000 to date.
---
RANGIORA MOTOR GROUP

NEW DEALERSHIP OPENING LATE 2021

CNR Southbrook Rd &Coronation St

POSITIONS AVAILABLE

•Sales

•Service Technicians

•Admin/Reception

•PartAdvisor

•Service Advisor

•Grooming

Expressions of interest to

steve.hammond@mbmg.co.nz

NAVARA SL-450

LIMITED EDITION

• BLACK 18" ALLOY WHEELS & EXTERIOR HIGHLIGHTS

• CLASS LEADING FUEL ECONOMY

• APPLE CARPLAY® & ANDROID AUTO

• 5 STAR SAFETY RATING

NISSAN 150,000 KM'S

5YR FACTORY

WARRANTY

Navara SL-450 available now foralimited time only,while stocks last.

RANGIORA NISSAN, 321 High Street, Rangiora

Ph: 03 941 3175

www.rangioranissan.co.nz

rangioranissan.co.nz

RUNOUT

OUTLANDER LS 2.4L 2WD

$32,

,990+ORC *

The 7 seater Mitsubishi Outlander

brings everything you would need in a

family SUV: safety, technology y, comfort,

unrivalled economy and that all important

space, plus a 10 Year Powertr rain Warranty † .

RRP WAS $41,99

90 +ORC

*Price listed is for Outlander LS 2.4L 2wd and excludes on road costs of $650 which includes registration, WoF and a full tank of fuel. Available while stocks last.

†

Visit mmnz.co.nz for full Diamond Advantage warranty conditions.

RANGIORAA MITSUBISHI

321 High Street, Rangiora | 03941 3175 | rangioramitsubishi.co.nz
---
Take a moment to

Te Wiki TiakiAoTūroa 4–12 Mahuru 2021

Conservation Week 4–12 September 2021

conservationweek.org.nz

Embrace nature during Conservation Week

People are being encouraged to take a

moment for nature at home, or online,

during the 52nd annual Conservation

Week, ending September 12.

Department of Conservation Director

General Lou Sanson says this year's

Conservation Week focus has changed to

reflect the changing Covid­19 Alert

Levels.

''Our health and wellbeing are

strengthened when we connect with

nature, which is so important now,'' says

Mr Samson.

Arecent New Zealanders in the

Outdoors survey showed aclear link

between mental and physical health and

the outdoors.

The survey asked respondents to

describe the key benefits of spending

time outdoors: 41 percent referenced

their mental health as amotivation, 35%

referenced physical health, and 34%

cited adesire for connection with

nature.

Getting away from everyday routine

and reflecting were also considered

important.

''Our team of rangers and fabulous

community and iwi groups around the

country had lots of great events planned,

which we hope we will be able to hold at

some point, but nature is adaptable, and

so are we.

''Instead, we have come up with

innovative ways to make Conversation

Week happen online and at home with

activities to connect people to nature –

there is something for everyone."

''It's great to see ahuge range of nontraditional

nature connection activities

for people to get their nature fix at the

moment, and our thousands of walks,

camps, and huts will be ready for you

when it's safe to return to the outdoors.''

Snap nature and win

Show us how you have taken a

moment for nature and win some

amazing conservation prizes.

In partnership with North

CanterburyNews, the Department of

Conservation, North Canterbury, is

running aphotocompetition to

celebrate Conservation Week.

Just send us an image of how you

have taken alocal moment for nature

over the next few weeks in the

distribution areacovered by North

CanterburyNews —the Waimakariri,

Hurunui and Kaikouradistricts.

Images can be of:

Celebrating nature –sharing your

favourite nativearea and image

Discovering nature ­native bird,

plant, insectorany other native

species aroundyou

Enjoying being in nature–walking,

mountain biking, hunting, fishing,

swimming or just sitting and thinking

Caring for nature ­planting atree,

pulling some weeds, clearing, or

setting atrap

Firstprize:Goodnature® A24 Rat &

StoatTrap (Worth $199).This gas

canisteroperated resetting trap

automatically kills rats, stoatsand

mice.

Second prize: DOC annualback

country hut pass (Worth$144). Keep it

for yourself to stay in any DOC

backcountrystandardand serviced

DOC huts,orgift it to afriend.

Thirdprize: A$75 gift voucher to

spendatthe Arthur's PassVisitor

Centre.

Fourth prize: A$50 voucherfrom DOC

Motukarara Nurserywhich

specialises in germinating and

growing locally sourced Canterbury

native plants.

Just emailareasonable sized

imagesuitable for publication

(minimum 1MB, max 2MB) to

info@ncnews.co.nz.

Entriesclose5pm Friday,

Enjoying nature . Loburn School

students on the Kereru Loop Track at the

Mt Thomas Conservation area. PHOTO: SUPPLIED

September 24.

Include your name, address,

contactemail, phone number, and the

locationofthe image.

Imageswill be judged by the North

Canterbury News team. Winning

entries will be published in the North

Canterbury News in the 30 September

2021paper.

The DOC North Canterbury team

willcontactthe winning entries to

supply the prizes.

The North Canterbury News and

DOC reserve the righttouse the

winning imagesfor any furtheruse /

publication, crediting the

photographer.

For all otherimages, we will

contact you for approval if we would

like to use them for publication /

website, ensuring the photographeris

credited.

Protecting nature ... The Ashley Gorge Track and Trapping group. From left Keegan

Brenmer, Emma Warwick, Bailey Baker and John Burton.

PHOTO: SUPPLIED

Love nature in Covid times

What better time than alockdown to stop

and take notice of the naturearound you?

As well as discovering nature in your

back yard,inAlert Level2,you can visit the

native forests, reserves,parks,rivers and

beaches thatCanterburyhas to offer,so

this is an opportune time to explore.

Both doc.govt.nz and conservationweek.

org.nz websites provide awealth of

information and activitiesonhow you can

take amoment to notice /protect /celebrate/

nurture /remember /discover nature during

Conservation Week.

Suggestions on howtoembrace nature

any time:

Downloadanew nature wallpaper for

your phone lock screenorfor your next

digital meeting;

Go for avirtual walk to find penguins,

kakapo, or simply soak the views on a

GreatWalk;

Join acitizen science project;

Boost your wellbeing withDOCs

immersive digital nature experiencesby

tuning into our sound hub for podcasts,

nature audio and visual soundscapes.

Join the dailyConservation Week quiz at

conservationweek.org.nz;

Findmore inspiration on our

Conservation Blog for easy activities you

can do fromhome includingpot plants,

coffeewith nature, and nature

photography;

Wanttobecome an approved userof

VespexWasp Bait in time for late

summer? Now is agood timetogoonline

to learn more and take the test so you can

purchase the bait in the future. www.

merchento.com/vespex.

Takeamoment to refresh in nature on

your next dog walk. The DOCfoothill

forests, and Hanmer ForestPark are all

dog friendly. Readour blog to get some tips

and tricksfor when you are out withyour

dog.

Collect ToyotaKiwi Guardian (TKG)

medals. There are nine TKG adventure

sites in Christchurch and North

Canterbury,along with 16 activities where

you can earn action medals.

Do afive­minute bird countinyour

garden or local park, find out how on:

www.doc.govt.nz/our­work/five­minutebird­counts/.

Take a moment to

Take a moment to

Take a moment to

Take a moment to

Photos LtoR:Juriah Mosin (Shutterstock), Sabine Bernert, Sustainable Coastlines (www.flickr.com/photos/sustainablecoastlines), Sabine Bernert and Nick Graham.
---
NEWS

14 The North Canterbury News, September 9, 2021

Toyota Kiwi Guardian programme popular

In spite of the untimely major rainfall

event in May wiping out the lastsectionof

the KereruLoop Track, the official

opening of the latest Toyota Kiwi

Guardiansite for North Canterbury still

wentahead.

Toyota NewZealand's senior

management,the Department of

Conservation (DOC) staff and students

fromLoburn School were welcomed onto

the site at the Mt Thomas Conservation

area, by NgaiTuahuriri Kaumatua to

celebratethe 112th Toyota Kiwi Guardian

(TKG) site in Aotearoa/NewZealand.

Toyota NZ's new CEO Neera Lala is very

committed and passionateaboutthis

programme run in collaboration with DOC

to encourage families to get outdoors,

explore nature, and take conservation

action.

As part of their National Senior

Management hui,the team and their

partnersmade aspecialtrip to Mt Thomas

Conservation Area nearRangiora, for the

officialopeningand some ''hands on''

worktoinstallthe Kiwi Guardian post by

the bridgeonthe KereruLoop Track.

Ten students from LoburnSchool's

environmentalgroup were invited.

After the postwas blessed by the

Kaumatua,the students then presented

eachmember of theToyotateam with

their KereruLoop Track TKG medal.

In return, after lunch backatthe track

entrance, Toyota staff presentedeach

student withaTKG bag, sweatshirt, teeshirt,

and cap as futureambassadors for

thisfantastic initiative. The KereruLoop

Track has been extensively upgraded to

makeitinto an easy pleasantwalk for all

agesand abilities.

Reward ... The Toyota Giwi Guardian

medals.

PHOTOS: SUPPLIED

The 2.5 kilometre track has new culverts

and water tables, alongwith asmooth

gravelsurface.

Aslip and washout five minutes from

the end of thetrack meanspeople now

have to return the way they came.

However, it is expected to have the track

repaired by the end of October.

Ashley LoopTrack

The AshleyGorge Loop track, near

Oxford, was NorthCanterbury's first TKG

site. Set up in December 2019 by

communityvolunteers,the adventure site

takes Kiwi kidsalongthe track developed

by the volunteers and past their extensive

trapping programmearoundAshley

Gorge.

Wash out .,. Toyota's Senior Leadership Team digging out the picnic tableat Mt Thomas

which was buried after the May floods.

Sincegoing liveonthe DOC websiteon

19/12/2019,tothe latest lock down on

15/8/2021, atotal of 601 medalshave been

claimed.

Localvolunteer Emma Warwick, who

has been involved with the trackalong

with four other home­schooledstudents in

developing and maintaining tracks and

predator trapping aday aweek, has also

been analysing visitor use of the area.

Sinceatrack counter was installedin

November 2020, there were5827 userson

the track to March4,2021, averaging 52 per

day, an impressive number for a

community developed and managed track.

Working in partnership

The TKG programme was set up in 2016

withfundingsupport from Toyota New

Zealand in partnership withthe DOC.

It has grownfrom 20 sites to 112 today.

The sites,alongwith 16 at­home action

medal experiences, makes it fun and easy

for families to explore New Zealand,

increase their Kiwi kids' connectionwith

nature, and help them become future

conservationguardians.
---
Iconic events lift resilience

By DAVID HILL

NEWS

The North Canterbury News, September 9, 2021

15

Kaikoura businessesare

continuing to be resilient in the

face of uncertainty.

DeputyMayorJulie Howden is

confident the towncan bounce

back after its latest setback, Covid­

19 lockdown.

''Our town is pretty resilient and

we showed thatin2016 afterthe

earthquake,'' she said last week.

''We've got our cafesand

takeaways openunderLevel 3, so

peopleare enjoyinghavingatreat

and hopefully people will

continue to support them.''

Movinginto spring brings a

renewed optimism in the town,

after the traditionallyquietwinter

season, with iconicevents coming

up suchasthe Kaikoura Cup Race

Day and the Kaikoura Hop.

''Whenthis lockdown comes to

an end, it will be interestingtosee

whether we get the same influx of

people,''CrHowden says.

''Lastyear our businesses got a

real boost fromthe post­lockdown

bounce, so hopefully the summer

seasonwill be agood one.

''It'sareal shame for Doug and

Fonda (O'Callahan)with the Hop

being postponed, but let'sjust

hope thatthey can get asuccessful

day of it in November.''

While the Kaikoura Cup could

be held under Level 2, Cr Howden

says it needs to be backatLevel 1

to support the crowd it typically

draws to the South Bay

Racecourse and for the

community to get the full benefit.

''They've got Level 3races at

Addington,but only the drivers

Iconic event ... Kaikoura needs its iconic events like the Kaikoura Cup

to go ahead as planned.

PHOTO: RACE IMAGES

and trainersand officials are

allowedtoattend, so we could run

it at Kaikouraunder Level 2, but it

would be difficult to manage the

crowd and how do you turn people

away?

''It's areal iconic eventand we

get on to Sky (television) and that's

how we get alot of Australians

coming here, althoughwewon't

get them this year unlessthey're

already in the country.''

Other events,including the

ElementsNZKaikoura Triathlon

in January and the Kaikoura A&P

ShowinFebruaryare set to draw

people intothe town, subject to

Alert Levels.

Cr Howdenwonders whether

the government's support

packages shouldincludean

eventsfund, to help reduce the

anxieties of event organisers.

''We need these events to

happen, but it's hardfor

organisers to keepplanning when

it's so uncertain and they face the

prospect of huge costs if they're

forcedtocancel.''

Cr Howdenisalso amember of

the Kaikoura Trotting Club

committeeand her brother, Ben

Smith,isthe president.She is also

alocal business owner and serves

on the Destination Kaikoura

board.

Cadets ... The local air cadets are to receive acharter.

Charter postponed

Covid­19 hasforced the

postponement of the localAir

Cadets' charter parade planned

for thismonth.

Due to the large numbers of

people expected to attend, the

No 88 DistrictofWaimakariri

Squadron has decided to move

it's plannedcharter parade with

Road cone beacon

By ROBYN BRISTOW

Anew beaconisshining brightly

in Loburn.

An orangeroad conehas

appeared atop atree at the

intersection of Dunlops and

Barkers Roads.

It is just acoupleofhundred

metres up the roadfrom atree

that was felledindarkness

during lockdown.

It had sported an orange

cone,which appeared following

the 2010 earthquake. The cones

were in abundance in the early

days of earthquakerecovery

work.

Waimakariri MayorDan

Gordon to Sunday, October 31.

Mr Gordon is due to present the

cadets with acharter from the

Waimakariri District Council

confirming the name change

and granting them permission

to paradeinthe district's town

centres on special occasions.

In recenttimes the cone

would disappear,and then

mysteriouslyreappear afew

dayslater.

The fallentree seemingly has

become folklore, judging by the

furore over its felling.

The reappearanceofthe

cone, atop atree not far away

has beenwelcomed by dozens of

folkonthe local Facebookpage.

Police are investigating the

incident duringwhich it is

allegedtwo peoplecut the pine

down.

It fell across the roadatthe

Makerikeri River bridge,

narrowlymissing amotorist.

ADVERTISEMENT

THE GUT-BRAIN CONNECTION:

TheMarvel Health Scan Screens the

Body for the hidden cause ofdisease

Medical Scientistshave shown that thenervesinthe gut

areconnected to andcommunicatewiththe brain.

Studies stronglyassociate ahealthygut with abetter

mood andsense of wellbeing.

Youmay have heardofthe term 'leakygut', which

describes theleakage of chemical compounds andtoxins

from theintestine into thebrain. In ahealthydigestive

system, theintestine wall acts as agatekeeperand allows

only theabsorptionofwater andnutrients whilekeeping

out harmful compounds.

When theintestinalwall becomesdamaged,toxins

leak into thebloodstream andcross into thebrain and

nervoussystem. Depressionoccursdue to an imbalance

of thebrain chemical serotonin. But90% of the

serotonin in thebrain is producedinthe digestive tract.

Also,studies showalinkbetween chronic gutproblems

andneurodegenerative diseases such as Alzheimer's.

The Marvel Health Scan examines theentirebody,

includingthe brain, nerves andall aspectsofthe

digestive system, lookingfor thehidden causes of

diseases such as chronic inflammation of organs,

enzyme insufficiencies, harmful microbes, intolerances

to more than 250 foods, food additivesand chemicals.

The scan examines all organs of thebodyand can

identify thelikelydiseasesoccurring.

After thescan, thedoctors andhealthcare specialistsat

Marvel Health will studythe report andrecommend

targetedscience-based naturaltreatmentsand lifestyle

changestosupportthe body'shealing.

Total Health MOT

Whole Body Diagnostic Scan,

Report, Consultation and Therapy

All included: • Detailed Examination of All Organs & Systems • Diseases Present and Complications

• Detection of Viruses, Bacteria & Fungi • Food Allergies & Sensitivities • Non-invasive Blood Test

• Detection of Lead, Mercury & other Environmental Toxins • Body Composition Analysis

Unit 13/6 Cone Street, Rangiora | 293 Durham Street, Awly Building, Christchurch

CALL TODAY 03 669 5410 www.marvel.health

Disclaimer: The inspection from the scan is not asubstitute for medical inspections. It is not designed to state the final diagnosis
---
SERVICED APARTMENTSAVAILABLE FROM $350,000*

Brand-new

servicedapartments

available now!

SummersetatAvonhead have astunning range of brand-new

serviced apartments available now!*

Nestled in thebeautiful suburbofAvonhead, our newest

Christchurch villageoffers relaxedretirement livingwitheasy

access tosupermarkets and shopping centres.

Our serviced apartments are some of the largest available

on themarket, offeringlightand spacious open plan living, a

kitchenetteand separatedouble bedroom withalarge ensuite.

Locatedinthe heart of thevillage,our serviced apartments are

designed to create theperfect balancebetween independence

andservicestosupport your needs.

Free from thehasslesofupkeepand ongoingmaintenance,

ourhomes areall aboutstress-free living,wheretimeisyours

to livethe lifeyou choose.

If you'dliketofindout moreabout ourserviced apartments,

getintouch withAnnetoday on 03 3573202orvisit

summerset.co.nz

Get in touch

today!

SummersetatAvonhead

120Hawthornden Road,

Avonhead

Call Anne on 03 3573202 or visit

summerset.co.nztofindout more

*Licence to occupy.

03 3573202 |summerset.co.nz/avonhead

Forthe latest information on visiting ourvillages pleasecallthe village,orvisitsummerset.co.nz/covid-19

SUM3330_FP
---
NEWS

North Canterbury News, September 9, 2021

17

Young Farmers entries

Entries are open for the 2022 FMG Young

Farmer of the Year contest.

The 54th annual edition of the iconic

event is due to kick­off on October 9,

subject to alert level status, with district

contests scheduled for Otago /Southland,

Aorangi and Northern.

The Tasman region's contests are

scheduled for October 16 (Tasman South)

and 30 (Tasman North).

Sixteen district contests will be held

throughout the country during October

and November to select eight finalists in

each of the seven regions, for finals

which will be held early next year.

The 2022 grand final is due to be held

in Whangarei in July.

NZYF board chairperson Kent Weir

says he would love to see more member

participation in the district contests to

support their club mates who volunteer

their time and energy to convene the

competition.

''This is the perfect time to enter

yourself, your club mates, your work

mates and even your partners into the

district contests to have abit of fun and

earn acold one at the end of the day.

''It's agood opportunity to not just test

yourself and benchmark yourself against

your peers, but achance to meet new

people, connect with the community,

potentially learn athing or two and get

off the farm and socialise with others in

the industry.''

Having been ayoung farmers club

member for nine years, Mr Weir says he

knows all too well the banter that

happens in clubs and says ''the best

challenge comes from your mates''.

''Get all of your mates involved, have a

laugh and find out who actually brings

what to the table ­especially seeing as

districts are all about practical

challenges,'' he says.

The iconic contest was first held in

1969 and showcases New Zealand's

agriculture, food and fibre sector.

The contest is supported by FMG,

Ravensdown, WorkSafe, Honda, Lincoln

University, Massey University, MPI

BiosecurityNZ, New Holland, North

Fuels, South Fuels, PTS Logistics and

STIHL.

Lockdown home baking

By SHELLEY TOPP

Homebaking is onceagain providing a

welcome distraction formany Kiwis

during the Covid­19 lockdown.

Manysupermarket shelves were

stripped of flour shortly after the

lockdown announcement.

Although Iamakeen baker Iwas

unable to do much bakinglastyear

because Icouldn'tget any flour during

lockdown.

Thistime around Ihad more flour in

stock compared to last year, so Ihave

beenable to makesome of our favourite

sweet treats includingMexican wedding

cookies,known as GalletasdeBoda

Mexicana.

The easy­to­followrecipe comes from

The Australian Women's WeeklyEasy

MexicanStyle Cookery book.

The original recipe is thought to trace

backtomedievalArabbaking with many

variations in different countries since

then.

Europeannuns are believed to have

introduced theirvariation of the cookies

to Mexico, where they are now

traditionally offered at weddings.

Mexican weddingcookierecipe:

250gofsoft butter

3/4 of acup of sugar

2cups of standard flour

1/2 acup of finely chopped blanched

almonds

1/2 acup of finely chopped pecans

1tablespoonoffinely gratedorange

Mexican Cookies

rind

1teaspoon of vanillaessence

1egg yolk.Icingsugar for dusting

cookies (optional)

1) Beat butter and sugar with an

electric mixer until light and fluffy.

2) Stir in sifted flour, nuts, rind,

essence and egg yolk.

3) Shape level tablespoonsofdough

into rectangles. Place on oventrayslined

with baking paper, cover and refrigerate

for 30 minutes.

4) Bake in oven (180deg Celsius) for

around25minutes or untilcookies are

firm andlightlybrowned.

5) Cool and dust with icing sugar.

Recipemakes about 40 cookies.

Vitor LittleOz Easy Peel

Mandarins 750g Prepack

Product of Australia

Pams Fresh Cooked

Chicken Large

(Available at

Selected Stores)

YoplaitGreek

Yoghurt 1kg

BE IN TO

x750m

$ 4 49

ea

$

12 99 ea

$

5 99 ea

YOUR OWN PUMP

BEAN BAG

THIS SPRING!

BUY ANY 2x750mL 2x750

LPUMP® OR PUMPED®

PRODUCTS TO GO IN THE DRAW

ONE PRIZE PER STORE

Fresh Beef

Corned Silverside

Speight's

Gold Medal Ale

24 Pack 330ml Bottles

$

12 49 kg

A-FOUR-DABLE

EVERYDAY

Freya's Bread 750g

$

3 99 ea

$

5 9 $ 33 99

$

33 99 ea

Appointments

available inlevel 2

We're your local hearing experts.

The team has grown to include an

independent ear nurse and anew audiologist.

Aone-stop shop for all your hearing health

and healthy hearing requirements.

SEE INSTORE FOR MORE DETAILS

www.foursquare.co.nz

facebook.com/FourSquareNZ

Specials available South Island only from Monday 6th September until Sunday 19th

September 2021 or while stocks last. Wine and beer available at stores with an off

licence. Wine and beer purchases restrict cted to persons aged 18 years old and over.

Call 03 423 3158 •Amberley /Rangiora /Cheviot /Hanmer •verasetzaudiology.co.nz
---
We're having a

CLEAR-OUT!

ALL BEDROOM, LOUNGE, DINING, OFFICE, MATTRESSES ON SALE! Ends 14.9.21.

Avery Single/Single

Bunk Bed

WAS $

649

NOW

$

399

Paris 7Piece Dining Set

W190

WAS $

2139

NOW

$

1599

ALL

MATTRESSES

ON SALE

HEAPSofSUPERDEALS!

Lincoln 4 Seater

Bunk Bed

WAS $ 2699

NOW

$

1999

Lincoln

2.5 Seater

Allessa Sofa with Ottoman

WAS $

3299

NOW

$

2699

SCANQRTOSHOP

NOW

$

1499

ALL DINING

CHAIRS

Zen PU

$

125

Duke

$

125

ON SALE

Peyton

$

115

Vintage

$

95

Camille

$

75

Trent Sofa Bed Chaise

WAS $

1499

NOW

$

999

Xander Recliner

WAS $ 799

NOW

$

599

We are

open!

Our store isnow open and operating under

our normal store hours. We are complying

with all Ministry of Health Guidelines and ask

all our customers to do the same.

We can't wait to see you!

OPEN 7DAYSAWEEK 9AM –5.30PM

Scantofindstore

250 Moorhouse Ave, Christchurch

0800 TARGET (0800 827438)

targetfurniture.co.nz

Offers and product prices advertised here expire

14/09/21. Sale Excludes Accessories.
---
Oxford supports its own

By DAVID HILL

NEWS

The North Canterbury News, September 9, 2021

19

Oxford has come through the latest

Covid­19 lockdown unscathed.

The town and surrounding rural

community have once again shown

resilience in the face of adversity, say

Waimakariri district councillor Wendy

Doody and Oxford Community Trust

chairperson Thomas Robson.

Cr Doody was pleased to see locals

out supporting retailers with ''click

and collect'' under Alert Level 3last

week, while Oxford Fresh Choice, the

butcher, pharmacy and medical centre

staff have supported the community

throughout the lockdown.

Medical staff have been delivering

Covid­19 vaccines to locals at the

Jaycee rooms.

''As councillors we have been busy

on Zoom meetings,'' Cr Doody says.

''It is agreat source to keep in touch

with what is happening in our district,

with the District Plan in its final

reading before being delivered for

consultation this month and the Three

Waters Strategy consultation also

conducted online.''

Mr Robson says the lockdown

experience has largely been positive,

considering the circumstances.

''The weather meant that many of us

could catch up on DIY projects and

gardening, and Isaw many people out

walking and enjoying the winter

sunshine.

''Because we are in arural

settlement Iamalso aware of many

people who are essential workers in

the agricultural sector that did not get

to enjoy abreak during lockdown, but

continued to work to ensure animals

were kept well, fed and cared for.''

The Oxford Community Trust has

been operating throughout the

Thomas Robson

lockdown to support the elderly and

families in need.

The trust received aboost just before

the lockdown, with local business

owner Robyn Paget running afashion

show to support mental health

initiatives in the community, Mr

Robson says.

''The night was asell out and raised

over $3000 to be used for the work the

trust does in the area of mental health

in the community.''

Anew collaboration with Satisfy

Food Rescue sees food delivered to

residents in the Meyer Place area each

week, he says.

''This outreach is agreat way to

support some of the older residents in

the community, and reduce food waste

in the district.''

Anyone in the Oxford area who is

struggling financially or with mental

health issues can get in touch with the

Oxford Community Trust on (03)

3124195.

Win number 8coming up ... Fernside trotting mare Bright Glow (inner right) driven by

owner/trainer/breeder Ian Cameron, of Fernside, in winning form at Rangiora Raceway back

in May, with the eventual third­placed horse, Royal Del, alongside.

PHOTO:RACE IMAGES

Horse of the year

By SHELLEY TOPP

Trotting mareBrightGlow has been

named Rangiora Harness RacingClub's

Horse of Yearfor the 2020/2021season.

The seven­year­oldMuscleMass­Gina's

Brightestmarewas chosen from the

selection of ''horse of the day'' winners

selected at eachofthe Rangioraclub's

racemeetings lastseason.

''The Horse of theYear is chosento

epitomise the spiritofracing at Rangiora,

notthe biggestrace winners but triers that

remaincompetitive,'' says clubpresident

Greg Wright.

''Bright Glow wasour 'Horseofthe Day'

at our May23meeting whereasa7­yearoldshe

set herbest winningmile rate

(2.01.2) when winningover2000metres.''

Duringthe 2020/21season Bright Glow

raced 45 times forfour wins, three seconds

and five thirds.

''The Horseofthe Yearwinner is

selectedbyour committeeand they

believedthatBright Glowwas aworthy

winner of this year'saward,''MrWright

says.

The mare wasbred and is owned by

Fernside coupleIan andJocelyn

Cameron. Mr Cameron trains and drives

the mare, whichhas woneight races, the

samenumber as herdam, Gina's Brightest,

and more than $90,000 in stake money.

''She is acrabby old thing to train and is

alwaystryingtobiteand kickyou when

you are gearing herup. Shehas had alot

of starts,afew injury nigglesalong theway

and hadkneesurgery whenshe was

younger, butthrives on her workand is

worse to handle whenshe is notinwork.''

Your life

YOUR WAY

VILLAS

SELLING

FAST

Livelifetothe

FULLEST

The Sterling,Kaiapoi,ourlater living village

in theheart of Silverstream,provides a

diverse lifestyle, full of intergenerational

connection and resident-led activity.

Step into thelifestyle youhavealways

dreamed of,alwaysdeserved, butnever

imaginedliving.Alifestyle built around

yourhome, wherefriends,community

and amenities areall within your reach.

Ourindependent livingoptionsand

borderlessvillage designofferyou the

freedomtolivehow youchoose, allwhile

being seamlessly integrated within the

Silverstreamcommunity.Your life your way!

Findout morebycalling Michelle now!

STAGE 1VILLAS

LimitedNumbers Available

VISIT us

Cnr Silverstream Blvd

&Island Rd, Kaiapoi

TALK to us

0508 783 754

hello@thesterling.co.nz

LEARN more

thesterling.co.nz

Images are artist impressions and subject to change
---
NEWS

20 The North Canterbury News, September 9, 2021

Connecting with local youth

By DAVID HILL

North Canterbury youth found

creative ways to connect during

lockdown.

The region's youth councils

connected with young people

online and ran competitions to

raise spirits during an uncertain

time.

Lockdown can be achallenging

time for teenagers, being stuck at

home with their parents and not

being able to hang out with their

friends, while tackling online

lessons.

Hurunui District Council youth

development officer Ward

Shearman says the youth

councillors ran a"Kiwiana"

themed baking competition

during the first week of lockdown,

followed by aphoto competition

last week.

"It's just abit of fun, but it's been

getting agood response. In the

baking competition we thought we

might only get three or four

entries, but we ended up with 18,

and with the 'Kiwiana' theme it

was areal positive thing to do.

"And the photo competition is

great. We're getting some amazing

photos of things people

appreciate."

As the lockdown dragged on, Mr

Shearman said there was asense

of ''over it'' starting to creep in.

''It is quite funny hearing them

say they can't wait to get back to

school.''

When last year's lockdown hit,

Mr Shearman was just two months

into the role and working on his

own, so he says having ateam of

youth development co­ordinator

Rebecca Pugh and intern Brad

White to bounce ideas off has

made the job easier.

There is plenty of planning

going on behind the scenes with

the Hurunui Youth Council to

begin recruiting next month and a

Halloween themed junior social

planned for the end of October.

The Hurunui youth will also be

supporting WaiYouth' ''All Night

Part'', planned for October 1.

Waimakariri District Council

youth development facilitator

Emily Belton was barely into her

second week when lockdown

struck, but thanks to modern

technology she is able to connect

online.

WaiYouth and the Waimakariri

Youth Council have connected

with local youth through social

media and the youth council held

its monthly meeting on Teams last

week.

Tickets are still on sale for the

"All Night Party" in the hope it

can still go ahead.

In Kaikoura, Te Ha o

Matauranga continued to engage

with local youth groups during

lockdown and provided resources

to assist with home learning.

Youth leaders Elbie Burnett

and Laila Harnett offered three

online drop in sessions aweek,

Ward Shearman

with avariety of games, charades

and treasure hunts.

The After School Aspiration

Programme moved to an online

programme, with Rosie

Poharama­Hepi and Renee Wood

teaching pepeha (introducing

yourself in Maori) and writing

CVs.

An online baking competition

was also held, following the lead

of the Hurunui youth.

The Kaikoura Youth Council

has continued to meet online and

is working on plans for Te Wiki o

Te Reo Maori and the Kaikoura

Youth Awards, which has been

postponed until October 23.

The Alarmist: Fifty years Measuring

Climate Change, by Dave Lowe

Kiwi scientist Dave Lowe was posted

at an atmospheric monitoring station

on the wind­blasted southern coast of

New Zealand's North Island. On a

shoestring salary he measured

carbon in the atmosphere, collecting

vital data towards what became one

of the most important discoveries in

modern science.

Dyslexia: Wrestling with an Octopus,

by Beth Bemish

Imagine dyslexia as ahuge octopus exhibiting eight areas

of difficulty: reading, listening, spelling, writing, memory,

motor control, spatial issues, and the frequently

overlooked social challenges. The book show how to keep

your child safe, improve their health and help them

develop their unique talents, and share the secrets on how

to thrive, uncovered by aground

breaking 20­year study on living with

learning difficulties.

How to Thrive in the Virtual

Workplace, by Robert Glazer

The business world was already

gravitating toward virtual

workplaces, even before Covid­19

created the largest remote work

experiment in history. Suddenly

organisations as big as Twitter were

learning their employees didn't need

an office in order to get great results.

This book goes way beyond atypical

HR strategy book.

These titles are available in both Waimakariri and

Hurunui libraries. Find out more about recent additions

to the library collection by going to the library catalogue

at waimakariri.kotui.org.nz or hurunui.kotui.org.nz or

contact your local library.

Advertisement

adult human female

Say 'NO'tosex self-identification

Visit speakupforwomen.nz by14September
---
1

Don't

Jump

through

Hoops!

See the Good Sports.

$57.47

PER WEEK

$67.27

PER WEEK

$77.06

PER WEEK

$140.73

PER WEEK

2010 Volkswagen Polo TSi

Comfortline 1200cc with 28,742kms, Air

Conditioning, Auto Tiptronic, 6Airbags, CD Player,

ISOFIX, Electric Mirrors, Electric Windows, ESC,

Power Steering, Remote

Central Locking, Traction

Control, Turbo.

2014 Suzuki Swift RS

1200cc with 49,440kms, Auto, Aero Body Kit, Alloys,

CD Player, Centre Shoulder Belt in Rear, Cruise,

Chain Driven, Climate Air Con, Dual Airbags, ESC,

Factory Privacy Glass,

Fog Lights, Paddle Shift,

$10,990 Smart Key, Traction Control. $12,990

2010 Nissan FUGA 370GT

3690cc with 77,560kms, Auto Tiptronic, 6Airbags,

Alloys, CD Player, Centre Shoulder Belt in Rear,

Chain Driven, Cruise, Dual Zone Climate Control,

Electric Driver's Seat,

Smart Key with Push Button

Start, Half Leather Seats.

$14,990

2014 MitsubishiOutlanderPHEV

SportsStyleEdition Plug In Hybrid, 4WD,

2000cc with 47,731kms, Auto, 7Airbags, Alloys, ESC,

Auto Lights, Climate Air Con, EV Mode, Factory

Privacy Glass, Half Leather

Heated Seats, Lane Keep,

Radar Cruise, Smart Key.

$27,990

$173.54

PER WEEK

$95.18

PER WEEK

$217.62

PER WEEK

$139.26

PER WEEK

2018 MitsubishiEclipse Cross

VRX 4WD Turbo 1499cc with 25,413kms,

Auto Tiptronic, 360˚ View Camera, 5Star ANCAP,

7Airbags, Alloys, Bluetooth, Android Auto, Apple

CarPlay, Forward Collision

Mitigation, Heated Leather

Seats, NZ New, Smart Key.

$34,990

2015 Peugeot 3008 Allure 1.6

Turbo 1598cc with 83,793kms, Auto Tiptronic,

5Star ANCAP, 6Airbags, Alloys, Auto Lights, AUX/

Bluetooth/CD, Cruise, Dual Zone Climate Control,

ESC, Fog Lights, ISOFIX,

Half Leather Seats,

Panoramic Glass Roof.

$18,990

2020 Ford Endura TREND FWD

2.0D 1995cc with 23,936kms, Auto, 7Airbags,

5Star ANCAP, Adaptive Front Lighting, Alloys,

Android Auto, Apple CarPlay, Bluetooth, NZ New,

NZ Sat Nav, Pre-Crash Safety

System, R.Camera, T/Diesel.

Balance of New Car Warranty!

$43,990

2015 Hyundai Tucson Elite 2.0

1999cc with 90,729kms, Auto Tiptronic, 5Star

ANCAP, 6Airbags, ABS, Alloys, Auto Air Con, AUX/

USB/Bluetooth, Blind Spot Monitoring, Cruise,

Heated Leather Seats, ESC,

Immobiliser, ISOFIX,

Smart Key, Towbar. $27,990

$193.13

PER WEEK

$56.00

PER WEEK

$116.24

PER WEEK

$193.13

PER WEEK

2016 Toyota Highlander GX 4WD

3456cc with 65,393kms, Auto Tiptronic, Alloys,

5Star ANCAP, 9Airbags, Air Con, AUX/Bluetooth/

USB/CD, Cruise Control, Downhill Descent Control,

Fog Lights, ISOFIX,

NZ New, Traction Control,

Reversing Camera.

$38,990

2008 Suzuki SX4 GLXFA 2.0 5dr

1995cc with 77,903kms, Auto, ABS Brakes, Air Con,

CD Player, Centre Shoulder Belt in Rear, Fog Lights,

Dual Airbags, Electric Mirrors, NZ New, High Seating

Position, Power Steering,

Remote Central Locking,

Trip Computer.

$10,990

2013 Subaru Forester 2.0XT

EyeSight 2000cc with 78,868kms, Auto, 4WD,

Aero Body Kit, Alloys, Dual Airbags, Dual Zone

Climate Control, ESC, Factory Privacy Glass, Heated

Seats, ISOFIX, Paddle Shift,

Radar Cruise, Smart Key,

Traction Control, Turbo.

$22,990

2017 Ford Ranger XL W/S3.2

SUPER CAB 3198cc with 63,205kms, Manual,

20" Wheels, 6Airbags, Air Con, AUX Input, Cruise

Control, Bluetooth, CD Player, High Seating Position,

Remote Central Locking,

Reversing Sensors,

Running Boards, Tuff Deck.

$38,990

$222.52

PER WEEK

$227.41

PER WEEK

$124.57

PER WEEK

$188.23

PER WEEK

2016 Nissan Navara ST-X 2.3D

4WD 2298cc with 94,213kms, 5Star ANCAP,

Alloys, 6Airbags, Auto Lights, Bluetooth,Cruise,

ESC, Hard Lid, Heated Leather Seats, ISOFIX,

NZ New, NZSat Nav, Roof

Rack, Rev. Camera, Smart

2017 Mazda BT-50 GSX 4WD

3.2D 3198cc with 70,261kms, Auto Tiptronic,

6Airbags, Alloys, Auto Lights, AUX/Bluetooth, ESC,

Chain Driven, Cruise, Dual Zone Climate Control,

Fog Lights, Multi Functional

2018 Great Wall Steed 2.0D/6MT

1996cc with 36,470kms, 6Speed Manual, 6Airbags,

Air Con, Alloy Wheels, AUX/Bluetooth/USB/CD,

ESC, Cruise Control, Daytime Running LED's,

Heated Seats, NZ New,

$24,990

2012 Toyota Hilux 4WD 3.0TD

D/C Ute 2982cc, Air Con, Alloys, Auto, Cruise,

Canopy, Bluetooth/CD/AUX, Dual Airbags, ESC,

Nudge Bar, NZNew, Remote Central Locking,

Roof Rack, Running Boards,

Steering Wheel, Traction

Sports Bar, Towbar, Traction

Towbar, Traction Control,

Key, Towbar, Turbo Diesel.

$44,990

Control, Turbo Diesel.

$45,990 Control, Turbo Diesel.

$37,990

Tuff Deck, Turbo Diesel.

Stadium Cars Rangiora 03 310 7940 | stadiumcars.co.nz

609 Lineside Road, Waimakariri, Rangiora OPEN 6DAYS

*Conditions apply. Not available with any other offer. Finance offer subject to credit and lending criteria.

Finance calculation based on 60 month term. No deposit with an annual fixed interest rate of9.95%,

includes an establishment fee of$445. See our website for full disclosure.

*On road costs may apply to some vehicles
---
Reliability

Versatility

Affordability

6110M TRACTOR

&623R SL LOADER

122 HP @1900 RPM

4Cyl Tier 2Diesel OnlyEngine

24F/24RPowerquad Transmission

114L/min PFC HydraulicPump

FROM

$1,864

PER MONTH

Ask our local team about other models

and finance options to suit your budget!

Fraser Ibbotson

021 579 122

John Murgatroyd

027 435 5900

Claudia Mehrtens

027 308 1608

Quintin Boyd

027 486 7792

6140M TRACTOR

&643R SL LOADER

155 HP @1900 RPM

6Cyl Tier 2Diesel Only Engine

24F/24R Powerquad Transmission

114L/min PFC HydraulicPump

TLS Front Suspension

FROM

$2,489

PER MONTH

*Conditions apply.Finance available through John DeereFinancial Limitedtoapproved commercialapplicants only.Offer is basedon1.1% interest, 50%deposit, GST back in month3and 36 month term.

Fees and charges of $425 apply. If not amendedorwithdrawn earlier, the promotionexpires on 31/10/2021.Pricing will vary forother models/specifications. Pricing is formachinesdelivered prior to 1stMarch2022.
---
Safe storage essential

RURAL LIFE ­SPRAYING

The North Canterbury News, September 9, 2021

23

Safe storage of agrichemicals and

spraying equipment is good for everyone.

One of the general duties under the

Hazardous Substances Regulations

(2017) is to maintain an inventory of

hazardous substances to help you

manage your agrichemical store

appropriately.

The main issues to consider to ensure

your store is compliant are segregation,

storage and emergency preparedness.

Segregation is important for safety

reasons.

It means keeping herbicides as far

away as possible from fungicides and

insecticides, keeping fumigants in their

own area, keeping powder, liquid and

aerosol formulations separate.

Powder needs to be stored above

liquids, while highly toxic and dangerous

products that are tracked substances (i.e.

6.1A, B) are grouped together under lock

and key.

Additionally, segregation makes

stocktaking easier and more accurate,

and makes it easier to achieve a''first­in/

first­out'' approach to selecting which

container of agiven product to use.

When it comes to storage, every

product in the store must be in aproper

container and every container in the

store should have acorrect and legible

label.

Use the oldest products first. Agood

way to achieve this is to write the date on

each container when it first enters your

store.

Store large (20 litre to 60 litre) liquid

containers on or near floor level.

Cartons and paper bags need to be

stored on pallets or shelves away from

exterior walls (concrete floors and

exterior walls may sweat) and store all

products so their labels can be seen.

Avoid risks of cross­contamination,

explosion or fire by not storing

fertilisers, fuels or lubricants, pool

chemicals, seeds or feed­stuffs in the

same store as your agrichemicals.

Keep the store tidy and free of rubbish

at all times. Use Agrecovery to get rid of

empty containers.

To be prepared for an emergency, you

should have away of dealing with any

spillage immediately and safely, such as

asupply of dry soil, or zeolite mineral

sponge (or similar absorbent material,

but not sawdust as it is flammable), a

broom and shovel, heavy­duty plastic

bags and adrum into which

contaminated material or leaking

containers can be placed.

Other emergency preparations include

asecondary bunding, which may be

required depending on the substance

and the amount stored at any one time, a

fire extinguisher rated at least 30B, a

clearly visible sign or poster telling

people what to do and who to call if

Safe and secure ... Keep agrichemicals

and spraying equipment locked away in

storage shed.

PHOTO: FILE

something goes wrong and afirst aid kit,

including an eye bath, close to the store.

You may need to have alocation

compliance certificate (LCC) to

demonstrate your risk management and

emergency preparedness if you store

large quantities of flammable, highly

toxic or corrosive products.

LCCs are obtained from atest certifier

and require asite visit.

If you require an LCC, you may need to

comply with additional storage

requirements such as provision of a

safety shower if containers are opened in

the store, or two entrances if the store is

larger than 25 square metres.

More information can be found in

WorkSafe's Quick Guide to ''Storing class

6&8hazardous substances''.

Other useful equipment includes a

sturdy bench or table in the store for

measuring and mixing products, ascoop,

scales, calibrated jugs and buckets for

measuring products in the store.

Keep them in the store, not the smoko

room or kitchen.

Personal protective equipment (PPE)

should not be kept in the store. A

minimum of PVC nitrile gloves, overalls,

and face and eye protection should be

kept in aseparate clean area or cabinet.

Store respirator canisters in airtight

containers in the cabinet with PPE, along

with aclean water supply for washing

hands, rinsing and clean­up.

Copy: Growsafe

Reducing leaching ... Lincoln University PhD student Cameron Marshall believes

cows can be part of the solution.

PHOTO: LINCOLNUNIVERSITY

Improving efficiency

New Lincoln UniversityPastoral

Livestock Production Lab research is

defining how to get the maximum benefit

from cows predisposed to urinate

nitrogen, resulting in less leaching to

waterways.

PhD student Cameron Marshall

recently published two new articles in

top scientific journals as part of his

doctoral thesis, showingwhat cowswith

phenotypically lower milk urea nitrogen

eat, and how they eat, is important to

reduce their environmental impact.

He said inefficient nitrogen use from

pastoraldairy production systems has

resulted in concern regarding

environmental degradation ''and cows

are demonised for it''.

''This is aresult of excessive urinary

nitrogenleaching into waterways and

nitrous oxide emissionsfrom urination

patches into theatmosphere.

''Dairy cows are demonised for it, but

can be part of the solution too,''hesaid.

His first paper reports thatcows with

low milk urea nitrogen concentrations

eating plantain rather than aryegrass

diet,urinate significantlyless nitrogen

excretion per urination event, thus

reducing the potential nitrogen leaching

to waterways.

The secondpaper found thatthe

grazing andruminating behaviour of

cows selectedfor divergent milk urea

nitrogen, masticate, and ruminate the

pasture they eat differently, which

determines theirrumenfunction and the

efficiency of nitrogen digestion and use

in the rumen.This alters the nitrogen

excretion pattern to the environment.

Mr Marshall's previous research has

alreadyshown thatcows selected for low

milk ureanitrogen had a28% reduction

in the urinary urea nitrogenloading rate

perurine patch than cowswith higher

milk ureanitrogen breedingvalues.

Those 'bettercows' also yielded an

increaseinmilk proteinpercentage.

''The results of this new research

indicatetwo promisingtoolsthat

temperate pastoral dairyproduction

systemscan use to reduce nitrogen losses

and amelioratethe negative impacton

theenvironment.''

Mr Marshall's research is showing

promising resultsofusingananimalbased

solution in conjunctionwith

dietarymanagement strategies to reduce

theenvironmental impact fromdairy

farms in New Zealand.

Cameron Marshall's published articles

are:

­Nitrogen Balance of Dairy Cows

Divergent for MilkUrea Nitrogen

Breeding ValuesConsuming Either

Plantain or Perennial Ryegrass ­mdpi.

com/2076­2615/11/8/2464

­Dairy cowswith different milk urea

nitrogenbreeding values display

differentgrazingbehaviours ­

sciencedirect.com/science/article/pii/

S0168159121002161

For all your

Spraying &Fertiliser& Requirements

Proof ofplacement mapping

p Hide Spraying Ltd

Registered Chemical Applicators

Established 1947

Ph Andrew 027 437 2006

or 03 313 5278

or Graham 027 433 3786

or 03 313 7723

www.hidespraying.co.nz

2202683

2415444

Amuri

Helicopters

Ph: 0800 888 308

info@amurihelicopters.co.nz

www.amurihelicopters.co.nz

Agricultural Services

Providing helicopterservices to the

North Canterburyand Marlborough region.

• Spraying

• Lifting

• Fertiliser-liquid &solid • Frost control

• GPS proof ofplacement • Pest control

• Fire

• Mustering

25 years experience

Call for afree farmvisit, advice and

non obligation quote.

Brent Harkerss - 027 435 1243

James Pinfold - 021 656 770

info@glencree.co.nz

2220 State Highway 1

Kaikoura

2411953
---
RURAL LIFE

24 The North Canterbury News, September 9, 2021

2410273

2191656

ONLINE MEAT SALES

MEAT2U.NZ

HOME KILL

&WILD GAME

MEAT PROCESSING

313 0022

FENCING

• Post Driving

• Stock Fencing

• Stockyards

• Post and Rails

• Lifestyle etc

Ph Andy Horn

021 214 1201 or

(03) 314 9460

Built to your budget!

-All types of fencing including:

-deer, sheep and cattle yards

-Retaining walls –Timber gates

-Full range of specialised equipment for farm fencing and

lifestyle blocks, offers you the complete land package.

Ashley: 0274 364 776 ah: 314 8541

e: A.Duckworth@xtra.co.nz

www.duckworthfencing.co.nz

Post &Rail Fencing -Looks great &

makes life easy for the Rural Lifestyler!

2258760

Long service ... Kaiapoi vet Dr Bruce Welch has been recognised for 21 years service to

the New Zealand pork industry.

PHOTO: NZPORK

Pig vet recognised

By DAVID HILL

AKaiapoi­based veterinarian admitshe

was surprised to receive the New Zealand

pork industry'stop award.

New Zealand pig vet Dr Bruce Welch

recently receivedNZPork's ''outstanding

achievement award''inrecognition of his

21 year service to the sector.

''It certainlytook me by surprise, but it

was alsonice thatthe industry decidedto

show that theyappreciate what Idofor

the industry.

''It'sasmall industry and it has its

dramas, but Iconsider myself fortunate to

be able to work in the industry.

''It tends to attractgood, salt of the earth

peopleonfamily farms,soit's good to

work withthose people.''

The Zimbabwe­born pig vet moved to

New Zealand in 2000 after experiences

working as avet in several countries,

including the country of his birth.

Based at Kaiapoi, Dr Welch is one of

just threespecialistpig vetsinNew

Zealand, serving the close to 100

commercial pig farms spread throughout

country.

He services farms throughout the South

Islandand in the North Island,primarily

as aconsultant vet.

''I do travel quiteabit, but most of it is

back­up and support,'' he says

NZPorkchief executive DavidBaines

says Dr Welchisdedicated to the welfare

of pigsand supporting farmers.

''Bruce's knowledge of pigs and pig care

is unparalleled and his inputand

influence is evident in every aspect of pig

farming in New Zealand.

''Thatextendsacross productivity,

animalhealth,welfare, antibiotic use,

biosecurity, nutrition, geneticsand the

industry's PigCare programme.

''He is also closely involved with the

current review of the welfare code.''

Completing aNorth Canterbury double

was CourtneyGloistein, of Kilgour's

Farm, who was named''2021stockperson

of the year''.

The ''stockperson of the year'' award

carries a$500 prize and is selected from

trainees who have completed the national

certificate in pork production level3,the

qualification for people involved with the

care of pigs in apork production unit.

''We congratulate Courtney and hope

she continuestohave asuccessful career

in the industry,''MrBaines says.

''It is great to see talentedyoung

stockpeoplelike Courtneygainingthese

important qualifications.

''The pork sector offers many

opportunities for people seekingtowork

with livestock, at entry levelorthose

seeking acareer change,with a

combination of on­job and off­job training

and strong career paths.''

'Don'tsmash

RMA' -Feds

FederatedFarmers is urging the

Government nottotry to push througha

radical reform of the Resource

ManagementAct (RMA)during the current

pandemic.

Any replacement legislation needs to

keeplocal democracy, community

stewardshipand local identity,atthe heart

of resource management, Federated

Farmers vice­presidentKaren Williams

says.

''The governmentneedstoslowdown

and give people time to consideramore

fully­fleshed out Bill, outside of the

currentpandemic.''

Ms Williams ledaFederatedFarmers

teampresenting to theEnvironment

Select Committeerecentlysaying all is not

wellwith one the most important pieces of

legislation.

''But before we replace the RMA let's

makesure thenew legislation willdrive

better outcomes.

''Weshouldkeepwhat isn'tbroken.''

The Government is proposing an

overhaul of New Zealand's resource

managementframework with itsNatural

and Built Environments Bill.

''But from what we cansee in the

skeletonofthe Bill availablesofar,things

willbemuchworse, communitieswill be

robbed of theirabilitytohave their say on

matters thataffect them,therewill be

disruption to society andthe economy, and

the environment will be no better off,''Ms

Williams says.

''A big problemisnot just with what we

have seen to datebut what is yet to come.

''We've only seen the barebones of the

proposed Billand nothingofthe othertwo

pivotalActsthat areproposed to replace

theRMA ­the StrategicPlanningAct and

theClimateChange AdaptionAct.

''Weare effectivelyrunningblind at the

moment due to alackofdetail.''

There is no guaranteethe Billwill

generate more benefitsthan costs, she

says.

Uncertaintyabout what the purpose

statement in theBillactually means will

flow downand impacttiming of plan

decisions, consent reviewsand potentially

theissuing of newconsents, she adds.

RangioraToyota

Signature

CLASS

2016 HiluxSR5 4x4

•2.8L Turbo Diesel Auto

•Sat Nav

•Cruise &ClimateControl

2017 LandCruiser PradoVX

•2.8L Turbo Diesel, Leather

2019 Peugeot 3008 Active

•1.6L TurboPetrolAuto

2007 Toyota Rav4

$ •Satnav,5-StarSafety

• Safety Sense, Camera,

46,995 $

•2.4LPetrolAutoAWD

• NZ-new, Sat Nav $

71,995

$

15,995

• Only 21,300km

36,995

95

$

39,995

995

•Only43,500km

•Satnav, Camera

•Cruise Control

2019 GX Rav4

•2.0L PetrolAuto, Satnav

• Only 8,850kms

,

2013Toyota AlphardSC

•2.4LPetrolAuto, 7-Seater

•DualElectricDoors

•25,250kms

•2.8L Turbo Diesel, Leather

$ •Camera, Canopy

36,995 •18"Alloys

$

42,995

$

41,995

$ $

•SportsBar &Tonneau.

40,995 •Towbar 46,995

Percival Street,Rangiora • Ph (03) 313-8186any time • www.rangiora.toyota.co.nz

Signature

CLASS

2016 HiluxSR5Limited2WD

2018NissanNavaraRX4x4

•2.3LTurbo Diesel Manual

•Alloys, Bluetooth

•Only 58,100kms

2017 HiluxSRPreRunner

•2.8L Turbo Diesel Auto

•Alloys, Camera

•Only 60,050kms

2018 HiluxSR4WD

• 2.8L Turbo Diesel, Manual

FINANCE &INSURANCE AVAILABLE

2408003
---
Native Shrubs

CabbageTrees, Ribbonwoods,Flaxes, Griselinia,

Corokias, Manuka, Nandina, Kowhai

75 BoysRoad,

Rangiora

226

2

61

115

15 5-

S
---
BARGAIN BIN

Grasses,Bay Laurels,Hebes, Flaxes

andmuch more…

COME AND SEEUS!

13 TH SEPTEMBER-24 TH SEPTEMBER

MONDAY-FRIDAY8.00AM-5.00PM

75 Boys Road,RangioraRangiora

226

26

61

11

16

6-

S
---
North CanterburyNews

PROPERTY

Perfectly Pegasus

12 Tutaipatu Avenue, Pegasus

Interest in this stylish, sun-drenched 161sqm home is sure to be high, with investors drawn to the low-maintenance

design, professionals and families inspired by the proximity to every modern convenience, and first-home buyers

enticed by the chance to secure aquality home.

Well-appointed and equally well maintained, this warm home features three bedrooms, the master has an ensuite

and wardrobe, and is complemented by agenerously proportioned family bathroom, alovely functional kitchen and

open plan living. Aheat pump contributes to the inviting ambience, while excellent indoor/outdoor flow promotes

easy access outside to the garden area.

The easy care 625sqm section was designed to minimise upkeep and maximise leisure time, with private outdoor

entertaining areas providing the perfect spot to unwind with family and friends. The icing on the cake is the double,

internal access garage.

The Pegasus location is apopular one, and with good reason. The new, local supermarket is just ashort drive away,

and numerous shops, schools, medical services, and handy amenities are within walking distance.

This delightful home -which represents the perfect balance of comfort and convenience -issure to attract alot of

attention, and interested parties are urged to act quickly. Contact us today for further details.

Web

AUCTION

Date to be advised

3 2 1 2

View by appointment only

Leigh Miller

leighm@pb.co.nz

021 308 202

03 313 8022

pb.co.nz/RU94524

Arealchange in

real estate.

The Property Brokers and Farmlands partnership means

great things forprovincial real estate*

Together our combinedstrengths complement

eachother to createbigger networks,more

buyers and better results.

For more informationcall0800367 5263

orvisit pb.co.nz/together

Proudtobetogether

24114882

*Farmlands will continue to administer its property management portfolioand its West Coast real estatesites, pendingCommerce Commission clearance.

Property BrokersLtd Licensed REAA 2008
---
Four FourSeasonsRealty

"IKNOW THE AREA

IKNOW THE LOCALS

IT'S A

ALifestyle

CHOICE"

Thinkingofbuyingorselling, call me.

Rebecca Goile-Ensor

022075 7364 |03327 5379

rebecca.goile@harcourts.co.nz

rebeccagoile.co.nz

Four Four Seasons Seasons Realty Realty2017Ltd Ltd|Licensed Agent | Licensed REAA 2008Agent REAA 2008

Rebecca

GOILE-ENSOR

Four Seasons Realty
---
Environmental success recognised

NEWS &CLASSIFIED

The North Canterbury News, September 9, 2021

Public Notices

27

By GINA MCKENZIE

The success of an environmental

project has been recognised adecade

on.

The Hurunui Waiau Zone Committee

recently visited alandmark restoration

project established 10 years ago at

Smothering Gully, 8km northeast of

Waipara, to learn about biodiversity

improvements gained through fencing

and weed control.

The project is apartnership between

landowners Hamilton Glens farm, the

QEII National Trust and Environment

Canterbury's Immediate Steps

freshwater biodiversity programme.

It has received $24,000 of Immediate

Steps funding over the last decade,

which has been used for fencing to keep

farm livestock out of the protected area

and for the removal of wilding pines

through drilling and poisoning.

The fencing has created abuffer

between the farm and Smothering Gully

Stream, a4km water way flowing to the

Omihi Stream, atributary of the

Waipara River.

Awalking track has been created

through the area which the landowners

enjoy sharing with visitors.

Environment Canterbury biodiversity

officer Zipporah Ploeg says huge

improvements have been made since

the inception of the project with native

pygmy mistletoes (pirita) recovering in

the QEII covenant site due to stock

exclusion.

The site contains locally rare

southern rata and filmy ferns (piripiri).

''Protecting areas with different

ecosystems is vital as it helps to ensure

that biodiversity unique to the Hurunui

can flourish,'' she says.

''Once the major threats are

Progress ... Members of the Hurunui Waiau Zone Committee view biodiversity gains

made at Smothering Gully adecade after the environmental improvement project began.

managed, in this case woody weeds and

stock grazing, the native vegetation can

quickly regenerate. Controlling the

spread of wilding pines has helped to

protect this important native

ecosystem.

''Drilling and poisoning the pines

means they decay naturally, and this

method creates less interference for

native seedlings.''

QEII National Trust/Nga Kairauhi

Papa North Canterbury regional

representative Miles Giller says the

area is asite where ''geology is the

kingpin''.

''There is alot of exposed sandstone

and one of the quirky features is that it

is porous and can slowly release water

in dry areas, which helps plants like

filmy ferns thrive in arelatively dry

environment.

PHOTO: GINA MCKENZIE

''We're making great progress here in

Canterbury in terms of being able to

work together on protecting large scale

areas such as Smothering Gully, which

provides visible benefits to the

environment and waterways.''

Ms Zipporah says the ongoing

commitment of zone committee

members, QEII National Trust and the

landowners shows how positive results

can be achieved when all parties work

together on along­term environmental

restoration project.

''This is areal success story due to the

passion and commitment shown by

everyone involved in the project.

''Returning to the site 10 years later

and seeing the progress that has been

made is atribute to the effort that so

many people have put in since this

project first began.''

Proposed Lease of Reserve Land

at Esplanade, Kaikoura

Public notice is hereby given of aproposal of Kaikoura

District Council to grant a33year lease of an area

of recreation reserve on the Esplanade in Kaikoura

to Joseph and Associates Ltd for the purpose of

constructing and operating acommercial hotpool, health

and wellness facility.

The site is that of the former Kaikoura community

swimming pool, and details ofthe key terms of the

proposed lease are available from Council on request.

In accordance with the requirements of sections 17 and

49 of the Conservation Act 1987 and section 54ofthe

Reserves Act 1977 Council gives public notice of the

proposed granting of alease and invites submissions or

objections in relation to it.

Such submissions or objections must be made in writing

by 8October 2021, addressed to:

The Chief Executive

Kaikōura District Council

PO Box 6, Kaikōura 7340

Submitters will be given the opportunity to be heard by

Council and should indicate in their submission if they

wish to be heard.

2414636

CHILDREN'S craft morning,

pre school -year 8, Sat

25th September 2021,

10am -12noon, Woodend

Community Centre. Decorated

biscuits, paper cup

flowers, snowmen on

sticks, and material collage

on A4 board or cardboard.

Only $2 per child. Bookings

essential, numbers are

limited. Register now Val

Cotton phone 03 313 8410,

email valclivecotton@gmail.com.

WOODEND Spring

Flower Show, Saturday 2nd

October 2021, 1 - 4pm.

Woodend Community

Centre, School Road. See

gorgeous spring flowers,

photography, crafts, floral

art, and lots more. Enjoy a

Devonshire Tea, browse

plant /craft stalls and buy

Daffodil bulbs for next

season. Entries welcome.

Schedules at Paws Vet

Woodend, Veg NOut and

Libraries in Woodend and

Rangiora also on line and

Facebook. Admission $2

Adults, Children free.

Phone Lyanne Wheeler

0210 306 460. Email

lyannewheeler@gmail.com.

Up to

50 % Off

*Call for Terms

&Conditions

Off

*

ADJUSTABLE MASSAGE BED

by
---
What's happening in your

community…

All info onchanges to Council services and facilities can be found at waimakariri.govt.nz/covid19

Council Services atDifferent Alert Levels

Full information about what Council services are

open and operating at different Covid-19 Alert

Levels is available at waimakariri.govt.nz/covid19.

This webpage has up-to-date and useful

information covering what residents need to know

as we move down Alert Levels.

Let's Talk About the Government's Three

Waters Reform

Abig thank youtoeveryone who shared their thoughts

on the Government's proposed Three Waters Reform.

Unfortunately in person drop-in sessions had to

be cancelled due to Covid-19 restrictions but we

hosted agreat digital drop-in which you can watch

on Council's YouTube channel.

Feedback closed on 5September and the Council

will consider all of the community input, and make a

decision on what response togive the Government

at aspecial meeting on Tuesday 28 September.

We'll be back in touch when we know the next

steps from the Government.

Community Spring Clean

During SNAPtember

Council is partnering with Snap Send Solve tohost

aSNAPtember promotion, giving app users the

chance to win $500 each week by reporting issues

to the Council.

SnapSend Solveisasmartphone app which makes

reporting issues easy.Itallows residents to instantly

report issues suchaspotholes, vandalism, litteror

damaged footpathsdirectly fromtheirmobile phone.

Residents can automatically enter the prize draw by

reporting the issue ofthe week with the Snap Send

Solve app throughout the month of September.

Week 1: Dumped Rubbish

Week 2: Graffiti

Week 3: Overgrown Vegetation

For more information and to read the terms and

conditions check out the full news article on

Council's website.

Feedback Sought on Dangerous

Buildings Policy

The Council is reviewing its Dangerous, Affected

and Insanitary Buildings Policy and is asking

residents for feedback on some proposed changes.

The Policy helps the Council ensure dangerous

buildings, or those located near dangerous buildings,

and buildings that are contaminated or insanitary

are managed in away that reduces risk topeople,

and outlines the steps needed to reduce danger.

Visit waimakariri.govt.nz/letstalk to have your say.

Feedback closes on 5pm, Friday 24 September.

Roadside Spraying

Chemical control of

vegetation all areas

Residents are advised that our

vegetation controlcontractor

(Sicon Ltd) will start roadside spraying

in all areas in September 2021. The

chemical used isaglyphosatebase

(LionHerbicideand LI-1000). This will

continue when required andweather

permitting through to April2022.

If any resident has any legitimate

concern about this work, they should

contact the Waimakariri District

Council Customer Services team on

0800 965 468.

Carl Grabowski

Roading Operations Team Leader

Stay home

if you are sick

Wash &dry or

san

anitise your hand

s

Keepep a1-metre

distance from others

Cough or sne

eze

into your elbo

w

Help keep our

community safe

ABOUT DANGEROUS,

AFFECTED AND

INSANITARYBUILDINGS

The Dangerous, Affected and Insanitary

Buildings Policy 2016 is under review.

We've draed some changes and want to

hear your thoughts.

We welcome your feedback on the dra Policy to

make surewe're on the right track before it gets

finalised.

Before adecision ismade, we'd like to know

what you think. Share your feedback before

5pm Friday 24 September.

Have your say waimakariri.govt.nz/letstalk

Public Health Notice

Please Flush Your Taps

Some plumbing fittings may allow

tiny traces of metals to build up in

water that has been standing in the

fittings for several hours.

Although the health risk is small, the Ministry

of Health recommends you flush acouple of

cups of water from your drinking-water tap

each morning before drinking, or aer long

absences from your property.

This simple precaution is recommended for

all public and private water supplies for all

households in New Zealand.

Formore informationcontact the Waimakariri

District Councilon0800 965 468.
---
CLASSIFIED

North Canterbury News, September 9, 2021

29

Give usyour

feedback

Ablocked drain?

New pothole?

Fallen tree?

Waimakariri District Council

North CanterburyPrimarySchools

Enrolment Applications for 2022

Pre-enrolment and Balloting Procedures for students living outside of aschool zone

The Boards of Trustees of Southbrook, Cust, LoburnteKuraAromauka, Tihiraki North Loburn,

Te Matauru, Ashley Rakahuri, Fernside, Sefton, Ashgrove and Rangiora Borough schools invite

applications from parents who wish to enrol their children at the below schools for 2022.

Enrolment at these schools is governed by an enrolment scheme, the details of which are

available from the respective school offices.

Applications for out of zone places are now being invited.

Southbrook School

NE to Year 1- 10 places, Year 2-10places,

Year 3-5places

Cust School

Up to 10 places at the NE level

LoburnSchool te Kura Aromauka Up to 8places from NE to Year 8

Tihiraki North LoburnSchool Up to 6places from NE to Year 4

Te MatauruPrimary

Not currently accepting out of zone enrolments

Ashley Rakahuri School Up to 8places from NE to Year 3

Fernside School

Up to 16 places at NE /Yr1

Sefton School

Up to 2places at the NE level

Ashgrove School Up to 10 places from NE to Year 2

Rangiora Borough School NE to Year 2-10places, Year 3-5places,

Year 4to5-10places

The deadline for receipt of applications for out of zone places is 3pm Tuesday 29 September

2021. If aballot for out of zone places is required, it will be held on Thursday 30 September

2021. Parents will be informed of the outcome of the ballot within three school days of the

ballot being held. If you live in the school zone of one of these schools and have not yet

signalled your intention to enrol your child next year, please contact the school immediately to

assist them to plan appropriately.

Applications from out of zone students will be processed in the following order of priority:

First priority will be given to students who have been accepted for enrolment in an approved

special programme. (This priority categoryisnot applicable at listed schools.)

Second priority will be given to applicants who are siblings of current students.

Thirdpriority willbegiven to applicants who are siblings of former students.

Fourth priority willbegiven to applicants who are children of former students

Fifth priority will be given to applicants who are children of board employees.

Sixth priority will be given to all otherapplicants.

2415481

Public Notices

Public Notices

Notice of Annual General Meeting

Notice is hereby given that the

Annual General Meeting of

TE RŪNANGA OKAIKOURA LIMITED

is to be held at

Takahanga Marae, Kaikoura

On Saturday 25 th September 2021

at 10.30am

Subject to the covidalert levels this may change.

However we will notadvertise again but it will be rolled

over to the third week of the following month.

The business of such meeting shall be as follows;

1. To receive, considerand approve the annual report

of the Company.

2. To receive, considerand approve the annual

financial statementsofthe Company.

3. To appoint an auditor for the ensuing year who

shall audit the financial accounts of the Company.

4. To consider such other businessasmay be

accepted by amajority of the members present

with power to vote at such meetings.

Proxy votes will not be valid

Darran Kerei-Keepa

Director

2413639

KAIAPOI CHRISTADELPHIANS

Use the free Snap Send Solve app to tell

Waimakariri District Council about it.

DOWNLOAD FOR FREE

Visit our website to find out more

waimakariri.govt.nz

Keep your

organics and

recycling

loose.

Recycling and organics

should be loose in

the bin, not in bags.

Plastic bags belong

in the rubbish. That

includes compostable

or biodegradable bags

or packaging.

—

Find out more

collection tips at

rethinkrubbish.co.nz

rethinkrubbish.co.nz

Noticeof Annual GeneralMeeting

Notice is hereby given that the

AnnualGeneralMeetingof

TE RŪNANGAOKAIKOURAINCORPORATED

is to be held at

Takahanga Marae

7Takahanga Terrace,Kaikoura

On Saturday25 th September 2021

at 9.30am

Subject to the covid alert levels this may change.

However we will not advertise again but it will be rolled

over to the third week of the following month

The business of such meeting shall be as follows;

1. To receive, consider and approve the annual report

of the Officers.

2. To receive, consider and approve the annual financial

statements from the Treasurer.

3. To appoint an auditor for the ensuing year who shall

audit the financial accounts of the Runanga.

4. To consider such other business as may be accepted

by amajority of the members present with power to

vote at such meetings.

5. There will be aconstitutional change this year on

page 11 section 16, Notices. "Notices of Annual,

Special, Shareholder and Directors Election meetings

called by Rūnanga shall be given (and deemed to

be given) by public notice in those newspapers

circulated within Kaikōura takiwā and no later than

fifteen (15) working days prior to the meeting".

Proxy votes will not be valid

Hariata Kahu

Chairperson

Notice of Annual General Meeting

Notice is herebygiven that the

Annual General Meeting of

TAKAHANGAPATRUST

is to be held at

Takahanga Marae

7Takahanga Terrace, Kaikoura

On Saturday 25 th September 2021

at 11.30am

Subject to the covid alert levels this may change.

However we will not advertise again but it willberolled

over to the third week of the followingmonth.

Therewillbeelections for two Pa Trustees

Maani Stirling

Chairperson

2413641

PUBLIC NOTICE OF

APPLICATION FOR

ON-LICENCE

SECTION 101, SALE

AND SUPPLY OF

ALCOHOL ACT 2012

MSC 2017 Limited has

made application to

the District Licensing

committee at Rangiora

for the renewal of an ON

LICENCE in respect of the

premises situated at 431

Mandeville road, known as

The Mandeville Bar and

Bistro.

The general nature of the

business to be conducted

under the licence is Bar

and Restaurant/Function

Centre.

The days on which and

the hours during alcohol is

intended to be sold under

the licence are:

Sunday to Thursday 8am

to 11pm

Friday - Saturday 8am

-12am (midnight)

The application may be

inspected during ordinary

office hours at the office

of the Waimakariri District

Licensing Committee, 215

High Street, Rangiora.

Any person who is entitled

to object and who wishes

to object to the issue of

the licence may, not later

than 15 days working

days after the date of the

publication of this notice,

file anotice in writing of the

objection with the Secretary

of the Waimakariri District

Licensing Committee,

at Private Bag 1005,

Rangiora.

No objection to the renewal

of alicence may be made

in relation to amatter other

than amatter specified in

section 131 of the sale and

supply of Alcohol Act 2012.

This is the first publication

of this notice.

2414786v1

2414492

"The Key of Knowledge .."(Luke 11:52)

"GOOD NEWS"

The GOD of the Bible is long-suffering and

patient.

"The LORD is merciful and gracious, slow to

anger,and plenteous in mercy". Psalm 103:8.

RANGIORA PHOTO-

GRAPHIC Society. AGM

to be held September 14th

will now be held on Thursday

October 12th at 7pm,

MainPower Oval,

Coldstream Road, Rangiora.

All welcome.

HOUSE WANTED TO BUY

Kaiapoi or Rangiora

Semi retired couple who are cash

buyers are in urgent need of a2or

3bedroom home.

Must have some land for agarden.

We will offer you agood price.

Save yourself $20,000 plus in

real estate fees.

Ph 021 101 4046

ACCOMMODATION

required. Retired gentle

bloke requires single bedroom

self-contained dwelling

in avery quiet country

location in North Canterbury

up to within 30

minutes from Christchurch.

Preferably long-term. Good

references. Please phone

027 271 3222.

Property Wanted

2414556

LIFESTYLE PROPERTY WANTED

Recent enquiry for aproperty we have been selling

in Amberley Beach Road has been extremely high.

We now have several purchasers wanting a2to

4ha property with a3or4bedroom home in the

Amberley/Leithfield/Sefton/Balcairnarea.

The budget is up to $1,050,000.

Please call if you are considering selling.

Contact Richard Woerlee 027 220 7706

Richard.woerlee@harcourts.co.nz

Harcourts Four Seasons Realty 2017 Ltd

Licensed Agent REAA2008

Find us on Facebook @RichardWoerleeHarcourts

Wanted To Rent

2415917

DESPERATELY seeking

2 bdrm house or flat, in

Rangiora long term tenant,

excellent references. Only

have to beginning of October,

landlord is selling. Ph

Odette 027 812 0261.
---
CLASSIFIED

30 The North Canterbury News, September 9, 2021

Cars Wanted

ANY old cars, anything pre

1990, unfinished Hot Rods,

Classic Cars. Please call

027 258 8366.

CASH 4CARS

and 4WD'S

Phone

Automotive

Parts

03 313 7216

CARS, vans, 4WD's

wanted for dismantling or

repair. Phone 027 258

8366.

FALCONS &

COMMODORES

WANTED

Suitable for

dismantling or repairs

Ph 313 7216

2412522

TOYOTA HILUX SURF

wanted by private cash

buyer – ideally under

200,000 kms. If you are

considering selling your

Hilux Surf we would be

interested in talking with

you. We are looking for a

good reliable Hilux Surf for

our son who is abuilder.

Please call Mike on 021

482 860.

Automotive Services

CARAVANS &MOTOR-

HOMES. Interior &

exterior repairs, maintenance

& upgrades. Solar,

satellite, awning installations.

Sheetmetal, light

engineering & welding

services. Professional

coachbuilder specializing

in the RV industry 25 years.

Call Darryl @ Advanced

Auto Homes 027 220 6566.

Situations Vacant

Situations Vacant

bureau chief

Gore

Motorcycles

SOUTH PACIFIC Motorcycle

Services. Local family

business since 2003. All

types of service and repairs,

all makes and models. Collection

service available.

Please phone 03 312 0066

office@motorbiketours.co.nz

www.motorbiketours.co.nz.

School Bus DriversRequired

Would youliketoearnextra income while still

havingmostofyourday free and at the same

time do your community aservice by helping to

provide asafe,highstandardofschooltransport

forour region'schildren.

TorlesseTravelhas positions available forpart

time busdriversinRangiora.

If youhaveaClass 2license, aPassenger

Endorsementand areinterestedindriving on a

part timebasisthenthiscouldbefor you.

Alternatively,ifyou areinterestedinbecoming

abus driver,wecan provide assistance to help

youachieve thecorrect licencing.

If youare interested in this role or wishformore

information, pleasecontact.

manager@torlessetravel.co.nz

Phone: 021 198 7358

Allied Press Limitedisthe largestindependentlyowned

Media Company in NewZealand. Employing over1,100

staff andcontributors across its15SouthIsland locations.

We operate across multiple mediaplatforms(print, on-line,

digital) deliveringnews, information and entertainment

through our variousregionaland city publications, including

TheEnsignand the Otago DailyTimes.

Reportingtothe EditorsofThe Ensign(Regional Editor)

and ODT (EditorinChief), this role plays akey role in the

growth and strengthening of The Ensign, aweekly local

paperestablished in 1878,representing the localareain

the Otago Daily Timesand supportingthe editorial team

in the Goreoffice. Sub-editingand layoutskills wouldbe

an advantage but arenot essential.Thisisanexcitingtime

to be workingfor thisleading independent NewZealand

media company. TheOtago DailyTimes' regionalcoverage

andThe Ensign'slocalcoverageare at the heart of its

success.

Some of thekey accountabilitiesinclude:

•Staffsupport andperformancemanagement

•Sourcing andwriting stories

•Copy tasting

•Meeting productiondeadlines

•Point of contact forthe local communityand Allied

Pressstaff

In addition to your interest in supporting your team to

succeed, you will demonstrate:

•Video,photography and websiteskills

•Commitmenttoaccuracy and quality

•Full NZ driver licence

Thisisafull time,permanent position based in Gore, central

to the best of theSouth Island'snatural landscape withall

of itsleisureopportunities, affordablehousingand access

to plenty of local culture andsport. Relocationassistance

would be considered forthe right candidate. As wellas

working alongside professionalcolleagues throughout the

South Island, there aredevelopmentopportunities andan

opportunitytotakeownership of asuccessful andwell

supported localnewspaper.

Acopyofthe fulljob description can be found at

alliedpress.co.nz/employment.

To applyplease email yourcoverletter andCVvia SEEK or

to recruitment@alliedpress.co.nz.

Applicationswillclose on Friday, 17 September 2021.

Please noteyou musthavethe right to work in New

Zealandtoapply for this role. Disclaimer:AlliedPress is

unabletoprovide sponsorshiporvisa support at this time.

2414283

Situations Vacant

reporter

Balclutha – Clutha Leader

Full-time

Areyou areporterwith aclear eyeforthe facts,butcan

also spinacolourfulyarn tellingthe storiesthatmatter

to YOUR community?

TheBalclutha team has anexcitingopportunityfor an

ambitiousandadaptablereporter to join them at theClutha

LeaderandOtago Daily Times office. Asamember of

ourBalclutha newsroom youwillworkonwiderangeof

storiesandfeatures, coveringthe full gamut of hyper-local,

communityandbreakingnews.

AlliedPress Limited is the largest, independently-owned

media companyinNew Zealand. Employing more than

1100 staffandcontributors across its15South Island

locations, the grouphas significantinterestsindigitaland

print media,web,regionaltelevision andcommercial print

operations.The Clutha Leader is publishedonce aweek

anddelivered to 8,000 homes.

Theideal candidate will be aself-starter posessing:

•Excellentwritingability withakeen interest in news and

storytelling,bothinprint andonline.

•Ahigh degree of personal responsibility and initiative.

•The ability to progress multiple paralleltasks andmeet

regular deadlines

•Photography,videoand socialmedia/web skills are

valued.

•Arelevant journalism qualification (orequivalent

experience) wouldbeviewedfavourably.

Aclean, full NZ drivinglicenceisessential.This full-timerole

includesrosteredeveningand weekend work shared within

the team.

Acopyofthe job description canbefound at

alliedpress.co.nz/employment.Informalenquiriesaboutthe

role arewelcomedand should be directed to SouthOtago

BureauChiefRichardDavison, at richard.davison@odt.co.nz.

If youthink thisrole is foryou, please apply with acovering

letterand CV by Friday,10September2021 either viaSEEK

or by emailingrecruitment@alliedpress.co.nz.

Please note youmust havethe right to workinNew

Zealand to applyfor this role. Disclaimer: AlliedPress is

unable to provide sponsorship or visa support at this time.

Situations Wanted

CAREGIVER available,

wider Rangiora area. Thirteen

years' experience,

specialist in Manual Handling

and working with

Spinal Bifida, Amputees

and Full-care patients from

teenage to age 60. Contact

for details, referees and

qualifications, phone on

021 596 167.

Educational

TUITION available. Primary

and secondary up to

NCEA level 3. In centre

(Rangiora) or interactive

online from your home.

Each student on an individually

tailored programme.

Kip McGrath Rangiora has

been serving the local community

for 30 +years. Give

us acall (03 313 3638) or

book your free assessment

online https://www.kipmcgrath.

co.nz/rangiora

For Sale

MACROCARPA

PERGOLA

4m x4m

2415065

$4300.00

including Gst

Ph. 027 727 9162

Trade &Services

WINDOW TINTING

tintawindow

advanced film solutions

99% uv block

fade protection

heat control

reduce glare

25 Years Experience

privacy films

frosting designs

non-darkening films

Workmanship Guaranteed

Lifetime Warranties on Most Films

UV

block

Free Quotes Canterbury and Districts

03 365 3653 0800 368 468

Wanted To Buy

$$$

Amalgamated Scrap Metal

Ltd. Specialists in farm

machineryand farm clean

ups, old vehicles etc.

100% locally owned.

Ph 0800 030 712 or

027 695 0480.

2312759

Gardening

A+ GARDEN hedges cut

to perfection. Tree &arbor

work. Also spraying. Free

quotes. Ph 03 312 0668 or

021 111 4322.

2413934

Log Fires

Pellet Fires

Heat Pumps

Sales

Service

Installations

Free Quotes

03 343 1651

472 Blenheim Rd

www.heatstore.co.nz

A PAINTER WITH

PASSION! Local painter

with 30 years of quality and

integrity in all aspects of

painting. Phone Mike on

021 0903 8546.

ABEL &Prestige Chimney

Cleaning. Nth Cant owned

& operated. Covering all

areas from Waimak to Hanmer.

Professional, guaranteed,

service. Firebox

repairs, carry most parts. Ph

0800 661 244.

AFFORDABLE concrete

cutting with quality and

removal work. Free quotes.

No job too small. Ph 027

442 2219, Fax 03 359 6052

or A/H 03 359 4605.

ALL TREE SERVICES,

arbour work, pruning, tree

removal. Affordable &

friendly service. Telephone

021 111 4322.

ARBORIST qualified.

Copper Beech Tree

Services. Tree removal,

pruning, height reduction,

hedge trimming, shaping,

tree planting, firewood.

Free quotes. Contact Angus

Edwards 027 259 6741

copperbeechtreeservices@gmail.com

BRIAN'S Tree Services.

Tree felling, topping,

shaping, firewood cut, rubbish

removed, stump grinding,

branch chipping.

Affordable rates. Phone 03

327 5505 or 021 124 4894.

CHIMNEY SWEEPS

Time to service your fire.

Accumulation of soot seriously

affects performance.

Latest rotary brush technology.

Free moisture check

on wood. Safety inspection.

All work insured and guaranteed.

From $70 single

story. 0800 SWEEPME or

021 0277 1927. Visit

www.sweepnz.co.nz.

DIRTY TILES &Grout?

Professional tile cleaning,

tiled shower restoration,

mouldy silcone, shower

glass & we can even

recolour your old grout!

For all your tile and grout

issues call Grout Pro for a

free, no obligation quote.

Ph Darryl 0800 882 772.

KITCHEN bathroom,

renovations, decking,

pergolas, fencing. Honest

reliable licenced builders.

HOMESTAY Ph Don 027 727 9162.

METAL WORX. Flashing,

Sheetmetal Fabrication,

Wrought Iron,

Welding, Custom Trailers,

General Metalwork. No job

too big or too small. Ph 021

265 5428 or 03 314 6908.

Find us on facebook/

Glenmark Metal Worx.

glenmarkmetalworx.ltd@gmail.com.

Pets

BICHON

for smaller dogs. We look

after your dog in our home.

"No kennels". Phone today

03 314 6110.

BIRD FEEDERS

½PRICE -$25 for 10

Plus - DOG BONES

and more

313 0022

2410274MEAT2U.NZ

Livestock

HOMEKILL & Wild

Game meat processing. Ph

313 0022. www.meat2u.nz.

Trade &Services

PAINT & wallpaper

services. Wayne Bryant,

exterior, interior. Qualified

tradesman. Free quotes. Ph

313 5337 or 027 654 4568.

PAINTER & Decorator.

25 + years experience.

Interior /exterior, roofs &

waterblasting. For a free

quote, please ph Steve 03

314 4620 or 027 477 1930.

PAINTER. Qualified local

professional, Int / Ext,

roofs, wallpaper. Call or

text Corban 027 846 5035.

POWER TOOLS repairs,

parts &sales for over 40

years. All main brands serviced.

Grossman Trade

Tools, 23 Watts Road,

Christchurch. Ph 389 9230.

RANGIORA Rubbish

Removal and RRR skips.

Wheelie bins any frequency

and skips from 1.5 cube to

9cube. Skips and wheelie

bins for any use, rubbish,

greenwaste, building sites

or just cleanups. Give us a

phone call 313 6957 or for

skips 021 313 255.

SCREEN PRINTING.

For all your printing

requirements. T-shirts,

Hoodies, Hi-Vis vests and

polos, Overalls, Caps etc.

Please phone Heather 03

313 0261 or email heather.

norstar@gmail.com.

SHEARER. Hap's Farm &

Lifestyle Services. Shearing,

crutching, drenching,

tailing, feet trimming &

health check. — Ph. 03-

423-3713 or 021-267-4025.

SUMMERFIELD

FENCING

IN YOUR AREA NOW.

Lifestyle or farm, sheep, cattle,

horse, all types of animals.

Fences, yards, sheds, arenas,

shelters, runs.

30+ years contract fencing.

Steve is available to help with

your design &planning.

Ph office03312 4747

2091848

ANTHONY SYMONDS

Forall your painting &

plastering requirements

Local with 30 years

experience

All workmanship

Guaranteed.

Phone 021 344 023

2220615

VALUATION -

Specialising in North Canterbury.

Contact Geoff at

Maxwell Valuation. Phone

03 310 8541 or email

geoff@maxval.co.nz.

SEPTIC TANK

CLEANING

Bill's Liquid

Waste

Blair Tavendale

Ph 03 314 9371

0275 379-694

Pride &Quality Painting

&Decorating Services

20 yrs exp, fast and friendly

service. For all your painting

needs, phone: Martin 310

6187 or 021 128 9867

2362002

REMOVALISTS

Movemen Ltd

2Men &agood sized truck.

From $150 plus GST per hour.

Kaiapoi based.

Call Gerard

027 668 3636

movemen.co.nz

2401953

You dump it...

Blair pumps it...

027 216 0000

2225862
---
Trusted Trades &

Professional Services

Guide

To book your spaceinthis guide,phoneAmanda Keys 313 2840 or email amanda.keys@ncnews.co.nz

2070788

Automotive &Recovery

• WOF Cars &Trailers

• Vehicle Servicing &

Repairs

• Tyres &Punctures

• Jump Starts

•

Towing &Salvage

• Courtesy Car Available

Ph Aaron Rowlands

0272 588 366

13 Stone Eyre Place,

Swannanoa

Eftpos available Mon –Fri 8am –5pm, Sat 9am –1pm

• New Builds &Renovations

• Light Commercial /Re-strengthening

• Project Management

• Bathrooms

• Farm Buildings

• House Lifting Re-piling

• Shop Fit Outs

2408831

Builder Builder Butchery

40+ years experience

027 222 5078

markw.hills@xtra.co.nz

OxfordButchery

Shane and Leanne Frahm

We cankill&process yourstock

FourGenerations of Frahms

since 1957

Ph 312 4205

Oxford

Number one

old-fashioned bacon

&ham curing.

A/H 312 4709

WE ARE OPEN, WEARE AESSENTIAL SERVICE

2227889v2

Construction &Concrete

DENTURE CLINIC

Ear Health

All Construction & Concrete Work

•Driveways, patios &paths

•Bridges and Culverts

•Floors, foundations

•Sheds and buildings

•Dairy Sheds, Herd homes

•Silage pits, effluent ponds

•Excavation and cartage

•Precast concrete

•Insulated panels

Daryl Power

027 230 9401

concretepower@scorch.co.nz

www.concretepower.co.nz

2273277

RANGIORA

DENTURE CLINIC

Garry WMechen

Registered Clinical DentalTechncian

Phone (03) 313-9192

2089195v2-4/4-S

• Ear Health checks.

• Wax removal using Microsuction

• Removal of foreign bodies

• Basic hearing aid care

• ACC provider

• WarVeteran provider

• No medical referral

required

Clinics in Rangiora, Amberley and Kaiapoi

Rest homes/retirement villages, booking by prior arrangement.

Bookings: Online www.earcare.nz |Phone 020 4124 25 25

Email alison@earcare.nz | Ear Care Canterbury

2324849

Landscaping

STEWART CONTRACTING

Landscaping -Fencing

& Earthworks

ENJOYABLE STRESS FREE LANDSCAPING

03 313 9375 •027 369 3974

www.stewartcontracting.co.nz

contact@stewartcontracting.co.nz

2136148

38a Ashley Street, Rangiora

NEW N W DENTURES D ES

*RELINE * *REPAIRS

* I S

HOURS

8.30am -12noon

- Monday to Friday

FREE E CONSULTATION O

AND ADVICE

A V C

For a/h repairs

phone (03) 310-3044

Landscaping

For all your landscaping needs

All Landscaping, Retaining Walls (Engineered and

Non-Engineered), Timber Fences, Landscape Structures

and more...Lifestyle Block, Rural and Residential.

Phone Jeremy 021 169 9394

www.blackhill.co.nz

www.facebook.com/blackhillltd

2372616v2

Painter /Plasterer

HURUNUI Painting

• Qualified tradesmen, quick,neat and friendly.

• Reasonable rates. • Interior /exterior painting.

• Interior plastering &wallpapering.

• Spray painting &water blasting.

P: Rod Hermes 027 414 0830 or 03 314 2391

E: r.hermes@xtra.co.nz

2394026v2

If it stands still

long enough we

will paint it

•17metre spray

booth

•FullPaint &Panel

Service

•Insurance Work

Panel &Paint

•Fullcoachbuilding service, fabricating

doors, lockers, windows, tanks

•PaintingMotorhomes, Caravans, Boats,

Trucks,Tractors&Cars

Now moved to 8Seven Mile Drive, Belfast

Phone (03) 323 4115

www.autobodyrepairs.co.nz

2404153

Plumbing

For all

general

aspects of

plumbing

Discounts for over

65 years old

Fast friendly service

All work guaranteed

Aaron McCartney

Certifying Plumber

Cell 027 366 9091

A/H 03 310 2137

Free Call:

0508 44EVER

EMAIL:

plumber_27@yahoo.com

2172994

AMPLIFY YOUR

BUSINESS

AND BE THE

NAME THEY

REMEMBER

FIRST

Advertise with

us and get

noticed

today!

Phone us today on 03 314 8335 or email

sales@ncnews.co.nz to find out how we can help!

Seamless Spouting

Seamless Spouting

Supply and Install

of Seamless Gutters

10 year no leaks

guarantee

• Continuous spouting made on site,

large colour range available

• High grade and thicker material used

• Repair or replace any type of gutter

• Undertake all insurance work

• Independently owned and operated

• Competitive pricing

Servicing North CanterburyDistricts

Call Danie 021 875 462

2359362

Thursday,August 2, 2018 | Issue 808 | www.ncnews.co.nz

HAVE YOU BEEN TO

OUR WEBSITE LATELY?

www.ncnews.co.nz

Visit now toview the paper online &more!

Scrap Metal

CASH PAID FOR SCRAP

•Car Bodies •Scrap Steel•Specialists in Farm

Machinery•All non Ferrous

MAINLAND

METALS LTD

Ph (03)338 7000

Mike0274 818544 •Robbie0274818 027

Locally owned and operated

1902273

Windows & Doors

WINDOW MARKET PLACE

• New & Used

• Timber & Aluminium

• Windows & Doors

8am-5pm Weekdays

8am-2pm Saturday

215 Waltham Rd, Sydenham

Ph (03) 379 6159 info@windowmarket.co.nz

Fax (03) 962 1012 www.windowmarket.co.nz

ncn1242200aa

To book your spaceinthis guide,phone Amanda Keys 313 2840 or email amanda.keys@ncnews.co.nz
---
TRUST YOUR

LOCAL EXPERTS

We've totally got you coveredwith awide

rangeoffarmbuildings, garages, sheds,barns,

commercial buildings and more.

"Enquire for a FREE on-site

visit & build quote!"

Visit us at Totalspan North Canterbury

127 Main North Road, Woodend.

Email: northcanterbury@totalspan.co.nz

0800TOTALSPAN TOTALSPAN.CO.NZ
---
Assured Quality

Trusted Experience

World Class Service

53 Carters Road, Amberley 0800908 908 www.ncequipment.co.nz
---
PRODUCTIVITY

BEAUTIFUL CUT

VERSATILITY

First Service *

12-month Interest

Demonstration

FREE (Commercial Mowers) FREE Free Finance FREE *

on your lawn FREE * Delivery *

All Prices

GSTInclusive

*Conditions

Apply

Assured Quality

Trusted Experience

World Class Service

53 Carters Road, Amberley 0800908 908 www.ncequipment.co.nz
---
TRIED

AND

TRUE

HARDWORKING PRODUCTS FOR HARDWORKING KIWIS

Assured Quality

Trusted Experience

World Class Service

53 Carters Road, Amberley 0800908 908 www.ncequipment.co.nz
---
First Service *

12-month Interest

Demonstration

FREE (Commercial Mowers) FREE Free Finance FREE *

on your lawn FREE * Delivery *

All Prices

GSTInclusive

*Conditions

Apply

Assured Quality

Trusted Experience

World Class Service

53 Carters Road, Amberley 0800908 908 www.ncequipment.co.nz