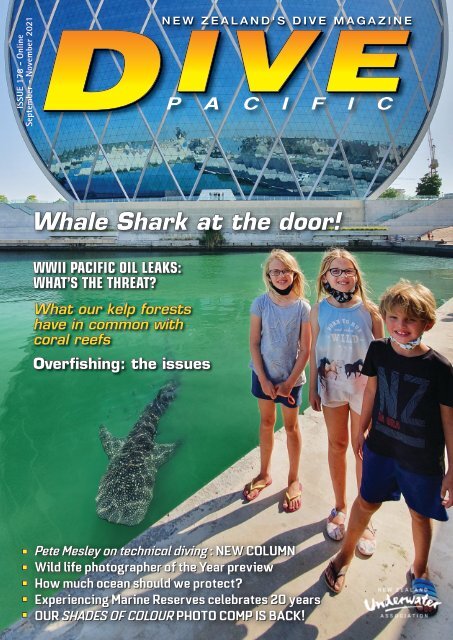 DIVE PACIFIC 178 Sept-Nov 2021
Featuring Whale Shark at the door! (?), the threats from WWII wrecks in the Pacific, climate change impacts on kelp forests and coral reefs, new columns, superb u/w/photos and more
Featuring Whale Shark at the door! (?), the threats from WWII wrecks in the Pacific, climate change impacts on kelp forests and coral reefs, new columns, superb u/w/photos and more
SHOW MORE
SHOW LESS
You also want an ePaper? Increase the reach of your titles
YUMPU automatically turns print PDFs into web optimized ePapers that Google loves.
ISSUE 178 - Online

September - November 2021

NEW ZEALAND'S DIVE MAGAZINE

NEW ZEALAND'S ONLY DIVE MAGAZINE

P A C I F I C

NEW ZEALAND'S ONLY DIVE MAGAZINE

Whale Shark at the door!

WWII PACIFIC OIL LEAKS:

WHAT'S THE THREAT?

What our kelp forests

have in common with

coral reefs

Overfishing: the issues

P A C I F I C

Pete Mesley on technical diving : NEW COLUMN

Wild life photographer of the Year preview

How much ocean should we protect?

Experiencing Marine Reserves celebrates 20 years

OUR SHADES OF COLOUR PHOTO COMP IS BACK!

www.dive-pacific.com 1
---
2 Dive New Zealand | Dive Pacific
---
The Dive Zone group are keen

to see divers enjoy their own

backyard this summer and

looking forward to getting you out

on, and under the water in each of

their fantastic dive locations: Dive

Zone Bay of Islands, Tauranga, and

Whitianga.

Each of their stores offer awesome

service with a full range of dive

gear to hire or purchase, with

good quality, reliable brands such

as Mares and Beuchat leading

their range. Be it a new dive

knife, a float or flag or even the

whole kit; the Dive Zone stores

are locked and loaded ready to

help you, our summer visitors,

enjoy, and get the most out of

their diving.

All stores also offer tank filling

and testing, and BCD and

Regulator testing.

Three top dive

destinations

invite you…

Since our stores are located in

out of the way areas, we are well

used to assisting divers with last

minute problems that can pop up

and prevent you from getting out

on the water.

Got a friend or family member

that wants to learn? Or do you

want to upskill? All of our stores

offer a full range of PADI dive

training courses, and all of them

are available throughout the

summer.

Make the most of our Summer Road

Trip offer. Dive with all three stores

and go into the draw to win $1000

to spend with us.

What are you waiting for?

Come and visit us.

Dive Zone Bay of Islands

Dive Zone Tauranga

Dive Zone Whitianga

www.dive-pacific.com 1
---
contents

16

46

IN DEPTH

4 Wyland-Dive Pacific Award & Leo Ducker Award winners

5 EDITORIAL: Going Deep on the Big Issues

with EDITOR Gilbert Petersen

SOUNDINGS Local and international news & comment

6 Divers death by drowning: Coroner's report

10 Chalky Inlet in Fiordland recently gave up yet another secret,

a cannon

11 A glove robot underwater has been 'talking' to a machine in Croatia

– AUT Professor Iain Anderson explains

35

12 Two more local divers lost

Introducing Eco-ventures

Waiheke Dive wins top award

25 New shark species named

Italian shark has 'virgin birth'

Call for new treaty to protect the high seas

Ocean beneath controls what's above

31 400-year-old coral widest ever found in Great Barrier Reef

36 A sunken city known as the Egyptian Atlantis, is yielding further

mysteries

50

37 Wakatobi, your number one wish list destination, has been using

lock down time to upgrade

Queensland govt is killing dolphins, four in the past two months.

Many other marine animals are being destroyed for nothing too

SPECIAL FEATURES

13 Experiencing Marine Reserves celebrates 20 years!

16 "One day in lock down not one but two Whale Sharks turned up at

our front door, in the canal outside, literally."

Winston Cowie tells the tale of what happened then…

20 Oil from ships sunk during WWII in the Pacific is threatening to

leak. How imminent is the disaster? What's being done?

Dr Matt Carter of the Australian based Major Projects Foundation

fills us in with the latest

38

35 New Zealand's kelp forests and the coral reefs of our Pacific

neighbours are being impacted by the effects of climate change. In

what ways and how severe is it?

Dr Chris Cornwall of Victoria University has some answers

30 Overfishing is among the worst of our marine problems.

Coty Perry covers the issues

32 So how much of our oceans should we protect?

Dee Harris reviews where in the world we're up to on this hot topic

38 The Wildlife Photographer of the Year Awards are always highly

anticipated. Dive Pacific offers a preview

2 Dive New Zealand | Dive Pacific

44 Two of NZ's diving trailblazers have passed on: Alf Dickerson &

Brian Mayer. Dive Pacific recalls their great contributions
---
NEW ZEALAND'S ONLY DIVE MAGAZINE

P A C I F I C

ISSUE 178 - Online

September - November 2021

NEW NEW ZEALAND'S ZEALAND'S ONLY DIVE MAGAZINE

P A C I F I C

NEW ZEALAND'S ONLY DIVE MAGAZINE

Whale Shark at the door!

P A C I F I C

WWII PACIFIC OIL LEAKS:

WHAT'S THE THREAT?

What our kelp forests

have in common with

coral reefs

Overfishing: the issues

Pete Mesley on technical diving : NEW COLUMN

Wild life photographer of the Year preview

How much ocean should we protect?

Experiencing Marine Reserves celebrates 20 years

OUR SHADES OF COLOUR PHOTO COMP IS BACK!

www.dive-pacific.com 1

Ex pat Kiwi Winston Cowie

reports in from Abu Dhabi

with the most unlikely of

tales. Big enough to add to

the Arabian Nights -

Head to page 16

13

44

OUR EXPERT COLUMNISTS

7 Growing support to ban scallop dredging

LEGASEA UPDATE

8 DEEP thoughts, and deeper discussions. NEW COLUMN

with diving legend PETE MESLEY

48 Conservation: Is it necessary? The debate in 1971 Part II

Back in the Day

50 Diagnosing decompression illness

INCIDENT INSIGHTS with DAN, the Divers Alert Network

56 Photography underwater: The basics

DIGITAL IMAGING with Hans Weichselbaum

Photo: Aimee van der Reis

20

59 Black Coral (and Snake Star)

SPECIES FOCUS with Paul Caiger

GEAR BAG

54 The latest underwater torches

Why you need a magnetometer, and a metal detector

60 Shades of Colour Photo Comp returns

66 Classifieds

69 Subscribe to DIVE

60

Check out our website www.divenewzealand.co.nz

36

www.dive-pacific.com 3
---
SOUNDINGS

LOCAL NEWS

Wyland-Dive Pacific Award goes to...

At the NZUA AGM in July Rob

Wilson was presented with this

year's Wyland-Dive Pacific trophy

by NZUA life member Dave Moran

for establishing Ghost Diving in

2015. Ghost Diving (https://ghostdivingnz.org)

organises events

and campaigns to remove garbage

and other debris from the seafloor

and coastline especially around

Wellington. It brings together

NZUA earns grant

Grants for water safety initiatives

distributed through

Maritime New Zealand every year

saw NZUA's 'Survive the Dive'

RDASS Certificate (Recreational

Dive Activity Skipper/Supervisor

Certificate) receive $16,500 towards

its promotion and related water

A

Swiss Lifesaving Society has

earned one of the highest

awards for underwater safety, the

HIRA3 (Hazard Identification and

Risk Assessment) certificate.

The certification NEW ZEALAND'S ONLY issued DIVE MAGAZINE by DAN

(Divers Alert Network) covers

safety work.

The NZUA 'Survive the Dive' RDASS

certificate is a free online training/

refresher program teaching,

quizzing and examining participants

on the safe supervision

of divers in the water plus the

Lifesavers earn top safety award

P A C I F I C

established 1990

NEW ZEALAND'S ONLY DIVE MAGAZINE

P A C I F I C

September - November 2021

Online Issue 178

NEW ZEALAND'S ONLY DIVE MAGAZINE

Find us on facebook -

follow the links on our website

www.Dive-Pacific.com

P A C I F I C

Diver Emergency Number, New Zealand :

0800 4 DES 11 1800 088 200 (toll free)

Australia : +61-8-8212 9242

scuba divers, free divers, scientists,

photographers, supporters

and families at well publicised

events.

The Wyland Award is given to an

individual or group of individuals

who have contributed enormous

amounts of time for the benefit of

all divers and the marine environment

for no real personal gain.

Leo Ducker Award presented

NZUA Board member Annika

Andresen presented this year's

Leo Ducker Award to Ebi Hussain

for setting up the not-for-profit

Aotearoa Lakes which measures

and monitors the health of our

lakes. (See Dive Pacific Issue 177

for a comprehensive report.

https://nzlakes.org)

The annual Leo Ducker Award

recognises individuals for

years of work including counselling,

all aspects of managing a

diving centre, risk reduction and

mitigation, first aid training, use of

appropriate emergency equipment,

operational procedures, emergency

action plans and more.

Publisher

NZUA Publishing Ltd

New Zealand Underwater Association

40 Mt Eden Rd. Auckland 1024

+64 9 623 3252

Editor

Gilbert Peterson

divenz@divenewzealand.co.nz

+64 274 949629

Advertising Sales Manager

Colin Gestro +64 272 568 014

colin@affinityads.com

Art Director

Mark Grogan +64 9 262 0303

bytemarx@orcon.net.nz

outstanding service to diving

(notably presented to former

conservation minister Nick Smith

in 1997 for turning the Poor

Knights islands into a marine

reserve.) An enduring wish of

Leo was that in 60 years' time

New Zealanders would be able to

enjoy the fantastic underwater

world he first experienced 60

years before.

basic skippering skills required to

support recreational dive activities.

The program is specifically tailored

to the needs of the typical New

Zealand recreational boat skipper

engaged in diving activities with

groups of friends or family.

"Organised risk management as in

the aerospace and health sectors

does not currently exist in the

diving industry," said Guy Thomas,

Director of Safety at DAN Europe.

"Our HIRA program aims to fill at

least part of this gap."

www.dan.org

All rights reserved. Reprinting in whole

or part is expressly forbidden except

by written permission of the publisher.

Opinions expressed in the publication are

those of the authors and not necessarily

the publishers. All material is accepted in

good faith and the publisher accepts no

responsibility whatsoever.

www.DiveNewZealand.co.nz

www.Dive-Pacific.com

Registered Publication

Dive Pacific ISSN 2624-134X (print)

ISSN 2324-3236 (online)

4 Dive New Zealand | Dive Pacific
---
Take Our Online Reader survey

Here's your chance… Please, can you take few moments

to tell us what you like about Dive Pacific mag.

What do you want to see more of, or less?

Please do click here for the survey – thanks!

https://kwiksurveys.com/s/DivePacific

Going deep on the big issues

In this issue we go a bit

overweight on the big issues

confronting our future, starting

with the heavy lifting being

done on ocean policy by EDS

(see below) backed by Legasea's

front line work on replenishing

our fisheries. Plus, more on

overfishing, bottom trawling,

seabed mining... issues that

impact us divers in some way

every time we go into water.

Another way of thinking

about these big environmental

challenges is they're all about

consequences. As children we

heard about consequences, and

later learned the third law of

physics - "for every action there is

an equal and opposite reaction".

What did we think was going to

happen from burning all those

fossil fuels?

The upshot for today is, that it is

not acceptable to scrape tonnes

and tonnes off the Waitemata

Harbour seabed and dump it

off Aotea Great Barrier. It is

not acceptable for our courts to

hand down petty 'litter' fines on

fish captains who bottom trawl

MPA's, then gift back to the ships'

owners their confiscated vessels

for tax deductible pocket money.

And it surely is our responsibility

to remediate or mitigate

the oil threatening to spew from

3800 ships wrecked in the Pacific

during WW II.

These are the sort of big reasons

behind why, at a local level, Rob

Wilson was presented this year's

Wyland-Dive Pacific Award and

Ebi Hussain was awarded the Leo

Ducker trophy (see p2). It's the

backdrop too for EMR's calling

(p13).

Dr Christopher Cornwall (p26)

covers off some of his sea parting

research on how our kelp forests,

and the coral reefs of our near

neighbours, are being harmed by

climate change, by both ocean

warming and ocean acidification.

INDEPTH

EDITORIAL

Gilbert Peterson

Dive Pacific is grateful to him for

the superb contribution.

For us divers all this is great stuff.

Reasons to relish the opportunities

in front of us here. As Jean

Michel Cousteau said, divers

should be the first responders on

what's happening in the oceans

because we are the first to know,

to see first hand the changes

taking place, and as those most

in the know, we surely have the

duty to advise our communities

so we can all begin the big adjustment

we need to make for what

may well be the very survival of

humanity. And, as the hippies

in the 1960s used to say "when

you're smashing the state" -

making changes to the order of

things - "keep a song in yer heart,

and a smile on yer face."

- Gilbert Peterson

Editor

EDS kicks off major Oceans Reform project

The Environmental Defense

Society has just launched a

project aimed at reforming how

we manage our oceans with

the release of a paper titled The

Breaking Wave: A conversation about

reforming the oceans management

system in Aotearoa New Zealand.

"The Government's current reform

agenda is focused on the terrestrial

environment, with oceans

receiving minimal attention,"

said EDS's Policy Director Raewyn

Peart. "Our ocean realm is one

of the largest in the world with

many unique seabird populations,

marine mammals and significant

fishery.

"We need to be thinking ahead to

when the government will focus

on the marine space. That's why

we're progressing this project

now, with an expectation that

oceans reform will follow in the

next few years."

"The current phase of the project

is to stimulate a blue-skies

conversation about reform," said

EDS senior researcher Dr Greg

Severinsen.

"We feel society has reached a

point where deep questions need

to be asked and talked about

constructively, whether it's the

way we fish, how we control

land-based activities impacting on

the seas, who has what rights and

obligations, and what te Tiriti o

Waitangi and tikanga Māori mean

for oceans management.

"In this phase of the project

we're not making recommendations.

The working paper simply

presents our thinking so far… and

(we) welcome people's constructive

responses to them.

"We will consider all the feedback

then produce a final report in

early 2022".

The working paper is on the EDS

website here.

www.dive-pacific.com 5
---
Diver death by drowning: Coroner

A diver drowned 500 metres south of Channel Island in the Hauraki Gulf on November 6th, 2019;

his death was reported to the Coroner who published his report on June 1st this year, including a

request to make his findings known to the diving community through NZUA and Dive Pacific.

The Coroner's report says Mr

Yutai Huang was a 51 year

old father and builder handyman

living in Mt Wellington, Auckland.

Wednesday, November 6th 2019

was a fine and calm day. Mr

Huang was with his friend and

fishing companion Jun Wang.

"Mr Huang was going to dive and

go spear fishing alone because Mr

Wang did not know how to dive.

Mr Wang thought Mr Huang was

an experienced diver because he

had seen him go diving alone on

at least four occasions in the past.

"They arrived at the diving spot

just before midday. Mr Huang put

on his wetsuit and tested his dive

cylinder. When he was ready

he asked Mr Wang to drive the

boat to a spot in the gap between

Channel Island and a large rock.

Mr Huang got in the water and

told Mr Wang to drive away and

come back to the same spot in 40

minutes later to pick him up.

"About one minute after Mr Huang

entered the water Mr Wang was

in the driver's seat getting ready

to drive the boat away when Mr

Huang yelled "my flipper" in

Chinese. Mr Wang said he stood

up from the driver's seat to see if

he could see Mr Huang's flippers,

however, he could not see them.

He then saw Mr Huang struggling

in the water and having difficulty

staying afloat. At that time Mr

Huang was about five metres from

the boat so Mr Wang went back to

the driver's seat and moved the

boat towards Mr Huang. When he

reached the spot where he had

last seen Mr Huang he had already

sunk below the surface.

"Mr Wang immediately called

the Coastguard at 12.24 pm. Mr

Wang said he was on hold for

about three minutes when he saw

Mr Huang resurface. Mr Huang

resurfaced face down in the water,

wearing only his wetsuit and he

no longer had on any of the other

diving equipment.

"At that point Mr Wang said he

began to take his clothes off to get

into the water and as he was doing

that, he saw another boat nearby

and signalled it to come over. Mr

Wang got into the water and with

the help of a person on the other

boat, got Mr Huang …onto his

boat. He said when on board he

was not responsive and there was

blood coming from his mouth.

"Mr Wang and the person from

the other boat performed CPR on

Mr Huang for around 30 minutes

before a rescue helicopter arrived.

A nearby Navy vessel also

responded to Mr Wang's mayday

call and the Navy Medic assisted

with CPR. The CPR efforts were

not successful. The Navy vessel

transported Mr Huang's body back

to shore."

PNDS

Two days later the Police National

Dive Squad (PNDS) recovered Mr

Huang's dive equipment reporting

all the equipment was in good

condition. But he had left his fins

in his gearbag, and it appears he

was negatively buoyant. Noted

as well was that Mr Huang was

not wearing a dive watch or any

dive computer and "without one,

a diver is not able to accurately

determine how long they have

been underwater." Compounding

this, Mr Huang's depth gauge had

no maximum depth indicator. And

he had no dive knife.

Back to front

It was further identified that the

cylinder had been put into the

BCD back to front which meant Mr

Huang had attached his regulators

upside down so that the low

pressure hose could reach the BCD

inflation connection.

Obsolete leaking regulators

A technician engaged by the

PNDS subsequently advised the

regulators used by Mr Huang had

been obsolete since 1999, and they

had a major leak in both second

stages.

Obstruction

A subsequent test dive using Mr

Huang's first and second stage

regulators set up in the same

way that Mr Huang's were set

up showed the diver could not

turn his head to the left without

the regulator being pulled from

his mouth, and the second stage

regulator constantly free flowed

making it difficult to control

breathing. The second stage

regulator was also found not

functioning correctly.

Overweighted

Mr Huang was also found to be

carrying too much weight on his

weight belt and not immediately

abandoning it when in difficulty.

Mr Huang's BCD did not inflate his

BCD when in difficulty.

Though Mr Huang completed

his PADI dive course in 2013

and, according to his son, went

diving about 12 times a year and

was therefore experienced, the

Coroner found Mr Huang entered

the water without a dive buddy,

did not have his fins on, did not

abandon his weight belt or inflate

his BCD when in difficulty on the

water's surface, some of his diving

equipment was faulty, he did not

have a dive watch or other timing

device, and had no dive plan.

Coroner Woolley noted that 10

years ago Coroner McDowell had

made recommendations after the

death of a diver at Great Barrier

Island, and since then Coroner

Woolley said he was aware of 26

findings of other coroners in New

Zealand addressing the deaths of

recreational divers.

Given there continues to be diving

deaths from unsafe practices

Coroner Wooley said divers

should:

• Ensure their equipment is

appropriate for their body size

and weight and their planned

dive.

• Wear a dive watch/dive

computer or other appropriate

timing device

• Complete pre-dive checks

before entering the water and

to ensure their equipment is

operating correctly

6 Dive New Zealand | Dive Pacific
---
LegaSea Update

Growing support to ban

dredging

Support for our collective

efforts to get rid of scallop

dredging from New Zealand's

inshore waters is growing. It's

strange then that the government

has come out with a plan

to ban all recreational scallop

dredging from the Hauraki Gulf

yet allow commercial fishers

to continue using the Victorian

Box Dredge to gather scallops.

This is illogical.

Fisheries New Zealand's own

data shows that when using

the Box Dredge only 26% of the

commercial catch by volume is

scallops. Other catch includes

seaweeds, starfish, bivalves and

algae. All important contributors

to a healthy marine

ecosystem.

New Zealand Underwater,

LegaSea, the New Zealand

Sport Fishing Council, Opito

Bay Ratepayers Association and

the Coromandel community all

supported a voluntary ban on

scallop harvesting from Opito

Bay in the Hauraki Gulf. This

voluntary ban was applied in

tandem with a rāhui on scallop

gathering put in place by Ngāti

Hei.

The government's Revitalising

the Gulf plan sidesteps this

community initiative as if it

doesn't exist. It justifies the

continuance of commercial

dredging on the basis that only

existing areas will be targeted.

However, it is the very use of

Box Dredges that has created

BEFORE and AFTER images of a

scallop dredged site

Opito Bay on the eastern side

of the Coromandel Peninsula

is an amazing piece of coastline,

a wide expanse of beach

sheltered by nearby Mercury

Island. The commercial exclusion

zone is visible from shore

so it's difficult to imagine that

the local community will accept

the nonsense that commercial

dredging can continue in their

bay beyond the 'line' while

divers there are not permitted

to take scallops.

A practical solution is to permit

commercial diving for scallops.

Currently there is only one

operator permitted to explore

this possibility, and that was

on the back of our submission

last year supporting commercial

hand gathering in the

Northland scallop fishery.

In that submission we urged

the Minister to review the

commercial use of dredges that

target scallops with a view to

encouraging the development

of hand gathering and other low

impact methods of harvesting

scallops. This would protect

the environment from ongoing

damage while enabling the

benthic communities to rebuild,

and this would enhance overall

productivity.

If the government is serious

about improving the state of the

Gulf then a ban on all scallop

dredging is an obvious place to

start.

Another interesting aspect is

that over the summer of 2020/21

the angst in the community.

The community is awakening to

the possibility that our inshore

waters can be revived. That

we can, through our collective

efforts, enhance biodiversity

by increasing abundance and

diversity in inshore waters.

The government needs to get on

board with this movement and

ditch the dredge so productivity

can be restored.

Want to help?

If you want to help this

ongoing effort, please support

us.

https://legasea.co.nz/support-us

• Abandon their dive weight belts

when in difficulty

• Dive with dive buddy for the

duration of the dive

• Have a support person or vessel

remain in the dive area

• Ensure their equipment is

regularly serviced, at least

annually

• Regularly practice emergency

diving drills and refresh

themselves on safe diving

practices."

Dive Pacific will load the full Coroners

Report to our website as soon as

practicable

www.dive-pacific.com 7
---
TECHDIVING

DEEP thoughts

deeper discussions

By Pete Mesley

Technical diving is really

growing in the diving market

today. So what makes Technical

diving so attractive? What are the

diving opportunities for technical

divers?

What are the pathway options for

you to increase your education?

Which agency is the best one?

PADI? TDI? GUE? What are the

differences?

Open Circuit or Closed Circuit?

What is the right path to go? How

far is too far to push your limits?

How do you learn the balance of

Training and Experience?

What is a reasonable progression

in deep diving? Trimix, a must

have or nice to have? Charter

operators: what's their take on

Technical divers on their boats -

what are their concerns?

These are just some of the

questions I am going to be

answering over the coming

issues of Dive Pacific. So if you are

interested about advancing your

skill levels and wanting more out

of your diving, keep an eye out for

my column where I will be going

over all these areas, and more.

So what draws people into

Technical Diving? I for one can

remember exactly why I got

involved. It was more through

necessity than anything else.

Learning to dive in the UK in the

early 1990's, all the wrecks we

were diving were in the 30-50m

range, and right from the get

go we were doing these sort of

depths.

I remember finishing my

advanced open water course and

the next weekend we were diving

in the English Channel on 30-

40m wrecks. Bottom times were

limited to gas supply - we didn't

have twins or stage tanks (yet).

We started off with large capacity

15 litre steel tanks with a 3 litre

"Pony" bottle strapped to the side

of it. Because of the narrow tide

windows we would get in the

water, do a 20 minute bottom

time, then ascend back up the

line and complete the safety or

limited deco stop.

Gear

One of my biggest memories in

this period was that we never

spoke of gear, nor training; we

just focused on researching the

wrecks and what awesome wreck

we were going to be diving on the

weekend.

Over the coming years, when

Technical diving became more

mainstream, we then saw the

real benefits of additional gear.

We added stage tanks with

higher levels of O2 for accelerated

decompression, reducing the

time getting blown about on

the line in the currents (like a

granny in a gale force wind!).

Advancing our training was

needed to handle the increased

amounts of gear and emergency

procedures to avoid problems

while decompression diving.

More equipment! There is nothing

quite like getting more dive gear.

You can never have enough kit

and for those of us who love

more gear, this is a great excuse

DNZ163

8 Dive New Zealand | Dive Pacific
---
to reduce the amount of space in

your garage with it being taken

up with numerous "essential life

support" pieces of kit (that's the

information partners get!).

Why do it?

So what draws people into

Technical Diving? Quite a

few reasons. To advance

one's personal skill levels for

self-actualisation and just

become better at handling

ourselves in the water. To be

able to manoeuvre freely and

unencumbered is a wonderful

feeling which gives you more

time to focus on the environment

around you.

The challenge is a big one too.

Diving sites which are more

difficult to manage because of

depth, currents, location and

access.

Adventure!

Sense of Adventure. This is

probably the main reason why all

people get into Technical diving.

We all have that "Boldly go where

no man, woman, gender neutral

etc etc etc) has gone before," the

genes in our bodies. Its the sense

of adventure that drives most

of us. It's what keeps us excited

during the week while we do our

mundane jobs; the only thing

that keeps us moving forward,

knowing what we will be doing

on the weekend - Diving!

Build your group

One of the most important

things to do is to find a group of

likeminded people. Those others

who share the same passion for

adventure, getting out there and

exploring. A group that helps and

supports, building up each other's

skills and experience levels.

Nurturing new tech divers so that

one day they too will be doing the

sort of experienced diving being

done. This builds a community, a

strong community.

Next issue I will be talking about

how to go about taking that first

step to advance your training.

Asking the questions you need to

ask prospective instructors. Putting

a plan together, and working out

short, mid and long term goals for

the future. It will be fun.

www.dive-pacific.com 9
---
Photo: Willowbank Wildlife Reserve

SOUNDINGS

LOCAL & INTERNATIONAL

Shipwreck at Chalky Inlet?

Drawing, names, cannon found

scientific expedition

A from Christchurch has

found a cannon near a cave at

Fiordland's Chalky Inlet where

survivors of a shipwreck may

have sheltered, reported Susan

Sandys of the Otago Daily Times

in late July.

The team from Willowbank

Wildlife Reserve was looking for

the elusive South Island

kōkako when they chanced

upon the cave in Chalky Inlet.

Dale Hedgcock and Mark Willis with

the cannon they discovered in Chalky

Inlet, Fiordland, near a cave with a

drawing of a ship.

The cave had a drawing of a

ship and the names of four

mariners. The cannon was

found nearby.

Expedition members Mark

Willis and Dale Hedgcock

unearthed the cannon after

spotting a small, deep orange

patch among the beach stones.

"It was sheer luck that they

saw it, it was a patch of rust

and they knew that there was

something underneath," said

Willowbank managing director

Michael Willis.

Mark Willis had explored a cave

he had come upon a month

earlier to find there several

names scrawled underneath the

drawing of a sailing ship.

The cave and the cannon

are about 100 metres apart,

suggesting the cannon is from

the ship drawn on the cave

wall. There are at least four

names with one appearing to

be "Jamie Rasmussen," Michael

Willis said.

Originally there may have been

more names and there is also a

date, which could signify 1810,

1870 or 1890.

The Willowbank team was

at Chalky Bay to install, then

retrieve birdsong and trail

camera equipment used to try

and find the South Island

kōkako.

He said they were now waiting

for the Ministry of Culture

and Heritage to get back to

them about how to go about

retrieving the cannon. It was

too heavy to lift into their

helicopter when they found

it. He said Willowbank hoped

to obtain custodianship of the

cannon and display it.

Photo: Willowbank Wildlife Reserve

"Fiordland is just full of

mysteries, there is so much

going on there that no-one

knows about."

Clues about where the cannon may

have come from could be in this

news item printed in The Otago

Witness, October 17th, 1906

10 Dive New Zealand | Dive Pacific
---
What the glove told the robot underwater

on the other side of the world

New Zealand and Croatian

scientists have demonstrated

how a gesture-capturing

dive glove can communicate

with a robot underwater from a

swimming pool on opposite sides

of the world.

The dive glove developed by

the Biomimetics Laboratory at

the Auckland Bioengineering

Institute (ABI) is made with

integrated wearable sensors

and electronics using soft and

stretchy, smart electroactive

polymer materials. Ultimately

the research is aimed at

improving diver safety.

As the diver performs certain

gestures, a machine learning

algorithm assesses the hand

motion and recognises these in

real-time. They are then interpreted

as commands or messages

and transmitted acoustically

through the water to a buddy

diver or robot.

The project called ADRIATIC

(Advancing Diver Robot

Interaction Capabilities), began in

2018 as a collaboration between

the University of Zagreb, Croatia,

and the Biomimetics Lab at the

ABI and was funded through a

grant from the Office of Naval

Research in the US.

The researchers had initially

planned to test their glove and

how well it could communicate

with a Croatian autonomous

underwater vehicle (AUV) developed

by the Croatian researchers

in 2020. It was going to take place

Biomimetics Lab research diver Chris Walker producing gestures that will

trigger a command to the AUV in Croatia (Inset).

on the Adriatic coast of Croatia

but the plans were stymied by

Covid-19 travel restrictions.

However the New Zealand-

Croatian collaboration developed

an alternative. On April 6 this

year New Zealand diver and ABI

researcher, Chris Walker, donned

his wetsuit at 6 am and went

underwater in the 5m diving

pool at West Wave aquatic centre

in West Auckland. Meanwhile,

at poolside, Derek Orbaugh, a

PhD student with the lab, was in

real-time computer contact with

the Croatian researchers.

Wearing the glove Chris was

able to use hand gestures to

send commands to the AUV

that was similarly submerged at

the Laboratory for Underwater

Systems and Technologies

(LABUST) in Croatia using

SOUNDINGS

LOCAL NEWS

acoustic signals, at 8 pm Zagreb

time.

That is, the glove 'talked' to the

robot on the other side of the

world, using sound detected

by a sonar receiver at poolside

then transmitted to a server in

Croatia. The signal was subsequently

converted back to sound

transmitted to the AUV in the

Croatian pool.

"We could watch it on the

computer, and witness in

real time the robot moving in

response to the gestures sent

by Chris on the other side

of the world," says Professor

Iain Anderson, head of the

Biomimetics Lab. He describes

this as the "the first Kiwi Croat

transglobal experiment of 2021"

adding "And there will be more."

"We wanted to see if we could

transcend the restrictions

imposed by Covid on our collaboration,

and we did it! Hopefully

we'll be able to continue our work

together with our colleagues in

Croatia in the same time zone

and the warm Adriatic."

The glove uses motion capture

…We could watch it on the computer, and witness in real

time the robot moving in response to the gestures sent by

Chris on the other side of the world…

sensors made by New Zealand

company StretchSense, a spin-off

of the Biomimetics Lab. This

experiment was a success, and

more will follow as the glove and

AUV are improved, says Professor

Anderson.

"I'm a diver, and while the

underwater world is stunning,

diving into it comes at some risk,

especially if you're on your own.

"Our research will improve

communication diver-to-diver,

and diver-to-machine in a

world where you often can't see

more than a couple of metres,"

Professor Anderson said.

www.dive-pacific.com 11
---
SOUNDINGS

LOCAL & INTERNATIONAL

Nuhaka diver dies

Police identified the man who

died while diving off the coast

of Mā hia on May 17th as 21-yearold

Jason Rangi Paul from

Nā haka. The death was reported

to the Coroner.

Another diver drowns

A 63 year old freediver died from

suspected drowning after he

failed to return to shore in the

Far North on August 25th. The

man was diving for seafood near

Waipoua, on the west coast of

Dargaville and found face down

Introducing Ecoventures

ZuBlu has launched Ecoventures

so divers and other travellers can

explore while they help restore

the world's oceans by contributing

to revenues for conservation

organisations.

Last year a ZuBlu survey identified

a disconnect between scuba

divers' desire to 'travel green',

and their ability to actually do so.

The survey showed 92% of people

want to dive more sustainably,

but 75% struggled to find the

information they needed to

decide where they could do that.

With Ecoventures, ZuBlu aims to

help to bridge that eco gap.

ZuBlu's curated portfolio of

Ecoventures includes some

of the most sought after dive

internships, ocean conservation

A rā hui was placed on Mā hia

Peninsula in Hawke's Bay after

the body was found. Paul was

reported missing just after

4pm on Sunday and local boats

assisting with the search found

his body about 9am the next day.

later that evening. CPR was

provided but he was pronounced

dead at the scene. The death has

been referred to the Coroner.

programmes, and citizen science

volunteer opportunities around

the globe. The projects listed

allow divers to do more during

their dive holiday to help restore

and sustain the oceans as they

explore them. Each Ecoventure

empowers divers to:

• Support the preservation and

rehabilitation of marine ecosystems

• Protect threatened species

• Contribute to conservation

work or collect vital data

• Immerse themselves in extraordinary

landscapes and local

Search and rescue staff, a rescue

helicopter and the local fishing

boats had begun the search and

the Police National Dive Squad

was called.

communities

• Kick-start a career in marine

conservation

• Surround themselves with

dive professionals and marine

biologists

Importantly Ecoventures

helps create revenue for the

programmes, enabling guests

to continue their support.

Whenever they book a dive trip

through ZuBlu part of the cost

is donated back to their chosen

programme.

www.zubludiving.com

Waiheke Dive wins top tourism industry award

Waiheke Dive has won a

Qualmark 100% Pure New

Zealand Experience Award 2021,

New Zealand's top tourism

industry recognition.

The 12 award winners from over

100 entries were announced by

Qualmark and Air New Zealand

at the Christchurch Art Centre

on July 28th to celebrate our

outstanding tourism operators.

Qualmark is New Zealand

tourism's official quality assurance

organisation. "The integrity

and genuine commitment

to manaakitanga, kaitiakitanga

and whanaungatanga that

the winners demonstrated to

visitors and the communities

they operate in, is remarkable

and their recognition is well

deserved," said Sue Parcell, Chair

of the Judging Panel.

www.waihekedive.com

• Manaakitanga - showing aroha

to your people and community

• Tiaki – their duty of care for

people and place, a commitment

to the enhancement of their

operating environment

• Whā nau – maintaining connections,

commitments and caring

for your own people.

12 Dive New Zealand | Dive Pacific
---
EMR celebrates 20 years!

"You can't fly with the birds

but you can swim with the fish

- what better way is there to

connect with nature!" says EMR

founder Samara Nicholas.

The Experiencing Marine

Reserves (EMR) - Te Kura Moana

programme is designed to do just

that by providing schools and

communities with opportunities

for hands-on experience in the

ocean.

Seeing huge tāmure/snapper

swimming up close has inspired

thousands of kids to take action

for the marine environment and

exercise kaitiakitanga - guardianship

for their local beach or

harbour.

even marine artwork on a double

decker bus," Samara says.

Our thrive is to see the buzz on

people's faces when they come

out of the water! she said.

EMR's in-water experiences have

often become lifelong memories

for the young people experiencing

them. EMR also offers

the opportunity for taitamariki/

rangatahi who have an affinity

for the moana to engage in our

kaupapa through mentorship

programmes and volunteer

development, which is also

supporting a career pathway.

local aspirations for environmental

protection is hugely

rewarding."

Each EMR snorkel day event

involves bringing in a community

partner, and each season sees

thousands of volunteer hours

contributed. Community participants

often go on to become

valued volunteer snorkel guides.

…Since 2001 EMR has snorkeled with 147,905 people and

guided 70,928 people at marine reserves all over Aotearoa-

New Zealand…

"Recent action projects include

the removal of invasive seaweed,

citizen science fish surveys,

shellfish monitoring, wetland

restoration, a mufti day and

ocean disco fundraiser, presentations

to parents, upcycling

waste to furniture, murals and

"I love seeing the spread of our

events, particularly our community

guided snorkel days, which

are beneficial to the wellbeing of

the whole whanau by providing

active outdoor recreation, while

learning about the marine

environment!" Samara said.

"Supporting community and

The organisation's work has

helped restore marine ecosystems

by supporting iwi/hapu

implement the rahui at Maitai

bay (rahui surveillance and

education) and assisting the

Department of Conservation

with its management of marine

reserves through community

engagement.

For their 20th anniversary

birthday bash EMR decided to

make another visit to the Poor

Volunteer snorkel guides Margaret and Justyna exploring Blue Mao

Mao arch at the Poor Knights - Image credit Sophie Journee (EMR)

www.dive-pacific.com 13
---
MARINERESERVES

Toihau Kumar de Bruin from Te Aho Tu Roa diving into the kelp

forests of the Poor Knights Islands - image credit Sophie Journee (EMR)

Knights Island Marine Reserve

on May 14th this year. The trip

was organised by EMR and made

possible thanks to Dive! Tutukaka

and the Bobby Stafford-Bush

Foundation.

We had representatives from as

far north as Waiharara and as

far south as Rakiura-

Stewart Island,

Samara said. Students

were selected based

on the action projects

they have undertaken

and their enthusiasm

for studying

and experiencing the

Goat Island Snorkel Day

participants spotting tāmure inside the reserve

- Image credit Sophie Journee (EMR)

Reotahi Snorkel Day participants enjoying their guided snorkel at the Whangarei

Harbour Marine Reserve - Image credit Sophie Journee (EMR)

14 Dive New Zealand | Dive Pacific
---
MARINERESERVES

Orakei School students searching for

microplastics at Okahu Bay

- Image credit Sophie Journee (EMR)

marine environment.

This year's trip involved 34

students and 29 guardians from

25 schools from 7 regions of

Aotearoa including Northland,

Auckland, Taranaki, Gisborne,

Wellington, Nelson and Rakiura

(Stewart Island).

Since 2001, EMR has snorkeled

with 147,905 people and guided

70,928 people at marine reserves

all over Aotearoa-New Zealand.

Te Papapa School students exploring Goat Island Marine Reserve

- image credit Sophie Journee (EMR)

EMR actively focuses on the

restoration of marine ecosystems

and, together with the Whitebait

Connection, the restoration of

catchments from the 'Mountains

to the Sea.'

Mountains to Sea Conservation

Trust-EMR was recently named

Te Tohu Matua-Supreme Award

winner of Northland Regional

Council's annual 'Whakamānawa

ā Taiao-Environmental Awards'.

EMR was 1 of 47 entries received

with their win announced at

a ceremony attended by about

200 people at Kerikeri's Turner

Centre on May 27th, adding to

the programme's wide ranging

collection of awards, including

the Wyland-Dive Pacific trophy

presented to them by NZUA in

2020.

From left to right

Ray Downing (EMR coordinator), Jean-Louis Ecochard (Mountains to Sea

Conservation Trust - MTSCT trustee), Kim Jones (Poutokomanawa/Co-director),

Samara Nicholas (Poutokomanawa/Co-director - EMR founder), Croatia Rudolph

(EMR Taitamariki coordinator), Vince Kerr (MTSCT co-founder/advisor), Katrina

Goddard (MTSCT trustee), Isabel Krauss (EMR coordinator), Olly Ball (MTSCT

trustee)

www.dive-pacific.com 15
---
Whispering

Whale Sharks

Here's an unlikely story!

Ex-pat kiwi Winston Cowie tells how two Whale Sharks

showed up at his front door, literally, in a waterfront canal

in Abu Dhabi, right next to the massive Aldar building.

2020. What a year! The year the corona

pandemic changed the world.

In Abu Dhabi most residents and citizens

stayed home for the summer, unusual in

normal times given it can be up to 50 degrees

C at times. People stayed in-doors and kept to

themselves, their families, their bubbles.

The weather soon changed. People began to

venture outdoors, wearing masks, keeping a

social distance. After such a long period with

limited wider interaction, they seemed a little

uncertain, cautious when interacting with

others.

Then, in the Al Raha community of Abu Dhabi,

something wonderful happened. Our community

was visited by the biggest fish in the sea,

Whale Sharks. Not one, but two.

Right on the inside of the Abu Dhabi archipelago,

in the canal between Al Zeina and the

iconic Aldar building, 200m from where I live,

two whale sharks appeared as if by magic.

This is rare indeed.

Facebook pages lit up. The community flocked

to the side of the canal to get a glimpse of these

magnificent creatures with their characteristic

brownish red and starry white spots.

Whale sharks (Rhincodon

Typus) are the largest of

any fish. They are endangered,

and while no robust population

estimates are known, a best guess

is 7,000 left in the wild. They can

live 150 years, a gentle giant,

filter feeding mostly on plankton,

averaging at maturity around a

whopping 8-9 metres long.

And here in Abu Dhabi we had

two! A juvenile male about 4

metres estimated to be around

10-15 years old, and a larger

mature 6-7m male. Both followed

the same route, swimming in a

wide circle between two bridges –

Al Zeina and Amwaj. They would

swim close to the side of the

canal, up one side, then when

they reached the bridge, turn

and head back down the other

side until they reached the other

bridge, again and again.

Recognition?

Imagine, you spend your whole

life dreaming of an encounter

with this endangered species,

the largest fish in the sea, an

16 Dive New Zealand | Dive Pacific
---
experience you need to travel to

see 99.9% of the time – perhaps at

Musandam or Damaniyat Islands

in Oman, yet here they were in an

Abu Dhabi canal.

I was fortunate to have the

opportunity to free dive with

the younger creature for the

purpose of monitoring its health.

I would climb down the ladder

into the canal and push myself

back against the canal wall until

it passed. I will never forget the

first time – the whale shark was

massive – it looked at me with

fleeting interest then kept going. I

filmed it all.

After a while, as the days turned

into seven weeks, I don't think

I was imagining it, the whale

shark started to recognize me. I

wore the same blue Environment

Agency-Abu Dhabi issue polo

every time I dived. In the second

week he turned around after

passing, and came back around.

…He gently circled me five or six times, eyes open, trying to

work out what this blue amphibian was…

…We had successfully

rescued two whale sharks.

Or so we thought!…

I let go of the ladder drifting

out a little. He gently circled

me five or six times, eyes open,

trying to work out what this

blue amphibian was. I stayed

floating, motionless. Looking

with wonder. Filming. Taking in

the beauty of this magnificent

creature.

Fish hooks

One thing I have noticed

when diving over the years –

whether seven-gilled sharks in

Fiordland, New Zealand, Black

tip Reef sharks off Fujairah, or

Green turtles and Humpback

dolphins off Butinah in Abu

Dhabi – if you relax and are nonthreatening,

sea creatures are

just as interested and curious

about you as you are about them.

And sometimes they instigate

interaction.

At times the young whale shark

would disappear for a few days.

On one occasion he inadvertently

picked up fishing gear, a couple of

hooks and a sinker that became

tangled on his fin. Seeing it,

our team jumped in, free-dove

underneath, checked the mouth –

no hook – then we saw it stuck in

his pectoral fin. We pulled it out

untangling the other hooks and

sinker from his fin. Big smiles all

around. Socially distanced high

fives.

You can watch the rescue here:

https://tinyurl.com/bv6r6zt4

Another time, after disappearing

for a week, he came back with

another fish hook and plastic

bag on his tail. It was dusk and

we felt he was on his normal

route so we started walking the

5km journey alongside the canal.

Every once and a while we would

ask someone if they had seen

the whale shark, and they would

reply, "Yes, 10 minutes before",

"yes, five minutes before". On

it went. It was nearly dark and

we had covered 4.5 km. We saw

the swish of his tail ahead in the

distance. We ran over and looked

down. Indeed there was a plastic

bag on his tail and a fish hook. We

ran ahead and down the ladder

waiting for him to pass, and as

he did we gently grabbed onto

his tail and pulled loose the hook

and plastic bag. It came away free

easily enough, and off our whale

shark kept swimming.

Losing weight

After seven weeks the whale

shark began spending most

of his time around the Aldar

HQ building. When freediving

with him, and reviewing the

footage, we noticed he had

lost some weight. Through our

Memorandum of Understanding

on environmental cooperation

and wildlife conservation with

the National Aquarium – Abu

Dhabi, and after consulting

www.dive-pacific.com 17
---
experts around the world - all

agreed he was indeed skinny. Our

teams decided to feed him with

krill to strengthen him up before

we attempted a move back to the

sea.

Our whale shark was hungry.

Seeing is believing. He gobbled

down the balls of krill we

fed him in front of Aldar HQ.

What a marvelous community

experience! A 4m whale shark

being fed and eating krill right

in front of you. It was indeed

beautiful, and by this time he

had a team of juvenile golden

trevallies keeping him company.

A whale shark, krill, golden

trevallies, right there. Staring

down his three foot wide mouth.

Time to move on

We fed the whale shark

for a week before moving

him. This was with a team

of divers from the National

Aquarium-Abu Dhabi and

the Environment Agency

Abu Dhabi and a support

vessel provided by Abu

Dhabi Marine. We took

him a kilometre towards

Samaliyah Island before

he dove off into the deep.

We felt good. We hadn't

touched him, and he had

swum off on his own

steam.

In the week that followed

there were sightings of

a whale shark near the

Corniche, in the Yas Island

Channel, and then at Al

Bahia Channel. Our EAD

whale shark team went

to investigate and found

him in Al Bahia Canal mid

morning, 15 km away.

The same afternoon as

we headed to Al Bahia to

investigate we received

a call from a member

of the public saying our

whale shark was back at Al Raha.

We were amazed. That was

the fastest 15 km ever swum,

let alone by a whale shark. We

checked on the shark at Al Raha.

It was indeed our young male.

…The whale shark could have been anywhere in the world

by then yet there he was, back where we began in the exact

place we first saw him. Maybe he was saying good bye…

Back after a week away.

There were some niggling doubts

though. The next morning we

headed to Al Bahia, just to be

sure. We saw a whale shark right

at the end of the canal and in the

pre-dawn, slipped into the water.

We got a big starry surprise. This

was a different whale shark,

a huge one, 6-7 metres long!

Compared to our other one, he

was big and thick and had a

massive block of a head on him.

And a distinctive scar on his

head. He looked strong and in

good condition.

Trapped

The Al Bahia Canal is a natural

trap with a very narrow entrance

that the water streams into at

high tide; at low tide the entrance

is very shallow. The whale shark

was stuck in the canal. Once

again, with our colleagues from

the National Aquarium and Abu

Dhabi Marine, at high tide we

maneuvered him out of the canal

and felt elated to see him swim

off out of the canal into a larger

canal that led out to sea. Round 2

rescue. Halais. Finish.

Back to the Aldar building.

We recommenced feeding our

younger whale shark, then made

plans to take him on a stretcher

the 20 km journey to the Arabian

Gulf facing coast of Abu Dhabi.

We fed him daily at 10:00am for

four days with the move planned

for the fifth day. The team turned

up ready. He wasn't anywhere to

be seen.

Then at 1130am, we were told he

had shown up at the Aldar

Building. The triumvirate

of organizations

assembled, were by now all

well acquainted with each

other: the Environment

Agency-Abu Dhabi; the

National Aquarium-Abu

Dhabi Team; and Abu

Dhabi Marine. We placed

a stretcher in the water

and persuaded him in with

krill, closed the stretcher

and towed him out to sea.

The whale shark had a

ready supply of oxygen on

the stretcher, and every

few minutes divers would

check he was ok.

Amazing rescue…

What an amazing

experience and really good

team building! By dusk we

had moved him all the way

out, past Sheikh Khalifa

Bridge which connects

Abu Dhabi and Saadiyat

Islands, and out past the

Louvre. The 20 km journey

took six hours. In the

18 Dive New Zealand | Dive Pacific
---
growing dark, with no one watching we released

the whale shark, hooting as he swam into the deep.

Success! We had successfully rescued two whale

sharks. Or so we thought!

Or was it?

The next morning we were notified from Al Bahia

that our big male was back in the canal. Again! We

headed there for a look. He seemed happy enough.

For the next few mornings our team met at Al Bahia

and checked on the big fellow. Though he seemed in

really good condition it was clear he couldn't swim

out of the canal because of the strong current and

shallow depth at low tide.

Using the same technique as for the younger whale

shark, we got the larger shark to swim onto our

stretcher. A perfect fit. Then we towed him the 20

km journey out into the Arabian Gulf. With plenty of

sunlight this time we took him as far as we could go.

And when we released him he began swimming so

fast we couldn't keep up.

Yes, we had put a satellite tag on him. So where

would he go?

It was a funny feeling for the community and our

team though. The most incredible seven week whale

shark adventure was over. Or was it?

We received a phone call a whale shark was back at

Al Raha. We went to investigate. The whale shark

could have been anywhere in the world by then,

yet there he was, back where we began in the exact

place we first saw him. Maybe he was saying good

bye.

tells us he is back out where he should be. In the

middle of the Arabian Gulf where whale sharks are

known to aggregate annually, well out of human

sight.

You can watch the Al Bahia Rescue here:

https://www.youtube.com/watch?v=N_aa2ZcCzgk

In a way I feel we have learned from these whale

sharks. They taught us to value nature, to value

community, and about the threats to the ocean from

abandoned fishing gear and plastic.

What an adventure! Whispering with whale sharks!

In Abu Dhab!

Will they come back next year? I did hear a whisper

it would be nice if they did.

……………………………………

Winston Cowie is an award winning environmental

policy manager, New Zealand author and film maker

based in Abu Dhabi where he works as the Marine

Policy Manager for the Environment Agency – Abu

Dhabi. A fellow of the Royal Geographical Society,

Winston has travelled to the seven continents

and over 40 countries where he seeks to have a

positive impact on nature and society through

environmental policy, writing and film. He also

has an interest in history having written the New

Zealand Land Wars historical fiction series, and

recently 'Conquistador Puzzle Trail' that proposes the

Portuguese and Spanish voyaged to Australia and

New Zealand pre-Tasman. (see Dive Pacific 172 &

173)

www.winstoncowie.com

Satellite tags

As for our Al Bahia Whale Shark, our satellite tag

www.dive-pacific.com 19
---
Trouble in Paradise

The ghost wrecks of the Pacific

A worker cleans up oil spilled from the MV Wakashio

By Dr Matt Carter, Research Director at the Major Projects Foundation

Dr Carter is a marine archaeologist, and

commercial and technical diver. He is Vice

President of the Australasian Institute for

Maritime Archaeology (AIMA), and New

Zealand representative on the International

Committee on Underwater Cultural Heritage

(ICUCH) and a Fellow of the Explorers Club.

To assess the risks from Potentially Polluting

Wrecks (PPW) and implement strategies

to deal with the issue is what the MPF

based in Newcastle, Australia seeks to do.

Its Research Director is Dr Matt Carter.

He outlined the scale of the project to a

spellbound audience at the NZUA AGM in

July. Dive Pacific put some questions to him.

How did the MPF come about?

Why was it established, and how

is it funded?

MPF was established in 2018

after Paul Adams, an Australian

demolition and environmental

expert, visited Chuuk Lagoon

and saw oil slicks in the water

around him after diving on the

wrecks. Along with his wife

Wilma Adams they set up MPF

to act on the issue of polluting

WWII wrecks which has largely

been ignored in the Pacific.

While MPF works in partnership

with the Secretariat for the

Pacific Regional Program (SPREP)

and closely with national

authorities, all funding to date

is from donations and in-kind

support.

How many wrecks are there in the

Pacific left from WWII?

There are around 3,800 WWII

wrecks in the Pacific including

around 300 oil tankers

Where are they located?

These wrecks are concentrated

in areas that suffered the

heaviest fighting during the

war. Our key areas of concern

are Chuuk Lagoon, in the

Federated States of Micronesia,

the Marshall Islands including

the Nuclear Fleet at Bikini Atoll

World Heritage Site, Iron Bottom

Sound in the Solomon Islands

and the waters around Papua

New Guinea.

What are the threats they pose?

Despite being underwater

for at least 75 years marine

pollution experts estimate that

these wrecks still hold between

20 Dive New Zealand | Dive Pacific
---
500 million and 4.5 billion

litres of toxic fuel oil, not to

mention millions of tonnes of

unexploded ordnance. As they

rust this oil is being released

into the marine ecosystems,

causing impacts to marine life

and those who rely on it.

in the region are becoming

more powerful, increasing the

likelihood that the wrecks will

collapse and suddenly release

the oil they still hold.

Pacific was first recognised

in the early 2000s with the

Secretariat for the Pacific

Regional Program (SPREP)

developing a regional strategy

to manage this threat.

How long have we got before they

start doing real damage?

Dozens of these wrecks are

already leaking, causing chronic

poisoning in some of these

ecosystems. Corrosion scientists

have estimated the many WWII

wrecks in the Pacific will begin

collapsing between 2021 and

2026! What makes matters

worse is that due to climate

change, tropical cyclones

…many of the wrecks….will begin to undergo significant

collapse in the next 10 to 15 years…

When was the risk of these

wrecks first recognised?

The threat that potentially

polluting wrecks pose to the

Unfortunately, the strategy

failed to gain the political or

financial resources necessary to

be enacted, and very little was

MPF diver scanning a wreck

to create a 3D model

Photo Steve Trewavas

www.dive-pacific.com 21
---
different Pacific countries with

the highest concentration

(19) in Chuuk lagoon in the

Federated States of Micronesia.

Photo Steve Trewavas Photo SPREP

Current potentially polluting wrecks in the Pacific Ocean

able to be done until MPF took

up the mantle in 2018.

Which countries are most

affected?

Federated States of Micronesia,

the Marshall Islands, the

Solomon Islands, Papua New

Guinea, Palau and Australia.

(also New Zealand with the

Niagara)

How are they involved with MPF's

work?

We are working closely with

the various authorities in

these countries to co-develop

projects that will not only be

Potentially polluting wreck

of the Palau

effective in protecting marine

ecosystems from PPW, but also

build capacity within local

communities to respond to the

impending oil spills.

How many of the wrecks are in

imminent danger of structural

collapse, and where are they

located?

From the 3,800 PPW our

research has narrowed the list

down to 53 'Category 1' high

risk wrecks which urgently

require survey to gather

information about their current

condition. These wrecks are

located in the waters of eight

Any stand out examples of wrecks

at high risk? And can these risks

be quantified?

One of the fortunate things with

our mission is that we don't

have to reinvent the wheel

and can use international best

practice to quantify the risk that

the wrecks pose. For this work

we have followed the model

developed by the UK Centre

for Environment, Fisheries and

Aquaculture Science (CEFAS)

for the British Ministry of

Defence. Using this system, we

have multiple wrecks that are

deemed high-risk in terms of

the likelihood of them spilling

oil, most notably the wrecks

of Nagato and USS Saratoga in

Bikini Atoll, and Fujisan Maru

and Heian Maru (amongst

others) in Chuuk Lagoon.

What measures are taken

in the process of drawing up

management plans to address

these risks?

To effectively manage the oil

pollution threat the wrecks

pose, a combination of deskbased

research and fieldwork is

required to create management

plans to mitigate and remediate

them. We have made great

progress with archival and

various other research but with

COVID have only managed one

expedition to Chuuk to begin

a survey of the wrecks. Once

international borders reopen we

will be in the water as soon as

possible gathering the data we

need.

How are the risks surveyed,

assessed and ranked?

We can get a fair amount of

information regarding the

risk potential of these wrecks

through historical sources to

22 Dive New Zealand | Dive Pacific
---
answer questions such

as how and when it

sank, what volume

of oil was it holding

when it sank etc.

However, this needs to

be supplemented by

up-to-date information

regarding the current

condition of the wreck,

which can only be

gained through getting

eyes on it either with

divers, or remotely

operated vehicles.

We take all this

information and put it into the

model developed by CEFAS to

get our risk ranking.

What research is being done to

ensure there is comprehensive

coverage of all the wrecks and

…The very real threat

was realised in 2001

when the wreck of

the US Navy oiler USS

Mississinewa (1943–44)

leaked 24,000 gallons of

oil into Ulithi Lagoon in

the Marshall Islands…

their locations?

Our database of the 3,800 WWII

wrecks in the Pacific is based on

decades of research compiled

by historians, including by one

of our Directors who taught

himself to read Japanese so

he could translate shipping

records. With the wrecks

continuing to corrode the

biggest challenge is getting upto-date

information regarding

their current condition.

Number of 'Category 1' potentially polluting wrecks identified to country (Major Projects Foundation, 2019).

www.dive-pacific.com 23
---
Geared up with essential safety

equipment

What techniques are employed,

how are divers deployed, and

what technologies are used to

assess the wrecks?

The key aspect of assessing how

much oil remains on board is

through a hull integrity survey.

For this work we use divers

equipped with underwater

cameras to scan all aspects of

the wreck by taking thousands

of photos and video. These

photos are processed through

3D modelling software called

Agisoft Photoscan to create an

accurate model of the exact

condition of the wreck at that

moment of time. By comparing

these models with plans of the

ship we can identify which fuel

tanks are likely to be intact

and make estimates about how

much fuel may still remain on

board.

Is there a case study perhaps

of a particular wreck where the

approach and methods have been

trialled?

over four dives in which

we took 7500 overlapping

photographs to create a 3D

model. This hull integrity

survey revealed damage

caused during the sinking

of the vessel and also from

more recent collapse. This

information has proved

critical in our assessment

of risk of the Rio de Janeiro

Maru and will shape the

management of the wreck

into the future.

What are the next steps the

MPF proposes to take?

Our key goal is it to remove the

threat these wrecks pose before

they collapse. While removing

the oil is the obvious solution,

it is a complex operation

requiring not only political

support at the international,

national and local level, but

Matt Carter scanning a wreck

also significant funding! While

we work towards this goal we

are also developing short-term

strategies such as working

with local authorities to create

oil spill response plans to

enable them to clean up the

predicted oil spills as effectively

as possible. There are a lot

of steps involved in a project

like this but with the support

of likeminded people we are

already making a difference and

remain committed to the cause.

To put it simply the cost of doing

nothing is simply too much.

If you're interested in finding

out more and how to support

our mission please visit

https://majorprojects.org.au/

and drop us a line.

One of our best examples

comes from our 2019 survey of

the Rio de Janeiro Maru in Chuuk

Lagoon. This ship was launched

in 1929 and 140 metres in

length, and capable of carrying

2052 tons of oil. During WWII

the Rio de Janeiro Maru served

as a submarine tender for the

Imperial Japanese Navy before

being sunk in Chuuk Lagoon in

1944 by US aircraft. Our 2019

survey of it was undertaken

Photo Steve Trewavas

24 Dive New Zealand | Dive Pacific
---
New shark species named

Researchers from the Pacific

Shark Research Centre in the

US have named a new deep-sea

catshark species found near

Madagascar Apristurus manocheriani

or Manocherian's Catshark

in honour of Greg Manocherian, a

supporter of shark conservation

and research. Lead author of a

paper published in the Journal of

the Ocean Science Foundation,

David A. Ebert, said, "Sharks are a

very diverse group and people do

not realize that there are nearly

536 species. The

discovery of this

new deep-sea

species

highlights how

little we still know

of the deep sea."

Catsharks belonging to the

genus Apristurus have been

found in almost all oceans,

including the Arctic, but not the

Antarctic, mostly at depths from

about 200–2200 metres along

Italian shark has 'virgin birth'

The female baby smoothhound

shark (Mustelus mustelus) —

known as Ispera, or "hope" in

Maltese — was recently born at

the Cala Gonone Aquarium in

Sardinia to a mother that has

spent the past decade sharing a

tank with one other female and

no males, Newsweek has reported.

This rare phenomenon, known

as parthenogenesis, is the result

of females' ability to self-fertilize

SOUNDINGS

INTERNATIONAL NEWS

slopes, seamounts,

deep-sea ridges, and

trenches.

Call for new treaty to protect the high seas

Negotiations for a United

Nations treaty to protect

marine biodiversity in areas

beyond national jurisdiction,

or BBNJ, areas also known as

the high seas, are scheduled

to conclude this year after a

pause caused by the COVID-19

pandemic, and Chile's director for

environment and ocean affairs

says "it's time to act."

Ambassador Waldemar Coutts

responsibility is to ensure Chile

keeps its environmental and

their own eggs in

extreme scenarios.

Parthenogenesis

has been observed

in more than 80

vertebrate species

including sharks,

fish and reptiles but

this may be the first

documented occurrence

in a smoothhound

shark.

Ocean beneath controls what's above

Research published in

Communications Earth and

Environment suggests that

processes below the ocean

surface may be controlling what

is happening above. Researchers

found that the ratio of nitrogen

and phosphorus introduced from

the ocean subsurface controls the

balance of those nutrients in the

conservation commitments on

its 4000 mile long coastline.

He says the ocean is integral

to humanity's survival. "That's

what's at stake if we don't understand

we no longer have time

to continue talking," he said.

The treaty must hold countries

responsible for its implementation,

with technical compliance

and scientific committees and a

functional Secretariat. "We need

a treaty that allows a real balance

between conservation and

sustainable use of the ocean.

marine microorganisms--in this

study, phytoplankton--that form

the foundation of ocean health.

"This is the first time that we've

looked across a broad range

of ocean regions and directly

measured the balance of nutrients

in ocean microorganisms," said

Mike Lomas, lead author on the

A shark's rare "virgin birth" in an Italian

aquarium maybe the first of its kind,

scientists say.

That approach guarantees a

healthy ocean for the future."

New MPA for Mexico

The Mexican government has

committed to creating a new fully

protected marine area by banning

all extractive activities within

the perimeter of the Islas Marías

Biosphere Reserve which covers

6,413 square km. The Islas Marías

archipelago contains some of the

few remaining healthy reefs in

any of Mexico's MPAs in the Gulf

of California.

paper. "Now we can apply more

realistic parameters based on

what is actually driving marine

dynamics to the computer models

used to forecast ocean change."

Lomas hopes that this improved

understanding of nutrients will

better predict how oceans will

respond to climate change.

www.dive-pacific.com 25
---
How climate change is

impacting our oceans now

By Dr Christopher Cornwall

Important marine ecosystems in New Zealand and the wider Pacific

are at risk from the effects of human induced climate change with

ocean warming and associated marine heatwaves causing periods

of extreme temperature which are bringing about mass coral reef

bleaching in tropical waters, and the death of kelp forests in seas such

as around New Zealand.

In addition to this, ocean acidification is changing seawater chemistry,

making it harder for calcium carbonate forming organisms like corals,

molluscs and calcifying algae to grow their skeletal material.

Together, these two stressors – ocean warming and acidification - are

altering both coral reef ecosystems and kelp forests globally, and they

are predicted to cause further changes in the near future.

Dr Cornwall testing coral and coralline algal

responses to climate change stressors

Heatwave impacts…

Marine heatwaves have

arguably the greatest impacts

on nearshore marine ecosystems

with both corals and kelps

susceptible to them due to their

unique physiologies. Both coral

reefs and kelp forests form

ecologically vital habitats in

tropical and temperate latitudes

respectively.

…on coral reefs

Reef forming corals are an

animal host that contain a

dinoflagellate symbiont in a

delectate mutualism. Corals

are acclimatised to their local

temperature conditions, and

when temperature anomalies

are too extreme for too long,

the symbiont is expelled. What

remains is the "bleached"

appearing coral skeleton, since

the beautiful colours of most

corals are the pigments of the

symbionts. The proportion

of corals that bleach during a

marine heatwave are a function

of marine heatwave duration and

intensity. Without their symbionts,

they can no longer gain

their photosynthetic products (eg

sugars).

Forereef coral community, Ningaloo, Western Australia

26 Dive New Zealand | Dive Pacific
---
Coral reef community, Lizard Island, Great Barrier Reef,

Queensland, Australia

But some of these corals will

survive, with the proportion of

their survival again mostly a

function of marine heatwave

intensity and duration.

…and on kelp

Kelp are also sensitive to

temperature anomalies, particularly

at the warm-edge of their

range (ie in the north of the

Southern Hemisphere). Unlike

corals, they contain their own

photosynthetic pigments, and

during intense and longer marine

heatwaves kelps undergo physiological

stress and die.

Events like this have been

recorded in Western Australia

with the common kelp that also

lives in New Zealand (Ecklonia

radiata), disappearing, and largely

yet to return to large swathes of

coastline where it existed in 2011.

Here in New Zealand both "true"

giant kelp (Macrocystis pyrifera)

and "bull kelp" (an unrelated

large brown alga, Durvillaea spp.)

were severely impacted during

a 2017/2018 summer marine

heatwave.

Acidification impacts

On top of marine heatwaves,

ocean acidification has become

problematic in some places in

the world, reducing the ability

to grow of species that form

calcium carbonate skeletons.

Ocean 'acidification' is actually

the process of the Earth's

surface seawaters becoming

less alkaline, not acidic, thereby

reducing seawater pH. PH is the

inverse log scale of the concentration

of hydrogen ions, so a

decrease in pH predicted by 2100,

of ~0.3 units in New Zealand

is equal to a ~150% increase in

hydrogen ion concentrations.

These excess hydrogen ions in

seawater flow to where most

marine organisms precipitate

calcium carbonate (a process

termed "calcification"), making

calcification ore difficult. Surface

ocean pH has already declined by

0.1 units since the beginning of

the industrial revolution.

Ocean acidification is the absorption

at the surface seawater of

CO 2 produced by our burning of

fossil fuels, and this has subtle

but important impacts on both

coral reefs and kelp forests.

Coralline algae critical

In coral reefs the obvious ramifications

mean that the growth

rates of reef-forming corals will

slow. However, calcifying red

seaweeds called coralline algae

which live in both coral reefs

and kelp forest ecosystems are

crucial to both and are especially

vulnerable to ocean acidification.

They emit chemical cues

in seawater that allow specific

invertebrate larvae to sense the

presence of reefs (both rocky and

coral), enabling them to settle in

the correct location for them.

Both coral larvae, and the larvae

of pāua and kina in New Zealand

Te Herenga Waka | Victoria University of Wellington School of Biological Sciences and IRD staff

working at high CO2 mangrove reef at Bourake, New Caledonia

www.dive-pacific.com 27
---
ely on these coralline algae. At

places with naturally elevated

CO 2 , such as near volcanic

venting regions, research has

shown that reduced coralline

algal cover, due to low pH, acts

to severely limit the number of

coral species that can recruit

there.

Not only that, coralline algae

act as 'glue' holding coral reefs

together, filling in the gaps

between corals. They also form

their own reefs, such as with

Australia's largest inshore reef,

the 380 square km Montgomery

reef.

In temperate zones the algae

form 'veneers' over rocky reefs

reducing erosion and holding

substrate together, and they can

also form thick reefs of their

own up to 10 m high such as in

the Mediterranean and other

locations. Therefore, if we lose

coralline algae to ocean acidification

we would also severely

impact both coral reefs and kelp

forests.

Coral reef modelling

at 183 locations

Our recent research modelled

the response of coral reef growth

to the effects of combined

ocean warming, acidification

and marine heatwaves at 183

different locations across the

Pacific, Indian and Atlantic

Red coral, near Bourake, New Caledonia

Oceans.

Each 'coral' reef is comprised of

various taxa that have different

sensitivities to the three climate

change stressors, and these

stressors will manifest at varying

magnitudes depending on their

geographic location.

Worryingly, we predict that

under worst case carbon dioxide

emission scenarios, that climate

change will halt the ability of all

but a handful (6%) of coral reefs

to grow over our lifetime.

Under intermediate emissions

scenarios, we expect coral reefs

will still fare very poorly, and

similar effects are predicted

before the end of the century.

Only under conservative

emissions scenarios, where we

rapidly halt our emissions and

employ technology to draw down

atmospheric CO 2 concentrations,

will coral reefs continue to

possibly resemble the same state

as they do at present. For this

scenario we predict ~60% of coral

reefs will still be able to grow.

But even under this scenario we

predict an overall 77% drop in

the growth rates of coral reefs.

Keeping within this emissions

scenario remains the greatest

hope for our children and grandchildren

to experience coral reefs

in the ways I have been fortunate

to do.

Kelp forests are changing

Kelp forests in New Zealand are

also predicted to fare poorly. The

same marine heatwaves and

ocean acidification that threaten

coral reefs have already altered

our kelp forests.

Coralline algal reef, Tallon | Jalan Island, Kimberley, Western Australia

The strengthening of the East

Australian current over the last

70 years due to ocean warming

has increased water temperatures

here. It has also carried

the larvae of the invasive black

spine sea urchin from New South

Wales to Tasmania, changing

kelp forest ecosystems to sea

urchin barrens on their east

coast.

This same sea urchin is now

invading northern New Zealand;

divers have noticed increases

in these barrens in our offshore

islands. But fortunately, in

Australia research has shown

28 Dive New Zealand | Dive Pacific
---
…to acidification in the

short term…

We found that species of corals

and coralline algae that can

resist ocean acidification did

so via changes to their internal

chemistry either to keep pH

internally high, or to compensate

for this by increasing their

concentrations of calcium internally.

However, the majority of

species exposed to ocean acidification

cannot do this; their

internal pH drops, resulting in

decreased growth rates.

Coralline algae and yellowfoot pā ua (Haliotis australis) covered in

coralline algae at Houghton Bay, Wellington

that marine reserves with

larger urchin predators, snapper

and lobster, can prevent these

barrens and this offers cause for

some hope in New Zealand.

Research into

resistance?

Ongoing research into the

effects of ocean acidification

by my group at Te Herenga

Waka, Victoria University of

Wellington's School of Biological

Sciences also provides some

insights into how climate change

will manifest, why it impacts

these important species, and

possibly ways they could resist it

to some extent.

In collaboration with researchers

from the University of Western

Australia, the Australian

Research Council's Centre of

Excellence for Coral Reef research

has revealed much of the needed

information though many

questions still remain.

The next step was to identify

whether species could gain these

traits when exposed to ocean

acidification for long durations.

Unfortunately, over a 12 month

experiment conducted in Moorea,

French Polynesia, we found that

corals and calcifying algae could

not acclimate. What traits they

were born with, they were stuck

with.

…over the longer term?

But the effects of climate change

will not simply manifest over one

lifetime. Shorter lived species

will potentially have multiple

generations over which they

could acclimatise, or even adapt

Extensive coral bleaching of thermally resistant corals measured by ARC Centre of Excellence staff at Shell

Island, Kimberley, Western Australia, Australia during the April 2016 mass bleaching event that devastated

Australia's coral reefs on both coasts

www.dive-pacific.com 29
---
to its effects.

To test whether exposure over

multiple generations of species

would garner greater resistance

to the effects of climate change

is impossible over the lifetime of

one research project for corals.

However, tropical coralline algae

can have short generation times,

allowing us for the first time,

to assess whether a calcifying

benthic species could gain tolerance

to ocean acidification over

multiple (2+) generations.

Tolerance may increase

slowly

We found that over six generations

of exposure to ocean

acidification that coralline algae

did slowly gain the ability to

resist ocean acidification, an

effect that persisted till the end

of the experiment (8 generations),

offering hope that select species

might gain tolerance to different

forms of climate change.

However, for many longer-lived

corals this still might not be

possible.

But the rapid impacts of marine

heatwaves causing coral and kelp

mortality would be difficult to

acclimatise to.

Ongoing work at Victoria University

of Wellington continues to assess

these impacts. We are monitoring

change on Wellington's south coast

to detect if marine heatwaves or

acidification causes range retractions

or extinctions of seaweed

species.

Giant kelp (Macrocystis pyrifera) canopy, Huriawa peninsula, Otago

Dr Christopher Cornwall is

Rutherford Discovery Fellow at

Victoria University of Wellington's

School of Biological Sciences.

Previously he has been Research

Fellow/Lecturer at the University

of Western Australia, Australia,

and Research Fellow at the

Institute for Marine and Antarctic

Studies, University of Tasmania.

He is also Associate Editor, NZ

Journal of Botany, Academic Editor,

PLOS ONE, and Associate Editor,

Frontiers in Marine Science.

Dr Cornwall

was awarded

this year the

Prime Minister's

MacDiarmid

Emerging

Scientist Award

($200K), and has

shared awards

for the Centre

of Research Excellence, University

Research Fund, the Rutherford

Discovery Fellowship, the ARC

DECRA and ARC Discovery.

Christopher.cornwall@vuw.ac.nz

At our coastal ecology laboratory,

we are further assessing how coralline

algae and Caulerpa seaweed,

culturally important across the

Pacific, responds to the combined

impacts of heatwaves, warming,

acidification and sediment inputs.

We are also working with colleagues

in New Caledonia, Hong Kong,

Canada, France and the USA to

identify traits that could allow

future coral reef and kelp forest

persistence, while also better

understanding how climate change

will manifest globally and in New

Zealand.

Coralline algal and common kelp (Ecklonia radiata) at Rottnest Island,

Western Australia

30 Dive New Zealand | Dive Pacific
---
dnz164

Processes involved in net carbonate

production and accretion on reefs

Fig. 1. Processes involved in net carbonate production and accretion on reefs as well as

the associated methods typically employed to measure this. +ve = positive contribution

to accretion with solid lines; −ve = negative contribution with dashed lines. Processes in

gray are not included in most carbonate budgets or here. Here, we project the effects of

ocean acidification and warming on CCA and coral calcification, chemical components of

bioerosion, and sediment dissolution. Only chemical components of bioerosion are included

in hydrochemical measurements, while direct sediment production by bioeroders is also

included here.

400-year-old coral widest ever found

in Great Barrier Reef

Researchers have measured

a piece of coral that's

the widest yet discovered in

Australia's Great Barrier Reef. The

Indigenous Manbarra

people, traditional

custodians of the

area, named it Muga

dhambi (big coral),

the widest and sixth

tallest coral measured

in the Great Barrier

Reef. Researchers said

it was between 21

to 438 years old and

measures nearly 6m

tall and 10 m wide.

The Great Barrier Reef

covers about 133,000

square miles. Muga dhambi is in

very good health with 70% of it

live coral.

FREE

PHONE

TUTUKĀKĀ

NEW ZEALAND

SIMPLY

AWESOME!

0800 288 882

www.diving.co.nz

3-5 Rona Place, Tutukaka, Whangarei, SOUTH PACIFIC

www.dive-pacific.com 31
---
Overfishing: The issues

By Coty Perry

Overfishing and other fishing-related environmental issues are a real problem worldwide,

writes US fisherman Coty Perry in a discussion on its social, economic and environmental

threats. (the full article is here: https://yourbassguy.com/news/overfishing/

The issue is important for anyone who uses fish as food. As the ocean goes, so goes

the planet. All of us need to educate ourselves on what is driving overfishing, what the

consequences are, and what meaningful steps we can take.

Over three billion

people around the

world rely on fish as

their primary source

of protein with about

12% of the world relying on fisheries in some form

or another for their income. 90% of these are smallscale,

using small nets or even rods, reels and lures

not too different from the kind you probably use.

As a recreational fisherman you are almost certainly

not guilty of "overfishing." This is an issue for the

fishing industry trawling the ocean with massive

nets.

…30% of commercially fished waters

are now classified as 'overfished'…

Still, overfishing is a rational reaction to increasing

market demand for fish. Most people consume

twice as much fish as they did 50 years ago, and

caught in a net.

While this is bad enough overfishing also includes:

• Increased algae in the water causing increased

ocean acidity.

• Destruction of fishing communities: This is

particularly true for island communities where

fishing is often the primary source of protein as well

as the main driver of its economy.

• Tougher fishing for small vessels: Overfishing is

mostly done by large vessels which makes it harder

for the smaller ones.

• Ghost fishing: Ghost fishing refers to abandoned

man-made fishing gear left behind. An estimated

25,000 nets float throughout the Northeast Atlantic,

a death trap for all marine life.

• Species near extinction: Many species of fish are

being pushed close to extinction by overfishing, such

as several species of cod, tuna, halibut and even

lobster.

• Bycatch not being sought by commercial

fishermen is often caught in their nets as a

byproduct. This possibility increases dramatically

with overfishing.

• Waste: Overfishing creates waste. 20% of all fish in

the US is lost in the supply chain due to overfishing.

In the Third World this rises to 30% due to a lack of

freezing devices. Though more fish are being caught

than ever, the waste is massive.

• Mystery fish: Because of overfishing, a significant

amount of fish for sale isn't what it is labelled as. Eg

Only 13% of the "red snapper" on the (US) market is

actually red snapper.

there are well over twice as many people on earth

now than there were in 1960. A result is that 30%

of commercially fished waters are now classified as

"overfished", meaning that available fishing waters

are being depleted faster than they can be replaced.

At best this means there are fewer fish next year

than this year. At worst, it means a species of fish is

no longer found in a specific area anymore. It runs

hand-in-hand with wasteful forms of fishing that

harvest not just the fish the trawler is looking for,

but just about every other organism big enough to be

Four causes for overfishing

• Regulation that is difficult to enforce. Worst

offenders have little regulation and no regulations

apply in international waters.

• Unreported fishing: Regulations can force many

fisherman to fish "off the books", especially true in

developing nations.

• Mobile processing when fish are processed before

returning to port, canned or frozen while still out at

sea. Canned fish is increasingly replacing fresh fish.

• Subsidies: Subsidies for fishing don't generally go

to small fishers but to massive fuel intensive vessels.

32 Dive New Zealand | Dive Pacific
---
Subsidies encourage overfishing

because with them the more fish

you catch, the more money you

get.

it takes at least 10kg of feed to

produce, for example, 500 gm

of tuna, making farmed fishing

incredibly inefficient. Indeed, 37%

Quotas, specifically the

"individual transferable quota"

scheme used by New Zealand

and many other countries does

According to the World Wildlife

Fund, subsidies drive illegal

fishing, which is closely tied

with piracy, slavery and human

trafficking. The University of

British Columbia conducted a

study that found that $22 billion

(63% of all fishing subsidies)

encouraged overfishing.

…37% of all seafood globally is now fed to farmed

fish, up dramatically from 7.7% in 1948…

not seem to work as intended

for a number of reasons. First,

the quotas are transferable

meaning small fishermen over

time sell out their quota to large

commercial operations rather

than work it themselves, and

we're back to square one.

More on subsidies

The governments of the world

give over $35 billion every year

to fishermen, about 20% of the

value of all the commercially

caught fish in the world every

year. These subsidies reduce costs

for mega fishing companies, like

paying fuel budgets, their gear

and even the vessels themselves.

They squeeze out their smaller

competitors.

The 'advantages' drive the

mega fishing companies into

unsustainable fishing practices,

leading to depleted stocks, lower

yields, and lower costs of fish at

market which, while good for

the consumer, makes it harder

for smaller operations to turn a

profit.

…The governments of the

world give out in subsidies

over $35 billion every year to

fishermen, about 20% of the

value of all the commercially

caught fish in the world

every year…

Fish farming?

Crowding thousands of fish

together in small areas away from

their natural habitat turns out

to have a number of detrimental

effects. Waste products, can

contaminate areas around fish

farms. The farms often require

lots of pesticides and drugs

thanks to the high concentrations

of fish and the parasites and

diseases spread in them, and

of all seafood globally is now fed

to farmed fish, up dramatically

from 7.7% in 1948.

Which countries do it?

The US is the only Western nation

on a "shame list" referring to

bluefin tuna and put out by Pew

Charitable Trusts; the others are

Japan, Taiwan, China, South Korea

and Indonesia. In 2011 these six

countries took 80% of the world's

bluefin tuna, collectively 111,482

tonnes.

When it comes to harmful

subsidies the clear leader is

China. A University of British

Columbia study found China

provided more in the way of

harmful subsidies than any other

: $US7.2 billion in 2018 or 21% of

all global support.

What doesn't work…

In many cases current regulations

simply do not work. An extreme

example: governments restricted

fishing for certain forms of tuna

for three days a year so the

big fishing companies simply

harvested as many fish in three

days as they were previously

getting in an entire year, leading

to greater bycatch and waste.

In general, quotas can be a

source of waste. For example, a

fishing operation is permitted

a specific tonnage of fish of a

specific species. But some of the

catch is of higher quality, which

incentivises the discard of lowerquality

fish to be replenished

in favour of higher-quality fish,

thereby creating large amounts

of waste. The discard can

sometimes amount to 40% of the

catch.

…and what does work

One alternative is called

territorial use rights in fisheries

management where individual

fishers or collectives are granted

long-term lease rights to fish

specific areas. They won't want

to overfish the area because to

do so would harm their future

prospects, so they catch only

as many fish as is sustainable.

The fishers with rights are

incentivised to preserve the

fishing not just for the next year,

but for ongoing generations. This

model has been used successfully

by Chile, and also Belize,

Denmark and even the United

States.

www.dive-pacific.com 33
---
How much of our oceans are

protected, and is it enough?

By Dee Harris

In the first of this series (Dive

Pacific 176, Feb/March/ April

2021) we discussed the value

of marine reserves concluding

they offer a great degree

of protection and are the

preferred route for restoring

our oceans' health. The

definition applied for marine

reserves is simple: "total

protection from fishing and

extraction."

Furthermore the experts

believe that somewhere

between 10% and 30% of our

planet's waters need this level

of protection if we are to avert

destructive climate change and

wide spread extinction events.

New Zealand has 44 marine

reserves which amount to

about 12% protection of our

territorial waters. However, of

this 11.51% is located in mega

reserves in remote offshore

areas such as the Kermadec

Islands; only 0.0035% of marine

reserves are situated on New

Zealand's coastline and these

are made of up of a series of

very small areas.

In June this year the New

Zealand government

announced plans for a raft

of changes for added marine

protection including the

creation of 18 new Marine

Protected Areas in the Hauraki

Gulf. The need for urgency was

acknowledged.

In this second article we

examine broadly how other

world nations are progressing

their efforts to protect their

oceanic responsibilities and

facing up to some of the

inherent challenges in doing so.

First a reality check: most areas

of the world's marine reserves

- those with total protection

from fishing and extraction

-are far from common. Most

Marine Protected Areas (MPAs)

allow 'multiple' uses which

can include activities such as

fishing by local communities,

seasonal only protection, for

example during spawning,

and even deep-sea mineral

extraction.

Marine protection worldwide: a whirlwind assessment

The Americas

Let's head first to The Americas.

It seems Marine Reserves (MRs)

in the United States make up

only 7% of all their marine

protected areas; the other 93%

are Marine Protected Areas

(MPAs). Of the total area designated

with some form of

marine protection, 94% consist

of the 937,000 km2 Papahā

naumokuākea Marine National

Monument in Hawaii.

Long-established and grandly

funded organisations such as

National Geographic, that reputedly

lead scientific expeditions

to identify ocean challenges, may

give the perception that the US

is a leader in marine protection.

That appears not the case. For

example the Trump administration

opened 128 million acres of

the Arctic and Atlantic oceans for

oil and gas drilling, although this

was countered more recently by

President Biden who, seeking to

undo the Alaskan expansion and

other sensitive areas, has called

for a halt to new oil and gas

leases. He has also committed to

what is referred to as the 30x30

plan to conserve and restore 30%

of the nation's lands and waters

by 2030.

…The Pacific Ocean is a source of life for us.

This is our contribution not only to our own

wellbeing but also to humanity's wellbeing…

In comparison Canada's commitment

is made to look good

though protected areas around

its vast coastline may look to

be just spotty patches. Canada's

Oceans Act claimed in 2019

to have achieved the international

target of 10% protection of

marine and coastal areas with

793,906 km2 or 13.81% of the

country's marine and coastal

areas under protection, despite

markedly differing levels of

protection for each area.

In Latin America Chile has

made significant progress

in recent years to protect its

waters. Chile's local communities

have provided support as

they have witnessed fish stocks

decline, and replaced their

reliance on them with marine

based tourism. Chile's

model resembles New

Zealand's where two

offshore areas: Rapa Nui

(Easter Island), and the

Juan Fernandez Islands

(Robinson Crusoe) are large

reserves with considerable

protection, but there's only 1%

of marine reserves near the

mainland coastline.

Other South American countries

have instituted varying degrees

of protection but many are

fraught with problems including

illegal fishing, overfishing,

pollution, and an inability to

adequately enforce existing laws.

34 Dive New Zealand | Dive Pacific
---
A feature of Ecuador, for

example, which administers the

Galapagos Islands is its weak

governance, a major obstacle

to achieving protection goals.

In 2017 the Ecuadorian Navy

seized a Chinese cargo vessel

named Fu Yuan Yu Leng 999 in

the Galapagos National Reserve

Park to find 300 tonnes of fish

including a protected species of

shark. Ecuador allows sharks as

incidental bycatch while insisting

there is no shark fishing. But

the price of shark fin is $US650

/kilo, which can realise US$10

million in one boat haul. The Fu

Yuan incident created outrage

on a world scale, yet it is likely

to be only one vessel of many

that happened to get caught. Low

wages and other social inequities

help prop up corrupt government

that goes back centuries where

key officials are bribed to turn a

blind eye.

Further issues in Central and

South America revolve around

the separation of powers

between local, regional, and

national authorities which is

where things frequently get

messy. Resources and funding

needed to enforce laws are often

inadequate, along with the 13

million tonnes of plastic dumped

in South American oceans each

year, and untreated waste water

piped straight into the seas off

countries like Columbia and

Peru.

by the EU to achieve Good

Environmental Status (GES) in EU

waters by 2020. Most MPAs are

in the Mediterranean where they

are very small, and inadequately

protected. The UK has its Marine

Conservation Zones which are

not as protected as those of the

EU, instead aiming to protect

rare and vulnerable species. All

of Europe's efforts though seem

spread far too thinly for a region

with an extremely high GDP and

aspirations to be a first world

leader.

Asia

One Asian initiative, the

Northeast Asian Marine

Protected Areas Network

(NEAMPAN), is an organisation

with very clear objectives

around establishing a network of

marine protected areas in China,

Japan, the Republic of Korea,

and the Russian Federation.

And in addition, hundreds of

diverse organisations appear

to be working locally within

individual countries as well as

at the broader national level to

achieve marine protection aims.

Nevertheless it is difficult to see

the shape of any overall plan

that might demonstrate the vast

region is anywhere along the

way to achieving timely marine

protection.

Antarctica

Antarctica is governed by an

international body made up of

24 member countries which also

oversee the waters around it, in

all a 962,0000 km2 protected area

created in 2016, said to be twice

…How much of your heart do you want to protect? … if we can

make it happen, it can truly change the world, and help ensure the

survival of … my favourite species; that would be us.…

the size of Texas. It includes a

large part of the Ross Sea where

everything from penguins to

whales are protected. A 2011

study in the journal Biological

Conservation said the Ross Sea

was "the least altered marine

ecosystem on Earth," citing intact

communities of Emperor and

Adelie penguins, crabeater seals,

orcas, and minke whales. Quite

an achievement.

Australia

Closer to home, Australia, has

the largest network of marine

Africa

Africa's problems mirror those

of South America where severe

funding and resource constraints

prevail. Coastal erosion, the

impacts of climate change,

ocean acidification, offshore

developments, overfishing, and

land-based pollution are some

of the challenges. Offering hope

is the type of excellent expertise

developed by several African

countries in land-based wildlife

protection, skills and techniques

that could well be transferred to

marine park protection.

Europe

In Europe, the Marine Strategy

Framework Directive was started

Provided by The UN Environment World Conservation Monitoring Centre (UNEP-

WCMC) and IUCN International Union for Conservation of Nature and Natural

Resources.

www.dive-pacific.com 35
---
parks with 60 areas covering 3.1

million km2. Roughly a third of

Australia's waters combine the

Great Barrier Reef with a contiguous

part of the Coral Sea to

form one of the largest marine

protected areas in the world.

Australia's marine policy looks in

pretty good shape even though

the vast majority of the areas

protected are in MPAs not MRs.

The Pacific

Our Pacific Island neighbours

deserve credit for allocating huge

areas relative to their size to

marine protection over the last

15 years.

In 2012 the Cook Islands, a nation

of 20,000 people on 15 islands,

created in 2012 one of the world's

largest marine parks covering

nearly 1.1 million km2, bigger

than France and Germany. Said

the Cooks' Prime Minister Henry

Puna when launching the MPA:

"The Pacific Ocean is a source

of life for us. This is our contribution

not only to our own

wellbeing but also to humanity's

wellbeing."

New Caledonia also announced

in 2012 the creation of a new

marine protected area roughly

half the size of India, covering 1.4

million km2, and in 2008 the tiny

Pacific Island nation of Kiribati

launched the Pacific Oceanscape

concept creating a 400,000 km2

MPA.

Perhaps it's understandable that

small island nations more fully

understand the threats posed

to them from climate change,

including submersion of their

islands as sea levels rise.

The challenges

What is proven is that true

Marine Reserves sustain higher

densities and variety of species

than Marine Protected Areas, and

that if designed and managed

well, and enforced, bigger fish

will have more offspring in

Marine Reserves and demonstrate

amazing recovery rates of

species, which will in turn help

fish catch.

Second, it's clear that it is far

easier politically to establish

huge MR's or MPA's in remote

offshore areas far from population

centres, and where fishing

may be of less interest.

In establishing protected areas

such as these, and in the words

of outspoken marine critic

Russell Moffitt, we are "going

after the low-lying fruit." The

hard work has yet to be done

since, while the vast majority

of marine protected areas are

located near countries' territorial

waters, their area is individually

and in aggregate is extremely

small, and the issue about

making them bigger requires

co-operation, conflict resolution,

and a lot of effort to get more of

them created or added onto.

…For the children of today,

for tomorrow's child: as never

again, now is the time.…

In addition to the MRs and

MPAs established by individual

nations, there are also international

waters governed by the

UN convention on the Law of

the High Seas. Many of these

so called 'Donut Holes' could

become MR's and enable far

larger expanses of ocean catchment,

but doing this also requires

massive international agreement.

The political ocean

Indeed the preservation of

species in our oceans is political.

While the changes instituted

by various nations and organisations

is helpful and totally

essential, the large-scale changes

needed in the time-period available

to save us requires political

leadership and commitment.

Unfortunately, this leadership

is in extremely short supply,

along with budget limitations,

psycho-social attitudes, and

public ignorance of the facts.

Whereas new individual

country policies certainly need

to advance, there is also the

need for co-operation between

countries where the high seas

present challenges of a different

order than those for countrybased

conservation.

A complicating factor is that the

time needed for each species to

recover will differ. For instance

the Blue Whale needs 8 years,

Atlantic Cod 20 years, and the

Loggerhead Sea Turtle 16-28

years.

Most of us, who don't claim to be

experts, may assume someone

else is working on these issues,

but many voices are needed to

move things forward with the

urgency needed since time is

running out.

The goal

A decade ago the UN issued a

goal to see 10% of our oceans

protected by 2020. And by 2019,

7% of our oceans had some

form of formal protection. But

most scientists and conservation

groups such as Greenpeace

believe 30% is the minimum

needed.

Further, in 2016 the renowned

biologist E.O. Wilson introduced

his idea of "half Earth," arguing

that protecting half the planet

would save as many as 90% of

imperilled species. He believes

the problem is too large to be

solved piecemeal. He proposed

the solution should match the

scale of the problem: that is,

dedicate fully half the surface of

the Earth to nature. Since man

is only one of the 1.3 million

identified species in the world it

seems reasonable that 50% of our

planet should be preserved for all

the other creatures we share the

planet with.

It's certain the more we aspire

to, the more likely that we are to

achieve a reasonable, sustainable

area of protection. If we stick to

a mere 10% goal, which we have

had for the last 10 years, we will

only ever achieve 1% of what is

needed.

In the first part of this series New

Zealander Bill Ballantine was

quoted that a basic human right

of all children was to experience

the rich range of natural life, and

that we should make real efforts

to arrange this.

36 Dive New Zealand | Dive Pacific
---
Provided by The Marine Protection Atlas: mpatlas.org

In a recent interview

renowned American

oceanographer and

explorer Dr. Sylvia Earle,

a kind of Jane Goodall for

the oceans, said: "Some

say 10%, some say 30%.

You decide: how much of

your heart do you want to

protect? Whatever it is, a

fraction of one percent is

not enough.

"My wish is a big wish,

but if we can make it

happen, it can truly

change the world, and

help ensure the survival

of what actually - as it

turns out - is my favourite

species; that would

be us. For the children

of today, for tomorrow's

child: as never again, now

is the time."

2.7% of global ocean area is in implemented and

fully/highly protected zones

3.7% is in implemented but less protected zones

< 1% is in designated but unimplemented zones

1.4% is in proposed/committed zones

www.dive-pacific.com 37
---
Deep feelers by Laurent Ballesta, France,

Highly commended

PREVIEW

UK's Natural History Museum presents

Wildlife Photographer of the Year

A special selection of Highly Commended

photographs has been released ahead of the

opening of the UK's Wildlife Photographer

of the Year Awards at the Natural History

Museum in London. Here's five of them.

Dive Pacific will present winners in our next

edition.

Now in its 57th year, the Wildlife

Photographer of the Year Awards is the

Museum's showcase for the world's best

nature photography. This year's competition

attracted over 50,000 entries from professionals

and amateurs across 95 countries.

Overall winners will be announced via a

virtual awards ceremony, streamed from

the Natural History Museum on Tuesday

12th October. Go to Instagram, Twitter or

Facebook for live updates on the night. The

exhibition of the images will open on October

15th.

The 2022 competition opens for entries

on Monday 18 October and closes at on 9

December 2021. The competition is open to

photographers of all ages, nationalities and

levels. Find out more here.

38 Dive New Zealand | Dive Pacific
---
Deep feelers by Laurent

Ballesta, France, Highly

commended

In deep water off the French

Mediterranean coast, among

cold-water black coral, Laurent

came across a vibrant community

of thousands of narwhal

shrimps. Their legs weren't

touching, but their exceptionally

long, highly mobile

outer antennae were. Research

suggests that such contact is

central to the shrimps' social

behaviour, in pairing and

competition.

In such deep water (78 m

down), Laurent's air supply

included helium (to cut back

on nitrogen absorbed), which

enabled him to stay at depth

longer and stalk the shrimps.

Narwhal shrimps often burrow

in mud or sand or hide among

rocks or in caves in the day.

They are also fished commercially

and when shrimp-fishing

involves bottom trawling over

such deep-water locations, it

destroys the slow growing coral

forests as well as their communities.

Nikon D5 + 15–30mm f2.8 lens at

30mm; 1/40 sec at f20; ISO 1600;

Seacam housing; Seacam strobes.

Net loss by Audun

Rikardsen, Norway, Highly

commended

In the wake of a fishing boat,

a slick of dead and dying

herrings covers the surface of

the sea off the coast of Norway.

The boat had caught too many

fish, and when the encircling

wall of the purse-seine net was

closed and winched up, it broke,

releasing tons of crushed and

suffocated animals.

Audun was on board a

Norwegian coastguard vessel

nearby, on a project to satellite

tag killer whales. The whales

follow the migrating herrings

and are frequently found

alongside fishing boats where

they feed on fish that leak out

of the nets. For the Norwegian

coastguard the spectacle of

carnage and waste was effectively

a crime scene. Audun's

photographs became the visual

evidence in a court case that

resulted in a conviction and

www.dive-pacific.com 39
---
The great swim by Buddhilini de Soyza, Sri Lanka/Australia Highly commended

fine for the owner of the boat.

Overfishing (See p 30) is one

of the biggest threats to ocean

ecosystems, and according to

the UN Food and Agriculture

Organization, more than 60%

of fisheries today are either

'fully fished' or collapsed>

Almost 30% are at their limit

('overfished'). Norwegian

spring-spawning herring – part

of the Atlantic herring population

complex – was in the 19th

century the most commercially

fished fish population in

the North Atlantic, but by the

end of the 1960s, it had been

fished almost to extinction. The

Atlantic herring came close to

extinction. It took 20 years and

a near ban on fishing to recover,

though still vulnerable. The

recovery has been followed by

an increase in the number of

their predators such as killer

whales.

Canon EOS-1D X Mark II + 14mm

f2.8 lens; 1/320 sec at f13 (-0.33

e/v); ISO 1600.

The great swim by

Buddhilini de Soyza, Sri

Lanka/Australia

Highly commended

When the Tano Bora coalition

of male cheetahs

leapt into the raging Talek River

in Kenya's Maasai Mara, Dilini

feared they would not make it.

Unseasonable, relentless rain

had caused the worst flooding

local elders had ever known.

Cheetahs are strong swimmers,

and with the prospect of more

prey on the other side of the

river, they were determined.

Dilini followed them for hours

from the opposite bank as they

searched for a crossing point.

The Tano Bora (Maasai for

'magnificent five') is an unusually

large coalition, thought to

comprise two pairs of brothers,

joined later by a single male.

Calmer stretches, perhaps with

a greater risk of lurking crocodiles,

were spurned. 'Suddenly,

the leader jumped in,' she said.

Against her expectations all five

emerged onto the bank some

100 m downstream and headed

straight off to hunt.

Canon EOS 5D Mark IV + 100–

400mm f4.5–5.6 lens at 400mm;

1/2000 sec at f5.6; ISO 640.

40 Dive New Zealand | Dive Pacific
---
The gripping end by Wei Fu, Thailand,

Highly commended

Clutched in the coils of a golden tree snake,

a red-spotted tokay gecko clamps onto its

attacker's head in a last attempt at defence.

Named for their call, tokay geckos are up to 40

cm long, feisty and have powerful jaws. But

they are also a favourite prey of the golden

tree snake which also hunts lizards, amphibians,

birds and even bats; its one of five snakes

that can 'fly', expanding its ribs and flattening

its body to glide from branch to branch.

Wei was photographing birds at a park near

his home in Bangkok, Thailand, when he heard

the loud croaking and hissing of the gecko

being approached by the golden tree snake.

Within minutes the snake had dislodged the

gecko and squeezing it to death then began

the laborious process of swallowing the gecko

whole.

Canon EOS 7 Mark II + Tamron SP 150–600mm

f5–6.3 G2 lens; 1/800 sec at f7.1; ISO 1000.

Toxic design by Gheorghe Popa, Romania

Highly commended

This eye-catching detail of a small river in the

Geamana Valley, within Romania's Apuseni

Mountains, took Gheorghe by surprise though

he had been visiting the region for several years

using his drone to capture images of the valley's

ever changing patterns. But these designs,

perhaps made sharp by recent heavy rain, are

the result of an ugly truth.

In the late 1970s, more

than 400 families living

in Geamana were forced

to leave to make way for

waste flowing from the

nearby Rosia Poieni mine,

a mine exploiting one of

the largest deposits of

copper ore and gold in

Europe. The picturesque

valley became a 'tailings

pond' filled with an acidic

cocktail, containing pyrite

(fool's gold), iron and other

heavy metals, laced with

cyanide which infiltrated

the groundwater and

threatened waterways more

widely.

The settlement was gradually engulfed with

millions of tons of toxic waste, leaving just the

old church tower protruding and the sludge still

piling up.

DJI Mavic 2 Pro + Hasselblad L1D-20c + 28mm f2.8

lens; 1/60 sec at f11; ISO 100

www.dive-pacific.com 41
---
SOUNDINGS

LOCAL & INTERNATIONAL

Treasures found in 2200-year-old Egyptian

'Atlantis' shipwreck

Archaeologists have come across a

2200-year-old shipwreck buried in the

bottom of the Mediterranean sea, a military

vessel found underneath the ancient city

of Heracleion (also known as Thonis) which

was destroyed by earthquakes in the second

century BC.

The 25m-long shipwreck was a common boat

for navigating the Nile River.

"[The ship sunk] as a result of the collapse

of the temple and huge blocks falling on it

during a devastating earthquake," a statement

from the Egyptian Ministry of Tourism

and Antiquities said.

"This discovery beautifully illustrates the presence

of the Greek merchants who lived in that city," the

Ministry told Reuters.

The city of Heracleion was said to be one

of the most important trade centres in the

Mediterranean before it disappeared into

Decorative clay pots

and oil lamps have

also been found

Treasures still being

found at Egypt's sunken city.

Photo: The Hilti Foundation via Egyptian Ministry of Tourism and Antiques

what is now the Bay of Aboukir. Situated off

Egypt's north coast the city was lost for four

thousand years until divers stumbled upon its

remains in 2000. In 2019, a temple discovered

among its ruins led to it being known as the

"Egyptian Atlantis".

Egyptian Atlantis in modern

day Abu Qir Bay

Photos: The Hilti Foundation via Egyptian Ministry of Tourism and Antiques

42 Dive New Zealand | Dive Pacific
---
Wakatobi fixes 'eyes on horizon'

SOUNDINGS

LOCAL & INTERNATIONAL

While awaiting the return of

guests to the resort, Wakatobi is

keeping 'our eyes on the horizon,'

and staying busy, maintaining

reef patrols, and ensuring all

staff get the jab against Covid-19.

And recording the entire process

on video to share with local

media and post online.

By mid-August, 95% of Wakatobi

staff had received at least one

dose of the vaccine.

Reefs teeming with life

Dive sites made unavailable

for many years to allow for

growth and regeneration have

now returned to near-pristine

status with fish life abundant,

and Wakatobi's dive boat fleet is

ready to set sail as soon as guests

arrive.

Guests getting ready

Many guests are making plans to

visit though no date has yet been

set for the resort's re-opening.

Photo by Didi Lotze

Many guests have stayed in

touch over throughout the

Covid months, which makes the

Wakatobi team very happy: "We

love hearing from you, and can't

wait to tell you "we're open,"

Wakatobi will reopen as soon

as possible, and their team is

looking forward to seeing beloved

guests and friends once again.

Queensland Govt kills four dolphins

The first major update to the Shark Culling

Impact Tracker has revealed the State's lethal

shark nets and drumlines captured 139 marine

animals along the Queensland coast in two months

since May this year. 85 of them died.

The Tracker was developed by Humane Society

International Australia (HSIA) and the Australian

Marine Conservation Society (AMCS) to spotlight

the appalling government implemented shark

killing practices.

In the Tracker's first two months of operation five

dolphins were caught, four of which were killed.

A further 11 sea turtles, nine rays, and 114 sharks

were caught in the nets and drumlines. Three

turtles and three rays died, while 75 sharks were

killed. About half the sharks caught since 2001 by

this barbarous practice pose little risk to humans

since they are not aggressive species.

Though installed ostensibly to keep swimmers

safe, the nets and drumlines provide a false sense

of security. In 2019 the State's Administrative

Appeals Tribunal found them ineffective for

protecting swimmers from sharks. It reported

shark culling had no impact on the risk of shark

bite.

Queensland's Department of Agriculture and

Fisheries has now begun to trial non-lethal alternatives

with the expansion of drone trials to Far

North Queensland after successes in Southern

Queensland.

Lawrence Chlebeck, a marine biologist for Humane

Society International Australia, said, "We want to

show everyone exactly what it costs to keep using these

ineffective shark control measures. Even if an animal

doesn't die when it's caught in a net or on a lethal

drumline, they suffer immensely. Just because they are

released, doesn't mean they survive."

Dr Leonardo Guida, a shark scientist for the

Australian Marine Conservation Society, said: "The

sooner the Queensland Government transitions to fully

non-lethal strategy the better it'll be for beach-goers

and the ocean alike."

For more visit:

www.sharkchampions.org.au

www.dive-pacific.com 43
---
Many older divers will fondly

recall their early days of

diving in a Moray wetsuit and

spearfishing with a Moray

speargun.

The suits branded as Shark

Skin, with its hard-wearing

diamond patten nylon

exterior skin became the

go-to wetsuit for commercial

divers and sport divers

that appreciated wearing a

suit that stood up to their

groveling in holes searching

for crayfish without falling

apart!

On 21st July family, past

business acquaintances

and a sprinkling of divers

gathered in west Auckland

to pay their respects. The

divers present just wanted

to show their gratitude to

a man who had keep them

snug and warm while diving

and had built a brand that

became internationally

known. Moray products were also

very dominant in the Australian

market and made inroads into the

huge US market.

I had met Alf a few times over

the years when publishing Dive

Log/Dive New Zealand magazine,

he was always the consummate

gentleman with a cheeky twinkle

in his eye.

In Memory

A diving industry's

trailblazer bids us farewell

By Dave Moran

Alf Dickenson

24th September 1922 – 15th July 2021

When we published the Centennial

Issue Dec/Jan 2000 Issue # 55 he

was one of the 19 faces of noted

people who had contributed

significantly to the sport of diving

in New Zealand.

L to R: John Hempstalk, Bill Wilderidge and Alf discussing production

Rob LaHood the publisher and

editor of New Zealand DIVE

magazine* published an article in

1982 about Alf's contribution to

New Zealand diving.

The opening paragraph: Aucklander

Alf Dickenson is the man behind Moray

Industries, one of New Zealand's

biggest and most successful wetsuit

manufactures and dive equipment

companies.

When Alf turned 60 in September

(1982) he looked back at almost 30

years in the business and agreed it was

time he took greater time off to do some

ocean cursing and play a little more

golf.

Around 50 people

were involved in the

manufacturing of

Moray water sports

wetsuits: Water skiing,

surfing, windsurfing

and diving.

In his early teens Alf

started building crude

sailing rafts made

from firewood his

father [ John Dickenson

of Sydney, Australia

who friends and family

called "Dicko"] brought

home from work and

sails from sacking.

Many an adventure

was had with his

mates in these very

simple sailing rafts!

He obtained some plans from the

Auckland 8 O'clock Saturday Star

newspaper to build a 3.5metre

canoe. He covered it in Calico.

Later, his father bought home some

pieces of heavy canvas which Alf

rigged up onto a mast and boom.

He discovered the joy, satisfaction

and pride of building things!

Alf developed a love for the

Moray Industries complex based in Devonport, Auckland in the 1980's

Alf's original Auckland Underwater

Spearfishing Club card

44 Dive New Zealand | Dive Pacific
---
Spearfishing back in the day

L to R: R. McCombe, Alf Dickenson , W. Denny & D. McKay

Moray's promotion in NZ DIVE magazine Vol.5, # 1, November 1982

ocean. He joined the Auckland

Underwater Spearfishing Club

is 1955 just before the release of

Jacques Cousteau's Silent World - 15

August 1956. This film created an

explosion of people's interest in

the adventures to be had below

the waves! The fledgling sport dive

industry expanded at an amazing

rate to meet the demand for gear.

At this time Alf was in partnership

with Keith Coubray running

Auckland Automotive Engineering

Company. Keith was a very skilled

engineer and designer.

They developed the Moray

speargun so named because

Alf though the nose of the gun

reminded him of a Moray eel's

head! They also manufactured a

diving regulator, marketed as Atlas

Freeflow.

With the increasing volumes of

diving equipment being imported

into New Zealand in the late 1960

early 70s, Alf obtained the distributorship

for international brands

such as, Dacor, Oceanic, Cressi and

other major brands. (in the 1980s

Mares bought the Dacor's business

interests)

One of Alf's prodigies is Bill

Wilderidge

owner of

Auckland

based, Seaquel

Wetsuits.

Bill learnt

the craft of

manufacturing

excellent

wetsuits on the

cutting floor of

Moray Industries.

The above is just a very small

picture of Alf's life. I saw a side of

Alf that I was totally unaware of at

his farewell.

The following says it all:

To have you as our Dad,

Granddad and Great Grandad

was cause enough for pride.

No one could ever be your equal,

however hard they tried.

We've lost a MAN in a million

and loved him to the end.

We've lost four very precious

things this day.

Our Dad, Grandad, Great

Grandad and our Friend.

L to R: Alf Diskenson, John Hempstalk, Tony Gardiner, Bill Wilderidge,

Ron Czerniak and Graeme Carrie - executive staff at Moray

I guess you can confidently say, Alf

was a VERY successful man.

It was an honor to have known

him.

Note:

• Special thanks to Alf's granddaughter

Teresa Scott and Rob

LaHood the publisher and editor

the New Zealand DIVE magazine for

allowing me to gather information

regarding Alf's life.

• New Zealand DIVE magazine

Vol.5, #1 November 1982: Dive

Personality: Alf Dickenson.

• Spearfishing and freediving

specialist shop, Ocean Hunter,

based in Albany Auckland

continues carrying the Moray

wetsuit Brand.

www.dive-pacific.com 45
---
In Memory

A man who was instrumental in the

development of diver training in New

Zealand and the South Pacific

Brian Sayer

19th July 1940 – 28th May 2021

By Dave Moran

Where do you begin to try

and convey to our readers

what Brian and his wife Margaret

achieved as a team.

When I first had the crazy idea,

with the support of my wife

Petal of establishing a national

dive magazine in early 1990s, we

needed the support of the dive

industry to place advertisements

within the tabloid Newspaper

style magazine. One of the first

people I phoned was Brian Sayer.

I can still recall that conversation.

It went something like this.

- Hi Brian I'm thinking of starting

a FREE dive magazine based on

the format of my good friend Barry

Andrewartha's Dive Log Australia

which he publishes in Melbourne

Australia. It will be delivered into

every dive shop in New Zealand and

divers can pick it up for free. Would

you support the publication with

advertising? He quickly replied,

"Sure thing Dave".

That was the beginning of a very

enjoyable relationship with Brian

and Margaret.

As we all know, we meet all

kinds of people on our journey

through life. Brian and Margret

were a solid couple that had high

standards in everything they did

and they were well respected for

that.

I was flicking through some past

magazines to help gather my

thoughts and a Training News

item jumped out at me from Issue

#20. Feb/March 1994.

Maybe Brian's guiding hand was

directing me.

Top Service Award

I thought this item says it all!

Emergency Medical Planning Ltd

proprietors Brian and Margaret

Sayer of Mackaytown have won

the Service category of the Thames

Valley Coromandel Business

Development Board's Enterprise

Award.

Mr and Mrs Sayer established 'The

Academy' in 1991 and since then

have closely followed their Mission

statement to provide high quality

education and services in a totally

professional environment.

Their long term goal to be recognized

as the best place nationally

to gain all levels of training from

beginner to instructor and post

graduate levels both in recreational

diver training and all levels of Medic

first aid.

Brian proudly showing off his beloved

Suzuki GSXR1000. He and Margret had

many touring adventures on this bike.

Brian has had an amazing life.

Through the 1960s, 70s and 80s

he was into boating and sailingcrewed

in several Bluewater

races to Noumea. and Fiji,

owned runabouts and in 1982

took delivery of a 11 m sloop,

Extravagance.

He sailed to Niue in 1983 and set

up Niue Adventures.

He then went on to set up a

diving operation in Vava'u Tonga

– Dolphin Pacific Diving.

Obtained numerous qualifications

both for boating and diving.

He visited the USA numerous

times to achieve extensive PADI

and Medic First aid qualifications.

Brian and his 100% supporter

Margaret's influence on diver

training in New Zealand was

massive, especially during

1980-1990 era. The quality of

courses and systems they developed

are still the benchmark

today.

He introduced the PADI diver

training

system to

NZ instructors

and

was the

Happy times, Margaret and Bryan

enjoying the warmth of a sunny day

Two ads from Issue #1 December 1990/January 1991

of Dive Log New Zealand magazine

46 Dive New Zealand | Dive Pacific
---
Top sections of double page promotional ads in Issue #50 February/March 1999

examiner of all instructors both

in NZ and throughout the Pacific

Islands.

When New Zealand Underwater

Association (NZUA) obtained the

franchise to run the PADI training

system in NZ, Brian became

their first PADI Course Director.

He was the only PADI Instructor

Examiner for four years.

He established the first Private

Training Establishment (PTE) The

Academy in 1991. (In 2002 this

became Academy of Diving Trust)

He established the first tertiary

Dive Diploma's in NZ.

He brought in Medic First Aid

courses and standards from

the USA establishing Emergency

Medical Planning New Zealand

Ltd. (EMP) His daughter, Rose

and son-in-law Ross Drysdale

still operate this very successful

business.

He was on the project team

that created the Dive Industry

Training Organization (ITO) in the

mid 1990's. He also assisted with

the original NZQA unit standards

in diving – with contemporaries

such as Steve Mercer, Ken

Greenfield and

Colin Melrose.

The above is just

scratching the

surface of what

this amazing

couple have

achieved. To be

frank it's just

mind boggling reading through

Brian's CV !

The last time I saw Brian and

Margaret was when they visited

the Dive New Zealand magazine

stand at the Auckland Boat Show.

They both looked terrific and

were enjoying life.

Brian proudly showed me a

picture of the motor bike he

and Margaret were cruising on,

visiting numerous locations

throughout New Zealand. They

both still had their adventurous

spirit, good on them I thought-

Wonderful people.

Brian will be greatly missed.

Note: Thanks to Margaret Sayer

and her daughters, Rose, Robyn

and son Kevin, son in-law Ross

Drysdale (EMP) and Dan & Wendy

Forsman (Academy of Diving

Trust).

PROTECT YOUR GEAR WITH

MULTI-FUNCTION

ENGINE FLUSH

AND SPRAY GUN

WARNING 9 out of 10 engines

fail due to salt corrosion. ACT

NOW AND FLUSH YOUR ENGINE!

WASH ALL DIVE GEAR/REGS

KILLS SALT, PURE AND SIMPLE

WHOLESALE MARINE DIRECT

Superior corrosion control •

Best value 1L makes 500L •

Safe on all surfaces •

Outstanding performance •

NZ FREEPHONE 0800 272 589

www.salt-away.co.nz

www.dive-pacific.com 47
---
BACK IN THE DAY

49 years ago Wade Doak's magazine Dive

South Pacific Underwater Magazine ran a

feature asking Is Conservation Necessary?

We published the first part of that again in our

last edition. In it Eddie Davidson questioned

why spearfishers were being singled out while

destructive commercial fishing practices

escaped criticism.

With Dave Moran

Then came a response by Tony Ayling, MSc

(Hons), a marine biologist and member of the

Auckland Underwater Club at the time.

He argued then that conservation was indeed

very necessary, as follows:

Conservation is necessary

By Tony Ayling

(First published in DIVE South

Pacific Underwater Magazine

1972 Vol 10 Number 4)

Conservation sensibly

applied need not be a

frightening spectre. However

much is done in the name of

conservation that is not good

conservation.

Why is conservation necessary?

Most divers realise that

spearfishing, especially of reef

fish population is a terrifically

efficient way of killing fish

and can be very damaging

to fish stocks. The effect of

these efficient killers – spearfishermen

– is very noticeable

in places like the Med,

NSW and New Caledonia. In

these areas reef fish or rock

fish as they are often called

are virtually decimated. It is

obvious that something must

be done to prevent a similar

thing happening here in New

Zealand.

It is also important to establish

how, why and where divers

spear fish in NZ before you

can establish a conservation

oriented system. Most spearfishing

and most diving of

any sort is carried out from

North Cape to East Cape and

around the Wellington area.

These then are the two areas

that should be examined with

conservation in mind.

Fish are speared mainly for

three different reasons. Firstly

there is the diver who spears

…It is no use thinking that NZ is immune and that what

happened in the Med and NSW cannot happen here. It can

and is happening here and something must be done to

halt it…

for the pot. He is generally the

only one likely to spear fish

using a lung. Fish speared are

usually red moki in the north

and Moki and Butterfish in

the south. Next is the diver

who spears for enjoyment.

He almost invariably spears

only using snorkel and limits

himself to challenging fish

such as kingfish and snapper.

The next is the competition

diver who spears entirely on

snorkel and is after species

likely to grow over three

pounds. This diver is either

practising for, or engaged in

local or national competitions.

Of three types of spearo (any

diver may belong to different

classes at different times) the

pot diver probably accounts

for the greatest weight of fish

over the year. However, the

fish are taken from over a wide

area and put to good use. The

weight of fish taken during

all types of competitions is

probably a very close second

to the pot and is increasing

rapidly every year as competitions

become more competitive

and more popular.

Competitions usually affect

only a few relatively small

areas. It would seem, then, that

conservation should be aimed

mainly at competition spearing

as it is in this field that the

greatest wastage takes place.

…Weed feeders and rock bottom feeders are limited to

rocky coastal areas usually in water less than 100 feet and

generally do not move large distances to recolonise new

areas as snapper and possibly blue moki can…

It is no use thinking that NZ

is immune and that what

happened in the Med and NSW

cannot happen here. It can

and is happening here and

something must be done to

halt it. Of the fish speared in

competition any wandering

fish such as snapper and

perhaps blue moki and pelagic

fish such as kingfish, trevalli,

kahawai are immune to fishing

48 Dive New Zealand | Dive Pacific
---
Thus, it is obvious that weed feeders and rock

bottom feeders are limited to rocky coastal areas

usually in water less than 100 feet and generally

do not move large distances to recolonise new

areas as snapper and possibly blue moki can.

It seems that it is necessary to limit in some way

the competition spearing of these weed and rocky

bottom feeding fish – fish that at the present

make up the bulk of fish speared in competitions.

Lowering the weight limit so that it is easy to

spear a fish that is over the limit and eliminating

weight points for these reef fish would seem to

me sensible ways of reducing the number of reef

fish speared in competitions.

Reef fish are not commercially exploitable as the

total population numbers are too small and also

they do not regenerate quickly enough.

pressure. All the others such as red moki, marble

fish, parore, drummer, John Dory etc are home

ranging and once removed from an area only

very slowly recolonise it. These are the reef fish

or rock fish that have been removed from other

regions in the world by spearfishing pressure.

Looking at crays and paua as regards divers and

conservation it is obvious that something must be

done and, if possible, done without introducing

new restrictions. It is also obvious that the diver

who keeps within the rules and who takes a few

crays, even a limit bag, for the pot for his and

his friends' use is not helping diminish our cray

populations. Hence any reduction of these limits

by the government is merely using divers as a

scapegoat.

The distribution of fish is usually governed by

their feeding habits. Some fish are weed eaters,

eg drummer, parore and butterfish and these

three species usually prefer to feed on the

narrow band of Carpophyllum-type seaweed that

stretches from the surface down to a maximum

of 20 to 30 feet. Hence these three species are

generally found in and around this area.

…The real reason for the reduction of cray numbers

around our coasts is commercial fishing pressure whether

legally by cray pots or illegally by cray pirates. And this is

the crux of the matter…

Most reef fish are bottom feeders and eat small

shrimps, crabs and starfish from the rock

bottom. These species are limited to rocky areas

although they can stray a short distance over

sand. Snapper and blue moki, besides living on

small animals from rock bottoms, can also feed

on animals that they scrape from sand and hence

have a much larger area available for feeding

from.

Pelagic fish and plankton eating fish such as

demoiselles, blue mao-mao and butterfly perch

have a virtually unlimited supply of food as it is

brought to them by ocean and coastal currents.

The real reason for the reduction of cray numbers

around our coasts is commercial fishing pressure

whether legally by cray pots or illegally by cray

pirates. And this is the crux of the matter. Any

move by the government to cut out the taking of

crays by divers altogether will have been brought

upon us by the activities of a few pirates. We

must bring pressure to bear amongst ourselves

to stop these people who are

out to make a fast buck at the

expense of other divers.

Anyway, enough of this, what

about pauas? Pauas are limited

to the upper 30 or so feet and

it is very easy to clean them out completely. The

number of divers licensed to take paua should

be kept so low that the numbers of paua can be

maintained at a reasonable level. Such a move is

underway in NSW.

It should be obvious to any thinking person that

some measures of conservation are necessary

if we are to maintain our underwater world in a

state that gives the greatest pleasure to all divers

whether they be ardent competition spearos, pot

spearos, photographers, scientists or just like

diving for the sake of diving.

www.dive-pacific.com 49
---
INCIDENTINSIGHTS WITH THE DIVERS ALERT NETWORK (DANAP]

By DAN World

Diagnosing

Decompression Illness

Sinus barotrauma can be very unpleasant

By Divers Alert Network's Camilo Saraiva, M.D., M.B.A

THE DIVER

A A 49-year-old female certified

recreational scuba diver called

the DAN Emergency Hotline

from George Town, Grand

Cayman, around noon on a

February day. She was experiencing

a sudden, intense and

sharp abdominal and back pain

that had started 12 hours after

her last dive the previous day.

That dive had been the third

on a single-day series of mild,

recreational, repetitive scuba

dives on air with no mandatory

decompression stops. She

had had proper safety stops

with the first two dives and

maintained adequate surface

intervals between all three

dives.

Her dives had been uneventful

until the last one when she

ran out of air after being at

10 metres for approximately

30 minutes. She had not been

paying close attention to her

air gauge and had to perform

an emergency controlled ascent

to the surface. Her buddy was

too far away, so she ascended

without assistance. The diver

had likely started the dive

with a half-empty cylinder by

mistake.

NO SYMPTOMS

She denied having any other

symptoms, including skin

discolouration, limb or joint

pain, or any perceivable neurological

deficit. She had no

relevant past medical history,

hypertension or other cardiological

or vascular diseases.

Regarding the sudden onset of a

severe pain 12 hours post dive,

and a relatively long stay at a

shallow depth before the last

ascent, the diagnosis of decompression

illness (DCI) was not

the first choice, although it

couldn't be excluded. With

limited information available,

the acute abdomen and

possible acute cardiac condition

(heart attack) had to be

excluded. The acute pain in the

abdomen could be caused by

the following:

• An abdominal aortic

aneurysm, which is an

abnormal and dangerous

dilatation of the main artery

that takes blood to the entire

lower half of the body and

puts the person at risk of fatal

internal bleeding if this artery

ruptures

• A gynaecological or urinary

event such as a miscarriage or

a severe urinary infection

The DAN medic who took the

call explained the possibility of

DCI as well as the other conditions.

The general recommendations

for this diver were to

seek further care at the closest

hospital emergency room, and

to hydrate and get oxygen in

the meantime.

DIAGNOSIS?

At the local hospital she

received an initial assessment,

laboratory tests and a

physical examination, with

particular attention to neurological

function. We do not

know the extent of her abdominal

examination. She had no

positive findings except for the

nonspecific abdominal pain.

While not producing any new

conclusive information, the

examination and test results

led the medical team to a

clinical diagnosis of possible

DCI. The hospital staff quickly

moved her to the hospital's

hyperbaric chamber to start

immediate treatment with a US

Navy Treatment Table 6 recompression

protocol.

Her pain lessened during

the chamber treatment but

worsened immediately afterward.

The hospital team

reassessed the diver and found

an abdominal rigidity upon

palpation; imaging showed an

intestinal obstruction.

SURGERY

The diver had surgery to

remove the small damaged part

of her intestine. She recovered

well and returned home a few

days later. She had no significant

repercussions that interfered

with her general health or

her return to scuba diving after

an extended recovery period.

In most cases, DCI has no

specific and exclusive symptom

and can be a diagnosis of exclusion.

We first must rule out all

50 Dive New Zealand | Dive Pacific
---
KEEPING DIVERS SAFE

AROUND THE WORLD

SAFETY MATTERS

JOIN DAN

+ 24/7 Emergency Medical Services

+ Emergency Medical Evacuation Assistance

+ Membership & Assistance Coverage

+ First Aid Training

+ Online Dive Safety Resources

DANAP.ORG

www.dive-pacific.com 51

AsianDiver_Mag_210x275mm_Ad-1.indd 1

2/4/19 2:27 PM
---
other possible causes, especially

serious conditions that need other

immediate intervention, before

deciding to treat the diver with

recompression in a hyperbaric

chamber. The findings of a serious

medical condition will change

from its initial presentation, and

symptoms and clinical conditions

can change in a matter of hours,

demanding a reassessment of the

possible diagnoses and recommended

treatments.

HEAD TO A HOSPITAL FIRST

That's why, in the event of a

suspected dive accident, divers

should always go to the nearest medical facility

and not directly to a hyperbaric chamber.

Divers and hospital staff should keep in mind

that divers can have other health problems not

directly related to diving, as this case illustrates.

The examination should be directed with

usual clinical leads like symptoms, signs, and

previous medical history. In the case of abdominal

pain, an acute abdomen should always be

excluded. This diver could have experienced this

same obstruction and pain while hiking in the

woods or working in an office. Fixating only on

a dive-related diagnosis can, and has resulted

in delays in obtaining a correct diagnosis and

There are many possible causes for symptoms that are also

attributable to decompression illness; a physician should rule

those out before prescribing hyperbaric treatment.

proper treatment.

DAN COMMENTS

It is difficult to diagnose a patient over the

phone, especially in cases of something that

requires an evaluation to exclude a life-threatening

possibility.

If you call the DAN Emergency Hotline +1

919 684-9111 (or 1800 088 200 in Australia),

our medics can help you understand what is

happening and assist you get the

help that you need, wherever

you are.

YOUR LEADER IN

GLOBAL DIVE SAFETY.

+ 39 Years

Divers Helping Divers

+ 24/7

Emergency Medical Services

+ 150,000

Emergency Calls Managed

+ 2,000,000

Members Served Worldwide

Experience Matters.

Join DAN

DANAP.org

DANAP.org

For more diving health and

safety articles DANinsider.org

for weekly posts discussing

recent incidents, and diving

health and safety content.

Visit: daninsider.org and follow

us on Facebook by searching

DAN World.

Need more information?

Send DAN World an email

info@danap.org

or call +61-3-9886 9166

52 Dive New Zealand | Dive Pacific
---
Photography by Darryl Torckler

Photography by Darryl Torckler

Phone 0508 888 656 or +64 3 249 9005

Email charters@fiordlandexpeditions.co.nz

DIVE FIORDLAND SOON

Diving Fiordland!

The great Jacques Cousteau placed Fiordland in his

Top 10 destinations for diving! We've had dive photo

journalists If you're struggling rate it much to get higher to your than favourite that with dive one destination

recently overseas placing then it's 'if time not to the do best, that Fiordland then in his dive top expedition

three'. you have long been promising yourself!

Scenic With diving our borders can be not amazing. opening Though to many the dive waters favourites are

cool offshore the visibility anytime can soon be Fiordland extreme is - over certainly 40m a visibility serious

occurs contender regularly. for replacing them - Jacques Cousteau listed it

in his world top 10.

The internal waters of Fiordland with their micro-habitats

The are contrasts interestingly between different the inner to fiords the waters and the of outer the

coast, coastline or entrances are truly where amazing fish to see; life abounds; with black and red the corals

colours in the are fiords diverse at easily so even accessible an inexpensive depths, to the camera wildly varied can

get colours awesome in the photos weeds when and fish you life dive near in the Fiordland. coast.

Then there's the kai moana! Lobster and blue cod are

There's the odd wreck to be explored too, and wall

dives

abundant!

that trigger

Ample

vertigo.

supplies of seafood for the table each

and every night!

And Fiordland there's always Expeditions plenty have of been kai Moana operating to gratify now the

appetite at the end of a busy day.

throughout the southern fiords for almost 20 years, and

with their two vessels, Tutoko and Tutoko II, they have built

Fiordland Expeditions have been operating throughout

Fiordland

an excellent,

for 15

enviable

years and

reputation

are well

for

versed

delivering

on a

memorable

range

of sites experiences. to be explored. If you are keen to tick this one

off your So, looking bucket for list, an exceptional then contact dive us experience today. We'd with love operators

that how know we the can good tailor spots a trip very to well? meet Get your in touch own

to discuss

specific

today.

desires.

Call us on 0508 888 656 or check out:

Check them out at www.FiordlandExpeditions.co.nz

FiordlandExpeditions.co.nz

Fiordland – a diver's paradise

A bucket list destination

Fiordland – a diver's paradise

bucket destination

live-aboard list dive A vessel

multi-day

a Charter

• Fully catered, multi-day options

• Two dive-equipped vessels

• Available all year round

Get a group together!

Charter a multi-day

live-aboard dive vessel

• Fully catered, multi-day options

fiordlandexpeditions.co.nz

Fiordland

Fiordland

– a

–

diver's

a diver's

paradise

paradise

A bucket list destination

A bucket list destination

Email charters@fiordlandexpeditions.co.nz

656 or +64 3 249 9005

888 0508 Phone

• Two dive-equipped vessels

• Available all year round

Get a group together!

Your Charter multi-day a multi-day live-aboard

charters live-aboard can comprise: dive vessel

• Live-aboard • Fully catered, charters multi-day all year round options

• Two vessels, • Two dive-equipped both with own vessels compressors,

tanks, • weights Available and all year beltsround

• Fully catered (except alcohol)

Get a group together!

• Experienced dive crew

fiordlandexpeditions.co.nz

Photography Photography by Darryl by Darryl Torckler Torckler

Phone 0508 888 656 or +64 3 249 9005

Email charters@fiordlandexpeditions.co.nz

Phone 0508 888 656 or +64 3 249 9005

Email charters@fiordlandexpeditions.co.nz

fiordlandexpeditions.co.nz

fiordlandexpeditions.co.nz

www.dive-pacific.com 53

www.dive-pacific.com 11
---
GEARBAG

Magnetometer helps search for wrecks off South Africa

Memories have huge staying power, but like dreams, they

thrive in the dark, surviving for decades in the deep waters of

our minds like shipwrecks on the sea bed – J.G. Ballard

Amongst the right tools in the search for shipwrecks,

magnetometers are a 'must have' for the serious explorer.

Magnetometers detect variations in the Earth's magnetic

field caused by iron or other magnetized material such as

brick or rock. While a side scan sonar detects only what is

on the seabed surface, a magnetometer detects objects

buried under the ground.

A small dive club in Capetown, South Africa, The

Wreckless Divers, currently uses JW Fishers' Proton 5

magnetometer for their important searches (facebook.

com/wrecklessdivers). The group operates at depths up

to 120m with some on rebreathers, and others relying on

open circuit scuba.

According to group founder,

Bruce Henderson:

"There is an enormous number

of shipwrecks off our coast

dating from the 1700's. We

are very keen to find the more

interesting of these wrecks and

dive on them. In particular, a

German 'merchant raider' called

"The Wolf" laid mines off Cape

Town during World War I and

sank at least 4 major merchant

vessels. To date we have found

an old fishing trawler and a

whole bunch of magnetic rocky

outcrops. But it's been fun and we will persevere."

Bruce says when they ran into a bit of trouble when they

first received the magnetometer they called the JW

Fisher's office and their top technical guy patiently

took us through the set-up procedure. "We were very

soon up and running. This was amazing to be able to

call up the JW Fisher's team

from Africa and have them

so helpfully take us through

the system."

Treasure detectors in the movies!

There comes a time in every rightly constructed boys' life when

he has a raging desire to go somewhere and dig for hidden

treasure – Mark Twain

JW Fishers' say their search equipment has been a part of

numerous high-profile, treasure hunting films. Paul Walker

and Jessica Alba used their Pulse 8X in Into the Blue and

Matthew McConaughey and Kate Hudson went looking for

gold on a sunken Spanish galleon in Fool's Gold. JW Fishers

has also featured on Rob Riggle Global Investigators and

on The Curse of Oak Islands series.

In 2012 James Delgado, then with the National Oceanic and

Atmospheric Administration (NOAA) estimated there are a

million shipwrecks underwater. "I would say the majority

of them remain undiscovered," he said. "We know more

about the surface of the moon than what's at the bottom

of the sea."

Nelson Jacas is an avid user of the Pulse 8X underwater

metal detector, and has journeyed across the globe

locating antiquities. He has found a Viking ring, many 1700

era coins, and a one-of-a-kind gold cross in England!

University of Rhode Island's Dr Bridget Buxton hit the

payload in 2015 when her team found over 1,000 gold

coins off the coast of Israel with their P8X system. Her

adventures have yielded large cannons, anchors from lost

ships, and a swivel gun from a 16th century shipwreck.

On a famous 2,050-year-old Roman shipwreck at the Greek

island of Antikythera, first discovered in 1900 by sponge

divers, Greek diver Alexandros Sotiriou has discovered

numerous artefacts including an intact table jug and a

bronze rigging ring with the help of a JW Fishers Pulse 8X

underwater Metal Detector.

Perhaps the

next big find

could be a

rookie diver

searching the

right place at

the right time

with the right

equipment!

54 Dive New Zealand | Dive Pacific
---
GEARBAG

Introducing X-Adventurer

Sea Tech is excited to bring you X-Adventurer Innovation

Underwater. They manufacture affordable, high-quality

dive lights. Beautifully machined anti-corrosive

aluminium alloy, and depth rated to 100m. You can

charge most via a USB cable, so if you're on a boat,

or elsewhere where you don't have access to a wall

socket, you can charge using a powerbank or car

charger.

Looking for a small handheld torch? We recommend the

M1200 Spot Beam LED, shown below. You can charge

Smart Focus is here

X-Adventurer lights with Smart Focus support strobe

flash modes when you add a fibre optic cable so these

versatile lights can be used as a video LED or a strobe!

This is a great option if you're looking for a versatile

set-up, and there's range of lumen strength and light

colour options. Ball Mount and YS mount included.

Packed with features, these lights really are smart.

• M1000 WRA Smart Focus Video Light $155.00

• M2500 WSRBA Smart Focus Light $382.50

• M3000-WRUA II Smart Focus Video Light $637.50

• M6000-WRBT II Smart Focus 6000 $890.00

it via a USB cable, so if you're on a boat, or elsewhere

where you don't have access to a wall socket, you can

charge via a powerbank or car charger. This is our

lowest price 1200 lumen handheld light.

M1200 Spot Beam LED $135.00

Trade enquiries welcome.

Ph:09 521 0684 Email: info@seatech.co.nz

www.seatech.co.nz

www.dive-pacific.com 55
---
DIGITALIMAGING

Hans Weichselbaum www.digital-image.co.nz

Underwater photography: The basics

We are all fascinated by the underwater world. So

what does it take to capture the best sights there

in photographs or even with video? In this article I

summarise some basics to help get you started in

what could become a great new hobby.

First we'll look at the necessary hardware,

then we'll examine the challenges of lighting

imposed by underwater conditions, and

finally some general tips before you dive into

underwater photography (pun intended).

Necessary hardware

Your everyday camera might

be weather-sealed and

splash-proof but it won't survive

a dip in the ocean. The latest

mobile phones are "waterproof/

resistant" and can survive a dunk

or two in the pool but if you are

thinking of taking one for a dive

you will need to protect it with a

waterproof, floating phone case.

There are various protective

covers available for your existing

camera. The cheapest ones look

more like a strong plastic bag and

cost around $90. Then there are

tailor-made transparent housings

for your point-and-shoot camera.

They allow you to use virtually

all the camera controls while

diving (Image 1).

But for DSLRs and high-quality

full-frame mirrorless cameras

you need a more sophisticated

housing which can cost up to

$2000 (Image 2). Most of these

housings can be used down to a

depths of 40 m.

In addition to the camera

housing you'll probably want

external strobes or lights, and

if planning to shoot video, then

a waterproof monitor will come

in handy. Note that there are

flat surface ports (Image 1)

which give a zoomed in image

(usually not ideal). In contrast,

domed ports (Image 2) compensate

for the refraction that being

submerged in water gives.

Image 2 Underwater

housing for high-quality full-frame

cameras (Canon EOS R5)

Image 3 A dedicated underwater

camera

camera is one of the best-known

(Image 3). With its special

housing you can take it down to

60 m. Image 3 shows the camera

with one flash attachment, and

a double flash adapter is also

available.

Light in underwater

photography

Photography is all about light

and this applies just as much

to underwater photography, but

underwater we have the added

problem of light colour.

Water is about 800 times denser

than air, and that makes for a

…There are a couple of compact point-and-shoot cameras on

the market you can take a few metres underwater, without

special housings and especially ideal for snorkeling…

Image 1 Underwater housing for

Canon Powershot S110

Another option is to get a camera

specially designed for underwater

photography. There are

a couple of compact point-andshoot

cameras on the market

you can take a few metres

underwater, without special

housings and especially ideal for

snorkeling.

The SeaLife DC2000 underwater

lot more interaction between

photons and water molecules

than in the air. In practical terms

this means we lose a lot of light

when we go underwater.

But visible light is a small part of

the electromagnetic spectrum

(Image 4).

The energy of electromagnetic

56 Dive New Zealand | Dive Pacific
---
DIGITALIMAGING

Hans Weichselbaum www.digital-image.co.nz

Image 4 The electromagnetic spectrum

waves increases at shorter

wavelengths (from right to left) -

think of high energy gamma and

x-rays and the low energy radio

waves. In the visible spectrum

we also have the lower energy

light waves on the right (red) and

the higher energy waves on the

left (blue) of the spectrum. The

weaker part of the spectrum (red)

is absorbed first by the water.

but we need to add to the

distance between camera

and our object as well.

As a general rule your

object should be less than

a metre away from your

lens. When on land, we

reach for the telephoto

lens when we think of

shooting animals; under

water we mainly use

…Water is about 800 times denser than air and that

makes for a lot more interaction between photons and

water molecules than in the air…

Image 5 shows you how this

works out in practice when we go

underwater: red colours are lost

at around 5 m, then we start to

lose the orange and yellow part

of the spectrum and at around

60 m we are only left with blue

colours (and it gets pretty dark!).

You might have heard the rule:

"avoid taking photos around

midday." Early morning or late

afternoon light allows us the

more attractive shots. But in

the underwater world quite the

reverse applies. The best time for

underwater photography is when

the sun is directly overhead,

allowing us to capture the

maximum amount of light.

Not only do we lose warmer

colours the deeper we go down,

wide-angle and macro

lenses.

Because of the lack of

warmer light colours when

shooting with natural light,

a flash is one of the most

important accessories for underwater

photography, or a permanent

light source for filming.

If you shoot with a compact

camera, set the flash to 'forced

flash', not automatic. You will

also get the best results, and

pleasing colours, when you set

your camera to macro and get

really close up to your subject.

Of course you don't keep to the 1

m rule when shooting sharks or

…The best time for underwater photography is when the

sun is directly overhead…

whales, or fellow divers. In fact,

you can create beautiful natural

Image 5 Light absorption under water

light photography when your

subjects show up as silhouettes

(Image 6).

Usually, the photographer will

try to create an aesthetic balance

between available sunlight and

artificial light. If the object is

more than about 30 cm away,

the on-camera flash is likely to

give you 'backscatter' caused by

fine particles in the water. This

will ruin your shots with lots of

fine white dots against a dark

background. The only remedy is

to use an external strobe (or two),

away from the axis of the camera

lens.

Important tips for

starting out

Underwater photography can get

expensive so it pays to make the

www.dive-pacific.com 57
---
Image 6 Silhouettes are very

effective when natural light

is restricted

right decisions and take the right

steps before you take the plunge.

• When choosing a housing for

your camera, pay special attention

to the smallest parts: the

O-rings and the special lubricant

they require. Try out the

housing, first without camera,

in your bathtub and watch out

for any bubbles (a bad sign!).

• Your camera in the housing

will feel very different so it is

important to do some practicing

on dry land to familiarise

yourself with all the camera

functions.

Image 7 Try to get a head shot of your subject

• You need to be fairly confident

in your diving skills. Keep in

mind you need at least one

hand to hold the camera and

often two hands to operate it

properly. And your anxiety

level when you step into the

water can go up proportionally

with the cost of the camera!

• Try to get as close as possible

to your objects. Fish are usually

curious and not shy if you move

slowly (Image 7 and 8).

• Shoot in Raw format! There is

only so much you can do with

JPEG images. Most of your shots

will need a boost in contrast

and some colour correction.

Tweaking the white balance is

especially so much easier with

Raw files.

There are plenty of resources

available on the internet to

answer all your questions, but I

hope that this brief introduction

will encourage you to take your

photography hobby to the next

level.

Image 8 The closer you get the better

58 Dive New Zealand | Dive Pacific
---
SPECIESFOCUS

Black coral

~Antipathella fiordensis

The spectacular black coral, Antipathella

fiordensis, is a species of tree-like colonial

coral endemic to the fiords of New Zealand.

Black coral is actually white in appearance, the

moniker black coming from the hard skeleton

consisting of protein and chitin that lies underneath

the living tissues. The living polyps that

cover the skeleton are tiny, less than 1 cm in

diameter, and these filter out the plankton

from the water column, the same as sea pens,

anemones and other coral relatives.

By Paul Caiger

Black corals are slow-growing and long-lived.

Colonies live up to 300 years old! Being so old

and delicate means they are very susceptible

to disturbance; they stand little chance of

surviving from anchors, pots and trawling. In

recognition of this all black corals are fully

protected by law under the 1953 Wildlife Act.

Fortunately, the sheer-sided underwater walls of

the fiords provide some natural protection – not really

a suitable place to anchor or place fish pots.

Another unique environmental condition of the

fiords is their freshwater layer. Due to the steep

mountainous terrain topside, and the gargantuan

8m of annual rainfall, the tannin-stained freshwater

running into the fiords creates a dark, brackish layer

that simulates deep water. Consequently, a diver will

encounter black coral living as shallow as four or five

metres. Compare this to other regions of New Zealand,

where other black corals are not found at recreational

diving depths.

These flexible "trees" can be up to 3m tall, and as such

are quite a feature of the underwater environment,

providing habitat and shelter for many other species.

One of their common allies is the snake star

Astrobranchion constrictum, which lives mutualistically

on the coral. The black coral is more adept at

catching plankton prey from the surrounding water

than the snake star which benefits from it. In return,

it is thought that the snake star cleans off mucous and

prevents other organisms from settling and growing

on the black coral.

~Antipathella fiordensis

1 The skeleton underneath the living tissue is black 6

2 Covered in small 6-tentacled polyps less than 1

cm in diameter

7

3 Does not contain zooanthellae like tropical corals

8

4 Protected by law since 1953

5 . Lives in extremely shallow depths in Fiordland

Becomes more common and shallower the

further into the fiords you go

The mutualistic snake star Astrobranchion

constrictum lives in its branches

Can live up to 300 years

www.dive-pacific.com 59
---
SHADES OF COLOUR PHOTOGRAPHIC COMPETITION

Welcome Back to this Fun Underwater

Photography Competition!

By Dave Moran

It is just fantastic to have this fun photographic

competition up and running again after a long

break due to Covid-19. It is also very encouraging

to receive quite a few submissions. Sophie Fraser

at Sea Tech has done a great job in advising you

all that the Competition is BACK! A big thanks to

you all for entering, appreciated.

Most of the entries could be improved by all the

elements that the judges have mentioned in the

past.

Framing the shot (image) with the Rule of Thirds*

in mind.

Sharp Focus.

Lighting. Light is the added ingredient that lifts

an image off the page! Many im-ages we have

received over the years have suffered from

poor lighting. All the winners in this issue's

Competition have lit their subject very well using

strobes (flash) or a constant LED light source.

Cropping the image to remove any distracting

black spots or a very bright col-ours eg. A brightly-coloured

sponge that drags the viewer's eye

away from the main subject within the image.

Editing. Using editing programs such as

Photoshop is totally OK to improve an image! For

example, removing backscatter, cropping and

adjusting colours etc.

Two other elements that can present themselves

on the day of your dive that can give you that

magical winning edge:

The Wow factor!

It's an image that when people view it, one

of their immediate reactions is, "Wow that is

amazing". This could be an images of a large

manta ray which divers have been seeing in

northern waters of New Zealand (Poor Knights

Island etc). Or a super sharp micro image of a

cleaner shrimp doing some housework inside a

fish's gills! This is down to luck – but you increase

your luck by diving more and practicing more.

Originality

This is a tricky element! Many of you will be

thinking, there is hardly anything these days that

has not been photographed – true!

Before taking a shot, seriously consider different

angles and adjusting your light-ing to create a

different visual experience of a subject that has

been photo-graphed many times before.

To practice this skill, it's best to start with

subjects that are moving slowly or not at all. For

example, crayfish, nudibranchs or scorpionfish.

A good example is our Novice winner, Warrick

Powrie's nudibranch which we think is from the

Eubranchidae family.

*The Rule of Thirds is a common compositional

technique that divides your frame into an equal,

three-by-three grid with two horizontal lines and two

vertical lines that intersect at four points. The Rule of

Thirds places your subject on the left-third or rightthird

of the frame, creating a pleasing composition.

The team at Dive New Zealand/Dive Pacific

magazines look forward to receiving your

personal masterpieces.

See: www.divenewzealand.com click on Photo

Competition. It's free to enter.

You can view galleries of all the entries over

www.seatech.co.nz/blogs/shades-of-colour-photo-competition

Thanks for taking the time to enter!

(N) Michelle Brunton

(N) Warrick Powrie

60 Dive New Zealand | Dive Pacific

60 Dive New Zealand | Dive Pacific

(A) Sarah Ford
---
'Sun Burst Cuttle'; South Channel Fort, Port Phillip Bay, Victoria, Australia. Canon EOS 5D Mk II, Nimar Housing,

Canon 16–35mm lens, 2 x Ikelite DS161 strobes – f/7, 1/200, ISO-125

ADVANCED

N N N

WINNER

Advanced Category Winner:

Congratulations David Haintz, Australia.

David was exploring the waters surround South

Chanell Port in Port Phillip Bay Victoria, Australia

when he came across this stunning Cuttlefish.

Judges' comments:

This image has action, showing a cuttlefish with

all its food-grabbing arms stretched forward ready

to pounce! Its body colours have been adjusted to

blend in with the surrounding Eckionia kelp thus

helping to camouflage its presence. The sunburst

rays penetrating the water adds extra

background lighting to this wide-angle

image.

The twin Ikelite strobes have delivered the vibrant

colours of the kelp and Cuttle-fish – well done! A little

backscatter can be seen in the rays of sunlight – but

this minimal.

Having the subject swimming left to right is always a

bonus as western viewers eyes tend to subconsciously

scan from left to right.

David receives a Gift Voucher for NZ$100.

(A) Alex Stammers

(A) Mark Blomfield

www.dive-pacific.com 61

www.divenewzealand.com 61
---
SHADES OF COLOUR PHOTOGRAPHIC COMPETITION

Advanced Category Highly Commended:

Congratulations Alex Stammers, New Zealand.

Alex is a regular visitor to Goat Island Marine Reserve,

just North of Auckland. It was established in 1975. The

abundance of marine life there is a true window into

what a healthy marine ecosystem can be.

Alex knows before he gets in the water that he will

be spoiled by the number of photographic subjects

to choose from! His challenge is to photograph a

subject differently than before. This time it was a large

Snapper.

Judges' comments:

To obtain this type of image takes a lot of technical

skill and the specific type of camera/lens being used.

• Alex's very wide Tokina 10–17mm lens has allowed

him to be very close to the snapper and still have the

90% of the fish in the image.

• Selecting a slow shutter speed in combination with

rear synchronization* of the flash to deliver the

blurring effect of movement!

• By spinning the camera as he took the image Alex

brought the snappers' head into focus.

We wondered how many times Alex has tried to obtain

this result? Well done Alex!

Rear-curtain sync is the opposite of front-curtain

*

flash, with the flash burst firing at the end of the

exposure. It only starts to make a difference when

used in conjunction with a slow shutter speed. This

combination allows you to capture the subject in

tack-sharp detail but also get some motion blur in the

shot. This gives your image a sense of speed and is can

be much more pleasing than the 'frozen' effect you get

with normal flash.

Dave receives a Gift Voucher for NZ$75.

ADVANCED

Highly

Commended

'Snapper Spin'; Goat Island, Auckland. Nikon D800, Nauticam Housing,

Tokina 10–17mm lens with Kenko 1.4x Teleconverter Fisheye, 2 x Inon Z-240 strobes.

(N) Werner Truter

(N) Konrad Richter

62 Dive New Zealand | Dive Pacific
---
NOVICE

N N N

WINNER

'Nudibranch'; Bali, Indonesia. Canon Powershot G15, Ikelite housing, 2 x Bigblue Black Molly 2600 lumen video lights

– f/8, 1/500, ISO-320.

Novice Category Winner & Highly Commended:

Congratulations, Warrick Powrie, New Zealand.

This must be a pre-Covid-19 picture as it was taken in

Bali, Indonesia.

A wonderful nudibranch find amongst the masses of

subjects that present themselves to be photographed

in Bali's abundant tropical marine environment.

Well done, Warrick.

Judges comments:

This image definitely has that magical effect of making

you take a second look – then a third and a fourth!

This particular nudibranch which we think is from

the Eubranchidae family is usually found clinging to a

hydroid. We like how the arrow-like shapes created

hydroid branches lead your eyes to the nudibranch.

Interestingly, the internal 'branches' of its tentacles

match the markings of the hydroid.

The camera angle and lighting are excellent. The

lighting was via a constant LED light, rather than a

flash. Using a constant light source to light up your

subject is a great way to photograph motionless or

slow-moving subjects.

Warwick receives a Gift Voucher for NZ$75.

(N) Werner Truter

(N) Michelle Brunton

www.dive-pacific.com 63
---
SHADES OF COLOUR PHOTOGRAPHIC COMPETITION

NOVICE

Highly

Commended

'Here Piggy Piggy!'; Cuvier Island, Coromandel. Olympus E-M5 MkII, Ikelite housing, 1 x Ikelite DS51 strobe – f/4, 1/250, ISO-100.

Novice Category Highly Commended:

Congratulations Jack Abbott, New Zealand.

Hanging, suspended in isolation 40kms off the East of

Cape Colville at the Northern tip of the Coromandel

Peninsula lies magical Cuvier Island. Renowned for its

population of large Kingfish and Snapper as well as

Boarfish. It's a Bucket List destination for keen spearfishermen!

Great that Jack was keen to take some pictures of the

abundant reef fish that live in harmony with Cuvier

Island's resident fish population. Magical picture Jack!

Judges comments:

The joy of freedom when free diving is captured in this

simple image. We really enjoyed the co-incidence of all

the silver fish pointing right whilst the red one heads

left.

No expanding air bubbles to disturb this male red

pigfish, allowing Jack to get fairly close with his

12-50mm wide-angle lens.

Our judges and

the team at Dive

New Zealand/Dive Pacific

magazine look forward to

receiving your masterpieces by

October 20 for the December/

February 2022 printed issue

of the magazine.

See: www.seatech.co.nz click

on Photo Competition.

Lighting is perhaps a little lacking – though with

only one strobe, it's well done. A good example of the

camera/strobe's TTL in action.

Some minor cropping below the fish would help to

lessen the urge for your eyes to be pulled to the bottom

right corner of the image, but otherwise, Jack is spot on.

Jack receives a Gift Voucher for NZ$75.

Sea Tech is the official New Zealand distributor of Ikelite, Fantasea,

Recsea, Inon, Bigblue, Nauticam and other leading brands of underwater

photographic equipment.

Visit: www.seatech.co.nz or for personal service email: info@seatech.co.nz

64 Dive New Zealand | Dive Pacific

64
---
A selection of notable photos entered for this edition's competition

(A) Matt Ruglys

(N) Michelle Brunton

(A) David Haintz

(N) Warrick Powrie

(N) Werner Truter

(A) Alex Stammers

(N) David Forsyth

(A) David Haintz

www.dive-pacific.com 65

www.divenewzealand.com 65
---
DIVE STORES / TRAVEL

By region. To list your dive/sports stores contact Dive New Zealand for information.

More information on Dive Stores, Clubs & Travel at www.DiveNewZealand.com

NEW ZEALAND

NORTHLAND

Paihia Dive Dive training, charter and retail

in Paihia. Dive the Rainbow Warrior, frigate

Canterbury and the Bay of Islands. PADI

courses: Open water to Instructor. Quality

scuba brands: Aqualung, Tusa, Faber, Luxfer

and Wettie spearfishing. Open 7 days. Williams

Rd, Paihia, P: Craig or Lisa 09-402 7551

E: info@divenz.com www.divenz.com

Dive Zone Bay of Islands Far North's

only PADI 5 Star IDC facility. Open Water to

Instructor courses. Freedive and spearfishing

training & trips. Dive trips,On-site equipment

servicing & cylinder testing. Aqualung,

Mares, Scubapro, Beuchat.

Open 7 days! 5 Klinac Lane, State

Highway 10 Waipapa. 09 407 9986.

www.divezoneboi.co.nz,

info@divezoneboi.co.nz

Northland Dive World Class Diving package

– Great diving mixed with even better

accommodation, meals and hospitality. Dive

with the team that instigated the sinking of the

Canterbury Frigate. Full Gear available incl

NITROX – PADI /TDI/ SDI training "Unbelievable

value for money". 3851 Russell Road,

Whangaruru,

Bay of Islands, P: 09 433 6633,

E: info@northlanddive.com

www.info@northlanddive.com

DIVE NOW For all your SCUBA Freediving

and Spearfishing needs. Onsite servicing,

cylinder testing, Air and Nitrox fills, wetsuit

repairs, gear hire and full retail store stocking

most major brands. 5 Star PADI Tec Rec dive

training facility and breath holding courses with

onsite training pool. Located at the gateway to

the beautiful Poor Knights Islands and Bay of

Islands.

41 Clyde Street Whangarei

Freephone: 0800 102 102 or

P: 09 438 1075 E: info@divenow.co.nz

www.divenow.co.nz

AUCKLAND / DISTRICTS

Performance Diver NZ's diving superstore!

Massive stocks of all lines at unbelievable

prices. PADI 5 star Instructor Development

Centre offering training from beginner to

Instructor. Local & national dive charters,

overseas trips, servicing, air fills and rental.

Open 7 days!

74 Barrys Point Road, Takapuna

(behind Avanti bikes). 09 489 7782

www.performancediver.co.nz

Auckland Scuba on Auckland's north

shore. PADI 5 STAR IDC diver training

specialists. PADI dive courses beginner to

instructor and tec rec. Part time/full time

tertiary (student loan approved), NZQA

credits. Dive trips, air/nitrox fills, cylinder

testing, equipment servicing. Top quality

equipment!

Unit I, 121 Rosedale Rd, Albany.

P: 09 478 2814 E: info@aucklandscuba.co.nz

www.aucklandscuba.co.nz

Global Dive NZ's favourite technical and

recreational dive store. All top brands stocked

and serviced. Our active dive club meets

monthly with guest speakers and BBQ. Experts

in photography and tech diving. Quality rental

gear, including technical and drysuits. Nitrox fills.

132 Beaumont St, Westhaven, P: 09 9205200

www.globaldive.net E: info@globaldive.net

Book an ad space today!

For Editorial or Classified ads call

Colin Gestro

Affinity Ads

M: 027 256 8014

colin@affinityads.com

Dive HQ Westhaven in Auckland's

CBD. PADI 5 Star Instructor Development

Centre. Become a PADI Dive Instructor

with us. NZQA approved Part Time

and Full Course available. Still Your

Local Dive Shop for all your SCUBA

dive, freediving, spear-fishing and gearservicing

needs. Mares, Atomic, Oceanic,

Pinnacle, Beuchat, and Zeagle. Fully

equipped dive equipmentservice centre

and dive cylinder testing facility onsite.

Corner (101) Beaumont & Gaunt Sts,

Westhaven, Auckland. P: (09) 307 3590,

E: info@divehqwesthaven.co.nz

www.divehqwesthaven.co.nz

Dive Doctor Mt Wellington New Zealand's

specialist dive servicing company, regulator

servicing, drysuit & wetsuit repairs, compressor

servicing, cylinder testing, NITROX, O2, Helium,

300 BAR air fills. A full selection of quality

products as well as hard to find items for the

technical, recreational and commercial diver.

20R Sylvia Park Rd, Mt Wellington

www.divedoctor.co.nz P: 09 5308117

E: info@divedoctor.co.nz

For the latest in maritime news and v

from tinny to tanker we have it cover

KIWI DIVERS SSI, TDI/SDI, RAID dive

centre. Recreational and Technical dive

courses (rebreather friendly). Regular trips

from our own boat. Equipment sales,

servicing and hire. Cylinder testing, air/

nitrox trimix/oxygen fills. Open 7 days.

8 Keith Hay Court, Silverdale (just 20

mins north of Akld) P: 09 426 9834

E: info@kiwiscubadivers.co.nz

www.kiwiscubadivers.co.nz

SUBSCRIBE NOW

www.skipper.co.nz • phone 09 533 4336

MINI ADS - GREAT RATE

colin@affinityads.com

For the latest in maritime

news and views, from tinny to

tanker we have it covered

Dive! Tutukaka The Poor Knights Islands

experts – professional, fun and safe – "It's what

we do" – With 5 boats, catering for all abilities;

Adventure Audited, Qualmark endorsed, PADI

5 star IDC; air fills, nitrox, gear hire. Shed 7 with

salt-water pool and training facilities – Behind

Schnappa Rock. Marina Rd. Tutukaka,

Whangarei. Open 7 days, 7am-7pm. Always

someone at the end of the phone 0800 288

882. Phone: 09 4343 867

E: info@diving.co.nz www.diving.co.nz

DNZ164

Manufacturing Quality

Wetsuits in New

Zealand

for New Zealand

conditions.

www.seaquel.co.nz

15G Porana Rd, Glenfield, Auckland

wetsuits@seaquel.co.nz Tel: 09 443 2771

DNZ163

SUBSCRIBE NOW

www.skipper.co.nz

phone 09 533 4336

66 Dive New Zealand | Dive Pacific
---
dnz164

More information on Dive Stores, Clubs & Travel at www.DiveNewZealand.com

COROMANDEL / BAY OF PLENTY

FREE

PHONE

TUTUKĀKĀ

NEW ZEALAND

SIMPLY

AWESOME!

0800 288 882

www.diving.co.nz

3-5 Rona Place, Tutukaka, Whangarei, SOUTH PACIFIC

• New BAUER compressors

• Late model, low hours,

preowned BAUER

compressors

• Service, spare parts, oil

and consumables

AVAILABLE NOW FROM

General Marine Services

65 & 90 Gaunt St, Westhaven,

Auckland. Phone 09 309 6317

www.generalmarine.co.nz

sales@generalmarine.co.nz

service@generalmarine.co.nz

APPROVED

BAUER

AGENTS

Dive Zone Whitianga The Coromandel's

only PADI 5 Star IDC facility. PADI courses

from Open Water to Instructor. Dive trips

from boat, shore and kayak, to many

amazing dive sites. Full gear service and

extensive retail store. Open 7 days.

10 Campbell Street, Whitianga 3510,

P: 07-867 1580,

E: info@divethecoromandel.co.nz

www.divezonewhitianga.co.nz

Cathedral Cove Dive & Snorkel, Hahei

Beach PADI Dive Centre, situated at

the base of Cathedral Cove, Coromandel

Peninsula. Dive & Snorkeling Boat Trips,

Quality PADI Diver Training – Hahei is

perfect for the PADI eLearning – complete

the theory classroom sessions before

arriving in Hahei. Discover Scuba Diving,

full sales, air fills, tank testing, rental gear.

Pinnacles/Islands, Marine reserve or

non-reserve diving option all within a short

boat ride from Hahei Beach. Individuals and

groups welcome.

48 Hahei Beach Road P: 07 8663955 or

NZ Free 0800 223483 M: 027 2713187

E: ccdive@hahei.co.nz

www.cathedralcovedive.co.nz

Dive Zone Tauranga is Tauranga's only

PADI 5 Star Instructor Development

Centre offering everything from Open

Water courses to Specialty Instructor

training. Gear sales for all scuba,

spearfishing & snorkelling needs. Hire

equipment, gear servicing, air fills, dive

charters, cylinder testing and more! See

us at 213 Cameron Road, Tauranga,

P: (07) 578 4050

E: info@divezonetauranga.co.nz

www.divezonetauranga.co.nz

CENTRAL NORTH ISLAND

Dive & Gas Gisborne's Mares and Atlantis dive

gear stockist. A great product range, as well

as other Scuba, spearfishing and snorkel gear.

Plus we test and fill all Scuba Tanks.

Kevin & Tracey Halverson,

cnr Carnarvon St, and Childers Rd, Gisborne.

P: 06 867 9662 E: diveandgas@gmail.com

WELLINGTON / DISTRICTS

Dive Wellington Become a Padi Dive

Instructor with our fulltime Diploma course.

NZQA approved and eligible for student

loans and allowances. Contact us for a

course prospectus. Dive Wellington is an

audited and approved sub contractor of

Academy of Diving Trust

E: dive@divewellington.co.nz

P: 04 939 3483 www.divewellington.

co.nz

NZ Sea Adventures PADI 5 Star Instructor

Development Centre – also TDI Technical diver

training including CCR. Open 7 days. Dive

courses – beginner to Instructor. Club dives and

trips in NZ and overseas. Dive retail, fills, gear

hire & servicing & cylinder testing.

9 Marina View, Mana, Porirua.

P: 04 233-8238 E: nzsa@scubadiving.co.nz

www.scubadiving.co.nz

Sales and Service of

Breathing Air Compressors for

Diving and Fire Fighting

Supplier of

-Genuine Bauer Spare Parts and

Consumables

-High Pressure Regulators

-High Pressure Pumps

-Customised Filling Panels

-Nitrox Systems

-Servicing and repair of all

compressor brands – Bauer,

Poseidon, Coltri, Brownie

Bauer Kompressoren Agents for

over 34 years

High Pressure Equipment

32 Parkway Drive, Mairangi Bay,

Auckland, New Zealand

PH 64 09 4440804

info@highpressure.co.nz

Dive & Ski HQ Wellington PADI dive

courses – beginner to professional

qualifications. Dive club with regular local,

national & overseas trips. Wide range

of diving/ spearfishing equipment and

accessories. Equipment servicing/tank

testing. Open 7 days.

14 Waione St, Petone. New Zealand

P: (04)568 5028 mob 0210369996

www.diveski.co.nz E: diveskihq@xtra.co.nz

snow ski and board rental available

www.facebook.com/DiveSkiHQ

Book an ad space today!

For all advertising enquiries

contact Colin Gestro -

Affinity Ads

colin@affinityads.com

M: 027 256 8014

MINI ADS - GREAT RATES

www.dive-pacific.com 67
---
DIVE STORES / TRAVEL / PRODUCTS / SERVICES

SOUTH ISLAND

Go Dive Marlborough Specialist TDI

technical diver training facility. Mixed gas,

decompression and advanced wreck courses.

Operate Lermontov Lodge (Port Gore) our base

to diving one of the world's biggest wrecks the

Mikhail Lermontov. Weekly tours ex Picton from

1–6 days. Direct flights from Wellington to Port

Gore. We offer Inner Sounds Tours from Picton.

South Island's only SSI Dive Centre.

www.godive.co.nz

Freephone 0800 GODIVE

Email info@godive.co.nz

Dive HQ Christchurch 30 years industry

experience, Christchurch's only PADI 5

Star Instructor Development Centre and

Adventure Activities Certified for SCUBA

diving and snorkelling. Busy retail store

selling the world's leading brands and

offering PADI recreational and tertiary

SCUBA qualifications. Full range of

spearfishing equipment including breath

hold courses. Quality gear hire, service

centre, Enriched Air training and filling

station, local and international dive and

spearfishing trips.103 Durham St Sth.

Sydenham, Christchurch.

Freephone 0800-DIVEHQ.

P: (03)379- 5804 www.divehqscuba.co.nz

E: sales@divehqscuba.co.nz

INTERNATIONAL DIVE

OPERATORS AND RESORTS

AUSTRALIA

Pro Dive Cairns Offers the highest quality, best

value PADI dive courses and 3-day liveaboard

Outer Great Barrier Reef dive trips in Cairns. We

have 16 exclusive dive sites across 4 different

reefs to choose from and departures 6 days/

week.

Check out www.prodivecairns.com

or call us on +617 4031 5255

or E: info@prodivecairns.com

Spirit of Freedom visits the remote dive

destinations of Cod Hole, Ribbon Reefs, and

Coral Sea. The 37m vessel offers spacious

en-suite cabins, every comfort on board, and

exceptional service. Marine encounters include

the potato cod feed, Minke whales in season,

and the shark dive at Osprey Reef.

E: info@spiritoffreedom.com.au

www.spiritoffreedom.com.au

Tusa Dive Cairns local day dive operators

with over 30 years experience diving the Great

Barrier Reef. Tusa's fast modern catamaran the

Tusa 6 will visit two unique sites where you can

enjoy up to three dives in the day. Tusa Dive

also offer a great day out for snorkellers.

P: 00617 4047 9100

E: info@tusadive.com www.tusadive.com

DNZ161

MINI ADS - GREAT RATES

Colin Gestro - Affinity Ads

M: 027 256 8014

HDS Australia-Pacific

PO Box: 347 Dingley Village Victoria 3172,

Australia. www.classicdiver.org

COOK ISLANDS

Dive Aitutaki with Bubbles Below Explore

Aitutaki's underwater world with Bubbles Below.

Only 40 minutes from mainland Rarotonga to

the picturesque island of Aitutaki.PADI dive

courses Beginner to Dive Master. Manned boats

during dives! Safety and enjoyment paramount!

'Take only Memories & Leave only Bubbles Dive

Safe, Dive Rite, Dive Bubbles Below!'

www.diveaitutaki.com

E: bubblesbelow@aitutaki.net.ck

The Dive Centre – The Big Fish PADI 5-star

dive operator. Services: intro/lagoon dives, dive

trips twice a day, courses, retail and rental gear.

2 boats, boats are manned with an instructor, 7

days, night dives. Aroa Beach by the Rarotongan

Resort.

P: 682 20238 or 682 55238

E: info@thedivecentre-rarotonga.com

www.thedivecentre-rarotonga.com

dnz164

68 Dive New Zealand | Dive Pacific
---
More information on Dive Stores, Clubs & Travel at www.DiveNewZealand.com

FIJI

Subsurface Fiji Visit Fiji for fun, relaxing

tropical diving. Subsurface Fiji PADI 5-Star

Dive shops are located in the beautiful

Mamanuca Islands, offering daily trips and

courses to some of the best dive spots

in Fiji. Subsurface provides full diving

services from Musket Cove, Plantation,

Malolo, Likuliku, Tropica, Lomani, Funky

Fish, Namotu, Tavarua, Wadigi & Navini

Island Resorts.

E: info@subsurfacefiji.com

www.subsurfacefiji.com

Captain Cook Cruises Reef Endeavour and

Tivua Island are 5 star PADI operations –

Discover Scuba – Scuba Dive – Open water dive

– Advance Wreck Dive, MV Raiyawa at Tivua

Island. Fiji P: +679 6701 823

E: fiji@captaincookcruisesfiji.com

www.captaincookcruisesfiji.com

Mantaray Island Resort Yasawa Islands –

Fiji – Over 40 dive sites ; vibrant reefs, stunning

coral gardens, caves, swim throughs, wall

dives, drop offs, shark dives, turtles, and a

stunning house reef. Fiji's only accredited

free-diving school, Mantaray swimming May–

Oct. Small group diving in a safe and enjoyable

environment visit us at

www.mantarayisland.com

Volivoli Beach Resort offers you relaxed,

unspoilt white sandy beaches in a spectacular

part of Fiji. Ra Divers operates from the resort

giving you a water wonderland on the worlds

best soft coral dive sites. The Fiji Siren is a

livaboard boat offering you 7 and 10 night dive

packages. www.volivoli.com

E: info@volivoli.com P: +679 9920942

SOLOMONS

Raiders Hotel and Dive Wreck and Reef

diving, Accommodation, Bar and dining,

Snorkelling Hiking and more. Located 1 hour

from Honiara on the waterfront of the historic

Tulagi harbour. Dive - Discover – Relax. www.

raidershotel.com

E: raidershotel@solomon.com.sb

P: +677 7594185 / 7938017

SIDE Dive Munda – Dive the unexplored

Experience Magical Munda at Agnes Gateway

Hotel. Award winning service and pristine

diving. SSI Instructor Training Centre. WWII

wrecks, caves and reefs – untouched and

unspoilt.

www.divemunda.com

divemunda@dive-solomon.com

Find us on Twitter, Facebook & Instagram

SIDE TAKA Dive See more of the Solomon

Islands by liveaboard! Save $700 on a 7

night booking on board MV Taka: 7 Nights

Accommodation; 3 gourmet meals daily; 24

Dives – sharks, WWII wrecks, manta rays, night

dives; Round trip airport transfers. Conditions

apply. For more information or to make a

reservations:

E: book@dive-solomon.com

Tulagi Dive Solomon Islands An underwater

paradise for marine life and explore the many

ships and aircraft wrecks at the famous Iron

Bottom Sound. We offer the PADI and TDI

courses. P: (+677) 25700

www.tulagidive.com dive@tulagidive.com

ADVERTISERS'

INDEX

DAN 51& 52

Dive Pacific subs ad OBC

Dive Tutukā kā 31

Dive Zone 1

Fiordland Expeditions 53

Travelandco

At travel&co (previously Dive Fish Snow

Holidays) we've been crafting tailor-made

active travel trips and experiences for over 30

years. On the Our seafront team of downtown active travel Port experts Vila. share

your passion for adventure and can help

• Certified dives • Snorkel Tours • Training to

book an exceptional active travel experience

Instructor Level • Full gear hire available •

that goes beyond the ordinary. From wreck

Very or reef friendly, diving, professional learning to dive, & experienced to liveaboard

adventures local Instructors - for insider & Dive tips Masters. on the best dive

20 locations dive sites and (10 to tailormade 20 minutes) diving including experiences

5 wrecks

(including let your active 4 engine travel QANTAS journey Sandringham start with flying us.

boat P: 09 and 479 1502210 year old Toll sailing free ship NZ: Star 0800 of Russia) 555 035

E: enquire@travelandco.nz

Temp 24-28°c. Viz 10m to

www.travelandco.nz/dive

40m. Free pickup from

Resorts in town.

TRIPS/CHARTERS

P: +678 27518 or email:

CRUISE dive@bigbluevanuatu.com

FIORDLAND

fish • hunt www.bigbluevanuatu.com

• dive • cruise

Fish, Hunt, Dive For Cruise your safety aboard Vanuatu the fully has

refurbished MV recompression Cindy Hardy. Fiordland facilities. or

Stewart Island, our scenic cruises will provide

you with a once in a lifetime experience.

Everything is provided regardless of how

short or long your time on board with us is.

Cruise options available on our website.

www.cruisefiordland.com

info@cruisefiordland.com

+6421 088 14530

(DNZ156)

VANUATU

Nautilus Watersports Vanuatu's longest

running dive operation in Port Vila with 30+

years' experience. Nautilus offers 4 dives a day

(double dive both morning and afternoon). We

also offer PADI course from Discover Scuba

right through to Dive Master. For dive groups we

can also offer diving/accommodation packages.

P: Peter or Leanne +678 22 398

www.nautilus.com.vu

E: nautilus@vanuatu.com.vu

DIVE HOLIDAY

Outer Gulf Charters

One hour north of Auckland CBD

Providing divers with the ultimate diving day

out with diver lift, fast/comfortable travel, hot

water shower, and all the tea and coffee you

want.

Recommended On the seafront Dive downtown Sites: Goat Port Island Vila. Marine

Reserve, Mokohinau Islands, Great/Little

• Certified dives • Snorkel Tours • Training to

Barrier, Sail Rock/Hen & Chickens in style. Trip

Instructor Level • Full gear hire available •

schedule and info

Very www.outergulfcharters.co.nz

friendly, professional & experienced

or phone local Instructors Julie 021 & 827 Dive 855 Masters.

20 dive sites (10 to 20 minutes) including 5 wrecks

(including 4 engine QANTAS Sandringham flying

boat and 150 year old sailing ship Star of Russia)

Temp 24-28°c. Viz 10m to

40m. Free pickup from

Resorts in town.

P: +678 27518 or email:

dive@bigbluevanuatu.com

www.bigbluevanuatu.com

Lust4Rust & For Shock&Awe your safety Vanuatu 9 has

recompression facilities.

Rescuefish

IFC

Saltaway 47

SeaTech 49

Northland Dive 8

ALPHABETICAL ORDER

On the seafront downtown Port Vila.

• Certified dives • Snorkel Tours • Training to

Instructor Level • Full gear hire available •

Very friendly, professional & experienced

local Instructors & Dive Masters.

20 dive sites (10 to 20 minutes) including 5 wrecks

(including 4 engine QANTAS Sandringham flying

boat and 150 year old sailing ship Star of Russia)

Temp 24-28°c. Viz 10m to

40m. Free pickup from

Resorts in town.

P: +678 27518 or email:

dive@bigbluevanuatu.com

www.bigbluevanuatu.com

For your safety Vanuatu has

recompression facilities.

SPEAKERS/LECTURERS

Available for talks to dive clubs etc. You

can find full details on these speakers/

lectures at

www.DiveNewZealand.co.nz/dive-in-nz/

dive-shops/

Terry Brailsford Wreck diving for gold &

treasure. Incl the Rothschild jewellery, search for

General Grant.

P: 0274 958816 E: theadmiral@xtra.co.nz

Tony Howell History and entertainment with lots

of rare historical photos and illustrations – 12

powerpoints in total. 45 mins –1 hr each.

Contact me for topics. 04 233-8238,

www.scubadiving.co.nz

tony@scubadiving.co.nz

Darren Shields Spearfishing titles, uw cameraman,

author. Motivating/compelling/innovative/

inspiring/entertaining P: 09-4794231, 021839118,

E: darren@wettie.co.nz

On the seafront downtown Port Vila.

• Certified dives • Snorkel Tours • Training to

Jamie Instructor Obern Level Technical • Full gear instructor/cave hire available diver, •

20+ years exp. globally. Photos/video: uw caves

Very friendly, professional & experienced

in Mexico, USA, UK, NZ, Australia. Techdive NZ/

local Instructors & Dive Masters.

GUE NZ instructor. P: 021 614 023,

20 sites (10 to 20 minutes) including 5 wrecks

www.techdivenz.com jamie@techdivenz.com

(including 4 engine QANTAS Sandringham flying

Dave boat Moran and 150 Ching year old Dynasty sailing porcelain ship Star of from Russia) the

Tek Sing. Dive New Temp Zealand 24-28°c. P: 09-521 Viz 10m 0684, to

E: divenz@DiveNewZealand.co.nz

40m. Free pickup from

Resorts in town.

Samara Nicholas M.O.N.Z Programme

P: +678 27518 or email:

Director: Experiencing Marine Reserves – Te

Kura Moana: samara@emr.org.nz

dive@bigbluevanuatu.com

www.emr.org.nz www.facebook.com/emr.mtsct

www.bigbluevanuatu.com

P: 09 4338205 or 0210362019 For your safety (field Vanuatu only) has

recompression facilities.

Lydia Green, Founder & Project Manager

Manta Watch Aotearoa. With the latest on NZ's

manta ray populations.

E: mantawatchzealand@gmail.com

P: 022 467 1093

www.dive-pacific.com 69
---
N E W Z E A L A N D ' S O N L Y D I V E M A G A Z I N E

N E W Z E A L A N D ' S O N L Y D I V E M A G A Z I N E

N E W Z E A L A N D ' S O N L Y D I V E M A G A Z I N E

www.divenewzealand.com 1

DIVE NZ D165.in d 1 21/08/19 1:08 PM

www.divenewzealand.com 1

I SUE 168 - $9.90 inc GST

February / March 2019

www.dive-pacific.com 1

SUBSCRIBE TODAY

OR GIFT DIVE PACIFIC TO A FRIEND!

Photo: Buccaneer Adventure Niue Dive

Featuring stunning photography from dive destinations around the globe

• Dive Features • News • Dive Destinations • Tech • Incident Reports • Reviews • Products •

N E W Z E A L A N D ' S O N L Y D I V E M A G A Z I N E

N E W Z E A L A N D ' S O N L Y D I V E M A G A Z I N E

N E W Z E A L A N D ' S O N L Y D I V E M A G A Z I N E

www.Dive-Pacific.com

I SUE 160 - $9.90 inc GST

October / November 2017

The technicolour

Giant Cuttlefish

of South Australia

Cousteau on

accelerating

climate change

P A C I F I C ' S M O S T I N F O R M A T I V E D I V E M A G A Z I N E

Taking a risk

on Guam

P A C I F I C

US Battle of the

Atlantic revisited

The Kiwi

Boxfish story

• Our photo competition gallery • Wildlife Photographer of the Year - finalists

What makes Milford Sound

unique for divers, (besides

giant crayfish)?

www.Dive-Pacific.com I SUE 165 - $9.90 inc GST

August / September 2018

The richest marine ecosystem on Earth

The no-brainer case for more, bigger marine reserves

Shark feeding

regs tightening?

P A C I F I C

N E W Z E A L A N D ' S D I V E M A G A Z I N E

P A C I F I C

P A C I F I C

San José:

Treasure wreck

of the century

Shining Star

in Port Vila

Cousteau:

"We can

solve this!"

NEW! A Beginners Guide to Underwater Photography • Simple rules for breath-holding divers

www.Dive-Pacific.com I SUE 1 6 - $9.90 inc GST

October / November 2018

P A C I F I C

N E W Z E A L A N D ' S D I V E M A G A Z I N E

N E W Z E A L A N D ' S O N L Y D I V E M A G A Z I N E

P A C I F I C

N E W Z E A L A N D ' S O N L Y D I V E M A G A Z I N E

Marine Reserves: winning

hearts & minds for the sea

Why isn't the NZ Government interested in Cook's Endeavour?

Meeting the unexpected in the Philippines

NZ Underwater Hockey teams win gold

Wildlife Photographer of Year finalists

• How to choose an underwater camera housing

• World Spearfishing champs: Report from Portugal: Spearos Notebook

www.Dive-Pacific.com

I SUE 167 - $9.90 inc GST

December / January 2019

Juvenile flying

fish checks

out diver

Christmas

Specials!

P A C I F I C

N E W Z E A L A N D ' S D I V E M AG A Z I N E

N E W Z E A L A N D ' S O N L Y D I V E M A G A Z I N E

P A C I F I C

N E W Z E A L A N D ' S O N L Y D I V E M A G A Z I N E

P A C I F I C

Sidemount

your tanks?

Why would you?

What's it like starting out with diving?

The wrecks of Solomon Islands

Vol i v ol i, a l o f F i j i a t one t op r e s or t

Heavenly haven at Havannah harbour

Has Photoshop ki led o f the photographer's ski l?

Holiday package to Fiji's best resort

Special subscription offers

www.dive-pacific.com 1

www.Dive-Pacific.com

Juvenile flying

fish checks

out diver

Sidemount

your tanks?

Why would you?

P A C I F I C

N E W Z E A L A N D ' S D I V E M AG A Z I N E

N E W Z E A L A N D ' S O N L Y D I V E M A G A Z I N E

P A C I F I C

N E W Z E A L A N D ' S O N L Y D I V E M A G A Z I N E

P A C I F I C

What's it like starting out with diving?

The wrecks of Solomon Islands

Volivoli, a l of Fiji at one top resort

Heavenly haven at Havannah harbour

Has Photoshop ki led o f the photographer's ski l?

Holiday package to Fiji's best resort

Special subscription offers

DIVE NZ D167.in d 1 20/ 1/18 5:50 PM

Covers 160.in d 2 2/09/17 8:08 PM

Subscribers will also receive our newsletter keeping you up to date with diving news from home and around the world.

Note: You are automatically included in all on-going competitions open to current, financial subscribers only. (note: not available to subscribers to the digital version.) Automatic inclusion means

you agree to receive any promotional material on the competition prize/s from any of the manufacturers/distributors. [ ] DO NOT automatically include me in any subscriber only competitions.

YOUR DETAILS: Start with [ ] Current issue or [ ] Next issue

This subscription is: [ ] New or a [ ] Renewal

Name ____________________________________________________________

Address ___________________________________________________________

_____________________________________________ Post code __________

Daytime ph/mobile __________________________________________________

Email ____________________________________________________________

I would like to give a gift subscription to:

Name _______________________________________________________

Address ___________________________________________________________

_________________________________________________________________

Recipients Email ____________________________________________________

Daytime ph/mobile __________________________________________________

Message on gift card _________________________________________________

_________________________________________________________________

PLEASE TICK YOUR REQUIRED SUBSCRIPTION (NZ$)

INCLUDES ASSOCIATE MEMBERSHIP OF NZUA

New Zealand 1 Year (4 issues: 2 online 2 printed) $45.00

New Zealand 2 Years (8 issues: 4 online 4 printed) $90.00

PAYMENT DETAILS: TOTAL $________________________________

Cheque Visa Mastercard Amex Direct Debit

(enclosed)

Card number

Cardholder's name _________________________________________

Cardholder's signature ________________________ Expiry ________

Send to: Dive New Zealand, NZUA Publishing Ltd Unit 1A 40 Mt Eden Rd Auckland 1024

Ph +64 (0)274 949629 Email divenz@DiveNewZealand.co.nz or subscribe online at www.Dive-Pacific.com or contact us for direct credit bank account details.

70 Dive New Zealand | Dive Pacific