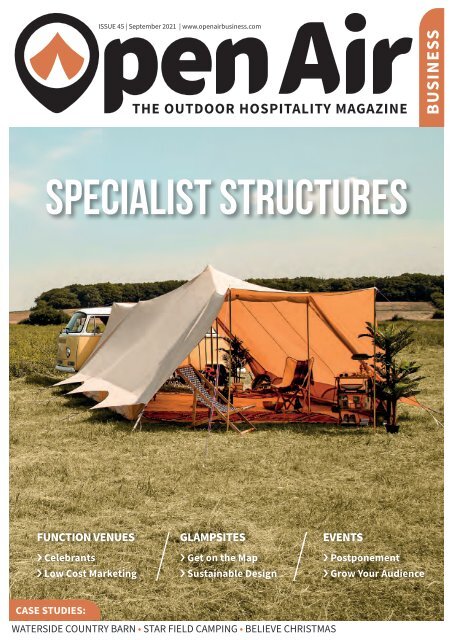 September 2021
The UK's outdoor hospitality business magazine for function venues, glamping, festivals and outdoor events
The UK's outdoor hospitality business magazine for function venues, glamping, festivals and outdoor events
SHOW MORE
SHOW LESS
Create successful ePaper yourself
Turn your PDF publications into a flip-book with our unique Google optimized e-Paper software.
ISSUE 45 | September 2021 | www.openairbusiness.com

BUSINESS

SPECIALIST STRUCTURES

FUNCTION VENUES

› Celebrants

› Low Cost Marketing

/ /

GLAMPSITES

› Get on the Map

› Sustainable Design

EVENTS

› Postponement

› Grow Your Audience

CASE STUDIES:

WATERSIDE COUNTRY BARN • STAR FIELD CAMPING • BELIEVE CHRISTMAS
---
Space to relax

Bringing comfort and luxury

to any type of landscape.

For more information

Tel: 01978 254150

Email: hello@outerspacegroup.com

Web: outerspacegroup.com
---
ISSUE 45 | September 2021 | www.openairbusiness.com

WELCOME

DETAILS OF the government's Live Events Reinsurance

Scheme have finally been published – a 5% premium

(plus tax) on the total cost of an event. The £750 million

fund protects against costs incurred should an event

be cancelled due to Covid restrictions. A very welcome

announcement, albeit much later than needed for many.

Over 60% of the UK's festivals and events were cancelled

this year, one of which was Cheshire's Deva Fest. Event

founder Phil Marston shares his full thinking behind

postponing, shedding light on the myriad considerations so

many organisers have had to contend with this season.

Looking ahead with renewed positivity, we've included a little Christmas action

in this issue – a case study on Believe Christmas, produced by Tainted UK. I am sure

they are not the only event organisers looking ahead to the latter part of the year

for opportunities to bring people together and hopefully recoup some income.

Glamping, on the other hand, is continuing its meteoric rise. More and more

players are entering the market and I would like to point them towards the

excellent work commissioned by the National Forest in their guide 'Sustainable

Design for Tourism Accommodation'. Tailored towards developments within

the forest's 200 mile boundary, there is much that can be applied to the wider

glamping landscape, no matter a site's location.

If your glampsite or venue is near some good walking, you will be interested

in the feature from Outdoor Active – there is a huge community of outdoor

adventurers looking for accommodation and sustenance up and down the country.

Add yourself to the map and get on their radar!

UP FRONT

5 News

8 Product News

12 Showman's Show

Preview

15 Entrepreneur's Chat

– Neil Baker, Cheviot

Brewery, Tap Room

and Glamping

FUNCTION VENUES

21 Waterside Country

Barn – a barn wedding

venue with hand built

glamping structures

26 Celebrants vs.

Registrars – Frances

Cave explains the

benefits of celebrants

31 Agents – love them

or hate them, they're

here to stay

32 Shoestring

Marketing – tips for

low cost marketing

wins

34 Flooring and

Ground Protection –

products in action

GLAMPSITES

37 Star Field Camping –

a summer glampsite

with stunning night

skies

43 Bathroom Pods –

personal bathroom

facilities for

glampsites

45 Get on the Map – tap

into an adventurous

community

48 Sustainable Design

– learnings from the

National Forest

53 Specialist Structures

– products in action

58 Sustainability –

products in action

Tally Rix

Editor / Publisher

Contents ISSUE 45 – SEPTEMBER 2021

EVENTS

61 Believe Christmas

– creating memories

for families in the

North East

66 Grow Your

Audience –

innovative marketing

techniques from

Project Simply

69 Postponement – the

full story from Deva

Fest's Phil Marston

72 Event Structures –

products in action

75 Visitor Management

– products in action

76 Spotlight

78 Classifieds

81 Behind the Scenes

– Sophie Jones,

ZooBells

PUBLISHERS

Steve Rix - steve@openairbusiness.com

Tally Rix - tally@openairbusiness.com

EDITOR

Tally Rix - tally@openairbusiness.com

Find more expert advice online:

www.openairbusiness.com

SUBSCRIBE

ONLINE

ADVERTISING SALES

Marney Whyte - 01892 677743

marney@openairbusiness.com

ADMINISTRATOR

Kirsty Farrow – 01892 677740

kirsty@openairbusiness.com

DESIGN

James English -

www.jamesenglishdesign.co.uk

PUBLISHED BY

Coffee Shop Media Ltd

www.coffeeshopmedia.com

Milroy House, Sayers Lane,

Tenterden, TN30 6BW

01580 848555

OPEN AIR BUSINESS IS

NO LONGER FREE

To start a paid subscription, please visit

www.openairbusiness.com/subscribe

SPECIALIST STRUCTURES

FUNCTION VENUES GLAMPSITES

EVENTS

› Celebrants

› Get on the Map

› Postponement

› Low Cost Marketing

/

› Sustainable Design

/

› Grow Your Audience

CASE STUDIES:

WATERSIDE COUNTRY BARN • STAR FIELD CAMPING • BELIEVE CHRISTMAS

COVER PHOTO

Turning adventures from basic to 'boutique', the Tucana

double door tent is now available to buy exclusively at

Boutique Camping. Guests can glamp grandly and pitch by

an RV or camper van to create unbeatable home-away-fromhome

luxury and practicality!

www.boutiquecamping.com

BUSINESS

WWW.OPENAIRBUSINESS.COM 3
---
Unique
---
Details Released on the Live

Events Reinsurance Scheme

THE GOVERNMENT has published details on the Live Events Reinsurance Scheme

announced in July. The £750 million fund protects against costs incurred should an event be

cancelled due to government Covid restrictions.

The scheme will cover live public events in the UK. In order to qualify, organisers must

also have event cancellation coverage provided by a participating insurer. The premium is

set at 5% of the total value of insured costs plus insurance premium tax and claims will be

subject to an excess of 5% of the value of the insured costs or £1,000, whichever is higher.

Event organisers can purchase cover up to the full cost of their event, irrespective of when

those costs are incurred.

Cover must be purchased at least eight weeks prior to the event taking place, although

this will not apply for the first 12 weeks of the scheme.

The scheme will not cover loss due to lower demand for tickets or venue capacity, and

doesn't cover self-isolation of staff or performers. It will cover a limited run of linked events,

provided that the organiser specifies which event dates require cover and how much cover

they are purchasing for each.

Running to 30 September 2022, with a review point in Spring 2022, cover will be available

to purchase through participating insurers.

GETTY IMAGES

Four Fold

Increase in

Glamping

Bookings

GLAMPING AGENCY Canopy and

Stars has reported that forward

bookings for 2022 were up four-fold

on the same period in 2019, with

many of its most popular spaces

already booked up during peak

2022 dates.

Booking website Pitchup.com

has also reported that while the

vast majority of its bookings over

the last week were arrivals for the

rest of 2021, it had already taken

thousands of bookings for UK

destinations for 2022.

Founder Dan Yates says that

although he expects the lastminute

trend to continue to

dominate, he feels confident of

many repeat customers booking for

next year. "Huge numbers of Brits

have taken their first-ever camping,

caravan or glamping holiday over

the last year and were delighted by

what they found," he said.

GETTY IMAGES

Corporate Events Demand Returns

ALMOST TWO thirds of corporate event organisers are planning

a face-to-face event before the end of the year, according to a

report by hotel and venue group, The Celtic Collection.

The collection's meetings and events sentiment survey of

266 business event organisers was carried out in conjunction

with ICC Wales to mark the return of live events and gauge the

industry demand for a return to face-to-face conferences and

events.

65 per cent of respondents said they are planning to hold a

face-to-face event before the end of 2021. A quarter of those

surveyed plan to hold more than 10 events in the next 12

months, and more than half say they would not be looking for a

hybrid element. There was a preference for organising smaller

meetings of under 200 people, and 37 per cent are planning to

accommodate under 50 people at their next event.

GETTY IMAGES

WWW.OPENAIRBUSINESS.COM 5
---
Marquees erected for pubs by Intent Productions

Marquees for Hospitality Could Stay

THE GOVERNMENT is reviewing the

current relaxation on rules for marquees

outside pubs and restaurants brought in

under the Covid measures.

The Ministry of Housing, Communities

and Local Government has begun a

consultation on whether this kind of

outdoor hospitality should continue.

Street markets are another area where

the relaxation on rules may be allowed to

continue.

Housing secretary Robert Jenrick said:

"The simple reforms we made during the

pandemic to help hospitality businesses,

markets and historic visitor attractions

make use of outdoor spaces more easily,

made a massive impact.

"As part of our vision to transform high

streets into thriving places to work, visit

and live, we intend to make as many of

these measures permanent fixtures of

British life as possible."

The consultation is open until 14

November.

Wedding Marquee

Plans at Edinburgh Zoo

THE ROYAL Zoological

Society of Scotland (RZSS)

has unveiled plans for a new

447m sq wedding marquee,

complete with catering

facilities and toilets. It is

hoped that hosting events

will help increase revenue for

RZSS after the coronavirus

pandemic.

Ben Supple, director of

engagement and business

development, said: "We are continuing to improve

and invest in Edinburgh Zoo, including the central

area next to the lawn where we are planning to

install a marquee and refurbish our café.

"The marquee will increase our capacity for

events and weddings, which are becoming more

popular at the zoo given our unique setting and the

chance to see so many incredible animals, all while

supporting our charity's vital conservation work

here in Scotland and around the world."

EDINBURGH ZOO

6 WWW.OPENAIRBUSINESS.COM
---
Be Cool this

staycation

with utoka

Keeping your food and drink cool for up to 5

days, utoka coolers are designed to withstand all

elements, even bear proof… you know, just in case!

Not for profit members cooperative marketing rural tourism

Promoting direct booking with owners

Glamping; Self Catering and Bed and Breakfast

Visit us at stand OSA710 to take advantage of our special show

offer

www.farmstay.co.uk

02476696909

ADVERTORIAL

Got an Idea?

Turn your wildest dreams

into a profitable place to

stay with comprehensive

consultancy from

Canopy & Stars

Glamping and outdoor

holidays have proven to be

one of the biggest success

stories in the tourism industry

over recent years, and the trend

shows no sign of slowing down. Canopy

& Stars is the UK's leading glamping

specialist, and 2021 was the most

successful year in the company's 10 year

history. With forward bookings for 2022

up 400% on pre-pandemic levels, now is

the perfect time to start your glamping

development journey.

A great space needs a vision and hard

work, but you will also need industry

expertise and experience, which is

where the Canopy & Stars consultancy

service comes in. As the longeststanding

marketing and booking agent

in the outdoor holiday space, we have

years of knowledge and data to help

you turn your wildest dreams into a

profitable place to stay.

Most glamping developments

can benefit from a two to three year

return on investment; much better

than returns on traditional

holiday lets. Build prices

for permanent structures

can range from as little

as £20,000 to upwards

of £200k right at the

top end. Canopy & Stars

reports that their top

performing places have

average nightly rates from

£195-£420 per night and occupancy

rates of between 75-95%.

Once you join the collection, we

become your commercial partner, with

specialist guest experience, marketing,

owner and business development

teams delivering a level of personal

service unmatched in the industry.

From initial consultations, viability

assessments and planning permission

support, to advice on creating an

experience and business modelling,

the Canopy & Stars team can guide and

support you every step of the way.

CASE STUDY

Netherby Estate, Cumbria

We've worked with Robert and his family at Netherby

since the launch of Netherby Woodland Yurt on Canopy

& Stars in 2014. When they were looking for a follow

up project, we toured their sheep-filled parkland and

assessed the site's potential. There was a perfect spot

for a treehouse and our industry insight and market

expertise gave them the confidence to commit to the

build.

Their treehouse achieves nightly rates of £170-£300

and occupancy of over 80%. We're now helping them

with an exciting phase three!

Customer Feedback: Robert Graham, Netherby Estate,

said: "Canopy & Stars couldn't have been more helpful

from the beginning! They were always available to

discuss ideas and provide us with examples of what

guests want. They gave us very accurate financial figures

on what similar treehouses made a year, which made

building Netherby a bit of a no-brainer for us."

To find out more, go to www.canopyandstars.co.uk or

email ideas@canopyandstars.co.uk

WWW.OPENAIRBUSINESS.COM 7
---
PRODUCT

Covid Event Cancellation Insurance:

Premium set at 5.6% of Event Cost

The government has published the rules for the Live Events Reinsurance

Scheme:

› Eligible Events are those generally available to the public, located in the

UK and scheduled to take place before 30 September 2022

› It protects against an event not being able to legally take place due to

new government Covid-19 restrictions

› Cover will be for costs, subject to a 5% or £1,000 excess, whichever is the

higher

› The premium will be 5% plus Insurance Premium Tax

› The cover is only available where the event is also insured for standard

event cancellation insurance

› The scheme is to be reviewed in Spring 2022

Event Insurance Company CoverMarque first wrote to the government

requesting them to back this type of insurance last August, and is

delighted that this insurance will now finally be available. "It will provide

event organisers with the financial security to go ahead and arrange their

events," says managing director Nick Drew. "It is fantastic for them and for

all of the suppliers of infrastructure and services to those events.

"CoverMarque also arranges the insurance for hundreds of temporary

structure hirers and mobile toilet companies, and they are so dependent

on live events".

If you would like a quotation for Event Cancellation Insurance, including

cover for Covid-19 restrictions, then please complete CoverMarque's

online enquiry form accessible from its website homepage, or visit the

team at the Showman's Show where CoverMarque hosts the Temporary

Structures Suppliers' Pavilion.

01962 774421, insurance@covermarque.com, www.covermarque.com

Classic Glamping

Rebrands to Unique

Hideaways

JULY 2021 saw Classic Glamping re-brand to

Unique Hideaways. The company had evolved in

such a way that it was time to create a fresh image

that would reflect its ever-growing portfolio of

bespoke accommodation. This change in brand

has allowed Unique Hideaways to welcome a

wider range of accommodation types into its

collection.

From houseboats docked in private quays to

romantic clifftop cabins with luxurious hot tubs,

Unique Hideaways offers a collection of one-ofa-kind

places to stay in hidden corners across the

UK.

The team at Unique Hideaways works with

owners to learn everything about their hideaway.

From the initial idea to the finished piece, and if

owners need help from the very beginning, they

are on hand to advise every step of the way. Most

of the hideaways are positioned in the South

West, but Unique Hideaways is now starting to

spread its magic across Wales and is looking to

head further afield.

If you have your own hideaway, a plot of land

or even a vision that you'd like to explore, then

please get in touch.

01736 230140, hello@uniquehideaways.com,

www.uniquehideaways.com

The New Duet Sauna

THE NEW Duet two person sauna launches at The Glamping Show 2021.

As interest in saunas continues to grow in the glamping industry, and as sites look to add that

'something special' to their portfolio, the need for a smaller two person unit has become apparent.

The new Duet now shows off a tinted glass wall at one end of the box shaped structure allowing

users to take in whatever amazing view the owner chooses to face it towards.

Available in both wood-fired and electric heater versions, the Duet is now available in a variety

of external colours whilst keeping the huge 42mm thick solid wood walls – insulation and heat

retention being a priority, as well as build quality. Different sizes are available to suit all spaces and

the inclusion of outdoor seating is a great addition for cooling off.

The Duet complements adult only and couples retreats, working well with the LuvTub two person

hot tub. The vision of a totally off-grid eco spa setup can now be realised with the addition of these

products whilst ticking all of the boxes when it comes to guests seeking out an amazing place to stay.

01484 766233, info@nakedtubs.com, www.nakedtubs.com

8 WWW.OPENAIRBUSINESS.COM
---
The Pizza

Oven Plus –

Bid Now!

DELIVERING UNPARALLELED outdoor

experiences by producing alluring ambiances

and creative cook-offs, the Pizza Oven Plus's

ferocious 400° flames will turn up the heat and

be the start, middle and end highlight of your

guests' next outdoor or in-tent adventure. This

portable stainless steel cooking appliance has

five in one cooking capabilities, allowing you

to stone-bake authentic 12" pizzas in three to

four minutes, all whilst frying, grilling, baking,

warming and fire roasting simultaneously!

An exclusive design inspired by Boutique

Camping's original sell-out patented pizza

stove, this bigger, better and bolder rendition

is now live on the world's most famous

reward-based crowdfunding platform,

Kickstarter. Bid, save, camp and cook… you

could be the next buck-saving backer to ignite

the flame of The Pizza Oven Plus's success –

being one of the first ever owners and for a

fraction of the price!

0203 319 1315, info@boutiquecamping.com,

www.boutiquecamping.com

Handmade Hot Tubs,

Saunas and Pods

NEW TO the market, Amber Hot Tubs

handmakes a range of wood-fired hot

tubs, saunas and wooden glamping pods.

For hot tubs, the company offers a large

variety of interior colours including brand

new pearl colours, oceanic blue, silver,

grey, gold and many more.

Hot tubs and saunas are made

bespoke and tailored to a customer's

requirements. The company delivers

across England, Scotland and Wales and

offers a free positioning service and 24

month manufacturer's warranty.

Amber Hot Tubs has both hot tubs and

saunas in stock and ready for immediate

delivery.

07737 533456, enquiries@amberhotubs.

co.uk, www.amberhotubs.co.uk

Largest Solar-Hybrid Generator of its Kind

THE NEW MHM MGTP 60 SHG-5 is the

largest solar hybrid generator of its

type to have been built. The 60kVA

self-charging solar-hybrid generator

produces dependable, stable electricity

via a sequence of solar and battery

power. Continuous power is supported

from a Stage V fuel-efficient engine

that can operate from standard diesel

or emission-free HVO (hydrotreated

vegetable oil) fuel, provided the HVO

supply meets with BS EN 15940:2016.

The MGTP 60 SHG-5 features a fully adjustable roof mounted high-efficiency solar

panel and integral long-life, lithium iron phosphate batteries. It has all the robust

rental characteristics of a standard site generator with the exception that it runs almost

exclusively from non-fossil initiated fuels. It is fitted with forklift pockets for safe lifting

and a full-bunded base to retain all fluids.

Utilising available renewable energy, the MGTP 60 SHG-5 solar hybrid battery diesel

generator saves on fuel bills, lowers carbon emissions and cuts noise pollution while still

delivering safe, clean power.

01639 777009, info@mhmplant.com, www.mhmplant.com

WWW.OPENAIRBUSINESS.COM 9
---
PRODUCT

Qorone Goes Large

QORONE STRUCTURES start at a 5m diameter octagon, ideal for use

as cosy glamping units. Add four walls, and the octagon becomes

a dodecagon, with a diameter of 8m. This size is currently used as

The Magic Teapot, the very popular and much loved touring festival

venue, hosting up to 120 people for music and tea around the fire.

For the Showman's Show in October, Qorone will be debuting

its largest structure to date – an 18 side (octadecagon!) structure

measuring 12m diameter, providing 112 square metres of floor

space for an eating/meeting/greeting area. The structure itself is so

beautiful, with hand-finished wooden walls, bellows-like canvas roof

and the signature firebowl at the centre, that it barely needs to be

dressed. A great alternative to a marquee for weddings and parties, be

sure to have a look if you are at the show!

Qorone will also furnish the octadecagon and two other Qorones

with a range of event standard furniture. This furniture is built using

the same production techniques as the Qorone structures and is very

robust, built to be festival proof. Qorone uses locally grown larch

and is involved in all stages from felling, transport and milling, to the

creation of the final product.

07798 902209, info@qorone.com, www.qorone.com

High-end Container Conversions

SteelPad offers bespoke shipping container conversions

by master craftsmen. A one-stop-shop for container

living, each unit is designed according to a clients' needs,

constructed and delivered almost anywhere.

Comprising tough, durable Corten steel and German

engineered bifold doors and frames, containers are fully

insulated with many cladding options including timber,

acrylic mirror and paint.

High spec A energy rated equipment can include an

electric two hob stove, air conditioning, fridge/freezer,

microwave/convection oven and heated towel rail.

The containers can be installed on or off-grid and need

no foundations for minimal ground disturbance. The Steel

Pad mantra is 'Vision, Design, Reduced Space Living.'

07889 154002, info@steelpad.co.uk, www.steelpad.co.uk

Award-winning Clean Energy

YOU DON'T replace your caravan when it

breaks down, so why replace your battery

earlier than needed? Award-winning

clean technology company Aceleron has

launched the first serviceable, upgradable,

and fully recyclable lithium-ion battery –

the Essential – which will transform off-grid

sites, making them greener than ever

before.

Thanks to its unique technology, you

can not only repair and maintain your

battery when needed but you can also

choose to upgrade it as battery technology

advances. Most batteries can only be

used in one position, which is tricky

when you're trying to save space, but the

Essential is built differently allowing for

multiple orientations. With its ergonomic

handle, making it easy to carry, and

design optimised for easy installation,

the Essential is a convenient and versatile

choice. It will also power more appliances

than a typical lead-acid battery.

Committed to a circular economic

model, Aceleron exists to bring

sustainability and innovation to the world

by revolutionising the linear economy's

traditional battery manufacturing methods

with next-gen advanced storage. Anyone

looking for a lightweight but powerful

alternative to a lead-acid battery should

consider the new Essential.

0121 201 2933, info@aceleronenergy.com,

www.aceleronenergy.com

10 WWW.OPENAIRBUSINESS.COM
---
Portable Air Cooling,

Fridge/Freezer and

Power Packs

SUZY HODGE is thrilled to be introducing the TotalCool range of

products to the Glamping Show. The TotalCool 3000 is her flagship

product, a British made portable air cooling unit.

The compact evaporative air cooling device is a perfect portable

cooling solution for so many applications in the glamping market.

Off-grid, this unit gives powerful cooling from an amazing low

power draw. It's equally happy plugged into the mains for a

wedding event or a luxury overnight camping stay for guests.

Also new to the market is the TotalFreeze range, offering portable compressor fridge freezers with a very low power draw. You can

choose from temperatures between -20 deg C to +20 deg C, so the unit will also keep food warm for transportation. Client facing or back

of house, these robust units give you direct easy touch control and super insulation in any situation.

Suzy Hodge offers two lithium-ion power packs. The handheld 155W pack features a flash light, three USB charging sockets and gives

a 12v output. The TotalPower 500 is a 500W, 40A, 6.5kg power bank which offers so much more, with a 300W invertor with pure sine wave

to run laptops, drones and cameras, or simply charge guest's phones and screens off-grid with four USB ports. This power pack can also

charge electric bikes or just run portable lights.

A DC 12v will run the TotalCool 3000 on high for up to 45 hours or the TotalFreeze (see below) for over 15 hours. Units can be recharged

from mains, 12v or solar power. Foldable 100W solar panels will charge the TotalPower 500 in 5.8 hours on a sunny morning.

Shepherd Hut

Series to Meet

Glamping

Growth

THE WILLOWMEAD Group

has launched a series of

shepherd huts to support

glampsite owners'

growth during the surge

in staycations due to the

pandemic. According to the

GVR market analysis report,

the global glamping market

is expected to grow at a

compound annual growth

rate of 14.1% from 2021 to 2028 to reach USD 5.41 billion by

2028 (3.92 billion GBP).

The global glamping market size was estimated at USD 1.88

billion in 2020 and is expected to reach USD 2.35 billion by the

end of 2021 (1.7 billion GBP). Europe has dominated the global

glamping market with a share of 34.8% in 2019, this is only set to

grow looking at recent statistics.

Set up in Bedfordshire in 2019, Willowmead is a family-run

business intent on delivering the highest quality builds that will

last a lifetime. With 44 years of experience building exhibition

stands for brands including Mercedes Benz, Renault Trucks, BP, and

Sony, they pivoted to building shepherd huts due to the pandemic

and are hoping to partner with campsite owners to bounce back

together after a challenging 18 months.

01234 771588, hello@willowmeadgroup.co.uk,

www.willowmeadgroup.co.uk

Hydrotherapy Addition

for Riviera Hot Tubs

RIVIERA HOT Tubs has introduced marine grade stainless steel

jet massage zones to its hot tubs, subtle to the eye but providing

an unparalleled hydrotherapy experience.

Riviera Hot Tubs has been manufacturing wooden barrel

hot tubs for 20 years, offering a bespoke service. No product

comes straight off a shelf and the team can build barrels or

Japanese Ofuros to seat two to 16 people. Hot tubs use either

an economical air source heating system or the company's own

55kW wood burning stove, manufactured in Kent using stainless

steel and copper.

Each year Riviera moves away from plastic parts with the end

goal of providing a system using only natural materials.

01626 367038, info@riviera-hottubs.co.uk,

www.riviera-hottubs.co.uk

WWW.OPENAIRBUSINESS.COM 11
---
INDUSTRY OVERVIEW

The Showman's Show

A must attend trade show for any event professional writes Michelle Tayton

A VISIT to Newbury Showground for The

Showman's Show in October has always been

a must for any serious event professional.

In 2021, when the industry is desperate to

reconnect following the pandemic, it will be

essential, so make sure 20-21 October is in

your diary!

Over the last month or so we've seen

outdoor events back in earnest and there is

now a real sense that the industry is returning

to some sort of normality. Of course, it's

not without its challenges; suppliers are at

capacity, as the usual season is condensed

into two hectic months, and event organisers

are navigating new guidance. That said,

there is a renewed air of optimism and

that is reflected in exhibitor bookings and

registrations for The Showman's Show 2021

as plans gather pace.

Event director, Jeremy Lance, comments:

"Our industry has really been through the

mill, no organiser or supplier has come out of

it unscathed. We know how tough it has been

for everyone and we have been very sensitive

to that when organising the show. However,

we have to forge ahead and plan for the

future and everyone I talk to is really looking

forward to attending this year's event. Not

only to catch up with industry friends but it's

a milestone, a line in the sand as it were and

a real sign that as an industry we're coming

out the other side."

Also making a welcome return is The

Vision:2025 conference with the theme 'A

Journey to Net Zero'. Open to all attendees it

will bring together trailblazers from the world

of outdoor event sustainability to share

knowledge and working practices whilst

taking a look at new products and services

to support organisers and suppliers tackling

carbon impact. It will also feature a Dragon's

Den style competition between exhibitors

with the lucky recipient taking home the

accolade of the Green and Innovation

Supplier Award. Previous winners include the

highly successful Continest whose innovative

foldable container technology is now present

at events around the globe.

Co-event director, Johnny Lance, said: "We

are delighted to be hosting the Vision:2025

conference again. After the enforced

pandemic break for our industry, it is more

important than ever that sustainability is

central to the industry returning greener and

tackling the climate emergency facing the

planet.

"Along with the challenges that delivering

events in the Covid-era presents, it's great

to see that sustainability continues to be an

important focus for many event organisers

and suppliers as we build back better.

Exhibitors showcasing products and services

with strong green credentials have been

integral to the success of the show in recent

years and 2021 looks set to be another great

year for innovation and sustainability."

SEE YOU THERE!

The Showman's Show takes place on 20-

21 October at the Newbury Showground.

Register free at

www.showmans-directory.co.uk

OAB's Top Picks

CoverMarque Temporary Structure

Hirers Pavilion

Location: Intersection of Avenues G & C

www.covermarque.com

Hosted by specialist insurance advisor

to the events industry, CoverMarque,

the Temporary Structure Hirers Pavilion

is a one-stop-shop of suppliers to the

temporary structure industry. What's more,

attendees can enjoy a free lunch, drink

from the bar and tea/coffee. There's even a

clay shooting competition!

Previously known as the CoverMarque

Marquee Suppliers' Pavilion, the name has

been changed to incorporate all temporary

structures including tipis, yurts, stretch,

bell, sailcloth and tension tents, igloos,

geodesic domes, pods and more.

2019 was a very successful year for the

CoverMarque pavilion, with 30 partner

exhibitors and 1,641 visitors representing

870 companies. 2021, is lining up to be just

as good - see you there!

12 WWW.OPENAIRBUSINESS.COM
---
INDUSTRY OVERVIEW

Thermobile

Location: Avenue B, Stand 153

www.thermobile.co.uk

Thermobile heaters are manufactured in Holland and built to a very

high quality. They have a minimum efficiency of 90 per cent, which

means that 90 per cent of the fuel burned goes as useful heat into

the heated space and only 10 per cent via the flue. This is a very high

efficiency in comparison to other heaters on the market.

The Thermobile ITA range is ideal for heating marquees and other

temporary structures. It comprises small, mobile units with a 5-10m

range for ducting and 15hr integral fuel tanks. The larger IMA units

require a separate fuel tank and can be ducted up to 40m.

MHM Plant

Location: Avenue A, Stand 133

www.mhmplant.com

MHM is a leading supplier of solar-hybrid generators

and lighting towers for both purchase and rehire. The

company has developed its product range with emphasis

on sustainability innovation including the increasing use

of hybrid technology, LED lighting, solar power, clean fuel

storage and emission efficient diesel engines.

MHM undertakes to pursue the use of renewables to

power equipment wherever and whenever possible. All MHM

products are manufactured in a purposely built facility based

near Milan.

Fit Outdoor Finance

Location: Exhibition Hall, Stand: 5

www.fitoutdoorfinance.co.uk

Fit Outdoor Finance says the pent-up demand for events

presents a huge opportunity for anyone in the sector. Whether

you need an outdoor stage set up, lighting, a marquee style

canopy structure, sanitary and welfare units, or even an outdoor

catering set up, they are on hand.

Accessing finance may be tough but it is by no means

impossible. The team at Fit Outdoor Finance has been helping

businesses with finance for over 30 years, through several

recessions and the banking crash! They've seen every unlikely

situation and helped to successfully finance many.

RentaDinosaur

Location: Avenue A, Stand 125

www.rentadinosaur.co.uk

Create a buzz at your event, festival or party with

Rentadinosaur's impressive range of prehistoric monsters.

Want a terrifying tyrannosaurus? A lumbering triceratops?

Cute baby dinosaurs? If you're looking for a 'big' headline

attraction then Dexter the T-rex is 4m long and 2.5m high at

full stretch, and Tiny the Triceratops is even larger…

The biggest theatrical dinosaur show in the UK now has 25

dinos for budgets big and small.

WWW.OPENAIRBUSINESS.COM 13
---
POP-UP, MOVEABLE HARD-STANDING SOLUTION WHEREVER YOU NEED IT

UN-LIMIT YOUR ACCESS

POP-UP, MOVEABLE, HARD-STANDING WHEREVER YOU NEED IT

HAVE LAND BUT NO DEPENDABLE ACCESS? DO YOUR

GATEWAYS LET YOU DOWN? DO YOU NEED A TEMPORARY

TRACK FOR SUMMER TRAFFIC OR A PATH TO THE SHOWERS?

Mudcontrol slabs are a revolutionary, sustainable & green

solution wherever you need to expand hard-standing or

create roadways, pathways, parking or access.

An eco alternative to concrete with simple D.I.Y. installation,

these engineered, reuseable heavy duty slabs are suitable for

temporary or permanent placement - ideal for camping or

glamping sites who wish to rotate land useage year on year.

DON'T BURY YOUR INVESTMENT

REVOLUTIONISE THE WAY YOU USE YOUR SITE!

BELIEVE THE HYPE! FOLLOW US:

CERTIFIED TO OVER 60 TONNES, CAN BE LAID STRAIGHT ON TO GRASS

OR MUD, PROTECTING THE GROUND UNDERNEATH - GRASS GROWS

THROUGH. MADE FROM 100% RECYCLED, PLAYGROUND CERTIFIED

PLASTIC. CHECK OUT OUR WEBSITE FOR REVIEWS AND MORE INFO.

TEL: CWC OFFICE Advert (Open Air 01536 Magazine).pdf 1669630, 23/02/2021 12:04:51 KERRY 07941 961496 OR JAMES 07826 398096

Expert

advice to help you

achieve the most

from your venue

business.

Great outdoors.

Great investment!

C

M

Y

CM

MY

CY

CMY

K

• Increase

profitability

• Reach your ideal

customers

• Maximise sales

opportunities

• Streamline your

processes

www.charlottewinship.com

07493 350303 / charlotte@charlottewinship.com

Innovative, ingenious – Anthropods offer landowners a range of

unique glamping and micro-dwelling products like no other with

wet rooms, kitchens, log burning stoves* – on or off-grid, fully

insulated all-year-around products, with terrific

consumer appeal. Anthropods are made with

sustainable, eco-friendly materials throughout.

Start maximising your land use today and

get a quick return on your investment.

Call 01423 869867

or email info@anthropods.co.uk

www.anthropods.co.uk

Anthropods & Co Ltd, 6a Hambleton Grove,

Knaresborough, North Yorkshire HG5 0DB

*Wood burning stoves only available in certain model configurations.

Please ask for details.

anthropods_uk

WE UNDERSTAND THE COUNTRYSIDE

14 WWW.OPENAIRBUSINESS.COM
---
PEOPLE

ENTREPRENEUR'S CHAT

One of the three directors of

Cheviot Brewery and Glamping – a

microbrewery, tap bar and brand

new glampsite on the Ford & Etal

North Northumberland

NeilEstate,

BAKER

his story starts in Barcelona during

the 2015 Spanish Grand Prix. Three

friends – Neil Baker, Jonny Hodgson

and Pete Nash are sitting in the tap bar of

the Moritz brewery thinking how great it

would be to run their own brewery. The

difference between this and many others'

"pub talk" was that the trio actually did

something about it.

Fast forward three years and the first

beers were being served at a function at

Barmoor Castle, Northumberland. Cheviot

Brewery has now been brewing for over

three years, from a formally derelict part

of the Ford and Etal Estate, and is now also

home to Cheviot Tap, the onsite tap bar and

a brand new glampsite, Cheviot Glamping.

"Jonny and I have been friends since

our school days and had often thought

about doing a project together," says Neil.

"Pete wanted a change from his career and

was ready to turn his sales skills to a new

enterprise – he is now our head of sales.

"After the grand plans in Barcelona,

we went home to West Yorkshire and did lots of

research. We heard on the grapevine that a local

brewery was upgrading their kit so we bought

their old equipment. They were really helpful and

advised us on how the kit could be modified and

upgraded to increase efficiency".

Jonny – now Cheviot's head brewer – and Pete

had done some work experience in a brewery and

Pete also did an intensive course with Brewlab, a

provider of brewing courses, training and analysis,

where he learned about the business side of the

industry. They knew what to do but needed to find

a site.

"Despite us being from West Yorkshire, we chose

Northumberland for the brewery's location. Jonny's

parents lived there so he spent a fair amount of time

up there with his structural engineering company

being based in both the North East and Yorkshire.

Pete was ready for a move and was happy to

relocate. My location doesn't matter much as my

role is marketing and design so I don't need to be

on site. I am a filmmaker, animator, illustrator and

co-director of creative production company Electric

Egg based in Lincolnshire".

WWW.OPENAIRBUSINESS.COM 15
---
PEOPLE

THE PLAN

The trio created a business plan that centred around

the desire to create beers that spoke of and to

Northumberland, using local suppliers and inspired by

the history and landscape of the area.

"It was important to get across that although we

weren't from the area, we were committed to creating

a product that reflected where we were located and

that was synonymous with Northumberland. The name

Cheviot Brewery comes from the Cheviot Hills which

span North Northumberland and the Scottish Borders.

We were keen to work with the local community and

reach out to groups and societies such as local rugby

and cricket clubs".

Jonny, Pete and Neil started looking for business

space and contacted various landowners, eventually

being introduced to the Ford and Etal Estate, which had

some derelict buildings that had formerly housed the

North Northumberland Hunt's kennels.

"The estate is huge and includes multiple farms, two

villages, and tourist attractions including Etal Castle, a

light railway and a heavy horse centre. It is a working

estate with livestock and arable agriculture but there

is a great tourism economy there. The estate has been

very generous to us in terms of their support and in

refurbishing the buildings to get them into shape for

us to take out a lease. They had great faith in us as they

were essentially taking a risk on three people that,

despite track records of running businesses, had not

"THREE YEARS

ON AND WE ARE

CONSIDERED AN

ASSET TO THE

ESTATE AND

WE NOW WORK

TOGETHER

ON THE

MANAGEMENT

OF THE LOCAL

PUB IN THE

VILLAGE, THE

BLACK BULL INN"

worked in the industry or the area.

"Three years on and we are considered an asset

to the estate and we now work together on the

management of the local pub in the village, The Black

Bull Inn. We manage it on their behalf and both the

pub and our fledgling glamping enterprise are under

the care of Ellie Bain. We brought Ellie in as she has

extensive experience in the hospitality and holiday

park industry. She has managed pubs and bars; she's a

perfect addition to the team".

With the space secured on a 10 year lease, Jonny

started to design the brewery. "Jonny is a structural

engineer by trade, which proved very useful! He

has been the architect of the whole site and, as he's

worked on many high profile developments and public

infrastructure projects, he found spec'ing a brewery

no problem! We use a partial Victorian 'gravity drop'

model, which uses gravity to move the liquid around

as much as possible. The process is very manual – we

don't just press buttons – and Jonny has used his skills

to up efficiency through design and layout".

Everything was self-financed, or by loans from

friends and family, and the first three beers were

brewed back to back in 2018. "Cask ale takes around 10

days (dependent on the beer) from brew day to pour,"

explains Neil. "Our launch to the public was an event

for a caravan lodge park that was opening a new event

space at Barmoor Castle. It was tight getting everything

ready for that but we did it!"

A PLACE TO POUR

It was always in the business's vision to offer brewery

tours and tastings, tapping into the tourist and local

trade. During the first lockdown, the team built Cheviot

Tap, an on-site tap bar in one of the other outbuildings

on the site and now serves beer and pizza on Fridays,

Saturdays and Sundays.

"There is a sawmill one mile down the road

processing wood from the estate. We took wood from

there to help build the bar, the hop pergola and some

of the furniture. We had previously run tap days with

marquees in the yard, borrowing tables from the local

village hall, but we soon saw the value in selling beer

directly to the public as well as wholesale. This was

especially clear during the height of the pandemic

when we were losing revenue from the pubs being

16 WWW.OPENAIRBUSINESS.COM
---
PEOPLE

closed. Selling bottles direct to the public helped to make

up for the loss of cask ale sales.

"The tap bar also meant we could control standards

as beer needs to be handled and stored correctly, also

there's no transport costs with the brewery being the

other side of the yard. Cask sales to other pubs are still

an important part of the business however, and we have

lots of regular custom from some of the best pubs in the

North East who know how to serve a great pint and have

a loyal customer base, many of whom have become

Cheviot fans."

The tap bar doubles as an events space. "We've had

birthdays, wedding receptions and corporate bookings.

GLAMPING IS BORN

The second lockdown was the perfect opportunity for

more diversification. "We always had the idea of creating

horizontal integration within the business; having

different revenue streams make great sense. Our site

includes a small field which is too small for camping at

scale, but perfect for the lower numbers and higher bednight

rates of glamping.

"We opened quite late in the season with six bell tents

and two pods. The pods are fabulous and a bit more than

what most people think of as a pod. Jonny designed

them from used shipping containers, although you

wouldn't know that from looking at them.

"They are clad in local wood from the sawmill down

WWW.OPENAIRBUSINESS.COM 17
---
PEOPLE

RIGHT: Jonny

Hodgson and

Pete Nash

after winning

the 2020

Bradford

Beer Festival

award for

best beer, 4%

and under

"THEY ARE

CLAD IN LOCAL

WOOD FROM

A SAWMILL

DOWN THE

ROAD AND HAVE

AN EN-SUITE

AT THE BACK,

LPG HEATING,

A TWO BURNER

STOVE AND MINI

FRIDGE..."

the road and have an en-suite at the back, LPG heating,

a two burner stove and mini fridge. The pods can

be used all year round, although we are closing the

whole site during mid-week in November till April in

order to install four more pods and to add some more

accommodation options".

Neil reports the excitement and anticipation of

receiving the first few bookings for the new glampsite.

"We hadn't done any advertising, just trailed a bit

of PR and put things on our own website and social

channels. When we announced the plans for Cheviot

Glamping, we set up a mailing list and by the time we

were ready to launch there were hundreds of people

signed up for updates. We announced the opening date

and bookings being open to our mailing list first and

gave them a 24 hour period in which they could book

first. We had a sweep stake as to how long it would

take for the first booking to come in. Ellie said an hour,

the rest of us were less optimistic. It actually took just

seven minutes! We ended up with 33 bookings in the

first 24 hours".

The entire Cheviot business now sustains three full

time employees and plenty of part time staff in the

brewery, tap bar, glampsite and pub. "At this stage all

our profit is being reinvested into the next stages of our

vision," says Neil. "The potential of the glampsite alone

is quite significant, and we have plans to scale it to

six pods, three bell tents, two self-catering suites, and

three single sleepers for hikers and cyclists".

Another tenant on the estate has recently opened

a campsite adding to the tourists staying locally. "It's

great for us, more people staying locally means more

potential patrons to the tap bar and pub" says Neil.

"The great thing about the estate is that it is keen to

support and nurture the economy on it; it wouldn't put

businesses together that didn't gel – plus we also have

alpaca trekking as an added extra!"

Animals at the brewery are not an uncommon site,

and the tap bar has become a destination venue for the

local equestrian centre. "It's not unusual to see a line of

horses tied up as their riders grab a quick pint".

DETAILS

Cheviot Brewery, Tap and Glamping

Slainsfield

Cornhill-on-Tweed

Northumberland TD12 4TP

www.cheviotbrewery.co.uk

18 WWW.OPENAIRBUSINESS.COM
---
01453 767171

www.bondfabrications.co.uk

enquiries@bondfabrications.co.uk

British Design & Manufacture of Unique Canvas Safari Tents & Bespoke Structures

From our Gloucestershire factory Bond have served the British outdoor hospitality industry for over 30 years. With emphasis on client-led

design, high performance technical fabrics, traditional British workmanship and structurally engineered frames, Bond offer an unrivalled

custom design process creating unique, beautiful structures. From high luxury glamping locations to exclusive outdoor event experiences,

we can offer full CAD design support, exceptional quality and a personal service to create the vision and identity your venue requires.

See us at The Glamping Show STAND OSA725

WWW.OPENAIRBUSINESS.COM 19
---
Trust us to deliver your innovative,

sustainable and tailor-made

outdoor diversification project

GLAMTAINERS

EARTH PODS

GLAMPING | EQUINE | MARINE

CARAVANS | STATIC HOMES

Compact & Light

Use stationary or mobile

12v, 24v or Mains power

Energy efficient

Low power draw

(0.3-1.8 amps)

Made in the UK

Environmentally friendly

Adjustyable vents

Cold air over 7 metres

Built to last with a 2yr

warranty

suzytotalcool@aol.com

EYE PAD SAUNAS

We are the UK's leading provider of rural diversification projects

supporting landowners and country estates to offer exceptional

outdoor experiences all-year round. There's no need for you to be

overwhelmed by managing a diversification project by yourself.

Let Outdoor Living do it all for you.

SHEPHERD'S HUTS

Contact us today and turn your outdoor living vision into a reality

explore@outdoorliving.me.uk

01284 771568

outdoorliving.me.uk

utdoor

living

Creating Memories

Bespoke, Luxurious

Shepherd Huts

OL 1/4 page ad B 2021.indd 1 16/06/2021 10:18

Greendown Shepherd Huts specialise in crafting premium,

bespoke shepherd huts that offer an unparalleled and timeless

level of luxury with all the versatility of a mobile living space.

Whatever you may need a shepherd hut for, we can deliver!

From our dedicated workshop in Saltford, our specialist team

deliver quality huts for shepherd hut lovers across the

country, from bed and breakfast owners looking for

something different, to private buyers and campsites.

0117 986 9685

www.greendownshepherdhuts.co.uk

20 WWW.OPENAIRBUSINESS.COM
---
FUNCTION VENUES

CASE STUDY

Waterside

An exclusive Somerset wedding

venue nestled in scenic tranquillity

Country Barn

WWW.MURRAYFREESTONE.COM

Georgia and Alexander

Venn's fledgling wedding

and events business

comprises a beautiful barn

and four unique glamping

spaces, hand built by

Alexander. Offering the

ultimate in flexibility, the

venue is also host to yoga

retreats and there are plans

for a wellness festival. We

talk to Georgia.

When did you start your venue business

and what is its history?

My husband Alexander grew up here at

Mill House. It's such a beautiful, secluded,

tranquil spot and he was adamant he wanted

a big white wedding here on the farm (cue

Groomzilla!). So, after a beautiful proposal

on the cliffs of Mawgan Porth in Cornwall, I

began planning our wedding to take place the

following year in September 2015.

I'd been working as a sales, marketing and

events manager for years in the hospitality

industry, working with top chefs across

the UK. This enabled us to have Cornwall's

first ever Michelin starred chef, Kevin Viner,

provide our wedding breakfast. We had a funfilled

wedding reception in a large marquee

here on the farm.

I'd enjoyed planning our wedding so

much and the comments from all our guests

confirmed that this gut instinct of what we

should be doing here was right! It seemed all

my past working history was leading up to

doing this, and along with Alexander's vision

and building skills, it was the perfect mix!

Alexander and his team at Outbuild, which

included his brother Cameron, began building

the barn in 2019. After a lot of hard work,

blood, sweat and tears, we saw our planning

permission finally granted to use our beautiful

new barn for events in 2020.

Our vision had become a reality and,

after hosting a few weddings for family

and friends, we were ready to share this

magical space and create blissful memories

for more couples choosing to spend their

wedding day here at Waterside Country

Barn.

Tell us about your location and site

When standing at the venue listening to

the sounds of birdsong, the babbling river

surrounding the venue field, and taking in

the views of the Blackdown and Quantock

hills, you wouldn't believe it's just a five

minute drive from junction 26 of the M5!

Especially with the local wildlife buzzing

around, including the pair of serene swans

that glide across the lake.

The wedding venue site itself is very

unique. The whole field Waterside Country

Barn is set on is part of a parcel of land

surrounded by the river Tone. The lake in

the centre has an island in the middle so is

actually an island within an island!

From the moment I moved to the farm,

a year after meeting Alexander, I knew that

this parcel of land was special. Whenever I

was feeling overwhelmed with my highpressure

job, I would start the day walking

around that field, which always made me

feel better – it really is a magical place.

WWW.OPENAIRBUSINESS.COM 21
---
FUNCTION VENUES

WWW.MURRAYFREESTONE.COM

Any challenges the site presents

for a function venue?

Weather can be a challenge, the

gazebo by the lake is the perfect

spot for a celebrant-led ceremony,

but we can dress up the barn for the

ceremony instead if needed.

We hosted a wedding last week,

and the forecast was thunderstorms

– starting right at the time the

ceremony was due to take place

next to the lake! 30 minutes prior to

the ceremony, there wasn't a cloud

in the sky. The groom and Alexander

made the call to attempt the

ceremony out by the lake and

we were able to get everything

set up at the last minute

for the couple to have

their dream outdoor

ceremony. It was even

more magical as it

was so unexpected

that they were going to be able to

have it outside.

What facilities for outdoor

functions do you offer?

As well as the gazebo on the decking

overlooking the lake, we also

have ample space for the hire of

additional structures opposite the

barn if required.

The barn has been cleverly

built with removable sides, which

enables the whole side of the

building alongside the lake to be

removed for that 'outside-indoors'

experience.

We have four glamping

accommodation units onsite, all

built by Alexander and his team at

Outbuild. They are Riverside Retreat,

Lakeside Lodge, Countryside Cabin

and Sunset Shepherds Hut – the

perfect accommodation for the

"ALL OF THE

GLAMPING

UNITS ARE

INCREDIBLY

POPULAR ALL

YEAR ROUND,

AVAILABLE

TO BOOK

THROUGH

AIRBNB"

bride and groom on the night of

their wedding, complete with

Mr and Mrs robes, a rose petal

decorated bed and a bottle of cold

bubbly to enjoy.

All of the glamping units

are incredibly popular all year

round, available to book through

Airbnb. Some have their own little

pathways leading down to pebble

beaches alongside the river Tone.

Guests return time and time again

and really enjoy the peace and

chance to get back to nature; they

love the little touches, like the

complimentary marshmallows to

toast on their own private firepit.

What services do you offer?

Our accommodation units can be

booked separately or all together,

perfect for wedding and group

getaways prior to an event. The
---
FUNCTION VENUES

bride and groom from last week's

wedding are planning on booking

out the accommodation units for

themselves and their friends to

celebrate their wedding anniversary

next year!

We also run yoga retreats, with

our last one being a stand up

paddleboard (SUP) yoga day here

on the lake – something that's been

incredibly well received.

Waterside Country Barn is the

perfect place to celebrate wedding

blessings and receptions, vow

renewals, parties, and to participate

in wellbeing retreats and functions.

We have two main wedding

packages, one with and one without

catering. Both can be flexible and

bespoke, depending on the couple's

requirements. We also have the

flexibility of couples being able to

choose anywhere on the site to hold

their blessing.

We have an array of outdoor lawn

games, including giant Jenga and

croquet to keep guests of all ages

occupied and we set up hay bale

seating around a large Indian kadai

firepit so people can keep warm

whilst watching the amazing sunsets

we get here.

I offer event planning services

and work closely with the couple or

client and their suppliers to ensure

everything runs smoothly.

Describe how you researched and

sourced your structures

Outbuild, Alexander's business,

is responsible for building the

beautiful structure that is Waterside

Country Barn. Alexander has a real

eye for detail and is a complete

perfectionist. This is Al's everyday

"WE HAVE

AN ARRAY OF

OUTDOOR

LAWN GAMES,

INCLUDING

GIANT

JENGA AND

CROQUET TO

KEEP GUESTS

OF ALL AGES

OCCUPIED"

WWW.JONPETERSPHOTOGRAPHY.CO.UK

job in between getting involved in

the set up and breakdown of events.

How do you work with your

customers to make their event

unique?

I meet with the couple or client

several times leading up to the

big day. I listen to their vision and

offer any ideas they may not have

thought about that fit in with their

theme. I like to understand what

makes them tick, hobbies etc. that

can be incorporated to make their

day as personal and memorable

as possible. I always do my own

research to ensure they're getting

the best deals and quality of service

possible with any outside suppliers.

How do you publicise yourself?

We've been lucky so far – word of

mouth has been our main source of

bookings to date. We've invested in

a new website this year and have set

up social media pages. A goal this

autumn/winter is to do some up to

date training and utilise our online

presence more.

How would you describe your

style or unique selling point?

Versatile; we've had some very

different events this year, from a

classic white wedding to an all-out

festival theme, and both work

amazingly well at Waterside Country

Barn. The space is like no other

locally; the views, the setting and

the packages and flexibility offered

is totally unique.

What challenges have you faced

historically?

Well… Our first official year was

2020! So, despite the obvious (lack

of bookings and revenue), I think

that in some ways we were in a

blessed position. I had just had my

own little lockdown baby, so the

pause on work enabled me to be a

full time Mumma for longer. It was

also a blessing that we only had

three weddings to postpone – I was

really glad as we were able to offer

those couples a huge choice of dates

to move to. Every cloud!

How has Covid-19 impacted you?

Covid-19 undoubtedly impacted

our bookings. We have had a very

minimal first year. Instead of feeling

frustrated with having our hands

tied, I used the time to perfect our

offering and spent time building

content for a new website. I did a

lot of research and some online

training.

We had one Covid restricted

wedding in 2020 – my sister in-law's

Other than that, our first season

kicked off just as the restrictions

were lifted in July. The venue is

super ventilated with very large

double doors and windows,

removable sides and a high ceiling,

which puts people at ease in these

strange times.

How large is your team – any

special people you'd like to

mention?

We're primarily a husband and

wife team and hire people in

as and when we need them for

events. Our families have been an

absolute godsend in the set up and

maintenance of the business.

My father in-law Barry, who's

seen his family home where he

grew up change so much over the

years, has always supported the

business plan and works tirelessly

WWW.OPENAIRBUSINESS.COM 23
---
FUNCTION VENUES

to keep the whole venue grounds

looking perfect. My father Rob has

helped with all sorts of jobs from

varnishing windows, painting, shop

runs, as well as being our main

source of childcare throughout the

pandemic! Both our mothers have

also helped with childcare and

my mother-in-law has got stuck in

helping on events too!

We work closely with local small

businesses such as the butcher

Tom, located two miles from us,

who offers the tastiest hog roast

ever! Rob at Mid Somerset Catering

Hire goes above and beyond to

ensure we have what we need for

each event and Jon at Jon Peters

Photography has worked with

us from the beginning, capturing

artistic shots of the venue during

weddings, parties and yoga

days, which have all helped with

our marketing. Joe at Bright

Blue Light is incredibly helpful,

knowledgeable and transforms the

venue into a magical space after

dark.

Have you worked with any

industry bodies or consultants?

I joined Faye Cornhill's Wedding

Business Club, which I've found to

be a useful platform for support

and training. I also listen to a few

different podcasts for inspiration

and keep up to date with latest

wedding industry news.

What are your plans for next

season?

To continue to achieve the highest

standards for our brides and

grooms, and ensure their dreams

are fully made into reality! Happy

brides, grooms and guests is the

most important goal. I'm also

planning a wellness festival, which

I'm very excited about, along with

more yoga and SUP yoga retreat

events for 2022.

Describe your average day

mid-season

That's a very difficult question to

answer – each day is so incredibly

different and varies hugely

depending on the event. An average

non-event day would include visits

to the wholesalers, several calls

and emails with suppliers, emails

and calls with brides and grooms/

event attendees and setting up/

breaking down the venue ready for

the next event. It could also include

prepping food for an event.

What do you enjoy about the

business and why?

For the wedding side of the

business, I would say it would be

making dreams a reality and having

played a part in creating the most

special day of people's lives! For

the yoga retreats and glamping

accommodation, I really enjoy

seeing how relaxed and happy

people look when they leave.

What other outdoor hospitality

sectors do you operate in?

We offer glamping, which integrates

well with weddings/events. The

whole site is offered as a weekend

package for couples/clients,

allowing them to extend their

celebrations.

As mentioned, we offer yoga/

wellbeing retreats and SUP yoga

on the lake. I'm also planning a

wellbeing festival for next year –

watch this space!

What are you most proud of?

The feedback we get, not just from

brides and grooms and their guests,

but also from guests of the glamping

units and the yoga retreat days.

Testimonials like these make my

day:

"Hi all, my family have just

celebrated the wedding of my

daughter at this wonderful venue.

Not only is it in a beautiful setting,

its main and mighty asset is its

owners! Help and understanding

in abundance. They help you make

your dreams come true. I cannot

praise them enough for the day they

helped us create. Thank you from

the bottom of my family's hearts –

you are the best. When the occasion

arises, we will be back. Till then I

wish you all the success that you

rightly deserve."

"A wonderful yoga retreat

hosted by Georgia in a location

WWW.JONPETERSPHOTOGRAPHY.CO.UK

"...I WOULD

SAY IT WOULD

BE MAKING

DREAMS

A REALITY

AND HAVING

PLAYED A PART

IN CREATING

THE MOST

SPECIAL DAY

OF PEOPLE'S

LIVES!"

ADDRESS BOOK

OUTDOOR STRUCTURES

Outbuild – www.outbuild.co.uk

FURNITURE

Mid Somerset Catering Hire – www.midsomersetcateringhire.co.uk

LIGHTING

Bright Blue Light – www.brightbluelight.com

PHOTOGRAPHY

Jon Peters Photography- www.jonpetersphotography.co.uk

CATERING

Barefoot Stone Baked Pizza – www.barefootstonebakedpizza.co.uk

Bishops Hull Stores Butchers – 01823 337497

ADVICE

Wedding Business Club – www.fayecornhillcoaching.co.uk

INSURANCE

NFU Mutual – www.nfumutual.co.uk

DETAILS

Waterside Country Barn, Mill House

Bradford on Tone, Taunton, Somerset TA4 1EP

01823 461817 / 07597 707505

www.watersidecountrybarn.com

that provides calm and tranquillity.

Practising yoga with views of the

lake and serene swans floating past

was a magical experience, not to

mention the amazing, delicious

home cooked vegetarian meal –

such a lovely day to treat my body

and mind. I floated all the way

home!"

What advice could you give

to someone coming into the

industry?

Join a group, like the Wedding

Business Club, or partner up with

another venue that's not local

to you (so they don't see you as

competition) and ask them for

advice. Don't try to do everything

yourself, know your weaknesses

and delegate where necessary. Be

open to always learning and do lots

of research, keeping ahead of new

trends.

24 WWW.OPENAIRBUSINESS.COM
---
L U X U R Y C A N V A S L O D G E S

WOODY SAFARI LODGE

Includes; 2 bedrooms,

bathroom, kitchen,

diner & veranda

3-4

SUITABLE FOR

P E R S O N S

Sandford Holiday Park

Park Dean Resorts

Give your holiday park guests the very

best glamping experience. Designed

and built to fit on a standard pitch.

T: 0333 241 2660

W: safaritents.co.uk

E: sales@safaritents.co.uk

The Clock House, Mount Pleasant Farm,

Peckham Bush, Kent TN12 5NE

CLEAR SKY

glamping pods

perfect for even

the most remote locations

free design plans

bespoke build

off-grid solutions

low maintenance

fast return on investment

contact us for a free no-obligation quote

premium quality amazing value

www.podzrus.com

07767733044

WWW.OPENAIRBUSINESS.COM 25
---
FUNCTION VENUES

Celebrants

vs. Registrars

What a celebrant can offer that a registrar can't. A guide for venue owners by Frances Cave

ONLY AN independent celebrant can bring

uniqueness, personality and real authenticity to a

wedding ceremony. The service they provide and

the level of professionalism they demonstrate,

if given the opportunity, will add value to any

wedding venue business.

The days of identical weddings are over. The

days of identical ceremonies should be over too.

Innovative and forward-thinking wedding venues

have to react to change and stay ahead of the

curve. Personalised ceremonies are becoming the

modern way to marry.

In this article I shall identify the reasons why

this is the case and why wedding venues should

literally wise up and get personal.

BESPOKE

All couples want their wedding to be memorable

and unique. Every venue is unique and special in

its own way, offering differing levels of service,

facilities, accommodation, location and so

on. Most of the other elements that go into

planning a wedding also showcase individual

touches, be it the dress, photographer, florist

or entertainment – it all helps make a couple's

wedding their own. The ceremony however is so

often overlooked.

Each and every couple that is shown a

wedding venue is different. Each and every

wedding venue is different. Each and every

photographer and florist's style will be different,

in that they reflect the wishes of the couple.

There is no reason why each and every ceremony

should not be treated in the same way. A

ceremony led by a registrar is not unique or

bespoke, it will be the same formulaic, generic,

templated script that has been churned out time

and time again.

A celebrant-led ceremony is unique and

bespoke every single time with the content

reflecting the couple's story, their values and

beliefs. In the modern world, with a growing

number of mixed heritage couples, being able

to recognise a person's heritage and/or please a

family member is all the more important.

Celebrant-led ceremonies are still a relatively

26 WWW.OPENAIRBUSINESS.COM
---
FUNCTION VENUES

"VENUES SHOULD BE MINDFUL OF THE SHORTFALL OF

KNOWLEDGE ON WHAT CELEBRANTS OFFER AND MAKE

COUPLES AWARE OF THE EXCELLENT BESPOKE SERVICE

THEY CAN PROVIDE"

GETTY IMAGES

new concept and the majority of couples are

unaware that it is possible to have a truly

bespoke wedding ceremony. They assume that

if you want a civil ceremony, the registrar route

is the only route. Forward thinking venues have

an opportunity to actively inform couples of the

choice available and the benefits and versatility

of using a celebrant.

PERSONALISED

Couples have choice in all aspects of

wedding planning to personalise their big

day. Personalised ceremonies are created by

wedding celebrants with the couple's story at

the heart, filled with joy, sincerity and laughter.

Ceremonies can be drawn from a wealth of

traditions and rituals or simply in the style and

tone that sits comfortably with the couple's

approach to life.

A celebrant will work closely with a couple

in the lead up to their wedding day. This will

entail an onslaught of questions to ascertain that

simple but vital question – 'why are you getting

married?' This collaboration is essential to

achieve the authenticity of a truly personalised

ceremony.

It should not be an unreasonable expectation

for modern couples to expect niche experts to

officiate their ceremony at venues. They should

not have to settle for an officiant allocated to

them who is unable, due to legal restrictions,

to offer anything as personal, creative or

meaningful.

Couples are able to handpick every other

supplier so why not the person who plays such a

central role in the day?

Venue websites keenly promote licensed

ceremony spaces. Personalised ceremonies

should be given at the very least the same

amount of copy space. In the long run they

will add a much needed fresh and modern

perspective to a ceremony and enable a venue to

stand out from the competition.

A celebrant should be a preferred supplier,

similar to other wedding professionals. Why is it

that although some venues do have celebrants

on their preferred supplier list that they are not

more actively promoted by the venues? The

answer is because venues are rarely asked by

their clients about celebrants. Couples often

have never heard of them!

Other suppliers are actively recommended

because not only are they are considered the

best in their field of expertise, but couples

know they need a photographer, florist, cake

maker etc. and venues know that a good

recommendation and regular supplier will add

value to the day as a whole.

Venues should be mindful of the shortfall of

knowledge on what celebrants offer and make

couples aware of the excellent bespoke service

they can provide. How difficult is it to say at a

showround: "Have you booked your celebrant

or registrar for your ceremony?" (which could

prompt the question "what is a celebrant?")

or "have you considered a more personalised

wedding ceremony?"

FLEXIBILITY

Covid aside, registration services have always

been limited when it comes to flexibility on

timings. Couples are not only assigned an

officiant, who I may add, they have never met,

but often a time slot. With, guess what, no choice

at all. Yes, possibly an overused word in this

article but one that is so relevant and scarce

when it comes to wedding ceremonies.

Build Your Own

Shepherd Huts

With Tithe Barn Shepherd Huts original parts.

Call 01262 470475 or

Visit www.shepherd-huts.com

and click on the 'self build' page

WWW.OPENAIRBUSINESS.COM 27
---
FUNCTION VENUES

Because of their hefty workload and backlog,

which is worse than ever obviously at the

moment, registrars are often unavailable on a

couple's chosen day, have limited time as well as

being a total stranger. In this day and age, surely

you should be able to choose who officiates at

one of the most important milestone events in

your life?

Wedding celebrants on the other hand

normally officiate only one ceremony per day.

This means the couple have complete flexibility

with their timings – there is no rushing. Their

day and schedule is their own, making the entire

process more relaxed.

There is also flexibility when it comes to

beliefs. And it is relevant here to point out that

there is actually a difference between humanist

and independent celebrant-led ceremonies.

A humanist ceremony is non-religious so will

not feature any religious or spiritual content,

but an independent celebrant will completely

tailor the ceremony to the couples' exact

requirements, whatever belief, no belief, mixed

faith or spirituality as well as cultural traditions.

An example would be possibly if the client

wanted to sing a hymn or include a religious

reading – there can be no religious content either

in a registrar-led ceremony.

Time and time again I have been told by

wedding planners and wedding venue coordinators

that celebrant-led ceremonies are the

best. Most of them can recite an entire ceremony

script as they have heard the registrar-led script

so many times.

Venue owners, videographers and

photographers all say the same. Even married

GETTY IMAGES

"A HUMANIST CEREMONY IS NON-RELIGIOUS SO WILL NOT

FEATURE ANY RELIGIOUS OR SPIRITUAL CONTENT, BUT

AN INDEPENDENT CELEBRANT WILL COMPLETELY TAILOR

THE CEREMONY TO THE COUPLES' EXACT REQUIREMENTS,

WHATEVER BELIEF, NO BELIEF, MIXED FAITH OR

SPIRITUALITY AS WELL AS CULTURAL TRADITIONS"

VENETIA NORRINGTON BRANDING

couples who have attended one of my

ceremonies, or who have been made aware of

what can be achieved, say that if they were to do

it again, they would definitely choose to have a

truly personalised ceremony led by a celebrant.

Millennials and the generations that are

following are no longer a pleasing or accepting

society. They want to express themselves their

way.

Venues are missing a trick here. What are you

waiting for? Is it because you've paid for your

licenses? You can still use them but you should

be informing, educating and promoting the

alternative to your clients. They'll thank you

for it and in turn the inclusion of a remarkable

and bespoke ceremony will add value to your

offering.

Everyone loves a celebrant-led ceremony.

Come on venues, stick your necks out –

don't settle for the ordinary, start making

the ceremonies held at your venue the

extraordinary!

ABOUT THE AUTHOR

Frances Cave is the founder of Fanfare Ceremonies.

An experienced celebrant, she has presented

ceremonies in many of the west country's most

prestigious venues as well as beautiful gardens and

farms across the UK. www.fanfareceremonies.co.uk

28 WWW.OPENAIRBUSINESS.COM
---
A family run business making beautiful pods,

shepherds huts, yurts and garden rooms.

Cedar Tree Pods is a family-run business based

near Wrexham in North Wales. Making

beautiful glamping pods and bespoke builds.

Each one of our pod designs can be

tailored to your exact requirements, fitting

perfectly with the needs of your business,

family or lifestyle.

From initial design to full realisation our

team will work closely with you to create

the unique space you've always wanted.

Get in touch to discuss your ideas.

info@cedartreepods.co.uk | 01978 804196 | www.cedartreepods.co.uk

WWW.OPENAIRBUSINESS.COM 29
---
IF YoU've GOT THE LAND,

We've Got THe BRAND!

Visit us at:

Energy & Rural Business Show

3rd - 4th March

Stand 60

finance

support

site survey

marketing

training

mentoring

business plan

planning application

Wigwam ® Holidays is the UK brand leader in the provision of glamping holidays

in our unique range of heated wooden Wigwam ® Cabins. With over 80 sites

throughout the UK and a track record in business start ups there has never

been a better time to invest in your Wigwam ® Holidays franchise.

CHECK US OUT AT

wigwamholidays.com

30 WWW.OPENAIRBUSINESS.COM
---
FUNCTION VENUES

INDUSTRY COMMENT

Business Events

Agents

Love them or hate them, agents, third

parties and intermediaries are here to

stay, writes Andrew White

GETTY IMAGES

THE WORD 'agent' used to prompt a Marmite

response from venues. Some owners and

managers felt their heckles rise on the

realisation that an agent was involved in

a booking due to the fact that paying their

commission was perceived as the equivalent

of a monetary headlock! Fortunately, agents

are now a widely accepted and important

part of the business of events.

Agencies and venue finders (and a whole

myriad of new descriptors) were founded

about 40 years ago by Peter Rand. Peter's

company created the agency model,

whereby his company would find corporate

venues for free (a seriously time-consuming

job for the corporate) and, in return, the

hotel or venue would pay a commission.

The agency model was born and has

since gathered huge pace, adapting to a

more stringent control by procurement

departments.

Agents are now very much part of a

corporate's business process outsourcing.

They are just as likely to be used by a

corporate as a travel agent or a preferred

stationery supplier, or any other area where

cost savings and management control can

be achieved. Add to the mix our reliance on

the internet and agents crop up in many

different places and under even more guises.

Agents, third-parties and intermediaries are

as important to venues as a direct booking,

and commission – quite simply – must be

a part of any venue's budgeting. And most

importantly rates should be 'parity' for a

"AGENTS ARE JUST AS

LIKELY TO BE USED BY A

CORPORATE AS A TRAVEL

AGENT OR A PREFERRED

STATIONERY SUPPLIER,

OR ANY OTHER AREA

WHERE COST SAVINGS AND

MANAGEMENT CONTROL

CAN BE ACHIEVED"

direct or third-party booking, i.e. the same if

the booking came direct or via a third party.

We are all aware how the internet has

spawned a raft of new businesses for finding

holidays and leisure accommodation.

Hotels.com, Expedia and even review site

TripAdvisor are often go-to stops when

looking for a weekend away. The venue

finding market has mirrored this based

on the fact that often a corporate event

organiser will search for a venue based on

location. Try searching your venue and

see how many third parties it throws up.

Venuefinder.com, venuescanner.com etc. are

all up there along with many competitors

who will have invested in SEO. What you

will also notice is the volume of third-party

wedding sites that show up such as Hitched,

Forbetterforworse and Guidesforbrides.

Agents, intermediaries and third parties

are clearly integral to venues. Add to the

fact that caterers can often be the first point

of call for a corporate. They too may well

recommend a venue, as may an AV company,

and hybrid conference organisers, a sector

enjoying massive growth (Hopin has had the

most stratospheric rise in popularity – the 27

year old founder is now worth $3bn!

If you search locally, you will find hybrid

event organisers local to you with names

you may recognise as formerly being venue

finders. They have had to re-adapt their

business models to cope with the demand

for the huge growth in hybrid events. While

these agents are now selling tech solutions,

they also need a venue to host the delegates

that are still scheduled and want to attend

face-to-face.

Like Marmite, and its new ways of being

included in peanut butter, rice cakes and

crisps, agents have adapted and are part

and parcel of events. For a venue, the third

party supply chain is as important as direct

business, and if you are wondering, yes – I

love Marmite, in all of its forms!

ABOUT THE AUTHOR

Andrew White is

MD of Triggerfish

Communications, a

specialist in helping heritage

venues and leisure attractions

build awareness and market

share in the business of events.

www.triggerfish.co.uk

WWW.OPENAIRBUSINESS.COM 31
---
FUNCTION VENUES

TOP TIPS

from

Vaishali Shah on

quick, easy and low

cost marketing

wins

GETTY IMAGES

Shoestring

MANY VENUE businesses will have made

some level of cutback as a result of the

pandemic, so can you stay standing out

from the crowd with a reduced marketing

spend? Here are some quick and low cost

suggestions.

Marketing

#01 BE

ONLINE

Ensure that you have a

strong online presence

and your website is

updated. Many venues

have taken their

businesses online with

virtual showrounds and

open days, for example.

Instead of printed

brochures, have a welldesigned

online brochure

that you can email out

and have available to

download from your

website. PDF brochures of

your venue work well and

will save on printing costs.

It is key to make

sure your website and

marketing materials

resonate with both your

current and potential

customers.

#02 STAY

VISIBLE

Keep showing up and posting on

social media to keep visible and

increase your following. Social

media is free if you are doing it

in-house and is a cost-effective

marketing tool if you outsource.

Image based platforms are

excellent to showcase venues

and you can talk about what you

are working on, including new

packages for example.

GETTY IMAGES

32 WWW.OPENAIRBUSINESS.COM
---
FUNCTION VENUES

#03 COLLABORATE

Reach out to bloggers who are continually looking for fresh content

to feature. Collaborate with other businesses, such as your preferred

suppliers, who have a similar target audience. You could guest blog for

each other to build up both your following and database. You could also

create a joint competition with a handful of businesses each donating

something to create a coveted prize, which would then be promoted

across the social media platforms and mailing lists of all participating

businesses.

#05 STAY IN

CONTACT

Nurture your mailing list

and keep in touch with your

audience via newsletters. Using

your database/email list to send

your contacts newsletters or

e-shots is an inexpensive way to

stay 'front of mind'. Maintaining

communication with your

customers will remind them

that you are still there following

the pandemic. It will reassure

them and could lead to repeat

business or referrals. Digital

marketing is a well accepted,

low cost, high return marketing

strategy which can be measured.

You could share some useful

advice such as how venues can

create the perfect backdrop for

a wedding or event; it helps to

spark the imagination. Know

your target audience well so that

you market to the right people

rather than trying to market to

everyone, which is costly.

#06 REVIEW

YOUR

MARKETING

Data is key. Review your

Google Analytics data to

better understand your

customer so that your

marketing can be targeted

correctly. Look objectively

at where you have been

spending your marketing

budget and analyse the

return you have been getting.

Determine which activities

have worked and those that

have not, so you know what

to focus on – for example,

SEO, Facebook advertising,

print advertising etc.

Focus on your existing

customers now and

they will remember and

reward you later. Have you

asked your customers for

recommendations and

reviews?

Can you diversify the

business? Do you need to

adapt and/or pivot? Examine

your costs and expenses

and see whether you can

negotiate better deals with

your suppliers and service

providers.

#08 EXAMINE YOUR BRANDING

It is vital to build and maintain your brand. Your brand is so much

more than your logo, it's the whole experience; an overall strategy

that encapsulates, among other aspects, your mission statement,

company culture, customer service, tone of voice, website, messages

on social media, visuals, as well as your logo.

Does anything need to be amended for your target audience/

ideal client? A strong brand promotes recognition, helps set you

apart from the competition, tells people about your business DNA,

generates referrals and provides your business value.

GETTY IMAGES

#04 PHOTOGRAPHY SKILLS

Do you have images of your venue that need to be added to

your website? Do you need more imagery? If you have always

outsourced photography to a professional photographer, you

may want to take an online course on how to take impactful,

clear photos using your smartphone. There are many

inexpensive photography courses online where you could

learn a new skill or perfect an existing one – how to focus on

the detailing of the venue, for example.

These images can then be submitted to magazines,

newspapers and blogs to try and secure some

free media coverage for your

business.

#07 CONSUMER

CONSCIENCE

As a result of this pandemic, consumers are being

more considered with their purchasing choices. Convey

what your business stands for, whether that's how you

treat your staff, how you give back, how your venue is

environmentally friendly, etc.

Many businesses have been donating to charities and

worthy causes during the pandemic. Communicate with

your customers what contributions you are making and

how you try to make a difference. They will remember

your gestures and have a greater appreciation of your

business ethos.

#09 MESSAGING

Look at your messaging. Is it positive and uplifting? Does

it inspire hope? Inspire and motivate your audience with

inspirational quotes, for example.

The pandemic has made us yearn for personal, meaningful

gestures in all aspects of life and deep gratitude towards our

families and close friends. Lockdown will have had plenty

of engagements and pregnancies being announced. Special

milestone moments are also occurring, so venues may want to

focus their messaging on love and family.

This pandemic will thankfully not last forever so businesses

must think ahead and be prepared. It's important to stay the

course with your marketing, even if budgets have been reduced,

and continue to remain visible to your valued

customers.

ABOUT THE AUTHOR

Vaishali Shah is the founder and creative director

of Creative ID. 020 7242 1877, info@creative-id.

com, www.creative-id.com

WWW.OPENAIRBUSINESS.COM 33
---
FUNCTION VENUES

PRODUCT IN FOCUS

Flooring &

Ground

Protection

Festival Themed Wedding,

Leicestershire

Product: Hex Road heavy duty roadway and

the Temp-A-Path modular flooring solution

covered with Gadsby 33m pile height

Astroturf

Supplier: EFS Europe, 01509 768

252, sales@efseurope.co.uk,

www.efseurope.co.uk

Details: EFS Europe was delighted to help

with a wedding with a difference and make

the great outdoors accessible for even ladies

in heels! The Richardson family got in touch

with a brief to convert an arable field into a

suitable venue for a series of giant Nordic

tipis and 200 wedding guests.

After the cornfield was harvested, and with

just a week before the wedding, concerns

were raised over the condition of the ground,

which is when EFS stepped in! An access road

was required to the tipis for the wedding

guests, catering outlets, generators and toilet

blocks. EFS installed its Hex Road, a heavy

duty roadway ideal for instant access and car

parking at events.

The second part of the brief was to provide

a safe, pedestrian friendly, aesthetically

pleasing area in front of the tipis as a

designated guest area. After being rolled by

the farmer, the field was partially covered

with 30m x 10m of Temp-A-Path to the front

of the tipis and catering outlets.

Following installation of the Temp-A-Path,

the client decided they wanted the area to

resemble an English country garden lawn;

EFS then laid their Gadsby 33m pile height

Astroturf on top of the Temp-A-Path for a

stunning finish. The client then sold on the

Astroturf after the event – perfect recycling!

Stradey Castle, Carmarthenshire

Product: PERFO-AK Ground Reinforcement Tiles

Supplier: PERFO Ground Reinforcement (S2T Group),

01992 522797, info@perfo.co.uk, www.perfo.co.uk

Details: To increase the viability of this privately

owned castle as a venue for weddings and events,

as well as its use as an attractive location for filming,

additional parking space was required. However, due to

the sensitive historic and rural setting, a tarmac or concrete

car park was not desirable. Instead a solution was required

which was permeable, would blend in with the surroundings and that

met with strict requirements of CADW, the Welsh government body responsible for

the protection of historic sites.

The area selected for the car park was overgrown, uneven and poorly drained,

but the best location option due to space constraints. This area needed to be

cleared and levelled and a sub-base prepared. Prior to installation of the selected

PERFO-AK Anchor Tiles, a project meeting took place, with S2T Group's expert

advising on the most appropriate installation method. A 100mm bedding a layer

of 5-10 mm crushed stone with added seeded soil for greening of the parking

spaces was prepared, into which the PERFO-AK Anchor Tiles were embedded

using appropriate compaction equipment. Finally, the surface was dressed with

additional stone to enhance the overall appearance.

Feedback: The car park has met with the customer's expectations in terms of

functionality and appearance, and blends in well with the castle and its beautiful

surroundings.

34 WWW.OPENAIRBUSINESS.COM
---
FUNCTION VENUES

PRODUCT

SNAPSHOT

Parquet Dance Floors

LPM Bohemia

01892 725489

national@lpmbohemia.com

www.lpmbohemia.com

Inspired by architectural influences

from across the globe, LPM

Bohemia's passion is for the creation

of beautiful and large scale tented

venues, pioneered by the unique and

stunning Pavilion range of wooden

framed canvas structures. We have

the most comprehensive range of

beautiful marquees and interesting

tents.

To complement our structures we

stock a range of ancillary equipment

and furnishings to complete your

event, such as a unique black and

white circular dance floor of a

nautical compass design. This works

wonderfully in our Pavilion range as

a central focal point, around which

guests can dine, creating a simply

stunning effect.

Luxury Matting and Artificial Grass

Marquee Floors by William Armes

01787 372988

info@marqueefloors.co.uk

www.marqueefloors.co.uk

Marquee Floors by William Armes

supplies high quality luxury matting

to the marquee, tent and tipi hire

sectors. DandyDura has a long-standing

reputation as the UK's bestselling

polypropylene matting. It's extremely

durable, easy to maintain, fully reversible,

water resistant and lightweight.

DandyDura matting can easily be rolled

for handling, transporting and storage.

Available in seven colours, supplied in

rolls, cut length pieces and bespoke

shapes.

Marquee Floors also supplies

DandyCoco, a made to measure

traditional woven unbacked coconut

matting, made from natural fibres. This

matting is eco-friendly, flame retardant,

bio-degradable, extremely durable and

has excellent insulating properties.

Marquee Floors has also launched

Likelawn artificial grass. Extremely

hardwearing yet soft underfoot, Likelawn

can be laid on any surface and is 100%

weatherproof. Its durable backing has

perforation holes to allow drainage and

can be easily cleaned. Ideal for use all year

round. Rolls and cut lengths available.

Natural Coconut Matting

Coir Store

07884 303082

andy@coirstore.co.uk

www.coirstore.co.uk

Eco friendly, the mats from Coir Store provide a fantastic, hard wearing flooring

option for marquee venues and glampsites. Fully reversible with a bright golden

appearance, Coir Store can supply rolls of matting suitable for marquees, party

tents and any temporary event flooring requirement. It also stocks a selection of

half moon matting diameters to suit bell tents, yurts and tipis.

The range also extends to mats suitable for smaller structures such as gazebos

and party tents. The mats come in a 3m width and a choice of Panama or

Herringbone weaves and 3m or 6m lengths.

The team personally visit the coir mills in India and guarantees its products are

only made from premium grade Anjengo and Vycome coconut coir yarns.

WWW.OPENAIRBUSINESS.COM 35
---
GLAMPSITES

CASE STUDY

Star Field Camping

A summer glampsite in the

beautiful Kentish countryside

with stunning night skies

After a large family gathering

planted the seed of an idea,

country store owners David

and Debby Clark charged their

daughter Holly with setting up a

campsite. The following year, after

an inspiring visit to the Glamping

Show, they decided to up their

offering and now offer seasonal

bell and safari tents. We talk to

Debby.

What's your back story – your life

before glamping?

Star Field is part of Charity Farm which

has been in my husband David's family

for three generations. He and his family

have run the on-site country store for

more than 40 years, supplying animal

food and accessories to local farmers

and small holders. We branched

into clothing and gifts as a natural

progression and I fully committed to

being part of the team 10 years ago.

What made you decide to start

offering glamping accommodation?

Retail has gone through a few rough

years, and we were hit by some local

competition offering prices that we

could not compete with, so we looked

at what we had and how we could

diversify.

After a family party, where people

camped, we decided that our beautiful

field was ideal for camping despite being

on a slope, so in 2017 we challenged

our daughter Florence, who had just

come back from university, to set up

a campsite under the 28 day rule. In

2018 we wanted to do it completely

differently so we went to the Glamping

Show and were inspired by Mark Scott

from Clear Sky and some of the other

speakers to just go for it.

How did you research the business

before entering it?

The Glamping Show was great for

research. We were a bit overwhelmed

to start with but the more speakers we

listened to and the more suppliers we

talked to the more our confidence grew.

I stalked a few local sites to see how

they had set up their price structures

and copied some rules and regulations

making a few amendments to fit our

requirements. I spent several hours on

Pinterest to get ideas too.

Tell us about your location and site

Our location is just outside of Cranbrook

in the High Weald of Kent. We are in an

AONB and on the edge of SSSI ancient

woodland. Our skies are dark and we

usually benefit from the best of the

British weather.

Our site is kept as natural as possible

with long grass between units. We are

close to Sissinghurst Castle, which is a

big attraction for our glampers, as well

as several other castles, and just 30

minutes from the coast. We are also an

hour away from London which means

we do get a lot of Londoners escaping to

the countryside.

Our site is on a slope which can be

tricky when it rains an awful lot for some

of the cars (we ask guests to park off the

WWW.OPENAIRBUSINESS.COM 37
---
GLAMPSITES

site and only drive in for loading

and unloading). The tents are all

on decks built by David so our

guests can have a glass of wine

without it sliding down the table!

We have running water but no

electricity other than solar so have

gas powered showers and compost

loos. This generally hasn't been a

problem, just a matter of changing

the gas and/or batteries.

How did you tackle getting

planning?

We started off utilising the 28 day

rule for a campsite with portaloos

and showers and lots of grass

pitches. It was a big learning curve

for us and we knew we would

not want to do it like that again.

Planning has always been a bit of a

headache so we decided to go down

the certification route. We heard

of The Greener Camping Club on

Facebook so we contacted them.

Their ethos fitted so well with ours

and they were extremely helpful.

They came to visit us and gave us

the go ahead.

They do have rules, which include

having a mix of glamping and

camping and as much recycling as

possible, but they fit nicely with

us.

How did you finance the project?

We self-financed the project.

Starting off with bell tents was the

cheapest way and offered a good

return on our investment. We have

increased the number and this

year bought two safari tents. We

had always admired them and felt

they fitted in well with our site and

again offered a good return on

investment.

What glamping accommodation

do you offer and why did you

choose it?

We now have two luxury bell

tents which are completely kitted

out with proper double beds

and futons for kids, bed linen,

rugs and tables. They have their

own shower, loo and kitchen

with a gas stove and all the pans,

crockery, cutlery etc. needed for

four people. There is a handmade

picnic table and fire pit too.

38 WWW.OPENAIRBUSINESS.COM
---
GLAMPSITES

There are also two naked bell

tents with a double bed and futons

but no bed linen. They have their

own loo and, from next year, their

own shower, fire pit and picnic

bench.

The safari tents are a step up,

sleeping five in proper beds with an

internal kitchen and seating area.

David has built bathrooms on the

back of them making them unique

to us. They also have fire pits and

picnic benches.

What occupancy levels and price

per night do you achieve?

We achieve at best 80% occupancy.

Our prices for this season are £100

per night for the luxury bell tents,

£65 per night for the naked bell

tents and £125 per night for the

safari tents all, with a minimum two

night stay.

How did you work out your

brand and how do you publicise

yourself?

We decided to focus on our clear

skies and publicised ourselves

on Facebook and Instagram. We

started off using Pitch Up but

quickly decided that Cool Camping

was a better fit for us. This proved

to be true as they featured us in The

Telegraph which resulted in a lot of

bookings.

How would you describe your

ethos and unique selling point?

Our ethos is to be family friendly

and back to nature so that

people can relax and enjoy the

countryside. Our selling points

are not necessarily unique but are

still desirable; the clear skies, the

beautiful area and the farm shop

on site – our campers and glampers

only have a two minute walk to

get their breakfast or dinner for

the day. Our eldest daughter Holly

hand paints all of our signs with

the name of the unit and a picture,

which is pretty unique.

How did you choose your interior

decoration?

We named our bell tents after

wild flowers such as nettle and

dandelion and have based the

interior decorations on the colours

of these plants. We didn't want to

be too twee, but we wanted them

to reflect the British countryside.

I made tassel bunting in the

appropriate colours because you

can't have a bell tent without some

sort of bunting!

WWW.OPENAIRBUSINESS.COM 39
---
GLAMPSITES

The safari tents are named after

common birds, Robin and Wren. We

decided to keep the colours quite

calm and neutral as we wanted to

create a relaxing space, not one

that might jar with glampers' taste.

What challenges have you faced?

As we do everything ourselves,

from building the loos to emptying

them and choosing the bed linen to

ironing it, it is a challenge to fit it all

in with our existing jobs of running

the country store. We do have

excellent staff at the shop however,

who keep it running smoothly. The

laundry has been overwhelming

this year so we will be getting some

help with changeovers next season.

The weather has been more of a

challenge this year and David has

had to tow several people out after

bursts of extremely heavy rainfall.

How have you coped through

Covid?

Covid has meant that we have had

to think more about our cleaning

protocols. Although they were

pretty robust we have tweaked

them to be compliant. We have

allowed a day between glampers,

which has obviously affected

our occupancy. Our season last

year was much shorter but quite

intense. The season this year has

been quite long and the intensity

hasn't eased up. Interest has been

immense and we have had to turn

away lots of potential custom.

What are your plans for next

season?

Our plans are to try and increase

the length of stay; generally it is

two nights and we would like to

increase that to three and have

fixed changeover days. We will

upgrade the bell tent facilities

so that the naked bell tents have

their own showers as well as loos.

Rather than increasing the number

of units we have we will be looking

at improving the experience at Star

Field with some communal areas,

but these haven't been decided on

yet.

Describe your average day

mid-season

An average day mid-season would

see us working in the shop until

11am when we do any changeovers

that are needed – this can take

four hours for the two of us. We

then clean the communal camping

facilities and I start on the laundry

while David does site maintenance.

We then head back to the shop to

catch up on anything that needs to

be done.

Our check in time is between

3pm and 8pm so we often meet and

greet while we are on the campsite,

or guests will check in at the shop.

David also delivers fire kits that

have been ordered.

Do you enjoy the business and

why?

We do enjoy the business despite

the hard work. It is very satisfying

when people enjoy what you have

provided for them. We love meeting

different people and hearing their

stories.

What are you most proud of?

We are most proud that we have

personally built something that

people enjoy and keep coming

back to. We have a lot of returning

glampers which is the best feeling –

many from the beginning and some

ADDRESS BOOK

SAFARI TENTS

Clear Sky – www.safaritents.net

WATER HEATERS

Shower King – www.showerking.uk

who come back within the same

season!

Do you operate in any other

outdoor hospitality sectors?

We have had enquiries for weddings

but we don't feel our site is suitable.

What advice could you give

to someone coming into the

industry?

Decide on your target audience

and aim your social media activity

towards that. Join glampsite

owners' Facebook groups – there is

an awful lot of support, knowledge

and advice in these groups. Oh, and

don't expect to get rich quick!

LOO DESIGN

Free Range Designs – www.freerangedesigns.co.uk

BOOKING SYSTEM

Bedful – www.bedful.com

AGENTS

Cool Camping – www.coolcamping.com

EXEMPTION ORGANISATION

The Greener Camping Club – www.greenercamping.org

INSURANCE

NFU Mutual – www.nfumutual.co.uk

DETAILS

Star Field Camping, Charity Farm Countrystore

Swattenden Lane, Cranbrook, Kent TN17 3PS

www.starfieldcamping.co.uk

40 WWW.OPENAIRBUSINESS.COM
---
WWW.OPENAIRBUSINESS.COM 41
---
GLAMPSITES

Trade Secrets

Pitch Side

Facilities

Paul Doughty on the benefits of personal

bathroom facilities for glampsites

BATHROOM AND toilet facilities, whilst

not very glamourous, often turn out to be

one of the most important parts of any

camping or glamping site offer. They are

frequently neglected in the first instance in

favour of purchasing accommodation. Pods,

shepherds huts, bell and safari tents are

far more glamourous and a more exciting

purchase for site owners. Many only realise

after the event that the accommodation

will not sell or be able to be used effectively

without the equivalent quality bathroom

and toilet facilities.

Most website reviews seen this season

concern shower blocks and bathroom

facilities and are inevitably not very

complimentary. These often negative

reviews end up being the most widely

reported and can devastate a season of

bookings.

Pitch side bathroom pods offer

personal facilities to each group or family.

Alternatively, a lockable and numbered

bathroom pod even a short distance away

still means personal facilities can be offered

to each pitch or few pitches.

Offering a heated facility can extend your

season and these so-called 'super pitches'

will increase income by anything up to 30%.

With the savings made on cleaning this

means the investment can be recouped in

three to four years. Personal bathrooms

"OFFERING A HEATED

FACILITY CAN EXTEND YOUR

SEASON AND THESE SO-

CALLED 'SUPER PITCHES'

WILL INCREASE INCOME BY

ANYTHING UP TO 30%"

usually mean cleaning is reduced to change

over days only as most families and groups

tend to keep their own bathrooms clean

during their stay thus eliminating, for the

most part, the least favourite job on any site.

SERVICES

Most sites only need 10 amps per

individual bathroom with a sewage

connection and water supply completing

the site requirements. Off-grid sites can

usually heat water using bottled gas

heaters and provide 12v lighting using a

small solar panel setup. Sewage can be

handled with a septic tank and water can

be easily supplied through water tanks.

Grey shower and sink water can be drained

to a soakaway. Ideally a well-designed

durable unit will last many years and

should be able to withstand intensive

commercial use.

Units can be supplied complete with all

wiring and pipework connected, so with

only three connections a new bathroom

offer is soon ready to go. Bathroom pods

would normally include a toilet, shower

and wash hand basin as standard. Higher

specification pods may also include

heating, inside and outside lighting,

mirrors, shelves and an outside tap for

cleaning boots and dogs. Optional washing

up sinks complete the luxury pitch side

facility

Some pods can also be moved easily

using a forklift and in some areas

moveable structures do not need planning

permission. This should be checked with

your local planning department. In some

areas of the country certain structural

restrictions may be required by local

authorities to ensure compliance with

building regulations for portable buildings.

A reliable manufacturer should be able

to advise on such matters and be able

to provide groundwork drawings for

installation.

ABOUT THE AUTHOR

Paul Doughty distributes the Campplus

SOLO and DUO en-suite bathroom pods in

the UK. These compact plug and play units

offer glampers a complete shower room

with toilet and sink. 07834 463710 / paul@

campplus.co.uk / www.campplus.co.uk

42 WWW.OPENAIRBUSINESS.COM
---
Handmade Luxury Wood fired Hot

Tubs, Wooden Saunas & Glamping

Pods Specialists

All our eco hot tubs are handmade, incredibly durable and

long-lasting. We offer a big variety of interior colours

including brand new Pearl Colours: Oceanic Blue, Silver,

Grey, Gold and many more.

Your hot tub or sauna can be made fully bespoke and tailored to

your requirements.

We provide delivery across England, Scotland and Wales. Free

positioning service and 24 months Manufacture Warranty.

Our high-quality hot tubs are available in 2, 4-6 or 8-10 seaters.

Various hot tub packages and saunas in stock and ready for

immediate delivery!

Tel: 07737 533456; 07475 200338

enquiries@amberhotubs.co.uk

www.amberhotubs.co.uk

WWW.OPENAIRBUSINESS.COM 43
---
Composting and off grid toilets,

shower rooms, and many other

unique products, designed for

camping, glamping and off grid

locations. Specialists in remote

installations.

Handmade in Wales with a huge

emphasis on recycled and

sustainable materials.

www.reworkshopwales.co.uk

reworkshopwales@gmail.com

Tel: 07714 719441

A twin toilet & shower block to

satisfy your glamping bathroom needs

bear@theseptictankstore.co.uk www.theseptictankstore.co.uk

G

TM

COMPANY.COM

Kirami UK supply the nation with leading, wood-fired hot tubs. Finland-based Kirami have created and distributed their

innovative ranges for more than 20 years. Offering bathers a unique, luxurious wood-fired hot tub experience.

Contact the team for more information or to arrange an appointment at one of our showrooms

44 WWW.OPENAIRBUSINESS.COM E: kirami@thelogcompany.com T: 01748 889303 W: www.thelogcompany.com
---
GLAMPSITES

9

n Ladram Bay

Get

on the Map

8

7

6

3

4

5

Glampsites have the opportunity to tap into a

growing community looking for outdoor adventure

whatever the weather, writes Craig Wareham

RED ZEPPELIN

To maintain a sustainable source of

income, open air accommodation

needs to be attractive for longer

than the summer season. Outdoor

enthusiast Craig Wareham created an

off-road navigation app to help others

enjoy adventures and now he sees a

huge opportunity for glamping sites

and venues to widen their appeal and

fill those off-peak slots.

2

1

IMAGES OF yurts and wood-fired hot tubs

may look desirable on Instagram, but

for those used to long warm evenings in

France the novelty might wear off after a

couple of days of drizzle in Dorset.

However, there is a significant and

growing community that will happily take

everything the elements can throw at

them, and tapping into this market

will ensure that the investment

in outdoor living will provide

returns over the longer term.

One of the obstacles to enjoying

the outdoors is accessibility. I

created an app inspired by the

hand-drawn sketches and details

of routes from a series of walking guides

produced by Alfred Wainwright in the late

1950s. These guides made it possible for

people to follow recommended routes,

safe in the knowledge that they would

have a great day out and not get lost!

We embedded this concept into

a smartphone app, with the routes

recommended by a vibrant community

and supported by mapping, photographs

and turn-by-turn directions. The app

is now part of Outdooractive, Europe's

largest digital outdoor tourism platform. It

is popular with hikers, cyclists, mountain

bikers and wild swimmers among others,

and the platform is used by destinations

across Europe to promote their attractions

to over 11 million people with a passion for

open air adventures.

A GROWING COMMUNITY

The platform also provides insights

into consumer behaviours. A survey of

the top 250 most popular walks on the

Outdooractive app during lockdown

indicated that activity had more than

doubled, reflecting a passion for walking

that has also been seen with the increased

popularity of programmes such as Kate

Humble's Coastal Britain, Coast (which

ran to 10 series) and Claire Balding's

Ramblings.

There was a staggering 246% increase

in downloads in the first six weeks of

lockdown, and we have seen this trend

continue as awareness of the benefits of

walking – in lifting mood and increasing

vitality and wellbeing – grows.

This usage extends beyond the summer

months; autumn is a peak season for

walking, and other peak periods include

Easter and the break between Christmas

and New Year. The increase in pop-up

cafes at National Trust properties and

WWW.OPENAIRBUSINESS.COM 45
---
GLAMPSITES

ABOVE: Derw Lodge in Anglesey

CANOPY & STARS

other venues is encouraging people to

wrap up and get outside. Building on this

knowledge, by offering a country getaway

that is cosy and close to some bracing

walks, glamping accommodation providers

would be able to tempt people back in the

colder months.

The survey also showed that two-thirds

of the routes were near water – be it sea,

lakes, ponds or rivers. Other findings

showed the importance of getting up on

high to put problems in perspective, with

hills or mountains the focal point in 15% of

walks, and the value of trees with a further

13% centred on woodlands.

According to the survey, the average

walk length was 2.6 miles and most

took just over an hour (65 minutes). This

suggests that owners could benefit from

promoting their venues as being close

to river trails, hill walks and woodland

rambles.

ACCOMMODATION FOR WALKING

FESTIVALS

Glampsites also have the opportunity

to providing alternative, boutique

accommodation for walking festivals and

food events. Many of the walking festivals

were forced to cancel in 2020, which was a

great blow to the organisers (the majority

volunteers), as well as to local businesses.

As most don't have the resources to 'go

virtual', for 2021 we worked with a score of

these festivals to create a presence on the

Outdooractive website and app. This has

enabled them to maintain their profile and

for walkers to still visit the locations and

enjoy self-guided routes suggested by the

organisers.

We have also been promoting the festivals

to our user base of outdoor enthusiasts,

which is getting a good response. As the

travel bans are lifted across Europe, we

can see more people travelling to take part

in walking and cycling holidays and all

these visitors need somewhere to stay for a

number of nights.

CREATE YOUR OWN ROUTES

Accommodation that is memorable, with

"IT IS ALSO

POSSIBLE FOR

A GLAMPSITE

TO EMBED THE

ROUTES ON

THEIR OWN

WEBSITE SO THAT

VISITORS CAN

SEE WHAT IS ON

OFFER AND PLAN

THEIR ACTIVITIES

BEFORE THEIR

WEEKEND AWAY"

good walks on the doorstep, will be popular

all year round. Keen walkers and cyclists

have been sharing their favourite routes for

many years now, so it is easy for owners to

select some near to their sites – or capture

their own favourite and secret places, simply

by recording the route in the app while

they walk and uploading photographs and

descriptions. They can also add points of

interest, such as their glampsite, and bits of

information about themselves. These routes

are hosted on Outdooractive and made

accessible to the international community.

It is also possible for a glampsite to embed

the routes on their own website so that

visitors can see what is on offer and plan

their activities before their weekend away.

This is particularly good if you have groups

of friends or families staying – knowing if

the routes are muddy or wheelchair friendly

ahead of time can make a big difference to

their enjoyment.

WORKING WITH TOURISM

Long-distance pathways are a distinctive

feature of the UK and provide an attraction

both for British and overseas visitors. Not

many countries have the wealth of public

footpaths and cycle routes that we enjoy in

the UK, and these are all across the country.

DISCOVER SUFFOLK AND SUFFOLK COAST AND HEATHS AONB

At the end of 2021, Natural England is set to

announce that it has secured approval for all

sections of the England Coast Path.

England's 2,748 miles of coastline is one of

the most varied and beautiful in the world,

and many people are choosing to walk it in

sections, something that is being supported

and promoted by regional tourism

authorities.

We have worked with the South West

Coast Path Association, North York Moors

National Park and Visit Suffolk, among

others, to promote self-guided circular

walks in areas featured in the TV series, Kate

Humble's Coastal Britain.

There is a strong drive to encourage

people to get off the beaten track and

explore beautiful countryside that is less well

known.

Malcolm Hodgson, national trails officer

at the North York Moors National Park, said:

"It's good that more people recognise the

beauty of North Yorkshire after seeing it on

TV – but there's plenty else to discover on

this coastline.

"By having the local routes on

Outdooractive, we're hoping visitors can

discover some of our lesser-known trails,

including hidden gems such as farm

hideaways and other rural retreats."

46 WWW.OPENAIRBUSINESS.COM
---
GLAMPSITES

TIPS FOR EXTENDING

THE SEASON

› Put your accommodation on the map

Select some of your favourite publicly accessible routes

across your property or surrounding countryside, track

them in the app and upload them with photographs

showing your site as a suggested place to stay.

› Team up with local walking festivals at the start

and end of the season

Organisers are keen to support local businesses and

need accommodation for their participants. This will

provide profile and word of mouth recommendations.

› Use keywords on your website

If you have a blog or similar consider including phrases

like 'good autumn walks near xxx' or 'best woodland

walk in yyy'. Write about your walk and link to the route

on Outdooractive so that people can follow it easily.

› Consider wellness campaigns

Include outdoor activities within suggestions for

feelgood weekends away, with recommendations for

memorable places to eat with roaring fires. Make it

easy for people to visualise to encourage them to risk a

weekend in February.

› Go beyond staycationners

As the travel bans lift, the market gets bigger. Overseas

visitors tend to go to well-known places; being a

point of interest on the Outdooractive platform will

encourage keen walkers and cyclists to explore less

well-known locations.

› Create a content calendar with seasonal

inspiration

Think about how your site will look through the seasons

– autumn leaves, snowy hillsides, naturalised bulbs

in the meadow. Take photographs throughout the

year and promote your venue as a base for outdoor

adventure.

n Otterton, Budleigh Salterton.

ELENA STEERS, EXETER.

ABOUT THE AUTHOR

Craig Wareham, CEO of Outdooractive UK (www.outdooractive.

com), developed the first app for off-road mapping and

navigation. He wanted to make exploring the outdoors more

accessible to those baffled by paper maps and to create a

community for sharing adventures and recommended routes. The

routes are available via a smartphone app to follow using GPS, and

can easily be shared on a glampsite's website using a widget (a bit

of code). If you would like to contribute a walk from your location this

will be shared with the over 11 million outdoor enthusiasts across Europe

and the UK.

WWW.OPENAIRBUSINESS.COM 47
---
GLAMPSITES

CROWN & CANOPY

CROWN & CANOPY

Sustainable

Design

for Tourism

Accommodation

Key learnings from the National Forest's new

design guide for sustainable tourist accommodation

Learnings from

the National Forest

SUSTAINABILITY IS made up of a

complex and diverse set of issues,

but the National Forest Company, in

consultation with architects Arboreal and

glamping consultants Crown & Canopy,

has identified seven design principles to

help create exemplar sustainable tourist

accommodation.

The design guide is a call to action to

landowners, developers, operators and

investors to join the National Forest – 200

square miles of newly planted woodlands,

farmland and ancient forests across

central England – in creating a new wave of

sustainable tourism accommodation.

Here we outline the main learnings from

the guide, which can be applied to the wider

glamping industry to create developments

that sit harmoniously with their landscape,

community and guests, as well as

contributing to countering the climate crisis.

The design guide advises readers to see

these ideas as a 'menu of options' to be

used according to the needs of a project

and in line with ambition and budget.

The principles are scalable and have been

developed to complement other technical

sustainability standards including BREEAM

and the Living Building Challenge.

Download the guide at www.

nationalforest.org for comprehensive

explanations and examples of each of the

principles. Below is a summary and food for

thought.

1 Develop in harmony with the

forest character

› Design to enhance forest character

› Site buildings sensitively

› Engage with local history and

vernacular design

› Bring nature into interior designs

2 Design for Health and Wellbeing

› Encourage active lifestyles

› Support mental wellbeing

› Encourage a connection with others

› Strengthen connections with the forest

› Ensure comfort for everyone

› Make the forest accessible

3 Support the forest community and

economy

› Create connections with your neighbours

› Become part of a tourism network

› Tell the National Forest story

› Inspire guests through sustainable design

› Host forest activity groups

48 WWW.OPENAIRBUSINESS.COM
---
GLAMPSITES

CASE STUDIES

Larkhill Tipis and Yurts,

Ceredigion

4 Build ethically and sustainably

› Use low carbon construction

› Use natural materials

› Source materials responsibly

› Reuse and reclaim existing materials

› Assess your project's life cycle

› Design for disassembly and longevity

› Reduce construction waste

› Invest in professional support

5 Promote carbon emission free holidays

› Lower the energy use of your buildings

› Thermal retrofit

› Use or generate your own renewable

electricity

› Minimise carbon emissions for

secondary space heating

› Buy low carbon products

› Encourage low carbon transport

6 Integrate with nature

› Understand your local environment

› Promote space for nature

› Plant more trees

› Build for wildlife

7 Manage water wisely

› Use mains water sparingly

› Change water use habits

› Use rainwater for irrigation

› Consider on-site wastewater treatment

› Manage foul water sustainably

› Manage rainwater equitably and

sustainably

LARKHILL TIPIS AND YURTS

NFC/STUDIO ARCHETYPE LTD.

Having lived off-grid for over 25 years,

the owners of Larkhill Tipis and Yurts

take sustainability seriously. Harnessing

wind, water and solar power to generate

electricity, they promote low carbon

holidays in their colourful yurts and tipis.

The site is completely organic.

All cleaning products are ethically

sourced and eco-friendly (as are the

complimentary guest toiletries). No

fertilisers (other than homemade

compost) or insecticides are used on the

land. There are compost toilets as well

as flushable ones with a reed bed system

used to naturally filter foul water from

the septic tank. And with all food waste

turned into compost to grow vegetables,

recycling is made easy.

The site is nestled beautifully within

the forest and wildlife is well looked after.

From woodland and hedgerow planting

to pond creation and leaving deadwood,

there's plenty of space for nature to

flourish and a flock of rare breed sheep

help to manage the land.

Prices from £80-£85 per night for a yurt

for four.

www.larkhilltipisandyurts.co.uk

WWW.OPENAIRBUSINESS.COM 49
---
GLAMPSITES

FOREST HOLIDAYS, UK WIDE

Forest Holidays offers cabin holidays in

11 locations across the UK. For 45 years it

has worked in partnership with Forestry

England, Forestry and Land Scotland,

and Natural Resources Wales to provide

authentic experiences in British forests.

Nature is central to its business ethos.

Forest Holidays' revenue helps sustain

the forests and its Conservation Fund

supports around 30 UK wide conservation

projects. It's committed to improving

the biodiversity of sites and carries out

extensive monitoring and enhancement

programmes with its forest rangers and

local Wildlife Trusts. On-location education

programmes led by trained forest rangers

encourage guests of all ages to learn about

the forest and wildlife around them.

Wellbeing is also a key part of the

experience. It's the only holiday company

in the UK with team members trained in

the ancient Japanese art of shinrin-yoku

or forest bathing.

The timber built cabins use pile

foundations to nestle into the forest

environment in a low impact manner,

while spacious outdoor decking and large

window panels integrate the outdoor and

indoor spaces.

Forest Holidays is the first self-catering

holiday company of its type to have a

bespoke BREEAM scheme with BRE.

Cabins are built with health and wellbeing

in mind, with plenty of natural light and

space, and everything is done to minimise

impact on the forest and the wider

environment.

From £183 per night for a cabin for

two people.

www.forestholidays.co.uk

FOREST HOLIDAYS

STARGAZERS WAGON, HEREFORDSHIRE

Renovated from its early circus days into a luxurious living space, Stargazers Wagon is an

excellent example of a repurposed structure. The whole site (including two timber cabins

and the owner's cottage) is entirely off-grid, and the wagon is inherently low impact and

well insulated which reduces energy use.

The 27-foot wagon sits within a five-acre ancient wildflower meadow. It's grazed just

once a year to enhance biodiversity and the rest of the site is kept wild to provide plenty

of space for nature.

Native tree planting and hedgerow management creates habitat for small mammals

and birds. Fruit trees provide food sources for birds as well as humans, and the log piles

dotted around are great for reptiles and mammals.

Solar energy powers the low wattage LED lights indoors. To minimise the impact

on bats and other wildlife, and enhance the dark sky experience for guests, there's no

outdoor lighting.

The experience of the trailer extends outside with rustic timber decking, seating and

hot tub offering long views of the open countryside. The minimal interior is true to the

nature of trailer living, offering a back-to-basics appeal for visitors.

Prices from £98-£165 per night. www.herefordshirehideaways.co.uk

ABOUT THE NATIONAL FOREST

In less than 30 years, the National

Forest has transformed a declining

industrial Midlands landscape into

a vibrant destination, driven by the

simple belief that life is better with

trees. It has created a visitor economy

throughout its 200 square miles that

grows and sustains local employment,

uses local and sustainable products

and services and provides facilities to

enhance the wellbeing of communities

as well as visitors. The aspiration is to

go further, for the National Forest to

be a land-mark sustainable tourism

destination, responsive to the urgency

of climate change.

CANOPY & STARS

Download the National Forest's

Sustainable Design for Tourism

Accommodation Guide at www.

nationalforest.org

50 WWW.OPENAIRBUSINESS.COM
---
nick@wild-hart.co.uk

www.wild-hart.co.uk

07971869058

W I L D H A R T

PLAY CABINS HOME

Distributed by Lyon Equipment Ltd

Tel 01539624040

info@lyon.co.uk

ss21 trade as quarter page.indd 1 06/07/2021 16:19:21

Quality Glamping

Cabins and BBQ Huts

Introducing the Leaf

Glamping Pod range

Our fantastic range includes traditional, contemporary, double

storey and low profile designs to sleep or host a range of guests.

"We are delighted with the Finman BBQ Hut. The quality of build is superb,

and Logspan provided a very efficient fitting team. Logspan and its product

have exceeded our expectations." Alastair

UNIQUE • QUALITY • CUSTOMISABLE

01389 887205 info@logspan.com www.logspan.com

WWW.OPENAIRBUSINESS.COM 51
---
GLAMPSITES

PRODUCT IN FOCUS

Specialist Structures

Holly Water Holidays, Devon

Product: Bespoke two bed off-grid cabin

Supplier: Wild Hart, 07971 869058,

info@wild-hart@co.uk,

www.wild-hart.co.uk

The Escape Pad,

Gloucestershire

Product: Design and build

of a 40ft shipping container

conversion

Supplier: SteelPad, 07889

154002, info@steelpad.co.uk,

www.steelpad.co.uk

Details: SteelPad was

commissioned to create a

glamping unit for a unique and

breathtaking spot in the Stroud

Valleys, and EscapePad was

born. A 40ft shipping container

(Steelpad 40) was converted into

a beautiful one/two bedroom

glamping unit.

With magnificent views to be

utilised on three sides, the most

was made of the light and aspect

with a large, fixed window at both

ends and a 2.8m bifold opening

onto an infinity deck.

The nature of the site meant

that manoeuvring the pad into

position to make the most of

the view was a mission but, with

SteelPad's ex-military container

mover, the team was able to

place it perfectly.

The brief was to tie the unit

into the natural surroundings

so meandering wooden steps

were built through the woods

to lead guests to the warm

wooden decking and BBQ area.

The SteelPad 40's original green

colour was kept and, continuing

with the natural colour scheme,

a light birch was chosen for the

interior.

In this environment, SteelPad's

mantra of 'Reuse, Recycle,

Reinvent' was key. The one trip

pad is low impact, sits on slabs,

and has a removable waste tank

and piped water.

The quality fittings included

German bifold frames and

A-rated energy appliances, air

conditioning with heat, Bluetooth

speakers, a gas BBQ outside, a full

kitchen (including dish washer),

electric shower and heated towel

rail... it has it all.

Customer feedback: Owner

Melissa said: "SteelPad were

a delight to deal with. I had a

specific design due to the view

we have in the beautiful valley

that I wanted to capture, and they

were very accommodating with

the project to maximise views

and space.

"The bathroom and kitchen are

epic with everything you would

need for a long stay let alone a

short one. They really did think

of everything to make the Escape

Pad a first class stay, it's better

than most first class hotels and in

your own chosen location."

Details: Wild Hart prides itself on

developing bespoke cabins that really

fulfil client's wishes. With the Beehive, Iain

and Jane Tapp from Holly Water Holidays had a

clear idea of a cabin they wanted to build and the location they

had in mind – and it was not the easiest place to build!

Wild Hart created a final design that fulfilled the planning and

building control criteria – a pre-fabricated modular construction –

and assisted with the installation in the difficult location.

The cabin sits on a larch round pole timber sub-frame set on

the hillside. Larch was chosen for its durability and because it is

a sustainable, local resource. This sub-frame not only takes up

the undulation of the site but it gives an elevation that increases

its presence and views across the valley. Ground screws drilled

into the bank made an easy foundation system that is quick and

simple; they also have a lower carbon footprint than concrete,

and outperform it too!

The Beehive is an off-grid cabin with a solar system for the

electrics, LPG for the cooker and fridge, a borehole for water

and septic tank for waste. The cabin is a remarkable two floor

construction. Upstairs there is a generous landing with seating

and views out through a hexagonal window and access to two

double bedrooms with handcrafted beds and exceptional views

out over the valley. A unique tree trunk spiral stair leads down

to the ground level, the balustrade built by a local blacksmith.

Downstairs there is a handcrafted kitchen, lounge with wood

burner, and a toilet and shower.

Throughout the cabin there are hints of honeycomb with

hexagonal shelves and details. The two front doors open out onto

the large, raised deck overlooking the valley. A hot tub is situated

on a second linked deck.

Wild Hart is able to cover all aspects of design and manufacture

and, where necessary, collaborates with other local firms to

create exactly what a client needs.

Customer feedback: Jane Tapp said: "The Beehive is proving to

be a good addition for us and guests are happy there and love the

location."

WWW.OPENAIRBUSINESS.COM 53
---
GLAMPSITES

Isle of Jura, Inner Hebrides of Scotland

Product: Anthropod Janus

Supplier: Anthropods, 01423 869867,

info@anthropods.co.uk, www.anthropods.co.uk

Greenfields & Treetops, Shropshire

Product/service: Bespoke design and construction of two

treehouses and liaison with local authority building control

Supplier: Castles Carey, 01963 360226, sales@castles-carey.co.uk,

www.castles-carey.co.uk

Details: Having built treehouses and log cabins for over 20 years

for private clients, Castles Carey took a stand at the 2019 Glamping

Show, where it learned how much more revenue can be generated

for landowners who offer cosy treehouses for holiday lettings. One

commission came from a couple who had acquired a lovely small

holding, deep in rural Shropshire.

Planning permission was granted four months after Castles

Carey's plans were submitted for two one-bedroom treehouses – one

in the midst of pine trees and the other with a wide sundeck on the

edge of a wooded dell.

The first treehouse is now ready for its final fit-out, following

months of discussion with the local authority building control.

Your architect needs to be aware that planning consent is not the

end of the process; building regulations also apply for glamping

purposes. The construction of a treehouse or cabin, energy rating,

fire safety and the provision of sanitation and efficiency measures

must conform to building regulations, as well as consideration

given to disability use and fire engine access. In the case of this

Shropshire project, Castles Carey created disability access in one

of the treehouses, but evidence needed to be provided to the local

authority where such access is not thought to be possible.

Offering the most appealing of staycations requires patience and

persistence before building can begin, but once the paperwork is

done the rewards are plentiful for landowners and holidaymakers

looking for adventure!

Details: After a 350 mile trip, the first of the new Anthropod

two compartment Janus models has been installed on an

estate on the Isle of Jura.

Designed as temporary accommodation for two estate

workers, the Janus features entrances at both ends and

contains self-contained living accommodation with a

communal kitchen with hob, oven, fridge and sink, plus a

shower, flushing loo and wash basin. The Janus is a specially

modified Bleriot Plus model with double push-out sides, to

create more living space, and features additional windows.

The two double-bed compartment Janus can be adapted

for glamping use and is made using the same sustainable,

eco-friendly materials characterised by all Anthropod Bleriot

models.

The two compartment layout employs sliding doors and

enables users to have their own private living and sleeping

space but with shared cooking and washroom facilities.

The robustness of the design and build ensures the Janus

can withstand the extreme weather conditions that can be

experienced in the Scottish Hebrides.

Feedback: Rik Currie, Anthropod CEO and designer, said:

"The Janus demonstrates the adaptability of the original

Bleriot design and provides luxury, all-year-around

accommodation for two to four people. The new spacious

interior and contemporary design all add up to a unique space

that commands high bed-night rates".

Customer feedback: Kerry Bottomley, owner of Greenfields and

Treetops, said: "We are approaching the exciting time to receive

guests in the first treehouse. Throughout the process we have

enjoyed the enthusiasm and commitment of the team at Castles

Carey. It was a pleasure to see our dream develop and have the

opportunity to explore our ideas along the way. We would also

recommend a planning agent with glamping business experience as

this is a complex process."

54 WWW.OPENAIRBUSINESS.COM
---
Podiau Uwch

Y Dyffryn,

Denbighshire

Product: Five 7x4m luxury

glamping pods

Supplier: Cedar Tree

Pods, 01978 804196, info@

cedartreepods.co.uk,

www.cedartreepods.co.uk

Details: These stylish,

detached, contemporary

pods enjoy an idyllic, elevated

location in the small village of

Llanelidan with far reaching

Welsh countryside views. Set

on a working sheep farm, they

benefit from an open-plan

living space and walk-in shower

providing everything you need

for a comfortable

glamping

experience.

Cedar Tree Pods

worked with Dafydd

Jones at Podiau

Uwch Y Dyffryn to

supply five of its

new larger pods,

which measure 7m

long and 4m wide.

All of the

pods included a

kitchenette with

integrated fridge, microwave,

combi oven, two zone

induction hob, sink, cupboard

and drawer pack. They also

included a table and chairs for

four people, a built in wardrobe

and the company's iconic

western red cedar cladding.

To complete the luxury feel

of the glamping site, all of the

pods were supplied with hot

tubs and Cedar Tree's hot tub

LPG boiler setup.

Customer feedback: Owner

of Podiau Uwch Y Dyffryn,

Dafydd Jones, said: "Cedar Tree

Pods have been very easy to

deal with from the beginning.

Offering advice and giving ideas

and recommendations. The

quality of the pods is excellent

and everything is as they

promised. We would highly

recommend them".

PRODUCT

SNAPSHOT

The New Hypar Stretch Tent

Tentstyle

01403 333135 / enquiries@tentstyle.co.uk

www.tentstyle.co.uk

Introducing our latest product, the Hypar Stretch

Tent. Our uniquely shaped tents provide protection

from all elements and have been cleverly designed

to eliminate the need for any internal poles.

The eye-catching shape of the Hypar tent is an

ideal addition to any outside space and is perfect

for providing stylish shaded areas around any glampsite or venue.

Our Hypar tents can be made to any length and installed in any location, and with a vast

array of colours we can find something to suit your site. Delivery, installation, and full training

can be provided enabling you to fully look after your Hypar stretch tent and allow you to move

its location as you wish.

Spectacular

Conjoined Tipi

Hearthworks, 01749 321210

info@hearthworks.co.uk,

www.hearthworks.co.uk

Hearthworks launched its new conjoined tipi

at the start of the season, with the first two

installed at a wellbeing centre near Combe

Martin on the North Devon coast.

The highly skilled sewing team spent months working on the bespoke design, and the

result was spectacular – a truly unique creation consisting of two bespoke interlinked, doubleskinned

tipis. The structures have a porch awning, an en-suite tipi joined to a bedroom/

lounge tipi, with underfloor heating, electrics, wood-burning stove, and hot running water.

These are tipis for all seasons, with the double-skin creating an insulated, cosy space that is

the next level of camping in style!

A Welcoming, Flexible Space

Qorone

07798 902209 / info@qorone.com

www.qorone.com

Born out of a rustic festival firepit

and seating structure, and a

desire to create an all-weather

space, the design of the Qorone

came about organically. It has

progressed through many stages

of development and refinement

to become the unique glamping

structure that it is today. Seat backs

grew upwards to become walls,

allowing a roof to bridge the gap to

the flue over the fire.

The Qorone offers a true

'glamping' experience. Sleep under

a beautiful canvas roof whilst

enjoying all the advantages of a

solid structure like a shepherds hut

or cabin, with solid wooden walls

and a woodburner at the centre. A

circular, welcoming space with a

great deal of flexibility, the interior

can be furnished to suit the needs

of your guests.

WWW.OPENAIRBUSINESS.COM 55
---
GLAMPSITES

PRODUCT

SNAPSHOT

A Canvas Castle with Camper Van Compatibility

Boutique Camping

0203 319 1315

info@boutiquecamping.com

www.boutiquecamping.com

Boutique Roof Terrace Escape

Outerspace Buildings

01978 254150

hello@outerspacegroup.com

www.outerspacegroup.com

Whether you're thinking of diversifying or extending your

staycation offerings, it's undeniably a good time to do so. The

pandemic has changed our need for nature, and whilst out

exploring there's a desire to call somewhere 'home'. Personal

space, somewhere to feel safe and cosy. Somewhere a little

different with an added sense of luxury.

Meet Outerspace Buildings, a manufacturer based in Wales

that is passionate and motivated to help hotels, landowners and

holiday destinations meet the ever changing needs of the UK

staycation demand.

Outerspace's buildings are created from a combination of unique

vision and physical craftsmanship. At their heart is a team of

passionate and motivated designers, engineers and craftsmen who

understand entirely what customer experience is all about.

Their unique and innovative building designs clearly challenge

the status quo and focus on customer experience both inside

and out. It's their attention to detail that makes their buildings so

unique and special.

New to Boutique Camping's exclusive range of

innovative tent designs is the double-doored

rendition of the sell-out Tucana Tent. A Dutch inspired

structure, it is infused with modern capabilities and

a generous hint of Boutiques' renowned cutting edge

creativity.

With wide sheltered doorways integrated at both

ends of its 5x4m floor space, this 285gsm canvas

castle encourages outdoor adventurers to create

the perfectly pitched set up. It features a stand-tall

structure that pairs up with a camper van or trailer.

The efficiency of having an all in one car-to-tent

construction allows campers to indulge in homeaway-from

home advantages, gaining extra storage,

connected sheltered space and no more tedious,

strenuous to-and-from loads when setting up camp.

Complementing this unique anatomy is Boutique's

famously resilient arched hem and webbing strap

duo, a feature which effectively redirects rain-pour,

minimises trip hazards and looks epic from all angles!

Don't forget, Boutique Camping plants five trees

with every tent ordered, a collaborative stepping

stone for the company to progressively become

completely carbon neutral. So, Tucana, or not-

Tucana?

Play Areas

Cheeky Monkey Treehouses

01403 732452

info@cheekymonkeytreehouses.co.uk

www.cheekymonkeytreehouses.com

A stalwart of treehouse design, you may know Cheeky Monkey

Treehouses for its highly sought after glamping accommodation,

but the team is just as well known by the children who enjoy its play

structures. Imagine the delight on the faces of families that turn up to

your site on spying a treehouse den especially for kids. The Cheeky

Monkey team has 22 years' experience delivering the stuff of dreams

for little ones and are expert in providing everything needed for an

adventure in the trees.

As a site owner, you'll enjoy a personal treehouse consultation

service, hand-drawn 3D illustrations and the highest level of

craftsmanship and attention to detail.

56 WWW.OPENAIRBUSINESS.COM
---
GLAMPSITES

PRODUCT IN FOCUS

Sustainability

Lacock Alpaca Glamping,

Wiltshire

Product: Portable composting outhouses

Supplier: Reworkshop Off

Grid & Camping, 07714 719441,

reworkshopwales@gmail.com,

www.reworkshopwales.co.uk

Details: The site at Lacock Alpaca

Glamping comprises four bell tents

in a four acre field on an established

alpaca farm. Owner David approached

Reworkshop to supply its flagship

portable composting outhouse, which is

designed to be the most environmentally

friendly and sustainable portable toilet

solution on the market. It is also simple to

use, portable, strong and good value for

money.

The design harks back to the traditional

outback or frontier outhouses and privies.

The look and feel is kept authentic by

careful choice of materials, which also

fitted Lacock's sustainability brief. From

the reclaimed pallet base, pallet wood

cladding and the clever use of recycled

plastics and polycarbonate roofing,

Reworkshop paid careful attention to

detail. Where virgin timber is required to

ensure strength and reliable production,

this is all sourced from sustainably

managed forests.

All of Reworkshop's large range of

composting toilets and shower/wash

room structures are handmade in

Wales by craftsmen with locally sourced

materials wherever possible. The friendly,

family run company is always happy to

help when it comes to discussing options

including bespoke orders. Reworkshop

also specialises in off road deliveries and

installations.

PRODUCT

SNAPSHOT

Eco Options for Hot Tubs

Naked Flame Eco-Tubs

01484 766233

info@nakedtubs.com

www.nakedtubs.com

With a keen eye on all things

eco, Naked Flame now not only

produces beautiful hot tubs and

saunas from fully sustainable

sources, but is also able to offer a

fully recyclable Polystone plastic

liner system for all of its tubs for

business use. Available in various

colours, the hard wearing liner

systems not only look great but

they can also keep up with the

week in, week out routine that

glamping brings without the worry

of damage that a fibreglass version

can see.

Offering peace of mind for

owners needing the confidence

of no down time for repairs

during the season, original tubs

can also be retrofitted with the

liner systems to ensure the latest

business user advice is followed.

Tub construction remains exactly

the same underneath the liner,

keeping the huge 42mm thick

walls and the unrivalled heat

retaining properties.

58 WWW.OPENAIRBUSINESS.COM
---
GLAMPSITES

Patented Battery

Technology

Aceleron

0121 201 2933

info@aceleronenergy.com

www.aceleronenergy.com

Meet the Essential – a

versatile battery suitable for

a wide spectrum of auxiliary

applications. Unlike other

lithium-ion batteries, the

Essential uses a patented

technology that allows it

to not only be repaired and

maintained when needed

but also to be upgraded as

technologies advance.

With this design, each

part of the battery can be

easily accessed for servicing

or upgrade, giving it an

endless lifespan – much

kinder to the planet while

keeping long-term costs

down.

It can be installed in

three different orientations

making it ideal for use in

challenging locations. It

gets better, the Essential's

performance reaches new

heights, at up to 200A+ peak

power with more capacity

than ever before.

Designed ergonomically

with the user and installer in

mind, the Essential is built

for the circular economy

where valuable materials

are kept in the loop.

Will Wind Make

Electricity for You?

FuturEnergy

01789 450280

sales@futurenergy.

co.uk

www.futurenergy.co.uk

Producing off-grid

electricity from the

wind can be an ideal

power source in a rural

location, contributing to

power requirements or

offsetting consumption

from the grid.

By inputting the

postcode where you

would like to site a wind turbine into a wind database, it will

advise you the average wind speed in metres/second (m/s)

at various heights – ideally anything above 5.5m/s at 10m. At

5.5m/s, with a clean air site, the Airforce1 wind turbine would

produce an estimated 1100kWh per year. If the average wind

speed is more than 5.5m/s this is all the better, increasing

output exponentially.

FuturEnergy has been manufacturing the Made in Britain

Airforce1 1kW micro wind turbine for over 15 years in

Warwickshire. The systems are available in 24V or 48V and

supplied with the Airforce Control and anemometer. A free

iPhone/Android app is also available for remote control.

Luxury canvas tents designed in the UK

lotusbelle.co.uk

WWW.OPENAIRBUSINESS.COM 59
---
60 WWW.OPENAIRBUSINESS.COM
---
EVENTS

CASE STUDY

Believe Christmas

Creating fairy tale Christmas memories for families in

the North East

A pop-up elf village with

Christmas surprises in giant

tipis. Produced by the team

at Tainted UK, we talk to

director Ken Wallace about

going above and beyond

with 'Elf and Safety' and

how, after a year off, the

2021 event is predicted to

attract 12,000 people over

10 days.

Describe your event and how many people

it attracts?

Believe Christmas is an immersive magical world

brought to life in a theatrical production within an

elf tipi village. It is an outdoor Christmas attraction

taking visitors on a journey through theatrical

performances and interactive activities. The

experience is designed to create memories with

loved ones to treasure for a lifetime. Joining each

group are elf guides that lead visitors around the

elf tipi village where actors bring fairy tales to life.

This adventure is based in the grounds of

Hardwick Hall Hotel in County Durham. New this

year, considering Covid-19, the Believe Christmas

spectacular is being planned and delivered with

social distancing in mind, managing the amount

of people on site at any one time.

In December 2019, Believe Christmas attracted

around 1,200 people per day over nine days. This

year, we are anticipating roughly the same figure;

1,200 per day but over a 10 day period, which

would see the attendee figures around 12,000 for

the event period.

What is the event's history and what made

you decide to run it?

We have been working in the events industry

for over 15 years and, in addition to working

alongside both private and public sector

clients to deliver their own regional and

national events, we also create, devise,

manage and produce our own self-financed events

such as Believe Christmas and other seasonal

events.

Every day is different and seeing families

smiling and making memories is what makes

Believe Christmas worth every second, plus we get

to become elves once a year!

How does the relationship work with

the venue?

Hardwick Hall Hotel (run by Ramside Estates) is

one of the leading luxury venues in the North East.

Set in 120 acres of parkland, the venue lies in the

heart of the beautiful County Durham countryside.

Believe Christmas is held in partnership with

Ramside Estates, Metro Radio, TFM Radio and

Greatest Hits Radio. Attending families and our

elves absolutely love working onsite at Hardwick

Hall Hotel as the expansive grounds and views are

remarkable and such an amazing setting for this

traditional family Christmas adventure.

How did you find applying for

permission to run the event?

We work closely with

the health and safety

department at Durham

County Council, Public

Health England, our own

insurers, and an appointed

health and safety organisation

WWW.OPENAIRBUSINESS.COM 61
---
EVENTS

to ensure that the relevant licenses and

permissions are put in place.

When we attempted to deliver this

event in 2020, we worked side by side

with the same suppliers and departments

to ensure that attending families would

be as safe as possible during the Covid-19

pandemic. Unfortunately, due to UK

government restrictions and national

lockdowns, we were forced to postpone

this event until 2021. Due to our extensive

health and safety procedures we were

awarded the AA Covid Compliant Award.

Although social distancing and

elements to Covid-19 have changed in the

UK within 2021, we will still be adopting

a huge number of elements from those

health and safety procedures and will

ensure our families remain safe.

How have you planned the layout of

the event?

Luckily as our event is based within

the extensive grounds of Hardwick

Hall Hotel, we work with the venue to

establish what space is required on an

event by event basis. As we have the

flexibility to build the event around

specification and needs, every Believe

Christmas event site layout is slightly

different. As this is a traditional outdoor

Christmas event we

contract a regional tipi supplier

to deliver our elf village.

How did you research and

source your infrastructure?

We have been within the events

industry for over 15 years and

have worked with many

suppliers for both regional

and national events. We

tend to be very loyal

to suppliers that are

based locally and

have worked

closely with

them to

build this event into a much loved North

East Christmas attraction.

What entertainment do you offer?

Believe Christmas is one big, huge

outdoor Christmas pantomime where

every year there are different characters

(actors) employed to surprise the

attending families. Some other Christmas

attractions tend to stick to the same

format and activities but as we have loyal

families that attend every year, we like to

keep things fresh and exciting.

Again, we like to use local talent and

work with regional organisations that

manage actors' careers. We also work

very closely with educational bodies

to allow up and coming talent to be

involved and kick start creative careers.

What provisions do you make

for power, lights and sound?

To be honest with you we

62 WWW.OPENAIRBUSINESS.COM
---
EVENTS

morning that they must look out for their

designated Christmas group name elf.

This elf stands underneath a Christmas

flag displaying the chosen group name

picture and leads them around for the

duration of the experience. This elf has

been trained in 'Elf & Safety' and reports

back to the Elf Booking Hut on a regular

basis to ensure safety is at its highest.

Our appointed health and safety

organisation works closely with us in the

planning of this event and corresponds

with all other departments to gain a

mutual 'elf and safety' sign off prior to

the event start date.

absolutely adore the supplier we work

with on an annual basis. Andy and his

team at Alrose Productions (based in

the North East) know exactly what we

need and most of the time have already

envisaged every element before we

approach them with our plans.

They work tirelessly to make sure that

the 'magic' is created and fulfilled for

the attending families. I think it helps

that Andy and his team have families of

their own, so they know how special it

is to see that glint in both children's and

adults' eyes.

How do you manage admissions and

visitor safety?

Well, Elf Sparkle is head elf and makes

sure that all her elves are running around

busy and that customer satisfaction

remains high. All our attending families

know that when they arrive on site in the

What measures you have undertaken

specifically for Covid-19?

Our team closely monitors the evolving

situation regarding Covid-19 and,

following the most recent guidance

from Public Health England and the UK

government, we feel confident that we

can safely welcome visitors to Believe

Christmas this winter.

In order to adhere to government

directives, we have appointed a health

and safety advisor to oversee risk

assessments, standards of practice and

equipment to ensure we are operating

safely to protect staff and visitors alike.

Aspects that may be required to be in

place include:

ALL WEATHER OPTIONS FOR YOUR OUTDOOR EVENTS

Stretch Tents, furniture, lighting, heating, flooring - short and long term hire

@TentickleUK

PROFESSIONAL & RELIABLE

www.tentickle-stretchtents.co.uk

0121 740 1385 or 07826 843 099

@Tentickle_UK

TentickleUK

WWW.OPENAIRBUSINESS.COM 63
---
EVENTS

› Limited capacity – we may be required

to restrict and control the flow of people

throughout the experience and to allow

for social distancing.

› Rebuilding – Believe Christmas is

well placed to do this as each event is

designed and rebuilt from scratch every

year. We thoroughly assess all structures

within the production and rebuild and

redesign where necessary to provide

appropriate space for all our guests

throughout the experience.

› Hygiene – we may be required to

introduce enhanced cleaning measures

throughout the production, to disinfect

high-frequency touch points such as

tables and chairs, service counters and

work benches. We will install hand

sanitiser dispensers throughout the

experience for guest use. All areas

including portable toilets will be cleaned

regularly by both staff and appointed

suppliers.

What ground protection do you use for

cars and footfall?

Believe is an outdoor event and has

a series of slight bumps and slopes

however we do put down rubber matting

walkways etc across as many areas as

possible to make sure it is as pushchair

and wheelchair friendly as we can

possibly make it.

How do you publicise the event?

We are partnered with Ramside Estates,

Metro Radio, TFM Radio and Greatest

Hits Radio so we gain a huge amount of

advertising and publicity. We 'believe'

that radio advertising and social media

are key, and therefore we partner with

Bauer Media (which owns the stations) as

many families tune into local radio whilst

on the school runs and they are our

intended audience. We also make use

of established North East bloggers that

have a huge presence as their opinions

matter to us and reach the masses.

What challenges have you faced?

Every year is a major challenge. From

"WELL, ELF

SPARKLE IS

HEAD ELF

AND MAKES

SURE THAT

ALL HER ELVES

ARE RUNNING

AROUND BUSY

AND THAT

CUSTOMER

SATISFACTION

REMAINS

HIGH"

getting the website live, going on sale,

ticket sales, the planning of the event,

research/finding both elf and actor

costumes, gaining quotes, appointing

suppliers, the site build, the mud,

the rain, the snow and the long hours

that go into making this event a huge

success. But every uphill challenge is

worth it when you see children skipping

away with their families holding their

present from Santa. Every challenge

is worth it when you know that you

have helped make a child's or family's

Christmas magical.

How have you financed the event and

how profitable is it?

Believe Christmas is a fully self-financed

event based on ticket sales. Without

the tickets selling there would not be

an event. Every event is as good as

the last one so if you don't make it

magical people won't come, plus it's

not all about money! The event can be

profitable but from these profits we

reinvest into other events and future

Believe Christmas events.

What are your plans for next year?

Oh, 2022 is going to be a very exciting

year for Tainted and the Believe

Christmas attraction. Due to the success

of past Believe Christmas events we will

be launching other magical seasonal

events such as Believe Easter etc.

What advice could you give to

someone coming into the industry?

Where do we start? There are so many

things to take onboard: be organised,

expect the worst to happen (as it

usually does at some point), have

weatherproof clothing and shoes, find

suppliers that are loyal and you trust,

'believe' in yourself, double check

every detail (like Santa) and, most

importantly, love what you do as it

makes those long hours worth it in

the end!

ADDRESS BOOK

MARQUEES

The Tipi People –

www.thetipipeople.co.uk

STAGES, AV, POWER

Alrose Productions –

www.alroseproductions.co.uk

FLOORING & GROUND

PROTECTION

Teesdale Event & Site Services –

www.rentatoilet.co.uk

TOILETS

Teesdale Event & Site Services –

www.rentatoilet.co.uk

BARRIERS

Speedy Services –

www.speedyservices.com

FIRE EXTINGUISHERS

Safe and Sure Fire Protection –

www.safeandsurefire.com

WRISTBANDS

Wristbands Plus –

www.wristbandsplus.co.uk

REINDEER

Rent a Reindeer –

www.rentareindeer.co.uk

CLEANSING TEAM

NTH Solutions –

www.nthsolutions.co.uk

ACTORS/STAFF

NE14TV – www.ne14.tv

INSURANCE

Hiscox – www.hiscox.co.uk

DETAILS

Believe Christmas

4-23 December 2021

Hardwick Hall Hotel

Sedgefield

County Durham TS21 2EH

www.believe-uk.com

64 WWW.OPENAIRBUSINESS.COM
---
The Biggest and the Best

- NATIONWIDE -

Specialists in the hire of outdoor cinema

equipment. Packages from £795+vat

07739 710272 | info@skylightcinema.co.uk

www.skylightcinema.co.uk
---
EVENTS

GETTY IMAGES

Grow your Audience

Christian Hill, from branding and digital agency Project Simply, shares advice

on increasing your festival's audience using innovative marketing techniques

WE KNOW your marketing budgets are

stretched, and with the increasingly

competitive nature of the festival landscape,

it's more important than ever to spend those

budgets in the most effective way. Here are

some tips to extend your reach and engage

with your audience – your current and future

festivalgoers. We'll look at ways to target the

hardcore festival fans who will share your

content, help build an online community and

upgrade their tickets to VIP status.

Using tried and tested social channels to

engage with and wow your audience is a

given, but if you want to go the extra mile,

innovate and stand out from the crowd, have

a think about doing the following:

Livestream your festival

1 Livestreaming your event gives users

unique and memorable access to the festival

experience you are offering.

There's some interesting stats around this

one. Research from Digitell showed that 30%

of fans who watched a festival on livestream

then attended the festival in person the

following year. It makes sense to market the

opportunity to watch the festival live across

social channels and to all subscribed but non

attending users, once tickets have sold out,

maximising initial marketing spend.

Kendal Calling teamed up with Twitch

to livestream their festival playlist with a

staggering 418,000 views of their channel.

This won't be unique users but if the 30%

rule applies then they went some way to

getting a sell-out event the following year.

Combine the livestream access with some

data capture and you've got a burgeoning

super fan list and lots of potential attendees

next year.

Additional benefits of livestreaming

include:

› Maintaining participation with your

existing audience not able to attend the

current event

› Interacting and engaging with your

audience in real time

› Increasing reach to a wider audience with

a relatively low budget spend

› Livestreaming from VIP viewing areas,

pushing the value of VIP tickets

› Generating content for other marketing

opportunities across platforms.

Get artists to promote for you

2 If your festival is focused on music it goes

without saying that your line-up should be

engaging with their fans on social media in

line with your own marketing efforts.

No artist wants to play to an empty field.

Consider creative tools that encourage fans

to see their favourite artists at your event:

› A unique location

› A sunset in the background

› Similar artists to discover

› An exclusive new track or cover to be

performed only at the festival

› Meet and greet competition

› Make it distinct and unique – a reason for

fans to be in front of that particular stage.

Encourage performers to embed ticketing

on their sites. See who is bringing their own

crowd and gain useful data on who is worth

booking again.

Leverage Facebook Messenger to boost

3 ticket sales

According to MailChimp, the average email

open rate for the music industry is 23%, with

a click-through rate of under 3%. We think

you can do better than that.

By pulling your fans into the Facebook

Messenger platform you escape the perils

of email comms, fraught with non-delivery,

spam filters and the dreaded promotions tab.

With Facebook Messenger you can engage

in a more conversational way, and when you

do send messages they pop up on the user's

homescreen; winner.

The possibilities for preference-based

marketing, merchandising and incentivebased

social sharing are huge, including:

› Incentivisation – we have created an

in-built affiliate system in a Facebook

Messenger bot, which is the perfect place

for requesting social spread via fans for

incentive-based outcomes i.e sell tickets/

generate sign ups

› 100% visibility of comms – with email and

Facebook organic reach, the % of people

actually reached is low (between 4-30%).

With our solution all messages appear on

the user's mobile phone homescreen, with

100% delivery

› Personalisation – you have the ability to

gather rich interest data on attendees

quickly and easily (i.e who are you most

looking forward to seeing at the festival?).

66 WWW.OPENAIRBUSINESS.COM
---
By doing this you can then engage

based on their interests with relevant

content/offers

› Merchandising – by gathering interest

data you can merchandise and cross

sell pre , during and post event

› Spin off gigs – if you know what

people like, where they live, and can

message them with 100% delivery

whenever you want, you can create

a multitude of smaller spin off gigs

with little to no extra marketing

spend. Welcome to the profit centre!

People often need little incentive

to use Facebook, but they do require

that something extra to share content.

Consider low cost incentives such as

special offers, early bird access or news,

to show appreciation to your audience

and encourage fans buy in.

Ensure third parties deliver

4 Now you have your own marketing

as well as your artists pushing the

message, it's now time to lean on your

third parties to help spread the word.

Work with a ticketing provider that

has a sophisticated marketing program

that includes pushing out targeted

messages to its database of users.

With kickbacks and commission in

play, your ticketing provider is already

incentivised to promote your event.

Ensure your partners are 100% mobile

optimised and use affiliate codes to

ensure proper tracking.

Eventbrite found that the most

common sites fans visit after ticketing

pages are Google Images and YouTube.

Your audience wants to see visuals of

the event and listen to artists who are

performing before they commit. Supply

these assets and embedded links to

your third party sites to encourage

additional time on the ticketing sites

and quicker conversions.

MORE INFO

Christian Hill is the co-founder of Project Simply, a branding and

digital agency that helps music, festival and lifestyle clients

engage audiences using a bespoke web platform. He also

spearheaded the Festival Insights report, an annual global study

of the habits, opinion and successes of festival marketing teams.

Download the Marketing and Digital Festival Insights Report at

http://projectsimply.com/assets/Festival-Insights-Reportv8.pdf

Further exploit video

5 Engage people through the

power of video, specifically

using YouTube to build a

fanbase.

Belgium's Tomorrowland used

this platform brilliantly, garnering 38

million views and over 250,000 likes

on their promo video release. Granted,

it was a humdinger at 32 minutes

long but don't let that put you off, just

create something that will appeal to

your audience and get sharing it.

Hardcore festival fans are now more

likely to share videos of the events they

attend than pictures. Create multiple

opportunities for your audience to do

this at the event and make sure you

have the tools in place to capture what

is being shared:

› Festival hashtags – promoted on

stage graphics, food vans etc. and

promotional materials around Wi-Fi

access points and charging stations

when users are focused on their

phones

› Share fan content in real time

(referring back to their social

handles so they feel a sense of

recognition), encouraging them to

share and capture more footage

› SnapChat geofilters – make it really

easy for festivalgoers to boast about

where they are

› Re-use livestream content.

Content from livestreaming doesn't

have to be lost after the moment has

passed. Save and share the content

to attendees after the event. Help

them relive the moment and share

it with their friends, encourage them

to tag themselves to show they were

there. Make sure you also provide

your live content to the artists

featured so they can share it with

their fans too.

Festival

Websites for All

An introduction to a new CMS website

framework that can help deliver

successful festival website experiences

for events of all scales

At Project Simply, we have been working with

events and festivals globally including Parklife,

Field Day, Winterville, Y Not, and Truck, to create

branding, websites and digital experiences. In

2019, we launched the Marketing and Digital

Festival Insights Report, talking directly to 146

events.

The research found that festivals need to be

wary of an over reliance on social media and

get a better handle on self-controlled marketing

channels, including apps and chatbots.

Some of the key stats to come out of the report

were:

› 63% of festival organisers only use basic data

and user tracking

› 30% of festival organisers found that print and

paid media don't work

› Almost 75% of small festivals feel they are too

heavily reliant on social media

› 92% of festival organisers believe a good

digital experience is key to success

› Social media influencers are not a good use of

festival marketing budgets

Some findings of the insights highlighted

issues with using third parties for design and

website creation and management. As a website

is the cornerstone of most marketing efforts, the

key sales vehicle for tickets and the shareable

asset that helps grow social audience, it is

important that it works for an event.

Frustrated that we couldn't help smaller

festivals and events with our current design

process, we decided to create Plot, a festival

and venue-specific website design system that

creates powerful and successful websites in a

few days. Our Plot sites now address the major

issues, keeping price points low with no ongoing

costs, admin is made specifically for festival

teams and event lifecycles and there is no time

lag as changes can be made instantly.

Inside Plot we've built some great functionality

including pre-registration pages, line-up

releases, thank you pages, a schedule manager,

notification system, social media hook up,

ticketing, landing pages and site launch controls.

You can see more at www.builtwithplot.com

WWW.OPENAIRBUSINESS.COM 67
---
Hire, Sales and Service of voice and data radio

communication systems, bodycams and applications

TWO-WAY RADIO HIRE, SALES AND SERVICE

By Appointment to

Her Majesty The Queen

Supplier of Two-Way Radio

Communications and Paging Systems

Direct Communications Radio Services Ltd

St Ives

First Class Cleaning

for Your Event

SPECIAL RATES FOR 2021/22.

Book with confidence as we offer

a no cost cancellation policy.

Terms Apply.

A simple solution for those who need

temporary communications. This solution

has proven to be invaluable for such sectors

as; event organisers, council teams, TV and

film crews, security and parking to name

but a few, with both short and long term

contracts available.

Organising any event or general on-site

communication requires total dedicated

support and at DCRS, there is always a

team on-call or on-site ready to assist you.

Call FREE: 0800 043 2688

email: sales@dcrs.co.uk

www.dcrs.co.uk

WE BOAST A COMPLETE HIRE

SERVICE INCLUDING:

Bespoke radio solutions for large,

wide area events

Motorola digital and analogue radios,

mobiles and repeaters

Wide area Nationwide coverage

WAVE and ICOM hand portables

A full range of audio accessories,

radio allocation systems and

voice recording available

Free radio licence or free programming

to your own frequencies

Delivery and collection to your

specified addresses

On-site support and out of hours

call-out, 24/7 if required

Site Cleaning | Recycling

Toilet Hire & Servicing

Compostable Food Packaging

01443 844492

07841 120411

info@eventclean.co.uk

www.eventclean.co.uk

DCRS Open Air Business Magazine Advert-90x132mm.indd 1 24/05/2021 18:05

ECO FRIENDLY

LIGHTING TOWERS

Helping the Hire Industry

move towards a

GREENER, MORE

SUSTAINABLE FUTURE.

Serving the Hire Industry

and the Hire Industry only

www.mhmplant.com

20 th & 21 st OCTOBER

Come and visit us on

Avenue A, Stand 133.

ZERO

ZERO

ZERO

ZERO

ENGINE

MAINTENANCE

COSTS*

Solely designed

for UK & Ireland

weather

conditions

THINK GREEN THINK CLEAN THINK

68 WWW.OPENAIRBUSINESS.COM
---
EVENTS

2021 Postponement -

The Full Story

DEVA FEST

Deva Fest's founder Phil Marston reveals the full thinking behind his event's

postponement this year – a common story, with nearly 60% of other festivals in the

same position

IT'S TIME to a draw a line under

something I get asked it all the time: 'Why

didn't you put Deva Fest on in 2021 when

other festivals are going ahead?'

I'll try to answer as honestly as I can. It's

a fairly lengthy read…

When the team took the decision to

postpone this year's Deva Fest back

in June, the government had not yet

confirmed that Covid restrictions would be

lifted in time for August or that events like

ours could go ahead this summer. They

hadn't confirmed what Covid measures

(if any) we were expected to take to keep

attendees safe. Covid rates were rising and

festivalgoers were starting to tell us they

felt unsafe heading back into crowds so

soon after (during?) the pandemic.

It left us in an awful position – carry on

planning and take a huge financial and

reputational risk in the hope that Boris

and friends would throw us a bone, that

numbers of cases would drop, and the

delayed "Freedom Day" would happen?

"WE NOW KNOW THAT WE

COULD HAVE SOLDIERED ON

WITH THE 2021 SHOW AND

RESTRICTIONS WERE LIFTED

JUST IN TIME FOR THE EVENT

TO BE ABLE TO GO AHEAD"

Or protect the future of the event by

accepting that there were just too many

factors out of our control, not least our

visitors' safety.

I won't lie – it was devastating to have to

make that call. We had an amazing 2019

and so many people were buzzing about

our event. We'd sold the best part of 90%

of our tickets, and the others would have

flown out judging by the amount of people

hovering over the ticket basket (yeah, we

can see!).

We now know that we could have

soldiered on with the 2021 show and

restrictions were lifted just in time for the

event to be able to go ahead.

But that's not the full story.

Firstly, we had to read the room. So

many were telling us they didn't feel safe

heading into crowds so quickly. This is

supposed to be about fun, family, good

times and great entertainment – not

feeling nervous that attending could make

you ill.

Then there is the "Pingdemic" which

is playing havoc with the economy. With

folk everywhere getting pinged to isolate

by the NHS app we just couldn't take the

risk that we would have enough people to

safely operate the event, and you can see

the effect that staff shortages are having

on everything from hospitality to transport

and retail.

One of our headliners (Sophie Ellis-

Bextor) was isolating as her children

had tested positive, and our reoccurring

WWW.OPENAIRBUSINESS.COM 69
---
EVENTS

n Headliner Sophie

Ellis-Bextor was

isolating as her children

had tested positive

"SOCIALLY DISTANCED FESTIVALS ARE EXPENSIVE TO OPERATE AS YOU CAN'T HAVE

NEARLY AS MANY GUESTS ON SITE, AND THAT HAS TO BE PASSED ON TO THE CUSTOMER.

SOME SOCIALLY DISTANCED FESTIVALS ARE CHARGING TWICE WHAT WE WERE FOR A FEW

HOURS OF TRIBUTE ACTS"

nightmare was that the team would all

get pinged and we'd end up with no stage,

or no big top, or no shuttle buses, or no

headliners… you get the idea.

And there was the small matter of

whether we could believe that "Freedom

Day" would happen in July, having been

postponed in June (which is when we

postponed). As it happens, they did grant

it, which seemed a bit odd given that cases

were still increasing, but hey, what do I

know?! I should mention something about

"the science" here, but I'm not a scientist,

and I will bow to their judgement.

AND YET OTHER FESTIVALS HAVE

MANAGED TO GO AHEAD?

Latitude, Carfest, Tramlines etc. went

ahead. These are all much larger,

established events than ours, with more

illustrious backgrounds and much deeper

pockets. All three events had artists pull

out at short notice ("ping"), but the loss

of a major artist was probably felt less for

them given the size of the line ups.

Two of these events were allowed to

go ahead under the Government's Events

Research Programme (ERP) – in other

words they were being allowed to go on

by BoJo & Co in order that we could learn

how to safely attend mass events in the

Covid era regardless of any restrictions in

place at the time. Euro 2020 (not in 2020),

Wimbledon and the Formula 1 were also

allowed to do the same thing.

Only the results of the ERP weren't

published.

There had been a test festival in

Liverpool along with a nightclub test and

some other events way back in May under

the ERP. We know now that showing a

negative test or proof of full vaccination

meant very little chance of being infected.

But when we postponed back in June that

report was being suppressed, and it took

Andrew Lloyd-Webber along with various

others threatening legal action to force it's

publication.

OTHER FESTIVALS ARE TAKING PLACE

THIS SUMMER WITH SOCIAL DISTANCING

IN PLACE. WHY COULDN'T WE DO THAT?

The answer to this is fairly simple – we

don't have space.

We never planned for Deva Fest to be

socially distanced – to retrofit it would

mean having far less people on site in

order that we could create "pods". Throw

in that folk haven't bought tickets in those

"pod" groups (what with not being asked

to) and that we would have had to refund

everyone we didn't have space for – you

can see it would be a non-starter for us.

Socially distanced festivals are

expensive to operate as you can't have

nearly as many guests on site, and that has

to be passed on to the customer. Some

socially distanced festivals are charging

twice what we were for a few hours of

tribute acts.

WAS THERE ANY GOVERNMENT

SUPPORT?

I don't want to make any of this political.

I will leave it to those more qualified to

debate the government's Covid response,

and some solutions such as furlough and

business rates relief have been a genuine

life saver for certain sectors.

What I would say that the guidance and

support on offer for festivals has been

pitiful.

Other European governments have

underwritten Covid events insurance to

allow festivals to continue planning with

confidence. Around 60% of UK festivals

have cancelled this summer, and many,

including ours, have cited the lack of

such insurance as one of the reasons. The

UK government has finally announced

an insurance scheme, and whilst it is

welcome, it comes too late for us and

many 2021 events, plus the cost and small

print look fairly eye watering. We will,

however, find a way for the scheme to

work for us to put the 2022 event on.

We were invited to apply to round one

of the Culture Recovery Fund but received

a border line insulting rejection letter,

and were then excluded by a rule change

from applying to rounds two or three. We

benefitted from a VAT reduction, which

70 WWW.OPENAIRBUSINESS.COM
---
EVENTS

will have been and gone by the time we

can hold our event again, and we are now

paying back a Bounce Back Loan when we

haven't been allowed to 'bounce back'.

So those were the reasons why there is

no Deva Fest 2021 – socially distanced or

otherwise. We do feel we have been dealt

a bit of a bum hand, but there has been

a pandemic and our thoughts are with

those who have suffered at the hands of

this awful virus.

We sold for 2021 in the knowledge that

this could happen, which is why we gave

a Covid guarantee on tickets. I'm proud

to say that we delivered on that and have

refunded every single ticket holder who

asked for their money back – refunding a

six figure sum. We hope that festivalgoers

appreciate that we did the right thing,

and remember it when looking at summer

2022 plans.

We remain 100% committed to Deva

Fest 2022. We have kept all of our major

artists from 2021 and have some amazing

plans to announce in the coming months.

Tickets went back on sale on Friday 13

August (!) at midday, which was the time

that we would have opened in 2021. We

can't wait to see everyone back in the

fields next summer.

ABOUT THE AUTHOR

Phil Marston is the founder and managing partner of Deva Fest, Cheshire's

family music, food and lifestyle festival. The event will return to Chester Lakes

on 12-14 August 2022 with headline sets from Symphonic Ibiza, Sophie Ellis

Bextor and Scouting for Girls. www.devafest.co.uk

DEVA FEST

Amazingly Versatile,

Strikingly Beautiful

• Stretch Tent solutions for your outdoor business

• Fully bespoke with optional ongoing management

• Smaller Stretch Canopies now available for

glamping sites

Festivals • Weddings • Parties • Corporate Events

VISIT OUR WEB GALLERY FOR INSPIRATION

01403 333 135 enquiries@tentstyle.co.uk www.tentstyle.co.uk

WWW.OPENAIRBUSINESS.COM 71
---
EVENTS

PRODUCT IN FOCUS

Structures

Gone Wild with Bear

Grylls, Devon

Product: Tipi and yurt accommodation –

over 100 units

Supplier: Hearthworks, 01749 321210,

info@hearthworks.co.uk, www.

hearthworks.co.uk

Details: When Gone Wild with Bear

Grylls decided to hold their first ever

festival this year over the August Bank

Holiday weekend, they needed someone

with a proven track record in festival

accommodation, so they teamed up with

Hearthworks Tipis and Yurts.

The event proved extraordinarily

popular. Somewhere between a large

music festival and an activity camp, Gone

Wild was the perfect size for a great family

holiday. A large and varied programme of

activities and workshops for people of all

ages hit the spot, including axe throwing,

archery, yoga, kayaking,

skateboarding, and even

"Be Military Fit" workouts.

For something a little more

relaxing, there were talks

from world adventurers.

In the evenings, the main

stage kicked into action,

and there was even a

family rave.

Hearthworks worked

hard with the event

to ensure all the

accommodation needs were met. A

wide variety of tents were required to

cover everything from easy overnight

accommodation for performers and

workshop leaders, to more luxurious

requirements for sponsors as well as the

various options available to the public.

Gone Wild is all about joining in, with

everyone feeling welcome regardless of

their outdoor confidence. This meant

that public units needed particular

consideration, so set packages were

carefully put together ranging all the way

from the simple "Explorer" option to units

that included beds and bedding and even

an electrical power socket.

Feedback: Nichole, Hearthworks' office

manager, said: "Quite a few of our events

were cancelled this year due to Covid

restrictions. It has been a tough season for

many businesses in the festival industry,

so we were delighted that Gone Wild so

confidently went ahead. It ended up being

a much-loved weekend, and we're excited

to be going back next year. Hearthworks

had over 100 structures at the event, with

our tipi and yurt accommodation supplied

with electricity, beds and furnishings. It

meant that even people who wouldn't

otherwise have been able to join in got to

experience this fantastic new event."

PRODUCT

SNAPSHOT

British Bespoke Structures

Bond Fabrications

01453 767171

enquiries@bondfabrications.co.uk

www.bondfabrications.co.uk

Associated with bespoke quality for over 30

years, Bond is a leader in British design and

manufacturing with a full design and supply

service available from its Gloucestershire

factory.

In recent years Bond has focused on the

technical side of its design and production

capabilities adding further technology to

both its design and manufacturing processes,

supporting its ability to work closely with

clients to create unique structures offering their

locations or events that all important exclusive

image and brand identity required to stand out

from the crowd.

All Bond's structures are made in the UK of

the highest quality using structural engineers

where necessary. It only makes to order,

offering a personalised, client-led design

service and using only high performance

outdoor technical fabrics and a variety of frame

types.

The team is proud of its reputation in the

industry, thriving on long-lasting relationships

with clients – they also enjoy a challenge!

72 WWW.OPENAIRBUSINESS.COM
---
EVENTS

Syon Park, London

Product: Two stretch tents

Supplier: Tentickle Stretch

Tents, 07826 843099, info@

tentickle-stretchtents.co.uk,

www.tentickle-stretchtents.

co.uk

Details: Syon is one of the last

great houses of London, and

has been in the family of the

present owners for more than

400 years. Profoundly historic,

the house holds a wealth of

art within its grand classical

interiors, while the park

and gardens feel like deep

countryside despite being just

nine miles from Charing Cross.

Tentickle was delighted

to be able to help an event

organiser who had been

tasked with putting on a large

event with only one week to

go. The client wanted two

stretch tents to cover different

areas of Syon Park. Tentickle

conducted a site visit the

following day and coordinated

with the event organiser for

the perfect size and set up.

On installation day, the

crew erected two large tents

in a matter of hours. They

were perfectly positioned to

maximise the stunning views

of the estate and offered a

suitably elegant cover for

guests with their sleek, white

sails set against the earthy,

warm tones of the grandiose

building.

The revellers partied the

night away and the following

morning our crew arrived

to collect the stretch tents.

The vans were off site within

a few hours and the site

was returned to its original

condition.

Customer feedback:

Director Sophie Amor said: "I

cannot recommend Tentickle

enough – really easy to

work with, flexible and

professional and great prices.

Jorg – a pleasure once again

to work with you".

WWW.OPENAIRBUSINESS.COM 73
---
Reconnecting the outdoor

event industry this October

20th & 21st October | Newbury Showground

Register to visit:

showmans-directory.co.uk
---
EVENTS

PRODUCT IN FOCUS

Visitor

Management

Outlaw Half Distance

Triathlon, Nottinghamshire

Product: MOTOTRBO digital radio system

– MOTOTRBO DP4400 hand portables and

WAVE PTX POC hand portables

Supplier: DCRS, 0800 043 2688, sales@dcrs.

co.uk, www.dcrs.co.uk

Details: DCRS provided a MOTOTRBO digital

radio system for the Outlaw Half Distance

Triathlon, organised by OSB Events. Taking

place at the National water sports centre in

Nottingham, the triathlon consisted of a 1.2

mile swim, 56 mile bike ride and 13.1 mile

run.

The package comprised two repeaters

supplying four channels, 115 MOTOTRBO

DP4400 hand portables, eight WAVE PTX POC

hand portables and technical personnel on

site.

The DP4000e Series offers high

performance integrated voice and data, and

advanced features for efficient operation.

These next-generation radios deliver

complete connectivity – Bluetooth audio lets

you communicate without wires and there

is support for trunking options and legacy

analogue radio capabilities for flexibility and

adaptability.

The WAVE PTX allows for group

communication to also include those

who rely on smartphones and broadband

devices as well as two-way radios. WAVE

PTX is a network independent multimedia

communication subscription service that

instantly connects a team at the push of a

button. Perfect for triathlon course marshals

and back up services, the WAVE PTX POC

provides secure wide area communications.

DCRS offers unique, customised solutions

specific to a customer's needs, that go

beyond just a product and service but

include technology and support.

Customer feedback: Operations manager

Alan Heap said: "The service we receive

from DCRS is always first rate and we have

now used them for several years, having

previously tried several other less reliable

radio suppliers. Their prices are always

competitive and, added to the excellent

service with planning, booking and on-site

support during the weekend events, this

always makes them our go to company that

we would heartily recommend".

SERVICE

SNAPSHOT

Trusted Barrier Supplier

Mojo Barriers

01708 687440

unitedkingdom@mojorental.com

www.mojorental.com

Mojo Barriers is the original

international supplier of aluminium

stage barrier systems, providing an

extensive range of products and

services to live events including

festivals, tours, corporate events,

sporting and cultural occasions.

The favourite among event

organisers looking for a safe,

sustainable and cost effective

system, Mojo Barriers' continual

investment in research and

development has resulted in the

creation of its proprietary event

barriers and related products,

which are adaptable, reliable and

proven to improve safety.

Skilled at working closely with

clients to design and build bespoke

event barrier configurations and

layouts, Mojo Barriers has been the

trusted global stage barrier supplier

for over 20 years.

Event Safety Consultants

Crowd Safety

02380 010918

info@crowdsafety.org

www.crowdsafety.org

We are a professional crowd

management and event

safety consultancy, assisting

event organisers in safety

planning. Our consultants

are professionally qualified

and have a wealth of

experience to provide cost

effective practical solutions

including: event safety

management plans, event

specific risk assessments,

fire risk assessments and

fire management plans.

Our consultants have

extensive experience

of cultural crowd

considerations, and are

well versed with CDM

for UK based projects.

Each is selected based on

their proven experience,

examined knowledge,

communication skills

and the ability to deliver

the project. Crowd Safety

consultants are recognised

experts in their fields

who are acknowledged

contributors for the Purple

Guide.

WWW.OPENAIRBUSINESS.COM 75
---
Spot light

A roundup of products for the outdoor hospitality industry

BEN CARPENTER PHOTOGRAPHY

SHEPHERD HUT SURPRISES AT

THE GLAMPING SHOW

Blackdown Shepherd Huts

01460 929774

info@blackdownshepherdhuts.co.uk

www.blackdownshepherdhuts.co.uk

Market leading shepherd hut makers

Blackdown are recognised globally,

however they design, craft, and

display their high-end luxury living

spaces in Somerset; exhibiting the

high quality of build and interiors

that Blackdown Shepherd Huts are

renowned for. Duly inspired, many

buyers add their own unique touches

to their bespoke hut, delighting

their guests and earning an excellent

return on investment. This year at

The Glamping Show, Blackdown

will be showcasing new designs of

their signature double shepherd hut,

The Blackdown Brace Hut, and their

Modular Turnkey Hut. With a few

more surprises up their sleeves to

come, you can see it all first at stand

OSA 140.

BOOKING AGENT WITH COMPREHENSIVE

CONSULTANCY SERVICE

Canopy & Stars

0117 204 7830

ideas@canopyandstars.co.uk

www.canopyandstars.co.uk

Right now is a great time to start your

journey in the growing glamping industry.

As the UK's leading glamping specialist,

Canopy & Stars are the team to help you

turn your wildest ideas into a place to stay.

We have over 10 years' experience as a

dedicated glamping booking agent and are

the only company to offer a comprehensive

consultancy service. Creating a great

glamping space is an exciting, rewarding

and complex process.

There's a lot to consider, from tailoring

your experience for the right guests,

to planning applications, funding and

choosing the right people to help with

infrastructure and build. To make it

work you need a great idea and a lot of

determination, but what helps more than

anything is expert advice. Get in touch with

our friendly team to chat about the ways

we can help you make your dream a reality.

TINY FOR THE HOT SPOT

The Log Company

01748 889303

kirami@thelogcompany.com

www.thelogcompany.com

The much-anticipated Kirami Tiny

is the smallest hot tub model in

our range and benefits from a low

maintenance LDPE plastic interior,

attractive Thermowood exterior and

efficient MICU external heater. The

Tiny package includes everything you

need for a wonderful wood fired hot

tub experience.

Its small size and super low water

capacity makes the Tiny perfect for

couples or situations where water

use must be kept to a minimum.

This package comes with a premium

insulated cover, which maintains heat

and aids water heating time.

Pop in and see us at one of our

showrooms or contact us for more

information.

BRITISH MANUFACTURE &

BESPOKE DESIGN

Bond Fabrications

01453 767171

enquiries@bondfabrications.co.uk

www.bondfabrications.co.uk

Whether our clients are looking

for beautiful luxury glamping

accommodation or a unique

outdoor event structure, we

are passionate about creating,

high quality, British-made,

beautiful canvas structures.

Using a variety of frame styles,

high performance technical

materials and collaboration with

structural engineers we can offer a

personalised CAD supported design

service for all manner and sizes of

structures. With an emphasis on

client-led design and 30 years of

experience manufacturing bespoke

tents at our Gloucestershire factory,

we proudly offer a traditional design

and supply service throughout the

outdoor hospitality industry.

76 WWW.OPENAIRBUSINESS.COM
---
UNIQUE ECO BUILDINGS FOR

WOW FACTOR

Outerspace Buildings

01978 254150

hello@outerspacegroup.com

www.outerspacegroup.com

Outerspace Buildings is a

manufacturer based in Wales,

passionate and motivated to

help hotels, landowners and

holiday destinations meet the

ever changing needs of the UK

staycation demand.

The team of passionate and

motivated designers, engineers

and craftsmen understand entirely

what customer experience is all

about. Their unique and innovative

designs challenge the status quo

and focus on customer experience

both inside and out.

Flexible build solutions include

self-build kits.

ALL YOU NEED FOR OUTDOOR

CINEMA

Skylight Cinema

01872 303737

info@skylightcinema.co.uk

www.skylightcinema.co.uk

As one of the leading providers of

outdoor cinema, Skylight supplied

equipment for over 250 events last

year alone. Providing everything

needed to put on a hassle free

outdoor cinema event, turn key

packages include: a 10m wide

inflatable screen, a powerful 10K

projector, Bluetooth speakers for

each vehicle (saving a lot of time

and money!), a projectionist and

technician, and support and advice.

The price for a mid-week event is

£1,495, and £1,895 at weekends.

You organise the event and sell

the tickets, then Skylight turns up

with the screen, projector, sound

system and technician to operate

everything.

A NEW LOOK AT OUTDOOR

COOKING

Carn Kitchens

07786 273901

sam@carn.scot

www.carn.scot

Cooking outside on a glamping

holiday is here to stay, and Carn

Kitchens build modular outdoor

kitchens that will last the distance.

Handmade with industrial pipe

fittings and laser cut, bespoke

parts to look the business and stay

functional from season to season.

Enclosed natural fire giving

succulent flavours as oven or grill,

complements the integral seating

and lamp. Safe, secure and quick to

install. Get in touch to discuss your

bespoke design.

VISIT REBRANDED ARCOTHERM AT

SHOWMAN'S SHOW

Biemmedue

0345 6004499

sales@biemmedueuk.com

www.biemmedue.co.uk

Portable heating specialists

Arcotherm will be in attendance at

the Showman's Show on the 20 and

21 October with a new look.

Having rebranded to Biemmedue

UK on 1 September, our new

branding will be on display for the

first time at this year's show – come

and see us on stand 112, Avenue A.

As well as our trusted EC, GE and

Jumbo ranges, we will be displaying

a new 40kW electric model, the EKT

– ideal for those wanting to lower

their carbon footprint.

WWW.OPENAIRBUSINESS.COM 77
---
Classified Directory

Finman

Glamping

Cabins and

BBQ Huts

From

£4,992

UNIQUE • QUALITY • CUSTOMISABLE

01389 887205 www.logspan.com

d Your Own

pherd Huts

Sewage Treatment

Sales

Installation

TEAM

SEPTIC

01295 236 101

sales@theseptictankstore.co.uk

Call 01262 470475 or visit

www.shepherd-huts.com

www.gardenman.co.uk | 0333 2008 333

01453 767171

www.bondfabrications.co.uk

enquiries@bondfabrications.co.uk

Wood fired hot tubs and saunas available to buy

78 WWW.OPENAIRBUSINESS.COM
---
•

UNIQUE

AIRBEAM

DESIGN

•

• Creating exclusive & innovative tent designs since 2010 •

3m, 4m & 5m

Advertise your glampsite

on the UK's leading luxury

camping website.

www.goglamping.com

TWO-WAY RADIO

SUPPORTING

YOUR EVENTS

Call FREE:

0800 043 2688

sales@dcrs.co.uk

www.dcrs.co.uk

DCRS Open Air Magazine Classified Advert.indd 1 06/12/2018 09:36

Bringing comfort

and luxury to

any type of

landscape.

outerspacegroup.com

TIMBER INTENT LTD

01297 444416 • mail@timberintent.co.uk • www.timberintent.co.uk

tensile fabric structures • standard and bespoke

architecture • design • planning

WWW.OPENAIRBUSINESS.COM 79
---
10 & 11 NOV 21

NEC, BIRMINGHAM

RUNNING

ALONGSIDE:

DIVERSIFY YOUR LAND

HARVEST YOUR REWARDS

1,000

EXHIBITORS

500

SPEAKERS

18,000

VISITORS

REGISTER FOR FREE TICKETS FARMBUSINESSSHOW.CO.UK | #FARMBIZ
---
PEOPLE

Behind the Scenes with…

Sophie Jones

A team leader at event glamping supplier ZooBells,

Sophie Jones takes us behind the scenes building festival

glamping villages, which can amount to 500 bell tents!

SUMMER 2021 is my third season with Zoo

Events Group. I started in 2018 as build

crew and have since worked my way up the

ranks to team leader. Within my role, I work

closely with our project managers and build

managers onsite to ensure the operation

runs smoothly as well as supporting the

office based team at our yard in Stockton,

Warminster.

My average day in the field starts at

around 7.30am when I head to the kitchen

tent for breakfast. We have some great

chefs with ZooBells, who not only cater for

various dietary requirements but also keep

the team well fed and healthy!

After breakfast we gather the crew for a

morning briefing to run through the tasks

for the day, role allocations, important kit

deliveries and any safety requirements.

Crew camp is usually a short walk from

where we're building the boutique camping

area unless we are camping in the same

field. As team leader I always remind the

crew to bring their sun cream and raincoats

as you never know what the Great British

weather has in store. I always encourage

everyone to take plenty of snacks and tunes

to keep us going.

Once at the build site, we split into

groups and get to work. We could be

working on a job that has 50 tents or 500

tents, so every event is different. On the

larger jobs there will be more than one

team leader and we split the crew between

us to work in designated areas.

Part of my role is to 'lay out the lines'. We

measure the field very precisely to ensure

there are equal gaps between the tents,

that the fire lanes are correct and that we

maximise use of space. Most clients like

nice, neat rows of tents, but others prefer

small clusters or even to spell out words, so

they look awesome in a drone photo!

WWW.OPENAIRBUSINESS.COM 81
---
PEOPLE

Our first couple of days will usually be

spent putting the tents up. We train our

crew to put the structures up in a precise

way – we don't want any leaks or sagginess!

As a team leader I work closely with the

crew, ensuring the tents are all going up

correctly, the guy ropes are tight and the

groundsheet is stretched out properly. I'm

always there to provide a helping hand.

After the tents are up, we're hard at

work getting all the interiors in. ZooBells

offers different levels of luxury which vary

between jobs depending on the clients'

preferences. Some like a range of packages

to suit different budgets, so we might

have up to five different styles of interior

at one event and it's vital they're allocated

correctly.

Every tent will have a minimum of a

carpet, entrance mat and central table

with lantern. Once these are in, the build

manager and team leader will plot a

diagram of the site, labelling each tent with

its interior package. There's a lot of walking

back and forth to get everything in place

and it's important to keep team spirits up

and motivate everyone to keep going. We

encourage the crew to have fun at work!

Getting the interior furnishings into

the tents can take a few days. It's vital I

continually check the right kit is in each

tent, making sure everything is arranged

perfectly and that the beds are made

beautifully and ready for our guests to sleep

in style.

At around 1pm we head back to camp

for a delicious lunch made by our crew

chef. Featuring anything from sandwiches

to soup, frittatas to risotto, there's always

plenty to eat. After eating, the crew then

spend the rest of their break chilling out and

recharging before heading back to work.

We tend to work until 6pm then head

back to camp. As a team leader, I check

around the site to make sure all the tents are

"YOU'LL OFTEN FIND ME SAT ROUND THE

CAMPFIRE LISTENING TO MUSIC, PLAYING

CARDS OR HAVING A GAME OF FRISBEE"

zipped up, there's nothing left outside, and

that all the kit in the storage area is covered

by tarpaulin if necessary. Then it's time for

a catch-up with the other managers and

team leaders. We discuss how the build is

going, whether we're on target and the plan

for the following day. Communication is

so important – we all need to know what is

happening and what the priorities are. The

last task of the day is to fill out everyone's

timesheets for that day and sign off the chef

food hygiene paperwork.

Then at last it's time for dinner and some

quality time with the crew. You'll often

find me sat round the campfire listening to

music, playing cards or having a game of

frisbee. I also love getting the crew together

for little trips out in the evening to a nearby

beach or local pub. We cover events all over

the UK so we get to see some great places

along the way!

DURING THE FESTIVAL…

At many of the events we offer reception

services and I ensure all crew are trained

and ready to give our customers the best

service possible, with a smooth and easy

check in. I also allocate shifts to the crew,

deal with any queries, maintain the check

in database and delegate concierge and

maintenance tasks. I absolutely love leading

reception; it's a great opportunity to get to

know customers and oversee our boutique

site!

Once all the hard work is done, it's time

for the best part of the job… the festival! We

generally get free entry to the event and it's

great to experience so many in one summer!

It's hard to pick a favourite, but one that

really stands out for me is Boomtown. It's

one of the most diverse festivals on the

scene with such a wide variety of music and

immersive experiences. You feel like you've

entered a dream like town in a different

world and the atmosphere is incredible!

82 82 WWW.OPENAIRBUSINESS.COM
---
Master makers of discerning spaces ...

Come and see us at The Glamping Show, stand number OSA 140

blackdownshepherdhuts.co.uk

info@blackdownshepherdhuts.co.uk | 01460 929774

Shrubbery Farm | Catherine Wheel | Ilminster | Somerset |

Huts for home | Huts for business | Huts to build yourself
---
HEATER

MARQUEE

PACKAGES.

THE NEW

NAME FOR

Arcotherm

The portable heating specialists

CHOOSE FROM ONE OF

OUR PACKAGES:

GOLD

BRONZE

SILVER

STANDARD

AT BIEMMEDUE UK WE OFFER

A RANGE OF MARQUEE

PACKAGES TO SUIT YOUR NEEDS.

ORDER ONLINE OR CONTACT US:

01773 836 999

sales@arcotherm.co.uk

arcotherm.co.uk