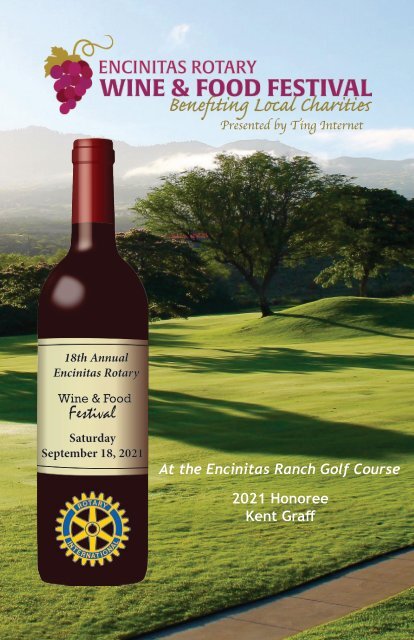 2021 Encinitas Rotary Wine and Food Festival Program
18th Annual Encinitas Rotary Wine and Food Festival Benefiting Local Charities At the Encinitas Ranch Golf Course Saturday, September 18th, 2021 Program published by Ledge Media ©2021 All Rights Reserved. Visit www.ledgemedia.net or www.hpnbooks.com for more info
18th Annual Encinitas Rotary Wine and Food Festival Benefiting Local Charities
At the Encinitas Ranch Golf Course Saturday, September 18th, 2021

Program published by Ledge Media ©2021 All Rights Reserved.
Visit www.ledgemedia.net or www.hpnbooks.com for more info
SHOW MORE
SHOW LESS
You also want an ePaper? Increase the reach of your titles
YUMPU automatically turns print PDFs into web optimized ePapers that Google loves.
Presented by Ting Internet

18th Annual

Encinitas Rotary

Wine & Food

Festival

Saturday

September 18, 2021

At the Encinitas Ranch Golf Course

2021 Honoree

Kent Graff
---
Welcome

TO THE 18TH ANNUAL

ENCINITAS ROTARY WINE & FOOD FESTIVAL

Your Hosts: On behalf of the 80 women and men that are members

of the Encinitas Rotary Club, welcome to the 18th Annual Encinitas

Rotary Wine & Food Festival and our outstanding venue, the beautiful

Encinitas Ranch Golf Course.

Our Start: In August of 2003, Dick Stevens, Kristina Montag, Kristin

Gaspar, Julian Duvall, Marilyn Kovach, Chris Ross, John Osborne, and 14

other Rotarians met and decided to start a Rotary Wine Tasting Event.

Kristina Montag was the chair and projected 200 guests with revenue of

$7,000. The money was to be distributed to 2 beneficiaries and Polio

Plus, a program of Rotary International that has 99.9% eradicated this

disease from the planet. In that first year, these Rotarians exceeded all

of their goals.

Our Record to Date: Thanks to their leadership and continued

support (16 of those Rotarians are still involved), the 2019 event had

19 beneficiaries, attendance of over 1100 people, and the beneficiaries'

received distributions of over $100,000. To date, the event has

distributed over $1,200,000 to our beneficiaries.

This Year's Participants: The Encinitas Rotary Club is extremely

appreciative of the support of all of our food and beverage vendors

and our sponsors. As we recover from the Pandemic it is gratifying to

know that these people and businesses stand with us to support our

community. This year we have 15 outstanding food and 15 superlative

beverage vendors, as well as significant event sponsorship. We are

especially grateful to our Major Sponsorship from Ting Internet and the

other business and individual sponsors for this event. We are indebted

to all of these sponsors for their leadership, their kindness and support.

Green Waste: We are proud of the fact that we are a "Green

Waste" event thanks to the efforts of Dick Stevens and the Solana Beach

Eco Rotary.

Thank You: Please enjoy your evening, and thank you again for

your support of the Encinitas Rotary Wine & Food Festival!

Yours in Rotary,

Merv & Susie Miller & Sherry Yardley

Festival Co-Chairs

Festival Director
---
Thank you to our Event Sponsors

Premier Sponor

Major Gift of $10,000

Ting Internet

VARIETAL SPONSOR

Gift of $5,000

RWM Home Loans

Auroralight Architectual Lighting

CELLAR SELECT

Gift of $3,000

Studio WC Architecture & Engineering

Peterson & Price - Lawyers

PRIVATE RESERVE SPONSORS

Gift of $1,000

American Medical Response

AT&T

EDCO

Leichtag Foundation

LotusRain Naturopathic Clinic

Goetz Law Firm

Tony's Jacal Mexican Restaurant

ENTERTAINMENT SPONSOR

Gift of $1,000

LotusRain Naturopathic Clinic

SOMMELIER

Gift of $500

Focus Investment

BIOSCULPTURES

Driscoll Family

Ecofest

EDCO

Edgar & Renate Engert

Frank A. Scotti, M.D./North County Eye Surgery Associates

Ingrid Pasco, Realtor

Chelsea Investment Corporation

Focus Investment Advisors

MJ Miller Law Offices

Pacific View Eye Care Center

Pacific Premier Bank

R.L. Houk Construction, Inc.

Yardley Enterprises
---
Program

WELCOME

4:30pm

ENTERTAINMENT

3:00pm – 7:00pm

Celeste Barbier

RECOGNITION OF BENEFICIARIES AND CONTRIBUTORS

Richard Houk

PREMIER SPONSOR

Tim Barnes – Ting Internet

2021 HONOREE

Kent Graff

FOOD AND BEVERAGE TASTING

Sponsor Party 3:00pm-4:30pm

Main Event 4:00pm-7:00pm

SILENT AUCTION

(Closes at 6:45pm)

OPPORTUNITY DRAWING

6:45pm
---
2021 Wine & Food Festival Honoree

Kent grew up in the Rocky Mountain Region

of Colorado, Wyoming, and Idaho. He came from

a family of four boys, growing up playing sports

and enjoying outdoor activities such as hunting,

fishing, skiing, climbing and mountain biking.

He lives in Carlsbad with his wife Nora and two

sons Gavin and Colin. Nora commits her time

to her business and raising their sons. Gavin is

attending the Colorado School of Mines majoring

in Mechanical Engineering while Colin is a senior

at Sage Creek HS and is playing baseball. Over

the summer Colin has been working on the golf course maintenance

crew at Encinitas Ranch.

Kent came to Southern California back in 1986 working for Chart House

Restaurants. He has been a superintendent in the San Diego area for over

27 years and started in golf course maintenance back in 1988. Early in

his career he was the Asst. Superintendent at Heritage Hills CC (known

as Del Mar CC) during the construction through to the opening of the

course. Kent then went to Malaysia for the construction of Kuala Lumpur

Golf and CC. Upon his return to San Diego, he went to work for JC Resorts

and was superintendent at Rancho Bernardo Inn, Twin Oaks Golf Course

and Encinitas Ranch Golf Course. During his tenure he also managed the

construction of Reidy Creek Golf Course and Arrowood Golf Course. Current

he is the superintendent at Bernardo Heights Country Club.

Kent is an active member of the Golf Course Superintendent

Association of America and is a past President of the San Diego Chapter.

He attended Idaho State University and graduated with a BS in Physical

Education. He later attended Mesa Community College and received a

two-year certificate in Landscape Technology and Nursery Management.

Kent was a part of the setup team for the Wine and Food Festival

when the event moved to Encinitas Ranch.
---
Carbon Footprint Reduction

Thank you for helping us make this happen. This effort is made

possible with the assistance of Dick Stevens and the Solana beach Eco

Rotary club. The effort we all expend to recycle and compost will help us

all be better stewards of our environment.

Change begins by each of us making a small adjustment in our daily

routine. Thank you for helping us!

2021 Wine & Food Festival Committee

Recycling

The Encinitas Rotary Wine & Food Festival has made a dramatic

difference in how this event affects our planet. Once again, we will

recycle, reduce, and reuse the waste generate at this evening's event.

All recyclables, including plastic, glass, paper, and cardboard will be

separated and recycled. We have carefully evaluated all the waste

material from the Wine & Food Festival and tried to ensure it will be

utilized in a beneficial way.

What does this mean to you as our guests?

First, we will have recycle stations for you to place your recyclables

and other waste.

Secondly, you are welcome to keep your wine glass & plate. If

you have enough and you don't want or need our souvenir glass

and plate, we will wash and re-use them for our event next year.

Dishwashing service provided by the Encinitas Elks Lodge and Boy

Scout Troop 777.

Thirdly, we request your cooperation. You can help us in the

following ways:

• Bring your waste to the recycle areas.

• There will be no trash cans on site.

• If you're not taking your glass or plate home, please return

them to one of the recycling areas at the end of the evening.
---
Opportunity - Drawing Tickets

1 for $20 3 for $50 7 for $100

5 Categories — 5 Winners

Dining Out

$1000+ Value

Family Fun

$1000+ Value

Home & Garden

$1000+ Value

Sports & Fitness

$1000+ Value

Wine & Spirits

$1000+ Value

Pacific Premier Bank

Edgar & Renate Engert

R.L. Construction, Inc.

The Driscoll Family
---
Leadership

ENCINITAS ROTARY

Executive:

Sherry Yardley — President

Kerry Witkin — Past President

David Lam — Treasurer

Al McKendrick — Secretary

Deb Cleff — Foundation

Terry Ahsing — Membership Chair

John Simonelli — President Elect

Committee Chairs:

Greg Day/Marta Hoyt — Club Service

Mark Berning — Community Service

John Simonelli —International Service

Verne Scholl — Historian/Grants

Jason Merrill — Next Generation

Mike Walsh — Youth Service

Daphne Fletcher — Programs/Entertainment

Bob Blumberg — Peace Chair/Grants

Blair Gibb —Marketing

John Osborne/Merv Miller — Fundraising

Sub Chairs:

Scholarships — Andree Grey/Pat Davis

Youth Protection — Linda Grensted

Interact — Kent Pollock

Model UN — Emily Andrade

4 Way Test Speech — Kerry Witkin

RYLA — Ron Lieberman

Lead — Gregory Harris

Vocational Service — Paul Dwork/Dennis Cook
---
Encinitas Rotary Wine Festival

2021 Committee Chairs

Committee

Auction - Pre event Coordinator

Auction - Set up Coordinator

Auction - Check Out Coordinator

Beneficiary Reports Coordinator

Beverage Coordinator

Cart & Shuttle Coordinator

Ticket Sales & Check-in Coordinator

Decorations Coordinator

Dishes Coordinator

Entertainment & Sound

System Coordinator

Event Director

Event Services Desk & Radios Coordinator

Sponsor Party

Food Vendor Coordinator

Green Coordinator

Event Chair

Finance

Venue Logistics Chair (Set up & strike)

Operations OTF Coordinator

(parking, traffic, signage, radios,

security, carts)

Parking Control & Carpool Coordinator

Photography & Drone Shots Coordinator

Program & Printed Materials Coordinator

Permits & Licensing Coordinator

Publicity- Social Media Coordinator

Opportunity Drawing

Prizes Coordinator

Opportunity Drawing

Ticket Sales Coordinator

Security Coordinator

Signage Coordinator

Site Layout Coordinator

Site Layout Map

Sponsor Coordinator

Table Leveling

Traffic Coordinator

Vendor Triage Coordinator

Volunteer Coordinator

Web Site Coordinator

Chair(s)

Emily Andrade

Kerry Witkin

Andree Grey

Jerry Marazoni

Kelly Peters

Terry Ahsing, Steve McQuerry

Amber Cheffins Girard

Carolyn Cope

Cheryl Curran

Marty Cooper

Sherry Yardley

David Lam, Marjy Lam

Norm Nyberg

Kelly Peters

Dick Stevens

John Osborne, Merv Miller

Merv Miller

Mike Walsh

Bob Blumberg

Brian Soloman

Johanna Deleissegues

Daphne Fletcher

Terry Uchida

Lucy Sutton

Kerry Witkin

Dennis Herald

Blair Gibb

Tom Cozens

Ralph Stone

Bob Webb

John Osborne

Doug Long, Danny Salzhandler

Todd Derr

Dean Goetz

Christie Kramer-LeVander

Gregory Harris