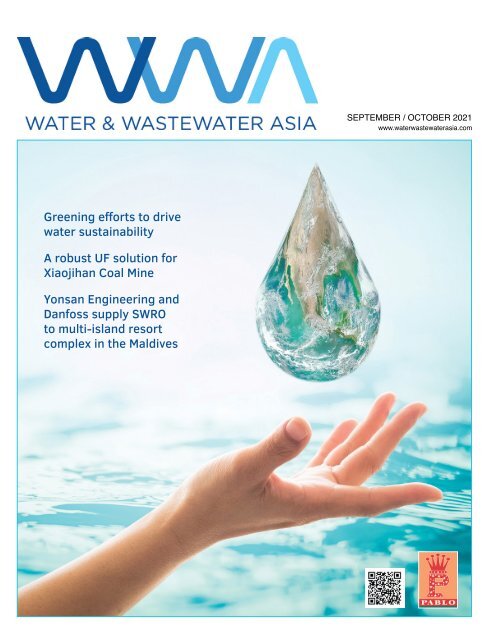 Water & Wastewater Asia September/October 2021
Water & Wastewater Asia is an expert source of industry information, cementing its position as an indispensable tool for trade professionals in the water and wastewater industry. As the most reliable publication in the region, industry experts turn this premium journal for credible journalism and exclusive insight provided by fellow industry professionals. Water & Wastewater Asia incorporates the official newsletter of the Singapore Water Association (SWA).
Water & Wastewater Asia is an expert source of industry information, cementing its position as an indispensable tool for trade professionals in the water and wastewater industry. As the most reliable publication in the region, industry experts turn this premium journal for credible journalism and exclusive insight provided by fellow industry professionals. Water & Wastewater Asia incorporates the official newsletter of the Singapore Water Association (SWA).
SHOW MORE
SHOW LESS
Create successful ePaper yourself
Turn your PDF publications into a flip-book with our unique Google optimized e-Paper software.
SEPTEMBER / OCTOBER 2021

www.waterwastewaterasia.com

Greening efforts to drive

water sustainability

A robust UF solution for

Xiaojihan Coal Mine

Yonsan Engineering and

Danfoss supply SWRO

to multi-island resort

complex in the Maldives
---
TECHNOLOGY THAT'S TRUSTED THE WORLD OVER

Water authorities across the globe rely on our data-driven solutions to advance

productivity, safety, operations, sustainability and financial performance.

MONITORING

& CONTROL

ANALYTICS

TELEMETRY

CONSULTANCY
---
LET US DEVELOP,

MARKET AND

MANAGE YOUR

NEXT WEBINAR

Webinar Series Development

• Content development

• Pre and post webinar email marketing

• Be supported by WWA print and digital

advertising

• Graphics and video support

• Hosting

• Hardware & software provision

• Professional moderation

• Turnkey management

• Speaker support

• Documentation support

• Audience interaction

• Feedback gathering & analysis

• Monitoring and reportage

Additional Support

Video content development

• Concept

• Scripting

• Story boarding

• Motion graphics

• Voice overs

• Editing and export into relevant formats

• News and Product video bites

• Product & service videos

• Video ads

• "Live" reportage

• Monitoring and reportage

For more informaon, contact us at

sales@pabloasia.com

Pablo Publishing & Exhibition Pte Ltd | www.waterwastewaterasia.com
---
CONTENTS

19

24

CONTENTS

04 Editor's Note

06 News

54 SWA Newsletter

63 What's Next?

64 Advertisers' Index

SINGAPORE FOCUS

11 Bringing ideas to live

14 PUB deploys UAVs for monitoring

underground tunnels

5 MINUTES WITH

15 Greening efforts to drive water

sustainability

19 Shaping the future water

treatment plant

22 Water treatment using

electrodeionization: Ultrapure

water for the beverage industry

24 Cloud-based apps mitigate water

management risk

ENVIRONMENTAL REPORT

26 Creating the Concorde of

rainwater harvesting projects

28 Stormwater management

2
---
WATER & WASTEWATER ASIA | SEPTEMBER/OCTOBER 2021

38

49

61

IN THE FIELD

30 Plant modernisation with PC-based control

ensures futureproof water supply on Lake

Michigan

33 A robust UF solution for Xiaojihan Coal Mine

34 World Heritage Lord Howe sets example with

future-focused wastewater, recycling and

sustainability initiatives

38 Puron MP membranes improve performance of

boiler water pre-treatment

FOCUS

40 Yonsan Engineering and Danfoss supply SWRO

to multi-island resort complex in the Maldives

42 Optimising operational performance through

digitalisation

VIEWPOINT

46 IDE Water Technologies seals deal to develop

project for seawater desalination plant in

Mumbai

HOTSEAT

49 Connecting pressure measurement to

the future

50 First Line adds Evoline to product

portfolio

51 Pipe coupling: A sustainable solution

for wastewater treatment

52 Automatic bacterial contamination

monitoring – Impacts and possibilities

ON OUR RADAR

58 Tsurumi integrates IE3 motor to

submersible sewage pumps

59 ZWEEC revolutionises identification and

counting of planktonic algae

SNEAK PEEK

60 Indonesia Infrastructure Week returns

this November

SHOW REVIEW

61 SIWW2021: Co-creating water

solutions for the future

3
---
FROM THE EDITOR WATER & WASTEWATER ASIA | SEPTEMBER/OCTOBER 2021

Last month, Singapore experienced its wettest August in over 40 years. Flash floods were

recorded at some parts of the republic; the daily maximum temperature was below 34ºC

on most days, and the lowest daily minimum temperature recorded was 21.3ºC – quite a

dip for the sunny island known for its 365 days of summer.

BUILDING

BACK BETTER

PABLO SINGAPORE

William Pang • Publisher

williampang@pabloasia.com

Pang Yanrong • Senior Editor

yanrong@pabloasia.com

Josephine Tan • Editor

josephine@pabloasia.com

Pang YanJun • Business Development Manager

yanjun@pabloasia.com

Goh Meng Yong • Graphic Designer

mengyong@pabloasia.com

Shu Ai LIng • Circulation Manager

circulation@pabloasia.com

PABLO BEIJING

Ellen Gao • General Manager

pablobeijing@163.com

PABLO SHANGHAI

Kresly Shen • Editor

pabloshanghai@163.net

At the other parts of Asia, Taiwan plunged into its worst drought in 56 years earlier this

year, and saw water curbs being imposed to address the island's water shortages. And

in the Chinese province of Henan in China, it was affected by severe flooding in July.

Recording-breaking maximum rainfall of 201.9 millilitres in an hour was observed in

Zhengzhou, the provincial capital, marking the heaviest rainfall the region witnessed in 60

years.

In the face of the changing climate, it is more important than ever to focus on

sustainability ambitions and accelerate green transformation plans.

In this issue, we speak with Janda Campos, group director, sustainability engagement,

Grundfos, who highlights the efforts required to green the whole supply chain while

driving water and energy efficiencies. She said: "Water is a crucial pillar that needs to be

addressed urgently for us to truly achieve global sustainability. It is a scarce and rapidly

depleting resource that touches every aspect of our lives and livelihoods, and beyond that

it is intrinsically linked to our energy use, as it requires a tremendous amount of energy to

treat and transport water." Read the full interview with Campos on page 15.

On use cases, Danfoss supplied its Danfoss APP pumps and iSave energy recovery

devices to Yonsan Engineering, which was the contractor for four seawater reverse

osmosis plants at a resort in Maldives. The engineers designed a four-train plant, with

Each 500m 3 /day train built around an APP 22 and an iSave 40. To find out more about the

project, flip to page 40.

Water is fundamental to life. And as our lives returns to more normality, it is, perhaps, time

to revisit the track on making the planet more liveable and sustainable for generations to

come.

Cheers,

Pang Yanrong

let's connect!

Published by

PABLO PUBLISHING & EXHIBITION PTE LTD

3 Ang Mo Kio Street 62,

#01-23 Link@AMK Singapore 569139

Tel: (65) 6266 5512

E-mail: info@pabloasia.com

Company Registration No: 200001473N

Singapore MICA (P) No: 073/09/2020

REGIONAL OFFICES (CHINA)

PABLO BEIJING

Tel: +86 10 6509 7728

Email: pablobeijing@163.com

PABLO SHANGHAI

Tel: +86 21 5238 9737

Email: pabloshanghai@163.net

All rights reserved. Views of writers do not necessarily reflect the views

of the Publisher and the Singapore Water Association. No part of this

publication may be reproduced in any form or by any means, without prior

permission in writing from the Publisher and copyright owner. Whilst every

care is taken to ensure accuracy of the information in this publication, the

Publisher accepts no liability for damages caused by misinterpretation

of information, expressed or implied, within the pages of the magazine.

All advertisements are accepted on the understanding that the Advertiser

is authorised to publish the contents of the advertisements, and in this

respect, the Advertiser shall indemnify the Publisher against all claims or

suits for libel, violation of right of privacy and copyright infringements.

Water & Wastewater Asia is a controlled-circulation bi-monthly magazine.

It is mailed free-of-charge to readers who meet a set of criteria. Paid

subscription is available to those who do not fit our terms of control. Please

refer to subscription form provided in the publication for more details.

Printed by Times Printers Pte Ltd

@waterwastewaterasia

Water & Wastewater Asia

incorporates the official newsletter

of Singapore Water Association

4
---
NEWS

VEOLIA WATER TECHNOLOGIES

SETS UP NEW FACILITY IN

MIDDLE EAST

Veolia Water Technologies has

continued its investment in its mobile

water services offering through the

development and construction of

a new regeneration and recycling

service centre and mobile assets in

Dammam, Saudi Arabia. The facility

will regenerate and recycle the resins

used in the mobile water treatment

process, a key sector of activity for

Veolia.

The new Dammam service centre

marks another key expansion of the

company's mobile water services,

and demonstrates its commitment

to invest to support its Impact

2023 strategy. The location will

grant access to regional industrial

manufacturing, supporting customer

operations throughout the Kingdom

as well as Qatar, Oman, Kuwait,

Bahrain and Egypt, providing them

with support through local access to

this service.

Besides the regeneration capability,

the centre will be equipped to

maintain, service and store all Veolia's

mobile water services assets, spare

parts and consumables. A team of

people dedicated to this service will

organise, deliver, regenerate and

support these activities.

The company has also invested in

its Malaysian regeneration station to

expand its capability from a service

ion-exchange recycling business

to being able to offer Veolia's full

ion-exchange range of mobile

water services. Located in Penang,

the service centre will be able to

support and help its customers within

Asia-Pacific region, starting with

Malaysia, Singapore and Thailand. The

expansion is planned to be available at

the end of 2021.

Veolia Water

Technologies will

enhance its mobile

water services

with investment in

regeneration facility

and new mobile

assets to cover the

Middle East and Gulf

region

NX FILTRATION SUPPLIES NANOFILTRATION MEMBRANES FOR

WASTEWATER TREATMENT PLANT IN INDIA

Aquarius H2O Dynamics has selected

NX Filtration to supply its hollow

fibre direct nanofiltration (dNF)

membranes for wastewater treatment

at the common effluent treatment

plant (CETP) in Jetpur in the Gujarat

province of India. This marks NX

Filtration's second project for Aquarius

H2O Dynamics this year.

The system, based on 102 dNF40

membrane modules of NX Filtration,

will be used for the recovery of

caustic from the water intensive

textile industries at Jetpur. Caustic is

used for the purification of cellulosic

fibres, removing hemicellulose and

other impurities from the fibres, and

for higher quality dyeing and printing

operations.

Sandip Patel, managing director

of Aquarius H2O Dynamics,

commented: "Earlier this year we

piloted with NX Filtration's hollow

fibre nanofiltration membranes for

various applications and already

integrated their membranes for the

industrial reuse of wastewater at

the KKCL denim jeans company.

This new application, for the

municipal recovery of caustic,

marks an important step for the

future of wastewater treatment in

India."

The membrane filtration system will

enable CETP in Jetpur to recover

caustic from its wastewater streams

for reuse in the textile industry.

This not only saves spending on

caustic for the textile industry, it also

reduces treatment cost of caustic

wastewater and ensures compliance

with increasingly stringent discharge

regulations.

Manish Ghogle, sales manager

of NX Filtration in India, added:

"We are proud of this further

development of our relationship

with Aquarius H2O Dynamics. Our

hollow fibre dNF membranes enable

this simple and sustainable process

of reusing wastewater. Compared

to traditional wastewater treatment

methods, we reduce the number

of filtration steps, avoid the use of

chemicals in the pre-treatment of

the wastewater and significantly

reduce energy use."

Current common

effluent treatment

plant in Jetpur, India,

that will be extended

with NX Filtration's

direct nanofiltration

membranes

6
---
WATER & WASTEWATER ASIA | SEPTEMBER/OCTOBER 2021

DE NORA COMPLETES ONE OF THE

WORLD'S LARGEST PRODUCED

WATER RECYCLING PROJECTS

De Nora has completed phase one of its

Delaware Basin Wastewater Recycling

Project, achieving produced water rates

exceeding 140,000 barrels per day –

recording a total of more than 5 million

barrels over a 30-day period.

Alex Gonzalez, president of De Nora

Neptune, said: "Understanding the various

challenges we face as an industry and

society as a whole, including water scarcity

and increased seismic activity, we prioritise

providing our customers with ESG-friendly

services that integrate seamlessly with

existing operations. Our method enables

the greenest, safest, and most efficient

approach to produced water recycling for

use into hydraulic fracturing."

The project, which began in May,

established four ClorTec mobile treatment

units along a network of simultaneous

fracturing systems. The modular setup

gives producers the ability to target

areas of concern at any point in the

upstream or midstream water utilisation

cycle, tapping into existing pipelines or

feeding directly off saltwater disposal

(SWD) wells. This reduces the reliance on

freshwater for planned fracturing activity,

while also eliminating the emissions

traditionally required for the transport of

water to site – two challenges faced in

the energy sector.

De Nora's electro-chlorination process

is effective at killing bacteria populations

without the use of hazardous chemicals,

enhancing the safety for workers on site,

as well as the surrounding environment

and ecosystem. Solar salt, used in De

Nora's solution in place of complex

chemicals, is sourced responsibly

through renewable wind and solar

processes and greatly reduces trailer

traffic compared to chemicals and water

transport, supporting the company's

commitment to offsetting carbon

emissions without compromising cost or

effectiveness.

Brian Mueller, consultant at B2K2

Consulting, concluded: "The EPA estimates

annual water usage for hydraulic fracking

to be as high as 140 billion gallons. This

project recently completed by De Nora

Neptune and their partners proves that a

drastic reduction in water supply use in

this figure is achievable. In addition to the

environmental impact of using dwindling

freshwater supplies, there is also a steep

economic cost; the technology used in the

project provides both sustainability and

financial benefits to the market, and leaves

freshwater supplies available for other

community use."

OXFORD FLOW ANNOUNCES NEW INVESTMENT TO SPUR

PRODUCT DEVELOPMENT AND DEPLOYMENT

Oxford Flow, the flow control equipment provider

for energy, water and industrial process

industries, has received investment from GF

Piping Systems into its subsidiary OFUI.

This announcement follows the company

achieving major business milestones over

the last 18 months, since GF Piping Systems'

initial investment into OFUI in March last year.

Key milestones included broadening market

acceptance of the innovative pressure control

technology and refining new manufacturing

processes. Additionally, OFUI's intellectual

property portfolio has been further bolstered

by patents in Europe and the USA.

Jens Frisenborg, head of BU industry at GF

Piping Systems said: "We are pleased with

the success of the first 18 months of our

partnership with OFUI. The further investment

will help propel the pressure regulating

valve (PRV) technology forward even further,

addressing a key customer requirement as

we strive to solve water loss for life within

water distribution networks. The speed of

innovation and the specialist engineering

capabilities that the combined GF Piping

Systems and Oxford Flow teams bring to

the market, ensures we can support water

utilities around the world to help reduce nonrevenue

water."

The investment will drive the expansion of

OFUI's operations globally as well as focus

on product development. For instance, the

company has been advancing its portfolio

of intelligent technology and developing its

first intelligent valve. This innovation will

enable water networks to remotely track

and visualise data, such as pressure and

water quality, and provide real-time control

and automation. These technologies

allow network operators to optimise and

control performance without using mains

electricity.

Neil Poxon, CEO at Oxford Flow concluded:

"With 46 billion litres of drinking water lost

every day through leakage, our technology

coupled with GF's manufacturing capabilities

can drastically help reduce non-revenue

water from operators' distribution networks,

meaning more water can get to those who

need it."

7
---
NEWS

GRUNDFOS LAUNCHES SCALA1 IN MALAYSIA

Grundfos has announced the launch of

SCALA1 in Malaysia, a water booster

pump that offers intelligent connectivity,

allowing control over home water

systems right from the smartphone.

As the latest edition to Grundfos'

SCALA range of integrated water

booster pumps, SCALA1 is an allin-one

solution that is designed for

pressure boosting in domestic and

light commercial applications, such as

garden irrigation or pressure boosting

in one- and two-family houses and

apartments. In line with the SCALA

range which achieves optimal pressure

boosting for water on demand through

intelligent pump control, SCALA1 is

an all-in-one unit, integrating pump,

motor, diaphragm tank, pressure and

flow sensor, dry-running protection,

controller, and non-return valve.

SCALA1 comes with a built-in two-way

communication system, allowing users

to track their water system anytime

when in range. The Bluetooth-enabled

solution allows users to monitor, control,

and schedule water use from their

smartphone with the intuitive Grundfos

GO REMOTE app, which is available

for both iOS and Android operating

systems.

The Grundfos GO REMOTE app alerts

the user via a series of alarms that

indicate issues such as leakages, dryrun,

or when a pump has exceeded its

maximum runtime. Users can easily

access pump diagnostics, create and

e-mail reports onsite from the app. The

app also includes a calendar function

designed for boosting in homes and

gardens.

Giancarlo Roggiolani, regional sales for

director domestic building services –

Asia-Pacific and China, Grundfos, said:

"Water plays a crucial role in how we

enjoy our homes, and yet low or varying

water pressure continues to be a

disruptive issue for many households.

Technology like SCALA1 holds

great potential for turning a house

into a smart home, through greater

connectivity and intuitively responding

to our needs.

"The launch of SCALA1 will mean

homeowners can control and

customise their water supply

experience with ease via the app and

achieve optimal pressure boosting

all while conserving energy and

water without sacrificing comfort or

convenience."

Grundfos SCALA1

WORLD WATER WEEK OPENS WITH CALL FOR URGENT ACTION

Thirty years after it was initiated, the

World Water Week 2021 has been

redesigned for maximum impact. The

conference took place from 23-27

Aug 2021 as an online event on the

theme Building Resilience Faster.

He said: "Freshwater must be

integrated within the climate agenda.

We must first meet the Sustainable

Development Goals by 2030, but

then transform towards a safer

future within planetary boundaries."

investments that we are asking for

now."

In a keynote, Professor Johan

Rockström from the Potsdam

Institute for Climate Impact

Research, described how humans

are "dangerously altering" Earth's

life support systems. One example

is how freshwater is impacted by

the change humans are causing in

climate and biodiversity. Rockström

and his team have identified

freshwater as one of the nine

planetary boundaries that should not

be crossed.

The world, however, is not on track

to achieve Sustainable Development

Goals, warned Amina Mohammed,

deputy secretary-general of the

United Nations during an interview

at the opening ceremony. She noted:

"Before COVID-19, we were off track

and after COVID-19, even more so.

But the recovery could get us back

on track. There is a silver lining

there. There are things that we can

scale up, there are things that we

can put more at the centre of the

Torgny Holmgren (left), executive director of SIWI, and Henrika

Thomasson, head of World Water Week, speaking with Alok Jha,

science correspondent from The Economist and presenter of the

Opening Plenary

8
---
WATER & WASTEWATER ASIA | SEPTEMBER/OCTOBER 2021

SOFREL ChlorIN

A COMPLETE & RELIABLE

SOLUTION FOR

CHLORINE

MEASUREMENT

Mohammed bin Rashid approves six new development projects in Hatta

DUBAI TO BUILD SIX NEW

DEVELOPMENT PROJECTS

IN HATTA

His Highness Sheikh Mohammed bin Rashid Al Maktoum, Vice

President and Prime Minister of the UAE and Ruler of Dubai,

has approved a number of designs for new tourism projects as

part of the comprehensive development plan for Hatta region.

The list of projects includes the Dubai Mountain Peak, Hatta

Sustainable Waterfalls, as well as 200 holiday homes to be

established by Hatta residents.

These projects will play a pivotal role in promoting domestic

tourism and the environmental sustainability of the region by

highlighting the importance of preserving the environment,

benefiting from renewable energy sources and enhancing the

quality of life for community members.

Implemented by the Dubai Electricity and Water Authority

(DEWA) along other tourism projects, the Dubai Mountain

Peak and Hatta Sustainable Waterfalls projects are aimed at

supporting endeavours on the development of Hatta region.

Particularly for the Dubai Mountain Peak project, it will include

the establishment of a 5.4km-long chairlifts to transport

tourists from the Hatta Dam area to the summit Jebel Umm Al

Nisour at an altitude up to 1,300m above sea level.

The project will constitute an important addition to the UAE's

portfolio of tourist attractions, noting that the chairlifts route

will pass over the Hatta Dam Lake and the upper dam lake of

the hydroelectric power station project implemented by DEWA

in Hatta, passing through the mountain range until it reaches

the Jebel Umm Al Nisour peak.

The Hatta Sustainable Waterfalls project will take advantage of

Hatta dam slope as a natural waterfall, creating a water stream

below the dam so that this water can be collected, recycled

at the end of the stream and then pumped towards the upper

parts of the slope. The project will also include introducing

aqua life into the water stream with new fish species that will

attract families and children in particular.

MANY ADVANTAGES

• Remote monitoring of free chlorine values

• Immediate alarm notification on any

threshold breach

• Critical & strategic points

monitoring

• Direct pipe installation

under pressure without

service interruption

• Pressure & quality service

measurements

• Stand-alone solution with

no external power source

• Access chlorine data via

SCADA or Cloud server

Waterproof & battery

powered data logger

Accurate

chlorine sensor

Pressure sensor

connection

Mounting kit for

DN60 to 300 pipes

LACROIX Singapore

25 Bukit Batok Crescent, #08-06, The Elitist - Singapore

Tel.: +65 6957 7131 - E-mail: info.sg@lacroix-sofrel.com

www.lacroix-environment.com

9
---
NEWS WATER & WASTEWATER ASIA | SEPTEMBER/OCTOBER 2021

ADB AND TIMOR-LESTE SIGN US$47M LOAN TO

PROVIDE WATER SUPPLY AND SANITATION SERVICES

The Asian Development Bank (ADB) and

the Government of Timor-Leste have signed

a US$47 million loan to help provide safe,

reliable, and affordable water supply and

sanitation services to about 62,000 people

living in Lospalos, Viqueque, and Same.

The Water Supply and Sanitation Investment

Project will finance the construction of new

facilities for water supply and sanitation

services, including 14 water reservoirs and

seven water treatment plants. It will also help

rehabilitate and expand 130km of the area's

water distribution network, install water

meters for 10,000 households, and build 12

public toilets and three septage treatment

facilities.

Sunil Mitra, country director for Timor-Leste

for ADB, said: "A growing population is

putting pressure on existing water sources

and supply services in the three cities,

which are operating beyond capacity. The

project will make the cities more liveable by

building infrastructure to provide safe water

and sanitation services, and strengthening

governance and institutional capacity.

The project will also help reduce poverty

and inequality by installing free water

connections for women, the poor, and

vulnerable groups."

The project will be co-financed by a $3

million grant from the Global Environmental

Facility, which ADB will administer. The

grant will finance the purchase of water

meters, control systems, and other

equipment, as well as consulting services

aimed to strengthened the project's climate

resilience.

Timor-Leste's urban population has increased

4.2% every year since 2008. Only 34% of

urban residents had access to a piped water

supply network as of 2015, and the water

supply remains unreliable.

The project will help the Ministry of Public

Works, the Municipal Water, Sanitation,

and Environmental Services, and the new

state-owned water utility Bee Timor-Leste

(BTL) plan, deliver, operate, and maintain

the country's water supply and sanitation

infrastructure in the long run. It will create

a socially and gender-inclusive institutional

development road map to guide the transfer

of urban water supply and sanitation services

to BTL. The project will enhance women's

participation in the water sector by providing

training and developing a customer-service

feedback mechanism.

BLACK & VEATCH PROVIDES PRELIMINARY DESIGN OF POTABLE

WATER CONVEYANCE SYSTEM IN SOUTHERN NEVADA

Black & Veatch has been selected by

the Southern Nevada Water Authority

(SNWA) to perform preliminary

and final design services for the

Horizon Lateral, a US$1.6 billion

water conveyance system that will

strengthen water delivery service for

its customers.

The system is expected to include

approximately 27 miles of pipeline

between 72-120 inches in diameter,

and approximately seven miles of

tunnelling through hard rock and

soft ground. There also will be

two large-scale pumping stations,

multiple rate-of-flow control facilities,

interconnections with existing

transmission laterals, and new

reservoir storage with a total capacity

of 40-100 million gallons.

As a wholesaler comprised of

seven local water and wastewater

agencies, SNWA provides treatment

and delivery services and manages

long-term water resources for

more than 2.3 million residents

in southern Nevada. The Horizon

Lateral is dubbed the "largest"

project proposed in SNWA's

2020 Major Construction and

Capital Plan. It will provide system

redundancy and ensure continued,

reliable service to nearly one million

existing customers in the city of

Henderson and southern region of

the Las Vegas Valley.

Jim Morley, project manager at

Black & Veatch, said: "Constructing

infrastructure of this magnitude in

a growing, highly urbanised area

like the Las Vegas Valley is extremely

challenging. We are also aware of

the need to protect surrounding

sensitive environmental habitats and

conserved lands."

Morley noted that the design team

is advancing the preferred alignment

and an alternative alignment through

preliminary design unit such time as

the National Environmental Policy Act

(NEPA) Record of Decision (ROD) is

complete. Services provided for both

alignments include cost-risk analysis,

hydraulic-optimisation, environmental

assessments, and construction

packages and deliver assessment.

The planned in-service completion

data for the project is around

2030.

10
---
SINGAPORE FOCUS

WATER & WASTEWATER ASIA | SEPTEMBER/OCTOBER 2021

BRINGING

ideas to live

There are many ways to turn ideas into reality,

but what does it take to make it a functioning

business case? Water & Wastewater Asia

speaks with PUB's senior assistant director

Winnie Tan, and senior manager Wong Xin

Wei, who shed more insights into PUB's

commercialisation programme to address the

challenges today's water start-ups are facing.

As Singapore's national water agency,

targeted at growth-stage start-ups

PUB has been leveraging technologies

to overcome the republic's natural

water constraints. The agency

constantly invests in water research,

and small and medium enterprises

(SMEs). Furthermore, it is also part

of the range of initiatives at the

Singapore Water Exchange (SgWX)

structured lessons with dedicated

mentorship to help the start-ups

develop new capabilities.

(From left) Wong Xin

Wei, senior manager;

and Winnie Tan,

senior assistant

director, PUB

and grows its water technologies

to help water companies collaborate

The commercialisation programme

through collaborations with universities

and co-innovate, so as to build a

culminated in a Demo Day at the

and private companies to develop new

global marketplace of innovative water

recently concluded Singapore

solutions that can support its mission

companies.

International Water Week (SIWW)

of supplying good water, reclaiming

Online 2021. It was attended by

used water, taming stormwater, and

Elaborating on the purpose of the

a range of participants, including

resisting rising seas.

commercialisation programme,

investors and global water utilities.

Winnie Tan, senior assistant director

To enhance the commercialisation

at PUB, told Water & Wastewater Asia

Wong Xin Wei, senior manager at PUB,

outcomes of promising locally-

that it hopes to help water start-ups

said: "We hope that these starts-ups

developed technologies and in

in Singapore "hone their business

will continue to grow not only within

line with Research, Innovation and

model, sales and marketing strategies,

Singapore through their product trials

Enterprise (RIE) 2025's focus on

pitching skills", and to impart to these

and validation with PUB, but also

translation and commercialisation,

start-ups the knowledge, frameworks

access new markets in the Asia-Pacific

PUB kick-started a pilot

and tools needed to grow their

region and beyond."

commercialisation programme in

collaboration with 500 Startups, a

US-based accelerator and global

business and access new partners or

markets.

FROM INNOVATION TO

COMMERCIALISATION

venture capital firm.

Tan emphasised that the start-ups that

In Tan's perspective, transforming new

participated in this programme have

ideas into technologies and ultimately

The commercialisation programme

innovative technologies that are "key

commercially viable products requires

is aimed at supporting start-ups

to Singapore's water management".

several factors. She explained: "Firstly,

by building their capabilities and

Furthermore, PUB plays an active part

water start-up founders are very

accelerating their growth, and is

in the programme curation to blend

technically competent individuals. They

11
---
SINGAPORE FOCUS

WATER & WASTEWATER ASIA | SEPTEMBER/OCTOBER 2021

A total of six companies – Century Water, 3E Memtech, H2MO, NM3 Tech, Aerolion, and

Aquaporin – participated in the commercialisation programme

have a great understanding of the

technologies but may not be very

business savvy or good at pitching

their products. Many founders

lack the necessary business skills

and knowledge to build a viable

business.

"Secondly, water start-ups need a

first adopter for their technologies, to

gradually build a track record, which

will in turn open up more deployment

opportunities. Once this is achieved,

they need to expand the market and

find more customers, so that the

business can grow.

"Thirdly, water start-ups need funds

to develop prototypes and scale up

manufacturing. Most investors in the

market require start-ups to have a

track record, or a steady projection

of future revenue. However, what

start-ups need is seed capital."

out of an existing problem, it will face

difficulties in looking for a use case

or a customer."

TRIAL AND ADOPTION

A total of six companies –

Century Water, 3E Memtech,

H2MO, NM3 Tech, Aerolion, and

Aquaporin – participated in the

commercialisation programme.

Some solutions developed by these

companies include hollow-fibre

nanofiltration (NF) membranes from

Century Water and 3E Memtech,

water quality monitoring sensors

from NM3 Tech, Aerolion's drones

for tunnel inspection, and water

purification membranes enhanced

with catalysts from Aquaporin and

H2MO for higher flux.

Many of these solutions are currently

being trialled or have already

achieved a first deployment with

PUB, Wong revealed. For instance,

PUB has an ongoing 100m 3 /d

NF pilot at the Tuas R&D facility

with Century Water; and another

ongoing contract with Aerolion for

closed drain inspection, which is

currently conducting trials to do

surveillance of PUB's Deep Tunnel

Sewerage System. PUB also

intends to purchase some units of

NM3 Tech's water quality sensors,

following the completion of the trial.

"PUB manages the entire

water loop. Hence, there are

opportunities for companies to test

their solutions throughout the water

cycle," Wong concluded. "The trial

and adoption of these innovative

solutions serves to continuously

improve our operational excellence

and help to enhance our water

security through increasing water

resources, managing water quality,

and keeping costs competitive in

the long term."

Tan is confident that this pilot

programme will help to provide an

independent third-party assessment

on the strengths and weaknesses of

some of these start-ups, and help

them chart the way forward.

"In our opinion, a water

innovation is a good candidate

for commercialisation when it

addresses an existing problem," she

said. "If the innovation is not borne

In our opinion, a water

innovation is a good candidate

for commercialisation when it

addresses an existing problem.

Winnie Tan

Senior Assistant Director at PUB

12
---
SINGAPORE FOCUS

WATER & WASTEWATER ASIA | SEPTEMBER/OCTOBER 2021

PUB EXPLORES UAVS FOR

inspection of underground tunnels

Wang Fei, CEO of Aerolion Technologies, shares more with Water & Wastewater Asia

on the Deep Tunnel Sewerage System (DTSS) project, where unmanned aerial

vehicles were explored to facilitate regular inspection.

Dubbed the "superhighway" for the

management of used water, Singapore's

Deep Tunnel Sewerage System (DTSS) is

a solution conceived by PUB, Singapore's

national water agency to meet the republic's

long-term needs for used water collection,

treatment, reclamation, and disposal.

When it comes to inspection of the

protection lining inside the deep tunnel

sewers, PUB worked with Aerolion

Technologies, a drone inspection and survey

provider in Singapore, to explore carrying

out inspections using a miniature unmanned

aerial vehicle (UAV) system to capture highresolution

images of the tunnel's internal

wall.

According to Wang, the UAV solution can

potentially complete 2km of inspection in

one flight, and can be further extended with

better battery technology and electronics

miniaturisation in the future. Other features of

the UAV include a 360-degree 4K/Ultra HD

(UHD) camera to provide all around footages,

and a high-power on-board LED to illuminate

low-light areas.

Aerolion Technologies has also equipped the

UAV with a launch and retrieval mechanism

for deployment from ground level, footage and

telemetry functions for live feed transmission

to the ground, and LIDAR sensors and

stereovision for autonomous flight navigation.

"If the project is successful, other sensors

can be mounted on the same UAV for more

detailed scans or for more specific inspection

purposes," Wang concluded. "Overtime,

with the accumulation of visual data, a data

analytics AI model can be trained to improve

the efficiency, accuracy, and coverage of the

defect detection and classification process."

Wang Fei, CEO of Aerolion Technologies,

shared an overview of the DTSS project

with Water & Wastewater Asia, and said:

"After a decade of usage, it is important to

regularly inspect and maintain the DTSS

(Phase 1) to prevent disruptions to its

operations. Launching a miniature UAV is

one potential solution to inspect DTSS as it

does not require human operators to enter a

hazardous environment, and the UAV will not

be affected by the used water flow during

inspection.

"In addition, unlike other existing tunnel

inspection tools which require a physical

tether for retrieval, the UAV is able to perform

the inspection without such constraints and

is able to complete the inspection distance

within a shorter period of time.".

Flight trials in drainage systems

before actual testing in DTSS

14
---
5 MINS WITH WATER & WASTEWATER ASIA | SEPTEMBER/OCTOBER 2021

GREENING EFFORTS

to drive water sustainability

Being environmentally sustainable goes beyond premises and manufacturing

plants, and requires efforts to green the whole supply chain. Janda Campos,

group director, sustainability engagement, Grundfos, shares more with Water

& Wastewater Asia on how the company has been driving water and energy

efficiencies, as well as improving water access globally.

What are the factors

that contribute to water

sustainability, and why is

sustainable water management

critical for cities and water

utilities?

Janda Campos: Water

sustainability calls for industries,

utilities, and communities to use

water wisely. This means using

our water resources efficiently, as

well as understanding how we get

the most out of our water through

treatment and reuse.

This is important because water

is a crucial pillar that needs to be

addressed urgently for us to truly

achieve global sustainability. It

is a scarce and rapidly depleting

resource that touches every aspect

of our lives and livelihood, and

beyond that it is intrinsically linked

to our energy use, as it requires a

tremendous amount of energy to

treat and transport water.

Photo credit: master1305

Sustainable water management

is critical, as the world sees rapid

urbanisation and industrialisation,

water demand will only continue

to increase at an exponential

rate. For Grundfos, we provide

sustainable water services every

day everywhere, from providing

drinking water for the smallest

15
---
5 MINS WITH

village to treating wastewater and

bringing heat – or cooling – to

skyscrapers in megacities, which

is why Grundfos has set a target of

empowering its end-users to save

50 billion cubic metres of water by

2030 through water efficiency and

water reuse.

What are some of the water

reuse methods that will

support a circular economy?

More crucially, what are the

challenges involved, and how

is Grundfos helping utilities to

address them?

Campos: A key way to support

a circular economy is reusing

industrial wastewater in industries.

Notably, industry is one of the key

areas accounting for a significant

part of the world's freshwater

usage. As industrialisation

continues, the global water deficit

will inevitably widen. By treating

used water back to a usable

quality and then feeding it back

into the company's water cycle, its

operations will essentially be closer

to moving away from its reliance on

one-time use, and shifting towards

a more sustainable method of

handling water.

We do this by building on the

foundation we already have –

holistic solutions that improves

efficiencies by going beyond the

performance of individual pumps.

Through the pumps that we sold

in 2020, we have enabled our

end-users to reuse over 1.5 billion

cubic metres water per year, which

is the equivalent of approximately

600,000 Olympic-sized pools.

For example, our solutions are

used by the water-intensive

brewing industry to help reuse the

wastewater from cleaning during

the brewing process.

Cooling towers, as an important

but water-intensive part of

many industrial processes and

temperature-control systems, can

also drastically benefit from water

reuse. About 30% of the water

used is lost to evaporation, drip

loss, leakage, and discharge, and

the amount of water lost in these

towers can be cut by one-fifth

through reuse.

One challenge specific to

reusing cooling tower water is

the growth of algae, which can

impair the system's efficiency

Cooling towers,

despite being waterintensive,

can benefit

from water reuse

16
---
WATER & WASTEWATER ASIA | SEPTEMBER/OCTOBER 2021

and pose health risks. To address

this, Grundfos' dosing and

disinfecting offerings can minimise

and support our customers

in terms of compliance and

water conservation, and we are

constantly exploring new ways

to do this more intelligently and

efficiently.

In 2020, we introduced the

Grundfos Smart Filtration Suite

(SFS), which through real-time

analytics, optimises filtration

systems to operate in the most

cost-effective and sustainable way,

providing savings on water, energy

and chemicals and ensuring

reduced downtime of filtration

systems in wastewater treatment

facilities. A municipal water work

in Sweden is using an ultrafiltration

system for drinking water

production from surface water. By

extending the membrane chemical

cleaning interval with SFS, the

direct water savings potential of

4,334m 3 /year was achieved, with

the possibility to further increase

the savings.

Another challenge is that water

treatment and reuse can be an

energy-intensive process. In the

case of leveraging water reuse,

ensuring energy efficiency across

the entire system is more crucial

than ever. To address this, we

believe that the key to maximise

efficiency is optimising the whole

pump system, and not only the

pumps. Grundfos' iSOLUTIONS

range, which includes digital

dosing and disinfecting solutions,

optimises water and energy

efficiency across the entire

system by leveraging connectivity,

intelligent monitoring, and

adjustment features.

Can you elaborate the reasons

for Grundfos to roll out its

sustainability initiatives, and

what are the key takeaways the

company have picked up so far?

Campos: Sustainability is at the

heart of Grundfos' entire value

chain, and we believe that everyone

needs to play an active role and

join in a concerted, ambitious

effort to build a net-zero carbon

economy. In active collaboration

with our customers, suppliers, and

other partners, we are constantly

striving to find new, innovative, and

sustainable solutions. We have

been focused on working towards

our Strategy 2025 ambitions, which

includes halving our own water

withdrawal and CO2 emissions

by 2025, compared to the 2008

baseline.

One of our learnings was the need

to prioritise reducing our overall

footprint, including our end-users'

emissions while using our own

products and solutions. We have

also worked with internal and

external stakeholders to further

our ambition of contributing to

safely managed drinking water.

We have become wiser in how

we can define contribution in a

meaningful way, and what our main

contributors are.

In 2020, notably, we worked to fully

understand our impact throughout

the value chain and started several

key initiatives to address the issues

we identified. With regards to

reducing our CO2 emissions within

our operations, we have drafted

a clear roadmap towards 2025,

and are confident we will attain

our goals. We are both investing

heavily in energy efficiency and

gearing up to shift our entire energy

consumption to renewable sources

by 2030. This will continue to be a

focus for us in the coming years.

We have been working with external

advisors to assess CO2 emissions

throughout our entire value chain.

We established the Green Supply

Chain Management Programme.

This is a cross-functional initiative

within the four workstreams –

logistics, packaging, purchasing

and global manufacturing

– collaborating to reduce our

upstream climate impact.

To ensure we work systematically

with sustainability all through our

value chain, including the very early

design phase of our products, we

also integrated the Sustainable

Product Solutions (SPS) Toolbox,

an internally developed ecodesign

tool, into our strategic

planning, frontloading and product

development processes starting

in 2018. The SPS Toolbox aims

to help us set specific targets for

reducing the impact of our products

throughout their lifecycle, and it

is now mandatory for all product

development projects to work with

the SPS Toolbox.

Most importantly, we identified

that 98% of our CO2 emissions

can be attributed to downstream

activities, particularly the use

17
---
5 MINS WITH WATER & WASTEWATER ASIA | SEPTEMBER/OCTOBER 2021

Photo credit: Vivek Doshi

phase of our products and solutions.

This confirms that the best way we

can help with climate change is to

forge ahead with increasing the

energy efficiency of our products

and solutions, and developing digital

solutions. We invested 4.5% of our

turnover in 2020 in new products,

and constantly explored the benefits

of new technology to enhance our

products' performance and raise

efficiency levels.

With less than a decade left on

the Agenda 2030 Sustainable

Development Goals, how is

Grundfos, as a global pump

manufacturer, accelerating its

efforts to ensure the goals are met?

Campos: The water industry as a

whole has made significant progress,

but there is still a lot of work to be

done urgently over the next decade.

Former United Nations (UN) Secretary-

General Ban Ki-moon notes that

the next 10 years will be crucially

important for global leaders to work

on the UN Sustainable Development

Goals, and this has been the driving

force behind the UN's decision to

launch the Decade on Ecosystem

Restoration to counter 'triple

environmental emergency'.

It [Water] is a scarce and rapidly depleting

resource that touches every aspect of our

lives and livelihood, and beyond that it is

intrinsically linked to our energy use, as it

requires a tremendous amount of energy

to treat and transport water.

Janda Campos

Group Director, Sustainability Engagement, Grundfos

This was why we have aligned

with Agenda 2030 with our own

ambitious 2030 goals – to save 50

billion cubic metres of fresh water

through water efficiency and water

treatment, as well as being "climate

positive". We will also look towards

contributing to providing safely

managed drinking water to 300

million people in need by 2030.

How we look to achieve this,

as well as supporting the wider

water industry in becoming more

sustainable, is to continue driving

the use of digital technology and

artificial intelligence (AI) in remote

sensing, asset management,

predictive analytics and more to

improve efficiency, sustainability

and to save costs.

Strategic partnership will also

play a key role in accelerating our

sustainability efforts, sharing and

building on each other's industry

knowledge and expertise to move

the industry forward. We will

continue strengthening our existing

partnerships and seeking out new

ones.

Notably, we signed a long-term

strategic partnership agreement

with data analytics company Augury

to develop smart diagnostics

solutions and services. The

combination of Augury's AI

solutions and our deep applications

knowledge has the potential to

change water delivery and services

as we know them. We have been

working together for several years

testing new products and service

offerings, such as the Grundfos

Machine Health, across several

markets and industries. Meanwhile,

our partnership with Siemens, a

smart city enabler, focuses on

solutions for water and energy

efficiency problems within smart

buildings, smart industry and smart

water networks.

18
---
5 MINS WITH WATER & WASTEWATER ASIA | SEPTEMBER/OCTOBER 2021

SHAPING THE FUTURE

water treatment plant

Engineering design and consultancy company Binnies Singapore has

been awarded the tender to reconstruct Choa Chu Kang Waterworks, one

of Singapore's oldest water treatment plants. William Yong, managing

director of Binnies Singapore, shares more with Water & Wastewater

Asia on the technologies that will be installed for this project, and how

digitalisation will transform future water plants.

Choa Chu Kang Waterworks

(CCKWW), one of Singapore's

oldest water treatment plants, will be

undergoing reconstruction and be

transformed into a water treatment

facility equipped with the latest

water treatment technologies and

smart capabilities to enhance its

operations, maintenance, safety and

security when completed in 2026.

The reconstruction project has been

awarded to Binnies Singapore,

an RSK Group company, by PUB,

Singapore's national water agency.

Under the agreement, the former will

provide detailed design, construction

supervision and commissioning of

CCKWW reconstruction project for

the next five years.

Speaking with Water & Wastewater

Asia, William Yong, managing

director of Binnies Singapore, said

that the CCKWW reconstruction

project will provide PUB with a

"blueprint for future water plants"

that adopt innovative digital

technology in their operations

and maintenance. The key areas

of focus include automation in

chemical handling and preparation

using robotics to eliminate manual

intervention, as well as remote

monitoring and early fault prediction

of equipment operation.

One such solution that will be adopted

in its operations and maintenance

is the integration of cameras with

video analytics headsets that allow

for remote supervision, and wearable

devices with geofencing and health

monitoring functions via a structural

digital twin to improve operational

reliability, safety and security of the

plant.

"The technologies to be implemented

and installed in CCKWW will be

discussed at the start of the project

collectively with the plant operators

and project team at PUB to devise the

most appropriate design and control

philosophy that will meet PUB's intent

to transform CCKWW into their most

advanced water treatment works

facility," Yong said. "As the first of

its kind, the completed CCKWW will

change the landscape for our water

industry locally and beyond, into the

Asia region."

CCKWW currently

hosts one of the

world's largest

ceramic membrane

system (Photo credit:

PUB, Singapore's

national water

agency)

19
---
5 MINS WITH

developments in digital technology that

assists them in improving their operations in

an effective and sustainable manner.

Photo: Keppel Infrastructure

And as urbanisation continues around the

world, the demand for water sources will

increase. Hence, Binnies introduced the

Helix digital platform which, in combination

with third-party software applications

and artificial intelligence (AI), provides

businesses to maximise productivity and

improve customer benefits while further

enhancing the sustainability of their water

systems.

CCKWW is an 80 million gallon per day water

treatment plant that treats raw water from the

Western Catchment Reservoirs into potable

water, and currently hosts one of the world's

largest ceramic membrane system. When

upgraded, the plant will be equipped with new

water treatment technologies and equipment

such as high-rate clarifiers, an advanced

membrane filtration system, as well as an

automated chemical preparation and dosing

system, replacing the existing equipment and

buildings constructed before 1981.

Parts of the water treatment plant were

upgraded in 2019 with advanced water

treatment processes such as ceramic

membranes and an ozonation-biological

activated carbon filtration system. These

upgraded infrastructures will not be affected

by the upcoming reconstruction.

PUB envisions the reconstructed CCKWW

to be an integrated and automated plant

with advanced process control capabilities

to optimise plant performance, achieving an

efficient resource footprint while ensuring

and safeguarding water quality. Process

digital twin will be incorporated to mirror the

performance of the entire plant and provide

water quality predictions, serving as a

decision support tool to enhance operational

effectiveness while doubling up as a training

simulator to continuously upskill operators.

Furthermore, new rooftop solar panels will

also be added to the existing 1mW peak

system, to power its operational needs and

reduce its carbon footprint.

Water management is a critical component

in building smart cities as it helps to balance

supply against demand to allocate the

resource efficiently and reduce wastage,

Yong explained. Digital technologies, he

added, will enable future water plants to

harness data that allows the operation of

treatment facilities to be optimised through

better informed decision making with the

data on hand.

He continued: "Additionally, digitalisation will

improve reliability of water supply through

better management of assets. This is made

possible with an effective maintenance

programme that minimises plant disruption

due to unexpected equipment failure."

In continuation of the dialogues surrounding

digitalisation and better asset management,

Binnies is excited to play an integrated part

of an RSK initiative to established a Centre of

Sustainability Excellence in Singapore. The

centre is planned to be launched before the

end of the year, and is aimed at developing

and promoting expertise in several sectors,

one of which is digital water. Through this

Centre of Sustainability Excellence, RSK

and Binnies look forward to supporting its

clients and partners to implement the latest

"Water is a limited resource, and a multipronged

approach by governments, utilities

and the industry stakeholders will help

to educate, manage, and provide water

resources in a safe and sustainable manner,"

Yong shared. Through digitalisation and

embracing technology, operators will be able

to collect, manage and interpret data which

will, in turn, support smarter and better

decisions in the capture, treatment and

management of water for the community.

WATER SUSTAINABILITY

Besides the CCKWW reconstruction

project, Binnies has also participated in

the early stages of the Keppel Marina East

Desalination Plant (KMEDP) project, where

the company was tasked to look into the

possibilities of conceptualising a dual-mode

water treatment facility that will be close

to the city while not compromising on the

aesthetics of Singapore being a "Garden

City".

For this project, Binnies brought in urban

architects that worked with the team to

design and conceptualise the plant, which

leverages its location at the city fringe and

connection to the East Coast Park and

Marina area. With its process facilities

located underground, the KMEDP features

a Green Roof that is accessible to the public

for recreation, which became a popular spot

for joggers and cyclists at the heart of the

city.

20
---
WATER & WASTEWATER ASIA | SEPTEMBER/OCTOBER 2021

The KMEDP is Singapore's first largescale,

dual-mode desalination plant, and

has been named Desalination Plant of the

Year 2021 by the Global Water Awards. It

has the capability to treat both seawater

and freshwater to supply Singapore with

up to 137,000m 3 of drinking water per day,

contributing to Republic's water supply

resilience in the face of increased demand

and climate change.

Yong commented: "Water is a critical

resource that has a direct impact on

livelihoods and quality of living, not just

in Asia-Pacific but around the world.

Climate change will continue to drive

the water agenda of all governments

as our survival depends on how we

adapt to the weather changes causing

prolonged droughts in some regions and

severe flooding in others. As such, water

security and sustainability has been one

of the key focus areas for the industry.

And in regard to the Agenda 2030

Sustainable Development Goals

(SDGs), Yong believes that the

water industry remains focused

and committed towards achieving

the global goals set up by the

United Nations. He explained:

"At Binnies, we are continuously

exploring and developing

approaches and solutions that

support our clients in accelerating

efforts to meet the SDGs, in

particular SDG 6 for Clean Water

and Sanitation, responsibly and

sustainably."

For instance, Binnies applies a

multi-pronged effort covering

the full spectrum of total water

management, from collection to

treatment, storage and distribution;

evaluating various alternative water

sources such as seawater desalination

and used water recycling to places

where these technologies are

economically viable; and investing

in digital technologies to assist its

clients in the industry to be more

efficient in their provision of clean

water to customers as well as in the

management and treatment of used

water.

Additionally, Binnies Singapore has

also been working with government

agencies and the private sector in

developing countries in Asia, such

as Vietnam and the Philippines, to

assist them in meeting their water and

wastewater goals.

"As we move forward to a post-pandemic

era, the security of water infrastructure

against events such as the pandemic

and cybersecurity threats will remain

critical areas of concern for the water

industry and continue to be the key design

principles for future water infrastructures."

Photo: PUB, Singapore's national water agency

21
---
5 MINS WITH

WATER TREATMENT USING

ELECTRODEIONIZATION:

Ultrapure water for the

beverage industry

At Makkah Water in Saudi Arabia, a new wastewater treatment system from

Krones will go into operation in mid-2021. This particular Hydronomic contains

a first – with a total dissolved solids (TDS) value of less than 0.1mg per litre, the

resulting water is "purer" than any other in the beverage industry. The combination

of the Krones Hydronomic and an electrodeionization (EDI) module makes it

possible. Dirk Scheu, sales specialists for water treatment solutions at Krones,

rediscovers this system and develops it further for the Makkah Water project.

How does electrodeionization work?

Dirk Scheu: Electrodeionization

(EDI) removes ions and ionizable

substances from water to the greatest

extent possible, almost completely

demineralising the water. The EDI

module combines a continuously

regenerating mixed-bed ion exchanger

with ion-selective membranes.

Basically, the water is split, then the

ions that need to be removed are

separated out, and the remaining H+

and OH- ions react to form the purest

possible, deionized water.

mineral salts in the water are removed

down to a TDS value of 5-10mg per

litre.

The next step is EDI, which further

reduces the TDS considerably, to less

than 0.1mg per litre. This ultrapure

water is often less conductive than

the target of 0.1 microsiemens

per centimetre. The completely

demineralised water is ideal for

remineralisation according to the

customer's recipe in a Hydronomic

MDS.

ELECTRODEIONIZATION IN DETAIL

Electrodeionization uses resins for continuous ion

exchange. After RO, the water is split into H+ and OHions.

These ions are then captured by the resins and

pulled towards the electrodes. While the ions that are to

be removed are captured in the concentrate channels

and flushed out of the system, the remaining H+ and OHions

can react. The result is ultrapure, deionized water

that is ready to have the desired minerals added back.

How did Krones combine its

Hydronomic water treatment system

with EDI technology?

Scheu: Before the water reaches the

EDI module, two Hydronomic systems

do important preparation work. First,

the water is ultra-filtrated by the

Hydronomic UF, which uses membrane

technology with hollow fibres. Then,

in the reverse osmosis (RO) module,

Do EDI completely demineralise

water?

Scheu: Yes. But not only that. In

addition to mineral salts, the process

also removes CO2. The treated water

has a pH value of 7, which is neutral.

Therefore, there is no need to add

sodium bicarbonate, which means

the water produced can have either

very low or even no sodium.

EDI can cover the same spectrum as the Hydronomic, and can treat up

to 120m 3 of water per hour, with the option of variable product volumes

22
---
WATER & WASTEWATER ASIA | SEPTEMBER/OCTOBER 2021

What are the advantages of using

an EDI module for continuous

operation?

Scheu: There are many. For one,

plants can operate 24/7. Because,

unlike conventional mixed-bed ion

exchangers, regeneration of the resins

here uses electrical energy instead

of acids and caustic chemicals –

and it occurs continuously during

production. By contrast, if plant

operators wanted to run a conventional

mixed-bed exchanger around the

clock, they would need at least two

systems to bridge the regeneration

cycles.

Also, as long as the feed water

doesn't exceed the maximum values,

the EDI module can be connected

immediately downstream of the first

RO system. Thus, no additional highpressure

pump is needed as would

be the case when connecting two RO

modules. The great advantage there

is that it saves energy. In our project,

energy consumption in the EDI stage

for the MPure36 – SB developed in

collaboration with MEGA comes to

0.088kW/m 3 .

Which beverage producers might

want to consider integrating EDI?

Scheu: An additional EDI module

makes sense wherever the quality

of the raw water tends to fluctuate.

This is especially important when

producing still table water, where the

mineral composition of the water must

not deviate from the figures printed

on the label by more than 20%.

When the content of the raw water

itself already varies by +/-15% before

remineralisation, there's very little

wiggle room for adding minerals back.

EDI eliminates these variations. With

it, the water is always demineralised

to the same degree, and the quality

of the treated water is therefore

independent of the water coming

from the RO system. When adding

minerals afterward, the dosing can

be kept closer to the minimum, thus

saving costs on the rather expensive

minerals. It saves on raw materials.

In other words, the same amount

of minerals can yield more product.

Thus, using an EDI module can

reduce consumption of the expensive,

ultrapure minerals used to make table

water by 5-10%.

EDI can also be of interest to

producers of alkaline water. Here, too,

the consistent quality and resulting pH

value of 7 provide the perfect basis for

then producing water with a pH of 9,

which is becoming increasing popular.

What outputs can be achieved by

combining Hydronomic and EDI?

Scheu: EDI can cover the same

operation as the Hydronomic. It can

treat up to 120m 3 of water per hour,

with the option of variable product

volumes. The system is always

precisely calibrated to the quality of

the raw water and the requirements of

the final product.

The water treatment solution

developed for Makkah Water is one of

the biggest Krones has built to date.

It operates at up to 3x110m 3 of water

per hour, and is therefore around three

times the size of our conventional

Hydronomic systems.

EDI can also be of interest to

producers of alkaline water. Here,

too, the consistent quality and

resulting pH value of 7 provide the

perfect basis for then producing

water with a pH of 9, which

is becoming increasing

popular.

Dirk Scheu

Sales Specialists for Water Treatment

Solutions, Krones

Hydronomic water

treatment system

23
---
5 MINS WITH

CLOUD-BASED APPS

mitigate water

management risk

With cloud-based applications providing water utilities with more resilient and

flexible network management options, many are finally moving away from legacy

systems. Craig Abbott, channel sales manager for Asia-Pacific at Ovarro, discusses

the latest developments in as-a-service models.

These services allow the water authority to

focus on their core responsibility of water

system management, and leave the data

chain to external IT and analyst specialists.

What are as-a-service models, and how

do they fit with water?

Craig Abbott: As-a-service models are

subscription-based applications, with

infrastructure that is entirely managed and

maintained by an external supplier. XaaS

– anything-as-a-service – is the collective

term that encompasses software-as-aservice

(SaaS), data-as-a-service (DaaS),

and information-as-a-service (IaaS), among

many others.

Many water authorities would already

be familiar with DaaS, for the collection

of flow and pressure data for network

management. With the full XaaS model,

Ovarro's AlarmVision

rather than just supply software, the

contract agreements include secure data

collection and storage, server hardware,

and ongoing updates and new features. All

end-users need is a device and connection

to the network.

An annual subscription gives organisations

the latest software version, removing the

costly task of maintaining systems that may

rapidly become obsolete. Under the XaaS

model, software patches including the latest

features, improved algorithms, defences

against a new virus and even upgrades

to ageing hardware can all be part of the

service.

How can utilities' security concerns be

addressed?

Abbott: Every water authority considering

an XaaS application should challenge their

providers to answer to any security concerns.

The good news is, there is an applicable

standard to conform to – ISO 27001. This

is internationally recognised as the best

practice framework for information security

management.

Another consideration raised by security

experts is to have an active defence strategy.

Older systems would be developed,

commissioned and then isolated to remove

any cyberattack vectors. Unfortunately, we

frequently see this type of production fail.

Defending against external attacks requires

ongoing discipline. This means continuous

improvement of the application software,

antivirus software, and operating systems.

Under a traditional model, updates would

require a rollout to every machine, which

takes time. Under a SaaS model, with could

managed systems, everyday can be upgraded

before their next login to the system. This

means that if a new attack method is

24
---
WATER & WASTEWATER ASIA | SEPTEMBER/OCTOBER 2021

uncovered, a systemwide update can be

performed before the new method can be

taken advantage of.

In what areas should utilities be

embedding XaaS solutions?

Abbott: XaaS solutions should be adopted

wherever they can be. This would eliminate

a significant amount of legacy computer

hardware that would no longer need to

be managed. Desktop machines could

be replaced by thin clients, tablets or

smartphones and automatic software

upgrades would eliminate the need for a

software management team to physically

or remotely connect every machine, at

every company location, to perform manual

updates.

During the pandemic, many water utilities

made significant changes to the way they

work. Remote working is now common

practice, and under XaaS models, the benefits

of not being tied to particular premises can

be realised, enabling staff to securely access

information wherever they are.

What operational challenges can XaaS

solutions help to solve?

Abbott: Most organisations do not take full

advantage of all data collected from their

water networks. This is where they may look

towards an IaaS solution, where customers

pay for the delivery of actionable information.

Ovarro is working in partnership with water

authorities to analyse alarms from water

networks. What has been determined,

is that many incidents, such as pollution

events, are often the result of an alarm being

missed. Many operators are so inundated

with alarms, they fail to respond to unfolding

events leading to higher impact incidents that

create operational inefficiencies or result in

penalties.

We have developed AlarmVision, a cloudbased,

real-time alarm analysis service.

This IaaS analyses the stream of alarms,

comparing the frequency to internationally

During the pandemic,

many water utilities made

significant changes to the

way they work. Remote

working is now common

practice, and under XaaS

models, the benefits of

not being tied to particular

premises can be realised,

enabling staff to securely

access information wherever

they are.

Craig Abbott

Channel Sales Manager for Asia-Pacific at Ovarro

recognised key performance indicators to

determine if the system is being properly

managed.

Additional information is also provided to

identify common alarm patterns – is there

one alarm that is flooding the network, is

there a particular site generating many alarms

or is there particular time of the day where

overloads occur? With this information,

water utilities and municipalities can plan an

appropriate response to reduce the number of

alarms occurring to a level where key events

can be tracked and dealt with appropriately.

What sectors should the water industry

look to for examples of best practice?

Abbott: Ovarro collects and manages data

for clients in a wide variety of industries so we

seek to learn from any sector where secure

data management is required. Financial

services, for example, traditionally has the

domain of large, brick-and-mortar institutions

but smaller players have stepped in to take

a significant share of the market, without a

storefront in sight.

Sensitive data like money, assets and

transaction histories are now managed online.

The industry leaders help clients analyse

spending habits and apply for additional

services, adapting to clients' needs faster

than traditional banks.

What role does innovation play?

Abbott: Innovation and the XaaS model

form a symbiotic relationship. Once data is

freely available for analysis, it encourages

innovation and the development of new

algorithms for analysis. This could identify a

new dataset that needs to be collected, a new

software service required or insights from

existing data.

It also provides fertile ground for users and

developers to collaborate, test, and trial new

ideas for continuous improvement of water

network operations.

How is Ovarro supporting the water

industry in this area?

Abbott: Ovarro recognises that data will

invariably be stored in the cloud. This shift

unlocks XaaS opportunities. We are currently

expanding our DaaS solutions, and are

already trialling SaaS and IaaS packages that

dovetail with the data we collect. We have

recently developed packages like AlarmVision,

and we have more in the pipeline. Some

services will also work with non-Ovarro

systems, providing insight for anyone in the

water industry.

The water sector has a reputation for being

conservative. It is Ovarro's vision that by

connecting numerous technologies to collect,

store and analyse data, we can provide a

platform for the industry to become more

flexible and innovative, moving away from

legacy systems that are holding them back,

so they can adapt to the challenges of the

future.

25
---
ENVIRONMENTAL REPORT

CREATING THE CONCORDE

of rainwater harvesting projects

Former UK airfield being redeveloped into YTL Arena, a sustainable, area that

houses a surface water system to capture water from 10,000sqm roof.

areas in the whole Filton development,"

Hofman added. "We are looking at how this

affects the water balance and flows of the

entire area, including whether we can close

that cycle."

Photo credit: Grimshaw

The former home of the Concorde supersonic

aircraft is set to take off once again, but this

time with innovation on water in the circular

economy.

In Bristol, UK, the former Filton Airfield

is being turned into a sustainable new

mixed-use neighbourhood, with circular

water developments at the heart of the

redevelopment.

Purchased by Malaysian company YTL

Developments in 2015, a subsidiary of YTL

Corporation and sister company of local

utility, Wessex Water, the scheme will create

over 2,600 new homes and over 60 acres of

commercial space, schools and community

facilities.

Jan Hofman, director of the water innovation

and research centre, University of Bath,

said: "YTL is developing the site in a very

sustainable manner, including creating a living

environment that includes water recycling."

A SHOWCASE OF RAINWATER

HARVESTING

A key part of the redevelopment is a strategic

surface water system to enable the local

reuse of captured rainwater at a new YTL

Arena Bristol.

The Brabazon Hangars from the former

airport are being converted into a

17,080-capacity entertainment destination,

respecting the site's engineering legacy past

but thrusting it into the future to put Bristol on

the world stage.

Rainwater harvesting will be installed over

10,000sqm of roof surface, with plans to

collect, clean and use the water for toilet

flushing. Excess rainwater will feed ponds

and lakes, created as part of green spaces to

enhance the area.

"We are investigating whether we can expand

the rainwater collecting system to the roofs of

the housing areas, including the commercial

NEXTGEN: DEMONSTRATING PROCESS

AROUND POLICIES

The Filton airfield demonstration site is

part of the Horizon2020 (H2020) NextGen

collaboration that aims to drive the circular

economy through a wide range of waterembedded

resources, including water,

energy and materials.

The four-year H2020 project brings

together 30 organisations to demonstrate

technological, business and governance

solutions for water in the circular economy.

From water utilities to a beer brewery, in total,

10 NextGen projects have been selected

to represent a variety of stakeholders who

could participate and benefit from circular

economy activities.

Hofman explained that the benefits for using

the Filton airfield as a case in NextGen is

to demonstrate the actual process around

policies and design, and how to bring all of

these elements together from the start.

Modelling work on the rainwater harvesting

estimating the size of the tanks for water

storage and even feasibility work on sewer

heat recovery, for example, predicting how

much heat would be available on the site

during the day.

Other stakeholders involved include South

Gloucestershire Council, The Environment

26
---
WATER & WASTEWATER ASIA | SEPTEMBER/OCTOBER 2021

Agency (EA) and local utilities Bristol Water and

Wessex Water. The latter already has a large-scale

wastewater treatment plant operating near Bristol,

which is being taken into account in the Filton site

modelling when it comes to water reuse and the

circular economy.

YTL is developing the site in a very

sustainable manner, including

creating a living environment

that includes water recycling.

Jan Hofman

Director of the Water Innovation and

Research Centre, University of Bath

POLICIES PLAYING CATCH UP

When it comes to policy, the Filton development

is head of the curve, Hofman claimed. "Rainwater

harvesting, at scale, is still very new, and I think

it will be used occasionally in the country. There

has been some research, but there remains a

lack of regulation to encourage or discourage it.

We're running ahead of what is available for these

systems."

Stef Koop, scientific research at KWR Water

Research Institute, leading NextGen, said that

policy is essential to ensure such systems are

"truly circular". He explained: "These pilots are the

forefront of new technology, new systems, where

policies still have to develop and adjust. We must

get the message of the key opportunities but also

the key barriers to implementing new technologies

and systems. The challenge remains of how do we

get that message across from more localised sites

to these more centralised policymakers?"

To help matters, Koop also believes to not confuse

circularity with sustainability.

"Circularity can be a solution for creating

something sustainable, but it also involves other

aspects," he said. "If you are going to circulate

things, you have to deal with pollution. Otherwise,

it will accumulate in your cycle."

The YTL development has an opportunity to lead

with water in the circular economy and create

the "Concorde" of our time. Instead of housing a

supersonic plane capable of crossing the Atlantic

within three hours, the YTL Arena Bristol could

house a rainwater recycling system.

Just like Concorde put Filton on the global

map, this project could establish the former

airfield as a global frontrunner for sustainable

development.

27
---
ENVIRONMENTAL REPORT

STORMWATER

management

Vincent Lee, global water skills leader at Arup's New

York office, highlights how the company's study of

New York's impervious area will help the city better

understand and manage the impact of stormwater.

New York City, the most populous city in the US

To effectively manage water across an entire

city, it is important to properly understand

the environment it sits within – and crucially

where the water will go when it rains.

It was with that in mind that the New

York City Department of Environmental

Protection's (DEP) Bureau of Environmental

Planning and Analysis (BEPA) sought out

Arup's expertise to develop a city-wide

impervious area geographic information

system (GIS) layer. Put in its simplest terms,

it was a study to help the DEP understand

the make-up of the land across the city, and

identify which areas will soak up water, and

which impervious areas it will simply run off,

and potentially cause flooding problems.

New York City is commonly referred to

as a "concrete jungle" due to thousands

of square miles of impervious surfaces.

However, a significant amount of work has

been done by the city in reducing these

surfaces which cause significant flooding.

One such programme is the NYC Green

Infrastructure Plan from 2010, which set a

course to manage stormwater much more

effectively and sustainably.

Photo credit: Triston Dunn/Unsplash

While an impermeability map was prepared

over a decade ago, there have been

significant advances in data, map resolution,

and remote sensing techniques. Arup's work

was to provide this information – in forensic

detail – and ensure DEP could continually

update this crucial water management

data going forward. This would enable

DEP to validate their programme and also

provide a defendable source of data that

DEP can use to drive stormwater policy to

improve the quality of the city's waterways

while reducing the flood impacts in its

neighbourhoods.

FOUR-STAGE PROCESS

The task essentially had four stages –

research, mapping, interrogation of what the

information gathered, and finally ensuring

the process was one the DEP would be able

to update and maintain in future years.

28
---
WATER & WASTEWATER ASIA | SEPTEMBER/OCTOBER 2021

Searching and gathering

information on land permeability

was, of course, far from simple.

Automation and digital approaches

were used throughout the project

to reduce production time and

complete the largest GIS and

remote sensing study that Arup has

performed to date.

Obviously, to carry out such a

feat physically would have taken

many years, and this is why a

digital approach, using machine

learning, was required. Even using

the very latest digital approach, it

still involved a massive amount of

data gathering and manual hours to

develop the automation process.

We used aerial imagery, LiDAR

data, planimetric and cadastral data

to create one single land cover map.

We were able to identify 17 different

elements of land space, from

roads and building footprints to

rivers, lakes and green areas.

The technology also had to be

programmed, for instance, to

recognise vehicles from above and

quantify the solid land below, as

well taking into account other aerial

imagery elements such as tree

canopies and shadows which fall in

certain times of the day.

The project team classified 1% of

the city's land cover, which was

then used to "train" the machine

learning algorithm, to automatically

produce a complete land cover

classification map of New York.

To ensure accuracy, the results from

technology were compared with

independent hydrologist delineation

from 25 randomly selected parcels,

where we were able to demonstrate

that the technology was above 90%

accurate in all areas, even as high as

99% accuracy in many.

This enabled us to use this method

across the city, collating more than

3TB of multi-spectral imagery,

LiDAR, and other GIS data to provide

analysis of 345mi 2 and 857,589

parcels of land.

We were able to provide the DEP with

high-resolution GIS datasets, and a

comparative trend analysis report on

the position from 10 years previous.

This information has since been

posted on an open data portal in New

York, that is available for the public,

bringing total transparency to the

understanding of land across the city.

It also provided a picture of the

impact of environmental programmes

undertaken over the past decade,

which validated the work which has

been done.

Importantly, it provides a clear insight

for the local environmental agency

to understand the city land coverage

types to inform and support city wide

planning efforts, projects, policies

and programmes.

PROJECT GIVES NYC ABILITY TO

CONTINUALLY UPDATE DATA ON

LAND COVER

When selecting Arup to lead on this

18-month digital transformation

project, DEP insisted they wanted

more than just a "black box" of

data and a current overview of the

impervious land, but a system which

they are able to update and use going

forward.

With that in mind, the Arup team

worked closely throughout with

representatives of DEP, bringing

them along the process in developing

this layer, providing tutorials on

the detailed methodology and

developing data maintenance

documentation for their team to

follow.

Importantly, this means they can

now maintain and update it going

forward as land use in cities is

continually changing.

Stormwater management and

policy in New York can now be

based around data which will

continually evolve – placing water

at the heart of long-term planning

and development of this part of the

world.

Map of New York city

29
---
IN THE FIELD

PLANT MODERNISATION

WITH PC-BASED CONTROL

ensures futureproof water

supply on Lake Michigan

Municipal water treatment plant integrates PC-based control

technology with existing automation.

By James Figy

Eric Kiefer, plant manager of

North Shore Water Commission

(NSWC) in Glendale, Wisconsin,

understands that providing

portable water continues to be

an "incredible feat" even though

many might not give a second

thought. Roughly 35,000 residents

in the cities of Glendale, Fox Point

and Whitefish Bay rely on this

Milwaukee-area municipal entity,

which has been pumping clean

water since 1963.

"People simply cannot suffer a loss

of water pressure," Kiefer said.

"Hospital, businesses, families –

they need this water to always be

on the moment they need it."

The NSWC water purification

process begins at Klode Park in

Eric Kiefer, plant

manager of water

supplier NSWC,

inspects the

chemical feed

system, which

adds phosphates

to prevent lead and

copper corrosion in

the water delivery

infrastructure

In the public water utilities sector,

plant operators are to ensure

a reliable water supply to all

consumers, while at the same time

getting by with tight budgets. Their

requirements include reliability

through redundancy and safe

communication of all components

with the control system. During the

modernisation of a municipal facility

on Lake Michigan, PC-based control

and especially TwinCAT was ideal for

integration with existing systems and

for future-oriented communication

via protocols such as OPC UA,

MQTT and AMQP.

Whitefish Bay, where an intake

structure reaches into Lake

Michigan. The pump station

draws the lake water into a pit-like

shore well while a chemical feed

system keeps the intake free of

zebra mussels, which can quickly

clog the system. Four large

pumps send the water through a

30
---
WATER & WASTEWATER ASIA | SEPTEMBER/OCTOBER 2021

control system. His requirements

were cost-effectiveness, reliability,

ease of programming and ability

to communicate with legacy

equipment. He explained that due

to pressure from consumers and

outside entities, NSWC cannot

afford any mistakes and moreover

has to stand up to competition from

private contract firms.

transmission main to the filtration

plant in Glendale, where a coagulant

and coagulant aid are added to the

water. A rapid sand filter removes any

remaining sediment left in the water.

After the addition of fluoride, water

is disinfected with both chlorine

and ultraviolet light. Finally, water is

treated with a phosphate chemical to

prevent lead and copper corrosion as

it is pumped to consumers.

On a typical day, the plant purifies

3.7 million gallons of water, but it

has the capability to process 18

million gallons per day. It may seem

excessive, but if one part of the

system failed, the technicians would

be able to start a backup right away

to safely ensure no customers lose

water service.

MODERNISING AGING SYSTEMS

ON TIGHT BUDGETS

Operation of the 55-year-old plant

requires regular modernisation.

NSWC have to continuously collect

data to create detailed reports.

These include information on system

pressure, flow, pump speeds, pump

runtimes and valve positions at the

pumping stations in Glendale, Fox

Point and Whitefish Bay, as well as

chemical tank levels, quantities of

chemicals pumped and various water

quality parameters.

In the upgrade of an outdated plant,

operators would prefer to completely

replace conventional supervisory

control and data acquisition (SCADA)

hardware to avoid communication

breakdowns between different

makes of machinery. For municipal

entities, however, this might not be

always feasible because of budget

constraints. Often it is only the risk

of not complying with state or federal

water quality standards that motivates

municipalities to fund upgrade

projects, where additional automation

upgrades might get lumped into the

project's budget.

When the Fox Point community

decided in 2015 to upgrade its pump

station, Kiefer began to research

the best alternative automation and

The control

technology of the

chemical feed system

features a multi-touch

Control Panel as HMI

hardware, EtherCAT

Terminals and a

CX2030 Embedded PC

STRONG SYSTEM

ARCHITECTURE KEEPS WATER

PRESSIRE UP AND COSTS

DOWN

Kiefer learned about Beckhoff

through a technology partner and

decided that Beckhoff products

would provide the most efficient

option for the project due to the

system openness they provide.

At the pump station, a number

of EtherCAT I/O terminals now

communicate with the on-site

machinery and equipment. A

CP2907 multi-touch Control Panel

as HMI is connected to a fanless

CX2020 Embedded PC, which

offers ample performance to run

the complete pump station and

transmit all data to the main facility

in Glendale.

After building the pumping station's

control cabinet, Kiefer hired

Starnet Technologies, a Caledonia,

Wisconsin, company that supports

the water and wastewater

industries, to draft an electrical

People simply cannot suffer a

loss of water pressure, Hospital,

businesses, families – they need

this water to always be on the

moment they need it.

Eric Kiefer

Plant Manager at North Shore Water Commission

31
---
IN THE FIELD

and more modes of operations.

Although Redford was a newcomer

to Beckhoff hardware and software

then, he found the systems to be

very intuitive. It surprised him how

well the solutions communicated

with other vendors' products, which

is frequently a difficult proposition.

ECONOMICAL MODERNISATION

WITH PC-BASED CONTROL

Along with upgrades to two of its

three remote pumping stations, Kiefer

used a similar Beckhoff platform to

enhance the filtration plant's chemical

feed system, using EtherCAT I/O

and a CX2030 Embedded PC. The

plant-wide SCADA update allowed

the chemical feed systems to provide

more effective reporting, alarms and

schematic to document it. On this

basis, Starnet later built an identical

control cabinet for an upgrade to

the pumping station standpipe in

Glendale, and the company will also

upgrade the Whitefish Bay station.

The open PC-based control platform

For the operation

of its chemical

feed system and

the remote pump

stations, NSWC

standardised on

built-in CP2907

multi-touch Control

Panels with 7-inch

display

The pump stations pass

encrypted data over OPC UA

using TwinCAT 3 and the CX2020

Embedded PCs to NSWC

facilities. Dashboards can display

important results. James Redford,

president of Redford Data

Services, collaborated with NSWC

troubleshooting capabilities.

The economical modernisation of the

plant and the remote pump stations

using Beckhoff technology resulted

in increased reliability of the entire

system and reduced costs. With

the open control technology, the

plant is now effectively prepared for

from Beckhoff allows any add-on

to programme a new SCADA

new methods of connectivity and

software that can run on a PC.

Kiefer appreciates not only how well

TwinCAT 3 automation software

works with other software platforms,

but also how new Internet of Things

The pumping

station is controlled

via a CX2020

Embeded PC with

directly connected

EtherCAT I/Os

system. For the pumping stations,

the updated system added

greater fault reset capabilities,

pump speed control, access

via Windows Remote Desktop

optimisation by means of cloudbased

communication.

James Figy is senior content specialist at

Beckhoff Automation USA.

All Photos by Beckhoff Automation

(IoT) and analytics packages are

designed to use innovative cloud

communication protocols, including

OPC UA, MQTT and AMQP.

He elaborated: "There will be a

communications paradigm shift

in the near future, and working

with Beckhoff puts us in a better

position to respond to it. Beckhoff

already has available libraries

that we can add to utilise those

upcoming protocols, so we're far

more prepared for the future by

standardising on TwinCAT 3."

32
---
IN THE FIELD WATER & WASTEWATER ASIA | SEPTEMBER/OCTOBER 2021

A ROBUST UF SOLUTION

for Xiaojihan Coal Mine

Nanostone's CM-151 technology was Xiaojihan Coal Mine's choice to deliver

incremental capacity without additional cost and complexity of pre-treatment.

To meet the new zero-liquid discharge (ZLD)

regulations governing wastewater treatment,

the Xiaojihan Coal Mine, a member of the China

Huadian Group, had to expand the capacity of

its wastewater management system.

The mine faced a number of issues with its

existing wastewater treatment process, a

submerged polymeric ultrafiltration (PUF)

membrane system. As is often the case

with PUF systems as they age, fouling had

become a frequent issue, and the need to

perform clean-in-place had increased to

multiple times a week. That, combined with

frequent fibre breakage in the PUF membrane

and subsequent failure of their downtime

reverse osmosis (RO) membrane, resulted in

a treatment capacity that was below the plant

requirements.

the CM-151 is able to tolerate higher incoming

water variability, which optimised the overall

process operation by eliminating the pre-filter

step. The absence of fibres in the ceramic

matrix meant that fibre breakage would no

longer be an issue. The CM-151 ceramic

system provided "more reliable and effective"

performance which, in turn, stabilised the

downstream RO system and allowed Xiaojihan

to meet and exceed its increased capacity

demand.

The 9.2 MGD ceramic UF system helped the

Xiaojihan Coal Mine meet the environmental

regulations and optimise the entire treatment

process. By investing in Nanostone's CM-

151 ceramic UF system, the mine operators

have a "robust, reliable long-term solution for

consistent efficiency and quality".

THE SOLUTION

The upgraded treatment process with a

Nanostone CM-151 UF membrane system

has enabled Xiaojihan to:

• Implement a trouble-free option,

alleviating pressure on operations

• Restore treatment capacity to

meet ZLD requirements and new

environmental regulations

• Improve efficiency, reduce

maintenance, and ensure reliable

performance, resulting in a lifetime 2-6

times longer than the PUF system

• Increase overall treatment capacity by

44% without additional pre-treatment

Nanostone's CM-151 ceramic ultrafiltration

(UF) membrane system provided a solution to

address Xiaojihan's difficult-to-treat wastewater.

The anti-fouling characteristic of the CM-151

ceramic membrane required fewer chemical

cleanings. In addition, the monolith design of

Right: Feed channels are designed to maximise

membrane surface area, while not comprising

on flowrate. The surface coating and overall

microstructure provide "consistent, reliable" removal of

solids down to 30nm in size.

THE CHALLENGE

Increase wastewater treatment capacity

to comply with environmental regulations

and ZLD requirements:

• Increase capacity to process difficultto-treat

wastewater to comply with

stringent regulatory requirements.

• Overcome performance and reliability

challenges of the installed PUF system

that comprised treatment capacity

and required significant maintenance

to prevent RO failures.

Above: Nanostone's CM-151

technology is designed to deliver

incremental capacity without additional

cost and complexity of pre-treatment

33
---
IN THE FIELD

WORLD HERITAGE LORD

HOWE SETS EXAMPLE

with future-focused

wastewater, recycling

and sustainability

initiatives

Lord Howe Island – just 11km long,

averaging about 2km wide, with peaks

rising to Mt Gower's 880m – has been

working towards the Environmental

Protection Agency (EPA) approvals,

flora and fauna protections, and

waste recycling initiatives to help

avoid pollution so future generations

of residents and visitors can enjoy its

creatures, plants, water, walks and

coral reefs.

The initiatives, by the Lord Howe

Island Board (LHIB), complement

the island's broader environmental

initiatives, including an island-wide

residents' clean-up campaign initiated

by Clean Up Australia champion, the

late Ian Kiernan and complementary

programmes to eradicate entire

species of foreign weeds and pests.

Ultimately, it aims to be totally free of

unwanted flora and fauna introduced

more than 100 years ago. Once this

is done, it can begin re-introducing

species currently extinct in the wild.

An Australian Island noted for its environmental foresight is

taking further steps to advance its clean, green protection

of its World Heritage listed natural assets.

Meanwhile, the board has been

enhancing its environmental

credentials by introducing solar

power to provide two-thirds of the

island's annual energy needs, while

also seeking EPA approval to reuse

as compost the solids from treated

sewage effluent produced by its

environmentally sensitive, low-energy

wastewater treatment plant.

The wastewater treatment plant

incorporates advanced liquidsolid

waste separation, drying and

dewatering technologies engineered

by Australian environmental clean

34
---
WATER & WASTEWATER ASIA | SEPTEMBER/OCTOBER 2021

water and recycling innovators CST

Wastewater Solutions. The pretreatment

and recovery technologies

– which is said to draw less power

than older separator technologies –

produce cleaner liquid waste and drier

much lighter reusable solid waste, and

that is easier to recycle and avoids the

costs and hazards of handling heavy,

sloppy and smelly solids from septic

tanks.

It also facilitates practical and costefficient

environmental progress by

reducing the amount of hazardous

waste that, in many situations in

Australasia and South Asia, would

need to be costly transported

to landfill. The technologies are

designed for small to medium

applications including urban,

municipal, agribusiness and industrial

applications as well as remote and

environmentally sensitive applications

of which Lord Howe is an example.

CST Wastewater Solutions' separation

and dewatering technologies have

helped avoid sloppy, unhygienic output

and material that is difficult to manage

and dispose of on the virtually rubbishfree

island.

The conservation-minded island

is home to just 400 residents who

welcome an equal number of tourists

at any one time to clean, green laid

back resorts, warm white beaches,

vibrant recreational fishing and

Australia's southernmost coral reef,

located around 600km off the New

South Wales east coast from Port

Macquarie.

David Waterhouse, manager,

infrastructure and engineering

services, Lord Howe Island Board,

commented: "These environmental

Lord Howe Island

Rock-solid

water treatment

solution for

better production

Nanostone Water's innovative ceramic membrane technology

provides exceptional reliability and robust performance across

a variety of water treatment applications. It's a solution that's

designed to help your organization maximize production and profit.

Reduce complexity.

Increase reliability.

Decrease lifecycle cost. Increase

operational life and performance.

Conserve water and energy.

Improve the bottom line.

Retrofit existing polymeric

membranes with ease.

©2021 Nanostone Water. All Rights Reserved.

MICROELECTRONICS | POWER GENERATION | MINING AND METALS | REFINERIES AND PETROCHEMICALS | CHEMICALS

Keep your operations flowing

at full speed.

35
---
IN THE FIELD

and waste initiatives enjoy the support

of both the local resident and tourist

business communities. The people of

Lord Howe see it as great initiatives

that we are seeking to return flora,

fauna, emissions and water resources

closer to their natural state existing

when the island group was discovered.

"And, of course, land and marine

creatures and a pristine environment

are what people come here to enjoy,

with glorious trekking, diving, fishing

and family relaxation. It is a win-win

for residents and visitors, who love the

opportunity to relax in a clean, green

environment which is not overcrowded

or damaged by excessive tourism. As

a community, we want to retain the

original beauty of the environment

and combine it with relaxed, unspoilt

uncrowded tourism where visitors can

leave their doors unlocked and enjoy

relaxed privacy with quiet roads and

beaches with space and beauty to

spare."

Bradley Josephs, waste management

facility supervisor at Lord Howe, added

the facility's wastewater treatment

plant has produced cost-efficient and

practical environmental, operational

and occupational safety and health

(OHS) benefits since it was introduced

as part of a full package to separate

biosolids, liquids and residual waste

in a three-step process of which the

CST technology is an integral part. The

CST technology uses a combination

of coarse and fine screening and KDS

advanced dewatering technology to

produce the more hygienic and more

compact output that can be added to

recycled compost streams.

"Our benefits to date will be extended

further if EPA approval is received to

incorporate the compact solids from

the effluent into compost for use on

the island, incorporating previously

odourous waste into a valuable

resource and further reducing the need

for transport and landfill," he said.

The WWTP plant compacts solid

sewage waste to a fraction of the

original volume of material that was

previously laid out on drying racks to

dewater – a process that smelt, involved

much more handling, and could

take extended periods to complete,

particularly if the weather changed.

The new facility's screening, filtration

and KDS liquid-to-solid separator is

also more efficient in separating diverse

solids from liquids, without clogging

and producing a liquid component is

cleaner and more suitable for speedier

processing and reuse.

Septic waste from residential and

commercial systems treated at this

facility is drawn from about 220 septic

water systems on the island, 25 of

which are commercial operations.

Currently, pump-outs are delivered to

the facility via an 1,800-litre wastewater

tanker.

The waste management facility can

now manage greater volumes of effluent

for the island, the solid component

of which is mixed with diverse other

waste streams that are sorted, mixed

and prepared for reuse through a Hot

Rot composter. Waste treated in this

way includes food waste, paper and

cardboard, green waste and grease

trap wastes.

Josephs explained that the team has

witnessed "a strong range of benefits"

since installing the system. For

instance, the drier biosolids are now

stored in smaller 50-litre tubs that are

more manageable, he said, compared

to the old system which required the

solids to be dug out of the evaporating

bays and requires greater man hours

and far-from-optimum working

conditions.

"The polymer dosage used in the new

process is able to chemically remove

suspended solids from the solution

at a better rate than evaporation. This

means that the liquid waste that is

produced is much easier to treat via

aerobic digestion," Bradley added.

The process also allows the supervisor

to know how much time the plant will

take to produce particular quantities of

processed solids.

He continued: "Due to the everchanging

nature of sewage, previously

you could never fully estimate the

nature of how much solids you

would receive in drying bays until

the process was complete. Using an

Excel calculation, we developed for

polymer dosing with the new system,

we can now make a good estimate of

how much biosolid we have per batch

CST Wastewater

Solutions' screen

compactor, prescreens

effluent

prior to the septic

wastewaters being

pumped to the

polymer dosage tank

36
---
WATER & WASTEWATER ASIA | SEPTEMBER/OCTOBER 2021

Measured doses of

polymer determined

from sampling at the

input stage enabled

Bradley Josephs,

waste management

facility supervisor at

Lord Howe, accuracy

and predictability of

compacted waste

output

and how much liquid waste we will

produce. This has allowed us to be

proactive with our management levels.

"Drying used to be something of a

guessing game, with the drying beds

and reed beds we used. It would

vary with weather, with humidity and

many factors, but now the liquidsolid

separation is beautiful, swift,

predicable and precise. This speeds

up the process and enables us to tailor

output for ongoing processing without

waste storage issues.

"Due to the area that drying bays took

up for efficient separation previously,

there was a powerful odour during

processing. As the new system is all

self-contained, there is minimal odour

during the process."

Waste liquid separated out by the

CST system is processed via aerobic

digestion, while the solids component

is dewatering through the KDS

installation is incorporated into the

feed for the composting unit. This Hot

Rot composting unit produces the

finer, dried output for which the LHIB

is currently undertaking a Resource

Recovery Exemption to create

compost for use by residents and

businesses on the island.

"Due to the nature of the in-vessel

composting unit on island, dried

biosolids can be processed and used

to create useful compost that will

be available to the public," Josephs

noted. "The temperatures inside the

composting unit are high enough to

destroy harmful pathogens that are

found in biosolids such as e-coli and

salmonella. The biosolids are currently

mixed with food waste, paper and

wood chip at a ratio of 0.05/1/2/1 per

day. Once we have more results in

regard to compost composition, we

aim to be able to create an optimum

ratio of biosolids used in the procedure

to produce compost and further

reduce our environmental footprint."

Michael Bambridge, managing director

of CST Wastewater Solutions, said

the company was tasked to review a

"best fit" sludge dewatering system

for the septic waste, because the old

infrastructure was becoming outdated

and the existing drying beds were

to be decommissioned. The team

worked extensively with the LWIB to

find an optimal solution that combined

environmental performance with OHS

performance – and which has a smaller

footprint than the drying rack system

used previously.

"The CST screening, dewatering and

compacting component of the WWTP

system is more economically than

previously, more compact in terms

of site use, and uses less energy and

minimal water compared to alternative

systems," he said. "It accords well

with Lord Howe's environmental,

waste, water and energy conservation

objectives, which the board is pursuing

over a total range of environmental

initiatives."

Lord Howe's back-to-the-future

approach to environmental progress

and resource use has also resulted this

year in the introduction of solar power

to the island to turn off fossil-burning

diesel generators by satisfying twothirds

of the island's annual energy

needs from the sun.

LHIB's Waterhouse concluded:

"Our environmental programme on

the island benefits from multiple

streams of good technologies and

environmental good practices.

Because we are isolated from many

destructive outside influences,

we have an opportunity to

comprehensively plan, implement and

measure our environmental progress

comprehensively and over decades.

"Our programmes interact with each

other, to produce an overall result

that we aim to be outstanding – a

programme that will not only benefit

ourselves on the island, but which can

provide a lead internationally to show

what can be done by a community with

a common conservation focus."

37
---
IN THE FIELD

PURON MP MEMBRANES

improve performance of

boiler water pre-treatment

The Eemshaven power station in the Netherlands

The installation of PURON MP technology from

Koch Separation Solutions (KSS) enables the RWE

Eemshaven power station to maintain a "high and

stable" permeability at design capacity for

an extended period of time.

The treatment of surface water,

groundwater and seawater for

industrial use is becoming a common

practice around the world. Reverse

osmosis (RO) technology removes

dissolved solids, both organic matter

and inorganic salts from the source

water, making the water suitable for

use in various industrial processes.

Ultrafiltration membrane technology

is an option for pre-treatment for RO

membranes, as it produces consistent

water quality, free of suspended

solids and of low fouling potential.

The Eemshaven power station,

operated by RWE, is a large coalfired

power station and from 2019

also a biomass-fired power plant.

The plant is located in the north of

the Netherlands and utilises seawater

taken directly from the North Sea

to feed their large water consuming

boilers.

This feed water is treated by a multistep

purification and desalination

process.

1. Multiflo System with Disc

Filtration

2. Ultrafiltration (UF)

3. RO Desalination

4. Ion Exchange Polishing

The UF system is a six-train

configuration with a total design

capacity of 1,080m 3 /h. To ensure

continuous production of water

at the required flow rate, the

system was designed to have

two redundant trains (N+2). The

system was commissioned in

2014 and originally equipped with

a 8-inch diameter UF cartridges

featuring non-reinforced PVDF

38
---
WATER & WASTEWATER ASIA | SEPTEMBER/OCTOBER 2021

PERFORMANCE COMPARISON*

Train Membrane Type Installed Permeability

lmh/bar [gfd/psi]

*Data taken in February 2018, 12ºC

**Replaced by KSS PURON MP in Q3 2018

Capacity

m 3 /h [gpm]

1, 2, 3 Competitor (old type)** 2014 50 / 0.8 110 / 484 Per Train

4 Competitor (old type) February 2017 80 / 1.3 200 / 881

5 PURON MP October 2017 225 / 8.1 275 / 1211

6 Competitor (new generation) January 2018 150 / 4.1 275 / 1211

membranes with a dual-potted

fibre membranes, provides solids

cartridge configuration. Decreasing

management, allowing the system

performance of the installed

to demonstrate "high, sustained"

membranes, along with a desire

permeability values.

to increase capacity, led RWE to

explore options for replacement in

With an equivalent membrane area

two of the six UF trains.

as the previously installed membrane

product, the PURON MP cartridges

CHALLENGE

are able to provide an increase

RWE wanted to improve the

in productivity with improved

performance of their system

performance without impacting

with respect to productivity and

footprint.

reliability but were also conscious

of the potential cost impact

OPERATION EXPERIENCE

of changing to a different UF

After a year of operation, the PURON

membrane. The replacements

MP membranes are operating well

Gideon Ernst, process coordinator

would need to plug-and-play

with membrane permeability that was

water treatment plants for RWE

without significant changes to the

approximately twice as high as other

Eemshaven, said: "The UF was the

existing infrastructure or control

membranes. Being able to maintain a

weakest link in our water treatment

system and energy consumption.

high and stable permeability at design

process. The skid now retrofitted with

The new membranes needed to

capacity for an extended period of

the PURON MP technology is working

have enough membrane area, flux

potential and similar or improved

fouling resistance.

THE SOLUTION

time is a testimony to the benefits,

reliability and extended life potential of

the PURON MP product.

An illustration of

KMS PURON MP

technology

smoothly, improving significantly the

performance of the entire system."

NEXT ORDER OF ADDITIONAL

PURON MP MEMBRANES

Koch Separation Solutions (KSS)

The positive results of the PURON

initially provided 96 PURON MP

MP membranes running alongside

UF cartridges to retrofit one of the

other membranes convinced RWE to

existing trains. In addition to the

further invest in the product to help

membranes, KSS also provided

the Eemshaven powerplant facility

operating guidelines, design

meet its water treatment objectives.

recommendations for cartridges

RWE Eemshaven has ordered

connection kits to facilitate a

additional PURON MP modules for

quick and easy replacement.

replacement of three more filtration

The design of the PURON MP

trains. With the replacement of those

product, featuring a single header

three trains, the capacity of the UF

configuration with integral air

system is expected to increase to

scouring and reinforced hollow

1,575m 3 /h.

39
---
FOCUS

YONSAN ENGINEERING AND

DANFOSS SUPPLY SWRO

to multi-island resort

complex in the Maldives

The seawater reverse osmosis plant, which is responsible to supply potable

water to all three CROSSROADS Maldives' islands, is equipped with Danfoss

APP pumps and iSave energy recovery devices (ERDs).

CROSSROADS Maldives is a resort

complex located just 15 minutes by

speedboat from Malé. As an integrated

leisure and entertainment centre, the

development consists of two hotels situated

on two separate islands, and a third

island that houses the major plants, staff

accommodation, a new marina, and a marine

research facility.

Yonsan Engineering was the engineering,

procurement and construction (EPC)

contractor for the major plants, which include

four seawater reverse osmosis (SWRO) trains

that supply potable water to all three islands.

Danfoss APP pumps and iSave energy

recovery devices (ERDs) were selected for

their reliability and energy efficiency.

COMPACT SWRO FOR A MULTI-ISLAND

COMPLEX

With no conventional energy source, a

location far from the world's refineries,

and more than a thousand islands spread

over 300km, the cost of electricity in the

Maldives has always been an issue. Diesel for

generators must first be shipped to Malé then

to other islands, resulting in energy prices

that fluctuate with world oil prices but average

US$0.25-0.30/Kwh.

Yonsan Engineering in Singapore was

awarded the project, which covers

CROSSROADS' SWRO, wastewater, and

power generation systems. A.K. Bagchi,

managing director at Yonsan Engineering in

40
---
WATER & WASTEWATER ASIA | SEPTEMBER/OCTOBER 2021

Singapore, explained: "Energy prices

in the Maldives are the highest in

South East, and among the highest

in the world. Accordingly, the energy

efficiency of SWRO plants, which

provide almost all of the freshwater in

the Maldives, is critically important to

developers and the government."

But energy efficiency was just one

criterion for the new plant. "Space is

at a premium on these small resort

islands," Bagchi continued. "Keeping

the SWRO plant as small as possible

releases valuable land for other hotel

facilities, and the Danfoss equipment's

compact size keeps the plant footprint

to the minimum."

Finally, reliability and easy maintenance

were also critical, as he elaborated:

"The CROSSROADS project is located

just a quarter of an hour from the

capital and Maldives' biggest airport.

But such proximity is the exception

in the Maldives, not the rule. The

distance to Malé from Asian and

European capitals, in the middle of

the Indian Ocean, and on from there

to many islands, is so great that flying

in maintenance personnel and spare

parts quickly becomes a significant

cost factor in addition to all other

maintenance costs."

DANFOSS APP PUMPS AND ISAVE

ERD

Yonsan Engineering has installed

hundreds of SWRO plants throughout

the Maldives, and was familiar with

Danfoss' solutions.

"Danfoss APP pumps and iSave ERDs

have become the de facto standard in

SWRO plants in the Maldives," he said.

"Their combination of energy efficiency,

reliability, and small footprint are well

suited for the SWRO applications that

are typical for the islands."

For the CROSSROADS project,

Yonsan's engineers designed a fourtrain

plant. Each 500m 3 /day train was

built around an APP 22 and an iSave 40.

The SWRO plant is located on an island

that connects to two others – each with

its own resort – via a service bridge.

"Each of the three islands requires 100-

350m 3 /day," he added. "With a total

capacity of 2,000m 3 /day spilt between

four trains, the system has plenty of

redundancy and flexibility, and will be

able to cover CROSSROADS' needs for

many years to come."

RELIABLE ENERGY EFFICIENCY

WITH ROOM TO GROW

Commissioned at the end of 2019, the

CROSSROADS SWRO plant has run

as expected. Bagchi concluded: "As

planned, maintenance is quite low.

The APP 22s need no maintenance for

the first 8,000 hours of operation, and

they have lived up to their promise.

All in all, we are very satisfied with the

outcomes from the SWRO plant, which

is ready to deliver more freshwater as

capacity needs grow, all at the same

low Opex."

41
---
FOCUS

OPTIMISING OPERATIONAL

PERFORMANCE

through digitalisation

Innovation is at the heart of digital transformation, and is key in unleashing new

possibilities. Thomas Debruyne, head of digital transformation – Asia-Pacific,

Veolia Water Technologies, looks back at the company's presentation at the

Singapore International Water Week 2021, and tells Water & Wastewater Asia

how it is helping to drive utilities' digital transformation forward.

an optimum and compliant operation

despite variations in weather

conditions.

We highlighted how a Model

Predictive Control (MPC) can be used

to successfully improve algorithms

in real-time control systems, which

led to informed operational decisions

and improved performance. Through

adopting an Integrated System

thinking approach, we were able to

use the MPC to lower the company's

operating cost by lowering energy

consumption and reducing the need

for chemicals in the denitrification

and phosphorus precipitation

processes. Sludge production was

also substantially reduced with

the adoption of such a strategy at

Hubgrade

Performance,

Veolia's digital

solution

VEOLIA AT SIWW2021

Can you share with us some

of the highlights Veolia Water

the entire municipality of Kolding

in Jutland, Denmark. Since our

initial implementation of Hubgrade

the wastewater treatment plant,

resulting in both environmental and

cost benefits. With this approach,

operators can have a clearer

Technologies presented at

Performance in 2011, we have

overview, and receive analysed and

Singapore International Water Week

collaborated with BlueKolding to

actionable information to enhance

(SIWW) 2021, and what are the key

develop various software solutions

the understanding and improve on

takeaways you have picked up from

for capacity extension and operations

operations.

the event?

optimisation for the company's entire

Thomas Debruyne: Our presentation

sewerage system under all weather

At SIWW2021, we observed that

was centred around our project

conditions. Our aim was to maximise

there was an overall emphasis on

with BlueKolding, an environment,

the use of the existing BlueKolding

building resilience against climate

energy and climate company covering

facilities, and devise parameters for

uncertainties and this underscored

42
---
WATER & WASTEWATER ASIA | SEPTEMBER/OCTOBER 2021

the need for digital water solutions.

It was also interesting to see several

industry players exploring augmented

capabilities for smart water

technologies.

We also noticed that the industry

is moving towards greater water

sustainability through innovations that

extend the membrane lifecycle while

optimising energy efficiency. Last but

not least, there were some noteworthy

presentations on sustainable

groundwater management and

stormwater management, which

I thought were very relevant to

recent cases of flooding and land

subsidence in Jakarta and Bangkok.

What are the challenges water

utilities face when embracing

digital technologies in water, and

how is Veolia Water Technologies

helping to address them?

Debruyne: Many utilities in the region

are identifying the components of

digital transformation to address their

social and economic development

requirements. Some are designing

strategies to meet their water

resilience and sustainability goals.

Almost all utilities have vast amounts

of data, but struggle to turn this

into actionable information. Some

challenges include data silos and

collection, as well as the integration

With Hubgrade, Veolia addresses

the water optimisation needs of

both municipalities and industries

of different systems and datasets

in a bid to improve their operations.

Traditional procurement frameworks

can also present challenges because

of a lack of directly comparable

technologies, making it harder

to demonstrate competitiveness

and transparency in the tendering

process. To address this, utilities can

co-develop solutions with a vendor

through proof-of-concept schemes.

One such company that has

successfully done that with us is

BlueKolding. As mentioned earlier,

Veolia Water Technologies and

BlueKolding have collaborated since

2011 on the development of various

solutions for the intelligent use of

large amounts of data obtained from

the entire sewerage system.

Our latest innovation projects

with them in 2014 and 2017,

for SMARTGrid and BlueGrid

respectively, focus on energy

balance optimisation through the

utilisation of basin volume in the

catchment area as part of the active

control strategy at the wastewater

treatment plants. All these years,

BlueKolding has confidently

managed compliant operations

through the use of active online

controls, requiring far less manpower

than before when visits to satellite

plants were necessary.

URBANISATION AND WATER

TRENDS

In your opinion, how will urban

growth impact water sources? And

in the face of climate change and

an increasing focus on sustainable

development, what strategies would

you suggest for water utilities to

have in place to ensure access to

clean and safe drinking water for the

wider community?

Debruyne: Many countries and

cities in the region are experiencing

increasing levels of urban growth,

with both population and economies

growing rapidly in many places,

resulting in increasing demand for

water for municipal and industrial

applications. For some of these

territories, government agencies are

also in the early stages of developing

infrastructure, such as drainage systems

and wastewater treatment plants,

to improve and meet the increased

demand for sanitation and water supply

systems.

The shortage of freshwater resources

for drinking water is another factor,

affected by capacity limitations or

quality issues. Climate change has

undoubtedly impacted weather

patterns. Storms, floods, and droughts

can affect the quantity and quality

of raw water, and cause significant

variations even within a short timeframe.

This can pose a considerable challenge

for water utility agencies.

Much effort has been made to reduce

water stress in the Asia-Pacific region.

Besides extensive wastewater treatment

build-outs which are urgently required

across South East Asia, wastewater

reuse is yet another area that many

countries are actively promoting. This

offers opportunities for advanced water

management, especially in the area

of big data analysis software and leak

detection technologies.

43
---
FOCUS WATER & WASTEWATER ASIA | SEPTEMBER/OCTOBER 2021

In China, severe river pollution has

become a major issue, with algae

blooming in water bodies such as

the Chao Lake. In fact, the Ministry

of Water Resources in China recently

released an investigation report

claiming that over 80% of shallow

groundwater sources in the country are

polluted. The Water Pollution Action

Plan and the New Environmental

Protection Law issued in 2015,

prompted a wave of wastewater

treatment plant upgrades across the

municipal and industrial sectors. Plant

operators also had to work towards

minimising wastewater discharge

and increasing reuse efficiency to

support the country's push for greater

sustainability.

How will you describe the role of

digitalisation in water, and what are

some of the digital water trends you

foresee taking place in the industry

over the next decade?

Debruyne: With digitalisation, the

water industry can move towards

pre-emptive asset management and

optimisation, and in the process drive

a significant shift from reactive to

real-time monitoring. This can reduce

the risk of unplanned disruptions and

improve operational resilience for both

municipals and businesses. Leveraging

on the potential of real-time data and

analytics capabilities that digitalisation

offers, companies in the water industry

can better serve their customers.

Decision makers can also utilise the

insights generated from digital water

technologies to deliver more desirable

outcomes.

In many cities across Asia,

urbanisation has brought about an

extensive growth of towns and cities,

and the local authorities have had

to expand existing water facilities in

order to meet demand. According

to the United Nations' World

Urbanisation Prospects: The 2018

Revision report, an estimated 55% of

the world's population lived in urban

areas, but this number is projected

to increase to 68% by 2050. Besides

bringing about greater investments in

physical network infrastructure and

treatment technologies, this growth

Recent and historical contamination

events are driving utilities to consider

real-time digital monitoring of the

quality of water in their pipelines.

Thomas Debruyne

Head of Digital Transformation – Asia-Pacific,

Veolia Water Technologies

Hubgrade offers

operators access to

all of Veolia's water

cycle expertise for

the optimal and

continuous monitoring

of their installations

also provides utilities the opportunity

to establish smart technology in

their new water networks to allow

for network monitoring and control

in the longer term. This gives utilities

an advantage over their developed

counterparts, which may often wait

until the existing infrastructure needs

to be replaced or try to build smart

solutions that fit within the existing

infrastructure.

Recent and historical contamination

events, such as the November 2020

crisis in Selangor, Malaysia, are

driving utilities to consider real-time

digital monitoring of the quality of

water in their pipelines. The fear

of bio- and chemical attacks on

water distribution networks is also

a driver for real-time water quality

monitoring in these regions. Veolia

has joined forces with two partners,

namely IAGE and Phytocontrol, to

detect and quantify the Delta variant

of SARS-CoV-2 in wastewater in

France.

44
---
Elektra

Connecting you to your chemical

dosing pumps, wherever you are

SekoWeb

Data on demand

• Unlock multiple benefits

including precise digital dosing,

process optimization and

cost control

• Make informed decisions swiftly

with quick interpretation and

comparison of data

• Identify faults early and minimize

costly unplanned downtime

• Achieve the delicate balance

between performance

and sustainability

The smart choice for motorpowered

dosing

The Elektra digital dosing pump controller from SEKO allows

you to monitor and manage your dosing equipment 24/7 via

smartphone for a new standard in operational efficiency and

accessibility in water-treatment applications.

www.seko.com

• Local and remote access to your

equipment via smartphone
---
VIEWPOINT

IDE WATER

TECHNOLOGIES

SEALS DEAL TO

develop project for

seawater desalination

plant in Mumbai

As a provider of seawater desalination plants,

IDE Water Technologies will be building a 200MLD

desalination plant to increase and diversify the drinking

water sources of the city. Water & Wastewater Asia

speaks with Nayan Shah, sales director, India,

IDE Water Technologies, to find out more.

With over 14 million citizens,

Mumbai is India's most populated

city and is one of the largest

and most densely populated

urban areas in the world – an

epicentre for India's entertainment,

fashion, commercial and financial

activities. The city's water supply

requirement averages around 4.4

billion litres per day for domestic,

commercial and industrial use.

To better serve Mumbai's

municipal needs and increase

and diversify the region's source

of drinking water, IDE Water

Technologies has signed an

agreement with the Municipal

Corporation of Greater Municipal

Corporation of Greater Mumbai

(MCGM) to develop a project which

encompasses the building and

operation of a 200 MLD seawater

desalination plant, with the option

to expand to 400 MLD on a Swiss

Challenge mode.

The seawater desalination, to be

constructed at Manori, will diversify

the city's sources of drinking

water and overcome challenging

conditions to supply water to the

community.

Elaborating on the project

with MCGM, Nayan Shah,

sales director, India, IDE Water

Technologies, told Water &

Wastewater Asia: "As climate

change and population growth

continue to put stress on the

Earth's limited water resources,

IDE strives to make significant

steps in seawater desalination and

other water treatment technologies

in order to meet the world's

growing demand for water.

"Because Mumbai is a harbour

city with an optimised footprint,

46
---
WATER & WASTEWATER ASIA | SEPTEMBER/OCTOBER 2021

Capex and Opex will be essential

aspects of this project. We're

excited to bring our advanced

desalination technology to

Mumbai, and help the city take

the necessary steps towards

water resilience."

DESALINATION

Location, type of water,

environmental impact and local

regulations – these are critical

factors which Shah identified

when considering desalination.

Other aspects also include the

amount of energy required to

power the desalination plants.

He explained: "For many years,

the large amount of energy

required by desalination plants

has been a barrier to employing

this technology. However, great

progress has been made in

desalination technology, and

these days, the amount of energy

used to produce freshwater can

be greatly reduced.

"We see positive and

encouraging advancements like

these, and know the technology

will only continue to decrease

costs, increase sustainability, and

reduce brine discharge moving

forward."

The proposed desalination plant

at Manori "is a testament" to

this advanced technology, he

described, as it will increase

Mumbai's drinking water sources

and overcome challenging

conditions to provide a "reliable,

sustainable, and environmentally

friendly supply of high-quality

water at a reduced cost". In

addition, the proposed plant will,

The signing of the agreement between IDE Water

Technologies and the Municipal Corporation of

Greater Mumbai (MCGM) for the development

of a seawater desalination plant

Water is fundamental to life, and

sustainable sources of freshwater

are becoming seriously limited

due to a number of factors such

as population growth and climate

change. In addition, surface

water pollution is an emerging

concern globally due to municipal,

industrial and agricultural

wastewater. Therefore, seawater

desalination has become the

most suitable solution for

providing freshwater to serve the

continuously growing population

and ensure water abundance for

years to come.

Nayan Shah

Sales Director, India,

IDE Water Technologies

47
---
VIEWPOINT WATER & WASTEWATER ASIA | SEPTEMBER/OCTOBER 2021

The partnership

between IDE Water

Technologies and

MCGM will see

the development

of a 200 MLD

desalination plant,

expandable to 400

MLD, to increase and

diversify the drinking

water sources of

the city

not only increase the city's drinking

supply, but will reduce the ecological

and financial costs associated

with dam construction, which

typically involves large population

rehabilitation and the uprooting of

mature trees.

In India, many districts in the

country are threatened by

groundwater depletion and

pollution, in addition to more

extreme drought conditions – all

while battling the pandemic. To

combat this, Shah shared the

Indian government has set a goal

to deliver piped water to every rural

household.

"When addressing water supply

in water scarce regions, seawater

desalination can be considered an

important strategy," he said. "In

addition, over 50% of sewage is

being discharge into rivers and the

ocean without any treatment. More

sewage treatment facilities are being

added rapidly as a result, and the

discharge norms and compliance

to the standards are improving

in current times. This water is an

excellent source for all non-human

requirements. Tertiary reverse

osmosis for recycling and reusage

of sewage water will be a great

opportunity. The policy framework

and compelling structure of the

Water Purchase Agreement can

provide a strong foundation in this

direction."

India has also announced the

Production Linked Incentive scheme

for manufacturing industries in the

post-pandemic era. The Zero Liquid

Discharge mandate for industries

also provides an opportunity for IDE's

solutions in brine minimisation to be

utilised.

Shah emphasised that the need for

sufficient and safe water is one of

the most significant development

challenges today, and concluded:

"Water is fundamental to life, and

sustainable sources of freshwater are

becoming seriously limited due to a

number of factors such as population

growth and climate change. In addition,

surface water pollution is an emerging

concern globally due to municipal,

industrial and agricultural wastewater.

"Therefore, seawater desalination has

become the most suitable solution

for providing freshwater to serve the

continuously growing population and

ensure water abundance for years to

come."

48
---
HOTSEAT WATER & WASTEWATER ASIA | SEPTEMBER/OCTOBER 2021

CONNECTING PRESSURE

measurement to the future

Endress+Hauser has relaunched its

family of pressure instrumentation

with a focus on simplicity, Industrial

Internet of Things (IIoT) fitness, and

smart sensor technology.

The new Cerabar and Deltabar

pressure transmitters offer intuitive

operation via the SmartBlue app,

which includes guided operating

sequences for commissioning of

the pressure sensor. This is made

possible by an additional Bluetooth

interface, which bridges distances

of up to 25m. Thus, measuring

points that are difficult to reach can

be maintained, even if they are only

integrated into the process via a

4-20mA interface. In addition, the

wizards are also available with DTM

and EDD based tools.

Data from the pressure transmitter

is available at any time. The

Bluetooth connection has a

protocol that meets the increased

safety requirements in industrial

applications. Furthermore, users

can transfer the parameters of the

measuring point when replacing

the electronics via the mobile data

memory HistoROM.

UNLOCKING IIOT POTENTIAL

The NAMUR roadmap, Process-

Sensors 4.0, names three key

criteria for digital process sensors

– wireless communication, sensor

diagnosis, and the provision of

information about the sensor and

the process. The Cerabar and

Deltabar product lines are equipped

with Bluetooth interface and guided

wizards for commissioning, as well

as built-in Heartbeat Technology

function which creates the basis

for predictive maintenance and

allows the devices' functionality

to be verified without process

interruption.

For instance, Heartbeat

Technology supports maintenance

staff in verifying their measuring

points. This can be done via a

Bluetooth connection and at

the touch of a button with the

SmartBlue app. A verification

protocol, which provides detailed

information about all tests, is

generated automatically. This

basis for this is the continuous

self-diagnostic function of the

pressure transmitters. It achieves

a diagnostic coverage rate of over

95%, Endress+Hauser claimed.

With this information, it is possible

for users to plan system revisions

and maintenance work for

measuring devices in advance and

reduce downtimes, thus simplifying

maintenance processes.

Cerabar and Deltabar

– Smart pressure transmitters

for measurement of

liquids and gases

49
---
HOTSEAT WATER & WASTEWATER ASIA | SEPTEMBER/OCTOBER 2021

FIRST LINE ADDS

Evoline to product portfolio

As part of its drive for continual innovation

and product development as well as

recognising the market needs for more

sustainable reverse osmosis (RO) pressure

vessels, First Line has stepped up its

innovation in RO pressure technology with

the launch of a series of RO pressure vessels

– Evoline.

Using optimised equipment and in-house

manufacturing techniques, Evoline RO

pressure vessels are engineered to be 15%

strong than conventional pressure vessels

of comparable design, First Line claimed.

Instead of relying on traditional polishing and

spray-painting methods, the company opted

to inject colour into the fibreglass resins, thus

eliminating paint peeling issues and reduces

fatigue damages and deformations of the

RO pressure vessels due to the course of

operations.

Moreover, the reduced reliance on chemicals

and paints ultimately leads to a more

environmentally-friendly and sustainable

product.

First Line has also introduced new upgrades

and alternations to its current series of FRP

cartridges filter housings with a focus to

enhance user experience. For instance, the

locking mechanism utilises a user-friendly

outer clamp instead of stainless-steel

locking kit segments, and the internal locking

segments for the filter elements have also

been replaced with plastic circlips. The

design of the main fibre reinforced plastic

(FRP) cartridge filter housing is streamlined

to a cylindrical shape, resulting in a lighter,

easier to handle and more cost-efficiency FRP

cartridge filter housing.

First Line has also designed its FRP cartridge

filter skids for cartridges filter housings.

These inlet/outlet flange-connected skids

are designed to be compact, robust, easy

to transport and install, and cost effective. It

allows for customisations and add-ons such

as instrument connections and additional

inlet/outlet ports.

Another products First Line offer are IPSgrooved

couplings and short tubes. These

accessories complement First Line's FRP

products, and are intended for operators'

convenience. For instance, stainless steel

couplings for the RO housings' feed or

concentrate ports as well as plastic couplings

for the cartridge filter housings' inlet/outlet

ports may be provided together with the

main housing product, which simplifies and

expedites the procurement process for the

operator.

ABOUT FIRST LINE

First Line has over 50 years of combined

experience in FRP pressure vessel

engineering with its core engineering

background from the Harbin Institute of

Technology which specialises in the research

and development of polymeric materials,

pressure vessel structure and resin system

design.

EuroTec cartridge

filter skids

EuroTec stainless-steel coupling

specialising in ultrafiltration membranes and

cartridges filters with emphasis on quality,

user experience and cost efficiency.

In 2018, First Line set up a regional sales

office in Singapore as a business expansion

to develop the Asia-Pacific businesses and

support to its customers. Moving forward, the

company seek to look beyond opportunities

to share its technical knowledge, experience

and product innovations.

Evoline 8-inch

pressure vessels

Over the years, First Line has an installed

base of over 350,000 RO pressure vessels

delivered worldwide across six continents

and more than 50 countries covering a range

of industries such as oil and gas, power

generation, electronics, food and beverages,

aquaculture, pharmaceutical, residential,

commercial and municipal sectors for small to

large scale water treatment, desalination and

effluent poshing plants globally.

The company continues to innovate, improve

and expand on its range of products, which

includes RO pressure vessels, FRP cartridges

filter housings, and stainless-steel couplings

as well as their EuroTec filtration business unit

50
---
HOTSEAT WATER & WASTEWATER ASIA | SEPTEMBER/OCTOBER 2021

PIPE COUPLING:

A sustainable solution

for wastewater treatment

Pipe coupling plays a crucial role

in repairing water and wastewater

systems. Particularly, FGR coupling not

only connects pipes made of metals,

such as steel, stainless steel or copper,

but also those made of plastics. It can

be used in any pipe joining conditions.

However, how is this relevant to

sustainability? The way it is used in

wastewater treatment plants is one

example.

an "efficient and economical"

alternative to conventional

pipe joining solutions. This is

particularly important when

continuous interruptions are not

permissible.

The FGR coupling thus

contributes to wastewater

treatment while saving resources

through its reusability. It delivers

"reliable and sustainable" solution

for the transport of wastewater

to treatment plants, and ensure

wastewater is transported through the

pipe without any leakages. Up to 500

FGR pipe couplings can be used in a

single wastewater treatment plant, as it

requires less space than conventional

joining methods.

NORMA FGR pipe coupling from

NORMA Group features adaptability

and flexibility, thus ensuring

connections in water technology. Feed

and return lines are joined quickly,

easily and safely. Other applications

include municipal and private water

supply, cooling and process water in

the chemical industry, power plants and

seawater desalination plants.

NORMACONNECT

FGR FLEX pipe

couplings

The pipes employed in wastewater

treatment plants are exposed to

acidic liquids, and must therefore be

replaced regularly. FGR pipe coupling

is tightened with two screws, and can

thus be used repeatedly – in contrast to

other solutions, no tools and no welding

work is necessary. In addition, without

the necessity of prior pipe alignment

or treatment of pipe ends, it could save

up to 80% installation time, making it

Containerized Plants for

Industrial Effluent Treatment

Smart Water Reuse, balanced between

ecology and economy

High process water quality and

complete water recycling (ZLD)

Modular plant design: available as standalone

solution or upgrade of existing plant

A firm grip on the production factor water

ng@wehrle.asia • www.wehrle.asia

51
---
HOTSEAT

AUTOMATIC

BACTERIAL

CONTAMINATION

MONITORING

– Impacts and

possibilities

New technologies for monitoring of bacterial

contamination are opening up new possibilities that

previously required a great deal of human and financial

effort. The advantages of these new methods are fully

automated measurement, short measurement time,

low cost per measurement, and the resulting high

measurement frequency.

By Wolfgang Vogl

The demand for water of adequate

quality is constantly increasing;

especially in large processes, there

is a need to make them more efficient

and thus more sustainable. Reuse

of water and the development of a

well-functioning circular economy are

the most important building blocks

of a sustainable society of the future.

Many large, but equally small innovative

companies and start-ups are working

with their new technologies to achieve

these goals.

Water and wastewater processes

as well as distribution networks

are increasingly automated and

automatically monitored. Digitalisation

is also gaining ground in the water

industry. Large units are simulated using

digital twins to ensure efficiency and

safety even in exceptional situations.

Both processes and simulations require

reliable input, relevant measurement

data, to work efficiently or to map

all relevant parameters reliably and

correctly.

AT THE RIGHT TIME

The new technologies for automatic

measurement of bacterial contamination

have come at just the right time.

Currently, there are various suppliers

that use different approaches to provide

the microbiological dimension of water

quality in near real time. Each technology

has its advantages and disadvantages,

and should be used accordingly. This,

of course, also applies to the traditional

methods of microbiology, which

have their fixed place in compliance

monitoring, but are not suitable for

real-time applications – operational

monitoring, process control, and early

warning.

VWMS – COLIMINDER

Vienna Water Monitoring Solutions

(VWMS) started to develop devices

for automatic online measurement of

bacterial contamination of water in

2010, and in 2014, the first prototypes of

the ColiMinder devices were installed in

the field.

The measurement technology of the

ColiMinder is based on the direct

measurement of the current metabolic

activity of the target organims, the

so-called enzymatic measurement

approach. This measurement approach

therefore provides a result that directly

addresses the issue on bacterial

contamination, because the goal is to

obtain a measurement signal from living

organisms. Moreover, the enzymatic

method is the only such measurement

approach that is able to specifically

measure the contamination of water

with certain microorganisms.

Equipped with the appropriate

reagents – for example, to measure E.

coli specific enzymatic activity – the

instrument is capable of measuring

the level of faecal contamination. This

measurement approach is therefore

compatible with the concept of indicator

organisms, which traditionally forms

the basis of microbiological quality

assurance.

For many applications, the ability to

measure specific target organisms

is a basic requirement. Measuring

the degree of faecal contamination

52
---
WATER & WASTEWATER ASIA | SEPTEMBER/OCTOBER 2021

production and, at the same time, to monitor

bathing water quality in these water bodies.

ColiMinder Arthur monitoring drinking water production in a municipal drinking water plant

of a sample is a pre-requisite for making water supply or those responsible for

statements about the quality of surface waters bathing water, as well as industry.

or for determining the necessary disinfection

intensity in wastewater treatment plants. In Hong Kong, for example, a device is

monitoring the effluent from Stonecutters

PARAMETERS AND ACCURACY

Island Sewage Treatment Works operated

The device is robust and has the ability to by the Drainage Service Department since

manage particles or suspended solids; the 2017. The Water Supply Department in

influence of turbidity on the measurement Hong Kong uses the ColiMinder to monitor

result is automatically eliminated. The oldest the quality of the produced drinking water.

instruments have been running 24/7 since

2014, and maintenance requirements are low. Both the City of Paris and Eau de Paris

Reagents for measuring E. coli, enterococci, are using several ColiMinder units for

coliform bacteria and for total microbiological monitoring bathing water quality in the

activity are currently available as target Seine River and other urban waters,

parameters.

especially in view of the 2024 Summer

Olympics; a ColiMinder will also monitor

In terms of accuracy, the enzymatic method parts of the drinking water production in

is not inferior to the other technologies; on the future.

the contrary, according to a comparative

study on the measurement of microbiological Drinking water utilities such as Unitywater

contamination of drinking water under real and Bathurst Council in Australia, as well

conditions, the ColiMinder was the only device as several Canadian cities in the province

capable of detecting 100% of all contaminants. of Québec, have installed ColiMinder

equipment to monitor raw water extracted

APPLICATIONS

from surface water for the drinking water

Currently, approximately 50 ColiMinder units

are running at customers from New Zealand

to South Africa to the US and Canada. The

application where ColiMinder units are already

installed range from wastewater treatment

plant effluents to mineral water production,

and even the pharmaceutical industry.

ColiMinder is of particular importance in the

beverage industry, where it is already used

by manufacturers such as Nestlé Waters

or Romaqua. In the production of bottled

water, the technology is used in several ways.

On the one hand, the short measurement

time eliminates the need to wait for days

for laboratory results before products can

be dispatched, and on the other hand, the

devices provide explicit measurement results

on the basis of which it can be decided

whether the bottling line is still clean and

production can continue or whether it must

be stopped to carry out a cleaning-in-place

(CIP) process. This can extend production

time and reduce CIP costs, making the

production process more efficient and

sustainable.

There are a multitude of other applications,

in all closed systems such as cooling

circuits, process water, or for sustainable fish

production in Recirculating Aqua Cultures,

where it is crucial to efficiently control the

microbiological quality of the water.

The applications for rapid automatic

measurement of microbiological quality are

therefore almost limitless. The first steps

have been taken and the direction is right.

Next steps into a sustainable future will

follow, the ColiMinder and its team try to

make their contribution.

Wolfgang Vogl is founder and CEO of Vienna Water

Monitoring Solutions (VWMS).

The customers include several research

institutes in New Zealand, Japan, Germany,

and Canada, but also governmental utilities in

the field of wastewater treatment and drinking

E. coli bacteria under the microscope

53
---
Singapore International Water Week 2021

Online and Singapore International

Water Week 2022

NEWSLETTER

OF THE

SINGAPORE

WATER

ASSOCIATION

BRINGING

A NEW VIBRANCY

TO SINGAPORE'S

GROWING

WATER INDUSTRY

SIWW2021 Online

Due to international travel restrictions, Singapore International Water

Week 2021 (SIWW2021) took place as a fully virtual event from 21 Jun-2

Jul 2021. This online event was attended by almost 5,000 water leaders

and experts from 91 countries and regions, featured 125 sessions covering

themes that span the entire urban water cycle, alongside a virtual expo

with 124 international exhibitors and six participating pavilions.

As a strategic partner, the Singapore Water Association (SWA) organised

the Singapore Pavilion at the virtual expo with 17 participating SWA

member companies. Chew Men Leong, president, and Tan Cheng Guan,

immediate past president of SWA, also participated as virtual panel

members during the two high-level plenaries at SIWW2021 Spotlight on

21 Jun 2021. SWA also co-organised a virtual two-day training programme

with SIWW on the topic Smart Water Management Using IoT and AI/

Machine Learning during the event.

SIWW2022 will be held next year from 17-21 Apr 2022 at the Sands Expo

and Convention Centre. As the organiser of the Singapore Pavilion at the

Water Expo, SWA invites our members to sign up for your choice booth at

the Pavilion early. The Pavilion is currently 80% booked. Lead IFM funding

is available for participating exhibitors.

To stay connected on the latest updates on SIWW, visit www.siww.com.

sg, or follow SIWW on LinkedIn.
---
[Webinar] Membrane Aerated Biofilm Reactor (MABR) Smart-Product-Solutions

Jointly organised with Fluence Corporation

3 Jun 2021, Complimentary, Webex

Gilad Yogev, senior product manager of

MABR products at Fluence Corporation,

shared with 75 attendees on Fluence's

MABR technology to treat the wastewater

in a more efficient and cost-effective way

by innovative aeration process, including

nitrification and denitrification. Fluence

has not only owned wide-range of MABR

configurations, they would also like to

share the experience on many MABRbased

wastewater treatment projects in

China, US, Israel, Europe, South East Asia,

and more.

[Live] Sharing on PUB's R&D Focus

Areas and Upcoming Initiatives

10 Jun 2021, Complimentary, Webex

The sharing session by Gu Yan, division head of tech scanning and

partnership, tech department, PUB, shed light with 116 attendees

on PUB's Technology Roadmaps, the new R&D focus areas including

waste reduction and resource recovery, and decarbonisation; and

upcoming initiatives in sourcing innovation and partnerships, such

as upcoming grant calls, and global innovation challenges.

[Webinar] IWA & SWA – Sustainable Water Solutions: Efficiency in

Wastewater Treatment Technologies

Jointly organised with International Water Association

16 Jun 2021, Complimentary, Webex

Singapore Water Association (SWA) and International Water

Association (IWA) co-organised webinar Sustainable Water

Solutions: Efficiency in Wastewater Treatment Technologies

on 16 Jun 2021 was attended by more than 90 participants.

Vivien Seong, executive director for SWA, gave an overview

of SWA activities while Dr Li Hong, Asia and Oceania regional

director of IWA, presented IWA updates followed by technology

presentations by Mattenplant, Century Waters, Soutech

Technology, and Marche Polytechnic University.

Co-Organised by:

Sustainable Water Solutions:

Efficiency in Waste Water Treatment Technologies

enquiry@swa.org.sg

T: (65) 6515 0812

Scan/Click

to Register

Time (SGT)

Presenting Companies:

Agenda

3:00 pm Opening & Housekeeping by SWA

3:05pm

3:10pm

3:15pm

3.25pm

3.35pm

3.45pm

3.55pm

4.10pm

Welcome Address by SWA

Welcome Address by IWA

Sharing by Mattenplant Pte Ltd (Singapore)

Sharing by Century Water Systems &

Technologies Pte Ltd (Singapore)

Sharing by Soutech Technology

Development Group (China)

Sharing by Marche Polytechnic

University (Italy)

Q & A

Closing by SWA
---
SWA Industrial Water Series: NIKE Water Programme

Jointly organised with Nike Inc, Singapore

9 Jul 2021, Complimentary, Webex

To explore water opportunities in industrial projects, Singapore

Water Association (SWA) hosted a sharing session by Nike

Singapore on Friday, 9 Jul 2021, at 3pm. Paul Tan, water

deployment director at Nike Singapore, shared on Nike Water

Programme and partnering opportunities. Tan has more than 25

years of working experience in the area of water management

providing managerial, technical, strategic direction in water and

wastewater treatment globally across different industries.

SWA/SgWX Water Utilities Series: Severn Trent, UK:

Overcoming Climate Change and Net Zero Challenges

27 Jul 2021, Complimentary, Webex

The 8th edition of SgWX Water Utilities Series on 27 Jul 2021 was

moderated by Robin Wong, council member of SWA and regional

director of Royal Haskoning DHV. Providing water and wastewater

services to eight million people in the UK, Severn Trent is focused

on the challenges of climate change and the ambition to reach

Carbon Net Zero by 2030. This webinar introduces Severn Trent, its

regulatory context and how its innovation framework addresses

these goals. The speakers were Richard Smith, wastewater

innovation architect; and Keiron Maher, water innovation

architect. Both of them have more than 30 years' experience in

the water industry.

SWA Industrial Water Series: Breakfast Talk with Kimberly-Clark:

The Water Loop – Towards Water

Stewardship and Security

Jointly organised with Kimberly-Clark

29 Jul 2021, Complimentary, Webex

Vetrivel Dhagumudi, global programme leader of Kimberly-

Clark, shared on the firm's Water Loupe Programme and its

sustainability efforts towards water stewardship and security.

Kunal Shah, council member of SWA and managing director of

Anaergia, moderated a Q&A session with great insights on water

sustainability plans beyond Singapore.
---
SWA WELCOMES NEW MEMBERS

(joined in May and Jul 2021)

ORDINARY MEMBERS

1. Environmental and Public Health International (Chicago)

2. Hitachi Aqua-Tech Engrg Pte Ltd

3. Ifm Electronic Pte Ltd

4. Rockwell Automation S.E.A. Pte Ltd

5. Wilo (Singapore) Pte Ltd

ASSOCIATE & INSTITUTE

1. Biokube Asia Pacific Pte Ltd

2. IMERYS Aluminates Asia Pacific P/L

3. Nanostone Water Inc. Singapore

4. Republic Polytechnic

5. Shell Chemicals Seraya Pte Ltd

6. SGLab Pte Ltd

7. Tridon Enterprise Pte Ltd

INDIVIDUAL MEMBERS

1. Mr Daniel Martens

2. Ms Yeo Keng Suan

2021 EVENTS CALENDAR

This year will be bustling filled with water shows,

networking events, knowledge sharing sessions and

webinars. We have an exciting and interesting lined

up of water series with PUB, Singapore's national

water agency. Download from https://www.swa.org.

sg/2021-events-calendar/.

INTERESTED TO JOIN SWA?

We welcome all organisations who are actively

involved and interested in the water and

wastewater industry to join Singapore Water

Association as either Ordinary, Associate or

Institutional member.

Sign up at https://www.swa.org.sg/membership/

sign-up-online
---
ON OUR RADAR WATER & WASTEWATER ASIA | SEPTEMBER/OCTOBER 2021

TSURUMI INTEGRATES

IE3 MOTOR to submersible

Tsurumi Avant is the latest product brand

developed by Tsurumi with an eye on

the future of the pump and wastewater

treatment equipment markets. Paired

with an IE3 motor, the Tsurumi Avant

MQ-series is designed to improve overall

efficiency, which, for users, translates into

energy savings.

sewage pumps

Submersible sewage

pumps MQ-series

A look into the closed

jacket cooling system

of the Tsurumi Avant

MQ-series

The MQ-series comes in a diverse lineup

with discharge bores of 50-600mm,

motor outputs of 1.8-355kW and five

types of impellers – Open Channel,

Chopper, Vortex, Grinder or High Head.

The pump can be customised accordingly

to the user's needs, from material parts,

cable type and length, to protective and

monitoring sensors, paint and withstand

high temperature liquids.

Pumps can also be selected according

to the place of installation, between a

wet version engineered for submersing in

water and a dry version built with

a closed jacket cooling system

with internal recirculation that

enables dry-running operation

indoors or outside of tanks.

Particularly for the dry version of

the MQ-series, the system is able

to cool the motor by circulating a waterglycol

mix in a closed circuit. This coolant

is circulated within the circuit where it

remains separated from sewerage via a

compact axial flow impeller mounted on

the shaft, thus addressing the issue on

wastewater infiltrating the oil chamber if

the mechanical seals become worn.

Tsurumi has also simplified the process of

selection a pump with the Tsurumi Avant

Selection System (TASS), where operators

can search and view pumps online. The user

can start by selecting their duty point, then

click their way through the latest product

specification, performance curves, and data

sheets like dimensions and motor data.

The Tsurumi Avant brand embodies

Tsurumi's philosophy of "being water- and

people-friendly". With energy savings of

the MQ-series and the paperless ordering

of the TASS app, Tsurumi is taking steps

to conserve resources and help realise

sustainable lifestyles and business

practices. Understanding how water is

an inseparable part of human life and

endeavour, Tsurumi remains committed to

supplying products and technologies that

enable users to protect and control this

valuable resource.

58
---
ON OUR RADAR WATER & WASTEWATER ASIA | SEPTEMBER/OCTOBER 2021

ZWEEC REVOLUTIONISES

identification and counting

of planktonic algae

Algapro 21L, the online version for onsite

phytoplankton monitoring

ZWEEC Analytics, a Singapore-based water

technology company, has been developing

technological solutions to address challenges

in the water and environmental sectors. The

company has launched Algapro 20S, an

artificial intelligence (AI) identification and

counting system of phytoplankton, to monitor

water resources and prevent harmful algal

blooms (HABs).

authorities and utility organisations to ensure

the water is safe for the communities.

ZWEEC's Algapro 20S is integrated with deep

learning algorithms and advanced automatic

systems, enabling automatic phytoplankton

monitoring on a large scale and high

frequency. Compared with the traditional

manual methods of phytoplankton monitoring

using the microscope, Algapro 20S shortens

the time to process 15 units of samples to six

hours. This, according to ZWEEC, represents

four times increase in efficiency gains

compared to traditional approaches.

Furthermore, Algapro achieves more than

80% accuracy on phytoplankton identification

and counting, the company claimed. With

Algapro 20S, ZWEEC is confident that

large scale phytoplankton monitoring can

take place "accurately, consistently, and

efficiently" to protect water resources from

phytoplankton contamination.

Algapro 20S has been adopted by the

Yangtze River Authority to monitor China's

waterways. Its deep learning algorithm

has been programmed to identify about

30,000-labelled microscopic images of

phytoplankton belonging to 40 common

genera from the Yangtze River basin.

During the training, the algorithm reached a

detection accuracy of 97% for the test set.

The comparing tests with human expert

microscopic counting results using field

samples showed the differences below 30%

for both the total amount and percentage of

recognised major genera.

The algorithm of Algapro is continuously

developed to further enhancing its accuracy

and efficiency. For instance, ZWEEC

has collaborated with PUB, Singapore's

national water agency, to expand the data

size and genera numbers. ZWEEC has

also developed an online version of the

system, Algapro 21L, which enables onsite

continuous monitoring of phytoplankton.

Moving forward, ZWEEC will also expand

the application of Algapro to monitor

phytoplankton in other areas such as

seawater.

Phytoplankton, or planktonic algae, are the

primary producer in water bodies, and their

quantity, species, and distribution have an

impact on the aquatic ecosystems. Regular

phytoplankton monitoring is an important

means to diagnose and maintain the aquatic

ecosystem's health. It is critical for water

Algapro 20S, the lab version for automatic phytoplankton identification and counting

59
---
SNEAK PEEK WATER & WASTEWATER ASIA | SEPTEMBER/OCTOBER 2021

INDONESIA

INFRASTRUCTURE

WEEK returns this November

Three events, one platform.

Three events – Indonesia Infrastructure

Week, Konstruksi Indonesia, and

Beton Indonesia – will be returning this

2021. The event will be held virtually

from 1-10 Nov 2021 through the

Infrastructure Connect! digital platform

that can be accessed from web and

mobile.

Infrastructure Connect! will retain all

the main features of live exhibitions

and conferences, providing a safe

and efficient platform for companies

and industry professionals to

reconnect with buyers and specifiers,

exchange knowledge, and discuss in a

networking forum.

the infrastructure development

programme, and to be a business

platform for trade professionals

to strengthen their networks and

contacts. It is also dubbed the

"largest" gathering of infrastructure

stakeholders and decision makers

in Indonesia, and offers a complete

ecosystem for the national

infrastructure growth.

Co-located with Konstruksi

Indonesia, an official annual agenda

of Indonesia Ministry of Public

Works and Housing, and Beton

Indonesia – in collaboration with

The Indonesian Association of

Precast and Prestressed Concrete

Companies – AP3I, Indonesia

Infrastructure Week continues to

serve as the event for infrastructure

construction professionals, project

owners and developers, investors

and all relevant stakeholders in

building the future of infrastructure

in Indonesia.

Konstruksi Indonesia is the official

annual agenda of the Ministry of

Public Works and the Housing

Republic of Indonesia, and aims

to be the driver of Indonesia's

construction industry towards

excellence and distinction.

Indonesia Infrastructure Week is an

annual event housed by the Indonesian

Chamber of Commerce and Industry

– Kadin Indonesia to support

60
---
SHOW REVIEW WATER & WASTEWATER ASIA | SEPTEMBER/OCTOBER 2021

SIWW2021

took place from

21 Jun-2 Jul 2021

How will you summarise Singapore

International Water Week (SIWW)

2021 – can you share with us the key

takeaway and feedback PUB has

received from the participants?

Ryan Yuen: SIWW2021 took place

amid very challenging conditions.

With the global pandemic affecting

international travel, we had to pivot the

event to a fully virtual format within a

short duration. While this was our first

time organising the event virtually, we

are very pleased by the strong turnout

of the international water community,

with close to 5,000 attendees from

91 countries and regions.

SIWW2021:

Co-creating water

solutions for the future

The recently-concluded Singapore International Water Week

(SIWW) 2021 explored how innovation can be harnessed to

overcome water challenges in the face of climate change and

in a post-pandemic era. Speaking with Water & Wastewater

Asia, Ryan Yuen, managing director of SIWW and deputy

director, industry and technology collaboration department,

PUB, Singapore's national water agency, sheds insights into

the making of the event a success.

For this year's event, we showcased

innovation, technologies and best

practices in different aspects of urban

water management across our various

programme elements, with a particular

focus on emerging trends and themes

such as digital water, resource recovery,

and climate resilience. The richness and

diversity of the content has gone down

well with our participants, with many

enjoying the opportunity to listen and

learn from the many case studies that

were presented during the 140 hours

of live broadcast. For example, one

of our participants felt that the whole

SIWW programme was meticulously

well-organised, hinging around a portal

which allowed delegates to easily

click between different sessions, view

posters and abstracts, visit the virtual

expo, and set up online meetings.

To ensure that our participants do not

miss out on all the content, SIWW2021

also introduced an on-demand section

on the SIWW website, which allows our

attendees to catch up on the session

recordings at their own time until end of

August.

A few key takeaways came out from the

event. Firstly, despite disruptions from

the COVID-19 pandemic, water utilities

61
---
SHOW REVIEW WATER & WASTEWATER ASIA | SEPTEMBER/OCTOBER 2021

SIWW2021 Spotlight showcased approaches by different stakeholders, and

how embracing an innovative mindset and working collaboratively uncovers

opportunities to achieve water sustainability

A session with the Lee Kuan Yew Water Prize Laureates

remain steadfast in their mission to provide

uninterrupted essential services to the

communities they serve.

Secondly, it is clear that business cannot

continue as usual, and innovation and

new approaches will be required. In this

regard, collaboration and partnership will

be key to shortening the learning curve

and avoiding past mistakes. Adapting to an

uncertain future and to better prepare for

future climate risks will require utilities to

innovate and build stronger collaboration

and partnerships with multi-stakeholders,

tapping on the know-hows of the industry,

learning from the lessons of other utilities,

and building trust with local communities.

Thirdly, sustainability is no longer just a

concept but a key principle that guides how

the water industry and utilities are operating

today. At SIWW2021, we witness a number

of case studies of utilities putting circularity

and sustainable practices in-place. These

include utilities striving to become net zero,

embarking on decarbonisation initiatives,

tapping on renewable energy sources like

solar, and leveraging synergies in the waterenergy-food

nexus.

Also, digital transformation of utilities

is gaining momentum with increased

recognition that digital tools are enablers for

utilities to improve operational efficiencies

and make better informed decisions. There

is a growing plethora of utility case studies

that demonstrate the tangible benefits

of digital transformation, and how they

overcome challenges and barriers to digital

adoption.

Lastly, climate change and rising sea

levels are major threats as they place

constraints on utilities to provide safe

drinking water and sanitation in variable

environmental conditions. We are seeing

an increasing number of utilities that

are climate-proofing their water supply

sources with the adoption of water reuse

technologies that are more efficient

and less energy intensive. We also see

governments and utilities developing

long-term adaptation strategies to

strengthen resilience against extreme

weather events and sea level rise,

similar to what PUB is doing, as the

national coastal protection agency.

For this virtual edition of SIWW, what

are some of the challenges PUB

faced and successfully overcame?

Particularly for the Virtual Expo, how

has this platform enabled exhibitors

to better demonstrate and showcase

their products and solutions?

Yuen: Prior to SIWW2021, we piloted a

two-day online event in November 2020.

That pilot provided many useful insights,

which helped us finetune our offerings

for SIWW2021.

For example, we had to organise the

programme to cater to different time

zones of our international speakers

and delegates, and manage viewer

fatigue. As with any virtual event, the

biggest challenge is replicating the

human-to-human interaction that exists

in physical events. For the SIWW2021

Water Expo, we tried to overcome this

by allowing our exhibitors to display

their solutions via multimedia, write-ups

and downloadable brochures in their

virtual booth. Using data analytics, we

provided information on the visitors

to these booths to allow exhibitors to

conduct post-event follow-ups.

Exhibitors also had the opportunity

to demonstrate their solutions via

some 30 Product and Technology

Showcases which formed part of the

SIWW2021 Online programme. These

sessions were well-received with good

attendance.

In your opinion, how will the MICE

industry evolve in a post-pandemic

era, and what strategies have PUB

developed to adapt to this new

normal?

Yuen: With the onset of the pandemic

in early 2020, it affirmed our approach

to leverage digital tools to organise and

better present SIWW in order to create

greater values to our stakeholders and

extend SIWW's reach.

The pilot in November 2020 and the fully

virtual SIWW in June 2021 validated

our desired outcome and enabled us

to reach out to a new segment of the

international water community who

had never attended SIWW previously.

Post-pandemic, it is likely that we will

see many MICE events retaining a

digital online presence even with the

resumption of physical shows. The

same is likely to apply for the next

SIWW, which will take place next year

from 17-22 Apr 2022.

62
---
WHAT'S NEXT WATER & WASTEWATER ASIA | SEPTEMBER/OCTOBER 2021

EVENT CALENDAR

2021 AND 2022

SEPTEMBER 2021

20 - 24 Sep

Malaysia International Water Convention

2021 (Virtual Edition)

OCTOBER 2021

14 – 16 Oct

Pumps & Valves Asia 2021 (Virtual Edition)

16 – 20 Oct

Water Environmental Federation's

Technical Exhibition and Conference

(WEFTEC) 2021

Chicago, USA

NOVEMBER 2021

3 – 5 Nov

Indonesia Infrastructure Week 2021

Jakarta, Indonesia

10 – 11 Nov

Asia Smart Water Utilities 2021

Singapore

10 – 12 Nov

Vietwater (Ho Chi Minh) 2021

Ho Chi Minh, Vietnam

DECEMBER 2021

8 – 10 Dec

Water Philippines 2021

Manila, Philippines

JANUARY 2022

17 – 19 Jan

Water Future Energy Summit (WFES)

Water 2022

Abu Dhabi, UAE

FEBRUARY 2022

22 – 23 Feb

World Water – Tech Innovation Summit

2022

London, UK

MARCH 2022

29 – 31 Mar

Asia Water 2022

Kuala Lumpur, Malaysia

APRIL 2022

4 – 8 Apr

ACHEMA 2022

Frankfurt, Germany

17 – 21 Apr

Singapore International Water Week 2022

Singapore

MAY 2022

16 – 18 May

Global Water Summit 2022

Madrid, Spain

30 May – 3 Jun

IFAT Munich 2022

Munich, Germany

AUGUST 2022

4 – 6 Aug

LANKAWATER'22

Colombo, Sri Lanka

SEPTEMBER 2022

6 – 8 Sep

CAMWATER 2022

Phnom Penh, Cambodia

8 – 10 Sep

DANANG WATER

Da Nang, Vietnam

11 – 15 Sep

IWA World Water Congress & Exhibition

2022

Copenhagen, Denmark

14 – 16 Sep

Thai Water2022

Bangkok, Thailand

14 – 16 Sep

Pumps & Valves Asia 2022

Bangkok, Thailand

OCTOBER 2022

9 - 13 Oct

IDA World Congress

Sydney, Australia

20 – 22 Oct

LAOWATER'22

Vientiane, Laos

NOVEMBER 2022

3 – 5 Nov

MyanWater 2022

Yangon, Myanmar

26 – 28 Jan

InterAqua 2022

Tokyo, Japan

*Due to the COVID-19 pandemic which has resulted in closed

borders and travel restrictions, please check the events'

websites for the latest updates and changes.

63
---
ADVERTISERS' INDEX WATER & WASTEWATER ASIA | SEPTEMBER/OCTOBER 2021

INDEX OF

ADVERTISERS

ADVERTISER

PAGE

ADVERTISER

PAGE

DANFOSS MALAYSIA SDN. BHD. 64

OVARRO CONNECTING TECHNOLOGIES

IFC

FINETEK 13

SEKO UK LTD 45

GUANGDONG LESSO TECHNOLOGY INDUSTRIAL CO., LTD

OBC

TIP BIOSYSTEMS 21

HARBIN FIRSTLINE ENVIRONMENT TECHNOLOGY CO., LTD 41

WATER & WASTEWATER ASIA

1, 5, IBC

LACROIX SOFREL 9

NANOSTONE WATER, INC. 35

WEHRLE UMWELT GMBH 51

XYLEM JAPAN 27

Fresh water produced at

highest efficiency

Water creates life. Water is vital for human beings, wildlife

and nature. But access to fresh, clean water is often not an

option. Seawater reverse osmosis is a sustainable and

efficient way of producing fresh water.

With the Danfoss SWRO range of APP pumps and iSave

energy recovery devices you get the market's most energy

efficient, and sustainable solution.

See how tomorrow's solutions are ready today.

Visit desalination.danfoss.com

64

Girl drinking - vertical_1.indd 1 29-03-2021 09:07:23
---
FOLLOW US

@waterwastewaterasia