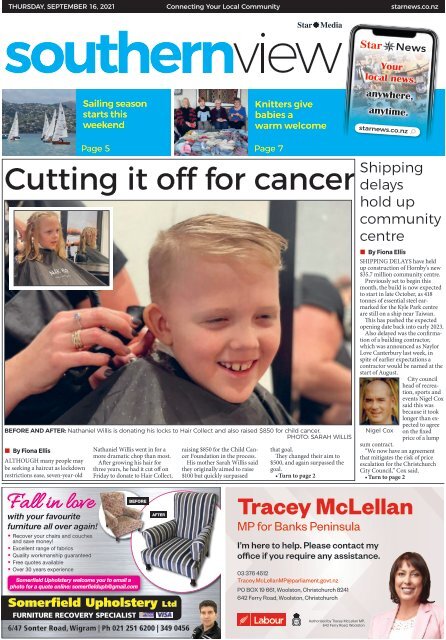 Southern View: September 16, 2021
Create successful ePaper yourself
Turn your PDF publications into a flip-book with our unique Google optimized e-Paper software.
THURSDAY, SEPTEMBER 16, 2021

Connecting Your Local Community

starnews.co.nz

Sailing season

starts this

weekend

Knitters give

babies a

warm welcome

Your

local news.

anywhere,

anytime.

Page 5

Page 7

Cutting it off for cancer

BEFORE AND AFTER: Nathaniel Willis is donating his locks to Hair Collect and also raised $850 for child cancer.

PHOTO: SARAH WILLIS ​

• By Fiona Ellis

ALTHOUGH many people may

be seeking a haircut as lockdown

restrictions ease, seven-year-old

Nathaniel Willis went in for a

more dramatic chop than most.

After growing his hair for

three years, he had it cut off on

Friday to donate to Hair Collect,

raising $850 for the Child Cancer

Foundation in the process.

His mother Sarah Willis said

they originally aimed to raise

$100 but quickly surpassed

that goal.

They changed their aim to

$500, and again surpassed the

goal.

• Turn to page 2

Shipping

delays

hold up

community

centre

• By Fiona Ellis

Nigel Cox

SHIPPING DELAYS have held

up construction of Hornby's new

$35.7 million community centre.

Previously set to begin this

month, the build is now expected

to start in late October, as 418

tonnes of essential steel earmarked

for the Kyle Park centre

are still on a ship near Taiwan.

This has pushed the expected

opening date back into early 2023.

Also delayed was the confirmation

of a building contractor,

which was announced as Naylor

Love Canterbury last week, in

spite of earlier expectations a

contractor would be named at the

start of August.

City council

head of recreation,

sports and

events Nigel Cox

said this was

because it took

longer than expected

to agree

on the fixed

price of a lump

sum contract.

"We now have an agreement

that mitigates the risk of price

escalation for the Christchurch

City Council," Cox said.

• Turn to page 2

Fall in love

with your favourite

furniture all over again!

• Recover your chairs and couches

and save money!

• Excellent range of fabrics

• Quality workmanship guaranteed

• Free quotes available

• Over 30 years experience

before

Somerfield Upholstery welcome you to email a

photo for a quote online: somerfielduph@gmail.com

after

Somerfield Upholstery Ltd

FURNITURE RECOVERY SPECIALIST

6/47 Sonter Road, Wigram | Ph 021 251 6200 | 349 0456

Tracey McLellan

MP for Banks Peninsula

I'm here to help. Please contact my

office if you require any assistance.

03 376 4512

Tracey.McLellanMP@parliament.govt.nz

PO BOX 19 661, Woolston, Christchurch 8241

642 Ferry Road, Woolston, Christchurch

Authorised by Tracey McLellan MP,

642 Ferry Road, Woolston
---
2 Thursday September 16 2021

Latest Canterbury news at starnews.co.nz

SOUTHERN VIEW

Delays with new Hornby

community centre build

• From page 1

The budget for the build

had not changed, the council

confirmed.

Cox said the start of the build

was dependent on the arrival of

the 147 steel piles, which were

18 metres long and weighed 158

kilograms per metre.

The city council ordered them

in early May, but they were held

up by Covid-19 pandemic-related

shipping changes.

"This delay is typical of the

current global supply and

shipping challenges facing the

construction sector," Cox said.

He understood the piles were

loaded into a ship in Taiwan last

week.

Earthworks were completed

at the site over winter, so Naylor

Love Canterbury would be able

to "hit the ground running," Cox

said.

Examples of the construction

company's handiwork included

the EA Networks Centre in

Ashburton and the Selwyn

Aquatic Centre in Rolleston, the

Ballantynes redevelopment and

the Spark Square building.

"I am sure many in the

Kōrero mai | Have your say

community will watch progress

on the building with great

interest."

A range of community and

recreational spaces would be

accommodated within the

3600sqm centre, including a

library, a creative activities room,

a lane pool, a learn-to-swim

pool, a toddlers' wet play area, a

spa pool and a customer services

zone.

The new Hornby centre would

Help create your

community's future

We want your feedback on the

Draft Ōtautahi Christchurch Community Strategy

The strategy is our commitment to how we will work with others

to build a healthy, happy and resilient Christchurch.

Come and talk to us at one of our drop-in sessions:

be a "fantastic asset" for the

community, Mr Cox said.

The city council is currently

seeking

feedback

on what

facilities and

programmes

people would

like the centre

to offer.

Submissions

Marc Duff are open until

COMING SOON:

The Hornby

Centre, with a

pool and library,

is set to open in

2022. ​

October 1.

Greater Hornby Residents

Association chairman Marc Duff

said the pandemic was a time

when people needed to be patient

about delays.

"It just means we're going to

enjoy it more," Duff said of the

upcoming facility.

"I'm appreciative negotiations

take time, if it gets a better

deal [and] leads to savings,

that's awesome."

Double

donation

• From page 1

"Every time a donation

or message came through

[Nathaniel's] face lit up," she said.

"My brother had cancer when

he was a child, so anything we

can do to help." Fortunately, her

brother had recovered and the

family remained close.

Two years ago, when

Nathaniel's hair started getting

long, Sarah and her husband

asked him if he wanted to grow

his hair to 25 centimetres, the

minimum length for a donation

accepted by Hair Collect.

Nathaniel's hair was about

30cm long when it was cut for free

by Anna Reed of Halswell salon

BYond The Fringe on Friday.

The chop was planned to

take place last week, in time for

the Child Cancer Foundation

fundraiser Wig Wednesday.

Often a school event, Wig

Wednesday encourages

participants to "wear a wig,

shave your head or style a funky

hairdo." It was not widely held

last week due to the Covid-19

pandemic restrictions.

Nathaniel wanted to make

someone happy with his donation

and was excited to get his hair cut,

he said. He was also pleased to

have short hair again.

Megan Woods

MP for Wigram

We are renovating!

My office will be undertaking

renovations starting Monday 19 th

July. My team and I will be working

remotely during this time.

If you need any assistance please get in

touch at megan.woodsmp@parliament.

govt.nz or 03 338 6347

/MeganWoodsWigram

@megan_woods

/megancwoods

Thursday 23 September Wednesday 29 September

4-6pm

4-6pm

Woolston Community South Christchurch

Library

Library

689 Ferry Road 66 Colombo St

Woolston

Cashmere

Drop-ins only available in COVID-19

Alert Level 2 or lower. Please follow

Government guidelines on mask

wearing and contact tracing.

Consultation runs from

10 September—25 October

ccc.govt.nz/haveyoursay

Whoopee

We are Open

03 322 4548 | Easy Parking

17 Lillian Street, Halswell

www.maxwellfashion.co.nz

Open Mon-Fri 9.30am - 5.00pm

Saturday 10.00am - 1.00pm

LAYBY WELCOME

Authorised by Hon Megan Woods MP,

Parliament Buildings, Wellington

UNDER NEW MANAGEMENT

• W.O.F • Servicing

• Repairs • Batteries

• Tyres • Clutch • Cambelt

• Diagnostic Equipment

YOUR LOCAL

AUTOMOTIVE SHOP

287 Hoon Hay Road

Christchurch

Open Mon-Fri

Ph. 982 0405

Email: hoonhayauto@gmail.com
---
SOUTHERN VIEW Latest Canterbury news at starnews.co.nz

Thursday September 16 2021 3

Water contamination sites highlighted

• By Fiona Ellis

THREE AREAS have been

highlighted as potential

stormwater contamination sites

in a Haswell-Hornby-Riccarton

Community Board submission

to the city council.

The board was among 29

submitters on the draft stormwater

management plans for the

Halswell and Heathcote Rivers.

Adjacent to the Owaka Pit on

Wilmers Rd, a

former stormwater

retention

basin was one

of the three

sites the board

recommended

for early

Mike Mora

investigation

in the board's

Halswell River submission.

"It has been filled in now but

will likely still be contaminated,"

the submission stated.

Catering to the nearby industrial

area, the stormwater

retention basin by the intersection

of Halswell Junction Rd and

Springs Rd was also listed.

The site of a former timber

treatment plant by the same

intersection was the final area of

concern.

Chairman Mike Mora said

the plans were important to the

board because the headwaters of

both rivers were in its area.

The impact of high levels of

residential development also

made it an important issue.

"We've just got to keep the water

quality as high as possible,"

Mora said.

The draft plans are the first of

seven being prepared between

2020 and 2023 for the district's

different stormwater catchments.

They set out the ways in which

the city council will meet the

requirements of its 25-year Comprehensive

Stormwater Network

Discharge Consent which was

granted by Environment Canterbury

in 2019.

The board's submissions

supported the goals outlined in

the plans and recognised the

potential for transport changes

and cycleways to result in fewer

vehicles on roads.

This would mean would less

contamination, particularly

FEEDBACK: The city

council asked for

public submissions

on stormwater

management, such

as the Sparks Rd

stormwater flood

collection basin.

PHOTO: NEWSLINE ​

of copper and zinc, which

stormwater picked up from

roads.

Although no dates had been

set to progress the plan, the city

council said it was likely to go to

its three waters infrastructure

and environment committee in

October for endorsement.

People and Place

– our stories revealed

Saturday 9 October – Monday 25 October 2021

Celebrate and explore our rich and diverse heritage,

with over two weeks of walks, open days,

exhibitions, performances and more!

ccc.govt.nz/heritagefestival
---
4 Thursday September 16 2021

Latest Canterbury news at starnews.co.nz

SOUTHERN VIEW

FREE

Love Your Style

Workshops!

with Joanna Giles

DATES: Wednesday 22

September & Saturday

2 October

TIME: 1pm – 1.45pm

WHERE: Tenancy next

to Life Pharmacy

Bookings essential, limited to 20

guests per workshop. Book through

the Centre Management office on

03 332 4221.

Each guest will receive

a free goodie bag!
---
SOUTHERN VIEW Latest Canterbury news at starnews.co.nz

Thursday September 16 2021 5

Dinghy races start yachting season

OPEN DAY: The new Pleasant Point Yacht Club facilities will host a dinghy race meeting this weekend. Senior boats compete in one of the many races

the club holds each sailing season out on the estuary.

• By John Cosgrove

TACKING through Covid-19

regulations ensures a fair wind

for the Pleasant Point Yacht Club

as it starts sailing this weekend.

On Saturday, the club will

launch its 101 st season on the

estuary.

Club committee member Nigel

Humphreys said they will be out

on the estuary from the South

New Brighton Park as they host

an open race for dinghy sailors.

"Despite Covid we'll be out

there, but because of the delay

in opening by many other clubs

in the district we are expecting

a slightly lower turnout than in

previous years."

The race starts at 2.40pm and

Humphreys said spectators and

those interested in sailing are

welcome to come along.

"Our 101 st season is going to

be a good one as we have new

boats and facilities on hand,

they are great and make a vast

improvement from five years in

containers."

He credits the new facilities

and the heightened interest

in sailing due to the recent

America's Cup and Olympics

as the reason for the growing

interest in sailing.

"Some come for the social

side and some come to race, to

help them all we will be starting

junior and adult Learn to Sail

programmes in October."

The junior course will run

during the school holidays from

October 11 through to October

15, while the adult learn to sail

course will run from October 17

through to November 13.

The courses follow the

Yachting NZ coaching

programme and will be run

by the club's learn to sail coordinators

Dan O'Sullivan

and Brett Hawkes, with

assistance of experienced club

members.

No experience is needed to

take part and the club will

supply yachts and life jackets

… but recommend suitable

footwear and warm clothing.

My favourite

kind of fast

food!

Choose delivery to your

door or Click & Collect

with St Martins
---
6 Thursday September 16 2021

Latest Canterbury news at starnews.co.nz

SOUTHERN VIEW

COmpARE OUR pRiCEs AnYwhERE

BUY LOCALBUY BETTER!

ChEApER FinAnCE

And nO dEpOsiT

TRAdEs wELCOmE

Locally owned with

10,000+ sales since 1989

Investme

phOnE Us,

CALL in

OR wE CAn COmE

TO YOU!

Affordable Classic Cars

Investment

$19,990

$26,990

$24,990

Collectible

2006 mERCEdEs sL 350

Sports convertible. From $100 pw

mAkE An

OFFER

2007 mERCEdEs sL 350

Convertible sports coupe, low kms, as new.

Investment assured. From $110 pw

mAkE An

OFFER

Gorgeous

Collectible

2002 jAgUAR x-kR 100

Supercharged future classic. 68,000kms, chipped

420+HP, low volume, 20" alloys. From $97 pw

$4,990 $5,990

Collectible

Collectible

1974 dAimLER sOvEREign 1971 jAgUAR 420 g 2001 mAzdA mpv v6 2007 nissAn mARCh

4.2, original paint, red leather interior. Auto, 4.2 triple carb, E-Type engine, low miles,

1 owner ex Australia.

7 seater, auto, 158,000kms. Fully auto, 1200cc, 103,000kms.

$4,990

$5,990

$4,990

2004 vOLvO s80 T6

2.8 twin turbo, 123,000 kms, leather interior.

Collectible

1999 dAimLER xj 40

Auto, very tidy condition, hi spec 3.6, 120,000kms!

From $32 pw

2006 pEUgEOT 407 hdi wAgOn

2.0lt, Diesel, Auto, Sun roof, roof rails,

turbo diesel, towbar, leather interior. From $28 pw

$8,990

$7,990 $6,990

Reduced!

2005 Bmw 745Li sEdAn

4390cc Petrol, luxury limousine BMW.

From $40 pw

2007 hOLdEn CApTivA Lx 4wd

7 seater, leather, 3.2 litre petrol V6.

From $40 pw

Compare!

2006 COLT pLUs

Only 96,000kms, auto hatch.

From $36 pw

NOW AT 455 BLENHEIM ROAd, CORNER CURLETTS ROAd PHONE MIKE 021 325 517 ANYTIME

ALL vEHICLES NOW UNdER ONE ROOf IN OUR TEMPORARY WAREHOUSE
---
SOUTHERN VIEW Latest Canterbury news at starnews.co.nz

Thursday September 16 2021 7

Knitters give babies a warm welcome

FOUR WOMEN from

Ferrymead Rotary have knitted

almost 100 garments for babies

born at the Christchurch

Women's Hospital this year.

Pat Edward, Debbie Woolf,

Kathryn Tovgaard and Barbara

Crooks began the project about

four months ago, although the

Ferrymead Rotary group has

been providing knitted clothing

to the hospital for some time.

Kathryn has personally been

knitting for the hospital for five

years.

Barbara said they intensified

their efforts this year after

receiving a call for help from the

hospital.

All babies born at the hospital

are given a woollen hat at birth,

while woollen singlets, matinee

jackets and booties are available

for mothers to take home.

So far, the group has knitted

more than 60 woolly hats, with

Pat heading the count.

The hats produced are a variety

of different sizes and colours.

Barbara said Ferrymead

Rotary has funded some of the

wool, but all of the knitters' time

is given voluntarily.

They estimate up to seven

hours goes into making each hat.

Most of the knitting has been

done individually, although the

four have got together from time

to time to share wool and

swap notes.

Acknowledging Rotary clubs

used to be men only, Kathryn

said: "People don't necessarily

connect Rotarians with knitting

but anything is possible."

She said being a part of

a Rotary club was a family

tradition.

"One thing I said a long time

ago was that I always wanted

to help out in the community

throughout my life," she said.

"A group of people can do

so much more than just an

CHAMPION KNITTERS:

Ferrymead Rotary's Kathryn

Tovgaard, Debbie Woolf, Pat

Edward and Barbara Crooks

have knitted almost 100

garments for new babies,

while Pat tries on a hat for

size (above).

individual."

Ferrymead Rotary community

director Debbie Woolf said the

club is also working on making

singlets and booties for Plunket

and supplying the Methodist

Mission with bedding, jerseys,

hats, scarves, gloves and shoes.

The Mission gives these items,

donated or sourced by Rotary

members, to homeless people.

For more information about

Ferrymead Rotary and its

community projects, phone

secretary Kathryn Tovgaard

on 384 9485.

Do you want to know the

secret to saving money

on your power bill?..

It's having a healthy heat pump

Te Ara Koropiko West Spreydon School

Out of Zone Enrolment Notification:

There are 20 places for enrolment of out of zone

students in the 2022 year

• To apply, please complete the out of zone ballot

application found online on our website at

http://www.westspreydon.school.nz/enrolment.html

• All applications to be emailed to p.a@westspreydon.school.nz

• Application deadline is 3:00pm Friday 15 October 2021

• The ballot will be drawn on Wednesday 20 October 2021

• Any unsuccessful applicants may be added to a waitlist for

future ballots if requested

(03) 338 8184 | 1 47 Lyttelton Street, Spreydon | admin@westspreydon.school.nz

Attitude, Adventure, Achievement

Airify Christchurch is

committed to ensuring

your home has a healthy

and effective heat pump,

and we're proud to offer

our PREMIUM service for

just $75!

Our Premium Heat Pump

Clean & Service includes

the latest injection system

technique to ensure your

heat pump is properly

sanitised and maintained. Our unique system cleans your

heat pump's coils of blockages, dust, bacteria and mould with

industry approved disinfectant and anti-bacterial solutions.

Photo credit to Fazakerley Patterson Photography

We offer a discount on additional units when you have them

serviced during the same visit.

Book your clean today by

calling our friendly team

on 0800 24 74 39 or going

to www.airify.co.nz
---
8 Thursday September 16 2021

Latest Canterbury news at starnews.co.nz

SOUTHERN VIEW

Quilters share their colourful creations

• By Samantha Mythen

THE BAYS Harbour Quilting

Group is exhibiting its spring

collection at Stoddart Cottage in

Diamond Harbour throughout

September.

Marilyn Hopkins has been

a member of the group for a

decade, with 10 years' of her

creations on display.

She said the group of nine

started with just a few friends,

quilting in the Diamond

Harbour hall.

But the building was "too big

and too cold" so the friends

moved their quilting catch-ups

to each other's homes.

The retirees, based around

Lyttelton Harbour, now meet

once a month for the day.

They occasionally travel over

the hill for a crafting session

with friends who have since

moved into the city.

At each session, they share

knowledge and skills, inspiration,

morning tea and laughter.

Marilyn's mother Josephine

was a dressmaker and taught her

how to sew when she was young,

although she only took a liking

to it when she started making

clothing for her first grandchild.

As that grandchild grew older,

Marilyn turned to quilting.

"I like quilting as you can

make it up as you go along or

you can copy a pattern, you don't

have to try and fit it to anyone,"

she said.

"It's also just about simple sewing,

you don't have to do those

horrible things like sewing in a

zip."

One of the favourite quilts she

has made is on her bed, sewn

with doilies from her mother.

VIBRANT: Marilyn Hopkins with her multi-piece quilt, one of

several on display at Stoddart Cottage this month. ​

It usually takes Marilyn a

month to make a quilt, but one

of her pieces in the exhibition

took three months.

"It is made up of thousands of

pieces of fabric," she said.

Her current project is making

a 'block of the day.'

A member of the Kiwi Quilters

Facebook group posted a 12x12

inch block each day during

lockdown, and Marilyn decided

to take on the challenge.

Alongside the 18 quilts on

display in the exhibition, there

will also be fabric-covered

notebooks, bags, cushions, tea

cosies and soft toys.

Consider Chatswood

for your

"Forever Home"

We are a privately

run and family

owned complex.

You and your family

are our priority for

quality care.

Chatswood has 18 brand new care suites on offer – spacious

en-suited rooms with magnificent views to the port hills and

surrounding area.

Spoil yourself by purchasing a room and remaining

independent, or receive levels of supportive care without ever

having to move…..

Chatswood Retirement Village is close to community

amenities and resides in a beautiful well established leafy area

of Christchurch.

There is huge interest already in these beautifully appointed

rooms, so if you would like to view them make contact with

Kyla Hurley our Manager on (03) 332 7323 or Rhonda Sherriff

on 0275070521

Enquiries to manager@chatswoodretirement.co.nz or

phone (03)332 7323, or drop by to view these beautiful apartments.

"Located in the heart of St Martins / Opawa, set in tranquil surroundings"

Phone: 332 7323 | 60 Hawford Road | www.chatswoodretirement.co.nz
---
SOUTHERN VIEW Latest Canterbury news at starnews.co.nz

Thursday September 16 2021 9

Add cheese to your accompaniments

Chewy, stringy

mozzarella lends

itself to a multitude

of dishes, try these

easy recipes to

complement your

main meal

Mozzarella-stuffed

portobello mushrooms

Serves 4

Ingredients

28gm butter, place in frypan

and melt, then add:

4 cloves garlic, crushed

4 large portobello mushrooms

8 grape tomatoes, halved

Mozzarella cheese, sliced

¼ cup balsamic vinegar, place

in smallest saucepan with:

1 tablespoon sugar

Directions

Brush butter/garlic mixture

over both sides of the mushrooms

and place them on a

baking tray lined with non-stick

tinfoil.

Place Tomato halves inside the

mushrooms along with slices of

mozzarella.

Bake in oven at 180 deg C for

30min, during which time boil

the vinegar/sugar until liquid is

reduced by half and it thickens.

When mushrooms come out of

oven, drizzle vinegar/sugar over

them.

Grilled mini peppers with

mozzarella

Serves 4 – 6

Ingredients

2 x 2 tablespoons olive oil, place

two tablespoons of it in frypan

1 small onion, chopped

Pinch cayenne pepper

Salt (to taste)

Peppercorns

1 x 390gm can chickpeas,

rinsed and drained

¼ cup parsley, finely chopped

125gm mozzarella, grated

350gm mini peppers

Directions

Saute onion until softened, a

dd cayenne, salt, peppercorns

and chickpeas, heat for a few

seconds then roughly mash, then

stir in the parsley and mozzarella.

Thick, juicy

portobello

mushrooms

are a handy

vegetable to

serve with

dinner, or

as a meal

on their

own. Add

mozzarella

to boost the

experience.

Cut tops off mini peppers and

scrape all the seeds out from the

inside.

Fill the mini peppers with the

mixture and push the lids back

on.

Spear two mini peppers per

skewer, threading from the cap

ends through to the points.

Brush with the second measure

of olive oil.

Grill on medium-high for

about 10min, turning often.

Or cook in conventional oven

at 220 deg C for 30min, turning

over halfway through cooking

time.

Slow cooked beef

casserole

Serves 3-4

Ingredients

750gm–1kg blade steak (can

use any steak – cubed)

1 x 400gm can tomatoes (can

use any flavour)

½ cup beef stock (can use red

or white wine, or even chicken

stock)

1 tablespoon tomato paste

1 tablespoon brown sugar

½ teaspoon salt

Peppercorns (or can use ½ teaspoon

ground pepper)

2 bay leaves (optional)

2 heaped teaspoons cornflour

Directions

Grease the crockpot with

melted butter (or can spray with

non-stick spray).

Put steak/tomatoes/stock/

tomato paste/brown sugar/salt/

pepper/bay leaves in, stir gently

to mix, spoon out about six

tablespoons of the liquid into the

cup containing the cornflour and

mix to a paste.

Stir the cornflour mixture back

into the other ingredients and

mix through thoroughly.

Set crockpot onto low for six

hours.

HEAT PUMP

SALE NOW ON!

Amazin' spring Specials!!

80%

SubSidy

Warmer KiWi HomeS

Programme

*Eligibility criteria apply

• We will offer you the best quality brands and

option of heat pump for your home/business

• Providing Heat Pump solutions for over 19 years to Cantabrians

• We personally guarantee all our products & installs for 5 years

(providing annual maintenance has been completed)

Phone us today for your free consultation & quote

41A SHAKESPEARE RD, WALTHAM

PHONE 03 366 0525

www.enviromaster.co.nz

"A local team for local people"

We need your

help now more

than ever.

Multiple Sclerosis and Parkinson's Canterbury

Annual Street Appeal is NOW ONLINE to

maintain the vital, fundraising lifeline which

supports our work.

Please support us by donating at:

ms-pd.org.nz

Proudly supported by

End of season

SALE 20-70%

OFF

selected

stock

Fashionable • Functional • Footwear

SALE NOW ON

Unit 3, 355 Riccarton Rd, Upper Riccarton

P. (03) 929 0927 E. info@theshoeroom.co.nz

www.theshoeroom.co.nz

FASHIONABLE FUNCTIONAL FOOTWEAR
---
10

Thursday September 16 2021

Latest Canterbury news at starnews.co.nz

SOUTHERN VIEW

152,504 reasons

to advertise with us!

2021 ABC average issue circulation — Star Max vs Press

200,000

The Star

Max *

152,504

circulation

100,000

The Press *

The latest NZ Audit Bureau of

Circulations report is out and

it shows that The Star Max

provides you more circulation

than any other newspaper in

New Zealand.

0

30,256

circulation

Grow more customers, sales and profits for your business,

Call us now for a free advertising consultancy.

Here's what our customers have to say:

We advertise Affordable Furniture specials

in The Star every week and are extremely

pleased with the results.

We find that the large circulation and

readership, really works for reaching our

target market and growing our customers.

We get people coming in with our ad and

asking about the specials we advertise.

We have been benefiting from the

Christchurch Star and Community papers

for 20 years and see no end to it.

Andrew Idour – Managing Director,

Affordable Furniture

After 4 years advertising in the Bay

Harbour News, I decided to widen

my audience by using the Star.

I am very happy with new ad

placement.

My husband Tim was in the shop

today and 2 ladies had come in

to check us out because they had

seen the ad!!! Oh yes they did buy

some goodies!!

Rose Lindley – Mumma Bear

We have advertised with The Star

over the years.

Advertising in The Star we feel we

get more response and feedback

than any other marketing.

We are lucky to have such a great

free paper in the community.

Thanks team Star.

Mark Glanville FDANZ CERT

– Manager and Funeral Director

Phone 03 379 7100

Email shane@starmedia.kiwi

Office Level 1/359 Lincoln Road, Addington

*Source: 2021 ABC Audit Report — Star Max vs Press ANP average total circulation each issue

*Star Max — The Star, Bay Harbour News, Selwyn Times, North Canterbury News
---
SOUTHERN VIEW Latest Canterbury news at starnews.co.nz

Thursday September 16 2021 11

Classifieds Contact us today Phone our local team 03 379 1100

Food

Trades & Services

Trades & Services

Trades & Services

saitouchofspice.co.nz

82 Barrington Street the

best Curry Takeaway,

Open 11.30am to 2.30pm,

4.00pm to 9.30pm. $14.90

Butter Chicken, Nann,

drinks, rice pudding, Gulb

Juman Lunch Combo. Ph

Orders 3327885, or text

order to 0212324544

Real Estate

HOME WANTED 3-4

bedrooms. Looking in Nor

West areas, Beckenham

or Somerfield. Prefer

permanent material brick

and post 1990 build. Don't

mind if it needs some TLC

- anything considered.

Cashed up buyer. Phone

021 372 479

Wanted To Buy

AAA Buying goods

quality furniture, beds,

stoves, washing machines,

fridge freezers. Same day

service. Selwyn Dealers.

Phone 980 5812 or 027

313 8156

AAA Buying goods

quality furniture, beds,

stoves, washing machines,

fridge freezers. Same day

service. Selwyn Dealers.

Phone 980 5812 or 027

313 8156

TOOLS

garage, woodworking,

mechanical, engineering,

sawbenches, lathes, cash

buyer, ph 355-2045

FOR ALL YOUR

★Garden Clean-ups

★Pruning

★Lawn Mowing

★Garden Maintenance

Call us today for a FREE quote

PH 0800 4 546 546

(0800 4 JIMJIM)

ROOF

PAINTING 24/7

Rope & harness

a speciality,

no scaffolding

required,

30 years of

breathtaking

experience.

FREE QUOTES

20% OFF other

roof quotes

Exterior staining,

exterior painting,

water blasting.

Moss and mould

treatment $300.

DRIVEWAYS

Exposed Aggregate

Stamped Concrete Plain

Concrete Resurfacing

Things we offer...

Competitive/affordable pricing

Attention to detail

Professional service

free quotes/insurance scopes

Cell 0278 145 848

www.drivecrete.co.nz

63

Garden,

x 180

Phone Kevin

027 561 4629

BRICKLAYER

George Lockyer. Over

40 years bricklaying

experience. UK trained.

Insurance work, EQC

repairs. Heritage

brickwork & stonework

a speciality. No job too

small. Governers Bay.

Home 329 9344. Cell

027 684 4046. E mail

georgelockyer@xtra.co.nz

CARPET LAYING

Exp. Repairs, uplifting,

relaying, restretching.

Phone John on 0800

003181, 027 240 7416

jflattery@xtra.co.nz

CARPET LAYING

Exp. Repairs, uplifting,

relaying, restretching.

Phone John on 0800

003181, 027 240 7416

jflattery@xtra.co.nz

ELECTRICIAN

Prompt & reliable

registered electrician

with 24 years experience

for all residential and

commercial work, new

housing and switch board

replacements. Phone Chris

027 516 0669

PAINTING

Indoor / Outdoor, over 30

yrs exp, same day quotes,

ph Steve 021 255 7968

STUMP GRINDING

Best price guarantee Tony

0275 588 895

VHS VIDEO TAPES

& all camera tapes

converted to DVD or

USB. Video taping

special occasions, www.

grahamsvideo.co.nz ph 03

338-1655

ELECTRICIAN

Contact for a free quote

phone 027 331 0400

dave@davesimpsonelectrical.co.nz

davesimpsonelectrical.co.nz

Experienced Domestic Electrician

Quality Workmanship

• New Build

• Renovations

• Fault finding

• Power

• Lighting

• Switchboards

PAINTING & PlAsTerING

• PAINTING • TILING

• PLASTERING

• WALLPAPERING

Phone Kevin Steel

• Interior/Exterior

• New Homes & Repaints

• Quality workmanship assured

• Correct preparation always undertaken

• 20+ years experience

• Earthquake repairs

(Painting/Plastering/Wallpapering/Tiling)

Ph 027 216 8946

www.facebook.com/kevinsteelpainters&decorators

Email: kpsteel@xtra.co.nz

ADVERTISE YOUR BUSINESS HERE

Phone for further details

(03) 379 1100

Up to

50 % Off

*Call for Terms

& Conditions

Off

*
---
Advert: WDL-3875 FCSV1609 Newspaper: Southern View

12 Thursday September 16 2021

Latest Canterbury news at starnews.co.nz

SOUTHERN VIEW

Owned & Operated by Locals

13 th – 19 th September 2021

Large

Hass

Avocados

Fresh NZ Pork

Leg Roast

(Excludes Free Range)

$

1 20

ea

$

6 90

kg

Fresh NZ Skinless Chicken Breast

(Excludes Free Range)

$

9 90

kg

Fresh NZ Beef Rump Steak or Roast

$

14 90

kg

Tip Top

Trumpet

4 Pack

Copper Kettle

Potato Chips

135-150g

$

6 00

pk

$5

2 for

00

Shop online at FreshChoiceYourWay.co.nz

or download the FreshChoice app

Barrington

City Market

Open 7am – 10pm, 7 days a week.

barrington.store.freshchoice.co.nz

Open 7am – 7pm, 7 days a week.

citymarket.store.freshchoice.co.nz

Prices apply from Monday 13th to Sunday 19th September 2021, or while stocks last at FreshChoice Barrington & City Market only. Limits may apply.

FreshChoiceNZ

OWNED &

OPERATED BY

LOCALS

WDL-3875 FCSV1609