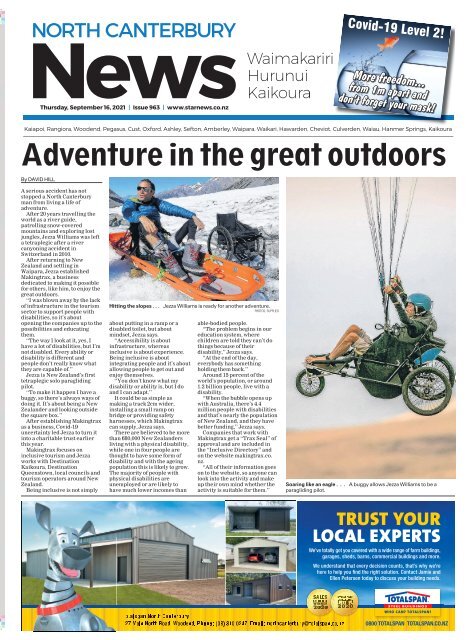 North Canterbury News: September 16, 2021
You also want an ePaper? Increase the reach of your titles
YUMPU automatically turns print PDFs into web optimized ePapers that Google loves.
Covid-19 Level 2!

Thursday,September 16,2021 | Issue963 | www.starnews.co.nz

More freedom...

More freedom...

from 1m apart and

don't forget your mask!

from 1m apart and

don't forgetyour mask!

Adventure in the great outdoors

By DAVID HILL

Aserious accidenthas not

stopped aNorthCanterbury

man from livingalifeof

adventure.

After 20 years travelling the

world as ariver guide,

patrollingsnow­covered

mountains and exploring lost

jungles, Jezza Williams was left

atetraplegic after ariver

canyoningaccident in

Switzerland in 2010.

After returning to New

Zealand and settling in

Waipara, Jezza established

Makingtrax, abusiness

dedicated to makingitpossible

for others, like him, to enjoythe

great outdoors.

''I was blown away by the lack

of infrastructure in the tourism

sectortosupportpeople with

disabilities, so it's about

opening the companiesupto the

possibilities and educating

them.

''The way Ilook at it, yes, I

have alot of disabilities, but I'm

not disabled. Every ability or

disability is different and

peopledon'treally know what

they are capable of.''

Jezza is New Zealand's first

tetraplegic solo paragliding

pilot.

''To makeithappen Ihave a

buggy,sothere'salwaysways of

doing it. It's aboutbeing aNew

Zealander and looking outside

the square box.''

After establishingMakingtrax

as abusiness,Covid­19

uncertainty led Jezzatoturn it

into acharitable trustearlier

this year.

Makingtrax focuses on

inclusive tourism and Jezza

works with Destination

Kaikoura, Destination

Queenstown,local councils and

tourism operators around New

Zealand.

Being inclusive is not simply

Hitting the slopes ... Jezza Williams is ready for another adventure.

PHOTOS: SUPPLIED

about puttinginaramp or a

disabled toilet, but about

mindset, Jezza says.

''Accessibility is about

infrastructure, whereas

inclusive is about experience.

Being inclusive is about

integratingpeople and it's about

allowing people to get out and

enjoy themselves.

''You don'tknow what my

disabilityorability is, but Ido

and Ican adapt.''

It couldbeassimple as

makingatrack 2cm wider,

installing asmallramp on

bridgeorproviding safety

harnesses, which Makingtrax

can supply, Jezza says.

There are believed to be more

than 680,000New Zealanders

livingwith aphysical disability,

while one in four peopleare

thought to have someform of

disabilityand with the ageing

populationthis is likelytogrow.

The majority of people with

physical disabilities are

unemployedorare likely to

have much lower incomes than

able­bodied people.

''The problem begins in our

education system, where

children are told they can't do

things because of their

disability,'' Jezza says.

''At the end of the day,

everybody has something

holdingthem back.''

Around 15 percent of the

world'spopulation, or around

1.2 billion people, live with a

disability.

''When the bubbleopens up

with Australia,there's 4.4

millionpeople with disabilities

and that's nearly the population

of New Zealand, and they have

better funding,'' Jezza says.

Companies thatwork with

Makingtraxget a''Trax Seal'' of

approval and are includedin

the ''Inclusive Directory''and

on the websitemakingtrax.co.

nz.

''All of theirinformationgoes

on to the website,soanyone can

look intothe activity and make

up theirown mind whetherthe

activity is suitable for them.''

Soaring like an eagle ... Abuggy allows Jezza Williams to be a

paragliding pilot.

TRUST YOUR

LOCAL EXPERTS

We'vetotally got youcovered with awide rangeoffarm buildings,

garages, sheds, barns, commercial buildings and more.

We understand that every decision counts, that'swhy we're

here tohelp you find the right solution. Contact Jamie and

Ellen Petersentoday to discuss your building needs.

SALES

EXCELLENCE

2020

STRATEGIC

EXCELLENCE

RUNNER UP

2020

Totalspan North Canterbury

127 Main North Road, Woodend. Phone: (03) 310 0247 Email: northcanterbury@totalspan.co.nz 0800 TOTALSPAN TOTALSPAN.CO.NZ
---
NEWS

2 The North Canterbury News, September 16, 2021

Grow

customers,

salesand

profits

with North

Canterbury's

bestread

newspaper

Readership: 48,000 weekly

Circulation: 30,150copiesdelivered

to EVERY farm, RD, lifestyle block

and home inWaimakariri, Hurunui

&Kaikoura every Thursday.

news

Robyn Bristow

Managing Editor

027 312 1581

robyn.bristow

@ncnews.co.nz

Reporters

David Hill, Shelley Topp.

advertising

DaynaBurton

Sales Co-ordinator

027 312 0089

dayna.burton

@ncnews.co.nz

AmandaKeys

Advertising

027 536 6224

amanda.keys

@ncnews.co.nz

Kerryn Clark

Advertising

021 586 138

kerryn.clark

@ncnews.co.nz

JillianDickie

Advertising

022 024 3092

jillian.dickie

@ncnews.co.nz

getintouch

Editorial

info@ncnews.co.nz

Advertising

sales@ncnews.co.nz

Graphic Design

heather.hood@ncnews.co.nz

Distribution/Deliveries

03 314 8335

Rangiora: 03 313 2840 /03314 8335

14 Ashley St, Rangiora

Christchurch: 03 364 7460

www.starnews.co.nz

Residents give clear message

By ROBYN BRISTOW

Ninety five percent of Waimakariri

residents whotookpart in aThree Waters

Reformsurvey,want the council to 'optout'ofthe

Government'sproposal.

The WaimakaririDistrict Council

received3800 submissionsfrom the

survey,over threeweeks.

Waimakariri MayorDan Gordon says

residents expressed averyclear position

and thesurvey resultsclearly

demonstrate thepublic'sconcernsabout

the Government's ''pre­determinedand

fixed­view''onthe case forchange.

"There is aclearmessage from

residents that theydonot support this

reformproposal. Residents are nothappy

about losingcontrol over their assets and

infrastructure,theyvaluelocal say and

management, and theyhave anumber of

valid concernsthe Government needs to

listento," says Mayor Gordon.

''Serious concernswereraised about

the accuracy of theproposedefficiencies

behindthe proposal for change.''

The Hurunui andKaikoura District

Council's have also had abig response

fromtheirresidentsafterthe call for

comment.

Hurunuichief executive Hamish

Dobbiesays thecouncilispleased with

the responsetoits invitation forcomment

on thegovernment'sproposal to reform

the deliveryofthree waters services.

Members of the public werealmost

unanimously opposed to the proposed

reform, citing lossoflocal control,

undervaluing of assets and complexityof

governance arrangement as keyissues.

The Hurunui councilinvitedthe public

to commentinperson, via email, via

social media,throughits service centres

and through Zoom dropinsessions.

The Waimakariricouncil outlined the

Government'sreform proposal in s

survey,whereitlaid out itsconcerns and

asked residents fortheirviews.

Kaikoura Mayor Craig Mackle says the

initial feedback fromits residents would

be usefulwhen thecouncilconsidersand

questionswhat thegovernment is

proposing.

Meanwhile Mr Gordon says the

Government is promotingreform where

council­run water, wastewater and

stormwater services wouldbetransferred

to four major entities as part of itsThree

WatersReformProgramme.This is in

line with itspushfor greater

centralisation of publicservices like

health,the Resource Management Act

andpolytechnics.

If thereform goes ahead, the three

NorthCanterbury councils willbecome

part of an entity that covers most of the

South Island.

TheGovernment hasgivencouncils

until theend of Septembertoprovide

feedback.

Mr Gordonsays residents expressed

concernsaboutlosing local knowledge

andcontrol on how water servicesare

provided,ratesbeing used to subsidise

upgradesinother areas,wantinglocal

management andprovision of Three

Water Services andappropriate

compensation fortransfer of community

assets.

Hunt for armed robbers

By ROBYNBRISTOW

Police are continuing to follow anumber

of lines of inquiry following the armed

robbery of ZAmberley last Wednesday

night, says Detective sergeant Daniel

Isherwood of the Rangiora CIB.

He says they are looking for two men

wanted in connection with robbery.

Images of the pair show them wearing

balaclavas as they entered the service

station on the corner of Carters and

Courage Roads at about 10.18pm.

Armed with agun they demanded cash

and cigarettes before leaving on foot

with asmall amount of both.

AZAmberley staff member who

turned up to work for the 11pm shift said

on Facebook the attendant on duty

during the robbery was shaken up, but

OK.

Everyone was safe and just needed

''kindness from people and remember a

smile goes along way''.

Those with information can contact

police on 105, or anonymously on 0800

555 111, and quote the file number

210909/8284.

'Ugly Customers'

CAS'n'OVA PRODUCTIONS

BOOK ONLINE www.casnova.co.nz

''Theysoughtfor the reform proposals

to takeplace alongside wider Futurefor

Local Governmentand Resource

Management Act(RMA)reforms.''

Mr Gordon sayshis council had the

Government proposal independently

reviewed. The reviewraised concerns

about coreassumptions behind the

proposalfor change and questioned the

proposedefficiencies.

''Italso queriedwhether theScottish

model, whichthesereforms arebased on,

is applicable nationally, as well as to the

WaimakaririDistrict.

''Thisresearchalsoraises serious

questions regardingthe discrepancies in

the proposed costswithand without

reform,and arequirementfor all

associated reform to takeplace in

conjunction for the proposal to be

successful.

Other councils such as Whangarei

District Council alsohad the Government

proposalreviewed.The review

questionedthe cost­saving claims, and

refutedproposed efficienciesof

amalgamation andpredictions of massive

price increases.

The WaimakaririDistrict Council and

all Canterbury Mayors are calling on the

Government to press pause andworkwith

councils andcommunities on theissue.

"Everyoneagrees that quality drinking

water and better environmentaloutcomes

are essential.

''The councildoesn'taccept the

premise that thereisonly one wayto

achievetheseoutcomes. Rushed reform

won't benefitanyone.The case forchange

nationally is flawedand Waimakariri

residentsare overwhelmingly saying that

theydon'tsupport theproposal.

''I think the proposal as it stands is

inaccurate and outoftouch," says Mr

Gordon.

The council will decideonits formal

responsetoGovernmentataspecial

meeting on Tuesday,September 28.

SNAPtember

promotion

The WaimakaririDistrict Council is

partneringwithSnap Send Solve to host

aSNAPtember promotion, giving app

usersthe chancetowin $500 eachweek

by reportingissuestothe council.

Residents can enterthe prize draw by

reportingthe issue of the week withthe

Snap SendSolve app throughout

September.

Snap Send Solve is asmartphoneapp

whichmakesreporting issues easy and

is supported by many councils.

It allows residents to instantly report

issues such as potholes,vandalism,

litter or damaged footpathstothe

relevant local authority fromtheir

mobile phone.

When the app is used to take aphoto

of an issue, the locationisalso captured

usingthe phone's GPS data.

It then sends an email to the council

with theincident type,location of the

incident and the photo of the issue

whichisallocatedtothe relevant

council department.

MASTER BUILDER

LocaltoNorth Canterbury.

CALL ARTHUR 027 2451601

arthur@robertsonbuilding.co.nz

www.robertsonbuilding.co.nz

BARNS/FARM BULDINGS•RIB RAFT FLOOR SYSTEM INSTALLATION

PROJECTMANAGEMENT•ADDITIONS•NEW HOMES

HOME MAINTENANCE•EQC REPAIRS•ALTERATIONS

FREE QUOTES

2021055
---
NEWS

The North Canterbury News, September 16, 2021

3

HILUX, HIACEAND

EVERYTHING IN

BETWEEN

68 FalsgraveStreet,Woolston

W: nzvanspares.co.nz

E: nzvanspares@hotmail.com

Ph: 03 3793932/0508 698267

Historic woolshed ... The Island Hills woolshed, inland from Culverden, was avictim of the nor'west winds on Sunday night.

Gales down trees, wreck property

NorthCanterbury is in clean up mode.

Two gale force nor'westers have lefta

trailofdestructionwith treesdown, power

polesand roadsigns snappedoff, and

irrigators toppled.

Woolsheds, woodsheds and garden

shedstook ahammering,some houseshad

near misses, and many are still hunting for

garden furniture, chimney tops, their

trampoline and other property. Othersare

looking for owners of property thatblew

in.

Brutal gusts toppled old man pines roots

over fences, sheds,woolsheds and other

property,along withbranches torn from

trees.

Therewere several fires sparked into

life,but no huge damage. Seven fire

appliances, tankers, tractors and

manpower managed to containafire near

Glentui whichwas threatening to get away

in the Garry Riverbed.

Stocklosses were also minimal withthe

wind and downed treescausing afew

headaches for farmers, particularlythose

in the middle of lambing.

MainPowercrewsworked long hours to

repair theextensive damage to theNorth

Canterburynetworkuntil late Friday

night, and over the weekend.But some still

didn't haveany power when the second

gale hit on Sunday night, early Monday

morning.

This timethe wind was accompanied by

heavyrain, lightening and thunder,

although was not aferocious or

destructive as the previous gale.

This added to the woes of the crews

waiting for safeconditions to restore

powertocouncil and private water

schemes, residents andbusinesses.

Ablue gum crashedthrough the roof of

the 1912IslandHills Woolshed, west of

Culverden, owned by Dan and Mandy

Shand, while The Grange near Oxford,

also lost part of the roof of the woolshed. It

is hoped the woolshed is repairable,while

thereisplenty of work to do in the new

PHOTOS:SUPPLIED

Flattened ... Horse gear lays buried in the tack shed at aproperty on Horsley Downs Road,

near Hawarden.

sheep yardswhich were alsodamaged by

branches.

''It is goingtotake abit of cleaning

up,''Mandy said.

Adam Green, his partner Rio Coster and

flatmate,Alhad alucky escapeafter huge

treescrashed down neartheir house on

theoutskirts of Oxford. Ahorse float, and

aspa were squashed and acar badly

damaged by falling branches.

''The spas agoner. The horsefloat and

Al's car are all writeoffs,''says Adam.

He was up and about at 2am on Friday

morningwhenheheard the treesstarting

to come down. He decided everyone would

be much saferinalarge shed nearby.

''Our bedroom is wherethe branches

were coming down. Atree just missedthe

house. Branches hit the corner. There is a

bit of damagetothe guttering, and a

couple of down pipes,'' he says.

Hanmer Springs took abattering on

Sunday night, clearing abuilding site for a

second time,treestoppled, and power

outagesdisrupted business. Tracks were

closed untilthey could be cleanedup.

Masons Flat near Hawarden and

surrounds also suffered from the gales

with reportsofbrokenpower poles, and

Squashed ... Aspa pool on averanda of

ahome near Oxfordcrushed under apile of

branches.

squashedsheds. Councils werekept busy

clearing roadsoftrees and debri, and

getting water schemes up and running

afterpower cuts.

More photos page 13

100% Canterbury Owned

NZ's favourite home for

Recycled Hilux &Hiace Parts

NEW SEASON

GORGEOUS FOOTWEAR

Sally

Sky,Black, Silver.Leather.Size L37 -42.

Sadie

Black Weave Lace, TanWeave Lace. Leather.Size L37 -42

Kaiapoi Mill, Ranfurly Street, Kaiapoi

Monday –Friday 9am –5pm

Saturday 10am –1pm

Closed on Public Holidays

Ph 03 327 0576

2416869

NOW OPEN

– 7 days

2 Conway Lane, Rangiora

(behind Macpac)

Come in and see us

2409165b

FREE FLUE KIT * WITH WOODSMAN FIRES

Woodsman

Coleridge fire

and flue combo

Only $2549

Latest ULEB canbeinstalled installedin

any home in Canterbury

Save $629

See us nowtoarrange your

FREE, NOOBLIGATION OBLIGATION quote to

have your log fire fully installed.

Wemanage the whole job,

including the council consent.

*Some exclusions apply

Offer valid until 30th September 2021

360Flaxton Road, Rangiora

Ph 03 313 5563

www.kingsmowersheating.co.nz

2415203
---
NEWS

4 The North Canterbury News, September 16, 2021

Flamingo scoots into town

By DAVID HILL

Pinke­scooters will soonbeseen

on the streets of Waimakariri.

Following the trendof

Christchurch and other urban

areas around New Zealand, the

Waimakariri District Council

has approvedasix month trial

withWellington­based Flamingo

withpink scooters set to arrive

fromNovember1.

The trial willsee pink

colouredelectric scooters on the

streets of Rangiora, Kaiapoi,

Woodend and Pegasus.

Mayor Dan Gordonsays

concerns expressed by retailers,

GreyPower and the Waimakariri

Access Group weretaken into

account, witha''geo­fence'' to be

established in Rangiora which

willpreventthe scooters from

entering the mainshopping

centre on High and Durham

Streets.

There will also be aspeed

limit of 15kph in each of the

towns, as wellasconditions

around parking locations.

''The critical thing is thisisa

trial to see how it goes,'' Mr

Gordon says.

''Ifthere are any issues picked

up there's the abilitytodiscuss

thatwith the operator.

''Without atrial, an e­scooter

operator could have comeinand

set up here anyway,soweare

getting ahead of the curve.''

Council staff picked up

through the town centre

strategies processes thatthere

was an interest in having

e­scooters in the district,

particularlyamong young

people.

Feedback from the

New mode of transport ... Pink e­scooters are coming to the streets of the

Waimakariri district.

PHOTO: SUPPLIED

Waimakariri Youth Council

indicated there was an interest

in having atrial, Mr Gordon says.

Staff consultedwith the town

centres,GreyPower, the

Waimakariri Access Group,the

Age­friendlyAdvisoryGroup,

the four communityboards and

local youth before inviting

e­scootercompanies to express

an interest.

Flamingo Scooters already has

astrong presence of pink

e­scooters in Wellington and

Christchurch.

''Flamingo is thrilled to be

working with the Waimakariri

District Counciltotrial electric

scooter sharinginthe region,''

Flamingo Scooters co­founder

Jacksen Love says.

''Flamingo is afirstand last

mile transport option that helps

people get around in afun, safe

and easy way, while reducing

theirreliance on cars.''

Up to 400 e­scooters are set to

be deployed in the district

throughout the trial, which is set

to run for six months.

The e­scooters will be hired on

aper minute basis, with users

required to download the

Flamingo Scooters app on to

theirmobile phone.

The app has amap to locate

the nearest e­scooterand can be

unlocked by scanning the QR

code on the handlebar.

Hiring an e­scooter will cost a

$1 base fee, then 45 cents per

minute.

Sculpture celebrates

Blackwells milestone

The WaimakaririPublic Arts

Trust'sfirstcommissioned

workisasculpture by

acclaimed Christchurch

artistAndrew Drummond.

The three­metre high

kinetic sculpture Karo is

being sponsoredbythe

Blackwell family,to

celebrate the 150 year

anniversaryofBlackwells

Department Store in

Kaiapoi. It will be installed

on thenorthernriverbank of

the KaiapoiRiver,

downstreamfrom the

KaiapoiBridge.

The WaimakaririDistrict

Council approveda

recommendation to establish

the charitable trust at a

meeting in 2019, after the

developmentofanArt in

PublicPlaces policy in 2015.

The trust was formed last

October and includes

chairwoman JackieWatson,

who is alsothe Waimakariri

ArtsTrustchairwoman,

curatorofKaiapoi'sArt on

the QuayGallery and the

Kaiapoi­Tuahiwi Community

Board chairwoman. The

other trustees areNicole

Weber,the owner and

manager of the real estate

organisation One Agency,

WilsonHenderson,aLoburn

weaverand textileartist,

DaelFoy, an Ohoka artist

and arttutor, andJudith

Hoult aformer Rangiora

AshleyCommunity Board

memberand artsadvocate.

Jackie said that the SCAPE

Public Art executive

director,Deborah

McCormack, had also been

consulted about

contemporary public art,

community engagementand

thedetail of the installation

of public art.

''TheWaimakariridistrict

is home to manyartists

acrossall disciplines,''

Jackie said.

''Collectively, this makes

foracommunity that cares

about the artsand that also

extends to its council. The

public artpolicy providesa

framework forthe

acquisition, installation,

placement and maintenance

of public space artworks

acrossthe Waimakariri

District.''

Itspurpose is to

``demonstrate an open and

enabling approach to the

concept of public art, provide

aconsistent approachand

clarityaround theprocessof

acquisition, siting and

ongoing management of art

works in theWaimakariri

District and setclearcouncil

expectationsfor any

provider/proposer/funderof

public artwork in the

consideration of potential

future installations''. The

installation of Karo hasbeen

delayed by the Covid­19

lockdownrestrictions.
---
The annual clip ... Wool being loaded out of the Island Hills Woolshed to be carted out by horse and cart.

PHOTO: SUPPLIED

Gales hit historic woolshed

The IslandHills Woolshed, which

was damaged when atree crashed

on to the roofduring the recent

nor'westgales, was built in 1912

priortoWWI.

It was built for GRMcRae soon

afterIsland Hills, west of

Culverden, was split offfrom The

GlensofTekoa.

It was builtofheart rimu, railed

to the Balmoralsiding, and carted

to Island Hillsbyhorse and cart.

The heart rimu is still as sound

todayasthe day it was milled,says

Ed Shand, father of Dan who now

runs Island Hills with his wife

Mandy.

Mr Shand says the timberistoo

hard for the borer beetles to have

caused any damageover thepast

110 years.

But the savage gales of late,

whichtoppled ablue gum on to the

shed, has taken atoll.

The shed was built on concrete

piles that stand 60 to 90 cm above

groundlevel, makingitdifficult to

clean the manure out from under

the gratings, he says.

The shearing board and partof

the woolroom are sarkedwith half

inch timberthat stops

condensation and in recent years

the floor has beenstrengthened

with achip board covering.

''The roofand wallswere

covered with crown corrugated

iron that was heavily coated with

galvanising, helpingtokeep the

shed sound.

''There is one weatherboard wall

along the front,''saysMrShand.

The internalpens hold up to 380

full­woolled sheep,and are split

into five large pens, as wellas

three catching pens that served six

blade shearers, now days three

machine shearers.

The wooltableatone end of the

board,along with bins, are in aline

acrossone side of the wool room.

The old handcranked Sandow

press usedtobeinthe middle of

the room,while the wool bales

were stacked up threehigh,two

deep afterthey were weighed and

recorded.

The first electricitywas

connected to the generatorinthe

1950s.Itserved for lighting and

boiling hotwater, as well as atwopersonKiwi

crutching plant that

sat at the far endofthe shearing

board for many years.

Dan and Mandy are confident

the damage caused by the huge

blue gum crashing on to the

woolshed roof, and outsidesheep

yards,can be repaired.

NEWS

The North Canterbury News, September 16, 2021

5

Floods, Covid

cost council

The May31floodevent

and the recentCovid­19

lockdownhave left the

WaimakaririDistrict

Councilwithmore than $3

millioninunplanned

costs.

In areport to lastweek's

councilmeetingheld on

Zoom, utilities and

roading manager Gerard

Cleary said therecent

floodevent led to a$2.8

millionrepairbill.

The bulkofthe flood

repair bill is from roading

repairs, at an estimated

$2.6million, while other

costs are for damage to

greenspaces and property.

The councilis

continuing to look at cost

recovery fromWaka

Kotahi NZTA and other

sources, and expects the

costtothe council to

reduce to around $1.2

million, ''soit's not going

to cost the district too

much'',Mayor Dan Gordon

says.

Meanwhile the

lockdown has costthe

council between $200,000

and $300,000 in unplanned

expenses and lost income,

Mr Gordonsays.

''It's acost we don't

budget for.Wedon't have

an exactfigureyet, but last

year'slockdown costus

around $800,000.''

Councillors endorsed

thedraft District Planin a

closed session and hope to

release it for public

consultation later in the

month, Mr Gordonsays.

Areportseeking council

approval for public

consultation on the

proposedWaimakariri

District Walking and

Cycling NetworkPlan was

withdrawnafter the

council was unsuccessful

in its NZTAfunding

application.

The proposal had set out

aprogramme for building

$4.7 millionworth of cycle

wayand walkway

infrastructure in the

district overthe next

decade.

Staffwill now consider

theoptions, including

whether thecouncil can

fund the project itself,the

implications of

proceeding with halfthe

funds or puttingthe

project on hold,Mr

Gordon says.

''There hasbeen alot of

work done leadingup to

that reportsoit'sashame

to not proceed withit at

this stage, but we were

warnedthat therewere

funding challenges for

NZTA.''

ABOUT

REPRESENTATION

REVIEW

ACUT ABOVE

THE REST

LAWN

TRACTORS

FROM

$

4,449 *

The Council is seeking your views

about representation arrangements

ahead of the October 2022 Local

Body Elections.

what do

you think?

*Refersmodel TS138

The Council are considering our current

arrangements to ward boundaries, number of

elected members, including community boards,

and names of wards, subdivisions and boards.

TS138

Husqvarna Series Engine -14.7hp -38" Cutting Width

We're proposing to retain our current

arrangements with only one minor amendment to

the Rangiora-Ashley Ward subdivision, to better

represent the ratio of urban and rural residents.

To find out more about the proposed change or

the Representation Review, ortosuggest other

changes, please visit our Let's Talk website.

Let us know what you think before

5pm on Monday 27 September 2021.

TS142

Husqvarna SeriesEngine

18.6hp -42" Cutting Width

Offersvalid 01/09/2021 -31/01/2022 while stockslast,atparticipating Husqvarna Dealers only.

Your localauthorisedHusqvarnaDealer:

TC138T

Husqvarna SeriesV-Twin Engine

764cc -38" Cutting Width

$

5,249 $

7,559

5YEARDOMESTIC WARRANTY #

# Terms andConditions apply,see HUSQVARNA.COM fordetails.

2417083

Find out more and have your say at

waimakariri.govt.nz/letstalk or email to

representation@wmk.govt.nz

We'd love to

hear from you

waimakariri.govt.nz/letstalk

Ph. 3136640| 275 FlaxtonRoad, Southbrook

sales@brandmowers.co.nz
---
OPINION

6 The North Canterbury News, September 16, 2021

McALPINES MITRE 10 MEGA RANGIORA -OCEAN WATCH

This

Week

Sun

Fishing

Guide

Moon

Wind

Good

Around the electorate with

STUART SMITH MP FOR KAIKOURA

IPCC'sreport significant

In early August, the InternationalPanel on

Climate Change (IPCC) delivered the first

part of its 6th Assessment report.

As Iwroteinmycolumn in aprevious

edition of North Canterbury News, climate

science is complex,but what is clearand

the IPCC recognises this, is that methane

and carbondioxideare different.

Methane, whichiscommonly produced

by farm animals has an entirely different

global warming impactthan carbon

dioxide which is produced by the likes of

petrol. Carbon dioxidestays in the

atmosphere much longer than methane

does,meaning that carbon dioxide is far

worsefor the climate.

In 2018Ihad avirtualmeeting with

Professor Myles Allen the head of the

Climate Dynamics Group in Oxford

University's Department of Physics, along

with Professor David Framefrom Victoria

University.

Professor Allen has developed an

alternative method of measuring

methane's warming known as Global

Warming Potential( GWP).

This metric reflects methane's shortlivednatureinthe

atmosphere and the

need to stabilise rather than eliminate

methane emissions.

The IPCC'srecentreport has reviewed

the latest science,including the GWP.

Whileitdoesn't recommend any single

metric, theydoagree the current GWP

metric createsissues.

The IPCC say that if countries used the

GWP metric to set an emissionsbudget to

achieve atwo­degree limit, the two­degree

limitcould be overshot by 0.17°C.

The IPCC saysmore certainty for global

emissions targetscould be achieved if

countries like New Zealand expressed our

Paristargetsineither 'split­gas' or GWP

form.

This is ahighly significantconclusionfor

acountry like New Zealand, right at atime

Thursday Friday Saturday Sunday Monday Tuesday Wednesday

Sep 16 Sep 17 Sep 18 Sep 19 Sep 20 Sep 21 Sep 22

Rise 6:29am

Set 6:18pm

Best

Times

8:13am

8:42pm

Set 3:49am

Rise12:38pm

Gentle Sbecoming

moderate SE

Good

Rise 6:27am

Set 6:19pm

Best

Times

9:11am

9:39pm

Set 4:39am

Rise 1:48pm

Gentle SE becoming

moderate E

when New Zealand is considering

reviewing our Paris target.

Iwill be doing everything Ican to make

sure Climate Minister JamesShaw takes

this conclusion seriously.

The IPCCalso says that reducing

methane emissions by about 0.3 percent

per annum,orabout10% by 2050,would

mean New Zealand's methaneemissions

are creating no further warming.

This implies that the current24to47%

targetinthe ZeroCarbon Bill will require

our farmers to go way furtherthan what is

required for methane.

While we areaskinglong­lived carbon

dioxide to only contribute no further

warming by 2050, we are potentially asking

farmerstoreduce methanemuch faster

and much sooner than whatisrequired.

The IPCC's finding is greatnews for all

of New Zealand.

It would be ashame for the Government

to takeadefensive approach and continue

to apply atargettoagriculturethat goes

beyondwhat is required by the science.

It will be politicallyhard for Labour to

walk backtheir methanetarget,asmany

including National, told them at the time it

went too far, butthey need to see the

science is now crystal clear.

We alsohave avery different economic

situation where agricultureisalmost

carrying the economy on its back, and has

got us through the lockdown era that we

live in thusfar, and is incredibly important

to every Kiwis financial wellbeing.

Reaching a10% biogenic methane

reduction by 2050 will likely be achieved

by business as usual efficiency gainsand,it

seems logical thatshouldreductions go

further they will in effect be an offset for

other emissions such as industrialheat

and transport.

If this is the case then our farmers

shouldbecredited fortheir efforts as they

are withforestry sinks.

Rise 6:25am

Set 6:21pm

Best 10:06am

Good

Times 10:32pm

Set 5:19am

Rise 3:00pm

Gentle SW becoming

moderate E

Good

Rise 6:24am

Set 6:22pm

Best 10:57am

Times 11:22pm

Set 5:52am

Rise 4:12pm

Gentle E

strengthening

Good

Rise 6:22am

Set 6:23pm

Best 11:45am

Times

Set 6:19am

Rise 5:21pm

Gentle SE

strengthening

KAIKŌURA VIEWS

MAYOR CRAIG MACKLE

Working together to

support residents

Another Mayoral Column

and another CovidAlert

Level.

It is good to see that the

numbers of infections are

coming down, lookslike

we are on the right track.

Watching the Maori

Wardens acknowledged

on Seven Sharplastweek

remindedmehow lucky

we are to liveissuch a

greatcommunity.

The Wardens have

been doing an awesome

job supportingKaikoura

Healthcare through the

Covidvaccinationroll out and during

this latest lockdown.

Otheragencies such as Te Tai O

Marokura and the team at thecouncil

worked with KaikouraHealthcare to

ensure thatnovulnerablepeopleinour

community missed out on support.

The awesome Meals on Wheels teams

were given abreak and counciltook on

the roleofdelivery drivers to protect

many of the usual drivers who are aged

65 yearsplus.

The council roadingteam were also

involved with the necessary traffic

safety measures for drivethrough

vaccinations.

We may not have the resources

available in alarge city,but we make up

for it by stepping up and helpingout in

timesofneed.

We havehad agreat response to the

ThreeWaters Reformfeedback.

Over 100 peoplehave offeredtheir

Rise 6:20am

Set 6:24pm

Best 12:08am

Good

Times 12:30pm

Set 6:42am

Rise 6:28pm

Gentle Wbecoming

moderate S

Rise 6:18am

Set 6:25pm

Best 12:52am

Good

Times 1:13pm

Set 7:04am

Rise 7:33pm

Moderate SW turning

S

views on the initial

proposal from central

government.

We are not yet

consultingonwhether

our district shouldor

should not be part of the

proposed new large

water entity.

But this initial

feedback is really

valuableasthe council

considers and questions

whatthe governmentis

proposing.

At our virtualmeeting

on September1the

council agreed to not transfer any water,

wastewater or storm waterassets to any

other entity without firstundertaking a

fullconsultative or referendumprocess

withthe Kaikoura community.

The next step for us is to providesome

initial feedback backtocentral

government on the proposed reformat

the end of September.

Central government will be

determining the timeline for reform

going forward in October 2021.

We will makesure we keepyou in the

loopthrough the council newsletterand

website,Facebook, Kaikoura Star and

North Canterbury News.

You can provide feedback online

through the council website or grab a

paper copy from council.

Feedback is open until September19.

Spring is definitelyinthe air,

remembertoget out thereand enjoy

somefresh air whilethe sun shines.

Three Waters Reform should be embraced -submission

Rangiora residents, John and Heather

Mather, say the Government's proposed

ThreeWaters Reforms needtobe

embraced.

''These waterissuesare too important to

be lefttothe plethora of 67 local

authorities acrossNew Zealand.

''These localbodies have widely

differentcapacitiesand meanstoaddress

current and future water challenges. This

is the key rationale for changeand it is

clear we do needanew and different

approach,'' they said in asubmission to the

Waimakariri District Council's recent

survey on the reforms.

The Matherssays the proposed regional

structure for waterreform will ensure

focus, efficiency, effectiveness and

accountability.

''More importantly the proposed

regional structure will ensurethe

management of this vital 'lifeforce' will

provide moreequal outcomesfor all New

Zealanders''.

They says it is ''frankly embarrassing

and irresponsible'' for local authorities to

stand outsideofthe proposed reforms

with an ''I'm all rightJack'' parochial

attitude. It is not the NewZealand way to

stand outsideofchangedesigned to

alleviate current challenges and

problems. ''The lessons learned from

recentpublic health 'problems' associated

with watersupplyand infrastructure have

contributed to requirementsand

expectations for change.

''Issues such as the rapiddegradation of

once swimmable rivers, the evidence of

climate change and its likelyimpacts, the

current pollution of waterways and

problems with watersupply and waste

waterare driving aneed for amore

focused response thanhas hitherto been

demonstrated.''

Swell

Pegasus Bay

Tide Chart

3

2

SE 0.8 m SE 1.1 m E0.9 m E1.0 m E1.0 m E0.8 m SE 0.7 m

3 6 9 NOON 3 6 9 3 6 9 NOON 3 6 9 3 6 9 NOON 3 6 9 3 6 9 NOON 3 6 9 3 6 9 NOON 3 6 9 3 6 9 NOON 3 6 9 3 6 9 NOON 3 6 9

1

0

Highs Lows Highs Lows Highs Lows Highs Lows Highs Lows Highs Lows Highs Lows

Waimakariri

6:11am 0.5 12:58am 2.2 7:09am 0.5 1:56am 2.3 8:07am 0.4 2:50am 2.3 9:02am 0.4 3:42am 2.3 9:55am 0.4 4:31am 2.3 10:44am 0.5 5:19am 2.3 11:32am 0.5

Mouth

12:32pm 2.4 6:54pm 0.5 1:32pm 2.4 7:50pm 0.5 2:28pm 2.4 8:43pm 0.4 3:20pm 2.4 9:34pm 0.4 4:08pm 2.4 10:22pm 0.4 4:55pm 2.4 11:09pm 0.4 5:40pm 2.3 11:55pm 0.5

Amberley

6:11am 0.5 12:58am 2.2 7:09am 0.5 1:56am 2.3 8:07am 0.4 2:50am 2.3 9:02am 0.4 3:42am 2.3 9:55am 0.4 4:31am 2.3 10:44am 0.5 5:19am 2.3 11:32am 0.5

Beach

12:32pm 2.4 6:54pm 0.5 1:32pm 2.4 7:50pm 0.5 2:28pm 2.4 8:43pm 0.4 3:20pm 2.4 9:34pm 0.4 4:08pm 2.4 10:22pm 0.4 4:55pm 2.4 11:09pm 0.4 5:40pm 2.3 11:55pm 0.5

12:08am 2.2 6:20am 0.5 1:07am 2.2 7:18am 0.5 2:05am 2.3 8:16am 0.4 2:59am 2.3 9:11am 0.4 3:51am 2.3 10:04am 0.4 4:40am 2.3 10:53am 0.5 5:28am 2.3 11:41am 0.5

Motunau 12:41pm 2.4 7:03pm 0.5 1:41pm 2.4 7:59pm 0.5 2:37pm 2.4 8:52pm 0.4 3:29pm 2.4 9:43pm 0.4 4:17pm 2.4 10:31pm 0.4 5:04pm 2.4 11:18pm 0.4 5:49pm 2.3

12:10am 2.2 6:22am 0.5 1:09am 2.2 7:20am 0.5 2:07am 2.3 8:18am 0.4 3:01am 2.3 9:13am 0.4 3:53am 2.3 10:06am 0.4 4:42am 2.3 10:55am 0.5 5:30am 2.3 11:43am 0.5

Gore Bay 12:43pm 2.4 7:05pm 0.5 1:43pm 2.4 8:01pm 0.5 2:39pm 2.4 8:54pm 0.4 3:31pm 2.4 9:45pm 0.4 4:19pm 2.4 10:33pm 0.4 5:06pm 2.4 11:20pm 0.4 5:51pm 2.3

12:06am 1.7 6:13am 0.4 1:03am 1.7 7:10am 0.4 1:58am 1.7 8:07am 0.4 2:52am 1.7 9:02am 0.4 3:44am 1.7 9:56am 0.4 4:36am 1.7 10:47am 0.4 5:25am 1.8 11:37am 0.4

Kaikoura 12:37pm 1.9 6:59pm 0.4 1:35pm 1.9 7:55pm 0.4 2:31pm 1.9 8:49pm 0.4 3:24pm 1.9 9:40pm 0.4 4:15pm 1.9 10:29pm 0.4 5:04pm 1.8 11:17pm 0.4 5:51pm 1.8

*Not for navigational purposes. Wind and swell are based on apoint off Gore Bay. Maori Fishing Guide by Bill Hohepa. www.ofu.co.nz www.tidespy.com Graphic supplied by OceanFun Publishing Ltd.

2118223
---
MAINPOWER STADIUM

MAINPOWER STADIUM IS YOUR HOME FOR

EVERYTHINGSPORT &FITNESS...

JOIN NOW

FORJUST

@stadiumtnesscentre

2WEEKSFREE!

Join NOWsoyou cantry all our fantastic group

classes and gym equipmentfor 2weeksfor FREE!

TRYREVLGT-described by some members as

the BEST groupfitness class they'veeverdone!

$ 21 .50 pw

MIXED &WOMEN'S COMPETITIONS

TRY PRAMA -state-of-the-artclasses mixing the

best of HIIT style workouts with high tech floor

and wall panels to keep youmoving.

join before 1oct to go intothe draw for amyzone switch heartratemonitor ($230 value)

2weeks FREE offer is for alimited time only -join now so you don'tmiss out!

join onlineatwww.mainpowerstadium.nz or visit us on coldstream rd

Starting 29th &30th September

Limited spacesoregister your team NOW!

Visit: www.mainpowerstadium.nz/netball

2021 NORTHCANTERBURYSPORTS AWARDS

Celebrating the Sporting Achievements of our localAthletes,

Administrators,Officials &Supporters during 2020 &2021

NOMINATIONS CLOSE SOON - ENTER NOW ATWWW.SPORTSTRUST.ORG.NZ

WWW.MAINPOWERSTADIUM.NZ

NOMINATE

YOUR LOCAL

SPORTING

HEROES NOW

NOMINATE

YOUR LOCAL

SPORTING

HEROES NOW
---
NEWS

8 The North Canterbury News, September 16, 2021

Photo competition

Keen photographers have the

opportunity to win with the North

Canterbury News and Department of

Conservation, in North Canterbury's

Conservation Week photo

competition.

Send in an image of how you have

taken time to notice or care for nature

in the North Canterbury News

distribution area (Waimakariri,

Hurunui and Kaikoura districts).

Images can be of:

Your favourite native area, plant,

bird, insect etc.

Out enjoying nature around you –

walking, cycling, fishing etc.

Caring for nature ­planting atree,

pulling some weeds etc'

Prizes are:

First prize: Goodnature® A24 Rat

&Stoat Trap (Worth $199).

Second prize: DOC annual back

country hut pass (Worth $144).

Third prize: $75 gift voucher to

spend at the Arthur's Pass Visitor

Centre.

Fourth prize: $50 voucher from

DOC Motukarara Nursery'

To enter:

E­mail an image suitable for

publication (minimum 1–3MB) to

info@ncnews.co.nz.

Include your name, e­mail,

address, phone number and location

of image.

Images will be judged by the

North Canterbury News team.

Winning entries will be published in

the North Canterbury News in the 30

September 2021 paper.

The DOC North Canterbury team

will contact the winning entries to

supply the prizes.

Entries close 5pm, Friday,

September 24.

Caring for nature ... Sally Wilson

watering native plants. Take apic of

someone out enjoying nature, caring for

nature or of your favourite native area,

plant or birds, and enter it in the

competition. Photo: File

The North Canterbury News and

DOC reserve the right to use the

winning images for publication,

crediting the photographer. For all

other images, we will contact you for

approval if we would like to use them

for publication /website, ensuring the

photographer is credited.

Wind farm on target

By ROBYN BRISTOW

The constructionofthe Mt Cass Wind

Farm in North Canterbury is still on

targettostart this Spring.

It is nearing financial closure, which

enables the detailed design and

construction to startafterpredevelopment

activitiesand approvals

are complete, says MainPowerNew

Zealand chair Tony King.

''Thiswill be the South Island's

largest wind farm, bringingsignificant

economic benefit to North Canterbury,''

says Mr Kinginthe company's annual

report.

When complete,the windfarm, will

have the capacity to power around

40,000homes.

The 22 turbines willstretchalong a

7.5 kilometre ridgeonMtCass, about

5km eastofWaiparatownship. The Kate

Valleylandfill is nearby.

Mr King says investmentsinsolar

energyhave provided valuable learning

opportunities for MainPower.

''We will embark on future projects

with agreater understandingofthe

complexities of solar generation, use,

storage and commerciality.''

MainPower has asubstantialcapital

works programme set for the next few

years.

Mr King says this includes work to

renew ageing partsofthe network,

provide additionalcapacity in some

areas and generally to ''prepare for a

futurewhereelectrificationisthe main

way of decarbonising the New Zealand

economy to address climatechange

concerns''.

Network Pricing

MainPower'spricing restructure,

introduced on April1,2020, further

alignedrevenue to the actualcost of

electricity supply, he says.

The increase in fixedcharges,

coupledwith the reduction in variable

charges, has giventhe consumermore

certainty aroundthe cost of electricity

supply.

''This realignment givesMainPower

greater revenue stability, creating

further cost certainty for consumers.

''The company will continue to adjust

prices to meetthe expectations of the

regulators around costofsupply and

appropriate pricing signals.''

Chief executive Andy Lester saysin

the report aprofit before tax of $11

millionwas madeinthe 2020­21

financial year.

The results was due to strong growth

across all revenue lines,including an

increase in land development in North

Canterburyand growth in new

connections, all contributingto

increased electricity consumption.This

was couple with its well planned and coordinated

pandemic response.

''We delivered an intensive and

acceleratednetwork maintenance

programme as part of our Asset

ManagementPlan.This programme

included 654 pole replacements, 17 ring

main unit replacements, 80 link box

replacementsand 10 low voltage

switchgear unit replacements.

'' These upgrades form part of a

longer­termplan to increasenetwork

capacity and capabilitytomeet the

evolving needs of our customers.''

Major projects over the year included

switchgear replacement at the

Ludstone, commissioningthe

Soiuthbrook66kV substation upgrade

as well as complexjobs on both the

Hanmer and Kaikouralines, wherewe

replaced aged power poles or enabled

them to support 66kV lines.''

Fun and exercise

all year round

Become anurse –

build on any degree

Thinking of acareerchange?

Lagoon Pools import and install quality fibreglass swimming pools. Tocompliment the pools

they supply good quality equipment including salt water chlorinators, heat pumps, pool lights,

fountains and water features, swim turbines, spa jets, robotic pool cleaners and arange ofcovers

androller systems includinghidden andautomated.

Imported from LeisurePools in Australia, their VinylEsterpools arestrongwithsix layers including

protectivearmour. Each poolisstrengthtestedand has alifetimestructuraland osmosiswarranty.

Lagoon Pools owners Julie and Warren are dealers for Leisure Pools inthe North Canterbury to

Southland area,and agents forthe EliteHideawayRoller system.

Call Lagoon Pools on0800 927 282 or 349 2160, email info@lagoonpools.co.nz or visit:

www.lagoonpools.co.nz Theyare open by appointment only.

Ourtwo-year Master of Nursing Scienceoffersaunique pathway to anursing

career forgraduates of any discipline. Aworld-wide nursing shortage means

youare enteringanin-demandprofession.

CHCH-HM1152-0821

•Delivered throughour Christchurchcampus.

•Flexibleprogramme delivery: on-campus block coursesand

facilitated onlinelearning.

•Clinicalplacements available throughoutthe SouthIsland.

•Accesstoastate-of-theart simulationcentre.

•Part-time studyoptions available.

Join us in person or onlineatour upcoming information evening andhear from

staff andstudents.

Thursday 23 September I 5:30–6:30pm

Centre forPostgraduateNursing Studies,

UniversityofOtago,Christchurch, 72 Oxford Terrace

TO REGISTERAND FORSTREAMING DETAILSVISIT:

otago.ac.nz/nursingmasters

www.lagoonpools.co.nz

03 349 2160

0800 927282
---
RANGIORA

TAKING YOUR

OUTDOOR SPACETO

THE NEXTLEVEL?

SORTED.

100% LOCALLYOWNED &OPERATED.

Spend them &

Earn them here

RANGIORA

If youfind alower priceonanidentical stocked productlocally,wewill beatitby15%

If youfind the same productfromanother Mitre10store or Mitre10website, we'll match that price.

Excludestrade and special quotes,stock liquidations and commercial quantities.The in-storepricemay be lowerthan thatadvertised.
---
RANGIORA

SHINY

NEWBBQ?

SORTED.
---
NEW

SEASON

COLOURS?

SORTED.

100% LOCALLYOWNED &OPERATED.

Spend them &

Earn them here

RANGIORA

If youfind alower priceonanidentical stocked productlocally,wewill beatitby15%

If youfind the same productfromanother Mitre10store or Mitre10website, we'll match that price.

Excludestrade and special quotes,stock liquidations and commercial quantities.The in-storepricemay be lowerthan thatadvertised.
---
RANGIORA

ADECK IN TIME

FOR SUMMER?

COME IN

ANDSEE US.

100% LOCALLYOWNED &OPERATED.

Spend them &

Earn them here

RANGIORA

If youfind alower priceonanidentical stocked productlocally, we will beatitby15%

If youfind the same productfromanother Mitre10store or Mitre10website, we'll match that price.

Excludes trade and special quotes,stock liquidations and commercial quantities.The in-storepricemay be lowerthan thatadvertised.
---
New standardbred birthday

Achange from August 1asthe traditional

birthdate for New Zealand standardbreds

has been called ''a defining moment'' by

Harness Racing New Zealand's (HRNZ)

chief executive.

The new birthdate willbeJanuary 1.

''There was unanimousapproval for the

idea right acrossthe sport,'' says Gary

Woodham.

''We are thrilled all clubs have got behind

this initiative.''

Under the new system,ahorse bornin

January 2020 would become ayearling on

January 1, 2021, and ahorse bornin

November 2020 would become ayearling

on January 1, 2022.

''The movemirrorsasimilar onemade by

Harness Racing Australia earlierthis year''

'Gary says.''We needtobeinsync with

Australia,toalign our age­group racing.

''Now thatthe change has been made

HRNZ will lookathow it will impact on the

racingprogramme here.

''We need to take avery hardlookatwhat

is workingand whatisnot.''

One immediate change could be that

juvenile races arespread out over the year,

Birthdate change ... Standardbred horses

are set to have an official birthdate on New

Year's Day.

PHOTO: RACE IMAGES

ratherthan being condensed towardsthe

end of the season as they are now.

The birthdate change was madeata

special generalmeeting at HRNZ's

Christchurchheadquarters in May this

year when representatives of morethan 40

clubs wereinvolvedinthe decision making,

eitherinperson or via Zoom.

Opportunity for youth voice

Environment Canterbury is seeking a

young person from North Canterbury to

join its Youth Ropu.

The regional council is going for its

recruitment process for the Youth

Ropu, with representatives selected

from each of the six constituencies and

two mana whenua selected.

The YouthRropu is aformalised

group of young people who are

enthusiastic about the environment,

civics and empowering young people

and is in its third year.

There are opportunities for Youth

Rōpū members to be involved in social

media campaigns, for the internal

organisation of the Youth Ropu,

forming partnerships with other youth

organisations, working with Canterbury

Water Zone Committees and

involvement in other initiatives.

Applicants need to be aged between

14 and 24 years and either live in, go to

school or work in, or be from that area

they represent.

To apply, visit haveyoursay.ecan.govt.

nz/youth­ropu. Applications close on

Sunday, September 26.

PRECISION AUTOGLASS

NEWS

The North Canterbury News, September 16, 2021

Finishing touches ... The revamp the Waimakariri District Council building in

Rangiora is nearly finished.

Council refurbishment

By DAVID HILL

Waimakariri District Council meetings

are set to return to theRangiora

chambers beforethe end of theyear.

Workisclosetocompletion in the

Rangiora service centre, with the

building expected to be fully open to the

public by themiddle of next month.

Finishingtouches arebeing made to

the$2.5millionrevampwhichbegan

last yearand has beendelayedbyCovid­

19.

Carpetlaying, plumbing and

electricalworkinstaffand public

toilets,aswell as final electricalwork

andthe HVAC upgrade in the council

chambersare still to be completed.

Once completed, artwork will be

relocated andsignage installed, before

thefurniture is movedback in.

Councillorshad originally seta

Jump on board with your

local specialists

9

PHOTO: FILE

budget of $4.3million for afullrevamp

of the building, butscaled the project

backbecauseofCovid­19, with onlythe

necessary repairs andupgrades

completed.

Strengthening work has been

completed, including the installationof

abeam to support theroof alongthe

westernwall, andthe mezzaninefloor

has beenstrengthenedwith the

application of acarbon fibrereinforced

polymer acrossthe whole surface.

The work was expectedtobring the

building's seismic performanceuptoat

least 67 percent of the NewBuilding

Standard.

Further upgrade work is expected to

be considered as part of awider

upgrade of the Rangioracouncil

precinct, including the Trevor Inch

Memorial Libraryaspart of the Long

TermPlan, with atentative date of 2028.

PRECISION AUTOGLASS cover all your vehicle's

glass needs -cars, trucks, buses, boats,

motorhomes/caravans and farm machinery

Take advantage of our on-site mobile workshop

For your convenience we offer acomplete

in-house ADAS recalibration service

Put your mind at ease with our

Full Workmanship Guarantee

Open Saturday mornings for your convenience

Don't forget, you are not obligated to use your

insurance company's preferred windscreen

provider - Call usFirst

20 High Street, Rangiora

0800 582 582

contact@precisionautoglass.co.nz

www.precisionautoglass.co.nz

2413878
---
BUILDING &RENOVATING

10 The North Canterbury News, September 16, 2021

Steady progress in Kaikoura

Building work is continuing at asteady

pace in the Kaikoura district.

While it is not progressing at the

frenetic pace seen in the years

immediately following the 2016

earthquake, the Kaikoura District

Council has issued 110 building consents

so far this year.

Among the major building projects

under way in Kaikoura are the Sudima

Hotel, the new Kaikoura Aquatic Centre,

and the new Kaikoura Fire Station and

Ambulance Station developments.

The council has also notified of its

intention to grant a33­year lease to

Joseph and Associates Ltd for the former

Kaikoura Community Pool site on the

Esplanade.

Residential and Commercial

Installation, Repairs, Maintenance &Alterations

Services we offer for all door types:

New Garage doors: Sectional, Roller,Tilt&

Cedar

Partsand Maintenance

Door Upgrades

Supply and install automatic door openers for

sectional tilt &roller doors

Phone 027 207 6128 |03310 6577

hamish@abelgaragedoors.co.nz

www.abelgaragedoors.co.nz

2257749v1

On track ... The new Kaikoura Aquatic

Centre is one of several building projects

under way in the Kaikoura district. PHOTO: FILE

Joseph and Associates is proposing to

build and operate acommercial hot pool,

health and wellness facility on the site.

Submissions or objections to the lease

can be made in writing by October 8to

the Kaikoura District Council.

The recent lockdown may have

sparked asurge in home DIY building

projects, so the Kaikoura District

Council would like to remind residents of

the ''new suite of building consent

exemptions'' launched in August last

year.

The Ministry of Business, Innovation

and Employment (MBIE) has created an

online education tool for homeowners

called Buildit as aguide to homeowners

for any projects they wish to undertake,

with advise on when abuilding consent is

needed or if it qualifies as ''exempt

building work''.

For more information go to buildit.

govt.nz.

PAINTERS

RegTradesman • Interior,exterior.

Covid disrupts supplies

Governmentrule changes are expected to

ease concernsinthe building sector.

Arule change announced last week

should enable the release of critical

building materials stuck in Auckland to

providerelieffor building and

construction businessesinthe South

Island,says Canterbury Employers'

ChamberofCommercechief executive

Leeann Watson.

GovernmentMinisters have made

changestothe HealthOrdertoallow the

manufacturer of somebuildingproducts

to resume in Auckland underAlert Level

4, including plasterboard, gypsumplaster,

coated roofing steel and insulation.

The change has enable selected

manufacturers to return to work.

Ms Watson says thiswas apositive

exampleofhow important it is for

Governmenttowork withsectors to see

how they might be able to resume

operations safely, in adherence to public

health guidelines.

''It is really positive to see that the

Governmenthas been listeningtothe

concerns and challengesraised by local

businesses, to find away to free up the

supply of goods in this sectortohelp

resume some level of operations.

''With 72 percentofbusinesses saying

that theirbusiness was experiencing

supply chain delays due to alertlevels

and or port backlogs, the issue was one of

significance that needed asolution.

''We are pleasedthat the Government

has listened and willbeenabling parts of

that supply chain to opensafely to the rest

of New Zealand.''

Ms Watson says she is hopeful that this

signalsagrowing appetitebyGovernment

to work with key sectors to optimise

operations.

''Whilethis provides adegree of relief

for some businessesinthe building and

construction sector,there are otherkey

sectorsthat will need to be addressed

Delays ... Covid­19 has caused disruption

to the supply of building materials. PHOTO: FILE

moving forwardincluding manyofour

manufacturing exporters who rely on

getting componentry out of Auckland to

completetheir products for export.

''Businesses need to prepare and

positionthemselves now to make the most

of the opportunities around pentup

demand that we saw following the deescalation

of alertlevels in 2020.''

Small businesses tended not to carry a

lot of stockdue to limitedcashflowand

relied on just in timeordering, so

prolonged supply chainand logistical

issues could potentially be another blow

for those businessesand compromise

their abilitytoget backupand running

quickly.

''We willcontinue to raisethe issues

experienced by our membersand wider

businesscommunity and work with

Government to look at how we can

maximiseoperational capacity for

businesses within eachalert level.''

AfullyfundedCOVID­19 Business

Helplineservice is availablefor all

businesses in Aotearoa New Zealand.

In the South Island, the phone number

is 0800 505096.

NORTH CANTERBURY

PAINTERS

specialising in decorating

for over 65.

Free quotes.

Covering North Canty,Oxford,

Kaiapoi, Rangiora, Amberley.

Ph Rob 03 327 7899

or 027 432 3520

Discounts for Seniors

2416430
---
Renovating adream

Renovating is agreat Kiwi passion.

We have all seen TV programmes

about do it yourself disasters, but it

need not be like that.

With abit of careful planning,

budgeting, and making sure you or afew

mates have the right skills, much can be

achieved.

And not only will you add something

to your home, it is highly likely you will

add value, too.

Many Kiwis with afull range of basic

skills have ''renovated'' themselves into

new homes, simply by doing much of the

work themselves on older homes, and

then reaping the rewards.

And renovation need not mean

''building'' as such and there are strict

rules nowadays on what can be done by

whom.

Renovation can simply be scraping

back and painting, clearing out over

grown gardens, replacing clogged or

rusted guttering, and relaying paths.

Anyone with abasic do it yourself

knowledge can tackle these jobs.

If you are not sure what to do, many of

the hardware merchants offer free how

to booklets to give you aclear guide to

what is required, and the materials

involved.

Renovation can be doing the jobs you

might otherwise pay someone else to do

and saving you money along the way.

It can be afamily thing. Abrother or

brother­in­law or sister or sister­in­law

might have the skills you don't, and

when he/she wants something done, you

can repay the favour.

If you, say, are looking to buy your

first home, don't be quick to dismiss

something that looks tatty.

Closer inspection might show that

basic skills could reveal alittle gem.

Remember, though, that if you don't

have the skills in this area, ask someone

who does. Buying houses is amajor

exercise.

Don't be deterred if you don't have

what you consider the necessary skills.

The same merchants that offer ''how to''

brochures often offer ''how to'' classes.

Go to one.

For most of the skills you require for

renovation, common sense is the

answer.

If you can drive nails, paint, dig, saw

or run out astring line, you can

renovate. And the good thing is that

renovation almost always adds value.

Tearing up old lino is not everyone's

favourite job, especially if it has been

glued down by someone with shares in

an adhesive firm, but hard work pays

off.

Take adeep breath and get to it.

There is no feeling like it once it is

completed.

Plan your kitchen makeover

If your home is amap of your world, then

kitchens are the highway.

Making sure there is smooth movement

around the space will avoid roadblocks,

pile­ups and accidents.

When renovating or building, the

kitchen is akey area to carefully design.

What looks great on afloor plan could

change when you begin to use aspace.

For new buildings it sometimes helps

to physically mark out areas on the

ground, to understand the space needed.

Move around your planned space,

getting asense of how much room is

actually required.

Akitchen that works well for one could

be areal hassle for two ­doyou

constantly find yourself bumping into

another family member while cooking?

Renovations of kitchen spaces can be a

great opportunity to walk through what

works in your kitchen and where the

roadblocks are.

We are great at adapting however, so

think carefully about the moments when

you are reaching in an awkward way or

have to move items around more than

once during preparation.

We can become very used to having to

compromise, so be mindful of those

moments.

Think about common activities ­how

many steps does it take to make acup of

tea or coffee?

Where is the cup, kettle, teabag, spoon,

Dream kitchen ... Plan for your ideal

kitchen design.

PHOTO: FILE

milk, sugar ­and of course the tasty

biscuit to go with it?

How many different places and moves

did you need for this simple daily

routine.

With awell designed kitchen this will

become an easy task that doesn't cause

problems.

Remember as well to future­proof your

space.

Reaching down for aspoon might be

easy when young but more of apain as

you age.

The fewer obstacles in your path, the

more enjoyable your beautiful new

kitchen will be.

BUILDING &RENOVATING

The North Canterbury News, September 16, 2021

WIN!

AN EXTREME DEWALT

PRIZE PACK

Every $50 spent onDeWalt products atThe ToolShed before

30 September 2021 gives you an automatic entry in the draw toWIN! *

Offering afull range of

plastering services:

•Interior /exterior &modified

systems

•Earthquake repairs &remedial

plastering

•New residential &commercial

Specialist in:

Exterior Cladding, Plastering

and Painting

Servicing North Canterbury

Allan Pethig

For all your electrical needs.

Residential &Commercial

Phone 03 313 7144 | 027 432 1534

Fax 03313 2144

rgrantelectrical@gmail.com

PO Box 69, Rangiora

www.rgrantelectrical.co.nz

WORTH

$3000! *

11

* Packagevalue based on

RRP.T&CsApply.

PLASTERING THAT LEAVES ALASTING IMPRESSION

Quality plastering at realistic prices

Phone for afree quote 021 023 92473

www.horiskplastering.co.nz

brianhorisk@gmail.com

Rockgas NorthCanterbury

We fill all sizeGas Cylinders

onsite while youwait

If you're afterreliabledeliveryof45kghome LPG cylinders,trust the

locals with the experience. Arranging deliveryisaseasyaspicking

up aphone.Sogive us acall,we're heretohelp.

2281227

2278923

61 Williams Street,Kaiapoi

Hours

8am –5pm weekdays,

9am –12noonSaturday

2286893

Check out our newwebsite www.rockgasnorthcanterbury.co.nz
---
STYLE & QUALITY

FOR LESS

SUPER

SPECIAL

STORE OPEN AT LEVEL2

SUPER

SPECIAL

Dark Green

Golden

Greenery

Daintree

WAS$1539

$

1399 Madison 3Seater

Armchair $819 $749

WAS $2088

$

1868

Lacando3+2Seater

1seater also available $529 $489

SUPER

SPECIAL SUPER

SPECIAL

Lennox DiningChair

Maui

Recliner

Ebony,Dark Grey,

Beige or Marine.

Black PU

WAS $1149

$

1089

FINANCE

WE CAN HELP WITH THAT

WA S $ 4 79

Ackley Dining Table

Ash

Acacia

$ 399

Birch

WAS $129

$

109

SUPER

SPECIAL

NovaBedroom

Collection

WAS $3309

$

3059

Byrony Corner Suite

Modular

Bedside $259

Bedframe $999

Under Bed Drawer $169

6DrawerTallboy $799

6DrawerLowboy $739

Sylvie Bedroom

Collection

3Year Warranty

Comet Mattress

Single $289 $269

King Single $339 $309

Double $379 $349

Queen $439 $399

FROM

$

269

5Year Warranty

Tallboy 5Drawers $689 $639

Tallboy 6Drawers $799 $739

Lowboy 6Drawers $729 $679

Bedside $219 $199

Headboard From $379

VIRTUAL CONSULTATION

RivieraMattress

Single $489 $449

King Single $509 $469

Double $609 $559

Queen $729 $669

King $799 $739

California King $879 $809

FROM

$

449

FREE

CARPARKING

SOUTHCITY

BATH ST

WE ARE

HERE

255MOORHOUSE AVE

REBEL SPORT

COLOMBOST

MON-FRI 9:30AM–5:30PM

SAT-SUN 10AM–5:30PM

0800 268 264

www.affordablefurniture.nz
---
NEWS

The North Canterbury News, September 16, 2021

Nor'westers damage property, fell trees

13

Road block ... Contractors clear the way through the Glentui

Cutting, near Ashley Gorge, which was blocked after both gales by

fallen trees.

PHOTO: ROBYN BRISTOW

Uprooted ... Huge trees were torn from the ground roots and all in

the north west gales on Friday morning.

PHOTO: ROBYN BRISTOW

Shed damage ... Island HIlls Woolshed.

PHOTO: SUPPLIED

Collapsed shed ... Ashed on Horsely

Downs Road near Hawarden following

Friday mornings gale. PHOTO: AMANDA BOWES

Twisted ... An irrigator lays twisted near Ashley Gorge following

the Friday morning gale.

PHOTO: ROBYN BRISTOW
---
ARA INSTITUTE OF CANTERBURY

Proud Samoan builds

future for family

Tony Siva isaproud

Samoan andevenprouder

sincehereturned to

studyand gothimself an

apprenticeshiptobecomea

builder.

"Myplanfor thefuture

is to buyorbuild my own

houseand hopefully go

back to Samoatorebuild

my village,"hesays.

PriortostudyingatAra

InstituteofCanterbury,

Tony worked as asales

assistantfor Fonterra. He

says he decidedtobecome

aqualified builder because

he wanted to buildabetter

future forhis family.

Tony completed theNew Zealand

CertificateinConstructionTrade Skillsat

Ara, whichwas free throughAra's Pacific

Trades Trainingscheme. During hisstudies,

Tony wasencouragedtoexplore hisculture.

"Weweregiven ourown toolsfor the

course,and we learnedhow to interpretour

culturethrough woodwork," he says. "Soas

well as learninghow to buildahouseand

things like retaining walls, decksand fences,

Ialsomade aTo'oto'o(Samoan chief's staff)."

Ara'sPacific TradesTraining scheme

provides extensive pastoral supportto

students. "Ithelps youget to yourend goal,"

Tony says. "There'slotsofcareand support

provided-like busmoney,petrolvouchers,

food vouchers,counsellors andadvisors.

The PacificIslandStudentsAssociation

offersalottoo,and Araputsonlotsofsocial

andsportseventsthroughoutthe semester."

Tony says returningtostudy as an adult

wasalittle daunting,especiallyasthis was

hisfirstexperienceoftertiary-level study.

"AtfirstIthought it wouldbeabit awkward

becauseofmyage, beingsurroundedby

kids whojustfinishedschool. Butmy

tutors were great–theymadelearning

relevant andfun –and Iwas encouraged to

persevereand completethe course."

Tony is undertaking hisapprenticeship

with Home NZ Construction.He'sapplying

theskillshelearned at Araand pickingup

many more on thejob,while earningagood

wage.He'squicktoencourage otheradults

to consider learningatrade.

"It'snever toolatetostudy or change

your career path.Ifyou work hard andput

thetimeand effortintoatrade, Iguarantee

you'll reap thebenefits."

NEWS

14 North Canterbury News, September 16, 2021

Kaikoura Museum

celebrations delayed

Covid­19 has scuttled plans to

celebrate the Kaikoura Museum's 50th

anniversary.

Museum staff had planned to run

events this month to mark the opening

of Kaikoura's first museum back in

1971, museum manager Stephanie

Lange says.

''Sadly we will have to cancel our

events for this week,'' she says.

''We had planned amembers only

social event with aguest speaker on

Thursday and an open day on Saturday

with free entry, back of house tours,

kids activities and giveaways.

''It would be too complicated doing

everything under the new Alert Level 2

requirements and we haven't had the

opportunity for the team to come

together and organise everything.''

Museum staff hope to plan

Artworks celebrate coast

The Kaikoura coastline has inspireda

collection of artworks to be exhibited

next month.

TheMayfair Arts andCulture

Centre­TeWhare Toi oKaikoura is

set to host an exhibition Outside In by

Nelson­based artist GeoffNoble and

opening on October 1.

Geoffhas strong connections with

the Kaikouracoast andhis affinity

with the region is channelled into a

skilfully produced exhibition,

mingling stylised realist imageswith

Stephanie Lange.

something later in the year, if Covid­19

restrictions allow, she says.

traditional landscapes to capture his

observations of the area.

His body of workswillbringthe

'outsidein', to highlight the

environmentthatGeoff is so fond of,

allowingthe viewer toenjoyKaikoura

coastdisplays from dawntodusk.

Geoff works from his studio in

Nelson and hasbeen travellingtothe

Kaikoura region for the past 20 years,

where he has afamily connection.

Theexhibition runs throughout the

month of October.

Tepora

Ara graduate

That'sSh tHot!

Because it's a BlazeKing Wood Fire.

King of Fires

to build asolid future

If you're Māori or Pacific, you can gain in-demand

trade skills for FREE through Māori and Pacific

Trades Training at Ara. You'll learn from inspirational

mentors, explore your culture and have access to all

the support, resources and financial assistance you

need tosucceed.

Courses starting in February include carpentry,

automotive, mechanical engineering, joinery,

electrical engineering and plumbing.

We need your

helpnow more

than ever.

Multiple Sclerosis and Parkinson's Canterbury

Annual Street Appeal is NOW ONLINE to

maintain the vital, fundraising lifeline which

supports our work.

Please support us by donating at:

ms-pd.org.nz

472 Blenheim Road, Sockburn, Christchurch

Corner of Watts Rd /Blenheim Rd

(03) 343 1651 | info@heatstore.co.nz

Explorethis FREE option

todayatara.ac.nz

Proudly supported by
---
Professionals

in North Canterbury

Your Local Builder.

ARE YOU FEELING

FRUSTRATED?

2384258v1

Bringing the mind,

body and spirit into

balance…

Relaxation Massage

Deep Tissue Massage

Sports Massage

Hot Stone Massage

Pregnancy Massage

Aromatherapy

Indian Head Massage

Cupping

31 Blackett Street, Rangiora

Phone 03 313 0349

Email info@head2toe.co.nz

www.head2toe.co.nz

Here to help ... Geoff White says planning is essential in these uncertain times.

PHOTO: FILE

Business in the Covid era

Afterthinking it was ayear like no other

last yearwith the first lockdown, we are all

now reliving the impacts of our business

beinglockeddown and whatthat means

for us.

Is thisthe new normal?

Rather than trying to answer this by

looking longinglyinto your crystal ball, it is

afar better idea to plan as if it is, or at least

that it is likelytohappen again.

We cannot as businesspeoplecontinue

to expect the government to solveour

problems.

Support packages will never be of a

valuetosustain your business long term.

So, whatdowedo?

We needtouse the time available while

we can trade in amore normal capacity, to

plan how we can besttrade under the

various lockdown situations.

Or at least how we can minimise the

"bleeding" or lossesthat we experience

during those times.

We hereatProsser Quirke realise that

theseplans will be different for every

business, but we also are very lucky to be

in the position to be helping many

businessesacrossabroad range of

industries.

We see what others are doing or

planning, along withwhat has workedand

what hasn't, and we can use this

knowledge to help make suggestions.

As business owners, it is our choices that

shape the future of our businesses.

You can choose to planand prepare for

further disruptions, or you canchoose to

do nothing and be at the mercy of others

makingdecisions.

There is no doubt that further

disruptionscould happen, and that they

will be difficult. If you want to give yourself

and your business the bestchance of

getting through the difficulttimes, and you

are having difficulty gettingstarted,or

would like some help, give us acall. We

love helping our clients as best we can.

Take care and let'ssupport eachother

locally wherever we can, we are all in this

together.

2373659v2

Are you wondering if there's abetter way

to manage tax bills, protect your assets,

or structure your business

in away that's more profitable?

Let ushelp you regain control of

your business so you can build &

create wealth on your terms

Contact Prosser Quirke Accountants

Chartered Accountants &BusinessAdvisors

6Blake Street, Rangiora

Ph 313 7824

team@prosser-quirke.co.nz

Experienced

Podiatrist;

Erin Marsden BSc(Pod)

NEW BASICS CLINIC $40

2299722v4

022 1726 049

www.northcanterburypodiatry.co.nz

NORTH CANTERBURY

03 311 8008

email@helmores-law.co.nz

www.helmores-law.co.nz

2373179v2
---
DON'T LET THIS

HAPPEN TO YOU!

•For all mechanical repairs on allmakes andmodels

•Servicing —WOF

•Tyres(full range of Maxxis tyres)

•AutomaticTransmissionservicing

•4WD service &repair specialists in all makes and

models

•Fullexhaust repairs

•Free courtesycars —all automatic

•Free loanervan forthe trade industry

We Do It All!

Your One-Stop

Mechanical Shop

CourtesyCars,Van,AutomaticsAvailable

One-Stop WOF Shop

Latest Scanner for Electronic Diagnosis

Go into the MonthlyDrawfor

yournextWof FREE

Just

down

from

Mcdonalds

Burbidge Automotive

325 Flaxton Rd, Rangiora

Ph 03 313 3344

Ample carparking!

2417358
---
THE STAMP, COIN

&GOLD EXCHANGE

134a Riccarton Road. Next to Riccarton Mall

NEWS

The North Canterbury News, September 16, 2021

Bring your bikes to Kaikoura 'trail town'

By DAVID HILL

Kaikouraisset to become the

''cycle trail town''.

The Kaikoura Cycling Club

has been busydeveloping

cycling trialsthroughoutthe

district andhas plenty of ideas

for more, secretary Sally

Turnbullsays.

''We've beenbusyand we

intend to keepbeing busy.

''We'vegot grand plans for

lots moretrailsand we are

trying to promoteKaikoura as

atrail town as well as awhale

town.

''There's areally good

variety to suit allabilities, but

of course duringlockdown,

we'vebeenrestricted to

enjoying thenice, gentle

tracks.''

The clubhas developedsix

maintrails to suitdifferent

abilities,including the familyfriendly48km

Kaikoura trail,

whichcan ridden in sections,

and the 9.2km HaumuriBluff

trail.

For themoreadventurous

thereare the intermediate

level24km beachbiking and

60km Puhi Puhi Valley trails,

and the moreadvanced 51km

Mt Fyffe and55kmClarence

Reservetrails.

Thereare plans foranew

trailtolink South Bay to

Peketa,southofKaikoura, a

peninsula cycling trail, ''abike

park'' in theOcean Ridge subdivision

and apump track for

all abilities, Mrs Turnbull

says.

❛We'vegot grand

plans for lots more

trails❜

—Sally Turnbull

Secretary

Kaikoura Cycling Club

TheSouthBay to Peketa

trail would be ''anice,easy

familytrail'', but thereare

challenges to overcome

including crossing three

creeks and keepingcyclists

away fromStateHighway 1.

Thepeninsula trail would be

separatetothe Department of

Conservation walking track,

shesays.

''Every cyclist who comesto

Kaikoura assumestheycan

ride it, but they can't.

''Butit'sabit of mission to

get all the stakeholdersto

meet.''

Cycletracks were included

when the Ocean Ridge subdivisionwas

established, but

they have''notbeenwell

maintainedorconnected''.

Thetracks couldbetidied

up andprovidethe basis for a

bike parktobedeveloped

there, Mrs Turnbull says.

Theclub alsoplans to

extendthe Kaikouratrail so it

canlink in with theHurunui

Heartland Ride andthe

proposedWhaleTrail from

Pictontothe ClarenceValley.

In the longterm, Mrs

Turnbull says theidealwould

Trails ... New cycling trails are set to provide new adventures for all ages and abilities visiting Kaikoura.

be to eventually linkthe trails

to Christchurch.

In meantimethe Kaikoura

trail team led by club

president and former Mayor

WinstonGrayisbusy each

Mondaymaintainingthe

district's growingcycle

network.

For more information on the

Kaikoura trailsgotothe club's

website kaikouracycling.co.nz

or like theKaikoura Cycling

Clubpage on Facebook.

On the trail ... Locals enjoyed

Kaikoura's trails during the

lockdown.

THE BEST PLACE TO SELL YOUR STAMPS, COINS,

BANKNOTES and SCRAP GOLD in Christchurch.

17

PHOTOS: ANDREW SPENCER PHOTOGRAPHY

The Stamp and Coin Exchange at 134a Riccarton Road,

next to Westfields Mall, has been looking after Cantabrian

Collectors for many years. The Owner, Matt Power. Isaborn

and bred Cantabrian and has over 40 years of experience.

"My whole focus is to look after the client and make sure

they get the best result for their Stamps, Coins, Banknotes

and Gold. It has been my passion since Iwas 6years old. I

was milking cows to pay for my regular trips to the Stamp

and Coin events in Christchurch, on the bus from Rangiora,

even at that early age. With me, you will get genuine and

honest advice on the value of your collections and holdings.

Gold and Silver are at ALL TIME highs. And the Stamp and

Coin market is actually stronger now than ever, innosmall

part due to Covid 19, as people stay home and re discover

their hobbies. So, now is agreat time to sell!

IamaLicensed 2nd Hand Dealer and have hundreds of

happy customers and suppliers. References on request.

We buy your old gold jewellery

Owner, Matt Power Open Monday to Friday 10-6pm & Saturday 10-5pm

If you have alarge collection, or are too

old to travel.

No worries! Ican come to you.

"The greatest thing about collecting, is

the people and the fun. At some stage it

is time to move on and sell. Especially if

the family has no interest in those things.

There are still lots of passionate collectors

out there who will love the work you have

put in. So, why not get in touch and pass

those items to people who really care"?

It is SIMPLE. Just give me acall.

Matt Power 0800 39 24 26

(0800 Exchange) or email:

Matt@thestampexchange.co.nz,

or just pop on in to the shop.

134a Riccarton Road.

Directly opposite Riccarton Mall, 2doors down from

the House ofTravel. Parking at the rear off Kauri St.
---
48,000 reasons

to advertisewith us!

2021 Nielsen Readership Survey —North CanterburyNewsvsNorthern Outlook

50,000

North Canterbury

News 2021

48,000

Readers

every

issue

25,000

0

Northern

Outlook

2021

Did not survey

Thelatest 2021 Nielsen report

is out and it shows that The

North CanterburyNewsisthe

best read newspaper in North

Canterburyfor all people 15+.

Thegraph attached shows

average issue readership 15+

on atypical week

With our proven48,000readers every issue —grow more

customers, sales and profits for your business, call us now

for afree advertising consultancy.

Here's what our customers have to say:

Advertising couldn't be easier with the North

Canterbury News, with a well laid out plan in

place at the start of the year along with flexibility

of being able to be change ads at short notice.

The North Canterbury News has well prepared ads

and great coverage around North Canterbury.

Craig Schroder,

General Manager, Arthur BurkeLtd

The North Canterbury Sport & Recreation Trust

relies on NC News to get our message out across the

whole region. NC News has the best in local grass

roots content that captures the readers we want to

keep inform about our FitnessCentresandthemany

programmesandeventsweruntosupportthehealth

andwellbeing of everyone in our community.

Tony Kean,

North CanterburySport &Recreation Trust

Phone - 03 314 8335

Email - dayna.burton@ncnews.co.nz

Office-14 Ashley Street, Rangiora

www.ncnews.co.nz

www.starnews.co.nz

*Source: 2021 Nielsen Readership Survey—North Canterbury News vs Northern Outlook average readership each issue

*Source: Nielsen readership surveyQ32020 –Q22021 all people 15+
---
The Chase takes win

NEWS

The North Canterbury News, September 16, 2021

19

Queueing for ahaircut ... Patrons line up outside Rangiora Barbers in High Street for a

post­lockdown trim.

PHOTO:SHELLEY TOPP

Post-lockdown trim

Alert level two is proving to be abusy

time for Rangiora barbers and

hairdressers.

There have been queues of people at

salons waiting for ahaircut most days

since the Prime Minister, Jacinda

Ardern, announced that all of New

Zealand, except for Auckland, would

move into Alert Level 2onTuesday last

week.

Ian Mackintosh, the owner of Rangiora

Barbers in High Street, said he had been

'' busy, but not as busy as after the

lockdown last year''. ''It has been abit

like before Christmas when everyone

wants to get their hair cut.''

Winning entry ... The Chase ­Wheelchair Rugby by Maxine Cooper.

The Chase —Wheelchair Rugby,a

photographbyMaxineCooper, was the

champion overall image in the Rangiora

Photographic Society's sports

photojournalismcompetition.The image

was also judgedbest in the A­grade.

Results were:

Best in Grades: AGrade – The Chase ­

Wheelchair Rugby –Maxine Cooper; B

Grade–Sidecar Racing –Martin Kircher;

CGrade – Rider 11 –Stuart Taylor.

Honours AGrade: Skate Park –Sarah

PHOTO: SUPPLIED

Perrins; Triathalon Swim Leg –Allan

McGregor; Freedom –SteveLloyd; Fear

and Anticipation –Steve Lloyd; The Chase

–Wheelchair Rugby –Maxine Cooper; In

the Lead –Trevor White; GirlsGot Game

2 –KarinaTempleton.

BGrade: Sidecar Racing –Martin

Kircher; Runner Reunion –Ross Lawler;

Jumping to the Lead –David Bayley.

CGrade: Rider11­Stuart Taylor; Rider

17 –Stuart Taylor; It's Mine –Jenny

Leadbetter.

SPORTS RESULTS

AmberleyGolf Club

September 11: NRhynd42, G

McGeddie 40, SHartley 40,B

Fitzgerald38, BMills38, LWiddowson

37, RMacPhail 37, PWylie 36 ,K

Gussette 36, RDenby 36, TCollins 36.

Twos: LRobertson,WVan Zuylen,R

MacPhail, MHarris.

Excel Design LongestPutt:R

Clifton.

Women:HForbes45, SPratt 44, J

Brown41, JBishop 40.

Mid­WeekWomen: JBishop 42, J

Lucas 35,AWilshire35, BPettigrew

34.

Twos: MPollock. Longest Putt: A

Wilshire.

Waimakariri Gorge Women's Golf

LGU&Putting, 18 holes: Silver ­J

Pottinger 74. Bronze I­RPilbrow74, L

Smith 77,MTeAwa 77, JBlatch 78,K

Battersby 79.

Bronze II: SMarden77, IBeets­

Huchshorn 78, MRobertson79.

Putting: RPilbrow 31:9holes: P

Rivers 22. Putting: KBush 14.

HELLOSPRING!

Riley

Living & Bedroom

ON SALE

3Seater

NOW $

899

Chaise Sofa

NOW $

1199

WELCOME WARMER WEATHER WITH OUR

STOREWIDE

SPRING

Queen Bed

NOW $

699

Lincoln 4 Seater

WAS $ 2699

NOW

$

1999

Maison

Living Range

Bookcase

NOW $

999

SALE

2.5

ON SALE

Buffet

NOW $

899

STARTS 15.9.21

Seater

NOW $

1499

Recliner

NOW $

999

2Seater Recliner

NOW $

1699

3Seater Recliner

NOW $

1999

Weare

open!

Scantofindstore

Paris 7 Piece

Dining Set – W190

WAS $ 2139

NOW

$

1599

250 Moorhouse Ave, Christchurch

0800 TARGET (0800 827438)

ON SALE

Riva Electric

Recliner Range

Our store isopen and operating

under our normal store hours. We

are complying with all Ministry of

Health Guidelines and ask all our

customers to do the same.

Don't forget

your mask!

targetfurniture.co.nz

Offers and product prices advertised here expire

18/10/21. Sale Excludes Accessories.
---
ANIMAL HEALTH

20 The North Canterbury News, September 16, 2021

ADVERTISING FEATURE

Nutrition in early lactation

During earlylactation,dairy cows

experience arapid increaseinmilk

yield,coupled with alow DMI.

Duetothis inevitable imbalance,

dairy cows enterastate of negative

energy balance (NEB),resulting in

body fatmobilization.

An increase in the circulating

concentrations of non­esterified

fatty acids(NEFA) in the weeks

following calving is part of normal

adaptationfrom thecows.

Thus, eventhough NEB cannot be

prevented, severity and duration of

NEBshould be reduced, because

excessconcentrations of NEFAs are

detrimentaltomilk production,

reproductive outcomes,animal

health,and immunesystemfunction.

In apasture­based system like we

have here in New Zealand this lower

DMI, togetherwithvery high levels of

protein in the diet,(Westwood et al.,

2000) and exposure to undesirable

weather conditions in earlylactation

mayextend the periodofNEB.

Theuse of some simple feeding

strategiestohelp balance the diet

with enougheffective fibre, like

using ad­lib straw in the paddock,as

well as higherallowance of

glucogenic nutrientslike feeding

grain, will help the cows go back to

positive energy balance fasterand

effectively.

Calving and early lactation are a

stressful period for the dairy cow.

Researchhas shownthat at the

molecular level,nutritional,

technological, environmental and

internal stresses lead to the

overproduction of free radicals.

Theaccumulation of these free

radicalsproduces what is called

oxidative stress.

This oxidative stress has several

detrimentalconsequences affecting

immuneand reproductive systems,

as wellasgeneral health.

In dairy cows, oxidative stressis

also showntobeassociated with the

retention of foetal membranes postcalving,

as well as disrupting

folliculogenesis(reproductive eggs

formation), oocyte maturation,

ovulation, formationofblastocysts,

implantation,luteolysis and luteal

maintenanceinpregnancy.

Allstress­factors contributing to

oxidative stress can potentially

decrease productive and

reproductive performance and

compromise animalhealth.

Thegraphiconthe rightisagood

graphic example to show the damage

caused by oxidative stress.

Under stress ... Oxidative stress has

several detrimental consequences

affecting immune and reproductive

systems, as well as general health in dairy

cows.

IMAGE: SUPPLIED

This is whatcan happen to any cell

in the cow includingthe oocyte

(cow's egg) in the ovary resulting in

poor conception rates and poor

fertilityoutcomes.

Selenium (Se)isinvolved in all

antioxidant defence mechanismsin

the cow.

Meeting Se requirements is crucial

to avoid oxidative stress.

Sel­Plex® fromAlltech® Inc., is a

proprietary organic form of

selenium­yeast manufactured to

mimicselenium which is naturally

present in plants and found in

nature.

Sel­Plexishighlydigestible,better

absorbed, storedand utilized by the

animal whencompared with other

sources andforms of selenium.

Bioplex® High Fivecontains not

only Sel­Plex, but also copper(Cu),

zinc (Zn), cobalt(Co) and iodine(I),

all in organic form, which hasbeen

proven to have betterbioavailability

resulting on improved natural

immunity and defensive mechanisms

for the cow to overcome diseaseand

metabolic issues.

Alltech's range of organicproducts

are designed to improve the immune

system of cows,helpingthem battle

disease and reduce the duration and

severityofthe NEB period after

calving.

If youwould like to know more

aboutAlltech's Mineral Management

programme, pleasecall me on 027

208 4606 or send an email on matt.

cassineri@alltech.com.

Check-ups essential

By SHELLEY TOPP

Annual healthchecks are

essential for pets, because

''ourcanineand feline

friends'' age alot fasterthan

us, aRangioraveterinarian

says.

''Oneyear withouta

check­up is likeusnot

seeing the doctor for 5­7

years,'' Samantha Allott,

who works at the VetEnt

Rangiora West veterinary

clinic, says.

''When we are with our

pets every day we may not

notice or acknowledge small

changes in them and they

are not able to tellushow

they feel.

''Vets are trained to

examine animals and

identifywhen something is

not normal.''

Regularhealth checks

also allow earlier detection

of conditions such as kidney

disease or diabetes,which

oftenresults in abetter

outcome for the animal.

''When apatient presents

very sick, it is often more

difficultand expensive to

treatwith aless favourable

prognosis,'' Samantha says.

An annualhealth check

begins with aconversation

between the veterinarian

and pet owner to determine

what foodthe pet eats,how

much it drinks, how much

exercise it gets, what its

energy levelsare likeand if

the owner has any concerns

aboutthe animal's health.

Afterthat the animalwill

Delicate job ... Belle Topp is held by veterinary nurse Katie

Rzepecky while veterinarian Ben Allott clips her nails during

her annual health check at the VentEnt Rangiora West

veterinary clinic.

PHOTO:SHELLEY TOPP

be givenathorough nose­totail

examination including a

teeth check. The animal's

eyes, ears, lymphnodes,

heart and lungs will also be

checked.

The vetwill also gently

palpate the pet's abdomen

to check that its organs feel

anormalsize,there are no

odd lumps, bumps or free

fluid and there is no painor

discomfort.

The animal's joints will

also be checked for any

signs of arthritic pain or

reduced mobility and any

flea/worm or vaccinations

that may be due will be

administered. Ablood test

may also be done at this

time to check the animal's

organs are functioning

properly.

Health checksshould

begin as soonasthe animal

becomespartofthe family,

with puppy and kitten

check­ups from 6­8 weeks of

age, Samantha says.

From theWaimakariri

Riverinthe southto

Kekerenguinthe north,

theNorth Canterbury

News hasgot it covered.

The ALLTECH® MINERAL MANAGEMENT programme:

• Uses Bioplex® and Sel-Plex®trace minerals whichare better absorbed, stored and utilised by theanimal

• Istailored forNew Zealand dairy herds

• Screenedfor heavy metalcontamination

For more information call your local Alltech representative or call 0800

Email:newzealand@alltech.com

alltech.com/newzealand

Reaching

48,000 readers

every week
---
ANIMAL HEALTH

The North Canterbury News, September 16, 2021

21

Local vet supports horse gel studies

By SHELLEY TOPP

ANorth Canterburyveterinarianis

working withaUniversity of

Canterbury academic to develop a

wound­healinggel forhorses.

Thegel,which is abreakthrough

discovery in tissue regeneration, was

developedfor humans by an

internationalpartnershipled by

ProfessorRudi Marquez,who is head

of theuniversity's School of Physical

andChemical Sciences andadirector

andco­founderofTissue Repair

Technologies (TRT), acompany which

originated from the University of

DundeeinScotland.

ProfessorMarquez worked with two

otheracademics, Dr AnaSchor and Dr

DavidNorman,todevelopthe gel,

whichisasmall­molecule

pharmaceuticalthatkick­starts

healinginwoundsthatfail to heal

quickly or properly.

''The TRT treatment, applied to a

woundasagel, hasbeen shown to

accelerate healing of aslow­healing

leg woundand appears to regulate the

overgrowth of tissue,'' Professor

Marquez says.

''The molecule in the gel could be

particularlyusefulinthe treatment of

diabetics withfoot ulcers.''

Non­healing(chronic) skinulcers

arealso acommon occurrencein

elderly patients.

Althoughthe gel was initially

formulatedfor human patients, TRT

hasrecently extended its woundhealingstudies

to include horses.

Thecompany is workingwithLoburn

veterinarian Becky Sutorius,of

Rangiora Equine Services, to trial the

effectiveness of the gel.

Becky Sutorius

''Horsesare alot like diabetic

human patientsinthat if theyget an

injuryatthe bottom of theirleg,it

doesn't heal verywell,'' Professor

Marquezsays.

''When they do heal, the process can

lead to an overgrowth of tissue causing

further problems.

''So extending ourstudy to horses

offersusthe chance to make a

significantcontributiontothe New

Zealand horseindustry and at the

sametimecontinue the development

of human treatments.''

Becky saysthe overgrowth of tissue

prevents wounds fromhealing, which

increasesthe riskofbleedingand

infectionand alsoincreases theriskof

tumourformation.

She began workingwithProfessor

Marquez on theprojecttwo years ago

and says theresults of her trial so far

are ''promising'' in terms of reduced

scartissue, faster healing, less

downtime fromcompetition,improved

welfare and lessstress on thehorses,

Tissue repair ... Agel developed for humans could speed up the healing process for

horse wounds.

PHOTOS: FILE

as well as reduced costs to the owners.

Professor Marquez says theproduct

is in theadvanceddevelopment stages,

but still some wayfrom being approved

for sale.

''Wewould like to carry out alarger

trial, andthentoapplyfor

registration,''hesays.

''Weexpect this to take place in the

next6­12 months.

''Atthe moment, we areexploring

the possibility of using it in New

Zealandinasimilarway as the

cascade processinthe United

Kingdom,whereby experimental

drugs can be administered by a

veterinarian on anon­commercial

basis.''

Twosimilarproductswill be

developed, onefor humansand one for

horses.

''Thedosage will havetobe

optimised, and will requirefurther

regulatoryapproval,''Professor

Marquez says. ''We want to make sure

that we have aproduct that is effective

andeasily affordable, althoughweare

acompany, our main drive is to

improvehumanand animal health.

''Ideally,wewould liketobeableto

produceitand manufacture it locally

in Canterbury'''

IT'S ABOUT TIME SOMEONE

STARTED THINKING LIKE AFARMER.

You have enough to do without worrying about the perfect drench programme. To help, we

went back to basics to create the Turbo ® 3-stage parasite control programme for growing cattle.

With four world-first products that combine the most effective ingredients for higher potency,

better safety and coverage of key parasites at the right times – including resistant strains. It's

innovative, reliable and available exclusively through leading veterinary practices nationwide.

TURBO ® CATTLE DRENCH PROGRAMMEME

STAGE1

TURBO ® Initial

Oral Drench

First oral drenchtreatment for weaned calves.

Protect against worm parasites and bridge

the gap between removal of coccidiostat meal

and natural coccidiosis immunity.

STAGE2

TURBO ® Advance

Oral Drench

Routinetreatment of growing

cattle that canbedrenched orally.

Can

be used in cattle under 120kg.

PROUDLY

NZ

OWNED

Available exclusively through veterinary practices nationwide.

Visit www.alleva.co.nz for more information.

TURBO ® is aregistered trademark of Alleva Animal Health Ltd.TURBO Pour-on

(A011722), TURBO Injection(A011742), TURBOInitial(A011703) and

TURBO Advance (A011714)are registered pursuant tothe ACVM Act 1997.

See www.foodsafety.govt.nz for registration conditions.

STAGE3

TURBO ® Pour On

or Injection

Routine treatment for growing cattle that

are too big to be drenched orally.Rain

resistant pour-on and injectable options

withthe added benefit of lice control.
---
•Stop, Rest and Revive

•Exceptional Service

•Licensed

•Open 7Days

Monday -Thursday 8am -4.30pm

Friday -Sunday 8am -5pm

Stop in on the way to or from

the Waiau Pig Hunt and enjoy

our tasty treats!

Main Rd, Culverden

Ph 03 315 8492

2416506

WAIAU PIG HUNT

22 North Canterbury News, September 16, 2021

Pig hunt supports community

By ROBYN BRISTOW

Hunters have been helping fill the coffers

of local Waiau organisations for more

thantwo decades.

Thisyear the Labour WeekendWaiau

Pig Huntwill benefitthe WaiauTennis

and WaiauNetballclubs.

The funds raised fromthe community

event will go towardmaintenance of their

shared clubfacility and children's

coaching clinics.

While pigs are the focus at the Pig Hunt

which runs from 1am Friday, October 22

to Sunday, October24, thereisalso a

competition for stags, while the kids can

WAIAU

HARDWARE

(& B. J. Forbes Builders Ltd.)

Lyndon St, Waiau

Phone 03 315 6006

Neil 027 284 1916

2354532

enter avariety of critters such as possum,

hares and rabbits.Thereisalso a

competition for the most small pests such

as mice,rats, stoatsand ferrets.

Mum,dad and the kids all get achance

to show off their prowesswith carrying

competitions for pigs,hares and rabbits,

overand throughavarietyofobstacles at

Sundays weigh­inevent at the Waiau

Rugby ground.

Family is the focus of the day with

entertainmentfor the kids, including a

SlipperySlide, courtesy of the local

volunteer fire brigade. There will be a

fully licensed bar and food available. No

BYO alcoholispermitted.

For adultsplanningtoenter the open

section, those who get theirentry paid by

Friday,October 1, will go intoan

earlybirdprize draw.Entries received

before this date go into the drawfor a

Hardy Magnum Suppressorvalued at

$565, sponsored by Rivers to Ranges,

Rangiora.

All otherentries have adeadline of

Wednesday, October 20.

Paying entrants will go into the drawon

the day for achance to snare amajorspot

prize. The major prizes will be drawn

under police supervision,along with

raffle prizes.

Raffle tickets can be bought prior to the

eventfrom members of the Tennis and

Netball clubs. The total prize pool is

$2000, withfirst prize being ascenic

helicopterflightwith Alpine Springs

Helicopters.

Otherprizes in descendingorderare a

$500 Nairn Electrical voucher;two ski

passes to Porters, anight's

accommodation for up to six people at

Porters Lodge;aChild'sride on atoy

tractor donatedbyCochranes, Amberley;

afire extinguisher and two smoke

detectors donated by SouthernFire

Solutions; and afamily day passtothe

Hanmer Springs Thermal Pools.

Therewill also be achildren's lucky

drawonthe day for all those entered in

the junior section. They do not need to

catch or weigh­in an animaltowin this,

but must be present at weigh­intoclaim

the prize, or it will be re­drawn.

Entries are $45 per person (Open) and

$25 in the Junior section(8to16years).

Entry is freefor children aged 14 and

under, in the heaviest possum, hare,

rabbit and most small pest categories.

The link to the line entry form can be

found on the Waiau Pig Hunt Fundraiser

pageonFacebook, or you can email

waiaupighunt@hotmail.com.

You'll get the Best Results

from the Best Lime!

Our High Quality Agricultural Lime offers an

outstanding 99.3% level of Calcium Carbonate!

We now also mix Lime, Mineral and Seed to Your Specifications.

On the move ... Hunters young and old can compete in the Waiau Pig Hunt.

PHOTO: SUPPLIED

Family fun ... The Waiau Pig Hunt provides afun day out for the whole family.

PHOTO: SUPPLIED

Call the specialists...

022 500 6144

www.amurilime.co.nz

Email office@amurilime.co.nz

Trucks for everythingyou need shifted!

-Curtain Siders tokeep itdry

-Cranetruckfordifficult lifts.

-Flat decks for machinery

-Bulk units for grain, feed &fertiliser

2215674

Locally owned &operated

in Waiau since 1945

56 St Leonards Rd, Culverden

Ph 03 315 3033 -Fax 03 315 8413

Livestock -stock@amuritransport.co.nz

Fertiliser -fert@amuritransport.co.nz

Freight -freight@amuritransport.co.nz

2311837 -Livestock -Bulk grain –Shingle –Coal –Golden Bay Cement -Daily Freight Services
---
RANGIORA MOTOR GROUP

NEW DEALERSHIP OPENING LATE 2021

CNR Southbrook Rd &CoronationSt

POSITIONS AVAILABLE

•Sales

•Service Technicians

•Admin/Reception

•PartAdvisor

•Service Advisor

•Grooming

Expressions of interest to

steve.hammond@mbmg.co.nz

NAVARA SL-450

LIMITED EDITION

• BLACK 18" ALLOY WHEELS & EXTERIOR HIGHLIGHTS

• CLASS LEADING FUEL ECONOMY

• APPLE CARPLAY® & ANDROID AUTO

• 5 STAR SAFETY RATING

NISSAN 150,000 KM'S

5YR FACTORY

WARRANTY

Navara SL-450 available now foralimited time only,while stocks last.

RANGIORA NISSAN, 321 High Street, Rangiora

Ph: 03 941 3175

www.rangioranissan.co.nz

rangioranissan.co.nz

RUNOUT

OUTLANDER LS 2.4L 2WD

$32,

,990+ORC *

The 7 seater Mitsubishi Outlander

brings everything you would need in a

family SUV: safety, technology y, comfort,

unrivalled economy and that all important

space, plus a 10 Year Powertr rain Warranty † .

RRP WAS $41,99

90 +ORC

*Price listed is for Outlander LS 2.4L 2wd and excludes on road costs of $650 which includes registration, WoF and a full tank of fuel. Available while stocks last.

†

Visit mmnz.co.nz for full Diamond Advantage warranty conditions.

RANGIORAA MITSUBISHI

321 High Street, Rangiora | 03941 3175 | rangioramitsubishi.co.nz
---
RURAL LIFE

24 The North Canterbury News, September 16, 2021

Phil discovers farming lifestyle

By DAVID HILL

Tucked in the hills above Manuka Bay,

near Cheviot, is aYorkshireman who has

discovered apassion for farming.

Phil Varley moved to New Zealand 10

years ago with his Kiwi partner

Catherine Campbell and began ajourney

which led him to the land.

''I come from Yorkshire and Igrew up

in the country, but Idon't have any

farming background. My dad had avege

garden, but Iwasn't that interested

growing up.

''It's been over the last 10 years that

I've been on aself­taught and learning

journey, and I've picked up alot from

farmers.''

While Phil may not come from farming

roots, Catherine does, as her father, Don

Campbell, managed farms around the

North Island and has ''been areal

treasure trove of information''.

Phil and Catherine own the 21 hectare

Pihi Farms and lease another 90

hectares, farming sheep and beef cattle

and growing amarket garden.

The recent drought has seen stock

numbers reduced to just 50 breeding

ewes, while they take on up to 30 cattle

from weaned calves.

His cattle breeds of choice are Lowline

Angus and belted Galloway, which

remind him of his childhood adventures

in the Dumfries region in Scotland.

''They are two breeds which suit the

hilly landscape that we have here, with

their short legs, stocky frame and being a

bit smaller than other breeds.''

The ewes are mostly Wiltshire and

were chosen as an easy care breed, but

Phil has been trialling Coopworths,

Suftex (Suffolk­Texel­cross) and Romney

2410273

ONLINE MEAT SALES

MEAT2U.NZ

HOME KILL

&WILD GAME

MEAT PROCESSING

313 0022

Rural lifestyle ... Catherine Campbell (left) and Phil Varley have embraced afarming

lifestyle at Cheviot.

PHOTO: SUPPLIED

ewes to get acomparison and has found

the composite breeds are performing

better.

The meat is processed at the Harris

Meats abattoir in Cheviot and supplied

directly to households, mostly in

Christchurch.

In the market garden, Phil is growing

some specialist crops including taewa

(Maori sweet potatoes), Jerusalem

artichokes, yacon and garlic, which he

supplies to restaurants in the city.

''We are very much alow input system.

We are not certified organic and we don't

see the need to be certified, but we are

aligning our philosophy with those

principles.

''The advantage for us in staying small

is that we know pretty much who we sell

too.

''For our customers, quality is ahuge

aspect and they increasingly want to

know personally who is producing their

food and the story behind it, and people

are increasingly aware of the impact on

the environment of farming practices.''

When last year's Covid­19 lockdown

struck, Pihi Farms was just starting out.

''We had planned out what we were

doing, but it impacted immediately on

our distribution and our engagement

with our customers is different because

of that,'' Phil says.

''We didn't want to lock into home

deliveries, but we had to shift our

thinking in terms of direct selling.''

This year's lockdown again had an

impact with atemporary loss of sales to

Christchurch restaurants, but Pihi

Farms was able to pick up more

residential customers.

Phil has joined Enterprise North

Canterbury's Made North Canterbury

provenance brand initiative and says it

has opened some social media marketing

opportunities and some ''one­off

connections in Wellington''.

''But we are really focusing on local.''

Bring home

Kiwi bacon

Kiwis are being encouraged to bring

homethe baconduringthe Covid­19

restrictions, butmake sure it ishome

grown.

New Zealand pig farmers are deemed

an essential serviceand are continuing

to farm through Alert Levels 2to4,but

with many restaurants closed, thesector

is concernedabout apossiblesurplus of

pigs.

NZPork has launched asocial media

campaign to encourage Kiwis to back

localfarmersand choose New Zealand

born and raised pork over imported

pork.

''Around60percentofpork consumed

in New Zealand is importedwith much

of it produced usingpracticesillegal in

this country,'' NZPork chiefexecutive

DavidBaines says.

''Consumers shouldcheck product

labels to ensure it is 100% New Zealand

pork or look for the 'Born and Raised in

New Zealand PigCare' label.

''If it says 'madeinNew Zealand from

localand imported ingredients', then

chances are it's imported.''

Mr Baines encourages people to ask

theirlocal retailer for homegrownpork,

and when buying online,search for

'100%NZPork'. ''Youwill be buyinga

freshand healthy product and

supporting farmers working hard

throughthe Covid­19 restrictions to

maintain high standardsofcare for their

pigs and keeping New Zealanders fed.''

As partofthe campaign,Kiwis will get

the chanceto'meet' some of the farmers

behind their pork.

''Pig farmers know that the more

contented the pig, the betterthe pork,''

Mr Baines says.

''We'll be sharing the stories of some of

New Zealand's pig farmers talking about

what makesNew Zealandpork sucha

delicious and quality product.''

Imported pork is often heavily

subsidised,which coupledwiththe

lower welfare standards, means it is

cheaper thanNew Zealand pork, he

says.The pork sector is closely

monitoring pig supplies to ensure there

is no animal welfare crisisduringthe

Covid­19 restrictions.

RangioraToyota

2016 HiluxSR5 4x4

•2.8L Turbo Diesel Auto

•Sat Nav

•Cruise &ClimateControl

2019 LandCruiserPrado VX

•2.8L Turbo Diesel, Facelift

2019 Peugeot 3008 Active

•1.6L TurboPetrolAuto

2007 Toyota Rav4

$ • Leather, Safety Sense

•Satnav,5-StarSafety

• Safety Sense, Camera,

46,995 $ $

•2.4LPetrolAutoAWD

•Only31,300kms 82,995

$

15,995

• Only 21,300km

36,995

95

$

39,995

995

•Satnav, Camera

•Cruise Control

2019 GX Rav4

•2.0L PetrolAuto, Satnav

• Only8,850kms

2013Toyota AlphardSC

•2.4LPetrolAuto, 7-Seater

•DualElectricDoors

•25,250kms

•2.8L Turbo Diesel, Leather

$

36,995 •18"Alloys

$

42,995

$

41,995

$ $

•SportsBar &Tonneau.

40,995

34,995

Percival Street,Rangiora • Ph (03) 313-8186any time • www.rangiora.toyota.co.nz

Signature

CLASS

2016 HiluxSR5Limited2WD

2018NissanNavaraRX4x4

•2.3LTurbo Diesel Manual

•Alloys, Bluetooth

•Only 58,100kms

2017 HiluxSRPreRunner

•2.8L Turbo Diesel Auto

•Alloys, Camera

•Only 60,050kms

2018 HiluxSExtraCab

•2.8L Turbo Diesel Manual

•2WD,Camera

•Only 50,100kms

FINANCE &INSURANCE AVAILABLE

2408003
---
RANGIORA

HAVE YOUSEEN OUR

NEWTRADE AREA YET?

100% LOCALLYOWNED &OPERATED.

Spend them &

Earn them here

RANGIORA

If youfind alower priceonanidentical stocked productlocally,wewill beatitby15%

If youfind the same productfromanother Mitre10store or Mitre10website, we'll match that price.

Excludestrade and special quotes,stock liquidations and commercial quantities.The in-storepricemay be lowerthan thatadvertised.
---
RANGIORA

COLOUR

FOR THE

GARDEN?

SORTED.
---
RURAL LIFE

The North Canterbury News, September 16, 2021 25

Boost for seasonal workers

The rural sector is set to get aboost in its

bid to find seasonal workers.

The first stage of one­way quarantinefree

travel with Samoa, Tonga and Vanuatu

will begin in October, initiallyfor seasonal

workers from those countries, COVID­19

Response Minister Chris Hipkinsand

Agriculture Minister Damien O'Connor

announced last week.

''We want to provide certainty to the

horticulture industry that we are moving

forward with safe quarantine­freetravel

for seasonal workers in time for the

upcoming picking season,'' Mr O'Connor

says.

''We need to take acautious approach to

opening up quarantine­free travel with the

Pacific.While Samoa, Tonga and Vanuatu

haven't had any community cases of

COVID­19, we know first­hand how quickly

Delta can spread if it gets in,'' Mr Hipkins

says.

To minimise the risk, additional health

measuresare being put in place for those

workers. These include being vaccinated

with at least one dose pre­departure,

completingaperiod ofself­isolationon

arrival and returning negative Covid­19

tests at days 0and 5.

''We are starting solely with seasonal

workers for several reasons,''MrHipkins

says. ''Seasonal workers come to New

Zealand in acohort,and stay in employerarranged

accommodation. This helps

mitigate any additional risk from Covid­19

by ensuring they go into self­isolation in a

pre­organised place immediatelyupon

arrival.''

Change of direction ... Lincoln University Dairy Farm manager Peter Hancox (left)

and demonstration manager Jeremy Savage discuss the farm's progress at apast

focus day.

PHOTO: FILE

Changeofdirection

The Lincoln UniversityDairy Farm is

launching three new farm systems

initiatives in abid to improve

sustainable dairy farming practices.

Research intovariable milking

frequency,movingthe foragebase to

include plantainand replacementrate

reduction will be the farm'sfocusasit

looksaheadtothe year2030.

Lincoln University deputyvicechancellor

Professor Grant Edwards

says the South Island Dairying

Demonstration Centre (SIDDC)

partnership, which overseesthe running

of the farm,iscommitted to takinga

leadershiprole in the dairy industry.

''It's important that the partnership

regularly reassess and revisitsthe farm's

systems to consolidateits position at the

vanguard of currentand future

scenarios.''

DairyNZ general manager for new

systems and competitiveness, Dr David

McCall, saysthe dairysector is

committed to remaining the most

sustainable milkproducers.

''As aSIDDC partner, we support

Lincoln University Dairy Farm

implementing new farm systems.

''It is also exciting to see the adoption

of variable milking frequencies,

following DairyNZ's three­year flexible

milking projectwhich highlighted the

opportunities this system presents

farmers.''

The variable milking programme to be

implemented from the 2021/22season

involves moving from the traditional

twice­a­day milking to amore flexible

milking regime with 10 milkings over

seven days,which''suits both cowsand

farmstaff'', says AgResearchsustainable

productionlead Dr RobynDynes.

SIDDC demonstration manager

Jeremy Savage says variable milking will

providebenefitstothe farm.

''A variable milking programme will

not only improve cow welfare through

lesslameness, better overallhealth

condition andenhanced vigour.

''Itwill also liftthe safety and

wellbeing of staff,with kinder rosters,

fewer earlystartsand more condensed

workloadsallowing for betterwork/life

balance.''

The farm expects to achieve improved

outcomes withoutimpacting

profitability, saysLIC Genetics business

and strategy Greg Hamill.

Mr Savagesays farm staff willplant at

least 10 percent of the farm into plantain

eachyear,beginning next month.

''This is aforagethat may significantly

reduce nitrogen leaching.

''With cow intakes of 30% plantain or

higher we anticipate the farm will

achieve further improvements to its

nitrogen leaching results.

''The potential benefits of reducing onfarmnitrogen

leaching by up to 20% by

managingthe cows' diets,and without

reducing overallherd numbers, are

obviousand compelling.''

The farm's management will apply

research fromthe forages for reduced

nitrate leaching project.

Greenhousegas emissions modelling

suggests significantgains can be madeby

dropping the 28% replacement rate to a

targetof15­18%.

ROBUST,

RELIABLE.

EASY TO

SET UP

AND RUN.

YOU KNOW THE DRILL.

Eco Seeder

Tine drill for smaller farms

at a price that won't break

the budget.

• Strong 25mm coil tines with Baker

T boots place the seeds at the

right depth and encourage quick

and even germination

• Suitable for sowing small or

awkward shaped paddocks and

can quickly convert from trailed

to 3PTL

• Add tine harrows and disc

openers for increased versatility

SINGLE BOX VERSION

STARTING FROM

$21,600+ GST

Touch screen electric

drive now available for

all new and used Duncan

seeders for simple and

accurate calibration.

Talk to us today toincrease

your yield and returns.

Ashburton

03 307 8027

Leeston

03 324 3791

Amberley

03 314 9055

Timaru

03 688 2179
---
NEWS &CLASSIFIED

26 The North Canterbury News, September 16, 2021

Winning team ... Nancy (left) and Colin Hair, of Kaiapoi, with their

champion trotter Sundees Son, held by Craig Edmonds, who is next

to his daughter Jenna and her husband John Dunn. PHOTO:RACE IMAGES

New winning team

New Zealand's leading harness

racing trainer, Diamond

Racing'sRobert Dunn is now

traininginpartnership with his

daughter­in­lawJennaDunn.

The partnership began at the

beginningoflast month and the

pair havealready trained eight

winners,including Sundees

Son.

The champion trotter, which

is ownedbyKaiapoi couple

Colinand Nancy Hair, won his

thirdOrdeal Trotting Cup at

Addington Raceway last Friday

night.

Jenna's husband, John, is one

of New Zealand'sleading

reinsmen and the couple run

DiamondRacing's successful

Woodend Beach stable, while

Robert is basedinSouth

Aucklandrunningthe Franklin

Park stable at Pukekohe.

''Jenna has beenanintegral

part of Diamond Racing for

many years,'' Robert says. ''She

is an accomplished

horsewomanwho does so much

work with both the horses and

the organisational side of the

business.''

Like John, Jenna has hada

lifetime interest in harness

horses.

Her father, Craig Edmonds, is

astablehand for the coupleat

Woodend Beach and is abig

part of the Diamond Racing

success story and is asuccessful

trainer in his own right, training

in partnership at Woodend

Beachwith Jenna's sister,

AimeeEdmonds.

The decision to exclude John

from the new Diamond Racing

trainingpartnershipwas made

to allow him to continuedriving

top horses from other stables,

including sensationalyoung

trotter Five Wise Men. The

Muscle Hill­Harriet Hughes

three­year­old is trainedby

Craigand Aimee and has won

nine racesand $229,809 in stake

moneyfrom 11 starts.

The Doctor Will See You Now, by Amir

Khan

Chartinghis 15 years workingasaGP,

from rookie to becoming apartnerinone

of the UK's busiest surgeries, Dr Amir

Khan's stories are as much about

community and care as they are about

bloodtests and bodilyfluids.

Me, According to the HistoryofArt, by

Dick Frizzell

There's one thing

that makes this

book different

from any other: all the reproductions of

significantpaintings, from Rubensand

Tintoretto to Cezanne and

Lichtenstein, arebyFrizzell himself,

heroically painted over atwelve­month

period.

The Dressmaking Book, by Alison

Smith

Fully illustrated and easy to use, this

dressmaking book covers allthe

essential skills and techniques you needtomake timeless

wardrobe staples. It's amust­have for beginners and expert

stitchers alike.

These titles are available in both Waimakariri and

Hurunui libraries.Find out moreinthe library catalogue at

waimakariri.kotui.org.nz or hurunui.kotui.org.nz.

Kaiapoi Croquet Club

The Kaiapoi Croquet Club

is seeking new members to

the club which meets on

Thursdays and Saturdays

from 1.30pm to 3.30pm at

Murphy Park, Raven Quay,

Kaiapoi.

Anyone wanting anew

challenge is invited along to

try their hand acroquet on

the club days.

The club is fundraising to

move the club to new grounds

in the future.

For enquiries phone Jan

on (03) 3147435 or Pauline

(03) 3278926.

Property Wanted

LIFESTYLE PROPERTY WANTED

Recent enquiry for aproperty we have been selling

in Amberley Beach Road has been extremely high.

We now have several purchasers wanting a2to

4ha property with a3or4bedroom home in the

Amberley/Leithfield/Sefton/Balcairnarea.

The budget is up to $1,050,000.

Please call if you are considering selling.

Contact Richard Woerlee 027 220 7706

Richard.woerlee@harcourts.co.nz

Harcourts Four Seasons Realty 2017 Ltd

Licensed Agent REAA2008

Find us on Facebook @RichardWoerleeHarcourts

Public Notices

Notice of Annual General Meeting

Notice is hereby given that the

Annual General Meeting of

TAKAHANGA PA TRUST

is to be held at

Takahanga Marae

7TakahangaTerrace, Kaikoura

On Saturday 25 th September 2021

at 11.30am

Subject to the covidalert levels this may change.

However we will not advertise againbut it will be rolled

over to the third week of the following month.

There will be elections for two Pa Trustees

MaaniStirling

Chairperson

2413641

Read our digital

edition online at

www.ncnews.co.nz

2415917

Fill the

weekend

withflavour

EVERYDAY

PRICE!

$

17 99

each

WITHER HILLS

RedRange

750ml

HOT DEAL!

HOT DEAL!

HOT DEAL!

$

36 99 $

44 99

Checkout ourlatest

deals

$

39 99

each

vinoS

forasweet

as nightin

Perfect

for celebrating

BOURBON

MONTH

SEPTEMBER 2021

HOT DEAL!

$

49 99

each

weet aS

beersiedeals

HOT DEAL!

$

39 99

each

HOT DEAL!

$

24 99

HEINEKEN

12 x330ml Bottles

CARLSBERG PILSNER or

STEINLAGER CLASSIC

24 x330ml Bottles

RTDdeals

HOT DEAL!

$

24 99

SMIRNOFF ICE DOUBLE

BLACK &GUARANA

12 x250ml Cans, 7%

HOT DEAL!

$

29 99

1LITRE 1LITRE 1.125LITRE

1LITRE

FINLANDIA

1Litre

CAPTAIN MORGAN Dark

or Spiced Gold

1Litre

JIM BEAM

White Label

1.125Litre

BOMBAY SAPPHIRE 1Litre

BOMBAY BRAMBLE Gin with

Blackberry &Raspberry 700ml

$

67 99

GLENFIDDICH

12YO

700ml

BILLY

MAVERICK &

COLA

18 x250ml

Cans,7%

Shop local with

AMBERLEY, ASHBURTON, BARRINGTON, BELFAST, BRIGHTON, BURNSIDE,

COLOMBO ST, EDGEWARE, ELMWOOD, FERRYMEAD, HALSWELL, HANMER

SPRINGS,HORNBY, ILAM, KAIAPOI, LEESTON, LINCOLN, METHVEN, OXFORD,

SHOP LATESTDEALS at WWW.SUPERLIQUOR.CO.NZ

NATIONWIDE DELIVERYNOW AVAILABLE

PAPANUI, PEGASUS, RANGIORA, SEASIDE, WOOLSTON

Exclusions may applyonsome brandsadvertised. Offers end close of trade 19th September 2021, while stockslast. Available at participating stores only. MultiDealonly available in store.

Varietals may vary by store. Limits mayapply.Wholesale (otherliquor retail banners) not supplied. Terms and conditions may apply.Available 6th -19th September 2021 inclusive.

Please see www.superliquor.co.nzfor details.

SUP2383_C12
---
PROPERTY

The North Canterbury News, September 16, 2021

27

NEW LISTING

Oxford 3ATotara Drive

Town meetscountry

It'stime to moveonfromthis warm andinviting homeonthe edge of Oxford. The home is sited to catchplentyof

sun from the northerly aspect and comfortisassuredwithawood burnertohelpwith winter warmth. Raised vege

gardenbedsand garden shed outdoors plus adjacentfarmland and mountainviews. Oxfordhas plenty of active

community groups,clubs, cafes, and agym plus primary and secondary school. Located on the edgeofthe foothills

withthe full range of outdoor recreation options such as hunting,fishing,boating,and tramping. Actearly –call for

viewingtimes.

bayleys.co.nz/5515936

3 1 2 2

Deadline Sale (unlesssold prior) 1pm, Thu7Oct 2021

251-253 High Street, Rangiora

View Sun 11-11.45am

GeorgeBlack 027 3158214

Brook Yates 027 807 8093

Dean Pugh 027335 6303

WHALANAND PARTNERSLTD, BAYLEYS, LICENSED UNDERTHE REAACT 2008

From theWaimakariri River

in thesouth to Kekerengu

in thenorth, theNorth

Canterbury News

hasgot it covered.

Reaching

48,000

readers

every week
---
What's happening in your

community…

All info onchanges to Council services and facilities can be found at waimakariri.govt.nz/covid19

Clean-up Aer Wild Weather

Council staff and contractors continue to clear up

damage around the District due to the recent windy

weather we have been experiencing. Wehave been

responding tolots of reports of trees down blocking

roads and access. Remember that you can contact

us on 0800 965 468 oruse Snap, Send, Solve ifyou

come across an issue we need to know about.

Representation Review

If you have thoughts about how you'd like to

be represented on our Community Boards and

Council –there's still time to let us know what

you think. We are looking for ideas and feedback

on whether our arrangement for fair and effective

representation meets the needs and expectations

of the community.

This includes things like the total number of

councillors for the District, the boundaries of

wards and their names, how many community

boards and how many members each board

should have.

Feedback closes Monday 27September, let us know

what you think at waimakariri.govt.nz/letstalk

Transfer Stations at Alert Level 2

To maintain physical distancing, we've had to make

some changes at our transfer stations.

There are limits onthe number of vehicles in

the recycling and disposal areas which slows

things down alittle. Tospeed things up when

you visit, please pre-sort recyclables and

remove lids at home.

Also…

• Wear amask

• Scan or sign in on arrival

• Weaccept contactless payments only

• It'll be busy so expect delays

• Bring someone to help you unload if needed

• Don't leave your visit too late in the day.

If there are bigqueueswaiting to entertoward the

end of the day,the inwards gatesmay be closedas

earlyas4pm to ensure all waiting customers can

unload and be weighed outbefore closingat4.30pm.

We appreciate your patience while we work under

Alert Level 2requirements.

Honda Forest Community Planting Day

Regeneration Kaiapoi has partnered with Honda to

bring the mighty Kahikatea back to Kaiapoi.

Joininanother communityplantingday thisSaturday

18 Septemberfrom10am in Charles Street, Kaiapoi.

Bring along your sturdy footwear,spade, glovesand

adrinkbottle. We finishupeach plantingday with

asausage sizzle forthe volunteers. This will only go

aheadifweare at Covid-19 Level 2orlower.

We willhavesanitiser and face masks available and

will practicephysical distancingtoo.When complete

theHonda Forestwill surround wetlandswith two

hectares of trees.

Rangiora Service Centre Refurbishment

The update of the Rangiora Service Centre is

nearly complete. The end result will have amuch

more appealing customer focused area.

Work is close to completion with only afew

remaining tasks to be finished off. This includes

carpet laying, plumbing and electrical in staff and

public toilets as well as final electrical and HVAC

upgrade in the Council Chambers. Following this

we will relocate artwork and install signage before

moving furniture in.

It is hoped that this work will be completed and

the building fully open to the public in mid-October.

Have you signed up for

the Waimakariri District

Council Newsletter?

Tojoin visit:

waimakariri.govt.nz/subscribe

Windy

weather?

If you think your bin could be blown over,

consider putting it out on the morning of

your collection day, before 7am, and bring it

in as soon as possible after collection.

—

Find out more collection tips at

rethinkrubbish.co.nz

rethinkrubbish.co.nz

It's time to dust off your pencils,

paint brushes or crayons!

Illustrateyour favourite bookcover, character

or library inthis creative competition for all

ages. Entries will be displayed tothe public

with prizes for the top artworks!

Enter Now

Find out more at

libraries.waimakariri.govt.nz

Stay home

if you are sick

Wash &dry or

san

anitise your hand

s

OF THE

Keep a1-metre

distance from others

Cough or sne

eze

into your elbo

w

Help keep our

community safe
---
CLASSIFIED

North Canterbury News, September 16, 2021

29

Give usyour

feedback

Ablocked drain?

New pothole?

Fallen tree?

Waimakariri District Council

Use the free Snap Send Solve app to tell

Waimakariri District Council about it.

DOWNLOAD FOR FREE

Visit our website to find out more

waimakariri.govt.nz

MEETINGS NOTICE

To ensure compliance with the Covid-19 restrictions,

some of the Council's meetings' arrangements may

change from what was previously advertised.

Members of the public are requested to consult the

Council's website waimakariri.govt.nz for the latest

information on meetings.

Please note the following:

• The Audit and Risk Committee meeting scheduled

for 9am on Tuesday 21 September 2021 will be

held at Conference Room, Mainpower Stadium,

289 Coldstream Road, Rangiora

• The Land and WaterCommitteemeetingpreviously

advertisedfor 1pm on Tuesday 21 September 2021

to be heldatthe Function Room, Rangiora Town

Hall, Rangiora,has been CANCELLED

• The Utilities and Roading Committee meeting

scheduled for 3.30pm on Tuesday 21September

2021 will be held at Conference Room, Mainpower

Stadium, 289 Coldstream Road, Rangiora

• The Stockwater Race Bylaw Hearing scheduled

for 9am on Wedneday 22 September 2021

will be held at Conference Room, Mainpower

Stadium, 289 Coldstream Road, Rangiora.

Sarah Nichols

GOVERNANCE MANAGER

Budgeting Services North Canterbury Inc.

Notice ofAGM 2021

Tuesday 28 th September at 4.30pm

War Memorial Hall

1Albert Street, Rangiora

Please RSVP for catering purposes

03 313 3505

servicemanager@bsnc.org.nz

2416766

Public Notices

CHILDREN'S craft morning,

pre school -year 8, Sat

25th September 2021,

10am -12noon, Woodend

Community Centre. Decorated

biscuits, paper cup

flowers, snowmen on

sticks, and material collage

on A4 board or cardboard.

Only $2 per child. Bookings

essential, numbers are

limited. Register now Val

Cotton phone 03 313 8410,

email valclivecotton@gmail.com.

CALL FOR NOMINATIONS FOR ONE COMMUNITY TRUSTEE

FOR THE KATE VALLEY LANDFILL COMMUNITY TRUST

The Kate Valley Landfill Community Trust is seeking nominations for one community

trustee from the Waipara Community Area.

The principal task of this charitable Trust is to distribute funds provided by Transwaste

Canterburyfor purposes thatare beneficial to people whoseprincipalplaceofresidence

is within the contributing area to the Waipara School (the Community Area). This

includes funding community activities or facilities in any location that are capable of

conferring such benefit.

In the event ofmore than one nomination being received, apublic meeting will beheld

in the WaiparaMemorial Hall on Monday,15November 2021.Voting will be open from

6:30pm-7:30pm. Avote will take place to elect one trustee who will be appointed for

aterm of three years. It will be arequirement ofthose wishing tovote to be present on

the night of this electionmeetingand to sign aregisterstatingtheir nameand address in

order thateligibility to vote can be assessed. No proxy/absentee votes will be accepted.

The existing trustee whose term isexpiring is not precluded from offering themselves

for re-election.

TheKate Valley Landfill CommunityTrust is made up of threeCommunitytrustees, one

Amberleytrustee andtwo Settlor's trustees.

WhoCan Be Nominated?

Any person overthe age of 18 whoseprincipal placeof residence is within the Waipara

Community Area identified on the plan in the Trust Deed.

Who Can Make aNomination?

Any person over the age of 18 whose principal place ofresidence iswithin the

Community Area and whose name and address appears on the applicable current

electoral roll.

How Can aNomination Be Made?

Written noticeinthe formofaletter ofnomination is required. This must:

•Containthe full name and residential address of the person making the nomination,

and that person's date of birth andsignature.

•Containasigned statement of willingnesstoserve as atrustee from the person

nominated,together with his/her full name, date of birth and residential address.

•Becompleteinall respectsand be received by TheSecretary,Kate Valley Landfill

Community Trust, POBox 96, Amberley 7441 on or beforethe closing dateof

Friday, 22 October 2021.

More Information

Enquiries can be directedtoSecretaryKVLCT@gmail.com

Official complaints must bemadetothe Secretarynolaterthan 5days after the

election results announced.

Acopy of the KateValley Landfill Community TrustDeed can be requestedbyphoning

0800 TRANSWASTE (872679).

2417596

NOTIFICATION OF WEIGHT AND SPEED LIMITS ON BRIDGES

Regulation 11, Heavy Motor Vehicle Regulations 1974

NOTICE is hereby given that pursuant to regulation 11(3) of the Heavy Motor Vehicle Regulations 1974, the Waimakariri

District Council has fixed the following maximum weight and speed limits for heavy motor vehicles and combinations

including aheavy motor vehicle on the bridges described hereunder:

Road Name Bridge Name and Location Weight Limits Maximum

Maximum Gross Weight

Weight (Maximum sum

on any One of axle weights)

Axle (kg) (% of Class 1)

PUBLIC NOTICE OF

APPLICATION FOR

ON-LICENCE

SECTION 101, SALE

AND SUPPLY OF

ALCOHOL ACT 2012

MSC 2017 Limited has made

application to the District

Licensing committee at

Rangiora for the renewal of

an ON LICENCE in respect

of the premises situated at

431 Mandeville road, known

as The Mandeville Bar and

Bistro.

The general nature of the

business to be conducted

under the licence is Bar and

Restaurant/Function Centre.

The days on which and

the hours during alcohol is

intended to be sold under

the licence are:

Sunday to Thursday 8am to

11pm

Friday - Saturday 8am

-12am (midnight)

The application may be

inspected during ordinary

office hours at the office

of the Waimakariri District

Licensing Committee, 215

High Street, Rangiora.

Any person who is entitled

to object and who wishes

to object to the issue of

the licence may, not later

than 15 days working

days after the date of the

publication of this notice,

file anotice in writing of the

objection with the Secretary

of the Waimakariri District

Licensing Committee, at

Private Bag 1005, Rangiora.

No objection to the renewal

of alicence may be made

in relation to amatter other

than a matter specified in

section 131 of the sale and

supply of Alcohol Act 2012.

This is the second

publication of this notice.

This notice was first

published on 9th September

2021.

2414786v2

Speed Limit

(Km/h)

Boyces Road Bridge 71A,RP300 4,000 50% N/A

Christmas Road Bridge 132A,RP107 4,300 10% N/A

Cones Road Bridge 149A,Ashley River,RP766 N/A 100% N/A

Horsford Downs Road Marshall No. 1, RP 197 N/A N/A 10

Horsford Downs Road Marshall No. 2, RP 297 N/A N/A 30

Lees Valley Road Bypass Bridge (Ford),RP 33945 1,000 10% N/A

Okuku Pass Road Lower Okuku Pass Bridge,

Karetu River,RP1677 3,500 60% N/A

New Road New Road Bridge RP 880 2,000 30% (3,000kg max) 10

Stringers Road Stringers Bridge, Stony Creek, RP 276 6,900 70% N/A

Swamp Road, Cust Bridge No. 25, Cust River,RP174 3,000 30% 20

Tallots Road Bridge 635A,RP1623 7,800 80% N/A

Thongcaster Road 1237 Thongcaster Road, RP 0 8,200 100% N/A

Traceys Road Bridge 655A,RP340 7,800 80% N/A

[Attention is drawn to the applicable infringement fees set out in Schedule 1ofthe Land Transport (Offences and

Penalties) Regulations 1999, which apply to infringement of these limits].

Date issued: 10 September 2021

Joanne McBride

Transport and Roading Manager

2417603

Notice of

Annual General Meeting

Waimakariri Access

Group AGM

will be heldinthe

Ground Floor

Meeting Room 1.

Kaiapoi Club,

113RavenQuay,

Kaiapoi

On Tuesday 12October

2021.

At 11.00 am

Morningtea available

All welcome

2417080

WOODEND Spring

Flower Show, Saturday 2nd

October 2021, 1 - 4pm.

Woodend Community

Centre, School Road. See

gorgeous spring flowers,

photography, crafts, floral

art, and lots more. Enjoy a

Devonshire Tea, browse

plant /craft stalls and buy

Daffodil bulbs for next

season. Entries welcome.

Schedules at Paws Vet

Woodend, Veg NOut and

Libraries in Woodend and

Rangiora also on line and

Facebook. Admission $2

Adults, Children free.

Phone Lyanne Wheeler

0210 306 460. Email

lyannewheeler@gmail.com.

Educational

TUITION available. Primary

and secondary up to

NCEA level 3. In centre

(Rangiora) or interactive

online from your home.

Each student onanindividually

tailored programme.

Kip McGrath Rangiora has

been serving the local community

for 30 +years. Give

us acall (03 313 3638) or

book your free assessment

online https://www.kipmcgrath.

co.nz/rangiora

Pets

BICHON HOMESTAY

for smaller dogs. We look

after your dog in our home.

"No kennels". Phone today

03 314 6110.

BIRD FEEDERS

½PRICE -$25 for 10

Plus - DOG BONES

and more

313 0022

2410274MEAT2U.NZ

Wanted To Rent

ACCOMMODATION

required. Retired gentle

bloke requires single bedroom

self-contained dwelling

in avery quiet country

location in North Canterbury

up to within 30

minutes from Christchurch.

Preferably long-term. Good

references. Please phone

027 271 3222.

DESPERATELY seeking

2 bdrm house or flat, in

Rangiora long term tenant,

excellent references. Only

have to beginning of October,

landlord is selling. Ph

Odette 027 812 0261.

Wanted To Buy

$$$

Amalgamated Scrap Metal

Ltd. Specialists in farm

machineryand farm clean

ups, old vehicles etc.

100% locally owned.

Ph 0800 030 712 or

027 695 0480.

2312759
---
CLASSIFIED

30 The North Canterbury News, September 16, 2021

Public Notices

WarMemorial Hall

1AlbertStreet, Rangiora 7400

PO Box 351, Rangiora 7440

www.bsnc.org.nz

Covid -19 and maintaining asafe space for all

Dear Clients and prospective clients,

•Weremain open and ready to provide you with

budgeting supportand advice.

•However,the way we provide this service will be a

little different to normal.

•Weare able to have face-to-face meetings at our

office. These meetings are strictly by appointment only.

•Wewon't be able to come to your home.

•Wewon't be able to see walk-in clients.

•PLEASE call us on 03 313 3505 and we'll contact

you as soon as we can.

•We'll contact you by phone, mobile, text or email.

•Wewill trytocontinue advocating on your behalf with

WINZ, banks, creditors etc.

•Wewill attempt to work with all the other agencies and

food banks and trytodeliver all our normal services.

Phone: 03 313 3505

(please leave amessage and we'll get back to you)

Email: servicemanager@bsnc.org.nz

Monday to Thursday

09:00 am to 4:00 pm

•However,Ifyou cannot wait to talk with us, then please

call the MoneyTalks helpline on 0800 345 123

Notice of Annual General Meeting

Notice is hereby given that the

Annual General Meeting of

TE RŪNANGA OKAIKOURA LIMITED

is to be held at

Takahanga Marae, Kaikoura

On Saturday 25 th September 2021

at 10.30am

2411108

Subject to the covidalert levels this may change.

However we will not advertise again but it will be rolled

over to the third week of the following month.

The business of such meeting shall be as follows;

1. To receive, consider and approve the annual report

of the Company.

2. To receive, consider and approve the annual

financial statementsofthe Company.

3. To appoint an auditor for the ensuing year who

shall audit the financial accounts of the Company.

4. To consider such other businessasmay be

accepted by amajority of the members present

with power to vote at such meetings.

Proxy votes will not be valid

Darran Kerei-Keepa

Director

2413639

Notice of Annual General Meeting

Notice is hereby given that the

Annual General Meeting of

TE RŪNANGA OKAIKOURA INCORPORATED

is to be held at

Takahanga Marae

7TakahangaTerrace, Kaikoura

On Saturday 25 th September 2021

at 9.30am

Subject to the covidalert levels this may change.

However we will not advertise again but it will be rolled

over to the third week of the following month

The business of such meeting shall be as follows;

1. To receive, consider and approve the annual report

of the Officers.

2. To receive, consider and approve the annual financial

statements from the Treasurer.

3. To appoint an auditor for the ensuing year who shall

audit the financial accounts of the Runanga.

4. To consider such other business as may be accepted

by amajority of the members present with power to

vote at such meetings.

5. There will be aconstitutional change this year on

page 11 section 16, Notices. "Notices of Annual,

Special, Shareholder and Directors Election meetings

called by Rūnanga shall be given (and deemed to

be given) by public notice in those newspapers

circulated within Kaikōura takiwā and no later than

fifteen (15) working days prior to the meeting".

Proxy votes will not be valid

Hariata Kahu

Chairperson

Situations Vacant

Expressions of Interest forTrusteeof

Enterprise NorthCanterbury

North Canterbury is one of the fastest growing regions in the country,

supportedbyarobust and growingeconomy.

Enterprise NorthCanterburyisaTrust established by Waimakariri and Hurunui

District Councils with the vision to inspire, attract and retain individuals,

businesses andsocial enterprises to invest in our region.

The Trust, which comprises up to seven voluntary trustees (including the

Mayors of thetwo Councils)and tenstaff and contractors,takes an innovative

and proactiveapproach to ensure it is aleaderand facilitatorofeconomic and

tourism development within theregion.The Boardhas beenverysuccessful in

developing arange of strategic responses to support existing businesses to

Government to invest in ourregion, foster visitor andevent opportunities and

promote development.

One vacancyhas arisensothe Councils areseeking expressions of interest

from peoplewho:

• Have asignificant interestasanownerormanager of abusinesslocatedin

theregion,

• Represent amajor business sector of the region, namely agriculture,

manufacturing, retail, tourism,and professional services, and

• Have thecapability to espouse avision or strategic directionfor thatpartof

theregion's economythat theyare engagedin.

It is desirable that candidates have previous experience as adirector or

have held similar governance roles and can commit to aminimum term of

three years.

To register your interest, please apply via the Waimakariri District Council's

Careers page https://waimakariridc.recruitmenthub.co.nz/Vacancies/ and

followthe prompts to apply.

Applications close 5pm, Monday4October 2021.

If youhaveany enquiries regarding this role, please contact Jim Harland, Chief

Executive,WaimakaririDistrict Council on 0800 965468.

To apply forthisjob go to:

waimakariridc.recruitmenthub.co.nz/Vacancies

&enterref code: 5649050.

School Bus DriversRequired

Would youliketoearnextra income while still

havingmostofyourday free and at the same

time do your community aservice by helping to

provide asafe,highstandardofschooltransport

forour region'schildren.

TorlesseTravelhas positions available forpart

time busdriversinRangiora.

If youhaveaClass 2license, aPassenger

Endorsementand areinterestedindriving on a

part timebasisthenthiscouldbefor you.

Alternatively,ifyou areinterestedinbecoming

abus driver,wecan provide assistance to help

youachieve thecorrect licencing.

If youare interested in this role or wishformore

information, pleasecontact.

manager@torlessetravel.co.nz

Phone: 021 198 7358

ANY old cars, anything pre

1990, unfinished Hot Rods,

Classic Cars. Please call

027 258 8366.

CARS, vans, 4WD's

wanted for dismantling or

repair. Phone 027 258

8366.

Cars Wanted

CASH 4CARS

and 4WD'S

Phone

Automotive

Parts

03 313 7216

LOCAL factory work

available for a variety of

shifts. Traffic Control,

Sawmill. Immediate starts

for the right people. For

more info or to make an

appointment

Daphne at Superior Personnel

313 6180.

Cars Wanted

TOYOTA HILUX SURF

wanted by private cash

buyer – ideally under

200,000 kms. If you are

considering selling your

Hilux Surf we would be

interested in talking with

you. We are looking for a

good reliable Hilux Surf for

our son who is abuilder.

Please call Mike on 021

482 860.

FALCONS &

COMMODORES

WANTED

Suitable for

dismantling or repairs

Ph 313 7216

2412522

Automotive Services

CARAVANS &MOTOR-

HOMES. Interior &

exterior repairs, maintenance

& upgrades. Solar,

satellite, awning installations.

Sheetmetal, light

engineering & welding

services. Professional

coachbuilder specializing

in the RV industry 25 years.

Call Darryl @ Advanced

Auto Homes 027 220 6566.

WINDOW TINTING

tintawindow

advanced film solutions

99% uv block

fade protection

heat control

reduce glare

25 Years Experience

privacy films

frosting designs

non-darkening films

Workmanship Guaranteed

Lifetime Warranties on Most Films

UV

block

Free Quotes Canterbury and Districts

03 365 3653 0800 368 468

A PAINTER WITH

PASSION! Local painter

with 30 years of quality and

integrity in all aspects of

painting. Phone Mike on

021 0903 8546.

ABEL &Prestige Chimney

Cleaning. Nth Cant owned

& operated. Covering all

areas from Waimak to Hanmer.

Professional, guaranteed,

service. Firebox

repairs, carry most parts. Ph

0800 661 244.

AFFORDABLE concrete

cutting with quality and

removal work. Free quotes.

No job too small. Ph 027

442 2219, Fax 03 359 6052

or A/H 03 359 4605.

ALL TREE SERVICES,

arbour work, pruning, tree

removal. Affordable &

friendly service. Telephone

021 111 4322.

ARBORIST qualified.

Copper Beech Tree

Services. Tree removal,

pruning, height reduction,

hedge trimming, shaping,

tree planting, firewood.

Free quotes. Contact Angus

Edwards 027 259 6741

copperbeechtreeservices@gmail.com

BRIAN'S Tree Services.

Tree felling, topping,

shaping, firewood cut, rubbish

removed, stump grinding,

branch chipping.

Affordable rates. Phone 03

327 5505 or 021 124 4894.

CHIMNEY SWEEPS

Time to service your fire.

Accumulation of soot seriously

affects performance.

contact

Latest rotary brush technology.

Free moisture check

on wood. Safety inspection.

All work insured and guaranteed.

From $70 single

story. 0800 SWEEPME or

021 0277 1927. Visit

www.sweepnz.co.nz.

DIRTY TILES &Grout?

Professional tile cleaning,

tiled shower restoration,

mouldy silcone, shower

glass & we can even

recolour your old grout!

For all your tile and grout

issues call Grout Pro for a

free, no obligation quote.

Ph Darryl 0800 882 772.

DRESSMAKING Bev's

Sew Good Services. For all

your alterations, repairs,

dressmaking, curtains.

Phone 327 5535.

KITCHEN bathroom,

renovations, decking,

pergolas, fencing. Honest

reliable licenced builders.

Ph Don 027 727 9162.

Motorcycles

SOUTH PACIFIC Motorcycle

Services. Local family

business since 2003. All

types of service and repairs,

all makes and models. Collection

service available.

Please phone 03 312 0066

office@motorbiketours.co.nz

www.motorbiketours.co.nz.

Trade &Services

METAL WORX. Flashing,

Sheetmetal Fabrication,

Wrought Iron,

Welding, Custom Trailers,

General Metalwork. No job

too big or too small. Ph 021

265 5428 or 03 314 6908.

Find us on facebook/

Glenmark Metal Worx.

glenmarkmetalworx.ltd@gmail.com.

PAINTER & Decorator.

25 + years experience.

Interior /exterior, roofs &

waterblasting. For a free

quote, please ph Steve 03

314 4620 or 027 477 1930.

PAINTER. Qualified local

professional, Int / Ext,

roofs, wallpaper. Call or

text Corban 027 846 5035.

Log Fires

Pellet Fires

Heat Pumps

Sales

Service

Installations

Free Quotes

03 343 1651

472 Blenheim Rd

www.heatstore.co.nz

PAINT & wallpaper

services. Wayne Bryant,

exterior, interior. Qualified

tradesman. Free quotes. Ph

313 5337 or 027 654 4568.

POWER TOOLS repairs,

parts &sales for over 40

years. All main brands serviced.

Grossman Trade

Tools, 23 Watts Road,

Christchurch. Ph 389 9230.

RANGIORA Rubbish

Removal and RRR skips.

Wheelie bins any frequency

and skips from 1.5 cube to

9cube. Skips and wheelie

bins for any use, rubbish,

greenwaste, building sites

or just cleanups. Give us a

phone call 313 6957 or for

skips 021 313 255.

ROOFER All roof repairs,

roof painting, water blasting,

moss treatment,

repointing, gutter cleans &

snow straps. And more.

Free quotes. Phone Nathan

027 516 6609.

SCREEN PRINTING.

For all your printing

requirements. T-shirts,

Hoodies, Hi-Vis vests and

polos, Overalls, Caps etc.

Please phone Heather 03

313 0261 or email heather.

norstar@gmail.com.

SHEARER. Hap's Farm &

Lifestyle Services. Shearing,

crutching, drenching,

tailing, feet trimming &

health check. — Ph. 03-

423-3713 or 021-267-4025.

SUMMERFIELD

FENCING

IN YOUR AREA NOW.

Lifestyle or farm, sheep, cattle,

horse, all types of animals.

Fences, yards, sheds, arenas,

shelters, runs.

30+ years contract fencing.

Steve is available to help with

your design &planning.

Ph office03312 4747

2091848

Pride &Quality Painting

&Decorating Services

20 yrs exp, fast and friendly

service. For all your painting

needs, phone: Martin 310

6187 or 021 128 9867

ANTHONY SYMONDS

Forall your painting &

plastering requirements

Local with 30 years

experience

All workmanship

Guaranteed.

Phone 021 344 023

2220615

SEPTIC TANK

CLEANING

Bill's Liquid

Waste

2362002

REMOVALISTS

Movemen Ltd

2Men &agood sized truck.

From $150 plus GST per hour.

Kaiapoi based.

Call Gerard

027 668 3636

movemen.co.nz

2401953

PAINTERS

Reg Tradesman

Interior,exterior.

North Canterbury Painters

specialising in decorating for

over 65 at adiscount rate.

Free quotes.

Covering Nth Canty,Oxford,

Kaiapoi, Rangiora, Amberley.

Rob 03 327 7899

or 027 432 3520 2227597

MACROCARPA

PERGOLA

4m x4m

$4300.00

including Gst

Installed

Ph. 027 727 9162

2417600

You dump it...

Blair pumps it...

Blair Tavendale

Ph 03 314 9371

0275 379-694

027 216 0000

LANDSCAPES

2225862

Paving

Patio &Pathways

-New or Existing

Free Quotes

–Competitive Pricing

Blair Gibson

027 699 5815 03 313 7933

VALUATION -

Specialising in North Canterbury.

Contact Geoff at

Maxwell Valuation. Phone

03 310 8541 or email

geoff@maxval.co.nz.

2253902
---
Livestock

HOMEKILL & Wild

Game meat processing. Ph

313 0022. www.meat2u.nz.

Gardening

A+ GARDEN hedges cut

to perfection. Tree &arbor

work. Also spraying. Free

quotes. Ph 03 312 0668 or

021 111 4322.

Firewood

DRY Old Man Pine, $500,

6m2. Phone 03 312 8726.

FIREWOOD logged -

ready to saw up, 7km from

Rangiora, $10m3. Please

text 027 435 4023.

For Sale

BERKSHIRE boar and 2

sows, 5years old. Offers.

Phone 03 312 6194.

Personal

GENT, single & indep,

older and bolder, living on

own, happy and educated,

seeks aslim tallish spunky

lady to enjoy activities and

outings together either

casually or in amore committed

relationship. Ph/text

027 659 4425.

CLASSIFIED

The North Canterbury News, September 16, 2021

Call Amanda today

to advertise in our

classifieds

Ph 03 313 2840

31

Trusted Trades &

Professional Services

Guide

To book your spaceinthis guide,phoneAmanda Keys 313 2840 or email amanda.keys@ncnews.co.nz

Appliance Repairs

Builder

Butchery

Chiropractic Services

•REGISTERED TECHNICIAN

•AUTHORISEDLOCAL SERVICE

F&P, Bosch, Smeg,

Ariston,LG, Classique,Haier,

Samsung andmore....

"For best results be sure to useauthorised service"

NORTHCANTERBURY APPLIANCESERVICES

Rangiora: 03 313 4420 Kaiapoi: 03 327 3810

2332343v2

• New Builds &Renovations

• Light Commercial /Re-strengthening

• Project Management

• Bathrooms

• Farm Buildings

• House Lifting Re-piling

• Shop Fit Outs

2408831

40+ years experience

027 222 5078

markw.hills@xtra.co.nz

OxfordButchery

Shane and Leanne Frahm

We cankill&process yourstock

FourGenerations of Frahms

since 1957

Ph 312 4205

Oxford

Number one

old-fashioned bacon

&ham curing.

A/H 312 4709

WE ARE OPEN, WEARE AESSENTIAL SERVICE

2227889v2

Injury,accidentsand maintenance

ACC Registered and Accredited

Monday-Thursday |03 313 0350

Libi McKinnon Physiotherapy

privatephysio@xtra.co.nz

027 868 2574

ACCRegisteredProvider | Tuesday &Friday

Select Health

51 Ashley Street, Rangiora

2344089

Construction &Concrete

All Construction & Concrete Work

•Driveways, patios &paths

•Bridges and Culverts

•Floors, foundations

•Sheds and buildings

•Dairy Sheds, Herd homes

•Silage pits, effluent ponds

•Excavation and cartage

•Precast concrete

•Insulated panels

Daryl Power

027 230 9401

concretepower@scorch.co.nz

www.concretepower.co.nz

2273277

2089195v2-4/4-S

Allan Pethig

For all your electrical needs. Residential &Commercial

Phone 03 313 7144

027 432 1534

Fax 03 313 2144

rgrantelectrical@gmail.com

PO Box 69, Rangiora

Electrician

YOU

COULD

BE

HERE

2269236

Glass &Windscreens

UNDER NEW

MANAGEMENT

Engineering

For your Engineering needs

187d Ohoka Road, Kaiapoi

Phone 03 327 5246 |027 495 2821

toppeng@xtra.co.nz

Landscaping

For all your landscaping needs

All Landscaping, Retaining Walls (Engineered and

Non-Engineered), Timber Fences, Landscape Structures

and more...Lifestyle Block, Rural and Residential.

Phone Jeremy 021 169 9394

www.blackhill.co.nz

www.facebook.com/blackhillltd

2372616v2

Painter and Decorator

PaintPro Ltd

Painting &Decorating

Services include:

Painting,Plastering, WallpaperSpecialists,

WaterBlasting,Gib Stopping&Fixing

No obligation free quote. Fast andfriendlyservice.

Locallyowned &operated. 30 yearsinthe trade.

Gordon McGrath 021 159 0759

paintproltd@gmail.com

2417353

Scrap Metal

CASH PAID FOR SCRAP

•Car Bodies •Scrap Steel•Specialists in Farm

Machinery•All non Ferrous

MAINLAND

METALS LTD

Ph (03)338 7000

Mike0274 818544 •Robbie 0274818 027

Locally owned and operated

1902273

AMPLIFY

YOUR

BUSINESS

AND BE THE

NAME THEY

REMEMBER

FIRST

Advertise with

us and get

noticed

today!

Phone us

today on

03 314 8335

or email

sales@ncnews.co.nz

to find out how we can help!

CAP 65

CAP 40

CAP 20

Shingle

SHINGLE SUPPLIES

Quarry Prices

DRAINAGE CHIP

from $40 per cube

Advertise

your business

in our Trades

and Services

Phone

Amanda Keys

on

03 313 2840

from $23 per cube

from $25 per cube

from $30 per cube

all +gst

Plus all excavation and truck hire

house excavations, driveways, subdivisions

CONTRACTING

Ph: KEN 027 201 3302

Email: stress@xtra.co.nz

2009594

To book your spaceinthis guide,phone Amanda Keys 313 2840 or email amanda.keys@ncnews.co.nz
---
Arthur BurkeLtd

Trusted in NorthCanterbury since1935

2017 Mazda BT-50 GSX 2021MazdaCX-30 GTX 2021 Mazda CX-30 GSX

4x4, Automatic,66,035km,Tow Bar,Tuff Deck,

Tonneau Cover

Ex Demonstartor,2.5Ltr, AWD, 6SpeedAuto,

2,963km

Ex Demonstrator, 4,202km, 2.0Ltr,6SpeedAuto,

ReverseCamera, Balance of MazdaCareFree

Servicing&Warranty,Mazda Radar Cruise Control,

AppleCar Play&

Android Auto

$45,995 $42,890 $38,995

2018 Holden Colorado LTZ

2016 Mazda CX-5 GSX

2016 Mazda CX-5 GSX

2017 Mazda 3GLX

4x4,Automatic,

70,000km, Tow

bar,Tuff Deck,

HardLid

$44,995

2012 Holden Commodore

SV6Ute

3.6ltr,Automatic,

TowBar,19" Alloys,

Tonneau cover

2.5Ltr, 4wd,6

Speed

Automatic,

79,300km, 1NZ

Owner, Full

Mazda

Service

History,

Sat Nav,

Bluetooth

$29,995

2017 Holden Barina LT

1.6L, 6Speed

Auto,73,000km,

Airbags,Alloys,

Leather &

Heated Seats,

NZ New,

Reverse

Camera

2.5Ltr, 4wd,6

Speed

Automatic,

73,500km,

Bluetooth,

Cruise

Control,

SatNav

$29,995

2015 Subaru Impreza G4

2.0Ltr, AWD,

110,000km,

ClimateControl,

Radar Cruise

Control

WAS

$13,995

NOW

77,300KM, NZ New,

Full-service history,

ReverseCamera,

CruiseControl,

Alloy's,Airbags,

Automatic

WAS

$21,995

NOW

$20,995

2010 Suzuki SX4, 2.0ltr

5Door,Automatic,

69,500km

2007 Toyota Vitz

$17,995

1.3Ltr, Alloys,

123,000km,

Airbags

WAS

$6,995

NOW

$5,995

$14,995

WHY WAIT? DRIVE

AWAY TODAY

MAZDA

BT-50 IN

STOCK NOW

$12,995

$9,995

3YEARS

5YEARS

5YEARS

100,000KM

FREESERVICING

UNLIMITED KM

WARRANTY

UNLIMITED KM

ROADSIDE ASSISTANCE

5YEARS

100,000 KM

FREESERVICING

UNLIMITEDKM

WARRANTY

UNLIMITED KM

ROADSIDE ASSISTANCE

Mazda2, Mazda6, MX-5, CX-3, CX-5, CX-8 &CX-9

Mazda3 &CX-30

2411073

Sales: Tim 03 3140135 |Service: Michael 03 3140131

MarkhamStreet,Amberley

www.arthurburke.co.nz

ARTHUR BURKELTD

Established 1935
---
SEATS,

FOUNTAINS

OR POTS?

WE'VEGOT

THE LOT.

100% LOCALLYOWNED &OPERATED.

Spend them &

Earn them here

RANGIORA

If youfind alower priceonanidentical stocked productlocally,wewill beatitby15%

If youfind the same productfromanother Mitre10store or Mitre10website, we'll match that price.

Excludestrade and special quotes,stock liquidations and commercial quantities.The in-storepricemay be lowerthan thatadvertised.
---
RANGIORA

ANAILFOR

EVERYJOB?

CHECK OUT

OUR RANGE

IN-STORE.

100% LOCALLYOWNED &OPERATED.

Spend them &

Earn them here

RANGIORA

If youfind alower priceonanidentical stocked productlocally, we will beatitby15%

If youfind the same productfromanother Mitre10store or Mitre10website, we'll match that price.

Excludes trade and special quotes,stock liquidations and commercial quantities.The in-storepricemay be lowerthan thatadvertised.