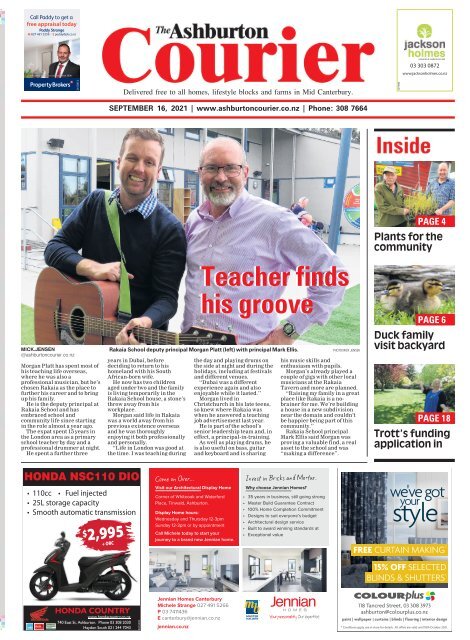 Ashburton Courier: September 16, 2021
Create successful ePaper yourself
Turn your PDF publications into a flip-book with our unique Google optimized e-Paper software.
free appraisal today

03 303 0872

www.jacksonholmes.co.nz

2413813

Delivered free to all homes, lifestyle blocks and farms in Mid Canterbury.

SEPTEMBER 16, 2021 |www.ashburtoncourier.co.nz |Phone: 308 7664

2379686

MICK.JENSEN

@ashburtoncourier.co.nz

MorganPlatt has spent most of

his teaching life overseas,

where he was also a

professionalmusician,but he's

chosen Rakaia as the place to

further his career andtobring

up his family.

He is thedeputy principal at

Rakaia School andhas

embraced schooland

communitylife since starting

in the rolealmost ayearago.

Theexpat spent 15 years in

the Londonarea as aprimary

school teacher by day and a

professionaldrummer at night.

He spent afurther three

Rakaia School deputy principal Morgan Platt (left) with principal Mark Ellis.

years in Dubai,before

deciding to return to his

homelandwith his South

African­born wife.

He now has twochildren

agedundertwo and the family

is living temporarily in the

Rakaia School house, astone's

throw awayfrom his

workplace.

Morgansaid life in Rakaia

wasaworld away from his

previous existenceoverseas

andhewas thoroughly

enjoying it both professionally

andpersonally.

''Life in Londonwas goodat

the time. Iwas teaching during

Teacherfinds

hisgroove

the day and playingdrumson

the side at night and duringthe

holidays, includingatfestivals

and different venues.

''Dubai was adifferent

experience again and also

enjoyable while it lasted.''

Morganlived in

Christchurchinhis lateteens,

so knew where Rakaia was

whenheanswered ateaching

job advertisement last year.

He is partofthe school's

senior leadership team and, in

effect,aprincipal­in­training.

As well as playingdrums, he

is also useful on bass, guitar

and keyboardand is sharing

PHOTO MICK JENSEN

hismusic skills and

enthusiasm withpupils.

Morgan's already playeda

couple of gigs with other local

musicians at the Rakaia

Tavern andmore are planned.

''Raising my family in agreat

place like Rakaia is anobrainer

for me.We'rebuilding

ahouse in anew subdivision

near the domain and couldn't

be happier being part of this

community.''

Rakaia School principal

MarkEllis said Morganwas

proving avaluablefind,areal

assettothe school andwas

''making adifference''.

PAGE 4

Plants for the

community

PAGE 6

Duck family

visit backyard

PAGE 18

Trott's funding

application in

HONDA NSC110 DIO

•110cc • Fuel injected

•25L storage capacity

•Smooth automatic transmission

$2,995

+ORC

Come on Over...

Visit our Architectural Display Home

Join us for the Grand opening of

Corner Jennian's of Whiteoak New Display and Waterford home

Place, Tinwald, Ashburton.

Display Home hours:

Wednesday and Thursday 12-3pm

Sunday 12-3pm or by appointment

Call Michele today to start your

journey to abrand new Jennian home.

Invest in Bricks and Mortar.

Why choose Jennian Homes?

• 35years in business, still going strong

• Master Build Guarantee Contract

• 100% Home Completion Commitment

• Designs to suit everyone's budget

• Architectural design service

• Built to award winning standards at

• Exceptional value

FREE CURTAIN MAKING *

15% OFF SELECTED

BLINDS&SHUTTERS *

HONDA COUNTRY

www.hondacountry.co.nz

740 East St, Ashburton. Phone 03 308 2030

Haydon South 021 244 7043

2413235

Jennian Homes Canterbury

Michele Strange 027 491 5266

P 03 7411436

E canterbury@jennian.co.nz

jennian.co.nz

118 Tancred Street, 03 308 3973

ashburton@colourplus.co.nz

paint |wallpaper |curtains |blinds |flooring |interior design

*Conditionsapply,see in-storefor details. All offers arevalid until18th October 2021.
---
NEWS

2 Ashburton Courier, September 16, 2021

www.ashburtoncourier.co.nz

BUSINESS OWNERS

Build customers,

sales and profits

with us ...

Delivered

to all homes,lifestyle

blocks and farms in

MidCanterbury

and Geraldine

news

Daniel Tobin

Editor

308 7664

027 628 7679

daniel.tobin@ashburtoncourier.co.nz

Reporters

Mick Jensen

mick.jensen@ashburtoncourier.co.nz

Toni Williams

toni.williams@alliedpress.co.nz

advertising

Jann Thompson

Sales Manager

308 7664

027 587 6351

jann.thompson@ashburtoncourier.co.nz

Karen Gane

Sales Account Manager

308 7664

021 510 804

karen.gane@ashburtoncourier.co.nz

getintouch

Editorial

daniel.tobin@ashburtoncourier.co.nz

Advertising

info@ashburtoncourier.co.nz

CreativeManager

murray.thompson@ashburtoncourier.co.nz

Accounts

accounts@alliedpress.co.nz

Distribution/Deliveries

mary.summerfield@ashburtoncourier.co.nz

Office

office@ashburtoncourier.co.nz

03 308 7664

199 Burnett Street,Ashburton

www.ashburtoncourier.co.nz

2388023

Speight's Ale House Ashburton ownerTony Potts preparestoopen under Level2restrictions.

PHOTODANIEL TOBIN

Hospitality industry battles

on through Alert Level 2

DANIEL.TOBIN

@ashburtoncourier.co.nz

For some in the hospitality industry

there has beenastark difference

between lockdown this year and

lockdown 2020.

Owner of Speight's Ale House

Ashburton TonyPotts said lockdown

2020 was financially betterbecause

they got alump sum for wages and

knew it was goingtolast around

seven weeks, so could plan ahead.

''Even last year after covid it wasn't

abad year, we refurbished the bar

amongotherthings,'' he said.

But all the profit made in 2020 has

been wiped out in afew weeks of

lockdown this year.

''This latest lockdown was

financially devastating, we try to pay

our 18 staff members full wage, the

wage subsidy doesn't cover anything

near that.

''At the moment, beyond this week,

Ican't see we are going to be offered

anything. Hopefully we do get

something because having abig

restaurant and only being able to half

fill it means we have half the

income.''

Mr Potts has had the business for

just over five years, and things were

Hardfloor and

wool carpet

specialists

Louis Redmond

Kelli Aldridge

going well up until the 2020

lockdown.

The new rules under Delta Level 2

have added to the strainonthe

hospitality sector.

''It's ajuggling game,making sure

you don't have more than 50 people,

it is difficult trading.

The new rules around maskshave

addedanother challenge for

hospitality workers.

''This time staff are finding it

unusual thateveryone can sit in here

without masks because they are

eating, yet staff have to wear them,

and even the kitchen staffhave to

wear them, you can imagine what its

like in ahot kitchen with masks on.''

Mr Potts said.

The Ashburton Licensing Trust

who leasethe building to Mr Potts

have been supportive.

''The trust have been very good,

they gave us adiscountfor last month

because we couldn't trade at all.''

Once things come backtonormal

Mr Potts hopes people will continue

to support local.

''We really appreciate our local

customers, we are not as reliant on

tourists here, it is the locals in

Ashburton who have supported us

and we appreciate that.''

Burnett Street,Ashburton l Phone (03) 308 5269 l www.redmonds.co.nz

Hospitality New Zealand

Canterbury presidentPeter

Morrisonsaid the industry in the

South Island was grateful to be open,

but it was achallenge.

''It is too restrictive to operate at

that level, you can't make money

doingitthat way,'' he said.

Communication from the

government could havebeen better

whenwemoves to Alert Level 2.

''The government took too long to

get the publichealth order out, it

took five days to let us know the exact

rules. It's all very well to put us in

Level2and offerthe wagesubsidy,

but it is the other costs that kill a

business. Thisweek there are two

moremotelsclosinginChristchurch,

and acafe in Darfield.'' Mr Morrison

said.

At the start of September

Hospitality NZ sent aletter to

government ministersasking for

targeted relief for the industry.

''They were sympatheticbut

couldn't give us any more, and we

may have to go back to them, they are

not interested in having sector

purpose subsidies.

''Everyone in the industryneeds to

stay strong, and hopefully we get

through this,''hesaid.

2413691
---
www.ashburtoncourier.co.nz

NEWS

Ashburton Courier, September 16, 2021

3

Supporters giving to ice rink project

Fundsare flowingintosupport

acommunity projectaimed at

future proofing the Staveley Ice

Rink.

The StaveleyHall Society is

drivingforward a$1.14 million

projecttoadd arefrigerated

base to the rinktoensure

consistent ice every year.

The bushsetting has been

used by skaters and the

Windwhistle Curling Club since

1951.

Project team memberClare

Harden saidaround$304,0000

had beenpledged or donated

since July.

In addition, some17loadsof

concrete, valued at around

$22,000, had also been pledged.

''We've had some some

generous donations and hopeto

keep that momentumgoing.''

Have your say

on water reform

Mid Cantabrians have less than aweek to

have their say on the proposed Three

Waters reform.

The reform would see the council's three

waters services –drinking water,

wastewater, and stormwater –become part

of alarge South Island entity, one of four

proposed to take over the work from 67

councils across the country.

The company commissioned by the

Government to look at the reform says

Ashburton ratepayers would pay $1640 per

serviced property for those water services

in 30 years' time if it was part of the

reforms, but $8690 if it was not.

Ashburton District mayor Neil Brown

said council had serious reservations

about how the figures were sourced, and

was compiling comments, matters for

clarification, and concerns as part of

preliminary feedback for government.

"While we are not yet at astage where

we have to make adecision to opt in or out,

the Government has given councils until

the end of September to provide some

initial feedback on the proposed reform.

"Before we report back to Government,

we are keen to get afeel for the mood of the

district on this issue to shape our thinking

on our response to the Government," he

said.

Residentscan take part in a

confidentialshortsurvey on council's

website or fill out ahard copy formby5pm

on September 22.

LETTER TO THE EDITOR

Thank you to our amazing community who

joined us online for DaffodilDay. We

couldn't haveour street appeal this year

but thatdidn'tstop you from fundraising

and donating.

More than 25,000people are diagnosed

withcancereach yearinNew Zealand, and

at theCancer Societywe believe thatnoone

should havetogothroughtheir cancer

journeyalone.

Whether it's drivingsomeone to

treatment, providingadviceorsittingwith

them during theirtreatment –the Cancer

Society is there foranyonewith anykind of

cancer.

Yourefforts makeitpossiblefor us to

continuetoprovidesupport forpeople

withcancerinour community. Weare so

grateful for yoursupport as thedemandfor

our servicesonly increasesduring

lockdown.

Every dollar raised fromDaffodilDay

goestowards cancer care for patients and

theirwhanau,education and awareness

programmes, andlife­saving cancer

research.

Wewould also liketoacknowledge our

majorsponsor ANZNew Zealand.

Awhi mai,awhi atu ­Cancer doesn't stop,

and with yourhelp,wewon't either.

Cancer Society Mid Canterbury

Mrs Harden said $100,000was

still neededbefore Lotto

funding could be applied for.

Theproject teamhoped to be

in aposition to do that in

February,she said.

Thegeneralpublic can opt to

support the project by buying a

three­year family season pass

($2000), or aload of concrete for

the rink base ($1300).

Businessand private

donators can becomebronze

($5000), silver ($10,000) and gold

sponsors(still to be

determined).

AGivealittle pagehas also

beenset up for smaller

donations.

Contactthe Staveley IceRink

through its Facebook page, or

StaveleyHall Society president

Rob Withers on 027303 0138.

AVAILABLE

NOW

55''4KSmartTV

Dishwasher

Range

Chorus DeluxeQueen Bed

was$2999

$

1945

$13.02weekly

• 4K200Hz panel is designed foramoresuperior watching experience. Greatfor

watching sportand everyday television

• Panasonic easy to use large button remoteallows youtouse your new Smart

TV features much easier

• UHF and satellitetuner allows youtowatch Freeview straightfromthe TV

LIMITED

STOCK

SUPER Spring SPECIALS

13 PLACE

SETTINGS

8 COOKING

FUNCTIONS

LIMITED STOCK

Members of the Windwhistle Curling Club during the rink fundraising launch in June.

• 13placesettings

• 5wash programmes

–washavarietyof

dishes

• Half load option –

Greatfor small loads

• H850mm W598mm

D598mm

• 8cooking functions,

create amazing meals

• 4xEgo elements,durable

and reliable

• Storage drawer,great for

those extratrays etc.

• H900mm W600mm

D600mm

BONUS

WITH THIS OFFER

c

4 5 OFF

• NZmade

• Medium Comfort

• 5year Warranty

Pillowtop Pocket Spring System - Helps to reducepartner

disturbance

Ultra-Fresh forAllergy Support – Afresher,cleaner and

morehygienic sleep experience

was$1149

$

793

$5.49weekly

IMMEDIATE

DELIVERY

was$1299

$

898

$6.18weekly

IMMEDIATE

DELIVERY

was$2699

$

1390

$9.04weekly

IMMEDIATE

DELIVERY

by A.H. Beard

AVAILABLE

NOW

Elation Queen Bed

65''4KSmartTV

Washing Machine - 7kgg

was$3599

$

2475

$16.49weekly

• 4Kresolution paired with Panasonic fast HXCprocessor offers amazing vibrant

colours forsuperior picturequality

• Panasonic user friendly remoteallows youtoaccess all of Panasonic great

online contentlike TVNZ On Demand and Netflix and so much more

• UHF and satellitetuner alows youtowatchFreeview straightfromthe TV

6 WATER

LEVELS

DEFROST

DRAIN SYSTEM

LAST ONE

• 7kg,mid sized washer

• 6water levels,helps

reducewateruse

• Soak option, helps

clean stains etc.

• H1050mm W554mm

D618mm

Chest Freezer

BONUS

WITH THIS OFFER

c

5 0 OFF

OVER

60%

OFF

BONUS

WITH THIS OFFER

c

3 5 OFF

• 290 litres –medium sized

storage

• Spring loaded lid–Makes

lifting lid easier

• Defrost drain system –Helps

with defrosting of freezer

• H845mm W1055mm

D735mm

BONUS

WITH THIS OFFER

c

3 5 OFF

• NZmade

• MediumComfort

ReflexMax SupportSystem System – Additional turns at the topofthe

spring dynamically respond to individual weightand movement.

GelInfused MemoryFoam – Conforms to your body to provide

pressurerelieving comfort.

Algua – Abio functional and beautyfunctional textile powered

by Spirulina SeaVitamins.Recharge at nightfor an activeday.

PHOTO MICK JENSEN

was$1149

$

897

$6.18weekly

IMMEDIATE

DELIVERY

was$1559

$

998

$6.84weekly

IMMEDIATE

DELIVERY

was$8499

$

3350

IMMEDIATE

DELIVERY

2413086
---
NEWS

4 Ashburton Courier, September 16, 2021

Economy

healthy

www.ashburtoncourier.co.nz

Jan grows for community

MICK.JENSEN

@ashburtoncourier.co.nz

Ashburton'seconomy grew 4.3 percent over the

yeartoJune2021accordingtoprovisional

estimatesfrom Infometrics. Ashburton's GDP in

the June 2021 quarterwas 6.1 percenthigher than

June 2019, showingthe strength of underlying

growth in the economy.

The district's annual average unemployment

ratewas3.2 percent in June2021,upfrom 2.7

percent12 months earlier. There were 729people

registered as jobseekers. TheInfometrics

Quarterly Economic Review Monitor report

shows building activityisstrong in Ashburton,

with a23.8 percentincrease in newdwelling

consents over the year to June2021.

Non­residential activity is alsostrong.

Ashburton'saverage housevaluehas risen

17.6%overthe past year, reaching$450,868 in

June.

The district's dairy payout for the2020/2021

seasonisexpectedtobearound$1,244million, up

$98million on last season.

Netherlands­born Jan De

Kleijn is green fingered

and has propagated

thousandsofnative plants

for the Rakaia community

over the last six years.

Hisplants aregrown

from seeds and cuttings

and have been used for

projects likethe Rakaia

Walkway,the Rakaia

Domain and other

beautificationprojects.

Afarmer in his former

homeland,Jan has lived in

Rakaia for 20 years and

thesedaysisacaregiver

for his wife Nonniwho

suffers from dementia.

He grows and propagates

plants in his backyardand

also grows vegetable plants

and natives that are sold to

raise funds for St Andrews

Presbyterian Church in

Rakaia.

"I've always enjoyed

growing plants.

"The problem for me was

that when Iarrived in New

Zealand fromHolland I

didn't know anything about

the natives growing here,''

Jan said.

He enrolled on aplant

propagation course, had

steadilybuild up his

knowledge and growing

experience,and wasstill

learning.

"It's somethingIcando

and enjoy doingand it

givesmeanopportunity to

give backtomy community

and to make new

friendships.''

Janrecycles andisgiven

Plant grower Jan De Kleijn (left) hands over anotherbatch of home­grown natives to

Rakaia Community Associationchairman Neil Pluck.

pots and answered acall

for community growers put

out afew year ago.

Rakaia Community

Association chairmanNeil

Pluck said anumber of

people like Jan generously

suppliedplants for the

benefit of the community,

but he was by far the

biggest single provider.

The donated plants

saved the community alot

of money and were used on

projects like the walkway,

which ran fromthe scout

den andalong Rakaia

Terrace West for a

distance of 3.5km, he said.

Anew section near the

scout den willbeplanted

soon and Jan has been

consulted on what plants

he has available.

He is also currently

growing grasses that will

be used to beautify the

area around anew Rakaia

dog park, where grass seed

has just been sown.

Pupils back after lockdown

Respect

ReviewedbyRowenaHart

Hereisthe storyofAretha Franklin's life.

Aretha was amusical legend growing up at a

time in our historywhen Martin Luther King was

campaigning andshe oftensang at his meetings.

This is an exceptional movie,feel goodand totally

captivating.

Jennifer Hudson played Aretha and made a

superb job ...itwas easy to forget that wasn't

Arethaupthere.

I especially enjoyed the scenes where they

showedhow the songs areproduced.

Thecostumes,the production designand all the

actors were remarkable.

Forest Whitaker played Aretha's dominating Dad

...incredible.

But to cut the strings she left her Dad and fell in

love with areal baddie and that messed her up

forthe whole of her life. So sad.

At theend of the movie we see liveclips of Aretha

singing "My Country" atObama's inauguration

and Jennifer Hudson singing "Amazing Grace" at

Aretha'sfuneral, oneof hermostloved songs.

bookings ph 307 1230

www.regentcinema.co.nz

2380035

2415989

Rakaia School pupils enjoy lunch outside on

the first day back at school after lockdown.

Rakaia School principalMark

Ellis is proud of the way pupils,

staffand parentsgot through

therecent lockdown at home.

Online educationand

communication channels were

fluid after the experiences of

last year andthe school

community had stepped up to

themark, he said.

''Staff andstudents are happy

to be back at school and in the

classroomagain, but we got

through the challengesover the

last few weeks.''

Mr Ellis said Google

Classroomhad worked wellfor

those in Years 3­8 and regular

morning Zoom meetings had

been held for juniors.

Some 50 deviceshad been

loaned out andnow returned,

whichhad helped pupils to

learnonline.

Therehad been regularstaff

meetingsonline and teacher

aides had beenincluded in

discussions and updates.

''Lockdownfor Rakaia School

was all about 'connection' and

'community','' Mr Ellis said.

Rakaia School has165 pupils

andruns its day around a'play,

eat, learn' schedule, which

international studies have

shown improve children's

ability to payattention in

classrooms.

Roading job

Ashburton District Council is afteranew

roading manager and someonewho is able

tomanage the budget for New Zealand's

thirdlargest roading network.

The senior management role is

advertised as having ''serious influence and

scope'' and theright candidate will be

someone with civil construction

qualifications, roadingexperience, and

leadershipskills.

The roleoverseesall aspects that sits

under council's roading umbrella and

includes ensuring all programmed,

operational and special project work for

roading activities meetagreedservice

levels, budgets and timeframes.

The strategy side of the role will include

providing policy andtechnical direction.

Applications close on September19.
---
www.ashburtoncourier.co.nz

Softball champs

in Ashburton

early next year

TONI.WILLIAMS

@ashburtoncourier.co.nz

At the toss of acoin Mid

Canterbury has won hosting

rights for the Mainland Softball

southern zone U15s open club

championships early next year.

It's an unexpected last

minuteopportunity but one

host organisers are welcoming,

despitehaving less than four

monthsuntil game time.

Mid Canterbury Softball

Association president Carl

O'Neill said it was unclear yet

just how many South Island

teams could arrive en masse to

Ashburton, but given it was the

open club championships, not a

regional event, there could be

multiple teamsfrom each

district.

''There could be four teams

from Ashburton,ten teams from

Christchurch, three or four

from Dunedin, Central Otago,

Southland, Nelson,

Marlborough.''

It was also amixed event with

Under 15s boys and girls teams

''so there is the potential to be

30­odd teams''with around 12

playersper team.

''It's adefinite bonus for (Mid

Canterbury Softball).

''We held the secondary

schools one acouple to three

years ago whichwas anew

thing for us, so we are in a

better position now than we

were then.

''We knowwhat we need,

what we've got to do and stuff

like that.''

Mr O'Neill was at the helm of

the association then too and

said adedicated committee was

now working through the finer

points needed.

''We're lucky we've got a

wholebunch ­there are eight of

us on the committee ­who work

together really well,and we've

already had aplenty of

outsiders offer to help.''

He said the plan was to break

the organising of the event in to

smaller sections for completion

to make it manageable.

There were seven

associations in the South Island

but Mr O'Neill said having a

central South Island location for

the championships made it

easier for travelling teams.

''It was between us and our

good neighbours South

Canterbury, but it came down to

the flip of acoin in the end. And

we happened to win that,'' he

said.

The four day event, due to go

ahead at Argyle Park on January

13 to 16, would require

additional facilities which

needed to be hired, such as

toilets, changing facilities and a

mobile office for games

officials, Mr O'Neill said.

Applications for funding

assistance were being

completed, and businesses and

organisations sought for

sponsorship or support such as

the use of marquees for teams

shelter during the event, he

said.

Anyone able to sponsor or

support the event can contact

Mid Canterbury Softball

through Facebook.

Joint art on show

Outdoor painting friends Susie

Millichampand Claire Forbes

have ajointexhibition opening

at theMtHutt MemorialHall

art gallery fromSaturday.

Manyofthe works on display

and for sale havebeen painted

by the pair en plein airand at

avariety of locations,

including Akaroa andinthe

high country.

The exhibition runsuntil

October 15 andisopen daily

from9amuntil 4pm.

Manager's

NEWS

Ashburton Courier, September 16, 2021

Resthome visitors return

MICK.JENSEN

@ashburtoncourier.co.nz

WILD RIVER

PINOTNOIR

750ml

Super

HOTDEAL!

$

13 00

each

Super

HOTDEAL!

$

12 80

DEALS!

Super

HOTDEAL!

$

19 60

each

5

Joy Nicholas (wearing the mask) catches up Rosebank resident

and Bernie Mavor.

PHOTO SUPPLIED

Visitors are backatRosebank

Resthome and residents and

staffcouldn't be happier.

There was asteady stream

of visitors to the Walnut

Avenue resthome and hospital

complex at thereturn to Level

2lastweek.

Strict rules are in place and

visitor hours are between

10am and 11.30am and 2pm

and 4pm.

Signing in via QR code and

registerismandatory and

masks need to be worn at all

times.

Only onevisitor is permitted

per resident andvisits have to

take place in the room of the

resident.

People under 12 arenot

allowed to visit.

Rosebank managerSue

Prowse said it was verybusy

on the opening day of Level 2.

As well as receiving visitors,

someresidents had been able

to leaveRosebankfor awhile

and enjoyedtimewith family

members and friends.

There were morechallenges

with the Delta virus,but

everyone was beingverycooperative.

''I think many of our

residents are more resilient

than we give them credit andit

is the relatives that worry

more about them,'' Mrs

Prowse said.

For some residentsthe

secondlockdown was easier,

but forothers the noveltyhad

worn off.

Residents and staffacross

all facilities except the village

had now received two

vaccinations, which offered

each

more reassurance, Mrs

Prowsesaid.

Residents do not need to

wear masksand have been

coming together in the lounge.

Anumber of them are

nonagenarians.

Mrs Prowse said staffhad

once again becomelike family

to residents during lockdown

and had supportedand

entertained them.

Volunteers were not yet

back at Rosebank, but would

return soon.

YEALANDSRESERVE

PINOT NOIR

750ml

Super

HOTDEAL!

$

42 99

each

ARROGANT FROG

CHARDONNAY

750ml

JACK DANIELS 700ml PACK

WITH BBQTONGS,

FORKORSPATULA

Super

HOTDEAL!

$ each

11 00

each

Super

HOTDEAL!

$ each

3 00

each

SKELETON

GLASS WITH

STRAW

SPINTHE

BOTTLE GAME

ASHBURTON

266 Havelock Street,

Ashburton.

Ph.308 7149

MSA

www.superliquor.co.nz

PLEASE NOTE: Trading hours

changed until further notice.

HOURS

Monday

Tuesday-Thursday

Friday&Saturday

Sunday

11:00am -6:00pm

11:00am -8:00pm

11:00am -9:00pm

11:00am -6:00pm

Offer ends

23 September 2021

*Terms and conditions apply

2413590
---
NEWS

6 Ashburton Courier, September 16, 2021

www.ashburtoncourier.co.nz

Duck family like to spend time with Cyril

DANIEL.TOBIN

@ashburtoncourier.co.nz

Cyril Keen has beencalled alot of

things in his time, but perhaps he can

add the title of Ashburton's duck

whisperer.

Amother duck and her family of fluffy

ducklings havedecided Cyril'ssunny

backyard is as goodaplace as any to

spend the day.

Cyrilisnot sure why they have chosen

his place as they needtowaddle past

five other properties to get to his house.

Whenthey first turned up therewas

the mother duck and 13 ducklings. Cyril

wasn'tsure what to do.

''I walked them down to Braebrook

pond which is about the length of a

rugby field, got them back downinthe

water.

''Then ahalf an hour latermywife

said she's back here again,

unfortunately she had lost five

ducklings in that time.

''So Igot the broom and droveher and

the remaining ducklings back to the

pond, it was funnyshe just waddled

away in frontofme.''

The next day the duck family turned

up again.

''I don't knowwhat to do, does she

want to makeahome here? I'm retired

and Idon't want another family,'' he

said.

Cyrilisworriedbecause there are

cats in the neighbourhood, his theory on

the missing ducklings is the cats and

eels may have got them.

So he is keeping awatchful eye on the

motherand her ducklings.

''It's the start of spring and to have 13

little ducklings and the mother turn up

on your back lawn, it's amazing.''

Cyril Keen walks the family of ducks back down to the local pond.

SPCA Scientific Officer Dr Alison

Vaughansaid many people welcome

wildlife in their gardens but, in some

cases, people maywant to deter wild

ducks due to the mess theymay make.

''Birdsare attracted to certain areas

PHOTOS DANIEL TOBIN

for anumber of reasons including a

suitable environment and available

feed sources. Removing attractants

is the most effectiveand humane

way of deterringunwantedducks

from visiting aproperty.''

Ducklingsrelax in Cyril's backyard.

Ducks are attracted to areas with

openwater and large expanses of grass,

suchasparks, golf courses, and gardens

with large lawns.

Ms Vaughan suggests planting native

shrubs, tall grassesand other visual

barriers helps to break­up large

expanses of lawn, makingthe area less

appealingtoducks.

''If you do not wantducks to stay on a

property, do not feed them and remove

any food which may be attracting them.

''Many types of ducks enjoygrazingon

short grass so allowing grass to grow

longer or reducingthe area of lawns,

particularly aroundponds or pools, will

makethe propertyless appealing.

'' Ducks may also be nesting at this

timeofyear, so people shouldn't move

ducks that are incubating eggs, as this is

likely to causewelfare issues.''

Level 1needed for Boulevard Day to happen

Nearly 100stallholdersare

lined up for Boulevard Dayon

September27, butthe event

willonly be held if the district

is at Level 1.

The long­runningevent was

cancelledlast yearbecauseof

covid concerns and this year is

set to be heldinAshburton

Domain insteadofalongEast

Street duetoupgrade work in

downtown Ashburton.

OrganiserBob McDonald

saidhehad ''hisfingers, toes

and everythingcrossed'' and

hoped theeventwouldgo

ahead.

However it would not be

heldunder currentLevel2

restrictionsand wouldbe

cannedifthe levels did

notmovedown.

''We intendmaking the

call at thevery last

minute, probablyon

September23or24,'' he

said.

Alot of work had gone

into organising Boulevard

Day2021 andmoneyhad

been spent on promoting

it,MrMcDonaldsaid.

Thepopular shopping

dayhas beenrunningfor

nearly 50 years and is held

to coincide withSouth

Canterbury Anniversary

Day.

Canterbury
---
$7.49 each or

2

$

10 for

Tui

Organic Seaweed

Plant Tonic 500ml

Sustainably sourced

seaweed fornaturally

healthyplant growth.

Strengthens against pets

and diseases.

318976

Offers available from Thursday16thSeptember till Wednesday22nd September,2021orwhile stocks last.

ASHBURTON MITRE 10 MEGA

West Street, Ashburton

PHONE 03 308 5119

$ $ $

Neta

$ $

$ $

$

$

13 13 15

12 14

98

29 47

Drip Irrigation

kit

20each

NEW PRODUCT

179

98 99 98

98 99 98

99

each each each

Tui Tui Tui

Garden Mix

40 Litre

Certified

Organic

Compost

30 Litre

Superlight

Potting Mix

30 Litre

pair

StartedKit 13mm

each each

Showa Gardena Taurus Garden

Onestop watering solution. Easy to install.

Nitrile Gardening

Classic Mult

Compost Bin

Maintains plant hydration.

ti

Glove Medium

248629

Sprayer

240 Litre

AssortedColoursrs

Easy to assemble

Durable nitrile palm.

Washable.

Fits like a

second skin.

High tear and

punctureresistance.

148643

was $29.99

Nouveau

WillowObelisk

120cm

Durable yetlightweight.

Ideal forclimbing and

long stemmed plants.

381137

Aversatile planting

mix that adds

nutrient-rich

organicmatter to

improve

soil condition.

100% weed free.

118454

NEW PRODUCT

AquaForce

Tiered Water

Feature

H: 555mm, W: 262mm,

D: 295mm.

A250 LPHlow voltage

pump included.

2m pump cable.

Suitable forindoor or

outdoor use.

With LED light.

380684

$ $

1

$

$

eachh

TIMARUMITRE 10 MEGA

23 Bank Street, Timaru

PHONE 03 687 2033

Get your garden

sorted with these

great deals

Organic and BioGro

certified.

Revitalises your

soil with organic

matter and nutrients.

100% weed free.

$

349

NEW PRODUCT

AquaForce

Urn Water

Feature

OAMARUMITRE 10 MEGA

DeeStreet, Oamaru

PHONE 03 434 9860

899

EXCLUSIVE

98 98 79

49

8 10 14 16

238104

Threespray

patterns,

softspray,bubble jet

and 9point hardjet.

Made in Germany.

Integrated filter can be

removedand cleaned.

280056

H: 575mm,

W: 370mm,

D: 400mm.

Jade.Suitable for

outdoor use.

A250 LPHlow voltage

pump included.

With LED light.

380687

122996

Formulated for

convenience and

superior

performance.

Six month controlled

release fertiliser

provides sustained

feeding foroptimum

plant health.

307386

allowing youto

combine compost

withyour soil to

encourage

natural retaining

nutrients,

moistureand air

forahealthier garden.

each each each

EXCLUSIVE EXCLUSIVE EXCLUSIVE

Gardening Solutionzz

Number 8

Bloom

Creative Nativess

Lavender Ruffles

Pressure Sprayerr

HandGarden Fork

Griselinia

Plumberry

4Litre

Ideal for efficient cultivation with

Broadway Mint

1.9 Litre

minimal soil adhesion.

Stainless steel

1.0 Litre

Gorgeous range of flower

Carbonsteel head.

sprayerpole.

Amust forany garden

colours.

Comfortable TPR grip.

Adjustable PP carrying

that needs aprivate

Compactand neat habit.

belt.

Quick growing &easyca

320961

area, screen, wind

are.

Plastic construction.

protection or just an

Long flowering.

Great forpots, garden 234807

evergreen plant

beds,

with glossy green leaves.

borders and bedding.

Quick to establish.

235400

$

382924

381248

USIVE

Kitincludes 2x5.0Ah

18 Volt batteries and a

dual port charger.

Reliable, long lasting

batteries compatible

with otherequipment

in the Makita

range.

Lownoise

and zero

emissions.

Makita

Lawnmower

&Line Trimmer Kit
---
NEWS

8 Ashburton Courier, September 16, 2021

Art show

The Ashburton Society of Arts springshow

opens on September 19.

The showatthe Short Street studio will

feature worksfrom local artists and the guest

artist is Sarah Beal.

Theexhibition runsuntilOctober17and is

openonSaturdays and Sundays from11am

until 4pmorwhen thesignisout. For aprivate

viewing contact Ngaio McKee 308 4533.

Ashburton

October 14, 15,

18, 19, 20

www.ashburtoncourier.co.nz

Adapting to mask wearing

Staff and volunteers at the Salvation

Army Family StoreinAshburton are

back workingand adapting to having

to wear masks in Level 2.

Because of the Delta variant mask

wearing is mandatory this time

around for peopleworking in or

visiting retail stores and indoor

public venues.

Ashburton Family Store team

leader Sharon Breakwell said it was

business as usual forstaff, but with

welcoming smiles hidden beneath

masks.

Thefamily store had been closed

during Levels 3and 4, but reopened

in Level 2with strict protocols in

place.

Staff andcustomers were wearing

masks, scanning or manually

recording visits and distancing in

store.

Business was steady and it was nice

to see regulars back in, Ms Breakwell

said.

Most staff found wearing amask

fine when browsing andserving, but

harder when they were more active.

One volunteer, whowore glasses,

had steamed up when wearing her

mask, butasquirt of anti­fog on her

lenses had solved the problem, Ms

Breakwell said.

Up to 20 customers are being

allowed in the spacious store ata

time and volunteer numbers have

been deliberately reduced because of

covid.

People areasked to drop off items

in store during opening hours. The

family store is open weekdays from

9am until 4.30pm and from 9am until

4pm on Saturdays.

Behind the masks at the Ashburton

Salvation Army Family Store are

(from left) assistant team leader

Susan Climo, store team leader

Sharon Breakwell and volunteer

Karen Bishop.

GREAT

RATES

PC Repairs, Set-up and Tutoring

Icome to youday or evening!

NewPCs

and Laptops

forsale

•PCRepairs/Sales •Networks/Servers

•Firewalls/Security •Spyware Clean-up •Training

20 YearsExperience Microso Cerfied Professional

NETWORKS FIREWALLS AND PCS LTD

Robin Johnstone 67 Aitken Street, Ashburton

P: 03 308 1440 C: 027 768 4058

robinbj@xtra.co.nz

2416496

2380047

Bike track open

after repair work

Spotlight on the

Gut &Brain Axis

20%

OFF

Tidying up and achecking out the new bridge on the loop

track near State Highway 1are Mountain Bike Ashburton

members Graham Russell (left) and James Reid.

Riders are enjoying the

Allenton mountain bike

track again afterabig

clean up effort by

volunteers.

Big sections of the

track were damaged and

covered in silt after a

severeflood at theend of

May.

The 11.5km MTB loop

track runs parallelwith

the AshburtonRiverand

from Melrose Road to

TrevorsRoad.

The section from the

State Highway 1bridge to

TrevorsRoad was

cleared by volunteer

labour in late June, but

the bigger section in

Allenton hastaken longer

to clean up.

Mountain Bike

Ashburton president

James Reid said club

volunteers had put in

hundreds of hours of

work to getthe track back

openfor thebiking

community.

Avarietyofdiggers,

ranging from 22 tonnes to

1.7 tonnes, had been used

and there had been plenty

of shovelling as well.

Mr Reid said some

sections were still alittle

rougher than before the

flood, butthe track was

running well and feedback

had been very positive.

The track included a

new elevated section that

runs from the skills park to

the Tinwald bridge, he

said.

''We were about to open

that section when the

flood came, butluckily for

us it escaped any

damage.''

The new section now

meant the bike track was

totally separate from the

river walkway track in

Allenton, whichwas

aimed at walkers, runners

and dog walkers.

The track work has been

supportedwith $5000

grant fromthe Mayoral

Relief Fund and $5000

from Ashburton District

Council, which has

committed $10,000 per

year for 10 yearsto

support theworkof

Ashburton Hakatere River

Trail committee groups.

Lighthouse Probioc75Billion 50s

NOW$47.99 was$59.99*

Lighthouse Probioc75Billion 100s

NOW$86.39 was$107.99*

20%

OFF

Need a

Clean Out?

EARN UP TO 82

REWARD POINTS

400g NOW

39

$82 39

was$102.99*

100g NOW

19

$31 19

was$38.99*

*while stockslast

Plastic welding

We repair all types of plastic products

andequipment.

•Water tanks •Calf feeders •FuelTanks

•Car bumpers •Cab roofs

ARTHUR

CATES

LIMITED

26 McNALLYSTREET,

RIVERSIDE INDUSTRIAL

PARK,ASHBURTON

TEL 308 5397

www.arthurcates.co.nz

2413593

2379944
---
www.ashburtoncourier.co.nz

First female president

NEWS

Ashburton Courier, September 16, 2021

9

MICK.JENSEN

@ashburtoncourier.co.nz

Darion Gray (pictured) is Celtic

Rugby Club's first female

president in its 100­year

history.

Ashburton­raised, she

follows in the footsteps of

previous president Kevin

Donaldson and before him,

Paul Summerfield, who was in

the role for many years.

Darion's association with

Celtic goes back 18 years and

began when her son Cathal

joined the Under 6team.

She managed Celtic's

youngest team for awhile and

later her daughter Eimear

played for the club.

She was the JAB club captain

for many years.

''I've loved my involvement

with the club over the years.

''It's family­friendly, very

sociable and there's alot of

good people involved.''

Darion said there was plenty

of knowledge and support to

call upon in her role as

president and generations of

players and supporters at the

club.

Celtic, which has Marist

affiliations, has around 400

players across all grades.

The club owns and maintains

its own grounds off Keenans

Road and financially it ticks

over well.

Regular fundraising helps

pay for the likes of insurance,

mowing and fertiliser expenses

and maintenance.

''A rugby club is an expensive

place to run and costs are

ongoing, but alot of people get

involved to support us.

''Club members put up their

hand to help out in the bar or

kitchen at home games, which

is an important source of

funds,'' Darion said.

The other good thing about

Celtic was that it was

community­focused and funds

raised over the years had

supported food drives, women's

refuge and other local

charities.

Darion played school rugby at

Ashburton College in her youth

and has always had akeen

interest in sport.

She spent an extended 12

years overseas on her OE, living

in the UK and Ireland, and met

her future husband, Kieron.

The pair moved to New

Zealand in 2001 and settled into

life in Ashburton.

Darion works as asports coordinator

at Ashburton

College, but spends adecent

amount of her free time

involved with Celtic.

The lengthofher termas

presidentisundetermined, but

she is looking forward to

seeing the upgrade of the

women's changing shed, which

has been made possible

through agrassroots rugby

grant and will involveclub

volunteerlabour.

Looking ahead, an upgrade

of the main men's changing

roomsisalso planned.

Grove St park

submission glitch

AshburtonDistrict Council

has received 33 submissions

on the futureofGroveStreet

parkinTinwald,but is

worriedatechnical issueon

the council'swebsite might

haveaffected other

submissions.

Strategy andcompliance

group managerJane

Donaldsonsaid council was

madeawareofaproblem

affectingsomesubmitters,

whose submissionswere not

captured by thesystem.

''Wehave isolatedthe

problemand fixed it and

expect it will notrecur in the

future.Wehavecontacted

everyone we know who was

affected and we ask anyone

whosubmitted to check that

theirname appearsonthe

list of submittersonour

website''

If yousubmittedonthe

future of Grove Streetpark

and your name is not listedin

the'SubmissionsReceived'

section on thecouncil's

website,contact the council

as soonaspossible.

Council hasbeen asked to

dispose of the park. The

request came from a

developer, whowilluse the

site for road accesstoa

proposedsubdivision, which

would includealarger and

betterpark.

Consequently,the

submissionperiod was

extended until September

14, withhearingsand

deliberationsscheduled for

September29.

Fill the

weekend

withflavour

EVERYDAY

PRICE!

$

17 99

each

WITHER HILLS

RedRange

750ml

HOT DEAL!

HOT DEAL!

HOT DEAL!

$

36 99 $

44 99

Checkout ourlatest

deals

$

39 99

each

vinoS

forasweet

as nightin

Perfect

for celebrating

BOURBON

MONTH

SEPTEMBER 2021

HOT DEAL!

$

49 99

each

weet aS

beersiedeals

HOT DEAL!

$

39 99

each

HOT DEAL!

$

24 99

HEINEKEN

12 x330ml Bottles

CARLSBERG PILSNER or

STEINLAGER CLASSIC

24 x330ml Bottles

RTDdeals

HOT DEAL!

$

24 99

SMIRNOFF ICE DOUBLE

BLACK &GUARANA

12 x250ml Cans,7%

HOT DEAL!

$

29 99

1LITRE 1LITRE 1.125LITRE

1LITRE

FINLANDIA

1Litre

CAPTAIN MORGAN Dark

or Spiced Gold

1Litre

JIM BEAM

White Label

1.125Litre

BOMBAY SAPPHIRE 1Litre

BOMBAY BRAMBLE Gin with

Blackberry &Raspberry 700ml

$

67 99

GLENFIDDICH

12YO

700ml

BILLY

MAVERICK &

COLA

18 x250ml

Cans,7%

Shop local with

AMBERLEY, ASHBURTON, BARRINGTON, BELFAST, BRIGHTON, BURNSIDE,

COLOMBO ST, EDGEWARE, ELMWOOD, FERRYMEAD, HALSWELL, HANMER

SPRINGS, HORNBY, ILAM, KAIAPOI,LEESTON, LINCOLN, METHVEN, OXFORD,

SHOP LATESTDEALS at WWW.SUPERLIQUOR.CO.NZ

NATIONWIDE DELIVERYNOW AVAILABLE

PAPANUI, PEGASUS, RANGIORA, SEASIDE, WOOLSTON

Exclusions may applyonsome brands advertised. Offers end close of trade 19th September 2021, while stockslast. Available at participating stores only. MultiDealonlyavailable in store.

Varietals may vary by store. Limits mayapply. Wholesale (other liquorretail banners) not supplied. Terms and conditions may apply.Available 6th -19th September 2021 inclusive.

Please see www.superliquor.co.nzfor details.

SUP2383_C12
---
Paterson's

Ashburton

FDANZ

03 307 7433

The initial death notice

lodged by a funeral

director will be listed

without charge. There

will be asmall charge

of $17 for subsequent

notices related to the

same death, up to a

maximum of 35 words

and on aper-line basis

after that. The same

low charges apply to

other family notices,

such as engagements,

acknowledgements, in

memoriam notices and

anniversaries.

Family Notices

Deaths Deaths Deaths Deaths

BAYLIS, Donald James

Peacefully at Rosebank Lifecare,

Ashburton on2nd September

2021 in his 82nd year. Due to

Covid restrictions a private

servicewas held.

BUCKLAND, Maureen Kay

(Kay): Peacefully at Rosebank

Residential Home, Ashburton

on September 7, 2021 aged 82

years. Dearly loved wife ofthe

late Doug. Muchlovedmother

and mother-in-law ofKaylene

and the late Brian Spencer,

Phylis and the late Gavin Smith,

Chris and Hayley, and Shirlene

and Lyall.

Loved Nana and Nana Twos of

her grandchildren and greatgrandchildren.

Special thanks to Rosebank

staff fortheir careand support.

Messages to: The Buckland

Family,c/- 168McMurdo Street,

Tinwald,Ashburton7700

A private family service was

held at Memory Funerals on

Friday, September 10th

0800 2MEMORY

027 637 1229

HICKMAN, Raymond (Ray) -

Rakaia Volunteer Fire Brigade

wish to acknowledge the

passing of a much loved

and respected retired Senior

Fire Fighter. The members

of the Brigade extend their

sympathy toRay's family and

acknowledge the contribution

he made to the Rakaia

Volunteer Fire Brigade as a

respected member and to the

community.

HUGGINS, Peter James Roy:

Peterpassedawaypeacefully at

Burwood Hospital,Christchurch

on September 13, 2021 in his

89th year. Loving and much

loved husband of Patsy. Loved

father and father-in-law of

Keith, Gary, Paul and Christina,

Helen, Steveand ClaireHuggins

and his grandchildren and

great-grandchildren.

Loving stepfather and Grandad

Huggy to Peter and Inga.

Nicola, and Debbie Currey

their partners, children and

grandchildren.

Thefamily wish to thank Radius

Millstream and the Burwood B

&Gward fortheir careofPeter.

Messages to: The Huggins

Family, c/- 11 Elmwood Grove,

Ashburton7700

Due to covid restrictions a

private family service and

cremation will be held.

0800 2MEMORY

027 637 1229

MATTSON, Kelvin Gary, on

September 9, 2021 at Paringa

River, West Coast."Doing what

he loved". Loved husband

of Irene and father of Jason,

Angela, Shane, Craig, Tony,

and Gary. Grandad to Bailey,

Jared, Sarah, Melissa, Mac,

Leah, and Ted. Messages to

the Mattson family c/- POBox

472, Ashburton7740. Aprivate

family cremation has been

held.

Paterson's

Ashburton

FDANZ

03 3077433

MATTSON, Kelvin Gary;

Dearly loved father-in-law and

second Dad to Brian, Angela,

Anna, Peurene, and Fernando.

Passed away in a place that

gave him great pleasure, and

will be greatly missed.

Family

Notices

Enquiries phone

Mary,JannorKaren

on

308 7664

or call into

199Burnett Street.

Family owned,

locally owned

22 MooreStreet,

Ashburton

0800 263 6679

2413353

PATERSON, Ronald William

(Ron) of Ashburton (formerly

of South Otago), on September

8th, 2021 in his 77th year,

passed away peacefully.

Loved and respected husband

and best friend of Edith and

proud father and father-inlaw

toAdrian &Julie, Ronelle

&John, Todd &Sarah, Dallas &

Aimee. Pop was arole model

to grandchildren Hugh, Arthur,

Edgar, Morgan, Emerson,

James, Sam, Will, Jake and

Finn and friend to Carlijn and

Harriet. Son of the late Mollie

and Jim Paterson, brother

and brother-in-law ofJay and

Sheila, Daune and the late

Mick O'Connor, the late Doug

and Marilyn Paterson, Colin

and Pam Paterson and the late

Linsey Paterson. Respected

son-in-law ofthe late Kit and

Hughie Todd and brother-inlaw

ofHugh Todd and avery

much loved uncle to his many

nieces and nephews. "Ron

demonstrated a courageous

battle to thelineand dedicated

a lifetime to community

service." The family wish to

thank Doctor Penny Holdaway,

Jane Smith and her palliative

careteam, and the doctors and

nurses of Ashburton Hospital.

Messages to the Paterson

family c/- Box 472, Ashburton

7740. Aprivate family service

will be held and a Memorial

service will be organised to

celebrate Ron's life atadate to

be advised.

"A dearly lovedand inspirational

man has leftthe world."

Paterson's

Ashburton

FDANZ

03 3077433

PRICE Dorothy Catherine

(Dot), on September 11,

2021. Peacefully at Rosebank

Lifecare, Ashburton, aged 87

years. Dearly loved daughter

of the late Alfred and Margaret

Searle, and loved sister of

the late Jim, and Brian Searle.

Special friend of the late Joy,

and the Vessey and Lefeber

families. Thankyou to thestaff

at Rosebank for their care of

Dot. Messages to POBox 472,

Ashburton 7740.

In lieu of

flowers donations to St John

would be much appreciated.

Aprivate service for Dot will

be held.

Paterson's

Ashburton

FDANZ

03 3077433

REID, Maurice Charles

(Morrie), on September 11,

2021. Suddenly at Ashburton

Hospital, aged 82 years. Loved

and cherished husband of the

late Caryl. Lovedpartner of the

late Diana Dellow. Dearly loved

father and father-in-lawofTony

and Maggie (Dunedin), Sherilee

and Martin Penty (Auckland),

Michelle and Neville Dasler

(Dunedin), and Andrew (Papua

New Guinea).

Supporting thecommunity

96 Tancred Street, Ashburton.

Phone 307 8317

Much loved

Poppa and Grandpop of all

his grandchildren and greatgrandchildren.

We would like

to acknowledge with thanks

Malcolm, Trudi, and Maddie

and the extended Dellow

family for their love and

supportofMorrie. Messages to

the Reid family, 15Richmond

Street, Forbury Dunedin 9012.

At Dad's request a private

cremation has been held. "Rest

In Peace"

Paterson's

Ashburton

FDANZ

03 3077433

TULLY, Annette Jean (nee

Boucher) on 03//09/2021

Loved wife of the late Bill.

Much lovedsister and sister-inlaw

ofKen Boucher and Judy

Raven, Kathleen and the late

John Shea, Marion and Eldon

Jackson, Claire and David

Braniff, Evelyn and Tony Carr,

Sylvia and Lesley Boucher. A

private cremation has been

held. Rest in Peace.

Acknowledgement

ROBERTSON – Karen Mary

11.9.50 – 21.7.21: Karen's

family would like to thank

everyone for the support and

kindness given to us during

Karen's illness and passing,

and for cards, flowers and food

received.

Special thank you toDrDiane

Young, Kate and Jane at

Palliative Care, District Nurses

and the team at Rosebank.

"Special caring people".

In Memoriam

THOMSON, Russell Bruce

(Russ) passed away 16/09/20

Deep in our hearts amemory

is kept

of averyspecial husband and

Dad

we lovedsomuch and will never

forget.

We miss youeveryday.

Love, all the family.

Real Estate MidCanterburyProperty Limited Licensed (REAA 2008)

NEWS

10 Ashburton Courier, September 16, 2021

Covid safety push

around district

TONI.WILLIAMS

@ashburtoncourier.co.nz

Keeping people safe and

companies openfor business

hasseen many large employers

across the district step­up their

backingofsafety measures for

staff against the Delta covid

variant.

Some businessesare offering

incentives ­whethermonetary

or quickeraccess ­for those

whoget vaccinationsand

others havebeenproviding

additional facilities to ensure

socialdistancing, aswell as

limiting visitors on site.

Anzco Foods general

manager operations Darryl

Tones said industry protocols

had beenput in placeatits

sites to keepits employeessafe

such as additional personal

protective equipmentand

marquees were brought in to

enablesocialdistancingduring

breaks.

''Asalarge employer in

Canterbury Anzco hasa

responsibilitytokeep its

employees safe,''MrTones

said.

''An outbreak of the highly

transmissible Delta variant of

Covid­19 would have a

significant impact on Anzco's

peopleand itsoperations.''

Asanincentivetoemployees,

the companywas alsooffering

a$100supermarket voucher to

allemployeeswho had

received one or both of their

covid vaccinations. It was a

voluntary offerforthose that

wantedtoparticipate.

''Theresponse from

employees is extremely

positive,'' Mr Tones said.

Around thedistrictMid

Cantabriansalsohave more

options to get covid

vaccinations.

Medical centresand most

pharmacies encourage people

to usethe 'BookMyVaccine'

website­bookmyvaccine.

covid19.health.nz ­(youcan

also view available vaccination

appointmentsthroughout the

district)ormakean

appointment over thephone by

ringingPh0800 28 29 26.

But Wises Pharmacy and

TancredStreet Dispensarywill

take covid vaccination

bookings andpeoplecan call

directly.Vaccines take place

on theirrespective sites.

Canterbury District Health

Board has alsobeenworking

withAshburton District

Counciltoget pop­up

vaccinationclinicsinMid

Canterbury.

One was heldinAshburton

yesterday.

Under Level 2restrictions

the health board hasongoing

visitor restrictions at

Ashburton Hospital, Ashburton

Maternity Ward and Tuarangi

resthome.

Health Board emergency coordination

centre controller

Helen Skinner said there were

anumberofvisitorrestrictions

at all of its health facilities.

Visitors were requiredto

scan or signinonarrival,wear

amaskorfacecoveringand

practice safe physical

distancing. There were also

limitsonthenumber of people

who could visit at atime.

''Please don't visitthe

hospital if youdon't needto.

Visitorswho areunwell should

not be entering ourfacilities,''

DrSkinner said.

If you haveCovid­19

symptoms (atleast oneofthe

following symptoms: newor

worsening cough,sorethroat,

shortness of breath, stuffy or

runny nose,lost sense of smell

–with or withoutafever) you

should contact your General

Practice teamorcall

Healthlineon0800 3585453.

''Most GP teams are offering

testing if you have these

symptoms.

''If youhave symptoms and

are notregistered withaGP

team you canattend atesting

centre (which you do not need

an appointment to attend).''

Stars event moved

Wannabe Elvis Presley's,

Freddie Mercury's or Meghan

Trainor's will have longer to

perfect their craft for the

upcoming Stars In Their Eyes

stage spectacular, with

Ashburton County Lions

making the decision to push the

show back to early next year.

The annual charity

fundraiser show, due to take

place at Ashburton Trust Event

Centre, on October 26, has been

moved to February/March ­

with adate yet to be confirmed

­due to concerns around covid

restrictions. It will raise funds

to support the Westpac Rescue

Helicopter service but the

spotlight will still be on the 12

performers ­either individuals

or groups of up to four ­who

will transform themselves into

well­known stars.

Complete

Local Care

Since 1982
---
TOYS,TOYS, TOYS

Boys,Girls and Educational

OurSuppliers tell us thatstock is hardtoget and very limited.

If thereisaspecific item youwould like,contactustodayand we will

do our best to get it in time forChristmas.

Don'tmissout –start your Christmas shopping today

2418113

The Arcade, Ashburton 03 307 7340
---
Ashburton College

Individual Excellence in aSupportive Learning Environment

News

Issue 30

16 September 2021

Head of Senior School Message

Welcome back

It has been fantastic to see all the students and

staff back on campus and resuming face-to-face

lessons.

Iwould like to acknowledge all our whānau and

students for all their mahi over lockdown. Iknow

the balance of keeping up with school work,

family lifeand work commitmentsischallenging.

The students have demonstrated our AshColl

values by beingresponsive, self-managing and resilient.

Well-being and Transitioning Back into College

With the recent lockdown andreturning to campus it can be overwhelming

forseniorstudents as they think ahead to finishingoffInternal Assessments,

College Exams,studying and sitting NCEA exams; all while trying to enjoy

the last fewmonths at school.

During this period of transitioning back to school, focusing on the things

thathelpmaintain well-being become increasingly important.

The following are some suggestions from Sport NZ on how tosupport

themental health of young people.

Young people canfocus on the following six factors to helpanchor them

in order to remain balancedand healthy, both physicallyand mentally:

1. Controllables: Concentrate on the things that matter and the things

they can control – and be attentive of their internal experiences

(thoughts, feelings, sensations); take time to acknowledge and accept

them,and then gently bring their attention back to the task at hand.

2. Routines: Maintain consistent routines (sleep, nutrition, wake-up time,

study, social time). These remind their brains that itissafe todial the

stress response back, and enable themtofocus on whatishelpful.

3. Connection: Stay connected totheir purpose, values and goals. Keep

up regular contactwith their supportsystems.Intimes of challenge, we

need toincrease support, as they might need to reach out more than

usual.

4. Behaviours: Do the basics of personal self-care (quality food, time

withlovedones,mindfulnessetc)and ensuretheyput themselves first.

Deliberately seek out people and 'stuff'thatmakes them happy.

5. Opportunities: Promote a growth mindset. Everyone is having to

change plans and behaviours. Ifthey can focus on the opportunities

thatthe newplan presents, they willcome throughthis in abetter place.

6. Time Management: Allocate aspecific amount of time in their day to

focus on Coronavirus (COVID)and Government updates, what-ifs,worry

etc. This will allow their brain toengage fully when they're required to

focus on other activities.

College Exams

TheCollege Examsare being held from 20 Septemberto28September. To

help guide senior students through these exams the students have been

giventhe samemessages fromall staff.You can supportyour tamariki for

these College Examsaswell by reiterating thesame statements also.

Information

COVID Level2Arrangements:

Reminders re College Protocols

Year 13 Students/StudyPeriods:

Year 13 students, during studyperiods, arerequired to be in theLibrary,

Upstairs Study Space or Classroom if they are on College grounds.

Otherwisethey arerequired to signout and leave thecampus.

Illness –Students Must Stay at HomePlease:

Level 2Guidelines are being followed. If your child has acold oris

unwell they should not be attending College.

NCEA External Exams

• End of Year external exams will now start two weeks later,

commencing Monday 22November and running through until

Tuesday 14 December.

• External Portfolios in Art, and Design and Visual communication

deadlines willalso be pushed out by twoweeks.

Internal College Examinations –PushedBack OneWeek

These will now be held from Monday 20 September through to

Tuesday 28 September,inclusive, forYear11, 12 and 13 students.

Details have beenemailed to families.

ImportanceofIn-College Exams

These examinations aresignificant as not only are they able to provide

students with avery accurate gauge as to their current performance, but

the result may beused as evidence ofthe standard of their work should

they, forsome reason, not be abletosit the NCEA examinationlater in the

year andtherefore have to apply fora'derived grade'.

This year we areoffering some English classes the opportunitytocomplete

their exam online. They will also have apapercopyduringthe examsand

can switch between the two mediums. This hopefully will also eliminate

the anxietyaround internet or batteryand powerfailure.

The main points being:

WhyDoWeDoCollege Exams:

• These marks can be used for Derived Grades at the end of the year,

should astudent not be able to sit an end-of-year external exam or

exams foragenuine reason.

• Teachers and students can see current gaps in understanding.

• Itisgood to practise under exam conditions.

Preparation tips forexams

• Work out the basics: which exams you have, when the exams are on,

what topics are being covered, and how much you have to learn for

each one.

• Createastudy timetable,giveyourself enough time to study.

• Use flow charts, mind maps and diagrams; practise past exams; learn

quotes and definitions; explain your answers to others; organise study

groups with friends.

Managing stress on exam day

• Workout whatyou need to take with youonexam dayand organise this

the nightbefore.

• Eat agood,lightbreakfast –this will help with energy and concentration.

• Ifyou feel yourself getting worried beforeyour exam -spend some time

focusing on your breathing.

• When you sit down to do your exam, take time to slow your breathing

and relax.

• Read through the exam paper carefully. Underline key words and

instructions.

• Workonthe questions thatyou find easiest first.

• TRY YOUR BEST TO ANSWER EVERYQUESTION.

NewEnd-of-Year and SeniorPrize-GivingDates

We remind families that, due to the start ofNCEA exams being pushed

back,ithas been decided to also move back the following dates:

NewPrize-giving Dates2021

• Year 13 -Wednesday10November,7:30pm

• Year 11 and 12 -Monday15November,7:00pm

Last dayofschool attendancefor senior students as follows:

• Year 13 last dayofschool Thursday11November

• Years 11 and 12 last dayofschool Wednesday17November

Good Wishes

Iwish all students all the best for the remainder of the year, and look

forwardtosupporting them to achievetheir individual excellence.

'When the storm hits,the boatsinthe harbour drop anchor.

If theydon't,theyget swept out to sea.

Dropping anchor does not makethe storm go away,

but instead keeps theboat steadyuntil the storm passes'.

Sport NZ

AbbeyBruce

Head of Senior School

Whereastudent comes to schoolsick,beadvisedwewill contactyou to

ask youtocollect them from College.

Important date changes:

End-of-year and Prize-giving dates -please refer to Abbey Bruce's

article above.

AshColl Way Reports – resume, for all year level students, on

Wednesday22September.

NCEA and College Internal Exams –Please Note Datesand Arrangements

Arrangements for StudentsDuringExamWeek

• Year 11, 12 and 13 classes willnot operate on exam days.

• During thistime,students should study at home or at College. Students

maystudy at College in the Library.

• Ifstudents are inCollege during exam week, they must be on-site for a

purpose:exams, study or mentoring.

• When at College they must be in school uniform and observe the usual

College rules.

• Please note that the specific exam-related requirements and protocols

have beenemailedtofamilies.

Level3Visual Art; Levels 1-3 Technology andLevel 1DVC –

ChangedSubmission Dates

With the extended lockdown and subsequent disruption tolearning,

NZQA has extended the time available to schools todevelop and collect

relevant candidateevidencerequired forexternal assessmentfor subjects/

standards whereevidence is submitted.

Thedeadline forthisis10November 2021.

Information

College Young Farmers'/TeenAgClub

Student-in-charge Claudia Thomas advises the club is currently

in the process of running afundraising project.

At Level2youcan nowdeliver,orhavecollected, your scrap metal.

ScrapMetal Wanted

• car and tractorbatteries

• any type of metal you don't require: such as copper wire, lead

nails,stainless steel,etc

We arethe AshburtonCollegeYoung Farmers/TeenAggroup

and students studying Agriculture.

We arefundraising to be abletosubsidise trips and activities

to upskill our young Ag students.

If youhaveany scrapmetal or batteries lying around thatyou would

kindly liketodonate it would be very much appreciated.

Anyscrap metalcan be dropped off at MetalCorpinTinwald

(corner of Melcombeand Shearman Streets).

Please let them know thatitis to go on the

Ashburton CollegeYoung Farmers' account.

If youhaveany questions or arerequiringyour metal to be picked up:

please contactustoarrange atime on -0274478898

or -email one of the followingemail addresses:

thoc8161@student.ashcoll.school.nz; gars7050@student.ashcoll.school.nz;

li@ashcoll.school.nz

Amassivethankyou to Agri Trainingwho arecurrentclubsponsors.

Agri Trainingdelivers extensiveand comprehensive

trainingand development to trainees,who are

both new and experiencedinNew Zealand's rural

sector, by providing all practical andrelevant areas

of traditionaland modern-day farming -

www.agritraining.co.nz

Matesand DatesHealthyRelationships

Programme forYear9and 10 students

ACC has developed Mates and Dates tohelp prevent dating, sexual,

and relationship harm -animportant focus given that 20% of female

and 9% of male secondary school students in New Zealand reported

unwantedsexual contactorbeingmade to do unwanted sexualthings.

Working with young people is shown as one

of the most effective ways ofpreventing

sexual harm, equipping them with

relationship skills and behaviours they can

carry andrefer to throughouttheir lives.

ACC has worked with the Ministry ofEducation toensure the programme

aligns with the curriculum, and has worked with an expert advisory

group to develop the content, with the programme fully evaluated by an

independentresearch company.

The programme is taking placeinall Year 9and 10 Health classes,

havingstarted thisweekand continuing until Week 10 of Term 3,

andthrough Weeks 1and 2ofTerm 4, 2021.

Theprogrammeistaught by specialist SexualHarmPrevention Programme

Facilitators over fivesessions.The students' Health teacher is also present in

the classroom.

Mates and Dates teaches students how to have healthy relationships built

on respect, negotiation and consent. It will teach them how to identify

inappropriate behaviour and how to get help if they, or someone they

know, are in an unhealthy relationship; including how to safely intervene in

situationsthatcouldleadtoharm.

The topics covered are: Healthy Relationships; Skills and Consent;

When Things Go Wrong; Identity, Gender and Sexuality; Keeping Safe

Together.

Study Nights –Supportfor Exam Preparation

A Study Night Schedule is now available to support students in

preparation forCollege Exams (Monday 20 –Tuesday 28 September).

With particular thanks to Delia Achten Library Manager, and College

teaching staff members, aquick turnaround and changes to dates has

meantthe following arrangements areconfirmed -

Arrangements are–

Venue:

College Library, from 7:00pm -9:00pm.

Bookings required: Studentsare to pre-book spaces, as therehas to be

alimitonnumbers in the space. This informationhas

been provided to students.

Remaining StudyNight Datesare – Theschedule startedlast night, on

Wednesday15September.

Thursday16September

Tuesday21September

Thursday23September

Monday20September

Wednesday22September

Monday27September
---
Ashburton College

Individual Excellence in aSupportive Learning Environment

News

Issue 30

16 September 2021

Events

Tongan Language Week

With someofthe information belowprovidedbyShrina Afu,

Head of the Student Cultural Committee

Theme

This year's national theme for Uike Kātoanga'i 'oelea faka-Tonga/

Tonga Language Week was Fakakoloa 'o Aotearoa 'aki 'a e Ako

Lelei, which means enriching Aotearoa with holistic education.

The theme served asaconversation starter onthe importance of

holistic education, diverse forms

of learning and howAotearoacan

benefit from it.

Due tothe COVID-19 Alert Levels

across Aotearoa, Uike Kātoanga'i 'o

elea faka-Tonga, Tongan Language

Week was celebrated online

nationally.

College Programme

Following the national lead,

Tongan Language Week was

celebrated online at College

through the AshColl Student

Executive Instagram page and

Facebook, with videos uploaded

daily to showcase the Tongan

Culture.

Monday06September

Shrina Afu with the help of her family put together avideo, teaching the

phrase'FefeHake?' meaning 'Howare you?'

The second video was of her family and extended family singing asong

together before family prayers, avery common way toend the day ina

Tongan household.

Tuesday07September

Isileli Ula put together a videofor thephrase of the day whichwas'Koeha

me'a oku kefai?'meaning "Whatare youdoing?".

Following this video we had ashort clip showing how to make Otai, a

popular Tropical Tongandrink.

Otai is afruit drink which originated inTonga and isusually made as a

summer time refreshment. It is ablend of water, coconut milk, and any

variety ofpulped tropical fruit such as coconut, watermelon, mango, or

pineapple. Although, it is almost always watermelon asitisplentiful in

Tonga.

Wednesday08September

Mahina Pongia, with the helpofher littlesister, made avideo and taught

the word 'Kataki' meaning 'Please'.

With this post avideo of Traditional Tongan Attire and the name for each

wasalso attached.

Thursday09September

Pasi Hala put together avideofor the phrase of the day which was'A'ikeke

a'lu ki fe?' meaning 'Whereare yougoing'.

A Tongan tiktok Tau'olunga dance clip by Shrina Afu, Sera Ula and

MiaManoa followedPasi's video.

Friday10September

Shrina Afu, Mahina Pongia, Isileli Ula, Pasi Hala, Penina Vaaelua and

Cecillia Vaaelua recorded asinging video altogether at school,for the last

post forthe week.

Tongan students were also encouraged to wear their Tongan attire, and

the Tonganflag wasraised at school.

In Tonganattirewehave (pictured above,back row, lefttoright):

Shrina Afu, IsileliUla, Pasi Hala, Mahina Pongia.

(Front row,lefttoright): MiaManoa, MariaHala, Sera Ula.

(Pictured above): Thesame group,displaying theTongan flag.

(Pictured above and below): Also in Tongan dress.

(Above,leftand right): MariaHala and Makeleta Ula.

(Right):

Suliasi Hala'ufia.

Acknowledgement

College acknowledges the planning, time,and effortgiven by the students

and Ange Mitchell Assistant Principal, to celebrating Tongan Language

Week, during aweek where wewere mainly off-site. It was positive tobe

able to celebrate Thursday's and Friday'seventson-site.

Congratulations

Semi-Finalists in Spelling BeeAotearoa

NewZealand

Spelling Bee Aotearoa New Zealand runs a national Spelling Bee for

Year 9and 10 students who love language and achallenge.

As part ofthis, students learn new words and have some fun testing their

orthography(the conventional spelling system of alanguage) skills against

their school friends and other like-minded students around the country.

HowDoesthe National SpellingBee Work?

Students learn the 2021 Spelling Bee Aotearoa New Zealand Wordlist of

100 words. After this they undertake the 2021 Spelling Bee Aotearoa New

Zealand Test, which is awritten test of 50 words from the Wordlist and

50 wordsthe students haven'tbeen giventolearn.

This is able to be administered through their school or virtually through

Education Perfect's online testing platform. Ashburton College's students

undertook their test online at College.

280 Semi-Finalists Nationally

Results were then forwarded to the Spelling Bee Programme Director to

determine the 280 semi-finalists from around New Zealand. These students

arethen invited to competeatone of six Regional Spelling Bees around New

Zealand.

AshburtonCollege ThreeStudents AchievedSemi-Final Status

By reading the criteria

it can be seen that

three of College's Year 9

students (pictured right,

leftand right)

BenCiron,

Lachlan Storey and

PhoebeMcKenzie

achieved highly to

reach this level of

success.

We acknowledge English teacher Rebecca Jeffery-Jones'support ofthese

students'preparation.

Semi-Finals

Abby Calder, Lachlan Storey's mother, assisted on Tuesday 10August 2021

with transporttoand from Christchurch, and provided us with information

to use in this article.

As outlinedabove, thestudents gained their placeinthe semi-finals due to

achieving topYear 9280 spellers status in New Zealand this year.

The event was held at the Christchurch Art Gallery and was one of only two

semi-finals held for the South Island regions. The remaining four were North

Island-based.

Everyone had been briefed on the format forthe competition, in thatthere

would be written rounds and oral rounds. However,the organisers advised

that they had decided to eliminate the written round on this occasion and

would only hold the oral round, due to the smaller number of competitors

in this particular semi-final.

Abby said that Ben, Phoebe and Lachlan handled this sudden change well

and found out, onsigning in, that they had been placed in positions 1, 2

and 3for the order of spellers foreach round. Being the first three spellers

up to the microphone was daunting for them all, however they remained

composedand each spelt their wordscorrectly formanyrounds.

(Pictured right, front row,

lefttoright): BenCiron,

Lachlan Storeyand

Phoebe McKenzie;

the three College

Spellers,wearing

their competing order

numbers.

Slowly but surely

competitorswere

eliminatedatvarying

stages,fromthe thirty

four competitors who startedthe evening.

Final Twelve

Benand Phoebe were eliminatedprior to Lachlan, who remained until the

final twelve contestants, which was avery good outcome. Lachlan was

'knocked out'byaword hehadn't heard ofand getting acouple ofletters

in the wrong order.

(Pictured right): Lachlan showing the certificate

received by all semi-finalists.

By this stage thereweremostly girlsremaining

in the competition, with the ultimate winners

all being girls-twofromBurnsideHigh School

andone from MiddletonGrange School.

Ben, Lachlan, and Phoebe thoroughly enjoyed

competing and, asAbby said, did very well to

be up against some top spellers. The event

wasexciting forthe spectators too, with plenty

of parents and teachers supporting.

Congratulations went to this year's students

and every good wish to those eligible to

compete in 2022.

Finals

The Final is to be held in Wellington on 05-06 November, between

eighteen finalists. Competing in this televised competition is aworthwhile

experience, with the winner gaining the Spelling BeeTrophyand $5000.
---
15,268 reasons

to advertise

withus!

Youcan trust us to deliver whatwepromise!

20,000

2021

15,268

circulation

10,000

0

Ashburton

Courier

2021

Did not

release

audit.

Ashburton

Guardian

Last

Audit

2019

4306

circulation

Ashburton

Guardian

Thelatest NZ Audit Bureau of

Circulations report is out and

it shows that the Ashburton

Courier is the highest circulating

newspaper in our region.

Get our proven circulation working for your business today.

Call us now for afree advertising consultancy —grow more

customers, sales and profits for your business.

Here's whatour customershavetosay:

I'd recommend TheCourier asanadvertising

option in print media.

You get measurable results, which is always

key toadvertising budgets.

Theteam there is easy todeal with and only

too willing to help with promotions and ideas.

TheCourier is our preferred option in

print medium, and being a

community paper, targets our large local

market, which is areal plus.

-Deano, Ashburton Hunting &Fishing

Theonly print advertising Idoto

promote mybusiness is

with TheCourier.

Ifind it's extremely worthwhile due

to the amount of trade Iget.

-Allan, AA Performances Services Ltd

We have consistently advertised our special

promotionsand salesinThe AshburtonCourier

andhave alwayshad afavourable response by

wayofadditionalsales. This wasparticularly

obvious withour recent highlysuccessful

'Christmas in July Sale' promotion when we

had customers bringing in our advertisement

from the paper.

Thankstothe wide distribution of TheCourier,

we also attracted newclients from out of town

whichwas an added bonus.

-Nicola, Time forDiamonds

Phone 308 7664

Email jann.thompson@ashburtoncourier.co.nz

Office 199 Burnett street, Ashburton

2405730
---
125

years of love in Mid Canterbury

Celebrating New Zealand

ROBILLIARDS

SHOWCASE JEWELLERS

TheArcade, Ashburton-Ph308 5521

2418126
---
Hurunui GardenFestival

Thursday28 th

to Sunday 31 st

October2021

A bounty of gardens to admire and inspire, will

be on show in the Hurunui district this Spring.

The Hurunui Garden Festival (HGF) has 22 gardens, in six

clusters, onoffer, and runs from Thursday, October 28 to

Sunday,October 31 from 9amto5pm each day.

Some favourite gardens return, along with seven new

ones.There willbemapsofeachgardentodownload and

printfromthe HGF website.

This year forthe first time, thereisthe opportunity to walk

inside some of Hurunui'soutstanding historic homesteads.

Also on offer is a showcase of local artists, their

place of work and beautiful exhibits for sale.

Lynda Hallinan, agardener,author, broadcaster,journalist,

part-time farmer, parent and plantaholic, will join the

festival for two chats —one during anafternoon tea and

the other willbeadinner talk.

For half her life, the former editor of New Zealand

Gardener magazine has been digging up ideas and

inspiration for growing food and flowers in Kiwi gardens.

She lives with her family inthe foothills of the Hunua

Ranges, south-east ofAuckland, and is currently splitting

her time between her large country garden and asmall

colonialcottagerenovation project.

She is also launching anew book, The Joy ofGardening,

this year.

Julia Atkinson-Dunn, from the home and garden website

Studiohome.co.nz and author of the beginner's gardening

book,Petal Power, will speak at three gardens on different

days.

With a background in writing, design and art, Julia

fell firmly in love with gardening while transforming

her small Christchurch patch just 4 1/2 years ago.

The festivalwas launched in 2018 by agroup of keen local

garden owners to help the Hurunui district recover from

the impact ofthe devastating earthquake ofNovember

2016.

It hasbecomeapopular event, with manyvisitors making

it along weekend sothey can enjoy asmany gardens as

possible, along with the many attractions the district has

on offer.

Hurunui Garden FestivalIncorporated (HGF), is committed

to investing back in its community.

If it makes areasonable profit, it will give one graduating

secondary school student, whose home isinthe Hurunui

district, ascholarship to the value of $2000towards study

in horticulture, agriculture, landscape design orarelated

field, at their choice of university or instituteoftechnology.

The scholarship is on offer now, and is only made when

HGF makesareasonable profit fromits annual event.

■ The website shop -(hurunuigardenfestival.com) -is

now open for ticket sales, including an earlybird special

until August 31-buy 10 and get one free. Admissions is

$10 foranadult to visit each garden,payable on the dayas

you enter the garden. Children 18 years ofage and under

accompanied by an adultmay enterfor free.

Please have cash with you, as the gardens cannot process

electronic payments. Alternately you can purchase a10

ticketadmission packthrough the website.

Tickets available now from

hurunuigardenfestival.com
---
www.ashburtoncourier.co.nz

NEWS

Ashburton Courier, September 16, 2021

17

Groundswell continues fight for fairness

The fight against unworkable

regulations continues,

Groundswell NZ co­founder

Bryce McKenzie says.

Farmers are being

encouraged to submit on

proposed changes to intensive

winter grazing regulations.

The government have opened

consultation on some of the

rules that were implemented as

part of its National

Environmental Standards for

Freshwater. Consultation runs

until October 7.

Mr McKenzie, of West Otago,

said although spring was abusy

time for farmers they should

make asubmission.

''Farmers need to be

submitting on this —without a

doubt,'' he said.

However, if government had

taken notice of the 17,000

submissions made during its

initial consultation it would

have realised some of the

proposed rules, such as set

sowing dates were not

practical.

''Everyone knows you can

only sow your paddocks when

they are ready —you can't do it

if it's raining —it's just crazy.''

The group's ''Howl of a

Protest''(pictured in downtown

Ashburton above) attracted

tens of thousands of people

across New Zealand in July.

Mr McKenzie said more

protest action was being

planned.

Arange of issues still

remained including the

Government's Three Waters

Reform Programme, its ''ute

tax'' and changes to its proposal

for low slope maps.

''The fight is still ongoing.''

Environment minister David

Parker said government had

changed its proposed approach

to low slope maps.

''Under the proposal, farmers

wanting to undertake intensive

winter grazing on slopes over 10

degrees can do so with a

certified freshwater farm

plan.''

Scientific evidence shows

intensive winter grazing at 15

degrees results in twice as

much soil being lost than if

planted at 10 degrees.

Agriculture minister Damien

O'Connor said under the

proposed changes, farmers

would be required to re­sow

grazed paddocks as soon as

conditions allowed, instead of

by aset date.

Specific requirements

around the depth of pugging

would also be removed. The

introduction of intensive

winter grazing practice

regulations was proposed to be

deferred until November next

year.

~ODT

LETTER TO THE EDITOR

District logo with meaning

Ireally thought thishad died some years ago!

Iwas at the official launch of 'Whatever it

takes'logo at Hotel Ashburton some 15 or

more years back.

When the then­mayor Murray Anderson

drew the curtain to announce what had been

decided by aselected committee this new

logo, Isunk back in my seat and thought this

one is not goingtowork! My immediate

reaction was that we were at the bottom of

the pit and it was going to take whatever to

get us out of it! It has never gained traction.

Alogo for Ashburton has to reflect

something unique for this region.

Iamall for agood recognisable logo

representing Mid Canterbury.

No other region of New Zealand produces

the large volume of grain and seed as does

thisregion­'The granary of New Zealand' ­

'Thefood bowl of New Zealand' ­'Fertile Mid

Canterbury' ­Maybe something reflecting the

mountain back dropped flat plains or

braided rivers.

Acorrugatediron gumboot makes Taihape

anotedplace! It can be done.

GeorgeCurrie

DO YOUNEEDAN

INSECTSCREEN OR

SECURITYSOLUTION?

Davidwill be coming to Ashburtonon

Thursday23 rd September.

Please contactthe officetobook afree

measureand quote forthese or forany

otherproductsinthe HomePlusrange.

AWNINGS&BLINDS BALUSTRADES FENCING &GATES LOUVRE ROOFS SHOWERS INSECT& SECURITYSCREENS

88 Gasson St,Sydenham |03379 3740 |www.homeplus.co.nz

DO YOUSUFFER FROM

ARTHRITIS, HEARTDISEASE,

DIABETES?

These and manyconditions arerelatedtoadecrease in your ownadult stem

cell migration ...but nowtherearenatural solutions.

Come andlearn:

• why our bodies age

• about the role of ADULT STEMCELLS in the natural

renewal and repair of the body

• how youcan supportyour bodies stem cell physiology

• how to reach an unmatched level of wellness both

outside and in

Join us fora60 minute

presentation. Hear from

speaker Linda Hoggard

on her professional and

personal experienceof

Adult StemCell Nutrition.

Tuesday, 21 September2021

Doors open at

1.30pm for2pm start.

TheSuites,507 West Street,Ashburton.

FREE ENTRY! Seatsare limited. Please phone

Verna0274357 289 to secureyour booking.

PRESENTER, LINDAHOGGARD -

NATUR0PATH&STRUCTURAL KINESIOLOGIST

Ihave been fortunate to work along side of,and to get to know Linda.

Her knowledge in this field is vast.Linda played

an instrumental role in bringing the first stem cell

nutritional range into Australasia 10 years ago,and

describes their effectassurpassing anything she

had previously worked with. She has extensive

understanding of the stem cell theoryofrenewal(how

the body renewsand heals itself through adult stem

cell migration), and the application of the product

range.~Verna Wilkie

My husband Timand Ihavebeen taking these

products forseven months.Ihaveexperienced having

moreenergy,less pain, and better jointmobility.

Timmoreenergy,lack of brain fog, increased lung

function, improved tinnitus,better balance, improved

sleep,and no morehip pain. This has been life

changing forus. Formoreinformation, Iwelcome you

to phone me,Verna 0274 357 289 foraninformal chat.

2417795
---
NEWS

18 Ashburton Courier, September 16, 2021

www.ashburtoncourier.co.nz

Garden trust has big funding request in

MICK.JENSEN

@ashburtoncourier

The trust chargedwith raising

$1.5 million to buy Trott's

Gardenhas asignificant

fundingapplication pending

and hopes for good news by the

end of the year.

The award­winninggardens

on Racecourse Road were

createdbyAlan and Catherine

Trott over 40 years ago and

boughtin2017 by agroup of

philanthropistswho wanted to

preserve them for the

community.

Buying the gardens from the

current owners will allow the

trust to develop avision that

will openthem up to the

community and bring in more

visitors and users to ensure a

long­term future.

Ideasdiscussed for

increasing communityuse

includeanenvironmental

education centre, community

kitchenand adding nativesand

avegetable­growing area at the

venue.

Spokesperson NicolaWalker

said the trust was now able to

apply for amajor grants

because athird of the money

neededfor the project had been

raised.

NicolaWalkerinthe garden at Trott's.

Funding from the Lion

Foundation,Community Trust

of Mid &South Canterbury and

from anumberoflocal

supporters had backed the

project to date.

She said exciting future

developments at Trott's were

still at the planning stage and

hinged on the gardens moving

to full trust ownership.

Those planshad agrowing

number of supporters and

people to drawupon to get

involved.

''We've had verbal

commitmentsfrom people and

groups wanting to be involved

and using future facilities, so

the desire and needis

definitely there.''

Mrs Walkersaid it had beena

longprocess, but abusiness

model and feasibility study

made very strong casesfor the

project and showed funders the

Families enjoy astroll around the gardens.

huge benefitthe purchase

would have for the community.

Both had been submitted to

support the big funding

application and the trustwas

''cautiously optimistic'', she

said.

Mrs Walker attended arecent

local food forest workshop and

says the conceptisone that

trust is very keen to consider.

''You plan it, plantitand it

largely takes care of itself. The

concepthas so many positive

aspectstoit.''

The 4ha Trott's Garden

property is home to 650

rhododendrons and has amain

house and sheds.

It also has relocated chapel

that is used for for weddings

and an events marquee.

Its famous knot gardens were

plannedin1990 and it is

designated as aNZGarden of

International Significance.

PEOPLE

WHO MEAN

BUSINESS

2416119

010211

Is your garden

screaming for attention?

Forall your gardening needs

We offer the personal touch

•Mowing•Pruning •Flowerbed preparation

•Fertilisation •Service&Advice

•Professional attention

Spruce

Gardens

Forqualified,experienced &reliable

serviceand advice

Forfreequotes contactAndrew

027 765 2899 or 03 307 1693

sprucegardens@xtra.co.nz

Locally owned

and independently

operated

Andrew

Williams-Freeman

Don't delay call AJ today

For your complete

Build, Alteration or

Renovation

QUALIFIED TRADESMEN

(Licensed Building Practitioners)

A.J Kerr

•Spider Proofing •Fly Control

•Grain Fumigation

•Moss/Lichen Treatment

•Rodents •Wasp nests

BEST PRODUCT,THE BEST TRAINED

BEST SERVICE, THE BEST RESULTS!

Locally Owned & Operated

Fully qualified & registered

Pest Control Technician

Call A.J 308 8147

or 0274 325 447

2416115

Cawte Whiting 027-418-7955

kiwibm@outlook.com

2416112
---
www.ashburtoncourier.co.nz

NEWS

Ashburton Courier, September 16, 2021

19

Softball tournament to showcase sport

Hampstead Softball Club is hosting apre­season tournament to showcase the sport.

PHOTO SUPPLIED

HampsteadSoftball Club is

hostingapre­seasonsoftball

tournamentnextmonthto

showcase the sporttothe

community.

It'sbeenmany yearssince

theclub ranits own

tournamentand organisersare

lookingforward to theevent

planned for October2and 3.

HampsteadSoftball Club

president Lyndall Chisnall

said interest had been

building, and alreadysix teams

hadregistered; twofrom

Hampsteadand four others

from aroundMid Canterbury

includingDemons,Fairfield

andPanthers teams.

There was even interestfrom

theWestCoast, she said, but

their involvement would

depend on covidrestrictions.

Atthisstagethe tournament,

made up of mixed social teams,

was limitedtoeight teams and

duetobeplayed over two days,

but it could be shortened

depending on the finalnumber

of teams entered.

It could justend up being a

one day event with the current

six teams, she said.

Theweekendwould see

some quality softball action on

show,and therewould also be

foodand coffeestalls on the

grounds for people to purchase

foodand drinks.

There wouldalsobeahousie

fundraiser in theclubrooms on

Fridaynightahead ofthe

tournament.

It wasopentoanyoneto

attendand startedfrom 6pm.

The competitionstill has

space foranyone who wants to

enter ateam,Mrs Chisnall

said.

Teams canbeenteredvia

Hampstead Softball Facebook

pageorbyemailing

Hampsteadsoftball@gmail.

com

Community Trust Mid &South Canterbury board (from left) Tina

Stevenson, Lisa Stevenson, Tania Reuben, Gail Thompson, Nathan

Mills, Janine Quigley, Jane Argyle­Reed, Pauline Luyten, Alistair

Wing and Mark Adams.

Termextended

Threetrusteesonthe board of

the CommunityTrust Mid &

South Canterbury have beenreappointedfor

asecondterm.

The termsofdeputychair

Alistair Wing from Ashburton,

Lisa Stevenson from Temuka

andGailThompsonfrom

Geraldineended in May 2021,

but all have been confirmed for

another four­year period.

Trust chairman Nathan Mills

said the threetrusteesadded

value to governanceactivities

in their ownway and brought

withthem individual skillsets

that assisted in serving the

wider community.

Theother trustees on the

board are Tina Stevenson,

JanineQuigley, TaniaReuben,

Jane Argyle­Reed,Pauline­

Jean Luyten and Mark Adams.

TheCommunity TrustofMid

&South Canterburyuses

returns from investmentsto

fund its philanthropy.

It supports not­for­profit

organisations and projects

which contribute towards

achieving aregionofhealthy,

vibrant and caring

communities. Tolearn more

visit www.comtrust.org.nz

¥ 8 ¥ 79

WALLABY

CONTAINMENT

AREA

¥ 1

¥ 82

SEEN ONE? SAYSO!

Wallabies cause serious damage to production

farming and our environment.

We areworking hard to reduce theirrange in our region.

Your help locating them is vital.

If yousee awallabyoutsidethe containmentarea,please report it.

Visit reportwallabies.nz to report your sighting.

¥ 80 ¥ 83 ¥ 82

Forfurther informationcall

0800 324 636.

The National WallabyEradicationProgramme is workingwith key partners

to prevent furtherspreadofwallabiesinTeWaipounamu/SouthIsland.
---
RURAL

20 Ashburton Courier, September 16, 2021

www.ashburtoncourier.co.nz

Lean on agate, talk to amate campaign

TONI.WILLIAMS

@ashburtoncourier.co.nz

'Lean on agate and talk to a

mate' is the call from rural

health advocate Craig Wiggins.

Mr Wiggins, who farms at

Dromore, near Ashburton, has

put the message out as asimple

mental health campaign to help

farmers and others struggling.

''I've been doing afair bit of

work around farmer support

and helping people through

some tough times, and

especially through covid,'' he

said.

''We are really, really trying

to bridge gaps and talk to

people, but it's just not getting

through to some people, and I

know that one of the things we

can do is just keep checking on

each other and talking to those

people that you haven't talked

to for quite awhile.''

Mr Wiggins was still coming

to terms with the death of a

friend in the rural industry by

suicide in the past few weeks,

which had been tough.

He is apublic figure working

as an MC, columnist,

videographer, sports

commentator, horse trainer

and farmer. And in his spare

time he is arural health

advocate and farmer wellbeing

champion.

He encouraged others to keep

in touch with their peers and

had posted avideo message at

www.facebook.com/

whateverwithwiggy/videos for

people to share. It had more

than 45,000 views, and

counting.

Above: Craig Wiggins is urging rural folk to reach out to others for

ayarn, at right: catching up with Bruce Taylor, of Farmlands, for a

yarn over the farm gate.

At rural events farming folks

were often seen leaning on a

gate or afence as they yarned to

mates, Mr Wiggins said.

''We've sort of lost that now

that everyone is isolated alittle

bit more and we spend alot of

time in our phones and stuff

like that.

''So whether you lean on a

gate and dial amate, or

whether you lean on agate and

just talk to your next door

neighbour, or even your staff

members or even afamily

member ­just take five minutes

out of your day and 'lean on a

gate and talk to amate'.

''(The campaign has) really

resonated with alot of people,

and not just rural people but

urban people as well,'' he said.

''It's going really, really well,

getting alot of traction and

getting alot of feedback that

people are doing it and some of

them are helping people they

didn't even know needed it.''

Mr Wiggins said isolation had

been areal issue for people.

And during covid lockdown

the farm for many, became

more of afortress, which

increased some anxiety.

''You don't know what is

behind alot of (what people are

going through). One thing this

has taught me is this doesn't

just turn up on your doorstep

there's alot of reasons that

anxiety and depression and

poor thoughts and wellbeing

come into your mind.

''It's ajourney and there is a

lot of people who know your

history and if we just keep

checking in on each other that

can really help.''

Mr Wiggins said the racing

industry were planning an

evening October 6atAddington

involving all three codes ­

thoroughbred, harness and

greyhound ­tohelp people in

the racing industry, who were

also often under the pump.

''Covid and alot of things

have knocked people around.

So if we can help in any way

shape or form, we will do our

best.''

There is alot of help out

there, but staying connected

with people that you trust and

talk to them, he said.

''Just occasionally sit down

with afriend,'' he said.

Mr Wiggins still runs the

Whatever with Wiggy sessions

over Zoom one or twice amonth

keeping in touch with the rural

community nationwide

covering arange of topics.

Those discussions gave

farmers and others in the rural

industry achance to vent, or

just connect with others

He also helped set up the

Farmer First rural health

caravan ­with Rakaia GP Dr

Sue Fowlie ­which takes aGP

to farm events and normalises

regular health checks for

farmers.

Need to talk

Text or phone 1737, anytime day

or night

Healthline: 0800 611 116

Rural Support Trust: 0800 787

254

Ruralroads, bridgeswell overduefor repair

Increased funding for road

maintenance nationwide is

heartening news for rural

families dismayed by potholed

access and dilapidated bridges,

Federated Farmers vicepresident

and transport

spokesperson Karen Williams

says.

''What we need now is for

district councils all over New

Zealand to dedicate a

significant portion of this

increased funding to dealing

with the backlog of repairs to

rural roads and bridges,'' she

said.

Earlier this year, when the

nation's district and city

councils were finalising Long­

Term Plan budgets, Waka

Kotahi NZ Transport Agency

warned it was $420 million

short for local road subsidies.

An extra $2billion was

allocated for local road

maintenance in the 2021­24

National Land Transport

Programme.

It brought the total amount

available for local road and

state highway maintenance to

$7billion over the next three

years.

''Federated Farmers

compliments the government

for recognising that failing to do

the necessary maintenance on

local roads is false economy in

the long run,''Mrs Williams

said.

In many districts rural road

users lamented slumping rural

roads, crumbling asphalt and

bridges with suspect decking

and pools of water.

There was plenty of interest

to see how the extra funding

was allocated, and what it

would mean for rural roads and

bridges in Canterbury seriously

damaged by winter flooding.

''Urban folk can often choose

public transport, or take a

different route that might add

five or 10 minutes to ajourney,''

Mrs Williams said.

''But when apoorly

maintained road in amore

remote rural area becomes

dangerous, or is closed for

repairs, it can cause total

upheaval for family life,

farming business and getting

stock and produce out and vital

supplies in. That's disruption

not just for those families and

farm staff, but also bad news for

apandemic­hit economy when

we need every export dollar our

primary sector earns.''

The transport programme

also included $2.9 billion for

road safety initiatives as part of

the Road to Zero drive to

eliminate fatal and serious

crashes.

''We can't rely on reduced

speed limits as the answer to

everything,'' she said.

''Investing in better roads,

improved intersections and

new passing lanes and the like

pays off not just in dollars but in

human lives.''

ROBUST,

RELIABLE.

EASY TO

SET UP

AND RUN.

YOU KNOW THE DRILL.

Eco Seeder

Tine drill for smaller farms

at a price that won't break

the budget.

• Strong 25mm coil tines with Baker

T boots place the seeds at the

right depth and encourage quick

and even germination

• Suitable for sowing small or

awkward shaped paddocks and

can quickly convert from trailed

to 3PTL

• Add tine harrows and disc

openers for increased versatility

SINGLE BOX VERSION

STARTING FROM

$21,600+ GST

Touch screen electric

drive now available for

all new and used Duncan

seeders for simple and

accurate calibration.

Talk to us today toincrease

your yield and returns.

Ashburton

03 307 8027

Leeston

03 324 3791

Amberley

03 314 9055

Timaru

03 688 2179
---
www.ashburtoncourier.co.nz

RURAL

Ashburton Courier, September 16, 2021

21

Flood response phase changes

Flood recovery works are

ongoing in Mid Canterbury as

farmers and landowners deal

with the impact of district­wide

flooding three months ago.

While the swag of volunteers

and organisations involved in

the initialcleanup haswound

down,for many farmers and

landowners andthere is still

workto be done andstill a

number ofpeople and

organisations on hand to help

thoseinneed.

The floods, whichhit the

district at theend of May, saw

extensive damage withmajor

infrastructure damaged

including bridges, irrigation

ponds and fences. Many had

landinundated with shingle

fromredirected waters which

needed diggers and dozers to

remove it andsome of the

damage in thehillcountrycould

takeyears to fix or heal.

AngelaCushnie, who stepped

intothe fixed­term Farmy Army

floodrecovery responsecoordinator

role, said it had been

a''very hectic three months''.

Her time in the role had now

wound up, but Mrs Cushniewas

mindful ofthe ongoing recovery

workbeingdone by farmers in

the area.

''Obviously your recovery

journey will be ongoing, and we

want you tocontinuetobe

supported. We still have several

offersofassistance or

opportunities to engage

available,'' shesaid.

Among them offers and

Angela Cushnie

donations of on­farm equipment

andservices such as coils of

high tensilewireand soil

remediation,seed and chemical

support from Catalyst

Performance Agronomy.

Alsoevents forthose affected

­temporarilydelayed dueto

covid ­were stillplanned which

included information andsocial

gatheringsaswellasachance to

thank those involvedinthe

recoveryprocess. Feed

planning services were still

available from DairyNZ or Beef

+LambNZ(phone0800 327646),

as well as Feed Co­ordination

Services matching willing

buyers with willingsellers

(phone0800 327646) and Repost

(affordable recycled posts) at a

reduced price, clear of staples

andwith point ready to go

(contact Greg on 027 251 1124).

''Please also note that thefree

GP visits, available to flood

affected residents, have been

extended until early next year,''

shesaid.

Flooding along Ashburton Staveley Road saw many residents

rescued by New Zealand Defence Force staff.

PHOTOS NZDF

IN BRIEF

SYNLAIT SALE

Synlait Milk Limited hasconfirmed a

sale and leasebackofits Synlait

Auckland manufacturing,

warehouse and officepremises in

Mangere,inordertofree up cash

and pay downdebt. The leasehas

an initialterm of 10 years, with

further rights of renewal,providing

plenty of long-term certaintyand

flexibility for the business.The sale

priceis$30.05 million,with

settlement October 4.

BACKING NZ PORK

Kiwis are being urgedtobacklocal

pig farmers and buy 'home-grown'

NZ pork. NewZealand pig farmers

are an essential service and

continued farming through Alert

Levels 2-4,but withmany

restaurants closed, the sectoris

concerned about apossiblesurplus

of pigs. NZPork haslaunched a

social media campaign to

encourage Kiwis to back local

farmersand buy'NewZealand born

and raisedpork' over importedpork.

BEEKEEPERS

Applications are openfor the annual

Ron Mossop Youth Scholarship for

beekeepers. It givesyoungpeople

the best possible start in the

apiculture industry.The scholarship

includes$2000 for beekeeping

setup, membership of Apiculture

New Zealand for one yearand

attendance at national conference.

Applicationscan be madevia

www.apinz.org.nz and close

October 29.

2358745
---
NEWS

22 Ashburton Courier, September 16, 2021

www.ashburtoncourier.co.nz

Pictorial roll of honour for lost soldiers

Pilot and pictorialauthor Reon Blake

has put meaning into the phrases, 'lest

we forget', and'we will remember them'.

They arenot empty words to Reon who

created apictorial roll of honour as a

commitmenttoremember those who

died serving New Zealand.

Reon is this month's Volunteering Mid

&South Canterburyand Hotel

Ashburton volunteer of the month.

GrowingupinMayfieldheremembers

seeing thenames of those on the

Mayfield District's roll of honour; men

he knew nothingabout, but his dad

would talkabout themand their

families.

Reon,aformerNew ZealandPolice

officerwas on the force for16years and

didthree years peace keeping service in

theSolomon Islands.

He decided thedistrict's men, who

had died for their country, needed to be

remembered after all they hadbeen

through.

He set about creating apictorialroll of

honour of men fromwithin the Foothills

of Mid Canterburywho were called to

arms in the First andWorld War 2but

didnot return.

There were110.

Thearea covered AlfordForest,

Westerfield andCarew .

Reon with help from members of the

community, AshburtonMuseum andMid

CanterburyFamilyHistory group has

105photosand is missingjust five men

whowereinvolved in World War 1.

In total probably 800­900 men from

this area went to war.

Theloss of 110men had adramatic

effect on their families and their

communities.

During Anzac Day earlierthis year, a

power point presentation of these 110

men was played at the Mayfield service.

It was avery moving presentation.

Reon is now turningthe photosand

the storiesofthe menintoabook.

He's not selecting just afew men, he

wants to tell alltheir stories, to keep

their sacrificeand memory alive for

generations to come.

When the last of thedistrict's World

War 2veterans passedawaythe

Mayfield RSAdisbandedand the

Mayfield Red Poppy Society formed. It's

agood, solid group of people who

organise the local Anzac Dayservice

eachyear.

Reon is vice­presidentofthe society.

WhenReon isn't busy on the family

farm, beingahusband andDad, he is

foundhelping his community, whether

it's his involvement with Mayfield

School, theAshburtonAero Club,orthis

year, thePoppyand Star Flight. Reon

says "communities like Mayfield are

Reon Blake

small andpeopleneed to put their hand

up andvolunteer to keepthe

community, the schools,halls, domains

etc going."

When Reon heard Poppy Flightwas

raisingawareness andfundsfor the

ReturnedServices Associationhe

jumpedattheopportunity to be

involvedasapilot for the cause.

He flew the leg from Timaru to

Oamaru.

He said he wassurprised when he

landedatOamaru,thinkinghewould

just parkupand hand the bag

containing the Poppy and Star banners

over, but insteadhewas greeted by a

large crowdof300­400 people, who

clapped him as he disembarked from his

plane.

He said he "lovedit".

Reon gets asmuch back from

volunteering and he gives.

He wants to help others;hecares

about his community and the district

and so he volunteerstomakea

difference.

If you areaNot for Profit organisation

and have avolunteer who you would like

to nominate someone forthe Volunteering

Mid &South Canterbury and the Hotel

Ashburtonvolunteerofthe month, email

coordinatormc@vmsc.org.nz
---
www.ashburtoncourier.co.nz

Flight deck display

ABoeing 737 flightdeck is the

latestdisplay at the Ashburton

Aviation Museum.

The museumacquired the

flightdeck from agroup in

Christchurchwho build

simulatorsand cockpits.

AshburtonAviationMuseum

committee chairman Owen

Moore said there was abit of

work to get it ready for the public.

Marae supporting the

district's cultural needs

Hapaitia ra is thewhakatauki of

Hakatere Marae;acommunity

marae (or NgaMaatawaka

marae) made up of whanauwho

descendfrom waka all over

AotearoaNew Zealand andTe

Moana Nui­a­Kiwa.

The whakatauki encompasses

thefounding principles of the

marae; upliftingone anotherin a

show of unity.

Hakatere Maraewas founded

on the basisthat it is aplace for

thewhole of Ashburton

community(andwider Mid

Canterbury).

Our marae plays apivotalrole

in supporting and responding to

thecultural needs of the

community like schools,

organisationsand thelocal

district council.

We aimtoraiseawarenessof

allour kaupapa Maori and

''Wewill put in aircraftseats so

people can sit downand get afeel

for the controlpanel.''

There will alsobewide screen

TV installed above the desk with

takeoff and areanavigation

(RNAV) approach footage.

Although some lightsand dials

willwork on the desk, it is not a

simulator, justamockup of the

Boeing 737 flight deck.

tikangaMaoriand applyitwhere

appropriate to different areasof

thecommunity so we canengage

in aculturallyappropriate and

safe environment,and

appreciate Maori culture.

As part of this,akeyfocus for

themaraeis thesafety of whanau

withinour community and

ensuring there is alink back to

tikanga.

Themarae trustees andkomiti

seesafety as aimportant

kaupapa to be apart of as effects

allwhanau.

Themarae is currently

recruiting for aproject coordinator

at themarae andakey

projectforthis roleis to work

with other providers to lookat

improving safety for whanau

with afocus on tamariki

(children) and kaumatua

(seniors).

Furthermorethe marae is

planning, andlooking forward, to

be involved in the safetyvillage

at theAshburton A&PShow this

year.

Michelle Brett

Hakatere Marae

Millie

Ara graduate

NEWS

Ashburton Courier, September 16, 2021

ECan needs youth input

Environment Canterbury(ECan) is lookingfor

young people around Canterbury with an

interest in theenvironmenttobepart of a

youth committee.

TheECanYouthRopu(EYR) is an initiative

led by youngpeople and the Youth

Engagement andEducationTeam at ECan.

Fifteen newmembers, aged14­24,are

needed for the EYR andtwo slotsare

allocated to Mid Canterbury.

Youthonthe ropuwill be partofa

formalisedgroup thatwill haveworking

relationshipswith the decision makers of

23

Canterburyand provide advice, lead

consultationsand events.

They will focus on givingadvice and support

to ECancouncillors and staff on issuesthat

matter to young people, andhow to engage

them.

Members must attend face­to­face and

onlinemeetings,including amonthly meeting

with councillors, andcommitmentisneeded

for atwo­year term.

Applicationscan be foundonthe website

haveyoursay.ecan.govt.nz and close on

September 26.

Working dog challenge

Hakatere Stationstock

manager Cam Clayton

(pictured) and his header

dog Pine finished in a

creditable fifth place at the

CobberWorking Dog

Challenge.

The pair competed against

two other New Zealand man

and dog teams and nine

Australians in the three

week challenge.

AGPS was fitted on the

collarofeach dog in order to

track speed,endurance and

work capacity.

Mr Clayton said the

challengehad helped him

realise how much Pine

actually works.

"I fully appreciate the dogs

for their hard running efforts

and abilitytodothe job,but

the sheer distance they cover

is just astonishing."

In the secondhalf of the

competition, he and fouryear­old

Pine sorted cattle

for pre­calving and got ewes

set for lambing.

Pine stats for the

competition showhecovered

319.2km,atanaverage speed

of 8.89km/h and worked for

35 hoursand 53 minutes.

The winningdog, asixyear­old

kelpie from

Victoria, Australia called

Skyblue Jack, easily won the

competition and clocked up

1013km, aspeed of 11.59km/h

and workedfor 87 hours 21

minutes.

OtherKiwi competitors

hailed from Dipton,

Southland and Millers Flat,

Otago.

Want to get

paid for your

weeklywalk?

I'mMarythe Delivery

Supervisor forthe Courier.

I am looking for reliable people

to deliver the Courier each

Thursday in the Tinwald area.

If you are keen to find out more

about this opportunity, please

send me an email or give me a

call and we can talk further.

Please email mary.summerfield@ashburtoncourier.co.nz

or phone Mary on 03 308 7664

forfurther details.

2409686

*until Dec2022, eligibilitycriteria apply
---
COUNCILBRIEF

5BaringSquareWest, Ashburton |POBox 94, Ashburton, NewZealand 7740 | Telephone (03) 307 7700 | Website ashburtondc.govt.nz

Thursday,16September 2021 | ISSUE 46

Construction amid potentialsupplychain

challenges in NewZealand

Ashburton District Council is

keeping aclose eye onits legacy

Libraryand Civic Centrebuilding, as

major building projects around the

country face potential supply chain

problems.

The $56.75 million building will reach a

milestone later this month when all the

cross-laminatedtimber shearwalls areup.

The 16-metretall panels havebeen craned

intoplace overthe past month.

Ashburton District Council Mayor Neil

Brownsaid aprojectcontrol group (PCG)

was meeting once amonth to manage

progress of the building on behalf ofthe

Council. The building is planned to be

finished by the end of2022, although

the PCG has notes some pressure on the

completion date due to the on-going level

4lockdown in Auckland and international

freight issues.

"There are a lot of pressures on the

construction sector with supply chain

issuesatthe moment and we aremaking

sure the new Library and Civic Centre

building continues to advancewithasfew

Parks, reservesstart spring

flowershow

The appearance of daffodils and

blossom at Ashburton District

Council parks and reserves signals

the start of abusy spring for Open

Spaces staff, who have also been

giving their new fleet of mowers a

big workout.

Anew tractorwitha6m-side mowinghead

andfournewmowershavebeenoperating

flat out, staff giving the thumbs upto

spring-loaded seats that are comfortable

to sit on all day long.

CommunityServicesGroupManagerSteve

Fabish saidthe wideareafield mowerwas

having ahugeimpactgetting through the

mowing work and wasbeingfollowedby

smaller mowers at theedges of fields and

reserves.

"Wewerelucky the Level4lockdown was

not longer as excessive spring growth of

lawns, gardens and shrubberies could

haveleft Open Spacewith ahugebacklog

delays as possible."

The building is being constructed by

Naylor Love Canterbury and about 50

different subcontractors and suppliersare

contributingtothe job.

Mayor Brown said the Alert Level 4

lockdown and two weather events inthe

districthadcausedsomehold-ups,though

the heavy rain in May had resulted in an

insurance claim being lodged to recover

of maintenancetoget through."

Colourfulspring floraldisplays around the

districtare also attractingcompliments, in

both domains and on roadsides.

"Spring flowering trees and shrubs are

exceptional at this time of the year. Look

outforavenuesofstreettrees in blossom,

suchasthe pinkflowering prunus in Argyle

Place,which areabsolutely stunning at the

moment."

As well as mowing, Open Spaces staff

are undertaking weed control inannual

beds and shrubberies and around trees

and fencelines around the district. In the

nursery, staff have been sowing seeds

in the glasshouse and getting the new

season's annuals under way.

"Pricking out of seedlings will start next

week and these tasks will be ongoing

overthe coming month. Dahlias arebeing

started, thendividedand replanted in the

herbaceousborderinthe domain."

additional clean-up costs.

"We know, however, that supply chain

issueshavestarted to biteinthe past few

monthsand thatbuilding projects around

the country, including ours, are being

affected."

Thecovidlockdownmeantsometechnical

work on the building had been delayed

but Naylor Love was working hard totry

and makeuplosttime. The company had

Community honoursaward

recipientsannounced

Four people and two organisations

will be celebrated at this year's

Community Honours Awards,

which recognise the contributions

and achievements ofthose who go

above andbeyond forour district.

Trevor Croy and Patricia McLaren will

each receivethe Mayor'sAward forPublic

Service, while Mid Canterbury Rural

Women will receive anAshburton Medal

and Neroli Cross, Jim Henderson and

KidzMethven willreceiveaCivic Award.

The Mayor's Award for Public Service

is given to people who have made a

significant and sustained contribution to

the district.

Mayor Neil Brown said Mr Croy and Mrs

McLaren had been special stewards of the

district for along time and were people

of special note, having helped numerous

causes with their special skills and

dedication.

"It will be apleasure torecognise their

voluntary work over many, many years.

The districtisamuch better place fortheir

contributions."

OnlyoneAshburtonMedalisawardedeach

yearandMidCanterburyRuralWomenhas

madeabig contribution, especially to the

rural community.

The Civic Awards recognise substantial

service, usually of avoluntarynature.

MrsCrossisrecognisedforhercontribution

to the district and Mr Henderson for

been diligent about making sure ithad

the building materials stocks needed to

continue construction.

Council senior staffalong with Councillors

were on-sitethis week to see progress.

The timber walls are part of the

superstructure for the three-storey

building,whichhasbeencleverlydesigned

to absorb historic Pioneer Hall as part of

the librarywing.

the same, in particular in rugby circles.

KidzMethven established the Methven

Skatepark.

"I wasthrilled with thehigh calibre of the

nominations for this year's awards," Mr

Brown said. "It is such apleasure tosee

all of the hard work happening in our

community, thanks to the selfless efforts

of volunteerswho carryout their duties in

avery humble manner. They are all very

worth recipients."

A presentation ceremony will be

scheduled when there ismore certainty

around Covid alert level restrictions for

public gatherings.

1 Thursday,16September 2021 |ISSUE 46

ashburtondc.govt.nz
---
NeilBrown -Mayor

We need your feedback on

Three Waters reform

We'vebeen encouraged by the

number of Ashburton District

people tellingushow theyfeel

about Government's proposed

Three Watersreform. Over100

folks havecompletedour online

surveyinthe first 48 hoursand

there's stillplenty of time to give

your opinion.

If the reforms go ahead, then Council's

drinking water, stormwater, and

wastewaterassets will be run by one

South Island entity.Wewill still ownthe

assets but justnot be running them.

The reform packagesofar has raised

afew questions around ourCouncil

table –likehow did theywork outthat

if Council doesn't optintothe reforms,

our waterserviceswill be $8690 per

serviced propertyin30years'time,but

$1640 if we do.

Another concern forusisthe

governanceofthe newentity.How

willour small councilhaveavoicein

making surethe district'sgoodquality

three waters infrastructurewill be

maintained, grown, and improvedin

the areaswewant it?

Butthe reforms arenot adone

deal yetand councils have been

askedtoprovide some preliminary

feedback,concerns, and questions to

Government by the end of September.

That's why we havecreateda

dedicatedThree Waters webpageon

the Council'swebsite (ashburtondc.

govt.nz) andcommissioned the survey.

Spending five minutes answeringa

fewquestions andmaking comments

will help Councillors getafeel forwhat

residentsthinkabout the reforms. The

surveywill be open until 22 September

and responses areanonymous, though

if you'dliketobekeptinformed of the

processthen leaveyour name and

contactdetails.

TheMinisterofLocal Government

Nanaia Mahutasays shewill lookat

the feedback from councilsaround

the countryand makeadecision by

December. Thenour Council will have

to decide whether to optinorout.

It willbeone of the biggest decisions

your Council willmakeand we want to

getitright.Overthe yearswehavebuilt

up our assets, which have acombined

value of over$200million, andwe

believe we areinagood position for

thefuture.

Thereisalot of good summarised

information on ourwebsite, with

links to more detailedand technical

information. Councillorsand Council

officershavebeen through it and

continue to come up with questions

andmatters thatneed clarification.

Awaterauthority in Scotland was

commissioned by Government to

preparethe reform documentand we

want to makesuretheir calculations

andassumptionsarefit forus.

Tell us whatyou think.

Farmersspreadwordonnativeplanting

Landowners attending a local

workshop about planting natives

will have the chance to see how a

Methven farmer has transformed a

weedy corner of hisfarm.

GeorgeLilleyand his parentsrun a200ha

arable farm, producing avariety of seed

and grain crops, alongside lamb finishing

and dairy grazing.

They decided toplant an unproductive

cornerofone paddock withnativeplants

and discovered anephemeral waterway

runningthroughitqualifiedthemforsome

riparian planting funds.

The Lilleys' native planting journey over

the past three years will be canvassed at

aPlanting Natives 101 workshop being

organised by the Ashburton District

Biodiversity Advisory Group onFriday 15

October. The workshop was originally

planned for September but postponed

becauseofCovid-19alertlevelrestrictions.

The workshop starts with an information

session at the Mt Hutt MemorialHall then

continues at the Lilleys'farm foraplanting

demonstration.

GeorgeLilleysaid they havebeen inspired

to plant natives by visiting another

farmer who had done so. Hesaid the

unproductive corner had previously not

able tobecultivated and ended upjust

growing weeds.

"Like most farms inthe area we pulled

down numerous shelterbelts in order to

put on pivot irrigators in the preceding

yearsand we were keen to replacesome

trees. After visiting afarmer upthe road

who had done some extensive native

planting we decided we would plant the

area in natives."

The area has an ephemeral waterway

running through it so the work was

considered riparian planting and the

Lilleys were able to obtain some funding

from ECantoassistwith thecosts.

Afterdoingsomeresearchintowhatplants

originally grew in their area, the Lilleys

ordered 600 plants and roped in some

friends to put them in the ground.

The work was completed in September

2018 (three yearsago)and the plantswere

planted with fertiliser tablets and plant

guards.

"We have had quite agood survival rate,

more than 90 per cent, mainly due to a

number of hours spent spraying and line

trimming around plants. The plants are

now atastage where they will hopefully

notrequiremuch moremaintenance."

Ashburton District Councillor Lynette

Lovett,who chairsthe Biodiversity Group,

said the workshop was an excellent

opportunity for people thinking about

planting natives to access a range of

helpful information and the on-farm

demonstration would inspire them.

"This workshop addresses the benefits

of native plants for shelter, mahinga kai

and biodiversity and attendees will learn

which natives to plant, site preparation

and maintenanceand funding andrecordkeeping,"she

said.

Planting Natives 101 willbeheld on Friday

15 October.The morning session will be at

the Mt HuttMemorial Hallfrom10amuntil

12 pm. The on-farm session at the Lilley

farm will run from 1.30pmuntil3pm.

People wanting to book

aspotcan registerat

ashburtondc.govt.nz/planting101.

PUBLICNOTICES

PROPOSED CLOSURE

Pursuant to the Transport (Vehicular

Traffic Road Closure) Regulations1965,

notice is hereby giventhatAshburton

DistrictCouncil, forthe purpose of

allowing Light Up theNight to be held,

proposes to close the following road to

ordinaryvehicular traffic forthe period

indicated.

Roadproposedtobeclosed:

• EAST STREET,between Havelock

Street and Tancred Street

• BURNETT STREET,fromEastStreet

to Cass Street

PeriodofClosure: From 11am until

10pm on Saturday,27November

2021.

Any person objecting to the proposal

is called upontolodgenoticeoftheir

objectionand grounds thereof in writing

or emailtoCouncil by 4pmon Friday,

29 October2021.

NEIL McCANN

Group Manager InfrastructureServices

COMMUNITYNOTICEBOARD

UPCOMINGMEETINGS

Meetings areheld in the Council

Chambers,137 HavelockStreet,

(unless otherwiseadvised).

Methven CommunityBoard

Monday20September,10.30am in the

Mt HuttMemorial Hall.

Council ActivityBriefings

Wednesday 22 September, 9.30am.

Audit &Risk Committee

Wednesday 22 September, 1.30pm.

(live-streamed)

Ashburton WaterZone

CommitteeMeeting

Tuesday28September,1.00pm

Council Meeting-Extraordinary

Wednesday,29September,1.00pm

Resource Consent hearing

for30Queens Drive

4October,9.00am

BiteNite

postponed

Bite Nite Culture Fest, planned

for Saturday 25 September, has

been postponed due to Covid-19

restrictions.

Ashburton Youth Council organises the

annual event and was hoping to attract

more than 1000 people to have fun and

food, and trytheir handatnew sports.

Youth Council ChairMichael Baker said it

wasdisappointingtopostpone the event.

"We hope to still deliver this popular event

laterinthe year,subjecttothe availability

of thoseproviding entertainment."

Anew date is expected to be announced

soon.

PrimeMinisterJacinda Ardernannounced

on Monday that Auckland would stay

in Alert Level 4until at least Tuesday 21

September and the rest ofthe country

would stay atDelta Level 2. The settings

will be reviewednextMonday.

COUNCIL OFFICE

5Baring Square West

Mon, Tue, Wed &Fri 8.30am -5pm, Thursday 9am -5pm

ASHBURTON PUBLIC LIBRARY

180 Havelock Street,Ashburton 7700

Mon -Fri 9am -8pm, Sat10am -1pm, Sun 1pm -4pm

EA NETWORKSCENTRE

20 River Terrace

Mon -Fri 6am -9pm, Sat&Sun 7am -7pm

ASHBURTON MUSEUM

327 WestStreet

10am -4pm daily. Closed Public Holidays.

ashburtondc.govt.nz Thursday,16Septmeber2021 |ISSUE 46

2
---
SPORT

26 Ashburton Courier, September 16, 2021

CLUB NEWS

WAIREKA CROQUET CLUB

We had our Open Day on Saturday with

Audrey Leath raising the Waireka Flag, Opening

the season followed by Raylene Phillips

running the first hoop to begin the 2021-2022

season.

This Sunday (September 19) Waireka are

hosting the AC Interprovincial v Canterbury

matches. 20 members have been entered from

Canterburythe largest number for some years.

Games commence from 9.30am -4.00pm.

ASHBURTON MSA PET­

ANQUE CLUB

The members are happy to be back

playing petanque again and numbers have

been high on our club days. On Sunday we

held the Club Mixed Singles for which 16

players contested, the most we've ever had.

Neville Bensdorp won the trophy,

Jonathan Crum was second, and Peter

Marriott was third.

Most games were very close and the

winner was not known until the last round, of

which there were five. The top woman scorer

was Nicky Foden.

Today we have Round 3ofthe Interclub at

Christchurch, and the following week we host

Round 4.

On 10 October, we take part in the Piste of

Origin in Christchurch, so named as players

can only enter in ateam that was the one they

joined when they first played petanque, eg if

they first joined and played for Invercargill

then they can't enter as part of the Ashburton

team. We won this trophy last year.

Later in October we have the Canterbury

Singles and Doubles Tournaments, so plenty

to keep us on our toes.

We welcome you to watch any of our

tournaments, and to attend or join our friendly

club games every Tuesday and Thursday,

starting at 1.30 atour venue at 115 Racecourse

Road.

Boules are available for you to play and to learn

about the game.

ASHBURTON BOWLING CLUB

This is avery short, but re-assuring report stating

that Ashburton Bowling Club will open its 2021/2022

season this Saturday, September 18 at 1.15 pm.

Members are asked to put their names on the board on

arrival.

The opening will take place regardless of the

weather. But if the weather is kind we will be play

according toprotocols set out by Bowls Canterbury for

playing under the constraints for Level 2.

Members are asked, kindly, to bring aplate. And

they must wear amask, use the code or sign in before

entering the club house (no more than 50 at one time).

We are allowed to have 100 outside.

Ashburton MSA Petanque Club singles

winner Neville Bensdorp.

PHOTO SUPPLIED

Members will also be advised by club circulation if

there is any change tothe above, ie going down to

Level 1before the end of the week. What joythat would

bring.

There will also be Friday Triples at the club

tomorrow at 12.30pm as the MSA will be using our club

greens for their home matches whilst reparation work

takes place on their green. (We were in a similar

position last season.)

Congratulations to the team of Jo Ryk, Heather

Goodall, Judie Ryk who won the Hunt Trophy as part of

Allenton's winter bowling programme. Well done.

A more detailed report will be forthcoming next

week, but fingers crossed for lots more freedom by the

weekend!

Looking ahead positively, have awonderful season

everyone, and very good bowling.

RESULTS

GOLF

Last week (September9)the winners of the Sega Golf

Stableford were Wendy Smith and Joy Nicholas, 20

stableford points each. Followed by Gail Gustell, Bev

Blair, Paul Baird and Tonee Hurley with 19 stableford

points each. Gail Gutsell also scored aSmith &Church

gobbler. Next week, 16th September -Netherby Pharmacy

Putting and the following week the quarter finals of

our 9Hole Club Championships.

Please insert the following information in the Results

section.

Any question please ring Matt on 0272123931 or

email Matt at segagolf01@gmail.com

Ashburton Golf Club

Saturday 11/9/2021

President's vs Club Captain's (Matchplay)

There were 86 players with 43 players ineach team.

In the morning the score was 8.5pts to Club Captain's

and 8.5pts to President's.

In the afternoon the score was 13.5 to Club Captain's

and 12.5 to President's. Final Result: Club Captain's win

Twos: Al Jopson, Gary Hildyard, Vince Carr, Paul

Greer, Robbie Bell, John Power and Greig Sparrow.

Eagle: Dylan Stoddart (Hole6#)

Nearest The Pins: Hole 4# Dock's SeafoodBar &Grill:

Al Jopson, Hole 8# 3Stooges (Brown Bombers): Robbie

Bell, Hole 12# Value Plus: Richard McKernan, Hole 14#

South Island Seed Processing &Storage Co. Hamish

Niles, Hole6# Hamish Niles Shout!!: Paul Morrison, Hole

9# Ton's Thai Longest Putt: Tim Newton

Nine Hole Results

Stableford:

The Harvey Bakehouse player of the day was Murray

Lister 21pts, 2nd Elaine King 20pts, 3rd Gavin Johnston

18pts, 4th Robynne Nicoll 18pts.

Two's: Gavin Johnston.

RUN AND WALK ASHBURTON

Gilbert Walk and Albert McIntosh Run held Saturday

11th September 2021 at Argyle Park, Ashburton.

3km sealed handicap Gilbert Walk:

Stacey Hooper 20:23 (Fastest Woman); Noel Batty

20:28 (Fastest Man); Paul Severins 21:00; Dave Strong

21:09; Marie Batty 22:25; Peter Larkin 22:41; Chrissie

Stratford 23:08; Lori Rusbatch 23:44; Bill Hood 26:22;

Colin Phillips 26:24; Nicky MacKenzie 26:38 (Winner on

handicap); Karen Hodgson 26:48; Robert Moffitt 27:44;

David Wilkinson 35:07.

3km sealed handicap Albert McIntosh Run:

Shaun Clark 11:07 (Fastest Man) Jeremy Hayes

12:08; Ian Broadbelt 13:18; Gabby Simpson 13:52

(Fastest Woman); Tam Grant 13:58; Gary Whiting 14:36;

Jack Hooper 15:54; Eamon Hooper 15:58 (Winner on

handicap); Carina Lupse 16:27; Alison Conway 18:13;

Mike O'Callaghan 24:25.

1km sealed handicap Children: Gus Simpson 5:07

www.ashburtoncourier.co.nz

(Fastest time and winner on handicap); Paterson Beaver

5:45; Molly Beaver 5:53; Jamie Hooper 6:00; Zara Grant

6:12.

Thank you to our time keepers Viv Strong, Steve

Skilling, Lynda Bayne and Toresa Hooper.

PETANQUE

Ashburton MSA petanque club

Club Mixed Singles

Winner: Neville Bensdorp

Runner up: Jonathan Crum

Third: Peter Marriott

Fourth: Nicky Foden

CYCLING

Mid-Canterbury Social Wheelers.

11th Sept 21. 24 riders. 1st. Don Morrison 27m 04s.

2nd. Flynn Beeman 25m 25s. 3rd. Mark Summerfield 24m

25s. 4th. Chris reid 24m 26s. 5th. Paul Summerfield 25m

26s. 6th. Nick Grijns 25m 27s. 7th. Kristine Marriott 24m

27s. 8th. Don Sutton 25m.27s. 9th. Charlotte Cox 25m

27s. 10th. Pam Harcourt 27m 28s. 11th. Larry Neasl 23m

13s F/T. 12th. Tony Ward 23m 123s. 2f/t. 13th. Michael

Gallagher 23m 14s. 3f/t. 14th Rob Hooper 23m 14s. 4f/t.

15th. Matt Marshall 29m 10s. 16th. Liz Wylie 31m 41s.

17th. Ron Kennedy 31m 41s. 18th. Kenny Johnstone 30m

50s. 19th. Rachel Reid 30m 50s. 20th. Andy Skinner 32m

16s. 21st. Debbie Skinner 31m 35s. 22nd. Janette Hooper

31m 35s. 23rd. Doug Coley 27m 51s. 24th. Roger Wilson.

Mystery Teams. 1st. 59pts. Michael Gallagher, Mark

Summerfield , Charlotte Cox, Paul Summerfield, Pam

Harcourt, Rachel Reid, 2nd. 76pts. Larry Neal ,Doug

Coley, Nick Grijns, Flynn Beeman, Kenny Johnstone, Liz

Wylie, .3rd. 77pts. Tony Ward, Chris Reid, Don Sutton,

Matt Marshall, Debbie Skinner, Ron Kennedy,. 4th.88pts.

Rob Hooper, Kristine Marriott, Roger Wilson, Don

Morrison, Janette Hooper, Andy Skinner.

Tinwald Cycling U17 Development .

12th Sept 21. Fords Road. Open Handicap, 4.2km.

1st. Charlotte Neal 9m01s. 2nd. Cody Rollinson 8m52s.

3rd. Eliza McKenzie 8m 24s. 4th. Ryan Gallagher 8m 19s

F/T. 5th. Katie Rollinson 11m41s. Grade Results. A. 1st.

Ryan Gallagher. 2nd. Eliza McKenzie, B. Grade. 1st.

Cody Rollinson ,C.Grade 1st Charlotte Neal, D. Grade

Katie Rollinson , Open 1km Time Trial. 1st. Ryan

Gallagher 2m 00s. 2nd. Eliza McKenzie 2m 06s. 3rd.

Cody Rollinson 2m 12s. 4th. Charlotte Neal 2m 15s. 5th.

Katie Rollinson 2m 30s. Grade Results. A. 1st. Ryan

Gallagher, 2nd. Eliza McKenzie ,B.1st. Cody Rollinson

,C.1st. Charlotte Neal, D. 1st. Katie Rollinson.Last races

of the U17 Development winter Series, Many thanks to all

the Young Cyclists, Parents, Parent Cyclists, and

Helpers, couldn't do this with out you all.

Up to

50 % Of

*Call for Terms

&Conditions

Off

*

ADJUSTABLE MASSAGE BED

by
---
TM

build

SRPING 2021

buy&

renovate

Afeature brought to you by

THINKING OF RENOVATING?

ENJOYITWITH US

Let's start the conversation call 0800 764 846

Email ashburton@smithandsons.co.nz

or visit smithandsons.co.nz
---
FEATURE

28 Ashburton Courier, September 16, 2021

www.ashburtoncourier.co.nz

build buy &renovate

2021

The appeal of renovating your home

Renovating can be costly and

inconvenient, but can also

increase the value and

enjoyment of your home.

There are two main reasons

people renovate: to add to the

comfort, use and value of the

home and to tidy it up to sell.

Renovating can be acostly

and inconvenient business.

Before you launch into

renovations, take time to

consider whether the expense

and disruption is justified.

If you intend staying in the

home you may want to add extra

space to accommodate an

expanding family, or simply to

add asense of spaciousness.

You may also want to add

rooms for special purposes,

such as an office or games

room, change the configuration

of the house for better flow, or

update and remodel to give the

house afresher, more modern

look.

Other home owners may also

be looking to restore their

house to its original style, or

look to add value to increase

their investment.

If you are renovating to sell, it

is likely that you'll want to give

Renovating can increase the value of your home, and the enjoyment of living there.

the house an inexpensive

makeover to freshen it up and

Buyers and Sellers of Recycled and

New Building Materials and Joinery

make it more attractive to

buyers. For example,

repainting, repapering, or

changing dated or

damaged fixtures, such as

acracked basin in the

bathroom.

You need to consider

the tastes of potential

buyers, which really

means keeping

everything fairly neutral

to appeal to awider range

of people. Not everyone

warms to bright feature

walls or pink bathtubs.

Renovations that will

increase the appeal of

your home may include

painting the kitchen and

bathroom, or putting in some

decking to give an indoor/

outdoor flow and an increased

sense of space or some

landscaping.

Don't spend money that you

won't get back in the sale price.

Ask areal estate agent for ideas

to increase the house's appeal,

and how much you should

spend without overcapitalising.

Take care to renovate to the

existing style of the house and

neighbourhood. People search

in particular neighbourhoods

because they like the age and

style of houses found there.

Giving your older villa style

house avery modern aspect,

which is inconsistent with the

other houses in the street, will

lessen the range of potential

purchasers.

If you don't intend selling, the

money you spend on renovating

will be an investment in the

comfort and enjoyment of the

house. Whether you increase

the value of the home may not

be an important factor in how

much you decide to spend. If

your house needs agreat deal

of work decide whether you

want to go to all the trouble or if

it would be better to sell and

buy something more suited to

your needs.

Timber,flooring,doors,

window, kitchens,roofing

materials and manymore

qualityrecycled

and newproducts.

Cawte Whiting 027-418-7955

kiwibm@outlook.com

2414951

Transformyour kitchen

with aunique designjust foryou

Less waste, morepurpose

"Freemeasure&quoteinyour home"

3Musgrove Close (off Wigram Rd), Christchurch

www.musgroves.co.nz • 03 322 7922

or Freephone 0508 468 747

2304513

The Renovation Experts

606 East Street,Ashburton. P: 307 7131 l www.kitchenexpress.co.nz

Open9am to 5pm Monday-Friday; 9.30am-12.30pm Saturday

2415472
---
2415611
---
Y

Ye

FEATURE

30 Ashburton Courier, September 16, 2021

www.ashburtoncourier.co.nz

build buy &renovate

2021

Kiwis optimism high in housing survey

Kiwis optimism in New

Zealand's housingmarket is

proving hard to dent,with net

58 percent still expecting house

prices to increase in thecoming

12 months, despite widespread

predictionsofarapid slowdownorprice

drop, according

to the latest ASB Housing

Confidencesurvey.

ASB economists are now

forecasting annual house price

growth to drop to just two

percent next year, flat­lining

compared withthe double­digit

growth we've seenover thepast

year.

ASB chief economistNick

Tuffley said he was not

surprisedKiwis were doubtful

of aslowdown,particularly

with housing demand still

outstripping supply.

"Given the recent

government changes and new

regulationshavesofar only

slightlyimpactedthe market,

it's understandablethat Kiwis

are sceptical about aslowdown,

particularlyasannual

house price growth has most

recently hit 30 percent.

''For many watching the

runaway housing market, it may

be hard to imagine ever seeing

adecline. Despite this, there

are anumber of factors which

are increasingly likely to put

the brakeson."

Kiwis are still expecting house prices to increase in the coming year.

"This yearthe RBNZ has

reintroduced its Loan­to­Value

Ratio(LVR) restrictions, the

Government hit property

investors with atax hammer,

and there has been some

upwardcreep in mortgage

rates,'' he said.

''Behind the scenes, inbound

migration has ground to ahalt

Having problems with your internal gutter systems?

Do your drains keep blocking,causing leakage into the soffits and even your house?

Areyour soffits falling out due to water rot?

We canconvert your internal gutters to standard external gutters.

and homecompletionshave

lifted, which should ease

demandslightly,although we

now have construction delays

due to supplybottlenecks to

contend with,'' he said.

House price expectations

maybeholding steady,

however,interest rate risesare

increasingly beingviewedas

inevitable,with net54percent

of those surveyed expecting

higherratesinthe coming year

–asignificantturnaround from

thenet 13 percentthat

expected adropinthe first

quartersurvey.

"The latest lockdown gave an

OCR lift atemporary stayof

executionbut inflation

pressuresare likely to remain

just as chronic,despitethe

disruption. It was veryclear

theRBNZ intended to lift the

OCR on August 18,but only

held off because of the justannounced

covid community

outbreak.

''Atthis point the RBNZstill

looks likely to move very

shortly,and we arepredicting

an October OCR increase.

''The longerthe lockdownin

Auckland lasts, however, the

more likelyitwill continueto

pause to assesshow the longerterm

picture has been changed

(ornot)," Mr Tuffleysaid.

Unsurprisingly,perceptions

of whetheritisagoodtime to

buyremainnegative,with20

percent saying it was abad

time to buy, downonlyslightly

on lastquarter's 21 percent.

NEED A NEW COAT?

Allworkmanship guaranteed

ALPS

CONTINUOUS SPOUTING

Ben Kruger 021 808 739 or 308 4380

232 BoundaryRoad,Ashburton

www.alpscontinuousspouting.co.nz

E; benkruger@xtra.co.nz

2414233

www.andyspaintinganddecorating.co.nz

2415466

''

MikeandIare ahusbandand wifeteam that have yearsofexperience and knowledge

ofthe industry.

Wethoroughlyenjoysharingour passionand experience to work with youfromthefirst

meeting,tomoving in dayandbeyond.

Wespecialiseinoffering honestadvice, andpricing on materialsand design.

Therearesomany choicesavailabletoyouand appreciatethiscan be so confusing.

Wewill work with youand provide youwith open information enablingyou to getthe

''

best outcomefor your home so youwill love living therefor many years to come.

•

GOLD

AWARD

2016

Registered Master Builders

House of

Mid & South Canterbury

of

the Ye Year

ar

•

Mike and Andrea

Corner Allison &Harrison Streets,Allenton, Ashburton Phone 03 308 8429 or 021 343 210

www.fowlerhomes.co.nz

TM

2416720
---
FEATURE

32 Ashburton Courier, September 16, 2021

www.ashburtoncourier.co.nz

build buy &renovate

2021

Building your own slice of paradise

Renovatingorbuilding new

depends on your circumstances

and those circumstances willbe

very different fromyour

neighbours.

Building occasionally gets

bad presswith the hassles of a

few taggedtobuilding

generally.

But if you have agood builder

­and there are plenty in Mid

and South Canterbury ­and you

plan well, it should be plain

sailing.

If youare going to build,you

havetohave somewhere to

build.

It might be that you are

interested in aland and home

package, in whichcasethe

''where'' will be taken care of.

Builders or buildingfirms

sometimes buy blocks of land

for development.

One of thebenefits of that is

that not only do youget anew

home, but youknow your

neighbours will have anew

home.

Manycompanies, these days,

offer turn­keyhouse andland

packages, and the prices are

competitive.

If these interestyou,the

companiesalmostalways have

ashow home or homes.

Take thetime to explore. The

more homes you see, the

clearer the ideayou willget of

what is available for whatprice.

Some designs will fascinate

you, others willnot. In any

event andevenifyou see

nothing you like you will be

much better informed.

Such companies have many

design options, so take your

time.

It might be that you want to

design your ownhome, or at

least pass on somefirmideas to

abuilder, and that's fine. You

are going to livethere, andpay

the bills.

If youhavefirm ideas,or

noneatall, you may wantto

employanarchitect.Inthe end,

they may saveyou money

through clever design.

An architect will be

especially usefulifyou havea

Building your own house, with the right plan, should be plain sailing.

special site, or even adifficult

site. Theyare trained to design

buildings forall situations.

And if youhaveonly abasic

idea of the style of home you

want, an architect can bring

those ''basic'' ideas to life.

Perhaps youhave seen a

home, or visitedone, that really

takes your eye.

It might be that it was

designed by an architect, and

highly likely that theowners

will be happy to pass on the

name of thedesigner.

The work of such

professionals is often passed by

word of mouth, so check

around.

If you have the design you

want, you will need abuilder

andthey areoften

recommended by friends or

acquaintances.

Also to consider when you are

building are the optionsto

make your home more noiseproof

especially with Kiwis are

diningout less in favour of

socialising with friends and

familyathome.

The trend is reflected in the

home renovations and

maintenance marketwhere

spendingisgoing the way of

biggerkitchens and new

entertainment areas–but noise

is aproblem.

Maintain to Profit managing

director Mark Trafford said

Kiwi homeowners had

discoveredthe joys of home

cooking andhangingout,which

meant finding waystobeless

disruptive after 10pm.

Kitchenmake­overs,bar

areas,swimming pools and new

entertainment rooms –

complete with pool table –are

the trend at themoment, along

withhomegyms.

''WhileCovid­19may be

turning Kiwis intohomebodies,

most of us seem to have decided

to make the mostofitby

transforming our homes into

placeswhere we can live, work,

play andexercise,'' he said.

''Unfortunately,thesekinds

of activities generate noise, and

if homeownerswanttoget the

bestout of their homes, they

need to take into consideration

the needs of their neighbours.''

There are essentially two

kinds of noise,airborne noise

and impactnoise, and both can

disrupt the neighbours and

other people in the house,he

said.

''You need to be strategic

aboutthe usageofthe room and

thekind of noise youneed to

dampen.

''Fortunately, there are alot

of good quality choices, and

you'll want expertadviceto

make sure you are informed of

all your options.''

Tips include:

1. Soundproofing

Increasingly homeowners are

lookingtosoundproof parts of

thehouse, like thegym and

entertainment areas, Mr

Trafford said.

''A practicalidea wouldbeto

have adedicated

entertainment room lined with

noise controlplasterboardthat

is purpose made to dampen

sound.

''The same goes for the home

gym. Music and loud weights

slamming down on the floorcan

beverydisruptive.Ifyouwanta

home gym, it has to be aplace

youwant to go and train.

Systems,climate control,

lighting andmusic will make

thedifferencebetweenwanting

to go into the home gymor

avoiding it.''

2. Weather­stripping for

interior doors

''You may alsowant to think

aboutweatherstripping both

your exterior facingand

interior doors, particularly

those that open and close on

your entertainment area.

''A door sweep willalsohelp,

butpay particular attention to

thequalityofthe materials and

installationbecausethat will

make adifference.''

3. Floor coverings, carpeting

andrugs

Floors also conducted noise,

mainly if they are hard

concrete,wood or tiled floors

downstairsorinthe basement.

''Interlocking floor mats for

thegym, carpet padding or

soundproof flooringare some of

theoptions thatwill helpyou

mutenoise. There are alot of

products, designs and

strategies for keeping noise

under control.''

FOR ALL YEAR ROUND COMFORT

Ducted heatpump/ air conditioningunit

•Whole home centralheating

and cooling

•Cost effectiveand energy

efficient

Loyal Interior Plastering

Forall your plasterboardstopping

SEND YOUR PLANS FOR AFREE QUOTE

New builds areour specialty Town and country

•Whisper quiet with discreetly

positioned ventsintorooms

•Can be installed in new homes

or retrofitted into existing

homes

MAJORSUPPLIERS OF

PHONE 308 7182 ON CALL 021 597 517

211/D Alford Forest Rd,Ashburton

HEATPUMPS

2414040

2414995

M 027 384 7118 E bruceachamberlain@xtra.co.nz A Ashburton
---
www.ashburtoncourier.co.nz

FEATURE

Ashburton Courier, September 16, 2021

33

build buy &renovate

Budget for extra costs

Signingup for your first house is

exciting. It's aplace to call your

own, decorate toyourown taste

and kick­back andenjoydoing the

things you want. But costs can

mount.

The deposit isjust one of the

costs you will facewhen you buy

yourhome.

It paystobudgetfor first home

We have it covered

2021

expenses and keep money aside

for things like: moving expenses,

connectionfees forphone, power

and internet, renovationsand

decorating if needed.

But thereare also legal

expenses and builder's reports.

Not to mention ongoing

insurance, utility costs and

council rates.

First home planning

You've saved enough money for your first

house deposit. It's taken some careful

planning and some serious budgeting but you

set agoal ­achieved it ­and have been to the

bank/mortgage broker and got yourself the

financial backing to buy ahome.

Your first home may not be your dream

home. But it could be an affordable first step

on the 'property ladder'.

There's no point owning your own home if

you can't keep up with the mortgage

repayments. Sometimes 'the worst house in

the best street' is the way to go, especially if

you are good at DIY.

Real estate websites are agood place to

find out how much properties are worth in

different areas. If you want to buy an

apartment or townhouse, check your bank

will lend on these types of properties not all

will.

If you're buying aproperty as an

investment, as well as aplace to live, it's

important to think about resale or rental

potential.

Rental property is considered ahigher risk

by the banks and they may not lend as much

as they would for aproperty you are going to

live in. Consider things like public transport

routes, shops and schools and whether a

suburb has astrong rental market.

Your first mortgage, or home loan, will

probably be the biggest financial

commitment you'll ever make. You'll

probably look at dozens of places before you

find the home you want to buy.

It's agood idea to be just as careful when

choosing your mortgage. Over time, your

repayments could add up to alot more than

the cost of the home.

There are many types of mortgages, each

with its own interest rate, fees and degree of

flexibility. You can shop around for a

mortgage yourself, or use the (usually free)

services of aqualified mortgage broker.

Before signing any sale agreement or

mortgage paperwork you'll need to get it

looked over by alawyer. Abuilder's report is

also encouraged. Fees vary so shop around.

2416628

•FurnitureUpholstery

•Custom-made Headboards

&Ottomans

•SailShades,Awnings and

OutdoorBlindsand Screens

115 Archibald Street,Tinwald,Ashburton

Phone/Fax (03) 307 2354

Email enquiries@tinwaldcanvas.co.nz

www.tinwaldcanvas.co.nz

DAM DOORS ANDMORE

FireDivision

Fire Extinguisher Sales and Servicing

Extinguishers, brackets, cabinets

Signage/Blazons

Onsite testing and installation

Recharge and refill service

Specific site plans

PHONEMACK 0273 960 361

damdoorsandmore@gmail.com

HIRE ANDGARDEN SUPPLIES

1.7T Digger

2416229

Property valuations

Rural, Residential,

Insurance

2416910

ConcretePremix

Ian McBride

REGISTERED VALUER

A.N.Z.I.V. S.P.I.N.Z.

BCom (Agr,VFM)

Phone: 03 308 5468

Mobile: 029 770 5468

Email: ianmcbride308@gmail.com

AP20

Ph: (03) 308 4606

E: office@jkfhomes.co.nz

121A Archibald St, Tinwald,Ashburton

NEWHOMES AND RENOVATIONS

2.5T Digger

2416715

Full day$190* l Half day$120*

Scoop $25 Scoop $20

$40m³ $45m³

CHEAPEST PRICES

Full day$250* l Half day $170*

IN TOWN 03 307 1575

171 Alford Forest Road,Ashburton www.oasishire.co.nz

*Plus fuel

2415499
---
FEATURE

34 Ashburton Courier, September 16, 2021

www.ashburtoncourier.co.nz

build buy &renovate

2021

Perfect house, wrong location; relocate

When you are movingahouse,whether

it is anew or older one,there are many

considerations. If you're thinkingof

relocating ahouse, here'swhat you

need to know aboutthe process.

The cost of buying an old house for

removal can range from afew thousand

dollars for atwo room bach to more

than $100,000for alargehome.

The housemoving company will

generally be responsiblefor the moving

permits, thatis, the costs of movingthe

house overpublic roads.However,the

homeowner is often responsible for

building and resourceconsents. Talk it

over with your mover. The costof

placing the house on the new site, the

foundations, connections to services,

repairs, alterations and renovations

will be alarge part of your total budget.

Talk with the removal companyand

consider the following:

What is needed to get the house off

the existing section —trees and other

structures may have to be removed.

If you haven't alreadydone so, have

the building structurally assessed

before it is moved to ensure it can be

safely transported.

­Anover­dimension permit will be

needed to move the house by road.

These are issuedbythe New Zealand

Transport Agency.The permit will

normallybetakencare of by the

building removal company,but make

surethis has been done. For more

information, contact the New Zealand

Transport Agency or visit its website.

Some of the issuesassociated with

older housesthat will comeupwhen

they are to be transported include:

­The bearers are often undersized

and inconsistentfor floor layout,

usually becauseolder homes have had

many alterations done overthe years

without any attention giventothe

bearers.

­Brick claddings will have to be

removed for relocation and new

claddingsinstalled; thisisan

opportunity to install insulation.

­Foundationsdon't always matchup

withwhat's on the plan.

­Plumbingand wiring willoften

require replacement.

Consents required

Whenyou relocate ahouse, thereare

building consents to apply for including

uplifting and reestablishing it

elsewhere.

It'simportant to talktocouncil before

you start, and ask for details of its

application requirements.

It is best to apply for the building and

resource consents at the same timeso

thatbuilding and environmental

factors can be consideredtogether.

If the place of origin and the new site

are in different local council areas, you

may needtoapply to more thanone

building consent authority.

Acode compliance certificatemust

be issued for each building consent

after the councildoes the final

inspectionand is satisfied with the

work.

Protectwhat

youvalue the

smartway

At PlaceMakers® we are well equipped to help you

turn your landscaping dream into areality

Manageyour

safety&security

anywhere, anytime

Call 0800 788 393

2417135

57 DobsonStreet,Ashburton

www.masterguard.co.nz

HartleyCurd 021 328 301

Keeping our communitysafefor over25years

2416492

Looking for the right builderforyou?

r u?

For aquality Ashburton builder and access to thepeace ofmind of the Master Build

10-Year Guarantee, choose aRegistered Master Builder.

• Additions and Renovations • All types of maintenance

• Commercial and Farm buildings • New Housing

•Manufacturer and supplier of

Rylock aluminium windows and doors

•Retro double glazing installers fora

drier,warmer, quieter home

Forafreequote, contactDavid &Lorayne Oakley

PHONE 308 8493. EMAIL: owdrylock@gmail.com

8A John Street,Ashburton

2414155

2416424

Formoreinformation

and builder contactdetails visit:

masterbuilder.org.nz/checkyourbuilder

BradfordBuilding

Brown&Co Builders

DaveMccrea Building

DesMillarConstruction

Fowler Homes Ashburton

FriddConstruction

Garth Jemmett

Construction

Geoff

Read

Grant Love Homes

Harvey MorrisonConstruction

Ingold Building

James RobinsonBuilders

JennianHomes Canterbury

Jim Reed Builders

JosephBuilders

JR Bennett

Construction

Lampard

RodneyGrant,AshburtonBranchPresident

McAndrew Builders

McIntosh Builders

McIntosh Commercial Construction

McKain QualityConstruction

MikeGreer Homes Mid Canterbury

MuldrewBuilders

NaishBuilders

Paul MiddletonBuilder

Pearce Builders

Quaid Construction Company

RTOConstruction

Simon Ross Construction

Smithand Sons Ashburton

Snowfed Builders

StuBell Construction

Trident Homes Ashburton

Building aBetter New Zealand
---
www.ashburtoncourier.co.nz

FEATURE

Ashburton Courier, September 16, 2021

build buy &renovate

35

2021

Investment potential

If you want to buyan

apartment or townhouse,

check your bank will lend on

thesetypes of properties as not

all will.

If you're buying aproperty as

an investment, as well as a

placetolive, it's important to

thinkabout resale or rental

potential.

Arental property is

considered ahigher risk by the

banks and they may not lend as

muchasthey would for a

property you are goingtolive

in. Consider things like: ­Isthe

house close to public transport

routes?­Are there shops and

schools withinwalking

distance?­Does the suburb

have astrongrental market?

There are many types of

mortgages,each with its own

interest rate, fees anddegree

of flexibility.

Allthese things affect how

muchthe loan costs youand

when it willbepaid off. Before

signing any sale agreement or

mortgage paperwork you'll

need to get it lookedover by a

lawyer. You will also need a

lawyer to handle the

'conveyancing' once you buy

your house. Fees vary so shop

around. Abuilder's report can

identify any possible problems

with the house you're looking

at buying. An experienced

builder will findthings that the

untrained eye will miss, and

may save you thousands. A

Land Information

Memorandum

(LIM) identifies any issues

withthe landthe house is built

on. It will identify issues like

drainage and landslip risks.

You can orderaLIMthrough

your local council, or your

lawyer will do it for you.

The deposit is just one of the

costs you willface when you

buy your home. You willneed

to keepmoney aside for things

like:

­Moving services, or truck

hire if you're doingityourself.

­Connectionfees for phone,

power and internet. ­Any

renovations or decorating you

need to do straight away. ­

Advertising for flatmates or

tenants. ­Legal expenses and

builder's reports.

Makesure you factorinto

your budget insurance, rates

and other ongoing costs into

your calculations.

Yourhome will be your

biggest asset so you will need

to protect it from the

unexpected.

Source: www.sorted.org.nz

DIY know-how

Anyone is capable of carrying

out repairs and maintenance

workontheir homes, including

redecorating, suchas painting

and wallpapering. Somepeople

havethe skillsneededfor more

difficult renovations and

alterations. Most of the

restrictionsonhow much you

can do yourselfcomedown to

skill, timeand energy.

Theremay also be work you

are not permitted to do because

of legal restrictionssobe

realistic about what you can

achieve.

There are many talesabout

DIYprojects which were never

finished, or became disasters

which needed fixing by a

qualifiedtradesperson.

When doing home

renovations, alterationsor

maintenance workkeep in

mind the legalrestrictionson

doing things yourself. General

redecorating, suchaspainting

or paperhanging, should not be

aproblem, but thereiscertain

work that can be done or signed

off only by aqualified

tradesperson.

Building up great things.

NEW HOME DESIGN &BUILD / REPAIRS &MAINTENANCE

FARM BUILDINGS / DAIRY SHEDS

CONCRETE CONSTRUCTION

f

FREE QUOTES

Call Michael 027 207 3383

LOCKSMITH/ DOOR

REPAIRERS

•Ashburton based locksmiths

•Keys, door locks, padlocks

•Window stays and latches

•Sliding/bifold door rollers

•WEREPAIR ALL

2416914

CALL DAM DOORS ANDMORE

MOBILE SERVICE

0275 167104

2416228

BY ASHBURTON JOINERY

ASHBURTON'S KITCHEN SPECIALISTS

LOCALLY OWNED AND MANUFACTURED

design manufacture installation

Visit our showroom: 8John Street, Ashburton

P(03) 308 5059 | E info@ashburtonjoinery.co.nz

2417134

Mid/South CanterburyContinuous Spouting

TM

TM

TM

TM

Askabout our large capacityspouting for

commercial and farmbuildings

Residential –fascia, gutter and downpipes

Snowprotection our specialty

The Original

Spouting Specialists

Serving

Mid/South

Canterbury

for over

26 years

Your new spouting proudly installed by

Craig or Josh

John Tull ...providingoutstandingservice,

afterinstallation care and pricing requirements!

Phone him on 021 288 8290

Email: john@canterburycontinuous.co.nz

www.continuous.co.nz Freephone 0800 50 1993

2416235
---
FEATURE

36 Ashburton Courier, September 16, 2021

www.ashburtoncourier.co.nz

build buy &renovate

2021

Building materials for future generations

Biodegradable plastics are

supposed to be good for the

environment but, rather

paradoxically, because they are

designed to degrade quickly,

they can't be recycled.

However New Zealand

researchers have found

compostable plastic can be

turned into afoam which

functions as building insulation

as away of recycling the

material.

UniversityofCanterbury(UC)

chemical and process

engineering academicDrHeon

Park, whoworks in the

Biomolecular Interaction

Centre, along with co­authors

PhD student Lilian Lin, andBE

(Hons) graduate YoungLee,

have developed amethod to

convert single­use plastic, such

as knives, spoonsand forks,

made from polylactic acid (PLA)

into afoam that can be turned

into insulationfor walls or

flotation devices.

PLA is aplastic made of

fermented starch from corn or

sugar cane. It is designed to

break downharmlessly, but

requires industrial composting,

which isn'tavailable

everywhere. If PLAenters into

the environment, it often won't

break down. Because of this, it

Researchers have come up with away to recycle plastic into foam for building insulation.

is classed as compostable rather

than biodegradable.

Dr Park studies

biodegradable foams and the

synthesis andprocessing of

biodegradable plastics among

his many fields of research.

Theresearchers placed the

cutlery, which was previously

thought to be "non­foamable"

plastic, into achamber filled

with carbon dioxide. As

pressure increased, the gas

dissolved intothe plastic. When

they suddenly released the

pressure in thechamber, the

carbon dioxide expanded

within the plastic, creating

foaming.

The process was likeopening

acan of soda and releasing the

carbonation, Dr Parksaid.

"By tweaking the temperature

and pressure, there is awindow

where we can make good

foams," he said.

"It's not that every

temperatureorevery pressure

works. We found what

temperatureorwhatpressure is

the besttomake those nonfoamable

plastics into foams."

Each time plastic is recycled,

it loses abit of strength. Foams

are an ideal material because

strength is not important in

many applications.

The ideal structure of afoam

depended on its final use.

Bulky foams, which have large

or plentiful airpockets, are

good forbuoys.The researchers

found lowerchamber pressures

led to bulky foams.

Making biodegradable

plastics recyclable could

alleviate some of the global

pollution issue.

"We can expand foaming

applications to alot of plastics,

not just this plastic," Dr Park

said.

77 Grove Street,Tinwald

Listed on Tuesday

Under contract on Wednesday

Sold the following Wednesday

Premium priceachieved!

Call me forgreat results!

CherylFowler-0274 612614

Cheryl Fowler

RayWhite MidCanterbury

M: 0274 612 614 E: cheryl.fowler@raywhite.com A: 96Tancred Street,Ashburton 7700

F: www.facebook.com/cherylfowlerraywhite

Real Estate Mid Canterbury Property Limited Licensed (REAA 2008)
---
www.ashburtoncourier.co.nz

Remembrance time

The death of alovedone is

unwelcome but certain to come

at somepoint in our life,former

Ashburtonian Trish

Summerfield says.

It's atopic people often do not

like to talk aboutand may even

avoid so whenwethey find

themselves in such asituation, it

can make them feel ill­equipped

to move through it.

Ms Summerfield is aformer

Canterbury teacherwho has

spent thepast 23 yearsliving in

Saigon,Vietnam. She is a

volunteer trainer for an Inner

Space Centre teaching selfempowermentskills

and

meditation.

Shehas volunteeredina

programme to strengthen selfesteem

and empowerment for

young people in recovery from

drugs,and workedintelevision

and also wrote aseries of over

200 programmes on life skills

and values educationfor youth

and parents.

''Understanding(death) and

understanding how we can make

it the best that it can be,

enormouslyhelps us, our

children, our family, the

atmosphere in the family and

also the one that has passed on

themselves,'' she said.

While many people may have

their ownwisdom on how bestto

respond, Ms Summerfield said

physical events impact on the

mindandbody and can cause

health issues.

''When we hear very difficult

news, we can tendhold the

emotions we feel at that timein

our body. It is importantto

becomeaware of this, release

theseemotionsand relax our

muscles so that it does notbuild

up into painand long­term

muscleknotting along with other

negative health consequences,''

she said.

Acknowledgingadeath,

accepting the losshowever

painful, and honouringthe life

lost were amongsomeofthe

processes to undertake.

Although thepassing is an

unwanted event, Ms

Summerfield encouragedpeople

to take afew minutes to sit, take

someslow deep measured

breaths,and acknowledge that

the passing of aloved one is

incredibly challenging timeand

can cause the bottling or holding

of emotions.

''Acceptance doesnot mean

that Iagreewith what has

happened. No, Ideeply wishthis

person was still with me

Trish Summerfield

physically,yet acceptance

meansthat Iacknowledgethe

realitythat they havepassed on,

and not to spend energy and

thoughts in fighting whathas

alreadyhappened andwhat is

beyond my control,'' she said.

''Acceptance allows me to use

my energyconstructively to

make thevery bestofthis

difficult time.''

Honouringalife andthe

contribution made to ones life

can take many forms, Ms

Summerfield said.

''Somemonths before my

father passedon, Iwrote to him

on the occasionof"Father's

Day" and shared many storiesof

things he haddonewhile Iwas

growingupand howIlearnedso

many positive lessons fromhis

generosity, courage,

determination etc. that Ihave

carriedforward into my life.

''Ittouchedhim deeply. My

siblings at that timewere also

touched by the letter.After he

passed on severalof themwrote

touching cards and others

sharedbeautifulstories of how

he had inspiredthem and so his

life wastrulyhonoured in a

beautiful way.''

Thethoughts of people were

amazing things, not limited to

space or time, shesaid.

''We have all had the

experienceofthinking about

someoneclose to us whowas far

away physically and then that

person callingus or writing to us

ashorttime later.And,webegin

the conversation by saying,"I

was just thinking of you!"

''Thisisthe power of our

thoughts andtheir vibrations to

connect withthose close to us.

Understandingand knowing the

power of thoughts, especially

those withlove and

appreciation, will reach them

and help ease theirjourney and

as aremembrancedealing with

grief.''

NEWS

Ashburton Courier, September 16, 2021

37

We'llhelpyour business stand out!

15,268 copies everyweek

Call in and see us at 199 Burnett St, Ashburton, phone Jann or Karen on

(03) 308 7664 or email: office@ashburtoncourier.co.nz
---
NEWS

38 Ashburton Courier, September 16, 2021

www.ashburtoncourier.co.nz

CRYPTIC CROSSWORD

1 2 3 4 5 6 7

8 9

10 11 12

13

14

15 16

17 18

19

20 21 22

23 24

17/9

Across

1. Misplace nothing insideascrum of

this sort (5)

4. ALancashiretownthat kept going,

one hears(7)

8. Work outhow to act: aclue given,

when about fifty (9)

9. Movementone can'thelpsounding

like credit (3)

10. Agirlinvolved in aHawaiian net

test (7)

12. The web,alate development (4)

14. It is asad oldfuelmixture (7)

17. EasternEuropean returned almost

whole waltztoFrance(4)

18. Spirit may be shown in hard work,

causing greatupset (7)

20. In the Diplomatic Corps,aperson

who'sarotter (3)

21. CD due? IOUs needed to be shed (9)

23. Is confined to company of such a

sort (7)

24. Shouldone cottonontosuch

dances?(5)

Down

1. Be shortofalaicdaisfor thelistless

(13)

2. Go up to fishwhengiving one the

eye(6)

3. Reduction to acommon standard

necessaryinalgebra (8)

4. Vegetable may be sweet if it comes

into bloom(3)

5. See theWest is upsetbysuch

animals(4)

6. Staggeralongwith arag-and-bone

man(6)

7. Must bolt:can is spilledbythose

such as Lady Macbeth (13)

11. Inoverturning tree,ten bring it into

active operation (5)

13. Dismissedthe jockey foracarriage

attendant (8)

15. Met up with – andentered – a

bicycle made for two (6)

16. Is downcast, having received

nothingincode(6)

19. Set in order the neap thatturnsup

(4)

22. Fish shortly to be paidfor at the

door (3)

SUDOKU

Fill the grid so that every column, everyrow and 3x3

box containsthe digits1to 9.

QUICK CROSSWORD

1 2 3 4 5 6

7

8 9

10 11

12

13 14

15 16

17 18 19

20

21 22

23 24

Across

1. Bark(4)

4. Quirky, fanciful (6)

8. Loosen(7)

9. Enchantment (5)

10. Corner (4)

11. Begin (8)

13. Fitterofdoor

security(9)

17. Verylarge cooking

pot (8)

19. Weekly pay(4)

21. Record (5)

22. Sun umbrella (7)

23. Foodstuffs vendor

(6)

24. Bean protein(4)

Down

2. Having astreakof

luck (2,1,4)

3. Counterfeit(4)

4. Someone wholooks

without buying (6-7)

5. Sleeplessness (8)

6. Strict(5)

7. Narrow lane (5)

8. Scuttle (4)

12. Scholastic(8)

14. Rumour (7)

15. Fragment (5)

16. Sense(4)

18. Yellow-brown

colour (5)

20. Weapons(4)

CODECRACKER

QUICK CROSSWORD

Across: 1. Woof,4.Whimsy, 8. Slacken, 9. Spell, 10. Nook,

11. Commence,13. Locksmith, 17. Cauldron, 19. Wage,21.

Album, 22.Parasol, 23.Grocer, 24.Soya.

Down: 2. On aroll, 3. Fake, 4. Window-shopper,5.Insomnia, 6.

Stern, 7. Alley,8.Sink, 12.Academic, 14. Hearsay,15. Scrap,

16.Feel, 18.Umber,20. Arms.

CRYPTIC CROSSWORD

Across: 1. Loose 4. Preston 8. Calculate 9. Tic10. Annette12.

Tela 14.Doleful 17.Slav18. Turmoil 20.Cad 21. Deciduous23.

Limited 24. Reels.

Down: 1. Lackadaisical 2. Ogling3.Equation 4. Pea5.Ewes6.

Totter 7. Noctambulists 11.Exert 13.Outrider 15.Tandem16.

Morose 19. Edit22. Cod.

TARGET

argus gaur glam GLAMOROUS

glamour glom gloms gloom

glooms glum goal goral gram

groom grooms guar gums

lags largo logo logs lugs mags

magus mogul mugs mulga rags

sago slag slog slug smog smug

sugar

MEDIUM HARD

EASY

TARGET

O

L

S

Good 17

Very Good 25

Excellent 31+

U M

G R

O A

ALL PUZZLES ©THE PUZZLE COMPANY

How many words of four letters or more can you

make? There is at least one nine-letter word.

Each letter may be used only once and all

words must contain the centre letter.

No words starting with acapital, no plurals

ending in sunless the word is also averb, e.g.

he fires the gun.

Kim

Miller

Meet Kim Miller,owner of RayWhite Mid

Canterbury for one year.Sales specialist for

12 years, aMum of two for 23 years and

living her best life for 52 years. Kim's positive

and professionalapproach is infectious, and

along with her talentedteam, Kimisalways

getting the best results for her clients.

027 236 8627•kim.miller@raywhite.com

Ashburton•Tinwald•Methven •rwashburton.co.nz •03307 8317

Real Estate Mid Canterbury Property Limited Licensed (REAA 2008)
---
CnrKermode &

William Streets,

Ashburton

Check out this exciting

newdevelopment!

Amixtureof2&3bedroom houses to be constructed

by one of the premier building companies in Mid

Canterbury. Construction is well under wayfor these

stunning newtownhouses.

Easy walking distance to the newshopping complex on

South Street that is currently beingbuilt,orifyou want to

stroll into the Town Centre, that is also an easy commute

by foot.

These houses will have ahigh qualityoffinishes.

Looking forthat turnkey property,then look no further

than these.

2bedroom units arepriced from $492,000 and 3

bedroom unit from $537,000.

Units currently under construction sizes:

•Unit 4-117sm •Unit 5-126sm •Unit 6-136m

Don'tmiss this opportunitytosecureatop qualityhome

in agreat location.

Sample Floor Plans

Stage14~Lake Hood

Astrictly limitedreleaseof40onlycanal living

sites-Witharangeinsizefrom845 sq mtoa

staggering 1565sqm,there is acanal lifestyle

sectionherefor everyone.

Each of thecanal living sitesofferbeautiful waterviews in amodernfully

servicedsubdivisionuniquely setinthe man-madeLakeHoodlifestyle

resort.

Discover thebestofbothworlds-the ease of rurallivingand avibrant

senseofcommunity -all within walking distance of theregion'sforemost

aquaticplayground.

Jarrod Ross

Your Auction Specialist

Ph 027 259 4644

jarrod.ross@remax.co.nz

Remax.co.nz

Town to CountryReal Estate

35b Archibald Street,Ashburton

027 259 4644

LicensedREAA 2008

Each officeindependently ownedand operated

2416639
---
Your LOCAL real estate

company is CELEBRATING!!

st

1in NZ to bring you 3D virtual

reality marketing 4years ago!

Trevor &the TEAM at RENZ

are giving away $2000

from EVERY sale to CELEBRATE

this GREAT achievement !

*

That's right... just LIST &SELL with

your LOCAL that puts YOU first and

get $2000...SIMPLE !

T&C's apply

Starts 1August and ends 31 October 2021

*information supplied byMatterport and based on packages sold to NZin 2017

Contact: admin@renz.net.nz

308 6173 or do it online with our

FREE no obligation market appraisal

Scan for free appraisal

191 Burnett St, Ashburton
---
NEW LISTING

OPEN HOME

What'smy

property worth?

It's FREE to

find out!

RESIDENTIAL

LIFESTYLE

191 BurnettSt, Ashburton

308 6173 or admin@renz.net.nz

NEW LISTING

OPEN

PROPERTY

MANAGEMENT

3D VIRTUAL

REALITY TOURS

Trevor Hurley Real Estate Ltd LREA 2008 -MREINZ

3 & 5Davis Crescent-Large Home In TwoFlats

ID: E732

*Six bedrooms

*Sunny north facing lounges

*Separatekitchen,laundry & toilets

*Large double garage

*Rentedat$590per week

*1002m²sectionwithpotential to subdivide(subjecttosurvey)

This is an outstandingopportunity to securethis uniqueproperty and benefit from it's rental return. With two

street entrances developersmay wish to realise the full potential of this fabulous property. Aflick of paintorfull

redecoration, youwillreap the rewards.

OffersOver$449,000

OpenSaturday18September,10.00-10.30am

OPEN HOME

6 2 2

AGreat Home Within The

Avenues

•Three bedroom home with

small sunroom.

•Situatedinapopular

central location

•Warm and sunnywithlog

fire, insulatedtop and

bottom. Bathroom plus

separate shower.

•Properties in thisprice

rangeare alwaysin

demand, secureyour

appointmenttoviewnow!

OffersOver$319,000

BANKS PENINSULA

35a & 35b ManchesterStreet

•Fabulous opportunity forthe

astutebuyer!

•Two standalone twobedroom

units on one title.

•Verytidy inside andout with

spacious openplan living

areas, heatpumps, aluminium

windows and coveredcarports

•Liveinone and rent out the

other or rent both out fora

good return.

•All offersconsidered after 2pm,

30 September 2021

OffersOver$475,000

Open Saturday18September,

11.30 -12.00pm

4 2 2

ID: T718

ID:T318

LAKE BRUNNER

3 1 1

3 2 2

ID: E732

TwoHomes In One!

•House divided into two

flats, currently rentedfor

$560p/w.

•Open plankitchen/

dining. Insulated ceiling &

underfloor.

•Double garage,easycare

section

•Outdoor entertaining patio

•Fantasticinvestment

opportunity with potential

to add value

OffersOver$469,000

ID: E731

1946 Arnold ValleyRoad,

Moana, LakeBrunner

Surrounded in nativebush

with wildliferightonyour

doorstepthis exceptionally

privateproperty offersthe

ultimate lifestyle!

This would be agreat

business ventureoffering

exceptional opportunities

forthe buyer. Fivebedroom

lodgeplus fully contained

one bedroom cottage.

OffersOver$759,000+GST

(if any)

5 3 2

ID: LB05

PrivateSanctury Of luxuryHolidayHome

This stunning 4.8ha property,set in alittlepiece of paradise on the BanksPeninsula, would be the ultimate retreat

forthose seeking achangeoflifestyle. Surrounded by our NZ nativebush,with an amazing viewtothe Akaroa

Harbour,this beautiful homestead has been refurbished to averyhighstandard.

The French Colonial styling gives this place alight and brightfeel, along with open plan spaces and amezzaninefloor.

Twoofthe bedrooms take in panoramic views to the ocean and mountains openingout to averanda overlooking a

cottage garden filled with the chorus of bird life.

Included is the separatebeautifullypresentedselfcontained cottage which is beingrentedatasaluxurygetaway

earning excellentreturns. Four shedsone with 3phase power, twowith 3baystostableyour horses or an animal of

your choice. Fullydeer fencedwith13paddockswith troughs, youcan graze beef, sheep, horses, lamas or setyour

owntouristindustry up farming differentanimals.

$1,800,000

OPEN TO VIEW ONLINE -SCAN QR CODE TO VIEW

ID: BP0003

Proud supporters of the HeartFoundation of NewZealand! Wedonatefromevery property sold!

5 3 2

So...you're thinking

of moo-ving?

Well you better hoof it to

Real Estatete New Zealand!

Scan the QR code and book

your FREE no-obligation

market appraisal today!

Manager/Sales Consultant

Trevor Hurley

0275 435 799

Sales Consultant

Manu Otene

022 308 6885

Sales Consultant-Lincoln

Linda Cuthbertson

0274087965

Sales Consultant

Stephen Watson

027 433 9695

Sales Consultant

Julie Srhoy

021 354 885

Sales Consultant

Manoj Rana

022 453 1964

Sales Consultant

Deborah Roberts

0210 752 180
---
SATURDAY 18TH SEPTEMBER

8Charles Street,Ashburton 10:00am -10:30am 2 1 2 AHB30026

103 ChalmersAvenue, Ashburton 11:00am -11:30am 2 1 1 AHB30034

Stage 2-Ashbury Grove,Tinwald 11:00am -1:00pm Sections AHB30032

3Grove Street, Tinwald 12:00pm -12:30pm 3 1 1 AHB30025

17 BakerStreet, Ashburton 1:00pm -1:30pm 3 1 4 AHB30023

7Mays Lane, Methven 1:00pm -2:00pm 4 3 2 MVN30001

73 Belt Road, Ashburton 1:45pm -2:15pm 4 2 2 AHB30012

28 Geoff Geering Dve, Ashburton 2:00pm -3:00pm 4 2 2 AHB30027

34 Geoff Geering Dve, Ashburton 2:00pm -3:00pm 4 2 2 AHB30029

37 Geoff Geering Dve, Ashburton 2:00pm -3:00pm 4 2 2 AHB30028

SUNDAY 19TH SEPTEMBER

NO OPEN HOMESTODAY

3Grove Street, Tinwald

Chances like this don't come along every day!Here isa

property which has had most of the hard work completed

and is available now atwhat could be agreat price.This isa

solid roughcast home with 3bedrooms, Modern open plan

Kitchen, Modern Bathroom with make upstation and also a

separate hobbyroom offthe garage.The owner has invested

heavily in presenting this property to the best of its potential

and you will be amazed at the Bathroom and Kitchen in

particular which are top class.

SetDate of Sale

Armand vander Eik

closing 21 September 2021, at 021 597 527

3:00pm (unless sold prior)

View

Saturday12:00 -12:30pm

3 1 1

rwashburton.co.nz/AHB30025

Real Estate Mid Canterbury Property Limited Licensed (REAA 2008)

8Charles Street, Ashburton

Viewings will impress at this fantastic property on Charles

st in Allenton Ashburton, the interior is modern and stylish

with the kitchen and lounge both opening out to the sun

drenched decking and entertaining area. It has two double

bedrooms in the house, both are positioned well to catch the

afternoon/evening sun. Double garage with auto doors.

SetDate of Sale

closing 5October 2021, at

4:00pm (unless sold prior)

View

Saturday10:00 -10:30am

2 1 2

Mark Totty

021 664 113

rwashburton.co.nz/AHB30026

Real Estate Mid Canterbury Property Limited Licensed (REAA 2008)

103 ChalmersAvenue, Ashburton

This fantastic two bedroom unit needs to be atthe top of

your shopping list, whether your looking for yourself or for

an investment option. The property has roadside frontage

and is in agreat location close to the town center.The unit

has aspacious open plan, kitchen/dining and living area.

rwashburton.co.nz/AHB30034

Real Estate Mid CanterburyProperty Limited Licensed (REAA 2008)

SetDate of Sale

closing 28 September 2021, at

4:00pm (unless sold prior)

View

Saturday11:00 -11:30am

2 1 1

Mark Totty

021 664 113

73 Belt Road, Ashburton

It's Time toSell!How would you like toown an updated red

brick &roughcast home in Allenton, near the College, Pre-

Schools, Domain, Hospital and local Shops.Great 731sqm

corner site inthe heart of Allenton which will appeal to a

wide range ofpotential purchasers. Genuine Solid Home.

rwashburton.co.nz/AHB23163

Real Estate Mid Canterbury Property Limited Licensed (REAA 2008)

SetDate of Sale

Armand vander Eik

closing 21 September 2021, at 021 597 527

3:00pm (unless sold prior)

View

Saturday1:45 -2:15pm

3 1 1

Kim Miller

Sales Consultant

027 236 8627

Denise Russell

Sales Consultant

027 432 9717

ChrissyMilne

Sales Consultant

027 290 6606

Cheryl Fowler

Sales Consultant

027 461 2614

Margaret Feiss

Sales Consultant

021 751 009

ShirleyFitzgerald

Sales Consultant

027 220 1528

Denise McPherson

Sales Consultant

027 242 7677

Janene McDowell

Property Manager

027 287 3388

Armandvan der Eik

Sales Consultant

021 597 527

Lynne Bridge

Sales Consultant

027 410 6216

Mike Grant ncre

Sales Consultant

021 272 0202

Mark Totty

Sales Consultant

021 664 113

BruceMcPherson

Sales Consultant

027 438 4250

JustinWaddell

Sales Consultant

027 437 1111

Carey VonLubke

Property Manager

027 697 6948

96 TancredStreet, Ashburton 03 307 8317 Main Road,Tinwald 03 307 8317

rwashburton.co.nz

36 McMillanStreet, Methven 03 303 3032
---
www.ashburtoncourier.co.nz

Advertising

that works!

Talk to Jann or Karentoday

about ways youcan reach

potential customers or

advertising with thatspecial

difference-professional

servicewith asmile.

Phone: 308 7664

199Burnett St,Ashburton

PHOTOGRAPHS

FOR

SALE

Have youhad

your photo

taken by our

reporters?

Order a

Photo

Today!

¼Page*

$6

*approx 6x4

A5

$8.50

A4

$16

Ph: 308 7664

199 Burnett St,Ashburton

2376119

SITUATIONS VACANT SITUATIONS VACANT SITUATIONS VACANT

JobOpportunites

Information Management Officer

This isasupport role within our Information Management activity. Your

excellent communication skills will enable you to ensure that services

aredelivered acrossphysical,digital andEDRMS environments to thehighest

level.

Working across the organisation your ability to build effective working

relationships will be of advantageinensuringthe success andcomplianceof

thisimportant activity.

Applications close Sunday,26September 2021.

DepartmentalSupport Officer

Fixed-term,12months duration.

In this intermediate level administration opportunity you'll use your

computer and organisational skills to assist the Strategy and Compliance

Group with arange of officetasks,whilst alsoproviding personal assistance

to oneofour Group Managers.

Applications close Wednesday,22September 2021.

To findout moreabout this vacancy and

what the Ashburton District Council

has to offer you- go to our website.

www.ashburtondc.govt.nz/careers

CLASSIFIEDS

Ashburton Courier, September 16, 2021

43

SITUATIONS VACANT SITUATIONS VACANT SITUATIONS VACANT

Job Vacancies

Position: Bilingual Health Navigator, Refugee Settlement

SupportServiceAshburton–2positions

Bilingual: Hazaragi, Dari/Farsi and English

Location: Refugee SettlementSupportService, Ashburton

Hours of Work: 40hrs full time.

Bilingual Health NavigatorRole

TheRefugee SettlementSupportServiceinAshburtonislooking fortwo

Bilingual Health Navigators to join our team. TheBilingual Health Navigatorwill

supportnewly arrivedformer refugees to access healthrelatedservices.Akey

componentofthis role will be to actasaninterpreterfor clients when they are

accessing health services.You will receiveongoing professional developmentin

your role as interpreteraswell as relevanttrainingthatwill assist youwith the

skills and experienceneeded forthis position.

Forculturally appropriate servicedelivery we areseeking 1maleand 1female

Bilingual Navigator. We welcome individual applications or jointapplications

from members of the samefamily.

TheCurrent Ethnic Refugee SettlementCommunity in Ashburton: Afghan

(Hazara,Tajik)

Bilingual Health NavigatorSkills:

We arelooking forcandidateswho have the followingkey attributes:

•You will have relevantworkorlived experienceinthe refugee field,aseither a

former refugee and/or have extensiveknowledge of Afghan culture.

•Have ahigh level of Hazaragi, Dari/ Farsi and English language skills

•Have ahigh level of cultural safetyand the abilitytoworkwith respectand

empathy withpeople from differentcultural backgrounds.

•Have aworking level of computer skills,email,Word.

•Have excellenttime managementskills.

•Have good communication skills.

•Hold acurrent motor vehicle driver's license and willing to travel to fulfil job

requirements

•Empathy with humanitarian causes

•Enthusiasm and commitmenttoworkaspartofateam

•Thereisanexpectationthatthe person is based in Ashburton-Safer Mid

Canterburywill supportand contributetowards relocation costs.

To read job description and download application form go to:

www.safermidcanterbury.org.nz careers webpage.

Applications close Friday1st October

Forfurther questions,please contact AniKoperu on: 033081395

2416330

Labourer

EA Networkshas astrongfocusonpeople, culture and acommitmenttoleading

edgetechnology.Weown and operate our region'selectricity distribuon

network and fibreopccommunicaons network and arethetrusted

infrastructure plaorm thatdelivers electrical energyto everyhome and business

in our region.

Aboutthe role

We arelookingfor an energecperson to join our FieldServices Team as a

Labourer.This posion will involvebeingout in thefield and in the workshopwith

the main responsibilitybeingto assist the Earth Rig Operators.

Ideally youwill have the following aributes:

• Holdacurrent driver'slicence withclasses 1,2,3,4&5

• WTR and FEndorsements or theabilitytoobtain

• Mechanically minded

• Not afraid of demanding physical work in therural environment

• Above averageproblem-solvingskills

• Excavator, Forkli and Hiab experience

• Ability to sck weld

Join Us

Acompevehourly rate is on offer,asisthe opportunity to develop your career

with astable, trustedorganisaon.

To apply,please visit our company careers pageandcompleteanEmployment

Applicaon viaour career's portal, in confidence.

Applicaonsclose Friday 1October 2021.

Formoreinformaon aboutthe role and EA Networksplease visit

www.eanetworks.co.nz

PleasenoteEANetworksiscommied to asafeand healthywork environment.

Successful candidatesmustbelegally entledto work in NZ andpreparedto

undergoapre-employment medical, whichincludes adrug and alcohol test and a

Ministry of Juscecheck.

2418504
---
CLASSIFIEDS

44 Ashburton Courier, September 16, 2021

SITUATIONS VACANT

Admin Position

Areyou outgoing and enthusiastic?

SITUATIONS VACANT

Do youhave greatcommunication, administration,

time managementand customer serviceskills?

We need an enthusiastic,brightand bubbly person

with suitable experiencewho understands the

need forattention to detail with customer service

and officeadministration duties forour successful

and respectedlocal business.

Youwill need to be ateam player, able to multitask,staycalm,

cheerful and focused,and

appreciate the importanceofexceeding customer

service expectations,proficientinMSOffice,

particularly Outlook,Excel and Word, and have the

abilitytoquickly learnand understand our internal

softwareprogrammes and processes.

We areseeking someone special,and agenerous

remuneration package will be offered to the

rightperson forthis full-time position. If this role

sounds like you, apply by email with acovering

letter and CV to:

alister@smithandchurch.co.nz

To speak in confidenceorfor any

further information please contact:

Alister on 03 308 9019 or

email alister@smithandchurch.co.nz

Finance Administrator

12 Months FixedTerm

An exciting vacancyhas arisen within our trusted

FinanceTeam, we arelooking foraFinance

Administrator to support our team for aperiod

of 12 months while we embark on akey project.

Working within our card division, this role will

administer all supplier transactions whilst also

supporting the wider team.

Do you have the following attributes:

• Technologically Savvy

• Anexperienced finance administrator

• Confident in engaging with suppliers and

customers

• Open and accepting of change

If you enjoy working as part of aclose-knit team

and would like to know more about the role you

may call Finance Manager Brodie McPherson

for aconfidential chat on 027 221 5598 or to

apply please submit your CV and covering

letter to HR.Manager@ruralco.co.nz

All applicants must have the legal right to work

in New Zealand

Closing Date: Friday 24th September 2021

SPRAY PAINTER/PREPPER

Afull time position has become available in our

Panel and Paintshop foraQualified Spray Painter.

Theposition requires

• Good work ethics

• Have ahigh standardindetail and finish

• Tobereliable

• The abilitytoworkunsupervised

• Toworkinateam and meet production deadlines

• NZresidencyorvalid NZ work visa

Please send resume and coverletter to

TheGeneral Manager

Bus and Truck Body Work Ltd

PO Box51, Ashburton7740

Phone Keith on 0274 274 007 or 307 0378

Email busandtruckbodywork@xtra.co.nz

2417805

2413350

SITUATIONS VACANT

SITUATIONS VACANT

Charge Nurse,VincentWard

Dunstan Hospital, Clyde

Come andlive the dream in CentralOtago!

Permanentfull-time position(1.0FTE)

MondaytoFriday,8am to 4.30pm

We have an exciting opportunity for aregistered nurse

with Charge Nurse or Associate Charge Nurse experience,

interested inthis key leadership position for our Vincent

Ward at Dunstan Hospital.This is afantasticopportunity to

secure arole immersed in the rural environment and show

youcan makeadifference and meetthe unique challenges

thatrural healthcare provides.

Specifically, the Charge Nurse is responsible for the

management ofthe ward including clinical leadership &

coordination, operational functions, quality and financial

performance, human resource management, quality and

risk management, clinical pathway development and other

service delivery improvements within the ward.

Formoreinformation on this role andtoapply,please visit

our website: www.cohsl.co.nz/joinourteam

ChargeNurse, DistrictNursing

DunstanHospital,Clyde

Anawesomeopportunitytolivein

CentralOtago

Permanent full-timeposition (1.0 FTE)

We have agreat opportunity for aregistered nurse with

leadership and/or district nursing experience interested in

this keyleadership position within our District Nurseteam

at Dunstan Hospital.This is afantastic opportunity tosecure

aroleimmersed in therural environmentand show youcan

make adifferenceand meetthe unique challengesthat rural

healthcare provides.

The Charge Nurse District provides strong clinical

leadership to ourdistrictnursingteam, ensuring we provide

aconsistently high standard ofclinical care to patientsand

their families/whanau, whilstacting as apositiverolemodel

acrossthe organisation. The successful applicant will work

closelywith themedical teamand allmembers of the wider

multidisciplinary team.

Formore information on thisroleand to apply,please visit

ourwebsite: www.cohsl.co.nz/joinourteam

RegisteredNurses

Dunstan Hospital

Come and live the dream in CentralOtago!

Various fixed term, part-timeand permanent

roles available

Dunstan Hospital is arural trust hospital based in

Clyde, Central Otago. We have excitingopportunities

for registered nurses to secure arole on our highly

impressivewardwhere youwill receivethe best rural

healthcare experience ever.

We areofferingopportunities forregisterednurses to

join our wonderfulnursingteam in the acuteinpatient

area. Our ward comprises 24 beds, including a3bed

High Dependency Unit. Weprovide acute medical

care, trauma/emergencymedical care(no walk in ED)

rehabilitation and palliative care throughout the age

spectrum.

For more information or to apply, please visit our

website: www.cohsl.co.nz/joinourteam

FARM VACANCIES

FENCING

POSITIONS

AVAILABLE

Contractor has employment

opportunity available on

Local high country stations,

Experience not essential,

modern machinery

Join our great team of

fencers! Phone 021640748

SITUATIONS WANTED

2413264

2413287

WANTED Caregiving/homemanagement.

Fully qualified

with Careerforce.

Gardening, lawns, cleaning

cars and 4 wheel drives.

Have my own car and

licence. Reasonable rates.

Phone Christine 027 502

0907.

WE value the service we

provide - The Courier for

advice on how you can

reach potential customers.

Call us today on 308 7664.

SITUATIONS VACANT

www.ashburtoncourier.co.nz

SITUATIONS VACANT

Nursing Director and

Quality Manager (Fulltime)

Central OtagoHealth ServicesLtd

(DunstanHospital) CentralOtago

This new fulltime position will be based at Dunstan

Hospital inClyde, Central Otago. Situated 2.5 hours

away from the base hospital in Dunedin, we are

passionateabout ruralhealthcare and serving our rural

communities.

This role combines strategic, nursing leadership from

a professional perspective with providing leadership

and oversight of COHSL's Quality Assurance and

Improvement Programme. The role will provide

professional advice to the CEO, Clinical Services

Manager and others in the clinician management

partnership on mattersrelatingtoNursing Practice and

will foster astrong quality improvement culture across

theorganisation.

Formoreinformation on this roleand to apply,please

visitourwebsite: www.cohsl.co.nz/joinourteam

Head Caretaker

An exciting opportunityhas come up to

join our team at MountHutt College.

We seek aself-motivated and skilled tradie to join

our Property Team. This role is permanent and is

covered under the School Caretakers', Cleaners'

and Canteen Staff CollectiveAgreement.

Hourly rate by negotiation. Hours and days of

work could also be negotiable for the successful

applicant.

To applyforthisposition(orforfurtherinformation)

pleaseemailthePrincipal'sSecretary,ShereeMcKay,

college@mthutt.school.nz

Alternatively, applications can be dropped off at

MountHutt College's main reception.

Applications close on

Friday 24th September 2021.

2412734

2415924

PART TIME/FLEXI HOURS ARABLE FARMER

We'relooking forsomeone with farming experience

to join this family farmteam.

Maysuit asemi retired farmer.

Applicantmustbeable to do the jobs listed below

with confidenceand able to work unsupervised.

-Fencingand maintenance

-Tractor driving

-Stock handling

-General farm practises

-Shifting Rotorainers

-Helping with harvest

-Class 5licencewould be handy but not essential

Thefarmislocated3kmsout of Tinwald.

Modernmachinery. Ifthis sounds like youthen

please contactTim on 0274399156

2375514

HEALTH &BEAUTY

HEALTH &BEAUTY

AndreGrob

Chiropractor

Tues 9am-5pm

03 308 9516

2418212

www.ashburtonchiropractic.co.nz

2395599

FOR LEASE

AWESOME OFFICE space

for lease, rent or hire. Park

like setting. Indoor and outdoor

areas. North West

town boundary. Must view.

Phone 0274 754 241

RENT ME!

Ideal as an extra

bedroomoroffice.

Fully insulatedand

double glazed forwarmth.

Threeconvenientsizes:

Standard3.6m x2.4m,

Large 4.2m x2.4m

Xtra-large 4.8m x2.4m.

Visit our displaycabin

418WestStreet or callfor a

freebrochure.

www.justcabins.co.nz

2379729

0800 58 78 22

STORAGE available, Ashburton.

Self storage, variety

of sizes. Phone Rainbow

Storage 03 307 0401 or

phone/text 021 554 570

STORAGE: Secure self storage

units available, long or

short term. Ashburton Storage

Facilities. Contact us

on 0274 362 636 or www.

ashburtonstoragefacilities.

co.nz

SPACE available for next

weeks Courier -bequick!

Talk to us about your advertising

requirements. Phone

308 7664 or call into our

office at 199 Burnett Street,

Ashburton.

We'llhelpyour business stand out!

Over 15,950 copies everyweek

FIREWOOD

FIREWOOD

OFFCUTS

$140 PER CORD

FIREWOOD

SLABWOOD

3cordgreen

$330

1cordgreen

$110

1corddry

$140

C.O.D. in town

Adams Sawmill

Malcolm McDowell Rd

Phone

308-3595

SAVE $100. on next winters

firewood. Old Man Pine 6m 3

$495.00. Limited supply.

WINZ accredited. Free

delivery to most of Mid-

Canterbury. Phone 027 297

7563.

EveryHome

EveryWeek-that's

Phone 308 7664

199 Burnett Street

Ashburton

2376123

Call in and see us at 199 Burnett St, Ashburton, phone Jann or

Karen on (03) 308 7664 or email: office@ashburtoncourier.co.nz

2414491
---
www.ashburtoncourier.co.nz

HEALTH &BEAUTY

HEALTH &BEAUTY

URGENT CARE CLINIC

WEEKEND DUTYDOCTORS

IN THE EVENT OF AN EMERGENCYPHONE 111

Forall othermedicalassistance outside of normal

hoursplease phone your generalpracticeteam, 24/7,

to speak withahealth professional whowill giveyou

free health advice on what to do or where to go if you

need urgentcare.

If youdon't have aregular generalpractice, call any

GP team 24/7 forfreetelephone health advice.

All non-residents and visa holders please bring your

passporttoyour surgeryappointment.

New Zealanders'tobring some form of ID.

TheAshburton Duty Practice for...

Saturday18th September is

Tinwald Medical Centre, 33 Archibald Street,Ashburton

Consultations will be by appointmentonly.

To make an appointmentcallyour regular GP 24/7.

Sunday19th September is

MooreStreet Medical Centre,MooreStreet,Ashburton

Consultations will be by appointmentonly.

To make an appointmentcallyour regular GP 24/7.

Methven and Rakaia: Formedical attention on the

weekend and public holidays please telephone

MethvenMedical Centre on 03 302 8105

or Rakaia Medical Centre on 03 303 5002.

Details foraccessing the afterhours services will be

on the answer phone.

2418361

PHARMACIES

Wises Pharmacy,CountdownComplex,

East Street will be open on ...

Saturday from 9.00am until 1.00pm

Sunday from 10.00am until 1.00pm

At Geraldine: TheGeraldine Pharmacywill be open

normal trading hours during the week,and on

Saturdaymorning from 9.30am to 12.30pm.

Closed Sundays and Public Holidays

Forfree24hour Telephone Health Advice

Phone the healthline on 0800 611 116

Brought

toyouby

CountdownComplex, East Street, Ashburton

Phone: 03 308 6733 Fax: 03 308 6755

TRADE &SERVICES

ENTERTAINMENT

ENTERTAINMENT

TheLittle Mermaid Jr –Mid CanterburyChildren's Theatre

Friday 8th October 7-30pm /Saturday 9th 5pm /Sunday 10th 2pm

All Tickets $25*

In amagical underwater kingdom, the

beautiful young mermaid Ariel longs to

leave her ocean home –and her fins –

behind and live in the world above. But first

she will have to defy her father King Triton,

make adeal with the evil sea witch and

convince Prince Eric she's the girl whose

enchanting voice he's been seeking.

Michael Houstoun/The Rodger FoxBig Band

Sunday 24th October 2-30pm

Adult $58* /Senior $48* /Student $38*

Two ofNew Zealand's best loved musicians,

classical pianist Michael Houstoun and

foremost jazz trombonist and big band

leader Rodger Fox bring their acclaimed

concert series to the South Island. Also

featuring special guest supreme jazz

vocalist, Erna Ferry.

TRADE &SERVICES

Shane James Contracting

•FIREWOOD

TREES WANTED

•Hedgerow removal

•Rootraking

•Conversions

•Money backon

millable logs

PHONE SHANE 027 611 3334

TRADE &SERVICES

ENTERTAINMENT

BOOK

NOW

TheMerryLittle

Christmas Market

03 3072010 211A Wills Street, Ashburton 7700 admin@ateventcentre.co.nz

2396649

ENTERTAINMENT

For more information

www.ateventcentre.co.nz

28th November 11-30am until 4pm

Gold Coin Donation

TRADE &SERVICES

ASHBURTON SANDBLASTING

LIMITED

FOR: Mobile Sandblasting

Painting

OF: Structural Steel

Trailers

Farm Machinery

Car Parts

Shipping Containers

Concrete, Brick Rendering

Free quotes -Competitive rates

Phone Kurt 027 332 4549 or Neil 0274 362 900

ashburtoncranes2015@gmail.com

DENTURES; Dr Peter

Rumping repairs existing

dentures and also provides

new dentures. Phone 027

220 9997.

DRIVEWAYS, Patios and

Paths, Plain Concrete, Coloured

Concrete or Exposed

Agregate Concrete.

Paveco, 13 Robinson

Street. 100% local. Phone

307 6466 for aquote.

ENGINEERING repairs, fabrication,

farm equipment

service and maintenance,

WOF repairs, machining

and welding. Odd jobs a

speciality. Mobile workshop.

Can collect. Phone

Malcolm 0274 754 241.

FLY control and spider

proofing. For all your

domestic and industrial

pest control needs phone

AJ Kerr at Ashburton Pest

Control on 03 308 8147 or

027 432 5447

FURNITURE Removals. For

all your household removal

needs - urban, rural lifestyle,

office relocations -

call Nudges Furniture

Removals, phone 027 224

0609.

GARDENING, mowing,

pruning, fertilising, projects

or general spruce ups? Call

Andrew at Spruce Gardens

to get the job done right.

027 765 2899 or 03 307

1693.

sprucegardens@xtra.co.nz

Join us for the Merry Little Christmas Market this November.

Agreat event to purchase unique Christmas presents with a

wide array of stalls.

We are now taking

registrations.

Please email

casey@ateventcentre.co.nz

or phone

027-292-2601.

*Service fees apply

2414231

2413265

LAWN Mowing. No job too

small. Call Les Smith, From

The Ground Up, for acompetitive

quote. Ph 027 840

0201 or 03 308 1500.

NETTLETON Decorators,

qualified tradesman, is

available for interior and

exterior painting, plus plastering,

stopping, skimming

and wallpapering. Phone

James on 0274 865 283.

FACTORY SPRAY LACQUER

A NEW LOOK

that lasts!

Existing kitchens, doors,

furniture &appliances

The Finishing Company

03 307 8870 2416183

ALTERATIONS; Sewing,

mending and trouser hemming,

curtain alterations

and curtain making. Call

Michelle on 027 352 7248.

BUILD work to do? Contact

Kiwi Building and Maintenance

Ltd. Alterations,

Renovations, New builds.

Qualified Tradesmen.

Phone Cawte 027 418

7955.

CARPET 2YOU -for all your

flooring needs. Supplier

and installer of carpet and

vinyl, re-stretch and repair,

carpet cleaning. Phone

Mike Gill 027 491 4210.

2418361

TRADE &SERVICES

CLASSIFIEDS

Ashburton Courier, September 16, 2021

PETS

PETS

45

ForSale

German Shepherd/Collie cross pups.

7weeksold -vaccinatedand wormed.

1female and 2males with happy,

loving natures.

To genuine homes only.

CARPET Cleaning. Powerful

equipment and fast drying.

Upholstery, mats and rugs.

Experienced owner/operator.

Phone John Cameron

at Supersucker. 027 435

1042 or 308 1677

CARR'S Chimney Cleaning,

servicing Ashburton and

surrounding districts, $60

per chimney. Phone

Rodney on 03 324 2999

and leave amessage.

CHIMNEY Sweeping.

Includes full firebox inspection

and internal flue

camera inspection. An

GARDEN SUPPLIES

inspection report can be

issued on completion. Call

Allan on 027 209 5026

COMPUTER Problems? For

prompt reliable computer

servicing and laser engraving,

contact Kelvin, KJB

Systems Ltd, 4 Ascot

Place, Ashburton. Phone

308 8989. SuperGold discount

card accepted.

COMPUTER repairs, sales,

training, setup wirelessnetworks,

spyware

cleanup. On-site day or GARDENERS Specials.

evening. Low fees. Call Sheep or Cow manure

Robin Johnstone, Networks $8/bag. Medium-square linseed

straw $50. Medium-

Firewalls and PC's Ltd, 308

1440 or 027 768 4058 square pea straw $60.

CONCRETE Services - Phone Alan 027 496 7136,

Driveways, paths, patios, Ian 027 286 3697. AHinds

mowing edging. Decorative Lions Project.

Concrete Specialist operating

locally with 30 years JORDANS'S NURSERY

experience. No job too big Rhododendrons from $15.

or small. Contactless service

offered. Phone Paul Geraldine. Wednesday to

91 Pye Road The Downs

021 152 1966.

Saturday 10am to 4pm or

PAINTER for all your painting by arrangement. phone 03

needs. No job too small, 6938332 or 0274311815

inside or outside. Professional

friendly service.

PAUL'S Garden Nursery,

Phone Pete 03 308 1672 or

101 Harrison St, Ashburton.

14 varieties of seed

027 200 1619.

SUN Control Window Tinting: potatoes, seed yams and

Privacy, UV, glare, heat farm fresh, free range eggs

control for homes, offices available. Enquiries to Paul

and cars. Phone Craig 027 278 1354. Open 7

Rogers 307 6347, member days.

Master Tinters NZ. www.

windowtinter.co.nz

TINT-A-WINDOW, fade, UV

block, glare, heat control,

HOME SERVICES

safety, security, privacy, ROOF COATINGS: All roof

frosting films, solar protective

types, specializing in

window films. Free Decramastic and Long Run

quotes, 20 years local service.

Iron, Coloursteel etc, steep

Phone 0800 368 468 roofs not a problem. —

now, Bill Breukelaar, www. Spraymaster 027-433-7780.

tintawindow.co.nz

EDUCATIONAL

Ph 027 379 3124

GARDEN SUPPLIES

MUSHROOM COMPOST

Nowisthe time to dig in our topqualitymushroom

compost to your vegetable garden. Ideal to replenish nutrients

used by previous crops and improvethe soil structure.

It also adds beneficial micro-organisms to thetired soil.

$50 per cubic metreor$10 bag.

Freedelivery within town boundary.

Open 6daysaweek at our Tinwald yard,

208 Maronan Road. Phone 021 129 8936 or 03 308 3331

EDUCATIONAL

L2D Driver Training

Teaching driving skills

and road craft

Allstages –beginner to full

Block booking discounts

AUTOMOTIVE SERVICES

QualityEuropean

Vehicle Servicing

•Advanced

Diagnostics

•Experienced

Technicians

Dave Campion

027 543 7632

2404572

AUTOMOTIVE SERVICES

•Collection/Delivery

'Free of Charge'

in Ashburton

Bruce McIlroy Limited

309MethvenHighway, Ashburton 7776

Tel: 03 3087282 •E:bruce.mcilroy@xtra.co.nz

MTAAPPROVED

MID CANTERBURY

Realty

Call us for a

FREE

QUOTE

2413349

SELL

2417935

2404460

GRILL Chief portable BBQ,

gas cylinder included. Outland

fire bowl. Must sell,

$300 ono. Ph 021 439 277.

LPG

REFILLS

Small LPG cylinders

Off Street Parking

Available

Arthur Cates Ltd

26 McNally Street

Ph 308 5397

Riverside Industrial Estate

LPG REFILLS

9kg cylinders

$27.50

Askaboutour

deliveryservice

Anysizecylinder filled

17 Grey St,Ashburton

Phone 307 2707

2379296

2379300

THREE Vintage push

mowers. Sharpened and

working. Phone Alasdair

027 619 3188

THE Courier is the best way

to advertise in Mid Canterbury.

Ask anyone who

regularly advertises with us

and they'll tell you, they get

results.

WANTED TO BUY

ASHBURTON Scrap Metal

Recyclers buy heavy metal

etc. Free light-grade metal

in-yard dumping 9am-5pm

weekdays &9.30-11.30am

Saturdays. 117 Alford Forest

Rd, (behind

PlaceMakers). Phone 03

308 8033 or 027 249 6625.

FRUIT &PRODUCE

POTATOES; Nadine, Red

Rascall and Agria $1.25kg,

or pre-ordered 10kg bags

$10. Phone 03 308 3195 or

027 531 9103. 81 Elizabeth

Street, Ashburton.

TURN THE PAGE

TO VIEWMORE

CLASSIFIEDS

Look out for

your copy

everyweek!

2375519

2375492
---
CLASSIFIEDS

46 Ashburton Courier, September 16, 2021

www.ashburtoncourier.co.nz

PUBLIC NOTICE

PUBLIC NOTICE

My Pick This Week

PUBLIC NOTICE PUBLIC NOTICE PUBLIC NOTICE PUBLIC NOTICE

Call in atalk to the people who know . . .

PUBLIC NOTICE

Open Home: Saturday 18th Sept, 11am -11:30am

298 Moore Street Offers over

$485,000

*Sun,sun, sun

*Open planliving

*Threedouble bedrooms

*Attached doublegarage

*Separate rumpus room

Helena Ratten Mobile 027 457 7998

We put you first

SBWDevelopmentsLtd

Licensed AgentREAA 2008

2415726

Peter Blacklow

PETE'S

PICK

Full range of engineering supplies and accessories forall your repairs

&maintenance. Kerrick hot &cold waterblasters &industrial vacuumcleaners.

Esseti welders &accessories. Stockists and distributors of Trailer Equipment.

Locally owned &operated family business for 68 years

ASHBURTON

South Street, Ashburton PHONE (03) 308-3147

Email office@blacklows.co.nz FREEPHONE 0800 452 522

macnaught

PISTOL GRIP

GREASE GUN

Qualityyou can trust!

Best selling grease gun.

K29-01

$129.24+GST

Thurs 16th &Fri 17th

10.00 Queen Bees

10.00 TheMole Agent

11.40 Respect

PG

G

M

11.55 TheJusticeofBunny King M

1.50

2.10

3.50

4.10

5.50

6.00

8.00

8.30

Shang-Chi and the TenRings

Candyman

Reminiscence

TheMole Agent

Free Guy

Respect

Shang-Chi and the TenRings

Candyman

M

R16

M

G

M

M

M

R16

Sat18th

10.00 PawPatrolthe Movie

10.00 JungleCruise

11.45 Queen Bees

12.20 TheMole Agent

G

M

PG

G

1.45

2.00

3.50

4.10

5.50

6.00

8.00

8.40

Shang-Chi and the TenRings

TheJusticeofBunny King

Free Guy

Candyman

TunkaTunka

Respect

Shang-Chi and the TenRings

Candyman

M

M

M

R16

M

M

M

R16

Sun 19th

10.00

10.00

11.40

12.00

1.30

1.45

3.45

3.45

8.15

8.20

PawPatrolthe Movie

Spacejam 2

Queen Bees

TheJusticeofBunnyKing

PG

M

Shang-Chi and the TenRings M

Free Guy

M

Candyman

R16

TheMole Agent G

Shang-Chi and the TenRings M

Candyman

G

PG

R16

Would a

Scholarship

help your studies

or trade training

in 2022?

Advance Ashburton Community

Foundation has many great

scholarships available for all

types of study, apprenticeships,

and training.

For more information and an application form:

Email grants@advanceashburton.org.nz

www.advanceashburton.org.nz

MEETINGS

APPLICATIONS

CLOSE

29 OCTOBER

2021

Dr Christopher McGrath

PhD(Otago), MSc, DO(UK)

Expert

musculoskeletal care for your pain

Mon20th, Tues 21st

&Wed 22nd

10.00

10.00

11.40

11.55

1.50

2.10

3.50

4.10

5.50

6.00

8.00

8.30

Queen Bees

TheMole Agent

Respect

TheJusticeofBunnyKing

M

M

Shang-Chi and the TenRings M

Candyman

R16

Reminiscence M

TheMole Agent G

Free Guy

M

Respect

M

Shang-Chi and the TenRings M

Candyman

PG

G

R16

NO COMPS

Candyman, PawPatrolthe

Movie,Reminiscence, Respect,

Shang-Chi and the TenRings

HOSPICE Mid-Canterbury.

Dealing with alife limiting

illness? Contact us to see

how we can support you.

Phone 307 8387 or 027 227

8387

PHOTOGRAPHS

FORSALE

Grey PowerAshburton

Monthly Meeting

Monday, 20 th

September

CANCELLED

due to Covid

restrictions.

Hope to see youall

nextmonth.

2418272

THE Annual General Meeting

of the Ashburton Railway &

Preservation Society Inc

will be held on Thursday 23

September, at 7.30pm in

the onsite Function Room,

Maronan Road, Tinwald,

Ashburton. All welcome.

THE KITTYHAWK Hangar

Charitable Trust AGM will

be held on Wednesday

29th September 2021, at

7.30pm in the Aeroclub

Rooms, Ashburton Aerodrome.

I. Begbie, President.

Consulting Osteopath, Ashburton

Appointments/contactthrough web site

021 0222 6378

www.countrypractice.nz

2022 Health Studies Bursary

Altrusa International of AshburtonInc.

Applications areinvited forthis bursary

valued at $1,000

Forfull criteria and an application form

please email

secretary.ashburton@altrusa.org.nz

Shssssssh ...it's

CLASSIFIED

2417138

2386391

E- info@talbotsecurity.co.nz 519 East Street,Ashburton

P-(03) 307 2409 Anytime 24/7

-Alarm Response and Patrols

-Alarm Monitoring

-Alarm and CCTV Installation

-Alarm and CCTV Servicing

-Data and Networking

- Fire Extinguishers

- Key Cutting

- Locksmithing

Ashburton'sonly100%locally owned and operatedsecuritycompany

2404590

Ourclassified advertising Really works,

and it WON'T cost youanarm and aleg.

Usethe form in our paper or call into

199 Burnett St, Ashburton. 24 wordsfor $8.

That'sabargain!

2037630

Have youhad your photo

taken by our reporters?

Order aPhotoToday!

¼Page*

$6

*approx 6x4

A5

$8.50

A4

$16

Ph: 308 7664

199 Burnett St,Ashburton

ASHBURTON

SOCIETY OF ARTS

EARLYSPRING SHOW

ShortStreet Studio

OpeningSunday 19thSeptember

11am –4pm

Agood selection of new paintings by members,

with Guest SarahBeal.

Until Sunday17thOctober at 4pm

Open Weekends,and other days when signisout.

Please wear amask.

Enquiries or private viewings

phone Ngaio 308 4533

24107846

2376126
---
Areyou ready forthe newseason?

We are!

197 Wills Street,Ashburton l www.neumannstyres.co.nz l Phone 03 308 6737 (24 hrs –after hours call out applies)

2415761
---
5½ stars

QUALITY USED VEHICLES

KEITH'S

PICK

2400ccpetrol,SUV 4X4,

cam chain, push button start,

79,000kms

2013 HONDA

CR-V 24G

$20,995

2016 NISSAN

TIIDA

2009 MAZDA

AXELA20S

2013 TOYOTA

RACTIS G

2012 SUBARU

IMPREZASPORTS2.0I

• 1200cc,petrol

• Auto

• Cam chain

• Autostop

• 6,324 kms

$10,995

TOYOTA

• 2000ccpetrol

• ABS

• Cam chain

• Body kit

• 81,000kms

• 1500cc, petrol

• Auto

• ABS

• Cam chain

• 67,000kms

$12,995 $11,995 $10,995

WARRANTIESAA APPRAISEDFINANCEBIGGEST YARDBEST SELECTIONTRADE-INS

SUBARU

5 stars

• 2000cc, petrol

• Auto

• ABS

• Cam chain

• 98,800kms

5 stars

2012 TOYOTA AQUA,1500cc, hybrid,auto, cam chain, ABS,

76,000 kms........................................................................................................................... $11,995

2013 TOYOTA SPADE, 1500cc, ABS, air con, cam chain,

53,100 kms........................................................................................................................... $10,995

2013 TOYOTA AQUA S,1500cc, auto, 2wheel drive, ABS, reverse camera,

106,173kms............................................................................................................................$8,995

2008 TOYOTA MARK X, 2400cc, 7seater, ABS, air con, S/W,89,000kms....................$9,995

2013 TOYOTA RACTIS,1500cc, hatchback,ABS, air con, cam chain,

67,000 kms........................................................................................................................... $11,995

2007 TOYOTA RACTIS, 1300cc, auto, cam chain....................................................................SOLD

2013 TOYOTA COROLLAAXIO, 1500cc, hybrid,reverse camera, cam chain,

52,000kms............................................................................................................................ $12,995

MITSUBISHI

2001 MITSUBISHIDION, 1500cc, hatchback,auto, ABS, air con..............................$4,995

HONDA

2008 HONDACRV ZX, 2400cc, 2WD,ABS, cam chain, 105,000kms..................................SOLD

2008 HONDAFIT RS, 1500cc, auto, hatchback,alloys,53,000kms............................. $10,995

2013 HONDACRV, 2400cc, 4WD,ABS, cam chain, air con, 79,000kms ...................... $20,995

2007 HONDAINSPIRE, 3500cc, auto, cruise control, ABS, 56,000kms ....................... $10,995

SUZUKI

2014 SUZUKI SWIFTXG, 1200cc, cam chain, rear spoiler,air con, 76,556kms ........SOLD

2012 SUBARU LEGACY,2500cc,auto, cruise control, ABS, 96,000kms................$11,995

2013 SUBARUOUTBACK, 2500cc, 4X4, cruise control,reversecamera,

91,000km............................................................................................................................$13,995

2012 SUBARU IMPREZA SPORT, 2,000cc, auto, 5door, rear spoiler,

98,000 kms.........................................................................................................................$10,995

NISSAN

2013 NISSAN SYLPHY, 1800cc, petrol sedan, cam chain, ABS, 18,984kms ...........$11,995

2012 NISSANNOTE, 1200cc, auto, skyblue,ABS,

60,000kms............................................................................................................................. $9,995

2013 NISSAN SYLPHY, 1800cc, 4door sedan, auto, ABS, air con, 48,000kms......$10,995

2016 NISSAN TIIDA,1200cc, auto, cam chain, autostop, ABS, 6,000 kms.......... $10,995

2012 NISSAN BLUEBIRD –1800cc, AA appraised,ABS, cam chain,

43,000 kms........................................................................................................................ $10,995

2015 NISSAN NOTE XDIG-S, 1200cc, auto, ABS,air con, 58,000kms..................... $11,995

MAZDA

2010 MAZDAPREMACY, 2000cc, 7seats,auto, timing chain, 126,000kms............$9,995

2013 MAZDADEMIO13-SKYACTIVE,1300cc, air con, ABS,

cam chain, 96,600 kms......................................................................................................$9,995

2009 MAZDAAXELA SPORT20S,2000cc, auto, ABS, body kit, 81,000kms......... $12,995

2007 MAZDACX7, 2300cc, SUV,tiptronic,reverse camera, ABS, 67,000kms....... $10,995

DUE TO ARRIVE

2012 NISSANNOTE

2010 TOYOTA PRIUS

AUTOSLTD

&RENTALS

ENQUIRE NOW

-about our range of rental vehicles

3081396

Family,Sports, School or Social Trips

We have 8, 10 &12seaterminivans available.Cars and 3trucks forsmall or big

loads also available.

470 West Street, Ashburton

A/H Keith Drummond 0274 367 646

www.atob.co.nz

2413041