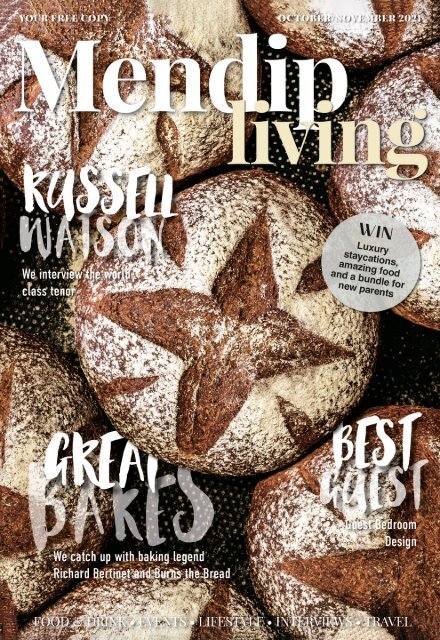 Mendip Living Oct - Nov 2021
The Autumn edition is here - filled with amazing goodies. We've got an interview with legendary baker Richard Bertinet, lots of delicious recipes, advice on redecorating the guest bedroom and of course our amazing competition page.
The Autumn edition is here - filled with amazing goodies. We've got an interview with legendary baker Richard Bertinet, lots of delicious recipes, advice on redecorating the guest bedroom and of course our amazing competition page.
SHOW MORE
SHOW LESS
Create successful ePaper yourself
Turn your PDF publications into a flip-book with our unique Google optimized e-Paper software.
SHOP ONLINE VISIT SOPHA.CO.UK

MORE THAN

JUST SOFAS

Did you know, we've tested over 200 mattresses and

only the best receive our Koala seal of approval.

TAKE A LOOK AT SOME OF OUR SOFA RANGES TOO...

TIFFIN

MADEIRA

BANOFFEE

| hello@sopha.uk | 01278 55 77 55 | 2-4 Church Street, Highbridge, Somerset, TA9 3AE
---
Contents

A Note

from the EDITOR

29

Guest

A Culinary Journey through

Northern

bedroom Ireland

inspiration

"There is something so special

in the early leaves drifting

from the trees–as if we are all

to be allowed a chance to peel,

to refresh, to start again."

– Ruth Ahmed

There is something so special about

this time of year - it has a grounding

effect which forces us to consider

the passage of time and the tangible

changes around us. As the hues

of the trees shape our landscape,

we settle down into the embrace

of those cooler, darker evenings

- a sense of quietude before the

inevitable Christmas rush begins.

Our competition

page returns

04

We hope this edition makes a good

companion to a cosy evening or a

peaceful morning with a cuppa. We

couldn't resist the opportunity to carb

load here with an interview with west

country expert baker (via France!)

Richard Bertinet - sorry not sorry to

have you reaching for that bread and

butter...

16

Editor Katie Thomson

e katie.thomson@minervapublications.co.uk

Baking legend

Richard Bertinet

Publisher Sally Thomson

Pre-press Manager Kate Norris

Contributors Peter Thomson, Sue Cooke, Matthew Biggs, Angela Cave,

Front cover courtesy of Burns the Bread

Key Account Manager Ade Hill

e adrian.hill@minervapublications.co.uk

t 01225 984 496

twitter: @MendipLiving

22

Comfort food

dishes

MINERVA PUBLICATIONS HQ

Paxcroft Farm, Hilperton, Trowbridge

BA14 6JB t 01225 984 550

w www.minervamagazines.co.uk

visit our website www.minervamagazines.co.uk

Disclaimer: The publishers shall not be held liable for any loss occasioned by failure of an

advertisement to appear, or any damage or inconvenience caused by errors, omissions and

misprints. No part of this publication may be reproduced without prior permission from the

publishers. The opinions expressed within are not necessarily those of the publishers.

This lovely chat falls alongside

some delicious recipes and some

inspiration for the home and

garden - this issue we are focusing

on getting the guest bedroom in ship

shape ahead of welcoming visitors

this Christmas - well, fingers and

toes crossed we will have them this

year - bet you never thought you'd

think that!

It wouldn't be right to have an

edition without one of our most

popular pages - the competitions!

You can enter all the ones listed on

the page, plus some web-exclusives

at minervamagazines.co.uk - you

can also opt into being the first to

hear about new giveaways when

they are launched.

We are looking forward to seeing

you again in December, where we

will be unapologetically thrusting

you into the Christmas swing. Don't

say I didn't warn you! Until then,

take care and enjoy this issue.

Katie

www.minervamagazines.co.uk | 3
---
COMPETITION

Time

WIN

A a two-night stay

for two people at

Whittlebury Park

WORTH

£338

To enter any (or all!) of our competitions, head to

www.minervamagazines.co.uk/competitions.

Find the competition and enter on that post,

using the appropriate keyword.

T&C's apply and no cash alternatives available. Winners chosen at

random - entries made after closing date will not be accepted.

Whittlebury Park, a four-star countryside hotel in

Northamptonshire, is nestled in hundreds of acres of tranquil

ancient parkland, making it the perfect destination to get away

from it all. It's surrounded by a host of local attractions, from

lakeside walks at Stowe Gardens to designer retail therapy

at Bicester Village and thrilling history at the Silverstone

Experience Museum.

Terms and conditions: The prize is for a winner plus one guest. Prize

winner and guest must be aged 18 and over. Only one winner will be

drawn. The prize is non-transferable, non-refundable, non-exchangeable

and there are no cash alternatives. Cannot be used in conjunction with

any other offer or promotion. The prize is available Friday – Sunday.

Valid until 31 December 2021 excluding Good Friday, Easter Monday,

Christmas Day, New Year's Eve and Bank Holiday Mondays. Full terms

and conditions available on website.

whittlebury.com

Closes 01/11/2021 - Competition keyword 'WHITTLEBURY'

WIN We are giving one

lucky reader the

The Ultimate chance to win

baby Starter the Ultimate

Pack! Starter Pack

from Kit & Kin,

the eco-friendly

brand co-founded by

Emma Bunton. Offering an

unbeatable bundle of ethical

baby essentials, the beautiful

collection of products is

bursting with everything a

new parent needs, night and

day, including the brand's Eco Nappies, Biodegradable Wipes

and Nappy Sacks. The standout set also contains the heroes from

Kit & Kin's range of 100% organic cotton babywear, including the

adorable Bunny Hat and super soft Alphabet All-in-One, as well as

a luxuriously snuggly Knitted Blanket and Sleeping Bag, to ensure

everyone gets the best ZZZ's, naturally!

kitandkin.com

Closes 01/11/2021 - Competition keyword 'BABYWEAR'

Eliza Southwood

practiced as an

architect for ten years

before deciding to

take up a career as an

artist and illustrator fulltime

in 2010, although

she has consistently

drawn and painted throughout

her life. Her first illustration

commission was a Spanish children's

book, when she was aged 13.

Eliza's speciality is silk screen

printing, but she also works in mixed

media, watercolour and acrylic. As

a keen cycling fan, she is known

particularly for her cycling themed

artwork, but she also produces work

on a wide range of subjects such as

cityscapes, dogs, sports and people.

We have two prints worth £250 each

to give away.

www.elizasouthwood.com

Closes 01/11/2021

Competition keyword 'ELIZA'

WIN

A print

worth

£250

Ramekins & Wine offer

immersive dining

experiences where

the wine takes

centre-stage, the

food is designed to

showcase its character

and deliver a true taste

sensation. We are giving readers

the chance to win a Home

Tasting Box for two people

which includes six specially

selected wines and perfectly

matched ramekins of food.

T's and C's: Three lucky winners

will enjoy a Home Tasting Box

for two people.

ramekinsandwine.co.uk

Closes 01/11/2021 - Competition

keyword 'WINE'

Leading flowers and

gifts delivery service,

Floward, is delighted

to offer 8 lucky readers

the chance to win an

arrangement from its

new letterbox collection.

WIN

A Home

Tasting Box

for two!

WIN

A letterbox

floral

arrangement

from Floward

Established in 2017 by CEO

Abdulaziz B. al-Loughani,

Floward is a full-fledged

e-commerce solution that

offers prime fresh-cut flowers

sources from the best growers

and farmers around the world

which are arranged locally by an expert team of florists and

designers. Following a successful launch into London at the

start of the year, Floward is expanding its distribution across

the country, to offer a next day delivery service which allows

customers to place orders by 12pm and guarantees that their

flower arrangements will arrive the next day. What's more, as

part of Floward's worldwide CSR programme, 1% of all annual

revenue generated by sales will be donated to the Mental Health

Foundation.

floward.com

Closes 01/11/2021 - Competition keyword 'FLOWARD'

4 | www.minervamagazines.co.uk
---
What's on in December

Saturday 11th

Alex Western-King Quartet

Wednesday 15th

The Sensation Abba

Christmas Show

Saturday 18th

Kanda Bongo Man

Book your tickets

cedarshall.events

01749 834483

www.minervamagazines.co.uk | 5
---
6 | www.minervamagazines.co.uk
---
MEET THE

Fromies

We talk to businesses

in and around Frome

who are passionate

about what they do...

Chloe Wright,

Goddess organising

Who is Goddess organising?

Goddess organising is a domestic

organising and decluttering service

based here in Frome. I provide sensitive,

non-judgemental, persuasive and neutral

encouragement to re-home or dispose

of items that simply aren't loved, needed

or useful anymore. Because I have no

emotional connection to these items,

it enables me to provide motivational

assistance for the client. It enables them to

make the difficult decisions needed to clear

their homes and say goodbye to the clutter

that is suppressing their lives.

What type of services do you offer?

My services can range from clearing and

reorganising a cupboard under the stairs to

garages, sheds and whole houses full of a

lifetime of memories and general clutter.

I work closely with each client ensuring

nothing gets discarded without the clients

permission. Once the decluttering process

is complete, I can then be left to thoroughly

clean the room and find the most logical

'forever homes' for the items which are

loved, needed or useful. The client then has

a beautifully clean and tidy room to come

home to everyday.

Kate Hateley

Photography

Can you help with someone with

hoarding difficulties?

Although I do not have any training in

counselling or Psychotherapy, I do however

have a basic understanding of why some

people can struggle with hoarding difficulties

or have hoarding tendencies. I work closely

with all my clients and learn about their lives

and the struggles they confront everyday.

What do you like most about Frome?

Frome's community spirit is something that

I feel is unique to our town. I love that my

family are part of the community shared

ownership scheme for Whatcombe fields

and we saved the sledging hills for all our

children for years to come. The community

fridge initiative is the inspirational thinking,

kindness and generosity one comes to

expect and aspire to from the Fromie

community.

Find out more?

www.goddessorganising.co.uk

Mark McGann,

Actor/Director/Writer/Composer

How would you describe Frome?

Frome ticked all the boxes as we arrived

in October 2006. The creative happening

that is Frome was very much in its incipient

phase at this time, but there was enough

happening and more importantly, there

were many like-minded citizens who made

us quickly appreciate that we had made

the right decision. To see Frome now is to

witness the coming into bloom of what was

then merely shoots of possibility. We are

so proud of what has been achieved here

creatively, politically and socially.

You've played many roles in your acting

career, but if you could pick one favourite,

what would that be?

I have loved them all in their own way,

though playing John Lennon was a very

powerful and lasting experience. There is

something particularly challenging about

playing a character from real life rather

than fiction. Especially one so well known.

You are aware that you have people's own

relationship with him to satisfy as well as

offering new insight. It was life-changing.

Tell us more about the Actor Workshops

you run from the Merlin Theatre?

Developed through my company Drama

Direct Ltd, I designed them to offer everyone

who has ever been curious about the

professional actor's process to come and

experience it for themselves under my

guidance. I offer themed drama classes that

are open to all levels of experience including

stage and screen acting classes, and I also

offer private one to one tutoring at various

venues around Frome like the Merlin and

Rise. Next one is a Stage Acting Day on 5th

September at the Merlin and then a Screen

Acting Class on 3rd October at the Merlin.

You made a short film here in Frome

called Perplexed Music?

I did indeed. I am very proud to say that it

won 33 international film awards at festivals

around the globe including some very

prestigious ones and I remember the shoot

extremely fondly. It's available on Youtube

for free. Frome looks resplendent in it. It was

a magical experience.

If I'd like to find out more about the

courses you run, where and how can I

find out more?

Call 01373 471486 or email mark@

dramadirect.net

www.minervamagazines.co.uk | 7
---
CAN YOU

LEND US A..

Tenor

Ade Hill catches up

with 'The People's

Tenor', Russell

Watson, where he

discusses getting

back out on stage

post pandemic, as

well as something we

can all relate to...

the great lockdown

clear-out!

Images by Richard Haughton/Raymond Gubbay Ltd

It sure has been a tough year for

everyone, especially for the performing

arts and theatres. How did you

personally find lockdown?

In some respects when it first kicked in

I don't think anybody in the industry, or

the country for that matter, anticipated

just how long the lockdown would last.

So when we initially thought it was just

going to be a few weeks I thought 'Well

this could be a good opportunity for me

to rest my voice, rest the infrastructure'.

I also wanted to settle down – I had

been constantly touring for about ten or

eleven years without much of a break.

So it was kind of going to be just a long

lay-off but it didn't quite work out like

that! I remember when it started to unfold

it was evident that the lockdown was

going to be much longer than we were

anticipating and it was then that my wife

presented me with this great big long list

of jobs that I'd been promising to do for

the last eleven years, culminating with the

tidying of the proverbial garden shed. It's

only a simple 8x6 garden shed, but once

I'd opened the door to it I realised that it

probably had a similar capacity to that

of Dr Who's Tardis! There was so much

junk in there, I wasn't able to actually

get through the door. So the first point

was to clear the doorway by emptying

the immediate contents onto the garden

lawn. The first thing I noticed was that

there were about five or six kites in there

that remained unopened. But the most

interesting thing I found was at the back

of the shed lurking were three bikes that I

didn't even know I owned!

That's quite a find! Now I hear that

in your lockdown sort-out you found

boxes of old stage gear, including a

suit that you wore to meet the Queen?

Yes, and this was all in my shed! It was

all piled up in these plastic containers.

I pulled a lot of it out thinking 'I thought

this had gone years ago?!'. This beautiful

silk white suit that I had worn when I

received my first Brit Award. All manner

of stuff was in there. It was like Aladdin's

cave. It's funny because a lot of the stuff

doesn't fit anymore, as it is twenty years

on. It is designer stuff, there's Dolce &

Gabbana and Armani and all that. So we

bagged it all up and took it to the local

homeless facility. It was funny because

the guy rang me up a few days later

and said "Russell we're so grateful for

the clothes, we shouldn't laugh but all

the guys here are now walking around

in Dolce & Gabbana and Armani, it's

brilliant!"

That's really brilliant! It is great to

donate.

We've attempted to do a lot for homeless

people over the years. I've recently been

involved with a big project with The

Big Issue, to try to raise for homeless

people who at the moment are suffering

more than ever. With people not leaving

home because of the pandemic it's been

incredibly difficult for a lot of homeless

people. I am a huge advocate for

supporting the homeless.

Tell us more about your 20th

Anniversary tour. How does it feel to

finally be able to go back to what you

do best?

Well it was the tour that was meant to

happen at the beginning of 2020. Then

it was moved to the middle of 2020.

Then it was moved to the end of 2020.

Now it has ended up in Autumn 2021.

It's difficult to know what to put on the

tour poster. 'The tour that nearly was,

then wasn't. But then nearly was again,

but wasn't. But might be, but wasn't.

But probably could be but we just don't

know' tour. December 2019 was my last

concert in front of an audience, and so

this Friday (20th July) was my first show

for the best part of eighteen months. It

was an outdoor festival in Hale Barns

and it was just wonderful to get back on

stage with all my musician friends and

deliver a show to an audience that, you

could just tell, were long overdue some

live entertainment. It was such a great,

great night.

www.minervamagazines.co.uk | 9
---
Christmas Party

at Rook Lane

SPECIAL OFFER

Venue and Bar hire from £150.00

Available Friday and Saturday evenings November and December

Are you looking for an impressive venue to hold your

Christmas party? You can hire the whole ground

floor for up to 200 people, or the bar/café area,

for up to 60 people.

After all the disruption to businesses during

the pandemic and all that working from home,

its time to party! Hire the whole space for

£400 and have a more formal sit-down meal

for 140 people followed by a disco, or if you

are a smaller company/ group up to 60 guests,

hire the bar area for £150.00 you can still hire a

disco, and have nibbles.

To find out more, contact Sara on

01373 468040 or email

rooklane@nvbarchitects.co.uk

JOIN US FOR OUR

INFORMATION

EVENING

TUESDAY 16 NOVEMBER

6pm

Sexey's Sixth is rated in the top 1% nationally based on

students' results 2021 (ALPS) - come and find out why!

Based in Bruton, Somerset | Register: bit.ly/SexeysSFOE2021 | Email admissions@sexeys.somerset.sch.uk

10 | www.minervamagazines.co.uk
---
"

On his 20th

Anniversary tour:

I'm very proud of

the fact that I've

been able to remain

in the industry for

such a long period of

time, and it really is,

from my perspective,

something to

celebrate.

"

I can imagine. Just to get out and

see you and also see friends again.

Because we've all had to give up a lot

of our life! What can we expect from

the tour?

It's a collection of material from the last

twenty-one years of my recordings. It's

the repertoire that I think the fan base

would expect first and foremost and

then similarly a few surprises in there. I

think it's all the material and repertoire

that underpins the last twenty-one years

of my recording career. I'm very proud

of the fact that I've been able to remain

in the industry for such a long period of

time, and it really is, from my perspective,

something to celebrate.

Does it feel like it's been twenty-one

years since you recorded your first

album?

You know what, when I think about

all the things that have happened to

me over twenty-one years it feels like

two lifetimes! But when I actually look

back in retrospect to, say for instance,

when I first went into the studio with my

producer Nick Patrick in 1999, it literally

feels like the blink of an eye. It feels

like it was last week! It's such a strange

feeling, but life is like that isn't it? I think

all those moments that we feel underpin

who we are, the successes in our lives,

the failures, the difficult times, they're the

moments that we single out and they are

they key elements in our lives. They are

part of a big jigsaw, and when you look

back on them it doesn't feel like they

were that long ago but when you think

about all the water that's gone under the

bridge in between it feels like I've done so

much, and I've been incredibly fortunate

in my career as well.

It's like looking at old pictures of

yourself back in the 80s. Did I really

have a mullet? I did.

I know what you mean. I look at pictures

from that period, particularly with

reference to my teenage years and even

though, stylistically, some of the stuff I

was wearing was odd, I just look back on

it and think 'Oh my god, that was such an

uncomplicated period of my life'. It just

seemed like it was sunshine every day

of the Summer, and snow in the Winter

and everything just seemed so massively

uncomplicated.

So you've been busy with a new

album?

No, there's no new album this year. I've

decided to take a year off from recording.

But last year at the beginning of 2020

I went into the studio to make to 20th

anniversary recording which was released

last Christmas. So they'll be nothing this

year. I just sort of feel like I want to let

the dust settle on 2021 and then maybe

next year, if everything is fully operational

again and we have some sort of

semblance of normality, then maybe we

can look at another four quarter release

for 2022.

During your career you have played

at some amazing venues around the

world. Does it still make the hairs on

the back of your neck stand up when

you walk on stage?

That can happen for different reasons.

It's not necessarily with regards to the

location I'm performing in. But it can

happen if I get a moment in a song where

there's maybe a memory of a certain

moment or somebody that maybe I've

lost in my life and a memory comes

in. But with regards to being in venues

where I would most definitely look out

and think: "My God how did I end up

here? This is awe-inspiring." I mean the

Vatican is one of those moments that I

can single out. It was just tremendous,

not least of all because the Pope was

there as well.

No pressure there then!

You know what? I've never really felt

pressure. It's funny, it's something that

was born into me and it's not something

I ever really think about. I just go on there

and I do what I do. It doesn't matter

whether I'm singing to ten people or ten

thousand people. I go on and I do what I

do, and I do it with the same enthusiasm

and technique as I would do it anywhere.

I remember doing the opening ceremony

for the Commonwealth Games, and there

was one of the yellow bibbed stewards

stood at the side of the stage. I was

waiting to go on and he said to me: "You

alright there Russell mate?" I said: "Yeah

I'm good thank you." He said: "You're

not nervous are you?" I said: "No, I'm

fine." He says: "There's a lot of people

out there, about forty-thousand people in

the stadium I've heard." I said: "Really?

Great!" He continued, saying: "All the

athletes from all the nations, all with their

banners. They're all out there." I said:

"Lovely." He then says: "Her majesty

the Queen is out there, yeah she's out

there too. And I've heard there's about a

billion people watching live on TV." I said:

"Right, please be quiet now because you

are making me nervous!."

Who would you say are you musical

influences?

Believe it or not, my biggest musical

influence as a child would have been

my Gran! Whenever I would go round

my Gran's house, she was a massive

classical music fan. I've been listening

to everything from Chopin, Schubert,

Schumann…all those greats. Mario Lanza

was a constant fixture in the house so I

was very familiar with a lot of those big

classical artists from an early age. So

she was a big influence. But in regards

to artists, Luciano Pavarotti was a big

favourite of mine. But as a kid it was all

about Paul Weller and The Jam and The

Beatles to a degree. I mean The Beatles

were slightly before my time, but still I

had my old semi-acoustic guitar and I

used to bash out tunes with my old pals,

sit up in our bedrooms or whoever's

garage we could use and jam away to the

old Beatles bumper book of 101 songs.

Great memories, they were probably my

biggest influences.

How can we find out more information

on the tour?

You can find all the information you need

on the website including the dates that

we are doing. It's russellwatson.com,

so you'll find all my new dates on there,

plus you are able to book through it too

so that's great.

www.minervamagazines.co.uk | 11
---
An enriching life like no other

Which school should my child attend?

Choosing the right educational

environment for your child is one of

the most important decisions you'll

ever have to make as a parent. But if

you're looking for a boarding school

for your child, how do you choose

the right one? Robin Fletcher, CEO

of the Boarding Schools' Association

(BSA), explains.

'How do I choose the right boarding school

for my child?' That's a question we're asked

more often than any other at BSA. And

when you consider the UK boarding market

is one of the largest in the world, with more

than 450 schools of all sizes and types, in

all sorts of different locations, there isn't a

straightforward answer.

But having such a wide range of choice can

really work to your advantage. If you know

exactly what to look for in a prospective

boarding school, your child will enjoy a

first-class education and gain invaluable life

skills, boost their confidence, become more

independent, and have the best possible

preparation for adult life.

The first key piece of advice I would always

offer when choosing a school is that it must

be a joint decision between you and your

child: they have to be happy with the final

choice.

As I've mentioned, one thing there isn't a

shortage of in the UK boarding sector is

choice. You need to think about the best

location for your child: will they be best

suited to a large school attended by several

hundred students, or a smaller school

with fewer pupils? Would a school in the

middle of a city be better for them, or would

they prefer somewhere more rural? Would

they be best suited to a single sex or coeducational

school? Also, will full boarding

be the best option for them? Schools can

offer full, weekly or flexi-boarding, so you'll

need to decide which works best for you

and your child. And is an academic school

right for them, or one that focuses perhaps

more on sport, music or more vocational

subjects?

Once you've considered all those factors

and you've got a shortlist of schools you're

interested in, I'd always strongly encourage

you to visit those schools in person. This

is the best way to tell if it's right for your

child or not, as it will be clear very quickly

whether they are comfortable there.

Making that final choice of the right

boarding school for your child can be a

lengthy process, but taking the time to get

your decision absolutely right is crucial.

Boarding will not suit every child or family

- but for the right child, in the right school,

it can offer an enriching life experience like

no other.

For further information about the Boarding

Schools' Association, or to search for a

boarding school, please visit www.boarding.

org.uk. In 2020, BSA also teamed up with

Bulldog Publishing to launch Schoolplaces.

org, a dedicated live information resource

for schools, parents and education agents.

For more information, please visit www.

schoolplaces.org.

Image: Courtesy of Highfield and

Brookham Schools

12 | www.minervamagazines.co.uk
---
Millfield at the

Tokyo Olympics

This year, 13 Millfield School alumni headed to Tokyo

to compete, which is the highest number of athletes they

have ever had at the games. Nine athletes competed for

Team GB, and four for Brunei, Kenya, Denmark and

Hong Kong.

James Guy had a shining performance in the pool, winning two

gold medals and a silver for Team GB. Millfield's Director of

Swimming and former Olympian who also attended Millfield as a

student, Euan Dale, joined Team GB as a coach in Tokyo.

this summer

will add to the

school's proud

Olympic heritage.

ADVERTISING FEATURE

It is Millfield's extensive and diverse facilities, unique timetable

allowing for regular training along with the blend of specialist

coaches and centralised sports programme that sets the school

apart.

Dr Scott Drawer, Director of Sport at Millfield, said: 'Sport is

synonymous with Millfield, and we are proud to place it on the

pedestal it deserves in developing young people. Our vision at

Millfield is to be the world leader for the development of children

through sport and looking at the vast list of previous Olympians

and success stories, we have been leading the way for some

time. Many of our students reflect on these formative years and

how it has impacted their future careers'.

Millfieldians have competed at every Games since 1956, with 56

athletes representing nine different countries and a total of 16

medals won (5 gold, 4 silver, 7 bronze). The athletes competing

The unique

elements that

help our students

reach the highest

level include a

flexible daily timetable that offers training during a two-hour lunch

break, specialist coaches, the athletic development team and the

balance of sport with academics.

Old Millfieldian James Guy said, 'I've been around Millfield for

a long time and all of the staff here at Millfield really did help

me massively and without them I wouldn't be where I am today,

World Champion and Olympic medalist, Millfield is where my

dream began'.

The school are set to watch more alumni head to the 2024 games

in Paris.

DISCOVER

BRILLIANCE

millfieldschool.com/open-days

NEXT

OPEN DAY

SATURDAY

9 OCTOBER

2021

#DISCOVER BRILLIANCE

www.minervamagazines.co.uk | 13

Millfield Pre-Prep_MendipLiving_Aug211_153x110_Flynn.indd 1 06/08/2021 14:34
---
'COOL CUTS'

Heart of The Tribe presents 'Cool

Cuts', an exhibition featuring the

work of linocut artist Shelley Dyer-

Gibbins opening October 21st...

With a clear talent from a very young

age, Shelley knew she would be an

artist ever since she was a young girl.

She went on to study graphic design at

college and university. Her degree led

her to designing for many well-known

companies, including Usborne children's

book publishers. Her experience as a

graphic designer is apparent throughout

her pieces, which are graphic and retrotoned,

using block linocut as well as overpainting, underpainting,

collage and gold/silver leaf. Her use of vibrant colour and

celebration of all things vintage is heavily inspired by PopArt, in

particular the great Andy Warhol.

Practising as a full-time artist from around 2017, Shelley has

been busy making a name for herself in the artworld. Winning

awards such as the National Open Art Print Prize 2017, Shelley's

work has been displayed at Bankside London, Pallant House

Gallery and the Bargehouse in OXO Tower Wharf. She has had

the pleasure of exhibiting alongside some very famous names,

including Banksy, Peter Blake and Roy Litchenstein, all of whom

are a source of inspiration for Shelley.

Shelley stumbled across linocut as a medium when looking

through her late Father's workshop. Also an artist and

experienced gilder, he had an array of different tools that Shelley

could experiment with. This is where her love of linocut was

born. Shelley has always been deeply inspired by her Father

who always encouraged Shelley to pursue a career in art. Using

at least one of her Dad's tools in every piece she creates, this

process allows Shelley's work to feel all the more personal.

The exhibition will run from October 21st to November 15th and

will not be one to miss. Shelley is fast becoming a household

name in the print world and Heart of The Tribe are honoured to be

able to exhibit a beautifully curated selection of Shelley's works

both old and new.

For more information visit our website at:

heartofthetribe.com

ADVERTISING FEATURE

THE WOOLVERTON GALLERY

NEAR BATH

AUTUMN EXHIBITION

1st September - 30th November

With over 28 artists exhibiting 100+ works of art, one of the

South West's largest private galleries. Ray Jones, the owner/curator is

always on hand to give you a personal experience.

Woolverton, BATH BA2 7RH

info@bathartsales.com www.bathartsales.com 01373 463098

14 | www.minervamagazines.co.uk
---
HIS

SUSTAINABLE

BREAD

HOUSING

DEVELOPMENT IN

GLOUCESTERSHIRE REACHES

KEY MILESTONE

& BUTTER

Richard Bertinet is well-loved and well-known for being the

UK's baking 'godfather'. His books about baking and his breadmaking

courses alike have delighted audiences for many years.

Sally Thomson talks to Richard to discuss books, baking and

BBC Maestro, where you can catch him offering the ultimate

online bread-making course...

HOW ARE YOU ON THIS GLORIOUS

DAY?

Making croissants with this weather! It's

a bit hot in the kitchen but it's nice to be

open again so all is good.

YOU ARE DOING WONDERFULLY

WELL AT THE MOMENT APART

FROM THE FACT WE HAVE ALL

BEEN THROUGH THIS RATHER

INTERESTING YEAR THINGS SEEM TO

BE GOOD WITH YOU.

We opened in April and we have just tried

to push everything we could this year and

last year. It's very busy.

SO, PEOPLE ARE ABLE TO COME TO

YOUR CLASS NOW?

Yes, we reopened in April.

SO, THESE CURRENT RESTRICTIONS

HAVEN'T CHANGED YOUR PLANS?

No, we are Covid compliant and can still

have the same number of people.

In Bath 40% of the customers come

from the rest of the World so Japan, The

States and Australia. Obviously, they

cannot come to Bath at the moment so

we have a massive backlog of people

wanting to come when they can

travel*.

YOU NEED TO BE CLONED SO THAT

THERE IS ANOTHER ONE OF YOU

AND YOU CAN KEEP UP!

That's true but there is only one of me

I'm afraid.

WHEN YOU FIRST CAME INTO BATH

IN 2005 DID YOU EXPECT YOUR

CAREER TO TAKE OFF AS IT DID?

I knew the concept we had was good and

if it worked out, we would have success.

When I first moved to Bath a lot of local

businesses gave us 6 months to survive

but that made me more determined to

make it.

16 | www.minervamagazines.co.uk
---
www.burnsthebread.co.uk
---
On his baking classes

for children: "It's good

fun and nice to see

them smile when they

try something that they

haven't done before. I

think it's a shame that

so many schools don't

use cooking and baking

anymore."

TELL US MORE ABOUT YOUR

COOKERY SCHOOL - IT'S GOING

FROM STRENGTH TO STRENGTH BY

THE SOUNDS OF IT?

Well, the school has been going since

2005 and since then we have won a lot

of awards, we then sold the bakery and a

lot of things have happened in 15 years.

The school is so busy it's a worldwide

attraction which means we bring a lot of

people to Bath. We won the South West

Tourism Award two years ago due to the

number of people that we attract to Bath.

We have a few guest chefs coming in as

well, but the core classes are with me

learning about bread making, as well as

what I write about in my books.

YOU HAVE SO MANY ACCOLADES

AND EVERYBODY ENJOYS WHAT YOU

HAVE BEEN DOING.

We pride ourselves on the services we

give our customers and also the way I

teach is quite unique - I'm very hands on.

Our school is quite small so it means that

I can spend time with everybody.

I SEE THAT YOU OFFER CLASSES FOR

CHILDREN, HOW DO YOU FIND THAT?

Teaching children was always very

important to us and we also work with a

lot of local schools in the area and teach

some classes plus talk to the children.

It's good fun and nice to see them smile

when they try something that they haven't

done before. I think it's a shame that so

many schools don't use cooking and

baking anymore.

I SEE THAT YOU ALSO WORK WITH

PING COOMBES.

Yes, Ping does classes for me. She

teaches Malaysian cooking plus stuff

from my book.

YOU HAVE PRODUCED 6 BOOKS SO

FAR. HAVE YOU GOT ANYMORE IN

THE PIPELINE OR DO YOU NOT HAVE

ENOUGH TIME?

I've got a couple of ideas but it's getting

the time to do it and I like to write a book

for the right purpose not just for the sake

of it so I need to get the time and wait

until things get back to normal.

DO YOU FEEL THAT YOU ARE

GETTING BACK TO NORMAL?

Until we get all our backlog of people

who couldn't attend last year's classes

hopefully then we will be back on an

even keel but not yet I'm afraid. We are

open and running and there are some

businesses that can't do that so in a way

we are one of the lucky ones.

I HEAR THAT YOU WILL BE GETTING

INVOLVED WITH BBC MAESTRO.

Yes, it's been amazing. We have just

finished editing. I absolutely loved it! It's

a challenge to do live broadcasts, it's

recipe lead and different from how I teach

in my classes, but it was well done. The

team were amazing.

YOU HAVE BEEN ON OTHER

COOKERY SHOWS SO DID YOU FIND

THAT THIS WAS A STEP UP?

Yes, I've been on Saturday Kitchen and

on James Martin's show so it's a different

buzz being filmed live and you have to be

mindful of what you do and say.

WHAT IS IT THAT YOU WILL BE

SPECIALISING IN?

It's specifically about bread and things I

like to do at home. It goes from making

brioche, sourdough to bagels, all that

kind of stuff and things to give people

the confidence to bake at home and feel

that they learn something. It's going to be

good. The production team was amazing,

and I can't wait for it to launch.

YOU ARE FROM BRITTANY HAVE

YOU HAD THE CHANCE TO GO BACK

RECENTLY?

We went to France last year, Provence.

We have a house down there and

managed to visit just before lockdown.

*At the time of the interview there was

uncertainty regarding travel to the city

of Bath.

BBC Maestro with Richard Bertinet

is available now at bbcmaestro.com.

The course costs £80 for 23 episodes

including written class notes for

each one. An additional bonus festive

episode is expected to launch later in

the year exclusively to subscribers.

thebertinetkitchen.com

18 | www.minervamagazines.co.uk
---
PUMPKIN

FESTIVAL

OCTOBER 2021

Yeo Valley

online farm shop

SUPPORT UK FARMERS & BUSINESSES

with HAND PICKED ARTISAN PRODUCTS

visit shop.yeovalley.co.uk

Visit www.farringtons.co.uk for tickets

Farrington's Farm Farrington Gurney, BS396UB

The

Bishop's Palace

Christmas

Artisan

Market

6-7 November 2021

10am-4pm

Special discounted entry:

£8 Adults, £4 Child 5-18

www.bishopspalace.org.uk

www.minervamagazines.co.uk | 19
---
CHOCOLATE, ORANGE

& PISTACHIO LOAF

INGREDIENTS

150g good quality dark chocolate chips

75g roughly chopped pistachios

Zest of 2 oranges

50g mixed peel

1 tablespoon Cointreau (optional)

125g unsalted butter straight from the

fridge

125g full fat milk

3 medium eggs

500g strong white bread flour (plus extra

for dusting)

15g fresh yeast

45g caster sugar

10g fine sea salt

FOR THE GLAZE

2 eggs

Pinch fine sea salt

METHOD

Mix the chocolate chips, nuts zest

and mixed peel in a bowl and stir in

the Cointreau if you are using it. Place

the cold butter between 2 sheets of

greaseproof and bash it with a rolling pin

to soften it and break it up into smaller

pieces (without warming it up).

Put the milk and eggs into the bowl of a

food mixer and then add the flour. Break

up the yeast and add to one side of the

bowl. Add the sugar and salt on the other

side of the bowl.

Mix on a slow speed for 4 minutes.

Increase the speed to medium for another

2 minutes then add the butter piece by

piece until it is all incorporated. Continue

mixing on medium speed for 10-12

minutes until the dough comes away from

the sides of the bowl.

Stop the mixer. Add the chocolate and

pistachio mixture to the bowl and mix

for no longer than 30-40 seconds on

the slowest speed – you don't want the

chocolate and nuts to become mushy.

Lightly flour your worksurface and turn

the dough out onto the work surface.

Form the dough into a ball and then place

into a lightly floured bowl. Cover and

rest for about 45 minutes until just under

double in size.

Lightly flour the surface again, turn out

the dough and divide into 10 equal pieces

of about 110g each. Form each piece

into a ball and then press gently into

cake or loaf tins until they are full. In the

picture I have used tiny tins that only take

one ball but if you use a larger one you

will have a finished loaf or two that will be

perfect to tear and share. Whether you

have one or two will depend on the size

of your tins. Cover and leave to prove

for about 1 hour until just under double

in size.

While the dough is proving, pre-heat the

oven to 190°C and beat the eggs and

pinch of salt for the glaze. Brush the top

of each loaf with the egg glaze and use a

pair of scissors to snip into the dough for

decoration.

Place the tins on a baking tray and

put into the pre-heated oven. Turn the

temperature down to 180°C and bake for

15-20 minutes until golden.

20 | www.minervamagazines.co.uk
---
COMING THIS CHRISTMAS

TO SOUTH DEVON RAILWAY

BOOK TICKETS TODAY AT

SEESANTA.CO.UK

Train equipment and event elements vary by location. Inquire at your local venue for full details.

THE POLAR EXPRESS and all related characters and elements © & Warner Bros. Entertainment Inc. (s21)
---
COMFORT

When the darker nights set in, you

just want some go-to comfort food

recipes - and here, Waitrose has

delivered! Find more recipes at

www.waitrose.com

Calling

CHICKEN SHAWARMA

FLATBREADS WITH

YOGURT

Prep time: 20 minutes + marinating

Cooking time: 20 minutes

Serves: 4

INGREDIENTS

8 British chicken thigh fillets

3 tbsp Cooks' Ingredients Shawarma

Paste

½ red onion, finely sliced

2 lemons, juice of 1, 1 cut into wedges

1½ tsp Cooks' Ingredients Sumac

½ large cucumber

250g Yeo Valley Organic Greek Style

Natural Yogurt

1 small clove garlic, finely grated

15 mint leaves, finely shredded, plus extra

to garnish

4 Waitrose & Partners Hand-Stretched

Flatbreads

50g pomegranate seeds

1-2 handfuls wild rocket

METHOD

Slash each chicken thigh a few times,

concentrating on the thicker parts of the

fillet. Season, then rub all over with the

shawarma paste. Cover and chill for 20

minutes (up to 2 hours). Meanwhile, mix

the onion, lemon juice and sumac with a

good pinch of salt. Set aside until ready

to serve.

To make the sauce, coarsely grate the

cucumber and put in a sieve. Toss with a

pinch of salt and leave over a bowl for 10

minutes to drain, then gently press with a

wooden spoon to extract as much liquid

as possible. Tip into a bowl and stir in the

yogurt, garlic and mint.

Heat a griddle pan over a high heat. Cook

the chicken for 5-8 minutes on each side

(depending on the fillets' size) until the

juices run clear and there is no pink meat,

then set aside for 2 minutes. Clean the

pan then use it to griddle the flatbreads

for 30 seconds on each side. Arrange

them on plates and top with the chicken,

pickled onion, pomegranate, rocket and

the cucumber and yogurt sauce, finishing

with the extra mint leaves and lemon

wedges for squeezing over.

COOK'S TIP

This recipe also works well with lamb or

pork steaks instead of chicken (adjust

cooking times accordingly).

COTTAGE PIE WITH

SWEET POTATO

Prep time: 20 minutes plus standing

Cooking time: 1 hour 20 minutes

Serves: 4

INGREDIENTS

1 tbsp olive oil

500g British beef mince

1 onion, diced

1 stalk celery, diced

1 carrot, peeled and diced

1 Oxo Beef stock cube

1 tbsp tomato purée

1½ tbsp plain flour

2 tsp Worcestershire sauce

3 thyme sprigs

2 medium sweet potatoes, peeled

1 tbsp unsalted butter

METHOD

Heat ½ tbsp oil in a large sauté pan or

casserole dish over a high heat. Add

the beef and fry, breaking it up, for 4-5

minutes, until browned. Remove from the

pan, add the remaining 1⁄2 tbsp oil, lower

the heat to medium and fry the onion,

celery and carrot with a pinch of salt for

10 minutes, until softened. Meanwhile,

dissolve the beef stock cube in 500ml

just-boiled water.

Return the beef to the pan, add the

tomato purée and cook for 1 minute, then

stir in the flour and fry for 1 minute more.

Add the stock, Worcestershire sauce and

2 thyme sprigs and simmer for 25-30

minutes, until the beef is coated in a thick

gravy. Meanwhile, slice the potatoes

as thinly as you can and put in a bowl.

Cover with just-boiled water from the

kettle; set aside for 10 minutes. Drain and

use kitchen paper to pat dry thoroughly,

then lay out on more kitchen paper to

finish drying.

Preheat the oven to 200°C, gas mark 6.

Melt the butter. Tip the beef and gravy

into a medium ovenproof dish. Toss the
---
Book a Private Dining Party, from £45 per person,

or enjoy a DIY Tasting Menu Box,

all in the comfort of your own home.

Crafted by multi-award winning Chef, Dan Moon

www.yuzubydanmoon.co.uk +44 (0)1225 767221

Fishmonger Tues - Thurs 9.30-3

Fri/Sat 9.30-8.30pm

Kitchen Tues/Wed 12-2.30 Thurs - Sat 12-2.30 5-8.30

HESPERIAN FISH

STORES & KITCHEN

Supplying fresh & smoked fish & shellfish

sustainably caught from around the UK as well as

small plates of delicious, simple fish dishes.

Jo Tamplin

Nutritional food coach specialising in

food for Mental Health, Hormonal Health

& Common Health Complaints.

Special Occasion?

Get in touch to pre order from the counter or

the kitchen.

We are very much looking forward to opening

our doors again and seeing you soon.

Owner of the

Mood Foods Cookery School -

A Journey of Mindful Nutrition

Find us at

UNIT 1, STATION APPROACH, FROME, BA11 1RE

Tel: 01373 800250 info@hesperianfish.co.uk www.hesperianfish

www.moodfoods.info

FLI:

www.minervamagazines.co.uk | 23
---
potatoes with the butter and leaves from

the remaining thyme sprig. Season and

arrange in circles over the beef. Bake for

30 minutes until bubbling hot and the

potatoes are cooked through. Stand for

10 minutes before serving.

COOK'S TIP

Scatter grated cheddar over the potatoes

halfway through baking to give the pie a

nice cheesy crust.

CHEWY BROWN SUGAR

COOKIES

Prep time: 15 minutes plus chilling

Cooking time: 20 minutes

Makes: 12 - 14

INGREDIENTS

200g unsalted butter, roughly chopped

300g Billington's Dark Brown Soft Natural

Unrefined Cane Sugar

300g plain flour

1 tsp baking powder

½ tsp bicarbonate of soda

½ tsp ground cinnamon

½ tsp fine salt

1 large British Blacktail Free Range Egg

1 tsp vanilla bean paste

METHOD

Put the butter and sugar in a large

saucepan and set over a medium heat.

Heat gently, stirring occasionally, until

the butter has melted and the sugar has

dissolved. Set aside off the heat for 5

minutes to cool. Meanwhile, mix the flour,

baking powder, bicarbonate of soda,

cinnamon and salt in a bowl.

With a wooden spoon, beat the egg

and vanilla into the butter-sugar mix,

then beat in the dry ingredients until

completely combined. Transfer to a bowl,

cover with a plate and chill for at least 2

hours (up to 24 hours).

Preheat the oven to 180°C, gas mark 4;

line 2 large baking trays with parchment.

Leave the cookie dough out of the fridge

for 15 minutes to warm up a little. Roll

into 12-14 balls (about 65-70g each)

and space out well on the baking trays

(the cookies spread quite a lot during

cooking, so bake in more than 2 batches

if needed). Bake for about 15 minutes,

turning the trays halfway if needed, until

deep golden and cracked on top. Cool

for 5 minutes on the trays, then transfer

to a wire rack to cool completely.

COOK'S TIP

Ovens can vary in temperature, so after

about 12 minutes, keep an eye on your

cookies. Once they look set and golden

at the edges and start to crack on top,

they're ready.

CHERRY & ALMOND

BRIOCHE FRENCH

TOAST

Prep time: 15 minutes

Cooking time: 30 minutes

Serves: 4

INGREDIENTS

425g can black cherries in light syrup

3 tsp Tate & Lyle Fairtrade Cane Icing

Sugar, plus extra for dusting

1 medium British Blacktail Free Range

Egg

250ml whole milk

½ tsp almond extract

8 slices sliced brioche loaf

2 tbsp unsalted butter

150g pot vanilla yogurt

1 tbsp toasted flaked almonds

METHOD

Put a sieve over a small saucepan and

drain the cherries. Set the cherries aside

and simmer the juices for 5 minutes until

reduced. Add 1 tsp icing sugar and the

drained cherries to the saucepan and

simmer for another 5 minutes, until the

cherries are coated in a glossy syrup.

Meanwhile, set your largest frying pan

over a medium-highheat. In a large,

shallow dish, whisk the egg, milk,

almondextract and remaining 2 tsp

icing sugar. Add 4 brioche slices to the

mixture, soaking on each side for about

45 seconds until they've absorbed plenty

of the mixture but aren't too soggy. Add

1 tbsp butter to the frying pan and, when

foaming, fry the brioche for 4 minutes

on each side until golden and puffed up.

Arrange on plates while you prepare the

remaining slices in the same way, frying in

the remaining 1 tbsp butter.

Serve 2 slices of brioche per person. Top

with a spoonful of vanilla yogurt and the

warm cherries and syrup (reheat briefly

if necessary). Scatter with the toasted

almonds and dust with a little icing sugar

to serve.

24 | www.minervamagazines.co.uk
---
HAPPINESS IS THE SMELL OF

FRESHLY BAKED BREAD!

Casey Stoddart from Buns the Bread tells us

more about our delicious cover this issue...

What type of bread rolls are the ones

featured on our cover?

The Bread featured on the cover of the

magazine is our Marmite Bread. It goes

superbly well toasted with plenty of butter or

you can turn it into one of my favourite snacks,

a toastie with a good helping of Cheddar and

Red Leicester Cheese. We don't make this

one all the time, but we do put it back into

production every now and then for something a bit different,

you'll have to keep a look out on our social media for when it's

next available.

How long has Burns be baking bread across Somerset?

Burns the Bread has been in Glastonbury since 1983 when my

Grandad took over from the previous owners, Mr and Mrs Janes.

There has been a bakery on the same site in Glastonbury for over

200 years now so there's quite a lot of history here and it's the

main reason why we won't be moving the bakery out of the High

Street.

How long have you been a Baker?

I'm actually not a baker by trade, my passion is in the retail part

of the business. My journey here started when I was 12, my

twin brother and I would come and help in the school holidays,

we would start on the dishwasher for a couple of hours each

morning then Max would move into the Pastry Room making

Pasties, Sausage Rolls and the like and I would move into the

ADVERTISING FEATURE

sandwich room to help prep all the sandwich fillings for the

next day. Max went into the Bakery at 16 and completed his

apprenticeship shortly after.

For anyone visiting, what would you recommend for lunch?

You can't beat a Glastonbury Pasty! And we also now make a

Vegan version of the Glastonbury Pasty so more people can

enjoy our best seller. But if pasties aren't your thing we have a

tasty range of Sandwiches made fresh every day.

What's being planned for the festive season?

Our festive season will consist of tens of thousands of mince

pies! We'll of course be making Christmas Cakes, Christmas

Puddings and our increasingly popular Stollen.

Where can I find a Burns the Bread shop?

We have 6 locations across Somerset located in Glastonbury,

Street, Wells, Castle Cary and Somerton.

Where can I find out about the bread making courses?

For more information on our courses visit our website at

www.burnsthebread.co.uk or you can pick a leaflet up from one

of our shops.

For 25 years Hope Farmhouse has been our much-loved

family home. After a busy summer getting memories

made, the house is ready for a quiet winter break.

Surrounded by fields and hills, and just a few minutes'

drive from the centre of the medieval marked town of

Frome, we invite you to bring the kids, bring the dog,

light the woodburner and soak up the cosy comfort of

the countryside.

We look forward to

welcoming you back to

our modern shop & cafe

to enjoy a warm welcome,

home cooked food, buy

local produce and goods.

You can find us on social media using

@homefarmfrome, online at

www.hopefarmfrome.com and email us at

charlotte@hopefarmfrome.com

01373 830321

Open Monday - Saturday

32a High Street, Rode, BA11 6PA

www.minervamagazines.co.uk | 25
---
savour the flavour at Wells food festival

Mendip Living catch up with Jon Abbott who tells us more about the

return of the fabulous Wells Food Festival on 10th October...

ADVERTISING FEATURE

Tell us more about the food festival?

The Festival began in 2012 with a few local

artisan producers in the Market Place in

support of a lunch event in the Town Hall. We

wanted to showcase the region's finest food

and drink and are proud that it has become a

key date in the calendar for our producers.

We are particularly excited for this year's festival and to be back in

the heart of the city. Last year was obviously really difficult for all our

independent and artisan food businesses, and although we found a

way to support them by holding a virtual festival, there is nothing like

the real thing.

What has made the festival so popular over the last few years?

People are always amazed by the diversity of food and drink

produced in Somerset. The festival gives visitors the opportunity to

learn about Somerset's produce from the producers themselves -

their enthusiasm and passion is contagious. Ultimately it's a fun, free,

family-friendly, food-filled day. What's not to love!

How did you get Charlie Bigham involved?

Charlie Bigham's set up an out-of-London kitchen in Dulcote Quarry

near Wells about four years ago. As soon as Charlie knew there was a

local food festival, he wanted to get involved. He is passionate about

food and believes it should be talked about and celebrated. Last year

the company became our headline sponsor and are doing so again

this year. We are immensely appreciative of Charlie's support.

food producers and Street Food stalls which will be set up in the

Market Place, along the Moat and into the Recreation Ground. Visitors

can expect to find everything from traditional Somerset cheddar and

cider through to Tibetan and Cantonese cuisine.

New for 2021 is A Celebration of English Wine, taking place in the

Recreation Ground. Hosted by Ben Franks, from Novel Wines in Bath,

Ben will be sharing his passion for English wine with three exclusive

wine tastings: The Many Faces of English Bacchus at 11am (£12);

Pairing English Wine with Food at 12.30pm (£15) and Why English

Sparkling Wine is World Class at 3pm (£12).

Can I sample different foods?

There is usually lots of food to sample. This is a chance for producers

to showcase their products.

Anything for Children this year?

This year we are delighted to welcome Simon Gray from Fun Kitchen

with his award-winning pop-up cookery school for children. Simon

wants to encourage an interest in ingredients and cooking at an early

age. He will be holding four free workshops providing children with an

opportunity to create their own Apple Scone Bread Twist.

Do I need to pre book a ticket?

The festival is free to enter. But we recommend booking a wine tasting

ticket in advance on our website. There are limited numbers for the

cookery workshops so we suggest that you head over to Fun Kitchen

first thing on the day to book a place.

What can I expect to see this year?

We have our fantastically diverse Artisan Market. We hope for 200

Where can I find more information?

Check out our website www.wellsfoodfestival.co.uk

Free

Entry

Mmmmmm...

Savour the

Flavour

>> SunDAY 10th OctOBER 10.30am - 4.30pm

26 | www.minervamagazines.co.uk
---
Want to join in our success?

We are on the lookout for talented people to join the growing team

at our Production Kitchen located in Dulcote, near Wells, Somerset.

There is something for everyone with roles across all production

departments and a range of shift patterns, including:

• 4 shifts on 4 shifts off (days)

• 4 shifts on 4 shifts off (nights)

• Mondays to Thursday (mornings)

• Monday to Friday (afternoons)

• Friday to Sunday

As a Bigham's team member you will receive a starting salary of

£10.35 per hour, increasing to £10.65 per hour after 3 months

training as well as lots of great benefits.

Shift premiums

28 days annual leave

Annual bonus

Paid breaks

Free Bigham's

meals to take home

And much

more…..

To find out more or apply to join our team visit

www.bighams.com/all-jobs or email your CV

to people@bighams.com
---
LONDON SUPERFAST SERVICE

SERVING ALL STOPS DAILY

10% DISCOUNT ON TRAVEL BETWEEN

1 OCT - 31 DEC, USE CODE "MLIV10"

To book visit berryscoaches.co.uk or call 01823 331356 *

*

Booking office is open Monday-Friday 9am-3pm

The lingerie shop with

a personal touch.

80% of people are wearing the wrong size bra.

Call in for a fit no appointment necessary

F I

01963 351746 secretsofcastlecary.co.uk

13 Fore St, Castle Cary, BA7 7BG

Landing this Autumn

Landing this Autumn

12 OCTOBER — 03 NOVEMBER

wellscathedral.org.uk/festival-of-the-moon

28 | www.minervamagazines.co.uk
---
www.norsu.com.au

www.anboise.com

GUEST BEDROOM

perfection

DON'T: WORRY IF YOU

DON'T HAVE LOADS OF

SPACE

Ultimately you have to work with what

you've got - in the last 18 months,

many of us have seen our guest rooms

overhauled into home offices. If you've

ditched the bed don't worry - how about

adding an attractive sofa bed that you

can actually use the rest of the time as a

break out area from your desk.

DO: PROVIDE BASIC

AMENITIES

The more things you can put in the room

to make their stay easier, without having

to ask you for everything, the more

relaxed everyone will feel. A mirror is

important, as are fresh towels, tissues,

and perhaps even a hair dryer. A bedside

carafe and some glasses means they can

help themselves to water too.

DO: INVEST IN GOOD

WINDOW TREATMENTS

As you might have never slept in this

space, you might not know how light

behaves or how effective the current

window treatments are for blocking out

light. For a really luxurious look, pair

blackout blinds or shutters with thick,

decorative drapery.

DON'T: SETTLE FOR A

LUMPY MATTRESS

The same goes for the mattress as the

window treatments - spend a night in the

room and see if the bed is up to scratch.

DO: PROVIDE GOOD

LIGHTING

Multi-level lighting is key for making a

space feel cosy - make sure there are

two bedside lamps and then another

light source in the space, such as a

standing lamp in the corner or a lamp on

a dressing table

DON'T: SKIMP ON THE

BED LINENS

Good bed linen really is worth the money

- and it tends to wash better too. Provide

a good quality duvet and pillows, linens

and some additional blankets if your

guests feel the cold.

DO: CREATE

SOMEWHERE THEY CAN

UNPACK

We all know it's a bit stressful trying to

live out of a suitcase - allowing for some

hanging space and a few drawers to

unpack into, can really help guests keep

on top of things whilst they're with you.

DO: MAKE IT SMELL

LOVELY

Kit the room out with either fresh flowers,

a reed diffuser, or room sprays.

DON'T: BE A

PERFECTIONIST

If your guests were hoping for hotel

standards, then that's where they should

have stayed. Just aim to make sure

the space is clean, comfortable and

functional, then relax - there's enough to

be worrying about in the festive season

without adding high expectations on top

of that.

If you're looking for a total decorative

overhaul, check out our moodboards!

www.frenchbedroomcompany.co.uk

www.minervamagazines.co.uk | 29
---
CONTEMPORARY 2 BED APARTMENTS

FOR SALE IN FROME - FINAL FEW AVAILABLE

PHASE 1

OVER 90% SOLD!

2 BED APARTMENTS

from £240,000

2, 3 & 4 BED HOUSES

from £275,000

In Phase 2

The Old Printworks comprises a bespoke collection of

2, 3 & 4 bed homes, creating an exciting new

neighbourhood with access to open green space and

links to riverside walks along the River Frome.

Don't miss out - final few apartments ready for occupation

winter 2021! With flooring included* these homes have all

you need to move in with ease.

The Old Printworks, Caxton Road, Frome BA11 1NE

PHASE 2 LAUNCHING SOON!

Register your interest for more information

SHOW HOMES OPEN BY APPOINTMENT - CONTACT US TO BOOK

www.acornpropertygroup.org

theoldprintworks@acornpg.org

01373 888 303

An Acorn Property Group led development

in conjunction with London & County.

*Help to Buy Terms & Conditions: YOUR HOME MAY BE REPOSSESSED IF YOU DO NOT KEEP UP REPAYMENTS ON YOUR MORTGAGE OR OTHER DEBT SECURED

ON IT. Credit is secured against your home. Subject to status, Help to Buy Terms & Conditions and regional property price cap. Eligible applicants will be able

to reserve with a 5% deposit and offered an equity loan up to a maximum of 20% of the purchase price (based on the open market value). Applicants are

required to secure a 75% of the purchase price by means of a conventional mortgage, savings/deposit where required. The equity loan is interest free for the

first 5 years. This offer is not available in conjunction with any other promotion. Full details will be provided on request. *Flooring terms & conditions: Flooring

included with apartments only, speak to a sales advisor for full details. Images used for illustrative purposes only. Prices correct at time of print.
---
Bromley Chest, £399,

Made.com

Black Branches Print, from £6.99,

www.juniqe.co.uk

Jute Effect Daylight Roller

Blind, from £22, John Lewis

Bedroom by Pure Salt Interiors

BRIGHT

& CRISP

Off-White Linen Bed Set.

£170.99, www.truelinen.co.uk

Limestone Wood Paint, £18

750ml, thorndown.co.uk

Dar Lighting

NUS422, from £82,

wtlighting.co.uk

Furn Contra Olive Cushion,

£25, www.persora.com

London Bench, from £499,

www.boconcept.com

Mala Pile Rug,

200x290cm, £299,

Made.com

Reims, Iron/Metal Four Poster Bed Frame, from

£649, www.obc-uk.net

Black Bud Vase, £29,

room356.co.uk

Achieve this look by

layering different

neutral textures, and

adding structural

touches of black and a

few strong accent colours

Juna Striped

Cushion, £34,

hauslife.co.uk

www.minervamagazines.co.uk | 31
---
Pembridge Pendant

Size 3, £1319,

www.originalbtc.com

B O H O

COASTAL

Dulux Paint in 'Paper Chain'

Natural Ceramic Table Lamp,

£99,barkerandstonehouse.co.uk

Kilby Bedside

Table, £229,

made.com

Design by Studio McGee

Fingal 3 Seat

Sofa, £1210,

sofa.com

Navy Seigaiha Wave Cushions £32 and Kayla Woven Cushion £31, hauslife.

co.uk, Weeping Palm Tree Velvet Cushion Cover, £32.95, audenza.com

Malibu Print, from £6.99, www.juniqe.co.uk

Tulana Double Bed,

£599, made.com

Elowen Throw,

£75, hauslife.co.uk

32 | www.minervamagazines.co.uk
---
Get Winter Ready

Annie Sloan Annie Chalk Sloan Chalk Paint Paint Stockist and beautiful home home accessories accessories

Chimney and ductwork cleaning company.

Servicing domestic and commercial, wood, biomass, oil,

solid fuel, pizza ovens, coffee roasters, kitchen extract

and HVAC (heating, ventilation and air conditioning).

• Insurance recognised certificates issued

• Full public liability insurance

• Private and commercial work carried out

Annie Sloan Stocklist

Chalk | Wall Paint | Fabrics

01373 836986 | 07508 907892

waldronlee@yahoo.co.uk

www.thesweepingcompany.co.uk

Based in Nunney, Frome, Somerset

1 Bath Street, Frome, Somerset, BA11 1DG

01373 764 472 Annie | hello@matthewpaulinteriors.co.uk

Sloan Stockist

Chalk Paint | Wall Paint | Fabrics

fi Matthew Paul Interiors

1 Bath Street, Frome, Somerset, BA11 1DG

01373 764 472 | hello@matthewpaulinteriors.co.uk

fi Matthew Paul Interiors

www.minervamagazines.co.uk | 33
---
44 Westfield Road, Wells, Somerset BA5 2HS (Nr Halfords)

Email: sales@wellsbedshop.co.uk Website: wellsbedshop.co.uk

FEBRUARY OFFER

Free pack of silentnight pillows

throughout February/March with every

bed purchased over £300

Special offer

FREE LOCAL DELIVERY

£349

Grey Shaker Bedstead Double

Ceasar Mattress

Single £120/ Double £120

Includes Free local delivery

Great range of Beds & Mattresses • Friendly and reliable service...

Tel: 01749 670555

Delivery times to suit you, assembly service available and disposal old beds

f

Special offer

Ceasar Mattress

Single £120/ Double £120

Includes Free local delivery

FEBRUARY OFFER

Free pack of silentnight pillows

throughout February/March with every

bed purchased over £300

Great range of Beds & Mattresses • Friendly and reliable service...

Tel: 01749 670555

Delivery times to suit you, assembly service available and disposal old beds

f

34 | www.minervamagazines.co.uk
---
LOOKING FOR QUALITY

LOFT BOARDING?

Mendip Living met Philippa Edwards

from Loft Boarding South West, a familyrun

company based, just outside Frome

to discover the benefits of having your loft

boarded this winter!

Who is Loft Boarding South West?

Loft Boarding South West is a trading name of Foundations

Up Construction Ltd which is a local family building company

employing 24 people. We are approved installers for LoftZone

raised loft boarding system; when LoftZone asked us to be their

Authorised Installer in this area they set up our website calling us

Loft Boarding South West and then name has stuck ever since!

Loftzone StoreFloor is in our mind the best solution to raise your

loft boarding ensuring you have the recommended 270 mm of

insulation plus an air-gap to avoid condensation while still having

a storage floor in your loft. Installing this system won't invalidate

your NHBC (or similar) warranty, which all new build properties

have, unlike some other loft boarding solutions.

What types of loft boarding is there?

Typically loft boarding will be made up of OSB or chipboard,

which can be fitted as tongue and groove panels (which is what

we use). Oriented strand board (OSB) is a type of engineered

wood. Some carpenters might use sheets of MDF, chipboard

or OSB. DIYers might use any offcuts, floorboards or scaffold

planks they can lay their hands on. One loft we emptied recently

had old tea chests laid across the rafters to provide a 'floor'.

The advantage of using a system like LoftZone StoreFloor is

ADVERTISING FEATURE

that you can ensure that you have the recommended 270mm

of insulation and avoid issues with condensation, which will not

be possible if boarding is fixed to the joists. Fixing boards to the

joists invalidates the warranty in new builds because squashing

the insulation contravenes the building regulations, and will also

affect the thermal performance of the building and so your EPC

(Energy Performance Certificate) when you come to sell or rent

the property.

What are the benefits of Loft Boarding?

It makes it much easier to maintain any pipes, boiler, tank

or wiring that are in the roof, if you have some boarding. We

have lost count of the number of people who have booked loft

boarding having put their foot through the ceiling first! (Yes, we

can repair the hole.) Obviously the main benefit people think of,

is to have space to store little-used items such as Christmas

decorations, suitcases, the box from your electrical goods which

manufacturers recommend you keep, and maybe old children's

toys that you want to pass down to the grandchildren. Adding

loft boarding also gives you an opportunity to review the amount

of insulation you have in your loft, this is one area where more is

more. You definitely get your money back on adding insulating

products to your home.

Need more storage space?

Make use of your loft and create more space in your home

Loft Ladders Raised Loft Storage

Loft Lighting Insulation

Loft storage solutions for period and new build homes

that don't void your warranty

01373 813 438

www.loftboardingsouthwest.co.uk

www.minervamagazines.co.uk | 35
---
OF CLIFTON

Enhance the value & beauty of

your home with real timber

OF CLIFTON

Pantone

5497C

Black

specialists in conservation joinery

Whether your home is a country cottage, a Victorian semi, a modern townhouse or a converted barn, we have a

range of traditional and contemporary doors that will complement it perfectly.

Crafted from engineered timber using time-honoured skills combined with state-of-the-art techniques and design,

our traditional sliding box sash and flush casement windows bring all the comfort and benefits of modern day

windows whilst being entirely traditional in appearance satisfying listed and conservation regulations.

Our beautiful Clifton showroom provides the perfect, friendly environment to see and experience the fantastic

products on display and to talk to us about your home.

Showroom address: Timber Windows of Clifton, 29 The Mall, Clifton, Bristol, BS8 4JG

jo@timberwindowsclifton.com Tel: 0117 973 9700 www.timberwindowsclifton.com

Mendip Living - 165mm (w) x 240mm (h) +3mm bleed.indd 1 05/03/2020 12:25
---
Notes from the garden

Matt Biggs gives us some ideas for next year

Matthew Biggs, is a radio personality in the UK, best known for

his appearances on the long running BBC Radio 4 programme

Gardeners' Question Time. He has been a professional

gardener for over 25 years, since studying at Pershore College

of Horticulture and the Royal Botanic Gardens, Kew. Over the

past twenty five years, he has visited lots of gardens throughout

Britain, from small suburban plots and inner city allotments to roof

gardens and large country estates and written a number of books

including RHS Lessons from Great Gardeners: Forty Gardening

Icons and What They Teach Us, Matthew Biggs's Complete book

of Vegetables and Gardening at Eden: And how to do it at home.

Matt's tips for the

forthcoming springtime.

Summer saw some

extremes of weather - hail,

thunder, and torrential rain

interspersed with bouts of

very hot weather - and, just

occasionally, the weather

we would expect during the summer too!

Whatever the reason the way we use our gardens needs to reflect

how we want to use it - if we want wildlife, then there are big and

small changes we can make, from not concreting over the front

garden for parking to putting up an insect hotel, big and small

changes add up and make a difference so let's get going on

those - an early New Year's resolution maybe?

If you have a space that is challenging, oddly shaped, sloping,

very overgrown or you just don't have any inspiration, it is time

to call in the experts - from a complete landscape makeover

to some planting ideas, there are local firms who will provide

the expertise to make sure that your garden works for you.

After all, when you bought the house and garden it was a major

investment, so it seems like a great idea to benefit from every

inch of that investment - and nature can join in too!

If you don't have a garden, you can still grow plants. Indoor plants

add greatly to the feel of the home, you can give one to a child

so that they learn to care for it, you can have a herb filled window

box, you can grow stuff on a windowsill, there are so many ways

to get involved - and have fun!

Mendip Christmas

Tree Farm

The Authentic Christmas Tree Experience

Choose and cut, or freshly cut

T: 07508 399 366 W: mendipchristmastrees.co.uk

Located between Frome and Shepton Mallet at Dean on the A361

Sat Nav: BA4 4RZ

Open: Open from the last weekend in November to the last weekend before Christmas.

Opening Hours: Mon-Fri 10.00am-6.00pm | Weekends 9.00am until 6.00pm

Last Entry for Choose and Cut: 3.30pm

£2.00 OFF with this voucher

Members of the British Christmas Tree Growers Association

www.minervamagazines.co.uk | 37
---
NAVIGATING THE

FUTURE TOGETHER

ON YOUR SIDE, AT YOUR SIDE FOR:

For Businesses

For Individuals

• Land & Rural Estates

• Mergers & Acquisitions

• Lasting Powers of Attorney

• Residential Property

• Farm Succession Planning

• Commercial Contracts

• Family

• Wills & Inheritance

• Commercial Property

• Employment & HR

• Later Life Support

• Tax & Trust Advice

• Business Start Up

• Dispute Resolution

• Dispute Resolution

• Financial Planning

• Probate & Estate Planning

Our experts are here to help – get in touch today.

mogersdrewett.com | 01749 342323 | enquiries@mogersdrewett.com
---
ON YOUR SIDE...

AT YOUR SIDE

Mogers Drewett is a leading South West

law firm that takes pride in building longterm

client relationships. Our experts are

pleased to answer your questions…

Cara Burr

Associate Chartered Legal Executive

I DON'T HAVE A WILL. WHAT WOULD

HAPPEN TO MY ASSETS WITHOUT

ONE WHEN I DIE? Cara Burr

Under the Intestacy Rules, if you are

married/in a civil partnership without

children your spouse will inherit

everything. If you have children,

your spouse will inherit all personal

possessions and assets up to £270,000.

The remainder is then divided into two

halves; half for your spouse, and half

divided equally between your children.

If you are unmarried without children the

Intestacy Rules dictate which of your

family members inherit. Making a Will

is the only way for you to decide who

inherits your Estate.

ARE YOU EVER TOO YOUNG TO HAVE

A WILL? Kat King

The short answer is no. Anyone over 18

can and should make a Will to ensure

their wishes are met when they die. The

Will should be reviewed as time goes by

and updated to reflect any changes in

circumstances.

For example, you should consider making

or updating your Will when you buy a

property or if you receive an inheritance.

It is also vital to make a Will if you cohabit

(see question 3), have children, or if you

get married or divorced.

I LIVE WITH MY PARTNER, WE'RE NOT

MARRIED. WILL THEY INHERIT WHEN

I DIE? Cara Burr

Without a Will, your Partner won't inherit

your Estate, apart from any jointly owned

assets such as a property or bank

account. Your Estate would be divided

equally between your children (if any),

or by other family members, under the

Intestacy Rules. This could put your

Partner in the difficult position of having

to bring a claim against your estate under

the Inheritance (Provision for Family &

Dependants) Act 1975 because they

have not been provided for, which can be

costly, stressful and time-consuming.

I AM THINKING OF GETTING

DIVORCED BUT DON'T KNOW WHERE

TO START? Victoria Cobham

The actual divorce process (which is a

legal mechanism to end a marriage) is

only one of the necessary considerations.

It is important to also consider how

to deal with the finances and, if you

have children, agreeing their care

arrangements.

There are lots of resources available

online but, beware of misinformation.

Everyone's circumstances are different,

and it is vital to equip yourself with

correct information. A family lawyer

will be able to guide you and provide

bespoke advice.

HOW DO I KNOW IF I NEED A

SOLICITOR TO RESOLVE AN ISSUE?

WHERE DO I START? John Grace

Many clients delay making contact

because they are uncertain if speaking to

a solicitor will help or are worried about

the cost of an initial conversion. Our

advice is that these matters can often

escalate and cause a lot more worry and

cost if left. Most solicitors are experts in

their field and there will be one who can

give you detailed and full advice about

whatever your issue is. If a solicitor can't

help then they will confirm this to you

and if they can they have a professional

duty to make sure that you are aware of

the costs involved in them advising you

before they take any steps. Solicitors,

unlike unqualified individuals offering

legal advice, are required to maintain

professional indemnity insurance

cover, giving you comfort should things

go wrong. Websites such as Review

Solicitors, Chambers and Legal 500 are

great places to start to research which

solicitor is the right one for you and

details of all your local solicitors can be

found at on the Law Society website:

www.solicitors.lawsociety.org.uk

Mogers Drewett Wells

01749 342 323

Got a legal question you want to

ask the team?

Send us an email at

studio@minervapublications.co.uk and

we will pass it on to the team at

Mogers Drewett to answer.

Kat King

Chartered Legal Executive

Victoria Cobham

Associate Solicitor

John Grace

Compliance & Risk Manager

ADVERTISING FEATURE

www.minervamagazines.co.uk | 39
---
in Bath

SPECIALISING IN CHINESE AND ASIAN WORKS OF ART

Next

Auction in

November!

A Chinese Junyao

purple splashed

dish, 12-14th

Century. SOLD

£12,900 inclu.

premium

Above:

A Chinese

wucai 'dragon

& phoenix'

bowl, Jaiqing

(1796-1820)

SOLD £14,190

inclu. premium

Accepting

consignments

now

Pair of Chinese doucai 'Chicken' cups, Kangxi

(1662-1722) SOLD £8385 inclu. premium

Pair of Chinese

doucai wince

cups, Yongzheng

(1722-35) SOLD

£23,220 inclu.

premium

2 Princes Buildings, George Street, Bath, BA1 2ED Tel: 01225 318587

www.masanauction.com

A Chinese underglaze blue

and red 'Bajixiang' stem cup,

Qianlong (1735-96) SOLD

£28,380 inclu. premium

COMICS AND GAMES

COMICS • GRAPHIC NOVELS • TOYS • D&D

BOARDGAMES • WARHAMMER • YU-GI-OH

MTG • POKEMON • FNAF • FUNKO POP!

ACTION FIGURES • AND MORE

5 BATH PLACE, TAUNTON, TA1 4ER

krackerstaunton@live.co.uk

Tel: 01823 335057

www.krackers.com

f

40 | www.minervamagazines.co.uk
---
Tincknell Fuels

Your Local Fuel & Heating Specialist

l Reliable Deliveries

l Planned Payment Scheme

l Automatic Top Up Service

Services for Oil & Gas Heating

l Boiler Servicing & Installations

l Repairs & Maintenance l Care Plans

l Oil Tank Installations

Tel: 01749 683911

www.tincknells.com

www.minervamagazines.co.uk | 41
---
FIREWORKS

Keeping your dog safe, calm and happy

Seasonal fireworks celebrations

can be a stressful time for many of

our four-legged friends, with loud

noises and bright lights causing

fear, anxiety and unexpected

behaviour.

To help owners and dogs enjoy this

fireworks season more comfortably, The

Kennel Club has rounded up tips on

how to help dogs feel safe during the

celebrations this autumn.

Preparation is key

A major reason why fireworks scare dogs

is the loud and unexpected noise. You can

help prepare your dog by playing them

fireworks sounds in the weeks leading up

to fireworks night. This will help your dog

get used to the disturbing noise in the

safety of their home.

To help your dog feel secure and

comfortable, make sure they have a safe

den which they can retreat to if they feel

scared, and fill it up with their favourite

toys, blankets, an item of unwashed

clothing, and other items that make them

feel safe and calm.

Make sure that you walk and feed your

dog ahead of any evening displays. It

could be a while before it is safe to venture

outside again for a bathroom break and

they might not be able to eat later if they

are feeling very anxious.

To keep your dog safe, make sure you

shut all the doors and windows in your

home and draw the curtains. This can help

reduce some of the noise and block out

any scary flashes of light. Make sure that

your garden is escape proof and don't

forget to block off any cat flaps.

Keep calm and cuddle up

To help your dog relax while fireworks

take place, try to behave as normally as

possible and remain calm and happy,

sending positive signals to your dog. You

can also try distracting your dog from the

fireworks noise by having the TV or radio

switched on.

Reward their calm behaviour with treats

or playing, and don't tell them off - it is

natural for dogs to be scared of loud

noises and unfamiliar sights. Dogs might

choose to hide under the bed or behind

furniture, so make sure you are aware of

their whereabouts. If your dog comes to

you for comfort make sure to give it to

them and never try to force your dog to

face their fears.

Lost and found

The confusion and stress that fireworks

can cause to dogs mean more tend to

sadly go missing during the fireworks

season. It's important to be extra cautious

and ensure your dog doesn't escape or

run away during fireworks displays by

following the steps above and shutting

all windows, doors and other potential

escape routes ahead of time.

Early October is a particularly good time

of the year to make sure that your dog's

microchip details are up to date and that

they are wearing a collar and ID tag -

although this is important all year around.

Correct and up to date contact details

make it easier to locate and reunite lost

dogs with their owners.

More tips on how to keep your dog safe

and sound during the fireworks season are

available at The Kennel Club's website.

www.thekennelclub.org.uk

42 | www.minervamagazines.co.uk
---
Companions at Peace

Pet Cremation

Companions at Peace is an independent family

run business offering a very personal, caring pet

cremation service to bereaved pet owners.

We provide the very best in respect, care and dignity,

giving you total peace of mind, knowing we will look

after your companion from the moment you entrust

them to us, through to the time they are returned to you.

Collection Service • Farewell Room

Out of Hours Service provided

As a pet owner,

you do have

a choice,

you can choose

to entrust

your beloved

pet with us at

Companions

at Peace

We only carry

out genuine

individual

cremations

We do not

conduct

communal

cremations or

the incineration

of veterinary

clinical waste

Contact us on: 07900 654 440 • Find us on Facebook • www.companionsatpeace.co.uk

Antiques Bazaar

A Great Centre for Antiques and Collectables

OVER 75 TRADERS AT ONE LARGE VENUE

TRADING 7 DAYS A WEEK - FREE PARKING

Over 95 traders at one large venue

TRADING 7 DAYS A WEEK

The Old Textile Mill, South Street, Crewkerne. TA18 8AG

Tel: 01460 77121

Find us on Facebook: Antiques Bazaar

www.antiquesbazaar.co.uk

www.minervamagazines.co.uk | 43
---
after a diagnosis of dementia

What are the next steps?

A diagnosis of dementia can be a big shock

- for the person with the condition, and their

family. It can be difficult to know what to

do, what decisions need to be made, who

to tell, what support is available and what

happens next.

There can either be a lot of information

given to you at the time of diagnosis, or not

very much at all. Either way, whatever is

said to you at the time of diagnosis can be

forgotten in this emotional and challenging

time.

Dementia UK provides specialist dementia

support for families through the Admiral

Nurse service. Admiral Nurses give families

the compassionate one-to-one support,

expert guidance and practical solutions

they need to face dementia with more

confidence.

The families they work with want a simple

checklist of what to ask, what to do and

who to approach - so the important next

steps are clearly outlined in one place,

with links to more detailed information to

consider later, when it's needed.

The Dementia UK next steps checklist:-

This checklist has been written by dementia

specialist Admiral Nurses, to help in the

early days after you or your family member

has received a diagnosis of dementia.

For each item on the checklist, there is a

further link to additional information, as

and when you need it. If you don't have

access to the internet, you can contact the

Admiral Nurse Dementia Helpline for more

information and support

Ask whether there will be a follow up

appointment after the diagnosis.

44 | www.minervamagazines.co.uk

If yes, who will you see? How often? Who

makes this appointment?

Who will be your main point of contact?

Who will be responsible for coordinating

subsequent care and support?

Please record these details and your notes

in the Dementia UK Practical guide to

get the best out of GP and other health

appointments.

Arrange a Lasting Power of Attorney for:-

Health and welfare.

Property and financial affairs.

A Lasting Power of Attorney (LPA) is a

legal document, nominating a person to

make decisions on behalf of a person with

dementia, if and when the time comes

that they no longer have the capacity to

make these decisions themselves. It is

very important to fill in and register an LPA

for both health and welfare, and property

and financial affairs, while the person with

dementia still has the capacity to do so.

Discuss plans and wishes for the future

with your family, including:-

Your wishes regarding your future care.

Your wishes regarding your future medical

treatment.

Your hopes about your involvement with

activities.

An Advance Care Plan is a document that

outlines a person's future wishes for their

care and medical treatment.

Apply for a Carers' Assessment

Anyone with caring responsibilities for a

person with dementia is entitled to a Carers'

Assessment, to be carried out by their

Local Authority. The Assessment will look

at the impact that caring for a person with

dementia is having, and will then identify

the type and level of support that is needed.

This could include some care for the person

with dementia, some training or some help

coming in to the home. You will need to

request the Assessment from your Local

Authority.

Apply for all of the relevant financial

support you are entitled to:-

People with dementia and their family

carers are entitled to various benefits,

tax discounts or financial support. It is

important to make sure you are receiving all

of the financial help you are entitled to.

Organise your home so it helps you live

safely and independently

There are lots of simple, practical steps

that can be taken to help a person with

dementia to be safe and comfortable in

their home.

Inform the Driver and Vehicle Licensing

Agency (DVLA) and your vehicle

insurance company your diagnosis

People with a diagnosis of dementia do not

automatically have to give up their driving

licence – but you do need to take certain

steps to make sure you are insured and

abiding by the law.

Inform your employer about the

diagnosis

If you are diagnosed with dementia and still

working, it is very important that you tell

your employer, so that steps can be taken

to support you in your job, if possible.

Similarly, if you are caring for someone with

dementia, telling your employer about your

changing responsibilities will help you plan

together, so that you can continue working

and caring as effectively as possible.

For more information call 0800 888 6678 or

visit www.dementiauk.org.
---
We are independent funeral directors serving Frome and the

surrounding areas. With over two decades of experience, we

provide a personal, compassionate and professional service.

• Private Chapel of Rest

• 24 Hour Personal Service

• Arrangements made in your own home if required

• Pre-paid Funeral Plans with Golden Leaves

• Traditional and Green Funerals

Care, dignity and respect under the personal supervision of

Wayne Kelly

R20 Marshall Way, Commerce Park, Frome, Somerset BA11 2FE

01373 476277 | office@waynekellyfuneraldirectors.co.uk

www.waynekellyfuneraldirectors.co.uk

The best person to advise you on your

funeral plan is your local funeral director….

Call me now.

What is a Funeral Plan?

A funeral plan allows you to:

• Pay and plan for your funeral in advance

• Helps to reduce stress and worry for your loved ones

• Fixes the cost of the services in the plan at today's prices

Why Talk to Us?

Who better to talk to about your funeral plan than a local

professional who organises funerals on a day-to-day basis?

We have an unblemished record of 5-Star Google Reviews and

our testimonials speak for themselves - if you want good honest

advice with absolutely no obligation then please do get in touch!

01749 670 100

wellsfuneralservices.co.uk

46 | www.minervamagazines.co.uk
---
The Fireplace Fitters Shop

Suppliers & Installers

The Fireplace Fitters Shop is a family-run business, with over 25 years of experience in the

fireplace industry. We offer a wide range of products online and from our showroom located

in Frome, Somerset. We specialise in the supply and installation of heating products for

the home from some of the leading manufacturers in the industry.

We offer a full fitting service carried out by our fully qualified HETAS & Gas Safe Registered

installation teams, plus free home surveys and estimates. You're sure to find something in

store that's perfect for your home.

7 Christchurch St East, Frome BA11 1QB 01373 472827

www.TheFireplaceFittersShop.co.uk

f

i
---
TWO THOUSAND

BEAUTIFUL HANDMADE

ARTISAN RUGS AND KILIMS

ONE MILLION NEW,

USED, & RARE BOOKS

C AFÉ ~ COFFEE & CAKE

OPEN 7 DAYS 9AM~5PM

SUNDAY 11AM ~5PM

Bristol

A37

Bath

Free Rug & Interior Design Advice

01761 451764

www.orientalrugsofbath.com

Wells

A39

Books By The Yard For Home Décor

01761 451333

www.bookbarninternational.com

Bookbarn, Wells Road, Hallatrow, Bristol, BS39 6EX

(Junction of A37 and A39 - 12 Miles from Bath, Bristol, and Bristol Airport)

MENDIP LIVING.indd 1 23/04/2021 12:11:04