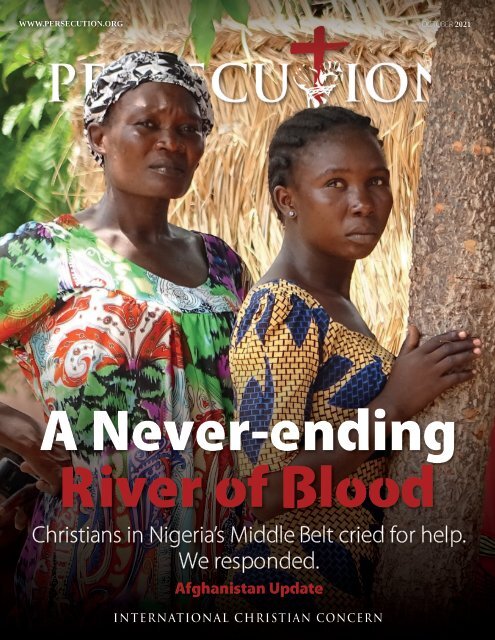 October 2021 Persecution Magazine
Create successful ePaper yourself
Turn your PDF publications into a flip-book with our unique Google optimized e-Paper software.
WWW.PERSECUTION.ORG

OCTOBER 2021

A Never-ending

River

PERSECU

of

ION.ORG

Blood

INTERNATIONAL CHRISTIAN CONCERN

PERSECU ION.ORG

Christians in Nigeria's Middle Belt cried for help.

INTERNATIONAL CHRISTIAN CONCERN

We responded.

Afghanistan Update

PERSECU ION.ORG

INTERNATIONAL CHRISTIAN CONCERN
---
In This Issue

4 | Your Dollars at Work

Learn how your gifts are providing comfort, relief, Bibles,

education, and vocational training for the persecuted.

8 | West Watch

A glimpse at issues involving Christianity in the West.

10 | Emergency Appeal

Christians in Afghanistan need our help now.

12 | Hope for the Present

Find hope and victory in the messages of the persecuted.

14 | How Long, O Lord?

The never-ending river of blood coming from Nigeria's Middle

Belt region is largely ignored by those in power. How long until

their cries are heard?

18 | A Land in Turmoil

The effects of religious persecution ring across Nigeria's Middle

Belt. ICC's latest trip to the country revealed the faces behind the

headlines.

20 | A Dangerous Dream

Access to education is impacted by the violence sweeping across

Nigeria.

22 | Rebuilding Communities One Farm at a Time

ICC helps restore Nigerian communities once devastated by

terrorist attacks.

28 | Rising from the Ashes

Two men share their stories of persecution.

14

22 28

2 PERSECU ION.ORG

OCTOBER 2021

INTERNATIONAL CHRISTIAN CONCERN
---
"All my bones will say, 'Lord, who is like You,

Who delivers the afflicted from him who is too strong for him,

And the afflicted and the needy from him who robs him?'"

- Psalm 35:10

Dear friend,

This month's magazine is focused on Nigeria—the bullseye of persecution in the world. But the

big story surrounding persecution at the time of finishing this newsletter is Afghanistan. Because a

magazine takes months to prepare, we couldn't cover it in this issue, but I thought I would give you a

quick update.

Almost all Christians in Afghanistan are converts from Islam. According to Muhammad and Islam,

these are apostates and they need to be killed. While most Christians in Afghanistan are underground,

there is a small group of believers that has been open about their faith. These are the most vulnerable.

Given the danger to these believers, we have been working behind the scenes on Afghanistan for the

last couple months, long before the collapse (Page 10).

Most organizations "parachute in" during a crisis. They throw money around and then leave when the

headlines dry up. That's not us.

We stick with the victims and work with them for the long term. I suspect we will be caring for many

of those who escape Afghanistan for the next year, if not more.

Soon, we will go to work on the second phase: to spread the Gospel to the lost souls in Afghanistan

and to reveal His light and draw those in darkness to it.

If you are able, please give to our rescue efforts in Afghanistan at: www.persecution.com/initiatives/

afghanistan-in-crisis.

Jeff King

President: International Christian Concern | Persecution.org

Author: Islam Uncensored and The Last Words of the Martyrs

Podcast Host: Into The Deep

PERSECU ION.ORG

INTERNATIONAL CHRISTIAN CONCERN

3
---
Your Dollars at Work

ICC'S ONGOING INITIATIVES

COVID-19 Crisis Fund

Earlier this year, we witnessed a deadly second wave of COVID-19

sweep across India. Across the country, persecuted communities

struggled to keep their families afloat due to health crises, lockdowns,

job discrimination, and other trials. Through the COVID-19 Crisis Fund

that was already in place, we provided emergency aid to many families

in need. One pastor reported, "At this time of corona and in our financial

crisis, ICC has remembered the servants of God and blessed us with all

these provisions. We are thankful to ICC for providing groceries in our

tough, dark days. It's [a] huge blessing from God through ICC. We will

definitely pray for you all. Keep praying for us and our ministry."

Bibles and Bikes

Over the past few years, ICC has equipped evangelists throughout

rural India with the tools necessary to further their Gospel outreach

efforts. By providing them with Bibles to distribute and bicycles to

transport them from village to village, their effectiveness increases

dramatically. One pastor shared, "[For] eight years, I [have been] doing

the ministry and I do not have any personal vehicle for the ministry and

going around for the outreach ministry. [For the] last five years, I was

praying and trying to get help from different [organizations]. Nobody

helped me. Recently, I came to know about ICC and requested [the]

help of a tricycle and immediately I have received the help from ICC…

Thank you so much, ICC."

Generation Transformation

In addition to our efforts to bandage communities after incidents of

persecution, we also strive to equip believers with the tools to tackle

the root causes of persecution. By addressing educational deficits and

job discrimination in our Generation Transformation program, we

empower persecuted Christians to provide for themselves and rise to the

top of the employment pool. Through this program, we are providing

motivated Christian students with tuition so that they can continue their

education in high school and college. Although Christian students are

often denied access to a quality education, removing the obstacle of

tuition costs puts them on even ground with their Muslim peers.

To learn more about how you can support these initiatives, visit www.persecution.org or give us a call at 800-422-5441.

4 PERSECU ION.ORG

OCTOBER 2021

INTERNATIONAL CHRISTIAN CONCERN
---
Rescuing a Martyr's Family in Kenya

Rescue: Wives and Kids

Joshua was a Christian farmer, husband, and father of five who lived

in eastern Kenya. For several years, Somali Muslim herders have

harassed Christian farmers in Kenya by letting their cattle graze on

local Christians' farms, falsely claiming that the Christians do not own

the land.

Last year, these tensions escalated when Joshua attempted to drive

a herd of cattle belonging to Somali herders off his farm. Suddenly,

three herdsmen emerged from the bush and attacked Joshua. Although

his wife heard the commotion and rushed out to check on him, it was

already too late. She found her husband unconscious and he died

shortly thereafter.

Through his farm, Joshua was the main provider for his family,

which has left his family scrambling to keep food on the table since his

passing. In addition to day-to-day necessities, the family required support

for their youngest daughter who needed a wheelchair and regular

physiotherapy sessions.

Joining hands with local partners, ICC stepped in to provide the

family with food aid, clothing, and medical assistance for their young

daughter.

Joshua's widow expressed, "When we saw you entering the gate, we

thought it was a normal visit to come and pray with us like you and

the pastor did when we lost [Joshua]. To our surprise, you told us to

empty the vehicle that was packed with food and other valuable items.

We were shocked."

She continued, "I was very happy to receive a modern wheelchair for

[our daughter], who has been using a metallic chair cushioned with old

mattresses. She also started smiling when we transferred her to her new

wheelchair. I can tell when she is happy about something, and today

she is the happiest child on the whole earth... I do not even know what

to say. This is an act out of this world."

PERSECU ION.ORG

INTERNATIONAL CHRISTIAN CONCERN

5
---
Your Dollars at Work

COVID-19 Aid

for Church

Leaders in

Nepal

Restore: Lives and

Communities

The impact of COVID-19 was felt around

the world, but particularly so in persecuted

communities that were already struggling

pre-pandemic. In Nepal, the effects of the

pandemic were devastating. It is estimated that

more than 10,000 people died and more than

half a million were affected by the virus. Due

to the spread of COVID-19 and the resulting

lockdowns, the country's economy was also

shattered.

This economic downturn included the

closure of more than 12,000 churches. As a

result, pastors and church leaders across the

country lost their jobs overnight. Many of

these church leaders relied on the support

of their congregations to feed their families.

Unfortunately, the government made matters

worse by denying these believers crucial food

assistance on account of religious bias.

In response, ICC teamed up with local

churches in Nepal to bring food relief to

pastors and church leaders in need. We

particularly focused on directing aid toward

those who have faithfully served the Lord in

the region for many years and those who had

the highest level of need.

In addition, the food packages also provided

the Christian community with much needed

encouragement. Although the Christian

community has been cast aside by the

authorities who should be protecting them,

these aid packages remind them that they

are not alone and that they have brothers and

sisters around the world who are standing by

their side.

6 PERSECU ION.ORG

INTERNATIONAL CHRISTIAN CONCERN

OCTOBER 2021
---
Bringing Clean

Water to Iraq

Restore: Lives and

Communities

In 2014, ISIS invaded Iraq's Nineveh Plains,

displacing most local Christians from their

homes. Over time, as ISIS militants realized

their defeat was inevitable, they doubled

down on their efforts to damage infrastructure,

making it difficult for displaced Christians to

return home.

While many persistent families are slowly

making their journey home, one of the largest

obstacles in their path is the lack of reliable,

clean water. Therefore, ICC has been digging

wells across the region to provide clean water

for returning families.

We recently installed our fourteenth well in

the area, which will provide access to clean

water for at least 10 local families. One beneficiary

noted, "Thank you so much for helping

the area get stabilized. Our deep appreciation

for your contribution toward that."

Preparing Pastors

for Persecution

Messengers: Underground

Workers

Since the rise of the BJP in India, Christians

across the nation have experienced a surge

in violence and harassment. In response, ICC

has led Persecution Preparedness Trainings in

India since 2016. ICC has trained pastors and

Christian leaders from rural communities on

how to avoid, mitigate, and manage instances

of persecution.

We recently printed the training materials

in five Indian languages: Telugu, Tamil,

Kannada, Odiya, and Hindi. These materials

will be distributed within hotspots of Christian

persecution to equip and train Christians who

are most in need.

Participants in the program will be able

to keep the booklets as a tool to respond to

persecution in the future. The materials can

also be reprinted to serve others in the wider

region.

Emergency Aid for

Attack Survivors

Rescue: Wives and Kids

I

n 2019, Adamu's family was devastated by

a Fulani militant attack in central Nigeria.

In an instant, he lost seven immediate family

members and their home was burned down.

Several others sustained injuries, including

Adamu himself who was shot in the leg.

As a farmer, Adamu was his family's primary

breadwinner, but he is now unable to tend

to the farm due to his leg injury. Although his

wife operates a small food business, the family

struggles to earn enough income to support

their five children.

ICC came alongside this family to alleviate

their financial burden by providing food aid

in the form of maize, rice, and beans. We also

covered Adamu's hospital bills and paid for

his surgery.

PERSECU ION.ORG

INTERNATIONAL CHRISTIAN CONCERN

7
---
West Watch

ISSUES INVOLVING CHRISTIANITY IN THE WEST

Church Buildings Burned in Canada and U.S.

Churches in Canada and the United

States were recently vandalized

after revelations of mistreatment

of indigenous children in Canada

by mostly Catholic-run schools

surfaced. Officials are still investigating the

incidents.

A Coptic Orthodox Church in Surrey,

British Columbia was burned, adding to the

now 45 churches attacked in Canada in recent

weeks.

The Coptic community is heavily persecuted

in Egypt, and Christians often flee the country

for safety elsewhere. Incidents like the recent

vandalism of the Coptic church in Canada are

a stark reminder of the community's difficult

history.

In the United States, protestors in Portland

have vandalized four Catholic churches in

the last two months. Father George Kuforiji,

pastor of St. Francis of Assisi Church, told

the Catholic Sentinel that he was extremely

saddened by the crimes against their church.

Matias Perttula, Director of Advocacy

at International Christian Concern, also

commented on the incidents, saying, "The

attacks on churches in Canada and the United

States are a sobering reminder of the growing

anti-religious and anti-Christian hatred in the

West. The lack of severe condemnation of the

attacks from public leaders is disheartening

and more needs to be done. History is filled

with difficult memories of atrocities and

crimes that mankind has committed against

each other, but the response to the painful

history must be measured and productive.

Burning down churches is not the answer. It

is evil, wrong, and only perpetuates a climate

of hatred."

Sam Brownback, who served as the

Ambassador-at-Large for International

Religious Freedom for the Trump

Administration, recently called the current

time "the most persecuted era of Christianity

in the history of mankind" during the 2021

International Religious Freedom Summit.

According to data from the Pew Research

Center, Christians are the most persecuted

religious group in the world, with more than

300 million facing persecution.

8 PERSECU ION.ORG

INTERNATIONAL CHRISTIAN CONCERN

OCTOBER 2021
---
Regulation of Religion

Baker Back in Court

In July, the French Parliament passed a law giving the government more control over religious

organizations and their activities. The new legislation grants the government the power to

close any houses of worship and dissolve any religious organizations it deems are provoking

violence or inciting hatred. Additionally, religious organizations are now required under the law

to obtain a government permit every five years to operate.

The new bill comes at a time when the French government is pushing France toward its model

of secularism to unify the French people. French politicians began a more concerted effort to

make this push following a series of terrorist attacks driven by religious extremism last year.

Although freedom of conscience and freedom to practice religion are enshrined in French

law, President Macron and his allies have increasingly emphasized that this freedom only exists

within the bounds of "public order." As a result, the French government continues its attempts

to reign in religious groups into a mold of French secularism—a move that many are calling a

drastic overstep into individual freedoms of the French people.

ack Phillips, owner of Masterpiece Cakeshop, gained national attention in 2018 when Phillips

J was sued by a gay couple for discrimination in a case that went all the way to the Supreme

Court. He is now being sued again for refusing to bake a cake for a transgender woman.

Autumn Scardina, the plaintiff in this year's case, called Masterpiece Cakeshop and

specifically requested a pink and blue "birthday" cake to symbolize her transition in response

to the comments made by Phillips in the prior case. After the bakery declined to bake the cake

because of the message, Scardina filed a discrimination suit and won in a Colorado trial court.

Kristen Waggoner, General Counsel of Alliance Defending Freedom (ADF) who is defending

Jack in court, said, "Radical activists and government officials are targeting artists like Jack

because they won't promote messages on marriage and sexuality that violate their core

convictions. This case and others… represent a disturbing trend: the weaponization of our

justice system to ruin those with whom the activists disagree."

ADF intends to appeal the trial court's decision, potentially laying the groundwork for a

second appeal to the Supreme Court for Jack Phillips and Masterpiece Cakeshop.

Defending Their Evangelical Identity

Cornerstone Adoption and Fostering Service, a Christian adoption agency based in England,

continues to defend its decision in Britain's courts to place children exclusively with

heterosexual couples.

Aidan O'Neill, Cornerstone's attorney, recently told the court that there is an "intimate link

between evangelical identity and an acknowledgement that sexual intimacy is to be enjoyed

exclusively within a marriage between two persons of the opposite sex."

In 2019, the UK's Office for Standards in Education, Children's Services and Skills (Ofsted)

downgraded Cornerstone's former official "good" status to "requires improvement" due to

unlawful discrimination against same-sex couples and non-Christians. In 2020, a British trial

court heard Cornerstone's case and the judge ruled that the agency was not allowed to require

all of its foster couples to be straight.

This case comes on the heels of a similar case in the United States. Over the summer, in Fulton

v. Philadelphia, the U.S. Supreme Court ruled in favor of a Catholic adoption agency that had its

license revoked by the City of Philadelphia for only placing children with heterosexual couples.

PERSECU ION.ORG

INTERNATIONAL CHRISTIAN CONCERN

9
---
Emergency Appeal

CHRISTIANS IN AFGHANISTAN NEED OUR HELP NOW

NOWHERE

TO RUN

Christians in Afghanistan are in extreme danger as the

Taliban target them.

By Jeff King

10

PERSECU ION.ORG

INTERNATIONAL CHRISTIAN CONCERN

PERSECU ION.ORG

INTERNATIONAL CHRISTIAN CONCERN

OCTOBER 2021
---
The Taliban takeover of Afghanistan was

stunning. While its speed surprised many,

ICC had been working behind the scenes

for months, as we knew where things

were headed.

We moved money into the country two months

before the collapse, so that when things fell apart, we

would have the resources to help the most vulnerable.

About a month before the collapse, we pulled some

of the most vulnerable families out of the country.

As the collapse quickened, we brought 100 more

of the most vulnerable Christians to the Kabul airport

to get them onto planes and out of the country. But

the bombs went off, and that route was shut down.

While panic ensued throughout the NGO world,

we simply adapted our plans. I've always felt and

communicated to our staff that we are the Special

Forces of the Church. We are bold and go where others

can't. We solve complex problems, we improvise,

and we get the job done!

So, after the bombing at the airport, we adapted

our plans. Within a few days of the Taliban takeover,

we received a large group of the most vulnerable out

of the country.

We will continue to support Afghan Christians,

either getting them out of the country or caring for

them when they come out. They will need a lot of

ongoing care for many months to come.

The total cost for rescue and ongoing care is above

$1 million. If you can help, it will be greatly appreciated.

Finally, know this: most of the Church in

Afghanistan is staying put! These heroes know the

road ahead is extremely dangerous, and yet, they cannot

abandon their call given by the Father: to reach

the dead around them and bring them to life, even if

it costs them their lives.

After this initial rescue phase we find ourselves in,

we will focus on bringing the Gospel to Afghanistan.

Stay tuned and know that the Church is eternal and

always advancing.

The River of God never stops flowing and will fill

the whole earth regardless of any temporary setback!

If you would like to learn more

or donate, please visit www.

persecution.org/initiatives/

afghanistan-in-crisis, or scan the

QR code with your mobile device.

PERSECU ION.ORG

INTERNATIONAL CHRISTIAN CONCERN

11
---
Hope for the Present

Tell My Family I Died Well

"For me to live is Christ, and to die is gain. If I am to

live in the flesh, that means fruitful labor for me.

Yet which I shall choose I cannot tell. I am hardpressed

between the two. My desire is to

depart and be with Christ, for that is

far better." - Philippians 1:21-23

The following is an excerpt from Jeff King's upcoming devotional book focused on spiritual lessons from the persecuted. For information about

pre-orders, please contact: moreinfo@persecution.org.

The sharp blade of a machete cut the

ropes that tied Pastor Ojih's feet

together. Rough hands jerked him to

his feet from the ground where he had laid for

hours, singing praises to God with his cheek

pressed into the dirt.

Pastor Ojih and several other Christians had

been captured by radical Islamists, bound,

and left alone to contemplate their fate under

the scorching heat of Nigeria's sun. They

were told to stand and decide their fate.

"If you want to live for Christ, go to this

side," his captor said, jerking his hand toward

a man dressed in white with a sword who

stood apart from the captives. "If you want to

go for Mohammad, remain where you are."

Pastor Ojih led the way for those who would

stand for Christ with a song of praise coming

from his lips. Seven others followed. He

watched, with tears in his eyes, as the men

who turned to Islam to save their lives began

to recite the Arabic vows to convert to Islam.

Pastor Ojih kneeled in front of his

executioner and was given one last chance.

His executioner raised his sword and asked

him if he wanted to live as a Muslim or die

as a Christian.

The husband and father of four turned to his

companions and spoke his last words. "If you

survive, tell my family that I died well and

am living with Christ. And if we all die, we

know that we died for the Lord."

After hearing the testimonies of so many

martyrs over the years, I'm struck by the fact

that in account after account, you will find

that the death of the martyr often involves a

conscious choice. They are given a choice to

turn away from Christ and live or to die in

Christ.

If you are like most people, when you read

accounts like Pastor Ojih and these early

Christians, you are struck by their courage

and are probably asking yourself, "Could I

do what they did? Could I die as a faithful

witness with a sword over my neck?"

In Luke 14:33, Jesus says, "Any of you who

does not give everything he has, cannot be

my disciple." Are we willing to give up

everything, even our own life, for God? He

demands our everything, and yet we hold

back. Our love for the world and its comforts

often rivals our love for the One who offers

us the greatest of treasures, an unconditional,

incomprehensible love and the gift of eternal

life.

Jesus calls us in Matthew 22 to love the

Lord with all of our heart, soul, and mind.

The martyrs are an inspiring example of

what loving the Lord with all that is within

us looks like. They're not just being willing,

but purposefully choosing to lay down

their very life in order to demonstrate just

12 PERSECU ION.ORG

INTERNATIONAL CHRISTIAN CONCERN

OCTOBER 2021
---
O C T O B E R

WEEKLY

PRAYERS

Take one week this month to pray

for the persecuted.

MONDAY

Please pray for the individuals and

families who have lost everything

due to Fulani attacks.

TUESDAY

Please pray for the children who are the

youngest and most vulnerable victims

of violence in Nigeria.

WEDNESDAY

Please pray for strengthened

communities and bountiful harvests

at ICC-sponsored farms.

how invaluable the love of God is. They

consider the cost of their life a small price

to pay for the great reward of being found

faithful in Him.

Ojih and the apostles' fate was sealed long

before they met their executioner. Why?

Because they had found the ultimate

treasure that was worth everything to

PERSECUTION PODCAST

Into the Deep features stories from those

who have suffered for Christ.

Into the Deep contains captivating and in-depth stories

about Christian persecution around the world. Jeff

King takes you on a spiritual journey that is insightful

and heartbreaking.

Get ready for your faith to be transformed. Listen to the

latest episode at www.persecution.org/icc-podcast.

PERSECU ION.ORG

INTERNATIONAL CHRISTIAN CONCERN

them. This is why death (eternal life) is

their choice.

So I think a more important question is:

Can we live like Pastor Ojih?

THURSDAY

Please pray for a wake-up call for

Nigerian government officials to

protect Christians.

FRIDAY

Please pray for the families that

have lost their breadwinners and are

without financial support.

SATURDAY

Please pray for the hearts of the

terrorists to soften and to repent of

their evil ways.

SUNDAY

Please pray for strength for the

Church in Nigeria, as it is under

constant attack.

To download our monthly prayer

calendar, visit:

www.persecution.org/

take-action/prayer-calendar

13
---
How

Long,

O Lord?

The never-ending river of blood

coming from Nigeria's Middle Belt

region is largely ignored by those

in power. How long until their

cries are heard?

By Jeff King

14 PERSECU ION.ORG

OCTOBER 2021

INTERNATIONAL CHRISTIAN CONCERN
---
A beneficiary praises God for the blessing of the farm.

For the last two decades, the cries of Nigeria's murdered and

broken Christians have haunted me.

Every week, a new village is attacked by armed Fulani militants

(a Muslim tribe in Nigeria). Sometimes, the attacks are small,

sometimes large, but like clockwork, they come. The number of

victims is staggering.

Boko Haram (an armed radical Islamist group) operates in

northern Nigeria, and the total number of Christians murdered

by this group is massive. No one knows the actual number, but

it's somewhere between 50,000 and 70,000 since the group was

founded in 2002.

In addition to the murdered, these terrorist groups have driven 2 to

3 million Christians from their homes.

That is why, outside of North Korea, the most dangerous place to

be a Christian is arguably Nigeria's Middle Belt region.

A Problem that Never Goes Away

Despite this massive and never-ending river of blood, the Nigerian

government seems completely unable to deal with the problem.

For 20 years, they've told the West that the problem is complicated.

They call it a tribal conflict and yet the majority of the victims

are Christian. They say that the perpetrators are sneaky and

impossible to catch, but their efforts, exemplary.

The government's constant refrain is that they are doing the best

they can.

The truth is far more disturbing.

PERSECU ION.ORG

INTERNATIONAL CHRISTIAN CONCERN

15
---
The Smartest Guys in the Room

The Fulani are a Muslim, nomadic, cattle-herding tribe. They and their

cattle (a huge source of wealth) are inextricably linked. The Fulani are

also known as the smartest guys in the room. For hundreds of years,

they have been the tribe that could see over the horizon and know how

to play power games. This tribe runs circles around the other tribes.

The days of nomadic herding are coming to an end in Nigeria. I suspect

the Fulani saw this coming 20 years ago and realized the way to ensure

their wealth and place at the top of the food chain was to attack the

Christian farmers of the Middle Belt and seize their land by force.

Combine this with an explosion of Islamic terror funding by the Saudis

and Gulf States that started in the 90s and you have, in my opinion, a

fair explanation of what has played out in Nigeria.

In any other pluralistic society, the violence would have been dealt with

or at least responded to. But there's one more factor that ensures the

problem has never been dealt with.

The Fix

When the country was given its freedom by the British, Muslims gained

control of the state security forces, including the police, the military,

and the intelligence agencies.

It may be impolitic to say, but this is the reason the problem has never

been fixed. It's a land jihad and religious jihad that has been covered

up and tacitly allowed by the state. It's a silent jihad since the lies

of the Nigerian government—calling the situation exemplary and

unstoppable—have defined the narrative in the West.

Touching the Broken

All of these factors have left Christians of the Middle Belt scared,

scarred, and scattered. Forced off their lands, the lucky find refuge with

family or friends, while those without connections live as refugees in

their own country.

They no longer have their farms, their source of income, sustenance,

or stability. Without this, they are forced to beg or look for small jobs

to provide for their families. This makes them a burden on society and

takes their dignity away after they've already been cut off from their

lands and their identity.

How Long, O Lord?

Their cries for justice are ignored by the state, so it is up to the Body to

take care of its own. In the following pages, you will see how believers

from around the world are aiding their broken brothers and sisters in

Nigeria and restoring their hope and livelihoods.

The widow and the orphan are being rescued and restored in Nigeria.

The children of victims are receiving an education. Those whose lands

were stolen are farming again and providing for their families.

This is my great comfort. The cries of the murdered still reach me,

but I am comforted by the knowledge that we are touching many and

improving their lives.

Those who are impacted are amazed that their brother and sister from

10,000 miles away heard their cries and reached down into the pit to

rescue them.

They express to us their great gratitude to you, the donor, and to ICC.

But overwhelmingly, those rescued are humbled because they know the

Lord moved you to touch them.

PERSECU ION.ORG

INTERNATIONAL CHRISTIAN CONCERN

PERSECU ION.ORG

INTERNATIONAL CHRISTIAN CONCERN

16 PERSECU ION.ORG

OCTOBER 2021

INTERNATIONAL CHRISTIAN CONCERN
---
NIGERIA FACT SHEET:

POPULATION OF NIGERIA:

219,463,862

SIXTH LARGEST IN THE WORLD

THREE MAIN TRIBES

HAUSA/

FULANI (HF)

IGBO

28%

MUSLIM

YORUBA

20%

CHRISTIAN

RELIGION:

U.S. Census Bureau

THE

MIDDLE

BELT:

THREE

GROUPS RAIN

TERROR ON

CHRISTIANS

DID YOU KNOW?

Nigeria is one of the worst

places for Christian persecution

today. Millions of Christians

have suffered at the hands

of the Muslim majority in

the northern region and

at the hands of multiple

Islamic extremist groups

throughout the country.

The Nigerian government

has failed to protect its

Christian citizens. Not only

does Nigeria have issues

PERSECU ION.ORG

due to political and ethnic tensions, but it

INTERNATIONAL CHRISTIAN CONCERN

is arguably the most violent and deadly place to

be a Christian in the world today.

PERSECU ION.ORG

INTERNATIONAL CHRISTIAN CONCERN

PERSECU ION.ORG

INTERNATIONAL CHRISTIAN CONCERN

17
---
A LAND IN

TURMOIL

The effects of religious

persecution ring across

Nigeria's Middle Belt. ICC's

latest trip to the country

revealed the faces behind

the headlines.

By Jay Church

The ground was freshly muddy,

causing tire tracks and mud splashes

everywhere, but for the seedlings

in the ground, the rain was a lifeline.

Something so simple as a sprouting seed

carried the weight of the livelihood of so

many Nigerians.

Nigeria's troubled Middle Belt region

was just entering its rainy season when

two staffers from ICC's headquarters

landed in Abuja in June—their first trip to

the country since COVID-19 broke out in

the early months of 2020.

Farmers in the surrounding states were

busy readying their fields for the rains,

looking forward to the satisfaction of

seeing shoots come up and crops ripen

as the wet summer months progressed.

Some were fortunate enough to see this

come to pass. It was a blessing for them

to see another season of rain.

But others, victims of religious

persecution, experienced devastation as

ravaging malicious groups swept through

their farmland, hacking down hundreds

of acres of crops, setting fire to houses,

and attacking and killing villagers.

Their livelihoods were destroyed, and

many were left directionless, asking

themselves, "What do we do now?"

To bring assistance to the region, ICC

helped develop several farms in the

Middle Belt. Headquarters staff (from

Washington, D.C.) and local staff

travelled around Nigeria for two weeks,

checking in on the farmers and listening

to their stories.

Each story was unique, but they shared

common threads of loss, grief, and hope

for the future.

PERSECU ION.ORG

INTERNATIONAL CHRISTIAN CONCERN

18 PERSECU ION.ORG

OCTOBER 2021

INTERNATIONAL CHRISTIAN CONCERN
---
ICC's communal farms are a huge part of the

solution for these persecuted communities, but

they aren't everything. The Nigerian government's

lackluster response to the malicious groups, Fulani

militants and Boko Haram, allows them to roam

about, largely impervious to prosecution for their

crimes.

In fact, during the June trip, there were many reports

of attacks and murders. On his way back from the

market, an ICC farm beneficiary was killed in an

ambush. An act as innocent as gathering household

supplies can result in a death sentence.

In another village where ICC works, four people

lost their lives in an attack, including a five-yearold

girl and a woman who was eight months

pregnant. Women and children in Nigeria's Middle

Belt do not have the luxury of living in peace

without wondering in the back of their minds if

they are safe or in danger.

ICC's staffers missed a daylight abduction

outside a village they visited by about an hour.

The militants blocked the highway and abducted

several carloads of people, taking them into the

bush to demand a ransom.

Areas all throughout the Middle Belt are waiting

targets for religious persecution at the hands of

Boko Haram and Fulani militants. Every day is a

game of roulette—not a matter of if the bullet will

fire, but when.

The government of Nigeria casts itself as a helpless

actor, struggling valiantly against overwhelming

sectarian violence. The narrative goes that

Nigeria's main problem is a lack of resources.

While there is a grain of truth to this argument,

the government is largely misusing the resources

it already has and failing to use its capacities to

protect Christian communities fairly in the central

and northern parts of the country.

As with every trip to the field, the biggest takeaway

is the personal cost of persecution.

Numbers and statistics can be helpful, but nothing

can replace seeing the faces of the persecuted,

speaking with them, and hearing their hopes for

the future.

May the Church around the world continue in

steadfast prayer for our persecuted brothers and

sisters in Nigeria.

Opposite: Oxen are often

the most economical and

efficient way to plow fields

in Nigeria. Many local

communities' livelihoods

revolve around crops.

Top: Beneficiaries spray

pesticides on an ICC farm

in Plateau State, Nigeria.

Middle: A young man

talks about his work on

an ICC farm.

Bottom: A Fulani herdsman grazes

his cattle right next to an ICC farm

in Nigeria.

PERSECU ION.ORG

INTERNATIONAL CHRISTIAN CONCERN

19
---
A DANGEROUS DREAM

Access to education is impacted by the violence sweeping across Nigeria.

By Jay Church

Education. For some, the word represents

a frustrating stop on the way to so-called

"real life." But for others, education

means so much more—it represents new

beginnings, hope, and a better future.

Sometimes this hope is realized, but for

persecuted communities around the world,

academics are often nothing more than a

wish; a subtle longing drowned out by the

overbearing realities of everyday life under

religious oppression.

This is the case for many Christian

communities in Nigeria, where militant groups

kill thousands every year. There, education

often falls victim to the war of religious

extremism being waged around it.

The Issue of Widespread Violence

The media and governments tend to focus

most of their attention on well-organized

terrorist organizations like Boko Haran and

the Islamic State. But think tanks and human

rights watchdogs, including ICC, have warned

for years that Fulani militancy—decentralized

and harder to pin down than organized terrorist

groups—actually present a far bigger threat

to the civilian population, particularly within

Christian communities.

Years of sectarian violence in Nigeria have put

tens of thousands of Christian families into

cycles of poverty that do not allow the luxury

of a formal education. Whether due to school

uniforms, books, transportation, or tuition

fees, education is costly.

Schooling is viewed as an optional expense

for many in Nigeria, a luxury afforded to

those with extra income. Spending money on

education is not possible for some families,

many of whom were kicked off their land or

suffered the loss of valuable crops at the hands

of roaming marauders.

The Issue of Secure Schools

However, a lack of resources is not the only

problem facing Nigerian Christians trying

to access an education. Security is also a

problem, as seen most famously when Boko

Haram kidnapped 276 mostly Christian

girls from a school in Chibok in 2014. Other

criminal groups have followed suit, targeting

schools in particular since desperate parents

are especially willing to pay ransoms.

Roughly 1,000 schoolchildren were kidnapped

in the first half of 2021 alone from a range of

20 PERSECU ION.ORG

OCTOBER 2021

INTERNATIONAL CHRISTIAN CONCERN
---
schools, including government, Muslim, and Christian institutions.

When attackers kidnapped more than 120 students from Bethlehem

Baptist School in Kaduna, authorities shut down 13 mostly Christian

schools in response, citing fears that they could be targeted next.

In the weeks following that kidnapping, parents of the children

gathered funds to pay the roughly $1,200 USD ransoms demanded

by the kidnappers. Sums like these can be devastating to the

families, sending them into a financial tailspin and trapping them in

a devastating cycle of poverty.

Breaking the Issue of Generational Poverty

ICC's work in Christian communities in Nigeria often focuses on this

problem of cyclical poverty. Working with community leaders, ICC

helps to establish sustainable sources of income. This often takes

the form of communal farms or small businesses. Through these

essential programs, persecuted Christians can regenerate income and

provide for their families for years to come.

Opposite: Fulani militancy impacts whole communities, including this one which has been attacked repeatedly in the last two years.

Top: Children watch as ICC farm beneficiaries gather to celebrate the beginning of a new growing season. Bottom: ICC helped this

woman, who lost her husband to persecution, open a small business.

PERSECU ION.ORG

INTERNATIONAL CHRISTIAN CONCERN

21
---
REBUILDING

COMMUNITIES

ONE FARM AT A TIME

22 PERSECU ION.ORG

OCTOBER 2021

INTERNATIONAL CHRISTIAN CONCERN
---
ICC helps restore

Nigerian communities

once devastated by

terrorist attacks.

By Nathan Johnson

In the summer of 2018, ICC launched a

radical new initiative: equip Nigeria's

Christian farming communities with

the land and materials necessary to begin

rebuilding their lives after persecution. This is

ICC's Nigeria Communal Farms.

The idea was to start a program that would

help revive entire communities instead of

trying to help each family one at a time. It

was a massive undertaking. It took a village to

rebuild a village.

The initiative began with the idea to develop

10 communal farms in Nigeria. Each of these

farms would serve 75 families that suffered

violent attacks and lost family or property

to the destruction. We aimed to provide

all necessary resources to develop large

communal farms where families would share

the burden of work and the reward of harvest.

PERSECU ION.ORG

INTERNATIONAL CHRISTIAN CONCERN

23
---
24 PERSECU ION.ORG

OCTOBER 2021

INTERNATIONAL CHRISTIAN CONCERN
---
Farm beneficiaries

harvest rice crops.

PERSECU ION.ORG

INTERNATIONAL CHRISTIAN CONCERN

25
---
We asked our donors to support us in this

idea at that time, and you quickly stepped

up and delivered the amount we needed.

We supported these 10 farms with land

preparation services, seeds, pesticides,

herbicides, fertilizers, water pumps, fuel,

and experts to help ensure that the farms

would succeed.

Since the beginning in the summer of 2018,

we have completed those 10 farms. The

Lord has also provided us with several

faithful partners who have helped us

continue the project. With their help and our

faithful donors' continued support, we have

been able to start another nine farms, with

three more starting later this year.

Not only have these farms met the physical

needs of our beneficiaries, but thanks to

one of our partners, the spiritual needs of

our brothers and sisters are being met as

well. We have been able to distribute Bibles

and conduct outreach within two of these

communities, and will add three more later

this year.

As Christ commanded in Matthew 4, "Man

shall not live on bread alone, but on every

word that comes from the mouth of God."

We want to follow this command and see our

brothers and sisters satisfied both physically

and spiritually.

To date, we have developed farms in four

states of Nigeria: Benue, Plateau, Kaduna,

and Adamawa. We hope in the future to

have a presence in all seven states that have

suffered from the current Middle Belt crisis.

What does all of this means in terms of

numbers? First, we have helped 1,425

families, or approximately 7,000 people, in

Nigeria eat.

Not only have they been able to eat from

their shares, but many have also begun to

pay for schooling and clothing with the

income from the farms. As a result of this

initiative, hundreds of children are back in

school.

We have also helped cultivate 1,350 acres

of land that would likely not have been

harvested. Our beneficiaries have harvested

more than 1.1 million pounds of food over

the past three years.

Through this program, hundreds of parents

have regained the dignity of working and

providing for themselves and their families.

Above: A woman stands in front of

the current Plateau State farm. She

shares with ICC how the farms have

helped her and her community.

Right: Farm beneficiaries use

pesticides on crops to protect their

plants from destructive insects.

26 PERSECU ION.ORG

OCTOBER 2021

INTERNATIONAL CHRISTIAN CONCERN
---
PERSECU ION.ORG

INTERNATIONAL CHRISTIAN CONCERN

27
---
28 PERSECU ION.ORG

OCTOBER 2021

INTERNATIONAL CHRISTIAN CONCERN
---
Rising from

the Ashes

Two men share their

stories of persecution.

By Nathan Johnson

Pwaguri Hickson is a 34-year-old father

of five from the village of Bolon in

Adamawa, Nigeria. He is one of the

beneficiaries of ICC's farm projects, which

serve communities destroyed by Fulani

militants. Hickson served as a secretary during

the implementation of the Kikan farm cluster.

In a recent interview, Hickson described his

life prior to the ongoing attacks by the Fulani

militia.

"We had always lived peaceably with [the

Fulani]," he said. "Even though we've had civil

disputes that were a result of them trespassing

their cattle to graze on our crops, we had a way

of settling our differences amicably in front of

the traditional rulers."

Hickson described the confusion and betrayal

he felt when his community was suddenly

the target of attacks: "It's really strange that

overnight these same people that we had lived

quite peacefully with for many years would

suddenly take up arms against us to kill us and

burn down our villages, crops, and livestock

without any provocation or justifiable reason

whatsoever."

After finishing his secondary school education

as a young man, Hickson decided to study premed

to positively impact his community as a

PERSECU ION.ORG

INTERNATIONAL CHRISTIAN CONCERN

29
---
"It's really strange

that overnight

these same

people that we

had lived quite

peacefully with for

many years would

suddenly take

up arms against

us to kill us and

burn down our

villages, crops

and livestock

without any

provocation or

justifiable reason

whatsoever."

- Pwaguri Hickson

doctor. He had to wait to save up money in

order to pursue his dream. However, his plans

changed in 2018, when 96 of his community

members were killed and more than 7,000

were displaced in a series of attacks by the

Fulani militia.

"Unfortunately, my dream was shattered at the

advent of this crisis. Our means of livelihood

was taken away from us and whatever assets we

had were destroyed. This made it impossible to

further my studies. Life became really difficult

and unbearable for me and my community. We

were all hurt from the loss of friends and loved

ones. Our means of survival was taken away

from us; we went about hungry, and we could

no longer afford any change of clothes."

Abel Hananiya, 42, is also from Adamawa,

Nigeria. Hananiya served as the public relations

officer during the 2018 implementation of the

Shafaron farm cluster. He is the breadwinner

for his family of ten.

Like Hickson, Hananiya remembers a time

when his people lived peacefully alongside the

Fulani herdsmen community.

"We have always lived in peace and harmony

with the Fulani… It wasn't until recently

that the Fulani suddenly turned against us

and began a series of attacks on us, killing,

maiming, and destroying our homes and

farms. It is important to note that this sudden

reign of terror on us was unprovoked."

Hananiya had big dreams as well and knew

from a young age that he wanted to become a

military officer. "That made me [want] to work

hard on the farm," he explained. "I was able

to rear livestock and stockpile foodstuff which

I would later sell to finance my dream of

becoming a military officer. Unfortunately, I

lost everything when this whole crisis began."

In December of 2017, armed Fulani militants

invaded Hananiya's village, killing and

destroying everything in sight. After trying

to resettle back home, life as he knew it was

forever changed.

"Life has really been tough. I was forced to

cater and be responsible for my aged mother

and younger siblings in addition to providing

for my own wife and children. This was very

difficult for me to handle because there was

virtually nothing left for us to survive on."

The mass murder of Christians in Adamawa

State is a devastating reality that expands

across much of the Middle Belt in Nigeria.

To combat the effects of such attacks, ICC

coordinates with local community and church

leaders to implement communal farm projects.

For the Adamawa community, practical relief

for the survivors took the form of clusters of

farms throughout the region.

"It was in the midst of all these sorrows that

God Almighty sent ICC to bring the communal

farm intervention," said Hickson. "That

intervention was God-sent because it brought

about a great deal of success and relief to us."

To facilitate these farms, ICC provided

the seed, fertilizer, plowing and ridging,

30 PERSECU ION.ORG

OCTOBER 2021

INTERNATIONAL CHRISTIAN CONCERN
---
water pumps, fuel, pesticides, herbicides,

rodenticides, sprayers, and boreholes for

pumps. We also hired tractors which saved

farmers on expenses.

"We experienced a great turnaround in our

lives as a family and also as a community

and the renewed hope for a better future was

birthed," Hickson declared.

He continued, "Through the relief intervention,

I was able to rebuild and roof my two-room

apartment which was destroyed during the

crisis, I also was able to purchase a motorcycle,

which is being used for commercial business

and that brings in an average of N6,000.00

($15 USD) on a weekly basis. Again, I became

empowered to finance my personal farm

which has been truly successful. Through it

all, I can be proud to say that I am now able to

give my family the life that they truly deserve.

I can now afford to pay for my children's

education and other bills and it's all thanks to

God Almighty and to ICC."

Hananiya agreed with Hickson, stating,

"Things soon began to turn around when

ICC started their intervention program in our

community. Personally, I was able to find my

footing and regain my balance in life. Through

ICC's intervention, I can now proudly say that

providing [food] for my family is no longer a

challenge. In fact, I am now able to comfortably

sponsor my children's education."

Hananiya continued, "I have some livestock

which I acquired from the proceeds of the

grains I sold from some of our portion (19

bags) of the ICC farm. I am now able to finance

my personal farm and, this year, I engaged in

irrigation farming and my farm turned out

a yield of up to 40 bags of rice. All of this

became possible because of the empowerment

I received through the instrumentality of ICC."

"Although my ambition to become a military

officer has been put aside, I am happy because

I am empowered to train my children in school

and give them the opportunity that I didn't

have," Hananiya explained. "I am hopeful

that my children will achieve all [that] I was

unable to achieve through the education that

they're receiving. It is indeed heartwarming to

know that brethren from faraway America are

concerned about our plight which prompted

their hearts to give. We pray God's continued

blessings upon them and their families.

"We'd like to request that [you] not relent

in offering prayers to God on our behalf,"

added Hickson. "That He will sustain the

relative peace that is gradually returning

to our communities and that we'll learn to

live together with one another in peace and

harmony even better than it was before."

PERSECU ION.ORG

INTERNATIONAL CHRISTIAN CONCERN

31
---
You Can Help Today!

PERSECU ION.ORG

INTERNATIONAL CHRISTIAN CONCERN

PERSECU ION.ORG

INTERNATIONAL CHRISTIAN CONCERN

PERSECU ION.ORG

INTERNATIONAL CHRISTIAN CONCERN

SEND DONATIONS TO:

ICC

PO BOX 8056

SILVER SPRING, MD 20907

OR ONLINE AT

WWW.PERSECUTION.ORG

OR BY PHONE

800-ICC-5441

GIVING TO ICC VIA

YOUR WILL

Provide now for a future gift to ICC

by including a bequest provision in

your will or revocable trust. If you

would like more information on giving

to ICC in this way, please give

us a call at 1-800-ICC-5441.

An ICC farm

beneficiary shares the

story of her persecution

and how the farm is

helping her recover.

MEMBER

International Christian Concern (ICC) is a nonprofit 501(c)(3) (all donations tax-deductible).

ICC makes every effort to honor donor wishes in regards to gifts. Occasionally, situations

arise where a project is no longer viable. ICC will then redirect those donated funds to the

fund most similar to the donor's original wishes.

© Copyright 2021 ICC, Washington, D.C., USA.

All rights reserved. Permission to reproduce all

or part of this publication is granted provided

attribution is given to ICC as the source.

facebook.com/

persecuted

instagram.com/

internationalchristianconcern

twitter.com/

persecutionnews