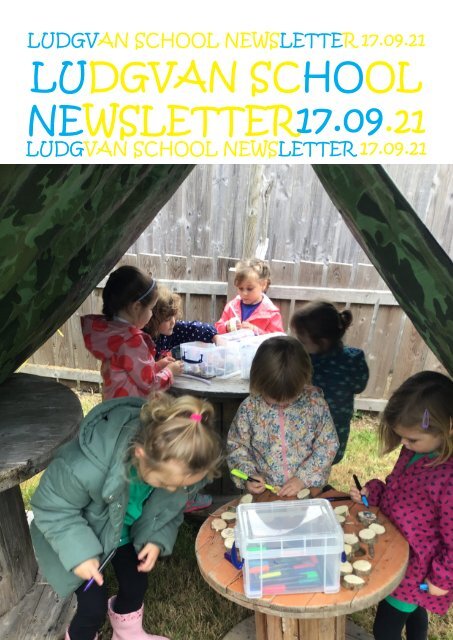 Create successful ePaper yourself
Turn your PDF publications into a flip-book with our unique Google optimized e-Paper software.
LUDGVAN SCHOOL NEWSLETTER 17.09.21

LUDGVAN SCHOOL

NEWSLETTER17.09.21

LUDGVAN SCHOOL NEWSLETTER 17.09.21
---
A word from the Principal...

Welcome,

I hope that you have had an enjoyable summer. It certainly felt a little more like the familiar ones

we remember. I have loved hearing from our children about their adventures and time spent here in

Penwith, Cornwall and further afield. The return to school this term has been really special - seeing

lots of the things we have missed returning and welcoming our new reception children to Ludgvan,

as well as a number of new children in other year groups.

Coming together in a group larger than one year group for assembly and seeing children

playing with friends from other parts of the school has been a real treat. We have resumed our

Friday Celebration Assemblies and it was hard to believe that none of our Y1 and Y2 children knew

why they were going into the hall as all they have ever know is assemblies via Zoom! As part of our

Friday assemblies, we are keen to celebrate successes from outside of school as well as in, so if your

child wins an award or earns a badge or certificate, please send them in to school with it on a Friday

and we will share it during our assembly.

Thank you for all that you have done to support our pupils' return to school. They all look

so smart and really have a feeling of readiness for the year ahead. On that note, I have included

our uniform expectations on a subsequent page. You will see that there are options for a more active

uniform on days where your child has PE or outdoor learning, but please ensure that on these

days, the expectations are followed and it is not treated as a non-uniform day, unless stated by the

teacher.

We do have a space on our Local Academy Committee for new members if you are interested

and would like to have a more prominent role in supporting the running of Ludgvan School.

It is a great opportunity to get involved and is not a huge time commitment. If you would like to

know more, please contact our Chair, Michael Payne on m.payne@ludgvan.cornwall.sch.uk or speak

to Emily Kent, who is our Vice-Chair and Laurel's (Y2) and Rowan's (Y6) Mum who can talk to you

about the role.

Finally, it has been lovely to see you at the gate in the mornings when I have been able to get there

and I encourage you to use this opportunity to ask me any questions that you may have

Kind regards,

Mr Adam Anderson

Principal
---
Useful information...

Music Lessons

Thank you to all who watched the online string demonstration last Thursday, we

have received several lovely comments.

The recording is available to watch on demand at https://www.youtube.com/

watch?v=ZVHNqc_Ii38

If you have interest from parents on these or any instruments, they can sign up for

lessons at https://www.cornwallmusicservicetrust.org/signup

Details on fees can be found at https://www.cornwallmusicservicetrust.org/fees

Many thanks.

Yours sincerely

Cornwall Music Service Trust Administration

Class Dojo

We will be using Class Dojo as our main means of communication this year. If you

have not set up your account and linked to your child's class, please contact their

class teacher who will help you.

Wheal Velocity Cycling Club Open Day

Following on from the Tour of Britain stage one which started in Penzance and finished

in Bodmin last week we would like to invite any children interested in cycling

to come along to Wheal Velocity, Cornwall's friendliest cycling club and only youth

cycling academy next Saturday, 18th September for a free open event run by British

Cycling qualified coaches at Wheal Jane (near Truro). Sessions are either 12:00

- 14:00 or 14:30-16:30 and are open to riders of all ages and abilities completely

free of charge. Riders of all ages are welcome to come along to either session on

the day. From learning to ride, to gaining more skills and confidence, all the way to

competing in organised racing events or social rides, the benefits of riding with a

club are huge for everyone. Details are in the attached poster, if you could share

this with the children / parents it would be very much appreciated. All that is needed

is a bike & helmet.

Term Dates 21-22

Autumn Term 6 Sep - 17 Dec (Half term 25-29 Oct)

Spring Term 4 Jan - 8 Apr (Half term 21-25 Feb)

Summer Term 25 April - 26 July (Half term 30 May - 3 June)

INSET DAYS: 6 & 7 Sep, 4 Jan and 25 & 26 July

Additional Bank Holiday for Platinum Jubilee 6 June

Lego Donations wanted

If you have any spare or old Lego at home, we would be really grateful for any donations

that we can use in our breakfast club. Thank you.
---
Useful information...

Child Health Programme

This year Public Health are trying to help reduce the impact we are having on climate

change. This means that this year we will be sending out digital booklets

which will include the opt out form.

Please take a look at the video below from Shelley Jamieson NCMP Lead who explains

the process for this year.

https://vimeo.com/606545830

Below are the official links to our new digital Health Information booklets for families.

These digital booklets will replace the paper version sent out in previous

years, and contains many useful links including how to 'opt out' of school health

screening.

• Reception Year - https://mailchi.mp/18026a07be64/child-health-programme-health-information-reception-year

• Year 6 - https://mailchi.mp/cc99221a9df0/child-health-programme-health-information-year6

Please get in touch if you have any questions regarding school health screening this

year.

Breakfast Club

Please see below for times and charges for breakfast club. Places at breakfast club

must be booked in advance via the schoolmoney portal.

0730 - 0845 £5

0800 - 0845 £3.50

All include breakfast and a drink.

Discounts available for siblings and those eligible for FSM.

Contacting Teachers

Please be respectful of our teachers workloads and try to contact class teachers

during their usual working hours. Electronic communication does mean we are able

to send messages 24 hours a day, but I do not expect staff to be replying to questions,

queries or messages in the evenings or weekends. In an emergency, please

send your communications to me. Thank you, Mr Anderson.
---
Would you like to be a Governor?

Would you like to help ensure the continued success of Ludgvan School by becoming

a Governor?

We would like all families to be aware of an opportunity to be involved in shaping

the strategic direction of our school. Our Local Academy Committee (LAC)

is looking for new members. In more traditional terms, this is the Board of

Governors.

Would you be interested in becoming a member of the LAC? It involves six

meetings per year with some keeping in touch work in between. We are looking

for members of our community with a range of skills and abilities who can

have an overview of School policy and strategic direction. Previous experience

in an educational setting is not required for this role and we would welcome

applications from all sectors of our community.

If you would like to help us make a difference to children's lives we would love

to hear from you. For an informal conversation about what the role entails and

how you can help move Ludgvan School on to even greater success, please get

in touch with our Chairperson, Michael Payne by email: m.payne@ludgvan.

cornwall.sch.uk
---
Uniform...

This year, we have made some slight changes o our uniform expectations. Because

children wearing their PE kit to school has resulted in much less PE time being lost

to changing, lost PE kit etc, we will be continuing with this next year. We will also be

increasing the profile of our farm learning and forest school provision, both of which

will be led by Mr Richards. We appreciate that for days that your children will be doing

much of their learning outside, with a greater likelihood of getting muddy etc, our traditional

uniform may not be the best option. Therefore, our uniform expectations from

September, will be as follows:

Normal School Days

PE Days

Forest School/ Farm

Days

Ludgvan School sweatshirt/cardigan

White Polo shirt (with or without logo)

Grey trousers/shorts/skirt/dress

Blue/White gingham dress

Black shoes

Ludgvan School sweatshirt/cardigan or hoodie

Ludgvan School PE t-shirt (in team colour)

Black shorts/jogging bottoms (with or without school logo)

Trainers (not plimsolls)

Ludgvan School sweatshirt/cardigan or hoodie

Ludgvan School PE t-shirt (in team colour)

Black shorts/jogging bottoms (with or without school logo)

Sensible shoes

All uniform is available from our supplier https://www.exhibit1clothing.com/ludgvan-school.html
---
Learning Outdoors...

The new academic year has seen the introduction of regular outdoor learning sessions

for all of our classes consisting of both forest and farm school. So far each class has

already had at least one session of forest school with Mr Richards.

Our younger children have been busy exploring our forest school area, learning how

to use the site safely, playing through nature and creating nature based crafts.

Children in KS2 have been learning how to use a junior hacksaw and bow saw safely

with increasing independence to create resources for natural crafts. This skill will develop

to allow more complex woodwork activities.

Year 5 and 6 have focused on shelter building, making the most of the dry weather in

preparation for the wet autumn and winter weather. They have worked as a team to

erect effective shelters that will keep them dry in the rain, working out what makes

a shelter effective and how they can improve their work. It's been great to see great

teamwork and good levels of communication between them.
---
Learning Outdoors...

The past few weeks has seen lots of busy action on our school farm. During the summer

holidays we welcomed a further 6 rescue hens into our flock, bringing our total

up to 16. Our new duck pen has been developed with a large permanent pond

constructed - the grass has grown enough for the ducks to be moved into their new

home this weekend. We have also welcomed our newest additions to the farm, our

three rabbits, which have received a very loving welcome from our children.

Over the past week, children from years 2 to 6 have been busy writing applications to

apply for roles within our farm team. We have been very impressed with the quality

of the applications received. Mr Richards chose the four applicants from year 6 to join

our junior farm management team as head and deputy head farmers, who then took

on the role of deciding on those becoming animal keepers.

Head Farmers

Poppy and Darwin (Y6)

Deputy Head Farmers

Sofia and Emily (Y6)

Chicken Farmers

Kourtney, Ilani, Evie N, Emily, Hollie and Delilah (Y5)

Jessica, Luke, Sophie and Harriet (Y6)

Duck Farmers

Finley O, Savannah, Tamlin, Evie W, Felix, Lottie (Y5)

Gracie, Kyla, Georgia and Seth (Y6)

Rabbit Carers

Holly and Ernie (Y2)

Elowyn, Maisy, Harrison and Caden (Y3)

Libby, Francisco, Zayd and Hannah (Y4
---
Exciting and Engaging...

EYFS

What a brilliant start to school our early years children have made! We are

amazed at how well they have settled into the routines of school life already -

it's only week 2! We have all really enjoyed getting to know the children and

watching them having fun exploring their new environment with their friends.

As well as becoming familiar with their classroom and outdoor area, they have

also had their first Forest School session, which was great fun. They completed

different challenges as well as enjoying cupcakes and milk around the 'campfire'.

We are so proud of the start the children have all made at Ludgvan School and

cannot wait for lots more adventures over the next year - well done everyone!
---
Exciting and Engaging...

Y1

It has been really lovely getting to know all the children in Class 1. They have

had a great first week and settled well into their new class.

I have been really impressed with how hard they have worked with their reading

and phonics! They have enjoyed exploring the different resources in the

classroom and our new outside area.

We are all looking forward to starting our topic next week 'How does a house

become a home?'
---
Exciting and Engaging...

Y2

What an incredible first two weeks Year 2 have had! They have settled so

well back into school and the new routines of being in Class 2. We were lucky

enough to have a brand new decking area built over the summer, which the

children have thoroughly enjoyed exploring. Throughout this week, they have

taken on some serious Maths challenges. Their favourite was a 'free the super

hero' challenge where they had to match the keys to the padlocks trapping

the heroes by matching sums to answers. We were blown away by their Maths

knowledge and how well they worked together in teams. It has also been lovely

to see them being so creative in and out of the classroom. Many children have

taken clipboards outside to make observations, create drawings or practice

their writing. We also had a 'Lego challenge' last week and were amazed by the

intricate creations that each team built. On Tuesday, we also had every child in

the class get to the top of our Dojo board (which we were very excited about).

This was a reflection of how fantastic they have all been. Well done Year 2, you

have had a brilliant start back to school!
---
Exciting and Engaging...

Y3

Year 3 have had a fantastic start to the school year. They will be learning about Africa

this term and have already had lots of fun testing their African knowledge in a class

quiz using the Chromebooks. They have proved they are great mathematicians and

have shown they have some great skills in the Forest School area. Well done everyone!
---
Exciting and Engaging...

Y4

Year 4 have settled back into the classroom really well and have impressed me with

their happy nature and their enthusiasm towards their learning. As well as resettling

back to classroom life, we have been lucky enough to experience Forest School already.

We will be continuing to visit Forest School weekly for the first half term. As

well as experiencing more practical skills, it was also a great opportunity for the children

to spend time together exploring, making their own fun and following their own

ideas and initiative.
---
Exciting and Engaging...

Y5

Class 5 have had a really positive start to the school year, embracing challenges

and giving their best effort. We have been really impressed with their positive

attitudes and enthusiasm for the Topic. In English, the children have been

working towards a big project where they will show off all their skills. In Maths,

they have been revisiting place value and tested this knowledge during computing

where they were working with numbers in the billions! The whole class

has been learning new sports and will continue to develop their skills in basketball

and hockey.
---
Exciting and Engaging...

Y6

Class 6 have begun several units of work this half term, and one of which is

related to using the medium of pencil effectively to create patterns and shade.

We have begun to explore the tone and gradient created by holding the pencil

in different ways and at varying angles in order to generate contrasting depths

of shade.

This week, we have also explored features of speeches in order to prepare us

for applying for specific roles within school. Our particular focus has been primarily

on using, 'AFOREST+H' techniques to interest and engage the audience

as well as persuasive tactics to elicit emotive responses.

The WW1 topic is now underway as we have been reading through information

sheets relating to how the war began, trenches and also the battle of Somme.

As we develop greater knowledge of these facets of history, we will be prepared

to showcase this knowledge in an end of term event.
---
A word from the Principal...