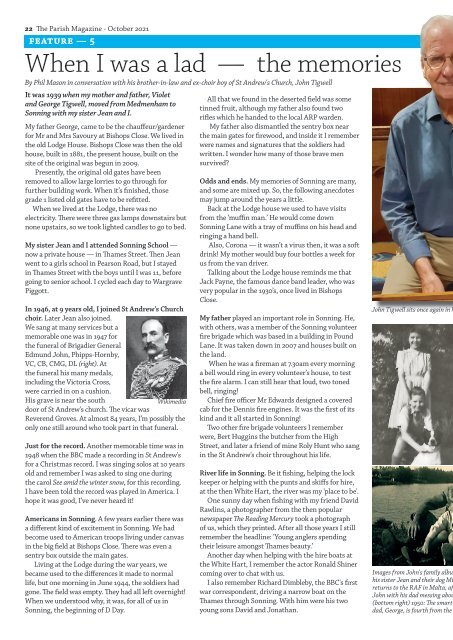 The Parish Magazine October 2021
Serving Charvil, Sonning and Sonning Eye since 1869
Serving Charvil, Sonning and Sonning Eye since 1869
SHOW MORE
SHOW LESS
Create successful ePaper yourself
Turn your PDF publications into a flip-book with our unique Google optimized e-Paper software.
22 The Parish Magazine - October 2021

feature — 5

When I was a lad — the memories

By Phil Mason in conversation with his brother-in-law and ex-choir boy of St Andrew's Church, John Tigwell

It was 1939 when my mother and father, Violet

and George Tigwell, moved from Medmenham to

Sonning with my sister Jean and I.

My father George, came to be the chauffeur/gardener

for Mr and Mrs Savoury at Bishops Close. We lived in

the old Lodge House. Bishops Close was then the old

house, built in 1881, the present house, built on the

site of the original was begun in 2009.

Presently, the original old gates have been

removed to allow large lorries to go through for

further building work. When it's finished, those

grade 1 listed old gates have to be refitted.

When we lived at the Lodge, there was no

electricity. There were three gas lamps downstairs but

none upstairs, so we took lighted candles to go to bed.

My sister Jean and I attended Sonning School —

now a private house — in Thames Street. Then Jean

went to a girls school in Pearson Road, but I stayed

in Thames Street with the boys until I was 11, before

going to senior school. I cycled each day to Wargrave

Piggott.

In 1946, at 9 years old, I joined St Andrew's Church

choir. Later Jean also joined.

We sang at many services but a

memorable one was in 1947 for

the funeral of Brigadier General

Edmund John, Phipps-Hornby,

VC, CB, CMG, DL (right). At

the funeral his many medals,

including the Victoria Cross,

were carried in on a cushion.

His grave is near the south

door of St Andrew's church. The vicar was

Wikimedia

Reverend Groves. At almost 84 years, I'm possibly the

only one still around who took part in that funeral.

Just for the record. Another memorable time was in

1948 when the BBC made a recording in St Andrew's

for a Christmas record. I was singing solos at 10 years

old and remember I was asked to sing one during

the carol See amid the winter snow, for this recording.

I have been told the record was played in America. I

hope it was good, I've never heard it!

Americans in Sonning. A few years earlier there was

a different kind of excitement in Sonning. We had

become used to American troops living under canvas

in the big field at Bishops Close. There was even a

sentry box outside the main gates.

Living at the Lodge during the war years, we

became used to the differences it made to normal

life, but one morning in June 1944, the soldiers had

gone. The field was empty. They had all left overnight!

When we understood why, it was, for all of us in

Sonning, the beginning of D Day.

All that we found in the deserted field was some

tinned fruit, although my father also found two

rifles which he handed to the local ARP warden.

My father also dismantled the sentry box near

the main gates for firewood, and inside it I remember

were names and signatures that the soldiers had

written. I wonder how many of those brave men

survived?

Odds and ends. My memories of Sonning are many,

and some are mixed up. So, the following anecdotes

may jump around the years a little.

Back at the Lodge house we used to have visits

from the 'muffin man.' He would come down

Sonning Lane with a tray of muffins on his head and

ringing a hand bell.

Also, Corona — it wasn't a virus then, it was a soft

drink! My mother would buy four bottles a week for

us from the van driver.

Talking about the Lodge house reminds me that

Jack Payne, the famous dance band leader, who was

very popular in the 1930's, once lived in Bishops

Close.

My father played an important role in Sonning. He,

with others, was a member of the Sonning volunteer

fire brigade which was based in a building in Pound

Lane. It was taken down in 2007 and houses built on

the land.

When he was a fireman at 7.30am every morning

a bell would ring in every volunteer's house, to test

the fire alarm. I can still hear that loud, two toned

bell, ringing!

Chief fire officer Mr Edwards designed a covered

cab for the Dennis fire engines. It was the first of its

kind and it all started in Sonning!

Two other fire brigade volunteers I remember

were, Bert Huggins the butcher from the High

Street, and later a friend of mine Roly Hunt who sang

in the St Andrew's choir throughout his life.

River life in Sonning. Be it fishing, helping the lock

keeper or helping with the punts and skiffs for hire,

at the then White Hart, the river was my 'place to be'.

One sunny day when fishing with my friend David

Rawlins, a photographer from the then popular

newspaper The Reading Mercury took a photograph

of us, which they printed. After all those years I still

remember the headline: 'Young anglers spending

their leisure amongst Thames beauty.'

Another day when helping with the hire boats at

the White Hart, I remember the actor Ronald Shiner

coming over to chat with us.

I also remember Richard Dimbleby, the BBC's first

war correspondent, driving a narrow boat on the

Thames through Sonning. With him were his two

young sons David and Jonathan.

John Tigwell sits once again in h

Images from John's family album

his sister Jean and their dog Mi

returns to the RAF in Malta, af

John with his dad messing abou

(bottom right) 1950: The smart

dad, George, is fourth from the