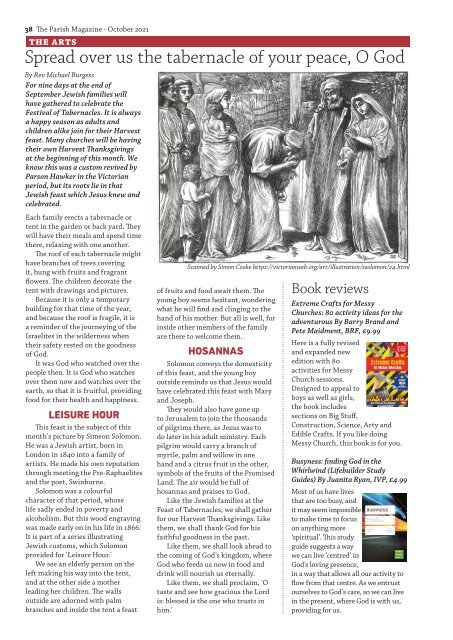 The Parish Magazine October 2021
Serving Charvil, Sonning and Sonning Eye since 1869
Serving Charvil, Sonning and Sonning Eye since 1869
SHOW MORE
SHOW LESS
Create successful ePaper yourself
Turn your PDF publications into a flip-book with our unique Google optimized e-Paper software.
38 The Parish Magazine - October 2021

THE ARTS

Spread over us the tabernacle of your peace, O God

By Rev Michael Burgess

For nine days at the end of

September Jewish families will

have gathered to celebrate the

Festival of Tabernacles. It is always

a happy season as adults and

children alike join for their Harvest

feast. Many churches will be having

their own Harvest Thanksgivings

at the beginning of this month. We

know this was a custom revived by

Parson Hawker in the Victorian

period, but its roots lie in that

Jewish feast which Jesus knew and

celebrated.

Each family erects a tabernacle or

tent in the garden or back yard. They

will have their meals and spend time

there, relaxing with one another.

The roof of each tabernacle might

have branches of trees covering

it, hung with fruits and fragrant

flowers. The children decorate the

tent with drawings and pictures.

Because it is only a temporary

building for that time of the year,

and because the roof is fragile, it is

a reminder of the journeying of the

Israelites in the wilderness when

their safety rested on the goodness

of God.

It was God who watched over the

people then. It is God who watches

over them now and watches over the

earth, so that it is fruitful, providing

food for their health and happiness.

LEISURE HOUR

This feast is the subject of this

month's picture by Simeon Solomon.

He was a Jewish artist, born in

London in 1840 into a family of

artists. He made his own reputation

through meeting the Pre-Raphaelites

and the poet, Swinburne.

Solomon was a colourful

character of that period, whose

life sadly ended in poverty and

alcoholism. But this wood engraving

was made early on in his life in 1866.

It is part of a series illustrating

Jewish customs, which Solomon

provided for 'Leisure Hour.'

We see an elderly person on the

left making his way into the tent,

and at the other side a mother

leading her children. The walls

outside are adorned with palm

branches and inside the tent a feast

Scanned by Simon Cooke https://victorianweb.org/art/illustration/ssolomon/24.html

of fruits and food await them. The

young boy seems hesitant, wondering

what he will find and clinging to the

hand of his mother. But all is well, for

inside other members of the family

are there to welcome them.

HOSANNAS

Solomon conveys the domesticity

of this feast, and the young boy

outside reminds us that Jesus would

have celebrated this feast with Mary

and Joseph.

They would also have gone up

to Jerusalem to join the thousands

of pilgrims there, as Jesus was to

do later in his adult ministry. Each

pilgrim would carry a branch of

myrtle, palm and willow in one

hand and a citrus fruit in the other,

symbols of the fruits of the Promised

Land. The air would be full of

hosannas and praises to God.

Like the Jewish families at the

Feast of Tabernacles, we shall gather

for our Harvest Thanksgivings. Like

them, we shall thank God for his

faithful goodness in the past.

Like them, we shall look ahead to

the coming of God's kingdom, where

God who feeds us now in food and

drink will nourish us eternally.

Like them, we shall proclaim, 'O

taste and see how gracious the Lord

is: blessed is the one who trusts in

him.'

Book reviews

Extreme Crafts for Messy

Churches: 80 activity ideas for the

adventurous By Barry Brand and

Pete Maidment, BRF, £9.99

Here is a fully revised

and expanded new

edition with 80

activities for Messy

Church sessions.

Designed to appeal to

boys as well as girls,

the book includes

sections on Big Stuff,

Construction, Science, Arty and

Edible Crafts. If you like doing

Messy Church, this book is for you.

Busyness: finding God in the

Whirlwind (Lifebuilder Study

Guides) By Juanita Ryan, IVP, £4.99

Most of us have lives

that are too busy, and

it may seem impossible

to make time to focus

on anything more

'spiritual'. This study

guide suggests a way

we can live 'centred' in

God's loving presence,

in a way that allows all our activity to

flow from that centre. As we entrust

ourselves to God's care, so we can live

in the present, where God is with us,

providing for us.