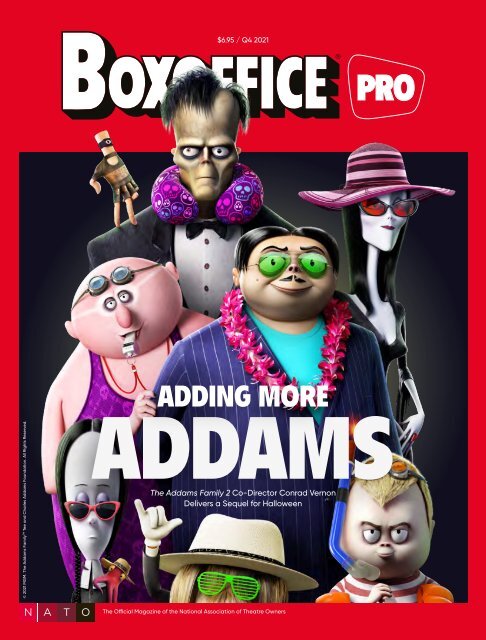 Boxoffice Pro—Q4 2021
Boxoffice Pro is the official publication of the National Association of Theatre Owners
Boxoffice Pro is the official publication of the National Association of Theatre Owners
SHOW MORE
SHOW LESS
You also want an ePaper? Increase the reach of your titles
YUMPU automatically turns print PDFs into web optimized ePapers that Google loves.
$6.95 / Q4 2021

© 2021 MGM. The Addams Family TM Tee and Charles Addams Foundation. All Rights Reserved.

ADDING MORE

ADDAMS

The Addams Family 2 Co-Director Conrad Vernon

Delivers a Sequel for Halloween

The Official Magazine of the National Association of Theatre Owners
---
01_AD-TSS.indd 1 16/09/2021 11:22
---
te a full multiplex experience with Q-SYS from QSCww

To the big screen,

and beyond!

CREATE A FULL MULTIPLEX EXPERIENCE WITH Q-SYS FROM QSC

Today's cinema experience is so much more than movies! And Q-SYS TM is so much more than a

cinema processor. With the Q-SYS Platform you can deliver sound to each theatre and every other

space in the theatre complex where high quality sound is important. You can also monitor and

control every sound system component and many other devices, from anywhere in the building or

remotely from anywhere with a network connection.

qsc.com/cinema

©2021 QSC, LLC all rights reserved. QSC, Q-SYS and the QSC logo are registered trademarks in the U.S. Patent and Trademark Office and other countries.

07598Q_SYSastheAVCSol.v.10.indd 02_AD-QSC.indd 2 1

16/09/2021 8/4/21 10:50 11:23

AM
---
Q4 2021

CONTENTS

76

The Reit Stuff

Ghostbusters: Afterlife

Continues a Family Legacy

28

Building Strong

TK Architects Celebrates Its

40th Anniversary

64

The Story Continues

Studio Movie Grill CEO Ted

Croft on the Dine-In Chain's

Emergence from Covid-19

84

Adding More Addams

The Addams Family 2

Co-Director Conrad Vernon

Delivers a Sequel for Halloween

90

A Shared Tragedy

Fran Kranz's Mass Explores

the Emotional Aftermath of a

School Shooting

03-04_Contents.indd 3 17/09/2021 16:47
---
CONTENTS

INDUSTRY THEATER ON SCREEN

10

12

18

22

28

NATO

CinemaCon 2021: The State of the

Industry

NATO

A Conversation with John Fithian

and Charles Rivkin

Charity Spotlight

A Recap of Industry-Wide Charity

Initiatives

Indie Influencers

Interview with Patrick Schweiss

of the Mary D. Fisher Theatre

Industry Insiders

TK Architects Celebrates Its 40th

Anniversary

64

70

The Story Continues

Studio Movie Grill CEO Ted Croft on

the Dine-In Chain's Emergence from

Covid-19

Boxoffice Barometer

Interview with Sean Mahoney, Senior

V.P. Sales and Marketing, Vistar

76

84

90

94

97

The Reit Stuff

Ghostbusters: Afterlife Continues a

Family Legacy

Adding More Addams

The Addams Family 2 Director

Conrad Vernon Delivers a Sequel

for Halloween

A Shared Tragedy

Fran Kranz's Mass Explores the

Emotional Aftermath of a School

Shooting

Event Cinema Calendar

A Sampling of Event Cinema

Programming Hitting the Big

Screen in 2021

Booking Guide

CINEEUROPE

SHOWEAST

34

38

40

45

International Distributor of

the Year

Universal Pictures International

UNIC Achievement Award

Ivar Halstvedt, Director of Cinema,

Kulturmeglerne Ltd.

Pure Gold

UNIC and CineEurope Honor

Dedication and Service to Cinema

International Exhibitor of the Year

Odeon Cinemas Group

48

52

56

58

Dan Fellman Show "E" Award

Rolando Rodriguez, Chair, President,

and CEO, Marcus Theatres, and

Chairman, National Association of

Theatre Owners

International Exhibitor of the Year

Miguel Mier, Chief Operating Officer,

Cinépolis

Bingham Ray Spirit Award

Lisa Bunnell, President of

Distribution, Focus Features

Al Shapiro Distinguished Service

Award

Elizabeth O'Neil, Executive Director,

Variety, the Children's Charity of

Southern California

60

61

ShowEast Hall of Fame

Paul Holliman, Former Head of

Worldwide Digital Cinema and

Strategic Planning, Disney

Salah M. Hassanein Humanitarian

Award

Mark Christiansen, Executive Vice

President of Worldwide Distribution

Operations, Paramount Pictures

"We've learned valuable

lessons about our ability

to innovate while we face

daunting challenges."

Charles Rivkin, p. 12

"The missing piece was that

we weren't yet to a point

where we had multiple films

opening on a weekly basis,

so that journey continues."

Rolando Rodriguez, p. 48

04 Q4 2021

03-04_Contents.indd 4 17/09/2021 16:47
---
A NEW A TUDE

IN XENON BULB ENDURANCE

LTI LongPlay xenon lamps breakthrough advancements in LTI xenon

technology, carry up to 50% longer warranty hours than standard

xenon lamps for dramatically lower cost of ownership and fewer lamp

changes. Exhibition quality is maintained at lower cost per hour.

www.ltilighting.com

05_AD-Atom.indd 5 17/09/2021 08:32
---
BOXOFFICE MEDIA

CEO

Julien Marcel

SVP Content Strategy

Daniel Loría

Creative Direction

Chris Vickers & Craig Scott

at She Was Only

EVP Chief Administrative Officer

Susan Rich

VP Advertising

Susan Uhrlass

BOXOFFICE PRO

EDITORIAL DIRECTOR

Daniel Loría

DEPUTY EDITOR

Rebecca Pahle

EXECUTIVE EDITOR

Kevin Lally

MANAGING EDITOR

Laura Silver

CHIEF ANALYST

Shawn Robbins

ANALYSTS

Chris Eggertsen

Jesse Rifkin

DATABASE

Diogo Hausen

CONTRIBUTORS

John Fithian

ADVERTISING

Susan Uhrlass

63 Copps Hill Road

Ridgefield, CT USA 06877

susan@boxoffice.com

SUBSCRIPTIONS

Boxoffice Pro

P.O. Box 215

Congers, NY 10920

833-435-8093 (Toll-Free)

845-450-5212 (Local)

boxoffice@cambeywest.com

CORPORATE

Box Office Media LLC

63 Copps Hill Road

Ridgefield, CT USA 06877

corporate@boxoffice.com

Boxoffice Pro has served as the

official publication of the National

Association of Theatre Owners

(NATO) since 2007. As part of this

partnership, Boxoffice Pro is proud to

feature exclusive columns from NATO

while retaining full editorial freedom

throughout its pages. As such, the

views expressed in Boxoffice Pro

reflect neither a stance nor an

endorsement from the National

Association of Theatre Owners.

Due to Covid-19, Boxoffice Pro

will be adjusting its publishing

schedule. For any further

questions or updates regarding

your subscription, please do not

hesitate to contact our customer

service department at boxoffice@

cambeywest.com.

NEXT ISSUE

100TH

ANNIVERSARY

EDITION

100th Anniversary

Commemorative Edition

Available December 2021

In publication since 1920,

Boxoffice Pro has been read

by generations of cinema

professionals. Our 100th

anniversary commemorative

edition will look back at

100 years of cinema history

to highlight the industry's

tenacity and resiliency, traits

it has most recently relied

on in its recovery from the

Covid-19 crisis.

For advertising

opportunities, please reach

out to Susan Uhrlass at

susan@boxoffice.com.

For questions regarding your

subscription, please contact

circulation@boxoffice.com.

Boxoffice Pro (ISSN 0006-8527), Volume 157, Number 4, Fourth Quarter 2021. Boxoffice Pro is published

by Box Office Media LLC, 63 Copps Hill Road, Ridgefield, CT USA 06877. corporate@boxoffice.com.

www.boxoffice.com. Basic annual subscription rate is $75.00. Periodicals postage paid at Beverly Hills,

CA, and at additional mailing offices. POSTMASTER: Send all UAA to CFS. NON-POSTAL

AND MILITARY FACILITIES: send address corrections to Boxoffice Pro, P.O. Box 215, Congers, NY 10920.

© Copyright 2021. Box Office Media LLC. All rights reserved. SUBSCRIPTIONS: Boxoffice Pro,

P.O. Box 215, Congers, NY 10920 / boxoffice@cambeywest.com. 833-435-8093 (Toll-Free),

845-450-5212 (Local).

Box Office Pro is a registered trademark of Box Office Media LLC.

06 Q4 2021

06-07_Executive-letter.indd 6 17/09/2021 08:39
---
EXECUTIVE LETTER

CHAMPIONING

THE MOVIEGOING

EXPERIENCE

"Conventions are a crucial

part of this industry,

bringing together vendors,

exhibitors, and distributors

under the same roof to

better define our common

goal: championing the

moviegoing experience."

I know I wasn't the only person

who was equal parts nervous and

excited as I landed in Las Vegas for this

year's edition of CinemaCon, the first

major industry convention since October

2019. The surge of Covid-19 cases brought

about by the Delta variant, the latest

unforeseen turn in the long and arduous

road to recovery for movie theaters,

prevented numerous colleagues from

attending (whether out of caution or

travel restrictions), a sobering reminder

that this wouldn't be an occasion to let

our guard down and celebrate the return

to business as usual.

In fact, it is becoming increasingly

clear that although business will certainly

return, it won't be anything like the

"usual" we used to know. I don't mean that

in terms of global box office; I remain

confident those figures are still within

reach. But I believe the lessons from this

ordeal will shape our business in the

years to come.

And, ultimately, that is the reason

why conventions like CinemaCon, and

those organized by our partners at the

Film Expo Group, are so important to our

industry. They give us a chance to share

what we've learned, connect with each

other, and chart a course for the future.

In its own small way, that is the mission

statement of this publication. We are

here to share the insights, best practices,

lessons, and, yes, even mistakes, of those

who work in this industry. That is why we

are thrilled to bring you an issue packed

with interviews from leading executives

in distribution and exhibition. This may

be our most executive-driven issue of the

magazine in my tenure as the editor of

Boxoffice Pro.

Conventions are a crucial part of this

industry, bringing together vendors,

exhibitors, and distributors under the same

roof to better define our common goal:

championing the moviegoing experience.

While this past CinemaCon was far

from being as large as its predecessors,

it retained that communal sense of an

industry convening to find a way forward.

It was truly meaningful to see so many of

you in person in Las Vegas after spending

the last 18 months fighting remotely

for this industry's survival. I have no

doubt that same feeling will be shared by

everyone at CineEurope and ShowEast.

This is a career-defining crisis for

everyone involved. The stakes are

existential for movie theaters. And

although we're still not done with the

crisis, CinemaCon 2021 showed me we're

all still committed to fighting for the

future of theatrical exhibition together.

Daniel Loria

SVP Content Strategy & Editorial Director

Boxoffice Pro

Q4 2021

07

06-07_Executive-letter.indd 7 16/09/2021 11:25
---
08_AD-LTI.indd 8 17/09/2021 08:32
---
NATO 10 | Charity Spotlight 18 | Indie Influencers 22 | Industry Insiders 28

INDUSTRY

"Your technology has changed, and our technology has changed, and

this is how we're helping you create a better patron experience."

TK Architects, p. 28

Q4 2021

09

09_Industry-Opener.indd 9 16/09/2021 11:26
---
Industry NATO

CINEMACON

2021: THE

stATE OF THE

Industry

These remarks were delivered

by John Fithian onstage at the

Colosseum at Caesars Palace

in Las Vegas on August 24,

during CinemaCon 2021.

BY JOHN FITHIAN

It feels really great to be back

[at CinemaCon] surrounded by

friends again.

Technology kept us connected during

the pandemic, but nothing can replace

meeting face to face. Humans simply

need to be together. That's why our

business will thrive again. The pandemic

constituted an existential challenge to the

moviegoing experience, but collectively

we have risen to overcome that threat.

I want to take a few moments to

recognize some historic efforts that have

helped us through these trying times.

NATO would be nothing if not for the

dedicated members who volunteer their

time to support the industry they love.

Our executive board has met over

Zoom more than 50 times during this

pandemic to provide guidance and to

take decisive action. Two chairmen have

served during the pandemic—Ellis Jacob

from Cineplex and Rolando Rodriguez

from Marcus—and their vision and

steadfast leadership have been invaluable

assets. They have helped us chart a path

forward when no road map existed.

NATO and our members have stayed

more connected, more unified, and more

proactive than ever before. Members

from competing theater companies have

worked together on grassroots lobbying,

safe reopening protocols, securing tax

breaks, helping our furloughed employees,

and successfully applying for grants—all

of which are keeping projector lights on.

I also want to thank my NATO and

CinemaCon staff colleagues for working

tirelessly during the pandemic. Though

every member of the team has contributed

significantly to our recovery efforts, I

want to give a special shout-out to two

individuals—Esther Baruh and Jackie

Brenneman—whose leadership of the

SVOG [Shuttered Venue Operators Grant]

program has served as a lifeline to many of

our members.

The Directors Guild of America and

the Motion Picture Association have been

tremendous partners during this crisis.

More than 100 directors rallied to support

our industry by signing an unprecedented

letter to Congress asking for help. MPA

members have helped us reopen safely

and have provided new films to bring

customers back.

Members of the creative community

have shown their support in so many ways

to make one thing crystal clear: Their best

work is made for the big screen. I applaud

artists who refuse to accept the false

narrative that movie theaters are a thing of

the past and that the future will be one in

which every movie is consumed at home.

These leading creatives know better, and

they are on the right side of history.

There's no denying that our industry has

changed during the last 18 months. Now we

are charting a successful path forward.

Exclusive release periods remain

vital to the survival and success of the

theatrical experience. Theatrical windows

won't be what they were before, but

they can't be what they were during the

pandemic, either. What the future holds

is up to our members and distributors

NATO would be nothing

if not for the dedicated

members who volunteer

their time to support the

industry they love.

10 Q4 2021

10-11_NATO.indd 10 16/09/2021 11:26
---
to decide, but let us be clear about one

thing: Simultaneous. Release. Does. Not.

Work. For anyone. A steady flow of strong

movies released with exclusive windows

is essential to exhibition's recovery, and

to the profitability of the entire movie

ecosystem.

This is a historic turning point for our

industry. We are about to enter an era

of great experimentation that I believe

will only bolster the importance of the

big-screen experience. Movies that were

starting to shy away from a theatrical

release will grace our screens again. Our

customers want more options, and there

are content providers looking to satisfy that

demand in new theatrical release models.

Our members will redefine what the

theatrical experience means. Cinema

is much more than a passive form of

entertainment. It's immersive and life

changing. Cinema is not meant to exist

on the same digital playing field as

funny cat videos on YouTube or endless

TikTok scrolling.

Billions of people around the world

had the option of going to the movies

taken away from them during the

Our members will redefine

what the theatrical

experience means. Cinema

is much more than a passive

form of entertainment. It's

immersive and life changing.

pandemic, and the longing to return to

that experience was palpable. Now that

they are coming back, the excitement is

invigorating.

The sense of community that cinema

creates is more important than ever.

Cinemas are a vital part of the small

towns and big cities in which they are

located. The foot traffic movie theaters

create will help surrounding businesses

recover from Covid-19. According to an

Ernst & Young study that NATO released

last week, in addition to the $18.3 billion

in direct movie theater revenue, movienight

spending on other businesses here

in the U.S. amounted to $5 billion in 2019

before the pandemic hit. We will return to

that level again.

John Fithian is President & CEO of the

National Association of Theatre Owners

Q4 2021

11

10-11_NATO.indd 11 16/09/2021 11:26
---
Industry NATO

A CONVErsATION WITH

JOHN FITHIAN And

CHARLES RIVKIN

The NATO and MPA Chiefs Discuss

and Compare Their Strategies for

Cinema's Recovery from the Effects

of the Covid-19 Pandemic

BY DANIEL LORIA

"Our industry is facing one

of the toughest ordeals in

our 100-year history, and

it's going to take some time

before we can look back and

say we've made the ultimate

comeback."

This is an industry still dealing with

the effects of a global pandemic.

Where are we in the recovery effort

right now?

John Fithian: It's been a rough road, this

pandemic, for theater owners, as it has

been for Charlie's studio members as

well. I think we're almost at halftime of

the recovery. We had hoped to be further

along by this point in 2020, but there are

some good signs. We've had big movies

start to do very, very well—even during

these times. We've seen customers'

interest in coming back out to the cinemas

in growing numbers. We have to walk

before we can run, and we'll probably be

well into 2022 before being back up to

the level we were pre-pandemic. We're

encouraged by the progress, but we know

it's going to take a while.

Charles Rivkin: The future still feels a bit

uncertain, of course, but we've learned

a lot of valuable lessons over the past

year and gained incredible ground. We

can expect some big wins going forward

and some setbacks, but we're going to

come out of this stronger than ever. Our

industry is facing one of the toughest

ordeals in our 100-year history, and

it's going to take some time before we

can look back and say we've made the

ultimate comeback.

What are the biggest lessons you've

each learned over the past year that

will help the industry navigate the

pandemic's ongoing challenges?

Rivkin: In my opinion, we've learned

valuable lessons about our ability

to innovate while we face daunting

challenges. We also recognize that we

have to work together as an industry

with the comeback spirit that's defined

our industry for the past century. These

are the foundations of our past, present,

and future. I'm not the first person to

draw parallels from Covid-19 to the

influenza pandemic of 1918, but I am

really confident that we'll be in the midst

of another roaring '20s because that's

what followed the 1918 pandemic. Back

then, some of our members were in their

infancy and just about to be formed.

Paramount was around a decade old,

while AMC, MGM, Warner Bros., Disney,

were all founded in the 1920s. And the

MPA was founded in 1922, so we are going

to be 100 years old next year. Together,

these companies grew rapidly and created

an iconic industry. We're on the verge of

something great right now. We're going to

rebound and rebound strong.

Fithian: Building on Charlie's reference of

the pandemic of 1918, the strong recovery

in people going out of their homes to seek

entertainment during the early 1920s gives

us all hope on coming out of this pandemic.

We've learned so many things during this

process, especially to be prepared for the

unexpected, but, most importantly, I think

we've learned these lessons together as an

industry. And I give Charlie and the MPA

great credit here; they've been with us

side by side in every part of the relief and

recovery process of our industry.

I would contrast that with what's going

on in the country, unfortunately, because

I don't believe we have worked together

side by side as much as we should have. I

think we've all learned from the pandemic

that we really shouldn't politicize things

like science. That we should listen to our

scientific advisers, health advisers, and our

leaders, regardless of their political party,

and we should work together to come out of

this pandemic. I think we're beginning to

do that better as Americans now. But within

our own little microcosm, our main lesson

from this pandemic is to work together to

recover from the challenges that we faced.

You are two of the biggest advocates

for our industry, but a lot of your

work isn't always seen by general

audiences. What were some of the

things you pushed for, out of the

public eye, that kept our industry

afloat and people at work, over the

last year?

Fithan: The first one I would cite is

how to operate safely coming out of a

pandemic. That covers how you produce

movies, Charlie's members' jobs, and

how you exhibit movies, our members'

jobs. We collaborated very closely on this

and consulted with some of the same

epidemiologists to share ideas on how to

develop safety protocols. Charlie's team

got the studios back up and running with

careful production protocols, and we got

exhibitors back up and running with the

CinemaSafe protocols. That partnership

during the pandemic was essential. We also

12 Q4 2021

12-16_NATO-Conversation.indd 12 17/09/2021 08:40
---
tremendously appreciate the support of our

partners and, indeed, the entire creative

community, that helped us seek relief. We

had one of the most successful lobbying

campaigns in the 30 years or so that I've

represented theater owners: to get recovery

funds out to theater operators and get tax

breaks in place. Charlie and top executives

from his members, along with over 100

movie directors, working through the DGA

and [National Executive Director] Russ

Hollander's team, came together to lobby

behind the scenes to produce an essential

lifeline to keep theater owners in business

during the pandemic. The last of these

examples I'll cite is that I just love the way

this industry always pulls together to help

its own people. The Will Rogers Motion

Picture Pioneers Foundation, which is

supported both by Charlie's members and

by ours, created a fund very early in this

process to help furloughed employees on

the exhibition and the studio side. Some of

Charlie's members made big contributions,

and so did ours, in rallying to help the

workers who didn't have a paycheck

coming in until the government passed

unemployment compensations.

"We've learned so many

things during this process,

especially to be prepared

for the unexpected, but,

most importantly, I think

we've learned these lessons

together as an industry."

Rivkin: From our vantage point, I think

the most impactful initiative that the MPA

brought to the table was the health and

safety protocols that we created. It was

done in the early days of the pandemic

in 2020, and it was a collaboration

between the studios, unions, guilds, and

public health experts. It made it safe for

hundreds of thousands of production

workers in the United States to come back

to work. These protocols led to one of

the safest work environments for anyone

on set in the United States, resulting in

some of the lowest positivity rates in the

country. That took a tremendous amount

of effort and a lot of coordination—and

we're proud of the result.

There are a lot of things we advocate

for that make our industry as great as it

is, from protecting free speech and rights

of creators to securing strong copyright

protections so that they can profit from

their creative work. These things aren't

really public; we do this every day. They're

not something everybody necessarily

knows about. Last year mandated that

we do even more. As John mentioned,

together we knocked on every door that

Q4 2021

13

12-16_NATO-Conversation.indd 13 16/09/2021 11:28
---
Industry NATO

mattered, from Capitol Hill to statehouses.

I personally called 28 of the nation's 50

governors to make my case. We advocated

for liquidity for PPP loans and grants, the

expansion of unemployment insurance,

and that cinemas were included in the

Save Our Stages Act. NATO and the MPA

worked very closely together to make sure

that we made that happen.

Messaging a return to cinemas is a

sensitive and challenging task. What

was your strategy for developing

efforts like CinemaSafe and joint

campaigns like The Big Screen Is

Back? Can we expect to see more of

these collaborations in the coming

weeks and months?

Fithian: Messaging is always important.

It's always a collaborative process between

producers and distributors of movies and

those of us that exhibit them. Careful

messaging became all the more important

during the pandemic, and it will be as we

continue to come out of the pandemic. The

MPA and NATO worked together on that,

with epidemiologists helping set the right

protocols so that we could introduce them

to Charlie's members and bring them to

the plate by emphasizing those efforts.

Letting people know it was safe and

time to come back out to the cinemas

was an important part, but you can't

get people back out to cinemas unless

you also have the right product. That's

why partnering on The Big Screen Is

Back campaign was also important and

rewarding. The team at the MPA and we at

NATO were joined by some leaders at CAA,

one of the biggest talent agencies in Los

Angeles, in putting together a campaign

about movies coming back and sentiments

around it. We launched it in Los Angeles,

and we've had some pretty good play

off of that campaign. We're not done yet.

Obviously, the Delta variant created a

change in consumer attitudes about safety

in going to the movies, so the messaging

challenges continue. Like I said earlier, we

are at halftime in this recovery process.

Rivkin: NATO did a tremendous amount

here to show that it is safe to go back

inside of a movie theater. We did our best

as well. Our individual member studios

did PSAs and tried to get the point across.

We're grateful to the Hollywood stars

like Tom Cruise, Arnold Schwarzenegger,

"When it comes to a return

to cinemas, a return to

production, a return to our

business generally, there is

only one mantra: We're all in

this together."

and others who showed their love of the

movies by showing up and reminding

people what it's like to sit in that audience

and enjoy this unforgettable experience.

When it comes to a return to cinemas,

a return to production, a return to our

business generally, there is only one

mantra: We're all in this together. That

includes the MPA, NATO, studios, theater

owners, unions, guilds, independent

filmmakers—it's got to be all of us. We

laid the groundwork, we created a safe

environment for workers and audiences

through CinemaSafe, and we're showing

audiences they can feel as comfortable

returning to cinema as any other activity.

The Big Screen Is Back campaign,

which I'm very proud of, as John pointed

out was done with an enormous help from

[partner and Managing Director] Bryan

Lourd at the CAA and others in Hollywood.

I think the worst is behind us, I really do.

It's clear the pandemic isn't over, but until

that time comes, you're going to see more

and more collaborations between all of us

in the entire industry.

The pandemic has put extraordinary

stress on this industry. You both have

said that we're all in this together, and

clearly your efforts are collaborative.

Can you cite some of your favorite

examples of positive collaborations

between the studios and exhibition

that you'd like to see more of?

Rivkin: Is there anything better than

Arnold Schwarzenegger, the Terminator

himself, declaring the big screen is back

to a rousing audience, who then chanted

it over and over again? It was such an

incredible moment, because we could

feel the excitement of being in a theater

waiting to see great stories told on the big

screen and highlight the 1.6 million or so

jobs that our industry supports.

CinemaCon, the show NATO puts on

every year, is simply unmatched and

is always extraordinary. I'm looking

forward to seeing everybody again, in

person, meeting exhibitors, seeing the

studio programs, and of course, giving the

address on the state of the industry.

Fithian: Charlie addressed some of the

bigger programs quite aptly, so I'll talk

more about the collaboration. The one

that comes to mind is that New York City

had us closed for a really long time, and

14 Q4 2021

12-16_NATO-Conversation.indd 14 17/09/2021 08:41
---
so did Los Angeles. We developed these

safety campaigns together, messaged them

together, Charlie was on the phone with

governors, and we were doing our lobbying

for a safe return to both movie production

and exhibition—but we still couldn't

get New York City open. What finally

worked was a meeting with a bunch of the

governor's lead people and the mayor's lead

people, that included—and I'm not going

to name names—a CEO of one of Charlie's

companies, the CEO of a major talent

agency, a representative of exhibition, and

theater people in New York. They described

the importance of coming back to the

movies as we come out of this pandemic.

They described the health protocols. It was

one representative from each sector of the

industry, talking about how important it

was for New York to open cinemas and get

us going again. A week later, they opened

cinemas in New York City, and that was the

tidal wave that then led to the studios being

able to release big movies again. It was a

signal to the rest of the world that it was

time to go. That's just one little anecdote of

the kind of collaboration behind the scenes

that people don't necessarily know about,

where everybody was coming together to

make the pitch about the need to return to

movie theaters.

Piracy has a massively detrimental

effect on the members of both your

organizations. How much has the

pandemic exacerbated this problem?

What can the industry do to redefine

its approach to fighting piracy under

the current market conditions?

Rivkin: We are absolutely committed

to [fighting piracy]; it is one of my core

priorities—reducing piracy and protecting

the legal marketplace for creative content.

Piracy really harms our economy. It has

cost the U.S. economy about 230,000 jobs

each year and about $30 billion. It hurts

creators and it hurts audiences. Visiting a

piracy website puts people at an increased

risk of malware, which can lead to identity

and financial theft. A study just came

out showing that when a pirate steals a

movie pre-release, it results in a 19 percent

decrease in box office, so you can see where

NATO's and the MPA's interests are aligned.

That's why in 2017 we formed something

called the Alliance for Creativity and

Entertainment, we call it ACE, turning it

into the leading global coalition dedicated

"Is there anything better

than Arnold Schwarzenegger,

the Terminator himself,

declaring the big screen is

back to a rousing audience,

who then chanted it over and

over again?"

to reducing piracy and protecting the legal

marketplace for creative content. Over the

last year and a half there have been more

people at home watching content than

ever before, which obviously leads to an

increase in piracy. In 2020, there were 137.2

billion visits to piracy websites around the

world. Think about that number. The only

way we can fight piracy is with an all-of-theabove

approach. That means civil litigation,

working with law enforcement, and a lot

more. We know that the industry's recovery

requires us, all of us, to address piracy. And

we've made tremendous progress. I'm

very proud that our current coalition, ACE,

has the six Motion Picture Association

members—Disney, Warner, NBC, Universal,

Sony, Paramount, and Netflix—and I also

brought on board Amazon and Apple.

The eight of these companies, the most

powerful studios. are the core of the

governing board of ACE. All in, there are 35

members that span the globe. It's an endless

fight, but I think we're doing a good job.

Fithian: The MPA have been the lead

warriors in the fight against piracy for many

years. The coalition Charlie just described

is having a great impact as we tackle the

scourge of piracy on our business. We play

a support role in the fight against piracy

in training and coordinating with our

members and staff to try to defeat it inside

movie theaters. It's a great example of

another way that we partner with the MPA

leadership as we track where recordings are

taking place. Through watermarks in the

content, they let us know and we coordinate

with law enforcement to track and try to

stop and arrest people stealing the content

off our screens. That partnership has been

going on for four years, and it gets more

sophisticated every year.

Another source of piracy, of course, is

digital. And here is where I'll make a pitch

for the exclusive theatrical window. The

pandemic necessitated that content be

released in theaters and at home at the

same time, because Charlie's members

could not monetize their movies purely

on a theatrical run given the restrictions

during the first part of the pandemic of

going out to theaters. So, we understood

why movies were released without

windows simultaneously. The challenge as

we come out of the pandemic is that it puts

a digital copy in the hands of pirates on

the first day of a theatrical release, which

is much more damaging than a recorded

Q4 2021

15

12-16_NATO-Conversation.indd 15 16/09/2021 11:28
---
Industry NATO

copy from inside of a cinema. We're

happy that now that we are coming out

of the pandemic, Charlie's members are

returning to release movies with exclusive

windows. We think that also will help

counter the digital piracy that's gone on

during the pandemic. These are issues led

by the MPA, they have a tremendous team

of technology experts and lawyers fighting

the issue, and we're very supportive of that

cause because it affects the entire industry.

If you could each trade roles for a

year, what would be the top item

you'd like to address with each

other's membership?

Fithian: Well, I should not be able to

influence Charlie Rivkin on how he would

lead his organization. This is a man of

an amazing political, diplomatic, and

business career. He knows the business

from his time as a CEO and is now a

tremendous leader of the industry.

If I had to pick one thing, if I were in his

shoes, it would be to continue something

he is already doing, which is to broaden

the tent and have more people involved in

the causes of the MPA and the industry at

large. He's done that in a couple of ways,

like by bringing Netflix into the MPA. A

lot of people have the misconception that

exhibitors don't get along with Netflix.

That's not the case; we are working

more and more with Netflix every day.

By bringing them into the tent of the

MPA, Charlie has broadened the reach

and messaging about the importance of

movies. I hope he gets Apple, Amazon,

and companies like that into the MPA to

join the great causes that he's fighting on.

Rivkin: It's obviously a theoretical

question, because I'm certain there is

no one better suited to running NATO

than John Fithian. John has led this

extraordinary organization, NATO, for

three decades, and the reason they've kept

him in and that he continues to excel is

that he's a diplomat, which is required. He

is a fierce advocate for his industry and a

tough negotiator. He's also a really good

person, and a good friend. It's because we

get along and trust each other, and try to

work towards a common goal, that we have

a better chance of solving problems for the

industry at large. So, I guess I would answer

the question in a highly theoretical way,

since I don't want anybody to take John's

job, even for a moment. But I would also do

things that John is already starting to do:

finding new ways to grow and enhance the

theatrical experience. We're in the golden

age of content. We should all look for ways

to champion the entirety of that content

across a variety of business models in a

way that lifts up the industry for everybody.

That's what John and I are challenged with

and working towards every day.

"Charlie has broadened the

reach and messaging about

the importance of movies. I

hope he gets Apple, Amazon,

and companies like that into

the MPA to join the great

causes that he's fighting on."

RTS

16 Q4 2021

12-16_NATO-Conversation.indd 16 16/09/2021 11:28
---
17_AD-ES-T.indd 17 16/09/2021 11:29
---
Industry CHARITY SPOTLIGHT

CHARITY

SPOTLIGHT

"We are delighted to

provide these kids with

a renovated sport court

that will bring immense

joy for years to come."

CINEMARK AND WARNER

BROS. JOIN FORCES FOR

THE BOYS & GIRLS CLUBS

OF COLLIN COUNTY

In celebration of the July 16 release

of Space Jam: A New Legacy,

Cinemark and Warner Bros. Pictures

teamed up with the Boys & Girls Clubs

of Collin County (Texas) to revamp the

sport court at the McKinney facility in

McKinney, Texas. The new court was

unveiled during a ceremony attended by

Boys & Girls Clubs of Collin County staff

and president, Cinemark executives, and,

of course, Boys & Girls Club members

themselves, who, in addition to exploring

the new court, got to hang out with Bugs

and Lola Bunny.

"Cinemark was thrilled to partner with

Warner Bros. Pictures and Boys & Girls

Clubs of Collin County on this meaningful

project," said Wanda Gierhart Fearing,

global CMO at Cinemark. "We are delighted

to provide these kids with a renovated sport

court that will bring immense joy for years

to come. And to further the excitement, the

Boys & Girls Club members and staff will be

among the first to experience Space Jam: A

New Legacy during an advance screening

at our Allen theater"—to which they were

driven after the sport court ribbon-cutting

in special Space Jam: A New Legacy–

wrapped buses.

As part of the renovation, the sport

court was given new backboards, post

foams, circumference netting, and a highpower

cleaning of the courts and stands.

Even more exciting, the post foams and

select banners and placards now feature

characters and artwork from Space

Jam: A New Legacy, making it a fun and

immersive space.

"We so appreciate the support of

Warner Bros. Pictures and Cinemark in

transforming this court for our club kids

and the community," said Marianne

Radley, CEO of Boys & Girls Clubs of

Collin County. "This past year has been

especially trying on these kids, so for

them to witness such an act of generosity

and have the opportunity to see Space

Jam: A New Legacy prior to its release is

just incredible."

ARTS ALLIANCE MEDIA

SUPPORTS MEDICINEMA

WITH '25FOR25' INITIATIVE

Arts Alliance Media (AAM), a

London-based provider of digital

cinema software and support services,

raised nearly £500 for MediCinema

after employees completed 25 homebased

challenges in just 25 days as part

of an entertaining "25for25" fundraising

campaign.

The initiative, which ran throughout

the month of April, challenged 25 AAM

employees to each complete a unique,

home-based task within a 25-day period

before donating a minimum of £10 toward

the chosen charity. From brewing beer,

making bread, and sketching something

new to hula hoop endurance, learning

a new song, and completing a "couch

to 5 km," each challenge presented an

unorthodox test for AAM employees to

overcome for a good cause. To provide

extra motivation, the final donation

could only be made to MediCinema when

18 Q4 2021

18-20_Charity.indd 18 16/09/2021 11:29
---
"We were aware of the great

work MediCinema does, and

offering those in care an

escape through the medium

of cinema is a cause which the

whole company supports."

all participants had completed their

challenges.

Alan Bowen, GM and CFO at Arts

Alliance Media, said: "At AAM, we remain

committed to our social responsibilities.

Given the U.K. national lockdown had

only recently ended, it was imperative to

establish a creative fundraising initiative

that we could each participate in from

home. We were aware of the great work

MediCinema does, and offering those

in care an escape through the medium

of cinema is a cause which the whole

company supports."

Selected by employees as their charity

of choice, MediCinema aims to improve

the difficult reality of life in hospitals for

patients and families throughout the U.K.

By building, installing, and maintaining

cinemas in places of care, MediCinema

is able to provide an immersive

experience while accommodating those in

wheelchairs and hospital beds.

By raising an impressive £482.52, AAM's

donation can fund an entire MediCinema

screening (£317.92), plus three families of

four (£50.40 each) or two required nurses

(£150.00) at another screening.

"We are enormously grateful for the

wonderful and creative fundraising efforts

that the Arts Alliance Media staff have

made," said Kat Mason, former CEO of

MediCinema. "It's brilliant to have been

chosen as their charity of choice—this

past year has been so difficult for NHS

[National Health Service] patients who are

isolated more than usual in hospitals, and

this money raised will help more of them

benefit from our services."

UPCOMING EVENT

On October 30, Kissimmee, Florida's

Sunset Walk development will host

a Special Olympics 5K run/walk—with

Studio Movie Grill's Sunset Walk location

hosting the participants for a specialneeds

screening. Studio Movie Grill

Sunset Walk was also named Business

of the Year by one of its community

partners, Westside K8 School.

LIFE AFTER COVID:

BY THE WILL ROGERS

MOTION PICTURE

PIONEERS FOUNDATION

Will Rogers Adapts and Moves Forward

The Will Rogers Motion Picture Pioneers

Foundation (WRMPPF) operates three

programs: Brave Beginnings, the Will

Rogers Institute, and the Pioneers

Assistance Fund. The WRMPPF was

originally known as the Will Rogers

Memorial (1936) when it operated a

hospital (Will Rogers Memorial Hospital)

in upstate New York. Over the decades,

the organization's activity level has

fluctuated based on the state of the

industry and current events. The past

year has forced this historic organization

to adapt to the current environment and

plan for a new normal in the industry.

Brave Beginnings

Many people don't know that the United

States has the sixth-highest rate of

premature birth in the entire world. The

Brave Beginnings program has provided

grants to hospitals nationwide, since 2006,

to purchase vital equipment for neonatal

intensive care units. In early 2020 (prepandemic),

it issued $1.4 million in grants

to 42 hospitals.

Due to the severe economic

circumstances created by the pandemic,

fundraising efforts for the Brave

Beginnings program were suspended in

spring of 2020 and remain suspended

at this time. Support for the public

programs (Will Rogers Institute and Brave

Beginnings) has almost exclusively been

provided by the exhibition community

dating back to the 1930s. The theater

closures during 2020 made it impossible

for exhibition to continue their support

last year, and consequently there will be

no new grants to hospitals in 2021 and

potentially into 2022.

Q4 2021

19

18-20_Charity.indd 19 17/09/2021 08:42
---
Industry CHARITY SPOTLIGHT

The Big Screen Big Hearts

campaign has one

objective—to help people

rebuild their lives and get

back on track.

Will Rogers Institute

Continuing to honor the legacy of

Will Rogers, the Will Rogers Institute

continues to fund pulmonary research

and fellowship grants nationwide. The

namesake lab, the Will Rogers Institute

Pulmonary Research Center at University

of Southern California Keck School

of Medicine, continues to expand its

activities in cell biology and physiology of

the pulmonary alveolar epithelium. Their

findings have relevance to many applied

problems, including air pollution, chronic

obstructive pulmonary disease (COPD),

and even Covid-19.

In addition to the lab at USC, the

Will Rogers Institute funds research

fellowships at the following institutions

to train the next generation of pulmonary

health experts:

• Patricia Neal Rehabilitation Center,

Knoxville, TN

• Burke Rehabilitation Hospital, White

Plains, NY

• University of Texas Southwestern,

Dallas–Fort Worth

• NYU Grossman School of Medicine,

New York

• Cedars Sinai Hospital, Los Angeles

The Pioneers Assistance Fund

For nearly 80 years there has been an

assistance program for people who work

in the motion picture industry. Today,

the Pioneers Assistance Fund continues

that tradition by providing financial aid

and supportive counseling to individuals

who work in theatrical exhibition and

distribution and vendors exclusive to

either sector who are encountering an

illness, accident, or injury. In 2021, a

campaign was launched to help people

rebuild their lives who experienced

financial hardship during the pandemic.

The Big Screen Big Hearts campaign has

one objective—to help people rebuild their

lives and get back on track.

Activity in 2021

The Pioneer of the Year Dinner, a timehonored

industry event since 1947, did not

happen in 2020 and will not happen in

2021. The dinner is the primary funding

source for the Pioneers Assistance Fund.

Not to worry—the PAF will continue

to operate via reserve funds, and there

will be no reduction of services offered

anytime in the near future.

Writing a Will and Rounding Up Made

Easy: WRMPPF has partnered with an

organization called FreeWill to offer

industry members a free estate-planning

tool. The online platform not only allows

people to create a free and legally binding

will, but also allows individuals to make

planned gifts and required minimum

distributions from their existing IRAs.

FreeWill also provides a person with the

ability to donate gifts of stocks.

Another modern program implemented

by WRMMPF is the easy way to donate

loose change electronically. People can

sign-up to "round up" the loose change

of a credit card or debit card transaction

automatically. Visit wrpioneers.org/

donate to see all the ways you can support

our industry charity.

Tomorrow's Leaders – Film Row: An

amazing group of early career and midcareer

industry professionals, called Film

Row, has emerged to support WRMPPF as

well as provide professional development.

This dynamic group has hosted the Film

Row golf events in 2019 and 2021 and

engaging activities like Lunch and Learns,

Quarantrivia, and their Film Row LEAD

Speaker Series. The future leadership of

the industry is in good hands.

Stay connected with the Will Rogers

organization on social (@wrpioneers)!

CHARITY HEROES

WALTER HEBERT

Retiring this year after three

decades with Cinemark, EVP

of Purchasing Walter Hebert

leaves behind him a legacy

of charitable assistance to

those in need. To recognize his

many contributions over the

years, Cinemark is building

a treehouse in his honor at

Variety's Peaceable Kingdom

Retreat for Children, which

hosts diagnosis-specific

summer camps for children

dealing with a range of

conditions. The treehouse,

named "Fort Walter," was

dedicated to Hebert in August.

In his time with Cinemark,

Hebert has forged numerous

relationships across the globe.

He has devoted countless

hours to Cinemark's annual

golf tournament, which has

raised millions of dollars for

charities, including Peaceable

Kingdom/Variety of Texas,

Will Rogers, and the Dallas

Holocaust and Human Rights

Museum, to name just a few.

In recognition of all his efforts

and generosity, Variety named

him Texan of the Year in 2018.

Boxoffice Pro invites you

to honor a Charity Hero—

someone in the exhibition

industry who has gone above

and beyond to help those in

need. Nominations—along

with a description of the

person's charity activities

and a photo—can be sent to

numbers@boxoffice.com.

20 Q4 2021

18-20_Charity.indd 20 17/09/2021 08:43
---
Celebrating 50 years

of unwavering dedication,

service, and excellence!

In the face of unprecedented

challenges for the cinema industry,

Proctor Companies is proud to stand

strong as your trusted, go-to partner.

Considering a new project?

Give us a call.

www.proctorco.com | | sales@proctorco.com

800-221-3699

50th_Full 21_AD-Creators.indd BO.indd 1

21 17/09/2021 8/17/21 5:07 08:33 PM
---
Industry INDIE INFLUENCERS

INDIE INFLUENCERS

Brought to you by

As the cinema industry begins to emerge from the Covid-19

pandemic, Boxoffice Pro and Spotlight Cinema Networks are

partnering to profile movie theaters and influential industry

figures from across the country and asking them to share their

first-person accounts of bringing the movies back to the big screen.

MARY D. FISHER THEATRE

Sedona, Arizona

Interview with Patrick Schweiss,

Executive Director

Can you give us some background

on the Mary D. Fisher Theatre

and its connection to the Sedona

International Film Festival? And

who is Mary D. Fisher?

We were a festival before we were a

theater. The Sedona International Film

Festival is turning 28 this year. We're

very proud of that. And the Mary D.

Fisher Theatre is about to turn 10. Back

in 2011, we realized that we had become

much, much more than just a once-ayear

film festival. The festival had grown

from three days to nine days since its

inception. We were renting one of the

multiplexes across the street on 45 of the

52 Tuesdays to bring special events in

throughout the year. We realized, why

are we doing that when we could just

build our own theater and have an art

house movie venue for Sedona?

So we investigated and looked into this

building that used to be a bank. It's kind

of a funny-looking building. I often tell

people, it's one of the ugliest buildings in

Sedona, and you'll find the cutest little art

house theater in it. Everyone agrees it's

absolutely amazing. It was built as a bank

long ago, and then became a call center for

a marketing company. And then you walk

in, and you're mystified by the beauty of

this gorgeous 112-seat theater in the most

nondescript building.

At that time, Mary D. Fisher was on

my board of directors. She's an incredible

philanthropist, artist, humanitarian. She

was the keynote speaker in 1992 at the

Republican National Convention. She

was one of the first women to publicly

acknowledge she was HIV positive, that

it wasn't just a gay man's disease and that

we have to pay attention to this. So she

became the face of AIDS awareness and HIV

awareness and gave this incredible speech

at the Republican National Convention.

She devoted the rest of her life to doing

wonderful things philanthropically and

in the arts. She's an artist and a fabric

designer. Her family was Fisher Oil up

in Detroit. Her father, Max Fisher, and

her mother, Marjorie, instilled a sense

of philanthropic excellence in all of the

kids. They established foundations, and

wherever they were living they gave very

generously. Mary's passion was film and

C

M

Y

CM

MY

CY

CMY

K

22 Q4 2021

22-26_Indie-Influencers.indd 22 16/09/2021 11:32
---
Q4 2021

23

22-26_Indie-Influencers.indd 23 16/09/2021 11:32
---
Industry INDIE INFLUENCERS

the arts. She fell in love with the idea of us

building our own little theater and made it

possible for us. So we're very, very grateful

to Mary Fisher and to all of our supporters

who have really poured tens and hundreds

of thousands of dollars into supporting

us over the years. It's been an amazing,

amazing run of nine and a half, now going

on 10, years of our art house theater. The

community has totally supported it. So

much so that we're about to embark on an

expansion campaign of adding a second

screen to the theater. We're really excited

about that.

What's your day-to-day

programming like, aside from when

the film festival is going on?

[We screen] two films a day, every day of

the year, here at the Mary D. Fisher. We

have a four o'clock and seven o'clock

show. Strictly art house, foreign, that

kind of product. We have a wonderful

partnership with the megaplex across

the street—we rent their facilities

during the film festival. They are really

committed to the big box office films, the

Hollywood blockbusters, the first-run

films. We don't do any of that. We strictly

focus on art house fare and foreign films

and documentaries and those type of

things that wouldn't normally make it

to a theatrical run in a megaplex. Our

audiences really respect that and really

love that we're bringing some culture and

some extra film events and things that

they normally wouldn't be able to see if

we weren't here.

From your website, it looks like your

programming is quite eclectic—even

some nonfilm content, like a live

magic and comedy show.

We had several people within the course

of a month a couple of years ago come

up to us and say, "You're the cultural

heart of Sedona. We experience so many

wonderful things when we come to the

Mary D. Fisher Theatre."

On any given week, we'll have two

art house movies that will open. We'll

have the Met Opera. We'll have a ballet

from the Bolshoi on-screen. We'll have a

London West End production. We'll have

a discussion series. And we'll have a live

show. It's an eclectic mix, as you said. A

combination of really wonderful art house

theater fare, alternative content, and some

live performances. We purposely built the

"Our audiences really

respect that and really love

that we're bringing some

culture and some extra film

events and things that they

normally wouldn't be able to

see if we weren't here."

theater so that the screen could move back

on tracks. We have a small performance

space—9 by 19 1/2 feet. We can do some

smaller productions. We're the home for

the improv troupe here in Sedona. Poetry

slams. All sorts of wonderful live events.

It's this wonderful, eclectic, artsy, cultural

mix. We're very proud that our own

members have labeled us the "cultural

heart of Sedona," because we really want

people to experience that.

We had a couple in from Toronto that

came to me one night and said, "You don't

know us, but we've been here for a week.

We're from Toronto. Five of the seven

nights we were in Sedona, we were here

at your theater experiencing something

different every night." It was such a

rewarding thing to hear, that even visitors

consider us a viable way to spend their

time and their money here in Sedona,

checking out some things that wouldn't

normally be on a vacation agenda. We get

stories like that all the time from people

that come in to visit. And our locals! Our

locals will be here five, six times a week,

catching different things.

A festival experience is different

from a standard screening—each

film has fewer screenings, so it feels

more exclusive, more like an event.

There might be an intro or a Q&A. It

really sounds like the Mary D. Fisher

Theatre has been inspired by that

festival ethos.

We're about so much more than film. We

call it an experience. You can go anywhere

and see a film. Even at home, on your

laptop. Everybody does it. You can go to the

multiplexes—and there's nothing wrong

with that. There's a great market for that.

You often go to art house venues for

the experience. And that experience is

exactly what you say: a little bit of that

festival feel, where you've got Q&As or

Zoom Q&As or a discussion happening

after the film. We always tease and say

we've got a year-round festival happening

here in Sedona, because there are so

many films we're bringing in each week.

It almost does feel like there's a film

festival almost every day here at the

Mary D. Fisher Theatre. It's exciting. It's

exactly the vibe that we're going for. We

want people to come to the films and

say, "Wow, that was so much more than

a movie!" And then talk about it and tell

their friends.

24 Q4 2021

22-26_Indie-Influencers.indd 24 16/09/2021 11:32
---
As someone who has experience both

running an art house theater and on

the festival circuit (as the executive

director of the Sedona International

Film Festival), what are some lessons

that the art house world can take

from how film festivals create unique

experiences?

People are thirsty for so much more now.

There's a new streaming service popping

up every single day, much to the chagrin

of us theater owners and managers.

Ultimately, we love that streaming

services exist. There's a great market for

that. As long as people are experiencing

films, they should experience them any

way they can. But for us, getting people

to have that communal experience in

a theater surrounded by other movie

lovers and having that opportunity for

conversation—that's what it's all about. It

enriches the experience.

That's what I would love to impart to

all our colleagues, from the megaplex to

other art house theaters. That experience

is so appreciated by your audience. It

takes going to the movies to the next

level. And it's something that is so easy

to do, especially now—you can dial up a

"It's this wonderful, eclectic,

artsy, cultural mix. We're very

proud that our own members

have labeled us the 'cultural

heart of Sedona,' because

we really want people to

experience that."

filmmaker or someone affiliated with the

film for almost every screening and have

that enhanced experience. And people

go away talking about it. You don't get

that when you're watching a movie on

your laptop at home or on the TV at home.

Number one, you don't get that communal

experience of seeing a film on the big

screen in the dark, the way they're meant

to be experienced, surrounded by other

people. And then having that conversation.

Even if there's not a conversation from

a filmmaker at the end of the film, just

hearing what's happening in the lobby.

As people leave, the conversations and

the dialogue that happens is absolutely

magical. To be able to take that experience

and make it not just, in our case, the nine

days of our festival but a 365-day-a-year

experience is something really quite

extraordinary.

Given that you're such an integral

part of the cultural community in

Sedona, what have you found to be

the best ways to maintain strong

communication with your customers,

pre-Covid, during the shutdown

period, and now?

Q4 2021

25

22-26_Indie-Influencers.indd 25 16/09/2021 11:32
---
Industry INDIE INFLUENCERS

I know that a lot of the other house art

house theaters also have membership

programs, but we have a really, really

strong, very dedicated membership

program. A very generous membership

program. In Sedona itself, we are the

largest member-supported nonprofit

organization. We're very proud of that.

We engage with them constantly, daily

through emails, and keep them updated

on what's happening.

We always realized our members were

incredibly important to us, but it never

was proven so much as during Covid. They

came out of the woodwork. We, like all

theaters, had to close. We were closed five

months of 2020. We were lucky enough

to open at the end of August [2020] and

have been open ever since. During the five

months we were closed, we tried to find

creative ways—as we all did—to keep our

audiences engaged in our product and

supporting us even when they couldn't be

here for a movie.

We started by doing a free shorts film

festival online. We had incredible support.

We had just completed our film festival,

and I got permission from our shorts

filmmakers to share their films with our

audience. When the pandemic hit, when

we had to shut down, we sent them a

free short film at one o'clock every day,

with a little clicker at the bottom saying,

"Please help support us while we're closed.

We are keeping all of our employees

employed." And asking them to donate.

Which they did. We did a membership

campaign, which usually happens in

April and May. Again, it was right during

the heart of being closed down. And

people gave so generously and gave extra

donations, because they knew we were

keeping our employees employed and

that we were sending them things daily

to watch and enjoy.

You're not just saying "give us money."

You're providing entertainment and

then bringing up donations.

Right! And the "give us money" either

wasn't asked or was a subtle thing at

the very end, saying, "If you enjoyed

this, please consider supporting us. Any

donation helps." And we would get $5,

$20, $200, $5,000 at different times, just

because people felt compelled. We were

keeping them engaged. And we hadn't

lost sight of how important they are to us.

And that helped us.

"In Sedona itself, we are the

largest member-supported

nonprofit organization. We're

very proud of that. We engage

with them constantly, daily

through emails, and keep

them updated on what's

happening."

You work with Spotlight Cinema

Networks—both screening their preshow

and showing content from

their event cinema outfit, CineLife

Entertainment. Can you talk a bit

about your relationship with Spotlight

and how it's helped the Mary D. Fisher

Theatre through the recovery process?

They are such an important partner to us.

We started with them years ago with their

on-screen ads. It's such a no-brainer for

theaters. They do all the work and sell

the ads. We have the right to show them

or not show them. We get to pick what

works for our audiences, and 99 percent

of the time it's everything they do. And

you get this magical check that shows

up, because you've shown their ads! They

provide such an incredible opportunity

for theaters and a great marketing

opportunity for their advertisers to get in

front of our customers' eyeballs. The art

house theater crowd is usually a highereducated

crowd. Our demographic is

older. They have disposable income.

They come to movies and events that are

a little more expensive than [you'll find

at] the regular cineplex. So their ads are

getting seen by a really prime audience.

And now, with the addition of their

cinema events and the special alternative

content they do, it's just phenomenal. I

think we book almost everything that

they make available, because it's such a

fit for our audience. It provides wonderful

cultural events that we can program. So

it's great revenue for us, great revenue

for CineLife Entertainment, and great for

our audience to experience something

cultural that they wouldn't normally get

to experience.

We're also excited because, with the

addition of the second theater, we'll be

able to expand and even do more of those

programs that Spotlight Cinema Networks

and CineLife Entertainment offer. We're

excited about the opportunities that's

going to present. Getting in front of more

people with those messages and those

programs and providing more cultural

experiences is what it's all about.

26 Q4 2021

22-26_Indie-Influencers.indd 26 17/09/2021 08:44
---
THE FEATURES YOU NEED.

THE OPTIONS YOU WANT.

THE COMPANY YOU TRUST.

When it comes to concessions,

it comes from Cretors.

Only Cretors combines five generations of industry leadership with more than

130 years of forward-thinking innovations. Backed by our industrial manufacturing

R&D for global snack food giants, we bring revolutionary products to the

concessions marketplace, time and again. Whether it's an industry-changing

safety feature, a long-sought-after option or a customizable machine made

for the way you sell anywhere in the world, there's no limit to our ingenuity.

Made in America, loved world-round!

Contact Shelly Olesen at 847.616.6901 or visit www.cretors.com

27_AD-Proctor.indd 27 17/09/2021 08:33
---
Industry INDUSTRY INSIDERS

BUILDING

STRONG

TK Architects Celebrates Its

40th Anniversary

BY REBECCA PAHLE

1981, says Michael Cummings, was

not the best time to be an architect. "I

distinctly remember a professor telling me,

'It's a great time to be in school. There's not

an architecture job to be had anywhere.'"

Nonetheless, 1981 was the year when

architect Ted Knapp took a risk and—with

a combination of hard work, planning,

and a little bit of lucky timing—cofounded

(with wife, Sue) TK Architects,

still going strong in 2021 as the firm

celebrates its 40th anniversary.

According to Cummings, TK Architects

senior principal, Knapp, who retired

from the firm in 2011, worked at several

architecture firms in the Kansas City area

before hitting a professional wall: "He's 40

years old and there's nowhere for him to

go in his career. There's no other position

to aspire to." Striking out on his own and

founding TK Architects—"to be in charge

of [his] own destiny," says Cummings—

may have ended in failure, given the state

of the economy at the time. Luckily, TK

Architects had a weighty factor in the plus

column: they shared, and still share, a

home city with AMC Theatres.

That AMC ended up being a key early

client for TK Architects—and that the

year of TK Architects' founding saw both

companies smack-dab in the middle of

the construction-heavy multiplex boom—

was a product of "really interesting

foresight and thought" on Knapp's part,

says Cummings. At an earlier job, he'd

done design work for shopping centers,

which familiarized him with AMC, whose

corporate headquarters was three blocks

from his office. Despite a noncompete

28 Q4 2021

28-31_TK-Architects.indd 28 16/09/2021 11:33
---
Below. The Palms

Theatres & Imax in

Waukee, Iowa

clause, Knapp would reach out to cinema

veteran Larry Jacobson, then senior

V.P. at AMC Theatres, to ask about "hot

fishing tips"; this bit of entrepreneurial

subterfuge led to architecture jobs with

AMC, designed over the weekend after the

chain held its Friday real estate meetings.

"When I started a few years later, that was

still a regular part of the weekly routine:

wait for the real estate call on Friday

afternoon and figure out whether you're

going to have to work the weekend or

not to get something done for it," says

Cummings. Though he admits that it was

"a bit of luck" that the multiplex boom was

under way during TK Architects' early

years, "it certainly wasn't a bit of luck

that AMC was a targeted potential client.

[The hard work] was not luck at all. Or all

the design skill that went into being able

to do those layouts in a few hours over

a weekend, to let them make a decision

whether a site made any sense."

And it wasn't luck that would carry TK

Architects along for another four decades.

In 1987, says Cummings, AMC Founder

and CEO Stan Durwood claimed that

every theater that needed to be built in the

U.S. already had been, which ultimately

had two major impacts on TK Architects'

future. One: In search of new clients,

they got involved in the larger exhibition

community, attending industry events like

ShoWest (now CinemaCon), CineEurope,

CineAsia, and other conferences hosted by

the NAC and TEA, the forerunner to ICTA.

Secondly, when AMC went to Europe

to try and establish an international

presence there, TK hopped across the

pond as well, founding an office in

London in 1995. In the decades since, TK

Architects has worked on entertainment

projects in more than 50 countries. They

also, in addition to cinemas, do work for

entertainment, food, and retail venues,

including those in the emerging cinema

entertainment center field, profiled in

depth in our August 2020 issue.

"It was a unique edge that

we had, to be able to [say to]

cinemas, 'Your technology has

changed, and our technology

has changed, and this is how

we're helping you create a

better patron experience.'"

Q4 2021

29

28-31_TK-Architects.indd 29 16/09/2021 11:33
---
Industry INDUSTRY INSIDERS

In listening to the stories of vendors,

whether seating or concessions,

technology or architecture, one gets a

sense of the rich and still-evolving history

of theatrical exhibition—and the case is no

different with TK Architects. In the firm's

early years, their designs for AMC under

the leadership of Durwood were geared

toward an "efficiency rating"—basically,

taking a preexisting space (as most

theaters were located in shopping centers

at that time) and trying to fit as many

people as possible into each auditorium

for maximum profit. Whether a cinema's

business plan made sense was a matter of

simple math: the cost of the lease, the size

of the building, and the square footage

required per seat. "I remember to this

day a call with Ted and Larry Jacobson—

they'd worked very hard on his plan to get

something to fit. It was the first one they

did, and they were so proud." The plan

was taken to Durwood, who right off the

bat asked for the efficiency rating. When

it proved too low, he responded, "'Well,

that's terrible. Don't even show it to me

unless you get a 12.' At the time, that was

Stan's formula, his recipe for what he

needed to sign a lease."

"It's about putting the space

and spending the money

where the customer will

appreciate it."

The efficiency-rating era—or the

packing-them-in-like-sardines era,

whichever you prefer—began to pass

with the coming of stadium seating and

was fully K.O.'d by AMC's enthusiastic

adoption of recliner seating near the

beginning of the 21st century. "We were

having a conversation with [exhibition

veteran, now CEO of Classic Cinemas]

Chris Johnson," says Cummings, "and he's

like, 'It's counterintuitive. It just makes no

mathematical sense. But I see the results.

I see the business. I see the dollars come

from a location before and after. It makes

no sense. But it works.'"

Recliner seating swept the North

American market, and other changes to

the cinematic status quo followed—with

TK Architects in the thick of it, figuring

out how to design all these new trends that

were taking hold in the industry. With

dine-in came the need for theaters to have

kitchens. More recently, the increased

adoption of touchless technologies—

spurred by Covid, but certain to remain

post-pandemic per TK Architects

Principal Theresa English—has had its

own impact on theater design. Cinema

entertainment centers are an area in

30 Q4 2021

28-31_TK-Architects.indd 30 16/09/2021 11:33
---
which Cummings sees room for continued

design innovation, as are food and

beverage and microcinemas—or, speaking

in a more general sense, designs for "more

versatile spaces," says English, that allow

for cinemas to more easily experiment

with an expanded variety of content.

Although North American cinema

design has trended toward the warmer and

more inviting in recent years—kind of a

"your-living-room-away-from-home feeling,"

says Cummings—in certain overseas

markets (including China), "they're a lot

more experimental and a lot more willing

to try something and to look for something

that's eye-catching." While Cummings

would love the opportunity to provide

more glitz and glamour, even something

borderline Vegas, he says, referring to some

cinemas he's visited in India—"I don't know

how positively the U.S. market will react to

that. And I'm not talking about the clients.

I'm talking about the consumers.

"It depends on the demographics, and it

depends on the market," he continues. "I

also think about the success that Alamo

[Drafthouse Cinemas] or Everyman

[Cinemas] have had in their markets with

creating a very unique aesthetic. … It's

really about being part of the communities

that they're in."

Meanwhile, TK Architects upped its

own technological game over the decades,

shifting from AutoCAD design software to

Revit, allowing them and their customers

to look at potential sightlines in 3-D. "I

could look at [a potential design] in curved

rows with a curved screen and tell [a

client], 'Yeah, you'll be able to see the

bottom of the screen,' or 'No, you won't,'"

says English. "We adopted that earlier

than I would say our competitors did. It

was a unique edge that we had, to be able

to [say to] cinemas, 'Your technology has

changed, and our technology has changed,

and this is how we're helping you create a

better patron experience.'"

Patron experience must be at the center

of every cinema, which the designers at TK

Architects will remind a client if its own

creative vision clashes with practical and

efficient design. Spend money on things

your customers will actually notice, says

Cummings: spacious-enough bathroom

stalls, not top-of-the-line plumbing

systems. "They care if you walk into an

auditorium and there's a space to gather

yourself and figure out where you're going

to go"—versus a "not fully realized" space

at the back of the auditorium "that only

half a dozen patrons actually see during

the course of the movie. It's about putting

the space and spending the money where

the customer will appreciate it." All this,

says Cummings, while capturing "each

client's unique culture and personality"—

whether that's hewing to a very specific

brand aesthetic or, with midsize exhibitors

on down, working with the client to

understand their vision so that it can be

expressed through design.

TK Architects started in a time of

economic precarity, when exhibitors were

taking risks and exploring innovations that

would lead the world of cinema into the

next century stronger than ever before. As

TK turns 40, the world of exhibition faces

profound challenges yet again—which it

is meeting, as ever before, with creativity

and entrepreneurship, all underpinned by

a love of going to the movies.

Left. Malco Powerhouse

Cinema, Memphis,

Tennessee

Right. Marcus Palace in

Sun Prairie, Wisconsin,

and Camp Cinemark in

Allen, Texas

Q4 2021

31

28-31_TK-Architects.indd 31 16/09/2021 11:33
---
S C R E E N S T H A T S E T T H E S T A N D A R D

HGA

ReAct

LASER-READY SCREENS

The innovative and technically superior solution for

todays' High Performance LASER projection systems

Brighter image

Wider viewing angle

Worldwide delivery

MEET US AT CINEEUROPE

BOOTH 518

PREMIUM HGA SILVER SCREENS | NORTHVIEW HORIZON WHITE

GAIN SCREENS | FOLDABLE 3D SCREENS

www.strongmdi.com | 1 877 755-3795 | info@strongmdi.com

32_AD-Strong-MDI.indd 32 16/09/2021 11:34
---
Niels Swinkels 34 | Ivar Halstvedt 38 | UNIC Gold Awards 40

CINEEUROPE

"If it wasn't for the hugely motivating environment at Universal,

I would not have chosen to stay at the same company for such

an extensive amount of time."

Niels Swinkels, p. 34

Q4 2021

33

33_CineEurope-Opener.indd 33 16/09/2021 11:35
---
CineEurope 2021 NIELS SWINKELS

INTernATionAL

DISTRIBUTor

OF THE YEAR

nieLS SWinKELS

Executive Vice President &

Managing Director, Universal

Pictures International

"We are delighted to

have this opportunity to

thank and honor Niels and

Universal for their leadership

position in maintaining the

even flow of product to the

industry during the past 18

months."

Niels Swinkels, the recently

promoted executive vice president

and managing director of Universal

Pictures International, is this year's

recipient of CineEurope's International

Distributor of the Year award.

Prior to taking on his current role

in January 2021, Swinkels served as

executive vice president of international

distribution—a role that required him

to relocate from Los Angeles to London

in 2015. Swinkels's ties to Universal date

back to 2004, when he joined the newly

created Universal Pictures International

head office as its international marketing

director. Further promotions saw him

move up to V.P. of sales and distribution

EMEA in 2006 and a change in title to

senior vice president in 2009, before

spending over four years as managing

director of UPI U.K. and Ireland. In his

current role, Swinkels manages the dayto-day

operations of the UPI businesses,

delivering strategic direction for all

international theatrical distribution

efforts and leading business development,

including regional partnerships,

productions, and market expansion.

"Universal Pictures International has

been a strong supporter of CineEurope

since its inception, and Niels has led that

effort with great professionalism," says

Andrew Sunshine, managing director of

CineEurope. "We are delighted to have

this opportunity to thank and honor Niels

and Universal for their leadership position

in maintaining the even flow of product to

the industry during the past 18 months."

Boxoffice Pro spoke to Swinkels

ahead of CineEurope and asked him to

look back on his career. We also asked

about the challenges of distributing and

marketing global tentpole releases during

a pandemic.

You've worked at a variety of

companies throughout your career.

What has been the biggest change

in the industry during that span? Is it

harder to get a film on an audience's

radar today than in the past?

I would say, over the 25-year time span,

the biggest change has been the growth of

the international market, helping global

box office to a record $42 billion in 2019.

Secondly, and that answers your other

question, is the way films get marketed

and the environment in which we do that.

Campaigns used to be a lot less complex.

Getting your one sheet and trailer right as

key elements, plus a set of derivative TV

spots, were your main tasks as marketer.

Nowadays, the volume and variety of

marketing elements on each release are

vast. We're now to able to directly target

moviegoers with customized messages.

This is not only the opportunity that the

intricate media landscape now provides,

but also a necessity to break through the—

mostly online—clutter.

Have you had any mentors

throughout your career that have

helped you be where you are today?

Absolutely, from my first two bosses in

the Benelux, Dirk De Lille and Marc Punt,

who helped me on my way as a movie

marketer, to David Kosse, Duncan Clark,

and now Veronika Kwan Vandenberg at

Universal as I moved into distribution

and management. Each of them has

taught me different things about my

job, the industry, how to strive to be

the best at what I do and be the most

effective leader. I am grateful they have

all allowed me to grow and evolve and at

critical points change roles to continue

that journey. And during my entire

17-year-plus career at Universal, Donna

Langley has always been an incredible

inspiration, showing how to combine

business smarts with creative excellence

and how to always strive for change

and progress. If it wasn't for the hugely

motivating environment at Universal,

I would not have chosen to stay at the

same company for such an extensive

amount of time.

The rise in prominence of the

international box office is one of the

major industry developments of the

last 25 years. As a distributor, was

there a specific period when you

noticed the industry had realized

the true potential and power of

international markets?

Titanic was of course an early indicator

of the enormous potency of international,

when box office receipts for that movie

seemed without end in 1998. But it wasn't

until the early 2000s that the Lord of the

Rings and Harry Potter franchises started

to show consistency of international

box office potential at $500 million or

more for each installment, plus some big

animation hits around that mark from

Pixar and DreamWorks. Moving to London

34 Q4 2021

34-36_CINE_NIELS-SWINKELS.indd 34 16/09/2021 11:35
---
to take an international role in early

2004 was perfect timing to be part of this

surge and helped me be an advocate for

and contributor to it. The growth hasn't

stopped since.

Universal is one of the few studios to

consistently release films worldwide

since cinemas reopened. What

lessons did you learn from that

process? From your perspective,

where is the global cinema recovery

today compared to last year?

We learned and still learn new lessons

on each release weekend and in between,

as everything is still in such a state of

flux. Most importantly, we learned that

you can release movies around the world

with extended rollout patterns, holding

out and waiting for opportune moments

from market to market. For example, we

are still in release on The Croods: A New

Age, which opened in North America at

Thanksgiving 2020, and we'll cross $165

million in international box office, the

highest gross for any family film since

the start of the pandemic. We have yet

to release [in all] markets for F9, for

which we started the rollout in major

international markets like China, South

Korea, and Russia an unprecedented

five weeks before domestic. We are

approaching $550 million in international

box office, by far the highest-grossing

film since the start of the pandemic.

There's light at the end of the tunnel,

and it shines brighter in some places than

others still. But we are committed to our

slate for the remainder of 2021, including

No Time to Die. Along the way, we may

need to revert to unconventional release

patterns, if market circumstances require

it. It's the reality of today, but it can work.

We have confidence that in 2022 we will

return to a more normative situation.

Launching a global release under

regular market conditions is difficult

in itself. How did the pandemic

change your approach, as you

balance the challenge of helping

audiences return to cinemas while

being sensitive to those who may not

be ready to come back?

The unusual rollout strategies we

conceived on prior-mentioned releases

proved that you can manage the

availability of movies for the right

audience at the right time, market by

"If it wasn't for the hugely

motivating environment

at Universal, I would not

have chosen to stay at the

same company for such an

extensive amount of time."

market. This includes in the home as

well. We have found very effective ways

to release in the home at shorter windows

while protecting the theatrical opportunity

when cinemas are open. This not only

secures a constant flow of available new

titles, it also enables profitability on

releases during very challenging times

and is therefore a business model that has

a foundation for a future. The profile of

the content-consuming population and

its propensity to leave the house to see a

movie on the big screen or watch at home

will continue to evolve. Safety will be the

first and foremost concern initially. The

overall experience will be next—like in

normal times. When we come out of the

pandemic, in ideal circumstances, we will

have grown both theatrical and in-home

Q4 2021

35

34-36_CINE_NIELS-SWINKELS.indd 35 16/09/2021 11:35
---
CineEurope 2021 NIELS SWINKELS

viewing as audiences will have developed a

very strong sense of the value of one versus

the other.

When was your first trip back to the

cinema since theaters reopened

in your area? Can you tell us more

about that experience and what it

meant to you?

It was on April 16. A private hire with

friends at the Cinemark North Hollywood.

We watched Fast Times at Ridgemont

High. It was an emotional night: being

back at a cinema with great company,

having an old-fashioned good time. I

won't forget it. I posted about it on my

social media, and it got huge response. I

have been back to the cinema for regular

programming many times since, both

with my family and with friends.

Cinemas have an extraordinary

challenge ahead of them as they

continue to reopen. How do you

believe the industry can move

forward from this crisis?

For a while, exhibitors will need to deal

with Covid-safe measures to make patrons

"The profile of the contentconsuming

population and its

propensity to leave the house

to see a movie on the big

screen or watch at home will

continue to evolve."

feel safe as well as their staff. I think each

of them has done an incredible job in that

sense. I'm a huge believer that moviegoing

will come back in a big way. We have

already seen very promising signs of this

in markets where circumstances allowed

for recovery.

Like before the pandemic, if cinema

owners invest in places people want

to leave their houses for, because they

offer value for money in quality and

experience (that includes anything

from making a reservation to leaving

the theater) on something you cannot

replicate at home, and we deliver on the

expectation of what people want from

a movie in the social space of a movie

theater, we will recover and prosper

like before and even go beyond. Look at

the restaurant business currently. It's

booming! People have had enough of

cooking at home, cold takeaways, and

washing up. I believe that analogy is a

sign of hope for all of us.

36 Q4 2021

34-36_CINE_NIELS-SWINKELS.indd 36 16/09/2021 11:35
---
seNOV 8-11

se2021

LOEWS MIAMI BEACH HOTEL

MIAMI BEACH, FL

CELEBRATING

35

YEARS OF

SHOWEAST

LOEWS MIAMI BEACH HOTEL, MIAMI BEACH, FL

SHOWEAST.COM

PRODUCED BY

FilmExpoGroup

:

SE21_PRINTAD_BOXOFFICE 37_AD-Show-East.indd 37 copy.indd 1

8/31/21 16/09/2021 10:22 11:36

AM
---
Cineeurope 2021 IVAR HALSTVEDT

UNIC

ACHieVEMENT

AWARD

IVAR HALSTVEDT

Director of Cinema at

Kulturmeglerne Ltd. and former

Country Manager for Norway

at Nordic Cinema Group and

Odeon Cinemas Group

It's been a long two-plus years since

the exhibition executives of Europe

were able to meet at CineEurope, last held

in person in June 2019 in Barcelona, Spain.

The Film Expo Group hosted a digital

version of the event in 2020, but as this

year's UNIC Achievement Award winner

Ivar Halstvedt will tell you, there's nothing

like meeting in person.

The current director of cinema at

Kulturmeglerne Ltd. and former country

manager for Norway at Nordic Cinema

Group (later Odeon Cinemas Group),

Halstvedt may be a year late in picking

up his award—he was initially slated to

receive it at 2020's CineEurope—but it is

no less a reflection of an incredible life

of service to the Scandinavian cinema

industry. "We are absolutely delighted

to honor Ivar at CineEurope 2021," says

Phil Clapp, president of UNIC. "The

award recognizes his distinguished

career and leadership in the European

exhibition sector, his continued passion

and commitment to the highest standards

of theatrical presentation, and his key

role in developing both the Norwegian

and European cinemagoing experience. I

know that it will be warmly welcomed by

colleagues from across the industry."

A devotee of cinemagoing since his

boyhood in Norway, Halstvedt evolved into

a key figure in the Scandinavian exhibition

scene. As the then–Nordic Cinema Group's

country manager for Norway, as well as

head of its Technical Council, he played a

key role in Norway's conversion to digital

cinema. Later, Halstvedt was instrumental

in the series of mergers and acquisitions

that led to the Nordic Cinema Group—

now merged into the Odeon Cinemas

Group—becoming a part of AMC Theatres.

Halstvedt is a long-time board member of

Film & Kino, Norway's cinema trade group,

and remains an active cinema developer.

What was your first job in the

exhibition industry, and at what point

did you know you wanted to make a

career out of it?

I started working in the exhibition industry,

part-time, during my studies in cultural

management in the mid-1980s, but already

as a kid I had my mind set on working in

exhibition. My first real, full-time job was

as a cinema manager at Heggelia Cinema

in 1989. It's situated in the north of Norway,

where the sun never rises in the winter and

never sets in the summer.

In 2010, when Norwegian cinemas

were in the process of digitizing, you

wrote the guide, "How to build a

modern cinema multiplex." What

does the phrase "modern cinema

multiplex" mean to you today?

In 2010 the Norwegian cinema industry

started the first national conversion to

digital cinema in the world. That of course

created a lot of focus, since nobody had

done it before us.

At that time, I knew that many other

things would also deserve more professional

attention: improvement of cinema

design, how to increase profitability,

improvement of terms in lease contracts,

and how to improve requirement specifications

to ensure the quality of the cinema

towards contractors, to name a few.

Today, I would focus more on how to

achieve a total curated cinema experience

for our audiences and how to get maximum

bang for the buck from the right things.

These would include attentive service from

the personnel, personal presentations of

the screenings, unique design of interiors,

innovative PLF screens and special

concepts, and extended new F&B offerings.

What professional lessons have you

taken from the Covid-19 pandemic?

To always be prepared for the unexpected

and to drill action plans for damage

control when a crisis might hit. I must say

I am very proud of the way our industry

has handled the pandemic, keeping our

chin up through it all and struggling

38 Q4 2021

38-39_CINE_Ivar_Halstvedt.indd 38 16/09/2021 11:36
---
to stay open as much as possible while

making our patrons feel safe when they

decide to return to the cinema.

Who are the companies or industry

figures working in exhibition today

who most inspire you?

Except the companies I have worked in

myself, I must say that the concept and

results from Everyman Cinemas [in the

U.K.] seem to impress and inspire many in

our industry today.

What achievements are you most

proud of from your time in the

exhibition industry?

If I may mention two: The first would be

successfully establishing Europe's first

new-build cinema with all-digital picture

and digital sound transmission, Ringen

Kino, in Oslo in 2008.

The second would be the opening of

the Odeon Oslo in 2018, Norway's largest

multiplex ever, with 14 screens, including

a wonderful Imax screen. This cinema

also achieved the highest admissions in

the country.

How do you see Covid affecting the

evolution of the cinema industry—in

terms of adopting new technology

and premium experiences—as more

global markets emerge from the

pandemic?

I believe the pandemic has made us focus

on what's important in life. What we have

witnessed upon the return to cinemas in

all reopened markets, from the surveys

being conducted, assures us that the

cinema experience has been deeply missed

and is much-loved. How out-of-home

entertainment will develop post-Covid, I

guess everyone has an opinion, but what

we have seen in the last years is that both

modern and well-run multiplexes and

successful boutique cinemas are doing

very well, catering to different needs from

the same audiences. I think improved

design, personal service, and new offerings

will continue to evolve in the years to come,

making our profits grow and bringing

about much-needed reinvestments on a

broad scale for many cinemas.

Can you tell us something about

the cinema projects you're currently

involved in?

I can't be very specific, but I am involved

in several exciting new-build projects

"I think improved design,

personal service, and new

offerings will continue to

evolve in the years to come,

making our profits grow and

bringing about much-needed

reinvestments on a broad

scale for many cinemas."

and also in several renovation projects

involving older, pre-war cinemas. Both are

very close to my heart.

Do you remember the first movie

you saw in a theater? What was the

cinema you went to most as a child?

It was Disney`s Dumbo at our local cinema,

Selbak Kino, located at the dodgy end of

the portside town of Fredrikstad. I became

a regular there from a very young age. The

cinema reminds me of Cinema Paradiso,

both in design and the type of audience.

Who have been your mentors in the

exhibition community?

I have been fortunate enough to have had

the opportunity to work with many leading

professionals in our industry. These include

Mr. Stein Sandvik, the great entrepreneur

of Norwegian cinema, who gave me the

responsibility of building Norway's first

cinema chain; Mr. Peter Fornstam, the

great Swedish cinema showman, who

taught me how to run a profitable cinema

chain within a lean organization structure;

Mr. Mats Kullander, the highly regarded

cinema builder of SF Bio, who taught me

the importance of bringing atmosphere

into cinema design; Mr. Ari Saarinen, the

great cinema technology innovator, who

taught me how to think outside the box

on technical solutions; and our great and

inspirational leader through many years,

Mr. Jan Bernhardsson, who taught me very

much about large-scale business and how

to improve it constantly.

I am also very inspired by having

witnessed the work performed by the

very kind and highly skilled Mr. Duncan

Reynolds and Mr. Stephen Lavelle of

Odeon Cinemas Group.

What does it mean to you to be

able to attend CineEurope after the

horrible year and a half the exhibition

community has had—especially since

you were supposed to receive this

award in 2020?

I believe attending CineEurope this

October will be a very important part of

our industry's [journey] to recovery. We

will continue from where we left off, with

certain adjustments. Like most others, I

can't wait to see everyone again. Even

if we have been able to meet digitally

for the last 18 months, there is now a

huge, accumulated need to meet and do

business in person again.

Q4 2021

39

38-39_CINE_Ivar_Halstvedt.indd 39 16/09/2021 11:36
---
CineEurope 2021 UNIC GOLD AWARDS

PURE

GOLD

UNIC and CineEurope Honor Dedication

and Service to Cinema

BY REBECCA PAHLE

The final night of CineEurope's 2021 trade show will see this

year's eight Gold Award recipients receive their honors at

an awards ceremony at Barcelona's Centre de Convencions

Internacional de Barcelona (CCIB).

"The Gold Awards were started by UNIC [International Union

of Cinemas] and CineEurope in order to recognize individuals

that have served our industry in so many ways throughout their

careers," CineEurope co-managing director Andrew Sunshine

said in a press release. "On behalf of the entire Film Expo team

[producers of CineEurope], I would like to take this opportunity to

congratulate the eight individuals being honored in 2021 and thank

them for their contributions, hard work, and dedication. Each and

every one exemplifies what this award is about."

Below, Boxoffice Pro offers an introduction to the eight Gold

Award winners being feted at this year's CineEurope. Interviews

have been edited for length and clarity.

THE WINNERS

Hanna Dobslaw

Theater Manager, Cineplex Alhambra

Berlin, Germany

Angeles San Gabino

Former Managing Director, Federación de

Cines de España (FECE), Spain

Alexander Kuznetsov

COO, Karo

Russia

Alain Surmulet

Technical Director, NOE Cinémas

France

Ulf Jansson

CTO, Winberg Kino

Sweden

Dee Vassili

Executive Director, Group H.R.

Vue International, U.K.

Jon Nutton

Marketing Director,

Empire Cinemas, U.K.

Martin Waller

Group Food and Beverage Director,

Odeon Cinemas Group, U.K.

40 Q4 2021

40-44_CINE_Gold.indd 40 16/09/2021 11:37
---
WHAT'S THE NUMBER ONE

PROFESSIONAL LESSON

YOU'VE LEARNED DURING

THE COVID-19 PANDEMIC?

Hanna Dobslaw, Cineplex Alhambra

Living as an individual in a society means

being part of it and taking responsibility

for its survival. [We must] look out for each

other.

Alexander Kuznetsov, Karo

Unfortunately, this is the first time that

the film market faced a global problem

that completely turned the business

upside down. Previously, cinemas also

faced difficulties during economic crises,

but cinema has always remained the most

affordable format for recreation, and the

market quickly stabilized.

This situation made it possible to

further develop our team's anti-crisis

management skills, since we had to instantly

revise our cinemas' work (personnel,

contracts, new standards). One of the

main tasks was to retain all personnel and

return them to work as quickly as possible

after the lockdown was lifted, in compliance

with all security measures.

Ulf Jansson, Winberg Kino

One must try to keep cinemas open

as much as possible—with respect for

restrictions and human safety, of course.

But never to close if not forced to.

Jon Nutton, Empire Cinemas

Persistence, resilience, and belief in our

industry and that we can bounce back

even stronger than we were pre-pandemic.

Angeles San Gabino, FECE

The role of national associations during

the pandemic has been more relevant

than ever before, helping cinemas to find

the best solutions against the pandemic

and defending the entire exhibition sector

during all those months.

Alain Surmulet, NOE Cinémas

As in most industries, the first closure

[March through June 2020] was felt as

a real trauma that had to be quickly

overcome. The focus was about keeping

both the equipment and the buildings

themselves in perfect working order.

Neither were designed to be unused for

so long. More than ever, we had to show

flexibility, rigor, and motivation toward all

the staff involved to ensure very regular

maintenance on all equipment was done in

order to be 100 percent sure we were ready

for the day the reopening would happen.

While co-chairing the exhibition

department of the French Superior

Technical Commission (CST), I supervised,

"Keeping our teams engaged

and informed on the complex

situation unfolding whilst

planning the reopening and

recovery demanded a new

level of communication and

support for all of our people."

with the support of the National Federation

of French Cinemas and Eclair Laboratories,

the dispatch of an encrypted DCP [digital

cinema package] allowing all French

cinemas to test their equipment every

week. With more than 7,400 KDMs [key

delivery messages] generated (including

all the cinemas in Metropolitan France and

overseas territories, the open-air traveling

cinemas, as well as post-production

screening rooms), this constituted a

technical operation of an unprecedented

scale responding to an exceptional

situation. At each of the two reopenings,

the technical issues were limited and all

the rooms were able to reopen!

Dee Vassili, Vue International

Covid has changed the world and

potentially the way we live our lives in

the future.

One thing for sure is that change is the

only constant, so be prepared for it!

Ambiguity and complexity are the "new

norm," therefore, seek to understand and

find a better way of doing things, which

will take us out of our comfort zone and

may not resemble anything we have ever

done before.

Martin Waller, Odeon Cinemas Group

The big learning for me during the

pandemic was about the importance

and power of communication. Keeping

our teams engaged and informed on

the complex situation unfolding whilst

planning the reopening and recovery

demanded a new level of communication

and support for all of our people.

Q4 2021

41

40-44_CINE_Gold.indd 41 16/09/2021 11:37
---
CineEurope 2021 UNIC GOLD AWARDS

WHAT WAS YOUR FIRST

JOB IN THE INDUSTRY, AND

WHEN DID YOU THINK YOU

MIGHT LIKE TO PURSUE

EXHIBITION AS A CAREER?

Hanna Dobslaw, Cineplex Alhambra

I started to work for CineStar in 1999. They

opened their cinema in the north of Berlin—the

day of the grand opening was my

19th birthday. I was together with friends

and we watched Shakespeare in Love. I decided

to submit my application to them the

next day. Two days later, I started working.

Selling ice cream, making popcorn, and

welcoming our guests were among my first

tasks, and I loved it. Working in cinema

means belonging to a great family.

In the following years, I learned more

and more about what it means to work for

this family in the service sector as well as in

administration for two different companies.

In December 2009, I was asked to take

over the Alhambra cinema in Berlin. That

was the moment I knew I would make my

own place where employees feel what I

felt when I started working 10 years before.

Now it's 2021, and I have never regretted

this decision.

"During my technical

education I worked as a

cinema projectionist, and

then I was hooked on the

industry and have never

regretted it for a moment."

Alexander Kuznetsov, Karo

I started my movie career in 2006 at the

cinema Kinostar De Lux.

Ulf Jansson, Winberg Kino

My first job in the industry was at my

father's cinema at a young age. During my

technical education I worked as a cinema

projectionist, and then I was hooked on

the industry and have never regretted it

for a moment.

Jon Nutton, Empire Cinemas

Back in March 1989 I joined AMC

Entertainment as a part-time "cinema

operative" at Crystal Peaks in Sheffield.

From the first time I walked into the foyer,

I instantly found my second home—and

30-plus years later, [here I am]!

Angeles San Gabino, FECE

My first job was in 1976 as secretary of

Federación de Cines de España (FECE). In

2008 I was promoted to general manager

of the organization, until my retirement.

From the first, I thought the exhibition

sector would be my home. I never thought

about changing jobs.

Alain Surmulet, NOE Cinémas

With a father that was a projectionist, you

could say that I learned to love projection

very early on! I first visited a projection

booth at the age of 10. My first actual

projection was at the age of 14 in the

cinema of Lisieux: starting the projector,

opening the curtains, opening the douser,

the house lights dim down, and the image

appears on screen. Unforgettable!

I knew very quickly that it would be a

vocation, that it would be that or nothing!

Dee Vassili, Vue International

The first time I went to the cinema I was

5 years old, and it became etched into my

childhood memories. I was blown away

by the big screen and stories, but also

because it was a shared experience with

people that mattered to me. Life is about

creating experiences and memories with

people you care about.

Prior to Vue, I had worked across

media, retail, and entertainment. When

the opportunity arose to join the industry

with Warner Bros., as the director of H.R.

for theatrical across U.K., Ireland, and

southern Europe, I grabbed it with both

hands. Since then, I have had an amazing

adventure with Vue, and I know that my

5-year-old self would be very happy with

the fact that we are now part of creating

those amazing experiences and memories

for others.

Martin Waller, Odeon Cinemas Group

I joined Odeon in 1996 as a trainee general

manager. Within a year I had worked in 10

different cinemas, including supporting

two new builds. I loved the buildings, the

like-minded teams, the amazing product

we play, and the culture at Odeon, always

looking to improve and be better for

our guests and our teams. I was quickly

hooked and have been lucky to enjoy such

a diverse career within the industry.

42 Q4 2021

40-44_CINE_Gold.indd 42 16/09/2021 11:37
---
IS THERE AN INDUSTRY

LEADER OR INITIATIVE

THAT HAS INSPIRED YOU—

PROFESSIONALLY OR

PERSONALLY—OVER THE

COURSE OF THE PANDEMIC?

Hanna Dobslaw, Cineplex Alhambra

The staying power of our family business

in Germany means the staying power of

each employee in our cinemas. You could

feel the passion in every action they have

taken. Making posts on social media,

selling popcorn for home cinema events—

we have done everything to stay alive in

the memories of our guests.

Alexander Kuznetsov, Karo

It was the whole Karo team and investors.

All our employees have worked with

dedication to change our work standards

to deliver the safest service possible.

Ulf Jansson, Winberg Kino

It must be my colleague and friend Peter

Fornstam [founder of Svenska Bio], with

his positive attitude all the time.

Jon Nutton, Empire Cinemas

Christopher Nolan, a fantastic and

dedicated filmmaker who (along with

Warner Bros.) pulled out all the stops

to get Tenet out there supporting our

industry last summer. Without this film, I

don't think many in the sector would have

opened at all after the first lockdown.

Angeles San Gabino, FECE

An initiative I would highlight is the

protocol of sanitary measures during the

reopening process in Spain. And as industry

leader, the president of FECE, Juan Ramón

Gomez Fabra, for his optimism and his

good work with all the associates.

Alain Surmulet, NOE Cinémas

The leader who inspired me the most

during this pandemic? The same leader

who has inspired me for 30 years and with

whom I have the pleasure to work with

every day: Richard Patry. In addition to

being president of NOE Cinémas, he is

also president of the National Federation

of French Cinemas (FNCF). He has

deployed an impressive amount of energy

to defend cinemas in this unprecedented

period, ensuring that no theater is

abandoned or closed. And he succeeded!

New cinemas have opened even after the

lockdown.

Within NOE Cinémas, I learned a lot by

being by his side and I continue to do so

every day. He is one of the greatest cinema

enthusiasts that you can meet. He lives for

cinemas and for the people who work for

them. He is a great entrepreneur, a leader,

a visionary with an incredible capacity for

work. We share the same vision of how to

"Christopher Nolan, a

fantastic and dedicated

filmmaker who (along with

Warner Bros.) pulled out all

the stops to get Tenet out

there supporting our

industry last summer."

operate and how to do this job. I owe him

a lot and I dedicate this CineEurope Gold

Award to him.

Dee Vassili, Vue International

At Vue, I am fortunate to be working with

authentic and talented people. During the

course of the pandemic, we have pulled

together as one global team and delivered

some amazing results. From a personal

perspective, my colleagues have challenged

me, supported me, taken me out of my

comfort zone, and provided a different

lens from which to view the world. This is

what makes me get up in the morning to

face the day's Zoom calls and the complex

challenges coming over the horizon.

Martin Waller, Odeon Cinemas Group

I am proud to have worked with the OCG

ExCo team throughout the pandemic,

where the calmness and critical decisions

made under great pressure set the tone

for our whole company. However, the

biggest inspiration for me was working

with our teams across southern Europe,

especially Spain and Germany, where our

operational leads were new to their roles

at the outbreak of the pandemic. Christian

Elbrechter and Jose Manuel Ocaña did

an incredible job getting our cinemas and

our teams back in operation. I saw them

grappling with a new role, in the worst

possible situation, and having to work

with me sitting at home in London rather

than being out in the field with them.

Their resilience and desire to do the right

thing was inspiring to see as we worked on

turning a crisis into a recovery mission.

Q4 2021

43

40-44_CINE_Gold.indd 43 17/09/2021 08:46
---
CineEurope 2021 UNIC GOLD AWARDS

WHICH FACTOR IS MOST

IMPORTANT IN ALLOWING

CINEMAS TO RECOVER

FROM THE EFFECTS

OF THE PANDEMIC?

Hanna Dobslaw, Cineplex Alhambra

Cinema should have personality to provide

a welcoming feeling for our guests. We are

nothing without them. Customer service

is the most important aspect of our work.

Watching movies in cinema theaters should

be a special event, which we have to create.

Alexander Kuznetsov, Karo

The pandemic has crumbled many

moviegoers' habits. Some people, during

the lockdown, got used to watching

movies at home. Others do not visit

crowded places due to the danger of the

virus. The task of the entire market is to

show that cinemas are safe from the virus,

and for this it is necessary to comply with

all safety measures (social distancing,

masks, vaccinations, and much more).

Watching a movie in a cinema will always

give much more vivid emotions than

watching at home. To achieve this, you

need to monitor the hospitality (highquality

work of the staff) and the quality

of the service provided.

Ulf Jansson, Winberg Kino

The most important factor is exclusive

windows for cinemas and great movies.

Jon Nutton, Empire Cinemas

To shout about what we do from the

rooftops. Yes, the public can sit at home

and watch a film on TV, but for a truly

memorable experience they need to get

into a cinema where action films are more

exciting, horror films are scarier, and

comedies are funnier. And in a darkened

auditorium, no one can see you cry!

Angeles San Gabino, FECE

Good films with an exclusive release

window for cinemas, state aid and

subsidies to help cinemas to reduce their

losses, and official campaigns promoting

the cinemagoing experience.

Alain Surmulet, NOE Cinémas

Even the most beautiful and modern

cinemas are nothing without the feature

films, to which they are merely the

backdrops.

More than ever, we need great movies:

blockbusters, of course, but also art house

films. We need diversity, films for all the

different kinds of patrons, and above all

films designed for the cinema auditorium.

A movie theater is the best place to

experience them, the place where they

take all their meaning and dimension.

During both periods of closure, we

were in the process of constructing three

new cinemas (which have since opened),

and I worked closely with their architects

to make their architectural designs

coincide with the future operation of the

sites. We firmly believe that the movie

theater experience is irreplaceable, and

our continued investment in building new

venues is the best proof of that.

Since the dawn of humanity, people

have needed to come together to experience

shared emotions. Movie theaters meet this

basic need.

Dee Vassili, Vue International

It's all about the people and creating a

dynamic culture that drives the right

behaviors, creates a shared sense of

purpose, and encapsulates diversity,

inclusion, and equity within a safe,

healthy, and engaging work environment.

Irrespective of organizational size, all

of these challenges remain board-level

accountabilities and levers that play a

critical part in driving business recovery.

People strategies should be an integral

part of the commercial agenda and

treated equally as important as other big

investments we make in areas such as

concession stands and auditoriums.

Martin Waller, Odeon Cinemas Group

I believe that engaging content and a

great experience in the cinema is the

key to recovery. The exhibition industry

has done a great job in creating a safe

environment, which will continue to build

confidence for all audience types to return

in time. Now it is important that our teams

deliver a great service, welcoming guests

back in through our doors, where they can

indulge in our food and beverage offerings

and then comfortably experience a movie

on those giant screens with amazing

sound systems. When it is done well it is

an amazing experience, especially in a full

auditorium. When people experience that,

they will come back for more.

"Cinema should have

personality to provide a

welcoming feeling for our

guests. We are nothing

without them."

44 Q4 2021

40-44_CINE_Gold.indd 44 16/09/2021 11:37
---
Cineeurope 2021 ODEON

INTernATionAL

EXHIBITOR OF

THE YEAR

ODEON CineMAS

Group

Europe's largest cinema operator,

Odeon Cinemas Group, is this year's

recipient of CineEurope's International

Exhibitor of the Year Award. The circuit,

which extends across 340 sites over 10

European territories, worked throughout

the pandemic on improving its digital

experience for guests. Beginning with the

U.K. and Ireland, Odeon replatformed

its website and app, introduced new

kiosks and cash registers in cinemas, and

upgraded various back-end systems to

improve film programming and

financial processes.

"It gives us great pleasure to present

the International Exhibitor of the Year

Award to the Odeon Cinemas Group,"

said Andrew Sunshine, president of the

Film Expo Group. "Odeon Cinemas has

built a culture of innovation for cinema,

changing the moviegoing experience

throughout Europe."

Added UNIC President Phil Clapp, "We

are delighted that Odeon Cinemas Group

has been recognized as the CineEurope

2021 International Exhibitor of the Year.

This decision reflects, in particular, the

extent to which the company has blazed

a trail across a number of European

territories, not least through the rollout of

their groundbreaking Odeon Luxe brand,

taking the cinema environment to new

heights and setting new standards for the

big-screen experience."

Mark Way, president, AMC Europe,

and managing director, Odeon Cinemas

Group at AMC Theatres, and Juan Antonio

Gomez, chief partnerships and content

officer, Odeon Cinemas Group, will

receive the award on behalf of the circuit

at the CineEurope awards ceremony on

Thursday, October 7, in Barcelona.

"It is a huge privilege to receive this

award on behalf of all 9,000 Odeon

"Odeon Cinemas has built

a culture of innovation

for cinema, changing the

moviegoing experience

throughout Europe."

Cinemas Group colleagues," said Way in

a statement. "This award is particularly

welcome news now, as we have just

reopened in all our countries. Our teams

are thrilled to be back doing what they

love—delivering unforgettable bigscreen

experiences to our guests, who are

proving very keen to return, in the safest

environment possible. It is testament to

all our teams' hard work and commitment

over recent years in improving Odeon's

guest experience, whether that be through

great hospitality, the rollout of our Luxe

recliner model, our improved food and

beverage offer, or through upgraded

cinema technology across our estate.

"It is a new dawn for cinema, and the

future for Odeon Cinemas Group within

that is very exciting. As we begin to recover

from the most challenging year in

the industry's history, we look forward to

continuing to invest and expand our offering

while welcoming millions more guests

through our doors in the years ahead."

Q4 2021

45

45_CINE_Odeon.indd 45 16/09/2021 17:33
---
46_AD-Screenvision.indd 46 16/09/2021 11:41
---
Rolando Rodriguez 48 | Lisa Bunnell 56 | Elizabeth O'Neil 58

SHOWEAST

"People need entertainment in order to have a healthy society,

and the cinema is one of the safest places to go for that purpose."

Miguel Mier, p. 52

Q4 2021

47

47_ShowEast-Opener.indd 47 16/09/2021 11:42
---
ShowEast 2021 ROLANDO RODRIGUEZ

DAN FELLMAN

Show E AWARD

ROLANDO

RODRIGUEZ

Chair, President, and CEO, Marcus

Theatres, and Chairman, National

Association of Theatre Owners

Rolando Rodriguez is this year's

recipient of the Dan Fellman Show

"E" Award, a lifetime achievement prize, at

ShowEast. The award, renamed in 2015 to

honor long-time Warner Bros. distribution

executive Dan Fellman, is presented

annually to an industry member or

company in honor of their achievements,

accomplishments, dedication, and

longevity in the industry.

"We are extremely honored to present

Rolando Rodriguez with this award at

ShowEast this year. There is no better

example in our business that truly

represents what this award is all about,"

says Film Expo Group President Andrew

Sunshine. "Rolando's dedication and

commitment to the theatrical community

is second to none."

Rodriguez is the chair, president, and

CEO of Marcus Theatres and executive

vice president of The Marcus Corporation,

in addition to his roles as chair of the

National Association of Theatre Owners

(NATO) and board member of the Global

Cinema Federation.

Prior to his role at Marcus, Rodriguez

served as CEO of Rave Cinemas and

executive at Walmart and AMC Theatres.

He has advocated for diversity, equity, and

inclusion (DEI) initiatives in the business

community and has served as the board

chair for the Hispanic Collaborative,

which is committed to advancing the

overall well-being of Hispanic people in

the greater Milwaukee area.

Boxoffice Pro spoke with Rodriguez

ahead of ShowEast to get his perspective

on the challenges remaining for exhibitors

and why inclusion is a key objective for

Marcus Theatres.

We're seeing positive signs in the

market, but this is still a period of

transition. Where would you say the

industry finds itself in terms of its

recovery here in the United States?

What signposts will you be checking

to assess progress in the coming

months?

The good news is, obviously, there's a

solution. There are multiple solutions,

with the vaccination, which we should all

be encouraging for our own safety and

the safety of others, and there are also

treatments. This is a totally different place

than where our country was a year ago.

That is the positive aspect of the external

factors that impact our industry.

Secondly, thanks to the support of our

film company friends in California, with

new releases hitting the market, we're

starting to see momentum. We are getting

back to the norm of what would happen in

our industry in 2019 and early 2020, when

you would have two to three new films

released on a weekly basis. That is positive

momentum. It is positive momentum

"We are extremely honored

to present Rolando Rodriguez

with this award at ShowEast

this year. There is no better

example in our business that

truly represents what this

award is all about."

toward educating consumers that we're

back. You can't get that by just flipping on

a light switch. Our industry was practically

shut down for a period of 15 to 18 months.

We were able to reopen, yes, and did so

with library titles from our partners in

California. That helped us welcome back

our most loyal moviegoers and bring back

as many associates as we could during that

difficult time.

We continue that journey with the help

of the vaccines, of studios providing new

films, and by continuing to educate our

consumers that we have safe, enjoyable

out-of-home entertainment options, at

an incredible price-value relationship, to

participate in.

Where are we on that journey? I think

we started to walk around May of this year.

Now we're in a faster walk, kind of a jog,

and picking up momentum. My hope is

that as we start getting into the fall, as we

start heading into October, November, and

December, that's when we get into an even

faster jog to ideally get ourselves into a

running situation.

Communicating with moviegoers

about returning to cinemas is a

sensitive task during this crisis. How

have you addressed that challenge

at Marcus Theatres and on behalf of

the industry as a whole with The Big

Screen Is Back campaign?

We started in the walking phase of that

marketing task in May with The Big Screen

Is Back. We held a big launch event in

L.A. to let the world know that theaters

are open. But at that point in time, if you

recall, only around 65 percent or so of

theaters were open. Many were challenged

48 Q4 2021

48-51_SHOWEAST_Rolando-Rodriguez.indd 48 16/09/2021 11:42
---
ecause the SVOG money had not reached

a lot of the smaller, independent operators.

They couldn't afford to open their doors. I

think NATO's team has done an incredible

job in working to ensure those funds will

become available.

As those funds started to roll out, you're

starting to see more theaters opening

up. And those theaters are just starting

that journey to educate their consumers.

Then we followed that up with Cinema

Week, which occurred in the middle of

June, and that was another big jolt. The

reason I share these two big events is

because every exhibitor across the board,

including Marcus, spent a great deal of

time ensuring that we were marketing

The Big Screen Is Back to all our loyalty

members and marketing and advertising

channels. The missing piece was that

we weren't yet to a point where we had

multiple films opening on a weekly basis,

so that journey continues.

We talk a lot about this during our NATO

board meetings: It's not a one-week event

or a one-month event—it's something we

need to do every day, week, and month,

probably through the end of this year. We

have to stay very focused on messaging,

and constantly messaging, with the

support of our film partners who are now

in many cases promoting films again.

The other thing that we really

appreciate is that many of them are

promoting them as "in theaters only."

There was a little bit of confusion at the

beginning, where people would say, "Well,

where do I watch this movie? Is it on a

streaming channel? Is it at the theater?"

Streaming and VOD are important

elements for [studios] to create the

revenues necessary to make films. But

there's no question that the theatrical

business is a launching pad. When it's

properly treated, it creates long-lasting

value down the line.

"The missing piece was that

we weren't yet to a point

where we had multiple films

opening on a weekly basis,

so that journey continues."

I love engaging with our associates and

customers, trying to find out what's on

their minds. Interestingly enough, there

is some data in some of the consumer

sentiment surveys that I'm not seeing

reflected in our theaters. They say seniors

aren't back. When I went to see Stillwater,

the seniors were back.

They're ready to come back for the

right title.

That's right. And then they say, moms and

kids aren't back—when you add up the

multiple family films that are out, believe

it or not, that's the genre that's doing the

best. It's not driven by one movie, like

in 2019 when you had The Lion King. In

this case, we don't have a Lion King, per

se, but we've had a series of titles that are

bringing back families.

In our case, at Marcus, we have the

STAR program, so we embellish the

CinemaSafe requirements to take it to a

different level. When consumers come

back, we get judged by our customers on a

What have you learned in the last

year and a half about moviegoers'

comfort levels in returning? What

role do social factors, like vaccine

availability and local case numbers,

play in that equation?

First of all, the fact that vaccines are out

there has really brought an incredible

psyche change in many consumers. I'm

a moviegoer—I watched three movies

this past weekend, I'm watching at least

two movies this coming weekend—and

Q4 2021

49

48-51_SHOWEAST_Rolando-Rodriguez.indd 49 17/09/2021 08:47
---
ShowEast 2021 ROLANDO RODRIGUEZ

net promoter score, a universal customer

service element, and our scores have never

been higher.

We also introduced the Marcus Private

Cinemas program, so those families

that still felt concern [about] going to

an auditorium [with a general audience],

they're renting these auditoriums, and

we're providing them at a great price-value

relationship. What's been fascinating

about that is that the folks that come to

the Marcus Private Cinema, once they

come, we're seeing them come back as

regular customers, because they see the

safety protocols that we, as an industry, are

taking. It's an ongoing battle that we all

have, and it is not specific to our industry;

this is every consumer-facing business

in America, every entertainment facility,

every restaurant—we're all facing the same

challenge of earning that consumer back.

There's no question that vaccines

helped open the doors, coupled with

the release of A Quiet Place Part II. That

movie opened when our country wasn't at

a high level of vaccination, so I think it's

a combination of a key film and getting

out to the marketplaces and letting

people know that the theaters were back

open. I have to give John Krasinski a lot

of credit for going out to local theaters

and promoting the film in person. That

was an amazing guerilla marketing effort,

which we need to do more of to get back

out there and energize our consumers.

He went to all types of markets, not just

on the coasts, and we'd love to see more

movie stars and directors do exactly

what he did. He energized consumers

back into moviegoing, and we really

appreciated that.

What are the biggest challenges

that remain for U.S. exhibitors in the

coming months, in what will hopefully

be the tail end of this crisis?

We've had some films that have done

extremely well. What we're looking for

now, that next milestone everybody is

looking for, is that one film that's going to

open up to $100 million. That's the next

bridge. We've had films that opened up

at $60, $70, and $80 million, and a $100

million dollar opening is going to be the

next milestone.

As far as challenges that we still

face ahead, frankly, the biggest one is

perception. Perception from government

and health agencies, consumers, and

even from our great partners in the film

community who are releasing films. They

all have to feel comfortable so we can

get back to the more traditional types of

release models. That means having some

sort of theatrical exclusivity window that

separates the importance of theatrical

from availability at home through PVOD

and streaming. Will it be the same that

it's always been? No, but we still need

that exclusivity. There is a financial

benefit associated with it for all of us, film

companies and exhibitors. It is important

for all of us. Perception will play an

important part of how to get back to that

$100 million opening.

All of us have been waiting for

industry conventions like CinemaCon,

CineEurope, and ShowEast since

the start of this crisis. As an industry

leader, how do you think these events

will help the industry recover?

We have incredible partners, not just

in the film community, but among the

vendors as well. The vendor community

has stuck it out with us; they've been our

partners through this whole tragic period.

And that was really the objective, from

the very beginning, for CinemaCon this

year, getting all these folks together. Being

able to see each other [in person], instead

of just on video conferencing. There is no

replacing being in person. We're human

beings, social beings, we miss each other.

What this crisis brought to light for me is

how much I missed my friends, my family,

and my colleagues. Seeing them in person

has just been an incredible joy that I will

never take for granted again. We used to

take it for granted, looking at a meeting as

just a meeting. Now we look at a meeting

as something meaningful. That's what

these conventions bring to the table,

bringing together the film community,

vendors, and exhibitors. And while the

upcoming conventions may not be as big

as they would have normally been, there

will be enough people there to have a truly

bonding experience and talk about the

good things we need to work on together.

This has been a time of crisis and of

innovation. How did Marcus use this

period to innovate, and which of

those initiatives will remain after we

emerge from this crisis?

We had to take the online concept to a

whole different level. Our technology

wasn't quite up to speed, and we had to

work very quickly to adopt a low-to-notouch

concept. In other words, ordering

concession items, box office tickets, and

walking to your seat without having to

interact with anyone. That innovation was

adopted quite rapidly across the industry,

and we were one of the first leading

circuits to implement it.

I think the way we sanitize our theaters,

the way we clean and maintain them, are

at a totally different level that will not go

backwards again. It's a new standard. I

don't see sanitation stations ever going

away; you're going to want those hand

sanitizers everywhere.

I don't think private cinema rentals

will go away. The private cinema rentals

were an incredible element that brought

50 Q4 2021

48-51_SHOWEAST_Rolando-Rodriguez.indd 50 16/09/2021 11:42
---
families back out to our theaters; it's a new

market that's been created. I don't think

that ordering the tickets, food, and beverage

online will go away. In fact, for us, we've

changed our model at Movie Tavern for

example. Now, instead of having servers

take the order, people make their entire

order online and we have a runner take

the food to their seat. The consumer has

enjoyed the ability to do it on their own.

Interestingly enough, it's improved our

customer service scores. Those are just a few

of the innovations that I think will continue.

You've been very outspoken about

the industry's need to better serve the

Latin American market in the U.S. What

are some of the programs that Marcus

will be implementing for National

Hispanic Heritage Month this year?

When I speak about diversity, equity, and

inclusion (DEI), the inclusion part is the

most important. If you focus on the "I,"

you won't have to worry about the "D" and

"E." It's all about inclusiveness, if you work

on it—you've got it. Hollywood has started

doing that and I'm looking forward to

Eternals, which will actually feature some

"Will it be the same that it's

always been? No, but we still

need that exclusivity. There is

a financial benefit associated

with it for all of us, film

companies and exhibitors. It

is important for all of us."

Hispanic superheroes, so that's exciting.

Hispanic audiences represent about 24

percent of the attendance in our industry.

Couple that with the African American

demographic, which represents roughly

16 to 17 percent of the market, and that's

40 percent of your attendance. And that's

only ethnic diversity. Female audiences

represent over 50 percent of attendance—

if you're not paying attention to that,

you're not taking advantage of chances

where you can connect with consumers.

During Hispanic Heritage Month,

we would normally host CineLatino

[Milwaukee Film Festival], but,

unfortunately, because of where we're at

with the virus, we're trying to be as careful

as we can. We're still going to bring several

Hispanic films throughout that entire

month and connect with the Hispanic

collaborative here in Milwaukee. We're

doing everything we can to become a little

bit more inclusive. And that, by the way, is

not only the right thing to do, but it's good

for business. Diverse communities are

important audiences in our social makeup

today that are critical to the long-term

success of our industry.

DIGITAL SIGNAGE

Integrated Digital Signage,

Concession Signs, Lobby &

Directional Signs, Custom Graphics

MOBILE APP &

WEBSITES

Web Management, Website

Design and Programming,

Online Ticket Purchasing,

Mobile App Development,

Mobile Ticketing Sales

INTERNET TICKETING

Online Ticket Sales with Theatre Branded Interface

Your Complete Theatre

Management Solution

Starts Here!

TICKETING & CONCESSION

POINT-OF-SALE

Touch Screen Ticketing,

Concession Point-of-Sale,

Two-in-One Terminals, Kiosk Sales

& Redemptions, Assigned Seating

BACK OFFICE

MANAGEMENT

Show Scheduling, Inventory,

Cash Control, Remote Access,

Labor Management,

Real-Time Corporate Reports

GIFT CARDS & LOYALTY

PROGRAMS

Gift Cards, Virtual Gift Card

Sales, Customer Rewards

888-988-4470 Sales

FILM RENTAL MANAGEMENT

Automatically Calculate Weekly Film Rental, Create

Payment Vouchers, Settle Films & Manage Credits

NETWORK &

IT SERVICES

Network Support, Hardware

Monitoring, Phone & Surveillance

System Support, ISP Monitoring,

Security & Antivirus

RetrieverSolutionsInc.com

Q4 2021

51

48-51_SHOWEAST_Rolando-Rodriguez.indd 51 16/09/2021 11:42
---
Showeast 2021 MIGUEL MIER

INTERNATIONAL

EXHIBITOR OF

THE YEAR

MIGUEL MIER

Chief Operating Officer,

Cinépolis

"There is no better example

in our business that truly

represents what this award

is all about. Miguel's

leadership and commitment

to Cinépolis has made it the

company it is today."

Miguel Mier began his career at

Cinépolis in 1994, straight out of

college, joining the circuit at a time when

it was still a family-owned company in

Mexico. The timing was fortuitous. The

start of Mier's tenure coincided with the

entry of multinational circuits into the

Latin American exhibition market, creating

a dynamic competitive balance that also

saw the introduction of the multiplex in

communities across the region.

Mier's role at Cinépolis grew as the

circuit established itself in its domestic

market and began to look at expansion

opportunities abroad. He oversaw the

launch of the company's international

operations in Costa Rica, Guatemala, and

Panama before a stopover at Stanford

University to pursue a business degree in

2006. He emerged from Stanford with a

business plan that Cinépolis would use as

the blueprint for further expansion into

India, Brazil, Chile, Spain, the Middle

East, and the United States. In 2014 he was

appointed as a nonfamily board member

of the company. Today, the circuit

comprises 6,728 screens in 19 countries

across four continents.

Boxoffice Pro spoke with Mier ahead

of ShowEast about his long career and the

lessons he's learned from the challenges

of the pandemic.

Cinépolis is celebrating its 50th

anniversary this year. You've been

at the company for 26 of those years.

How has the company changed since

you began your tenure?

I joined the company in 1994. I was 21

years old and just getting out of college;

it was my first job. My first job was to

manage the technology within Cinépolis

during a time when there was pretty

much no technology at all. Back then, we

were a regional Mexican company, family

owned, privately held. In the years since

I joined, we've evolved from a company

of 320 screens in a region of Mexico to

6,700 screens in 19 countries across four

continents. The company has enjoyed 50

years of history, growth, and discipline by

always putting the consumer in the center

of our decisions.

That has been the DNA that has

made us innovators within the industry.

We were the first in bringing stadium

seating and Imax to Latin America. We

introduced VIP auditoriums well before

other, more developed markets. We were

the first to livestream soccer games in our

auditoriums. The first to sell reservedseating

tickets via our app, something

we've been doing for over a decade. We

like to think of ourselves as innovators, in

spite of our industry being 120 years old

and maybe not considered as particularly

innovative. We've grown thanks to

bringing innovations to our customers.

Part of that growth has been

the international expansion you

mentioned. That includes two

markets that are notoriously difficult

for any foreign player to gain a

foothold in: India and Brazil. What

was different about the Cinépolis

approach that has allowed it to enter

difficult markets and maintain a

leadership position there?

I came back from Stanford in 2007 with

an expansion plan for Cinépolis to enter

India. I presented the idea to the board,

they accepted, and today we're the thirdlargest

multiplex circuit in the country.

It was a year of developing the business

plan and doing research in the Stanford–

Silicon Valley community, where there are

a lot of Indian academics who love movies.

Their input was really helpful. When

talking about both markets, we were able

to build a great and amazingly talented

local team in each of those countries. We

knew what we were trying to accomplish

and the skills that were required to do

that. At the same time, we were hands-off

enough to source a talent pool with the

right skill set from each local market. It

has always been about building a very

strong local team. Those are the two

ingredients that helped us in India. We did

a similar analysis in Brazil—shorter, faster,

but with the same framework.

From your perspective, as one of

the top exhibitors in Latin America,

how has this pandemic affected

moviegoing in the region and the

region in general?

The way in which this pandemic has

impacted everything in our lives has

overshadowed what we are experiencing

as an industry. The way the pandemic has

been approached in Latin America has

been so different that it's shown us there is

not only one way to approach a situation.

You can be creative, and you can learn

things that have worked in one market

and bring them to other markets. We have

52 Q4 2021

52-55_SHOWEAST_Miguel-Mier.indd 52 16/09/2021 11:43
---
great examples that we can learn from and

adopt best practices, not only in Mexico,

but from the whole region.

Every country is operating under

a different time frame for recovery.

What challenges is Cinépolis

currently facing as a result?

Stability is the main challenge we have

across all these markets. India, for

example, was one of the markets that was

doing quite well while the pandemic was

hitting European markets quite heavily.

They even launched new titles that were

quite successful: In Tamil Nadu, in the

south of India, they launched Master, and

it did amazing box office numbers. But

suddenly, the Delta variant hit the country

and everything stopped again. Now we're

seeing India, little by little, getting back on

its feet. Latin America, however, has been

hit very hard by the Delta variant.

The lack of stability in being able to

forecast the future when we present to our

board is a challenge every other cinema

company is also facing. There is a huge

"Once we reach that

stability—once vaccinations

are prevailing around the

globe—we will start seeing

the rebirth of the exhibition

business."

uncertainty right now, but at least in the

case of the Cinépolis board members, they

understand the complexity of the situation.

All of us at Cinépolis believe there is a

strong and bright future for the exhibition

industry worldwide. Once we reach that

stability—once vaccinations are prevailing

around the globe—we will start seeing the

rebirth of the exhibition business.

What are some of the operational

and best practices lessons you've

picked up and implemented circuitwide

since the start of the pandemic?

First of all, communication. Constant

communication with every team member

around our different regions. The other is

training: training our teams to create and

generate the safest possible environments,

everywhere. Not only in our cinemas, but

also at their homes, because we want our

employees and their families to be safe. If

we see a positive case in any of our offices

around the globe, we want to ensure we

can check in on them to see how they are

doing and see how we can help them and

Q4 2021

53

52-55_SHOWEAST_Miguel-Mier.indd 53 16/09/2021 11:43
---
Showeast 2021 MIGUEL MIER

their families. Having these strong ties of

communication is something we have been

exercising heavily and will likely continue

to be a part of our company in the future.

One of those operational challenges

is communicating a return to cinemas

with audiences in different markets.

That's a very sensitive message,

especially with different countries

being in different scenarios when

it comes to the virus and vaccine

access. How have you tackled that

external communications challenge?

I think about it in two ways. One, as

an industry, we haven't been able

to communicate loud and clear one

simple message: Cinema is a low-risk

environment to enjoy entertainment.

People need entertainment in order to

have a healthy society, and the cinema

is one of the safest places to go for that

purpose. That has been the number one

communication challenge we've faced as

a whole industry.

The flip side of the matter is that

every local authority has a different

take on what's safe and what people

are allowed to do. So, we try to generate

messages that can be accommodated in

the different legal frameworks we have,

not only from a national perspective but

also from a state and sometimes from

a community perspective. We've seen

mayors of some cities that have different

requirements than their states, and we

have to accommodate and comply with

a divergent set of rules about what they

think is safe and what's not.

"People need entertainment

in order to have a healthy

society, and the cinema is

one of the safest places to

go for that purpose."

Is there a time frame that you

expect, at least in Latin America,

for the cinema industry, to get

back to something a little bit more

recognizable? Maybe not 2019 levels,

but something close to it?

We think we will have our cinemas back on

their feet with a lot more percentage of the

population vaccinated by the end of the

year. Covid-19 may still be around, but the

gravity of those infections hopefully won't

be as severe by that point.

This isn't the first public health crisis

that Cinépolis has faced in recent

history. Back in 2009, there was an

H1N1 epidemic in Mexico that also

caused closures and a lot of concern.

Fortunately, it was localized, and

we didn't have the challenges

we're currently seeing at a global

level. What did you learn from that

experience?

At the time, none of us had experienced

something like the H1N1 epidemic in

Mexico. Today, it's something miniscule

when compared to the Covid-19 pandemic.

It's like comparing Chicken Little to

Godzilla. But back then it was a huge

phenomenon; we had our cinemas shut

down for 17 days, which was unheard of.

It took us around four weeks to recover

from that 17-day shutdown. Today, we

can't compare those 17 days with the more

than year and a half that we have been

shut down in Peru or Colombia. We've

been closed in some of these markets for

over 18 months.

If we look back at the recovery we saw in

Mexico after the 17-day shutdown, it's as if at

a certain point after those four weeks since

reopening, the country forgot all about it.

What we learned is that when people feel

safe, it's easy for old habits to return.

That's why we strongly believe that

our industry will recover. We don't have a

doubt about it. But first, we need things to

straighten out and wait for the rollout of

the vaccines. Once science can solve the

gravity of the problem, it will bring back

some level of comfort in society and we will

see audiences flocking back to the cinema.

As you look back on your last 26

years at Cinépolis, what have been

the biggest achievements and the

biggest challenges?

I would start with the latter: What we're

experiencing right now is, by far, the biggest

54 Q4 2021

52-55_SHOWEAST_Miguel-Mier.indd 54 16/09/2021 11:43
---
challenge our industry has ever seen. I

never expected to be dealing with a crisis

as deep as the one that we're facing. But as I

mentioned, we are positive that we are going

to be out of this crisis sooner than later.

In terms of the successes that we have

reached, I would list our international

expansion. In order to get there, we first

had to be really good in our domestic

market. Paraphrasing Stephen Hawking,

our brief history of time in the industry

would start in the mid-'90s, when Latin

America opened up to international

exhibitors jumping into the market. It

was a tectonic shift in the competitive

landscape of the exhibition business in

Latin America, and many local companies

died in the evolution process. Some, like

ourselves, were able to rise to the challenge.

In Mexico, during the mid-'90s, four

large, multinational circuits entered the

market. At that time there were many

local and regional circuits. Some of those

players are no longer in business. Those

of us that prevailed were able to not only

be competitive in our homeland, on our

own turf, but also when going out and

expanding those capabilities that we

"I never expected to be

dealing with a crisis as deep

as the one that we're facing.

But as I mentioned, we are

positive that we are going

to be out of this crisis sooner

than later."

built through the decade that ran from

the mid-'90s to the mid-2000s. Once

we established ourselves within the

Mexican market, we started expanding

to Central America and to the northern

half of South America. Then came the big

leaps: Brazil, Spain, India, and the Middle

East. That international expansion is

what I say stands out as the most relevant

achievement for Cinépolis over the last

three decades.

We've been able to accomplish this

through a very disciplined, conservative

financial management that has allowed us

to grow without being heavily leveraged.

It has given us enough resources and

confidence to strongly believe we have a

solid future ahead of us, once we recover

from the great challenges we're currently

living through.

Q4 2021

55

52-55_SHOWEAST_Miguel-Mier.indd 55 16/09/2021 11:43
---
Showeast 2021 LISA BUNNELL

BINGHAM RAY

SPIRIT AWARD

LISA BUNNELL

President of Distribution at

Focus Features

Lisa Bunnell, president of

distribution at Focus Features, will

receive this year's Bingham Ray Spirit

Award at ShowEast. The award was

established in 2012 in honor of the late

Bingham Ray and is bestowed annually to

an individual who has shown exemplary

foresight and creativity in the world of

independent film.

"It is with great pleasure that ShowEast

will honor Lisa with the Bingham Ray

Spirit Award," said Andrew Sunshine,

president of the Film Expo Group. "Lisa's

passion for independent film has brought

some of the most successful, important,

and talked-about indie films to the

masses. We congratulate her on this

well-deserved honor."

During her five-year tenure at Focus

Features, Bunnell has overseen all

domestic theatrical release plans and

bookings for Focus Features and has been

responsible for the theatrical release of

multiple Academy Award–winning films.

Prior to joining Focus, Bunnell

spent 10 years as vice president of film

for Landmark Theatres, where she

programmed the chain's 261 screens in

26 markets throughout the country. She

got her start in the cinema business with

Loews Theatres, where she worked in the

film buying department in the circuit's

New York City office for 17 years.

Boxoffice Pro caught up with Bunnell

ahead of ShowEast to learn more about her

career and the state of specialty distribution

and exhibition during the pandemic.

Take us back to your first years in the

film business: How did you first enter

the industry and what are some of

the early lessons you took with you to

your subsequent roles?

I started working at Loews Theatres while

I was still in school; I spent over a decade

working for them. When I started there,

"Lisa's passion for

independent film has

brought some of the most

successful, important, and

talked-about indie films to

the masses."

I was working with exhibition legends

like Frank Patterson and Bernie Myerson.

It was baptism by fire. I learned a lot in

a short period of time. For me, it was a

strong message of learning as much as

you can from as many people as possible.

Don't be afraid to ask questions, and don't

punch a time clock. Be ready, willing, and

able to put in the extra time to get the job

done right. That's a mantra that I carry

with me to this day.

Looking back on your career, what

have been some of your proudest

achievements in the industry?

When I look back, I think first about the

theaters that I worked to open when I was

at Loews Theatres: Lincoln Square, Boston

Common, and Georgetown to name a few.

As a film buyer, it has always been about

championing smaller films and holding

them for long periods of time to make sure

they have the proper chance to be seen.

Films like Man on Wire, Exit Through the

Gift Shop, and Whiplash to name a few. It's

not always easy to take care of these more

specialized films.

At Focus I have been able to work with

so many amazing filmmakers. Highlights

for me are Spike Lee winning his first

Oscar for BlacKkKlansman. The film was

certainly one of the most rewarding films

that I ever had the honor to distribute.

Working with Paul Thomas Anderson

and having Phantom Thread get six Oscar

nominations, including Best Picture and

Director. For many years, I have had a Sid

and Nancy one sheet in my office. So, when

Gary Oldman won the Oscar for Darkest

Hour, he came to the office the day after

the awards to thank all of us at Focus. He

signed my Sid and Nancy poster that day. It

was really amazing and so special for me.

What makes me the most proud is

when I feel that we have truly given a

filmmaker a chance to have his or her

56 Q4 2021

56-57_SHOWEAST_Lisa-Bunnell.indd 56 17/09/2021 08:49
---
vision shown on the big screen. I am

honored that I have the chance to be able

to make that happen in exhibition and in

distribution.

Who have been some of the colleagues

and mentors that have helped

you get to where you are today?

Travis Reid at Loews Theatres—without

him I would probably still be living in New

Jersey working in retail. He encouraged

me when it wasn't easy for a woman to

break through in our industry. He gave

me the opportunity to prove myself. He

believed in me when I didn't believe in

myself. Ted Mundorff, he saved me when

Loews was taken over by AMC. My love

was always for film buying. He took me

on at Landmark Theatres. Working with

Ted was an amazing and educational

experience. There were many of the "New

York ladies" who encouraged me when I

was growing up in the industry—Linda

Ditrinco, Janet Murray, Sheila DeLoach,

and Bobbie Peterson among them. They

accepted me, educated me, and made me

feel welcome. I will always be grateful

to all of them. Jim Orr—we have known

each other for a long time from our days

at Paramount and Loews. After years

of working together, when the Focus

distribution job came up, he was the

one who recommended me. Today I am

lucky enough to work in the Focus family.

Led by Peter Kujawski, we truly all work

together to bring filmmakers' visions to

life on the big screen.

Focus was among the most prominent

distributors active since cinemas first

reopened during this crisis—doing

so without the help of your two core

markets: L.A. and New York. How

did you approach that challenge,

and what did you learn from the

experience?

I think the biggest lesson that we all

learned is that you can expand your

thinking outside the New York and L.A.

platform version of an art film release.

While you can never take away from

the importance of New York and Los

Angeles, things are a lot different than

10 years ago. The concept of needing to

have big numbers in New York and Los

Angeles so that the "word of mouth" will

spread to other cities in the country is a

bit antiquated. Now with social media,

it's pretty easy to get the word out to

everyone immediately. It's something that

we all learned from. That's not to say that

there won't be films whose paths would

be best served with a New York and Los

Angeles platform, but I do think that we

all have to look at every film individually

to make sure that we are doing the right

thing for each one. I like to think of all of

our films like one of our children. Each

child has different DNA and they need to

be treated differently.

How did the postponement of major

film festivals and the Academy

Awards change your game plan over

at Focus? And how has the pandemic

informed the way you approach your

role in the future?

I have to say that at Focus we worked all

through the pandemic. We released 10

films theatrically in 2020 and will have

13 in 2021. As far as film festivals during

the pandemic, we remained active and

watched virtually as many films as we

would have at an in-person festival. We

were active in acquisitions and became

involved in projects that we currently

have going into production. The awards

season was long, but I think we adjusted

as well as you possibly could. We are so

proud of Emerald Fennell and Promising

Young Woman [pictured below]. It was

an important film for so many reasons,

and we are proud of how we were able

to get it out nationwide under difficult

circumstances. As far as the future goes,

we are planning on releasing 15 films

theatrically next year. I think every film

deserves its best shot theatrically. We

work on targeted plans for each film. It's a

challenging time for the industry, but it's

also exciting to see new opportunities.

Now that New York and L.A. have

been open for a number of months,

where is the specialty market in terms

of recovery?

I am very optimistic about the future

of specialty film. There are so many

opportunities to work on content. The

specialty market, just like so many other

markets in the world, is slowly coming

back. I think we all need to be patient.

When we opened Morgan Neville's

Roadrunner, I was really encouraged to

see the strong grosses coming from so

many art theaters. There is potential

for art films—you just need to support

them properly.

"What makes me the most

proud is when I feel that

we have truly given a

filmmaker a chance to have

his or her vision shown on

the big screen."

Q4 2021

57

56-57_SHOWEAST_Lisa-Bunnell.indd 57 17/09/2021 08:49
---
Showeast 2021 ELIZABETH O'NEIL

AL SHAPIRO

DISTINGUISheD

SERVICE AWARD

ELIZABeth O'NEIL

Executive Director, Variety, the Children's

Charity of Southern California

Running a charity with two fulltime

staff members is never an

easy task—but, in 2020, with need

higher and resources fewer than ever

before, the challenge was exponentially

bigger. It's well deserved, then, that one

half of that two-person team—Elizabeth

O'Neil, executive director of Variety, the

Children's Charity of Southern California—

is receiving the Al Shapiro Distinguished

Service Award at this year's ShowEast.

O'Neil's love of cinema started at the

drive-in. The youngest of 10 children, she

and her siblings would be bundled into

the family station wagon (the younger

kids in their pajamas) and taken to the

movies, where the older children would

sit on the roof while the little ones stayed

in the car, likely to fall asleep before the

film was over. The Child Catcher from

Chitty Chitty Bang Bang, the first movie

O'Neil remembers attending at the

theater, caused some sleepless nights:

"I still had nightmares for years!" When

she was 7 or 8, she remembers an older

sister—ostensibly on babysitting duty—

taking her along with her friends to a

drive-in double feature of M*A*S*H and

The Andromeda Strain, "which scared me

to death. I don't think my parents ever

found that out."

Luckily, early exposure to ageinappropriate

films didn't turn O'Neil off

the world of cinema. O'Neil's professional

connection to the exhibition industry

began in 1986, when she started working

for USA Cinemas (later acquired by

Loews Theatres, eventually to become

a part of AMC Theatres) as a co-op

advertising coordinator. Later, she became

their director of in-theater marketing.

Following her time in exhibition, O'Neil

"We can't get into the mind

frame where everything is

going to be virtual from now

on, because we still need

that human interaction."

moved to market research firm Theatrical

Entertainment Services—taking her to

Los Angeles—and Technicolor Cinema

Distribution. It was while working at the

latter company that she was asked to

join the board of directors at Variety, the

Children's Charity of Southern California;

three years later, in 2008, she became its

executive director.

It was her time at these companies,

O'Neil says, developing skills in the areas

of sales and client relations, that helped

her once she moved to the nonprofit

sector. "I still very much try to run the

charity as a for-profit," she says—both in

terms of getting as many contributions

as possible and in running Variety, the

Children's Charity of Southern California

with efficiency and transparency.

Through her efforts, charity assessment

organization Charity Navigator increased

the rating of Variety's Southern California

chapter from two to four stars, indicating

a nonprofit that (per Charity Navigator's

official assessment criteria) "exceeds

industry standards and outperforms most

charities in its cause."

"We're a small chapter," says O'Neil,

and thus "it was really important for us to

let donors know that their contribution

is going to help the greatest number

of children where the need is greatest."

With that four-star rating, Variety of

SoCal is able to instill confidence in their

donors that "as much of their donation

as possible is going to the mission of

helping children"—particularly those with

medical disabilities who, with Variety's

assistance, are able to get much-needed

adaptive bikes, mobility equipment, and

other equipment and services to help

them lead happier, more active lives.

58 Q4 2021

58-59_SHOWEAST-Elizabeth-Oneil.indd 58 16/09/2021 12:03
---
"The parents are the

heroes. The parents are

the people that—24 hours

a day, seven days a week—

are dealing with meds and

therapies and walkers and

wheelchairs."

In 2020, with the Covid pandemic

shutting businesses' doors and keeping

billions quarantined, the emotional

and psychological benefits of being able

to spend a few active minutes outside

hit home for families and individuals

worldwide. Variety of SoCal—like the

cinema industry as a whole—had to

pivot to virtual events, a challenge for

a nonprofit that previously generated

the vast majority of its donations from

in-person events, including poker and

casino nights, an annual Golf Classic, and

the Heart of Show Business luncheon.

In September 2020, when Covid case

numbers had taken a dip, Variety of SoCal

held an in-person, outdoor golf event

that "sold out immediately," says O'Neil.

"The biggest takeaway was that it was so

nice seeing our colleagues again and just

catching up with people. We can't get into

the mind frame where everything is going

to be virtual from now on, because we still

need that human interaction."

With in-person events now more

possible than they were in mid-2020,

O'Neil says she isn't ready to let go of

virtual fundraising events entirely. What

Covid has taught her, she says, is that "we

really need to diversify more into other

revenue streams, other than just in-person

events. We love seeing our supporters. We

love getting together. We love the events

that bring all our friends out to support

the industry. That's so important. But I

think the key is to get a better balance

between the in-person events and other

revenue streams."

From her 13-and-counting years as

Variety of SoCal's executive director, the

moments that stick most in O'Neil's mind

involve that in-person connection—not

with entertainment professionals (though

she immensely values the charitable spirit

of the entertainment community that

makes Variety of SoCal's work possible),

but with the children and families who

benefit from Variety's work. She recalls a

75th anniversary event, where 75 adaptive

bikes were given away to at-need children.

"It was the most amazing day. I remember

one father came up to me—his son was

named Angel, and he had written the most

beautiful note on his application. He came

up to me and gave me flowers to thank

me for what was happening that day. The

parents are the heroes. The parents are

the people that—24 hours a day, seven

days a week—are dealing with meds and

therapies and walkers and wheelchairs.

Yet they never lose joy and hope. They

are dedicated and driven to giving their

children their best lives possible. They are

the ones that inspire me. They're the ones

that are the heroes."

Q4 2021

59

58-59_SHOWEAST-Elizabeth-Oneil.indd 59 16/09/2021 12:03
---
Showeast 2021 PAUL HOLLIMAN

ShoweaST

HALL OF FAME

PAUL HOLLIMAN

Former Head of Worldwide

Digital Cinema and Strategic

Planning, Disney

Paul Holliman, the seasoned

executive who recently retired from

Walt Disney Studios Motion Pictures, is

the latest industry member to enter the

ShowEast Hall of Fame. The ShowEast

Hall of Fame annually recognizes

individuals who have made an exceptional

contribution both to the success of their

company or organization and the wider

cinema industry.

Holliman got his start in the cinema

industry as a projectionist at the

Commonwealth Theatre's 50-S Drive-In

Theatre in Emporia, Kansas. From there,

he served as manager in Kansas City,

followed by stints as booker in Denver

and regional film buyer in Dallas. Disney

approached Holliman to join its theatrical

distribution team while he was in Texas,

and he began his tenure at the company as

the manager of the studio's smaller branch

in New Orleans and Memphis. He went on

to manage the company's largest branch,

in Los Angeles, over a six-year period

during his 32-year term at the studio.

At Disney, Holliman moved up to

become vice president, assistant general

sales manager, where he oversaw the

"On behalf of our entire team

at the Film Expo Group, we

would like to congratulate

Paul and recognize him

with a Hall of Fame award

this year for his continued

support and dedication to

our great industry."

theatrical distribution of Fantasia 2000,

the first commercial studio motion picture

released in Imax. The release generated

nearly $50 million from just 54 venues,

helping establish Imax as a commercial

distribution format.

That commitment to technological

innovation continued, as he played a key

role within the team of Disney, RealD, Dolby,

and Industrial Light & Magic executives

that delivered the first digital 3-D release,

Chicken Little, to cinemas in 2005.

Holliman went on to become the

Head of Worldwide Digital Cinema and

Strategic Planning at Disney, overseeing

the global conversion to digital cinema,

in a major turning point for the cinema

business. Among his many innovations

in theatrical distribution were the

first live commercial sporting event

broadcast digitally to cinemas with NCAA

football and basketball games in 2007

and the negotiation of the first satellite

distribution agreement for a studio with

OpenSky and Eutelsat in Italy in 2010. The

latter deal defined operational protocols

for satellite delivery and digital cinema

and is still in use today.

His charitable efforts have included

stints as a board member and officer of

Variety, the Children's Charity of Southern

California, and as board member and

officer with the Will Rogers Motion Picture

Pioneers Foundation, where he has been

an advisory board member and active

member of the Brave Beginnings Neonatal

Grant Committee for many years.

"On behalf of our entire team at the

Film Expo Group, we would like to

congratulate Paul and recognize him with

a Hall of Fame award this year for his

continued support and dedication to our

great industry," says Andrew Sunshine,

president of the Film Expo Group.

60 Q4 2021

60_SHOWEAST-Hall-Of-Fame.indd 60 16/09/2021 12:04
---
Showeast 2021 MARK CHRISTIANSEN

SALAH M. HASSANEIN

HUMANItaRIAN AWARD

MARK CHRISTIANSEN

"Mark defines what

it means to be the

Hassanein Award winner.

His commitment to our

industry and its charities

are second to none."

Executive Vice President of Worldwide Distribution

Operations, Paramount Pictures

Paramount's Mark Christiansen is

this year's recipient of the Salah

M. Hassanein Humanitarian Award at

ShowEast. The honor dates to 1987 and

is presented annually to a company or

individual in the industry that has made

an impact in the philanthropic community.

"Mark defines what it means to be the

Hassanein Award winner. His commitment

to our industry and its charities are second

to none," says Andrew Sunshine, president,

Film Expo Group. "We are honored to

recognize his achievements."

As the executive vice president of

worldwide distribution operations at

Paramount Pictures, Mark Christiansen

leads a group responsible for localizing,

packaging, marketing, and delivering

Paramount's film slate around the world.

He previously held operations and sales

positions at DreamWorks, MGM, and

Columbia Pictures.

Christiansen is currently president of

the Will Rogers Motion Picture Pioneers

Foundation. As a result of financial

hardships caused by the Covid-19 pandemic,

the WRMPPF provided cash distributions

to over 10,000 members of the exhibition

and distribution community—98 percent

of whom come from the exhibition sector.

He also supports the CHP 11-99 Foundation

and the University of Oregon.

61 Q4 2021

61_SHOWEAST-Mark-Christiansen.indd 61 16/09/2021 12:04
---
CONGRATULATION

TO A GREAT FRIEND

FROM THE ENTIRE TEAM AT STRONG ENTERTAINMENT

ROLANDO

RODRIGUEZ

on receiving the

Dan Fellman Show "E" Award

strong-tech.com

strongmdi.com

62_AD-MDI-Rodriguez.indd 62 16/09/2021 12:04
---
Studio Movie Grill 64 | Boxoffice Barometer 70

THEATER

"In this golden age of content, the moviegoing experience has to be

bigger than just going to see the movie. It has to be experiential."

Studio Movie Grill, p. 64

Q4 2021

63

63_Theater-Opener.indd 63 16/09/2021 12:04
---
Theater STUDIO MOVIE GRILL

THE STORY

CONTINUES

Studio Movie Grill CEO Ted

Croft on the Dine-In Chain's

Emergence from Covid-19

BY REBECCA PAHLE

"Opening hearts and minds one story

at a time" is the mantra of Studio

Movie Grill. The Dallas-based chain,

founded in 2000, has quite a story of its

own. In 2019, Studio Movie Grill was the

13th-largest exhibitor in North America,

combining a dine-in movie experience

with numerous community initiatives—

including its "Movies + Meals" program,

providing free screenings and meals to

local nonprofits—to build a powerful

brand that entered 2020 set to expand.

In April 2019, Studio Movie Grill

received $100 million in strategic

growth investment from TowerBrook

Capital Partners L.P. In January 2020,

they announced plans to open five new

locations through the first three quarters

of the year. In March, the Covid-19

pandemic shut down North American

cinemas. In October, Studio Movie Grill

filed for Chapter 11 bankruptcy.

But the story wasn't—and isn't—over.

April 2021 saw Studio Movie Grill emerge

from Chapter 11 following a restructuring.

With a new CEO at the helm—former

COO/CFO Ted Croft, who's been with the

company since 2011—Studio Movie Grill

is poised to exit the pandemic period

leaner and more focused on providing

the best possible guest experience—even

if that means something a little different

now than it did in the pre-Covid days.

Boxoffice Pro spoke with Croft; Ted

Low, V.P., brand and marketing; and

Tearlach Hutcheson, V.P., film, on SMG's

emergence from a challenging 2020 and

the next chapter in its own ongoing story.

64 Q4 2021

64-69_THEATER-SMG-Croft.indd 64 16/09/2021 12:05
---
Studio Movie Grill was one of the

chains that filed for Chapter 11 during

2020. Could you talk a bit about the

restructuring process that SMG went

through and how it will enable you to

emerge stronger from the pandemic?

Ted Croft: As you can imagine, Chapter

11 is tough on all parties. It's tough on

the company, tough on your vendor

partners, tough on everybody. If you turn

it around and find the glass half full, what

it does enable you to do is restructure.

The lending partners we had, Goldman

Sachs and Crestline [Investors], were our

partners prior to the filing, and they stuck

with us. They believed in this leadership

team, believed in the brand, funded our

way through the bankruptcy, and will

be funding us post-emergence, which

happened in April.

Today, we have 19 of our strongest

locations. We'll have two more that will

open this fall. We were able to, I'd say,

recast a lot of our contracts. So you're

able to review every single contract in the

company, and you come out with a much

stronger balance sheet.

The smart thing that Goldman and

Crestline did during that time, during

the pandemic and even during the

bankruptcy, was that they kept the top

performers. And I don't mean just the

stores. I mean our top performers in the

field and our top performers at the home

office. They funded that. Keeping folks

around set us up for a much more positive

exit and emergence. I think it positioned

us extremely well to be ready for the guests

who are coming back to the theaters. I

think that was a very smart decision that

they made, way back when. We wouldn't

be sitting here today without them. The

balance sheet is stronger. We have our topperforming

locations, and we have our top

team performers, as well. So I think we're

set up for success.

In the months prior to the pandemic,

Studio Movie Grill had gotten some

investments and was planning a

pretty substantial expansion. Given

that, the pandemic was particularly

unlucky timing for you.

T.C. It was very unfortunate. When [the

pandemic] hit, I think it was 32 [theaters]

open, five under construction, and—as

you referenced—we had others that we

were close to signing. The timing was

unfortunate because we were just rocking

along. Five under construction. We had

a remodel in progress. We had other

remodels scheduled for the year after.

You had money out there, and then

Covid just shut everything down.

T.C. That's exactly right. It hit like a ton

of bricks. That's one of the unfortunate

casualties of the pandemic and the

bankruptcy, is that unfortunately some of

those sites that we had under construction

are no longer going to be part of Studio

Movie Grill.

Corporate social responsibility is a

big part of Studio Movie Grill's brand.

Coming out of the pandemic and the

restructuring, what will that look like

moving forward?

Ted Low: You mentioned corporate

responsibility, and we stand behind

"Opening hearts and minds one story at a

time" to do that. That doesn't change with

respect to the circumstances of 2020. We

look at that through a "Win 5" stakeholder

model [in which five groups—guests,

investors, team members, communities,

and vendor partners—benefit from

SMG's success], and we'll continue to stay

focused on that stakeholder model. One of

the biggest things that we noticed [during

the pandemic] was just how important

our teams and our vendors were through

the last year. As Ted mentioned, in the

absence of key investor partners, in the

absence of high performers, and in the

absence of the communities that really

stood behind us, I'm pretty confident we

wouldn't be on this call with you today

explaining what our future looks like. We'd

be reflecting on what the past was.

I don't think that in any way we have

any intention of deviating from that

responsibility. As a matter of fact, we've

stood it up in a lot of different ways through

some campaigns in 2021. Our "Now Open,

Now Hiring" campaign [in the spring]

was really driven around looking for high

performers to join high performers—again,

doubling down on the team member piece.

And we're actually going back to resurrect

some of the programs that we had to

suspend in 2020 as we look into 2021 and

2022, just to try to continue to solidify that

position in the market.

Q4 2021

65

64-69_THEATER-SMG-Croft.indd 65 16/09/2021 12:05
---
Theater STUDIO MOVIE GRILL

The unanimous feedback from a lot of

the candidates [to the "Now Open, Now

Hiring" campaign] coming through our

H.R. teams and our ops teams was, if they

were going to come back to work, they

wanted to come back to work with a brand

that stood on a stakeholder model or stood

for something that was bigger than itself.

I think that's evidence of what the brand

represented in the market. What we were

working so hard to build pre-pandemic

helped us stand up a little bit faster postpandemic.

That was the sentiment coming

from a lot of these candidates as we looked

to onboard them.

It seems like you really do enable

and encourage local G.M.s to take

initiative with their own theaters.

T.L. [Senior Director, Public Relations and

Outreach] Lynne McQuaker was a key

component in creating that localization

effort, so that a general manager can say,

"Hey, I want to do a fun run," or, "Hey, I

want to support this philanthropic effort

in my community. It's important to what

I stand for." Our "Chefs for Children"

program was created by a chef outside of

Chicago that had a special needs child

and wanted to come up with a way to

leverage the brand and the brand's

resources to benefit that group of people

that he was directly impacted by. Those

localized efforts, Lynne certainly deserves

some credit for instituting that, and

we've maintained that into 2021 and in

the future.

"With all these great films

coming out, we're going to

really have to focus on giving

them the legs that they

deserve and making sure that

they stay on-screen as long as

they possibly can."

On a different subject of localization—

Tearlach, how much does SMG tailor

its programming to individual theaters

and the communities they serve?

Tearlach Hutcheson: Any time that

you're programming a theater, you're

looking for what the audience wants to

see. Anyone who's buying film for a chain

is looking at each individual theater. If

you're not doing that, you're not doing

your job properly. But I think on top of

that, we often do events [and screenings]

for local filmmakers. We don't necessarily

take the approach of charging a large fee.

We work out a deal where we split tickets

or things like that, so they can have the

people who are in the film and the people

who are supporting them come in and be

part of that event. Being a place where

[people turn] up to support the local

community is important to us.

Over the back half of 2021, the

schedule's just jam-packed. How

does SMG approach that from a

programming perspective? It has to

be quite the jigsaw puzzle.

T.H. I think the difference between prepandemic,

during the pandemic, and postpandemic

is we're really focusing more on

how our pre-pandemic models were and

how that worked. I don't see it as a jigsaw

puzzle. I see it as a lot of great films coming

out at the end of the third quarter and the

fourth quarter. The dam is right there, and

we're waiting for that dam to release.

With all these great films coming out,

we're going to really have to focus on

giving them the legs that they deserve and

making sure that they stay on-screen as

long as they possibly can. I think that's one

of the biggest dilemmas that we're going to

have with this onslaught of films.

How do you handle the marketing

angle of that?

T.L. I'm actually going to be the one that's

excited about too much content. There

was a lot of anticipation for Tenet last

September. There was a lot of anticipation

for Wonder Woman 1984 in the holidays.

There was an eagerness to try to figure

out how to get back to the movies, but

they obviously just didn't hit like they

needed to. We started seeing an uptick in

attendance as early as Tom and Jerry back

66 Q4 2021

64-69_THEATER-SMG-Croft.indd 66 17/09/2021 09:08
---
in February, and so we started trying to

map the trend.

If you look at how we run our strategies

internally, with respect to marketing and

marketing communication to our guests,

we've got a pretty good grip on who our

customers are by location, like Tearlach

mentioned. While it may be a jam-packed

slate, some of those titles may not always be

appropriate for every one of our stores, and/

or some may have longer legs than others.

The marketing strategy is kind of Marketing

101: We've got acquisition strategies, and

we've got retention strategies. To answer

your question: The more the merrier. We

run a very strategic film rollout schedule,

from advanced ticketing to "now showing"

to chase campaigns.

[For example], The Suicide Squad opens

for us tomorrow. We've got paid media

campaigns going for The Suicide Squad.

We've got featured beverages going. We're

in a great relationship with Warner Bros.

for that title. To continue the legs on that

movie, we'll still run chase campaigns next

week and the following, but we'll move

on to the next titles that are up. We've got

them in a sequence that sets us up to serve

up content to our different constituents,

because our guests have a pretty broad

makeup of movie preferences.

For Ted Croft, what's your personal

vision for SMG moving forward, and

how is that informed by your former

roles as COO and CFO?

T.C. In my former roles, there was a lot

of support of the vision of the brand. A

lot of the focus was on interaction with

investors. Now, in a new role—and it's not

just me, it's the entire leadership team—

we're all taking a much more enhanced

awareness of the guest experience.

Our lending partners are the same [as

before], and we know each other so well.

That was a big part of taking on this role.

They know the brand. So that frees up

time and space to be able to focus on the

day-to-day.

Our role is—it's a little bit cliché—but

we're protectors of the brand. They stuck

with us because they believe in the brand.

That's why they're putting more money

into Studio Movie Grill. And so, I don't

think we're here just to maintain. We're

in a great position to be able to accept all

these guests as they come back and give

Q4 2021

67

64-69_THEATER-SMG-Croft.indd 67 17/09/2021 08:53
---
Theater STUDIO MOVIE GRILL

them a great experience. [But the goal

is] not to just maintain. I've been asked

to spend a portion of my role looking at

potential growth opportunities for Studio

Movie Grill. We do believe very strongly

that those opportunities are going to

present themselves in the near future, and

so that's what we're going to focus a lot of

time on. [We're going to be] really focused

on the guest experience and opportunistic

growth opportunities and giving our

leadership team every tool that they need

to deliver that guest experience.

Your brand is strong, so you're

not in a place of needing to make

fundamental changes.

T.C. I think that's fair. But we are always

looking for ways to make it better and

make it easier for our guests to use Studio

Movie Grill. That's a challenge we talk

about almost on a daily basis.

What are some of the ways you're

exploring by which to do that?

T.L. There was a way to SMG, prepandemic.

I spent a decade telling [guests],

"Kick your feet back and push a button,

and we'll do all the work." I think the

environmental circumstances around us

affected people's comfort with doing that.

We, like so many others, took on what I call

"catastrophe innovation." We quickly fasttracked

getting food and beverage onto

our mobile app. We quickly fast-tracked a

more robust kiosk experience. Do I think

those things are fully optimized today,

"In this golden age of content,

the moviegoing experience

has to be bigger than just

going to see the movie. It has

to be experiential."

on the call with you? No, I don't. I think

there's opportunity to continue to make

them better.

We've expanded our surveys, and

we've expanded our net promoter score

reach, so that we can get more and more

transparency into that kind of feedback.

And not just feedback from people that

didn't have the experience we wanted,

but feedback from people that had the

experience they wanted, so that we can

learn from both sides. And the feedback

that we're getting is that there's still a

propensity to want to do full service. But

there's also a group of people—that are

gaining in market share by every period—

that have a propensity for wanting to do

technology-based service. The brand

is taking a hard look at what we're

calling "high-touch" and "low-touch"

opportunities. There are certain points

where "low-touch," i.e., "high-technology,"

can service the guest better. And then,

in certain places where hospitality really

rings out, we still want that customer and

team member interaction. We're balancing

that, and I do think that's part of what that

future looks like.

We realize that there are continuous

ways to optimize the experience. I think

any in-theater dining concept would

share the same heartburn, with respect to

when we do checks and when we payout,

and that's typically happening during the

climax of the movie. That's not unique to

Studio Movie Grill. That's a reality for all of

us. And so we're constantly taking a look at

how to make it better.

In this golden age of content, the

moviegoing experience has to be bigger

than just going to see the movie. It has to

be experiential. If we can't figure out how

to dial into the experience, then we do

become an archaic business model. At the

end of the day, it's got to be worth getting

you off your couch and getting you into the

theater and getting you into an experience

that provides that kind of quality-value

equation that you were looking for, that

makes you feel good about the money you

spent and the time that you were away

from home. That's where we're doubling

down. [When Ted Croft] says, we want to

get back to basics and keep it simple, we

think that's what the customer wants. We

were the first in the [dine-in] space. We

want to be the best in the space. We're just

going to get back to doing what we're good

at doing.

68 Q4 2021

64-69_THEATER-SMG-Croft.indd 68 17/09/2021 09:01
---
"Storytelling has remained

the constant throughout

this business. The thing

that's always changed this

business is technology."

As you do customer research and

think about adjustments to your

business model, are you coming to

any conclusions about programming?

I'm thinking specifically about nontentpole

content, whether they're

mid-budget films or alternative

content. What role will that play in

SMG moving forward?

T.H. We are always experimenting and

trying out different forms of alternative

programming. We have, from very early

on, been big supporters of Funimation,

and we've seen them rise in success.

We used to do a lot of music alternative

programming. The problem that we're

having post-pandemic is that we're not

really being offered that type of content

at the moment. But if it was being offered,

we would be putting it out there in the

marketplace and playing it. So alternative

programming is very important to us.

Turning back to the question about

the big films and the mid-range films, it

depends on what you mean by "mid-range

film." One of the conversations happening

in the public sphere in this businesses is

that people are only going to come out

for the Black Widows, you know, things

that have to be seen on a big screen. And

I'm going to push back on that. I'm going

to say, the best way to experience a great

story is in a dark room with a bunch of

strangers. The Black Widows of the world,

the No Time to Dies of the world, that's one

thing. But a comedy is a lot funnier when

you're with a hundred people laughing. A

horror movie: everyone being scared at the

same time, everyone taking that big intake

of breath. A drama. It's better when you

hear everyone silently crying in their seats,

trying to pretend they're not crying. That's

how you're meant to experience a movie.

Storytelling has remained the constant

throughout this business. The thing

that's always changed this business is

technology. We've had this influx of

streamers. But you go back and think

about 1920s radio, 1950s TV: How did that

change how things were shown in movies?

The introduction of the VHS tape, DVD,

now streamers. That definitely changed

the way that people are consuming at

home. But the story that I'm telling

myself about home consumption is that

streaming is merely people converting

from DVD into streaming. We still have

that block coming into the movie theaters

and wanting to have that experience. The

customer base is still there.

Coming off that idea of storytelling,

my final question: As the industry

comes out of a challenging year and

a half, and as SMG emerges from its

own particularly transformative time,

what is the story of Studio Movie Grill

going to be?

T.C. My initial gut reaction is: We made

it. We survived. And we're still here. We

were a great brand going in, and we're a

great brand coming out. And the SMG

story is not done. I said it earlier: We're

not here just to maintain. We're here to

continue the story. As we grow, it creates

opportunities. Just recently, we've had

some well-earned internal promotions that

have happened. People that stuck with us

during this pandemic have been promoted

into leadership positions. That's the stuff

that keeps us going. Those are the stories

that we love—that the folks that have

stuck with us are going to be rewarded

because we have a brand that's going to

survive. To see people exceed and enrich

their own lives gives us a lot of satisfaction

as a leadership team. We're not done. We're

still here. And the story continues.

Q4 2021

69

64-69_THEATER-SMG-Croft.indd 69 17/09/2021 08:53
---
BOXOFFICE BAROMETER

2021

Honoring Excellence in Theatrical Exhibition

Boxoffice Pro is reviving its iconic Boxoffice Barometer readers' poll, a popular

annual feature of our magazine for decades, in which exhibitors vote on the best

achievements in the industry. In this newly revamped edition of the Barometer,

representatives from over 50 exhibition circuits around the world voted online

to select the most important and influential contributions to the exhibition

industry in 2020. Boxoffice Pro will be featuring profiles of each honoree in our

print editions throughout 2021.

70 Q4 2021

70-73_BAROMETER.indd 70 16/09/2021 12:06
---
Industry Figure of the Year:

NATIONAL ASSOCIATION

OF THEATRE OWNERS

Cinema Trend of the Year:

PRIVATE THEATER

RENTALS

Film of the Year:

TENET

(WARNER BROS.)

Theatrical Distributor of the Year:

WARNER BROS.

Exhibitor Relations Department

of the Year:

WARNER BROS.

Cinema Vendor of the Year:

VISTA GROUP

INTERNATIONAL

Food & Beverage Vendor of the Year:

VISTAR

Technology Vendor of the Year:

CINIONIC

Q4 2021

71

70-73_BAROMETER.indd 71 16/09/2021 12:06
---
Theater BOXOFFICE BAROMETER

FOOD & BEVERAGE

VENDOR OF THE YEAR

VISTAR

Interview with Sean Mahoney, Senior

V.P. Sales and Marketing, Vistar

"As our business grew, so

did the level of trust with our

amazing business partners—

and today, support of the

exhibitor space is strongly

woven into the fabric of our

business."

Since your acquisition by

Wellspring Capital Management

LLC in 2002, it looks like Vistar has

entered new markets. Can you

provide some background on your

pre-2002 history?

Vistar is a division of Performance Food

Group, which traces its beginnings

back to 1875. In 2002, Wellspring Capital

acquired Multifoods Distribution Group

and renamed it "Vistar," setting the stage

for multiple acquisitions over the past

decades. In 2015, Performance Food Group

announced an IPO, and PFGC has been

trading on the NYSE ever since.

At what point did Vistar begin working

with movie theater concessions,

specifically? And how has that part of

your business evolved?

Vistar began supporting the exhibitor

concessions and food service space around

25 years ago, with the acquisition of Liberto

Distribution. We were able to retain many

of the great people from this company and

capitalize on their experience in theaters

and concessions. As our business grew,

so did the level of trust with our amazing

business partners—and today, support of

the exhibitor space is strongly woven into

the fabric of our business.

In our Boxoffice Barometer poll, voted

on exclusively by exhibitors, Vistar

was voted, far and away, the best

F&B vendor of 2020. What was your

strategy for working with these

theatrical customers during the awful

year we all had in 2020?

Vistar's longtime commitment to doing

business with a strong customer-centric

approach set the stage for us to support

our customers through unprecedented

challenges. We are as passionate about

the movie theater business as they are,

which made 2020 particularly difficult

to navigate for all of us. That shared

commitment and belief, that going to

the movies has been and will continue

to be an important part of our culture

in America, helped us work through

the challenges in the best ways possible.

While the sales impacts are still being

felt today, it's exciting to see the industry

slowly rebound.

What lessons has Vistar taken from

2020 that will serve you as we move

beyond the pandemic?

Vistar has been investing in a customercentric

approach for a long time. The

challenges of last year in theaters and

concessions reinforced for us the need

to continue building on those strong

customer relationships. We spent many

hours moving inventory to the right

operating centers, working with our

suppliers to take product back or move

it through other channels, and helping

countless customers manage through

shutting down in the best way to support

the eventual reemergence of their

business. I am very proud of our team for

staying engaged and connected with our

customers and for their creativity and

innovation as they looked for alternatives

and solutions with each twist and turn.

What are the top challenges that

Vistar faced during the pandemic,

and how did you work through them?

At the height of the pandemic, several

Vistar customers were forced to shut down,

almost overnight. That shifted our focus

from getting product to the right place at

the right time, to helping our customers

respond to a total loss of sales. Our

commitment to sustaining those customer

relationships is helping us now as we start

to see the industry slowly rebound.

72 Q4 2021

70-73_BAROMETER.indd 72 16/09/2021 12:06
---
When it comes to distribution

logistics, what are some of the

innovations that have positively

impacted your business over the

last several years?

We believe it's almost impossible

[for others] to match the national

distribution reach that Vistar has built

for our customers! With our own fleet and

warehouse network, we have control over

how we invest in our equipment—and,

more importantly, how we invest in our

people, who deliver for our customers

every day. We take advantage of technology

in many aspects of our business, including

to help us mitigate production and delivery

issues many suppliers are currently facing.

We can offer any concessions, food service,

janitorial, or nonfood items required in a

concessions setting, including frozen and

refrigerated products.

Across the exhibition industry, we're

seeing how data and digitalization

have streamlined procedures in so

many ways—from ticket sales to film

booking. How does Vistar use data to

better serve its cinema clients?

"That shared commitment

and belief, that going to

the movies has been and

will continue to be an

important part of our culture

in America, helped us work

through the challenges in the

best ways possible."

Vistar's approach to our business blends

strong relationships with our customers

and our supplier base with solid

understanding and use of data. With a mix

of suppliers that are national consumer

goods companies and niche players in the

concessions space, we can identify trends

from a more unique perspective. We work

tirelessly with our suppliers to incorporate

trendsetting products and gain category

insights to help customers maximize

the consumer experience and improve

check averages. We build success for their

business and ours when we combine

data with our experienced theater

representative base. The innovation our

team brings to our customers supports

them in offering variety and unique

consumer experiences.

ADVERTISE IN

BOXOFFICE PRO'S

CENTENNIAL ISSUE

Celebrating 100 Years as Exhibition's Reference Publication.

Reserve Your Space by November 4

Contact susan@boxoffice.com for details.

Q4 2021

73

70-73_BAROMETER.indd 73 17/09/2021 09:08
---
THE ENTIRE TEAM

AT STRONG

ENTERTAINMENT

JOINS IN CONGRATULATING

MIGUEL

MIER

on receiving the International

Exhibitor of the year Award

strong-tech.com

strongmdi.com

74_AD-MDI-Mier.indd 74 16/09/2021 12:07
---
Ghostbusters: Afterlife 76 | The Addams Family 2 84 | Mass 90

ON SCREEN

"People would line up around the corner at every one of the

movie palaces. It was a privilege to wait two hours to see

movies in late-'80s, early-'90s Westwood."

Ghostbusters: Afterlife, p. 76

Q4 2021

75

75_OnScreen-Opener.indd 75 16/09/2021 12:07
---
On Screen GHOSTBUSTERS: AFTERLIFE

76 Q4 2021

76-82_Ghostbusters.indd 76 16/09/2021 12:08
---
THE

REIT

STUFF

Ghostbusters: Afterlife

Continues a Family Legacy

BY REBECCA PAHLE

Q4 2021

77

76-82_Ghostbusters.indd 77 16/09/2021 12:08
---
On Screen GHOSTBUSTERS: AFTERLIFE

Ghostbusters: Afterlife is a family

affair. Unlike the previous three

Ghostbusters films, it's about a family:

single mother Callie (Carrie Coon) and

children Trevor (Finn Wolfhard) and

Phoebe (Mckenna Grace), daughter and

grandkids of the late, great ghostbuster

Egon Spengler (Harold Ramis). The idea of

family legacy extends to behind the camera

as well, to director/co-writer Jason Reitman

(Juno, Up in the Air, Thank You for Smoking)

and his father, Ivan Reitman, who directed

and produced the first two Ghostbusters

films (and myriad other comedy classics)

and returns as a producer this go-round.

It's not surprising to learn that the

younger Reitman grew up at the movies—

and values the theatrical experience,

especially now, when there are "fewer and

fewer places of singular attention" and the

industry was kept at a temporary standstill

for so long. Reitman spoke exclusively to

Boxoffice Pro about his history with

movie theaters and the experience of

making Ghostbusters: Afterlife, in theaters

from Sony Pictures November 19.

Pre-Ghostbusters: Afterlife, you served

as producer for most of the films you

directed. How is the process different

for you, when you're also producing a

film versus when you're not?

From moment one, it made sense on

this film for my father and I to partner

up that way. My father's a producer [on

Ghostbusters: Afterlife]. I am the director.

We knew that we were going to enter in a

different producer-director relationship

than any filmmaking team ever has, even

in cases where families have worked

together on projects. My father was a

producer on Up in the Air. It was a much

different thing for me to pick up this story

that he had created, and I think that's

what made this different.

For a lot of people, including myself,

the first two Ghostbusters films are

baked into our childhood. But this is

the first Ghostbusters film to center

on child characters—or at least to

feature them in a big way. What was

the thought process behind that

shift? What does it bring to the story?

It's interesting. If you think about the

three Ghostbusters films up until now,

they've always been about a group of

78 Q4 2021

76-82_Ghostbusters.indd 78 16/09/2021 12:08
---
"Those moments where

you somehow discover

who your family is by

going through the attic

or going through the

basement or going

through some old trunk."

people who go into business. That was

always at the core of what their stories

were about, and it's what bonded the main

characters. I wanted to make a movie

about a family. That's how the first kernels

of the idea started coming to me, before I

even really knew that I was going to make

this film. I pitched it to my writing partner

[Gil Kenan] as exactly that: It's a movie

about a single mom and her two kids.

It's about ghosts, both paranormal and

figurative. It's about a broken family.

It really came down to, what is it like

to discover the ephemera of previous

generations? What got me excited about

it were those moments of going through

my grandparents' basement and finding

my father's short films from college. Those

moments where you somehow discover who

your family is by going through the attic

or going through the basement or going

through some old trunk. And I thought,

what would it be like to find a proton pack in

your grandparents' basement? What would

that mean about who you were? And thus

began the story of these young people who

have to figure out what this ghostbusting

equipment is, why it's there, and why it's

found its way into their hands.

Given the family-based nostalgia at

the heart of this movie—I know you've

worked with your father before, but

with this one in particular—did the

process change your relationship with

him at all, professional or otherwise?

It was absolutely wonderful and very

challenging. I ask of anyone: Imagine your

Q4 2021

79

76-82_Ghostbusters.indd 79 16/09/2021 12:08
---
On Screen GHOSTBUSTERS: AFTERLIFE

father sitting next to you at work and in

real time reviewing every decision you

make. It is lovely to spend that much time

with your parents. It is also really tricky.

My father and I are both ... [long pause]

confident in our own opinions.

Good way of putting it.

Thank you. And it wasn't always easy.

But what I found myself thinking all the

time was, my father was around the same

age when he made Ghostbusters. And

as I would revisit ideas and locations

and props and music, I found myself

wondering what was behind my father's

decisions at every turn. And the thrill was

being able to actually just turn [to him]

and ask him.

Was going to the movie theater a big

part of your childhood?

I lived at the movie theater. The movie

theater was my babysitter. I would be

dropped off, and I would go from one

screen to the next. But, as a child of

privilege, I actually bought tickets for all

the films I saw, so I wasn't sneaking in

from theater to theater.

That's good! Our readers in exhibition

will be happy to hear that.

There are fewer and fewer places of singular

attention. And I cherish having them back.

I've gone to the movies many times over the

summer. I find myself returning not just for

the movies, but for the act of being inside

the movie theater. Buying the popcorn.

"As I would revisit ideas

and locations and props

and music, I found myself

wondering what was behind

my father's decisions at

every turn."

Watching the trailers. Experiencing a

screen bigger than my eyes can fathom.

Real sound. And laughing and crying with

strangers. These are things that I had been

missing the last year. From Zola to A Quiet

Place—I still haven't seen The Suicide

Squad. I'm just happy to have it back.

Zola was so good. The conversation

among some people is, "Oh, the big

screen is so important because where

else can you really, fully experience

these big, special-effects-laden

spectacles?" But a film like Zola on the

big screen—that was the place to see it.

One hundred percent agree. The music in

Zola is amazing. The audience experience

of Zola is amazing. One thing I'm jealous

of you, you're in New York, so you got

to see Shiva Baby on a big screen, and

I didn't get to do that in L.A. I finally

watched that. Oh my God, that movie's

amazing. It is the most Jewish movie I've

ever seen. It's also just an amazing thriller.

It's fantastic.

Ghostbusters: Afterlife was originally

supposed to come out in June 2020.

When you did you finish it? Was it

ages ago?

Yes and no. The movie's been done for

months. But also, we just added something

for the end of the credits.

That was going to be my follow-up:

Are you a tinkerer?

For the most part, no. I know directors

kind of fall into two categories. I am

definitely in the category of "... and I am

done." I am a director of instinct, and I

generally follow that.

What's it like seeing the final cut of

a film, 100 percent done, in a theater

for the first time? Because you've

seen every other iteration of it, also

on a big screen. Is it different when

you know, "This is the movie"?

What's different is finally seeing it with

an audience. That was the big difference

this year. When I think about my previous

movies, they were all in a breakneck

race for Telluride or Toronto, where we

would finish the movie, and three days

later, we would be with an audience at a

film festival watching the movie. It was

a thrill, but I had no time to think about

it. On Ghostbusters, for what feels like a

year, we sat. And then finally we had a

80 Q4 2021

76-82_Ghostbusters.indd 80 16/09/2021 12:08
---
BOX OFFICE

BUSTERS

GHOSTBUSTERS

June 8, 1984

Opening Weekend:

$13.5M

Domestic total

$229.2M

test screening of the movie. And it played

beautifully. But I had to wait a long time

to just sit amongst people eating popcorn

watching the movie, to hear them laugh

and cheer and gasp and be surprised. It

was worth the wait. The exciting part was,

having not seen it for a long time, I got to, in

some ways, watch it for the first time again

with them.

I hate to ascribe anything positive to

the pandemic, but that sounds like a

nice little silver lining. You get to take

a step back and experience it for the

first time.

Very well said. This is the first time I've

watched one of my movies where I really

felt like I was an audience member.

You mentioned going to the theater a

lot as a kid—did you have a particular

childhood theater that you went to

most often?

I don't know how familiar you are with

L.A. I have so many movie theaters, I

honestly don't know where to begin.

I grew up at the moment when the

Westwood Village in Los Angeles was the

epicenter of movie exhibition. People

would line up around the corner at

every one of the movie palaces. It was a

privilege to wait two hours to see movies

in late-'80s, early-'90s Westwood. I'd go to

the Mann Village, and I'd go to the Bruin.

All the way up to seeing Pulp Fiction at the

UA, before they tore that down. The AMC

Century 14—that was a huge theater for

me. It's the theater of my first kiss: Don't

Tell Mom the Babysitter's Dead.

A very romantic film.

[Laughs] Yes, exactly! I remember when

they built the CityWalk. It was a Cineplex

Odeon at that time. That was a big theater

for me. That's one where I would just sit

there all day. I would sometimes go theater

to theater, just to watch the trailers. I

remember when the Cliffhanger trailer

came out. I would go to three theaters in

a row just to watch that trailer over and

over. But then I remember being in New

York—I remember, with my dad, seeing Big

Trouble in Little China in New York and

RoboCop in New York and watching those

movies crush.

I love trailers. There's an art to them.

The two Ghostbusters trailers that've

come out so far have both been really

good—they each evoked different

tones and hit it in different ways.

I'm right there with you. The trailer is as

much a part of my experience of a movie

as the movie itself. They're people who

care. And I'm really lucky that [Co-Head of

Motion Picture Group, formerly President

of Worldwide Marketing and Distribution]

Josh Greenstein over at Sony and [Sony

Pictures Entertainment's EVP Creative

Advertising] David Fruchbom, who put

together this trailer, understand and love

Ghostbusters. And look, that's the thing

about this franchise. It exists before all of

us. It doesn't belong to any of us. Anyone

who worked on this film knew that they

were trying on someone else's clothes.

It was our job to honor that. Whether

you were creating costumes or building

puppets or doing practical effects or

GHOSTBUSTERS II

June 16, 1989

Opening Weekend:

$29.4M

Domestic total

$112.5M

GHOSTBUSTERS

July 15, 2016

Opening Weekend:

$46M

Domestic total

$128.3M

Q4 2021

81

76-82_Ghostbusters.indd 81 16/09/2021 12:09
---
On Screen GHOSTBUSTERS: AFTERLIFE

writing music—or, honestly, editing the

trailer—there's a reverence that was a part

of the work. That had to be a part of the

work. Because you're cooking a recipe that

people know. You know when someone's

gotten your grandma's recipe right. And

you know when they got it wrong.

You can't see me, obviously, but

when you said "practical effects," I

did the human equivalent of a dog's

ears perking up when they hear

"dinnertime."

That's all part of the language of the

movie, right? That was something I really

admired about J.J. [Abrams's] The Force

Awakens. It was made by not only a person,

but by people who clearly love Star Wars.

When you watch Force Awakens, you knew

that BB-8 was practical. And you could tell

that they wanted to get the patina of the

Star Destroyers and the X-Wings and the

buttons and the clothes and the puppets.

They all felt of a world that you're just as

familiar with as you are your own world.

I'm in my mid-30s, and I won't claim

to know what teenagers today grew

up with. Had Finn and Mckenna seen

Ghostbusters?

Oh, oh, oh. Mckenna had been a

ghostbuster multiple times for Halloween

as a young child. Mckenna used to do

"Mckenna was a Ghostbusters

fanatic. The day that she got

to put on a proton pack for

the first time, she squealed,

she cried."

paintings of Slimer. Mckenna was a

Ghostbusters fanatic. The day that she

got to put on a proton pack for the first

time, she squealed, she cried. This was a

huge deal for her. And Finn is a student

of comedy, a student of film, a student

of Dan Aykroyd and Harold Ramis. They

were very much of this world.

As long as they both appreciated

Annie Potts's Janine being back.

That was my favorite moment from

the trailer.

Every day, it'd be like, "You know, tomorrow,

you're working with so-and-so." Or

"Tomorrow, you're going to work with this."

Or "Tomorrow, you get to hold that." Or

"Tomorrow, you're driving Ecto-1." And they

freak out every single time! The number of

times one of them looked at me—and this

is for [child actors] Celeste [O'Connor] and

Logan [Kim] as well—and went, "How cool

is this?" But Paul Rudd was the same way!

And that must come through on the

screen—that they're really having

a good time, and it's not just a

paycheck role.

There isn't a day on the set of

Ghostbusters that you are not somehow

interacting with something that you fell

in love with as a kid.

82 Q4 2021

76-82_Ghostbusters.indd 82 16/09/2021 12:09
---
THE

COMPANY WEBEDIA GROUP

Congratulations to

CineEurope and

ShowEast's 2021

award recipients.

CineEurope

Niels Swinkels

International Distributor of the Year

Ivar Halstvedt

UNIC Achievement Award

Odeon Cinemas Group

International Exhibitor of the Year

ShowEast

Rolando Rodriguez

Dan Fellman Show "E"

Miguel Mier

International Exhibitor of the Year

Lisa Bunnell

Bingham Ray Spirit Award

Elizabeth O'Neil

Al Shapiro Distinguished Service Award

Paul Holliman

ShowEast Hall of Fame

Mark Christiansen

ShowEast Salah M Hassanein Award

83_AD-Boxoffice.indd 83 16/09/2021 12:10
---
On Screen THE ADDAMS FAMILY 2

ADDING

MORE

ADDAMS

The Addams Family 2 Co-Director Conrad

Vernon Delivers a Sequel for Halloween

BY JESSE RIFKIN

84 Q4 2021

84-89_Addams.indd 84 17/09/2021 16:48
---
"We were mainly thinking,

where do people typically go

when they're taking a family

road trip, but then where

would the Addamses go?"

Q4 2021

85

84-89_Addams.indd 85 17/09/2021 09:11
---
On Screen THE ADDAMS FAMILY 2

Regardless of your age or generation,

you can probably sing "The Addams

Family" theme song, finger snaps

included. But many years before the

iconic TV show, the macabre title family

first appeared, in 1938, in a series of

single-panel cartoons in The New Yorker,

and afterward went on to star in a liveaction

movie franchise in the 1990s. In

2019, Conrad Vernon and Greg Tiernan

directed The Addams Family, an animated

installment that earned $98 million

domestically and $201 million globally.

Now, the two filmmakers are back for the

United Artists Releasing and MGM family

comedy sequel, The Addams Family 2,

exclusively in theaters October 1.

Vernon previously directed or codirected

Shrek 2, Monsters vs. Aliens,

Madagascar 3: Europe's Most Wanted, and

R-rated animated comedy Sausage Party.

He spoke to Boxoffice Pro about the

challenges of recording a voice cast from

home, especially when you have noisy

neighbors, why the film's title changed

during production, and how Snoop Dogg

wrote an original song for the film.

Where were you in the production

process on Wednesday, March 11,

2020, "the day everything changed"?

We were still in storyboards. We hadn't

started animation or effects or anything

like that. This was a very shortened

schedule that we were on. We went from

script to screen in two years.

What were the biggest challenges

with making this movie during the

pandemic?

Making it at home was a challenge, for sure.

But once everyone was at home, they had

their setups, their rigs at their houses—

it went pretty smoothly. The biggest

challenge was really just getting this done

in time and making it as good as we could.

Many of us had to work from home

during the pandemic, but it's hard to

picture making a movie from home!

The whole cast did have to do it from

home. Oscar [Isaac, who voices Gomez]

did go into a studio, but he was dropped

off at the back door, let in with a mask, and

then left completely alone. Everybody else

did it from their houses. We had to mail

them a microphone and a computer with

the [audio-recording] program. Then they

had to have people come in, with masks

"Making it at home was a

challenge, for sure. But once

everyone was at home, they

had their setups, their rigs at

their houses—it went pretty

smoothly."

and everything, to set up the microphone

and the baffles [which provide better

acoustic balance].

I think Bette [Midler, who voices

Grandmama] did it all by herself. There was

like a good hour before we recorded where

the tech team was on Zoom with her saying,

"You're going to hit this button, then

you're going to take this and put it over

here ..." She kept saying, "Isn't technology

amazing?" She couldn't believe it.

When you're dealing with recording

people at home, there's cars going by,

there's gardeners with their leaf blowers.

There's all this stuff that we had to stop

and wait for. Chloë [Grace Moretz, who

86 Q4 2021

84-89_Addams.indd 86 16/09/2021 12:10
---
FAMILY

HISTORY

1938

New Yorker Cartoon

The Addamses first appeared

in a one-panel cartoon by

Charles Addams.

1964

"The Addams Family"

(TV Series)

The 30-minute television

series was created by David

Levy and Donald Saltzman

and shot in black-and-white,

airing for two seasons on ABC.

1973

"The Addams Family"

(Animated TV Series)

The first animated series

produced by Hanna-Barbera

Productions ran on Saturday

mornings on NBC.

1991

The Addams Family (film)

The first live-action Addams

Family film, directed by Barry

Sonnenfeld, introduced a

new generation to the spooky

Addams clan.

voices Wednesday] actually had to go

out once and ask the gardeners across

the street at her neighbors' house to stop

blowing for half an hour.

Can you get her to come over and ask

my neighbor, who's always using his

chainsaw, to knock it off?

[Laughs.] I'll see what I can do.

In this installment, the family goes on

a road trip to visit iconic sites around

America. How did you decide which

sites they would visit, and whose

idea was it for Pugsley to blow up the

Grand Canyon?

The idea for blowing up the Grand Canyon

came from the writers, though I don't

know exactly who. I think that was always

in the script.

We had other destinations planned for

the movie. They went to Vegas at one time,

they went to Seattle at one point, they

took a wrong turn and wound up in Alaska.

But that was a one-line gag, so we said,

"Let's not build Alaska [in the computer

animation] just for one line!" So we did

take out certain locations.

We were mainly thinking, where do

people typically go when they're taking a

family road trip, but then where would the

Addamses go? Death Valley is the happiest

1993

Addams Family Values (film)

Sonnenfeld returned for the

second 1990s Addams outing—

the final Addams film until the

animated The Addams Family

came out in 2019.

Q4 2021

87

84-89_Addams.indd 87 17/09/2021 09:12
---
On Screen THE ADDAMS FAMILY 2

place on earth to them! They went to

Sleepy Hollow [a village in New York state

that some believe to be haunted], where

they camped out. They go to San Antonio

to visit the Alamo. So it was a mixture of

typical family vacation places like Niagara

Falls and the Grand Canyon and Addams

Family types of destinations.

Addams Family Values, the second

installment for the live-action movie

series, came out in 1993. When

thinking about how to approach the

concept of an Addams Family second

installment movie, did you look to

that film in any way?

We try to stay away from those. Not

because we don't like them—we love

them, they're really great—but we want to

make sure these stand on their own. You

don't want people saying, "Yeah, they just

animated the live-action movies."

During production, the studio held

The Addams Family Voice Challenge,

in which anybody online could submit

a recording of their best "spooky

voice," and one winner would be

selected to record a voiceover in the

actual film. How did that work out?

Our marketing team did that. They

came up with the concept and picked

the winner, who went into a studio

somewhere and recorded some lines.

What's funny is we cut out the scene that

the winner was going to be in, so we had to

have them back to re-record and put them

in another part of the movie. It was just a

bit part, a crowd member at a Cousin Itt

concert [voiced by Snoop Dogg].

Speaking of Snoop Dogg, I don't know

which two songs I was expecting to

play in the trailer, but they definitely

weren't "Ridin" by Chamillionaire and

"What's My Name"? by Snoop Dogg.

How did you approach the music for

this film?

We listened to a ton of different Snoop

songs for the Jet Ski scene. Not a bad way to

get paid! [Laughs.] Rock Mafia wrote songs

for the first movie [including "My Family"

by Snoop Dogg featuring Migos and Karol

G] and they also wrote songs for this movie.

They make the movie's style unique. It's

all its own, because of them. Snoop wrote

another song for this one as well.

As far as the score, we have Mychael

and Jeff Danna returning. For both movies,

"We want to make sure

these stand on their own.

You don't want people

saying, 'Yeah, they just

animated the live-action

movies.'"

we wanted a kind of gypsy feel to the score,

which felt very singular to the Addamses.

What was the hardest thing to

animate?

The end of the movie. I don't want to give

it away, but it's pretty spectacular. We

spent a lot of time animating each one of

those shots, because there was so much

going on. There were other challenges,

things that you wouldn't think would be

challenging. The beach, having the sand

crunch under their feet. You wouldn't

think it would be that hard, but you need

to make footprints. Then when Morticia is

dragged through the sand, her dress drags

88 Q4 2021

84-89_Addams.indd 88 17/09/2021 09:13
---
"Going to the movies is

a communal experience.

The movie is more fun, it's

funnier, it's more exciting

when you're watching it on

a big screen, surrounded

by people."

through it, which makes the sand move

differently.

Most other animated sequels from

the past year had a subtitle—The Boss

Baby: Family Business, Peter Rabbit 2:

The Runaway, The Croods: A New Age.

That really seems to be the trend with

animated sequel titles. Why did you

choose not to?

We wanted to! We had The Addams Family,

a colon, and then there was some play on

words. I can't remember exactly, but it

was something related to the phrase "road

trip," but then we had the word "death" in

there somehow. But everyone just rolled

their eyes whenever we said it. So we all

just decided to call it The Addams Family 2

and leave it at that. One of our first teasers

has Wednesday breaking the fourth wall

and saying "A sequel. How original." So we

leaned into that.

Why should audiences see this on the

big screen?

Going to the movies is a communal

experience. The movie is more fun, it's

funnier, it's more exciting when you're

watching it on a big screen, surrounded by

people. And when you go to a theater to

see it on the big screen, you see things that

you don't notice on a smaller screen. You

also have this feeling of an entire audience

laughing or screaming or cheering. We

human beings crave that. To be able to sit

in a movie theater with a hundred or so

people and hear an audience around you,

it's very contagious. Perhaps that's not

the word I should use during these times.

Strike that! [Laughs.]

But that excitement, that thrill, it

uplifts people. It makes them feel that

they're part of something bigger. You

don't pause and go to the kitchen to do the

dishes in the middle of it. You don't say,

"Oh shoot, I've got this email to write for

work." For two hours, you turn the rest of

your life off and you're taken on a ride.

Q4 2021

89

84-89_Addams.indd 89 16/09/2021 12:10
---
On Screen MASS

It's ironic that a movie called Mass,

Fran Kranz's directorial debut,

opened at Sundance in the first year that

crowds couldn't gather en masse in Park

City. Regardless, critics watching from

their laptops heaped praise upon the

film, which was subsequently acquired by

Bleecker Street and slated for theatrical

release on October 8, 2021.

To put it mildly, Mass deals with

difficult subject matter. Six years after

their son is murdered in a shooting spree

by a classmate, Gail (Martha Plimpton)

and Jay (Jason Isaacs) schedule a faceto-face

meeting with the parents of

the gunman—Linda (Ann Dowd) and

Richard (Reed Birney)—in an effort to

move forward with their lives. Set almost

entirely in a small church antechamber,

the film largely sidesteps the political

implications of the tragedy, instead

offering a raw, deeply personal look at

grief, rage, forgiveness, and the all-butimpossible

task of making sense of the

unimaginable.

For Kranz—an actor best known

for his roles in films and TV shows

produced, written, or directed by Joss

Whedon, including The Cabin in the

Woods, "Dollhouse," and Much Ado

About Nothing—Mass is the culmination

of a nearly lifelong dream to become a

filmmaker. After trying and failing to

garner interest in bigger-budget projects—

including a script about an alien

invasion—he realized it was time to scale

down his ambitions and focus on a more

contained story. He found that story in

the wake of the Parkland school shootings

in February 2018, which sent him down a

rabbit hole of research that eventually led

to the script that became Mass.

Kranz spoke with Boxoffice Pro

about casting his four leads, how

horror movies inspired the film's

cinematography, and why he hopes

Mass's exclusive theatrical window holds.

Mass is your directorial debut. How

long had you been wanting to

become a filmmaker, and what made

you decide to finally take the leap?

I dreamed about writing and directing

most of my life. I made attempts at writing,

and they either weren't very good, they

were never complete, [or] they were big.

I wrote a script about an alien invasion

that I really thought was amazing, but

people looked at me like I was crazy, like,

"What do you expect to do with this? No

one's gonna give you money to make this

thing." So I started, with some frustration,

realizing I needed to have a smaller scope.

A

SHAreD

TRAGEDY

Fran Kranz's Mass Explores the Emotional

Aftermath of a School Shooting

BY CHRIS EGGERTSEN

90 Q4 2021

90-93_Mass.indd 90 17/09/2021 09:14
---
And then the Parkland shooting

happened. My daughter was a little over 1

year old, and it affected me differently. I

was really overwhelmed by it, and I felt

this need to learn about these shootings.

And that started two years of research,

reading nothing else but about the subject,

and researching different shootings,

reading about families, reading stories,

articles, things online, anything I could

find. I was pretty obsessed and could not

pull focus away from it. And the film kind

of came out of that research.

I think a lot of times the family

members, or the parents specifically,

of school shooters are not really

talked about or sympathized with or

humanized in any way. But this movie

does a really good job of humanizing

the parents of the shooter. I saw

"And then the Parkland

shooting happened. My

daughter was a little over

1 year old, and it affected

me differently. I was really

overwhelmed by it, and I

felt this need to learn about

these shootings."

a TED Talk from a few years ago

with Dylan Klebold's mom from

Columbine—

Yeah, Sue Klebold. I've seen that, yeah.

I'm wondering if that informed how

you wrote the two parents of the

shooters.

Absolutely. I think I've read everything

you could find from Sue Klebold and

listened to that TED talk as well. I wouldn't

say any one character is modeled off any

one person. They're sort of combinations

of things that I found in real life and then

things I brought to the character, but

you're obviously going to see connections

and feel those connections because Sue

Klebold was a big inspiration.

I say this with I think a healthy amount

of insecurity and humility, because I

can only hope that families, victims,

Q4 2021

91

90-93_Mass.indd 91 16/09/2021 12:11
---
On Screen MASS

communities will appreciate or accept

the film. I've never experienced anything

like this directly. I wrote it really out of

fear of these situations, and frustration

and anger and confusion, because I had

a child, and I don't want it to be my story.

But I am not a victim.

But it was honest, hard work, and two

years of crying in front of a laptop, or

another year of crying in front of Adobe

software or Vimeo or—I guess we used

Avid also. Before the action of the film

takes place, you learn Martha Plimpton's

character, Gail, wrote Ann Dowd's character,

Linda, a letter asking her to know her son.

This was a line and an idea that came out

of doing this research and feeling like I

want to feel closer to these people so that

I care, so that I feel empathy and I can try

to transmit those feelings to audiences

through this film in order to bring

awareness and compassion and change to

this awful epidemic in our country.

You brought up Martha Plimpton,

and she's really extraordinary in this

movie. I don't recall ever really seeing

her quite this way before on-screen,

I guess because she's known more

as a comedic actor. Can you talk a

little bit about how she got involved?

To broaden that question a little bit,

all four actors are known for being

supporting players for the most part.

Was there something about not

casting "movie stars" that you found

worked for the premise?

Yeah, it's funny. Because A, I never

imagined getting actors of that caliber or

that well known. But at the same time, yes,

there was a discussion internally, just on

my own and with producers, to achieve

the kind of realism that the film depends

on. Because you really want to be in that

room and not be distracted by anything

else and feel like you're watching real life.

It was important that you didn't have a

recognizable face. We sort of joked about a

Tom Hanks in a role, and how maybe that

couldn't work necessarily. And at the same

time, who are we kidding? Tom Hanks

would be amazing. So it's this sort of a

strange hypothetical where, yes, you want

the actors to disappear, but we're also

trying to get a movie made and sold, right?

When Martha's name came up—I

know you said you think of her and a lot

of her more recent comedic work—I've

seen her onstage many times and she's

an incredible actor. One thing that

inspired me about the choice was her

work going all the way back to Running

on Empty. That is a really deeply human,

restrained performance. She has this

really emotional scene with River Phoenix

in Running on Empty, but she doesn't let it

overwhelm her. She contains the emotion

in a way that's really beautiful and honest.

I saw the movie as sort of a suspense

film, in the sense that you take a

while to set it up. I get that part of

the reason for doing that is to set

up the very delicate nature of this

impending interaction, but I also saw

it as being a way of kind of building

suspense, right? Did you approach it

in that way too?

Absolutely. It's obviously such sensitive

subject matter, but I'll be honest

that with Ryan Jackson-Healy, my

cinematographer, we approached a lot of

shots by speaking about horror films, or

even Spielberg, in particular War of the

Worlds or Jaws. I mean, it's undeniable

the film is very dark subject matter. And

we did make a choice to approach certain

technical compositions that way. Another

inspiration was Michael Haneke and a lot

of his films that obviously cover a lot of

dark subject matter as well.

I'm really proud of my supporting

actors, and of the opening 15 minutes of

the film. To me, it was always important

and necessary to introduce the four

parents with regular people, so to speak.

People that haven't experienced incredible

tragedy and have these damaged lives.

People that feel more like the audience.

92 Q4 2021

90-93_Mass.indd 92 16/09/2021 12:11
---
"I mean, it's undeniable

the film is very dark

subject matter. And we

did make a choice to

approach certain technical

compositions that way."

So it's not meant to sort of feel irrelevant

or a tonal change, the first 15 minutes. It's

leading you down a very specific path so

that these four parents arrive when you're

primed and ready for them.

The title here seems to have sort of

a double meaning. Mass could mean

mass shooting. It also takes place in a

church, so it can mean a church mass.

Can you talk a little bit about the

double meaning in the title and how

it pertains to the film's themes?

Yeah. I like a third meaning, the

assembling of bodies, the gathering of

people, you know, a mass of people, a

crowd. You go in a dictionary, and "mass"

has a few definitions. It's not just this sort

of double entendre. But to me, the division

between a secular and a religious meaning,

that's kind of where the movie is for me,

this ambiguous kind of spiritual realm.

I love the title moving between those

spaces—the religious mass and then the

secular mass of just the gathering of bodies.

That's why the title has a special place in

my heart. The idea of being with people

and seeing them and seeing their humanity

face to face. To experience the things they

do and to achieve the kind of reconciliation

that they're looking for is only possible

through physical human connection.

This is sort of another conversation,

but I worry about the world we live in and

how it becomes increasingly more isolated.

And I worry about the way we behave and

treat each other online through avatars

and through social media platforms. I

think when you're in person, when you're

face to face with someone, you behave

differently when you can see someone's

humanity and share in their experience

and understand their grief and experience

shared suffering.

I know this is coming out in October;

Bleecker Street is releasing it. Do you

know what the release strategy is

going to be? Because we're seeing a

lot of day-and-date streaming and

theatrical premieres.

I'd be reluctant to say anything with too

much certainty in the world we live in.

But the release right now is October 8

exclusively in theaters, hopefully for a good

run. I think that's really up to the audiences

showing up. I believe we will not be on video

on demand or pay TV for a while after the

exclusive theatrical release … that's the hope.

Obviously taking into account people's

sensitivities with Covid-19 and going

into a theater to watch a movie, is

there a preferred way that you would

want people to see this movie?

We've certainly talked a lot about it

internally with Bleecker Street, and one

thing that we agreed on was that the

movie's pretty overwhelming. We had one

screening before the pandemic, it was

a rough cut, and there were probably 50

people in a theater that could fit about

300. So it was not very crowded, but it was

intense. It was an intense experience.

I don't say this because I think the

movie's so great. I say it because the story

is fiction, but the events that inspired it

are not. Obviously because of Covid-19

and the pandemic, but also because of the

subject matter, it would not be appropriate

to host or create a screening that had

more than 150 people or a capacity over

50 percent. We want the space and the

intimacy and also kind of the privacy to

experience that, if that makes sense.

At the same time, kind of going

back to the movie's title, there is

that communal experience that you

have in a movie theater, that shared

communal experience with other

people.

In 2019, when we finished shooting, that

was a goal of mine—that this was a movie

where I wanted people in a crowded

theater crying together. And when the

pandemic started, I remember there was

a lot of talk about submitting to festivals

and just trying to sell the movie. "Hey,

we got a movie in the can, we should

sell it when no one else can shoot." But I

strongly believed, "No, we have to wait as

long as it takes to make sure we can have

people in theaters together watching this

movie." And look, that was early 2020, and

so much has changed. So I come at it with

a different perspective.

It's funny because I actually felt the

power of the Sundance virtual screening.

I know being at the Eccles Theater and

having 2,000 people watch this movie

would have been amazing. But I felt so

much joy and affirmation and humility

just being a part of that Sundance virtual

screening. So there are ways to achieve

resonance and connection in the world we

live in today.

Q4 2021

93

90-93_Mass.indd 93 16/09/2021 12:11
---
On Screen EVENT CINEMA

EVENT CINEMA

CALENDAR

Updated through September 13.

Contact distributors for latest listings.

CINELIFE ENTERTAINMENT

cinelifeentertainment.com

HALLOWEEN

From Sept. 1

Genre: Classics

FATHOM EVENTS

fathomevents.com

855-473-4612

GOD'S NOT DEAD: WE THE PEOPLE

Oct. 4, Oct. 5, Oct. 6

Genre: Inspirational

STUDIO GHIBLI FEST 2021: SPIRITED

AWAY 20TH ANNIVERSARY

Oct. 3 & Oct. 6 (dubbed),

Oct. 4 (subbed)

Genre: Anime

EVIL DEAD 40TH ANNIVERSARY

Oct. 7

Genre: Classics

SCREAM (25TH ANNIVERSARY)

Oct. 10, Oct. 11

Genre: Horror

TIMES OF FIRE-THE 7 CHURCHES OF

REVELATION

Oct, 11. Oct. 12

Genre: Inspirational

TCM BIG SCREEN CLASSICS: THE

SILENCE OF THE LAMBS (30TH

ANNIVERSARY)

Oct. 17, Oct. 20

Genre: Classics

ENDS OF THE EARTH

Oct. 18, Oct. 21

Genre: Inspirational

THE METROPOLITAN OPERA: BORIS

GODUNOV

Oct. 9 (Live), Oct. 13 (Encore)

Genre: Performing Arts

TCM BIG SCREEN CLASSICS:

SILENCE OF THE LAMBS 30TH

ANNIVERARY

Oct. 17, Oct. 20

Genre: Classics

STUDIO GHIBLI FEST 2021: HOWL'S

MOVING CASTLE

Oct. 24 & Oct. 28 (dubbed), Oct. 25

(subbed)

Genre: Anime

THE METROPOLITAN OPERA LIVE IN

HD: FIRE SHUT UP IN MY BONES

Oct. 23 (Live), Oct. 27 (Encore)

Genre: Performing Arts

RIFFTRAX LIVE: AMITYVILLE 4: THE

EVIL ESCAPES

Oct. 26

Genre: Comedy

SABINA

Nov. 8, Nov. 9, Nov. 10

Genre: Inspirational

TCM BIG SCREEN CLASSICS: HIGH

SOCIETY (65TH ANNIVERSARY)

Nov. 10, Nov. 14

Genre: Classics

STUDIO GHIBLI FEST 2021: CASTLE

IN THE SKY (35TH ANNIVERSARY)

Nov. 14 & Nov. 18 (dubbed), Nov. 15

(subbed)

Genre: Anime

JOURNEY WITH JESUS

Nov. 15, Nov. 16, Nov. 17

Genre: Inspirational

PARANORMAN

Nov. 16

Genre: Family

GINTAMA THE VERY FINAL

Nov. 21 (dubbed & subbed), Nov. 22

(subbed)

Genre: Anime

TCM BIG SCREEN CLASSICS: WEST

SIDE STORY (60TH ANNIVERSARY)

Nov. 28, Dec. 1

Genre: Classics

THE METROPOLITAN OPERA LIVE IN

HD: EURYDICE

Dec. 4 (Live), Dec. 8 (Encore)

Genre: Performing Arts

STUDIO GHIBLI FEST 2021: MY

NEIGHBOR TOTORO

Dec. 5 & Dec. 9 (dubbed), Dec. 6

(subbed)

Genre: Anime

THE METROPOLITAN OPERA: THE

MAGIC FLUTE HOLIDAY ENCORE

(2021)

Dec. 12

Genre: Performing Arts

TCM BIG SCREEN CLASSICS:

ON GOLDEN POND (40TH

ANNIVERSARY)

Dec. 12, Dec. 15

Genre: Classics

THE METROPOLITAN OPERA LIVE IN

HD: ARIADNE AUF NAXOS

Mar. 12 (Live), Mar. 16 (Encore)

Genre: Performing Arts

THE METROPOLITN OPERA LIVE IN

HD: DON CARLOS

Mar. 26 (Live), Mar. 30 (Encore)

Genre: Performing Arts

THE METROPOLITAN OPERA LIVE IN

HD: TURANDOT (2021)

May 7 (Live), May 11 (Encore)

Genre: Performing Arts

THE METROPOLITAN OPERA LIVE IN

HD: LUCIA DI LAMMERMOOR

May 21 (Live), May 25 (Encore)

Genre: Performing Arts

THE METROPOLITAN OPERA LIVE IN

HD: HAMLET

June 4 (Live), June 8 (Encore)

Genre: Performing Arts

ROYAL OPERA HOUSE

roh.org.uk/cinemas

cinema@roh.org.uk

LA BOHÈME

From Oct. 17

Genre: Opera

THE DANTE PROJECT

From Jan. 25, 2022

Genre: Ballet

TRAFALGAR RELEASING

trafalgar-releasing.com

TOM PETTY, SOMEWHERE YOU FEEL

FREE

Oct. 20

Genre: Music

THE METROPOLITAN OPERA LIVE IN

HD: CINDERELLA

Jan. 1 (Live), Jan. 5 (Encore)

Genre: Performing Arts

THE DOORS: LIVE AT THE BOWL '68

SPECIAL EDITION

Nov. 4

Genre: Music

Scream (25th Anniversary)

Oct. 10, Oct. 11

THE METROPOLITAN OPERA LIVE IN

HD: RIGOLETTO

Jan. 29 (Live), Feb. 2 (Encore)

Genre: Performing Arts

94 Q4 2021

94_Event-Cinema.indd 94 17/09/2021 09:17
---
The Boxoffice Podcast is

your weekly podcast all

about the cinema industry.

Every week we break down major industry news, dissect

box office results and connect with studio and cinema

executives to talk market trends and industry shifts in

theatrical exhibition and entertainment at large.

Search for Boxoffice Podcast on your favorite podcast app.

95_AD-Boxoffice-Podcast.indd 95 16/09/2021 12:13
---
Big screen.

Bigger cause.

St. Jude Children's Research Hospital® is

leading the way the world understands,

treats and defeats childhood cancer and

other life-threatening diseases. But, we

couldn't do it without you. By donating

pre-show advertising to screen the annual

St. Jude Thanks and Giving® movie trailer,

you support our lifesaving mission: Finding

cures. Saving children.® The generosity of

you and your patrons helps ensure that

families never receive a bill from St. Jude

for treatment, travel, housing or food—

because all a family should worry about is

helping their child live.

St. Jude patient

Eleanor

Art inspired by St. Jude patients

For more information, please email

chance.weaver@alsac.stjude.org or visit stjude.org/theaters

©2021 ALSAC/St. Jude Children's Research Hospital (RELM-634)

96_AD-St-Judes.indd 96 16/09/2021 12:13