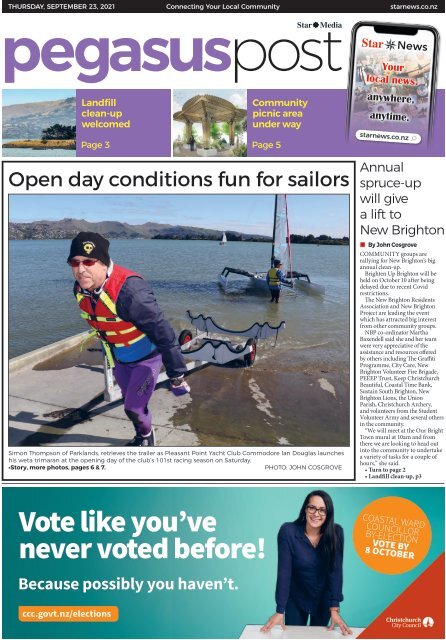 Pegasus Post: September 23, 2021
Create successful ePaper yourself
Turn your PDF publications into a flip-book with our unique Google optimized e-Paper software.
THURSDAY, SEPTEMBER 23, 2021

Connecting Your Local Community

starnews.co.nz

Landfill

clean-up

welcomed

Community

picnic area

under way

Your

local news.

anywhere,

anytime.

Page 3 Page 5

Open day conditions fun for sailors

Simon Thompson of Parklands, retrieves the trailer as Pleasant Point Yacht Club Commodore Ian Douglas launches

his weta trimaran at the opening day of the club's 101st racing season on Saturday.

•Story, more photos, pages 6 & 7.

PHOTO: JOHN COSGROVE

Annual

spruce-up

will give

a lift to

New Brighton

• By John Cosgrove

COMMUNITY groups are

rallying for New Brighton's big

annual clean-up.

Brighten Up Brighton will be

held on October 10 after being

delayed due to recent Covid

restrictions.

The New Brighton Residents

Association and New Brighton

Project are leading the event

which has attracted big interest

from other community groups.

NBP co-ordinator Martha

Baxendell said she and her team

were very appreciative of the

assistance and resources offered

by others including The Graffiti

Programme, City Care, New

Brighton Volunteer Fire Brigade,

PEEEP Trust, Keep Christchurch

Beautiful, Coastal Time Bank,

Sustain South Brighton, New

Brighton Lions, the Union

Parish, Christchurch Archery,

and volunteers from the Student

Volunteer Army and several others

in the community.

"We will meet at the Our Bright

Town mural at 10am and from

there we are looking to head out

into the community to undertake

a variety of tasks for a couple of

hours," she said.

• Turn to page 2

• Landfill clean-up, p3

Vote like you've

never voted before!

COASTAL WARD

COUNCILLOR

BY-ELECTION

VOTE BY

8 OCTOBER

Because possibly you haven't.

ccc.govt.nz/elections
---
2

Thursday September 23 2021

Latest Canterbury news at starnews.co.nz

PEGASUS POST

GENERAL INQUIRIES Ph 379 7100

CLASSIFIED ADVERTISING Ph 379 1100

Star Media, a division of Allied Press Ltd

PO Box 1467, Christchurch

starmedia.kiwi

NEWS

John Cosgrove

Ph: 021 195 0284

john.cosgrove@starmedia.kiwi

ADVERTISING

Frank Greenslade

Ph: 364 7441

frank.greenslade@starmedia.kiwi

Your local community news

delivered to 17,598 homes

within The Star each week.

Linwood • Avonside • Richmond • Shirley • Bexley

Burwood • Dallington • Wainoni • Bromley

Aranui • Avondale • New Brighton • Northshore

Queenspark • Parklands • South Brighton

More volunteers needed for event

• From page 1

Coastal-Burwood-Community

Board deputy chairwoman

Jo Zervos said those

tasks included removing

tagging, picking up rubbish,

pruning and weeding while

others may be washing

windows, washing seats or

undertake a bit of painting,

sweeping, removal of stickers,

tidying up planter boxes and

tidying the toilet block area."

"We are hoping for more

volunteers so would like to

get the word out and make

this a really good community

effort," Zervos said.

New Brighton Residents

Association chairwoman

Celeste Donovan added that

while they will be removing

tagging, they will be trying

to preserve the many unique

graffiti-style art-works on

walls around the mall area.

CLEAN UP CREW:

Community groups

and residents in New

Brighton are well known

for their efforts during

appeals for clean-up

operations. This crew

assembled for the last

event, in preparation for

July's Matariki night of

nights festival.

SOIL AND

HARDFILL

DUMPING

WE NOW HIRE

LANDSCAPING AND

GARDEN EQUIPMENT

DIGGERS, TRUCKS, WOOD CHIPPERS, POLE SAWS,

BREAKERS, WATER BLASTERS, ETC.

PLUS WE SUPPLY THE BEST

LANDSCAPE & GARDEN SUPPLIES

•BARKS •COMPOSTS

•AGGREGATES - CHIP, ROUND & BASECOURSE

•SCHIST PRODUCTS •PUNGAS

•DECORATIVE STONE & LANDSCAPING ROCKS

•TRAILER HIRE - FIRST HOUR FREE WITH PURCHASE

•BAG & BULK - PICK UP OR DELIVERED

DYERS ROAD LANDSCAPE & HIRE

PHONE: 03 384 6540

183 DYERS RD, BROMLEY ● OPEN 7 DAYS

Weekdays 7.30am-5pm. Weekends 8.30am-3pm

www.dyersroadlandscape.co.nz

NUMBER ONE SUPPLIER

TO THE NZ JET BOATING

COMMUNITY FOR OVER

50 YEARS

• Part Boats & Hulls

• Turn Key Packages

• New Jet Units

• Custom Fabrication

• Expert Advice

SERVICING

Peter Tonkin

03 962 0505

peter.tonkin@hamiltonjet.nz

• Spare Parts Retailer

• Jet Unit Refurbishment

• Engine Tune-Ups

• Insurance Repairs

• Impellor Reconditioning

Up

to

16¢ off

all supermarket discount dockets

INStANt 6¢ off

Super Gold Card Discount

LpG RefILL 9kG foR $28

tRAILeR HIRe

6 hours $30 12 hours $50

Terms and conditions apply on all promotions

175 Wainoni Road, Avondale

Phone: 03 388 4373

"Is there

a test for

emissions?"

"How can I

reduce my

emissions

right now?"

"Who can help

me lower my

emissions?"

Got questions about lower emissions? We can help.

mta.org.nz/tackling-emissions
---
PEGASUS POST Latest Canterbury news at starnews.co.nz

Thursday September 23 2021 3

Bexley landfill clean-up welcomed

• By John Cosgrove

RESIDENTS associations are

relieved the contaminated

Bexley landfill site will finally be

cleaned up.

"Thank goodness," was the

response from New Brighton

Residents Association

chairwoman Celeste Donovan

when she heard

the city council

has come up

with a plan to

prevent the

old Bexley

dump from

Celeste

Donovan

continuing

to spill waste

into the Avon-

Heathcote Estuary.

THe council will spend $1.5

million to try and contain the

rubbish that Donovan said

residents have been complaining

about for years.

"THey are worried about the

items floating in the estuary and

water leaching out from the old

dump.

"Most of the rubbish has

remained on the shore on the

other side of the estuary where

the public are excluded, but they

would be shocked at some of the

stuff embedded in the shoreline

mud there."

Donovan said 30 years of

PARENTS

Do you have a son or daughter

interested in horse riding?

✭ Courses every weekend.

✭ 2, 5 & 7 day School Holiday courses.

✭ Private lessons available

Monday to Friday

✭ One day / one night $90 child

✭ Opportunity to compete on our horses.

✭ ½ day lessons and treks available.

rubbish dumped in Bexley was

always going to come back and

haunt the community one day

as the tidal changes created

by the quakes have had a part

to play in exposing debris still

years away from breaking

down, and "there is some pretty

environmentally-nasty stuff

buried there."

"Coastal residents, particularly

along Southshore and South New

Brighton, will be pleased gravel

and rocks will be used to bulk

up the edge and the creation of a

natural beach will help.

"But we believe that is only

a temporary fix and a more

Cushla's Pop Up Shop

Patchwork & Quilting

Christchurch - September 2021

permanent solution needs to

be found as climate change will

no doubt have a future impact,"

Donovan said.

THe city council resource

recovery manager Ross Trotter

said work has started and a

contractor has been appointed

to do initial work at the closed

Bexley landfill.

"It involves clearing

undergrowth to prevent birds

from land-nesting prior to the

start of the nesting season and

felling trees to give machinery

access to the foreshore."

South Brighton Residents'

Association chairman Hugo

Kristinsson said it has been a

significant relief to see the work

starting.

"It's been a problem for years

and now they are finally fixing

the mistakes of the past, we are

fully supportive of the council

and it's good to see them start,"

he said.

THe city council's remediation

plan also includes the Burwood

Resource Recovery Park.

THe park was established to

take construction and demolition

waste following the earthquakes

but is now being progressively

closed with a view to returning it

to a recreational area.

NO ENTRY: Deep

water and

bio-hazard signs

at Bexley's old

landfill site. ​

Just one area is still accepting

contaminated soils.

"Council has made an

application for resource

consent allowing for low-level

contaminated soils at Burwood

Site C until June 30, 2024,"

Trotter said.

Final landscaping work on

another three sites within the

park is continuing.

THe city council will spend

another $1 million removing the

former Le Bons Bay landfill on

Banks Peninsula and work

is planned to fix former

landfills at Onuku and Barrys

Bay later this year.

Working towards a positive future

2264064

711 Island Rd View Hill, OXFORD 7495

03 312-4309 www.kowhai.co.nz

St James Church Hall

750 Harewood Road

Tuesday 28th 10.00 – 4.30

Wednesday 29th 9.00 – 1.00

Eftpos Available

End of season

SALE 20-70%

OFF

selected

stock

Fashionable • Functional • Footwear

SALE NOW ON

Unit 3, 355 Riccarton Rd, Upper Riccarton

P. (03) 929 0927 E. info@theshoeroom.co.nz

www.theshoeroom.co.nz

FASHIONABLE FUNCTIONAL FOOTWEAR
---
4 Thursday September 23 2021

Latest Canterbury news at starnews.co.nz

PEGASUS POST

School Update

Manukura Kōrero

He taonga rongonui te aroha ki te tangata

Goodwill towards others is a precious treasure

Tēnā Koutou Katoa. Malo 'etau lava.

We returned to kura just over a week ago and it feels great

to be back. Lockdown was hard for

everyone and being away from kura

for three weeks was a challenge on

every level. A huge congratulations

to all of our ākonga for the amazing

mahi they completed during

Lockdown. Our senior ākonga are

to be commended for the amazing

effort put in to meet their NCEA

commitments and deadlines!

We thank our kaimahi/staff for their

unparalleled support of ākonga throughout lockdown.

Their creativity, motivation and dedication resulted in

many innovative lessons being provided on-line and some

outstanding mahi/work being produced across the kura.

With the continued Level 4 Lockdown in Auckland we are

very aware that we must be vigilant each and every day at

kura. A chain is only as strong as its weakest link and as we

have seen in Auckland it only takes one person to break

the rules and it has implications for us all. Ākonga are not

required to wear masks at kura but they are expected to

be careful to observe the 2 metre rule for social distancing

as often as possible. As well, it is important that all ākonga

observe diligent hand-hygiene throughout the day.

Vaccination is a controversial issue in Aotearoa New

Zealand at the moment. The Haeata board does not insist

that ākonga and kaimahi are vaccinated, but as a kura we

are working with the Ministry of Education and Ministry

of Health to ensure whānau are supported to make an

informed decision about the merits of the vaccine.

Please check our Facebook Page to read about our

"Crush COVID" competition.

Patua te taniwha o te whakama

Do not let shyness overcome you

If you want to enter our "Crush COVID Competition"

all you have to do is bring in your whanau's proof of

vaccination cards (two injections required), any time from

now until Friday, 29 OCTOBER 2021 to be in to win!

There will be three draws of $200 each.

I want to commend our ākonga for their fantastic success in

Winter Sports. We are proud of their efforts and have been

working with all codes on the "Rise UP" initiative, which

explores the issue of Racism in Sport. Over the coming

weeks we will be sharing ākonga voice with our community

to highlight the many challenges they face when they take

the field or the court to represent us.

It is hard to believe that Term 3 is all but over. We look

forward to a well earned break in the October holidays,

because Lockdown was never that. When we return in

Term 4 our focus is on NCEA assessment in the senior

kura and the establishment of our new kura waenga, which

launches in 2022 and introduces a new era of intermediate

education at Haeata.

Kia kaha, kia toa, kia manawanui.

Arohanui

Whaea Peggy

Hikuawa Hapori (Year 1-6) Home Learning

By Jess Kakoi and Justine Wright

Haeata Community Campus

Senior Rugby Boys

A Rapunzel tower designed

using Minecraft as a tool

Whānau project building a

fairy door for the garden

Baking cupcakes to share

with whānau

Using Lego to practice my

high frequency words

This year was the first time for Haeata Community Campus

competing in Metro Senior Boys Rugby Competition. It was a

steep learning curve for the team who had not all previously

played together.

Creating a character

costume for our dress-up

day

Making a DIY car following

a video - made a movie of

the car driving by itself

when he finished.

...The finished product!

Learning to measure using a

tape measure. How long is

the puppy's nose?

Growing vegetable

seedlings to start his own

garden

Over lockdown, many ākonga and their whānau

got involved with the learning opportunities on

offer via the Hikuawa Hapori Facebook page, our

online learning site and the learning packs that were

delivered to ākonga. Here are some photos of the

amazing learning our ākonga did. We can identify

our kura dispositions of fa'aaloalo, compassionate,

contributor, collaborator, resilient, rangatiratanga

and designer in action with these examples of

home learning. The kaupapa that we have been

focusing on for our Rakaihaututanga (inquiry based

learning) has been about pūrakau / stories and

includes fairytales and our local Aranui history.

Other challenges included exploring the back yard

and areas within the community and time spent

with whānau. All the Kaiako enjoyed connecting

with ākonga and their whānau via phone, text,

Google Classroom, Zoom, Facetime and email over

lockdown to support learning. A big mihi to our

whānau for supporting their child's learning at home

over lockdown.

Keeping active, out and

about with our fur friends

Designing a scene from the

fairytale, The Three Little Pigs

A Lego house design, built

by two brothers who had

everything down to the

square metres explained

I am proud to reflect on the development and dedication that was

shown throughout the year. In a shortened season, due to level 4

restrictions, the boys competed tenaciously and always sought to

learn from challenges along the way.

Congratulations to the boys on becoming this year's

division champions.

E poho kererū ana au i a koutou!

Thank you to our coach Pete Paenga and all our

supporters.

Taking enrolments, please email enrol@haeata.school.nz for any enquiries or phone us on 03 930 0110

Haeata Community Campus

240 Breezes Road, Wainoni

Reception Hours: Mon - Fri 8am - 3pm

Contact 03 930 0110 • enrol@haeata.school.nz

www.haeata.school.nz
---
PEGASUS POST Latest Canterbury news at starnews.co.nz

Thursday September 23 2021 5

Work begins

on woodland

playground

SHELTER PLANNED: An artists impression of the shelter areas proposed for the Dallington Landing on the Avon River.

IMAGE: NEWSLINE

Work on community picnic area under way

WORK HAS started to turning

part of the former Dallington

red zone into a new community

picnic area.

The $2.3 million Dallington

riverside landing will be constructed

next to Gayhurst Rd

and is the first of several landings

to be built along the Avon

River.

Council head of parks Andrew

Rutledge said the theme for the

landing will be "a picnic in the

forest."

It has been designed to encourage

people to connect with

each other, the river and the

Avon River Corridor Regeneration

Area, he said.

"It's exciting to be at the point

where physical work is starting

and people can see first-hand

the regeneration area transforming.

"Volunteers are in the process

of planting a native forest on

the opposite side of Gayhurst

Rd, and the first of the three

pedestrian bridges at Avondale is

progressing well."

The Dallington landing will

feature shelters, koru-shaped

pathways, picnic areas, tables,

steps down to the river, a water

fountain, a bike stand, and a

wheelchair-accessible toilet

block.

Work is expected to be finished

by June next year and this

takes into account the planting

seasons required for new vegetation,

Rutledge said.

The landing, as well as three

pedestrian bridges across the

Avon River, are funded by a

$13.7 million grant from the

Christchurch Earthquake Appeal

Trust.

The 11km, 345ha Green Spine

in the Avon River Regeneration

Area extends along both sides of

the river and will be restored to

original native forest and wetlands.

It will also contain nature

trails, cycleways, landings and

community spaces.

WORK HAS started on the 2ha

childrens accessible woodland

playground at Rawhiti Domain,

after five years of planning.

Contractor Creative Intentions

owner Geg Howell said the work

came together very quickly after

years in the making.

"This is only the start of what

the community can do with this

space," he said.

The pathway around the site is

wide enough for two wheelchairs

to move side by side, while the

open space at the front will have

equipment for children of all

physical abilities.

The woodland area will have

physically challenging activities to

get children back to nature.

More fundraising will be

needed to fully complete the

playground, but the current work

should be finished by Christmas.

Bobbi | Bowflex Max Trainer User

I lost 15kg in 10 weeks. That is ridiculous. The fat just

melts right off. I mean, it absolutely changed my life!

CALL NOW! 0800 665 665
---
6

Thursday September 23 2021

Latest Canterbury news at starnews.co.nz

PEGASUS POST

Yachties tacking ahead for competitive

• By John Cosgrove

AN EASTERLY wind made

racing fun at the Pleasant

Point Yacht Clubs 101 st season

opening held last Saturday at

South Brighton.

About 50 members and

guests joined in the opening

ceremony before 17 crews and

their yachts tackled the blustery

conditions in an assortment

of multi-hulls, trailer and

sunburst yachts.

Club official Nigel Humphrey

said it was a great turnout for

the start of the season as the

yachts took their turn at

lining up for the Mark Foy

handicap formatted race,

whereby the slowest starts first

for the hour and a half race

around the estuary at South

Brighton.

In the multi-hull race for

the Eric Orange trophy, Ian

Douglas and Simon Thompson

won aboard Iznerz, a Weta

trimaran, from James Cains

in Neva Weta, while in the

Pet Cup Noémi Gulliver

and Graeme Hore were first

aboard Tafua (Sunburst class).

In the Nina Mander trophy

Dan O'Sullivan in Humbug

(Firebug) was first from Arthur

Mahon in Aphid (Firebug).

HELPING HAND: Brigid Sheen helps Ruaraidh Forster, 14, rig

their boat before heading out to tackle the course.

Below – The complexities of racing a multi-hull make

yachting fun for the Pleasant Point Yacht Club Commodore

Ian Douglas.

FAMILY FUN: Letting father Scott Lancaster do the heavy

lifting was Matthew Lancaster, 7, of Parklands as he

helps guide their yacht down to the water.

Read local
---
PEGASUS POST Latest Canterbury news at starnews.co.nz

Thursday September 23 2021 7

season on the estuary

DETAIL: Shirley Boys' High

School students Jasper Muir,

13, (left) and Finn Hawkes,

14, rig their 3m sunburst

before the competition.

SETTING IT UP: Andrew

Barrett, of Parklands, is

helped by Christchurch

Girls' High student Kate

Roundtree, 16, as they

prepare his yacht Rafferty,

Barrett, of Woolston, said

he loved sailing the yacht

that he bought in 1983. "It's

all about the exercise, the

fresh air and good friends,"

he said.

No dog racing at QE II

• By John Cosgrove

DOG RACING will not return

to QE II Park after Greyhound

Racing NZ's proposal was

rejected by the Coastal-

Burwood-Community Board on

Monday.

Board chairman Kelly Barber

said they decided to exclude the

GRNZ's proposal after a huge

amount of feedback from the

community.

"The trend is to move away

from this sort of industry and

we didn't want to waste GRNZ's

time continuing with the process.

"It made sense and at the end

of the day we want to do what

the people want for the area,"

he said.

Since 2019 the city council

has been consulting with the

public on its $12 million draft

Master Plan for the 36ha QE

II Park site, as they sought any

commercial proposals concerning

the south-west corner of the

park adjacent to the Travis and

Frost Rds intersection.

Three proposals were filed and

they included the Christchurch

Archery Club seeking an outdoor

archery range and indoor

archery training, and Five

Under Par Ltd proposing an $11

million amusement/sporting

complex.

Said archery club president

Dave Henshaw: "They didn't renew

our Rawhiti Domain lease

this year after almost 30 years

on the site so we are hoping they

are looking for somewhere else

for us to train."

Community board deputy

chairwoman Jo Zervos said all

three proposals needed careful

consideration.

"The Five Under Par proposal

has been around for a long

time, I think this venture

would make up for some of

what the community has lost,

and archery need to find a new

venue so it would great if they

can stay local," she said.

63 x 180

PHOTOS: JOHN COSGROVE

EMPTY: The vacant land at QE II Park.

Up to

50 % Off

*Call for Terms

& Conditions

Off

*
---
8 Thursday September 23 2021

Latest Canterbury news at starnews.co.nz

PEGASUS POST

LESS THAN

14 WEEKS TO

CHRISTMAS

With the current SLOW

shipping to avoid

disappointment please

make sure you secure your

Christmas pressie books

and gift orders early!

NEW RELEASES

GREAT

Spring

READS

INSTORE!

Bill Hammond

across the evening sky

by Peter Vangioni

Bill Hammond was an artist with a singular vision. One of the greats of Aotearoa's art

history, his paintings of bird-people occupying mythologised landscapes empty of human

inhabitants have mesmerised audiences for three decades. This book shows the artist

at his finest. Features: • An exclusive interview between the legendary Bill Hammond

and fellow artist Tony de Lautour. • Engaging, readable texts by Rachael King, Nic Low,

Paul Scofield, Ariana Tikao and Peter Vangioni. • Huge images and details of some of

Hammond's finest paintings. • Responses to Hammond's practice by artists including

Fiona Pardington, Marlon Williams and Shane Cotton among others. Produced by the

same team who made Bill Hammond: Jingle Jangle Morning, which won Best Illustrated

Book at the New Zealand Book Awards, and Best Book at the Publishers Association Book

Awards.

Fish Of The Day

stories and recipes from new Zealand and the Pacific

by clarke Gayford mike Bhana

Stories and recipes from New Zealand and the Pacific, from the creators of top-rating

television programme Fish of the Day. Join First Man of Fishing, Clarke Gayford, as

he shares his adventures in more than 25 amazing angling locations across New

Zealand and the Pacific. Here are the great yarns, secret spots, cool characters, caring

communities and environmental insights this much loved, internationally top-rating TV

show is known for. In his introduction, Clarke shares his (very!) early fishing ambitions

and his lifelong love of the ocean, while every fishy tale is accompanied by stunning

photography from Clarke's long-time friend, film industry legend and fellow Fish of the Day

creator, Mike Bhana. These beautiful images take us deep under-water, right up close to

the fishing action, and soaring across the rivers and seas that sustain and connect us all.

Cooking tips, tricks and more than 35 yummy seafood recipes from top New Zealand and

international chefs make this the ultimate book for anyone who loves fish and fishing or

just wants to dive deeper into one of the world's most popular pastimes.

Apples Never Fall

by liane moriarty

The Delaney family love one another dearly—it's just that sometimes they want to murder

each other... If your mother was missing, would you tell the police? Even if the most

obvious suspect was your father? This is the dilemma facing the four grown Delaney

siblings. The Delaneys are fixtures in their community. The parents, Stan and Joy, are the

envy of all of their friends. The four Delaney children—Amy, Logan, Troy, and Brooke—

were tennis stars in their own right, yet as their father will tell you, none of them had what

it took to go all the way. But that's okay, now that they're all successful grown-ups and

there is the wonderful possibility of grandchildren on the horizon. An incident happens

with a stranger named Savannah and later Joy goes missing, and Savannah is nowhere

to be found, the police question the one person who remains: Stan. But for someone who

claims to be innocent, he, like many spouses, seems to have a lot to hide. Two of the

Delaney children think their father is innocent, two are not so sure—but as the two sides

square off against each other in perhaps their biggest match ever, all of the Delaneys will

start to reexamine their shared family history in a very new light.

Historic New Zealand Racing

Cars Vol 2

by steve Holmes

Historic New Zealand Racing Cars 2 returns with another fascinating

collection of historic New Zealand racing cars, showcasing 18 more

portraits of cars whose stories are intertwined with our motoring

history. From Formula 1 Ferraris to the Formula 5000 Begg 018,

and from New Zealand Specials to the DeKon Monza saloon cars,

there's something here for every motor-racing enthusiast. Steve

Holmes paints an evocative picture of each car, covering its design,

racing achievemts and driver history, as well as interesting trivia

collected along the way. Photography from the time, much of it

previously unpublished, brings the cars' stories to life. Historic New

Zealand Racing Cars 2 captures a record of these wonderful cars,

and remembers a golden era in New Zealand motor-racing history.

Atua

maori Gods and Heroes

by Gavin Bishop

Gavin Bishop's stunning, once-in-a-generation compendium introduces readers to the

pantheon of Maori gods, demigods and heroes, and explores Aotearoa's most exciting

legends from the Creation to the Migration. Meet the gods, demigods and heroes of the

Maori people of Aotearoa in this breathtaking, large-scale illustrated book for children.

Before the beginning there was nothing. No sound, no air, no colour – nothing.

TE KORE, NOTHING. No one knows how long this nothing lasted because there was no

time. However, in this great nothing there was a sense of waiting. Something was about

to happen.

Meet the gods, demigods and heroes of the Maori world, and explore Aotearoa's exciting

legends from the Creation to the Migration. Fascinating, beautiful and informative, this

once-in-a-generation compendium deserves a place on every bookshelf.

1005 Ferry rd

Ph 384 2063

CLOSED SUNDAY

while stocks last (see instore for terms and conditions)

Great to see

so many Familiar

Faces aGain

Barry & kerry
---
PEGASUS POST Latest Canterbury news at starnews.co.nz

Thursday September 23 2021 9

Make beef steaks go the distance

Beef and chicken are

the basis for many

family favourites,

this wholesome

stroganoff may well

provide enough for

a snack lunch the

following day

Beef stroganoff

Serves 5

Ingredients

600gm sirloin steaks, pat with

paper towels and slice into large

bite-size pieces (leave sitting at

room temperature)

2 tablespoons flour, place in

bowl with:

½ teaspoon salt

2 measures of 2 tablespoons

olive oil, place in 1 measure into

frypan

½ cup red wine (can use beef

stock)

1 large onion, chopped

6 cloves garlic, crushed

250gm mushrooms, halved

1½ teaspoons paprika

2 tablespoons onion flakes

¾ teaspoon garlic powder

1½ tablespoons tomato paste

1 cup beef stock

Peppercorns

1 x 125gm pottle (½ cup) sour

cream for thickening once

cooked

Parsley

Directions

Toss beef in flour/salt to coat as

much as possible. Heat first measure

of olive oil and stir fry beef

in batches for about a minute,

until browned.

Transfer to largest casserole

dish that has been lined with two

layers of non-stick tin foil and set

aside.

Add wine (or first measure of

stock) to deglaze pan, simmer

while rubbing loose any pan

brownings, until wine has almost

evaporated.

Add second measure of oil,

then onion and garlic and saute

until soft. Add mushrooms and

cook for two minutes, then add

onion powder, paprika, garlic

powder and peppercorns and

cook a further one minute.

Add tomato paste and second

measure of stock, bring to a simmer

and cook for one to two minutes

or until slightly thickened.

Pour over beef and stir through.

Bake at 160 deg C for two hours.

Remove from oven and stir the

sour cream through. Garnish

with parsley

Cauliflower and chicken

pasta bake

Serves 5

Ingredients

FLAVOURS:

Beef

stroganoff

traditionally

uses

mushrooms

and assorted

spices to

enhance

taste.

500gm penne, place in largest

saucepan

1 head of cauliflower, broken

into small florets

300gm tub sour cream, place in

bowl with:

1 cup thickened cream

1 cup tasty cheese

Parsley, chopped

Peppercorns

Directions

Boil penne in salted water for

five minutes, add cauliflower and

boil for a further five to seven

minutes until pasta is tender,

drain and transfer to a 12-cup

baking dish that has been lined

withf non-stick tin foil.

Add combined sour cream,

cream, cheese, parsley and peppercorns.

Ingredients

Topping

3 cups breadcrumbs, place in

bowl with:

Either 150gm shredded chicken,

or two chicken breast fillets,

diced

½ cup parmesan cheese

1 tablespoon fresh thyme leaves,

or one heaped teaspoon dried

thyme

Sprinkle topping over pasta

mixture and bake at 200 deg C

for 15-20min until golden and

bubbling.

Up to

50 % Off

*Call for Terms

& Conditions

Off

*
---
10

Thursday September 23 2021

Latest Canterbury news at starnews.co.nz

PEGASUS POST

152,504 reasons

to advertise with us!

2021 ABC average issue circulation — Star Max vs Press

200,000

The Star

Max *

152,504

circulation

100,000

The Press *

The latest NZ Audit Bureau of

Circulations report is out and

it shows that The Star Max

provides you more circulation

than any other newspaper in

New Zealand.

0

30,256

circulation

Grow more customers, sales and profits for your business,

Call us now for a free advertising consultancy.

Here's what our customers have to say:

We advertise Affordable Furniture specials

in The Star every week and are extremely

pleased with the results.

We find that the large circulation and

readership, really works for reaching our

target market and growing our customers.

We get people coming in with our ad and

asking about the specials we advertise.

We have been benefiting from the

Christchurch Star and Community papers

for 20 years and see no end to it.

Andrew Idour – Managing Director,

Affordable Furniture

After 4 years advertising in the Bay

Harbour News, I decided to widen

my audience by using the Star.

I am very happy with new ad

placement.

My husband Tim was in the shop

today and 2 ladies had come in

to check us out because they had

seen the ad!!! Oh yes they did buy

some goodies!!

Rose Lindley – Mumma Bear

We have advertised with The Star

over the years.

Advertising in The Star we feel we

get more response and feedback

than any other marketing.

We are lucky to have such a great

free paper in the community.

Thanks team Star.

Mark Glanville FDANZ CERT

– Manager and Funeral Director

Phone 03 379 7100

Email shane@starmedia.kiwi

Office Level 1/359 Lincoln Road, Addington

*Source: 2021 ABC Audit Report — Star Max vs Press ANP average total circulation each issue

*Star Max — The Star, Bay Harbour News, Selwyn Times, North Canterbury News
---
PEGASUS POST Latest Canterbury news at starnews.co.nz

Thursday September 23 2021 11

Classifieds Contact us today Phone our local team 03 379 1100

Real Estate

Trades & Services

Trades & Services

Trades & Services

HOME WANTED 3-4

bedrooms. Looking in Nor

West areas, Beckenham

or Somerfield. Prefer

permanent material brick

and post 1990 build. Don't

mind if it needs some TLC

- anything considered.

Cashed up buyer. Phone

021 372 479

Wanted To Buy

TOOLS Garden,

garage, woodworking,

mechanical, engineering,

sawbenches, lathes, cash

buyer, ph 355-2045

Trades & Services

FOR ALL YOUR

★Garden Clean-ups

★Pruning

★Lawn Mowing

★Garden Maintenance

Call us today for a FREE quote

PH 0800 4 546 546

(0800 4 JIMJIM)

BRICKLAYER

George Lockyer. Over

40 years bricklaying

experience. UK trained.

Insurance work, EQC

repairs. Heritage

brickwork & stonework

a speciality. No job too

small. Governers Bay.

Home 329 9344. Cell

027 684 4046. E mail

georgelockyer@xtra.co.nz

CARPET LAYING

Exp. Repairs, uplifting,

relaying, restretching.

Phone John on 0800

003181, 027 240 7416

jflattery@xtra.co.nz

ELECTRICIAN

Prompt & reliable

registered electrician

with 24 years experience

for all residential and

commercial work, new

housing and switch board

replacements. Phone Chris

027 516 0669

VHS VIDEO TAPES

& all camera tapes

converted to DVD or

USB. Video taping

special occasions, www.

grahamsvideo.co.nz ph 03

338-1655

CAR REMOVALS

CASH PAID

FOR DAMAGED

CARS & TRUCKS

Phone or text

details to

021 1056 797 - 24/7

FURNITURE

EXCLUSIVE. STYLISH.

HANDCRAFTED.

Solid timber furniture

A fantastic range

of traditional and

contemporary

furniture designs.

We can also help you

with any custom made

furniture requirements.

DRIVEWAYS

Exposed Aggregate

Stamped Concrete Plain

Concrete Resurfacing

Things we offer...

Competitive/affordable pricing

Attention to detail

Professional service

free quotes/insurance scopes

Cell 0278 145 848

www.drivecrete.co.nz

PAINTERS

Painters and Decorators Ltd

Canterbury Owned and Operated

A husband and wife team

Specializing in:

• Roof Painting

• Interior/exterior

residential

• Small commercial

painting

260 x 180

19 Elgin St, Sydenham. Ph: (03) 366 9219 Noel 027-411-3596

kemp.painters@gmail.com

www.gavincoxfurniture.co.nz

kemp painters and decorators

We offer

free quotes

Quality not

Quantity

ADVERTISE YOUR BUSINESS HERE

Phone for further details

(03) 379 1100

Need Heat Fast?

The Fastest, Warmest Indoor/Outdoor Heater You Will Ever Own!

Buy One Get One Free! *

+Plus

Free

Floor

Stand!*

worth

$199.99

• Heats Up Instantly

• Suitable for Indoors or Outdoors

– In Rain, Fog, Wind or Snow

• Carbon-Fibre Bulb Technology

• Multi-Directional Stand

• Includes Remote Control &

Built-In Timer

• Motion Detection Function

1.8m High

• Commercial Grade

• Multi-Directional

• Easy Install

• Portable

• Indoors & Outdoors

*Call for Terms

& Conditions

CALL NOW! 0800 665 665
---
12

Thursday September 23 2021

Latest Canterbury news at starnews.co.nz

PEGASUS POST

Richmond discount FuRnituRE

The Best Little Furniture Shop in Town

BEDS TALLBOyS MIRRORS CABINETS cHESTS STORAgE SHElvES

BOOKCASES BuFFET uNITS DINING TABLES HAll TAblES SIDE CABINETS & MORE!

Ther-a-pedic Mattress & Base

Reversible pillowtop innersprung.

Single

$549

King Single/Double/3/4

$649

Queen

$749

Queen

Frame &

Pocketspring

Mattress

ONLY

$699

Sleepyhead Base & Mattress Set

Single

$399

Legacy

Single

Frame

Bed

Mattress not

included.

ONLY

$300

Lowboy 6 Drawer

1130 x 410 x 820.

7 Drawer

Scotch Chest

1140 x 800 x 410.

Also available in black.

Midi 7 Drawer Scotch Chest

975 x 760 x 410. With metal runners.

Duchess

with

Mirror

1090 x 410 x 820

NZ made.

Coffee Table

1060L x 550W x 420H

2 Drawer Buffet Unit

ONLY

$499 EaCh

ONLY

$329

ONLY $299EaCh

ONLY

$599

ONLY

$199

ONLY

$399

Bedside Cabinet

With metal runners.

Jumbo 4 Drawer Chest

1140 x 800 x 400. NZ made. Metal runners.

Tallboy 4 Drawer

600 x 400 x 900.

2 Drawer/4 Shelf

Entertainment Unit

ONLY $429

Pine Display

Cabinet

with 4 Glass

Shelves

(1800 x 400 x 900)

$179

Large

690H x 460W x 410 D

EaCh

Small

510H x 460W x 410 D$140 EaCh

ONLY

$299

EaCh

ONLY

$239

Coffee Table

ONLY$429

2 Drawer Ent/Unit

ONLY$349

ONLY

$799

Foundry Coffee

Table

1200 x 600

ONLY

$499

7 Drawer TV/

DVD Chest

760 x 1140 x 410.

(Gap 150)

Towerboy 6 Drawer

1260 x 460 x 410.

With metal

runners.

Also available

in Black.

7 Piece

Dining

Suite

1500 x 900

7 Piece

Dining

Suite

1500 x 900

Foundry

hall Table

1500 x 420 x 810

ONLY

$599

ONLY

$329

ONLY

$249

ONLY

$799

ONLY

$799

Legacy Bedside

Cabinet

Bookcase

1200H x

600W

Coffee Tables

1200 x 650 x 400H 1200 x 550 x 430H

ONLY

$199

ONLY

$149

Emma 5 Piece

Dining Suite

Student Desk

Available in black or white.

1000w x 690h x 500d

$149

$269

ONLY

$599

ONLY

$349

White

Shelving

Unit

1980H x 800w

x 300

Pearl headboard

1500H

Queen $399

King $499

3 Piece Dining Suite

750 x 750.

Entertainment Unit

1100 x 400 x 480.

White 2 Drawer

Entertainment Unit

1115 x 480H x 400D

ONLY

$249

Black headboard

1200H

King only

$299

ONLY

$399

ONLY

$299

233 STANMORE ROAD • PHONE 03 389 0536

WE ACCEPT EFTPOS, VISA AND MASTERCARD... PARKING AT REAR

OPEN MON-FRI 10AM–4.30PM SAT 10–1PM

ONLY

$299
---
PEGASUS POST Latest Canterbury news at starnews.co.nz

Thursday September 23 2021 13

COASTAL SANDS - 9 NEW BEACHFRONT HOMES

PRICED FROM $640,000

THIS IS US | OUR LIFE | OUR STORY | OUR HOME

*further pricing is detailed on the inside page
---
14 Thursday September 23 2021

Latest Canterbury news at starnews.co.nz

PEGASUS POST

H O M E

Coastal Sands | 143 & 144 Marine Parade

COASTAL SANDS | 9 NEW BEACHFRONT HOMES

Contemporary two-bedroom, three-bedroom and four-bedroom, architecturally designed apartments

allow for luxury modern living in a coveted waterfront locale. Premier comfort meets beachside living at

Coastal Sands, the first beachfront development in New Brighton since the early 2000s.

A natural colour palette and elegant design reflect the stunning coastline on which it sits. Organic toned

gates match the exterior of the property, offering seclusion and comfort, with every aspect of each

residence carefully considered and architecturally designed to maximise light, space, and privacy.

Beachfront homes 1-4 are set out over three levels providing incredible views, watch the sunrise,surfers

or boats from the second level and top floor.

Inside, architecturally designed floor-to-ceiling windows illuminate the living space with brilliant natural

light. A muted, warm palette has been used throughout the home and a chic, minimalistic aesthetic

allows the views available through the window to take centre-stage. Open-plan lounge and dining and

built-in cabinetry allow for effortless entertaining and the kitchen has been designed with timeless

modern demands in mind; ample storage, contemporary appliances, stone-topped benches, and

natural timber all add to the appeal of the space.

Delivering the height of liveability, enjoy a central location, allowing easy access to a myriad of New

Brighton's cafes and conveniences - the beach, and He Puna Taimoana - New Brighton Hot Pools are

all within walking distance, while Shirley Boys and Avonside Girls High School are just 2 kilometres away.

KIEREN GRAY

021 363 944

kieren@homechch.co.nz

Two bedroom, one bathroom, single car garage homes from $640,000

Three bedroom, two bathroom, single car garage homes from $750,000

Three bedroom, media room/forth bedroom, two bathroom, homes with

ocean views from two levels from $1,049,000

A limited number of apartments are on offer so contact Kieren to register your interest.

*ARTIST IMPRESSION

HOMECHRISTCHURCH.CO.NZ

HOME CHRISTCHURCH LIMITED, LICENSED REAA 2008
---
PEGASUS POST Latest Canterbury news at starnews.co.nz

Thursday September 23 2021 15

H O M E

OUR STORY | KIERAN BALL

Born and bred in Christchurch, and growing up in East Christchurch, Kieran

knows this town inside out. His personal drive is second to none. All prior jobs

have involved helping people and building positive relationships. Having

recently purchased his own first home, he has a special empathy for other first

home buyers. Sellers can also trust his drive and determination: he brings a large

personality with a trusting presence to the table.

"My goal is to make your Real Estate experience fun, exciting and memorable

while maintaining the utmost professionalism."

KIERAN BALL

021 281 1220 | kieran@homechch.co.nz

What made you want to jump into the world of real

estate?

I previously worked in a gym and one of my clients was a

top Christchurch agent. He convined me I would make a

good agent so when the first lockdown brought our travel

plans to a halt I decided to jump in head first!

Can you remember your first sale?

Definitely, 1/435 Madras Street! I'd like to give a special

thanks to my friends who not only trusted my ability on a

first sale and now have engaged me to sell their next

home.

What was most memorable when you purchased your

first home?

Not getting a gift, thank you or any appreciated from the

selling agent. It was a great lesson on what not to do!

Do you have any advice for someone considering a

career in real estate?

Your first office may not be your last. Be prepared to

struggle, it's not easy work but very rewarding. Work with

people who genuinely care about you and don't become

you're not.

If you had to choose an alternative career path, what

would it be?

I've had a wide range of experiences already but if real

estate was no longer on the cards I'd most likely apply for

a role with the police.

Ok, now let's have some fun. What's the most awkward

thing that happens to you on a regular basis?

Being 6'6 it's reasonably obvious - hitting my head on

things!

Would it be wrong to assume you play basketball?

No, you're spot on. I play for a local team, UC Men's Prems

and I follow the LA Lakers.

Who do you idolise and why?

My Dad. I can't even begin to find the words to describe

how much he's done for me and my family.

Summer is coming, where are you looking forward

visiting in Canterbury once the sun is shinning?

Taylors Mistake is first on the list, as soon as it's warm

enough.

What is your favourite eatery in Christchurch?

Little High - specifically Bacon Brothers.

You're left alone on a resort island, you can take one

book, one album & one film - what do you chose?

David Goggins, Can't Hurt Me | John Mayer, Room for

Squares | Coach Carter

And finally, what is your greatest achievement to date?

Purchasing my first home with my partner Tia.
---
16 Thursday September 23 2021

Latest Canterbury news at starnews.co.nz

PEGASUS POST

GIVING BACK TO YOUR COMMUNITY

$1,250.00

REFERRAL DONATION

Refer any listing to us and upon the successful sale of their property, HOME Christchurch Ltd will make

a donation on your behalf. The donation will be made to a local group or club within your community

or a NZ charity of your choice.

*TERMS AND CONDITIONS APPLY

YOUR HOME SPECIALISTS

KURT POLSON

027 465 6797

KURT@HOMECHCH.CO.NZ

EDDIE SPRY

021 156 5884

EDDIE@HOMECHCH.CO.NZ

ABEL GORE

022 375 9971

ABEL@HOMECHCH.CO.NZ

1 8 6 MA I N RO A D , RE D C L I F F S

03 930 1323

HOMECHRISTCHURCH.CO.NZ

HOME CHRISTCHURCH LIMITED, LICENSED REAA 2008