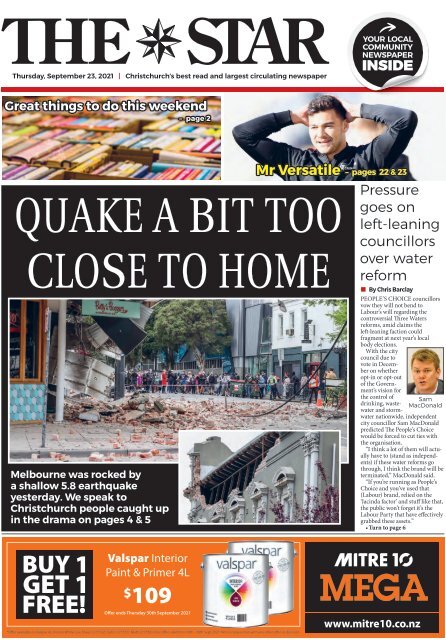 The Star: September 23, 2021
Create successful ePaper yourself
Turn your PDF publications into a flip-book with our unique Google optimized e-Paper software.
Thursday, September 23, 2021 | Christchurch's best read and largest circulating newspaper

Great things to do this weekend

– page 2

QUAKE A BIT TOO

CLOSE TO HOME

Melbourne was rocked by

a shallow 5.8 earthquake

yesterday. We speak to

Christchurch people caught up

in the drama on pages 4 & 5

Mr Versatile – pages 22 & 23

Pressure

goes on

left-leaning

councillors

over water

reform

• By Chris Barclay

PEOPLE'S CHOICE councillors

vow they will not bend to

Labour's will regarding the

controversial Three Waters

reforms, amid claims the

left-leaning faction could

fragment at next year's local

body elections.

With the city

council due to

vote in December

on whether

opt-in or opt-out

of the Government's

vision for

Sam

MacDonald

the control of

drinking, wastewater

and stormwater

nationwide, independent

city councillor Sam MacDonald

predicted The People's Choice

would be forced to cut ties with

the organisation.

"I think a lot of them will actually

have to (stand as independents)

if these water reforms go

through, I think the brand will be

terminated," MacDonald said.

"If you're running as People's

Choice and you've used that

(Labour) brand, relied on the

'Jacinda factor' and stuff like that,

the public won't forget it's the

Labour Party that have effectively

grabbed these assets."

• Turn to page 6

Valspar Interior

Paint & Primer 4L

$109

Offer ends Thursday 30th September 2021

*Offer available on Valspar 4L Interior White Low Sheen (277532), Satin (277557), Matt (277550) only. Offer valid from 16th - 30th Sept 2021. Not in conjunction with any other offer or discount.
---
2 The Star Thursday July 30 2020

2 The Star Thursday September 23 2021

inside

Ducklings

Tributes flow

and

after

drains..............................................3

death .................................. 5

Hospital Man fined visiting after hours..........................................6

docking puppies 7

Community New hospital boards child care cutback.........................7

initiative ....................9

Remembering Bank to stop cash, North cheque Beach deposits Zoo ...... 8-9 ....10

Greyhound New home track for Smiths rejected............................. City 10 15

Caroline's

Return to

memory

Trump, pandemic

lives on..............................13

..............20-21

Opera on Broadway..................................... 14-15

Heritage in photos .............................................25

Coupland's car winner.......................................17

Check your shopping receipts .............. 27

Letters..............................................................................24

Mayor's Food .................................................................................28

column.......................................................25

Puzzles.............................................................................26

Gardening 29

Gardening.....................................................................27

Sport ................................................................................. 31

Sport..................................................................................29

Drivesouth .................................................................33

DriveSouth....................................................................31

Puzzles ..........................................................................34

Classified...............................................................33-37

Classified ............................................................35-42

Gig guide...................................................................... 37

Gig guide ................................................................... 43

newsroom

Chris Louis Barclay Day Reporter Reporter

021 021914 919 169 917

chris.barclay@starmedia.kiwi

louis.day@starmedia.kiwi

Geoff Matt Sloan Slaughter Photographer Reporter

geoff.sloan@starmedia.kiwi

021 910 788

Barry matt.slaughter@starmedia.kiwi

Clarke Editor in Chief

Chris 021 359 Barclay 426 Reporter

barry@starmedia.kiwi

021 914 169

chris.barclay@starmedia.kiwi

advertising

Barry Clarke Editor in Chief

021 359 426

Shane barry@starmedia.kiwi

Victor Advertising Manager

021 381 765

advertising

shane@starmedia.kiwi

Classified Shane Victor advertising: Advertising 379 Manager 1100

General 021 381 inquiries: 765 379 7100

shane@starmedia.kiwi

readership Classified advertising: up 8.8% 379 1100

General inquiries: 379 7100

199,000 *

readers every week!

178,000 *

REACH MORE . . .

*2021 Nielsen Newspaper Readership Report Starmax

online

readers every week!

*2019 Nielsen Newspaper Readership Report

Keep up with the latest

local news as it happens

online

www.starnews.co.nz

Keep up with the latest

local news as it happens

www.starnews.co.nz

A division of Allied Press

Regional Manager: Steve McCaughan

PO

A division

Box 1467,

of Allied

Christchurch

Press

359

Regional

Lincoln

Manager:

Rd, Addington

Steve McCaughan

www.starmedia.kiwi

PO Box 1467, Christchurch

359 Lincoln Rd, Addington

www.starmedia.kiwi

Illuminate Light & Sound

Drive-Through Show

Daily 6.30pm-10.30pm until

Sunday Watch from the comfort of your car as

Ferrymead Heritage Park comes to life at night with a display

of interactive lights and sounds. Tickets: $25 per car. No

gate sales. For dates and time slots go to: eventhire.co.nz/

illuminate. Ferrymead Heritage Park

Isaac Theatre Royal Venue

Tours Saturday 10am-2pm

Take this opportunity to have a guided tour around

the spiritual heart of Canterbury's arts scene. The Isaac

Theatre Royal has played host to spectacular shows and

spellbound audiences for more than a century. 45 minute

guided tours throughout the day. Tickets: Adults $12.50,

Children (under 15yrs) $6.50. (eventbrite.co.nz)

Isaac Theatre Royal, 145 Gloucester St

letters

We We want want to to hear hear

your your views views on on the the

issues issues affecting affecting life life in in

Canterbury.

Canterbury.

Send

Send

emails

emails

to:

to:

barry@starmedia.kiwi

barry@starmedia.kiwi

Letters

Letters

may

may

be

be

edited

edited

or

or

rejected

rejected

at

at

The

The

Star's

Star's

discretion.

discretion.

Letters

Letters

should

should

be

be

about

about

150

150

words.

words.

A

name,

name,

postal

postal

address

address

and

and

phone

phone

number

number

should

should

be

be

provided.

provided.

Please

Please

use

use

your

your

real

real

name,

name,

not

not

a

a

nickname,

nickname,

alias,

alias,

pen

pen

name

name

or

or

abbreviation.

abbreviation.

St Christopher's 'Post-

Lockdown' Book Fair

Friday & Saturday 9am-5pm

Two halls filled with thousands of bargain-priced quality

books including fiction, non fiction, art, history, transport,

cooking, kids and a large selection of military books. Cash or

Eftpos. Admission: Free.

St Christopher's Church, 244 Avonhead Rd

Vintage Market

Sunday 10am- 2pm

Go and browse through an array of quality vintage

goods for sale on the front lawn of Avebury House. Items

include clothing, vinyl records, kitchenalia, fabrics, bric a

brac, furniture, crystal, china and a variety of men's stuff.

Cash only, Admission: Free.

Avebury House, 9 Eveleyn Couzins Ave

Mona Vale Guided Walks

Sunday 1.30pm-3pm

Celebrate Spring with a free guided walk of Mona

Vale Garden Park with volunteer guides explaining how the

heritage garden and buildings have evolved throughout the

seasons. Meet by the Rose Garden car park. Admission: Free.

Mona Vale Garden Park

ESCAPE AND

SAVE THIS SPRING

Receive $50 resort credit for every night you

stay at Millbrook Resort.

From five-star dining, award-winning spa treatments,

championship golf or onsite wine tastings – there is something

for everyone to love at Millbrook Resort.

T&C: Valid for stays until 31 st October 2021 and subject to availability.

Valid for ROD bookings cannot be used in conjunction with any other offer or promotion.

$50 resort credit is issued per night and is not transferable for cash/no refunds.

We strongly recommend booking your Millbrook activities in advance to avoid disappointment.

Millbrook Resort

1124 Malaghans Road, Arrowtown 9371

T: +64 (0)3 441 7000

E: front.desk@millbrook.co.nz
---
AN AVONHEAD man says he

fell victim to scammers going

door-to-door offering at-home

Covid vaccinations.

Police have warned the public

after receiving reports of two

men visiting homes in the city.

Zac told Newstalk ZB's John

McDonald two men pulled into

his driveway in a white station

wagon on Tuesday night, nicely

dressed and wearing Ministry

of Health ID cards around their

necks.

The men said they were

there as part of a new outreach

programme the ministry was

running.

"I took them out at face

value, they showed me different

pamphlets, explained how it

worked.

"They said I had to pay them

$100 to be able to secure my

Latest Canterbury news at starnews.co.nz

Man parts with cash in 'convincing' Covid scam

It's the duckling season.

Some unfortunately get

stuck in drains. Susan

Sandys reports on a

very happy outcome

A DISTRESSED mother

duck was reunited with her

four ducklings, thanks to the

efforts of a school teacher and a

volunteer fire brigade.

Meeghan Coetzee

was on her

way home from

Ararira Springs

Primary School

she saw a mallard

duck and two

ducklings walking

up and down

near a stormwater

grate in Lincoln.

Then about five minutes later,

as she drove past again, Coetzee

stopped and got out of her car,

after noticing the two ducklings

were missing and the mother

duck distressed.

Coetzee peered down through

the grate to see four ducklings

trapped. They seemed safe,

swimming in water, but the

mother was far from happy.

"She was jumping on the

drain, her poor little feet were

slipping through the drain, she

was quite desperate to get to

them," Coetzee said.

She phoned

the Lincoln fire

station and left a

voice message.

Fire chief

Jeremy

Greenwood

got back to

her within five

minutes to say a

firefighter was on

appointment and that covers the

call-out fees cause they are only

partially funded."

Zac handed over $100 in cash

and was given a phone number

to ring in the morning to secure

his appointment.

But when he did so, he found

the number disconnected.

He quickly googled Covid-19

scams and found that the same

scam had been reported a few

the way. She said it was fantastic

to have a happy ending to the

saga. The firefighter, who arrived

in his own car, lifted the grate

and scooped the ducklings out.

"It was awesome, I was so glad

to see them come out," Coetzee

said.

Greenwood said the brigade

responded to about two

incidents each year of rescuing

days prior.

"I've only just realised in the

last couple of hours. I thought

I was doing the right thing

organising the vaccine. I work

long hours so a lot of the clinics

aren't open.

"I feel embarrassed actually.

They were driving a nice car,

pulled in my driveway and

were really polite. It was pretty

convincing." —NZ Herald

Ducklings and drains – that

annual spring fire callout

Meeghan

Coetzee

DOWN THE DRAIN: Thanks to some quick thinking, two ducklings have lived to swim

another day.

PHOTO: GETTY

Jeremy

Greenwood

ducklings from stormwater

drains, but was not always

successful.

"We respond and help

where we can, it's just a bit of

community service I guess," he

said.

The fire engine would turn

out to such callouts if the

call came through the 111

communications centre.

Thursday September 23 2021 The Star

NEWS 3

in brief

Don't forget to turn your clocks

forward an hour on Sunday.

Daylight savings begins at 2am.

Fight over face masks

An argument over face masks

turned violent at the Kaiser Brew

Gardens on Saturday night,

ending in a split lip and a bloody

nose. Owner Campbell Parker

said a man became verbally

aggressive towards a group

of patrons – holding but not

wearing their masks – as they

waited to pay. It escalated with a

man punching an off-duty staff

member in the face. A second

man was also hit. Parker said

this is the extra strain hospitality

businesses have to deal with. A

police complaint has been made.

Catholic Diocese

appoints new GM

The Catholic Diocese of

Christchurch has appointed

Simon Thompson as its new

general manager, replacing Andy

Doherty who, after six years in

the role, is moving overseas.

Thompson is manager, strategy

and planning at Ōtākaro Ltd,

the Crown company responsible

for the construction and

operation of Te Pae Christchurch

convention centre. He has also

held positions at the Canterbury

Earthquake Recovery Authority,

Christchurch International

Airport and Air New Zealand.

Simon Thompson takes up his

new position on November 1.

New date for festival

The Akaroa French Festival has

confirmed new dates: April 29 to

May 1, 2022. This year's festival

had to be postponed due to the

recent nationwide Covid-19

lockdown.

$10

BREAKFAST

SPECIAL

FREE RANGE EGGS

STREAKY BACON

HOMEMADE TOAST

COFFEE

85 Hereford St | Ph 03 374 9461

www.therockpool.co.nz

Care &

Compassion

We pride ourselves on the

very highest level of service

If you are thinking about the future, we can help

you explore pre-payment and pre-planning options.

Contact us for a Free Information Pack.

We offer funeral information talks to groups.

Please call us for a speaker to come to you.

(03) 379 0196 | www.simplicity.co.nz

Nick Allwright

Funeral Director
---
The Star Thursday September 23 2021

4

NEWS

Latest Canterbury news at starnews.co.nz

Melbourne quake: An instant recall

Melbourne residents

were shaken by a

shallow 10km deep

5.8 quake yesterday.

Reporters Chris

Barclay, Susan

Sandys, Fiona Ellis ,

John Cosgrove and

Samantha Mythen

spoke to Cantabrians

living in the Victorian

capital

MONIQUE

DEVEREUX,

a former

Canterbury

Earthquake

Authority

executive,

calmly switched

into crisis

mode when work colleagues

experienced their first tremors.

Well, once she absorbed the

initial shock.

"It was like: Are you sure?

How can this be happening here?

What the hell. I couldn't believe

it was actually an earthquake

in Melbourne," she said from

the sanctuary of suburban

Hawthorn.

Devereux, national manager

public affairs for the Stroke

TREMORS: Dust filled the air in the aftermath of

Melbourne's quake yesterday. PHOTO: NZ HERALD

Foundation, was on a Zoom call

with her team when she found

herself in a familiar predicament.

"It was just the normal

running through the team

activities for the day when

three of us had the earthquake

hit at the same time and one

person was on the other side of

Melbourne, so it took a couple of

seconds to catch up," she said.

"It was quite interesting

watching the reactions of people

that haven't had an earthquake

before, then there was my own

disbelief at could this really be

an earthquake after moving to

Melbourne to avoid them.

"It was instant memory recall

of being in Christchurch. It took

me right back to being in the

centre of the city.

"I went into 'I'm the expert

here mode'. I certainly talked

them through what was

happening.

"I was trying to be practical

saying: Nothing really bad is

going to happen but it's really

disconcerting – and there is a

likelihood of aftershocks.

"One of my team was on the

26th floor of a high rise in the

centre of the city. She had the

double whammy of not really

knowing about earthquakes

within a very tall, swaying

building.

"It was long, it was rolling, it

wasn't really jerky and violent

but it did get more intense after

a couple of seconds it really

ratcheted up a bit."

Watching footage of damage in

central Melbourne brought back

memories of Cashel Mall, though

with one clear distinction.

"The beauty of lockdown is no

one was there. Looking at some

of that masonry that came down,

it would have wiped out quite a

few people."

CRAIG DICKSON would

not quite say he was used to

them, but having lived through

Christchurch's earthquakes, he

was able to take Melbourne's in

his stride.

"It was like a small aftershock

compared to the Christchurch

city quake," Dickson said.

The former St Albans resident

has been based in Melbourne

for four years, and, with the

city in lockdown, was "sitting

around at home" when the

quake hit.

Having recently finished

postgraduate study in sports

law at Melbourne University,

he was now searching for a

job from his north Melbourne

residence.

The shaking did not feel

violent, and was over fairly

quickly, he said.

Nothing fell over in his home

and there was no damage.

"It was unnerving but not

what I'd call major. Obviously

the locals react rather differently

. . . it's all a bit fraught at

the moment.

"Do you ever get used to it?

Probably not, but it's more unusual

or unnerving because it's

Melbourne as opposed to other

parts of the world where you

might expect it."

fLOOR COvERING

BARGAINs

ST CHRISTOPHER'S

CHURCH bOOk FAIR

FRI 24TH & SAT 25TH SEPTEmBER

York Street

By Feltex Carpets -100% New Zealand Wool carpet,

extra heavy duty contemporary natural sisal look, one

outstanding natural colour. Export overruns.

Unbelievable value $129m

SAvE OvER $100m

(that's $35.25m 2 ) Only while stocks last

Pearl Bay

By Godfrey Hirst - Scoop Purchase of this extra heavy

duty, solution dyed nylon, cut pile carpet, looks and

feels great, one colour only at this price, Pravda a warm

natural mix of browns and fawns.

Great value $89m

(that's $24.32m 2 ) Only while stocks last.

Kenzie

Commercial quality vinyl planks

Exceptional value and 2 great colours in stock now.

Harper Oak & Zane Oak. Normally planks of this quality

sell for $59.00m2.

our price $29.95m2

Only while stocks last

Two halls full of fantastic books!

WARREN HALL - Great fiction $2 or 6 for $10 plus kids books etc.

ROBERTON HALL - Specially priced non fiction - ART, TRANSPORT,

HISTORY, TECHNICAL, COOKING, CRAFT, NZ, SPECIAL ITEMS ETC

plus A BIG SELECTION OF MILITARY

THE BEST BOUTIQUE BOOKFAIR IN TOWN!

Cash or Eftpos.

ST CHRISTOPHER'S 244 AVONHEAD ROAD

Friday 9am - 5pm, Saturday 9am - 4pm | Ph. 3588-780

Stay comfortable all year round with

Fujitsu's sleek, stylish Lifestyle Range.

HEAT PUMPS FROM $1999 inc GST INSTALLED!

PLUS

MUCH

MORE

INSTORE

2020

Heat Pumps

Fujitsu's Catechin Filters are approved by

the Asthma and Respiratory Foundation

NZ's Sensitive Choice ® programme.

47 Gasson Street • Ph 353 8899 • Hours: 8.30am-5pm Mon-Fri

www.theflooringwarehouse.co.nz

03 381 6950

info@powersmart.co.nz

powersmart.co.nz

FREE

consultation from

your local Accredited

Heat Pump Expert
---
Thursday September 23 2021 The Star

Latest Canterbury news at starnews.co.nz

NEWS 5

memory of being in Christchurch

MOVING TO Melbourne was

a chance to escape earthquakes

for retired plant scientists Pam

and John Fletcher, but it was not

to be.

Sitting in a waiting room in

a hospital on Moorland Rd in

Brunswick, just north of the city

centre, Pam felt shuddering in

the floor.

"At first I thought it was the

heat pump nearby but then I realised

'Oh no it's an earthquake'.

"I didn't leave Christchurch to

come to Melbourne to experience

more earthquakes."

Looking around at the bemused

faces of the others in the

room, she realised they had never

experienced a tremor before so

she offered advice as the room

continued to shake and shudder.

She tried calling her husband

John at the couple's apartment

on the top floor of their complex

nearby, but his phone was off.

"I immediately thought of the

time following the big quake in

Christchurch when we couldn't

reach our family for three hours,

they were the worst three hours

of my life," she said.

"When John finally answered

he told me of the building swaying

to and fro but there was no

damage.

"Despite us being under

lockdown there was much happening

in the central city today,

John and Pam Fletcher

people from the construction

industry were gathering for

another anti-lockdown protest

march, but once I was out on the

street I couldn't see any damage,

the trams are still running and

everyone is on their phone.

"It was quite a decent shake

and if Melbourne is ever hit by

a really big quake there are so

many old buildings here that

would come down and that

would be a shame."

The Fletchers retired to Melbourne

in 2018 to be closer to

family and escape earthquakes.

SARAH FULHAM did

not believe her partner

when he told her on the

phone that he could feel

an earthquake.

Fulham, who moved

to Melbourne in 2017,

was working from

home in the western

suburbs in her job as

the Melbourne Rebels

rugby franchise marketing

manager. Her

partner Dean was at

work on a second-floor car spray painting workshop

near the CBD.

"I have kind of gone: 'There's not an earthquake.'

That's what I thought to myself," the 32-year-old said.

However, within seconds she was shaken to the reality

of the situation, as she felt a jelly-like rolling motion. At

the same time, she could hear on the phone the sound

of cars and other items being rattled side to side at

Dean's workplace.

"Tools fell down, which is why it was so loud, but noone

was injured," Fulham said.

"It was scary, having felt the same feeling back home.

The feeling comes flooding back to you," she said.

Fulham was caught up in the February 22, 2011,

earthquake. She drove into a sinkhole and had to abandon

her car and trudge through liquefaction.

While the Melbourne earthquake was nowhere near

as bad, it created an unsettling uncertainty. At least in

New Zealand, where there were known fault lines, such

shakes were expected. It also brought back the spectre

of aftershocks.

"It's everything that you remember going through in

Christchurch, no power, the chemical toilets, every tiny

aspect of the aftermath of Christchurch, comes back

in," she said.

JACKSON ENRIGHT

was walking to the

couch in his fourthfloor

apartment,

talking to his dad over

the phone, when the

earthquake hit.

"It was very shaky,

I almost fell to the

ground and was a bit

unstable. I could see

windows shaking in apartments opposite

mine," he said.

Enright moved to Melbourne from

Christchurch in February this year to

pursue of Masters of Counselling. He lives

in a five-storey apartment block and is currently

studying from home with the city in

lockdown.

He said during the earthquake he did not

feel scared.

"I felt that it wasn't high enough on the

Richter scale to do any damage and so I

thought it would all be okay."

There was no damage in his apartment

other than a few books falling off the shelves

and a bar of soap falling off its perch in the

shower.

"Nothing too serious," he said.

He ventured out after the earthquake and

saw a nearby building on Chapel St where

the roof had fallen onto the road.

"I talked to an owner of a small grocery

store nearby and he took everything in his

stride," Enright said.

Several hours after the 5.8 magnitude

earthquake had hit, he had not noticed any

of the aftershocks.

Red Capsicums $ .................................. 1 .49

each

red kumara $ ......................................... 2 .49

kg

silverbeet $ ............................................ 2 .99

each

Sunburst Tomatoes 200g $ ... 4 .99

each

Washed Agria Potatoes

5kg $ ................................................................ 5 .99

each

jazz apples $ ........................................ 2 .99

kg

Beef Porterhouse Steak $ ..... 22 .99

kg

Beef Short ribs $ ............................. 16 .99

kg

Lamb Shoulder Chops $ ............ 15 .99

kg

Boneless Pork Slices $ ............ 15 .99

kg

Chicken Thigh Cutlets $ ............ 10 .99

kg

At

we have...

FRIDAY TO

SUNDAY ONLY

BAGGED GREEN KIWIFRUIT

1KG $ ............................................................. 1 .99

each

Loose carrots ...........................99 c

kg

LAMB SHANKS $ ................................ 13 .99

kg

Check our website for

your local stores opening hours

All our fresh meat is 100% NZ FARMED. specials VAlid

20th September - 26TH September 2021.

WHILE STOCKS LAST! ONLY AVAILABLE AT RAEWARD FRESH HAREWOOD RD, TOWER JUNCTION

WWW.

.CO.NZ

Like us on

Facebook
---
The Star Thursday September 23 2021

6

NEWS

New hours

for hospital

visitors

CHRISTCHURCH Hospital

has revised its visiting hours,

adding a new time slot while

standard Covid-19 precautions

remain in place.

From today public can visit

between 11am to 1pm, an addition

to the existing 3pm to 8pm

time frame.

Christchurch Hospital director

of nursing Lynne Johnson

hoped the additional hours

would result in calmer wards

and waiting areas.

"We know having visitors can

provide a highlight in someone's

day, but it can also be draining

for our sick patients, so please be

mindful of that when planning

your visit," she said.

"And please, stick to the one

visitor at a time rule. We need

space around each patient's bed

to practice safe physical distancing

when providing care for our

patients.

"Under Delta alert level 2 we

are still only allowing one visitor

at a time, but we are providing

the public with more flexibility

to choose a time that suits them,

and this change will mean our

patients can have a couple of

hours 'quiet time' between 1pm

and 3pm each day."

• From page 1

The People's Choice councillors

canvassed by The Star last

week were unified in their

opposition to the proposal, a

model that will see four entities

recreated to control water,

including one covering the South

Island.

Deputy

mayor and

People's Choice

caucus leader

Andrew Turner

reiterated

that view in

a statement

yesterday

declaring: "We

do not believe

the moves to centralise such a

public commodity are in the best

interests of Christchurch."

MacDonald believed The

People's Choice faction would

maintain their opposition,

though he expected Labour

hierarchy to pressure councillors

to toe the party line.

Turner, touted as a potential

mayoral candidate to succeed

Lianne Dalziel at local body

elections next October, could be

particularly vulnerable.

"The fact they have to go

through a selection process for

a mayor, I suspect MPs will be

involved in that process. I suspect

people like Megan Woods will

Latest Canterbury news at starnews.co.nz

'There is a difference of opinion'

Andrew

Turner

have quite a bit of say over

whether Andrew can be the next

candidate for them," MacDonald

said.

Turner, who is still weighing

up whether to challenge

independent Phil Mauger,

insisted The People's Choice

members would not be coerced

into changing their stance.

"There have been some

good, honest, open, mature

conversations (with MPs). We

will be making our decisions on

the basis of what we think is the

best for Christchurch. Nobody

will be pulling our strings from

Wellington."

Turner was confident The

People's Choice councillors

would pledge allegiance to the

party rather than seek re-election

as independents.

"I'd be disappointed if the

Government mandated these

reforms if it was clear there

wasn't support here within the

community, council and People's

Choice members but I don't

think that necessarily leads to

people deciding to standing as

independent," he said.

Pauline Cotter bristled at

suggestions The People's Choice

representatives could be swayed

by local Labour MPs, or via

headquarters.

"I don't think any thumb

screws are going to held over any

of us over this but if the Labour

party wants to kick me out

then so be it," she said, adding

running as an independent was

a stretch.

"I don't think that's necessary.

A difference of opinion on

one thing doesn't means you

have to jump out of the ship," she

said.

The People's Choice chair Joe

Davies said Labour MPs were

not involved in the selection

process for council candidates in

2019 and insisted they would not

influence the composition of the

2022 team.

However, he conceded the

issue could compromise a robust

relationship.

"I don't think it will become

an unworkable wedge but there

is a difference of opinion. They're

fellow comrades in one sense

but I've not seen an issue that's

unified local government in such

a way.

"Right, left, whatever political

wing people are from they're just

like: This is too much."

Stressed?

Sore? Tired?

Book your traditional

Thai Massage today

• Relaxation

• Deep tissue

• Couples massage

• Hot stone option

• Hot oil

aromatherapy

Wairakei Thai Massage and Beauty

198 Wairakei Road

0276 428 961

www.wairakeithaimassage.co.nz

NEED A

PLUMBER?

Call us now for fast

friendly service.

Get your problems sorted out

quick smart - on time!!

Phone for a

FREE

quote now.

Phone 03 377 1280

Mobile 021 898 380

Smile with confidence

BEFORE

Full or Partial Dentures

Immediate Dentures

Winz Approved

aFtER

Insurance Claims

Urgent Denture Repair & Reline

Payment Options Available

914 Colombo St | Ph: 03 365 2859 | www.cosmeticdentureclinic.co.nz
---
Latest Canterbury news at starnews.co.nz

Thursday September 23 2021 The Star

NEWS 7

Cutback in community board

meetings 'disappointing'

• By Fiona Ellis

POLITICAL scientist Bronwyn

Hayward has slammed two

community boards for reducing

their meetings from fortnightly

to monthly.

The Canterbury

University

professor says it

will reduce the

amount of time

they interact with

the public.

Bronwyn

Hayward

"[It is] disappointing,

surprising

and concerning,"

she said.

The Fendalton-Waimari-Harewood

and Coastal-Burwood

Community Boards will now

have their ordinary meetings

monthly, citing workload issues.

During ordinary meetings,

board members vote on issues,

while members of the public are

able to observe and also speak

during the meeting's public

forum section.

Hayward said the opportunity

for continual public scrutiny

was important and she was

concerned the changes were

approved unanimously.

"It suggests we need to have

a public conversation about

what we expect in terms of

the representativeness and

the connection of our local

community and its elected

representatives."

Fendalton-Waimari-Harewood

board chairwoman Bridget

Williams said the change

would not impact the board's

connection to the public.

"Residents are always able to

contact us, through phone or

through email. We hold regular

public community liaison

meetings as well," Williams said.

Fewer board meetings would

mean fewer public forums, but

more time could be given to

these when they

were held, she

said.

The change

was due to the

increase in

meetings with

Bridget

Williams

council staff,

formerly held

after board

ENGAGEMENT:

The Fendalton-

Waimairi-

Harewood

Community

Board (left) and

the Coastal-

Burwood

Community

Board will now

meet fortnightly

instead of

monthly.

meetings to keep members

updated with information they

could use in decision-making.

While last year 22 briefings

and workshops took place with

council staff, this year there had

been 30, with at least four more

to come, she said.

The change would leave

alternate fortnights clear for

these meetings with council

staff.

"We can have good robust

discussions and not feel rushed,"

Williams said.

The meetings would be

monthly for the foreseeable

future.

"We are excited to see what this

will look like and whether other

community boards might want to

take this example on as well."

Coastal-Burwood Chairman

Kelly Barber also said the change

would not impair connection to

the public.

"The opportunity [to attend

meetings] is always there,

nothing changes in terms of that,

it's just the frequency."

The change was a trial and if

the public increased its demands

on the board's time they could

respond to this, he said.

"We still have the capacity to

go back to the regular schedule if

there's a need for it."

However, in recent months

the board's meeting agendas

had been slim whereas there was

"always people stacked up for

months to give us briefings".

The board would also use

the alternate fortnights to hold

briefings with council staff.

"It's actually going to be a real

good opportunity to catch up,"

Kelly said.

HELLO SPRING!

Allessa Sofa with Ottoman

WAS $

3299

NOW

$

2699

Chia

Single/Single

Trundler Bunk

Bed

WAS $

1299

WELCOME WARMER WEATHER WITH OUR

STOREWIDE

SPRING

Lincoln 4 Seater

WAS $

2699

NOW

$

1999

NOW

$

999

Trent Sofa Bed Chaise

WAS $

1499

SALE

2.5

NOW

$

999

Seater

NOW $

1499

Recliner

NOW $

999

2 Seater Recliner

NOW $

1699

3 Seater Recliner

NOW $

1999

We are

open!

Scan to find store

Paris 7 Piece

Dining Set – W190

WAS $

2139

NOW

$

1599

250 Moorhouse Ave, Christchurch

0800 TARGET (0800 827438)

ON SALE

Riva Electric

Recliner Range

Our store is open and operating

under our normal store hours. We

are complying with all Ministry of

Health Guidelines and ask all our

customers to do the same.

Don't forget

your mask!

targetfurniture.co.nz

Offers and product prices advertised here expire

18/10/21. Sale Excludes Accessories.
---
The Star Thursday September 23 2021

8

NEWS

Latest Canterbury news at starnews.co.nz

Escapades and early morning roars –

Reporter Sonia Yee

talks to those who

remember the North

Beach Zoo

ROARING SOUNDS of Suzy

the lion would wake up residents

in an otherwise quiet suburb.

The mini zoo known as North

Beach Zoo was situated at 153

Beach Rd. A former aquarium,

it was re-imagined by Bill Grey

who bought it in the late fifties.

"It had a very special place in

my heart," said Wellingtonbased

Aaron Alexander.

Alexander visited the mini zoo

many times with his grandmother

who lived in the area. And to

this day, the crocodile in a glass

case near the entrance, remains

firmly in his memory.

"As a little kid I wouldn't

want to get any closer . . . it was

a beautiful mix of terror and

excitement," he said.

The zoo was established before

Orana Wildlife Park, which

didn't open its doors until the

mid-seventies. So for many

visitors, the mini zoo provided

an opportunity to see large, wild

animals up close and personal.

But what also made this zoo

peculiar is that it was small – a

stone's throw from the beach

and across the road from a golf

course, it was also surrounded by

TAMED: Zoo owner Bill Grey, with Suzy the lion, and Hank the monkey, which Grey raised by hand.

PHOTOS: COURTESY OF MILES DALTON AND ELEANOR MORGAN ​

residential properties.

"It wasn't really aimed as a big

money making venture," said

Miles Dalton who worked there

part-time as a student.

Dalton says the entrance fee

for visitors was around $3 for

adults, and half that again, for

kids.

During the summer months

it was bustling with families

and tourists, and visitors could

buy cups of food to feed to the

smaller animals. Although it

seemed like an odd location for a

zoo, it was established before the

area became residential.

"There was a point where Bill

used to take the lion for walks on

the beach," said Dalton.

"But then it got too populated,

so he couldn't do that."

Dalton referred to owner Bill

Grey as a "hard worker and a

lovely man who really cared for

the animals," some of which had

been acquired not by choice,

but because previous owners

had mistreated them, and the

animals had shown signs

of neglect.

Grey had told Dalton of the

tiger who had come from a

circus with a burn on its nose.

When the circus owner came

back to collect her, the tiger was

growling with its back up against

the wall. From that moment,

Grey refused to release the

animal to its owner.

Knocked down but got back up... ADVERTISEMENT

KORU NUTRITION

Getting out on the courts

and acing some shots was

something Jenni has always

loved to do. An avid doubles

tennis player, Jenni was a

constant at the local tennis

club until a knee injury took

her out of play.

A knee injury is never fun at

any stage of life but for Jenni,

she felt it hit her at a stage

where her body just wasn't

recovering the same. Her

knee continued to worsen and

after a few weeks, a trip to the

doctor confirmed her worst

fears. It was getting worse

and she was going to need a

knee replacement. This would

seriously limit her active

lifestyle.

Her surgery and recovery

went according to plan,

however the impact on her

life was very noticeable.

Tennis was a definite no go.

Cycling...she needed to be

careful. Even taking care of

the garden was becoming a

struggle. Short stints of work

would invoke a long period of

recovery time.

For the next month, she

struggled along not being able

to do the things she loved.

Then one night, she saw an

advert online for Koru Joint

from Koru Nutrition. Seeing

that it was NZ made, natural

and there seemed to be a lot of

good reviews for the product,

she thought why not just give

it a try.

"I tried it and after a few

days I thought, "Oh yeah.

Seems to do something." A

week later, however, I was a

convert. I was amazed at what

I was able to do. Being able

to do a task and not have to

worry that I would have to

lay down afterwards...life

changing."

"The support that Koru Joint

has given me, has enabled me

to start enjoying life again.

I am going for long walks,

biking, fishing and I was even

up a tree the other day cutting

a branch down."

Most joint health

supplements only focus on

one area of support. Koru Joint

by Koru Nutrition is different

because it focuses on three

areas to support soothing,

nourishing and lubrication of

healthy joints.

"I had thought that my

tennis playing days were long

gone but now, I know I will be

Always read the label and use as directed. If symptoms persist see your healthcare professional. Koru Nutrition Ltd, Christchurch.

back on the courts again in no

time at all."

All 3-phases are required to

build on each other to support

long term healthy joint,

muscle and cartilage function.

Koru Joint is quickly

becoming one of New

Zealand's leading joint

supplements in pharmacies.

Containing Glucosamine and

Turmeric and with countless

doctors, pharmacists and

customers raving about it's

all-inclusive formulation, you

understand why.

SPECIAL OFFER

FOR READERS

33% OFF

KORU JOINT

2 FOR

$79.98

SAVE $40

KORUNUTRITION.CO.NZ

0800 99 99 80

Available in

good pharmacies.
---
Latest Canterbury news at starnews.co.nz

Thursday September 23 2021 The Star

NEWS 9

Remembering the North Beach Zoo

Most of Dalton's job involved

helping to feed the animals and

cleaning out their enclosures.

He never received any formal

training, but Grey showed him

the ropes and warned him of

signs to be aware of, especially

when entering the lion's or tiger's

quarters.

One Sunday morning Dalton

was hungover and set about

cleaning out the lion's enclosure.

As he bent down to refresh her

water bowl, she opened her

mouth and Dalton felt sharp

teeth.

"She put her teeth around

my arse and I was immediately

sober," recalled Dalton.

While she hadn't fully sunk

her teeth in, Dalton said it was a

sign she wasn't happy and needed

more attention than he'd been

able to give her.

Another experience involved a

rooftop ride in the sunshine with

Arnie the monkey. Dalton was

cleaning out Arnie's enclosure

and there were two gates for each

unit, which needed to be opened

and locked on entering and exiting.

"This time I went in through

the first gate and locked it behind

me, and went in through the

second one, and he bolted behind

me," said Dalton.

He was sure Arnie would

be stopped by the second gate,

except Arnie shoved his weight

against the locked door, breaking

it open. Dalton followed Arnie

who was making his way along

fences and rooftops, with Dalton

clambering after him.

"So when I got behind, he'd

wait for me," said Dalton of

Arnie's adventure around North

Beach.

Eventually Grey caught wind

of the escape and came to the

house where Arnie and Dalton

were sitting on the roof. After

a rooftop picnic – part of the

ploy to get Arnie down – he was

re-captured and the pair made it

into The Press.

In the early nineties Dalton

would say goodbye to the

animals for the last time, leaving

AWARENESS: Conditions for animals like Charlie the

crocodile saw protesters campaign for the zoo's closure,

including Kaye Fellows (above). It eventually closed in 1996;

the site at 153 Beach Rd today. PHOTOS: FACEBOOK.

•HAVE YOUR SAY: Tell us your North Beach Zoo story

Email barry@starmedia.kiwi

Keep responses to 200 words or less

his part-time job to pursue

acting.

The mini zoo would finally

close its doors in 1996.

Families, young children and

tourists had been flocking to the

zoo for years. But as time moved

on there was a shift in mood.

People began protesting against

the mini zoo. And globally, there

was also a growing awareness

around animal rights, and

animal cruelty.

Dalton loved working at the

North Beach Zoo, and said he

was spoiled for having any other

pets, but agrees that the mini zoo

had become out-dated.

"It didn't fit modern

sensibilities at all. It's a hard one,

because I knew they were well

cared for, but at the same time

the enclosures were small, and

if it stayed open, the zoo would

have had to change."

• Go to the RNZ website to

listen to the podcast.

—RNZ

Be there

for your

mokopuna!

Bowel screening catches

cancers early, while they

are easier to treat.

"A little test could

save your life!"

– Kahurangi (Dame) Aroha Reriti-Crofts,

Ngāi Tūāhuriri, Ngāi Tahu

Visit www.timetoscreen.nz for more information

Free phone 0800 924 432

or talk to your GP team
---
The Star Thursday September 23 2021

10

NEWS

Latest Canterbury news at starnews.co.nz

Greyhound track rejected after public outcry

• By John Cosgrove

A PUBLIC backlash has stopped

a planned return of greyhound

racing at QEII Park.

Greyhound Racing New

Zealand wanted to build an

Australian-style 300m-long

straight track racing facility on a

site previously occupied by a golf

driving range.

But the Coastal-Burwood-

Community Board rejected the

idea after receiving plenty of

objections.

Board chairman Kelly Barber

said they decided to exclude the

Greyhound Racing New Zealand

proposal due to a large amount

of community

feedback.

"I personally

had received

about 40 emails

on the proposal

and others on

the board had as

Kelly Barber

well.

"We all felt the greyhound

racing industry was going to be

under greater public scrutiny in

coming years," he said.

Greyhound racing has been in

the spotlight in recent months.

On Monday, it was revealed

prominent trainer Craig Roberts

had a dog test positive for a

banned substance, while a spate

of dog deaths and injuries at

tracks in the North Island has

DOG-GONE: The Coastal-Burwood Community Board has voted against building a greyhound track at QEII Park.

PHOTO: AUSTRALIANRACINGGREYHOUND.COM

resulted in calls for the sport to

be investigated.

Board member Linda Stewart

cited the community's opposition

to greyhound racing, and

with the Government considering

axing the sport at one stage,

said it would not be ideal to

include it in the process.

Animal welfare organisation

SAFE spokesperson Will

Appelbe said they are thrilled

with the community board's

decision.

Will

Appelbe

"They listened

to their constituents.

This

development is

an amazing opportunity

for east

Christchurch to

add something of

real value for the

community,"

he said.

However, GRNZ racing

operations and welfare manager

Michael Dore said they were very

Michael

Dore

disappointed by

the outcome.

"But as a result

of all the publicity

about our

proposal we have

received a lot of

positive feedback

on straight track

racing,"

Dore said.

Since 2019, the city council

has been seeking proposals for

commercial ventures to use the

south-west corner of the 36ha

QEII Park site, adjacent to the

Travis and Frost Rds intersection.

Proposals were also filed by

the Christchurch Archery

Club, seeking an outdoor

archery range, and Five Under

Par, which proposed an $11

million amusement/sporting

complex.

The board recommended

staff seek more detailed

proposals from the remaining

two applicants.

Bin Good with

recycling

By putting the right clean items in the yellow bins,

you're helping to reduce waste going to landfill.

These are the only items that can go in the

yellow bin:

HyperCore

KW60 Heat Pump

Heating 6.5kW | Cooling 6.1kW

$4,499

INSTALLED *

* Standard installation,

conditions apply.

Guaranteed full heating

capacity … even on the

coldest days!

Call us for a free quote

Remember:

Give your bottles

and containers a rinse

and make sure they

are loose.

Plastic bottles & containers

numbered 1,2 and 5

(3 litres and under and put lids

in the red bin)

Glass bottles and jars

(put lids in the red bin)

Thanks for

bin good

if you need more

info download our

handy Christchurch

Bins app

DO YOU HAVE A

DAMAGED

prOpErtY?

Flattened cardboard

and paper

Aluminium cans

and metal tins

• We buy As Is Where Is

• No AgeNt fees

• settlemeNt to suIt you

03 365 9131 • resolvemyhome.co.nz

resolvemyhome

$1000 prEzzY cArD fOr EVErY sUccEssfUl sAlE. t & c's ApplY.
---
Thursday September 23 2021 The Star 11

Village Centre

Now Open!

OPEN WEEKEND, 25 & 26 SEPTEMBER

BETWEEN 10AM AND 3PM

Summerset Avonheads' brand-new village centre is open!

The village centre is the heart of our village and offers a wonderful range of

resort-style facilities, like the pool, spa, bowling green, library, bar, exercise

room, and the café.

It also means our full range of living options are now available too. From

serviced apartments, offering independent living with support on hand.

Care in our brand-new care centre and dementia care in our industry-leading

memory care centre.*

We'd love to show you around. Come along to our Open Weekend,

Saturday 25 and Sunday 26 September, between 10am and 3pm,

and see for yourself why our residents love the Summerset life.

Summerset at Avonhead

120 Hawthornden Road, Avonhead | 03 357 3202

*Licence to occupy.

Please note that the format of this event may change if we are not in COVID-19 Level One. For the latest criteria

and information on visiting our villages, please call the sales manager or visit www.summerset.co.nz

SUM3330_FP
---
12 The Star Thursday September 23 2021

WITH MARY IN FAITH

TĀTOU KO MERE E WHAKAPONO ANA

A Message from the Board

The announcement of a Level 4 lockdown on the 17th of August, was déjà vu

for us all, and saw the Marian College staff and students transitioning back into

home learning.

As a Board it was great to see the level of resilience and support the students

continued to demonstrate even when they were not in the same space as each

other. We are very fortunate to have staff who were committed to ensuring that

all our students had access to the resources and support they needed to enable

them to continue their learning in these challenging times.

This latest lockdown has once again meant the cancellation or postponement

of scheduled events in the school calendar.

However, despite all this, we have so many reasons to celebrate as a school

community. Our Jazz Band 'MC Jammer' were recognised as Most Promising

Band at the Southern Jam Festival; our students were part of the wonderful

Jubilate Mass in the Town Hall and the Marian College Variety Concert was a

reminder of just how talented and passionate our students are.

Finally, we are excited to announce that Armitage Williams has been

appointed by the Diocese as the construction company for the new school

build. Although there will no doubt be some disruption due to the latest Covid

lockdown, to know that work on Marian College's new home will soon be

underway is cause for celebration. Our school motto is 'With Mary in Faith',

and we continue to move forward with faith in our future as we look towards

the opening in 2023.

Carmel Gregan-Ford

Chair, Marian College Board

Protecting the future of Ōtautahi

Jazz Band takes 'Most Promising' title

Marian College Jazz Band 'MC Jammer'

is revelling in recent successes

having received a Silver Award and

named Most Promising Band at the

Southern Jam Youth Jazz Festival in

Blenheim.

This was the first-time band members

Taylor Fasi-Fidow (drums), Niamh

Ryan (saxophone), Amy Kirk (vocals),

Lyka Narciso (guitar) and Lydia

Iosefo (bass) had competed together,

having just formed the band at the

start of the year.

The weeklong event involved jazz

bands from 16 high schools across

the South Island performing at locations

across Marlborough ending

with a gala night and awards ceremony.

Marian College Head of Music Miranda

Allison said it was the first time in

Marian College's history that the Jazz

Band had taken out a Silver Award

which meant a lot to the students

and their director – former student

Frankie Daly.

"It reflects the level of talent and the

work ethic of the students in the jazz

band this year. Most of the members

have never played jazz before 2021,

so they have done incredibly well to

climb the ranks so quickly.

In receiving the Most Promising Band

Award, judges Roger Fox and Dave

Wilson said the band 'warmed their

hearts' and 'we will never forget you'.

"It meant so much to us as a band, as

it meant the girl's enjoyment in their

craft and for playing music with each

other came across," Ms Allison said.

Amy said receiving the Most

Promising Band Award was totally

unexpected.

"It was a moment we'll never forget.

We were all close before, but this trip

made us closer and we were so glad

the judges could see that in our

performance," she said.

The recognition from the judges

reflected the hard work the girls had

put in, Taylor said.

"We're a small band from a small

school. It just showed that in such a

short amount of time we were able

to form a good connection and create

good music," she said.

For Niamh, who has performed in

Southern Jam twice previously with

other bands, receiving the Silver

Award was a significant achievement.

"We've never done that before. It was

a moment of pride which we were not

expecting and we're just really proud

of ourselves."

Combating climate change locally

was at the forefront of Marian College

Year 10 students minds recently

as they set out to put the Catholic

Social Justice teachings of 'participation,

common good, and stewardship'

into practice.

As part of their Social Studies

course, the students participated

in the Christchurch City Council

programme 'Future Proof: Climate

Change – Kaitiakitanga' which aims

to help students learn about how

climate change will directly impact

the city and how we can all make a

difference.

The students then spent the afternoon

planting more than 1000 native

plants in the Cranford Basin.

"It was reassuring to know how important

what we were doing was and

how much it will help future generations,"

Lise Kirwan said.

Congratulations to our Year 12 and 13 Pasifika leaders Beautienna Gamble, Taylor

Fasi-Fidow, Shemaiah Iosefo, Valelia Taaso, and Grace Petelo who were recognised at

the SPACPAC Leadership and Academic Awards recently.

Attention past students and staff

of St Mary's, McKillop or Marian

Colleges

We are currently developing our Past

Pupils and Staff Network, Rauru and

would love for you to join.

Head to www.mariancollege.school.

nz/rauru to register.

www.mariancollege.school.nz | 03 385 8449 | exec@mariancollege.school.nz
---
THE DEATH of her friend from

incurable breast cancer has

inspired Christchurch woman

Jan Forsyth to organise a secondhand

clothing sale tomorrow

and Saturday to raise funds for a

support group.

Forsyth said she was following

the lead of Caroline Horton, who

had planned to raise money to

boost assistance for stage four

breast cancer sufferers in the

South Island, before she died in

2019, aged 50.

"Caroline was a real people

gatherer. She was so warm and

outgoing and she always thought

of others," Forsyth said.

"Caroline was doing her best

to manage her own stage four,

incurable breast cancer, but she

also wanted to do whatever she

could to help other women facing

the same challenge."

Forsyth said Horton was planning

to raise funds to increase

services for women with incurable

breast cancer in the South

Island. But sadly, she passed

away before she had a chance to

make this happen. Her friends

wanted to do this fundraiser in

her memory.

"Caroline didn't want to be

forgotten, we are making sure

her memory lives on and helps

others in her community," Forsyth

said.

Funds raised by the clothing

and accessories sale will be

donated to Sweet Louise, an

organisation which focuses on

New Zealanders with incurable,

stage four breast cancer – also

known as advanced, secondary

or metastatic breast cancer.

Sweet Louise, which relies

Latest Canterbury news at starnews.co.nz

on public generosity, currently

supports 760 women and their

families nationwide through the

provision of one-to-one emotional

and practical support.

"Financial insecurity can increase

anxiety in what is already

an incredibly difficult and stressful

time for families," said Sweet

Louise fundraising manager

Kathy McKay.

"We want them

to know they

aren't alone. We

want to help them

find the strength

to be there for

their children and

families, and to

help them live as

well as possible

for as long as possible.

"Sweet Louise helps by providing

women with financial

assistance each year to spend

on practical support, including

ready-made meals, transport

costs for hospital visits, garden

NEWS 13

Caroline's memory lives on in cancer fundraiser

Kathy

McKay

Thursday September 23 2021 The Star

HELPING OUT: Caroline Horton (left) planned to fundraise

for breast cancer before the disease took her life. Her friend

Jan Forsyth (above, far right) is picking up where she left off.

and home help, well-being therapies

and family outings."

The average life-expectancy

after a diagnosis of stage four

breast cancer is approximately

2½ years.

Breast cancer claims more

than 650 lives in New Zealand

annually. Approximately 3000

men and women are diagnosed

each year, with 20-30 per cent

likely to develop incurable stage

four breast cancer.

The fundraiser, which includes

a raffle and spot prizes, will be

held at the Bush Inn Centre in

Riccarton tomorrow between

10am and 4pm, and on Saturday

(9.30am-4pm).

For more information on

Sweet Louise visit www.sweetlouise.co.nz

Ryan

Ara graduate

People and Place

– our stories revealed

Saturday 9 October – Monday 25 October 2021

Celebrate and explore our rich and diverse heritage,

with over two weeks of walks, open days,

exhibitions, performances and more!

ccc.govt.nz/heritagefestival

Like the idea of changing and improving how

the world works? Then check out our study

options in civil, mechanical, electrical and

electronics engineering. You'll discover a

range of qualifications that can equip you

with the skills and knowledge you need for

a career you'll love.

Explore the options at

ara.ac.nz | 0800 24 24 76
---
The Star Thursday September 23 2021

14

NEWS

• By Chris Barclay

AS A career-orientated mezzosoprano,

Elisabeth Harris took

aspiring opera singers under

her wing in New York, to add a

necessary financial string to her

artistic bow.

Then, as Covid-19 spread, her

teaching deviated in a direction

she could have never anticipated

when she arrived in the United

States to study a Masters of

Music at the Manhattan School

of Music in 2017.

With performing arts off

Broadway and one-on-one

tutelage off limits, Harris joined

fellow artists in a Bronx Opera

Company initiative to teach

recovering Covid survivors how

to breathe easier by using the

techniques used by professional

singers.

BxO Breathes was a welcome

assignment for the 30-something

from Opawa as opera's return

gathered momentum in the Big

Apple.

"It was such a rewarding

thing to be part of," Harris told

The Star from the Washington

Heights apartment she shares

with husband Giles.

"A lot of the participants I

worked with weren't able to take

a very deep breath, or hold it for

very long but I was thrilled with

what they were able to manage."

Harris based her class on

the four principles she learnt

growing up in Christchurch:

the inhalation (in-breath), the

suspension (muscle engagement

and contraction before singing),

phonation (sounds, singing) and

then the release or recovery.

"I had a wonderful moment

where I was able to help an

older lady expand her rib-cage

properly. There was another lady

who discovered she could sing so

much higher than she ever had

before because I had shed some

Latest Canterbury news at starnews.co.nz

The Big Apple, Broadway, and teaching

light on support muscles and

breathing low, deep and wide,"

she said.

In a performing sense,

Harris is biding her time before

returning to centre stage.

"It's still so touch-and-go here.

We are in our fourth wave of

Covid at the moment and back

up to a crazy amount of cases

every day and a huge number of

deaths.

"Companies appear to be

holding off on having audition

EVIL STEPSISTER: Elisabeth Harris as Tisbe

in Cenerentola (left) and as Aunt Hannah

in Emmeline, a role Harris considers

the highlight of her career. PHOTOS:

Manhattan School of Music/Carol Rosseg.

seasons, or audition seasons are

severely reduced as companies

honour contracts to singers

from the 2020 season that never

happened," she said.

"I think it's going to be another

year or two to be honest, until

things really settle down.

"People are more comfortable

eating out in restaurants,

but there is still wariness

surrounding live performances

. . . sitting closely beside a bunch

of random people in a tightlypacked

theatre."

Harris arrived in a very

different New York, the

quintessential 'city that

never sleeps' four years after

graduating from the New

Zealand School of Music

in 2013.

She had impressed the MSM

in February 2015 during a twoweek

trip and although offered a

placement, Harris had to prove

she had the $100,000 required to

cover two years of tuition.

SAME DAY

RELINES

At Better Denture

we have a range

of services and

options available. New Dentures > Relines > Repairs >

6 Brynley St, Hornby, Christchurch

Phone: 03 349 5050

www.betterdenture.co.nz

End of lease

Massive

stock

clearance

20% oFF

• Statues • Outdoor & Indoor Furniture

• Water Fountains • Handy Crafts

• Giftware • Pottery and more

395 Brougham St. Ph 365 3411. Open 7 days: 10.30am-4.30pm

"Is there

a test for

emissions?"

"How can I

reduce my

emissions

right now?"

"Who can help

me lower my

emissions?"

Got questions about lower emissions? We can help.

mta.org.nz/tackling-emissions
---
Sa

Wedn

Th

Sa

Latest Canterbury news at starnews.co.nz

NEWS 15

Covid survivors how to breathe again

Thankfully the Dame Malvina

Foundation, the Hunn Family

Trust, New Zealand Opera Foundation,

an anonymous donor and

a givealittle appeal enabled her to

join the MSM in August, 2017 –

with a sense of trepidation.

"The slightly scary thing was I

was never guaranteed to receive

a role in any of the operas. Auditioning

for opera studies and the

scenes program was an entirely

separate deal, and something we

had to do every semester," she

said.

"I was so fortunate to receive

a role in the scenes program to

begin with – Meg Page in Verdi's

Falstaff. From there I was Tisbe

in Rossini's Cenerentola, Aunt

Zita (Puccini's Gianni Schicchi)

and Aunt Hannah in Tobias

Picker's Emmeline."

Harris was also grateful to

portray Orlofsky (in Die Fledermaus)

with Ohio's Opera Project

Columbus in January last year,

before Covid-19 intensified.

"It's so strange thinking back

to that time and being aware

there was this disease out there,

but having zero idea that it would

be about to change everything,"

she said.

"I came back to NYC and had

two rehearsals for the Bartered

Bride with the Bronx Opera

Company when the city shut

down and everything had to be

put on hold."

CURTAIN DOWN: The show must not go on – Broadway during the

Covid-19 lockdown in New York City, and Harris on stage prior, as Prince

Orlosky in Die Fledermaus (top right) and as Aunt Zita in Gianni Schicchi.

PHOTOS: GETTY, MANHATTAN SCHOOL OF MUSIC/CAROL ROSSEG,

OPERA PROJECT COLUMBUS

When New York was locked

down, Harris and Giles still

enjoyed an element of freedom by

picnicking down by the Hudson

River, overlooking the George

Washington Bridge.

And in a working sense Harris

joined the Pathways organisation

in her neighbourhood, an initiative

that focuses on underprivileged

Hispanic youth.

She also started teaching piano

– and singing – via Zoom then

later in person and also took part

in some virtual signing performances,

including a Black Lives

Matter fundraiser for the MSM.

If and when life during Covid-19

returns to normality Harris

– who was granted a green card

last year – aims to develop her

career with teacher, Dr Shirley

Close.

"I want to audition for various

opera houses throughout the

States, marketing myself as a

trouser role performing mezzosoprano.

Then I can move into

the more womanly roles like Carmen,"

she said.

Harris made her most recent

trip home in late 2019, where she

performed in the Christchurch

City Choir's Messiah and also

a Dame Malvina Major Gala

concert with the Christchurch

Thursday September 23 2021 The Star

Symphony Orchestra.

Appropriately, both productions

were at the Christchurch

Town Hall, the setting where

Harris became enchanted by

singing as an eight-year-old.

"I remember going to a

performance of The King and

I at the old James Hay Theatre,

turning to my mother (Margaret)

mid-performance and saying:

"This is what I have to do."

CAS'n'OVA PRODUCTIONS BY ARRANGEMENT WITH PLAYMARKET PRESENT

Th

By Joseph Musaphia

Directed by Ray Williamson & Pene Maddock

The Performing

Arts Centre

Heaton Normal

Intermediate School

Thursday 7th, Friday 8th,

Saturday 9th, Wednesday 13th,

Thursday 14th, Friday 15th,

& Saturday 16th October

$25

BOOK ONLINE NOW www.casnova.co.nz
---
16 The Star Thursday September 23 2021

Can my

grandkids

visit when

they like?

Find your perfect Arvida community for you and

your loved ones with our new Community Finder.

Simply scan the QR code with your phone's

camera or visit arvidafinder.co.nz

If it matters to you, it matters to us.
---
Latest Canterbury news at starnews.co.nz

NEWS

17

Buying a packet of Coupland's

cookies was a winning choice

BARRY TOOMEY'S sweet

tooth for oat and raisin biscuits

turned out to be the icing on

the cake as a family visit to

Christchurch wound down.

Toomey's wife Ann bought

a family bag of the crunchy

treat from the Shirley branch

of Coupland's during July and

recently discovered the purchase

– and associated entry

into a lucky draw – culminated

in the couple winning a

new Mazda2.

Once Covid-19 lockdown

restrictions eased, the Hanmer

Springs-based pair headed to

to the city to pick up the vehicle,

a focal point of Coupland's

50th anniversary celebrations.

"I filled out the back of the

entry, out it in the box and

didn't think any more about

it," said Ann Toomey, before

she headed north.

Coupland's actually originated

to the south, in Timaru,

where Ray Coupland started

baking pies in his dairy in

1971 before he expanded the

business to Christchurch and

other South Island locations.

Outlets in Hamilton, Rotorua

and Tauranga make up a

stable of 25 branches nationwide,

which employ 450 staff.

Oats and raisins are two staple

ingredients for the bakery

over the years, while shortbread

the way Ray Coupland's

mum used to make it has also

stood the test of time.

"It's an old favourite that's

been in the business for years.

What makes that special is it

actually has icing sugar in it

instead of standard sugar, so it

makes it a lot smoother to eat,"

said Ray's son Lance Coupland,

the managing director.

Other relatives continued

the family connection with

their take on that favourite

Kiwi biscuit, the gingernut.

"I was there duck shooting,

they had these gingernuts, and

I thought: 'These gingernuts

are exceptional – I need the

recipe,'" Coupland said.

"I extracted the recipe from

my cousin and it's been very

successful for us.

"Our gingernuts are a different

take on the standard

gingernut. These ones are a lot

richer and a lot tastier."

While shortbread and

gingernuts are staples of the

company diet, Coupland said

EASY AS

PIE: Ann

Toomey with

the keys for

the Mazda2

she won in a

competition

marking

Coupland's

50th year

in business.

Coupland's

general

manager

retail, Steve

Erbacher

made the

presentation.

PHOTO:

GEOFF SLOAN

adapting to changing tastes

maintained their place at the

top table.

"You've got to keep moving

because it never stops. The

world is shifting, and you've

got to shift with it."

So plant-based products

have grown on Coupland's,

with a vegan pie garnering a

following.

There's also chicken thai

green curry, peppered steak

and jalapeno cheese – exotic

combinations unimaginable in

dad's first pie warmer.

Thursday September 23 2021 The Star

Cushla's

Pop Up Shop

Patchwork &

Quilting

Christchurch

September 2021

St James Church Hall

750 Harewood Road

Tuesday 28th 10.00 – 4.30

Wednesday 29th 9.00 – 1.00

Eftpos Available
---
The

2Star Thursday [Edition September datE] 23 2021

18

NEWS

Airport joins objectors

• By Susan Sandys

CHRISTCHURCH Airport has joined the

throng of objectors to the Selwyn district's

huge residential growth.

The airport has joined the city council

and Environment Canterbury in objecting

to a proposed 660-home 53ha subdivision

in east Rolleston.

People who end up living in the subdivision

may be affected by aircraft noise, it

says.

The airport's opposition adds to

growing concern about the huge

residential expansion of Selwyn and the

impact it will have on infrastructure like

schools and roads.

For the east Rolleston subdivision opposed

by the airport, the developers have

applied to the district council to rezone

the rural land, bounded by Levi, Lincoln

Rolleston Rds and Nobeline Drive.

The airport put in a further submission

to the Selwyn District Council by its deadline

this month, supporting submissions

from Environment Canterbury and the

city council. All three entities of ECan,

the city council and the airport had earlier

opposed the plan change in the submission

process.

The airport said it did not want any further

residential density increase under the

50dB Ldn Air Noise Contour, as mapped

in the Canterbury Regional Policy Statement.

It is calling for the Selwyn District

Council to reject the plan change, as it was

inconsistent with the policy statement, as

well as the Greater Christchurch planning

framework.

"It would result in reverse sensitivity effects

on the operations of the airport."

An airport spokeswoman explained that

the airport did not want people building

within the noise contours "because the

possibility of noise exposure might impact

their well-being."

The phrase "reverse sensitivity" related

to the possibility of people moving to an

area which was exposed to airport noise,

and then complaining, which could

impact the airport's operations, she said.

"The noise contours are not set by us,

but through planning processes," she

added.

The plan change application is Plan

Change 71, one of seven residential

rezoning applications for the Rolleston

area currently before the district council.

They altogether encompass 5709 potential

new residential lots.

Christchurch airport noise contours

have proved controversial in the past.

In 2011, Earthquake Recovery Minister

Gerry Brownlee used the Government's

extra powers to allow home builders an

exemption to the noise contour limits

in Kaiapoi.

ARA INSTITUTE OF CANTERBURY

Family-focused diploma

available online

Pregnancy, childbirth and

raising young children. They're

not exactly the simplest of life

events so it's reassuring to know

there are professionals out there

who can guide new parents

through it all.

Many of those professionals

have acquired their expertise by

gaining a New Zealand Diploma

in Pregnancy, Childbirth and

Early Parenting Education from

Ara Institute of Canterbury.

Cara Smart, Ara midwifery

tutor and programme leader for

the diploma, says a career in this field can be

immensely rewarding.

"It's an opportunity to support new and

expectant whānau at what is a transformative

stage in their lives. You assist in creating

more connected communities, better

informed and empowered parents and you

provide important information and support

that helps shape the next generation."

She says the diploma is a great choice for

anyone looking for a meaningful profession

with good employment prospects. "We

developed the programme in consultation

with a wide range of stakeholders and

professionals to ensure that it's up to date and

relevant for the needs of employers and users

of the service."

Cara adds that the diploma is also an

attractive study option for anyone who needs

flexibility around when, where and how they

study. Anyone anywhere in New Zealand

can study it through Ara and the study

commitment is just 20 hours per week over

two years.

"The programme is delivered largely

online, with flexible online modules, regular

face-to-face zoom tutorials and workintegrated

learning opportunities in your

own area. There are also three weekend

wānanga in Christchurch where all students

come together to learn as a group on

campus."

During those wananga, students get to

experience simulated environments and even

a virtual reality birth.

"Upon completion of the programme,

you'll be a knowledgeable facilitator of adult

learning," Cara says. "You'll be able to plan,

implement and evaluate effective pregnancy,

childbirth and early parenting programmes

that are aligned with community needs."

The next intake for the Diploma in

Pregnancy, Childbirth and Early Parenting at

Ara begins in February. Applications close on

30 September.

To find out more, visit ara.ac.nz or call

0800 24 24 76.

Sharon

Ara graduate

to support and educate

Gain the skills to help new parents at a

transformative time – with the New Zealand

Diploma in Pregnancy, Childbirth and Early

Parenting Education, starting in February.

You can study this part–time, two–year

programme anywhere in New Zealand.

Applications close on

30 November.

For details and to apply

visit ara.ac.nz
---
Thursday September 23 2021 The Star 19

Get ready

for outdoor

entertaining

Nouveau

Tokyo 3 Piece Bench Setting

Rust resistant power coated aluminium

frame. 2 - year warranty.

378947

Was $1999

now

$ 999

Big Range, Low Price, Local Advice

Nouveau

Outdoor Cafe Setting 3 Piece Dark Blue

Durable E-coating steel Bistro setting in dark blue. Fully

foldable design for easy storage and portability. 100kg

weight rating per seat.

353998

Nouveau

Montego 5 Piece Bar Setting

3 year warranty. Rust-resistant powder

coated aluminium frame.

!89969

Nouveau

Roma Lounge Setting

Powder-coated aluminium frame.

Versatile 5-in-1 lounge setting.

378946

Nouveau

Siena Outdoor Café Setting 3 Piece

Rust-resistant powder coated aluminium.

353997

$149 $1599

$1499

$599

Nouveau

Montego 3 Piece Bench Setting

Rust-resistant aluminium frame. 3-year warranty.

!89943

Weber

Q2000

Titanium

BBQ

H: 370mm,

W: 1310mm,

D: 620mm.

318399

239465

Nouveau

Montego Outdoor Lounge Setting 3 Piece

Rust-resistant powder coated aluminium frame.

354037

$2149

$569 Cart sold separately

$2699

Nouveau

Lorca Outdoor Lounge & Dining Setting

5 Piece

Rust-resistant powder coated aluminium frame.

319516

Luna

Luna Outdoor Lounge Setting 3 Piece

Rust resistant powder-coated aluminium frame. All-weather

wicker. Durable olefin cushions.

335978

Nouveau

Luna Corner Lounge Setting 3 Piece

Rust-resistant powder coated aluminium frame.

!78084

Nouveau

Sirocco Outdoor Dining Setting 7 Piece

Rust-resistant powder coated aluminium frame.

!88164

$1099

$1399 $1299

$999

Gasmate

Hydra Gas

& Charcoal

Combo BBQ

3 Burner

LPG and

charcoal.

Charcoal tray

lifting system.

H: 1155mm,

W 1650mm,

D: 590mm.

343570

Traeger

Pro 780 Wood

Pellet Smoker

Steel construction with

powder-coated finish.

5032cm2 cooking space.

Arc D2 Controller with

WiFi. 8 kg hopper

capacity. Built-in meat

probe.

353682

$999 $1999

Masport

Maestro

Gas BBQ

4 Burner

Blue

A compact,

modern

BBQ.

379266

Weber

Spirit 2 E310

Gas BBQ 3

Burner

LPG. 3 GS4

stainless

steel burners.

Temperature

gauge. Porcelain

enameled hood.

327501

$899

$1149

Exclusive

to Mitre10

Mitre 10 MEGA

Hornby

☎ 03 349 8497

Mitre 10 MEGA

Papanui

☎ 03 359 5443

Mitre 10

Beckenham

☎ 03 322 7557

Mitre 10 MEGA

Ferrymead

☎ 03 366 6306

Prices valid until the 26th of

September only while stocks last.

If you find a lower price on an identical stocked product locally we will beat it by 15%

*if you find the same product cheaper from another Mitre 10 store or Mitre 10 website we'll match that price.

Excludes trade and special quotes, stock liquidations and commercial quantities. The in-store price may be lower than advertised.

www.mitre10.co.nz
---
The Star Thursday September 23 2021

20

NEWS

Flying doctor service launches appeal to

September is the

inaugural annual

appeal month for the

New Zealand Flying

Doctor service. We

look at how vital it is to

Canterbury and the rest

of New Zealand

Latest Canterbury news at starnews.co.nz

EVERY FLIGHT is crucial and

every flight means another life

saved.

For the pilots and medical

staff operating the New Zealand

Flying Doctor Service's air ambulance

retrieval team it's a 24/7

operation.

But while their valuable lifesaving

flights are dedicated to

providing emergency care for

their patients it's is not all about

doom and gloom.

NZFDS Trust chairman and

one of the team of intensive care

specialists assigned to the flights,

Dr David Bowie, once had the

opportunity to provide care for a

childhood hero – astronaut Buzz

Aldrin

Aldrin, the second man

to walk on the surface of the

moon, had been evacuated from

Antarctica after becoming the

oldest person to reach the southernmost

point on Earth in 2016,

because of a lung condition.

"He has always been a great

hero of mine. As a boy in 1969 I

made a scrapbook of the moon

landing, which I still have to this

day.

Bowie's role with the service

began when he moved to

Christchurch 22 years ago, to

be part of the cardiac surgery

intensive care unit at Christchurch

Hospital,

63 x

shortly

180

after the

NZFDS began in 1995.

He said the service has come

a long way since first taking to us," he said.

the skies as it now it operates day

and night transferring critical

care patients which include burn

victims, spinal injury patients,

neonatal transfers, stroke and

cardiac patients, trauma victims,

surgery patients and delivery of

blood or equipment supplies.

"It's hard to get a high profile

for the service. Because we fly

high in the sky, out of view, and

land at the airport, no-one sees

HERO: New Zealand Flying Doctor Service Trust

chairman David Bowie with newspaper clippings

of Buzz Aldrin's exploits in space. Right – Aldrin

hospitalised in Christchurch after being airlifted

from Antarctica talking with Bowie.

PHOTOS: GEOFF SLOAN & CHRISTINA KORP

"We need more help, so this

month we have initiated the first

New Zealand Flying Doctor Appeal

Month and are aiming for

$150,000 to support 60 flights at

$2500 each.

"The NZFDS crews are special

people who deliver healthcare

in an unfamiliar environment.

They need specific thinking and

skill sets to do this in the back of

a small plane.''

He said intensive care

specialists like him have a

combination of skills and are

assisted by intensive care trained

flight nurses.

"They have been pivotal in

setting up and running this

service.

"The first year we started with

200 missions, moving to 350

in 2002, and now to over 2000

every year from the Garden City

Helicopter aviation facility at

Christchurch Airport.

Up to

50 % Off

*Call for Terms

& Conditions

Off

*
---
Latest Canterbury news at starnews.co.nz

Thursday September 23 2021 The Star

NEWS 21

support increasing number of missions

"Inter-hospital transfer work

has increased, with centralisation

meaning major surgery is not

done in small hospitals. Our job

is to make the transfer process as

slick as possible.

"With transplant operations,

if someone needs a liver or heart

transplant and a donor comes

up, they need to get to Auckland

quickly. After 9pm there are no

commercial flights, so we can

pick them up and safely take

them to Auckland, looking after

their care on the way.''

Donate to NZFD online at

www.nzflyingdoctors.co.nz

or phone 03 662 9698.

The NZFDS fly far and wide on

their mission of care. For example

spinal cases have been transferred

from New Plymouth to

Christchurch, and onto Burwood

Hospital, and there are frequent

flights to the West Coast and the

Chatham Islands.

"Sometimes it's the humble

jobs you remember most. We

once took an elderly Catholic

nun from a convent in Invercargill

to a specialist medical facility

in Nelson. She was very ill and

couldn't have been driven there.

We looked after her on the plane

and gave her the care she needed

straight away.

"The vast majority of the

population wouldn't know we

are functioning. They also don't

know the service is not fully

funded by the government, or

that we need donations to make

up the difference," Bowie said.

SKILL SETS: Medical specialists with the flying doctor team about to transfer a patient to

a healthcare facility.

Whitelock an ambassador

The New Zealand Flying

Doctor service flew 1207

missions logging over 2000

flight hours in 2020, up 17

per cent on the previous

year.

Chief executive Christine

Prince says this number is

on the rise again in 2021,

with 625 patients needing

the service and crew flying

1105 hours in the first half

of this year, a significant

increase on 2020.

"Numbers have continued

to increase over winter, with

more vulnerable patients

across New Zealand in

need," she said.

Rugby great Sam

Whitelock put his hand

up to support the New

Zealand Flying Doctor

service as an ambassador

in 2020.

"The service needs

our support as mission

numbers increase, we

want to be able to give

our communities the

best possible service and

chance, our health is so

important."

Sam witnessed the New

Zealand Flying Doctor

service first hand with a

friend whose premature

baby was born 10 weeks

early.

Sam Whitelock

"They were on holiday

in a rural town so were

flown from Nelson to

Christchurch with the New

Zealand Flying Doctor crew,

only a one-hour flight rather

than five or six hours by

road.

"Another friend had a

baby son who needed

urgent specialist care and

was flown from Palmerston

North to Auckland. He is

doing really well because

he got there quickly,

instead of a six-hour road

journey. Without the service

there could have been

major complications,"

Whitelock said.

"People don't realise how

many patients are being

moved around the country

in the skies, it really is

incredible."

Claim Southern Response

compensation now

Deadline to opt out of the Ross Class Action: 20 December 2021

If you are one of 3,000 Southern Response earthquake claimants who settled

before 1 October 2014, you are likely to be entitled to compensation.

The average compensation is approximately $100,000.

Anthony Harper has set up a dedicated website to provide access to independent legal advice on your compensation,

and importantly, how to opt out of the Ross Class Action before the court-appointed deadline of 20 December 2021.

Fixed fee of $2500 + GST for legal advice, of which Southern Response reimburses $2000.

Apply online at www.SouthernResponsePayment.co.nz

The website is provided by Anthony Harper. Anthony Harper is not part of the Ross Class Action. Further information about Anthony Harper can be found at www.anthonyharper.co.nz
---
The Star Thursday September 23 2021

22

OUR PEOPLE – DAVID HAVILI

Overcoming a health battle to be

Crusaders midfielder

David Havili speaks to

Patrick McKendry on

overcoming the odds,

changing positions

and returning the

international fold

You returned to the All

Blacks this year after playing

three tests in 2017 and then

spending three years out of the

environment. Was the key to

your consistency for Tasman

and the Crusaders a burning

desire to return to the black

jersey or simply focusing on the

NPC and Super Rugby?

In the back of my mind was

definitely a desire to get back

in that All Blacks set-up. For

me it wasn't about thinking too

far ahead. I had strong focuses

on what I wanted to get out of

the competitions, especially at

the Crusaders, so I could keep

pushing my case.

The illness didn't help, but it

just grew my hunger even more.

Then came a few offers to go

overseas.

I had good chats with friends

and family and Andrew

Goodman, the Tasman coach. At

the end of those conversations, I

felt I still had a lot more to offer. I

MR VERSATILE:

David Havili

returned to the

All Blacks in 2021

after making

an impressive

transition to

midfield for the

Super Rugby

Aotearoa titlewinning

Crusaders.

didn't want to leave New Zealand

rugby without giving it my best

shot and that probably helped me

set some higher goals this year in

Super Rugby to keep pushing my

case to get back in the black jersey.

You had emergency bowel

surgery last year – that must

have been a shock.

It all happened so fast –

probably within three days I

was under the knife for major

surgery not knowing whether

I was going to be able to play

rugby again.

I was happy to wake up

hearing the surgeon, who did a

great job, saying I'll make a full

recovery. A section of my bowel

was removed.

SUCCESS: Havili

savours the

moment with

partner Lucy

Sellwood after

the Crusaders

beat the Chiefs

in May.

PHOTOS: GETTY

If I'd left the infection another

12 or 24 hours it could have been

a lot worse – I could have lost my

whole bowel.

I'm thankful to the medical

team at the Crusaders for

checking me out so quickly. It's

maybe a lesson for others.

I was lucky to have experts

around me but men in general

can be staunch and try to brush

pain off.

When I started to feel sore I

went to the doc. It's being able

to put your ego on the hook and

listen to your mates around you

as well. I was in hospital for a

week.

I thought it was appendicitis

and I rang mum to say I was

going into hospital, but she was

at work and didn't get back

to me until three o'clock that

afternoon. She said "no you don't

have an appendix, it was taken

out in an operation when you

were six months old".

It was then that I knew it was

definitely something to do with

my bowel because I had a similar

surgery at the same time back

then. I lost a lot of condition.

Bobbi | Bowflex Max Trainer User

I lost 15kg in 10 weeks. That is ridiculous. The fat just

melts right off. I mean, it absolutely changed my life!

CALL NOW! 0800 665 665
---
Thursday September 23 2021 The Star

OUR PEOPLE 23

back playing for the All Blacks

I went from 95kg to 84kg. I

was skin and bone and didn't eat

much for six or seven days. When

I first ate anything substantial I

was very ill for a couple of days.

Every time I was sick the stitches

in my stomach tore, which put

me off eating even more. In my

case it was 'thank God for Covid'

because it gave me a chance to

get my body right and play Super

Rugby again.

Being seen as a utility can be

a hindrance but you've turned it

into a strength. Deep down did

you feel you could play secondfive

as equally well as fullback?

I didn't see myself playing in

the midfield. I hadn't played there

regularly since school. I didn't

think I could play to my potential

in the midfield and it wasn't until

this year when the Crusaders

coaches said I could be playing

there because we were quite

short there that I saw it as an

option. It took a couple of games

to adapt, particularly around

defence. Once I started stringing

performances together I started

to enjoy it and I'm grateful Razor

(Scott Robertson), Scott Hansen

and Goody (Goodman) made

that transition for me.

What's your favourite rugby

memory?

There are a few. Making my All

Blacks debut against Argentina in

Buenos Aires would be up there.

Probably the one that sticks out

for me is captaining the Tasman

Mako to our first premiership

in 2019. It's special because I'm a

home-grown local boy who loves

playing for Tasman.

Your father, Bill, was a wing

for Nelson Bays. How important

has he been in your career?

He paved the way for me and

my brother William. He came

over from Tonga in 1994 and

played rugby for Riwaka which

is a small club team out Motueka

way, then he moved across to

the Nelson club which is where

I played. Whenever Nelson

Bays was playing I was always at

Trafalgar Park watching or being

a ball boy. Rugby has been a

huge part of my family's life. My

uncles have all played rugby at

provincial level as well.

What other sports did you

play as a kid and when did

rugby take over?

I played touch rugby, cricket,

volleyball. In year 13 I went

from Motueka High School to

board at Nelson College after

I got a scholarship and that's

when I realised I had to put other

sports on the back-burner and

focus my energy on rugby.

That's when I got linked into

the Tasman academy and it

BACK IN

BLACK: Havili

played his

first test since

October 2017

in Brisbane

when he

played Fiji at

Dunedin in

July.

PHOTO: GETTY

carried on from there.

What you be if you weren't a

professional rugby player?

I am about two years into

a builder's apprenticeship.

Whenever I'm home I get around

my brother, who is a qualified

builder, and pick his brains,

because it's been a while since I've

been on the tools. When I was

younger and building I definitely

didn't want to do an inside job or

an office job. I wanted to be hands

on – so something in that space,

whether it's carpentry or so on.

That would be my first pick.

Whose idea was it to swap

jerseys with Wallabies loose

forward Pete Samu after the

Perth test and was it planned?

Yes it was planned, we've been

speaking about it for a while. We

both started playing for Tasman

in 2015 and we've known each

other for a long time. We flatted

together for six years. It was cool

to get his jersey – one for the pool

room, definitely. My other All

Blacks jerseys are hiding away in

mum's closet. When the family

comes around for Christmas,

they like to check them out.

Two tests against the Boks

are looming. What are your

memories of the only other time

you played them – the narrow

victory in Cape Town in 2017?

It was a close game – a 25-24

win for us. I was on the bench

and there had been a few injuries.

I think Beaudy had gone off

for a head knock and Nehe

Milner-Skudder had done his

shoulder so I was on there earlier

than I expected. We had quite

a young back three at the time

– me, Damian McKenzie and

Rieko Ioane. It was to and fro

throughout and the crowd was

very loud. I was happy to play a

part in Damian's late try. Being

able to secure it at the end with

a penalty from Lima Sopoaga

was pretty clutch from him. That

jersey is framed at home. It was

an epic experience.

– NZ Herald

CHRISTCHURCH

MANAPOURI-

CHATHAM ISLANDS

DIRECT

The Chatham Islands are the closest most New Zealanders

can

Local

get to international

Wild

travel

Food

without packing

Festival

their passport.

Due to ever increasing popularity and in conjunction with Air Chathams

and Experience Hotel Chathams, 8 days we in have one of again New chartered Zealand's an most ATR Aircraft remote for and another unique

two special flights from Manapouri Airport to the Chatham Islands.

places. The Chatham Islands are the closest most New Zealanders can

get to international travel without packing their passport.

Tour Due to #29 ever increasing popularity and in conjunction with Air Chathams and

Sun Hotel 27th Chathams, Dec 2020 depart we have Manapouri decided 1.00pm to run - arrive a tour 4.30pm out to (CI the time) Chatham Islands

Sun for 3rd Christchurch Jan, depart Chatham folk from Islands Christchurch 10.00am - during arrive Manapouri December 12.15pm 2021.

This We tour will would be using give a you 50 the passenger opportunity ATR of aircraft, being the where first in we the will world have to see up the to 8 sun fully for

2021 guided as well days as having to explore New Years our most Eve on eastern Chatham. island before returning home to

The Christchurch. other special attraction Pitt Island on is this an tour option is the as Chatham is fishing. Island Races. This is probably

Chatham Islanders biggest "Family Fun Day" of the year. The Jockey Club was first formed

in 1874 and reputed to be the oldest Jockey Club in NZ

Tour #36 is for 8 days & 7 nights on Chatham X Christchurch.

Tour #33

Tues 7th Dec 2021, Depart Ch-Ch 2:00pm - Arrive Chatham at 4:45pm (CI)

Sun Tues 3rd Jan 14th 2021 Dec depart 2021, Manapouri Depart Chatham 2.00pm – arrive 10:00am 5.30pm - Arrive (CI time) Ch-Ch 11:45am

Sun 10th Jan 2021 depart Chatham Islands 8.45am - arrive Manapouri 11.15am

Per person X Christchurch

Per Single, person shared X Manapouri facilities …………………………………. STANDARD TWIN/DOUBLE $4,373 ............. $4,470

SINGLE Standard / Shared twin facilities / double ................ ensuite $4,370 …………………….. SUPERIOR DOUBLE $4,473 ............................. $4,570

I can Make also offer up your discounted party Air Travel now only, and ONE take WAY--- advantage EITHER WAY of at your $600 per person

Make preferred up your accommodation party now and take while advantage availability of your lasts. preferred tour

and www.chathamislandtours.nz/contact/booking_enquiry

preferred accommodation. While availability lasts!

https://chathamislandtours.nz/

after Lockdown.

contact/booking_enquiry

2293459

CHATHAM ISLANDS -

Including -

All Inclusive Costing

All inclusive Costing

Be among the first to "TRAVEL OVERSEAS"

MERV'S CHATHAM

ISLAND TOURS

Phone 03 249 8294

chathamislandtours@gmail.com
---
The Star Thursday September 23 2021

24

LETTERS

Covid passport

I have no doubt Jacinda will

bring in freedom passports, it

has already been mentioned to

be here before Christmas.

The vaccinated have nothing

to fear from the unvaccinated

as they will be protected from

serious illness. Both can catch

and transmit the virus, and

time will tell which was the

better choice. Maybe some of the

unvaccinated will change their

mind.

Covid, in one form or another,

will always be with us.

We can't keep our boarders

closed forever. We need to be

free to live our lives as a life of

lockdowns and mask wearing

is not worth living as our high

suicide and attempted suicide

rates show, killing far more than

the virus.

Freedom passports are

another way to divide families,

communities and our beloved

nation. So no to passports

and lockdowns, yes to a free

and prosperous society. – D

Downward

It is common sense to have a

passport. It will show that I care

about others some of who cannot

get vaccine due to health reasons.

Jacinda seems to hate making

a hard decision that may prove

unpopular with some woke

lefties.

At some stage the call will

need to be made. – Trevor

Sennitt, Avonhead

Waste and energy

plant

Wonderful news, a proposal to

build a waste to energy plant in

Waimate.

About time New Zealand

caught up with Europe and

the United States where over

500 of these plants are in

operation.

Sweden alone has at least 34

WtE plants, even China is on to

it with over 300 WtE plants.

Most readers will recall all

the problems in the South

Island with rivers being

contaminated with rubbish

from old landfills, plus the

Christchurch City Council has

started remediation of a former

landfill site in Bexley with plans

to remediate another four at

Le Bons Bay, Onuku, Barrys

Bay and the Burwood Resource

Recovery Park.

Landfills are not good for the

Environment or the ratepayers

that's for sure.

The only problem I see is

the rail link to Waimate was

closed in 1966, I hope this

could be reopened as it would

make transporting the waste

much more environmentally

friendly.

Kate Valley Landfill (one of

the best landfill sites in New

Zealand) is consented to operate

until 2040 so there some time

to get this up and running but

the sooner the better for the rest

of the South Island. – Brian

Sowman, Belfast.

Latest Canterbury news at starnews.co.nz

Three Waters

A big no to the Governments

push for the Three Waters

scheme.

Generations of ratepayers have

paid for this very important asset

and so it should stay in their

hands.

Government see it as a cash

cow and we all know what will

happen under their care.

Keep it safe with our local

council. – Aileen Trist,

Parklands.

We want to hear your views

on the issues affecting life

in Canterbury

Send emails to:

barry@starmedia.kiwi

Letters may be edited or rejected at Star Media's

discretion. Letters should be about 200 words.

A name, postal address and phone number should be

provided.

Please use your real name, not a nickname, alias, pen

name or abbreviation.

03 214 0300

@DELTAMIKENZ

WWW.DELTAMIKE.CO.NZ

OLIGHT ODIN

2000 LUMENS

RECHARGEABLE

300M BEAM

PICATINNY

MOUNT

DILLON XL750

RELOADING PRESS

A HIGH-SPEED

PROGRESSIVE RELOADING

MACHINE

PARD NV008 PLUS NIGHT

VISION SCOPE

OLIGHT WARRIOR X TURBO

HUNTING KIT

$284.95

OLIGHT ODIN MINI

1250 LUMENS

RECHARGEABLE

240M BEAM

MLOK MOUNT

$249.95

OLIGHT PL-PRO

1500 LUMENS

RECHARGEABLE

$234.95

HOLOSUN 403R

RED DOT SIGHT

OLIGHT BALDR

PRO

LIGHT LASER COMBO

$269.95

HOLOSUN 407C

RED DOT SIGHT

OLIGHT PL-2

1200 LUMENS

2X CR123A

$179.95

HOLOSUN 510C

RED DOT SIGHT

LOADS CARTRIDGES,

FROM 17 HORNET THOUGH

TO 338 LAPUA IN RIFLE,

AND 32 ACP THROUGH 500

S&W IN HANDGUN.

XL750 INCLUDES

1 POWDER MEASURE WITH

STANDARD LARGE AND

SMALL POWDER BARS

1 PRIMER SYSTEM WITH

LARGE AND SMALL

PRIMING PARTS

1 LARGE AND ONE SMALL

PRIMER PICK-UP TUBE.

LOW PRIMER ALARM

1 LOADED CARTRIDGE BIN

1 TOOLHEAD

1 POWDER DIE

1 SET OF STANDARD ALLEN

WRENCHES

$1399

SHOWN WITH

ADDITIONAL

ACCESSORIES

BERETTA 92FS INOX

GLOCK 17 GEN5 FS

1080P FULL COLOUR DAYTIME

1100 LUMENS

1080P NIGHT VISION

1000 METRE BEAM DISTANCE

6.5 OPTICAL MAGNIFICATION

UP TO 12.5 HOURS RUNTIME

MICRO SD RECORDING

INCLUDED PRESSURE SWITCH

450 GRAMS $1399.95 AND MAGNETIC MOUNT $349.95

KERSHAW

SHUFFLE 2

TANTO

BOTTLE

OPENER

KERSHAW

BARE-

KNUCKLE

$49.95 $174.95

KERSHAW

LINK

KVT BALL

BEARINGS

KERSHAW

SWERVE

KERSHAW

NATRIX

COPPER

KVT BALL

BEARINGS

$179.95

KERSHAW

CQC-11K

RUGER 10/22 TAKEDOWN BACKPACKER

HUGLU VEYRON SPORT

22LR

4X MAGAZINES INCLUDED

$1149.95

HOWA M1100 SCOPED & SUPPRESSED

22LR OR 22 MAGNUM

2X MAGAZINES INCLUDED

$899.95

$349.95 $419.95 $549.95

HOLOSUN 509T

RED DOT SIGHT

HOLOSUN 407K

RED DOT SIGHT

$799.95 $419.95

HOLOSUN 508T

RED DOT SIGHT

$699.95

5+1 CAPACITY WITH 3" SHELLS

FIBRE OPTIC FRONT SIGHT

9MM

9MM

2X 15RD MAGS 2X 17RD MAGS

$999.95

ASSISTED

ASSISTED

MANUAL

OPENING

OPENING

WASHERS

RUGER RANCH RIFLE

$1679.95

BERETTA 92X

9MM

2X 15RD MAGS

STEEL FRAME

$2899.95

$1399.95

BUL 1911 GOVT

45ACP

2X MAGAZINES

$1699.95

40S&W

3X18 RD MAGS

CHECK OUT THE FULL RANGE ONLINE

$94.95

KERSHAW

CRYO

ASSISTED

OPENING

$84.95

$64.95

KERSHAW

CRYO II

ASSISTED

OPENING

$94.95

$124.95

KERSHAW

PAYOUT

ASSISTED

OPENING

$149.95

WINCHESTER WILDCAT

223REM OR 300BLK

10 ROUND PMAG

$1149.95

TAKES 10/22 MAGS

TOOLLESS TEARDOWN

$649.95

WWW.DELTAMIKE.CO.NZ
---
2

[Edition datE]

WHEN I have spoken

about the Government's

Three Waters reforms,

I have been cautious in

my approach. We are not

opposed to every element

of the Three Waters

reforms. No one is.

For example, the introduction

of a regulator

for drinking water, that

will enforce standards to

ensure safe drinking water

for all has universal support.

Look what happened

in Havelock North when

everyone including the

Ministry of Health took

their eye off the ball. In our

recent community survey,

safe drinking water for all

came through loud and

clear as the top priority.

In addition, we signed

a Memorandum of Understanding

last year with

Government that gave us

access to stimulus funding

for Three Waters services

with a right to opt out once

the MOU expired, and in

return we agreed to work

constructively towards

progressing the reforms.

We have done so in good

faith, including working

Mayor

Lianne Dalziel

collaboratively with our

neighbouring councils and

with Te Rūnanga o Ngāi

Tahu.

We have not been asked

the 'opt in/opt out' question

yet, however, we will

be telling Government that

we do not agree with the

delivery model that has

been chosen and proposing

a better way forward.

We are absolutely committed

to consulting with

you before any such decision

is made.

It was made clear from

the outset of the review,

that "many councils are

delivering high quality

water services that comply

with requirements, are

OPINION 25

Let's not throw the baby

out with the bathwater

monitored and managed

by capable people, and

subject to effective governance

and decision-making

processes".

Christchurch is one of

those councils. We have

invested heavily in drinking

water, wastewater and

stormwater infrastructure.

In spite of this we are being

told we cannot require the

proposed entity to work

towards or maintain an

exemption from mandatory

residual disinfection

– chlorination. After everything

we have done, this

is completely unacceptable.

There is no question

change has to occur. We

all face new standards,

natural hazard risks and

climate change. But let's

not throw the baby out

with the bathwater.

We have acted in

good faith, and we are

asking the same from the

Government.

FOCUS ON HEALTH

- WE ARE ALWAYS HAPPY TO HELP! -

Thursday September 23 2021 The Star

Natural support for

healthy joints

Joint issues will affect most of us at some

time. They can show up in any joint such

as in your neck, back, shoulders, elbows,

wrists, hands, hips, knees, ankles and feet.

Cartilage is the protective surfaces

between moving bones that allows them

to move freely. It is constantly worn away

and needs to be rebuilt on a constant

basis. This repair process slows down for

most of us as we age. The result is not

enough cartilage in some joints causing

the joint function to be less smooth. This

is the most common form of arthritis,

called osteoarthritis, and it leads to

inflammation, pain, stiffness and reduced

mobility of the joint.

Joint pain can also be a factor in falls.

Generally joints with the most use or

stress show problems first.

Many people seek pain relief from their

doctor. The usual prescription is nonsteroidal

anti-inflammatory drugs, or

NSAIDs, which offer pain relief but do

nothing to stop the progression of the

arthritis.

According to the British Journal of

General Practice, NSAIDs are not

recommended for long term use and

are responsible for 30% of hospital

admissions, mainly due to internal

bleeding, heart attack, stroke and renal

damage. Research shows all NSAIDs

double the risk of hospitalization due to

heart failure.

Supporting the body with the right

ADVANCED NATURAL

NUTRITION

FOR HEALTHY

JOINTS

Are your joints painful, stiff, noisy, swollen or

inflamed? This is often caused by a lack of

cartilage, the soft spongy material in all joints

between the moving bones. Sufficient cartilage

allows the joints to move freely. KNH JOINT

CARE PLUS contains a comprehensive formula

of nutrients known to support the body maintain

& replace cartilage & connective tissue as well

as reduce inflammation & pain. The high potency

formula is in easy to swallow capsules with

advanced absorption technology for faster results.

KNH JOINT CARE PLUS SUPPORTS:

- Cartilage, ligaments &

connective tissue regeneration

- Inflammation & swelling relief

- Pain relief

- Joint flexibility

- Healthy joint function

MAIL ORDER

AVAILABLE

supplementary nutrients has been found

to be highly beneficial in supporting joint

health for many people.

A local Christchurch company, Kiwi

Natural Health or KNH, have produced

an advanced, high-potency formula called

"Joint Care Plus" to support healthy joint

function.

Inflammation of joints can cause

pain and slows the healing process.

Joint Care Plus contains turmeric,

ginger and black pepper to help reduce

inflammation and pain, and enhance

digestion and absorption of its nutrients.

The formula also contains nutrients that

have been researched to support joint

health, including boron, selenium, zinc,

manganese, proline and MSM, as well

as the highly researched glucosamine

sulfate potassium chloride complex, and

chondroitin sulfate.

This comprehensive formula is in an

easy to swallow capsule. Due to the

amount of nutrients in the formula it

is recommended to take two or three

capsules once daily to achieve a necessary

amount of each nutrient. In severe cases a

loading dose of three capsules twice daily

may be used.

KNH JOINT CARE PLUS and

further information is available from

the natural health advisers, medical

herbalists and naturopath at Marshall's

Health & Natural Therapy, 101 Seaview

Road, New Brighton, PH: (03) 388-5757

Super price

60 Capsules only $14.90

SAVE $20.00

120 Capsules only $27.90

SAVE $41.90

240 Capsules only $47.90

SAVE $91.80

Bringing You the Best in Natural Health

MARSHALLS HEALTH & NATURAL THERAPY

CONSULTING - PRESCRIBING - DISPENSING - MANUFACTURING - MEDICAL HERBALISTS

101 SEAVIEW RD, NEW BRIGHTON • PH 03 388 5757 • Email: enquiry@marshallshealthshop.co.nz
---
The Star Thursday September 23 2021

26

PUZZLES

CHRISTCHURCH

CREMATORIUM

FUNERAL SERVICES

CROSSWORD

1 2 3 4 5 6 7

8 9

Latest Canterbury news at starnews.co.nz

211

SUDOKU

Every row, column and box should

contain the digits 1 to 9.

WORDBUILDER

WordBuilder

111

6

V H L

S I A

How many words of three or more letters,

How including many plurals, words can you of make three from or the more six

letters, using

including

each letter

plurals,

only once?

can

No

you

foreign

words or words beginning with a capital are

make allowed. from There's the at five least one letters, six-letter using word.

each only once? TODAY

Good 12 Very Good 15 Excellent 19

No Solution words 110: abet, beginning abut, ate, aye, with bat, a bate, capital bay,

are beat, allowed. beau, beaut, There's BEAUTY, bet, at beta, least bey, one but, buy,

bye, byte, eat, eta, tab, tabu, tau, tea, tub, tuba,

six-letter

tube, ute, yea,

word.

yet.

Good 12 Very Good 15 Excellent 19

10 11

12 13 14 15

16

17 18

19

20 21 22 23 24

25 26

27 28

29 30

31 32

SOLUTION

No.111

14 15 16 17 18 19 20 21 22 23 24 25 26

U A K G S Z X E M D Q O T

33 34

1 2 3 4 5 6 7 8 9 10 11 12 13

J H R N Y W F V B L C P I

14 15 16 17 18 19 20 21 22 23 24 25 26

G

Decoder

Across

1. Attack (6)

5. Countless (6)

10. Excess (7)

11. Excellent, wonderful (7)

1 10 11 12 13

2 3 4 5 6 7 8 9 A J

A B C D E F G H I J K L M N O P Q R S T U V W X Y Z

12. Old car (colloq) (6)

15. Oppose (6)

16. Lengthy and tedious

discussion (7)

17. Stink (4)

18. Fever (4)

24 19 9 25 9 1

19. Misshape (7)

20. Information (4)

22. Imitates (4)

25. Absorb (7)

27. Dictator (6)

28. Confidential (6)

31. Fissure (7)

32. First (7)

33. Incite (6)

34. Chore, task (6)

20 12 23 23 24 20 1 2 3 20 24 9

26 18 23 26 12 26 26

Down

2. Odd (7)

3. Slumbering (6)

4. Misplaced (4)

5. Disguise (4)

6. Thief (6)

7. Enduring (7)

8. Line on weather map (6)

9. Ability, courage (6)

13. Glowing (7)

14. Catch (7)

15. Compensation (7)

20. Discover (6)

21. Underwater missile (7)

23. Allocation (7)

24. Resolve (6)

25. Whole (6)

26. Higher in rank (6)

29. Thrash (4)

30. Assistant (4)

1 22 26 11 19 4 3 1 10 11 3 23

25 11 4 9 24 4

12 2 12 10 4 1 17 23 24 24

24 18 11 24 20

11 10 4 17 16 10 3 9 26 9

All puzzles copyright

T H E P U Z Z L E C O M P A N Y

www.thepuzzlecompany.co.nz

3 3 14 12 4 1

10 4 23 10 20 14 8 15 11 3 21 23

DECODER

Each number in our DECODER grid represents a different

letter - there is a number for all 26 letters of the alphabet.

Each Enter number the given represents letters into a different all squares letter with of the matching alphabet. numbers. Write the

given The challenge letters into now all squares is to work with out matching which letters numbers. are Now represented work out

which by the letters other are numbers. represented As you by the get other numbers. letters, enter As you them get into the

letters, the main write grid, them and into the the reference main grid and grid. the To reference keep track grid. Decoder of the

uses

letters

all

you

26 letters

have

of

found,

the alphabet.

cross them off the alphabet provided.

G

18 18 9 21 16 9

26 15 26 26 25 25 21 24 14 13 4 21

T A T

15 15 3 18 14 6 19

14 4 11 10 15 22 12 15 9 13 23 21

4 16 20 3 9 18 10

17 25 12 13 11 5 26

11 10 21 7 6 13 10 10 18

2 23 1 4 21 11 12

7 14 23 17 21 5 25 14 3

17 18 18 9 18 22 21

3 21 22 13 26 25 10 5 22 12 13 11

25 21 13 16 4 25 15

8 13 10 13 7 5 26 25 15 18 26 18

21 26 5 23 26 26

A B C D E F G H I J K L M N O P Q R S T U V W X Y Z

1 2 3 4 5 6 7 8 9 10 11 12 13

14 15 16 17 18 19 20 21 22 23 24 25 26

A

T

SOLUTION

No.110

3 7 26 12 2 12 15 24 23 26 9 14

A

6 15 9 19 5 19

J

Each number in our DECODER grid represents a different

letter - there is a number for all 26 letters of the alphabet.

Enter the given letters into all squares with matching numbers.

The challenge now is to work out which letters are represented

by the other numbers. As you get the letters, enter them into

the main grid, and the reference grid. To keep track of the

letters you have found, cross them off the alphabet provided.

112

111

1 2 3 4 5 6 7 8 9 10 11 12 13

O F Z S P W G X V D Y U E

14 15 16 17 18 19 20 21 22 23 24 25 26

B H C I L J Q M T A R K N

Crossword

Across: 1. Assail, 5. Myriad,

10. Surplus, 11. Sublime,

12. Banger, 15. Resist,

16. Palaver, 17. Reek, 18.

Ague, 19. Distort, 20. Data,

22. Apes, 25. Engross,

27. Tyrant, 28. Secret, 31.

Crevice, 32. Initial, 33.

Foment, 34. Errand.

Down: 2. Strange, 3.

Asleep, 4. Lost, 5. Mask, 6.

Robber, 7. Abiding, 8. Isobar,

9. Mettle, 13. Radiant, 14.

Capture, 15. Redress, 20.

Detect, 21. Torpedo, 23.

Portion, 24. Settle, 25.

Entire, 26. Senior, 29. Beat,

30. Aide.

WordBuilder

ail, ails, ash, hail, hails, has,

his, lah, lash, lav, LAVISH,

lavs, lis, sail, sal, shiv, vail,

vas, via, vial, vials, visa.

Sudoku
---
Thursday September 23 2021 The Star

Latest Canterbury news at starnews.co.nz

GARDENING 27

IF YOU'VE got an area in your

garden where you want to create

a mass of colour, you can't go past

petunias.

They are prolific bloomers that,

if looked after, will continue to

flower all summer.

You can choose from a multitude

of colours but if you are not

sure what colour to select, then

try a mixed bundle.

If you don't have a big garden

to fill with bedding flowers. Don't

worry about that either. All petunias

really need to flourish is a

sunny, free-draining spot.

They grow equally as well in

pots and hanging baskets making

them perfect for just about any

garden.

Once you've selected your

seedlings and sunny spot to plant,

simply dig small holes, around

3cm deep and 25cm apart, and

plant.

Be sure to watch out for slugs

It also pays to keep an eye out for

aphids. If you spot these pesky

pests, spray with a general insecticide

or organic alternative.

And make sure to keep them

watered. If you're not sure how

thirsty they are, stick your finger

in the soil 2cm deep. If the soil is

dry, they will need a drink.

Then sit back and wait just four

to six weeks for your beautiful

petunias to bloom.

Remember to pick off dead

heads to encourage re-flowering.

Entries must be received by September 30, 2021

Plant petunias if you want colour through summer

MASS: If

you don't

have a big

garden

for your

petunias

to spread

out, they

will happily

grown in a

pot.

24th

September

to 10th

October

2021

SepTember

Spring SAle

913 Shands Road

Just south of the Selwyn Road / Shands Road intersection

T: 03 349 9240 E: info@allwood.co.nz

Keep up to date on Allwood news through our Facebook or

Instagram pages: Allwood Trees and at www.allwood.co.nz

View our services online now: www.allwood.co.nz
---
28 The Star Thursday September 23 2021

CHRISTCHURCH MITSUBISHI

386 Moorhouse Avenue, Christchurch

03 379 0588 | christchurchmitsubishi.co.nz

• BLACK 18" ALLOY WHEELS & EXTERIOR HIGHLIGHTS

DRIVE

•

A

CLASS

NEW

LEADING FUEL ECONOMY

• APPLE CARPLAY® & ANDROID AUTO

• 5 STAR SAFETY RATING

NISSAN

STOCK AVAILABLE TODAY

AGILITY MEETS SMARTS

AVAILABLE FROM

$33,990 *

STOCK AVAILABLE NOW

*Price shown is for the Nissan Qashqai ST excludes on road costs of $1,495 which includes registration,

WoF and a full tank of fuel.

CHRISTCHURCH NISSAN, 380 Moorhouse Avenue, Christchurch

Ph: 03 595 6820

www.christchurchnissan.co.nz

NAVARA SL-450

LIMITED EDITION

• BLACK 18" ALLOY WHEELS & EXTERIOR HIGHLIGHTS

• CLASS LEADING FUEL ECONOMY

• APPLE CARPLAY® & ANDROID AUTO

• 5 STAR SAFETY RATING

christchurchnissan.co.nz
---
Thursday September 23 2021 The Star 29

SPORTS NEWS

Brought

to you by

Curtains

Blinds

Shutters

99 Sawyers Arms Rd

03 365 4666 or

0800 836 587

www.venluree.co.nz

BIG CLUB MATCH-UPS THIS WEEKEND

Football hopes rest with rival

• By Chris Barclay

COASTAL SPIRIT are

hoping local rivals Cashmere

Technical can do them a favour

against Dunedin opposition

as qualification for the new

National League football

competition goes down to the

wire.

Cashmere Technical have

already claimed one of the two

berths available for Southern

League clubs, and they can help

ensure a Christchurch side secures

the other spot if they beat

South City Royals in their final

round robin match at Garrick

Park on Saturday.

Coastal Spirit squandered an

opportunity to have a tighter

control on their own destiny last

weekend but were undone 2-1 by

Ryan Fleming's double for the

Royals in Dunedin.

They pulled a goal back

through Roque Fuentes Salinas

but could not conjure up an

equaliser and sit third, albeit on

the same points as the Royals,

with two rounds remaining.

Coastal Spirit host fifth-ranked

Selwyn United on Saturday before

another trip south to face winless

Green Island on October 2.

Cashmere Technical, who lead

the table with 15 points having

played an extra game, showed

no signs of rustiness when

they returned to action after

the Covid-19 lockdown as they

thrashed Nelson Suburbs 5-1.

Garbhan Coughlan and Tom

Schwarz both scored twice.

Christchurch United, 5-0 winners

over Otago University, and

Selwyn United – in spite of only

managing a draw against Green

Island – can also qualify providing

results fall their way.

Southern League draw:

Cashmere Technical v South

City Royals, Garrick Park,

Saturday, 11.30am; Coastal Spirit

v Selwyn United, Linfield Park,

Saturday, noon; Green Island v

Christchurch United, Sunnyvale

Park, Saturday, 12.30pm; Nelson

Suburns v Otago University, Saxton

Field, Sunday, 10.30am.

Points table: Cashmere Technical

15, South City Royals 9,

Coastal Spirit 9, Christchurch

United 7, Selwyn United 7, Otago

University 6, Nelson Suburbs 4,

Green Island 1.

Hockey

While football continues, Canterbury

Hockey's premier league

competitions reached a belated

conclusion at Nga Puna Wai in

contrasting style.

In the women's division,

defending champion Harewood

capped an unbeaten season with

a win that mattered most as they

comfortably beat Marist 3-1.

Harewood finished the regular

season 10 points clear of secondplaced

Carlton Redcliffs though

it was third-ranked Marist who

made last Saturday's decider.

Coach Matt Ling, two years

into his second stint in charge of

the side, was delighted the squad

cleared their final obstacle.

"Everyone was down on

match-fitness quite a bit (after the

Covid-19 lockdown) so it wasn't

the prettiest final but it was good

to finish unbeaten," he said.

They led 1-0 through Millie

Calder then Marist drew level

before Charlotte Lee and Bella

Ambrosius sealed the deal.

Harewood have not lost since

a regular season defeat to HSOB/

Burnside last year, with Ling

attributing this dominant campaign

to a settled roster.

"It's the same squad as last

year, that was handy," he said.

Ling, who first coached the

side a decade ago, paid tribute

to the squad collectively while

Catherine Tinning, Georgie

McKay-Stewart, Jessie Anderson

and Calder were particularly

prominent while former Black

Stick Jordy Mayne provided a

wealth of experience.

Harewood completed the

regular season with a 12-win two

draw record and a positive goal

difference of 40, though Ling insisted

the champions were made

to work hard for the spoils.

"We had a couple of draws

and quite a few close games

where there was only a goal in

it through the season as well.

I suppose the team is starting

to figure out how to close out

games," Ling said.

Although Harewood were

logical women's winners, HSOB/

Burnside upset the form book in

the men's play-offs to win their

first title since 1997 by edging

Carlton Redcliffs 3-2 in a penalty

shootout after the scores were

tied 3-3 at the end of regulation.

HSOB/Burnside qualified

fourth for the post-season and

then eliminated top seeds Harewood;

Carlton Redcliffs reigning

champion Marist in the other

semi-final to set up an enthralling

showpiece.

Louis Beckert saved thwarted

three would-be scorers during

the shootout while Angus

McGregor nailed the clincher.

"We've been a team of battlers

with no real big New Zealand

stars. Redcliffs had George

Enerson, New Zealand keeper,

FRIENDLY RIVAL:

Coastal Spirit hope

Cashmere Technical

continue their goalscoring

exploits when

they host South City

Royals in the latest

round of Southern

League action.

PHOTO: MATT

HASTINGS

ex Black Stick Nick Haig . . . but

they play as a team," HSOB/

Burnside manager Andrew

Brydon said.

"The competition is very, very

tight. We snuck in fourth with

only three losses for the season,"

he said.

Rugby

While HSOB/Burnside broke

their silverware drought from

fourth, Christ's College were unable

to secure a maiden Crusaders

region 1st XV title from the

same position.

Christ's College knocked out

top qualifier St Bede's in the

semi-finals but then experienced

the anguish of conceding a late

try to Timoci Sauira, a score

which enabled Nelson College

to lead for the first time before

celebrating their third title with

a 22-20 at Trafalgar Park.

The Christchurch Girls' High

School's 1st XV maintained their

utter dominance of the Miles

Toyota Cup by beating Villa

Maria College 57-0 in their final

at Linfield Park.
---
30 The Star Thursday September 23 2021

WHY CHoose

WE ARE CURRENTLY OFFERING

$2000 MINIMUM

TRADE IN

*ON SELECTED VEHICLES! TERMS & CONDITIONS APPLY

for Your next VeHICLe?

VALUE

REPUTATION

SELECTION

TRUSTED

PLUS

REGISTRATION

2013 bMW Mini Cooper

$20,999

Very stylish and popular European hatch, features

a 1.6L engine with tiptronic trans and paddleshift

option, looks good in blue with white roof, driving

lights and 17'' alloys, black interior, rear wiper,

ABS, T/C and multiple airbags, very cool vehicle!

PLUS

REGISTRATION

2016 Subaru XV

$24,999

Very nice example of this stylish AWD family

hatch, features a 2.0L engine with tiptronic trans,

looks stunning in orange with factory bodykit and

17'' alloys, Eyesight, SI-Drive, adaptive cruise,

push button start, idle stop, rear wiper, ABS, T/C

and 8x airbags, come and test drive today!

PLUS

REGISTRATION

2016 Suzuki Swift GLB

$14,999

The Swift is a very popular 5 door hatch and

preferred in its class by many, features and

economical 1.4L engine with 5 speed manual

transmission, NZ new, looks smart in black,

rear wiper, low kms, ABS and multiple airbags,

inspection will not disappoint!

PLUS

REGISTRATION

2020 MitSubiSHi MirAGe

$13,999

Surprisingly spacious 5 door hatch, features an

economical 1.2L engine with automatic trans, looks

smart in silver with 15" alloys and rear spoiler,

idle stop, rear wiper, travelled low kms, collision

avoidance warning, ABS, T/C and airbags, perfect

round town vehicle!

PLUS

REGISTRATION

2010 Mazda AtenzA 25S

$14,999

The Atenza is a desirable sleek and sporty looking

vehicle, features a 2.5L engine with tiptronic trans,

looks great in red with body kit, rear spoiler and

white 17'' alloys, push button start, multi-function

steering wheel, rear wiper, ABS, T/C and airbags,

hurry – won't last long!

PLUS

REGISTRATION

2012 toyota AVenSiS Xi

$13,999

The Avensis is a popular car built for the European

market and is the first Japanese car to be awarded

NCAP 5 star rating, features a 2.0L engine with tiptronic

trans and paddleshift option, finished in silver with black

interior, push button start, parking sensors, reverse

camera, ABS, T/C and 9x airbags, will sell quickly!

PLUS

REGISTRATION

2011 Subaru LeGACy

$13,999

Stylish and well sought after wagon, features a 2.5L

engine with tiptronic trans and paddle shift option,

looks sharp in white with black part leather interior,

AWD, push button start, SI-Drive, rear wiper, cruise

control, lane departure and collision avoidance warning,

safety of ABS, T/C and 8 airbags, very nice vehicle!

PLUS

REGISTRATION

2009 Honda odySSey M

$10,999

Popular family wagon with room to seat 7, features

a 2.4L engine with automatic trans, looks good

in grey with 19'' alloys, reverse camera, keyless

entry, rear wiper, ABS, T/C and airbags, upgrade

your family vehicle today!

PLUS

REGISTRATION

2012 Mazda preMACy

$11,999

Very popular family wagon with room to seat 7,

features a 2.0L engine with tiptronic trans, looks

good finished in silver with black interior, , rear

wiper, keyless entry, ABS and airbags very good

buying!

PLUS

REGISTRATION

2018 Mazda CX5 25S

$37,999

A modern, tech savvy Suv, 2.5L skyactiv engine with

tiptronic trans and i-stop, smart in bronze with factory

body kit, driving lights and 18" alloys, stylish black

leather interior, push button start, reverse camera,

cruise control, Bose, collision avoidance and lane

departure warning, ABS, TIC and multiple airbags.

PLUS

REGISTRATION

2015 toyota LAndCruiSer prAdo tX

$55,999

Very desired family SUV, features a 2.8L turbo

diesel engine with automatic trans, looks very

good in red with roof rails and 17'' alloys, 4WD,

parking sensors, sunroof, push button start,

rear spoiler, low kms, ABS, T/C and 6x airbags,

inspection will impress!

PLUS

REGISTRATION

2013 Ford KuGA

$21,999

The Kuga is a European designed SUV and one of

the best in its class with a blend of good looks and

safety features, 1.6 L turbo engine with tiptronic

trans, AWD, roof rails, sunroof, leather interior,

front heated seats, cruise control, ABS, T/C and

multiple airbags, very nice example!

PLUS

REGISTRATION

2019 Ford rAnGer XLt

$53,999

Extremely popular ute, features a 3.2L turbo

diesel engine with automatic trans, NZ new, 4WD,

finished in silver with canopy and 17'' alloys, cruise

control, parking sensors, Bluetooth, towbar, ABS,

T/C and 6x airbags, very nice vehicle!

PLUS

REGISTRATION

2019 toyota HiLuX z

$53,999

Very stylish, practical and popular ute, features

a 2.4L diesel engine with tiptronic trans, looks

stunning in black with running boards, driving lights

and 17'' alloys, reverse camera, cruise control, push

button start and many more features, ABS, T/C and

multiple airbags, viewing will impress!

PLUS

REGISTRATION

2008 toyota VeLLfire

$16,999

Vellfire is a sportier styled version of the ever

popular Alphard, features a 3.5L engine with

automatic trans, looks smart in grey with body kit

and 18'' alloys, 7 seats, push button start, cruise

control, parking sensors, ABS and 18'' alloys, travel

in style and comfort!

Registration for 6 months is $301

Value Cars Warehouse

4.72

CANTERBURY OWNED

& OPERATED

ESTABLIShED 1993

32 Moorhouse Ave, P: (03) 366 7768 IMVDA

www.valuecarswarehouse.co.nz
---
www.grcaudio.co.nz

2013 Volkswagen

Tiguan TSi

CAR AUDIO

h tp: /kaywa.me/8aVDQ

Download the Kaywa Qr Code reader (A p Store &Android market) and scan your code!

my Kaywa Qr-Code

w.valuecarswarehouse.co.nz

My Kaywa QR-Code

w.valuecarswarehouse.co.nz

Thursday September 23 2021 The Star 31

Plenty of sting in feisty Kia sport sedan

THE FORECAST wasn't good

– a weather bomb warning was

issued for Canterbury and the

predictions were right, we were

hammered by rain and wind on a

weekend when I had Kia's Stinger

sport coupe for evaluation.

As a consequence, and in the

interests of safety, I took heed of

the advice to stay at home and

to travel only if necessary – the

Stinger was parked up for much

of the time it was in my care.

So for the first time in many

years I asked Kia New Zealand if

I could have another crack at the

Stinger, it was kindly rescheduled

and, what's more, when my time

in it arrived again the roads were

dry, although being winter in

Canterbury you do have to be

wary of all day ice.

The mid-Canterbury roads

are perfect for the Stinger, it's a

genuine tourer and with its fourdoor

design it is very desirable

with power to match its stunning

looks.

The appropriately-named

Stinger first landed in 2018

and it's fair to say it's not a huge

seller, but it is an affordable

niche market car that has appeal

for those who like rear-wheeldrive

and a strong turbocharged

engine.

For 2021 the Stinger has had

a bit of a refresh, there are many

trim and cosmetic changes inside

and out, and in the V6 variant

there's a new exhaust system

designed to improve gas flow,

the latter also provides a mild

boost in power from the previous

model.

As I've alluded to, there are

actually two engine options

in Stinger – there's a 2-litre

turbocharged four-cylinder

unit ($69,990) and the 3.3-litre

twin-turbocharged V6 that adds

$10k.

While I'd like to have a drive in

the four-potter, the GT Sport V6

variant is certainly very exciting.

Peak power is rated at 274kW (up

2kW), maximum torque is listed

at a beefy 510Nm and is available

all of the way from 1300rpm to

4500rpm.

Kia says that a standstill

to 100km/h time of 4.9sec is

possible and it also claims a

10.2-litre per 100km combined

cycle fuel usage rating; if you add

all of these figures together and

analyse them you end up with a

strong, quick performance car

and one that isn't too hard on

fuel.

I returned the evaluation car

to the dealership with 11l/100km

showing on the fuel usage

readout, which I thought was

most acceptable. At 100km/h the

readout is listing a 7.1l/100km

instantaneous figure with the

engine working over slowly at just

1500rpm.

Drive is channelled through

a paddle-shift, eight-speed

automatic transmission, the

rear axles are guided through

an independent five-link set-up

STYLE: Four doors and a liftback rear gives the Stinger a

coupe-like look.

KIA STINGER: Plenty of power with turbocharged V6 engine, or a four-cylinder unit if you

prefer more sedate.

with the spring and damper

rates not overly firmed.

Engine management protocols

can be altered through various

drive modes, there's even an

individual one which the driver

can pre-program to suit his or

her driving styles. Sport mode

isn't overly aggressive, but it

does significantly enhance the

liveliness of the engine, the driver

is fully aware the power is being

directed to the rear wheels and

it's a magical, natural feel that

constantly tantalises. Also, when

the car is in sports mode the seat

uprights move to grip your torso,

it feels very reassuring.

Engine power is such that with

forceful throttle openings the rear

tyres can be encouraged to break

grip; of course, traction control

settings override that quickly, but

there is an element of playfulness

built into the system, oversteer

is constantly possible. I never

removed TCS to explore the

extremes but I can definitely report

the Stinger is a full driver's car.

What's more amazing is the

tyres have significant grip in the

first instance. Michelin supplies

the rubber, and the rears at

255/35 x 19in have massive road

surface cover. The fronts are bit

thinner at 225/40, but they still

steer beautifully. The Stinger has

accurate turn-in and positive

directional accuracy, it's a case of

point and turn.

When it comes time to slowing

the Stinger, four-corner Brembo

brakes provide massive braking

• Price – Kia Stinger GT

Sport, $79,990

• Dimensions – Length,

4830mm; width, 1870mm;

height, 1400mm

• Configuration – V6,

rear-wheel-drive, 3342cc,

274kW, 510Nm, eightspeed

automatic

• Performance – 0-100km/h,

4.9sec

• Fuel usage – 10.2l/100km

power, the pedal feels absolutely

delightful.

Inside, the layout is spectacular,

new-age gauges and all the

mod-cons you could imagine

come as standard spec. There's

new leather trim, well it's a nappa

leather meaning it's quite soft

and cosseting, and there are seat

heaters for those cold mornings,

along with a heated steering wheel.

The in-cabin detailing is laid

out for ease of use, the controls

and display screen graphics are

intuitive and easy to read.

The specification list

is extensive and way too

comprehensive to list in detail

but to say the Stinger doesn't

miss out on much and there's

also a five-star Australasian New

Car Assessment Program safety

rating.

One of the features that is

worth noting is the smart key that

has a remote engine start option,

it would be good to get the air

conditioning cooling the car

down on a hot day before getting

in. Another clever piece of kit is

the hands-free powered tailgate

that will open automatically if it

detects you and the key in close

proximity for longer than three

seconds.

Comfort levels are also high

both front and rear, and there is

a surprising amount of interior

space. The low roof-line doesn't

affect rear head room, well not for

my daughter anyway, she is tall,

so I guess unless you are a sixfooter

that shouldn't be an issue.

The Stinger could well be

described as Kia's best kept

secret, I haven't seen many on

our roads and I've never seen

a four-cylinder version. That's

quite sad really for the Stinger

is one classy car and a very

exciting sports sedan to boot. It's

also an opportune time to buy,

from January the Stinger V6 will

certainly be a $4600 victim of the

Government's tax to incentivise

buyers into electric vehicles.

Kia New Zealand is marching

along at a good pace with strong

sales, and Kia product is slowly

distancing itself from its Korean

partner Hyundai.

It's wonderful cars like the

Stinger that are providing that

individualism and an almost

unique driving experience. I

applaud the company for going

to such lengths to develop that

rear wheel-drive platform, which

has most definitely pitched itself

against the high profile models

that sit in that part of the market.

has motoring covered.

Incorporating

ISSUE 667 | FrIday 20 novEmbEr 2020

The biggest range of vehicles

in one location!

2011 Jaguar

XF Premium

$18,999

See inside for this week's

4WD feature!

113 sherborne st, edgeware

32 Moorhouse Ave | P: (03) 366 7768 | www.valuecarswarehouse.co.nz

See page 4 for more info!

free

best motorbuys

Incorporating

ISSUE 668 | FrIday 27 NovEmbEr 2020

275 Colombo street, Christchurch

For more see their advert on pages 6 & 7

Ce l 021 855 884

Incorporating

ISSUE 669 | FrIday 4 dEcEmbEr 2020

See inside for this week's

Classic Car feature!

PH 03 web

www.drivesouth.co.nz

One Owner!

40 Years Finance

Experience

Cannot be Beaten!

• Talk to us about finance for your next

motor vehicle purchase

Specialising in Finance for Private Purchases

Very quick approvals, sensational interest rates

• From no deposit (terms & conditions may apply)

Hiace spares

Cnr Main South Rd and Epsom Rd, Christchurch

Ph: 03 348 4129 | avoncityford.com

2015 IsuZu D-mAX

4WD Ls D/CAb

NZ new, 3.0 intercooled turbo/dsl,

auto, rare flatdeck with ladder/pipe

racks, reverse cam, service history.

$34,995 $192pw

For more see their advert on page 31

free

best motorbuys

www.drivesouth.co.nz

See inside for this week's

marine feature!

free

best motorbuys

The South Island's leading

motoring resource, filled

with news, reviews and

dealer listings.

Magazine available for FREE

every Friday at a convenient

pick up point near you!

NEED AUTO

ELECTRICAL REPAIRS?

NEW! European specific diagnostic equipment

– Fine tune & identify any faults.

Diagnostic Testing Starters Alternators

Wiring Alarms: Insurance Approved

Fuel Injection Repairs ABS Airbags

Batteries Free Check & Assessment

ROSES

AUTO ELECTRICAL

The biggest range of vehicles

in one location!

Now Available @ NZ Van Spares

www.drivesouth.co.nz

2.4 auto, alloys, ABS, twin airbags.

2005 toyota rav

AUDIO VISUAL

CAR SECURITY

$20,999

$9,990

2008 bmW 320i

2.0lt Petrol, 5 Dr Station wagon,

Climate Control, ABS Bra

Automatic

32 Moorhouse Ave | P: (03) 3

CELLULAR

MOBILE INSTALLAT

REVERSE CAMERAS

RADAR DETECTORS

PARKING SENSO

40 Years Finance

Experien

Can

$10,974 N
---
32 The Star Thursday September 23 2021

Our readership is

way up... AGAIN!

Read

199,000 times every week!

*Source: Nielsen's National Readership Survey. Christchurch area, people over 15 years of age.

*Star Max — The Star, Bay Harbour News, Selwyn Times, North Canterbury News.

8.8% increase!

That's an

in readership over the last three months!

Reach more customers and grow your profits with our free professional advertising

consultancy for your business. Contact Shane on 021 381 765 / shane@starmedia.kiwi
---
Thursday September 23 2021 The Star 33

Home & Property appears every Thursday, delivered FREE

throughout Christchurch

For more information and bookings, contact Mike Fulham

M: 021 300 567 E: mike@starmedia.kiwi

Fix those minor defects

Start out front, cleaning, clearing and decluttering

the yard to make a good impression on buyers.

It's a rare house that doesn't have

defects. Even newly renovated ones can

have features that detract for buyers.

But there are ways for sellers to deflect

attention from them without pretending

they're not there. The three main ways

of dealing with defects are:

1. Fix them.

2. Draw the eye away from them.

3. Use them as a selling point.

Simple defects can be fixed easily.

Start out front. Overgrown bushes can

be trimmed, or replaced with a few

matching plants, old fences and front

doors can be painted or stained, and the

paths cleaned.

Do this even if a property is a do-up.

You want to give the impression that

buyers can move into the house and

chip away at the work in their own time.

If you have time and money, paint

sills and eaves using accents.

Inside, the first thing buyers see is the

hallway, which can be brightened up

with a lick of paint. The neutral

paint trick can also be used

to paint over dated wallpaper,

completely changing the look

and feel of a tired house.

Bathrooms and kitchens are

important to buyers, and the eye

settles on vanities and benches.

These can be resurfaced relatively

quickly to give a modern look.

If the seller can't repaint or

tile the bathroom bring in high

quality matching towels, which

become a feature in the room

and draw the eye from the less than

desirable walls and features. Nice vases

and flowers will do the same.

Replacing handles and knobs to

draw attention away from the units

themselves. This reduces the number of

"I have to do this" thoughts in potential

buyers' minds.

Drawing the eye away from a

multitude of sins is exactly the thing to

do.

If you see an empty house the eye

always goes to marks on the carpet

and walls and this will lower the price

expectation."

Drawing the eye to the furniture and

furnishings, creates better flow, and de

cluttering makes buyers feel the home

would be a nice place to live in.

Finally, good old fashioned elbow

grease is essential in all properties

to remove those sins that are simply

cleanable.

MAKING YOUR MOVE EASIER

tlc realty limited

Get the TLC experience

Call one of our Licensed Sales Consultants

today for a free appraisal:

Trish Lawrence ph 0274 350 565

'Trust in Trish'

Kay Livingstone ph 021 163 0001

Goes above and beyond'

Licensed Agent REAA 2008 | www.tlcrealty.co.nz

Three convenient sizes from $80 a week:

Standard 3.6m x 2.4m

Large 4.2m x 2.4m | Xtra-large 4.8m x 2.4m

RENT ME!

www.justcabins.co.nz

Fully insulated and double glazed for warmth.

Ideal as an extra

bedroom or office.

no bond required

Visit our website

www.justcabins.co.nz

for display cabin locations

www.webuyhomes.net.nz

In Any Condition or Location

in Christchurch

•We pay top $

•No fees (Save $15-$30,000 or more)

•No open homes

•No need to clean and tidy

•Up to 12 months to find your next home

Simple, straight forward and

stress free, Guaranteed!

Call Rob to discuss your property

today P: 027-223-5039

Appears every week in

For more information:

Mike Fulham

P 379 7100

E mike@starmedia.kiwi

Your

Earthquake

damaged

home!

We have achieved

record breaking

prices recently!

Talk to us if you are serious about

selling your "As is Where is" home.

Licensed (REAA 2008) Results Realty Ltd

Phil & Holly Jones

Ph 03-382-2230

Phil 027 435 7711

Holly 027 222 0220

holly.jones@raywhite.com

We have sold over

150 "As is Where is"

homes and we have

a huge database of

qualified buyers.

PAYING ATTENTION?

"Raining cats and dogs!" Literal or figurative? Another:

"..heavens pass away - elements melt - earth burnt up."

(2 Peter 3 verses 10 to 13) Some foolishly expect world's

end, then embarrassed at non-event.

Consider: Isaiah 1v2. "Hear 0 heavens, give ear, O earth."

Verse 10. " Fear ye RULERS of Sodom - give ear, ye PEOPLE

of GOMORRAH."

APOSTLE Peter quoting prophecy Isaiah 65v17. Present

worlds governments (heavens) and lifestyles (earth) swept

away in uproar and ablaze.

Replaced by Christs' powerful universal rule over a

worthwhile lifestyle adhering to Gods' moral standards.

"Glory to God, peace on earth, goodwill towards men."

(Luke 2v14). " Meek inherit the EARTH." Matthew 5v5 -

Jesus quoting Psalm 37. "EARTH abides forever"

(Eccles 1v4). Man's immoral systems won't.

PLANET EARTH SAFE

ARE YOU?

www.keytothebible.org

Church Notices

Phone 0800 804 663 - 24 Hour Availability

Email: info@justfunerals.co.nz

christchurch.justfunerals.co.nz

Family Funeral with Cremation $3,950

Chapel - 35 people, casket, hearse, cremation fees

No Service

Cremation

$2,000

Funeral Directors

AAA CASH - CASH -

CASH . Any unwanted

cars. Phone 347 9354 or

027 476 2404

CLASSIC Car wanted

1950s, 60s, 70s, 80s, or a

modern classic. American,

Japanese, English or what

have you. Keeping options

open. Text me with what

you have, I can call / txt

you back, Ph 021 861 732.

Cars Wanted

WINDSCREENS

Perspex cut to size and

shape, Fab Plastics ph

366 3634

Boating Accessories

& Equipment

PERSPEX,

poly

carbonate and other

plastics cut to size and

shape. Fab Plastics phone

366-3634

SHOWER/BATH Liner,

custom made to suit, Fab

Plastics ph 366-3634

Building Supplies

CARAVAN Wanted to

buy. Up to $5000 cash

today 027 488-5284.

Caravans, Motorhomes

& Traliers

TYRES

Secondhand,

most szs from $30 - $70

fitted, Also batteries, 217

Waltham Road, 027 476

2404

Car Parts

Church

services will

recommence

in Level 1

Christian

sPiritUaList

ChUrCh

182 Edgeware Road

NEW AGE CHRISTIAN

SPIRITUAL CENTRE

61 Grafton Street

Sunday 7pm

Address:

Carole

Clairvoyance:

Carole

Tuesday

Healing 1-1.45pm

Clairvoyance 2pm

Clairvoyance Night

Tuesday 5 Oct 7pm

$5 entry per person

Everyone receives a

message

All Welcome

*Masks neccessary

Church Notices

direct

cremation

$2,000 GSt inclusive

(includes committal)

0800 27 28 29

www.mainland

crematorium.co.nz

Funeral Directors

Direct

Cremation

No frills, No Service,

No fuss, simply

straight to the crem.

Other options

available.

Ph: 379 0178

for our brochure

or email

office@undertaker.co.nz

Funeral Directors

STEEL for sale all

sections, off cuts cut

lengths. siteweld@ xtra.

co.nz Ph 0274 508 785

For Sale

AVONHEAD 23 Talltree

Ave, Sat 9am - 12 noon.

Garden & electric tools,

linen and lots more.

Garage Sales

Gardener available for

maintenance,

weeding

pruning,

spraying,

planting, advice. Qual &

exp. Ph Richard 0274 918

234, 03 349 4022

PETE'S

GARDENING

SERVICE

Gardening,

rubbish removal, cleanups,

expert pruning, hedge

trimming, tree cutting,

good rates, no job too big

or too small, half the price

of a franchise. Ph 027 551

4118

Gardening

& Supplies

CATS

UNLOVED

can help with the cost

of desexing your cat.

Ph 3555-022 or email

catsunloved@xtra.co.nz

Pets & Supplies

RETAIL STAFF Part

Time, 15 - 18 hrs per week.

Must be reliable. Ph 027

223 0948

RETAIL STAFF Part

Time, 15 - 18 hrs per week.

Must be reliable. Ph 027

223 0948

Situations Vacant

Phone 379 1100

www.starnews.co.nz

FREE into over 93,000 homes in

Christchurch every Thursday

Also available at selected dairies, service stations

and The Warehouse througout Christchurch

When it comes to

advertising in the classifieds

WE DELIVER!

Page 8 Page 10

Medal for Martlew

Parklands para-athlete

paddles to silver in Europe

Queenspark's tidy Kiwis

School takes out awards for

k eping city beautiful

TUESDAY, MAY 29, 2018 www.star.kiwi

Loca ly Owned

June 29 - July 1

EXHIBITORS BOOK NOW

vane sa.fleming@starmedia.kiwi

021 914 565

• By Georgia O'Co nor-Harding

ONGOING roadworks are

continuing to put pre sure on

Richmond busine ses, with one

long

-ru ning store deciding it is

time to leave.

After more than 20 years of

supplying fresh produce to the

eastern suburbs on Stanmore

Rd, The Green Grocer closed

it d ors for the final time on

Friday.

The city council began a fu l

reconstruction of North Avon

Rd in January which has since

left busine ses stru gling to

bring customers into their stores.

The Gr en Grocer owner

Dia ne Pra t said she didn't

want to go, but because of the

roadworks the busine s has

suffered a "huge decline."

"We are around 50 per cent

down each w ek and we can't

sustain it. It is below break even

for us," she said.

•Turn to page 7

END OF AN ERA: The Gr en Grocer owners Dia ne and Chris Pra t have closed their Stanmore Rd store as a result of the

pre sure being put on Richmond's commercial area. PHOTO: MARTIN HUNTER

End of the road for green grocer

• By Georgia O'Co nor-Harding

HOPE IS fading for people who

catch the bus betw en New

Brighton and Burw od Hospital.

Environment Canterbury has

prepared an "alternative option"

in its draft Long Term Plan after

public o posed its original plan

to axe six of its lowest performing

bus routes.

But a new route combining the

135 Burw od Hospital and 150

The Palms bus routes is pla ned

to terminate at Taiora: QE I Recreation

and Sport Centre.

It means the 135 Burw od Hospital

route wi l no longer travel

into New Brighton.

Cu rently the bus service runs

from Prestons Rd through to Burw

od Hospital and along Beach

Rd to Marine Parade.

The proposed change has b en

met with o position. New Brighton

resident Hilary Wilson said

the pla ned route change would

be "te rible" as she always found

the bus convenient, particularly

when she had a knee replacement

at Burw od Hospital.

•Turn to page 4

Burwood

Hospital

bus route

may stop

short of

Brighton

Ph 377 0770,

330 Cashel St,

Christchurch

Restore your oiled CEDAR BLINDS with ou re-oiling service.

Rejuvenate your lacquered CEDAR BLINDS

High-tech Cleaning

We clean and repair a l types of blinds –

Venetians, Cedar, Verticals, Ro ler, Ho lands,

Romans and Pleated – with environmenta ly

friendly cleaning products.

Temperature Contro led Drying

Re-oiling & Rejuvenating

Fabric Blinds - such as Austrian and Roman

Same Day Pick Up & Drop O f

We o fer a same-day, pick up an drop o f

service for mos types of blinds. B okings

are required.

Convenient Location

Drop blinds into us by 9am, at

30 Cashel Str et (near the

Fitzgerald end), and co lect

them a the end of the day.

New Blind Sales Priced from $30

WE ARE OPEN

Mon - Fri

8. 0am to 5. 0pm

Ro ler Blinds cleaned

from as li tle as $20

per blind

www.blindcare.co.nz SCAN QR code for Info >

BLINDS .Cleaned, Repaired & Restored .

• World class DJ's

• Lighting & visual effects

• Cage dancers & aerial acts

• VIP booths

9pm-3am Fri & Sat only

STANDARD DRINKS

only $6

32 allen Street Fo low us on Facebook

Page 4 Page 5

Humour unleashed

Further bid to get dog park

funding

Quake-stress help

Film clips for anxious

children

TUESDAY, MAY 29, 2018 www.star.kiwi

Loca ly Owned

June 29 - July 1

EXHIBITORS BOOK NOW

vane sa.fleming@starmedia.kiwi

021 914 565

• By Sophie Cornish

LINDA CHEN has a new

outl ok on life after giving birth

to her first child, Sebastian.

The Fendalton-Waimairi-

Harew od Community Board

member and her husband Robin

welcomed the baby boy on April

10 in what she described a

"precious experience."

"Having a child has

not only b en a precious

experience for me, as

a woman, but it has

also changed the

way I s e the world.

I now s e the world

as a mother – the

agendas and i sues

in our ward have

become a lot more

personal now."

Sebastian is also

the first grandchild

of both sides of the

family, "so he is

getting a lot of love

and a tention," said

Mrs Chen.

The couple first

met while at primary sch ol at

the former Kendal Sch ol in

Harew od.

"We are rea ly ha py that we

have ended up se tling back at

Harew od and that we wi l be

raising Sebastian here. Both

Robin and I have fond memories

growing up in this area," she said.

Mrs Chen is the second

community board member to

welcome a child this term, with

Jamie Gough's wife, Jasmine,

giving birth to their first child in

September. •Turn to page 4

'Precious' bundle of joy

New perspective

on life for

community

board member

NEW ARRIVAL: Community board member

Linda Chen and her husband Robin have

welcomed their first child, Sebastian.

PHOTO: MARTIN HUNTER

• By Julia Evans and Sophie

Cornish

"OVERWHELMING"

o position has caused

Environment Canterbury to

re-think its proposed cuts to bus

routes in the city.

ECan staff prepared an "alternative

option" to the proposal

in its draft Long Term Plan,

that would axe the six lowest

performing bus routes, affecting

10, 0 pa senger trips.

The new proposal wi l save

the 107 Styx Mi l to Northlands

while the 108 Casebr ok to

Northlands wi l be absorbed

into an extended version of the

28 Papanui to Ly telton service.

Papanui Ward city counci lor

Mike Davidson urged people to

submit on the plan, saying the

routes were an "e sential social

service."

He said while the new option

is "really g od news" for residents

in his ward, "other areas

haven't b en as fortunate, which

is a shame."

•Turn to page 5

Public

pressure

makes

ECan

rethink

bus cuts

Ph 377 0770,

330 Cashel St,

Christchurch

Restore your oiled CEDAR BLINDS with ou re-oiling service.

Rejuvenate your lacquered CEDAR BLINDS

High-tech Cleaning

We clean and repair a l types of blinds –

Venetians, Cedar, Verticals, Ro ler, Ho lands,

Romans and Pleated – with environmenta ly

friendly cleaning products.

Temperature Contro led Drying

Re-oiling & Rejuvenating

Fabric Blinds - such as Austrian and Roman

Same Day Pick Up & Drop O f

We o fer a same-day, pick up an drop o f

service for mos types of blinds. B okings

are required.

Convenient Location

Drop blinds into us by 9am, at

30 Cashel Str et (near the

Fitzgerald end), and co lect

them a the end of the day.

New Blind Sales Priced from $30

WE ARE OPEN

Mon - Fri

8. 0am to 5. 0pm

Ro ler Blinds cleaned

from as li tle as $20

per blind

www.blindcare.co.nz SCAN QR code for Info >

BLINDS .Cleaned, Repaired & Restored .

• World class DJ's

• Lighting & visual effects

• Cage dancers & aerial acts

• VIP booths

9pm-3am Fri & Sat only

STANDARD DRINKS

only $6

32 allen Street Fo low us on Facebook

Page 3 Page 5

Pump station completed

$12 mi lion wastewater

scheme now in operation

Stinky sites

No action n eded on

Bromley's sme ls

TUESDAY, MAY 29, 2018 www.star.kiwi

Loca ly Owned

June 29 - July 1

EXHIBITORS BOOK NOW

vane sa.fleming@starmedia.kiwi

021 914 565

ST ANNE'S Catholic Sch ol

produced an unconventional

cro s-country event, using

an obstacle course which

involved ducking, diving and

ge ting mu dy.

The Grit Cha lenge was

the idea of a parent who

works for a scaffolding

company and involved a

technical run including two

cro sings, jumping a fence,

tu nels, poles, large ba rels

and several mud-based

obstacles.

The pupils climbed up a

four-level scaffolding feature

and jumped off into ma ting.

Principal Da las Wichman

said the cha lenge was pu together

to promote the sch ol's

a titude of grit.

"To persist when things get

difficult and give things a go

which we know is a big determiner

of su ce s in life."

"The event was amazing

and brings so many

families rather than the

traditional 'ru ning around

the park'-style cro s-country

which we know is dead

boring."

He said the pupils loved the

course.

"They loved ge ting rea ly

high on the scaffolding obstacle

and dro ping off onto our

high jump mat."

CHA LENGE: Hebe Hopa (above)

tackles the mud head on. Left – Ho lie

Parker jumps from the scaffolding.

Right – Eve Solodi climbs through the

obstacle course.

PHOTOS: GORDON TRIGG

Pupils show true grit

• By Julia Evans

PUBLIC OUTCRY has caused a

rethink over plans to cut bus routes

around the city.

Bu the 535 Eastgate to Ly telton

and Rapaki sti l remains on the

cho ping block.

Environment Canterbury staff

prepared an "alternative option" to

the proposal in its draft Long Term

Plan that would axe the six lowest

performing bus routes fo lowing

"overwhelming" public o position,

a spokeswoman said.

Those routes included the 535

and the 145 Westmorland to

Eastgate.

The solution is a modification

of the six routes proposed to be

disestablished – with frequency

changes, the combining of two

routes, extension and re-routing of

others.

But as part of the proposal,

there would not be a service

trave ling down Linw od Ave,

through Fe rymead and Mt

Pleasant.

•Turn to page 7

Rapaki

not

spared

in ECan's

bus cuts

rethink

Ph 377 0770,

330 Cashel St,

Christchurch

Restore your oiled CEDAR BLINDS with ou re-oiling service.

Rejuvenate your lacquered CEDAR BLINDS

High-tech Cleaning

We clean and repair a l types of blinds –

Venetians, Cedar, Verticals, Ro ler, Ho lands,

Romans and Pleated – with environmenta ly

friendly cleaning products.

Temperature Contro led Drying

Re-oiling & Rejuvenating

Fabric Blinds - such as Austrian and Roman

Same Day Pick Up & Drop O f

We o fer a same-day, pick up an drop o f

service for mos types of blinds. B okings

are required.

Convenient Location

Drop blinds into us by 9am, at

30 Cashel Str et (near the

Fitzgerald end), and co lect

them a the end of the day.

New Blind Sales Priced from $30

WE ARE OPEN

Mon - Fri

8. 0am to 5. 0pm

Ro ler Blinds cleaned

from as li tle as $20

per blind

www.blindcare.co.nz SCAN QR code for Info >

BLINDS .Cleaned, Repaired & Restored .

• World class DJ's

• Lighting & visual effects

• Cage dancers & aerial acts

• VIP booths

9pm-3am Fri & Sat only

STANDARD DRINKS

only $6

32 allen Street Fo low us on Facebook

Page 3 Page 10

Arts centre opening

Latest addition to Girls' High

opened by governor-general

Working together

Groups pledge to help council

find new site for facility

TUESDAY, MAY 29, 2018 www.star.kiwi

Loca ly Owned

June 29 - July 1

EXHIBITORS BOOK NOW

vane sa.fleming@starmedia.kiwi

021 914 565

• By Sophie Cornish

LINDA CHEN has a new

outl ok on life after giving birth

to her first child, Sebastian.

The Fendalton-Waimairi-

Harew od Community Board

member and her husband Robin

welcomed the baby boy on April

10 in what she described a

"precious experience."

"Having a child has not

only b en a precious

experience for me,

as a woman, but it

has also changed the

way I s e the world.

I now s e the world

as a mother – the

agendas and i sues

in our ward have

become a lot more

personal now."

Sebastian is also

the first grandchild

of both sides of the

family, "so he is

ge ting a lot of love

and a tention," said

Mrs Chen.

The couple first

met while at primary sch ol at

the former Kendal Sch ol in

Harew od.

"We are rea ly ha py that we

have ended up se tling back at

Harew od and that we wi l be

raising Sebastian here. Both

Robin and I have fond memories

growing up in this area," she said.

Mrs Chen is the second

community board member to

welcome a child this term, with

Jamie Gough's wife, Jasmine,

giving birth to their first child in

September. •Turn to page 5

'Precious' bundle of joy

New perspective

on life for

community

board member

NEW ARRIVAL: Community board member

Linda Chen and her husband Robin have

welcomed their first child, Sebastian.

PHOTO: MARTIN HUNTER

• By Anan Zaki

YALDHURST residents

wi l this w ek lodge an a peal

and prepare for a costly court

ba tle to cha lenge a decision to

a low qua ry expansion in the

area.

The decision made by city

council and Environment

Canterbury a pointed hearings

panel a lowed qua rying

company Road Metals to

increase their Yaldhurst

operations to 1 0m from

houses.

To lodge the a peal, the

residents formed a new

group named the Yaldhurst

Environment Group – Hau Ora

Inc.

Chairwoman Soraya Nicholas

said the a peal would cos the

group $1 0,0 0 and it received

su port from various members

of the community.

"We're probably l oking

at mandatory mediation

ha pening in September and

potentia ly the Environment

Court a peal case wi l be very

late this year or early next year,"

Ms Nicholas said.

The group does not wan to

ban qua rying in the area.

•Turn to page 4

Yaldhurst

residents

prepare

for legal

battle over

quarry

Ph 377 0770,

330 Cashel St,

Christchurch

Restore your oiled CEDAR BLINDS with ou re-oiling service.

Rejuvenate your lacquered CEDAR BLINDS

High-tech Cleaning

We clean and repair a l types of blinds –

Venetians, Cedar, Verticals, Ro ler, Ho lands,

Romans and Pleated – with environmenta ly

friendly cleaning products.

Temperature Contro led Drying

Re-oiling & Rejuvenating

Fabric Blinds - such as Austrian and Roman

Same Day Pick Up & Drop O f

We o fer a same-day, pick up an drop o f

service for mos types of blinds. B okings

are required.

Convenient Location

Drop blinds into us by 9am, at

30 Cashel Str et (near the

Fitzgerald end), and co lect

them a the end of the day.

New Blind Sales Priced from $30

WE ARE OPEN

Mon - Fri

8. 0am to 5. 0pm

Ro ler Blinds cleaned

from as li tle as $20

per blind

www.blindcare.co.nz SCAN QR code for Info >

BLINDS .Cleaned, Repaired & Restored .

• World class DJ's

• Lighting & visual effects

• Cage dancers & aerial acts

• VIP booths

9pm-3am Fri & Sat only

STANDARD DRINKS

only $6

32 allen Street Fo low us on Facebook

Ph 03 384 9249

108 Port hills Rd, heathcote Valley

Come in for a visit and

experience the difference

For full information please visit our website

www.hvp.co.nz

Three age specific rooms plus

School prep Teaching room

20 Hours Free for 3 & 4 yrs old

Ferrymead

Heritage Park

Bridle Path Rd

Lyttelton

Tunnel

We are

here

Port Hi ls Rd

Tu nel Rd

Martindales Rd

Jan Edlin 0274 338 025 Patricia van de Bent 0272 961 408 21 Humphreys Drive, Ferrymead

Prier Manson Real Estate Ltd Licensed (REAA 2008)

Real Estate

Know

How

• Multi-award

winning team

• Area Expertise

• Proven Success

Page 3 Page 19

In the pink

School gets behind

anti-bullying campaign

Solutions sought

Ideas for site where Godley

House once stood

WEDNESDAY, MAY 30 2018

www.star.kiwi

Locally Owned

Buy, Sell,

Discover.

with .

Lynton Hubber

A fresh

a proach to

Real Estate

thinking.

Four Seasons Realty

M 027 433 4141

Harcourts Grenadier Fe rymead -

Licensed Sales Consultant RE A 2 08

• By Sarla Donovan

COCKLE NUMBERS in the

Avon-Heathcote Estuary are in

serious decline.

A six-month study shows the

population has fallen dramatically

since a 2012 survey, from

around 400 per sq m to between

50 and 80 per sq m in some

areas.

Biological sciences student

Stephanie Hampson has been researching

the extent and impact

of harvesting on the health and

sustainability of estuary shellfish

beds – an important feeding

grounds for birds.

The results suggest the current

limit of 150 cockles per person

per day is too high and needs to

be reduced or even a ban put in

place, Ms Hampson said.

Auckland's limit is 50 per person

per day, which she believes

would be more appropriate if

harvesting is to continue.

•Turn to page 5

DECLINE: Stephanie Hampson has researched the health of shellfish in the estuary and it's not looking good.

PHOTO: MARTIN HUNTER

Shellfish numbers threatened

• By Sarla Donovan

FORMER BANKS Peninsula

Community Board chairwoman

Christine Wilson has died after a

short illness.

"Lyttelton has lost one of its

best and dearest," said friend and

board member John McLister.

"Christine was a jewel. She loved

her community, selflessly dedicating

her life to public service."

Ms Wilson was the sister of

former All Blacks Graeme and

Stephen Bachop and mother to

former All Blacks Nathan and

Aaron Mauger, who now respectively

coach at the Sunwolves

and Highlanders Super Rugby

franchises.

Aaron Mauger remained in

Christchurch at the weekend as

his team played in Brisbane.

Banks Peninsula city councillor

and Deputy Mayor Andrew

Turner said he was saddened to

hear of her death.

"My thoughts are with her family

at this time," he said.

Ms Wilson had been a highly

effective board chair and would

be much missed in the community.

•Turn to page 8

Lyttelton

identity

dies after

short

illness

Page 18, 19 Page 22

National ca l-up

Lincoln footba ler makes the

right impre sion

Raising the curtain

Idea to build a community

cinema in Ro leston

WEDNESDAY, MAY 30, 2018 www.star.kiwi

Loca ly Owned

June 29 - July 1

EXHIBITORS BOOK NOW

vane sa.fleming@starmedia.kiwi

021 914 565

• By Emily O'Co ne l

GLENTUNNEL t enager

Manaia Davies is off to San

Diego next month in a team of

2 dancers representing New

Zealand in an international

competition.

The 13-year-old was asked to

be in the team by Kiwi choreographer,

Kiel Tutin, who has

worked with stars such as Jennifer

Lopez.

Manaia, who has b en dancing

since she was thr e-yearsold,

says she was "shocked" by

the invitation and is l oking

forward to competing in Body

Rock Junior.

She's b en trave ling to

Auckland each w ekend for

practice.

"It's rea ly hard-out, it's fu l

hands-on training and we

run the set over, over and over

again," she said.

The Burnside High

Sch ol student spends most

of her spare time training or

teaching.

•Turn to page 6

OPPORTUNITY:

Glentu nel t en Manaia

Davies is off to San

Diego next month for

an international dance

competition.

From Glentunnel to San Diego

• By Georgia O'Co nor-Harding

DISTRICT council-owned

houses in Darfield have had

to be decontaminated from

methampetamine before they can

be sold.

The thr e dwe lings are part of a

portfolio of houses and a section in

Ritso S the council is dispersing.

It has cost just over $40, 0 to

decontaminate the properties.

Insurance has met about $30, 0

of the bi l, the district council the

rest.

The houses are on the market

for betw en $3 0, 0 to $3 5, 0.

Former mayor Bi l W ods says

he is concerned that money from

the sales wi l not go back into

Malvern community.

In the early 2 0s Mr W ods

and late district counci lor Paul

Stewart was involved in pu ting a

case forward that if the properties

were sold the money had to go

back into the community.

"In fairne s, the money gained

from the sale of these properties

must be returned to the area from

where it was co lected," he said.

The district council's property

and commercial manager Douglas

Marsha l said yesterday the

sale proc eds wi l be credited to

council district funds.

•Turn to page 6

$40k to fix

council

homes

damaged

by meth

Best nest in

the west

There's no be ter place to se tle out west than at Falcon's Landing. Pop in to our sales and

information office, 17 Branthwaite Drive, this Thursday, Friday or Sunday from 1pm to 3pm to

find out more. Contact us on 03 741 1340 or mail enquiries@yoursection.nz anytime.

• By Bridget Rutherford

A CON man who tells his

intended victims he will harm

their families if they don't pay up

may face a bigger problem than

the law – gangs.

Police have received 19 complaints

from Christchurch people

targeted by the sinister scam. It

involves phone

calls and texts to

victims who are

told the caller is

from the Mongrel

Mob, Highway 61

or Black Power.

Pay up or your

family members,

including elderly

parents, will be

attacked, the caller says.

But it appears the con man is

not connected to the gangs, just

using their names to put fear into

the intended victims.

Canterbury University criminologist

Greg Newbold said yesterday

the gangs would be "filthy".

"All I can say is he's got a death

wish," he said.

"They will be absolutely p***ed

off. Anybody who impersonates

a gang member is committing a

serious crime against the gang."

Prof Newbold said the perpetrator

could get a "hiding" for that

alone.

•Turn to page 7

Sinister

con man

may

feel

wrath

of gangs

Thursday, May 24, 2018

Celebrating 150 years

PAGE 23

Being tactical

Coach, mum, motivator

Big scrap after police

find 'burglar' – page 17

Fergie versus

The Cop

Greg

Newbold

See pages 4 & 5

FUEL PRICES

Trump gets

the blame

Restore your oiled CEDAR BLINDS with our

NEW re-oiling service.

Rejuvenate your lacquered CEDAR BLINDS

High-tech Cleaning

We clean and repair all types of blinds –

Venetians, Cedar, Verticals, Roller, Hollands,

Romans and Pleated – with environmentally

friendly cleaning products.

Temperature Controlled Drying

Re-oiling & Rejuvenating

Fabric Blinds - eg Austrian & Roman

New Blind Sales Priced from $30

Same Day Pick Up & Drop Off

We offer a same-day, pick up and drop off

service for most types of blinds. Bookings

are required.

OPEN

Mon - Fri 8.00am to 5.00pm

Convenient Location

Drop blinds into us by 9am, at 330 Cashel

Street (near the Fitzgerald end), and collect

them at the end of the day.

BLINDS...Cleaned, Repaired & Restored...

Ro ler Blinds cleaned

from as li tle as $20

per blind

< SCAN QR code for Info

Ph 377 0770, 330 Cashel St

www.blindcare.co.nz

Phone 377 0034

15/114 Sawyers Arms Road

www.dimockheatpumps.co.nz

email: sales@dimocks.net.nz

* Conditions apply. Normal lending criteria, booking fee and annual account fee applies. Limited stock.

HUGE SAVING

Fujitsu 6KW Floor Console

$2,999

Was $3,399

Fully

installed *

Now

*Model ABTG18L installed back to back,

up to three metre pipe run and electrical

supply within 6 metres.

Six Year

Warranty

DON'T MISS OUT!

Ph 377 0034

PRIVATE

BUYERS

Want house

and land within

4kms of CBD

Over 600sqm

Phone

0275 415 252

Real Estate

HOME WANTED 3-4

bedrooms. Looking in Nor

West areas, Beckenham

or Somerfield. Prefer

permanent material brick

and post 1990 build. Don't

mind if it needs some TLC

- anything considered.

Cashed up buyer. Phone

021 372 479

INDUSTRIAL -

COMMERCIAL

property sought Off

Market. Deal to suit your

needs. Private qualified

buyer. Contact Lester 021

0244 9280

Real Estate

The Star Classifieds • Phone our local team 03 379 1100 • Email star.class@starmedia.kiwi
---
34 The Star Thursday September 23 2021

Trusted Trades & Professionals

To advertise: 379 1100 or star.class@starmedia.kiwi

Trades & Services

CAR REMOvaLS

CASH PAID

FOR DAMAGED

CARS & TRUCKS

Phone or text

details to

021 1056 797 - 24/7

DRIVEWAYS

Exposed Aggregate

Stamped Concrete Plain

Concrete Resurfacing

Things we offer...

Competitive/affordable pricing

Attention to detail

Professional service

free quotes/insurance scopes

Cell 0278 145 848

www.drivecrete.co.nz

FURNITURE

EXCLUSIVE. STYLISH.

HANDCRAFTED.

Solid timber furniture

A fantastic range

of traditional and

contemporary

furniture designs.

We can also help you

with any custom made

furniture requirements.

19 Elgin St, Sydenham. Ph: (03) 366 9219

www.gavincoxfurniture.co.nz

PLUMBER

NEED A PLUMBER

Call us now for fast friendly service.

Get your problems sorted out

quick smart - on time!!

Phone for a

FREE

quote now.

Phone 03 377 1280 | Mobile 021 898 380

DECORATORS

ELECTRICIAN

Contact for a free quote

phone 027 331 0400

dave@davesimpsonelectrical.co.nz

davesimpsonelectrical.co.nz

Experienced Domestic Electrician

Quality Workmanship

• New Build

• Renovations

• Fault finding

Selwyn based but

service the whole of

the South Island

• New Paint • Floor & Roof

• Repaints Painting

• Wallpapering • Spray Painting

• Fences • Commercial

• Repairs • Timber Finishing

• Feature Walls • Plastering

027 724 6846 027 PAINTIN

email: andertondecorators@gmail.com

• Power

• Lighting

• Switchboards

landscaping

Landscape

Construction and

Garden Maintenance

You can have your gardens, trees,

shrubs, plants and lawns maintained to look their best

all year round, for a great price.

Residential & Commercial Landscaping

• Maintenance • Pruning • Reconstruction & Rejuvenation

• Rental Property and Commercial Maintenance

• Pre-Sale Tidy-Ups

New Home Landscaping

Lawns • Gardens • Decks • Paving • Water Features

• Quality • Value for money • Experienced • Punctual

• Professional • Flexible • Knowledgeable • Reliable

Call Ross Legg - 027 222 0388

Email ross@revivelandscaping.co.nz

www.revivelandscaping.co.nz

SCRAP METAL

Dominion Trading Co Ltd

• Scrap metal buyers

• Canterbury owned & operated

• Top prices paid $$$

• Open Saturday morning

Open Mon-Fri 8am – 4.30pm Sat. 8.30am-12.30pm

www.happyscrappy.co.nz

03 343 9993 333 Blenheim Rd

Driveways

SWAINS

KIWI KERB

(Since 2005)

Over 22 Years Experience

Quality

Workmanship

• Driveways

• Kerb &

Channel

• Garden Edging

Freephone: 0800 081 400

swainskiwikerb@gmail.com

Excavations

• Driveways

• Car Parks

• Site Cleaning

• Demolition

• Farm Tracks

• Drain Cleaning

• Stump & Hedge

Removal

• Asphalt Concrete

Wide range

of truckS

for a free quote

on your next project

Phone Steve on

021 338 247

PAINTING & PlAsTerING

• PAINTING • TILING

• PLASTERING

• WALLPAPERING

Phone Kevin Steel

• Interior/Exterior

• New Homes & Repaints

• Quality workmanship assured

• Correct preparation always undertaken

• 20+ years experience

• Earthquake repairs

(Painting/Plastering/Wallpapering/Tiling)

Ph 027 216 8946

www.facebook.com/kevinsteelpainters&decorators

Email: kpsteel@xtra.co.nz

WINDOW TINTING

tintawindow

advanced film solutions

99% uv block

fade protection

heat control

reduce glare

25 Years Experience

privacy films

frosting designs

non-darkening films

Workmanship Guaranteed

Lifetime Warranties on Most Films

UV

block

• Tennis Courts &

Swimming Pools

• Chip Seal Driveways

• Diggers – 2 Ton

up to 20 Ton

• Excavators

• Bobcat & Drilling

• For Posthole &

Fence hole

free

quote

Free Quotes Canterbury and Districts

03 365 3653 0800 368 468

Need it?

Rent it!

No Bond

Free Delivery

Free Repair

Great Student Deals

Canterbury Owned & Operated

Free Call Now:

0800 717 000

AA SHOWER

CLEANING

From $60 Spring Clean

now!. Ph 021 022 824 85

ARBORIST

Qualified. Copper

Beech Tree Services.

Tree removal, pruning,

height reduction, hedge

trimming, shaping, tree

planting, firewood. Free

quote. Contact Angus

Edwards 027 259 6741.

copperbeechtreeservices@

gmail.com

BRICK & BLOCK

LAYING all restoration

work and new work plus

foundations, ph 342 9340

or 021 853 033

BUILDER QUALIfIED

50 yrs exp. Bathrooms,

Kitchens, Renovations,

Repairs & Extensions

Free quotes. Discount for

pensioners. Ph Mike 03

980 9771 or 027 2266 930

BUILDER QUALIfIED

Decks, T & G Flooring,

Villa Restoring, New

Homes, Weatherboards.

Free Quotes. Bennet &

Sons Ltd Sam 027 496-

9362 or Tony 027 224-

0374

BUILDER, HANDYMAN

MAINTENANCE Have

peace of mind with a

fully qualified owner

operator LBP. Available

for all jobs around the

home, commercial or

rental property (extremely

experienced in Healthy

Homes Reporting and

all Remedial works) Call

Chris on 027 3888 211

BUILDER

New builds, alterations,

decks, fencing. 30 yrs in

the trade has given me

ability to build to a high

standard. Free quotes. Ph

Brent 027 241 7471

CARPET LAYING

Exp. Repairs, uplifting,

relaying, restretching.

Phone John on 0800

003181, 027 240 7416

jflattery@xtra.co.nz

CARPENTER/BUILDER

Licensed Building

Practitioner no. 100981.

All carpentry & building

repairs & maintenance.

Alterations & property

upgrades. Laundries /

bathroom / kitchens

replaced. Specialising in

replacement of all rotten

timber, fascia boards,

window, windowsills etc.

John Sandford, ph 329

4616, mob 027 5189 598

johnsandford2@gmail.com

Or Apply Online:

www.a4r.co.nz

COMPUTER REPAIRS

FAST Friendly

experienced techs

available to help you

now. Christchurch based.

All work guaranteed.

Computer Help 0800 349

669

CONCRETE CUTTING

Affordable Concrete

Cutting with Quality, and

removal work. Free quote.

No job to small. Phone 027

442-2219, Fax 359-6052

a/h 359- 4605

ELECTRICIAN

All types of domestic

& commercial work

undertaken, new housing,

alterations, extensions,

ranges, security lights,

quick response, efficient

service, free quotes,

city -wide. No call out

fee. M/S, 8-5. Call Pat

Barrett 03 359 2087/ 027

7331384.

with 24 years experience

ELECTRICIAN

Prompt & reliable

registered electrician

for all residential and

commercial work, new

housing and switch board

replacements. Phone Chris

027 516 0669

ELECTRICIAN

Available, 30 years

experience, immediate

start, competitive rate, ph

Brian 027 433 9548. No

call out fee

ELECTRICIAN

Registered, electrical

installation and repairs,

Gorbie Electrical, ph 021

026 73375 or 03 322 4209

ELECTRICIAN (REG)

Prompt, quality. Call Jack

027 206 0080

fENCING

All types of fencing . Free

quotes. Ph Jim 022 137

1920

GASfITTING

N.T. Gas Services.

Domestic gas installations.

Reg Craftsman Gas Fitter.

Ph Nick 021 892 491

Demolition

Carbon neutral

demolition/deconstruction

Residential - Commercial

Industrial - garages

For quotes please phone:

0274 052 391
---
The Star Classifieds

Trades & Services

"I WILL TURN UP

WHEN I SAY I WILL"

Need a certified and reliable plumber for filtration

systems or hot water cylinder replacement?

Bathroom upgrades or refurbishments?

Trades & Services

Re Roofing

Roof Repairs

Spouting

Approved Age Concern provider

Over 30 years experience

Licensed Building Practitioner

Thursday September 23 2021 The Star 35

• Phone our local team 03 379 1100 • Email star.class@starmedia.kiwi

Vehicles Wanted

CAR REMOVALS

$$CASH PAID$$

CARS, VANS, UTES & 4X4 WANTED

NZ OWNED AND OPERATED FOR 24 YEARS

We use world class vehicle depollution systems

0800 77 80 80

www.pickapart.co.nz

FREE CALL

TEXT

EMAIL

House & Garden

Property services Ltd

Tree & hedge trimming

Stump grinding

Gardening

Landscaping

Gutter cleaning

All aspects of

property maintenance

CALL us 021 405 277

EXPERIENCED

GARDENER

(Kevin Garnett)

30 Years

Christchurch Botanic

Gardens.

ALL landscape

work done.

Maintenance, pruning,

tidy up, lawn work,

landscape planning

and planting etc.

Free Quotes

Phone 348 3482

0508 H2O BOY

426 269

027 245 5100

HANDY - DAN

General Handyman for

all your maintenance

requirements. I specialise

in fences and decking, also

do spouting cleans and

repairs and everyday home

maintenance. NO JOB TO

BIG OR SMALL I can do

it all, please don't hesitate

to call me on 022 600 7738

for a no obligation free

quote.

HANDYMAN

For all those odd jobs. Ph

027 294 1508

HOME CLEANING

SERVICES Regular

Weekly or Fortnightly.

Ring Vivien at 03 365

8422 for free quotation

LANDSCAPING

Paving, Lawns, Irrigation,

Decking, Fencing.

Kanga & small digger

services. Check out Squire

Landscaping on facebook.

FREE QUOTES. Ph

Arthur 347-8796, 027

220-7014 Edwin 027 220-

7154

LAWN CUTTING &

HEDGE TRIMMING

SERVICES 30 yrs + exp.

Ph Jerry 021 037 4138

LAWNMOWING

Weeding, pruning, outdoor

tidyup's. Call Phil 021 661

246 for your free quote.

NICK@NICKJONESPLUMBING.CO.NZ

MOBILE CAR

CLEANING SERVICES

We come to you where

ever you are. Ring us

at 03 281 8054 for free

quotation.

ODD JOB SPECIALIST

Small jobs specialists.

eg: drippy taps, sticky

doors, locks, spouting/

fence repairs Discount for

pensioners. Ph 390 1565 or

022 5275 668. Avail now.

PAINTER, QUALIfIED

local professional, Int /

Ext, roofs,wallpaper, call

or text Corban 027 846

5035

PAINTING

Indoor / Outdoor, over 30

yrs exp, same day quotes,

ph Steve 021 255 7968

PAINTING

& PLASTERING Free

quotes. Int/ext & roof

painting Family run

business, work guaranteed.

Pensioner discounts. Ph

Kerin or Paul 022 191

7877 or 379-1281. Website

www.swedekiwipainting.

co.nz

PAINTING

Small - Medium jobs

Free quotes Ph 027 294

1508.

PAINTING

older painter

for older houses

50 years in trade

"All the skills"

Contact Jimmy Bell

0211221487

GST FREE

30 years + experience

Older house

restorations:

no problem!

Quotes: FREE!

Rates: Reasonable

Paint supplied at

trade price!

NO JOB TOO SMALL

Light industrial also

Roger Brott

Painter & Decorator

021-1966-311

N A BARRELL

ROOFING LTD

Ph: 0275 389 415

Email: nabroofing@xtra.co.nz

ROOF

PAINTING 24/7

Rope & harness

a speciality,

no scaffolding

required,

30 years of

breathtaking

experience.

FREE QUOTES

20% OFF other

roof quotes

Exterior staining,

exterior painting,

water blasting.

Moss and mould

treatment $300.

Phone Kevin

027 561 4629

rooF

painting

by Certified Tradesman

Book now

and receive

20% discount.

Rope and harness

a speciality.

No scaffolding

required.

30 years

experience.

Free quotes,

call Craig

021 060 2392

PLUMBER

A Top Plumbing job

completed at a fair price, all

work guaranteed, ph Brian

021 112-3492 or 03 960

7673

QEII COLLISION REPAIRS

Free Courtesy Cars

(conditions apply),All

Insurance work, Rust

Repairs & Private work.

Spray-painting. Free

pickup & delivery. Ph. 03

388 5187

REMOVALS

Small furniture removals,

have own van, can fit

various types of whiteware

appliances, some furn,

bedding, boxes etc, honest

& reliable, any area

considered, ph Chch 027

517 7001

ROOfING

All Roof repairs, Roof

painting, moss treatments,

Gutter cleaning 10 + yrs

exp, free quotes 24 / 7, Ph

027 516 6609

SPOUTING CLEANING

SPECIALIST Entire

spouting system cleared.

Single or 2 storey. Jo 021

164 0365

SPOUTING CLEANING

Spouting Unblocked,

Cleaned Out and Flushed

Out, Call Trevor 332 8949

or 021 043 2034

SPOUTING

Select Spouting The

PVC specialist. Repairs &

replacement. Ph 022 197

2351

STUMP GRINDING

Best price guarantee Tony

0275 588 895

TREE SERVICES

PLASTERING (INT)

Free quotes 20+ yrs exp.

and small painting

Tree, hedge or shrub

jobs. Experience and

- reduction, shaped or

excellence. Small to

removed. Ph/text Paul

medium job specialists

The Branch Manager

in all aspects of Interior

0274314720

Plastering. Please call Tim

TREE SERVICES

022 5380959

Specialist small tree

PLASTERER

pruning, Also garden

Phone Finn for all your

tidy ups. Ph Hugh

interior plastering needs.

"THE LITTLE GREEN

No job too small -

GROOMER" 021 275 5445

renovations, alterations,

TREE SERVICES

holes & cracks. Free

Hedges, shrubs, tree

quotes. I'll beat any quote

trimming & rubbish

by 10% .25 yrs exp. Canty

removal. Phone for free

born. Ph 022 087 4351

quotes 022 540 4900

PLASTERER

WATERBLASTING

Available for mid to small

Housewash, Drives, Paths,

jobs. Free quote. Ph 022

Decks, Moss kills, Gutter

430 0277

cleans. Ph 020 410 67205

WINDOW CLEANING

PLASTERING (INT) Average 3 brm house

and small painting jobs. inside or out from $45.

Experience and Both from $80 Phone

excellence. Small to Trevor 344-2170

medium job specialists WINDOW CLEANING

in all aspects of Interior Brown & White Ltd.

Plastering. Please call Family owned since 2001.

Tim 022 538 0959. Ph Paul 027 229 3534

Public Notices

RESOURCE

MANAGEMENT ACT 1991

CHRISTCHURCH CITY COUNCIL

PUBLIC NOTIFICATION OF

APPLICATIONS

FOR RESOURCE CONSENTS

Details of the applications for resource consent listed

below may be examined during normal office hours at

the Reception Counter of the Council's Civic offices,

53 Hereford Street, Christchurch, or the Council's

website (refer link below).

Submissions must be made in writing on Form 13 or

similar, and will be received at any Council Office until

5:00pm on Thursday 21 October 2021. The submission

form is available on the Council's website or at any

Council Office. Submissions may be made online, or

emailed to resourceconsentsubmissions@ccc.govt.nz,

or posted to the Resource Consents Unit, Christchurch

City Council, PO Box 73013, Christchurch Mail Centre,

Christchurch 8154. A copy of the submission must also

be served on the applicant via their address for service

below.

1. ADDRESS: 33 and 69

School Road

CONSENT SOUGHT: Land use consent

PROPOSAL:

Land use consent to establish an

agricultural equipment sales, servicing

and training facility, with ancillary

activities including office and associated

signage.

APPLICANT:

Landpower

Group

APPLICANT'S ADDRESS

FOR SERVICE: Richard Wilson

45 Ron Guthrey

Road

PO Box

16130

Christchurch 8441

Email: richardw@

landpower.co.nz

REFERENCE NO: RMA/2021/589

WEBSITE LINK: https://ccc.govt

nz/the-council

consultations-and

submissions

haveyoursay/

show/451

The application includes an assessment of

environmental effects.

Please contact Ryan Brosnahan,

telephone 03 941 8155 if you have any

questions about this application.

Dated at Christchurch this 23rd day of September,

2021.

John Higgins

Head of Resource Consents

Senior Citizens

Outings

with Companion Driving Service Ltd

Monday September 27 -

Geraldine for lunch (included) $79.00

Thursday October 7 -

Topp Twins Methven, morning tea included $74.00

Departing Early October

A few seats left on our Christchurch - Kaikoura

(overnight) onto Picton (overnight) trip.

Included in our price is the mail boat run up the

Queen Charlotte Sounds - all D B B - return to Chch

on The Coastal Pacific Train. Free pick up & drop offs

- single room (no sharing). Toilet facilities on

the boat - walking frames no problem.

Our price is $996.00 includes tour hostess

on coach & train.

PUNAKAIKI RESORT HOTEL SPECIAL

Hokitika - Greymouth - Punakaiki (overnight) by

coach. Next day free time in Greymouth then to Chch

on The Tranz Alpine train. Free pick up & drop off

- D.B.B included as well as train fare.

Single room (no sharing).

Our price of $494.00 - departing Mid October.

PHONE PETER ON 0800 453 873

for info and bookings.

COMPANION DRIVING SERVICE LTD.

SCHooLS. SPorts CLUBS OR CULturAL EVEnts

OUTSTANDinG

Fundraising opportunity

The Star has a fantastic opportunity that is an ideal way

to fundraise while at the same time helps to profile and

promote your team and their goals and ambitions.

Call now to find out more about how you can fundraise

those hard to get dollars, while at the same time

promoting some of the great positive work being done

in the community. It also offers exceptional value for

your supporters and sponsors.

Contact:

Mike Fulham

379 7100

mike@starmedia.kiwi

Public Notices
---
36 The Star Thursday September 23 2021

Public Notices

CHRISTCHURCH CITY COUNCIL

OCTOBER 2021 MEETINGS

23 Sep 2021

The next meetings of the Christchurch City Council, Community Boards, Council

Hearings Panels and Subcommittees with delegated authority will be held as

follows: Where stated, the Civic Offices are located at 53 Hereford Street.

To adhere to current Covid-19 restrictions, Council, Committee or Community

Board meetings may be held by Audiovisual link. Should Covid-19 restrictions

allow, the meetings will be held in the locations stated below. Please refer

to our Meetings, Agendas and Minutes webpage for further information for

specific meetings.

Council

Date Time Venue

12 9.30am Council Chambers, Civic Offices

Committees of the Whole

Date Time Committee and Venue

6, 27 9.30am Sustainability and Community Resilience Committee,

Council Chambers, Civic Offices

7 9.30am Urban Development and Transport Committee,

Council Chambers, Civic Offices

13 9.30am 3 Waters Infrastructure and Environment Committee,

Council Chambers, Civic Offices

28 9:30am Finance and Performance Committee,

Council Chambers, Civic Offices

Committees

Date Time Committee and Venue

8 9am Greater Christchurch Partnership Committee,

Council Chambers, Environment Canterbury,

200 Tuam Street

28 6pm Christchurch West Melton Water Management Zone

Committee, Harvard Community Lounge, Wigram

Village Green, Corsair Drive, Wigram

29 9.30am Chief Executive Performance and Employment

Committee, Civic Offices

Subcommittees

Date Time Subcommittee and Venue

5 10am Road Closure Subcommittee, Civic Offices

6 2pm Parking Restrictions Subcommittee, Civic Offices

20 3pm Insurance Subcommittee, Civic Offices

Community Boards

Date Time Board and Venue

5, 19 5pm Halswell-Hornby-Riccarton Community Board,

Horoeka Room, Rārākau: Riccarton Centre,

199 Clarence Street, Riccarton

5 5pm Spreydon-Cashmere Community Board, Boardroom,

Beckenham Service Centre, 66 Colombo Street,

Beckenham

20 8am Boardroom, West Spreydon School, 147 Lyttelton Street,

Spreydon

6, 20 4.30pm Linwood-Central-Heathcote Community Board,

Linwood Boardroom, 180 Smith Street, Woolston

8, 22 9am Papanui-Innes Community Board, Boardroom,

Papanui Service Centre, Cnr Langdons Road and

Restell Street, Papanui

11 10am Banks Peninsula Community Board, Akaroa Boardroom,

78 Rue Lavaud, Akaroa

18 4.30pm Coastal-Burwood Community Board, Boardroom,

Cnr Beresford and Union Streets, New Brighton

18 4.30pm Fendalton-Waimairi-Harewood Community Board,

Boardroom, Fendalton Service Centre, Cnr Jeffreys and

Clyde Roads, Fendalton

27 4.30pm Coastal-Burwood and Linwood-Central-Heathcote

Community Boards, Linwood Boardroom,

180 Smith Street, Woolston

Community Board Committees

Date Time Committee and Venue

5 4pm Halswell-Hornby-Riccarton Community Board

Submissions Committee, Horoeka Room, Rārākau:

Riccarton Centre, 199 Clarence Street, Riccarton

6 7.30pm Cass Bay Reserve Management Committee,

Steadfast Community Hall, Governors Bay Road,

Cass Bay

8 11.00am Papanui-Innes Submissions Committee, Boardroom,

Papanui Service Centre, Cnr Langdons Road and

Restell Street, Papanui

12 5.30pm Okains Bay Reserve Management Committee,

Okains Bay Community Hall, Okains Bay Road,

Okains Bay

18 5.30pm Duvauchelle Reserve Management Committee,

Duvauchelle Community Centre, 6039 Christchurch-

Akaroa Road, Duvauchelle

18 7pm Lyttelton Reserves Management Committee,

Lyttelton Community Boardroom, 25 Canterbury Street,

Lyttelton

20 7pm Allandale Reserve Management Committee,

Ōtoromiro Hotel, 52 Main Road, Governors Bay

Copies of the agendas will be available online and to the public at the

meetings.

To make a deputation or presentation to a Community Board, Committee or

Council meeting ring the call centre on (03) 941 8999 or email

info@ccc.govt.nz.

Information about Alcohol Licensing can be found online at

ccc.govt.nz/alcohol

Megan Pearce

Hearings and Council Support

Tuition

COMPUTER LESSONS

avail for computer, IPad,

or Mobile. Please contact

Jobee 027 290 9246 www.

computertutor.nz

COMPUTER LESSONS

avail for computer, IPad,

or Mobile. Please contact

Jobee 027 290 9246 www.

computertutor.nz

Wanted To Buy

WANTED

SLEEPOUTS

Sleepouts Galore

Buyers and sellers of

relocatable buildings

11 Brixton Street, Hornby

Phone: 349 9633

STEVE PURCELL

ANTIQUES

BUYING

NOW

Gold jewellery,

watches, coins,

medals, scrap

gold, sterling

silver, pewter,

original paintings,

modern art.

351 9139

stevepurcellantiques.com

AAA Buying goods

quality furniture, beds,

stoves, washing machines,

fridge freezers. Same day

service. Selwyn Dealers.

Phone 980 5812 or 027

313 8156

A+ ALL whiteware

wanted. Same day

service, cash paid for

freezes, fridges, washing

machines, ovens. Also

buying furniture & h/

hold effects. Anything

considered. Ph Dave 960-

8440, 027 66 22 116

A1 Albums, old photo's,

postcards, coins, gold,

bank notes, badges,

medals, jewellery,

watches, china, crystal,

books, furs, vintage

clothing, paintings,

furniture, estates &

downsizing. Etcetera

Antiques, 194 Edgeware

Rd 385 5117

ACADEMY ANTIQUES

Buying estates, antiques,

old china, crystal, art,

Royal Doulton, Royal

Albert etc. Best prices,

free appraisal. Call Rob

349-4229

A+ Household effects,

fridges, freezers, washing

machines, ovens. Good

cash paid. Ph Paul 022

0891 671

A records and Hi-Fi

gear wanted. Pennylane

Sydenham. 7 days. Ph

366-3278

BOOKS. Old wanted.

Anything considered incl

hunting, mountaineering,

fishing, childrens. Ph 354

1621

MILITARIA Any

country, firearms,

uniforms, badges, medals,

memorabilia, WW2 or

earlier ph 338-9931

TOOLS, Garden garage,

saw benches, Lathes. Cash

buyer Phone 355-2045

SUBJECT TO

ALERT LEVEL 2

RESTRICTIONS

BRIDIE'S BAR & BISTRO

NEW

SEASON

MENU

OUT NOW!

Come on down!

To add a listing, contact

Jo Fuller 03 364 7425 or

027 458 8590

jo.fuller@starmedia.kiwi

www.star.kiwi/whatson

Choose between Bacon Cheese

Burger, Fried Chicken Burger,

Lamb Burger, or Falafel Burger

+ House Drink

BOOK YOUR

TABLE NOW!

BRIDIE'S BAR & BISTRO

WE ARE OPEN DAILY FROM 9AM

PAVILION

CAFE

OPEN 9AM-3PM

NEW

BREAKFAST

MENU

ALL DAY

BREAKFASTS

LEGENDS

BAR

EXCITING

NEW MENU

OUT NOW!

RAFFLES ARE BACK ON!

Thursday - Friday 3.30pm-5.30pm

Saturday 11.30am-1.30pm &

3.30pm-5.30pm

Your chance to WIN!

POOL TABLES CLOSED

SORRY, NO SHUTTLE VAN OPERATING

17 CARMEN RD.

PH. 03 349 9026

WWW.HORNBYWMC.CO.NZ
---
Thursday September 23 2021 The Star 37

christchurch

GIG GUIDE

Thursday 23 to Wednesday 29 September 2021

SUBJECT TO ALERT LEVEL 2 RESTRICTIONS

12 BAR, 342 St Asaph St: Friday 8pm -

Oscar LaDell. Saturday 8pm - The Blues

Professor.

A ROLLING STONE, 579 Colombo St:

Thursday 7.30pm - Cathcart, Walsh & Blaikie

(CWB) with special guest Paul Doublet. Friday

6pm - Boogie House feat. Steve Driver, Harry

Harrison, Justine Snell, Allan Cattermole, & Rob

Carpenter; 9pm - DJ Rockin' 50s. Saturday 9pm

- Rock out in your seat with Mammoth. Sunday

4pm - Kiwi supergroup Now & Zen feat.

Th'Dudes' drummer Bruce Hambling, Wayne

Jamieson, Peter Allison, & Richard Johnston.

Monday 7pm - Quiz. Tuesday 8pm - Thy

Kingdom Comedy. All gigs seated, phone 03

377 4787 to book your seat.

BOO RADLEY'S, 1 Halswell Rd: Friday

8.30pm - Cloud Factory. Saturday 11.30pm -

Lee Martin.

CARLTON, 1 Papanui Rd: Friday 7.30pm -

Topia. Saturday 9pm - Nikita & Jimmy.

FAT EDDIES, 76 Hereford St: Thursday

6pm - Riverside Jazz Club presents the River

City Jazzmen, tickets $15; 8.30pm - Mirrors

Duo. Friday 6pm - Vintage Blue; 9.30pm -

Black & Gold; 12.45pm - DJ Jezza. Saturday

6pm - Nick & Dan; 9.30pm - Childton House;

12.45pm - DJ Jezza.

MOON UNDER WATER, 152 Somerfield

St: Sunday 2.30pm - Sunday Sesh feat. Nick

Jackman.

SULLIVANS IRISH PUB, 291 Lincoln Rd:

Friday 7.30pm - Willie McArthur One Man

Band. Saturday - Live music. Sunday 4pm -

Willie & Friends with Markus & Anna C.

Wednesday 7pm - Willie's Open Mic.

THE BOG IRISH BAR, 50 Victoria St:

Thurday 10pm - Willie Mcarthur. Saturday

11pm - B&G Trio.

THE EMBANKMENT, 181 Ferry Rd: Friday

7.30pm - Open Mic & Jam. Saturday 7.30pm -

Goodstock Productions presents Rock 'n' Metal

feat. Mudbelly; Lanthanum; Matrix., $5 entry.

Wednesday 9pm - Titanic (Kevin Emmett, Nick

Buchanan, and Peter K Malthus).

THE LOONS BAR, 16 Canterbury St,

Lyttelton: Saturday 8pm - Flirt 'A Nauti

Nautical Night' feat. The Robsta, Hemi,

Maestro-B, GMC, Mat Hoods & Yorkshire T,

with live percussion from Steelios, tickets at

cosmicticketing.co.nz

THE MILLER BAR, 308 Lincoln Rd:

Saturday 8pm - Lance Kiwi Karaoke. Tuesday

7pm - Quiz. Wednesday 7.30pm - Lance Kiwi

Karaoke.

WUNDERBAR LYTTELTON, 19 London

St: Friday 8pm - Fiona Dead Anniversary Gig

with the Beauchamps, tickets at

undertheradar.co.nz

RESTAURANT & CAFÉ

WE ARE OPEN

SENIORS SPECIAL $23

2 Courses: Soup/Roast or Roast/Dessert

Special available lunch only. Mon-Sat 12pm - 2.30pm.

KIDS 2 COURSE SPECIAL $13

Great Kids menu, plus designated play area.

The Garden Restaurant

WE SERVE YOU

Open daily from 6.30am

Breakfast, Lunch & Dinner

SPORTS BAR & TAB OPEN DAILY FROM 11AM

The

RACECOURSE HOTEL

& Motorlodge

118 Racecourse Rd, Sockburn,

Christchurch. Ph 03 342 7150

www.racecoursehotel.co.nz

THE ENTERTAINMENT HUB OF THE NORTH!

EVERYONE

WELCOME!

we are

open

FROM 11AM

« EVENTS COMING UP «

(COVID LEVELS PERMITTING)

Level 1

Buffet @Your Table

BISTRO

BOTH SIDES OPEN

Order at counter

& staff will bring

meals to your table.

RAFFLES

THURSDAY 5PM

SPIN TO WIN 5.30PM

GAMING

NO FOOD OR DRINK.

MASKS REQUIRED.

TAB

FULL FACILITIES

AVAILABLE

SHUTTLE

WEDNESDAY,

FRIDAY & SATURDAY

FROM 3PM

(MASKS REQ TO RIDE)

SORRY, NO

POOL, SNOOKER,

DARTS, SECTIONS,

MEMBERSHIP DRAW,

QUIZ OR HOUSIE

AT LEVEL 2

WATCH

THIS

SPACE!

DATE TO BE ANNOUNCED!

MEMBER'S DRAW

LIVE MUSIC

AS SOON AS WE SHIFT

BACK TO LEVEL 1

WE WILL BE CELEBRATING!

POSTPONED

Friday 1 October

ABBA+80s

NEW LEVEL 1 DATE

TO BE ANNOUNCED

113 RAVEN QUAY

PHONE: 03 327 7884

WWW.KAIAPOICLUB.CO.NZ

9AM - 4PM

SUNDAY TO FRIDAY

(CLOSED SATURDAY)

CLICK & COLLECT

CAFÉ

COFFEE

@GBCCHCH

Bookings Essential PH 386 0088

@GardenRestaurantBuffet

THURSDAY & FRIDAY:

FISH & CHIPS

SATURDAY:

CHICKEN NIBBLES & CHIPS

SUNDAY: ROAST MEAL

TUESDAY:

CHICKEN NIBBLES & CHIPS

WEDNESDAY: ROAST MEAL

Available 11.30am-2pm
---
38 The Star Thursday September 23 2021

STYLE & QUALITY

FOR LESS

SELL

OUT

STORE OPEN AT LEVEL2

CHRISTCHURCH'S MOST AFFORDABLE

NZ MADE LOUNGE SUITES

CUSTOMISE TO YOUR REQUIREMENTS

WAS $1999

$

1799

Havana 3+2

SUPER

SPECIAL

SUPER

SPECIAL

Haus Bar Stool

Avalible in:

Vintage Grey, Cognac,

Dark Brown, Black

Rustic Bar

Stool

WAS $199

WAS $249

$

179 $ WAS $739

219

$

679

Forged Coffee

Table

5 Year Warranty

Pocket Spring,

Euro Top, Quilt Fibre,

Wave Foam & Comfort Foam

5 Year Warranty

Zone Pocket Spring, Mini

Pocket Topper, Plush Fabric,

Quilt Fibre & Wave Foam

Elm

Collection

Table Large $1249 $1159

Table Small $759 $699

Buffet $1559 $1439

FROM

$

689

King Single $749 $689

Double $829 $769

Queen $919 $849

Cloud Rest Mattress

King $1019 $939

Super King $1099$999

FROM

$

689

King Single $749 $689

Queen $1019 $939

Indulgence Mattress

King $1059 $979

Super King $1079 $989

Willis Chaise Outdoor Set

WAS $2199

$

1999

Piha

Outdoor Table

WAS $1899

$

1749

Afforda

WAS $2199

$

1999 Tekapo

3 + 1 + 1 + Table + Bench Outdoor Set

GIFT REGISTRY

AVAILABLE NOW

Marley Outdoor

Dining Chair

Gunmetal

WAS $179

$

169

FREE

CARPARKING

SOUTH CITY

BATH ST

WE ARE

HERE

255 MOORHOUSE AVE

REBEL SPORT

COLOMBO ST

MON-FRI 9:30AM – 5:30PM

SAT-SUN 10AM – 5:30PM

0800 268 264

www.affordablefurniture.nz
---
KALANI HEPI has only been in

business for five months and is

surprised to have been voted the

"I didn't expect i to be honest,

being fresh on the block," the

Announced on Sunday, his win

is the latest in the Greater Hornby

Residents' Association's ongoing

THURSDAY, SEPTEMBER 23, 2021 Connecting Your Local Community

starnews.co.nz

Opinions

sought on

Nor'West

cycleway

Lucy's

Starship

surgery

fundraiser

Your

local news.

anywhere,

anytime.

Page 3 Page 5

Customers vote for

Thursday, September 23, 2021 | Christchurch's best read and largest circulating newspaper

suburbs' best businesses

Barber,

dairy and

fish 'n' chips

take top

positions

• By Fiona Ellis

best hairdressing business in the

Hornby area.

23-year-old owner of Dorm Five

Barbers said.

Halswell

Hoi An House

Thai and Vietnamese cuisine

Hoi An House means "The perfect meeting

place" a place to come relax, eat, enjoy, and

never leave the table hungry! Function area

caters up to 80 people.

ques to find the best businesses in

the area as voted by the public.

Dorm Five Barbers took the top

spot with 452 votes on the association's

Facebook page.

Hepi believed his win was due

to the fact that his barber's shop

was something differen to the

usual hairdressing salons in the

area.

• Turn to page 2

SAFE HANDS: Callum O'Sullivan receives his first professional haircut in several years at the hands of Dorm Five Barbers

owner Kalani Hepi. PHOTO: GEOFF SLOAN

Only a 10 minute drive from Beckenham

Megan Woods

MP for Wigram

While we remain at COVID-19

Alert Level 2 my office is open by

appointment only.

If you need any assistance please get in touch

at megan.woodsmp@parliament.govt.nz or

03 338 6347

If your query relates to COVID-19 please go to

the government website covid19.govt.nz

/MeganWoodsWigram

@megan_woods

/megancwoods

Authorised by Hon Megan Woods MP,

Parliament Buildings, We lington

Bring this

voucher in to get

10% off your bill

Not available in conjunction with any other offer or

promotion. Limit 1 coupon per table. Offers red emable

Monday to Friday, Lunch & Dinner only. Valid ti l 30th of

September 2021. Discount can not exc ed $50.

For everything

AUTO ELECTRIC

CARS • BOATS • TRUCKS

CARAVANS • TRAILERS • 4WDS

ELECTRIC & HYBRID VEHICLES

• Starter Motors

• Alternators

• Central

Locking

• electric

Windows

• ABS & Airbags

AAE Electric

Amazing

Auto

65 Coleridge St, Sydenham

Phone 03 379 4250

• Stereos/

Alarms

• Batteries

• tuneups

• engine

Management

USUALLy

SAMe DAy

ServiCe

www.amazingautoelectric.co.nz

Open 7 days from 5pm - 8.30pm • 265 Halswell Road, Halswell • 03 260 1799 • www.hoianhouse.co.nz - book online!

PaPaNUI

Thai Garden

Simple, yet adventurous

Thai Garden is about fun, fresh food that

combines the best of Asian flavours. We think

we've hit the trifecta of good Thai: fast service,

friendly staff and fresh ingredients.

Open 7 days from 5pm - 8.30pm • 484 Cranford Street, Christchurch • 03 354 9203 • www.thaigarden.co.nz

RICCaRtoN

Buddha Stix

The best pan-Asian cuisine

Vivid with colour and saturated with flavour,

Buddha Stix indulges all of your senses to create

an intimate and memorable dining experience.

Open 7 days from 5pm - 8.30pm • 74 Riccarton Road, Riccarton • 03 961 1704 • www.buddhastix.co.nz

sUMNeR

Le Xōm

Inodchina, Vietnamese cuisine

Here you will find the delectable flavourings of

Asia served up in an environment that creates an

enticing atmosphere.

Open 7 days from 5pm - 8.30pm • 6 Wakefield Ave, Sumner • 03 326 4352 • www.lexom.co.nz

BeCKeNHaM

Commi

Food for the people!

We believe that sharing is caring. Our menu has

been carefully created to empower the people.

A fresh, fast and casual dining experience for

everyone to enjoy – no bookings are required!

Open 7 days from 5pm - 8.30pm • Cnr Somerfield/Colombo Streets • 03 366 8844 • www.commi.co.nz

To view our menus, go to our website www.agh.co.nz
---
Book a

class today!

Cooking is an art form, an expression of life.

At Asian Garden Cooking School, we admire the

philosophy and techniques of Asian Cuisine.

Our purposely built cooking school and Asian Garden offers

our customers a unique opportunity to learn Asian Cooking

techniques, classes from $99 per person, 3 to 4 hours of learning

and fun.

We teach the secrets of Thai, Vietnamese, Chinese and other Asian

cuisine, dumpling making, drinks are included also.

Great for single, groups, or team building. Kids classes available.

We run day and evening classes, you can either book into an

existing class online; or you can book for a special event or

function.

Get in touch to find out more!

10 Whitchurch Place, Harewood | Phone 03 359 8917 | www.asiancookschool.co.nz
---
the big

furniture sale.

Baxter Right Chaise Leather

Lounge Suite - Flame

Also available in Eclipse and Lead Grey colours,

aswell as recliner and 2.5 seater configurations.

$3999

was

$5899

9066416

60

% %

off #

off

#

Sleepyhead Matrix

Model Runout Beds

30

selected

Lounge Suites
---
yellow

square

deal

Buy the Lisbon

3 Seater & get the

2 Seater FREE. *1

Munich Fabric Chair

Available in Midnight

(Pictured), Grey and Oatmeal

$699

was

$999

9060287

Marseille Tub Chair

Available in Charcoal

(Pictured), Navy, Silver & Steel.

$599

was

$899

9060286

yellow

square

deal

Bremen 6 Seater

Lounge Suite

$3699

9045666

was

$5399

$1999

SAVE

$1549

Lisbon 3 Seater

Fabric Sofa - Smoke 9068728

Limited Stock

yellow

square

deal

Preston 3.5 + 3 Seater

Fabric Lounge Suite

$3499

9062648

was

$4999

yellow

square

deal

The small

comforts in your

life deserve a

big upgrade.

yellow

square

deal

Bella 7 Seater Fabric

Lounge Suite - Grey

$3999

9063968

NZ Made

was

$5999

Lenyx 5 Seater Corner

Lounge Suite - Grey

$2799

was

$3999

9061221

NZ Made
---
yellow

square

deal

You'll want to sit at

the table for dinner,

for a change.

What's better

than bargains?

Bonuses.

Bahamas

Queen Slatbed

with 2 Drawers

$1599

+ 2 Free Bedsides

worth $329 each

9062352

New York 6 Piece

Dining Suite

$2309

was

$3299

9040252

Louie Queen

Slatbed with 2

Drawers

$1859

+ 2 Free Bedsides

worth $479 each

yellow

square

deal

%

25off #

selected NZ Made

Bedroom & Dining Furniture

Also available in

King size for $1999

9066816

Brooklyn Multishelf

Unit 9064106

$1429

+ Free Brooklyn

Nest of Tables

worth $429

Brook Single 3 Piece

Slat Bed Bedroom Suite

$2099

was

100% NZ Made from quality product

and with excellent craftsmanship.

$2799

9067063

Buy today, square it with us later. Pay-as-you-sit sofas,

pay-as-you-sleep beds, up to 60 months interest free finance. *
---
yellow

square

deal

%

60off #

Sleepyhead Matrix

Model Runout Beds

$2183

was

$5459

Sleepyhead Matrix

Plush Queen Bed

9061243

60 months

INTEREST FREE

on furniture & beds $1499 & over*

36 months

INTEREST FREE

on everything $499 & over*

Shop your way, delivered to your

door or click & collect in-store.

smithscity.co.nz

Offers valid dates vary, check product pages online for details. Available while stocks last or unless otherwise stated. Some products on display in selected stores only — please call 0800 764 847 to check availability. Personal

shoppers only, trade not supplied. *Apple, selected computers, game consoles, gift cards, clearance items and some promotional items are not available in conjunction with interest free offers. Flooring available on a maximum

of 18 months interest free. Exclusions, fees, terms, conditions and credit criteria apply. Available in-store only. Equal instalment amounts include one-off booking fee of $45.00, annual fees of $45.00 p.a., and security registration

fee of $8.05, and exclude insurance. Current interest rate of 23.95% applies to any unpaid balance and after expiry of (any) interest free period. See in-store or visit smithscity.co.nz/interest-free for details. *1 Offer valid 08 - 28

Sep 2021, or while stock lasts only. Availability may vary between stores. Not available in conjunction with any other offer. Limits and other exclusions may apply, ask in-store for details. In the event of an order cancellation or

refund, the bonus product must also be returned. Personal shoppers only. Trade not supplied. # Discount is off our full retail price and not available in conjunction with any other offer.