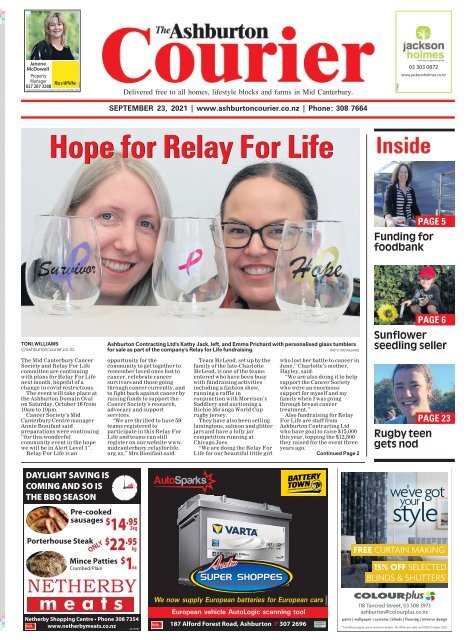 Ashburton Courier: September 23, 2021
You also want an ePaper? Increase the reach of your titles
YUMPU automatically turns print PDFs into web optimized ePapers that Google loves.
Janene

McDowell

Property

Manager

027 287 3388

Real EstateMid CanterburyPropertyLimited Licensed (REAA 2008)

2408056

Delivered free to all homes, lifestyle blocks and farms in Mid Canterbury.

2379686

03 303 0872

www.jacksonholmes.co.nz

SEPTEMBER 23, 2021 |www.ashburtoncourier.co.nz |Phone: 308 7664

HopeforRelayFor forRelayForLife

PAGE 5

Funding for

foodbank

TONI.WILLIAMS

@ashburtoncourier.co.nz

Ashburton ContractingLtd's Kathy Jack, left, and EmmaPrichard with personalised glass tumblers

for sale as part of the company's Relay for Life fundraising.

PHOTO TONI WILLIAMS

PAGE 6

Sunflower

seedling seller

TheMid Canterbury Cancer

Societyand Relay ForLife

committee are continuing

withplansfor RelayFor Life

nextmonth, hopefulofa

change in covid restrictions.

Theeventwill takeplace at

the AshburtonDomain Oval

on Saturday, October 16 from

10amto10pm.

CancerSociety'sMid

Canterbury Centre manager

Annie Bonifant said

preparations were continuing

''for thiswonderful

community event in the hope

we willbeinAlertLevel 1''.

Relay ForLife is an

opportunity for the

communitytoget together to

remember lovedones lost to

cancer, celebratecancer

survivors and those going

throughcancer currently, and

to fightback againstcancerby

raisingfundstosupport the

Cancer Society's research,

advocacy andsupport

services.

"Weare thrilled to have 59

teams registeredto

participateinthisRelay For

Lifeand teams can still

registeronour websitewww.

midcanterbury.relayforlife.

org.nz," Mrs Bonifant said.

Team McLeod,set up by the

family of thelate­Charlotte

McLeod,isone of the teams

entered whohave beenbusy

withfundraisingactivities

including afashionshow,

runningaraffle in

conjunction with Morrison's

Saddlery and auctioning a

Richie Mo'unga World Cup

rugby jersey.

They have alsobeen selling

lamingtons, salmonand glitter

jarsand have alolly jar

competitionrunningat

Chicago Joes.

"We are doing theRelay For

Life for our beautifullittlegirl

wholost her battle to cancerin

June,"Charlotte's mother,

Hayley,said.

"We are also doingittohelp

support theCancerSociety

whowere an enormous

supportfor myself andmy

familywhenIwas going

through breast cancer

treatment."

Also fundraisingfor Relay

ForLife are staff from

Ashburton ContractingLtd

whohave goaltoraise $15,000

this year, toppingthe $12,500

they raised for the event three

years ago.

Continued Page 2

Rugby teen

gets nod

PAGE 23

DAYLIGHT SAVING IS

COMING AND SO IS

THE BBQ SEASON

Pre-cooked

sausages

Porterhouse Steak

ONLY

MincePatties

Crumbed/Plain

$

14 . 95

2kg

$

22 . 95

kg

$

1ea

NETHERBY

meats

Netherby Shopping Centre •Phone 308 7354

www.netherbymeats.co.nz

2413597

NZ'S PREMIUM AUTOMOTIVE CENTRES

We now supply European batteries for European cars

European vehicle AutoLogic scanning tool

187 Alford Forest Road,Ashburton P 307 2696

2396460

FREE CURTAIN MAKING *

15% OFF SELECTED

BLINDS&SHUTTERS *

118 Tancred Street, 03 308 3973

ashburton@colourplus.co.nz

paint |wallpaper |curtains |blinds |flooring |interior design

*Conditionsapply,see in-storefor details. All offers arevalid until18th October 2021.
---
NEWS

2 Ashburton Courier, September 23, 2021

www.ashburtoncourier.co.nz

BUSINESS OWNERS

Build customers,

sales and profits

with us ...

Decision pending on Smiths

Ashburton trading location

MICK.JENSEN

@ashburtoncourier.co.nz

Delivered

to all homes,lifestyle

blocks and farms in

MidCanterbury

and Geraldine

news

Daniel Tobin

Editor

308 7664

027 628 7679

daniel.tobin@ashburtoncourier.co.nz

Reporters

Mick Jensen

mick.jensen@ashburtoncourier.co.nz

Toni Williams

toni.williams@alliedpress.co.nz

advertising

Jann Thompson

Sales Manager

308 7664

027 587 6351

jann.thompson@ashburtoncourier.co.nz

Karen Gane

Sales Account Manager

308 7664

021 510 804

karen.gane@ashburtoncourier.co.nz

getintouch

Editorial

daniel.tobin@ashburtoncourier.co.nz

Advertising

info@ashburtoncourier.co.nz

CreativeManager

murray.thompson@ashburtoncourier.co.nz

Accounts

accounts@alliedpress.co.nz

Distribution/Deliveries

mary.summerfield@ashburtoncourier.co.nz

Office

office@ashburtoncourier.co.nz

03 308 7664

199 Burnett Street,Ashburton

www.ashburtoncourier.co.nz

2388023

Property owner Tricroft and its

tenantSmithsAshburton (Smiths

City) are awaiting adecision from an

independenthearingcommissioner

on whether trading can continue out

of the former Bunningsbuilding on

West Street.

Tricroft has applied for aresource

consent because the premises does

not comply with Ashburton District

Council's new Plan Change4,which

aims to give prioritytothe

development of retail in the town

centre (Business A).

The West Streetsite is zoned

Business Cand SmithsAshburton's

wish for retail floorspace of 1002m2

exceeds the permitted maximumof

750m2.

As well as being anon­complying

activity under District Plan rules, the

application refers back to the

consent issuedfor the formeruse of

the site by Bunnings Warehouse.

Council has allowed Smiths

Ashburton to operatesince June at

the site, pending the decision of the

resource consent process.

Limited retail activities are

permitted at the site but mustbeyard

based and trade­basedsuppliers.

Tricroftintendssplitting the large

4725m2space into three separate

tenancies because of the demand in

the market.

Tricroftgeneralmanager Tony

Gilbert, in his statement of evidence

to the hearing commissioner,said

Tricroft supportedongoingvitality

and the general health of the town

centre,but did not believe there was

currently the space or conditions

required for alarge format retailer

Gearing-up for Relay For Life

From Page1

As partofthe Mid CanterburyRelay

For Life stafffrom Ashburton

Contracting are sellingpersonalised

glasstumblersand coffeecups asa

way to 'raise aglass to celebrate,

support, or remember someone

specialthathas battled'.

The glassware costs $10 each, or

$35 for four, andcan be printed with

any personalisedname or message.

Orders can be made by callingthe

company, or via message on their

The Smiths Ashburton store on West Street, Ashburton.

(LFR)like Smiths Ashburtonto

operate in the central business

district (CBD).

There had been urgency for the

business to relocate from its former

site and also the risk of the company

exitingAshburtonaltogether.

LFRs weretypically found outside

of the town centre,which meant

easiertraffic access and better

promotion of the business, he said.

In his evidence opposing the

application local property valuer

and consultant Clark McLeod,who

submitted as an individual within

the Ashburton Retailers Group, said

Smiths Ashburton may or may not be

suitedtothe CBD, but the proposed

West Street relocation wouldhave ''a

significant impact detractingfrom

Facebook page.

Staff will also be manninga

barbecueduring the Relay forLife

sellingbaconand egg butties and

steak sandwichesatmealtimes.

Fundraisingthis year is more

importantthan eversincethe Cancer

Society wasunable to holdits

Daffodil Daystreetcollection last

monthdue to Covid­19 restrictions.

CancerSociety managerAnnie

Bonifantsaid there was plenty of

encouragementfor teamstokeepup

Climate Aotearoa

What's happening &what we can do about it

Edited by HELEN CLARK

With an introduction from Helen Clarkand contributions from arange

of climate scientists and commentators -Rob Bell,Jason Boberg,

Adelia Hallett,Sophie Handford, Rhys Jones,Haylee Koroi,

Matt McGlone,Jamie Morton, RodOram, Jim Salinger, Kera

Sherwood-O'Regan, Simon Thrush and Andrew Jeffs.

Climate Aotearoa outlines theclimate situation as it is now, and as

it will be in the years to come.Itdescribes the likelyimpactonthe

environment and on our day-to-day living situation.

It suggeststhe changesyou can make formaximum impact,

whatweshould be asking of our governmentand our business

community. In doingso, thisisahopeful book -

actions can make adifference!

212 East Street,Ashburton. Phone 308 8309

the CBD businesses.''

He said the cost of development

and therefore the costofretail

occupancyinanouter Business C

location was significantly lessthan a

central business location.

That lowercost would have the

tendency to draw other business

from central locations and

potentially create avacuum from the

CBD.

Evidencewas provided in person

and via Zoom for both Tricroft and

AshburtonDistrict Council during

the eight hour hearinginfront of

commissioner Ken Fletcher.

The hearing was adjourned for the

clarification of afew small matters

and adecisionwas expectedin the

nextfour weeks.

their fundraisingefforts.

''(We)wouldlove it if Mid

Cantabrians would show their

support by donatingtotheir favourite

teamonthe MidCanterbury Relay

for Life website.

''Wealso wanttoacknowledge our

fourmajorevent sponsors for this

year's Relay ForLife –ahuge thank

you to Property Brokers, Midlands

Seeds, Argyle WelshFinniganand

Paterson's Funeral Services for their

support."

2413614
---
www.ashburtoncourier.co.nz

NEWS

Ashburton Courier, September 23, 2021

3

Covid restrictions cause events re­think

TONI.WILLIAMS

@ashburtoncourier.co.nz

The South Islandremains

under Alert Level 2restrictions

for at least two moreweeks, but

the limit on indoor gatherings

has risen from50to100 people.

The increase has been

welcomed by many restaurants

and publicans, but for those

with upcoming outdoor events

and no changetolimits, its

either seen the cancellation of

events planned in the nexttwo

weeks, or arethink of howto

run eventsunder the new level

restrictions.

The covidrestrictions have

forced the cancellation of

Boulevard Dayand the Mid

TownMardi Gras, both due to

run in Ashburton on Monday,

butorganisersofthe Ashburton

A&PShow have time on their

side.

Show administrative

secretaryLucille Brown said

the show committee were

leaving theirfinal decision on

howthe show wouldrun until

October 18.

Then they would know

whether the showonOctober 29

and30would go ahead at Level

1, or run as an entrants/

exhibitor­only show under

Level2­with no spectators.

'If we are still in Level2on

October 18 the decision will be

made the run an entrant/

exhibitor only showwith all

sections of the schedule

participating,'' she said.

Entries for the show had been

steady with good numbers

across all sections, however

covid restrictions maysee some

equestrian classes unable to

run due to ground space, but all

horse of the yearclasses would

be staged.

The final entry date for

competitions had been

extended until October 8when

Mrs Brown and committee

members would be at the

showgroundstoaccept final

entries.

No late entrieswould be

received and if, in the unlikely

event theAlert Levels went

back up again, entryfees would

be refunded in full,she said.

Raising the indoors

gatherings limit has made

hosting some events more

viable such as the Mid

Canterbury Children's Theatre

(MCCT) production of 'Disney's

TheLittle Mermaid Jnr'which

willgoonasplanned on

October 8, 9and 10.

Show spokesperson Nicola

Walker said after anail­biting

timewaiting for the AlertLevel

changes which came about this

week, allcast and creware

excited to get the show on Stage

for an audience.

''MCCT committee,directing

teamand cast have spent the

lastalmost six months pulling

together 'Disney's The Little

Mermaid Jnr' afterhaving to

cancel the showin2020 due to

the pandemic.''

''The castand directingteam

have beenworking hard,

despite the covid interruptions,

and with an intensive rehearsal

schedule planned for the first

week of the school holidays, we

will be ready!

''Ourawesome set is almost

complete, our amazing

costumes are nearly readytobe

adorned and props have been

created and sought,'' Mrs

Walker said.

''Roger and the team at

Ashburton Trust Event Centre

have beenamazing at helping

us get to stage and are looking

forward to welcomingpatrons

back to the theatre.''

Tickets, which cost from $25,

are available at Ashburton

Trust Event Centre or www.

ateventcentre.co.nz

Your APPLIANCE and BED

specialists

Weber QPremium

FEEDS

UP TO

10

Large enough to caterfor family and friends yetcompact

enough to take away camping.

Available in titanium and black

Patio Cart available $249

$

619

weekly from $4.88*

Weber Spirit IIE-320

FEEDS

UP TO

12

With the spacious

cooking area, you

can sear steaks

on one side while

barbecuing an

appetiser on the

side burner.

$

1249

weekly from $6.97*

Crowds pack aprevious Boulevard Day.

Boulevard

Day gone,

organiser

frustrated

For the secondconsecutiveyearcovidhas

forced the cancellationof Boulevard Day in

Ashburtonand organiser BobMcDonald is

nottoo happy.

He is disappointed and frustrated by the

decision nottoreturn theSouth Island to

Level1.

''We'vehad no covid community cases in

the South Island for about ayear now and

yet we're still kept at Level 2­Idon'treally

understand it,'' he said.

It wasone of those things youcouldn't

do anything about, but it wasalost

opportunity for sellers, buyers andthe

Ashburton community,he said.

Boulevard Daycould only happen

underLevel 1because of the numbers

involved.

He had pulledthe pin on the eventon

Monday night and emailed nearly100

stallholderswho were due to set up for it.

Looking ahead, he said the eventwould

return to its traditional location on East

Street next year.

''We just don't know what thefuture

holdsfor events in NewZealand with

covid hanging around.

''A lot of peoplespend timeand money

organising events and theyneedsome

certainty that they are going to happen.''

6 WATER

LEVELS

Devotion Queen

GREATPRICE

5YEAR WARRANTY

Washing Machine - 7kgg

• 7kg,mid sized washer

• 6water levels,helps

reducewateruse

• Soak option, helps

clean stains etc.

• H1050mm W554mm

D618mm

55''4KSmartTV

BONUS

WITH THIS OFFER

c

3 5 OFF

• Conforma Coil

SupportSystem

–provides

minimum partner

disturbance

•

Breathable Knit

Fabric –healthier

sleep surface

IMMEDIATE DELIVERY

was$1149

$

897

$6.18weekly

IMMEDIATE

DELIVERY

was$2699

$

1490

$10.05weekly

IMMEDIATE

DELIVERY

was$2999

$

1945

$13.02weekly

• 4Kresolution offers amazing vibrantcoloursfor amazing picturequality

• Panasonic's easy to use remoteand operating system make it easy to access all

your favouriteapps and features

• UHF and Satellitetuner allows youtowatchFreeview straightfromthe TV

8 COOKING

FUNCTIONS

Range

Chorus DeluxeKing

LIMITED STOCK

5YEAR WARRANTY

• 8cooking functions,

create amazing meals

• 4xEgo elements,durable

and reliable

• Storage drawer,great for

those extratrays etc.

• H900mm W600mm

D600mm

• Pillowtop

Pocket Spring

System–

Reduced

partner

disturbance

•

Ultrafresh

–for allergy

support

•

Medium

comfort

75''4KSmartTV

was$1299

$

898

$6.18weekly

IMMEDIATE

DELIVERY

was$2999

$

1690

$11.36 weekly

IMMEDIATE

DELIVERY

was$4999

$

3875

$25.63weekly

• 4Kresolution offers amazing vibrantcoloursfor amazing picture

• 200mHzrefresh ratepanel means all your favouritesports and action movies

will look at their fluid best

• UHF and SatelliteFreeview TV

2413087
---
NEWS

4 Ashburton Courier, September 23, 2021

www.ashburtoncourier.co.nz

Tea and tinkering, men back at the shed

It's beenamonth between cups

of tea andbanter at the

Ashburton MenzShed,but last

week the boys were back.

Socialisingisabig part of the

Menz Shed concept and timeis

always taken to sit downto

catch up over morning tea.

After amonth's lay off, shed

members areback at workona

varietyofwoodworking and

engineering projects.

Projects are done for

themselves and for the

community andmost involve

some collective input.

Ashburton Menz Shed

president Richard Durie said

the shedwas operating under

Level2rules and members

were happy to be able to come

together again.

The shedwas about

friendship andtinkeringon

projects.

Membership was more than

50 and mostmemberswere

retired.

Adviceand ideas for projects

or repairwork were shared

liberally and help wasalways at

hand,MrDurie said.

The shedcomplex on William

Streethas dedicated work

areas with spaces for

engineering, carpentry, and

operatingmachinery.

It is open on Tuesdays,

Wednesdaysand Thursdays

between9am until 2pm.

Prospective new members

are welcome to check out the

facilitiesand meet the friendly

bunch whospend time there.

Catching up over acup of tea last week at the Ashburton Menz Shed were (from left) Keith Robertson,

Richard Durie, Murray Page, Dalvyn Burrowes and Michael O'Callaghan.

German Style Handcrafted

SAUSAGES

Pork flavours include cumberland,jalapeno and

cheddar (not hot), caramelised onion and apple,

roasted pumpkin and walnuts Venison and pork

Lamb,mint,garlic and caramelised onion

Oursausages have no

preservatives,flour or water.

Allnatural ingredients,salt,

pepper and spices.They are

filled out into natural hog

casings –not synthetic.

027 206 0503 Phone todayfor contactless delivery.

Saturdaymorning @The Farmers Market

TheJusticeOfBunny King

ReviewedbyRowenaHart

Something really different, aNew Zealand movie

thatdigs deeptoshowushow lifecan be when you

areinatrickysituation.

Thetwo actresses who playedBunnyand her niece,

an Australian and aKiwi, were brilliant.

Youmight know Bunny, you might know someone

who knows Bunny, you may even be Bunny, and if

not, after two hours walking in her shoes, you will

feel howcrippling lifecan be when youget stuck.

Bunny istrying to turn her life around, saving her

coins, fighting for aplace tolive, with one single

aim: to get her children back.

Her irrepressible fiery passion is both her power

and her problem and with her goal within reach

she finds herselfonthe road with her nieceTonyah,

her only mission to be with her daughter onher

birthday.

The birthday party scene will stick with me for a

long time. Ittakes apretty good film-making team

to pull something like this off!

5stars from me.

bookings ph 307 1230

www.regentcinema.co.nz

2413799

2415991

Board gets water reform update

Questionswere askedabout the

Three Waters reform atMonday's

Methven Community Board (MCB)

meeting.

Board member KelvinHolmes

asked Ashburton District mayor

Neil Brown if Three Waters was an

asset grab from local governmentby

centralgovernment.

He wantedtoknowthe valueof

thedistrict's waterassets inthe

ground andifthemoneybeing

offered for them was enough.

The district's water schemewas

valued at $200 millionand hada

debt $30m, Mr Brownsaid.

ThreeWaters wasoffering

$16.75m and would take over the

debt.

Council had anumber of

questions thatstill needed answers

andhadbeenencouragingthe

communitytooffer its feedback.

Thecut off datefor council to

pb.co.nz

Property Brokers Ltd Licensed REAA 2008

PB053484

report back to theDepartmentof

Internal Affairs wasSeptember28,

he said.

The reform could see the

council's three watersservices–

drinking water, wastewater,and

stormwater–becomepart of alarge

South Island entity, one of four

proposed to take overthe work from

67 councilsacross thecountry.

The company commissioned by

the Government to look at the

reform said Ashburton ratepayers

would pay $1640 per serviced

property for thosewaterservices in

30 years' timeifitwas part of the

reforms, but$8690 if it wasnot.

Councilwas asking for more

clarificationaroundthose numbers

and others, Mr Brown said.

ThreeWaters alsoestimated9000

people would be employed in water

in thefuture,which wasfar higher

thanthe 5000 currentlyemployed.

Kirsty Clay

Residential/Lifestyle Sales Consultant

P 03 307 9199

M

027 3087557

E

kirsty.clay@pb.co.nz

All councils needed to be in on

Three Waters for it to work, he said,

but it was too early at this stage to

make adecision.

IfThree Waters went ahead,

Ashburton would have,ineffect, a

1/27 shareinthe South Islandentity,

butitwas not cleariffuture water

issues here would be listened to and

acted upon.

It was also still unclearif

government could mandate on

Three watersifcouncilsdid optout,

he said.

Councillor Rodger Letham said

some figures andassumptions

supplied on Three Waters did not

stack up.

''It's proving difficult to get

answers and without answers we

can't make adecision.''

MCB is supportive of the

approach andprocesses on water

reformbeing following by council.

Farmers

market set

to re-start

Freshly­growngardenproduce, artisan

products, preserves and pickles, andawhole

lot morewillbeonsale from this weekend

when the Ashburton District Farmers'

Market restarts in downtown Ashburton.

Membersofthe public can expect to see

mostoftheir favourite stallholders return,

and some fresh new faces,atthe popular

Saturdaymorning marketsheld on the West

Street car park, opposite the library.

The markets have beenrun on the site

since 2007 andseesstallholders selling

seasonal, fresh food direct toconsumers

each week from 9am to 12.30pm. It runs from

September25through until Easter. Covid

restrictionswill be followedwith QR codes,

or sign in sheets on site.
---
www.ashburtoncourier.co.nz

NEWS

Ashburton Courier, September 23, 2021

5

Funding boost for local foodbank

DANIEL.TOBIN

@ashburtoncourier.co.nz

The latest Covid­19 restrictions

has seen it get increasingly

tough for some residents in

Ashburton and, as aresult,

foodbanks in the area have

seen an exponential surge in

demand for food parcels,

putting strain on their

immediate resources.

In response, Foodstuffs

(South Island) Community

Trust has pledged $100,000 of

immediate product and

financial support to their

foodbank partners across the

South Island, with St Vincent

De Paul Ashburton receiving

$2750.

St Vincent de Paul Ashburton

provides immediate assistance

to those suffering with food

insecurity, and their team of

volunteers regularly packs and

distributes food parcels to

those in need.

St Vincent de Paul Ashburton

manager Donna Collins said

most of the food was donated by

people and charities like Toot

for Tucker and Meat the Need.

''But when we run out then

we need to buy the groceries,

that's the reason for the shop,

we sell the goods which pays

our power and rent, then we use

the money to buy groceries, so

the food grant is making that

money go further, which is

fantastic.''

The food parcels are designed

to carry someoneover to the

next pay day and have abalance

of foodthat can be put together

St Vincent de Paul Ashburton manager Donna Collinssets out with afood parcel.

to make avariety of meals, the

parcelsinclude stapleslike

rice, milk, bread, eggs, meat,

Weet­Bix, noodlesand canned

goods, therecan alsobeatreat

like chocolateorahand knitted

item included in the packs.

It can be hard for someone

who is experiencing adifficult

time financiallytoadmit they

need support.

''A lot of our referralscome

from other people like a

neighbour or family member,

but we do get self referrals, we

ask aseries of questions, then

PHOTO DANIEL TOBIN

takethe food parcel out,'' Mrs

Collins said.

Being able to helppeoplewho

are in needisajob she loves.

''It's amazing, Iget ahuge

kickout of doing this, its so

nicetohelp people who, for

whateverreason, can't buy

theirgroceries.''

St Vincent De Paul Ashburton

president Michael Hanham was

delightedwith the additional

funding from the Foodstuffs

(South Island) Community

Trust.

''Many in the locality are

doingittough and the recent

Covid­19restrictions are taking

theirtoll with more and more

families struggling to put food

on the table. The additional

funding from the Trustmeans

we can purchase essential

groceries for our food parcels,

helping us to meetthe increased

demand and providingmuch

needed relief for those in our

community who need it,'' he

said.

Foodstuffs (South Island)

CommunityTrust chairJustin

Smithsaid feedback from

foodbank partners during the

Deltaoutbreak saw them

struggling to meet the

community demand.

''So we took immediate action

to help. Our foodbankpartners

and City Missions do incredible

work,and we feel privileged to

be able to supportthem."

Charities and community

organisations can continue to

applyfor the Foodstuffs (South

Island) Community Trust grant

on the Foodstuffs South Island

website: www.foodstuffs­si.co.

nz/here­for­nz

Butcher's Hawaiian iron man dreams on ice

Local butcher shop owner and athlete

Mike Hanson hashad an uphill battle

trading throughlockdownsand Delta

alert levels, on top of this during

lockdown last month he was told the

world ironman champs in Hawaii were

postponed.

Mike has been trainingfor at least20

hours aweek for the last few months

leading up to the event, timing to peak at

the date of the race.

The World Ironman Championships

was due to take place on 9October, a

notice on the official website states:

'Covid­19 is worse in Hawaii thanat

any point in the pandemic. This risk

affects athletes, volunteers, partners,

staff, the community ­everyone. After

deep andcareful consultation with

countyand state officials and other

important constituents, we agree: the

risks right now are too great to bear.'

The race has been rescheduledfor

February 2022, but Mike is holding back

on making adecision on taking part

because of the uncertainty around covid,

andbeing abusiness owner.

''That's what makesithardfor the

butcher shop,ittakes four different

flights to get from NZ to Hawaii, you need

to take eight weeks off to go there,

because you mighthavequarantineover

there, do the race comebackand might

get another few weeks quarantine here,''

he said.

It has been along road for Mike to

qualify forthe WorldChamps, only the

top five in each age group in the country

can qualify to compete.

''It's like apinnacle you cancompete in

normal iron man racing but you need to

get in the top five in thecountry to go to

the worldchamps.''

Mike has been training for nine years

and has qualified forthe 50­59 agegroup.

He now plans to slow down on his

training until Summer when he will start

again with the aim of peaking in

February/March,which will coincide

with Mike's other scheduled race,

Ironman New Zealand in Taupo next

March.

Mike Hanson

PHONE 03 550 7000 ADDRESS 28-32 MOORE STREET, ASHBURTON WEBSITE WWW.BEDSRUS.CO.NZ

2413692
---
NEWS

6 Ashburton Courier, September 23, 2021

www.ashburtoncourier.co.nz

Catch up with

auditor-general

Ashburton District mayor Neil

Brown and district councillors

caught up with auditorgeneral

John Ryan last week

via Zoom and shared some

concerns andgripes with him.

Mr Ryan'srole was to help

Parliament ensure public

entities were effective,

efficient, andaccountable. It

was an independent,non­bias

role.

Among the concerns Mr

Brown said council was

currently asking for

community feedbackonthe

Three Waters reform and was

at the informationgathering

stage. No decisionhad been

made yet on whether to opt­in

or out.

Covid vaccine roll­out

numbersinthe district were

among thelowestinthe

country andvery

disappointing, he said.

Thebooking system was

clumsy, hard to work and

wasn't improving.

Mr Brown told the auditorgeneral

that any assistance

withanew bridge would also

behelpful.

Another area of inquiry for

his officecouldbethe amount

of money given to maintain

localroads.

Mr Brown said current

funding wasn't enoughand

roadshere were going

backwards.Roading issues

Mayor Neil Brown speaking to

the auditor­general via Zoom.

were Canterbury­wideand

assistance at ahigher level

was welcome.

Mr Ryan said roading was

an areahecould lookatand a

report had been done last year

by his office on state

highways.

There were issues with local

roading, achangetothe

standard of statehighways

andthe land transport fund

had somefunding challenges,

he said. Everycouncil has a

similartotell aboutroading

maintenance andco­funding,

he said.

Angus Laing in his greenhouse with the sunflower seedlings he's growing to sell.

Sunflower seedlingssown

Five­year­oldAngus Laing is

back selling sunflower

seedlings and keen to make a

dollarortwo forhimself and

alsofor St John.

The Allenton School pupil

has been growing seedlings

from seeds he gathered from

lastyear's sunflower crop and

othersgiven to him by his

aunty.

The seedlings are grown in a

greenhouse andhewatered

them daily.

Once big enoughthey are

transplantedinto pots.

Angus'former preschool,

Phoenix,issupplying yoghurt

containers as the pots.

Theseedlings are being sold

at $1 each.

Last year Angus also sold

lemons from hisgarden and

this year is cultivating garlic.

Astand has been setup

outside of his house on Allison

Street,Allenton andthe

seedlings will be sold over the

next fewweeks.

Aseparate bucketwill allow

people to make adonation to St

John if they wish.

Angus checks his stand

regularly and replenishesany

stocksold.

As well as supporting a

worthycause, the selling

venture will alsohelp fund

somenew toys for the budding

entrepreneur.

Aremote control boat is at

the top of hiswish list.

2419338
---
It's time foryou to discover howeasyitistocreateyour dream kitchen at Mitre10...

A new kitchen has never been easier to design.

Expert advice, extensive product range and

accessories, all under one roof.

We don't just boast an impressiverange

of kitchens,wealsohavethe

appliances and accessories to complete

your kitchen projectfromstarttofinish.

Book afreein-storeconsultation today

and our friendly kitchen designers

will give theirexpertadvice, designa

3D render of your kitchen, and work

continuouslywith youthroughout the

projecttomake sureyou and your

family needs amet, afterall,the kitchen

is the hub in everyhome.

From benchtopstoovens,from

dishwashers to cutlery, from lighting to

flooring and don't forget the kitchen

sink! We have it all,righthere under

one roof at Mitre10MEGA.

Free designservice

10-15 year warranty

Soft close drawers and doors

NZ made cabinetry

Flexible financeoptions

OAMARUMITRE 10 MEGA

Dee Street, Oamaru

PHONE 03 434 9860

TIMARUMITRE 10 MEGA

23 Bank Street, Timaru

PHONE 03 687 2033

ASHBURTON MITRE 10 MEGA

West Street, Ashburton

PHONE 03 308 5119

Big Range,

Low Price,

Local Advice
---
2021 Mitsubishi Triton

GLXR, 4996km,

4WD diesel,

2.4L, off

road pack

2017 Holden Trax LTZ,

66,514km, petrol,

1.4T, reverse camera

2017 Ford Ranger XLT,

72,885kms, diesel,

4WD, 3.2L,

double cab with

canopy

$59,990

$19,990

$47,990

2021 Mitsubishi Triton DC,

665km, diesel, 2.4L,

loads of

extras

2009 Holden Commodore Calais,

130,870km, V6 petrol,

3.6L, full factory

leather

2012 Ford Kuga Zetec,

152,000km, AWD,

petrol, 2.5L

$62,990

$15,990

$15,990

2020 Mitusibishi Eclipse

Cross VRX,

14,000km,

1.5L petrol,

full luxury

2015 Holden Barina CD,

121,025km, petrol,

1.6L

2016 Ford Ranger XL,

32,102kms, 2WD, 2.2L,

diesel, single cab,

flatdeck

$38,990

$8,990

$34,490

2018 Mitsubishi Eclipse

Cross XLS, 40,200km,

1.5L petrol

2018 Holden Equinox LTZ-V,

26,000kms, 4WD,

2L petrol,

top spec

2011 Mitsubishi Outlander,

67,000km, 4WD, 2.4L

petrol, 7seater

$29,990

$36,990

$15,990

CHECK OUT OUR FULL RANGE –www.morrisonmitsubishi.co.nz

307 9028

2418577
---
NEWS

Ashburton Courier, September 23, 2021

9

Event funding

Atotal of $9121 has been

approved from the Creative

CommunitiesScheme,

including $3000 for Christmas

in the Park, afamily­focused

event for local performers,

musicians, singersand dancers

held in AshburtonDomain.

Other fundingwent to Big

Little Theatre Company ($861

for atheatre piece about World

War 1and 2), the Ashburton

Festival of Pipe Bands ($690)

and Hakatere Ceramics &

Pottery ($1869 for aworkshop

with top potter Fiona

Tunnicliffe).

Kristin Anne Dunne received

$1200 to run art classesand the

Zonta Club of Ashburton

Charitable Trust received

$1500 for theZontaAshburton

Female Art Award.

Community event funding of

$4748 hasbeen given to agroup

organising a150th jubilee event

for Rakaia School planned for

early Marchnext year.

LETTER TO THE EDITOR

Much canbe, and has been,

commented on in response to

the discussionaroundthe

district's current economic

situation by some Ashburton

District councillorsattheir

September 15th2021 meeting.

Hakatere Multi Cultural

Council wish to highlight

additional impedimentsthat

young peoplewhoseparents

are migrant workers face in

accessing employment.

Thechildrenofmigrant

workers have kept many rural

schools in ourdistrict open,

and oftenexcel in our school

system, yetwhentheyreach

tertiary education theyare

penalised by being treated as

overseas students and charged

at arate manyfamilies simply

cannotafford.

For youngpeople whose

parentsare not permanent

residents, it is impossibleto

undertake anywork because

they donot qualify for an IRD

number, and accessing most

health services is equally

beyond the reachofmany

migrantfamilies that do not

havepermanent residency.

Many do notaccess health

services out of fear it will

negatively impact their visa

applications.

CHRISTIAN COMMENT

Are you an earlyadopter or a

late adjuster?

Iamalate adopter.

If it wasn'tfor QR codes my

cellphone wouldstill stayat

homemore thanIdo.

So many of you, being

pioneers andearlyadopters

willbemuchfurtherdownthe

trackofrecognisinghow covid

has changedour worldthanI

am.

Travelisnolongereasy.

Plansare so quickly

disrupted.

Around the world huge

numbers of peopleare getting

sick,are in hospital, are dying.

HereinNew Zealand many,

including the young are sick.

Covid rulesmean rethinking

daily life.

Not just the keys but the mask

and contact tracingnotebook or

phone.

Not brushingupagainst

people.

Ourretailers, transport

operators,hospital, council

staff are working differently.

Familyoverseas are further

away.

Theinternet is becoming

moreimportant to

technophobes like me.

The world has changed. We

are changingwith it.

But for some of us the

changeswill be verydifficult.

Ourbusinessisatrisk or

worse.

Ourjob is on the line, or gone.

The financialand

psychological cost of the

constant needtorenew visas,

andrapidlychanging

requirements of immigration

rules, often send these families

off­shore, and it isnosurprise

that manywill be enticed by

other countries, suchasCanada

andAustralia,who offer more

stability for migrantworkers'

families.

Others become disillusioned,

andregard the poor treatment

theyhavereceivedinour

countryasastep too far to

pursuetheir dreams, and

return to their country of

origin.

Hakatere Multi Cultural

Council would liketowork

alongsideAshburton District

Councilinordertohelp them

betterunderstand themany

issues facing migrants in our

district, to encourage the

implementationofmeasures

thatwillimprove their

situation, and to advocate to

central government to amend

legislation thatimpedestheir

abilitytobecome productive

and respectedmembers of our

community.

HakatereMulti Cultural

Council

Our job has become more

difficult, moredemandingin

ways we never expected,nor

signed up for.

The world hasshaken itself

under our feet and some of us

arestaggeringasaresult.

So thisisatimetobekind.

To be kindtothose caught in

asituationnoneofusexpected.

To be kindtothose who are

staggering. To be kind to

ourselves.

The goodnewsiswehave a

strongsenseofcommunity,so

as we trip an arm reachesout to

hold us up.

The goodnewsis, we are

resilient, we havemadeother

changes.

We know that we can make

andremake ourlives,

especially together.

Thegood newsisthere are

peopleand places to go for

help.

We have learnt that asking for

help, gettingthe community

involved is goodnews.

We have begun to let go of the

old settler attitudeof'man

alone.'

Igive thanks to those who are

kindtomeasItagalong alittle

bit behind, getting my head and

my gut around covid.

Iamstilllearning.The great

news, is Iamnot alone in this.

Thank you all.

Johanna Warren,Hakatere

Presbyterian Parish

HarrisMeatsFresh NZ

Prime BeefMince 500g

$

8 49 ea

Fresh NZ Quality Mark

HalfLambLeg Roast

$ 16 99 PamsFresh NZ Chicken

kg Kebabs 8Pack

$

8 49 ea

FreshNZ

Ingham's

Butterflied

Chicken

1.1kg

HarrisMeatsCountry

PorkSausages 480g

$

8 99 ea

$

9 99 ea

www.foursquare.co.nz

facebook.com/FourSquareNZ

MEAT

Fresh NZ Skinless

ChickenBreast Fillets

$

12 99 kg

Specials available South Island only from Monday 20th September until Sunday 3rd

October 2021 or while stocks last. Wine and beer available at stores with an off

licence. Wine and beer purchases restricted to persons aged 18 years old and over.
---
Deaths

HICKMAN, Raymond Anthony:

Our beloved husband, father,

brother and brother-in-law,

Raymond Anthony Hickman aged

76 years has passed peacefully

at Christchurch Hospital on

Wednesday 1st September 2021.

After a recent diagnosis of an

aggressive rare cancer and short

treatment period, he has lost a

brave battle. Hetouched so many

lives and will be dearly missed.The

adored husband and soulmate of

Patricia, atreasured and wonderful

father of Murray, Lisa and Grant.

Loved father-in-law to Fiona,

Hamish and Emma. Beloved son

of the late Tony and Maureen and

cherished brother to Annette,

Kevin, Helen, Sue, Tony and the

late Paul. Beloved brother-in-law

to Murray, Joanna, Kevin, Penny,

Jan & Russell, Arnold & the late

Lynnette, Kevin &Lynne. Cherished

Grandad of Olivia, Samantha, Josh,

Alex, Matthew, Ava, Neve, Sam

and Toby. Loved uncle of Keriann,

Deane, Cherie, Kelly, Jasmine,

Adele, Holly, Matt, Tiffany, Ethan,

Libby, Ebony, Kane, Chandelle, Carl,

Simon, Amanda, Melanie, Daniel,

Robert, Tony, Hamish, Mathew and

Scott.

Messages to the Hickman

family c/- POBox 472, Ashburton

7740. AService for Ray will be held

at the Rakaia Community Hall next

Thursday. Please note and respect

this is by invite only due to Covid

restrictions. We would like to

inform you that aMemorial service

for Ray will be held once weare

at Level One. Thank you for your

patience and understanding given

the circumstances.

Paterson's

Ashburton

FDANZ

03 3077433

Supporting the

community

96 Tancred Street, Ashburton.

Phone 307 8317

Real Estate MidCanterbury PropertyLimited Licensed (REAA 2008)

Family Notices

Deaths

LEES, Olwyn Shirley (Pat), on

September 20, 2021. Passed away

peacefully, aged 95 years. Loved

wifeofthe late Laurie, lovedmother

and mother-in-law ofJill and Geoff,

and Philip and Joanne. Loved Nan

of George and Frances, Brigid,

Mark, Rachel, Patrick and Michael

and great Nan of six. Messages

to the Lees family c/- POBox 472,

Ashburton 7740. A service for

Pat will be held at Our Chapel,

cnr East &Cox Streets, Ashburton

on Monday September 27,

commencing at 1.00pm, followed

by intermentatthe AshburtonNew

Lawn Cemetery.

Paterson's

Ashburton

FDANZ

03 3077433

Deaths

MIDDLETON, Lois Wilhelmina, on

September 14, 2021. Peacefully at

Ashburton Hospital, aged 96 years.

Dearly loved wife ofthe late Frank.

Loved mother and mother in law

of Russell and Raylene, Keith and

the late Christine, and Sharryn,

Gary and Jan. Loved Nanny of

her 9grandchildren and 17 greatgrandchildren.

"Forever loved and

missed by many". Messages to the

Middleton family c/- POBox 472,

Ashburton 7740. Aprivate family

servicewill be held.

Paterson's

Ashburton

FDANZ

03 3077433

RIP to our loved brother Selwyn

Dalton, died in Wellington

11/08/21, aged 74 years.

Dearly loved brother and brotherin-law

ofDaphne and Brian Early

(Ashburton), Des and the late

Rhonda Ferriman (Auckland),

Eileen Ranson (Ashburton).

Dearly loved uncle of all his nieces

and nephews.

Messages to 83B Alford Forest

Road,Ashburton.

Complete

Local Care

Since 1982

Deaths

UDEN, Francis Edward (Frank): At

Ashburton Hospital on September

19, 2021 aged 76 years.Dearly loved

brother of Flo Cornelius, loved

uncle of Brian Cornelius, Joanne

and David Mann, Julie and Steven

Hema, and Christine Cornelius and

their families,and lovedstep-father

of Erina, and Joseph. Messages to:

c/- The Cornelius family, PO Box

6035, Ashburton 7742. Aservice

to celebrate Frank's life will be held

graveside, atAshburton's Seafield

Lawn Cemetery, Seafield Road

entrance onFriday, September 24,

at 1.30pm.

0800 2MEMORY

027 637 1229

VAN DER HEIDE, John, on

September 17, 2021. Peacefully

after along illness at Christchurch

Hospital, aged 81 years. Much

loved Husband of Joyce. Messages

to 4 Buchanan Place, Ashburton

7700. At John's request a private

cremation has been held.

Paterson's

Ashburton

FDANZ

03 3077433

WARD, Russell James: it is with

great sadness that we farewell

Russell loved son-in-law of Nancy

and Ron Wakelin (deceased).

Dearly loved brother-in-law of

Marion and Murray Cornwall,

Alan and Lilian Wakelin, Anne and

Murray Campbell, Claire and Lea

Pomeroy, and loved uncle by all

his nieces and nephews. To view

Russell's funeral service on-line, go

to Lamb and Haywardwebsite.

In Memoriam

DannyBox,24.10.73 –24.9.93

Themarch of time is relentless,

Thewheels of lifekeep turning,

But I'll love and miss you forever,

Danny

No matter the lessons I'mlearning.

Mumxxx

Acknowledgement

BENSDORP, Evelyn May:

1-12-31 –31-08-21: The Bensdorp

Family would sincerely like

to thank everyone who have

phoned, messaged, sent cards,

flowers and dropped off baking

when our mother, mother-inlaw,

grandmother and greatgrandmother

passed away.

Thank you toeveryone at Radius

Millstream, Mum loved her time

there. She enjoyed the activities

and company. She said she felt so

safeand happy. Aspecial thank you

to the Ward 1Nurses andDoctors at

AshburtonHospital forthe amazing

carethatwas giventomum we will

always be so grateful.Thank you to

Marie O'Neill for your visits to give

Mum Holy Communion .Thank you

to Father Dennis and Father Huynh

Tran forhelping us have the service

that Mum wanted. Please accept

this as apersonal thank you.

Family owned,

locallyownedowned

22 MooreStreet,

Ashburton

0800 263 6679

Advertising

that works!

Talk to Jann or Karentoday

about ways youcan reach

potential customers or

advertising with thatspecial

difference-professional

servicewith asmile.

Phone: 308 7664

199Burnett St,Ashburton

2413353

NEWS

10 Ashburton Courier, September 23, 2021

Jabs for Rakaia

Life Pharmacy Ashburton has

been working around the

district to get covid vaccination

clinics out in to the community.

Working alongside Rakaia

Medical Centre, vaccinators

were at the Rakaia Community

Hall in Rakaia yesterday to

help centre staff vaccinate

around 300 clients seeking

covid jabs.

Simon Church, of Life

Pharmacy Ashburton, said it

was part of apush locally to get

everyone in the community

access to their first vaccination,

and free up capacity on the

vaccination schedule.

The Canterbury District

Health Board have also been

working to increase the number

of people able to get vaccinated

and have put up additional

appointments with pop­up

vaccination sites.

DAYLIGHT SAVING STARTS THIS WEEKEND

Daylight Saving starts this weekend, officially from Sunday morning at 2am.

Remember to put your clocks forward one hour before you go to bed.

And take the time to check your smoke alarms are working.

They had apop up

vaccination site yesterday for

staff at Talley's, and one earlier

this week for Ashburton

Pasifika at Ashburton College.

Another Pasifika vaccination

at the college is planned on

September 26, one for the

Maori population at Hakatere

Marae on October 20, another

Pasifika community event at

Ashburton College and also the

Ashburton culturally and

linguistically diverse

community at Hampstead

Rugby Club, both on October 31.

There are also walk­in

vaccinations available for

anyone at Princess Margaret

Hospital in Christchurch from

now through until October 3

anytime from 2pm –8pm on

weekdays, or 10am –3pm on

weekends.

Youth labour force woes

An economic report compiled

for Ashburton District Council

by Infometrics has raised a

labour force statistic, causing

concern among councillors.

Asurvey from Statistics New

Zealand shows that at the end

of the June quarter there were

1100 people aged between 16­24

in the district who were

disengaged from employment,

education and training.

The number of people

receiving job seeker support

has risen by 33.8 per cent in the

last quarter, despite local

businesses struggling to fill job

vacancies.

The disconnect raised some

significant questions about why

employers were finding it so

hard to find staff and solutions,

council economic development

manager Simon Worthington

told councillors at ameeting

last week.

He said Ministry of Social

Development told him job

seekers faced arange of issues

that made it hard for them to

get into the workforce. They

centred around areas like

motivation, drug and alcohol

and mental health issues.

Abroader community

response and range of

initiatives was needed to

address those issues and to

support people into

employment, he said.

Mayor Neil Brown said the

unemployment rate in the 16­24

year age group was far higher

than the district average of 3.2

per cent.

''We need those people out in

our economy and boosting it,''

he said.

Cr Lynette Lovett said kids

today ''were like the entitled

group''. The school system

needed to talk with students

from ayoung age about work

ethics and what was expected

of them in the workplace.

''Life is too hard out there

working for some of them,'' she

said.

Cr Liz McMillan said local

agencies like Safer Mid

Canterbury and YMCA were

working to support youth and

offered different courses.

Schools were also doing their

bit. The Mayors Taskforce for

Jobs was another support

initiative that would be ideal in

this space, she said.

Cr Rodger Letham wanted to

add anote of caution.

''The problem we're talking

about is aparenting and an

education problem and not a

problem of Local Government.

We should smooth the path for

these people, but we should not

get too wrapped up in the social

welfare side of things.''
---
Welcomebacksavings

PARKING AVAILABLE AT REAR OF SHOP

OUR CORNERS DONE

ALESSANDRA DRESS

WAS$369

NOW

$99 .00

TROUSER

WAS$99.90

SINGLE BREASTED BLAZER

WAS $199

NOW

$89 .00

SUIT JACKET

WAS$199

SIZES 12 YRS, 14 YRS, 76, 80, 84,

108, 112, 116, 120

NOW $10 .00

NOW $10 .00 WAIST COAT

SIZES 10YRS, 12YRS, 14YRS,

WAS$99.90

small

NOW $10 .00

ECOPOSSUM

SWEATER

WAS$399

NOW

$199 .00

PARADISE

DRESS

WAS$249

NOW

$99 .00

SIZES 10 YRS, 12 YRS,

14 YRS, 92, 104, 108,

112, 124, 132

GYPSY JEAN

WAS$289

NOW

$109 .00

LEVI &BLEND JEANS

ALL

$99 .90

SHIRTS

SM TO 5XL

$

35 .00 $ 35 .00

EACH

EACH

MEN'S AND LADIES'BOOTS

$545 .00

EACH

WOVEN

TOUGH

PREMIUM

FLANNELETTE

SHIRTS

2SMTO2XL

Ladies'

GOWALK ARCH FIT -GRATEFUL

WAS$159.90

NOW

LOTS MORE IN-STORE

$89 .90

Men's

GOWALK 5–DELCO

WAS$149.90

NOW$79 .90

40%

OFF

MEN'S AND LADIES'SELECTED STYLES ONLY

GOWALK 5

WAS $139.90

NOW$79 .90

GOWALK 5-TRENDY

WAS$149.90

NOW

$89 .90

ARCH FIT

WAS$159.90

NOW$89 .90

VOLERO -SERMON

WAS$159.90

NOW

$69 .90

PALADIN

FACE

MASK

•KIDS &

ADULTS

$

10 .00 $

15 .00

EACH

ICEBREAKER

FACE

MASK

•MERINO

•WASHABLE

EACH

TERMS AND CONDITIONS APPLY, ONLY WHILE STOCKS LAST

2418086

03 308 5771

East Street Ashburton

www.sparrows.co.nz
---
NEWS

12 Ashburton Courier, September 23, 2021

www.ashburtoncourier.co.nz

NikkiJo asks for treatment help

MICK.JENSEN

@ashburtoncourier.co.nz

Ashburton woman NikkiJo

Tyrrellhas written to local MP

Jo Luxtonand copied in the

Prime Minister and Health

Minister in adesperate

attempt to get treatment and

help for her chronic health

problems.

She was diagnosed with ME

(myalgic encephalomyelitis)

and Lyme disease23years ago,

but recent checkshave

identified ovarian cysts and

widespread endometriosis as

well.

NikkiJo has been battling

the health system to get

treatment for her new

diagnosis since late July, but

has been frustrated and

dismayed by the slow,

cumbersome process.

''Despite utterdebilitation,

multiple hospital visitsand

specialists saying Ineed

surgery, Icontinuetobe

declined in the public health

system.''

''Now, thereis something

absolutely treatable that would

also help the ME and give me

qualityoflife,'' she said.

NikkiJo said she was trying

to get the help she desperately

neededand also raise

awareness of her health and

others like her who struggled

to access treatment.

''We now knowwhy Icannot

break through the plateauof

progress that Iamstuck at,

despiteall my treatments.''

Her most recent referral

through the public system went

back to square one becausea

pain questionnaire was

missed.

NikkiJo said it could be next

year before she could access

surgery, despite the fact that

she was bedridden,inextreme

pain and has constant

ambulance call outs and

hospitalisations.

She has just had her fourth

PICC line inserted for IV

access, which has cost her

nearly $1000.

NikkiJoTyrrell just

abouttostart her

hyperbaric oxygen

treatment.

PHOTO SUPPLIED

''I've had to pay for all four,

despite trying every avenue for

funding and despite the fact

this would be fully funded for

cancer patients.

''A longerterm portacath

was preferred but Icouldnot

fund the $7000 required ­

again, this would be funded for

cancer patients.''

NikkiJo and her family have

had to self fundmuch of her

treatment for many years,

including treatment overseas

in 2018.

''I have beenignoredfor two

decades by our health system

and only self funded

treatments havekept me alive

or givenmeany chance at life.''

If no treatment is

forthcoming NikkiJo is faced

with the prospect of having to

raise money for private

surgery, which would cost up

to $20,000.

''The more people Italk to,

the more horror stories Ihear

from other women.''

Planting day on at Harris reserve

TheHarris Scientific Reserve planting day is

on this Sundayand runs from9.30am until

11.30am.

The 11ha site, located between Lovettsand

Scalesroads near Tinwald,has been

establishedtopreserve remnants of the

original vegetationofdrylandkanuka which

once flourished on the Canterbury Plains.

Thosecoming along areasked to bring gloves,

aspade,suitablefootwearand their own food

anddrinks.

The Double family have taken part in anumber

of planting events at the Harris reserve and plan

to be there on Sunday. Pictured (from left) are

Scott Double, Val Clemens from Ashburton

Community Conservation Trust, Jordis Double,

Tia Double and Kara Hollis­Double.

PHOTO SUPPLIED

OUT AND ABOUT

SEPTEMBER26

Ashburton Car Clubgrass

motorkhanakick starts the club's

first eventinthe club's points

calendar. Theevent isonthe

groundsofthe club at 47 Wakelins

Road, off State Highway 77 from

10.30am onwards. Level 2Motor

Sport NZ Covid-19guidelines will

be followed.

OCTOBER3

HekeaoHinds RiverProject

Community PlantingDay at the

NearRiver rechargesite at 563

Mayfield Klondyke Road,Montalto.

BYO glovesand waterbottle. Lunch

is provided.RSVPtobrett.

painter@ecan.govt.nz

OCTOBER16

St John garden walkfundraiser

around the picturesque grounds of

RakaiaGardens atDorie. Two

sessions; 9.30am until 12.30pmand

1.30pm until4pm.Guidedtoursof

the gardenbyRollinsonfamily

memberswill be at 11am and

1.30pm. Entry $15,includes

Devonshire tea.

Relayfor Life,Ashburton Domain

Oval. Remembering lovedones and

raising moneyfor Cancer Society's

support services,health promotion

programmesand cancerresearch.

Music, entertainment, and

community spirit. 10am-10pm.

Farmstrongisbringing anight of

comedy to Methvenaspart of their

nationwiderural wellbeing

programme.Nick Rado, Tarun

Mohanbhai, Courtney Dawsonand

Andre King will be at the Mt Hutt

MemorialHall, in Methven. Tickets

are$20 and supperisprovided.R18

event from 7pm to 10pm.

OCTOBER18­23

Bookarama, theannual charity

fundraiserrunsatthe Ashburton

Sports Hall. Heaps of secondhand

books, puzzles, magazines and

games up forsale.

OCTOBER30

SpooktacularHalloweenatthe

Rakaia Scout Den, on the corner of

Railway Terraceand Normanby

Street, in Rakaia.Starts from5pm

for youngerchildren; more spooky

for older childrenfrom 7pm. Gold

coin entry.

NOVEMBER 5

Counties Primary Athletics

competitionatthe Domain Oval.
---
WE'VE

moved

Come &visitour

brand new store

38 Kermode Street,

Ashburton

SCAN ME

MAP

KERMODE STREET

NOEL LEEMING

38 KERMODE ST,

ASHBURTON

NZ STATE HIGHWAY

MONA SQUARE

NOEL LEEMING

250 TANCRED ST,

ASHBURTON

SOUTH STREET

WILLIAM STREET

PIONEER PARK

NLGWK08_A
---
Ashburton College

Individual Excellence in aSupportive Learning Environment

News

Issue 31

23 September 2021

Message From ThePrincipal

Innovation Programme

In my column that appeared two weeks prior, I

outlinedthe option of changes we have introduced

at Year 9and 10 levelsoverthe pastfour years,and

which will become themodel forall juniorstudents

from 2023.

These changes are captured under the title of

innovation and put apremium on the skills and

dispositions that are needed in the future, such as

collaboration andcreativeproblem-solving.

There will still be a need for direct teaching and the retention of

knowledge, but it will mean that the traditional 'end of topic test' will

largely disappear.

Iwas challenged by amember of the communityabout theneed forthese

changes,and my motivation to have them in MidCanterbury. Iwas able

to reassure the questioner with the reasons why our Middle and Senior

ManagementTeams are comfortable that this process is more suited to

equippingour graduates foradifferentfuture. This has beenoutlined in

preceding newsletters.

Iamvery clearand comfortable in my thinking thatthese changes being

introduced will ensure that today's pre-and primary schoolers have the

secondary schooling necessary for asuccessful future life. The person I

wasdiscussing the issue with seemed reassured.

Learning Recognition Credits

Recently the Ministry of Education introduced Learning Recognition

Credits to compensate students for time lost whilst schools were closed

during COVID. This system allocates extra credits to students as a

proportion of their total as they work towards NCEA qualifications.

NZQA is responsible for the administration of this scheme and they set

the threshold of twenty days lost via COVID beforestudents could qualify.

Ourstudents lost sixteen days over the latest Level4andLevel 3time,but

theyalso lost aweek duetothe flooding in May, withbridges and roads

closed and,for anumber,routines disruptedbyclean-uprequirements.

Afteraninitial refusal,NZQA'reconsidered'their position andagreed that

our students who had missedtwentydays-plus would also qualify forthis

credit compensation.

Iwould like to acknowledge Jack Saxon, Mt Hutt College Principal,

who joined usinstrongly advocating for our Mid Canterbury students.

Sometimes getting the correctresult takes persistence!

In-College Exams

Currently our senior students areundertaking their Collegeexams. These

have atwo-fold purpose.

Firstly,they give thelearners and their teachers an accurate pictureofthe

students' readiness for the end-of-year NCEA exams. In particular, this is

relevanttowherethereare thegaps in their knowledge which could be

remedied in the twomonths still available.

Secondly, the results from these are used toderive grades ifastudent

cannot sit the end-of-year NCEA examsfor alegitimate reason, andthere

is oftenasmall number of students in this situation.

Additionally, ifwewere forced back into further COVID lockdowns in

November, these in-College exam results would stand as final grades.

Hopefullyofcourse we won'tfacethis situation.

Enjoying our Return to College

To finish onapositive note, I've got to say how much our students and

staff are enjoying being back atschool; and also enjoying the onset of

Spring!

Ross Preece

Principal •Tumuaki

COVID Level2Arrangements:

Reminders re College Protocols

Year 13 Students/Study Periods:

Year 13 students, during study periods, are required to be in the

Library, Upstairs Study Space orClassroom if they are on College

grounds. Otherwise they are required tosign out and leave the

campus.

Illness –Students Must Stay at HomePlease:

Level 2Guidelines are being followed. If your child has acold oris

unwell theyshouldnot be attending College.

Where astudent comes to school sick, beadvised we will contact

youtoask youtocollect them from College.

Remaining Study Nights –

Supportfor Exam Preparation

Venue:

College Library, from 7:00pm -9:00pm.

Bookings required: Remember: students are required to pre-book

spaces, as there has to be alimit on numbers in

the space. This information has been provided to

students.

Remaining dates:

Tonight, Thursday23September;

and Monday27September.

Information

Reminders:

NCEA and College Internal Exams –

Please Note Datesand Arrangements

NCEA External Exams

• End of Year external exams will now start two weeks later,

commencing Monday 22November and running through until

Tuesday14December.

• External Portfolios inArt, and Design and Visual communication

deadlineswillalso be pushed out by twoweeks.

Level3Visual Art; Levels 1-3 Technology andLevel 1DVC –

ChangedSubmissionDates

With the extended lockdown and subsequent disruption tolearning,

NZQA has extended the time available to schools to develop and

collectrelevantcandidateevidencerequiredfor external assessmentfor

subjects/standardswhereevidenceissubmitted.

Thedeadline forthisis10November 2021.

Internal College Examinations–PushedBack OneWeek

These started in-College on Monday 20 September and are

continuing through until next Tuesday, 28September, for Year 11,

12 and 13 students.

We Remind Studentsofthe ImportanceofIn-College Exams

These examinations aresignificant as not only arethey able to provide

students with averyaccurate gauge as to their current performance, but

the result maybeused as evidence of the standardoftheirworkshould

they,for somereason, not be able to sit anyNCEA examinationslater in

theyear and therefore have to applyfor a'derivedgrade'.

This year we are offering some English classes the opportunity to

complete theirexam online. They will also have apapercopyduring the

exams and can switch between the two mediums. This hopefully will

also eliminate the anxietyaround internet or batteryand powerfailure.

Arrangementsfor Students During Exam Week

• Year 11, 12 and 13 classesare not operating on examdays.

• During this time,student aretostudyathome or at College. Students

maystudy at Collegeinthe Library,orthe Upstairs StudySpace.

• Ifstudents areinCollegeduring exam week,they mustbeon-site fora

purpose: exams, study or mentoring.

• When at College they must beinschool uniform and observe the

usualCollegerules.

• Please notethatthe specific exam-relatedrequirementsand protocols

have been emailedtofamilies.

Events

Te Wiki oTeReo Māori

This celebration

extended from Monday

13 September to

Sunday19September,

and has been afeature

each year since1975,

commemorating the

presentation of the

1972 Māori Language

petition to Parliament.

At College anumber of activities and acknowledgements took place,

again spearheaded by Shrina Afu who, asHead of the College's Student

Cultural Committee,has beenhugely involved in the manyLanguage Week

recognitions held this year, along with students related tothe specific

cultures being recognised.

HistoricalFlag

Included in the week was the raising of a

flag which, of particular interest, depicts an

importantpartofNew Zealand history.

In 1834, well before the Treaty of Waitangi,

the leaders of the Northern tribes gathered to

consider trade. Thiswas the flag they designed

forNew Zealand ships to trade in international

waters, and which isstill recognised for this

purpose today.

Tino Rangatiratanga Flag

During the recognition week at Collegethe flag

flying waschanged to Tino Rangatiratanga.

In 1840, as the Treaty of Waitangi was signed,

there were two versions of the Treaty. The

Māori chiefs thought they would retain their

'absolute sovereignty' over their own lands

and affairs.

Tino rangatiratanga is a Māori language

term that is often translated as 'absolute

sovereignty'. Itappears in the Māori version

of the Treaty of Waitangi, signed by the British

Crownand Māorichiefsin1840.

TheEnglish version statedthatthe chiefswere

giving their sovereignty tothe Crown. This flag supports the concept of

Māorihaving controlorinput into things thataffect Māori.

Events

Challenges forthe Week

The challenge for staff and students was to use agreeting or phrase not

normally used,inorder to increase one's use and knowledgeofTeReo Māori.

Staff were referred to additional He Rauemi -some resources, which could

be used to enhance communication and learning,throughvarious sources

including www.mahurumaori.com/.wherelearnerswereaskediftheywere

'up for the reo Māori Challenge'. The challenge was put that –spoken,

written,sung –nomatterhow youcommunicate this Mahuru (September),

do it in te reoMāori, saying it waseasy,fun and agreat way to learn. Included

were resources forhome andfor the office.

Individuals could set their own challenge but, during that time, to

communicate only in te reoMāori.

From the Student Cultural Committee there were'words ofthe day'

on Instagramand Facebook, PowerPointpresentations, to be shown in Ako

classes on Wednesday 15 September, and aquiz based on this PowerPoint

information on Friday17September.

One of the Power Point slide shows covered arange oftraditional tikanga

information, including –

• whatahangiis, and howtoprepareone (pictured below);

• socialstatus and family historyshown through aMāoritattoo(tā moko);

and arrivalofMāoripeople in the 1300s;

(Pictured above): The first Māori people arrived in New Zealand in the 1300s.

It's not 100% certain where Māori originally came from, but it is said that the

Māori culture was developed during these first voyages in New Zealand. As

this was only around 700 years ago, this makes the Māori culture one of the

youngest in the world.

• Hongi-meaning andhow to hongi;

• Pounamu (Greenstone) – pictured below -and its importance, use and

meaning in Māoriculture;

• eachslide wasinterspersedwith

various phrases,such as:

'Whereare you?' –Kei hea koe?;

'Have agood day'–Kia pai to rā;

'Beautiful' –ātaahua;

'Howare you'? –Kei te pēhea koe?

Shrina Afu, Head of the Cultural Committee, contributed

diarised information of the week forthis article:

Monday As noted (left), the Māori flag was raised at College and an

Instagram post put up on AshColl's Student Executive page

to notify everyone of MāoriLanguageWeek.

Tuesday Kaiwhaiki Peetitumango, Year 11 student, made avideo

of himself teaching the word 'whare' meaning 'house', and

showcasingthe beautiful wharewehave at our school.

Following this video was avideo put together on how to

make delicious Māorifry-bread.

Wednesday Madison (TC) Trusler-Clark, Year 12 student, produced the

Day 3video, teaching multiple simple phrases and words in

te reo Māori. Her main phrase was 'kia kaha' meaning 'stay

strong'.

She also extended a challenge made by @reomāori (an

Instagram page of Māori influencers), topost avideo saying

'kia kaha'and tagging themonitfor aprize.

The slideshow, referred toabove, about Māori culture and

te reo Māori words was sent out to all Ako teachers to go

through with their class

Thursday Jorja McKeown, Year 13 student, put together a video,

sharing abeautiful phraseof:

'Tōkureo,tōkuohooho,tōkureo,tōkumāpihi maurea' –

meaning,

'Mylanguage is my awakening,and my language

is the windowtomysoul'.

Jorja encourages us all to kōrero Māori asmuch as we can,

and keep New Zealand's nativelanguageflowing.
---
Ashburton College

Individual Excellence in aSupportive Learning Environment

News

Issue 31

23 September 2021

Congratulations

Friday

Ending the last day ofMāori Language Week celebration at

AshColl was avideo from Ngahuia Maeva, Year 12 student,

singing beautifully in te reo Māori, along with a Māori

Tiktok Dance challenge done by Rangaikore Makutu,

Victoria Pupuke, Jorja McKeown, TC Trusler-Clark,

Shrina Afu, Mahina Pongia and Penina Vaaelua.

ForAko classes,aquiz wassentout about information in the

slideshow that went out on Wednesday; with answers to be

run out by aclass member to the waiting students on the

Chessboard.

TheWinningAko Class

Avery good response from Ako classes saw quiz answer

returns, from almost all classes, tothe organisers on the

Chessboard. Classes completed the quiz together in Akotime,

and those classes with all answers correctwentinto adrawto

determine the winner.

13RMM, teacher Marg Macpherson's Ako class, emerged

as the competition-winning class. Their efforts are tobe

rewarded with afish and chip lunch during aforthcoming Ako

time.

(Pictured above, left toright): In front ofthe College's Whare Wananga,

three of the key organisers during the week, alongside Shrina Afu –

RangaikoreMakutu,Jorja McKeown and Madison (TC) Trusler-Clark.

Forthcoming Events

Please note: dates are asatthe time of publishing. Alterations, due to

COVID-level restrictions will be advised torelevant groups as soon as

details areknown.

September

20-24 Year 9and 10 Matesand Dates; in-College

20-28 Year 11, 12, 13 students Exam Week

22 Year 12 Tractors Day2Group 2, AshburtonA&PShowgrounds

Year 12 Tractors Day2Group 3, AshburtonA&PShowgrounds

23 Year 13PED Golf,Lake Hood (P3)

24 Cancelled -Auckland UniversityCoursePlanning Day

Year 13PED Golf,Lake Hood (P5)

27-29 Cancelled -Year 12 Mountain Biking

27- 01 Oct Year 9&Year 10 Matesand Dates, in-College

29 BoardofTrustees meeting,TurretRoom, Menorlue,6:00pm

30 Fijian Day–students maychoose to wear Cultural Dress

Purple ShirtDay –Non-uniformday and Bake Sale.

Funds towardsMental Health awareness

Cancelled-Music Evening,Auditorium

Year 13 PED Golf,Lake Hood (Period 3)

October

01 House Waiata

Aoraki SecondarySchools' Table Tennis,Timaru

Year 13 PED Golf,Lake Hood (Period 5)

01-17 Term Holidaybreak

End-of-Yearand Senior Prize-Giving Dates

We remind families that, due to the startofNCEA exams being pushed

back,ithas been decided to also move back the following dates:

Senior StudentPrize-giving Dates2021

• Year13 -Wednesday10November, 7:30pm,

AshburtonTrustEvent Centre

• Year11and 12 -Monday15November, 7:00pm,

AshburtonTrustEvent Centre

Last dayofschool attendancefor Senior Students as follows:

• Year13 last dayofschool Thursday11November

• Years 11 and 12 last dayofschool Wednesday17November

Last dayofschool attendanceand Prize-givings forJunior Students:

Please noteslightchanges to these dates, and achange from previous

prize-giving times.

• Year9 Thursday09December:Prize-giving 5:30pm,

College Auditorium

• Year10 Thursday09December:Prize-giving 7:30pm,

College Auditorium

'Students of the Month' Awards

As outlined in our newsletter of 09 September the first 'Students of the

Month' recipients were recognised for their work assisting with the Mid

CanterburyKai forKids Programme.

These awards areStudent Executive-implementedinorder to highlight the

amazing work undertaken by students, often behind the scenes, and their

contributiontothe College and widercommunity.

This month's awardees

Nominated by Head ofSenior School

Abbey Bruce,for upholding the AshColl

QualityValue of 'doing thebest we can'

this team has achieved excellent work,

reaching above and beyond for their

legacyproject.

The group of four students have

created the new AshColl Merchandise

Hoodies,for 2021.

These hoodies can be boughtfromthe

Student Office and are casual attire to

be worn outside of school.

Thegarments will be availableatacost of $60.

Recipients for this month are-

Year 11 students Alyssa Gilbert, WillRollinson, JacobWilson and Year 12

student LucasVainerere.

Alyssa Gilbert

LucasVainerere

Will Rollinson

JacobWilson

GreatKiwiMathematics Competition

Nine Collegestudentsentered thiscompetition duringTerm 3. This

is an online problem-solving competition where the students have

onehour to completethe questions.

Outstanding Results

Acting Mathematics Head of FacultyLiz Caboutsaid thatonceagain, we

hadsomeoutstandingresults.

In particular these were –

Luke Hay

Year 10 student Luke (pictured right) gained

Excellence with a score of 95, one point

behind the top national score of96for Year

10 students.

Ella Rickard and Ben Jurd (pictured below)

also gained Excellence, both with ascore of

84. These results placed them both in top

10%oftheir respectiveyear groups (Year 10

andYear9).

College Students -Full Results

As only very capable students enterthese competitions,thismakes

all of these results even moreimpressive.

Achieved: (in thetop 50%) Torry Wilson-Brown, Briahna Watters,

Gabrielle Rodgers and Steven Harris.

Merit: (in the top25%) HenryProuting.

Excellence: (in the top10%) Luke Hay, BenJurd, Ella Rickard.

RugbyHanan Shield Team Selection for

RangaikoreMakutu

In themidst of atime of cancellations and postponements it wassuper

news forYear 12 studentRangaikore Makutu to learnofher selection in

the 2021 Girls' RugbyHanan Shield Team.

Rangaikore isthe sole AshHutt 1st XV (Ashburton

College-Mt Hutt College combined team) player

selected into the twenty two member team. All

players will be presented with ahoodie which they

keep.

Acknowledged are Coaches Jason Hurley and

Mick Geary for their hard work and dedication

in selecting the side and offering coaching to

the girls; and to Managers Carol Rhodes and

CourtneyBates.

Initial dateswere put out to theplayers as being -

• The first training date scheduled was Thursday

16 September and today, Thursday 23September, atthe Alpine Energy

Stadium from 4:30pm-5:30pm. Other training dates are to be confirmed

oncethe team is together and,ofcourse,COVID levels permitting.

• Two game datesare tentatively scheduled forthis Saturday, 25 September,

and forSunday03October. Atthe time of writing,these games areyet to

be confirmed, but one is intended to be ahome game at Alpine Energy

stadium and the other an away game.

StudentExecutive Fundraisingfor

Relayfor Life MidCanterbury –

Te AraToioraaHakatere

This importantfundraising eventhelps

people in our communitythrough the Cancer

Society'sSupportServices, Health Promotion

Programmes and Cancer Research.

This is scheduled to takeplaceinthe

AshburtonDomain Oval on

Saturday16October,

from 10:00am-10:00pm.

Ashburton College's Student Executive have got in behind the fundraising,

by running a sausage sizzle at lunchtime last Friday while, after exams and

the student holiday break, a super-sized raffle will be available. Currently

items for this are being gathered via students and the generosity of

communitybusinesses. Therewill be moreonthis fundraising next term!

Thesausage sizzle attractedaverygood crowdofpurchasers.

(Pictured left,

lefttoright):

Setting up for

the lunchtime

purchasers are

Head Girl

Milli Sullivan,

Blair Donaldson,

and Head Boy

Thomas Patterson.

(Pictured left):

StudentExecutive

members ready for

action, behind the

counterready to

distributethe food,

are (lefttoright):

Maddy Wilson

Taylah Burrowes,

OlivaLill,

Milli Sullivan and

Blair Donaldson.

(Pictured left,

front leftand right):

Emma Petrie

and Boardof

Trustees Student

Representative

Gemma Taylor about

to enjoyahot sausage

on acool afternoon.

Profit

Over $150 wasmadefromthis eventonFridayand,sofar,$351.13 has been

raised towards their goal of $2,000.

Fundraising Link

Donations canbemade via the fundraising events planned or go to the

link belowand donate -

https://midcanterbury.relayforlife.org.nz/ashburtoncollegestudentexecutiveteam
---
NEWS

16 Ashburton Courier, September 23, 2021

Ashburton Town Watch chairman John Verheul is keen to hear from volunteers keen to help make the community safer.

Volunteer needs for town safety

Ashburton TownWatchSociety

is lookingfor more volunteers

willing to help make the

community safer.

The society is affiliatedto

Community PatrolsofNew

Zealand(CPNZ) andhas

operated acommunity patrolin

Ashburton for 36 years.

It was set up in 1985 by

members of the localCBand

4­wheel drive clubsfollowing

concerns of an increase in

violentoffences being

committed,and wilful damage

being done to businessesand

residentialareasoftown. The

goalwas to worktowards asafer

community through trained

volunteer support for policeand

local authorities.

TownWatchchairmanJohn

Verheulsaid having active

trained patrollers presentat

night preventedcrimeand

reducedharmthroughout the

AshburtonDistrict.

CPNZaims to provideaNew

Zealandwhereeveryone feels

safeand therefore our

volunteers work closely with

policeasextra "eyes and ears"

throughintelligence and

observation.

It helpstoassist policeand

other agencies build safer

communities.

''Wecater to theneedsofour

local community, patrolling

where and when best supports

the localpolice and local

community,''John said.

''Community patrols are

independentfrom the policebut

receiveregular policeguidance,

training and tasking.

Patrolsusuallybegin on

weekends at around 9.00pmand

continue through until

approximately2am, depending

on how busy thetown is and

www.ashburtoncourier.co.nz

PHOTO SUPPLIED

what specifictaskswatchcrews

areaskedtodo by police.

''If there are anyunsavoury

peoplelurking about, windows

broken or an alarm activated, we

areoften the firstonthe scene to

protectproperty untilpolice or

security firmarrives,''Johnsaid.

''We travelaround6000 –

8000km per yearwith an average

of 90km beingtravelledper

shift.''

If youwishtojoin,please

email ashburton.cpnz@gmail.

com or leaveyourdetails for

Town Watch at theAshburton

Policestation.

Mayfield

garden

tour

date set

The Mayfield Playcentre has

planningunder wayfor its

Homegrown Garden Tour.

The biennial event willbe

heldonSaturday,November

6.

It will featureaself­guided

touroffive impressive

privategardens,whichare

expected to be abundant

withspringcolour and

splendour.

There willalso be

entertainment andfood and

drinksfor sale.

The event is amajor

fundraiser to support the

runningofMayfield

Playcentre, which has

around 30 childrenfrom 20

families andfrom10

different cultures.

Playcentrefamilies are

pitching­in to organisethe

garden event.

Tickets costing $25are

availableonlinebefore

November 6.

Visit thehumanitix.com

website andsearch

Homegrown Garden Tour.

On the day tickets(cash

only) cost$30.

Children under 16 years

freeentry.

FINAL FLIGHT

Fete moved, spring

walk to go ahead

NOTICE OF HELICOPTER USE

FOR VISUAL INSPECTION OF

TRANSMISSION LINES IN

YOUR AREA.

Transpower, the owner and operator

of the national grid, will be carrying

out aroutine visual maintenance

inspection of transmission lines in

your area by helicopter.

We have been undertaking inspections

of the structures on the Glenavy to

Waitaki 110 kV line and also our

Roxburgh to Islington 220 kV line

(as shown on the map) by alow flying

helicopter over the last month.

Ourfinalflyoverdate is planned for

Monday 11October 2021.

The helicopter will fly at aconstant

speed of about 30 km/h, starting at

Waitaki and will take approximately

4hours per session.

Aviemore

Waitaki

Livingstone

Black Point

Bells Pond

Geraldine

79

Oamaru

Timaru

Ashburton

It's important to us that you are kept informed and updated on our activities.

If you require further information, please call Myles Stichman 0274 779 693 or 03 688 2689.

TPAC23971021

Helicopter will be

operating at low

levels inaroundthe

transmission line in

highlightedzone.

83

8

8

82

1

Helicopter

operating area

Substations

Highways/Roads

Other

transmission lines

Please note this

inspection is weather

dependent, and we

would look to fly the

next day if required.

St John's Sherry Wootton and Elaine Vallender during last year's fete

at Rakaia Gardens.

PHOTO TONI WILLIAMS

St John's major fundraising

garden fete may have been

postponed until early next year,

but the event will be replaced

with apicturesque spring time

garden walk around the grounds

of Rakaia Gardens.

Thegarden fete, which was to

have been held next month has

been postponed to February 17,

2022 due to uncertainty around

covid restrictions. St John

Ashburton executive officer

Elaine Vallender said after

meeting hosts Sue and Ted

Rollinson thedecision wasmade

to postpone the event.

"We havemet with our hosts,

Sue and Ted Rollinson, andhave

decided that if we end up in Level

2wewillberestricted to only 100

people. We have100 stallholders

so it just wouldn't have worked."

The gardens arelooking

fabulous and ready for visitors so

the fete will be held in February,

but St John will hold agarden

walk on October 16 so the spring

gardens can still be admired.

"The work done by the

Rollinson familyistoo great to

dismiss and we wantpeople to

have the opportunity to view the

gardens at this time of the year,"

Mrs Vallender said.

"There will be twosessions,

one from 9.30am until 12.30pm

and theother from1.30pm until

4pm. Guided tours of thegarden

by Rollinson family memberswill

be at 11am and 1.30pm.

Entry will be $15 and will

include Devonshiretea. Tickets

will be available shortly from

local outletsand via the St John

office.
---
www.ashburtoncourier.co.nz

RURAL

Ashburton Courier, September 23, 2021

17

Wheat sown for popular rally

TONI.WILLIAMS

ashburtoncourier.co.nz

Grain farmer Anthony

Hampton has timed the final

sowing of wheat on his

Lauriston farm to perfection.

Seven hectares of Viceroy

wheat, used for milling, went in

the ground last week and will

be ready to harvest as part of a

display event during the Mid

Canterbury Vintage Machinery

Club's Wheat and Wheels rally

in early April.

Mr Hampton is hosting the

rally, on April 2and 3, at his

farm along Lauriston Barrhill

Road, at the northern side of

Mid Canterbury.

He was especially keen to

host it as it was timed to

celebrated the 175th

anniversary of Massey.

Mr Hampton, athird

generation farmer, is ahuge

Massey fan and has an

impressive collection of Massey

machinery and vintage

tractors.

His particular affliction is

Massey­Harris tractors.

But he's not averse to the odd

Allis­Chalmers, or even aCase.

His Massey collection, which

he has been collecting and

restoring for more than 40

years, will be joined by others

owned by club members and

not just Massey, there will be

hundreds of machinery entries

on show ranging from vintage

classics to ultra­modern, as

well as some of New Zealand's

largest tractors and combines.

There will be working

demonstrations and static

displays.

The Wheat and Wheels rally

has been years in the planning

with crop rotations on­farm

managed so wheat was ready as

part of aharvest display. As

well as allowing other

paddocks to be available for

use as acentre ring for parades,

another display area, food and

craft stalls and car parking.

The event will see everything

from traction engines, military

display to vintage and classic

tractors, cars and trucks on

display.

Mr Hampton runs acropping

operation with wife Julie, on

their 570 hectare farm.

He was the first generation

on the farm, which he bought

more than 40 years ago; has two

sons and adaughter, and has

been involved in cropping all

Massey collector AnthonyHampton has beensowing Viceroy wheat on­farm in preparation for the

upcomingWheat and Wheels Rally.

PHOTOS TONI WILLIAMS

his life.

Before irrigation was

available on the farm, he also

had acrop and sheep

operation, now there were

more crops and up to 6500 store

lambs.

The wheat field will be used

by members who want to run

their headers at the rally. Some

of the new headers had bigger

capacity to harvest, he said.

Mr Hampton said Massey­

Harrises were his tractor of

choice, in part because Massey­

Fergusons were used on the

farm.

They also provide excellent

service, he said, of the dealers.

The last time the club ran the

event was at Wakanui in 2016

and it drew in more than 6000

people over its two days and

more than 800 entries of avast

range of machinery.

There was also asizable

donation made to Ronald

McDonald House. This time

rally profits will go to Westpac

Rescue Helicopter Trust.

Mid Canterbury VintageMachinery Club'sJohnHall, left, and

Anthony Hamptonatthe Hamptonfarmduring the final stages

of wheat sowing.

IN BRIEF

RURAL JABS

The MethvenMedical Centrewill be

running covid vaccination clinicsfor

farmers in the district at the Methven

Rugby Club. They welcomeanyone

farming in the Ashburtondistrictto

get themselvesand staff booked in,

evenifnot patients at the medical

centre. Employerscan email

desk@methvenmedical.co.nz with

alist of staff names andthey will

replywith appointment times.

Medical centre staff are aware it's a

busy timeon-farm so will do what

they can to space outthe

appointments. There is no cost.

RURAL CAREERS

RabobankNew Zealandhas a

graduate programme to support the

development of talentedyoung

people into successful careers

within Rabobank and the wider the

food andagribusiness sector.

The 18 month-long programme

will provide 10 graduates from

around the country with

employment experience andcareer

development support across

variousdivisions of the bank

includingoperations, country

banking, risk,productsand deposits

and human resources. Applications

via -www.rabobank.co.nz -close on

October 8with the firstintakeof

graduates settostart in early2022.

BOVIS CASE

Three South Islandpropertieshave

active confirmedcasesof

Mycoplasmabovis, includingone

new active confirmedpropertylast

week. It is abeefpropertyinthe

Ashburton District, withlinks to the

recent cluster of infectedproperties

in Canterbury.Twenty seven

properties are underanotice of

directionand 130 are active

surveillance properties.Thereare

currently 266Cleared Confirmed

Properties and $210.3million has

been paid outincompensation.

BEEFRIENDLY

Apiculture NewZealand, the

national bodyrepresenting

beekeepers andhoney producers,

is askingKiwis to Feed the Beesby

planting bee-friendly trees and

plants this spring. It provides

nutrition for the bee population

ensuring they can be resilient.

Somebee-friendly treesare citrus

and pip fruit trees, or nativeplants

like harakeke or rewarewa, which

offerbeesexcellent,ongoing

sources of nutritionand wellnourished

bees are better ableto

withstandthreats like varroa, habitat

loss,climate change anddiseases.

Nitrate lag times

Excessnutrients can be reflected in water

quality improvements in our rivers withinfive

years, on average, according to new research

from Our Land and Water.

The research was published in the nature

journalScientific Reports last month and

fundedbythe Our Land and Water National

Science Challengeand MBIE.

It looked at the 'lag time' between farm

managementdecisions to reduce nitrogen loss,

and the resulting improvement in riverhealth.

The average time for nitrate loads in rivers

to reflect on­farm changes was four and ahalf

years, calculated using data for 77 catchments

from 1990 to 2018.

Lag times varied from one year to over 12

years as water in larger rivers and more

steeply sloped catchments took longer to

reflect upstream land management changes.

Professor Richard McDowell, lead author of

the paper and chief scientist at Our Land and

Water, said farmers couldbeconfident actions

on land werereflected in the rivers but nitrate

loads in somecatchments may reflect pastfarm

inputs for some years.

"If people who farmwork as ateam, hold

their nerve, and continue to take strong action

to improveour rivers,water quality will reflect

these efforts within five years in many

catchments," he said.

"Peopleinindustry bodies, catchment

groups, and farmer co­operatives can help by

ensuring that people who are workingto

improve water quality have realistic

expectations for the time frame in which we'll

see improvements,sothey don't get

discouraged by lag times."

The researchalso suggested that because

small catchments and sub­catchments had

shorter lag times, actionbypeopleinregional

councils to expand and improve monitoring

networks could enable earlier detection of

improvement.

Surfacepathways could have ashorter lag

time; research was ongoing to see if this was

the case.

• DairyNZ accredited

EffluentPondDesign

andConstruction

• Pond Constructionand

Irrigation Development

• Hedgeand Stump

Removal

• Farm Conversions

• DairyTracks–

Lime or Gravel

• PumpHire

• Wellsand Galleries

• Bulk Earthworks

• Subdivisions

• Site Works

• Tree Shear

• Transportation

2390166
---
NEWS

18 Ashburton Courier, September 23, 2021

www.ashburtoncourier.co.nz

Funding to protect

Rakaia fish habitat

Fairton School pupils hunker down from dust as NZ Army helicopters fly overhead.

PHOTO SUPPLIED

Army action for school

Fairton School pupils had

an excitingstart to the week

with the airbornearrivalof

New ZealandArmy soldiers

training in the grounds of

theTalley'spremises

beside the school.

Theschool,and others in

thecommunity,had been

made awareofthe training

exercise by letter.

School principal Mike

Hill said around 90

personnel from the2/1

Royal New Zealand

Infantry Regiment at

Burnham Military Camp

were involvedinthe three

dayexercise.

''We knewthey were

coming... so we took the

children overtosee the

helicopters arrive and the

soldiers (disembark).And

then the soldiers set off

down the road and around

thearea,'' he said.

The dust thrown up off an

empty paddock saw the

pupilshunker downto

protectthemselves as the

helicopters flew overhead,

Mr Hill said.

The exercise involved

soldiers with weapons

flying­in by helicopter on

Monday, soldiers movingby

foot along Office and

Fairfield road areas

carrying rifles withblank

ammunitionusedand

pyrotechnics inside the

empty Talley's facility.

The facilitywas the

Silver Fern Farms meat

plant whichclosed in 2017

and decomissioned, was

bought by Talley's in 2020.

Fish &Game, working with

Canterbury high­country farmers,

New Zealand Salmon Anglers

Association, Rakaia River

Promotions and Environment

Canterbury, have secured funding

from the Ministry for the

Environment for ahabitat protection

project in the headwaters of the

Rakaia River.

The funding will allow staff to

identify and protect valuable habitats

used for salmon and trout spawning

and rearing. Protecting valuable

wetland habitats will also be afocus.

Acornerstone of the project will see

the East Branch of the Glenariffe

Stream, which runs across Glenariffe

Station, realigned and protected.

North Canterbury Fish &Game chair

Alan Strong said the stream would be

enhanced to increase its productivity

for chinook salmon and trout.

''We have been working hard on this

project for almost ayear and have

secured funding for the project for

the next three years,'' he said.

''The team are excited to get boots

on the ground and make astart as

soon as possible.''

The Glenariffe system has

historically produced between 20 ­30

percent of the Rakaia River chinook

salmon, but in recent years has seen a

reduction in returning fish. The

system also provides asignificant

proportion of the Rakaia River trout

spawning and rearing.

The project was designed to

maximise the time juveniles spend in

the stable stream environment before

entering the more volatile Rakaia

mainstem.

The wetlands protected will also

provide additional areas for precious

longfin eel to live.

Glenariffe Station owner Mark

Ensor said the work would protect the

area for future generations and act as

anatural hatchery for the fishermen

of the Rakaia River.

Mr Ensor said it was possible to run

asustainable farming operation

while protecting sensitive habitat and

biodiversity for the benefit of future

generations of Kiwis.

The New Zealand Salmon Anglers

Association have been part of the

Fish &Game councils decisionmaking

process and fully support the

project. New Zealand Salmon Anglers

Association president Larry Burke

said anything that helped the iconic

salmon of the Rakaia was apositive

step forward.

Rakaia River Promotions, the

organisation behind the Rakaia River

Fishing Competition, who have along

history of contributing to various

projects in the Rakaia catchment,

were also part of the team.

Rakaia River Promotions president

Ken Lee said it was fantastic to be

part of aproactive project which will

safeguard the sustainability of both

salmon and trout, which the annual

Rakaia River celebration and

competition relied on.

Say hello

to an actual

human.

Our local insurance brokers are here

to help. Talk to areal human about

your insurance in Ashburton.

LIGHT SPEED

EMPATHY

REAL-TIME

INTUITION

REAL

VOICE

WAVE2630AC

Call 03 307 6790

or visit aon.co.nz

Proudly local. Proudly human.
---
www.ashburtoncourier.co.nz

Calves enjoy ascenic slurp

NEWS

Ashburton Courier, September 23, 2021

19

New rating valuations

Calves enjoying adrink on asunny, Spring day in apaddock

located just outside Methven. The paddock is adjacent to the new

Thyme Stream subdivision from where apath links the township

to the Methven Walkway.

Events for mental

health week

Connecting MidCanterbury

Charitable Trustisorganising a

numberofevents for Mental

Health AwarenessWeek

(MHAW), whichruns from

September27toOctober3.

The trustoversees the

running of Mid Canterbury

TimeBank andKeepLearning

Mid Canterbury.

TimeBank is teamingup with

Wellbeing Opuketorun events

focused on the MHAW theme of

'Taketime to korero', which is

aboutconnecting with the

people and creating space for

conversationsabout mental

health.

On September 29 there will be

gatherings in both the

Ashburton Domain and

Methven playground, (near the

medical centre), at 5.30pmfor

people to come togetherwith

picnics and takeaways.

On October2acafe gathering

is planned at 10.30am at the

StaveleyStore and the following

day TimeBankwill celebrate its

fourth birthdayand bring

people together at familyfriendly

event at Trott's garden.

Entrytothe garden is $5 and

there will be activities for

childrenand food provided

between 2pm and 4pm.

Registration can be done

through Eventbrite.

KeepLearningMid

Canterbury has five events

planned which are open to

everyone. Each focuses on the

five ways to wellbeing.

There is achance to 'connect'

on September 27 (Ashburton

PublicLibrary 4pm until

7.40pm), to 'take notice' on

September 28 (Ashburton

Parents Centre 5.30pmuntil

6.30pm), to 'give' on September

29 (Resource Recovery Park

education centre1pm until

3pm), to 'keep learning' on

September 30 (Ashburton

PublicLibrary 3.15pm until

5pm) and to 'be active' on

October 1(EA NetworksCentre

gym 1pm until 2pm).

Full eventdetails on the

Eventbrite website.

AshburtonDistrict property

owners are duetoget new

rating valuations in the post.

New valuations have been

prepared for 15,764 properties

by QuotableValue (QV) on

behalf of Ashburton District

Council.

The total rateable value for

the district is now

$20,494,086,450 with the land

valueofthose properties

valued at $13,742,687,650.

Rating valuations are

usually carried out on all New

Zealand properties every

threeyears to help councils set

rates for the following threeyear

period.

They reflectthe likely

selling price of aproperty at

the effectiverevaluation date,

which was1July 2021, and do

not include chattels.

The value of residential

housing within theAshburton

District has increased by an

average of 25.5% since 2018.

The average house value is

now $486,000, while the

corresponding average land

value has increased by 33% to

an average of $200,500.

QV area manager Kris

Rodgers saiddemand for

residential housing hadbeen

buoyant across the region,

with most townships in the

district seeing increases of

between21­30%overall.

''We have seen significant

value lifts across the entire

residential market since our

last rating revaluation back in

2018 with values still rising

strongly.''

''Lowervalue properties

have seenthe most

competitionfrombuyers,

resulting in the greatest value

increases.

''Demand from buyers

coming from outside the

regionhas also helped fuel the

local residentialproperty

market,'' he said.

Commercialproperty values

have increased by 12% and

property valuesinthe

industrial sector have

increased by 13% since the

district's last rating valuation

in 2018.

Commercialand industrial

land values have also

increased by 4.4% and 8.3%

respectively.

''While there has been

demand from buyers for good

quality properties with

favourable leases in place, this

has been offsettosome degree

by online competition for

retailers andthe start of apost

lockdowntrend for more

people to work from home,''

Mr Rodgers said.

''We have seen steady value

increases for industrial

properties andalimited

supply of industrial land

within theregion has seen a

boostinland values.''

Since 2018, the average

capital value of an improved

lifestyle property has

increased by 16% to $790,000,

whilethe corresponding land

value for alifestyle property

increased by 20.3% to $417,500.

''Lifestyle properties

typicallyaligninvalue with

high­endresidential

properties andthis segment of

the markethas been strong.

''A smaller market and less

demand has meant there has

not beenquite the same

increase in the land valuesas

seen in the residential

market,'' Mr Rodgers said.

He said there had been good

activity and value growth for

dairy, arable and pastoral

properties overthe last eight

to 10 months.

Pastoralproperties on

average have seena2%

increase from 2021 value

levels, with the majority of

growthexperienced in the foot

hills andhigh country.

Mr Rodgers said the

effective ratingrevaluation

date of 1July 2021 had passed

and any changes in the market

since then will not be

includedinthe new rating

valuations.

Thismeans in many cases a

sale priceachieved in the

market todaymay be different

to the new ratingvaluation set

at 1July 2021 and that rating

valuations are notdesigned to

be used as market valuations

for raising finance with banks

or as insurance valuations.

The updated rating

valuations are independently

audited by the Office of the

Valuer General and need to

meet quality standardsbefore

the new rating valuations are

certified.

New rating values will be

postedafter September29.

If owners don'tagree with

them they they have aright to

objectthroughthe objection

process before November 4.

Want to get

paid for your

weeklywalk?

I'mMarythe Delivery

Supervisor forthe Courier.

I am looking for reliable people

to deliver the Courier each

Thursday in the Tinwald area.

If you are keen to find out more

about this opportunity, please

send me an email or give me a

call and we can talk further.

Please email mary.summerfield@ashburtoncourier.co.nz

or phone Mary on 03 308 7664

forfurther details.

2409686
---
COUNCILBRIEF

5BaringSquareWest, Ashburton |POBox 94, Ashburton, NewZealand 7740 | Telephone (03) 307 7700 | Website ashburtondc.govt.nz

Thursday,23September 2021 | ISSUE 47

Newrating valuations forAshburton District

Ashburton District property owners

will soon receive aNotice ofRating

Valuationinthepostwithanupdated

ratingvalue fortheirproperty.

The new rating valuations have been

prepared for15,764 propertiesonbehalf of

theAshburtonDistrictCouncilbyQuotable

Value (QV). They show the total rateable

valueforthedistrictisnow$20,494,086,450

with the land value of those properties

nowvaluedat$13,742,687,650.

Rating valuations are usually carried out

on all NewZealand propertiesevery three

yearstohelp local councils setratesfor the

following three-year period. They reflect

the likely selling priceofapropertyatthe

effective revaluation date, which was 1

July 2021, and do notinclude chattels.

The value of residential housing within

the Ashburton District has increased

by an average of25.5% since 2018 with

the average house value now sitting at

$486,000,whilethecorrespondingaverage

land value increased by 33% to an average

of $200,500.

QV area manager Kris Rodgers said the

demand forresidential housing had been

buoyant across the region, with most

townships in the district seeing increases

of between 21-30%overall.

"Wehaveseen significant value liftsacross

the entireresidential market sinceour last

rating revaluationbackin2018 with values

still rising strongly.

"Lower value properties have seen the

mostcompetitionfrombuyers,resultingin

the greatest value increases.Demandfrom

buyers coming from outside the region

45.0%

40.0%

35.0%

30.0%

25.0%

15.0%

10.0%

5.0%

0.0%

Residential Dwelling Value Change

Ashburton Town

East/Central

Ashburton

TownWest

Methven

Town

has also helped fuel the local residential

property market."

Meanwhile, commercial property values

have increased by 12% and property

values in the industrial sector have

increased by 13% since the district's last

rating valuation in 2018. Commercial and

industrialland values havealso increased

by 4.4% and 8.3% respectively.

"While there has been demand from

buyers for good quality properties with

favourable leases in place, this has

been offset to some degree by online

competition for retailers and the start of

apostlockdown trend formorepeople to

work from home,"MrRodgerssaid.

"Wehaveseen steady value increases for

industrialproperties and alimited supply

Rakaia

Town

RuralAshburton

District

CV% Change

Tinwald

Suburbs

LV%Change

Overall

of industrial land within the region has

seen aboost in land values"

Since 2018, the average capital value

of an improved lifestyle property has

increased by 16% to $790,000, while the

corresponding land value for alifestyle

property increased by 20.3% to $417,500.

"Lifestyle properties typically align in

value with high-end residential properties

and this segment of the market has been

strong. Asmaller marketand less demand

has meant there has not been quite the

same increase in the land values as seenin

theresidentialmarket," MrRodgersadded.

He said therehad been good activity and

value growth fordairy, arable and pastoral

properties overthe past 8-10 months.

"Uncertainties around environmental

issues and availability of capital that

had restrained this market inthe 18-24

months previous have abated somewhat

with lending policy loosened and

farmers learning to live and adapt tothe

environmental restrictionsimposed upon

them."

Value levels are still just below that of

2018 on mostdairyand arable farms with

values forthose sectors having decreased

4% on average. Pastoral properties on

average have seen a2%increase from

2021 value levels, with the majority of

growth experienced in the foot hills and

high country.

MrRodgerssaiditwashelpfultoremember

the effective rating revaluation date of 1

July 2021 had passed and any changes in

the market sincethen will notbeincluded

in the newrating valuations.

This means in many cases asale price

achieved inthe market today may be

different to the newrating valuation setas

at 1July 2021 and that rating valuations

are not designed to be used as market

valuations forraising financewith banks or

as insurancevaluations.

The updated rating valuations are

independently audited by the Officeofthe

ValuerGeneral and need to meetrigorous

quality standards before the new rating

valuations arecertified.

New rating values will be posted to

property ownersafter29September 2021.

If owners donot agree with their rating

valuation, they have a right to object

through the objection process before 4

November 2021.

Hakatere

display stays

The popular Hakatere: Home &

Heritage exhibition at Ashburton

Museum will be extended into the

Octoberschoolholidays.

The exhibit, which features photographs

and life stories of families living in the

Ashburton District, wastohavefinished on

17 Septemberbut will nowrun to Sunday

10 October and museum staffhopemore

peoplewill take the chancetoviewit.

Visitors tothe museum are still welcome

in Alert Level 2.Masks and scan/sign in

required.

The Hakatere exhibition is modelled on

abook by the same name initiated by

Council's Welcoming Communities; it

features avideo, photos and stories of

peoplewho havegrown up hereormoved

from other partsofthe world.

HamishRiach -Chief Executive

Valuations, roads and

adrop-in vaccination

The newrating valuations forour

districtare nowonlineand willbe

of interesttomanyhomeowners.

The demand forresidential housing

wasstrong before covid and continues

even now, judging by thenumber of

consentsCouncilstaffare processing.

Ratingvaluationshappen everythree

yearsand help us allocate to individual

properties the overall ratesset by

Council across the community for

the following three-year period; they

reflectthe likely selling price.

Property ownerswill be sent letters

next week of their newrating

valuations by Quotable Value though

the information is already online.You

cansee the information on Council's

website, underpropertyinformation.

The newvaluations willbeused to

allocate ratestoindividualproperties

from July2022. If youdon't agree, you

canobjectand there is aprocess for

that. Sometimes work thatdoesn't

requireabuilding consent–such as a

deck, landscaping or anew kitchen -

has been completedonapropertybut

is notreflected inavaluation.

WhenQuotable Valuecarries out a

rating revalution, it uses ateamof

local property expertstodoamass

appraisal factoringinthe recent sale

of similar properties and establishes

amarket trend thatcan be applied to

other properties.

Following that, therating values are

independently audited by the Officeof

the ValuerGeneraland rigorousquality

standards must be met.

The newvaluations reflectwhatwe

haveseeninthe property markethere,

demand is buoyantacrossthe district

and most townships sawincreases

between 21 and 30 percent.

Anotherbig pieceofwork that has

come across my desk thisweekisthe

technical roading audit by Waka Kotahi

NZTA.

It is pleasingtosee our roading

network wasassessed as wellmanaged

andgenerally in good

condition. We knowwecan always do

better,ofcourse,and thereare issues

likepotholes (urbanand rural)and

roadside drainage in some rural areas.

The enemy of any road is water, and

we aredoing our bestwith whatisone

of the largerroading networks in the

country,with 2614km of sealed and

unsealedroads –92per cent in rural

areas.

Lastly,please take the opportunityto

haveyour free covid vaccination. There

areseveral clinicsoperating around

Ashburton with sparebookings in the

next fewweeks, andadrop-in clinic will

operate at Hinds, from the Southern

Rugby Club, on Tuesday 28 October

from 11 am until 3pm.

1 ashburtondc.govt.nz

Thursday,23September 2021 |ISSUE 47
---
Wind strapdistrictrollout resumes

Contractors working for Ashburton

District Council will resume putting

wind straps on wheelie bins next

week, with Methven up first on

Monday 27 September.

Parts of Ashburton, Rakaia and other

townships had wind straps fitted earlier

this year and now the remaining parts of

the district will betargeted over atwoweek

period, starting next Monday 27

September.

The wind straps are attached to both

yellow recycling wheelie bins and red

rubbish wheeliebins and peoplecan clip

thelidsshutwhentheyrolltheirbinsto the

kerb on windydays.

The straps are specially designed to

be undone asthe bin is picked up and

emptied by the collectiontrucks,ensuring

efficient collection. Atrial of the straps

showed they were 95 per cent effective

at keeping lids shut on windy days, even

when the bin was blown over. Council's

collection contractor, EnviroWaste, had

alsoreportedthe straps worked well since

theyhad beenrolledout.

Infrastructure Services Group Manager

Neil McCann said that in the two-week

period starting Monday 27 September,

people will need to put both yellow and

red bins out on their usual recycling day,

whether theyneededemptying or not.

EnviroWaste contractors will beworking

on thestreets,attachingstrapsorchecking

binshad straps installed.

"Doing these straps on recyclingday is the

bestway to getasmany bins as possible,

andafterMethven on27September they

will move to Ashburton on28September.

"The straps certainly make adifference.

Residentscan alsorest easy on collection

day knowing their rubbish and recycling

will makeittothe truck,insteadofblowing

down the street when there's a good

nor'wester."

ShakeOut 2021: Be earthquakeready

Schools, businesses, families and

individuals in the Ashburton District

are among thousands around the

country preparing for New Zealand

ShakeOut 2021, our national

earthquake drill on Thursday 28

October.

The drill,which will happen at 9.30am that

day,issopeople canpractiseDrop, Cover

and Hold.

This is something you should ideally

do twice ayear and you can prepare in

advance by identifying asafe space, like

under astrong table or next to an interior

wall, to take refuge inaquake. Being

prepared and having supplies on hand

for several days is also part of advance

planning.

Drop, Cover and Hold stops you being

knocked over, makes youasmaller target

for flying and falling objects and protects

your head, neck and vital organs.

If you are driving when an earthquake

happens, pull overtoaclear location, stop

and staytherewith your seatbeltfastened

until the shaking stops. Ifyou are inbed,

staythere.

Earthquakes arein the topfiveemergency

risks for Ashburton District and while we

can'tpredictwhenearthquakes will occur,

scientific research has shown that the

South Island's alpine fault has aregular

history of producing large earthquakes.

Scientists saythe next severe one is likely

to occur within our lifetimes.

Ashburton District Council Strategy

and Compliance Group Manager

Jane Donaldson said Council had an

important role in civil defence emergency

managementaspartofaCanterburyand

national response team.

Draft AshburtonDistrictParking Strategy &

Ashburton Town CentreParking Management Plan

We areacceptingfeedback until 5pm,

Wednesday 6October 2021.

ashburtondc.govt.nz/haveyoursay

"While Covid-19 is an event that has

been drawing our attention lately,people

need to be prepared for other sorts of

emergencies. We have about 30 local

businesses, schools, preschools and

families or individuals signed upfor the

drill next month and we'd love to see

otherswill take part too."

Sign up forthe ShakeOut at

getready.govt.nz/involved/shakeout

COMMUNITYNOTICEBOARD

UPCOMING MEETINGS

Meetings areheld in the Council

Chambers, 137 Havelock Street,

ExtraordinaryCouncil meeting,

Wednesday29September,9am. Grove St

Park disposal submission hearings and

deliberations (live-streamed)

Council Agencies –6monthreports,

Wednesday 29 September, 1.30pm

PUBLICNOTICES

RUBBISH &RECYCLING

The AshburtonResource Recovery Park

will be CLOSED onMonday27September

forupgradestothe power supply.

NeilMcCann

InfrastructureServicesGroup Manager

PUBLICNOTICES

ROAD CLOSURE

Ashburton DistrictCouncil givespublic

noticeofaroad closurefor thepurpose of

allowingthe AshburtonCar Club to hold

"Standing QuarterMile Sprint" (with the

exception of emergencyvehicles) forthe

period indicated hereunder.

Roadtobeclosed: WINSLOWWILLOWBY

ROAD, from the Longbeach Road

intersectiontoapproximately 500metres

from theintersectionofState Highway 1.

Period of Closure: From 9.00am until

5.00pm on Saturday,02October 2021.

This noticeofclosureismade under the

LocalGovernment Act1974 -Schedule

10 (11 (e)). Itwillbeanoffenceunder

the aboveregulations forany person

otherwise than under authorityofan

authorised permittouse theroads /streets

forordinaryvehicular traffic duringthe

period of closure.

NEIL McCANN

Group Manager InfrastructureServices

VALUATION ROLLS

The Valuation Rolls forAshburton District

Council havebeen revised by Quotable

Value Limited (as theCouncil's valuation

serviceprovider).

The revised Rating Values areeffective

as at 1July 2021 and thenew notices of

valuation will be postedtoownersand

ratepayersfrom 29 September 2021. The

DistrictValuation Rolls will be open for

public inspection, free of charge,during

regular officehours, atthe offices of:

Ashburton DistrictCouncil

5Baring SquareWest,

ASHBURTON7700

The revised values can be vieweduntil

4November 2021.

Objections to therevised valuations must

be lodged, in writing or online at www.

ratingvalues.co.nz,no laterthan

4November 2021.

Objection forms areavailable from

Ashburton DistrictCouncilorQuotable

Value Limited andshouldbepostedto:

Quotable Value Ltd–Business Support

PrivateBag 39 818

Wellington MailCentre

LOWER HUTT 5045

Moreinformation about "Understanding

your Rating Value"can be found at

www.ratingvalues.co.nz

PAUL BRAKE

Group Manager Business Support

GRAZING TENDER

The Ashburton DistrictCouncil, on behalf

of the Rakaia ReserveBoard,seeks tenders

to grazethe land described below:

MichaelStreet, Rakaia

-Area2.0234 ha approximately

-LegalDescription: RES 2986 RAKAIA

TSHIP-RECREATION RES

Afive(5) year grazing licenceisproposed

which acommencement of TBA.

Tenderersmay tender by completing the

appropriate tender documentation which

may be obtained from Council'sCustomer

Services Department at 5Baring Square

West, Ashburton, by phoning Council on 03

307 7700orbye-mailing info@adc.govt.nz

Tendersare to be enclosed in an envelope

enfaced "RakaiaReserveBoardLicence

to Occupy" andare to be eitherdelivered

or postedtoreach Council by closing time

of 4pm,Friday22October2021.

Tendersfor the sections close with: The

ChiefExecutiveOfficer, Ashburton

DistrictCouncil,POBOX 94, ASHBURTON

7700.

Highestorany tender notnecessarily

accepted.

Officer forenquiries –Ann Smith,

Property Officer -03308 7742

COUNCIL OFFICE

5Baring Square West

Mon, Tue, Wed &Fri 8.30am -5pm

Thursday 9am -5pm

ASHBURTONPUBLIC LIBRARY

180 HavelockStreet, Ashburton 7700

Mon -Fri 9.00am -8.00pm

Sat10am-1pm | Sun 1pm -4pm

EA NETWORKSCENTRE

20 River Terrace

Mon -Fri 6.00am -9.00pm

Sat&Sun 7.00am -7.00pm

ASHBURTONMUSEUM

327 WestStreet

10am -4pm daily.

Closed Public Holidays.

ashburtondc.govt.nz Thursday,23September 2021 |ISSUE 47

2
---
NEWS

22 Ashburton Courier, September 23, 2021

Crispstartat

LakeHood

Afrosty sunrise at Lake Hood, taken early on Saturday morning. The rising mist and cold, fresh conditions greeted Ashburton College

rowers who have returned to training on the lake ahead of anew season of regattas.

Annual scholarship round opens

Scholarshipshave been made

available forpeople lookingto

completetertiarystudies,

industrytraining or personal

developmentnext year.

Advance Ashburton

CommunityFoundation,

thanks tothe generosity of

local people,has 32

scholarships available,

valued atjustunder $90,000.

Generous benefactorsinthe

MidCanterburycommunity

havedonated funds to the

Foundation whichhavebeen

invested.

Theincome fromthese

investmentsisthenused for

causessupported by each

donor, such as scholarships

fortertiary education, health

sciences,personal

development,and trade

training.

Ashburton resident Graham

Gunn is an organist, dahlia

Graham Gunn, left, with 2021

music scholarship recipient

Jack Bubb.

enthusiast,patron andjudge,

as well as leaving a

substantialbequest to the

Foundation,has funded an

annualmusic scholarship.

"I was born, raised andlived

my lifehereand thisiswhere

Iwanttobeabletogive back,"

he said. Oneofthe

scholarships awarded in the

previous round was the Neil

Sinclair Memorial

Scholarship awarded to

MikaeliLalor,who is in her

sixth yearatUniversity of

Otago. The Methven woman

was head girl at MtHutt

Collegein2015and graduated

fromthe university with a

majoringeology.She is now

studying towards hermasters

researching common climate

risks.

TravisStringer was

awarded ascholarshipto

attend OutwardBound in the

Marlborough Sounds and was

very thankful to Advance

Ashburton, Jaycees, and

OutwardBound for the

opportunity.''Thiswas an

amazingexperience. Some of

theactivitiestookalot out of

me, but Idid them. Ibegan to

realise how much Iam

capable of doing. 'There's

more in you,' becameaproven

statement forme. Ilearneda

lotofimportantlessonsto

take with me ­ithas changed

my life.Māte wā," he said.

Foundation chair MaryRoss

said''Weare delightedtobe

able to assistpeoplefrom our

districtachievetheir goals.''

Application formsare

availableonthe Foundation

website andclose on October

29,2021. Applicants

shortlistedwill be

interviewed in December with

the successful candidates

invited to aformal

presentation function in

January.

www.ashburtoncourier.co.nz

Rakaia

dog event

Anewdate of November7has

been setfor afundraiserbeing

held to supportthe building of a

dedicatedRakaia dogpark.

Abig cardisplay and dog

agility demonstration are lined

up at the communityevent at

Rakaia Domain.

KiwiPetsServiceswillalso

offeringdog washingand nail

clipping,which can be prebooked.

Vehiclesand car

descriptions for the cardisplay

also need to pre­register by

emailing bobjacq@xtra.co.nz

The event runs from10am

until3pm and willalsofeature

food, otherstalls andraffles.

Gate entry is $5 percar or $1

walk in.

Plant sale

The annual Plants4U@Rakaia

sale is lined up for October 2at

St Andrew's Presbyterian

Church, Rakaia.

Running from 9am, the longrunning

sale willfeature awide

selectionofplants, including

hydrangeas and natives, and

other attractions.

Asusual there willbe

surprises andbargains for all

gardeners, organiserDorothy

Knight said.

''Our sellers are always keen

to pass on their gardening

knowledge as well.''

In ordertoavoidcarrying

overplants through the

summer months, there will be a

clearancesaleatnoonwhere

peoplecan pack abox for$20.

Aproduce stall, specializing

in avarietyofjams andhome

baking,will beset up in the

church lounge.

The salewill go aheadin

Level 2,but everyone is asked

to be aware andabide by

restrictions.

The plant sale is aPlains

Parish projectand runsfrom

until 1pm.Fundsraised will be

usedtosupport theRakaia

community.

For more information, and to

donateplants, email

dottsknights@gmail.com

"Is there

atest for

emissions?"

"How can I

reduce my

emissions

rightnow?"

"Who canhelp

me lowermy

emissions?"

Got questions about loweremissions? We can help.

mta.org.nz/tackling-emissions
---
www.ashburtoncourier.co.nz

SPORT

Ashburton Courier, September 23, 2021

23

Trusler­Clark in Canterbury U19s

TONI.WILLIAMS

@ashburtoncourier.co.nz

MadisonTrusler­Clark has

beennamed inthe Canterbury

U19female rugbyteams line

up.

The talentedlooseforward

is in theCanterbury Red

team;one of twoteamsinthe

newlycreatedage group

namedbytheCanterbury

RugbyUnion.The otherteam

is CanterburyBlack.

Trusler­Clark,who plays

weekendrugbyfor High

SchoolOld Boys,isaYear12

studentatAshburtonCollege.

She alsoplaysrugbyfor a

combinedAshburton College/

MountHuttCollege/

Ashburton Christian School

team.

Canterbury Rugby Football

Unioncoach,and female

development manager,Liz

Worthington said Trusler­

Clarkshowedleadership

promiseand was awelcome

addition to the U19s agegroup

created by Canterburyrugby.

Madison has played rugby

forColligatesince shewas

fouryearsold,joined the girls

high schoolteam makingthe

1stXVfor AshburtonCollege

in Year 9, and thisyear played

rugbyfor High SchoolOld

Boys in Christchurch, Ms

Worthington said.

''Madison has so farblown

us away with herskill set and

hunger to learn. Sheisvery

Madison Trusler­Clark(inset), and charging with the ball during play for her High School Old Boys

Club inthe Christchurch weekend competition.

PHOTOS CRFU

dedicated to the sportand has

astrongmindsetwithher eyes

setonwhatthe futuremay

hold,''she said.

Underthe newU19sage

groupmorefemaleplayers

willbeabletoexperiencethe

high­performance

environmentand have

opportunities to playfor

Canterbury orinthe Farah

PalmerCup in the future and

beyond.

Selectorschose 45 players

forthetwo teams which will

playafixture of threegames

acrosstwo weeks.

Theywillplayagainst teams

suchasOtago, Southland,

Hanan Shield,and a

Barbarianssidemade up ofa

mixtureofprovincialunions,

among them many promising

players from Mid Canterbury.

Ms Worthington said there

had been arealdepth

developingwithinthe female

gameso''whenitpresented

itself, we took theopportunity

to getasmany of them

involved in thisprogramme.''

"Ontop of lookingatclub

andschool, we heldatrial...

it's areally exciting

opportunityfor them to pull

on theCanterbury jerseyand

connect with what it meansto

play for Canterbury,"she said.

Thegames,whichstart from

this weekend inMethven,will

be played understrictLevel 2

restrictions, with the hope

spectatorsmaybeaddedif

therewasadroptoLevel1.

Interprovincial croquet results

RESULTS

RUN AND WALK

ASHBURTON

The Runand Walk AshburtonClub

RoadChampionshipslastSaturday

startedfrom Ashford Avenue,inthe

Ashburton Business Estate and

took on a2km loop course.

The event was asealed handicap

and saw someclose timesamong

the categories.

Walkers 6km:Women: 1st place

Alison Conway 42:10; 2nd equal

Stacey Hooper and Judith Crozier

44:22; 3rd placeand winner on

handicap Lori Rusbatch 46:45;

Chrissie Stratford 47:40; Lynda

Bayne 50:44; KarenHodgson

54:07; Nicky Mac Kenzie 55:03.

Men: 1stPlace Dave Strong

42:33; PaulSeverins42:37; Peter

Larkin 46:14; Kelvin Leach47:34;

Robert Moffitt 50:23; Colin Phillips

54:29; David Wilkinson 70:10.

Runners: Vet Women 6km:1st

place Gabby Simpson 29:32; 2nd

place and winneronhandicap Tam

Grant 29:47.

SeniorMen 10km: 1st Place and

winner on handicap Shaun Clark

40:50.Veteran Men 8km:1st Place

and winner on handicap Jeremy

Hayes 34:29; 2nd PlaceIan

Broadbelt 38:37; 3rdPlace Eamon

Hooper47:16.

Men 65 and over 6km:1st Place

and winner on handicap Gary

Whiting31:30; 2nd Place Kenny

Johnston36:21.

Girls 10-14 years4km: 1st place

CarinaLupse 23:08; 2nd equal

Stacey Hayes and BillyDrake

32:02. Boys 10-14 years 2km:1st

Place Jack Hooper 11:18. Boys

U10years 2km:1st Place Gus

Simpson11:13; 2ndPlace Jamie

Hooper 13:23.

Thank you to timekeepersViv

Strong, SteveSkilling,Debra

Curtain and Toresa Hooper, and

Ian Broadbelt for layingout the

course.

The Interprovincial

Association Croquet

championships pitting South

Canterbury against Canterbury

was played at Waireka last

Sunday.

In the end Canterbury took

the spoils on the day winning

376 to 333.

The South Canterbury team

was made up of: Annette Blain,

Carolyn Fordyce, Logan

McCorkindale, Raylene

Phillips, Gail Benseman

(Waireka), Tony King, Trish

Dollan, Lexia Fox, (Waimate),

Barbara Field, Ann Sunbeam

(Allenton), Kevin McGlinchy,

Brian Maxwell, Graeme

Simpson, Gary Merrick

(Aorangi), Jenny Mcnab,

Debbin Brunton (Awamoa

Gardens), Helen Cooke,

Maurice Young, Trish Quinn,

(Ashbury) and Helena Edy

(Methven). And representing

Canterbury were: Josh Winter,

James Duggen, Myles Duggan,

Gay Jones, OwenEvans,

(Cashmere), JonoHart,

Marguaritte Rodgers; (St

James Park), BruceMcLay,

Steve Costigan, Cheryl

Hopley,GeraldineMurphy,

(United), NevilleTurner,

Carol Kidd,Lyn Turner,

(Rangiora), Ian Campbell,

Betty Eathorne, (Barrington

Park), Leo van Oosten(St

Martins), Tim Slack, Holmes

Park), Vilna Gough­Jones

(Fendalton Park);

The three round

competition saw South

Canterburywin the first round

112 to 111, before Canterbury

made acomeback in the

secondround winning 130 to

95.

The third round saw

Canterburytake the spoils

with a135 to 126 finish.

Final tally: Canterbury376,

South Canterbury 333.

Round 3play results:

AnnetteBlain/LexiaFox 8v

Josh Winter/James Duggan 21;

Tony King/Gary Merrick 14 v

Marguaritte Rodgers/Gay

Jones 15;

BarbaraField/Raylene

Phillips 5vsMylesDuggan/

Bruce McLay 18;

Trish Dollan/Helen Cooke

13 vJono Hart/Neville Turner

19;

KevenMcGlinchy/Maurice

Young10vSteve Costigan/

Cheryl Hopley 10;

BrianMaxwell/Gail

Benseman 12 vLeo van

Oosten/Tim Slack10; Carolyn

Fordyce/AnnSunbeam 11 v

Owen Evans/Vilna Gough­

Jones5;Logan McCorkindale/

Debbie Brunton 21 v

GeraldineMurphy/Helene

McNab20;

Graeme Simpson/Trish

Quinn15vIan Campbell/Betty

Eathorne4;

JennyMcnab/HelenaHey 12

vCarolKidd/LynTurner 13.

SouthCanterbury total 126

vs Canterbury 135.

Winner on the day

Canterbury376; South

Canterbury333.

GOLF

Ashburton GolfClub Club

Championship Top16Knockouts:

Senior winners were,Jeff Hewitt,

Terry Kingsbury, Dave Morrison,

Adrian Hopwood, Hamish Niles,

BlairFranklin PeterWalkerand

OwenMiller.

Intermediate winners wereBlair

Snowball, Bruce Day,Steve

McCloy, Ron Carlson,Dave Fisher,

SebastianMcMillian,Sean Strange

and Brent MacGregor.

Junior Awinners were MattTait,

Perry Hunt,Paul Clark,Ken Clucas,

David Hampton, Al Jopson, Terry

Molloy and James McFarlane.

Junior Bwinners were Phil Kerr,

Chris Scott,GeorgeBrown, Antony

White andBrian Fauth.

¥ 8 ¥ 79

WALLABY

CONTAINMENT

AREA

¥ 1

¥ 82

SEEN ONE? SAYSO!

Wallabies cause serious damage to production

farming and our environment.

We areworking hard to reduce theirrange in our region.

Your help locating them is vital.

If yousee awallabyoutsidethe containment area,pleasereportit.

Visit reportwallabies.nz to report your sighting.

¥ 80 ¥ 83 ¥ 82

Forfurther informationcall

0800 324 636.

The National WallabyEradicationProgramme is workingwith key partners

to prevent furtherspreadofwallabies in Te Waipounamu/South Island.
---
NEWS

24 Ashburton Courier, September 23, 2021

www.ashburtoncourier.co.nz

Community award winners named

Four individualsand two groups

have been recognised in the 2021

Community Honours Awards.

Theawardsrecognise

contributions and achievements

by peopleand organisations in the

district.

TheMayor's Awardfor Public

Service went jointlytoTrevor

Croy andPatricia McLaren.

Mr Croy,aformeraccountant,

has beeninvolved with charitable

work including with Advance

Ashburton, Trevor Wilson

Charitable Trust, Mackenzie

Charitable Foundationand

Cancer Society.

Mrs McLaren has cooked and

donated items to Ronald

McDonald House for anumber of

years andsince2016has sold her

pickles, chutneys andjamsand

raisedthousands at Ashburton

Farmer's Market to support the

cause.

TheAshburton Medal was

awarded to Mid Canterbury Rural

Women NZ Provincial for their

contribution to the district, and

particularlytothe rural

community.

TheCivic Award went to Neroli

Cross, Jim Henderson, andKidz

Methven, which has driven the

establishment of the Methven

Skatepark.

No nominationswere received

in the honorary citizens category.

Adatefor an awards ceremony

is still to be confirmed.

Patricia McLaren

Jim Henderson

Trevor Croy

Neroli Cross

NOTICE OF HELICOPTER

USE FOR INSPECTION

OF TRANSMISSION

LINES IN YOUR AREA.

Transpower, the owner and operator of the National

Grid is carrying out joint testing on the conductor

(wire) onsections of its Benmore to Haywards

HVDC transmission line (between Methven and

Culverden).

This work will involve alow flying helicopter and

testing of conductor by alineworker suspended

below the aircraft at specific locations along the line

as highlighted on the accompanying map.

The work is planned

to occur between

Tuesday 28 September and

Friday 8October 2021.

In the event of bad weather the work will take place in the

following week.

TPAC2330921

Helicopter will be

operating at low

levels in around the

transmission linein

highlighted zone.

73

Ashburton

77

Hororata

Methven

1

Culverden

Rangiora

Waipara

Christchurch

It's important tousthat you are kept informed and updated onour activities. Ifyou require further

information, please call Brendan Townsend 027 6755 840 or Myles Stichman on 0274 779 693.

7

1

Helicopter

operating zone

Highways

New initiatives at

Lincoln Uni farm

Lincoln University Dairy Farm

(LUDF) is launching three new

farm systems initiatives at its

demonstration farm, all geared

at sustainable dairy farming

practices.

The research focuses on

variable milking frequency,

moving the forage base to

include plantain and on

replacement rate reduction.

LUDF is a186­hectare

demonstration dairy farm

outside Lincoln that aims to

maximise sustainable,

profitable farming by optimising

productivity, environmental

footprint, and animal welfare

targets.

The farmisoperated by South

Island Dairying Demonstration

Centre (SIDCC), an industryfunded

partnership between

Lincoln University, DairyNZ,

Ravensdown, SIDE, LIC and

AgResearch.

The variable milking

programme to be implemented

from the 2021/22 season involves

moving fromtwice­a­day milking

to amore flexible regime of 10

milkings over seven days.

"A variable milking

programme will not only

improve cow welfare through

less lameness, better overall

health condition and enhanced

vigour, but willalso lift the safety

and wellbeing of staff, with

kinder rosters, fewer early starts

and more condensed workloads

allowing for better work/life

balance," SIDCC demonstration

manager Jeremy Savage said.

Starting soon LUDF will plant

at least 10% of the farm per year

into plantain.

"This is aforage that may

significantly reduce nitrogen

leaching. With cow intakes of

30% plantain or higher we

anticipate LUDFwill achieve

further improvements to its

nitrogen leaching results.

"The potential benefits of

reducing on­farm nitrogen

leaching by up to 20% by

managing the cows' diets, and

without reducing overall herd

numbers, are obvious and

compelling," Mr Savage said.

LUDF's third research

initiative will be agreater focus

on lowering the replacement

rate of heifers for the herd.

Greenhouse gas emissions

modelling shows significant

gains can be madebydropping

the current 28% replacement

rate to atarget of15­18%.

Planting at new reserve

Anative reserve is being set up

at Fairtonfor the community to

enjoy.

It is on donated land,owned

by Talley's Group, which sits

directlybehind Fairton

School.

The reserve,completewith

lizard garden, will be

accessible through the school.

Aplanting day with

volunteers from the school

community and members of

Kanuka Regenerative Trust

will take place on October1

between 9.30am and 2.30pm.

Anyone else interested in

coming along canRSVPtothe

school on 308 9205. Covid

restrictions will apply.
---
www.ashburtoncourier.co.nz

NEWS

Ashburton Courier, September 23, 2021

25

Groundswell protestback

Groundswell New Zealand has announced

'the mother of all protests' will be held on

Sunday, November 21.

Participants are being asked to travel into

their local town, big or small, and gather at

1pm with the Groundswell statement played

at 1.35pm.

The group, which was standing up against

the unworkable regulations impacting the

rural sector, said it was time to unite and force

government to take notice.

Groundswell co­founder Laurie Paterson

believed the November protests nationwide

would be ''bigger and better'' than the Howl of

aProtests in July.

Truckies wanted to join in which was why a

Sunday was chosen as that suited them.

He was confident of support with many

people ''just so frustrated,'' he said.

The group was also writing to all councils

calling for ahalt to all Resource Management

Act planning processes, citing the significant

negative impact zonings such as significant

natural areas, wetlands and landscapes were

having on people and property values.

Agriculture Minister Damien O'Connor has

previously said the Government was listening

to farmers and had heard the concerns raised.

Players line up at last week's first triples events held at the Ashburton

Bowling Club.

Players roll out

for triples opener

Bowlers areback outfor

another Fridaytriples

competition.

The first inter­club roll last

week was heldatthe Ashburton

Bowling Club.

Matcheswereplayed in damp

conditions withmanybowlers

wearingwaterproofs.

Forty eight players from five

clubs, Ashburton, Hinds,

Allenton, Methven and MSA,

will contest the competition,

whichrunsuntilApril.

MSABowling Club triples

organiser John Argyle said the

greens were currently being

done at his club and there would

be no play there until around

November.

It had been about 12 years

since the greens had be re­layed

andthe job camewith ahefty

price tagofaround $10,000.

He said 40mm had beentaken

off the top andthe grass re­sown.

Nina

Ara graduate

Grants for

biodiversity

Biodiversitygrantstotalling

$21,300have been approved by

AshburtonDistrict Council and

will supportweedcontrol, native

planting andpestcontrol work

aroundthe district.

TheUpper Rangitata Gorge

Landcare group receives $5300

forground spraying and both

MountainBike Ashburtonand

BikeMethven $3000 each

towardsnative plants andtraps

and bait.

Beekeepers Benand Leah Mee

also receive $3000 for natives and

for wasp traps they will putin

along the foothills.Awa Awa Rata

Reserve Society has been

given$7000for an ecological

assessment,rat trap boxesand

stoatand possum traps.

Upgrade

for hall

generator

Funding of $1937 has been

approved foranupgrade to

the emergency generator

switchboardat the Mt Hutt

MemorialHall.

The upgrade will givemore

power to the generator and

allow it to coveralarger

portionofthe hall, which is

usedasanemergency

headquartersbyMethven

Civil Defence.

Ashburton District Council

used covidrecovery response

moneytofund the purchase.

The old generator will be

given to theMethven Medical

Centre.
---
PUZZLE PAGE

26 Ashburton Courier, September 23, 2021

www.ashburtoncourier.co.nz

CRYPTIC CROSSWORD

1 2 3 4 5 6 7

8

9 10

11 12

13 14 15

16

17 18

24/9

Across

1. Orderone cord to be madefree (5)

4. Old womanwill make athousand

poundsbefore lunch(7)

8. One at pains, one is told, to see what

he couldbuy (6,7)

10. It looksforbidding, thebackofthe

ship (5)

11. It's abig blow having alesson

contain it (4)

12. Acardinal pointintransformationof

anumber of airmen (4)

16. Three-day contestinthe seventies5)

17. Savefor charged particle,everything

unknownisnot usually seen (13)

19. Coins weregiven in biblical timesfor

natural aptitudes (7)

20. To deviate outofhere's possible (5)

Down

1. Where onefinds letters of the

afternoon at Ten(7,6)

2. Universal demand on bank for

payment will speedily go (3)

3. Pick nothing the Frenchhave athing

about(6)

4. One over-effusiveand well-oiled? (6)

5. Decks theNavyinasort of soda (6)

6. Extending from column intoline,as

mightPoleinexpiring (9)

7. Atwhich hands arebrought together

piously early(7,6)

9. Icall it op thatinaway is to do with

government (9)

13. Riverawriterwill colourmore

intensely (6)

14. Is neglectful, concerning what

doesn'tscore (6)

15. Howone toleratestripods (6)

18. Shelterfound in terrible,exposed

setting(3)

SUDOKU

Fill the grid so that every column, everyrow and 3x3

box containsthe digits1to 9.

19 20

QUICK CROSSWORD

1 2 3 4 5 6 7

8

9 10

11 12 13

14 15

16

17 18 19

20

21 22 23

24 25

Across

1. Gesture (6)

4. Most peculiar (6)

9. Children'scough (5)

10. Malice (3,4)

11. Apparent (7)

13. An additional

amount (4)

14. Practical,realistic

(4-2-5)

17. Head and

shoulders sculpture (4)

18. Type of cheese (7)

21. Form amental

picture(7)

22. Happen (5)

24. Churchmen (6)

25. Restrain(4,2)

Down

1. Holy(6)

2. Sticky substance

(colloq)(3)

3. Fruit (5)

5. Quandary (7)

6. Left one's own

country(9)

7. Converse (4)

8. Presenttoken (4,7)

12. Vaccinate (9)

15. Zero (7)

16. Rehearsal (inf)(3,3)

19. Run awaytomarry

(5)

20. Metaloftenin

sunscreen (4)

23. Tin(3)

CODECRACKER

QUICK CROSSWORD

Across: 1. Signal, 4. Oddest, 9. Croup, 10.Ill will, 11.

Evident,13. More,14. Down-to-earth,17. Bust,18.

Cheddar,21. Imagine,22. Occur, 24. Clergy, 25.Reinin.

Down: 1. Sacred, 2. Goo, 3. Apple,5.Dilemma, 6.

Emigrated, 7. Talk,8.Giftvoucher, 12. Inoculate, 15.

Nothing, 16.Dry run, 19. Elope, 20. Zinc, 23.Can.

CRYPTIC CROSSWORD

Across: 1. Doric4.Grandam 8. Window shopper 10.

Stern 11. Gale 12.Wing16. Event 17. Exceptionally 19.

Talents20. Sheer,

Down: 1. DowningStreet2.Run 3. Choose 4. Gusher 5.

Adorns 6. Deploying 7. Morning prayer 9. Political13.

Deepen 14.Remiss 15. Stands18. Lee.

TARGET: amount amour antrum

armour arum aunt auto enamour

erratum euro manure mature maturer

menu moue mount mounter mourn

mourner muon murre mute nature

NUMERATOR outer outran remount

rerun return rout route router rumen

rune runt tour tourer true truer tuna

tune tuner turn turner unmet unto urea

MEDIUM HARD

EASY

TARGET

R M T

N U A

O R E

Good 23

Very Good 33

Excellent 41+

ALL PUZZLES ©THE PUZZLE COMPANY

How many words of four letters or more can you

make? There is at least one nine-letter word.

Each letter may be used only once and all

words must contain the centre letter.

No words starting with acapital, no plurals

ending in sunless the word is also averb, e.g.

he fires the gun.

Armand

vander Eik

Armand is truly passionate forproperty and people.

Having been in the sales industry for30+ years, Armand has

the contacts and the ability to negotiate deals like noother.

Armand is married with 2adult children, who he loves

spending time with. He loves his sport and also enjoys agood

battle and alaugh on the squash court.

021 597 527 •armand.vandereik@raywhite.com

Ashburton •Tinwald •Methven •rwashburton.co.nz •03307 8317

Real Estate Mid Canterbury PropertyLimited Licensed (REAA 2008)
---
OPEN HOME

This Saturdayand Sunday

11:00am -12noon

Sample Floor Plans

CnrKermode &

William Streets,

Ashburton

Check out this exciting

newdevelopment!

Amixtureof2&3bedroom housestobe

constructedbyone of the premier building

companies in MidCanterbury. Construction is well

under way forthese stunning new townhouses.

Easywalking distancetothe new shopping

complexonSouth Street thatiscurrently being

built, or if youwanttostroll into the Town Centre,

that is also an easy commutebyfoot.

These houses will have ahigh qualityoffinishes.

Looking forthatturnkey property,then look no

further than these.

2bedroom units arepricedfrom$492,000 and 3

bedroom unit from $537,000.

Units currently under construction sizes:

•Unit 4-117sm •Unit 5-126sm •Unit 6-136m

Don'tmiss this opportunitytosecure atop quality

home in agreat location.

Remax.co.nz

Town to CountryReal Estate

35b Archibald Street,Ashburton

027 259 4644

LicensedREAA 2008

Each officeindependently ownedand operated

2420261
---
SATURDAY 25TH SEPTEMBER

73 Belt Road, Ashburton 9:45am -10:15am 3 1 1 AHB30012

8Charles Street,Ashburton 10:00am -10:30am 2 1 2 AHB30026

47 Belt Road, Ashburton 10:30am -11:00am 4 1 2 AHB30051

17 BakerStreet, Ashburton 10:30am -11:00am 3 1 2 AHB30023

103 ChalmersAvenue, Ashburton 11:00am -11:30am 2 1 1 AHB30034

8Woodham Dve, Ashburton 11:00am -12:00pm 4 1 2 AHB30053

3Grove Street, Tinwald 12:00pm -12:30pm 3 1 1 AHB30025

Ashbury Grove,Tinwald 12:30pm -2:30pm Sections AHB30032

SUNDAY 26THSEPTEMBER

NO OPEN HOMESTODAY

8Charles Street, Ashburton

Viewings will impress at this fantastic property on Charles

st in Allenton. The interior is modern and stylish with the

kitchen and lounge both opening out to the sun drenched

decking and entertaining area. It has two double bedrooms in

the house, both are positioned well to catch the afternoon/

evening sun. The familybathroom has modern fittings with

shower over bath, vanity and toilet and sits next tothe

separate laundry area. Private, fully fenced easy care 772 sqm

section. Double Garage with automatice doors.

SetDate of Sale

closing 28 September 2021,

at 4:00pm (unless sold prior)

View

Saturday10:00 -10:30am

2 1 2

Mark Totty

021 664 113

rwashburton.co.nz/AHB30025

Real Estate Mid Canterbury Property Limited Licensed (REAA 2008)

47 Belt Road, Ashburton

*Large Living

*1085m2 section -nicely landscaped

*2car garage with extra parking foranother 4vehicles

*Quiet down right ofway

*OppositeAshburton College Netball Courts

SetDate of Sale

closing 5October 2021, at

3:00pm (unless sold prior)

View

Saturday10:30 -11:00am

4 1 2

Cheryl Fowler

0274 612 614

rwashburton.co.nz/AHB30051

Real Estate Mid Canterbury Property Limited Licensed (REAA 2008)

AgentonSite

Ashbury Grove, Tinwald

We have experienced steady sales of Stage one &Stage

Two. Prompt Enquiry Recomended. Sections are

available, ranging insize from 645m2 &priced tosell from

$190,000. Titles anticipated inthe 3rd quarter2022.

Full information pack is available upon request.

rwashburton.co.nz/AHB30032

Real Estate Mid Canterbury Property Limited Licensed (REAA 2008)

ForSale

asking price from $190,000

View

Saturday12:30 -2:30pm

[agent on site]

BruceMcPherson

027 438 4250

Kim Miller

027 236 8627

8Woodham Drive, Ashburton

*Fullyrenovated home inhandy Allenton location

*Double garagewith two newauto doors

*Open plan kitchen/dining living area

*Great family home or retirement

*Space to park acaravan onanew concrete pad

rwashburton.co.nz/AHB30053

Real Estate Mid Canterbury Property Limited Licensed (REAA 2008)

SetDate of Sale

closing 7October 2021, at

4:00pm (unless sold prior)

View

Saturday11:00 -12:00pm

4 1 2

BruceMcPherson

027 438 4250

Denise McPherson

027 242 7677

Kim Miller

Sales Consultant

027 236 8627

Denise Russell

Sales Consultant

027 432 9717

ChrissyMilne

Sales Consultant

027 290 6606

Cheryl Fowler

Sales Consultant

027 461 2614

Margaret Feiss

Sales Consultant

021 751 009

ShirleyFitzgerald

Sales Consultant

027 220 1528

Denise McPherson

Sales Consultant

027 242 7677

Janene McDowell

Property Manager

027 287 3388

Armandvan der Eik

Sales Consultant

021 597 527

Lynne Bridge

Sales Consultant

027 410 6216

Mike Grant ncre

Sales Consultant

021 272 0202

Mark Totty

Sales Consultant

021 664 113

BruceMcPherson

Sales Consultant

027 438 4250

JustinWaddell

Sales Consultant

027 437 1111

Carey VonLubke

Property Manager

027 697 6948

96 TancredStreet, Ashburton 03 307 8317 Main Road,Tinwald 03 307 8317

rwashburton.co.nz

36 McMillanStreet, Methven 03 303 3032
---
NEW LISTING

OPEN HOME

What'smy

property worth?

It's FREE to

find out!

RESIDENTIAL

LIFESTYLE

PROPERTY

MANAGEMENT

191 BurnettSt, Ashburton

308 6173 or admin@renz.net.nz

OPEN HOME

Rear

3D VIRTUAL

REALITY TOURS

Trevor Hurley Real Estate Ltd LREA 2008 -MREINZ

6Munro Lane, Rolleston

ID: ROL001

*Quality build here

*Premium exterior brick

*Schweiken fittings

*Steel frame construction

*Kitchenhas 3way boiling tapware *Double waterfiltration

*Evolution silent disposal waste

*Exclusive landscaping package

Setinaprivatedispositionoverlooking the popular Acland Park this three bedroom twobathroom home willappeal

to those astuteand discerning purchaserswho appreciate quality,style and space.

Exceptional opportunity hereand prompt action is strongly recommended!

Negotiable Over $649,000 SetSale: closes 2pm, 15 October 2021

Open Saturday25September,10.00-10.30am

3 2 2

3 & 5Davis Crescent

OPEN HOME

*Six bedrooms

*Sunny north facing lounges

*Large double garage

*Rentedat$590per week

*1002m²section with

potential to subdivide

(subject to survey)

With twostreetentrances

developersmay wish to

realise the full potential of this

fabulous property. Aflick of

paintorfull redecoration, you

will reap the rewards.

OffersOver$449,000

Open Saturday25September,

10.00 -10.30am

6 2 2

3 2 2

3 1 1

ID: E732

TwoHomes In One!

•House divided into two

flats, currently rented for

$560p/w.

•Open plan kitchen/

dining. Insulatedceiling &

underfloor.

•Double garage,easycare

section

•Outdoor entertaining patio

•Fantasticinvestment

opportunity with potential

to add value

OffersOver$469,000

ID: E731

AGreat Home Within The

Avenues

•Three bedroom home with

small sunroom.

•Situatedinapopular

central location

•Warm and sunnywithlog

fire, insulatedtop and

bottom. Bathroom plus

separate shower.

•Properties in thisprice

rangeare alwaysin

demand, secureyour

appointmenttoviewnow!

OffersOver$319,000

ID: E732

BANKS PENINSULA

Proud supporters of the HeartFoundation of NewZealand! Wedonatefromevery property sold!

35a & 35bManchesterStreet

•Fabulous opportunity forthe

astutebuyer!

•Two standalone twobedroom

units on one title.

•Verytidy inside andout with

spacious openplan living

areas, heatpumps, aluminium

windows and coveredcarports

•Liveinone and rent out the

other or rent both out fora

good return.

•All offersconsidered after 2pm,

30 September 2021

OffersOver$475,000

Open Saturday25September,

11.30am -12.00 noon

4 2 2

5 3 2

ID:T718

ID: T318

PrivateSancturyOfluxuryHolidayHome

This stunning 4.8ha property,set in alittlepiece of paradise on the BanksPeninsula, would be the ultimate retreat

forthose seeking achangeoflifestyle. Surrounded by our NZ nativebush,with an amazing viewtothe Akaroa

Harbour,this beautiful homestead has been refurbished to averyhighstandard.

The French Colonial styling gives this place alight and brightfeel, along with open plan spaces and amezzaninefloor.

Twoofthe bedrooms take in panoramic views to the ocean and mountains openingout to averanda overlooking a

cottage garden filled with the chorus of bird life.

Included is the separatebeautifullypresentedselfcontained cottage which is beingrentedatasaluxurygetaway

earning excellentreturns. Four shedsone with 3phase power, twowith 3baystostableyour horses or an animal of

your choice. Fullydeer fencedwith13paddockswith troughs, youcan graze beef, sheep, horses, lamas or setyour

owntouristindustry up farming differentanimals.

$1,800,000

OPEN TO VIEW ONLINE -SCAN QR CODE TO VIEW

ID: BP0003

Outgrown your current home?

We can help with that!

Scan the

QR code

and book

your

FREE no

obligation

market

appraisal

today!

Manager/Sales Consultant

Trevor Hurley

0275 435 799

Sales Consultant

Manu Otene

022 308 6885

Sales Consultant-Lincoln

Linda Cuthbertson

0274087965

Sales Consultant

Stephen Watson

027 433 9695

Sales Consultant

Julie Srhoy

021 354 885

Sales Consultant

Manoj Rana

022 453 1964

Sales Consultant

Deborah Roberts

0210 752 180
---
NEWS

30 Ashburton Courier, September 23, 2021

CLUB NEWS

ASHBURTONBOWLING CLUB

Iamvery happy to reportthat Ashburton

Bowling Club has successfully enjoyedits

OpeningDay which was on Saturday the18th!

It is businessasusualnow, underthe

constraints of Level 2, but we are all hopeful of

adrop to Level 1before this week isout!

Fingerscrossed!

Our seasonwas started offonFriday27th,

not by Ashburton,but by MSA havingtheir first

"home"FridayTriplesatthe club.Thisis

because, as has been previously explained,

MSAare usingour greensfor their "home"

matches whileremedialwork is beingcarried

outatthe MSAgreen.

Butwedid play asignificant part in theday

as 1st place wenttothe Ashburton team of

Murray Anderson, JohnKewish and Raymond

Suttie; MinHill came 2ndaspart of a

compositeteam;and Ashburton's team of Doug

Kinvig,Des Prendergast, PeterQuinncame

3rd!

Welldone gentlemen!

Weweredelightedtowelcome our

Ashburton District mayor Neil Brown,

mayoressJudy Brownand councillor Carolyn

Camerontoour Opening Day'sproceedings,

along with Tony Inwood, the Sub­Centre's

President andMurray Young from oneofour

main sponsors,Property Brokers.TonyInwood

bowled the first jack, andMrBrown bowledthe

firstbowl.

We had an enjoyablecouple of matches, and

we kept to certain protocolsfor playing under

Level 2. But it was bitterly cold, and we were

verygladtoget inside!

We havethree qualifiersfromtheSub Centre

triplesonSunday: BrenttonDonaldson, Gavin

Ederand WinstonLee.

Today(September 23) we willplaythe Ladies

Championship Triples at 9.30am.

Thefirst of our SaturdayCombinedRollover

Tripleswhich start at 1.15pm willbeon the

25thSeptember.

Club dayswillbeon Tuesdayand Thursday

at 1.15 pm. Have awonderfulseason everyone,

andvery goodbowling!

www.ashburtoncourier.co.nz

Beekeeping scholarship

Young peoplewith an

interest in beekeeping

are encouraged to apply

for theRon Mossop

Youth Scholarship.

Aimed at young New

Zealanders who wishto

take up acareer in the

industry and undertake

trainingthat supports

bestpractice

beekeeping, the

scholarship includes

$2000 towards an agreed

trainingprogramme or

approved costs to begin a

beekeeping programme.

It also includes aoneyear

Apiculture New

Zealand membership to

the valueof$155 and

registration for the

Apiculture NewZealand

national conference in

Christchurch nextyear.

Ron Mossop was a

leadingpioneer in the

bee industry.

Applicants must

between17and 22 and

enrolledinanapproved

industry training

programme.

Applications closeon

October 29. More

informationontheapinz.

org.nz website.

Young people interested

in beekeeping are

encouraged to apply for

the Ron Mossop Youth

Scholarship.

Your LOCAL real estate

company is CELEBRATING!!

1st

in

NZ to bring you 3D virtual reality

marketing 4years ago!

Trevor &the TEAM at RENZ are giving away

$2000 from EVERY sale to CELEBRATE

this GREAT achievement !

That's right... just LIST &SELL with your LOCAL

that puts YOU first and get $2000...SIMPLE !

T&C's apply

Starts 1August and ends 31October 2021

Scan for free appraisal

Contact:

admin@renz.net.nz

308 6173 or do it online with our

FREE no obligation market appraisal

191 Burnett St, Ashburton
---
www.ashburtoncourier.co.nz

RESULTS

Ashburton Courier, September 23, 2021

31

RESULTS

Ashburton LadiesGolf

Bermaline Cup, Round 3,

played on Saturday 18th and

Tuesday 21st September:

JeanetteMontgomery 42,

MarilynWalker40, Daphne

McDonnell40, LizCabout 40.

Ashburton VeteransGolf

Results for20th September

gameplayed at Rakaia Gross in

Grades

0­19 Peter Walker 72, Greg

Sparrow 81, Charlie Alexander

83

20 ­27JohnDuncan 89,

GraemeMunro 94,Murray

Beach 94

28+GuildfordLane101,

Brain Winchester101, Murray

Clark 105

Twos JDuncan,PWalker, T

Sa, WMason

NextGame4th October

Tinwald, RSATrophy and AGM.

Golf Stableford Competition

The RadiusCare player of the

day was: JohnPower 38pts, 2nd

RobertCoyle 37pts.Othergood

scores were achieved by:

Stewart Dunlop 36pts, Greg

Fleming 35pts, Greg Sparrow

35pts and BradFallaver 35pts.

Twos: Dave Morrison x3,

Brent MacGregorx2, Brendon

Davidson, Bruce Day, Owen

Millar, HamishNilesand Tim

Newton.

Nearest The Pins: Hole4#3

Stoogies.BrownBombers:

Dave Morrison

Hole 8# Value Plus: Dave

Morrison: Hole 12#South

IslandSeedsProcessing &

Storage Co. Paul Greer. Hole

14#DocksSeafoodBar and

Grill:Blair SnowballHole6#

Hamish NilesShout!!: Paul

Greer

Hole9# Ton's Thai Longest

Putt: Dave Robertson, Bonus

Spot Prize:

AlluvialRestaurantTinwald

Spot Prize: Greg Fleming,

Birdie JackpotHole:6#Nett

Eagle Jackpot Hole: 18#

HarveyBakehouseplayerof

theday was Murray Lister 32

Nett, 2ndHughie Murchie 34

Nett, 3rdRichard Hansen 36

Nett, 4thTerry O'Reilly 37 Nett,

5th MurielMorgan 37 Nett.

Ashburton GolfClub 9hole

Lastweek, 16th September,

the winnersofNetherby

Pharmacy Putting were: First,

Chris Anderson,12puttsand

second, Fairlie Matsinger, 13

putts, followedbyBev Blair and

GavinJohnston with15putts

each.

Today (September 23)our

clubchampionships men's

quarter finals willbeplayed.

Thedraw is: Andre vanRooyen

vs Terry O'Reilly, Tong King vs

Eric Weir andBruceSim vs

Murray Lister.

Therest of us will play a

Hotel AshburtonNet Medal

round. OnSeptember30, the

semi­finals ofthe 9hole

championships, men's and

women's, will be played along

with anet medal round for

otherplayers.

Cycling

MidCanterbury Social

Wheelers

End of Winter Series Points.

Ladies, (MadgePeach Trophy)

Janette Hooper99pts. Liz Wylie

67pts. Pam Harcourt 63pts.

DebbieSkinner 61pts. Sarah

Gould 59pts. Lucy Kirwan

57pts. CharlotteCox 45pts.

Monique Brake 36pts. Lucy

Reeve 32pts. IsabellaInglis

25pts. IsabelleWall 21.

VeronicaWall 17pts.Kristine

Marriott 13pts.

O/60 MSW Cup. NickGrijns

75pts. Ross Templeton61pts.

Don Morrison 57pts. Alan Johns

49pts. Paul Hands47pts. Kenny

Johnstone44pts. Dave

Shurrock 40pts. RonKennedy

26pts.

O/40s. (Sandy MacKenzie

Trophy) LarryNeal133pts.

Michael Gallagher 123pts. Rob

Hooper 104pts.AndySkinner

93pts. TonyWard 89pts.Brent

Kircher84pts.Kerry Clough

78pts.Don Sutton 71pts. Roger

Wilson 66pts. Noel Henderson

52pts.PaulBrake 47pts. Anton

Nicholls 47pts. Mike Hansen

40pts.Richard Kirwan 40pts.

DougColey 33pts.JohnUden

27pts. NeilWylie 22pts. Paul

Williams 19pts.

U/40 (Jim Tate Trophy) Ged

Wall 59pts. Jelle Hendrickson

50pts. Daniel Gould 35pts.Mark

Summerfield30pts. Matt

Marshall 29pts.ChrisReid

25pts.Michael Templeton

18pts. Flynn Beeman17pts.

Jack Templeton15pts.

(Bruce Arnst Trophy )U/15.

SarahGould.

Overall Points Winner Larry

Neal. MostStarts ,Debbie

Skinner&Andy Skinner.

Tinwald CyclingU17

Development 2021Season

Points.

Handicap. A. Grade ­Ryan

Gallagher&ElizaMcKenzie

221pts.B.Grade Cody

Rollinson203pts.C.Grade

Logan McKnight,162 ,

Charlotte Neal101pts. D. Grade

Braxton Bown156pts. Katie

Rollinson86pts.

TimeTrial .Eliza Mckenzie

213pts.Ryan Gallagher 200pts.

B. GradeCodyRollinson

143pts.C.GradeLogan

Mcknight 124pts. Charlotte

Neal 48pts.D.Grade. Braxton

Bown 70pts.Katie Rollinson

20pts.

OverallPoints. A. Grade

(Rakaia Sports Cup1934.) Eliza

McKenzie 434pts. B. Grade

(JamesCup) Cody Rollinson

346pts.C.GradeLogan

McKnight 286pts.D.Grade

(McCreaPainters Trophy)

BraxtonBown 226pts.

Girls TrophyElizaMcKenzie,

Teams Trophy(Ruth Kirdy

Trophy)Cody Rollinson96pts.

Tower Trophy's­Lee Engravers

1st Eliza McKenzie, Lee

Engravers2nd RyanGallagher,

and Lee Engravers 3rdCody

Rollinson.

Ashburton Bridge Club

Tuesday Evening –

September 14th, ALadder

N/S 1STSue Rosevear&John

Fechney ,2nd Peter Wilson &

RewaKyle ,3rd Mary Buckland

&Sonia Gill

E/W1stIan Doel&Pat Jordan

,2nd Peter&Trish Downward ,

3rd DavidSewell &Debbie

Seddon­Sewell

WednesdayAfternoon­

September 15th, Brabant

Trophy

1stTrish&Peter Downward,

2ndJohn Shearer&Rosemary

McLaughlin,3rd PatJordan &

Peter Wilson, 4th Mary

Buckland &Bev Turton,5th

Eric Parr &JohnIrwin, 6th

JanetCuttle &JillBrowne

Thursday Evening

–September 16th, 3rds, diffptr

N/S 1st Jim Rooney &Pat

Jordan, 2nd Mary Buckland &

Rewa Kyle,3rd Lois Rose&

MaureenKolkman

E/W 1st AudreyRooney &Bill

Kolkman, 2ndEric Parr &

Bernie Jopson, 3rd Peter&

TrishDownward.

trusted

2021 GUIDE

trades &services

To book your spaceinthis guide,phone KarenGane 308 7664 or email karen.gane@ashburtoncourier.co.nz

2414196

WILSONS

GLASS

Wilsons Windscreens 2018 Ltd

We areyour one stop glass shop for

AUTO and HOUSE

Bridgestone

Tyre Centre

Ashburton

• New tyre sales

REPAIR or REPLACE

"Your placeorours"

2414203

• Wheel alignments

• Wheel balancingand

puncturerepairs

24 HOUR CALLOUTSERVICE

03 307 8438

ForPassenger,Commercial

and Farm Vehicles

Proudly locallyownedand operated

CnrCox &East St.

Book nowon03 307 8438

152 Wills Street,

Ashburton

Ph.308 8485

Conditions apply.Includes up

to 4.5 litres of Penriteoil and a

standardoil filter.

Seein-storefor details

Ashb

hbut

rton,R Rolles

leston

ton&Ch

Chrit

ist chu rch

•Paving •Irrigation •Lawns

•Planting •Fences •Pergolas

•Water features •Outdoor fires

•Raised planters •Decks

•Stonework•Brick &blockwork

•Artificialgrass and more...

Email –Aaron@theoutdoorspace.co.nz

Phone0800 688 365 /021 542 402

www.theoutdoorspace.co.nz

2414200

•CARS •4WDs •CAMPERVANS

Automotive

Diagnostics &

Servicing

03 308 6646

•Automotiveservicing,repairs

and diagnostics

•Latest scan tools and

servicedata

•All makes and models including

European and Japanese

•Vehicle transportand recovery

TheBig Blue Shed

CnrJohn &McLean Street,Ashburton

2382531

Shane James Contracting

•FIREWOOD

TREES WANTED

•Hedgerow removal

•Rootraking

•Conversions

•Money backonmillablelogs

PHONE SHANE 027611 3334

2417707

Forall your tyre requirements,

see the localexperts

•Wheel alignments

•Wheel balancing

197 Wills Street,Ashburton l www.neumannstyres.co.nz

Phone 03 308 6737 (24 hrs –after hours call out applies)

Letthe team at

Insideout takecareof

all your painting and

property maintenance

• Painting

• Carpentry

• Renovations

• Projectwisdom

• Maintenance&repairs

2010 LTD

Call Shane todayon03307 7071

FOR ALL YOUR ADVERTISING

REQUIREMENTS, GIVE

Jann or Karen acallon

308 7664

2414198

2414193
---
trusted

2021 GUIDE

trades &services

To book your spaceinthis guide,phone KarenGane 308 7664 or email karen.gane@ashburtoncourier.co.nz

Interior and Exterior Painting

Interior Plastering

Wallpapering

FREE LEGAL HELP

Help in person by appointment

Thursday9.15am -1.45pm

Ph 0508 CANLAW

(0508 226 529) to makean

appointment.

Help by phone Infoline

03 371 3819 or 0508 226 529

215 Tancred Street,Ashburton

2379134

JukeBox Hire

Weddings,21st,

PrivateFunctions

Sound Systems &Lighting Hire

Phone DJ Dave

03 308 5106

027 251 0015

www.soundmanagement.co.nz

2396045

RESIDENTIAL &

COMMERCIAL SPECIALISTS

Phone Quentin andPhil on

027 282 8908 or 027 2828909

2379104

TOTAL LAWN CARE SERVICES

Lawnmowing and

Lawn Maintenance

Hedges

Garden tidy

Dethatching

ALL YOUR PLUMBING NEEDS

•Bathroom/

kitchen renovations

•New homes

•24/7emergencycall out

Premier

Plumbing

Ltd

David &Debbie Sewell

Phone 027 4171732 l evenings 3078355

2399842

Phone James 022 463 4606 l 03 308 8865

office@premierplumbing.co.nz

2372238

2414184

ASHBURTON

GLASS LTD

Experts in glass

308-3918

214Wills Street

Ashburton

www.ashburtonglass.co.nz

office@ashburtonglass.co.nz

UNDER NEW LOCAL OWNERSHIP

2396257

•Restoration

•Modifications

•Rust Removal

•Custom Fabrications

•WOF Reports

• MagWheel Repairs &Painting

16 Cass Street,Ashburton. 03 308 0387

johnsons.panelpaint@gmail.com

www.johnsonspanelpaint.co.nz

GREAT

RATES

PC Repairs, Set-up and Tutoring

Icome to youday or evening!

NewPCs

and Laptops

forsale

•PCRepairs/Sales •Networks/Servers

•Firewalls/Security •Spyware Clean-up •Training

20 YearsExperience Microso Cerfied Professional

NETWORKS FIREWALLS AND PCS LTD

Robin Johnstone 67 Aitken Street, Ashburton

P: 03 308 1440 C: 027 768 4058

robinbj@xtra.co.nz

2379245

We offer the following:

• Gutter and DownpipeCleaning • Weed Spraying

• Moss,Mouldand Lichen Spraying • Spider Proofing

• Gorse and BroomSpraying • FenceLineSpraying

• Chimney/Flue Cleaning $75 • Heat Pump Service$90

MENTION THIS AD WHEN BOOKING FOR A10% DISCOUNT

ON GUTTER AND DOWNPIPE CLEANING

Call Allan on 027 209 5026 an let us know howwecan help

FOR ALL YOUR ADVERTISING

REQUIREMENTS, GIVE

Jann or Karen acallon

308 7664

2378913

Your Digital

TV Experts

• Aerial/Dish installations and repairs

• Prewirefor TV/Audio and controlsystems

• TV wall mounting • Cell phone aerials

• Home theatreinstallation

• Authorised SkyTVtechnician

Servicing

Ashburton Geraldine

Methven Rakaia

andeverywhereinbetween

ASHBURTON

TV &AUDIO

PH 308 7332 /027 277 1062

ashburtontvandaudioltd.co.nz

2414188
---
trusted

2021 GUIDE

trades &services

To book your spaceinthis guide,phone KarenGane 308 7664 or email karen.gane@ashburtoncourier.co.nz

"we clean to a

standard,

not aprice"

UNDER NEWAshburton

OWNERSHIP

Same exceptional CleaningServices

level of service

&quality cleaning

• regular full house cleans

• one off spring cleans

• farm houses

• builders cleans

•

100% LOCAL

03 307 2656

www.ashburtoncleaning.co.nz

2414181

QualityRepairs &Manufacturing

ENGINEERING

Ashburton

General engineering and

mobile workshop

Ewan Cairns

0274354 031

Integritybuilds agood reputation

2414535

Electrician

Residential and Commercial

Repairs and renovations

Kitchens and bathrooms

Sheds,garages,workshops

Tagand test

Competitiverates, free quotes

Simon 021 576 044

simon@simonthesparky.co.nz

Fast, Friendly &Reliable

Sales l Service l Repairs

Ash Solar Power

South Island

E-BIKES l MOTORCYCLES

ashburtoncranes2015@gmail.com

www.ashsolarpower.com

2375756

P 03 308 7982 - E cliff@mckayanddonaldson.co.nz

W www.mckayanddonaldson.co.nz -734 East Street,Ashburton

2376525

2414182

PROFESSIONAL

PORTRAIT AND

COMMERCIAL

PHOTOGRAPHER

PICTURE FRAMING

GALLERY &STUDIO

THE TRIANGLE, VICTORIA STREET

0800 881122

emmily@emmilyharmer.co.nz

www.emmilyharmer.co.nz

Lubes WOF

Allmechanical repairs

TRIANGLE

GARAGE LTD

Victoria Street,

TheTriangle,Ashburton

Phone: (03) 308 6772

2414189

2414204

Our authorised techniciansns

service and repair all

makes and models of

sewing machines and

overlockers

OPEN 7DAYS9.30am -4.30pm

Main South Road, Tinwald Ashburton | Phone 307 6277

www.anniesquilts.co.nz

•Manufacturer and supplier of

Rylock aluminium windows and doors

•Retrodouble glazing installers foradrier,

warmer,quieter home

Forafreequote, contactDavid &Lorayne Oakley

PHONE 308 8493. EMAIL: owdrylock@gmail.com

8A John Street,Ashburton

2372825

2396040

2376763

Integrity Estate Services specialise in;

• Full interior house clean, including carpets

• Full exterior service

• Preparing/de-cluttering houses

• Packing

• Re-homing furniture

Complimentary 30 minute walk through consultation

"Professional co-ordination of your relocation needs"

Kate Webster 027 500 1033

Kate.IES@hotmail.com

TA LBOT SEC URIT Y GROUP

"IntegrityEstate

Services"

E-info@talbotsecurity.co.nz E - ty 519 62c East Dobson Street,Ashburton P-(03) P - (03 307 ) 307 2409 2409 Anytime 24/7

e 24/7

-Alarm Response and Patrols

-Alarm

Monitoring

-Alarm and CCTV Installa tion

-Alarm and CCTV Serv ic ing

-Data and Netw orking

-Fire

Ex tin guis hers

-Key

Cu ttin g

-Loc ksmithing

Ashb urton' s only 100% locally ow ned and operated security company

2375720

Protect what

youvalue the

smartway

115 Archibald Street,Tinwald,Ashburton

Phone /Fax: (03) 307 2354

Email tincanup@xtra.co.nz www.tinwaldcanvas.co.nz

ALL THINGS CANVAS &PVC

*Awnings/Shade sails/Dropblinds*Auto seat covers &repairs

*Hay&bin covers *PVC covers &repairs

*Ute tonneau covers *Furnitureupholsteryrepairs

*Commercial

PHONE TRAVISHOWDEN 027 922 4544

2396047

2379146

NEATGARDENS

Does your garden need monthly

maintenancetokeep it tidy and

looking good through the seasons?

Or perhaps just need aone off tidy

or pruning completed?

We can help!

Allgarden wasteremoved

ContactCAROLYN Phone: 027 2675403 or 3082333

Email: cccolt@xtra.co.nz

2379279

2379231

Manage your

safety&security

anywhere, anytime

Call 0800 788 393

57 Dobson Street,Ashburton

www.masterguard.co.nz

HartleyCurd 021 328 301

Keeping our communitysafefor over25years

2403225
---
All the roles adversed beloware full meand are

Monday to Friday 7am –5pm usual hours with occasional weekend workasrequired.

Our team are our greatestasset,and we offer fantasc benefits and rewards including:

• Compeve remuneraon

• Awide variety of work and opportunitytolearn newskills

• PPE provided

• Friendly,health and safety conscious team environment

• Astaff gettogetheratthe endofeach month

Contract Manager

Ashburton, Full Time, Trades &Services

• Compeve remuneraon on offer +vehicle supplied

• Knowledgeofthe Canterburyareaisessenal

• Jointhe team at Greg DonaldsonContracng!

Greg DonaldsonContracng arelooking foraContract Manager to join our

team.

The purpose of this posion is to manageour clientbase. To be out on site

discussingthe needs of our community, rural, commercial and residenal.

Provide wrien quotes, cost effecve soluons and manageavariety of

projectsfromconcepon to compleon.

To be successful in the role youwill need:

• Proven experience in asimilar Project Managementrole

• The ability to lead and work well within the team

• The ability to read and interpret plans

• To be self-movated

• Good computer skills and ability to pickupnew systems. (Knowledgeof

Xero quotesand MangoHealth &Safetysystems would be helpful)

•Training opportunies

•SouthernCross Health Insurance oponavailable aer 3months

employment(standard premium paid forbythe company)

•Assistancewith relocaon costswould be considered

Civil SiteWorks

Ashburton, Full Time, Trades &Services

• Ideal opportunity forsomeone with acivil background

• Variedworkand role –Great work environment

• Join Greg DonaldsonContracnginAshburton

Greg Donaldson Contracng Ashburton arecurrently looking foracivil works

operator.

We arelookingfor amovated and reliableindividual who iscommied to

compleng jobstothe higheststandards.

Dues will include (but arenot limited to)preppingentranceways,mber

baening,small concretework and sitework –both residenal and

commercial.

If youhaveexperience working in asimilar role or have acivil background,

youmay fit seamlessly into ourteam, but we'realso interestedin speaking

with other applicantswith asolid work history whoare ready to getstuck into

ajob likethis.

Keyskills andaributes include:

• AClass 2driverslicence

• Experience on small diggers

• The ability to work well within ateam

• Astrongemphasis on Health &Safety

• The ability to complete jobsinamely andefficientmanner

• Keen to be in charge and take pride in your truck and digger

Drainlayer –Great work lifebalance!

MondaytoFridayrole –Immediate startavailable

Ashburton, Full Time, Trades &Services

• Compeve remuneraon on offer +specialised vehicle supplied

• Assistance with relocaon costswould be considered

• Join Greg DonaldsonContracng in Ashburton

Areyou lookingfor awork lifebalance?

To work in aposiveenvironmentwith interesng projects?

If youansweredYES then we needtotalk!

Greg Donaldson Contracng Ashburton arecurrently looking foraQualified

Drainlayerwho canhelp ensure safe,mely compleon onavariety of

projects.

We'relooking forareliableteam playerwith aposive atude and driveto

getthe job done right, first me. You mustbeaNZ Qualified andpraccing

RegisteredDrainlayer.

You'll also need:

• 5+ yearsexperienceinresidenal and commercial drainage

• The abilitytolead ateamand work well within the team

• To have astrongemphasis on health andsafety

• The abilitytocomplete jobsinamely and efficientmanner

• The abilitytoread, interpret plans andcomplete all paperwork and

compliancerequired

SiteForeman /Team Supervisor

MondaytoFridayrole

Ashburton, Full Time, Trades &Services

• BackgroundinCivil work and supervisoryroles?

• Great team environment, compeveremuneraon PLUS MORE!

• Join Greg Donaldson Contracng in Ashburton

Greg DonaldsonContracngare currently looking foraSiteForeman /Team

Supervisortojoin our team based in TinwaldAshburton.

In this role, youwill be responsible forsupervising and running the

underground electrical conversion team on-site.

To be successful in this role, youwill need:

• Experience in Civil Work

• AClass 2driverslicence

• Supervisoryexperience

• The abilitytoreadand interpretplans

• To have agood understandingofpower /fibrerequirements and

specificaons

• Aposive, team playeratude and the ability to effecvely

communicate to awide variety of staffand clients

• To have strong emphasis on health and safety andcompliance

• The abilitytowork well under pressure andmeetdeadlines

• The ability to operateanipad /tablet

• The ability to enhance systems wherenecessary

Please apply with CV to office@gdcgroup.nz

Applicaons to theseposionsclose Friday,September 24, 2021

2418920
---
www.ashburtoncourier.co.nz

NEWS

Ashburton Courier, September 23, 2021

35

Many opportunities in agriculture sector

Gary Frazer from

Swannanoa was crowned

the inaugural Young

Farmer of the Year on

August 22, 1969;the same

year thatthe firstFieldays

event was launched at Te

RapaRacecourse.

Over 50 years later, both

events still stand as staple

events on the rural

calendar and an

opportunity for rural youth

to come together and

showcasetheir skills,

knowledge, and stamina.

The current andpast

Young Farmer of the Year,

Jake Jarman andJames

Robertson, talk about their

enthusiasm for working in

the primary sector.

JakeJarman has been on a

rollercoaster ridesince

winning FMGYoung Farmer

of the Year grand finalat

Christchurch in July.

The ANZrelationship

associate, basedinAshburton,

representedhis hometown of

Taranaki in the competition

and is now getting backintoa

normal routine sincetaking

the national title.

"It was definitelya

rollercoaster afterwards with

lotsofcelebratory messages,

interviews,emails,and what

not,sonow things havesettled

downI'vegot my lifeback a

bit," he said.

Jake'sroots go backto

Inglewood, Taranaki, where

he grewuponhis parent's

dairy farm, so he'snostranger

to practical farmingwork,

despitehis currentrolebeing

in an office.

Hisrole at ANZsees him

supporting relationship

managers in theircustomerfacingroles

and helping

manage more than 100

customers.

He said being FMG Young

Farmerofthe Yearhelped

himprove his credibility to

rural customersnot aware of

hisfarmingbackground.

"They love havingawee

chinwag about Young Farmer

of theYear, and it shows them

that I'm notsomecity­slicker

that sits in the bankand

doesn't get theirhands dirty.

''It proves that Ican do all

thepractical farming stuff

too," he said.

Fellowtitlewinner James

Robertson made historyin

2019 when he became the

youngest persontoscore the

title.

He said Young Farmershad

been asourceofinspiration

since he waslittleand beinga

part of Young Farmers over

theyears has presentedhim

with awealthofopportunities.

Like Jake,James grew up on

hisparent's dairy farm.

Thefarm is basedin

Cambridge.

Jamescurrently works as a

Technical Assistantat

Fonterra.

He's worked forthe cooperative

over the pastfour

yearsonarangeofprojects.

Hiscurrent role is fastpacedand

varied,asheassists

Fonterra's managing director

of co­operative affairs.

"Recently,I'vespent timeon

theroadconsultingwith

farmers for the currentcapital

structurereview andhave

been working withthe core

team to sift throughtheir

feedback.

"Doingthat groundwork

resonatesbacktomy

upbringing andfarming

background whichmakes my

role reallyfulfilling."

Ahead of the grand final

competitors attendedFieldays

at MysteryCreek, near

Hamilton for apre­grand final

contest,and to getafeel for

whatthey faced competingata

largeagricultural event.

"Getting the finaliststo

compete at Fieldays was a

great opportunityfor them to

getatasteofwhatthe finalwill

be likeand build awareness

around thecontest," James

said.

JamessaidFieldayswerea

chance to networkwith

agribusiness professionals

andcatchupwith peoplehe

hadnot seeninanage.

"It's such agreatplace to

connect witheveryone.

''Icaughtupwith so many

people Iwasn't expecting to:

schoolmates, industry

contacts, university, work

colleagues, andall sorts."

Jake and Jamesare very

passionate about inspiring the

next generation of young

farmers and their involvement

with the organisation which

aims to connectyoung people

with alikemindedcommunity

andencourages them to work

in thefood andfibresector.

James, whoisonthe Young

Farmers boardand the contest

subcommittee,saidThe FMG

JuniorYoungFarmerofthe

Year contest wasaway young

people could showcase their

rural skillsetamong their

peers.

"It's rare that you see a

competition thatrecognises

schoolstudents who spend

theirweekends helping their

parents on farm or farming as

theirpart­time job.

''TheFMG JuniorYoung

Farmerofthe Year is aneat

wayofshowing themthat their

skillset is specialand should

be recognised."

Whileitwas important

studentswithfarming knowhowconsideredacareerin

agriculture, Jakesaid nonfarmers

shouldaswell to meet

thedemand of workersneeded

in thesector.

During thegrandfinal,

finalists wererequired to give

aspeech.

Jake's topicwas "what Iwish

schoolleavers who arenonfarmers

knewabout

opportunities in ag."

"Peoplethinkworkinginag

is just milking cows, mustering

sheep, and driving tractors,

butthere's alsoopportunities

availableinscience,

marketing, andbusiness.

''Ihave mates from uni with

non­farmingbackgrounds,

that are now on farmorin

working in the primary

industries,'' he said.

"Weshould allbechampions

forour industry andtell our

stories to kids,sotheycan

realisethe wealth of

opportunities on offer and get

inspired about New Zealand

being aleader in this field."

Awealth of primarysector

careers insightsare available

at fieldaysonline.co.nzwhere

young workers talkabouttheir

roles and their work.

Jake Jarman in action during the FMG Young Farmer of the Year regional final in April.

2418363

ENTERTAINMENT

Saturday 23rd October 1pm

All Tickets $15.50*

Join the Glow Show team with a'Kiwified'

interpretation of Alice and Wonderland. Let

your imagination soar as you are transported

into another world of giant scale glow-in-thedark

puppetry for tamariki, educators and

whanau. Come along and see the 8metre

caterpillar, giant flowers and March hare on

the loose!

ENTERTAINMENT

TheLittle Mermaid Jr –Mid Canterbury Children's Theatre

Friday 8th October 7-30pm /Saturday 9th 1pm &5pm /

Sunday 10th 10am &2pm. All Tickets $25*

In amagical underwater kingdom, the

beautiful young mermaid Ariel longs to

leave her ocean home –and her fins –

behind and live in the world above. But first

she will have to defy her father King Triton,

make adeal with the evil sea witch and

convince Prince Eric she's the girl whose

enchanting voice he's been seeking.

Wonderland Glow Show – Little Green ManProductions

EXTRA

SHOWS

Sat 9 Oct, 1pm

Sun 10 Oct, 10am

ENTERTAINMENT

BOOK

NOW

03 307 2010 211A WillsStreet, Ashburton 7700 admin@ateventcentre.co.nz

PHOTOGRAPHS

FORSALE

Have youhad your photo

taken by our reporters?

Order aPhotoToday!

¼Page*

$6

*approx 6x4

A5

$8.50

A4

$16

Ph: 308 7664

199 Burnett St,Ashburton

Advertising

that works!

Talk to Jann or

Karentodayabout

ways youcan reach

potential customers

or advertising with

thatspecial difference

-professional service

with asmile.

Phone:308 7664

199 Burnett St,Ashburton

TURN THE PAGE

TO VIEWMORE

CLASSIFIEDS

2376126

2376119

2375519

ENTERTAINMENT

For more information

www.ateventcentre.co.nz

HotelCalifornia–TheEaglesExperience

Friday 22nd October 8pm

Adult $61* /Group 6$56 each* /Child 13 &under $32*

It's time to check into the Hotel California -

The Eagles Experience with this captivating

live concert and stage show saluting the

extraordinary talent and timeless catalogue of

The Eagles. With astage full of show stopping

voices and musicians this is atribute you will

truly appreciate.

FightNightSouth

Friday 19th November 6pm

Tickets $79* -$99*

The event will feature corporate boxing bouts

and is being hosted by local Dame Lynda Topp.

Former Commonwealth cruiserweight

champion and heavyweight boxer Shane

Cameron has been confirmed to attend

again as special guest. Come along and be

entertained at this red carpet event.

*Service fees apply

2420785
---
CLASSIFIEDS

36 Ashburton Courier, September 23, 2021

www.ashburtoncourier.co.nz

TRADE &SERVICES

DENTURES; Dr Peter

Rumping repairs existing

dentures and also provides

new dentures. Phone 027

220 9997.

BUILD work to do? Contact

Kiwi Building and Maintenance

Ltd. Alterations,

Renovations, New builds.

Qualified Tradesmen.

Phone Cawte 027 418

7955.

CARPET 2YOU -for all your

flooring needs. Supplier

and installer of carpet and

vinyl, re-stretch and repair,

carpet cleaning. Phone

Mike Gill 027 491 4210.

CARPET Cleaning. Powerful

equipment and fast drying.

Upholstery, mats and rugs.

Experienced owner/operator.

Phone John Cameron

at Supersucker. 027 435

1042 or 308 1677

CARR'S Chimney Cleaning,

servicing Ashburton and

surrounding districts, $60

per chimney. Phone

Rodney on 03 324 2999

and leave amessage.

COMPUTER Problems? For

prompt reliable computer

servicing and laser engraving,

contact Kelvin, KJB

Systems Ltd, 4 Ascot

Place, Ashburton. Phone

308 8989. SuperGold discount

card accepted.

COMPUTER repairs, sales,

training, setup wirelessnetworks,

spyware

cleanup. On-site day or

evening. Low fees. Call

Robin Johnstone, Networks

Firewalls and PC's Ltd, 308

1440 or 027 768 4058

CONCRETE Services -

Driveways, paths, patios,

mowing edging. Decorative

Concrete Specialist operating

locally with 30 years

experience. No job too big

or small. Contactless service

offered. Phone Paul

021 152 1966.

TRADE &SERVICES

ALTERATIONS; Sewing,

mending and trouser hemming,

curtain alterations

and curtain making. Call

Michelle on 027 352 7248.

DRIVEWAYS, Patios and

Paths, Plain Concrete, Coloured

Concrete or Exposed

Agregate Concrete.

Paveco, 13 Robinson

Street. 100% local. Phone

307 6466 for aquote.

ENGINEERING repairs, fabrication,

farm equipment

service and maintenance,

WOF repairs, machining

and welding. Odd jobs a

speciality. Mobile workshop.

Can collect. Phone

Malcolm 0274 754 241.

FLY control and spider

proofing. For all your

domestic and industrial

pest control needs phone

AJ Kerr at Ashburton Pest

Control on 03 308 8147 or

027 432 5447

FURNITURE Removals. For

all your household removal

needs - urban, rural lifestyle,

office relocations -

call Nudges Furniture

Removals, phone 027 224

0609.

GARDENING, mowing,

pruning, fertilising, projects

or general spruce ups? Call

Andrew at Spruce Gardens

to get the job done right.

027 765 2899 or 03 307

1693.

sprucegardens@xtra.co.nz

GUTTER Cleaning. Using a

vacuum system to clean

out the debris is a faster

and cleaner process. Call

Allan on 027 209 5026

INTERIOR

PLASTERING

New or existing,

level 4finish, full skim

plaster or repairs

The Finishing Company

03 307 8870 2416186

PHOTOGRAPHS

FOR SALE

Have you had your photo

taken by our reporters?

OrderaPhoto Today!

¼Page*

$6

*approx 6x4

A5

$8.50

A4

$16

Ph: 308 7664 -199 Burnett St, Ashburton

Being in

business and

not advertising

is likewaving in

the dark....

...you know you're therebut

no-one else does!

Don't be leftinthe dark,

TheCourier Newspaper has the key

to your event, productor

business advertising.

Phone Jann or Karen on (03) 308 7664

Email: office@ashburtoncourier.co.nz

2376133

2376134

SITUATIONS VACANT

SITUATIONS VACANT

Checkout Operators

Twovacancies

Permanent Part-time

Mitre10MEGAAshburtonhas twovacancies

forpermanentpart-time Checkout Operators.

1. Sundays 10am –5pm =6.5 hours

2. Monday8am –5pm; Tuesday&Thursday

11am –2pm;Sunday8am –5pm =

22 hours total

Thesuccessful applicants will requirethe

following skills:

• ExcellentCustomer service

• Reliable

• Experience in Checkout work preferred

• Beable to work in ateam

If youthink youare the person we arelooking

for, please email your c.v. and covering letter

to:HR.Ashburton@mitre10.co.nz

Applications close on

Monday 27th September 2021.

SPRAY PAINTER/PREPPER

Afull time position has become available in our

Panel and Paintshop foraQualified Spray Painter.

Theposition requires

• Good work ethics

• Have ahigh standardindetail and finish

• Tobereliable

• The abilitytoworkunsupervised

• Toworkinateam and meet production deadlines

• NZresidencyorvalid NZ work visa

Please send resume and coverletter to

TheGeneral Manager

Bus and Truck Body Work Ltd

PO Box51, Ashburton7740

Phone Keith on 0274 274 007 or 307 0378

Email busandtruckbodywork@xtra.co.nz

WANTED TO BUY

ASHBURTON Scrap Metal

Recyclers buy heavy metal

etc. Free light-grade metal

in-yard dumping 9am-5pm

weekdays &9.30-11.30am

Saturdays. 117 Alford Forest

Rd, (behind

PlaceMakers). Phone 03

308 8033 or 027 249 6625.

TRADE &SERVICES

LAWN Mowing. No job too

small. Call Les Smith, From

The Ground Up, for acompetitive

quote. Ph 027 840

0201 or 03 308 1500.

LOCKSMITH/Door repairs.

Keys/locks, sliding and bifold

door roller repairs.

Mobile service. Call Nigel at

Doors and More. Ph 027

516 7104

NETTLETON Decorators,

qualified tradesman, is

available for interior and

exterior painting, plus plastering,

stopping, skimming

and wallpapering. Phone

James on 0274 865 283.

PAINTER for all your painting

needs. No job too small,

inside or outside. Professional

friendly service.

Phone Pete 03 308 1672 or

027 200 1619.

SUN Control Window Tinting:

Privacy, UV, glare, heat

control for homes, offices

and cars. Phone Craig

Rogers 307 6347, member

Master Tinters NZ. www.

windowtinter.co.nz

TINT-A-WINDOW, fade, UV

block, glare, heat control,

safety, security, privacy,

frosting films, solar protective

window films. Free

quotes, 20 years local service.

Phone 0800 368 468

now, Bill Breukelaar, www.

tintawindow.co.nz

EDUCATIONAL

2419348

2413350

SITUATIONS VACANT SITUATIONS VACANT SITUATIONS VACANT

Job Vacancies

Position: Bilingual Health Navigator, RefugeeSettlement

SupportServiceAshburton–2positions

Bilingual: Hazaragi, Dari/Farsi and English

Location: Refugee SettlementSupportService, Ashburton

Hours of Work: 40hrs full time.

Bilingual Health NavigatorRole

TheRefugee SettlementSupportServiceinAshburtonislooking fortwo

Bilingual Health Navigators to join our team. TheBilingual Health Navigatorwill

supportnewly arrivedformer refugees to access healthrelatedservices.Akey

componentofthis role will be to actasaninterpreterfor clients when they are

accessing health services.You will receiveongoing professional developmentin

your role as interpreteraswell as relevanttrainingthatwill assist youwith the

skills and experienceneeded forthis position.

Forculturally appropriate servicedeliveryweare seeking 1maleand 1female

Bilingual Navigator. We welcome individual applications or jointapplications

from membersofthe same family.

TheCurrent Ethnic Refugee SettlementCommunityinAshburton: Afghan

(Hazara,Tajik)

Bilingual Health NavigatorSkills:

We arelooking forcandidateswho have the following key attributes:

•You will have relevantworkorlived experienceinthe refugee field,aseither a

former refugee and/or have extensiveknowledge of Afghan culture.

•Have ahigh level of Hazaragi, Dari/ Farsi and English language skills

•Have ahigh level of cultural safetyand the abilitytoworkwith respectand

empathywith people from differentcultural backgrounds.

•Have aworking level of computer skills,email, Word.

•Have excellenttimemanagementskills.

•Have goodcommunication skills.

•Hold acurrent motor vehicle driver's license and willing to travel to fulfil job

requirements

•Empathy with humanitarian causes

•Enthusiasmand commitmenttoworkaspartofateam

•Thereisanexpectation thatthe person is based in Ashburton-SaferMid

Canterburywill supportand contributetowards relocation costs.

To read job description and download application form go to:

www.safermidcanterbury.org.nz careers webpage.

Applications close Friday1st October

Forfurther questions,please contact AniKoperu on: 033081395

EDUCATIONAL

Dangerous GoodsCourse

NZTAApproved Course Provider,MITO&Competenz Assessor

Dangerous Goods Course-½dayMondaymornings

CommunityHouse,Ashburtonoryour work place

Forfurtherinformation

PhoneChristine027 245 2563

SELL

FOR SALE

RURAL MAIL

RUN BUSINESS

RD7 is in the Wakanui/Pendarves

area. Serviced by

two vehicles not included in

sale price. If you love driving

around the countryside,

then this may be just what

you are looking for. Lockdown

has certainly

increased the income and

still rising.

For further information

please contact us with

your details to

susan.hop@hotmail.co.nz

LPG REFILLS

9kg cylinders

$27.50

Askaboutour

deliveryservice

Anysizecylinder filled

17 Grey St,Ashburton

Phone 307 2707

2379300

SELL

2406572

MANS Mountain Bike $110.

Tow bar, 2bike carrier $85.

Neoprene chest waders,

mens size 9, as new $100.

Phone Graham on 308

3350

LPG

REFILLS

Small LPG cylinders

Off Street Parking

Available

Arthur Cates Ltd

26 McNally Street

Ph 308 5397

Riverside Industrial Estate

HOME SERVICES

GARDEN SUPPLIES

2379296

ROOF COATINGS: All roof

types, specializing in

Decramastic and Long Run

Iron, Coloursteel etc, steep

roofs not a problem. —

Spraymaster 027-433-7780.

JORDANS'S NURSERY

Rhododendrons from $15.

91 Pye Road The Downs

Geraldine. Wednesday to

Saturday 10am to 4pm or

by arrangement. phone 03

6938332 or 0274311815

Head Caretaker

An exciting opportunityhas come up to

join our team at MountHutt College.

2416330

We seek aself-motivated and skilled tradie to join

our Property Team. This role is permanent and is

covered under the School Caretakers', Cleaners'

and Canteen Staff CollectiveAgreement.

Hourly rate by negotiation. Hours and days of

work could also be negotiable for the successful

applicant.

To applyforthisposition(orforfurtherinformation)

pleaseemailthePrincipal'sSecretary,ShereeMcKay,

college@mthutt.school.nz

Alternatively, applications can be dropped off at

MountHutt College's main reception.

GARDEN SUPPLIES

Applications close on

Friday 24th September 2021.

GARDEN SUPPLIES

2412734

2415924

MUSHROOM COMPOST

Nowisthe time to dig in our topqualitymushroom

compost to your vegetable garden. Ideal to replenish nutrients

used by previous crops and improvethe soil structure.

It also adds beneficial micro-organisms to thetired soil.

$50 per cubic metreor$10 bag.

Freedelivery within town boundary.

Open 6daysaweek at our Tinwald yard,

208 Maronan Road. Phone 021 129 8936 or 03 308 3331

PAUL'S Garden Nursery,

101 Harrison St, Ashburton.

Tomato, vegetable and

flower plants,14 varieties of

seed potatoes, seed yams

and farm fresh, free range

eggs available. Enquiries to

Paul 027 278 1354. Open 7

days.

2404460

GARDENERS Specials.

Sheep or Cow manure

$8/bag. Medium-square linseed

straw $50. Mediumsquare

pea straw $60.

Phone Alan 027 496 7136,

Ian 027 286 3697. AHinds

Lions Project.
---
www.ashburtoncourier.co.nz

SITUATIONS VACANT

SITUATIONS VACANT

ChargeNurse, DistrictNursing

DunstanHospital,Clyde

Anawesomeopportunitytolivein

CentralOtago

Permanentfull-timeposition (1.0 FTE)

We have agreat opportunity for aregistered nurse with

leadership and/ordistrict nursing experience interested in

this keyleadershipposition withinour District Nurseteam

at Dunstan Hospital. Thisisafantastic opportunity tosecure

arole immersedinthe ruralenvironmentand showyou can

makeadifferenceand meet the uniquechallenges that rural

healthcare provides.

The Charge Nurse District provides strong clinical

leadership to ourdistrictnursingteam,ensuring we provide

aconsistently high standard ofclinicalcaretopatientsand

their families/whanau, whilst acting as apositive rolemodel

acrossthe organisation. The successful applicantwill work

closelywith themedical teamand allmembers of the wider

multidisciplinaryteam.

Formore informationonthisrole andtoapply,please visit

ourwebsite: www.cohsl.co.nz/joinourteam

Admin Position

Areyou outgoing and enthusiastic?

Do youhave greatcommunication, administration,

time managementand customer serviceskills?

We need an enthusiastic,brightand bubbly person

with suitable experiencewho understands the

need forattention to detail with customer service

and officeadministration duties forour successful

and respectedlocal business.

Youwill need to be ateam player, able to multitask,staycalm,

cheerful and focused,and

appreciate the importanceofexceeding customer

serviceexpectations,proficientinMSOffice,

particularly Outlook,Excel and Word, and have the

abilitytoquickly learnand understand our internal

softwareprogrammes and processes.

We areseeking someone special,and agenerous

remuneration package will be offered to the

rightperson forthis full-time position. If this role

sounds like you, apply by email with acovering

letter and CV to:

alister@smithandchurch.co.nz

To speak in confidenceorfor any

further information please contact:

Alister on 03 308 9019 or

email alister@smithandchurch.co.nz

2420369

CLASSIFIEDS

Ashburton Courier, September 23, 2021

37

SITUATIONS VACANT SITUATIONS VACANT SITUATIONS VACANT

Labourer

EA Networkshas astrongfocusonpeople, culture and acommitmenttoleading

edgetechnology.Weown and operate our region'selectricity distribuon

network and fibreopccommunicaons network and arethetrusted

infrastructure plaorm thatdelivers electrical energyto everyhome and business

in our region.

Aboutthe role

We arelookingfor an energecperson to join our FieldServices Team as a

Labourer.This posion will involvebeingout in thefield and in the workshopwith

the main responsibilitybeingto assist the Earth Rig Operators.

Ideally youwill have the following aributes:

• Holdacurrent driver'slicence withclasses 1,2,3,4&5

• WTR and FEndorsements or theabilitytoobtain

• Mechanically minded

• Not afraid of demanding physical work in therural environment

• Above averageproblem-solvingskills

• Excavator, Forkli and Hiab experience

• Ability to sck weld

Join Us

Acompevehourly rate is on offer,asisthe opportunity to develop your career

with astable, trustedorganisaon.

To apply,please visit our company careers pageandcompleteanEmployment

Applicaon viaour career's portal, in confidence.

Applicaonsclose Friday 1October 2021.

Formoreinformaon aboutthe role and EA Networksplease visit

www.eanetworks.co.nz

PleasenoteEANetworksiscommied to asafeand healthywork environment.

Successful candidatesmustbelegally entledto work in NZ andpreparedto

undergoapre-employment medical, whichincludes adrug and alcohol test and a

Ministry of Juscecheck.

Geraldine High School

Personal Assistantand BoardSecretary

Geraldine High School is avibrant co-educational

school with aroll of around 600 students. Weare

seeking a highly motivated Personal Assistant

and Board Secretary with asound knowledge of

administrativeprocesses to join our team.

This permanent role is to provide high quality

administrative support to the Principal and the

Senior Leadership Team as well as the Board of

Trustees.Thisroleworksclosely with the Executive

Officerand the wider administration team.

Strategic thinking and problem solving combined

with attention to detail are essential for this role.

It is imperative for this person to be approachable

and collaborative.

This varied role includes:

•Executivesupporttothe Senior Leadership Team

•Business administration, diary management,

travel arrangements

•Policyreviewsand implementation

•Preparing agendas, board packs, plus minute

taking at meetings

•Developing and implementing various reporting

and surveytemplates

Ideally youwill be:

•Broadly skilled across business administration

and managementsupport

•Professional, approachable, diplomatic, and

confidential

•Anexcellent communicator both verbally and

written

•Adept at minutetaking

Some flexibility is required for attendance of

evening meetings. Ifthis sounds like you please

send us your CV or contactusfor more information.

Start time for this position is as negotiated. The

hours per week will be 30-35 with additional

evening hours to fulfill the Board Secretary role.

This role with follow the school term structure, in

total being 46 week per year worked

Applications close on 08 October at 4pm.

Please email your CV to:hr@geraldinehs.school.nz.

BARBER CHAIR

FOR HIRE

ISO talented barber to rent

barber chair for $50/day.

Two chairs available in

classy space in CBD. We

already have clients. If

interested, visit Kai &Kutz

(80 Tancred St.) during business

hours or DM the Kai &

Kutz FB page.

FRUIT &PRODUCE

2420612

POTATOES; Nadine, Red

Rascall and Agria $1.25kg,

or pre-ordered 10kg bags

$10. Phone 03 308 3195 or

027 531 9103. 81 Elizabeth

Street, Ashburton.

Nursing Director and

Quality Manager (Fulltime)

Central OtagoHealth ServicesLtd

(DunstanHospital) CentralOtago

This new fulltime position will be based at Dunstan

Hospital in Clyde, Central Otago. Situated 2.5 hours

away from the base hospital in Dunedin, we are

passionate about ruralhealth careand servingourrural

communities.

This role combines strategic, nursing leadership from

a professional perspective with providing leadership

and oversight of COHSL's Quality Assurance and

Improvement Programme. The role will provide

professional advice to the CEO, Clinical Services

Manager and others in the clinician management

partnership on mattersrelating to Nursing Practiceand

will foster astrong quality improvement culture across

theorganisation.

Formoreinformationonthis roleand to apply,please

visitour website: www.cohsl.co.nz/joinourteam

Customer service

FixedTerm

Seasonaldepartment

Mitre10MEGAAshburtonhas avacancyfor a

customer serviceperson in our busy Seasonal

departmentselling outdoor living products.

This position is part-time and aFixed Term

Sunday –Tuesday total 24hours per week

commencing from now–31stJanuary2022.

Skills required are:

• Great customer serviceskills

• Physicallyfitand able to lift

• Abilitytoworkun-supervised

If youthink youare the person we arelooking

for, please email your c.v. and covering letter

stating which position youare applying forto:

HR.Ashburton@mitre10.co.nz

Applications close on

Monday 27th September 2021.

Phone 308 7664

office@ashburtoncourier.co.nz

2420763

2375498

2418504

RURAL DELIVERY Driver

and Mail sorter required for

RD 2Ashburton. This role

is part-time, two to three

days a week. Start time

4.00am, finish between

8am and 10am. Hours per

day will vary depending on

the loads. The role involves

sorting mail and parcels,

then deliver on aset delivery

route. Attention to

detail, reliability, great customer

service and enjoy

driving amust. Full license,

drug test and police check

required. Please call Jo,

027 683 7654 for further

information, or email CV

and cover letter to

rural2ash@gmail.com

FIREWOOD

FIREWOOD

OFFCUTS

$140 PER CORD

FIREWOOD

SLABWOOD

3cordgreen

$330

1cordgreen

$110

1corddry

$140

C.O.D. in town

Adams Sawmill

Malcolm McDowell Rd

Phone

308-3595

2414491

SAVE $100. on next winters

firewood. Old Man Pine 6m 3

$495.00. Limited supply.

WINZ accredited. Free

delivery to most of Mid-

Canterbury. Phone 027 297

7563.

HEALTH &BEAUTY

URGENT CARE CLINIC

WEEKEND DUTYDOCTORS

IN THE EVENT OF AN EMERGENCYPHONE 111

Forall othermedicalassistance outside of normal

hoursplease phone your generalpracticeteam,24/7,

to speak withahealth professional whowill giveyou

free health advice on what to do or wheretogoifyou

need urgentcare.

If youdon't have aregular generalpractice, call any

GP team 24/7 forfreetelephone health advice.

All non-residents and visa holders please bring your

passporttoyour surgeryappointment.

New Zealanders'tobringsome form of ID.

TheAshburton Duty Practice for...

Saturday25th September is

ThreeRivers Health, 7-11 Allens Road,Ashburton.

Consultations will be by appointmentonly.

To make an appointmentcallyour regular GP 24/7.

Sunday26th September is

ThreeRivers Health, 7-11 Allens Road,Ashburton.

Consultations will be by appointmentonly.

To make an appointmentcallyour regular GP 24/7.

Methven and Rakaia: Formedical attention on the

weekend and public holidays please telephone

MethvenMedical Centre on 03 302 8105

or Rakaia Medical Centre on 03 303 5002.

Details foraccessing the afterhoursservices will be

on the answer phone.

PHARMACIES

Wises Pharmacy,CountdownComplex,

East Street will be open on ...

Saturday from 9.00am until 1.00pm

Sunday from 10.00am until 1.00pm

At Geraldine: TheGeraldine Pharmacywill be open

normal trading hours during the week,and on

Saturdaymorning from 9.30am to 12.30pm.

Closed Sundays and Public Holidays

Forfree24hour Telephone Health Advice

Phone the healthline on 0800 611 116

Brought

toyouby

HEALTH &BEAUTY

CountdownComplex, East Street, Ashburton

Phone: 03 308 6733 Fax: 03 308 6755
---
CLASSIFIEDS

38 Ashburton Courier, September 23, 2021

www.ashburtoncourier.co.nz

PUBLIC NOTICE PUBLIC NOTICE PUBLIC NOTICE

PUBLIC NOTICE PUBLIC NOTICE PUBLIC NOTICE

PUBLIC NOTICE

Would a

Scholarship

help your studies

or trade training

in 2022?

Advance Ashburton Community

Foundation has many great

scholarships available for all

types of study, apprenticeships,

and training.

For more information and an application form:

Email grants@advanceashburton.org.nz

www.advanceashburton.org.nz

FOR LEASE

RENT ME!

APPLICATIONS

CLOSE

29 OCTOBER

2021

Thurs 23rd&Fri 24th

10.00 Queen Bees

10.00 Respect

11.50 TheMole Agent

12.30 TheIce Road

PG

M

G

M

1.30 TheJusticeofBunny King M

2.25

3.20

4.00

5.50

6.40

8.00

8.20

Candyman

Shang-Chi and the TenRings

Respect

Free Guy

Candyman

Shang-Chi and the TenRings

TheIce Road

R16

M

M

M

R16

M

M

Sat25th &Sun 26th

10.00 PawPatrolthe Movie

10.00 JungleCruiseSpaceJam

11.40 Shang-Chi and the TenRings

12.15 Respect

G

M

M

M

2.00

2.50

3.45

4.55

5.45

6.30

8.00

8.30

PawPatrolthe Movie

Free Guy

Queen Bees

TheMole Agent

Free Guy

TheIce Road

Shang-Chi and the TenRings

Candyman

G

M

PG

G

M

M

M

R16

Mon27th, Tues 28th

&Wed 29th

10.00

10.00

11.50

12.30

1.30

2.25

3.20

4.00

5.50

6.40

8.00

8.20

Queen Bees

Respect

TheMole Agent

TheIce Road

TheJusticeofBunnyKing

Candyman

Shang-Chi and the TenRings

Respect

Free Guy

Candyman

Shang-Chi and the TenRings

TheIce Road

PG

M

G

M

M

R16

M

M

M

R16

M

M

NO COMPS

Candyman, TheIce Road,

PawPatrolthe Movie,

Shang-Chi and the TenRings

Ideal as an extra

bedroomoroffice.

Fully insulatedand

double glazed forwarmth.

Threeconvenientsizes:

Standard3.6m x2.4m,

Large 4.2m x2.4m

Xtra-large 4.8m x2.4m.

Visit our displaycabin

418WestStreet or callfor a

freebrochure.

www.justcabins.co.nz

2379729

0800 58 78 22

AWESOME OFFICE space

for lease, rent or hire. Park

like setting. Indoor and outdoor

areas. North West

town boundary. Must view.

Phone 0274 754 241

STORAGE available, Ashburton.

Self storage, variety

of sizes. Phone Rainbow

Storage 03 307 0401 or

phone/text 021 554 570

STORAGE: Secure self storage

units available, long or

short term. Ashburton Storage

Facilities. Contact us

on 0274 362 636 or www.

ashburtonstoragefacilities.

co.nz

GARAGE SALES

RELAY For Life Fundraiser,

Netherby WI. Saturday 2

October, 1a Creek Rd,

9am-1pm. Masks on

please. Donations of saleable

items, please drop to

1a Creek Rd or 30 Cross

St, or Ph 308 1176 or 745

4105.

SATURDAY 25th September,

Farm Road, signs

out 8.30am. Good quality

household items, art, furniture.

Averybig thank youtoour

sponsors fortheir

ongoing support.

4adult tabbycatsready now.

Food donations appreciated.

Tuesday-Saturday

9:30am -noon

Phone 308 4432 or

027 332 9286

MEETINGS

MEETINGS

The Annual General Meengs of

IHC Ashburton Associaon and

Community Properes Ashburton Inc.

will be held on Tuesday12October 2021

at Idea Services,

21 Archibald St, Ashburton,

at 7.30pm

General discussion aer themeeng

Supper to follow

(NB –Subject to Covid 19 Alert Level2orless)

DEATHS

KEITH, Alistair. — Passed

away, peacefully, on 18.9.2021.

After along battle he is finally at

peace. Much loved husband of

Allison, loved father of Jordan,

loved stepfather of Kristen, Jessi

and the late Steven, loved Gramps

of Ryder and Alex, loved brother

of Rodney, the late Heather,

Sandra and Richard, loved uncle

of Glen and Narelle, Dean and

Brenda, Simon and Stacey.

LIVESTOCK

MIXED aged, crossbred

ewes, with 8week old tailed

and drenched twin lambs.

$250 aset. Ph 03 302 7272

Kindly sponsored by

2419442

ASHBURTON

FANCIERS SOCIETY

Annual General

Meeting

Tuesday,

September 28th,

at 8pm

Tinwald Memorial Hall

Presentationofbalance

sheet and annual report

Electionofofficers

Generalbusiness

Followedbysupper

All members welcome

180216

2414175

2419811

At the Cancer Societyweknowhow acancerdiagnosis can

affectevery aspectofyourlifeand we areheretohelp.

Ourservices arefreeand confidential.

If youorsomeone youcareabout hascancer

please contactusfor supportand information.

Nau MaiKiTeKorero Wewelcomeyour call

2416224

MidCanterburyCentre

Phone: 307 7691

Facebook:@CancerSocietyMC

www.cancernz.org.nz

EnrolmentScheme Notice

To avoid overcrowding, or the likelihood of

overcrowding, the Ashburton Intermediate School

Boardhas implementedanenrolmentschemethat

has been developed by the Secretaryfor Education.

Under this scheme, students will be enrolled

if they live within the home zone described

on the Education Counts Website at: www.

educationcounts.govt.nz and searching 'Ashburton

Intermediate'.

Theenrolmentofout-of-zone students is governed

by the provisions of the Education and Training Act

2020.

The enrolment scheme, which includes aprecise

descriptionofthe home zone,may be viewed at the

school office where copies of the scheme are also

available.

2420780

We can supportyou and

your family to make

everyday count.

Allservices arefree.

ASHBURTON Society of

Arts Early Spring Show,

Short St Studio. Local

members exhibiting. Guest

-Sarah Beal. On now until

17th October. Weekends

11am - 4pm. Other days

when signs out. Enquiries

308 4533. Masks please.

HospiceMid Canterbury

Dealing withalifelimiting illness?

Phone 307 8387 or 027 227 8387 email manager@hospicemc.nz

www.hospicemc.nz facebook hospicemidcanterbury

Dr Christopher McGrath

PhD(Otago), MSc, DO(UK)

Expert

musculoskeletal care for your pain

Consulting Osteopath, Ashburton

Appointments/contactthrough web site

021 0222 6378

www.countrypractice.nz

ASHBURTON A&PSHOWCLOSE OF ENTRIES

Theclose of entries to have been held on the 30th

September and 1st October

at the showgrounds have been postponed until

final closing date of

FRIDAY 8th October10.00am till 3.30pm

under the grandstand at the A&PShowgrounds

Anyenquiries to 308 7908 2420366

2346051

2386391
---
ASHBURTON

Out now ...

Spring 2021 Catalogue

Haveyou

gotyour

copy?

Grab

one

in-store

NOW!

Phone 03 308 5117 l 393 West St,Ashburton

2413586
---
Andrew

Sam James Hamish Andre Kerry Tony

James Hamish Tony Kerry

Jaco Andrew Mike Callum Mitch Kieran Jack Elliot David