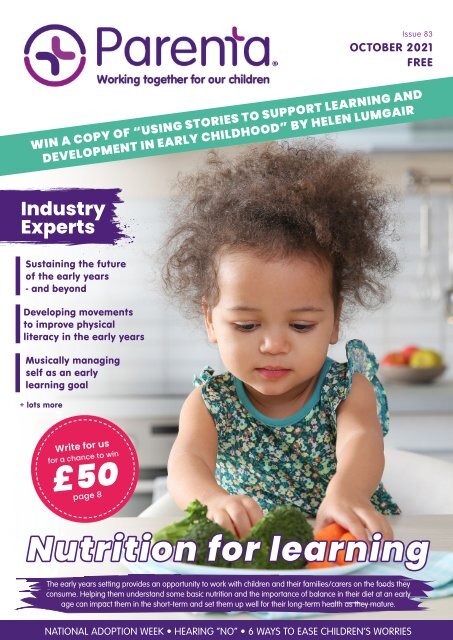 October 2021 Parenta magazine
You also want an ePaper? Increase the reach of your titles
YUMPU automatically turns print PDFs into web optimized ePapers that Google loves.
Issue 83

OCTOBER 2021

FREE

WIN A COPY OF "USING STORIES TO SUPPORT LEARNING AND

DEVELOPMENT IN EARLY CHILDHOOD" BY HELEN LUMGAIR

Industry

Experts

Sustaining the future

of the early years

- and beyond

Developing movements

to improve physical

literacy in the early years

Musically managing

self as an early

learning goal

+ lots more

Write for us

for a chance to win

£50

page 8

Nutrition for learning

The early years setting provides an opportunity to work with children and their families/carers on the foods they

consume. Helping them understand some basic nutrition and the importance of balance in their diet at an early

age can impact them in the short-term and set them up well for their long-term health as they mature.

NATIONAL ADOPTION WEEK • HEARING "NO" • 6 WAYS TO EASE CHILDREN'S WORRIES
---
hello

welcome to our family

JUNE OCTOBER 20202021 ISSUE ISSUE 67 83

IN THIS EDITION

Regulars

Hello and welcome to the October edition of the Parenta magazine!

The year is flying by, and autumn is practically upon us. We can soon look forward to the leaves changing colour and

cosy evenings indoors. Don't forget, the clocks go back at the end of the month, meaning British Summer Time ends -

bringing darker afternoons, but also lighter mornings!

In this month's magazine, don't miss industry heavyweight June O'Sullivan's fantastic article "Sustaining the future of

the early years – and beyond". June gives us the benefit of her wealth of experience and incredible insight into how

we can think more holistically about sustainability - not only just within our settings, but in our own and surrounding

environments too - it's never too late to start thinking about how we can help!

We also welcome with open arms into the Parenta family another new guest author, Helen Lumgair, and we are celebrating with a book

giveaway for you! Turn to page 30 for her "Hope of Story" article where you will be swept away in her fabulous theories of the wonders

of story-telling and be in with a chance of winning her fantastic book "Using Stories to Support Learning and Development in Early

Childhood."

Yet again, we have such a wonderful array of advice this month from so many industry experts: Gina Bale guides us with developing

movements to improve physical literacy, Joanna Grace talks to us about the word "No", Katharine Tate, the Food Teacher, educates us in

nutrition and gives us a very tasty recipe for mackerel pate, Ruth Mercer discusses supervision and how to tackle this potential challenge

in your setting, and Frances Turnbull looks at the ELGs and how to musically manage self.

As always, everything you read in our magazine is written to help you with the efficient running of your setting and to promote the health,

happiness and well-being of the children in your care.

Please feel free to share the magazine with friends, parents and colleagues – they can sign up to receive their own copy here!

Please continue to stay safe everyone and remember to put your clocks back on 31st October!

Allan

12

Domestic

Violence

Awareness Month

In the UK, three quarters of

a million children witness

domestic abuse each year,

which itself can be a form of

emotional abuse.

Hearing "No"

18

No is a very powerful word.

It is especially powerful

to people whose lives are

primarily controlled by

someone else. If you are a

child it is like someone else

makes the decisions.

National Adoption

Week

20

National Adoption Week runs from

the 18th to the 23rd October. Use this

opportunity to discuss any issues

relating to adoption in your setting.

8 Write for us for the chance to win £50!

8 Guest author winner announced

24 Mackerel pate

25 Franky and Fiona, the friendly

Halloween spiders

News

4 Childcare news and views

6 A round-up of some news stories

that have caught our eye over the

month

Advice

12 Domestic Violence Awareness Month

16 Fire Prevention Week

20 National Adoption Week

34 Safeguarding children

Industry Experts

10 Sustaining the future of the early years

– and beyond

14 Developing movements to improve

physical literacy in the early years

18 Hearing "No"

22 Nutrition for learning

26 An introduction to supervision in the

early years

30 The hope of story

32 Musically managing self as an early

learning goal

36 6 ways to ease children's worries

38 Supporting staff with social, emotional

and mental health needs

Musically managing self as an early learning goal 32

Safeguarding children 34

6 ways to ease children's worries 36

Supporting staff with social, emotional and

mental health needs

38
---
Childcare

news & views

Parents' relationships with

children improved during

lockdowns

Research has shown that parents feel that

the COVID lockdowns have improved their

relationships with their children, due to

them being able to spend more quality time

with them at home.

New Children and Families

Minister appointed

During Boris Johnson's cabinet reshuffle

on 15th September, Will Quince, MP for

Colchester, was appointed Children and

Families Minister, taking over the helm

from Vicky Ford, MP for Chelmsford

– now junior minister at the Foreign,

Commonwealth and Development office.

Mr Quince's responsibilities include early

years policy and childcare, free school

meals and children's social care.

On the same day, Nadim Zahawi replaced

Gavin Williamson as the new Education

Secretary, Nick Gibb was replaced by

Robin Walker as Schools Minister and

Gillian Keegan was replaced by Alex

Burghart as Minister for Apprenticeships

and Skills.

Neil Leitch, chief executive of the Early

Years Alliance said, "There is no doubt

that Mr Quince takes up this position at

a particularly difficult time for the early

years sector, with the ongoing funding

crisis, sustained recruitment and retention

challenges, and of course, the continued

impact of the COVID-19 pandemic.

"With the spending review just weeks

away, it's evident that the Department for

Education must do much more to make a

clear, convincing argument to the Treasury

about the need for greater investment

into the early years – and as children and

families minister, it is now the responsibility

of Mr Quince to lead on this work."

Read the full story on the Parenta website

here.

Government to provide early

years funding for language and

numeracy

The government is to provide funding for

specialist training to help 2-to 4-year-olds

with language and mathematic skills, as

part of the early years recovery plan.

The government announced on

6th September that the early years

professional development programme

(PDP) is to be extended to around 50

new local authorities across England in

the 2021/2022 academic year, meaning

that thousands of pre-school children

will benefit from improved language,

numeracy and personal, social and

emotional skills.

The £10 million extension, building on

the £20 million already invested in the

programme since 2019 as part of the

government's efforts to narrow the

attainment gap in the early years, is aimed

at levelling up outcomes for children,

particularly the most disadvantaged,

between the ages of 2 and 4 by providing

high-quality training and professional

development support for staff in nurseries

and pre-schools, or childminders.

Former Children and Families Minister,

Vicky Ford, said; "We know high-quality

early years education can make an

enormous difference to the outcomes of

our youngest children, not just in their

language and numeracy but also their

social and emotional development,

helping to give them the best possible start

to life. This is more important than ever as

we build back from the pandemic."

Read the full story on the Parenta website

here.

Academics at the University of Essex have

found that despite the stresses caused

by the COVID pandemic, families have

largely benefitted from spending more time

together and have reported being surprised

by the love, strength and quality of their

family relationships, with the lockdowns

leading them to not simply survive in the

pandemic but thrive.

Generally, people felt relationships with

their children were better now than they

had been at the beginning of 2020, and

they were optimistic they would continue to

improve – although those with teenagers

reported less satisfaction than families with

younger children.

Research by academics and the charity,

Family Action, based on two surveys

of parents, revealed that despite the

lockdown-related stresses, particularly

around schooling, children's behaviour and

money, the survey findings suggest families

proved "resilient". In total, 1,015 parents

in the UK were surveyed in December

2020 and May 2021 about conflict and

communication within households before

and during COVID.

Dr Veronica Lamarche from the Department

of Psychology at the University of Essex,

said: "The really positive thing we found is

COVID has generally not destroyed families'.

Read the full story on the Parenta website

here.

Schools support during COVID

criticised by Ofsted's Chief

Inspector

Amanda Spielman, Ofsted's Chief Inspector

has spoken out and criticised some

British schools for "putting food donations

over education" during the coronavirus

pandemic, whilst speaking at an event held

by the Institute for Government think tank.

She said that schools prioritised "making

food parcels" and "going out visiting"

disadvantaged children over delivering

remote learning during the first wave of the

pandemic.

Ms Spielman commented that putting a

"great deal of attention into the children

with greatest difficulties" meant that some

schools "didn't have the capacity left" to

ensure all pupils had access to education

during the COVID crisis.

She said: "In a lot of schools, it felt as

though their attention went very rapidly to

the most disadvantaged children, into sort

of making food parcels, going out visiting.

"They put a great deal of attention into the

children with greatest difficulties, which

is admirable but, in some cases, that

probably got prioritised...which may have

meant that they didn't have the capacity left

to make sure that there was some kind of

education offer for all children.

And I think, in those first few weeks, when

it looked as though it might just be sort of

three or four weeks, it was less obvious

to some that they really did need to start

assembling as a full remote education

offering."

Paul Whiteman, general secretary of the

school leaders' union NAHT, defended

schools' "vital work" with vulnerable

children in their communities, arguing that

they "went to incredible lengths in order

to protect and care for pupils in the most

unimaginably challenging of times".

"From the very start of the crisis, staff looked

after the most vulnerable pupils as the

country went into lockdown; they effectively

re-imagined the very concept of 'school'

as they worked to implement a remote

learning offer," he said.

Kelly Hill, Founder of Early Years Leadership

commented: "In early years, we use

Maslow's hierarchy of needs to ensure that

all children have their basic needs met,

knowing that unless these needs are met,

further learning cannot successfully occur.

We therefore agree with Mr Whiteman,and

believe that this vital work in meeting the

basic needs of vulnerable children was and

continues to be paramount."

Read the full story on the Early Years

Leadership website here.

4 October 2021 | parenta.com

parenta.com | October 2021 5
---
A round-up of some news stories that

have caught our eye over the month

Source and image credits to:

Rutland and Stamford Mercury, In Your Area, Nursery

World, Kent Online, Daily Record, Worksop Guardian,

Worcester news

Parenta FREE webinar -

Nutrition in early years

This month our focus was what we

can to give children the best start with

their nutrition. We were joined with our

fantastic guest speaker Katherine Tate,

The Food Teacher, and Kyla and Gill from

Watermead Nursery. In this webinar, we

covered growing children's developing

brain, fussy eaters, educating parents

food activities and much more. Click here

to catch up on the unmissable advice.

Acorn Childcare Centre get a visit

from Stamford Firefighters

The firefighters have been telling the

children about the charity car wash as

well as giving them a tour around the fire

engine and letting them play with water.

Double Award Finalists for

Watermead Nursery!

Staff are bursting with pride at

Watermead Nursery as they become

finalists in two categories for two

separate national award ceremonies.

The 23 Just Childcare nurseries

sold for 34 million in sale-andleaseback

deal

Just Childcare was set up in 2004 and

became one of the largest childcare

groups. The freeholds of the settings are

now owned by LXi REIT.

Ofsted congratulate Kings

Nursery, Sittingbourne, for

remarkable turnaround

The nursery was previously ranked as

'requiring improvement' in 2019 and even

'inadequate' the year before. But after

drastic improvements, has a 'good' rating.

Busy Bees growing their group

even further with 357th setting

set to open in Nottingham

The setting will have the capacity for up

to 88 babies and children and will create

20-30 new jobs when they are fully

occupied.

Click here to send in

your stories to

hello@parenta.com

Wishaw set to open new early

years centre by next summer

The construction work is set to begin in

February and will be re-purposing the

local community centre. Once up and

running, the facility will have 40 spaces

available.

North Anston Nursery are

saved from closure after

uptake of spaces

Two Pollywiggle nurseries were set to

close early this month. However, with

parents taking advantage of available

childcare spaces, the settings are safe.

Outdoor play conference running

on 23rd & 24th November

With outdoor play and provision high on

the agenda, Nursery World has created

a conference with their CPD-certified

programme for 'Outdoor play: priorities,

provisions and practice'.

Blue Giraffe Childcare awarded

'outstanding' Ofsted rating

With overall top marks for quality of

education, behaviour and attitudes,

personal development and leadership

and management, the setting have a lot

to celebrate.

Nursery managers clock up 37

years service of

cherishing children

Shenfield Day Nursery, where children

are cherished, is definitely a special place

and it certainly has some milestones to

celebrate this summer.

6 October 2021 | parenta.com

parenta.com | October 2021 7
---
We're always on the lookout

for new authors to contribute

insightful articles for our

monthly magazine.

Write for us!

If you've got a topic you'd like to write about, why

not send an article to us and be in with a chance of

winning? Each month, we'll be giving away Amazon

vouchers to our "Guest Author of the Month". You

can find all the details here:

Encourage creativity, build agency

and foster positive communication

in children's lives.

"A

powerful

tool."

"Stimulating,

poignant and

inspiring."

Creating sustainable

impact

COHORT #2

Jan 28th 2022

COHORT #3

May 13th 2022

London Early Years Foundation (LEYF) is

excited to launch our new CACHE Accredited

Level 4 qualification 'Sustainability in

the Early Years'.

The qualification is a first for Early

Years. Find out more and enrol by

scanning our QR code.

https://www.parenta.com/sponsored-content/

Available at www.jkp.com and book retailers

greenleyf@leyf.org.uk

leyf.org.uk/sustainability-in-theearly-years/

Green

Congratulations

to our guest author competition winner, Helen Garnett!

NEW BOOK RELEASE!

LYF_Sustainability_Ad_FINAL.indd 1 09/09/2021 12:14

Supporting children with social,

emotional and mental health needs in

the Early Years

Congratulations to Helen Garnett our guest author

of the month! Her article "The significant role of

co-regulation in the early years" explored how vital

co-regulation is for young children and examples of

how to adopt this in nursery settings.

Well done Helen!

A massive thank you to all of our guest authors for

writing for us. You can find all of the past articles

from our guest authors on our website:

www.parenta.com/parentablog/guest-authors

www.soniamainstone-cotton.com

8 October 2021 | parenta.com

| Winner need updating

parenta.com | October 2021 9
---
Sustaining the future of the

early years – and beyond

In the depths of the COVID pandemic, I wanted to (and needed to) look forward. The national

narrative was depressing and hopeless, yet the children in our nurseries were alive and made the

staff feel positive. I wanted to capture that sense of optimism and the children's 'joie de vivre' so

I began writing my new book: 50 Fantastic Ideas for Sustainability (which I co-authored with my

colleague, Nick Corlett) alongside the supporting qualification about the same topic.

At LEYF, sustainability is central to our

social enterprise approach; having a

sustainable business model that means

you can deliver your social purpose in

an environmentally sustainable way.

The slogan you sometimes see is "Profit,

People, Planet".

Every setting needs to ask their own

question about sustainability and start

from there. Change is more successful if

it's small and steady with a plan to embed

it. We have a Sustainability Lead across

the organisation and the idea behind the

qualification was to train an Eco Champion

at each LEYF's 42 nurseries to lead the

change in their setting.

Change is much more successful

when someone desires it and can help

colleagues understand what they need

to know in order to apply it. The Eco

Champion then reinforces this change

with the support of the decision-makers,

usually the managers!

We began our research by examining

the United Nations General Assembly

(2015) Sustainable Development Goals

(SDGs). These 17 interlinked global goals

are designed to be a "blueprint to achieve

a better and more sustainable future for

all" and a helpful framework to align your

own sustainability goals. However, given

there are seventeen – you may choose not

to focus on all of them but on those most

relevant.

1 NO POVERTY 2 ZERO HUNGER 3 GOOD HEALTH

AND WELL-BEING

7 AFFORDABLE

AND CLEAN

ENERGY

13 CLIMATE

ACTION

8 DECENT WORK

AND ECONOMIC

GROWTH

14 LIFE BELOW

WATER

9 INDUSTRY,

INNOVATION AND

INFRASTRUCTURE

15 LIFE ON

LAND

For example, the LEYF business model is

designed to address child poverty (SDG1).

The early years sector all respond to SDG4

requirement for quality education and the

focus of this article aligns with SDG12 and

our impact on the planet from decisions

we talk about, the resources we use, how

we use them and then how we dispose of

our waste.

Remember, every small change that is

embedded is a success, and things will

not slip back. For example, in 2018 we

really examined how we could use our

gardens better. We even wrote a book to

share practical ideas because as nurseries

based all across London, we don't have

huge gardens. Some are quirky, others are

near busy roads, one is on a rooftop and

the other is in a basement. However, we

wanted to do what Thomas Weaver calls

'connect with the poetry of our own back

yards'.

By 2019, we had banned all single-use

plastics such as gloves, aprons and shoe

covers and replaced them with alternatives

but when COVID crashed into our lives all

efforts seemed to halt and plastic was

4 QUALITY

EDUCATION

10 REDUCED

INEQUALITIES

16 PEACE JUSTICE

AND STRONG

INSTITUTIONS

5 GENDER

EQUALITY

11 SUSTAINABLE

CITIES AND

COMMUNITIES

17

PARTNERSHIPS

FOR THE GOALS

6 CLEAN WATER

AND SANITATION

12 RESPONSIBLE

CONSUMPTION

AND PRODUCTION

back with a PPE vengeance. So, we had to

take another path. If we couldn't continue

our changes, then the best way to prepare

is to teach staff to understand what we

could do to make us a more sustainable

organisation. We designed a qualification

in partnership with Cache; the Level 4

Qualification in Sustainability in the Early

Years. So far, 20 staff have completed

it, another 20 have been recruited and

we hope to open up to the sector from

September 2021.

Sometimes all you need to do is re-frame

the way you explain things. For example,

we banned glitter a long time ago.

Why? Because it's very harmful for the

environment, especially as much of it ends

up in the ocean hurting our sea life. When

staff understood this, they became very

creative about alternatives. The thing to

remember in the early years sector is that

we are constantly employing and training

new staff and therefore our explanations

are never finished. Change is continual

so therefore knowledge to reinforce this

change is essential.

To support this, our new book

demonstrates to practitioners that being

sustainable is not complicated and can be

1 Reduce

integrated into every setting's routine and

practice. Some people think young children

are unable to understand about their

environment but I disagree. Children are

much more competent and thoughtful than

we give them credit. Indeed, if sustainable

development is relevant to children's lives,

then we need to prepare them for their

role in dealing with the problems they are

facing.

Teaching children requires adults to be able

to explain things to them using a variety of

tactics. It's about using resources and our

environment as a teaching tool, making

new ideas accessible and interesting

and then scaffolding and extending our

children's abilities and confidence. We do

this in many ways but particularly through

multi-layered cross-curricular activities -

stuff you do every day such as playing,

singing, music, dance, art, conversations,

reading and gardening. The list is endless!

Education is a very powerful pathway to

sustainability, but it depends on adults who

understand how to integrate sustainability

into every element of their leadership,

pedagogy and operational practice. Think

about framing your approach around these

8 R's:

Decrease consumption of food wastage, materials and

resources

2 Reuse Use materials many times and for different purposes

3 Repair Fix things rather than discarding them, or re-purpose them

4 Recycle

5 Rot

6 Respect

7 Reflect

Be aware of alternatives to discarding rubbish and

educate children about the importance and impact they

can have through this

Let things go back to the earth to enrich the next crop of

plants while also providing a habitat for many insects and

small rodents

Nurture an understanding of, and respect of nature and

natural processes and reduce the extent to which they are

violated; show consideration and compassion for people

and animals

The habit/skill of being thoughtful, asking questions and

wondering about experiences

8 Responsibility something worthwhile – be socially and economically

sustainable e.g. fair trade and local markets to promote

Being trusted to take care of something, or to do

community well-being

June O'Sullivan

June O'Sullivan MBE is Chief Executive of

the London Early Years Foundation (LEYF),

one of the UK's largest charitable childcare

social enterprises which currently runs 42

nurseries across twelve London boroughs.

An inspiring speaker, author and regular

media commentator on early years, social

business and child poverty, June has

been instrumental in achieving a major

strategic, pedagogical and cultural shift

for the award-winning London Early Years

Foundation, resulting in an increased

profile, a new childcare model and a

stronger social impact over the past ten

years.

@juneosullivan

Facebook | Twitter | Instagram | LinkedIn

Sustainability is holistic. It is central to the

child's whole experience of life and needs

to be part of a broad and inclusive quality

education. We cannot continue to treat our

planet with disregard and force our children

to inherit the predicted catastrophic 2050.

Those of us leading in ECEC have a duty

to future-proof as much as possible and

should learn how to tread lightly on the

planet. Let's all join together and do our bit.

Every little helps.

10 October 2021 | parenta.com

parenta.com | October 2021 11
---
Domestic Violence

Awareness Month

It's hard to imagine but in this day and age, there are still two women each week who are killed

by a partner or former partner in England and Wales. In the Northeast, the area with the highest

recorded rate of domestic abuse, there are an average of 253 incidents every day. Over the course

of the pandemic, cases of domestic abuse have increased globally by approximately 20% as many

women have been trapped at home with their abusers with no escape. But it's not just women

who are victims; many men can be victims too, and in the UK, three quarters of a million children

witness domestic abuse each year, which itself can be a form of emotional abuse on the child.

Children are also affected by

domestic violence

Whilst we can understand that physical

or sexual abuse can severely affect the

physical and mental health of the victim,

we need to also understand the effect that

domestic violence can have on any children

living under the same roof. They can react

in many different ways, for example, they

may:

• Feel frightened, insecure or confused a

lot of the time

• Keep their feelings to themselves

• Struggle to cope with their emotion

or experience emotional outbursts

themselves

• Become withdrawn and socially

isolated

Children who witness domestic violence are

themselves victims of a type of emotional

abuse and need our help to safeguard

them too. All children who experience

domestic abuse will be living under high

levels of stress for much of the day and

these adverse childhood experiences (ACEs)

can impact on their own behaviour and

well-being. As nursery professionals, we

should be trained to look out for changes

in behaviour as part of our safeguarding

training and to report any concerns to our

DSL (Designated Safeguarding Lead).

Some of the behavioural aspects you may

notice in children can include:

Help is available

In 2020, the Home Secretary announced a

new campaign to tackle domestic abuse

and provided an additional £2 million to

help support domestic abuse helplines and

online support in response to increased

demand. They set up the Refuge helplines

and website where people can find out

more about help services. There is also

a free-phone 24-hour National Domestic

Abuse Helpline on 0808 2000 247. The

campaign uses the hashtag #YouAreNot

Alone, aiming to reassure victims that help

will be available when they need it.

2. Raise awareness of the issue of

domestic abuse within your setting or

community by joining in a campaign or

setting up your own event

3. Raise money for a related charity or

helpline so that more people can

receive support

4. Collect and donate goods and toys to a

local women's/men's refuge

5. Be sensitive to any child, adolescent

or adult you know who may have

experienced domestic abuse in the

past

Each year, October is internationally

recognised as Domestic Violence

Awareness Month. It began in the USA

in 1981 and aims to raise awareness of

the problem and highlight the help and

support that are available to victims,

women and men. Domestic violence is

a problem that affects people from all

religions, races, culture and status, which

is why it is so important to highlight the

issues.

What is domestic violence?

Domestic abuse/violence is defined

as a "systematic pattern of behaviour

on the part of the abuser designed to

control his or her partner." Anyone who is

forced to change their behaviour, or who

changes their behaviour because they are

frightened of their partner or ex-partner's

reaction, is experiencing abuse. The abuse

can take many different forms and can

happen to anyone regardless of gender,

sexuality, religion or status, although, it is

also important to acknowledge that most

domestic abuse is carried out by men and

is experienced by women.

Physical violence is often the first type of

domestic abuse that people think of, but

domestic abuse can also be emotional,

psychological, financial or sexual and it

can start at any stage of a relationship.

Domestic violence is also rarely a one-off

event, and many victims report incidents

becoming more frequent and more

severe over time. What's also important

to remember is that domestic abuse and

domestic violence are illegal, and they are

never the fault of the victim, who will often

need a lot of support, understanding and

a safe place to live in order to escape the

bonds of a violent domestic situation.

Domestic abuse is associated with

anxiety, depression, substance misuse

and PTSD, and studies suggest that

women experiencing domestic abuse

are more likely to suffer from a mental

health condition; and women with a

mental health condition, are more likely to

experience domestic abuse.

• Bullying or aggressive behaviours

• Tantrums

• Speech problems or difficulties with

learning

• Inability to concentrate

• Attention-seeking behaviours

• Nightmares or difficulty sleeping

• Bed-wetting

• Extended periods of illness

• Anxiety and depression

• Irrational fears

• Withdrawal

Some people mistakenly believe that all

children who experience domestic violence

will themselves grow up to be perpetrators

or victims later in life, but this is not true.

With love and support, a lot of children can

transcend these early experiences and lead

happy and fulfilled lives as adults. Others

may need more sustained or specialist

support over a number of years.

What is less well known, is the time that

it takes for victims to come forward.

According to the charity SafeLives, highrisk

survivors live with domestic abuse

for over 2 years before getting help, and

medium-risk survivors for 3 years. They

report that on average, people experience

a staggering 50 incidents of abuse before

seeking effective help.

How can you help in your

setting?

There are a few ways that you can help

in your setting, which fall under different

categories of support.

1. Be alert to the signs and symptoms

that children, parents or even staff

members may be experiencing

domestic abuse, and offer them

guidance and support, referring any

safeguarding concerns to your DSL

immediately

Remember, if you think or know someone is

being abused, it is better to speak up than

say nothing. If you are wrong, then there's

no harm done, but if you are right, you

could save someone's life.

Help and support

Freephone 24-hour National Domestic

Abuse Helpline: 0808 2000 247

or visit www.nationaldahelpline.org.uk

(access live chat Mon-Fri 3-10pm)

https://domesticviolenceuk.org/

https://safelives.org.uk/

12 October 2021 | parenta.com

parenta.com | October 2021 13
---
Developing movements to improve

physical literacy in the early years

Movement is for ALL children and sometimes they just need a little extra assistance,

and their goals and level will vary and that's OK!

So, with this in mind here is your super-fast, 3-minute guide

Scaffold their learning: see what they

can achieve alone and what they can

achieve with adult and peer support.

Model correctly: Children will copy you

and when you model correctly, you are

helping them build the right pathways

as they lay down the myelin on the

connections in the brain. Do take a peek at

the article "Meeting myelin" in the August

issue of Parenta Magazine to see how

important this is.

pathways for the action. To give you an

example when a child is trying to stand and

balance on one leg, and they are wobbling

around, that is the core trying to adapt to

keep them upright. The body is learning

how stabilise by finding its centre to remain

upright.

For a little extra assistance:

Let them push down on the palms of your

hands to get off the floor – mind your

heads!

1. Let's get back to

basics

Before children can sit upright

and move, they need to

develop their core muscles.

2. What is the core?

The core is made up of the

muscles in the trunk of the

body. These muscles act like

a corset protecting the lumbar

spine, and it is the function of

the muscular system to protect

the articular structures in the

body. The core includes the

deep stabilisers in the spine

which wrap all the way around

to the anterior abdominal

wall. The anterior abdominal

wall includes three layers of

flat muscle, the transversus

abdominis, internal and

external obliques. Everything

you need to be upright, twist

the body, bend sideways,

forwards and backwards.

3. What can I do to

help?

For the little ones

One of the first things to help

little ones develop these

muscles is to ensure they have

enough tummy time. Tummy

time is vital as it helps develop

the muscles in the back, neck,

arms, and legs and allows

them to practice their reaching

(stretching) and pivoting

skills. All of this is a precursor

to crawling and walking.

Research shows that a lack of

tummy time can delay children

from reaching their physical

developmental milestones.

For the older ones

Include as many activities

as possible, that encourage

children to use large body

movements (gross motor skills)

which in turn will help them

build their core strength and

improve fitness levels.

4. Why are some

children more

physically able than

others?

Physical literacy (movements) is

a combination of the strength

of the bodies core and myelin

development. The connections

in the brain need to be there,

as the core continues to

develop, for the child to be

able to progress and develop

their physical literacy.

Core stability is vital for all

activities, and we need to

do all we can to help them.

Don't forget they need that

core strength to help get them

Walking with assistance

Walking alone unaided

Walking up and down with

assistance

Walking up and down stairs

holding a rail

ready to write as it's all about

the strength and control of the

motor skills both 'gross' and

'fine'.

Movement of the

month: Jumping

Have you ever thought about

how much strength it takes a

little body to be able to jump

off the ground?

Try this: Bend over so you are

looking at your knees. Relax

your muscles, without falling

over, so you are nice, floppy,

and very relaxed. Now try to

jump. What did it feel like?

Did you know there are

4 types of jumps for

little ones to master?

2 to 2 (jumping from two feet

to two feet)

2 to 1 (jumping from two feet to

one foot)

1 to 2 (jumping from one foot to

two feet)

1 to 1 (jumping from one foot to

one foot)

What to think about

when they are ready

to jump?

Remember they need to go

down before they can go up!

Using the knees: All jumps

start and end with a bend

in the knees. This protects

the spine as the knees are

working as a shock absorber.

Using the feet: As you

land from any jump you go

through your feet, from your

toes distributing weight evenly

through the foot all the way to

the heel.

NOTE: Don't land on your

heels and especially with

straight legs as this will jar

delicate knees and spine

including yours and you will

end up on your bottom!

Developmental progress of "Transfer of weight" from 1-5 years

1

2

3

4

5

Walking up and down stairs

Some already jumping from two feet

Able to hop on one foot

Some will be able to do multiple hops

Standing on one leg balancing securely

Some able to leap and land on one leg

Your pathway to success

When they are showing interest in leaving

the ground, with two feet, it means they

are ready to jump. This is such a fun and

exciting time to enjoy together. Encourage

them to actively jump by:

1. Blowing bubbles for them to reach up

and catch and on the ground to stomp

on.

2. Sing fun action songs together that

practises bending and stretching the

knees.

3. Lift them off the ground so they can feel

the movement of going up and down

to see how much fun it is. When it's

fun they will want to do it themselves.

Note: Don't forget to bend your own

knees and mind your back!

4. Hold their hands as they start to

jump as it is all about support and

confidence.

NOTE: If they fall over don't worry, make

it fun and fall with them so they know it's

OK not to get it right to start with. Falling

is a part of the learning process as this is

how the body and the brain learns. With

every new movement, the body and brain

are assessing what is happening and how

to keep you upright, while creating new

Holding your fingertips with both hands,

and then one hand, so they are doing all

the work but feel supported by you.

It takes confidence to jump as there is a lot

going on in the body to defy gravity and

get off the ground. It can be scary for some

children, so be patient and they will jump

when they are ready.

Make it fun

Be creative and imaginative in revisiting

the movements by being different animals.

Find your inner child and use props to

encourage and engage by using chalk lines

or spots on the floor to jump on, over or

across. Blow bubbles, as who doesn't love

reaching, jumping, and catching bubbles?

Animal ideas for the 4 different

types of jumps

2 to 2: Take a trip to Australia and jump

with a kangaroo.

1 to 1: You have taken a rocket to space and

leap from star to star looking for aliens.

2 to 1: Trying to cross the Amazon river and

standing on one side ready to jump across

as the jaguar is waking up. Don't fall in -

the piranhas are hungry!

Gina Bale

Gina's background was originally

ballet, but she has spent the last 27

years teaching movement and dance

in mainstream, early years and SEND

settings as well as dance schools.

Whilst teaching, Gina found the time to

create the 'Hi-5' dance programme to

run alongside the Australian Children's

TV series and the Angelina Ballerina

Dance Academy for Hit Entertainment.

Her proudest achievement to date is her

baby Littlemagictrain. She created this

specifically to help children learn through

make-believe, music and movement.

One of the highlights has been seeing

Littlemagictrain delivered by Butlin's

famous Redcoats with the gorgeous

'Bonnie Bear' on the Skyline stage.

Gina has qualifications of teaching

movement and dance from the Royal

Ballet School, Trinity College and Royal

Academy of Dance.

Use the code 'PARENTA' for a 20%

discount on Littlemagictrain downloads

from 'Special Editions', 'Speech and

Language Activities', 'Games' and

'Certificates'.

1 to 2: Join a polar bear as he balances

on the top of an iceberg looking for

somewhere safe to land.

Please share your ideas and

experiences with me as would love to

know what works for you. Find me on

Facebook or Instagram

@Littlemagictrain as would love to

connect.

14 October 2021 | parenta.com

parenta.com | October 2021 15
---
Fire Prevention Week

One of the things that we as practitioners worry about a lot is how we can keep the children in our care

safe. You can see our Safeguarding article on page 34 for more information about how to look after

safeguarding more generally in your setting. But in this article, we are going to look into the issue of

fire and how we can use this year's Fire Prevention Week to not only keep our children safe, but spread

the word about fire and some of the danger it holds for younger children.

14. Use a childproof fireguard in front of an

open fire or heater

15. Teach children about the dangers of

playing with matches and ensure all

fire hazards are safely locked away

from little fingers

16. Cover all plug sockets with safety

covers

17. Ensure your staff are trained in how to

treat paediatric burns and scalds with

first aid and keep their training up-todate

with regular revision sessions

18. Make sure you keep children away

from dangerous items by locking these

items in cupboards with childproof

locks

Fire Prevention Week runs from the 3rd

– 9th October 2021 and is an American

week aimed at fire prevention. In the

UK, a national fire prevention week has

been superseded by an array of specific

awareness days and weeks such as Fire

Door Safety Week, Electrical Fire Safety

Week, as well as Chimney Fire Safety

Week.

It doesn't really matter however, because

fire safety is important to everyone

wherever they are in the world, and the

recent tragedy of the Grenfell Tower fire

should be enough to alert us all to the very

real dangers that fires still pose, even in

modern Britain. Following investigations

into Grenfell, there have been changes

to legislation related mainly to residential

buildings which require more rigorous fire

safety checks and risk assessments for

different materials on these buildings. And

although they mainly relate to residential

buildings, you cannot be too careful when

if comes to fire safety, so it may be time to

revisit your settings' fire risk assessment as

a matter of course.

Why teach fire safety?

Many young children do not recognise

the dangers that fire poses to them, and

children are one of the groups with the

highest number of fire-related deaths

each year with approximately 500 deaths

a year in the under-14 age group. Many

deaths are caused by smoke inhalation

where little lungs are more affected than

adults. Children under 5 may not be able

to escape from a fire themselves and

may instead, head to a favourite place

of 'safety' such as under a bed or in a

cupboard instead of leaving the building.

Older children may feel the need to return

to a building if they have left something

like a favourite toy or pet behind. For all

these reasons and more, children need to

be taught about fire safety early – what

they can do to prevent fires, and what they

should do in the event of a fire.

If you visit the US Fire Prevention Week

website, you will find lots of useful

information and advice on how you can

introduce the topic into your setting and

although they have an American focus,

there are still many useful resources and

games that you can adapt for UK settings.

Some basic fire checks and

procedures you should do

regularly

1. If you hear a fire alarm, get out and

stay out – dial 999!

2. Ensure all your fire exits are well

signposted, have backup power

lighting and are not obstructed in any

way

3. Teach children how to raise the alarm

in the event of a fire

4. Test smoke alarms regularly, at least

once a month – most fire brigades

recommend a sealed ten-year unit

so that you don't need to change

the batteries, but if you don't have a

sealed unit, you need to remember to

change the batteries once a year

5. Keep paper stacked neatly and try to

avoid having too much waste paper in

one place so empty bins regularly

6. Run fire drills especially at the nursery

and make sure everyone knows

where to meet – ensure too that you

have dedicated fire marshals, readily

available registers and people to take

them, as well as escape plans for

anyone who may not be ale to walk

out easily, such as a wheelchair users

or those with impaired mobility

7. Ensure that you have a fire drill

procedure for children with special

needs – this might involve have a code

word/visual signal rather than a loud

alarm or ensuring that there are ear

defenders for children if they need

them

8. Encourage your families to have a

plan and to practice fire evacuation

procedures at home

9. Check fire doors – make sure they

close properly and never prop them

open

10. Teach children about the risk of fire or

burns/scalds in a kitchen and keep all

hot items out of reach of children

11. NEVER leave children alone with a fire

risk

12. Teach children what to do in the event

of a clothes fire such as "stop, drop

and roll" technique and the dangers of

smoke

13. Don't overload sockets and check

plugs and sockets for electrical fire

safety. It's best to turn electrical items

off at night rather than leaving them on

standby – it's safer and also uses less

energy

19. Remember to check doors for heat

before opening them

20. Crawl near the ground if in a fire to

avoid toxic smoke and fumes

These are just some of the things that you

might consider teaching or going over in

your setting, but there are a lot more things

that you can cover too. Think about:

• Candle safety

• Bonfire night fire safety

• Garden fire safety

• Christmas lights fire safety

• Burn and scalds awareness

There are some good ideas about how

to engage children in fire safety at the

website fireangel.co.uk including a list of

some child-friendly videos. Your local fire

station will also be involved in prevention

advice and you may be able to arrange a

visit to your setting along with some useful

educational sessions or fire alarm checks.

16 October 2021 | parenta.com

parenta.com | October 2021 17
---
Hearing "No"

"Put your coat on"

"No"

"Put your coat on, you have to, it is cold

outside."

"No!"

What do you do next?

"Eat your vegetables"

"No"

"Eat your vegetables, you have to, they are

good for you."

"No!"

What do you do next?

"Get down from there."

"No"

"It's dangerous. Get down from there. You

might fall."

"No!"

What do you do next?

'No' is a very powerful word. It is especially

powerful to people whose lives are

primarily controlled by someone else. If

you are a child it is likely that someone

else decides when you go to bed, when

you get up, when you eat, what you eat,

what you do and so on.

Perhaps you have heard someone say "I

just can't say 'no'." My bet is that they are

an adult fully in control of their lives.

Consider the experience from the point

of view of the child, after the 'what

happens next?'. If in each case their no is

ignored: their coat gets put on anyway, the

vegetables are spooned into their mouth,

they are lifted down from the top of the

wall. What does that teach them about the

power of their spoken 'no'?

What they learn is that saying "no" doesn't

work.

What comes next makes logical sense.

If you want to say "no", but saying "no"

doesn't work, then you move on to

showing 'no'. Perhaps you shout, perhaps

you pull away, perhaps you lash out, you

kick, you punch.

Isn't it an interesting position we find

ourselves in as the adults in these

conversations? Each one is justifiable. They

do need their coat on. They should eat

their vegetables. And they must get down

before they fall.

But it is important that children learn that

saying "no" works.

We do not want them to learn that

escalating their 'no' works. That is, we

do not want to change our position in

response to the 'no' being shouted. We

understand that if we crack once, then

they are much more likely to learn that

shouting is a way to get their own way.

We have to take a step back. Is our aim to

teach them that adults are in charge and

they should do as we say because we are

right? Or is our aim to guide their decisions

about their own life and keep them safe? It

is the latter of course!

Direct instructions are an easy first option,

if the child puts their coat on, eats their

vegetables and gets down from the wall

we've kept them safe and warm and fed

them a healthy diet. Oh if only it were so

easy!

As wonderful as a child that follows

instructions without quibble sounds, just

consider for a moment the dangers that

might lie in such compliance for them in

the future. We want them to question, to

consider, to reason, and to know how to

say "no" should they ever need to, and to

have the expectation that their 'no' will be

heard and respected.

We are the adults and are in a position to

reflect. It is useful to let spoken 'no's work

on occasion. If you know the child ate lots

of vegetables at lunch time and really

genuinely hates broccoli, then perhaps this

exchange could be:

"Eat your vegetables"

"No"

"Oh, you don't want to eat these? They are

good for you." (Saying "you don't want to"

is important as it underlines that you have

heard and understood what they meant

when they said "No")

"No"

"Hmm, well you did eat lots of vegetables

at lunch time so I think it would be okay for

you to leave these."

We are not simply letting the child get their

own way, we are picking times when it is

appropriate to teach them that their verbal

'no' is powerful, and should be respected.

If we are not in a situation where this

is appropriate we can use other work

arounds so that the situation doesn't lead

to a stand-off. Choices and control are a

powerful tools for doing this.

Choice:

"It is dangerous up there, do you want me

to lift you down or can you climb down on

your own?"

(Whatever their answer, the result is you

directed them to get off the wall).

Control:

"It's very cold outside. Brrr! When we go out

there we will feel cold. What can we do to

stay warm?" (Giving the lead up information

about how we will feel outside, and using

expressions like "Brrr" to give the child

time to consider what we are saying, is

important before leading into the question).

"We could wear a coat!"

"Good idea! Where are our coats?"

A child saying "no" is not naughty and

defiant, they are road testing a skill you

want them to have. Hearing their 'no's and

teaching them their effectiveness is a part

of keeping them safe.

Jo provides in person and online training to

settings looking to enhance their inclusive

practice. For more information visit www.

TheSensoryProjects.co.uk where you can

also find resources to help you include

children of all abilities. Jo is active on social

media and welcomes connection requests

from people curious about inclusive

practice.

Joanna Grace

Joanna Grace is an international

Sensory Engagement and Inclusion

Specialist, trainer, author, TEDx speaker

and founder of The Sensory Projects.

Consistently rated as "outstanding" by

Ofsted, Joanna has taught in

mainstream and special school settings,

connecting with pupils of all ages and

abilities. To inform her work, Joanna

draws on her own experience from her

private and professional life as well as

taking in all the information she can

from the research archives. Joanna's

private life includes family members

with disabilities and neurodiverse

conditions and time spent as a

registered foster carer for children with

profound disabilities.

Joanna has published four practitioner

books: "Multiple Multisensory Rooms:

Myth Busting the Magic", "Sensory

Stories for Children and Teens",

"Sensory-Being for Sensory Beings"

and "Sharing Sensory Stories and

Conversations with People with

Dementia". and two inclusive sensory

story children's books: "Voyage to

Arghan" and "Ernest and I". There is

new book coming out soon called '"The

Subtle Spectrum" and her son has

recently become the UK's youngest

published author with his book, "My

Mummy is Autistic".

Joanna is a big fan of social media and

is always happy to connect with people

via Facebook, Twitter and LinkedIn.

Website:

thesensoryprojects.co.uk

18 October 2021 | parenta.com

parenta.com | October 2021 19
---
National Adoption Week

Depending on which statistics you read,

there are between 2,000 and 6,000

children in the UK who need adopting at

any one time. Many are sibling groups

who need to be adopted together, which

often makes it more difficult to find the right

adoptive parents. The latest Government

data 1 reports that 3,440 children (who

had previously been looked after), were

adopted in the year ending March 31st

2020. This was down 4% on the previous

year and continues a downward trend

since the peak in adoptions in 2015. With

approximately 80,000 children in care at

any one time, there is an urgent need for

people to come forward to redress the

balance.

In response to this falling adoption

rate, the Government has launched a

new nationwide campaign which is

being delivered by a group of Regional

Adoption Agencies, Voluntary Adoption

Agencies and key stakeholders working

in adoption in England. It is supported

by the Department for Education and

aims to tackle and dispel some of the

myths around who is eligible to adopt

and what the adoption process entails.

It is using the hashtag #YouCanAdopt to

raise awareness and National Adoption

Week 2021 is the perfect platform to raise

awareness and highlight the plight of

would-be adoptees who are waiting too

long for their 'forever families'.

National Adoption Week runs from the

18th to the 23rd October, the week before

half-term in many English schools and

nurseries, so you can use the week to

discuss a number of issues in your setting

relating to adoption, since it is not just

the time delay or the shortage of suitable

parents that is of concern. There is still a lot

of stigma associated with adoption with

many adopted children reporting being

bullied at school because of their status.

There are issues related to the lack of

people from diverse ethnic backgrounds

who put themselves forward as potential

parents, and an increasing number

of barriers that people believe exist to

adoption including worries about:

• Finance

• Marital status

• Sexual orientation

• Size of house

• Work status

• Age

• Health

The truth about adoption

In reality, there are only a few things

you need to become an adopter. These

include:

• The ability to provide the love, time

and commitment a child needs which

can vary depending on their age

• The ability to empathise with children

who may never have experienced the

security of feeling loved or safe before

• The patience, flexibility, energy and

health to be there for the child as

long-term parents whatever comes up

This means that each year there are

single-parents, same-sex couples and

working people who adopt. In early years,

we are trained to work with children from a

variety of stances, so this year, why not ask

yourself and your staff whether adoption

might be something they could think more

seriously about?

Ethnic diversity issues

Research shows that children from

black and mixed-heritage backgrounds

wait longer to be matched with a new

adoptive family than those from Caucasian

backgrounds. This could be due to a

number of factors that the government is

trying to address. Research also suggests

that attitudes towards adoption from

black communities are positive with 80%

of people from these communities stating

that they have either adopted, considered

or would consider adopting a child in the

future.

Events within National Adoption Week

and Black History Month (which also runs

in September), aim to focus on recruiting

potential parents particularly from these

groups.

The adoption process

There are 4 main stages in the adoption

process after people initially explore and

find out about adoption. These are:

1. Initial checks and registration

2. Training and assessment

3. Matching parents to the right child

4. Child moves in

It can take between 6 months and a year

for these processes to be completed so

patience is necessary when beginning the

adoption process. But when you think about

it from a child's perspective, the average

number of days that a child waits between

entering the care system and moving in

with their adopted family is 459 days, so it

takes time to match people with the right

families, but this shouldn't put you off.

How to promote National

Adoption Week in your setting

1. Raise awareness

Spread the word and raise awareness

of the issues around adoption with your

parents and staff by putting up posters and

giving out information about who to contact

or where to find out more information.

2. Address the stigma head on

Tackle some of the stigma associated with

adoption by talking about it to the children

in your setting. You will need to take a

positive and understanding approach

to this and be aware of any child in your

setting who is either adopted or in the

care system who may be affected by this

topic. You can introduce it gently by talking

about the different families that people

have and using story-time and storybooks

such as "Finding a family for Tommy" by

Rebecca Daniel or "The Teazels' baby

bunny" by Susan Bagnall. There are a lot

of books about adoption and fostering for

both children and adults on the Coram

BAAF website at https://corambaaf.org.uk/

bookshop.

3. Upskill your staff

Train your staff in some of the issues faced

by adopted or fostered children so that they

can better understand and support them.

Many children who have been in the care

system or have been adopted have first

suffered adverse childhood experiences

(ACEs) which can have a profound effect on

their development and behaviour. A lot of

these issues such as attachment disorders,

FASD (foetal alcohol spectrum disorder)

and the effects of early childhood trauma

are not generally well understood by the

general population and these children are

often labelled as 'naughty' or 'disruptive'

when they are only trying to cope with

situations that make them anxious or cope

with their state of perpetual high anxiety,

neither of which is their fault or their

conscious choice.

Whatever you do, remember that the

children who need adopting are vulnerable

and need adopting through no fault of

their own. But with love, attention and a lot

of patience and understanding from the

adults around them, they can start to get

their lives back on track and fulfil their true

potential.

More information

For more information see the adoption

agencies below:

England - First4Adoption

Wales - The National Adoption Service

Scotland - St Andrews Children's Centre

Northern Ireland - Health and Social Care

(HSC) Adoption & Fostering

References:

1. Children looked after in England

including adoptions – reporting year

2020. Available at gov.uk

20 October 2021 | parenta.com

parenta.com | October 2021 21
---
Nutrition for learning

Children tend to be naturally inquisitive

and boundless in their approach to

understanding the world around them and

learning new concepts. The early years

setting provides an opportunity to work

with children and their families/carers on

the foods they consume. Helping them

understand some basic nutrition and the

importance of balance in their diet at an

early age can impact them in the short

term, as well as setting them up well for

their long-term health as they mature.

Both factors are also fundamental to

behaviour, as a child who can focus for

even short periods of time, will be able to

engage with new experiences which will

assist their processing, understanding

and ultimately, their progress and

development.

The developing brain:

Brain structure is laid down by both

genetics and environmental factors such

as food, learning and exercise. Early

nutrient deficiencies can impact on the

growing brain and an awareness of key

nutrients for brain development can be a

factor that parents/carers can influence

and therefore can help support optimal

brain health for their child/children. Brain

development is on-going in line with its

amazing plasticity, though significant

stages of brain development include

the third trimester until age 2, when

the brain undergoes rapid-growth, and

adolescence, when the brain undergoes

pruning.

From birth to 6 years old, socialisation,

cognitive, motor, communication and

emotional development is the focus. From

7 to the mid 20s the connections further

develop to establish faster signalling, selfcontrol

and decision making, which are the

last areas to mature.

Key brain nutrients

The development of the brain thrives on

food diversity and requires a wide range

of nutrients, while there are some key

nutrients that play a larger role, which

include:

Protein

Protein provides the building blocks for

brain structure and maintenance and

is also essential for neurotransmitter

production, which influence mood,

thoughts and facilitates the communication

between the cells of the nervous

system. A reduction in protein may

lead to smaller brain growth, so protein

should be included in each meal with a

recommended intake of between 15 to 28g

a day depending on the age of the child.

Focus on: Eggs, fish, meat, nuts, seeds,

legumes and lentils.

Fats (omega-3)

The brain's dry weight is made up of

60% fat. Fats are essential for all cell

membranes, cognitive function and

mood. 25% of the brain's fat is made

up of the omega-3 fatty acid, DHA,

which is essential for structure, function,

metabolism of glucose and for reduction

of oxidative stress. Supplementation

throughout childhood, has shown

improved cognition, focused attention,

and a profoundly positive effect on

neurotransmitters and mental health. It

has also been linked to decreased neurodevelopmental

disorders, lower rates of

allergies, atopic conditions and improved

respiratory health. There is also some

evidence it can improve sleep quality and

duration.

Focus on: Eggs, fish, meat, nuts, seeds

and avocado.

Supplement: As the body relies on

dietary sources, it is worth considering/

suggesting to parents an omega-3 fatty

acid supplement for your/their child/

children high in DHA and EPA.

Carbohydrates

Carbohydrates provide glucose and fuel

for the brain but carbohydrates such

as white bread, rice and sugary foods

rapidly convert to glucose and can have a

detrimental impact and negatively affect

glucose metabolism. Regulating blood

glucose levels is important for mood and

concentration and will also have an antiinflammatory

effect.

Focus on: Slow release carbohydrates

such as wholegrain options (oats, brown

rice, wholewheat/seeded bread), include

protein with carbohydrates at mealtimes

and/or increase vegetable consumption.

Swapping beige foods for green can help

to increase vegetables. Try alternatives

such as courgette/carrot spaghetti, sweet

potato noodles, cauliflower rice or bean

mash.

Iron

Iron increases brain energy production

and is required to supply oxygen. The

relationship between iron and cognitive

performance has been well researched,

so if there are any concerns abut a child's

development it's worth suggesting they

are checked for anaemia.

Focus on: Meat, eggs, quinoa, grains,

legumes, lentils and broccoli. Eating these

with vitamin C rich foods, such as peppers,

sweet potato and tomatoes will support

absorption.

Iodine

Iodine is required for the synthesis of

thyroid hormones, which regulate the

body's metabolic rate, heart and digestive

function, muscle control and brain

development. Any deficiency can impact

on brain growth, signalling and brain

weight. Low levels of iodine have also been

associated with learning difficulties.

Focus on: Sea vegetables (samphire, kelp),

yoghurt, eggs, tuna, cod, salmon and

strawberries.

Zinc

Zinc is abundant in the brain and

contributes to both structure and function

including neurotransmitter release and

the development of the hippocampus for

learning and memory. Several studies

suggest supplementation may impact

on cognition, motor development and

memory, specifically during puberty.

Focus on: Meat, seeds, nuts, lentils,

legumes, quinoa and fish.

Blood sugar balance

A key factor for concentration is ensuring

meals and timings support a balanced

blood sugar. If a child's blood sugar peaks

and troughs this can have a dramatic affect

on their concentration and ultimately their

behaviour. Therefore breakfast is key to

starting the day and appropriate snacks,

which contain both protein and fibre

throughout the day also support to keep

levels even.

Anti-nutrients

Anti-nutrients are factors, which may have

a detrimental affect on brain health for

some individuals. These include trans fats,

gluten, artificial sweeteners, high sugar,

caffeine, and high toxin exposure (cigarette

smoke, household chemicals, toiletries

etc.).

Lifestyle

Lifestyle factors that support brain health

include keeping well hydrated, getting

adequate sleep, exercise and learning.

How?

Within early years settings a project about

'Feeding my growing brain' can be an ideal

opportunity to talk about what the brain

does and introduce key foods and lifestyle

factors that support the brain to grow and

develop.

A simple and delicious brain food recipe to try in your setting

is Mackerel pate - see page 24 to make it yourself!

Being informed of all these factors such

as key nutrients, blood sugar balancing,

lifestyle factors and anti-nutrients can

support early years settings to educate

children and families and ultimately

support optimal brain development,

increased concentration and learning.

For more food fun in your setting, sign up to

the Youngest Chef Award. This award is for

Early Years Foundation Stage pupils (ages

3-5) and is written by teachers for early

years practitioners/teachers. It is designed

around the popular children's book "The

Very Hungry Caterpillar" by Eric Carle

Katharine Tate

The Food Teacher Founder and

Director, Katharine Tate, has worked

as a teacher and education consultant

internationally in primary and secondary

schools for over 20 years. Qualified as

an award winning registered nutritional

therapist, Katharine, combines her unique

education and nutrition expertise to

offer schools, organisations and families

advice, education programmes, practical

workshops, and individual/family clinical

consultations. She has written and

published several books: "Heat-Free &

Healthy", the award-winning

"No Kitchen Cookery for Primary Schools"

a series of Mini-Books and has also

co-authored the award-winning "Now

We're Cooking!" Delivering the National

Curriculum through Food. She has also

launched a programme of Young Chef

awards for schools, which support delivery

of the curriculum and nutrition. In

2019, over 4,000 children completed the

awards across the UK.

LinkedIn | Twitter | Instagram

and has been developed and launched

by The Food Teacher. The award is a

'Mini Muncher Challenge', which can be

delivered across 5 sessions (every day over

a single week or once a week over a 5

week period) with 50 minutes of planned

teaching time each session. Find out more

at; https://youngest.youngchefoftheyear.

com/

22 October 2021 | parenta.com

parenta.com | October 2021 23
---
Mackerel pate

By The Food Teacher

Franky & Fiona,

the Friendly

Halloween spiders

You will need:

• 1 mackerel fillet (tin)

• ½ lemon or lime

• 12 fresh chives

• 2 tbsp. sour cream/Greek

natural yoghurt/soya yoghurt

Instructions:

1. Squeeze the lemon/lime to remove the juice.

2. Flake the mackerel using a fork into the mixing bowl

(check for bones).

3. Cut the chives using the scissors.

4. Mix the chives, lemon/lime juice and cream with the

mackerel.

5. Mix thoroughly.

6. Spoon into your serving bowl.

7. Serve with oat cakes, carrot sticks, cucumber sticks

and/or celery.

Instructions:

1. Paint the bauble using black paint and then wait for it

to dry.

2. Fold the pipe cleaners in half and shape them to

resemble spider's legs (see the photos).

3. Push the pipe cleaners into the sides of the bauble,

doing two on each side.

4. Glue the eyes on the top of the spider.

5. You are done! Happy Halloween!

You will need:

• Styrofoam baubles

• Pipe cleaners

• Black paint + paintbrush

• Googly eyes

24 October 2021 | parenta.com parenta.com | October 2021 25
---
An introduction to

supervision in the early years

Securing a robust supervision system into each settings practice is a challenge, yet it is a key

component to our work for many reasons. The role of supervision in early years settings

remains a requirement in the latest statutory framework for the EYFS.

Providers must put appropriate

arrangements in place for the supervision

of staff who have contact with children

and families. Effective supervision provides

support, coaching and training for the

practitioner and promotes the interests

of children. Supervision should foster

a culture of mutual support, teamwork

and continuous improvement, which

encourages the confidential discussion

of sensitive issues. (Statutory framework

for the early years foundation stage, Sept

2021 paragraph 3.22).

The call for supervision as a requirement

became an outcome from the Plymouth

Serious Case Review (2009) which looked

at the failings of a nursery and the abuse

one practitioner inflicted on many children

during a short period of employment. One

of the many failings was staff's lack of

knowledge of safeguarding and where to

go with concerns. The Tickell Review (2011)

tightened up the statutory requirements

around staff supervision and training and

understanding of abuse in the workplace

and the start of a mobile phone policy in

settings.

The role and responsibility for providers

to ensure that practitioners receive

supervision needs to be embedded in

practice across all settings. Knowing what

supervision actually entails is essential

in order to provide it effectively. It is also

important to explore the meanings of

supervision, mentoring, coaching and

performance appraisal and where

they may be interlinked. The EYFS uses

these terms without fully explaining the

differences.

Sturt and Wonnacott (2016) layout four

functions to supervision which explain why

supervision is helpful to embed in practice:

Managerial function

Development

function

Support function

Mediation function

Each of these four functions can be

looked at in more detail. It is important to

remember that supervision needs to be

flexible to respond to individual needs and

that the balance across the four domains

will vary in every session.

In discussion with colleagues, the following

benefits of one to one supervision were

highlighted:

1. As a leader you are more up-to-date

with the 'temperature' of the setting,

how staff are feeling about their

performance and where they might

need support. The staff on the ground

know what is going on and any

issues can be identified, explored and

resolved before they escalate.

2. Individual staff can talk about their

key person working, and/or wider

observations about individual

children, in terms of their learning and

development and any barriers that

Are you doing what your provider/leader/

manger thinks they are paying you to do?

Everyone works better when they know

exactly what is expected of them.

Could you improve what you are doing with

some training/professional opportunities for

growth?

What support do you need? What would

help you emotionally to do your job even

better?

Whenever you are at work are you

behaving and therefore representing the

provision, as is befitting your role?

might be present or possible. This

aspect can also support safeguarding

concerns, where both you and the

practitioner can be professionally

curious and 'think the unthinkable'

about children's welfare, in a safe

confidential space. This might of

course lead to action to protect a

child.

3. Support can be given more readily

by you when it is required – some

team members might not ask for help

unless they see a window to do so.

These meetings create that window

which can open up your relationship

with each practitioner and will enable

them to ask for support when they

need it, outside of these meetings.

4. The supervising relationship can help

reduce potential fear of the appraisal/

performance system in the setting as

you or a line manager will be meeting

each team member on a regular

basis.

The balance between support

and challenge

Within the supervision relationship, there is

an important balance we need to provide

so that practitioners are encouraged to be

the best they can be, exploring ideas with

motivation and confidence. With a support-

High

challenge

Low

challenge

Adapted from Cook (2016).

Practitioners feel under

pressure, can lose

confidence and avoid

taking risks for fear of

reprisal

Quality of care and

standards tend to drift

downwards as staff feel

uninspired

Low support

Finding time as a leader, and continuing

to develop your skills as a supervisor are

challenges in themselves. It might be worth

asking yourself who is supporting and

challenging you – do you have a coach,

only approach, supervision can become

just a 'cosy chat' where little learning takes

place. With a challenge-only approach, the

practitioner can become very anxious or

defensive. The best place for supervision,

and therefore the best place for learning,

takes place where there is both high

challenge and high support as this table

illustrates:

Practitioners explore

new ideas with strong

motivation, trying new

skills and developing their

professional knowledge and

understanding

Staff keep doing what they

have always been doing and

can get bored or laissez faire

about their practice

High support

mentor, peer to provide the same platform

that you are expected to provide for others.

Remember to look after your own needs

as well as those of your team. Supervision

is a huge topic - necessary and worthy of

your time to do well to safeguard children,

strengthen your team and stretch yourself.

Ruth Mercer

Ruth Mercer is a coach and consultant,

with a career background in early

education. Ruth is committed to creating

a positive learning environment for staff,

children and families. She has a successful

track record of 1:1 coaching for leaders and

group coaching across the maintained

and PVI sector. She supports leaders

and managers in developing a coaching

approach in their settings through

bespoke consultancy and introductory

training on coaching and mentoring for all

staff.

Ruth is currently writing about coaching

with a playful approach.

Contact: ruthmercercoaching@gmail.com

Website: www.ruthmercercoaching.com

References:

• Cook, J. (2016) "Leadership and

Management in the Early Years",

Practical Preschool Books

• Sturt, P. and Wonnacott, J. (2016)

"Supervision for Early Years

Workers", Pavilion

26 October 2021 | parenta.com

parenta.com | October 2021 27
---
ONLY £20

Per Month

Paediatric First Aid Course

Compliant with EYFS 2021 Development Matters Framework

Attention Childcare Practitioners who want to

save time and make EYFS tracking easier!

Parenta is always looking at new ways to support the Early Years Sector. We

are pleased to announce that we now offer Paediatric First Aid training to all

those who work in early years, in partnership with Co-operative Childcare.

EYFS software that allows you to blur faces of the

children, helping to ensure you are GDPR compliant!

Once you start using Footsteps 2, you will quickly see how

it can benefit your setting

Improve safeguarding

Comply with GDPR

No hidden costs

Unlimited support

Unlimited video, image &

document storage

Photo tagging, blurring &

editing technology

Easily review home

observations from parents

3

£

The course meets the requirements of

Ofsted, under DfE's guidance (April 2017),

complying with the framework for the Early

Years Foundation Stage

The certificate is valid for 3 years from

date of issue

This course offers a blended approach

(6 hours online + 6 hours face to face

training)

It costs only £120 per learner

Nationwide training venues are

available. Alternatively, we can

deliver the training in your setting

(minimum 6 students)

Footsteps 2 uses the recognised language and colour

coding of EYFS, making it simple to use.

Quickly capture detailed notes when observing

a child play or interact.

Instantly identify where each child is in their

development pathway.

When you join us at Parenta, you can

invest with confidence because you'll

always be covered by our 30-day

money-back guarantee.

CLICK HERE

TO BOOK YOUR

DEMO TODAY!

Support your staff by ensuring they

have the right skill sets and training

to maintain the safety of all children

within your care.

Book your Paediatric First Aid Training today

For as little as £120 + VAT you can get the qualification you need to be Ofsted ready

and maintain the highest level of safety within your setting.

0800 002 9242 hello@parenta.com

0800 002 9242 hello@parenta.com
---
The hope of story

They sweep us up in the anticipation and excitement of adventure. We find ourselves intrigued

by mystery or fascinated by the inner workings of complex characters, involved and invested in

the actions they take and the resulting consequences.

Indeed, through works of fiction, young

children begin to enter worlds of fantasy,

with these created landscapes often

becoming a part of their own.

But did you know that this transportation,

this immersion in invention, can foster

hope and lead to healing?

Bessel van der Kolk, the prominent

neuroscientist and trauma specialist, says

that many survivors of childhood trauma

whom he knew 'were avid readers as

kids. They were terrified, abandoned,

and continuously exposed to violence,

and yet they found Harry Potter or Jane

Austen. They disappeared in the stories.

The imaginary worlds generated by other

people allowed them to create alternate

universes to the ones they were living in.'

(2015). Emily Esfahani Smith in "The Power

of Meaning" (2017) discusses research

showing 'that fiction can help people who

have endured loss and trauma cope with

their experiences.'

Through story, children can

grapple with and reflect on difficult

and painful issues. Metaphor can

be used to introduce ideas and

gently explore subjects, offering

layers of protection.

Along with the refuge and potential for

processing that story holds, is the hope

that is inherent in many a tale.

What is hope exactly? It can often be

thought of as a somewhat dreamy

emotion when it has, in fact, been defined

as 'a dynamic cognitive motivational

system' (Kaufman, 2011). This simply

means that hope is an active, thinking

system that motivates us, reducing

feelings of helplessness.

We sometimes lose ourselves in stories

And how does hope facilitate

healing?

Research has revealed that hope is

related to divergent thinking: the ability

to generate numerous ideas. Story and

imaginative play contain this hope for

children in the form of options. Vivien

Gussin Paley (2005) believed that

'developing…ideas in play opens the mind

to possibilities.' Cremin et al. (2006) define

possibility thinking as, 'imagining what

might be', with children 'posing, in multiple

ways, the question, "what if?" It is this

imagining that "is significantly correlated

with…greater physical and psychological

well-being, improved self-esteem, and

enhanced interpersonal relationships"

(Rand & Cheavens, 2012).

As children explore possibilities, agency is

developed. Alone or together, immersed

in story, they analyse, discuss, debate,

expand and consider alternative endings.

The understanding that existing stories can

be critiqued, re-imagined, and reworked

is empowering, with the conceptualisation

of alternative endings incorporating some

core areas of possibility thinking in the

context of children's learning:

• The making of connections

• Intentionality

• Innovation

• Risk-taking and

• Self-determination

(Adapted from Cremin et al., 2006)

There is an almost ever-present

awareness of struggle and adversity

contained within narrative that reminds

us of the constraints and/or barriers

that exist in life. There is a battle to be

fought, a conquering of some sort to be

achieved, even if it is of the self. The use of

imagination - and at times the adoption of

magical, whimsical thinking - can help to

formulate pathways through and/or out of

situations. In imaginary worlds, anything

is possible: a spell to disappear a disease,

time travel to ensure an accident never

occurred, a powerful salve to cure pain.

Fantastically, we can begin to craft different

endings to ones that were, that are, or that

may be.

WIN A COPY OF HELEN'S BOOK

"USING STORIES TO SUPPORT

LEARNING AND DEVELOPMENT

IN EARLY CHILDHOOD"

We have a copy of Helen's book

to give away. One lucky reader

picked at random will receive a

free copy of the book!

Click here enter the competition!

Deadline is Friday 22nd October

Terms and conditions apply

Isn't this simply denial? I would say not.

Rather, the employment of imagination is

a means through which we can explore

reality. Wishing for different outcomes

allows us to acknowledge disappointment

or come to terms with the handling of

a situation: pretence that causes us

to reflect on what could have been or

could be ultimately brings us back to

an examination of what is now and our

feelings about it. Research has in fact

shown that high-hope people are those

who can anticipate barriers and adapt,

moving forward in the face of hardships.

As children fashion their various endings,

they develop an understanding that it is

within their power to decide where the

focus of a story might lie and what their

story solutions might be. And as they

realise that their ideas can materialise,

a resilient enthusiasm for engagement

is cultivated, one that will aid them in

whatever circumstances they may find

themselves in.

Another healing aspect of story recreation

and composition is that it allows children

to run the gamut of their emotions.

Narratives act as a vehicle for the

expression of what might be positive or

happy but also what is difficult: shame,

embarrassment, frustration, anger, grief,

and despair. Children can speak of and

act out feelings fiercely, something that

may be suppressed in real life. In story,

there is room for the liberation of longings,

and crucially and with consent, these story

offerings can be used a springboard for

dialogue.

The consideration of stories (the ones we

invest in), their creation (the ones we craft

and tell), and the curation of them (the

ones we assimilate) literally make our

lives. Dan McAdams, a story researcher,

after working with life stories and meaning

for 30 years and analysing hundreds of

them, found interesting patterns in 'how

people living meaningful lives understand

and interpret their experiences' (Esfahani

Smith, 2017). He found that people

motivated to contribute to society and

future generations were more likely to tell

redemptive stories about their lives, that

is, stories that move from bad to good,

and that extract meaning from suffering.

In contrast, others told what McAdams

described as contamination stories, where

people interpreted their lives in terms of

bad events overshadowing the good.

As we continue to navigate what have

been perilous times for many, we find

ourselves in need of redemptive stories, of

alternative endings, of story arcs that bend

toward wholeness and happiness.

I believe that these endings will be found

when we begin to further champion

children's choices and value their voices.

This will foster in them a brave self-belief,

and they will begin to operate in the role of

author of their own life stories.

References

• Cremin, T., Burnard, P. and Craft, A.

(2006) "Pedagogy and possibility

thinking in the early years." Thinking

Skills and Creativity 1, 2, 108–119.

• Esfahani Smith, S.E. (2017) "The

Power of Meaning: The True Route

to Happiness". London: Penguin

Random House.

• McNamee, G.D. (2005) '"The one who

gathers children: The work of Vivian

Gussin Paley and current debates

about how we educate young

children". Journal of Early Childhood

Teacher Education 25, 3, 275–296.

• Rand, Kevin & Cheavens, Jennifer.

(2012). "Hope Theory". The

Oxford Handbook of Positive

Psychology, (2 Ed.). 10.1093/

oxfordhb/9780195187243.013.0030.

• Van der Kolk, B. (2015a) "Trauma

in the Body: Interview with Dr.

Bessel van der Kolk". Foxborough:

Still Harbor. Accessed on

7/7/2020 at www.stillharbor.org/

anchormagazine/2015/11/18/traumain-the-body.

Helen Lumgair

Helen Lumgair is a Montessori teacher,

Feuerstein Instrumental Enrichment

Mediator and Education Consultant. She

has worked with families and in settings

for over twenty years. Helen created

the framework and initial lesson plans

of the empathy-focused Think Equal

curriculum which was recognised with

a 2020 WISE award for innovation and

the addressing of global educational

challenges. She has lectured globally on

its implementation.

She authored a chapter on using

the process of narrative to develop

empathy in early childhood in the book,

"Developing Empathy in the Early Years:

A Guide for Practitioners" and then

wrote the book "Using Stories to Support

Learning and Development in Early

Childhood." She is passionate about

developing holistic educational strategies

to meet the needs of every learner, and

about stories.

LinkedIn | Twitter

30 October 2021 | parenta.com

parenta.com | October 2021 31
---
Musically

turn, giving each a turn to catch and think of

an activity; passing an instrument, and the

one with it has to choose the activity.

managing self

as an early

Head, shoulders, knees and toes

Head, shoulders, knees and toes

Knees and toes

Head, shoulders, knees and toes

Knees and toes

And eyes and ears and mouth and nose

Head, shoulders, knees and toes

Knees and toes

learning goal

Independence is considered to be a great asset in the West. The

ability to make our own choice is greatly valued, partly because

it frees up the time of others and partly because doing what we

want generally makes us happy. Many activities in pre-school

are aimed at helping to develop independence by improving

children's confidence in trying new "activities and facing

challenges with resilience and perseverance" ('Early Years

Foundation Stage Profile - 2021 Handbook', 2020). Many of these

skills are learned through self-regulation skills, and music is

a fantastic way to support this.

A study (Hautakangas et al., 2021) in

Finland considered the effects of a popular

self-regulation programme on a group of

28 children over 10 weeks. As an essential

skill that helps us to control our attention,

thoughts, feelings and actions, it uses

working memory, behavioural inhibition

and task-switching to help us do this.

Studies have shown that children with

high self-regulation skills achieve highly

academically, which affects their selfesteem

and beliefs about themselves. On

the other hand, poor self-regulation skills

have been linked to aggression and poor

relationship skills.

Research shows that self-regulation skills

can be taught to children, and that in

areas of high deprivation, these taught

skills can help children to achieve equally

as well academically as their more affluent

peers. Self-regulation develops from

repeated experience: from the external, it

becomes internal. It relies on the teacher's

consistency in achieving goals, rules and

strategies, with regular feedback and

reflection to the child.

Many courses have been developed to

support this skill, but often they require

specific instructions, equipment or finance

that is not easily available. Comparing the

intervention group with a group that had

not been through the course, a statistical

difference in self-regulatory behaviour was

found, showing that it could not have been

coincidentally more effective – the children

had changed their behaviour because of

the course. In fact, these changes were

evident, even when checked 5 months

later, with children showing interest in

wanting to learn even more new selfregulation

skills.

Repetition appeared to be key to the

success of this programme – teachers

referred to activities and reminded children

throughout the day, as opposed to limited

times. Interactive support by a suitably

trained teacher was also found to be

instrumental in its success, with a focus on

problem-solving and the ability to apply

the programme personalised to each

child.

Practically, self-regulatory skills can be

introduced through developing experience

with personal care, addressing basic

hygiene like dressing, toileting and healthy

food choices. There are a number of

musical ways that help to introduce these

skills as fun games.

Here we go 'round the mulberry

bush

Here we go 'round the mulberry bush

The mulberry bush, the mulberry bush

Here we go 'round the mulberry bush

So early in the morning

This is the way we brush our teeth

Brush our teeth, brush our teeth

This is the way we brush out teeth

So early in the morning

This is the way we comb our hair

Comb our hair, comb our hair

This is the way we comb our hair

So early in the morning

This is the way we put on our clothes

Put on our clothes, put on our clothes

This is the way we put on our clothes

So early in the morning

This lovely traditional song is sung with

children walking in a circle around an

imaginary mulberry bush. It could go on

forever with the activities that children could

demonstrate, with the others copying the

actions.

Do pity my case

Do, do pity my case

In some lady's garden

My room to clean when I get home

In some lady's garden

Do, do pity my case

In some lady's garden

My face to wash when I get home

In some lady's garden

Do, do pity my case

In some lady's garden

My toys to tidy when I get home

In some lady's garden

This game could be played in a few

ways: walking behind each other in a line

"through the lady's garden", where the

child at the front chooses the activity, e.g.

my face to wash, and then goes to the

back of the line so all have a turn; rolling

or bouncing a ball to a circle of children in

This traditional children's song has its roots

in an even older tavern song(!), but has

been used to teach body parts to young

children for a number of generations.

Younger children will enjoy matching

the words to the body parts, while older

children will enjoy the challenge of using it

as a memory song, leaving out one or more

of the words. Along with self-control, this

way of singing also teaches musical timing,

as children need to have a sense of how

long not to sing in order to accommodate

the left-out words.

Independence is considered an important

part of self-identity, with research showing

that it leads to not only academic success

but also personal and relationship success,

too. Self-regulation is an important part of

developing independence, and cannot be

taken for granted. Music makes the process

of developing these skills so much more

enjoyable!

More songs like these can be found

on Musicaliti's account on Soundcloud

https://soundcloud.com/musicaliti/

sets/learning-with-music, and

YouTube https://www.youtube.com/

Frances Turnbull

Musician, researcher and author,

Frances Turnbull, is a self-taught guitarist

who has played contemporary and

community music from the age of 12. She

delivers music sessions to the early years

and KS1. Trained in the music education

techniques of Kodály (specialist singing),

Dalcroze (specialist movement) and Orff

(specialist percussion instruments), she

has a Bachelor's degree in Psychology

(Open University) and a Master's degree

in Education (University of Cambridge).

She runs a local community choir, the

Bolton Warblers, and delivers the Sound

Sense initiative "A choir in every care

home" within local care and residential

homes, supporting health and wellbeing

through her community interest

company.

She has represented the early years

music community at the House of

Commons, advocating for recognition

for early years music educators, and her

table of progressive music skills for under

7s features in her curriculum books.

Frances is the author of "Learning with

Music: Games and activities for the early

years", published by Routledge, August

2017.

www.musicaliti.co.uk

32 October 2021 | parenta.com

parenta.com | October 2021 33
---
Safeguarding children

These explain the national framework for

how all agencies working with children

should work together in partnership to

safeguard children effectively. You may

also be interested in reading the Ofsted

advice to its Inspectors about inspecting

safeguarding in the early years.

The safeguarding of children comes before all other requirements in childcare and education and

should not only be a fundamental part of your practice, but embedded throughout everything you

do as childcare practitioners. Safeguarding is not an optional extra – it is a statutory requirement

that all adults working with children should safeguard the children in their care. Where there are

lapses in safeguarding practice within a setting, at best, professional judgement can be called

into question; but at worst, children can suffer extreme abuse and die. Safeguarding children is

therefore extremely serious and your staff need to understand this properly.

There are other aspects to safeguarding

which are also important for early years

settings to consider too. These include:

• Due diligence in the recruitment of

personnel including making relevant

checks (such as enhanced DBS checks,

references and qualifications) as part

of a safer recruitment process

Section 3.1 of the new EYFS states:

"Children learn best when they are healthy,

safe and secure, when their individual

needs are met, and when they have

positive relationships with the adults caring

for them".

Anyone working with children will know

that if they are not healthy, or do not

feel safe and secure, then they will not

be responsive to learning, socialising or

education until those fundamental things

change. They are the 2 basic layers on

Maslow's "Hierarchy of Needs" model.

When they do feel safe and secure

however, they can thrive.

What's the difference

between child protection and

safeguarding?

Safeguarding is an umbrella term which

covers a range of things in relation to

children. In the Government's published

document "Working Together to Safeguard

Children (2018)", safeguarding means:

• Protecting children from maltreatment

• Preventing impairment of children's

health or development

• Ensuring the children grow up in

circumstances consistent with the

provision of safe and effective care

• Taking action to enable all children to

have the best outcomes

Safeguarding actions are usually things

that you and your staff do every day to

make sure that the children you look after

are kept safe and well and that you are

always looking out for their safety and

well-being.

Child protection refers to a more specific

process of "protecting a child identified

as suffering from, or potentially suffering

from, significant harm as a result of abuse

or neglect." This usually involves other

agencies as well as the childcare provider,

such as social services, healthcare services

or the local police to ensure the child is

protected from harm.

Underlying safeguarding

principles

There are some key underlying principles

in regard to safeguarding that everyone

needs to be aware of:

1. The child is the most important

person, and their needs should

always be the first priority

2. Safeguarding is EVERYONE'S

responsibility – it does not just

mean the managers or qualified

practitioners, but everyone who works

in the setting including the facilities

staff, office staff and volunteers

3. You should assume that "it could

happen here" rather than "it would

never happen here" so that you are

always alert to the possibilities and

dangers

4. All safeguarding issues should be

identified and reported as soon as

possible to protect children and ideally

prevent them from escalating into

more serious issues

5. Each person in a child's life may hold

one small piece of the jigsaw; it is

when these individual jigsaw pieces

are brought together that the true

situation can emerge

Your statutory duty

As a childcare provider, you must ensure

that:

1. You have a designated safeguarding

lead (known as a DSL) who is

responsible for all the safeguarding in

your setting and who is trained in child

protection. In the case of childminders,

they act as their own DSL

2. You have robust written policies and

procedures which are in line with your

local safeguarding partners (LSPs) and

which clearly state how you will deal

with any safeguarding concerns. They

should outline the actions you will take

if you are concerned about a child; if

an allegation is being made against a

member of your staff; the use of mobile

phones and cameras in the setting;

and how you will keep children safe

online

3. You must ensure that all your staff are

adequately trained in safeguarding

issues and understand how to respond

to any safeguarding concerns quickly

and professionally. This training needs

to be updated regularly, at least once

a year

4. All staff must understand the four

categories of abuse – physical,

emotional, sexual abuse and neglect,

and they must understand what the

signs and symptoms are for each

category so they can watch out for

them

5. All staff must understand how to

respond if they are concerned about a

child and how to make referrals to their

DSL or other child protection agencies.

It is NOT the remit of most practitioners

to investigate safeguarding issues,

but it is most definitely their remit to

be alert, be aware and be proactive at

passing their concerns on to their DSL

6. All safeguarding matters should be

recorded securely and confidentially

and passed on to the relevant people

when necessary, such as at times of

transition

Whilst safeguarding and child protection

can seem intimidating to many at first, there

is plenty of guidance and support available

for settings. The government has produced

several documents that are important to

read and understand including:

• Working Together to Safeguard

Children (2018)

• What to do if you're worried a child is

being abused (2015)

• Safeguarding children and protection

professionals in early years settings;

online safety considerations

• Revised Prevent duty guidance for

England and Wales

• Keeping Children Safe in Education

2021 update

• Effective use of risk assessments to

reduce accidents or other problems

• Any special safeguarding provisions for

SEN or other vulnerable children (such

as looked-after children, adoptees etc)

• The provision you make for the wellbeing

of children under new EYFS

framework 2021 such as nutrition,

exercise, and which now includes oral

health

• Your policies for the administration of

medication in your setting

• The use of ICT and how you keep

children safe online

• Your policies around anti-bullying

• Any use of reasonable force policies

you have

Your safeguarding actions and child

protection policies are important and could

ultimately, save a child's life.

Click here to

sign up to our

FREE webinar:

Safeguarding in

Early Years

Thursday 7th October

10:30AM

34 October 2021 | parenta.com

parenta.com | October 2021 35
---
6 ways to ease

children's worries

• Reflection

Taking time to reflect on our day is powerful

and develops self-awareness. By saying

what went well, what could have been

better and what we have learnt from this,

children are developing their ability to selfreflect

and see the lessons in failure.

• Affirmations

Children worry about lots of different things. At times, it can be hard to understand why something so

trivial can cause so much distress. However, it is important to remember that worries are relative.

Cast your mind back to when you were

fifteen years old. What worried you then,

will probably seem inconsequential now.

However, if you put the actual problem

to the side and focus on how you felt,

there's a strong chance that the pain was

actually no less than how you feel now

when you face bigger, more grown-up

issues and dilemmas. This is because as

we grow older, our problems also grow

and become more relative to our life

experience and age. However, the feelings

that these issues evoke are equally painful

at every stage in our life.

It is important to remember this when

we are dealing with children and their

big emotions. They are looking at the

world through a lens relative to their age

therefore their problems will always seem

tiny to us. Their feelings, however, are

very real and we need to acknowledge

them and give them the tools to be able to

manage them.

Here are 6 ways that can help

ease children's worries:

1. Truly listen

Everybody wants to feel heard, including

children. Getting down on a child's level

and truly listening to their concerns will

give them a safe outlet to express their

feelings. Sometimes all we need is an

arm around us and to feel like we are

not alone. Showing compassion and

understanding for their situation (no matter

how trivial it may seem to you), will make a

child feel acknowledged and will therefore

automatically make them calmer.

2. Validate who they are

Sometimes we all need reminding of our

strength. Build children up by telling them

how strong you think they are and how

you know that they have what it takes to

overcome the problem they are facing.

Explain that it's okay to feel worried but

remind them of their unique qualities. Also,

if you can think of a time when they faced

and overcame a similar problem, this will

validate the message that they are more

than capable of doing the same again.

3. Face it together

A problem shared is a problem halved. It

is important to face our fears, but this can

be very overwhelming. By finding solutions

together, children will feel supported and

less overwhelmed. Ask them what you

could both do to make things easier or

better. Encourage them to find solutions

and then support them to step into action.

Facing fears builds resilience, however, we

are more likely to step into the unknown if

we have a safety net. Let that safety net be

you.

4. Bring it back to the present

Anxiety is often linked to when we play

out future events in our mind. Most of the

things we worry about never happen, but

our imagination runs away with us, which

can stir up negative feelings. If children are

worrying about a future event or situation,

teach them to bring their mind back into

the present. What can they do now to make

themselves feel better? What can they

control?

5. Do a daily routine

Our mind is programmed by repetition.

What we see, hear and feel on a consistent

basis creates the blueprint for how we view

the world and ourselves. A daily mindset

routine is a powerful way to instil positive

beliefs and to build confidence:

• Gratitude

Practicing gratitude daily has been proven

to reduce anxiety and improve health. By

saying 3 things that they are grateful for

and why, children will start to appreciate

the small things in life and see that even

when times are tough, there are still

blessings surrounding them.

• Self-Love

We are very good at pointing out our faults,

but rarely take time to acknowledge our

greatness. Saying 3 things that they love

about themselves encourages children

to explore their brilliance and builds their

confidence.

Affirmations are powerful statements that

you say to affirm positive beliefs. What we

tell ourselves on a regular basis becomes

our truth. By creating affirmations and

repeating them daily, we can trick our mind

into believing it is true. If a child is worried,

you could create an affirmation that dispels

the problem. For example, "I am strong and

confident, and I am capable of anything I

put my mind to".

6. Read books

It's much easier to face a problem if you

have a friend who has been through the

same experience and overcome it. It gives

you a light at the end of the tunnel because

they have shown you it is possible to get

through it. Characters in storybooks can

be that friend to children because the right

storyline can reassure and guide them

through different situations. Through my

business, Early Years Story Box, I have

written and illustrated a collection of

rhyming storybooks to support children

through different emotional problems and

obstacles and to reassure them through

uncertain times like starting and leaving

childcare and school. There are also lots of

other authors out there who have created

books covering a range of topics and all

of them can be used as a powerful tool to

support emotional well-being.

Stacey Kelly

Stacey Kelly is a former French and

Spanish teacher, a parent to 2 beautiful

babies and the founder of Early Years

Story Box. After becoming a mum, Stacey

left her teaching career and started

writing and illustrating storybooks to help

support her children through different

transitional stages like leaving nursery

and starting school. Seeing the positive

impact of her books on her children's

emotional well-being led to Early Years

Story Box being born. Stacey has now

created 35 storybooks, all inspired by her

own children, to help teach different life

lessons and to prepare children for their

next steps. She has an exclusive collection

for childcare settings that are gifted on

special occasions like first/last days,

birthdays, Christmas and/or Easter and

has recently launched a new collection

for parents too. Her mission is to support

as many children as she can through

story-time and to give childcare settings

an affordable and special gifting solution

that truly makes a difference.

Email: stacey@earlyyearsstorybox.com or

Telephone: 07765785595

Website: www.earlyyearsstorybox.com

Facebook: https://www.facebook.com/

earlyyearsstorybox

Twitter: https://www.twitter.com/

eystorybox

Instagram: https://www.instagram.com/

earlyyearsstorybox

LinkedIn: https://www.linkedin.com/in/

stacey-kelly-a84534b2/

36 October 2021 | parenta.com

parenta.com | October 2021 37
---
Supporting staff with social,

emotional and mental health needs

In my September article, I talked about supporting children who have high social, emotional and

mental health needs (SEMH). This article will be looking at how we also need to support staff who

have high SEMH needs. We need to view SEMH within a model of difference rather than one of

deficit. We are all on a SEMH needs continuum, and we all need to have our SEMH needs met.

is the coldness; you forget everything else

at that moment. So when work and life

are feeling hard, I increase my cold water

swims.

I am not suggesting that you should

all take up swimming and cold water

swimming! However, I am suggesting we

all need to find our thing. For example, a

friend yesterday told me he had just heard

he was probably losing his job, he went for

a long walk with the dog, he was telling

me that is his equivalent to my cold water

swimming, that is what grounds him,

enables him to let go, that is what nurtures

him.

Often as practitioners, we think about

meeting other people's needs first, the

children we work with, our families and

colleagues; sometimes, we can be the last

on the list or see looking after ourselves as

a luxury. However, we can only look after

others if we are taking care of ourselves.

When we think about well-being for

adults, the media makes us believe that

well-being means going to nice spas,

having massages, and spending lots of

money; this is not it. Well-being is about

recognising what helps us feel happy,

healthy, loved, connected and putting in

place the things that will support this.

We all need to be in a place where we

recognise what helps us. A question to

think about is: What helps you to thrive

and not just survive?

When we are feeling low, stressed, unwell,

it is easy to forget or drop the things that

help us; they can often end up being the

things that get left off the day because

we are too tired or too busy. This can then

become a negative downward spiral. If we

are too tired or too stressed to do things

that help us, our SEMH needs can become

higher.

On my laptop, I have a photo board called

my happiness board. This happiness

board is there to remind me when I am

feeling tired or stressed about the things

that help me. It is a board of photos, a

mix of my friends and family, my team,

my garden and swimming spots. This

board acts as my reminder, it makes me

smile whenever I open it, and when things

feel too much, it can remind me to do

something that will help me.

Knowing what helps you

One key factor with well-being is knowing

what helps you. I am a swimmer, I swim

each morning Monday - Friday at my

local pool, and whenever I can, I also wild

swim. The daily swims keep me sane!

The routine of getting up at the same

time each morning, going to the pool,

swimming for 30 minutes, and connecting

with my friends at the pool is essential for

my well-being. In the lockdowns, I found

it so painful both physically and mentally

not to be swimming. Alongside my daily

swims, over the last 5 years, I have learnt

to love cold water swimming, where

possible I swim all year, only in a costume,

in the sea and rivers. There is something

about the shock of cold water that is both

exhilarating and incredibly mindful. As you

enter the water, all your body thinks about

My day job is all about nurturing children,

and it can be helpful to think about what

nurtures us. Below are some ideas :

• Exercise

• Being with friends

• Being with family

• Laughing - listening to comedy or

watching something funny

• Eating well

• Baking

• Gardening

• Knitting

• Music

• Being in a choir

• Being in nature

• Yoga/mindfulness

• Engaging in faith-based activities

• Being creative

• Pets

Take a look at the list, are there things

on that list that you enjoy? Maybe you

do them regularly, or perhaps there are

things you would like to do more often or

try. As you will see from the list, they are

not radical new ideas; in many ways, they

are simple everyday activities, but they can

bring us joy and connection and help us

relax and let go.

How can we support our

colleagues?

We must be recognising and talking

about what supports our well-being in our

workplaces. It needs to be an embedded

part of the environment to recognise the

importance of well-being for staff and

children. This is not met by holding a oncea-year

or once-a-term well-being week;

as lovely as they can be, there is a danger

of them being tokenistic. We can promote

well-being in our workplaces by having an

emotionally literate environment, where

we can all safely recognise our feelings

and ensure these are respected by others.

We can provide basics, e.g. a safe and

healthy workspace, availability of drinks,

and child-free spaces to have our breaks.

We also need to check in with one another,

make sure others are OK. We could do

small acts of kindness for others, some

examples are:

• Making a drink for others

• Covering a late shift if you can see

a colleague is especially tired or

stressed

• Bringing in flowers or chocolates for

everyone to enjoy

• Thanking people for doing their job

and telling them how much you

appreciate their work

These are very basic and simple ideas,

and of course, they will not be enough

when someone is struggling, but they

can go a long way in helping staff feel

appreciated. For example, in our team,

we talk to each other about what we do

to support our well-being; our manager

actively encourages us to go and do those

things, helping us all to recognise we need

to look after ourselves and encourage one

another to do the things that help us.

Key points

Looking after our well-being is essential,

not a luxury.

We are unable to support others wellbeing

if we are not in a good place

ourselves.

Sonia

Mainstone-Cotton

Sonia Mainstone-Cotton is a freelance

nurture consultant, she has worked in

early years for 30 years. Sonia currently

works in a specialist team in Bath

supporting 3- and 4-year-olds who have

social, emotional and mental health

needs. Sonia also trains staff across the

country: she specialises in supporting

the well-being of children and staff.

Sonia has written 8 books including:

"Supporting children with social,

emotional and mental health needs in

the early years" published by Routledge,

"Supporting young children through

change and everyday transitions",

"Promoting Emotional Well-being in

Early Years Staff" and "Promoting Young

Children's Emotional Health and Wellbeing".

Sonia is also the series advisor

for Little Minds Matter series of books

promoting social and emotional wellbeing

in the early years with Routledge.

Website - http://soniamainstone-cotton.

com

Email - sonia.main@icloud.com

Instagram - @mainstonecotton

Write a list or make a photo board of

things that help you to feel happy, healthy,

loved, connected.

Have conversations in your team about

what supports well-being.

For more information, take a look at my

new book.

38 October 2021 | parenta.com

parenta.com | October 2021 39
---
CPD courses…

Whether you're a manager looking to support your staff by enhancing

their knowledge, or looking at developing your own career, when you

study one of Parenta's online CPD courses, you study in your own time

and at your own pace – all from the comfort of your own home!

Improve staff morale

and motivation

Maximise individual

potential and promote

development

Allows you and your

team to gain brand new

qualifications in many

different policies,

procedures and

practices

Enables you to keep

abreast of industry

changes by constantly

updating skill sets

By ensuring your team undergoes relevant, regular refresher training, they'll always be up-todate

with the latest policies, procedures and practices – and it doesn't need to be expensive!

With CPD courses from Parenta costing as little as £7,

what are you waiting for?

Log on and learn today!

0800 002 9242 hello@parenta.com