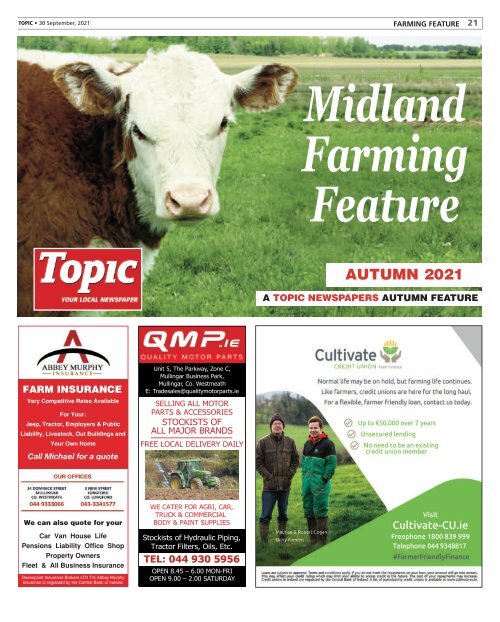 Create successful ePaper yourself
Turn your PDF publications into a flip-book with our unique Google optimized e-Paper software.
TOPIC • 30 September, 2021

FARMING FEATURE

21

Midland

Farming

Feature

AUTUMN 2021

A TOPIC NEWSPAPERS AUTUMN FEATURE

FARM INSURANCE

Very Competitive Rates Available

For Your:

Jeep, Tractor, Employers & Public

Liability, Livestock, Out Buildings and

Your Own Home

Call Michael for a quote

Unit 5, The Parkway, Zone C,

Mullingar Business Park,

Mullingar, Co. Westmeath

E: Tradesales@qualitymotorparts.ie

SELLING ALL MOTOR

PARTS & ACCESSORIES

STOCKISTS OF

ALL MAJOR BRANDS

FREE LOCAL DELIVERY DAILY

We can also quote for your

Car Van House Life

Pensions Liability Office Shop

Property Owners

Fleet & All Business Insurance

Deanspoint Insurance Brokers LTD T/A Abbey Murphy

Insurance is regulated by the Central Bank of Ireland.

WE CATER FOR AGRI, CAR,

TRUCK & COMMERCIAL

BODY & PAINT SUPPLIES

Stockists of Hydraulic Piping,

Tractor Filters, Oils, Etc.

TEL: 044 930 5956

OPEN 8.45 – 6.00 MON-FRI

OPEN 9.00 – 2.00 SATURDAY
---
22 TOPIC • 30 September, 2021

FARMING FEATURE

SCALLY

PRECAST

PRODUCTS LTD

ALL GRANT APPROVED

CATTLE SLATS 6'6'' TO 16'6''

SPECIALISING IN MANHOLES

ALL GENERAL PRECAST

Tel: 044 9223211

Mob: 087 7933736

Kilbeggan, Co. Westmeath

MIDLAND FARMING FEATURE - AUTUMN 2021

Pat McCormack,

President of ICMSA.

ICMSA support postponement

of changes to rights of way

ICMSA has welcomed

the decision by Minister

for Justice, Heather

Humphreys, to delay the

implementation of new

laws requiring easements

or rights of way

to be registered with the

Circuit Court or Property

Registration

Authority by November

30. Pat McCormack,

President of ICMSA,

said that the question

was too important and

fraught to allow matters

proceed where there

was any degree of confusion

and misunderstanding.

Mr McCormack

said that questions

around 'rights'

were always a matter

where it was more

important to take the

time to 'get it right' than

it was to overlook the

details and 'get it done'.

"ICMSA supports this

decision by Minister

Humphreys. We think

that the proposed

review around the desirability

and function of

the proposed changes is

a good idea and we'd ask

all the parties to this

problematic and difficult

issue to show

patience and accept that

these are hugely complicated

matters that

rarely fit neatly into

one-size-fits-all, preordained

solutions. We

think this is a timely

intervention by the Minister

and we will support

the process and

make contributions as

and when they affect the

interests of our farmer

members", said Mr

McCormack.

MOORE BROS. AUCTIONEERS

PSRA No.: 001489

AVAILABLE FOR RENT

Divisions of Grazing Land

WANTED

Residential / Non-Residential Farms

Large or Small, for many clients in all areas

WANTED

Divisions of grazing land for cattle, sheep & horses

Large & Small Divisions, Long & Short Term,

All Areas, For many Clients

MOORE BROS. AUCTIONEERS

Ballyvade, Ballinalack, Mullingar

P: 044 - 937 1193 M: 086 - 2600 728

E: moorebrosauctioneers@gmail.com

STEPHEN

LYNN & CO

Chartered Tax Advisers

& Financial Services Provider

to the farming &

business community

Chartered Certified

Accountants &

Registered Auditors

Vet Farm

Supplies

THE CLOSED LANDSPREADING SEASON

Chemical Fertiliser 15 September - 15 January

Organic Fertiliser 15 October - 15 January

Farm Yard Manure 1 November - 15 January

Regulation 605 of 2017 prescribe for a doubling of the buffer distance from 5m to 10m from any surface waters from 1st September (Chemical Fertiliser)

1st October (Organic Fertiliser) 18th October (Farm Yard Manure) until 29th January, that being two weeks preceding and two weeks after the closed period.

Mary Street, Mullingar

044 - 9340364
---
TOPIC • 30 September, 2021

FARMING FEATURE

23

MIDLAND FARMING FEATURE - AUTUMN 2021

Businesses Encouraged to Get

Involved in Biodiversity Action

A three-year plan to

get businesses involved

in biodiversity action

was launched last week

by Green Party Ministers

Pippa Hackett and

Malcolm Noonan. The

Irish Business & Biodiversity

Platform will

be open to engaging

with businesses of all

scales, from small-tomedium

enterprises to

large multi-nationals.

"I've engaged with

numerous businesses

across the Midlands

who would welcome an

opportunity to become

more biodiversityactive,"

says Minister

Hackett, who has

responsibility for Land

Use and Biodiversity.

"Everyone from

retailers and offices, to

food producers and

hospitality services

can get involved. The

purpose of this platform

is to make it easier

for them to do so.

I'm delighted to support

this platform. I

believe it will be really

valuable to businesses

because it will build

their awareness of

both their impacts and

dependencies on biodiversity.

With that

awareness, they will

then be able to reverse

some biodiversity loss,

have a positive impact

on their local community

and employees and

also enhance their

business reputations."

The Irish Business &

Biodiversity Platform

will be established by

Natural Capital Ireland

with the involvement

of Business in the

Community Ireland

and the National Biodiversity

Data Centre

and the support of the

Department of Agriculture,

Food and the

Marine and the Department

of Housing, Local

Government and Heritage,

via the National

Parks and Wildlife Service.

Green Party Minister Pippa Hackett.

Peter Moore & Co. Ltd

(P.E. MOORE, B Agr. Sc. & F.A.I.A.

Accountants, Taxation and Agricultural Consultants

Over 40 years experience in Farm Accounts

6 Patrick St., Mullingar T: 044 9341577 • Mob: 087 9875156

Croghan Demense, Tullamore, Co. Offaly

• petermoore.co@gmail.com

Áras an Chontae, Charleville Rd,

Tullamore, Co. Offaly.

Tel: (057) 9346800, Fax: (057) 9346868

Web: www.offaly.ie Email: environment@offalycoco.ie

RECYCLE FOR AS LITTLE AS €3

at an Offaly Recycling Centre

BIRR

Birr Recycling Centre,

Syngefield Ind. Est.

Birr

057 9125905

Tues - Sat

09.00 - 17.00

Open Mondays from

11th May

EDENDERRY

Edenderry Recycling

Centre,

Dublin Road

046 9772677

Mon - Sat

09.00 - 17.00

TULLAMORE

Deryclure Waste &

Reclycling Facility

Portlaoise Road,

Tullamore

057 9344186

Mon - Fri

08.00 - 16.30

Sat 08.00 - 15.00

Full range of Tanks available

painted and galvanized from

1300 Gal to 4000 Gal with low

emissions Trailing Shoe and

Dribble Bar.

Specalising in Custom Built Tanks

Other range of machinery include Rotary

Spreaders, Grass Toppers, Swarth

Wilters, Post Drivers, Agitators

Visit our website @ www.belmac.ie

or contact Michael at

09064 51319 / 086 825 5220 /

087 825 5220

LAST ENTRY 10 MINUTES PRIOR TO CLOSING TIME

€3 per car rate applies to the following household

recyclable wastes:

Plastic bottles, plastic packaging, cardboard, newspaper, glossy

magazines, aluminium cans, steel cans, Tetra-pak, waste engine

oil, used cooking oil, clothes and footwear, lightbulbs, metals.

WEEE (Waste Electrical and Electronic, Equipment) only: FREE

Glass bottles only: FREE, Batteries only: FREE

These sites also accept general waste, food waste,

garden waste subject to standard waste disposal fees.

Credit card or cash payments accepted. Visit your local

site to see the full range of materials accepted and

charges in place, or see: www.offaly.ie/eng/Services/

Environment/ Recycling
---
24 TOPIC • 30 September, 2021

FARMING FEATURE

Budget 2022 has to give practical support

to farmers for "climate change measures"

The President of

ICMSA has said that the

upcoming Budget 2022

will have to offer serious

practical help to

the state's 100,000-plus

farming families as the

sector prepares to transition

to lower emissions

and more climate

efficient production.

Speaking after meetings

with the Minister

for Finance, Paschal

Donohue, and Minister

for Public Expenditure,

Michael

McGrath, Pat McCormack

said that the

farm organisation had

made very specific and

targeted proposals

across taxation, envi-

Martin Heydon,

Minister of State at

the Department of

Agriculture paid tribute

to Ireland's

'vibrant' agri-food

sector at the recent

launch of Agri

Aware's new Dig In!

webinar series for

schools. Agri Aware

is bringing their Dig

In! educational

resource to life with

added modules and

new series of in classroom

webinars.

Dig In! is a primary

school curriculumlinked

resource to

help children learn

about agriculture, life

on the farm and in

the countryside.

The new 'Fun Fridays'

webinar series

will run from October

to December with ten

episodes covering a

range of topics

MIDLAND FARMING FEATURE - AUTUMN 2021

ronment and farm

schemes that will

move the position forward

in a rational, cost

efficient and measured

way. It was up now to

Ministers Donohoe

and McGrath to examine

and weigh the

undoubted benefits

that would flow from

accepting and implementing

the proposals

or to continue the current

Government policy

of loading more

and more regulation

onto farmers while

including dairy, the

environment, horses,

farm safety and pigs.

Dig In! is available to

all schools through

the Agri Aware website

www.agriaware

.ie and schools can

also sign up for the

Fun Fridays webinar

series there.

Welcoming the

opportunity to

relaunch Dig In! Minister

of State at the

Department of Agriculture

Martin Heydon

said:

"I want to commend

Agri Aware for its

tireless work in

ensuring all of our

primary school students

have the opportunity

to learn about

life on Irish farms.

Some will go on to be

farmers in the future,

producing food for all

of us and protecting

Mullingar Equine Vets Ltd.

Michael O' Donoghue MVB MRCVS

Padraig O'Reilly MVB

Kevin McCarthy MVB

EQUINE PRACTICE

1A Brosna Business Park, Lynn Road,

Mullingar, Co. Westmeath

T: 044 934 8142 • E: info@mevets.ie

simultaneously cutting

the levels of practical

support and

funding.

"Ireland will effectively

have two budgets

this year: one financial

and one climaterelated,

at this stage

the latter is as important

as the former. By

the end of the year,

there will a great deal

more detail about what

needs to be done and

by what stage. Farmers

are braced to take

up the challenge but

that is going to require

active and practical

help. We've outlined

how we think that

should be structured,

but the most important

thing is that the Government

realise that,

somehow 'standing

back and watching' is

the environment,

while others may

work in our vibrant

agri-food sector. All of

them will be consumers

of Irish produce.

Dig In! is

therefore an important

initiative that

can help tie all these

different elements

together. As Minister

of State with special

responsibility for

Farm Safety I particularly

welcome the

focus on keeping children

safe on farms.

Creating a culture of

safety starts at a

young age and must

go hand in hand with

everything we do on

our farms."

Alan Jagoe, Chairman

of Agri Aware

not an option here:

only they can give this

the momentum to

move it forward and

we've given them a

suite of measures that

we think will provide

some of that momentum",

said Mr. McCormack.

ICMSA has again

called for a Farm Management

Deposit

Scheme that is a revenue-approved

method

of dealing with utterly

destructive income

said: "We are

delighted to launch

Dig In! once again

this year. The new

digital element is a

reflection on how

education and delivery

of education has

changed since the

start of the pandemic.

Agriculture

has remained a crucial

and constant supply

of high-quality

food and produce and

those are all highlighted

in our Dig In!

resources for Primary

Schools. Dig In!

has been so important

in maintaining a

connection between

young consumers and

where their food

comes from".

volatility allowing

farmers to deposit

money in 'Good' years

and access it in 'Bad'.

ICMSA has also called

for a widening of taxation

bands and 3%

stamp duty on the sale

of agricultural land.

On the environment,

they want no VAT on

low emissions LESS

equipment, as well as a

60% grant on LESS

equipment and other

environmental investments

purchased

through a properly

funded TAMS II. Continuing

that theme, a

rebate system should

be introduced to

encourage the switch

from CAN to Protected

Urea. In addition to a

properly resourced

TAMS II, the organisation

thinks that a

reformed and funded

Agri-environment

scheme could attract

an additional 10,000

participants next year.

The surge of interest

in the Department's

piloted dairy calf-tobeef

scheme – an initiative

proposed by

ICMSA – strongly indicates

that a better

resourced scheme

would have even more

applicants with proven

emissions reductions

and better returns for

individual farmers. A

payments 'break' for

farmers suffering from

outbreaks of bovine

TB would cost paltry

sums and would function

along the lines of

www.freepik.com

the Covid-19 payment

breaks that so proved

their worth recently.

The organisation has

also called for shortterm

incapacitation

benefits to be extended

to the self-employed so

that farmers – "the

most dangerous occupation

in Ireland" –

can enjoy a similar levels

of social protection

to those available to

workers in other much

less dangerous sectors,

concluded Mr. McCormack.

Schools webinar series "Agri Aware Dig In" Launched

McDermott calls for survey on

die back on ash trees on N52

BY CLAIRE CORRIGAN

Cllr. Frank McDermott

(FG) asked the Municipal

District of Mullingar

Kinnegad to ask the district

to carry out a survey

of die back on ash

trees on the N52 Delvin

to Clonmellon and was

told that roadside trees

on field boundaries are

the responsibility of the

landowners to maintain.

Landowners should

have their trees

inspected frequently and

take whatever measures

necessary to ensure the

roadside trees do not

present a hazard to the

public. This matter has

been discussed with the

NRDO and they are

seeking the advice of the

Transport Infrastructue

Ireland (TII) in relation

to a policy for dealing

with Ash Die Back along

National Road verges.

Cllr McDermott

stressed he would like to

see the district engineer

"have a look and see is

there any danger

involved" with Cllr

Hazel Smyth (GP)

adding that if the audit

could be conducted

using an arborist.

Director of Services,

Deirdre O'Reilly said the

survey would fall under

the remit of the transportation

section and

said she would pass his

comments on. "We will

also await response from

Alan Jagoe, Agri Aware Chairman, Minister Martin Heydon, Aimee Gray, Agri Aware

Education Officer and Marcus O'Halloran, Agri Aware Executive Director.

the NRO through TTI in

relation to treatment of

ash die back."

At the same meeting,

he asked the district to

consider designing an

extension to our looped

walk, to include along

the bank of the Glore

river to Traynor's

bridge, the Distillery,

Gallaghers Moateens,

etc.

We are aware of the

great work being done

and would encourage

the community to

develop a proposal for

consideration by the

Community section for

funding for next year

under Outdoor Recreation,

LEADER, etc.

McConalogue continues CAP

consultation tour in Westmeath

Minister for Agriculture,

Food and the

Marine, Charlie

McConalogue, will continue

his Common

Agriculture Policy

(CAP) Consultation

Tour in Westmeath on

Wednesday, 29 September.

The Minister will

speak at Delvin Mart at

11am.

The Minister plans to

visit every county to

hear directly from

farmers as part of the

CAP consultation

process over the coming

weeks. Ireland's

CAP Strategic Plan

must be submitted

before 1 January 2022

in order to have the

new CAP in place for

Minister for

Agriculture,

Food and the

Marine,

Charlie

McConalogue

January 2023.

Details on mart visits

will be released

through agri, social

and local media. Interested

farmers are

encouraged to contact

their farming organisations

or their local

mart before attending

due to necessary

COVID-19 restrictions

and responsibilities.
---
TOPIC • 30 September, 2021

FARMING FEATURE

25

UN Food

Summit "won't

even address

the core

problem – let

alone solve it"

- ICMSA

Speaking days before

Minister McConalogue

represents Ireland at

the U.N. Food Systems

Summit, the President

of ICMSA has said that

the possibility of anything

meaningful

emerging from the conference

was "virtually

nil". Mr. Pat McCormack

said that until

the dominant role of

multinational retail

corporations in global

food systems was

addressed, there was

no chance whatsoever

of introducing the

kind of fundamental

shift towards environmental

and economic

sustainability that

these kinds of

grandiose summits

advertised.

Mr McCormack said

that Minister McConalogue

carried the best

wishes of Irish farmers

with him to the

summit, but there was

no corresponding confidence

that the core

problems around food

system reform would

even be addressed, let

alone solved. As an

example, Mr McCormack

cited the the

Irish 'Pathway' paper,

published to coincide

with the Summit, and

noted that there was

not a single reference

in it to the pricing of

food, the one element

without which it's not

possible to understand

either the challenge or

possible solutions.

"I read the Irish

'Pathways' document

that sets out our position

and have to admit

to being very disappointed.

There is not a

single reference in it to

establishing the real

economic and environmental

cost of producing

food and then

ensuring that that cost

is met by either the

consumers or the

retailers who sell to the

consumers. I've said

this before and I'm

going to say it again: if

we continue allowing

the retailers to use

MIDLAND FARMING FEATURE - AUTUMN 2021

their market dominance

to sell food at

below its real cost,

then we just don't have

a chance of doing anything

as regards

reform of the food systems.

If government

won't insist on the

market paying the real

cost and continues to

allow retail corporations

to underpay their

suppliers and undercharge

their customers,

then

everything else is just

pointless and this summit

can just join the

already lengthy list of

irrelevant events that

make officials feel better

but achieve

absolutely nothing."

The ICMSA President

said that it was

becoming more and

more obvious that the

only group who were

singled out for regulation

and mandatory

measures were farmers

and for everyone

else it was just a case

of: "See what you can

do there, if you can be

bothered, if you don't

mind."

"We're very aware of

the dangers of oversimplification

on this

dizzyingly complex

and overlapping issue.

But farmers would feel

that if there was ever a

case for reverse-engineering

our way to the

starting point of an

answer then reforming

the food systems to

make them more sustainable

has to be the

most feasible option.

We have to start with

the fundamental fact

that there is a real economic

and environmental

cost to

producing sustainable

food and that once this

price has been established

then it has to be

paid by the consumer.

If we can't even get to

that self-evident truth,

then, honestly, we

haven't a hope of getting

to where we all

know we need to get

to", said Mr McCormack.

National Ploughing Championships

2021 was a huge success

The National Ploughing

Championships, first established

in 1931, celebrated

its 90th anniversary in

Ratheniska, Co Laois with

the focus firmly back on the

Association's ploughing

roots.

A true 'Ploughing' master

class was on display with

the finest ploughmen and

women from all over the

country battling it out on

150 acres in 22 separate

classes over the three days

as old friend's reunited and

new marvellous memories

were made.

Martin Kehoe from Wexford

became the National

Senior Conventional

Ploughing Champion

and Dan Donnelly from

Wexford won the Senior

Reversible Contest. Siobhan

Dermody from Co

Kilkenny was crowned the

'Queen of the Plough' following

her win in the

farmerette class. Aisling

O'Toole from Co Kildare

was named the 2021

National Brown Bread

Baker winning a prize fund

of €15,000, her award winning

loaf will be available

to purchase in Aldi stores

nationwide for the next

year. This year's overall

Innovation Arena Awards

NPA Managing Director Anna May McHugh, President James Sutton and Chairman Mick Mahon congratulate the

new National Conventional Ploughing Champion Martin Kehoe and the new National Reversible Ploughing

Champion Dan Donnelly, both from Wexford.

with Enterprise Ireland winner

was marine biotech

company Brandon Bioscience

in Tralee, Co Kerry.

In collaboration with the

traditional fertiliser manufacturer

Target Fertilisers,

the company's winning

entry is an innovative new

biostimulant product using

extracts from common

brown seaweed that has

the potential to reduce

chemical nitrogen input on

farms by up to 20 per cent.

The best overall start-up

award went to Jennifer and

Kevin Corley, founders of

EquiTrace which is an app

that works with a horse's

microchip to identify, locate

and track individual animals

as they move while also

recording animal temperature

and health records

when used with a Merck

Bio-Thermo chip and scanner.

Both the overall and

best start-up Award winners

will receive a prize

fund of €5,000 each.

So as the final sod was

turned in Ratheniska on

Wedsnesday, 15th September

signalling the end of

the 2021 National Ploughing,

thoughts are firmly on

the 2022 event returning to

Ratheniska next year, from

20 – 22 September.

Significant step in sheepmeat access to China

- Protocols for export

of sheep meat and

breeding pigs signed

- Ongoing engagement

on the resumption

of beef exports

Significant advances

in gaining access to the

Chinese market for

Irish sheepmeat were

announced on 18 September

by Charlie

McConalogue TD, Minister

for Agriculture,

Food and the Marine.

Minister McConalogue

and Minister NI of the

General Administration

of Customs of

China (GACC) have

signed and exchanged

formal protocols that

will pave the way for

the export of sheepmeat

and breeding pigs

from Ireland to China.

China accounts for

38% of the global

sheepmeat import market.

In 2020, China's

sheep meat imports

amounted to 365,000

tonnes and were valued

at €1.47bn at current

exchange rates.

SHEEPMEAT

Minister

McConalogue

said: "The sheepmeat

protocol that I

have signed today represents

an important

milestone in gaining

access to the Chinese

market. China is a substantial

importer of

sheep meat, with a positive

outlook for

demand in the long

term. I expect that,

when the remaining

steps are completed to

enable trade to commence,

exports will

grow gradually over

time, as Chinese consumers

become familiar

with the quality

and taste of our Irish

sheepmeat offering."

A number of technical

steps remain before

GACC can include the

list of approved plants

on their website. In

addition, before trade

can commence, DAFM

will have to put in

place systems and safeguards

to ensure compliance

with protocol

requirements on eligible

product. This may

take a number of

months.

L-R: Minister for Agriculture, Food and the Marine Charlie McConalogue and Minister of

State for new market development Martin Heydon.

BREEDING PIGS

Minister McConalogue

and Minister NI

also signed a protocol

on live pigs, which sets

out the quarantine and

hygiene requirements

for the export of highquality

breeding pigs

to China.

BEEF ACCESS

Department officials,

through the Embassy

of Ireland in Beijing,

continue to engage positively

with their Chinese

counterparts with

a view to re-opening

market access for Irish

beef. However, the timing

of that decision lies

with the Chinese

authorities. Minister

McConalogue commented:

"Regaining

beef access to the Chinese

market remains a

priority. Our engagement

on these protocols

is encouraging in

this regard, and I hope

that the Chinese

authorities will soon

be in a position to

make a positive decision

to allow exports to

resume."
---
26 TOPIC • 30 September, 2021

FARMING FEATURE

MIDLAND FARMING FEATURE - AUTUMN 2021

WE GIVE CASH

FOR CARS

We also have a huge selection of second hand parts in stock.

NATIONWIDE DELIVERY

Breaking all Cars - Vans & 4x4's

24hr Recovery - Repairs & Servicing

End of Life Car Disposal

MIDLAND AUTO SALVAGE LTD.

Clonbullogue, Edenderry, Co. Offaly R45 CF10, Ireland

Tel: 087-295-4234 / 046-973-0115 | Email: sales@midlandsalvage.ie

OPENING HOURS

Monday to Friday: 9.00 am - 5.30 pm (Closed for lunch 1-2)

Saturday: 9.00 am - 1.00 pm | Sunday: Closed

ANGER AS IMPORTED LAMBS

ARE ROUTINELY PROCESSED

AHEAD OF LOCAL SUPPLIES

Agents for Zetor and Lindner Tractors

Main agents in the midlands for Hardy

Sprayers & Bomford Hedgecutters with a

large selection of parts in stock.

Specialising in Same, Deutz and Zetor

tractor parts

Agents for Major Equipment and

other machinery

Serving the farming community for

over 40 years.

Repairs to all makes of tractors and

machinery our speciality

Telephone:

044 922 3242

087 671 4776

Email: efsheeran@gmail.com

ICSA sheep chair Sean

McNamara is demanding

answers from meat factories

as to why lambs from the

north are routinely processed

ahead of local supplies.

"Sheep farmers are very

angry that imported lambs

can jump the queue at factories.

The knock-on effect is

that local suppliers are having

to endure lengthy waits

for their lambs to be dealt

with, despite arriving at the

facility first. The lack of

respect shown to local suppliers

is hard to stomach," he

said.

"Over the course of a

twelve hour wait lambs are

routinely losing around a

kilo in weight - which is one

less kilo that the farmer is going to get paid for. Given the huge numbers of

live lambs imported every week the practice has now become widespread

and is causing serious frustration amongst local farmers. It's galling to see

lambs losing thrive as they are made to wait while their imported counterparts

are seen to first. It's hard enough to make any sort of a margin as a

sheep farmer, and it's becoming even harder with this sort of carry on,"

McNamara concluded.

ICMSA has represented farm families from Offaly, Meath,

Westmeath and all over Ireland at local, national and

European level with diligence, integrity and an emphasis on

finding solutions to their problems that has been our

trademark for 70 years.

We're the specialist family dairy farm organisation with an

unrivalled record of sound analysis and a focus

on farm incomes.

We are organised by - and work for – farmers.

And only farmers.

Chairperson of Offaly ICMSA: Michael Guinan,

Rahan, 086-8766851

Chairperson of Meath ICMSA:

Ciaran McCabe, Oldcastle, 086-8454814

Chairperson of Westmeath ICMSA:

John Harrington, Mullingar, 087-6335303

Or please contact your local ICMSA

Development Officer:

John Gormley, 087-1618213

ICMSA Head Office: John Feely House,

Dublin Road, Limerick.

(Tel) 061-314677, or info@icmsa.ie

Please also look at our website at www.icmsa.ie

Carrick Mill, Lough Bawn, Collinstown, Co. Westmeath

Celebrating 40 Years in Business

We manufacture and supply a comprehensive range of Vitamin/Mineral

supplements and Molassed Mineral Licks for all classes of Farm Livestock,

including Lambs, Ewes, both pre- and post-lambing, Calves, Dairy and Suckler

Cows, both pre-calving and lactating, Beef cattle, Horses and Camels.

Contact us for advice on the most suitable mixture for your

farm livestock requirements.

Tel: 044 966 6458

Email: info@dtan.ie Web: www.dtan.ie
---
TOPIC • 30 September, 2021

MIDLAND FARMING FEATURE - AUTUMN 2021

FARMING FEATURE

27

Local Agricultural Students Encouraged

To Apply For John Feely Scholarships

The John Feely Foundation

has announced

that applications are

now being accepted for

the four scholarships

awarded by the group

each year. A sum of

€1,500 each is awarded

to four students in

Year One of an agricultural

course at Clonakilty,

Kildalton,

Pallaskenry, Gurteen,

Mountbellew and Ballyhaise

agricultural

colleges. or who is

studying an agriculture

related course in

Tel: 046 973 9014

Castlejordan

another third level

institution. Applications

can be made by

any ICMSA member

who are required to

give their own name,

phone and membership

number while

nominating the stu-

Email: sales@pfgill.ie

dent, as well as providing

the student's home

address, the course the

student is engaged

upon, and the institution

the student is

attending. Applications

from the Midlands

are particularly

welcomed by the Foundation

and can either

be emailed to:

info@icmsa.ie or

posted to John Feely

Scholarships, ICMSA,

John Feely House,

Dublin Road, Limerick,

V94 KX38.

Your Association.

Your Voice.

✓ Effective Representation and Defence of

Farmers' Interests at home, in Europe and

Internationally

✓ Access to Expertise and Advice on Individual

Issues

✓ Savings on telecom, broadband, mobile

and power

✓ Prices, news and weather updates -

IFA app & Twitter: @IFAmedia

✓ Personal accident cover with FBD

✓ €85 off with FBD on Motor,

House or Farm Insurance

✓

Invaluable Representation,

Services and Benefits

Family Benefits

including Health

Screening with

the Mater

Private

Applications must be

received no later than

Friday, 29 October. The

successful students

will be selected by

supervised draw and

will be notified before

the end of 2021.

To Join today

Call IFA Offaly

057 934 1447

www.ifa.ie

BALLINALACK,

MULLINGAR,

CO. WESTMEATH

Tel: 044 9371186

Mob: 087 2613105

info@whelansawmakers.ie

www.whelansawmakers.ie

SAW REPAIR

SALES & SHARPENING

SERVICE

Wide & Narrow Bandsaws

• Stellite Tipped Bandsaws

• Routers Planer Knives

• Round Baler Knives Sharpened

• Chainsaws

• Mortice Chains

• Carbide Tipped Blades

• Cutters

• Lawnmowers

• Sheep Shearing

& Horse Clipping Blades