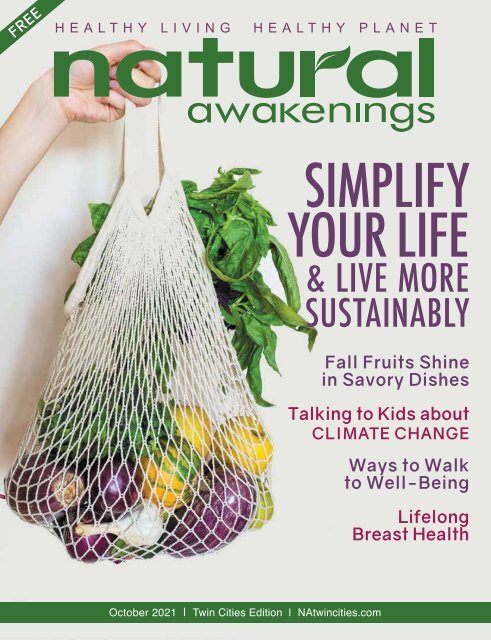 Natural Awakenings Twin Cities October 2021
Read the October 2021 edition of Natural Awakenings Twin Cities magazine. This is our annual Healthy Planet Issue which is focused on Living a Simpler Lifestyle and Breast Health. Topics also include the fall fruit recipes, water scarcity, tips on grieving, talking with your children about climate change, cannabis for your pets and so much more! Be sure to check out our local content including News Briefs announcements, Community Resource Guide with providers throughout the metro who can meet your individual wellness needs, and all the happenings in the Calendar of Events. There is additional online-only content that can be found at NATwinCities.com. While you are there, be sure to sign up for our Newsletter and Digital Magazine and continue your reading with our archived articles from local experts.
Read the October 2021 edition of Natural Awakenings Twin Cities magazine. This is our annual Healthy Planet Issue which is focused on Living a Simpler Lifestyle and Breast Health. Topics also include the fall fruit recipes, water scarcity, tips on grieving, talking with your children about climate change, cannabis for your pets and so much more!

Be sure to check out our local content including News Briefs announcements, Community Resource Guide with providers throughout the metro who can meet your individual wellness needs, and all the happenings in the Calendar of Events. There is additional online-only content that can be found at NATwinCities.com.

While you are there, be sure to sign up for our Newsletter and Digital Magazine and continue your reading with our archived articles from local experts.
SHOW MORE
SHOW LESS
Create successful ePaper yourself
Turn your PDF publications into a flip-book with our unique Google optimized e-Paper software.
FREE

HEALTHY LIVING

HEALTHY PLANET

SIMPLIFY

YOUR LIFE

& LIVE MORE

SUSTAINABLY

Fall Fruits Shine

in Savory Dishes

Talking to Kids about

CLIMATE CHANGE

Ways to Walk

to Well-Being

Lifelong

Breast Health

October 2021 | Twin Cities Edition | NAtwincities.com
---
YOUR ONE TRUSTED GLOBAL

ONLINE DESTINATION FOR

Regenerative Whole Health Benefits

24/7

ACCESS

KnoWEwell is a One-Of-A-Kind

Platform that centralizes today's

trusted global knowledge, resources

and community to Prevent and Address

the Root Causes of Chronic Diseases.

Find best-matched Vetted

Practitioners.

Learn from Top Educators and

Experts.

Access Evidence-Based Resources.

Make Meaningful Connections in

Community Topic Groups.

Explore Funding Help for Outof-Pocket

Costs of Practitioner

Services.

Invest in Your Optimal Health & Well-Being.

Visit KnoWEwell.com Today

and receive 50% Off your first year.

Practitioners Apply: NAMN10221P | Individuals Apply: NAMN10221
---
End of Pain.

Acupuncture

Private Acupuncture

only $35 per visit. *

*

Up to 3 visits per week for 1 month, only $35/session.

Add-ons include:

Cupping, Gua Sha, Herbal Consultation, Electro

Acupuncture, Red/Near Infrared light therapy.

Limited time offer ends 10/31/21

messages@bhakticlinic.com | 612-859-7709

Schedule your next appointment:

https://bhakti.janeapp.com

BhaktiClinic.com
---
HEALTHY LIVING HEALTHY PLANET

letter from the publisher

TWIN CITIES EDITION

Publisher Candi Broeffle

Editors Cheryl Hynes

Randy Kambic

Ad Sales Candi Broeffle

SchaOn Blodgett

Design & Production Sara Shrode

CONTACT US

P.O. Box 27617

Golden Valley, MN 55427

Ph: 763-270-8604

NAtwincities.com

SUBSCRIPTIONS

Subscriptions are available by sending $25

(for 12 issues) to the above address.

NATIONAL TEAM

CEO/Founder Sharon Bruckman

COO/Franchise Sales Joe Dunne

Layout & Design Gabrielle W-Perillo

Financial Manager Yolanda Shebert

Asst. Director of Ops Heather Gibbs

Digital Content Director Rachael Oppy

National Advertising Lisa Doyle-Mitchell

Administrative Assistant Anne-Marie Ryan

Natural Awakenings Publishing Corporation

4851 Tamiami Trail N., Ste. 200

Naples, FL 34103

Ph: 239-434-9392 • Fax: 239-434-9513

NaturalAwakeningsMag.com

© 2021 by Natural Awakenings. All rights reserved.

Although some parts of this publication may be

reproduced and reprinted, we require that prior

permission be obtained in writing.

Natural Awakenings is a free publication distributed

locally and is supported by our advertisers. Please

call to find a location near you or if you would like

copies placed at your business.

We do not necessarily endorse the views expressed in

the articles and advertisements, nor are we

responsible for the products and services advertised.

Check with a healthcare professional regarding the

appropriate use of any treatment.

Ahhhh ... the smell of fall is in the air. I love autumn—the

crispness in the air, moody days of cold rain and the oranges,

reds and yellows of changing leaves. Summers are usually too

hot for my liking and winters are too cold, but spring and autumn are

always welcomed.

As a child growing up on the farm, fall was a most busy time,

bringing in the last of the season's produce, completing the canning,

and butchering the hogs and cows. I realize the latter is not a popular

viewpoint today, especially with our vegan friends, but this was back

Candi Broeffle

in the 1970s and 1980s and values and mores were quite different.

I loved this time as the whole family came together. Often, our neighbors would join

in as my parents had been so generous to share their abundant produce all summer long.

From mid-September through Thanksgiving, our home was filled with people working

together—laughing, talking and teasing— as we "put up" our food. The wood stove filled

the house with cozy, dry heat that warmed you deep into your bones, forcing out the chill

from being outside just minutes earlier.

Mornings were often spent cleaning out the gardens, while afternoons and evenings

were filled with cleaning, chopping and canning the produce. My mother was so proud of

a root cellar filled with jars of beans, carrots, pickles, beets and jellies as well as hundreds of

pounds of fresh potatoes, carrots, onions turnips, pumpkins and squash. My parents were

not monetarily wealthy by any means—they were poor—but because of their knowledge of

farming and gardening, we were never short on food. That root cellar was security, knowing

that everything needed until next summer was there to feed the family of nine.

Three of my siblings and both of my parents have long since passed, but the memories

of being together will never fade. All I must do is step outside on a cool October day,

close my eyes and breathe in the crisp air, and I am instantly transported to that kitchen

of love—inner wealth beyond measure.

This autumn and onward, may we all be so blessed,

Candi Broeffle, Publisher

Natural Awakenings

Magazine is ranked

5th Nationally in

CISION'S ® 2016

Top 10 Health &

Fitness Magazines

Natural Awakenings is printed on

recycled newsprint with soy-based ink.

4 Twin Cities Edition NAtwincities.com
---
Natural Awakenings is a family of 50+ healthy living

magazines celebrating 27 years of providing the

communities we serve with the tools and resources

we all need to lead healthier lives on a healthy planet.

24

Contents

15 IS ONE MONTHLY

BREAST EXAM ENOUGH?

16 LESS STUFF, MORE JOY

Ways to Live Simpler and Lighter

on Mother Earth

16

20 FALL FRUITS FOR

SAVORY DISHES

Fresh Approaches to Autumn Flavors

22 HEALTHY BREAST

BASICS

Lifestyle Choices to Lower Disease Risks

28

24 WATER SCARCITY WOES

A Global Problem That's Getting Worse

26 GOOD GRIEF

Four Tips to Navigate Grief

28 TALKING TO KIDS ABOUT

CLIMATE CHANGE

What They Need to Know

from Those They Trust

30 WALK ABOUT

Simple Steps to Well-Being

32

ADVERTISING & SUBMISSIONS

HOW TO ADVERTISE

To advertise with Natural Awakenings or request a

media kit, please contact us at 763-270-8604 or email

Publisher@NAtwincities.com. Deadline for ads: the 15th

of the month.

EDITORIAL SUBMISSIONS

Email articles, news items and ideas to:

Publisher@NAtwincities.com.

Deadline for editorial: the 5th of the month.

CALENDAR SUBMISSIONS

Email Calendar Events to: Publisher@NAtwincities.com.

Deadline for calendar: the 10th of the month.

REGIONAL MARKETS

Advertise your products or services in multiple markets!

Natural Awakenings Publishing Corp. is a growing franchised

family of locally owned magazines serving communities since

1994. To place your ad in other markets call 239-449-8309.

For franchising opportunities call 239-530-1377 or visit

NaturalAwakeningsMag.com.

32 CANNABIS AND CANINES

How Cannabidiol Benefits Dogs

DEPARTMENTS

6 news briefs

10 health briefs

12 global briefs

14 eco tip

20 conscious eating

22 healing ways

24 green living

28 healthy kids

30 fit body

32 natural pets

35 calendar

35 classifieds

36 resource guide

October 2021

5
---
coming in the november

mental health issue

CONSCIOUS

DYING

plus: Brain Health

news briefs

Energy Healing

for Your Pet

Our pets become an important part

of our families and it is natural that

we want the best for them. We take care

of them on a physical level by providing

them with high nutritional food, a safe

and comfortable home and exercise to

stay healthy.

Beginning at 7 p.m., on October

12, Annette Rugolo is offering a threeweek

Energy Healing for Your Pet

webinar for those interested in providing additional ways to support and keep their pets

healthy. Rugolo has been assisting both people and pets for over 20 years to help clear

and align their energy fields, allowing the healing energy to flow. She has found over the

years that pets are much more responsive to energy work than humans. This is due to the

fact they do not have the expanded energy fields that humans have, and they do not carry

much of the baggage that we do.

Years ago, Rugolo was asked to help a four-year-old dog named Ruby who had not

walked for six weeks. The owners tried everything their veterinarian recommended but nothing

helped. As a last resort, they called Rugolo and asked if she was able to do anything for

their beloved pet. During the session, Rugolo discovered that the dog had been carrying some

emotional trauma from an experience of being lost as a puppy. This emotional trauma had

affected Ruby's nervous system along with creating pressure on her tail bone and back legs,

which ultimately affected her walking. During the session, the emotional trauma was cleared

and Ruby regained the use of her legs and started walking again.

Not all physical ailments are connected with an emotional trauma, but it is helpful

to clear whatever emotional energy is affecting your pet to help them live a longer and

healthier life.

Many of our pets are also creating a mental body and have a desire to communicate with

us. As pet owners, we may feel or receive their thoughts telepathically. Along with helping

them clear emotional traumas and patterns, we can also help them develop their mental body

which benefits not only our pet but us as well.

Annette Rugolo, an environmental healer, soul coach and teacher, specializes in clearing

the energy from homes, offices and land. Her book, Soul Whisperer: Releasing Lost Souls,

helps people understand the world of wandering spirits.

For more information and/or to register, visit AnnetteRugolo.com/product/energy-healingfor-your-pet.

Learn more at AnnetteRugolo.com. See ad, page 33.

6 Twin Cities Edition NAtwincities.com
---
Functional Forum

for the Prevention

and Treatment of

Early Dementia

The Minnesota Brain Clinic will

offer a Functional Health Forum

from 6:30 to 8 p.m., on October

28. Presenters, Dr. Richard Sinda,

certified functional medicine and age

management practitioner, and Guy

Odishaw, practitioner of neurofeedback

and bioelectric medicine, will

share a natural protocol that is available

for people with early dementia

and Alzheimer's disease.

The forum includes information about the Bredesen Protocol which was developed by

neurologist Dr. Dale Bredesen. Bredesen developed this approach to predict and prevent

cognitive decline through a variety of holistic lifestyle changes. It is a personalized approach

that may include diet changes, supplements, treating pathogens, addressing toxin exposure,

optimizing sleep and more.

Coupled with bioelectric medicine, which uses device technology to read and modulate

the electrical activity within the body's nervous system, patients experience a holistic

approach to treating early dementia.

"It's stressful and frightening for both the patient and the family when there is a diagnosis

of dementia or Alzheimer's," states Odishaw, "but there is hope, and that is what Dr.

Sinda and I are here to share."

Cost: Free. Location: 7550 France Ave. S., Lower Level, Edina. Participants can also attend

online. To register, email Lisa@idInHealth.com.

Keeping Strong

Immunity All

Season Long

MetroEast Natural Healing

Center, in Oakdale, has put

together a special event to help

people get through the fall and

winter months with confidence.

Healthy Diet for a Healthy Immune

System will begin at 6:15 p.m., on

October 13, and will teach the basics

of the immune system, which foods

negatively impact the immune system, how to nourish the immune system with food and lifestyle

factors that stress the body and those that improve health. Participants will get to sip on

"Immune Tea" while they learn plus leave with an Immune Foods Recipe Guide.

The workshop will be led by nutrition expert, Chelsea L. Kazmierczak-Goethel, an advanced

clinically trained Nutrition Response Testing Practitioner who is currently pursuing

her Master of Science degree in Applied Clinical Nutrition.

This event is free to attend and participants are encouraged to bring a friend or family

member that might also benefit from learning how a healthy diet and incorporating

immune-boosting foods can greatly impact their ability to thrive all winter long.

Art That Transcends

Exhibit Opens in Edina

The Bhakti Art Gallery invites the public

for the opening

of the exhibit,

Art That Transcends,

by artist

Annie Merrell,

beginning at 6:30

p.m., on October

7. Enjoy original

work that will stir

one's soul, meet

the artist and enjoy

the company

of other art lovers. Annie Merrell

"I'm a latein-life

artist and have found that it's never

too late to create new dreams and even see

them grow," shares Merrell. "May you follow

your passions in life as well and may you be

blessed in the process."

The exhibit will run through December

31. The public is welcome to enjoy the

gallery where art will be available for viewing

and purchase, from 11 a.m. to 5 p.m.,

Monday through Saturday.

The Bhakti Gallery is an artists' cooperative,

supporting local artists and the connection

between art and health. The gallery

is within the Bhakti Wellness Clinic and this

is the seventh art show at this location.

Location: 7550 France Ave. S., Ste. 220,

Edina. For more information, visit Bhakti

Clinic.com. For those that are interested in

displaying their art in the gallery, call Guy

Odishaw at 612-859-7709.

be pure. be natural. be you

HALAL BEAUTY & WELLNESS

Location: 6993 35th St. N., Oakdale. For more information and to register, call 651-771-

1703 or email Info@NutritionChiropractic.com. See ad, page 9.

WWW.SILKROADWELLNESS.COM

October 2021

7
---
news briefs

Mastel's Health Foods Named Retailer

of the Year by Vitamin Retailer Magazine

On August 1, Vitamin Retailer magazine named Mastel's

Health Foods the winner of Retailer of the Year. The

award recognizes Mastel's longstanding commitment to

health and wellness while supporting the local community.

A previous winner was national chain Sprouts Farmers

Market..

"We are incredibly honored to be chosen as Vitamin

Retailer magazine's Retailer of the Year 2021. Our team here

now is as strong as it has ever been in the wake of one of

the most difficult times to operate a small business," shares

Lauren Gaffney, general manager at Mastel's. "The loyalty of

our customers and the passion for the work we do here have

kept us around for over 50 years, and we look forward more

than ever to the future of Mastel's."

Staff members at Mastel's are highly educated in the

natural health fields. Many have various educational backgrounds, such as ayurvedic and

traditional Chinese medicine, herbalism, nutritional and health sciences. Others are practitioners

on the side as herbalists, nurses, nutritional therapists, body workers, ayurvedic specialists

and a former owner of a natural health store. All staff receive multiple in-person and

remote trainings to ensure the breadth of knowledge to which their customers have become

accustomed.

The goal at Mastel's Health Foods is to provide a safe and welcoming environment in

order to assist customers in achieving their health goals through education, guaranteed

high-quality supplements and natural products. Independently owned and operated,

Mastel's has been serving the Twin Cities since 1968.

Location: 1526 St. Clair Ave., St. Paul. For more information, visit Mastels.com. See ad, page 23.

8 Twin Cities Edition NAtwincities.com

Near Death Experience

Assistance

For those that have experienced or believe

they may have experienced a near death

experience (NDE), there is now someone

they can speak to who truly understands.

Tracy Sigfrid is a multiple NDE survivor

who helps others to frame their event and

provides a safe space to process what has

happened that is free of judgement.

Sigfrid understands how difficult it can be to share this event with friends or family. "You

can talk with people who have not experienced an NDE," she explains, "but it is more clearly

understood by someone who has also experienced their own NDE."

People will be able to clear any confusion they may be feeling and will be validated

in their personal journey. Those that have had an NDE often report that once they

understand what has occurred, they have increased intuition and are often able to bridge

previously difficult relationships, resulting in more clarity and a deeper understanding of

what is important in life.

"NDEs are unlike anything else you may have ever experienced," continues Sigfrid.

"There is not a team to turn to, yet you need support because what you have experienced

is so profound and life-changing."

Cost: $50/half-hour, $80/hour. Private sessions can be in-person, by phone or online.

For more information or to schedule a session, call 952-381-2850.

People are People

Podcast Series

In America, it is said that each person can

climb to their place of happiness. In truth,

however, the struggle it takes to get there can

be great, and others may not fully understand

what this happiness can be. Beginning

in October, Infusion Health Podcast offers a

monthly mini-series called People are People

in which they discuss life in America.

"There is a saying that goes, 'Give a man

a fish, he eats for a day; teach a man to fish, he

eats forever,'" shares Rachel Kass, co-host of

the podcast. "In this series, we are not teaching

listeners how to be a millionaire, rather

we offer an enlightening conversation on why

each person chooses a different path in their

life." Each month holds a different theme.

October - Safety and Survival: Clothing,

shelter, nourishment, defense and transportation,

exploring why some people choose the

minimum, while others seek the maximum,

and yet others just cannot seem to get ahead.

November - Understanding and Growth:

Culture, arts, education, adornment, religion

and self-belief, discussing spirituality, enlightenment

and self-expression and how we show

up in the world.

December - Connection and Acceptance:

Socially, personally, emotionally, a

time for giving and learning how to really see

others. Though it is not easy with so much

pain in the world, the hosts will explore how

to grow out of this unique time and build

beauty around ourselves.

Additional upcoming topics include

Contribution and Creation, Esteem, Identity,

Significance and Self-Direction, Freedom

and Justice.

For more information, visit LoveInfusion

Health.editorx.io/mysite. To apply to be

a guest on the Infusion Health Podcast, email

LoveInfusionHealth@gmail.com. See ad,

page 13.
---
Develop One's Natural-Born Ability:

Become a Certified Transformational Coach

For those looking for a way to improve

their coaching skills or that have

determined now is the time to become a

certified professional coach, the Transformational

Life Coaching Course may be the

right choice. Beginning November 6, this

23-month program meets one weekend a

month and will provide a robust skillset

to assist others in getting to the root of the

issue so it can be released, healed and transformed

in order for their clients to blossom

into their best selves.

In contrast to many other coaching

programs, this course will offer a thorough hands-on learning environment in which

participants can practice and experience coaching skills while learning them. They will

watch demonstrations of the material being taught and receive one-on-one feedback

from the instructors to enhance the learning process.

The Transformational Life Coaching Course will teach all the skills needed to assist

people in achieving their goals, breaking through obstacles, and maintaining success in

any area of their lives. Participants will be able to understand how a problem is linguistically

coded at the unconscious level through the use of language, and structure their

language to produce the most profound change in the least amount of time.

Successful completion of the program earns the following certifications: Transformational

Life Coach; Practitioner of Neuro-Linguistic Programming (NLP); Master

Practitioner of NLP; Master Practitioner of Humanistic Neurolinguistic Psychology; and

Master Practitioner of Hypnosis. Upon certification, coaches will be able to work with

clients one-on-one, online or in person, in business environments and more.

Blue Lotus Training and Consulting is a state-licensed private career school through

the Minnesota Office of Higher Education. "We strive to provide the optimal learning environment

to enhance the learning experience for the student," states Mirtha Solis, owner

and instructor. "This is truly a one-of-a-kind opportunity to fully integrate your existing

skills while layering in new techniques at a deeper, more profound level."

Cost: $6,800. To learn more, visit BlueLotusTraining.com. To listen to the Green Tea

Conversations podcast interview with owner and lead instructor Mirtha Solis, visit

AM950Radio.com/Green-Tea-Conversations-September-12-2021.

NOT

Sleeping?

Does This Sound Like You?

Visit www.nutritionchiropractic.com

GET 50%

OFF

Initial Exam

With Code

SLEEPWELL

Silver Fillings:

Just ugly?

Or harmful too?

This is a picture

of a "Silver"

or "Amalgam"

filling. It is 50 -

52% MERCURY!

If the mercury in

this filling were spilled in a school,

it would be evacuated....

This is a picture

of a "light cured"

composite filling.

They can last as

long or longer

than mercury

fillings with no danger of releasing

harmful heavy metals.

As noted on Dr. Mercola,

Dr. Oz, and 60 Minutes...

Mercury fillings may have a

significant negative impact on your

overall health.

Make 2021 2017 YOUR year

for healthy choices!

Dr. Madelyn Pearson is the

current president of the

Holistic Dental Association and

has advanced training in safe

mercury removal.

Call or visit our website for

more info: (651) 483-9800

www.NaturalSmilesDental.com

October 2021

9
---
health briefs

Eat Strawberries to

Improve Blood Vessel Health

A new study from Chicago's

Illinois Institute of

Technology demonstrates

that strawberries increase

flow in blood vessels and

reduce systolic blood pressure.

In the randomized,

controlled, double-blind

trial, overweight and obese

adults with moderately high

cholesterol were assigned

to drink either a beverage

containing 25 grams of

freeze-dried strawberry

powder or a similar drink without the strawberry powder

twice daily for four weeks, followed by a four-week

washout period. An hour after consumption, the strawberry

powder improved flow-mediated dilation, indicating

healthier blood pressure function; systolic blood pressure

was lower even four weeks later.

anete lusina/Pexels.com

Exercise More to Counter

Risks of Poor Sleep

Poor sleepers can cut their

health risks by exercising

more, reports a new study

of 380,055 middle-age

people in the British Journal

of Sports Medicine. Both

physical inactivity and poor

sleep are independently

linked to a heightened risk

of cardiovascular disease,

cancer and death, but Australian

researchers found

that more exercise lowers

the consequence of poor

sleep. People that ate better, drank less alcohol and were

more physically active also tended to sleep better. The

lower the sleep score, the higher were risks of death from

any cause, including cardiovascular disease and ischemic

stroke. Those at the bottom of the scales with both poor

sleep scores and little physical activity had a 57 percent

higher risk of death from any cause. People that were

younger, female, thinner or better off financially tended

to have healthier sleep scores, as did those that ate more

fruits and vegetables, spent less time seated, had no

mental health issues, never smoked, didn't work shifts,

drank less alcohol and were more physically active.

blue bird/Pexels.com

BETTER

MOVE

FREE

LIVE

NEW PRACTICE MEMBER SPECIAL

$49

CadenceChiroMN.com

Consider Barberry to

Reduce Diabetes Markers

Barberries (Berberis integerrima),

the tart, red fruits

that grow on bushes, have

been used for centuries

in traditional medicine for

digestive issues, and now

evidence has emerged

from Iranian researchers

that barberry extract can

help lower Type 2 diabetes

markers. For eight weeks,

30 patients were given

1,000 milligrams of barberry

extract daily, along with

the standard anti-diabetic medication metformin, while

another 35 patients were given only metformin. Afterwards,

fasting blood sugar levels were significantly lower

among the barberry group as were HbA1c levels, which

measure blood sugar levels for two to three months.

petra kopásková/Pexels.com

10 Twin Cities Edition NAtwincities.com
---
Skip Southern Food

to Avoid a Heart Attack

The fried foods,

added fats,

eggs, organ

meats, processed

meats and sugarsweetened

drinks

of a Southernstyle

diet can

have dire consequences

for

people's hearts,

reports the American Heart Association. A 10-year study

of 21,000 people found that those that eat the Southern

diet regularly have a 46 percent higher incidence of sudden

cardiac death compared to those that don't eat those

foods. By contrast, people that closely follow the Mediterranean

Diet —which emphasizes vegetables, fruits, fish,

whole grains and legumes with little meat or dairy—have a

26 percent lower risk of sudden cardiac death.

Avoid Infant Formulas

with Added Sugar

Early exposures

to certain foods

shape preferences

that

endure through

adulthood,

studies show,

which is why

research from

the University of

Kansas Medical

Center and the University of Buffalo has raised concerns

about the added sugar prominent in many baby formulas,

especially cows' milk formulas. The researchers tested 97

infants and 44 toddlers that were either breastfed or given

various formulas for up to 15 months. The infants given

formulas with added sugar had significant weight gain

compared to infants that were breastfed or given formulas

without added sugar. The sugar in formulas was found to

be almost double the amount of sugar in breast milk. The

researchers theorized that the added sugar not only raised

the risk of weight gain, but also made it likely the children

drank a greater amount. "Efforts by policymakers and

pediatricians to educate mothers on lower-sugar options

when breastfeeding is not feasible may enhance preventive

measures of childhood obesity," write the authors.

vittaya_25/AdobeStock.com

lithiumphoto/AdobeStock.com

RAZ Mobility Launches

Picture-Based Memory

Cell Phone

RAZ Mobility, a provider of

mobile assistive technology,

now offers the RAZ Memory

Cell Phone. This cell phone

takes simplicity to the extreme,

designed to address the unique

needs of people with dementia

and other forms of memory loss,

and is well-suited for individuals

with intellectual disabilities.

According to the Alzheimer's

Association, approximately

5.8 million Americans

have Alzheimer's dementia,

with one in 10 people over the

age of 65 diagnosed with the

disease. The number of people

with dementia is expected to

increase rapidly as the proportion of the population 65

and older increases.

The RAZ Memory Cell Phone consists of only one screen.

It is always on and includes pictures and names of up to six

contacts and a button to call 911. There are no applications

or settings to cause confusion, no notifications or operating

system updates, and no distractions. Users simply tap and

hold the picture of the person they wish to call.

Caregivers manage the RAZ Memory Cell Phone

through a simple online portal. The portal is used to create

and edit the contacts and track the location of the phone

and its user. They can also select an option to restrict

incoming calls to people in the user's contacts, thereby

avoiding unwanted calls such as predatory robocalls.

Cost: $309. For more information or to order the device, visit

RAZMobility.com/Solutions/Memory-Cellphone.

Barbara Brodsho LLC

BarbaraBrodsho.com

612-444-9751

Akashic Record Readings:

A spiritual practice

to guide you on your

soul's spiritual journey

Visit BarbaraBrodsho.com to

schedule a free Discovery Call

October 2021

11
---
global briefs

Return Native Lands

Protecting Nature

Throughout the country,

land is being transferred to

or co-managed by Indigenous

tribes, repatriating

culturally and ecologically

important resources

with the former occupants

and local communities to

accommodate their perspective and participation in the

management of the land, wildlife and plants. Some tribes

are using traditional knowledge of how to support wildlife,

use prescribed fires and protect ancestral grounds.

In California, a land trust recently transferred 1,199 acres

of redwood forest and prairie to the Esselen tribe. In Maine,

the Five Tribes of the Wabanaki Confederacy recently reacquired

a 150-acre island with the help of land trusts. Other

recent land transfers to tribes with the goal of conservation

have taken place in Oregon, New York and elsewhere.

Traditional Ecological Knowledge, a system of Indigenous

management styles that evolved over centuries

of culture immersed in nature, is increasingly seen by

conservationists as synergistic with the global campaign

to protect biodiversity and manage nature in a way that

hedges against climate change. The Nature Conservancy

has institutionalized the transfer of ecologically important

land with its Indigenous Peoples and Local Communities

Program worldwide. Erin Myers Madeira, director of

the program, says, "Indigenous people are the original

stewards of all the lands and waters in North America, and

there's an extensive knowledge and management practices

that date back millennia."

elena olesik/Pexels.com

BOTTLE Battles

Using Enzymes to Recycle Plastic

A more sustainable

approach for recycling

polyethylene terephthalate

(PET) plastic used

in single-use beverage

bottles, clothing and food

packaging, has been

found by Bio-Optimized

Technologies to keep Thermoplastics out of Landfills

and the Environment (BOTTLE) consortium, which includes

the U.S. Department of Energy National Renewable

Energy Laboratory and the UK University of Portsmouth.

A paper, "Techno-economic, life-cycle, and

socioeconomic impact analysis of enzymatic recycling

of poly(ethylene terephthalate)," in the journal Joule,

shows that enzyme-recycled PET has potential advantages

over conventional, fossil-based methods across

a broad spectrum of energy and carbon impacts.

The concept could lead to new opportunities for

PET recycling and create a mechanism for recycling

textiles and other materials also made from PET that

traditionally are not recycled. PET ranks among the

most abundantly produced synthetic polymers in the

world; roughly 54 percent is used in the manufacture

of clothing and carpet. "From all the plastics that were

produced since the 1950s, less than 10 percent of it

has ever been recycled," says Avantika Singh, first

author of the paper. "Most waste plastics end up in

landfills." BOTTLE is addressing plastic pollution by

developing energy-efficient, cost-effective and scalable

recycling and upcycling technologies; and formulating

modern plastics to be recyclable by design.

Dentistry: Are You Missing Vital Information?

Avoid Putting Toxic Materials In Your Mouth / Body!

Doctors have said, "99% of Disease Starts In The Mouth," How Is Your Oral Health?

Holistic Dentistry is an

important component in ANY

health & wellness program

An approach to dentistry that

promotes health and wellness instead

of only treating "dis"ease.

Call or visit our website for more info: (715) 426-7777

www.Health Centered Dentistry.com

polina tankilevitch/Pexels.com

Dr. Laughlin has spent thousands of hours

in continuing education over his 45+ years

in practice. His knowledge, combined with

advanced technologies, provide the best

chance to improve your oral health and

positively impact your overall wellbeing.

12 Twin Cities Edition NAtwincities.com
---
Never Again

Forever Chemicals Banned in Maine

Perfluoroalkyl substances (PFAS), nicknamed "forever

chemicals", are a class of 9,000 ubiquitous compounds

found in fracking wells, food packaging, cookware, cosmetics

and dental floss. They are resistant to degrading

and accumulate in the environment and our bodies. In

lieu of federal regulation, the state of Maine has enacted

a wide-ranging ban on the use of all PFAS by 2030 for

all purposes unless considered unavoidable. Chemical

& Engineering News calls this action a world first. Lawmakers

hope this precedent will motivate manufacturers

and others in the industry to move to safer alternatives

that don't include toxic chemicals. European countries

Denmark, Germany, the Netherlands, Norway and Sweden

are also considering restrictions on the use of PFAS.

Slow Hoeing

Food Waste Complicates Effort

to Slow Climate Change

Although more than 900

million people around the

world don't have enough

to eat, the World Wildlife

Fund (WWF) disagrees

with the conclusion of the

United Nations World Food

Program, which tracks indicators

of acute hunger across 92 countries, that the world

needs more food. In a report, Driven to Waste, WWF estimates

that 2.5 billion tons of food are wasted every year

around the world on farms, at retail stores, restaurants,

homes and during post-farm transportation, storage,

manufacturing and processing.

The nonprofit suggests that food waste should be

viewed not only in relation to world hunger, but also in the

context of climate change. Food production consumes

vast amounts of land, water and energy in ways that contribute

to the global climate crisis. They claim that food

waste accounts for 10 percent of all greenhouse gas emissions

worldwide.

More than one billion acres of land is used to grow food on

farms that could be used for rewilding efforts that have been

shown to mitigate the effects of climate change. Shortening

long food supply chains, for example, could give farmers

greater knowledge of their end markets to help estimate

food production needs more accurately. Giving farmers

more flexibility to negotiate with buyers could help them

invest in waste-reducing training and technology.

candle photo/AdobeStock.com

Blue Carbon

Oceans are Key to Controlling Climate

A UK Environmental Justice Foundation report states

that countries must recognize the important role that

oceans have in limiting climate change and enact policies

to protect marine ecosystems. More than 50 percent

of the Earth's biological carbon is captured by

animals and plants living in or around oceans, but this

"blue carbon" and its associated ecosystems have

been neglected in climate policy, according to a letter

accompanying the report. Conservation International

notes that up to 10 times more carbon is stored in coastal

habitats than in tropical forests. Seagrass meadows

store nearly 20 billion tons of carbon worldwide. The

report states that oceans could soak up large quantities

of atmospheric carbon if their ecosystems are restored

and protected.

Those ecosystems are threatened by rising water

temperatures, acidification, overfishing and commercial

shipping, and lead author Isabella Shraiman says,

"There has been a tendency for policymakers to silo

environmental action: conservation policy is formulated

separately from decarbonization policy, to the detriment

of both. What we need now is ambitious, holistic

and joined-up action. Blue carbon solutions can be a

low-hanging fruit within an ambitious climate mitigation

policy portfolio and address the triple emergency of the

climate crisis, biodiversity collapse and human rights."

Podcast

Western

Where

meets

healthcare

holistic and the

Eastern

conversations in

hard

between.

Listen on

LoveInfusionHealth.editorx.io/mysite

pink candy/AdobeStock.com

October 2021

13
---
eco tip

Buy Nothing

Neighborly Groups Share More and Waste Less

CONSIDER THESE FACTS:

The average American creates almost

five pounds of solid waste per

day, according to the U.S. Environmental

Protection Agency.

Only 26 percent of Americans

know most of their neighbors.

Americans, with 4 percent of the

world's children, throw away 40

percent of the world's toys.

Rebecca Rockefeller and Liesl

Clark, neighbors on Bainbridge

Island, near Seattle, realized there

was a simple way to change these

trends. They created the first local

Buy Nothing group in 2013, which has grown to 4 million members in 44

countries. In 2020, Clark and Rockefeller co-authored The Buy Nothing,

Get Everything Plan: Discover the Joy of Spending Less, Sharing More, and

Living Generously.

GIVE OR GET GOODS

People can join a local Buy Nothing group through Facebook. The groups

provide a free platform to give, ask, borrow and lend items. It's also a

place to thank others in the community.

Just about any item or service can be exchanged, as long as it's legal.

Food is commonly shared among group members. Clothing, toys and

equipment for children are popular, too. Gifts of self, including talent and

time, are also allowed. For example, members can offer to spend time with

elderly neighbors or do yard work for them.

Kari Seaverson DDS

John Seaverson DDS

Tooth by the Lake

HOLISTIC GENERAL DENTISTRY

1401 Mainstreet

Hopkins, MN 55343

952-475-1101

ToothByTheLake.net

As the name implies, nothing

may be bought or sold in the group.

Once a group gets too big, usually

more than 1,000 or 1,500 members,

it is split into smaller neighborhood

groups. People can only belong to

one Buy Nothing group.

IN GOOD FUN

Giving an item away to the first

person that replies to a post is

discouraged. Buy Nothing administrators

ask givers to keep a

post active long enough for many

members of the group to see it

and state their interest. The giver

is also encouraged to be creative

in how they select the person that

receives the item or service when

multiple people are interested.

Popular methods include asking

people to post cute pet photos

or share a joke. These threads

enhance the amiable nature of

the groups.

Exchanging items through a Buy

Nothing group results in neighbors

getting to know each other, diverts

tons of discarded items from

landfills and decreases pollution

of waterways.

To find a local Buy Nothing group,

visit BuyNothingProject.org or

BuyNothingapp.com.

It is the simple things

of life that make

living worthwhile, the

sweet fundamental

things such as love

and duty, work and

rest, and living close

to nature.

~Laura Ingalls

Wilder

Experience healthier dentistry

14 Twin Cities Edition NAtwincities.com
---
Is One

Monthly

Breast Exam

Enough?

by Joyce Sobotta

Getting to understand and know your breasts is an important part of a balanced

health routine. This is why it makes sense to honor them every day with a loving

self-massage instead of just "looking for lumps" once a month.

Breasts are sensitive to hormonal changes, and nonmalignant lumps or thickening

often go away over time. Breast lumps are common for women in their 40s when hormones

are changing. Premenstrual swelling may be normal, or it may be an indicator

of impaired thyroid function.

Cysts are fluid-filled and can change their shape and size and move freely all over

the breast surface. This proves they are benign because free movement is not found in

the case of cancerous lumps. Cysts are more profoundly seen near the upper and outer

region of the breast or closer to the armpit. Large fluid-filled cysts of fibrous lumps,

while non-cancerous, can reflect overexposure to harmful chemicals and toxic buildup

combined with poor lymph flow. Lumpy, bumpy breasts most likely contain too

many toxins, and those toxins are primarily estrogenic.

When there is too much estrogen in relationship to progesterone and other

hormones, it causes an imbalance. Breast pain or hot flashes may be symptoms. Pills

with hormones such as birth control or Hormone Replacement Therapy (HRT) have

either estrogen or progesterone or both. They may not be exactly right for a particular

woman, or she may react to the additives or synthetics in the pill. Side effects of

synthetic estrogens may damage the DNA and cause mutations. Hormone levels can be

easily checked with a saliva test.

Breast cysts that are fluid-filled are diagnosed by placing a needle in them under

Large fluid-filled cysts

of fibrous lumps, while

non-cancerous, can reflect

overexposure to harmful

chemicals and toxic buildup

combined with poor

lymph flow.

local anesthetic and aspirating the contents.

Sometimes, an ultrasound is necessary

to determine if it is a cyst or a solid

lump. A cyst will disappear following an

aspiration and no further treatment is

necessary. If the ultrasound shows a simple

cyst and the woman does not want a

needle stuck into her breast, the cyst can

be watched with repeated exams. Most

cysts disappear with menopause. Changes

in diet and a simple, loving breast selfmassage

will help greatly.

Many women are not sure what they

are supposed to feel when they do the

breast exam. There may be lumps and

tenderness causing confusion. This is

why it is important to get to know your

breasts and practice the lymphatic breast

self-massage daily to let go of tension and

get in touch with your body.

Joyce Sobotta is a certified

aromatherapist and

certified reflexologist, and

founder of Healthy Girls

Breast Oil, an exclusive

essential oil blend she

created. Sobotta is available

for consultations for natural health and

loves to create essential oil custom blends

for her clients. For more information, visit

AromatherapyNaturesWay.com. See ad,

page 23.

October 2021

15
---
Less Stuff, More Joy

Ways to Live Simpler and Lighter

on Mother Earth

by Ronica O'Hara

When holistic wellness coach and personal trainer

Sergio Rojas saw his contract with a trucking

company terminated by the pandemic, he and his

wife Krista turned it into an opportunity to step away from a

life of too much stuff and over-scheduled activities. "When life

gets too complicated and there's too much going on, you get

stressed and irritated easier," he says. "You don't feel connected

to yourself."

The couple sold their 4,200-square-foot house in Dubuque,

Iowa, along with 85 percent of their belongings and spent

eight months living out of suitcases exploring the southeastern

United States and Latin America with their 14-year-old daughter

and 12-year-old son. "We wanted our kids to see what it's

like to downsize, to live with less," says Rojas.

After considering Vancouver and Miami, they settled in the

Atlanta area in a townhouse half the size of their Iowa home

not far from extended family. "A simpler life lets you focus on

what's important," he says. "We have deep, deep conversations

with our kids, and dinner can be a two-and-a-half-hour experience,

with a game of cards and singing songs."

Not everyone moves in such dramatic fashion toward a

simpler lifestyle, but thanks in part to the lessons of COVID-19,

intentionally living with less is gaining currency across the

country. "The pandemic gave us an uninvited sample of a more

minimalist and simple life, and we have all become acutely

aware of what feels good to let go of and what's really important

to us," says minimalist blogger Ema Hidlebaugh, of

MinimizeMyMess.com.

According to research from the multinational consulting firm

Accenture, the pandemic made consumers more mindful of

purchases, more conscious of food waste and more interested

in sustainable, local options. Other polls found that two out of

16 Twin Cities Edition NAtwincities.com
---
three Americans adopted more eco-friendly habits during the

pandemic, and that 52 percent are open now to living in a van.

There is no one-size-fits-all approach for simpler living; each

person crafts what best fits their values and needs. Three common

strands have emerged: minimalist simplicity—living with

less clutter and busyness; ecological simplicity—living with

the sustainability of the planet as the priority; and conscious

simplicity—driven by deep personal and spiritual values. The

approaches can overlap, yet each has its unique flavor. None

has an end stage: All are dynamic explorations and encourage

continual experimentation and growth.

With time, they often merge together. In an in-depth study

published in the International Journal of Applied Positive Psychology,

people living long-term minimalist lifestyles reported

spending more time with family and friends, volunteering,

engaging in pro-ecological behaviors, making sustainable and

ethical purchases, and choosing to spend money on experiences

rather than material objects. They described their mental space

as a feeling of clear-headedness, spaciousness and lightness, and

some said that stripping back to minimal possessions enabled

them to strip back to their true identity.

Moving toward simplicity often starts with a decision—sometimes

thrust upon us—to reconsider how to spend our energy.

"Whatever you own, owns you," counselled pacifist, mystic and

environmental activist Peace Pilgrim in the 1980s—a sobering

thought, given that the average American household is estimated

to hold 300,000 separate items, from T-shirts to coffee

max3d007/AdobeStock.com

cups. As one woman told her, "I've just realized I'm working my

fingers to the bone to provide a home for my furniture!"

Minimalist Simplicity

Minimalism involves "owning less, practicing sufficiency and

improving the quality of life by not indulging in consumerism,"

says Aniruddha Pangarkar, assistant professor of marketing at

the University of Wisconsin-Green Bay, whose study on the

topic appeared in the Journal of Business Research. "By practicing

minimalism, consumers can achieve life-goals through

experiencing well-being, satisfaction, happiness and peace."

A 2019 YouGov survey reported that 17 percent of Americans

describe themselves as minimalists, 23 percent would like to become

one and 31 percent have no interest in the idea. Historically,

minimalism in America goes back to the Quakers and Henry

David Thoreau's writings, but it gained new life in 2014 with Marie

Kondo's The Life-Changing Magic of Tidying Up. She says holding

each object and asking, "Does it spark joy?" If it doesn't, thank it

and toss it, she advises. After her Netflix series ran in 2019, thrift

stores reported a dramatic upswing in donations.

Because research suggests that clutter is linked to depression,

fatigue and higher levels of stress, decluttering alone can be lifechanging.

Journalist Ellen Pober Rittberg, of Brooklyn, moved

into a one-room studio when she downsized from her house. "I

could have chosen a one-bedroom apartment, but it would have

meant more places to put things that I probably didn't need to

acquire," she says.

Asking if something "sparks joy" can also be applied to

everything from friendships to jobs to food and finances,

whittling away what is not essential. As millennials are discovering,

renting instead of owning a home frees up weekends

for fun instead of home repairs. Using Lyft or Uber and mass

transit saves money otherwise spent on car loans, repairs and

gas. Spurning designer brands opens up funds for trips to Yellowstone

or Iceland.

"Even though everyone embraces minimalism differently, each

path leads to the same place: a life with more time, more money

and more freedom to live a more meaningful life," advise Joshua

Fields Millburn and Ryan Nicodemus in their top-rated blog

TheMinimalists.com, which has 20 million followers. "Getting

started is as simple as asking yourself one question: How might

your life be better if you owned fewer material possessions?"

Ecological Simplicity

This green approach means "to choose ways of living that touch

the Earth more lightly and that reduce our ecological impact on

the web of life," writes eco-activist Duane Elgin in his seminal

book Voluntary Simplicity. Half a century ago, the Whole Earth

Catalog kicked off the movement with its Earth-centered living

strategies. Today, thousands of websites and books offer stepby-step

ecological advice, recycling has become commonplace,

electric cars are the hottest sellers and according to the National

Retail Federation, 70 percent of American consumers value

sustainability in products.

October 2021

17
---
Lowering our impact on the planet means living more simply

with less. Among other strategies, this means going without

household plastics or lawn chemicals; gardening and buying

local produce in season to lower shipping emissions; choosing

equipment and clothes made to last many years; and reducing

energy consumption at home, work and on the road. Sustainable

living can be as simple as using a personal mug when ordering

a latte or as complex as joining a stockholders' rebellion

to force sustainable corporate policies. It also can mean returning

to the simpler practices of yesteryear, such as line-drying

clothes and bonding more closely with the natural world.

For Barbi Gardiner, owner of The Outdoor Apothecary,

in Plainfield, Connecticut, embracing a simpler, sustainable

lifestyle after leaving a high-pressure job meant "adopting a

do-it-yourself attitude" that included starting a permaculture

garden, composting, raising chickens, foraging and cooking

wild food, and creating healing remedies from homegrown

and foraged herbs. "Nature is the medicine for what ails us,"

she says.

Conscious Simplicity

Deeply held values, not money and possessions, shape this

form of simpler living, sometimes called soulful or conscious

simplicity. Its focus is on life-enhancing experiences, inner

growth, spirituality, natural health, creativity, nurturing

relationships and social action. Owning bling has little allure.

"With conscious simplicity, we can seek lives that are rich with

experiences, satisfaction and learning, rather than packed

with things," writes Elgin.

Sometimes passion is the driver. Alex Honnold, the renowned

rock climber profiled in Free Solo, lived in a van for 10 years

while scaling Yosemite's El Capitan and other formidable peaks.

He donates one-third of his income to global solar power

initiatives. Millennials like him are finding stuff less enticing:

The Harris Group reports that 72 percent of them say they

would rather spend money on experiences than material things.

A study from San Francisco State University found that the

happiness of buying something new like a car or a laptop fades

over time, while spending money on an experience provides

joy long after the experience

has ended.

Deeply held values

can mandate a simpler

life. Ross Martinie Eiler

found his calling 15

years ago when he read

about the voluntary

poverty of the Catholic

Worker Movement,

which offers hospitality

to the homeless in 178

centers worldwide. "It

struck me as an authentic

way of living that's

true to the beauty and

goodness of the religion,"

he says.

Today his life is built

around the Bloomington,

Indiana, Catholic

Worker community.

He, his wife Andrea

and their four children

live communally in

four houses with other

members and guests,

sharing meals, belongings

and easy-going conversations with the homeless. He

tunes pianos part time for money, half of which he donates

to the community. For fun, he pounds the keys in a rollicking

boogie-woogie band.

The committed communal life isn't always easy. "Every day

there's a new challenge that needs a new approach. Against my

will, I've been forced to become a better person," he chuckles.

"I have little money on paper—I'm probably in the bottom 10

percent—but I don't need anything. And yeah, I feel it's very

right for me."

Denver-based health writer Ronica O'Hara can be contacted at

OHaraRonica@gmail.com.

chinnapong/AdobeStock.com

18 Twin Cities Edition NAtwincities.com
---
Living Lighter Checklist

Some Ways to Up Our Game in Simpler Living

MINIMALIST SIMPLICITY

n Buy only what we truly need

n Prune clothes and books

n Declutter, category by category

n Repair, don't replace

n Purchase for quality, not quantity

n With each new purchase, give

away something old

n Choose paperless receipts

n Digitalize books and movies

n Use a budgeting app to

lower expenses

n Reduce food waste

n Go slow: slow food, slow fashion

n Consider moving into a

smaller space

n Unsubscribe from catalogs

and retail emails

n Give away clothes not worn

for a year

n Re-examine social commitments

n Use reusable tote bags

for shopping

n Eliminate duplicates

n Drive less and walk, bike and

ride mass transit more

ECOLOGICAL SIMPLICITY

n Eat more plants, less meat

n Grow our own food

n Compost food scraps

n Go plastic-free in the house

n Conduct a home energy audit

n Install solar for home energy

n Use green cleaning supplies

n Save water with toilet and

shower eco-devices

n Air-dry clothes

n Switch to an electric or

hybrid vehicle

n Buy quality clothes in

natural fabrics

n Recycle whenever possible

n Buy pre-used items

n Use reusable bags and

food containers

n Make DIY beauty products

and cleaners

n Volunteer for local eco-activities

n Boycott products that

endanger wildlife

n Campaign for environmental

policies and candidates

CONSCIOUS SIMPLICITY

n Spend on experiences, not stuff

n Minimize shopping online

and offline

n Detox social media accounts

n Scale back TV and cable

n Savor nature with a daily walk

n Plant trees locally

n Volunteer often

n Commit to a cause

n Use holistic medicine

practitioners

n Take a personal growth course

n Meditate or pray daily

n Explore yoga, tai chi or

a martial art

n Take up a creative pursuit

n Explore the local area

n Sign petitions or organize drives

n Get involved in a worthy cause

n Invest to delegitimize fossil

fuels and deforestation

n Donate to worthy environmental

or social causes

indievibe/AdobeStock.com

October 2021

19
---
conscious eating

Fall Fruits for Savory Dishes

fresh approaches to autumn flavors

by April Thompson

beton studio/AdobeStock.com

Move over, summer berries and stone fruits—'tis the

season for a cornucopia of fall fruits, including

crunchy apples, chewy figs and tart pomegranates. By

taking a page from the playbooks of orchard chefs, home cooks

can flex the unique flavors and health powers of these autumn

delights with savory mains and sides.

Fall fruits boast many healthful properties, from the apple's

plentiful soluble fiber and vitamin C to heart-healthy lycopene

and beta-carotene found in orange-skinned persimmons. Pears

are also loaded with pectin, which helps lower cholesterol, fight

diabetes and promote gut health. Opting for light, savory preparations

of fruit such as seasonal salads and soups over sugary desserts

makes them an even healthier choice.

Healdsburg, California, restauranteur Kyle Connaughton

creates dishes highlighting different fruit varieties for his restaurant's

11-course menu, which changes daily. "This region was

actually known for its heirloom apples and cider-making long

before it was known for wine. We have these incredible heirloom

fruits, including experimental varietals from the 1800s that no

one even knows what they are. So many varietals got lost in the

quest to grow fruit bigger and faster," says Connaughton, who

runs SingleThread Farms with his wife Katina. Their 25 acres

include an heirloom fruit orchard, olive trees, beehives, grapevines

and chicken coops that supply fresh ingredients to their

three-Michelin-star restaurant.

"Some pear varieties are very crisp and dense, and poach and

roast well, whereas other soft-skin varieties are better pureed

into drinks or sorbet," says Connaughton. He creates dishes that

celebrate all of the season's bounty, and in California, fall brings

persimmons and Dungeness crab. "Persimmons have a fibrous

texture that don't blend well into sauces and don't freeze well for

things like sorbets, which we like to make with other fall fruits like

pomegranate. We prefer to use them in savory dishes, like a first

course of cold steamed crab with persimmon."

The orchard also grows Asian pears, which SingleThread Farms

tends to use raw, often paired with raw fish. "Asian pears are very

crisp, but not incredibly sweet, with an undertone of acidity. It has

the watery crunch of a jicama that makes a nice backdrop for raw

fish dishes like sashimi," says Connaughton.

While the restaurant's innovative menu focuses on small

bites in curious combinations, the Connaughtons frequently

have a simple family meal before the dinner service. In autumn,

they will often toss together a salad featuring local goat or blue

cheese; bitter chicory, frisee or radicchio greens; roasted fall hazelnuts

or walnuts; and figs, persimmons or pomegranates from

the orchard, served with a vinaigrette made with pomegranate

molasses and macerated shallots.

The pink-fleshed, mountain rose apple, an autumn specialty of

the Hood River Fruit Loop region of Oregon, often makes its way

into salads at the dinner table of Katrina McAlexander, a thirdgeneration

farmer and owner of Grateful Vineyard, in Mount

Hood. This 51-acre orchard and vineyard, brewery, winery and

tasting room boasts more than 500 fruit varieties, including 150

20 Twin Cities Edition NAtwincities.com
---
marina gorskaya/AdobeStock.com Image courtesy of USA Pears marina gorskaya/AdobeStock.com

Image courtesy of USA Pears marina gorskaya/AdobeStock.com

kinds of apples alone. Grateful Vineyard hosted the cooking competition

show Top Chef this year for a Fruit Loop challenge, with

competitors coming up with savory dishes such as pear risotto

and scallops with an apple shallot relish.

McAlexander's fall salads often feature fennel, herbs and arugula,

topped with croutons made from leftover pizza dough. Pears

and apples from the orchard also get pickled, a nod to McAlexander's

Swiss heritage.

One of the vineyard tasting room's signature dishes is an orchard

pear pizza, with Anjou pears, caramelized onion and other

savory ingredients on a base of olive oil and a long-ferment crust.

The kitchen also uses pears in a vegan ceviche, tossing them with

red onion, tomato, cucumber, cilantro and lime.

As the weather starts to shift, fruit adds a nice dimension to

warming soups for chilly fall days. Adding cooked apples or pears

to classics like puréed carrot or squash soup provides an extra

dose of sweetness and fiber; sneak in fall greens like kale for even

more nutrients. Fruits also help fill out hearty grain bowls alongside

fall veggies like carrots, arugula and sweet potato, particularly

paired with nutty grains like farro.

Connect with Washington, D.C., freelance writer April Thompson at

AprilWrites.com.

Pear and Lentil Salad

Salad:

A few handfuls of arugula

A few handfuls of spinach

½ pear, sliced into thin slices

2 Tbsp chopped pecans

¼ cup cooked lentils

¼ cup pomegranate seeds

¼ cup feta or goat cheese

Dressing:

2 Tbsp Dijon mustard

¼ cup olive oil

2 Tbsp maple syrup

¼ tsp cinnamon

Salt and pepper

Pour a desired

amount of dressing

onto the salad and

toss. Store the rest in

the fridge.

Recipe by Maria Roberts

(@spinach4breakfast),

courtesy of USA Pears.

Pear Barley Salad

Salad:

⅓ cup walnuts

1 cup uncooked barley

1 cup cooked chickpeas

2 green Anjou pears, divided

⅓ cup chopped sun-dried tomatoes

¾ cup crumbled feta

¼ cup chopped fresh parsley

1 handful baby arugula

Dressing:

3 Tbsp red onion, minced

¼ cup apple cider vinegar

⅓ cup olive oil

2 tsp maple syrup

1 tsp Dijon mustard

1 tsp dried oregano

½ tsp sea salt

¼ tsp pepper

Cook barley

according to

package instructions.

Drain. Toast

walnuts in a small

skillet. Let cool.

Add minced onion in a

small bowl with the vinegar

and let marinate while you prep

the salad.

Chop 1-½ pears and save remaining half for fanning and

decorating the salad.

Add cooked barley, chickpeas, pear, sun-dried tomatoes,

arugula, parsley and feta to a large bowl. Mix the

remaining dressing ingredients with the vinegar

and red onion, and whisk until combined.

Pour dressing over salad mixture and toss to

coat. Taste and season with additional salt and

pepper, if needed.

Recipe by Brittany Mullins (@eatingbirdfood),

courtesy of USA Pears.
---
healing ways

Healthy Breast Basics

Lifestyle Choices to Lower Disease Risks

by Sandra Yeyati

One in eight women in the United States develops

breast cancer in the course of her lifetime.

"Notably, only five to 10 percent can be blamed

on inherited gene mutations, and merely 13 percent of

women with breast cancer have a first-degree relative with

a history of disease," says Kristi Funk, a board-certified

breast surgeon in Santa Monica, California, and medical

director of PinkLotus.com. "It's empowering to realize

that the causes for the vast majority of breast cancer are

under our control in the choices we make every day."

"Whenever you lift fork to mouth, you move

closer to cancer, or farther away," says the

author of Breasts: The Owner's Manual—a

vegan proponent. "Plants, legumes and

whole grains provide nutritional armor

for your cells, decreasing cancer risk.

They release molecules that scavenge

free radicals, eliminate carcinogens,

prevent and repair DNA damage,

identify and destroy harmful cells,

inhibit the supply of blood to tumors,

stimulate the immune system,

regulate hormone metabolism and

reduce inflammation." Funk recommends

regular consumption of cruciferous

vegetables, leafy greens,

soy, ground flaxseed, berries,

matcha green tea, mushrooms,

turmeric, aloe vera, garlic,

onion, chives and cacao.

Functional doctor Elizabeth

Boham, the medical

director of Dr. Mark Hyman's

UltraWellness Center

in Lenox, Massachusetts,

proposes a balance of animal

and vegetable protein, as long

as the animal sources are good,

like eggs, salmon or grass-fed beef

without antibiotics. "Organic, non-

GMO soy like tofu or edamame may decrease

3kstudiok/AdobeStock.com

22 Twin Cities Edition NAtwincities.com
---
a woman's risk of breast cancer, but avoid bad soy that's added

to processed food, including soybean oils and soy lecithins,"

she advises. "I also suggest cutting back on dairy for women at

high risk of breast cancer because it naturally contains growth

hormones, which may cause things to grow in our body that we

don't want to grow."

Citing a clear association between alcohol consumption and

breast cancer risk, Boham recommends eliminating or moderating

drinks to no more than five a week. She also highlights

the importance of seven to nine hours of sleep and relaxation

techniques to improve stress response.

Maintaining a healthy weight is also important. "Our body

fat is where hormones get turned into estrogen, which has

been associated with an increase in breast cancer," Boham

says, adding that 35 grams of fiber per day will feed healthy

bacteria in the gut which helps eliminate used-up estrogen

and other toxins. "Avoid xenoestrogens, too, which can act

on the estrogen receptor, such as BPA in plastics and store

receipts, parabens in skincare products and pesticides and

herbicides on lawns and in non-organic foods."

Boham suggests eliminating refined and processed carbohydrates

like bread, white rice and cookies, which cause blood

sugar to spike and the body to produce insulin, the hormone

that lowers blood sugar after every meal. "Over time, people

develop insulin resistance, causing it to produce even more

insulin to do its job. Those high levels of insulin can encourage

cancer growth," she explains.

Carlos Garcia, M.D., director of the Utopia Cancer Center

(UtopiaCancerCenter.com), in Oldsmar, Florida, and author of

Cancer is a Symptom, uses liver and gallbladder flushes, colonic

irrigations and coffee enemas to help the body purge toxins.

"Gut flora imbalances compromise the immune response and

nutritional absorption. Yearly colonic irrigation with recolonization

is essential in the prevention of disease," he explains.

Some women experience breast tenderness or pain and

lumpy, bumpy breast tissue; having dense breasts can increase

breast cancer risk, Boham says, noting that too much caffeine

or an iodine deficiency can exacerbate these symptoms. She

recommends consuming less coffee and more iodine-rich foods

like nori, kelp powder or seafood.

According to Boham, there isn't enough good research to say

that we should never wear underwire bras, but good lymphatic

flow and circulation to the area is important and can be facilitated

with daily movement, exercise and sweating to remove

stuck toxins and support the detoxification system.

Boham says many women find their breast cancer during a

self-exam. "Know your own body. If something looks or feels

different, if you feel a lump that shouldn't be there or see a shift

in the skin, a dimpling or a pulling, have it checked. It's often

nothing, but you could find the cancer early, which makes all

the difference in the world."

Locally owned and independent since 1968!

Mastel's

HEALTH FOODS

EST. 1968

vitamins, minerals, supplements, herbs, grocery,

personal care, homeopathy, tcm

1526 ST. CLAIR AVENUE, ST. PAUL, MN 55105

T. 651-690-1692 • WWW.MASTELS.COM

OPEN WEEKDAYS 9-8 • SATURDAY 9-6 • SUNDAY 12-5

• acupuncture & herbs

• manual lymph drainage

• manual therapies

• corrective exercise

• micro/nano needling

Natural

&

Physical

Medicine

because your quality of life matters.

5313 Lyndale Ave. S. Mpls 55419 m@mcathcart.com 612.735.9993

Holistic Breast Health

CONSULTS AND PRESENTATIONS

Healthy Girls Breast Oil • Mystic Blends

Essential Oil-DIY classes and Custom Blends

Contact me today!

715-828-0117 text or call

Joyce@AromatherapyNaturesWay.com

AromatherapyNaturesWay.com

Joyce Sobotta

Educator, Aromatherapy, Lymphatic, Consultations

GROW

Your Business

Contact us for special ad rates.

763-270-8604

Sandra Yeyati, J.D., is a professional writer and editor. Reach her

at SandraYeyati@gmail.com.

October 2021

23
---
green living

Water Scarcity Woes

A Global Problem That's Getting Worse

by Jeremiah Castelo

Water scarcity is a legitimate concern.

It is true that the hydrologic cycle, the process in which

the Earth circulates water throughout its ecosystems, is

a closed-loop cycle that neither adds nor takes away water. In

theory, the amount of water on Earth will always remain

the same. But problems occur when the hydrologic

cycle is disrupted, causing some regions to grow

arid while others get constant floods. The

human activities that disrupt that process

include the building of dams, the

industrial pollution of waterways, the

paving of roads, excessive drilling

and bottled water privatization.

Here are 10 of the most alarming

water scarcity facts that the

world is currently facing.

By 2025, half of the

world's population will be

living in areas of water stress

as people will be unable to

access the water they need.

Climate change, population

growth, agricultural demands

and mismanagement of water

resources all contribute to the

growing water crisis.

den VIII/AdobeStock.com

24 Twin Cities Edition NAtwincities.com

The world's population will

rise to 9.7 billion by 2050, leaving

even more people in water-stressed

conditions. An estimated 60 percent

of all surface water on Earth comes from

river basins shared by separate nations and

almost 600 aquifers cross national boundaries. In

places where water is already scarce, this can lead to

geopolitical conflict.

Three in 10 people on Earth currently do not have access to

safe and clean water. According to the World Health Organization, 2.1 billion

people do not have access to a safely managed water source. An estimated 263 million

people must travel over 30 minutes to access water that isn't clean, and 159 million still

drink from untreated surface water sources.
---
trifonenko ivan/AdobeStock.com

One in three people worldwide does

not have access to a toilet. Around 2.3

billion people lack access to even basic

sanitation services, forcing them to either

practice open defecation or use pit latrines

and buckets. Fecal contamination in the

water supply is a major cause of deadly

waterborne diseases such as hepatitis A,

norovirus and E. coli.

Annually, 1.6 million people die from

waterborne diseases. Of the 5 million

people that become ill from bad water,

most are children.

Water privatization causes harm.

When corporations site water bottling operations

in developing countries like India

and Bolivia, they significantly deplete supplies

needed by local farmers. In the U.S.,

when a struggling public water or electricity

utility sells their rights to a private

corporation, household water and sewer

services typically become, respectively, 59

percent and 63 percent more costly.

In the U.S., 2.1 trillion gallons of

clean water is lost each year due to poor

infrastructure, including old, leaky pipes

and broken water mains. David Le France,

CEO of the American Water Works Association,

estimates that repairing America's

water infrastructure will be a trilliondollar

program. Due to divided efforts in

governmental decision making, adequate

policies and budgeting are often difficult to

come by.

Often, water burdens fall upon women,

some of whom walk four miles a day

just to fetch water that is likely contaminated.

In sub-Saharan Africa, for example,

it takes about six hours to carry a 44-pound

container of water from a source that often

has the potential to make them sick, according

to the Global Water Institute.

One-third of the world's largest

aquifers are water-stressed. Underground

aquifers are naturally replenished through

rainfall and surface water, but a deficit occurs

when more water is pumped out than

replenished. Eight of the biggest aquifers,

including those in Saudi Arabia, northwestern

India and Pakistan, are not being

replenished at all.

Meeting the United Nations' sustainable

development goals for the water

crisis will cost $114 billion per year.

Attaining these critical goals will be timeconsuming,

expensive and may face political

division. Yet the cost of not doing so is

also high. Addressing healthcare needs due

to water-related diseases and poor sanitation

costs $260 billion globally each year.

Water scarcity is real. To ignore it or

to assume that it is only a problem of the

Water Scarcity Solutions

1Save Water Limit the use of water

and of washing machines. Take

short showers instead of full baths.

Educate Empower people to help

2 by showing them how to prevent

and mitigate water scarcity problems

now and in the future.

3Recycle Water Learn about and

employ available technologies to

recycle rainwater and other water

used at home.

4Support Water Conservation Allocate

money and time to help water

conservation efforts around the world.

Improve Farming Practices Farming

and irrigation practices 5

and technologies need to become

more efficient.

Use Fewer Chemicals in Farming

6 To ensure clean water and reduce

water shortages, farmers need to decrease

their use of chemical fertilizers

and pesticides, which leads to groundwater

pollution.

developing world is to be blind to the

reality that the rest of the world is experiencing.

Excessive water consumption and

poor water management are factors that

can be controlled. Supporting clean water

initiatives will certainly help the movement

against the global water crisis. Finally,

educating ourselves and raising awareness

is a task we should all take on.

Jeremiah Castelo is the founder of World

WaterReserve.com, which publishes information

on water scarcity and purification

methods. This article is excerpted and

reprinted with permission.

7Improve Sewage Systems Improving

sewage systems in underserved

areas will help to provide clean drinking

water and prevent disease and

water scarcity.

Better Water Distribution

8 Infrastructure To prevent severe

water shortages in times of drought,

efforts are needed to connect poor

people in developing countries to public

water supplies.

Support Clean Water Initiatives

9 Donate money, time and skills to

organizations worldwide that are working

to bring clean water to areas that

don't have it.

Source: Conserve Energy Future at

Conserve-Energy-Future.com.

October 2021

25
---
Good Grief

Four Tips to Navigate Grief

by Nea Clare DallaValle

One side effect of living through a global pandemic is experiencing a significant loss.

Many deaths have been a tangible and reasonable experience of pain, sadness and grief.

What many may not think about as loss or even grief-worthy may be impacting their

sense of well-being and security in profound ways, including losing a job, job insecurity, lack of

routine, and loss of closeness and trust with family and friends. These are all ways that one experiences

a sense of loss which impacts feelings of safety, security and normalcy, and collectively,

we have been going through this for over 18 months with no clear end in sight.

There is a popular metaphor of boiling a frog where the water temperature increases

slowly and steadily over time, and the frog does not even realize it is in hot water. In many

ways, living with this level of continuous stress, uncertainty and loss begins to feel normal,

and one gets used to the experience. The only problem is that no matter how well they get

accustomed to the constant stress, it does not address the mental, emotional and physical

toll it has on the well-being of the person.

A Few Thoughts on Grief

Most think that grief accompanies tragedy, unexpected catastrophe or death. Yet, no matter

how reasonable it may be to experience grief, culturally, it is difficult to know how to address

it. The grieving process derails routine and everyday life and makes simple tasks difficult to

accomplish. It is messy, time-consuming, uncontrollable and unpredictable, and worst of all,

there is very little that can be done to bypass or circumvent the experience.

There is also another less obvious and less acknowledged type of grief. This kind of

grief is anticipatory. It is what happens when someone is aware of an impending change.

More often than not, this kind of grief gets mixed up with worry, making it harder to

recognize. In many ways, this is the kind of grief that has been experienced throughout

the pandemic. The pain, loss and tragedy of what is being lost lives in the imagination and

becomes a weight on the heart.

Imagination is a powerful tool. What is held in the imagination can generate emotions,

stress and hormonal responses in the body. Imagine having a nightmare. One will

wake up feeling scared, the heart racing, perhaps there is sweating, yet nothing has actually

happened. The body responds to what is imagined the same as it reacts to what is

real. So, when feeling worried, insecure and unsettled, one will often imagine the worst,

which creates a stress response.

26 Twin Cities Edition NAtwincities.com

What Can Be Done

The experience of grief is overwhelming

and can show up and interrupt life at the

most inopportune time and in the most

unexpected ways. Therefore, learning how

to face this kind of emotional chaos is not

only helpful but necessary. Below are four

tips that have helped many people face this

emotional chaos with a new level of selfcompassion

and grace:

1Acknowledge the grief: It is

okay to be sad. It is okay to be

angry. It is okay to wish that everything

and everyone could just go back to the

way it was. But to be okay, one must first

acknowledge that this is happening. Consider

what is causing the sadness, what is

desired to be different, what is missing or

longed for, and what is upsetting. Write it

down. Think it out. Talk about it.

2Lean into the emotions: When

the emotions rise up—the anger,

grief, frustration and sadness—lean into

the feelings. Imagine a toddler throwing a

temper tantrum, kicking the floor, screaming,

tossing herself around, and crying so

hard she is choking. At that moment, she

does not want to answer questions about

what is wrong; she needs to let it play out.

She needs to know that someone is there,

listening, keeping her safe, giving her space

to feel it all.

Grief is like that, too. It is not reasonable

or rational. There may be a trigger and

there may be no trigger. What is for sure

is that the mind/mental body will not help

one figure it out, but emotions will.

3

Reduce the pressure: The

most common complaint about

the grieving process is how inconvenient

it is to get back to normal. The response

is to just power through, to get busy

with work or tasks to muscle through

the experience. Unfortunately, this can

result in prolonging the grieving experience.

Instead, create space in the day to

let the pressure of emotions release.

Look at one's schedule and add time

to sit quietly, listen to music, journal or

just be in nature. Do something enjoyable—perhaps

curling up in a quiet corner

with a blanket and a cup of hot tea or

walking your dog. The key is to make

room in the day for grief and self-care.
---
The only problem is that no matter

how well we get accustomed to the

constant stress, it does not address

the mental, emotional and physical

toll it has on our well-being.

Talk about it: Finally, this may be the most obvious, but

4 talking about the grief is essential. Speaking is a powerful

tool for processing complex and challenging emotions and

experiences. When spoken, the thoughts spinning take shape and

move through the voice into the world where one can hear what is

being experienced. It makes everything more real. Friends, family,

counselors, coaches, therapists and support groups are all great

resources to hold space and hear what is being said.

While none of these actions will reduce the pain or discomfort

of grieving, they support in honoring oneself and what is being

experienced. When given the time, energy and attention to feel the

feelings, one will find their way through the uncertainty and back to

feeling good.

Nea Clare DallaValle is an activation coach and

spiritual teacher who supports her clients in accessing

their personal power, innate creativity and inner

wisdom to create a life they love. With over 20 years of

coaching and development experience, she helps clients

discover and live their resounding YES! For more

information, visit NeaClare.com. See ad, page 6.

Welcome to

your future in

integrative,

whole-person

care

Learn how to build your career in acupuncture

and Chinese medicine or massage therapy at our

on-campus Discovery Day on November 6.

Learn more:

nwhealth.edu/dd-na 952-885-5409

October 2021

27
---
healthy kids

zinq stock/AdobeStock.com

Talking to Kids About Climate Change

What They Need to Know from Those They Trust

by Sandra Yeyati

As scientists have been predicting,

climate-related fires, floods and

drought are becoming commonplace.

Our children are seeing and

hearing about them on social media and

the news or living through them in their

own neighborhoods. Kids have questions.

They're afraid, anxious and angry about

inheriting these problems.

"We're living a climate emergency, so

we should talk about it honestly with

our children whenever they ask us. They

deserve to hear it from trusted messengers,

the people they know and love, such

as parents, guardians and teachers," says

Harriet Shugarman, the New York City

author of How to Talk to Your Kids About

Climate Change: Turning Angst into Action,

who trained with Al Gore's Climate

Reality Project and founded the online

community ClimateMama.com.

Fostering a Love of Nature

For our youngest children, "You want to

be calming and reassuring, engendering a

sense of safety and love of nature. This is

the time to go outside and connect with

the many delights of our world," says

integrative psychotherapist Leslie Davenport,

the San Francisco author of All

the Feelings Under the Sun: How to Deal

with Climate Change, an illustrated book

for 8-to-12-year-olds published by the

American Psychological Association.

United Kingdom-based children's book

author Catherine Barr offers a gentle and

enjoyable way to develop love and concern

for nature in her 10 Reasons to Love

picture book series that showcases endangered

animals. "When talking to children

that young, it's important to present

climate issues in positive ways, encouraging

kindness, inclusivity, empathy and

understanding," says the former Greenpeace

campaigner. "Young children are so

impressionable. It's best to empower them

with hope than scare them unnecessarily."

Still, Shugarman notes, "It's not too

young to say that we turn off lights when

we leave a room to save energy. Sometimes

our kids think that fruit comes

28 Twin Cities Edition NAtwincities.com
---
Broeffle, CPC

Candi

ComposureCoaching.com

from the grocery store. We should

remind them where it really grows."

Learning the Facts Together

According to Davenport, as kids reach

9 and beyond, they tend to be mentally

and emotionally capable of processing

more complex concepts and emotions.

This is the time for parents to present

vetted, science-based facts as objectively

as possible. "There's a tendency to want

to either sugarcoat or over-dramatize.

We flip from 'It's not so bad; it'll be fine',

to 'It's too late; there's nothing I can do.'

Neither of those views are helpful or accurate,"

she explains.

Barr recommends that parents stick

to the facts and encourage curiosity.

"Parents shouldn't feel that they have to

have all the answers. It can be a journey

of learning with your children to look

something up together," the author of

The Story of Climate Change advises.

"It's also a good idea to empower kids to

challenge grownups. A child can start a

conversation at the dinner table by asking,

'Where did this fish come from?' or

'Could we grow our own carrots?' or 'Are

we recycling?'"

Building Resiliency

Davenport's book toggles between the

presentation of environmentally triggered

realities and calming, reflective exercises

such as journaling or deep breathing.

"The idea is that when you hear difficult

news or have a difficult experience, you

go back and forth between talking about

or processing it and something that helps

you regulate or calm your nervous system,"

she explains. This approach helps to

build resiliency, which Davenport defines

as the capacity to stay present, openminded,

open-hearted and clear in the

face of life's challenges.

Finding Hope in Action

"We can give our kids hope by pointing

to people that are working to address

the climate crisis, including the uprise of

youth voices, as well as efforts to save animal

species, build resiliency in cities and

reduce greenhouse gas emissions," says

Shugarman. "It's also critical that parents

show their kids that they care about the

crisis and are doing things like reducing

energy use, driving electric cars, voting

for pro-climate candidates and supporting

climate education in schools."

"People think you have to talk about

how awful the world is going to be, but

I think you can turn that upside-down

and offer a strong, positive message of

hope," says Barr. "We need to help kids

understand that the choices they make

and the things they do can lead to a

more sustainable, fairer way of living."

"According to climate scientists,

if we don't do anything, we're in big

trouble, and if we intervene and make

significant changes, we're still going to

feel impacts, but it's not too late," says

Davenport. "Encourage kids to become

part of meaningful change. Our actions

make a difference."

Sandra Yeyati, J.D., is a professional

writer and editor. Reach her at

SandraYeyati@gmail.com.

Brrraaavveeee Endeeeeaaavvorrr?

Are you ready for your

Coaching for those ready for

their next chapter of life:

Follow your dreams

Start a business

Become the person you

were destined to be

Call (763) 270-8604 today

I t ' s T i m e t o L i v e feeeeaaarrrlleeeesssslly

for a free Discovery Session

October 2021

29
---
fit body

WALK ABOUT

Simple Steps to Well-Being

by Laura Paisley Beck

People that wear a fitness watch get a little buzz on the wrist as a reminder to get

more steps in each hour, but many ignore the simple opportunity that exists

to exercise upright for free anytime and anywhere. "Yes, we take walking for

granted," says Alexia McClerkin, a Houston chiropractor whose clients include professional

and elite athletes. "Most people only walk as far as it takes to get to their car."

30 Twin Cities Edition NAtwincities.com

grigory bruev /AdobeStock.com

Sitting is the New Smoking

According to On Your Feet America, Americans sit 10 hours or more each day, and

that sedentary habit is considered hazardous to our health. It may contribute to climbing

obesity rates in the U.S., currently at 44.5 percent among those ages 40 to 59.

Today's most common preventable diseases are directly linked to obesity, the key word

being "preventable."

Walking briskly daily has proven to increase metabolism, lower both blood pressure

and resting heart rates, and burn calories. Other benefits include improving mobility,

equilibrium and stamina.

Benjamin Horning, a Laguna Hills, California, chiropractor and author of A Kid's

Guide to a Healthy Spine, says, "I'm a big believer that movement is life. I recommend

that if you can move, get moving. Walking is a good starting point. If you can walk instead

of drive, go for it. If you're stuck indoors,

schedule 15-to-20-minute walks in

your calendar." It's important to put it in

the calendar because, he says, "You have

to make it real." McClerkin recommends a

minimum of 30 minutes of brisk walking

a day to increase blood flow throughout

the entire body, especially the legs.

Oh, the Places to Go

In the U.S., dogs and humans face similar

obesity statistics with similar obesityrelated

health issues like heart disease

and Type 2 diabetes. Taking dogs out

for brisk walks helps prevent and reduce

those risks.

Horning says that people may not

realize how walking a dog conditions

their own bodies. With natural surfaces

like grassy or gravel trails and dirt paths,

"there are so many neurobiological adjustments

you're making," he says. Every

nature walk provides an opportunity

for our bodies to practice balance and

sharpen its reflexes.

Foundation Fundamentals

"Proper shoes make a world of difference,"

McClerkin says. They can help prevent

plantar fasciitis, hammertoe and many

other causes of pain and discomfort.

Anya Jensen, of AnyasReviews.com, a

shoe review website, suffered painful foot

health issues and discovered the lifechanging

results of wearing "barefoot"

shoes, which have a flat sole and high

flexibility. Now she makes it her mission

to educate others that fashion doesn't have

to compromise health. "Walking was an

important part of my health journey," she

says. "The feet literally are your foundation

when you're walking. Walking in
---
pointed-toed shoes, you're missing out on

so many benefits for your physical health."

Jensen walks with her kids daily in nature

and is proud of their mobility. "With the

kids, we need a destination and we pack

snacks," she says. "I like how the world has

opened up to us because we're prepared.

We're wearing the right shoes. We can

encounter hills, rocks or the right tree."

EDITORIAL CALENDAR

& MARKETING PLANNER

NOVEMBER

DYING

CONSCIOUSLY

DECEMBER

uplifting

humanity

coming in

JANUARY

2022

Heads Up

McClerkin and Horning both ask patients to

be mindful of their limitations when taking

on a new physical activity and to be careful

to prevent injuries when adding brisk

walks to a daily routine for the first time.

"Too heavy a walk on cement and other hard

surfaces like roads can cause shin splints,"

McClerkin says. "Walk on a track to prevent

injuries from an uneven surface."

"Just be responsible," says Horning. "Walking

is so beneficial. The basics of health

just can't be ignored or taken for granted."

Humans walk upright on two feet, unlike

any other animal on Earth. Walking

allows us to connect with our bodies and

environment in a very special way, something

we can take advantage of instead of

taking for granted. Let's go for a walk.

Laura Paisley Beck is a freelance writer

in Madison, Wisconsin. Reach out at

LauraPaisleyBeck@gmail.com.

Tips for Healthy Walking

n Bring a water bottle to stay hydrated.

n Fuel up with whole foods like fruit

and nuts.

n Stretch before and after walking.

n Wear proper shoes with good arch

support and wide toe boxes.

n Wear wicking clothing layers,

reflective for dark hours.

n Invite canine friends.

n Have a regular walking buddy to

keep each other committed.

n Keep the pace/heart rate up, perhaps

using a fitness watch to stay on track.

n Consider adding poles for a full

body workout and increased stability.

763-270-8604 | NAtwincities.com

Let's Talk Natural Wellness

In-depth interviews with natural health

professionals who share the latest

information for you to lead a

healthier, happier life.

Sundays from 10-11 am

Podcasts available at AM950Radio.com

Ask yourself: Have you been kind today?

Make kindness your modus operandi and

change your world.

~Annie Lennox

October 2021

31
---
natural pet

Cannabis and Canines

How Cannabidiol Benefits Dogs

by Caroline Coile

Struck with severe arthritis, Topper,

a 7-year-old Ibizan Hound, was in

such pain he could hardly walk. He

had to be carried outside to eat or use the

bathroom, and medication wasn't working.

On a friend's recommendation, his owner,

Christy Moore, of Florence, Arizona, gave

him cannabidiol (CBD). "Within three

days, he could walk on all four legs and I

was crying tears of joy," she recalls. "It was

the miracle we needed."

Topper is among the thousands of furry

family members that have found relief with

CBD, one of 113 cannabinoids found in cannabis

(hemp) plants. Success stories abound

of how CBD has helped dogs overcome

anxiety, reduce seizures and even beat cancer.

Cannabinoids, including CBD and the

psychoactive compound THC, are substances

that mimic the naturally occurring

chemicals produced in all vertebrates.

Receptors for these endocannabinoids are

found throughout the body, especially in

the brain, nervous system and immune

system, as well as the heart, lungs, liver,

spleen, intestinal tract, muscles, bones

and both the reproductive and circulatory

systems. They act as master regulators that

signal other systems when to speed up or

slow down, working to stabilize the body

and return it to homeostasis. Cannabinoids

from the cannabis plant affect these same

receptors, each in slightly different ways.

monicaclick/AdobeStock.com

32 Twin Cities Edition NAtwincities.com
---
Unlike THC, which is toxic for dogs at

prescribed human dosages, the most significant,

documented side effects of CBD

are diarrhea and changes in some liver

enzyme values after several weeks. The

main concern with CBD is that it inhibits

cytochrome P450, a chemical in the body

responsible for metabolizing most drugs.

That means CBD could affect the effective

potency of a prescribed drug.

What Research Shows

While thousands of reports on CBD's

effect on laboratory animals and humans

have been published, only a few

have been conducted with dogs or cats.

Still, CBD seems promising for arthritis,

anxiety, itchiness and possibly seizures,

cancer and other maladies.

ARTHRITIS: In a Cornell University

study, some dogs were initially so

decrepit that their owners considered

euthanasia, but after just days on CBD

they were trotting around and even

climbing stairs. A Baylor University study

found similar improvement.

ITCHINESS: An Australian study found

CBD reduced itchiness, inflammation

and skin lesions by 51 percent after eight

weeks of treatment. An American study

also found CBD significantly reduced

reports of itchiness.

CANCER: Cannabinoids are reported

to induce cancer cell death and prevent

metastasis. A Cornell University study

found that CBD along with a standard

chemotherapy drug reduced cancer

cell proliferation in vitro more than the

chemotherapy drug alone. Anecdotal

reports from veterinarians have claimed

CBD shrunk cancer cells or put dogs

into remission.

BEHAVIOR: Despite those reports,

no controlled study has shown CBD

to be more effective than prescription

medications in reducing anxiety. A

University of Kentucky study found

physiological measurements of anxiety in

response to noise were not significantly

different for CBD versus a placebo, and

were worse compared to trazodone (a

drug commonly prescribed for anxiety).

A University of Western Australia study

found shelter dogs with aggressive

tendencies exhibited less aggression toward

humans after two weeks of taking CBD.

SEIZURES: Many anecdotal reports hail

CBD's success in combatting seizures

in dogs, but the single controlled study

delivered only moderate results. A

Colorado State University study found

CBD only worked with some dogs, and it

reduced, but didn't eliminate, seizures.

OTHER: Evidence from laboratory

animals supports CBD's effectiveness

in promoting bone healing, fighting

infection, treating inflammatory bowel

disease, slowing degenerative myelopathy,

quelling nausea and relieving pain.

Choosing Wisely

Broad-spectrum products work better

than isolated CBD because they use

the whole cannabis plant. Choose those

with third-party certificates of analysis

of potency and testing for heavy metals,

mycotoxins or pesticides. Avoid human

edible products that often contain ingredients

such as xylitol that are toxic to pets.

Aim for about 0.1 to 0.2 milligram per

kilogram of a dog's weight, given twice

daily by mouth. Work up gradually, but

beware that more is not always better with

CBD, because sometimes the response is

AnnetteRugolo.com

612-394-3736

New Webinar by

Annette Rugolo

Learn how to ....

• energetically support your pet

• help them release energy from

past experiences

• help them in their evolution

• connect with their soul group

biphasic—it doesn't work if they get too

little or too much.

Discuss CBD with a veterinarian, but realize

that not all of them are familiar or comfortable

with the subject. CBD, like many

supplements and drugs designed for humans

and used on canines, is not yet approved by

the U.S. Food and Drug Administration.

Overall, the evidence is compelling that

CBD can help some conditions. The endocannabinoid

system is the largest system

in the body and the least explored. CBD

is not a miracle drug, but it may be the

miracle our four-footed friends need.

Caroline Coile, Ph.D., is an award-winning

writer of 34 books, thousands of magazine

and web articles, and an app, All About

Dogs. Learn more at CarolineCoile.com.

Any intelligent fool can

make things bigger, more

complex, and more

violent. It takes a touch

of genius— and a lot of

courage—to move

in the opposite direction.

~E.F. Schumacker

Energy Healing for Your Pet

Tuesdays, October 12, 19, 26 | 7-8 pm

Registration: $98

https://annetterugolo.com/product/energy-healing-for-your-pet/

October 2021

33
---
Advertorial

A RAY OF HOPE IN CHAOTIC TIMES

By Monte Leach and Marc Gregory

Even in these chaotic and

perilous times, there is reason

for hope.

Humanity finds itself at a major

crossroads: Do we choose the path

of selfish separatism and inequality

based on greed and competition,

leading to the destruction of ourselves

and planet Earth; or the path of

cooperation and sharing leading to

global peace and prosperity?

Here to help us make the correct

choice stands a group of Teachers

unparalleled in their enlightenment

and wisdom, unequaled in their

ability to love and to serve. They

are the Masters of Wisdom. At

their head stands a being of the

most extraordinary compassion

and insight: Maitreya, the World

Teacher. As the one awaited under

various names by all major religious

traditions, and as a Teacher for all

humanity, Maitreya is here — along

with the Masters of Wisdom — to

guide us safely into the future.

The existence of these great

Teachers was first made known in

the West in the late 1800s by Helena

Blavatsky, who lived among the

Masters of Wisdom in the Himalayas

for three years. In the early 20th

century, Blavatsky's work was

continued by Alice A. Bailey, and,

more recently, by British esotericist

and artist Benjamin Creme. All three

of these authors and educators were

trained by, and worked directly with,

the Masters of Wisdom.

According to the Ageless Wisdom

tradition, as it is known, these highly

advanced Teachers have lived in the

remote areas of the world through

the ages, helping and guiding

humanity from behind the scenes.

Through his work over many years,

Benjamin Creme made it known that

at this critical time for humanity and

the planet, the Masters of Wisdom,

headed by Maitreya, are coming

forward now to live among us and

teach us directly.

The path to peace

and justice

Maitreya and the Masters of Wisdom

are teachers in the broadest sense of

the word. They have attained mastery

over themselves, and as enlightened

individuals devote all their time and

energy in loving service to humanity.

They are not here to establish a

new religion, but to show us how to

live together in peace. This is simpler

than we imagine, Maitreya has said.

The key is an equitable sharing of

the Earth's resources among all the

world's people. Through sharing

we lessen global tensions, generate

greater trust and cooperation among

the nations — and begin to build

a world where all have the basic

necessities of life and live in balance

with the environment.

Unless we share the world's

resources, there will never be

economic and social justice in the

world. Without justice, no peace.

Without peace, little hope for the

future, as we have weapons that can

destroy all life on Earth — weapons

that almost surely would be used

in any future widescale

conflict.

With the future of the

planet at stake, what will

it take for us to abandon

competition, conflict and

division, and begin to

manifest the grand ideals of

sharing, justice and peace?

What's needed is a

change of attitude, a change

of consciousness — above

all a change of heart in

humanity. It is that which

Maitreya and the Masters of

Wisdom can inspire.

It is a monumental task to be

sure. Fortunately, we have the help

of monumental figures living among

us now — a circumstance, according

to the Ageless Wisdom tradition,

that has never before taken place

in recorded history. This group of

enlightened teachers, as they touch

the hearts of people everywhere, will

galvanize us into action, helping us to

lead our leaders toward the creation

of a just and peaceful world. In the

millions across the globe who are

increasingly voicing their concerns

for the health of our planet and

demanding change in our political,

economic and social systems, we see

this needed change of mind and heart

already beginning to take place.

At this crossroads for humanity,

the path ahead is up to us. Maitreya

has said, "Sharing and Justice,

Brotherhood and Freedom are

not new concepts. From the dawn

of time mankind has linked his

aspiration to these beckoning stars.

Now, my friends, shall we anchor

them in the world."

For free information:

Share-International.us

888-242-8272

info@share-international.us

FREE

DOWNLOAD!

In The World Teacher for

All Humanity, Benjamin

Creme discusses

the extraordinary

ramifications of

Maitreya's appearance

and teachings. Awaken

to a world of infinite

possibility if we're all

willing to share!

bit.ly/world-teacher

34 Twin Cities Edition NAtwincities.com
---
calendar of events

MONDAY, OCTOBER 4

Muscle Test Your Family – 6:15-7pm. Understand

the basics of muscle testing and learn how you can

test your family at home. Must bring a testing partner.

Free. Location: MetroEast Natural Healing Center,

6993 35th St N #2, Oakdale. RSVP 651-771-1703

or Info@NutritionChiropractic.com. See ad, page 9.

TUESDAY, OCTOBER 5

Infusion Health Podcast: Breaking the Chains

of Ancestry Slavery and War – 9am. Join guest,

Ellen Cassia Silva, as she discusses Constellation

Energy Therapy and healing generational pain

to move forward and release re-occurring addictions

that happen due to family dynamics. Free.

LoveInfusionHealth.editorx.io/mysite. See ad, page 13.

THURSDAY, OCTOBER 7

Art That Transcends Art Show Opening – 6:30pm.

Enjoy original art work by Annie Merrell that will

stir your soul! Meet the artist and enjoy the company

of other art lovers. Free. Location: 7550 France Ave.

S., #220, Edina. BhaktiClinic.com. See ad, page 3.

MONDAY, OCTOBER 11

Accelerate Your Healing – 6:15-7pm. Learn what

steps to take to get better quicker, stay healthy longer

and save money. Free. Location: MetroEast Natural

Healing Center, 6993 35th St N #2, Oakdale. RSVP

651-771-1703 or Info@NutritionChiropractic.com.

See ad, page 9.

TUESDAY, OCTOBER 12

Infusion Health Podcast: People are People: Safety

and Survival – 9am. Co-hosts Rachel Kass and Cris

Patrick will dig into why some people choose the

minimum, while others strive for the maximum,

and yet others cannot seem to get ahead. Free. Love

InfusionHealth.editorx.io/mysite. See ad, page 13.

TUESDAYS, OCTOBER 12, 19

AND 26

Energy Healing for Your Pet - Do you have a pet

that needs some energetic support? It is time to

learn the Inner Diamond tools to support the health

of your pet and connect with and support your pet's

soul group. Join us for this three-week webinar. $98.

AnnetteRugolo.com/Product/Energy-Healing-for-

Your-Pet. See ad, page 33.

WEDNESDAY, OCTOBER 13

Healthy Diet for a Healthy Immune System –

6:15-7pm. Join us to learn how our immune system

works against invaders, which foods negatively

impact the immune system and how to nourish your

immune system with foods. Free. MetroEast Natural

Healing Center, 6993 35th St N #2, Oakdale. RSVP

651-771-1703 or Info@NutritionChiropractic.com.

See ad, page 9.

THURSDAY, OCTOBER 14

Autumn Solar Energy Workshop Webinars

– 7-8pm. All Energy Solar illustrates how

solar power has never been more affordable

or easier to install. Learn the basics of a solar

photovoltaic (PV) system; how to determine

if solar is right for a property; the economic

benefits and financing options; overview of

incentives available, and more. Free. Social.

NATwinCities.com/AllEnergySolarWebinar.

SATURDAY, OCTOBER 16

Beyond Soul Food: Soul Fusion – 12-2pm. In this

session, we will talk about the versatility of soul

food and use it as inspiration to create a diverse

spread of fusion dishes that celebrate cuisine from

around the world. As we create this delicious plantbased

meal, we will explore the healing properties

of the herbs and spices we use to build flavors. Free.

Online. MSMarket.coop.

SUNDAY, OCTOBER 17

Fall Wellness Fair – 12-4pm. Join us for a fall

wellness extravaganza with loads to do from shopping

to fitness to heart sound recordings! Free.

Location: 7 Vines Vineyard, 101 MN 96, Dellwood.

NutritionChiropractic.com/events. See ad, page 9.

TUESDAY, OCTOBER 19

Infusion Health Podcast: Time for Me Teas –

9am. Join herbalist Kate Whorlow as she shares the

herbs to use at any time or the special ones to grab

for when you are ill or in pain. Also learn how to

find the best herbs and herbalist for you. Free. Love

InfusionHealth.editorx.io/mysite. See ad, page 13.

WEDNESDAY, OCTOBER 20

Muscle Test Your Family – 6:15-7pm. Understand

the basics of muscle testing and learn how you

can test your family at home. Must bring a testing

partner. Free. Location: MetroEast Natural Healing

Center, 6993 35th St N #2, Oakdale. RSVP

651-771-1703 or Info@NutritionChiropractic.

com. See ad, page 9.

TUESDAY, OCTOBER 26

Infusion Health Podcast: Tarot and Psychic Medium

– 9am. Join guest, Corbie Mitleid, and learn

how tarot cards and psychic readings are not only for

time of death or in a Hallow season, but anytime. We

will also discuss how to not allow fear to block you

from getting a reading. Free. LoveInfusionHealth.

editorx.io/mysite. See ad, page 13.

WEDNESDAY, OCTOBER 27

Budget Cooking: Butternut Squash Pasta with

Kale – 5:30-6:30pm. This virtual, budget-cooking

class features a warming butternut squash pasta with

hearty kale that can feed four people for less than

$15 and can be adapted based on what is in your

pantry. Free. Online. MSMarket.coop.

Accelerate Your Healing – 6:15-7pm. Learn what

steps to take to get better quicker, stay healthy longer

and save money. Free. Location: MetroEast Natural

Healing Center, 6993 35th St N #2, Oakdale. RSVP

651-771-1703 or Info@NutritionChiropractic.com.

See ad, page 9.

THURSDAY, OCTOBER 28

Functional Forum for the Prevention and Treatment

of Early Dementia – 6:30-8pm. The Minnesota

Brain Clinic offers a Functional Health Forum

with presentations by practitioners Dr. Richard

Sinda and Guy Odishaw who will share a natural

protocol that is available for people with early dementia

and Alzheimer's disease. Free. Online or in

person at 7550 France Ave. S., Lower Level, Edina.

Email Lisa@IDInHealth.com to register.

featured event

Discover Your Highest

Purpose

Sri Harold Klemp, the spiritual leader

of Eckankar, shares wisdom through

stories and spiritual insights that bring

meaning, connection and humor to the

workings of Spirit in everyday life.

classifieds

Fridays at 7pm

Watch on Channel 6 or via MCN6.org

For more information, visit Eckankar.org,

TempleOfECK.org or Facebook.com/

Eckankar. See ad, page 27.

Fee for classifieds is $1 per

word\per month. To place listing,

email content to Publisher@

NAtwincities.com. Deadline is

the 10th of the month.

SUPPLEMENTS

PLANT-BASED SUPPLEMENTS – Get

Greens, Chlorophyll, Oil Blends, Electrolytes,

Cleansers, Herbal Teas & more. All organic. See

special offer for free samples. TerraLifeStore.

com. 954-459-1134.

Would your clients enjoy

Natural Awakenings

magazine?

Email

Publisher@NATwinCities.com

and get free copies

delivered right to

your door.

October 2021

35
---
ongoing events

Please call or check the websites

to ensure the classes or events

are still scheduled for that week.

Free Online Classes – The University of Minnesota

is among the largest public research universities in

the country, offering undergraduate, graduate and

professional students a multitude of opportunities

for study and research. ClassCentral.com/

university/minnesota.

Open to Abundance Challenge - Are you ready to

experience more abundance in your life? This free

14-day challenge is a fun, easy and powerful way

to open to new thinking. Nothing changes by itself;

it requires a catalyst of some sort. This challenge

is the spark of inspired action that will launch new

thinking, behaviors and results. The key is to be

willing to take that inspired action – are you ready

to say YES? Free. Courses.NeaClare.com/collections.

See ad, page 6.

Midtown Global Market – Mon-Sat 10am-8pm. &

Sun 10am-6pm. If you're looking for a more unique

shopping experience, head to the Midtown Global

Market, where more than 50 vendors sell food and

trinkets ranging from local produce to Somalian Pastries,

Middle Eastern olives and Asian spices. There

are also cultural events – from musical performances

to Irish step-dancing lessons. Free. 920 East Lake

St, Minneapolis. MidtownGlobalMarket.org/visit.

tuesday

Weekly Guided & Silent Meditation – 11-11:30am.

Led by a Prayer Chaplain in the Meditation Room,

this meditation is the same one going on concurrently

at Unity Village. It alternates affirmative prayer

and silence. Donation based. Online. UnityOfThe

ValleyMN.org /events-classes.

wednesday

Mindful Self-Compassion Workshop – 8:30-

9:30am. Patricia Enstad, a licensed social worker

and teacher, will provide a lively introduction to the

practices of Mindful Self-Compassion. She writes:

"As we consider the important tasks that lie ahead,

we will need to support our action with compassion

and resiliency. Subtle, yet powerful, these affirming

and portable methods can be utilized anywhere."

Free. EastsideFreedomLibrary.org/events.

thursday

Hatha for Everyone – 6-7pm. Everyone is

welcome to this weekly drop-in class. All levels.

Relieve stress, achy joints, improve balance at all

levels and increase your sense of well-being. $12.

Online. TheMeditationCenter.org.

Free Meditation – 7-8:30pm. Join us for a free

weekly meditation. Online. FreeMeditation.com.

friday

Gentle Yoga for Every Body – 10:30-noon. A welcoming

environment for students of all shapes and

sizes. $15. Online options. RiverGardenYoga.com.

community

resource guide

Connecting you to the leaders in natural health

care and green living in our community.

To find out how you can be included in the

Community Resource Guide, email Publisher@

NAtwincities.com to request our media kit.

ACUPUNCTURE

DYNAMIC FUNCTIONAL HEALING

M. Cathcart, L.Ac.

5313 Lyndale Ave S. Minneapolis

DynamicFunctionalHealing.com

Comprehensive holistic care for

active adults seeking to enjoy the

pain-free, energetic life they crave.

Services include acupuncture &

herbs, manual therapies, manual

lymph drainage, corrective exercise,

pelvic floor rehab and micro/

nano needling. "Because your

quality of life matters."

BENJAMIN KOTHE, L.Ac.

Bhakti Wellness Center

7550 France Ave. S, Ste. 220, Edina

Roy@BhaktiClinic.com • 612-859-7709

Incorporating modern scientific

knowledge and the ancient

healing wisdom of the past,

Kothe serves his patients with

the empathy and compassion of

one who understands the psychological

and physical pain

that comes with illness. See ad,

page 3.

BODY WORK

MYOFASCIAL RELEASE &

CRANIOSACRAL THERAPY

Barb Ryan, LMT • 612-922-2389

Bhakti Wellness Center

7550 France Avenue S, #220, Edina

Specializing in persistent and

chronic pain and mysteries of the

body. Also providing care to

clients seeking the experience of

deep relaxation and more selfconnection.

Skilled and compassionate

care. See ad, page 3.

BREAST HEALTH

AROMATHERAPY NATURE'S WAY

Healthy Girls' Breast Oil

Joyce Sobotta • 715-828-0117 text or call

Holistic breast health consults

with education on the lymphatic

breast self-massage for improved

circulation. Consultations

about pure essential oils for

emotional and physical health.

Custom blends created for you.

See ad, page 23.

COACHING

ANNETTE RUGOLO

Soul Coach, Author

and Teacher

AnnetteRugolo.com

We are in a time of fast evolution

and we have the opportunity to

release deeply held emotional

and mental patterns along with

karmic lifetimes that are keeping us stuck. The tools

I have acquired and honed for more than 20 years

will help you move beyond the stuck places in your

life and help you align with the light of your soul.

You will receive tools of empowerment that will

help you continue on your life's path and soul's

journey. See ad, page 33.

COMPOSURE COACHING

Candi Broeffle, MBA, CPC

Candi@ComposureCoaching.com

763-270-8604

ComposureCoaching.com

Master your business so you can

practice your passion. Business

coaching for purpose-driven entrepreneurs

to clarify your vision,

build your confidence and create

a soul-centered strategy. Call today

for a free Discovery Session

and get on your path to business

success. See ad, page 29.

36 Twin Cities Edition NAtwincities.com
---
COACHING

SOUL PURPOSE COACH

& HOLISTIC HEALER

Barbara Brodsho, MA

612-444-9751 • BarbaraBrodsho.com

Providing spiritual guidance to

help live your purpose and thrive

utilizing your soul's Akashic

Record. Discover your soul's

innate gifts, create a vocation that

aligns with your soul's passion,

and gain new perspective, clarity

and insight about your life's

challenges by understanding the

lessons your soul chose to experience. Schedule a free

discovery session to learn how to create a purposefilled

life. See ad, page 11.

SPIRITUAL ALIGNMENT ACTIVATOR

Nea Clare

NeaClare.com • Nea@NeaClare.com

You are a Divine Being! Are you

longing for clarity, spiritual connection

and access to personal

wisdom? Let's talk. Book your

session today and save 25%, using

code: IAMWISE. Email Nea

for a free consult. See ad, page 6.

DENTIST

HEALTH CENTERED DENTISTRY

N7915-902 St

River Falls, WI • 715-426-7777

HealthCenteredDentistry.com

Whole Person Dentistry observes

and deals with the mind,

body and spirit, not just your

teeth. This approach to dentistry

encompasses both modern

science and knowledge

drawn from the world's great

traditions in natural healing.

NATURAL SMILES DENTAL CARE

3434 Lexington Ave. N., Suite 700

Shoreview • 651-483-9800

NaturalSmilesDental.com

We're an integrative

practice committed to

promoting dental wellness

and overall assistance to

the whole person. We

desire to participate in the

creation of healthier lives,

while being sensitive to physical, philosophical,

emotional and financial concerns. See ad, page 9.

DENTIST

PURE DENTAL

Dr. Amy Ha Truong

6230 10th St. N., Ste 520, Oakdale

651-731-3064 • PureDentalMN.com

Pure Dental offers integrative,

holistic, alternative and biological

dentistry for your dental health.

We take pride in providing

quality, holistic dental care and

service for our patients. See ad,

page 15.

SEDATION AND IMPLANT DENTISTRY

1815 Suburban Ave, St. Paul

ToothBuilder.com

651-735-4661

We are a holistic dental practice

devoted to restoring and enhancing

the natural beauty of your smile

using conservative, state-of-the-art

dental procedures that result in

beautiful, long lasting smiles! We

specialize in safe removal of

infected teeth as well as placing

ceramic implants and restorations. See ad, page 29.

TOOTH BY THE LAKE

1401 Main St, Hopkins

952-475-1101 • ToothByTheLake.net

We build a foundation of trust

by treating our patients as

individuals. Understanding

how uneasy some patients

may feel about their dental

visits, we make a difference

by providing a relaxing and

positive experience. See ad, page 14.

EDUCATION

NORTHWESTERN HEALTH

SCIENCES UNIVERSITY

2501 W. 84th St., Bloomington

NWHealth.edu • 952-888-4777

Learn about the leading health

science programs including

Acupuncture and Chinese

Medicine, Massage Therapy

and more. Prepare for success

at a leading natural integrative

medicine university. See ad, page 27.

Some people are in such utter darkness

that they will burn you just to see a light.

Try not to take it personally.

~Kamand Kojouri

ENERGY HEALING

EMOTION CODE HEALING

Master Hong

Certified Emotion Code Practitioner

11012 Cedar Lake Rd., Minnetonka

952-513-7285 or 914-708-9463

Chronic pain? Suffering from

emotions? Relationship problems?

Life not going as planned? The

Emotion Code is a tool I use to

help you break through any

emotional and spiritual blocks so

you can live your best life. Trial

session only $35.

ENVIRONMENTAL HEALING

ANNETTE RUGOLO

Master Dowser

AnnetteRugolo.com

Is the energy of your home depleting

you or supporting you?

If you feel like you are hitting

your head against a brick wall, it

may be the wall of dense energy

in your home. To more easily

expand into our light and our

soul purpose, it is important that

the spaces we live energetically

support us. Contact me for more

information on dowsing, environmental healing and

space clearing. See ad, page 33.

ESSENTIAL OILS

AROMATHERAPY NATURE'S WAY

Joyce Sobotta • 715-828-0117

AromaTherapyNaturesWay.com

Education about pure essential

oils and the lymphatic system

available on my website. I offer

consultations and custom blends

that work synergistically for a

wide range of emotional and

health concerns. See ad, page 23.

GRAPHIC DESIGN

CAMPFIRE STUDIO

Sara Shrode, Graphic Designer

612-554-6304 • CampfireStudio.net

Sara@CampfireStudio.net

Ignite the possibilities of

your next project by

having Campfire Studio

design it! Innovative, fullservice

graphic design studio that takes the essence

of a campfire—warmth, stories, community—and

infuses it into every design project we do.

October 2021

37
---
HEALTH FOOD STORES

MASTEL'S HEALTH FOODS

1526 St Clair Ave, St Paul

Mastels.com • 651-690-1692

Mastel's Health Foods is Minnesota's

oldest health and wellness

store. We carry a full line of

vitamins, minerals, supplements,

herbs and more. We emphasize

organic, biodynamic, biodegradable,

holistic and hypoallergenic

products and pride ourselves on

stocking hard-to-find items. See

ad, page 23.

HOUSING - SUPPORTIVE

BROEFFLE LATIMORE

ADULT FOSTER CARE

License #1102359 • 763-600-6967

8600 Northwood Parkway, New Hope

Providing a caring and supportive

home for adults, no

matter their abilities. With

28-plus years of experience,

we offer a nurturing and family-like

environment for up to

four residents who are elderly and/or have developmental

disabilities. Residents receive assistance

with personal cares, meal prep and feeding assistance,

medication administration, transfers and

mobility, transportation and advocacy. We treat your

loved one like family.

INTEGRATED HEALTH

BHAKTI WELLNESS CENTER

7550 France Ave. S., #220, Edina

612-859-7709 • BhaktiClinic.com

Bhakti provides a holistic

environment where independent

practitioners come

together to offer an integrative

path to wellness; mind,

body and spirit. Our providers offer chiropractic,

energy therapy, massage, microcurrent therapy,

acupuncture, psychotherapy and much more so that

you can feel your best, remain healthy & thrive. See

ad, page 3.

Spread the love

wherever you go.

Let no one ever

come to you

without leaving

happier.

~Mother Teresa

INTEGRATED HEALTH

METROEAST NATURAL

HEALING CENTER

6993 35th St N #2, Oakdale

651-771-1703 • NutritionChiropractic.com

Nutrition Response Testing

(NRT) is a noninvasive

system of analyzing the

body to determine the underlying

causes of illness and non-optimum health.

Our clinically proven system may be quite different

from any other healing practice you have experienced.

The actual procedure is simple and direct,

with the body providing all of the information and

feedback needed. See ad, page 9.

NEAR DEATH EXPERIENCE

NEAR DEATH EXPERIENCE

TRANSITIONS

Tracy D. Sigfrid, NDE Guide

tracydarlee@gmail.com • 952-381-2850

Helping others transition after a

Near Death Experience (NDE)

to find purpose and meaning in

their life journey. Tracy is a

multiple NDE survivor and will

help to guide you through your

NDE event. To schedule a private

confidential session, contact

Tracy at 952-381-2850.

PHYSICIANS

DR. ISAAC M. ENGHOLM

Deploy Health Family Practice/

Bhakti Wellness Center

7550 France Ave. S, Ste. 220, Edina

DeployHealthFP.com • 612-712-4423

Dr. Engholm's practice offers

unlimited office visits,

with most lasting over an

hour. He offers telehealth

and home visits at no additional

charge and his patients

can call 24/7, which reduces the need to utilize

after-hours urgent care or emergency room visits.

Memberships are $75/mo for adults, and $25/mo for

children (added to adult member). See ad, page 3.

PSYCHOTHERAPY

FRAN BIEGANEK, MS, LP

Bhakti Wellness Center

7550 France Ave. S. Suite 220, Edina

612-564-9947 • FranBieganekTherapy.com

As a Licensed Psychologist,

Fran provides holistic, traumainformed

therapy to help clients

identify areas of potential

growth, obstacles to growth,

and processes that facilitate

healing and transcendence. She

also provides QEEG (brain

mapping) and neurofeedback

services that facilitate increased brain efficiency.

See ad, page 3.

RADIO/PODCASTS

AM950 THE PROGRESSIVE VOICE

OF MINNESOTA

AM950Radio.com

The only Progressive Talk Radio

station in Minnesota. We strive to

provide the best progressive

programming available and

feature national talkers Thom

Hartmann, Stephanie Miller, Mike

Crute and Brad Friedman. We are

also dedicated to local programming that creates a

community forum for important Minnesota Progressive

issues. See ad, page 40.

INFUSION HEALTH PODCAST

LoveInfusionHealth.editorx.io/mysite

Join hosts Rachel Kass and Cris

Patrick as they bring together the

best of Western medicine and

Eastern healing fusing the

education of both, to create the

best you. No health subject is left

untouched, but DISCLAIMER,

we are not professionals. We give suggestions in the

lighter subjects and bring in professionals for the

deeper ones. See ad, page 13.

SKINCARE - NATURAL

SILK ROAD WELLNESS

Annie Qaiser and Sameen Khan

SilkRoadWellness.com

Silk Road Wellness is the first

fully halal-certified wellness

brand in USA. A bold fusion of

East and West, the distinctive

skincare and wellness line is a

unique combination of traditional

healing systems, prophetic

traditions and contemporary natural beauty

standards. All products are free of artificial coloring,

preservatives and fillers and are packaged in ecofriendly

and reusable packaging. See ad, page 7.

SPIRITUAL TEACHINGS

ECKANKAR TEMPLE OF ECK

7450 Powers Blvd., Chanhassen

952-380-2200 • Eckankar.org

Are you looking for the

personal experience of

God? Eckankar can help

you fulfill your dream. We

offer ways to explore your

own unique and natural

relationship with the

Divine through personalized study to apply in your

everyday life. See ad, page 27.

38 Twin Cities Edition NAtwincities.com
---
Nature's Virus Killer

Copper can stop a cold

before it starts

Scientists have discovered a

natural way to kill germs fast.

Now thousands of people

are using it against viruses and bacteria

in the nose and on

the skin.

Colds start

when cold viruses

get in your nose.

Viruses multiply

fast. If you don't

stop them early,

they spread and

cause misery.

In hundreds

of studies, EPA and

university researchers have confirmed

that viruses and bacteria die almost

instantly when touched by copper.

That's why ancient Greeks and

Egyptians used copper to purify water

and heal wounds. They didn't know

about microbes, but now we do.

Scientists say the high conductance

of copper disrupts the electrical balance

in a microbe cell and destroys the cell in

seconds.

Tests by the EPA (Environmental

Protection Agency) show germs die

fast on copper. So some hospitals tried

copper for touch surfaces like faucets

and doorknobs. This cut the spread of

MRSA and other illnesses by over half,

and saved lives.

The strong scientific evidence gave

inventor Doug Cornell an idea. When

he felt a cold about to start he fashioned

a smooth copper probe and rubbed it

gently in his nose for 60 seconds.

"It worked!" he exclaimed. "The

By Doug Cornell

New device puts copper right

where you need it.

cold never got going. That was

September 2012. I use copper in the

nose every time and I have not had a

single cold since then."

"We can't

make product

health claims," he

said, "so I can't

say cause and

effect. But we

know copper is

antimicrobial."

He asked

relatives and

friends to try it.

They reported

the same thing, so he patented

CopperZap® and put it on the

market.

Soon hundreds of people had

tried it. The feedback was 99%

positive if they used the copper

within 3 hours after the first sign

of unwanted germs, like a tickle

in the nose or a scratchy throat.

Early user Mary Pickrell

said, "I can't believe how good

my nose feels."

"What a wonderful thing!"

exclaimed Physician's Assistant Julie.

Another customer asked, "Is it supposed

to work that fast?"

Pat McAllister, 70, received one for

Christmas and called it "one of the best

presents ever. This little jewel really

works."

Frequent flier Karen Gauci had been

suffering after crowded flights. Though

skeptical, she tried copper on travel

days for 2 months. "Sixteen flights and

ADVERTORIAL

not a sniffle!" she exclaimed.

Businesswoman Rosaleen says when

people around her show signs of cold or

flu, she uses copper morning and night.

"It saved me last holidays," she said.

"The kids had crud going round and

round, but not me."

Attorney Donna Blight tried copper

for her sinus. "I am shocked!" she said.

"My head cleared, no more headache,

no more congestion."

A man with trouble breathing

through his nose at night tried copper

just before bed. "Best sleep I've had in

years!" he said.

In a lab test, technicians placed 25

million live flu viruses on a CopperZap.

No viruses were found surviving soon

after.

Dr. Bill Keevil led one of the teams

confirming the research. He placed

millions of disease germs on copper.

"They started to die literally as soon as

they touched the surface," he said.

Some people press copper on a lip

right away if a warning tingle suggests

unwanted germs gathering there.

The handle is curved

and textured to increase

contact. Copper can

kill germs picked up on

fingers and hands after

you touch things other

people have touched.

The EPA says copper

still works even when

tarnished.

CopperZap is made

in the U.S. of pure

copper. It has a 90-day full money back

guarantee. It is available for $79.95. Get

$10 off each CopperZap with code

NATA22.

Go to www.CopperZap.com or call

toll-free 1-888-411-6114.

Buy once, use forever.

Statements are not intended as

product health claims and have not been

evaluated by the FDA. Not claimed to

diagnose, treat, cure, or prevent any

disease.

Dr. Bill Keevil:

Copper quickly kills

cold viruses.