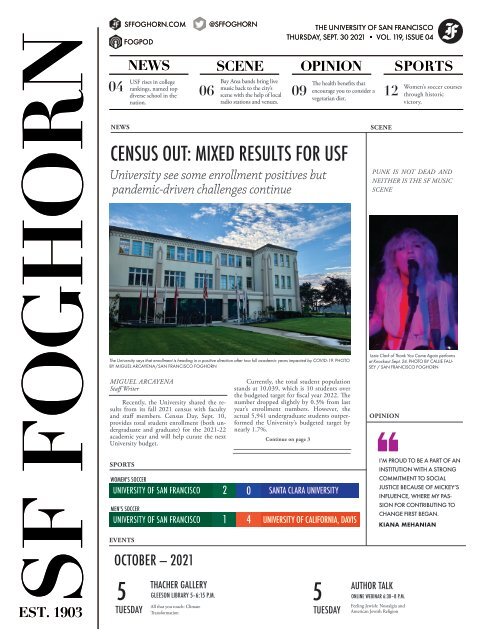 VOL. 119, Issue 4 - Sept. 30, 2021
You also want an ePaper? Increase the reach of your titles
YUMPU automatically turns print PDFs into web optimized ePapers that Google loves.
SF FOGHORN

EST. 1903

04

NEWS

SFFOGHORN.COM

FOGPOD

NEWS

USF rises in college

rankings, named top

diverse school in the

nation.

@SFFOGHORN

THE UNIVERSITY OF SAN FRANCISCO

THURSDAY, SEPT. 30 2021 • VOL. 119, ISSUE 04

SCENE OPINION SPORTS

Bay Area bands bring live

The health benefits that

music back to the city's

06 09

encourage you to consider a

scene with the help of local

12

radio stations and venues.

vegetarian diet.

CENSUS OUT: MIXED RESULTS FOR USF

University see some enrollment positives but

pandemic-driven challenges continue

The University says that enrollment is heading in a positive direction after two full academic years impacted by COVID-19. PHOTO

BY MIGUEL ARCAYENA/SAN FRANCISCO FOGHORN

MIGUEL ARCAYENA

Staff Writer

Recently, the University shared the results

from its fall 2021 census with faculty

and staff members. Census Day, Sept. 10,

provides total student enrollment (both undergraduate

and graduate) for the 2021-22

academic year and will help curate the next

University budget.

SPORTS

WOMEN'S SOCCER

UNIVERSITY OF SAN FRANCISCO

MEN'S SOCCER

UNIVERSITY OF SAN FRANCISCO

EVENTS

OCTOBER — 2021

5

TUESDAY

THACHER GALLERY

GLEESON LIBRARY 5–6:15 P.M.

All that you touch: Climate

Transformation

2

1

Currently, the total student population

stands at 10,039, which is 10 students over

the budgeted target for fiscal year 2022. The

number dropped slightly by 0.3% from last

year's enrollment numbers. However, the

actual 5,941 undergraduate students outperformed

the University's budgeted target by

nearly 1.7%.

0

4

Continue on page 3

SANTA CLARA UNIVERSITY

UNIVERSITY OF CALIFORNIA, DAVIS

5

TUESDAY

SCENE

OPINION

AUTHOR TALK

ONLINE WEBINAR 6:30–8 P.M.

Feeling Jewish: Nostalgia and

American Jewish Religion

Women's soccer courses

through historic

victory.

PUNK IS NOT DEAD AND

NEITHER IS THE SF MUSIC

SCENE

Izzie Clark of Thank You Come Again performs

at Knockout Sept. 24. PHOTO BY CALLIE FAU-

SEY / SAN FRANCISCO FOGHORN

I'M PROUD TO BE A PART OF AN

INSTITUTION WITH A STRONG

COMMITMENT TO SOCIAL

JUSTICE BECAUSE OF MICKEY'S

INFLUENCE, WHERE MY PAS-

SION FOR CONTRIBUTING TO

CHANGE FIRST BEGAN.

KIANA MEHANIAN
---
02

THURSDAY

SEPT. 30,

2021

SAN FRANCISCO

FOGHORN

Freedom and Fairness

Editor in Chief

LUCIA VERZOLA

editorinchief@sffoghorn.com

STAFF EDITORIAL:

DOES USF REQUIRE TOO MANY

CORE CLASSES?

News Editor

MIGUEL ARCAYENA

news@sffoghorn.com

Managing Editor

JAMES SALAZAR

managing@sffoghorn.com

Opinion Editor

CLARA SNOYER

opinion@sffoghorn.com

Copy Editor

NORA WARD

copy@sffoghorn.com

Scene Editor

CALLIE FAUSEY

scene@sffoghorn.com

Layout Editor

DOMINIQUE CADENAS CALVO

layout@sffoghorn.com

STAFF

SUBMISSION POLICY

The San Francisco Foghorn is the

official student newspaper of the

University of San Francisco and is

sponsored by the Associated Students

of the University of San Francisco

(ASUSF).

The thoughts and opinions expressed

herein are those of the individual writers

and do not necessarily reflect those

of the Foghorn staff, the administration,

the faculty, staff or the students

of the University of San Francisco.

Contents of each issue are the sole

responsibilities of the editors.

An All-American

Publication

ad maiorem dei

gloriam

Sports Editor

MAGGIE ALDRICH

sports@sffoghorn.com

Photography Editor

BEAU TATTERSALL

photo@sffoghorn.com

General Reporter

ANNIKA DAHLBERG

reporter1@sffoghorn.com

General Reporter

ZOE BINDER

reporter2@sffoghorn.com

415.422.5444

sffoghorn.com

The San Francisco Foghorn is free of

charge, one copy per reader. To purchase

additional copies for $1, please

visit our office.

Advertising matter printed herein is

solely for informational purposes.

Such printing is not to be construed

as written or implied sponsorship

or endorsement of such commercial

enterprises or ventures by the San

Francisco Foghorn.

©MMIV-MMV, San Francisco Foghorn.

All rights reserved. No material

Layout Editor

LOUISE DE OLIVEIRA

layout2@sffoghorn.com

Social Media Manager

SAMANTHA BERLANGA

socialmedia@sffoghorn.com

Online Editor

CLAIRE JACOBS

online@sffoghorn.com

Advisor

TERESA MOORE

2130 FULTON STREET, UC #417

SAN FRANCISCO, CA 94117

printed herein may be reproduced

without prior permission of the Editor

in Chief.

Columns for the Opinion section

and Letters to the Editor are gladly

accepted from students, faculty, staff

and alumni.

All materials must be signed and

include your printed name, university

status (class standing or title), address,

and telephone number for verification.

Anonymous submissions are not

published.

We reserve the right to edit materials

submitted. All submissions become the

property of the San Francisco Foghorn.

Columns of not more than 900 words

should be submitted by 5 p.m. on the

Wednesday before publication.

Letters of 500 words or less should

be submitted by 5 p.m. on the Friday

before publication.

Staff editorials are written by the

Foghorn editorial staff and represent a

group consensus.

The San Francisco Foghorn Opinion

page is a forum for the free, fair and

civil exchange of ideas. Contributors'

opinions are not meant to reflect

the views of the Foghorn staff or the

University of San Francisco.

PHOTO COURTESY OF USF WIDEN

GRAPHIC BY SAMANTHA CADENAS-ARZATE/GRAPHICS CENTER

USF requires its students to complete

an exhaustive list of core requirements: public

speaking, rhetoric, math, science, literature,

history, philosophy, theology, ethics,

social science, and art. With nearly three

semesters of our undergraduate career dedicated

to these 11 core requirements, there is

great value in the quantity and variety of the

University's general education classes.

The argument can be made that taking

a variety of classes outside of our majors

broadens our horizons. If a student comes

to college uncertain about what they'd like

to dedicate their lives to, completing USF's

core requirements can be enlightening. Exploring

multiple subjects can help students

understand themselves, the University, and

our greater community.

However, the amount of time that cores

take can make completing them feel tedious.

Whether we are in a humanities or science

major, several core requirements lay outside

our general area of interest. Many students

may not be looking forward to completing

the rest of their cores once they've completed

the more tolerable ones. Some classes can

be heavy on reading or more technical, and

their level of feasibility depends on one's

academic strengths. We might also feel like

our time and tuition would be better spent

focusing on field work or getting more real-world

experience in our majors through

internships.

Regardless of the major or field one

goes into, there is immense value in a broad

liberal arts education. It supplies us with diverse

knowledge and critical thinking skills

that we can draw upon, no matter our field

of work. The value comes from the versatility.

Additionally, USF uses the notion of

college core requirements to create considerate

members of society. With the innovative

cultural diversity and service learning

requirements, students are able to engage

with their community and learn more about

the importance of uplifting voices within

our respective communities and the world

at large.

It is a nice compromise that many core

classes are often curated to different majors,

and students are allowed to "double dip,"

or fulfill two requirements with one class.

For example, students can fulfill their cultural

diversity requirement with a specialized

literature class, or their service learning

requirement with a philosophy or ethics

course.

USF's core requirements are useful because,

without them, underclassmen would

be forced to take upper division classes in

their majors before they are academically

ready to engage with such material. They

would also miss out on the opportunity of

stepping into other academic worlds and

learning about new subjects beyond one's

limited perspectives. On top of that, not all

students start their cores in their first year

or take them all simultaneously, so our requirements

provide a palate cleanser to help

balance the rigors of our major classes.
---
CENSUS OUT: MIXED RESULTS FOR USF • Front Page

03

In an email to the Foghorn, April Crabtree, interim vice provost for strategic

enrollment management, said the University "should be proud" of USF's

current enrollment numbers since there were "incredible challenges in reaching

out to students to tell the USF story given the lack of in-person recruitment

that was available."

Among the most noteworthy details in this year's findings is the 27.4%

increase of first-year students from last fall's remote semester. Last academic

year's number of enrolled first-year students was the University's lowest mark

since 2013. Today, there are 1,455 first-year students: a 1.7% increase from

USF's budgeted projection.

Crabtree said their office was not surprised by the findings nor were there

any missed targets or underestimates. "Our results were very close to the goals

set," she said. The return to mostly in-person classes can be attributed to the

increase and provided the University with a better outlook. "The 2020-2021

virtual learning cycle gave a lot of students time to think about how they learn

best. For many students who are strong fits for a USF education, acting in and

with community, building relationships, and in-person learning are how they

engage best," Crabtree said.

There were some significant demographic changes among new first-year

students. Compared to last fall, first-year Asian identifying students fell by

2.4% and there was a 0.9% drop in first-year Black students. However, there

was a 3.8% increase in first-year Hispanic or Latino students.

Meanwhile, the overall transfer student targets of 330 for this fall fell shy

of two students. Crabtree explained that this missed projection is a reflection

of the national decline in students attending community colleges. As a result,

Crabtree and her team "hope that our [USF's] new transfer success and belonging

initiative will address some of these challenges."

Despite some positive growth and USF's increasing focus on virtual recruitment,

which Crabtree said provided the University "the opportunity to

invite everyone to connect in a host of new ways," lingering effects from the

pandemic continued this academic year.

Notably, the University saw a sharp decline among international students,

particularly those from China, who typically make up the bulk of this demographic.

The enrollment of first-year international students from China

dropped 23.8% this fall.

Crabtree said they had anticipated this number. "I think we knew starting

last fall that enrolling international students and transfer students given the

pandemic would be very challenging due to factors far outside USF's control,"

she said. "Travel restrictions, difficulties in getting appointments for visas, and

other concerns about how the U.S. has handled the coronavirus pandemic

were completely expected."

While the sophomore return rate grew by 10%, junior retention and

graduation rates decreased. The University projected a 74% return rate for the

junior class this year, however, only 70% of this cohort has returned since fall

2019. In addition, USF's institutional four-year graduation rate fell by 4.4%.

Jeff Hamrick, vice provost of institutional budget, planning, and analytics,

said the jump in the rising sophomore return rate surprised him since

the budget target they set for second-year retention was already high but "still

wasn't quite aggressive enough." Conversely, the lower junior return and graduation

rate "suggests there is some kind of differential behavior, as they've

[students] traveled through the pandemic," said Hamrick.

For international student junior Nathan Te, his decision to stay home

in the Philippines and skip his first semester of junior year last fall was the

right choice. "I've been happy about my decision to defer because I feel like

I would've wasted a semester not getting the same learning experience as I

would with in-person classes." Although Te admitted he gets a bit sad knowing

most of his friends are graduating sooner, he said getting the most out of his

college experience was more important.

Although USF enrollment numbers have been fluctuating, the University

again saw its discount rate, the calculated financial aid that the University provides

to all students, return to its normal long-term rising trend. Overall, the

USF discount rate rose to 33.8% compared to last year's 32.9%. The discount

rate for first-year students has also increased by 1.1% since last fall.

The mixed enrollment results have given USF some optimism to share

and strategic admission initiatives to work on. According to Hamrick's email

to faculty and staff on Sept. 15, "the Office of Planning and Budget is fairly

confident that forecasted total net revenue will be slightly higher than budget,

driven by a better-than-expected gross revenue outcome, a better-than-expected

mix of discounting outcomes across various student groups, and

worse-than-expected revenues from some auxiliary resources."

Further, Hamrick said that the gap between what will be planned revenues

and expenses for fiscal year 2023 will be smaller than previously expected.

"These census outcomes have caused us to revise that gap downwards a bit. We

don't think it will be as high as it was four months ago."

In the meantime, Crabtree said most student demographics remained

strong for the University's diversity given that it was recently named as the

top diverse higher education institution in the country. Still, their team will

work on specific areas that need attention, including the continued decreased

admissions of male-identifying undergraduate students.

"Continuing to engage in honest, thoughtful conversations on our future

as one USF will be critical. Listening openly with empathy and grace will be

critical. Doing this together will move us forward," said Crabtree.

NEWS

The return to mostly in-person classes has led to a rebound in enrollment. GRAPHIC BY SAMANTHA BERLANGA/SAN FRANCISCO FOGHORN
---
04

THURSDAY

SEPT. 30,

2021

USF RECEIVES

HIGH MARKS

IN LATEST

COLLEGE

RANKINGS

HANNAH YODER

Contributing Writer

NEWS

In USF's vision, mission and values statement,

one of the University's strategic initiatives is to "enroll,

support and graduate a diverse student body."

In the latest US News and World Report 2022 Best

Colleges rankings, USF was placed at number one

for diversity and ranked in the top third among

national universities in its overall standing.

The University jumped four spots from last

year's diversity rankings, and tied this year with

Stanford University and the University of Nevada,

Las Vegas for the top spot.

According to the University's student demographics,

the existing data supports this placement.

Last fall, students of color comprised 75.2% of the

incoming freshmen class. As of this current fall semester,

nearly 70% of the total student population

are of color.

Specifically, 22% of total students are of Asian

descent, 21% are Latino, 8% are multiracial, and

7% are African American. USF community members

have expressed deep pride for the University's

admirable diversity scores. In a statement provided

via email, Provost Julia Chinyere Oparah expressed

how the rankings are deeply reflective of USF's focus

on its social justice based mission. "Too many

institutions of higher education pay lip service to

the importance of equity and inclusion, but fail to

live up to their stated commitments," wrote Oparah.

"This ranking positions USF as a model for a

nation grappling with how to address deep rooted

patterns of racism and educational exclusion," she

added.

While the University prides itself on student

diversity, its full-time faculty does not quite reflect

the same data. As of last fall, white professors made

up 56% of full-time faculty, Latino professors

made up 10%, and Asian professors made up 15%.

However, out of the 453 full-time faculty members,

African Americans only made up 4%.

The University says it is always looking to improve

its faculty demographics to better reflect the

student population. USF's Senior Vice Provost for

Equity, Inclusion, and Faculty Excellence Pamela

Balls Organista said, "I look forward to working

The University jumped rankings in student excellence, financial resources, and alumni giving categories. PHOTO BY MIGUEL

ARCAYENA/SAN FRANCISCO FOGHORN

with our schools and college to develop a diverse

faculty community that matches the rich diversity

of our student body, and has lived experience in

relation to the intersections of race, ethnicity, gender,

sexuality, class, religion, and nation."

The rankings also highlighted USF's School

of Nursing and Health Professions (SONHP) and

overall national standing. SONHP's undergraduate

nursing program ranked 23rd out of 694 undergraduate

nursing schools, falling in the top 4%

nationwide. This is US News & World Report's

first time to include undergraduate nursing schools

in its annual college rankings, given the high demand

for nurses due to the pandemic.

Sophomore nursing major Lucy Lundell

said USF's social justice driven values "drew me

to USF's program." She continued by saying that

"cura personalis," or care for the entire person, is

"carried into all aspects of our learning, especially

when we enter the clinical setting."

USF placed as the 103rd best US college

overall, 113th best for student excellence, and a

top 100 choice for international students. US

News was not the only source to highly rank USF.

The University was also recognized by the Princeton

Review's Best 387 Colleges Report for 2022.

The national survey acknowledged students' praise

for USF's small class sizes, favorable work opportunities,

and beautiful location. "A USF education

empowers students to make an impact in the world

in an area that [they] are passionate about," said

the Princeton Review.

A week prior to the release of national rankings,

USF received another notable achievement as

the first Jesuit institute in the world to be officially

designated as an Age-Friendly University (AFU).

One of only 83 universities recognized by the AFU

Global Network, the University welcomes over

1,000 students aged 35 and over each semester

who attend USF's Fromm Institute for Lifelong

Learning.

Although the University faces new challenges,

recent accolades show optimism for USF and

its campus community members' current standing

and overall reputation nationally.
---
05

STAYING ONLINE: USF COMMUNITY REFLECTS

ON HYBRID CLASSES

JORDAN DELFIUGO

Contributing Writer

In a Sept. 2020 Foghorn article, several University professors commented

on a common sentiment among faculty and students: the lost communal

sense with online education. While most campus community members have

returned to the classroom a year later, some faculty members and students

have remained online.

Currently, classes at USF are conducted through a variety of instructional

modes: online, hybrid, hyflex, and in-person. Though some faculty members

chose to continue teaching remotely because of obligatory health and logistical

circumstances, others have been assigned to continue instructing virtually

by the University.

Ken Sonkin, a performing arts professor, made the choice to conduct his

acting class online this semester in the interest of safety. "We are not done

with this pandemic," he said. With uncertainty surrounding the Delta variant,

Sonkin said he felt a personal responsibility to hold his larger classes online.

While Sonkin said he does not regret this decision, he did admit that

there are certain elements of in-person instruction that cannot be substituted.

"You cannot teach acting on a computer," he said. Ultimately, though, Sonkin

has been able to adapt to online instruction, finding his own, unique ways to

build a sense of community in his classes.

"Everyone has a story," Sonkin said. He is still able to form connections

with his students by getting a glimpse of their lives through their Zoom

screens. However, when he had the opportunity to meet some of his virtual

students for an in-person workshop that he hosted outside of class, Sonkin

described it as a thrilling experience that felt more like a reunion than their

first time meeting.

Sonkin's views were echoed by some students. Kassandra Lopez, a freshman

nursing major, said, "There are definitely things about in-person education

that cannot be replaced. Things like a professor deciding to hold class

outside because it was a nice day or having audible and authentic reactions

from other people. In-person education, in my opinion, is truly irreplaceable."

In contrast, freshman psychology major Nikita Thomas finds that Zoom

fosters a flexible and low-pressure environment that best caters to students'

needs. Thomas said she struggles with social anxiety and when creating her

schedule she aimed to have a balance between in-person and remote classes.

"It is nice to have a break from class one day and actually go into class another

day, it brings a sense of relief, in a way."

However, Thomas did acknowledge that online classes can become "incredibly

distracting" and said there is an added sense of personal accountability

that comes with virtual learning.

This level of distraction was a common issue through the last two remote

semesters and has continued among students for some professors. Sangman

Kim, a biology professor said, "It is understandably easier for students to feel

anonymous and it is certainly easier to get distracted." He said the amount of

students who have their cameras off can be "discouraging to instructors" as

some students are "clearly not present despite being logged on."

Kallie Barrie, a senior politics major, is also balancing in-person and virtual

classes. For her, there are positives and negatives to a hybrid learning experience.

"My Spanish class meets once a week remotely. It's nice just for a foreign

language to have once a week where we're not talking with our masks on

because sometimes you need to be able to read somebody's lips," said Barrie.

Her anthropology class, which is fully remote, is an 8 a.m. which she

gets to complete from the comfort of her apartment. She said, "We get to

actually do some cooking demos. We did a taste experiment last week which

we wouldn't have been able to do if we were in person because I don't think I

would have felt comfortable taking off my mask to eat."

Admittedly, there are days where Barrie struggles with navigating her

classes. She finds in-person classes to be taxing because "going from seeing

the same five people all of the time to what feels like a million new faces and

having to be so social is just a different energy. It's awkward to balance the

two of them. I definitely feel like on the days where I am fully remote, I have

more free time. Mental health wise, it's easier to balance everything I have

going on."

After months of longing for a sense of normalcy and familiarity, a majority

of students and faculty have enjoyed the return to campus. Even so,

the adjustment to a modified classroom experience has some receptive to the

continued integration of virtual and in-person connections.

NEWS

Biology professor Sangman Kim teaches his 9 a.m. class online from home. PHOTO COURTESY OF SANGMAN KIM
---
06

THURSDAY

SEPT. 30,

2021

A ROCKING RESURRECTION: LIVE MUSIC

RETURNS TO SAN FRANCISCO

SCENE

CALLIE FAUSEY

Staff Writer

In the wake of San Francisco independent music venue reopenings, the city's

music scene has been partially revitalized following COVID-19 logistical complications.

In line with this revival, Knockout, a bar in the Mission District, hosted

a punk show presented by Psyched! Radio Sept. 24 and featured Bay Area bands

Buzzed Lightbeer, Trash Vampires, Thank You Come Again, and Gorgeous Dykes.

Buzzed Lightbeer, who describe themselves as "SF fem slop rock," a sub-genre

mixed of grunge, '60s garage rock, and blues, were the first to take the stage. Their

sound is reminiscent of American punk rock bands like Destroy Boys. They began

the show on a high note, with loud, distorted electric guitar riffs, heavy drum beats

and basslines, and brought a lot of raw energy to the small bar.

Following Buzzed Lightbeer was Trash Vampires. According to its lead singer

and guitarist Mark Gee, the band's name originates from The Halo Benders song

"Your Asterisk," in which there is a line referring to someone as a trash vampire.

"I was that trash vampire," said Gee. "And then I summoned the rest of my

garbage piles and we started a band."

During their set, audience members could be seen crowd surfing to the band's

songs like "Man of Wax." The song comes from their album "Not Anger, Anxiety,"

which features heavy, loud instrumentals and hardcore vocals.

"The vibe is there, the love is there, the energy is there," said show attendee

David Hill in reference to Trash Vampire's set.

Influenced by American rock bands Papa Roach and Smash Mouth, guitarist

and self-titled "spiritual leader" of the band Jared Amdahl described their sound as

"garage rock or grungy."

"They always told me to just listen to Smash Mouth on repeat to prepare for

the shows," said the band's new keyboardist, Darren Ivano.

This was Trash Vampire's second performance since live shows resumed in the

city. Gee described the resumption of playing live shows as "wildly stressful," which

was met with nods of agreement from the rest of the band's members.\

"For me, it's hard to know when it's right to play a show," said Ivano. "It's a

constant battle between determining whether it's appropriate to go out for health

concerns, but also the people need music and we can provide that, so how do

we balance consideration for people's physical health with [that of] their spiritual

health?"

For the members of Thank You Come Again, it was their first show since

Feb. 2020. Lead singer and guitarist Izzie Clark described the band's genre as "an

explosion of every past mistake and future hopeful dream that you ever want, with

a side of speed metal." Their energetic set had the crowd moshing and people head

banging at the front of the stage.

Thank You Come Again's origin story began with Clark and guitarist

Danny Lomeli meeting outside of Cafe du Nord on Market St. in 2018. Clark

had approached Lomeli for a lighter and in return told him a

joke, which led to a conversation about music. Candid

connections like these were missed when lockdown

caused the widespread closures of many independent

music venues in the city.

"I thought I was gonna be nervous and

scared, but it actually just felt very comfortable

and I was ecstatic to play

again," said Clark, a senior

media stud- ies

major at USF.

"The pandemic happened right as we were starting to play more shows, so that

was rough at first," said Oakland-based artist Lucy Bayne of the Gorgeous Dykes, a

new wave, post-punk band who closed out the night. Bayne and her partner, fellow

frontwoman Ana Ayon, both said it was overwhelming to be around such a large

number of people.

Despite the nerves from performing and an uncomfortable interaction the

couple had with a man who tried grabbing Ayon's hand as an attempt to hit on her

after their set, Gorgeous Dykes were filled with excitement over sharing their music

live once again. They said that they used the time during quarantine to evolve their

style and take more risks with their music.

"The songs we were most looking forward to were the last two in our set,

'Diablo Creek' and 'Swords Reversed,'" said Ayon, describing the songs as dancey

and fun. "We get really playful on the guitar and bass and really enjoy the energy

they have."

Back in May, the Foghorn spoke to venue managers involved in the SF Venue

Coalition, an organization created to support independent music venues, to get

more insight into how venues had been impacted by the pandemic. Mickey Darius,

the manager of The Lost Church, said that venues struggled just to stay afloat, with

over 100 SF venues shuttered.

Darius had predicted the reopening of venues to be "clunky" but with a focus

on safety. "This means seeing what does or doesn't work," said Darius in an email

to the Foghorn in May. "Not relaxing in our vigilance around safety and care, but

having patience around accepting that the road will be bumpy and mistakes will

be made."

Venues now have to follow the city's COVID-19 guidelines in order to host

events. This includes audience members wearing masks and proof of vaccination

being shown at the door.

"I work in a couple of venues so enforcing the mask mandate is very hard right

now, especially when it gets hot in the pit, it's really hard for people to keep their

masks on," said Clark.

Thank You Come Again's fill-in bass player Eva Seay, a San Francisco State

University cinema student, echoed Clark's concerns. "I felt safer being onstage than

in the audience," they said. However, they did appreciate the crowd's energy and

said they welcomed audience interaction.

"You could tell they were having a great time, which is the most important

thing," said Seay. "It was not an angry energy, everyone was just stoked to be there,

and that was great."

Izzie Clark and Danny Lomeli

of Thank You Come Again stand

back to back while performing at

Knockout Sept. 24. PHOTO BY

CALLIE FAUSEY / SAN FRAN-

CISCO FOGHORN
---
POETRY FROM THE PANDEMIC: THE FIRST LYRICIST

LOUNGE HELD IN PERSON SINCE COVID-19 BEGAN

07

Student musician Audrey Walker performs a song during the Sept. 24

Lyricist Lounge. PHOTOS BY BAILEY STEADMAN / SAN FRANCIS-

CO FOGHORN

SARA AHMED

Contrubuting Writer

The Lyricist Lounge stage features lights and pieces of fabric strewn across

the space. PHOTO BY BAILEY STEADMAN / SAN FRANCISCO FOG-

HORN

The Cultural Centers hosted their first Lyricist Lounge of the fall semester

Sept. 24. This marked the first time that the student-run poetry slam was held

on campus since the pandemic began.

Jazz Toyama, a senior double majoring in international studies and environmental

studies, led and hosted the open-mike night. As an intern at the

Cultural Centers, they play a significant role in planning the event.

"My role is coming up with the theme and ideas for the graphic, and advertising

the event and hosting it," Toyama said. In order to provide performers

the opportunity to share their works created during quarantine, the theme

they chose for this year's Lyricist Lounge was "Poetry from the Pandemic."

Many of the poems were about quarantine-induced exhaustion and lessons

learned through the pandemic. Performers shared how they dealt with

waves of pain and stress as well as how they have grown. Toyama introduced

each artist to the stage by saying what they learned from quarantine such as

"the little things matter" and "the world keeps on spinning."

"People may feel the same as I do where it's like you've written all this stuff

but you don't have a place or an opportunity to share it," Toyama said. They

emphasized that they wanted to create a safe space for students to "share their

writing and feel comfortable sharing their emotions."

Student performer Mikayla Brown, a sophomore communication studies

major, said she enjoyed listening to the other poets and appreciated the ambience

of the event. "I shared an original song I wrote and if I could describe

the message briefly it would be 'not wanting to say goodbye but knowing you

have to." Brown continued by saying, "Overall, it was just a wonderful night

with very talented people."

Toyama described the significance of the Lyricist Lounge being held in

person again."It's a broader symbol at USF that things are getting back to

Coordinator Jazz Toyama speaks at the Lyricist Lounge, held Sept. 24 in the

UC. PHOTO BY BAILEY STEADMAN / SAN FRANCISCO FOGHORN

normal and we'll be able to have a similar college experience as we did before

the pandemic hit," they said.

Toyama clarified that being able to host in-person events meant a lot to

them because hosting the Lyricist Lounge online during quarantine wasn't the

same. "People are less willing to talk in front of their peers online," they said,

adding that the number of attendees dropped significantly when the event was

held on Zoom.

Asia Bryant-Wilkerson, a USF alum and queer Black artist from Los Angeles,

attended the event as a featured poet. Bryant-Wilkerson is a professional

performer and spoken word artist, and it was their first time performing live

since the pandemic hit.

"I haven't had a live show since January 2020, so for this to be my first

in-person show since then feels like a homecoming of sorts." Bryant-Wilkerson,

alongside their friends, played a large part in the success of Lyricist

Lounge before they graduated from USF in 2016. "When we started as freshmen,

Lyricist Lounge would get like 12 people, and by the time we graduated,

we amassed about a hundred a night."

Bryant-Wilkerson added that it was exciting to be back five years later. "It

was nice to see the poetry and performance community here at USF grow,"

they said. Their pieces consisted of sensitive topics such as mental health, race,

and finding oneself. Their poetry was fueled by the emotions brought on by

the pandemic. "We've all been stuck in the house without physical contact or

communication, everyone just wants to be heard right now."

They also emphasized how having this space for students to be heard

was transformative. "That's the beauty of this space: everyone's here with their

notebook, all the feelings they've been holding on to, all the thoughts that

have been sitting with them," they said. "And it's your time to let it go and be

heard."

The next Lyricist Lounge will be held later in November of this year.

SCENE
---
08

THURSDAY

SEPT. 30,

2021

FLOR Y CANTO: LATINX ARTISTS REPRESENT

THE LITERARY VOICE OF THE MISSION

SCENE

ZOE BINDER

Staff Writer

Josiah Luis Aldarete, a self-described, "pocho poeta, aka, Spanglish poet,"

grew up in the Mission District. "I am part of the Mission diaspora, people

who were pushed out for whatever reason," he said. "But the Mission is still

here after 500 years of colonization, pandemics, plagues, and murders. When

this one passes, we'll still be here."

"My poetry is a synthesis of Mexicano cultura and North America pochismo,"

Aldarete said. According to the Los Angeles Times, the term "pocho" is

used "for a Mexican American who is neither one nor the other, who speaks no

Spanish or speaks it poorly, who is adrift between two cultures, or lives comfortably

in both." Aldarete, however, is reclaiming the description. "It's very

important to me that my poetry reaches mi gente, be they Chicano dinosaurs

or Latinx test-tube babies," he said. "We're creating art because we use art as

our memory and history."

To celebrate Latinx Heritage Month, which began Sept. 15, members of

San Francisco Flor y Canto, a group which promotes literature and culture

in the 24th Street corridor, gathered in person at the San Francisco Public

Library and virtually on Zoom to share Latinx poetry and literature. Poet

Ricardo Tavarez opened the event by describing the group as a literary community

that is "reconnecting to the root that was before all the borders started

dividing us, before the colonialism, before the imperialism." Addressing the

audience, he said, "If you feel the spirit to be creative, and to uplift others,

this is the space for you."

During the event, four artists read their work aloud. The topics included

mole, a traditional Mexican dish, a meditation on machismo culture, a fictional

piece about a company that steals memories, and a poet's self-portrait.

Aldarete read a piece on the transformation of San Francisco in recent years

that read, "I go to visit San Francisco and the security guard almost doesn't

let me in… when I finally get in to see San Francisco, I hardly recognize San

Francisco anymore."

Monica Zarazua, a writer, teacher, and co-founder of the independent

publishing group Pochino Press, was involved in the event for the first time.

"People seemed to feel a renewed sense of inspiration," she said. "Art is so

important considering the times we are in and the issues that are affecting our

community."

Zarazua has high hopes for Latinx Heritage Month this year. "One thing

I was thinking about recently is the importance of us expressing ourselves,

especially new and young voices," she said. "Out of hardship there is the birth

of new voices that revitalize the community."

Zarazua said that most of her work explores the feminine and the experience

of being female. She shared an excerpt from her novel about a girl

reclaiming memories that are being stolen by the company she works for. "In

that void there was nothing to remember because no memories had formed.

Maybe I ceased to exist except as a buzzing machine."

Another artist who read at the event was the poet, hector son of hector.

"I try to tell stories of the people and landscapes that surround the working

class, Latino, and Mexican Americans in California," he said. When he writes,

hector said, "One of the most important things is that my friends see themselves

in what I write, and then hopefully others who don't know me do too."

He read a poem dedicated to the 43 children who were kidnapped and

presumed to be killed near Iguala, a town in southern Mexico Sept. 2014. It

read, "43 children did not run into the Guerrero Woods and turn to smoke

through Nahuatl mystics. It was the ghostly Cortez who commanded conquistadores

and indigena allies to starve and to murder enough bodies to stack his

temples."

Flor y Canto began as a Chicanx community and has expanded to include

Latinx folks, hector said. "We're really just trying to present to the community

the people of the community," he said. "I hope people see the importance of

persisting and continuing to represent ourselves."

GRAPHIC BY SAMANTHA CADENAS-ARZATE / GRAPHICS CENTER
---
09

THE MANY BENEFITS OF VEGETARIANISM

There are many reasons why a person may c I

stopped eating meat when I started thinking about

the chain of events that led to the animal on my

plate. From the slaughtering of the animal, the production

process, to the bloated feeling left in my

stomach, eating meat was not worth it.

There are many reasons why a person may

choose to eliminate meat, poultry, and fish from

their diet and practice vegetarianism. For some, it

is for health reasons like avoiding hormones used in

animal products. For others, the diet has to do with

religion, animal rights, or environmental concerns.

CAITLIN RYAN is a

Growing up, I never liked eating meat, and

junior English major.

I decided to finally become a vegetarian when I

learned about the benefits of a vegetarian diet.

We all know a meat-eater who is left shocked

after watching films like "Supersize Me" or "Food Inc." because of the graphic

exposure of the meat industry's environmental harm, animal cruelty, and negative

health effects. My turning point was a presentation I attended in high school

where a field educator from the Ethical Choices Program, a nonprofit organization,

explained how the human body isn't anatomically meant to consume meat.

I learned that humans were not designed to eat meat because our body structure

resembles omnivorous or herbivorous animals. Typical meat-eating animals

have razor sharp incisors and a more expansive jaw used to capture prey.

Second, our digestive system isn't intended to digest meat. Carnivores have

short intestinal tracts that allow meat to pass through quickly, while humans'

intestinal tracts are much longer, like those of an herbivore. Our longer digestive

tract is meant to extract the nutrients from plant-based foods.

After learning this information, it made sense to me that I had a distaste

for meat. On top of that, I was drawn to the health benefits of a vegetarian diet,

especially pertaining to the risk reduction of chronic illnesses like heart disease,

cancer, obesity, and diabetes.

According to Healthline, a website that publishes on the health benefits of

different diets, a vegetarian diet supports heart health by reducing the intake of

cholesterol and saturated fat found in red meat. Substituting foods high in fiber

stabilizes blood sugar levels. In turn, the high-fiber diet is preventative towards

lower blood pressure.

However, the article warns, "If you're avoiding meat but only eating processed

breads and pastas, excess sugar, and very little vegetables and fruits, you're

unlikely to reap many of the benefits of this diet." Consuming alternative protein

options like nuts, beans, tempeh, and tofu can naturally help supplement a vegetarian

diet.

Additionally, people who follow this diet should remain alert to protein,

B-12, vitamin D, and fatty acid omega-3 deficiencies. This can be avoided by

either taking a supplement or knowing which foods to eat. When done right, this

diet can be transformative for physical health.

A vegetarian diet is also an efficient way for consumers to hold producers accountable

for their harmful practices. Going plant-based is important to resisting

factory farming and fighting global warming because the food industry damages

the environment. According to the Vegetarian Society, "The whole food production

process of farm-to-plate totals 26% of all global greenhouse gas emissions."

To put that into perspective, the Vegetarian Society also shares that "by eating

vegetarian food for a year you could save the same amount of emissions as a

family taking a small car off the road for 6 months." The world is heating rapidly,

and a vegetarian diet is an effective way to actively oppose factory farming by

boycotting their products. It also respects the lives of animals.

It must be acknowledged that vegetarianism is a privilege for those who have

access to fresh food, money to spend on food, and the space and time to prepare

meals. Meat alternatives are expensive. However, meat is also expensive, and most

grocery stores are stocked to support meatless diets.

One of my favorite fresh meals to make are spring rolls. I chop up carrots,

cucumber, avocado, and bell peppers, wrap them in rice paper, and enjoy the dish

with a side of homemade peanut sauce. I'll make a bunch and stick them in the

fridge for later because being a full-time student and working part time keeps me

busy. Meal prepping is a great way to eat fresh food while having a busy schedule.

Many restaurants also offer vegetarian options, especially in San Francisco.

Proteins are what drive up the prices on menus and if you want to add meat to a

vegetarian option it's usually an additional $3-4. Vegetarian alternatives are usually

the cheapest.

Knowing what I know now with my experience as a vegetarian, I don't see

myself ever going back to eating meat. I am committed to this conscience change

out of respect for myself, the environment, and animals.

OPINION

A nutritious, vegetarian meal made by Ryan. PHOTO COURTESY OF CAITLYN RYAN
---
10

THURSDAY

SEPT. 30,

2021

A

MENTOR'S

IMPACT

OPINION

KIANA MEHANIAN is a

freshman undeclared arts

major.

On the first day of high school, I was as timid

and lost as any other freshman at Oakwood Secondary

School, a small arts high school in North

Hollywood, California. I was one of Oakwood's

only Iranian students. In a blur of new classes and

faces, I met one of the most meaningful people

in my high school career. My academic adviser,

Mickey Morgan, sat in the corner of his small office,

beside a wooden desk carved with the names

of past students covering every inch.

A school can significantly change over four

decades, but through everything, Mickey, a mentor

and teacher to countless over the years, has remained

constant.

Mickey's lifelong dedication to social justice

and philanthropy has influenced students to apply

their interests and abilities to the issues they're most passionate about. Because

he was in his 20s during the social justice movements that dominated the '60s,

Mickey knows the most worthwhile ways for our generation to enact change.

This is when Mickey is most authentic and candid — presenting opportunities

to students to become more engaged and involved with societal and global issues.

As the backbone of organizations, clubs, and events that define the school's

community engagement, Mickey prioritizes amplifying student voices. He includes

students in conferences involving administration, community service and

volunteer work, and campus-wide events that exhibit student art while bringing

awareness to specific causes. One club he founded in 2005, Oakwood Students

for Progressive Reform (OSPR), provides students and faculty with a weekly space

dedicated to discussing global and domestic issues. I remember attending OSPR

fall of sophomore year and was inspired by the upperclassmen and their ability to

command the room.

I never imagined myself having the confidence to do the same.

A specific OSPR event topic, "America: Post 9/11," was being led by two

of Oakwood's most respected history teachers. I told Mickey how interested I

was in attending the meeting, and he asked if I'd be willing to lead alongside the

faculty. I was reluctant, doubting my ability to be anything other than an audience

member. However, I hadn't given him a definite answer when I walked into

school to see a poster advertising that week's OSPR meeting, with "Led by Kiana

Mehanian" in the center.

In retrospect, this meeting was one of my proudest moments as a student,

and I didn't realize until later on in high school how necessary it was for him to

push me outside of my comfort zone. From then on, Mickey allowed me to lead

the meetings on issues that were especially important to me, usually involving the

Middle East. I felt represented and granted the opportunity to educate my peers

and faculty on current events that I had an emotional attachment to. Mickey

provided me the room to find my voice, giving me the time, audience, and space

to speak from the heart about topics that directly affected me.

On a smaller scale, I felt especially mentored by Mickey in our personal

conversations sitting in his office. While one-on-one, his sarcastic humor and

eagerness to truly get to know you shines through. Whether it be about a project,

last night's baseball game, or, in my case, not having a clue how to be honest with

myself in order to pursue what I wanted to after high school.

Maybe it's his age, his obvious life experience and understanding of the

world, or calm demeanor and all-knowing slight smile that never leaves his face,

but a conversation with Mickey is like having all of your questions answered

before either of you speak a word. In a way, this brought us closer to his level of

insightfulness, believing in ourselves as much as he did.

As a senior in high school, I was sick of hearing that everything would work

out in the end. I was anxious about the present and hated the uncertainty of the

future. After expressing these thoughts to Mickey, the words he said haven't left

my mind since: "It's hard to take now, but life is long... and you will find tons

of great stuff to do, tons of great people to meet, and a lot of fulfillment. I kept

comparing this in my mind to how you had sounded in 9th grade — you should

be proud of the great distance you have traveled, in this as in many other areas."

Mickey taught me true dedication, and how understanding ourselves is inextricably

linked to pursuing our passions. It's connections with natural mentors

like Mickey that remind us how important it is to seek guidance, just as much as

it is to carry it with us through the rest of our lives. If it weren't for Mickey's devotion

to affecting change, I question whether I would have prioritized social justice

in a school as much as I did when deciding where I'd go to college. I'm proud

to be a part of an institution with a strong commitment to social justice because

of Mickey's influence, where my passion for contributing to change first began.

Mehanian's high school history teacher and adviser, Mickey Morgan, with what she refers to as his signature

"'all-knowing' smile." PHOTO COURTESY OF KIANA MEHANIAN
---
DONS WEEKLY

ROUNDUP

11

SPORTS

Shyia Richardson recorded a team-high seven kills against the Loyola Marymount University Lions. PHOTO COURTESY OF CHRIS M. LEUNG/DONS ATHLETICS

MAGGIE ALDRICH

Staff Writer

USF women's soccer beat the reigning

national champion and nationally-ranked Santa

Clara University Broncos for the program's

first-ever win at home over the Broncos, women's

golf and cross country hit the road for competition,

and women's volleyball extended their

losing streak to 10 games. This is the latest in

Dons' sports.

USF women's golf took to Idaho for their

first tournament of the season at the Coeur

D'Alene Resort Collegiate Invitational from

Sept. 19-21. The team placed 10th in the first

round, eighth in the second, and seventh in the

last round, making their total 887 (+35) for the

tournament. Individually, Hannah Zeman was

the highest-ranking Don, tying for 10th place

by the tournament's end.

The USF men's and women's cross country

teams travelled to Oregon to compete in the

Dellinger Invitational Sept. 23. The tournament

was hosted by the University of Oregon Ducks.

Top performances include Ed Kiolbasa, who finished

in 35th place in the men's 8,000 meters,

and Ruby Smee, who finished in 54th place in

the women's 6,000 meters.

USF women's soccer navigated a historic

win by defeating the reigning national champion

and nationally-ranked No. 19 Santa Clara University

Broncos in a shutout victory at Negoesco

Stadium. Marissa Vasquez shielded a throw-in

ball, took it down the line, and launched it to

Jamesen Ward in the center, right in front of the

goalkeeper. Ward hit the ball to the left corner,

securing the first goal of the game.

Vasquez wasn't finished after her assist. The

girls maintained ball control around the box,

with Vasquez hopping over Ward and forward

Kaylin Lunsford, who was tied up with the goalkeeper,

to retrieve the loose ball and score the

final goal of the game.

With 22 shot attempts from the Broncos,

goalkeeper Molly Eby worked as a key player to

maintain the Dons' shut out with a final score

of 2-0.

USF women's volleyball brought the

Loyola Marymount Lions for a home match but

fell short by a score of 0-3. Shyia Richardson

recorded a team-high seven kills to push her season

total to a team-high of 89. Letizia Aquilino

tallied nine digs, and Aylen Ayub recorded three

service aces against the Lions.
---
12

THURSDAY

SEPT. 30,

2021

MEN'S SOCCER

FALLS IN DEFEAT AT DAVIS

SPORTS

Freshman Jeesung Kim practices before the Dons' match. PHOTO COURTESY OF CHRIS M. LEUNG/DONS ATHLETICS

JASON TITUS

Contributing Writer

After a road loss last week, the USF men's soccer team hoped to get

back in the win column for their final non-conference match of the season.

However, the Dons ultimately fell Sept. 22 to the University of California,

Davis Aggies by a score of 1-4.

The Aggies had no trouble finding the back of the net as the opposition

scored three goals within the first 30 minutes of the contest. The

Dons responded with their one and only goal in the 36th minute when

freshman forward Nonso Adimabua was assisted on an attacking play by

freshman midfielder Ferdy Ghafury.

There was no time for celebrations as the Aggies scored their fourth

goal within the same minute as Adimabua's strike. USF had no answers for

the Aggies' defense, and they went into halftime trailing their opposition

by three goals.

The Dons spent the second half attacking the goal and outshooting

the Aggies 9-2 in the final 45 minutes of regulation. However, the Aggies

kept USF off the board and held their three-point lead until the final

whistle.

Adimabua was a bright spot in the Dons' defeat, scoring his team-leading

third goal of the season. At the time of writing, he is currently tied

for fourth in the West Coast Conference (WCC) for most goals scored.

Ghafury tallied his first collegiate assist and point by assisting Adimabua

in the 36th minute of regular time. Defensively, freshman Brandon Keniston

made his first start as goalkeeper this season and tallied seven saves in

90 minutes of play.