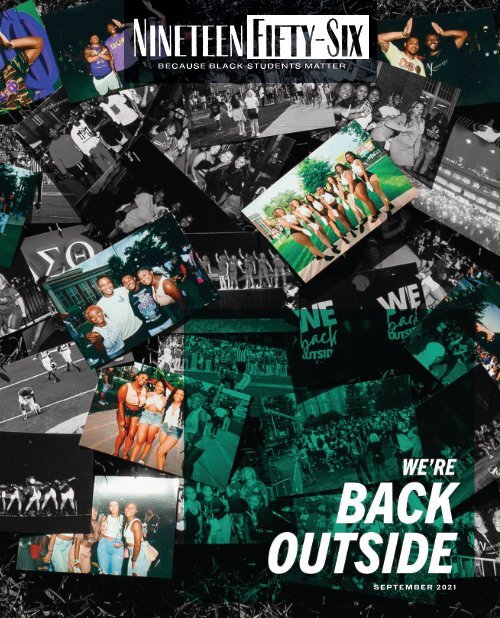 Nineteen Fifty-Six Vol. 2 No. 1 We're Back Outside
This is the September 2021 Issue of Nineteen Fifty-Six magazine. The theme, We're Back Outside, is showcased throughout the magazine. We are excited to continue to serve as a voice for Black students at the University of Alabama.
This is the September 2021 Issue of Nineteen Fifty-Six magazine. The theme, We're Back Outside, is showcased throughout the magazine. We are excited to continue to serve as a voice for Black students at the University of Alabama.

SHOW MORE
SHOW LESS
Create successful ePaper yourself
Turn your PDF publications into a flip-book with our unique Google optimized e-Paper software.
NINETEEN

SEPTEMBER 2021
---
DE

BL

STU
---
AR

ACK

DENTS,

You do matter. The numerous achievements and talents

of Black students deserve to be recognized. As of Fall

2020, 10.95% of students on campus identified as Black or

African American. Black students are disproportionately

underrepresented in various areas on campus. Nineteen

Fifty-Six is a Black student-led magazine that amplifies the

voices within the University of Alabama's Black community.

It also seeks to educate students from all backgrounds on

culturally important issues and topics in an effort to produce

socially-conscious, ethical and well-rounded citizens.

2
---
NINETEEN

EDITORIAL STAFF

EDITOR IN CHIEF

MANAGING EDITOR

VISUALS & DESIGN EDITOR

PHOTO EDITOR

ASST. PHOTO EDITOR

ENGAGEMENT EDITOR

ASST. ENGAGEMENT EDITOR

FEATURES & EXPERIENCES EDITOR

CULTURE & LIFESTYLE DIRECTOR

Tionna Taite

Nickell Grant

Ashton Jah

Tyler Hogan

Madison Carmouche

Madison Davis

Jolencia Jones

Ashlee Woods

Farrah Sanders

ISSUE CONTRIBUTORS

WRITERS

PHOTOGRAPHERS,

VIDEOGRAPHERS,

& DESIGNERS

SOCIAL MEDIA & MARKETING

PR SPECIALISTS

Jolencia Jones, Malea

Benjamin, Leah Jones,

Rachel Parker, Ta'Kyla

Bates, Shamiel Moore

Leah Jones, Alice Choup,

Tonya Williams, Lyric

Wisdom

Karris Harmon, Asia

Smith

Danielle S. McAllister,

Farrah Sanders

COPYRIGHT

Nineteen Fifty-Six is published by the Office of Student Media at The University of Alabama. All content and

design are produced by students in consultation with professional staff advisers. All material contained herein,

except advertising or where indicated otherwise, is copyrighted © 2021 by Nineteen Fifty-Six magazine. Material

herein may not be reprinted without the expressed, written permission of Nineteen Fifty-Six magazine. Editorial

and Advertising offices for Nineteen Fifty-Six Magazine are located at 414 Campus Drive East, Tuscaloosa, AL

35487. The mailing address is P.O. Box 870170, Tuscaloosa, AL 35487. Phone: (205) 348-7257.

Cover photography by Tyler Hogan.
---
LETTER FROM THE EDITOR

SEPTEMBER 2021

"

I am America. I am

the part you won't

recognize. But get used

to me. Black, confident,

cocky; my name, not

yours; my religion, not

yours; my goals, my own;

get used to me.

- Muhammad Ali

"

Nineteen Fifty-Six is back and we're

only going to get better. In less than

a year, Nineteen Fifty-Six garnered

16,173 total digital magazine views.

During 2020-2021, we released five

digital issues, one special edition

issue and one print issue. We are

excited to continue to serve as

a voice for Black students at the

University of Alabama.

Truly, Nineteen Fifty-Six serves

as proof that Black students at the

University of Alabama have a lot

to say. Last year alone, 55,455 words

were typed. 14,486 people were

reached. 1,568 photos were captured.

54 stories were written. This all took

place during the pandemic and the

very first year of the magazine's

creation. These numbers are

evidence of our ability to persevere

and rise over any obstacles that

come our way.

Now that "we're back outside",

students have even more

opportunities to have their voices

heard. Whether hosting community

events or simply attending them,

students have taken advantage of the

opportunity to express themselves

and advocate for important issues.

I am excited to present the

September magazine issue entitled

We're Back Outside. It has been

a blessing to work with new and

returning students on our first

magazine issue for this semester.

TIONNA TAITE, EDITOR IN CHIEF

4
---
CONTENT

CULTURE

8 Legacy Learning:

A History of Alabama HBCUs 14 The Originators

LIFESTYLE

11 Why PWIs Need Black

Professors

15 We Outside: Adjusting Back to

Campus Life

18 Black Activists

19 Divine History

23 Through the Doors: A New

Tradition

24 Revisiting ONYX

26 Overcoming the Need to

Conform to Whiteness

27 Black Students Continue to

Face Barriers after Undergrad

29 Effects of Institutional Racism

FEATURES

EXPERIENCES
---
T O C

S

SEE MORE OF NINETEEN

FIFTY-SIX MAGAZINE

1956magazine.ua.edu

1956magazine

1956magazine

1956magazine
---
CULTURE

CULTURE

CULTURE

CULTURE

CULTURE

CULTURE

CULTURE

CULTURE

CULTURE

CULTURE

CULTURE

CULTURE

CULTURE
---
HBCU

RACHEL PARKER

LEGACY LEARNING

A History of Alabama HBCUs

Historically Black College or University (HBCU)

holds many connections and meaning within

the Black community when concerning

uplifting and advancing Black people. According to

the Higher Education Act of 1965, an HBCU is defined

as, "any historically black college or university that

was established prior to 1964, whose principal mission

was, and is, the education of black Americans, and that

is accredited by a nationally recognized accrediting

agency or association determined by the Secretary of

Education."

When thinking of an HBCU, many may mention

prominent ones such as: Howard University, Florida

A&M University, or Hampton University. Though

these institutions are influential, they are many more

that hold their own special place amongst alumni and

supporters.

Specifically, within the state of Alabama there are

15 HBCUs, the most of any state. These educational

institutions are Talladega College, Alabama A&M

University, Alabama State University, Stillman College,

Bishop State Community College, Gadsden State

Community College, Concordia College Alabama, H.

Councill Trenholm State Technical College, J.F. Drake

State Community and Technical College, Lawson

State Community College-Birmingham, Miles College,

Oakwood University, Selma University, Shelton State

Community College, and Tuskegee University.

Along with having the most HBCUs of any state, there

are also notable alumni that have called these campuses

home, such as Rosa Parks (Alabama State University),

singer Lionel Ritchie and writer Ralph Ellison (Tuskegee

University) and former Birmingham mayor Richard

Arrington (Miles College).

Along with the prestigious reputations are the storied

history that connects and forms the story of resilience

embedded into the makeup of Alabama HBCUs.

In the aftermath of the Civil War, there were four

million formerly enslaved people, with 440,000 in

Alabama. Initially being forbidden to receive an

education, with this new environment Black people's

yearning for education only continued to grow as they

viewed education as a means of advancing themselves

and others.

With the help of the Freedman's Bureau, an organization

enacted by Congress to provide services and relief to the

8
---
emancipated Blacks and refugees in

Alabama along with other Confederate

states, along with other black and white

churches and missionary societies,

they began to establish Black colleges

that offered primary and secondary

education.

Even though the church was

influential in establishing these Black

colleges there were still a few with

ulterior motives of converting to

their specified brand of the Christian

faith and viewing uneducated African

Americans as "menace" to be rid of

in society. Despite this Black colleges

were given a boost in support with

The Morrill Act of 1890, "stipulated

that states practicing segregation in

their public colleges and universities

would forfeit federal funding unless

they established agricultural and

mechanical institutions for the black

population."

From this the first colleges to be

recipients of this funding were

Alabama A&M University and Tuskegee

Institute. Advancing these Black

colleges began to play pivotal roles

in the history and issues concerning

Black people in their progression and

protection as seen with Alabama State

University.

Alabama State University, located in

Montgomery, AL, was established

by nine former slaves, known as the

"Marion Nine" in 1867. Their initial

founding and goal of educating the

Black community expanded beyond the

campus with their involvement in the

Civil Rights Movement, specifically the

Montgomery Bus Boycott. Answering

the call for participation, ASU students

and employees showed their support

through their involvement. Even

with officials retaliating in anger

by decreasing their funding, the

university strived beyond this action

and continues to thrive today.

In addition to their civil rights roots,

HBCUs also served a purpose of

recognizing and establishing their

identity in their first steps into

adulthood as experienced by La-Kisha

Emmanuel, a PhD History student at

NYU, with a focus on U.S. History.

Emmanuel spent her undergraduate

years at Stillman College in Tuscaloosa,

AL. From her time there it was an

enlightening experience on subjects

she hadn't focused on before stating,

"Because of it being a predominantly

black campus it gave me things I didn't

realize I needed and gave me moments

of reflection that I also needed."

Reflection that led to her wanting

to pursue a PhD and with a focus on

Black women. From a political science

course discussing the culture of Brazil,

highlighting the discrimination based

off skin color and truly understanding

the systematic and structural racism,

allowed Emmanuel to reflect and draw

the connections from then until now

through her focus in History.

"I needed to reflect on what I valued

about black culture and what I valued

about being around other black people

and how diverse we can be within

ourselves. It was coming from a place

where sometimes you have to learn

from other black people how to love

yourself, and I think that's why, even

now, I chose history and chose to study

black woman, because they teach me

every time, I read something about

them how to love myself a bit more,"

states Emmanuel.

Along with a history of activism and

lessons in self-reflection, HBCUs also

bring economic advantages. According

to data from The United Negro

College Fund, Alabama HBCUs have a

total economic impact of $1.5 billion,

including spending from the students

along with faculty, academic programs,

and employees. Also, the locations

of these institutions play a vital role

for their surrounding communities.

Being placed in areas where economic

growth has been stagnant, the financial

work of HBCUs becomes beneficial in

strengthening that economy.

Furthermore, their influence spreads

within and beyond the campus grounds

with an increase in employment with

a total of 15,062 local and regional

jobs. Also, there is a 1.3 increase in

public and private-sector employment

because of HBCU spending, creating

accommodations and an atmosphere

that is appealing and enriching for

faculty, students, and employees.

Lastly, as HBCUs equip their students

with educational and professional

skills to excel, they receive financial

benefits with an estimated $656,000

additional income because of the

college credential.

From rocky beginnings, Alabama

HBCUs have made a legacy of resilience

and community that spans beyond

their undergraduate and/or graduate

studies. Through obstacles and

milestones, these institutions have

solidified their place in history and

continue to make their own for future

generations

to come.

9

THE CAMPUS OF ALABAMA STATE UNIVERSITY,

MONTGOMERY, AL - FOUNDED 1867
---
READ ISSUES ONLINE AT

1956MAGAZINE.UA.EDU

10
---
TA'KYLA BATES

HY PWIs

EED BLACK

ROFESSORS

11

Ta'Kyla Bates

Why PWIs Need Black Professors

As students sit in an African

American Literature class at

8 am, "Humble" by Kendrick

Lamar is playing in the background.

"Tell me your top five poets, and they

can be rappers," Jeremiah Carter,

African American Literature professor

at the University of Alabama said.

One of the few white students raises

her hand, she names off her five,

ending her list with Kanye.

"Which Kanye?" Mr. Carter said.

"West," the girl said.

The classroom erupts into laughs

and headshakes. Carter looks around

the classroom as the Black students

continue to laugh in disbelief. A sense

of unity is exhibited in those laughs.

"Old Kanye or new Kanye?" a Black

student turned and said to the girl.

Giggling is still happening along with

Carter snickering now. Of course, she

says old Kanye, because just like Kanye

we too, "miss the old Kanye."

When a Black student attends a

historically Black college or university

(HBCU) there is a certain sense of

camaraderie that comes with taking

classes there. Everyone looks like you,

everyone has seen "Martin," "Living

Single" or "Girlfriends" more than just

once. Female students don't have to

search too high or low for someone to

braid their hair.

That camaraderie becomes harder,

but not impossible, to find at a

predominantly white institution (PWI).

Interactions like the one in Carter's

African American Literature class

are important for Black students to

experience. It gives them hope that

they are not navigating this tricky

time period known as "college" alone.

It provides them with the hope that

they may have the homegirls that mom

talked about. Or that they will find

a group of friends to head to Fresh

Foods with.

With so many Black students now

attending a PWI, these interactions are

more important now than ever to show

younger Black students how they can

exist in predominantly white spaces.

According to Grand Valley State

University, approximately 87.1% of

undergraduate Black students attend

a PWI, or a predominately white

institution. As of the fall semester, the

University's Black student population

is 12.69%. This is up 1.69% from the

2020-2021 school year.

On the other hand, 7.55% of the faculty

and staff identified as Black in the

Fall of 2020. So to do the math, that's

4,712 Black students having access to

150 Black teachers at the start of the

2020-2021 school year. This sounds

reasonable, but these teachers aren't

necessarily the teachers Black students

will have.

When Black students in certain fields

of study see teachers that look like

them, it helps them want to achieve

their goals even more.

Specifically, looking at African

American Literature classes, of the

six classes offered here, two of those

classes are taught by Black professors.

Throughout school, textbooks

involving African American History

were written by white people. They

were telling the stories of Black people

experiencing slavery, the Harlem

Renaissance, and the civil rights

movement. Black stories are told at the

expense of a white man's pen.
---
There's unity and community among

Black people and there is a sense of

familiarity for Black students seeing

each other on campus. A sense that

they are living somewhat of the same

experience. Having Black professors

teach about Black experiences makes

a lecture class seem genuine. There is

honesty and truth behind the readings,

the discussions, the lectures, that seem

more like an experience rather than an

experiment. Black professors and Black

students have an understanding of

trust and mutual understanding, that

they are fighting the same fight.

"Black students fare better in

traditionally white colleges and

universities when they see professors

with whom they can identify," wrote

Penelope J. Moore and Susan D.

Toliver in "Intraracial Dynamics of

Black Professors and Black Students'

Communication in Traditionally White

Colleges and Universities."

This sentiment is echoed by Keia Ervin,

a sophomore at the University, who

feels inspired seeing teachers that look

like her.

"It feels empowering to see a Black

professor, especially if they have a

doctorate degree. It allows me to see

that I am able to work in the industry

that I want to because my professor

looks like me and she made it to where

I want to go," Ervin said.

At the University, there are a multitude

of organizations dedicated to Black

students and other minority groups

on campus. One in particular is the

Black Faculty and Staff Association,

established in the early 1970s. BFSA's

mission is "to serve as an advocate for

educational equity, with emphasis on

African American students and the

professional needs of its members."

BFSA helps Black students have a

place on campus to live and learn in an

environment where they feel as though

they have the same opportunity as

other students on campus. In the fall of

2015, BFSA created the Black Scholars

Program that encourages Black

students to join the University Honors

College.

"The mission of the Black Scholars

Program is to provide an opportunity

for African American and multicultural

students who have excelled

academically, to develop, prepare

and gain entry into the University of

Alabama Honors College and other

leadership programs at UA," said the

BFSA.

Freshman Francina Goode, a member

of the African American Gospel Choir

and BFSA Scholars, said that Black

organizations at the University have

given her "a sense of recognition."

"I can finally be myself in these

organizations, which is something that

I can't do everywhere else. Being a part

of BFSA is an achievement in which we

will all be recognized," Goode said.

The University of Alabama builds

on diversity, equity, and inclusion

through events on campus such as

ONYX or student-led organizations

like the Black Student Union. There

are communities where Black students

can come together to celebrate their

culture outside of the classroom. Yet,

they should also be able to celebrate

within the classroom.

UNDERGRADUATE BLACK STUDENTS ATTEND

A PREDOMINATELY WHITE INSTITUTION

12

12
---
IFESTYLE

IFESTYLE

IFESTYLE

IFESTYLE

IFESTYLE

IFESTYLE

IFESTYLE

IFESTYLE

IFESTYLE

IFESTYLE

IFESTYLE

IFESTYLE

IFESTYLE
---
SHAMIEL MOORE

THE ORIGINATORS

Fashion, music, dances, and

hairstyles. These are trends

that we see regularly that

constantly change over time. Social

media helps spread new and throwback

trends. Yet, it is sometimes hard to

track down where these popular

trends come from. Often these trends

originate from Black culture. Black

creators set the standard for many

things. Yet, the credit is rarely given to

these innovators.

TikTok has at least one million users

everyday. They share content such as

comedy skits, cooking videos, pranks,

and music reviews. Dancing videos

also generate a large amount of views

and shares. The problem is, these

dances are usually not made by the

popular white users performing them

and going viral. Rather, Black creators

develop these dances only to have their

content stolen from white users.

"I think TikTok wouldn't be so big

if the Black culture did not inspire

it with dances," says senior human

development major Natanya Vance.

"At one point, Black influencers who

danced went on a small strike to see

how people would do when it came to

not having a trend to follow, and it was

terrible."

The problem does not just stem from

non-Black influencers taking content.

But also the fact that these non-Black

influencers are also making a large

profit off of Black content. Meanwhile,

Black creators have to deal with lower

views, account bans, and constant video

reports on TikTok.

Black people also created most fashion

trends we see today. Baggy jeans,

sneakers, and even large hoop earrings

were made popular by Black people.

"Protective styles, how Black people

developed their own sense of style…

baggy clothing wasn't that prominent

until [Black trendsetters such as]

Kris Kross," said Makayla Lucas, a

sophomore biology major.

A Creative at Work: Skai Beauty

Being a creator on Tik Tok plays such a big role in the

person I am today. Creating content, people duplicating it, or

supporting it shows me that I can really do anything I put my

mind to. I also think that as a Black creator, it really means

you have to have confidence to really endure the struggles we

have to experience.

My most viral dance was "Captain Hook" by Megan Thee

Stallion, and that was honestly such an empowering

movement. To see celebrities doing my dance was bittersweet.

Celebrities such as Ciara, who inspired me to dance as a child,

were doing it. However, I knew there was a possibility none of

these people knew who created it because I don't believe I

ever got the credit I deserved. I also created other dances

such as "Crayola" by 9lokknine and "In the Party" by Flo Milli.

Seeing my content being stolen constantly without credit

from these bigger white creators was devastating. Knowing

all the energy that I put into my creations that were being

stolen and claimed as someone else's was a big reason why I

stopped creating for a while.

It made my engagement go down and

it really made me rethink if being a

social media dance influencer was

something I even really wanted to do.

I understood the TikTok strike, but at

the same time I felt like "why should

we have to stop creating because

people are stealing content?" Are we

really letting these people silence us?

The time I posted the dance to

Megan Thee Stallion's song "Thot

Shit" I wasn't even aware of the strike

that was going on because I had

been on a TikTok hiatus. However, I

didn't think the backlash made sense

because either way the strike was

about unity. But, I understood the

logic behind it. It's just that most

people on the internet are copying

what these Black creators are doing.

I never want to be silenced about the

work I've created or the stamp that

I've left in the world.

Story by "Skai Beauty"

TikTok - @SKAIBEAUTY

TikTok - @SHAKURMULLINGS

14

14
---
ASHLEE WOODS

WE

ADJUS

DURIN

When students across the

country left campus for

spring break in March

2020, few expected to be inside their

house for the next several months.

But that's exactly what happened.

In a matter of a couple of months, the

COVID-19 pandemic made its way to

the United States. Life as we had known

it changed. Classes were now held over

Zoom. You could not hug, high-five,

or even sit near anyone. Concerts,

sporting events, and local festivals

were canceled. Most students could not

even return to their dorm to retrieve

the things they left behind until well

into the summer. Still, students were

expected to finish the semester in the

midst of a global crisis.

A year later, the world is still fighting

this pandemic. Several variants--- Delta

and Lambda to name a couple--- have

developed. However, people all over

the United States are looking to go

back to life before the pandemic. Some

restaurants no longer require guests

to wear masks. Many vaccinated people

are dropping face coverings for a tiny

ounce of freedom.

Students have returned to Tuscaloosa

in a bustling fashion as the University

is fully operational for the fall. Many

students are in their first in-person

class since spring 2020. For some, this

is their first time stepping onto the

Quad, entering the Ferguson Student

Center, or attending a football game at

full capacity. Much like the rest of the

country, the University has aimed to

give students a slice of normalcy in this

weird time.

The state of Alabama is still feeling the

effects of the pandemic. Currently, about

39% of residents are fully vaccinated.

50% of residents have received at least

one dose of the vaccine. Although the

current student vaccination rate is at

58%, many students still feel uncertain

about the abrupt return.

"Returning to full operations on

campus has been pretty challenging,

especially since it has all happened

so fast," Leah Jones, a sophomore

majoring in News Media said.

"I have some personal struggles that

also contributed to my behavior during

my online classes. So, having to go from

that to waking up early and putting in

the effort to be on time for my commute

to campus has been a struggle I am still

working on. The decision to not change

to online classes again despite the rise

in COVID cases was also worrying,

but it has been going better than I

expected."

For many, a return to normal-like

operations has been beneficial.

15
---
OUTSIDE:

TING BACK TO CAMPUS LIFE

G COVID-19

Students have been able to catch

up with friends, leave an unhealthy

environment, or continue the pursuit

of their degree. The pandemic is

nowhere near the end, but students

have found having a group of likeminded

people around them has been

helpful.

"I think it is nice and very beneficial to

be able to be around people that can

relate to your issues," Jones said.

"That is one negative thing about

doing school online, it was very

isolating. Most of us UA students did

not sign up to attend school virtually

from our rooms, so being able to be

around people that can understand you

is nice."

The pressure to perform under these

tense circumstances still exists for

Black students at the University. This

return to normal life is just as big an

adjustment as adjusting to COVID-19

was. With this in mind, several student

organizations are dedicated to helping

students adjust to on-campus life

during the pandemic.

One of these organizations is My

Mind Matters. The Black student-led

organization was created in 2020 to

help aid the mental health of minority

students at the University.

"My Mind Matters is dedicated to every

Black and minority student at UA that

felt like there isn't a space for their

experiences," the organization wrote

on their Twitter page. "We are centered

around creating that space for us."

The organization has different events

like yoga nights and mental health

forums to facilitate discussions around

important mental health issues. An

organization like this is important to

help students navigate this newfound

freedom during the pandemic.

Life is much different than it was at

the start of 2020. The price of freedom

now comes with a higher cost. A cost

that many are not willing to pay.

Many people still have not seen their

family since 2019. Others will never see

some family ever again. The residual

struggles of COVID-19 still plague the

Black community today.

But, as situations look dire, minority

students at the University are

committed to creating a community

that navigates these trying times

together.

16
---
FEATURES

FEATURES

FEATURES

FEATURES

FEATURES

FEATURES

FEATURES

FEATURES

FEATURES

FEATURES

FEATURES

FEATURES

FEATURES
---
JOLENCIA JONES

BLACK

ACTIVISTS

Throughout the years,

minorities have been

fighting for change

through various forms of activism.

It is important to acknowledge those

who stood up against inequality and

aimed to create change for future

generations. This timeline shows

some of the key activism moments

that defined the future.

In 1955, Claudette Colvin refused to

give up her seat on a Montgomery

bus and was arrested. nine months

later, Rosa Parks was also arrested

for refusing to give up her seat. This

led to the Montgomery Bus Boycott

which lasted from December 1955 to

December 1956. This brave behavior

from these two women led to the

U.S. Supreme Court prohibiting

segregation on public transportation.

One of the most prominent activists

to date is Dr. Martin Luther King

Jr. due to his contributions during

the civil rights movement. King

became the spokesperson during

the Montgomery Bus Boycott. He

also served as the president of the

Southern Christian Leadership

Conference which was created to

promote nonviolent protests. In

1963, he shook the world with his

infamous "I Have A Dream" speech

during the March on Washington. In

1964, he was awarded the Nobel Peace

Prize.

Before John Lewis served as a

member of the United States House

of Representatives for Georgia's 5th

district, he started his activism as a

college student in Nashville. Lewis

became a member of the Nashville

Student Movement, which organized

multiple nonviolent sit-ins that

eventually led to desegregation at

lunch counters in the city. Within a

few years, he became the chairman of

the Student Nonviolent Coordination

Committee and became part of the

"Big Six" which organized the March

on Washington. In 1965, he led the first

march from Selma to Montgomery

which helped lead to voting rights for

African Americans.

Marsha P. Johnson was a LGBTQ activist

that led a gay libertation movement. In

1970, Johnson created an organization

that would provide housing and food

to transgender youth and marched in

the first gay pride parade in New York.

Johnson was also an AIDS activist

through the organization AIDS

Coalition to Unleash Power (ACT UP).

This group focuses on finding ways to

acknowledge and end the HIV/AIDS

epidemic.

Tarana Burke has been very active

in recent years behind the scenes

fighting for women. In 2006, she

founded the #MeToo movement. This

movement is more than a hashtag as

it highlights women sharing stories

of sexual assault. Through this

movement, many women found a voice

for themselves and a support system.

In 2017, she became one of Time

magazine's Person of the Year.

Over the years, the Black Lives Matter

movement has sparked controversy

simply because of its name. This

movement was founded by Patrisse

Cullors, Alicia Garza, and Opal Tometi

in 2013 after the death of Trayvon

Martin. The name is a reminder that

Black lives deserve respect and justice

at all times.

All of these activists have made an

impact on the country and even the

world. Their courageous behavior

affects the way people live their lives

to this day. It's never too late to stand

up for what's right and change the

world.

18
---
RACHEL PARKER

Influential figures within the Black community

such as Dr. Martin Luther King Jr., Mary

McLeod Bethune, and our current Madame

Vice President Kamala Harris all have one thing in

common. They are each members of historically

Black Greek letter organizations.

These Black Greek organizations are composed

of four sororities and five fraternities listed

as Alpha Phi Alpha Fraternity, Inc., Alpha

Kappa Alpha Sorority, Inc., Delta Sigma Theta

Sorority, Inc., Omega Psi Phi Fraternity, Inc.,

Kappa Alpha Psi Fraternity, Inc., Zeta Phi Beta

Sorority, Inc., Sigma Gamma Rho Sorority, Inc.,

Phi Beta Sigma Fraternity, Inc., and Iota Phi Theta

Fraternity, Inc.

The collection of these nine organizations

were named the Divine Nine and are under the

governing body of the National Pan-Hellenic

Council (NPHC). Although each organization has

their own individual identifiers that each member

exemplifies, they all share a common ground in the

origins and mission towards the Black community.

Founded in 1908 on the campus of Howard

University, nine college women formed the

organization, Alpha Kappa Alpha Sorority, Inc.

Dreamed up by Howard University student Ethel

Hedgeman, she envisioned a group of like-minded

women coming together and utilizing their talents

to uplift and strengthen their communities.

During this time, AKAs began making strides

in advocating for the Black community through

various ventures such as pushing for antilynching

legislation, promoting investments in

Black businesses with the AKA Investment Fund,

and focusing on enriching the academic and life

skills of high school students with the ASCEND

program.

Each of these ventures showcased the dedication

envisioned by Hedgeman by continuing to serve

19

19
---
the Black community with the involvement of

dedicated Black women. The reach of Alpha

Kappa Alpha Sorority, Inc. expands across

careers and globally as members influence

others in their work and demeanor.

"They were very well put together,

very well spoken," said Tanya Brown,

a member of the Omicron Omega

graduate chapter of Alpha Kappa Alpha

Sorority, Inc. "They were people who

were very influential in our communities

and they were always giving back."

Seeing this representation was influential

for Brown who's mother advocated for civil

rights. Brown's older brother also reinforced

the values of the Divine Nine as a member of

Omega Psi Phi Fraternity, Inc.

Brown also noticed these exemplary attributes

in teachers she looked up to in middle school

and high school. She noticed the common trait

these teachers shared was that they all were

AKAs. This is one of the things that initially

sparked her interest in the sorority. After her

initial observations and research, she knew

that becoming a member of Alpha Kappa Alpha

Sorority, Inc. would be a good fit for her. Although

she is an AKA, Brown still views all Divine Nine

organizations as interconnected.

"It's like a family," Brown said. "We have the

same parents and same genealogy, we're just

uniquely different."

In addition to the exceptional qualities she noticed

in her middle school and high school teachers,

service was also another influence for Brown. The

work that AKAs do within their communities has

a purpose that is bigger than themselves.

"You feel good about yourself and who you are in

understanding that there's a bigger purpose to

20

20
---
"The reason I chose my fraternity

is because I knew it was the best

choice for me and my mission of

futhering the community. Not

only is my organization a complete

powerhouse, but it also never fails

to equip me with tools that I need

to grow."

Yechiel Peterson

Alpha Phi Alpha Fraternity, Inc.

Kappa Alpha Chapter

"I joined for the endless

opportunities for me to grow as an

individual and to better serve my

community. Being a part of a Greeklettered

organization has also given

me the opportunity to serve in

leadership roles on campus."

Leecora Rodgers

Zeta Phi Beta Sorority, Inc.

Iota Eta Chapter

"I joined Phi Beta Sigma Fraternity,

Inc. because it offered me a chance

to grow as a person. My involvement

in the community, mentoring youth

and providing service to the less

fortunate is what has ultimately

helped with my growth."

Fa'Marion Mobley

Phi Beta Sigma Fraternity Inc.

Theta Delta Chapter

"I joined Kappa Alpha Psi Fraternity

Inc. as it was a lifelong goal for

me. It has brought me into contact

with lifelong brothers and allies.

It has also allowed me to create

countless memories during my time

at the Capstone which I will always

cherish."

Bradley Coats

Kappa Alpha Psi Fraternity Inc.

Eta Chi Chapter

"I joined because I recognized the

members of the fraternity were men

of distinction who valued friendship,

manhood, and perseverance; these

things are similar to what my own

father raised me on. Now I have

brothers and friends for life who

share similar aspirations and morals

as myself."

Booker Pitts IV

Omega Psi Phi Fraternity Inc.

Beta Eta Chapter

"The best part of joining my

organization would be gaining

new friends, being able to serve my

community, and having these sisters

and memories for life."

Morgan McCall

Alpha Kappa Alpha Sorority, Inc.

Theta Sigma Chapter

"I chose to join because I value my

organization's three basic principles:

Sisterhood, Scholarship, and

Service. Growing up, I had a chance

to witness amazing women in my

life implement these principles

within this organization and I knew

that I wanted to be a part of making

a similar contribution."

Ashleigh Hartnett

Delta Sigma Theta Sorority, Inc.

Lambda Zeta Chapter

"I knew that I would be joining an

organization full of hardworking,

unique women who would push me

to be the best version of myself.

Being in this organization has

helped me grow as a leader, and has

given me more opportunities to

serve my community."

Aysia Washington

Sigma Gamma Rho Sorority, Inc.

Zeta Chi Chapter

21

21
---
life when you're doing those things, and how that

expands across more than just you," Brown said.

Further aligning with the desire to serve is

the organization Alpha Phi Alpha Fraternity,

Inc. Alpha Phi Alpha, as the first Greek-letter

fraternity created for African Americans, was

founded in 1906 at Cornell University in Ithaca,

NY. Initially utilized as a study and support group

for members who experienced racial prejudice,

the organization grew in their mission to uplift

the community.

Alpha Phi Alpha's service and character were what

initially drew professor Jeremiah Carter to join

the organization. Joining the graduate chapter,

Delta Epsilon Lambda of Alpha Phi Alpha, Carter

viewed his involvement in the organization as a

part of a bigger picture.

"I wanted to play my part in feeding and giving

knowledge and also constantly being in the

position to… help my community. I just really kind

of saw Alpha Phi Alpha as a part of me playing my

part," Carter said.

The commitment to serving the community is what

Carter noticed from the men he interacted with

that were members of Alpha Phi Alpha. Whether

educators or ministers, their communication and

treatment towards others was admirable and

reflective of Alpha Phi Alpha's core principles of

fellowship and good character. This was shown

through one of their community service ventures,

Lights of Alpha, where the members spent time

with young men by guiding them and discussing

life lessons.

Another member of the Divine Nine spoke about

her experiences and the importance of service.

Felicia Lewis, a retired educator, is a member of

the Lambda Zeta chapter of Delta Sigma Theta

Sorority, Inc. Lewis was the first in her family to

join a Greek-letter organization. Just like Brown,

influential educators whom she admired were all

members of Delta Sigma Theta. This led her to

research the organization and ultimately become

a member. Lewis proudly wears the letters of her

organization and emphasizes they are a family.

"I went from having two sisters to hundreds at

that point and now thousands," Lewis said. "I feel

like being a part of this organization, I'm never a

stranger anywhere that I might go."

During her time at the University of Alabama,

Lewis accomplished her goal in becoming a

member of Delta Sigma Theta. She felt the

organization was the best fit for her and also built

upon her personal goals to help others.

"Serving others and helping in the community

has always been my lifelong goal and to become a

part of Delta Sigma Theta, where that was already

taken place, I figured it was a good fit for me.

Because I could continue to do what was in my

heart to do," Lewis said.

Lewis said the service was the most important

part for her. This connects with the initial values

of Delta Sigma Theta Sorority, Inc. Established in

1913 on the campus of Howard University, Delta

Sigma Theta was founded by 22 women who

were originally members of Alpha Kappa Alpha

Sorority, Inc. Due to differing views, the 22 women

left to form their own organization, Delta Sigma

Theta Sorority, Inc.

The members of Delta Sigma Theta have served

in the National Library Project, opened a

Mission Hospital in Kenya, and furthered career

development for Black women.

"If you have a heart and mind to give your time

and talents, then this is probably where you want

to be, but it's got to be in your heart," Lewis said.

From talking with three members of the Divine

Nine, the resounding message is clear. They are

dedicated to serving the community among so

many other honorable things.

"Everybody comes for a different reason, but we

all stay for the same reason," Carter said.

That reason is shown through the unique

actions of each organization and the common

goal of service. The Divine Nine's commitment

to honoring the unique values of each of their

founders helps each organization thrive.

Photography by Tyler Hogan

22

22
---
JEFFERY KELLEY

THROUGH

THE DOORS:

A NEW TRADITION

On Sunday, September 19, UA's Black Alumni Association

held their first annual "Through the Doors" welcome

pinning ceremony for the University's new Black

freshman class members.

The students, their parents and alumni gathered in the

ballroom of the University of Alabama's Student Center

as the African American Gospel choir opened the event

with a performance of "Lift Every Voice and Sing."

After the song, Ocie Fulford, the Black Alumni

Association's parliamentarian, took the stage to begin

the ceremony.

"Today, we recognize the progress we have made since

the historical moment 58 years ago when Vivian Malone-

Jones and James Hood began their own journeys at the

Capstone," Fulford said. "We honor their endurance and

perseverance, and we celebrate the achievements of all

our Black students and alumni since."

The crowd applauded as he spoke, punctuating the

sentiment of his welcome.

The ceremony continued with other speakers, Dr.

Christine Taylor, vice president and associate provost for

the UA Division of DEI, Stacey Hill, a previous president

of the Black Alumni Association and Derek Cunningham,

the current president of the Black Alumni Association.

They spoke to the students about the importance of

their place at the University, the history that has been

made and their futures while offering kind words of

encouragement.

Then Monica Jones, Vivian Malone-Jones's daughter, led

the pinning ceremony.

The ceremony closed with Tionna Taite, Nineteen Fifty-

Six's editor in chief, giving the freshmen a call to action.

"It's all about the finish line and the fact that you stay

focused to accomplish your goals," Taite said. "Don't

let anyone cause you to get off track by dissuading you.

Because, they don't know what your journey will entail."

"Finally, it's with great hope and anticipation of success

that we welcome the class of 2025 here at the Capstone,"

Fulford said.

Photography by David Walton, UA Division of Student Life

23

23
---
1956 PHOTOGRAPHY + DESIGN

ONYX RECAP

As the sun began to fall on Friday, August 20th, 2021,

ONYX was in session. These ladies posed at the

Student Center, excited for the upcoming festivities.

These friends and many other students gathered to engage,

enjoy free food, giveaways, performances, and discover ways to

get involved with minority student organizations.

NPHC and the Black Student Union organized performances for attendees to enjoy.

This created for a lively experience for the students and organizers.

The excitement of the night created a sense of community

among minority students and allowed them to see all that the

University of Alabama had to offer them. This annual event is a

staple for students and will be for the foreseeable future. It is

so great to be back outside.

Photography by Tyler Hogan and Madison Carmouche for Nineteen Fifty-Six Magazine

24
---
EXPERIENCES

EXPERIENCES

EXPERIENCES

EXPERIENCES

EXPERIENCES

EXPERIENCES

EXPERIENCES

EXPERIENCES

EXPERIENCES

EXPERIENCES

EXPERIENCES

EXPERIENCES

EXPERIENCES
---
MALEA BENJAMIN

OVERCOMING THE NEED TO

CONFORM TO WHITENESS

Navigating life as a Black

student at a predominately

white institution (PWI)

can be extremely intimidating.

Generally walking around campus

may seem daunting, but what stands

out the most are the statistics. The

Office of Institutional Research and

Assessment collected data for the race

and ethnicity of students on campus.

In Fall 2020, 75.09% of the student

population was reported to be white

whereas only 10.95% of the student

population was reported to be Black

students. Even more alarmingly,

Black students made up only 2.7%

of the Honors College in 2020.

Those who come to the University

of Alabama from a high school that

is predominantly white might know

some of what to expect. However,

that doesn't mean it gets any easier.

For students who come from more

diverse high schools, attending a PWI

may be more of a culture shock than

it was for others.

Regardless of background, how does

one know how to navigate a space

like this? Looking around and seeing

major leadership positions on campus

primarily occupied by white students

can be discouraging, especially as

a freshman. This often leads eager

Black students on a search to figure

out how best to fit in. How should

I talk? Do I straighten my hair to

seem more presentable or do I leave

it natural? Who should I surround

myself with? These are all questions

that many Black students have to

answer when trying to create their

UA success story.

Jayda Russell, a senior majoring in

news media, said that although she

did not experience much change

in demographic environment, the

experience was different as a Black

student.

"Luckily, a lot of [predominately

white] spaces were welcoming but,

sometimes you still do feel out of

place as a Black student on campus

even though there are a few Black

spaces to feel welcome," said Russell.

Russell then went on to describe her

experiences being a Black woman in

her classes when racial discussions

take place. She said there were often

moments when there was some

pressure regarding racial discussions

in the classroom, especially in history

classes. She said she was once one of

five Black students in the class and

there was a book about an enslaved

person's life.

"I felt like I had to speak just because

of my heritage. But, [when] I didn't

this prompted all the students in the

room to look in my direction when

the discussion questions were asked,"

said Russell. "It's a lot of pressure

similar to this, but I'm able to keep

pushing."

Students from schools that are more

diverse experience a different type

of culture shock. Cameron Butler, a

freshman majoring in architectural

engineering, has only been on

campus for a month. Yet, he already

has had social experiences on campus

that felt awkward and discouraging

as a Black student.

"I feel like I have had a hard time

interacting [with white students],"

said Butler. "Sometimes, I'm the only

Black kid in certain classes, which

makes me feel like I'm the odd one

out."

Butler then goes on to add that some

of the programs designed specifically

for diverse students, don't always

do enough. "Although there are

programs, events and organizations

like BRIDGE, ONYX, BSU, and NSBE,

I still feel like there are other things

that are heavily populated with white

students like SGA which I feel like it's

harder for me to get in."

For older students who have had

various experiences on campus, the

feeling does not get better with time.

Breanna Jordan is a senior majoring

in criminal justice and english.

"Since I was a student in a majority

Black high school, I quickly learned

that code switching would be one of

the most useful habits," said Jordan.

"Even now, I have two different racial

friend groups, and I code switch

between the two of them."

Black students have to make

extra strides just to fit in at

the University of Alabama.

Although the struggles may

remain, these students

overcome the need to

conform to whiteness.

Photography by Madison Carmouche

26
---
TIONNA

BLACK STUDENT

FACE BARRIERS AF

During her first year of medical

school, University of South Alabama

student Tiara Dean notices that

there are only 11 Black students out

of 74 students in her entire doctor of

medicine program.

This is the largest class of Black

students the University of South

Alabama College of Medicine has

ever had. At that moment, Dean is

reminded of how far is still left to go

for Black students across America.

Black students are disproportionately

underrepresented in graduate school,

according to a report by the Council

of Graduate Schools. The problem

results in barriers for Black students,

including a lack of resources, classes

that are not racially diverse and a

shortage of mentors.

After receiving a bachelor's degree,

Black students who continue their

education at a predominantly

white institution will likely face

unique barriers due to a lack of

representation.

From 1971 to 1986, the amount of Black

faculty decreased from 8.1% to 6.9%

and continued to decrease into the

21st century, according to a report in

the Journal of Negro Education. The

lack of Black faculty representation

causes Black students to feel excluded

at predominantly white institutions

and negatively impacts retention

rates, according to a report by the

Association of American Colleges &

Universities.

Clayton State University student

Mercedes Pleasant is pursuing

a master's degree in strategic

communications. Clayton State

University has a diverse student

body with 62% Black students; yet,

Pleasant said minority students still

experience barriers.

Pleasant would like her university

to provide more free mental health

resources for minority students.

"Many minority students battle

silent mental health battles

because it is typically stigmatized

in our community," Pleasant said.

"Proper mental health education

and awareness could help minority

students cope with some of the issues

we face in higher education."

Rachel Parker, a doctoral student at

the University of Alabama, shares

one of the biggest barriers she

experiences is impostor syndrome.

She says mentorship programs are

one of the resources she uses to

overcome this barrier.

27 27
---
TAITE

S CONTINUE TO

TER GRADUATION

"The Tide Together Graduate

Mentor Program has been a really

big help in finding like-minded

students along with academic and

personal encouragement," Parker

said. "I would like more mentorship

opportunities that focus on career

navigation for minority and firstgeneration

students."

The COVID-19 pandemic also poses

additional challenges for minority

students pursuing higher education.

Although she will be a second-year

student in the fall, Dean said she

did not have many opportunities to

connect with her classmates.

"A strong relationship with my peers

is something that definitely could

have helped me adjust to being in a

new and challenging environment,"

Dean said.

Pleasant said the pandemic was

stressful for her both mentally

and physically. "I caught COVID in

December and was removed from a

course because my professor thought

I was inactive," Pleasant said. "I was

really on bedrest for two weeks."

Many students agreed there are a

few tips they wish they knew before

beginning their journey after

undergraduate.

"It's okay to not be at the top of

your class. At the graduate level, the

competition is so much tougher,"

Dean said. "Don't be afraid to sacrifice

that top spot for more rest, fun and

relaxation."

Parker wishes she realized sooner

that there is more than one way to

effectively study. She also emphasizes

the importance of "managing time

for reading and writing research

papers in order to properly cite and

flesh out ideas."

Pleasant was not aware of the huge

commitment graduate school is

compared to undergraduate school.

"I wish I would have known the time

and dedication it takes to actually

obtain a master's degree," Pleasant

said. "Juggling adulthood, working

and being a full-time student can be

stressful but rewarding."

Through offering insight and sharing

their unique experiences, Black

students are starting a conversation

to eliminate future educational

barriers by calling for more resources

and racial diversity.

28
---
LEAH JONES

THE EFFECTS OF

Insitutional Rascism

Institutional racism is a term we

have been hearing in today's

political climate more than

ever over the span of the last few

years. However, many people do not

know what it is and how it affects

Black Americans to this day. This is

mainly because institutional racism

has a long, complicated history that

American school systems have not

even scratched the surface on. Black

Americans have consequently been

left with the burden of learning this

history by ourselves and teaching it

to others.

According to "What Racism Looks

Like: An Infographic" by the Frank

Porter Graham Child Development

Institute at the University of North

Carolina at Chapel Hill. Institutional

racism is "distinguished from the

explicit attitudes or racial bias

of individuals by the existence of

systematic policies or laws and

practices that provide differential

access to goods, services and

opportunities of society by race."

In other words, rules and regulations

within an institution like

governments, schools, and hospitals

allow discrimination to take place

against a certain racial group.

Black Americans are victims of

institutional racism through a variety

of practices. One common practice

is redlining. Redlining occurs when

communities of color are specifically

targeted and denied financial services,

medical services, and other types of

services. Redlining made obtaining

a mortgage especially difficult for

Black Americans, as it was used to

deem Black neighborhoods unfit by

government organizations like Home

Owners Loan Corporation.

"Today, approximately 3 in 4

neighborhoods—74%—that the

HOLC deemed 'hazardous' in the

1930s remain low to moderate

income, and more than 60% are

predominantly nonwhite," Danyelle

Solomon of the Center for American

Progress said.

Black Americans are victims of

institutional racism through

other practices like displacement

and occupational segregation.

Displacement causes already

disadvantaged communities to be

forced out due to gentrification.

Occupational segregation results in

Black Americans experiencing effects

such as workplace discrimination.

The broad term that is institutional

racism is hard to understand in

our society because it is not taught

in schools. In fact, inadequate

education is one of the ways we

29 29
---
are most impacted by this form of

racism. Redlining and displacement

force a disproportionate amount of

Black children into lower income

areas. These areas typically have

underfunded schools that cannot

afford to pay for many of the necessary

resources students need. These

resources include qualified teachers,

college prep, school supplies, and so

much more.

"More than 35% of public school

revenue comes from property taxes

that favor and stabilize funding

in wealthier areas, while other

communities must rely on more

volatile state revenues. This is one

reason why predominantly nonwhite

school districts across the country

annually receive $23 billion less

than their predominantly white

counterparts," Roby Chatterji of the

Center for American Progress said.

However, society as a whole faces the

consequences of institutional racism

in education, as the topic is almost

completely absent from public school

curriculum.

Public schools usually cover— or

gloss over— the entire history of

racism and Black history in sparse,

often rushed, chapters.

"Not just Black people need to learn

about [racism]. Teaching it in schools

validates it because [most students]

see what is taught in school as

important," Jones said.

It is overwhelming to know such

a complex history affects every

outcome in our lives as Black

Americans. As we walk around the

University of Alabama, the effects of

racism are present in the mere 10.95%

of Black students. It is present in the

campus buildings with new names

that were recently changed due to

backlash from the previous building

name's racist history. It is present

in the neighborhoods that our

families grew up in that are slowly

disappearing as new, modern homes

are being built in them as an effort to

'revamp' the city.

It is unfortunate that Black

students are left with the

responsibility to not only educate

non-Black people on the history and

effects of institutional racism, but

also live through it. It is now the

duty of society to right the wrongs

that have been occurring throughout

history for through reform. And

there is no better place for it to start

than the education system.

"I did not really learn anything about

the specifics of institutional racism

besides that it happened. Schools

do not really go past segregation or

really define discrimination," Layla

Jones, a junior at the University of

Alabama said.

Teaching racism as if it is an issue

that was resolved in the past has led

students to be misguided on what

Black Americans experience in the

past and present. Public schools are

directly contributing to non-Black

people denying the current existence

of racism.

30
---
1956MAGAZINE