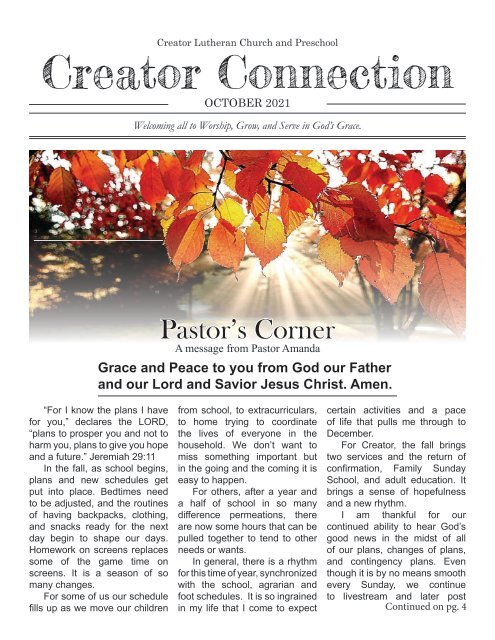 Creator Connection October 2021
Creator Connection is the official newsletter of Creator Lutheran Church & Preschool.
Creator Connection is the official newsletter of Creator Lutheran Church & Preschool.
SHOW MORE
SHOW LESS
Create successful ePaper yourself
Turn your PDF publications into a flip-book with our unique Google optimized e-Paper software.
Creator Lutheran Church and Preschool

Creator Connection

OCTOBER 2021

Welcoming all to Worship, Grow, and Serve in God's Grace.

Pastor's Corner

A message from Pastor Amanda

Grace and Peace to you from God our Father

and our Lord and Savior Jesus Christ. Amen.

"For I know the plans I have

for you," declares the LORD,

"plans to prosper you and not to

harm you, plans to give you hope

and a future." Jeremiah 29:11

In the fall, as school begins,

plans and new schedules get

put into place. Bedtimes need

to be adjusted, and the routines

of having backpacks, clothing,

and snacks ready for the next

day begin to shape our days.

Homework on screens replaces

some of the game time on

screens. It is a season of so

many changes.

For some of us our schedule

fills up as we move our children

from school, to extracurriculars,

to home trying to coordinate

the lives of everyone in the

household. We don't want to

miss something important but

in the going and the coming it is

easy to happen.

For others, after a year and

a half of school in so many

difference permeations, there

are now some hours that can be

pulled together to tend to other

needs or wants.

In general, there is a rhythm

for this time of year, synchronized

with the school, agrarian and

foot schedules. It is so ingrained

in my life that I come to expect

certain activities and a pace

of life that pulls me through to

December.

For Creator, the fall brings

two services and the return of

confirmation, Family Sunday

School, and adult education. It

brings a sense of hopefulness

and a new rhythm.

I am thankful for our

continued ability to hear God's

good news in the midst of all

of our plans, changes of plans,

and contingency plans. Even

though it is by no means smooth

every Sunday, we continue

to livestream and later post

Continued on pg. 4
---
Table of Contents

Ministry

Pastor's Corner...............................................

Terri's Two Cents...........................................

Pastor's Corner cont. .....................................

Fellowship

A People of Hope: ELCA Article......................

Church in Society, Altar Guild..........................

Church Council Highlights...............................

Stewardship.......................................................

ELCA YAGM 2022-2023.................................

Children, Youth, and Family

One on One.......................................................

High School Bible Study, Children's Book of

the Month, Family Sunday School....................

Halloween Carnival...........................................

Confirmation Schedule, Candy Donation.........

Preschool News.........................................

1

3

4

5

6

7

8

9

10

11

12

13

14

Staff

Pastor:

Amanda Olson de Castillo

pastoramanda@creatorlutheran.net

Children, Youth,

& Family Director: Terri Heckroth

creatorterri@comcast.net

Office Ministry: Donna Reynolds

office@creatorlutheran.net

Communications Coordinator:

Marion Gil

communications@creatorlutheran.

net

Bookkeeper: Marcie Reid

creatorbooks@creatorlutheran.net

Custodian: Leslie Noborikawa

Nursery Attendants: Debbie

Eikland and Cynthia Lowe

Sunday School Coordinator:

Terri Heckroth

creatorterri@comcast.net

Preschool Director:

Andrea DeDominces

News and Education..............................

Birthdays and Reminders.......................

15-19

Calendar............................................................ 21

20

Preschool Teachers:

Andrea DeDominces, Ragan Allen

& Cheri Farrer

Baptism Coordinator:

Briana Halaas

Funeral Coordinator:

Janee Theleman

2

Ministry teams and program leaders, please think ahead about what is coming up and

submit information, pictures or stories of impact to office@creatorlutheran.net by the 20th

of each month. Our Office Ministry Coordinator, will collect, format, and get the newsletter

out to the congregation by the first of each month. If you have any further questions,

please feel free to call the office (253) 862-7700.
---
Terri's Two Cents

I introduced one of my

grandkids to the sport of

bowling this weekend. As

we approached the bowling

alley, my granddaughter

was excited. She had been

looking forward to this new

experience and our regular

"Grandparent and Me Day."

She had lots of questions,

the first being, "Why do we

have to wear someone else's

shoes?". I helped her choose

a pretty colored, but light

weight ball and warned her

about painful smashed fingers

as she added the ball to the

ball return rack. After a few

more instructions, I walked up

to the foul line with her. She

was nervous, and had no idea

what to do with the ball. So,

I helped her swing the ball

behind her and let go on the

follow through. Her ball slid

slowly down the lane and

eventually hit just one pin. I

praised her for her efforts and

encouraged her to try again. It

took a few more frames for her

to be comfortable releasing

the ball by herself, but she

soon got the hang of it.

The score of that first

bowling game was not high,

but my granddaughter did

learn an important lesson that

will help her in other areas of

her life. At the mere age of

Photo credits: ppt-backgrounds.net

7, she told me that she just

needed to bowl more often

to get better at it. Of course,

that's a common lesson that

we all learn, but then she

added, "I just have to bowl a

lot more bad games before I

can bowl good ones."

I thought that was such a

profound thought for one so

young. My wise granddaughter

was saying that if we want to

success in something, we first

need to fail, and fail a lot. She

never expected to be a good

bowler before she spent time

being a bad bowler.

So, go out into the world

and fail. Fail often. That is

the only way we will succeed.

Maybe that's what Martin

Luther meant when he said,

"Sin boldly!".

"I have not yet

reached my

goal, and I am

not perfect.

But Christ has

taken hold of

me. So, I keep

on running and

struggling to

take hold of the

prize."

– Philippians 3: 12

3
---
Ministry

Continued from pg. 1

our worship services. Daily

devotions are available to you

as are various bible studies

and learning opportunities. Our

first and most important role as

church is precisely to remind you

of God's promises for you which

give you hope and a future.

Creator Lutheran's Ministry

Teams are also eager to put into

action their plans and activities

and to dream and pray together

about what is possible, needed,

and faithful for the future.

As your fall rhythm begins to

settle, I also want to ask you to

prayerfully consider how you are

engaging at and with Creator.

We already know that you are

part of God's plans so where

does Creator fit in your plans?

As we moved to two services,

added additional education

opportunities, and renew the

important work of the ministry

teams… you are invited to

participate. You are also needed

so that we can continue our

calling as a church. I invite you

to fill out a Time and Talent

page and turn it into church by

Sunday, October 24th. We will

bless these commitments to

welcome, grow, lead, and serve

on that Sunday and we will trust

that God once again continues

to not only have plans for us but

to provide all that is needed to

fulfill those plans in our lives and

in our ministry together.

Peace,

Pastor Amanda Olson de Castillo

"For I know the plans I have for you,"

declares the LORD, "plans to prosper you

and not to harm you, plans to give you

hope and a future."

Jeremiah 29:11

4
---
A People of Hope:

Until All Are Fed

Fellowship

An online benefit for ELCA World

Hunger

When:

Thursday, Oct. 14, 7:30 p.m.

Central time

Where:

Zoom webinar

Dear friend in Christ,

You're invited to join me and Rick

Steves, guidebook author and

travel TV host, as we celebrate

World Food Day!

This online benefit for ELCA

World Hunger will feature

interviews hosted by my friend,

Rick, with people on the ground

who are doing the dynamic work

of fighting hunger around the

world. Special guests include

the Rev. David Beckmann, who

is being honored for his lifelong

service to end hunger; the Rev.

Rebel Hurd; Willie and Anne

Langdji; and the Rev. Rafael

Malpica Padilla. There will also

be special performances by

Rachel Kurtz, Peter Mayer and

the St. Olaf Choir. As a vital

Photo credits: community.elca.org

Pictured above is Rev. Elizabeth Eaton and author Rick Steves

supporter of the church, we

would love for you to join us

as we hear compelling stories,

listen to wonderful music and

gather in fellowship to invest in

this life-giving work.

As a church, we remain focused

on supporting our neighbors

near and far as the pandemic

continues disrupting and

impacting lives. At this event, you

will learn about the ways ELCA

World Hunger is responding.

No one is better positioned

and more experienced than the

church in addressing hunger —

both immediate needs and root

solutions. We are ready, able,

effective and efficient.

Together, we are a people of

hope.

I look forward to seeing you

there!

In Christ,

The Rev. Elizabeth A. Eaton

Presiding Bishop

• Register:

https://community.elca.

org/online-registration/a-

people-of-hope-ELCA-World-

Hunger?erid=81e21d4c-

7051-46ce-a350-

54852e194156&trid=81e21d4c-

7051-46ce-a350-54852e194156

PLU Fall Lutheran Conference

The PLU Fall Lutheran Conference "Living With Mortality:

Illness, Trauma, Joy and Hope" should touch or speak to everyone

since we have all been living through the pandemic for the past

18 months. The online conference is Oct 5th, from 12pm-3pm.

The schedule for the day can be found here, starting with a guided

meditation by PLU Pastor Jen Rude. The conference is free and

open to the public. You only need to register so the links to the

events of Oct. 5 can be sent to you.

5
---
Fellowship

Church

In Society

In September we completed two "God's

Work, Our Hands" projects. A group of

volunteers from Creator painted the picnic

tables and benches at the Prairie Ridge

Community Center. Also, that same day,

several members cleaned and painted a living

room and bathroom for a local family preparing

to move.

As we look toward fall, we are planning

several projects/events:

• New Hope luncheon on Oct. 1.

• On October 22, we will be making 60-70

sack lunches at the church and delivering

them to Peace Lutheran Community Center

for distribution to the community.

• Annual Apple Cup Food Drive for local food

banks starting early November and running

through the Apple Cup game weekend.

• Early planning and forming of groups to

buy gifts for our Christmas families.

The CIS team approved $2,300 for

distribution to the following local agencies:

Sumner and Bonney Lake Food Banks and

Backpack Programs, Living Stones Prison

Ministry, Lutheran Immigration & Refugee

Services and Mi Casa, an agency providing

assistance to families who are on the edge of

homelessness.

Thanks to our congregation for Sunday

offerings that enable us to help our community

in these ways.

As we begin to have two

worship services, it is time for

Altar Guild to expand its team. We

are looking forward to welcoming

new members to our team. Our

new protocols consistent with

safety guidelines and changes

have been made. For anyone

interested in joining our ranks,

6

a training will be scheduled. In

addition, instructions are posted

in the sacristy and may be

emailed or picked up at church.

Some of the Altar Guild

stalwarts are in the "cautious"

category for COVID, I would

appreciate younger members

stepping up to help. Even

middle school and high school

students have helped in the

past although I do understand

vaccination restrictions. "Many

hands make light(er) work" and

are appreciated.

You may text my cellphone at

(253)820-1757 or send an email

to 84lkreed@gmail.com.
---
Fellowship

Church Council Highlights

Following are highlights from our Council meeting held on Tuesday September 21, 2021.

These are not the official meeting minutes, but a brief summary to aid communication.

Approved minutes will be posted on the bulletin board across from the office.

Council Reports:

Finance Committee

Treasurer, Deon Knickerbocker,

Presentation of August 2021

Financial Reports

• Total Income........$35,614.19

Total cash Bal. Sheet line

1000 .................$166,104.55

• Total Expense.....$26,911.89

• Less Bal. Sheet Total Des.

Funds..................$56,508.04

• Net Income (Loss)

.............................$ 8,702.30

• General Fund Balance

..........................$109,596.51

Benevolence Decision:

• Contributions (P&L Line

4000) ..................$35,614.19

Local Benevolence (6%)

.............................$ 2,136.85

• Synod (4%)...........$1,424.57

Total......................$3,561.42

Around the Church:

Service Volunteers

We are looking for people who can help during both

services. Communion helpers, ushers, sound, PowerPoint

or Zoom/Facebook. We have a lot of roles to fill and would

love the help.

Advent Adventures

Advent adventures are coming up. The church will

be looking for three ministry teams to come up with an

organization to be benefited during advent.

Music Coordinator

We are still looking for a person who can fill the role for

our music coordinator. If you know of someone or know a

group of people we can put out a call to, please reach out

to the church office or Pastor Amanda.

Classroom Clutter

Over the past few years, items have accumulated in the

classrooms. The church will be scheduling a cleanup. If you

or an organization have something that you would like to

stay, let us know what it is for so we can mark it to be kept.

7
---
Fellowship

Thoughts on

A Request of Prayerful Consideration for Stewardship

Stewardship seems to be

almost as uncomfortable to

discuss as sex! And you can be

sure no one wants to be on the

Stewardship Committee. Why

you ask? Good question, and

one that most prefer to avoid

answering. It seems when

Stewardship is mentioned, many

presume it's only about money.

A comment shared in many

churches is "every time I turn

around the church is asking for

more money!" Maybe a common

sentiment, but when we look at

this honestly and realistically, is

this really true here?

Creator works very hard

at being transparent about

finances, and the budget is

available for anyone to see.

Often a ministry group will share

during the offering on a Sunday

to both inform the congregation

and witness about the impact

to our church or the community.

Personal stories of faith are

appreciated over the years as

members have described how

their life has been changed by

a mission trip or through their

volunteer experience. Generally,

when there is a request for more

8

money to meet the budget, it is

so we can continue our work

helping our neighbors and those

in need.

Truth be told, Stewardship is

about relationship. In our human

relationships we often express

our love and appreciation

with gifts or acts of service. A

thoughtful gesture, a nice card, a

generous birthday gift, or offering

a helping hand are common

ways we demonstrate loving

feelings towards those we are

close to and care about. Would

this not be similar, but even more

so, in the case of our Heavenly

Father? We are stewards of all

that we have received, which are

blessings from God. Showing

appreciation for all God is doing

in our lives, and the blessings

we have seems natural. During

the offering it is mentioned that

Stewardship is an act of worship.

Sometimes the negative

reaction around Stewardship can

stem from feeling overwhelmed

financially. Many have had

quite a difficult time during the

pandemic due to loss of a job,

or other things. Discussion of

Stewardship at Creator is never

intended to pressure, offend, or

stress people out.

One of the challenges during

Covid has been that many who

previously gave regularly to the

church, who have remained

virtual and not yet returned to inperson

worship, are giving less

consistently now. This could be

sort of an out of sight, out of mind

situation, or just simply being out

of the routine. Unfortunately,

it has made a difference and

created a hardship for balancing

the budget, and how much we

can support programs.

Creator is always open to

ideas and suggestions how

best to approach Stewardship.

Whether you think of it as a

negative topic or not, it is not

only a reality, but a privilege to

be stewards of all that we have

and to show our appreciation to

God through our tithes, talents,

and time. Creator is known in

this community for our hearts to

give and serve. Stewardship is

not only about money, but also

the chance to give back and

volunteer which can have as big

of an impact on those we serve

as for ourselves.
---
Fellowship

ELCA YAGM 2022-2023

We are so EXCITED to

announce the return of our

YAGM service year! Applications

for the 2022-2023 service year

open November 1st, 2021 and

close February 1st, 2022! Stay

tuned for more updates!

The ELCA Young Adults in

Global Mission program invites

ELCA young adults ages 21-29

into a transformative, year-long

journey in international service.

As they offer themselves in

service, ELCA young adults are

shaped by the witness of our

global neighbors. They share

in the journeys of companion

churches and organizations in

one of ten countries around the

world.

A year of service through the

Young Adults in Global Mission

program invites young adults

to become the hands and feet

of Jesus in the world, providing

critical support to ministries

and projects in communities of

need. It also invites volunteers

into a journey of self-reflection,

providing space to consider their

sense of identity, God's work in

the world, and their place within

it all.

Young adults serve in the

spirit of accompaniment, walking

alongside global companions

in a manner that practices

mutuality, interdependence

and solidarity. Areas of service

include, but are not limited

to, health and development,

congregational ministry, human

rights, education, homelessness,

addiction recovery, women's

issues and children and youth.

All site placements provide

opportunities for young adults

to confront issues of wealth

and poverty, racial privilege,

economic disparity and

globalization, all through the

lens of faith.

Candidates for Young Adults

in Global Mission apply to the

program at-large rather than

to a specific country. Applicant

preferences are taken into

account but the final decision

about where volunteers serve

is made by Global Mission staff

and YAGM country coordinators

in mid-April. Current YAGM

country programs include:

Argentina/Uruguay, Australia,

Central Europe, Jerusalem/West

Bank, Madagascar, Mexico,

Nepal, Rwanda, Senegal and

United Kingdom

Applications for the program

are open from Nov. 1 through

Jan. 15 each year, for service

starting the following August.

We are a church that believes

God is calling us into the world

– together. Come, imagine

yourself in the world!

To learn how you can support

Young Adults in Global Mission,

visit their sponsorship page here.

For more information contact

YAGM at 1-800-638-3522, ext.

2861 or by email.

9
---
Children, Youth, and Family

One on One

OCTOBER 2021

A monthly interview with one of

our church members to help get

to know each other

Name: Gage Feroy

Profession: Student/working in

the Family Business

Birthday: February 10

What are some of your hobbies?

Sleeping and playing lacrosse when

not injured.

Where have you lived?

I lived in Bonney Lake for the first

part of my life, and now I live in Buckley.

What is your favorite food?

Ramen

What do you like most about Creator?

My memories of playing air hockey

when I was little.

Where do you see God in your life?

In the unconditional love of my dog.

What is the biggest challenge you face?

Family relationships.

How do you relax/recharge?

I sleep.

Who do you admire the most?

I can't think of anyone I admire, but I

have a lot of respect for one of my coaches.

Who is your favorite superhero?

Gon freaks.

Who is one person who has influenced

your life decisions?

My dad

What three things do you value the

most?

Sleep, food, and air fans.

10
---
Children, Youth, and Family

Senior High

Bible Study

Sundays from 6pm-8pm at

Terri Heckroth's house,

students in grades 9-12 gather

for a meal, faith discussions, and

FUN!

For more information,please

contact the church office or Terri

Heckroth.

We will continue to follow all

CDC guidelines to help prevent

the spread of Covid 19.

Sunday, October 24 from 9:45am-10:45

(during Sunday School)

Come help us support Creator's college

students. We will make care packages for

the new College freshmen from Creator.

Wear your favorite college t-shirt or

sweatshirt and bring your friends. For more

information, call or text Terri 253-312-7219.

FAMILY

SUNDAY

SCHOOL

COLLEGE

DAY

Children's Book of the Month!

Regan Allen, one of Creator's

wonderful Preschool teachers,

recommends the book,

"I Really Want the Cake." It

is a fun story about temptation

and consequences. "The kids

just love it!"

11
---
Children, Youth, and Family

halloween

carnival

Sunday, October 31st

4:00 - 5:30 pm

HEY KIDS!!! Creator will again host a fun and

safe alternative (or addition) to trick-ortreating.

Come to the church parking lot on

Sunday, October 31 from 4:00-5:30 pm.

There will be outdoor booths with games,

prizes, candy, other goodies, and a lot of

FUN! All ages are welcome, but we are

asking anyone 12 years or older to be helpers.

12
---
Children, Youth, and Family

Confirmation Schedule

Get ready for FUN, FELLOWSHIP, AND FAITH

FORMATION! Our 2021-2022 Confirmation

program year has begun. If you are entering

grades 6, 7 or 8 (or higher if you have not already

been confirmed), come join this energetic and

fun-loving group. Meetings are on Wednesday

evenings from 7:00 pm-8pm. Friends are

always welcome!

• Wed, Sept. 29 - 7:00pm

Slime Games!

• Sunday, October 3 - 9:45am

Sunday School

• Wed., October 6 - 7:00pm

Confirmation Lesson

• Sunday, October 10 - 9:45am

Sunday School

• Wed., October 13 - 7:00pm

Confirmation Lesson

• Sunday, October 17 - 9:45am

Sunday School

• Wed., October 20 - 7:00pm

Lesson and plan for Halloween Carnival

• Sunday, October 24 - 9:45am

Sunday School

• Wed., October 27 - 7:00pm

Lesson and plan for Halloween Carnival

• Sunday, October 31 - 4:00pm-5:30pm

Halloween Carnival—All workers, please

be at the church by 3:30pm

CANDY DONATIONS

FOR HALLOWEEN CARNIVAL

As we plan for a safe and fun Halloween

Carnival for the children in our community,

would you please consider helping by donating

individually wrapped HALLOWEEN CANDY?

A donation bin will be available in the narthex

during the month of October. For more

information, call Terri Heckroth.

13
---
Preschool

Preschool News

OCTOBER 2021

Dear Parents,

Goodbye summer, hello fall

and welcome to the Creator

Preschool Family!

We have been blessed with

delightful children and great

families!

September was a wonderful

month for making new friends

and getting reacquainted with

old ones. Welcome new families!

For the last few years, we

have had Julie Buelle of Buelle

Photography come to school

to take class and individual

pictures. Mark October 7th and

8th on your calendar and look for

more information to come.

Our October field trip will be to

Thomasson Farms in Enumclaw

on Thursday,October 14th and

Friday, October 15th. This field

trip will be during regular class

time. We will plan to meet at

Thomasson Farms by 9:20am

for the morning classes and

by 12:50pm for the afternoon

classes. Please be on time.

Mornings, especially, can be

chilly so please dress your child

appropriately and farms can be

muddy. Creator Preschool will

pay for our enrolled children.

Children under age two are free.

Two and older are $8 (includes

a small pumpkin), adults are $4.

If you are getting tired of

looking for yellow clothes, circles,

the number 1, or the letter A and

M, do not worry. During October

we will change to orange and

black, the letters Pp, Oo, and

Nn, the number 2 (and 3 for the

four/five year olds) and spheres

and cylinders. We will also learn

about farm life, owls and bats,

and pond life.

Halloween is a difficult

holiday for a Christian preschool.

Of course, we do not believe

in the scary, negative (witches,

devils, monsters) symbols, but

the children love "dressing up".

A good compromise is to bring

the costume for show and tell.

We will allow extra time to

appreciate them. Most children

have difficulty staying in costume

the whole day anyway. We use

this opportunity to discuss how

Jesus loves all of us, no matter

how we look on the outside and

changing our appearance does

not make us any different inside.

God sees the goodness inside

us, regardless of the outside.

We feel blessed to be working

with such wonderful children and

involved parents. We are so glad

you have chosen us and we look

forward to a wonderful year.

We have openings in several

of our classes. Please pass this

on to family and friends. You are

our best advertisement!

*And lastly: We would love

to have one parent from the T/

Th and T/W/Th classes help put

together a slide show for their

class for the end of the year.

Ms. Farrer will be doing the

slide shows for the W/F and M/F

classes. Please let us know as

soon as possible. We will supply

the pictures.

Thank you,

Your teachers,

Andrea (Mrs. D),

Ragan (Mrs. Allen),

and Cheri (Ms. Farrer)

14
---
News and Education

Fall Women's Retreat

Friday, Oct. 16

To all Creator women of any age! You are invited to the Fall

Women's Retreat! The content of the retreat will be based on

Brene Brown's "Gifts of imperfection: Your guide to a whole

hearted life" led by Pastor Amanda.

Pre-registration is appreciated to help with preparation and

food planning but is not required. Contact Janice Pendergast

janicepend@yahoo.com or 253-202-4460 to register.

Cost: donation as feel able to Creator Women's Retreat

Designated Fund #3470

Where: Susan Byersdorf's (Janice Pendergast and Karen

Helmold's sisters): 21101 112th St E, Bonney Lake, WA 98391

Details

The event will take place outside. We will have tables and

lots of pop up coverings.

Light breakfast and lunch included as well as dinner for those

staying for an evening bonfire.

Bring your own chair and Bible.

15
---
News and Education

Scattergories Game Night is Back!

Join us Saturday, October 23rd 7:00pm-9:00 pm for

a night of hilarious fun.

This will be a hybrid event.

We will be playing in person at the church. Masks and

laughter required. If you are not up for in person just

yet, then join us on Zoom.

Join Zoom Meeting:

https://us02web.zoom.us/j/83180878344?pwd=SUFLSj

ZvVmRyMFgyb3RVWG5ISlJaQT09

Either way, sign up online with the link below, or in

person at church on Oct 10 and Oct 17.

To sign up: https://www.signupgenius.com/

go/20F0D4BA5AC2EABF49-scattorgies

16
---
News and Education

Daily Devotions

Morning Prayer will continue

throughout the month of January at

9:00am. You are invited to watch

the recordings which are posted or

consider joining us at 9:00am via

zoom. Pastor Amanda turns off the

recording after her reflection on

the reading and we have a time of

discussion and connection with one

another.

Join Zoom Meeting https://zoom.

us/j/633840757

Meeting ID: 633 840 757

One tap mobile

+12532158782,,633840757# US (Tacoma)

All worship services and devotions will be

posted after completion on both YouTube

and the creator website: https://www.

youtube.com/user/CreatorLutheran and

www.creatorlutheran.net

Adult Education

I Love to Tell the Story

Pastor Amanda will be posting a

short video each week diving into

the Bible Narrative and specific

readings for the upcoming Sunday.

The videos will be posted on

Facebook, YouTube and linked

to our website. If you have any

questions or comments about the

bible study please send them to

pastoramanda@creatorlutheran.

net.

17
---
News and Education

Thursday

Morning

Bible Study

Thursday Morning Bible study

is held on Thursdays from 10-

11:30 am. We will be studying

the book of Matthew which

should be very interesting.

Please contact Lisa Wire,Janee

Theleman or the church office

if you'd like to join. We will then

know how many books to order.

Due to the Covid increase it will

once again be held on zoom.

Look forward to having you join

us!

Join Zoom Meeting

https://us02web.zoom.us/j/9668

069876?pwd=MlAvSUcxeFpUa

nlFdWJKekNHemZvUT09

Meeting ID: 966 806 9876

Passcode: 1DMKSi

One tap mobile

+Dial by your location

+1 253 215 8782 US (Tacoma)

Meeting ID: 966 6 9876

Passcode: 419391

18

Aversano's Italian Restaurant, 6015 Parker Rd., Sumner,

will be the location of the next meeting of the Creator Men's

Club at 6 p.m. Monday, October 4. We welcome regular

members and those men who might be interested in good

food and conversation. We will also discuss the planned work

project to clean up the church campus. For more information,

contact Monty Euston at 315-447-2060.

Men's

Fellowship

During "All things Covid"

the Wednesday night

Men's group has been

using Zoom. The meetings

start at 7:00 PM and get

over by 9:00PM. If you

are interested in joining

the meeting please contact

Scott Perkins with your

email address and he will

send you a link for Zoom.

Scott.perkins@hotmail.

com or 253-230-3416
---
News and Education

Creator Sunday School Is Back!

For families with young children:

This new approach to learning

and exploring God's Kingdom

comes from a desire to

• Equip families to carry out

Christian practices at home

• Combine Christian Education

with Mission and Service

• Incorporate Faith formation

into the Worship Service

• Facilitate multi-generational

discussion and wonderment

about Bible Stories and

God's message for us today.

For these reasons, we would

like to invite ALL to join us in

Creator Family Sunday School.

All ages are welcome! Parents,

Grandparents, and siblings will

eat a light breakfast together,

hear a Bible Story, ponder and

discuss the story, and learn

some new music—all together!

Service projects and crafts will

also be a big part of our time

together.

Although all are invited to

Family Sunday School, Adult

Education will also offer an hour

of Christian Education for Adults.

Children may also attend without

parents as our High School

students will be "Big Buddies".

Adults without children may also

attend as there may be kiddos

who could use an adult mentor.

Join us beginning Sunday,

September 12 from 9:45am-

10:45am!

ADULT BIBLE

STUDY

2nd and 4th

Monday of each month

7pm-8:30pm

at the home of the Heckroths'

All are invited to be a part

of this loving and supportive

community. We meet twice a

month to delve into scripture,

share life stories, and enjoy each

other's company. Call the

office for address.

19
---
Birthdays and Reminders

Remote Worship

Worship will continue to be live-streamed on Facebook Live and

Zoom. To join via Zoom, follow the link below:

https://us02web.zoom.us/j/89375602512?pwd=M3hPK0pIMGIz

Z2M0eEhmTitoM3NQdz09

Meeting ID: 893 7560 2512 Password: 435230

One tap mobile:

+ 12532158782,,89375602512#,,,,0#,,435230# US (Tacoma)

Call in option: Zoom offers the option to call in to listen to the

service. Call into worship while it is open - usually a minimum of

five minutes before 9:30am until 11:00am - +1 253 215 8782 and

enter the meeting number: 89375602512 when prompted. You

will be able to hear the worship service.

CREATOR LUTHERAN NEW GIVING APP

Creator Lutheran is changing our mobile giving app! Vanco,

our eGiving provider, has launched an updated mobile app called

Vanco Mobile to replace GivePlus Mobile. You can download the

Vanco Mobile app for free from the App Store or Google Play.

Download Vanco Mobile by September 30. Vanco will

remove GivePlus Mobile after this date.

If you have questions or need assistance with our new mobile

app, please contact the church office at (253) 862-7700.

Pastoral Emergency Fund

Creator has a fund available to be used at the discretion of Pastor

Amanda to support congregation members and the community

as needed. If you or a member another member of the Creator

Community has a particular financial need at this time, please

reach out to Pastor Amanda for support. We are here for one

another at this time. This fund is also open for additional

donations from the congregation.

Recycle Your

Ink Cartridges

Don't throw away those printer cartridges or used cell phones.

The Youth will recycle them for you. It's good for the

environment and the youth program receives a small concession.

Just deposit old cartridges in the drawer in the narthex.

20

October

Birthdays

01 - Hailey Rakos

02 - Virginia Harshman

02 - Lauren Hinkley

02 - Erik Michael Ketter

03 - Tyler Jacobsen

04 - Jaime Daniel

04 - Anneliese Seesz

07 - Cynthia Blix

07 - Jay Pendergast

09 - Janice Shabro-Howell

11 - Noel Rogen

12 - Tiana Gaulke

12 - Cesar Romero

13 - Leah Littell

15 - Nicolas Carter

15 - DJ Wickes

16 - Katrina Minton-Davis

16 - Beverly Winsor

18 - Jennifer Lange-Rebner

19 - Mark Kraus

19 - Nicholas Thayse

19 - Stephen Worley

20 - Sherry Nye

21 - Shay Hochstein

24 - Laurie Morrow

25 - Helen Anderson

25 - Shane Gillispie

26 - Cydney Kronlund

27 - Jeff Dunn

27 - Donna Hinkley

27 - Chase Sehlin

28 - Nicholas Rogen

30 - Brian Dennis

31 - Lydia Brannan

31 - Sarah Gillispie

31 - Janis Suznevich
---
OCTOBER

Sunday Monday Tuesday Wednesday Thursday Friday Saturday

1 New Hope Lunch 2

9am Church

Clean Up

3

8:30am Worship

Service

9:30am Lord's

Prayer Class

11:00am Worship

Service

6:00pm High School

Bible Study

8:30am Worship

Service

9:30am Lord's

Prayer Class

11:00am Worship

Service

6:00pm High School

Bible Study

8:30am Worship

10

17

Service

9:45am Ministry Team

Fair

11:00am Worship Service

6:00pm High School

Bible Study

4

11

18

6pm Creator Men's

Club

7pm Adult Bible

Study

5 9:00am Morning

Devotions via

Zoom

12 9:00am Morning

Devotions via

Zoom

6pm Finance Team

Meeting

19 9:00am Morning

Devotions via

Zoom

6pm Church Council

Meeting

6 9:00am Morning

Devotions via

Zoom

7pm Confirmation

7pm Men's Fellowship

13 9:00am Morning

Devotions via

Zoom

7pm Confirmation

7pm Men's Fellowship

20 9:00am Morning

Devotions via

Zoom

6:30pm CIS Meeting

7pm Confirmation

7pm Men's Fellowship

7 9:00am Morning

Devotions via

Zoom

10am Thursday

Morning Bible Study

14 9:00am Morning

Devotions via

Zoom

10:30am Thursday

Morning Bible Study

21 9:00am Morning

Devotions via

Zoom

10:30am Thursday

Morning Bible Study

8

15

22

9

16

23

8:30am Fall

Women's Retreat

7pm Scattergories

Night

8:30am Worship

Service

9:30am Lord's

Prayer Class

11:00am Worship Service

6:00pm High School

Bible Study

25

7pm Adult Bible

Study

26

9:00am Morning

Devotions via

Zoom

27 9:00am Morning

Devotions via

Zoom

7pm Confirmation

7pm Men's Fellowship

28 9:00am Morning

Devotions via

Zoom

10:30am Thursday

Morning Bible Study

29

30

21
---
Creator Lutheran

Church and Preschool

Welcoming All to Worship, Grow, and Serve in God's Grace

creatorlutheran.net (253) 862-7700 office@creatorlutheran.net

Office Hours: Mon-Fri 9:00AM - 3:30PM

16702 South Tapps Drive East, Bonney Lake, WA 98391