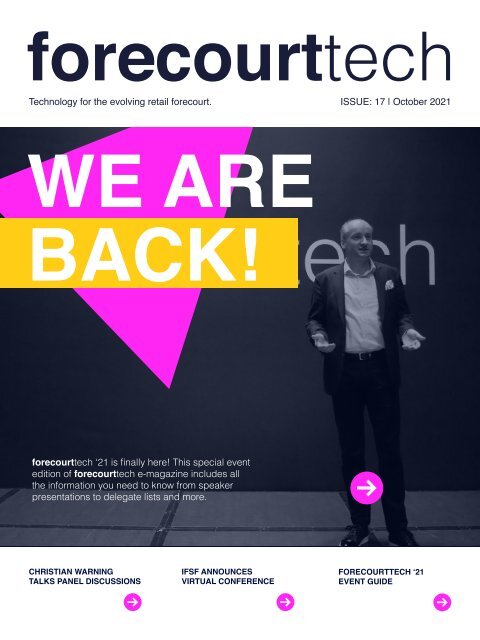 forecourttech October '21
A bi-monthly technology magazine for the evolving retail forecourt.
A bi-monthly technology magazine for the evolving retail forecourt.
SHOW MORE
SHOW LESS
You also want an ePaper? Increase the reach of your titles
YUMPU automatically turns print PDFs into web optimized ePapers that Google loves.
Technology for the evolving retail forecourt.

ISSUE: 17 | October 2021

WE ARE

BACK!

forecourttech '21 is finally here! This special event

edition of forecourttech e-magazine includes all

the information you need to know from speaker

presentations to delegate lists and more.

CHRISTIAN WARNING

TALKS PANEL DISCUSSIONS

IFSF ANNOUNCES

VIRTUAL CONFERENCE

FORECOURTTECH '21

EVENT GUIDE
---
forecourttech

Editor's note

In this issue we celebrate and focus on the return to

an in-person event with the forecourttech convention

taking place on the 12 and 13 October at the Asia Gardens

Hotel, Alicante, Spain.

The appetite for face-to-face events is stronger than

ever and at forecourttech '21 we have major representation

from across Europe and, in particular, the

German market.

This year the Conference program will include speakers

from The Maxol Group and Q8 who will elaborate

on their vision for the future of fuel and convenience

retailing, with speaker presentations moderated by Mark

Wohltmann, Director of NACS Global.

We will also have an exciting addition to the program

with our panel discussions, debating around topics of

the day with EV Mobility giants Tesla represented by

their European Operations Director joining with major

retailer operators.

Another first is the forecourttech studio, sponsored by

BigBrother, which will provide social media coverage

of the event to include interviews with speakers and

updates on the key talking points of the day.

pagethree

With the need to reconnect, re-engage and source new

business opportunities, the forecourttech '21 meetings

programme will provide the final, crucial element, facilitating

those all-important, face-to-face meetings.

Enjoy the issue!

The forecourttech brand is owned and

promoted by SAB Events Europe Ltd. All

rights reserved.

The views expressed in this magazine are

those of the author and do not necessarily

represent those of SAB Events Europe. No

part of this electronic magazine may be

copied or reproduced without the written consent

of SAB Events Europe Ltd.

Advertising:

Stephen Bozdan

stephen@sabevents.eu

Features:

Wendy Taylor

wendy@sabevents.eu

SAB Events Europe Ltd.

The Quadrant

Surrey

KT17 4RH

www.sabevents.eu

#forecourttech @forecourttech www.forecourttech.com
---
forecourttech

News round-up

TotalEnergies and China Three Gorges

Corporation have signed an agreement to

establish a Joint Venture in electric mobility

in China. This equally owned company will

develop Electric Vehicle (EV) high power

charging infrastructure and services within

the Hubei Province, through the installation

and operation of more than 11,000 high power

charge points by 2025.

Travelling from Portugal to France in an electric

vehicle is now even easier thanks to the

installation of 40 fast charging stations strategically

located along primary routes. Mobilize,

one of the four new business units created

within Groupe Renault, has joined the European

CIRVE project, which aims to promote

e-mobility throughout the Iberian Peninsula

pagefour

Spanish companies across the gas value

chain have signed an agreement to jointly

develop infrastructure for the production, distribution

and supply of green hydrogen with the

goal to establish a national network of hydrogen

filling stations. In a joint statement, power

and gas utility Naturgy Energy Group SA, gas

grid operator Enagas SA and fuels and gas

storage provider Exolum said that they will

seek to roll out 50 hydrogen stations, or around

one per 300 kilometres (186.4 miles), to be

able to serve Spain's mobility industry.

Traffic app Waze is asking UK users to tell it

which petrol stations have fuel available, amid

the UK's shortage of petrol at the pump.

Checkout-free technology provider Zippin

has closed a $30 million Series B funding

round with participation from new and existing

investors that include OurCrowd, Maven

Ventures, Evolv Ventures and SAP. The new

round brings Zippin's total funding to more

than $45 million. This follows Zippin's significant

progress in recent months, including

signing numerous new accounts, launching

multiple new public checkout-free stores and

further solidifying its leading technology within

the future of retail, according to the company.

#forecourttech @forecourttech www.forecourttech.com
---
forecourttech

Shell has announced its aim to install 50,000

on-street electric vehicle (EV) charging

points in the UK over the next four years, in

an attempt to provide a third of the network

needed to hit national climate change target.

Earlier this year, the energy company acquired

ubitricity, a leading supplier of local authorities'

on-street EV power points, with a network of

3,600 chargers in lamp posts or bollards.

Ghop, the first smart convenience store chain

in Spain, will focus its expansion plans on the

petrol station market, according to co-founder

Lino Monteaguado in an interview with

infoRETAIL. The Spanish startup is preparing

the next openings of its smart shops for next

November in Madrid. Meanwhile, it is in the

process of finalising a financing round to

develop its business model. Expansion will

focus on petrol stations located in city centres

and industrial areas, and not on sites on the

road at this stage.

pagefive

ABB has launched the world's fastest electric

car charger, the Swiss engineering company

announced, to plug into the booming demand

for electric cars made by Tesla, Hyundai and

other automakers. The company is launching

the new Terra 360 modular charger as it

presses ahead with plans to float its electric

vehicle (EV) charging business, which could

be valued around $3 billion. The device can

charge up to four vehicles at once, and can

fully charge any electric car within 15 minutes,

ABB said, making it attractive to customers

worried about charging times which

can run to several hours.

Toyota Motor Corp's Silicon Valley research

arm has announced that it has acquired automotive

operating system software company

Renovo to help accelerate the development

of fully-autonomous connected vehicles. "I am

hoping to shave off years and months to our

minimum viable product launches," James

Kuffner, the head of Toyota's Woven Planet

subsidiary said during a press briefing.

#forecourttech @forecourttech www.forecourttech.com
---
forecourttech '21

EVENT GUIDE

forecourttech '21 is finally here. Here's everything you need to

know ahead of the main event.
---
forecourttech

WELCOME BACK!

We are delighted to welcome friends new and old

to the Asia Gardens Hotel, Alicante for two days of in-person

learning and networking. It's been nearly two years

since our last face-to-face event and in that time so much

has changed both in and outside the fuel retail industry. To

discuss these changes and what it means for our industry

we have put together an exciting line-up of speakers and

panelists who will debate and discuss the technologies that

are optimising forecourt operations and enhacing the customer

experience. You can find out more about this year's

speakers and their discussion topics on page 11.

Another new edition this year is the forecourttech studio

sponsored by BigBrother. The studio will provide updates

from the event to our LinkedIn page. If you're staying at

home this will give you some unique glimpses into the

event and for those joining us in Alicante please stop by

and share your views.

The Asia Gardens Hotel is taking additional precuations to

ensure the safety of all guests. You can read about these at

forecourttech.com/venue/

Panel discussions are an exciting new addition for this

year's event. We listened to the views of delegates on how

to make forecourttech even better and panel discussions

were clearly of interest to the people we surveyed. With

the support of Christian Warning from the Retail Marketeers

we have put together two dynamic panels featuring representatives

from across the industry. You can find out more

in Christian's article on page 27.

Finally we would like to say a huge thank you to our supporters

and sponsors IFSF, NACS, Openway and BigBrother,

who have all helped to make this event possible.

We hope you enjoy your time at forecourttech '21.

Happy networking!

pageeight

We will once again use Brella's leading technology to power

our event networking. The app puts delegates in charge

of their meetings schedule, matching them with people who

have similar business goals. You can even start networking

ahead of the event with the in-app messenger. Read more

about the benefits of Brella on page 17.

SUPPORTED BY:

DINNER SPONSORS:

FORECOURTTECH STUDIO:

#forecourttech @forecourttech www.forecourttech.com
---
forecourttech

AGENDA

Tuesday 12 October

Wednesday 13 October

08.00

Registration / information desk opens

08.00

Registration / information desk opens

09.00

09.05

09.10

09:40

Welcome - Stephen Bozdan, SAB Events

Europe

Conference Moderator - Mark Wohltmann,

Director, NACS Global

Speaker – Zdenko Tobek, Infrastructure

Expert, Q8 Petroleum

Speaker - Peter van Nauw Senior Director,

Dover Fueling Solutions

09.00

10.20

10.40

11.10

11.40

Pre-scheduled meetings

Refreshment break

Speaker - Ciaran McNally, Head of Capital

Development, The Maxol Group

Speaker - Harald Popke, Senior Product

Manager Scheidt & Bachmann Fuel Solutions

Pre-scheduled meetings

10.10

10.50

11.10

11.50

12.20

Pre-scheduled meetings

Refreshment break

Pre-scheduled meetings

Speaker – Mark Wohltmann, Director, NACS

Global

Speaker - Martine Thijs, Global Strategic Accounts,

ICASA

12.20

12.50

13.50

15.10

15.40

Speaker – Tom Hatton, Head of Pricing,

Kalibrate Technology

Lunch

Pre-scheduled meetings

Speaker - Robert Onion, Chairman, Circle

Brands

Refreshment break

12.50

13.45

15.05

15.25

Lunch

Pre-scheduled meetings

Refreshment break

Speaker – Aart van Rooijen, Commercial

Director, Big Brother

16.00

16.30

19.15

Panel discussion - Chaired by Christian

Warning, The Retail Marketeers

End of day two - free time

Networking and drinks reception and farewell

dinner

15.55

Speaker – Elias Poyry, Co-Founder & CBO,

Virta

16.25

Pre-Scheduled meetings

17.05

Panel discussion – Chaired by Christian

Warning, The Retail Marketeers

17.35

End of day one - free time

19.45

Networking reception, drinks and dinner -

sponsored by Openway Group

#forecourttech @forecourttech www.forecourttech.com
---
MEET THE

SPEAKERS

Everything you need to know about the

forecourttech '21 speakers.
---
forecourttech

2020: The world stood still but our industry leapfrogged – Best

practice, innovation and trends from across the globe.

From last mile delivery to drive-through to cashless payments. As others have just

quiescently stood by as crisis came, the global convenience ±and fuel retailing

industry has once again shown their strengths: By coming together, putting

customers first, serving the community and by leading innovation and retailing

excellence.

PREVIEW

MARK WOHLTMANN

Director

NACS Global

www.convenience.org

pagetwelve

The secret of getting ahead is getting started

Martine will speak about: energy types including the switch from carbon to

non-carbon fuels; customers and their changing habits; fuel stations as mobility

hubs; changes in ways of working and clean energy.

Martine has a wealth of experience in customer account management as well as

business development. Before joining ICASA in 2010, Martine worked in various

companies, holding a number of leadership positions, in the areas of business

consulting and IT management as well as product & service management.

PREVIEW

MARTINE THIJS

Global Strategic Accounts

ICASA

www.icasa-group.com

#forecourttech @forecourttech www.forecourttech.com
---
forecourttech

Electric vehicle charging in the black – time to monetise EV's and

their drivers

The presentation will give an outlook to the rapidly changing EV charging business

models; provide practical information on forecourt EV charging management

and operations; give specific data on charging volumes and monetization

model based on our experience with 40 000 charging stations; will discuss how

to lure the EV driver to charge at my forecourt instead of competitors and open

the window to emerging business models related to energy.

PREVIEW

ELIAS PÖYRY

CBO & Co-Founder

Virta

www.virta.global

pagethirteen

Optimising the Customer Journey

Taking from BigBrother's International perspective Aart will provide useful insights

about best practices in optimizing the customer journey in a hybrid world

with both online and offline environments. Considering a store or shop as the

ideal environment to collect data, Aart will share his vision on how this data can

become useful insights thanks to intelligent processing models.

PREVIEW

AART VAN ROOIJEN

Commercial Director

BigBrother

www.bigbrother.nl/en

#forecourttech @forecourttech www.forecourttech.com
---
forecourttech

Seamless payments - self checkout solutions

Harald is an API and self-checkout solutions expert for retail mobility. He will

present new business models and future-oriented solutions that improve the customer

journey at retail sites. Harald holds a degree in industrial engineering and

his expertise is built on 10 years of working in digitization projects and product

management of IoT and cloud solutions.

PREVIEW

HARALD PÖPKE

Senior Product Manager

Scheidt & Bachmann Fuel

Retail Solutions GmbH

www.scheidt-bachmann.de

pagefourteen

Optimally Optimizing; the principles of success in fuel pricing

Tom Hatton will break down the factors that lead to success in fuel pricing. From

the preparation of a meaningful data environment, to the utilisation of AI – these

considerations are only a part of the picture. As many of the other speakers

at forecourttech '21 will speak about — things are changing in the fuel retail

environment across the globe and as a result, pricing teams have to adapt. The

only way to ensure you can successfully adapt to new scenarios is to effectively

prepare for them.

PREVIEW

TOM HATTON

Head of Product Management

Kalibrate

www.kalibrate.com

#forecourttech @forecourttech www.forecourttech.com
---
forecourttech

Recent technology trends adopted and those of interest to the

Maxol Group

Ciaran is the Head of Capital Development and Food Strategy for the Maxol

Group, in Ireland. He is responsible for the management and capital development

of the Maxol estate, across its 115 company owned filling stations North

and South of Ireland.

The role includes the development of the group's food strategy, as well as managing

all of the food franchises the company operate within their stores.

PREVIEW

CIARAN MCNALLY

Head of Capital Development

Maxol

www.maxol.ie

pagefifteen

Technologies enhancing customer experience

Zdenko is Q8 expert in electronic payments, micro payments & real time transactions

processing. Currently engaged at Kuwait Petroleum Global Cards Business,

especially Q8 payments cards affiliate for commercial road transportation on

international scale. For Zdenko the payments industry is not just a job but also

a hobby. Through his professional carrier he managed developments & operations

in many business-critical payments systems and services supporting card

payments in various networks of service stations streamlined from Europe, Asia &

Pacific regions.

PREVIEW

ZDENKO TOBEK

Business IT Infrastructure

Kuwait Petroleum

www.q8.com

#forecourttech @forecourttech www.forecourttech.com
---
forecourttech

Technology driving design

Robert is the founding member of Circle Brands. Working as Chairman, Robert

oversees the strategic direction for all projects and guides client relationships for

all clients. He is recognised as an international authority on branding for the fuel

and convenience retail sector and leads numerous successful brand and design

projects.

'Our portfolio of success stories demonstrates our commitment to long-term partnerships

with our clients, working together to deliver successful brands'.

PREVIEW

ROBERT ONION

Chairman

Circle Brands

www.circlebrands.co.uk

pagesixteen

Driving the customer experience - a supplier perspective

At this year's forecourttech, I will be providing a supplier perspective on how to

drive the consumer experience using the power of technology. Digitization is

not only revolutionising the experience for the end customer, but it is key to the

success of the retailer and in my presentation, I will discuss a number of aspects

related to this topic, including the impact of COVID-19 has had on speeding up

the adoption of contactless payment technology for many fuel retailers around

the globe and has indirectly resulted in a faster, more convenient payment experience

for the customer.

PREVIEW

PETER VAN NAUW

Snr. Director Systems &

Payment

Dover Fueling Solutions

www.doverfuelingsolutions.com

#forecourttech @forecourttech www.forecourttech.com
---
TECHNOLOGY POWERED

NETWORKING

Are you ready to take your event

networking to the next level?

We have once again teamed up with Brella,

the world's leading in-person event matchmaking

platform to provide delegates the

ability to communicate with each other and

pre-schedule their meetings agenda. Take

a look at the video tutorial to help get you

started.

Visit forecourttech.com/networking for more

information, or if you have any questions

about the app email susan@sabeevents.eu

Authorization of Fuel

Pumps and Charging

Stations – HecFleet Eco

and Heconomy Eco

Future-proof and a secure investment

Use of fuel and electricity in mixed

operation

Don't hesitate to

contact us!

Hectronic GmbH

Allmendstrasse 15

D-79848 Bonndorf

Tel. +49 7703 9388-0

mail@hectronic.com

HecFleet Eco

Heconomy Eco

Manifold identification and authorization

options as well as card

acceptances

All from one source, with recommendation

for type of charging station

Available as stand or wall housing

Comprehensive after-sales service:

Support hotline, employee training

and repair centre

www.hectronic.com
---
Tomorrow's

Energy

Management,

Today.

A cloud-based software suite

to manage all your energy

www.ICASA-group.com
---
SOLUTION

PROVIDERS

Meet the international solutions providers

attending forecourttech '21.
---
forecourttech

A2i Systems

ACI Worldwide

Leveraging data science for a digital future.

A2i uses ground-breaking AI technology to make

advancements in ways to interact with your

customers at the forecourt. We are giving you the

opportunity to transform your business and be ready

for the next phase of Fuel Retail.

ACI Worldwide — the leader in real-time payments

— delivers the mission-critical real-time payments

software solutions that enable corporations to process

and manage digital payments, power omni-commerce

payments, present and process bill payments,

and manage fraud and risk.

In short, we're helping banks, merchants and billers

capture rising real-time opportunities and volumes,

all to meet the shifting needs of their consumers and

business customers.

www.a2isystems.com

www.aciworldwide.com

Astro Baltics

Astro Baltics is an IT company with over 20 years of

experience. Our aim is to offer complex IT solutions to

help you build a smart and easily administrative

company. We are the leading developer of fueling

station solutions in Estonia with solutions for payment

- OPT, Smart Pay At Pump, physical & cloud based

forecourt device controllers and software to run the

stations.

Bever Innovations

Bever Innovations is a manufacturer of intelligent

high-quality LED solutions for the international petrol

retail industry, with a 100% focus on this market.

Bever Innovations products are based on EOS

Technology: it connects the devices, equipment and

processes on a forecourt to the Internet of Things.

www.astrobaltics.eu

www.beverinnovations.com

#forecourttech @forecourttech www.forecourttech.com
---
forecourttech

BigBrother

BigBrother provides business operators in the

petrol, carwash and retail sector more grip on their

daily processes by protecting vulnerable products,

human capital, controlling their activities as well as

using innovative solutions to improve their customer

experience and boost profits. In addition to keeping

an eye on your business, our solutions are the key to

tomorrow´s challenges in retail.

Circle Brands

Circle is a retail brand and design consultancy

We bring a fresh perspective to energy, fuel and

convenience retail brands by creating Brand Space

for our clients.

This method, exclusive to Circle, allows us to rethink

your retail strategy and define a new vision for your

brand and retail environment. It results in highly distinctive

brands and transforms your physical space.

Talk to us about how our Brand Space approach

can help you capture attention, build customer loyalty

and stand out from the competition.

www.bigbrother.nl

www.circlebrands.co.uk

Dover Fueling Solutions

Dover Fueling Solutions ("DFS"), part of Dover

Corporation, is comprised of the product brands of

ClearView, Fairbanks, ProGauge, Tokheim, Wayne

Fueling Systems and OPW's Fuel Management

Systems, and delivers advanced fuel

dispensing equipment, electronic systems and

payment, automatic tank gauging and wetstock

management solutions to customers worldwide.

Faschang Service & Management

Faschang Service & Management GmbH has been

dealing with the subject of servicing and maintenance

for more than 10 years.

Based on this longstanding experience, we can offer

you a wide range of services. From consultation &

conception through to adaptation & integration, we'll

support you in implementing our software package

for maintenance management, OMIS 4.0. In addition,

we'll assist you with the introduction, training and

ongoing support of the application.

www.doverfuelingsolutions.com

www.omis.at

#forecourttech @forecourttech www.forecourttech.com
---
forecourttech

GripHero

It all started with the simple aim of providing driver

protection with ultimate convenience.

However, through our determination and commitment

to continuous improvement, we're absolutely delighted

the results have been globally game-changing for

both the environment and the industry.

We want to make the customer journey on forecourts

a better experience for drivers, and importantly for

forecourts to succeed within their own health, safety

and environmental improvement policies through

using best-practice driver protection.

ICASA

With over 30 years of experience in providing powerful

software solutions, ICASA has, over the years, built

a solid reputation in the energy sector. we focus on

the niche sector of energy and provide our customers

a total package for their downstream activities.

Due to the automatic handling to integrate logistics,

administrative and financial processes in one central

management system, ICASA helps to maximize

productivity of your organization and to control costs.

Business processes become more efficient after all,

lead times of orders become shorter, inventory costs

become lower and furthermore the customer focus

and service level increase.

www.griphero.com

www.icasa-group.com

Istobal

Istobal is a European leading supplier of car wash

equipment, with Headquarters in Valencia, Spain, and

a global distribution scope. We design, manufacture

and market car wash equipment and accessories

for the automotive, truck and bus, and rolling stock

industries, as well as a full range of biodegradable

chemical products and water treatment solutions. Our

energy-efficiency systems and products are the result

of the company ś strong commitment to the

protection of the environment. ISTOBAL is listed as

a key supplier of carwash equipment by many of the

major Oil & Gas top companies.

Kalibrate

For over 20 years, Kalibrate has advised fuel and

convenience retailers worldwide on how to be best

in-class operators in the fast changing marketplace.

Kalibrate provides strategic expertise and technology

solutions in fuel pricing, location planning,

merchandise promotions and global market

intelligence.

www.istobal.com

www.kalibrate.com

#forecourttech @forecourttech www.forecourttech.com
---
forecourttech

Mepsan

Mepsan established in 1992 and has become one of

the most reliable manufacturers for fuel dispensing

and management solutions with high-end intergated

technologies. Mepsan contributes to the concept of

modern forecourts by designing and

manufacturing multifunctional and eye-catching

products and solutions.

NACS Global

NACS | Global is an exclusive, globally connected

network of passionate, forward-thinking senior representatives

of convenience- and fuel retailers and their

suppliers, who want to stay ahead of the curve and

be "in the know".

NACS | Global supports its members to advance their

businesses and their careers, through:

- Offering commercial and strategic connections to

relevant, high-profile individuals and organizations.

- Delivering international industry knowledge, insights,

thought leadership and best practices.

- Providing learning opportunities in cooperation with

renowned providers and Ivy-League universities.

www.mepsan.com.tr

www.convenience.org

Openway Group

We aim to provide payment industry leaders and

ambitious startups with top ranked payment software

solutions helping them embrace the digital era

challenges.

OpenWay Group has been ranked #1 in digital payment

processing software by Gartner since 2009. Its

WAY4 open platform is a market-leading solution for

card and account issuing, merchant acquiring, transaction

switching, omni-channel digital banking, digital

wallets and tokenization, e-commerce gateway, loyalty,

and fleet cards. WAY4 software solutions are used

by tier-1 and start-up banks, processors, payment

switching, telecom and oil companies in Europe, the

Americas, Asia, the Middle East, and Africa.

www.openwaygroup.com

PDI Software

PDI helps retailers and petroleum wholesalers thrive

through digital transformation and enterprise software

that enables them to grow topline revenue, optimize

operations and unify their business across the entire

value chain. Over 1,500 customers in more than

200,000 locations worldwide count on our leading

ERP, logistics, fuel pricing and marketing cloud solutions

to provide insights that increase volume, margin

and customer loyalty. PDI owns and operates the Fuel

Rewards® loyalty program that is consistently ranked

as a top-performing fuel savings program year after

year. For more than 35 years, our comprehensive

suite of solutions and unmatched expertise have

helped customers reimagine their enterprise and

deliver exceptional customer

experiences.

www.pdisoftware.com

#forecourttech @forecourttech www.forecourttech.com
---
forecourttech

Petrotec

The Petrotec Group includes a number of private

companies whose activity is focused on the

production, marketing, distribution and technical

support of equipment and management systems for

the retail areas of the oil industry. Present on the 5

continents and in more than 70 countries, the Group

stands out for its continuous investment in innovation

and development and transfer of sustainable

technologies around the world.

www.petrotec.com

PWM

PWM is market leader for electronic price displays,

offering more than 40 years of industry experience.

As a family-run business we combine tradition and

innovation to help customers in more than 100 countries,

in cooperation with suppliers and partner on six

continents. All our products are made in Germany, by

more than 100 employees in Bergneustadt – and a

team of 20 in Houston/Texas.

They design, develop and manufacture displays that

are able to stand any weather, survive any climate

and feature longevity and sustainability. We create

visual anchors in a world that is dominated by Internet

and virtual offerings. Thanks to PWM displays our

customers stand out – from the competition, and in

their surrounding.

www.pwm.com

Scheidt & Bachmann

Each innovation takes courage – and someone to

take that "first step forward" risk. At Scheidt & Bachmann,

we have taken that first step forward many

times – it's in our corporate DNA.

Scheidt & Bachmann has accompanied the market

development, from the simple station through to the

"mobility supermarket", and has often been at the

heart of pioneering work. Our extensive experience

and technical competence is represented throughout

our new product brand, SIQMA. With SIQMA, our

goal is to make your fuel retail business even more

successful through centrally managed cloud-based

technologies and pioneering services.

Techniche

We help FMs to solve everyday challenges, and empower

them to achieve their strategic goals.

We do this by harnessing our industry expertise to

help clients get the most from our powerful asset

management technology. This generates value for our

client stakeholders, while improving the environments

in which people work, shop and live.We're all about

providing insight, solving problems and generating

value for our clients.

Urgent and Statseeker - both Techniche products -

help organisations get the most from their assets and

networks by effectively managing performance.

www.scheidt-bachmann.de

www.technichegroup.com

#forecourttech @forecourttech www.forecourttech.com
---
forecourttech

The Retail Marketeers

Christian Warning, founder and Managing Director of

The Retail Marketeers, a Hamburg, Germany, based

sales & marketing agency. He is a customer-focussed

and commercially driven senior marketer with

a proven track record of developing and delivering

award winning convenience retail formats and marketing

strategies.

Thinxnet / ryd

ryd is a product of ThinxNet GmbH, a fast growing

IoT / FinTech start-up from Munich. Founded in 2014,

ThinxNet puts the digital future on the road. ryd is a

connected car platform focusing on ryd pay and ryd

box. ryd pay is the largest cross-brand solution for

mobile payments directly at the gas pump.

Based on one of the widest personally global networks

in the industry Christian has a proven track

record in guiding market entry processes. He always

strives to do better, to create value and to be innovative

and creative as a senior executive consultant for

numerous multinational clients in a very operational

"hands-on" modus operandi to boost their sales and

margins.

the-retail-marketeers.business.site

www.ryd.one

Titan Cloud Software

We provide industry-leading solutions for environmental

compliance, advanced fuel analytics, and facility

management, so that clients can effectively manage

risk and run efficient, profitable businesses. The company

was launched in 2012 and is headquartered

near Nashville, Tennessee.

Unicode Systems

The UNICODE Group is currently provides oil &

gas retail solutions in Central and Southeast Europe,Czech

Republic, Slovakia, Austria, Hungary,

Germany, Slovenia, Serbia and Poland. Together it

means more than 3800 installations of POS, BOS and

HOS systems.

All of our products and services come from our more

then 20 years experience in the oil and gas retail industry

and from the trends in oil and gas retail sector,

as we are 100% focused on it.

www.titancloud.com

www.unicodesys.cz

#forecourttech @forecourttech www.forecourttech.com
---
forecourttech

Virta

We at Virta Ltd provide leading-edge smart charging

services for EV drivers and companies alike. Our

vision is a clean, carbon-free future with silent EVs

driving emission-free down the street, and our passion,

as an industry forerunner, is to fulfill that future.

We offer our customers the most comprehensive

charging network in Finland, and our growing

international charging network has more than 2500

stations connected. We strive to constantly improve

our services, and to push the EV industry forward.

We specialize in comprehensive solutions and

future-proof energy management tools, also working

with stationary energy storages.

See which fuel retailers will be in

attendance from page 29.

www.virta.global

#forecourttech @forecourttech www.forecourttech.com
---
"DATA IS THE NEW OIL - IT

LUBRICATES RETAIL"

forecourttech

- Henry O. Armour, NACS

President & CEO

By Christian Warning

The Retail Marketeers

Marco Weber from ryd pay Europe

Brent Puzak from Titan Cloud.

This year forecourttech introduces panel sessions

which I am delighted to moderate. These sessions are an

opportunity to invite panelists from the delegate audience

representing major and independent operators to discuss

their views on emerging technologies and cast light on

their forward thinking strategies to aid and abet technology

providers in their own R&D programs.

Marco Weber, Head of Business Development ryd pay

Europe will join me for the panel session on Tuesday 12

October. We will discuss three key areas of the ryd platform

business model:

1. The run-up of mobile payment and in-car payment in Europe.

Including the expectations of ryd and their investors.

2. Business model resellers as a technology-open ecosystem

for the acquisition of B2B2C partners, mineral oil

companies and in-car payment / OEMs.

3. Further business models in preparation: alternative fuels

(eFuels, hydrogen and electromobility), car-related services

(wash, shop) for a holistic mobility platform in Europe.

In addition to Marco, Malte Kendel, Development Lead - EV

Charging at Tesla, will join the panel talk together with two

additional forecourttech delegates.

US industry veteran Brent Puzak, Vice President of Solutions

Consulting with Titan Cloud will sit on the day two panel

alongside a number of retailer delegates. After years serving

as Circle K's Director of North American Environmental

Shared Services, Brent has recently changed the side of the

desk. It was during his time with the global c-store chain that

he realized how the data and information provided by

Titan's environmental compliance software could be critical

in assisting other compliance professionals.

Together the panel will discuss how to handle the challenge

of dealing with increasingly large data volumes with

far fewer staff and how they are replacing many manual

processes to run their businesses more effectively.

Time savings across the organization couldn't have come

at a better time, since industry professionals are now

dealing with rapidly increasing volumes of forecourt data.

Between data tracking customer visits, loyalty programs,

sales data, and other information, there are more numbers

than ever. Yet analyzing these large amounts of data is

something that many industry professionals still struggle

with, whether it's for environmental compliance, facility

maintenance, fuel inventory, or other operations.

"There's a significant amount of information being collected

at a convenience store on an ongoing basis. What I see is

that big data segment is increasing significantly – COVID

was a huge driver in that. That's overlapping into the compliance

space, where the compliance personnel are really

being asked to provide more information, to capture more

information, to move faster," Puzak said.

Christian Warning is the founder and managing director

of The Retail Marketeers. The Retail Marketeers, based in

Hamburg, Germany, is an industry marketing and sales

think tank with a proven track record of developing and

delivering award winning convenience retail formats,

forecourt marketing strategies and guiding market entry

processes.

pagetwentyseven

#forecourttech @forecourttech www.forecourttech.com
---
FORECOURT

OPERATORS

Meet the forecourt operators attending

forecourttech '21.
---
forecourttech

Emirates General Petroleum

From the familiar smile you are used to seeing when

you enter our Freshplus stores to the warm welcome

at the petrol pump and the aroma of our very own Arabicca

coffee, we are here to deliver the experience

that you have come to expect, every single time.

With 70 service stations located in Dubai and the

Northern Emirates, Emirates General Petroleum has

been serving the UAE for over 40 years.

Fred Pfennings

The family-run company Fred Pfennings GmbH & Co.

KG can look back on a remarkable development in

its 60-year history. The company founded by Fred

and Anni in 1961 started with a manageable range of

lubricants, today PM Pfennings is the third generation

to supply a network of around 90 filling stations and,

with its wide range of lubricants, is one of the most

renowned mineral oil suppliers in the region. PM Pfennings

employs a team of over 150 people and works

closely with its petrol station partners.

www.emarat.ae

pfennings.net

Herm

Herm GmbH & Co. KG distributes and retails energy

products. The Company offers petrol, diesel, natural

gas, heating oil, wood pellets, and other fuels. Herm

also provides petroleum filling stations, as well as vehicle

refueling, washing, shopping, and waste disposal

services. Herm serves its customers in Germany.

Lekkerland - REWE Group

Lekkerland the specialist for snacks on the go, advises

and delivers to 85,800 sales points throughout

Europe. The company has 5,000 employees and

generated revenues of 13.1 billion euro in 2020.

Lekkerland's customers include petrol stations,

kiosks, convenience stores, bakeries, food retailers

and quick-service restaurants. Lekkerland offers

its customers in four European countries innovative

services, tailor-made logistics and a wide range of

wholesale products.

Lekkerland is part of the REWE Group.

www.herm.net

www.rewe-group.com

#forecourttech @forecourttech www.forecourttech.com
---
forecourttech

Magn

Magn was established in 1925, when Christian Holm

Jacobsen began selling oil from Shell in the Faroe

Islands. Christian Holm Jacobsen operated until

1953, when the company was bought by Shell and

named Shell Faroe Islands. Shell Faroe Islands was

an independent entity within the Shell Group until

2007, when investors bought the company out of the

Shell group and named it Magn. Magn still handles

the sales of all Shell lubricants in the Faroe Islands.

Maxol Group

The Maxol Group (www.maxol.ie) is Ireland's leading

family-owned oil company. Our business, which was

established in Ireland in 1920 by William McMullan,

markets a comprehensive range of oil and petroleum

products to all sectors of the Irish Market, through

our Retail, Lubricants and Fuelcard divisions and

continues to grow today under the ownership of the

McMullan family. Today, with our network of service

stations and lubricants distributors, we have one of

the strongest 32 county All-Ireland networks in the

industry.

www.magn.fo

www.maxol.ie

Motor Fuel Group

MFG is the largest independent forecourt operator in

the UK with around 900 stations operating under the

BP, Shell, Esso, Texaco, JET and Murco fuel brands.

Migrolino

Migrolino AG is one of the leading providers in

the Swiss convenience market with shops at train

stations, petrol stations and other well-frequented

locations. It is a 100 percent subsidiary of the Federation

of Migros Cooperatives. migrolino is present at

319 locations in Switzerland. Around half of the shops

are run by migrolino AG franchise partners, be it as a

standalone or connected to a petrol station. Migrolino

operates the second half together with its strategic

partners Migrol, Shell and SOCAR. These shops are

all run together with a petrol station.

www.motorfuelgroup.com

www.migrolino.ch

#forecourttech @forecourttech www.forecourttech.com
---
forecourttech

MOL Group

MOL Group is an integrated, international oil and gas

company, headquartered in Budapest, Hungary. It is

active in over 30 countries with a dynamic international

workforce of 26,000 people and a track record of

more than 100 years in the industry.

MOL Group currently owns a network of nearly 2,000

service stations under six well-established brands

across nine countries in Central Eastern Europe including:

MOL, Slovnaft, INA, Tifon, Energopetrol and

PapOi.. Our networks play a leading role on the Croatian,

Hungarian, Slovakian and Bosnian retail markets

and represent the premium segment in Czech Republic,

Romania and Slovenia. Additionally, we also

have a retail presence in Serbia and Montenegro.

Oil Tankstellen

OIL! is the future-oriented brand in the independent

petrol station market. We stand for comprehensive

car service. We combine high quality standards and

environmentally conscious action. We are down to

earth and always act on an equal footing with our

petrol station partners. Our petrol stations are run with

a medium-sized character. The close proximity to our

customers distinguishes us and is an essential part of

our corporate philosophy.

www.molgroup.info

www.oil-tankstellen.de

Olerex

Olerex is the largest fuel retailer in Estonia, serving

customers at nearly 100 filling stations across Estonia.

The company is based on 100% Estonian capital

and already employs nearly 800 good Estonians. The

profit earned by Olerex will remain in Estonia and will

be largely reinvested for the benefit of a more comfortable

future for all of us.

Orlen Deutschland

ORLEN Deutschland GmbH belongs to the Polish

multi-energy group PKN ORLEN SA, which is the

largest company in Central and Eastern Europe

with an annual turnover of 19 billion euros in 2020.

ORLEN Deutschland GmbH, based in Elmshorn near

Hamburg, has been on the market since 2003 and

now operates almost 600 star and ORLEN petrol

stations. ORLEN Germany continues to expand and

is continuously expanding its petrol station network.

B. through the takeover of 56 filling stations from OMV

Deutschland GmbH in Thuringia and Saxony.

www.olerex.ee

www.orlen-deutschland.de

#forecourttech @forecourttech www.forecourttech.com
---
forecourttech

Petro Ofisi

Extensive retail sales network offering service

throughout Turkey. Wide dealer network covering all

81 provinces and approximately 850 districts. Petrol

Ofisi is the second private sector company of Turkey.

Prio Energy

PRIO is a 100% Portuguese company that was

founded in 2006. Its main purpose is to distribute and

sell liquid fuels and produce biofuels. We are proud

of how far we have come since 2006 and that we are

the only petrol station company on the Iberian

Peninsula with triple QSE (Quality, Safety and the

Environment) certification.

It is thanks to the work and effort of everyone who

works at PRIO that we can distribute high-quality fuels

that meet the legally established technical

requirements at the most competitive prices.

www.petrolofisi.com.tr

www.prio.pt

Q1 Energie AG

Q1 is an independent German medium-sized company.

With around 200 locations, we are one of the five

largest filling station operators in Germany - and our

transparent and fair QStrom and QGas tariffs make

Q1 an all-round supplier of energy. Quality first - this

is the brand promise, which reflects our commitment

to the best quality in products and service. Our quality

is based on first-class products and a motivated

team.

Q8

Kuwait Petroleum International, known by our trademark

Q8, was established in 1983. Our main focus is

to refine and market fuel, lubricants and other various

petroleum derivatives globally. We are the international

subsidiary of Kuwait Petroleum Corporation, which

combines elements of Kuwait oil sector under one

corporate umbrella and is recognized as one of the

world's top ten energy conglomerates.

www.q1.eu/de

www.q8.com

#forecourttech @forecourttech www.forecourttech.com
---
forecourttech

Rontec Roadside Retail

With over 50 years of experience, growth and exceptional

performance behind us, Rontec has built a

market leading reputation in roadside retailing.

One of the leading players in the UK forecourt industry,

Rontec operates more than 250 petrol stations

across England and Wales, under the Esso, BP,

Texaco and Shell brands.

Shell

Shell is the world's largest mobility retailer, by number

of sites, with 45 thousand service stations operating

in close to 80 countries. This is more sites than

McDonalds or Zara, Carrefour, Starbucks and GAP

put together.

The company was formed in 2011 to acquire the

assets of Total Oil UK and has since continued to

acquire site packages from Esso, Co-Op and BP.

www.rontec.com

www.shell.com

SK Fuels (Jet Brand UK)

SK Fuels owns a number of Jet-branded sites

throughout the north of England.

Sprint Tank

Sprint Tank GmbH, which is independent of

international Group companies, has been successful

in the German petrol station market for almost 30

years. The owner-managed mineral oil company with

a regional focus in Berlin, Brandenburg and Saxony

operates 140 filling stations under the Sprint and GO

brands together with its subsidiary HPV Hanseatic

Petrol Vertriebs GmbH.

www.go-sprint.de

#forecourttech @forecourttech www.forecourttech.com
---
forecourttech

Team Energie

The team petrol stations are represented in many

federal states with an extensive network of complete

and automated stations. Thanks to our good service

and affordable offers, they are a proven contact point

for car and truck drivers alike.

Our complete stations offer much more than just diesel,

petrol and LPG. They have modern washing facilities,

restaurants and well-stocked shops that leave

nothing to be desired, from car accessories to snacks

and drinks to gifts, magazines and coffee-to-go.

Tesla Germany

Tesla was founded in 2003 by a group of engineers

who wanted to prove that people didn't need to compromise

to drive electric – that electric vehicles can

be better, quicker and more fun to drive than gasoline

cars. Today, Tesla builds not only all-electric vehicles

but also infinitely scalable clean energy generation

and storage products. Tesla believes the faster the

world stops relying on fossil fuels and moves towards

a zero-emission future, the better.

www.team.de

www.tesla.com

Viada LT

VIADA is a network of gas stations connecting as

many as 127 gas stations in Lithuania and 97 gas

stations in Latvia, representing the VIADA brand and

carrying out both retail and wholesale fuel trade.

Zen Petroleum

ZEN is a solely owned Ghanaian Oil Marketing

Company (OMC) that within eight years has

established itself as the market leader in supplying

Fuel and Lubricants to mines in Ghana, as well as an

expanding footprint in the West African region, and a

growing retail network in Ghana.

ZEN has consistently proven to be a reliable, safe

and valuable partner in supplying high quality hydro

carbon products to the industrial and retail sectors in

Ghana and West Africa.

www.viada.lt

www.zenpetroleum.com

#forecourttech @forecourttech www.forecourttech.com
---
forecourttech

Supplier news & insights

pagethirtysix

Origo Africa, a leading African facilities maintenance

company, has announced a reseller

agreement with global technology company,

Techniche. Origo Africa will market, sell, and

distribute Techniche cloud-based computerised

maintenance management software

(CMMS) and associated professional services

to fuel retailers and convenience store

operators in the South African Development

Community (SADC) member states under an

exclusive regional reseller agreement.

GripHero, the maker of the world's only single-item

release static-safe hand-protection

dispenser, is drawing attention to the importance

of protecting the health and wellbeing

of EV customers who are prone to picking

up contaminants and illness from recharging

point handles. The campaign follows research

which reveals that charging points are

teaming with germs that have been shown to

be transferable to others seven times before

leaving the skin.

ISTOBAL USA will attend NACS SHOW

Chicago from 6th to 8th of October to consolidate

its growth in the petroleum and convenience

store sector with its transformable

rollover ISTOBAL FLEX5. So far this year,

deployments of this model increased by 28%

over 2020 thanks to its flexibility to meet car

wash needs, present and future, without significant

additional investment. At booth 3337,

ISTOBAL USA will show visitors the reasons

why the FLEX5 is the most popular ISTOBAL

technology in the US in service stations, professional

retail car washes and C-Stores alike.

In the 5-brush configuration, the machine is

particularly preferred due to its speed and

wash quality.

PDI, a global provider of leading enterprise

management software for the convenience

retail and petroleum wholesale industries,

has signed a definitive agreement to acquire

Orbis Technologies Ltd (Orbis Tech), a global

provider of cloud-based point of sale (POS),

back-office, and home-office business solutions.

The acquisition enhances PDI's international

software offerings with a seamless POS,

back-office, and home-office cloud platform

that will help businesses simplify complex instore

and forecourt operations.

#forecourttech @forecourttech www.forecourttech.com
---
forecourttech

bp ventures is investing €10 million in Europe's

leading in-car digital payments provider,

ryd. The company offers a convenient single

digital payment solution for drivers, for services

such as fuel purchases, electric vehicle

(EV) charging and car washing, via its app or

through integration with smart car systems.

bp's investment will help ryd strengthen its

market-leading position, grow into new international

markets, and further build its offering. Its

ecosystem already covers a wide range of car

brands, apps and payment networks and is in

use across several European markets.

Dover Fueling Solutions (DFS), has announced

the launch of its DFS Fusion Automation

Server Version 3. This model builds

on the success of its predecessor but runs

on more advanced technology used in many

other new DFS products and solutions, such

as the DFS Anthem UX user experience

platform and DFS Edge – which means it is

readily enabled for digital transformation for

the retail fueling industry through DFS' new

connected solutions platform, DFS DX.

pagethirtyseven

Mepsan has completed the delivery of Smartline

C and Smartline L Combo Duo dispensers

to North Macedonia. Smartline series

dispensers combine advanced technology

and stylish design and come with a comprehensive

safety package. Setting out with the

aim of mastering the design language and

creating a complete product matrix, Mepsan

works in a multi-disciplinary way to meet

the needs and expectations of the industry.

Mepsan is continuing to develop its station

network thanks to the importance it attaches

to both design and functionality.

ACI Worldwide, a leading global provider of

real-time electronic payment and banking

solutions, has been recognized by Juniper

Research, winning three awards for innovation

in payments and retail at its Future

Digital Awards 2021 Fintech & Payments.

ACI Secure eCommerce received the highest

accolade—a Platinum Award—in the category

"Payments Innovation of the Year" for its

merchant payments gateway and integrated

multilayered fraud prevention.

#forecourttech @forecourttech www.forecourttech.com
---
SUPPORTING

FORECOURT

OPERATIONS

Fully managed network solutions for Fuel Convenience

Service Stations to support:

. Secure Payments

. GDPR Compliant Guest Wifi

. CCTV and Security Systems

. Secure 3rd party connectivity for inventory monitoring, automated

odering of fuel and food, for compliance purposes, and to support

on-site brand concessions and vendors.

www.evolveodm.co.uk

+44 (0) 333 207 0364

support@evolveodm.co.uk
---
forecourttech

IFSF ANNOUNCES

VIRTUAL CONFERENCE

Melanie Lane

NewMotion

Martina Weimert

European Payment Initiative

Rushad Chinoy

Accenture

Máté Tilk

MOL Group

IFSF is excited to announce its 2021 Annual Conference,

which will be taking place virtually from 8-10 November 2021.

Following on from our hugely successful virtual conference

in 2020 and with so many on-going uncertainties around

travel, we have taken the difficult decision to delay welcoming

members and partners face-to-face in the beautiful city

of Prague, for a further year.

With escalating rates of change in all aspects of life, and with

particular focus on our fuel retailing industry, we have chosen

to focus this year's event on the theme of Transformation.

Our conference theme of Transformation reflects the escalating

rates of change in all aspects of our lives, particularly

with the intense focus on our fuel retailing industry. We

have an exciting line up of speakers from all areas of our

industry:

• Melanie Lane - NewMotion

• Martina Weimert - European Payment Initiative

• Rushad Chinoy - Accenture

• Máté Tilk - MOL Group

The API research and development at the heart of IFSF's

work over the last four years will again command a share

of the schedule, with further updates on our joint work with

Conexxus in developing a global set of APIs. We look forward

to insightful discussions on where our industry should

focus its efforts and resources in this new decade.

The virtual conference, spanning three days, will also allow

members and interested parties to network virtually.

Heather Price, IFSF Chair said: "We at IFSF are very disappointed

to not be able to welcome friends and colleagues

face-to-face this year again. The decade of the 2020s has

not got off to the most auspicious of starts, but as with

any major crisis, COVID-19 has brought unprecedented

change to the way our customers want to do things,

providing us all with great opportunities to enhance our

offering. We are however excited to discuss and debate

on these changes and challenges with our members and

peers virtually in November, and look forward to hosting an

exciting programme full of forward-thinking and engaging

speakers. "

#forecourttech @forecourttech www.forecourttech.com
---
.

See you at

forecourttech '21

Not attending forecourttech '21?

Search for forecourttech on LinkedIn for all the latest

event updates.