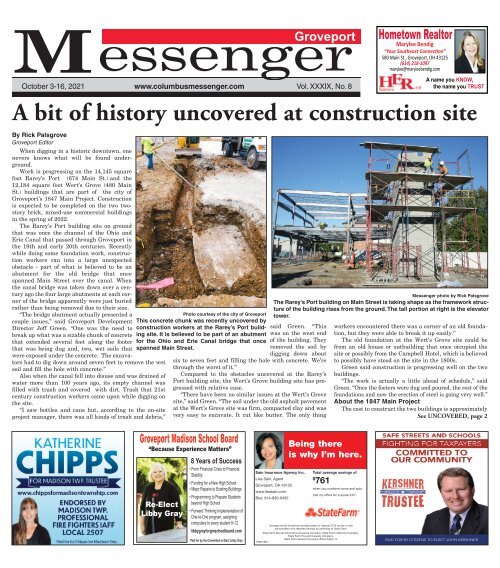 Groveport Messenger - October 3rd, 2021
You also want an ePaper? Increase the reach of your titles
YUMPU automatically turns print PDFs into web optimized ePapers that Google loves.
Messenger

Groveport

October 3-16, 2021 www.columbusmessenger.com Vol. XXXIX, No. 8

Hometown Realtor

Marylee Bendig

580 Main St., Groveport, OH 43125

(614) 218-1097

marylee@maryleebendig.com

A name you KNOW,

the name you TRUST

A bit of history uncovered at construction site

By Rick Palsgrove

Groveport Editor

When digging in a historic downtown, one

nevers knows what will be found underground.

Work is progressing on the 14,145 square

foot Rarey's Port (674 Main St.) and the

12,184 square foot Wert's Grove (480 Main

St.) buildings that are part of the city of

Groveport's 1847 Main Project. Construction

is expected to be completed on the two twostory

brick, mixed-use commercial buildings

in the spring of 2022.

The Rarey's Port building sits on ground

that was once the channel of the Ohio and

Erie Canal that passed through Groveport in

the 19th and early 20th centuries. Recently

while doing some foundation work, construction

workers ran into a large unexpected

obstacle - part of what is believed to be an

abutment for the old bridge that once

spanned Main Street over the canal. When

the canal bridge was taken down over a century

ago the four large abutments at each corner

of the bridge apparently were just buried

rather than being removed due to their size.

"The bridge abutment actually presented a

couple issues," said Groveport Development

Director Jeff Green. "One was the need to

break up what was a sizable chunk of concrete

that extended several feet along the footer

that was being dug and, two, wet soils that

were exposed under the concrete. The excavators

had to dig down around seven feet to remove the wet

soil and fill the hole with concrete."

Also when the canal fell into disuse and was drained of

water more than 100 years ago, its empty channel was

filled with trash and covered with dirt. Trash that 21st

century construction workers came upon while digging on

the site.

"I saw bottles and cans but, according to the on-site

project manager, there was all kinds of trash and debris,"

Photo courtesy of the city of Groveport

This concrete chunk was recently uncovered by

construction workers at the Rarey's Port building

site. It is believed to be part of an abutment

for the Ohio and Erie Canal bridge that once

spanned Main Street.

said Green. "This

was on the west end

of the building. They

removed the soil by

digging down about

six to seven feet and filling the hole with concrete. We're

through the worst of it."

Compared to the obstacles uncovered at the Rarey's

Port building site, the Wert's Grove building site has progressed

with relative ease.

"There have been no similar issues at the Wert's Grove

site," said Green. "The soil under the old asphalt pavement

at the Wert's Grove site was firm, compacted clay and was

very easy to excavate. It cut like butter. The only thing

Messenger photo by Rick Palsgrove

The Rarey's Port building on Main Street is taking shape as the framework structure

of the building rises from the ground. The tall portion at right is the elevator

tower.

workers encountered there was a corner of an old foundation,

but they were able to break it up easily."

The old foundation at the Wert's Grove site could be

from an old house or outbuilding that once occupied the

site or possibly from the Campbell Hotel, which is believed

to possibly have stood on the site in the 1800s.

Green said construction is progressing well on the two

buildings.

"The work is actually a little ahead of schedule," said

Green. "Once the footers were dug and poured, the rest of the

foundations and now the erection of steel is going very well."

About the 1847 Main Project

The cost to construct the two buildings is approximately

See UNCOVERED, page 2

Groveport Madison School Board

"Because Experience Matters"

Re-Elect

Libby Gray

8 Years of Success

• From Financial Crisis to Financial

Stability

• Funding for a New High School

• Major Repairs to Existing Buildings

• Programming to Prepare Students

beyond High School

• Forward Thinking Implementation of

One-to-One program, assigning

computers to every student K-12

libbygrayforgmschoolboard.com

Paid for by the Committee to Elect Libby Gray

Sain Insurance Agency Inc.

Lisa Sain, Agent

Groveport, OH 43125

www.lisasain.com

Bus: 614-830-0450

Being there

is why I'm here.

Total average savings of

$

761

when you combine home and auto.

Call my office for a quote 24/7.

*average annual household savings based on national 2015 survey of new

policyholders who reported savings by switching to State Farm.

State Farm Murual Automotive Insurance Company, State Farm Indemnity Company,

State Farm Fire and Casualty Company,

State Farm General Insurance, Bloomington, IL

P097136.1

PAID FOR BY CITIZENS TO ELECT JOHN KERSHNER
---
PAGE 2 - GROVEPORT MESSENGER - October 3, 2021

Southeast Library

The Southeast Branch of the Columbus Metropolitan Library is

located at 3980 S. Hamilton Road, Groveport. For information

visit For information visit www.columbuslibrary.org or call 614-

645-2275.

UNCOVERED

Continued from page 1

$7.6 million. It is funded by a combination

of non-tax revenue bonds tesy of the

Photo cour-

city of

and tax revenue bonds. According

Groveport

to Groveport Finance Director

This old

Jason Carr, non-tax revenue

building

bonds equal taxable bonds and tax

foundation

revenue bonds equal tax-exempt

corner was

bonds. He said the project will be

recently

funded by general obligation

uncovered

bonds, which are bonds from the

by construction

bond market and are not property

tax bond issues that would be

workers at

voted on by the residents.

the Wert's

Three restaurants will occupy

Grove

the lower levels of the Wert's

building

Grove and Rarey's Port buildings.

site.

They include: Delaney's Diner - a

breakfast, lunch, brunch restaurant

that will occupy 4,000 square feet of space with a

www.columbusmessenger.com

patio on the west end of the

Rarey's Port building;

Preston's: A Burger Joint

and Honey's Fried Chicken,

which will occupy a little

under 3,000 square feet on

the west end of the Wert's

Grove building; and Mmelo

Confectionary & Café - a

high-end chocolates and

confections place that also

offers breads and pastries,

a full lunch and dinner

menu, and made to order

specialties, coffee and

espresso - will occupy

around 2,300 square feet,

plus patio, on the east end of the Wert's Grove building.

Serving Your Community

Since 1972

Malek &

ATTORNEYS AT LAW Malek

Welders working on the Rarey's Port building.

Messenger photo by Rick Palsgrove

Proudly Announcing

Adding New Attorneys

To Serve You!

WORKERS'

COMPENSATION

PERSONAL INJURY

WRONGFUL DEATH

SLIP & FALL INJURY

DOG BITE INJURY

Douglas, Ed, Jim

and Kip Malek

"Hablamos Español"

FREE Initial Consultation

www.maleklawfirm.com

614-444-7440

1227 S. High St., Columbus, OH 43206

Workers laying the foundation for the Wert's Grove building.

Messenger photo by Rick Palsgrove
---
www.columbusmessenger.com

Walnut Woods Metro Park to expand

By Rick Palsgrove

Groveport Editor

Walnut Woods Metro Park will soon be

growing.

The 1,098 acre park, located between

Canal Winchester and Groveport at 6716

Lithopolis Road, will expand by 282 acres

following Metro Parks purchase of the land

from the Daltonna and Craig Crawford

trustee of Donna J. Miller Trust for Public

Land. The $2.9 million purchase price will

use about 75 percent in Clean Ohio Fund

money in addition to levy funds, according

to Metro Parks Public Information

Manager Peg Hanley.

Halloween is coming!

By Rick Palsgrove

Groveport Editor

Here are the trick-or-treat dates and

times, as well as some other Halloween

activities, for the area's communities.

Canal Winchester

The city of Canal Winchester will hold

trick-or-treat on Oct. 28 from 5:30—7:30 p.m.

According to Canal Winchester Events

and Communications Coordinator Hannah

Voss, immediately following trick-or-treat,

VFW Post #10523 will host its annual

Halloween Party at the Community

Center, 22 S. Trine St. The free party will

feature a magician and plenty of goodies to

go around.

Groveport

The city of Groveport will hold trick-ortreat

on Oct. 28 from 5:30-7 p.m.

Mayor Lance Westcamp said the annual

block party at Main and Front streets will

not be held this year due to the ongoing

coronavirus pandemic.

However, the annual Blacklick Haunted

Park will be held on Oct. 22-23 from 7:30-

11 p.m. and Oct. 24 from 1-3 p.m. in

Hanley said the newly purchased land is

located just south of Walnut Woods off

Hayes Road and includes about 5,000 feet

of frontage along Little Walnut Creek.

"We will do some habitat restoration to

protect ground and storm water and

wildlife," said Hanley, who added there will

be access for fishing and kayaking and an

eventual connection to the Tall Pines Area

at Walnut Woods.

"It's a nice addition of land for Metro

Parks to continue protecting land and

resources in southeast Franklin County for

visitors and resident in an area that is

growing quickly and developing," said

Blacklick Park, 799 Blacklick St. in

Groveport. Cost is $5 per person with the

proceeds going to Groveport Madison

Human Needs and the Groveport Food

Pantry. This event is very scary and

parental discretion is advised.

Madison Township

Madison Township's trick-or-treat date

is still to be determined pending the results

of a citizen survey, which runs to Oct. 4.

Obetz

Obetz will hold trick-or-treat on Oct. 28

from 6-8 p.m.

"Halloween festivities will be held at

Fortress Obetz, 2015 Recreation Trail in

Obetz, on Oct. 29 from 6-10 p.m. featuring

a Haunted Maze as well as some other

tricks and treats," said Obetz Mayor

Angela Kirk.

Lockbourne

According to Lockbourne Mayor

Christie Ward, Lockbourne will hold its

trick-or-treat on Oct. 31 from 4- 6 p.m.

Hamilton Township

Hamilton Township's trick-or-treat date

and time is still to be determined.

Hanley. "It is part of our core mission to

protect wildlife and habitat and ensure

that the citizens of Central Ohio have

places where they can discover nature and

enjoy activities outdoors."

Walnut Woods Metro Park consists of

woodlands and fields. The Tall Pines Area

along Richardson Road features dramatic

stands of pines and sweetgum trees and

the Buckeye Area along Lithopolis Road

has long rows of old nursery trees such as

serviceberry, crab apple and red maples.

The park also features restored wetlands

and vernal pools.

PAID FOR BY JACK RUPP

October 3, 2021 - GROVEPORT MESSENGER - PAGE 3

columbusmessenger.com

AUTO HOME

Beplerinsurance.com

614.837.4379

staff@beplerinsurance.com

3246 Noe Bixby Rd., Columbus, Ohio 43232

Want SOMEONE NEW

on Groveport Council?

Vote

JACK RUPP

In 2019, I ran for Groveport City Council gaining 526 supporters!

I am asking for your support again!!

WORLD PUMPKIN PIE

EATING CHAMPIONSHIP

OCTOBER 10TH 12-3pm

Contest at 1pm

8000 Factory Shops Blvd

Jeffersonville, fersonville, OH 43128
---
PAGE 4 - GROVEPORT MESSENGER - October 3, 2021

Groveport history films

Two documentary films on the history

of Groveport, produced by the Groveport

Heritage Society and Midnet Media, are

now available for viewing online on

YouTube.The films are: "Groveport: A

Town and Its People" and "The Story of

John S. Rarey and Cruiser."

Letters policy

The Groveport Messenger welcomes letters

to the editor. Letters cannot be libelous.

Letters that do not have a signature, address,

and telephone number, or are signed with a

pseudonym, will be rejected. PLEASE BE

BRIEF AND TO THE POINT. The

Messenger reserves the right to edit or

refuse publication of any letter for any reason.

Opinions expressed in the letters are not necessarily

the views of the Messenger. Mail letters

to: Groveport Messenger, 3500 Sullivant

Avenue, Columbus, OH 43204; or by email to

southeast@columbusmessenger.com.

southeast

Messenger

(Distribution: 20,634)

Rick Palsgrove ...................................Groveport Editor

southeast@columbusmessenger.com

Published every other Sunday by

The Columbus Messenger Co.

3500 Sullivant Ave., Columbus, Ohio 43204-1887

(614) 272-5422

The Columbus Messenger Co. reserves the right to edit, reject or cancel

any advertisement or editorial copy at any time. The company is not

responsible for checking accuracy of items submitted for publication.

Errors in advertising copy must be called to the attention of the company

after first insertion and prior to a second insertion of the same advertising

copy.

Keep tabs on the latest news in

Groveport & Madison Township

Look for Groveport Messenger on

Become a fan!

BIRTHDAY • ENGAGEMENT • WEDDING • ANNIVERSARY

• GRADUATION • RETIREMENT

IN MEMORIUM • ARMED FORCES

Say it with an announcement ad in

the Messenger and spread the word.

You can download the appropriate form from

our Web site or stop by our office

Monday-Thursday, 8:30 a.m.-5 p.m.

Friday, 8:30 a.m.-2 p.m.

Columbus Messenger

3500 Sullivant Ave.

614-272-5422

www.columbusmessenger.com

Groveport Madison

board of education

(Vote for three)

•Seth Bower, 3089 Dewbourne Dr.

Reynoldsburg

Occupation: Aquatics

Manager with the

city of Groveport.

Education, military,

and/or political experience:

As a lifelong

community leader, my

goal is to always support

our school district.

I currently serve

as a board member for

Groveport Madison

Human Needs. I am BOWER

also the coordinator

for the Independence Village block watch. We

host free community events that engage our

youth in activities and programs.

Goals if elected: If elected to Groveport

Madison school board, I would work tirelessly

to engage our community, improve our integrity,

and keep our district financially accountable.

Our children deserve the best, and I

would work to improve existing infrastructure,

promote academic excellence, and address

the issue of overcrowding in our schools.

•Wayne Bryan, 5408 Newport Road,

Columbus

Occupation: Retired.

Education, military, and/or political experience:

I am a Groveport

graduate. I am a

retired maintenance

and construction professional

for a retail

chain where my

responsibilities included

build-out and

remodeling of retails

spaces. I am a member

of the Madison

Townships Citizens

Advisory Committee.

Goals if elected: I

will work tirelessly to

restore trust between

BRYAN

the community and the school board by

demanding transparency, honest communication,

and compliance with our local laws. I

will listen to concerns act on what is best for

the district and community as a whole. I will

not be a simple rubber stamp for the administration.

•LaToya Dowdell-Burger, 5016 Hickory

Grove Circle, Groveport

Occupation: HR Specialist Info Systems

Business Owner

Education, military, and/or political experience:

U.S Army veteran with over 16 years of

experience in HR, Workforce Development,

Health Administration, Business

Development and Public Affairs. Attended

voters guide

several military

schools; Government

Leadership Academies

and attended

Ohio Christian

University (Leadership/Ministry).

A

sought after mastermind

behind any idea

a person might have.

Served on numerous

non-profit boards in

Franklin County.

Goals if elected: Her

goal is to ensure there is an active forum

between the Board and Community, which is

one of her platforms entitled Board to

Community. It is important to her that she

hears what the community as a whole. In

addition, to bring resources to assist the

GMLS ever growing diverse population.

•Libby Gray, 3980 Hendron Court,

Groveport

Occupation: Domestic and International

Tax Manager with Tosoh America, Inc.

Education, military,

and/or political experience:

The Ohio State

University –

Bachelor's degree in

accounting; Capital

Law School – Master's

in taxation; and

Groveport Madison

School Board – 2014-

present – President

three years, Vice

President one year;

Co-Chair – Committee

for Better Schools

DOWDELL-

BURGER

GRAY

Goals if elected: I would like to continue to

move our district forward. In eight years, we

have accomplished a lot. From a financial crisis

to financial stability, new high school and

added programming to prepare students

beyond High School. We must continue the

momentum and provide new schools and programs

for students.

•Polly Pierce, 5387 Inlet Drive,

Columbus.

No reply received.

•Elizabeth (Betty) Simcox, 4452

Drycott St., Groveport

Occupation: Real-Estate Management

self-employed

Education, military,

and/or political experience:

My background

makes me a uniquely

qualified board-member

candidate. I have a

bachelor's degree in

Business Administration

with an accounting

major from

Franklin University. I

have served as a charter

school board-

SIMCOX

member. I owned and successfully operated a

www.columbusmessenger.com

preschool (infant-kindergarten) for over 17

years. Currently, I manage family-owned commercial

real-estate.

Goals if elected: Over 59 percent of

Groveport Madison students test below grade

level. As a community, I believe we can

change this with honest, transparent board

meetings and research-based decision making.

I would end the sporadic non-recording of

board-meetings, excessive use of executive

sessions, no-bid contracts, and administrative

committees without public meeting minutes.

Groveport

City Council

(Vote for four)

•Edward G. Dildine, 182 Green Avenue,

Groveport

Occupation: Madison Township firefighter

and paramedic since

1990. A 1989 graduate

of Groveport Madison

Education, military,

and/or political experience:

Groveport City

Council member for 16

years. Volunteer football

coach for 20

years. Member of the

Groveport CIC. Apple

Butter Day Committee

member. Honor Guard

with MTFD. Peer

Support Team Leader with MTFD.

Goals if elected: would like to continue the

responsible growth we have experienced

recently. Work with neighboring communities

on whatever opportunities that would benefit

our residents. Enhance the quality of life for

our residents and our corporate partners and

visitors. Find a way to bring more community

involvement to the governmental process.

•Becky Hutson, 5063 McIntosh St.,

Groveport

Occupation: Director of First Impressions

employed by H.T. Hackney Co.

Education, military,

and/or political experience:

I'm a Cruiser

graduated from

Groveport Madison

High School in 1983. I

completed several

night courses at

Eastland Vocational. If

elected, this will be my

third term serving for

the residents of

Groveport. I'm a member

of Franklin County

DILDINE

HUTSON

Central Committee and I have served on

Planning and Zoning for two terms.

Goals if elected: I would love to see the

completion of the 1847 Project up and successfully

running. I would really keep pushing

for updated infrastructure to keep our city

See GROVEPORT COUNCIL, page 5
---
www.columbusmessenger.com

Groveport

City Council

(continued from page 4)

running smoothly. I'm excited for the up and

coming changes for the continued quality of

life for all of our residents.

•Cheryl Irving, 349 Tallman St.,

Groveport

Occupation: Retired Groveport Madison

French, German, and Spanish teacher.

Education, military, and/or political experience:

Capital

University B.A.

French, German,

Spanish. Secondary

Education. The Ohio

State University M.A.

Theoretical Analysis of

Foreign Languages

and Literatures. United

States Fulbright,

Colombia. Co-founder

Groveport Community

Service Program. IRVING

Founder Los Brazos

Para Los Ninos Colombianos NGO.

Goals if elected: I would like to see resolution

of ongoing traffic challenges, downtown

parking challenges, as well as controlled but

encouraged business growth. I would also like

to see improvement in security at the recreation

center especially the summer pool.

•Scott Lockett, 209 Front St., Groveport

Occupation: Psychologist.

Education, military, and/or political experience:

I am a graduate of Groveport High

School. I received a Bachelor's Degree from

Capital University and

a Master's Degree in

Psychology from the

Ohio State University. I

am semi-retired working

part time as a psychologist

for Groveport

City Schools. I am

completing my first

elected term after having

been selected to

complete the remaining

two years of

Donna Drury's term. I

serve as the city liaison

to the Groveport Senior Center.

LOCKETT

voters guide

Goals if elected: If elected I hope: 1. To

keep the City of Groveport progressing on its

current positive path. 2.Continue to reduce our

debt service obligations. 3.Shift the focus of

development from warehouses to small business

development in our Historic Downtown.

4.Attract housing options for seniors. 5. Revisit

traffic issues throughout the city.

•Jack Rupp, 5092 Cherry Blossom

Drive, Groveport

Occupation: Fire Chief with Plain Township

Fire Department, New Albany.

Education, military, and/or political experience:

Franklin

University fall 1970 /

spring 1973 retail management.

Twenty-seven

years with Madison

Township Fire

Department serving in

multiple leadership

roles. Member Ohio Fire

Chief's Board of

Directors. Served on

Groveport's Water

Committee, City RUPP

Charter Committee,

and chairs the Personnel Board of Review.

Goals if elected: Ensure Groveport's financial

stability and services, diversify income tax

source, support planned growth. Promote

shared services agreements with other

municipalities to maintain quality services at a

lower operating cost. Encourage 55 and older

developments, seniors are being forced from

the community for the lack of affordable single

and multi-tenant units.

•Wayne White, 475 Elm St., Groveport

Occupation: Senior Field Technician with

Evoqua Water Technologies for 15 years.

Education, military, and/or political experience:

Groveport and Eastland Career Center

graduate. Currently baseball commissioner

for GYAA. Served on the City of Groveport

Charter Committee.

October 3, 2021 - GROVEPORT MESSENGER - PAGE 5

Goals if elected: I

would want to be a

voice for our residents,

whether if they chose

to attend meetings or

not. I want to help get a

plan for residents to

use the recreation

center and pool more

affordably.

FOR

WHITE

more voters guide on page 7

GROVEPORT MADISON LOCAL SCHOOLS

VOTE

Tom Sussi

For Columbus City Council

More than 30 years ago, I left Youngstown, moved to Columbus, and opened

Frank's Fish & Seafood Market.

Over the years, I've met a lot of people including local reporters. One of them is

Tom Sussi who I call a friend. I always admired how Tom fought for people in his

reports and called out the nonsense with our local public officials and politicians.

My friend is fighting for a seat on Columbus City Council, and if you know anything

about the corrupt political machine that has "ruled" our city for more than two decades,

then you understand it won't be an easy fight.

We need a guy who supports law and order and fights for law­abiding citizens. We

need a guy who will always put our best interests ahead of the fat cats and big

businesses that bankroll political campaigns.

We need a fighter, not another politician. We need Tom Sussi.

I urge all my friends and customers to support Tom in his run for

City Council and vote Sussi on November 2.
---
PAGE 6 - GROVEPORT MESSENGER - October 3, 2021

Madison Township Tire Drive

Madison Township will hold a "Tire Drive" on Oct. 6 from 2-7

p.m. at Brobst Park, 5321 Winchester Pike, Canal Winchester.

Residents of Madison Township, including the cities of Groveport

and Canal Winchester, can recycle rimless junk tires. No commercial

vehicle tires will be accepted. Maximum of 10 tires per household.

Please bring your driver's license or utility bill. For information

call (614) 836-5609 or visit madisontownship.org.

Wagnalls Memorial Library

Wagnalls Memorial Library is located at 150 E. Columbus St.,

Lithopolis. For information call (614) 837-4765 or visit www.wagnalls.org.

A FREE ESTIMATE

15 10 5

YOUR ENTIRE

PURCHASE *

% % %

OFF + OFF + OFF

SENIOR & MILITARY

DISCOUNTS

YEAR-ROUND

CLOG-FREE GUARANTEE

1-855-995-2490

TO THE FIRST

50 CALLERS! **

| Promo Number: 285

Prepare for unexpected

power outages with a

Generac home standby

generator

REQUEST A FREE QUOTE!

844-334-8353

FREE

7-Year Extended Warranty*

A $695 Value!

Limited Time Offer - Call for Details

Special Financing Available

Subject to Credit Approval

*To qualify, consumers must request a quote, purchase,

install and activate the generator with a participating dealer.

Call for a full list of terms and conditions.

Be a Part of Our

Local Worship Guide

Our upcoming Worship Guide is geared toward

celebrating faith and helping readers connect with

religious resources in our community. Make sure these

readers know how you can help with a presence in this

very special section distributed to more than 20,000

households in the Groveport area.

The cost is $20 per issue. (must run twice)

Contact us today to secure your spot in Worship Guide.

614.272.5422 • kathy@columbusmessenger.com

www.columbusmessenger.com

Proposals made to enhance

staffing at Aquatic Center

By Rick Palsgrove

Groveport Editor

City officials are looking to streamline the operations

of the Groveport Aquatic Center.

"We're looking at ways to improve," said Groveport

Aquatics Manager Seth Bower.

On Sept. 20, Bower presented the draft of plan to

Groveport City Council regarding the Aquatic

Department that would update staffing and staffing

structure, examine pay rates, and create additional

employee incentives.

The proposed changes include:

•Eliminating the assistant aquatic manager position

and creating a part time aquatic supervisor position.

Bower said the new position is similar to the

building supervisor job in the recreation area and

"would help create less confusion and clearly define

roles and responsibilities."

•Possibly eliminate the aquatics coordinator position

whose duties could be absorbed by the new part

time aquatics supervisor

•Review the head lifeguard job description.

"The head lifeguard is our first front line manager

position," said Bower.

•Examine pay rates in comparison with those at

other similar communities and facilities. Currently the

head lifeguard earns between $12.29 to $19.79 per

hour; the proposed new aquatics supervisor position

could earn between $14.91 to $19.44 per hour; and lifeguards

earn between $11 to $17.67 per hour.

In comparison with 11 other swimming facilities in

Central Ohio, head lifeguards in those facilities make

between $9 to $16.50 per hour, the aquatic supervisor

position makes between $14 to $28 per hour, and lifeguards

make between $8.80 to $15 per hour.

•Create culture incentives to help with staff retention.

"I believe we have done a good job incentivizing

based on merit," said Bower. "However, I believe we

can also do a culture incentive bonus as well. These are

incentives to keep lifeguards that aren't necessarily

tied to merit increases."

These culture incentives could include: a beginning

of summer meet and greet; an adopt a lifeguard program

where experienced lifeguards are given a new

lifeguard to "adopt" similar to a big brother/big sister

program; an end of summer awards ceremony; an end

of summer lifeguard formal event with games, prizes,

food and music; and end of summer coupons that can

be turned in for things such as skipping cleaning

duties one night at closing.

Messenger photo by Rick Palsgrove

Groveport Aquatic Center lifeguard Elise Pickett on

duty at the pool during a past summer swim season.

"I think you are on the right track."

- Mayor Lance Westcamp

"We offer excellent financial incentives and we'd

like to continue to build on a positive culture at

Aquatics," said Bower. "We want an environment

where employees want to come back."

Currently the Aquatic Center offers the following

incentives to employees: two free swim suits; lifeguard

class reimbursement; free membership; 50 cent an

hour bonus at the end of summer; $100 refer a friend

program; mentor groups; lifeguard of the week; and

beads for lanyards for going above and beyond.

"I think you are on the right track," said Mayor

Lance Westcamp.

Added Councilman Ed Dildine, "It's nice to see some

fresh ideas."

Groveport Finance Director Jason Carr said the

Aquatic Center's draft proposal will be finalized and

that legislation regarding Aquatic Center admission

rates and requirements for next swimming season will

come before council in the near future.

Groveport financial news

The city of Groveport's income tax revenue year-todate

as of Aug. 31 was $11.7 million, which is 10 percent

higher than the same time in 2020, according to

city of Groveport Finance Director Jason Carr. Income

tax revenues year-to-date comprise 69 percent of all

city total revenues.

Carr also noted the city's general fund balance as of

Aug. 31 is nearly $2 million higher compared to the

same time last year.

"We (the city) look better than we did in 2020," said

Carr.

He said the recreation fund and golf fund historically

operate at losses and that annual transfers from the

general fund are needed for those funds to break even.

However, he said year-to-date Aug. 31 the recreation

fund receipts are higher by $224,744 and the golf fund

receipts are up $238,286 when compared to Aug. 31,

2020. Through year-to-date Aug. 31, the recreation

operating receipts were $605,312 lower and the golf

course operating receipts were $93,317 higher when

compared to the same time in 2019.

"The golf course fund is doing very well this year,"

said Carr.
---
www.columbusmessenger.com

Madison Township

trustee

(Vote for two)

•Katherine Chipps, 3346 Sundale

Road, Columbus

Occupation: CEO (small business owner)

Co-Own Friday's

Creations &

Grassroots Strategies,

Print & Design

Education, military,

and/or political experience:

Bachelor's

Degree in Business

Management, Ohio

Dominican University;

Employment history:

Aide - Ohio Senate,

Director of Regional

CHIPPS

Services - Ohio Secretary of State, Policy

Director - Clean Fuels Ohio, CEO- Grassroots

Strategies and Friday's Creations.

Goals if elected: I would like to work on

gaining grant funding to improve the roads in

our neighborhoods in the unincorporated

areas of the township. I will work with our

Police and Fire Departments to ensure the

safety of our neighborhoods, and to get the

needed equipment and manpower they need.

•John Kershner, 4887 Winchester Pike

Columbus

Occupation: Technology professional.

Education, military, and/or political experience:

Groveport

Madison graduate

(1982). Ohio Institute

of Photography &

Technology graduate

(1985). Army Reserve

Artillery Chief of

Section and trained

leadership instructor.

2nd Vice American

Legion. President,

Canal Winchester

Groveport Rotary. Past

president of Groveport KERSHNER

Madison School

board. Founder of a successful technology

company. Volunteer director of a local food

pantry.

Goals if elected: As a long-time homeowner

in Madison Township, I share your concerns

about safety, property values, code

enforcement, and Township services. That's

why I'll work hard to ensure our tax dollars are

While Election Day is an exciting time,

voters may find it frustrating if they do

not take steps to ensure things go smoothly

when they head to the polls.

The following tips can help voters prepare

for Election Day.

•Confirm your polling location. Voters

can contact their local board of elections

or visit www.Vote411.org to confirm the

voters guide

wisely spent, expenses are appropriate and

necessary, proper oversight is ensured, and

that excellent services are provided.

•Deborah Miller, 5102 Zimmer Drive,

Columbus

Occupation: Retired.

Education, military, and/or political experience:

I am a graduate of Central High School,

with college courses in Interpersonal

C o m m u n i c a t i o n s .

Retired from McGraw-

Hill Publishing after 25

years as an Executive

Coordinator. Currently

serving as a board

member for the Center

of Groveport Madison

Human Needs.

Goals if elected:

Bring the voice back to

the people. Building a

strong police department

by adding headcount. Work with the

Public Works Department to improve roads.

Build trust between the township and its residents.

•John Pritchard, 4887 Bay Grove

Court, Groveport

Occupation: Attorney with The Department

of Defense, Defense Logistics Agency.

Education, military, and/or political experience:

Canal Winchester High School, 1988;

Ohio State University,

1993; Capital

University Law School

2001; U.S. Army 2003-

2010; Army J.A.G.

Officer; Served in

Afghanistan 2005;

Meritorious Service,

earned Combat Action

Badge; Madison

Township Trustee

2000-03, 2017-present.

Goals if elected:

On Election Day

MILLER

PRITCHARD

Continue to provide outstanding safety services

to the residents of Madison Township,

Groveport, and Canal Winchester. Stay on

track with our strategic plan to continue

investing in equipment, vehicles, and training

for our township fire and police departments

ensuring outstanding service to our residents.

Remain a good steward of your tax dollars

with ongoing efforts to seek out grant opportunities

and matching funds for public works

equipment and road improvement.

correct polling locations.

•Bring photo identification.

•Confirm registration. Voters can confirm

that they have registered to vote by

contacting their local board of elections in

advance of Election Day.

•Be familiar with the candidates and

issues on the ballot.

Groveport Police statistics

August crime statistics, according to the

Groveport Police: 8 arrests, 19 accidents, 6

assaults, 0 burglary, 5 domestic disputes, 3

domestic violence, 2 OVI and alcohol, 19

thefts/robberies, 0 stolen/unauthorized

use, 1 missing persons, 1 weapon related

call, 1 narcotic related offense, 2 school

related in dispatched calls, 5 school criminal

reports, 2 school non-criminal reports,

1 parking, 2 threats, 1 vandalism, 0 juvenile

complaint, 22 traffic citations, 1 sex

related crime, 2 suicide attempt/DOA.

October 3, 2021 - GROVEPORT MESSENGER - PAGE 7

School Help Centers

Violet Ray Trickey

June 7, 1931 - September 16, 2021

Violet Ray Trickey, 90, departed this life peacefully at Hospice & Community Care, Rock

Hill, South Carolina on September 16, 2021. She was preceded in death by her husband

of 66 years, Frederic William Trickey (Msgt USAF retired). Violet was a devoted wife and

mother of five children, as a military family they lived in various locations over the

years, she and Fred retired in Summerville, SC where they settled after Fred's Air Force

retirement in 1972, this is where they spent their last years together. Violet and Fred

were high school sweethearts and their love story was known by all that knew them,

she was an amazing wife, devoted mother who put her family first, loving Gramma and Great Gramma

admired by all who knew her.

They are survived by their 5 children: Douglas Scott Trickey (Becki) of Irmo SC, Leslie George Trickey

(Teresa) of Bath VA, Laurie Thomas (Craig) of Murrell's Inlet SC, Christine Prater (Timothy) of Pearland

TX, and Karen T. Davis (Lonnie, deceased) of Fort Mill, SC. Surviving also are eleven grandchildren,

twenty-one great-grandchildren.

Violet was born June 07, 1931 the daughter of the late Ralph and Violet Ray of Groveport, Ohio. She

was one of ten children, one sister and six brothers previously deceased, she is survived by two siblings,

brother John Ray of Circleville, Ohio and sister Nancy Ray of Groveport, Ohio. Also of great importance

to Violet was her family from Groveport, Ohio where she grew up. She fiercely loved her parents and

siblings, her last years she barely talked of anything else but her childhood days and Groveport.

Violet was relentless in taking care of her family, no matter what struggles came along, she always

found a way to make sure her children had everything they needed. As a struggling military family, she

worked in retail and other jobs on and off over the years, helping to provide proper food and clothing,

always ready to do whatever it took to give a good life for her children.

Violet was also a very talented artist, passing on many amazing paintings to her children and grandchildren.

She will be missed by all who knew her, children, grandchildren, sister, bother, nieces, nephews,

friends, there is nothing that will ever take her place in our hearts. She is with us always.

A memorial service will be planned at a later date not yet known. Memorial donations may be made

to: Hospice & Community Care, P.O. Box 993, Rock Hill, SC 29731.

To donate online visit: HospiceCommunityCare.org

The Columbus Metropolitan Library's

School Help Centers are now open offering

K-12 students after-school help, plus 24/7

access to free tools and resources.

Plus, students can get connected with

virtual tutors for one-on-one help Monday

through Friday from 2-11 p.m. using

HelpNow.

Masks are required to visit School Help

Centers. Hours vary by library location.

Visit columbuslibrary.org/school-help for

information.
---
PAGE 8 - GROVEPORT MESSENGER - October 3, 2021

www.columbusmessenger.com

Apple Butter Day

Apple Butter Day is back in all of its autumn glory

By Rick Palsgrove

Groveport Editor

Groveport's traditional fall festival,

Apple Butter Day, is celebrating its 48th

year and will be held on Oct. 9 from 10 a.m.

to 6 p.m. in Heritage Park, 551 Wirt Road

in Groveport.

"Apple Butter Day is Groveport," said

Groveport Community Affairs Director

Patty Storts. "This event, which annually

attracts thousands of visitors rain or shine,

is the perfect place to spend a fall

Saturday. The smell of apple butter being

made over an open fire, stirred by volunteers

is the perfect backdrop for a day that

is always memorable for all who attend.

The event showcases unique, one of a kind

crafts and primitive art items. Festival

goers also have a variety of good homemade

food to choose from while listening to live

bluegrass music. The children's area,

'Appleseed Way,' has lots of free activities

for children to participate in. There is

something for everyone at Groveport's

Apple Butter Day!"

Apple Butter Day history

The festival has been a mainstay and

focal point for the community since October

1974 when it began as a simple gathering of

friends cooking apples over an open fire in a

church parking lot. One can just sense the

in the autumn air as September turns into

October that it is time for Apple Butter Day.

Apples were important to Ohio's and

Groveport's pioneer agricultural economy

and daily life. Apples could be stored year

round and travelled well when shipped

over the rough roads or the slow moving

freight boats on the Ohio and Erie Canal.

Apples, in addition to being a refreshing

treat picked right off the tree, could be used

in many products used by the pioneers like

dried apples, apple butter, cider, apple

brandy, apple chips, and vinegar. They

were even fed to hogs, which were important

livestock to the Ohio pioneer.

The Groveport Heritage Society created

Apple Butter Day to pay tribute to the

town's pioneer past and to educate people

about what life was like in Groveport and

nearby farms in the 19th and 20th centuries.

The festival strives to remain true

to the area's historic roots. Apple Butter

Day has a relaxed atmosphere and it's a

day to be spent outdoors reveling in what

fall has to offer before gray, cold November

drives everyone indoors.

On Apple Butter Day, people who have

long moved away stop by the old town to

see family and friends. For those who have

remained in town, it's a chance to get reacquainted

with neighbors. Apple Butter Day

encourages us to slow down, enjoy the

pleasures of simple foods, and reinforces

our link to the past.

Apple butter for sale

You may purchase a jar of apple butter

for $7 per jar or buy three jars for $20.

There will be no apple butter served on

bread slices sold at this year's Apple Butter

Day due to COVID restrictions.

Music

Music at the festival includes the

Hollertones from 10 a.m. to noon and

Relentless Mules will be on the main stage

from 12:15-2 p.m., both on the main stage.

The Madison Christian Band will perform

in front of the log house at noon. Delightful

Sounds will perform inside the log house

from noon to 2 p.m. TNT Bluegrass will

perform on the main stage from 2:15-4 p.m.

as well as Slick City Grass from 4:15-5:45

p.m.

Apple Butter Day activities

The day features homemade crafts, historical

demonstrations, hayrides, pony

rides, children's activities, and food vendors.

There will also be a display of antique

tractors at Palm Pond. Johnny Appleseed

will roam the festival grounds from noon to

3 p.m.

The cane pole fishing derby for kids age

15 and under will be held at Palm Pond

from 10:30-11:30 a.m. (sign up at 10 a.m.).

The first 50 kids get to fish with a cane

pole. Bait is provided.

Remember to buy a $1 raffle ticket for a

chance to win the Apple Butter Day quilt.

The winner will be announced at 5:45 p.m.

You do not need to be present to win.

See APPLE, page 9

Food Vendors

-

FREE

Hayrides

- Pony Rides - Kids Cr

aft

ts

ALL DAY -

Craft

Demonstrators - Homema

de Craft

ts

Antique Tractor

Show - Appleseed Way Kids

Area

located

at

Heritage

Park

Sharps

Landing

Canal Building - 11:00 am - 5:00 pm

- -

-

- -

- -

- -

- - - - -

-

- -

- -

- -

-

-

--
---
www.columbusmessenger.com

October 3, 2021 - GROVEPORT MESSENGER - PAGE 9

Apple Butter Day

APPLE

Continued from page 8

The Groveport Log House

A center piece of Groveport history is

the 1815 era Groveport Log House.

The log house originally sat on the

southwest corner of Main and Madison

streets, where the Groveport Post Office is

now located. Workers discovered the log

house as they were dismantling it in 1974

to make way for the Post Office. Volunteers

from the Groveport Heritage and

Preservation Society pitched in to preserve

the house and in 1974, with help from the

United States Army Corps of Engineers,

moved it to its present location in Heritage

Park.

Over the years the log house has under

gone historical restorations and renovations,

but it remains a historical focal point

for Groveport and serves as an example of

our pioneer ancestors' way of life. If you are

taking a walk around town, take a peek at

this piece of tangible history.

Apple orchard

A few years ago, the Groveport Parks

Department planted 30 apple trees in the

Palm Pond area of Heritage Park. The

trees offer a variety of apples including

Golden Delicious, Granny Smith, Wealthy,

Haralred, Gravenstein, Honey Crisp, Red

Delicious, Zestar, Gala, and McIntosh. The

hope is to use some of the apples from

these trees at future Apple Butter Day festivals.

Visit the orchard and check out the

trees' growth.

Sharp's Landing building

From 11 a.m. to 5 p.m. get a glimpse of

the area's Ohio and Erie Canal past by visiting

the Sharp's Landing building across

R emember our

Military

Men and Women

All Gave Some and

Some Gave All!

Wirt Road from the log house and Heritage

Park. The Groveport Heritage Society

reconstructed the 62x21 foot, one story,

brick, 19th century canal era building from

original materials. The building is believed

to have been used as a smokehouse, bakery,

and ice house. It sat along the Ohio

and Erie Canal in what was once Sharp's

Landing at the corner of Rohr and Pontius

roads. The building represents the commercial

life that once operated along the

canal.

Groveport Heritage Museum

Visit the Groveport Heritage Museum,

located in Groveport Town Hall, 648 Main

St. The museum features photographs,

newspapers, maps and historical artifacts

of Groveport's history.

No dogs allowed

Per city ordinance, people are prohibited

from bringing animals to city sponsored

event and festival areas, which includes

Apple Butter Day. The law does not apply

to guide or service dogs, police dogs, animal

exhibits at the events, or pets on residential

properties within the event area.

Enjoy 2021

Apple Butter Day!

Apple Butter Day quilt

This year's Apple Butter Day quilt was quilted by women at the Groveport Senior

Center and the binding was finished by Nancy Stoltz. Each year a quilt is raffled off

at Apple Butter Day on Oct. 9 and raffle tickets can be purchased on Apple Butter

Day for $1 each. The winner of the quilt will be announced at 5:45 p.m. on Apple

Butter Day. You do not need to be present to win. The Groveport Heritage Society

said this year's quilt could possibly be the last quilt to be made and raffled on

Apple Butter Day because the quilting group has retired. You do not need to be

present to win.

For All Your Real Estate

Needs, Marylee and

Diane are your

"Southeast Connection"

Proudly supporting our

troops

and their families.

5075 S. Hamilton

Rd.

Groveport, OH

614-836-1500

www.mottsmilitary

rymuseum.org

SPENCE

FUNERAL HOME

650 West Waterloo St.

Canal Winchester, OH

43110

614.837.7126

www.spencefuneralhome.com

Marylee

Bendig

Diane

Todd

580 Main St.

Groveport, OH 43125

(614) 218-1097

A name you KNOW,

the name you TRUST
---
PAGE 10 - GROVEPORT MESSENGER - October 3, 2021

Drug Take Back Day

TOGETHER, WE MAKE

ARdENT MILlS

Want to make something truly special? Join Ardent Mills, th e

premier can

ma flour-milling and ingredients company. With us, you ke products that exceed customer expectations. Make communities

healthier and play a critical role in feeding the world.

We're looking for

Multiple le production team members

to join our Columbus, OH team!

Walk-In Hiring Event (no rsvp required)

Tuesday, Oct. 5 from 10 AM - 2 PM

On-site offers + $5,000 Starting bonus!

Qualification for Successful Candidates:

• High School Diploma or GED

• Strong verbal and written communication skills

• Possess curiosity and always look for ways to improve procedures

• Flexibility regarding work hours. Able to occasionally work all shifts

• Must be able to occasionally lift up to 50lbs

• Must be able to work in various conditions and different heights

• Must be able to read, follow and retain detailed instructions for numerous

different tasks and maintain records according to instructions

• Basic computer skills

• Moderate level of mechanical skills

Benefits of Working at Ardent Mills include:

• Competitive wages

• An annual bonus

• Medical, dental, and vision benefits

The city of Canal Winchester and Diley

Ridge Medical Center, in cooperation with

the Fairfield County Sheriff's Office and

the Drug Enforcement Administration, will

host a National Prescription Drug Take

Back event on Oct. 23 at the Diley Ridge

Medical Center parking lot, 7911 Diley

Road, from 10 a.m. to 2 p.m.

The National Prescription Drug Take

Back Day aims to provide a safe, convenient,

and responsible means of disposing of

prescription drugs, while also educating

the general public about the potential for

abuse of medications. The DEA has collected

nearly 15 million pounds (more than

7,000 tons) of expired, unused, and

unwanted prescription medications

through Take Back Day events over the

last ten years. Canal Winchester's collection

site is set up in a convenient stop and

drop model, allowing those discarding

unwanted prescription drugs to remain in

their vehicles, drop medications with collection

agents, and then continue on their

way.

The city of Canal Winchester thanks

partners and volunteers who have locally

assisted in the DEA program, with special

thanks to Diley Ridge Medical Center for

use of their property.

• Retirement benefits

• Vacation policy

To learn more or apply, use QR Code to the right,

or email your resume directly to: Talent@ar

alent@ardentmills.com

Groveport city council

Groveport City Council holds its regular

meetings at 6:30 p.m. on the second and

fourth Mondays of the month. Council

holds its committee of the whole meeting

on the third Monday each month at 5:30

p.m. Meetings are held in the municipal

building, 655 Blacklick St., Groveport.

Groveport history

The Groveport Heritage Museum contains

artifacts about Groveport's history. It

is located in Groveport Town Hall, 648

Main St., and is open during Town Hall's

operating hours. Call 614-836-3333.

At Ardent Mills, everyone matters and everyone has a voice. W

e are committed to providing an environment

of mutual respect where equal opportunities are available to all applicants and team members and the

decisions will be based on merit, competence, performance, and business needs. We are proud to be an equal

opportunity employer.

W

e do not discriminate on the basis of race, color, religion, creed, national origin,

aboriginality, ancestry

, marital status, sex, sexual orientation, gender identity or expression, physical or mental

disability

, pregnancy

, genetic information, veteran status, age, political affiliation, filiation, or any other non-merit

characteristic protected by law or not. Together, celebrating our differences, ences, we make Ardent Mills.

www.columbusmessenger.com

Celebrating fall in CW

The Canal Winchester Historical

Society is sponsoring a two-day event celebrating

Founder's Day at the Historical

Complex, located at 10 W. Oak St., home to

the Queen of the Line train depot, the

Prentiss Schoolhouse, and the O.P. Chaney

Grain Elevator.

The celebration kicks-off on Oct. 15 with

a (age 21 and over) Gala from 6:30— 10:30

p.m. including music, food, libation, and

other party-time pleasures. Gala tickets

are $60 each and $100 per couple and may

be purchased online at cwhistory.org or by

check mailed to CW Historical Society,

P.O. Box 15, Canal Winchester, OH,

43110.

On Oct. 16 from 9 a.m. to 3 p.m. the

Historical Society is hosting a familyfriendly

Founder's Day event.

Meet the weaver, the baker, the candle

maker, and others.

No entry charge for this event. There

will be goods available for purchase and

games available for play.

On Oct. 22-23, the Historical Society, in

partnership with Canal Winchester High

School Performing Arts, will "bring history

to life" for the 15th annual Historic Ghost

Tour.

Event-goers will be guided through a

short walking tour as they are entertained

by actors depicting people from Canal

Winchester's past.

Tours will last approximately 90 minutes

and will begin at 7 p.m. each night,

with the last tour departing at 7:30 p.m.

All tours will depart from the Canal

Winchester Historical Complex at 10 W.

Oak St.

Tickets will be available each evening of

the tour beginning at 6:30 p.m., or anytime

online for pick up at will call (25 cent

transaction fee).

Tickets are offered at $10 per adult and

$5 per student ages 6-18; children 5 and

under will be free. Please leave pets at

home.

Proceeds from these events help support

the Canal Winchester Area Historical

Society's core programs and preservation

projects. For information, visit

cwhistory.org.

Special Olympics fundraiser

Groveport Special Olympics will hold its

annual "Cash Drop" fundraiser on Oct. 16

from 9:30 a.m. to 2:30 p.m. at the intersections

of Main Street/Kroger, Main

Street/Hendron Road, and Main

Street/College Street.

The mission of Groveport Special

Olympics chapter is to provide year round

sports training and competition in a variety

of Olympic type sports for intellectually

disabled individuals.

For information contact Penny and

Cassandra Hilty at groveportspecialolympics@gmail.com

or at (614) 395-

8992 or 395-6640.

Donations may also be sent to

Groveport Special Olympics, P.O. Box 296,

Groveport, OH 43125.
---
www.columbusmessenger.com

October 3, 2021 - GROVEPORT MESSENGER - PAGE 11

Photo courtesy of the city of Groveport

Time for a

hayride!

Folks lined up to take a hayride on a

wagon pulled by Larry Dowler and his

classic John Deere tractor at the city of

Groveport's final Third Thursday event

of the year on Sept. 16 in Cruiser Park.

The event, themed "Fall Kickoff," featured

hayrides, free mini-pumpkins,

music, vendors, and more.

Senior Center

•Groveport Senior Center, 7370

Groveport Road. Call 614-836-1000.

Senior Transportation

•Groveport senior transportation provides

transportation for senior and disabled

residents of the city of Groveport.

For information call 836-7433.

Messenger

available

Besides home

delivery in "The

Bag" and in the

Sunday Dispatch,

the Groveport

Messenger is also

available at the following

locations:

Southeast Branch

of the Columbus

Metropolitan

Library,

Huntington Bank

in Groveport,

Groveport

Recreation Center,

Groveport Senior

Center, Groveport

Senior Village,

Little Italy in

Groveport, Flyer's

Pizza in Groveport,

Madison Township

Administration

Building,

Groveport

Municipal

Building, Ace

Hardware, The

Links at Groveport

golf course/Paddock

Pub, and Groveport

Town Hall.

Messenger photo by Rick Palsgrove

Attack of the armyworms!

Fall armyworms, which are native to Central and South

America and are more common in the southern United

States, have found their way north this year and are wreaking

havoc on lawns and fields. Pictured here is the yard of Jim

Johnson of Groveport which has been eaten alive by armyworms.

Johnson said the armyworms invaded his lawn in

late August and in three days huge patches of brown, dead

grass appeared in his yard. "My yard is Kentucky bluegrass

and these armyworms find it soft and tender to eat," said

Johnson. "They really go for it." Johnson said he had has

lawn professionally sprayed to kill the armyworms and that

he will have to reseed the damaged areas. He said the pest

control professional told him the armyworms most likely

blew into Ohio from Texas and Louisiana on hurricane winds.

SEARCHING

for More Qualified Employees?

October 17 th , 2021

Deadline: October 8 th , 2021 At 2pm

Special employment Section Featuring:

Job Openings

Job Fairs

Full and Part Time Employment

Seasonal Job Opportunities and more

ALL ADS ARE IN FULL COLOR. Contact us by phone or online to discuss special

advertising rates that are available for this section as well as combination rate

discounts for advertising in multiple coverage areas.

Grove City • Groveport • Madison • South • Westside

614-272-5422

Kathy@columbusmessenger.com

Doughenry@columbusmessenger.com
---
PAGE 12 - GROVEPORT MESSENGER - October 3, 2021

www.columbusmessenger.com

CLASSIFIED ADS

Deadlines: Groveport and West editions, Wednesdays at 5 p.m., • South/Canal Winchester, Grove City, Madison editions, Tuesdays at 5 p.m.

All editions by phone, Tuesdays at 5 p.m. • Service Directory, Tuesdays at 5 p.m.

xEmployment

HLSD is hiring Substitutes for our

Classified Staff! Jobs include:

Bus Driver - $15/hour

Cooks - $10.50/hour

Custodian - $12.50/hour

Educational Aides - $11.50/hour

Come work with helpful & collaborative

Teachers, Administrators, and Staff!

For more information on becoming a Classified

Substitute, please visit our employment page at

www.hamilton-local.k12.oh.us/Employment

ASSOCIATION ADS

ATTENTION DIABETICS!

Save money on diabetic

supplies! Convenient

home shipping for

monitors, test strips,

insulin pumps, catheters &

more! To learn more, call

now! 877-810-0063

Donate your car to kids!

Fast free pickup running

or not - 24 hour response.

Maximum tax

donation. Help find missing

kids! 877-831-1448

ASSOCIATION ADS

Wesley Financial Group,

LLC Timeshare Cancellation

Experts Over

$50,000,000 in timeshare

debt & fees cancelled in

2019. Get free info

package & learn how to

get rid of your timeshare!

Free consultations. Over

450 positive reviews. Call

844-909-3339

Attention Active Duty &

Military Veterans! Begin a

new career & earn a

Degree at CTI! Online

Computer & Medical

training available for

Veterans & Families! To

learn more, cal 888-449-

1713.

ASSOCIATION ADS

Donate Your Car To

Veterans Today! Help and

Support our Veterans.

Fast - FREE pick up.

100% tax deductible. Call

1-800-245-0398

Donate your car to kids.

Your donation helps fund

the search for missing

children. Accepting trucks,

motorcycles & RV's too!

Fast free pickup - running

or not - 24 hr response -

maximum tax donation -

Call 888-515-3813

Employment

BE YOUR OWN BOSS!

INDEPENDENT

CONTRACTORS

WANTED

If you have a reliable car and would like to

earn extra money, then why not deliver?

• Deliver 1 or 2 days a week

• Flexible delivery hours

• Work close to home - often in or

near your neighborhood

CONTACT US

1-888-837-4342

www.thebag.com

• Deliver 7 days a week

• Delivery before dawn

• Work close to home - often in or

near your neighborhood

CONTACT US

614-461-8585

www.dispatch.com/delivery
---
www.columbusmessenger.com

October 3, 2021 - GROVEPORT MESSENGER - PAGE 13

xEmployment

COME SUBSTITUTE TEACH AT

HAMILTON SCHOOLS!

• Make $130 per day

• Earn a $500 bonus for every 45 days worked in our district this year

• Work with helpful & collaborative Teachers, Administrators,

and Staff

• For instructions on what steps to take to become a substitute

teacher, please visit:

www.escco.org/stepstobecomeasubstitute

Connect with us:

Phone: 614-49-8044 x 1202

Address: 775 Rathmell Rd, Columbus, OH 43207

Online: HamiltonRangers.org

EARN EXTRA

$$$ $$$

MONEY

The Advertising Department at the

Columbus Messenger Newspapers

is seeking a Salesperson.

No Experience Necessary.

Base salary plus commissions, auto allowance.

Seniors welcome to apply.

Please send your resume or call:

Doug Henry, Advertising Manager

Columbus Messenger Newspapers

3500 Sullivant Ave.

Columbus, Ohio 43204

614-272-5422

or

e-mail to doughenry@columbusmessenger.com

ASSOCIATION ADS

Never pay for covered

home repairs again!

Complete Care Home

Warranty covers all major

systems & appliances. 30-

day risk free. $200.00 off

+ 2 free months! 1-866-

395-2490

Attention oxygen therapy

users! Inogen One G4 is

capable of full 24/7 oxygen

delivery. Only 2.8

pounds. Free info kit.

Call 877-929-9587

ASSOCIATION ADS

Don't let the stairs limit

your mobility! Discover

the ideal solution for

anyone who struggles on

the stairs, is concerned

about a fall or wants to

regain access to their

entire home. Call

AmeriGlide today! 1-844-

317-5246

HOME BREAK-INS take

less than 60 SECONDS.

Don't wait! Protect your

family, your home, your

assets NOW for as little as

70¢ a day! Call 866-409-

0308

ASSOCIATION ADS

Stroke & Cardiovascular

disease are leading

causes of death according

the AHA. Screenings can

provide peace of mind or

early detection! Call Life

Line Screening to

schedule a screening.

Special offer 5 screenings

for $149.. 1-833-549-4540

VIAGRA and CIALIS

USERS! 50 Generic pills

SPECIAL $99.00 FREE

Shipping! 100% guaranteed.

24/7 CALL NOW!

888-445-5928 Hablamos

Espanol

!!OLD GUITARS WANT-

ED!! GIBSON, FENDER,

MARTIN, Etc. 1930's to

1980's. TOP DOLLAR

PAID. CALL TOLL FREE

1-866-433-8277

DENTAL INSURANCE

from Physicians Mutual

Insurance Company.

Coverage for 350 plus

procedures. Real dental

insurance - NOT just a

discount plan. Do not wait!

Call now! Get your FREE

Dental Information Kit with

all the details! 1-877-553-

1891

www.dental50plus.com/

macnet#6258

Wesley Financial Group,

LLC Timeshare Cancellation

Experts Over

$50,000,000 in timeshare

debt & fees cancelled in

2019. Get free

informational package &

learn how to get rid of

your timeshare! Free

consultations. Over 450

positive reviews. 888-965-

0363

ASSOCIATION ADS

Long Distance moving.

Call for a free quote from

America's Most Trusted

Interstate Movers. Let us

take the stress out of

moving! Speak to a

relocation specialist! Call:

888-721-2194

The bathroom of your

dreams for as little as

$149/month! BCI Bath &

Shower. Many options

available. Quality

materials & professional

installation. Senior &

Military Discounts

Available. Limited Time

Offer - FREE virtual inhome

consultation now

and SAVE 15%! Call

Today! 1-877-540-2780

ATTENTION SENIORS:

The average funeral cost

is $9000+ Don't leave

your family to pay your

debts. State Approved,

Final Expense Life

Insurance Plans are now

avaiilable as low as $25 a

month. Hurry and call

before enrollment ends. 1-

877-761-1796. M-F 9am-

6pm EST

Thinking about installing

a new shower? American

Standard makes it

easy. FREE design consulation.

Enjoy your

shower again! Call 1-

833-769-0995 today to

see how you can save

$1,000 on installation, or

visit www.newshowerdeal.com/mac

ASSOCIATION ADS

Become a Published

Author. We want to Read

Your Book! Dorrance

Publishing Trusted by

Authors Since 1920 Book

manuscript submissions

currently being reviewed.

Comprehensive Services:

Consultation, Production,

Promotion and Distribution.

Call for Your Free Author's

Guide 1-866-482-1576 or

visit http://dorranceinfo.

com/macnet

Update your home with

beautiful new blinds &

shades. Free in-home

estimates make it

convenient to shop from

home. Professional

installation. Top quality -

Made in the USA. Free

consultation: 877-212-

7578. Ask about our

specials!

Replace your roof with the

best lookng and longest

lasting material! Steel

from Erie Metal Roofs!

Three styles and multiple

colors available.

Guaranteed to last a

lifetime! Limited Time

Offer - $500 Discount +

Additional 10% off install

(for military, health

workers & 1st responders)

Call Erie Metal Roofs: 1-

855-338-4807

AMERICAN & FOREIGN

CLASSIC CARS AND

MOTORCYCLES

WANTED. $$PAYING

CA$H$$ Corvettes,

Mustangs, Jaguars, Austin

Healeys, Broncos,

Blazers, Ram Chargers,

AMX, and Triumphs

KRMiller1965@yahoo.com

717-577-8206

Employment

ASSOCIATION ADS

Internet &WIFI Starts at

$49 Call us Today to Get

Started. Find High-Speed

Internet with Fiber Optic

Technology No Credit

Check, No SSN Required.

Call us Today 866-396-

0515

DISH TV $64.99 190

Channels + $14.95 high

speed internet. FREE installation,

Smart HD DVR

included. Free Voice Remote.

Some Restrictions

apply. Promo Expires

1/21/22. 1-833-872-2545

GET UNLIMITED

ACCESS TO AMERICA'S

BEST SHOPPING CLUB

AND CLAIM YOUR FREE

$50 TARGET OR

WALMART GIFT CARD

TODAY. OFFER ONLY

AVAILABLE TO THE

FIRST 500 CALLERS OF

THIS AD! CALL TODAY,

DON'T DELAY! CALL 1-

800-207-6290. ASK

ABOUT HOW YOU CAN

GET A FREE $50

TARGET OR WALMART

GIFT CARD THAT YOU

CAN USE TODAY WITH

YOUR SHOPPING CLUB!

LIMITED OFFER. DON'T

WAIT. CALL 1-800-207-

6290 NOW.

HughesNet - Finally, superfast

internet no matter

where you live. 25 Mbps

just $59.99/mo! Unlimited

Data is Here. Stream

Video. Bundle TV &

Internet. Free Installation.

Call 866-499-0141

SEARCHING

for More Qualified Employees?

October 17 th , 2021

Deadline: October 8 th , 2021 At 2pm

Special employment Section Featuring:

Job Openings

Job Fairs

Full and Part Time Employment

Seasonal Job Opportunities and more

ALL ADS ARE IN FULL COLOR. Contact us by phone or online to discuss special

advertising rates that are available for this section as well as combination rate

discounts for advertising in multiple coverage areas.

Grove City • Groveport • Madison • South • Westside

614-272-5422

Kathy@columbusmessenger.com

Doughenry@columbusmessenger.com
---
PAGE 14 - GROVEPORT MESSENGER - October 3, 2021

www.columbusmessenger.com

xInstruction

xCome & Get It!

614.574.4100 Grades K-4 614.574.0037 Grades 5-8

4485 S. Hamilton Rd., Groveport, Ohio 43125

Groveport Community School

Now Enrolling K-8

Check out our Facebook Page or our website

www.imaginegroveport.com

to see what we are all about.

Developing Character

and Enriching Minds

• All Day Kindergarten

• Free Breakfast and Lunch

• Free Tuition

• Individualized and small group instruction with rigorous curriculum

• Dress Code

• 1:1 Technology will be offered for all students

A

D

V

E

R

T

I

S

E

!

Your

School

in the

Groveport

Messenger

and Reach

Over 21,000

Homes

Call KATHY

614-272-5422

for more info

COME AND GET IT

Deadlines are Tuesdays by 5 pm.

Call For Publication Schedule 614-272-5422

Need to Get Rid of Something Fast - Advertise It Here For FREE!

FREE Garden Straw for gardens or bedding. Call for appointment for pickup.

Circle S Farms, 9015 London-Groveport Road, Grove City, 43123

Grove City - 614-878-7980

Sandbox Full of Sand; Small Bookcase - Fair Condition.

MB - Columbus - 614-308-1064

. Come and Get It! is a bi-weekly column that offers readers an opportunity to pass

along surplus building materials, furniture, electronic equipment, crafts, supplies,

appliances, plants or household goods to anybody who will come and get them - as

long as they're FREE. NO PETS! Just send us a brief note describing what you want to

get rid of, along with your name, address and phone number. Nonprofit organizations

are welcome to submit requests for donations of items.

Send information to The Columbus Messenger, Attention: Come and Get It, 3500

Sullivant Ave., Columbus, OH43204. Deadline is Tuesdays by 5 pm for following

Mondays publication. Messenger Newspapers is not responsible for any

complications that may occur. Please contact us when items are gone. 272-5422

Instruction

Come & Get It!

ASSOCIATION ADS

xPublic Notice

NOTICE OF PUBLIC HEARING

You are hereby notified that the City of

Groveport will be holding a Public

Hearing on Monday, October 11, 2021 at

6:15 p.m. in the Council Chambers of the

Groveport Municipal Building, 655

Blacklick Street, Groveport, Ohio for:

Ord. 2021-043 - AN ORDINANCE APPROVING THE

FINAL PLAT FOR 5740 GREEN POINTE DRIVE N, FED

ONE DUBLIN, LLC, APPLICANT, (PARCEL NUMBER

185-002202)

All regular and special meetings of Council are open

to the public. The application for this zoning request

is on file in the office of the Clerk of Council for review.

Ruthanne Sargus Ross, CMC

Clerk of Council

Public Notice

ASSOCIATION ADS

AT&T Internet. Starting

at $40/month w/12-mo

agmt. 1 TB of data/mo.

Ask how to bundle &

SAVE! Geo & svc restrictions

apply. 1-888-796-

8850

GENERAC Standby

Generators provide

backup power during

power outages, so your

home & family stay safe &

comfortable. Prepare now.

FREE 7-yr extended

warranty $695 value!

Request a free quote

today. Call for terms &

conditions. 1-844-334-

8353

ASSOCIATION ADS

DISH TV $64.99 FOR 190

Channels + $14.95 High

Speed Internet. Free Installation,

Smart HD DVR

Included, Free Voice Remote.

Some restrictions

apply. Promo expires

1/21/22. 1-855-270-509

HEARING AIDS!!

Buyone/get one FREE!

Nearly invisible, fully rechargeable

IN-EAR

NANO hearing aids

priced thousands less

than competitors! 45-day

trial! Call1-877-436-0234

xAdult Care

614-991-0652 614-376-9761

Welcome

Carolyn's Cottage

Private Assisted Living

3036 Woodgrove Dr.

Grove City, OH

Adult Care

ASSOCIATION ADS

The Generac PWRcell

solar plus battery storage

system. Save money,

reduce reliance on

grid, prepare for outages

& power your home. Full

installation services. $0

down financing option.

Request free no obligation

quote. Call 1-855-

270-3785

GENERAC Standby Generators

provide backup

power during utility power

outages, so your home

and family stay safe and

comfortable. Prepare

now. Free 7-year extended

warranty ($695 value!).

Request a free

quote today! Call for additional

terms and conditions.

1-855-465-7624

ASSOCIATION ADS

Elminate gutter cleaning

forever! LeafFilter, the most

advanced debris-blocking

protection. Schedule

Free LeafFilter Estimate

today. 15% off Entire

Purchase. 10% Senior &

Military Discounts. Call 1-

855-995-2490

Want Faster & Affordable

Internet? Get internet

service today with

Earthlink. Best internet &

WiFi Plans. Call us Today

to Get Started. Ask

about our specials! 866-

396-0515

SELL YOUR ANTIQUE

OR CLASSIC CAR.

Advertise with us. You

choose where you want

to advertise. 800-450-

6631 visit macnetonline.

com for details.

VIAGRA & CIALIS! 60

pills for $99. 100 pills for

$150 FREE shipping.

Money back guaranteed!

1-844-596-4376

READER

ADVISORY

The National Trade Association

we belong to has

purchased the following

classifieds. Determining

the value of their service

or product is advised by

this publication. In order

to avoid misunderstandings,

some advertisers do

not offer "employment"

but rather supply the

readers with manuals, directories

and other materials

designed to help

their clients establish mail

order selling and other

businesses at home. Under

NO circumstance

should you send any

money in advance or give

the client your checking,

license ID or credit card

numbers. Also beware of

ads that claim to guarantee

loans regardless of

credit and note that if a

credit repair company

does business only over

the phone it's illegal to request

any money before

delivering its service. All

funds are based in US

dollars. Toll Free numbers

may or may not

reach Canada. Please

check with the Better

Business Bureau 614-

486-6336 or the Ohio Attorney

General's Consumer

Protection Section

614-466-4986 for more

information on the company

you are seeking to

do business with.

ASSOCIATION ADS

Attention: If you or aloved

one worked around the

pesticide Roundup

(glyphosate) for at least 2

years and has been diagnosed

with non-Hodgkin's

lymphoma, you may be

entitled to compensation.

855-341-5793

Life Alert. One press of a

button sends help fast

24/7! At home and on

the go. Mobile Pendant

with GPS. Free first aid

kit (with subscription).

877-537-8817 Free brochure

The Generac PWRcell, a

solar plus battery storage

system. SAVE money,

reduce your reliance on

the grid, prepare for power

outages and power

your home. Full installation

services available. $0

Down Financing Option.

Request a FREE, no obligation,

quote today. Call

1-855-900-2894

IMPORTANT

NOTICE

The following states: CA,

CT, FL, IA, IL, IN, KY,

LA, MD, ME, MI, MN,

NE, NC, NH, OH, OK,

SC, SD, TX, VT and WA

requires seller of certain

business opportunities to

register with each state

before selling. Call to

verify lawful registration

before you buy.

BATH & SHOWER UP-

DATES in as little as

ONE DAY! Affordable

prices - No payments for

18 months! Lifetime warranty

& professional installs.

Senior & Military

Discounts available. Call

855-761-1725

xPreschool/Daycare

INCREASE YOUR

FALL ENROLLMENT!

ADVERTISE YOUR

PRESCHOOL OR DAYCARE

in

The Groveport Messenger

For More Info, CALL Kathy

614-272-5444

Preschool/Daycare

ASSOCIATION ADS

NEED IRS RELIEF

$10K-$125K+ Get Fresh

Start or Forgiveness.

Call 1-844-431-4716

Monday through Friday

7am-5pm PST

Train online to do medical

billing! Become a

Medical Office Professional

at CTI! Get trained

and certified to work in

months! 888-572-6790.

(M-F 8-6 ET)

DENTAL INSURANCE-

Physicians Mutual Insurance

Company. Covers

350 procedures. Real

insurance - not a discount

plan. Get your free

dental Info kit! 1-888-

623-3036 . www.dental50plus.com/58

#6258

ASSOCIATION ADS

Eliminate gutter cleaning

forever! LeafFilter, the

most advanced debrisblocking

gutter protection.

Schedule a FREE LeafFilter

estimate today. 15% off

Entire Purchase. 10% Senior

& Military Discounts.

Call 1-855-791-1626

HEARING AIDS!! Bogo

free! High-quality rechargeable

Nano hearing

aids priced 90% less

than competitors. Nearly

invisible! 45-day money

back guarantee! 833-

669-5806
---
www.columbusmessenger.com

Homes for Sale

Equal Housing Opportunity Statement: "We are pledged to the letter and spirit of the U.S. policy for the achievement of

equal housing opportunity throughout the nation. We encourage and support affirmative advertising and marketing

program in which there are no barriers to obtaining housing because of race, color, religion, sex, handicap, familial status

or national origin." This newspaper will not knowingly accept any advertising for real estate which is in violation of the law.

Our readers are hereby informed that all dwellings advertised in this newspaper are available on an equal opportunity

basis. To complain of discrimination, call HUD toll free at 1-800-669-9777.x

Homes for Sale

xInformation

Marriages break down

because of incompatible

personalities.

If you and your marital partner are

having trouble, come in and get your

Personality and IQ checked as this

may be the reason for your disputes.

The Church of Scientology of Central Ohio

1266 Dublin Road

Columbus, OH 43215

Information

ASSOCIATION ADS

READY TO BUY, SELL

OR RENT YOUR

VACATION HOME OR

HUNTING CAMP?

Advertise it here and in

neighboring publications.

We can help you. Contact

MACnet MEDIA @

800-450-6631 or visit our

site at MACnetOnline.

com

Directv Now. No Satellite.

$40/mo 65 Channels.

Stream news, live

events, sports & on demand

titles. No contract/

commitment. 1-866-825-

6523

ASSOCIATION ADS

DISH TV $64.99 190

Channels + $14.95 high

speed internet. FREE installation,

Smart HD DVR

included. Free Voice Remote.

Some Restrictions

apply. Promo Expires

7/21/21. 1-833-872-2545

Protect your home w/home

security monitored by

ADT. Starting at $27.99/

mo. Get free equipment

bundle including keypad,

motion sensor, wireless

door & windows sensors.

833-719-1073

ASSOCIATION ADS

Looking for auto insurance?

Find great deals

on the right auto insurance

to suit your needs.

Call today for a free

quote! 866-924-2397

New authors wanted!

Page Publishing will help

self-publish your book.

Free author submission

kit! Limited offer! 866-

951-7214

Pest Control

Find Pest Control Experts

Near You! Don't let

pests overtake your

home. Protect your loved

ones! Call to find great

deals on Pest Control

Services - 833-872-0012

Wants to purchase minerals

and other oil and gas

interests. Send details to

P.O. Box 13557, Denver,

CO. 80201

HughesNet Satellite Internet

- Finally, no hard

data limits! Call today for

speeds up to 25mbps as

low as $59.99/mo! $75

gift card, terms apply. 1-

844-863-4478

HELP WANTED

CAR WASH ATTENDANT

Classic Car Wash

6099 Winchester Pike

Canal Winchester, Ohio

$12.00/hr, 4-6 hrs/day

2-3 days/week

Looking for Self-Motivated

Mechanically inclined

individual

If interested,

call 740-527-1130l

MOTORCYCLE

2000 H. Springer Harley

Davidson 2,500 mi,Suede

green no rides $10,500.

614-330-3673

INFORMATION

IN THE DARK ABOUT

A

D

VERTISI

N

G?

CALL US & WE'LL

HELP YOU SEE THE

LIGHT!

272-5422

DATED SALES

ESTATE SALE

Sat, Oct. 9, 9am-4pm

291 S. Brinker Ave.

Columbus 43204

Furniture, rugs, housewares

linens, china, cut glass,

jewelry, decorative items &

standup arcade game

CRAFT SHOWS

Arts/Crafts Vendors Call

The CrossWalk Church,

Reynoldsburg

Sat., Oct. 23, 9-4pm

Contact Nancy Brue

office@thecrosswalk

church.com

PETS

HOMING PIGEONS

$5.00 ea. 614-662-8655

WANT TO BUY

BUYING VINYL RECORDS.

LPs and 45s - 1950-80s

Rock, Pop, Jazz, Soul.

614-831-0383

We Buy Cars & Trucks

$300-$3000.614-308-2626

WE BUY JUNK CARS

Call anytime 614-774-6797

WANTS TO Purchase

minerals and other oil &

gas interests. Send details

to: P.O. Box 13557,

Denver, CO 80201

We Buy Junk Cars &

Trucks. Highest Prices

Paid. 614-395-8775

ANTIQUES

WANTED

Victrolas, Watches,

Clocks, Bookcases

Antiques, Furn.

Jeff 614-262-0676

or 614-783-2629

VACATION RENTALS

Englewood, Florida

Palm Manor Resort

Within minutes of white

sand Gulf beaches,

world famous Tarpon

fishing, golf courses, restaurants/shopping,

Bush

Gardens. 2 BR 2 BA

condos with all ammenities,

weekly/monthly, visit

www.palmmanor.com

or call 1-800-848-8141

October 3, 2021 - GROVEPORT ESSENGER - PAGE 15

xClassified Services

BLACKTOP

AGM OHIO

ROOFING &

SEALCOATING

Free Estimates

Cell 614-512-1699

SANTIAGO'S

Sealcoating & Services LLC

Quality Materials Used

FALL IS HERE!

Driveway Seal & Repair!

Top Seal Cracks!

Residential & Commercial

Mulching, Edging & Clean-ups

"Ask for whatever you need."

BBB Accredited-Fully Insured

Call or text for Free Est.

614-649-1200

CARPET CLEANING

CLEANING

Looking for Mrs. Clean?

For excellent cleaning serv

at reas. rates w/great refs,

dependable. 10% Senior

Disc. Free Est. Gwen

614-226-5229

CONCRETE

9/12

A/M

BLACKTOP SEALING

Driveways & Parking Lots

614-875-6971

CARPET CLEANING

Any 5 areas ONLY $75

Home Powerwash-$99-$200

614-805-1084

Specializing in Pet Odors

CARPET SALES

CARPET

Gray Saxony

540 sq.ft. & 6 lb

Pad & Normal Installation

Only $999.00

Phone or text Ray

740-927-3404

AJ's Concrete,

Masonry

Good Work - Fair Prices

Block Foundations

Driveways • Sidewalks

Epoxy/Overlay Floors

Bonded-Ins. • Free Ests.

614-419-9932

ALL-CITY CUSTOM

CONCRETE

All Types Concrete Work

New or Tear Out-Replace

39 Yrs. Exp.

(614) 207-5430

Owner is On The Job!

www.hastingsnsons.com

Driveways & Extensions

Patio & Walkways,

Porches & Steps,

Garage/Basement Floors

Hot Tub/Shed Pads,

Stamped/colored concrete

Sealing of new &

existing concrete.

FREE ESTIMATES

Contact Adam

614-756-1754

hastingsandsons.

columbus@gmail.com

10/24 A/M

10/24 A

CONCRETE

Buckeye City

Concrete & Excavating

* Concrete * Foundations

* Waterlines * Drains

*Catch Basins

614-749-2167

buckeyecityconcreteand

excavating@yahoo.com

EDDIE MOORE

CONSTRUCTION

Quality Concrete Work

Lt. Hauling & Room Add.,

Block Work & Excavation

Stamp Patios,

Bsmt. Wall Restoration

35 Yrs Exp - Lic & Ins.

Free Ests. 614-871-3834

GUTTERS

Bates & Sons

GUTTER CLEANING

5 ★ Google Reviews

614-586-3417

HEATING

HEATING

Complete System Clean & Check

$49.95

Free Carbon

Monoxide Testing

Gas-Oil-Electric Heat/Pumps

All Makes • All Models

45 yrs exp. • Sr. Discount

614-351-9025

HOME

IMPROVEMENTS

KLAUSMAN HOME

IMPROVEMENT

Siding-Windows-

Doors-Roofing-Soffit-

Fascia-Gutters-Trim

Earn FREE Seamless

Gutters with Siding Over

1000 Sq. Ft.

FREE Shutters with

Soffit & Trim

EPA Certified

Member of BBB

Financing Available

Over 20 yrs exp. • Free Est.

Licensed-Bonded-Insured

Owner & Operator

James 614-419-7500

SINCE 1973

Phil Bolon Contr.

Windows & Siding

Decks, Kitchens, Baths

Room Additions,

Flooring, Roofing

Bsmt Waterproofing

Deal With Small Non-Pressure Co.

47 Yrs. Exp. - Refs. Avail.

Lic.-Bond-Ins.

10/24

A/M

Free Est. - Financing Avail.

Member BBB Of Cent. OH

O.C.I.E.B. ID #24273

614-419-3977

or 614-863-9912

10/24 A/M

4/11 A

10/10 A

HOME

IMPROVEMENTS

C&JHandyman

Services LLC

Minor Plumbing

& Electric

Install Hot Water Tanks,

Dishwashers & Disposals

Also Fencing &

Interior/Exterior Painting

Free Est. ~ 18 Yrs. Exp.

CDC/EPA Approved Guidelines

614-284-2100

HOME

MAINTENANCE

Minor Maintenance

Small Jobs Done Quick

614-649-8045 - Joe

HOME

REMODELING

Handyman Remodeling

Over 35 yrs exp.

Larry 614-376-7006

LAWN CARE

The Lawn Barber

Cut, Trim, Blow away

Hedge Trimming, Edging

Garden Tilling

614-935-1466

GOOD NEIGHBORS

LAWN CARE

Fall is Here!!

e!!

We Treat Your Lawn As If

It Were Our Own!

Taking on New Accounts In The Area

Aeration Special -$59.95 + up

Gutter Cleaning Special - $75.00 + up

Fall Yard Clean-up • Leaf Removal

• Shrub Cut Back

Free Est.

614-238-9237

10/24

Ask For Bob E/SE

LET US MAINTAIN

YOUR LAWN & GARDEN

FOR YOU

Summer, Spring,

Winter or Fall

WE DO IT ALL!!!!

Lawn Cuts, Edging,

Trees & Shrubs, Garden,

Mulching, Hauling,

Garden Pond &

Home Maint.

Free Ests. Low Rates

$20 & Up

Kevin - 614-905-3117

MOVING

Aaron Allen

Moving

Local Moving since 1956

Bonded and Insured

614-299-6683

614-263-0649

Celebrating

over 60 yrs

in business

Classified Services

10/10 A

10/24 A&M

PLASTERING

DRYW

YWALL &

PLASTER

10/10

A&M

REPAIR

AIR

Textured Ceilings

614-551-6963

Residential/Commercial

BIA

PLUMBING

ALL IN ONE

PLUMBING LLC

"One Call Does It All"

$25 OFF LABOR

With This Ad

A

614-801-1508

All Major Credit Cards Accepted

All About Drains & Plumb.

Will snake any sm drain

$145. 614-778-2584

CHRIS'

PLUMBING

"Plumbing & Drain Professional

That You Can Count On"

24 Hrs., 7 Days/Week

No Overtime Charges

24 Yrs. Exp. in Plumbing &

Drain Cleaning Field

Call For A Free Phone Estimate

$100.00 For Any Small Drain

614-622-4482

30% OFF with AD

POWER WASHING

Bates & Sons

Soft Wash & Powerwash

5 ★ Google Reviews

614-586-3417

ROOFING

Robinson roofing & repairs

30 yrs. exp. Lifetime Cols.

resident. Lic./bonded/Ins.

Reas rates. Member of

BBB. Dennis Robinson

614-330-3087, 732-3100

TREE SERVICES

10/10

MRS. POWERWASH

Any house wash $149+tax

Single deck $69+tax

2 Tier deck $99+tax

Best Wash in Town

Over 45,000 washes

Ashley 614-771-3892

SEWING MACHINE

REPAIR

REPAIR all makes 24 hr.

service. Clean, oil, adjust

in your home. $49.95 all

work gtd. 614-890-5296

Brewer & Sons Tree Service

• Tree Removal

• Tree Trimming 10/24

A&M

• Stump Grinding

• Bucket Truck Services

Best Prices • Same Day Service

614-878-2568

BURNS TREE SERVICE

Trimming, Removal &

Stump Grinding.

614-584-2164

10/10 A

10/24 A&M
---
PAGE 16 - GROVEPORT MESSENGER - October 3, 2021

www.columbusmessenger.com

Truck fire

Photo courtesy of the Groveport Police

A truck caught fire on Bixby Road at Bixby Ridge Drive on Sept. 28, according to

the Groveport Police. "We got the call at about 12:40 p.m. to assist the fire department

with a vehicle fire," said Groveport Police Lt. Josh Short. "When our officers

arrived Hamilton Township Fire Department had extinguished the fire which had

destroyed the front half of the truck. The truck owner managed to pull the truck off

of the road into the ditch so traffic was only obstructed for a short time by the

emergency equipment." Short said the truck owner had recently gotten the truck

back from the mechanic and decided to drive it down the road to see how it was

running. "He said he was quickly waved down by another motorist who observed

flames coming from under the truck enabling him to pull off of the road and call

911," said Short. "The truck owner was uninjured other than being hurt by losing

the truck he had bought brand new in 2005 and that his grandkids loved to ride

in."

Get out in front of

the 2021 Election

START ADVERTISING NOW

Community Advertiser Get The VOTES You NEED!

Dates to Advertise before the Election:

10/17—Ad with Free Story • 10/31—Ad with Free Story

Our Pictorial Past

by Rick Palsgrove

BEST BUY FOR YOUR

ADVERTISING DOLLARS

Our papers reach over 81,000 households!

200 Word Story

With Your Ad

Call or Email Doug Henry

Phone: (614) 272-5422

Email: doughenry@columbusmessenger.com

School buses 1928

Photo courtesy of the Groveport Heritage Museum

This is a photo from the fall of 1928 of school buses lined up to pick up students at

Groveport Elementary when the building was known as Groveport School and

housed all 12 grades. According to the November 1928 edition of the Groveport

High School student newspaper, "The Voice," (which referred to the vehicles as

"school trucks") there were nine buses covering 12 routes, with three buses handling

double routes. The buses also transported students to Brice Elementary and

Edwards Elementary. In those days the Groveport Madison district only had three

school buildings.