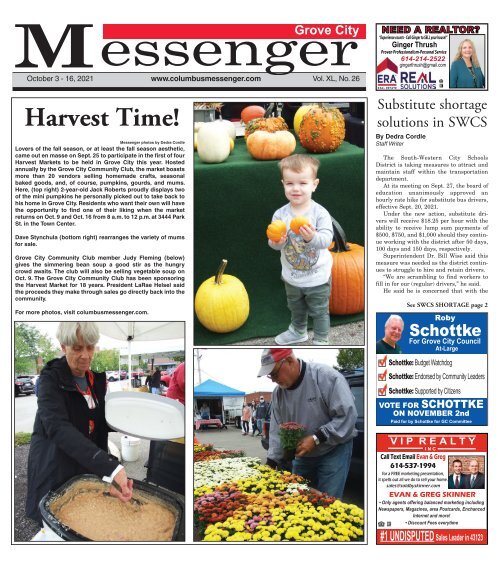 Grove City Messenger - October 3rd, 2021
You also want an ePaper? Increase the reach of your titles
YUMPU automatically turns print PDFs into web optimized ePapers that Google loves.
Messenger

Grove City

October 3 - 16, 2021 www.columbusmessenger.com Vol. XL, No. 26

NEED A REALTOR?

REALTOR?

Ginger Thrush

Call Proven Professionalism-Personal Ginger Thrush Service

614-214-2522

"Experience counts - Call Ginger to SELL your house!"

gingerthrush@gmail.com

Harvest Time!

Messenger photos by Dedra Cordle

Lovers of the fall season, or at least the fall season aesthetic,

came out en masse on Sept. 25 to participate in the first of four

Harvest Markets to be held in Grove City this year. Hosted

annually by the Grove City Community Club, the market boasts

more than 20 vendors selling homemade crafts, seasonal

baked goods, and, of course, pumpkins, gourds, and mums.

Here, (top right) 2-year-old Jack Roberts proudly displays two

of the mini pumpkins he personally picked out to take back to

his home in Grove City. Residents who want their own will have

the opportunity to find one of their liking when the market

returns on Oct. 9 and Oct. 16 from 8 a.m. to 12 p.m. at 3444 Park

St. in the Town Center.

Dave Stynchula (bottom right) rearranges the variety of mums

for sale.

Grove City Community Club member Judy Fleming (below)

gives the simmering bean soup a good stir as the hungry

crowd awaits. The club will also be selling vegetable soup on

Oct. 9. The Grove City Community Club has been sponsoring

the Harvest Market for 18 years. President LaRae Helsel said

the proceeds they make through sales go directly back into the

community.

For more photos, visit columbusmessenger.com.

Substitute shortage

solutions in SWCS

By Dedra Cordle

Staff Writer

The South-Western City Schools

District is taking measures to attract and

maintain staff within the transportation

department.

At its meeting on Sept. 27, the board of

education unanimously approved an

hourly rate hike for substitute bus drivers,

effective Sept. 20, 2021.

Under the new action, substitute drivers

will receive $18.25 per hour with the

ability to receive lump sum payments of

$500, $750, and $1,000 should they continue

working with the district after 50 days,

100 days and 150 days, respectively.

Superintendent Dr. Bill Wise said this

measure was needed as the district continues

to struggle to hire and retain drivers.

"We are scrambling to find workers to

fill in for our (regular) drivers," he said.

He said he is concerned that with the

See SWCS SHORTAGE page 2

Roby

Schottke

For Grove City Council

At-Large

Schottke: Budget Watchdog

Schottke: Endorsed by Community Leaders

Schottke: Supported by Citizens

VOTE FOR SCHOTTKE

ON NOVEMBER 2nd

Paid for by Schottke for GC Committee

V I P R E A L T Y

I N C

Call Text Email Evan & Greg

614-537-1994

for a FREE marketing presentation,

it spells out all we do to sell your home.

sales@soldbyskinner.com

EVAN & GREG SKINNER

COMMERCIAL, INDUSTRIAL, HIGH QUALITY RESIDENTIAL

• Only agents offering balanced marketing including

Newspapers, Magazines, area Postcards, Enchanced

Internet and more!

• Discount Fees everytime

#1 UNDISPUTED Sales Leader in 43123
---
PAGE 2 - GROVE CITY MESSENGER - October 3, 2021

By Dedra Cordle

Staff Writer

A local law enforcement agency will continue to provide

security services for the South-Western City Schools

District.

At its meeting on Sept. 27, the district's board of education

unanimously approved a new agreement with the

Franklin County Sheriff's Office to provide security

services at Franklin Heights and Westland High

Schools.

Under the terms of the agreement, the district

will pay the department approximately $235,000 for

the use of two deputies (or one at each school) for

the remainder of the 2021-22 school year.

Superintendent Dr. Bill Wise said the importance

of having resource officers at the schools cannot

be understated.

"Those officers are, and have been, an integral

part of our schools," he said after the meeting.

"They provide answers to students and they provide

support to our staff as well as our students."

He said all of the resource officers have undertaken

extensive educational training through the

state's school resource officers association to which

the students and staff benefit immensely through

the sharing of that knowledge.

"The resource officers develop relationships with

these students (through this training) and they

help link the community, the schools and the students

together."

www.columbusmessenger.com

Board of education approves new security contract

C.M.T

MOWER REPAIRS

614-875-5830

6446 HARRISBURG PIKE, ORIENT, OHIO 43146

Pick-up and Delivery

"We have the lowest price in town!"

SWCS SHORTAGE

Continued from page 1

Tim Donahue, the principal of Franklin Heights, shared

a similar sentiment, stating that resource officers often go

beyond their duties to provide assistance within the school

and throughout the community.

"Our school resource officer, Deputy Dan Fahy, has

done a tremendous job developing relationships and building

trust with all facets of our school community," he wrote

in a statement. "Students, parents, and staff all feel very

comfortable reaching out to Deputy Fahy and asking for

his support and guidance.

"Deputy Fahy is a true part of the Falcon Family and is

often found volunteering his time working with our Special

Olympics events, attending school plays, or teaching a student

how to change their tire."

In addition to providing protection of the building

premises, the resource officers are required to investigate

and document unruly, delinquent and criminal acts within

the school and neighborhood; participate in classroom and

school assemblies; serve as a liaison with neighborhood

businesses and residents in school related problems; and

provide early detection of deviant behaviors in students.

The district's agreement with the county sheriff's office

is done on an annual basis. The district also has an agreement

with the Grove City Division of Police to provide

security services at Central Crossing and Grove City High

Schools.

Serving Your Community

Malek &

ATTORNEYS AT LAW Malek

Proudly Announcing

Adding New Attorneys

To Serve You!

WORKERS'

COMPENSATION

PERSONAL INJURY

WRONGFUL DEATH

SLIP & FALL INJURY

DOG BITE INJURY

Since 1972

Douglas, Ed, Jim

and Kip Malek

"Hablamos Español"

FREE Initial Consultation

www.maleklawfirm.com

614-444-7440

1227 S. High St., Columbus, OH 43206

winter approaching and staff calling out for illnesses,

the district may not be able to maintain normal transportation

operations in the near future.

"We need to be in a position to fill these spots," he

said. "This (hourly rate hike) is an attempt to do that."

South-Western City Schools is not the only district

facing bus driver shortages; in fact, driver shortages

are being felt across the state and throughout the

country.

To address the issue, Massachusetts Governor

Charlie Baker recently activated its National Guard to

drive kids to school amid the shortage. Several districts

in Ohio have called on Governor Mike DeWine to

do the same.

At a press briefing on Sept. 24, DeWine said he and

Attorney General David Yost were committed to prioritizing

background checks for school bus drivers and

others pursuing their Commercial Driver's License. All

school bus drivers have to have a CDL in order to operate

a school bus.

"This will not solve all of the problems in regard to

bus drivers but it was one of the things that we looked

at that we could actually take some immediate action

and we believe get some results and speed some of this

up," DeWine said at the briefing.

The district said it will also assist those seeking to

become bus drivers, regular or substitute, obtain their

CDL.

In addition to a shortage of substitute bus drivers,

the district is also experiencing a shortage of substitute

teachers. At the Sept. 27 meeting, the board unanimously

approved an increase of the daily substitute

teaching rates of $155 for retired SWCS teachers, $145

for sub pool substitute teachers, and $130 for day-today

substitute teachers, effective Oct. 1, 2021. Like

substitute bus drivers, substitute teachers will also

receive lump sum payments of $500, $750, and $1,000

after working at the district for 50 days, 100 days, and

150 days, respectively. To become a substitute teacher,

one must have obtained a bachelor's degree.

To find more information on how to apply to become

a substitute bus driver or substitute teacher, visit the

district's employment section on its website, swcsd.us.

In other meeting news, Michael Dingeldein, the

director of architecture and planning with the

Community Design Alliance, presented the board with

an update on the middle school construction project.

According to Dingeldein, the project is facing typical

struggles with supply chain issues related to insulation,

foam and steel, but has otherwise not felt a deep

impact with material and supply delays.

"We are right on schedule (with the planned opening

for the fall of 2022)," he said.

He did, however, state that inflation has risen due

in large part to supply chain delays and worker shortages.

For instance, the cost of furniture has risen 40

percent since the build project began. He said they are

currently looking through the district's inventory to

see if some furniture or classroom furnishings can be

reused at the new sites.

Wise said this particular Ohio Facilities

Construction Commission project has been the district's

"most challenging round" of school builds due to

supply chain issues and pandemic related delays.

He said despite the challenges, the project continues

to be "on time and on budget, or within our budget."

In 2018, voters approved a 38-year, $93.4 million

bond issue to pay for its share of the OFCC project

which will replace four of its oldest middle schools and

make renovations to another. Pleasant View Middle

School and Brookpark Middle School will be relocated

to Holt Road and the new Beulah Park Living development,

respectively. The district is currently seeking

community input on renaming those schools. To take

part in their survey, visit their website at swcsd.us.
---
www.columbusmessenger.com

October 3, 2021 - GROVE CITY MESSENGER - PAGE 3

Welcome to 1230 Carnoustie Circle

Welcome to 1230 Carnoustie Circle located in prestigious Pinnacle. Rare find this home offers an upgraded view lot with

nobody behind you, outstanding vistas! Home offers a private den with leaded glass french doors. Dining room has plenty of

space for Holiday functions. Oversized center island kitchen with loads of extra cabinets. Kitchen is open with views to the

eating area, as well as the extended great room . Off of the great room/kitchen/eating area is a large deck, great for entertaining

and overlooks the outstanding lot. Upstairs is one of the largest bonus rooms that you will ever see....another captivating

space for the family. Private master suite with a dual sink bath. Dual closets in the master also. Other bedrooms are large.

Immaculate! Ready for new owners, DO NOT WAIT! MLS #221037674

Evan &

Greg

SKINNER

UNDISPUTED #1 IN 43123

614-537-1994 sales@soldbyskinner.com

COMMERCIAL, INDUSTRIAL, HIGH QUALITY RESIDENTIAL
---
PAGE 4 - GROVE CITY MESSENGER - October 3, 2021

By Dedra Cordle

Staff Writer

Whenever Dominic Massenelli would drive through the

gates to access the Beulah Park racetrack, a buzzing sensation

would move throughout his body.

He couldn't wait to see which horses would be racing

that day, eavesdrop on the bettors as they debated odds,

jostle with the heavy crowd for a great seat in the stands,

and wait for the moment the announcers called out "And

They're Off."

The Grove City resident said being a part of that action,

even if he has no money on the line, always gave him

goosebumps, even as the crowds dwindled throughout the

years.

"You would go there for the experience, to soak up the

atmosphere that occurred before, during and after a race,"

Massenelli said.

He could not recall just how many times he visited the

racetrack in his youth and throughout his adult years, but

he said each trip created a new memory.

Like so many throughout the community, Massenelli

was saddened when he learned that the racetrack, which

was Ohio's first thoroughbred racetrack and premier event

center, was permanently closing in 2014.

"It was a bit heartbreaking that something with so

much history, something that meant so much to so many

people in the city, was going to leave," he said. "But I guess

that's life. Times change, things move out, things move in,

and people move on."

Several years later, investors purchased the 212-acre

property in order to develop a new residential and commercial

space that would connect with the downtown area.

Massenelli and his wife, Cindy were intrigued by the news

but worried the history of the land and all of the memories

created would be forgotten.

That was not to be.

Three years ago, just as the development plans were

getting underway, Beulah Park Living developer Pat

Kelley, of Falco, Smith and Kelley, Will Bunstine, and the

Williams family announced they were commissioning a

public art installation to be placed in the 32-acre park

located within the development.

"We had initially envisioned a typical statute of

two horses grazing on the grass, but clearly that did

not come to fruition," said Kelley.

Instead, the end result was a massive, 12,000-

pound Corten steel sculpture that has six horses

and their jockeys bursting out of the starting gate.

One gate is empty though the silhouette of the

scratched horse and the assistant leading it back to

the stable can be seen in the background.

Designed and created by artist and architect

Craig W. Murdick, the sculpture aims to memorialize

the history of the racetrack, the dedication of the

trainers, and the beauty and power of the horses.

www.columbusmessenger.com

Community Focus

Public art piece honors the history of Grove City

Prepare for unexpected

power outages with a

Generac home standby

generator

REQUEST A FREE QUOTE!

844-334-8353

FREE

7-Year Extended Warranty*

A $695 Value!

Limited Time Offer - Call for Details

Special Financing Available

Subject to Credit Approval

*To qualify, consumers must request a quote, purchase,

install and activate the generator with a participating dealer.

Call for a full list of terms and conditions.

"It was designed to capture movement, the excitement

of the moment when the announcers call out "And They're

Off" and the frenzied rush when the horses leap out of the

gate," said Murdick, a resident of Upper Arlington.

Like the initial design of the commemorative sculpture,

Murdick was initially not the first artist the Beulah Park

Living developers had in mind.

"We have worked with Craig for more than a decade

(Murdick's architectural firm, Murdick Creative, designed

the Beulah Place apartments and the Townhomes on

Beulah Park) on various construction projects but we did

not know he had this kind of talent," said Kelley. "He has

designed a wonderful piece of art that has perfectly encapsulated

the history of this site and the promise of what it

can hold."

It took Murdick close to three years to complete the

"And They're Off" sculpture — his first official piece of public

art. It includes an anchoring wall for the heavy steel of

the catapulting horses, sand that was preserved from the

racetrack, and strategically placed cutout designs and

lighting fixtures so that it casts shadows of movement

depending on the time of day.

Cindy Massenelli said she and her husband — who live

on the outskirts of the new development — have been

watching the process of this art installation for months

and are "immensely pleased" with the results.

"We love coming out here to see this sculpture because

it is always changing," she said. "It is just a beautiful

design, a beautiful way to honor the history of this site and

the impact it has made on this community."

"And They're Off" had its public dedication on Sept. 17

in the new Beulah Park Living development. It is located

near the intersection of the Columbus Street extension and

Beulah Park Way.

A FREE ESTIMATE

15 10 5

YOUR ENTIRE

PURCHASE *

1-855-995-2490

% % %

OFF + OFF + OFF

SENIOR & MILITARY

DISCOUNTS

YEAR-ROUND

CLOG-FREE GUARANTEE

TO THE FIRST

50 CALLERS! **

| Promo Number: 285

Messenger photo by Dedra Cordle

The Grove City community came out to the new Beulah Park Living development on Sept. 17 for the dedication

of the public art installation "And They're Off." Designed and created by Upper Arlington resident Craig

W. Murdick (pictured here), the 12,000-pound Corten steel structure memorializes the history of the former

Beulah Park racetrack which was in operation from 1923-2014.
---
The City Beat

www.columbusmessenger.com

October 3, 2021 - GROVE CITY MESSENGER - PAGE 5

Train depot dedication at Old-Time Harvest Day

Home Road improvements

Beginning Monday, Sept. 27, Home

Road is closed to through traffic between

Gantz and Hoover roads, through mid-

October.

The Home Road improvements project

is progressing and approaching the final

stages. Improvements include full reconstruction

and widening of the pavement at

the intersections of Gantz and Hoover

Roads, pavement reclamation and roadway

widening between the two intersections,

storm drainage improvements and the

news and notes

Step back in time and enjoy fall traditions,

music and community as it was in

Ohio during the mid-1800s from 12 to 4

p.m., Sunday, Oct. 3, during the Old-Time

Harvest Day at Century Village in Fryer

Park, 4185 Orders Road. The Southwest

Franklin County Historical Society and the

city of Grove City provide an opportunity

for families to connect with the community's

past.

The event opens with the dedication of

the restored 137-year-old train depot built

by the Columbus and Cincinnati Midland

Railroad Company in downtown Grove

City. Visitors are invited to enjoy a tree

dedication and view artifacts in the remodeled

Bob Evans Barn Farm Museum.

Experience living history with a variety

of demonstrations and exhibits of traditional

crafts and daily chores including leather

tooling, quilting, rope making, one- and

two-man sawing, corn husking, shelling

and grinding, tin smithing, butter churning

and finger knitting.

Plan to experience:

•Costumed re-enactors and period

music.

•The Clover Club 4H group animals.

•Restored and reconstructed historical

buildings including a one-room schoolhouse,

log cabin, general store and barns.

•The Village herb garden, windmill and

addition of street lighting to the corridor.

Although the signage will indicate the

road is fully closed, local access within the

closure and access to Gantz Park will be

maintained.

It is anticipated Home Road will open to

two-way traffic in mid-October with final

construction completed by the end of

October. Drivers are encouraged to use

extra care when traveling through the

detour. Detours will be clearly posted. For

additional information, contact the Grove

City Service Department at 614-277-1100.

antique equipment.

•Metalworking demonstrations on a

traditional forge in the blacksmith shop.

Admission and parking are free.

Donations of non-perishable food items for

the Grove City Food Pantry will be accepted

at this rain-or-shine event. For a full

schedule of activities, visit

GroveCityOhio.gov or call 614-277-3050.

3374 Sullivant Ave., Columbus, OH 43204 614-488-9951

www.shiffletautocare.com

VOTE

Tom Sussi

For Columbus City Council

More than 30 years ago, I left Youngstown, moved to Columbus, and opened

Frank's Fish & Seafood Market.

Over the years, I've met a lot of people including local reporters. One of them is

Tom Sussi who I call a friend. I always admired how Tom fought for people in his

reports and called out the nonsense with our local public officials and politicians.

My friend is fighting for a seat on Columbus City Council, and if you know anything

about the corrupt political machine that has "ruled" our city for more than two decades,

then you understand it won't be an easy fight.

We need a guy who supports law and order and fights for law­abiding citizens. We

need a guy who will always put our best interests ahead of the fat cats and big

businesses that bankroll political campaigns.

We need a fighter, not another politician. We need Tom Sussi.

I urge all my friends and customers to support Tom in his run for

City Council and vote Sussi on November 2.
---
PAGE 6 - GROVE CITY MESSENGER - October 3, 2021

www.columbusmessenger.com

In Achievement

Honored for sportsmanship

Pictured here are Mark, Mike, and Jayne

Mayers.

The Ohio High School Athletic

Association has established an annual

state Sportsmanship, Ethics and Integrity

Award to be awarded by OHSAA member

high schools. Known as the State Award,

this honor is intended to be presented to a

coach, teacher, administrator, booster, or

supporter of the school program.

Grove City High School is thrilled to

have the opportunity to honor Mark

Mayers with this prestigious state award.

In deciding upon honoring Mayers with

this award, the school team concluded that

Mayers met multiple criteria for selection,

including being a person within the school

or community who supports and demonstrates

positive values, has contributed to

the well-being of the youth of the local high

school, and a person who is a positive role

model for others.

In addition to volunteering his time

with the 2021 baseball team as an assistant

coach throughout the season, Mayers

has taken the lead for both the baseball

and the stadium turf projects at Grove City

High School. Not only has he coordinated

and bolstered fundraising efforts, but he

has also worked with the district and contractors

to coordinate both projects, helping

them to move along in a timely manner

and assisting in using financial and volunteer

resources efficiently.

Assistant Principal and Athletic

Director, Kris Sander said, "Mark Mayers

has been humble in not wanting recognition

for these projects. However, without

his coordination, his dedication, his passion

and pursuing quality standards, these

projects would not be fulfilled to the level

they have been."

With this award, it is the school's hope

that the student athletes, coaches and

school community recognize Mayers for all

he has done to make sure these two facility

projects are accomplished efficiently with

the highest attention to detail.

Grove City Chamber

Member

Are you or a loved one approaching

Medicare Decisions

Soon?

Call me t

Consultatio on $0 Fee

Terri

Curcio 614-460-0601

Sam

me cost,

pric

cing for

polic

cies using my

help!

Local licensed representative, I can mail you carrier(s) information to review before you

make any

decisions. Can enroll

a client without

a face-to-face meeting or schedule a

personal meeting if you prefer.

Do

phone sales rep p, sometimes you need

answers

throughout the year!

OHIO IN. #43449

Offering plans available in Central

Ohio, with top-rated carriers. I

will work for you to

find

the plan that fits your needs and lifestyle.

Or over 65 and still working

AEP for 2022 starts October 15 th though Dec 7 th

Schedule your appointment today for AEP!
---
www.columbusmessenger.com

Photo courtesy of the city of Grove City

e day goes to the cadet

Mayor Richard "Ike" Stage proclaimed Sept. 22 as Cadet Caroline Richards Day in

Grove City. Grove City High School Navy Junior Reserve Officer Training Cadet,

senior Caroline Richards, earned the Legion of Valor Award. She was one of two

awardees in the Area 3 Region (Midwest) and 22 awardees of all 78,000 NJROTC

cadets.

Blood drives in Grove City

The American Red Cross will host several

blood drives in Grove City. The drives

include:

•Oct. 6 from 1 to 7 p.m., Grove City

Kingston Center Community Drive, 3226

Kingston Ave.

•Oct. 9 from 9 a.m. to 2 p.m., Grove City

Church of the Nazarene, 4750 Hoover

Road

•Oct. 15 from 12 to 6 p.m., city of Grove

City, 3226 Kingston Ave.

•Oct. 19 from 12 to 6 p.m., First Baptist

Church of Grove City, 3301 Orders Road

•Oct. 19 from 12 to 6 p.m., St John's

Lutheran Church, 3220 Columbus St.

•Oct. 2 from 1 to 7 p.m., Vineyard

Christian Fellowship, 3005 Holt Road

•Oct. 23 from 9 a.m. to 2 p.m., Bethel

Lutheran, 4501 Hoover Road

•Oct. 25 from 10:30 a.m. to 4:30 p.m., St

John's Evangelical Lutheran Church, 3220

Columbus St.

To schedule an appointment, call 1-800-

448-3543 or visit www.redcrossblood.org.

COVID-19 vaccine clinics

Franklin County Public Health and

Mid-Ohio Food Collective are hosting

walk-in COVID-19 vaccination clinics from

9 a.m. to 1 p.m. Oct. 8, Oct. 15, Oct. 22 and

Oct. 29 at the Mid-Ohio Foodbank, 3960

October 3, 2021 - GROVE CITY MESSENGER - PAGE 7

community events

Brookham Dr. No appointment or insurance

required. Anyone 18 and older is able

to receive a Janssen (Johnson & Johnson)

or Pfizer (12+ age) COVID-19 vaccine.

Visit the Franklin County Public Health

website at vax2normal.org/vaccine for

additional information.

S.A.L.T. at Evans Center

The Grove City Division of Police host

Seniors and Law Enforcement Together

(S.A.L.T.) meetings at 1 p.m. the second

Tuesday of each month at the Evans

Center, 4330 Dudley Ave. Adults of all

ages are welcome to attend. If you would

like additional information on other crime

prevention programs visit police.grovecityohio.gov

or call 614-277-1765.

JEFFREY P. COMPTON

ATTORNEY AT LAW

General Practice

Personal Injury • Domestic

Probate • Wills

Power of Attorney

Healthcare Documents

FREE CONSULT & PARKING

614-875-7233 Fax: 929-474-9475

1665 London-Groveport Rd., Grove City

www.jeffreypcompton.com

Email: jcompton@jeffreypcompton.com

Moses-Mouser Eye Care

Dr. Joshua Morris is a board-certified Optometrist

who grew up in Bellville, Ohio. He

completed his undergraduate degree at the

University of Akron, where he graduated

magna cum laude with honors.

Dr. Morris attended The Ohio State University

College of Optometry and graduated cum laude with honors to receive

his Doctor of Optometry Degree in May 2019. After completing his

studies, he was awarded the "Primary Vision Care Clinical Excellence

Award", in 2019.

Dr. Morris is a member of the American Optometric Association, the

Ohio Optometric Association, and The Ohio State Alumni Association.

He is excited to practice full scope optometry, diagnosing and treating

a variety of ocular disorders and diseases in patients of all ages, but has

a special interest in contact lenses and ocular disease.

On a personal note, Dr. Morris and his wife Tess, enjoy spending time

with their family, friends, and their Bernese Mountain dog Maverick,

cheering on The Ohio State Buckeyes, trying new foods, and exploring

Columbus breweries.

Q: How often should someone with diabetes

get an eye exam?

A: Someone with diabetes should see an eye care professional at least

once a year for a comprehensive dilated eye exam.

Q: How can diabetes affect my vision?

A: Over time, diabetes damages small blood vessels throughout the body,

including the retina. Diabetic retinopathy occurs when these tiny blood

vessels leak blood and other fluids. This causes the retinal tissue to swell,

resulting in cloudy or blurred vision. The condition usually affects both

eyes. The longer a person has diabetes, the more likely they will develop

diabetic retinopathy. If left untreated, diabetic retinopathy can cause

blindness. (AOA)

Symptoms include: seeing spots or "floaters", blurred vision, and difficulty

seeing at night.

Schedule your diabetic eye exam today

with Dr. Morris.

1600 Gateway Circle, Grove City, OH 43123 614-963-3820
---
PAGE 8 - GROVE CITY MESSENGER - October 3, 2021

Voter's Guide

www.columbusmessenger.com

The Grove City Messenger sent

a questionnaire to candidates running

for local office in contested

races in the Nov. 2 election. The

following are their responses. (If

there is no photo by a candidate,

one was not provided.)

South-Western City

Schools Board

of Education

(Three seats up for election)

• Chris Boso - No response received

TOGETHER, WE MAKE

ARdENT MILlS

• David Donofrio, 4699 Snowy Meadow

Dr., Grove City

O c c u p a t i o n :

Office of the Fire

Department for

Prairie Township

Education/military/

and/or political

experience: I am a

lifelong resident of

central Ohio, and David Donofrio

Want to make something truly special? Join Ardent Mills, premier flour-milling and ingredients com

pany. With us, you th e

can

make products that exceed customer expectations. Make communities

healthier and play a critical role in feeding the world.

We're looking for

Multiple le production team members

to join our Columbus, OH team!

Walk-In Hiring Event (no rsvp required)

Tuesday, Oct. 5 from 10 AM - 2 PM

On-site offers + $5,000 Starting bonus!

Qualification for Successful Candidates:

• High School Diploma or GED

• Strong verbal and written communication skills

• Possess curiosity and always look for ways to improve procedures

• Flexibility regarding work hours. Able to occasionally work all shifts

• Must be able to occasionally lift up to 50lbs

• Must be able to work in various conditions and different heights

• Must be able to read, follow and retain detailed instructions for numerous

different tasks and maintain records according to instructions

• Basic computer skills

• Moderate level of mechanical skills

Benefits of Working at Ardent Mills include:

• Competitive wages

• An annual bonus

• Medical, dental, and vision benefits

• Retirement benefits

• Vacation policy

To learn more or apply, use QR Code to the right,

or email your resume directly to: Talent@ar

alent@ardentmills.com

At Ardent Mills, everyone matters and everyone has a voice. W

e are committed to providing an environment

of mutual respect where equal opportunities are available to all applicants and team members and the

decisions will be based on merit, competence, performance, and business needs. We are proud to be an equal

opportunity employer.

W

e do not discriminate on the basis of race, color, religion, creed, national origin,

aboriginality, ancestry

, marital status, sex, sexual orientation, gender identity or expression, physical or mental

disability

, pregnancy

, genetic information, veteran status, age, political affiliation, filiation, or any other non-merit

characteristic protected by law or not. Together, celebrating our differences, ences, we make Ardent Mills.

product of its public schools. BA from

Wittenberg University. I've served on the

Board of Education the past four years. I

currently work for our fire department, but

have wide-ranging experience in the private

sector, particularly in career development/job

creation.

Goals if elected? I put students first,

always. This nonpartisan role is about

what's right for kids, not political ideologies.

I am fiscally responsible, and a proactive

communicator, keeping you informed. I

fight for district health, equity, safety and

unity — giving every child equal access to

the American Dream. Learn more:

www.daviddonofrio.com.

• Cathy Johnson, 7475 Opossum Run

Road, London

O c c u p a t i o n :

Retired classroom

teacher

Education/military/

and/or political

experience: BS &

MA in Education,

OSU. Reading

Recovery, OSU.

OSBA Master Board

Member. Member of Cathy Johnson

All-Ohio School

Board. Twenty-year member of the South-

Western City Schools Board of Education.

Goals if elected? Increased student

achievement. Complete the second phase of

Ohio Facilities Construction Commission

project by opening four new middle schools

in 2022. Work with E&A Coalition's lawsuit

against vouchers. Continue to work

with the SBC Foundation to support student

athletes. Work with other elected officials

to improve public education.

• Kelli Martindale - No response

received

• Jamie Shumaker, 6006 Cork County

Drive, Galloway

Occupation: Union president, Columbus

Public Health

Education/military/ and/or political

experience: Associates degree from Owens

C.C. in dietetics, 19 years at Columbus

Public Health, 3 years as a band booster

parent, AFSCME 2191 president;

Treasurer Area Federation of Labor

Goals if elected? Our district is growing

rapidly. I want to ensure that growth is felt

equitably across our district. As a parent,

communication from the district is key to

me, and I hope to hold regular community

meetings and engage with parents.

Election Day tips

The following tips can help voters prepare

for Election Day.

•Confirm your polling location.

•Bring photo identification.

•Confirm registration.

•Be familiar with the candidates and

issues on the ballot.
---
www.columbusmessenger.com

October 3, 2021 - GROVE CITY MESSENGER - PAGE 9

United we stand in the fight against breast cancer because we are stronger together!

These local businesses support breast cancer awareness.

George Buttrick

Owner

Westway

Paint & Body Shop

2888 Fisher Road, Columbus, OH 43204

614-274-9311 614-276-5833

Fax 614-276-1942

Pam Brown

(614)975-9462

3656 Broadway,

Grove City, OH 43123

Terri Ehmann

Real Estate Agent, HER, REALTORS®

614-216-7977

terri.ehmann@herrealtors.com

Shawn Maghie

President

Tim Maghie

Vice President

In Business Since 1928

JONES LUMBER & MILL-

WORK COMPANY

57 North Sylvan Ave., Columbus, OH 43204

Phone 274-1109

jones-lumber.com

TWO TWO LOCATIONS TO

SERVE YOU!

5266 WEST BROAD ST.

5266 West COLUMBUS, Broad St., Columbus, OH 43228OH

614-878-7353 and and

9901 US RT. 62

9901 ORIENT, US Rt. 62, OH Orient, 43146 OH

614-877-9187

Summer Hours: : Mon.-Sat. 10 10am-9pm,

- 9 Sun. 12 Noon-9 pm - Orient only

Sun. 12 Noon-9pm - Orient only

10% OFF

10% OFF Next Purchase

Next Purchase

3374 SULLIVANT AVE., COLUMBUS, OH 43204

614-488-9951

MAJOR/MINOR REPAIRS

Towing • Wheel Balancing • Front End Alignment

Complete Tune-Up • Carburetor Service

Brake Service • Transmissions

www.shiffletautocare.com

2752 London Groveport Rd., Grove City, Ohio 43123

www.precisionjewelersllc.com

E-mail: precisionjewelersllc@gmail.com

Tues - Fri: 10am - 6pm Sat: 10am - 6pm

Phone: 614-317-7755

Custom on Site Remounting - Jewelry & Watch Repair

Ginger Thrush

"Experience Counts -

Call Ginger to SELL your house!"

gingerthrush@gmail.com

(614) 214-2522

Adam C. Miller

State Representative House District 17

77 South High St., 10th Floor, Columbus, OH 43215

Office: (614) 644-6005 Fax: (614) 719-6963

Rep17@ohiohouse.gov

Eric Snider

Insurance Agency, Inc.

4911 West Broad Street, Columbus, OH 43228

Near I-270 & West Broad

(614) 851-1300

eric@eric4cars.com
---
PAGE 10 - GROVE CITY MESSENGER - October 3, 2021

www.columbusmessenger.com

Art lovers unite

Messenger photos by Dedra Cordle

Thousands of people from across the region descended upon

the Town Center Park from Sept. 17-19 to participate in the

42nd annual Arts in the Alley Music and Arts Festival. The

popular event, sponsored by the city of Grove City and the

Grove City Area Chamber of Commerce, saw more than 20

artisans throughout the state set up booths for attendees to

peruse their handcrafted wares and pick up a gift or two, or

three or four, for themselves and others. Above, Urbana artist

Lindsey Rooney works on a new piece that will become a

mountainous landscape with a nebula overhead. She had several

surrealist paintings that were inspired by nature on display.

See more photos at columbusmessenger.com.

Above, Allen Boyce, of Circleville, cuts

a bar of homemade soap for a patron at

the Elder Forest skincare and wellness

booth.

One of the most popular destinations at

the festival was the Kids Fun Street

where young children like Carson

Weber (left) could make their own

crafts. In this photo, the 5-year-old from

Grove City gets an assist from his aunt

Kendall Weber as he takes a break from

designing a light switch plate to enjoy a

corndog.
---
www.columbusmessenger.com

Expansion possible

at the Buckeye Ranch

By Andrea Cordle

Grove City Editor

Expansion plans for the Buckeye Ranch could be on the horizon.

Vickie Thompson-Sandy, president and CEO of the Buckeye

Ranch, spoke on the matter at the Sept. 20 Grove City Council

meeting.

In 1958 a 75-acre farm on Hoover Road in Grove City was purchased

for $27,500. It was then called the Buckeye Boys Ranch.

According to Thompson-Sandy, three years later, the ranch

opened as a treatment center for 10 young men. In 1965, 12 additional

young men came to the ranch for treatment. Today, thousands

of youths are in the care of the Buckeye Ranch in different

locations throughout Ohio. The Grove City campus sees more

than 100 children each year.

The Buckeye Ranch provides emotional, behavioral, and mental

health services for children and families. It offers on-campus

health services including a psychiatrist, nurse practitioner, pediatrician,

dietician, and nurses. The ranch uses alternative therapies

like animal, art, recreational, and adventure therapy.

"We restore hope and help heal," said Thompson-Sandy. "We

are happy to be a partner in Grove City."

The Buckeye Ranch has 24-hour staffing each day. It employs

about 500 people from central Ohio, including about 200 in Grove

City. According to the president, 52 Grove City residents are

employed at the Buckeye Ranch.

Thompson-Sandy said they would like to "modernize" the

Grove City campus. This includes replacing the older housing

units and adding an educational center.

"We are exploring this possibility," said Thompson-Sandy.

The ranch is trying to secure funding and reviewing whether

an expansion at the Grove City location is feasible. Thompson-

Sandy said they should have a decision by the end of the year or

early next year.

The Grove City ranch is one of six campuses in the state. The

Buckeye Ranch also has space in Columbus, Whitehall, Newark,

and as far south as Cincinnati.

For more information on the Buckeye Ranch, visit buckeyeranch.org.

Pictorial Past

Pictured here is a street view of Broadway in downtown Grove

City from the 1960s. Can you spot the structures in the picture

with businesses of today? Who remembers the ones from the

1960s? For those interested, the local Grove City Museum has

binders full of old city scenes similar to the one pictured and

many other of our schools and businesses that take a look

back at our rich history. The Grove City welcome Center and

Museum is located at 3378 Park St.

Pets of the Week

Mayble is a sweet

girl looking for the

perfect forever family.

She is good with

kids of all ages and

always gentle with

young children. She

does play a bit

rough with other

dogs and has a tendency

to guard her

food. Mayble would

benefit from an

experienced dog guardian to work with

her on her behavior. Meet Mayble at the

Franklin County Dog Shelter.

FYI: franklincountydogs.com

Turtle is a very

sweet boy but is

quite shy. This 2-

year-old seems to

get along with

everyone, including

people, and other

cats. He is named

Turtle because he

would snuggle

under a blanket and

peek his head out,

like a turtle. This

boy would love to find his forever home.

He is up for adoption through Friends for

Life Animal Haven.

FYI: fflah.org

Paul Stookey is a

sweet boy looking

for the perfect

home to live out his

senior years. He is

9 years old and

likes to hang out.

He enjoys getting

attention and has a

laid back personality.

Paul Stookey is

up for adoption at

Colony Cats and Dogs.

FYI: colonycats.org

Mary Traverse is a

9-year-old lady.

She, along with her

brother Paul

Stookey, were surrendered

to a rescue

group. Their

owner was supposed

to come

back and pick them

up but never did.

Mary Traverse has

a very sweet personality.

She would

make a great addition to any home. Adopt

her from Colony Cats.

FYI: colonycats.org

Pam Brown

614-975-9462

October 3, 2021 - GROVE CITY MESSENGER - PAGE 11

Home Buyers

Guide

Thinking about

selling your home?

Call An Experienced Realtor!

42 Years of "Service with a Smile"

GREAT SELLING MARKET!

3656 Broadway Grove City, OH 43123

614.871.1000

www.era.com

442 S. EUREKA, COLUMBUS

WOW! Loads of equity in this house for new buyers. 3-4 bedrooms, new

granite countertops, din rm w/French doors, dec. fireplace, privacy

fence, off street parking. Priced below market value.

Hurry! Call Fran Lyons Today! 614-496-0929

Fran Lyons

Multi-Million Dollar Producer

Office: (614) 939-0282

franlyons1@gmail.com

3041 Pine Manor Blvd. $249,900 $222,000

Fabulous 3 bedroom, three full bath condo situated in Desirable Pine Manor neighborhood

in Grove City will check all your boxes! Great room has vaulted ceiling and gas

fireplace. Freshly painted & carpeted in the past 2 years, it is clean neat and ready to

move in! Huge 2 car att. garage. Lots of amenities here.

Ginger Thrush

REALTOR ®

614-214-2522

gingerthrush@gmail.com
---
PAGE 12 - GROVE CITY MESSENGER - October 3, 2021

www.columbusmessenger.com

CLASSIFIED ADS

Deadlines: Groveport and West editions, Wednesdays at 5 p.m., • South/Canal Winchester, Grove City, Madison editions, Tuesdays at 5 p.m.

All editions by phone, Tuesdays at 5 p.m. • Service Directory, Tuesdays at 5 p.m.

xEmployment

BE YOUR OWN BOSS!

INDEPENDENT

CONTRACTORS

WANTED

If you have a reliable

car and would like to

earn extra money,

then why not deliver?

Jefferson

Local Schools

NOW HIRING

BUS DRIVERS

Training Provided

Minimum Regular Driver Starting Pay $17.89/hr

Sub Drivers $16.00/hr.

Must have valid driver's license and able

to pass BCI/FBI background check

Apply at 906 W. Main St., West Jefferson, OH 43162

Contact 614-879-7654 ext. 1120

INFORMATION

CHICKEN NOODLE

DINNER

October 16th, 4-6:30pm

Carryout Only

Adults $12 & Kids $6

Harrisburg UM Church

1160 High St.

FALL INTO

A NEW HAIR STYLE!!

Come See Me At

My New Location!

Call Marilyn Weaver

For An Appt.

For a New Haircut/Color

614-348-6670

Relax Wellness

3663 Broadway

Grove City

Have Something To Sell?

Need To Rent That Property?

Try The Messenger!

For Info On

Placing An Ad Call

614-272-5422

• Deliver 1 or 2 days a week

• Flexible delivery hours

• Work close to home - often

in or near your neighborhood

CONTACT US

1-888-837-4342

www.thebag.com

• Deliver 7 days a week

• Delivery before dawn

• Work close to home - often

in or near your neighborhood

CONTACT US

614-461-8585

www.dispatch.com/delivery

ASSOCIATION ADS

Attention Active Duty &

Military Veterans! Begin a

new career & earn a

Degree at CTI! Online

Computer & Medical

training available for

Veterans & Families! To

learn more, cal 888-449-

1713.

ATTENTION DIABETICS!

Save money on diabetic

supplies! Convenient

home shipping for

monitors, test strips,

insulin pumps, catheters &

more! To learn more, call

now! 877-810-0063

GENERAC Standby Generators

provide backup

power during utility power

outages, so your home

and family stay safe and

comfortable. Prepare

now. Free 7-year extended

warranty ($695 value!).

Request a free

quote today! Call for additional

terms and conditions.

1-855-465-7624

Employment

OPEN INTERVIEWS

ON WEDNESDAYS 10AM-1PM

UP TO $ 19.00/HR + NO MANDATORY OT

$

2000 SIGN ON BONUS + INCENTIVE OPPORTUNITIES

1568 Georgesville Rd. Columbus 43228

APPLY PRIOR @ JOBS.MSCDIRECT.COM

Applicants must sucessfully pass a background check and drug screen.

Equal Opportunity Employer: Minority, female, veteran, individuals with disabilities, sexual orientation/gender identity.

ASSOCIATION ADS

The bathroom of your

dreams for as little as

$149/month! BCI Bath &

Shower. Many options

available. Quality

materials & professional

installation. Senior &

Military Discounts

Available. Limited Time

Offer - FREE virtual inhome

consultation now

and SAVE 15%! Call

Today! 1-877-540-2780

Become a Published

Author. We want to Read

Your Book! Dorrance

Publishing Trusted by

Authors Since 1920 Book

manuscript submissions

currently being reviewed.

Comprehensive Services:

Consultation, Production,

Promotion and Distribution.

Call for Your Free Author's

Guide 1-866-482-1576 or

visit http://dorranceinfo.

com/macnet

REPORTER

WANTED

Part-time Reporter wanted to cover

community meetings in the evenings and

write various feature and news stories.

Photography experience helpful.

Please send a resume and

three writing samples to:

Rick Palsgrove, Managing Editor,

Columbus Messenger Newspapers,

3500 Sullivant Ave.,

Columbus OH 43204 or email

southeast@columbusmessenger.com

No Phone Calls!
---
www.columbusmessenger.com

October 3, 2021 - GROVE CITY MESSENGER - PAGE 13

xEmployment

WANTED

• Retail Sales • Back-Up Cooks

• Dishwashers • Servers • Grill

• Host/Hostess

You Can Work 29+ Hrs. Based on

Your Availability & Performance

Immediate Full/Part-time Openings

We Offer:

• Weekly Pay

• Paid Training

• No Tip Sharing

• Paid Vacation

• Employee Meal Discount

• Position/Salary Advancement Plan

• Discount Purchase Plan

Apply online at crackerbarrel.com/careers for

Grove City Location 614-871-1444

ASSOCIATION ADS

Long Distance moving.

Call for a free quote from

America's Most Trusted

Interstate Movers. Let us

take the stress out of

moving! Speak to a

relocation specialist! Call:

888-721-2194

Update your home with

beautiful new blinds &

shades. Free in-home

estimates make it

convenient to shop from

home. Professional

installation. Top quality -

Made in the USA. Free

consultation: 877-212-

7578. Ask about our

specials!

Replace your roof with the

best lookng and longest

lasting material! Steel

from Erie Metal Roofs!

Three styles and multiple

colors available.

Guaranteed to last a

lifetime! Limited Time

Offer - $500 Discount +

Additional 10% off install

(for military, health

workers & 1st responders)

Call Erie Metal Roofs: 1-

855-338-4807

ASSOCIATION ADS

DENTAL INSURANCE

from Physicians Mutual

Insurance Company.

Coverage for 350 plus

procedures. Real dental

insurance - NOT just a

discount plan. Do not wait!

Call now! Get your FREE

Dental Information Kit with

all the details! 1-877-553-

1891

www.dental50plus.com/

macnet#6258

Donate Your Car To

Veterans Today! Help and

Support our Veterans.

Fast - FREE pick up.

100% tax deductible. Call

1-800-245-0398

Never pay for covered

home repairs again!

Complete Care Home

Warranty covers all major

systems & appliances. 30-

day risk free. $200.00 off

+ 2 free months! 1-866-

395-2490

HOME BREAK-INS take

less than 60 SECONDS.

Don't wait! Protect your

family, your home, your

assets NOW for as little as

70¢ a day! Call 866-409-

0308

Employment
---
PAGE 14 - GROVE CITY MESSENGER - October 3, 2021

www.columbusmessenger.com

xPublic Notice

LEGAL NOTICE

The Grove City Police Department has recovered

numerous bicycles, tools, electronic equipment, clothing

and monies over the course of several months.

The bicycles are of various types and models, as are

the tools and electronic equipment. All properties are

held in a secured police facility at all times. If you

believe you have claim to any of the property and have

proof of ownership for the property, you may call the

Grove City Police Department Property Room at

614-277-1757. A review and release of any and all

property is by appointment only. All items not claimed

will be sold at public auction, turned over to the Law

Enforcement Fund, or destroyed according to Ohio

Law.

CHARITABLE DONATION

Qualified organizations may be eligible to receive

bicycles as charitable donations from the City of

Grove City. Qualified organizations must have a valid

ruling or determination letter recognizing the taxexempt

status of the organization, pursuant to Internal

Revenue Code Section 501(c)(3) or (c)(19).

Representatives may call the Grove City Police

Department Property Room at 614-277-1757 to

inquire about the donation process.

Public Notice

xPreschool/Daycare

INCREASE YOUR

FALL ENROLLMENT!

ADVERTISE YOUR

PRESCHOOL OR DAYCARE

in

The Grove City Messenger

For More Info, CALL Kathy

614-272-5444

Preschool/Daycare

INFORMATION

ATTENTION SENIORS:

The average funeral cost

is $9000+ Don't leave

your family to pay your

debts. State Approved,

Final Expense Life

Insurance Plans are now

avaiilable as low as $25 a

month. Hurry and call

before enrollment ends. 1-

877-761-1796. M-F 9am-

6pm EST

ASSOCIATION ADS

Wesley Financial Group,

LLC Timeshare Cancellation

Experts Over

$50,000,000 in timeshare

debt & fees cancelled in

2019. Get free

informational package &

learn how to get rid of

your timeshare! Free

consultations. Over 450

positive reviews. 888-965-

0363

xAdult Care

614-991-0652 614-376-9761

Welcome

Carolyn's Cottage

Private Assisted Living

3036 Woodgrove Dr.

Grove City, OH

Adult Care

ASSOCIATION ADS

Stroke & Cardiovascular

disease are leading

causes of death according

the AHA. Screenings can

provide peace of mind or

early detection! Call Life

Line Screening to

schedule a screening.

Special offer 5 screenings

for $149.. 1-833-549-4540

The Generac PWRcell, a

solar plus battery storage

system. SAVE money,

reduce your reliance on

the grid, prepare for power

outages and power

your home. Full installation

services available. $0

Down Financing Option.

Request a FREE, no obligation,

quote today. Call

1-855-900-2894

HughesNet - Finally, superfast

internet no matter

where you live. 25 Mbps

just $59.99/mo! Unlimited

Data is Here. Stream

Video. Bundle TV &

Internet. Free Installation.

Call 866-499-0141

!!OLD GUITARS WANT-

ED!! GIBSON, FENDER,

MARTIN, Etc. 1930's to

1980's. TOP DOLLAR

PAID. CALL TOLL FREE

1-866-433-8277

Best satellite TV with 2

year price guarantee!

$59.99/mo with 190

channels and 3 months

free premium, movie

channels! Free next day

installation! Call 844-842-

4469

AMERICAN & FOREIGN

CLASSIC CARS AND

MOTORCYCLES

WANTED. $$PAYING

CA$H$$ Corvettes,

Mustangs, Jaguars, Austin

Healeys, Broncos,

Blazers, Ram Chargers,

AMX, and Triumphs

KRMiller1965@yahoo.com

717-577-8206

Don't let the stairs limit

your mobility! Discover

the ideal solution for

anyone who struggles on

the stairs, is concerned

about a fall or wants to

regain access to their

entire home. Call

AmeriGlide today! 1-844-

317-5246

ASSOCIATION ADS

DISH TV $64.99 FOR 190

Channels + $14.95 High

Speed Internet. Free Installation,

Smart HD DVR

Included, Free Voice Remote.

Some restrictions

apply. Promo expires

1/21/22. 1-855-270-5098

Donate your car to kids.

Your donation helps fund

the search for missing

children. Accepting trucks,

motorcycles & RV's too!

Fast free pickup - running

or not - 24 hr response -

maximum tax donation -

Call 888-515-3813

GET UNLIMITED

ACCESS TO AMERICA'S

BEST SHOPPING CLUB

AND CLAIM YOUR FREE

$50 TARGET OR

WALMART GIFT CARD

TODAY. OFFER ONLY

AVAILABLE TO THE

FIRST 500 CALLERS OF

THIS AD! CALL TODAY,

DON'T DELAY! CALL 1-

800-207-6290. ASK

ABOUT HOW YOU CAN

GET A FREE $50

TARGET OR WALMART

GIFT CARD THAT YOU

CAN USE TODAY WITH

YOUR SHOPPING CLUB!

LIMITED OFFER. DON'T

WAIT. CALL 1-800-207-

6290 NOW.

Thinking about installing

a new shower? American

Standard makes it

easy. FREE design consulation.

Enjoy your

shower again! Call 1-

833-769-0995 today to

see how you can save

$1,000 on installation, or

visit www.newshowerdeal.com/mac

AT&T Internet. Starting

at $40/month w/12-mo

agmt. 1 TB of data/mo.

Ask how to bundle &

SAVE! Geo & svc restrictions

apply. 1-888-796-

8850

HughesNet Satellite Internet

- Finally, no hard

data limits! Call today for

speeds up to 25mbps as

low as $59.99/mo! $75

gift card, terms apply. 1-

844-863-4478

xFocus on Rentals

WEDGEWOOD

VILLAGE

1, 2 and 3 BR Apts.

Rent Based on Income.

Call 614-272-2800 or visit us

at 777 Wedgewood Dr.

TTY/TDD 711

EQUAL HOUSING OPPORTUNITIES

ASSOCIATION ADS

Train online to do medical

billing! Become a

Medical Office Professional

at CTI! Get trained

and certified to work in

months! 888-572-6790.

(M-F 8-6 ET)

Directv Now. No Satellite.

$40/mo 65 Channels.

Stream news, live

events, sports & on demand

titles. No contract/

commitment. 1-866-825-

6523

DENTAL INSURANCE-

Physicians Mutual Insurance

Company. Covers

350 procedures. Real

insurance - not a discount

plan. Get your free

dental Info kit! 1-888-

623-3036 . www.dental50plus.com/58

#6258

Eliminate gutter cleaning

forever! LeafFilter, the

most advanced debrisblocking

gutter protection.

Schedule a FREE LeafFilter

estimate today. 15% off

Entire Purchase. 10% Senior

& Military Discounts.

Call 1-855-791-1626

Life Alert. One press of a

button sends help fast

24/7! At home and on

the go. Mobile Pendant

with GPS. Free first aid

kit (with subscription).

877-537-8817 Free brochure

Want Faster & Affordable

Internet? Get internet

service today with

Earthlink. Best internet &

WiFi Plans. Call us Today

to Get Started. Ask

about our specials! 866-

396-0515

HEARING AIDS!!

Buyone/get one FREE!

Nearly invisible, fully rechargeable

IN-EAR

NANO hearing aids

priced thousands less

than competitors! 45-day

trial! Call1-877-436-0234

HEARING AIDS!! Bogo

free! High-quality rechargeable

Nano hearing

aids priced 90% less

than competitors. Nearly

invisible! 45-day money

back guarantee! 833-

669-5806

ASSOCIATION ADS

Internet &WIFI Starts at

$49 Call us Today to Get

Started. Find High-Speed

Internet with Fiber Optic

Technology No Credit

Check, No SSN Required.

Call us Today 866-396-

0515

Wants to purchase minerals

and other oil and gas

interests. Send details to

P.O. Box 13557, Denver,

CO. 80201

The Generac PWRcell

solar plus battery storage

system. Save money,

reduce reliance on

grid, prepare for outages

& power your home. Full

installation services. $0

down financing option.

Request free no obligation

quote. Call 1-855-

270-3785

Pest Control

Find Pest Control Experts

Near You! Don't let

pests overtake your

home. Protect your loved

ones! Call to find great

deals on Pest Control

Services - 833-872-0012

Attention oxygen therapy

users! Inogen One G4 is

capable of full 24/7 oxygen

delivery. Only 2.8

pounds. Free info kit.

Call 877-929-9587

SELL YOUR ANTIQUE

OR CLASSIC CAR.

Advertise with us. You

choose where you want

to advertise. 800-450-

6631 visit macnetonline.

com for details.

DISH TV $64.99 190

Channels + $14.95 high

speed internet. FREE installation,

Smart HD DVR

included. Free Voice Remote.

Some Restrictions

apply. Promo Expires

1/21/22. 1-833-872-2545

GENERAC Standby

Generators provide

backup power during

power outages, so your

home & family stay safe &

comfortable. Prepare now.

FREE 7-yr extended

warranty $695 value!

Request a free quote

today. Call for terms &

conditions. 1-844-334-

8353

Rentals

HAVE TO RENT THAT APARTMENT

BEFORE THE SNOW FLIES?

Advertise It!

CALL Kathy

For Rate Information

Columbus Messenger

272-5422

ASSOCIATION ADS

BATH & SHOWER UP-

DATES in as little as

ONE DAY! Affordable

prices - No payments for

18 months! Lifetime warranty

& professional installs.

Senior & Military

Discounts available. Call

855-761-1725

Looking for auto insurance?

Find great deals

on the right auto insurance

to suit your needs.

Call today for a free

quote! 866-924-2397

Elminate gutter cleaning

forever! LeafFilter, the most

advanced debris-blocking

protection. Schedule

Free LeafFilter Estimate

today. 15% off Entire

Purchase. 10% Senior &

Military Discounts. Call 1-

855-995-2490

READY TO BUY, SELL

OR RENT YOUR

VACATION HOME OR

HUNTING CAMP?

Advertise it here and in

neighboring publications.

We can help you. Contact

MACnet MEDIA @

800-450-6631 or visit our

site at MACnetOnline.

com

IMPORTANT

NOTICE

The following states: CA,

CT, FL, IA, IL, IN, KY,

LA, MD, ME, MI, MN,

NE, NC, NH, OH, OK,

SC, SD, TX, VT and WA

requires seller of certain

business opportunities to

register with each state

before selling. Call to

verify lawful registration

before you buy.

VIAGRA and CIALIS

USERS! 50 Generic pills

SPECIAL $99.00 FREE

Shipping! 100% guaranteed.

24/7 CALL NOW!

888-445-5928 Hablamos

Espanol

Attention: If you or aloved

one worked around the

pesticide Roundup

(glyphosate) for at least 2

years and has been diagnosed

with non-Hodgkin's

lymphoma, you may be

entitled to compensation.

855-341-5793

ASSOCIATION ADS

VIAGRA & CIALIS! 60

pills for $99. 100 pills for

$150 FREE shipping.

Money back guaranteed!

1-844-596-4376

READER

ADVISORY

The National Trade Association

we belong to has

purchased the following

classifieds. Determining

the value of their service

or product is advised by

this publication. In order

to avoid misunderstandings,

some advertisers do

not offer "employment"

but rather supply the

readers with manuals, directories

and other materials

designed to help

their clients establish mail

order selling and other

businesses at home. Under

NO circumstance

should you send any

money in advance or give

the client your checking,

license ID or credit card

numbers. Also beware of

ads that claim to guarantee

loans regardless of

credit and note that if a

credit repair company

does business only over

the phone it's illegal to request

any money before

delivering its service. All

funds are based in US

dollars. Toll Free numbers

may or may not

reach Canada. Please

check with the Better

Business Bureau 614-

486-6336 or the Ohio Attorney

General's Consumer

Protection Section

614-466-4986 for more

information on the company

you are seeking to

do business with.

Donate your car to kids!

Fast free pickup running

or not - 24 hour response.

Maximum tax

donation. Help find missing

kids! 877-831-1448
---
www.columbusmessenger.com

xCome & Get It!

October 3, 2021 - GROVE CITY MESSENGER - PAGE 15

xClassified Services

COME AND GET IT

Deadlines are Tuesdays by 5 pm.

Call For Publication Schedule 614-272-5422

Need to Get Rid of Something Fast - Advertise It Here For FREE!

FREE Garden Straw for gardens or bedding. Call for appointment for pickup.

Circle S Farms, 9015 London-Groveport Road, Grove City, 43123

Grove City - 614-878-7980

Sandbox Full of Sand; Small Bookcase - Fair Condition.

MB - Columbus - 614-308-1064

. Come and Get It! is a bi-weekly column that offers readers an opportunity to pass

along surplus building materials, furniture, electronic equipment, crafts, supplies,

appliances, plants or household goods to anybody who will come and get them - as

long as they're FREE. NO PETS! Just send us a brief note describing what you want to

get rid of, along with your name, address and phone number. Nonprofit organizations

are welcome to submit requests for donations of items.

Send information to The Columbus Messenger, Attention: Come and Get It, 3500

Sullivant Ave., Columbus, OH43204. Deadline is Tuesdays by 5 pm for following

Mondays publication. Messenger Newspapers is not responsible for any

complications that may occur. Please contact us when items are gone. 272-5422

Come & Get It!

xInformation

Marriages break down

because of incompatible

personalities.

If you and your marital partner are

having trouble, come in and get your

Personality and IQ checked as this

may be the reason for your disputes.

The Church of Scientology of Central Ohio

1266 Dublin Road

Columbus, OH 43215

Information

ASSOCIATION ADS

Protect your home w/home

security monitored by

ADT. Starting at $27.99/

mo. Get free equipment

bundle including keypad,

motion sensor, wireless

door & windows sensors.

833-719-1073

NEED IRS RELIEF

$10K-$125K+ Get Fresh

Start or Forgiveness.

Call 1-844-431-4716

Monday through Friday

7am-5pm PST

New authors wanted!

Page Publishing will help

self-publish your book.

Free author submission

kit! Limited offer! 866-

951-7214

CHILD CARE

OFFERED

Depend. Quality Child care

in loving hm. Exp. Mom, n-

smkr, hot meals, sncks,

playroom, fncd yd. Reas.

rates. Laurie at 853-2472

HELP WANTED

Personal Homecare Aide

Wanted in Grove City,

Friday-8 hrs & Sat-Sun - 5

hrs each. Call 248-803-

3335

Kings Kids Daycare in

Grove City is hiring fun,

loving teachers for PT&

FT shifts. Pleaes email

sarragc@outlook.com or

call 614-539-034,

REPORTER

WANTED

Parttime Reporter wanted

to cover community

meetings in the evenings

and write various feature

and news stories.

Photography Exp. Helpful.

Please send resume &

3 writing samples to:

Rick Palsgrove,

Managing Editor

3500 Sullivant Ave.,

Columbus, OH 43204

or email:

southeast @

columbusmessenger.com

MOTORCYCLE

2000 H. Springer Harley

Davidson 2,500 mi,Suede

green no rides $10,500.

614-330-3673

DATED SALES

ESTATE SALE

Sat, Oct. 9, 9am-4pm

291 S. Brinker Ave.

Columbus 43204

Furniture, rugs, housewares

linens, china, cut glass,

jewelry, decorative items &

standup arcade game

PETS

HOMING PIGEONS

$5.00 ea. 614-662-8655

WANT TO BUY

We Buy Cars & Trucks

$300-$3000.614-308-2626

We Buy Junk Cars &

Trucks. Highest Prices

Paid. 614-395-8775

WANTS TO Purchase

minerals and other oil &

gas interests. Send details

to: P.O. Box 13557,

Denver, CO 80201

WE BUY JUNK CARS

Call anytime 614-774-6797

ANTIQUES

WANTED

Victrolas, Watches,

Clocks, Bookcases

Antiques, Furn.

Jeff 614-262-0676

or 614-783-2629

BUYING VINYL RECORDS.

LPs and 45s - 1950-80s

Rock, Pop, Jazz, Soul.

614-831-0383

VACATION RENTALS

Englewood, Florida

Palm Manor Resort

Within minutes of white

sand Gulf beaches,

world famous Tarpon

fishing, golf courses, restaurants/shopping,

Bush

Gardens. 2 BR 2 BA

condos with all ammenities,

weekly/monthly, visit

www.palmmanor.com

or call 1-800-848-8141

BLACKTOP

AGM OHIO

ROOFING &

SEALCOATING

Free Estimates

Cell 614-512-1699

SANTIAGO'S

Sealcoating & Services LLC

Quality Materials Used

FALL IS HERE!

Driveway Seal & Repair!

Top Seal Cracks!

Residential & Commercial

Mulching, Edging & Clean-ups

"Ask for whatever you need."

BBB Accredited-Fully Insured

Call or text for Free Est.

614-649-1200

CARPET CLEANING

INFORMATION

9/12

A/M

BLACKTOP SEALING

Driveways & Parking Lots

614-875-6971

CARPET CLEANING

Any 5 areas ONLY $75

Home Powerwash- $99-$200

614-805-1084

Specializing in Pet Odors

CARPET SALES

CARPET

Gray Saxony

540 sq.ft. & 6 lb

Pad & Normal Installation

Only $999.00

Phone or text Ray

740-927-3404

ONLY

$50.00

For This Ad In Our

West & Grove City

For Info Call

272-5422

CONCRETE

ALL-CITY CUSTOM

CONCRETE

All Types Concrete Work

New or Tear Out-Replace

39 Yrs. Exp.

(614) 207-5430

Owner is On The Job!

Buckeye City

Concrete & Excavating

* Concrete * Foundations

* Waterlines * Drains

*Catch Basins

614-749-2167

buckeyecityconcreteand

excavating@yahoo.com

EDDIE MOORE

CONSTRUCTION

Quality Concrete Work

Lt. Hauling & Room Add.,

Block Work & Excavation

Stamp Patios,

Bsmt. Wall Restoration

35 Yrs Exp - Lic & Ins.

Free Ests. 614-871-3834

10/24 A/M

10/24 A/M

CONCRETE

GALLION

CUSTOM CONCRETE LLC

Specializing in Custom Colors &

Custom Designs of Concrete.

Including Remove & Replace

43 yrs exp & Free Est.

Licensed & Insured

Reputation Built

On Quality

Ronnie

614-875-8364

See Us On Facebook

www.gallioncustom

concrete.com

www.hastingsnsons.com

Driveways & Extensions

Patio & Walkways,

Porches & Steps,

Garage/Basement Floors

Hot Tub/Shed Pads,

Stamped/colored concrete

Sealing of new &

existing concrete.

FREE ESTIMATES

Contact Adam

614-756-1754

hastingsandsons.

columbus@gmail.com

AJ's Concrete,

Masonry

Good Work - Fair Prices

Block Foundations

Driveways • Sidewalks

Epoxy/Overlay Floors

Bonded-Ins. • Free Ests.

614-419-9932

FENCING

EAZY FENCE

Chain Link - Wood

No Job Too Big or Small

All Repairs ~ Free Est.

Insured. 614-670-2292

FLOORING

• Tile • Hardwood

• Laminate • Vinyl

10/10

614-806-6050

SW

Sales • Installation • Free Est.

GUTTERS

Bates & Sons

GUTTER CLEANING

5 ★ Google Reviews

614-586-3417

HAULING

DEAN'S HAULING

614-276-1958

HEATING

HEATING

Complete System Clean & Check

$49.95

Free Carbon

Monoxide Testing

Gas-Oil-Electric Heat/Pumps

All Makes • All Models

45 yrs exp. • Sr. Discount

614-351-9025

10/24 W/SW

10/24 A

4/11 A

HOME

IMPROVEMENTS

KLAUSMAN HOME

IMPROVEMENT

Siding-Windows-

Doors-Roofing-Soffit-

Fascia-Gutters-Trim

Earn FREE Seamless

Gutters with Siding Over

1000 Sq. Ft.

FREE Shutters with

Soffit & Trim

EPA Certified

Member of BBB

Financing Available

Over 20 yrs exp. • Free Est.

Licensed-Bonded-Insured

Owner & Operator

James 614-419-7500

SLAGLE

HOME REMODELING

Baths, Kitchen,

Plumbing and Electrical.

All your Handyman needs

No Job too Big or Small

Over 30 Yrs. Exp. Lic.-Bond-Ins.

Jerry

614-332-3320

HOME

REMODELING

Handyman Remodeling

Over 35 yrs exp.

Larry 614-376-7006

LAWN CARE

The Lawn Barber

Cut, Trim, Blow away

Hedge Trimming, Edging

Garden Tilling

614-935-1466

LET US MAINTAIN

YOUR LAWN & GARDEN

FOR YOU

Summer, Spring,

Winter or Fall

WE DO IT ALL!!!!

Lawn Cuts, Edging,

Trees & Shrubs, Garden,

Mulching, Hauling,

Garden Pond &

Home Maint.

Free Ests. Low Rates

$20 & Up

Kevin - 614-905-3117

MOVING

Aaron Allen

Moving

Local Moving since 1956

Bonded and Insured

614-299-6683

614-263-0649

Celebrating

over 60 yrs

in business

PAINTING

A Job Well Done Again

A lic. General Contractor

Some Skilled Services

Incl: Painting • Stucco,

Repair•Carpentry•Exterior

Drainage & Home Maint.

Call Today! 614-235-1819

PLASTERING

DRYW

YWALL &

PLASTER

10/10

A&M

REPAIR

Textured Ceilings

614-551-6963

Residential/Commercial

BIA

PLUMBING

Classified Services

10/10 A

10/24

SW/W

Handyman - outdoor &

indoor. Reasonable Rates

614-634-2244

C&JHandyman

Services LLC

Minor Plumbing

& Electric

Install Hot Water Tanks,

Dishwashers & Disposals

Also Fencing &

Interior/Exterior Painting

Free Est. ~ 18 Yrs. Exp.

CDC/EPA Approved Guidelines

614-284-2100

SINCE 1973

Phil Bolon Contr.

Windows & Siding

Decks, Kitchens, Baths

Room Additions,

Flooring, Roofing

Bsmt Waterproofing

Deal With Small Non-Pressure Co.

47 Yrs. Exp. - Refs. Avail.

Lic.-Bond-Ins.

10/24

A/M

Free Est. - Financing Avail.

Member BBB Of Cent. OH

O.C.I.E.B. ID #24273

614-419-3977

or 614-863-9912

HOME

MAINTENANCE

Minor Maintenance

Small Jobs Done Quick

614-649-8045 - Joe

10/10 A

SOWERS LAW N CARE

Mowing-mulching-trimming

Fall cleanup-614-397-0566

MYERS

PLUMBING

Exp. Expert Plumbing

New Work & Fast Repairs

Lic. - Permit Available

Water • Sewer • Gas

614-633-9694

Walraven's Plumbing

24/7 Emergency Services

Includes:

Sewer/Drain Cleaning,

Faucet Repairs &

Replacements, Toilets,

Sump Pumps, Disposals

& Water Heaters

10/10

W/GC

Senior Discounts

614-279-5815

10/24 A&M

PLUMBING

CHRIS'

PLUMBING

"Plumbing & Drain Professional

That You Can Count On"

24 Hrs., 7 Days/Week

No Overtime Charges

24 Yrs. Exp. in Plumbing &

Drain Cleaning Field

Call For A Free Phone Estimate

$100.00 For Any Small Drain

614-622-4482

30% OFF with AD

All About Drains & Plumb.

Will snake any sm drain

$145. 614-778-2584

ALL IN ONE

PLUMBING LLC

"One Call Does It All"

$25 OFF LABOR

With This Ad

A

614-801-1508

All Major Credit Cards Accepted

POWERWASHING

Bates & Sons

Soft Wash & Powerwash

5 ★ Google Reviews

614-586-3417

ROOFING

Robinson roofing & repairs

30 yrs. exp. Lifetime Cols.

resident. Lic./bonded/Ins.

Reas rates. Member of

BBB. Dennis Robinson

614-330-3087, 732-3100

SEWING MACHINE

REPAIR

REPAIR all makes 24 hr.

service. Clean, oil, adjust

in your home. $49.95 all

work gtd. 614-890-5296

TREE SERVICES

Arborists Rn

Tree Experts LLC.

For all your

trimming needs.

•Removals,

•Trimming,

•Pruning,

•Thinning,

•Stump Grinding

Give us a call today!

614-483-3204

BURNS TREE SERVICE

Trimming, Removal &

Stump Grinding.

614-584-2164

Brewer & Sons Tree Service

• Tree Removal

• Tree Trimming 10/24

A&M

• Stump Grinding

• Bucket Truck Services

Best Prices • Same Day Service

614-878-2568

10/10 A

10/10

MRS. POWERWASH

Any house wash $149+tax

Single deck $69+tax

2 Tier deck $99+tax

Best Wash in Town

Over 45,000 washes

Ashley 614-771-3892

10/24 A&M
---
PAGE 16 - GROVE CITY MESSENGER - October 3, 2021

Get out in front of

the 2021 Election

START ADVERTISING NOW

Community Advertiser Get The VOTES You NEED!

Dates to Advertise before the Election:

10/17—Ad with Free Story • 10/31—Ad with Free Story

BEST BUY FOR YOUR

ADVERTISING DOLLARS

Our papers reach over 81,000 households!

Looking for a small,

friendly church experience? Try

First Presbyterian Church

of Grove City

4227 Broadway, Grove City

In-person Worship 10 a.m.

Services will continue on

Facebook Live at 10 a.m. as well

www.fpcgc.org

Be a Part of Our Local Worship Guide

Our Worship Guide is geared toward celebrating faith and helping reader connect with religious

resources in our community. Make sure these readers know how you can help with a presence in

this very special section distributed to more than 22,000 households in the Grove City area.

Contact us today to secure your spot in our Worship Guide.

614.272.5422 • kathy@columbusmessenger.com

Grove City

Messenger

200 Word Story

With Your Ad

Call or Email Doug Henry

Phone: (614) 272-5422

Email: doughenry@columbusmessenger.com

EMMANUEL LUTHERAN

CHURCH

80 E. Markison Ave., Columbus, OH 43207

elclife.org

SUNDAY WORSHIP SERVICE

8:30 am & 11:00 am

BIBLE CLASS

Adult and Youth (K-5)

9:45 am

*11:00 service includes a radio broadcast

in our parking lot on FM 87.9

In Entertainment

www.columbusmessenger.com

"e Starling" tends to fly off course

A film must maintain a delicate balance

when its plot revolves around the grieving

process. If it delves too deeply into the subject,

it risks alienating the audience as no

one wants to be hit endlessly by a battering

ram. If it cuts corners to soften the despair,

it runs the risk of making the audience

think its creators did not believe they could

fully handle the content, thus creating a

disconnect between the art and the viewer.

And if it employs the continual use of

melancholy music in lieu of exposition, it

runs the risk of making the audience divest

from the story if they feel they are being

emotionally manipulated through song.

"The Starling" is a film that tries to

thread that delicate balance, but ultimately

fails due in large part to a cutesy and

overwrought script from Matt Harris.

Oftentimes swinging wildly between the

second and third scenario from the paragraph

above, it does not seem to trust its

talented cast to do the emotional heavylifting,

relying instead on overt sentimentality

and original music from The

Lumineers, Nate Ruess, and Brandi

Carlile. This decision makes for a frustrating

view of an otherwise promising movie

that tries to tackle the difficult journey of

people finding hope after suffering a devastating

loss.

The film opens during happier times for

married couple Lilly and Jack Maynard

(played by Melissa McCarthy and Chris

O'Dowd, respectively). They have just welcomed

their first child, Katie into the world

and are already playfully fighting over who

she will be in the future. Jack believes she

will become a famed podiatrist in

Cleveland while Lilly believes she will

become the best vegan butcher in the

world. After agreeing to disagree on the

career path their daughter will take,

instead they state they just want her to be

happy and healthy for as long as they both

live.

Less than a year later, the couple is

reeling from the loss of their daughter from

SIDS (Sudden Infant Death Syndrome). To

cope with his severe depression, Jack has

checked himself into a mental health facility

while Lilly continues to go through the

motions of life, teetering between apathy

and anger. Their methods of dealing with

their profound loss has put them on different

paths, creating a wide fissure in their

once rock solid relationship.

Once a week, and begrudgingly allowed

by her supervisor at the supermarket

where she works, Lilly travels over an hour

to see Jack at the facility. There, they

engage in awkward talk about what they

have been doing during their time apart

and largely refuse to talk about their emotional

state during group support. "We're

fine, everything is fine," Lilly and Jack

repeat, clearly lying to themselves and others.

After a particularly unproductive therapy

session, the group counselor gives Lilly

the name of a local therapist to help with

The Reel Deal

Dedra Cordle

her own repressed

emotional struggles.

Scoffing at his name

— "Dr. Larry Fine?

Like the Three

Stooges?" she quips

— Lilly has no real

intention of going to

see him until the counselor tells her it

could help mend her relationship with her

husband.

When she gets to Dr. Larry's office (the

character is played by Kevin Kline, always

a delight), she realizes he is no longer practicing

with humans; instead, he has transitioned

to animal care. While sitting in on a

neutering operation with an amorous

French Bulldog, Lilly begins to unload her

emotional state onto Dr. Larry despite constant

reminders that he no longer offers

psychological services. Though she tries to

stay away, she finds a great excuse to keep

coming back when she encounters the titular

bird.

Wanting to undertake a large project to

keep her mind occupied, Lilly commits to

regrowing the neglected garden at her

inherited farmstead. During her first

attempt at clearing the plot, she comes

under attack from a starling, much to her

confusion.

Wishing to rid her property of this flying

beast, she goes to Dr. Larry for advice.

Though their conversations are heavy

handed with avian metaphors about life,

death, and the state of Lilly and Jack's

marriage, these scenes are easily the best

thing about this movie. They are also the

most frustrating thing about this movie.

Boasting a stellar cast with great rapport,

"The Starling" has actors that are

capable of both dark humor and emotional

exposition. But the script, and some of the

directorial choices from Theodore Melfi,

does not allow them to fully embrace the

challenge, instead pulling them back from

the verge of well-earned character development

in favor of quirky product placement

moments or expertly placed sad songs

meant to tug at heartstrings. Music is

meant to be a compliment to the action, not

in place of telling the story itself.

While "The Starling" can be exasperating

at times, the cast and the actions of the

territorial titular bird are able to elevate

the material enough to make this film

about finding hope about loss watchable, if

not sometimes enjoyable. But it's hard not

to think about what could have been had

one or two more tweaks been made within

the storytelling process.

"The Starling" is currently in select theaters

and streaming on Netflix. Grade: C

Dedra Cordle is a Messenger staff

writer and columnist.