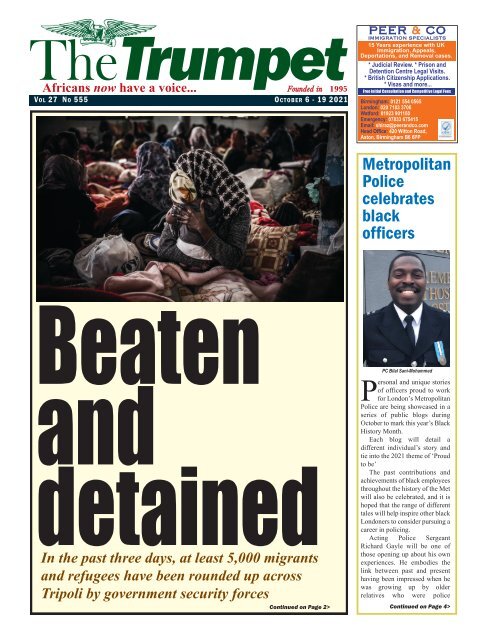 The Trumpet Newspaper Issue 555 (October 6 - 19 2021)
Beaten and detained. Metropolitan Police celebrates black officers
Beaten and detained.
Metropolitan Police celebrates black officers
SHOW MORE
SHOW LESS
You also want an ePaper? Increase the reach of your titles
YUMPU automatically turns print PDFs into web optimized ePapers that Google loves.
TheTrumpet

Africans now have a voice... Founded in 1995

V O L 27 N O 555 O C T O B E R 6 - 19 2021

PEER & CO

IMMIGRATION SPECIALISTS

15 Years experience with UK

Immigration, Appeals,

Deportations, and Removal cases.

* Judicial Review. * Prison and

Detention Centre Legal Visits.

* British Citizenship Applications.

* Visas and more...

Free Initial Consultation and Competitive Legal Fees

Birmingham: 0121 554 0565

London: 020 7183 3706

Watford: 01923 901150

Emergency: 07833 675415

Email: shiraz@peerandco.com

Head Office: 420 Witton Road,

Aston, Birmingham B6 6PP

Metropolitan

Police

celebrates

black

officers

Beaten

and

detained

In the past three days, at least 5,000 migrants

and refugees have been rounded up across

Tripoli by government security forces

Continued on Page 2>

PC Bilal Sani-Mohammed

Personal and unique stories

of officers proud to work

for London's Metropolitan

Police are being showcased in a

series of public blogs during

October to mark this year's Black

History Month.

Each blog will detail a

different individual's story and

tie into the 2021 theme of 'Proud

to be'

The past contributions and

achievements of black employees

throughout the history of the Met

will also be celebrated, and it is

hoped that the range of different

tales will help inspire other black

Londoners to consider pursuing a

career in policing.

Acting Police Sergeant

Richard Gayle will be one of

those opening up about his own

experiences. He embodies the

link between past and present

having been impressed when he

was growing up by older

relatives who were police

Continued on Page 4>
---
Page2 TheTrumpet OCTOBER 6 - 19 2021

News

Thousands beaten up, detained

following days of mass arrests in Tripoli

Continued from Page 1<

Following five days of mass arrests of

migrants and refugees from the streets of

Tripoli, the number of people being held

in detention centres has exploded; the

arrests and treatment during detention

have often been violent, with multiple

people beaten, injured and even killed;

people are being crammed into cells – in

sometimes so little space, they're forced

to stand – in disgracefully unhygienic

conditions; MSF calls on the Libyan

authorities to halt the mass arrests and to

release all people unlawfully held; MSF

also urges the authorities to identify

dignified alternatives to detention and

allow the immediate resumption of

resettlements flights.

The numbers of migrants and

refugees held in detention centres

in Tripoli, Libya, have risen

dramatically – to more than threefold -

over the past five days, say teams from

Médecins Sans Frontières (MSF). MSF –

which provides medical care in three

detention centres in the city – is

profoundly disturbed by the increase,

which is the direct result of five days of

random mass arrests of migrants and

refugees, including women and children,

carried out in the city since 1 October.

In the past three days, at least 5,000

migrants and refugees have been rounded

up across Tripoli by government security

forces. During the raids on their homes,

many of those captured were reportedly

subjected to severe physical violence,

including sexual violence. One young

migrant was killed and at least five others

sustained gunshot wounds, according to

the UN.

"We are seeing security forces take

extreme measures to arbitrarily detain

more vulnerable people in inhumane

conditions in severely overcrowded

facilities," says Ellen van der Velden,

MSF's operations manager for Libya.

"Entire families of migrants and refugees

living in Tripoli have been captured,

handcuffed and transported to various

detention centres."

"In the process, people have been hurt

and even killed, families have been split

up and their homes have been reduced to

piles of rubble," says van der Velden.

As a result of insecurity caused by the

ongoing raids, our teams have been

unable to run their weekly mobile clinics

across the city for vulnerable migrants

and refugees needing medical care. The

raids have also impacted people's ability

to move freely around the city and seek

medical care, as those who have evaded

arrest are fearful of going out of doors.

"Armed and masked security men

raided our house where I was living with

three other people," says Abdo*. "They

tied our hands behind our backs and

dragged us out of the house. We were

pleading for them to give us time to

collect our belongings and important

papers, but they wouldn't listen."

"We were beaten in the process. Some

people were beaten on their legs and

suffered fractures," says Abdo. "They hit

me on the head with the butt of a gun and

I suffered serious injuries. [Later] the

doctor had to stitch the wound and wrap

it with 10 different dressings."

"The masked men led us all into

vehicles, then we found ourselves in

Ghout Sha'al Detention Centre. I was

there for four days and experienced a

very difficult time, seeing helpless people

being beaten with weapons," Abdo

continues. "On the fourth day, I managed

to escape. I am free now. I am free."

Those arrested have been taken to

State-run detention centres and locked up

in insanitary and severely overcrowded

cells, with little clean water, food or

access to toilets. After the violence of the

arrests, it is likely that many are in need

of urgent medical care.

In the past two days, MSF teams have

managed to visit two detention centres in

the capital where people arrested in the

recent raids are being held: Shara Zawiya

and Al-Mabani (also known as Ghout

Sha'al).

In Shara Zawiya Detention Centre,

which normally accommodates 200-250

people, an MSF team witnessed more

than 550 women and children crammed

into the cells, including pregnant women

and new-born babies. Around 120 people

were sharing just one toilet, while

buckets filled with urine were lined up

near the doors of cells. When food was

distributed, a commotion broke out as the

detained women protested against the

conditions in which they were being held.

In Al-Mabani Detention Centre, our

teams witnessed hangars and cells so

overcrowded that the men inside them

were forced to stand. Outside the cells,

hundreds of women and children were

being held in the open air, without shade

or shelter. An MSF team spoke to men

who said they had not eaten for three

days, while several women said all they

had received was a piece of bread and a

triangle of processed cheese once a day.

Our team found several men in an

unconscious state and requiring urgent

medical attention.

During their visit to Al-Mabani, our

team witnessed a group of detained

migrants and refugees attempting to

escape. They were met with extreme

violence: our team heard two rounds of

heavy gunfire at very close range and

witnessed the indiscriminate beating of a

group of men, who were later forced into

vehicles and driven to an unknown

destination.

In these very tense conditions and

with the time of their visits severely

limited, we treated 161 patients,

including three for violence-related

injuries. We also facilitated the transfer of

21 patients in need of specialist medical

care to clinics supported by MSF in

Tripoli.

MSF recently resumed medical

activities in Shara Zawiya, Al-Mabani

and Abu Salim Detention Centres in

Tripoli after almost three months of

suspension following repeated incidents

of violence against migrants and refugees

held in the facilities. The resumption of

LAND FOR SALE

at Isoko

Estates

Nigeria

our work followed an agreement with the

authorities managing these centres, in

which we received assurances that certain

basic conditions would be met. After this

week's visits, it is clear that these

conditions have been breached.

"Instead of increasing the number of

people held in detention centres, efforts

should be made to put an end to arbitrary

detention and close these dangerous and

uninhabitable facilities," says van der

Velden. "More than ever before, migrants

and refugees are living in danger and are

trapped in Libya with very limited

options for a way out - as humanitarian

flights have been unjustifiably suspended

for the second time this year."

MSF calls on the Libyan authorities

to halt the mass arrests of vulnerable

migrants and refugees, and to release all

people unlawfully held in detention

centres. MSF also urges the authorities,

with the support of relevant

organisations, to identify safe and

dignified alternatives to detention and

allow the immediate resumption of

humanitarian evacuation and

resettlements flights out of Libya.

1) ONE (1) Acre of Land (6 Plots) at OKUSHU in OKO-AFO close to AGBARA

and ATAN to ADO-ODO, off BADAGRY Express way. This is an upcoming

residential developing area.

The electricity supply from the national grid, is through Agbara. Very dry soil,

Not flood plain (NO FLOOD PROBLEMS) PRICE: N1.5 MILLION.

2) 2 Plots of Land for Sale at ERUKU - OKO-AFO; AGBARA AREA, also, ATAN,

and ADO-ODO, through Badagry Express way, and it also benefits from good

transport systems and national grid is through Agbara and ATAN area.

PRICE: N900,000. Nine Hundred Thousand Naira.

All the above properties are recommended for early grab as we are inaundated

with enquiries, therefore, first come, first served.

PLEASE CALL :- +44 (0)7802 575486 - JOE

PEER & CO

IMMIGRATION SPECIALISTS

15 Years experience with UK

Immigration, Appeals,

Deportations, and Removal cases.

* Judicial Review. * Prison and

Detention Centre Legal Visits.

* British Citizenship Applications.

* Visas and more...

Free Initial Consultation and Competitive Legal Fees

Birmingham: 0121 554 0565

London: 020 7183 3706

Watford: 01923 901150

Emergency: 07833 675415

Email: shiraz@peerandco.com

Head Office: 420 Witton Road,

Aston, Birmingham B6 6PP
---
OCTOBER 6 - 19 2021 TheTrumpet

Page3
---
Page4

TheTrumpet

OCTOBER 6 - 19 2021

News

PC Bilal Sani-Mohammed

TheTrumpet Group

Field: 07956 385 604

E-mail:

info@the-trumpet.com

TheTrumpetTeam

PUBLISHER / EDITOR-IN-CHIEF:

'Femi Okutubo

CONTRIBUTORS:

Moji Idowu, Ayo Odumade,

Steve Mulindwa

SPECIAL PROJECTS:

Odafe Atogun

John-Brown Adegunsoye (Abuja)

DESIGN:

Xandydesigns@gmail.com

ATLANTA BUREAU CHIEF:

Uko-Bendi Udo

3695 F Cascade Road #2140 Atlanta,

GA 30331 USA

Tel: +1 404 889 3613

E-mail: uudo1@hotmail.com

BOARD OF CONSULTANTS

CHAIRMAN:

Pastor Kolade Adebayo-Oke

MEMBERS:

Tunde Ajasa-Alashe

Allison Shoyombo, Peter Osuhon

TheTrumpet (ISSN: 1477-3392)

is published in London fortnightly

THINKING

OF

WRITING

A BUSINESS

PLAN?

We can help you develop a

professional business plan

from only £250.

For more information, contact us

at 07402792146 or email us at:

tolu.oyewole@consultant.com

Continued from Page 1<

officers.

He now hopes to inspire other

black Londoners to join up. PS Gayle,

who works in Specialist Operations,

said: "I'm proud to be black and

following in the footsteps of my dad

and my great-uncle.

"When I was a kid they inspired

me to want to protect people and to

take pride in my Caribbean heritage. I

believe that you can't be what you

can't see, so every day I go to work

knowing I am potentially giving other

young black people the courage to

pursue their dreams."

Another officer who will share his

story, PC Bilal Sani-Mohammed, a

black Londoner working in the Met's

PC Bilal Sani-Mohammed

Professionalism department.

PC Sani-Mohammed said: "I love

being a police officer and serving

London every day. Currently, I'm part

of the Deputy Commissioner's

Delivery Group, where I work to

improve the Met's relationship with

our many communities. It's a great

role, where I've directly influenced

change from within the organisation

and for my community too."

This month will see a range of

internal and external communityfocused

initiatives to mark the 2021

event, including one organised by the

Met's Black Police Networking

Strand on Thursday 7 October. "Black

History in Policing" will involve a

special exhibition and senior black

officers speaking about their journeys

at Scotland Yard.

Meanwhile the Met's Black Police

Association is also putting on a

variety of talks and special events,

including a probationer conducting an

interview with a long-serving black

special constable who has now served

for an incredible 42 years.

There are more than 5,000 officers

from under-represented groups –

more than half of all the officers in

England and Wales – now working in

the Met – 450 of whom joined in the

last financial year. Around 1,000 of

those are black.

While the Met is pleased at the

progress made to date towards

increasing representation in the

workforce, it acknowledges there is

still much work to be done to achieve

its aim of fully reflecting the diversity

of all the capital's many communities.

The force's latest recruitment

campaign, 'Now More than Ever',

which launched over summer, hopes

to aid this process. It foregrounded

ambassadors from a range of ethnic

groups who are enjoying varied and

successful careers in the Met, and

shared their personal experiences, in a

bid to both reassure and encourage

other members of under-represented

communities to join up.

This followed the announcement

earlier in the year of the bold

recruitment aspiration for Black,

Asian and Multiple Ethnic Heritage

officers to make up 40% of all new

officers recruited from April 2022.

Met Commissioner Cressida Dick

has previously expressed her personal

commitment to this goal. She said:

"The Met already has so many

brilliant black officers and staff,

enjoying and contributing to a wide

variety of roles. I want to increase

their numbers and ensure that they all

really thrive, together with all our

colleagues, in a healthy and inclusive

workplace."

Bubble In Christ Music Band

For your Music band with

classic rendition for all

occasions, with traditional,

contemporary African

international and Gospel filled

with professional decent

Presentation.

More Musicians, Singers,

Instrumentalists, handy men,

Music directors band coordinators,

Audio and/or video

technicians, Drivers,

Marketing Personnel are

welcome.

Contact: Olugbenga on

07438 264613

CHERUBIM & SERAPHIM MOVEMENT CHURCH

Amazing Grace District -London Branch 2

God's Promises

never fail:

* Before they call I

will answer; while

they are still

speaking I will hear

(Isaiah 65: 24)

Acting Police Sergeant Richard Gayle

WEEKLY DELIVERANCE SERVICE

Deliverance: Every Wednesday

Time: 6.30pm – 7pm (Individual Prayer & Counselling)

Midweek Church Service: 7pm – 9pm

Venue: Orange Room, Albany Theatre, Douglas Way,

London SE8 4AG

Other Service: Sunday Thanks giving 11am – 1.30pm

* He will call upon me and I

will answer him: I will be

with him in trouble, I will

deliver him and honour him

(Psalm 91: 15)

For further information, contact - Church Secretary: S/M/I/I (Dr) I Oni-Owoyemi 07788 745231 Or

Church Elders: S/A T Owoyemi 07956 996689 or / M/S/A W Ojomo 07939 836499 or / Apostle T Gbolasere 07484 243990

Email: amazinggracebranch2@gmail.com
---
OCTOBER 6 - 19 2021 TheTrumpet

Page5
---
Page6 TheTrumpet OCTOBER 6 - 19 2021
---
OCTOBER 6 - 19 2021 TheTrumpet

Page7
---
Page8 TheTrumpet OCTOBER 6 - 19 2021

News

Men sentenced for £5,000 bitcoin scam

Two men who conned a man into from City of London Police, said:

cash before Oluwasegun ran from the

handing over £5,000 in a bitcoin "Billions and Oluwasegun conspired to

hotel and no bitcoins were ever

scam at a City of London hotel trick the victim into thinking they were

transferred to him. Billions did not meet

have been sentenced.

25-year-old Samuel Billions of

going to receive a deal on bitcoins, but

the reality was it was all an elaborate lie

with the victim at the hotel but arranged

everything in the background as part of

Hackney and 24-year-old Samuel to get the victim to hand over his money.

the conspiracy.

Oluwasegun of Gravesend, conspired to These two criminals will now pay the

After a complex investigation,

falsely lead the victim to believe that he

was purchasing bitcoins from them.

The pair were sentenced at Inner

London Crown Court on September 22,

2021. Billions was ordered to carry out

price for their dishonesty.

"If someone offers you something

which seems like it is too good to be true,

the chances are it probably is. Always

stop and take a moment to think before

Billions was identified through his profile

on a bitcoin trading website and

subscriber checks on his mobile phone.

Oluwasegun was identified through

fingerprints left at the scene.

100 hours of unpaid work over the next parting with your money or information

The victim went to the hotel thinking

During police interviews,

12 months, given a 12-week curfew order as it could keep you safe and protect you

that he was purchasing bitcoins at an

Oluwasegun and Billions both answered

and ordered to pay a victim surcharge of from criminals carrying out fraud."

agreed exchange rate and he was told by

no comment to all questions asked.

£90. Oluwasegun was ordered to Billions, who used bitcoin trading

Oluwasegun, who he had had no previous

Oluwasegun pleaded guilty to

complete 80 hours of unpaid work over websites, had contacted the victim to set

contact with, that he was there to collect

conspiracy to defraud in July 2021 and

the next 12 months and must also pay a up the trap, but the victim met

the cash so that the bitcoin transfer could

Billions was found guilty of conspiracy

victim surcharge of £90.

Oluwasegun at a hotel in the City of

take place.

to defraud at Inner London Crown Court

Detective Constable Ufuk Ekbic, London on October 19, 2019.

The victim handed over £5,000 in

on August 11, 2021 following a trial.

Technology

Digital players shine at Africa Digital

Manager Award

The Africa Digital Manager Award

(ADMA) organized by Inetum

(formerly Gfi) brought together

various African digital players and

rewarded the three winners from 2021.

Building on the success of this first

competition, ESN is launching the second

one, in partnership with the Ecole

Centrale de Casablanca again, to reward

companies and managers who have led

digitalization projects in Africa.

The 2021 ADMA awards ceremony

took place on Inetum's new premises in

Morocco, in Casanearshore (Casablanca).

This ceremony closed the first year of this

competition which brought together

candidates from all over Africa. This

event also made it possible to encourage

digital projects that participate in

economic development across the African

continent today and inspire the initiatives

of tomorrow.

Saloua Karkri-Belkeziz, President of Inetum in Africa

The meeting was also a platform for

discussion on digitalization issues in

Africa, and the trends revealed by the

candidates' projects. Vincent Rouaix,

Chairman and CEO of Inetum says: "We

believe in Africa, which is a growing

continent; digital represents an

opportunity for its economy. Hosting the

ADMA and the opening of our FabLab in

Casablanca are proof of our commitment

and our desire to shine on the continent.

We are present in close proximity there,

to support the digital transition of

companies, the economy and, more

generally of society, to make the most of

digital flow."

Saloua Karkri-Belkeziz, President of

Inetum in Africa announced: "We are

pleased that ADMA is meeting with such

enthusiasm. Thanks to this project, Inetum

is at the heart of a dynamic for the

development of innovation ecosystems on

the continent. It is an enriching experience

thanks to the exchanges we share with

talented managers around ambitious

projects carried out by African companies

and institutions. And we will be keen to

make this initiative last, so that it

constitutes a real platform for identifying

the best digital projects in Africa, every

year. "

At the opening ceremony, Inetum

announced the 2022 competition. Online

applications for the new event are now

open on the ADMA website: .

To compete, participants must submit

projects carried out internally or in

partnership with third parties

(laboratories, universities, subsidiaries or

other partners). Candidates can also

present a managerial method used to

effectively lead one or more projects

based on agility, change management or

any other performance measure. The

nature of innovation or managerial

excellence will determine the best

dossiers selected by the jury.

The first edition ADMA brought

together 52 candidate projects with 10

finalists from 7 countries: Mali, Benin,

Senegal, Cameroon, Congo, Morocco and

Celebrating Africa's digital players

Algeria. The 3 winners were able to

receive their trophies:

• Maghreb Accessoires for the North

Africa region, for the digitization

project addressing the entire

organization, with the aim of

optimizing management processes and

modernizing the customer experience.

• Orange Cameroun took home the

ADMA award for Central Africa,

through the MyWay + platform, which

consists of innovation and

modernization of the customer

experience.

• La Caisse de sécurité sociale du

Sénégal (IPRES) won the ADMA

award for West Africa, for the project

aimed at modernizing and

harmonizing the information systems

of this public administration.

The winners will benefit from dual

support with substantial added value.

First, consulting support for the winning

company provided by Inetum's expert

consultants. In addition, Six Sigma Green

Belt certification training provided by the

ADMA competition partner, l'École

Centrale de Casablanca, for the managers

who helmed the winning projects.
---
OCTOBER 6 - 19 2021 TheTrumpet

Page9
---
Page10 TheTrumpet OCTOBER 6 - 19 2021

Science

Scientists discover why some

individuals have stronger natural

defences against SARS-COV-2

Anew study has revealed key

insights into the natural human

antiviral defences against

SARS-CoV-2, the virus that causes

COVID-19.

The research, published in the

journal Science and led by a team of

scientists at the MRC-University of

Glasgow Centre for Virus Research,

sheds new light on why some people

are naturally more resistant to serious

SARS-CoV-2 infection – and how, in

the future, the coronavirus might

overcome this resistance.

COVID-19 is spread from person to

person after the virus, shed by an

infected person, infects the cells of a

new host. Once infected, our cells try to

fight off the invading virus and

scientists already know that this works

better in some people, making their

experience of the disease less severe.

However, until now, that anti-viral

response – and its effect on the virus

SARS-CoV-2 – hasn't been wellunderstood.

In the study, the scientists reveal that

some people have a version of a gene,

called OAS1, that potently inhibits

SARS-CoV-2.

The study showed that, while some

people can express a more protective

'prenylated' version of the OAS1 gene,

other people express a version of this

gene which does not detect SARS-

CoV-2.

Inside cells, coronaviruses hide and

replicate inside vesicles coated with

Some individuals have stronger natural defences against SARS-COV-2..

lipid (fat). Prenylation is the addition of

a single molecule of lipid (fat) to a

protein – and it's this technical

difference that allows prenylated OAS1

to 'seek out' the invading virus and

'sound the alarm'.

The study found that, in hospitalised

patients, expression of a prenylated

version of this gene was associated with

protection from severe COVID-19,

which suggests this antiviral defence is

a major component of a protective

antiviral response; and is likely to have

offered protection to many people

during the course of the pandemic.

The study also found that

hospitalized COVID-19 patients with

the 'bad' form of OAS1 had worse

clinical outcomes compared to those

who expressed the protective

prenylated version of OAS1. Severe

disease was significantly more frequent

with ICU admission or death being

approximately 1.6 times more likely in

these patients.

Interestingly, the researchers also

found that, approximately 55 million

years ago, there was a removal of this

protective gene in horseshoe bats – the

presumed source of SARS-CoV-2) – so

therefore SARS-CoV-2 never had to

adapt to evade this defence.

As the protective prenylated OAS1

gene is widespread in animals, the

billions of people that lack this

protective gene could make humans

particularly vulnerable to the spill over

of coronaviruses from horseshoe bats.

Sam Wilson said: "We know viruses

adapt, and even SARS-CoV-2 has

likely adapted to replicate in the animal

reservoir(s) in which it circulates.

Cross-species transmission to humans

exposed the virus SARS-CoV-2 to a

new repertoire of antiviral defences,

some of which SARS-CoV-2 may not

know how to evade.

"What our study shows us is that the

coronavirus that caused the SARS

outbreak in 2003 learned to evade

prenylated OAS1. If SARS-CoV-2

variants learn the same trick, they could

be substantially more pathogenic and

transmissible in unvaccinated

populations. This reinforces the need to

continually monitor the emergence of

new SARS-CoV-2 variants."

The study, 'A Prenylated dsRNA

Sensor Protects Against Severe

COVID-19,' is published in Science.

The study was predominantly funded

by the Medical Research Council,

Wellcome, and UKRI.

A link to the study can be found

here:

https://www.science.org/doi/10.1126/s

cience.abj3624

STALLIONS AIR

Ipanema Travel Ltd

AFRICA FLIGHTS

SPECIALISTS

LAGOS fr £477

(2 Bags)

020 7580 5999

07979 861 455

Call AMIT / ALEX

73 WELLS ST, W1T 3QG

All Fares Seasonal

ATOL 9179
---
Charity

OCTOBER 6 - 19 2021

TheTrumpet

Page11

VIN Club fundraises

for Heritage

Outreach

Philanthropic organisation - VIN Club

holds its flagship 4 th annual Black-

Tie charity event on November 13

2021 - in support of Heritage Outreach, a

UK registered charity that supports orphans

and vulnerable children in Nigeria.

Known for its charitable activities in the

United Kingdom and Nigeria, VIN Club

was established in 2014 by 11 like-minded

individuals with the aim of contributing

positively to the "Big Society" primarily

through its charity work. Other areas of the

club's interest are Investments,

Entertainment and Empowerment.

In previous years, VIN club raised a

total of £8,800 for Sickle Cell Society UK

in 2019; and £9,000 for Autism Initiatives

UK in 2018, and almost £14,000 for

RACET - a UK based charity that helps

children in rural communities in Nigeria

attend school.

In addition to these fund-raising

activities, VIN club also has charitable

pledges it honours every year such as

sponsoring university education for 2

RACET students, supporting the less

privileged on the streets, and donating food

and other materials to food banks.

At the start of 2021, the club voted to

continue with the "Charity begins at home"

approach it adopted in 2019, by supporting

a charity that operates in Nigeria but under

UK charity commission governance.

Heritage Outreach has an orphanage in

Isonyin-Ijebu where they provide shelter,

care, comfort and education of orphans and

vulnerable children.

According to the Club's President, Mr

Tunde Adebayo "Heritage Outreach meets

all the criteria we look out for when looking

for a charity to adopt. We are particularity

impressed with their purpose and passion

of transforming the lives of orphans and

vulnerable children in Nigeria. We see this

as a give back project"

The event holds at The Discovery

Centre, Jenkins Lane, Barking IG11 0AD

from 4pm. Tickets to the event are £75 per

head – with early-bird tickets available at

£60 per head till 13 th October, 2021. Tickets

can be purchased at Eventbrite (vinclub.eventbrite.com)

Ahead of the November 13 Black-Tie

event, Vin club would also be raising funds

for Heritage Outreach by embarking on a

15km sponsored walk on October the 16 th .

The walk can be supported using this link ()

Further information about VIN Club is

available at: ; Instagram - @clubvin1; and

Facebook - @clubvin1

TheArts

Free creative training

for Manchester

residents

Manchester International Festival

(MIF) has announced its latest

Factory Academy programme

for the 2021/22 academic year, providing

skills and training programmes for the

creative industries for people in

Manchester and the wider city region.

Launched in 2018 by MIF, in

partnership with a consortium of cultural

organisations in the city, the awardwinning

Factory Academy is a key part

of the vision to put skills and training

opportunities at the heart of The Factory,

Manchester's landmark new arts space.

Over the next five years, it will deliver

around 1,400 fully funded training

opportunities, creating accessible

pathways to work in an increasingly

important sector and supporting the

region's economic recovery.

In 2021/22, the Factory Academy will

offer places to 250 people across a range

of programmes including bespoke preemployment

academies on subjects from

construction to broadcast and film

production, industry traineeships

designed to immerse students in the

creative and cultural industries, and

opportunities to manage creative projects

to develop key skills. Alongside this, it

will offer Kickstart Wraparound Support

to creative and cultural employers,

aligned to the government Kickstart

Scheme, combining students' on-the-job

learning and unique opportunities for

personal development in a workplace

setting.

The latest opportunity is a new 15-day

training academy developed in

partnership with Laing O'Rourke, Ryder

Architecture and other companies who

are working to bring The Factory to life.

Students will discover what goes on

behind the scenes at an innovative

construction project, receive first-hand

guidance from industry experts and

develop new skills for working in

construction. The course, which takes

place 11-29 October, is fully funded, with

no cost to participants, and is open to

anyone in Manchester or Greater

Manchester aged 19-24 and on Universal

Credit. On completion of the academy,

students will have the chance to apply for

a six-month paid Kickstart role with

organisations working on the design and

construction of The Factory.

Last year, over 150 Greater

The launch of the Cultural Consortium

Manchester residents benefited from the

Factory Academy – its first year as an

independent training provider. Despite

the challenges of the pandemic period, an

average of 50% of students have

progressed into work or further study

within three months of completing the

Factory Futures Academy course in the

past year. In June 2021, The Factory

Academy was awarded the Marquee

Award at the inaugural Manchester Adult

Education and Skills Awards.

Ten students graduated from the

Continued on Page 13
---
Page12 TheTrumpet OCTOBER 6 - 19 2021

Earn money as a Trumpet Ambassador

campaign.

Sale of Banner Adverts, 'Highlights' and

Mail-shots our in Email Newsletters.

With rates ranging from £100 to £500 per

insertion, we pay Ambassadors a 15%

Commission.

Sale of Advertising on our Social Media

channels.

With rates ranging between £100 to £200

per channel per post, we pay a 15%

Commission.

Sale of Sponsorship, Advertising,

Exhibition spaces and Tickets for GAB

Awards and Trumpet Connect.

With most products and services ranging

between £100 and £20,000, we pay a 15%

Commission.

Engagement Status

Our freelance Ambassadors run their own

business, work from their own home or

office, and choose the amount of time

they devote to the programme. They work

towards the amount they want to earn.

They choose their legal status in terms of

whether they operate as a Self-Employed

individual or a Limited Company or any

other appropriate status depending on the

country they operate, but we suggest you

take professional advice on this.

Ambassadors are fully responsible for

ensuring their tax affairs and other related

issues fulfil the legal requirements of their

country of operation.

Incentives

From time to time, to incentivise our

Ambassadors, we may run special

promotions, or reward achievements,

milestones and introduction of other

Ambassadors to the programme through

cash or advert credits.

About Us

Trumpet Media Group is an

international media organisation with

various media products, services and

events targeting Africa, Africans and Friends

of Africa in the Diaspora and on the

Continent.

Its first media venture - Trumpet Newspaper

started 23 years ago - in 1995, closely

followed by the founding of the prestigious

Gathering of Africa's Best (GAB) Awards in

1999. There are a number of other niche

products, services and events - with plans to

grow our portfolio over the coming months

and years.

Sales Ambassadors

Our planned future growth has given rise to

the need to take on talented and ambitious

Sales Ambassadors who share our vision of:

promoting the positive image of Africa and

Africans, and are able to sell some (or all) of

our growing number of products and services

on a freelance basis.

Products and Services

We are introducing our portfolio of products,

services, and events below on to the Trumpet

Ambassadors Programme (TAP) in phases.

Print Newspapers: The Trumpet Newspaper

and Trumpet Ghana Newspaper.

Website: www.TrumpetMediaGroup.com

Email Newsletters: Trumpet Newsbreaker,

Trumpet Kenya, Trumpet Nigeria, Trumpet

Sierra Leone, Trumpet Gambia, Trumpet

Ghana

Social Media: Facebook, Twitter, Instagram,

Pinterest, LinkedIn, Google+ and WhatsApp.

Events: GAB Awards and Trumpet Connect.

The Opportunities

Opportunities to earn revenue through

Commissions are currently available by

way of:

Sale of Subscriptions to any (or both) of

our Print Newspapers.

With Annual Subscriptions starting from

£60, we pay a 10% Commission.

Distribution and Sales of bulk copies our

Newspapers.

We pay a 35% Commission - split between

the Ambassador and the Sales Outlet.

(Outlets will usually take between 15%

and 25% depending on its type and your

negotiating skills.)

Ambassadors may choose to sell directly

to their clientele or at events and keep the

entire 35% Commission.

Sale of Advertising Spaces in our Print

Newspapers.

With most Advert Spaces ranging from

£80 to £4500 per edition, we pay a 15%

Commission. You receive a Commission

on all editions in the campaign in line

with the Client's payment - for example, if

an advertiser books and pays for six

editions, you get a Commission on all six

editions.

Sale of Banner Adverts on Website

With Banner Adverts ranging between

£50 and £200 per week, we pay a 15%

Commission for the length of the

Payments

Commission Payments to Ambassadors

are made by the 15th day of the month

following payment of Clients - For

example, Commission on Clients'

payments in January will be paid by 15th

February.

Distribution and Sales of bulk copies of

Newspapers (4.3) are excluded from the

payment arrangement above (7.1).

An Ambassador buys and pays for bulk

copies in advance at a discounted rate

with the TAP Commission deducted upfront.

For example, if an Ambassador

orders bulk copies worth £100 in advance,

the Ambassador only pays us £65

(deducting the 35% Commission upfront).

We operate a No-Returns policy on

Newspaper Sales.

Joining the Programme

It currently costs £100 per annum to join

the Trumpet Ambassadors Programme

(TAP).

Introductory Offer - Join the programme

by 31 August 2018 and accumulate sales

of at least £1000 across any or all of our

products by 30 September 2018; and we

will reward you with 100 TAP Points

worth £100 - which you can spend on any

of our opportunities (4.2) - (4.8).

To join the programme, please request the

Trumpet Ambassadors Programme Form

and via email: info@the-trumpet.com
---
TheArts

Free creative training for

OCTOBER 6 - 19 2021

TheTrumpet

Halima a Creative Venue Technician

apprentice at the Royal Exchange

Theatre - Photo by Chris Payne

Page13

Manchester residents

Continued from Page 11<

Broadcast and Film Production

Traineeship in April, a partnership with

Toasted Productions, Near-life, Dock 10,

Jist, Title Role, The Gate Films, Delaval,

Vision in Colour and Eight Engines. To

date, six of the ten graduates have

progressed into paid employment with

organisations such as Badger and

Combes, Toasted Productions, MIF and

BBC Studios.

One of the graduates, Daniel

Goodchild said: "The access and the

resources that The Factory Academy

gives to be able to apply for these jobs is

just so important. I completed the

Broadcast & Film Training Academy and

got a BTEC out of it, was selected for a

placement at Toasted Productions and

then they invited me back so I'm working

here full time now. There was nothing else

that I had on my resume that could even

get me close to a job like this."

Simon Marsland, Director of

Toasted Productions said: "It's had a

really positive impact. Businesses should

get involved in The Factory Academy

because everyone wins out of it."

Madison Freeman was one of ten

graduates who completed paid

internships at Manchester International

Festival in the lead up to and during the

2021 festival. Speaking about her

experience, she said: "The contacts that

I've made that can help me in the future

has definitely boosted my confidence. It's

just proved to me that there are no

boundaries and I can do whatever I want

- and think big!"

Gary Briggs, Acting Head of Skills

and Training at MIF said: "The Factory

Academy creates unique opportunities

that aren't offered elsewhere through the

partnerships we've developed with

employers and the support we offer to

help open their doors to trainees. Our

courses are bespoke, not off the shelf,

developed with industry experts with

specialist knowledge and experience from

a range of sectors, from illustrators to

military trainers, sustainability experts to

musicians and arts technicians.

"Our aim is to reach people that

wouldn't usually consider a career in the

cultural industries and to remove some of

the traditional barriers, including

offering open recruitment days instead of

written application forms, giving the

highest quality experience with a focus on

experiential learning and selfdevelopment.

All the skills and

knowledge you'll acquire at a Factory

Futures training programme align to

employment within the creative industries

and beyond and are transferable across

the sector."

Randel Bryan, Executive Director at

Manchester International Festival, said:

"The Factory Academy is a key part of

our vision to put skills and training

opportunities at the heart of The Factory.

From 2023, The Factory will become a

major training centre for local people

wanting to work in a huge range of roles

in the creative industries, meaning people

can pursue careers, working alongside

world-class talents, without having to

leave the region. There will also be

opportunities for local artists to develop

and grow with the support of the MIF and

the partners of the Cultural Skills

Consortium."

According to research by the CBI

published in the months just before the

pandemic hit in March 2020, Manchester

is the second largest creative city in

Europe after London, at that time

bringing in £1.4bn to the city's economy.

Sir Richard Leese, Leader of

Manchester City Council, said: "In

Manchester, we've never doubted the

power of culture and creativity to help

change lives and this is why we continue

to invest in it, and why the city has been

recognised as the second largest creative

city in Europe after London.

"By providing new and innovative

training and development opportunities

for local people in the cultural and

creative industries, the Factory Academy

has a key part to play in helping us grow

our own highly skilled workforce here in

Tel: +44 (0) 7956 385 604

the city and in supporting the continued

growth of the sector."

Applications for the 2021/22

programme open from September. For

more information, please visit mif.co.uk

Factory Academy - putting skills and training opportunities at the heart of

Manchester's landmark new arts space

The Factory Academy Apprentices -

L-R - Louis Fryman, Eloise Bickle, Halima Arteh, Arber Binjaku - Photo by Chris Payne
---
Page14 TheTrumpet OCTOBER 6 - 19 2021

We are recruiting:

Independent Sales Consultants

Trumpet Media Group - an

international media

organisation targeting Africa,

Africans and Friends of Africa

in the Diaspora and on the

Continent was founded 24

years ago - in 1995.

Our growth has given rise to the need to engage the services

of self-employed Independent Sales Consultants and

organisations to sell some (or all) of our growing number of

products and services on a Commission-only basis.

The Opportunities

Opportunities to earn revenue through Commissions are

currently available by way of:

· Sale of Subscriptions to our Print Newspapers.

· Distribution and Sales of bulk copies our Newspapers.

· Sale of Advertising Spaces in our Print Newspapers.

· Sale of Banner Adverts on Website.

· Sale of Banner Adverts, 'Highlights' and Mail-shots in Email

Newsletters.

· Sale of Advertising posts on our Social Media channels.

· Sale of Sponsorship, Advertising, Exhibition spaces and

Tickets for GAB Awards and other events.

To apply, please email: info@the-trumpet.com
---
OCTOBER 6 - 19 2021 TheTrumpet

Page15
---
Page16 TheTrumpet OCTOBER 6 - 19 2021

TheTrumpet is published in London fortnightly by Trumpet

Field: 07956 385 604 E-mail: info@the-trumpet.com (ISSN: 1477-3392)