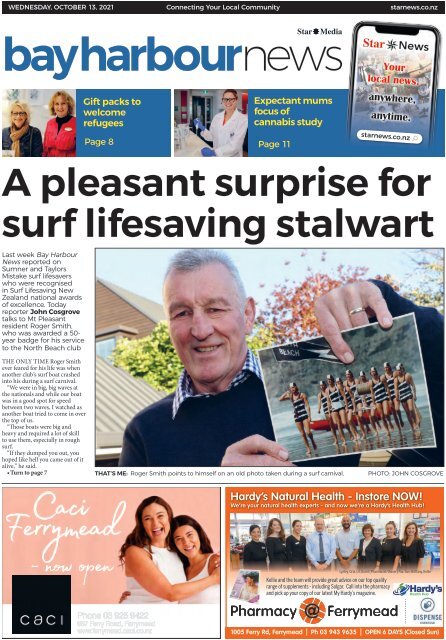 Bay Harbour: October 13, 2021
Create successful ePaper yourself
Turn your PDF publications into a flip-book with our unique Google optimized e-Paper software.
WEDNESDAY, OCTOBER 13, 2021

Connecting Your Local Community

starnews.co.nz

Your

local news.

Gift packs to

welcome

refugees

Page 8

Expectant mums

focus of

cannabis study

Page 11

anywhere,

anytime.

A pleasant surprise for

surf lifesaving stalwart

Last week Bay Harbour

News reported on

Sumner and Taylors

Mistake surf lifesavers

who were recognised

in Surf Lifesaving New

Zealand national awards

of excellence. Today

reporter John Cosgrove

talks to Mt Pleasant

resident Roger Smith,

who was awarded a 50-

year badge for his service

to the North Beach club

THE ONLY TIME Roger Smith

ever feared for his life was when

another club's surf boat crashed

into his during a surf carnival.

"We were in big, big waves at

the nationals and while our boat

was in a good spot for speed

between two waves, I watched as

another boat tried to come in over

the top of us.

"Those boats were big and

heavy and required a lot of skill

to use them, especially in rough

surf.

"If they dumped you out, you

hoped like hell you came out of it

alive," he said.

• Turn to page 7

THAT'S ME: Roger Smith points to himself on an old photo taken during a surf carnival.

PHOTO: JOHN COSGROVE ​

Hardy's Natural Health - Instore NOW!

We're your natural health experts - and now we're a Hardy's Health Hub!

Lynley, Orla, Lil, Grant (Pharmacist/Owner) Pav, Sue, Brittany, Kellie

Kellie and the team will provide great advice on our top quality

range of supplements - including Solgar. Call into the pharmacy

and pick up your copy of our latest My Hardy's magazine.

Health Hub

Phone 03 925 9422

987 Ferry Road, Ferrymead

www.ferrymead.caci.co.nz

1005 Ferry Rd, Ferrymead | Ph 03 943 9635 | OPEN 6 DAYS (Closed Sun)
---
2 Bay Harbour News Wednesday October 13 2021 Latest Canterbury news at starnews.co.nz

from the editor's desk

GENERAL INQUIRIES Ph 379 7100

CLASSIFIED ADVERTISING Ph 379 1100

Star Media, a division of Allied Press Ltd

PO Box 1467, Christchurch

starmedia.kiwi

THIS WEEK we feature

another well-deserving surf

lifesaver – Roger Smith.

Roger, of Mt Pleasant, is a

North Beach clubbie, has been

for decades.

The 67-year-old received a

50-year badge at the recent

Surf Lifesaving National

Awards of Excellence for his

service to the North Beach

club.

"I was surprised to be

named as a recipient, I'm not

finished yet as I still think I

have much to offer the sport,"

Roger told reporter John

Cosgrove.

"I love working behind the

scenes, and do what I can for

the good of the clubs. I feel it's

good for any sporting club to

have a few old heads in the mix

bringing their experience to

the club."

You're not wrong there

Roger.

– Barry Clarke

barry@starmedia.kiwi

ADVERTISING

Jo-Anne Fuller

Ph: 364 7425

jo.fuller@starmedia.kiwi

news

Fun for kids on holiday

The school holiday break provided an opportunity for kids to get out and

have fun. Activities were widespread but enjoyment was the key focus.

Rob Davison

Ph: 021 225 8584

rob.davison@starmedia.kiwi

Pages 4 & 5

The best-read local newspaper,

delivered to 10,514 homes every week.

Brookhaven • Heathcote • Ferrymead

Redcliffs • Mt Pleasant • Sumner • Lyttelton

Diamond Harbour • Governors Bay • Akaroa

community events

Learn to play bridge

Go along to the Sumner Bridge Club on Monday or Wednesday and

join in for fun, friendly and competitive games.

Page 14

Lyttelton

Community Clinic

with Tracey McLellan MP for Banks Peninsula

Lyttelton Library, 18 Canterbury Street

Friday 15 October 2021

11.30am–12.30pm

If you are unable to make the clinic please don't

hesitate to contact me with any concerns or issues.

03 376 4512 | Tracey.McLellanMP@parliament.govt.nz

642 Ferry Road, PO BOX 19 661, Woolston, Christchurch

Authorised by Tracey McLellan MP,

642 Ferry Road, Woolston

Are your feet sandal ready?

It's time to Spring tidy your feet

With every

PEDICURE

booked before

30 November,

receive a

Complimentary

Professional

FOOT PEEL

valued at $20

"I received leg waxing & pedicure. Both 100%. Premises

clean, bright & luxury touches yet still with a personal

touch that makes you feel special & comfortable.

I will always choose Body Care & will return for

other beauty treatments." - Cathie

*Pedicure Special cannot be used in conjunction with any

other promos or discounts. (Offer expires 30 November 2021)

CHRISTMAS

APPOINTMENTS

BOOK

NOW

FILLING

FAST!

Delivering tranquil and

relaxed treatments, beauty

and massage therapy

in a warm and

inviting atmosphere

89b Main Road, Redcliffs

Phone 03 384 4729

www.redcliffsbodycare.co.nz

Open Level 2

next level yum

2 WATERMAN PLACE, FERRYMEAD (OFF FERRY ROAD) PHONE 03 376 4900 WWW.PIZZAREPUBLIC.CO.NZ
---
Wednesday October 13 2021 Bay Harbour News

Latest Canterbury news at starnews.co.nz

NEWS 3

Old craft skills on show at festival

BANKS PENINSULA is hosting

a range of exciting events at the

Christchurch Heritage Festival.

The theme this year is People

and Place – our stories revealed.

City council head of urban

design, regeneration and

heritage Carolyn Ingles said it's a

celebration of the diverse people

who have made their home on

the peninsula over time.

"There is a rich programme

of events with opportunities to

explore some of the fascinating

stories behind the places and

people of Banks Peninsula."

A highlight will be the

Craftmasters' festival of heritage

crafts. Skills such as printing,

blacksmithing and bread making

once essential to 19 th- century

peninsula life but now in danger

of dying out will be revisited

at Okains Bay Museum over

Labour Weekend.

New to the festival are tours of

the newly-developed Ōhinetahi

Geosite on Sunday. There will be

interactive displays at Allandale

Reserve and guided walks along

the foreshore track using new

interpretation panels.

Visitors can gain new insight

into the early settlers who

established the first formal

European settlement in the

South Island with a tour of

Akaroa's cemeteries on Sunday

and October 24. A visit to

Akaroa Museum during the

two-week festival will reveal

what archaeology can tell us

about the lives of people who

lived in the township during the

19 th- century.

The history of recreation on

Lyttelton Harbour is explored

in an exhibition of photos at

INSIGHT: Skills such as

printing, blacksmithing

and bread-making once

essential to 19 th- century

peninsula life will be

revisited at Okains Bay

Museum over Labour

Weekend.

Lyttelton Library.

They tell stories of how local

inhabitants have boated, swum,

fished and relaxed in the harbour

from the first years of European

settlement.

GRENADIER

more homes wanted for

strong spring buyer demand

Spring is the time of plans and projects! If your plans

include buying or selling your home/investment then

I am ready to help!

Demand is high for 'As Is Where Is' properties to

brand new family homes. If you want to know the

latest value of your home call Chris today for a free

appraisal and market update.

Care &

Compassion

We pride ourselves on the

very highest level of service

If you are thinking about the future, we can help

you explore pre-payment and pre-planning options.

Contact us for a Free Information Pack.

We offer funeral information talks to groups.

Please call us for a speaker to come to you.

(03) 379 0196 | www.simplicity.co.nz

Mike Chandler

Funeral Director

BESPOKE

gift wrap

calendars

notebooks

cards

puzzles

The POTAGERS

GIFTS - HOMEWARES

CLOTHING

ENJOY SHOPPING

LO CALLY AT

THE RED HOUSE

REDCLIFFS VILLAGE

The

POTAGERS

RED HOUSE

N o

MAIN ROAD

186 REDCLIFFS

Facebook/Instagram:

thepotagersredhouse
---
Bay Harbour News Wednesday October 13 2021

4

NEWS

Latest Canterbury news at starnews.co.nz

Adventure playgrounds, skate parks, archery, golf, trampolining and gaming competitions were just

some of the activities on offer at the Sumner-based Fuse holiday programme. Fuse manager Gareth

Davies said the activities have been well supported and were running full most days in spite of

Covid-related restrictions. He said the children loved all the activities so far but especially enjoyed

making their own pizzas during their visit to Fire&Slice Woodfired Pizzeria on Monday. Fuse is an

initiative of the Shoreline Youth Trust, a non-profit organisation set up over 20 years ago to provide

community services for the young people living in the Sumner, Redcliffs, and Mt Pleasant areas.

Davies said they hope to hold an event to mark the anniversary later this year.

Jacob Morris lines up the target at Zone67 archery.

Fun on the ice at

MoveX trampoline

and ice skating

but there there's

still a bit of work

to do for Tom and

Ryder as they try

to master the art

of balance.

Testing out the driving range at Ferrymead Golf.

Print & Frame

FREE PRINTING

WHEN YOU DO THE

FRAMING WITH US

We print your family photos,

holiday shots or pet pictures

for free when you do

the framing with us!

We supply professional

photo editing & colour

management service.

We use archival faderesistant

inks, giclée quality

& a choice of photo paper.

public meeting

/Agm

Wednesday, 20 October 2021

at 7.30pm

(Refreshments from 7.15pm)

GUEST SPEAKER:

Shelley McMurtrie

EOS Ecology scientist

on "Life of eels in

Christchurch and our

estuary"

Mt Pleasant Community Centre

3 McCormacks Bay Road, Mt Pleasant

3 Garlands Rd · Phone 03 384 3484 · magmagallery.co.nz
---
$15,999

h tp: /kaywa.me/8aVdQ

download the Kaywa QR Code Reader (A p Store &Android market) and scan your code!

my Kaywa QR-Code

w.valuecarswarehouse.co.nz

Ce l 021 8 5 84

Cnr Main South Rd and Epsom Rd, Christchurch

Ph: 03 348 4129 | avoncityford.com

h tp: /kaywa.me/8aVdQ

download the Kaywa Qr Code reader (a p Store &android Market) and scan your code!

My Kaywa Qr-Code

w.valuecarswarehouse.co.nz

Ce l 021 8 5 84

FROM

ONLY:

h tp: /kaywa.me/8aVDQ

Download the Kaywa QR Code Reader (A p Store &Android Market) and scan your code!

My Kaywa QR-Code

w.valuecarswarehouse.co.nz

Wednesday October 13 2021 Bay Harbour News

Latest Canterbury news at starnews.co.nz

NEWS 5

Finley, Rory and Josh on the chairlift at

Christchurch Adventure Park.

Pal Singh teaches children how to make pizza

bases at Fire&Slice Pizzeria in Sumner.

Escape artists proudly

display their times.

(Left) – Chilling out

with friends.

Angus, Percy, Luke, Joss and Nixon wait for their

turn at Laser Strike.

up to

30 %

off

Resene Premium Paints,

Wood Stains, Primers,

Sealers and Wallpaper

plus 25% off Decorating Accessories

and Cleaning Products

Come in and see us today at

your local Resene ColorShop!

Addington, Ferrymead,

Hornby, Lichfield Street,

Northwood, Rangiora,

Shirley, Tower Junction

or shop online at shop.resene.co.nz

Discounts off the normal retail price until 31 October 2021 at Resene

owned ColorShops and participating resellers. Paint offers also available

at participating Mitre 10 MEGA/Mitre 10 stores. Valid only with cash/

credit card/EFTPOS purchases. Not available in conjunction with account

sales, promotional vouchers/coupons or other offers. Excludes trade, ECS,

WallPrint, wall decals, Crown products and PaintWise levy.

PICK IT UP...

DRIVE AWAY

Incorporating

ISSUE 651 | FrIday 31 JUly 2020

The biggest range of vehicles in one location

2015 mazda demio

See page 4

for more info!

32 Moorhouse Ave | P: (03) 366 7768 | www.valuecarswarehouse.co.nz

GET THAT

PEACE OF MIND

VEHICLE INSPECTIONS

free

best motorbuys

261 stanmore road, Christchurch For more, see their advert on page 25

$149

FROM

ONLY:

www.gRCAudIO.CO.Nz

PH 03 web

www.drivesouth.co.nz

Incorporating

ISSUE 652 | FrIday 7 aUgUSt 2020

2016 NIssAN LeAf 24s

$17,990 FACELIFT MODEL

LEd headlights, heated seats &

steering wheel, Bluetooth/USB

audio, 21,000km with Japanese

service history. Includes New

NZ charging cable & OrC.

1996 toyota Landcruiser

Prado $8,990

7 seater, 3.0 litre diesel,

very rare find!

See inside for this week's

4WD feature!

40 Years Finance

Experience

Cannot be Beaten!

• Talk to us about finance for your next

motor vehicle purchase

Specialising in Finance for Private Purchases

Very quick approvals, sensational interest rates

• From no deposit (terms & conditions may a ply)

Dyna spares

C h r i stC h u rCh

Now Available @ NZ Van Spares

location: 68 Falsgrave Street, Woolston, Christchurch

email: nzvanspares@hotmail.com | phone: 03 379 3932 / 0508 698 267

41 Sandyford Street

0800 400 040

• www.kickthetyres.co.nz

CAR AUDIO CAR SECURITY

AUDIO VISUAL CELLULAR

free

best motorbuys

REVERSE CAMERAS

RADAR DETECTORS

PH 03 web

MOBILE INSTALLATION SERVICE 0800 212 777

www.drivesouth.co.nz

331 blenheim road, Christchurch For more, see their advert on page 25

The biggest range of vehicles in one location

2006 mitsubishi outlander

$11,999

See page 5

for more info!

32 Moorhouse Ave | P: (03) 366 7768 | www.valuecarswarehouse.co.nz

2004 BMw 530d Nz NEw

151, 0kms, black leather interior, very

economical, reliable vehicle, in exce lent

condition. Exce lent buying at only

A fordable new parts available for BMW / MERCEDES BENZ / AUDI

454 St Asaph Street, 03 378 1818 or 021 480 201

$11,999

INCLudINg ORC

Incorporating

ISSUE 653 | FrIday 14 aUgUSt 2020

40 Years Finance

Experience

Cannot be Beaten!

• Talk to us about finance for your next

motor vehicle purchase

Specialising in Finance for Private Purchases

Very quick approvals, sensational interest rates

• From no deposit (terms & conditions may a ply)

Cnr Main South Rd and Epsom Rd, Christchurch

Ph: 03 348 4129 | avoncityford.com

PARKING SENSORS

AERIALS

see inside for this week's

Hybrid & electric feature!

Hilux, Hiace &

everytHing in between

68 Falsgrave Street, Woolston W: nzvanspares.co.nz

E: nzvanspares@hotmail.com Ph: 03 379 3932 / 0508 698 267

GET THAT

PEACE OF MIND

VEHICLE INSPECTIONS

See inside for this week's

motorcycle feature!

CHRISTCHURCH

MOTORCYCLES LTd

The biggest range of vehicles in one location

2013 peugeot 4008

$19,999

See page 5

for more info!

32 Moorhouse Ave | P: (03) 366 7768 | www.valuecarswarehouse.co.nz

$149

USED CARS | TRUCKS | VANS

COMMERCIAL VEHICLES | SUVS

MOTORCYCLES | CARAVANS

BOATS | AUTOMOTIVE SERVICES

Available for FREE every

Friday at convenient

pick up points near you!

PLUS check out this week's

edition, plus past issues

online now at

bestmotorbuys.co.nz

INCORPORATING besT mOTORbuys

www.drivesouth.co.nz

DASH CAMERAS

GPS/TRACKING

See our ad on page 2

free

best motorbuys

Ce l 021 8 5 84

PH 03 web

www.drivesouth.co.nz

For more, see their advert on page 22

40 Years Finance

Experience

Cannot be Beaten!

• Talk to us about finance for your next

motor vehicle purchase

• From no deposit (terms & conditions may a ply)

Specialising in Finance for Private Purchases

• Very quick approvals, sensational interest rates

Cnr Main South Rd and Epsom Rd, Christchurch

Ph: 03 348 4129 | avoncityford.com

Hilux, Hiace &

everytHing in between

68 Falsgrave Street, Woolston W: nzvanspares.co.nz

E: nzvanspares@hotmail.com Ph: 03 379 3932 / 0508 698 267

41 Sandyford Street

0800 400 040

• www.kickthetyres.co.nz

2008 Victory Vegas

Customised x USa

arlan Ness themed

$12,999

fLOOR COvERING

BARGAINs

Lavante 2nds

By Bremworth -100% New Zealand Wool carpet, extra

heavy duty contemporary natural look, one outstanding

colour, Simoon. Sensational value.

Our price $99m

SavE OvER $120m rrp $237m

(that's $27.05m 2 ) Only while stocks last

Pearl Bay

By Godfrey Hirst - Scoop Purchase of this extra heavy

duty, solution dyed nylon, cut pile carpet, looks and

feels great, one colour only at this price, Pravda a warm

natural mix of browns and fawns.

Great value $89m

(that's $24.32m 2 ) Only while stocks last.

Kenzie

Commercial quality vinyl planks

Exceptional value and 2 great colours in stock now.

Harper Oak & Zane Oak. Normally planks of this quality

sell for $59.00m2.

our price $29.95m2

Only while stocks last

PLUS

MUCH

MORE

INSTORE

47 Gasson Street • Ph 353 8899 • Hours: 8.30am-5pm Mon-Fri

www.theflooringwarehouse.co.nz
---
6 Bay Harbour News Wednesday October 13 2021

Already fully vaccinated? Shot!

If not, now's the time to get the

job done. Get vaccinated today,

this week or on Super Saturday.

Do your bit so we can all get back to doing the things we love.

Covid19.govt.nz
---
Latest Canterbury news at starnews.co.nz

Wednesday October 13 2021 Bay Harbour News

NEWS 7

'I often saw the odd shark or two out there'

• From page 1

Fortunately, the other boat

went under Roger's boat and all

aboard were safe.

For the former businessman,

to be awarded a 50-year badge

at the recent Surf Lifesaving

New Zealand national awards

of excellence, was a humbling

experience.

"I was surprised to be named

as a recipient, I'm not finished

yet as I still think I have much to

offer the sport," he said.

Since he was a teenager Smith

(now 67) has been heavily involved

in both surf lifesaving and

rugby.

A former past president at both

the North Beach Surf Lifesaving

Club and the Shirley Rugby

Club, Smith said he still helps

out where he can on both club

committees.

"I love working behind the

scenes, and do what I can for the

good of the clubs. I feel it's good

for any sporting club to have a

few old heads in the mix bringing

their experience to the club."

Smith was 18 when he trained

for his first season as a lifeguard

at North Beach.

"It was a magnificent time back

then, a wonderful way to be part

of something that helped the

community.

"Back then it was the amateur

era and membership at surf clubs

was very strong.

"There were surf carnivals

everywhere and we used to travel

far and wide to get to the whole

day affairs."

He recalls many great trips, as

all the clubs seem to always be

on the same ferries at the same

time, so there were many stories

he said he could tell, but they

wouldn't be suitable for readers.

However, he did recall one trip

to the nationals aboard the TEV

Maori interisland ferry: "Some

members partied too hard on the

day sailing to Wellington so they

decided to sleep it off in their car

but woke the next morning to

find they were back at Lyttelton,

wharfies had left their car aboard

and they had done a round trip

overnight.

"North Beach was a wonderful

place to spend every weekend

during the summer, my family

grew up around me on those

beaches."

His sons Dan and Ryan followed

him into the sport.

"In those days we did a lot a

fundraising every weekend in the

Brighton Mall, and we felt we had

ownership of the club."

In the 1970s all rescues were

undertaken by four-man belt and

line teams, they also used surf

skis, canoes and big heavy surf

boats.

"You would be rostered on

a patrol team of five to six

members and on days when the

beaches were crowded you not

SKILLS:

Roger Smith,

second

from left,

loves the

camaraderie

of surf

lifesaving,

only watched what was happening

between the flags but also

around the edges."

He said patrolling is more

about preventative actions rather

than actual rescues.

"You had to concentrate,

look for the telltale signs that

swimmers were starting to get

into trouble by drifting outside

the flags, or out of their depth in

the waves, and then go and help

them out.

"We tried to stop things happening

before they got worse."

Rips were the cause of many

callouts and he still remembers

his first big rescue.

"One day a rip just developed

out of nowhere, one minute the

surf was okay then suddenly

seven to eight people were being

whisked away, everybody jumped

in to help out and we quickly got

everyone out safely."

He said it's only natural that

people panic when a rip grabs.

"They should remember that

all the sea is doing is going out

along a ditch, just as quickly as

it appears and drags you out it

also quickly deposits you on a

sandbank behind the breakers,

but sadly people panic and panic

kills."

His advice – just float with the

rip and hold your hand up.

"Usually we would only swim

about 100 to 200m out beyond

the surf but on the boats, I often

saw the odd shark or two out

there.

"People would be surprised

that there is more wildlife than

they think out there beyond the

surf."

Smith experienced the many

different technological changes

the sport went through, from the

introduction of the inflatable rescue

boat which revolutionised the

speed of rescues and capabilities

of clubs, to handheld radios aiding

the communication between

crews and shore.

He said the recent crop of

reality surf programmes have

helped raise awareness of water

safety, but he reminds people to

always swim between the flags

and watch the surf conditions.

Claim Southern Response

compensation now

Deadline to opt out of the Ross Class Action: 20 December 2021

If you are one of 3,000 Southern Response earthquake claimants who settled

before 1 October 2014, you are likely to be entitled to compensation.

The average compensation is approximately $100,000.

Anthony Harper has set up a dedicated website to provide access to independent legal advice on your compensation,

and importantly, how to opt out of the Ross Class Action before the court-appointed deadline of 20 December 2021.

Fixed fee of $2500 + GST for legal advice, of which Southern Response reimburses $2000.

Apply online at www.SouthernResponsePayment.co.nz

The website is provided by Anthony Harper. Anthony Harper is not part of the Ross Class Action. Further information about Anthony Harper can be found at www.anthonyharper.co.nz
---
Bay Harbour News Wednesday October 13 2021

8

NEWS

Latest Canterbury news at starnews.co.nz

Welcoming refugees with gift packs

KIND-hearted Canterbury

humanitarians are helping

with the integration of Afghani

refugees into New Zealand

society.

A group of 250 or so refugees

will soon become Kiwis

following their forced escape

from a war-torn land.

Jo Bailey is the co-founder of

Uniting Canterbury Women,

a group that formed after the

Christchurch terror attacks on

March 15, 2019. The group is

now planning to deliver gift

packs to the refugees.

The small but dedicated group,

brings women of different

cultures, ethnicities and religions

together.

Bailey and the group have

created a series of projects

since the initial focus on

those impacted by the terror

attacks. The most recent,

supported by a Givealittle

crowdfunding campaign,

has been to raise money for

individual welcome packs for the

Afghan refugees.

Bailey has been working

with a group including Ryman

Healthcare sales adviser Anthea

Johnson, who is also her

neighbour.

Ryman will pay for the

freighting of about 250 welcome

packages to the refugees, living

for now in Immigration NZ's

Mangere Refugee Resettlement

Centre. Many arrived with

just the clothes on their backs

following a Taliban military

offensive.

"They've been through such

trauma, absolute hell," Bailey

said.

"They've left family members

behind, I mean it's horrific.

They've been through terrible

times to get here."

"(We want to demonstrate)

that we care, that they're wanted,

that they're loved here. And we

wanted to make sure they had

some lovely things to remind

them of home and also welcome

them to New Zealand," Bailey

said.

Bailey said she was in part

inspired by Christchurch café

operator Zhara Hussaini.

Hussaini had arrived in

Christchurch at the age of 12,

as a refugee, and has spoken

publicly about the warmth of

CARING: Jo

Bailey (left)

and Anthea

Johnson are

preparing

gift packs

for refugees

who have

had to

escape

war-torn

Afghanistan.

Kiwis she experienced since her

arrival.

Bailey reached out to Hussaini

following the March 15 attacks,

and subsequent vigils. The

two found common ground

and, with four others, formed

Uniting Canterbury Women. It

helped that Hussaini was already

an advocate for the Afghan

community.

Said Bailey: "I just wanted

to continue on the feelings of

goodwill (towards minorities)

that were happening in the

community. Like all disasters,

once tragedies (dissipate) people

go back to their normal lives.

"When Zahra arrived in

Christchurch at the age of 12, she

spoke no English. Today, her life

is incredibly full as an advocate

for the Afghan community,

an interpreter, student, and

a restaurant owner. She is an

inspirational young woman."

The packs includes teas, spices,

Linden Leaves products, Aroha's

Way (a children's book) and

backpacks. Other items such

as silk krama, or scarves, made

by a Cambodian group could

prove important to the Afghani

women.

"So effectively the women can

wear these as hijab," Bailey said.

"Everyone will get something

really special, which is really

nice."

FINAL WEeK!

Riley

Living & Bedroom

ON SALE

3 Seater

NOW $

899

Chaise

Sofa – LHF

NOW $

1199

STOREWIDE

SPRING

SALE

4

Queen Bed

NOW $

699

ON SALE

Drawer

– W60

NOW $

299

Chia Bedroom

Range

8 Drawer

NOW $

599

5 Drawer – W80

NOW $

399

Marbella Outdoor

Corner Chaise

WAS $

2299

NOW

$

1699

Lincoln 4 Seater

WAS $

2699

NOW

$

1999

Atlantic Queen Bed

WAS $

999

NOW

$

699

Avery Single/Single

Bunk Bed WAS $ 649

NOW

$

399

Paris 7 Piece Dining Set –

W190 WAS $ 2139 NOW

$

1599

Scan to find store

250 Moorhouse Ave, Christchurch

0800 TARGET (0800 827438)

targetfurniture.co.nz

Offers and product prices advertised here expire

18/10/21. Sale Excludes Accessories.
---
Latest Canterbury news at starnews.co.nz

Wednesday October 13 2021 Bay Harbour News 9

Great Value deals!

Big range, Low Price, Local advice

Monopoly

Door Mats Assorted

W: 400mm, L: 600mm. Vinyl

backing. Multicoloured

monopoly design.

361980, 361982, 361981, 361979

Kiwicare

Weed Weapon

Rapid Action

Kills a broad range of

stubborn weeds to the

root. Ready to use. 2 Litre.

245290

Browns

Gutter Whiskers 900mm

Gutter Filter Pack

Keep your gutters free from leaves

and debris. Provides 5.4m of linear

gutter protection. 6x900mm

lengths per pack.

121711

Living Colour

Indoor Flowering

Cyclamen

140mm Assorted.

149053

Was $19.99

now

$ 9 99

$39 98

Was $70.84

now

$ 39 98

Was $12.98

now

$ 6

Tui

Vegetable Mix

Contains blood and

bone, sheep pellets

and dolomite. 40 Litre.

142734

Bloom

Garden Hand Tools

Stainless steel with wooden handles.

320955

Tui

Lawn Fertiliser

Encourage lawn establishment

and root growth. Contains

Sulphate to control moss. 8kg

(treats 114m 2 )

131798

Enrich with Nature Ceramics

Laura Indoor Ceramic Pot 12cm Assorted

A stylish, modern shaped pot that is designed for indoor

use. 381040, 381039, 381038, 381037

eXCLUSIVe

$14 59 $ 19 99

Was $15.98

now

$ 12

Was $22.98

now

$ 16

Was $12.98

now

$ 9 98

each

Hills

Pressure Sprayer

Strong, UV stabilised

bottle. 5 Litre.

174015

Stanley

8 Piece Paint Brush Set

Suitable for all paints.

376419

Number 8

LED Downlight

150mm 10

Watt White

Pack of 4

10 watts. 150mm

diameter. 3000k

warm white.

347077

Wattyl

Forestwood Decking

Stain Applicator

Complete with twist-lock

adjustable pole, applicator

head and wool pad.

304088

Was $29.99

now

$ 19 99

Was $28.35

now

Was $44.98

now

$ 29 99

Was $26.98

now

$ 19 98

Growfresh Pot

Assorted

Tomato &

Vegetable

Plants

Courgette, Capsicum

and Tomatoes. Sweet

100, Money Maker and

Beef Steak. 100mm Pot.

188029

Grill Mark

Pizza Oven &

Charcoal Kettle

Vitreous enamel-coated

steel with chrome-plated

steel cooking grill. Builtin

temperature gauge.

Comes with pizza oven

insert.

377572

Bosch

Aquatak 135 Electric

Waterblaster

1958 PSI. 410 I/h. 7m hose.

3-in-1 nozzle. 1900 watt.

347485

Jobmate

Petrol Brush Cutter

2-stroke. Straight shaft

for easy trimming under

bushes and shrubs. Heavy

duty steel cutting blade.

29.9cc. 2 year warranty.

304870

$3.94 each

4 for $ 14

Was $299

now

$ 199

Was $389

now

$ 289

Was $199

now

$ 169

Get Decorating!

with

up to

3 - 31 October 2021

Terms & conditions apply.

See mitre10.co.nz for full details.

Use your airpoints

dollars to pay in-store

on purchases over $75

Prices valid until Oct 20th or while stocks last.

Mitre 10 MEGA Ferrymead

1005 Ferry Road. Christchurch

Phone: 366 6306

Find us at: /MEGAFerrymead

Opening Hours:

Monday – Friday:

7am – 7pm

Saturday, Sunday & Public Holidays:

8am – 6pm

www.mitre10.co.nz/local/MegaFerrymead

Ferrymead
---
10 Bay Harbour News Wednesday October 13 2021 Latest Canterbury news at starnews.co.nz

RUNOUT

OUTLANDER LS 2.4L 2WD

$32,990+ORC *

christchurchnissan.co.nz

The 7 seater Mitsubishi Outlander

brings everything you would need in a

family SUV: safety, technology, comfort,

unrivaled economy and that all important

space, plus a 10 Year Powertrain Warranty † .

Call 03 379 0588 or visit

christchurchmitsubishi.co.nz

RRP WAS $41,990 +ORC

*Price listed is for Outlander LS 2.4L 2wd and excludes on road costs of $650 which includes registration, WoF and a full tank of fuel. Available while stocks last.

†

Visit mmnz.co.nz for full Diamond Advantage warranty conditions.

CHRISTCHURCH MITSUBISHI

386 Moorhouse Avenue, Christchurch | 03 379 0588 | christchurchmitsubishi.co.nz

CHRISTCHURCH NISSAN, 380 Moorhouse Avenue, Christchurch

Ph: 03 595 6820

www.christchurchnissan.co.nz
---
• By Chris Barclay

THE IMPACT of cannabis use

among expectant mothers is

the focus of ground-breaking

research led by a genetics expert

at Canterbury University.

Funded by the Canterbury

Medical Research Foundation,

the year-long study aims to determine

whether using the drug

during pregnancy can lead to

health effects already associated

with tobacco.

Dr Amy Osborne, a senior lecturer

in the School of Biological

Sciences, has already established

that heavy cannabis use has an

impact on human DNA, with

the effect stronger in people who

also smoke cigarettes.

That research, published in

May last year, has been followed

by this US-inspired probe to discover

if a woman's cannabis use

can alter their offspring's DNA.

"We know smoking tobacco

during pregnancy is harmful,

but the problem is a lot of people

are using cannabis for morning

sickness because they think it's

safe," Osborne said.

"In the US it's also being

used as an opioid replacement

therapy for pregnant women, a

replacement for hard and more

illicit drugs: 'You're not going

to do heroin while you're

pregnant, but here, have some

cannabis'."

Osborne said some of the

research Stateside assessing the

effects of cannabis use during

pregnancy revealed some behavioural

impacts similar to

tobacco.

Her latest study, which starts

this month, dovetails with DNA

data already available through

the Christchurch Health and Development

Study, an investigation

which started more than 40

years ago and originally included

1265 people.

Osborne has already sourced

DNA data from cannabis users

among that cohort, CMRF

Latest Canterbury news at starnews.co.nz

Wednesday October 13 2021 Bay Harbour News

Expectant mums focus of cannabis use study

backing worth $100,000 now

enables the Londoner and two

staff to access data from mothers

and their offspring held at the

University of Bristol in the

United Kingdom.

The UK data is vital because it

covers DNA from the parent and

their children because the CHDS

information doesn't include the

parents.

"We can use the UK data to inform

what we'd be looking for in

the New Zealand cohort. We can

streamline what we're looking

for so it means we're more likely

GROUND-

BREAKING: Dr

Amy Osborne is

able to study the

effect of cannabis

use by pregnant

women thanks

to funding from

the Canterbury

Medical Research

Foundation.

PHOTO: GEOFF

SLOAN ​

NEWS 11

to get a better idea of what's happening

at the molecular level,"

Osborne said.

"In New Zealand our sample

sizes are a lot smaller so if

we want to statistically show

associations – and it's all about

statistical power in genetics –

the more samples you have the

more likely you are to detect

something."

Ultimately, Osborne would

like to develop a mine of information

from pregnant New

Zealanders.

"It would be amazing. We haven't

explored that as an option

yet but depending on what we

find it may be that's naturally

where our research goes. Then

again that requires clinicians,

epidemiologists, nurses and a lot

of people recruiting as well," she

said.

Osborne emphasised the

study was impartial regarding

cannabis.

"We're not trying to say

'cannabis is bad for you or

cannabis is good for you'.

It's really important to make

the distinction that this is

basic biology, basic biological

research," she said.

"What we're trying to do is understand

a little bit more of the

impacts it (cannabis use) might

be having.

"Whether that's the detrimental

impacts that come with

long-term use or whether it's

the medicinal and therapeutic

impacts, we just don't know."

Osborne said while cannabis

use can be detrimental for heavy

users, it could be beneficial

regarding pain management, the

treatment of chronic illnesses

and end of life care.

"If we can put some

empirical meat on the bone

and understand a bit about the

molecular pathways that may

or may not be involved we can

start to understand a lot more,

she said.

Edith Cavell Corner

Edith Cavell Lifecare manager Scott was delighted share with us that

Registered Nurse Aakriti Neupane who just completed her NETP

programme was given feedback from the nursing council that her

portfolio was excellent, and she has been approved as Competent

under PDRP.

"Sadly for Aakriti she wasn't able to attend any graduation ceremonies

both for her Bachelor of Nursing degree completed last year or her recent

celebration ceremony planned for 6th Sept on completion of NETP due

to Covid lockdowns", says Scott. To compensate, Edith Cavell held a

morning tea to present her with her NETP completion certificate attended

by her partner and her sister with her mother and father included via zoom

in Nepal. Her mother is a very experienced, senior nurse in Nepal and her

sister is completing her Bachelor of Nursing degree here in Christchurch

this year. Maria Crone, Clinical Services Manager at Edith Cavell says they

had an opportunity to nominate NETP nurses for one of 3 regional awards.

"I nominated Aakriti for the Excellence in Professional Practice award and

she won!" she says. She surprised her and her family by announcing the

award at the morning tea.

NETP Canterbury Region prize for Excellence in professional practice:

Commitment to consolidation of critical thinking, clinical reasoning,

challenge and influence practice, higher level of professionalism

Maria and Aakriti outside Edith Cavell Lifecare.

Edith Cavell NETP graduate's

success comes with a top prize!

Maria says I was contacted by Rebecca Heyward who is the Nurse

Coordinator, Nursing Workforce Development – Aged Residential Care for

CDHB. Her words were, "I wanted to get in touch with you - the reviewers

have reviewed who the prize winners should be from the nominations

received and decided that Aakriti is a very deserving recipient of the

Excellence in Professional Nursing award - I read her nomination as well

and it was exceptional, fantastic she's done so well this year. Many thanks

Maria and all your team around her for supporting her and giving her the

right environment to thrive"

Maria and all at Edith Cavell are very proud of Aakriti and the team of

Registered Nurses who supported her in her first year of practice.

For more information on the Edith Cavell refurbishment

call (03) 326 6608 or visit heritagelifecare.co.nz/EdithCavell
---
Bay Harbour News Wednesday October 13 2021

12

NEWS

Latest Canterbury news at starnews.co.nz

Treasures from the past: The Colonists' Hall

THE OLDEST public library

in Canterbury was originally

based in one of the Canterbury

Association's Immigration

Barracks on lower Oxford St that

housed colonial settlers bound for

the newly-purchased Canterbury

Plains.

The Reading Room was set

aside on June 30, 1851, just six

months into the venture with an

initial collection of around 500

volumes, apparently gifted by

newly-arrived colonists with too

much baggage.

The librarian, a Mr Calvert,

organised the collection and the

annual subscription service of

one guinea that included Canterbury's

first newspaper, the

Lyttelton Times.

The Colonists' Society was

established the following year in

1852 and took over the running

of the Reading Room, expanding

its collection and offering

subscribers access to newspapers

from across the Australasian colonies,

as well as The London Times.

The library became a social

centre of the bustling port town

of Lyttelton and in 1867 the Colonists'

Hall was built to house the

growing collection and service

the community's insatiable appetite

for information from around

the British Empire. Thus on November

22, 1867, the library and

its Reading Room took over the

hall's entire ground floor, and the

librarian, a Mr W Godfrey, dutifully

kept it open from 10am-4pm

and 6-10pm daily.

The Lyttelton Borough School

was built next door in 1875 and

made good use of the library and

study facilities for its students

and teachers alike for the next 27

years.

The Colonist's Society managed

the library's affairs for

two decades until, in 1887, the

Lyttelton Borough Council took

over and established the Lyttelton

Library under the Public Library

Act 1869.

The Colonists'

Hall on the

left sits beside

the Lyttelton

Borough

School in the

1890s. (Far

right) – The

hall in a state

of disrepair.

The Colonist's Hall, nonetheless,

remained the site for the

library for another 15 years before

it finally outgrew the building and

was moved to the corner of Oxford

St and Sumner Rd in 1902.

The old Colonist's Hall

remained in use for several

decades after, until it fell into

disrepair and was demolished in

the 1940s. As for Canterbury's

oldest library, now a venerable

170-year-old institution, you can

of course find it on the corner

of London and Canterbury Sts

where it has been since April

1999.

SPRING HAS SPRUNG

Let the team at Airify Christchurch spring clean your heat pump

Savour lovely SunSetS

over the peninSula ...

While enjoying Chatham Island Blue Cod

or NZ Green-lipped Mussels from NZ

waters at Fisherman's wharf.

Visit our website to view our varied menu.

noW taKinG

ChriStMaS

FunCtion

BooKinGS

fishermanswharf.nz

39 Norwich Quay, Lyttelton | Wed - Sun 12pm – 8pm | 03 328 7530

Spring has finally sprung – and while it's wonderful to see all the daffodils

and cherry blossoms in bloom, this time of year can be brutal for those of us

with allergies and hay fever!

The Canterbury nor-wester is famous for blowing pollen all over town –

and while heading indoors can seem like the only escape from air-borne

allergens, these microscopic dust and pollen particles can actually build

up in your heat pump over time. Getting your heat pump cleaned every

12-months is the best way to keep the air circulating in your home fresh,

clean and allergen-free – and Airify Christchurch is here to professionally

tick one important job off your spring-cleaning to-do list!

Book your Premium Heat Pump Clean & Service for just $75 by contacting

our friendly local team, or heading online to select a day and time that suits.

Learn more about Airify

Christchurch, and how we can

help you create a healthier home,

at www.airify.co.nz. Or get in

touch today on 0800 24 74 39

Read local
---
Latest Canterbury news at starnews.co.nz

Wednesday October 13 2021 Bay Harbour News 13
---
14 Bay Harbour News Wednesday October 13 2021 Latest Canterbury news at starnews.co.nz

Email samantha.mythen@starmedia.

kiwi by 5pm each Wednesday

Pottery Social Night

Wednesday, 7-9.30pm

Are you hooked on pottery?

This is an opportunity for you to

work alongside others on your

own pottery projects. Tuition

is not provided. There are two

working electric wheels, benches

and some equipment to share.

Take your own clay, glazes,

tools and ideas. $5 donation per

session (cash only). Email Nikki

to book artatsumnerhub@gmail.

com

Sumner Hub, 57 Nayland St

Sumner

Creative Wednesdays

Wednesday, 11.30am-2.30pm

All welcome and you can come

and go as you please. This group

is focused on bringing people

together and getting creative,

no matter what level your art

practice is, beginner or expert.

Go along to this event to make

connections and express yourself

freely. Every Wednesday.

The Rock, 10 Wakefield Ave,

Sumner

Heathcote Community

Morning Tea

Wednesday, 10am-12pm

Everyone is invited to pop in

for a cuppa, some fresh baking

and to get to know some of the

locals. Every Wednesday.

Heathcote Community Centre

Kintsugi: embracing the scars

of healing exhibition

Friday, Saturday and Sunday,

10am-4pm and public holidays

Kintsugi is group show

presented by Artists Against

Slavery exploring the concept

of brokenness, its repair, and

how it can become part of a

new whole. Interpretations

of Kintsugi are made in the

exhibition through ceramics,

pottery, painting and printing.

The artists are Tania Bostock,

Nina Brown, Julia Dower, Bev

Frost, Renate Galeztka, Naomi

Goto Garrett, Sarah Harper,

Aamira Jain, Jane McCulla,

Janie Porter, Gaby Reade, Soon-

Lee Spicer, Kaylene Worrall.

As an organisation, Artists

Against Slavery raises funds to

help with the rehabilitation of

women and children who have

been trafficked and abused.

AAgS gives 100 per cent of

money raised to Hagar NZ

that works with victims of

human trafficking and abuse

in Afghanistan, Cambodia and

Vietnam.

Stoddart Cottage, Diamond

Harbour

This is and That was New

Zealand

Saturday, 5.15-6.45pm

This is and That was New

Zealand is a film that was

Sumner Bridge Club, Monday 7.15pm, Wednesday 1pm. For fun, friendly and competitive

bridge. If you have any questions, send an email to sumnerbridgeclub@gmail.com. 57

Dryden St, Sumner.

conceived in 1967, when two

senior National Film Unit staff

attended the international world

fair Expo 67 in Montreal. Film

techniques at that time included

multiple screen images and

multi-track stereo sound. It was

seen by more than two million

people at Expo 70, and by

350,000 more when it returned

home afterwards. Hidden from

view since that time, it has been

given a restoration by Archives

New Zealand and Park Road

Post, and it looks – and sounds

better than it ever has before.

Adults, $15. Seniors, $13.

Ethels Cinema, 4 Selwyn Ave,

Akaroa

Lyttelton Harbour TimeBank

Drop-in Session

Tuesday, 10am-12pm

The Lyttelton Harbour Time-

Bank exists to help build a stronger,

more connected harbour

community. Go in for a chat – get

help with joining or managing

your account, posting an offer or

request, or anything else.

Lyttelton Library

Craft Group

Monday, 10am-12pm

Enjoy knitting, crocheting or

sewing each Monday. The cost is

$3 per session with morning tea

and great company provided.

Heathcote Community Centre

The Heathcote Valley Wool

Craft Group

Thursday, 9.15-11.45am

This group of enthusiasts

meets weekly to spin, knit and

create with wool. Anyone is welcome.

Email Felicity Backhouse

at thebackhouses@slingshot.

co.nz or phone 384 1755

St Mary's Village Hall,

Martindales Rd, Heathcote
---
Latest Canterbury news at starnews.co.nz

Wednesday October 13 2021 Bay Harbour News 15

News flash! doN't get locked out!

Come enjoy those Asian

memories of Thailand and

Vietnam with us!

Expect And Receive:

• Caring Genuine Hospitality

• Relaxed & Pleasant Surroundings

• Authentic Flavours

• Value For Money

• Quality Ingredients

Book or order from any of our

restaurants online and go in the draw

to win a 24 box of Bia Hanoi!

Sweeten your

memories of

that trip to

Vietnam many

years ago!

Halswell

Beckenham

Sumner

www.hoianhouse.co.nz

www.commi.co.nz

www.lexom.co.nz

To view our menus, go to our website www.agh.co.nz
---
Bay Harbour News Wednesday October 13 2021

16

PUZZLES

CRYPTIC CROSSWORD

1 2 3 4 5 6 7

8 9

10 11 12

13 14

15 16

17 18 19 20

21 22 23

24 25

15/10

Latest Canterbury news at starnews.co.nz

Across

1. Female side, if fast, could follow

Democrat leader (7)

5. Small drum and bar to play it with (5)

8. Idle talk, and tract he makes of it (7)

9. The humble moo is duly halved (5)

10. It may be pooled, but it will score

forty (6,3)

12. Type of deer in part, theoretically,

making a comeback (3)

13. The thing that changes darkness (5)

17. At one in the morning it is one's

purpose (3)

19. Anyone can cause such aggravation

(9)

21. To play from the tee, be behind the

wheel (5)

22. Might take drink with editor, being a

like spirit (7)

24. Stinging sort of return made, right

away (5)

25. He makes drainage cuts the church

tried to organise (7)

Down

1. The fish is in the river, to put it in

plain language (6)

2. Treat us according to our height (7)

3. Suitable beginnings always produce

talent (3)

4. Before anyone else, a top degree (5)

5. Communication, mind to mind, of the

type Al produced (9)

6. Anchor at front of recess in the

garden (5)

7. Made corresponding sound to my

herd scattering (6)

11. A feature met in lane that winds

about (9)

14. A king among the butterflies (7)

15. Carriage to put one down on a

forbidden turn (6)

16. Put in a bid for a boat's small craft

(6)

18. Corn one found in the labyrinth (5)

20. Having nothing on, this eye sees

without glasses (5)

23. Food that may be bolted (3)

SUDOKU

Fill the grid so that every column, every row and 3x3

box contains the digits 1 to 9.

QUICK CROSSWORD

1 2 3 4 5 6

7

8 9

10 11 12 13

14 15

16 17

18 19 20 21 22

23 24

25

26 27

Across

1. Leans to one side (5)

4. Thinly spread (6)

7. Facial twitch (3)

8. Unborn offspring (6)

9. Dried grape (6)

10. Difficult word

sequence (6,7)

14. Non-believer (5)

15. Minor crash (5)

18. Reach the required

standard (3,3,7)

23. Month (6)

24. Disperse widely (6)

25. Bother (3)

26. Sign (6)

27. Out of practice (5)

Down

1. Up in the air (5)

2. Gesture of

indifference (5)

3. Affected by drugs

(colloq) (6)

4. Scribble (6)

5. Awry (5)

6. Mud, ooze (5)

10. Subject (5)

11. Time of darkness (5)

12. Ornamental

headband (5)

13. Inflexible (5)

16. Relating to the

teeth (6)

17. On-screen pointer

(6)

19. Money-lending (5)

20. Hitch a ride (5)

21. Conditions (5)

22. Prepared (5)

CODECRACKER

QUICK CROSSWORD

Across: 1. Lists, 4. Sparse, 7. Tic, 8. Embryo, 9. Raisin, 10.

Tongue twister, 14. Pagan, 15. Prang, 18. Cut the mustard, 23.

August, 24. Spread, 25. Ado, 26. Symbol, 27. Rusty.

Down: 1. Limbo, 2. Shrug, 3. Stoned, 4. Scrawl, 5. Amiss, 6.

Slime, 10. Topic, 11. Night, 12. Tiara, 13. Rigid, 16. Dental, 17.

Cursor, 19. Usury, 20. Thumb, 21. Terms, 22. Ready.

CRYPTIC CROSSWORD

Across: 1. Distaff 5. Tabor 8. Chatter 9. Lowly 10. Double top 12.

Roe 13. Night 17. Aim 19. Annoyance 21. Drive 22. Kindred 24.

Urent 25. Ditcher.

Down: 1. Decode 2. Stature 3. Apt 4. First 5. Telepathy 6. Bower

7. Rhymed 11. Lineament 14. Monarch 15. Landau 16. Tender

18. Maize 20. Naked 23. Nut.

TARGET

able bach back backhoe

backs bake bakes bale bales

base bash bask beach beak

beck belch black blah bleach

bleak bloc block blocks bloke

bock bolas bole bosh cable

cables lobe lobs obeah sable

scab SHOCKABLE slab slob

MEDIUM HARD

EASY

TARGET

A H K

O B C

L S E

Good 20

Very Good 27

Excellent 33+

ALL PUZZLES © THE PUZZLE COMPANY

How many words of four letters or more can you

make? There is at least one nine-letter word.

Each letter may be used only once and all

words must contain the centre letter.

No words starting with a capital, no plurals

ending in s unless the word is also a verb, e.g.

he fires the gun.

Mon-Thurs: 7am - 4pm

Fri-Sun: 7am - 5pm
---
REAL ESTATE

Holiday at Home

10 Cadiz Lane, Mt Pleasant

Auction 21 October (USP)

4 bedrooms, 2 bathrooms, 1 kitchen/dining

2 living rooms, 1 office, 2 car garage,

6 off-street carparks - Listing No. FM5736

Open Homes: Wed, Sat & Sun 12-12:45 pm

You could visit the romantic ancient city of

Cadiz on the Coast of Spain surrounded by

the beautiful Atlantic...or you can visit No.

10 Cadiz Lane, Mt Pleasant commanding

equally spectacular ambiance and stunning

Pacific Ocean views...and make it yours!

This coastal design by architect Ross

McGuire has the feel-good factor and

ensures our owners can enjoy a holiday at

home experience in complete privacy. This

spacious home revolves around family

living and entertaining with a magnificent

coastal vista as the perfect backdrop from

every perspective. Embrace the full

splendour and expansive views that cannot

be built out over McCormacks Bay, the

Kaikouras and the ocean beyond.

Recently upgraded, the well-equipped

kitchen features a breakfast bar, natural stone

benchtops and a large freestanding oven. The

kitchen seamlessly flows into the dining and

living room and onto a light filled separate

Latest Canterbury news at starnews.co.nz

2nd lounge. Doors provide fabulous indooroutdoor

flow onto wrap around decks with

composite decking and a retractable electric

sunshade.

The 2101 sqm section leads down to a

natural watercourse, embracing bush and

bird song, blending into a lush green

environment.

There is no need to board a plane...here is a

rare opportunity to own this spectacular

hill and coastal property. Built and embraced

by our owners for 27 years, they are ready to

move off the hill and have purchased.

Their motivation ensures a sale is eminent!

Alison Carter

Mob. 0274 318 960

Ferrymead Office

Phone 03 384 7950

(Licensed Agent REAA 2008)

Wednesday October 13 2021 Bay Harbour News 17

ADVERTISING FEATURE

Bec | Perfect Fit Bed Customer

This bed is amazing! I used to wake up with a lot of pain. Now I spring

"out of bed and my day begins! …The best purchase I've ever made!"

ADJUSTABLE MASSAGE BED

by

Up to

50 % Off

*Call for Terms

& Conditions

Off

*

Ferrymead

The Women of Pearl Island

by Polly Crosby

A darkly beautiful dual-timeline novel with a captivating

mystery, for fans of Diane Setterfield and Kiran Millwood

Hargrave

'Like a surreal cabinet of curiosities – haunting, eerie,

evocative' Bridget Collins, Sunday Times bestselling author

of The Binding

When Tartelin Brown accepts a job with the reclusive Marianne

Stourbridge, she finds herself on a wild island with a mysterious history.

Tartelin is tasked with hunting butterflies for Marianne's research. But she

quickly uncovers something far more intriguing than the curious creatures

that inhabit the landscape.

Because the island and Marianne share a remarkable history, and what

happened all those years ago has left its scars, and some terrible secrets.

As Tartelin pieces together Marianne's connection to the island, she must

confront her own reasons for being there. Can the two women finally face

up to the painful memories that bind them so tightly to the past?

Atmospheric and deeply emotional, The Women of Pearl Island is the

captivating novel from the author of The Book of Hidden Wonders

Over My Dead Body

by Jeffrey Archer

An unputdownable story of murder, revenge and betrayal from international

number one bestseller Jeffrey Archer. THE CLOCK IS TICKING IN THIS

ROLLERCOASTER RIDE OF A THRILLER…

In London, the Metropolitan Police set up a new Unsolved Murders Unit – a

cold case squad – to catch the criminals nobody else can.

In Geneva, millionaire art collector Miles Faulkner – convicted of forgery and

theft – was pronounced dead two months ago. So why is his unscrupulous

lawyer still representing a dead client?

On a luxury liner en route to New York, the battle for power within a wealthy

dynasty is about to turn to murder.

And at the heart of all three investigations are Detective Chief Inspector

William Warwick, rising star of the Met, and ex-undercover operative Ross

Hogan, brought in from the cold.

But can they catch the killers before it's too late?

WIN THIS BOOK

ENTER TO

WIN

THIS BOOK

book

release

We have one copy of The Women of Pearl Island to give away, courtesy of Take Note Ferrymead. To be in the

draw, email giveaways@starmedia.kiwi with The Women of Pearl Island in the subject line or write to Take Note

Book Giveaway, The Women of Pearl Island, Star Media, PO Box 1467, Christchurch 8140. To be eligible for the

draw, all entries must include your name, address and contact number. Entries close Tues October 26. The book

winner for Return to Berlin is Margaret McCarthy of St Andrews Hill.
---
2013 Volkswagen

Tiguan TSi

h tp: /kaywa.me/8aVDQ

Download the Kaywa Qr Code reader (A p Store &Android market) and scan your code!

my Kaywa Qr-Code

w.valuecarswarehouse.co.nz

CELLULAR

See page 5 for more info!

2

h tp: /kaywa.me/8aVDQ

Download the Kaywa QR Code Reader (a p Store &android Market) and scan your code!

REVERSE CAMERAS

My Kaywa QR-Code

w.valuecarswarehouse.co.nz

PARKING SENSORS

0800 212 777

Ce l 021 855 884

GPS/TRACKING

motor vehicle purchase

See our ad on page 2

18 Bay Harbour News Wednesday October 13 2021 Latest Canterbury news at starnews.co.nz

Suzuki Swift hybrid shows promise

IT'S TAKEN some time for the

Suzuki Motor Corporation to

enter the hybrid market.

Well, that doesn't surprise me,

Suzuki has long built smallish

cars with small capacity, fuel efficient

engines, even their largest

were relative fuel misers.

That being the case, there was

no rush for Suzuki to go one step

further into the electric/hybrid

market, anyone who owns a Suzuki

will tell you how inexpensive

they are to run.

However, a hybrid has arrived

here and it comes in the

form of the Swift, and it's fair

to say Suzuki is treading carefully,

the Swift hybrid can only

be described as a mild hybrid

– don't think Toyota Prius, the

hybrid system is more like you

would find on European cars

such as those from BMW and

Mercedes-Benz.

In mechanical terms, Suzuki's

system utilises an electric motor

to assist the engine in a parallel

configuration, it is powered

by a lithium-ion battery that is

charged as the car decelerates and

brakes, there is no electric-only

mode of propulsion involved.

While cruising, the battery

helps power all of the additional

electrical systems such as safety

features, air conditioning, Bluetooth

and smartphone connectivity,

which means the engine

spends more of its energy driving

the wheels.

There are a multitude of display

graphics which indicate to the

driver how the system is operating

so that he or she can get

maximum fuel economy benefits.

The result of all of this is

Suzuki's claimed 4.1-litre per

100km combined cycle fuel

usage average. That compares to

the standard Swift which has a

4.8l/100km figure, so there are

gains to be made there; however,

there is a little trade-off, the Swift

hybrid requires premium fuel

which is more expensive than the

standard 91 octane.

Nevertheless, if you are keen on

cutting down emissions and like

that bottom line of 4.1l then the

hybrid does have benefits, and

that figure is very achievable.

During my time with the

evaluation car the fuel usage

readout was constantly listing

around 5.2l/100km with around

4l/100km registering instantaneously

at 100km/h (engine speed

1900rpm).

Powering the Swift hybrid is a

four-cylinder engine of 1197cc.

It is a smooth, quiet engine

which cuts out at idle and restarts

automatically when acceleration

is requested – almost without

notice such is the refinement that

has gone into the mechanical

elements.

The 1.2-litre unit is rated at

61kW and 107Nm, the latter available

at just 2800rpm which means

there is available torque on offer,

SMOOTH: Design-wise, the Swift is a popular shape.

SUZUKI SWIFT HYBRID: European specification and placement of controls.

and if you add in the moderate

amount of electrical assistance

acceleration is more than satisfactory.

A standstill to 100km/h time

of 11.5sec is possible, along with a

7.7sec time to make an 80-120km/

h highway overtake.

Drive is carried through a

continuously variable automatic

transmission. By sheer nature of

its simplicity it, too, helps promote

fuel efficiency. The change in ratio

is seamless, providing an overall

feeling of smoothness. There is

also a sport mode should the driver

like the revs hunting higher.

I tried to replicate the type of

driving the Swift hybrid would

most likely be subjected to on a

daily basis – a suburb to city commute,

a trip to the supermarket,

and a weekend excursion. There

are no surprises here, the Swift in

all forms functions well in those

situations. The hybrid hasn't lost

sight of the Swift concept, an

easy-to-drive model with as much

practicality as you can get in a

small car. See, at just 3.8m, the

Swift makes good use of its compact

proportions, it is a five-seater

at a pinch.

On the open road it is quiet and

composed when presented with a

tight corner or two. The Swift sits

somewhat low at 1.5m so there

isn't a lot of body movement, even

though the rear suspension is a

tube beam type there is enough

• Price – Suzuki Swift hybrid

Limited, $28,500

• Dimensions – Length,

3845mm; width, 1735mm;

height, 1495mm

• Configuration – Fourcylinder,

front-wheeldrive,

1197cc, 61kW,

107Nm, continuously

variable automatic.

• Performance –

0-100km/h, 11.5sec

• Fuel usage – 4.1l/100km

suspension movement to promote

a controlled ride even when road

ripples threaten balance.

Interestingly, the hybrid is built

in Japan but is destined mostly

for the European market. That

being the case, there are a few

little quirks the traditional Suzuki

owner would need to adjust to. For

one, the indicator and wiper stalks

have been transposed, and why

European buyers like rear manual

window winders eludes me, but

that's what you get in Swift hybrid.

Also, the hybrid model is sans sat

nav but there is Apple Car Play

and Android Auto.

As with the entire Swift

range, the hybrid gets a five-star

Australasian New Car Assessment

Program rating. That's achieved

by an abundance of safety features

such as an advanced forward

detection system which mitigates

the chance of a collision, there are

also other clever features such as

adaptive cruise control, rear view

camera and rear cross traffic alert.

The Swift hybrid lists at $26,990

in standard form, the evaluation

car was a Limited specification

model and it adds $15100, $2000

if you want two-tone paint.

These prices compare to

$20,750 for the Swift GL ($22,990

auto) non-hybrid. I guess that

difference is a matter of equation

as to whether the fuel saving

benefits going forward, outweigh

the extra cost.

Suzuki has a fairly extensive

model line-up, I will be interested

to see how far the company takes

its hybrid technology and whether

it can be adapted to other

engine configurations.

In the interim, if you want

something just that little bit different

in your Swift purchase then

the hybrid model still represents

all those traditional Suzuki values

but with the thought you are

doing just a little bit to reduce

emissions and benefiting the

environment.

To top it off, there's also the

benefits of the local dealership's

tempting maintenance

programme – all in all there is

lot to consider, but judging by

my experience with Suzuki all

the ingredients add up to healthy

sales down under.

has motoring covered!

Incorporating

ISSUE 667 | FrIday 20 novEmbEr 2020

sherborne st, edgeware

iggest range of vehicles

location!

2011 Jaguar

XF Premium

$18,999

See inside for this week's

4WD feature!

se Ave | P: (03) 366 7768 | www.valuecarswarehouse.co.nz

See page 4 for more info!

free

best motorbuys

Incorporating

ISSUE 668 | FrIday 27 NovEmbEr 2020

275 Colombo street, Christchurch

For more see their advert on pages 6 & 7

Ce l 021 855 884

Incorporating

ISSUE 669 | FrIday 4 dEcEmbEr 2020

See inside for this week's

Classic Car feature!

PH 03 web

www.drivesouth.co.nz

One Owner!

40 Years Finance

Experience

Cannot be Beaten!

• Talk to us about finance for your next

motor vehicle purchase

Specialising in Finance for Private Purchases

Very quick approvals, sensational interest rates

• From no deposit (terms & conditions may apply)

Hiace spares

Cnr Main South Rd and Epsom Rd, Christchurch

Ph: 03 348 4129 | avoncityford.com

2015 IsuZu D-mAX

4WD Ls D/CAb

NZ new, 3.0 intercooled turbo/dsl,

auto, rare flatdeck with ladder/pipe

racks, reverse cam, service history.

$34,995 $192pw

For more see their advert on page 31

free

best motorbuys

www.drivesouth.co.nz

See inside for this week's

marine feature!

free

best motorbuys

The South Island's leading motoring resource,

filled with news, reviews and dealer listings.

From family cars to work trucks, and supercars

to SUVs. No matter what you're looking for,

you can find it all with Drivesouth.

Magazine available for FREE every Friday

at a convenient pick up point near you!

The biggest range of vehicles

in one location!

Now Available @ NZ Van Spares

www.drivesouth.co.nz

2.4 auto, alloys, ABS, twin airbags.

2005 toyota rav

$20,999

$9,990

40 Years Finance

2008 bmW 320i

2.0lt Petrol, 5 Dr Station wagon,

Climate Control, ABS Braking,

.nz

CAR AUDIO

AUDIO VISUAL

CAR SECURITY

32 Moorhouse Ave | P: (03) 366 7768 | www.valuecarswarehouse.co.nz

MOBILE INSTALLATION SERVICE

RADAR DETECTORS

DASH CAMERAS

Cannot be Beaten!

$10,974 NoW $7,974 + orC

Experience

Automatic. $34.63pw.

AERIALS

• Talk to us about finance for your next

Specialising in Finance for Private Purchas

• Very quick approvals, sensation

• From no deposit (term
---
Latest Canterbury news at starnews.co.nz

Wednesday October 13 2021 Bay Harbour News 19

Classifieds Contact us today Phone our local team 03 379 1100

Cars Wanted

AAA CASH - CASH -

CASH . Any unwanted

cars. Phone 347 9354 or

027 476 2404

JAGUAR E_TYPE

ROADSTER. Please

phone 027 445 9123

Childcare &

Domestic Help

PRIVATE CARER

For elderley & brain injury

loved ones.15 yrs hospital

exp.Can help with sitting

with loved ones, toileting,

feeding, light meal prep.

Available AM, PM &

evenings. Phone me for

what your needs may be &

how I may be able to help.

Lynette 0274 980157

Fairs & Markets

Gatewood

Market

788 Old Tai Tapu Rd

THIS SUNDAY

10am-2pm

Child & dog friendly

Gardening

& Supplies

Gardener available for

maintenance, weeding

pruning, spraying,

planting, advice. Qual &

exp. Ph Richard 0274 918

234, 03 349 4022

Real Estate

HOME WANTED 3-4

bedrooms. Looking in Nor

West areas, Beckenham

or Somerfield. Prefer

permanent material brick

and post 1990 build. Don't

mind if it needs some TLC

- anything considered.

Cashed up buyer. Phone

021 372 479

Trades & Services

To Let

RENT ME!

Ideal as an extra

bedroom or office.

no bond required

Atkinson Construction Ltd

• Local qualified builder

• Over 30 years experience

• Building alterations

• Maintenance

• No job too big or small

Dean: 021 480 093

atkinsonconstruction@xtra.co.nz

Fully insulated and double glazed for warmth.

Three convenient sizes from $80 a week:

Standard 3.6m x 2.4m

Large 4.2m x 2.4m | Xtra-large 4.8m x 2.4m

Trades & Services

CARPET

LAYING

Exp. Repairs, uplifting,

relaying, restretching.

Phone John on 0800

003181, 027 240 7416

jflattery@xtra.co.nz

CHIM CHIM CHIMNEY

SWEEPS

We'll sweep your

logburner's flue, check

firebricks, baffles, airtubes

& controls. We're experts

on coal-rangers, and can

sweep any sized open fire.

We quote & undertake

repairs, flue extensions &

install bird netting. 0800

22 44 64 www.chimchim.

nz

ELECTRICIAN

JMP Electrical.

Experienced & registered..

Expert in all home

electrical repairs &

maintenance.Call James

027 4401715

ELECTRICIAN

Andrew Martin Electrical.

25 years experience.

Specialize in home

renovations, repairs and

maintenance. Call Andrew

0274 331 183

Visit our website

www.justcabins.co.nz

for display cabin locations

www.justcabins.co.nz

Trades & Services

GUTTER CLEANING

HOUSE WASH

Total gutter / spouting

clear out & clean. House

wash & windows. For a

professioanl & reliable

service call Greg Brown

A1 Spouting Cleaning 027

616 0331 or 384 2661

GUTTER CLEANING

SUMMER SPECIAL

No obligation free

quote! Spouting repairs/

replacement /cleaning Call

0508 SPOUTING

HOME

IMPROVEMENTS

Decks, fencing, retaining

walls, kitchens, sleepouts,

kitsets, renovations and

more. Greg 022 475 8227

LAWNMOWING

You Grow I Mow. Free

quotes. Phone Chris 021

252 1801

Wanted To Buy

AAA Buying goods

quality furniture, beds,

stoves, washing machines,

fridge freezers. Same day

service. Selwyn Dealers.

Phone 980 5812 or 027

313 8156

ADD SOME

COLOUR

TO YOUR ADVERT!

Trades & Services

Your local professional

FOR ALL YOUR

PLUMBING,

GAS &

DRAINAGE

• Bathroom repairs

• Renovations

• Leaks

• Blocked drains

• Gas and drainage

Carol and Chris

Phone 376 5322 or email

chcheast@laserplumbing.co.nz

DIRTY TILES

& GROUT?

Our unique restoration

processes will make your

tiled areas look NEW again!

We specialise in professional

cost effective solutions for

all your tile & grout issues.

• Tiled shower makeovers

• Re-colouring old grout

• Mouldy silicone replacement

• Professional tile/grout

cleaning, sealing & repairs

Call today for a FREE quote on 0800 882 772

www.theprogroup.co.nz/dpc9385

WINDOW TINTING

tintawindow

advanced film solutions

99% uv block

fade protection

heat control

reduce glare

25 Years Experience

privacy films

frosting designs

non-darkening films

Workmanship Guaranteed

Lifetime Warranties on Most Films

UV

block

Free Quotes Canterbury and Districts

03 365 3653 0800 368 468

Situations Vacant

Local Democracy

Reporter

- North Canterbury

Job type: Fixed term – 24 months

Location: Rangiora

Closing date: October 29, 2021

Are you an outstanding reporter looking for a new challenge and wanting

to serve your community?

Allied Press, with the support of RNZ and NZ On Air's Public Interest

Journalism Fund, is hiring a journalist to join Local Democracy Reporting in

2022 and 2023 from the North Canterbury News office in Rangiora.

You will be covering local authorities and other publicly-funded

organisations, but also going out and talking to the people affected by

these organisations' decisions, sharing their stories, and coming up with

your own stories on similar topics.

Your focus will be providing great public interest journalism coverage daily

throughout the North Canterbury region including Waimakariri, Hurunui

and Kaikōura. This is a multi-media role so experience in video, audio and

photography would be an advantage.

You will report to Allied Press' North Canterbury bureau chief. You will

receive extra training and support from RNZ, and your work will be made

available at the same time to all of the programme's media partners,

including RNZ.

This could be a junior, intermediate or senior role depending on the

successful candidate. We are looking for someone with as many of the

following qualities as possible. You don't need all of these to apply, but you

do need to have at least two years' reporting experience (although in some

cases we may also consider exceptional applicants with only one year's

experience).

• Able to spot a strong story and make it come alive for your audience

• Able to meet the highest standards of accuracy, fairness and balance

• Understanding of Te Tiriti o Waitangi

• Some knowledge of local government

• Excellent writing skills

This is a full-time role for a fixed term (through to 31 December 2023).

Assistance with relocation costs may be considered.

Applications close October 29, 2021.

Please submit your CV along with your cover letter and work samples to

recruitment@alliedpress.co.nz

Visit RNZ's website for more

information about the LDR service:

Thursday, August 2, 2018 | Issue 808 | www.ncnews.co.nz

https://www.rnz.co.nz/news/ldr

ADVERTISE YOUR

BUSINESS HERE

Phone for further details

(03) 379 1100
---
20 Bay Harbour News Wednesday October 13 2021 Latest Canterbury news at starnews.co.nz

STYLE & QUALITY

FOR LESS

STOREWIDE SALE

SALE

CHRISTCHURCH'S MOST AFFORDABLE

NZ MADE LOUNGE SUITES

CUSTOMISE TO YOUR REQUIREMENTS

Iris 3+2 Seater

Available in other colours

2 Seater $819 $759

3 Seater $999 $919

SALE

QUALITY

FURNITURE

SALE

Lennox Dining Chair

Maui

Recliner

Ebony, Dark Grey,

Beige or Marine.

Black PU

Affordable

PRICE TAG

Ackley Dining Table

WAS $1249

$

1179

WAS $519

$

479

Ash

Acacia

Birch

WAS $139

$

129

Elm

Collection

Sylvie Bedroom

Collection

Tallboy 5 Drawers $829 $769

Tallboy 6 Drawers $969 $899

Lowboy 6 Drawers $879 $809

Bedside $299 $269

Headboard $549 $509

Table Large $1249 $1159

Table Small $759 $699

SALE

Atlanta Bunk

SALE

Piha Extension

Outdoor Table

White

Rimu Stain

WAS $1139

FINANC E

$

1079 WAS $1899

$

1749

WE CAN HELP WITH THAT

FREE

CARPARKING

SOUTH CITY

BATH ST

WE ARE

HERE

255 MOORHOUSE AVE

REBEL SPORT

COLOMBO ST

MON-FRI 9:30AM – 5:30PM

SAT-SUN 10AM – 5:30PM

0800 268 264

www.affordablefurniture.nz
---
Latest Canterbury news at starnews.co.nz

Wednesday October 13 2021 Bay Harbour News 21

The market

is on the

move…

Are you?

Ray White Ferrymead

Ready When You Are!

Phone (03) 3844 179 | Email prier.manson@raywhite.com

rwferrymead.co.nz /RayWhiteFerrymead

Prier Manson Ltd. (Licensed REAA 2008)
---
22 Bay Harbour News Wednesday October 13 2021 Latest Canterbury news at starnews.co.nz

Secure your Lyttelton Address!

61 Oxford Street, Lyttelton

3 bedrooms, 2 bathrooms, 2 car garaging

Built over 2 levels, this home offers flexible working, entertaining and living

spaces as well as low-maintenance construction. The easy-care section

was designed to minimise upkeep and maximise leisure time, with outdoor

entertaining areas providing an opportunity for unwinding or entertaining

family and friends in both winter and summer.

At a glance

9 3 Bedrooms, 2 down and 1 up

9 2 bathrooms, 2 toilets

9 Main bedroom fitted out with a walk-in robe and en-suite

9 Functional kitchen with a great view out to Port

9 Flexible living spaces opening onto a balcony

9 Double garage with internal access with extra off-street parking

This fabulous property caters for people of all ages and stages appealing

to young or young at heart, families, couples and investors alike. What a

fantastic opportunity to secure a home in Lyttelton.

Contact Yvette for more information today.

Price by Negotiation

www.raywhite.co.nz/OPA30090

Yvette Wright

M. 020 4172 1510

E. yvette.wright@raywhite.com

FINAL WEEK

FINAL WEEK

As is, Where is - Loving Lyttelton

16 Cressy Terrace, Lyttelton

2 bedrooms, 1 bathrooms

9 14 Cressy Terrace - Section 1,037m2

9 16 Cressy Terrace - Two bedroom home, damaged by fire.

Nestled on top of the hill with outstanding harbour & rural views. A leisurely walk down to the village where

you are spoilt for choice with bespoke shops and fabulous places to eat or enjoy a pint. Moments away from

walkways, hiking tracks and sheltered spots to enjoy a swim with summer on our heels.

Don't miss out on an amazing piece of Lyttelton history, this is yours!

Views for Days!

24a Cornwall Road, Lyttelton

3 bedrooms, 2 bathrooms, 2 car garaging

This elevated contemporary three bedroom, two bathroom home is well positioned and privately tucked

away in the sunny spot of Cornwall Road in the heart of the village, this home represents good harbour

living with stunning views.

At a glance: Three good sized bedrooms, all with built in wardrobes, master bedroom features an ensuite

and walk in robe, double glazing throughout, skylights for the winter sun provides a lovely natural light,

modern kitchen with a good amount of cupboard space, renovated main bathroom with a full-size bath,

creating warmth will be no problem with the log burner and heat pump, intimate deck off the living space

capturing the ever-changing port and sea views, entertaining space is not forgotten with a north facing

courtyard where you can soak up the tranquil hill environment, double internal garaging plus off-street

parking. Why would you want to live anywhere else?

Yvette Wright

M. 020 4172 1510

E. yvette.wright@raywhite.com

Auction: 16 October 2021 at

2.30pm, on-site (not selling prior)

www.raywhite.co.nz/OPA30089

Yvette Wright

M. 020 4172 1510

E. yvette.wright@raywhite.com

Deadline Sale: Friday 15 October

2021 by 4pm (not selling prior)

www.raywhite.co.nz/OPA30116
---
Latest Canterbury news at starnews.co.nz

Wednesday October 13 2021 Bay Harbour News 23

Secluded and Single Level...Stunning!

10 Finnsarby Place, Sumner

3 bedrooms, 2 bathrooms

Wake up to birdsong and sunny mornings, in this secluded, single level home.

Sitting elevated on a quiet cul de sac - 10 Finnsarby Place boasts beautiful hill

views, surrounded by native plantings and easy access to the nearby walking

tracks, and all that Sumner living has to offer.

Rebuilt in 2013, this property features 3 double bedrooms, a study, 2 living

areas and an open floor plan with ease of access to the outdoors. Take your

morning coffee outside to enjoy the sun and overlook a sheltered and private

garden and lawn. The main bedroom enjoys lovely views across the valley, and

is complete with balcony, ensuite and walk in robe.

Cosy and warm, it is complemented with double glazing, and has a variety of

heating options including gas fire and solar hot water. This home is sure to

impress you and the planet! Excellent storage options including garden shed

and a spacious and functional basement workshop or sports equipment area.

Plenty of off street parking and seldom available on this leafy secluded street,

this home is expected to attract considerable interest, and prospective

purchasers should proceed at their earliest convenience.

Deadline Sale: Thursday 28th October, 4pm (unless sold prior).

www.raywhite.co.nz/OPA30072

Rod Cross

M. 021 763 763

E. rod.cross@raywhite.com

FINAL WEEK

FINAL WEEK

Comfy Cottage Packed with Attitude

11 Ticehurst Road, Lyttelton

2 bedrooms, 1 bathroom

Selling "As is Where is" this cheeky 2 bedroom home refuses to be labelled anything other than fabulous!

If you adore character and are searching for a home packed with charm, then this residence needs to be on

your "must see" list. Nestled high on the hillside with a breath-taking harbour outlook and arguably the best

views in Port, wherever you turn you are surrounded by harbour, port, marina and hill/urban views.

A unique drawcard of this home is the elevated, terraced backyard that's beautifully presented and

privately positioned for your enjoyment. From here, you can also embrace the covered entertaining spot or

simply unwind and be mesmerised by the sublime view over the water and rolling hillsides beyond.

Storage has been well considered with a basement/storage area beneath the home offering space for a

workshop with plenty of space left to store the likes of kayaks, skis or surfboards. If you can picture yourself

watching the sunset and sunrises, then an inspection is needed!

In the Hub

4/56 Nayland Street, Sumner

2 bedrooms, 1 bathroom, 2 car garaging

A short stroll to Sumner Village and just one block from the beach this conveniently located townhouse will

appeal to those who enjoy a busy lifestyle. The two storey home offers 2 double bedrooms with adjacent

bathroom upstairs, with a separate laundry and WC downstairs. The spacious open living area has a kitchen

with breakfast bar and dining/living flowing through double doors to the sheltered courtyard garden plus

a separate courtyard at the rear for utilities. Approximately 20 years old, brick construction with a large

double garage and internal access.

Don't miss this opportunity to purchase in this popular seaside location and enjoy all the amenities the area

has to offer. For definite sale by a motivated vendor.

Yvette Wright

M. 020 4172 1510

E. yvette.wright@raywhite.com

Auction: Friday 22 October at 11am, Ray

White Ferrymead offices, 21 Humphreys

Drive, Ferrymead (not selling prior)

www.raywhite.co.nz/OPA30117

Jan Edlin

M. 027 433 8025

E. jan.edlin@raywhite.com

Auction: Wednesday 20 October

at 4pm, on-site.

www.raywhite.co.nz/OPA30110
---
24 Bay Harbour News Wednesday October 13 2021 Latest Canterbury news at starnews.co.nz

JOIN OUR TEAM

Careers Evening

Thinking of a career in Real Estate?

Driven by Results?

Love working with like-minded people?

Come along and find out if it's for you!

What Are You Waiting For?

When: 6pm Wednesday 27 October, 2021

Where: Ray White Ferrymead

21 Humphreys Drive

Ferrymead

Register your interest with James Shepherd

027 554 5046 | james.shepherd@raywhite.com

Celebrating Excellence

Ray White Ferrymead is proud to acknowledge

our outstanding achievers for 2021

Team Standeven

#1 Sales Consultant 2020-2021

Pip Sutton

#2 Sales Consultant 2020-2021

Yvette Wright

#3 Sales Consultant 2020-2021

Ray White Ferrymead

Phone (03) 3844 179 | Email prier.manson@raywhite.com

rwferrymead.co.nz | /RayWhiteFerrymead Prier Manson Ltd. (Licensed REAA 2008)

IN SUPPORT OF RONALD MCDONALD HOUSE SOUTH ISLAND