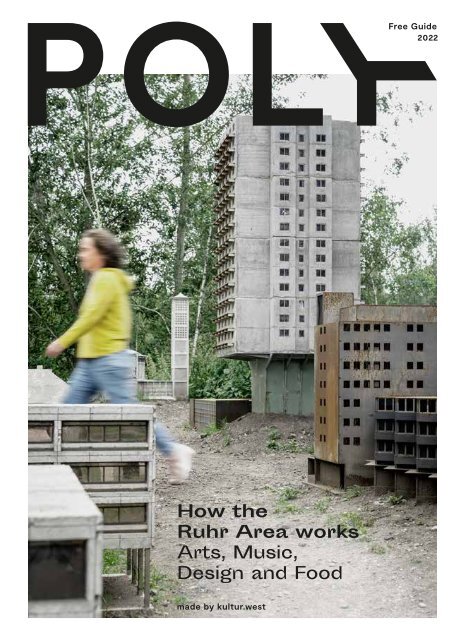 Magazin "POLY" - Free Guide 2022
Das englischsprachige Magazin "Poly" führt durch das gesamte Ruhrgebiet und beleuchtet Kunst, Musik, Design und Gastronomie. Dazu gibt es Tipps, Empfehlungen und Einblicke in die kulturelle Landschaft der Metropole Ruhr. Magazine "POLY" - Free Guide 2022 (english) One single city? No, lots of towns and cities. The Ruhrgebiet is often called "the city of cities". "Poly" will tell you how different they are and what they have in common. But most of all we want you to show you one thing: a constantly changing cultural scene and its transformative influence on the environment. For this is the motor behind new developments an radical changes. Poly leads through the Ruhr area and highlights art, music, design and gastronomy.
Das englischsprachige Magazin "Poly" führt durch das gesamte Ruhrgebiet und beleuchtet Kunst, Musik, Design und Gastronomie. Dazu gibt es Tipps, Empfehlungen und Einblicke in die kulturelle Landschaft der Metropole Ruhr.

Magazine "POLY" - Free Guide 2022 (english)

One single city? No, lots of towns and cities. The Ruhrgebiet is often called "the city of cities". "Poly" will tell you how different they are and what they have in common. But most of all we want you to show you one thing: a constantly changing cultural scene and its transformative influence on the environment. For this is the motor behind new developments an radical changes.

Poly leads through the Ruhr area and highlights art, music, design and gastronomy.
SHOW MORE
SHOW LESS
You also want an ePaper? Increase the reach of your titles
YUMPU automatically turns print PDFs into web optimized ePapers that Google loves.
Adobe Stock / © Roman

Intro One town, one city? No, lots

of towns and cities. Indeed,

the Ruhr region is often called the "city

of cities". Poly will tell you all about their

differences and similarities, above all

what unites them all. The most prominent

unifying factor is art and culture, which

are in a constant process of change. The

same applies to their surroundings.

Bored?

Then try a bit of culture. It's everywhere!

KIR. For all cultural events in

the Ruhr Metropolis at a glance.

www.kulturinfo.ruhr

WANT TO

DISCOVER MORE?

→ POLY-

MAGAZIN.DE

→ KULTURWEST.DE

→ STORM-

ILLUSTRATION.DE

POLY MAG 2022

INTRO

Anyone speeding through one of Germany's largest urban areas

on a train or along a motorway will quickly notice how fluid

the city boundaries are here. Travellers in the area need other

points of orientation than signs at the entrance to a particular

town or city. These tend to be places that excite people. Which

give them a sense of identity and belonging.

We have also been keeping an eye open for them, so

this booklet will give you the low-down on places undergoing

radical changes, One of them is the "Kortländer Kiez" in

Bochum which was once predominantly working-class but

has now been transformed into a trendy neighbourhood. For

a brand new chapter on outdoor tips we cycled along part of

the Emscher Art Trail. In one location Julius von Bismarck has

built miniature replicas of buildings (see our cover) that were

once typical of the area, but have long since been demolished.

We have met interesting designers, looked into the first-class

cinema culture in the Ruhr region and checked out the vinyl

scene on record players, compiled a cultural calendar for 2022

and visited the huge industrial spaces that the "Ruhrtriennale"

festival transforms into performance venues every year.

Have fun exploring the area!

Your "Poly" Team

1
---
20

B u s y

A r t y

N o i s y

22

08 Equal treatment

for all

A foray through the Kortländer Kiez

in Bochum

14 The new working

class

Co-working spaces in the Ruhrgebiet

28 Dream factories

The Ruhrgebiet has a long filmtradition

with its cinemas and festivals

34 "We roll out the

red carpet …"

The "literaturgebiet.ruhr" networks

the literary landscape from Moers

to Unna.

54 Star spaces

The Festival Ruhrtriennale is

unusual – not least because of its

locations

58 Sounds of Silence

The three musicians of "Bohren der

Club of Gore" from Mülheim an der

Ruhr create an extraordinary sound.

36 Dortmund lights up

The Dortmunder U ist a museum

to brighten your day …and night.

60 Black and

beautiful

A look at the vinyl scene

PLEASE NOTE!

Because of Corona changes are

possible at any time.

40 Have a good read!

You can find books and more all over

the Ruhr. Here's a brief overview

64 Culture Tips

2022

I n / O u t r o

P r e t t y

B r e e z y

T a s t y

01 Editorial

04 You are here

The Ruhrgebiet in numbers

92 In other people's

beds

Hotels

94 Up and away!

On the road through the Ruhrgebiet

96 Imprint

18 New Lives

The Design label "Karolchicks" turns

leftover materials into new objects.

22 Nordstadt style

The Designers from "Bande für

Gestaltung" in Dortmund give things

a special character.

25 urbanana

The urban jungle encompassing

Düsseldorf, Cologne and the

Ruhr Area; perfectly shaped like

a banana.

42 Emscher for ever

Get on your bike and ride along

the river! A trip along the Emscherkunstweg.

48 Open-Air

Outside there is a lot to discover –

from skate-sculptures to festivals

50 Art in public

areas

76 Magical Kiosks

Kiosks offer also culture. A quick look.

80 Utterly Sweet

Buy a bag of childhood memories!

A review of shapes and flavours

82 Culinary Tips

Bars and Pubs for an evening out;

Coffee, cakes and tarts for those

with a sweet tooth; Eco-friendly,

cosy and international cafés and

restaurants in the Ruhr Area

INTRO

POLY MAG 2022

POLY MAG 2022

INTRO

2 3
---
How well do you know

the Ruhrgebiet?

UNESCO World Heritage Site – the

Zollverein mining complex in Essen

Towns and cities

The stretch of the A40 motorway

between Duisburg and Dortmund

Theatres

Museums

Metres high. That's the height

of the Wengeberg in Breckerfeld.

You won't find a much higher

spot in the Ruhrgebiet

LED lamps light up the

Duisburg helter-skelter landmark

"Tiger and Turtle" by night

The year when we were the

cultural capital of Europe

Square kilometres in size

Residents

4

INTRO

POLY MAG 2022

POLY MAG 2022

INTRO

5
---
Working class:

From steel to Start up –

how the Ruhr Area

works

bu sy

There was once a foundry here.

Then the famous theatre director Peter

Zadek came and turned the BO-Fabrik

into an outdoor venue for his playhouse.

Today the KoFabrik is a thriving and

creative neighbourhood centre in Bochum.

We've taken a look around the "Kortländer

Kiez" (→ p. 8) and compiled a list of

some interesting co-working spaces in

the region. (→ p. 14)

POLY MAG 2022 BUSY

7
---
Equal

treatment

for all

KUGELPUDEL | Dorstener Straße 1

An alternative ice cream bar offering creative

flavours with or without milk, coffee, waffles

and snacks.

→ KUGELPUDEL.COM

ISKANDAR BARBERSHOP | Hernerstaße 9

Ihab Iskandars customers include football

stars from rival clubs like Schalke, Borussia

Dortmund and VfL Bochum, as well as the

rapper Capital Bra.

TEXT

Max Florian Kühlem

PHOTOS

Daniel Sandrowski

When people talk about the

"Kortländer" in Bochum, the eyes

of oldies light up just as much

as those of the trendy young. On

the one hand, the term designates

a legendary pub that existed until

the 1980s, and on the other, it

refers to a current, alternative

nightlife area that is unparalleled

in the Ruhr region.

8

BUSY

POLY MAG 2022

POLY MAG 2022

BUSY

9
---
THE TRINKHALLE | Herner Straße 8

A large selection of craft beers, not

forgetting table tennis, table football

and art exhibitions between the rudimentary

pallett furniture.

→ FACEBOOK.COM

TRINKHALLERUHRGEBEAT

BIOKU | Herner Straße 14

A loose food shop with a wide selection

of unpackaged organic products

and a large space for workshops on

subjects like upcycling, for example.

→ BIOKU.ORG

KOFABRIK

The neighbourhood centre with a

café, urban garden, yoga room and

co-working spaces.

→ KOFABRIK.DE

From 1879 to 1913, Ferdinand Kortländer had a

legendary inn in a building on the corner of Herner

Straße and Dorstener Straße just north of the city

centre. The inn was later taken over by others and

remained a permanent fixture under the name

Kortländer. The only pub in the district that existed

with it was Paddy's Irish Pub that's still going today.

It was the first to establish Irish pub culture in

the Ruhrgebiet at the end of the 1970s, and has

tenaciously outlived all its successors. Even now

you can play darts in the small, old-fashioned pub,

enjoy a freshly tapped Guinness or taste the rich

selection of whiskeys.

A lot has changed over the past decades

around the Kortländer (which now houses a beauty

salon) and Paddy's, thanks to the change in pub

culture and the arrival of creative

workers. It has been a long

journey to today's diverse, lively

creative quarter with its architects,

designers, advertising and

marketing people, a music studio,

and a variety of pubs and cafés.

The first attempt to reestablish

it as a nightlife area was made

by the caterer Marc Tewes, who

opened two cool establishments

on the inner-city section of

Herner Straße at the beginning

of the 2000s. These were the

pub restaurant "Rauschen" behind

stained-glass windows in a

traditional pub, and the "London

Tokyo Paris" bar with its large

shop windows, retro furniture, DJs and bottled beer.

"London Tokyo Paris" was followed

in 2006 by "Goldkante" which had a similar

approach. Today the beautiful shop with the goldframed

windows is home to "Café Eden". The

retro furniture has remained – and also the fact

that the shop is run by an association. Many people

from all walks of life meet up here: young and

old, students, the employed and the unemployed.

Its services are also inclusive, and range from a

reading circle to games evenings, a "deep talk"

circle and a sewing group.

"Inclusive" is how you could generally describe

the hustle and bustle in the neighbourhood that

is now called "Kortland" or "Kortländer Kiez".

The utopian idea of a society that unites diverse

The utopian

idea of a

society that

unites diverse

cultural

influences

is being

turned into

a reality here.

cultural influences – something that is often

attributed to the Ruhrgebiet in particular because

of its history of industrial migration – is being

turned into a reality here. The square in front of

the alternative ice cream parlour "Kugelpudel" is

where they all come together: young people, the

trendy and the more old-fashioned, older residents,

newcomers from the Middle East, as well

as people visiting the Turkish and Arabic cafés

and shisha bars just around the corner. When

"Kugelpudel" opened eight years ago, its owner

Julia Bernecker said: "I want to do my bit to help

develop an alternative neighbourhood". She's

done this faster than expected.

"A lot of young people have moved into the area,"

says Julia Bernecker today. From a bench in front

of her ice cream parlour she

observes the hustle and bustle

on Dorstener Straße and Herner

Straße. An older local resident who

has a garden and several children,

takes care of the plant pots on

the square. And Julia helped to

find the premises for the first zero

waste shop in Bochum, "Bioku",

a little further down the Herner

Straße. "At first I had the idea of

opening a food cooperative there

myself", she says. "But then I decided

to leave the project in other

hands."

If you walk towards the town

centre from the "Bioku" zero

waste shop, you will pass by

some of the new additions to the Kortländer Kiez.

In the shop right next door, Simon Jakob is putting

the finishing touches to the décor of his new wine

bar, "OA". "At first I'll only be selling German wines

here," he says, explaining his special concept. He

is also happy to reveal what lies behind the name

of the bar. "O and A are the vowels missing from

the neighbouring KRTLND café." The café not only

serves one of the best coffees in town and has a

constantly good-humoured, singing barista, it is also

an important networking venue.

"At the KRTLND café, for example, I got to know the

people involved in the KoFabrik neighbourhood centre

and through them I got new commissions," says

landscape architect Sebastian Sowa, who works just

around the corner in a shop on Kanalstraße. Some

BUSY

POLY MAG 2022 POLY MAG 2022

BUSY

12 11
---
MITWERK | Stühmeyerstraße 33

Two separate offices, eight desks and

four-metre high ceilings add up to

create a charming space. In accordance

with the overriding concept of

the location, the small, changing community

also feels a sense of obligation

to the constantly developing environment

in the erstwhile ironworks.

→ MITWERK.ORG

STÜH33 | Stühmeyerstraße 33

20 Flex desks are spread across the

large space and the working stations

can be used and pre-booked as required.

But in the evenings the desks

are kept free to allow the room to be

used for events.

→ STUEH33.DE

artists also have their studios here, and the owner

of the KRTLND café, Markus Schlichtherle, runs a

recording studio that is well-known in German pop

circles. "Sowatorini" is the name of the landscape

architects' office that operates on an axis between

Bochum and Berlin, because one of Sebastian Sowa's

partners is called Gianluca Torini, who runs the Berlin

office. The organic fashion label "Frau Misoke" has

set up shop in a backroom of Sowatorini's Bochum

branch, and architecture students are also busy

tweaking their models at the large wooden table.

Sebastian Sowa, who works on projects

and wins architecture awards all over Germany

and beyond, is pleasantly surprised by what is

happening in his immediate neighbourhood. In

front of the KoFabrik, for example, there will

soon be a restricted-traffic

zone with a new road surface.

"The city is also generally very

open-minded about structural

changes in the area." The

council is probably happy to

let the Kortländer Kiez develop

into a creative quarter by itself

without any official designation

or large-scale promotion – and

is helping as much as it can to

further developments.

A place like the KoFabrik must

be a dream come true for all

urban planners. This amazing

project is housed in a building

steeped in history on the corner

of the street called "Am Kortländer".

The old brick building once housed the

Heintzmann iron foundry, where the legend-ary

Bochum theatre director Peter Zadek established

his outdoor venue, BO-Fabrik, in the 1970s. In the

1980s it was occupied by squatters, and most recently

it was a day centre for the homeless. Now

it's been turned into a thriving neighbourhood and

co-working centre.

Everyone meets up in the neighbourhood

centre: advertisers, the operators of a

studio for "sustainable innovations", artists,

graphic designers, video makers, language course

providers, café owners and yoga teachers, not

forgetting the social worker responsible for the

neighbourhood. "We want to be a place for the

neighbourhood, not simply a tenant in a shared

"We want to

be a place

for the

neighbourhood,

not simply a

tenant

in a shared

office."

Henry Beierlorzer, managing

director of KoFabrik

office. Every-one here is committed to putting

in time for the neighbourhood", says managing

director Henry Beierlorzer, explaining the project,

which has received funding from organisations

like the Montag Foundation, which supports

non-profit, urban spaces.

At some point during the meetings of the people

involved in the KoFabrik the term "Little Warsaw"

comes up. That was the old name for the

neighbourhood, recalls one of the workers in

the advertising agency. The reason is clear when

you realise that many of the Polish workers who

flocked to the Ruhrgebiet from 1870 onwards

settled here, thereby making Bochum the centre

of "Ruhr Poland". The Robotników workers' bank,

the Polish Trades Union Association "Zjednoczenie

Zawodowe Polskie"

and a branch of the "Kasa deposytowa"

bank, to name but a

few, were located on the street

"Am Kortländer". These institutions

no longer exist, but since

1947 the so-called "Dom Polski"

(Am Kortländer 6) has housed

the Federal Headquarters of

the Union of Poles in Germany.

The building is currently being

renovated to house the Porta

Polonica Documentation Centre

with the aid of funds from the

federal government and the

NRW Foundation.

Some of the people from

different cultural backgrounds

who meet up in the evenings on Herner Straße for

craft beer, table tennis or underground art exhibitions

in the pub that is simply called "Trinkhalle",

have Polish-sounding surnames. Many of them

may have just emerged from the Iskandar barbershop

across the street – the final astonishing Kiez

phenomenon that I shall briefly highlight here.

Ihab Iskandar has been trimming hair since 2012.

His customers include football stars from rival

clubs like Schalke, Borussia Dortmund and VfL

Bochum, as well as the rapper Capital Bra. Why

them exactly? "I can't say," says Ihab Iskandar.

"Maybe they just notice how much I love my work

and that everyone is treated equally here. The

celebrities love the fact that they don't enjoy any

special treatment."

BUSY

POLY MAG 2022 POLY MAG 2022

BUSY

13
---
The new wo rking class

Co-working

spaces in the

Ruhrgebiet

HÜLSWERK

The Hülswerk in the town of Marl in the north

of the Ruhrgebiet is one of the few places

to go for creative minds in need of space.

Start-ups, freelancers and companies can

find office and agency workspaces in a stylish,

relaxed atmosphere in a pedestrian precinct

right in the middle of the district of Hüls.

Here it's impossible to separate offices from

a furniture store, and a gallery from a sales

room. This all adds up to an extraordinary

environment for meetings. The Hülswerk also

welcomes presentations and events.

NOBUZZWORDS

The name says it all. Ideas are thrown up in small

groups on the "Bolzplatz", which then have to

prove their worth in the "Muckibude" conference

area. "Nobuzzwords", a co-working space founded

by a team of managers, offers people the

opportunity to brainstorm above the rooftops in

the centre of Dortmund, before sorting their ideas

out again collectively. The desks and offices here

are primarily aimed at ambitious start-ups.

DORTMUND | Hansastraße 30

→ NOBUZZWORDS.DE

C/O – RAUM FÜR KOOPERATION

The Science Park and the Rheinelbe Sculpture Wood

are only a few minutes away, and Arminia Ückendorf's

training ground is just around the corner. You

couldn't get nearer to the heart of the Ruhrgebiet if

you tried! The "c/o- raum für kooperation" is located

in the creative quarter in the south of Gelsenkirchen.

Companies and self-employed people, institutions,

artists and associations with new ideas meet up here

to get more done together. The founding team sets

an ideal example as they are very well networked in

the local cultural and urban development scene.

GELSENKIRCHEN | Bochumer Straße 140/142

KS36

The activists behind KS36 call their group

of offices in Duisburg Central Station a

"creative pasture". This is pretty obvious,

because the heads of the "Rheinschafe"

agency were responsible for converting

the original Hild workshops - and they

needed the appropriate space to air their

ideas. While the agency uses a large part

of the converted locksmith's shop itself,

desks have also been created for freelance

workers with connections to the necessary

infrastructure. Workshops and open events

deepen the close ties to the student community

and the scene in Neudorf.

DUISBURG | Kammerstraße 36

→ KS36.DE

KS36

MARL | Hülsstraße 12a

→ CO-RAUM.DE

→ HÜLSWERK.DE

COLLECTIVE.RUHR

The story goes like this: property developers

meet surf camp operators and the result is two

large rooftop terraces with BBQ grills and a

view over the district of Rüttenscheid. If you're

also thinking about work, collective.ruhr can

offer you optimal conditions above the rooftops

of Essen's trendy, creative district. There

are 800 square metres of offices and desks,

all with the latest technical equipment to allow

you to work separately or collectively - not to

speak of the attractive faded carpets.

ESSEN | Rüttenscheider Straße 120

→ COLLECTIVE.RUHR

14

BUSY

POLY MAG 2022

CO © SEBASTIAN BECKER

DEUTSCHES

BERGBAU-MUSEUM

BOCHUM

EXPERIENCE MINING

www.bergbaumuseum.de
---
Wow! That's beautiful!

Design in the

Ruhr Area

pr etty

A lamp made from old footballs?

In terms of design you can hardly get

much closer to the Ruhr area. We asked

Maciej and Katarzyna Karolczyk from

the Bochum design label "Karolchicks"

what upcycling means to them (→ p. 18), and

also explored the Dortmund "Nordstadt"

style of Stefan Tuschy and Jannis Reichard

from the "Bande für Gestaltung" (→ p. 22).

18

POLY MAG 2022

POLY MAG 2022 PRETTY

17
---
New Lives

TEXT

Volker K. Belghaus

PHOTOS

Karolchicks

Maciej and Katarzyna Karolczyk from the

Bochum-based design label "Karolchicks" are

turning leftover materials into new objects –

footballs become lamps and rustic pub furniture

is transformed into modish interior design.

PRETTY POLY MAG 2022

POLY MAG 2022 PRETTY

18 19
---
It all began with cans of olives. Not the small

ones from supermarket, but the large ones you

find in restaurants. They are much too good to

throw away because of their beautiful designs.

But what else can you do with them? Make

stools, like Maciej and Katarzyna Karolczyk from

the upcycling design label "Karolchicks" in Bochum.

The olive stool was their first product in

2011. The cans were reworked, partially repainted

or glued and fitted with cushions. The space

inside could be used to keep smaller items.

The stools pointed the way towards upcycling;

the reworking of used materials into new things.

Maciej Karolczyk had studied product design,

his wife Katarzyna previously travelled the

world for her work in the textile industry and

knew from experience the masses of waste

fabric scraps that accumulate in manufacturing

processes. So the decision to create something

new from old materials was the logical step. In

2012 they took another step in the shape of

football lamps made from old, nicely scuffed

leather balls. (These are still diligently donated

by football clubs in Bochum!). For this purpose,

some of the hexagonal elements are removed

and recycled as key rings or small bowls. The

result is an opening for the light bulb. The lamps

are then hung on a textile cord, the colour of

which can be chosen to match the colour of

your favourite club.

Their "cat balls" are also made of used

fabrics. The textile retreat for cats, which can be

turned into a basket in a few easy steps, is either

made from coffee sacks or very robust trade fair

carpets, the remnants of which would otherwise

end up in a container when the stands are set

up. This often results in unexpected combinations

of patterns.

With their interior design for the

"Kugelpudel" ice cream bar in Bochum, the Karolczyks

then took the idea of upcycling practically

to the extreme. The furniture left behind from the

former "Haus Ehrenfeld" pub was taken apart,

recombined with other materials and turned into

sustainable interior design. At times the designers

screwed the rustic oak chairs under a disused

gymnastics bench, at other times the chairs were

used as frames for tables or turned into comfortable

"barrel chairs" with a new backrest made of

blue plastic from a food barrel. The ceiling in the

gents is now boarded up with the back and side

walls from old cupboards.

At present Maciej and Katarzyna

Karolczyk are working on new ideas in an open

studio. One of these is smaller football lamps for

window sills and chests of drawers. That said, it

would be a good idea to have enough blue textile

cords in stock for the local football fans. This

is Bochum, after all!

→ KAROLCHICKS.COM

→ KATZENKUGEL.DE

Project development and implementation

DISCOVER THE

CHOICEST

SCULPTURES–

WITH

THE FREE

APP

Sponsored by

20

PRETTY

POLY MAG 2022
---
Nordstadt

Style

DIE KULTURTASCHE

In the Ehrenfeld district

between the Bochum Schauspielhaus

and the Bermuda-

3Eck there's a rather extraordinary

skincare shop which

also doubles as a concept

store. Its products range

from sustainable natural

cosmetics, skin creams, perfumes

and soaps, all the way

to teas, liquorice, and beard

care items.

BOCHUM | Alte Hattinger

Straße 11

→ DIE-KULTURTASCHE.DE

TEXT

Volker K. Belghaus

PHOTOS

Bande für Gestaltung

Communication designers Stefan Tuschy

and Jannis Reichard from Dortmund's "Bande

für Gestaltung" give things a special character –

for a roofing company and silicone items.

CORPORATE PHOTOGRAPHY FOR SILEX GMBH

It had to be the Ruhrgebiet. After all, anyone can go to Berlin.

Stefan Tuschy from Dresden and Jannis Reichard from Marburg

were both drawn to study at Dortmund University of Applied

Sciences and Arts, which offered a course in communication

design with a focus on photography. This was where they got to

know each other and worked on their first interdisciplinary projects.

Photography was quickly joined by subjects like typography

and book design. At the end of their studies, they found a space

in Dortmund's Nordstadt district to work on their diploma.

This is often the time when many young talents decide

to move on to other major cities. Tuschy and Reichard elected

to stay in Dortmund, partly because they felt they could still do

something there that wouldn't be possible in other big cities. In

2007 they founded an agency called "Bande für Gestaltung" (lit:

the Design Gang). The name not only fits the Nordstadt with its

laid-back attitudes, but also describes their working principle

which relies heavily on networking. One of their partners is

PRETTY POLY MAG 2022

POLY MAG 2022 PRETTY

22 23
---
the "Prinzträger" design studio in

Bochum, with whom they collaborate

on interior design projects. In 2018

they worked with the LWL Zollern

Colliery Industrial Museum in Dortmund

on an exhibition called "Revier

Gestalten". Their female colleagues

took care of the scenographic design,

whilst the Gang designed the

graphic-typographic items including

the catalogue. The Gang have also

designed a sober logo for the Bochum

drugstore "Die Kulturtasche", a

conscious contrast to the colourful

items in the concept store.

For Stefan Tuschy and

Jannis Reichard, the most exciting

projects are those in which clients

and designers approach each other

with open minds. This enables them

to come up with unusual ideas and

visual languages. For example, their

posters for the "ITEM" initiative featured

cool snapshots of budgies and

noise barriers that initially seemed

completely at odds with their client:

the Roman Catholic Church in Bochum.

This was deliberate!

The same applies to their

photos of the products manufactured

by "Silex" in Herne, a firm

which produces tubes, profiles and

moulded parts made of silicone

rubber. These could hardly be called

stylish unless they are presented

in the right light. The two designers

were given a whole bag of items for

the photoshoot. Set against a luminous background the parts

have an elegance reminiscent of abstract works of art.

The "Dachwerk.NRW" company in Castrop-Rauxel,

which specialises in sustainable building, is another creative

playground for Tuschy and Reichard. In addition to the logo and

corporate design, they also developed merchandising items

like a small wooden board, a birdhouse construction kit and a

branding iron that can burn a logo into wood. An angular block

of wood is used as a support for a stamp intended for business

documents. Here too they were lucky to work with young

open-minded clients. They told us "Just do it", says Stefan

Tuschy. Right up their street!

→ BANDEFUERGESTALTUNG.DE

BRANDING FOR "GREBHANS BIER"

STEFAN TUSCHY AND JANNIS REICHARD © JENS OELLERMANN

urbanana

The urban jungle encompassing

Düsseldorf, Cologne

and the Ruhr Area;

perfectly shaped like a

banana.

Life is vibrant here, with forever changing scenery,

creative people and cool places that inspire you, deeply.

Come and tour this multifaceted region of NRW and feel

the vibe of the urbanana.

How could you explore urbanana any better than

the way locals do? Bike through the colorful quarters of

Cologne, lined with cafés and small shops; Walk through

artsy Düsseldorf with its Rhine tower always in sight and

drive around the Ruhr Area if you feel like being moved by

the transformation of this former industrial hub.

We have created three tours for you that are perfect

for a day for exploring each of the areas in urbanana.

Everything is well-connected here, making travelling in

urbanana easy! No matter where you are starting or ending

point is, no matter where you are, everything belongs to urbanana.

Conveniently, all you need is your smartphone:

Just scan the QR-Code and it will show you the route on

Maps with info about all the different spots.

Let's go! urbanana and its

people await you!

24

PRETTY

POLY MAG 2022

ADVERTORIAL
---
Urban Arts

in the Ruhr Area

arty

Travellers to the Ruhrgebiet can't

miss its legendary "dream factories". Because

there's a long tradition of cinema

here. We've uncovered the most beautiful

auditoriums in the region and found the

most important festivals (→ p. 28). We've also

recorded an interview about how people

from the many different towns and cities

in the region get access to literature –

or how literature gets brought to the people.

(→ p. 34). While we're at it, we've compiled

a list of the most beautiful places in

the region to sit and browse. (→ p. 38)

POLY MAG 2022 ARTY

27
---
Dream

factories

LICHTBURG, ESSEN © THOMAS HERRMANN

TEXTS

Andreas Wilink

Honke Rambow

POLY MAG 2022

The Ruhrgebiet has a long film

tradition, at the centre of which, of

course, are the cinemas. It's only fitting

that the largest multiplex cinema

in Germany is located in Essen: Cinemaxx

has a whopping 16 screens and

a total of over 5,000 seats. The UCI

multiplex cinema in Bochum's Ruhrpark

has been showing the Ruhrgebiet

film "Bang Boom Bang" for over 20

years. Cool! The "Metropolis!" is still

in operation in Bochum Central Station.

It's a genuine old cinema, albeit

with a more serious programme than

in the past. We've put together a list

of some of the most beautiful and

remarkable cinemas in the Ruhr region

– along with the most important

festivals. Lights out, roll the movie!

ARTY

29
---
THE LICHTBURG

With its 1,250 seats, the Lichtburg in Essen's city

centre is not only the largest cinema in Germany

but also one of the most beautiful. From the outside

it may look inconspicuous, but the entrance with its

historic box office is enough to whet your appetite

for the big movie. The bar and the impressive

auditorium with its sweeping baroque lights exude

the aura of the great days of film. Since it was

renovated in 2002, the Lichtburg has once again –

as it was in the 1950s – become one of the most

important venues for film premieres which regularly

attract German and European film stars to Essen. Its

programme focuses on major productions with high

artistic standards. The second, smaller cinema in

the basement, the "Sabu", offers a sophisticated art

house programme. Incidentally, the popcorn here

is available with either sugar or salt. It's always crisp

and fresh, with a fine hint of butter.

ESSEN | Kettwiger Straße 36

→ FILMSPIEGEL-ESSEN.DE

THE GALERIE CINEMA

If you step through the door into the basement of

a villa in Essen Rüttenscheid, you'll find yourself

standing right next to the cinema screen. This

is just one of the special features of this tiny art

house cinema. Another is the way to the toilet via

a kitchen and a bathtub in the sanitary area. You

only pay for your ticket after the commercials and

trailers. The Galerie Cinema is still a real art house

cinema showing several different films a day. At

16.30 on Sundays, however, the programme needs

no explaining. Since 1975 the cinema has been

continually screening Hal Ashby's "Harold And

Maude" in the original version with subtitles.

ESSEN | Julienstraße 73

→ FILMSPIEGEL-ESSEN.DE

LICHTBURG © FRANK VINKEN

FILMSTUDIO GLÜCKAUF

This small basement cinema is proud to call itself

"Essen's oldest film theatre" and "one of the oldest

cinemas in NRW". It was opened in 1924 in the

basement of the "Glückauf" building and destroyed

in the Second World War, before being reopened

in the 1950s. It still looks the same today - from the

box office to the foyer to the auditorium with its

distinctive pillars. That said, it is not entirely original.

In 2007, the entire building was gutted except for

the outside facades. The cinema also disappeared

and its inventory was put into storage. Thanks to a

large fundraising campaign initiated by the people

of Essen, by 2009 the cinema had been rebuilt

true to the original. The 250-seat auditorium shows

sophisticated art house movies, occasionally in

cooperation with the nearby Folkwang Museum.

ESSEN | Rüttenscheider Straße 2

→ FILMSPIEGEL-ESSEN.DE

THE ROXY

The history of Dortmund's art house cinema goes

back to the 1930s. Like many cinemas, the Roxy

was destroyed during the war and then rebuilt in

the 1950s style. Even after undergoing a complete

refurbishment in 2011, its period charm was lovingly

preserved. In Dortmund's Nordstadt district, the

Roxy offers a sophisticated programme – not only

of films, but also concerts and occasional talks by

artists – under the direction of the cartoonist Holga

Rosen. The Roxy is supported by a 'friends' club,

that not only ensures independence in the selection

of the films, but also makes a significant contribution

to the local area and the wonderful atmosphere

in the cinema.

DORTMUND | Münsterstraße 35

→ ROXYKINO.DE

FILMSTUDIO © PHILIP KISTNER

THE ENDSTATION.KINO

Right in the far east of Bochum lies the district of

Langendreer. Here, the erstwhile railway station

is now an influential socio-cultural centre which

stages concerts, comedy, parties and workshops

The Endstation cinema has been located here

since 1988. "Everything apart from the mainstream"

is the programme motto. The cinema's numerous

partners also play their part: the adult education

centre film programme has its screenings here, as

does the Museum Bochum. The organisation "Interkultur

Ruhr", the humanitarian Cubahilfe and the

Aidshilfe also use the space for special showings.

The films are regularly presented in the original

with subtitles.

BOCHUM | Wallbaumweg 108

→ ENDSTATION-KINO.DE

THE SCHAUBURG

This cinema in Gelsenkirchen is a real movie

palace. It was built in 1929 with 1,400 seats. Later

the room was divided into three smaller ones. Nevertheless,

the aura of a large theatre building with

promenades and spectacular staircases can still

be felt everywhere today. The "Schauburg" is still a

first-run cinema with state-of-the-art technology.

But on every third Saturday of the month, it plays

host to the mysterious Buio Omega Film Club,

when there is a double programme of forgotten

and obscure masterpieces of exploitation cinema.

The film club is a non-commercial, purely private

initiative of fans of the genre, who also give expert

introductions to the showings. Their motto "What

you miss out on will be irretrievably lost" is spot on.

The programme is unique throughout Europe.

GELSENKIRCHEN | Horster Straße 6

→ SCHAUBURG-GELSENKIRCHEN.DE

→BUIO-OMEGA.DE

ENDSTATION KINO © KAI W YCISK

THE FILMFORUM

The Filmforum is located on Dellplatz, in

Duisburg's trendy Wilhelminian quarter, which

is also a popular nightlife area for students. It

was founded in 1959 as part of Duisburg's Adult

Education Centre, making it one of the oldest

municipal cinemas in Germany. At first the films

were shown in the main hall of the Adult Education

Centre, before the Filmforum moved to

"Studio M" in the then newly built Mercatorhalle,

(which has since been demolished). The Filmforum

has been at Dellplatz since 1980. In addition

to the cinema, the institution also looks after the

city's cinematic history collection and is jointly

responsible for various festivals like the Duisburg

Film Week, DOXS! and the Stadtwerke Summer

Cinema.

DUISBURG | Dellplatz 16

→ FILMFORUM.DE

THE RIO

Mülheim an der Ruhr did not have a cinema until

the Rio opened in 1995. But in 2007 the "Cinema

on the River" had to be closed down again for

renovations. After two years of negotiations, the

cinema found a new home in the "Medien-

Haus", where it remains today. In addition to

current films, the eighty-seat Rio also has regular

showings of older films featuring various themes.

Post-screening discussions with directors, and

the annual children's film days in cooperation

with cinemas in Oberhausen and Essen complete

the programme.

MÜLHEIM | Synagogenplatz 3

→ FILMSPIEGEL-ESSEN.DE

FIMFORUM © THOMAS BERNS

ARTY

POLY MAG 2022

30

POLY MAG 2022 ARTY

31
---
THE SHORT FILM FESTIVAL

No, not Munich and not the then divided

Berlin, but Oberhausen! The birthplace of

the New German Cinema was here and can

be pinpointed to the day: 28. February 1962.

During the 8th West German Short Film

Festival, 26 filmmakers published a document

in which they boldly claimed: "Papa's cinema

is dead". The group claimed to take over

the responsibility for creating a new wave of

German film-making. It took a few more years

until the first films were actually made, often

in Munich by local directors like Alexander

Kluge and Edgar Reitz, who were later to

become European representatives of German

film culture. Oberhausen, however, represents

the will to make a fresh start.

The Short Film Festival was in keeping with

the social, political and aesthetic mood at the

time. Founded in 1954 it is the oldest short film

festival in the world. Wim Wenders and Christoph

Schlingensief, for example, were socialised

cinematically in the Luise Albertz-Halle;

and the festival's venue. Hilmar Hoffmann,

director of the adult education centre in

Oberhausen and later legendary head of the

culture department in Frankfurt, was its inventor.

He had understood the signs of the times.

To quote the motto of the festival: "Culture for

all: Open up your Minds, Find the Way to your

Neighbour". This meant developing a fresh

perspective on world cinema and, above all,

initiating a dialogue with the countries and film

cultures of the Eastern Block. This included

the former GDR, at a time when the Iron Curtain

was still barely penetrable.

The Short Film Festival was and still is

a seismograph for change and development,

and even a driving force for it. It has documented

the women's movement, reflected the

crisis of German movies since the late 1970s

and integrated youth culture (for example in

the genre of music videos and advertising

clips). It dealt with the new media early on

and, most recently, has adopted digital formats.

In addition it has always regarded itself

as an archive of film history. The avant-garde

was and is still at home in Oberhausen.

OBERHAUSEN | 1 - 9. May 2022

→ KURZFILMTAGE.DE

stivals Festivals Festivals

ARTY

POLY MAG 2022

32

FILM STILL FROM "LYDIA", 2021

© TIAN BECKER

A SCENE FROM "QUO VADIS, AIDA", 2021

© DEBLOKADA/ CHRISTINE A. MAIER

A SCENE FROM "ICH HABE DICH GELIEBT", 2021

© ROSA HANNAH ZIEGLER

FILM STILL FROM "LYDIA", 2021

© TIAN BECKER

THE DUISBURG FILM WEEK

Barely 20 kilometres away from Oberhausen, a second festival

has been taking place in Duisburg since 1977/78. In terms of

content, there is no denying the overlaps with the Short Film

Festival. That said, the Duisburg Film Week, which sees itself

as a forum for exchange and encounters between film-makers

and audiences, is devoted exclusively to documentary films. In

the old Federal Republic of Germany it thus made a claim to

be the sole representative of the genre. In the former GDR, the

Leipzig Week for Cultural and Documentary Film has existed

as an older sister since 1955. Today both festivals are in productive

competition with each other. Documentary films are

wrongly regarded as being more austere than feature films. This

was utterly different at the beginning of the genre, when they

had an almost revolutionary effect on audiences. The 1920s

and 30s, for example, were immensely innovative, featuring

names like Robert Flaherty, Walter Ruttmann, Dsiga Wertow

and Leni Riefenstahl. Over the last three decades, documentary

films have enjoyed new popularity. Michael Moore

in the USA is not the only one to take the credit for this. The

Duisburg Film Week with its long-time director Werner Ruzicka

(1985 to 2018) has also played a part in this process of emancipation.

Its awards have drawn our attention to important artists

like Harun Farocki, Thomas Heise, Romuald Karmakar, Volker

Koepp and Werner Schroeter.

DUISBURG | November 2022

→ DUISBURGER-FILMWOCHE.DE

THE INTERNATIONAL

WOMEN'S FILM FESTIVAL

If they do not belong to A-category festivals like the big three

in Berlin, Cannes and Venice, film festivals need their own

unique character, a special point of view. Although it cannot

be said that women are a minority, films made by women are.

When compared to the male-dominated film world, a list of

female directors is still pretty short. Margarethe von Trotta and

Maren Ade, Liliana Cavani and Lina Wertmüller, Jane Campion,

Kathryn Bigelow and Chloé Zhao cannot be counted in dozens.

The International Women's Film Festival (IFFF) in Dortmund and

Cologne has existed since 2006. It resulted from a merger of the

"femme totale" festival in Dortmund and the "feminale" festival

in Cologne – both of which were founded in the 1980s – and

is now the most important festival of its kind in Germany. The

criterion for participation is that the films must be directed and/or

produced by women. Sections like international feature films, the

Debut Competition and the Panorama series, focus on specific

countries and themes, queer cinema and children's and youth

programmes open our eyes to a female perspective.

DORTMUND | 15. - 20. June 2022

→ FRAUENFILMFEST.COM

POLY MAG 2022

33
---
" We roll out

the red

carpet for

our athors"

INTERVIEWER

Volker K. Belghaus

POLY

AD

POLY

AD

What happened after this initial trigger?

The network grew rapidly. There are now over 100 contacts on

our mailing list including municipal libraries, literary societies,

festivals and bookshops. Poetry slammers also feel included.

As do individuals like the actor Till Beckmann, who involves

himself in literary projects alongside his theatre work. He devised

a literature show with Karosh Taha, and produced it in direct

cooperation with the Literature Office. Creative mavericks

like these also regard themselves as part of the network.

Sounds uncomplicated, given the fact that people like

them have to juggle with a population of five million in

a vast area like the Ruhrgebiet. And with very different

formats, from readings by best-selling authors to evenings

with local writers.

That's the Ruhrgebiet! It's not one city with a single centre,

but plenty of smaller centres with a lot going on. And that's

precisely what makes the region so exciting! You don't have to

drive all the way from Unna to Essen because there's something

special going on there, you can also find amazing events

in your own town.

EVENTS & PROGRAMM

→ LITERATURGEBIET.RUHR

→ LITERATURBUERO-RUHR.DE

ANTJE DEISTLER

Since 2018 she has been the

director of the "Literaturbüro

Ruhr" in Gladbeck, the body

responsible for organising the

"literaturgebiet.ruhr"

network. In her capacity as

a journalist she writes literary

reviews (most recently for the

"Büchermarkt" programme

broadcast by Deutschlandfunk),

and chairs readings. She

sits on the board of the NRW

Literature Council and is the

spokesperson for the literature

department of the NRW Cultural

Council.

The "literaturgebiet.ruhr" networks the

literary landscape from Moers to Unna. "Poly"

talked to Antje Deistler, the head of the

"Literaturbüro Ruhr", about authors' visibility

and places at the periphery of the area.

© CHRISTOPH HARDT / FUTURE IMAGE

POLY

AD

Ms. Deistler, when and why did the

literaturgebiet.ruhr network come into being?

In 2017, after the first edition of the "lit.Ruhr" festival,

an outrider of "lit.Cologne", someone commented

laconically that "at last there's literature in the

Ruhrgebiet". That was the wake-up call for the

regional scene. For if a remark like that finds an

echo with funding bodies, it means that the Ruhr

scene had not been visible enough till now. And

maybe we hadn't generated enough publicity

for successful festivals like "Mord am Hellweg",

"Literatürk" and the many one-off events, not to

speak of the work put in by our libraries. If that

was the case, it was time to join forces, promote

ourselves and become more visible as a network.

POLY

AD

POLY

AD

Looking at your calendar of events, what's striking is

that they all have an equal value. The dates are not

arranged according to the size and location of the

towns and cities or the popularity of the authors.

Exactly! This juxtaposition is deliberate because it reflects

the structure of the region. Even peripheral locations have a

lot to offer – like Hattingen in the south. It's a great place for

literature because the municipal library has been extremely

active for a long time now. When I hosted a reading there with

the detective writer Volker Kutscher, I was able to see for myself

how great the audience reaction was. I felt that this is an

audience that the library has built up on its own initiative over

the years, thanks to its excellent programming. We also want to

strengthen this idea with our "tour de literaturgebiet.ruhr" format;

sending out interesting authors on tour through various towns

and cities, and rolling out the red carpet for them. When wellknown

writers show up for readings off the beaten track this

creates a lot of audience interest. It also attracts the attention

of funding bodies and other sponsors.

At your festival, "Literatour 100", which took place for

the first time in 2021, the authors had to travel and

read in different venues on a single day.

Again, this is due to the polycentric structure of the Ruhr region.

The last thing we want is a central venue to which our audience

has to travel in order to hear our authors. Instead, we send out

the authors to 26 different municipal organisers, thereby bringing

them right to the doorstep.

ARTY

POLY MAG 2022

34

POLY MAG 2022 ARTY

35
---
Dortmund lights up

SUMMER AT THE U © DANIEL SADROWS

The Dortmunder U – huge, transparent

LED screens high above the city

point the way to a unique hotspot of art,

culture and science, visible from afar.

FOR FURTHER INFORMATION

→ DORTMUNDER-U.DE

This is where the

Union Brewery once

brewed beer for coal

miners. But now it's

a new type of arts

centre combining art,

research, cultural education and creativity. Exhibitions,

film programmes, workshops, lectures, concerts, club

evenings, video and sound art all find a dynamic space

in the Dortmund U. The Ostwall Museum, the "Hartware

MedienKunstVerein", the UZWEI, the Dortmund University

of Applied Sciences and Arts and the Dortmund University

of Technology are among the many organisations

working together in the "U" to create a future laboratory

with a colourful programme for everyone. Here's just a

small selection of our activities in 2022.

ADVERTORIAL

What is going on in

2022?

OSTWALL MUSEUM

Fluxus, Expressionism, Informal Art – the most

exciting aspects of 20th and 21st century art can

be seen at the Museum Ostwall, even including

current photo and video works. The focus in

2022 will be an exhibition entitled "Body & Soul.

Thinking, Feeling, Brushing your Teeth". It looks at

various aspects of our bodies, and also our souls.

Some works of art will actually be usable. Visitors

can even bring their own bodies into the show and

become part of a work of art themselves. Flowers

in art also have a platform in a major temporary

exhibition. "Flowers" will be using all forms of expression

from the Baroque to Jawlensky, Warhol

and Richter, to reveal their beauty and transience.

UZWEI

On the second level of the building young artists

will be experimenting with digital and analogue

media and showing how we deal with them. One

of the highlights in 2022 is an innovative virtual,

augmented reality exhibition in which digitally

imagined worlds become tangible for visitors and

the seemingly impossible becomes possible

before their very eyes.

HMKV

The "HartwareMedienKunstverein" (HMKV) regularly

causes a stir in the cultural scene with its powerful,

controversial exhibitions and experimental

media art. This is where they state their position –

critical, opinionated, and grounded in content.

BODY & SOUL © ROLAND BAEGE

ADVERTORIAL

MAPPING © RUPERT WARREN

SUMMER AT THE U

It's free and open-air! This year, for the ninth time in

a row, the containers on the forecourt of the Dortmund

U will be opening their doors for "Summer

at the U". The project, which has now turned into a

"city oasis", has something for everyone thanks to

its "made-by-many" approach. The many different

styles of concert, readings, slams, and DJ sets are

perfect for a short summer break in the city.

TINY FRIDAY

Every Thursday evening from 7 p.m. onwards visitors

have the opportunity to get swept up in an

exclusive programme of concerts, workshops, film

screenings and sports events at various locations

in and around the Dortmund U.

THE PICTURE HOUSE

The cinema in the U has become the new place

to meet after work. Every Tuesday at 6 p.m.

and on the first Friday of every month at 8 p.m.

there's an after-work movie programme featuring

films that no longer find a place in mainstream

cinemas.

FAMILY SUNDAY

From 12 noon to 5 p.m. on the first Sunday of

every month, visitors of all ages are offered a

colourful programme on almost every floor of

the building. There are tours of the Dortmund U

as well as numerous hands-on activities for the

whole family to join in the fun together.

DEW21 MUSEUM NIGHT

The Dortmunder U is where the annual DEW21

Museum Night takes place. There are workshops

and hands-on activities for young and old alongside

a number of guided tours that take a closer

look at individual aspects of our current exhibitions.

Highlights like

the façade projection

mapping the Lab kiU

story-research project

– it's also based

in the Dortmund U –

recently astonished

visitors with its threedimensional

video

mapping.
---
Have a good

read!

More than 170

bookshops, over

60 publishing

houses and more

than 50 libraries!

You can find

books and more

all over the Ruhr.

Here's a brief

overview.

CRASH, BOOM, BANG!

Comics, cartoons and caricatures

have found a place in Dortmund just a

few metres from the main railway station.

Here the colourful strips have set

up home. The "show room" also gives

mangas and graphic novels their

own stage as well as staging exhibitions,

each with its own classy catalogue

exclusively available in the shop.

→ COMIC.DORTMUND.DE

Literary events

2022

AKAZIENALLEE FESTIVAL

Saturday 23th April | Essen

There are no trees in Acacia Avenue. Instead

there's the beautiful Proust bookshop and

the Correctiv bookshop. Once a year, around

World Book Day, they stage a small, fine

literary festival. The three-wheeler belonging

to the NRW magazine "kultur.west" also turns

up here. it's probably the smallest reading

platform in the republic.

→ BUCHHANDLUNG-PROUST.DE

MURDER ON THE HELLWEG

17th September to 12th November

the entire Ruhr region

Europe's largest crime fiction festival features

over 200 readings and prominent authors like

Garry Disher, Volker Kutscher (his books were

the model for the Netflix series "Babylon

Berlin") and Simon Beckett. Night-watchman

tours at dusk and a Crime-Cat brunch are also

on the programme.

→ MORDAMHELLWEG.DE

LITERATÜRK

Autumn 2022 | Essen & surroundings

A German-Turkish literature festival with readings,

music, writing workshops, and writers' talks.

→ LITERATUERK.COM

LIT.RUHR

Autumn 2022 | Essen & Bochum

This international literature festival with a prominent

line-up is an offshoot of Lit.Cologne. The

main venue is the Zollverein World Heritage Site.

TRANSFER.

BÜCHER UND MEDIEN

An der Schlanken Mathilde 3 | Dortmund

→ TRANSFER-DORTMUND.DE

COMICLAND

Provinzialstraße 364 | Dortmund

→ COMICLAND.DE

SCHEUERMANN

Sonnenwall 45 | Duisburg

→ SCHEUERMANN.DE

BUCHHANDLUNG

MIRHOFF & FISCHER

Pieperstraße 12 | Bochum

→ MIRHOFF-FISCHER.DE

LITTLE NEMO

Südring 37 | Bochum

→ LITTLE-NEMO.DE

WELTFLUCHT

Special

Bookshops

MAKE YOURSELF AT HOME

Anyone who loves books will feel completely at home

in one of the many literature houses. Here you can

drink a coffee in peace, read, and take part in discussions

and writing workshops. To top it all, there are

even "three-course literary menus" in Oberhausen. In

Unna books can be found in the historic Nicolai quarter,

the most beautiful spot in the town. Bookworms

are particularly likely to meet up at the many small literature

events. A good example is the annual "LesArt"

festival at the Dortmund Literaturhaus.

DORTMUND LITERATURE HOUSE | Neuer Graben 78

→ LITERATURHAUS-DORTMUND.DE

HERNE LITERATURE HOUSE | Bebelstraße 18

→ LITERATURHAUS-HERNE-RUHR.DE

WESTPHALIAN LITERATURE OFFICE UNNA

Nicolaistraße 3 | → WLB.DE

OBERHAUSEN LITERATURE HOUSE | Marktstraße 146

→ LITERATURHAUS-OBERHAUSEN.DE

TIP: A BOOK-LOVERS' CAFÉ

Could there be anything better for book lovers

than enjoying a freshly brewed coffee while leafing

through the first pages of a new book? You can do

just that in the south of Essen, almost in passing.

"Café Livres" is a homely café and library in one.

There are books in every nook and cranny - to flick

through, browse, read, take home, bring back and

swap. Needless to say, you can also eat and drink in

the brightly-lit coffee house. Take your pick from hot

and cold drinks, plenty of cakes and a small selection

of quiches, salads and baguettes.

ESSEN | Moltkestraße 21

→ CAFE-LIVRES.DE

NETWORKED READING

The Ruhr literature map (there's also

a book), highlights places featured in

novels and poetry. From Kamen junction

(Dietrich Schwanitz, "The Campus"), via

Bochum central station (Heinrich Böll,

"The Clown") to the residential park in

Duisburg's Hochheide (Karosh Taha,

"Describing a Crab Walk").

→ LITERATURKARTE.RUHR

→ LIT.RUHR

LITERARY AUTUMN

Autumn 2022 | Hamm

This festival in the north-east of the Ruhr region,

features both international authors and

many up-and-coming talents. It likes to take

place in unusual locations, for example in an

aircraft hangar or the catacombs beneath a

department store.

→ HAMM.DE

Hellweg 2 | Bochum

→ WELTFLUCHTBOCHUM.DE

SCHMITZ.

DIE BUCHHANDLUNG

Grafenstraße 44 | Essen

→ SCHMITZBUCH.DE

BUCHHANDLUNG IM

LITERATURHAUS HERNE

Bebelstraße 18 | Herne

MAXIMILIANO LUNA/TELAM

ARTY POLY MAG 2022

POLY MAG 2022

38

ARTY

39
---
Arty trips around

the area

bre ezy

Art sometimes lies in wait where

you wouldn't expect it. The Emscher used

to be a filthy cesspool, but today extraordinary

installations like a dancing electricity

pylon line the cleaned-up river. We have

cycled the route in advance (→ p. 42), discovered

open-air festivals (→ p. 48), amazing

parks and Dortmund's newest skaters'

hotspot, located in style under a bridge –

complete with a matching sculpture by

the artist Roberto Cuellar. (→ p. 50)

POLY MAG 2022 BREEZY

41
---
DANCING SCULPTURE: "ZAUBERLEHRLING" FROM THE ARTIST GROUP "INGES IDEE".

ROUTE OF SCULPTURES

from Holzwickede to Dinslaken

"ZAUBERLEHRLING"

BY INGES IDEE

Oberhausen | Ripshorster Straße 306

"NEUSTADT"

BY JULIUS VON BISMARCK

AND MARTA DYACHENKO

Duisburg | Emscherstraße 71

"SLINKY SPRINGS TO FAME"

BY THOMAS REHBERGER

Oberhausen | Konrad-Adenauer-Allee 46

"BLACK CIRCLE SQUARE"

BY MASSIMO BARTOLINI

Castrop-Rauxel | Rittershofer Straße 170

→ EMSCHERKUNSTWEG.DE

→ DASPARKHOTEL.NET

Emscher for ever

TEXT

Stefanie Stadel

PHOTOS

Markus J. Feger

Get on your bike and ride along the river!

Here you'll come across all kinds of intriguing

works of art on the Emscherkunstweg. You can

also learn a lot about the new Ruhrgebiet.

BREEZY

POLY MAG 2022

42

POLY MAG 2022 BREEZY

43
---
COME TOGETHER AT JULIUS VON BISMARCKS "NEUSTADT".

In spring 2021 Julius von Bismarck and Marta

Dyachenko planted miniature replicas of typical

Ruhrgebiet architecture in the North Duisburg Landscape

Park. They included a shabby department

store, a neo-Gothic church, an apartment block

and an indoor swimming pool with a chute. The

project is an exciting new addition to the Emscher

Art Trail, which is best explored by bike. The tiny

buildings stand unobtrusively at the edge of the trail.

It's worth dismounting for a closer look because all

the buildings – more than 20 in number – recreate

architectural structures that have disappeared or

been demolished in recent years and past decades.

The effect is atmospheric and nostalgic.

The tiny monuments – if we can call them

that – have already started to rust in places and are

visibly sinking into the greenery. Grass is growing

around the Essen Adult Education Centre, and a

buttercup in front of a 1960s tenement block in Marl

stretches as high as the second-floor balcony. You

might be forgiven for thinking of Sleeping Beauty,

were it not for the fact that the Ruhr area has long

since been revived. Culture and nature have replaced

dirt and heavy industry, and this could also

be the magic spell behind the Emscher Art Trail.

This unique sculpture project tells us a lot

about the region, its history and its little river, the

Emscher. A century ago it was a cesspool, fed

by the sewage from the Ruhr area. For decades

it flowed along a deep concrete bed and was

generally acknowledged to be the filthiest river in

Germany. Today, after almost 30 years of renaturation,

the picture is entirely different. The banks

along the river are richly verdant. Chemicals and

excrement have long disappeared from the water,

reeds are growing and fish can swim in peace.

Kingfishers have also been sighted.

The Emscher Art project has been tied into

this unprecedented clean-up since 2010. Artists

have been coming here every three years. Many

of their works have been temporary and disappeared

again after a single summer. One prominent

example was the thousand small tents that Ai Wei

Wei set up on the riverbank. Other works have

remained to populate the Emscher Art Trail, along

with new additions in the coming years.

From the small-scale replica buildings in the

North Duisburg Landscape Park, it is only a few

kilometres ride to the Kaisergarten in Oberhausen

Each of the works on

the Emscherkunstweg

has been created

especially for its

particular location.

where Tobias Rehberger's spiral bridge – it consists

of 496 aluminium arches – elegantly and effortlessly

spans the Rhine-Herne Canal. The buoyant

walkway winds back and forth over the canal on

colourful plastic flooring and is intended to look

like a rope being thrown over the water. Now it's

time to get back on your bike.

The trail continues along the canal to a

sculpture called the "Zauberlehrling". You can see

it from afar protruding over the tree tops in the

middle of the Ripshorst woodland garden. It's a

pylon; but nothing like a regular electricity pylon,

for it stands twisting and waving alone in a field.

While all its many uniform counterparts in the

vicinity are dutifully carrying their power cables

on out-stretched arms, the "Zauberlehrling" has

liberated himself. Perhaps he prefers to invest his

energy elsewhere.

If you go a little further back to the "sorcerer's

apprentice" in Goethe's poem, the sculpture created

by a group called "Inges Idee" in 2013 could also

be interpreted as a critical reference to the technical

progress since the industrial revolution and its everincreasing

consumption of natural resources. As

Goethe wrote, "I shall never be able to rid myself of

the spirits I have conjured up". This might also be the

case with regard to the future of our planet.

The Emscherkunstweg is a cooperation

between Urbane Künste Ruhr, Emschergenossenschaft

and Regionalverband Ruhr, is supported

by the Ministry for Culture and Science of the

Federal State of North Rhine-Westphalia. It quickly

becomes clear that this whole project is not about

the harmonious coexistence of art and nature, as

is so often the case with sculpture gardens, parks

and trails. Each of the works on the Emscher Art

Trail has been created especially for its particular

location. They reflect and comment on the history

and transformation of the Ruhr region in a variety

of different ways.

BREEZY

POLY MAG 2022

44

POLY MAG 2022 BREEZY

45
---
"SLINKY SPRINGS TO FAME" BY TOBIAS REHBERGER.

MASSIMO BARTOLINIS "BLACK CIRCLE SQUARE" © ROMAN MENSING/ARTDOC.DE

Many sewage treatment plants were shut

down in the 1990s as part of the conversion of the

Emscher system with an underground sewer system

and a clean river on the surface. One of these

was in the district of Ebel in Bottrop, where a park

has been created. This was an ideal spot for the

garden artist Piet Oudolf, who cooperated with the

landscape architects GROSS.MAX to fill one of the

two circular sewage basins with soil containing a

mixture of perennials and grasses, and finished off

his "theatre of plants" with paths and benches. The

U.S. artist Mark Dion took a similar approach when

he converted an old gas tank into a bird watching

station for amateur ornithologists.

Olaf Nicolai and Douglas Gordon celebrate

the supposedly untouched landscape with his

"Monument for a Forgotten Future". That said, he's

not been content to stay with the planned renaturation

of the Emscher but has taken his inspiration

from the Joshua Tree National Park near Los

Angeles by faithfully recreating a rock formation

he found there. Nicolai describes his construction

of steel scaffolding and shot concrete as an

"unnatural natural phenomenon". The highlight is

a sound system within the hollowed-out artificial

rock, which invites visitors to take a break and

listen to some music composed by Mogwai during

the summer months.

After the break the trail continues past

Silke Wagner's blue and white mosaic on a septic

tank, Tadashi Kawamata's wooden tower from

which you can enjoy a view of the peaceful

surroundings, and a striking pond used for extinguishing

fires designed by Massimo Bartolini in

the style of Kasimir Malevich with black squares

and circles on a white background.

If you cycle on, you will end up at the

source of the Emscher where Henrik Hakansson

has installed two out-sized insect hotels in the

middle of a blossoming meadow as a statement

in favour of biodiversity and against the decline in

the bee population. Should you lack the stamina

to cover about 100 kilometres in one day, you can

always emulate Sleeping Beauty and take a nap.

At two points along the way Andreas Strauss has

installed sleeping cabins in huge drainage pipes

to cater for weary travellers. When you wake to

the sound of buzzing bees, chirping birds and

babbling water, you might do without the prince's

kiss.

BREEZY

POLY MAG 2022

46

POLY MAG 2022 BREEZY

47
---
Open-

Festivals

urbanana Düsseldorf

Air

PARK SOUNDS

Elektronic Music in the Park. Admission free.

ESSEN | 13. to 17. June, from 20.00 onward

PALUMA OPEN AIR

A major music festival with everything

from deephouse to techno sounds – on

two stages with lots of DJs.

BOCHUM | Westfalenpark | 18. June

→ PALUMA-FESTIVAL.DE

Düsseldorf is the city

of fashion, the arts and

home to the longest bar

in the world. Doesn't it

sound like a great combination?!

It most certainly

is. So, let's take a stroll

HEAVEN IS A HALFPIPE –

IN DORTMUND

Anyone cycling along the Emscher Art Trail in Dortmund

will pass the latest skateboarding hotspot in

the area. The Mexican artist Roberto Cuellar has left

his latest work – a skating sculpture – directly beneath

a bridge on Malinckrodtstraße. The new half

pipe, lying there like a small stage set, seems like

a mix between a skating object and a work of art.

It's part of an urban development project named

"Transurban", working in cooperation with the

Berlin-based artist, the master's degree programme

in scenography and communication and the Dortmund

Skateboard Initiative. For a long time now,

the initiative has been running its almost legendary

skate hall at the Dietrich-Keuning-Haus, where

skateboarding greats like Tom Penny, Geoff Rowley

and Anders Tellen have also done their rounds.

→ WWW.SKATE-IN-DO.DE

LUISA GEHEN

BOCHUM TOTAL

A rock and pop festival bang in the

centre of town. Admission free.

BOCHUM | Bermuda-Dreieck, 7. to 10. July

→ BOCHUMTOTAL.DE

JUICY BEATS

A major music festival featuring Hip-Hop,

Elektro, Alternative und Worldbeats on the

site of the former National Garden show.

DORTMUND | Westfalen-Park | 29. to 30. July

WORLD STREET THEATRE

For two days a year, the "World Street

Theatre" festival transforms the small

town of Schwerte into a colourful cultural

location. The street event is renowned for

its acrobatics, drama, music and vaudeville.

SCHWERTE | 26. to 28. August

→ WELTTHEATER-DER-STRASSE.DE

NADZIEJA I TĘSKNOTA / UMUT VE

ÖZLEM / HOPING AND YEARNING

In front instead of inside! This summer the

Schauspielhaus Bochum will be turning

the theatre forecourt into a large outdoor

stage. On it, a special piece of Bochum's

history will be told with texts, music and

dance, written and performed by people

of Polish and Turkish origin and actors

from the ensemble.

BOCHUM | Schauspielhaus Bochum |

Königsallee 15 | June

→ SCHAUSPIELHAUSBOCHUM.DE

EXPLORE DÜSSELDORF

ON FOOT

STARTING POINT

Düsseldorf Flingern, where many

trains bring you to all the other

wonderful destinations of urbanana

in no time

You can easily walk this city! Start your day in

Flingern, a vibrant quarter characterized by its young

urban crowd. Have breakfast and mingle with the locals.

Big murals on the house fronts brighten the city and

those who are on the hunt for the perfect soundtrack to

their life, check out the beat retreat record stores.

Minutes away lies the Japanese quarter. Wander

around the unique shops selling manga books and beautiful

matcha cups. Try some of the authentic treats like the

ramen soup at Takezo which is worth the visit.

Düsseldorf's old town is famous for its bars. But

there is one brewhouse that you shouldn't miss. Often

named "the best Alt-beer" in town, Füchschen serves their

own dark super seller as well as hearty meals. If you are

more in the mood for art, visit the Kunstsammlung NRW,

which holds one of the largest collections of modern art

in NRW. The NRW Forum on the other hand will be presenting

the world's first AR (Augmented Reality) Biennale

until mid-2022. Digital sculptures can be seen on your

own smartphone. An immersive experience that lets you

interact with art in real time.

Pass Gehry's glittering architectural icon at the

media harbor, then stroll towards Unterbilk, one of Düsseldorf's

coolest quarters. Lorettostraße and Bilker Allee

are lined with colourful outlets like the vintage-store,

Frauenzimmer. There's also enough variety available in the

evening. Great cafes, restaurants and bars cover every

taste. Perhaps a visit to the bar Dr. Pfeiffer is worthwhile,

where you might catch some live music and maybe even

party at Oh Baby Anna with the locals. There's no better

way to end the night in Düsseldorf!

BREEZY

POLY MAG 2022 ADVERTORIAL

AIRY

48
---
The five

most overlooked

artworks

in public areas

"LES FLEURS DU MAL

(FLOWERS FOR MARL)", 2014, MARL

It's obvious that the illuminated letters "LES

FLEURS DU MAL" on the façade of Marl's

town hall cannot be overlooked. But the installation

by light artist Mischa Kuball also includes

an inconspicuous grey concrete floor

vase at the foot of the stairs, which residents

and passers-by can, and do, fill with flowers.

MARL | Creiler Platz 1

"OLYMPIA HYMNE", 1972, BOCHUM

Yes, that is art! Under a cubist concrete sarcophagus

by the artist Wolf Vostell you'll find

a discarded counter from Herker's butcher's

shop in the district of Wiemelhausen – all

within including a cash register set in concrete.

BOCHUM | In front of the Bochum Art Museum,

Bergstraße/Schillerstraße

"LANDSCAPE IN THE RIVER",

2010, BERGKAMEN

You have to really look closely to discover

Thomas Stricker's sculpture on the River

Seseke. The artist has planted an artificial

island with unusual trees like swamp cypresses,

plants like horsetails and other very old

species atypical for the Ruhrgebiet.

BERGKAMEN | Uferstraße, Near the Seseke

"A SLAB FOR THE RUHRGEBIET",

1998, ESSEN

It's all a question of perspective. If you stand

right next to Richard Serra's "Bramme" on

the Schurenbach spoil tip, all you'll see is a

13.5 centimetre rolled steel slab. Only from

a distance can you appreciate the impact

of the almost 15-metre tall "slab". There's an

amazing view over the region.

ESSEN | Schurenbachhalde, Emscherstraße

YOU CAN FIND MORE

ARTWORKS IN PUBLIC SPACES HERE:

→ NRW-SKULPTUR.NET

"LUNETTA", 2006, HAMM

The only thing visible by day is a nondescript

pit building. At night, a "little moon" shines

there. "Lunetta" is a minimalist, spherical LED

light sculpture above a blue fountain of light. It

was created by Kirsten and Peter Kaiser.

HAMM | Martin-Luther-Straße 48

MISCHA KUBALL, PUBLIC PREPOSITION / LES FLEURS DU MAL

(BLUMEN FÜR MARL), 2014. PHOTO: ACHIM KUKULIES, DÜSSELDORF

© ARCHIVE MISCHA KUBALL, DÜSSELDORF / VG BILD-KUNST,

BONN 2021

EXPLORE COLOGNE BY BIKE

Large parts of the route can

be ridden on a bike path. But

in many areas the sights can

be reached only by using the

streets. Some caution is then

required.

STARTING POINT

Mülheim train station, which can

be reached by regional trains.

Who does not have a bike, can

rent one from here.

urbanana Cologne

Neighborhoods full of contrasts:

design stores, fancy

cafés, hip restaurants and

bars. Cologne is colorful,

lively and creative.The best

way to explore the metropolis

is by bike. Let's go!

Start your tour in multi-cultural Mülheim, a neighborhood

on the Schäl Sick, as the right bank of the Rhine

is called. A lot is changing and developing there right now.

Old industrial sites are becoming creative spots, co-working

spaces are emerging, and the energy in Mülheim is

inspiring. Let's stop at the Mützepark, one of the hottest

spots for street art in Cologne. From here, we make our

way to Anker 7, probably the tastiest and most casual spot

on the harbor in Cologne.

Past the Flora, with its pretty botanical garden, we

head towards Nippes, a beautifully idyllic and familiar

Veedel (the kölsch term for neighborhood). Small streets

lead to great locations. We recommend a snack at Morio

on Schillplatz taking

an in depth look at the trendy houseplants in the cute Mooi

store, before cycling to the hip district: of Ehrenfeld

Formerly a working-class neighborhood, today, a

lively district full of young people. Many small, individual

stores invite you to stroll along Körnerstraße and Bumann

& Sohn, probably one of the hippest bars in the city which

is only a few steps away. A quick craft beer at Braustelle,

Cologne's smallest brewery, is a must. From Ehrenfeld you

can cycle over the Belgisches Viertel to Südstadt.

The picturesque Veedel which sits directly on the

Rhine is one of Cologne's most popular neighborhoods.

The special mix of urban wandering is unique, whether in

the Alteburger Straße, where Southern European easiness

arises in the cute brasseries or in the Rheinauhafen with its

architectural highlights. Who would like to then end the day

in review, sitting down at the Rhine beach with the sunset in

view?

BREEZY

POLY MAG 2022 ADVERTORIAL

50
---
Prick up your ears!

Music in the Ruhrgebiet.

noi

sy

Once a year there's something for

your ears in our huge industrial buildings.

That's when the Ruhrtriennale brings

world-class performers to the Ruhr (→ p. 54).

We've explored the Sound of Silence with

the guys from "Bohren the Club of Gore"

(→ p. 58) and had a look at what's happening

on turntables – the vinyl scene with all its

labels and shops. (→ p. 60)

POLY MAG 2022 NOISY

53
---
JAHRHUNDERTHALLE BOCHUM, OSTKREUZ © JÖRG BRÜGGEMANN

EVERYTHING...© HEINRICH BRINKMÖLLER-BECKER

Star spaces

The Ruhrtriennale has been taking place

in disused industrial areas of the Ruhr since

2002. This festival is unusual – not least because

of its locations.

TEXT

Andreas Wilink

It reads a bit like the Genesis story: "In the beginning God

created...". For the foundation of the Ruhrtriennale performing

arts festival was laid by the Emscher Park International Building

Exhibition (IBA). This large-scale, ambitious forward-looking

urban renovation programme under the aegis of of the state of

North Rhine-Westphalia ran for ten years, between 1989 and

1999, and was many things in one: a think tank, an innovation

laboratory and a social initiative to tackle the structural crisis in

the coal-mining and steel-making region. The IBA promoted urban

development and the renaturation of rivers and had a huge

influence on housing, life and transport in the urbanised region.

In this process of transformation, the industrial plants, collieries

and halls that had come to a standstill also found a new life.

They are often euphemistically called cathedrals of labour; indeed

their huge multi-nave structures might at times justify this

sacred name. Yes, functionality can be beautiful: we need only

to look at the imposing UNESCO World Heritage Site Zollverein

in Essen with its colliery and coking plant, designed by Fritz

Schupp and Martin Kremmer in the mid-20th century, which

shut down with the last shift in 1986, to find this confirmed.

The region's prestige project was to become its cultural

calling card – and have European stature. It was a coup to win

over a man who introduced this format personally and who, in

54

NOISY

POLY MAG 2022

POLY MAG 2022 NOISY

55
---
GLADBECK MASCHINENHALLE ZWECKEL © JÖRG BRÜGGEMANN

CONCERT AT DAWN BY VIRGINIE DEJOS © CHRISTIAN PALM

his capacity as founding artistic director, impresario and mastermind

got the Ruhrtriennale up and running.

Gerard Mortier, a Flemish native of Ghent, Jesuit student

and Doctor of Law, had previously turned the Brussels Opera

de la Monnaie into a hotspot of modern music theatre and subsequently

revamped and revitalised the Salzburg Festival with

artists from the avant-garde. He was an independent critical

spirit with a civic spirit, a rebel with the captivating charm of the

scholar. The last thing he wanted was a representative festival

like the one in Salzburg with its baroque cathedral backdrop.

He was looking for an egalitarian art festival with a workshop

character, in keeping with the area and its people, who are now

joined in large numbers by visitors from neighbouring Belgium

and the Netherlands. Off with working clothes and overalls, on

with dinner jackets and evening gowns! No, no! It was not meant

to be like that, nor did it turn out that way.

From 2002 to 2004 (a new director is appointed every

three years by the state of North Rhine-Westphalia), Mortier

shaped the summer festival, which begins each August, before

passing it on to Jürgen Flimm, who in turn was followed by

Heiner Goebbels and Johan Simons, among others. Currently,

from 2021 to 2023, the Ruhrtriennale is in the hands of a woman

for the first time: the Swiss director Barbara Frey and her mainly

female team. The original question was how to deal with the

RUHRTRIENNALE

will be running from

August to September 2022

→ RUHRTRIENNALE.DE

imposing buildings that embody the pure materialism of the

industrial age and its 100 years of belief in progress, and which

lay dying like oversized dinosaurs of yore? Mortier provided

the answer with the invention of "creations", in which drama,

music theatre, dance, literature and visual arts can ideally come

together and the stage space become a co-star, even the main

star or – in a new sense – the working hero.

For these venues are not traditional theatre spaces with

a proscenium stage, in front of which the audience sits in rows

of stalls, but rather architecturally open, multiple and flexible

spaces. They can either stretch out majestically like the Hall of

the Century in Bochum, which forms the heart of the festival,

and the gigantic, craggy power station in the North Duisburg

Landscape Park. They can branch out in a labyrinthine manner

like the multi-storey mixing plant of the Zollverein coking plant

in the proletarian north of Essen, or present themselves in an

elegant fashion like the intimate, classy Zweckel engine house

in Gladbeck.

After two decades, the Ruhrtriennale, which is concentrated

on Bochum, Duisburg, Essen and Gladbeck with a few

local excursions to other venues, has established itself in the

European festival circuit as a place of experiments, daring artistic

ventures and clear dramaturgical concepts that will never be

satisfied with conventional solutions.

56

NOISY NOISY

POLY MAG 2022 POLY MAG 2022

57
---
Sounds

of

Silence

KIM VON COELS

It was once known as trash metal, now

it's "doom ridden jazz music". The three musicians

in the band "Bohren der Club of Gore"

from Mülheim an der Ruhr create extraordinary

sound and concert spaces with their unhurried

instrumental pieces.

TEXT

Volker K. Belghaus

The 1980s in the Ruhr region were loud and dirty. Although the collieries

and steelworks were nearing their end, they were still impressively noisy. The

"pulse of steel" that Herbert Grönemeyer sang about in his 1984 Ruhr anthem -

it has long since become a folk song - was still palpable. The pulse was reflected

in the regional music scene. Trash metal bands like "Sodom" from Gelsenkirchen

and "Kreator" from Essen blasted the fans with heavy metal sounds.

In 1988 Thorsten Benning, Morten Gass, Robin Rodenberg and Rainer

Heseleit founded the band "Bohren" in Mülheim an der Ruhr. Their pounding

metal, hardcore sound could be heard on their first album "Gore Motel". This

was followed in 1992 by a radical change of style. The musicians expanded

their name to "Bohren & der Club of Gore" in imitation of the Dutch band

"Gore" and from then on played self-styled "doom ridden jazz". Their consequent

rediscovery of slowness and renunciation of noise ran parallel to the

ongoing structural changes in the Ruhr area, which was also becoming quieter.

Silence was turned into sound

by lengthy sublime sequences

combined with sombre atmospheric tones.

On their double album "Midnight Radio" (1995), the metal elements disappeared

completely from their music. They were replaced by a double bass,

a Rhodes piano, a piano, a vibraphone, analogue synthesizers, a saxophone

and gently brushed drums. Following a number of internal changes in the band,

Morten Gass, Robin Rodenberg and Christoph Clöser now play as a trio.

The shows given by "Bohren & der Club of Gore" create a very special

atmosphere. The rooms are sparsely lit, the three men stand in dark suits beneath

cascades of coloured light, and create extraordinary soundscapes by emitting

long, overlapping sequences of sounds into the darkness and allowing them to

reverberate. In 2020, after a five-year break, they released their eighth studio album

"Patchouli Blue", eleven instrumental pieces that recall florid German hits of

the 70s, like "Deine Kusine", "Meine Welt ist schön" and "Zwei Herzen aus Gold".

The musicians respond to critics who accuse their work of boredom

and tedium with ironic aplomb. Their website welcomes readers with the

words "Dear fans of uneventful music!", and in an interview with the portal

"laut.de" in 2013 Morten Gass laconically reformulated the metal slogan

"Other bands play, Manowar kill!" as "Other bands play, Bohren bore!".

→ BOHRENUNDDERCLUBOFGORE.COM

NOISY POLY MAG 2022

POLY MAG 2022

NOISY

58 59
---
TEXT

Frank Weiffen

A LOUNGE FOR RECORD FANS

In Essen Stephan Wiehe specialises in classical music and jazz ... and

it's all on vinyl! It's almost impossible to specialise more. "You need

stamina to be able to operate in this particular niche," says Stephan

Wiehe, who recently opened his "Vinyl Lounge" in Essen. That said, the

passionate vinyl and classical music fan would do the same again at any

time because, before he did so, he had sorely missed a record shop

that catered for his wishes and interests. Accordingly, the shelves in the

"Vinyl Lounge" are full of jazz and classical records. His current stock

contains a good 20,000 items from all eras. No new pressings, mind you,

but well-preserved second-hand copies. For experts: "very good+" to

"near mint". When all's said and done everything is possible at Wiehe's.

You can browse, listen to records, read, drink a coffee and talk shop

with like-minded fans of vinyl. His customers are particularly keen on

records that were not produced for the mass market at the time they

were pressed. Such rarities are therefore of special interest to collectors.

Sometimes even DJs come here looking for clips for their shows. As for

visitors from overseas: the internet is so comprehensive that a unique

shop like this can be found thousands of kilometres away.

ESSEN | Kahrstraße 54

→ VINYL-LOUNGE.COM

Vinyl and the Ruhr area somehow go

together. Vinyl is generally regarded as an outdated

medium. But not by music lovers, because

it combines haptics with crackling,

hissing, nostalgia and delightful imperfection.

All these features can ultimately also apply to

the Ruhrgebiet as an industrial region. It was

here that the first noteworthy metal scene in

the country was launched, which turned a

band like "Kreator" from Essen into world stars

whose albums are still being pressed over and

over again. The venues and clubs here have

always been shot through with rowdy, raucous

punk. Poly takes a look at the scene with its

unusual labels, clubs and shops.

60

NOISY

POLY MAG 2022
---
A MEETING-PLACE FOR THE MUSIC SCENA

Christian and Carmen Fischer run "Sunny Bastards", a vinyl label and a club

of their own When Christian Fischer was showing his wife Carmen some old

music documentaries on DVD and VHS at the end of the 90s, he realised

that the sound quality was pretty low. Without further ado, the two decided

to set up "Sunny Bastards" and specialise in rereleasing old recordings,

as well as filming concerts themselves. In 2022 the former video and film

label "Sunny Bastards" will be celebrating its 20th birthday. To date, the

Fischers have released over 280 recordings, 148 of them on vinyl. They also

own their own club, "Don't panic" in Essen, where homegrown bands can

perform. Recently the two have even turned their attention to so-called

vinyl broking. "We have years of experience working with pressing firms,

collaborate with two of them and also have albums pressed by bands that

are not part of our label." Now major labels - the ones who contract the

stars of the (mainstream) industry - are coming along to enquire about joint

projects. "What's important to us is that no band is treated as a product,"

says Christian Fischer. It's not about "what's 'in' at the moment", but that

each band is authentic and can realise its ideas when it comes to creating

its own record. The artwork should be of high quality. But unfortunately,

special artwork for records – coloured vinyl, gatefold covers, large booklets

inside, special features like posters, even card games etc. – is often

outside a normal budget. "Limited editions in particular – we usually only

press 500 to 1000 records, including a few unique one-offs – are prohibitively

expensive." For such things, "Sunny Bastards" has a special solution.

"Do-it-yourself style. The band drops by for a beer in the evening – and we

put it together ourselves. But why vinyl? It makes the music more valuable.

Because it's listened to and celebrated in a special way, it can't become

muzak."

"DON'T PANIC" CLUB: PUNK AND ROCK CONCERTS, BAR

ESSEN | Viehofer Platz 2

→ DONTPANICESSEN.DE

→ SUNNYBASTARDS.DE

COLLECTION KEIENBURG © ANJA KEIENBURG

VINYL TO READ

The vinyl magazine "Mint" is published in Dortmund. Sometimes you can

also find a comfortable place in a niche - like Dortmund's "Mint" magazine.

That said, is vinyl a niche at all? In a way, yes, because it's still mainly

something for aficionados and collectors. And in a way, no. Because vinyl

is not the only thing to be experiencing a revival. And in addition, because

"Mint" – it was first published at the end of 2015– has long since acquired

a firm place in the jungle of magazines and quite a large, steady readership.

It's the child of a magazine called "Visions", which has always been

about the vinyl-savvy genres of punk, indie and alternative sounds with all

their subvarieties. "Mint" means "brandnew": and the magazine now covers

every music style because vinyl can now be found everywhere once

more. In addition to confidently stylish buying tips and quality reviews of

new pressings, the magazine also publishes reportages and background

texts. If you read "Mint" you'll find out all the latest news about record fairs

and collectors who have stuffed their stalls to the rafters with LPs. About

labels – and about particularly valuable recordings.

→ MINTMAG.DE

→ SCHALLPLATTE.ORG

"DIE SCHALLPLATTE" (THE RECORD) HAS EXISTED SINCE 1954

A shop in Duisburg has been selling LPs since Elvis Presley released

his first single. This shop has outlived everything: the CD, the cassette,

MP3 files. "Die Schallplatte" in Duisburg opened in 1954, and is

probably the oldest record shop in Germany. Here everything still

revolves around vinyl: from rock and pop to jazz, classical and special

interest music. If you're into something really special, you can even

listen to audiophile high-end LPs.

DIE SCHALLPLATTE

DUISBURG | PULVERWEG 33

NOISY

POLY MAG 2022

POLY MAG 2022

NOISY

62 65
---
Culture 20

tips 22

Take your pick from a gigantic globe

of the earth, fascinating water

puppetry and famous 20th century

paintings in Poly's culture tips

for 2022.

JAN VAN MUNSTERS "ICH (IM DIALOG" IN THE CENTRE FOR INTERNATIONAL LIGHT ART IN UNNA. © VG BILD KUNST

Art Events

100TH ANNIVERSARY

OF THE FOLKWANG MUSEUM

In 1922 the foundation stone was laid for a

museum that is now one of the most important

in Germany: the Museum Folkwang.

Its 100th anniversary is being celebrated

with two major exhibitions. The first starts in

spring: "Renoir, Monet, Gauguin - Pictures of

a Flowing World". On display will be around

120 late Impressionist works drawn from the

museum's collection and the National Museum

of Western Art in Tokyo. They will include

well-known paintings by Claude Monet,

Pierre-Auguste Renoir and Paul Gauguin. This

will be followed in the autumn by a major

exhibition entitled "Expressionists at the

Folkwang. Discovered - Ostracised – Celebrated".

It will feature paintings, sculptures

and graphic works by Max Beckmann, Oskar

Kokoschka, Franz Marc and Paula Modersohn-Becker.

ESSEN | Museumsplatz 1

"Renoir, Monet, Gaugin" 6. February to 15. May

"Expressionists at the Folkwang" 20. August to

8. January 2023

→ MUSEUM-FOLKWANG.DE

THE PHOTO/MEDIA ART AND

THE C.A.R. CONTEMPORARY ART RUHR

Not one, but two trade fairs specialising in

media art?! In spring, international galleries,

art schools and artists will be showing

photos, installations, videos, animations and

light art at the Photo/Media Art Fair. And in

the following autumn the art scene will be

meeting up at the "C. A. R. - Contemporary

Art Ruhr" fair. Galleries and artists will showcase

their work in five halls. There will also be

workshops, exhibitions and performances.

ESSEN | Zollverein

12. to 13. March & 28. to 30. October

→ CONTEMPORARYARTRUHR.DE

URBAN ARTS RUHR

"Urban Arts Ruhr" is one of the most important

decentralised cultural institutions in the

region. It promotes projects and residency

programmes, and organises exhibitions, all

exclusively dedicated to contemporary art.

In 2022 it will be presenting "Duutopia": a

large-scale project by Thomas Hirschhorn

in cooperation with the Ruhrtriennale.

Starting in August the Swiss installation artist

will be inhabiting the old power station in

the North Duisburg Landscape Park. For a

period of around five weeks the old building

will then be open to visitors 24 hours a day.

Hirschhorn's aim is to create an inclusive

public space for people to meet up with

one another.

"Duutopia" 15. August to 18. September

DUISBURG | Landschaftspark Duisburg-Nord

→ URBANEKUENSTERUHR.DE

A DAZZLING MUSEUM

In the East of the Ruhrgebiet there's a place

where you can find light at the end of the

tunnel. The town of Unna is home to the

Centre for International Light Art. Installations

by Olafur Eliasson, Rebecca Horn and

James Turrell shine out through the tunnel-like

rooms and corridors of the disused

Linden Brewery. Multimedia installations can

also be seen until 24. April under the title,

"The Fascination of Light". One of them is

a work by the American artist Adela Andea,

who has been working on a room especially

for the Centre for Light Art. Her colourful

projections will flood the old walls, creating

a dazzling network of light.

UNNA | Lindenplatz 1

"Faszination Licht" until 24. April

→ LICHTKUNST-UNNA.DE

NOISY POLY MAG 2022

NOISY

64

POLY MAG 2022

65
---
Art Spaces

MAKROSCOPE

The Makroscope in Mülheim is not satisfied

with simply being a location for art. The

socio-cultural art space combines studios,

a record label, concerts, exhibitions and

a very special museum, all under a single

roof. The "Museum für Fotokopie" has the

most important international collection for

the art and technology of copying. The

exhibits include copying machines from

the last 100 years, but also feature international

copy art by David Hockney, and

Anna and Bernhard Blume. In addition, the

Makroscope hosts the annual "Shiny Toys

Festival" of time-based experimental arts.

It features music, light art, technology and

moving images.

MÜLHEIM AN DER RUHR | Friedrich-Ebert-Straße 48

→ MAKROSCOPE.EU

THE VROOM

Digital is sometimes better! If you feel

like a great escape from the world, you

should visit the Gelsenkirchen district of

Ückendorf, where the "VRoom" offers

several virtual reality rooms. With the

help of 3D data glasses, you can go on a

zombie hunt or race cars through the city

with friends. Analogue support is provided

in the form of coffee and cake from the

adjacent café. You can also watch films in

the Vroom, when Hollywood films and local

productions flicker across the screen at the

"Ückendorf Film Evenings".

PROVINZ

So much for "provincial"! The curator

and art historian Stephan Strsembski has

opened several galleries in the middle of

Bochum. They all go by the name "Provinz"

("Province") and exhibit high-ranking works

by international artists. Some of the editions

and prints have been created especially

for Strsembski's galleries. One

"Provinz" is located in the trendy district of

Ehrenfeld, another in a shop window opposite

the Bochum Schauspielhaus ("theatre").

To find the newest "Provinz", you have to

go to Schmechtingstraße 38 at the other

end of the city.

BOCHUM | various locations

→ PROVINZEDITIONEN.DE

GALLERY OBRIST

Just a few steps away from the Museum

Folkwang stands one of the most interesting

galleries in the Ruhr area. For more than

20 years Thorsten Obrist has been showing

installations, sculptures, paintings and photographs

by international artists like David

Lynch, Shinichi Tsuchiya and Andy Scholz

in his gallery.

MIKKOLASHUELER © DANIEL SADROWSKI

EXPLORE THE RUHR AREA BY

SCOOTER, E-BIKE OR CAR

STARTING POINT

Essen City Center, you can arrive

there from all other urbanana

spots by train – because it is right

next to the central station. Here,

you will find e-scooters that you

can rent. Remember to wear a

helmet. Better be safe than sorry.

urbanana Ruhr Area

You can discover four cities

in one fantastic trip. But

beware: the Ruhr area is a

huge conurbation. Either

you rent a scooter, take

an e-bike or get into a car.

Have fun on our tour!

Downtown Essen already has plenty of bustling

sights. Just scan the QR code with your smart phone and

see for yourself. This area has many architectural and

unexpected gems to offer. For example, the wonderful

Folkwang Museum, which was redesigned by David

Chipperfield back in 2010.

Are you ready for a coffee break yet? Sit down

by the window of the Café De Prins at the Isenbergplatz

and from there head towards the city's coolest shopping

street, Rüttenscheider Straße, with its many boutiques and

restaurants. We recommend stopping by Elya's concept

store. But please don't be disappointed that their furniture

doesn't fit on your scooter.

The tour continues via the picture-perfect Margarethenhöhe

and from there, to the largest camera obscura,

located in Mülheim Broich. In the old water tower, you can

enjoy the optical phenomenon before continuing onward

towards neighbouring Duisburg.

Before reaching our next destination, how about a

quick urban art detour to the Meiderich Graffiti Tunnel?

Then we'll move on our way to the Landschaftspark Duisburg-Nord.

The Guardian refers to it as one of the most

beautiful metropolitan oases in the world and one of the

most wonderful and unusual parks in the world tio explore.

Next stop, the Oberhausen Gasometer! Take the

glass elevator take you up to the roof so you can enjoy

the incredible view of the Ruhr area, which you have just

traveled through in style. Afterwards, try a fun competition

at the exciting 7th Space, a gaming place, where you can

go on a virtual reality ghost hunt. And now you've really

discovered some worthwhile spots! So, why not congratulate

yourself for a job well done in urban exploration?

GELSENKIRCHEN | Bochumer Straße 110

ESSEN | Kahrstraße 59

→ VROOM.RUHR

→ GALERIE-OBRIST.DE

66

NOISY

POLY MAG 2022

ADVERTORIAL
---
Art Museums

Music

MKM KÜPPERSMÜHLE FÜR MODERNE

KUNST

More than 2,000 works from the post-war

period can be viewed in the impressive

museum building designed and recently

extended by Herzog & de Meuron.

DUISBURG | Philosophenweg 55

→ MUSEUM-KUEPPERSMUEHLE.DE

KUNSTMUSEUM GELSENKIRCHEN

Here you can find paintings and sculptures

from the 19th to the 21st century and a collection

of graphic art. Its "Kinetic Collection"

can be viewed in the basement.

GELSENKIRCHEN | Horster Straße 5-7

→ GELSENKIRCHEN.DE/KULTUR/MUSEEN

THE GUSTAV-LÜBCKE-MUSEUM

The art museum houses the largest collection

of ancient Egyptian art in the Ruhr

region, with tombs, temples of the gods and

hieroglyphs. That said, it has even more art

on display. Until 20. March, an exhibition

entitled "Treffpunkt Kneipe" (The Pub as a

Meeting Point) will be looking back on the

history of local pubs and bars.

HAMM | Neue Bahnhofstraße 9

→ MUSEUM-HAMM.DE

MÄRKISCHES MUSEUM

Its major collection features works from the

19th and 20th century, alongside a number of

exhibits of contemporary art.

WITTEN | Husemannstraße 12

DORTMUNDER U

People associate Dortmund with football,

mining, steel – and a single letter: a radiant

"U" on the roof of the former Union Brewery

near the Central Station. It signals the way to

one of the most exciting cultural institutions

in the region. Beer was once brewed here but

now it houses the Ostwall Museum, a centre

for art and creativity. The museum contains

modern art, videos and experimental art,

the latter being in the hands of the Hartware

MedienKunstVerein. Movie director Adolf

Winkelmann has set up his "Flying Pictures"

on the façade surrounding the roof. At times

the moving installation might show running

water, at others, beer. And every hour on the

hour, pigeons fly across the screens.

DORTMUND | Leonie-Reygers-Terrasse

→ DORTMUNDER-U.DE

ADOLF WINKELMANN

EMIL SCHUMACHER MUSEUM

The museum is dedicated to the Hagen citizen,

Emil Schumacher who was an important

representative of expressionist art.

HAGEN | Museumsplatz 1

→ ESMH.DE

GLASKASTEN SCULPTURE MUSEUM

Marl is a mecca for fans of brutalism.

Its museum combines classical modern

sculpture with contemporary art, sculptors'

sketches and new media.

MARL | Creiler Platz 1

→ SKULPTURENMUSEUM-GLASKASTEN-MARL.DE

EMSCHER VALLEY MUSEUM

This regional musuem is split between three

locations: Schloss Strünkede, the municipal

gallery in the Schlosspark, and the "Heimatund

Naturkunde-Museum" in Wanne-Eickel.

HERNE | Karl-Brandt-Weg 2

→ HERNE.DE/KULTUR-UND-FREIZEIT/MUSEEN

THE WORLD MUSIC FESTIVAL

Music knows no geographical or cultural

boundaries. The world music festival at the

Philharmonic Hall in Essen is proof of this.

Under the motto "Sounds of East to West",

international stars like Aynur, Anouar Brahem

and Kinan Azmeh will be performing in the

city. On the open-air day regional artists will

also be playing on stage.

ESSEN | 12. to 15. May

→ THEATER-ESSEN.DE

MOERS FESTIVAL

For the last 50 years jazz fans from all over

the world have been flocking to the town

of Moers on the western edge of the Ruhr

region to admire the international stars of the

music scene. Founded in 1972, the Moers

Festival is one of the biggest events for experimental

music outside the mainstream.

MOERS | 3. to 6. June

→ MOERS-FESTIVAL.DE

→ KULTURFORUM-WITTEN.DE

THE MÜLHEIM MUSEUM OF ART

The listed building displays exhibitions of

classical modern art and international contemporary

art. The square in front was designed

by the sculptor, Otto Herbert Hajek.

MÜLHEIM AN DER RUHR | Synagogenplatz 1

→ MUELHEIM-RUHR.DE

THE FLOTTMANN HALLS

The cultural centre is a place for a range of

arts – from the new forms of circus to puppet

theatre. Until the end of February local artists

will be reflecting on the Corona pandemic

in an exhibition called "Remaining Visible".

HERNE | Straße des Borhammers 5

→ FLOTTMANN-HALLEN.DE

68

NOISY

POLY MAG 2022

NOISY
---
Theatre

WORLD-CLASS PUPPETRY

Every two years international stars from the

world of puppet and figure theatre meet up

in Bochum for the Fidena Festival. Their fascinating

performances, installations and plays

demonstrate that their art is anything but

harmless nonsense for children. The variety

of forms ranges from glove puppets to water

puppets, shadow theatre to marionettes, and

robots to digital projections.

BOCHUM | 7. to 19. May 2022

→ FIDENA.DE

THE "FAVORITEN" FESTIVAL

The "Favourites" have been around for more

than 30 years. That said, this traditional fringe

festival is anything but old. Independent

artists meet up here to discuss the latest developments

and artistic approaches. It goes

without saying that there's plenty of action on

stage: innovative performances, exhibitions,

theatre, dance and a lot more besides.

DORTMUND | September 2022

→ FAVORITEN-FESTIVAL.DE

MIROLOI

A mysterious village in the middle of

nowhere is the setting for an unusual

emancipation story. In her novel "Miroloi",

the German author Karen Köhler portrays a

nameless young woman who is raised as a

foundling in a patriarchal society. Men are

allowed to do almost everything, women

very little. Above all, they are not allowed

to read and write. But someday things will

change... Two years ago, the novel was

nominated for the German Book Prize. Now

"Miroloi" is being presented on stage for the

first time: Dortmund's Theatre will tell the

story with a lot of contemporary relevance -

and a good deal of anger in the belly.

DORTMUND | Theaterkarree 1-3

from May 2022

→ THEATERDO.DE

RUHRFESTSPIELE RECKLINGHAUSEN

This festival is as multifaceted as the Ruhr

region. For over 70 years the Ruhrfestspiele

in Recklinghausen has been treating the

Ruhrgebiet to plays, performances, readings,

dance, concerts, cabaret and modern

variations of circus shows. The "Ruhrfestspiele"

is one of the largest cultural festivals

in Europe. Every year renowned international

artists and ensembles arrive to perform in

the town in the north of the area. The festival

also features co-productions with major German-language

theatres, outstanding works

from the fringe, and plays for children and

young people. The programme is shaped to

match the idea behind the Ruhrfestspiele:

to be a festival for everyone. The festival

therefore traditionally kicks off with a public

celebration on 1. May.

RECKLINGHAUSEN | 1. May to mid-June

→ RUHRFESTSPIELE.DE

STÜCKE

This is where contemporary plays compete

against each other for the Mülheim Dramatists'

Prize. The supporting programme includes

symposia, jury debates and audience

discussions.

MÜLHEIM | 7. to 28. May

→ STUECKE.DE

70

NOISY

THE ETCETERA AND MURTRA ENSEMBLE PLAYS "DER TRAUM

VOM KARNEVAL DER TIERE" AT THE FIDENA FESTIVAL.

© ENRIQUE LANZ

POLY MAG 2022

Accomplices of art

One of Germany's largest and most ambitious

arts festivals doesn't take place

in elegant temples of culture, but places

where people used to sweat for a living

amidst the roar of machinery. To match

this, the founding director Gerard Mortier

devised the Ruhrtriennale as an arts festival

with the feel of a workshop.

Most of the venues that have hosted the

Ruhrtriennale since its founding in 2002 are

huge. These include the Hall of the Century

in Bochum, the blast house and power

station in the North Duisburg Landscape

Park, the grounds of the Zollverein colliery

and coking plant, and the engine house in

the Zweckel coal mine in Gladbeck. Because

of their structural impact these locations

provide more than a stage. Gerard Mortier

even described them as "cathedrals of art".

The venues cannot be blacked out. Daylight

is part of the show, as is a hot summer day, a

cold wind, and rain pelting down on the roof.

"All these industrial sites are a bit like gigantic

personalities. Then again, they reveal an unfathomable sensitivity and vulnerability

in their desolation and rootlessness," says the current artistic manager and

Swiss director Barbara Frey. Here you can dig for hidden treasures and trace

the essence of humankind.

A new artistic director is appointed every three years and each revises

the programme accordingly. Following Mortier, Jürgen Flimm, Willy Decker,

Heiner Goebbels, Johan Simons and Stefanie Carp have all left their mark

on the cultural memory of the Ruhrgebiet. But one thing does not change

every three years: from mid-August to the end of September, contemporary,

international artists engage in an inspiring dialogue between music theatre,

drama, dance, performance and literature. The venues always play their part:

architectural heavyweights as accomplices to art.

→ RUHRTRIENNALE.DE

ADVERTORIAL
---
Photography

PHOTOGRAPHY IN THE WEIMAR

REPUBLIC

400 photos in the Peter Behrens Building

(Oberhausen), some of them never previously

shown, will give you a gripping insight

into the turbulent times of the Weimar Republic.

Revolution and Republic, workers'

photography, sport, architecture, fashion

and dance are just some of the themes

that will revive the spirit of this contrasting

epoch. Alongside well-known photographers

like August Sander, Lotte Jacobi and

Alfred Eisenstaedt, pictures by unknown

artists will also be on display. In addition,

the exhibition features magazines, photo

books, postcards and posters.

OBERHAUSEN | LVR Industrial Museum

Peter-Behrens-Bau | until 30. May

→ INDUSTRIEMUSEUM.LVR.DE

LINDA MCCARTNEY –

THE SIXTIES AND MORE

She went shopping with Janis Joplin for

peanut butter and rode the underground

with Jackson Browne. The photographer

Linda McCartney belonged to the inner

circle of the rock and pop scene in the

60s. Her photographs still define our visual

memory of the era: Jimi Hendrix, Nico, The

Who, The Doors, Bob Dylan and The Beatles

all posed in front of her camera. A large

selection of these images, as well as some

of Linda McCartney's more experimental

works, will be exhibited at the Ludwig

Galerie Schloss Oberhausen in 2022.

Famous record covers of the time will also

be on display, including "Sticky Fingers"

created by Andy Warhol for the Rolling

Stones, and Pink Floyd's "The Dark Side of

the Moon" designed by Hipgnosis. To cap it

all, you can also dive into the 60s acoustically

on a soundwalk specially compiled for

the exhibition.

OBERHAUSEN | LUDWIG GALERIE Schloss Ober-

AWARD-WINNING PHOTOS

Every year an international competition

organised by the World Press Photo Foundation

honours the best press photos. A

touring exhibition also brings them to the

attention of the general public. In 2022, 150

prize-winning photos – from poetic images

of nature to intimate reportages – will be

on display at the Depot in Dortmund.

DORTMUND | Depot Dortmund

Immermannstraße 29 | 7. to 29. May

→ DEPOTDORTMUND.DE

DINOSAURS IN ESSEN

At the Ruhr Museum on the UNESCO

World Heritage Site Zollverein you can

find out what the Ruhr region looked like

300,000 million years ago and how it has

changed to the present day. An exhibition

called "Nature, Culture and History of

the Ruhr Area" features more than 6,000

exhibits ranging from dinosaur skeletons to

workers' gear. And all this in the impressive

architecture of the old coal washing plant.

Even the entrance up to the museum is

visually striking: a bright orange outdoor

escalator designed by the leading architect

Rem Koolhaas leads up to the box office.

OFF TO THE 20S! ROSY BARSONY, 1932 FROM THE F.C. GUNDLACH

COLLECTION © THE MARTIN MUKASCI ESTATE

Industrial

Heritage

EXTRASCHICHT

You can explore the entire Ruhr region in

just one night by planning a visit to "Extra

Shift". This large-scale cultural festival takes

place in around 50 venues, including disused

industrial sites and many museums. Shows,

installations, comedy, classical music and

fireworks are all part of the exhilarating "Industrial

Heritage Night".

RUHRGEBIET | 25. June

EXTRASCHICHT.DE

A SPECTACULAR SCIENCE EXHIBITION

IN THE OBERHAUSEN GASOMETER

You can travel all over the world in the Ruhr

region if you visit the Gasometer in Oberhausen.

Here, a huge 20-metre globe of the

Earth has been specially constructed for an

exhibition entitled "The Fragile Paradise".

This monumental creation floats beneath

the dome of the former industrial site,

which is now not a home for art and culture,

but – at around 100 metres – the highest

exhibition space in Europe. The current exhibition,

"The Fragile Paradise" is much more

than a spectacular large-scale installation.

It focuses on the beauty of the Earth, which

is suffering more than ever from the impact

of human activity. A virtual journey will take

you across the Tumucumaque rainforest region

in north-eastern Brazil. Photos of flood

disasters, illegal ivory trade and starving

polar bears highlight the devastating effects

of human activity on the fragile structures of

nature. In addition, current scientific analyses

are displayed on 20 illuminated globes.

These include the German Aerospace Centre's

satellite data on the geological changes

of the earth, and holograms of scientists

talking about climate change. The exhibition

could hardly be more topical and relevant.

Dance

PACT ZOLLVEREIN

This dance venue was once the place

where colliery workers used to change their

clothes before going down the pit. The

PACT modern dance centre is located in

the old shower rooms on the grounds of the

Zollverein Coal Mine Industrial Complex.

International dancers and ensembles are

regular guests. In 2022 the British company

Forced Entertainment will be presenting

the world premiere of a show called "Under

Bright Light". Six performers will stand on

a stage flooded with light and transform it

into an image of our world with movement,

dance and improvisation.

ESSEN | PACT Zollverein | Bullmannaue 20A

"Under Bright Light" 24. to 26. March

→ PACT-ZOLLVEREIN.DE

I WANNA BE A BOI BAND

The 90s have been experiencing a fashion

revival for some time now. The theatre in

Oberhausen is going one step further and

bringing boy bands, the musical phenomenon

from this era, back to the stage. Director

Shari Asha Crosson will be asking what the

Backstreet Boys, N'Sync & Co. can still tell

us about forms of masculinity and identity

today. She and her performers will be exploring

a new type of boy band – with lots of

dancing and maybe even a few old hits.

OBERHAUSEN | Theater Oberhausen |

Will-Quadflieg-Platz 1 | From 19. March

→ THEATER-OBERHAUSEN.DE

MILLENIALS

Between hypercommunication and endless

possibilities – the Spanish choreographer

Marcos Morau takes us on a journey into the

world of Millenials.

GELSENKIRCHEN | Musiktheater im Revier

hausen | 15. May to 11. September

ESSEN | Gelsenkirchener Straße 181

OBERHAUSEN | Gasometer | Arenastraße 11

Kennedyplatz | from 30. April

→ LUDWIGGALERIE.DE

→ RUHRMUSEUM.DE

→ GASOMETER.DE

→ MUSIKTHEATER-IM-REVIER.DE

NOISY POLY MAG 2022

POLY MAG 2022 NOISY

72 73
---
As long as it's tasty – Culinary highlights

in the Ruhr Area

ta sty

Sales kiosks are more than just

places to buy food long after supermarkets

have closed. They often function

a bit like neighbourhood social centres.

They can even sell culture! We've discovered

art exhibitions, readings and postcard

nostalgia among fizzy sweets and

bottles of washing-up liquid. (→ p. 76); and

submitted the well-known "mixed bag of

sweets" to a design check (→ p. 80). What's

more, our culinary section shows you the

best places to eat. (→ p. 82)

POLY MAG 2022 TASTY

75
---
Magical

Kiosks

ONE OF THE "KIOSK"– PICTURES OF REINALDO CODDOU H. 2017 IN BOCHUM-WATTENSCHEID, WHICH WAS PUBLISHED IN EDITION PANORAMA.

TEXT

Volker K. Belghaus

Kiosks are outlets for cold drinks,

sweets, cigarettes and newspapers.

Occasionally they also

offer culture. A quick look at

some of the outstanding drinking

holes in the Ruhr region.

"BEI MAMPF-FRED" (MUNCHY FRED'S)

The name says it all – no one goes hungry here.

The kiosk has been in existence for over a century,

but it's much more than a classic drinking hole. It's

a small shop that also sells groceries, pet food and

cosmetics – along with freshly-spread bread rolls,

potato salad and sausages.

ESSEN | Humboldtstraße 190

THE BERGMANN KIOSK

The elegant airy concrete canopy is only a few

steps away from the Dortmund U. This free-standing

kiosk is the epitome of 1950s architecture. It

used to offer the classic range of kiosk goods, but

some time ago the local "Bergmann Bier" brewery

took over the listed building and transformed it

into a meeting place and sales outlet for its products.

In addition to the traditional Dortmund "Export"

beer, the range also includes the "Spezial",

a beer with a light caramel note, and the malty,

top-fermented "Adambier", which has a similar

taste to Rhineland Altbier.

DORTMUND | Hoher Wall 3

→ HARTE-ARBEIT-EHRLICHER-LOHN.DE/BRAUEREI/KIOSK

TASTY

POLY MAG 2022

POLY MAG 2022

TASTY

76 77
---
THE SCHAUBÜDCHEN – KIOSK FOR

SMALL-SCALE ARTS

The former kiosk is now an exhibition space.

Starting in early 2021, art, literature and

discussion formats have been presented in a

compact, concentrated space of 15 square

metres. Texts, photographs, objects, video and

light are on display, curated and performed by

an artistic consortium called "Dunkelkammer /

Raum für Entwicklung" (Darkroom / Space for

Development), which gives artists' collectives

a space for installations. Sound art, interviews,

discussions and radio plays are broadcast on

the "Büdchenfunk" radio station.

BOCHUM | Ursulastraße 24

→ SCHAUBUEDCHEN.DE

THE KIOSK AT HOHENSYBURG

Admittedly the castle was there first, for Hohensyburg

Castle was built around the year 700,

whereas of course the nearby kiosk is somewhat

younger. This is a typical day-trip destination

where you can explore the castle ruins, the

Vincke Tower and the Kaiser Wilhelm Monument.

The kiosk not only sells food, but also fancy oldschool

postcards, as well as hiring out outdoor

games. By contrast, the magnificent view over

the Ruhr Valley is free of charge.

DORTMUND | Hohensyburgstraße 200

→ SYBURG.DE

→ HOHENSYBURG.DE/KIOSK.HTML

© DUNKELKAMMER – RAUM FÜR ENTWICKLUNG

THE KIOSK ON THE

BERGMANNSPLATZ ESTATE

The Bergmannsplatz housing estate is a

real industrial monument – especially from

an architectural point of view. It was built

between 1907 and 1909 for the miners at

the Neumühl colliery. 15 different types of

houses are grouped around a central square.

Today the settlement is under a preservation

order – just like the kiosk with its quaint

slate and tile roof. It was closed for a long

time but has had a new owner since 2021

and is once again the social centre of the

settlement.

DUISBURG | Bergmannsplatz 19

LOTTOBUDE SEEL

"We're a lottery outlet in the Dortmund suburb

of Barop, offering tobacco, books, greetings

cards and magazines. So far the description

of the "Lottobude Seel" on its Facebook page

sounds quite normal. Then it gets unusual:

"Readings are regularly held in our shop". In

fact, the "Lottobude" is a cabaret insider tip

that the Dortmund author Katrin Pinetzki revealed

in her latest book "Dortmund erleben!

500 Freizeittipps" (Experience Dortmund! 500

Spare Time Tips). Authors like Adolf Winkelmann

present their books here to an audience that

is generally sold out and in the best of moods.

Small-scale concerts are also part of the

programme.

DORTMUND | Baroper Marktplatz 3

THE KIOSK ON EBERTPLATZ

The kiosk on Ebertplatz, opposite the Oberhausen

Theatre and the Ebertbad cabaret

theatre, is the epitome of the historic kiosk

culture in the Ruhrgebiet. In addition to its

typical range of products, the kiosk is also a

mine of information about the latest neighbourhood

gossip, and a place for people of

all ages to meet and socialise.

OBERHAUSEN | Ecke Grillostraße / Ebertstraße

78

TASTY POLY MAG 2022

From coal to culture

How about a voyage of discovery to places

full of art in blast furnaces and

winding towers? You can also climb to the

top of spoil tips which offer some breathtaking

views. Industrial heritage in the

Ruhr region can be enjoyed in many different

ways.

Coal, steel, coke and gas have shaped the

region to this day. The best way to find out

about their history is to follow the Industrial

Heritage Trail. The 400-kilometre route,

featuring 27 anchor pointsas its highlights, will

take you to the most important sites.

The Industrial Heritage Trail has many

locations, some of which are utterly idyllic.

Take the Aquarius Water Museum in Mülheim

an der Ruhr, for example, which offers a

wonderful panoramic view of the lower valley

of the River Ruhr. Coal barges used to pass

one another here on what was once Europe's

busiest river. Today you can learn everything

about the impact of water and ecological

cycles in the old water tower - and also enjoy

the fantastic view.

If you're looking for insights into the

world of work you should take a trip to

DASA in Dortmund. Here there are a variety

of ways for you to witness hands-on how machines determine the pace of

our everyday lives – and also learn how to control a power station.

One of the imposing industrial monuments in the region, which must

be seen for its size alone, is the Hall of the Century in Bochum. The disused

headquarters of a steel-works is longer than a football field and has now been

transformed into a vibrant power station for all branches of culture. Urban arts

feel just as much at home here as jazz and rock, not forgetting the Ruhrtriennale

Festival of classical music and theatre.

A hidden gem of high-class culture is the Hohenhof artists' housing

estate in Hagen, which was built by the industrialist Karl Ernst Osthaus on designs

by Henry van de Velde. The winter garden was designed by none other

than Henri Matisse. This was the cradle of the so-called "Hagen Impulse"

that gave a boost to the arts and inspired architects, painters and designers.

Without it, the Ruhr Region would look utterly different today.

You can find all the anchor points along with further tips at

→ INDUSTRIEKULTUR.RUHR

ADVERTORIAL
---
TEXT

Utterly Sweet!

Volker K. Belghaus

What would a good

meal be like without

chewing a sweet

afterwards? In the

Ruhrgebiet so-called

"mixed bags" from a

nearby kiosk were specially

invented for this purpose.

They contain a

mixture of wine gums,

(shapes like frogs, cherries,

and sour tongues), crowned

with liquorice wheels.

Buy a bag of childhood

memories! A review

of shapes and flavours.

THE COLA BOTTLE

The wine gum shaped like a

Coke bottle was much loved

back then – in the absence

of the real soft drink which

parents said, was bad for

your health and could only be

drunk on special occasions

like holidays or New Year's Eve.

They were better than nothing,

but no real substitute, as you

can taste today. Sure, it tastes

roughly like cola, but more like

a warmed-up version from a

discount store without the fizz.

STRAWBERRY

This could also be a flaming pine

cone. Or an outstretched tongue

belonging to one of the very

old Rolling Stones. Its shape is

somewhat indeterminate.

STRAWBERRY (TYPE B)

Better by a long way. Soft and

curvacious in shape, crowned

with leaves and dusted with

sugar. Figuratively speaking it's

as realistic as a trompe l'oeil

painting! Until the strawberry

flavour hits your taste buds.

Then it's a bit like eating a perfumed

air freshener.

THE BAT

Okay, it's clearly a bat. But

with coloured wings? Just like

Batman when Joel Schumacher

sadly took over from Tim

Burton for two of the films, and

turned Gotham into a candycoloured

toy universe.

THE FROG

A classic amongst kiosk sweets.

A transparent green amphibian

squatting on a pillow of white

sugar foam. As you chew it, it

tastes more and more sour. A

bit like eating a frog.

CHERRY

About as natural as cherries

in a tin of fruit salad. Another

classic wine gum creation and

part of digital pop culture since

"Pac Man". Like in the computer

game, it should earn bonus

points when eaten.

THE LIQUORICE LOZENGE

Geometric, austere, formal -

liquorice lozenges stand out

in the colourful mix, if only

because of their size, which is

somewhat reduced by the hole

in the middle. Otherwise, this

Brutalist liquorice is ideal for

architects. Quite a chew.

THE LIQUORICE WHEEL

Rumour has it that in the Bonn

factory where the wheels are

made, a specially constructed

liquorice wrapping machine has

been in service for decades.

Sacrilegious contemporaries

simply bite them in half, others

lovingly unroll them before

eating. The Op Art object in the

assortment.

PEACH

So this is how wine gum designers

imagine a peach – thick, soft

and a watery reddish-yellow.

Somewhat vague and wispy in

shape, from a distance it smells

as delicious as peach shampoo.

THE SMURF

Another example of how poorly

comic characters can be transferred

into gelatine. The grumpy,

bespectacled little fellow has

precious little to do with the

cuddly original, apart from its

colour and approximate shape.

A bit like the turquoise Smurf

ice cream, it tastes of next to

nothing. And is just that.

THE RONDO

A combination of liquorice and

a colourful coconut-like coating.

Although it's available in

many colours they mostly taste

the same. The round Rondos,

on the other hand, are the Sushi

in the multi-coloured bag.

THE SOUR TONGUE

An absolute must for the multi-coloured

bag. It's synthesis

of three-colours suggests a

variety of flavours, but it's so

infernally bitter that it turns

your entire mouth inside out

and wipes out any sensation of

flavour.

CANDIED MUSSELS

Famous and notorious. Plastic

shells filled with a sugary mass

of red and green that's almost

impossible to lick out. At worst,

the sharp edges leave you

with a sore tongue and a lot of

waste, since the plastic shells

are also packed in plastic. Typical

80s sustainability.

PICKLED GHERKIN

How nice it would be if the

thing actually tasted like a

pickled gherkin! Otherwise

you have to know what the

amorphous green wine gum is

supposed to represent: maybe

a remnant of ghost slime from

the "Ghostbusters" films. That

would really delight the kids.

RASPBERRY

For gourmets only! A layer of

tiny pink sugary beads surrounds

the core of pink jelly,

before being gently crushed

in the mouth. It's a rarity in kiosks:

so if you spot it, be sure

to grab it! Also available as a

blackberry.

80

TASTY POLY MAG 2022 POLY MAG 2022 TASTY

81
---
DRINKS

Bars and Pubs

From the oldest

pub in Essen to a

homely pub in Recklinghausen

– our

tips for good drinks

in the Ruhr region.

SIMPLY DRINK: SCHLIPS

Three drinks, two days, one pub: anyone who wants

to understand the "Schlips principle" doesn't have to

be a math-ematician. The little old building opened in

1950 as the "tast-ing room" in the Dortmund Krämer

distillery, and changed hands several times before

standing empty for many years. Now the bar and the

bowling alley have been revamped with fresh ideas:

There are two opening days (Tuesday and Saturday)

and only three drinks (really!): juniper tonic, water and

"Stößchen" – a beer in a glass that widens towards the

top. It's a Dortmund speciality. On the first Saturday

of every month, the bar table becomes a DJ podium

and "Schlips" becomes the smallest disco in town.

ZUM SCHLIPS | Brückstraße 64 | Dortmund

(G)OLD TIMES

A warm, reddish light beams at you when you enter

the "Goldbar" in Essen's southern quarter. Right away

you want to fall into one of the soft leather armchairs

with a few friends, and chat for hours over a bottle of

wine. The "Goldbar" is the perfect place for a relaxed

evening. The cosy atmosphere is created by the

nostalgic, casual furnishings: dark red walls, scuffed

wooden shelves full of old books, golden chandeliers,

lots of candlelight and a warm stove in the corner. The

name "Goldbar" is a little misleading, because the "bar"

is also a café that opens at half past nine in the morning.

When the weather's fine, you can sit outside.

GOLDBAR | Rellinghauser Straße 110 | Essen

→ CAFE-GOLDBAR.DE

AMPÜTTE

The oldest bar in Essen is the

perfect place for an evening drink.

ESSEN | Rüttenscheider Straße 42

→ AMPUETTE-ESSEN.DE

DRÜBBELKEN

In the middle of Recklinghausen

there' s a place that's a bit like a

British pub. The mixture of pub and

restaurant has been around for a

good few years. The name says it all:

Drübbelken is a Low German word

meaning "a group of people".

RECKLINGHAUSEN | Münsterstraße 5

→ DRUEB.DE

FINKENKRUG

300 kinds of beer in just one pub!

The Finkenkrug in the Duisburg suburb

of Neudorf offers a wide range

of beers from all over the world:

specialities like Meta beer from Ethiopia

and Tiger from Singapore. If you

suddenly get hungry you can choose

between pasta and burgers.

DUISBURG | Sternbuschweg 71

→ FINKENKRUG.DE

FLOTTMANNKNEIPE

A relaxed pub in the Flottmannhallen

cultural centre. In addition to alcoholic

drinks, you can also get milkshakes,

coffee and tea here.

HERNE | Flottmannstraße 94

→ FLOTTMANNKNEIPE.DE

ZUM SCHRÄGEN ECK

This quaint pub (the name roughly

means "The skew-whiff corner") in the

so-called "poets' quarter" has been

around for more than 40 years. It offers

a wide selection of drinks and snacks.

MÜLHEIM A. D. RUHR | Klopstockstraße 25

→ SCHRAEGEN-ECK.DE

DORTMUND

→ DORTMUNDER-U.DE

→ FUSSBALLER-

MODELSZIVILISTEN.DE

→ SCHOENES-LEBEN-

DORTMUND.DE

→ SISSIKINGKONG.DE

ESSEN

→ CAFE-NORD.DE

→ FCUK-YOGA.DE

→ PELAYO-ESSEN.DE

→ RESTAURANT-

ZODIAC.DE

TEXT

Kristina Schulze

An evening out...

…in Dortmund

Dortmund offers film fans a very special venue for

a pleasant evening out; the Dortmunder U cultural

centre (Leonie Reygers Terrace) has regular "afterwork"

showings on the big screen. For a mere 3

euros you can watch everything from major Hollywood

movies to small indie gems. It's best to check

the weekly programme beforehand.

From there it's a 20-minute walk to the

lively Kreuzviertel district which boasts plenty

of friendly pubs, cafés and restaurants between

Möllerbrücke S-Bahn station and Kreuzstraße. At

"Balke" (Hohe Straße 127) you can enjoy cocktails

and live football streaming; at "Schönes Leben"

(Liebigstraße 23), open wines and Mediterranean

cuisine. The legendary "Sissikingkong" (Essener

Straße 10) has also recently moved to the Kreuzviertel

– it's a restaurant, bar and bowling alley all

in one. Try the black pasta with red mullet, orange

and mint. Or the home-made dumplings in a vegetable

stew.

…and Essen

Fancy a game of billiards and live music? Then

start your evening in Essen at Café Nord (Viehofer

Platz 1). The bar with its beer garden is about 15

minutes from the central station. It's packed here

at non-Corona times. Small wonder! The surroundings

are rough-and-ready and the atmosphere very

relaxed. There's rock and alternative music for the

ears, and all kinds of drinks from Vodka Lemon

to Campari Mezzo Mezzo. Café Nord also does

delicious, uncomplicated food.

Alternatively, you can take the 101 tram/

underground line to the suburb of Rüttenscheid

(journey time approx. 20 minutes). This urban chic

and trendy district is full of great restaurants, bars

and cafés. "Fcuk Yoga" (Emmastraße 13) serves

excellent cocktails with names like "Le Gurk" or

"C'est la vie". If you're feeling peckish, stop by for a

bite at the Pelayo restaurant (Rüttenscheider Straße

138), which has a large selection of tapas. Very

good vegan pizzas and pasta are on the menu at

Zodiac (Witteringstraße 41). And for a nightcap, head

to Drehscheibe (Alfredstraße 21). The owner, Rene

Pascal, is a real character who regularly transforms

his small pub into a party zone with hit music.

SCHLIPS IN DORTMUND © SEBASTIAN VAN DEN AKKER

82

TASTY

POLY MAG 2022

POLY MAG 2022

TASTY

83
---
SWEETS

Cakes and tarts …

for those with a

sweet tooth

CHILDHOOD MEMORIES

You can search in vain for vegan cheesecake or

smoothie bowls with Acaibeeren Acai berries at the

Café Wiacker patisserie in Herne. And that's how it

should be. Instead of woke food, there are sweet

pastries that recall memories of childhood: juicy butter

crumbles, chocolatey almond slivers and sugared

marzipan strawberries. The atmosphere is somewhat

dignified with chandeliers, leather armchairs and

cream-coloured wallpaper, but that doesn't distract

from the impressive cake and gateau counter in the

entrance area. And the menu doesn't stop with sweet

choices: there are also savoury classics like "Strammen

Max" with bread, ham, cheese and fried eggs.

HERNE | Neustraße 1

Also in Bochum, Recklinghausen and Dortmund

→ WIACKER.DE

DOLCINELLA

You can find sensational cakes and a small lunch

menu just a few steps away from the S-Bahn station

in Essen-Werden. They also offer English scones

at teatime. Should you prefer to spend some time in

the nearby countryside, simply book a Dolcinella

picnic basket. It's packed with quiches, tortillas,

sandwiches, fruit, cupcakes and drinks.

ESSEN | Im Löwental 15

→ DOLCINELLA.DE

GOLDBERGS TÖRTCHEN

On the south-eastern edge of the Ruhr region there's

an excellent address for sweet pastries. At "Goldbergs

Törtchen" in Hagen you can not only enjoy an

excellent breakfast, but also choose between many

small delicacies. What about a Danube wave tartlet?

HAGEN | Goldbergstraße 4

→ GOLDBERGSTOERTCHEN.COM

84

CAFÉ KÖTTER

Following the motto "We're not hip, we're

scrumptious", Susanne Kötter and her

team serve up such classics as cream

puffs and marble cake.

ESSEN | Rüttenscheider Straße 73

→ CAFE-KOETTER.DE

STADTCAFÉ SANDER

The speciality at this patisserie is the

"Sandersche Baumkuchen". They also

offer fruit cakes, cream gateaux and

butter cream cakes.

MÜLHEIM A. D. RUHR | Kohlenkamp 12

→ STADTCAFESANDER.DE

CAFÉ + KONDITOREI WENNING

Hot chocolate, coffee and a large variety

of cakes are served in this small 200

year-old slate house.

HERDECKE | Hauptstraße 2

→ CAFE-WENNING.DE

CAFÉHAUS DOBBELSTEIN

This is one of the oldest cafés in the

Ruhr area. It's renowned for its wide

selection of cakes and gateaux.

DUISBURG | Sonnenwall 8

→ CAFEHAUS-DOBBELSTEIN.DE

GASTHOF BERGER

This is basically a restaurant, but their

selection of cakes is as extensive as it

is delicious.

BOTTROP | Schloßgasse 35

→ GASTHOF-BERGER.DE

CRÊPERIE

The menu includes cakes, tarts – and

of course crêpes (not forgetting fried

potatoes and baguettes au gratin).

GELSENKIRCHEN | Hagenstraße 36

TASTY POLY MAG 2022

The best

Japanese

desserts?

an initiative of

Düsseldorf

Live close Feel free

co-funded by

Ministry of Economic Affairs,

Innovation, Digitalization and Energy of the

State of North Rhine-Westphalia

Our tips

for Düsseldorf

Düsseldorf Storys –

the Visit Düsseldorf blog.

duesseldorf-tourismus.de/storys
---
SWEETS

Coffee

Ice Ice Baby

ruhrkunstmuseen.com

Where to get the pick

of the bunch

KIJAMI

One of the top addresses for fair-trade coffee can be

found in the centre of Witten. The beans come from

the Aranga cooperative in Tanzania, while the milk for

the cappuccino and flat white comes from the Sauerland

region. The coffee bar also has its own pastry

shop with delicious organic cakes and pastries.

WITTEN | Oberstraße 4

→ KIJAMII-KAFFEE.DE

POTTSCHWARZ

Admittedly, "Pottschwarz" is not exactly in the centre

of town. But it's well worth a trip to the suburb of

Saarn. This pleasant Mülheim café is renowned for

its excellent speciality coffees from its own roasting

oven. Would-be barristas can learn to prepare their

coffee at home: the café has its own workshop, where

you can buy things like sustainable coffee capsules

made of wood shavings, test different types of beans

and even take out a coffee-house subscription.

MÜLHEIM AN DER RUHR | Lehnerstraße 14

→ POTTSCHWARZ.DE

SIMPLY COFFEE

There are six different varieties of coffee beans

at Simply Coffee in Duisburg. The menu features

paninis, banana bread and all sorts of tasty snacks.

If you prefer tea there's also plenty on offer. You

must try a Tea-Latte.

DUISBURG | Moselstraße 43 & Sternbuschweg 104

NEUES SCHWARZ

One of the best addresses for really great coffee

in the East of the Ruhrgebiet. The beans are freshly

roasted in their own roasting oven. Anyone curious

for more should call in at one of their regular tastings

(they call them cuppings!). There's not only coffee on

offer, but also lemonade and tea.

DORTMUND | Kleppingstraße

→ NEUESSCHWARZ.DE

CASAL – DIE EISMACHER

This little café has a secure place in

the top ten list of "Germany's best ice

cream parlours".

ESSEN | Mülheimer Straße 62

EMMA THE MU

Delicious hand-made ice cream with

no artificial colours or flavours!

HERNE | Behrensstraße 10

→ EMMATHEMU.DE

I AM LOVE

In addition to the classic strawberry and

vanilla flavours, the menu also includes

unusual varieties of ice cream like cinnamon

pop choc, asparagus strawberry or

orange candied ginger.

BOCHUM | Dibergstraße 2 | WITTEN | Bahnhofstraße

3 | ESSEN | Moltkestraße 3

→ I-AM-LOVE.DE

CALABRESE

The atmosphere is rather retro and the

ice cream especially delicious.

RECKLINGHAUSEN | Kampstraße 64

→ EISCAFE-CALABRESE.DE

EDELWEISS

Cheesecake on a stick? A flair for unusual

creations – and mouth-watering ice

cream. There are 24 different flavours.

OBERHAUSEN | Bahnhofstraße 10

→ EDELWEISS-EISCAFE.DE

EISCAFÉ SENATORE

This family-owned business in Mülheim's

tranquil suburb of Dümpten has been

providing the locals with delicious ice

cream and creative ideas since 1978.

MÜLHEIM AN DER RUHR | Heiermannstraße 10

Experience art and culture

in the Ruhr area.

You will love it!

an initiative of

ruhrbuehnen.de

James Turrell "Floater 99", © Frank Vinken

86

TASTY POLY MAG 2022

Ministry of Economic Affairs,

Innovation, Digitalization and Energy of the

State of North Rhine-Westphalia
---
FOOD

For woke eaters

BACKBRÜDER

A gluten-free organic bakery offering

everything from walnut bread to French

biscuits.

From organic bread

rolls to a menu made

from salvaged food:

our eco-friendly culinary

tips.

ESSEN | Rellinghauser Straße 286

→ backbrueder-glutenfrei.de

KRÜMELKÜCHE

A vegan café with home-made delights.

DUISBURG | Johanniterstraße 28

→ KRUEMELKUECHE.DE

SCHNIBBELGRÜN

This salad bar has lots of local products.

LABSAL

Shaved cheese spaetzle in the middle of the Revier?

"Labsal" is the name of the small restaurant in Dortmund's

Union Quarter that serves Swabian organic

cuisine. Florian Kohl serves up sophisticated combinations

– like Schupfnudeln (potato noodles) with

apricot-nut pesto or crispy Wiener Schnitzel – with

organic meat from Schultenhof.

DORTMUND | Rheinische Straße 12

→ LABSAL-DORTMUND.DE

UNNA | Massener Straße 11a

→ SCHNIBBEL-GRUEN.DE

REINHARDTS

A restaurant & wine bar with regional

supplies.

HAMM | Oststraße 15

→ REINHARDTS-HAMM.DE

LISA – EINFACH GUT ESSEN

A deli with a breakfast and lunch menu.

FABULOSE

The "Fabulose" restaurant serves up dishes made

from salvaged food that would otherwise have ended

up in the bin. In addition to vegan three to fivecourse

menus, there is a delicious vegan lunch every

day during the week: this might be spaghetti with

green spelt bolognese, or falafel with braised vegetables.

In the evenings, there are concerts featuring

indie pop or West African rhythms. You can also take

part in workshops on sustainable consumption.

DORTMUND | Braunschweiger Straße 22

→ FRAULOSE.DE

FARBENFROH

Apricot marinated lentil salad, pine nut rice with

coriander peas and caramelised figs - and to round

things off, a pear dessert with warm nut-nougat

cream. Although there are never more than ten

dishes on the menu at "Farbenfroh", their range of

dishes is anything but boring. On Sundays they offer

a vegan brunch between 10 am and 2 pm.

ESSEN | Franziskastraße 69

HERNE | Bebelstraße 16

→ FEINKOST-LISA.DE

NÄHRSTOFFREICH

A bistro offering dishes without

artificial additives.

BOCHUM | Trankgasse 3

→ NAEHRSTOFF-REICH.DE

RESTAURANT RONJA

A friendly little restaurant offering

vegan and vegetarian dishes in the

Ringlokschuppen Ruhr. The menu

changes every week.

MÜLHEIM A. D. RUHR | Am Schloss Broich 38

→ RESTAURANT-RONJA.DE

CAFÉ KASBAR

The snug backyard bistro serves

Arabic-inspired food. Most dishes are

vegan or vegetarian, and many are

gluten-free.

DUISBURG | Heerstraße 276

go your own way and

visit köln

Urbanana Köln© Tourismus NRW e.V. / Johannes Höhn

→ FARBENFROH-ESSEN.DE

→ CAFEKASBAR.DE

an initiative of

co-funded by

88

TASTY POLY MAG 2022
---
FOOD

Almost like home

Once you've found a

seat here you won't

want to get up in a

hurry. Cosy cafés and

restaurants in the

Ruhrgebiet.

ZWEIBAR

The cosy "Zweibar", a mix of bar and restaurant, is

very close to the Museum Folkwang. Drinks, lunch

and a small, select evening menu await you on the

fashionable Rüttenscheider Straße. The Zweibar

follows the "green economy" principle: it is powered

100% by eco-electricity, and around half of the

ingredients they serve are organically grown. Rumour

has it, they do the best cappuccino in town.

Eating with a view

BEFORE THE TAKE-OFF

We all know that it's better for the climate

to avoid air travel. But if you still feel like

an airport atmosphere, you should stop

by at the Checkin Café at Essen/Mülheim

Airport.

Mülheim an der Ruhr | Brunshofstraße 1

→ CHEKIN-CAFE.DE

HARBOUR VIEWS

Relax over a glass of white wine and

enjoy the view of Europe's largest inland

port at the Küppersmühle Restaurant in

Duisburg.

DUISBURG | Philosophenweg 49-51

From India to

Austria

International feasting

in the Ruhr Area

INDIA: MAHARANI

Indian cuisine with fresh ingredients and spices is

available at "Maharani" in Hamm. With his father

Vipan, Alex Wahi cooks such traditional dishes as

tandoori chicken and lentil daal. The menu varies

according to the season. Besides meat and fish

dishes, there are also vegetarian and vegan dishes

like coconut soup with curry and parsnip. You can

also learn how to cook good Indian food yourself -

the restaurant doubles as a cooking school.

HAMM | Martin-Luther-Straße 10

→ MAHARANI.DE

FRANCE: LE CHAT NOIR

A piece of France - right in the middle of Essen.

"Le Chat Noir" is a mix of bistro and restaurant.

French specialities like Breton fish soup and ratatouille

are served here from 6 pm. The wine list is

as extensive as it is excellent. You can have a leisurely

breakfast on Saturdays; and in the evenings

there are often concerts and readings.

ESSEN | Brigittastraße 22

→ LE-CHAT-NOIR.DE

AUSTRIA: FRANZ FERDINAND

"Franz Ferdinand" is not just an inn, but a real "Beisel"

(the Austrian name for a Viennese pub with cuisine

that is as sophisticated as it is down-to-earth). Here

you'll find dark green velvet armchairs, turquoise

ornamental wallpaper and Austrian delicacies like

Tyrolean "Kasspatzen" in alpine cheese sauce and

"Kaiserschmarrn" with stewed plums.

BOCHUM | Klinikstraße 51

→ FRANZFERDINAND-BOCHUM.DE

ESSEN | Rüttenscheider Straße 63

→ KUEPPERSMUEHLE-RESTAURANT.DE

→ PROJEKTZWEIBAR.DE

LIMA'S

Just 15 minutes walk from Duisburg central station

there's a great address for a really good breakfast.

"LiMa's" has dispensed with a menu. Instead there's

a long list of delicious suggestions. To order your

highly individual breakfast just put a cross against

whatever you fancy. Take your pick from home-made

jams, salmon in a honey-dill sauce or brownie bowls.

The breakfast boxes are also a great idea: place your

order in advance and pick up a tip-top breakfast.

DUISBURG | Sternbuschweg 310

ASCHKLÖKSKEN

In the "Aschklöksken" beer garden

things are pretty simple: just grab a

chair and a cold beer and sit down right

next to the bank of the Rhine.

DUISBURG | Am Hasselberg 290

RESTAURANT BURG BLANKENSTEIN

From the courtyard of the historic castle

there's a fantastic view of the green

Ruhr valley. The beer garden serves up

delicious lemonades and coffee

→ LIMAS-DUISBURG.DE

HATTINGEN | Burgstraße 16

BUTTERBROTBAR

Germans are renowned for their bread. It's especially

tasty in the "Butterbrotbar" in Bochum. The small café

offers home-made bread with a choice of spreads like

tomato-sunflower, or trout and cream cheese. Aside

from breakfast they also do a lunch menu.

→ BURGBLANKENSTEIN.DE

WIRTSHAUS ZUR HEIMLICHEN LIEBE

High above the beautiful Lake

Baldeney and surrounded by greenery,

this restaurant and beer garden offers

a breakfast buffet.

BOCHUM | Hans-Ehrenberg-Platz 1

ESSEN | Baldeney 33

→ BUTTERBROTBAR.DE

→ HEIMLICHE-LIEBE.DE

90

TASTY POLY MAG 2022
---
In other

people's

TEXT

Thomas Machoczek

beds

HOTEL ANA

Admittedly, Oberhausen is not Manhattan.

But the view of church spires and the

expressionist municipal library in fine weather

exudes an urban charm even in this rather

modest city. Consequently, the rooftop bar is

a popular haunt during rooftop concerts when

visitors can enjoy a cool drink and relaxing

sounds under its sunshades. The Hotel Ana is

surrounded by cultural centres, pubs and the

Ebertbad comedy theatre. It is thus poised to

give the changing city centre a boost on its

way to becoming a creative quarter. In 1961 a

branch of the Kaufhof department store was

opened in the same building; and today the

Ana accommodates business visitors on its

third floor, known as "Ana-Living". Here there

are 65 suites, each with a kitchenette. Anyone

who wants to socialise only has to visit the

communal kitchen for a game of billiards or

table football. The first and second floors

offer classic hotel rooms under the "Ana Soul"

label. The North Duisburg Landscape Park,

the Gasometer and the Zollverein Coal Mine

Complex are all within easy reach. Bicycles

can be rented free of charge. And if there's

a disagreement about where to go, it can be

decided in a game at the table tennis table or

a race on the Carrera track in the lobby.

OBERHAUSEN | Paul-Reusch-Straße 38

→ ANA-HOTELS.COM/SOUL-OBERHAUSEN

HOTEL FRANZ

It's the little things that make the difference:

room numbers that can be identified by touch,

the lit-up bells, and the rooms which are not

only wheelchair-friendly, but available in two

versions, depending on which side it is easier

for their occupants to get in and out of. Such

details show that Hotel Franz not only attaches

great importance to accessibility. The

hotel, conveniently located between Essen's

city centre and the district of Steele, is largely

operated on an inclusive basis.

ESSEN | Steeler Straße 261

→ HOTEL-FRANZ.DE

THE ALTE LOHNHALLE

If you want to get to know the Ruhr metropolis

from its industrial past, the Alte Lohnhalle

("Old Wage Hall") at the Bonifacius colliery

is the place to stay, for the listed red-brick

building stands directly beneath the imposing

winding tower of shaft number 1. Indeed, it

would be no great surprise to see the ghosts

of former miners passing by the breakfast

buffet on their way to changing shifts. Relics

of mining history can be found in every corner.

There is an attractive beer garden on the

square in the middle, and a wine shop in the

engine room next door. The Zollverein Trail

leads cyclists directly to the nearby World

Heritage Site. And in the other direction, the

Kray-Wanner railway offers a direct connection

to the up-to-date cycle trails to Bochum

and Gelsenkirchen.

ESSEN | Rotthauser Straße 40

→ ALTE-LOHNHALLE.DE

COFFEE FELLOWS

Dortmund was the first place where the Coffee

Fellows chain wanted to show that it can

also cater for overnight visitors. The result is a

reception area with a constant smell of coffee,

and a delicious breakfast buffet, not least

because of its creative selection of beans.

On top of that, the house aims for maximum

sustainability. This begins with its selection of

vegan products and continues all the way to

the purchase of fair-trade coffee. The team

has thus managed to reach GreenSign Level

4. The rooms come in subtle shades of grey

and brown, and pets are provided with a bowl

and basket. The hotel on Hansaplatz could not

be more central: the concert hall, the football

museum and the Dortmunder U cultural centre

are all just a few minutes' walk away.

DORTMUND | Schwarze-Brüder-Straße 1

→ COFFEE-FELLOWS.HOTELS-DORTMUND.COM

HOTEL FRIEDERIKE

Even from the outside the late Wilhelminian

red-brick facade of the Hotel Friederike in

Mülheim an der Ruhr stands out from the

other buildings in Friedrichstraße. Here you will

find timelessly stylish rooms, a good breakfast

at no extra charge and a battery-charging

point for e-bikes right outside the door. The

River Ruhr flows almost directly behind the

sweeping garden, unfolding a particularly

beautiful innercity vista along the floodplain

setting. The newly designed municipal

harbour and the restaurants in the old town

are within walking distance – as are almost all

of the city's cultural highlights: Broich Castle,

the Ringlokschuppen cultural centre, the Art

Museum and the Stadthalle, which plays host

to both the "Stücke" new play theatre festival

and the Ruhr Piano Festival. In addition, one

of the most attractive cycle routes in Germany

passes by the hotel: the Ruhr Valley Cycle Trail

runs from its source in Winterberg all the way

to the mouth of the Rhine near Duisburg.

MÜLHEIM AN DER RUHR | Friedrichstraße 32

→ HOTEL-FRIEDERIKE.COM

OUTRO

POLY MAG 2022

POLY MAG 2022

OUTRO

92 93
---
On foot

In many cities in the Ruhr area the nearest trendy neighbourhood is only

a few minutes' walk from the central station. In Essen the so-called "Südviertel" (south

quarter) is within easy reach, in Bochum the Bermuda Triangle is only a few hundred metres

away, and the same goes for the Dell quarter in Duisburg. For those who like a bit more

peace, why not try one of the many Revierparks, which are currently being upgraded. Even

hikers can find what they're looking for: a classic example is the 27-kilometer "Baldeneysteig"

overlooking Lake Baldeney in the south of Essen.

By bike

Especially in busy cities, cycling can sometimes be a real challenge. Nevertheless

there are some great cycling trails. One of the longest is the "Industrial Heritage

Trail" which has over 700 kilometres of cycle routes. It connects Duisburg with Hamm, and

also passes numerous industrial monuments. The so-called "Radschnellweg" – a sort of

motorway for cyclists – is conveniently laid out and well-lit, mainly between Essen and

Mülheim. Sad to say, further plans for expansion are only making slow progress...

You can hire a bike at many bike rental stations (most of them are at railway stations), and at

→ METROPOLRADRUHR.DE

If you want to put together your own individual cycle route, take a look here

→ RADROUTENPLANER.NRW.DE

By car

The A40 motorway is legendary – for its traffic jams. The busiest motorway

in Germany runs through Duisburg, Mülheim an der Ruhr, Essen, Bochum and Dortmund,

to name just the largest cities. If you don't have your own car, you can turn to car-sharing

providers like Stadtmobil, Greenwheels or Flinkster. For an overview see

→ CARSHARING-NEWS.DE

By taxi

Like everywhere else in Germany, Ruhrgebiet taxis have a pale yellow "pensioner"

look. One small problem is that the call numbers vary from town to town. They can

also be booked online on portals like → CABDO.DE

By train

If you want to commute quickly between the various cities, it is better to

travel on the train and S-Bahn (the overground suburban railway) than on the trams and underground

trains. From east to west (and vice versa), this usually works a treat. The regional

express train takes just 20 minutes to get from Essen to Dortmund (here you can sit back

and enjoy the view of the congested traffic on the A40 motorway from the top floor of the

double-decker carriages). In contrast, the connections between the north and south are

more complicated. Time-consuming changeovers are often necessary here. → DB.DE

By bus, tram and underground

If you're looking for a local public transport system that connects all the cities

in the Ruhr area, no problem! There's only one. In theory. Because different transport companies

such as the DVG in Duisburg or the EVAG in Essen seem to make the whole thing

more complicated. Nonetheless they're all a part of a single transport association, the VRR,

where ticket prices vary according to the length and time of the journey. Here's a tip. The

"culture line" (tram 107) connects many cultural highlights between Essen and Gelsenkirchen.

If you take the 107 tram, you will pass Werner Ruhnau's legendary Musiktheater im Revier

(Gelsenkirchen), as well as the UNESCO World Heritage Site Zollverein and the Museum

Folkwang in Essen. For information on tickets and prices (also in English) see → VRR.DE

By E-Scooter

Germany's first e-scooters went on the road in Herne in 2019. Since then

the network has been further expanded and e-scooters are usually accessible without

problems in Duisburg, Essen, Bochum, Bottrop and Dortmund, from companies like Lime,

Bird, Spin and Tier.

By boat

Canals may look less idyllic in the Ruhrgebiet than in Italy. But industrialisation

has ensured that there is a dense network of waterways - and structural changes have

resulted in many cycle and walking trails along their banks. Europe's largest inland port is

in Duisburg, where the "White Fleet" pleasure boats also set out. Pedal boats, canoes and

the like can be hired from the "Six Lakes" in Duisburg, Lake Kemnade in Bochum and Lake

Berger in Gelsenkirchen, to name but three. You can book a tour along the canals at

→ KULTURKANAL.RUHR

By air

Dortmund Airport serves many destinations within Europe. It can be

easily reached by the airport shuttle bus from Dortmund central station. The smaller Essen/

Mülheim airport does not offer scheduled flights, but gliders, helicopters and planes take

off here. As does an airship called "Theo". When the weather's fine in summer, you can

take a 60 minute round tour aboard the airship, sometimes over the Bergisch Land area.

If you fancy booking a ride on "Theo", take a look here: → WDL-WORLDWIDE.DE

Apart from that you can…

…glide over Dortmund on the overhead railway → WWW.H-BAHN.INFO

or travel the area on a steam train, say from the Railway Museum in the Bochum suburb of

Dahlhausen → EISENBAHNMUSEUM-BOCHUM.DE

And if you want to travel back in time why not take a trip on the Hespertal Railway from the

suburb of Kupferdreh along Lake Baldeney in Essen? Some of the night-time scenes for the

'20s tv series "Babylon Berlin" were shot here. More info: → HESPERTALBAHN.DE

→ RUHR-TOURISMUS.DE or phone: 0180-61 81 620

MORE INFORMATION

OUTRO POLY MAG 2022

POLY MAG 2022

OUTRO

94

95
---
Change your perspective and see the world

from a different angle - immerse into

the unknown territory of edgy urbanana.

Stretching from the Ruhr Area to the

Rhineland, you find a banana-shaped

metropolis with hazy boundaries. Gear up

your curiosity and zoom in on Cologne,

Düsseldorf and the Ruhr.

Hover across the streets and backyards

till you find yourself eagerly knocking on

the doors of movers and shakers, hunters

and collectors and perhaps even new

friends. Multi-faceted, free-spirited and

unconventional: Join those pioneers in

creating unique spaces, experiences and

encounters.

Stray away from the well-trodden paths,

peek around undiscovered corners (and

curves) and start your journey to North

Rhine-Westphalia at:

Ministry of Economic Affairs,

Innovation, Digitalization and Energy of the

State of North Rhine-Westphalia

URBAN

GUIDE

EUR 5,– NO 5

Let's take a walk

on Flingern's

vibrant

Birkenstraße

The best addresses

and newcomers

in town for having

lunch, dinner –

and a glass or two

DESIGN

Four Düsseldorfers

who are

dedicated to

unique interiors

GUIDE

Discover Düsseldorf

's most exciting

concept stores,

designers and brands

ART

A visit at

Volker Hermes'

backyard studio

in Düsseldorf

FOOD

The history of

the 175 year old

Buschmann bakery

and confectionary

Imprint Once a year "Poly"

provides an overview

of all the key issues affecting

art and society in the Ruhr region.

If you want to find out

more about art and culture in

North Rhine-Westphalia, why

not take a look at our magazine

"kultur.west" (which is published

ten times a year), or every day

at: www.kulturwest.de

gentle

curves

sharp

edges

MAGAZINE FOR DÜSSELDORF SPOTS, HIGHLIGHTS, FACES & CONTEMPORARY CULTURE 2021 / 2022

WHAT ELSE?

If you're keen to discover

more hot spots and

insider tips in North-

Rhine Westphalia, we

can highly recommend

the following two magazines:

"hiddencologne"

for Cologne and "The

Dorf" for Düsseldorf.

MORE INFO AT

→ HIDDENCOLGNE.DE

→ THEDORF.DE

→ URBANANA.COM

NO

BIRCH

LAND

GOING

OUT

BETWEEN

ART &

INTERIOR

SHOP

TILL YOU

DROP

HIDDEN

PORTRAITS

EAT MORE

CREAM

CAKE!

EMS

CHER

65 / INGES IDEE: ZAUBERLEHRLING

67 / TOBIAS REHBERGER: SLINKY SPRINGS TO FAME

PUBLISHER

K-West Verlag GmbH

Dinnendahlstraße 134

45136 Essen

T +49 201 49 068-14

info@kulturwest.de

www.kulturwest.de

CONCEPT & EDITOR IN CHIEF

Annika Wind

Volker K. Belghaus

CREATIVE DIRECTION

Morphoria Design

www.morphoria.com

TEXT

Volker K. Belghaus, Max Florian

Kühlem, Thomas Machoczek,

Kristina Schulze, Stefanie Stadel,

Frank Weiffen, Andreas Wilink,

Annika Wind

TITLE

Markus J. Feger

www.m-j-feger.tumblr.com

MARKETING & SALES

Anja Keienburg

Marcus Schütte

Netzkult Marketing & PR

T +49 208 828 776 00

www.netzkult.de

ADVERTISEMENT

anzeigen@poly-magazin.de

CIRCULATION

25.000

PRINTED IN GERMANY

Druckerei Himmer, Augsburg

ÁHENNING ROGGE

W

KUN

ST

74 / JULIUS VON BISMARCK

WITH MARTA DYACHENKO: NEUSTADT

TRANSLATION & PROOF-READER

Roy Kift

ILLUSTRATION

Brian Storm

www.storm-illustration.de

COPYRIGHT 2020

Poly Magazin

CONTACT

www.poly-magazin.de

info@poly-magazin.de

EG

ART FOR EVERYONE

AT ALL TIMES

96

OUTRO

POLY MAG 2022

FUNDED BY

A COOPERATION BETWEEN
---
entle

urves

harp

dges

Change your perspective and see the world

from a different angle - immerse into

the unknown territory of edgy urbanana.

Stretching from the Ruhr Area to the

Rhineland, you find a banana-shaped

metropolis with hazy boundaries. Gear up

your curiosity and zoom in on Cologne,

Düsseldorf and the Ruhr.

Hover across the streets and backyards

till you find yourself eagerly knocking on

the doors of movers and shakers, hunters

and collectors and perhaps even new

friends. Multi-faceted, free-spirited and

unconventional: Join those pioneers in

creating unique spaces, experiences and

encounters.

Stray away from the well-trodden paths,

peek around undiscovered corners (and

curves) and start your journey to North

Rhine-Westphalia at:

Ministry of Economic Affairs,

Innovation, Digitalization and Energy of the

State of North Rhine-Westphalia