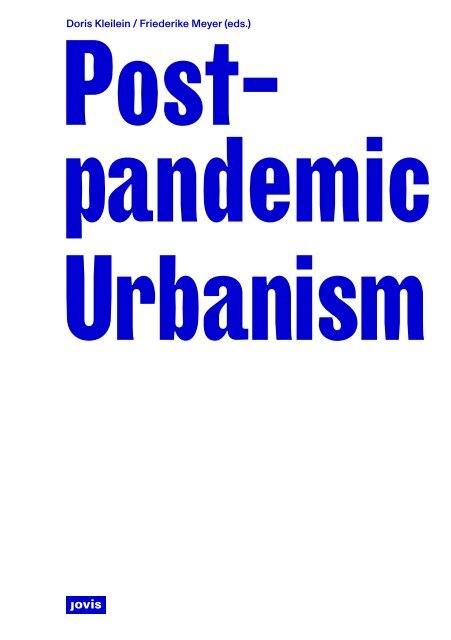 Post-pandemic Urbanis
ISBN 978-3-86859-710-3
ISBN 978-3-86859-710-3
SHOW MORE
SHOW LESS
You also want an ePaper? Increase the reach of your titles
YUMPU automatically turns print PDFs into web optimized ePapers that Google loves.
Doris Kleilein / Friederike Meyer (eds.)

Postpandemic

Urbanism
---
7

13

24

34

49

64

72

83

Doris Kleilein and Friederike Meyer

Intro

Phineas Harper and Maria Smith

More than Enough!

A Dialog on Degrowth and the COVID-19 Disaster

Kerem Halbrecht, Zachi Razel, Futures Probes, Nat Skoczylas,

Eitan Nir, and Sarah Schalk

Non Voyage

On the Futures of Tourism Infrastructures

Felix Hartenstein

The No-Retail City

New Concepts for City Centers

Stefan Rettich

Urban Obsolescences

Future Fields of Urban Transformation, Made Visible by the Pandemic

Sascha Anders, Stephan Große, and Thomas Krüger

Unspectacular

Small and Medium-Sized Cities Are Making an Impact on Urban

Research

Doris Kleilein

Tired of the City

Harbingers of New Rural Commons

Agnes Müller

From Coworking Space to

Neighborhood Office

How Flexible Digital Work Could Alter Urban Districts
---
96

112

126

139

150

160

173

187

191

192

Aglaée Degros, Sabine Bauer, and Markus Monsberger

Dividing Space Fairly

The Potential of Mobility Spaces to Repair the City

David Sim

The Soft City in Hard Times

How Public Space Proved Itself in Denmark

Philipp Stierand

Three Meals Away from Anarchy

Cities between Food Security and Nutritional Poverty

Ananya Roy

Emergency Urbanism

Los Angeles and Structural Racism in City Politics

Anke Butscher, Bárbara Calderón Gómez-Tejedor, Doris Kleilein,

and Friederike Meyer

An Economy for the Common Good

at the Local Level

A Conversation about New Values in Urban Development

Friederike Meyer

In Crisis Mode

Challenges for Hospital Planning

Tatjana Schneider

Notes on the Just City

About the Authors

About the Editors

Imprint
---
12
---
13 Phineas Harper and Maria Smith

More than

Enough!

A Dialog on Degrowth and the COVID-19 Disaster

Degrowth is an economic theory proposing a designed reduction

of resource consumption in wealthy societies to bring net human

activity in line with planetary limits while lowering inequality and

nurturing cultural and ecological flourishing. For decades, many

environmental economists, philosophers, and artists have been

exploring the functional and aesthetic possibilities of an economy

that is no longer reliant on endless growth, but rarely have those

ideas been tested on the urban landscape. In 2019, the Oslo

Architecture Triennale, a Norwegian architecture festival titled

"Enough: The Architecture of Degrowth," put degrowth at the heart

of its curatorial agenda, with a program of performance, science

fiction, and installations exhibiting many architectural and spatial

proposals for what degrowth could mean for contemporary cities.

Here, two of the Triennale's chief curators, engineer and architect

Maria Smith and critic Phineas Harper, reflect on degrowth in the

light of the COVID-19 catastrophe and ask why architecture seems

so rooted in a paradigm of infinite economic expansion.

Phineas Harper: The first case of COVID-19 was recorded on

November 17, 2019, one week before the conclusion of the Oslo

Architecture Triennale. The Triennale's participants sought to

imagine a society with almost no aviation; in which workers spent

less time commuting and more time at home; in which cities

embraced walking and cycling, and the complex, high-carbon consumerism

of wealthy societies gave way to low-impact pastimes—

reading, board games, DIY, handicrafts, gardening, and long walks.

The Triennale imagined a world in which mutual aid networks
---
seventeenth century to finance the Commonwealth of England's

invasion of Ireland. Oliver Crowell, a military leader in the 1648–49

English Revolution, took out loans to fund his Parliamentarian army,

promising he'd repay lenders with land taken from the Irish. To do

this, Cromwell employed the economist William Petty to assess

the value of all Irish land in the 1655–56 "Down Survey," taking into

account natural resources and profitable output. The linking of

economic activity to political territory, today the basis of GDP, has

roots in English colonialism.

In his 2016 BBC "Reith Lectures," philosopher Kwame Anthony

Appiah further argues that the modern idea of racial

difference was concocted to morally excuse the conquest

and enslavement of peoples across the Global South for

economic gain by European colonists. "Many historians have

concluded that one reason for the increasingly negative view

of the Negro through the later eighteenth century was the

need to salve the consciences of those who trafficked in and

exploited men and women." 2

For Appiah, European imperialists constructed elaborate lies of racial

differences in pursuit of expanding their economies in order to

justify their heinous crimes, co-opting the sciences and humanities

of the day: "One illustrious discipline after another was recruited

to give content to color. And so, in the course of the nineteenth

century, out of noisy debate, the modern race concept took hold." 3

The pursuit of expansion has birthed many monsters; racialization,

fueling and fueled by inequality, is among its most vulgar spawn.

Degrowth is therefore, for me, not just an ecological movement

but an anticolonial and antiracist one. But I find the

wider climate movement sometimes skirts or ignores social

issues entirely. Think of Extinction Rebellion's absurd claim to

be "beyond politics," for example.

18

MS: Too often, social and environmental issues are pitted against

each other. Degrowth economists argue that climate breakdown

exacerbates global inequality and vice versa, but many in the West

believe taking climate action impinges on personal freedoms. This

egocentric view fails to acknowledge the enormous inequality

of freedom entrenched by current socioeconomic systems. For

example, under international climate accords, countries report

2 Kwame Anthony Appiah, "Mistaken Identities," BBC Radio 4 "The Reith Lectures,"

https://www.bbc.co.uk/programmes/b081lkkj, last accessed August 19, 2021.

3 Ibid.
---
19 emissions on a territorial basis. Nations only register emissions that

occur within their borders. In line with this system, wealthy nations

are not held responsible for the carbon emitted in making the energy,

cars, smartphones, or steel beams they consume, so long as

those goods are manufactured offshore. This makes the emissions

of Western economies seem smaller, and artificially inflates the

ecological impact of the Global South. Under contemporary climate

accords, the Global South is both more likely to suffer the effects

of climate and ecological breakdown and be disproportionately

blamed for it. Taking meaningful climate action does not curtail net

freedom, but only the high-carbon culture of the wealthy West.

Economic growth is often naively credited with singlehandedly

improving the quality of life of billions, but the real

picture is more nuanced. As Jason Hickel points out in Less

Is More, a study by Chhabi Ranabhat and others showed

that the greatest predictors of improved life expectancy are

sanitation and universal healthcare. These collective infrastructures

aren't a direct result of economic growth but rather

of progressive political movements, and the "historical record

shows that in the absence of these forces, growth quite often

worked against social progress, not for it." 4 To expand the

freedoms of the many, then, there may be some limits on the

freedoms of the few: namely, the freedom to exploit others

and the freedom to curtail the freedoms of others.

PH: Limits on the freedom to live in energy-inefficient homes

connected by car-dominated motorways. Limits on the freedom

to make tedious commutes to sedentary office jobs. Limits on the

freedom to mass-farm animals. Limits on the freedom to cram into

budget airline cabins and travel at enormous speeds to fleeting

foreign holidays. How many of the freedoms promised to the citizens

of wealthy societies are really worth fighting for?

At one level, degrowth is simply a recognition of physical realities.

It's increasingly clear that there's a direct link between

greenhouse gas emissions and economic growth. In fact, in

the past two decades, the only year net carbon emissions fell

was 2009—the same year the world economy shrank. Even if

growth could be decoupled from emissions, there's an energy

problem, because energy consumption rises with GDP. A 2 to 3

percent growth rate seems very small but in fact means

4 Jason Hickel, Less Is More: How Degrowth Will Save the World

(London: William Heinemann, 2020).
---
Kerem Halbrecht, Zachi Razel, Futures Probes, Nat Skoczylas,

Eitan Nir, and Sarah Schalk

24

Non Voyage

On the Futures of Tourism

Infrastructures

The Tourist Dilemma—A Tragicomedy
---
25
---
Deserted Planes
---
Touristoholics Anonymous

28
---
29
---
In order to counter the dominance of the large platforms and

provide local merchants with alternative avenues to digitization,

numerous municipalities have set up city- or region-wide merchant

platforms. Many of these platforms have been tried out, but none

have been able to truly establish themselves anywhere. One possible

reason: customers like comfort. They prefer platforms where

they can browse through as many different products as possible.

But local merchant platforms usually only cover a very limited

range, and they suffer from having a low profile.

In addition to the technical equipment, it is mainly daily operations

that pose major challenges to the digitization of retail. Products

must be entered, described, and priced on the website. Shipping,

returns, and complaints must be managed. The logistical effort is

enormous and personnel-intensive. Small retailers often cannot

afford this—or they have to become dependent on the platforms

that dominate the market. The fear is thus justified that the digitization

of brick-and-mortar retail will not work on a large scale.

The established platforms—eBay for second-hand goods, Etsy for

homemade items, Zalando for clothing, Otto for all kinds of things,

and Amazon for nearly everything—will always be more efficient at

doing online business than small retailers, who do not have comparable

storage capacities, logistics structures, customer centers,

and IT departments at their disposal. Even the parcel levy currently

being discussed for online retailers will not be able to fundamentally

change this. While such an instrument can contribute to better

tax equity and allow online retailers to share in the costs of the

municipal infrastructure they use, the general competitive disadvantage

of brick-and-mortar retailing remains.

38

The Pandemic as a Boost for New Retail Concepts

Even before the COVID-19 pandemic, retail companies were experimenting

with new sales concepts. For some, the crisis has been

an opportunity to make the leap to the mass market.

Click and Collect: This form of distribution received a significant

boost during lockdown. With click and collect, goods are ordered

online and picked up in or outside a store. If this trend continues,

the question arises as to whether branches in their current form

will still be needed at all in the long term. It is conceivable that in

the future retail chains will increasingly rely on what is called the
---
39 long-tail approach: all items will be available without the need to

have them in stock on-site. 8

genialokal: Order Online, Pick Up in Bookstore

The genialokal platform is based on the catalog and logistics

of the intermediary bookseller Libri. Customers can order

more than six million books online and pick them up at more

than 700 owner-operated bookstores. The offer also includes

e-books, audio books, and toys.

Retail as a Service: In this concept, sales areas are rented out for

a certain period of time to changing manufacturers to present

their products. The focus is on ambiance, advice, and product

presentation. Items can be touched and tested, making up for the

last notable competitive disadvantage of Internet retailing, namely

the lack of haptic experience. Purchases can be made immediately

in the store—where the goods can be paid for but often not

taken away immediately—or later on the Internet. Amazon is also

experimenting with these kinds of concepts: in pop-up stores and

standalone bookstores, which are largely designed as exhibition

spaces, Amazon is offering a rotating range of products and testing

hybrid sales concepts. 9

Hybrid Niche Models: To help them stand out from the competition,

more and more retailers are choosing the path of radical specialization.

Instead of offering a wide range of products, they are reducing

their offering to a few selected sectors. They share this expertise

not only in-store but also through various online channels, where

they create significant value for their followers by highlighting

their uniqueness. They are thus equally retailers and influencers. 10

Nevertheless, the risk remains that customers will take advantage

of their advice while making a purchase elsewhere. This model is

therefore particularly suitable for individual products that are not

8 See Stephan A. Jansen, "Wie geht Konsumgesellschaft ohne Konsum?," brand eins,

November 2020, 44–50.

9 See Felix Hartenstein, "Amazon: Vom Buchhändler zum Städtebauer," Baunetzwoche

vol. 546 (2019): 6–18.

10 See Jens Bergmann, "Der moderne Verkäufer ist Influencer: Interview mit Alexander

Graf," brand eins, November 2020, 52–55.
---
40
---
41

From vacancy to stage: Surfing in the basement of the department store L&T in the German

town of Osnabrück. Photo: dpa
---
provide the appropriate funding instruments to realize these goals.

Further assistance would be provided by extending or facilitating

the municipal right of first refusal for commercial real estate.

48

From Vacancy to Stage

Now as then, a livable city is too often thought of in terms of retail.

The prevailing belief is that appealing shopping options attract

residents to the center and draw visitors from the surrounding area.

This higher purchasing power supposedly allows the local economy

to flourish; and quite incidentally, this assumption continues, lively

streets and squares are created. But this calculation is working

out less and less frequently. Monofunctional city centers have

long since lost their appeal—especially when the design of public

spaces is primarily adapted to the requirements of retail functions

and social aspects play a subordinate role at best. The desolation

of such one-sided city centers becomes apparent at the latest after

closing time.

What remains, however, are the social needs of the people.

Responses to pandemic-related restrictions have further

highlighted this fact. It is likely that in the aftermath of the pandemic,

many people will have a strong desire to meet and share

experiences.

The German Federal Economics Minister Peter Altmaier said at the

roundtable on the future of city centers: "City centers once again

need to become places where people love to be." 19 One can only

agree. But these favorite places could, indeed must, look different

from what we currently see. The future of livable cities lies not in

saving retail but in creating offerings that once again focus on the

social and cultural qualities of city centers: more stage, less staging.

19 Bundesministerium für Wirtschaft und Energie, "Altmaier: 'Innenstädte sollen wieder

Lieblingsplätze werden.'"
---
49 Stefan Rettich

Urban Obsolescences

Future Fields of Urban Transformation,

Made Visible by the Pandemic

In 1956, Malcom McLean, a shipowner specializing in freight

forwarding, deployed containers to transport goods for the first

time, utilizing a tanker specially converted for this purpose, the

Ideal X. His invention not only revolutionized global logistics but

also had disruptive effects on how ports were being used. Many

port facilities in European cities were no longer capable of handling

these steadily growing container ships; they were therefore either

or completely abandoned or relocated. Such obsolescences in

cities—which is to say functions that have fallen into disuse but

harbor great potential—are not new. There are numerous further

examples, such as the closing down of military barracks after the

fall of the Berlin Wall, old industrial areas that became obsolete in

the course of globalization, or centrally located freight yards that

have been replaced by freight villages on the edges of cities. Other

formerly urban features such as slaughterhouses, breweries, or

wholesale markets have likewise been relocated to points of high

accessibility, as they are often called, because these locations are

integrated into international or at least transregional production

and supply chains.

In sum, these have been enormous and, more importantly, valuable

spaces for developing interior urban areas. They are usually centrally

located, well developed, and relatively easy to reconfigure

since the property is either publicly owned or belongs to a single

industrial owner. Such spatial resources have provided the foundations

for attractive developments like the HafenCity in Hamburg,
---
Doris Kleilein

72

Tired

of the City

Harbingers of New Rural Commons

One of the narratives about the pandemic is that urbanity is in

crisis. Rem Koolhaas, among the most influential theorists of the

city since his 1978 book Delirious New York, sees in rural life a way

out of the social impasse that he finds life in cities threatening to

become: "We have allowed our core values to shift: from liberty,

equality, and fraternity to a fetish for convenience, security, and

sustainability." The inhabitants of cities, Koolhaas continues, have

little sense of agency; shrugging one's shoulders has become the

most common stance. In the countryside, by contrast, he sees

more freedom of movement and room for improvisation. 1

The statement strikes a nerve in our everyday life during the

pandemic: life in the city is becoming increasingly cramped, and

the countryside—until recently, often denigrated as provincial,

backward, or inconsequential—is garnering new appreciation:

more space for less money, with more nature, more open space.

We do not yet have figures to determine whether urban fatigue is

prompting urban flight to the country. Globally, as in Germany, it is

movement to popular boomtowns that still dominates demographic

flows. But during the pandemic, new spaces for action have suddenly

opened up, unforeseen and unplanned, especially through

digital working. A third of all employees in Germany have worked

at home temporarily during the coronavirus crisis; even one-half

would have been feasible. 2

1 Mathias Alexander, "Freiheit statt Komfort," FAZ, March 12, 2021, https://www.faz.

net/aktuell/feuilleton/debatten/architekt-rem-koolhaas-preist-innovationsgeist-inafrika-17241851.html,

last accessed August 2, 2021.

2 Jean-Victor Alipour et al., "Homeoffice-Potenzial weiter nicht ausgeschöpft," March 3,

2021, https://www.ifo.de/DocDL/sd-2021-digital-06-alipour-etal-homeoffice.pdf, last

accessed August 2, 2021.
---
73 Never before have so many people been able to take their jobs

to the countryside, nor have they stopped commuting every

day to work in the city. For the discipline of urban planning, this

places certainties into question and forces a reassessment and

channeling of developments ranging from mobility and social

participation to how we deal with land. The detached single-family

house with a garden, which for ecological reasons had long since

appeared to be a thing of the past, has grown more attractive

since the beginning of the pandemic. In the green belt surrounding

Berlin, the increase in demand has been as high as 75 percent. 3

And the German federal government is moving further and further

away from its goal of limiting urban sprawl. Hence there is a need

for alternatives to single-family homes, to new construction, to the

reflexive zoning of new land for construction. Community living

and working in existing buildings, which is still the exception on

the housing market, could point the way to a new rural life that is

socially and ecologically sustainable.

Countryside Cooperatives

While groups formed to realize joint housing projects and newly

founded cooperatives have until now mostly been an urban phenomenon,

large properties far from the urban centers are now also

becoming attractive: farms and manor houses in need of renovation,

disused industrial plants, abandoned military and railroad sites.

Often, these are properties with existing buildings that have been

vacant for some time: too large for a family or small group of people,

too remote for classic project development, too bulky for conventional-use

concepts. On the initiative of private individuals, and

partly also under the aegis of foundations or urban housing cooperatives,

more and more collective projects are emerging in the countryside.

The clientele they interest, who often meet on cohousing

platforms, could be prototypically sketched as follows: independent

with a university education, willing to share (gardening, raising

children, shared spaces, cars, and e-bikes), open-minded about new

forms of living, and looking for community. The same opportunity

that the high-income urban middle class saw twenty years ago

in communal building projects in city centers is today the farm in

3 Sebastian Engelbrecht, "Immobilienentwicklung in der Pandemie: Von der Krise keine

Spur," March 24, 2021, https://www.deutschlandfunk.de/immobilienentwicklungin-der-pandemie-von-krise-keine-spur.766.de.html?dram:article_id=494661,

last

accessed August 2, 2021.
---
Community living and working in the countryside: Prädikow Farm, one of the largest foursided

farms in Brandenburg. Photo: Peter Ulrich

74
---
75
---
In Barcelona, city and regional government departments have been working with residents

to test how to reallocate street space in residential neighborhoods and how changing

traffic patterns can create social interaction. The project Superilles (Superblocks) has been

running since 2003. Photo: Ajuntament de Barcelona

100
---
101
---
103 cities seized the moment of the (first) lockdown and reacted quickly

by redistributing available street space (due to reduced car usage).

Examples of temporary cycle lanes can be found all over the world.

Berlin started in Europe with the first well-documented pop-up

cycle paths. They were set up as construction sites and more or

less spontaneously became pandemic-resilient infrastructure;

some of them are now set up for permanent use. Traffic beacons

have been replaced by fixed bollards and orange site markings by

white, permanent ones. 20 In Milan, 35 kilometers of streets were

transformed and active mobility was prioritized in an experimental

way. With color and creativity, asphalt was given new meaning and

the streets transformed into strade aperte ("open roads"). 21

These examples show us that pop-up bike lanes can be unique

opportunities to rewrite the street space and replace it with

something innovative, something long-needed. This stresses the

fact that: the development of active mobility reduces the space

dedicated to mobility in a simple way and frees it up for other uses.

Despite all of these temporary actions, we should also be thinking

about long-term adjustments. In a survey conducted by VCÖ Mobilität

mit Zukunft, about 1,000 Austrians were asked their opinion on

how the use of transport will change after the current crisis. More

than half of them expect to walk and cycle more and fly less in the

long term as a result of the COVID-19 pandemic. Another 45 percent

assume that the primary transport mode for trips might shift

to cars. Concerning public transport, people assume a decrease

in usage. From the perspective of climate-friendly transport,

there is a serious risk that public transportation use will wane and

individual transportation will emerge stronger from the COVID-19

crisis. 22 From these observations, we can conclude that if we want

to reduce the space dedicated to mobility in the urban fabric, it

is now necessary to improve the provision of mobility based on

individual movement that does not rely on private car ownership.

20 Christoph Gunßer, "Stadtumbau für die Verkehrswende: Radverkehr statt Autos," DAB

Deutsches Architekturblatt, July 30, 2020, https://www.dabonline.de/2020/07/30/

stadtumbau-fuer-die-verkehrswende-radverkehr-autos-corona-pop-up-radwege/, last

accessed June 24, 2021.

21 Laura Laker, "Milan Announces Ambitious Scheme to Reduce Car Use After Lockdown,"

The Guardian, April 21, 2020, https://www.theguardian.com/world/2020/apr/21/milanseeks-to-prevent-post-crisis-return-of-traffic-pollution,

last accessed June 24, 2021.

22 VCÖ Mobilität mit Zukunft, "Repräsentative Befragung von Österreichs Bevölkerung zu

Covid-19 und Öffentlicher Verkehr," November 2020.
---
This includes pedestrian mobility and all kinds of cycling mobility

but also car-sharing systems. The crisis made room for a challenge

to the highly normalized world of road infrastructure. The perpetuation

of temporary actions will essentially depend on the legal possibility

of transforming them into permanent designs by changing

the system of infrastructure standardization itself. As an example,

Brussels has temporarily adapted its city center—the Pentagon district—during

the crisis in May 2020. The maximum speed limit was

reduced to 20 kilometers per hour in order to prioritize quality of life

and safety. The transformation into a traffic-calmed neighborhood

allows pedestrians to use the full width of the street and not just the

sidewalks. This has given people more space, reducing also the risk

of contagion. 23

104

As a consequence of these positive developments, the entire car

network had been permanently slowed down in January 2021,

following long-standing plans. This reduces noise pollution and

increases road safety, and not only in the inner city. 24

A comparable strategy is described in the latest edition of the

Zurich handbook for street planning ("Standards Fussverkehr" 25 ),

where a shift from a "center line out" to an "outside in" organization

of the street is suggested, building on the city of Toronto's "Complete

Street Guidelines." This means that instead of designing a

street's profile to meet the needs of (car) traffic in the center, it

should be expanded from the edges according to the needs of life

and use. 26

23 City of Brussels, "Adjustment of the Pentagon Residential Area," https://www.brussels.

be/residential-area, last accessed June 24, 2021, last modified February 15, 2021.

24 City of Brussels, "Brussels 30 km/h Zone since 1 January 2021," https://www.brussels.

be/brussels-30-kmh-zone-1-january-2021, last modified January 4, 2021.

25 Stadt Zürich Tiefbauamt, "Standards Fussverkehr," 2020, Schweiz, online under:

https://www.stadt-zuerich.ch/ted/de/index/taz/verkehr/verkehrskonzepte.

html#fussverkehr, last accessed May 31, 2021.

26 City of Toronto, "Complete Streets Guidelines," https://www.toronto.ca/wp-content/

uploads/2017/11/906b-Chapter-1.pdf; https://www.toronto.ca/services-payments/

streets-parking-transportation/enhancing-our-streets-and-public-realm/completestreets/complete-streets-guidelines/,

last accessed March 4, 2021.
---
The graphics were created as part of the study "Public Space Public Life COVID-19," which

was carried out in 2020 by Gehl in four Danish cities. Graphic: Gehl

120

Several local destinations see increased use

during COVID.

Sundbyøster Plads in Copenhagen has twice

as much activity on the weekend in April

2020 in comparison to a December weekend

day in 2019.

Same flow of people

on Amagerbrogade

Later peak time—

14.00, 17.00
---
Twice more activity

at the plaza!

People prefer

to stay in their

neighborhood,

local places have

an increasing

importance

More age diversity

in people using the

public space
---
For more than 130 years, fresh food has been sold at the Mercado Da Ribeira in Lisbon. In

2014, the west wing was redesigned and expanded to include a food court with about thirty

restaurants. The market activity can be observed through the windows of the coworking

space on the gallery floor, which opened in 2016. Photo: Iwan Baan

132
---
133
---
etter for urban commerce. In the German food-retailing industry,

five large companies command almost 76 percent of the market. 11

But monocultures and monopolies generate a susceptibility to

disruptions. Local food policy appears at first glance powerless

against such global structures, but upon taking another look, it

becomes clear that it is precisely the small-scale, local, regional

alternatives that are the supplements needed to enhance re -

silience. Herein lies the strength of local food policy.

134

One starting point for more variety and redundancies is the

promotion of ecological agriculture in the region. These practices

support biodiversity in the field; they both facilitate and demand

more diverse cultures; and they supplement national, European,

and global commodity flows. Cities can stipulate ecological farming

practices on their own lands, utilize organic products in their communal

catering, and promote regional and local structures of commerce.

Encouraging regional supply chains provides an alternative

to long supply chains with global standards and highly processed

products. Municipalities can use advice and information to connect

local actors, promote their sales in (community) restaurants, and

make their food a local brand. With the project Kantine Zukunft,

for example, the state of Berlin is showing how the sale of regional

organic foods can be promoted in community catering as part of a

nutrition strategy. The project supports canteens and other establishments

with intensive advice on how to further develop their

offerings toward the goal of at least 60 percent organic food and

more seasonal food from the region. In Berlin's free school lunches

for elementary school students, an organic share of 50 percent is

mandatory as of August 2021. The project Where Does Your Food

Come From? mediates between school caterers and regional farms

and provides educational materials.

The expansion of small-scale independent trade and craft processing

counters the strong concentration of corporations in trade

and industry with local alternatives. Cities and municipalities can

support these more resilient structures by relieving them of what

is often bureaucratic red tape and making these professions more

attractive to successors, for example, through better training and

image campaigns.

11 See Deutscher Bauernverband, "Situationsbericht 2020/21," https://www.

bauernverband.de/situationsbericht/1-landwirtschaft-und-gesamtwirtschaft-1/15-

lebensmittelhandel-und-verbrauchertrends, last accessed March 2021.
---
135 The resilience of a system also includes the economic security of

its actors, which ensures that the economic situation in times of

crisis does not lead to the failure of system components. A secure

food supply thus also requires not only that it profit a few, but that

all workers (from farm labor to crafts to trade) have a robust basis

for work. Municipalities must keep this in mind when taking action:

cheap food has social as well as health and environmental side

effects and limits the security of supply.

Food Poverty

In the pandemic, some of the social problems on the producer side

of the food system have made it into the headlines. The social problems

in the city on the consumer side rather less so. At the latest

since the introduction of the Hartz IV reforms to the German welfare

system in 2005, social scientists have suspected material and

social deprivation in the area of food for poor households. Yet the

magnitude of the problem remains largely unexplored for Germany.

The Scientific Advisory Board of the Federal Ministry of Food and

Agriculture has come to the same conclusion: "In Germany, too,

there is poverty-related malnutrition and, in some cases, hunger, as

well as limited sociocultural participation in the area of nutritional

needs." 12

The crisis exacerbates these social problems. From a resilience

perspective, difficulties arise when malnutrition or reliance on

charitable organizations is tolerated even outside of situations of

social crisis. There is a lack of capacity, for example, to buffer price

increases or canceled school and daycare meals.

The first and most important step at the city level is to stop ignoring

the problem of poverty-related malnutrition. The social aspects of

food supply on the part of consumers must be given much greater

focus. Everyone must be able to obtain sufficient supplies of good

food.

12 WBAE – Wissenschaftlicher Beirat für Agrarpolitik, Ernährung und gesundheitlichen

Verbraucherschutz beim BMEL, "Politik für eine nachhaltigere Ernährung: Eine

integrierte Ernährungspolitik entwickeln und faire Ernährungsumgebungen gestalten,"

expert report (Berlin: 2020).
---
interventions differently. Those of Klixbüll in Schleswig-Holstein

and Kirchanschöring in Bavaria, for example, examine the resolutions

of their local councils with a view to whether they are fulfilling

the criteria of a common good economy. This type of value-orientation

has an impact on the budget and thus on particular areas

of focus. Willebadessen in North Rhine-Westphalia, on the other

hand, reviews all expenditures in light of their impact on youth and

children.

154

In a third step, the municipality considers which benchmarks it

would like to measure its activities against in the future and the

actions that could be taken to achieve its goals. Thus begins a

learning process that helps further motivate those who work for the

municipal government, whether as full-time employees or volunteers,

to pursue the common good, while also creating a compass

for the future strategy. At the end, the process yields a report

representing the individual values the municipality wants to realize

through its actions, how it implements these values in practice, how

it uses these values to assess its progress, and what potential for

improvement it sees and would like to realize. Ideally, I continue to

advise the municipality after the accounting as well.

Existing patterns of thinking also certainly come under scrutiny

during the workshops. What do you observe there?

AB: We talk, for example, about the competition between the

municipalities and the regions and about silo mentality, which is

to say the purely technical kind of territorial thinking that confines

itself to one area, or we talk about fears that might be prompted

by community members and their demands for participation. We

are seeing that many good decisions are being made but that their

implementation often falls short. Ultimately, what matters is the

extent to which the municipalities understand themselves to be

important actors in a social-ecological transformation.

What desires and problems do you encounter in the municipalities

in which you work?

AB: In the last few years, ever more official duties have devolved

to the municipalities. At the same time, there has not been a

corresponding increase in the number of positions created in the
---
155 administration; in fact, they are more likely to have been eliminated.

Municipalities in rural areas must furthermore contend with the

difficulty of recruiting staff in the face of a shortage of skilled

workers; positions frequently remain unfilled for lengthy periods.

Municipal administrations have so many tasks to perform that

they are not always enthusiastic when a new responsibility places

further demands on staff resources and time. At the same time

there are inertial tendencies and a certain aversion to deviating

from customary and well-practiced procedures. Moreover, there is

a lack of competencies with respect to sustainability, for example,

in sustainable public procurement. The tendering processes must

conform to certain regulatory requirements, which must follow

established procedures. By now it is legally possible to implement

ecological and social principles for different products and product

categories, but often the knowledge about corresponding certifications

or criteria catalogs is missing.

The administrative arm of municipal self-governance principally

performs the function of executing tasks. But it is the political

representatives who, generally across party lines, must approve

decisions concerning common values and criteria for sustainability.

Unfortunately, this quite often proves too difficult. There are,

however, many employees in the administration who possess an

intrinsic motivation to realize, in their own fields of competency, a

sustainable vision and its values to the greatest extent possible.

They feel encouraged by their work. Municipal action resembles

a patchwork rug composed of issues, plans for intervention, and

resolutions. The common good economy provides an umbrella

and can activate a municipality's strategic orientation, fulfilling the

wishes of many staff members.

Is the COVID-19 pandemic altering the ways the municipalities

think and act?

AB: Many municipalities are currently occupied with implementing

constantly changing regulations to protect against infection

and the switchover to digital operations. This is not a task for

which they were prepared. I think that this will precipitate a rethink

of how they operate. Administration is usually organized hierarchically,

but this paradigm is breaking apart, and the compulsion to

control things is disappearing. Moreover, a drop in tax revenue is in

the offing, which will impact municipal budgets. Administrations will
---
164
---
165

Image: CURApods.org
---
176
---
177 spaces—spaces that are open to the public and that can be used for

free, which are the very spaces that have established themselves

during the pandemic as absolutely essential places of recreation

and recentering—are slowly but steadily disappearing from the

scene. These "paid spaces," however, are not just proliferating.

They also have a habit of crowding out the other spaces. All this

happens not infrequently under the premise of "upgrading"—a

seemingly innocent word for the thoroughly violent processes that

come with it, but which can less and less often be disguised with

these euphemistic terms. That is to say: urban structures change—

sometimes slowly and insidiously, sometimes quite rapidly. And the

space for those who possess little is dwindling. "Justice is something

else!" the choir now declaims.

One objection here, perhaps justified, is that not everything was

rosy in the past either. That the processes described here are not

new. That today displacement may be called gentrification, but that

nothing else has changed. And yes, that may be so. But the resistance

that is stirring, the protests, which are massive and getting

louder—these are special. A city must be made differently. It must

be planned, designed, built, and managed in such a way that it is

not just luck, favorable circumstances, or financial resources that

determine what lives are possible there. The right to the city must

be absolute.

When we read books on the subject, this right is often tied to

the right to clean water, clean air, housing, adequate sanitation,

mobility, education, healthcare, and democratic participation in

decision-making. Yet as Peter Marcuse argues, this must also be

about social justice, which includes the right to individual justice

but goes far beyond it. 4 We are talking here about the city as a place

(once again referring to Marcuse) for a heterogeneous and complex

society that offers the same opportunities to all. 5

Even today, many who deal with these questions and thoughts

refer to Henri Lefebvre, whose 1968 book about the right to the city

remains so current. 6 At the time, Lefebvre's work helped formulate

4 See Peter Marcuse, "Whose Right(s) to What City?," in Cities for People, Not for Profit:

Critical Urban Theory and the Right to the City, ed. Neil Brenner, Peter Marcuse, and

Margit Mayer (New York: Routledge, 2012 [1974]): 41.

5 Ibid.

6 See Henri Lefebvre, Le droit à la ville (Anthropos: Paris, 1968).
---
second step, by all those who create space, and with the tools of

critical theory, to develop other proposals. And then—which seems

most important here—he repeatedly demands that we politicize,

politicize, politicize.

182

Yet an awareness of the danger of repetition means that Marcuse's

principle is of course no magic bullet either. The just city is and

remains a process of negotiation; it is and remains a common

project, and it can only be implemented through a great deal of

effort on the part of all of us—only to continually be renegotiated,

replanned, and questioned. But one thing is clear: things cannot

and must not go on as they have. There is too much at stake for

that.

Don't do

Produce islands no one can reach and from which one can leave;

stage circus events; make common cause with exploitative

systems.

Do

Join solidarity networks; think about the impact of planning on and

for others; invent multiple ways of co-designing other systems;

finally confront the great challenges of our time with serious

proposals.

The text is a revised version of the essay "Justice" published in the

anthology Glossar zur gemeinwohlorientierten Stadtentwicklung

(edited by BBSR, 2020).
---
183
---
Imprint

192

© 2021 by jovis Verlag GmbH

Texts by kind permission of the authors.

Pictures by kind permission of the photographers/

holders of the picture rights.

All rights reserved.

Cover: The Polcevera Park and the Red Circle, Genua, 2019. Design:

Stefano Boeri Architetti, Metrogramma Milano, Inside Outside |

Petra Blaisse

English translation: Michael Thomas Taylor and Benjamin R. Trivers

(pp. 7–10, 33, 34–48, 49–63, 64–71, 72–82, 83–95, 126–138, 150–159,

160–172, 173–184)

Copyediting: Michael Thomas Taylor and Benjamin R. Trivers

Design and Setting: Floyd E. Schulze

Lithography: Bild1Druck

Production: Susanne Rösler

Printed in the European Union

Bibliographic information published by the Deutsche

Nationalbibliothek.

The Deutsche Nationalbibliothek lists this publication in the Deutsche

Nationalbibliografie; detailed bibliographic data are available on the

Internet at http://dnb.d-nb.de.

jovis Verlag GmbH

Lützowstraße 33

10785 Berlin

www.jovis.de

jovis books are available worldwide in select bookstores.

Please contact your nearest bookseller or visit www.jovis.de

for information concerning your local distribution.

ISBN 978-3-86859-710-3 (English edition, softcover)

ISBN 978-3-86859-981-7 (English edition, PDF)

ISBN 978-3-86859-671-7 (German edition, softcover)

ISBN 978-3-86859-966-4 (German edition, PDF)