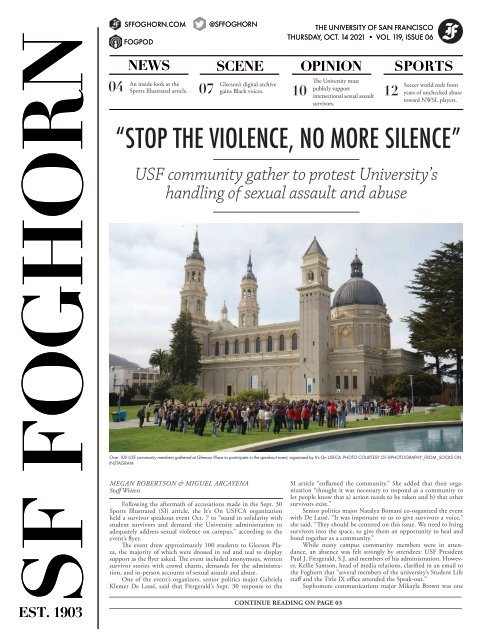 VOL. 119, Issue 6 - Oct. 14, 2021
Create successful ePaper yourself
Turn your PDF publications into a flip-book with our unique Google optimized e-Paper software.
SF FOGHORN

EST. 1903

04

SFFOGHORN.COM

FOGPOD

NEWS

An inside look at the

Sports Illustrated article.

@SFFOGHORN

THE UNIVERSITY OF SAN FRANCISCO

THURSDAY, OCT. 14 2021 • VOL. 119, ISSUE 06

SCENE OPINION SPORTS

The University must

Gleeson's digital archive

07 gains Black voices.

publicly support

10 12

intersectional sexual assault

survivors.

Soccer world reels from

years of unchecked abuse

toward NWSL players.

"STOP THE VIOLENCE, NO MORE SILENCE"

USF community gather to protest University's

handling of sexual assault and abuse

Over 100 USF community members gathered at Gleeson Plaza to participate in the speakout event, organized by It's On USFCA. PHOTO COURTESY OF @PHOTOGRAPHY_FROM_SOCKS ON

INSTAGRAM

MEGAN ROBERTSON & MIGUEL ARCAYENA

Staff Writers

Following the aftermath of accusations made in the Sept. 30

Sports Illustrated (SI) article, the It's On USFCA organization

held a survivor speakout event Oct. 7 to "stand in solidarity with

student survivors and demand the University administration to

adequately address sexual violence on campus," according to the

event's flyer.

The event drew approximately 100 students to Gleeson Plaza,

the majority of which were dressed in red and teal to display

support as the flyer asked. The event included anonymous, written

survivor stories with crowd chants, demands for the administration,

and in-person accounts of sexual assault and abuse.

One of the event's organizers, senior politics major Gabriela

Klemer De Lassé, said that Fitzgerald's Sept. 30 response to the

CONTINUE READING ON PAGE 03

SI article "enflamed the community." She added that their organization

"thought it was necessary to respond as a community to

let people know that a) action needs to be taken and b) that other

survivors exist."

Senior politics major Natalya Bomani co-organized the event

with De Lassé. "It was important to us to give survivors a voice,"

she said. "They should be centered on this issue. We need to bring

survivors into the space, to give them an opportunity to heal and

bond together as a community."

While many campus community members were in attendance,

an absence was felt strongly by attendees: USF President

Paul J. Fitzgerald, S.J. and members of his administration. However,

Kellie Samson, head of media relations, clarified in an email to

the Foghorn that "several members of the university's Student Life

staff and the Title IX office attended the Speak-out."

Sophomore communications major Mikayla Brown was one
---
02

THURSDAY

OCT. 14

2021

SAN FRANCISCO

FOGHORN

Freedom and Fairness

LETTER TO THE EDITOR

Editor in Chief

LUCIA VERZOLA

editorinchief@sffoghorn.com

Dear Editor,

STAFF

SUBMISSION POLICY

The San Francisco Foghorn is the

official student newspaper of the

University of San Francisco and is

sponsored by the Associated Students

of the University of San Francisco

(ASUSF).

The thoughts and opinions expressed

herein are those of the individual writers

and do not necessarily reflect those

of the Foghorn staff, the administration,

the faculty, staff or the students

of the University of San Francisco.

Contents of each issue are the sole

responsibilities of the editors.

An All-American

Publication

ad maiorem dei

gloriam

News Editor

MIGUEL ARCAYENA

news@sffoghorn.com

Opinion Editor

ZOE BINDER

opinion@sffoghorn.com

Scene Editor

CALLIE FAUSEY

scene@sffoghorn.com

Sports Editor

MAGGIE ALDRICH

sports@sffoghorn.com

Photography Editor

BEAU TATTERSALL

photo@sffoghorn.com

General Reporter

ANNIKA DAHLBERG

reporter1@sffoghorn.com

415.422.5444

sffoghorn.com

The San Francisco Foghorn is free of

charge, one copy per reader. To purchase

additional copies for $1, please

visit our office.

Advertising matter printed herein is

solely for informational purposes.

Such printing is not to be construed

as written or implied sponsorship

or endorsement of such commercial

enterprises or ventures by the San

Francisco Foghorn.

©MMIV-MMV, San Francisco Foghorn.

All rights reserved. No material

Managing Editor

JAMES SALAZAR

managing@sffoghorn.com

Copy Editor

NORA WARD

copy@sffoghorn.com

Layout Editor

DOMINIQUE CADENAS CALVO

layout@sffoghorn.com

Layout Editor

LOUISE DE OLIVEIRA

layout2@sffoghorn.com

Social Media Manager

SAMANTHA BERLANGA

socialmedia@sffoghorn.com

Online Editor

CLAIRE JACOBS

online@sffoghorn.com

Advisor

TERESA MOORE

2130 FULTON STREET, UC #417

SAN FRANCISCO, CA 94117

printed herein may be reproduced

without prior permission of the Editor

in Chief.

Columns for the Opinion section

and Letters to the Editor are gladly

accepted from students, faculty, staff

and alumni.

All materials must be signed and

include your printed name, university

status (class standing or title), address,

and telephone number for verification.

Anonymous submissions are not

published.

We reserve the right to edit materials

submitted. All submissions become the

property of the San Francisco Foghorn.

Columns of not more than 900 words

should be submitted by 5 p.m. on the

Wednesday before publication.

Letters of 500 words or less should

be submitted by 5 p.m. on the Friday

before publication.

Staff editorials are written by the

Foghorn editorial staff and represent a

group consensus.

The San Francisco Foghorn Opinion

page is a forum for the free, fair and

civil exchange of ideas. Contributors'

opinions are not meant to reflect

the views of the Foghorn staff or the

University of San Francisco.

In response to the September 16, 2021 article "Let the Bargaining Begin," let me add

some additional information on behalf of the University Budget Advisory Council (UBAC).

UBAC did indeed make a number of recommendations to the President's Cabinet concerning

the balancing of the fiscal year 2022 operating budget. UBAC is advisory to the

President's Cabinet, which accepted some of those recommendations and did not accept

others; this is normal.

For example, the President's Cabinet ultimately determined that it was not necessary

to continue the salary reduction programs of fiscal year 2021 that helped the University

balance its COVID-19 revision to that year's operating budget.

Note that at the time of submission of those recommendations, UBAC — and the President's

Cabinet, for that matter — did not know that the University and its students would

be the beneficiaries of a third round of federal stimulus.

Additionally, UBAC was careful to acknowledge in its recommendations to the President's

Cabinet that matters related to the compensation and working conditions of members

of collective bargaining units are ultimately resolved through collective bargaining processes

rather than by UBAC or any particular party at the bargaining table.

I have partnered with other University administrators in the negotiation of approximately

a dozen collective bargaining agreements over the past eight years. It has always been

our desire to avoid negotiating — however indirectly —through the Foghorn. Attempts to

do so by either party can lead to miscommunication and misleading oversimplification of

complex proposals and conversations connected to budget, to compensation, and to enrollments.

Sincerely,

Jeff Hamrick

Vice Provost for Institutional Budget, Planning, and Analytics

Administration Tri-Chair, University Budget Advisory Council

Note: This letter has been edited to conform to the Foghorn's publication style.
---
"STOP THE VIOLENCE, NO MORE SILENCE" • Front Page

03

At the event, a list of demands were presented to the University's administration, including increased funding for Title IX office and other sexual violence

prevention programs. PHOTO BY MIGUEL ARCAYENA/SAN FRANCISCO FOGHORN

of many students who noticed his absence. "As a

rape survivor myself, I am appalled that the University

showed no support at this event when students

are being brave enough to be vulnerable in

front of a community," she said.

There was a verbal consensus in the crowd that

the University needs to "stop this lip service, they

have to stop all these empty platitudes," Bomani

said. "It is a very performative administration. We

have to go beyond words to help our communities.

This is a crisis; they need to treat it like a crisis and

listen to our demands."

When asked what is the administration's response

to their perceived lack of action. Samson

wrote, "We have clearly heard from students and

alumni about the hurt and mistrust they have experienced.

We take these accounts very seriously --

and investigate and act on all reports."

The demands of It's On USFCA were released

on social media and reiterated throughout

the event. The group's demands include: an apology

from Fitzgerald for the University's failures in

addressing sexual violence, survivor-centered Title

IX policies, the creation of a student survivor task

force, required training for all community members

quarterly, and increased funding for sexual violence

prevention programming.

This action plan for the administration was a

"community effort," according to Bomani. Members

of It's On USFCA and other student community

groups created these demands following advice

from student survivors. "These five demands aren't

everything. We had a much longer list," co-organizer

Klemer De Lassé said. "We stripped it down

to those that we think are the most immediate and

allow us to form groups that can continue this

work on campus."

According to Samson, the University will be

responding to these demands soon. "In consultation

with university leadership, Fr. Fitzgerald is

preparing responses to the submitted demands.

These responses will be shared with the entire university

community," she said. In addition to the

open forum ASUSF Senate held with Fitzgerald on

Oct. 6th and listening sessions offered by the Title

IX office, "additional town halls are still in the

planning stages. The community will be notified

when scheduling is finalized."

A member of the crowd, sophomore performing

arts and social justice major Daisy Guiterrez

said, "I didn't know that [the University] wasn't doing

anything until I attended this event and started

hearing my friends and their stories. I am very disappointed

and expect more from the administration

since this is a social justice institution."

While the SI report sparked the event, "it isn't

limited to athletics on campus," Klemer De Lassé

said. "It's all systems of brotherhood, anywhere

where people protect each other and don't allow

victims the freedoms they deserve. We see it all

over campus." This sentiment was expressed in a

chant spoken by the crowd: "It starts with systems

of brotherhood, we're changing it from here."

"We're paying too much for us to be living in

an unsafe environment where they don't care about

us," sophomore performing arts and social justice

major Amel Murray said in a statement to the Foghorn.

"If this is how they are going to treat this,

how do they treat other situations? What else has

been buried and overlooked?"

The Foghorn will continue its coverage on the

issues raised by Sports Illustrated's article and anything

related to this subject in the coming weeks.

Reach out to tips@sffoghorn.com or our news editor

at marcayena@sffoghorn.com.

NEWS

FR. FITZGERALD FACES USF COMMUNITY

FOR THE FIRST TIME SINCE SI ARTICLE

SARA AHMED

Contributing Writer

Editor's note: This story contains an account of

sexual misconduct.

President Paul J. Fitzgerald S.J. was last week's

guest speaker at ASUSF Senate's weekly general

meeting. This was the first time Fitzgerald faced

the student body since the release of the Sept. 30

Sports Illustrated story. The hourlong session was

an open forum accessible to the public, and students

were encouraged to attend. Attendees were

also allowed to ask Fitzgerald questions during this

time.

When asked to respond to the lack of proper

consequences given to student perpetrators of sexual

assault in the past, Fitzgerald said, "I do not

personally participate in the disciplinary process."

Later on, when a student asked about a possible

shutdown of the men's soccer team, Fitzgerald stated

that "there are no complaints against any current

soccer player."

A senator then asked Fitzgerald to address

what the University is doing to mitigate this issue

without placing the responsibility solely on students.

Fitzgerald said, "It's okay to trust the folks

in Counseling and Psychological Services, it's okay

to trust Student Conduct or Title IX." He emphasized

that students needed to trust campus resources

to resolve issues, but many students in the room

voiced their opinion that there was not much confidence

in those resources after past failures.

Sage (a pseudonym), a third-year student,

attended the meeting and expressed their dissatisfaction

with Fitzgerald's remarks. "I'm not sure

what I expected from Father Fitz, but the meeting

was wholly disappointing." Sage added that their

disappointment with Fitzgerald's address of this

issue mirrored the students' faces throughout the

meeting.

"You could feel the collective frustration

throughout the atmosphere," said Sage, "Father

Fitzgerald was very deflective whenever he was

asked about the sexual assault issue on campus."

According to Sage, Fitzgerald offered mere lip service

and an illusory listening ear, instead of truly

listening to the concerns brought up by students

and senators alike.

"A lot of what the administration is offering

places the responsibility of resolving this issue

squarely on the students," Sage said. "They spend
---
04

THURSDAY

OCT. 14

2021

NEWS

a lot more time marketing these resources to students

[rather] than ensuring that there is trust between

students and faculty, and that we actually

feel safe enough to come forward."

Alana Harrington, the executive assistant to

the vice president of Student Life, also attended

the meeting with Fitzgerald. When asked about

her reaction, she said, "Based on the discussion

tonight, we have a lot of work to do." Harrington

added that this is a responsibility that falls on the

entire community, "I don't think one person can

do this work. I believe in circular leadership and

we as a community need to address it."

The following day, a vigil was held outside the

President's office at Rossi Wing on Lone Mountain.

The community vigil, organized by It's On

USFCA, an organization that advocates for survivors

of sexual violence at USF, was one of two

events held Oct. 7. After beginning at Rossi Wing,

the organizers led attendees in a candlelit march

down to Gleeson Plaza, while distinct chants such

as "student survivors over investors and buyers"

and "student survivors over rapists and liars" rang

from the crowd.

When the march arrived at Gleeson Plaza, the

organizers engaged the crowd with the installation

of red pickets in Gleeson Library's front lawn, in

order to represent the impact of sexual violence at

USF. "These pickets represent a small portion of

the many survivors to come through USF in the

last decade and who attend currently," the organization

stated.

The vigil also included religious leaders from

the University Ministry to help create a space for

grounding and centering, and religious sermons

were also given. Senior politics major Alana Beltran-Balagso,

who is one of the student organizers,

"You could feel the collective frustration throughout the atmosphere,"

said one student describing the meeting with President

Fitzgerald. PHOTO COURTESY OF COURTNEY HOANG/

ASUSF SENATE

believed that while their sermons were well-intentioned,

they did not present words of comfort to

survivors. "If anyone was triggered by those words,

know I was too," said Beltran-Balagso. "At the end

of the day, we all have unlearning to do regarding

rape culture, but we all should acknowledge it instead

of perpetuating it."

When asked why she had participated as one

of the organizers, Beltran-Balagso shared her own

story of sexual violence. She had been at USF for

two months as a freshman when she was raped in

Toler Hall. "I chose my college by printing out

a list of all the universities in the country that

had high rates of sexual assault on campus. In

the schools I was applying to, I crossed out every

school that was on that list. And it still happened."

She added that before her assault happened, she

had felt safe on campus because she thought she'd

chosen "a school that was going to 'change the

world from here.'"

Beltran-Balagso's view of USF changed after

that. The culture on campus, fueled by the actions

of the soccer team, became observably clear.

"Once that door had been opened, I looked at the

school differently, and suddenly I could see it everywhere,"

said Beltran-Balagso. "It took me a long

time to be able to walk on campus again and speak

to people."

She affirmed that her story propelled her into

speaking out and becoming more involved in this

issue. "I have everything I lost back and more. I

just want to put that energy into making sure that

as I leave this campus that more people don't have

to face this issue. And I know they will, but if we

can even reduce it a percentage, that would make

all the difference."

Beltran-Balagso emphasized her group's demands

to the University and Father Fitzgerald,

"Our demands are base level, but there needs to

be more. Father Fitzgerald needs to apologize, but

that can't be the only action he takes."

REPORTER'S NOTEBOOK

An inside look at how

Sports Illustrated got hold of USF

MIGUEL ARCAYENA

Staff Writer

Because of their thorough approach, SI reporters Priya Desai and Jenny Vratas decided

not to publicize their story in January 2021 after the Hulst & Handler report was released.

PHOTO SCREENSHOT COURTESY OF SPORTS ILLUSTRATED

The USF community woke up Sept. 30 to disturbing details from a devastating

Sports Illustrated (SI) report detailing years of alleged sexual misconduct by

the University's men's soccer team spanning two decades. The nearly 8,000-word

article was another inflection point in what has already been a turbulent year and

a half for the University's leadership, athletics department, and student body. The

investigation by SI reporters Priya Desai and Jenny Vrentas took 16 months to

complete. Since publication, it has caused more demands for campus action and

a reflection on the University's values.

Last summer, Desai was contacted by the sister of a former USF student,

regarding a possible story on the toxic environment that engulfed the University's

men's soccer team. Desai said that the woman's account sounded familiar

to a tweet she saw earlier that day from another individual. The following day,

a petition was made by a USF alum, calling for University action in response to

the team's misconduct. Intrigued by the social media firestorm, Desai contacted

the petition's author, 2019 graduate Will Midence, and shared her contact

information with Midence and other survivors if they were willing to tell their

experiences.

"There was an immediate response," said Desai. "It wasn't that survivors

were trickling in, off the bat I heard from five women." After former USF soccer

player, Manny Padilla was initially suspended and then released from his former
---
team July 25, Desai received more

responses from survivors as well as

supporting testimonies. Sensing the

magnitude of the story, Desai contacted

fellow SI reporter Jenny Vrentas

as the latter had done prior reporting

on the same subject.

"Because of the scope and

breadth of the allegations, it was really

jarring," said Vrentas when asked

what urged her to join her colleague.

She added that there needed to be

a more in-depth understanding of

the allegations and their prevalence,

given the unique smaller size of USF

compared to other schools that had

similar scandals tied to larger athletic

programs. "We've heard this happen

at Baylor or LSU, but now it's happening

at a relatively small school

and not a football program. It's maybe

not where you would expect it,"

said Vrentas.

Last spring, Vrentas wrote a

story detailing accounts of alleged

unwanted sexual advances by NFL

quarterback Deshaun Watson towards

massage therapists. Another

investigative piece looked into the

NFL's New Orleans Saints and the

team's involvement in giving extensive

public relations assistance to the

Archdiocese of New Orleans and its

subsequent coverup of sexual abuse

by its clergy.

Vrentas clarified that Desai was

the lead investigator for this issue as she mostly focused on recovering court

records and police reports from cases related to the allegations and comments

made by members of the USF community. Initially, Vrentas was worried that

the pandemic would make it difficult for them to receive court documents,

but it was not a major problem.

Desai had communicated with "at least a dozen" survivors, but the five

women who shared their experiences of alleged abuse "were the ones that I

had a consistent long-term rapport with and the ones where we were able to

speak with witnesses, friends, family, and documentation as their stories were

unfolded."

As a professional reporter, Desai had never worked on a story for 16

months. Although it did take nearly a year and a half to publish, both Desai

and Vrentas said the story required a rigorous and meticulous approach. "We

built a relationship with all these women and that made the biggest difference,"

said Desai. She added, "to be able to really talk about trauma, it takes

months and months of trust between us and them."

For Desai, conversing with the survivors was "on a personal level, a lot to

take in." Each time that she spoke to one of the survivors, they would ask how

she was doing, given the gravity of the stories.

Both revealed that part of their investigation could have been published

before the Hulst and Handler report came out back in January, but it was not

justified to do so even if another outlet had picked up on it because "it's about

being as thorough as possible," said Desai. Additionally, both women worked

on other stories outside of this subject.

Vrentas said, "You are putting forth an account rooted in facts and that's

why it takes a long time for stories like this to publish." Both reporters emphasized

the importance of following the survivor's accounts with corroborations

from others, physical evidence, University reaction, and comments from

the accused. "The Hulst & Handler report referred to a lot of rumors going

around the school but when we publish the story, we say we vetted these, and

we're letting you know as we share these accounts how we vetted them."

In reaching out to the University's current administrators, Desai said that

"no one chose to speak with us one-on-one." However, the University responded

to the reporters' list of questions through Kellie Samson, the office of

marketing and communications head of media relations. In a statement to the

Foghorn, Samson said, "They sent over more than 40 detailed questions that

I then shared with USF administrators (Student Life, Title IX, athletics, etc.)

who provided responses in writing." Samson added, "Due to the extent of the

questions USF was asked, we expected the article to be lengthy and detailed,

and to receive much attention."

Shocked when she first heard about the allegations, Vrentas compared this case to recent scandals at bigger universities like Baylor and LSU and their

football programs. PHOTO BY BEAU TATTERSALL/SAN FRANCISCO FOGHORN

The University's response has garnered some criticism. Drawing from her

previous reporting, Vrentas said independent investigations commissioned by

institutions that are under fire can be problematic. "Obviously if an investigation

needs to be done, someone needs to fund that investigation but is the

result actually independent, or is it being used to say we've gotten to this step

and thus we can move forward," she said. For many of the former and current

students that both Desai and Vrentas talked to, the Hulst & Handler findings

were an issue.

One of the sources Desai spoke with was Caroline Christ, a USF alum

and one of the organizers of the advocacy group, It's on USFCA. Christ said

that they had redirected some of the survivors they had contacted to the SI

reporters. "We began asking these survivors, 'Do you want to tell your story

on a bigger scale or at least talk to these folks that are doing this investigative

report?'" She contended that because survivors were comfortable enough to

share their experiences with either their group or Desai and Vrentas, it symbolized

the relationship between them and the University.

Christ commended SI and its reporters for providing a platform for survivors

even though the process took an extended period of time. "I think the

end result and the most powerful part of this article is that it was done so

intentionally to give survivors the space to share their stories," said Christ. She

added that timing could not have been better as most students have returned

to campus and subsequently student support has grown for their group.

Desai and Vrentas said that the reaction has been strong since it was published.

"We received a number of messages from people we had spoken with

and those we didn't," said Vrentas. She explained this response comes from the

fact that "it resonated with a lot of people in the USF community because it

was something they had recognized or maybe tried to bring awareness to but

felt like no one would listen to them."

Desai said at times could not help but wonder what would have happened

if students or alumni hadn't posted stories of abuse on social media.

From Desai's perspective, the question still left unanswered is "what constitutes

a pervasive problem or culture?" Ultimately, Desai's main takeaway from

this story is that "journalism is important to our society and democracy" because

issues like sexual violence and abusive behavior remain prevalent today.

The Foghorn will continue its coverage on the issues raised by Sports

Illustrated's article and anything related to this subject in the coming weeks.

Reach out to tips@sffoghorn.com or our news editor at marcayena@sffoghorn.com.

05

NEWS
---
06

THURSDAY

OCT. 14

2021

LONE MOUNTAIN EAST RESIDENTS IN

SHOCK OVER STUDENT ACCIDENT;

QUESTIONS UNIVERSITY RESPONSE

NEWS

ANNIKA DAHLBERG

Contrubuting Writer

A student sustained serious injuries after falling from a third story window at the

Lone Mountain East (LME) residence hall Oct 3. According to Torry Brouillard-Bruce,

the senior director of student housing, two public safety officers were dispatched to Lone

Mountain East to provide medical aid to the student.

"Dispatch immediately called the SF Department of Emergency Management,

requesting immediate medical response. When officers arrived on scene, they sat with

our student and began speaking with them in efforts to keep them calm and conscious,"

Brouillard-Bruce said.

Some students expressed concern about the way members of the Residential Life

staff addressed the situation, stating that they believed the resident assistants (RAs) were

catering more to the reputation of the school than to the students in need.

Students who witnessed the accident, or were nearby at the time, attempted to comfort

the injured student. One student, who wishes to remain anonymous, said they tried

to take care of the student who was in distress themself. "I wish the students were more

taken care of. Especially those that were impacted the most. It was obvious that no one

was there for them which is why I think it would have been nice for the RAs to have been

more present."

Brouillard-Bruce and the team at SHaRE say that in addition to a summer training

course, they train RAs to respond to events like these. "Once the RAs are on campus, they

attend more in-depth training on the following areas: emergency protocols, crisis response,

mediation, conflict resolution, community building, programming and team building,"

Brouillard-Bruce said.

An email went out to the Lone Mountain East community Oct. 5 to inform them

about the incident and alert any students present at the incident of the campus resources

including Office of Community Living, LME Residential Life, Counseling and Psychological

Services (CAPS), and University Ministry.

In the aftermath of the accident, Vice President of Student Life Julie Orio and Shannon

Gary the dean of students and associate vice president of student life sent an Oct. 7

community-wide email. The email said, "Healing spaces have been organized for students

in LME and CAPS is available to all USF students." Some students, including roommates

of the student, tried to book appointments at CAPS and were told there were no available

sessions. According to CAPS' website, there is typically a wait time of up to two weeks.

CAPS failed to comment before this story was published.

Brouillard-Bruce, noted that the last reported incident of a student sustaining injuries

while falling or climbing out of a window is from spring 2009.

Following the event, the student was taken to the hospital in critical condition. Currently,

the student is stable with several surgeries to come. Since the event, a friend of the

student set up a GoFundMe page to support medical costs and recovery. As of Oct. 12,

they have raised $26,846.

Despite suffering critical injuries, the student who fell from their third floor window is now in stable condition. PHOTO BY BEAU TATTERSALL/SAN FRANCISCO FOGHORN
---
A 'POSITIVE HISTORY':

GLEESON LIBRARY DIGITAL COLLECTION GAINS

BLACK VOICES THROUGH ADDITION OF THE BSU

CALLIE FAUSEY

Staff Writer

The Black Student Union (BSU) was founded in the

spring of 1968 days after the murder of Martin Luther

King Jr., by a small group of Black students in need of

community. Since then, the BSU's actions have been intertwined

with USF's history, and without the organization's

significant impact, the University would not be what it is

today. Though instrumental in the early recruitment of

Black students and the inclusion of critical diversity studies

at the University, it was only this year that the BSU's

documented history was given a place in Gleeson Library's

Digital Collections archive.

"Before my hire, I did research on Gleeson Library,

and I noticed that there weren't any digital collections that

were focused on any Black experiences at the University,"

said Gina Murrell, the digital collections librarian who

headed the extensive two-year project. Murrell's vision for

the collection was to create a "one-stop shop for all the

BSU's history at the University in just one digitical collection."

The collection showcases everything from Black student

reflections to cultural events put together by the BSU.

D'Vine Riley, the BSU's current president, thinks the

organization being added to the digital collection is a step

in the right direction for being recognized as central to the

University's history. "I think honoring the momentum that

has been started already by the generations before us is definitely

something that we continue to strive for," said Riley.

"The archives in that case will be essential because we can

also use them for accountability, and recognizing where we

have come from, and what we still need to work on for

initiatives moving forward."

Adrienne Riley, one of the BSU's founding members,

donated many of the organization's materials to the

University's scholarship repository, which Murrell said is

a home for scholarly output, such as research papers and

dissertations. "They really belonged in their own digital

collection," said Murrel.

The collection's creation was a collaboration between

the library and foundational members of the BSU.

Through her contact with early members of the union,

Murrell was able to collect materials and establish context

and narrative for the BSU's foundational years.

In the Gleeson Gleanings blog post about the collection,

Murrell detailed what she learned from the conversations

with BSU members from the 1960s and '70s. The

understanding she gained included "accounts of the 1970

BSU occupation and window smashing at the on-campus

gym in response to the openly racist actions toward the

Black drill team and players during an intramural basketball

game," as well as those from Black Cultural Week in

1969 that included fashion, music, and a "demonstration

in memory of Brother Malcolm X." The recollections illustrated

how Black students came together to form a supportive

community on campus.

Murrell hopes that oral histories will be documented

and added to the collection, since Adrienne Riley has been

the only member who has retained physical materials from

the organization's early years. Murrell said that materials

belonging to other members have been lost over the years

because of moves between houses. In the case of one person

she did not specifically identify, a house fire destroyed the

physical documents in their possession.

"Those stories are really a treasure and should be captured

in some way, shape, or form because at one point,

none of these people will be with us, you already have some

of them, early BSU members have passed and died. And

they're taking these stories with them," said Murrell.

A. Riley emphasized the importance of sharing these

stories. "You have to know where you've been to know

where you're going," said Riley. "To have that archive at

the University, not only for Black students and alumni, but

for everyone to know that was a significant part of the University,

and led to many of the things that are happening

now...I just think it's fabulous."

Riley described the BSU in its early years as a "busy

group" that "planted the seeds" for many positive changes

at the University. "Many of us were the first-generation of

college students," said Riley. "We wanted the University to

understand who we were, the value we had at the University,

how our input, our presence, our consciousness, can

make the University a better place in all their decisions."

Following its founding, BSU initiatives were geared

toward many progressive changes within the University,

including the encouragement of hiring more Black faculty

and staff, the increase of Black student enrollment involving

recruitment at local high schools, and bringing influential

people such as Muhammad Ali and Angela Davis

to USF.

"We had Thanksgiving food drives, we had a Halloween

Carnival for the children in the community, we were

steadfast in getting the University to begin Black Studies

and Ethnic Studies courses," said Riley. "And at the same

time, we knew that we were students, and we helped each

other to be successful."

Standout materials currently in the collection include

those that document the activities of the BSU's foundational

members and the cultural events that they organized.

These include a 1970 proposal for a two-day "Conference

on the Role of the Artist in the Cultural Revolution," the

purpose of which was to "bring together artists from all

over to discuss and formulate

ideas on the role

that artists are already

playing, and how best

they can fulfill this role

in the future," according

to the proposal.

The conference was to

include "cultural activities,"

such as a film festival,

a music concert,

a dance concert, book

displays, and artistic

workshops.

"There were collaborative

programs

that we worked on together," said Alison Richardson,

who served as the vice president and president of the BSU

during her years at USF in the 1990s. "A lot of it was culture

sharing. We would support each other for our cultural

events, and then do events that brought us together."

Another document that illustrates these programs is a

playbill for "Three Phases of the Black Man," a play written

and produced by Daphyne Brown and directed by Linda

Barconey in 1972. The play consisted of three segments,

and included elements such as "African Dancers," "Profiles

SCAN TO SEE THE BSU COLLECTION

in Black," and "Militant Speakers."

Riley said the play was pertinent to what was happening

in Black communities and exemplified how the organization

sought to bring "cultural enrichment" to USF. "We

had drummers come and singers and dancers and African

garb and African American food," Riley said. "Culture and

arts and music play an important part of being educated

and being well-rounded. We really tried to take advantage

of a lot of things happening in the East Bay and San Francisco

communities, different concerts or plays or what have

you."

Richardson said these events put together by the BSU

were important in making their members feel "like we belonged"

as students of color in a predominantly white institution.

One of the events the BSU organized during her

time as a graduate student at USF was a service including a

local gospel choir and the University Ministry to celebrate

who they were as a community and the diversity within.

"It's always important to me to hear just in music,

and gospel music, the beauty that is within that shares the

story of Black history and Black people and their movement.

And, it's an opportunity, it's one of those kinds of

commonalities that folks can listen to and still be educated

around," Richardson said.

Moving forward, Murrell has high hopes for what the

current membership can contribute to the collection. "This

isn't just something that's just from the past," Murrell said.

"We are looking at the BSU in the present in terms of what

can be contributed from the current membership, and so

it depends on what's available, but we're hoping that it

will be more visual in terms of just the artistic content and

development [of the organization]."

D. Riley is optimistic about the BSU's future and

what they may be able to contribute by fostering a creative,

positive energy within the organization. "We are planning

a lot more celebratory spaces for blackness, because over

the past couple years, there's been a lot of mourning, a lot

of grief," Riley said.

"A lot of issues are still relevant today in terms of

Black life on campus, and the current BSU membership

will carry that torch forward in terms of just it being a

truly inclusive and diverse University," said Murrell. "We

have the early BSU to thank for that. And I'm glad their

history is being highlighted in the digital collections. This

Gleeson Library Digital Collection is an example to follow

now and in the future."

A playbill from "Three Phases of the Black Man," written and produced

by Daphyne Brown and directed by Linda Barconey in 1972, is included

in the new Black Student Union Collection. PHOTO COURTESY OF

UNIVERSITY OF SAN FRANCISCO ARCHIVES

07

SCENE
---
08

THURSDAY

OCT. 14

2021

WHEN STORIES COLLIDE:

ENGLISH FACULTY FALL COLLOQUIUM

SCENE

HANNAH NELSON

Contrubuting Writer

USF English professors Christina Lopez and Bruce Snider joined together

Oct. 7 for the English Faculty Fall Colloquium to read excerpts from books

they are currently working on. Lopez, a literary scholar, and Snider, a poet,

shared these works in progress "to show students that we struggle as well,"

demonstrating that creative work is not always polished.

The desire behind the event was to create a communal experience among

writers as the vulnerability that comes from sharing one's work can benefit

both the listener and the writer. Mallory Shafer, a junior English major who

attended the event, said, "Before choosing this major, I was slightly put off

by it, thinking that studying English was pretty uniform, but the colloquium

showed how diverse English can be. The presentations explored culture, spirituality,

aesthetics, identity, and the human experience."

Lopez, who is also the director of Chicanx-Latinx studies at USF, shared a

book proposal for "Picturing Spiritual Ecologies: Environmental Relations in

Latinx Children's Picture Books." She said her work highlights how children's

books can be a radical act, and she is interested in what these books say about

human relationships to the environment, as well as what they tell us about the

relationship between text and image. Her book will touch on Latinx studies,

children's and young adult studies, environmental and ecological studies, and

religious studies. In writing, Lopez hopes to connect children's picture books

with ecological theory, and treat them like "Literature with a capital L."

One example of Lopez's work centers on the book "Little Night/Nochecita,"

a bilingual picture book by Yuyi Morales focusing on Black and Latina

women. In the book, Morales associates women with the night sky as a form

of productive myth storytelling, where fantastical images are used to create

positive and empowering associations. Lopez shared images from the project

because she wanted the audience to imagine the kind of beauty that can exist

in these picture books.

Snider's book, "High Lonesome Sound," is a collection of poetry Snider

described as a long, personal story, including thinking poems, in which

he philosophizes on ideas of sound, high and low culture, and the relationship

between country music and queerness. Snider read three poems from his

book, "Reading the Book of American Murder Ballads I Remember Reading,"

"When our Father Forgets the Last Verse of George Straight's 'Foolhardy

Memory'," and "Listening to 'I'm so Lonesome I Could Cry' on my iPhone."

Snider described his poetry as a combination of different elements, including

references to country music, literary authors, scientific language, and the idea

of embodying a story.

Snider explained that country music, which he grew up with, is often

dismissed as a lower class art form. He also expressed the idea that as he grew

up, he believed that urban queer culture was the only legitimate queer culture,

and so he wrote poems about what he thought he was supposed to write about.

Snider wants to encourage young writers to write about their true experiences,

rather than performing their identity in the way they feel is expected of them.

Throughout the event, the two writers' works were placed side by side,

inviting the audience to see the similarities between them. The creators wanted

to include examples of literary scholarship and creative work, both of which

are central elements of the English department at USF. Lopez says that Snider's

work "gives me things to think about —the idea of listening and sound is what

we do as literary scholars."

Snider agreed that their works complemented each other. "Despite all the

differences in our forms and our approaches, both my and Professor Lopez's

work seems engaged with how literature is a bodily/embodied experience,"

said Snider in an email.

Explaining what she took away from the event, Jessie Lee, a senior nursing

major, said, "Through poetry, and art itself, many people can come together

with seemingly different interests, but there's always a common ground in

all of us that we live through human experiences. I felt like my humanity was

celebrated in this event."

Christina Lopez and Bruce Snider presented their literary works at the English Faculty Fall Colloquium Oct 7. HEADSHOTS COURTESY OF CHRISTINA LOPEZ AND BRUCE SNIDER AND GRAPH-

IC BY CALLIE FAUSEY
---
BRITNEY SPEARS' TOXIC CONSERVATORSHIP

IS SUSPENDED

09

Britney Spears supporters hold up signs promoting the Free Britney Movement in front of the Lincoln Memorial in July. PHOTO COURTESY OF MIKE J MAGUIRE/FLICKR

SCENE

JORDAN DELFIUGO

Contributing Writer

For the past 13 years, Britney Spears has been

under a legal conservatorship that has allowed her

father, Jamie Spears, to control her estate, finances,

and personal affairs. As of Sept. 30, his role as her

conservator has been suspended.

In 2008, Spears suffered a public mental breakdown

and was reportedly placed on psychiatric hold

two separate times. According to Mr. Spears, this

was a clear sign that his daughter's mental health

was deteriorating and that he needed to take action,

prompting him to take on the role of Spears' conservator.

Since then, many questioned whether the

conservatorship stemmed from a desire to control

and exploit the singer rather than to protect her.

Spears famously testified in June that there were

many instances in which, under her father's approval,

she was drugged and forced to perform against

her will during both her Las Vegas residency and her

2018 European tour.

Spears has also been unable to have more children

under her conservatorship, as she was forced

to keep in an IUD as birth control. Some USF

students believe that what has happened to Spears

speaks to more pervasive issues regarding the preservation

of bodily autonomy in this country.

Lucie Maas, a first year philosophy student, has

been keeping up with the trials through the "Free

Britney" movement on social media. "I am shocked

that this has been allowed to happen in California,

of all places," Maas said. "Coming from the Midwest,

I always thought of California as this progressive

place. This just shows that regardless of where

you're from or how much money you have, if you're

a woman, your right to choose what to do with your

body will always be up for debate."

Sophomore pre-med student, Julia Riad, was

elated to hear of Spears' release from her father's

control, having felt that the conservatorship could

potentially start a dangerous pattern for others.

Riad said, "If they can make these claims that Britney

Spears is unwell and therefore needs to be controlled,

what is stopping them from making these

claims about any woman?"

Riad also said that Spears' treatment went

against her personal values. "I am pro-choice. That

means just as I support a woman's right to a safe and

legal abortion, I must also support Spears' right to

have a child if that is what she wants."

Likewise, sophomore biology major Sadaf

Dabiri said that she feels what is happening with

Spears is a "sickening and prime example of men

believing that they have the right to control others'

decisions." She said the conservatorship is misogynistic

and that "Spears has been completely taken

advantage of."

Dabiri believes that it is important to become

involved on all issues regarding reproductive rights,

whether they concern a famous individual, such as

Spears, or an entire population. On Oct. 2, Dabiri

attended a Women's March that protested Texas'

new law that would outlaw abortions after six

weeks of pregnancy, which is often before a woman

even knows she is pregnant. Upon hearing about the

ban, she said she instantly felt compelled to act. "I

felt as if there was an attack on my rights," Dabiri

said. "After this newest law, I felt as though I could

no longer be an activist by reposting the same prochoice

Instagram infographics. I needed to get out."

There will be a hearing Nov. 12 to determine

whether Spears' conservatorship will be terminated

in its entirety, freeing the singer once and for all.
---
10

THURSDAY

OCT. 14

2021

SUPPORTING EACH OTHER THROUGH THE TITLE IX

INVESTIGATION AND SPORTS ILLUSTRATED ARTICLE

OPINION

LILI MACKENSIE is a

junior architecture major.

As the writer, it is my responsibility to give

you a content warning: this article focuses on sexual

assault, college rape culture, survivor stories,

and related topics. Some people, by nature, tend

to avoid these difficult topics of conversation,

and those types of people will most likely not like

what I have to say. This is a difficult, yet extremely

important dialogue that the USF community

needs to have.

A number of women have reportedly been

sexually assaulted or raped by previous members

of the men's soccer team, according to Sports Illustrated

(SI). These are also only women who

have shared their experiences. No one knows in

actuality how many noncisgender male individuals

have experienced any form of sexual assault

on USF's campus. After reading the SI article, the entire 53 page legal investigation,

and listening to survivor stories, USF has not done nearly enough to

support survivors on campus. The behavior of the administration is almost as

disgusting as the behavior exemplified by the soccer players themselves.

Since this article came out, I have felt like I am 13 again, the age when I

experienced sexual trauma for the first time. As someone who has had seven

years to process my own experiences, the wound it left feels fresher than it

has in a long time. It also brings up much of the internal dialogue I've been

battling regarding gender identity and sexual trauma.

In 2020, I started questioning my gender identity. As I journeyed through

finding myself as a nonbinary individual, I could not stop thinking about my

experiences of being catcalled on the street, being sexualized by male classmates,

and being sexually assaulted. The world was telling me that this was a

women's issue, and if I stopped identifying as a woman, it would invalidate

my experiences and trauma that I faced as a cisgender woman. But it does not,

and even though I stopped identifying as female, I still get catcalled. Just three

weeks ago, a man unaffiliated with USF followed me in a car for a block near

campus.

Since the SI article came out, a lot of people have spoken exclusively

about women's rights, when we should be talking about survivors' rights, and

how in general, the majority of survivors are noncisgender male-identifying

individuals, including women.

To any noncisgender male-identifying individual, the type of sexist and

predatory behavior that has been exuded by male soccer team members for

at least two decades should not come as a surprise. I know it did not for me.

Myself and many others wanted to believe the school when they said that

this institution was going to be different because we, as survivors, have been

let down by previous institutions. USF should not consider itself holier than

others when it comes to rape culture just because it is a private Catholic institution.

The reputation of other private Catholic institutions, i.e., the Catholic

church sex abuse scandals, around the world already speaks volumes about

rape culture.

As it has now been a week with one response that left most community

members unsatisfied from the University, students have taken on the responsibility

to seek change in the administration. I applaud It's On USFCA for all

of the hard work they are doing and I want to second their demands for the

University below:

First, "Father Fitzgerald must apologize for the University's failures in

addressing sexual violence. He must meet with survivor and student-led organizations

on campus committed to reducing sexual violence." Second, "Survivor-centered

Title IX policies (as of August 2020, they are not) regardless

of DeVos' Title IX Rule." Third, "Creation of a student and survivor Sexual

Violence Taskforce." Fourth, "Required course and/or training for ALL community

members (students, faculty, staff, coaches, etc.) at least quarterly." And

lastly, "Increased funding for sexual violence prevention and awareness programming

year-round, including more transparent and comprehensive Title

IX messaging."

I also have a few personal demands for the University and its community.

Firstly, there should not only be an open dialogue on campus about

supporting survivors but also an open dialogue about the intersectionality

that survivors may face, and how those may make them more susceptible as

targets. Secondly, Father Fitzgerald must make a public statement in support

of survivors and their intersectional identities by recognizing these identities

are still targeted by the patriarchal system of oppression that exists in our society

today. He must also recognize the bravery of all individuals who have ever

experienced sexual assault, especially the individuals who speak out against the

system of oppression that these male soccer players have used to their advantage

to commit abuse.

I want to thank Sports Illustrated for shedding light on this situation. I

also want to thank Ashley, Janet, McLoughlin, Casciano, and all of the other

strong women who shared their stories in the article.

GRAPHIC BY MORGAN LEE/GRAPHICS CENTER
---
DONS PLAYER PROFILE:

11

HANNAH ZEMAN

MAGGIE ALDRICH

Staff Writer

Junior Hannah Zeman plays a key role in USF women's golf. Last

season, the California native led the Dons to a fourth place finish in the

West Coast Conference (WCC) standings, and she was also named to the

2021-22 Preseason WCC team this past September. Speaking on Zeman's

accomplishment, USF

women's golf head

coach, Sara Doell, told

Dons Athletics, "I am

excited to see that she

earned this honor and

know that she has the

potential and the passion

to keep moving

her game forward."

Zeman's journey

in golf began at age

seven after her father

began taking golf lessons.

Her high school,

Ontario Christian

High School, did not

have a women's golf

program, so she joined

the men's golf team for

her four years instead.

"Some of the guys

on my team were really

supportive, but when

we would go play

other teams [opponents]

would get mad

at me if I was beating

them or they'd be super

weird towards me,

so kind of having to

navigate through that

and through weird

comments I would say

has been interesting,"

Zeman said.

Zeman made

strides on the team

nonetheless, becoming

the first female to

qualify for the California

Interscholastic

Federation (CIF)

State Championship,

and she received seven

top-10 finishes on the

American Junior Golf

Association (AJGA).

As an English major,

she finds that a day

on the green can clear

her writer's block and

help her find inspiration.

"As soon as I feel

like I'm on the golf

course, I can just forget

about all the other

PHOTO COURTESY OF CHRIS M. LEUNG/DONS ATHLETICS

problems and just focus on golf," says Zeman. "I always feel like I have

a lot of fun out there, like, no matter what's going on. I feel like there's

always something to take away from my experience out there."

In the past, coaches have encouraged Zeman to write down her emotions

after her time on the course to understand her performance better.

This is where she has been able to find patterns between her post-tournament

feelings and her performance itself, as well as working through what

her thought process

was at the time of

competition.

Outside of

writing, Zeman has

used golf to shape

her day-to-day

mentality. "I feel

like through golf,

you really have to

stay in the moment

because if you're

thinking about the

next hole or the next

shot [or] getting too

ahead of yourself,

it's not going to be

good, you're probably

gonna have

some bad results,"

she said. "That kind

of transfers into my

life outside of golf

because I really just

try to stay in the

moment now, and I

feel like that's really

nice to do because

sometimes I get super

ahead of myself

so it's nice to be like

okay, let's just stay

in the moment, just

enjoy it."

This season has

seen Zeman replicate

her past success.

She led the

Dons in top individual

scores at the

Cour D'Alene Resort

Collegiate Invitational

and the

Molly College Invitational,

bringing a

strong start to her

junior year season.

Up next, Zeman

and the team will

head to Nevada for

the Clash at Boulder

Creek tournament

Oct. 24-Oct.

26.

SPORTS
---
12

THURSDAY

OCT. 14

2021

NWSL ABUSE SCANDAL IS A PRODUCT OF SYSTEMIC FAILURE

SPORTS

JAMES SALAZAR

Staff Writer

Since its inception in 2012, the National Women's

Soccer League (NWSL) has enjoyed great success.

However, its momentum came to a screeching halt

when a Sept. 30 report by The Athletic revealed years of

alleged sexual abuse toward players in the highest level

of women's soccer in the country. The fallout from this

article trickled through the world of professional soccer

and showed that institutions must do better to not

only protect women but also enact meaningful measures

of reform that do not shield abusers from their wrongdoings.

The allegations themselves were years in the making,

but The Athletic's article, "'This guy has a pattern':

Amid institutional failure, former NWSL players accuse

prominent coach of sexual coercion," burst open the

floodgates to what has been two weeks of freefall for

the league.

Written by Meg Linehan, the story named two former

players, Sinead Farrelly and Mana Shim, who said

they were abused by North Carolina Courage head coach

Paul Riley, one of soccer's most decorated coaches,

while playing for the Portland Thorns FC, one of the

NWSL's most successful clubs.

At the time, both women wanted Riley to be investigated

for his actions, but owners refused because

they had no reason to suspect that anything was amiss.

Additionally, there were no policies in place with the

Thorns FC's human resources department that allowed

them to file complaints. Further investigations showed

that both the Thorns FC and the league quietly handled

the matter, but those revelations did not come to light

until Linehan's story was published.

In addition to Farrelly and Shim, Linehan spoke

with more than a dozen players from every team Riley

had coached since 2010. Every player noted Riley's

pattern of sexual abuse as well as multiple comments

about players' physical appearance and sexuality, allegations

that Riley has repeatedly denied. Some players

recall being forced to sit on Riley's lap during car rides

while Farrelly and Shim said that Riley made the players

kiss in front of him in exchange for the team not having

to do running drills at their next practice.

The Courage fired Riley the same day the article

was published, and the U.S. Soccer Federation suspended

Riley's coaching license, but these reactions were

far too lenient as they allowed all of the involved parties

to absolve themselves of any wrongdoings. Then-NWSL

commissioner Lisa Baird released a statement which said

that she "was shocked and disgusted to read the new

allegations reported in The Athletic this morning." She

noted that "the league, in concert with the North Carolina

Courage, has reacted swiftly in response to these

new allegations, and former head coach Paul Riley has

been terminated." As it turned out, her words were

nothing more than standard public relations jargon.

Immediately after Baird's statement, the Orlando

Pride's Alex Morgan posted screenshots of emails

between Farrelly and Baird which indicated that the latter

knew more than she initially let on. The OL Reign's

Megan Rapinoe also criticized Bair and took to Twitter

saying, "Never once during this whole time was the right

person protected. Not Mana, not Sinead, not us." She

added that Baird's "statement is beyond disrespectful."

The following day would go down as one of the

NWSL's most hectic times with the league calling off

all of that weekend's scheduled games "given the gravity

of the events of the last week." FIFA and U.S. Soccer

announced that they were starting their own investigations

into Riley, Baird resigned as commissioner, and

league general counsel Lisa Levine was dismissed from

her position.

Merritt Paulson, majority owner of the Thorns,

penned an open letter four days after Linehan's story

where he recounted the Thorns' decision to part ways

with Riley at the end of the 2015 season. The sexual

abuse allegations were a factor in the club's decision, but

Merritt wrote that the organzation "made an opaque announcement

about not renewing Riley's contract as opposed

to explicitly announcing his termination, guided

by what we, at the time, thought was the right thing to

do out of respect for player privacy." Paulson also deeply

regretted the club's "role in what is clearly a systemic

failure across women's professional soccer."

Paulson is right; there is systemic failure plaguing women's

professional soccer. Throughout their operations,

the NWSL has touted itself as "the best women's soccer

league in the world," but behind the scenes infractions

rebuff these claims. Abuse did not start or end with the

disgraced Riley; it has been woven into the organization's

fabric and just recently been made public knowledge.

Mana Shim warming up with the Portland Thorns FC. She spoke

on the record with The Athletic and detailed abuse she endured

while Paul Riley coached the club. PHOTO COURTESY OF

WIKIMEDIA COMMONS

In the past, the Washington Post's Molly

Hensley-Clancy reported that former Washington Spirit

coach Richie Burke had verbally abused his players

and made racially insensitive remarks on multiple occasions.

At least four players cited Burke as their reason for

leaving the team. Hensley-Clancy also reported on the

Spirit club as a whole and noted that players and staffers

"had been subjected to a workplace culture that was

toxic for women and, many said, for women of color."

Over the summer, the OL Reign parted ways with

head coach Farid Benstiti after he made an inappropriate

comment toward players in a training session. At

the onset of Benstiti's hiring, the soccer community collectively

scratched their heads as Lindsey Horan spoke

in a series of 2019 interviews, saying that Benstiti had

criticized her weight and was brutal during her time at

Paris Saint-Germain, a French professional football club

that he had previously coached.

After Baird's resignation, the NWSL appointed a

new executive committee to oversee front office operations

until a new commissioner is found. Composed

of the Orlando Pride's executive vice president Amanda

Duffy, Angie Long of KC NWSL, and OL Reign board

member Sophie Sauvage, the trio feels like a massive

oversight on the league's part as all three positions went

to white women who are affiliated with the league's

front offices in some capacity.

Matches resumed Oct. 6 with players taking a

stand against the league's failure to protect them. In the

first match of the night between the Washington Spirit

and Gotham FC, players on the field and on their respective

benches all stopped play and walked to midfield

to link arms in a circle during the sixth minute. The

NWSL Players Association (NWSLPA) announced that

players in the two other games — the North Carolina

Courage-Racing Louisville FC match and the Portland

Thorns FC-Houston Dash match — would follow suit

in a similar fashion.

Amidst all of the chaos, the NWSL's future hangs

in the air with no clear trajectory in sight, but this is

par for the course when it comes to letting issues fester

for so long. I do not believe it is fair to chalk this

scandal up to failure, shutter operations, and move on.

Despite their repeated financial and physical neglect,

NWSL players continued sacrificing better-paying jobs

for a chance at their shot of playing professionally in the

U.S., and their efforts ended up building the league into

what it is today. Would it be fair to wipe the slate clean

for abusers and their enablers while erasing the contributions

of those who worked under adversity?

The NWSL cannot look at this instance, or any

other matter, in the accuser(s) versus accused binary.

Gone are the days of quietly shuffling a coach between

teams until they are no longer considered a threat to a

person's safety and well-being or slapping an offender

on the wrist and claiming that nothing egregious happened.

Many within the NWSL have called this point

in time a "shut up and listen to the players" moment,

and they are right to address it as such, especially when

players have made it known that they will no longer let

the league abuse its power. As we have seen time and

time again, it is up to victims and the community at

large to affect change because those with power are not

keen on changing a system that works to their benefit.

The NWSL must be more transparent with their

hiring practices, give players meaningful and thorough

policies that put their safety before anything else, and

distribute power so that it does not squarely rest in the

hands of abusers and their enablers. True to their fanaticism,

NWSL team supporters have protested before

games, amplified players' voices on social media, and

are calling on the front office to address the NWSLPA's

demands. Ridding the league of sexual abuse is about

so much more than soccer. It is about ensuring that no

woman is forced to accept systemic injustices as they are

instead of questioning why issues got to a certain point.

Unless internal shortsights are explicitly addressed,

the NWSL machine will keep turning with the same

cogs that have churned out negligence and mistreatment

for the league's most vulnerable and poorly protected

members. In the meantime, the soccer world will continue

reminding those in charge that everyone is watching

their next move closely.