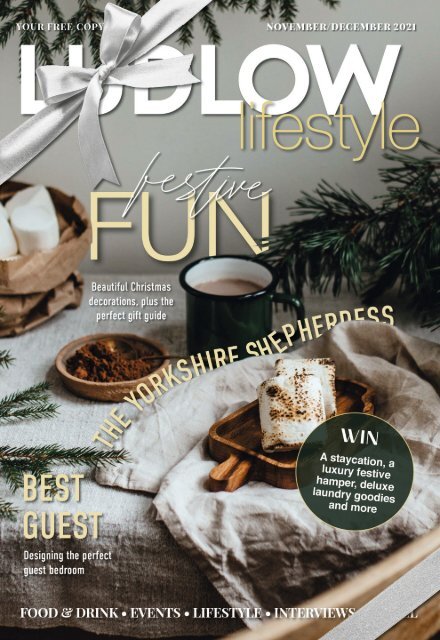 Ludlow Lifestyle Nov - Dec 2021
At last the Christmas editions are here! With festive fun, gifts and interiors, plus inspiration for decorating the guest bedroom and an interview with the Yorkshire Shepherdess Amanda Owen. Plus, our competition pages return, with staycations, laundry upgrades and festive hampers!
At last the Christmas editions are here! With festive fun, gifts and interiors, plus inspiration for decorating the guest bedroom and an interview with the Yorkshire Shepherdess Amanda Owen. Plus, our competition pages return, with staycations, laundry upgrades and festive hampers!
SHOW MORE
SHOW LESS
You also want an ePaper? Increase the reach of your titles
YUMPU automatically turns print PDFs into web optimized ePapers that Google loves.
How you feel tomorrow

starts with choosing

the right hospital

At Nuffield Health Hospitals, we put your

safety first in a COVID-19 secure environment.

We have a dedicated team of experts you

can trust and offer a range of specialties with

flexible ways to pay.

How you feel tomorrow starts today.

Search Nuffield Health Hereford Hospital

or call 0300 131 1429
---
Don't put your

life on hold

Nuffield Health Hereford Hospital

At Nuffield Health Hereford Hospital our experienced general surgeons specialise in

a range of diagnostic and repair procedures. They are experts in their field and can

provide rapid access to treatment.

Some of the general surgery treatments available in Hereford Hospital include:

EUA of rectum

Hernia repair

Haemorrhoid removal

Gall bladder removal

Flexible sigmoidoscopy

Colonoscopy

Gastroscopy.

hereford.enquiries@nuffieldhealth.com

or call our patient services team 0300 123 6200

nuffieldhealth.com/hereford

Follow us at @nuffieldhealthherefordhospital

Nuffield Health Hereford Hospital

Venns Lane, Hereford, HR1 1DF
---
Contents

A Note

from the EDITOR

32

Guest

A Culinary Journey through

Northern Ireland bedroom perfection

It's certainly the challenge of

publishing that you always have your

head in the wrong season - each year,

Christmas begins for us in July, which

is about the same time as I start to

ask my friends and family what they'd

like as a present or if they're free for a

meal in December - each year I'm met

with the same furrowed brows and

a 'my god, I haven't started thinking

about that yet!'

Forward planning aside, it is a rather

lovely, smug feeling to know that I'm

mostly sorted for the festivities - my

only issue being losing said gifts

between July and December 25th. If

your industry doesn't quite prepare

you in the same way though, we've

got a bevy of festive features to help

get you prepped.

Our competition

page returns

06

Alongside Christmas features,

we've got a lovely interview with

The Yorkshire Shepherdess Amanda

Owen, plus some delicious recipes

from her new book.

If you're receiving guests this year,

we've got some inspiration on

creating the perfect guest room

sanctuary. And if festive madness all

gets too much, you can always slip in

there yourself!

Yorkshire Shepherdess

Amanda Owen

26

Key Account Manager Ben Hollis

e ben.hollis@minervapublications.co.uk

d/l 01225 984503

twitter: @LudlowMag

Editor Katie Thomson

e katie.thomson@minervapublications.co.uk

28

Recipes from

Amanda's new book

Publisher Sally Thomson

Pre-Press Manager Kate Norris

Contributors Rebecca Rose, Peter Thomson, Sue Cooke, Matthew Biggs

Angela Cave and Pete Lawrence. Front cover courtesy of Blue Brontide bluebrontide.com

MINERVA PUBLICATIONS HQ

Paxcroft Farm, Hilperton

Trowbridge BA14 6JB

t 01225 984 550

visit our website www.minervamagazines.co.uk

Disclaimer: The publishers shall not be held liable for any loss occasioned by failure of an

advertisement to appear, or any damage or inconvenience caused by errors, omissions and

misprints. No part of this publication may be reproduced without prior permission from the

publishers. The opinions expressed within are not necessarily those of the publishers.

The news has been all doom and

gloom of late, but I think it's important

that, toy shortage/turkey drama/fuel

crisis or not, this year's Christmas is

looking so much brighter than 2020's,

and there's so much to be thankful

for. This quote from the legendary Bob

Hope really captured that for me:

"My idea of Christmas, whether

old-fashioned or modern, is very

simple: loving others. Come to

think of it, why do we have to

wait for Christmas to do that?"

We are looking forward to seeing

you again in January - we are doing

away with the New Year, New You

nonsense and instead focusing

on what 2022 can offer you. Until

then, take care, have a very Merry

Christmas and a peaceful New Year.

Katie

4 | www.minervamagazines.co.uk
---
Recycling and waste

over the festive period

The day of the week your recycling and waste is collected

will change over the Christmas period.

Usual collection day

Monday 20 December 2021

Tuesday 21 December 2021

Wednesday 22 December 2021

Thursday 23 December 2021

Friday 24 December 2021

Monday 27 December 2021

Tuesday 28 December 2021

Wednesday 29 December 2021

Thursday 30 December 2021

Friday 31 December 2021

Monday 3 January 2022

Tuesday 4 January 2022

Wednesday 5 January 2022

Thursday 6 January 2022

Friday 7 January 2022

Revised collection day

Saturday 18 December 2021

Monday 20 December 2021

Tuesday 21 December 2021

Wednesday 22 December 2021

Thursday 23 December 2021

Friday 24 December 2021

Tuesday 28 December 2021

Wednesday 29 December 2021

Thursday 30 December 2021

Friday 31 December 2021

Tuesday 4 January 2022

Wednesday 5 January 2022

Thursday 6 January 2022

Friday 7 January 2022

Saturday 8 January 2022

Red = earlier collection Blue = later collection Black = no change to collections

These changes start Saturday 18 December 2021 and end on Saturday 8 January 2022.

Collections will return to normal from Monday 10 January 2022.

In the event of disruption to waste collections

If we are unable to collect your waste – e.g. due to severe bad weather, please:

Leave your refuse bin out.

If we can't get to you on

your scheduled collection

day, we'll come back and

collect it as soon as we can

when it is safe to do so.

Take your garden

waste bin back in

and put it out on

your next scheduled

garden waste

collection day.

Leave your recycling blue bags

and your recycling boxes out

(as long as they don't present

a trip hazard). We'll collect

them as soon as we can when

it is safe to do so.

Household Recycling Centres are open 9am-5pm every day –

they are only closed on Christmas Day, Boxing Day and New Year's Day.

PROUD TO MAKE

A DIFFERENCE

13216 Ludlow Lifestyle Press Ad - 165x240mm v2.indd 1 06/10/2021 14:55
---
COMPETITION

To enter any (or all!) of our competitions, head to

www.minervamagazines.co.uk/competitions.

Find the competition and enter on that post,

using the appropriate keyword.

T&C's apply and no cash alternatives available. Winners chosen at

random - entries made after closing date will not be accepted.

Looking for the perfect gift this Christmas? Delight your friends

and family with a selection box of delicious treats. One lucky

reader will win a 'Decadent Christmas in a Box' containing the

following:

WIN

A Laundry

Bundle from

Brabantia

worth over

£500

6kg Free Range Whole Turkey | 4.5kg Unsmoked Ham | 1kg

Side of Smoked Salmon | 1kg Organic Cheddar | 1kg Cropwell

Bishop Stilton | Christmas Pudding | Harrow & Hope Brut

Reserve (750ml bottle) | Classic Cranberry Sauce | Granny's

Apple Chutney | Artisan Coronation Sauce | British Goose

Fat | Luxury Bread Sauce | Traditional Roast Gravy | Sage &

Onion Stuffing | Pigs In Blankets | 200g Smoked Chicken 200g

Smoked Duck

WIN

Christmas in

a box! Worth

£375

copasturkeys.co.uk

Closes 10/12/2021

Competition keyword 'TURKEY'

For most of us, laundry is a bit of a chore, so to lighten the load,

we're giving away a luxury laundry bundle from Brabantia worth

over £500.

The prize includes Brabantia's new Bo Laundry Bin Hi, which

will blend effortlessly into your decor with its sleek finish and

has two 45L compartments for easy separating your whites

from your colours. When spring comes around again, you

can then hang your washing out on Brabantia's Rotary Dryer

Lift-o-Matic Advance which can easily be adjusted to your

ideal height. For those grey days, Brabantia's 23m Drying Rack

Tower is the perfect inside solution. Finally, prep your fresh

laundry for the wardrobe with a Brabantia Ironing Board. ThisXL

model is designed for easy ironing of any outfit!

brabantia.com

Closes 15/01/2022 - Competition keyword 'BRABANTIA'

WIN

2 prints

each worth

£250

Eliza Southwood practiced

as an architect for ten years

before deciding to take

up a career as an artist

and illustrator full-time in

2010. Eliza's speciality is

silk screen printing, but she

also works in mixed media,

watercolour and acrylic. As a keen

cycling fan, she is known particularly for her

cycling themed artwork, but she also produces

work on a wide range of subjects such as

cityscapes, dogs, sports and people. We have

two prints worth £250 each to give away.

Adagio, the European leader in aparthotels is giving one lucky

winner a two-night stay for two at one of their amazing UK

properties in London, Birmingham, Edinburgh or Liverpool.

Adagio is the perfect option for that much needed getaway this

year, providing all the services of a hotel with the freedom of an

apartment. The apartments comprise of a kitchen, bedroom and

living area with flat screen smart TV - great for lounging after a

busy day of activities.

WIN

A City

Break with

Aparthotel

Adagio!

adagio-city.com

T&Cs available online. Closes

15/01/2022 - Competition keyword

'ADAGIO'

elizasouthwood.com

Closes 15/01/2022

Competition keyword 'ELIZA'

6 | www.minervamagazines.co.uk
---
Eat, drink and be merry!

Start your festive season in true medieval style

Ludlow Medieval

Christmas Fayre

27th & 28th November

www.ludlowmedievalchristmas.co.uk

Looking for a unique

Christmas gift?

Arya

Sponsor a

rescued donkey

or horse from

Redwings for a

whole year from

just £15!

www.redwings.org.uk/adopt

01508 481000

Upgrade your gift!

We have a

gorgeous selection

of Adoption Star

merchandise

available in our

online gift store

www.redwings.org.uk/shop

Contemporary jewellery, designed and made

on the premises. Commissions undertaken.

Tel: 01584 810085

18 Market Square | Tenbury Wells | Worcs | WR15 8EA

www.georginafranklin.co.uk

8 | www.minervamagazines.co.uk
---
In a wonderful rural setting, the beautiful Jacobean barn at Kyre Park awaits you.

Here, you can explore, buy, collect and treasure a wide range of antiques, enjoy lunch

in our bistro, and take a walk around the stunning grounds of Kyre Park.

Charlie Chaplin's Big Romance

Framed Original Poster

£265 @mancaveantiquesuk

French Rattan Chair

£135 @vintage.belle.living

Ladies Daks Linen Jacket & Fedora

£49 + £49 @livefortweed

Vintage Copper Pan

£36 @labrocante.co.uk

Bronze Military Monkeys On Marble Base

£795 Kyre Park

Ships Decanter

£27 @labrocante.co.uk

18" Benjamin Industrial Enamel Lights

9 available £165 each @mancaveantiquesuk

French Soupiere

£65 @vintage.belle.living

Schevrich West German Fat Lava Pottery

£42 @sixthlink

Iconic 1970 Italians Kartell Bar Cart

£275 @sixthlink

Pair English Homeware Cushions

£125 Kyre Park

19th Century French Candlesticks

£262 @offbeatinterior

WWW.KYREPARKANTIQUES.CO.UK

01885 410 361 | Kyre Park, Tenbury Wells WR15 8RW
---
Shop Gifts And Gift Lifesaving Missions

To Midlands Air Ambulance Charity

It's time to think about your Christmas shopping, and where better to start than Midlands Air

Ambulance Charity's online shop, to make lifesaving missions possible, this Christmas. The

charity expanded its range last year and has now added more items to its Christmas stocklist.

Emma Gray, chief operating officer for Midlands Air Ambulance

Charity, says: "Last year, festive shoppers helped raise in excess of

£55,000 for our pre-hospital emergency service by buying through our

website. From this amount, 46 of our vitally important missions were

funded – 13 air missions and 33 in our two critical care cars.

"We hope that shoppers show their support of our lifesaving charity

this Christmas and help fund future missions across the Midlands and

Gloucestershire."

All products in the Midlands Air Ambulance Charity's extended festive

range for 2021 can be found at midlandsairambulance.com/shop

The new products include:

• Christmas cards

• Virtual Christmas cards

• Mini Medics – mini models in a familiar style based on some of

the charity's real-life critical care crew.

• Bag for A Life – A lifesaving shopper bag to keep all your

purchases in.

• Commemorative Air30 Cufflinks and Lapel pins – Midlands

heritage jewellers, Deakin & Francis, have crafted just 100 of

each, an ideal gift for collectors.

• One Year's Lifesaving Lottery Membership – The opportunity to

win £1,000, every week for a year. (Purchasers and recipients

must both be aged 16 or over.)

• Cross Stitch Pattern of the aircraft and crew members

• Crowd Racing Membership – The opportunity to own shares in

a racehorse for whole year – with a discounted price and £30

ADVERTISING FEATURE

donation direct to the charity.

• Remember Your Star by lighting the

sky, leaving a tribute and making a

donation in memory a loved one.

• Commemorative Air30 30th Anniversary

Poetry anthology – teaming up with The Word Association,

a book of creative writing and poetry has been produced to

provide a reflection of the charity's rich 30-year history. (Funded

via a National Lottery project grant from Arts Council England.)

• Commemorative diary and pen

• Commemorative calendar and pen

• New Christmas star bauble

• New T-shirt design

• Teddy bear with MAAC hoodie

• Kids' Crew Membership – the fun pack includes a welcome

letter, official certificate, invitations to meet the aircrew and to

next year's Young Heroes Christmas Party, plus, a selection of

charity merchandise. (Suitable for ages five to 11).

You can also get involved in aiding the charity's Christmas missions

by texting: 'MISSIONXMAS' as one word, followed by the amount

of your choice to 70085 to donate to the lifesaving service and help

make future missions possible. An example is MISSIONXMAS 5 to

70085 to donate £5.

To browse and shop the range, visit: midlandsairambulance.

com/shop. For updates on other charity activity, follow the

organisation on social media.

Join us on

Nov 27th

Christmas

Fair

Find the perfect gift and start the

festive season at our Christmas Fair.

Mulled wine and food will be available.

Join us on Saturday 27th November, 2-5pm

All welcome

Co-educational boarding and day school age 2-13

www.abberleyhall.co.uk

Part of the Malvern College Family of Schools

10 | www.minervamagazines.co.uk
---
Hieda addresses workplace

healthcare education shortage

The coronavirus pandemic highlighted a shortage of

healthcare education in every workplace and business

sector, prompting the Boarding Schools' Association

to set up a new organisation, the Health in Education

Association (Hieda), to support it.

Jane Graham, Health and Well-being Director for BSA and

Director, Hieda, explains why mental health in particular is going

to be a top priority.

If there was just one piece of learning that we could take from the

ongoing coronavirus pandemic during the past 18 months, it has

taught us the importance of good mental health and well-being

support.

At BSA, there was one piece of recurring feedback we continued

to hear. It was the same message we were getting from our

boarding members, and from non-boarding health and well-being

professionals: there simply wasn't enough support and guidance

available on healthcare education across all different workplaces

and settings.

In response, we decided to launch Hieda. Hieda has been

established to provide training and support to members on

all health and well-being matters and we are dedicated to the

health promotion of all age groups. We aim to work with and

for members, sharing knowledge and best practice, and also

championing excellence in health and well-being provision in the

workplace.

was estimated one in nine may have a

mental health problem - worryingly, it's

now thought to be one in six. Figures

also show the number of mental

health support teams in schools and

colleges is expected to grow from 59

to 400 by April 2023.

Mental health and well-being support

can be more difficult to provide

than supporting a physical illness

or injury, because the focus is on individuals' needs.

Reactions will vary from person to person. The best practice

we refer to in our training focuses on the importance of having

information written down that's easily understandable, and it's

vital we can help individuals and organisations to understand

this.

One of the key things to remember with Hieda is that we're

focusing on health and well-being in all workplaces, not just

boarding schools. No matter what your job is, or what business

area you work, every single one has its needs. And the focus

isn't solely on the UK either. BSA Group already operates

internationally, supporting more than 1,000 organisations in 39

counties worldwide. We expect Hieda members will come from

across the globe, and we will have the necessary skills and

expertise needed to support them.

For more information about Hieda, please visit the website: www.

hieda.org.uk.

And mental health will certainly be one of our key areas of focus.

Recent research from the NHS indicates young people especially

have been uniquely impacted by the pandemic. Four years ago, it

Photo: Jane Graham, Director, Hieda, and Health and

Wellbeing Director, BSA Group

Saturday Smash

Activity

Programme

Creative and Active Sessions

for year

3, 4 & 5 pupils

Singing, Kayaking, CCF,

Bushcraft, Orienteering, Craft,

Cycling, Swimming, Lacrosse,

Fencing, Classics, Story

writing etc etc.

Full details, programme and booking

form at:

www.moorpark.org.uk/saturdaysmash/

12 | www.minervamagazines.co.uk
---
ADVERTISING FEATURE

enjoy the bedstone

experience

By Mr Toby Mullins,

Headmaster of Bedstone College

Without doubt, the past 18 months have

cast some kind of shadow over all of us.

Many of us lost family, friends and loved

ones during the Covid pandemic; but

the repercussions on young people – not

always recognised by the media - have

been immense.

School life is not just about academic

education. It's how the adults of

tomorrow learn social skills, empathy,

care and consideration for others – and

a healthy streak of competitiveness,

ambition and determination to succeed.

Our teenagers form lifelong friendships

during senior school and sixth form.

They also learn the importance of being

punctual, polite and patient. We hope

they learn respect – for their peers and

for their elders.

The isolation brought about by the

various lockdowns robbed our young

people of a whole year's school life. Most

parents, even those with the best will

in the world, admit they struggled with

home schooling – particularly when trying

to carry on with their own careers, mostly

'working from home.'

The lines between home and the

workplace became blurred as did the

delineation between school and home

life – and that can't be a good thing. For

anyone.

Now that life is slowly beginning to return

to some semblance of normality, we at

Bedstone are determined to strive above

and beyond our regular 'call of duty' to

give our students back their true 'school

life.' We can't wave a magic wand, nor

can we bring back those many lost

months. What we can do is pull out all

the stops to give our students the best

school experience we can provide, both

academically and socially.

We have made several important changes

to our curriculum – and this is just the

start. We want to ensure all our students

can access the best route to achieve their

personal ambitions and goals. For some,

that will mean fast-track tuition, which will

require personal dedication. But that's not

for everyone.

We have repositioned our 6th Form

to reflect the current trend towards

apprenticeships, and training preparation

for the world of work, as well as a

stronger focus on students gaining

places at the very best Universities both

in the UK and abroad. Bedstone is now

in a position to take advantage of fastemerging

opportunities, whilst retaining

the caring ethos and focus on pastoral

care for which it is well known.

Our multi-cultural 6th Form accepts

exceptional students from all over the

world. Members of our teaching staff

speak a large number of languages which

enable students to settle in more quickly.

We demonstrate tolerance towards each

other; being confident enough to respect

each other's opinions and views – putting

others before ourselves.

Unique Features of the Court 6th Form

• The University Guarantee Scheme

shows the confidence that we

have in our product. Having agreed

the University destination for the

student early in the Lower Sixth, the

school offers a £5000 cash back

guarantee if the student does not

achieve that place.

• A bespoke one-to-one tutoring

system that will ensure that

students are on track throughout

their time in the 6th form. It will also

give parents the opportunity to view

their progress, both in academic

and personal development terms,

as they move through their courses.

• Industrial Mentors will be allocated

to each 6th form student. They will

be encouraged to think about their

possible future careers and will then

be allocated an external mentor.

This 'guide' will help them towards

their goal whether that is a place at

University, an apprenticeship or a

job opportunity.

• The introduction of an International

Baccalaureate programme for

September 2022, offers an

opportunity for talented students

with an all-consuming passion to

pursue their ambition of a career in

their chosen area.

So, it may have been a year of sadness

and uncertainty. Moving forward, we

anticipate the next 12 months will bring

excitement, opportunity and a new

sense of dynamism to the classrooms

at Bedstone. Buckle your seatbelts – it's

going to be a terrific ride!

Bedstone College

Bucknell, Shropshire SY7 0BG

admissions@bedstone.org

01547 530961

www.bedstone.org

www.minervamagazines.co.uk | 13
---
CHOOSING A NEW SIXTH FORM

The Good Schools Guide offers some suggestions to take into consideration when making the change

Whether you want to change from a

single sex school to co-ed or from day to

boarding, private to state, A levels to IB -

or vice versa there are plenty of reasons to

move schools post - GCSEs.

When to start looking

We'd advise getting the ball rolling

towards the end of their year 10 in time

for sixth form open days and applications

which generally take place the following

autumn.

Discussions about post-GCSE options

will already be taking place at your child's

current school by then and looking at

other sixth forms will widen your options.

Maybe the broader based curriculum

of the IB would suit them better than

specialising at A level? Maybe they want

to pursue a more practical, less exam

based, route? Or perhaps your child

simply feels ready for a fresh start and

new faces.

Choosing a new sixth form

The decision needs to be a joint effort

between parents and children, based as

much on personal preference as objective

research. Your child may have formed

opinions about other schools via friends

and social media but however popular a

particular sixth form may be, it's no good

if it doesn't offer the subjects they want

to study.

Guide your child to consider the areas

of study they genuinely enjoy or find

interesting. Also bear in mind that the

demands of some A levels, such as

maths, are a big jump from GCSE and

most schools will set higher GCSE grade

requirements for these.

It may seem too early when your child

hasn't even finished their GCSE courses

to start talking about university subjects

and destinations, but if they are going to

change school for sixth form it's important

to at least start thinking about the ultimate

goal. For instance, if Oxbridge or medical

school is the aim then A level choices

need to be made accordingly and a

potential school's record of Oxbridge and

medical school places taken into account.

If university isn't part of the plan then you'll

need to ask the school or college about

provision for pupils who are interested in

alternative post-18 options such as degree

apprenticeships.

You can find latest information on a

school's Oxbridge, medical school and

non-university destinations in the 'Exit'

section of The Good Schools Guide

reviews.

Day to boarding

A move to boarding school for sixth form

- see this article for more - is often said

to be a good preparation for university.

But manage your expectations – in our

experience most sixth form boarding

accommodation is more luxurious than the

average university hall of residence!

Most boarding schools have separate

provision for sixth formers where they can

live more independently and with fewer

restrictions than younger pupils. If you

are looking at full, as opposed to weekly,

boarding then find out how many sixth

formers are in school at weekends and

what activities are on offer (our writers

suggest looking at boarding house

noticeboards to see sign-up sheets for

weekend activities).

While it's usually possible, with

permission, for boarding sixth formers to

attend day pupils' parties for instance,

it's unlikely that any school will allow the

same freedom to socialise (particularly

with regard to sexual relationships) as day

school pupils. Discuss school rules and

regulations frankly with your child - if they

(or you) are horrified then maybe boarding

isn't the right choice.

Independent to state

A move from independent to state school

is often determined by family finances, but

we wonder whether it could also now be a

strategic decision.

State school sixth forms or sixth form

colleges often have exam results that are

comparable to independent schools and

they may also offer a wider range of post-

GCSE choices.

And as the UK's top universities strive to

rebalance their admissions procedures to

correct what was (rightly) criticised as an

independent school bias, will this prompt

more independent school parents to send

their children to take A levels at state sixth

forms? Time will tell.

State to independent

If you think your child would benefit from

taking A levels at an independent school

but are worried about affording the fees, it

could be worth checking whether you can

apply for a bursary. Some schools offer

bursaries specifically for pupils joining the

sixth form from the local state sector.

Entry requirements

These differ considerably but five or six

GCSEs including English and maths at

grade 6 or above, with grade 7 or higher

in subjects to be studied at A level (can

be 8 or 9 for maths/further maths), is the

minimum for most selective schools.

Many schools set the sixth form entry

bar much higher and in addition to a

full set of GCSEs at grades 9-7, also

expect candidates to sit papers in their

prospective A level subjects. Schools will

usually interview prospective sixth formers

too.

The Good Schools Guide is the UK's

number one school guide, helping

parents in every aspect of choosing

the best education for their children

using their unbiased and impartial

school reviews, alongside a host of

articles advising on all aspects of

school life. Find out more at www.

goodschoolsguide.co.uk

14 | www.minervamagazines.co.uk
---
TRANSFORMING EDUCATION

Come and join us.

TRANSFORMING EDUCATION

Please contact us to make your appointment

Come and join us.

for a one-to-one tour

Please contact us to make your appointment

for a one-to-one tour

BEDSTONE

Flexi-boarding - Extended Days

Flexi-boarding - Extended Days

An independent school for boys and girls aged 4-18

An independent school for boys and girls aged 4-18

Bedstone College | Bucknell | Shropshire | SY7 0BG

Bedstone admissions@bedstone.org College | Bucknell | 01547 | Shropshire 530961 | www.bedstone.org

| SY7 0BG

admissions@bedstone.org | 01547 530961 | www.bedstone.org
---
ADVERTISING FEATURE

Christ College restructures timetable

to focus on outdoor education and

character-building post-pandemic

Situated within the Brecon Beacons National Park, Christ College

Brecon is an independent co-educational boarding and day school.

Founded by Henry VIII in 1541, the college is one of the oldest

schools in Wales and educates and nurtures around 370 pupils

annually between the ages of 7 and 18...

The institution consistently achieves

excellent results at A level and GCSE.

Over the past three years, 47% of A level

grades were A* or A and 91% grade

A to C. Over the same period, 46% of

GCSE results were grades 9 to 7. This

strong track record, which is testament

to the quality of the teaching and learning

experiences the school offers, has

enabled the majority of Christ College

pupils to progress on to their first choice

of course and university.

Following 18 months of upheaval for

the education sector, the school has

reshuffled its weekly timetable to include

more extra-curricular activity to help

with pupils' physical, spiritual, social and

moral development.

Christ College Brecon already ensures

each year group experiences 'Adventure

Days' in the nearby Brecon Beacons

National Park during the year, but as

of the new academic year, the school

has been offering its 370 pupils a mix

of outdoor adrenaline activities such as

mountaineering, climbing, paddle sports

and trail running, as well as creative arts

including our senior musical production,

masterchef, action photography, robotics

and video game development. The

additional options have created a 'second

curriculum Saturday' leaving weekdays

with the positive blend of academic

lessons, music, including ensembles, the

orchestra and individual tuition, academic

clubs, academic support groups, hockey,

rugby, netball and badminton fixtures and

adventures in our Cadet Force.

During the pandemic, Ofsted found that

some children have regressed in their

reading and writing and many have lost

physical fitness. A recent Active Lives

Children and Young People Survey

found the number of children meeting

the government's guidance of an hour

of activity a day dropped by more

than 100,000 in the summer of 2020,

compared to the same period in 2019

and nearly a third of young people do

less than 30 minutes of exercise each

day.

Christ College Brecon Deputy Head

(Pastoral), Simon Hill, said: "The past

year has not been easy for many

school-aged children, but we believe that

combining academic lessons and a rich

extra-curricular programme with plenty of

opportunities to experience the outdoors

or try a new hobby or skill is a great way

to help develop a young person and give

them the best start in life.

"The new Saturday programme has

started really well. We have received

really positive feedback from pupils

about how much they are enjoying

participating in adventurous activities in

the Brecon Beacons, playing sport, trying

new hobbies and clubs, playing musical

instruments and rehearsing for the Senior

Musical Production. Parents have also

praised the timetable change and the

freedom it gives children to try wonderful

activities on the weekends and focus on

their schoolwork during the week."

The Saturday programme, which has

already been introduced to sixth form

pupils as part of the school's Curriculum

for Life programme joins the college's

Spirit Days which invites the whole

community, including parents, to watch

and enjoy the school teams, matches

and performances on selected Saturdays

during the year.

For more information about Christ

College Brecon visit

www.christcollegebrecon.com

18 | www.minervamagazines.co.uk
---
de2 210 x 265mm 05.21.qxp_Layout 1 20/05/2021 11:15 Page 1

" Like a jigsaw, everyone

seems to fit in

SIXTH FORM PUPIL

"

INDEPENDENT DAY & BOARDING EDUCATION

FOR BOYS & GIRLS AGED 7-18 YEARS

www.christcollegebrecon.com

01874 615440 | admissions@christcollegebrecon.com
---
Kaloo Lapinoo Rabbit,

£17.99, jojomamanbebe.co.uk

Guide

The gift

Unisex Mouse

Babygrow Set, £45,

magnetmouse.co.uk

Woodland Nesting

Creatures, £22,

rosaandbo.com

Help children

learn to

code with

Blockly, Snap!,

JavaScript,

Python and

C++

Exploding

Kittens, £15.99,

amazon.co.uk

Artie Max, £110,

amazon.co.uk

Pokemon Brilliant Diamond +

Shining Pearl (Nintendo Switch),

£89.99, amazon.co.uk

Nila Nepp Top,

£22 and Kieran

Kneepatch

Joggers, £28, both

welovefrugi.com

Organic

cotton and

amazing

colours and

prints

FOR KIDS

GOTS Organic

Cotton

Pyjamas, £26,

polarnopyret.

co.uk

Everhot

Electric Stove

£1,295,

everhot.co.uk

Luigi Starter Course

Currently priced at

£46.98,

amazon.co.uk

Available

in a host

of fab

colours

WHEN THEY HAVE EVERYTHING

Le Creuset Evolution

Oval Deep Teal Casserole

Currently priced at £241,

amazon.co.uk

Aranya Hmong

Cushion, £32,

hauslife.co.uk

Cuisinart Precision Stand Mixer,

£275, cuisinart.co.uk

Hand-Sliced Side of

Smoked Salmon, £54.95,

formanandfield.com

Truffle Guys

Experience Box,

£119.95,

truffleguysuk.com

Gusbourne Brut

Reserve 2017, £39,

gusbourne.com

20 | www.minervamagazines.co.uk
---
Tabitha Ribbed

Cashmere Socks, £32,

pantherella.com

Candle Discovery Set,

£18, floralstreet.com

ESPA Jewels of Nature Collection, £195

(Worth £365), espaskincare.com

Perfect

Christmas

party

make up

Star Sheepskin

Slippers, £39,

onaie.com

ILLAMASQUA

Skyrocket Artistry

Eyeshadow Palette,

£39, lookfantastic.co.uk

Alpaca Super

Soft Hot Water

Bottles, £45,

chilcottuk.com

FOR HER

Great for

deeply cleansing

the skin and

soothing

stressed eyes

Cashmere Sweatshirt

in Emerald, £179,

loopcashmere.co.uk

Luxury Heavyweight

Merino Scarf, £90,

pantherella.com

Mulo Slippers in Blue Corduroy,

£124, muloshoes.com

UBUNA Refresh

Water Hydration

Cream, £160,

net-a-porter.com

BeGlow Tia All-In-One

Sonic Skincare System,

£199, johnlewis.com

Micro Merlin

Japanese Knife

Trio, £99,

souschef.co.uk

Eco Sports Cloak

Long Sleeve, £119.95,

charliemcleod.co.uk

The Micro Explorer

Electric Scooter,

£349.95, reduced

from £449.95

micro-scooters.

co.uk

Amazing

for the

chef in

your life

FOR HIM

18 mile range,

foldable and

ultra light

weight with

15mph top

speed

Scrivner For

Men 5 Step

Skin Strategy

- £127,

janescrivner.

com

Perfect if

they love

outdoor

pursuits or

sports

Andrée Jardin Sneaker Care Kit,

£33.50, souschef.co.uk

Off White Sneakers,

£175, muloshoes.com

www.minervamagazines.co.uk | 21
---
TEA ADVENT CALENDAR,

£39, BIRDANDBLENDTEA.COM

Spread kindness and happiness this

year - there is not one but two tea

bags in each box. You can share

your advent experience with

a special someone, gift it or

experiment with it.

THE AMAZON

BEAUTY ADVENT

CALENDAR 2021,

£70, AMAZON.CO.UK

A superb beauty advent calendar

featuring 24 full or deluxe-size

products from beauty brands

such as Foreo, Max Factor,

John Frieda, Elemis,

Neal's Yard and L'Occitane

worth nearly £260.

Alternative

ADVENT

CALENDARS

PORK CRACKLING& BEER

ADVENT CALENDAR,

£65, SNAFFLINGPIG.CO.UK

Three delicious flavours of pork

scratching, paired with three

specially brewed beers - perfect

if you're more on the

savoury side.

MIXED WINE

ADVENT CALENDAR

£89.99,

VIRGINWINES.CO.UK

It's back! The ultimate alcohol filled

calendar boasting 25 reds, whites,

rosé and bubbly...with a full-size

bottle for you to enjoy on Christmas

Day. Expect customer favourites

and best-selling wines from around

the world including exclusive and

limited-edition bottles.

ORGANIC DARK CHOCOLATE

CALENDAR,£9.99

MONTEZUMAS.CO.UK

TERRE EXOTIQUE

SPICE DISCOVERY

CALENDAR, £25,

SOUSCHEF.CO.UK

Up your cooking game with a fabulous

new spice to try each day - spices,

herbs, salts and peppers in a mix of

sweet and savoury finishes.

Also available in milk, white and absolute black

100% dark chocolate

VERY MERRY CALENDAR, £45,

SHOP.TOUCANBOX.COM

7 Christmas Crafts (including a juggling bear

bauble and snowman puppets), 4 Festive

Recipes, 5 STEAM Team Story Books, 8 Elf

Challenges and 1 adorable Merry Mischief

Elf plushie

22 | www.minervamagazines.co.uk
---
Christmas

at Ludlow Farmshop

Christmas

Orders

Hampers

& Gifts

Time to order that turkey ready

for a fabulous Christmas?

You can browse our Christmas

Food brochure and submit your

order in store or online.

We have a gorgeous range of

gifts, perfect for the foodie

in your life - our 2021 range has

many old favourites, as well as

some new ones we are sure you

will love.

Visit www.ludlowfarmshop.co.uk/christmas to find out more...

Christmas at

The Clive

Events &

Vouchers

The Clive has so much going on

this Christmas - Festive menus &

Afternoon Tea, a glorious NYE

tasting menu and hangover

busting brunches.

Visit

www.theclive.co.uk/christmas

to find out more

Looking for an experience gift?

Look no further, we have event

tickets and vouchers galore for

Ludlow Farmshop & The Clive

Arms.

Visit

theclivecollection.wearegifted.co.uk to

find out more

Ludlow Farmshop

Bromfield, SY8 2JR

www.ludlowfarmshop.co.uk

01584 856000
---
putting our pets first

We may feel as if we have had 'information

overload' when it comes to germ

prevention and protection, but sometimes

a product comes along that demands our

attention - enter Leucillin. This is a skin

health product for pets that is proving to

be a product which all of us may well be

putting in our first aid chests very soon.

We spoke to Georgina Bashforth (pictured

right) about the product and its exciting

potential…….

First of all, in layman's terms – what is

Leucillin?

Leucillin is a clever antiseptic applied to

the skin topically to protect against harmful

germs. Leucillin is a revolutionary fresh new

take on what an antiseptic is and can be

capable of.

Leucillin mimics the body's own immune

system, providing you a powerful solution

which delivers the ultimate shield in

topical skin protection against harmful

pathogens. Leucillin's unique formulation

does not contain any alcohol, steroids or

antibiotics, it is the natural choice for safe

skin sanitising.

Our pets our so important to us, how

is Leucillin used and what specific

applications is it effective for?

Leucillin has a great reputation for safety

and efficacy, supported by pet healthcare,

veterinary and grooming industries,

this year. It has been awarded human

approvals and begun an exciting new

chapter in healthcare.

Furthermore it can be safely applied in

any topical application where the skin,

ears and eyes need care, whether broken,

red, sore, inflamed, cuts, stings, bites

or grazes, Leucillin's powerful antiseptic

properties eradicate germs on contact

creating the perfect environment for rapid

recovery.

For children, as well as our pets, it's

"Ouch Free" formula is kind, it has been

developed to match the natural pH of skin

so no more wincing on that grazed knee.

It seems to be a very gentle solution

to a number of particularly stubborn

problems - can it be used long-term?

Leucillin achieves an unbeatable

99.99999% reduction in bacteria on

contact, but how does that compare with

the 99.99% which we think is good? Well;

it's a massive 10'000 times better!

Fast effective pathogen reduction means

no resistance therefore long-term usage is

always effective and no harmful ingredients

means Leucillin is always safe!

And finally, how else can it be used and

what are your hopes for the product

going forward?

Our goal is to help alleviate the dependence

on antibiotics and pharmaceutical

intervention in the area of germ protection,

for a more natural, safe, non-invasive and

most importantly effective alternative.

During the pandemic Leucillin has been

proven effective against all coronaviruses

including SARS-CoV-2 topically and

has been used by animal care industries

including Police Dog Handler units for

reducing risk.

We have also recently teamed up with The

Humanimal Trust founded by Professor

Noel Fitzpatrick - aka The Supervet, we're

excited to be supporting mental health and

raising money for ONE Medicine, so that

humans and animals can benefit equally

from all medical progress.

This is Living.

Create magical evenings around

a warm and glowing firepit...

Ideal for creating tasty comfort

dishes, toasting fireside nibbles,

or even enjoying the perfect

mulled treat.

Available online or in store.

kadai.com 01694 751747

HEATHER BRAE, CHURCH STRETTON, SY6 6LU

24 | www.minervamagazines.co.uk
---
Tough on all Pathogens

BACTERIAL, VIRAL & FUNGAL

Yet skin pH Neutral, Gentle to Skin

Reasons to

5LOVE LEUCILLIN

33%

OFF

for all

Readers

Proudly Supporting

because Leucillin is alcohol free! It's

gentle HSE approved formula

matches our natural pH meaning kind

to skin and safe for all.

At home or away, Leucillin is a

effective essential for all skin

concerns, it is soothing and calming

to; Red, Sore, Itchy skin, Minor Cuts

and Grazes, Bites, Stings and Burns.

suitable for all ages and skin types including

highly sensitive, ears and eyes. Leucillin is

your germ protection, antiseptic care and

daily cleanser.

300x more effective than most sanitisers YET Leucillin

is passed by the Organic Soil Association, has recyclable packaging, is cruelty free and vegan

friendly.

Available in stores and online

For promotional 500ml product offer please visit: www.leucillin.co.uk/promotions

PROMO CODE: LEUCILLINTOTHERESCUE

www.leucillin.co.uk

For People AND our Pets, Leucillin is a

clever, reliable and affordable solution for

cleansing and sanitising skin safely including

your face! Leucillin removes germs without

drying skin, so however species diverse your

family unit is, Leucillin has you covered.
---
Amanda Owen

The yorkshire Shepherdess

Tells us about her life in the Dales

Known to millions as The Yorkshire

Shepherdess, Amanda Owen is the author

of five best-selling books about her life

on Ravenseat ,one of the most remote

farms in the country, where she lives with

her husband Clive and nine children. She

currently stars in Channel 5's popular TV

show Our Yorkshire Farm and her latest

book is Celebrating the Seasons includes

stories, recipes and photos from the farm

and is out now.

I understand that you had had no

previous links to farming, may I ask

how you became so involved in this line

of work?

I grew up in Huddersfield and no one in

my family is from a farming background.

I loved the James Herriot books when I

was a child, and watched the TV series.

Because of James Herriot I loved the idea

of being a vet, probably like most other

children of that era, but was told at school

that I was not academic enough to make

the grades. One day in the school library

I picked up a book called Hill Shepherd.

It was a photographic documentary of

hill farming in Yorkshire and Cumbria.

Reading that book was an epiphany for

me, the pictures of the hill shepherds on

the moors with the sheep made me realise

it was where I wanted to be. It ticked the

box of wanting to work with animals in

the countryside and importantly it also

ticked the rebellion box as it was so the

opposite of my townie life up until then.

Years later after I had married my husband

Clive, we realised that there was actually a

photograph of him in Hill Shepherd! So it's

a very important book to me.

How did you learn your crafts? One of

the many things I learnt from your book

was how important it is to get the grass

in - in good time.

I started out as a farm hand, and then

moved on to being a contract shepherd,

working on different farms all over the

country. But really, I learnt everything as I

went along.

Most of my crafts came through natural

progression, learning to ride a horse

by riding it, learning to clip a sheep by

clipping my first one, learning to work a

dog, by taking the dog out with me for the

first time.

You can only learn what to do by doing it,

you have to get practical on the ground

experience. Nothing comes close to

learning how to be a shepherd, other than

actually doing the work of a shepherd and

it's not just about learning about sheep,

it's about learning about the land.

With the grass it starts with the sheep.

You've got to have your sheep in good

order - we grow hardy stock through the

winter, so it's absolutely vital that you grow

your crop well, so they have food to eat

throughout the winter.

You enjoy sheep shearing - were you

nervous when you cut your first fleece?

Of course, but you know, you have to be

nervous in order to be any good at what

you're doing. If you're lambing sheep you

are dealing with nature first hand, but

there is no room for you to have time to

be nervous as you have to get on with the

job. It's you alone in that moment and it's

not optional to be nervous. That pressure

makes you work fast.

The first time I clipped, I would clip the

sheep while the professional shearers

were having their dinner, and they

would encourage me or discourage me

depending on what I was doing, and then

the more you do it you get faster. You

keep practicing and eventually you will

get there.

How do you spread yourself between

9 children - it must quite a noisy

household at times?

It is a noisy household. But we're very

privileged to live where we do which

26 | www.minervamagazines.co.uk
---
means that there's plenty of room for

everybody to get some space outside. I

enjoy the busyness and noise of family

life in the house. But I can get away from

it by walking out my front door. Plenty

of people can't as they leave their front

door and if they live in a city, it's still loud

and busy when they get out. We're lucky

here to have the wide open spaces and

the kids spend a lot of time outdoors.

We're working farm and that means that

everyone mucks in - no matter what

the age, it could be collecting hen's

eggs, feeding the horses, or helping find

uniforms for everyone, also cooking. Real

dough is just as good as playdough and

the kids love learning to cook. The only

time when we all come together is tea time

at the farm, when we all come together to

eat, it's my favourite time of day, when I

get to hear what everyone's been up to on

the farm and school.

Your children must have a wonderful

time and appear to have no fears with

any of the animals. Do they each have a

special one?

I suppose they do. Quite a lot of the girls

loves the horses. Violet loves the cows,

she was excited recently that our pet cow,

Ciara has now come in from the fields.

Violet hand reared Ciara from a calf, so

she thinks she belongs inside the house

and doesn't like the other cows. Miles is

very taken with the hens and his flock of

30 sheep. Through the winter and up to

lambing time Miles looks after his flock of

sheep after school. Sidney has his own

dog, Nell a sheep dog and she runs for

him, so that's quite a big thing for a young

lad to be able to work his own sheep dog.

It's a level up from being a pet. The terriers

are wonderful they are real characters,

they are source of frustration as they

will have fights with each other, or they

wander off from the farm to the local pub

quite a few miles away! The terriers, are

Chalky and Sprout, sadly we lost Pippin at

the beginning of lock down. Tony the pony

(pictured above right) is loved by Annas,

Clemmie and Nancy, they look after him,

feed him, brush him and ride him. They

also love the bigger horses Josie and

Princess. Princess is very good with the

kids and often two of them ride her around

the fields. They also like to take the horses

down to the river and give them a bath

and wash and comb their tails.

Will any of them follow in your

footsteps?

Yeah, I think so, at the moment Miles and

Sidney are very keen on farming and Edith

is a good shepherdess. That said I never

place any expectation on any of them

to follow me into being a farmer and a

shepherd. You don't know where life will

take you. I'm not sitting here going: "I want

you to be a shepherd", because life goes

through stages, and what you want to do

changes, so I'd rather they make their own

choices, they can do whatever they want

to do. It's a difficult thing to ask a child

what they want to do with the rest of their

life. They'll figure it out as they go along.

What is your favourite season and why?

Summer. But really I mean June. June is

my favourite month, because all the sheep

have had lambs and been turned back

out onto the moor and it's before hay time

and clipping, so there's a lull and a pause

in the farm work, and at the same time

everything comes to life - the flowers, the

birds on the moor. In June, the Curlews

are back, as are the Lapwings, Golden

Plover, Black Grouse. All you can hear

is birds, wherever you're walking. There

are woodcock and snipe too - they are

all ground nesting birds up here on the

moor, so you get to see their nests as

well - and it's just beautiful. The flowers

you see in June are marsh marigolds,

globe flowers, all the hay meadow

flowers, rare orchids - it's really pretty.

What made you decide to write this

book? It is a delightful read and the

recipes are a treat….

Celebrating the Seasons, came about

because I wanted to answer some of the

most frequently ask questions, how do

you cater for such a big family? Tell us

about the practicalities? What do you

cook? It was really difficult selecting

recipes for the book. I wanted to include

forgiving recipes. Recipes that it was

totally fine to get distracted in the middle

of and would still turn out good. Recipes

that were achievable with the most

basic of ingredients, simple feel good

food, that was nutritionally good too. My

absolute favourite is the Tagine recipe,

it's a people pleaser, for me its so easy

and the smell always brings everyone

to the kitchen - which is helpful! Every

time I cook it it's different, sometimes

chick peas, sometimes wild rice, some

times couscous - it always comes out

slightly different each time. In addition

to the recipes, people have told me they

loved my photos and images of the farm

that I post on twitter and would always

suggest I do a photograph book. If you

go back to basics it was a photography

book - Hill Shepherd - that inspired me

to become a shepherd. So it's nice to

go full circle. I know how inspiring a

photography book can be - how it can

really steer you and how a picture can

tell a thousand words. I really hope that

when people buy the book, that they

look at the pictures over and over again

and still find something new in them, as I

have with Hill Shepherd.

What would you like to tell our readers

about your life?

I want people to know that Celebrating

the Seasons is a book about going your

own way. It's not a blueprint for how you

should live your life, it simply says this

is what we do as a family this is how we

do it, feel free to follow the recipes, or

do them your own way. I want people

to not let themselves to be stereotyped,

to know that all things are achievable if

you really want to do it. So many people

said you won't have time to write a book,

you won't achieve that. But I believe you

can do anything you just have to start

doing it. If you want to write a book,

start writing. I got an E in GCSE English,

and this is my fifth book. Anything is

possible.

Celebrating

the Seasons with The Yorkshire

Shepherdess by Amanda Owen by Pan

Macmillan, £20.

www.minervamagazines.co.uk | 27
---
Dinner is served

Tasty recipes from Amanda Owen

Wild Mushroom Soup with

Wood Sorrel & Hazelnut Pesto

Prep time 10 minutes

Cooking time 35 minutes

Serves 4

2 tbsp Yorkshire rapeseed oil, plus extra for

garnish

1 medium onion, finely chopped

1 large clove garlic, crushed or grated

450g wild mushrooms, such as yellow

chanterelle, roughly chopped

50ml Madeira or sweet sherry

850ml hot vegetable stock

3 sprigs fresh thyme

200ml double cream

1 tsp mushroom powder

Salt and black pepper

Pesto

25g chopped toasted hazelnuts

1 small bunch wood sorrel

2 tbsp olive oil

10g Parmesan

Garnish

Handful of wild mushrooms

Heat the oil in a large saucepan, add

the onion and garlic and fry gently for 5

minutes, until softened but not coloured.

Next, add the mushrooms and fry on a

28 | www.minervamagazines.co.uk

medium heat for 8 minutes, until they are

golden.

Pour the Madeira over the mushrooms and

cook on a high heat for about a minute until

the alcohol evaporates.

Lower the heat and pour in the hot stock,

then add the sprigs of thyme. Bring to the

boil then cover and simmer gently for 20

minutes.

Remove the pan from the heat, blitz with

a hand blender or in a liquidizer until the

soup is smooth. Return the soup to a clean

pan, stir in the cream and sprinkle over the

mushroom powder, then season the soup

and gently reheat over a low heat.

Meanwhile, place the pesto ingredients into

a small food processor and blitz for a few

seconds until combined. Add extra oil if the

pesto is a little thick and season to taste.

For the mushroom garnish, drizzle some

oil in a small frying pan and gently fry the

remaining mushrooms for a couple of

minutes until golden.

To serve, ladle the soup into warm bowls,

scatter over the whole fried mushrooms,

and top with a spoonful of pesto.

Tip

Try serving with homemade spelt bread.

Moroccan Lamb Tagine with

Jewelled Couscous

Prep time 15 minutes

Cooking time 1 hour 15 minutes

Serves 4

Tagine

2 tbsp olive oil

600g lamb shoulder, diced

1 large onion, sliced

2 cloves garlic, crushed

1 tbsp ground cumin

2 tsp ground coriander

1 tbsp hot smoked paprika

40g tomato purée

400g can cherry tomatoes

1 cinnamon stick

50g dried apricots, chopped

2 large pieces orange peel

285ml lamb stock

1 small bunch coriander, chopped

Jewelled couscous

200g couscous

200ml hot vegetable stock

1 red onion, chopped

100g pomegranate seeds

1 small bunch mint, leaves roughly chopped

1 small bunch coriander, chopped

3 spring onions

20g almonds, toasted

Salt and black pepper

Preheat the oven to 180°C/160°C fan/ gas 4.

Heat 1 tablespoon of the oil in a large

heatproof casserole dish, then add the

lamb and sear and brown on all sides for

about 5 minutes. Remove the lamb from

the casserole dish with a slotted spoon and

set aside.

Return the casserole dish to the heat and

add the remaining oil. When hot, add the

onion and fry gently for approximately 8

minutes until golden. Add the garlic and fry

for a further minute.

Sprinkle over the ground spices and stir

in the tomato purée then fry for a further

minute. Return the meat and any juices

to the pan with the remaining Tagine

ingredients (except the fresh coriander),

bring to the boil then cover with a lid and

transfer to the middle shelf of the oven.

Cook for 1 hour, or until the meat is tender.

Meanwhile, while the Tagine cooks, put the

couscous into a bowl and pour over the

hot vegetable stock. Cover the bowl tightly

with cling film and set aside for 10 minutes

until the couscous has absorbed the liquid.

Season the couscous, then stir through

the remaining ingredients, saving a few

almonds and herbs to garnish.

To serve the Tagine, remove the cinnamon

stick and check seasoning, then sprinkle

over the chopped coriander. Serve in warm

bowls with the jewelled couscous.

Tip

This recipe can also be cooked slowly in a

Tagine over a barbecue.
---
PRODUCERS OF AWARD

WINNING SMOKED MEAT,

POULTRY, GAME

FOR WEDDINGS & EVENTS TRY OUR

BUFFET STYLE PORK/BEEF ROASTS AND BBQ

ENTERTAINING

ELEPHANTS

• HOMEMADE PRESERVES, FREE RANGE EGGS

• SPECIALITY MEATS R)R DINNER PARTIES

& SPECIAL OCCASIONS

• OWN PRODUCED MEATS

• GAME IN SEASON

• HOME-MADE PIES, AWARD WINNING

SAUSAGES & BURGERS

LOCAL, FAIR TRADE,

ORGANIC & FREE-FROM

Everyday shopping & SPECIAL day treats

& UPSTAIRS

Elegant ETHICAL beautiful FASHION

and accessories

ADVICE ON

OJTS & COOKING

LUDLOW

01584 872141

11 Bull Ring

LEINTWARDINE

0154 7 540231

22 High Street

The Old Barn 43 High Street Church Stretton SY6 6BX

(01694) 723922 www.enterta1mng-elephants.co.uk

* OPEN Tuesday to Saturday *

Aymestrey, Hereford HR6 9ST

T: 01568 708440

E: equiries@riversideaymestrey.co.uk

www.riversideaymestrey.co.uk

The Riverside Inn is situated deep in the heart of the Marches countryside just on the southern

edge of the Martimer Forest, yet still close to Ludlow and Hereford.

Authentic and atmospheric, the 16th century black and white building is surrounded by

the natural beauty of the River Luggy valley.

Enjoy award winning local food alongside local ciders, ales and gins, as well as a large selection of fine

wines, in a truly country inn and restaurant with log fires, candles and oak beams and stonework.

Or come relax and unwind with a drink in our bar, terraced gardens or on the banks of the river.

www.minervamagazines.co.uk | 29
---
And time for pudding...

More tasty recipes from Amanda Owen

Rhubarb & Custard Crumble Cake

Prep time 15 minutes

Cooking time 40 minutes

Serves 4-6

Rhubarb

250g Yorkshire rhubarb, cut into 2cm

chunks

50g caster sugar

Crumble

50g plain flour

25g butter, cut into cubes

40g chopped mixed nuts

25g demerara sugar

Cake

170g butter, softened, plus extra for

greasing

85g caster sugar

85g soft brown sugar

3 medium eggs, beaten

1 tsp vanilla extract

170g self-raising flour

1 tsp baking powder

30g custard powder

Icing sugar to dust

Custard to serve

Preheat the oven to 180°C/160°C fan/gas

Grease and line a 21cm round spring-form

cake tin.

Put the rhubarb into a saucepan and

sprinkle over the caster sugar. Heat very

gently until the sugar dissolves into a syrup.

Simmer for 6–8 minutes until the rhubarb

just begins to soften. Set aside to cool.

Meanwhile make the crumble. Place the

flour into a mixing bowl and rub in the

butter with your fingertips until it resembles

breadcrumbs, then stir in the chopped nuts

and sugar.

Next make the cake. Beat the butter, caster

sugar and soft brown sugar in a bowl using

an electric mixer for 2–3 minutes, until light

and fluffy. Add the eggs and vanilla extract

with 2 tablespoons of the flour, beat for

a minute until combined, then fold in the

remaining flour, baking powder and custard

powder.

Drain any excess juices from the rhubarb

30 | www.minervamagazines.co.uk

and discard the syrup, then gently fold the

cooled rhubarb through the cake mixture.

Transfer the cake batter to the prepared tin

and gently smooth the top with a spatula.

Sprinkle the crumble over the cake and

press down lightly with the back of a spoon,

then bake on the middle shelf of the oven

for 40 minutes, until the cake is golden, firm

to touch, and when a skewer is inserted it

comes out clean. Allow to cool slightly in the

cake tin, then transfer to a plate.

Dust lightly with icing sugar before serving

warm with custard.

Tip

Also delicious served with ice cream or

single cream.

Hedgerow Nutty Crumble

Prep time 10 minutes

Cooking time 40 minutes

Serves 4

Fruit filling

40g butter

40g golden caster sugar

2 Braeburn apples, peeled and sliced

200g Bramley apples, peeled and sliced

300g foraged berries or any mixed berries,

such as blackberries and wild raspberries

Crumble topping

125g plain flour

85g unsalted butter, diced

85g demerara sugar

50g rolled oats

30g chopped toasted hazelnuts

Custard or ice cream to serve

Preheat the oven to 180°C/160°C fan/gas 4.

For the fruit filling, melt the butter in a

pan, add the sugar and apples and gently

simmer for 5 minutes. Add the berries and

simmer for 2 minutes, then transfer to a

23cm round oven-proof dish.

Meanwhile prepare the crumble topping.

Put the flour into a mixing bowl and rub

in the butter with your fingertips, until the

mixture resembles fine breadcrumbs. Stir

in the sugar, oats and hazelnuts.

Sprinkle the crumble topping over the

fruit, then place the dish on the middle

shelf of the oven. Bake for 30-35 minutes,

until the crumb is golden and fruit

bubbling.

Allow to cool slightly before serving with

custard or ice cream.

Tip

Try using other seasonal fruits such as

damsons or gooseberries.
---
Wooden Ice Lolly Plate, £18.99,

bluebrontide.com

DECK THE

HALLS

Decorations, from left to right:

Glass Glitter Bauble, £7, hauslife.co.uk; Ice Cream Four Decroation Set,

£15.50, coxandcox.co.uk; Felt Dalmation, £9, sophieallport.co.uk; Glass

Toucan, £6 and Glass Bunny Tail Grass Filled Bauble £7, hauslife.co.uk

Lights and LED Candles

from lights4fun.co.uk

Wooden Stag Head

Bunting, £5.99,

gingerray.co.uk

Extra Large Zinc Lined Rattan Planter, £85

Open Log Carrier Basket, £38

Mixed Eucalyptus Berry Wreath, £85

All marquisanddawe.co.uk

Sausage Dog Placecard, £3.99 for six, gingerray.co.uk;

Christmas Dogs Nibbles Bowl, £13, sophieallport.com

www.minervamagazines.co.uk | 31
---
www.anboise.com

www.norsu.com.au

GUEST BEDROOM

perfection

DON'T: WORRY IF YOU

DON'T HAVE LOADS OF

SPACE

Ultimately you have to work with what

you've got - in the last 18 months,

many of us have seen our guest rooms

overhauled into home offices. If you've

ditched the bed don't worry - how about

adding an attractive sofa bed that you

can actually use the rest of the time as a

break out area from your desk.

DO: PROVIDE BASIC

AMENITIES

The more things you can put in the room

to make their stay easier, without having

to ask you for everything, the more

relaxed everyone will feel. A mirror is

important, as are fresh towels, tissues,

and perhaps even a hair dryer. A bedside

carafe and some glasses means they can

help themselves to water too.

DO: INVEST IN

GOOD WINDOW

TREATMENTS

As you might have never

slept in this space, you

might not know how

light behaves or how

effective the current

window treatments are for

blocking out light. For a

really luxurious look, pair

blackout blinds or shutters

with thick, decorative

drapery. Shutters give a lovely secure feel

to a space and really finish the room.

DON'T: SETTLE FOR A

LUMPY MATTRESS

The same goes for the mattress as the

window treatments - spend a night in the

room and see if the bed is up to scratch.

DO: PROVIDE GOOD

LIGHTING

Multi-level lighting is key for making a

space feel cosy - make sure there are

two bedside lamps and then another

light source in the space, such as a

standing lamp in the corner or a lamp on

a dressing table

DON'T: SKIMP ON THE

BED LINENS

Good bed linen really is worth the money

- and it tends to wash better too. Provide

a good quality duvet and pillows, linens

and some additional blankets if your

guests feel the cold.

DO: CREATE

SOMEWHERE THEY CAN

UNPACK

We all know it's a bit stressful trying to

live out of a suitcase - allowing for some

hanging space and a few drawers to

unpack into, can really help guests keep

on top of things whilst they're with you.

DO: MAKE IT SMELL

LOVELY

Kit the room out with either fresh flowers,

a reed diffuser, or room sprays. Pillow

spray to help deep sleep is also a lovely

touch to make the space feel homely - we

love Olverum's new Restful Pillow Sleep

Mist, £25, olverum.com

DON'T: BE A

PERFECTIONIST

If your guests were hoping for hotel

standards, then that's where they should

have stayed. Just aim to make sure

the space is clean, comfortable and

functional, then relax - there's enough to

be worrying about in the festive season

without adding high expectations on top

of that.

If you're looking for a total decorative

overhaul, check out our moodboards!

www.frenchbedroomcompany.co.uk

32 | www.minervamagazines.co.uk
---
Do you want to make money while

heating your home sustainably?

Ludlow Stoves & Renewables have the answer.

We can offer Air Source heating & biomass either

as a cooker, room heater or utility boiler to suit

your needs.

The current Renewable Heating incentive is available

until March 2022 and qualifying customers will gain

7 years of payments.

We also offer stoves, boilers, gas and electric stoves.

Come and have a look at over 50 stoves which are

already SIA ready.

Please call in or give us a call for further details:

01584 878552

info@ludlowstoves.co.uk

Ludlow Stoves Ltd

85 Gravel Hill, Ludlow

Shropshire SY8 1QU

Also

available in

Barrow bags

and nets to suit all

your access requirements

F

M

V

I

d www.ludlowsalvage.co.uk

F

/ludlowfirewood

M

D

V

07949 318014

I

/ludlowfirewood

ludlowfirewood@gmail.com

www.ludlowfirewood.com

Plot 1, Station Yard, Station Road,

Woofferton, Ludlow, Shropshire, SY8 4AW

www.minervamagazines.co.uk | 33
---
D A Campbell

CURTAINS • BLINDS • SHUTTERS • AWNINGS

Offering a complete,

personal interior design

service to suit you

Photographs courtesy of Jane Churchill

D A Campbell offers a complete service from

measuring to fing, ensuring the highest

standard from start to finish.

All curtains, blinds and so furnishings are

handmade by experts in our Herefordshire

workroom. We employ tradional techniques

and me honoured crasmanship to

achieve a superb finish.

Phone to make an appointment

for a home visit or visit the showroom.

37 The Tything Worcester WR1 1JL

Call 01905 24313

dacampbell.co.uk
---
Century 1 Light

Chandelier in Rich

Auerelia Gold with Clear

Heritage Crystal, £906.12,

weybridgelights.co.uk

Design by Turner Pocock

Clemence Mirror, £174,

sweetpeaandwillow.com

So'Home Lamp,

£139, laredoute.co.uk

Rustic Apricot Blossom

Wallpaper, £44 for 10m

roll, litfad.com

MODERN

REGENCY

Porthallow Footstool, from

£746, sofasandstuff.com

Botticelli Demi Lune

Console Table, £495,

perchandparrow.com

Country Living Linen

Pom Pom Cushion, £20,

homebase.co.uk

Estella Headboard from £545,

headboardsbydesignonline.co.uk

400cm Core-Edo

Coordonne mural, £470,

thebestwallpaperplace.com

www.minervamagazines.co.uk | 35
---
Bromley Chest, £399,

Made.com

Black Branches Print, from £6.99,

www.juniqe.co.uk

Jute Effect Daylight Roller

Blind, from £22, John Lewis

Bedroom by Pure Salt Interiors

BRIGHT

& CRISP

Off-White Linen Bed Set.

£170.99, www.truelinen.co.uk

Limestone Wood Paint, £18

750ml, thorndown.co.uk

Dar Lighting

NUS422, from £82,

wtlighting.co.uk

Furn Contra Olive Cushion,

£25, www.persora.com

London Bench, from £499,

www.boconcept.com

Mala Pile Rug,

200x290cm, £299,

Made.com

Reims, Iron/Metal Four Poster Bed Frame, from

£649, www.obc-uk.net

Black Bud Vase, £29,

room356.co.uk

Achieve this look by

layering different

neutral textures, and

adding structural

touches of black and a

few strong accent colours

Juna Striped

Cushion, £34,

hauslife.co.uk

36 | www.minervamagazines.co.uk
---
Unit 26 Vanguard Way, Harlescott, Shrewsbury, SY1 3TG • 01743 463261

Castle Street, Hadley, Telford, TF1 6GJ • 01952 257007

Market Place, Salop Street, Wolverhampton, WV3 0RX • 01902 429060

www.capitalappliances.co.uk
---
Pembridge Pendant

Size 3, £1319,

www.originalbtc.com

B O H O

COASTAL

Dulux Paint in 'Paper Chain'

Natural Ceramic Table Lamp,

£99,barkerandstonehouse.co.uk

Kilby Bedside

Table, £229,

made.com

Design by Studio McGee

Fingal 3 Seat

Sofa, £1210,

sofa.com

Navy Seigaiha Wave Cushions £32 and Kayla Woven Cushion £31, hauslife.

co.uk, Weeping Palm Tree Velvet Cushion Cover, £32.95, audenza.com

Malibu Print, from £6.99, www.juniqe.co.uk

Tulana Double Bed,

£599, made.com

Elowen Throw,

£75, hauslife.co.uk

38 | www.minervamagazines.co.uk
---
A & B SMITH

DOMESTIC APPLIANCES

Craven Arms Business

Park, Long Lane,

Craven Arms, SY7 8NU

• Same / Next Day

Appliance Delivery

•250+ Appliances on Display

• LPG / Calor Appliance Specialists

Live Display

South Shropshire's leading

Calor Gas stockist

• All cylinder sizes stocked

• Regular gas deliveries

throughout the area

For all your home appliance needs...

T: 01588 673647 W: www.absmith.co.uk

www.minervamagazines.co.uk | 39
---
INTO THE

blue

Emily Baker takes in ultimate luxury

in the inimitable Maldives

40 | www.minervamagazines.co.uk
---
ARRIVAL BY SEAPLANE

t's difficult to write about the Maldives

without descending into cliches - it is

Ievery bit as beautiful as you imagined, the

ocean suites with their glass floor hatches

are equal parts luxurious and mesmerising,

and of course the combination of sand, sea

and all-inclusivity really are a winner - so, I'll

try and limit myself to only using the word

crystalline a handful of times, but what can I

tell you that you don't already know?

I think I could start with the journey - though

travelling is my bread and butter, long haul

can test even the most excited of voyagers.

There are a few different routes to the

mainland of Male, with BA offering direct

flights. For those looking to fly in the lap of

luxury (and if you're heading to the Maldives,

who isn't) then Qatar is the best choice -

with a short layover in the ultra-plush Doha

airport, it's enough to make the journey an

event, rather than a task.

Whilst I was prepared for the drama of the

seaplane arrival, there is something otherworldly

about seeing this string of atolls

from the air for the first time. The inky-blue

sea stretches out like a vast blanket,

punctuated by bursts of green, framed by

the turquoise necklace of each island's reef.

Even whilst feeling weary from the long

flight, I pressed myself to the window like a

child, completely mesmerised by the views

below along the 40 minute hop. If you're

looking for that international-traveller 'I've

made it' feeling, then arriving by seaplane

has to tick all the boxes.

The welcome on arrival at the spectacular

Sun Siyam Iru Fushi Resort was the first

taste of the group's trademark hospitality

- a gleaming small army in white uniforms

and glowing smiles awaited, festooning us

with flower garlands and introducing each

guest to their own dedicated villa butler -

they are your go-to whilst on the resort, for

everything from booking restaurant tables

to helping you hitch a ride on one of the golf

buggies that transport guests around the 52

acre resort.

There are a handful of different

accommodation options for guests - either

stays on those quintessential oceanic villas,

decked with their steps straight into the

water, or a series of beach villas, either with

direct access to the beach or with oceanic

views and their own private infinity pools.

Whilst some of the fixtures and fittings are

looking a little tired in places, the sheer

delight of the location more than makes up

for any shortcomings inside, as does the

wealth of activities, both in the water and

out, available from your doorstep.

This brings me on to my other assumption

- one I think many travellers make - that

the Maldives is a destination for loved-up

couples to fly and flop in luxury. And whilst

there's definitely scope for that, I wasn't

overcome by a raft of couples acting

amorously by the pool, but instead greeted

by a huge breadth of guest profiles - there

were, of course, couples, but also groups

of friends on a girly getaway and families -

taking advantage of the total safety of the

island to let little ones run around freely.

Though, unlike other family-friendly resorts,

the children are seen but not heard - there's

space for everyone, so adults can still find

their escape. Kids and adults alike can

partake in aquatic adventures, with guided

reef swimming, paragliding, and options to

learn to dive in the resorts PADI and DDI

Diamond certified diving school.

If the term barefoot luxury is banded

about too much, it's very much found

its true definition here - this is a place of

relaxation, aided by that extra oomph that

www.minervamagazines.co.uk | 41
---
"There's not much I can say that you

might not already know, but that

shouldn't be a reason to stop you

getting into the Maldivian groove and

discovering it for yourself"

42 | www.minervamagazines.co.uk
---
HORIZON WATER VILLA

only an all-inclusive stay can offer. In

all there are 15 venues for drinking and

dining - offering a mixture of worldwide

cuisines. Where the food really shines is

in the bevy of freshly grilled reef fish and

Maldivian curries - there are fine dining

options available, but it was the Bamboo

restaurant with its tables in the sand and

menus of fresh salads and Pan-Asian

cuisine which really hit the right notes in

the afternoon heat.

Knowing as they do that tourism in these

areas have hugely adverse effects on the

local environment, Sun Siyam as a group

continually look for ways to reduce their

footprint. Being an archipelagic state,

the Maldives does rely on a significant

array of food imports, but the group has

its own farm island which grows a variety

of produce, limiting the carbon impact.

Guests to the resort can visit too, for a

unique farm to plate experience.

I suppose the other big question for

everyone tentatively dipping their toes

back into international travel, is, is it safe?

The major advantage of the Maldives is

the sheer space between the islands,

meaning that they can isolate cases as

and when they occur. How this landscape

will change as more vaccines are rolled

out across the globe is still unknown, but

its clear that each resort is doing their

part. As it currently stands, to change

resorts you are still required to take a

PCR test - whilst some might consider

this an unnecessary expense, I think it's a

sensible and safe practice to make sure

you can enjoy your stay fully.

Now, if there is a spa to be found in

a resort, you will generally find me

ensconced inside it. Within a humblelooking

bungalow off one of the jungle

tracks, lies Iru Fushi's - a world-leading

spa by French brand Thalgo - don't be

fooled by initial appearances though

- knock on the heavy black-lacquered

doors and you'll be whisked into an

exotic oasis, where pebble-lined paths

snake through bubbling koi ponds.

Massages here are on the expensive

side, but hey, you're in the Maldives -

lean in to the luxury and enjoy your slice

of paradise, it really is worth it.

I suppose the thing that really sets the

tone for any trip, and indeed the make or

break, are the staff within the resort, and

Sun Siyam really do have a spectacularly

good team. Throughout the stay, nothing

was too much trouble. Want a pinch-me

romantic dinner on your own stretch

of beach, surrounded by the twinkle

of candles? You've got it. In our little

quintet of ladies holidaying together,

we mentioned we would like to have a

meditation session on the beach - what

we got was a heart shape hand-dug into

the sand, punctuated with tea lights and

frangipani flowers, with yoga mats rolled

out and a selection of oils from the spa to

aid relaxation. This beautiful scene was

all the work of our dedicated butlers and

could not have been more special. This

attention to detail extends everywhere

- even my own very British sensibilities

about having a butler were eased, as

the service they offered was completely

unobtrusive and very intuitive.

There's not much I can say that you might

not already know, but that shouldn't be

a reason to stop you getting into the

Maldivian groove and discovering it for

yourself - flawless hospitality, great food,

a wealth of activities and the unrelenting

joy of the location, I think Sun Siyam

could make even the most cynical resortsnob

fall under its spell.

www.sunsiyam.com

HOW TO BOOK

Sun Siyam Iru Fushi Maldives - 5

7 nights from £1779 pp - Includes return

economy flights on Qatar Airways from

London to Male, seven nights in a Deluxe

Beach Villa, on a B&B basis, including

domestic flight transfers.

Saving over £1140 per couple! Prices are

per person based on two adults sharing

valid for travel on selected departure

dates from October 21-December 21 -

rates not guaranteed so call for details |

www.southalltravel.co.uk

Sun Siyam Iru Fushi Maldives - 5

7 nights from £3879 pp - Includes return

business class on Qatar Airways flights

from London, to Male Deluxe Beach

Villa, B&B basis, including domestic flight

transfers. Includes a booking discount -

saving over £2540 per couple. Prices are

per person based on two adults sharing

valid for travel on selected departure

dates from October 21-December 21 -

rates not guaranteed so call for details To

book call on 0208 843 4444

www.southalltravel.co.uk

www.minervamagazines.co.uk | 43
---
HOUSING-WITH-CARE

Allowing older people to live where they want to live

Imagine you're an older person in your

70s, approaching your later years and

perhaps in need of more support soon,

but still with so much to give, so many

talents to unlock, so many friends to

make. You're thinking about moving

from the family home you've lived in

for years to somewhere which provides

security and care if and when you need

it, but which also allows you to keep

your independence and connections to

the local community, and which has a

range of activities and facilities to keep

you busy.

It's this middle ground, this golden

mean, combining independence with

care and support, which housing-withcare

settings across the country are

offering to older people in increasing

numbers. Sometimes called retirement

communities, retirement villages or extra

care housing, these settings give older

people the opportunity to rent or own

a flat or apartment, on a site with 24/7

staffing, high-quality care provision if

needed, and facilities like restaurants,

bars, cafes, gyms, activity rooms and

much more.

While long-standing options for older

people like care homes and traditional

retirement housing will continue to have

a vital place, there is a growing need

for middle options like housing-withcare

which allow older people to stay

independent and healthy for longer.

The evidence is clear: housing-withcare

improves health and well-being,

drastically cuts down hospital and GP

visits, and reduces feelings of loneliness.

Not only do older people themselves

benefit, but so too does the NHS and

whole social care system.

Housing-with-care settings can be in

either rural or urban locations, giving

older people the chance to choose the

lifestyle they want. Often, they are closely

connected with the town centre, and

people of different ages are able to use

the facilities at the retirement community

and mix with older residents. Far from

being ghettos of the elderly, housingwith-care

settings can be hubs of

intergenerational connection.

ARCO's role as the representative body

for the housing-with-care sector is to help

our members provide the best possible

service to their older residents, and to

ensure the sector thrives and grows in

the way that it should. An important part

of ARCO's work is helping members

set high standards through the ARCO

Consumer Code, a new edition of

which was launched in September this

year. The code upholds the principles

of transparency and fairness, giving

customers and residents confidence that

housing-with-care operators achieve

high levels of consumer protection in

everything from marketing, sales and

lettings, and resident relations.

Because, ultimately, housing-with-care is

all about the residents. About responding

to the growing demand from older

people for housing options that combine

independent, active living with care

and support if needed. About allowing

residents to live the life that they want

to live.

For further email please visit

www.arcouk.org

44 | www.minervamagazines.co.uk
---
ENTERPRISE

RETIREMENT

LIVING

MOUNT

BATTENHALL

MOUNT BATTENHALL

Reimagine your

retirement

Computer generated image is indicative only

NEW ASTLEY VILLA

NOW OPEN TO VIEW

Mount Battenhall offers luxurious,

independent retirement living, featuring

an exquisite Italianate mansion

surrounded by 6.5 acres of beautiful

grounds including a tranquil woodland

walk. All this, just minutes from the

centre of Worcester.

• Restaurant • Bar • Gym • Salon

• Lounge • Library • Guest suite

• Gated setting • Landscaped gardens

• 24-hour on-site staff

Call 01905 630490 or visit mountbattenhall.co.uk

The Marketing Suite, Mount Battenhall, Battenhall Avenue, Worcester WR5 2JD
---
ADVERTISING FEATURE

ask the doctor

Interview with Dr Bannchita Sahu,

a Gynaecological Oncologist with

Nuffield Health Shrewsbury Hospital...

I am a Gynaecological Oncologist

with an interest in minimally invasive

gynaecological surgery. After

completing my training in India, I did

specialist training in Obstetrics and

Gynaecology in East Midlands, UK.

The Royal College of Obstetricians

and Gynaecologists awarded me a

fellowship in 2016. I am also certified

as Minimal Invasive Gynaecological

Surgeon by ESGE (European Society of

Gynaecological Endoscopy) in 2017.

WHAT AREAS OF TREATMENT DO

YOU SPECIALISE IN?

My key interests are in minimally invasive

surgery, gynaecological precancerous

and cancerous conditions, vulval issues

and menopause.

WHAT ARE THE MOST COMMON

REASONS FOR PATIENTS TO MAKE

AN APPOINTMENT WITH YOU?

Patients mostly come for issues with

pelvic pain and period issues.

WOMEN ARE OFTEN RELUCTANT TO

TALK ABOUT GYNAE ISSUES AND

PUT OTHER'S NEEDS AHEAD OF

THEIR OWN – ARE THERE SERVICES

AVAILABLE AT NUFFIELD HEALTH

SHREWSBURY HOSPITAL THAT YOU

WISH MORE WOMEN WERE AWARE

OF?

Yes, Nuffield Health Shrewsbury

Hospital offers a range of investigations

including radiology services which can

be utilised by women to rule out any

pathology. Nuffield Health Shrewsbury

Hospital also offers assessments like

smears tests, colposcopy, hysteroscopy

and laparoscopy to rule out anything

sinister. If need be, major surgeries like

hysterectomy can also be provided.

MANY DON'T REALISE THAT THEY

DON'T HAVE TO SIMPLY 'PUT UP'

WITH UNCOMFORTABLE SYMPTOMS

– CAN AN APPOINTMENT WITH YOU

IMPROVE QUALITY OF LIFE?

We are here to help. I would encourage

women to talk to health professionals and

discuss treatment options as sometimes

a small intervention can dramatically

improve quality of life.

For further information, please contact

the Customer Services Department

of the Nuffield Health Shrewsbury

Hospital on 01743 817603.

46 | www.minervamagazines.co.uk
---
Nuffield

U Health

Women's health

Women's health

At

At Nuffield Health Shrewsbury Hospital

Hospital

Here at the Nuffield Health Shrewsbury Hospital we offer a range

of Here Here

tests at at

and the the

treatments Nuffield Health covering Shrewsbury all aspects Hospital of women's we we offer offer

health. a range

These of of tests tests

include: and and treatments covering all all aspects of of women's health.

These include:

• Colposcopy assessment

• Contraception

•• Colposcopy assessment

•• Contraception

Hysterectomy

• Hysteroscopy

•• Removal

Hysterectomy

of fibroids

• Excision

•• Hysteroscopy

of lesions

• of • of • Bladder Removal examination of fibroids

• Therapeutic • Excision of laparoscopy. lesions

•• Bladder examination

•• Therapeutic laparoscopy.

For more information

Call For For 01743 more information

817603 visit nuffieldhealth.com/shrewsbury

Call Call 01743 817603 or or visit visit nuffieldhealth.com/shrewsbury

Nuffield Health Shrewsbury Hospital

Longden Road, Shrewsbury, SY3 9DP

Nuffield Health Shrewsbury Hospital

Longden Road, Shrewsbury, SY3 SY3 9DP 9DP