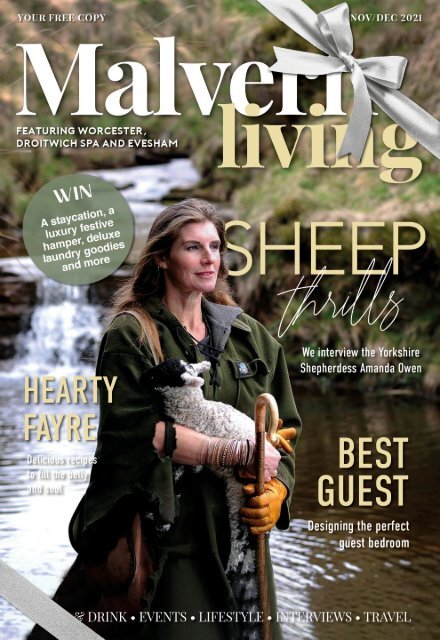 Malvern Living Nov - Dec 2021
At last the Christmas editions are here! With festive fun, gifts and interiors, plus inspiration for decorating the guest bedroom and an interview with the Yorkshire Shepherdess Amanda Owen. Plus, our competition pages return, with staycations, laundry upgrades and festive hampers!
At last the Christmas editions are here! With festive fun, gifts and interiors, plus inspiration for decorating the guest bedroom and an interview with the Yorkshire Shepherdess Amanda Owen. Plus, our competition pages return, with staycations, laundry upgrades and festive hampers!
SHOW MORE
SHOW LESS
Create successful ePaper yourself
Turn your PDF publications into a flip-book with our unique Google optimized e-Paper software.
ENTERPRISE

RETIREMENT

LIVING

MOUNT

BATTENHALL

MOUNT BATTENHALL

Reimagine your

retirement

Computer generated image is indicative only

NEW ASTLEY VILLA

NOW OPEN TO VIEW

Mount Battenhall offers luxurious,

independent retirement living, featuring

an exquisite Italianate mansion

surrounded by 6.5 acres of beautiful

grounds including a tranquil woodland

walk. All this, just minutes from the

centre of Worcester.

• Restaurant • Bar • Gym • Salon

• Lounge • Library • Guest suite

• Gated setting • Landscaped gardens

• 24-hour on-site staff

Call 01905 630490 or visit mountbattenhall.co.uk

The Marketing Suite, Mount Battenhall, Battenhall Avenue, Worcester WR5 2JD
---
Contents

A Note

from the EDITOR

20

Guest

A Culinary Journey through

Northern Ireland bedroom perfection

It's certainly the challenge of

publishing that you always have your

head in the wrong season - each year,

Christmas begins for us in July, which

is about the same time as I start to

ask my friends and family what they'd

like as a present or if they're free for a

meal in December - each year I'm met

with the same furrowed brows and

a 'my god, I haven't started thinking

about that yet!'

Forward planning aside, it is a rather

lovely, smug feeling to know that I'm

mostly sorted for the festivities - my

only issue being losing said gifts

between July and December 25th. If

your industry doesn't quite prepare

you in the same way though, we've

got a bevy of festive features to help

get you prepped.

Our competition

page returns

04

Alongside Christmas features,

we've got a lovely interview with

The Yorkshire Shepherdess Amanda

Owen, plus some delicious recipes

from her new book.

If you're receiving guests this year,

we've got some inspiration on

creating the perfect guest room

sanctuary. And if festive madness all

gets too much, you can always slip in

there yourself!

Yorkshire Shepherdess

Amanda Owen

12

Editor Katie Thomson

e katie.thomson@minervapublications.co.uk

Publisher Sally Thomson

Pre-Press Manager Kate Norris

Contributors Rebecca Rose, Peter Thomson, Sue Cooke, Matthew Biggs

Angela Cave and Pete Lawrence. Front cover courtesy of Amanda Owen

Key Account Manager Steve Davies

e steve.davies@minervapublications.co.uk

d/l 01225 984506

ttwitter: @MalvernLiving

14

Recipes from

Amanda's new book

MINERVA PUBLICATIONS HQ

Unit 21c, Paxcroft Farm, Hilperton

Trowbridge BA14 6JB

t 01225 984 550

visit our website www.minervamagazines.co.uk

Disclaimer: The publishers shall not be held liable for any loss occasioned by failure of an

advertisement to appear, or any damage or inconvenience caused by errors, omissions and

misprints. No part of this publication may be reproduced without prior permission from the

publishers. The opinions expressed within are not necessarily those of the publishers.

The news has been all doom and

gloom of late, but I think it's important

that, toy shortage/turkey drama/fuel

crisis or not, this year's Christmas is

looking so much brighter than 2020's,

and there's so much to be thankful

for. This quote from the legendary Bob

Hope really captured that for me:

"My idea of Christmas, whether

old-fashioned or modern, is very

simple: loving others. Come to

think of it, why do we have to

wait for Christmas to do that?"

We are looking forward to seeing

you again in January - we are doing

away with the New Year, New You

nonsense and instead focusing

on what 2022 can offer you. Until

then, take care, have a very Merry

Christmas and a peaceful New Year.

Katie

www.minervamagazines.co.uk | 3
---
COMPETITION

To enter any (or all!) of our competitions, head to

www.minervamagazines.co.uk/competitions.

Find the competition and enter on that post,

using the appropriate keyword.

T&C's apply and no cash alternatives available. Winners chosen at

random - entries made after closing date will not be accepted.

Looking for the perfect gift this Christmas? Delight your friends

and family with a selection box of delicious treats. One lucky

reader will win a 'Decadent Christmas in a Box' containing the

following:

WIN

A Laundry

Bundle from

Brabantia

worth over

£500

6kg Free Range Whole Turkey | 4.5kg Unsmoked Ham | 1kg

Side of Smoked Salmon | 1kg Organic Cheddar | 1kg Cropwell

Bishop Stilton | Christmas Pudding | Harrow & Hope Brut

Reserve (750ml bottle) | Classic Cranberry Sauce | Granny's

Apple Chutney | Artisan Coronation Sauce | British Goose

Fat | Luxury Bread Sauce | Traditional Roast Gravy | Sage &

Onion Stuffing | Pigs In Blankets | 200g Smoked Chicken 200g

Smoked Duck

WIN

Christmas in

a box! Worth

£375

copasturkeys.co.uk

Closes 10/12/2021

Competition keyword 'TURKEY'

For most of us, laundry is a bit of a chore, so to lighten the load,

we're giving away a luxury laundry bundle from Brabantia worth

over £500.

The prize includes Brabantia's new Bo Laundry Bin Hi, which

will blend effortlessly into your decor with its sleek finish and

has two 45L compartments for easy separating your whites

from your colours. When spring comes around again, you

can then hang your washing out on Brabantia's Rotary Dryer

Lift-o-Matic Advance which can easily be adjusted to your

ideal height. For those grey days, Brabantia's 23m Drying Rack

Tower is the perfect inside solution. Finally, prep your fresh

laundry for the wardrobe with a Brabantia Ironing Board. ThisXL

model is designed for easy ironing of any outfit!

brabantia.com

Closes 15/01/2022 - Competition keyword 'BRABANTIA'

WIN

2 prints

each worth

£250

Eliza Southwood practiced

as an architect for ten years

before deciding to take

up a career as an artist

and illustrator full-time in

2010. Eliza's speciality is

silk screen printing, but she

also works in mixed media,

watercolour and acrylic. As a keen

cycling fan, she is known particularly for her

cycling themed artwork, but she also produces

work on a wide range of subjects such as

cityscapes, dogs, sports and people. We have

two prints worth £250 each to give away.

Adagio, the European leader in aparthotels is giving one lucky

winner a two-night stay for two at one of their amazing UK

properties in London, Birmingham, Edinburgh or Liverpool.

Adagio is the perfect option for that much needed getaway this

year, providing all the services of a hotel with the freedom of an

apartment. The apartments comprise of a kitchen, bedroom and

living area with flat screen smart TV - great for lounging after a

busy day of activities.

WIN

A City

Break with

Aparthotel

Adagio!

adagio-city.com

T&Cs available online. Closes

15/01/2022 - Competition keyword

'ADAGIO'

elizasouthwood.com

Closes 15/01/2022

Competition keyword 'ELIZA'

4 | www.minervamagazines.co.uk
---
Malvern Antiques &

Collectors Fair

The Severn Hall, Three Countries

Showgroung, Worcs. WR13 6NW

Sunday 7th Nov 2021

Antiques, Art Deco,

collectables & much more

Enjoy magical winter walks, unique gifts,

decorations, hand-made wreaths and a huge range

of Christmas trees at Batsford. A perfect day out

for all the family – including the dog!

Entrance: 10am - 4pm - £3

Early: 8.30am - 10am - £4

Malvern Flea &

Collectors Fair

Three Counties Showground,

Worcestershire, WR13 6NW

Sunday 16th January 2022

7.30am - 3.30pm - £5

NO

OUTSIDE

PITCHES

Tel: 01636 676531 • www.b2bevents.info

Limited availability, bespoke menus available

Looking for a unique

Christmas gift?

Arya

Sponsor a

rescued donkey

or horse from

Redwings for a

whole year from

just £15!

www.redwings.org.uk/adopt

01508 481000

Upgrade your gift!

We have a

gorgeous selection

of Adoption Star

merchandise

available in our

online gift store

www.redwings.org.uk/shop

www.minervamagazines.co.uk | 5
---
Tough on all Pathogens

BACTERIAL, VIRAL & FUNGAL

Yet skin pH Neutral, Gentle to Skin

Reasons to

5LOVE LEUCILLIN

33%

OFF

for all

Readers

Proudly Supporting

because Leucillin is alcohol free! It's

gentle HSE approved formula

matches our natural pH meaning kind

to skin and safe for all.

At home or away, Leucillin is a

effective essential for all skin

concerns, it is soothing and calming

to; Red, Sore, Itchy skin, Minor Cuts

and Grazes, Bites, Stings and Burns.

suitable for all ages and skin types including

highly sensitive, ears and eyes. Leucillin is

your germ protection, antiseptic care and

daily cleanser.

300x more effective than most sanitisers YET Leucillin

is passed by the Organic Soil Association, has recyclable packaging, is cruelty free and vegan

friendly.

Available in stores and online

For promotional 500ml product offer please visit: www.leucillin.co.uk/promotions

PROMO CODE: LEUCILLINTOTHERESCUE

www.leucillin.co.uk

For People AND our Pets, Leucillin is a

clever, reliable and affordable solution for

cleansing and sanitising skin safely including

your face! Leucillin removes germs without

drying skin, so however species diverse your

family unit is, Leucillin has you covered.
---
putting our pets first

We may feel as if we have had 'information

overload' when it comes to germ

prevention and protection, but sometimes

a product comes along that demands our

attention - enter Leucillin. This is a skin

health product for pets that is proving to

be a product which all of us may well be

putting in our first aid chests very soon.

We spoke to Georgina Bashforth (pictured

right) about the product and its exciting

potential…….

First of all, in layman's terms – what is

Leucillin?

Leucillin is a clever antiseptic applied to

the skin topically to protect against harmful

germs. Leucillin is a revolutionary fresh new

take on what an antiseptic is and can be

capable of.

Leucillin mimics the body's own immune

system, providing you a powerful solution

which delivers the ultimate shield in

topical skin protection against harmful

pathogens. Leucillin's unique formulation

does not contain any alcohol, steroids or

antibiotics, it is the natural choice for safe

skin sanitising.

Our pets our so important to us, how

is Leucillin used and what specific

applications is it effective for?

Leucillin has a great reputation for safety

and efficacy, supported by pet healthcare,

veterinary and grooming industries,

this year. It has been awarded human

approvals and begun an exciting new

chapter in healthcare.

Furthermore it can be safely applied in

any topical application where the skin,

ears and eyes need care, whether broken,

red, sore, inflamed, cuts, stings, bites

or grazes, Leucillin's powerful antiseptic

properties eradicate germs on contact

creating the perfect environment for rapid

recovery.

For children, as well as our pets, it's

"Ouch Free" formula is kind, it has been

developed to match the natural pH of skin

so no more wincing on that grazed knee.

It seems to be a very gentle solution

to a number of particularly stubborn

problems - can it be used long-term?

Leucillin achieves an unbeatable

99.99999% reduction in bacteria on

contact, but how does that compare with

the 99.99% which we think is good? Well;

it's a massive 10'000 times better!

Fast effective pathogen reduction means

no resistance therefore long-term usage is

always effective and no harmful ingredients

means Leucillin is always safe!

And finally, how else can it be used and

what are your hopes for the product

going forward?

Our goal is to help alleviate the dependence

on antibiotics and pharmaceutical

intervention in the area of germ protection,

for a more natural, safe, non-invasive and

most importantly effective alternative.

During the pandemic Leucillin has been

proven effective against all coronaviruses

including SARS-CoV-2 topically and

has been used by animal care industries

including Police Dog Handler units for

reducing risk.

We have also recently teamed up with The

Humanimal Trust founded by Professor

Noel Fitzpatrick - aka The Supervet, we're

excited to be supporting mental health and

raising money for ONE Medicine, so that

humans and animals can benefit equally

from all medical progress.

Quarter Jewellery (The most

reasonable jewellers in Worcester)

has now been open for 18 years, I

have always endeavoured to run the

shop as jewellers were run when I

started in the jewellery trade 59 years

ago. Five years ago we were lucky

enough to acquire the lease of 28,

Belle Vue Terrace, Great Malvern a

beautifully fitted Victorian pharmacy,

now reborn as Malvern Goldsmiths

We have a large range of new,

antique and second hand jewellery in

both shops.

STILL THE MOST REASONABLE JEWELLERS IN WORCESTER AND MALVERN

Having had factories in both

Birmingham Jewellery Quarter and

Asia, we are able to make diamond

rings, pendants and earrings, all of

them priced to be able to beat "High

Street multiples" and internet sellers.

We value for Insurance, probate and

sale between parties.

Malvern Goldsmiths

Belle Vue Terrace,

Malvern, WR14 4PZ

Quarter Jewellery

The Shambles,

Worcester, WR1 2RA

We are always happy to offer for your

unwanted jewellery etc, this service is

free, If you have a jewellery problem,

we are happy to advise without any

obligation.

www.minervamagazines.co.uk | 7
---
10 Friar Street

Worcester WR1 2LZ

www.anjapotze.com

08:21
---
In a wonderful rural setting, the beautiful Jacobean barn at Kyre Park awaits you.

Here, you can explore, buy, collect and treasure a wide range of antiques, enjoy lunch

in our bistro, and take a walk around the stunning grounds of Kyre Park.

Charlie Chaplin's Big Romance

Framed Original Poster

£265 @mancaveantiquesuk

French Rattan Chair

£135 @vintage.belle.living

Ladies Daks Linen Jacket & Fedora

£49 + £49 @livefortweed

Vintage Copper Pan

£36 @labrocante.co.uk

Bronze Military Monkeys On Marble Base

£795 Kyre Park

Ships Decanter

£27 @labrocante.co.uk

18" Benjamin Industrial Enamel Lights

9 available £165 each @mancaveantiquesuk

French Soupiere

£65 @vintage.belle.living

Schevrich West German Fat Lava Pottery

£42 @sixthlink

Iconic 1970 Italians Kartell Bar Cart

£275 @sixthlink

Pair English Homeware Cushions

£125 Kyre Park

19th Century French Candlesticks

£262 @offbeatinterior

WWW.KYREPARKANTIQUES.CO.UK

01885 410 361 | Kyre Park, Tenbury Wells WR15 8RW
---
Shop Gifts And Gift Lifesaving Missions

To Midlands Air Ambulance Charity

It's time to think about your Christmas shopping, and where better to start than Midlands Air

Ambulance Charity's online shop, to make lifesaving missions possible, this Christmas. The

charity expanded its range last year and has now added more items to its Christmas stocklist.

Emma Gray, chief operating officer for Midlands Air Ambulance

Charity, says: "Last year, festive shoppers helped raise in excess of

£55,000 for our pre-hospital emergency service by buying through our

website. From this amount, 46 of our vitally important missions were

funded – 13 air missions and 33 in our two critical care cars.

"We hope that shoppers show their support of our lifesaving charity

this Christmas and help fund future missions across the Midlands and

Gloucestershire."

All products in the Midlands Air Ambulance Charity's extended festive

range for 2021 can be found at midlandsairambulance.com/shop

The new products include:

• Christmas cards

• Virtual Christmas cards

• Mini Medics – mini models in a familiar style based on some of

the charity's real-life critical care crew.

• Bag for A Life – A lifesaving shopper bag to keep all your

purchases in.

• Commemorative Air30 Cufflinks and Lapel pins – Midlands

heritage jewellers, Deakin & Francis, have crafted just 100 of

each, an ideal gift for collectors.

• One Year's Lifesaving Lottery Membership – The opportunity to

win £1,000, every week for a year. (Purchasers and recipients

must both be aged 16 or over.)

• Cross Stitch Pattern of the aircraft and crew members

• Crowd Racing Membership – The opportunity to own shares in

a racehorse for whole year – with a discounted price and £30

ADVERTISING FEATURE

donation direct to the charity.

• Remember Your Star by lighting the

sky, leaving a tribute and making a

donation in memory a loved one.

• Commemorative Air30 30th Anniversary

Poetry anthology – teaming up with The Word Association,

a book of creative writing and poetry has been produced to

provide a reflection of the charity's rich 30-year history. (Funded

via a National Lottery project grant from Arts Council England.)

• Commemorative diary and pen

• Commemorative calendar and pen

• New Christmas star bauble

• New T-shirt design

• Teddy bear with MAAC hoodie

• Kids' Crew Membership – the fun pack includes a welcome

letter, official certificate, invitations to meet the aircrew and to

next year's Young Heroes Christmas Party, plus, a selection of

charity merchandise. (Suitable for ages five to 11).

You can also get involved in aiding the charity's Christmas missions

by texting: 'MISSIONXMAS' as one word, followed by the amount

of your choice to 70085 to donate to the lifesaving service and help

make future missions possible. An example is MISSIONXMAS 5 to

70085 to donate £5.

To browse and shop the range, visit: midlandsairambulance.

com/shop. For updates on other charity activity, follow the

organisation on social media.

WORCESTER'S ONLINE TOY STORE!

A family business in Worcester we have been selling children's traditional and

innovative toys and games online for many years on Ebay and on our website, offering

our customers a wide and varied selection of toys and games to suit all pockets.

www.theshopoftoys.co.uk

10 | www.minervamagazines.co.uk
---
Amanda Owen

The yorkshire Shepherdess

Tells us about her life in the Dales

Known to millions as The Yorkshire

Shepherdess, Amanda Owen is the author

of five best-selling books about her life

on Ravenseat ,one of the most remote

farms in the country, where she lives with

her husband Clive and nine children. She

currently stars in Channel 5's popular TV

show Our Yorkshire Farm and her latest

book is Celebrating the Seasons includes

stories, recipes and photos from the farm

and is out now.

I understand that you had had no

previous links to farming, may I ask

how you became so involved in this line

of work?

I grew up in Huddersfield and no one in

my family is from a farming background.

I loved the James Herriot books when I

was a child, and watched the TV series.

Because of James Herriot I loved the idea

of being a vet, probably like most other

children of that era, but was told at school

that I was not academic enough to make

the grades. One day in the school library

I picked up a book called Hill Shepherd.

It was a photographic documentary of

hill farming in Yorkshire and Cumbria.

Reading that book was an epiphany for

me, the pictures of the hill shepherds on

the moors with the sheep made me realise

it was where I wanted to be. It ticked the

box of wanting to work with animals in

the countryside and importantly it also

ticked the rebellion box as it was so the

opposite of my townie life up until then.

Years later after I had married my husband

Clive, we realised that there was actually a

photograph of him in Hill Shepherd! So it's

a very important book to me.

How did you learn your crafts? One of

the many things I learnt from your book

was how important it is to get the grass

in - in good time.

I started out as a farm hand, and then

moved on to being a contract shepherd,

working on different farms all over the

country. But really, I learnt everything as I

went along.

Most of my crafts came through natural

progression, learning to ride a horse

by riding it, learning to clip a sheep by

clipping my first one, learning to work a

dog, by taking the dog out with me for the

first time.

You can only learn what to do by doing it,

you have to get practical on the ground

experience. Nothing comes close to

learning how to be a shepherd, other than

actually doing the work of a shepherd and

it's not just about learning about sheep,

it's about learning about the land.

With the grass it starts with the sheep.

You've got to have your sheep in good

order - we grow hardy stock through the

winter, so it's absolutely vital that you grow

your crop well, so they have food to eat

throughout the winter.

You enjoy sheep shearing - were you

nervous when you cut your first fleece?

Of course, but you know, you have to be

nervous in order to be any good at what

you're doing. If you're lambing sheep you

are dealing with nature first hand, but

there is no room for you to have time to

be nervous as you have to get on with the

job. It's you alone in that moment and it's

not optional to be nervous. That pressure

makes you work fast.

The first time I clipped, I would clip the

sheep while the professional shearers

were having their dinner, and they

would encourage me or discourage me

depending on what I was doing, and then

the more you do it you get faster. You

keep practicing and eventually you will

get there.

How do you spread yourself between

9 children - it must quite a noisy

household at times?

It is a noisy household. But we're very

privileged to live where we do which

12 | www.minervamagazines.co.uk
---
means that there's plenty of room for

everybody to get some space outside. I

enjoy the busyness and noise of family

life in the house. But I can get away from

it by walking out my front door. Plenty

of people can't as they leave their front

door and if they live in a city, it's still loud

and busy when they get out. We're lucky

here to have the wide open spaces and

the kids spend a lot of time outdoors.

We're working farm and that means that

everyone mucks in - no matter what

the age, it could be collecting hen's

eggs, feeding the horses, or helping find

uniforms for everyone, also cooking. Real

dough is just as good as playdough and

the kids love learning to cook. The only

time when we all come together is tea time

at the farm, when we all come together to

eat, it's my favourite time of day, when I

get to hear what everyone's been up to on

the farm and school.

Your children must have a wonderful

time and appear to have no fears with

any of the animals. Do they each have a

special one?

I suppose they do. Quite a lot of the girls

loves the horses. Violet loves the cows,

she was excited recently that our pet cow,

Ciara has now come in from the fields.

Violet hand reared Ciara from a calf, so

she thinks she belongs inside the house

and doesn't like the other cows. Miles is

very taken with the hens and his flock of

30 sheep. Through the winter and up to

lambing time Miles looks after his flock of

sheep after school. Sidney has his own

dog, Nell a sheep dog and she runs for

him, so that's quite a big thing for a young

lad to be able to work his own sheep dog.

It's a level up from being a pet. The terriers

are wonderful they are real characters,

they are source of frustration as they

will have fights with each other, or they

wander off from the farm to the local pub

quite a few miles away! The terriers, are

Chalky and Sprout, sadly we lost Pippin at

the beginning of lock down. Tony the pony

(pictured above right) is loved by Annas,

Clemmie and Nancy, they look after him,

feed him, brush him and ride him. They

also love the bigger horses Josie and

Princess. Princess is very good with the

kids and often two of them ride her around

the fields. They also like to take the horses

down to the river and give them a bath

and wash and comb their tails.

Will any of them follow in your

footsteps?

Yeah, I think so, at the moment Miles and

Sidney are very keen on farming and Edith

is a good shepherdess. That said I never

place any expectation on any of them

to follow me into being a farmer and a

shepherd. You don't know where life will

take you. I'm not sitting here going: "I want

you to be a shepherd", because life goes

through stages, and what you want to do

changes, so I'd rather they make their own

choices, they can do whatever they want

to do. It's a difficult thing to ask a child

what they want to do with the rest of their

life. They'll figure it out as they go along.

What is your favourite season and why?

Summer. But really I mean June. June is

my favourite month, because all the sheep

have had lambs and been turned back

out onto the moor and it's before hay time

and clipping, so there's a lull and a pause

in the farm work, and at the same time

everything comes to life - the flowers, the

birds on the moor. In June, the Curlews

are back, as are the Lapwings, Golden

Plover, Black Grouse. All you can hear

is birds, wherever you're walking. There

are woodcock and snipe too - they are

all ground nesting birds up here on the

moor, so you get to see their nests as

well - and it's just beautiful. The flowers

you see in June are marsh marigolds,

globe flowers, all the hay meadow

flowers, rare orchids - it's really pretty.

What made you decide to write this

book? It is a delightful read and the

recipes are a treat….

Celebrating the Seasons, came about

because I wanted to answer some of the

most frequently ask questions, how do

you cater for such a big family? Tell us

about the practicalities? What do you

cook? It was really difficult selecting

recipes for the book. I wanted to include

forgiving recipes. Recipes that it was

totally fine to get distracted in the middle

of and would still turn out good. Recipes

that were achievable with the most

basic of ingredients, simple feel good

food, that was nutritionally good too. My

absolute favourite is the Tagine recipe,

it's a people pleaser, for me its so easy

and the smell always brings everyone

to the kitchen - which is helpful! Every

time I cook it it's different, sometimes

chick peas, sometimes wild rice, some

times couscous - it always comes out

slightly different each time. In addition

to the recipes, people have told me they

loved my photos and images of the farm

that I post on twitter and would always

suggest I do a photograph book. If you

go back to basics it was a photography

book - Hill Shepherd - that inspired me

to become a shepherd. So it's nice to

go full circle. I know how inspiring a

photography book can be - how it can

really steer you and how a picture can

tell a thousand words. I really hope that

when people buy the book, that they

look at the pictures over and over again

and still find something new in them, as I

have with Hill Shepherd.

What would you like to tell our readers

about your life?

I want people to know that Celebrating

the Seasons is a book about going your

own way. It's not a blueprint for how you

should live your life, it simply says this

is what we do as a family this is how we

do it, feel free to follow the recipes, or

do them your own way. I want people

to not let themselves to be stereotyped,

to know that all things are achievable if

you really want to do it. So many people

said you won't have time to write a book,

you won't achieve that. But I believe you

can do anything you just have to start

doing it. If you want to write a book,

start writing. I got an E in GCSE English,

and this is my fifth book. Anything is

possible.

Celebrating

the Seasons with The Yorkshire

Shepherdess by Amanda Owen by Pan

Macmillan, £20.

www.minervamagazines.co.uk | 13
---
Dinner is served

Tasty recipes from Amanda Owen

Wild Mushroom Soup with

Wood Sorrel & Hazelnut Pesto

Prep time 10 minutes

Cooking time 35 minutes

Serves 4

2 tbsp Yorkshire rapeseed oil, plus extra for

garnish

1 medium onion, finely chopped

1 large clove garlic, crushed or grated

450g wild mushrooms, such as yellow

chanterelle, roughly chopped

50ml Madeira or sweet sherry

850ml hot vegetable stock

3 sprigs fresh thyme

200ml double cream

1 tsp mushroom powder

Salt and black pepper

Pesto

25g chopped toasted hazelnuts

1 small bunch wood sorrel

2 tbsp olive oil

10g Parmesan

Garnish

Handful of wild mushrooms

Heat the oil in a large saucepan, add

the onion and garlic and fry gently for 5

minutes, until softened but not coloured.

Next, add the mushrooms and fry on a

14 | www.minervamagazines.co.uk

medium heat for 8 minutes, until they are

golden.

Pour the Madeira over the mushrooms and

cook on a high heat for about a minute until

the alcohol evaporates.

Lower the heat and pour in the hot stock,

then add the sprigs of thyme. Bring to the

boil then cover and simmer gently for 20

minutes.

Remove the pan from the heat, blitz with

a hand blender or in a liquidizer until the

soup is smooth. Return the soup to a clean

pan, stir in the cream and sprinkle over the

mushroom powder, then season the soup

and gently reheat over a low heat.

Meanwhile, place the pesto ingredients into

a small food processor and blitz for a few

seconds until combined. Add extra oil if the

pesto is a little thick and season to taste.

For the mushroom garnish, drizzle some

oil in a small frying pan and gently fry the

remaining mushrooms for a couple of

minutes until golden.

To serve, ladle the soup into warm bowls,

scatter over the whole fried mushrooms,

and top with a spoonful of pesto.

Tip

Try serving with homemade spelt bread.

Moroccan Lamb Tagine with

Jewelled Couscous

Prep time 15 minutes

Cooking time 1 hour 15 minutes

Serves 4

Tagine

2 tbsp olive oil

600g lamb shoulder, diced

1 large onion, sliced

2 cloves garlic, crushed

1 tbsp ground cumin

2 tsp ground coriander

1 tbsp hot smoked paprika

40g tomato purée

400g can cherry tomatoes

1 cinnamon stick

50g dried apricots, chopped

2 large pieces orange peel

285ml lamb stock

1 small bunch coriander, chopped

Jewelled couscous

200g couscous

200ml hot vegetable stock

1 red onion, chopped

100g pomegranate seeds

1 small bunch mint, leaves roughly chopped

1 small bunch coriander, chopped

3 spring onions

20g almonds, toasted

Salt and black pepper

Preheat the oven to 180°C/160°C fan/ gas 4.

Heat 1 tablespoon of the oil in a large

heatproof casserole dish, then add the

lamb and sear and brown on all sides for

about 5 minutes. Remove the lamb from

the casserole dish with a slotted spoon and

set aside.

Return the casserole dish to the heat and

add the remaining oil. When hot, add the

onion and fry gently for approximately 8

minutes until golden. Add the garlic and fry

for a further minute.

Sprinkle over the ground spices and stir

in the tomato purée then fry for a further

minute. Return the meat and any juices

to the pan with the remaining Tagine

ingredients (except the fresh coriander),

bring to the boil then cover with a lid and

transfer to the middle shelf of the oven.

Cook for 1 hour, or until the meat is tender.

Meanwhile, while the Tagine cooks, put the

couscous into a bowl and pour over the

hot vegetable stock. Cover the bowl tightly

with cling film and set aside for 10 minutes

until the couscous has absorbed the liquid.

Season the couscous, then stir through

the remaining ingredients, saving a few

almonds and herbs to garnish.

To serve the Tagine, remove the cinnamon

stick and check seasoning, then sprinkle

over the chopped coriander. Serve in warm

bowls with the jewelled couscous.

Tip

This recipe can also be cooked slowly in a

Tagine over a barbecue.
---
And time for pudding...

More tasty recipes from Amanda Owen

Rhubarb & Custard Crumble Cake

Prep time 15 minutes

Cooking time 40 minutes

Serves 4-6

Rhubarb

250g Yorkshire rhubarb, cut into 2cm

chunks

50g caster sugar

Crumble

50g plain flour

25g butter, cut into cubes

40g chopped mixed nuts

25g demerara sugar

Cake

170g butter, softened, plus extra for

greasing

85g caster sugar

85g soft brown sugar

3 medium eggs, beaten

1 tsp vanilla extract

170g self-raising flour

1 tsp baking powder

30g custard powder

Icing sugar to dust

Custard to serve

Preheat the oven to 180°C/160°C fan/gas

Grease and line a 21cm round spring-form

cake tin.

Put the rhubarb into a saucepan and

sprinkle over the caster sugar. Heat very

gently until the sugar dissolves into a syrup.

Simmer for 6–8 minutes until the rhubarb

just begins to soften. Set aside to cool.

Meanwhile make the crumble. Place the

flour into a mixing bowl and rub in the

butter with your fingertips until it resembles

breadcrumbs, then stir in the chopped nuts

and sugar.

Next make the cake. Beat the butter, caster

sugar and soft brown sugar in a bowl using

an electric mixer for 2–3 minutes, until light

and fluffy. Add the eggs and vanilla extract

with 2 tablespoons of the flour, beat for

a minute until combined, then fold in the

remaining flour, baking powder and custard

powder.

Drain any excess juices from the rhubarb

and discard the syrup, then gently fold the

cooled rhubarb through the cake mixture.

Transfer the cake batter to the prepared tin

and gently smooth the top with a spatula.

Sprinkle the crumble over the cake and

press down lightly with the back of a spoon,

then bake on the middle shelf of the oven

for 40 minutes, until the cake is golden, firm

to touch, and when a skewer is inserted it

comes out clean. Allow to cool slightly in the

cake tin, then transfer to a plate.

Dust lightly with icing sugar before serving

warm with custard.

Tip

Also delicious served with ice cream or

single cream.

Hedgerow Nutty Crumble

Prep time 10 minutes

Cooking time 40 minutes

Serves 4

Fruit filling

40g butter

40g golden caster sugar

2 Braeburn apples, peeled and sliced

200g Bramley apples, peeled and sliced

300g foraged berries or any mixed berries,

such as blackberries and wild raspberries

Crumble topping

125g plain flour

85g unsalted butter, diced

85g demerara sugar

50g rolled oats

30g chopped toasted hazelnuts

Custard or ice cream to serve

Preheat the oven to 180°C/160°C fan/gas 4.

For the fruit filling, melt the butter in a

pan, add the sugar and apples and gently

simmer for 5 minutes. Add the berries and

simmer for 2 minutes, then transfer to a

23cm round oven-proof dish.

Meanwhile prepare the crumble topping.

Put the flour into a mixing bowl and rub

in the butter with your fingertips, until the

mixture resembles fine breadcrumbs. Stir

in the sugar, oats and hazelnuts.

Sprinkle the crumble topping over the

fruit, then place the dish on the middle

shelf of the oven. Bake for 30-35 minutes,

until the crumb is golden and fruit

bubbling.

Allow to cool slightly before serving with

custard or ice cream.

Tip

Try using other seasonal fruits such as

damsons or gooseberries.

www.minervamagazines.co.uk | 15
---
Impact of food waste

on climate change

When people talk about climate change and

how you can help reduce its effects, what

is the first thing that springs to mind?

Driving an electric car? Cutting down on

air travel? Going vegan? All big changes

to your life that you may not be able to

achieve...

The easiest thing that people can do to cut their impact on the

climate is by reducing their waste, especially food waste.

Globally, the production of food accounts for up to 37% of

greenhouse gas (GHG) emissions and requires significant

resources including land, energy, and water. However, up to 40%

is wasted. In the UK, 70% of UK food waste (post-farm gate)

comes from households, equivalent to a value of over £14 billion

a year and 20 million tonnes of GHG emissions

But the environmental damage is only part of the problem; the

financial implications for both householders and councils who

have to deal with the waste is significant. The average family

throws away around £700 of edible food each year and this could

hit family budgets at a time when they are already stretched.

A lot of people deny throwing food away, but the bag of lettuce

that isn't opened in time, the piece of cheese left at the back of

the fridge or even the extra portions of rice and pasta that you

cook all have needed to be produced, transported, packaged and

stored prior to you buying it……and then it ends up in the bin.

The Love Food Hate Waste website:

(www.lovefoodhatewaste.com) is a great resource to help

families be more proactive in reducing food waste; from menu

planning and shopping lists, through storing food correctly

(so many people have their fridge at the wrong temperature),

checking dates and then throwing together a meal with what's in

the fridge and cupboard one evening a week!

Cutting food waste is easier than you think and the first lockdown

showed that with a bit of thought and time it can be achieved as

nationally food waste went down by 13%.

Now that, is food for thought……..

ADVERTISING FEATURE

Geese and turkeys available to order NOW!

Free Range Geese available from

Michaelmas to Christmas. Free

Range Bronze Turkeys available

from Thanksgiving to Christmas.

Goodman's Geese and Bronze Turkeys are reared on our Free Range system at Walsgrove Farm

in the Worcestershire countryside and are recommended by top food writers for their succulent

flavour and presentation. They are produced to the highest welfare standards and matured in cold

rooms for 7 to 10 days to enhance the flavour.

AWARD WINNING FREE RANGE GEESE AND BRONZE TURKEYS - ORDER NOW:

www.goodmansgeese.co.uk

Goodman's Geese, Walsgrove Farm, Great Witley, Worcestershire WR6 6JJ

Tel: 01299 896272 Email: sales@goodmansgeese.co.uk

16 | www.minervamagazines.co.uk
---
An outstanding health and fitness facility

based at Malvern College's Sports Complex

Newly refurbished gym

25m pool with lane swimming

and family swim times

Exercise classes including

Boot Camp, Indoor Cycling,

Yoga, Pilates and more

Squash, Tennis, Badminton,

Table Tennis and Climbing Wall

www.malvernactive.co.uk | 01684 581 681

Monthly & Annual Memberships Now Available
---
CHOOSING A NEW SIXTH FORM

The Good Schools Guide offers some suggestions to take into consideration when making the change

Whether you want to change from a

single sex school to co-ed or from day to

boarding, private to state, A levels to IB -

or vice versa there are plenty of reasons to

move schools post - GCSEs.

When to start looking

We'd advise getting the ball rolling

towards the end of their year 10 in time

for sixth form open days and applications

which generally take place the following

autumn.

Discussions about post-GCSE options

will already be taking place at your child's

current school by then and looking at

other sixth forms will widen your options.

Maybe the broader based curriculum

of the IB would suit them better than

specialising at A level? Maybe they want

to pursue a more practical, less exam

based, route? Or perhaps your child

simply feels ready for a fresh start and

new faces.

Choosing a new sixth form

The decision needs to be a joint effort

between parents and children, based as

much on personal preference as objective

research. Your child may have formed

opinions about other schools via friends

and social media but however popular a

particular sixth form may be, it's no good

if it doesn't offer the subjects they want

to study.

Guide your child to consider the areas

of study they genuinely enjoy or find

interesting. Also bear in mind that the

demands of some A levels, such as

maths, are a big jump from GCSE and

most schools will set higher GCSE grade

requirements for these.

It may seem too early when your child

hasn't even finished their GCSE courses

to start talking about university subjects

and destinations, but if they are going to

change school for sixth form it's important

to at least start thinking about the ultimate

goal. For instance, if Oxbridge or medical

school is the aim then A level choices

need to be made accordingly and a

potential school's record of Oxbridge and

medical school places taken into account.

If university isn't part of the plan then you'll

need to ask the school or college about

provision for pupils who are interested in

alternative post-18 options such as degree

apprenticeships.

You can find latest information on a

school's Oxbridge, medical school and

non-university destinations in the 'Exit'

section of The Good Schools Guide

reviews.

Day to boarding

A move to boarding school for sixth form

- see this article for more - is often said

to be a good preparation for university.

But manage your expectations – in our

experience most sixth form boarding

accommodation is more luxurious than the

average university hall of residence!

Most boarding schools have separate

provision for sixth formers where they can

live more independently and with fewer

restrictions than younger pupils. If you

are looking at full, as opposed to weekly,

boarding then find out how many sixth

formers are in school at weekends and

what activities are on offer (our writers

suggest looking at boarding house

noticeboards to see sign-up sheets for

weekend activities).

While it's usually possible, with

permission, for boarding sixth formers to

attend day pupils' parties for instance,

it's unlikely that any school will allow the

same freedom to socialise (particularly

with regard to sexual relationships) as day

school pupils. Discuss school rules and

regulations frankly with your child - if they

(or you) are horrified then maybe boarding

isn't the right choice.

Independent to state

A move from independent to state school

is often determined by family finances, but

we wonder whether it could also now be a

strategic decision.

State school sixth forms or sixth form

colleges often have exam results that are

comparable to independent schools and

they may also offer a wider range of post-

GCSE choices.

And as the UK's top universities strive to

rebalance their admissions procedures to

correct what was (rightly) criticised as an

independent school bias, will this prompt

more independent school parents to send

their children to take A levels at state sixth

forms? Time will tell.

State to independent

If you think your child would benefit from

taking A levels at an independent school

but are worried about affording the fees, it

could be worth checking whether you can

apply for a bursary. Some schools offer

bursaries specifically for pupils joining the

sixth form from the local state sector.

Entry requirements

These differ considerably but five or six

GCSEs including English and maths at

grade 6 or above, with grade 7 or higher

in subjects to be studied at A level (can

be 8 or 9 for maths/further maths), is the

minimum for most selective schools.

Many schools set the sixth form entry

bar much higher and in addition to a

full set of GCSEs at grades 9-7, also

expect candidates to sit papers in their

prospective A level subjects. Schools will

usually interview prospective sixth formers

too.

The Good Schools Guide is the UK's

number one school guide, helping

parents in every aspect of choosing

the best education for their children

using their unbiased and impartial

school reviews, alongside a host of

articles advising on all aspects of

school life. Find out more at www.

goodschoolsguide.co.uk

18 | www.minervamagazines.co.uk
---
ADVERTISING FEATURE

Historic Malvern School gets a

Facelift and Opens its Doors to

Local Pupils

Schools and pupils alike have faced a time of incredible change and

challenge in the past year and a half. Now more than ever, sending

your children to a school where these challenges have been well-met

and both a safe environment and an excellent education are on offer

is paramount...

Students going into sixth form will

particularly find huge benefits from

studying at The Abbey College

in Malvern due to the doors that

independent education can open in

regards to moving on to University or

the career of their choice.

Tucked away right here in the Malvern

Hills is our very own historic Abbey

College, a residential boarding school

set on a gorgeous 70-acre campus. The

picturesque setting provides a peaceful

place for students to focus on achieving

their full academic potential, while

allowing the school to provide a large

range of sporting and social activities on

campus and a high level of residential

and personal care to each student.

The site of the Abbey College has been

used for education since 1874. The

main building was built in 1863 and the

original Abbey School moved to the site

in 1908 from two previous locations in

Worcestershire. Having developed our

high-quality education and boarding

with a family atmosphere over more than

half a century, today's school welcomes

students from around the world onto

British academic courses (IGCSEs and

A Levels).

In the past three years, large parts of

the campus have been upgraded and

dynamic leadership has ensured that

even through Covid19, the students

have not only stayed safe and thriving,

but also achieved exceptional results.

Just under 80% of the school's A-level

student's achieved A* and A's in 2020,

a testament to the small class sizes

and individual attention on offer.

Local students whose families cannot

afford independent school fees

can nonetheless have access to an

independent education at Abbey College

in Malvern.

The school is offering the opportunity of

a lifetime to the region's pupils, making

independent education more accessible

to a wider range of pupils across the

Three Counties area.

Daniel Booker, Headteacher at Abbey

College, said, "We are really delighted to

be able to offer these opportunities for

local students who have big dreams and

are keen on a global and independent

education. Our ethos is to help mould

students into great citizens of the future

and one way to do that is through first

class education."

Abbey College is set to offer one free

place and four additional reduced fee

spaces (at £400 per term for years 8

and 9; and £700 per term for years 10

to 13) to local students. In addition,

the school is offering a further five

scholarships to children of NHS staff.

To enquire about these places or to apply

for a scholarship, contact Abbey College

in Malvern on 01684 892 300 and speak

to Mr Booker or e-mail enquiries@

abbeycollege.co.uk.

www.minervamagazines.co.uk | 19
---
www.anboise.com

www.norsu.com.au

GUEST BEDROOM

perfection

DON'T: WORRY IF YOU

DON'T HAVE LOADS OF

SPACE

Ultimately you have to work with what

you've got - in the last 18 months,

many of us have seen our guest rooms

overhauled into home offices. If you've

ditched the bed don't worry - how about

adding an attractive sofa bed that you

can actually use the rest of the time as a

break out area from your desk.

DO: PROVIDE BASIC

AMENITIES

The more things you can put in the room

to make their stay easier, without having

to ask you for everything, the more

relaxed everyone will feel. A mirror is

important, as are fresh towels, tissues,

and perhaps even a hair dryer. A bedside

carafe and some glasses means they can

help themselves to water too.

DO: INVEST IN

GOOD WINDOW

TREATMENTS

As you might have never

slept in this space, you

might not know how

light behaves or how

effective the current

window treatments are for

blocking out light. For a

really luxurious look, pair

blackout blinds or shutters

with thick, decorative

drapery. Shutters give a lovely secure feel

to a space and really finish the room.

DON'T: SETTLE FOR A

LUMPY MATTRESS

The same goes for the mattress as the

window treatments - spend a night in the

room and see if the bed is up to scratch.

DO: PROVIDE GOOD

LIGHTING

Multi-level lighting is key for making a

space feel cosy - make sure there are

two bedside lamps and then another

light source in the space, such as a

standing lamp in the corner or a lamp on

a dressing table

DON'T: SKIMP ON THE

BED LINENS

Good bed linen really is worth the money

- and it tends to wash better too. Provide

a good quality duvet and pillows, linens

and some additional blankets if your

guests feel the cold.

DO: CREATE

SOMEWHERE THEY CAN

UNPACK

We all know it's a bit stressful trying to

live out of a suitcase - allowing for some

hanging space and a few drawers to

unpack into, can really help guests keep

on top of things whilst they're with you.

DO: MAKE IT SMELL

LOVELY

Kit the room out with either fresh flowers,

a reed diffuser, or room sprays. Pillow

spray to help deep sleep is also a lovely

touch to make the space feel homely - we

love Olverum's new Restful Pillow Sleep

Mist, £25, olverum.com

DON'T: BE A

PERFECTIONIST

If your guests were hoping for hotel

standards, then that's where they should

have stayed. Just aim to make sure

the space is clean, comfortable and

functional, then relax - there's enough to

be worrying about in the festive season

without adding high expectations on top

of that.

If you're looking for a total decorative

overhaul, check out our moodboards!

www.frenchbedroomcompany.co.uk

20 | www.minervamagazines.co.uk
---
Bromley Chest, £399,

Made.com

Black Branches Print, from £6.99,

www.juniqe.co.uk

Jute Effect Daylight Roller

Blind, from £22, John Lewis

Bedroom by Pure Salt Interiors

BRIGHT

& CRISP

Off-White Linen Bed Set.

£170.99, www.truelinen.co.uk

Limestone Wood Paint, £18

750ml, thorndown.co.uk

Dar Lighting

NUS422, from £82,

wtlighting.co.uk

Furn Contra Olive Cushion,

£25, www.persora.com

London Bench, from £499,

www.boconcept.com

Mala Pile Rug,

200x290cm, £299,

Made.com

Reims, Iron/Metal Four Poster Bed Frame, from

£649, www.obc-uk.net

Black Bud Vase, £29,

room356.co.uk

Achieve this look by

layering different

neutral textures, and

adding structural

touches of black and a

few strong accent colours

Juna Striped

Cushion, £34,

hauslife.co.uk

www.minervamagazines.co.uk | 21
---
D A Campbell

CURTAINS • BLINDS • SHUTTERS • AWNINGS

Offering a complete,

personal interior design

service to suit you

Photographs courtesy of Jane Churchill

D A Campbell offers a complete service from

measuring to fing, ensuring the highest

standard from start to finish.

All curtains, blinds and so furnishings are

handmade by experts in our Herefordshire

workroom. We employ tradional techniques

and me honoured crasmanship to

achieve a superb finish.

Phone to make an appointment

for a home visit or visit the showroom.

37 The Tything Worcester WR1 1JL

Call 01905 24313

dacampbell.co.uk
---
Pembridge Pendant

Size 3, £1319,

www.originalbtc.com

B O H O

COASTAL

Dulux Paint in 'Paper Chain'

Natural Ceramic Table Lamp,

£99,barkerandstonehouse.co.uk

Kilby Bedside

Table, £229,

made.com

Design by Studio McGee

Fingal 3 Seat

Sofa, £1210,

sofa.com

Navy Seigaiha Wave Cushions £32 and Kayla Woven Cushion £31, hauslife.

co.uk, Weeping Palm Tree Velvet Cushion Cover, £32.95, audenza.com

Malibu Print, from £6.99, www.juniqe.co.uk

Tulana Double Bed,

£599, made.com

Elowen Throw,

£75, hauslife.co.uk

www.minervamagazines.co.uk | 23
---
Century 1 Light

Chandelier in Rich

Auerelia Gold with Clear

Heritage Crystal, £906.12,

weybridgelights.co.uk

Design by Turner Pocock

Clemence Mirror, £174,

sweetpeaandwillow.com

So'Home Lamp,

£139, laredoute.co.uk

Rustic Apricot Blossom

Wallpaper, £44 for 10m

roll, litfad.com

MODERN

REGENCY

Porthallow Footstool, from

£746, sofasandstuff.com

Botticelli Demi Lune

Console Table, £495,

perchandparrow.com

Country Living Linen

Pom Pom Cushion, £20,

homebase.co.uk

Estella Headboard from £545,

headboardsbydesignonline.co.uk

400cm Core-Edo

Coordonne mural, £470,

thebestwallpaperplace.com

www.minervamagazines.co.uk | 25
---
TREAT

YOURSELF

TO SOME

COMFORT FOR

CHRISTMAS

Massive reductions

on British-made

bespoke furniture

• 1/2 price quality chairs &

beds made to measure

• Designed to suit individual

needs, complementing

the body's natural position

• Specifically designed

to give extra support,

improve posture, & help

with pain relief

• Hundreds of top quality

fabrics & leathers to

choose from

• Heat massage, matching

sofas, & many extras

• FREE Luxury mattresses &

padded headboards in all

sizes

• Improve your quality of life

CALL TODAY FOR YOUR

HOME ASSESSMENT

& FIND YOUR

ULTIMATE COMFORT

Mrs Wilson of Evesham says: "I

am delighted with my purchase,

The chair is so comfortable

and I am glad I chose to have

the massager as this has really

helped to ease my arthritis, I can

now look forward to a better

standard of life"

FREEPHONE

0800 533 5099

newlifemobility.co.uk

LINES OPEN 7

DAYS A WEEK
---
HOUSING-WITH-CARE

Allowing older people to live where they want to live

Imagine you're an older person in your

70s, approaching your later years and

perhaps in need of more support soon,

but still with so much to give, so many

talents to unlock, so many friends to

make. You're thinking about moving

from the family home you've lived in

for years to somewhere which provides

security and care if and when you need

it, but which also allows you to keep

your independence and connections to

the local community, and which has a

range of activities and facilities to keep

you busy.

It's this middle ground, this golden

mean, combining independence with

care and support, which housing-withcare

settings across the country are

offering to older people in increasing

numbers. Sometimes called retirement

communities, retirement villages or extra

care housing, these settings give older

people the opportunity to rent or own

a flat or apartment, on a site with 24/7

staffing, high-quality care provision if

needed, and facilities like restaurants,

bars, cafes, gyms, activity rooms and

much more.

While long-standing options for older

people like care homes and traditional

retirement housing will continue to have

a vital place, there is a growing need

for middle options like housing-withcare

which allow older people to stay

independent and healthy for longer.

The evidence is clear: housing-withcare

improves health and well-being,

drastically cuts down hospital and GP

visits, and reduces feelings of loneliness.

Not only do older people themselves

benefit, but so too does the NHS and

whole social care system.

Housing-with-care settings can be in

either rural or urban locations, giving

older people the chance to choose the

lifestyle they want. Often, they are closely

connected with the town centre, and

people of different ages are able to use

the facilities at the retirement community

and mix with older residents. Far from

being ghettos of the elderly, housingwith-care

settings can be hubs of

intergenerational connection.

ARCO's role as the representative body

for the housing-with-care sector is to help

our members provide the best possible

service to their older residents, and to

ensure the sector thrives and grows in

the way that it should. An important part

of ARCO's work is helping members

set high standards through the ARCO

Consumer Code, a new edition of

which was launched in September this

year. The code upholds the principles

of transparency and fairness, giving

customers and residents confidence that

housing-with-care operators achieve

high levels of consumer protection in

everything from marketing, sales and

lettings, and resident relations.

Because, ultimately, housing-with-care is

all about the residents. About responding

to the growing demand from older

people for housing options that combine

independent, active living with care

and support if needed. About allowing

residents to live the life that they want

to live.

For further email please visit

www.arcouk.org

www.minervamagazines.co.uk | 27
---
Every Tuesday and Wednesday

10am to 3pm

St Matthias Church,

Church Road, Malvern, WR14 1LX

Tel: 01684 252003

malverndementia.org

Quality care in

Worcester you

can trust

When a family is thinking about care for

a loved one, they want the best - they want

to know that the care home they choose will

put their loved one's safety, happiness and

wellbeing first.

Care UK's Perry Manor care home in Worcester provides

residential, dementia and nursing care, giving families peace of

mind that their loved ones can stay living at the home should

their needs change.

Living at Perry Manor is all about quality of life. Every colleague

in the home is passionate about enabling residents to enjoy

a fulfilling lifestyle, tailored around their unique needs and

preferences. The lifestyle team organises a huge variety of

group and one-to-one activities, with plenty going on each day.

Often families are so caught up in the day-to-day care of their

loved ones that the personal relationship they share can take a

step back. Once their relative has settled into Perry Manor they

are able to focus on spending quality time with them again just

enjoying each other's company.

With the extra support that our care home offers, new residents

are often surprised at what they can do, whether that's being

able to continue with an activity they've enjoyed in the past, or

even discovering new hobbies with our daily activities.

Whether your loved one enjoys a quiet cup of tea in bed before

starting the day, loves going for strolls in nature, or enjoys a

chat over a beer, the team at Perry Manor will spend time to

enable them to continue living life the way they want to.

Perry Manor is part of award-winning provider, Care UK –

one of the UK's most successful care home operators* with

over 35 years' experience of delivering high quality care to

older people.

Perry Manor care home

Worcester WR5 1ET

care.uk.com/perry-manor

Email: james.wright@careuk.com

Tel: 01905 886154

ADVERTISING FEATURE

*As rated by the Care Quality Commission in England and the Care

Inspectorate in Scotland.

28 | www.minervamagazines.co.uk
---
Trusted to care

Award winning care homes

Our dementia specialists take a gentle yet

proactive approach to care, supporting each

resident to be as independent as possible. We

champion innovation through our partnership with

the Association for Dementia Studies at the

University of Worcester.

We're here to help you and your family at every step

of the journey.

If you're considering care for yourself or a loved

one, call 01905 886154 or email

james.wright@careuk.com

Rated

9.9

out of 10 on

carehome.co.uk

Perry Manor care home

Worcester, Worcestershire

careuk.com/perry-manor
---
Welcome To

Albion Lodge

Retirement Home

ADVERTISING FEATURE

Albion Lodge was established in 1985 by the

Darwent family and the care provided is very

much based on the ethos that we look after our

residents as if they are part of our own family.

We offer individualised supportive care whilst

aiming to maintain independence...

The home itself is a period residence set in two acres of beautiful

lawns and gardens in the heart of the Worcestershire countryside

and is close to the centre of the small village of Hanley Swan.

We are well supported by our local surgery, district nurses, foot

services, physiotherapists, and a visiting hairdresser.

Recently we have added a new spacious new restaurant serving

delicious home cooked meals. Also, there are six new large

and airy rooms that all include wet rooms. Two of these have

balconies and all can come either fully fitted or furnished with

resident's own furniture. There are three lifts that service the first

floor and two that service the second floor.

We offer a range of daily activities that people may take part in

as much as they wish. This includes a wide variety of music,

games and art. Our activities coordinator will also cater for

individual needs. For those who need to go further afield there is

a wheelchair accessible vehicle available for friends and families

to use.

During the pandemic the

residents have been Covid-19

free whilst enjoying visits from

family and friends. Following

Covid-19 guidelines, we

welcome people to come and

have a look around to gain a

sense of what we can offer.

Future developments include 16 close care apartments, Albion

Meadows, which will be adjoining Albion Lodge and will be ready

in late 2022 / early 2023. These will provide the opportunity to

be part of a strong community with access to all the facilities that

Albion has to offer.

Please don't hesitate to telephone us on 01684 310626 to

arrange a visit or for more information and a friendly chat or email

us at info@albionlodge.co.uk. You can also visit our website at

www.albionlodge.co.uk

Albion Lodge

Retirement Home

We are a family run establishment and the care we provide is very much based on

the ethos that we look after people as if they are part of our own family. Offering

individualised care, we aim to maintain independence whilst providing support.

What we offer

• 24 hour care • Period property • Village setting

• Two acres of lawns • Special baths

• Disabled access vehicle • Three lifts

• Respite rooms pre-bookable

NEW ROOMS AVAILABLE

Albion Lodge Retirement Home, Hanley Swan, Worcestershire, WR8 0DN

Tel: 01684 310626 • Email: info@albionlodge.co.uk • www.albionlodge.co.uk

30 | www.minervamagazines.co.uk