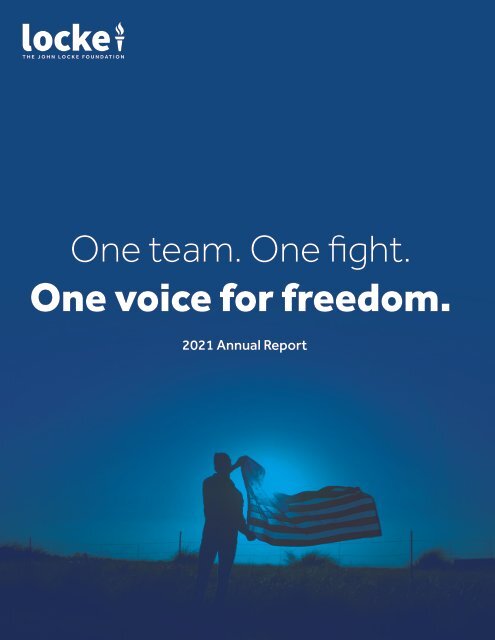 John Locke Foundation - 2021 Annual Report
You also want an ePaper? Increase the reach of your titles
YUMPU automatically turns print PDFs into web optimized ePapers that Google loves.
One team. One fight.

One voice for freedom.

2021 Annual Report

2021 Annual Report | 1
---
One team. One fight.

One voice for freedom.

2021 Annual Report
---
© 2021 John Locke Foundation

4800 Six Forks Road, Suite 220

Raleigh, NC 27609

(919) 828-3876 | johnlocke.org

All rights reserved.
---
Contents

Message From Our CEO.........................................................................................Page 7

Fighting For You at the People's House............................................................ Page 10

Speaking the Truth Through Fact-Based Research..................................... Page 14

Defining Digits..........................................................................................................Page 16

One Voice For Freedom: The Merger................................................................. Page 19

The Carolina Journal..............................................................................................Page 20

Rooted In Principles and Looking Ahead........................................................ Page 25

Why Locke?................................................................................................................Page 26

2021 Annual Report | 5
---
If Not Us, Then

Who? If Not Now,

Then When?

Message From Our CEO

Just months into my

tenure as CEO, that was

our thought as COVID-19

measures threatened our

civil liberties; violent protests

threatened public safety; and

unprecedented government

spending, along with massive

labor market issues, threatened

our economic stability.

With freedom threatened on

multiple fronts, there was an

urgency for us to examine how

we deploy our resources. At

the same time, we partnered

with the Civitas Institute on

a judicial issues educational

outreach campaign. Civitas CEO

Donald Bryson and I watched

our organizations work together

successfully for a common

purpose. It occurred to us we

should continue working as a

cohesive unit.

From Think Tank to

Battle Tank

Freedom's opponents will

always have more resources

because they have government,

big government advocates, and

those who stand to gain from

big government to fund them.

The financial disadvantage

just means we have to be

smarter with our resources

and how we deploy them. With

freedom as a common goal

and the authoritarian Left as

the common opponent, we

could ill afford a Hunger Games

scenario between Civitas and

Locke.

On Jan. 1, 2021, the intellectual

forces that have driven three

decades of freedom-forward

research and policy reforms

in North Carolina merged our

capabilities, ensuring that

North Carolinians' liberties are

robustly defended and advanced

as we enter this next decade.

By merging our capacities,

we could reallocate resources

from duplicative overhead into

expanding research, grassroots

outreach, government

affairs, social media and

communications, and news

coverage — all of which you'll

read about in the following

pages.

With this change, we've

marshaled the strategic forces

2021 Annual Report | 7
---
DONOR BASE

DONATIONS

2,000

3,000

1,500

2,500

1,000

2,000

2019 2020 2019 2020

1,505

Donors

2,730

Donations

necessary to continue the battle

for freedom and free markets

in the new decade. For the sake

of today and tomorrow's North

Carolinians, we moved from

think tank to battle tank.

One Team. One

Fight. One Voice For

Freedom.

Egos are checked at the

door. We all have pet issues

and projects that capture

our attention, but ultimately

freedom is the goal. We envision

a North Carolina where freedom

is so much a part of the fabric

of the state that we aren't even

needed. Until then, we will be

on the front lines. Depending

on what drives freedom's

opponents at any given

moment, we can respond. Best

of all, we have the ability to go on

offense.

Based on our investors'

response, they like the

combined forces. We are

grateful to and humbled by all

who invested time, treasure, and

faith in us. We want you to be

proud of your partnership with

us. One team. One fight. One

voice for freedom.

Locke'd and loaded,

Amy Cooke

CEO

CEO Amy Cooke joined Locke in

January 2020.

John Locke Foundation | 8
---
Locke's Jon Sanders, senior fellow of regulatory studies and

research editor, digs deep into the data to help lawmakers and

citizens better understand the impact of regulatory burdens on the

lives of North Carolinians.

Locke's Paige Terryberry assesses state fiscal policies, providing

lawmakers guardrails for funding core services while ensuring North

Carolinians keep more of what they earn.

2021 Annual Report | 9
---
Fighting For You at the

People's House

John Locke Foundation | 10
---
Respected By Our Allies.

Feared By Our Foes.

Reputation Is Earned

Credibility is the currency of

public policy. The Locke team

has it, giving us entree into the

discussions where decisions are

made, and giving us the ear of

the leaders who ultimately make

the calls. Thanks to our expanded

capacities, strategic focus, and

strong relationships, Locke's

influence with lawmakers is

stronger than ever.

As of October 2021, the General

Assembly continues this year's

work, yet freedom has already

notched another winning session.

All indications point to more

successes as the fall plays out and

final decisions are made on state

spending and revenue, as well as

other key areas that have direct

impact on how we live our lives and

the opportunities to come.

These new dividends can be traced

directly to the Locke-influenced

tax and regulatory reforms that

have been implemented each year

since 2013. Taxpayers are being

respected through a reformed

rate structure, the state's savings

accounts are at an all-time high,

debt is being paid down, and

investments are being made in

long-term obligations that were

once ignored.

Signed Into Law

HEALTH CARE: A higher threshold

will be implemented for the medical

equipment covered by the state's

antiquated and anti-competitive

Certificate-of-Need law, which

gives bureaucrats the power to

decide who can and can't expand or

build new facilities or add diagnostic

tools to better serve patients.

ELECTION INTEGRITY:

Redistricting rules will now prohibit

the use of political data when

drawing election maps, quashing

the temptation of bad actors

to unfairly influence election

outcomes.

RECODIFICATION OF THE

CRIMINAL CODE: A working group

will proceed with a sweeping review

and clean-up of the sometimes

hidden regulatory crimes buried in

the rules of various agencies of the

state and local governments.

2021 Annual Report | 11
---
GOVERNMENT AFFAIRS:

Locke's Government Affairs

team fights hard for North

Carolinians

John Locke Foundation | 12
---
"Credibility is the currency

of public policy. The Locke

team has it."

Prospects For

Tomorrow

Our legal experts have helped

put Gov. Roy Cooper on notice

that his long-term, singlehanded

vice grip on emergency

powers will be reined in and

shared by other statewide

elected officials.

North Carolinians lacking a

stable broadband connection

are closer to enjoying a level

playing field for education,

health care, and careers, thanks

to our work on regulatory and

technical issues.

Locke's Terry Stoops adds his education expertise to Lt. Gov. Mark

Robinson's F.A.C.T.S. Task Force.

Entrepreneurs and job creators

will have an easier pathway

into the marketplace with new

products and services through

our leadership on, and support

of, innovative oversight for

start-ups.

The most vulnerable Tar Heels

will have greater access to

medical care through our work

to free doctors and nurses from

antiquated and unnecessary

rules that prevent them from

practicing where they're most

needed.

Lt. Gov. Mark Robinson and

lawmakers have tapped our

team to help educate parents

about the ugly Marxist roots

of Critical Race Theory and

how it is being used to shame

and divide children in North

Carolina classrooms.

2021 Annual Report | 13
---
Speaking the Truth

Through Fact-Based

Research

John Locke Foundation | 14
---
Return On Investment

Energy Crossroads ▶

A study released in June, called

"Energy Crossroads," exposed

the need for nuclear energy

and natural gas as we enter into

this next decade. This authors'

well-researched conclusions

stand in opposition to Gov.

Cooper's misguided energy

recommendations.

Emergency Powers

No governor, regardless of

party, should have unchecked,

long-term power to mandate

and prohibit the actions of

North Carolinians. Locke

established coalitions and

led the calls for reform to the

Emergency Management Act to

restrain unilateral powers of the

governor's office.

COVID-19 Clarity

Through data-driven analysis,

Locke has separated itself

from the pack, providing

clear-minded perspective on

the threat of the virus to the

populace and the insidious

consequences of government

lockdowns on our children and

on our economy.

Effective Education

The newly-formed Center for

Effective Education immediately

gained traction. Director Terry

Stoops was appointed by Lt. Gov.

Mark Robinson to the F.A.C.T.S.

Task force, which investigates

political bias in the classroom.

The Center has also published

examples of Critical Race

Theory (CRT) being injected

into the classroom, exposing

as a lie the claim that CRT is

not in schools. The Center's

push for transparency has

helped showcase the need for

accountability to parents related

to CRT and controversial social

studies standards. Rounding out

the Center's work is a revamp

and expansion of Locke's North

Carolina History Project, which

will develop unbiased history

curriculum to counter the

dubious 1619 Project.

Taxpayer Bill of RIghts

Locke's vocal support for

a Taxpayer Bill of Rights

(TABOR) and the importance of

budgetary restraint prompted

budget writers to be very

mindful of TABOR limits when

crafting their 2021-22 budget

plans, despite the availability of

billions in surplus revenue.

The State Budget

The Senate's budget plan

included a complete phaseout

of the corporate income

tax, a move Locke has urged

lawmakers to adopt.

Election Integrity

The newly-formed Civitas

Center for Public Integrity

critiqued redistricting

legislation, providing

recommendations for

more effective redistricting

guidelines. In September,

Center Director Andy Jackson

testified before the Joint

Redistricting Committee to

offer recommendations on

redistricting guidelines.

2021 Annual Report | 15
---
Defining Digits:

Connecting With Carolina

9

PUBLISHED RESEARCH

STUDIES

4,567

MEDIA MENTIONS

5

APPEARANCES

TO TESTIFY BEFORE

LEGISLATIVE COMMITTEES

5

CIVITAS POLLS

46

SHAFTESBURY

SOCIETY EVENTS

2

APPOINTMENTS TO

KEY COMMISSIONS

1 NEW PRODUCTION STUDIO

John Locke Foundation | 16
---
Defining Digits:

Connecting With Carolina

Facebook

LOCKE

37,652

FOLLOWERS

+205%

CAROLINA JOURNAL

Locke's Kitty Hawk Club, hosted by communications associate

Brenee Goforth, features engaging interviews with special guests.

8,448

FOLLOWERS

+5.4%

KITTY HAWK CLUB

Locke's Private FB GRoup

1,412

MEMBERS

+13.9%

Twitter

LOCKE

11,900

FOLLOWERS

CAROLINA JOURNAL

3,274

FOLLOWERS

Email

Subscribers

91,674

SUBSCRIBERS

+113%

RESEARCH NEWSLETTER

12,124 recipients +371%

CJ DAILY

25,038 recipients +835%

ON LOCKE

7,260 recipients +120%

*All growth numbers are from January 1, 2021 to July 2021

2021 Annual Report | 17
---
Locke and The Carolina Journal featured in...

And many more...

John Locke Foundation | 18
---
One Voice For Freedom: The Merger

JLF + CIVITAS = LOCKE. Since merging, Locke's efficiency and effectiveness have poised us for

great success. The team has worked to merge JLF & Civitas assets, establish sound practices, and

streamline services between both organizations.

Internship Program

The Locke internship program

was created and our first cohort

of college students joined our

team for the summer of 2021.

They worked with multiple

departments across the

organization, wrote several

op-eds, and participated in a

summer-long seminar series on

the principles of free-market,

limited government thought.

Facilities

The new office space buildout

has been completed and

will serve as dedicated space

for Carolina Journal employees

and interns. We completed a

media room expansion, with

equipment upgrades and a

state-of-the-art studio space

for expanded video capabilities.

In addition, we have opened our

Baber Conference Center up

for use to the following partner

organizations: NC Center Right,

the North Carolina Institute of

Political Leadership, and the

Bastiat Society.

EA Morris Fellowship

The E.A. Morris program trains

a new generation of leaders,

developing their skills to bring

together public and private

institutions to solve society's

problems. The program is well

underway for 2021. Applications

for the 2022 cohort opened

October 2021. We are in the

process of creating an alumni

program for former participants.

The merger of JLF and Civitas has been challenging, but

rewarding, as the newly formed Locke has become a force

for freedom across the state. It is our honor to fight for

North Carolinians.

2021 Annual Report | 19
---
John Locke Foundation | 20
---
Shifting the Conversation

This year, The Carolina

Journal has focused efforts

on using our resources and

grassroots supporters to shift

the conversation in North

Carolina toward individual

liberty. We focus on the rights

of North Carolinians to run

their businesses, maintain

autonomy over their medical

decisions, and teach their

children critical thinking skills

in an environment free of

intimidation and uncertainty.

To that end, we have been able

to pivot in a quickly changing

news environment to update our

print product, Carolina Journal,

expand social engagement

with grassroots movements

and lawmakers, and build on

relationships with local news

outlets to share content.

Print Edition

This year, Carolina Journal's print

product was redesigned to be a

larger paper with fewer pages.

We are using the increased

space to change to a more

readable, slightly larger font, an

updated logo and masthead,

using Carolina Journal, because it

is the original state journal, and

a trusted source of printed news

and analysis. We also added

more regular templated features

like Bills to Watch, a monthly

civics lesson, a visual table of

contents, and a more elaborate

double truck with infographics.

The redesign maintains the

tradition of excellence that CJ

readers have come to expect,

but helps readers better

navigate the print product, know

what to expect, and reduce the

labor hours required to produce

it. The print edition is now

printing seven issues per year,

producing a savings of more

than $62,000. Those savings are

being directed into additional

daily resources to cover news

and issues as they unfold.

Digital

Our goal is to update the

website to put more content on

the home page, expand social

engagement, and improve

Search Engine Optimization

(SEO) with training and tracking.

We will launch the redesign of

the CJ website to include more

stories on the home page and

create more cohesive branding

across the products. We are also

adding more briefs, updates,

photo essays, and videos. We

are improving the daily work

rhythm to include more use of

the breaking news banner and

a higher level of story turnover

throughout the day, and more

stories scheduled to post over

the weekends.

With ongoing work on our

strategic plan, we are developing

a close relationship with

stakeholders inside and outside

of the organization to ensure

that each story works toward

Locke goals over the long term.

$62,000

Amount of money saved by reducing

the frequency of the print edition of

The Carolina Journal

2021 Annual Report | 21
---
John Locke Foundation | 22
---
Community

Relationships

We are working to build

communication with local

papers and build partnerships

among college groups to

increase visibility among

younger readers and increase

their exposure to the concepts

of liberty and free markets.

In June we launched the CJ

Newswire, which goes to more

than 130 editors of small papers

across the state. The newswire

is distributed each morning

with top-performing CJ stories,

sometimes breaking ones, and

art whenever possible. Papers

began using them immediately,

with about 75 using at least one

article a week, resulting in an

estimated $10,000 per week in

earned media.

Growth Potential

Among the most valuable

growth areas for CJ is the

increasingly close relationship

with Locke's government affairs

team. On several occasions

over the past few months, we

have been able to coordinate

coverage on key bills and issues

to multiply our organizational

impact. Examples include the

state budget, energy bill, and

donor privacy.

CJ's new office build out.

What's Next?

For fall and beyond, we are

working to grow the video

presence of CJTV with the new

build-out and new equipment.

Plans are being formulated to

make full use of the new video

resources through videos and

news updates from the field,

opinion panels, quick lives from

the legislature, and a TikTok

video series explaining basic

principles of free speech,

capitalism, economics, civics

lessons, and interesting stories

from history.

130

Number of editors of small

papers receiving stories via

CJ Newswire

2021 Annual Report | 23
---
INTERNSHIP PROGRAM:

Locke Summer 2021

Interns: Rachel Hall, Kelly

Fitzgerald, Carter Riley, and

Ewan Hayes.

John Locke Foundation | 24
---
Rooted In Principles and Looking Ahead

Engaging with supporters

and growing the army of

fighters for freedom isn't simply

'checking the box' for the Locke

team. We savor the opportunity

to reach out. Core to our

mission is to persuade others to

join our coalition.

We hope to talk with you at one

of the many events and forums

we have planned.

Locke History Tour

We cherish the rich history of

our state, and the incredible

stories of those who were

instrumental in our state and

federal constitutions. Watch for

our calendar of events that meld

enjoyment and learning.

Grassroots

Networking

We're stronger as a cohesive,

well-oiled movement. Watch

for opportunities to join us by

engaging and deploying your

voice on critical issues in your

city or county and building the

freedom coalition neighbor by

neighbor. You are the key to the

future.

New Legislator

Training

When elections are over, our

work begins in earnest. We will

continue to host meetings,

education sessions, and oneon-one

conversations to give

new lawmakers the intellectual

grounding to defend and

advance freedom and free

markets. Our training is a Locke

tradition that has planted the

seeds for policy victories and for

the development of statewide

leaders.

Leadership and

Fellowship Conference

In early 2022, join us in the

capital city. Meet conservative

leaders from across the state,

hear the very latest about the

decisions facing our state and

the choices that will determine

freedom's fate. Watch for more

information in the fall.

2021 Annual Report | 25
---
Why Locke?

They say that with age comes wisdom. True

enough. But some things are universal, not tied to

time or circumstance. Freedom is untethered and

open to all who choose to embrace it. It's an aching

in the soul to make our own choices, to help others

in need, to explore new opportunities, and to pass

on this love of life to our kids and grandkids.

That's what we do. Fighting for good policy is how

we love our neighbors. We can't do it alone. We need

you to help us fight for what's right - and to win.

Your tax-deductible donation will be put to use

immediately and with precision to secure wins and

advance the goals presented on these pages. If you

like what you see, you will like what's to come.

Freedom is our mission. Follow us.

Visit johnlocke.org to make your gift today,

or call 919-828-3876.

John Locke Foundation | 26
---
2021 Annual Report | 27
---
4800 Six Forks Rd., #220

Raleigh, NC 27609

919-828-3876

johnlocke.org

johnlockefoundation

@johnlockenc

John Locke Foundation

johnlockefoundation1

johnlockefoundation

Freedom is our mission.

Follow us.