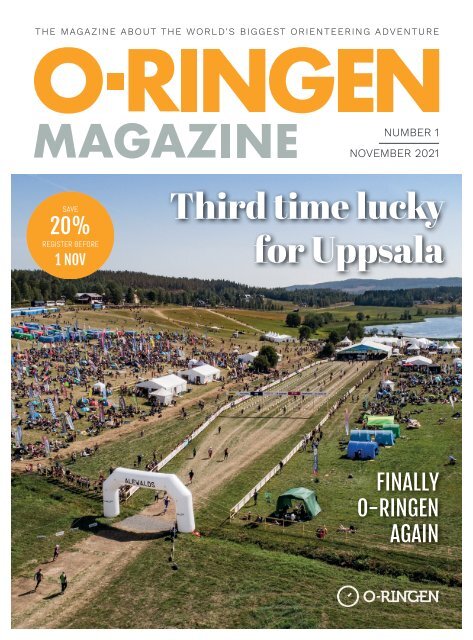 O-Ringen Magazine, number 1 - 2021
The magazine about the world's biggest orienteering adventure. O-Ringen Uppsala 2022.
The magazine about the world's biggest orienteering adventure. O-Ringen Uppsala 2022.
SHOW MORE
SHOW LESS
Create successful ePaper yourself
Turn your PDF publications into a flip-book with our unique Google optimized e-Paper software.
THE MAGAZINE ABOUT THE WORLD'S BIGGEST ORIENTEERING ADVENTURE

NUMBER 1

NOVEMBER 2021

SAVE

20%

REGISTER BEFORE

1 NOV

Third time lucky

for Uppsala

FINALLY

O-RINGEN

AGAIN

O-RINGEN MAGAZINE NR 1 • 2021 1
---
IN THIS EDITION

O-Ringen AB

Heliosgatan 3

120 30 Stockholm

0771-49 90 00

info@oringen.se

Third time lucky

Contact O-Ringen AB

Jens Lindquist | Acting CEO

070-377 62 15, jens.lindquist@oringen.se

Mats Adolfsson | Sales

070-394 50 71, mats.adolfsson@oringen.se

Anna Wennertorp | Marketing, Experience

& Competitior services

070-952 54 78, anna.wennertorp@oringen.se

Magnus Johansson | Competition & IT

070-381 03 56, magnus.johansson@oringen.se

Restrictions are easing

7

WWW.ORINGEN.SE

O-Ringen

The magazine is produced and

published by O-Ringen AB

Responsible publisher

Jens Lindquist

@oringen

11

Bring your bike

17

Stage areas – explore the exciting

stages in Nåsten, Sävja and Lunsen

13

Accomodation

30

MTBO at cycling distance

Layout

Martin Hammarberg, Adshape AB

Cover photo

Peter Holgersson

Elite sprint at

Studenternas IP

32

Come back for Trail-O at O-Ringen Uppsala

Photo: Peter Holgersson

22

42

O-Ringen Indoor Uppsala 2021

36

Pearls and Curiosities in Uppsala

38

O-Ringen on tour

44–49

O-Ringen 2023, 2024 och 2025

51–56

Registration guide

Finally! Third time is the charm! May the dream about O-Ringen Uppsala 2022

now become reality! That and a thousand other thoughts and feelings of hope

and happiness surfaced when the government announced that the limits on the

number of participants are being removed.

The pandemic is still present in our

everyday life and far from over

and the hope about an O-Ringen

next summer is obviously

dependent on many things beyond our

control. But if everything goes well so that

we can finally meet again it will, after two

postponed events, be wonderful to do so

next summer at the biggest orienteering

adventure in the world: O-Ringen.

The announcement about the removed

restrictions gives a new burst of life and

energy to the officials who resume their

work with full power, not just in Uppsala but

also at future O-Ringen destinations. After

a two-year hiatus plans and preparations

need to be dusted off and updated for us to

be ready to receive all you enthusiastic orienteers

from all corners of the world. After

these two years the craving might be extra

strong so we may be looking forward to an

extra-large reunion at O-Ringen Uppsala

2022.

You are very welcome to share the joy

with us!

JENS LINDQUIST

project manager O-Ringen Uppsala 2022

jens.lindquist@oringen.se

2 O-RINGEN MAGAZINE NR 1 • 2021 O-RINGEN MAGAZINE NR 1 • 2021 3
---
STRATEGY

Community,

SÖT

wise choices, and

communication

That is our focus when we move forward to make

O-Ringen a sustainable experience both for you as

participants but also for our partners and suppliers

as well as for us as a business. Three years has now

passed since we got a new owner directive with a

partially adjusted focus. Sustainability in combination

with an even more positive experience that creates

added value for more people has now been pushed higher

up on the agenda. This is not new for us, but it gets a

clearer focus than before.

compensated for their work and the Swedish orienteering movement

can and should count on us to shape cost structures that let

us actively create possibilities to develop as a continued financially,

socially, and environmentally sustainable event.

The change of direction and focus that we have made, is at once

both inspiring and challenging. We look forward to finally arranging

an O-Ringen with community, wise choices, and communication

as starting points and focus. These three starting points

consolidate the focal areas and enables both the organizer as well

as individual officials to contribute, with actions and behaviour, to

fulfilling the strategy for the next generation of O-Ringen.

MINDRE SÖT

This has led us to develop a new strategy that will lead us

into 2025. This in the light of us needing to move forward

with two postponed events behind us. The foundation for

our direction is global goals where good health and well-being

are obvious factors, and in our case, this includes our officials and

employees, our participants, partners, and host municipalities.

Consumption shall be sustainable, and production shall be decreased.

That requires consistently aware and wise choices, which

obviously also applies to transports. These issues are always on the

table when we look forward and make plans for future events and

the development of O-Ringen. Our arena and our competition area

are of decisive importance to us and others, including eco systems

and biodiversity. That means that the choices we make must be

well thought-out, deliberate, and wise, to achieve the lofty goals we

aspire to when we arrange and then close an event. To succeed we

must cooperate even more closely.

Economic sustainability has come into focus after two years with

postponed events. According to the new directives we shall have

sustainable finances, so we need to better identify the conditions

that create that possibility. We want our officials to be properly

LINDA TAKE

Chairman of the board O-Ringen

linda.take@oringen.se

UTAN TILLSATT SOCKER

SAMMA GODA SMAK

När livet leker

4 O-RINGEN MAGAZINE NR 1 • 2021 O-RINGEN MAGAZINE NR 1 • 2021 5
---
SAGOLIKA FÖTTER

FINALLY O-RINGEN

DJUPT

ÅTERFUKTANDE

TILLFÖR NÄRING

UNDER 24 TIMMAR

MJUKAR UPP

FÖRHÅRDNADER

OCH MOTVERKAR

TORRHET

Pedicare är proffsens fotvårdsserie. Produkterna

utvecklas och tillverkas i Sverige i samarbete med

ledande specialister inom medicinsk fotvård.

Säljs på apotek, Åhléns, hos välsorterade fotterapeuter

samt online på lyko.se och pedicare.se

STÄRKER OCH

REPARERAR

BIVAX, REPARERANDE

VITAMIN B, SHEASMÖR

OCH STÄRKANDE

VITAMIN E

PROFESSIONELL FOTVÅRD

VÅGAR DU PROVA

VÅRT STARKASTE LINIMENT?

N Y H E T !

Restrictions are easing

- now we long for O-Ringen!

On the 29th September the Swedish

Government will ease the majority of

the remaining Covid restrictions that

have been in place since early 2020.

This means that there will no longer

be a limit placed on the number of

participants or spectators at sporting

events.

"We are obviously really pleased with this

decision and can now begin the planning

for next summer's big orienteering festival,

O-Ringen", says Jens Lindquist, project manager

and acting CEO for O-Ringen.

"For two summers now we have had to go

without the fantastic orienteering adventure

that is O-Ringen and the sense of community

that it creates. For two summers we

have had to postpone not only O-Ringen in

Uppsala but also missed other big competitions

such as 10-mila and 25-manna

that were not able to take lace in Sweden.

As the restrictions are finally being lifted,

the organisers of these events can finally

get started with some serious planning and

begin to take place again."

"We can't wait to welcome orienteers to

O-Ringen again. We have had a really tough

time with two cancelled events, but now we

can finally see the light at the end of the tunnel

and gather some serious momentum in

the planning again" explains Jens Lindquist,

project manager for O-Ringen Uppsala.

Jens and the organising clubs in Uppsala

are working towards welcoming orienteers

from all over the world next summer. It is

already possible to enter via the O-Ringen

homepage to secure your place at O-Ringen

- the world's largest orienteering adventure -

next summer.

We are

obviously

really

pleased

with this

decision

6 O-RINGEN MAGAZINE NR 1 • 2021

KÖP PÅ ORMSALVA.SE

O-RINGEN MAGAZINE NR 1 • 2021 7
---
Bli en superhjälte

du med!

Klicka för att se filmen på youtube

Kan spindeltråd rädda världen?

Visste du att spindeltråd skulle kunna

stoppa en jumbojet i luften? Och att

Spindelmannens tråd skulle hålla även

utan stunttricks?

Anna Rising, professor i veterinärmedicinsk

biokemi vid SLU, Sveriges lantbruksuniversitet,

och forskare vid Karolinska institutet, forskar på

konstgjord spindeltråd och dess många användningsområden.

Vi tog ett snack med henne för att

höra hur hon hamnade i detta spindelnät.

Hej Anna! Hur kommer det sig att du började

forska kring spindlar och spindeltråd?

Det var lite av en slump. Jag var färdigutbildad

veterinär, men ville forska och letade efter projekt.

Då hittade jag en doktorandplats på SLU

som var ett EU-projekt som syftade till att ta

fram konstgjord spindeltråd. Mitt projekt var att

använda spindeltråden till ortopediska implantat;

t.ex. senor och ligament. Jag insåg snabbt att det

saknades kunskap kring konstgjord spindeltråd

och att man faktiskt aldrig förut hade lyckats ta

fram det. Mina efterforskningar kring spindeltråd

tog mig ut i vildmarken i Sydafrika där jag fångade

hundra spindlar av en art som spinner den

starkaste tråden och vars tråd inte drar ihop sig

av vatten, något som var viktigt för ett material

avsett för ortopediska implantat. Vi använder fortfarande

DNA från dessa spindlar i vår forskning.

Forskningen visade sig även vara användbar

inom andra områden än ortopediska implantat.

Bland annat har vi genom att härma hur spindeln

producerar sin tråd kunnat ta fram vissa typer av

läkemedel på ett mer effektivt sätt, vilket bl.a. kan

ha betydelse för nyfödda barn med andningssvårigheter.

Vilken är din största forskningstriumf?

Att vi lyckades! Ingen hade någonsin gjort

det tidigare. Detta var första gången som det

lyckades. Det var särskilt roligt att vi skapade

spindeltråden utifrån grundvetenskapliga insikter,

vi imiterade naturen. När man utforskar naturen

kan man ofta hitta de mest otroliga lösningarna

som vi faktiskt kan använda i samhället idag. Det

vi forskade om har bidragit till något konkret och

användbart som är till nytta för samhället på sikt.

Vilken superkraft skulle du vilja ha?

Klicka för att se filmen på youtube

Utbildningar med kraft

att rädda världen

www.slu.se/superhjalte

Huvudpartner

O-Ringen 2022

O-RINGEN MAGAZINE NR 1 • 2021 9
---
OVERVIEW O-RINGEN UPPSALA 2022

FÅFÄNGORNA

UPPSALA CITY CENTRE

RESECENTRUM

ARENA STUDENTERNAS

ELITE SPRINT

BAGHEERA RELAY

TRAINING MAP

Uppsala is close

bring your bike

Etappbuss

Travel to

Uppsala

Arlanda

Orientering

Uppsala MTBO

Kapellskär

Parkering

Cykelväg till arena

Bilväg till parkering

PreO

ARENA KÅBOÄNGEN

SATELLITE PARKING

E4

STAGE 3

STAGE 3

STAGE 1–5

Stockholm

Travel by train!

Arlanda airport 17 min

Stockholm 30 min

Bus and train

ARENA PATTONS HAGE

15 min

STAGE 1

STAGE 2

15 min

ARENA GRANEBERG

STAGE 2

HAMMARSKOG

TRAINING MAP

10 min

O-RINGEN CITY

15 min

10 min

15 min

ARENA SÄVJA

STAGE 3

30 min

5 min

15 min

ARENA FLOTTSUND

STAGE 4 & 5

Parking

Stage bus

Bike path to arena

To parking

Orienteering

Photo: Peter Holgersson

O-Ringen Uppsala 2022 has a very concentrated concept

without in any way renouncing the orienteering experience.

This is possible because Uppsala has many urban nature

reserves that has been preserved for outdoor life.

The O-Ringen City is situated on Ultuna, 6

km south of Uppsala city. It is easy to get to

Uppsala by train, bus, airplane, boat or car.

If you live on or near O-Ringen City, you

have cycling distance to all of the stages (4-8

km) and close to experiences and activities

in Uppsala city and its surroundings. Bring

your bike!

Bicycle distance

If you live on or near O-Ringen City camping,

you have cycling distance to all of the stages

(4-8 km) and close to experiences and activities

in Uppsala city and its surroundings.

Bicycle is an environmental and wise

choice of means of transport in Uppsala. The

short distances allow you to maximize your

experiences during the days. So we really

recommend that you bring your own bike or

rent/borrow a such.

As a complement, we will also offer transport

by bus to all of our stages at the main

arenas from the O-Ringen City.

Satellite parking

The satellite parking is located at the exit

of the E4 Highway. From here, as a participant,

you get a short and smooth bus ride

to Arena Pattons hage for stages 1 and 2 in

Nåsten, Arena Sävja for stage 3 in the north

of Lunsen and Arena Flottsund for stages 4

and 5 also in Lunsen.

No parking is offered at the arenas.

Trains from all directions

stop in Uppsala, both

long distance trains and

comuter trains. The train

stops at Uppsala resecentrum in the middle of

the city from where you reach both the arenas

and O-Ringen City with several city bus lines

operating Uppsala. There are several buses that

operate Uppsala with long-distance buses.

Plane and boat

Close to Uppsala there

are two airports, Arlanda

and Västerås airport.

From Arlanda you can

travel to Uppsala by commuter train or bus and

from Västerås there are buses.

There are also options to travel by ferry to

Stockholm, Kapellskär or Grisslehamn. From

here it is about an hour's journey to Uppsala,

by car or bus.

Car

Uppsala is close to most people

and is easy to get to. If you travel

with your own car and caravan /

motorhome, you will probably turn

off from the E4 or from one of the major country

roads 55 or 72 and get to the O-Ringen City by

Ultuna a little south of the city center.

MTBO

Trail-O

O-RINGEN MAGAZINE NR 1 • 2021 11
---
Kryssade du

Accomodation Uppsala

i rätt ruta?

Delta bara om du är frisk. Har du kryssat

i Motionsloppsförsäkringen när du anmälde

dig så får du pengarna tillbaka vid skada

eller sjukdom. Ladda om till nästa år istället.

We still have

campsites without

electricity left

Du väljer till Motionsloppsförsäkringen

när

du anmäler dig.

För dig som kryssade fel

Du kan köpa försäkringen i efterhand på

folksam.se/motionsloppsforsakring

Gäller för obegränsat

antal lopp under ett år.

Kostar endast

155 kronor.

Anmälningsavgiften

tillbaka vid skada

eller sjukdom.

O-Ringen Uppsala offers several

accommodation options. Uppsala

offers a wide range of hotels and

hostels. At O-Ringen City, 2400

campsites and accommodation on

hard surface are offered. In addition,

there are plenty of private homes for

rent. All accommodation is booked in

our booking portal at oringen.se.

Camp ground

O-Ringen City camp ground is situated on

Ultuna, only 15 min (4 km) by bike and 4

km with car from Uppsala Central station.

O-Ringen square is located in the middle of

the camping area and you can jump on the

stage buses directly from here. Although the

distance to all of the stages are 5–8 km so

biking (or walking) is a good choice.

The following service features

are available at the campsite:

• Toilets

• Water and tables for dishwashing

• Emptying of latrine

• Charging stations for phones/computers/

tablets

• Kiosks with a simple selection of breakfast

and snacks

Hard surface

Accommodation on hard surface is situated

very close to O-Ringen City camping at

Ultuna in Uppsala.

Accommodation on hard surface is a

shared simple accommodation form. You

bring your own mattress, linen and towels.

Toilets and showers are available. No access

to kitchen.

Private rentals

Private individuals can post their accommodation

for rent during O-Ringen. Our

partner Nordic Travel ensures that the

accommodation is conveyed smoothly and

safely for both the landlord and the tenant.

The objects are both villas and apartments as

well as summer cottages and caravans in and

around Uppsala and Knivsta.

The supply is replenished as new items

come in so if you do not find something at the

moment please check back in a few weeks.

PHOTO PETER HOLGERSSON

12 O-RINGEN MAGAZINE NR 1 • 2021 O-RINGEN MAGAZINE NR 1 • 2021 13
---
DIN MASKINLEVERANTÖR

JORDBRUK • SKOGSBRUK • ENTREPRENAD

ATV • PARK & GRÖNYTA • TRANSPORTBILAR

STOLT HUVUDPARTNER TILL

O-RINGEN.

Alewalds är en av landets mest

välsorterade butiker inom outdoor

och sport och har så varit ända

sedan starten 1937.

Vi har en av landets största

avdelningar för vandring och

friluftsliv, längd- och turskidåkning,

rullskidåkning samt

långfärdsskridskoåkning.

Med ursprung i det aktiva

friluftslivet har vi också ett stort

utbud av skor och kläder som

även fungerar utmärkt för

vardagslivet i stan.

Bruksvallarna

AXIMA AB | 0515-421 80 | INDUSTRIGATAN 3, 521 51 FLOBY

facebook.com/aximaab instagram.com/aximaab YouTube - Axima AB www.axima.se

BUTIKEN MED DET BÄSTA INOM

OUTDOOR OCH SPORT

SE ETT URVAL AV BUTIKERNAS SORTIMENT PÅ WWW.ALEWALDS.SE!

STOCKHOLM KUNGSGATAN 32

UPPSALA ÖSTRA ÅGATAN 27

ALEWALDS QUALITY OUTLET

STOCKHOLM KUNGSGATAN 68

UPPSALA GAMLA TORGET 1

för öppettider se www.alewalds.se

WWW.ALEWALDS.SE
---
WWW.BAGHEERA.SE

KAMPANJ!

BAGHEERA - KLÄDER & SKOR FÖR TRÄNING & ETT AKTIVT LIV

HÅLL IGÅNG TRÄNINGEN I HÖST!

THERMIC HOOD

JACKET

O-RINGEN UPPSALA 2022

COMPETITION PROGRAM

& Stage areas

399:-

ORD. 599:-

DAM

XS - 4XL

HIGH PERFORMANCE

HOOD TOP II

HERR

S - 4XL

WINTER TIGHTS

Competition areas O-Ringen Uppsala 2022

The immediate vicinity of Uppsala has some of the finest orienteering areas in all of Uppland, maybe even all

of Sweden, with Lunsen as the jewel in the crown. At O-Ringen Uppsala 2022 you will have the privilege to

experience Lunsen in three OL-stages, one MTBO-stage and two Trail-O-stages.

399:-

ORD. 599:-

599:-

ORD. 699:-

ORIENTEERING

ELITE TOUR

SAT 23/7

Training

SUN 24/7

Studenternas

Bagheera

youth relay

MON 25/7

Nåsten

Stage 1

Extended

Middle distance

Nåsten

Stage 1

Extended

Middle distance

TUE 26/7 WED 27/7

THU 28/7

FRI 29/7

SAT 30/7

Nåsten

Stage 2

Long distance

Nåsten

Stage 2

Long distance

Activity day

Studenternas

Stage 3

Elite Sprint

Norra Lunsen

Stage 3

Long distance

ARENA SÄVJA

Activity day

Lunsen

Stage 4

Middle distance

Lunsen

Stage 4

Middle distance

Lunsen

Stage 5

Long distance

Lunsen

Stage 5

Long distance

DAM

XS - 4XL

HERR

S - 2XL

DAM

XS - L

HERR

S - 2XL

MTBO

Nåsten

Stage 1

Long distance

Vårdsätraskogen

Stage 2

Middle distance

Activity day

Stadsskogen

Stage 3

Sprint

Lunsen

Stage 4

Long distance

Uppsalaåsen

Stage 5

Middle distance

TRAILO

Norbyskogen

Stage 1

Vårdsätraskogen

Stage 2

Activity day

Stadsskogen

Stage 3

Lunsen

Stage 4

Lunsen

Stage 5

STOLT HUVUDSPONSOR OCH

KLÄDLEVERANTÖR TILL

VÄRLDENS BÄSTA LANDSLAG -

SVENSKA

ORIENTERINGSLANDSLAGET!

ARENA PATTONS HAGE

ARENA GRANEBERG

ARENA KÅBOÄNGEN

ARENA FLOTTSUND

O-RINGEN MAGAZINE NR 1 • 2021 17
---
YOUTH RELAY

Bagheera relay

FYRISÅN

In conjunction

with the opening

ceremony Sunday

July 24th

SUZUKI ACROSS.

FÖR DIG SOM ÄLSKAR TERRÄNGEN.

ARBETS-

OMRÅDE

M

Brasserie21

restaurang

och café

L K J

BILJETTER

ARENA-

TORGET

I

H

N

G

SÖDRA

TORGET

ARBETSOMRÅDE

O

Funktionäroch

spelarentré

Sjukhusvägen

AKADEMISKA

SJUKHUSET

mediaentré

A B C D E

ENTRÉTORGET

Huvudläktare

VIP-entré

Gym

Ulleråkersvägen

F

VIP-lounge

INFART GARAGE

INFART SÖDRA TORGET

The Bagheera relay will start from the

new football stadium at Studenternas,

close to Uppsala city centre, in

conjunction with the opening

ceremony of O-Ringen 2022.

Med fyrhjulsdriften, Suzukis specialitet, tilltalar vi aktiva

människor som trivs i naturen. Därför är vi mycket stolta

över att Tove Alexandersson kör en Suzuki ACROSS –

laddhybriden med en elektrisk räckvidd på hela 75 km,

306 hk och teknik i toppklass. Bilens fyrhjulsdrift och

hybridsystem tar dig enkelt dit du ska, med god bränsleekonomi

som bonus. Välkommen att lära känna din nya

partner i terrängen! Läs mer på suzukibilar.se

The competition area consists of two parts.

A rolling, wooded area with a significant

climb closest to the arena, and an area with

big and small houses a bit further away from

the arena. Despite the short distance the

track includes both woods, park, and city

terrain. Fredrik Wigertz is responsible for

the route planning of the Bagheera relay, and

he promises that the runners will encounter

typical challenges in the sprint orienteering.

They need to find he control points

fast and be able to choose fast and energy

efficient routes. Long stretches of shrubbery

and large buildings forces the runners to

reconsider their route choices. There will

also be simple forkings so they will need to

maintain their own orienteering.

Arena Studenternas

The competitors are club teams. Clubs are

welcome to build teams together if they cannot

form a complete team within the club.

Teams consists of four runners, one from

each classes D14, H14, D16 and H16.

Stolt sponsor av O-Ringen

18 O-RINGEN MAGAZINE NR 1 • 2021
---
The terrain is fairly open

and flat, and you can

runt straight towards

your objective if you

keep your bearings

STAGE 1 & 2

NÅSTEN

O-Ringen Uppsala 2022

starts where

it ended in 1980

Last time O-Ringen was held in

Uppsala was in 1980. Back then the

competition was concluded with

the last stage in the nature reserve

Nåsten. Now, a little over 40 years

later, we are starting O-Ringen

Uppsala 2022 where we last ended it.

The arena is beautifully situated in Pattons

hage just 15 minutes bicycle ride from the

camping site at O-Ringen City. The name

"Pattons hage" arose after the famous

general George S. Patton visited in Sweden

in 1945 and watched a Swedish military

exercise at the site.

Nåsten offers varied

wilderness terrain close to the city

The Nåsten nature reserve has large areas of

old pine forest, ideal for runners, growing

on small hills and marshy areas. But it also

offers several other types of terrain. Close

to our arena in Hågadalen there are hiking

areas with many trails, short and steep,

slopes and further out you get a sense of

wilderness.

There are intricate areas with short lines

of sight and areas with many, sometimes

very large, boulders.

Sample leg from Nåsten, orange difficulty. The red

route choice is the shortest while the green one is

safer but quite a bit longer. The blue route is safe

at first, but it will be somewhat harder to take the

control points. Which route will you choose?

The longer routes will test the skills of all

orienteers.

This can be seen in a larger number

of trails, especially close to our arena in

Hågadalen. Both nearby and farther out you

can get a feeling of real wilderness.

PHOTO NIC KRUYS / PETER HOLGERSSON

» Stage area NÅSTEN

OL STAGE 1 EXTENDED MIDDLE

Monday July 25 2022

ELITTOUR STAGE 1 EXTENDED MIDDLE

Monday July 25 2022

OL STAGE 2 LONG DISTANCE

Tuesday July 26 2022

ELITTOUR STAGE 2 LONG DISTANCE

Tuesday July 26 2022

Unlike Lunsen, Nåsten is characterized by a larger variation

in the terrain. A few larger bogs are interspersed

with intricate wilderness terrain in the eastern parts

that is a reserve and therefore has been spared from

forest exploitation for several decades. In all this there

are denser areas, meadows, and flat rocks, and in

the western parts also some aspects of forestry and

agriculture. Runability is generally good to very good,

largely because of the flat terrain, but it can be affected

by vegetation, where especially wild rosemary in

the larger bogs can impede the running speed. During a

beautiful summer, the bogs can be entirely dry, and the

opposite if the summer is wet. Some larger and smaller

trails cross the reserve and there are some forest

roads outside of it. Roads allow high running speeds,

but you will need very supple ankles if you want to run

fast on the smaller trails.

20 O-RINGEN MAGAZINE NR 1 • 2021

O-RINGEN MAGAZINE NR 1 • 2021 21
---
The elite runners need

to be able to change

pace and be ready for

various kinds of orienteering

to succeed

Välkommen till bad- och naturparadiset

Knivsta

– ett lugnare sammanhang

I Knivsta är det rofyllt, trivsamt och nära till allt. Perfekt

för dig som uppskattar ett lugnare sammanhang. Ändå

sjuder det av liv – både i tätorten och i byarna omkring.

Gårdsbutiker, loppisar, kaféer, kulturupplevelser och

restauranger gör Knivsta till ett guldkorn värt att upptäcka.

Välkommen till oss!

ELITE SPRINT AT

STUDENTERNAS IP

Fyra fina tips i Knivsta du inte får missa!

• Njut av konst på CIK. På Knivsta centrum för idrott

och kultur (CIK), kommunens största mötesplats, kan

du bland annat se konstutställningar och ta en fika.

• Vandringsleder. Upplandsleden slingrar sig genom

öppna kulturmarker och skogar.

• Sköna bad. Knivsta kommun bjuder på flera platser

där du kan njuta av ett dopp.

• Orörd natur. I Knivsta finns två naturreservat:

Gredelby hagar och Kungshamn-Morga.

Mer information: knivsta.se

Sprint in a classic environment. In the

heart of the student areas of Uppsala

with the newly built "classic" Studenternas

as arena we offer a high-class

elite sprint competition with exciting

path selection possibilities. The

runners are offered a variety of terrain,

from densely built-up student residential

and union areas to parks and

environments of cultural and historical

significance.

One of the most famous landmarks of

Uppsala, the pink castle Vasaborgen from

the 16th century is located in the middle of

the area. The wooded city park Stadsparken,

bordering the waters of Fyrisån, is also a

part of the competition area.

– The character of the competition

area varies heavily and will test the skills

of the elite runners. They need to be able

to change pace and be ready for various

kinds of orienteering to succeed, says route

planner Kate Morrison. The arena will offer

high class arena feeling with results on big

screens and grandstands that lets everybody

see the runners reach the finish line on the

pitch at Studenternas. Outside the arena, in

the nearby park, there is both a playground

as well as lovely areas for a picnic in the

competition area.

» Stage area UPPSALA CITY

ELITTOUR STAGE 2 SPRINT

Wednesday July 27 2022

Sprint in a classic environment with high

class arena feeling, results on big screens and

grandstands that lets everybody see the runners

reach the finish line on the pitch at Studenternas.

Välkommen till Matverkstan!

Vi erbjuder under O-Ringen 2022 på O-Ringentorget:

Restaurang, Fika, Glass, Grill, Sallad, Wok, Bar, Korv, Restaurangtält,

Food-trucks, Barnmat, Hamburgare, Specialkost, Smörgåsar, Godis,

Uteservering, Latte, Buffé, Pannkakor, Paella, Pizza, m.m, m.m

info@mat-verkstan 018-430 22 30 mat-verkstan.se

22 O-RINGEN MAGAZINE NR 1 • 2021 O-RINGEN MAGAZINE NR 1 • 2021 23
---
Significant parts

with flat, rocky

ground give good

line of sight and

runability

STAGE 3

NORTHERN LUNSEN

Äkta sport

The similarities

with stages 4 and 5

are significant

It consists of flat, detail rich pine

woods on rocky ground with many

larger and smaller marsh areas. The

somewhat distinguishing feature

of stage 3 is a more significant

occurrence of spruce, especially in the

lower lying areas closest to the arena.

This does reduce the line of sight but

without reducing runability. In these areas

the underbrush is instead lower, consisting

mainly of wild rosemary and bilberry sprigs.

There is a large number of paths in the

woods close to the built-up areas of Sävja,

where the arena is located. But further

south there is more and more wilderness.

The area is completely unaffected by

forestry. The longest legs will reach some

areas with windthrows.

» Stage area NORTHERN LUNSEN

OL STAGE 3 LONG DISTANCE

Thursday July 28 2022

The northern parts of Lunsen borders the

residential area Sävja in southern Uppsala and

is a popular area for outdoor activities that

consists of a larger number of trails that might

help on the easier routes but complicate things

on the harder ones. The trick is to make the

right choices and to know where you are. The

longer and harder routes will reach a beautiful

area in the eastern parts of Lunsen that are

a bit more hilly than southern Lunsen where

stages 4 and 5 will be decided.

The ground is light to moderately hilly and

the line of sight, as well as traversability, is

mostly good.

The arena for stage 3 is Sävja IP and

consists of a couple of football pitches and

several adjacent activity areas close to the

residential area Sävja.

nära dig!

Hos oss missar du inget mål.

Vi är med och bevakar när våra lokala stjärnor spelar.

www.unt.se

24 O-RINGEN MAGAZINE NR 1 • 2021 O-RINGEN MAGAZINE NR 1 • 2021 25
---
This is more of

a challenge for

the mind than

for the body

STAGE 4 & 5

SOUTHERN LUNSEN

Lunsen - one of the

finest orienteering

areas in Sweden!

The southern and middle parts of

Lunsen are among the finest orienteering

areas in the whole of Sweden

and must be experienced. The terrain

looks like something out of a fairy

tale with a multitude of small hills,

bogs filled with wild rosemary and flat

rocks covered in reindeer lichen.

Despite the proximity to Uppsala Lunsen

mostly consists of untouched, pathless, wilderness.

But in the area closest to the arenas

in Sävja for stage 3 and Flottsund for stages

4 and 5 there is a large number of trails that

will be used for routes that require them.

For the harder routes, the lightly rolling

country creates a challenge that is more

strenuous for the mind than for the body. It

will, in other words, be exciting orienteering

in fantastic and enjoyable terrain. Whether

it is the finest terrain in Sweden or not is for

you to decide.

The two final OL-stages at O-Ringen

Uppsala 2022 have their arena at beautiful

Flottsund where the Fyrisån river empties in

Ekoln, the northernmost part of Lake Mälaren.

In this area you will find beautiful walking

areas and natural bathing places.

Sample leg from Lunsen, orange difficulty. The red

route choice is shorter while the green one is safer.

Which route will you choose?

» Stage area LUNSEN

OL ETAPP 4 MIDDLE DISTANCE

Friday July 29 2022

ELITTOUR STAGE 4 MIDDLE DISTANCE

Friday July 29 2022

OL STAGE 5 LONG DISTANCE

Saturday July 30 2022

PHOTO NIC KRUYS

ELITTOUR STAGE 5 LONG DISTANCE

Saturday July 30 2022

Lunsen mostly consists of untouched, pathless,

wilderness. In the area closest to the arena and

in the northern parts there is a large number of

trails that will be used for routes that require

them. The entire area is lightly hilled.

26 O-RINGEN MAGAZINE NR 1 • 2021 O-RINGEN MAGAZINE NR 1 • 2021 27
---
Varför betala mer?

189:-

Funktionströja

Storlek: S–XL.

Dam 14-0050 –14-0057

Herr 14-0018 –14-0025

199:-

Laddningsbar pannlampa

Med vinklingsbart lamphus.

24-980

79 90

Sportbälte

Med töjbar ficka. Ställbart: 60 –100 cm.

14-7702 –14-7704

5 för 79,90

19 90

st.

Sporttejp

Oelastisk. Ger bra stöd och stabilisering.

14-801

90

Från

139:-

Löpartights

Stl: S –XL.

Dam 14-0082 –14-0085 139:-

Herr 14-0040 –14-0043 159:-

49,

Träningsmössa

14-0102

39 90

Reflexväst

Stl: XXXS –XXL 21-292 –21-299

Ladda upp –

Uppsala 2022!

94 90

Träningsljus

Fästes runt bakkappan på skon.

24-972

90

59,

Träningshandskar

Stl: 8–10 14-0103 –14-0104
---
A rich and

varied nature

reserve

STAGE 1 STAGE 3

STAGE 4

» Program O-RINGEN MTBO

MTBO STAGE 1 – Monday July 25 2022

NÅSTEN Arena PATTONS HAGE

Long distance with technical trails

and urban forest.

MTBO STAGE 2 – Tuesday July 26 2022

VÅRDSÄTRA Arena PATTONS HAGE

Middle distance with technical trails.

MTBO STAGE 3 – Thursday July 28 2022

STADSSKOGEN Arena KÅBOÄNGEN

Late afternoon with try MTBO.

Sprint with a lot of trails.

MTBO STAGE 4 – Friday July 29 2022

LUNSEN Arena FLOTTSUND

Long distance with technical trails

and urban forest.

FIVE STAGES

MTBO STAGE 5 – Saturday July 30 2022

UPPSALAÅSEN Arena FLOTTSUND

Fast middle distance in urban forest

and steep hills.

THREE ARENAS

MTBO

STAGE 2

Map examples for the different stages.

STAGE 5

» Contactless punching SIAC

All MTBO participants at O-Ringen Uppsala will

use the Sportident Air+ system for contactless

punching. Using SIAC brings a whole new

dimension to MTBO and enhances the feeling

of orienteering at full speed even more. Vital

seconds can be earned when controls can be

visited without stopping.

MTBO takes place within

cycling distance of O-Ringen City

The MTBO competitions at O-Ringen Uppsala 2022 will be held in close

proximity to Uppsala and O-Ringen City. All five stages are just a few

kilometers from O-Ringen camping. Also, at four of the five stages the

arena is shared with foot orienteering, which we hope will create a great

atmosphere for competitors in both disciplines. There is therefore an

opportunity to take part in both MTBO and foot O, as well as making it

easier for families who want to participate in both disciplines.

Stage 1

Along Uppsala's western edge you will find

Hågadalen Nåsten, a rich and varied nature

reserve. Within the nature reserve you'll find

agricultural landscapes, lush groves, dark forest

areas, bare rocky terrain and swarming bogs.

The reserve has been used by humans for millennia,

so today you can enjoy habitats teaming

with biodiversity, and also discover lots of exciting

ancient remains. O-Ringen MTBO starts

with a long distance race, with both route choice

legs and more intensive orienteering. Technicality

of the trails for riding varies substantially,

from narrow trails on rocky tops, bridges over

bogs, downhill sections, technical MTB trails,

fast paved trails, and forest trails. The finish line

is found at Arena Pattons Hage, the same venue

as for the foot orienteering stage.

PHOTO PETER HOLGERSSON

Stage 2

Vårdsätra forest is a small and beautiful forest

in southern Uppsala. The forest is close

to residential areas and is popular for outdoor

recreation. The nature is rich and varied

with coniferous forest, deciduous forest,

hazel groves and old pastures. Almost all of

our Swedish tree species and several foreign

species grow here. In terms of cycling, it is

mainly fast paved paths, but also forest paths

and MTB tracks as well as asphalt in built

up areas. Stage 2 is a middle distance race

with a lot of route choice within a small and

dense path network. As in stage 1, the finish

is located at Arena Pattons Hage together

with the foot orienteering.

Stage 3

Stadsskogen ("The city forest") is situated in

central Uppsala, just a kilometer from the

castle. It is actually a park, but due to its size

and character, it bears great resemblance to

a typical Swedish mixed forest. Coniferous

forest dominates, and the area has been a

nature reserve since 2005. Stadsskogen is a

popular outdoor recreation area for Uppsala

residents. Stage 3 will be a sprint distance

event in Stadsskogen's labyrinth of fast hard

trails and narrow forest trails. Plentiful

micro-route choices will ensure that it's easy

to get lost even though you are almost in the

middle of the city. The finish line is found at

arena Kåboängen, located in the northern

part of Stadsskogen.

Stage 4

Norra Lunsen is a large and high-lying forest

area. On barren rocky terrain, lean and

sinewy pines grow with plenty of wetlands

in between. Deciduous trees are in the clear

minority, with only a few aspen and birch

trees to be found within the mostly coniferous

forest. The fourth stage in Lunsen will

be a long distance race with route choice legs

crossing a variety of different terrain types,

including narrow trails inside Lunsen, dense

path networks close to suburban areas, and

pine forest trails towards Hågaån. The finish

line is located at Arena Flottsund with the

foot orienteering.

Stage 5

Årike Fyris is located along the Fyrisån river

just south of Uppsala city. Along the western

edge of the area are two of Uppsala ridge's

heights, Ultuna- and Sunnersta ridges. Ancient

waterways run along the ridge and river. The

ancient castle on Sunnersta ridge marks the

important role of the Fyris river. The ridges

also consist of valuable natural environments,

rich in typical dry slope flora and sand-living

insects. During the final stage chasing start,

O-Ringen cyclists will encounter a completely

different type of terrain: ridge terrain with

short steep slopes up to 30-40 meters, as well

as more flat sections and built up areas. A

dense dirt, gravel and sand path network and

route choice legs characterise the final middle

distance race. The finish is the same as for

stage 4, located at Arena Flottsund with the

main O-Ringen foot events.

30 O-RINGEN MAGAZINE NR 1 • 2021 O-RINGEN MAGAZINE NR 1 • 2021 31
---
Forest terrain

with smaller hills

and fine contour

detail

» Stage 3 STADSSKOGEN

TRAIL-O STAGE 3

Thursday July 28 2022

ARENA: Kåboängen, shared arena

with MTBO.

START: Morning, before MTBO.

MAP/TERRAIN: North area of

Stadsskogen. Last used for

Trail-O in 2006. Flat forest with

mostly good visibility and hills

with fine detail.

FIVE STAGES

FOUR ARENAS

TRAIL-O

» Stage 4 NORRA LUNSEN

TRAIL-O STAGE 4

Friday July 29 2022

ARENA: Flottsund, shared with

orienteering and MTBO. Bussing

2 km to the competition area.

START: Morning

MAP/TERRAIN: North area of

Lunsen, Plantskolan. Last used

for Trail-O in 2006. Moderately

hilly forest with good visibility

and plenty of contour detail.

Come back for Trail-O

at O-Ringen Uppsala

It is with great pleasure that we can announce

that Trail-O is back on the O-Ringen programme!

Not only that, but we managed to devise a concept

whereby Trail-O competitions will share an arena with

participants in other branches of O-Ringen at four of

the five stages. During stage 1, 4 and 5 there will be

a shared arena for orienteering, MTBO and Trail-O, and

during stage 3 Trail-O and MTBO will share an arena,

with staggered times so that it is possible to make

room for both events on the same terrain.

» Stage 1 NÅSTEN

TRAIL-O STAGE 1

Monday July 25 2022

ARENA: Pattons hage, same arena as orienteering and MTBO.

START: Afternoon, once MTBO is over.

MAP/TERRAIN: Norbyskogen. Last used for Trail-O 2013. Forest terrain

with smaller hills, mostly good visibility with a few steeper slopes.

» Stage 2 GRANEBERG

TRAIL-O STAGE 2

Tuesday July 26 2022

ARENA: Graneberg, separate Trail-O arena 4 km SSW of Arena Pattons

Hage (orienteering & MTBO)

START: Afternoon, once MTBO is over.

MAP/TERRAIN: Vårdsätraskogen. Never previously used for Trail-O.

Forest terrain with smaller hills and fine contour detail. Mostly good

visibility with a few larger hills.

» Stage 5 SÖDRA LUNSEN

TRAIL-O STAGE 5

Saturday July 30 2021

ARENA: Flottsund, shared with orienteering and

MTBO. Bussing 3 km to the competition area.

START: Morning

MAP/TERRAIN: South area of Lunsen.

Never previously used for Trail-O.

Moderately hilly forest with mostly

good visibility.

Southern part

of Lunsen. Never

before used for

Trail-O

32 O-RINGEN MAGAZINE NR 1 • 2021

O-RINGEN MAGAZINE NR 1 • 2021 33
---
PRE-O

O-Ringen Torus:

an online competition

#MYUPPSALA

Our best tips for experiences in Uppsala.

T empO

O nline

R aces

U ltimate

S eries

SHOPPING

For all tastes.

Uppsala has a unique mix of small local boutiques,

specialist shops and modern shopping malls, all within

easy walking distance within the city centre. Start in the

charming shops beside the cobblestone alleyways near

the Fyris River, and then stroll along the pedestrian street

where you will find famous chain stores, brand shops

and shopping malls.

EVENTS

Next year, O-Ringen Uppsala starts early, already in

February, with an online O-Ringen Torus competition.

Digital TempO has been established as a fun and difficult

competition during a time when we could not compete in

ordinary competitions.

It is therefore timely to introduce this competition also on the

largest orienteering event in the world. Competing in this digital

event will also give you a taste of the terrain before the summer

event. Just like O-Ringen, the digital event will include 5 races,

7–12 February. This schedule includes a free day, where perhaps we

may provide a special event to discover Uppsala. For those of you

that have never tried TempO, it is a challenge to quickly translate

the map to the terrain and vice versa.

TempO is therefore also an excellent practice for regular

orienteering. The competition will mainly include forest course,

similar to the ones during O-Ringen Uppsala, but also in the

city. O-Ringen Torus will be arranged in collaboration with

Torus (torus.yq.cz) and with quality controls from experienced

organizers. Some kind of price will behold the winner, but more

about prices and other practical information will be published on

the social media of O-Ringen. However, you can already visit the

Torus website to practice your skills in reading maps.

Tork hälsar

dig välkommen

tillbaka!

Äntligen kan vi leva lite mer normalt igen. Med

oss har vi dock en stor erfarenhet – vi vet vilken

skillnad god hygien gör. Tork har allt som behövs

för att hålla både händer och ytor hygieniska.

Kika in och kolla hur vi kan

hjälpa till på din arbetsplats:

Trygg på jobbet | Tork SE

Tork, an Essity brand

FOOD & DRINK

A lovely atmosphere and

great food.

Whether you want to eat a lot or a little, outside

or inside, Uppsala has a wide range of bars and

indoor & outdoor cafés.

At destinationuppsala.se/guides you will find tips

such as the best street food in town, tasteful coffee

bars and all the inns, bodegas and brasseries in

Uppsala that are worth a visit.

pssst...

There are over 140 outdoor cafés in Uppsala and

just as many reasons to visit one of them. Eat and

drink something while enjoying the sun for a while

and watching people walking by. A great way to

enjoy the atmosphere in Uppsala.

pssst...

Carl Linnaeus is one of the world's most famous scientists. Nowhere else are

there as many traces of him as in Uppsala. Walk along one of the Linnaeus

trails to his summer residence in Linnaeus' Hammarby, visit the Linnaeus

Museum, which was his home, or enjoy the calm in the Linnaeus Garden – a

green oasis in the middle of Uppsala. linneuppsala.se

pssst...

Just three kilometres from Uppsala city centre is the

Gränbystaden Shopping Centre with over 160 shops,

restaurants, cafés and other services. Here, among other

things, is the first 4DX cinema auditorium in Sweden.

NATURE

Take it easy, in the middle of the

city or just around the corner.

Take a walk in the Årummet waterside development along

the Fyris River. Relax in the City Garden or one of the other

parks in the city centre. Only 15 minutes away, you will find

bathing areas, hiking trails and hidden spots deep in the

forest. Or how about a ride on the Lennakatten narrow-gauge

heritage railway through the beautiful summer Uppland.

A wealth of experiences.

Uppsala's attractions range from large-scale concerts and sports

events to intimate gigs, exhibitions and displays. Throughout the

summer, there are concerts and entertainment on the outdoor

stage at Parksnäckan ("The Park Snail") in the City Garden,

where popular Swedish artistes and children's favourites can

often be heard.

CULTURE & HISTORY

A pink castle.

Uppsala Castle was built by King Gustav Vasa in 1549 and has

played a major role in our Swedish history. It has been the scene

of several dramatic events involving bloodbaths, conspiracies,

plots and murder, and not least the abdication of Queen Kristina,

which took place here in 1654. Today, the castle is home to

the County Governor, but also houses three exciting museums:

Uppsala Art Museum, the House of Peace and Vasaborgen

(Uppsala Castle Museum). You can also enjoy Uppsala's best

views from here with a roof-top walk on the castle roof.

MIAOW!

Do you know Peter-No-Tail? The famous cat lived in Uppsala

and left his paw prints here. Nowadays, you can meet him in

his play park, on guided walks and as a statue. Pussyfoot over

his own pedestrian crossing to the district of Åsgränd, where he

lived with his beloved Maja Gräddnos (Maya Cream Nose),

but which was also home to Elaka Måns (Mean Magnus), his

armour-bearers Bill & Bull and the other cats.

34 O-RINGEN MAGAZINE NR 1 • 2021

You can find more Uppsala tips at destinationuppsala.se
---
BOOK TIPS

More Pearls

and Curiosities

in Uppsala

"Marvel at everything, even the most

commonplace." — "Omnia mirari

etiam tritissilma" This motto of Carl

Linneaus appears on a plate at the

entrance to the Linneaus Garden on

Svartbäcksgatan, Uppsala, Sweden.

The motto has been a principle of

authors John Ringh and Lars-Åke

Skagegård as they wrote "Fler Pärlor

och Märkvärdigheter i Uppsala"

– "More Pearls and Curiosities

in Uppsala."

When you are in Uppsala for the O-Ringen,

in the summer of 2022, the classic sights of

the city will be readily apparent. John and

Lars-Åke have written a guide to unexpected

and less known places in Uppsala.

The book introduces readers to a "gasque,"

a traditional party at a Studentnation.

Readers may be horrified by Dalpelle's

execution, then enjoy the Skytteanska

Garden, along with fika at Café Uroxen.

The authors move freely among archbishops,

poets, bandy players, princes, storytellers,

and a cement queen.

These are a few of the "pearls" to which

the reader will be introduced. The history of

trains to Uppsala and through the Uppland

countryside is covered in some detail. Places

like Engelska Parken, Seminarieparken,

Galgbacken Domarringen, and the Skytteanska

Trädgarden are introduced.

Other Uppsala curiosities discussed

include the mosaic in Gottsunda Church,

the Prince Gustaf statue outside Carolina

Rediviva, and the artwork Poetisk viloplats/

Poetic Resting Place in Tullgarnsparken.

You'll find "Fler Pärlor & Märkvärdigheter

i Uppsala" to be an invaluable guide to

the commonplace and the unexpected in

Uppsala, during the O-Ringen week and any

other time.

What will you experience at

O-Ringen Uppsala 2022 in addition

to the beautiful terrain? Send your

response to marknad@oringen.se

- among all who submit their

answer we´ll draw a winner of

the book (the book is

in swedish)

The two authors of the book Uppsalapärlor, Lars-Åke Skagegård och John Ringh. Photo: Mikael Ingemyr.

Hyr dina

maskiner hos oss!

Hos oss hittar du Sveriges största utbud av små och stora byggmaskiner,

ställningar, liftar och allt som behövs för ditt byggprojekt. Besök något av

våra 80 kundcenter eller slå oss en signal så hjälper vi dig att hitta precis

det du behöver.

Du hittar ditt närmaste kundcenter på ramirent.se

Välkommen!

36 O-RINGEN MAGAZINE NR 1 • 2021

Din lokala maskinuthyrare
---
PÅ TURNÉ

O-Ringen on tour

During the late summer and autumn,

O-Ringen has been doing O-Ringen

on Tour with our partner Suzuki. The

tour is ongoing so we will show up at

upcoming events as well.

The purpose is to meet all of you who usually

participate at O-Ringen and get to talk

about what you look forward to in Uppsala

and at our future O-Ringen destinations,

discuss how we can develop O-Ringen together

and to simply be at the competitions

and at the arenas again.

So far we have visited the World Cup in Idre,

the Youth Championships in Falköping, the

Swedish Championships in Strömstad and

Daladubbeln.

On November 13-14, we are at the

O-event in Borås. Hope to see you there!

Vi stämplar in.

Hemdagars ("Home"-Ringen)

a success among Swedish clubs

Vi har bestämt oss, vi är överens. Kartan är ritad,

kompassen inställd.

Målet är att bli en grön fabrik.

As a result of the coronavirus pandemic, O-Ringen has been cancelled two

summers in a row. This summer, "Hemdagars", a kind of "Home-Ringen" concept,

was created to provide participants with an opportunity to go orienteering

and feel connected to the O-Ringen community.

The concept was a great success - towns

and orienteering clubs throughout Sweden

arranged their own "Hemdagars" events,

where courses were planned in local forests

that were appreciated by many participants.

"We wanted to contribute opportunities

for physical activity. The most important

for us was that people could get out and

walk, jog or run an orienteering course", says

38 O-RINGEN MAGAZINE NR 1 • 2021

Niclas Lidström, project manager of "Hemdagars".

The result of "Hemdagars" was really

great; it was appreciated by clubs throughout

the country. Thanks to our main sponsors

Alewalds, Biltema, Svenska Krämfabriken,

Silva and Bagheera we were able to offer

plenty of lotter prizes to lucky winners

drawn from those who took part.

Stolt sponsor till O-Ringen 2022.

www.sandvik.coromant.com/gimo

Shaping the future together.

Sandvik Coromant i Gimo är en av Uppsala läns största privata arbetsgivare med ca 1 300

anställda. Som en del av den globala Sandvikkoncernen är Sandvik Coromant ledande

inom tillverkning av skär och verktygssystem för bearbetning i metall. Vi säkerställer

utvecklingen av bearbetningsteknik som förändrar, leder och driver framtidens

tillverkning. Sandvik Coromant äger över 3 100 patent över hela världen, har fler än 7 900

anställda och finns i 150 länder.
---
Med

fjället

som

lekplats

Tested and approved by Tove Alexandersson

Ett liv närmare naturen fick

Karna att flytta till Åre.

Nu laddar hon inför

O-Ringen 2023.

Hösten 2018 gick Karna Thorsson runt hemma

i Uppsala och längtade efter en förändring. En

önskan om att komma närmare fjällen, lära sig

att åka skidor och få springa mer i bergsmiljö.

När hon fick se att Åre kommuns samhällsbyggnadskontor

sökte nya medarbetare tog

det inte lång tid innan ansökan var inskickad.

Några veckor senare fick hon veta att hon var

kallad på intervju och resten är historia.

Idag arbetar Karna som planarkitekt på Åre

kommun. Tillsammans med sina kollegor utvecklar

hon detaljplaner som talar om hur

mark- och vattenområden får och inte får användas

i kommunen. Detaljplanerna är viktiga

instrument för en hållbar och långsiktig planering

av samhället.

"

Jag trivs jättebra på mitt nya

jobb. Sedan är det så lyxigt att ha

så fantastisk natur direkt utanför

dörren när man slutat för dagen"

Raka motsatsen mot Uppsala

Karna är ett välkänt ansikte för många orienterare

och tävlar sedan flera år tillbaka för OK

Linné i Uppsala. Idag är hon en glad och aktiv

motionär där träningen styrs utifrån dagsform

och känsla. Sedan flytten till Åre har hon börjat

träna med Åre OK, som är den enda orienteringsklubben

i kommunen.

– Orienteringen i Åre skiljer sig väldigt mycket

från det jag är van vid i Uppsala. Här är det oftast

väldigt kuperat med långa sluttningar och

få detaljer. Alltså raka motsatsen mot Uppsala,

berättar Karna.

Ser fram emot orienteringsfesten

O-Ringen arrangeras som bekant i Åre 2023

och Karna ser fram emot att var en del av arrangörsstaben.

Hon med i gruppen som arbetar

med förberedelserna inför elitklassernas

sprintetapp i Åre by.

– Om någon frågar mig vart man ska åka och

bada på aktivitetsdagen så vet jag i alla fall vad

jag ska svara. Mitt bästa tips är att åka upp till

Ullådalen och ta ett dopp i Ullån. Det är väldigt

uppfriskande!

Vi levererar råvaror,

utrustning och dryck

till Sveriges restauranger

och storkök.

Stolt samarbetspartner till O-Ringen.

Läs om vårt hållbarhetsarbete på

martinservera.se

"Tillsammans skapar vi en hållbar framtid för alla i storslagen fjällmiljö"

are.se | kundtjanst@are.se | 0647-161 00

O-RINGEN MAGAZINE NR 1 • 2021 41
---
Welcome to

Tjuonavagge

Tjuonavagge

O-Ringen Indoor

Uppsala 2021

November

27–28th

ODIN Sverige

10 000 %

(31/10-94 – 31/08-21)

(31/10-94 – 31/08-21)

Och vad betyder det det att att fonden fonden

Och vad betyder det att fonden

har gått upp upp över över 10 10000 000 procent? procent?

har gått upp över 10 000 procent?

Enkelt förklarat – om du satte in 100 000 kr i ODIN Sverige C

den Enkelt 31 oktober förklarat 1994, – om dagen du satte som in fonden 100 000 startade, kr i ODIN och lät Sverige pengarna C

Enkelt förklarat – om du satte in 100 000 kr i ODIN Sverige C

vara den 31 fram oktober till den 1994, 31 augusti dagen 2021 som hade fonden du startade, haft över 10,3 och lät miljoner. pengarna

Hade

den vara 31 fram du

oktober

istället till den placerat

1994, 31 augusti dagen

100 000

som 2021 kr

fonden

i hade fondens du startade, haft jämförelseindex

över och 10,3 lät pengarna miljoner.

(OMXSB

vara Hade fram du Cap istället till

GI)

den

under placerat 31 augusti

samma 100 2021 000 tidsperiod kr hade i fondens du

hade

haft

du jämförelseindex

över

haft 2,3

10,3

miljoner.

miljoner.

Hade (OMXSB du istället Cap GI) placerat under samma 100 000 tidsperiod kr i fondens hade jämförelseindex

du haft 2,3 miljoner.

Det (OMXSB är därför Cap vi GI) tror under på aktiv samma förvaltning tidsperiod och hade långsiktighet. du haft 2,3 miljoner.

Det är därför vi tror på aktiv förvaltning och långsiktighet.

Det är därför vi tror på aktiv förvaltning och långsiktighet.

Together with OLGY Uppsala and Stockholm Indoor cup,

we invite you to O-Ringen Indoor Uppsala 2021 for two

days. Indoor is orienteering indoors in schools, malls,

sportsgrounds, arenas just to name a few. Indoor is

action packed, intense and very fun!

ODIN Fonder – vi skapar värde för framtiden

odinfonder.se

ODIN Fonder – vi skapar värde för framtiden

odinfonder.se

ODIN Fonder – vi skapar värde för framtiden

odinfonder.se

Hör förvaltare Hans Christian

Bratterud berätta om hur de

lyckades med en avkastning

på 10 000 %.

Historisk avkastning är inte någon garanti för framtida avkastning. De pengar som

We will be at Rosendalsgymnasiet in Uppsala. More information

placeras i fonder kan både öka och minska i värde och det är inte säkert att du får tillbaka

about O-Ringen Indoor will be on our website. The registration is

hela Historisk det insatta avkastning kapitalet. är inte För mer någon information garanti för om framtida risk, se fondernas avkastning. faktablad De pengar och som

now open at Eventor. Book this weekend in your calendar right now.

informationsbroschyr Historisk placeras i avkastning fonder kan på både är hemsidan inte öka någon och under minska garanti odinfonder.se/våra i för värde framtida och det avkastning. är fonder inte säkert eller De skicka att pengar du efter får som dem tillbaka

See you at O-Ringen Indoor Uppsala 2021!

kostnadsfritt placeras hela det insatta i fonder via kapitalet. kontakt@odinfonder.se kan både För öka mer och minska information eller i ring värde om oss och risk, på det 08-407 se är fondernas inte 14 säkert 00. Avkastning faktablad att du får och visas tillbaka

alltid hela informationsbroschyr det efter insatta förvaltningsavgiften kapitalet. på hemsidan För mer är information under dragen. odinfonder.se/våra om risk, fondernas eller faktablad skicka och efter dem

informationsbroschyr kostnadsfritt via kontakt@odinfonder.se på hemsidan under eller odinfonder.se/våra ring oss på 08-407 fonder 14 eller 00. Avkastning skicka efter visas dem

A typical indoor orienteering map.

kostnadsfritt alltid efter att via förvaltningsavgiften kontakt@odinfonder.se är dragen. eller ring oss på 08-407 14 00. Avkastning visas

alltid efter att förvaltningsavgiften är dragen.

42 O-RINGEN MAGAZINE NR 1 • 2021 O-RINGEN MAGAZINE NR 1 • 2021 43
---
PHOTO NICLAS VESTEFJELL

PHOTO PÄR HÄGGSTRÖM

O-Ringen in Åre 2023

It has been an intensive summer preparing for O-Ringen Åre 2023, making the

most of the snow-free months. With the pandemic forcing postponement of the

event by two years, we lost access to the area around Åre Björnen, where two

stages were planned to take place. Forthcoming construction works prohibit

use of this arena in 2023.

"Together with the course planners we

begun to explore the areas that had potential

to host one or two stages and quickly found

a solution that we are satisfied with", says

Magnus Johansson, competition director for

O-Ringen in Åre.

The Norwegian course planners proposed

an additional stage in Ånn, and one stage in

Järpen. This means that the Åre event will

take place as follows:

• Stage 1 Trillevallen, long

• Stage 2 Trillevallen, long

• Stage 3 Järpen, middle

• Stage 4 Ånn, middle

• Stage 5 Ånn, long

"The area in Ånn offers good terrain to

run in and we think that it is big enough to

host two stages", explains Magnus Johansson.

That Järpen was offered as a solution was

thanks to a discussion in the early planning

stages that were put to one side. Now those

plans for a stage in Järpen will come to

fruition, although the stage will take place

higher up the hillside than the area near the

village that was originally considered. The

area offers high quality terrain that will work

well for a middle race.

"Parts of this area offer really nice terrain;

I would honestly say among the best you will

find not only in Järpen but in the Jämtland

mountains. I am really satisfied with the

solution to hold a stage in Järpen and we

have received really positive things from

both the mappers and the course planners"

says Magnus.

Magnus Johansson

Competition director

O-Ringen Åre 2023

The mappers Jerker Boman and Kalle Engblom

have now spent just over a month in

the area working on a new map. Although an

older map exists, it had not been updated for

several years and so the mapping duo were

faced with a huge job to draw the new map.

Even Ånn has been visited by our mapping

team this summer. Two Czech mappers

visited in order to finish the Ånn map, a job

that was completed thanks to the lifting of

travel restrictions permitting other European

citizens to travel to Sweden this summer.

"It was fun to be able to be here again

and work on the map", said Ales Hejna, who

worked with Milan Bily to add the final

missing details to the map in west Jämtland.

This means that the majority of the mapping

work is complete for the five stages in

Ånn, Trillevallen and Järpen. Next summer

the sprint map will be completed so that it is

up to date with the latest construction work

in Åre village.

In other news, recruitment of volunteers for

O-Ringen in Åre is ongoing. We are fortunate

to have great support from Norwegian clubs

in the Trondelag region who are now also

permitted to travel to Sweden and Jämtland.

For most of the past 18 months, coronavirus

restrictions have prevented all Norwegian

citizens from travelling to Sweden without the

need to quarantine upon return to Norway.

"It is great that our Norwegian course

planners have finally had the chance to get

out in the forests after 1.5 years without that

opportunity" says Niclas Lidström, project

manager of O-Ringen Åre.

During the late autumn all the course

planners and controllers will come together

among other things go and check the starts

and control sites in the Jämtland forests.

Speaking of the Norwegians, this autumn

the Norwegian clubs have also been visited

by project manager Niclas Lidström to

present the opportunities that O-Ringen can

create for their organisations. There were

happy faces all around when O-Ringen visited

Wing OK, based just outside Trondheim,

this August.

Intensive work is ongoing to secure accommodation

for all participants in Åre 2023. First

and foremost accommodation is planned to

be offered in holiday homes, apartments and

similar ski accommodation. However, the

possibility for campervan/motorhome and

caravan parking is also being explored.

"Next summer, when O-Ringen takes

place in Uppsala, we will open the booking

portal for cabins, apartments and other

accommodation", says Niclas Lidström,

O-Ringen Åre project manager. "We will do

our best to provide as much accommodation

as possible".

TRILLEVALLEN

ÅNN

44 O-RINGEN MAGAZINE NR 1 • 2021 O-RINGEN MAGAZINE NR 1 • 2021 45
---
Welcome to Smålandskusten 2024

A scenic and classic O-Ringencamping in Döderhultsdalen in the middle of the central parts of Oskarshamn.

With the municipality of Oskarshamn

in the middle of the coast of Småland

we can offer coastal terrain as well

as inland terrain typical of Småland

at three different arenas during the

week. The precise location for the

three arenas will be announced during

the latter part of 2021. That part of

the work is still ongoing.

Regarding accommodations there will be

a shared camping site in beautiful Döderhultsdalen

valley within walking and cycling

distance to the central parts of Oskarshamn

and sea bathing. Do you prefer a cabin,

hotel, or private rental accommodations?

Everything is possible in Smålandskusten.

There are also fantastic opportunities for excursions

if you are interested in art, history,

adventures,

the red cottages of Småland, bathing in our

lakes, boat tours in the archipelago or if you

just feel a bit playful.

Oskarshamn is a playful and powerful

region that is used to receiving hundreds of

thousands of visitors each year. You do know

about Astrid Lindgren's world, Glasriket,

Kalmar castle, Västervik archipelago, Öland

and Blå Jungfrun, don't you? We welcome all

the worlds orienteers with open arms and intend

to give you the best possible conditions

for good competition, a wonderful sense of

community and fantastic experiences.

A very warm welcome!

Photo: Amanda Hedberg.

46 O-RINGEN MAGAZINE NR 1 • 2021
---
''BLAND DE BÄSTA I KLASSEN

PÅ HÅLLBARHET,

MEN VI ÄR INTE NÖJDA''

PHOTO DESTINATION JÖNKÖPING

Titta på vår nya fina förpackning.

Där finns ett löv som

talar om hur mycket koldioxidekvivalenter

(CO2e)* som

knäckebrödet i paketet har

skapat – från åker till butik.

420 gram, närmare bestämt.

Vi har räknat in allt. Från tillverkningen

av gödsel för

åkrarna, kablarna som leder

strömmen till vårt bageri,

energin för att göra pappret till

våra förpackningar, bränslet

till traktorerna, lastbilarna...

ja, du fattar – allt.

"BÄST I KLASSEN"

MEN INTE NÖJDA.

Experterna som hjälpte oss

göra detta var lika noggranna

som de blev lyriska. "Bland

de bästa i klassen", sa de. Och

tittar vi på andra så verkar det

stämma. Men trots allt vi har

gjort, vilket inte är lite, är vi

långt ifrån nöjda.

Vi följer vår

klimatpåverkan

från fält

till butik

VI BAKADE

FOSSILFRITT REDAN

2013.

Alla våra ugnar värms upp

av grön el som framställs i

Dalarna. Överskottsvärmen

återvinns för att värma lokalerna

och vattnet. Den första

värmeåtervinningen installerade

vi redan 1954, bageriet

blev helt fossilfritt redan 2013.

DIREKT

FRÅN VÅRA LOKALA

RÅGHJÄLTAR.

Rågmjölet i vårt knäckebröd är

inte bara garanterat svenskt,

det får vi från bönder som

Anton Öhlund utanför Hedemora

– men aldrig längre bort

än 34 mil från vår egen kvarn.

Ja, vi har en egen kvarn så att

rågen kan komma så direkt

som möjligt från gårdarna till

oss, utan att åka omvägar. Allt

för att minimera transporter.

INGET GÅR

TILL SPILLO.

Hållbarhet handlar också om

att ta tillvara. Den lilla mängd

degrester och brödspån som

vi inte kan ta tillvara, skickar

vi till en annan bonde här i

Dalarna. Han har kor och

de älskar knäckebröd i vilken

form det än kommer.

FRÅN 1817 IN

I MORGONDAGEN.

Leksands Knäckebröd började

med gammelfarmors mormor

som föddes 1817, bara ett stenkast

från där vi har bageriet

idag. Och receptet är exakt

detsamma. Som du förstår är

kvartalsekonomin inget för oss,

vi räknar sekler. Precis som du,

tänker vi mycket på vad vi

lämnar efter oss till våra barn.

Följ med oss på resan mot en

fin framtid genom att konstant

sänka den där siffran i lövet

på paketet. Utan att vi någonsin

gör avkall på smaken.

VI KAN GÖRA SÅ

MYCKET MER.

Även fast vi tagit bort all onödig

plast i vårt bageri och väljer

svensk kartong (som är dyrare

än den importerade) för att

undvika onödiga transporter,

så räcker det inte. Vi måste

bli ännu bättre om vi ska ha en

värld värd namnet att lämna

över till kommande generationer.

Det är ett konstant

pågående arbete som vi gärna

delar med oss av.

VÅRT

HÅLLBARHETS-

ARBETE

EN DEL AV VAD VI GJORT:

Vi bakar fossilfritt sedan 2013.

All värme från ugnarna återvinns

till lokalvärme och varmvatten.

Tagit bort alla plastkassar,

muggar och kartongband i plast.

DET HÄR JOBBAR VI MED:

Byter bilar och frakter till

fossilfria alternativ.

Effektiviserar energianvändningen

i bageriet ännu mer.

Installerar solpaneler på bageriet.

Situation report from Jönköping!

The clubs in the region are ready to work with O-Ringen

and Destination Jönköping to organize and arrange

O-Ringen 2025: Annebergs GIF, Bodafors OK, Bottnaryds IF,

Forserums SOK, IF Hallby SOK, IKHP Huskvarna, IK Vista,

Jönköpings OK, Lekeryd-Svarttorps SK, Mullsjö SOK, SOK

Aneby, Tenhults SOK, Ulricehamns OK, Vaggeryds SOK and

SmOF.

The decision to arrange O-Ringen here in 2023 (as the intention

was before Covid-19) was made in December 2019. At that time,

a club council was organized with Göran Carnander as chairman.

Work soon started with a focus on finding a location for O-Ringen

City and all the stages. We knew from the very beginning that we

wanted Elmia fairground with the beautiful view over lake Vättern

as O-Ringen City.

– Due to Covid-19 we will not be able to welcome you to

Jönköping until 2025. We are now working hard to figure out where

we want all the arenas, acquiring environmental permits and contacting

landowners and hunters during this fall and winter so that

we can hopefully present a concept next summer. This is to give us

ample time to develop good maps for all disciplines, says Göran.

What we already know about O-Ringen 2025 is that we are

Jönköping by night.

having a O-Ringen City around the Elmia fairgrounds and that the

region offers varied terrain with the Vätterbranterna in the east, till

terrain typical for Småland in the west and international terrain in

the south. In addition to this terrain the region also offers a bounty

of tourist attractions like moose parks, climbing, apple orchards,

Store Mosse national park, Husqvarna factory museum, baths,

and city. All this will give us a week 30 filled with activities during

O-Ringen 2025!

* Alla växthusgaser omräknade till effekten som koldioxid har på klimatet.

48 O-RINGEN MAGAZINE NR 1 • 2021

O-RINGEN MAGAZINE NR 1 • 2021 49
---
REGISTRATION GUIDE O-RINGEN UPPSALA 2022

Vi söker en VD för O-Ringen AB

O-Ringen är världens största orienteringsäventyr

och ett av Sveriges största idrottsevenemang.

Evenemanget genomförs mitt i sommaren (vecka

30), alltid på en ny plats i Sverige, och lockar

årligen ca 20 000 deltagare som tillsammans

gör ca 80 000 starter. Under ett O-Ringen

är över 1 000 funktionärer och ett femtiotal

samarbetspartners involverade. O-Ringen har ett

uttalat mål att ge alla inblandade och berörda

en hållbar upplevelse i världsklass.

Varje O-Ringen drivs som ett projekt där en lokal organisation

under ledning av en projektledare får stöd av en fast

organisation med ett antal anställda medarbetare. Den fasta

organisationen arbetar på både kort och lång sikt med

såväl genomförandet av innevarande års arrangemang,

som med förberedelser inför framtida O-Ringen.

O-Ringen är ett helägt dotterbolag till Svenska Orienteringsförbundet.

Under den innevarande femårsperioden

som sträcker sig till 2025 fokuserar O-Ringen sin verksamhet

kring tre områden; hållbarhet (ekologisk, ekonomisk och

social), upplevelse och profilering. Visionen är att O-Ringen

ska vara en välkänd hållbar upplevelse och det uppnås

genom att fokusera på gemenskap, kloka val och kommunikation.

• Mycket god ekonomisk och kommersiell förståelse

• Erfarenhet av att förena professionell och ideell

verksamhet – gärna inom orientering eller motsvarande

• Akademisk utbildning på högskolenivå

• Erfarenhet från kontakter med media och vana att

hantera både intern och extern kommunikation

• Marknads- och försäljningserfarenheter

Personliga egenskaper (utan rangordning):

• Inspirerande & tydligt ledarskap som förmår motivera

personalen att jobba med ett flexibelt förhållningssätt

• Energigivande med stark drivkraft att samla och

entusiasmera team

• Prestigelös

• Förmåga att utveckla och styra i en entreprenörspräglad

verksamhet

• God analytisk förmåga

• Förmåga att bedöma projekt/resursåtgång och kunna

prioritera väl tillsammans med ledningsgrupp och

projektledare

• Förmåga och intresse av att skapa och underhålla

nätverk inom idrotten och verka både lokalt, regionalt och

nationellt för att utveckla arrangemang

• Förmåga att skapa stark tillit, trygghet och lojalitet såväl

inom som utanför organisationen

• Integritet och personlig mognad som effektiv grund för

arbetet med styrelse och ägare

• Kommunikativ

REGISTRATION GUIDE

The highlight of the year O-Ringen Uppsala 2022 is getting closer. During the week we offer

our classic 5-day competition as well as stage start and Miniknat (string course). There are

competitions for everyone and we hope you will share the joy with us this summer!

You register to Foot-O, MTBO and Trail-O at oringen.se. You can also register once you get to

Uppsala at our Competitor services or at the arenas. Our arenas are named Arena Pattons hage,

Arena Kåboängen, Arena Sävja, Arena Flottsund, Arena Graneberg and Arena Studenternas.

SAVE

20%

REGISTER BEFORE

1 NOV

Photo: Peter Holgersson

O-Ringen söker nu en VD för framtidens orienteringsarrangemang.

VD skall leda en fast organisation som består

av Projektledare, Marknadsansvarig, Logistikansvarig,

Säljansvarig och Tävlings-/IT-ansvarig. Medarbetarna i den

fasta organisationen ansvarar för kravställning, kontinuitet

och långsiktig utveckling inom respektive område. Vi jobbar

som ett team tillsammans med våra ideella krafter där vi tar

gemensamt ansvar för arrangemangets helhet.

Huvudsakliga ansvarsområden (utan rangordning):

• Totalt resultatansvar för verksamheten

• Säkerställa att organisationen har hög och positiv energi

• Organisera, utveckla och leda ett team som lyfter

företaget och Svensk Orientering till en ny nivå

• Utveckla verksamheten

• Löpande rapportering till styrelsen

Kvalifikationer (utan rangordning):

• Erfarenhet från personalledande roller där samarbete,

ansvar och respekt främjas

Arbetsplats

O-Ringen har sitt huvudsäte i Stockholm, på samma adress

som Svenska Orienteringsförbundet, men medarbetarna i

den fasta organisationen är idag utspridda i Mellansverige.

Att ha sin arbetsplats i eller i närheten av hemmet är därför

möjligt, men det är viktigt att medarbetarna ska kunna

mötas kontinuerligt ett par tre gånger per månad.

Ansökan

Skicka din ansökan till mats.rosander@orientering.se senast

30 november 2021.

Frågor

Mats Rosander (styrelseledamot)

E-mail: mats.rosander@orientering.se

Mobil: 070-578 79 01

Linda Take (Styrelseordförande)

E-mail: linda.take@oringen.se

Mobil: 070-553 63 36

oringen.se

Levels of difficulty - Main-, Short-, Recreational- and Open classes

Level

Beginner

Very easy

Easy

Moderate

Moderate

Moderate

Difficult

Difficult

Description

The course is in terrain with clear and connected features such as roads, larger paths, buildings and open land. The controls on a

green course must always be placed on handrails and must provide reassurance that the competitor is following the correct route.

Control features may be path bends, path junctions, telegraph posts, buildings or other clear features or objects.

The terrain is the same as for green courses, i.e. clear and connected features, e.g. roads, larger paths, open land and buildings. The

controls on a white course must mark only the end of one leg and the start of the next. The control features must therefore be easily

identified and distinct. As well as green course features, controls on white courses may also be on e.g. boulders, crags, fences and

similar features.

Yellow courses can be in more difficult terrain but runnability and visibility must still be good. The terrain must have a connected

network of roads, paths, fences, waterways, open areas etc. Control points may be on more difficult features, for example on the top

of a very distinct hill, but must always have a clear attack point. There must be a clear catching feature behind controls.

Orange and red courses must use runnable terrain, with gentler hills and forest, preferably with areas of cultivated land. Terrain

details must be clear. Compared to green, white and yellow courses, more difficult control features may be used, for example larger

re-entrants, distinct ridges, hills and crags. There must be a clear feature a maximum of 200 m before the control and a clear catching

feature behind it.

Same as for orange courses but you can encounter all types of terrain.

All types of terrain may be used. Very physically tough terrain should be avoided. All types of control feature may be used. Compared

to orange and red courses, purple courses place higher demands on, planning skills, choosing quick routes ahead of safe routes and

finding controls without clear catching features behind them.

On blue and black courses, the difficulty should always suit skilled orienteers, even if anyone can compete. The increased difficulty

level compared to other courses is because more of the orienteering uses contour features, detailed terrain and smaller features.

Same as for blue courses but you can encounter all types of terrain.

O-RINGEN MAGAZINE NR 1 • 2021 51
---
REGISTRATION GUIDE O-RINGEN UPPSALA 2022

REGISTRATION GUIDE O-RINGEN UPPSALA 2022

5-DAYS

ELITE TOUR

Program Elite tour

Stage 1 Exended middle Monday July 25 Arena Pattons Hage

To compete in orienteering over five days / stages is the

cornerstone and origin of O-Ringen. That's how it all started

in 1965 and that's how most people still participate today.

The winner for many of the classes is determined by an

exciting chasing start on the final day of competition,

available for Foot-O, MTBO and Trail-O.

Program 5-days Orienteering

Stage 1 Middle Monday July 25 Arena Pattons Hage

Stage 2 Long Tuesday July 26 Arena Pattons Hage

Stage 3 Long Thursday July 28 Arena Sävja

Stage 4 Middle Friday July 29 Arena Flottsund

Stage 5 Long Saturday July 30 Arena Flottsund

RECREATIONAL CLASSES

In the recreation classes (motion) you can run somewhat shorter

and easier courses and compete in classes divided by age and gender.

Recreational classes have open start times for each stage so you

can plan your day however you want.

Class Middle Long Difficulty Class Middle Long

D21 Motion 3,7 5,5 Moderate H21 Motion 4 6,6

D35 Motion 3,2 4,6 Moderate H35 Motion 3,8 6,3

D40 Motion 3 4,4 Moderate H40 Motion 3,6 6,1

D45 Motion 2,8 4,1 Moderate H45 Motion 3,5 4,9

D50 Motion 2,7 3,8 Moderate H50 Motion 3,3 4,7

D55 Motion 2,6 3,6 Moderate H55 Motion 3,2 4,6

D60 Motion 2,5 3,4 Moderate H60 Motion 3 4,3

D65 Motion 2,3 3,2 Moderate H65 Motion 2,9 4

D70 Motion 2,2 2,9 Moderate H70 Motion 2,6 3,8

D80 Motion 2 2,5 Moderate H80 Motion 2 2,5

The competition where the world's orienteering superstars

compete with Sweden's elite. The Elite Tour is open

to Foot-O classes DH21 Elit, DH20 Elit and DH18 Elit. The

Elite Tour is open for registration. The 80 best runners

from DH21 will be selected and the 120 best runners

in the junior classes. Additionally, O-Ringen exclusively

invites the world's top orienteers to participate in the

DH21 Elit classes. The competitions are specially monitored

throughout the week. Prize money is awarded in

all classes, with the greatest focus on the total result.

Stage 2 Long Onsdag July 27 Arena Pattons Hage

Stage 3 Sprint Onsdag July 27 Arena Studenternas

Stage 4 Middle Friday July 29 Arena Flottsund

Stage 5 Long Saturday July 30 Arena Flottsund

Class Stage 1 Stage 2 Stage 3 Stage 4 Stage 5 Difficulty

D18 Elit 5,0 7,7 2,9 3,9 7,0 Difficult

D20 Elit 5,7 9,3 3,0 4,5 8,5 Difficult

D21 Elit 6,6 13,2 3,2 5,2 12,0 Difficult

H18 Elit 5,7 9,3 3,4 4,5 8,5 Difficult

H20 Elit 6,5 11,5 3,5 5,1 10,5 Difficult

H21 Elit 7,7 15,4 3,7 6,1 14,0 Difficult

MAIN CLASSES

Our main classes with five days of competition attract the most

participants. Main classes have assigned start times for stages 1-4. For

our younger participants there are introductory and development

classes; Introduction (Inskolning) and Youth (U-klass). In these you

have open start times and get a result, but only Youth has a list of

results. Everyone participating in the Introduction class gets a prize.

The final stage is a chasing for all main classes, except Introduction,

Youth and DH10 – DH12.

SHORT CLASSES

This is the competition for those who want a little more flexibility

in start time and shorter courses, but who are at the same time

attracted by the competition. Free start time means you can start

whenever you want between 8.30 a.m. and 1:30 p.m. Chasing start

is applied on stage 5.

OPEN CLASSES

Open Classes will allow you to select courses with a variety of

lengths and difficulty levels, letting you challenge yourself or a

friend. These are avaliable for Foot-O (12 classes) and MTBO

(3 classes). Entry to Open Classes is not restricted by age or gender.

The course lengths will be a little shorter when it is the middle

distance for Foot-O on Friday. Every Open Class has open start

times for each stage.

Program MTBO

Stage 1 Long Monday July 25 Arena Pattons Hage

Stage 2 Middle Tuesday July 26 Arena Pattons Hage

Stage 3 Sprint Thursday July 28 Arena Kåboängen

Stage 4 Long Friday July 29 Arena Flottsund

Stage 5 Middle Saturday July 30 Arena Flottsund

Class Middle Long Class Middle Long

Class Middle Long Difficulty Class Middle Long

Inskolning 1,5 1,5 Beginner U1 2,0 2,0

Very easy U2 2,5 2,5

D10 2 2,5 Very easy H10 2 2,5

D11 2,5 3 Easy H11 2,5 3

D12 2,5 3 Easy H12 2,5 3

D13 3 4,4 Moderate H13 3 4,4

D14 3 4,4 Moderate H14 3 4,4

D15 3,5 5,5 Moderate H15 3,5 6

D16 3,5 5,5 Moderate H16 3,5 6

D18 3,5 5,5 Difficult H18 3,5 7,1

D20 3,5 6 Difficult H20 3,5 7,7

D21 3,5 7,7 Difficult H21 4,5 9,9

D21 Lång 4,5 9,3 Difficult H21 Lång 5 12,6

D35 3,5 6,6 Difficult H35 4,5 8,8

D40 3,5 5,5 Difficult H40 4 8,2

D45 3 4,9 Difficult H45 4 7,1

D50 3 4,4 Difficult H50 3,7 6,6

D55 3 4,4 Difficult H55 3,6 6,1

D60 2,5 3,9 Difficult H60 3,5 5,5

D65 2,5 3,8 Difficult H65 3 5

D70 2,5 3,3 Difficult H70 3 4,4

D75 2 3,1 Difficult H75 3 3,9

D80 2 2,5 Difficult H80 2,5 3

D85 2 2,5 Difficult H85 2 2,5

D90 1,5 2 Difficult H90 1,5 2

D95 1 1,5 Difficult H95 1 1,5

Class Middle Long Difficulty Class Middle Long

D12 Kort 2,0 2,5 Very easy H12 Kort 2,0 2,5

D14 Kort 2,5 3,0 Easy H14 Kort 2,5 3,0

D16 Kort 3,0 4,4 Moderate H16 Kort 3,0 4,4

D17-20 Kort 3,0 4,5 Moderate H17-20 Kort 3,2 5,5

D21 Kort 3,5 5,5 Difficult H21 Kort 4,2 8,3

D35 Kort 3,2 4,5 Difficult H35 Kort 4 6,3

D40 Kort 3 4,1 Difficult H40 Kort 3,8 5,7

D45 Kort 2,8 3,9 Difficult H45 Kort 3,6 5

D50 Kort 2,6 3,7 Difficult H50 Kort 3,2 4,8

D55 Kort 2,5 3,5 Difficult H55 Kort 3 4,6

D60 Kort 2,3 3,2 Difficult H60 Kort 2,9 4,3

D65 Kort 2,2 3 Difficult H65 Kort 2,8 3,8

D70 Kort 2,1 2,7 Difficult H70 Kort 2,6 3,3

D75 Kort 2,0 2,5 Difficult H75 Kort 2 2,5

Class Middle Difficulty Class Middle Difficult

Lätt 2,5 2,0 Easy Medelsvår 5,0 4,0 Moderate

Lätt 3,5 2,8 Easy Medelsvår 6,0 4,5 Moderate

Lätt 5,0 4,0 Easy Svår 2,5 2,0 Difficult

Lätt 10,0 6,0 Easy Svår 3,5 2,8 Difficult

Medelsvår 2,5 2,0 Moderate Svår 5,0 4,0 Difficult

Medelsvår 3,3 2,5 Moderate Svår 7,5 5,0 Difficult

Medelsvår 4,0 3,0 Moderate

MTBOLätt Mellan

MTBO Lätt Lång

MTBO Svår Mellan

MTBO CLASSES

MTBO runs over five days and in 4 out of 5 days the arena is

shared with the Foot-O. Assigned starting times for stage 1-4,

followed by an exciting chasing start that will determine the

overall winner on stage 5. MTBO is fast-paced and is very much

about making the right path and making quick decisions. The

map is similar to the one used in regular orienteering. The biggest

difference is how paths and roads are shown on the map. The road

and the path's ride are reported where you can simply say that the

longer the lines on the map, the faster the path can be cycled.

As before, it is allowed to double (introduced before O-Ringen

2019 in Kolmården) in both OL and MTBO. However, you may

not duplicate with the intention of reconnoitering before participating

in the other branch. If you participate in the Elite Tour, you

may not participate in MTBO stage 4.

D12 3,0 5,5 H12 3,0 5,5

D14 5,0 8,5 H14 5,5 8,5

D16 5,5 10,0 H16 7,0 13,0

D20 7,0 14,5 H20 9,0 18,5

D21 8,5 20,0 H21 11,0 25,0

D35 7,0 13,0 H35 8,0 17,5

D40 7,0 13,0 H40 8,0 17,5

D50 6,0 11,0 H50 7,5 15,0

D60 5,0 9,0 H60 6,0 13,0

D70 4,0 7,5 H70 5,0 11,0

TRAIL-O CLASSES

In the Trail-O competition map knowledge is in focus. Each control

has up to five alternate screens. You must remotely determine

which screen is correctly placed according to the control ring

on the map and the control description. You compete in a class

determined by its difficulty level, rather than age and gender. The

competition takes place in easily passable terrain, that is trails and

roads that can be navigated by wheelchairs, bicycles, etc.

Program Trail-O

Stage 1 Monday July 25 Arena Pattons Hage

Stage 2 Tuesday July 26 Arena Graneberg

Stage 3 Thursday July 28 Arena Kåboängen

Stage 4 Friday July 29 Arena Flottsund

Stage 5 Saturday July 30 Arena Flottsund

Class

Pre-Elit

Pre-A

Pre-B

Pre-C

52 O-RINGEN MAGAZINE NR 1 • 2021 O-RINGEN MAGAZINE NR 1 • 2021 53
---
REGISTRATION GUIDE O-RINGEN UPPSALA 2022

REGISTRATION GUIDE O-RINGEN UPPSALA 2022

3-DAYS

BAGHEERA YOUTH RELAY

ACTIVITIES

OPEN CLASSES

The 3-day competition is created for competitors

who want to experience everything an

O-Ringen entails, but for various reasons can

not participate in all five stages. We offer a

range of open classes. Choose the length and

difficulty that suits you from a range of five

classes. Our open classes have open starting

times. The courses on stage 3 are shorter.

The traditional youth relay is organized in conjunction

with the opening ceremony July 24. The relay is between

club teams but you can also create a combination team

between clubs. Teams consists of four runners, one from

each classes D14, H14, D16 and H16.

Bring your club and support your team!

Legs Length Start procedure

H16-D14-H14-D16 4 x 1,8 km Mass start

CHILD CARE

During O-Ringen we offer child care for kids aged 3-8 years at

Arena Arena Pattons hage, Arena Sävja and Arena Flottsund. Pre

book your child care at oringen.se. You can leave your child with

us for up to 3 hours at a time (while you race).

Class Medel Difficulty

Lätt 2,5 2,0 Easy

Lätt 5,0 4,0 Easy

Medelsvår 3,3 2,7 Moderate

Medelsvår 5,0 4,0 Moderate

Svår 3,5 2,8 Difficult

Svår 5,0 4,0 Difficult

Svår 7,5 5,0 Difficult

MTBO Lätt Mellan

MTBO Lätt Lång

MTBO Svår Mellan

With the Stage Start option, you can choose

the course you want to run at each stage of

O-Ringen. The Stage Start option is available

for each orienteering discipline that is

offered at O-Ringen; Foot-O, MTBO and

Trail-O.

For our younger orienteers we offer Introduction

and U-classes. Theese classes can

also be booked for 5 days main- and short

classes. Free start times apply to everyone

so you can start when it suits you. If you are

an adult and a beginner, there are Try-it out

classes to start with. Then you can gradually

choose a more difficult and / or longer

course.

For MTBO, both orienteering technical

difficulty and cycling technical difficulty

are indicated. Class/Course indicates the

orienteering technical difficulty. Bicycle level

indicates the bicycle technical difficulty.

If you are new to the sport of orienteering,

you can get help with the basic skills

and with finding the right course for you

through our orienteering school, located at

each of the arenas used for foot orienteering.

STAGE START

ORIENTEERING

Class/Course Middle Difficulty

Mycket lätt 2,5 2,5 Very easy

(prova på)

Mycket lätt 4,0 4,0 Very easy

(prova på)

Inskolning 1,5 Beginner

U1 2,0 Beginner

U2 2,5 Very easy

Lätt 2,5 2,0 Easy

Lätt 3,5 2,8 Easy

Lätt 5,0 4,0 Easy

Lätt 10,0 6,0 Easy

Medelsvår 2,5 2,0 Moderate

Medelsvår 3,3 2,7 Moderate

Medelsvår 4,0 3,0 Moderate

Medelsvår 5,0 4,0 Moderate

Medelsvår 6,0 4,5 Moderate

Svår 2,5 2,0 Difficult

Svår 3,5 2,8 Difficult

Svår 5,0 4,0 Difficult

Svår 7,5 4,8 Difficult

MTBO

Class/Course Mid. Long Technical

Mycket lätt kort 4,5 6,0 Easy

(prova på)

Lätt mellan 6,0 10,0 Moderate

Lätt lång 7,0 15,0 Hard

Svår kort 4,5 6,0 Moderate

Svår mellan 6,0 10,0 Hard

Svår lång 7,0 15,0 Hard

TRAIL-O

Class/Course

Öppen Pre-A

Öppen Pre-B

Öppen Pre-C

TRAINING MAPS

We offer training in areas near Uppsala that are similar to the

competition areas, including the completely newly drawn map

in Östuna, which was intended to be a stage at O-Ringen 2020

but which needed to be moved due to tree felling. Release date

May 1st 2022.

• Östuna (Orienteering)

• Fåfängorna (Orienteering)

• Hammarskog (Orienteering + MTBO)

Book your

accomodation for

O-Ringen Uppsala 2022

at oringen.se

MINIKNAT

or the youngest orienteers there are daily Miniknat, or String

courses, at Arena Pattons hage, Arena Sävja and Arena Flottsund.

In Miniknat, kids follow a streamered course between check

points, which feature different activities, challenges, and fun

surprises. They do, of course, get a map to follow and a SI card.

There is no timing or results list, but all children get a prize

when they finish.

You can pre book Miniknat at oringen.se or book it directly at

the arena.

BAGHEERA ORIENTEERING SCHOOL

Have you never tried orienteering but want to try? Or re you a former

orienteer and want to refresh your skills? At the Orienteering School,

we will cover all the necessary skills that you need in order to set out

by yourself on an easy-level O-Ringen course. We will then come with

you to the start and help you get going.

54 O-RINGEN MAGAZINE NR 1 • 2021

O-RINGEN MAGAZINE NR 1 • 2021 55
---
REGISTRATION GUIDE O-RINGEN UPPSALA 2022

REGISTRATION FEES 2022

Product Prize category 1 nov

-20%

Elite tour

5-days

3-days

Stage start

Main- &

Short classes.

MTBO

Trail-O

Recreational

classes

Open classes

Open classes

1 april

-10%

1 juni

ordinary

After

+30%

Up to age 20 2010 2260 2510 3260

Age 21 and up 2480 2790 3100 4030

Introduction and U-class 500 570 630 820

Up to age 16 820 920 1020 1330

Ages 17-20 1120 1260 1400 1820

Age 21 and up 1720 1940 2150 2800

Age 21 and up 1630 1840 2040 2650

Up to age 16 700 790 880 1140

Ages 17-20 1010 1130 1260 1640

Age 21 and up 1540 1740 1930 2510

Up to age 16 420 480 530 690

Ages 17-20 600 680 750 980

Age 21 and up 940 1050 1170 1520

Try it out (all ages) 110 120 130 170

Up to age 16 110 120 130 170

Ages 17-20 140 160 180 220

Age 21 and up 190 2220 240 310

Bagheera relay Per team 320 360 400 520

ADDITIONAL SERVICES

1 nov

ordinary

1 april

ordinary

1 juni

ordinary

Folksam motionsloppsförsäkring (Insurance) 155 155 155

After

+30%

Folksam motionsloppsförsäkring plus (Insurance) 275 275 275 275

SI Punching card rental 40 40 40 50

SI, SIAC (MTBO) Punching card rental 60 60 60 70

Start times blocked with another club 120 120 120 140

Split start time 120 120 120 140

Punch help Trail-O 110 110 110 130

Push help Trail-O 110 110 110 130

Jubilee plaque (order before 1/6) 0 0 0 -

Visa 0 0 0 0

Own map (order before 1/4) 0 - - -

ACTIVITIES & ADDITIONAL SERVICES

ADDITIONALS

- to be selected at the

same time as you book

your start

FOLKSAM MOTIONS-

LOPPSFÖRSÄKRING

(INSURANCE)

Folksam motionsloppsförsäkring

is for participants in exercise and

competition events and gives you

back the entire registration fee if you

become acutely ill or injured and

can not participate. The insurance

also includes an olycksfallsförsäkring

(accident insurance) when you are

training. Only valid for Swedish

residents.

SI PUNCHING CARD

Rent your punsching card

for one or all stages.

START TIMES BLOCKED

WITH ANOTHER CLUB

Start with another

club than your own.

SPLIT START TIME

You start on different times during

the day. Only avaliable when you

compete in the same dicipline.

PUNCH HELP TRAIL-O

Help to punch, only for Trail-O.

PUSH HELP TRAIL-O

Transport help, only for Trail-O.

1 nov

ordinary

1 april

ordinary

1 juni

ordinary

After

+30%

Child care 60 60 60 70

Miniknat 40 40 40 60

Bagheera orienteering school 0 0 0 0

SAVE

20%

REGISTER BEFORE

1 NOV

Terms for registration at oringen.se

56 O-RINGEN MAGAZINE NR 1 • 2021

Follow us!

Instagram: @oringen

Facebook: O-Ringen

See you at O-Ringen Uppsala 2022!
---
MAIN PARTNERS

HOST

COMPETITION PARTNERS

STAGE HOSTS

odinfonder.se

ACTIVITY PARTNERS

SUPPLIERS