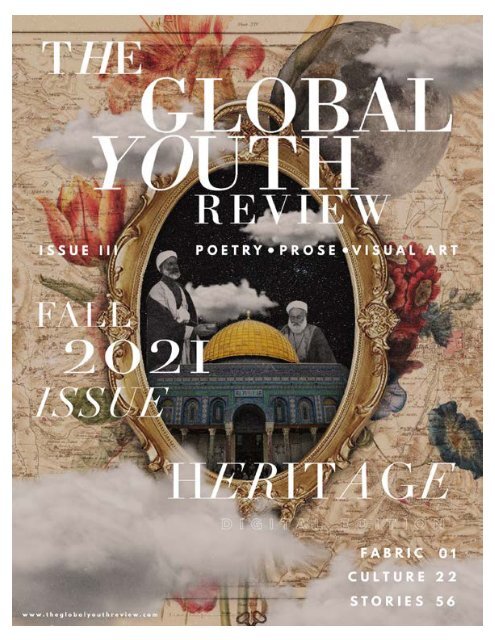 ISSUE III: Heritage
"Heritage" is The Global Youth Review's third issue, which revolves around images of culture, identity, and home for our 27 contributors, who hail from across the globe. We warmly welcome you into a space filled with riveting prose, poetry, and photography, all of which celebrate individual and cultural identity. Designed by Sena Chang
"Heritage" is The Global Youth Review's third issue, which revolves around images of culture, identity, and home for our 27 contributors, who hail from across the globe. We warmly welcome you into a space filled with riveting prose, poetry, and photography, all of which celebrate individual and cultural identity. Designed by Sena Chang
SHOW MORE
SHOW LESS
Create successful ePaper yourself
Turn your PDF publications into a flip-book with our unique Google optimized e-Paper software.
2 0 2 1

H E R I T A G E

ISSUE III FALL 2021

T H E G L O B A L Y O U T H

R E V I E W

EDITORIAL STAFF

Ibra Aamir

Dua Aasim

Abdulmueed Balogun

Sena Chang

Steven Christopher McKnight

Lisa Degens

Joshua Ellis

Zo Estacio

Ella Fox-Martens

Rowan Graham

Arianna Harris

Talha Hasan

Bianca J

Ziqing Kuang

Gabrielle Loren

Krittika Majumder

Ivaana Mitra C.

Shreya Raj

Avantika Singh

Helena V

Lake Vargas

Yvanna Vien Tica

George White

CONTRIBUTORS

Akinrinade Funminiyi Isaac

Akshita Kumar

Anoushka Srivastava

Anthony Salandy

Ashley Pearson

Assia Messaoudi

B. Pick

Bukunmi Oyewole

Chinonye Alilonu

Glorious Kate Akpegah

JP Legarte

Kate Rowberry

Kaya Dierks

Kayleigh Sim

Layan Dajani

Makenna Dykstra

Mandira Pattnaik

Maria Alexza Hernandez

Matt Hsu

Nina Sikandar

Olga Musial

Olivia McCann

Ross Walsh

Sonakshi Srivastava

Syna Majumder

Trisha Reddy

Zoe Friedland

For advertising inquires contact: theglobalyouthreview@gmail.com

Cover Art: Layan Dajani

Magazine Designer: Sena Chang

P

A

G

E

1

THEGLOBALYOUTHREVIEW.COM
---
Table of contents and letters from the

Executive Team —

1

INTRODUCTION

TABLE OF

CONTENTS

THEGLOBALYOUTHREVIEW.COM | LITERARY MAGAZINE

Artefacts and structures that uphold

one's culture —

Stories that sew the fabric of

heritage —

3

Personal narratives and traditional

tales —

Featured writers and

artists —

5

2

CULTURE

4

CLOSURE

FABRIC

STORIES

20

78 MANGOES

WRITTEN BY AKSHITA KUMAR | An appreciation

of Kumar's heritage with sweet and

juicy mangoes taking center stage

42

58

66

FROM EAST AND

ELSEWHERE

8

13

WRITTEN BY ASHLEY PEARSON | A

collection of poetry surrounding Pearson's

origins

FALLEN ANGEL

YOUNGER MEMOIRS

WRITTEN BY JP LEGARTE | An expansion

of what Legarte considers to be parts of

his rich hertiage

PRETTY WOMAN

WRITTEN BY SYNA MAJUMDER | A freeverse

poem detailing feelings of isolation

and otherness from one's own family

18 CHANDERI

WRITTEN BY ANOUSHKA SRIVASTAVA | A

story of traditions and threads inspired by

the arts, aesthetics, and culture of India

22 PAPILIONANTHE

WRITTEN BY KAYLEIGH SIM | A poem

inspired by Sim's experience living far away

from her homeland

33

WRITTEN BY MATT HSU | A portrait of a

young adolescent, reimagined as a "fallen

angel"

61 ANTEBELLUM

WRITTEN BY TRISHA REDDY | A fictional

story drawing on fantastical elements to

create a world strinkingly similar to ours

INDULGENT SPICES

WRITTEN BY ROSS WALSH | A piece seeking

to explore the concepts of loss, grief,

and the heritage left to us by previous

generations

COVER ART

The cover art for this issue was

created by Layan Dajani, a selftaught

graphic designer from

Palestine.

82 CONTRIBUTORS

A comprehensive list of all 27 contributors

of the magazine, with biographies that

provide further insight into their craft

75

BOG BODY

WRITTEN BY NINA SIKANDAR | A fresh

perspective on the connection between

man and nature, combined with vivid

imagery

THEGLOBALYOUTHREVIEW.COM

P

A

G

E

2

P

A

G

E

3

THEGLOBALYOUTHREVIEW.COM
---
TALHA HASAN

Co-Founder, Instagram Manager

Editor's

LETTER

SENA CHANG

Founder, Editor-in-Chief

I

n order to move forward and make progress, we must look at

history. Why? Because our past defines us. Because the past

is reality. The future doesn't exist and we are not aware of the

present. The only thing we are certain about is our past.

The world is broader than our bedroom. Our minds consist of

infinity. But do we ever sit back and think for a moment, How did we get to where

we are now? The answer will take us to the past. The answer will make us think

of those who did everything to let us be where we are. They are our ancestors.

Our ancestors have thousands of years of history. They survived

hundreds of thousands of disasters just so we can stand here—alive. Their

legacy lives within us. We are the ultimate proof of everything they have made,

fought, and done to exist. We are a reflection of our ancestors. What they have

left for us to claim is our heritage.

What compels me about the multifaceted

concept that is heritage is

the subtle weight it carries in one's

life; having endured world wars and

pandemics, one's heritage acts like

an oasis within our stormy society. When reading

through the works presented in this issue, these

themes emerged again and again, yet in wholly

different forms—perhaps that is what drew my

staff and I to select these pieces. The emotive

diaspora-themed poems. The photographs that

capture the beautiful simplicity of one's home. The

rejecting and embracing of one's childhood homes,

conveyed through the beautiful simplicity of a few

words. The many pieces I have encountered in this

process have forced me to embrace and reflect

upon my own heritage, and I dearly hope that the

rawness and clarity of this issue is conveyed to

you, dear reader. Without further ado, it is with

great pleasure and honor that I present to you

issue three of The Global Youth Review.

We can't deny our past. Our past includes both the good and the bad—

we have to know both of them. If we know our past, we can fix our future. Our

ancestry can't be ignored. We have to move forward with our roots. We have

to reclaim our heritage. Our heritage is what we are. Those who reject their

heritage reject their ancestors. They reject themselves. If we don't know our

heritage, do we even know ourselves?
---
CHAPTER

fabric

FABRIC

"We all participate in weaving the

social fabric; we should therefore

all participate in patching the fabric

when it develops holes...''

Anne C. Weisberg

THEGLOBALYOUTHREVIEW.COM

P

A

G

E

6
---
CONTRIBUTORS

Poetry

YOUNGER

MEMOIRS

"Younger Memoirs" serves as an example of

how individuals bring home with them within

treasured memories of places, people, and

experiences.

Pr i o r

recollections

of younger

memoirs

decorate the

current suspension

of eventual thinking.

For example,

the hundred-degree Vegas-vacation

heat mimics the Philippines' sweet

searing of the skin,

extending further into the Asian-

American

amalgamation of my dynamic veins.

As the airplane now lands on the Los

Angeles runway

of widespread beaches and stardom

By JP LEGARTE

city lights,

the Chicago-suburb cul-de-sac

intertwines

with the recesses of my conscience.

Once I step

outside the airport gate into colder

air, small children

scurrying around imitate my

adventurous excursions

with the neighborhood kids who

have since faded

into familiar strangers.

Restored senses of community stay

embodied

in the college friends that have torn

this blanket

of loneliness. Its threads once

enveloped my fragile thoughts

but are presently stripped into thinned shreds shifted

away

by spiraling breezes of assurances. Stringed

from future aspirations, midnight reflections

on the intricacies of our intersected lives

beautify the endless conversations I have

with these individuals, residing within

the spaces of my soul reopened.

Tell me what home, what heritage means

to you. I could get lost in the various definitions

that would blossom from the seeds of past

navigations through the gardens in which

we were planted.

In another poem, I wrote about my belief

that home materializes as elastic memory

within mental snapshots we take. I discovered

even imagined scenarios could become home

if one day I choose to breathe life into them.

Ultimately, our adorned reminiscence

tirelessly shoulders home with us, if only

we allow its integration to sustain

our aging bodies.

THEGLOBALYOUTHREVIEW.COM

P

A

G

E

8

THEGLOBALYOUTHREVIEW.COM
---
M

om was, "floss and brush" and tangled hair

She was sunscreen

and "No. No. NO! Butter knives in the electrical socket.

No sugary cereal for breakfast

and not too many movies."

She would set me on blankets

while she made the Earth grow

in the small plots of peoples' gardens,

and a Nancy Drew would play on a loop

in an old cassette player.

I would draw quietly

and stay seated in the shade,

while I learned to sit and think.

My first time eating ice cream I asked her to heat it up

and she warmed it into a sweet summer soup for me,

in many ways she was the sun.

Grandma was globs of glue and paint,

nightgowns and high heels,

and declarations of,

"Mostly Italian."

She was pasta and slices of salami

and folk songs in Spanish over strums of warm guitar.

We went to the beach and

the wind sang calm through the waves

and she told me I could take a seashell home,

told me I could hear the ocean inside of it

even back in Colorado.

We would paint the ocean waves we'd seen

with purple and silver and turquoise tempera, and

she would ask me how I felt when I looked at a painting.

I wish I could remember what I said,

but now when I see a painting,

I see the waves and taste the melted ice cream,

I smell thick layers of sunscreen, hear the garden growing,

and feel the women that raised me.

By OLIVIA MCCANN

RAISED

BY WOMEN
---
RACE

But much as media champions

An inclusivity trite,

Tokenistic falsehoods arise

As capitalist mediation births

A compromise lavished on dominant screens,

Never entire communities

Or mighty institutions.

For difference is celebrated

RACE IDENTITY | ANTHONY SALANDY

Antagonistic exchanges harbor

Unknown dilemmas

Where worlds are disrupted

By momentary collapse

Of lexicons civil,

But harsh reality deems such pleasantries

A rarity where 'light skins' know no true,

Know no simple acceptance.

For segmentation knows no tone,

Nor no blood count

Beyond arbitrary brackets

That sever any decency.

No, objectification finds deep rooting

Where the 'other' is no longer a being,

But rather a personified conceptualization

That must succumb to banal labelling.

IDENTITY

PRETTY WOMAN | SYNA MAJUMDER

that's the name of a drink at the Sheraton,

and it is called the ITC Rajputana now but

none of the socialites care. cause even with

names, pretty sells, old money stays. big

red brick and the population form a hotel, all

mojito-sipping millenials and many a half-drunk

matriarch wearing a string of pearls and

their poolboy. sundays here are as less of

a status symbol than they are the reality,

long nails reaching across tables at brunch

to critique how fat your face has gotten.

come on beta. live a little. have my dessert.

there is a thing that lives in my head that

loves them, the entire posse: the dubious

bottles of chanel no. 5 on their dressers,

the connections to alia and kareena and

karishma. not priyanka, the bitchy betrayer.

hello denial monkey, i say to it, condescending.

hope you're doing well. it stays there like the

primates at ranthambore, waiting for twentyrupee

lies from unsuspecting tourists, validation.

it's not picky. i think of the south delhi circles

and i think of paris is burning--unapologetic,

unknowing camp splashed across the marble

floors of a five-star. drag queens performing to

their NRI children and cheating husbands.

there's a smudge of glitter on my cheek where

an aunty kissed it, and it's bad makeup to the

rest. i will never be a part of them, and i will never

live without. we all have our burdens to bear.

When 'useful' and discarded en masse when not,

But much like dreams,

Some are split between multiple,

Stretched under mental fatigue

And separated by the consistent thought

Of never being quite good enough.

But no one questions the caveats

That sear silent soul searching

Onto the footprints

Of worlds that collide and disrupt

Bygone assumptions of purity

Or rather fears of the lurking unknown.

PRETTY

WOMAN
---
LA single grain of kosher salt slips

Under my great-grandmother's garnet

As my father tells me to focus on the task at hand.

POETRY

LOX | B. PICK

The tenderizer feels too warm for comfort, not

In the same fashion as the fennel lodged beneath

My fingernails. It's tradition, or so he reminds me, as

He strips the salmon's skin.

I am not a bad person.

I pick up worms from scorching sidewalks

And place them in puddles.

"Every generation makes a modification. Leaving every inch of the flesh exposed

Helps the flavours sink deeper. It'll taste better this way, trust me."

Preparing herbs and preserves is easy. It's harder to put your hands

Onto something so cold, to expect it to return the love

Of generations lost, of generations aching, of generations watching.

I am not a good person.

I pick up worms from scorching sidewalks

And slice them into five equal segments.

XPOETRY

"Women rarely learn this recipe."

"Your hands are rougher than your brother's."

There's still salt stuck below the semi-precious stone,

Creating a wound of its own -- somehow soothing. I place

The hammer in my father's hand, the grain finally slips out

From beneath my great-grandmother's ring and into his left palm.

I am a good person.

I'll do this with my hands.

Salmon can only be caught with lures, or so he reminds me.

I ask him where this fish was from. He'll ignore the question and

Tell the same story again, the one about the fishing trip to Alaska.

He's not a fisherman, he never exaggerates.

"Have I told you about the time a seal ate my salmon straight off the line?"

"Have I told you about the time my dad threw my cooler -- fish and all -- into a trash

bin at the airport in Anchorage?"

"Have I told you about the time I gutted a salmon, then found a smaller salmon in its

belly?"

I am a bad person.

These stories are mundane.

I wonder if there's a better way, as the tenderizer finally makes contact with the carcass.

Every other family recipe leaves this part out -- my father

Says that his father's father added it to honour the fish the same way we might

With other meats. This one is cured and gentler on the stomach.

THEGLOBALYOUTHREVIEW.COM

P

A

G

E

14

P

A

G

E

15

THEGLOBALYOUTHREVIEW.COM
---
POETRY

POETRY

tBURNING HAIBUN FOR MY

ANCESTRY | KAYLEIGH SIM

o my ancestors: burning incense & withered flowers like hungry ghosts of a soul. tell me: what

is the unmaking of salvation but the forgetting of a heritage that i never fell in love with? when i was

younger: i was everything & nothing of a girl who didn't believe in ghosts. stolen rice wine

& drunken sins, lotus offerings & flower crowns in my hair like a divine being. but tell me: that

you worshipped me all the same, that you do still. that you forgive the last of your bloodline for

the death of a dynasty. ghost month on the moon calendar & in your homeland: i wander your

streets like a ghost town, rootless mandarin in dead tongues & chinese poetry in funerary

requiems. tell me: that i don't swallow ashes of paper money & taste regret like charred embers.

tell me: that i can save myself from this unearthly fate, salvage my unholy shreds & stitch them

into second comings: that it's not too late, that i don't feel your otherworldly fingertips on my

strangled pulse in every crevice of my nightmares. & when you consume me: remind me of how

i died a hungry ghost, of a dream in which you loved me all along.

//

to my ancestors: burning incense & withered flowers like hungry ghosts of a soul. tell me: what

is the unmaking of salvation but the forgetting of a heritage that i never fell in love with? when i was

younger: i was everything & nothing of a girl who didn't believe in ghosts. stolen rice wine

& drunken sins, lotus offerings & flower crowns in my hair like a divine being. but tell me: that

you worshipped me all the same, that you do still. that you forgive the last of your bloodline for

the death of a dynasty. ghost month on the moon calendar & in your homeland: i wander your

streets like a ghost town, rootless mandarin in dead tongues & chinese poetry in funerary

requiems. tell me: that i don't swallow ashes of paper money & taste regret like charred embers.

tell me: that i can save myself from this unearthly fate, salvage my unholy shreds & stitch them

into second comings: that it's not too late, that i don't feel your otherworldly fingertips on my

strangled pulse in every crevice of my nightmares. & when you consume me: remind me of how

i died a hungry ghost, of a dream in which you loved me all along.

//

& what is love? but

a ghost town, second comings:

a dream all along.

THEGLOBALYOUTHREVIEW.COM

P

A

G

E

16

P

A

G

E

17

THEGLOBALYOUTHREVIEW.COM
---
NONFICTION

NONFICTION

CHAN

D E R I

A STORY OF TRADITIONS

AND THREADS

By ANOUSHKA SRIVASTAVA

No sooner that we mention the name

of 'Chanderi' and images of glossy,

vibrant beautiful fabric appear vividly

in front of our eyes. This popular

choice of fabric that is thinner than air

owes its namesake to a little hamlet in

Madhya Pradesh and a rich chronicle

of history and kingship that makes this

sleepy town a time capsule of memory.

Chanderi; situated in

northern Madhya Pradesh, 36kms

west of Lalitpur (Uttar Pradesh), is a

tehsil of Guna district (MP). The city

is a melting pot, a home to Muslims,

Hindus and Jains. Chanderi was an

important fortress and administrative

center during the Malwa Sultanate

(15 th century) and until a few years ago

its fortifications were still standing.

History of Chanderi Town

The town of Chanderi

also known in the past

as Chandagiri and

Chandrapuram, has witnessed

the rise and fall of several

dynasties but there is no actual

consensus on when it was

found, primarily due to lack of

written evidence. One source

attributes its foundation to

King Ched, who is said to have

ruled over this region around

600 BC. Chanderi is also given

a mention in the travelogues

of the famous travelers, Al Beruni

and Ibn Batuta. Another mention

of Chanderi is during the Gurjara-

Pratihara dynasty, when King Kirtipal

shifted his capital to Bodhi Chanderi

around the 11th Century AD. Not much

is known about the Gurjara-Pratihara

kings of the region around Chanderi,

other than the information yielded

on an inscription found at Chanderi.

Chanderi was lost to the Delhi

Sultanate when Ghiyauddin Balban,

a minister of Sultan Naseeruddin,

attacked Chanderi in 1251-52 AD.

When Allauddin Khilji became the

Sultan of Delhi, he hired one of his

most trusted nobles, Malik Tamar

Sultani, under whose rule Chanderi

was taken over by the Tughlaq

Dynasty. From 1351-1388 AD, Chanderi

was a part of the Delhi Sultanate,

after which it was seized by the Malwa

Sultans who incorporated it into their

domains. After Chanderi was annexed

by the Malwa Sultanate, from 1512-1515

AD, it was seized by Sikander Lodi

Sultan of the Delhi Sultanate. Again

in 1520 AD Chanderi was taken over

by Rana Sangha, the king of Chittorh

until 1528 AD, when the Mughal

onslaught by Emperor Babur was

victorious in capturing the fort at

Chanderi. In 1605, Jehangir, on behalf

of the Mughal court, handed over

the rule of Chanderi to the Bundela

Rajputs, who in turn ruled Chanderi

until 1811 AD. In 1811 AD, Chanderi was

''No sooner that we mention

the name of 'Chanderi' and

images of glossy, vibrant

beautiful fabric appear

vividly in front of our eyes.''

taken over by Colonel John Baptise

Filose for Daulat Rao Scindia, who

incorporated Chanderi in the Scindia

estates. Kunwar Mardan Singh, one

of the last rulers of the Bundelas

annexed Chanderi from the Scindias

in 1844 AD and made huge advances to

restore Chanderi's art, architecture,

administration and political power.

In 1858 AD, the English sent Sir Hugh

Rose to capture Chanderi. In the siege,

the English prevailed and Mardan

Singh was incarcerated and sent

to Vrindavan for the rest of his life.

Chanderi sustained a lot in

the 1857 uprising; it was plundered

incessantly and partially burnt down.

On December 12, 1860 AD, a treaty

was signed between the British and

the Scindias, and Chanderi was

returned to the Gwalior estates.

Vestiges of the past are present

everywhere: ruins, old buildings,

inscriptions which nobody is truly

able to decipher; sati stones bespeak

of a glorious ancient urban past. For

Muslims, it goes back to the Muslim

malwa sultanate. Jain inscriptions

are even older. Hindus and Jains

strongly believe that the ruins of

Burhi Chanderi, 17 kms north of

the present town, are evidence of

the existence of a Hindu and Jain

urban settlement there, prior to the

advent of the Muslims. Many people

in the city have heard about the

description given in Ain-i-Akbari

and believe in its accuracy:

"Chanderi was one of the

largest of ancient cities

and possesses a stone fort.

It contains 14,000 stone

houses, 384 markets, 360

spacious caravanserais and

12,000 mosques." (Abu'l-

Fazl ibn Mubarak, 1590)

Spinning Love- Chanderi

Fabric

Nestled between the low

and humble hills of the

Vindhyachal ranges, the town of

Chanderi has not only been a cradle

of many historical events but also of

a rich tradition of Chanderi saris,

the beauty of which lies in its finesse,

softness and transparency. Chanderi

is known to have its origin back in

the Vedic Period, and is believed to

have been founded by Lord Krishna's

cousin, Shishupal. The Chanderi

produces three kinds of fabrics:

pure Silk, Chanderi cotton and silk

cotton. The motifs have come a long

way from the traditional coin, floral

and peacocks to the geometrics.

In the year 1910, the royal

family of Scindia brought the

Chanderi sari under their patronage

THEGLOBALYOUTHREVIEW.COM

P

A

G

E

18

P

A

G

E

19

THEGLOBALYOUTHREVIEW.COM
---
NONFICTION

POETRY

and during period the gold thread

motif was used in the main body of

the cotton muslin saree for the first

time. It also led to the introduction

of the silk yarn and over the years

dobby and jacquard use came into

existence. Some of the various

beautifully striking motifs include

'Nalferma, 'Dandidar, 'Chatai',

'Jangla', Mehndi wale haath' etc.

Chanderi was always

woven using hand-spun cotton

warps and wefts. It was spun as fine

as 300 counts, and was as prized

amongst cotton fabrics as the

famed muslins of Dhaka. The

British imported cheaper 120-

to-200 count cotton, which

greatly eroded the market for

the more expensive Chanderi

cloth. Referred to as 'woven air'

because of its transparency and

the sheer texture of the fabric,

Chanderi saris are known for

their light weight and glossy

texture that is different from

any other textile woven or

produced in the country.

They owe this characteristic

to the high-quality and extra

fine yarns that are used in

weaving. The yarn used to

weave Chanderi fabric doesn't

go through the degumming

process to prevent breakage

during weaving, giving the

fabric its unique shine and

texture.

There are three main

categories of saris based on the

material used. The product ranges

from cotton to pure silk, i.e., silk by

silk, silk by cotton, cotton by cotton

and zari by silk. This cluster is known

for producing the most intricate

figured effects by jala or harness

which are now done by dobby and

jacquard, fine cotton counts and

deniers, a combination of strong

colours as well as muted tones. The

buttis on the fabric are hand-woven

on handloom. The buttis are made

by use of needles. The number of

needles used depends upon the

number of buttis and its size. For

each butti a separate needle is

used. The design layout has been

undergoing some changes to match

demand, but it remains deficient on

several accounts.

The Chanderi material

is now being used to make stoles,

scarves, cushions, dupattas,

draperies, and suit material. Safas

or long scarfs for weddings and

cotton pagris have also been a

prominent product of this cluster

and they are still adorned with the

royal and elite families of Indore and

Gwalior. About 25 to 30 years ago, the

Jacquard mechanism for the border

of Chanderi saris was introduced

in Chanderi by the artisans from

Banaras who also introduced the

rolling log at the same time. The sling

mechanism for carrying the shuttle

across the warp was introduced by

artisans from Nagpur in the 1960s.

Before that, an animal horn with

a hole at its tip was used for taking

the weft threads across the warp

threads.

The traditional product

designs of the cluster can be broadly

classified as follows:

- Nalferma silk designs wove in the

body with 3 shuttles and 2 weavers.

- Dandidaar bamboo striped border

with motifs.

- Chatai geometrical border with coin

motifs, florals.

- Jangla designs inspired by historical

relics.

- Mehendi wale haath design inspired

by culture uses and extra warp.

- Sooraj Mukhi and Sadda

Suhaghan Raho saree for

weddings*

*(warp 20/22 denier silk and weft

100s cotton)

Chanderi silk's profit

margins are increasing steadily

to this day, from apparel to home

decor. The Rajwada collection

of Fabindia is an ode to this

fabulous textile.

They have used the rich

Chanderi fabric as it never

goes out of style; plus, it adds

that much-needed element of

warmth to the rooms during

winters. Along with product

diversity, the artisans and Seths

have started experimenting

and recycling the old stock of

their products by introducing

block printing and batik on the

Chanderi fabrics.

A fabric is a spun story that

has seen the rise and fall of many

dynasties and wrapped itself snugly,

brilliantly and gloriously on the

bodies of people and lives that make

it and wear it.

I hope that these sun-kissed

bricks charm you with their old

stories and magnificent architecture

against the setting sun, as you rush

for the night market in the sleepy

town of Chanderi.

This piece previously appeared in

Enroute Indian History.

it always begins with light

fluorescence we drown in

we hide in

we are here for a reason

we have left something

MA'S

BODIES,

THOSE LOST AND FOUND IN THE

DELI DEPARTMENT

will you help us retrieve it?

perhaps it's getting late already

perhaps you should go

you're not worried they'll catch you?

us? oh, don't worry, we are native to the fruit

department

we've lost a body

popped it in the cart like canned tomatoes

do you like red sauce? can I get a look inside

your can?

well, maybe some other time

you see,

you don't come here to buy the things you need

you come to buy the things you've lost

you think she's been sold already?

but it is not yet morning

how often do you buy a body?

a high-neck sweater and hair like Brother's

yes, you. you don't like it when I call you that?

why did you leave her here in the first place?

you cannot punish people for your genes

and besides, it is I that's too much Ma and too little me.

By OLGA MUSIAL

sorry,

are you the guard?

do you ever nap

in the deli department?

maybe we've left her

by the vegetables

oh, the cart doesn't work

you have to force it through the tiles

this is how you assert dominance

over it and over Ma's body

we'll pop pennies from our pockets

a handful of buttons in gold marker

you think that's enough?

you think this is the price of Ma?

we're not just buying the body; the insides have

gotten lost too

stick her palm to the refrigerators, see if it fits

with the fish fingers

a home is a hole, and we are native to brightness

do you believe it? I don't.

Ma says

in the end

we can never be native

to where we weren't born.

THEGLOBALYOUTHREVIEW.COM

P

A

G

E

20

P

A

G

E

21

THEGLOBALYOUTHREVIEW.COM
---
POETRY

POETRY

dehydrated

MEMORIES

*

A profound exploration of

adolescence and maturity, through

the lens of environmental change

By KATE ROWBERRY

By KAYLEIGH SIM

singapore i plant your flower on this american soil because i believe you still love

me, watch it bloom into lilac laces & lavender ties like purple-stained promises. on my

nightstand, our romance is beautiful but not exotic: night falls & i dream, drunk on

your orchid's faintly elegant aroma. midnight & i wake to the smell of death on my

pillow: i caress a petal in my palm and it wilts like drunken tea leaves, reach for another

& it crumbles like stardust between my trembling fingertips. singapore i am desperate,

drowning your ruins in tears of coconut milk & sugarcane essence, deluging its petals in

eyelashes of pandan extract but i still can't shake the pungent perfume of decay. & now

i am plunging fingertips like knives into this asian culture of a soil, hungry to revive my

ancestry, to unearth my roots with my own lucid eyes, emerging with earth-filled nails &

soiled knuckles, tangled roots entwining ruthlessly against my strangled pulse & i am

merciless, eyes bloodshot, ripping your roots into unholy threads, your flower into

unearthly ribbons & they scatter into my dark hair, my white sheets, my tattered lace

nightdress. singapore if i'm mad i am madly in love-- & after, i bury america's green

card & hope it flowers into something earthly, taste fresh salt on my tongue & relish the

metallic aroma of blood. yes i drink flower wine by the brim but no, i can never forget

that i killed a flower like a breathing being, & now i am holding the wilted shreds of

your orchid to my bleeding heart & lying to myself that no, i am not a murderer, &

whispering through salt water:

my beloved homeland, do you still love me?

of course, i imagine you say.

of course i do.

*papilionanthe is the botanical name of the national flower of singapore. it is sometimes referred to as the

hybrid orchid, vanda miss joaquim, the singapore orchid, or papilionanthe miss joaquim.

THEGLOBALYOUTHREVIEW.COM

P

A

G

E

22

***

i am from the golden state.

rather,

it's the golden-brown state.

a vernal emerald

briefly reigns the sierra foothills,

soon subdued by

a paper-bag shade of

thirsty.

thermometers break

during the oven summers.

it's only april

when temperatures begin to look like

good grades

in degrees fahrenheit.

91. 96. 103. 108. 112.

***

some years,

folsom lake vanishes,

and the water is a hairline, receding.

the heat endures, revealing more

desiccated shore, and the ruined,

usually

engulfed miners' town

emerges.

it was flooded decades ago to make a

perpetually

untenanted reservoir.

i visited the town in 2014, two years

into the second californian drought

in my lifetime.

as i walked amidst stone walls

P

A

G

E

23

settled deep into the parched lake

bed,

my brother told me i was drowning:

standing

tens of feet under

the lake's expected surface.

***

i was in junior high

when paradise became a chimney,

exhaling smoke from the very

buildings.

the scorched acres and lost lives

were reduced to fearsome statistics

flashing across tv screens.

this wildfire led to indoor gym class,

as if we could hide from the air

quality index: unhealthy.

i never had school closed for

a snow day, but

classes were canceled

that november, when the sky was

smudged as brown as the june plants

and

as gray as our negligent rain clouds.

they called it a smoke day.

***

THEGLOBALYOUTHREVIEW.COM
---
NONFICTION

Prose

LETTERS

FROM HOME

A hybrid prose piece of sorts, Hernandez's

piece is dedicated to the past, present, and

future people of the Philippines.

By MARIA ALEXZA HERNANDEZ

It was summer. Actually, it was always summer.

They landed on our beaches dressed in red, white, and gold. I had never seen their kind before with

skin so pale they burned red.

Their mirth spoke of adventure and riches from distant lands, but their eyes were empty, their

laughter hollow. While they were adorned in gold, we were crowned in flowers.

THEGLOBALYOUTHREVIEW.COM

It is not easy to trust and befriend a man, but still, we welcomed them into our arms. With an

embrace, they too were crowned with our waling-walings. 1

Only much later would I ask myself that burning question.

P

A

G

E

How had we fallen into the hands of the white man?

24

THE HOME THAT I'VE

NEVER BEEN TO | LAYAN

DAJANI
---
PROSE

PROSE

LETTERS

FROM

HOME

Dear God,

Are You there? Can You hear me? Have You forsaken me?

I pray to You the same way my mother taught me; hands

clasped, fingers interlocked,

and a Crucifix held tightly to my lips. It is bitter, the wood. Years

of sweat and tears, unheard prayers, and fears. The bitter taste of

desperation.

But I am not my mother. I do not come to You for forgiveness.

I do not come to You

to beg. You are the smiling crescent of the night, the burning star

come morning light.

Something to see and something to behold. Even as I reach outward

and inward, in search of

You, I know that You will never answer my call.

If I were to undress my thoughts and lay them to You as they

are, You might hate me,

even punish me for my honesty.

Dear God,

I write to You now at the dawn of my arrival to what

they call the Land of the Free. My mother always dreamed of

this day. For me or for her, I'll never know. What matters now

is the world I am yet to see and the opportunities I am yet to

have. In the end, all of this will be for her.

The relentless downpour that had cast us adrift had

finally settled. The clouds had parted, and the day, it seemed,

would be glorious. For there she was, standing upon her

throne, a beacon of hope for the lost and exiled. On the lone

island was a copper goddess, and her thorny crown rising

from the horizon, her arm extended as if to say, "Come here

my children."

I can picture it now. I arrive on the shore, safe and

sound, to a great big city. The sun doesn't burn, and the

mosquitoes don't bite. There's an inviting warmth, not a

blistering heat. The water is clean. There's food, always. And

the people! They're kind and well-mannered. They greet you

on the streets and welcome you into their homes. We laugh

and we smile, and all is well. It'll be just like the postcards in

my mother's tin.

The birds are leaving.

The day was still, the silence almost deafening. The horizon

wavered in the distance. Low-lying clouds dotted the sky, sailing

along the winds.

Everything has changed whether it be from the sway of the

trees, the scent of the leaves, or the sound of the waves.

Nothing in this world is ever the same, that I know, but this…

this is different. There is an unbearable emptiness to the land.

The anito 2 no longer visit. They are fickle, yes, but never like

this. Gold, sugar cane, rice, and more. What else is there left to

give? Have we made them angry? Have we made Him angry?

We are at the mercy of

Bathala 3 , and I fear of His wrath and fury.

I am not alone in my fears for even the people know.

Hushed voices fill the night as the women whisper prayers to the winds. Their suspicions frighten the men who

sharpen their spears. By sundown, they bring with them the fruits of their labour, but it is not enough, it is never

enough.

Earth, sky, and sea, He has created this world and He has the power to end it. We are His playthings, grateful to be

alive. But we are also His companions. Without us He is alone and without Him we are nothing.

Bathala have mercy.

We waited along the sand. For what, I do not know. But we

waited. The sun burned our bodies, and the heat dried our

tongues but still we waited.

Hail Mary, Full of Grace,

The Lord is with you.

Blessed are you among women,

And blessed is the fruit of thy womb, Jesus. 5

I hummed a prayer under my breath.

Tulong-tulong.

Mga anito ng langit at lupa,

Pakinggan ninyo ang sigaw ng

Aking puso at illigtas niyo po

Kami sa panganib ng

Kinabukasan.

Tulong-tulong… 4

THEGLOBALYOUTHREVIEW.COM

P

A

G

E

26

P

A

G

E

27

THEGLOBALYOUTHREVIEW.COM
---
PROSE

PROSE

Dear God,

There is a knot in my stomach, a lump in my throat. I am

uneasy and anxious for the future. Tomorrow I will meet my employer.

Please give me Your blessing for the days ahead. I trust in Your

grace.

They swarmed our beaches in droves, like moths to a flame. Flashes of

red, white, and gold; steel against steel. They marched onto our land—

one step, two step—carrying a white banner painted with red. I heard

the spirits wail in agony as they stabbed into the earth.

By nightfall, the sky was set ablaze, our villages razed to the ground.

Ravished by the burning flames, eyes glazed over, they stared deep into

the ashes of our homes. I stifled a sob as the fire scorched my soul.

Our men remained scattered on the ground in bursts of flesh and bone,

charred to the core. Those that survived suffered just the same.

We were fooled. They had pitied us, nothing more. Clothed us, fed us…

loved us. We welcomed them into our arms, onto our land. We shared

in their adventure and their zeal, they shared in our laughter and our

joy. We learned of their ways, and they learned of ours. We taught them

of our god and our spirits and they taught us of their coin. We prayed

beside them in mass, shared in their bread, and spoke of their God.

But now they burn the world at our feet and hang us from the trees.

Dear God,

I met him today. He seemed nice and kind and gentle. He was friendly and straight-forward. I've

never met a man who stared at me so…

I'm to meet him tomorrow again. This time, he said to dress nicely. He likes his girls nice and clean,

whatever that means.

Dear God,

Easy, he said.

Dear God,

My mother would be ashamed.

The mottled bruises, the split on my lip. He promised me kindness for my services…

The first night he had kissed me. The second he had ravished me and the third he

had…

Dear God,

$200 – more than I've ever made in a month. I hope she will be proud.

THEGLOBALYOUTHREVIEW.COM

P

A

G

E

28

LETTERS

FROM HOME

Dear God,

Here I am in the House of God. It hurts to pray. When I kneel the leather stings and

the people stare but at least my skin is slowly healing.

Dear God,

As I lay here in the dark—battered and bruised, cold and alone—I can only think of my

mother.

Anak 6 , she had said, holding my hands to her heart. She had looked me in the eyes,

her glistening eyes. They were like almonds. A deep, deep brown. I never noticed that before.

Actually…there were many things I never noticed. Like the way her eyes wrinkled when she

smiled or how her gentle hands pruned in the water, weathered from years of work. Or even

when her breath rattled in her sleep with the uneven rise and fall of her chest. She would hold

my arm without a sound. Old age, she said.

We cried together that night. As I fell asleep in her arms, she held me like a newborn,

cooing and singing to me like before. For a moment, I could forget the clawing feeling in my

chest and the voices begging me to stay.

By morning, she had kissed me goodbye. Her hands, brittle and weak, soft to the

touch, had caressed my tear-stained cheeks. Salamat sa lahat anak. 7

P

A

G

E

29

One.

Two.

Three.

Three lashes—the most they allowed. Benevolence, they said.

We once trusted in the white man. But, after pillaging our homes, one

by one, we were rounded up like animals. They were never satisfied with

those that remained.

The crackle of leather, the flashing of light, the clap of thunder. The

storm had finally arrived.

My husband fell to the ground. Perhaps I had

Screamed.

Red droplets and salty tears dotted the soil. Bursting veins against

mottled skin.

He leaned into my caress as I cradled him to sleep—like father, like son.

The waling-walings would bloom over his grave come spring.

As I fell to my knees, I looked to the sky.

THEGLOBALYOUTHREVIEW.COM
---
PROSE

PROSE

Mother, do you see me from above?

Bathala, I am sorry for what You see.

Here I am naked, for You to behold,

To criticise and chastise.

God, I am sorry for what You see.

about

how everyone

wants to be

This is not what we planned,

This is not what she wanted.

We befriended the white man and trusted in him,

By SYNA MAJUMDER

Footnotes

1

Waling-waling: An orchid species native to the

Philippines, particularly in Mindanao, and is considered one

of the national symbols of the Philippines. It is known to be

worshipped by the Bagobo tribe as a diwata (a spirit guarding

nature).

2

Anito: ancestor spirits and nature deities

worshipped by indigenous Filipinos.

3

Bathala: Supreme being and ruler from an ancient

Tagalog indigenous religion. After the proliferation of

Christianity, Bathala would become synonymous to Diyos

(Christian God).

4

Help-help / Spirits of heaven and earth, / Hear the

cries of my heart, and / Save us from the perils of tomorrow.

/ Help-help…

5

A traditional Catholic prayer often recited during

rosary as penance and is addressed to the Virgin Mary to

pray on behalf of sinners to God.

6

Anak: A Tagalog term of endearment for your

child. This can refer to your son/daughter.

7

Thank you for everything, anak.

But in return he repays me in

Blood.

W

hen in Rome, do as the Romans do. we take

that very seriously here, in a private school

set jewel-like at the very back of the city,

beliefs and social media in a cardboard box

marked with grade boundaries. I haven't been

here for a long time. I won't be here for a good one.

what happens in Vegas stays there and I am still

thinking about shovels and the skeletons of lovers

with my faces on them. I have been playing the same

song for five hours. come on, turn to me, tell me I

can stop thinking about the national partition again.

my parents' room is colder than mine. I am not a patriot.

the road to Damascus is lined with propaganda, and

none of my thoughts are mine, ever, clouded with ink

and the weight of my grandmother's eyes on my neck.

these are not things I know to be real: if they could they

would bury me in familial warmth and pale white affection

and burn me on wood made up of their best wishes for me.

I am my own Saigon moment out of history class, looking

at a life spiral down into newness. I don't write in the language

I was born around. I don't believe in the gods that I write about.

it's like this: if an engine failure occurs while taking off,

a plane must get airborne. it's like this: I am going to be

drunk at prom if it ever happens, and I will have my father's knife.

never meet your heroes, your admirers or your Waterloo.

lattes are good enough, but in my head I am scraping

off the burnt skin of my fingers from a filter coffee tumbler.

this is elitism, fear, a last-ditch attempt at self-construction:

that and a failed Instagram post. normal is what normal cries to.

life's not bad. I am just one minute away from home.

THEGLOBALYOUTHREVIEW.COM

P

A

G

E

30

P

A

G

E

31

THEGLOBALYOUTHREVIEW.COM
---
BY

ZOE FRIEDLAND

PROSE

By ROSS WALSH

mother memories

you speak the language of hyperbole.

i speak a plum inside a snowball. you

part crowds

like moses like ticks scuttling

past fingernailed teeth like butter

with a hot knife well you said my gums

are divine. a grin like citrus in your palm

as the pill bottle tips thirty-two teeth, lot's wife

and yes, you swallow me.

a memory warship taking on water in port

you

as truth

i take

at your word what's a word to your lips maybe

we can learn to live like this. it's not like the horses

will ever breastroke easy

through the board but sometimes i can't

stand

my hands like hummingbirds its needless

what's a tone indicator its needed

to a finger to a lip what's a lip

a verse sardined inside a muscle what's a mussel

a bivalve a bivalve to a tongue a hinging

text a string a cut. i've started dicing onions

when i cry i

need an excuse you're going

to get tired of holding me soon

For Gaga.

A perfumed candle melts as I write,

the

purple wax pooling around the wick

as

it burns so high and so bright and

so fast.

Indulgent Spices. That's the scent.

I can

only assume my grandmother

bought it.

My grandad was not an indulgent

man.

I can imagine him glancing up from

his newspaper towards the shelf

where the

candle lay, mulling over the

prospect

-er than his. And when I got the call

of

a Monday afternoon, my brother ex-

-plaining that our grandad passed

away last

''One of the problems with

candles, similar to loved

ones, is that they do not last

forever.''

night, I was glad. In his final weeks

the

illness spread through him like raw

sewage in-

-to the defenceless sea. But beyond

the

pain flowing through his body, the

pain he

must have felt for years was finally

done.

He could once again embrace her.

His wife.

My grandparents, together again at

last. So now I own the candle that

sat

unused on his bookshelf, and I

cannot

of pressing a flame to the wick and

then

breathing in the smell his wife was

fond of.

Then, he shakes his head and

returns to that

day's headlines. Candles burn out

in a way

his love for my grandmother never

did.

Her wick was evidently a bit shorthelp

but wonder; am I wrong to burn

it?

Am I indulging myself by breathing

in the scent? Can I be honouring his

memory by putting this keepsake to

its intended use? Or am I proving

myself to have less fortitude than my

grandad, who was made melancholic

by

memories of his wife but still held on

to them? One of the problems with

candles,

similar to loved ones, is that they do

not last forever. I will never see

grandad at another Christmas

dinner,

complaining about our refusal to

attend Mass the next morning, or

slipping

me money behind my parents' backs.

I

will hold on to all those memories,

though,

and so even when this perfumed

candle

burns out I will keep them alive and

bright.

THEGLOBALYOUTHREVIEW.COM

P

A

G

E

32

P

A

G

E

33

THEGLOBALYOUTHREVIEW.COM
---
CHAPTER

culture

CULTURE

''If we are to preserve culture, we must

continue to create it.''

Johan Huizinga

P

A

G

E

35

THEGLOBALYOUTHREVIEW.COM
---
Prose

THE CHART

OF

OUR

lives

''This story originally appeared in

October Hill Magazine. It is drawn

from diasporic experiences, her own

as well as of others.''

By MANDIRA PATTNAIK

SUNSET IN THE NEIGHBORHOOD |

GLORIOUS KATE AKPEGAH

O

ur people are firm believers of destiny. We do not argue with fate.

Destiny got us here, we must be grateful, Dad tells us. It's also our

destiny that, come fall, we'll be leaving Montclair, New Jersey, and back

to where our parents came from. Between now and fall, we — Millie,

Lily, and I — have all the time to make opportunities out of choices,

hedged as we are between the American way of life and our island of a Home. So, we

plan ahead.

With Dad home for dinner, Mum lets us slice and grind not because she wants

us, girls, to have fun in the kitchen but because she could do with some help. Besides,

she says, we girls from India must learn the art of cooking for any of us, to have any

chance of getting married back home. Marrying suitable boys in Jalandhar, with whom,

Mum understands as well as we do, we'll have no common associations, is part of our

destinies.

Millie peels the ginger; Lily uses the mortar and pestle to grind nine pods

of garlic, three teaspoons of coriander, and half a cup of sliced onions. Our folks hold

on to whatever they can from back home — the heavy stone mortar and pestle is one

of them. I can't believe they carried it here. Holding a steel Katori, I am ready to add

spoonful of water when Lily's spice pastes become too dry.

When the batches are done, we put them in line, like on a conveyor belt, for

Mum to put in quick succession into the wok on high heat. Mum binds us to the kitchen

until the process is over, but we obey without questions, it is part of our upbringing,

until we can tweak the course of our lives.

The chicken curry—thick, red, with its grease separating neatly—spreads its

P

A

G

E

37

THEGLOBALYOUTHREVIEW.COM
---
PROSE

PROSE

aroma like a phantom across our tiny

home. We are salivating; but I see

Mum stern as ever, her steely eyes on

the wok, stirring with vigor. It leaves

me to wonder at the control she has on

the combination of her gustatory and

olfactory nerves in her orbital frontal

cortex, as much as on us sisters.

We look at each other, await

her permission to disperse. Our ears

are on the TV in the living room Dad

is watching after driving his Ford

Crown Victoria egg-yolk yellow cab

all day. Or so we think; unless he's

sculpting his earnings, chiseling away

the expenses to carve out his savings.

Barely a hundred-and-a half tonight,

said he when he came back tonight.

He needn't have—that showed on his

face. The medallion, partly financed

by his father, has already changed

hands. Dad's destiny has unfolded

as the opposite of those behind the

taxicab's Plexiglas partition window.

Mum works in a seveneleven

here—her destiny too—from

blowing into a clay oven in the family

kitchen when she was a girl like us in

Ludhiana. The kitchen she says was so

big, it was half our home.

We sometimes hate this

home, stinking as it does with the

smells of spices and curries; the

reason why we never made friends

who might want to pop in. Guys who

judge us, girls who are curious in an

uncomfortable way.

Millie never had boyfriends,

though one boy from High School

asked her out. She was so scared Mum

would find out that we made our own

defense squad — Sisters' Alert — and

stuck to Millie like glue. The boy never

approached her again. Or so we think.

Unless the boy had guts to defy odds

and Millie leads a secret life we're not

aware of.

Lily's different, letting Alan

kiss her right after Sisters' Alert

disbanded.

I am lucky to have both their

examples ahead of me!

When the chicken curry

boils, Lily and I, having been granted

leave, slip out into our dark backyard.

Ghostly bushes cluster beneath the

kitchen window sill, smelling, oddly,

of trash and moss, but we've, kind

of, begun to love it — the smell of

escapades we sisters steal, whenever

we can. We fill our lungs. Assimilate

whatever we can before we miss them

forever.

Alan doesn't know we're

leaving. Lily tells me how, before

he went aboard the USS Virginia a

fortnight ago, he touched her smooth

brown skin, played with her gorgeous

black hair. She says he loves the way

she smells, curry and flaming oil.

Lily takes out a cigarette

she's smuggled out, despite Mum,

and lights up. She doesn't exhale the

smoke, telling me it is part of what

she'll carry back. She also tells me

Allan will not be a part of her plans

anymore.

There's a Harvest Moon in the

night sky; a rare Friday the 13th too. I

watch Lily closely. Her full rounded

bosom heaves. Allan churns like an

apparition in her heart, the flavors of

his lips on her taste buds. He will singe

her chest and burn her capillaries

little by little. Lily, I presume, will stay

truest to her destiny.

***

Our aunt's visiting us. First

time in years. When she's around, we

try to be as invisible as possible, fold

ourselves like picnic chairs. And pay

respects. She's a paternal aunt and

we treat our father's lineage more

seriously than our mother's, so her

one stare suffices to cover our knees.

Mum uses her scarf to cover her head

at home.

Aunt sits under the warm sun

making up for lost time she couldn't

be here. She's a caregiver at a home

for the elderly in Connecticut.

A pug trespassed our

front yard and vandalized Mum's

bougainvillea couple of months ago,

I gave it a chase until it ran into our

neighbor Ratul's house. Nobody

doubted anything when I returned

flushed, hair awry and the bangle on

my left hand missing. It was part of

our plan to send the pug in, Ratul's

and mine, to snatch some moments

together, out of our regimented lives.

Rest of Ratul's plans on

how to make my parents abort their

exodus plan—somehow, anyhow— is

concealed in his heart. My plans hinge

on that one lucky offer from colleges

I'd applied secretly. Hope they come

just in the nick of time.

Aunt shouts, 'Your hair isn't

in braids!'

'Sorry, Aunt Jasleen, I'll be

back and you can help me braid,

getting you some mustard mango

pickle from Aunt Preet next-door, in a

jiffy.' I say before jumping over the low

bushes and disappearing into Ratul's

home before she can retort.

Ratul rests his arm on my

shoulder as we sneak out and walk

down Bloomfield Avenue. He talks

about his summer course. I survey

his face—the lines that jiggle when

he frowns, his firm jaw, and his

lips. I barely hear him; yearning

to pull him closer, think we could

kiss soon, his lips on mine. Like

last Friday.

We near Chatni BYOB.

Ratul waits tables here part-time to

fund his education. Like destinies,

we are firm believers in education.

Degrees take us places. The street

already smells of the familiar pickles

and hand-tossed bread. Aromas are

like apparitions too, following us

wherever we are.

Ratul doesn't kiss, we hug

like friends.

I turn disappointed and back

to my family which is busy ferreting

about their lives for elusive, unknown

destinies.

***

Things change rapidly a week

before we're to board the Air India

flight from Newark. On a shopping

trip two blocks away from our home,

Lily is smothered by a mini van that

appeared from nowhere. Mum firmly

curses her fate, not the driver. She

is hurt so badly she has fractures

at three places in her right leg. The

immediate diagnosis is that she may

not be able to walk again. Besides,

she is traumatized—can't recognize

us. Doctors say that'll change as

the incident plays in her head over

and over, seeps into her stunned

neurons and she finally accepts it.

Dad is devastated. He makes more

and more cuts and bruises on his

notepad—he's trying to carve out

escapes from our entrapment. Our

imminent migration is in disarray,

his livelihood is uncertain and his

daughters' marriages under a cloud.

Mum is worried — the cuts he makes

shouldn't travel from paper to his

wrinkled skin. She always broods over

the subject. Millie takes over charge

of both home and outside. I'm awed

''The glance we share speaks

volumes — the one you'd share

when you know someone inside

out.''

by her tenacity and help her as much

as I can. We sisters, Millie and I, grow

closer to each other more than at any

point in our lives. It is only with her

that I share that my offer letter from

college is under the mattress in my

room.

Sometime during the second

week after her accident, Lily makes a

miraculous recovery. From behind the

glass partition, we see her propped up

by pillows on her hospital bed. Her

face glistens in the sunshine filtering

in from the window to her left, the

stitches on her forehead and cheeks

like victory posts.

When we enter the room,

she shrieks 'Dad!' I had never seen

Dad cry so much. We gather around

her and Dad hugs us like a bear. Our

family has never felt more tightly knit

in years. None of our eyes are dry.

Soon, Lily is allowed visitors.

Our neighbors visit her. Ratul and

his parents come. It was destiny that

his parents and mine should meet in

a hospital room for the first time. In

our families, despite the severance

from our roots through time and

geography, it is important that we gel

well before the boy and girl tie the

nuptial knot. Ratul and I watch closely

and despite our palpitations, they

bond satisfactorily. We look at each

other like we've crossed our prelims.

The glance we share speaks volumes

— the one you'd share when you know

someone inside out.

From the next week or so,

whenever Millie and I are at the

hospital, I find her eyes roving about

the reception area and over the

corridor. Her eyes follow the junior

interns as they walk in bunches

towards their lecture hall. It is

only when days pass that the most

obvious gets to me. That boy from

High School is here, a medical

intern, and he's stealing shy

glances at Millie. She's destined to

marry Doctor Sanjeev Gowda two

years later.

He's around us the next time

we're in a family hug.

THEGLOBALYOUTHREVIEW.COM

P

A

G

E

38

P

A

G

E

39

THEGLOBALYOUTHREVIEW.COM
---
PROSE

P

POST

SCRIPT

By MANDIRA PATTNAIK

A POSTCRIPT TO ''THE CHART OF

OUR LIVES''

That fall came and passed us by. We brown

girls charted the courses of their lives, rowed on high

turbulent seas, and ducked when the storms came.

We've circumvented odds, wrapped our selfhoods

with the fine tapestry of common pleasures.

Lily is in Jalandhar with Mum and Dad.

She is off her wheelchair and takes long walks over

the mud ridges around vibrant yellow mustard fields

with Dad. Mum dotes on them, Lily tells me. Lily

can't believe how Mum, the fiery one we knew, is

so mellowed down: she spends hours embroidering

Lily's kurta with neat little daisies. She's calmer and

happier. And no, they're not scouting for grooms for

Lily yet.

I am at the Law School in Barcelona due to

graduate next year. Whether we tweaked our fates or

these were always our destinies we shall never know.
---
Collection

FROM

East and

ELSEWHERE

A collection of poetry by Ashley

Pearson, featuring ''Wet Market'',

''Across the Globe'', and ''Whore's

Daughter''.

By ASHLEY PEARSON
---
F R O M

E A S T

A N D

E L S E

Collection

Across the

Globe

From Two Neighbors by Philip Metres

By ASHLEY PEARSON

W H E R E

THE BEAUTY OF THE WORLD

LIES IN THE DIVERSITY OF

ITS PEOPLE.

Unknown

In Monmouth, clouds

hangover blocking

the blinding sun.

It's an abnormally

warm spring and the

humidity is thick in the air alongside

clouds of pollen. I parked across the

street from my old elementary school

as children played on shiny, neon

playground equipment and rolled

around in the dewy grass. I introduced

myself to an Americorps ambassador.

The middle-aged woman mumbled an

ope as she squeezed by me to enter a

tiny conference room. Despite living

in a tiny town, I had never met the

woman. "Big place, isn't it?" She said,

winking in my direction. I laughed as

she shut the door behind us.

*cool in Korean

**You're pretty in Korean

Down a busy street in some

Jeollabuk-Do province, it's happy

hour. The wind picks up patron's

conversations and moves them down

a block. Through a haze of smoke,

a thirty something year old woman

works the bar. The American air force

men are slumped over on bar stools or

leaning against cracked vinyl booths.

The woman sees the younger girls

enticed by the men and she shakes

her head. "멋진*." one of the bar girls

whispers as she grabs another bottle

of soju. One of the men clumsily says

"당신은 예쁘다**" in vein of a failed

variety show host. But, of course, the

young girl blushes. They always do.

P

A

G

E

45

THEGLOBALYOUTHREVIEW.COM
---
POETRY

T

he American men call them bar girls, special entertainers, hostesses,

comfort women, businesswomen.

Nineteen, twenty-year-old girls serve drinks at sleazy Seoul bars a few miles from

American military bases. Their tiny hips swivel to the beat of some

throaty ballad. Sweaty Army men watch through thick cigarette smoke and a veil of

drunkenness. Their eyes, glassy, stare down the tight white t-shirts

of the "special entertainers" moonlighting as Americanized whores.

Just like the movies,

one girl in the break room rubs her swollen belly in front of a cracked mirror.

She tugs at the hem of her tiny white tee to try to cover her underbelly.

The doctor told her she's five months along and having a girl with no last name.

Her parents were childless for the longest time.

Here she was pregnant at nineteen ---

nothing but an ungrateful wrench and a cut branch from the family tree.

WHORE'S DAUGHTER

By ASHLEY PEARSON

A white orchid blooms outside.

Her mother and father prayed to God every night, and she did too, within the walls of her cramped apartment above

the noisy nightlife;

She begged for forgiveness from her mother, father, and unborn daughter.

To be blessed with an heir is to be able to provide 300 bags of rice

and sacrifice your eyesight to the outside world.

If a family cannot conceive a son, an obedient and filial daughter is the next best bet.

A daughter who will sacrifice her livelihood for her father's happiness and marry a nice business man. A daughter who

will listen to her homesick mother and dwell around the river. A daughter who will be reborn as a white lotus flower

and not a

filthy soul.

P

A

G

E

47

THEGLOBALYOUTHREVIEW.COM
---
POETRY

POETRY

Somewhere in Central America,

from a distance, a scrawny boy

gapes at a local woman's breasts. He tugs

at his mother's sleeve and exclaims, in a low drawl,

"Look at those honeydews!" His mother shushes him and her face

turns as red as the Trinidian flag. She clutches a wooden cross in her right hand

like she is warning off the devil and

the two disappear into another aisle of the busy wet market.

It's tourist season. You can tell by the sweaty American fathers in lounge shirts

waving down cabs on every corner. The drivers crack their knuckles and chain smoke

out an open window while children clamber in the backseats of their cars. They

press their button noses against the windows like dogs and

stare at the local children selling flowers on the streets.

Everyone loves rosas on a sunny day.

Once, you read an article about how people like to draw

the exotic people and exotic places. The author claimed that everyone loved having

their portrait drawn in a stranger's leather bound sketchbook.

You suppose that it is a nicer way to say

"Look at those honeydews!"

Never go on a vacation without a pen

and sketchbook.

You can pay everyone later.

You're sure Picasso paid his dues in the same way.

The food stands fry fish like well oiled machines.

Triglia and salmon stare up at

everybody with dead eyes and glistening scales as they

chug down the conveyor belt line:

Seeing everything and

saying nothing at all.

WET

MARKET

WET MARKET | ASHLEY PEARSON

T'S SUMMER AND THE

SWEDISH FISH HAVE

LEARNED TO SAY NO

By ZOE FRIEDLAND

to the bait. walking my hands west

down the wooden dock burned feet east down

the throughway sidewalk. head rolling down the train

tracks in time to my steps. were we all of us put

on this earth

just to sweat?

there is a question of death. melting

on my tongue on my tongue on my tongue

the sun

is still in the womb.

there is a certain word for bite.

geese droppings on my scalp heart

spleen liver kidney and what's left

of me now

the plastic teeth flying off the stage

are closer than they appear.

will you wash off a sticky god

or keep your tongue

in your mouth?

I sing for worms in the gut of the moon. the sun is

oozing. my toes have all popped off their knuckles

rolling loose down the street from a spilled sac

like hard candies. tiny spiders

scattering out of the nest. the concrete curbs

into childhood.

standing

in a flat grove: pink tree, green dog.

it is possible to calculate the probability of

encountering the misshapen face of God. I

read this once.

the bus is here. I buy cream now by the pint

and countless are the many-legged

lies I've flushed down the toilet.

P

A

G

E

48

THEGLOBALYOUTHREVIEW.COM

the chalk, like all chalk, is water-soluble. I am no longer engaged in seeking out a

dialogue.

P

A

G

E

49

THEGLOBALYOUTHREVIEW.COM
---
POETRY

POETRY

AMERICANS ARE DIRTY HIPSTERS |

CHINONYE ALILONU

D

ust caked feet slid into worn sandals

Midnight skin sizzling under half of a

yellow sun

Cassava piled high upon Aunty's head

Buckets dragged miles to the nearest river

Huts line the dirt roads of Uzoagba

The metal roofs doing their best

To keep the malaria ridden mosquitoes away.

A simple visit to Grandma's oil mill

Mango trees adorning the compound

Is all it takes

To belong in this home away from "home"

Uncle says Americans are dirty hipsters

The English are the ones who have class

Yet he hasn't set his eyes upon either country.

Maybe he sings British praises

Because they are held responsible

For making Nigeria who she is today.

americans are

dirty hipsters

THEGLOBALYOUTHREVIEW.COM

P

A

G

E

50

Home is elastic

memory

embodying the

mental snapshots

our conscience materializes

in those in-between moments,

like flickers of sunrise

pouring through indentations

within the leaves' whispers

that mirror neighborhood gatherings

under the trees' shadows

or scattered laughter surrounding

the tranquil bonfire providing

warmth

to reminiscence alongside college

friends.

I embrace the comforting familiarity

embedded in those stretches of

space,

like when our lips collided under the

wooden canopy of the gazebo as

the patter of the rain surrounded us

in its own teardrop melody

like

when

when our lips collided under the

wooden canopy of the gazebo as

the patter of the rain surrounded us

in its own teardrop melody

or even the rhythmic echoes of

your velvet heartbeat when

I laid my head on your chest while

the pink skies covered us

under their watchful gaze.

A coworker once described

home as the taste of roasted chicken

P

doused in melting A gravy,

G

E

51

a reminder of his local town

and raucous meals with siblings

A coworker once described

home as the taste of roasted

chicken

doused in melting gravy,

a reminder of his local town

and raucous meals with siblings

as the sun disappeared beyond

the glowing diner windows

framed by neon lights.

What I learned from the

twenty years I have lived so far is that

the elasticity within our memory

encourages us to bring home

into coming expeditions and experiences

adorning the unknown.

twenty years I have lived so far is that

the elasticity within our memory

encourages us to bring home

THEGLOBALYOUTHREVIEW.COM

into coming expeditions and experiences
---
POETRY

POETRY

WHERE

BODY

''Until the tide

scores the soft fabric with boils, scabs, and

distension anew / perfectly ruptured for me

to scar my own ridgeline on. / Spine to spine,

we meet. The earth and myself.''

T H E

ENDS

human from beast? I imagine I'm her most days. I'll pinch

the ends of time together and lay my spotted towel aside hers,

fall asleep in her skin. I dream of what my hands will look

wrinkled and weak with age. If I drift far enough, I recall

unbidden memories of my father and I in the kitchen,

a morning before I learned that time doesn't pick favorites.

I wonder if she flinches at the breeze or sighs with pleasure because,

in the union of sun and ocean, she finds earthly catharsis.

Today, I know myself on a shoreline without name or marker

on the folding map. I forget my name. I lose sight of my breath.

Without sand to inscribe the details in, what hope

is there of remembering? My bedroom suddenly feels too hot,

One Hundred Miles Inland. My fan broke weeks ago.

The heat settles on my skin with emphasis. It grasps at my belt,

begging me to relinquish decency in exchange for one wish.

Seems like a bum deal, so I do it anyway. To know the ocean here

T

By MAKENNA DYKSTRA

here's a photograph that I carry in the pocket of my soul.

In it, a woman rests on the coast atop a striped towel ––

orange

demands imagination. I do the only thing I can think of

and lay down on the blue carpet. My every inhale is an elegy

written in her neglected name. I become her. The fabric

of the world beneath me bubbles with heat until my consciousness

and blue –– with one leg bent at the knee. A stray arm covers her

eyes from the sun. The ocean rages a meter from where she lies

atop roiling obsidian. The earth is angry beneath her,

vengeful but forgiving. I can't imagine she's comfortable.

She sleeps anyway, alone on the edge of perception

but for a photographer and a stray towel left as tithe

to the sea for sins forgotten in the morning. Clad only

in bathing bottoms, a blue slip of fabric curls into her hips.

I found the 5x7 scrap in a shoe box from my father's college years.

One of life's flickering stills fragmented in Kodachrome ink

– red, yellow, and blue amalgamated with a calculating hand

to tattoo the ephemeral in the flesh of time immemorial.

She lay hidden under an image of a juvenile elephant with a

comically long erection. Something about the juxtaposition

A N D

submits to the ineffable ease of the soil. Until the tide

scores the soft fabric with boils, scabs, and distension anew,

perfectly ruptured for me to scar my own ridgeline on.

Spine to spine, we meet. The earth and myself.

THE EARTH

BEGINS SMELLS LIKE SALT

of brutish carnality alongside euphoric serenity led me to pocket

them both. What chance possession of towel separates

THEGLOBALYOUTHREVIEW.COM

P

A

G

E

52

P

A

G

E

53

THEGLOBALYOUTHREVIEW.COM
---
POETRY

A PORTRAIT OF TWO HOMES IN ONE | AKINRINADE FUNMINIYI ISAAC

My home is an iconic (re)presentation of war(riors),

It shares boundaries with the ancient city of Ile-Ife;

A land that houses 401 deities.

My home is a land of vibrant people

Who fought their way to remain relevant.

In this poem, you won't find the aftermath of the war;

For today isn't the time to tell the terrific tales

Of how the war put bullet holes in many,

Of how it rendered many homeless.

To visit my home is to be welcomed

By straight & serpentine routes,

To bear the jagajìgì of the rickety bus,

To feed your eyes with the commercial crux

Of my home — filling stations and slaughterhouses.

In my home, there is another home;

Where I flip through father's late monochromes,

Where I'm kept awake by the cacophony of termites.

A home where mama's warm embrace engulfs me,

Where she says her prayers by kneeling

& rolling on the floor upon her son's arrival.

P

A

G

E

55

THEGLOBALYOUTHREVIEW.COM
---
CHAPTER

stories

STORIES

''A people without the knowledge of their

past history, origin, and culture is like a

tree without roots.''

Marcus Garvey

THEGLOBALYOUTHREVIEW.COM

P

A

G

E

56
---
allen angel

FALLEN ANGEL | MATT HSU

his wings were clipped on a tuesday,

a belated christmas gift. there was gold

on his hips and bamboo strapped to his back.

he could draw picasso with no hands

and best anyone at basketball. mom

carried him home on a throne of jade and cobwebs.

buffed with seaweed; he planted a flag

at the top of the slide. middle fingers up and reigning

with a double-barrelled gun. he knew how many seconds

were in three hours (more than ten thousand),

and he sprinted faster than all the girls, even

when wearing khakis. just like harry potter, he

had black hair and round glasses,

so of course, he was the chosen one.

with sharpie, he spelled it out

he would dominate in seven different

languages, including chinese and russian,

and release honeybees into the skies.

it was prophesied because it was written on creamcolored

paper, he told himself,

rubbing the asphalt off his elbows.

after eleven years, the sun stopped

shining on his shoulders. it was strange and certainly

quite uncomfortable—the rice cakes he sold

in his backyard went stale, and the stuffed manatees

began jumping from his bed, and for the first time,

his knees hurt from the tumble to earth.

his billboards were ripped down by seagulls—

from the wire frames spilled blood, deemed

tasty by the gulls. they painted over his rainbow

with black tar, sewed his teeth together with golden

spool, smothered him with perfume and paychecks,

and fastened a wristwatch around his neck.

he walks with two feet, now

burning tteok and scallions in the pan and

eating them with a soup spoon. at midnight,

his coven is lined with pearls and broken

pencils. he sings hymns and takes off his shirt

spreading citrus over the scars of

God's fallen angel.

THEGLOBALYOUTHREVIEW.COM

P

A

G

E

58
---
Prose

A depiction of a world that seems

so different than our own on the

surface but has striking similarities

underneath.

By TRISHA REDDY

YORUBA CULTURAL HERITAGE |

BUKUNMI OYEWOLE

he stars shone

Tbrightly

above

the battlefield.

Tomorrow, the

sound of screams

would ring in the air, but for tonight,

it was silent except for the rustling of

the wind.

Not far from the field, a

camp of warriors rested for the

night.

They sat around bonfires,

laughing and reminiscing. A small

group of women, dressed in full

armor, kept away from the festivities

of the men around them.

"How can they be so

carefree?" the raven-haired girl

said with disdain. She had her arm

wrapped around the youngest girl,

who was shaking in terror.

"A lifetime of victories

has made them cocky," the older

woman scoffed. She tied back her

grey-streaked hair as she eyed the

men around her with scorn. They

too viewed her with suspicion and

distrust.

These were the first women

in the Seafrontan army. Oblivious to

the thrill of wartime triumph, they

weren't drunk on victory like the

P

A

G

E

61

men around them.

The older woman knew that

her role was crucial. She had fought

tooth and nail to bring herself here,

and she refused to die. The two

women around her were randomly

selected from women of fighting age

and given the same training as the

men.

"I'm scared," the littlest

whispered.

The raven-haired girl

hugged her closer and the older

woman started to sing a soft lullaby.

She sang a long lost song of

love and war. She sang of family and

a home, and the journeys that take

you far away. She sang of hope and

victory.

Her mother used to sing

this song. That was so long ago, when

the older woman was still a little girl,

scared of the monster under her bed.

Now here she was, determined to

THEGLOBALYOUTHREVIEW.COM
---
PROSE

PROSE

fight for her cause.

When she finished, the

littlest girl had her eyes closed.

The older woman couldn't help but

smile ever so slightly. She pitied

this girl, who was ripped from her

home. Unlike the men around her

that shared her age, she was never

taught to fight. She was never

taught to laugh at the shedding of

blood.

It was the older woman's

fault, that much she knew. But it

was all for a noble cause. If she

could prove that women were as

effective on the battlefield as the

men, it could be the tipping point

for equality between them.

If she must throw herself

on the front lines for her cause, so

be it.

Tomorrow, blood would

stain her spear and dry on her

hands, as fire rained from above.

But for tonight, the stars shone

brightly above the battlefield.

In the center of camp,

far from the lullaby, an emperor

watched his soldiers from his tent.

He saw their revelry, he saw their

cheer, and the sinking pit in his

''If she must throw herself

on the front lines for her

cause, so be it.''

stomach grew.

"I'm leading them to

their deaths," he whispered, tears

forming in his eyes. "How could I

be so cruel?"

"You mustn't get so

emotional before battle, dear

brother," the princess said with

a little laugh. "You've never lost

before."

The emperor clenched his

fists. He knew the resentment that

had been simmering in his sister

for the last few months. She was

the mastermind behind his military

genius, but it was he who got the

credit. For she was a woman and no

one would trust her.

Would she betray him?

Their enemy had no such qualms

about women. A woman was their

monarch, and she was as feared

and loved as any the emperor had

ever known.

He relaxed his hand. He

must trust his sister, even if it was

temporary. He knew that she at

least had some pride in her nation.

And change would arrive

soon. Somewhere in the camp,

three women were awaiting the

battle. The emperor knew they were

a sign of the growing movement

within his people, and he was more

than happy to oblige them.

''You're right," he said,

trying to level his voice. The tears

were gone now. "It shouldn't be long

now before the war is won and the

Golden Gates will be ours."

He didn't like the smile

he saw on her face, but he brushed

it aside. Now was not the time for

anxieties. He must trust her, for

without his sister, he and his armies

would be doomed.

She glanced out of the

tent for a brief second. Then, after

an uncharacteristic moment of

hesitation, she said, "I know what

you think of me. You believe me a

fool enough to betray my nation,

don't you?"

He stood frozen for several

moments, as she stared at him with a

scowl.

"So I was right. Know one

thing. My hatred for you is

overshadowed by my love for this

nation. I would never, ever think

of betraying it."

With those as her last

words, she stormed out of the

command tent, leaving the

emperor alone with his guilt and

worries.

Tomorrow, his soldiers

would burn in front of him and he,

too, would fall to the flames. But

for tonight, the stars shone brightly

above the battlefield.

Not too far away, another

camp awaited the morning. But the

atmosphere was far different. It was

somber and grim. A group of siblings

huddled in their tent, pretending to

ignore the harsh winds outside.

"Why don't you sleep?" the

eldest sister said, her voice tense.

"I'll take the first watch."

"I'm not buying that again,"

the elder brother responded, his

voice much kinder. He was only a

year younger than his sister, but she

had never let him share any of her

burdens. "You said the same thing

last night and you never woke any of

us up."

"I'm the eldest." She had

gotten used to keeping her voice

calm, even when she wanted nothing

more than to cry. She glanced at

their three other siblings. They were

curled up together underneath the

shared blanket. She was their mother

now and a mother was supposed

to protect her young. "You and the

others need to be well-rested for

tomorrow's battle."

"So do you," he said in a

whisper, grabbing her hand. She

pulled away, feeling the tears in her

eyes threaten to spill over. Her fears

mixed with her exhaustion.

"I'll be fine."

That's when the tears

spilled over.

Her brother held her close as they

raced down her dark face. It was only

''Tomorrow, she would cradle

their corpses, the hope in

those eyes long gone.''

when they stopped that she dared

form a sentence.

"I'm so scared," she

whispered. "What if something

happens to us? Who will take care of

the little ones? And what if something

happens to them?"

She felt arms wrap around

her waist. Her youngest sister stared

back up at her with hopeful blue

eyes.

"Nothing will happen with

you there," she exclaimed. The eldest

smiled.

"I know, my little lovely," the

eldest said, stroking the youngest's

hair, pushing away her fears. The

little ones needed to see her courage,

not her tears.

The other two were wide

awake. The boys were twins, and they

stared at the eldest with the same

blue, hopeful eyes as the youngest.

"If we stick together, no one

can hurt us."

They curled up together

that night, keeping each other warm.

The eldest pushed down her worries.

They had fought plenty of battles,

right? And they had always survived

together. Besides, only she and the

second oldest would be fighting. The

little ones would be helping in the

medic tent.

She let herself enjoy this

moment of peace among her siblings.

Tomorrow, she would cradle their

corpses, the hope in those eyes long

gone. But for tonight, the stars shone

brightly above the battlefield.

Further away from the

camp, a queen visited her dragon.

It was a gorgeous beast, with its

brilliant orange scales, but a

deadly one nonetheless.

She had hoped to avoid this

at all costs. She wanted to play the

emperor's game. She had done

her best to keep her people safe

without this option. She stayed

calm, kept her head up, and hid

her true power.

But if the Seafront wanted

the beast, they would get the beast.

Any enemy of her people

must face her flames of wrath. She

was the Phoenix's daughter, the

Ash Princess, and Queen of the

Golden Gates. They were fools to

underestimate her power.

"Must you do this?" a

somber voice asked. The queen

turned around to face her father, the

Phoenix. He was a god to her people,

but to her, he was simply a man with

a great deal of power.

"I will do what I must."

She stroked the warm scales of her

beast. He would be her weapon, her

greatest equalizer. "The Seafront

invaded first. I am simply protecting

my people."

"How many innocent people

will die?"

"No one in war is innocent."

THEGLOBALYOUTHREVIEW.COM

P

A

G

E

62

P

A

G

E

63

THEGLOBALYOUTHREVIEW.COM
---
PROSE

"Perhaps. But what of your own troops? Will they not feel the wrath of your

flames?"

The queen hesitated for a moment. "Of course not. I will not be attacking

them."

"Fire isn't something you can control. It spreads and spreads until it has

reduced the world to ashes." The Phoenix's eyes flickered.

"I am the Queen of Flames. They will obey me," she snapped. "I'd rather

you didn't question my decisions."

"Don't let your ego cloud you from making the right decision."

She took a deep breath, letting the flames of anger billow inside her. "And

what do you know of ruling? You have always lived in comfort and warmth up in

your palace, unbothered by the death and destruction of your people. But that isn't

me. Battle after battle, I watched my subjects get slaughtered. No matter what I have

done in the past, the Seafrontan army will always seek to destroy mine. What other

choice do I have? I must ensure my people's survival."

The Phoenix sighed. Before leaving, he said, "You've made your choice.

Pray you don't regret it."

The queen huddled closer to her beast, soaking in his radiated warmth.

She watched her father disappear. She almost missed his company as the wind bit

harshly at her skin.

Tomorrow, fire would flood the ground, the smell of melting flesh in the

air. But for tonight, the stars shone brightly above the battlefield.

An immortal watched the chaos from above. Her heart broke to see the

world in such shambles.

War, war, war. Was that all humans were fit for? Reaping blood until there

was none left? Was that their fate?

From her perch in the sky, the immortal's sharp ears could make out the eldest

women's lullaby. It was soothing.

She could feel it all; the apprehension, unease, protectiveness, and

desperation.

Among them all, there was a burning passion, a deep love.

Will the mortals ever learn? Time and time again, they waged their wars

and fought their battles. They claimed victory despite allowing many of their own to

be slaughtered.

The immortal sighed as she waited out the night. Despite her frustration,

she was curious as to how the battle would play out.

Tomorrow, the land would be drenched in blood. But for tonight, the stars

shone brightly above the battlefield.

HOME COMMUNITY

| GLORIOUS KATE

AKPEGAH

P

A

G

E

65

THEGLOBALYOUTHREVIEW.COM
---
NONFICTION

NONFICTION

BROKEN

SIDEWALKS

A Vignette Memoir

By KAYA DIERKS

My Neighborhood

I live on a street cleaved in two. Lake Street, a skinny

stretch of narrow pastel houses wrapped around the edge of

Presidio National Park, is technically two neighborhoods. The North side,

the side where I live, is a proud member of District 2, which encompasses

five of the richest communities in San Francisco – Marina, Cow Hollow,

Sea Cliff, Pacific Heights, and Presidio Heights; places with the kind of

white people who give out full size Hershey's bars on Halloween. And the

South side is part of the Richmond district — where old Chinese ladies

swathed in puffy, cheap down-jackets totter along, dragging their rusted

grocery carts across the cracks in the ancient sidewalks.

At one point, the politically connected homeowners on the

North Side of Lake convinced the supervisorial board that they belonged

more with the manicured lawns of District 2 then with the Richmond's

fractured concrete – so the city snipped Lake in two. And I guess it just

stuck. I guess people looked up at the North side — saw its shiny new

sidewalks, crisp and clean as squares of white icing; its smooth wide

face, tilted towards the cold yellow sun; its neat, clean staircases, steps

stacked like rows of straight teeth — and then looked at the Richmond.

The Richmond, where I once saw a drug bust across the street

from the Walgreens I buy shampoo from, the Walgreens with the homeless

guy who sits out at the front fiddling with the blunt end of a crumpled

wax coffee cup. The Richmond, a residential district like a graying old

man, with its crumpled houses, crumpled corners: This neighborhood

is my city's best-kept secret, this tiny, hushed place, tucked away at

the fraying edges of a rapidly gentrifying San Francisco. There's a store

where you can buy bags of dusty Soviet candies and faded Russian

paperbacks for two dollars each; there's about ten thousand cheap dimsum

restaurants; there's a boba place and an old-fashioned ice cream

shop and a big, gaping husk of a building that used to be a movie theater

and hasn't been turned into anything

new, not yet. It still has its old sign:

Alexandria, in blocky white print, the

letters suspended twenty feet into the

sky.

But I live in District 2. Thirteen

blocks from my house is Presidio

Terrace, one of the most prestigious

areas in Presidio Heights – a gated

community with green groomed lawns.

I've never been inside, and I can't see

over its walls, but I can sometimes see

the tips of houses — their sprawling,

stately brown roofs. I stare at them and

I wonder how I am a part of a world that

I can't even fathom. And then I look back

to Lake Street: my neighborhood, broken

down a sidewalk.

I wonder if I can cut myself

in half, too. I'm half Korean and half

European: this complicated mess of race

that translates to Chinese when I'm in

Marin and white when I'm in Korea and

Hapa — mixed, like heaping scoops of

my mom's white-brown rice — when

I'm visiting my Korean Grandma Soo.

Something that becomes absolutely,

strictly taboo when I'm with my

conservative, Republican grandparents

in Texas: Like if Grandma Marie

squeezes her eyes shut for long enough,

I'll somehow just fade into a white

granddaughter — pale blonde eyebrows,

fat blue eyes, pink cheeks.

And sometimes, when I look

in the mirror, I can't even pick myself

apart. My Grandma Soo says that there's

not a single Korean person on Earth

who looks like me, but sometimes I

can't even see a single trace of European

anywhere: not in my small nose or

my straight eyelashes or my fat moon

cheeks. I lay everything out onto my

palms: Richmond and Presidio Heights;

Korean and European; Asian and white;

maternal and paternal; smooth concrete

and the Alexandria. Everything inside

me, around me: Always divided.

THEGLOBALYOUTHREVIEW.COM

P

A

G

E

66

P

A

G

E

5

THEGLOBALYOUTHREVIEW.COM
---
NONFICTION

NONFICTION

Snakes in the Ceiling

When my maternal

grandmother YangSoo Hwang was

five, so small that her body was still

''I wonder if I can cut myself

in half, too. I'm half Korean

and half European: this

complicated mess of race that

translates to Chinese when

I'm in Marin...''

all limbs and eyes, she lived in a large,

Japanese-built house in Seoul — a

big, stately home; a forgotten relic

of Japanese imperialism. Her father

was a cabinet member under the first

South Korean president, Syngman

Rhee, and she was accustomed to a

life of relative luxury. How luxurious,

I'll never know: Her memories are just

sea-glass — smooth, round shards,

sanded down by time.

Once the Korean War began,

my great-grandmother bundled up

my grandmother and her siblings

and they traveled by ship to Namhae,

a tiny island on the southern coast of

Korea. Their house in Namhae didn't

have plumbing or electricity, but my

grandmother wasn't afraid. She made

tiny lights out of fireflies: She'd catch

them on hot summer nights

and then trap them in sheets

of paper so thin that she could

see the bugs blinking quietly

under the thick blanket of

night.

Then, when she was six, her

mother and her older brother

and sister got on a ship to

travel back to mainland Korea,

and they never came back. The

way my grandma tells it, it's

like they were consumed by

the sea: like a big wave curled

over them and their ship just

surrendered, sinking into its cold

embrace. Somewhere

at the bottom of the

ocean, my greatgrandmother

and

her two children still

lie silent, tangled

together, eyes closed,

resting, waiting, as

time quietly sweeps

over them.

My grandma

didn't cry at their

funeral. She says it's

because she was that

young, but I think it's because she

was that brave. She played with the

boys and refused to study her books

and yelled when her brother said she

was ugly. And when the adults told

her that there were snakes hiding

in the thatched roofs of the cottages

they called homes, my grandmother

would stay awake at night, staring at

the ceiling. She'd blink into the black

vacuum of the dark, wondering if

a snake would drop down onto her

face and curl against her neck. And

she was afraid, but she still refused

to move. She was the kind of girl who

dug into her own turf. The kind of girl

who confronted the night, who saw

snakes shifting in the dark and set her

jaw.

She immigrated to the United

States from Korea when she was

twenty-two, in a Pan-Am flight that

traced across the wrinkled winding

fabric of the Pacific Ocean. Before she

arrived on American soil, she dreamed

of New England: a rustic, suburban

America tinted golden by a Hollywood

amber. She dreamed of autumn leaves

turning crisp and red, of rain hushing

over sidewalks, of branches shivering

in the breeze. She dreamed of a squat,

stately home with a creaky stair and

a straight white fence and walls that

exhaled and groaned when it stormed

in the winter. She dreamed so hard

for so long that when she arrived

in Hawaii — a hot new world that

had burst forth from its gritty sugar

plantation industry — she squinted at

the red earth that spread out beneath

her feet, and she felt her heart fall into

her legs.

And then she blinked.

Sixteen years earlier she had lost her

mother and siblings to the ocean's

greedy stomach, and yet she had just

traveled halfway across the globe. She

stared at this foreign landscape, and

decided that she wasn't afraid.

Tired, homesick, fearless; my

grandmother fumbled through the

next decade of her life. She worked

as a receptionist at a hotel in Waikiki

Beach, and then as a bilingual

teacher for 40 students at Roosevelt

High School in Honolulu. She met

my grandfather, another Korean

immigrant who worked at the local

college, and they married each other

in Hawaii, this place they both now

called home. Two black-haired,

round-faced Americans, standing

together at the front of a church. And

when my grandma didn't understand

Western wedding customs — when

she turned her head away and said

no when the minister said you may

kiss the bride, and when she asked her

friends to join her and grandpa on

their honeymoon — my grandfather

just pulled her closer against him, and

they laughed. They settled together

in a humble home; a little house once

built for the family of a sugar cane

plantation worker.

Soon my mom came about,

first as an idea and then as a small

person, little legs and arms and

a smooth round scalp. My mom

was like me: a December baby that

screamed her way into the world as

a storm reared its ugly head outside,

sharp winds shrieking and hissing as

the heavens cracked open and rain

tumbled out of grey angry clouds. My

mom and I were both stormy women

born on stormy nights, kicking to

life as the God pounded down on the

earth.

But when my mom was born

on midnight in Hilo Hospital in Hawaii,

my Grandma Soo sat in her hospital

bed, silent. She was cold and it was

raining, and the window was open —

someone had forgotten to close it. My

grandma's shoulder ached terribly, a

cold throbbing pain. A shoulder ache

in the hospital and a baby pulsing in

her stomach, and yet she couldn't

bring herself to ring her buzzer and

summon her nurse — a smiling white

woman who spoke perfect English. My

grandmother was so polite, so afraid

to bother this American nurse, that

she just pressed her lips together as

her body roared alongside the storm.

My grandmother. She wasn't

ever polite before. My grandmother

who stared at snakes in the dark, my

grandmother who leapt into a new

life, my grandmother who refused

to sink into a dark choppy sea. My

grandmother, the wild woman, the

woman like a storm, the woman who

caught fireflies in her palms. Afraid to

open her mouth.

THEGLOBALYOUTHREVIEW.COM

P

A

G

E

68

P

A

G

E

69

THEGLOBALYOUTHREVIEW.COM
---
NONFICTION

Babies Behind Glass

My Grandma Marie is from Texas,

not Hawaii, and her family has been in

America so long that they've forgotten

where they even came from to begin

with. She's strong in a different way

than my Grandma Soo. Grandma

Marie's wiry, bony skeleton is filled

with a brittle sort of fortitude, the kind

of strength that sneaks up on you.

The one and only thing I'm

sure about Grandma Marie is that I

love her and that she absolutely loves

me. She keeps a picture of me by her

bedside table: I'm two years old and

I'm wearing a blue cardigan and little

purple corduroys and my hair is in

two thumb-size ponytails. Grandma

Marie says that I always slept with one

eye open and one eye closed

when I was an infant because

I didn't want to miss anything.

But you never do miss anything,

anyway, she says, and laughs.

And then she smiles at me,

fragile and small and strong.

My Grandma believes

in a God that she calls My God

because He is her God — her

God that helped her get good

scores in high school; her God

that made her the best midsize

real estate agent that Spring,

Texas had ever seen; her God that

gave her the strength to overcome

two bouts of cancer and a mild

stroke; her God that helped Duke win

their basketball game. And in church,

when she looks up at her blue-eyed,

blond-haired, white-faced Jesus, she

sees herself — her own hair and eyes

and skin. My grandma believes in her

God and her priest and her favorite

Coach Krzyzewski and her President

Donald Trump, and she speaks about

current events with a lighthearted

indifference that borders on offensive.

And she might be racist, because that

one time my grandfather Bob said

the n-word when we were getting gas

at the Shell in Texas, she didn't say

anything — just sat in the car with

her hands in her lap, her mouth tight.

Her first son Stephen — my dad's

older scary brother — was born as an

innocent little infant on June 3, 1963.

Before giving birth, my grandmother

sat in her car in the hospital parking

lot for hours because she didn't have

the money to pay the extra bed fees.

Right after midnight she hustled in

the hospital — dragging her swollen

belly with her like a watermelon —

and Steve was born by one o'clock

in the morning, his tiny screams

erupting into a pitch-black sky.

After he was born, my

grandma's priest, Father Flanagan,

came to visit her and little Steve. They

walked down the hospital corridors

until they found the viewing-glass:

babies on one side, bundled in cotton

'' One of the greatest

challenges is being yourslef

in a world that's trying to

make like everyone else.''

blankets and placed in lined plastic

beds, and parents on the other.

Grandma Marie looked down the line

of perfect pink babies and then she

saw one who didn't quite fit. The baby

didn't have hands, just smooth fleshy

stubs. Its mother had taken this drug

called thalidomide, which leads to

genetic mutations — or deformations,

as my grandma calls them. The

parents didn't want to own their

child anymore. Not this stubby little

wreck of a baby. And my grandma

thought about her own son Stephen,

her little doll of an infant boy, all soft

skin and baby smell. And she and

Father Flanagan both felt like crying.

My Grandma Soo always tells

me too much of everything – she can

talk for hours about herself as long

as I just sit and nod and smile – but

my Grandma Marie never tells me

enough of anything. I'm always left

to wonder, left to color in the hollow

gaps in the frail spiderwebbing of

everything I know about her. She

hands me fragments of stories like

shards – tiny little slips – and I'm stuck

trying to piece them together until my

fingertips weep small bloody tears.

Grandma Marie, if that had been

your baby, would you have cried? And

what did you think when you saw

me across the hospital glass? Stubby

little baby fingers and tight almond

eyes? Your Asian granddaughter.

My parents told me that you

wanted to name me Kimberly. But

I'm not Kimberly, Grandma, I'm Kaya

— Kaya like Gaya, like 가야,

like the name my immigrant

grandparents chose for me

because that's tradition,

Kaya like an ancient South

Korean kingdom that's

crumbled into more myth

than history. I know I'm not

what you expected. I know

that when you prayed to your

God for a granddaughter,

she didn't look like me.

And I didn't expect a

grandmother like you.

Grandma Marie, what did

you think when my dad married my

mom, this five-foot-two tidal wave

of a Korean-American woman? Their

wedding in Hawaii, when Mom wore a

hanbok and Dad grinned at her goofily,

all teeth? Mom's parents who still

speak with an accent, words dancing

awkwardly across their Korean

tongues? You, sitting there, with your

Fox News and quiet indifference.

P

A

G

E

71

THEGLOBALYOUTHREVIEW.COM
---
NONFICTION

Grandma, I want to love you. Please,

let me love you. Don't make it so hard.

I've watched you fumble through

three illnesses that should have taken

you down and somehow you can still

infuriate me even though you can't

walk anymore. Your legs, then your

speech — now even that's slurring

away. How much more can your husk

of a body even take, Grandma? I want

to forgive you but sometimes it feels

like I can't. I want to but I just can't.

Please, please, I want to forgive you

before you die, before I have to see you

die, before you're just a wrinkled shell

in a coffin that reeks of everything

I've left unsaid. It's like a fifth limb,

''My future is

a waterlogged

butterfly. I cradle

it in my hands

and watch it take

shape...''

everything unspoken between us,

everything we tuck inside ourselves.

And I want to believe you, Grandma.

More than anything else I want to

believe you love me too.

I want everything for you,

Grandma Marie, for you, you soft

strong woman, my grandmother. I

pray to a God that is not my own to

give me the courage.

different. They are both strong

American woman who watch and

listen and wait. They aren't afraid of

anything, not men or ships or cancer.

And when my grandmothers fall

asleep, they both dream the same

dreams for me. They map my life

across their palms: A future that starts

at a prestigious college and ends with

money, and a family, and a home, and

most of all, happiness — at the end of

the day, all they really want is for me

to be happy.

My future is a waterlogged

butterfly. I cradle it in my hands and

watch it take shape: one wing fluttering

to life, and then another. Maybe I can't

feel my ancestors. Maybe I can't speak

Korean and maybe I don't know where

my father's family comes from. But I

can feel my grandmothers' breath on

my back. And when I stay still, I can

almost hear their heartbeats in my

chest, slow and small.

I am their stormy

granddaughter, and I will inherit their

strength, but not their silence. I am

Presidio Heights and the Richmond.

I am all of my grandmothers' stories.

Chopsticks and forks, hanboks and

jeans, Mom and Dad, Soo and Marie.

And one day I might be a grandmother

too, dreaming dreams for somebody

else. But today I am just a girl, a girl

who is two things, two neighborhoods.

A girl who might forgive. A girl who

sleeps with one eye open and isn't

afraid of snakes.

My Grandmothers' Hopes

My two grandmothers,

Grandma Soo from Hawaii and

Grandma Marie from Texas, are

sometimes more similar than

THEGLOBALYOUTHREVIEW.COM

P

A

G

E

72
---
POETRY

B O G

By NINA SIKANDAR

By CHINONYE ALILONU

i

gbo woman uprooted. igbo man disavowed. these are my parents. the first teachers of the house. 16&17. igbo

woman and man made the choice to leave their village. to come to america. the land

of promise. the land of dreams. the land where they would meet again and create a new life.

similar to how God created the earth.

on the first day, they met at a party. on the second day, they had their first date. the week passed,

igbo woman and man slowly intertwined their lives together. on the seventh day, they were

married.

16&17. both ages have passed me by. in those days, igbo woman and man came to america.

sometimes i wonder what my life would be. if igbo woman and man stayed in their soil.

sometimes i wonder if i would've had the courage. to uproot myself.

in another life. i am the igbo woman uprooted. the one whose life changed.

not because of anybody else. but because of me. like a weed, i will pull myself from the comfortable. dark. soil

and toss myself to the side. to gain a new life, i must cast away my old one.

Ihave the predicament

of palms down my trousers, my collar:

the inexplicable urge to choke on air.

there is something vile from knowing

every corner of the surface

and every square-inch

I'd rather not reveal

in its fullest.

this mouth to drink from?

this skin covered head to toe in moss,

jacket caught, shoes slipping on wet rocks.

bog body preserved by something that killed me

red mangle clay mangled

its arms twisted underneath a man-grove's prop roots.

in its wholeness I wanted to be digestible.

chewed first to soft pliant parts

dampened, pointy, deprived

made of bones and water.

in its wholeness I wanted to be digestible.

chewed first to soft, pliant parts

dampened, pointy, deprived

made of bones and water.

hand-crushed star anise, viviparous seeds

mixed in bubbled, candied brackish

a hardened pit with holes, on

the inside of its throat. halkum.

everything I touch turns green,

that it only moulds to inherit your eyes

when you nurture it. this bog body.

find me in these waning peatlands

find me where I kept it.

THEGLOBALYOUTHREVIEW.COM

P

A

G

E

74

P

A

G

E

75

THEGLOBALYOUTHREVIEW.COM
---
POETRY

POETRY

THE

FRUIT

OF

YOUR

LABOUR

THE FRUIT OF YOUR

LABOUR | ASSIA MESSAOUDI

i

haven't had a fig

since the last time i sat under

my grandfather's fig tree

he plucked it from the stem

and fed it to me

while the hot

algerian sun

shone down on us

someone once told me that

figs are considered flowers

but i cannot think of him

without thinking of fruit

embodiment of sweet nourishment

the way he would walk down

the marble steps of our family home

holding onto a watermelon

from the vendor on the side of the road

just so we could have a chance to sit together

and say nothing

i sit in a different kind of silence

now he is gone

erased from our genealogy

a severed branch

of our family tree

i haven't been back in years

since they cut down the fig tree

home reminds me of a cemetery

you can't make wreaths out of figs

they're not known for lasting long

so i scour every market

to bring back that feeling

but without him every fruit

leaves a sour taste in my mouth

THEGLOBALYOUTHREVIEW.COM

P

A

G

E

76

P

A

G

E

77

THEGLOBALYOUTHREVIEW.COM
---
POETRY

PROSE

The beginning was muddy disarray, now a farm.

The mud, covered with fallen mangoes; bruised and hanging from a broken branch.

Amidst which I was born.

The juice of the slice,

The slice stabbed with a knife and raggedly cut

Dripped past my lips,

Choosing to settle in the haven of my collarbones, now covered with blobs of fat,

And still, they managed to seep past my neckline,

Down the slopes of my premature breasts,

Until my mother ran towards me with smiling eyes.

Shouldn't she be disgusted?

Those were the earlier days.

When I was the mango juice forced out of the succulent mess

And my home – its definition still inexplicable.

Now I want to leap across,

The leap is one of faith

And go back when the mangoes were mangoes

And not a reminder of something which I was unable to define, namely home.

A home now no longer home,

The reputation besmirched with my grandparent's trip to heaven

The essence of it evaporated with them.

Maybe the concrete bricks slapped across with cement and forced to stick together were a

domicile only to my skin-ular frame.

Maybe I belong to the mud,

To the beginning of it all.

I desire to be covered in the pulpy filth

And be drowned in the sludgy filth,

None of it is filth.

It is Home.

MANGOES

By AKSHITA KUMAR

W

hen the stench

b e c a m e

unbearable, she

took the liberty to

flip over to his end.

A bigger, softer and better side. A side

to breathe and think, for once.

The stench seemed to pierce

through her fabric. It had grown on

her, and she with it.

Her olfactory sense was no

recent victim to an assault

of this kind, and with

every breath she took,

she became dimly aware

of her circumstances that

were more or less beyond

her control.

The stench had

been an inevitable part

of her life - her Nani and

Mamma's bedrooms

smelling worse in

superlative degree.

As she felt her

body getting sucked into

the bed with venomous

intensity, she couldn't help

think of the only other

space where her Mamma

and Nani were confined to

performing privately.

'We all boil at

different temperatures,'

Mamma would tell her

while preparing her

father's evening tea. She

would watch the leaves

infuse, trying to match it

with the passion of her

life trying to seep out. She

could never tell if she was

past her boiling point.

All those long hours in

the kitchen with Mamma and Nani,

watching them obliterate all traces

of their ambitions to feed the bigger

aspirations of their better halves, the

husbands had surely found the right

palms to grease.

Sugar. Spice. Woman. 5 letters. Delicious

congruency.

'Remember to never forget –

that cruelty and benevolence are but

the shades of the same colour.' She

would down Nani's advice along the

turmeric milk; her Nani's strategy

to immunize her against domestic

vexations.

'Remember to never forget.'

She never forgot – believing that her

relationship would move past all

the hiccups, priding that her hatred

lasted no older than a heartbeat. But

it was never easy- even if she were

happy and sweetened his tea beyond

measure, a pinch of salt was all that it

took to restore lucidity.

The kitchen became a relic of

marital discord, her Mamma and Nani

its monument of utmost patience and

virtue. All those injured rose-tinted

memories preserved by tides of honey

A DECAYING FEAST | A DECAYING FEAST | A DECAYING FEAST | A DECAYING FEAST | A DECAYING FEAST | A DECAYING FEAST | A DECAYING FEAST | A DECAYING FEAST | A DECAYING FEAST | A DECAYING FEAST | A DECAYING FEAST |

and dashes of lemon haunted her.

That nugget of wisdom, the

morsels of logic that they had passed

on to her as recipes -the key to a man's

heart, but with a hint of chequered

history, look how they now melt her

corrupt eyes.

Unlike a carefree fish

swimming unbeknownst in capricious

waters, she now seemed to understand

why her Mamma cried her eyes out

while deveining the

shrimps, why she

couldn't distinguish

the blood red from

the chilli red, why

on certain occasions

the curry tasted

unusually spicy, and

why, after a certain

time, Nani's eyes

wouldn't smart upon

peeling onions, or

shed a few tears upon

receiving bruises

from a knife.

It was all coming

back in ludicrous

amounts, to undo the

defence, to unstitch

the wounds, to invoke

the wrath – the smell

of his favourite dish,

roasted aspirations,

the sweaty stews, the

battered skeleton,

the whipped heart,

the sleazy salads,

the blood, bones

and butter. A

protracted revenge

of generations

rendered right.

The domestic goddess was

certain of many a things -that the

way to a man's stomach is through his

heart, and from the heart to the heart

of the matter.

However, what she still couldn't

decipher was the overpowering

ingredient of that unbearable reek –

the stench of the living dead, or of a

staling violence.

THEGLOBALYOUTHREVIEW.COM

P

A

G

E

78

P

A

G

E

79

THEGLOBALYOUTHREVIEW.COM
---
EAD NOW

READ NOW

EAD NOW

READ NOW

EAD NOW

READ NOW

EAD NOW

Follow us on

social

media

Odyssey

ISSUE II | 2020: THE ODYSSEY

SUMMER 2021 EDITION

The Global Youth Review

#THEGLOBALYOUTHREVIEW

THEGLOBALYOUTHREVIEW.COM

P

A

G

E

80

@THEGLOBALYOUTHREVIEW
---
CONTRIBUTORS

CONTRIBUTORS

ISSUE THREE

AKINRINADE FUNMINIYI ISAAC is a Nigerian realtor and writer with works appearing

in Writers Space Africa Magazine, Stardust Haiku, Olney Magazine, Praxis Magazine, Word

Rhymes and Rhythm (WRR) and elsewhere. His works revolve around silence, home,

heritage, humans, among others. He's an ardent lover of art and a promoter of poetry. He's

the initiator of two poetry collections: Si(gh)lent Night (2017) and 60 Seconds Silence (2020).

He can be reached @esv_keks on Twitter and Instagram.

AKSHITA KUMAR is a 16-year-old girl who finds the essence of gratitude within poetry

and the things which inspire her poetry. Being born in a place where there were farms

not so far away, she appreciates her heritage in the sweet and juicy mangoes which were

plucked in hundreds. Now, living miles away from her place of origin, she remembers it

all and nostalgia seeps out of the mangoes available in the city. She

often likes to include strong imagery in her poems to show people

how and what she feels, she aims to make her readers visit the words.

ANOUSHKA SRIVASTAVA is a Textile Revivalist hailing from the

land of cultures; India, pursued her Bachelors in Textile Design from

National Institute of Fashion Technology. She is a passionate, mindful

and an aspiring designer who is strongly influenced by her deep

interest in the arts, aesthetics, and culture of India—all places where

she likes to draw inspiration for her works. ''Chanderi: A Story of

Traditions and Threads'' presents an inside look at the real India.

A.R. SALANDY is a mixed-race writer who travels frequently and has spent

most of his life in Kuwait jostling between the UK & America. Anthony's work

has been published 175 times. Anthony has 2 published chapbooks titled The

Great Northern Journey (2020, Lazy Adventurer Publishing ) & Vultures (2021,

Roaring Junior Press). Anthony is the Co-EIC of Fahmidan Journal.

ASHLEY PEARSON is a junior at Knox College. She is double majoring in

Biology and Creative Writing with hopes to continue her education in Dental

School. She hails from Monmouth, Illinois. Her pieces reflect on her upbringing

in a small town in the American Midwest with acknowledgement of her origins

in South Korea. Ashley is adopted and identifies as Korean-American.

ASSIA MESSAOUDI (she/they) is an Algerian poet with a passion for

harm reduction and social research. Over the years writing became one of

Assia's biggest forms of catharsis. Her piece "the fruit of your labour" is in

memory of her grandfather. In many cultures, sharing fruit is an act of

love. Due to the language barrier between Assia and her grandfather,

e eating fruit together was their main form of communication. This

poem is Assia's act of love to her grandfather, and an act of love to

herself. To find out more about Assia, visit assiamessaoudi.com.

B. PICK is a lesbian poet based in small town Canada. They are an

Honours B.A. candidate in English and Cultural Studies at Western

University. When they're not writing, b. enjoys baking, earl grey tea, and

jewelry making. They hope to someday bake the perfect bagel.

CONTRIBUTORS

BUKUNMI OYEWOLE is a travel and documentary

photographer who loves to see the world through the lens of his

camera. He has traveled round Nigeria, visiting over 19 states on

photo tours and documentaries. One of his many dreams is to

travel around the world, capturing astonishing moments with his

camera.

CHINONYE ALILONU is a Nigerian American high school senior

exploring her newfound love of poetry. When she isn't pouring over her

writing journal, you can find her with her friends, watching kdramas or

doing her hair.

GLORIOUS KATE AKPEGAH is an aspiring photographer and poet from

Cross River State, Nigeria, who finds art liberating and an essential part of

living, She uses photography and poetry to capture the beauty of nature

and everyday life. Her pieces ''Sister'', ''Sunset in the Neighborhood'' and

''Home Community'' were taken during a visit to her family, the photos

remind Her of home which has always been a happy place. When she's not

doing photography or poetry, She's studying to get an MBBS degree at the

University of Calabar, Nigeria.

JP LEGARTE is a Pilipino-American junior at University of Illinois at Urbana-

Champaign majoring in Creative Writing. He desires to provide spaces through

his poetry where others can process their own emotions, ponderings, and

anything else within life. He was born in the Philippines before moving to the

United States when he was one. His poem "Elastic Memory" details how home/

heritage can be described as such because individuals bring home with them

within treasured memories of places, people, and experiences, and "Younger

Memoirs" serves as an example of this, expanding upon what JP considers to be

major parts of his home/heritage.

KATE ROWBERRY is a Californian high schooler who is inspired by words

she reads, scenarios she imagines, and events she lives. Her work has been

recognized by the Scholastic Art & Writing Awards. She enjoys the arts

of writing and editing; reading is also one of her favorite activities, but

she is somewhat guilty of tsundoku. That stack of books to read has to

end at some point, right?

KAYA DIERKS is a mixed-race writer from the United States and an

incoming freshman at Yale University. She's passionate about writing

contemporary fiction and narrative nonfiction that represents honest

and unvarnished American experiences. She tweets @kayadierks.

KAYLEIGH SIM is a Southeast Asian writer from Singapore living

in San Diego, California, and is currently an Executive Editor for

Polyphony Lit. Her poems, "papilionanthe" and "burning haibun for

my ancestry", are inspired by her experience living far away from her homeland and her

emotional distance from her roots. Kayleigh loves to write about her Singaporean-Chinese

heritage, and her work has been published or is forthcoming in Trouvaille Review, Cathartic

Lit, Intersections Magazine, Poetically Magazine, Second Chance Lit, Interstellar Lit, Aster Lit,

and elsewhere.

THEGLOBALYOUTHREVIEW.COM

P

A

G

E

82

P

A

G

E

83

THEGLOBALYOUTHREVIEW.COM
---
CONTRIBUTORS

CONTRIBUTORS

LAYAN DAJANI is a filmmaking student

and self-taught graphic designer from

Palestine. Her work mostly reflects her

emotions and thoughts on her life and

certain issues and themes, and she gets

inspired a lot by her hometown, nature,

music and literature. Her piece, "The Home

That I've Never Been To", Layan explores

her feelings towards her hometown,

Palestine; she never visited the nation, but

longs to visit because it is her home—her

true and only home.

MANDIRA PATTNAIK is a poet and fiction

writer from India. Her work has appeared

or is forthcoming in Flash International

Short-Short Magazine, Atlas & Alice, Citron

Review, amongst others. Her story originally

appeared in October Hill Magazine (Winter

2020 Edition). It is drawn from diasporic

experiences, her own as well as of others.

Growing up in different cities, Mandira

identifies with the 'perpetual outsider', and

believes home is where one believes it to be

and heritage is something one can never shed

or wish away. Find more of her writings at

mandirapattnaik.wordpress.com. She also

can be found on Twitter @MandiraPattnaik.

MARIA ALEXZA HERNANDEZ is a

young Australian writer of Filipino

descent. As an aspiring psychiatrist

with an affinity for the human psyche,

Alexza uses writing to explore the

depths of human nature. She hopes

that her writing will open the minds

of her readers and tug at their

heartstrings while expressing the

turbulent beauty of life. Alexza's

piece, "Letters from Home", is a

parallel story following the lives of

a precolonial Filipina and a young

OFW. Poetic prose of some sorts, her

piece is dedicated to the past, present,

and future people of the Philippines.

OLIVIA MCCANN is a poet, freelance videographer,

and prior educator based out of Denver, Colorado.

She often includes themes of love, feminism,

solitude, heartbreak, and healing in her work. She

has submitted and had work accepted into The Fat

Zine, Coffee People, Drip Zine, Osier Root Zine, and P

Magazine. She enjoys experimenting with language

and collaging together poems out of singular random

words.

ROSS WALSH [he/him/sé/é] is

a Wexford-born journalist and

writer based in Dublin, Ireland.

He has been writing poetry for

over a decade now, inspired

by the stunning landscapes

of Ireland from the coast of

Waterford to the boglands of

Donegal. He has a huge interest

in history, and dreams of one

day owning a house where all the

walls are covered by bookshelves.

His poem, ''Indulgent Spices'',

was written after the death of his

grandfather and seeks to explore

the concepts of loss, grief, and

the heritage left to us by previous

generations.

ISSUE THREE CONTRIBUTORS

TRISHA REDDY is a fourteen-year-old

author from New Jersey who uses she/

her pronouns. She developed a passion

for writing when she was ten, starting

with fanfiction. Trisha primarily

writes fantasy, with strong themes

of war and corruption. She's heavily

inspired by her own experiences as

a bisexual Indian American, as well

as the Hindu mythology she grew up

hearing. "Antebellum" was inspired

by her sixth-grade obsession with

the world wars. She drew on typical

fantasy elements to build a world that

seems so different than our own on the

surface but has striking similarities

underneath.

MATT HSU is a junior at San Francisco

University High School in San Francisco,

California. He works as a poetry/prose editor

at Cathartic Youth Literary Magazine and

The Formula. Currently he's working on a YA

novel about a lonely assassin. In his spare

time, he enjoys playing tennis and eating

dark chocolate.

MAKENNA DYKSTRA (she/her) is 20

years old and pursuing an M.A. in English

Literature at Tulane University in New

Orleans. She can often be found on Twitter

@makdykstra or in the local parks, writing,

reading, or admiring the oak trees.

NINA SIKANDAR is an eighteen year old living on

the southernmost point of mainland Asia. When she's

not writing her best lines at 2AM, she's learning how

to code and dabbles in editorial illustration.

ZOE FRIEDLAND was born in

Seattle, USA, where they are

currently studying classics,

english, and biology at the

University of Washington. they

tweet @chalcidoidea.

OLGA MUSIAL (she/her) is

a mostly-fiction-sometimesinspired-to-write-poetry

writer

and high school student with a

passion for words and literature.

She lives in Warsaw, Poland, and

when not writing, you can find her in used

bookstores, where she often finds inspiration

for her pieces. She is a dedicated Garamond

enthusiast. For more literary endeavours, follow

her on Twitter at @olgamusial.

SONAKSHI SRIVASTAVA is an MPhil candidate

at Indraprastha University, Delhi. She previously

graduated from the University of Delhi, and

her works have appeared in Rhodora Magazine,

OddMagazine, Feminism in India. She has been

the recipient of the national story writing

competition, "MyStory Contest" organized by

TATA LitLive, the international literature festival

of Mumbai, thrice.

SYNA MAJUMDER loves to

write about mocktails, bass

lines, and horrible people. Their

work has been published in

The Daily Drunk, Paper Crane,

and Cathartic Lit Mag and is

forthcoming in the Bitchin'

Kitsch, among others. You

can find her @fuzz_pedals on

Instagram.

THEGLOBALYOUTHREVIEW.COM

P

A

G

E

84

P

A

G

E

85

THEGLOBALYOUTHREVIEW.COM
---
THE GLOBAL YOUTH

REVIEW

ISSUE III