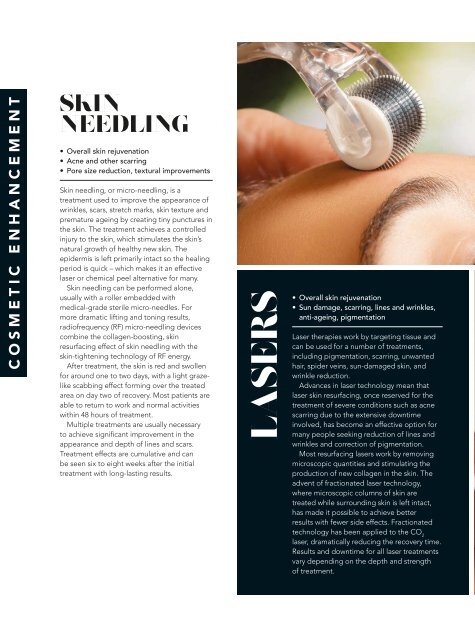 CosBeauty Magazine #94
CosBeauty is the #BeautyAddict's guide to lifestyle, health and beauty. In this issue: - Professional makeup hacks - DIY party hair - 30+ products for that perfect sunless tan - The 2022 guide to face tweakments - The rise of the celebrity beauty brand - Our Christmas gift guide
CosBeauty is the #BeautyAddict's guide to lifestyle, health and beauty.
In this issue:
- Professional makeup hacks
- DIY party hair
- 30+ products for that perfect sunless tan
- The 2022 guide to face tweakments
- The rise of the celebrity beauty brand
- Our Christmas gift guide
SHOW MORE
SHOW LESS
Create successful ePaper yourself
Turn your PDF publications into a flip-book with our unique Google optimized e-Paper software.
COSMETIC ENHANCEMENT<br />
SKIN<br />
NEEDLING<br />
• Overall skin rejuvenation<br />
• Acne and other scarring<br />
• Pore size reduction, textural improvements<br />
Skin needling, or micro-needling, is a<br />
treatment used to improve the appearance of<br />
wrinkles, scars, stretch marks, skin texture and<br />
premature ageing by creating tiny punctures in<br />
the skin. The treatment achieves a controlled<br />
injury to the skin, which stimulates the skin's<br />
natural growth of healthy new skin. The<br />
epidermis is left primarily intact so the healing<br />
period is quick – which makes it an effective<br />
laser or chemical peel alternative for many.<br />
Skin needling can be performed alone,<br />
usually with a roller embedded with<br />
medical-grade sterile micro-needles. For<br />
more dramatic lifting and toning results,<br />
radiofrequency (RF) micro-needling devices<br />
combine the collagen-boosting, skin<br />
resurfacing effect of skin needling with the<br />
skin-tightening technology of RF energy.<br />
After treatment, the skin is red and swollen<br />
for around one to two days, with a light grazelike<br />
scabbing effect forming over the treated<br />
area on day two of recovery. Most patients are<br />
able to return to work and normal activities<br />
within 48 hours of treatment.<br />
Multiple treatments are usually necessary<br />
to achieve significant improvement in the<br />
appearance and depth of lines and scars.<br />
Treatment effects are cumulative and can<br />
be seen six to eight weeks after the initial<br />
treatment with long-lasting results.<br />
LASERS<br />
• Overall skin rejuvenation<br />
• Sun damage, scarring, lines and wrinkles,<br />
anti-ageing, pigmentation<br />
Laser therapies work by targeting tissue and<br />
can be used for a number of treatments,<br />
including pigmentation, scarring, unwanted<br />
hair, spider veins, sun-damaged skin, and<br />
wrinkle reduction.<br />
Advances in laser technology mean that<br />
laser skin resurfacing, once reserved for the<br />
treatment of severe conditions such as acne<br />
scarring due to the extensive downtime<br />
involved, has become an effective option for<br />
many people seeking reduction of lines and<br />
wrinkles and correction of pigmentation.<br />
Most resurfacing lasers work by removing<br />
microscopic quantities and stimulating the<br />
production of new collagen in the skin. The<br />
advent of fractionated laser technology,<br />
where microscopic columns of skin are<br />
treated while surrounding skin is left intact,<br />
has made it possible to achieve better<br />
results with fewer side effects. Fractionated<br />
technology has been applied to the CO 2<br />
laser, dramatically reducing the recovery time.<br />
Results and downtime for all laser treatments<br />
vary depending on the depth and strength<br />
of treatment.