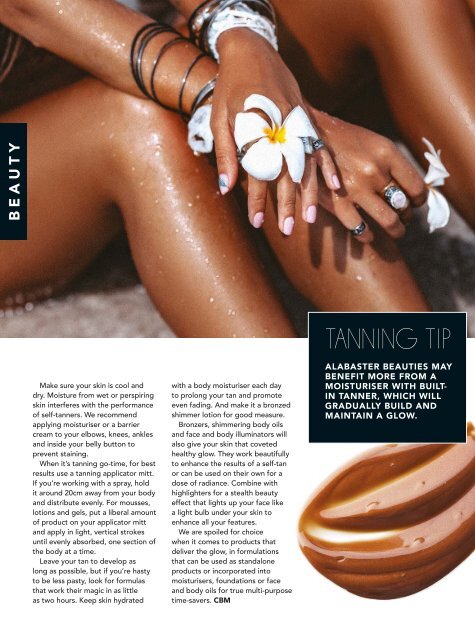 CosBeauty Magazine #94
CosBeauty is the #BeautyAddict's guide to lifestyle, health and beauty. In this issue: - Professional makeup hacks - DIY party hair - 30+ products for that perfect sunless tan - The 2022 guide to face tweakments - The rise of the celebrity beauty brand - Our Christmas gift guide
CosBeauty is the #BeautyAddict's guide to lifestyle, health and beauty.
In this issue:
- Professional makeup hacks
- DIY party hair
- 30+ products for that perfect sunless tan
- The 2022 guide to face tweakments
- The rise of the celebrity beauty brand
- Our Christmas gift guide
SHOW MORE
SHOW LESS
You also want an ePaper? Increase the reach of your titles
YUMPU automatically turns print PDFs into web optimized ePapers that Google loves.
BEAUTY<br />
Make sure your skin is cool and<br />
dry. Moisture from wet or perspiring<br />
skin interferes with the performance<br />
of self-tanners. We recommend<br />
applying moisturiser or a barrier<br />
cream to your elbows, knees, ankles<br />
and inside your belly button to<br />
prevent staining.<br />
When it's tanning go-time, for best<br />
results use a tanning applicator mitt.<br />
If you're working with a spray, hold<br />
it around 20cm away from your body<br />
and distribute evenly. For mousses,<br />
lotions and gels, put a liberal amount<br />
of product on your applicator mitt<br />
and apply in light, vertical strokes<br />
until evenly absorbed, one section of<br />
the body at a time.<br />
Leave your tan to develop as<br />
long as possible, but if you're hasty<br />
to be less pasty, look for formulas<br />
that work their magic in as little<br />
as two hours. Keep skin hydrated<br />
with a body moisturiser each day<br />
to prolong your tan and promote<br />
even fading. And make it a bronzed<br />
shimmer lotion for good measure.<br />
Bronzers, shimmering body oils<br />
and face and body illuminators will<br />
also give your skin that coveted<br />
healthy glow. They work beautifully<br />
to enhance the results of a self-tan<br />
or can be used on their own for a<br />
dose of radiance. Combine with<br />
highlighters for a stealth beauty<br />
effect that lights up your face like<br />
a light bulb under your skin to<br />
enhance all your features.<br />
We are spoiled for choice<br />
when it comes to products that<br />
deliver the glow, in formulations<br />
that can be used as standalone<br />
products or incorporated into<br />
moisturisers, foundations or face<br />
and body oils for true multi-purpose<br />
time-savers. CBM<br />
TANNING TIP<br />
ALABASTER BEAUTIES MAY<br />
BENEFIT MORE FROM A<br />
MOISTURISER WITH BUILT-<br />
IN TANNER, WHICH WILL<br />
GRADUALLY BUILD AND<br />
MAINTAIN A GLOW.