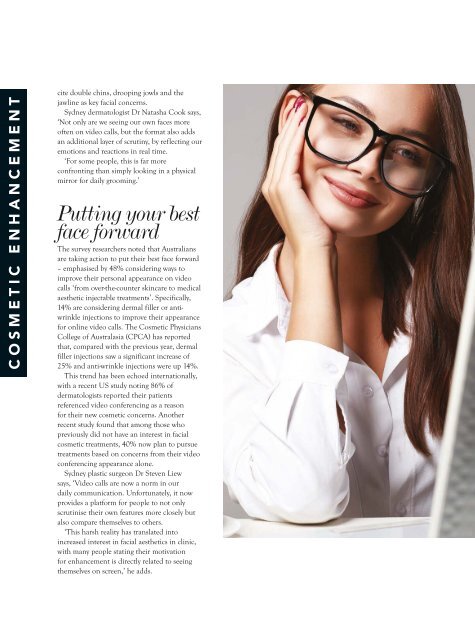 CosBeauty Magazine #94
CosBeauty is the #BeautyAddict's guide to lifestyle, health and beauty. In this issue: - Professional makeup hacks - DIY party hair - 30+ products for that perfect sunless tan - The 2022 guide to face tweakments - The rise of the celebrity beauty brand - Our Christmas gift guide
CosBeauty is the #BeautyAddict's guide to lifestyle, health and beauty.
In this issue:
- Professional makeup hacks
- DIY party hair
- 30+ products for that perfect sunless tan
- The 2022 guide to face tweakments
- The rise of the celebrity beauty brand
- Our Christmas gift guide
SHOW MORE
SHOW LESS
Create successful ePaper yourself
Turn your PDF publications into a flip-book with our unique Google optimized e-Paper software.
COSMETIC ENHANCEMENT<br />
cite double chins, drooping jowls and the<br />
jawline as key facial concerns.<br />
Sydney dermatologist Dr Natasha Cook says,<br />
'Not only are we seeing our own faces more<br />
often on video calls, but the format also adds<br />
an additional layer of scrutiny, by reflecting our<br />
emotions and reactions in real time.<br />
'For some people, this is far more<br />
confronting than simply looking in a physical<br />
mirror for daily grooming.'<br />
Putting your best<br />
face forward<br />
The survey researchers noted that Australians<br />
are taking action to put their best face forward<br />
– emphasised by 48% considering ways to<br />
improve their personal appearance on video<br />
calls 'from over-the-counter skincare to medical<br />
aesthetic injectable treatments'. Specifically,<br />
14% are considering dermal filler or antiwrinkle<br />
injections to improve their appearance<br />
for online video calls. The Cosmetic Physicians<br />
College of Australasia (CPCA) has reported<br />
that, compared with the previous year, dermal<br />
filler injections saw a significant increase of<br />
25% and anti-wrinkle injections were up 14%.<br />
This trend has been echoed internationally,<br />
with a recent US study noting 86% of<br />
dermatologists reported their patients<br />
referenced video conferencing as a reason<br />
for their new cosmetic concerns. Another<br />
recent study found that among those who<br />
previously did not have an interest in facial<br />
cosmetic treatments, 40% now plan to pursue<br />
treatments based on concerns from their video<br />
conferencing appearance alone.<br />
Sydney plastic surgeon Dr Steven Liew<br />
says, 'Video calls are now a norm in our<br />
daily communication. Unfortunately, it now<br />
provides a platform for people to not only<br />
scrutinise their own features more closely but<br />
also compare themselves to others.<br />
'This harsh reality has translated into<br />
increased interest in facial aesthetics in clinic,<br />
with many people stating their motivation<br />
for enhancement is directly related to seeing<br />
themselves on screen,' he adds.