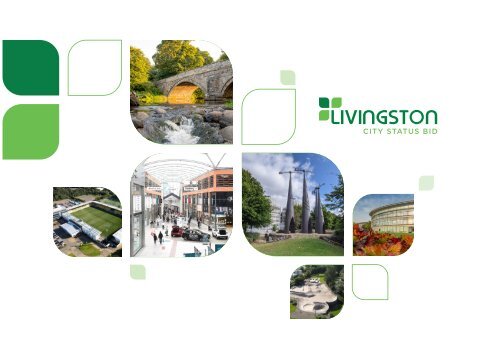 Livingston City Status Bid
You also want an ePaper? Increase the reach of your titles
YUMPU automatically turns print PDFs into web optimized ePapers that Google loves.
CITY STATUS BID
---
CITY STATUS BID

Livingston is bidding for

city status as part of the

Queen's 2022 Platinum

Jubilee celebrations.

In celebration of next year's Platinum Jubilee event

which will mark Her Majesty The Queen's 70th year

on the throne, local authorities across the United

Kingdom are invited to take part in the Platinum

Jubilee Civic Honours Competition. This special

competition will allow local authorities to apply for

an area they wish to be considered for city status by

the closing date of 8 December 2021, and the town

of Livingston has been nominated by West Lothian

Council.

The bid will be led by West Lothian Council working

in partnership with local citizens, community groups,

public services, companies and charities.

With Livingston's 60-year anniversary of gaining

a new-town status approaching next year,

this competition is a perfectly fitting way of

demonstrating and emphasising Livingston's unique

and distinct identity.

#

LIVINGSTONCITYBID

2
---
LIVINGSTON

DESIGNER

OUTLET
---
WHY SHOULD

LIVINGSTON

BE SCOTLAND'S

NEXT CITY?

Livingston represents

everything that Scotland's

New Towns were designed to

be, and much more.

Livingston is a vibrant

community – one that is

forward thinking, dynamic

and growing.

Over the last 59 years, Livingston has been

transformed from three villages and only 60

households to a large, culturally vibrant town.

The town's residents came to Livingston from

the Lothians, Glasgow and beyond, and from a

range of economic and cultural backgrounds.

Although one of the UK's youngest towns,

Livingston is proud of its heritage. Livingston

isn't, however, a place where people look

continually to what has gone before – it's a

home where people look to the future – it's

in Livingston's DNA. We believe that is what

is unique about Livingston, and gaining city

status would recognise our achievements to

date and our ambition for the future.

Next year, Livingston will celebrate both the

town's Diamond Jubilee and the Queen's

Platinum Jubilee. The gaining of city status

would be the perfect way to mark both

occasions and for the community to celebrate

together.

HOME IS WHERE THE HEART IS AND

LIVINGSTON HAS BEEN MY HOME

FOR OVER 40 YEARS. THE PEOPLE

HERE ARE GENEROUS AND DEEPLY

CARE ABOUT THEIR TOWN. FOR ME,

LIVINGSTON HAS EVERYTHING –

WONDERFUL PARKS, OPEN SPACES,

A THRIVING ARTS AND LEISURE

SCENE. A HUGELY RESPECTED

COLLEGE AND MUCH-LOVED

HOSPITAL. LIVINGSTON HAS A

RICH HISTORY AND A VERY BRIGHT

FUTURE AND ACHIEVING CITY

STATUS WOULD BE THOROUGHLY

DESERVED. I CAN THINK OF NO

BETTER WAY TO CELEBRATE

LIVINGSTON'S DIAMOND JUBILEE

AND THE QUEEN'S PLATINUM

JUBILEE.

#

LIVINGSTONCITYBID

City status is a prestigious accolade and would

help to attract more investment and tourism.

Gaining city status would positively boost

Livingston economically, encouraging

potential inward investment from companies

looking to expand their business.

Lawrence Fitzpatrick

Leader of West Lothian

Council, Livingston resident

4
---
RIVER

ALMOND
---
PLANNING HISTORY AND PROGRESS

Livingston New Town was designated in April 1962

to cover 2,700ha, the fourth of the five New Towns

to be designated in Scotland.

In the six decades of its existence it has proved

highly successful in achieving its original objectives.

Its first objective was to create a focal point for

industrial expansion in Central Scotland. After

initially establishing itself as an important location

for general industry, Livingston has gone on to

become a major attraction for high-technology

employers onto sites such as the Alba Campus.

It has provided a central location for one of

Scotland's major retail centres, a district general

hospital that provides a comprehensive range of

services for the people of Lothian and beyond,

the home of Livingston FC and West Lothian

College, and an array of recreational facilities which

are of benefit to the whole of Central Scotland.

More fundamentally it has become the engine of

locally generated economic development. Another

objective was to accommodate the large-scale

population growth predicted in Central Scotland

at that time and the population pressures from

Glasgow. Livingston is now by far the largest town

in West Lothian and second only to Edinburgh in

the Lothians.

Livingston may be a new town but its story goes

back much further than 1962. Leving built a castle

here around 1124. His castle was surrounded by

houses and steadings. It was called Leving's town,

over the years becoming known as Livingston.

In the 19th century, oil shale brought wealth to

West Lothian. Livingston was a centre of the shale

industry. There were mines and an oil works at

Livingston Station. There was another mine at

Newfarm which is now the site of the Lanthorn

Community Centre. An aerial ropeway was built to

carry the shale from Newfarm to the Oakbank Oil

works, about two or three miles away, where it was

processed into crude oil.

By 1962, the area that would be designated as

Livingston new town included the villages of

Bellsquarry, Livingston Village and the largest,

Livingston Station, which was home to around

1,400 residents.

Livingston has always been proud of its heritage

and features of early Livingston were incorporated

into the town. Historic buildings were renovated to

become community facilities, whilst new housing

was built alongside miners' cottages.

INNOVATION

Livingston is widely recognised as one of the country's leading

areas in the manufacturing and service industry sectors. Some

of the world's leading companies are located within Livingston

representing the software manufacturing, biotech, information

technology and service sectors.

#

LIVINGSTONCITYBID

6
---
HOWDEN PARK

CENTRE
---
LIVINGSTON TODAY

LIVINGSTON IS BY

FAR THE LARGEST

SETTLEMENT IN WEST

LOTHIAN AND SECOND

ONLY TO EDINBURGH

WITHIN THE ENTIRE

LOTHIAN REGION

THE POPULATION OF THE GREATER

LIVINGSTON AREA IS NOW NEARLY

80,000 (MAKING IT SIGNIFICANTLY

LARGER THAN OTHER CITIES SUCH

AS STIRLING, INVERNESS AND PERTH)

AND IS DUE TO GROW TO 100,000 IN

FUTURE YEARS.

THE GREATER LIVINGSTON

ECONOMY IS WORTH OVER

£4.5 BILLION PER ANNUM.

MULTINATIONALS, INDIGENOUS

SCALE-UPS AND EARLY-STAGE

START-UPS FORM A VIBRANT AND

COMPETITIVE BUSINESS BASE.

LIVINGSTON IS AN INCREDIBLE PLACE

TO LIVE, WORK AND VISIT. IT HAS SO

MUCH TO OFFER FAMILIES AND I'M

REALLY PROUD OF LIVINGSTON FOR

EVERYTHING THAT IT IS ALREADY AND

FOR EVERYTHING THAT IT ASPIRES TO

BE. ACHIEVING CITY STATUS WOULD

BE WELL-DESERVED AND HELP THE

TOWN ACHIEVE ITS AMBITION.

Dr Robin Chesters

Director, Almond

Valley Heritage

Trust, Millfield,

Livingston

ACROSS THE

GREATER

LIVINGSTON

AREA THERE

IS A BROAD

SPECTRUM

OF SPORTS

CLUBS OPERATING,

RANGING FROM CLUBS

WITH A VOLUNTEER-LED

COMMUNITY FOCUS TO

PRIVATE PROVIDERS, ALONG

WITH ONE PROFESSIONAL

FOOTBALL CLUB. WELL

OVER 50 CLUBS AND

ORGANISATIONS FROM

ACROSS MORE THAN 20

DIFFERENT SPORTS OFFER

ACTIVITY OPPORTUNITIES.

LIVINGSTON IS WEST LOTHIAN'S

REGIONAL CENTRE FOR ADMINISTRATION,

COMMERCE, EDUCATION, CULTURE AND

HEALTH CARE. IT IS ALSO THE LEGAL

CENTRE WITH HIGH, DISTRICT AND

SHERIFF COURTS.

KEY INDICATORS OF THE

ECONOMY SHOW THAT THE

GREATER LIVINGSTON AREA HAS

ONE OF THE FASTEST-GROWING

AND YOUNGEST POPULATIONS

IN SCOTLAND AND IS HOME TO

AN EXTENSIVE

BUSINESS BASE

WITH ALMOST

78,000 JOBS IN

THE AREA.

LIVINGSTON HAS A RICH

HISTORY WHEN IT COMES

TO LOTS OF VOLUNTARY

GROUPS. THERE ARE

OVER 250 VOLUNTARY

ORGANISATIONS THAT

PROVIDE MUCH NEEDED

SUPPORT TO THOSE

IN NEED ACROSS THE

GREATER LIVINGSTON

AREA.

# LIVINGSTONCITYBID

8
---
WITH 21 PARKS LOCATED ACROSS

LIVINGSTON, THE DEVELOPMENT

CORPORATION'S VISION OF A

GARDEN CITY HAS BEEN REALISED,

WITH EVERY HOUSE IN LIVINGSTON

LOCATED WITHIN 500M OF A PLAY

AREA OR ACCESSIBLE GREEN SPACE.

LIVINGSTON HAS OVER

THREE MILLION TREES.

THERE ARE OVER 38

TREES FOR EVERY

RESIDENT WITHIN THE

GREATER LIVINGSTON

AREA

THE SPIRIT OF LIVINGSTON IS ONE THAT IS

ALWAYS LOOKING FORWARD AND ONE THAT IS

CONTINUALLY LOOKING TO ACHIEVE. I BELIEVE

LIVINGSTON IS ONE OF THE BEST PLACES TO

STAY IN SCOTLAND.

Angela Constance MSP

Member of Scottish

Parliament for the Almond

Valley constituency

TODAY'S GREATER

LIVINGSTON ECONOMY

HAS BEEN BUILT ON

A DIVERSE RANGE OF

SECTORS BUT IS NOW

CHARACTERISED BY LIFE

SCIENCES, ENGINEERING,

CONSTRUCTION, FOOD

& DRINK, DISTRIBUTION,

AEROSPACE, RETAIL,

SOFTWARE DEVELOPMENT

AND RENEWABLES.

WITH 21% OF THE POPULATION AGED

UNDER 16, LIVINGSTON HAS THE

HIGHEST PERCENTAGE OF YOUNG

PEOPLE OF ANY OF SCOTLAND'S 25

LARGEST TOWNS AND CITIES.

TWO OF LIVINGSTON'S SECONDARY SCHOOLS ARE

RANKED IN SCOTLAND'S TOP 30 STATE SCHOOLS

AND ALL FOUR OF LIVINGSTON'S SECONDARIES

ARE RANKED IN THE TOP THIRD OF ALL SCOTTISH

STATE SECONDARY SCHOOLS.

I GREW UP IN ONE OF THE ORIGINAL PARTS OF

THE NEW TOWN OF LIVINGSTON, CRAIGSHILL. I AM

PROUD TO REPRESENT THE PEOPLE OF LIVINGSTON

WHOSE SENSE OF COMMUNITY SPIRIT IS VAST.

WE HAVE SOME OF THE MOST INNOVATIVE AND

COURAGEOUS COMPANIES IN THE WORLD, DIVERSE

COMMUNITY ORGANISATIONS, A FANTASTIC

FOOTBALL TEAM AND AN EMERGING CULTURAL

AND ARTS COMMUNITY. AS LIVINGSTON CONTINUES

TO GROW IN SIZE AND APPEAL, IT IS TIME THAT IS

RECOGNISED WITH CITY STATUS.

ALL FOUR LIVINGSTON SECONDARY SCHOOLS

ARE OUTPERFORMING THE NATIONAL SCOTTISH

AVERAGE AND ARE ALSO OUTPERFORMING

COMPARATOR SECONDARY SCHOOLS IN SCOTLAND.

(BASED ON SCHOOL LEAVERS ACHIEVING FIVE OR

MORE LEVEL 6 AWARDS).

Hannah Bardell MP

Member of Parliament for

the Livingston Constituency,

born and bred in Livingston

9

#

LIVINGSTONCITYBID
---
LIVINGSTON HAS A FANTASTIC BALANCE

OF INDUSTRY AND LOCAL AMENITIES, AS

WELL AS HAVING THE FEELING OF BEING

IN THE COUNTRYSIDE WHEN ON SOME OF

THE WALKING ROUTES THAT WE HAVE ON

OUR DOORSTEP. THE SKILLED DEDICATED

WORKFORCE WE HAVE IN LIVINGSTON,

COUPLED WITH THE IDEAL LOCATION, ARE

REASONS WHY JAPANESE INDUSTRY GIANTS,

MITSUBISHI ELECTRIC, HAVE CONTINUED

TO INVEST AND GROW THROUGHOUT

THE YEARS IN LIVINGSTON AND THIS IS

SOMETHING OF WHICH THE TOWN SHOULD

BE EXTREMELY PROUD. THIS IS A PLACE

THAT HAS CONSIDERED WORK, LIFE AND

OPPORTUNITY FOR ITS RESIDENTS AS IT HAS

DEVELOPED AND GROWN AT A RAPID PACE

OVER THE YEARS. THE AMBITION SHOWN

TO ACHIEVE CITY STATUS SHOULD BE

APPLAUDED AND SUPPORTED.

Graham Angus

Asst. Department Manager

Mitsubishi Electric

Air-conditioning Systems

Europe Ltd.

THE BEST OF SCOTTISH FOOD AND DRINK

LOCATED IN LIVINGSTON:

Glenmorangie

Glenmorangie has been the bestselling single

malt in Scotland almost every year since 1983 and

around 10 million bottles are produced per annum.

Glenmorangie operates from a purpose built state

-of-the-art site in Alba Business Park, Livingston.

Ian Macleod distillers

Ian Macleod Distillers Ltd is an independent family

run distillery now in its third generation. The

company produce over 15 million bottles of spirits

every year.

AK Stoddart

Founded in 1959 as a butchery supplier, Stoddarts

are now a fully integrated beef and haggis supplier

working with some of the biggest farms in

Scotland.

Matugga Distillers Limited

Matugga Distillers Limited opened in 2018 and is

one of the first rum distilleries in Central Scotland.

United Central Bakeries

United Central Bakeries was established in

1989 and it is now part of the Finsbury Group,

specialising in bread making.

Paterson Arran

Paterson Arran produces a wide range of

shortbread, biscuits and oatcakes from its Royal

Burgh Bakery in Livingston including the nations

favourite shortbread brand Paterson's.

Glen Turner

One of the biggest selling blended Scotch whiskies

in the world. Scotland's first new grain distillery

opened at the local site in 2010. This was followed

by the acquisition of the world-renowned Cutty

Sark brand.

Alechemy Brewing Co

A successful Livingston-based start-up which

trades as a family-run independent brewery.

Alechemy have built their reputation through

creating a range of occasional speciality beers

which complement their core range of bottled and

cask ales.

# LIVINGSTONCITYBID

10
---
PROPERTY DEMAND

With its green space and

amenities, Livingston is an

attractive place to live and there is

a high demand for housing. House

sales are some of the quickest in

the UK and house values have

increased significantly.

HOUSE

VALUE

INCREASE

18TH

HIGHEST

OF ALL UK

TOWNS

MEDIAN

TIME TO

SELL

7 DAYS
---
WHY BECOME A CITY?

AT THE CENTRE, WE ARE PROUD TO

BE AT THE HEART OF LIVINGSTON,

SERVING THE LOCAL COMMUNITY

AND PROVIDING AN EXTENSIVE

MIX OF RETAIL AND LEISURE

OFFERINGS, WHICH DRAWS PEOPLE

IN FROM WEST LOTHIAN AND

FURTHER AFIELD. THANKS TO ITS

LOCATION, TRANSPORT LINKS AND

LOCAL COMMERCE, LIVINGSTON

IS THRIVING. IT'S NOT ONLY A

VIBRANT PLACE TO LIVE AND

WORK, THE SENSE OF COMMUNITY

SPIRIT IS UNPARALLELED.

ACHIEVING CITY STATUS WOULD

BE A WELL- DESERVED HONOUR,

ONE WHICH RECOGNISES THE

DISTINCTIVE CHARACTER OF

LIVINGSTON, ITS RICH HERITAGE

AND ITS PEOPLE.

Patrick Robbertze

Centre Director

at The Centre,

Livingston

City status is a prestigious accolade and would help to attract more investment, tourism and boost

the local economy. Gaining city status would positively boost Livingston economically, encouraging

potential inward investment from companies looking to expand their business.

This would create potential employment opportunities for the residents of Livingston and further

afield.

Research on the economic impact of city status on the UK's eight newest cities highlighted that,

in the vast majority of locations, the new cities outperformed their regional counterparts in terms

of increasing investment and reducing unemployment. The research also found that other benefits

were less easy to quantify, such as the international exposure and the pride about becoming a city

(University of Reading).

WHAT FEATURES

DOES A TOWN NEED

TO BECOME A CITY?

To become a "city", a town must be

of significant size, and be the regional

centre for administration, commerce,

education, culture and health care, and

it ought to be a legal centre with District

and Sheriff courts. Livingston is all of

these things and more.

#

LIVINGSTONCITYBID

12
---
M8

MOTORWAY

ELIBURN

RESERVOIR

HOUSTON

INDUSTRIAL ESTATE

LIVINGSTON

NORTH STATION

HOWDEN PARK

CENTRE

ALBA CAMPUS

CIVIC CENTRE

ALMOND RIVER

LIVINGSTON

SKATE PARK

WEST LOTHIAN

COLLEGE

SCOTTISH GOVERNMENT-

BUILDING STANDARDS

DIVISION

ST JOHN'S

HOSPITAL

ALMOND VALLEY

HERITAGE CENTRE

LIVINGSTON

SOUTH STATION

LIVINGSTON

FOOTBALL CLUB

LIVINGSTON

DESIGNER OUTLET

THE CENTRE

CITY STATUS BID
---
COMMUNITY ENGAGEMENT

LIVINGSTON HAS EVERYTHING YOU'D EXPECT

FROM AN AMBITIOUS, GROWING AND MODERN

SCOTTISH CITY. ITS POPULATION SIZE AND

ECONOMIC GROWTH AND SUCCESS SPEAKS

FOR ITSELF, AND IT HAS A HUGE AMOUNT TO

OFFER VISITORS AND LOCAL RESIDENTS.

THIS TOWN HAS GROWN INTO SOMETHING

VERY SPECIAL AND IT OFFERS A UNIQUE

BALANCE BETWEEN HISTORY, INNOVATION,

COMMERCE AND OPEN SPACE. ALL IN ALL IT IS

A WONDERFUL ENVIRONMENT TO LIVE, WORK

AND DO BUSINESS, AND IT WOULD BE TRULY

BEFITTING OF THE QUEEN'S 2022 PLATINUM

JUBILEE CELEBRATIONS IF LIVINGSTON WERE

TO ACHIEVE CITY STATUS. THE PEOPLE OF

LIVINGSTON CARE PASSIONATELY ABOUT

THEIR HOME AND HAVE PLAYED THEIR PART

IN HELPING LIVINGSTON BECOME ONE OF THE

MOST SUCCESSFUL AREAS OF SCOTLAND AND

ONE THAT CONTINUES TO THRIVE.

Community engagement and participation will be a key feature of our application and will

include input from local residents, elected members, community organisations and groups,

industry and retail sectors, leisure and tourism providers and local schools.

Through this engagement we will showcase the many strengths of Livingston in support of

the application process.

HAVE YOUR SAY

Please send any messages of support to livingstoncity@westlothian.gov.uk.

We'd also welcome comments on what Livingston means to you and your family.

Follow the #livingstoncitybid hashtag on Twitter, Facebook and Instagram

Look out for more information on how you can get involved in support of Livingston's

application at www.westlothian.gov.uk/livingstoncity

Moira Niven MBE

West Lothian's

Lord Lieutenant

# LIVINGSTONCITYBID

14
---
WIND VANE

FAMILY
---
CITY STATUS BID

Please send any messages of support to livingstoncity@westlothian.gov.uk

We'd also welcome comments on what Livingston means to you and your family.

Follow the #livingstoncitybid hashtag on Twitter, Facebook and Instagram

Look out for more information on how you can get involved in support of Livingston's

application at www.westlothian.gov.uk/livingstoncity

#

LIVINGSTONCITYBID