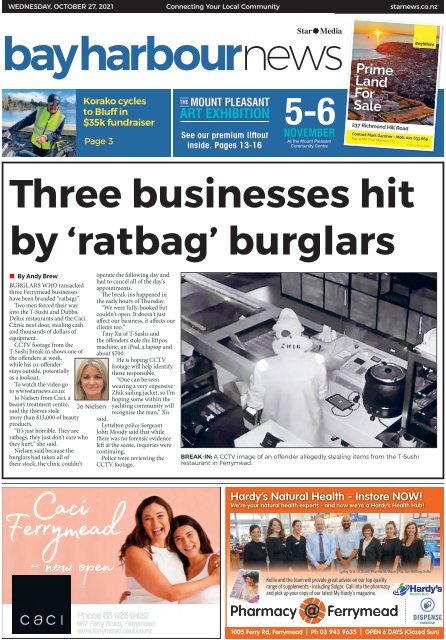 Bay Harbour: October 27, 2021
Create successful ePaper yourself
Turn your PDF publications into a flip-book with our unique Google optimized e-Paper software.
WEDNESDAY, OCTOBER 27, 2021

Connecting Your Local Community

starnews.co.nz

Korako cycles

to Bluff in

$35k fundraiser

Page 3

Prime

Land

For

Sale

237 Richmond Hill Road

Contact Mark Gardner - Mob: 021 633 669

Ray White Prier Manson Ltd.

(Licensed REAA 2008)

Three businesses hit

by 'ratbag' burglars

• By Andy Brew

BURGLARS WHO ransacked

three Ferrymead businesses

have been branded "ratbags".

Two men forced their way

into the T-Sushi and Dubba

Delux restaurants and the Caci

Clinic next door, stealing cash

and thousands of dollars of

equipment.

CCTV footage from the

T-Sushi break-in shows one of

the offenders at work,

while his co-offender

stays outside, potentially

as a lookout.

To watch the video go

to wwwstarnews.co.nz

Jo Nielsen from Caci, a

beauty treatment centre,

said the thieves stole

more than $13,000 of beauty

products.

"It's just horrible. They are

ratbags, they just don't care who

they hurt," she said.

Nielsen said because the

burglars had taken all of

their stock, the clinic couldn't

Jo Nielsen

operate the following day and

had to cancel all of the day's

appointments.

The break-ins happened in

the early hours of Thursday.

"We were fully-booked but

couldn't open. It doesn't just

affect our business, it affects our

clients too."

Tiny Xu of T-Sushi said

the offenders stole the Eftpos

machine, an iPad, a laptop and

about $700.

He is hoping CCTV

footage will help identify

those responsible.

"One can be seen

wearing a very expensive

Zhik sailing jacket, so I'm

hoping some within the

yachting community will

recognise the man," Xu

said.

Lyttelton police Sergeant

John Moody said that while

there was no forensic evidence

left at the scene, inquiries were

continuing.

Police were reviewing the

CCTV footage.

BREAK-IN: A CCTV image of an offender allegedly stealing items from the T-Sushi

restaurant in Ferrymead.

Hardy's Natural Health - Instore NOW!

We're your natural health experts - and now we're a Hardy's Health Hub!

Lynley, Orla, Lil, Grant (Pharmacist/Owner) Pav, Sue, Brittany, Kellie

Kellie and the team will provide great advice on our top quality

range of supplements - including Solgar. Call into the pharmacy

and pick up your copy of our latest My Hardy's magazine.

Health Hub

Phone 03 925 9422

987 Ferry Road, Ferrymead

www.ferrymead.caci.co.nz

1005 Ferry Rd, Ferrymead | Ph 03 943 9635 | OPEN 6 DAYS (Closed Sun)
---
2 Bay Harbour News Wednesday October 27 2021 Latest Canterbury news at starnews.co.nz

Advertise locally and

target customers most

likely to shop with you!

Effective Ad packages start from just $85

(inclusive full colour ad, creative setting,

photography and proofing).

No contracts required.

Your local community newspaper connects

neighbours in the following suburbs

Brookhaven • Heathcote • Ferrymead

Redcliffs • Mt Pleasant • Sumner • Lyttelton

Diamond Harbour • Governors Bay • Akaroa

10,514 homes every week.

from the editor's desk

BURGLARS ARE active again

– this time in Ferrymead (see

page 1).

And understandably those

businesses hit aren't very

happy.

Three businesses were targeted

early last Thursday morning.

The timing of each break-in

suggests they may have been

able to sidestep security. But

one of the offenders was captured

on CCTV footage and

hopefully his distinctive jacket

will give him away.

One another note, former

Port Hills list MP Nuk Korako

has got through his 720km

cycling journey to raise money

for Renee Veal, who needs a jaw

news

reconstruction (see page 3).

Nuk's trip has contributed

$35,000 towards the $90,000

needed.

Said Nuk: "The legs are good

and the backside is okay."

A successful mission all

round then.

– Barry Clarke

barry@starmedia.kiwi

GENERAL INQUIRIES Ph 379 7100 Cosmetic Nail

CLASSIFIED ADVERTISING Ph 379 1100 Restoration

www.starmedia.kiwi

Cosmetic Nail

Restoration

ADVERTISING

Jo-Anne Fuller

Ph: 027 458 8590

jo.fuller@starmedia.kiwi

Rob Davison

Ph: 021 225 8584

rob.davison@starmedia.kiwi

Nail Restoration is a painless application that

restores the appearance of an individual's

natural nails. Nail Restoration is a cosmetic

procedure designed to improve the appearance

of toenails damaged by fungus and other nail

disorders.

Before

Toenail

Bracing

Nail Restoration is a painless application that

restores the appearance of an individual's

natural nails. Nail Restoration is a cosmetic

procedure designed to improve the appearance

of toenails damaged by fungus and other nail

disorders.

Ready for duty

Ed, mascot of the Christchurch South Community Patrol, is dressed for

the job with a new uniform.

Page 5

news

Danger in looking after menagerie

Willowbank's founder Michael Willis talks about his dream to set up

the Wildlife Reserve.

Pages 18, 19 & 20

NUMBER ONE SUPPLIER

TO THE NZ JET BOATING

COMMUNITY FOR OVER

50 YEARS

KeeP New ZealaNders

worKiNg!

BUY NZ MADE SHOES

Before

After

Toe nail bracing is a painless, non- invasive procedure for

deformed, involuted or ingrown toenails

After

37 Main South Road, Upper Riccarton

PH 348 7910 | www.feetfirst.co.nz

support local

this xmas

• Part Boats & Hulls

• Turn Key Packages

• New Jet Units

• Custom Fabrication

• Expert Advice

SERVICING

Peter Tonkin

03 962 0505

peter.tonkin@hamiltonjet.nz

• Spare Parts Retailer

• Jet Unit Refurbishment

• Engine Tune-Ups

• Insurance Repairs

• Impellor Reconditioning

Kids from $115 • Adults from $195

47c Garlands Road, Woolston

Phone 389 3431

www.thefootwearfactory.co.nz

book your xmas party

SET MENUS STARTING FROM JUST $25 PER HEAD

2 WATERMAN PLACE, FERRYMEAD (OFF FERRY ROAD) PHONE 03 376 4900 WWW.PIZZAREPUBLIC.CO.NZ
---
Wednesday October 27 2021 Bay Harbour News

Latest Canterbury news at starnews.co.nz

NEWS 3

$35k for Renee and 'the backside is OK'

• By Chris Barclay

NUK KORAKO has safely

completed his 720km cycling

odyssey from Banks Peninsula to

Bluff, so one day Renee Veal will

be on the road to recovery.

The former National list MP

for Port Hills reached Stirling

Point from Invercargill on

October 18, the final leg of a

journey undertaken to spearhead

a $90,000 fundraising drive for

26-year-old Veal, who needs a

jaw reconstruction.

Veal, who grew

up in the small

community

of Rapaki, is

living with

hypermobile

Ehlers-Danlos

Renee Veal

Syndrome, which

means her jaw

often dislocates.

Struggling to sleep or eat

properly for a decade due to

persistent pain, Veal needs lifeenhanching

surgery which is

not covered by the public health

system.

The replacement jaw and joints

are titanium and manufactured

in the United States.

Her plight prompted Korako

to cycle to Bluff, a minor

discomfort in comparison, as

Karako raised $35,000.

"The legs are good and the

backside is okay," said the proud

Gold Card holder, who started

heading south on an e-bike on

October 9.

The route took him from

Christchurch to Ashburton,

Tekapo, Tarras, Cromwell,

Queenstown, Lumsden and

Invercargill before the finish line.

He aimed to cover 85km a day.

"The hardest part was

Geraldine through Burkes Pass

to Tekapo because most of the

time it was head winds," said

Korako, who activated battery

power on the steep stretches.

"It had to be a challenge for

me as well so on the flat you're at

zero power. I only went to level

two when I was on the hills."

SUCCESS: Nuk Korako reached Bluff after cycling from

Christchurch to raise money for Renee Veal who is living with

hypermobile Ehlers-Danlos Syndrome.

Swooping magpies, heavy

traffic and a puncture were the

other obstacles for the politician

who served from 2014-19.

Korako drove back to

Christchurch with wife and

support crew Christine on

Wednesday to catch up with

Veal after updating her by

phone.

"Renee is over the moon. The

support from people who didn't

even know us or Renee was

fantastic.

"We're a third of the way

there (to the target), at least

we've created some momentum."

More fundraising initiatives

are in the pipeline.

Tracey McLellan

MP for Banks Peninsula

I'm here to help. Please contact my

office if you require any assistance.

03 376 4512

Tracey.McLellanMP@parliament.govt.nz

PO BOX 19 661, Woolston, Christchurch 8241

642 Ferry Road, Woolston, Christchurch

Authorised by Tracey McLellan MP,

642 Ferry Road, Woolston

Care &

Compassion

We pride ourselves on the

very highest level of service

If you are thinking about the future,

we can help you explore pre-payment

and pre-planning options. Contact us

for a Free Information Pack.

We offer funeral information talks to

groups. Please call us for a speaker to

come to you.

Mark Glanville

Manager &

Funeral Director

(03) 379 0196 | www.simplicity.co.nz

Mike Chandler

Funeral Director

Nick Allwright

Funeral Director

A POTAGERS'

CHRISTMAS

The POTAGERS

GIFTS - HOMEWARES

CLOTHING

ENJOY SHOPPING

LO CALLY AT

THE RED HOUSE

REDCLIFFS VILLAGE

The

POTAGERS

RED HOUSE

N o

MAIN ROAD

186 REDCLIFFS

Facebook/Instagram:

thepotagersredhouse
---
Bay Harbour News Wednesday October 27 2021

4

NEWS

Latest Canterbury news at starnews.co.nz

CSO residency hands-on, immersive

PERFORMANCE: Christchurch Symphony Orchestra's

week-long residency at Lyttelton Primary School ended

with a concert at Lyttelton Arts Factory.

THE CHRISTCHURCH

Symphony Orchestra's

'Karawhiua! Let's Play!' school

residency programme came to

Lyttelton Primary School last

week.

Sponsored by the Lyttelton

Port Company, a range of

musicians from the orchestra

– including oboe player

Jenny Johnstone – embedded

themselves in the school for five

days.

Over the course of the week,

pupils got the chance to dive

into a musical and creative

experience, learning to play the

drums, ukuleles and harps,

as well as writing songs

and raps.

The music centred on the

school's current learning theme

of Kaitiakitanga – being a

guardian for Whakaraupō/

Lyttelton Harbour and the wider

environment.

The week culminated in a final

concert at the Lyttelton Arts

Factory on Friday.

LPC chief executive Roger

Gray said its sponsorship

programme had a strong focus

on supporting the youth in the

harbour and the residency was a

great example of that.

"LPC is proud is to bring CSO

to the harbour as music is an

important part of education,

with 'Karawhiua! Let's Play!'

providing a hands-on and

immersive experience."

Gray said he hoped the pupils

enjoyed the programme, learned

something new – and that the

week maybe even sparked a

passion for music.

The residency followed CSO

visits to Governors Bay and

Diamond Harbour Schools in

March.

Clare Reilly

Calming the Wild Heart

Little River Gallery October 30-November 23

Clare Reilly has been exhibiting at Little River Gallery for

almost 30 a October decade. Her - work 23 is November in hot demand, 2021 her serene and

meditative paintings sent all over the world.

'This collection of paintings has been inspired by a seven day

boat trip in Fiordland that I went on last October 2020. This Kotare watching the incoming tide

complete contrast of landscape to most of the rest of New Zealand,

has started my journey of exploration into these paintings.

The wild Southern Ocean acts as a protective barrier to the rugged

land of the fiords.

A vast place of vertical steep land, dense forest and huge volumes

of precipitation and very few landing spots have saved this extensive

area from exploitation.'

'Eye of The Calm' book launch

At the Main exhibition Rd, opening Little River October | 030 325 at 11.30am, 1944 'Eye of the Calm'

book will be launched. It is a celebration of artist Clare Reilly's life

art@littlerivergallery.com

and work. Reilly's passions for coastal New Zealand and the country's

wildlife are brought to life in this beautiful collection, which explores

themes of habitat destruction and renewal, grief, finding new paths,

and the joyful movement of birds in flight. Experience a sense of calm

and hope with this story of a fascinating life told through both words and imagery. A beautiful,

meditative exploration of a life's work. Available at Little River Gallery, limited edition leather

bound and hardback versions.

Korimako in the Puysegur Forest

Print & Frame

FREE PRINTING

WHEN YOU DO THE

FRAMING WITH US

We print your family photos,

holiday shots or pet pictures

for free when you do

the framing with us!

We supply professional

photo editing & colour

management service.

We use archival faderesistant

inks, giclée quality

& a choice of photo paper.

Clare Reilly

Calming the Wild Heart

30 October - 23 November 2021

Water Song of the Fiords

Main Rd, Little River | 03 325 1944

art@littlerivergallery.com

3 Garlands Rd · Phone 03 384 3484 · magmagallery.co.nz
---
Latest Canterbury news at starnews.co.nz

Wednesday October 27 2021 Bay Harbour News

NEWS 5

Smallest team member suits up for duty

• By John Cosgrove

THE SMALLEST member of the

Christchurch South Community

Patrol, which covers Ferrymead,

has received his uniform.

"Ed has been a wonderful

addition to the team," said patrol

team leader Ken Bye. "We were

looking for a different mascot

and Ed fitted right in with our

plans."

The large teddy bear is often

seen on patrol with Ken and also

appears at special occasions.

"It's all about having fun and

reaching out to the community,"

Bye said.

But fun is far from normal

when the patrol is on duty.

"Our role is to support the

police, the council and the community.

We are there to observe,

record and report," he said.

The Christchurch South Community

Patrol is one of seven

located in the metropolitan area.

It is the largest, with more than

60 active members, covering an

area stretching from Halswell to

Ferrymead.

Bye said they usually have

two teams out, six days a week.

Each patrol varies, as does their

tasking, which can come from

the police, the city council or

themselves.

"We all know the roads we are

driving on, so we know when

something is odd or out of place.

Bye said those little, out-ofthe-ordinary

things were often

what the patrol reported into the

police or the council.

"It could be rubbish or graffiti

– we use the snap app to inform

the council about any we see – or

it could be a tasking from the

police to keep an eye out for this

or that, to watch a particular intersection

or observe any activity

in a specific area.

"But we are not police.

Although we often have police

recruits accompanying us, it

gives them valuable comms

experience working the radios

and phones when reporting

incidents," Bye said.

Some of those incidents can

be bizarre or dangerous, like an

individual doing push-ups in

the middle of a busy intersection

then fighting the traffic signs,

or an intoxicated man smoking

while leaning up against a

petrol pump.

ALERT: Ed, mascot of

the Christchurch South

Community Patrol, dresses

for the job.

PHOTO: JOHN COSGROVE

Bye, a retired school teacher,

said he is rostered on patrol duty

for 12 hours a month.

"We are all volunteers, some

retirees, some young people and

others with time on their hands,

but we all want to serve our

communities."

He said the police paid for

their fuel costs, but the rest they

had to fundraise themselves.

"And that's where Ed comes

in, to make a connection with

the public at events to help us

fundraise and promote the

service," Bye said.

Established in 1996 by Paul and Leanne

Southorn, Southbuild is a reputable,

professional and experienced building

company. Our predominant expertise

lies in extensions, renovations (including

accessible bathroom modifications),

commercial fitouts, light civil construction

and project management.

Why Southbuild?

Experienced

As Registered Master

Builders, we have a broad

and sound knowledge of

the carpentry and building

project management required

for commercial and home

renovations, alterations and

extensions.

Efficient

We pride ourselves on tight

co-ordination and good

communication so your

project is completed quickly

and efficiently minimising

inconvenience to you. Our

builders realise their building

site is your home or business

and show respect at all times

being punctual, polite and as

tidy as possible.

Helpful

At all times Paul and Leanne

are available to discuss any

concerns or questions that

may arise during the job and

appreciate any feedback you

offer.

Cost Effective

It is important that you feel

assured of the quality of

the materials we supply as

well as the high standard

of our workmanship. We

prepare detailed quotes and

endeavour to price jobs with

the best materials at the

best price. Where possible

we request as many as three

competitive quotes before

selecting our final suppliers.

Skilled

We are able to complete to a

very high standard large and

complex building projects such

as major renovations, structural

extensions and structural

and internal changes. We

also take on smaller projects

such as renovating kitchens,

bathrooms and installing

window joinery. We can work

with a wide range of different

building products.

Flexible

Over the years Paul and

Leanne have developed

positive relationships with a

variety of reliable suppliers

and subcontractors you

may need to complete your

project. Or if you prefer we

can work with your existing

suppliers. We can work with

or without involvement of

architect depending on the

scope of work.

Phone: Paul: 027 441 2228, Leanne: 027 648 3574 | Email: lee@southbuildltd.co.nz

www.southbuildltd.co.nz
---
6 Bay Harbour News Wednesday October 27 2021 Latest Canterbury news at starnews.co.nz

Gardening in October!

October in Christchurch is

the main planting Season, so

just about everything can be

planted now! Make sure you

stagger your planting so that

you don't have everything

ready all at the same time.

Spray lawns with

prickle spray do this

when the temperature

is above 18 degrees

for best results.

This is also the month

that a lot of pests

appear. Keep a good

eye out, especially for

aphids on roses.

Repot your indoor plants

if they need it. Now is the

time to up the watering of

your indoor plants as it gets

warmer. Make sure you don't

let them dry out.

Big range, Low Price, Local advice

Tomatoes

Easy to grow. Suitable

for growing in pots

and garden beds.

188029

from

$3 94

each

Growfresh Pot

Assorted Herbs

A variety of herbs that

are great for cooking.

181859, 181836, 181847,

181827

$3.98 each

3 for $ 11

Growfresh

Vege Cell

Packs 6pk

Assorted Veges.

188458, 188455,

188501

$3.98 each

3 for $ 11

Lavender

Assorted sizes

and varieties.

342773

from

$3 99

each

Tui

Lawn Force Prickle Kill

& Lawn Feed 1 Litre

Kills prickle weeds and

common lawn weeds.

366607

Yates

Super Shield Rose

Spray 200ml

Controls pests, diseases

and mites on roses and

ornamentals.

138068

$19 99 $13 99

$24 98

$14 98 $17 98

Number 8

Yates

Yates

Pressure Sprayer 5 Litre

Mavrik Insecticide

Use this sprayer for all of your

garden spraying applications.

200ml

234818

$15 99

Yates

$18 93

Native Neem

$18 99

Yates

Weed n Feed BONUS

Organic Neem Oil

Thrive Indoor

PACK 2.4 Litre

Insecticide 250ml

Potting Mix 10

20% extra free than the standard

2 litre bottle. Selectively kills the

Litre

most common broadleaf weeds

in lawns.

218174

$16 66

$19 99 $11 98

Tui

Grazers

Lawn Force Preparation

G3 RTU Repellent White

Mix 40 Litre

Butterflies, Caterpillars

100% weed free premium blend

of high-quality fine bark and clean

& Aphids 750ml

graded sand. Use on new lawns

and when patching existing lawns.

141841

A broad-spectrum insecticide

which controls a wide range of

insects and mites. Approved

for use on edible crops.

138039

Produced using natural

emulsifiers, making it

chemical-free, made with raw

and cold-pressed neem oil.

373740

Effective against damage from

cabbage white butterflies,

caterpillars, and aphids.

321245

Gro Sure

House Plant Mist

Ready to use mist. For

optimum hydration.

922103

Thrive Indoor

Liquid Plant Food

Drippers pack of 5

Easy to use no measuring

or mixing. Slow-release

liquid feed which lasts for

4 weeks. Totally recyclable.

351316

pack

Quality potting mix

designed specifically for

most indoor plant types.

362740

Enrich with Nature Ceramics

Laura Indoor Ceramic Pot 12cm Assorted

A stylish, modern shaped pot that is designed for indoor

use. 381040, 381039, 381038, 381037

$12 98

each

Healthy Plant Guarantee

We will replace any plant

you buy from us if it fails

to thrive. Just return it

within 12 months with

proof of purchase.

Keep up to date on

whats new instore

by following us on

instagram at:

@MEGACanterbury!

Prices valid until Nov 3rd or while stocks last.

Mitre 10 MEGA Ferrymead

1005 Ferry Road. Christchurch

Phone: 366 6306

Find us at: /MEGAFerrymead

Opening Hours:

Monday – Friday:

7am – 7pm

Saturday, Sunday & Public Holidays:

8am – 6pm

www.mitre10.co.nz/local/MegaFerrymead

Ferrymead
---
Latest Canterbury news at starnews.co.nz

Wednesday October 27 2021 Bay Harbour News

NEWS 7

Charity fights back on – with new rules

• By Liam Broderick

ALMOST A year since the last

Built for Battle charity boxing

event, fighters are getting back in

the ring to raise money for men's

mental health.

Twenty-four fighters have

signed up for the Built for Battle

event on Saturday at Cowles

Stadium. They will be fighting

under new rules aimed at

making corporate and charity

boxing events

safer.

The New

Zealand Professional

Boxing

Association,

which oversees

Kain Parsons

professional

and corporate

boxing, introduced

the new rules at the beginning

of 2019, after the tragic

death of Sumner Sharks rugby

player Kain Parsons in a Fight

for Christchurch charity night.

Fighters competing in charity

boxing bouts were previously only

required to wear a mouthguard

and 16-ounce gloves, making the

risk of head injury high.

The new rules require all fighters

to wear a headguard, mouthguard,

groin guard (for men),

and heavier 18-ounce gloves. The

heavier gloves are intended to

improve safety by tiring fighters

and reducing the impact of

punches as a fight progresses.

Boxer James Bates said the

improvements to safety helped

him to decide to compete in the

October event.

"Eighteen-ounce gloves . . . and

using headgear, will cut down the

chance of injury by a lot," he said.

READY: James Bates (left) training ahead of the event,

which founder Bryan Barry says is more about raising

awareness of men's mental health than raising money.

NZPBA president Kevin Pyne

said boxing was full of risks, but

the new safety measures should

ensure fighter safety.

"There's a lot of intricacies and

you can never be 100 per cent on

top of safety, but we sure as hell

like to be 99 per cent," he said.

The Christchurch event is one

of five NZPBA-sanctioned boxing

events in the South Island

over the next couple of months.

It will feature 12 fights (11

men's and one women's) and

raise money for men's mental

health charity I Am Hope.

I Am Hope founder Mike King

said he was glad that charity

boxing events were still running

and continuing to support men's

mental health.

"Charity boxing has been the

main funder of our charity since

2014," he said.

Last year's Built for Battle

event raised $20,000 for charity,

though organiser and trainer

Bryan Barry said the goal was

more about raising awareness,

rather than money.

"If we only raise $5000 it

doesn't matter," he said.

Trust Law Expert

Zara Tonks joins

the team at

Summit Law

Zara is a Senior Associate of our firm

and a trust law expert. She studied

law at the University of Canterbury

and was then admitted to the Bar as a

Barrister and Solicitor.

She has over a decade of legal

experience and has followed her

passion for tailored and personal

solutions to protect intergenerational

wealth making sure individuals

and families position themselves

well, whatever their circumstances,

especially as legislation is updated.

She arrived at our firm after years in

a large accountancy firm where she

ran the trustee services part of the

business. She has a broad range of

experience in trust establishment

and management, and succession

planning for a wide variety of clients

from individual family to large wealth

international investment trusts.

Summit Law is located at The

Sails,just along from the Ferrymead

Countdown. The firm provides advice

in most areas of general practice

with an emphasis on residential

conveyancing, particularly for first

home buyers looking to get their first

step into the property market. Other

areas of advice include wills, EPA's,

estate administration, relationship

property and some commercial

transactions. Summit Law is the local

"go to" law firm in the eastern, hill

and seaside suburbs. Summit Law

welcomes all enquiries.

More information can be found on

our website www.summitlaw.co.nz

Summit Law, Units 7 & 8,

1025 Ferry Road, Ferrymead

Ph. 384 3880 www.summitlaw.co.nz

Do you have a

compliant trust?

Did you know that approximately 90% of trusts in

New Zealand are non compliant?

Trusts require meticulous management to ensure

they are and continue to protect your assets.

Zara has reviewed many trusts in New Zealand, and

swiftly made the necessary changes to ensure their

legal compliance.

We are passionate about

helping people and ensuring

their futures are protected.

We are here to create a movement

of bright financial futures, and we

do this through partnering with

our clients to ensure their futures

are protected.

Following the new Trusts Act 2019

implemented earlier this year, we

are offering a specialist 2019 Trust

Review with Zara to review your

trust and advise on the required

changes to ensure your trusts

compliance.

GET YOUR NO-OBLIGATION FREE ONE-HOUR CONSULTATION

Phone Zara (03) 384 3880 or 021 0257 4784

Email zara@summitlaw.co.nz
---
8 Bay Harbour News Wednesday October 27 2021 Latest Canterbury news at starnews.co.nz

RUNOUT

OUTLANDER LS 2.4L 2WD

$32,990+ORC *

christchurchnissan.co.nz

The 7 seater Mitsubishi Outlander

brings everything you would need in a

family SUV: safety, technology, comfort,

unrivaled economy and that all important

space, plus a 10 Year Powertrain Warranty † .

Call 03 379 0588 or visit

christchurchmitsubishi.co.nz

RRP WAS $41,990 +ORC

*Price listed is for Outlander LS 2.4L 2wd and excludes on road costs of $650 which includes registration, WoF and a full tank of fuel. Available while stocks last.

†

Visit mmnz.co.nz for full Diamond Advantage warranty conditions.

CHRISTCHURCH MITSUBISHI

386 Moorhouse Avenue, Christchurch | 03 379 0588 | christchurchmitsubishi.co.nz

CHRISTCHURCH NISSAN, 380 Moorhouse Avenue, Christchurch

Ph: 03 595 6820

www.christchurchnissan.co.nz
---
• By Chris Barclay

THE INFAMOUS easterly was

the enemy to an enjoyable outing

yet again, but the rededication

of the Nicholas family plot will

always be a heart-warming

experience for Diana Burgess.

A niece of Canterbury's

first Victoria Cross recipient,

Burgess got reacquainted with

other descendants of Sergeant

Henry Nicholas when they

assembled in Bromley Cemetery

on Saturday for the official

unveiling of a resting place finally

repaired a decade after the

earthquakes.

"There was quite a few of

the extended family. Graham

(husband) and I were the olds,

we were the only ones from that

generation but there was good

support from the next generation

down," she said.

"That was lovely to see, very

heart-warming. We had a nice

get together afterwards. They'll

keep the flag flying for the next

generation."

Burgess as among 50 people

who braved the breeze to attend

the ceremony, the culmination

of a mission undertaken by local

resident and Korean War veteran

Ken Wright.

After walking past the

damaged plot, the Londoner

successfully enlisted the

support of the New Zealand

Latest Canterbury news at starnews.co.nz

HONOUR: Descendants of Canterbury's first Victoria Cross

recipient Sergeant Henry Nicholas pay their respects at

the family plot in Bromley Cemetery, which was repaired a

decade after the earthquakes.

Remembrance Army, a graverestoring

charity, who completed

the repair work.

"It was a real tribute to those

who worked so hard to get

it under way. They're done a

wonderful job," Burgess said.

The Canterbury branch of the

Royal New Zealand Returned

and Services Association

coordinated the ceremony which

included an honour guard, firing

party and Nicholas' medals,

including the VC which was

bequeathed to Canterbury

Museum by his mother.

Lincoln-born Nicholas earned

the United Kingdom's highest

military honour for his part in

an attack on a German-held

position in Belgium in December

17.

The 27-year-old (right) was

killed in action in France on October

23, 1918; hostilities ended

shortly after on November 11.

A wreath was also laid at

Nicholas' grave in the Vertigneul

Churchyard near the border with

Belgium on Sunday to follow the

Christchurch commemoration.

Wednesday October 27 2021 Bay Harbour News

NEWS 9

'Heart-warming' rededication ceremony

TRIBUTE:

Korean war

veteran

Ken Wright

at the

Nicholas

family plot

and the

repaired

headstone.
---
Bay Harbour News Wednesday October 27 2021

10

CONTENT MARKETING

Latest Canterbury news at starnews.co.nz

Building skills for the future

THE HAPPY sounds of children

playing together on their latest

piece of outdoor equipment is the

first thing you notice as you walk

into KidsFirst Kindergartens

Sumner.

THanks to fundrasing and

grants, the Kindergarten is

redeveloping and upgrading

their outdoor playground. The

latest acquisition is a hexagonal

box funded by the Sumner

Ferrymead Foundation.

"We were so excited when the

Sumner Ferrymead Foundation

agreed to fund the hexagonal

box" head teacher Liz Morritt

said.

"Having observed ngā tamariki

at play, we identified our need

for more loose parts equipment

to promote creativity, critical

thinking, decision making, problem

solving and collaborative

play. The hexagonal box is an

open-ended piece of equipment

that can be used in a variety of

ways within our environment.

We are looking forward to seeing

ways that children are going to

use this in their play."

The children immediately saw

opportunities as to how to link

this new piece to existing equipment

in the playground.

"For us the environment is the

third teacher; it sets the scene

for the children's exploration"

Morritt said.

Want to help your

community?

A donation to the Sumner

Ferrymead Foundation

enables you to help

your community. You

can specify what you

would like the money

to be used for, you can

give a donation that the

trustees will ensure is

put to good use, or you

can leave a bequest. For

more information on the

work of the foundation

and how to donate, go to

www.sumnerferrymead

foundation.co.nz

"Here we value the

importance of children having

the opportunity to engage in

challenging and risky play to

help develop their physical skills,

perseverance, and their resilience

– important skills which they

take with them into their adult

life," kindergarten teacher Nicola

Gardiner said.

Trustee of the Sumner Ferrymead

Foundation Martin

Hawes saw the new piece of

equipment in use first hand, and

was delighted to see the children

exploring the many ways to play

with, and on, the hexagon.

"Children in Sumner tend to

have active families so its great to

see the staff helping the children

to develop more physically challenging

skills."

Like any not-for-profit organisation,

fundraising is of vital

importance, so Kidsfirst Kindergartens

Sumner are delighted the

Sumner Ferrymead Foundation

has provided a helping hand.

"It's a great example of the

local community helping each

other," Morritt said.

"The children are showing

their appreciation by making a

card for the Sumner Ferrymead

Foundation."

And that's exactly what the

Sumner Ferrymead Foundation

is all about, Hawes said.

"When locals support us

through donations – either specified

for a particular initiative

or an untied donation -we are

able to support the community

in which they live. That's what

makes the Sumner Ferrymead

community such a great place to

live."

HELPING HAND: KidsFirst

Kindergartens Sumner

head teacher Liz Morritt

and Sumner Ferrymead

Foundation Trustee Martin

Hawes.
---
Latest Canterbury news at starnews.co.nz

Wednesday October 27 2021 Bay Harbour News 11
---
Bay Harbour News Wednesday October 27 2021

12

NEWS

Latest Canterbury news at starnews.co.nz

New test sites set up to improve

understanding of waterways

ELEVEN NEW water quality

monitoring sites are giving

the city council a better

understanding of the state of

rivers and streams.

The Christchurch Surface

Water Quality Report 2021 and

summary brochure have just

been published. The report is

an analysis of monthly data

collected at 51 sites across Banks

Peninsula the city during 2020.

The new monitoring sites are

Aylmers and Balguerie Streams

in Akaroa, Stream Reserve

Drain and Zephyr Stream in

Governors Bay, Avon-Heathcote

Estuary, Cass Bay, Akaroa

Harbour, and Lyttelton Harbour.

Heathcote River at Warren Cres,

Steamwharf Stream (Heathcote

River catchment), Halswell River

at Wroots Rd.

Results for most monitoring

sites have remained steady since

2007, with some sites improving

and some worsening, said city

council waterways ecologist Dr

Belinda Margetts, who leads this

research.

The site recording the best water

quality was the Ōtūkaikino

TESTING TIMES: City council water ecologist Dr Belinda Margetts leads the research into

water quality across the peninsula.

River at the Groynes. The next

best sites (jointly) were Smacks

Creek at Gardiners Rd (Styx River

catchment), Waimairi Stream

(Avon River catchment), Avon

River at Carlton Mill, Wilsons

Stream (Ōtūkaikino River catchment),

followed by Styx River at

Gardiners Rd.

The worst sites were Curletts

Rd Stream at motorway

(Heathcote River catchment),

HEALTH: New water monitoring sites are expected to improve the quality of our rivers

and streams.

Nottingham Stream at Candys

Rd (Halswell River catchment),

Haytons Stream (Heathcote

River catchment), and Addington

Brook (Ōtākaro-Avon River

catchment).

"The Huritini-Halswell River

catchment did not meet many

of the water quality standards

and recorded the poorest water

quality," Dr Margetts said.

"One of our new monitoring

sites, Nottingham Stream, has

highlighted that this waterway

has poor water quality. This

wasn't on our radar before and

its poor water quality will be due

to contaminants entering the

waterway from both urban and

rural land use."

The city council uses this water

quality information, along with

sediment quality and aquatic

insect data to create waterway

report cards for each of the city's

five main river catchments. The

catchments are then given a

score from 'A' (very good health)

to 'E' (very poor health).

As in the past three years,

no waterway scored an A and

no waterway scored an E. The

The 2021 surface

water quality report

recommends the city

council:

• Prioritises Curletts

Rd Stream, Nottingham

Stream and Addington

Brook for contaminant

source control and stormwater

treatment

• Prioritises sediment

control, particularly in the

Heathcote River and Cashmere

Stream

• Cements a

whole-of-community

approach to addressing

stormwater contaminants

through the Community

Waterway Partnership

• Investigates faecal

contamination, particularly

from waterfowl, to identify

how best to reduce levels

• Develops an action plan

for achieving the Healthy

Water Bodies Community

Outcome

Ōtūkaikino River catchment

again recorded the highest score

(B), Styx River catchment scored

a C and Avon River, Halswell

River and Heathcote River

catchments all scored a D.

Dr Margetts said that like

most cities, Christchurch waterways

suffer from a condition

known as 'urban stream syndrome'.

"Our waterways are

contaminated with runoff

from hard surfaces such as

roofs, driveways and roads, and

with faecal contaminants from

waterfowl and dog droppings,"

she said.

"The council, other

organisations and landowners

are working hard to improve

the health of our waterways,

especially through improving

the quality of the water and

carrying out restoration projects,

but it may take many years to

see this work flow through to

a big improvement in water

quality."
---
Latest Canterbury news at starnews.co.nz

Wednesday October 27 2021 Bay Harbour News 13

Mtpleasantartex
---
14 Bay Harbour News Wednesday October 27 2021 Latest Canterbury news at starnews.co.nz

Mtpleasantartex
---
Latest Canterbury news at starnews.co.nz

Wednesday October 27 2021 Bay Harbour News 15
---
16 Bay Harbour News Wednesday October 27 2021 Latest Canterbury news at starnews.co.nz
---
CH-9086171AA

Who knew there is so much more

to cleaning your heat pump than

just vacuuming the filters?

Who knew there is

so much more to

CH-9086171AA

ADVERTISEMENT

ADVERTISING

Ferrymead

Think a quick dust or vacuum of your heat pump

cleaning

is enough to keep ityour in top condition?

heat

Taking the

time to regularly clean your filters can certainly

Cloud Cuckoo Land

help – but having a professional service every

by Anthony Doerr

pump From the Pulitzer Prize-winning author of All the Light

year is the only

than

way to ensure

just

your heat pump

We Cannot See comes a triumph of imagination and

stands the test of time and is working at fullefficiency.

the filters?

compassion, a soaring story of resilience, hope – and a

vacuuming

Who knew there is so much more

At Airify Christchurch,

Think a quick dust or vacuum our professional of your heat heat to cleaning your heat pump than

pump is enough to keep pump it in top cleaning condition? experts just vacuuming the filters?

Taking the time to regularly do more clean than your simply

Think a quick dust or vacuum of your heat pump

filters can certainly help –

clean

but

the

having

filters!

a

Our

is enough to keep it in top condition? Taking the

Premium Heat Pump

professional service every time to regularly clean your filters can certainly

Clean year & is Service the only

help – but having a professional service every

way to ensure your heat includes pump stands more than the

year is the only way to ensure your heat pump

test of time and is working 30at checks full efficiency. on your

stands the test of time and is working at fullefficiency.

heat pump system

At Airify Christchurch, our – inside professional and outside

Dave Grohl - The Storyteller

unit – to ensure peak

At Airify Tales Christchurch,

heat pump cleaning experts do more than

of Life and Music by Dave Grohl

performance, and energy / cost-effectiveness. our professional heat

simply clean the filters! Our Premium Heat

pump cleaning experts

Our technicians use high pressure cleaners and

Pump Clean & Service includes more

do more than simply

disinfectants to remove the growth of bacteria

than 30 checks on your heat clean the filters! Our

and improve pump system air flow, and treatments are applied

Premium Heat Pump

– inside and outside unit to – both to ensure the indoor and outdoor unit for maximum

Clean & Service

peak performance, and energy efficiency. / costeffectiveness.

Want to learn more about how we can help you 30 checks on your

includes more than

create a healthier home, go to www.airify.co.nz. heat pump system

Our technicians use high Or pressure get in touch cleaners today on 0800 24 74 39

– inside and outside

and disinfectants to remove the growth

unit – to ensure peak

performance, and energy / cost-effectiveness.

of bacteria and improve air flow, and

treatments are applied to both the indoor

Our technicians use high pressure cleaners and

disinfectants to remove the growth of bacteria

and outdoor unit for maximum efficiency.

and improve air flow, and treatments are applied

Want to learn more about how we can

help you create a healthier home, go to

www.airify.co.nz. Or get in touch today

on 0800 24 74 39

Latest Canterbury news at starnews.co.nz

Treasures from the past:

The Emil Ascherberg piano

COLONIAL SETTLERS of

Canterbury treasured their

precious pianos, which were not

just for entertainment but were

also a status symbol.

Additionally, they were useful

for educating young ladies in

the art of music, so as to show

off their accomplishments and

attract only the most suitable of

husbands.

In what was called the 'golden

age of pianos', these instruments

were a sought-after treasure

across the Australasian colonies

of the Victorian British Empire.

And one brand in particular

figured prominently in the 19th

century: The Emil Ascherberg,

as pictured here in the museum's

collection. Allegedly made by

their namesake in Dresden,

Germany, between 1877 and

1883, many were imported to

the Australasian markets by the

music publishers and importers

of fortepianos, cabinet organs

and harmoniums, J. Nicholson

and E. Ascherberg Inc.

Eugene Ascherberg, a composer

for voice and piano, also from

Dresden, may or may not have

been Emil's relative – or he may

have even been Emil himself.

Nonetheless, he arrived

in Melbourne in 1867 from

London. He was an initiate of

the Freemason Lodge of Australia

Felix by 1872, and in 1875

launched Australasia's first retail

music store, on Sydney's George

Street, with James Nicholson

(formerly of Bradford UK).

The piano importing partnership

lasted until 1879, when the

business dissolved and Eugene

returned to London where

he started a music publishing

business, E. Ascherberg & Co, in

1880.

Very little is known about

Emil Ascherberg, except that

he owned the Dresden factory

that made pianos under his own

brand name from 1877, although

the company was not incorporated

until 1880, the year after

Eugene arrived back from the

colonies.

In 1883, Emil ran into financial

difficulties and the piano factory

was bankrupted – at the same

time as Eugene's E. Ascherberg

& Co, importers of French and

German pianofortes in London,

also apparently went bankrupt.

book. 'Sets him comfortably alongside Tolkien, Rowling

ADVERTISEMENT

and David Mitchell, and he is a much more elegant writer

than two of those … Cloud Cuckoo Land is an impressive

achievement and a joy to read. Serious novels are rarely this fun'

The Times.Bound together by a single ancient text, the unforgettable

characters of Cloud Cuckoo Land are dreamers and outsiders figuring out the world

around them: thirteen-year-old Anna and Omeir, an orphaned seamstress and a

cursed boy, on opposite sides of the formidable city walls during the 1453 siege of

Constantinople; teenage idealist Seymour and octogenarian Zeno in an attack on a

public library in present-day Idaho; and Konstance, decades from now, who turns

to the oldest stories to guide her community in peril. Doerr has created a tapestry of

times and places that reflects our own vast interconnectedness – with other species,

with each other, with those who lived before us and those who will be here after

we're gone. Dedicated to 'the librarians then, now, and in the years to come', Cloud

Cuckoo Land is a beautiful and redemptive novel about stewardship – of the book,

of the Earth, of the human heart.

So, I've written a book. Having entertained the idea for years, and even offered a few

questionable opportunities ('It's a piece of cake! Just do four hours of interviews,

find someone else to write it, put your face on the cover, and voila!'), I have decided

to write these stories just as I have always done, in my own hand. The joy that

I have felt from chronicling these tales is not unlike listening back to a song that

I've recorded and can't wait to share with the world, or reading a primitive journal

entry from a stained notebook, or even hearing my voice bounce between the Kiss

posters on my wall as a child. This certainly doesn't mean that I'm quitting my day

job, but it does give me a place to shed a little light on what it's like to be a kid from

Springfield, Virginia, walking through life while living out the crazy dreams I had as

young musician. From hitting the road with Scream at 18 years old, to my time in

Nirvana and the Foo Fighters , jamming with Iggy Pop or playing at the Academy

Awards or dancing with AC/DC and the Preservation Hall Jazz Band, drumming

for Tom Petty or meeting Sir Paul McCartney at Royal Albert Hall, bedtime stories

with Joan Jett or a chance meeting with Little Richard , to flying halfway around

the world for one epic night with my daughters...the list goes on. I look forward to

focusing the lens through which I see these memories a little sharper for you with

much excitement.

WIN THIS BOOK

to both the indoor and outdoor unit for maximum

efficiency.

ENTER TO

WIN

THIS BOOK

book

release

We have one copy of Cloud Cuckoo Land to give away, courtesy of Take Note Ferrymead. To be in the

draw, email giveaways@starmedia.kiwi with Cloud Cuckoo Land in the subject line or write to Take Note Book

Giveaway, Cloud Cuckoo Land, Star Media, PO Box 1467, Christchurch 8140. To be eligible for the draw, all entries

must include your name, address and contact number. Entries close Tues November 9th. The book winner for

Yates Garden Guide is Dawn Shields of Heathcote.

Want to learn more about how we can help you

create a healthier home, go to www.airify.co.nz.

Or get in touch today on 0800 24 74 39

Wednesday October 27 2021 Bay Harbour News

GOLDEN AGE: The

Emil Ascherberg

piano, with its

signature ornate

clawed feet.

Te Ūaka The

Lyttelton Museum

ref 1066.1

https://www.teuaka.

org.nz/onlinecollection/603456

NEWS 17

'Emil' absconded and was

allegedly "trading pots in

Copenhagen [from] January

1884" before apparently setting

up another business as a music

publisher in London. Not much

more is known of this E. Ascherberg,

as the factory and many

records were destroyed in the fire

bombing of Dresden in WW2.

Eugene, however, continued to

run various music-related businesses

while residing peacefully

in London with his wife and

children up until his death in

1908.

Aside from these historical

ambiguities, it seems likely we

can place the year of manufacture

of our museum's Emil

Ascherberg piano, with its

signature ornate clawed feet, as

sometime between 1875 – when

the Australasian import business

began – and 1883 – when Emil's

piano factory went bankrupt and

was sold, after which the pianos

were manufactured under the

name of Ascherberg Perzina.

We look forward to displaying

this fine example of Victorian

piano making and colonial

commerces once the future Te

Ūaka Lyttelton Museum is built

to house the collection.
---
Bay Harbour News Wednesday October 27 2021

18

NEWS

Latest Canterbury news at starnews.co.nz

Danger in looking after menagerie at

Willowbank Wildlife

Reserve's founder

Michael Willis has

survived many an

encounter with the

feathered and furry

creatures in his care,

including having half

his thumb bitten off.

He talks to Susan

Sandys

What motivated you to

establish Willowbank?

Willowbank was an

establishment of a dream I

had since I was a wee boy. I

come from a large family of six

children, and we are all back

country orientated in a big way.

My father established a bach

up in the Craigieburn Valley. I

kept a whole lot of pets. I had

hares, keas, possums and hawks.

I always wanted to have a zoo,

ever since I was big enough to

read Gerald Durrell and Richard

Attenborough. When I came

back to New Zealand in my 20s,

I looked for a block of land to

establish a zoo on. I had worked

in the United Kingdom with

animals, in a wildlife refuge.

In Africa I was offered a job in

Kruger National Park but came

home instead.

CARING: Michael Willis at Willowbank Wildlife Reserve with a capybara, a South

American rodent.

PHOTO: RNZ

And you found that block

of land, where Willowbank is

today, at Northwood, in your

home city of Christchurch?

I was buying some eggs and

asked the farmer if he knew of

any land for sale. He pointed me

in that direction. It was 11 acres,

covered in gorse and broom and

rubbish and so on. It's an old

riverbed that the Waimak used

to come through. So I bought it.

It was 1968. It was ideal for what

I wanted, near the airport, near

the main road.

When did you open it?

It was 1974 before I could

open it as a wildlife park. I had

no money, so it was a very poor

excuse for a wildlife park. I built

a house on the property, we

(myself and former wife Kathy

and then two children) lived

there. I couldn't even afford to

have an entrance box. I had an

old Land-Rover and sat in the

front seat with a shoe box, and

put the money in that. It opened

Labour Weekend in 1974 and

the rest is history I suppose. All

the money we got, we just kept

putting back into it.

Did you envisage it would

become the facility it is today?

No, at that stage I wanted

a zoo. So I kept on getting

animals. I kept on getting

monkeys, mountain lions, we

had camels, we had agoutis, we

had otters, we had chimpanzees.

The chimpanzees were the

tipping point, when I realised

there was really no future in

keeping exotic animals in New

Zealand. We've got so much

exciting and valuable wildlife

that needs preservation, I

decided there was no future in

being a zoo. So my childhood

dream didn't shatter, but it

changed completely. I changed

the direction of the park

totally to become New Zealand

focussed.

Are there any exotic animals

at Willowbank today?

We still have otters, there's

talk that New Zealand had

an otter. We have capybara,

gibbons, capuchin monkeys,

lemurs and we have exotic birds

like macaws. We try and have

a story of New Zealand when

people visit here. It starts with

introduced animals, then it goes

into the exotic sections. They fit

into the story of zoos in

New Zealand.

Up to

50 % Off

*Call for Terms

& Conditions

Off

*
---
Wednesday October 27 2021 Bay Harbour News

Latest Canterbury news at starnews.co.nz

NEWS 19

Willowbank for reserve's founder

There is a big focus on New

Zealand species?

The story finishes with the New

Zealand section. This is where we

breed all our kiwi, and we have

takahe and tuatara and a wide

range of native species. When

I changed the direction of the

park, by that stage I had been

to Arapawa Island mustering

goats, and saw the wild sheep

up there. That led to a whole

field of conservation which I

hadn't thought about, which was

conserving rare breeds in New

Zealand.

Did otters live in New

Zealand?

The Southland Maori had an

animal called waitoreke. They

described this four-legged animal

that lived there. When Cook

was here, his men saw an otterlike

animal in Fiordland. Early

explorers and others reported

seeing otters. There has really

been no sightings since about

1954. One theory is (they came

from a ship after) Tamil Indians

wrecked in the area.

Otters are very cute creatures.

They are dynamite to handle.

I have had them in the house,

we have bred them and reared

babies. We bred some and the

mother couldn't feed them and

we had a cavalier king charles

spaniel belonging to my son. She

just had some pups, so I put the

two otter cubs on with her, she

looked after them with her pups.

So they bounced round with the

pups. They are dynamite, they

smell very fishy. They would get

in the pot cupboard, fly around

the pot cupboard, they like

poking into everything.

When you look back on

the years that you kept exotic

animals, do you have any

regrets at all?

The chimpanzees were an

interesting one. It's not like

keeping an animal, it's like

keeping your grandmother in a

cage. They are hugely intelligent,

hugely emotional. The public

used to jump up and down

outside their cage, hooting and

scratching themselves and so

on. The chimps would sit there

watching them, wondering what

the hell they were doing. It used

to upset the chimps actually,

they would be quiet after a busy

weekend. It makes you realise

you shouldn't have them. We

only got them because they were

in a zoo in Dunedin that closed

down, and there was no place for

them to go. I took them on, but

it took me about 12 years to find

a home for them. They went to

Mogo Zoo in Australia.

Was that a happy ending for

their story?

Charlie the male, who was a

BEST FRIEND: Charlie the chimp

was among many exotic creatures

at Willowbank. Above – Michael

Willis' daughter Kirsty, with one of

Willowbank's former mountain lions.

Kirsty and brother Mark are now adults

and help their father run the park.

real favourite friend of mine,

he was killed by another

chimpanzee. It wasn't entirely

their (the zoo's) fault, they were

trying to integrate him. It was

good for the female, she later

went to Rockhampton Zoo. She

is with a crew there, and she has

had babies and she is in a good

breeding programme. They

were probably as happy as they

had ever been with us, we spent

a lot of time with them. I had

a wonderful relationship with

them, even if Charlie took half

my thumb off, he bit it off.

He wouldn't have done that on

purpose?

It was deliberate. I had some

sunflower seed and I had my

hand like that (cupped) against

the wire, and he was picking the

seed out of my hand. Somebody

called to me and I turned my

head away to answer them, and

his finger shot out and grabbed

my hand and pulled it against

the netting so my thumb went

through and he went "bang", got

it.

Were you still friends with

him after that?

He was strutting around

the place weeks after that, full

of himself, top dog. So after a

while, when I got myself back

together again, I went down

there and had a plasterer's

trowel in my hand. I put some

sunflower seed just outside the

cage. He put his fingers through

to get the sunflower seed. I

went "whack" (smacking his

fingers with the trowel). Then

we were the best of friends. He

was lovely, you would go down

there, I would be able to hold

his hand. We would kiss each

other through the netting and

he would hoot away, we had a

wonderful relationship. He

knew all the hierarchy of the

staff, who had just started,

who was the boss and who

wasn't. He knew who to have on.

Really incredibly clever, really

special.

• Turn to page 20
---
Bay Harbour News Wednesday October 27 2021

20

NEWS

Latest Canterbury news at starnews.co.nz

'She was going to kill me'

• From page 19

Have you had other injuries

from animals?

I had an emu that knocked

the hell out of me. I had to be

stitched up from that. Both

hands were ripped up by a wild

boar which just flew at me. I was

going backwards with my hands

out, and he just ripped my hands

to pieces. I was almost killed

by a highland cow. She was bad

tempered. She had a sick calf, I

wanted to give it antibiotics. I

went out to bring her into the

yards. She took one look at me

and she just went straight into

me, tossed me in the air, got me

on the ground. I was hanging

onto her horns, one in each hand.

She had her head in my chest,

she was ripping around and

punching holes in my thighs. She

threw me over the fence. I was

really badly bruised and holed.

She was going to kill me.

As well as having all the

animals at Willowbank, do you

have pets at home?

I have some exotic parrots,

macaws, cockatoos, black

cockatoos, some cochin chooks,

couple of donkeys, couple of

horses, african four-horned

sheep, african pygmy sheep,

meatmaster sheep. I have

miniature zebu cattle, which are

the only ones in New Zealand

that have been recorded,

miniature galloway cattle,

chinese geese.

What is your role today at

Willowbank?

Managing director. My

daughter Kirsty and son Mark

have both come back into the

park in different roles. They are

both directors. Kirsty and her

husband Dale Hedgcock are here

day to day. She does the internal

management, and he manages

the outside to a large extent.

Mark does the promotional work

and public relations. I don't feed

the animals now. That's why I

have my place at home, I have to

have my animals.

Do you have any favourite

animals at Willowbank?

Everybody asks me that. No,

they are all different. Some are

pretty, some have got a fantastic

personality, some are serious,

some want to love you and you

can't get away from them. They

are all different, so I don't really

have a favourite one.

CREATURES GREAT AND

SMALL: Willis with a camel

and other park inhabitants

in the early 1980s.
---
Latest Canterbury news at starnews.co.nz

Wednesday October 27 2021 Bay Harbour News

FOOD 21

Sweet treats for dessert or a snack

With daylight

saving here, there's

a promise of

summer and warm

temperatures to

come. These cold

desserts are plentiful

for when visitors are

due

Cheesecake slice

Serves 10

Ingredients

Base

2 packets Super Wine or plain

Digestive Biscuits, place in food

processor

2 teaspoons cinnamon

250gm butter (melted)

Process the biscuits into fine

crumbs and tip into large bowl,

add cinnamon and butter and

mix together thoroughly. Press

crumbs into largest springform

pan (or even bigger container if

one is available) that has been

well greased and lined baking

paper, chill in the fridge while the

filling gets made.

63 x 180

1kg cream cheese

Filling

2 cups caster sugar, place in

mixer bowl with

500g sour cream

2 teaspoons vanilla paste

6 eggs (beaten)

Zest of four lemons

Directions

Beat caster sugar/cream cheese

until smooth, add sour cream,

vanilla paste and eggs, mix well

until smooth and well blended.

Add lemon zest and mix

through thoroughly. Pour mixture

over base, place in oven on a biscuit

tray to allow for any spillage,

and bake for 1hr and 50min, or

until golden, puffed and set in the

centre, turn oven off and leave in

oven to go cold (overnight is fine).

When cold, cut into wedges.

Blueberry cheesecake

Serves 6

Ingredients

125gm cream cheese, place in

mixer bowl with

1 egg

¼ cup caster sugar

30g butter

1 teaspoon vanilla bean paste

1/3rd cup blue milk

1 cup self-raising flour (sifted)

125gm (1 punnet) blueberries

FLAVOURS:

Use

blueberries as

a garnish for

cheesecake

or as an

ingredient.

Directions

Mix cream cheese/egg/caster

sugar/butter/vanilla bean paste

together for 2-3min until light

and creamy.

Add milk and beat on low to

combine, add flour, mix through

thoroughly, then fold blueberries

through.

Melt butter onto and drop large

serving spoonfuls of batter onto a

hot surface. Cook through.

Whipped cream cheese topping

Ingredients

125gm cream cheese, place in

mixing bowl with

2 tablespoons caster sugar

2 teaspoons blue milk

2 teaspoons vanilla bean paste

Extra blueberries

Directions

Beat cream cheese/caster sugar/

milk/vanilla bean paste for 1-2

minutes until fluffy. A little more

milk may be added to make

the mixture more spreadable, if

desired.

Easy pavlova

Serves 6

Ingredients

8 large egg whites, place in mixer

with two cups caster sugar,

1 desert spoon malt vinegar, 1

desertspoon vanilla essence

Directions

Beat a full speed for 12-15min

until very stiff.

Mould mixture into shape

on a well greased tray that has

been lined with at least two

thicknesses of baking paper and

splashed with a tiny amount of

water.

Bake at 150 deg C for 30min,

then reduce temperature to 100

deg C or 1 hour.

Let it go completely cold in the

oven.

Up to

50 % Off

*Call for Terms

& Conditions

Off

*
---
22 Bay Harbour News Wednesday October 27 2021 Latest Canterbury news at starnews.co.nz

REAL ESTATE

Menzies Pop! – Award

Winning Beachside Home

8 Menzies Street, Sumner

Onsite Auction: 12 noon

Saturday 6 Nov. (unless sold prior)

3 bedroms 2 bathrooms 1 kitchen/dining

1 livingrooms 1 off street park - RX3007454

Open Homes: Thursdays 12.30-1.15pm,

Saturdays and Sundays 2-3pm

It's rare to find an architect's own home for sale

let alone the home of two architects. This

house, winner of multiple awards at the highest

level, is the 'holy grail' for design aficionados.

The renovations & extension undertaken by

Architects Daniel & Kate Sullivan, of COMMON,

have been a labour of love spanning almost a

decade. The list of accolades and media

exposure is deservingly long, the home's

notoriety is testament to quality and design.

Starting from a unique insitu cast concrete &

concrete block exterior skin form, the layers

of detail are without peer, making Menzies

Pop! irreplaceable and a true example of

improving one's life through design.

Located only four doors from the beach in

highly sought after Sumner location

All day sun, fully insulated & integrated heat-

ing systems for supreme comfort

Passive solar design, thermally broken

aluminium double glazing & opening roof lights

Lounge enjoys the comfort of a wood burner

& richness of teak veneer joinery & rimu floor,

elements that extend to the library/ office

Kitchen with formed brass benchtop and surround,

stained oak fronts, excellent storage, repurposed

rimu island benchtop, the total package

Casual living extends beyond kitchen/dining

to the sheltered suntrap deck and garden

Accessed via custom steel floating stair, the

mezzanine bedroom & bathroom suite cleverly

play with volume & offer views to the hills beyond.

Easy care landscaped garden. Fully irrigated

+ warm water outdoor shower

Additional studio space & garden shed

Plenty of storage for bikes, bins, etc.

There was never a thought that this home

would ever be sold. The creative urge could

not be contained and after an opportunity

arose the decision has been made to embark

on another project. Menzies Pop! is one of a

kind and this is a very special opportunity to

buy a very impressive home.

Nick Cowdy

Mob. 021 162 5997

Tim Davis

Mob. 027 245 9987

Cowdy, (Licensed: REAA 2008)

ADVERTISING FEATURE

Up to

50 % Off

*Call for Terms

& Conditions

Off

*

ADJUSTABLE MASSAGE BED

by
---
Latest Canterbury news at starnews.co.nz

Wednesday October 27 2021 Bay Harbour News 23

Jump into summer with our

LABOUR DAY

STOREWIDE

SALE

ALL BEDROOM, LOUNGE, DINING, OUTDOOR ON SALE! Ends 01.11.21.

RIVA RECLINERS

ON SALE

ALL DINING CHAIRS

ON SALE

Ashville

Dining Chair

– Grey

WAS $

165

NOW

$

125

Peyton PU

Dining Chair

WAS $

145

NOW

$

115

Vintage

Dining Chair

WAS $

140

3 Seater Recliner

NOW $

1999

Recliner

NOW $

999

NOW

$

95

Bedside

NOW $

275

LARVIK BEDROOM

Queen Bed

NOW $

799

ON SALE

PARIS BEDROOM

ON SALE

Queen Bed

NOW $

799

Tallboy

NOW $

799

Tallboy

NOW $

699

Bedside

NOW $

300

HEAPS of HOT DEALS!

Dallas Queen Bed

WAS $

449

NOW

$

299

SCAN QR TO SHOP

Lincoln 4 Seater

WAS $

2699

NOW

$

1999

Lincoln 2.5 Seater

WAS $

1899

NOW

$

1499

Scan to find store

250 Moorhouse Ave, Christchurch

0800 TARGET (0800 827438)

targetfurniture.co.nz

Offers and product prices advertised here expire

01/11/21. Sale Excludes Accessories.
---
Bay Harbour News Wednesday October 27 2021

24

PUZZLES

CRYPTIC CROSSWORD

1 2 3 4 5 6

7

8 9 10

12 13 14 15

16 17 18

19 20 21 22

23

29/10

11

Latest Canterbury news at starnews.co.nz

Across

7. Things one recalls concerning

assemblages of paintings (13)

8. Where blood is concerned, a matter

of give-and-take (11)

12. Again show what happened about

the drama (6)

14. Set a high value on being met: see it

differently (6)

16. Inspiration may be drawn from the

bar (6)

18. Rich man taking time to strip one (6)

19. Give proof of how modest a rent

may be (11)

23. In fit relationship to poor parent, one

might put it (13)

Down

1. Lonsdale's recognition of a sharp

blow (4)

2. Last thing for musician to play held

up in braggadocio (4)

3. Vitreous look girl has, being held by

non-u guy (6)

4. Charge one, having put copper in the

wrong case (6)

5. Motorway, one I'd turned up in the

south of France (4)

6. In one instant it's on an alteration (4)

9. Completely full reel pet makes of it (7)

10. Have too much intake: get too 'ot?

(7)

11. Black spot must take its third ahead

(4)

12. Port of red stone (4)

13. Proverbially industrious worker may

be a soldier (3)

15. Almost jump over the rope to go on

the piste (3)

17. Country suffers a loss, being in need

of food (6)

18. Hold one back while arranging date

at home (6)

19. One is ignorant of being kept in it (4)

20. Poem about which one will be

listless (4)

21. A female, relatively (4)

22. Young pigs held up by the rustlers

(4)

SUDOKU

Fill the grid so that every column, every row and 3x3

box contains the digits 1 to 9.

QUICK CROSSWORD

1 2 3 4 5 6

7

8 9

10 11

12

13 14

15 16

17 18 19

20

21 22

23 24

Across

1. At a distance (4)

4. Lethal (6)

8. Relating to the heart

(7)

9. Cut off (5)

10. Impoverished (4)

11. Biased (3-5)

13. Resign (4,5)

17. Small space rock

(8)

19. Holler (4)

21. Brushed leather (5)

22. Alligator pear (7)

23. Girl (Scottish) (6)

24. Family diagram (4)

Down

2. Enraged (7)

3. Destroy utterly (4)

4. Sterilise (13)

5. Hired killer (8)

6. Extremely angry (5)

7. Unrefined (5)

8. Limits (4)

12. Unafraid (8)

14. Lift up (7)

15. Midriff (5)

16. As well (4)

18. Eighth letter of

Greek alphabet (5)

20. Surprise, shock (4)

CODECRACKER

QUICK CROSSWORD

Across: 1. Afar, 4. Deadly, 8. Cardiac, 9. Sever, 10. Poor, 11.

One-sided, 13. Step aside, 17. Asteroid, 19. Yell, 21. Suede, 22.

Avocado, 23. Lassie, 24. Tree.

Down: 2. Furious, 3. Ruin, 4. Decontaminate, 5. Assassin, 6.

Livid, 7. Crude, 8. Caps, 12. Fearless, 14. Elevate, 15. Waist, 16.

Also, 18. Theta, 20. Jolt.

CRYPTIC CROSSWORD

Across: 7. Recollections 8. Transfusion 12. Replay 14. Esteem 16.

Breath 18. Divest 19. Demonstrate 23. Proportionate.

Down: 1. Belt 2. Coda 3. Glassy 4. Accuse 5. Midi 6. Anon 9.

Replete 10. Overeat 11. Smut 12. Ruby 13. Ant 15. Ski 17.

Hungry 18. Detain 19. Dark 20. Mope 21. Aunt 22. Elts.

TARGET

fells flesh flush fouls fuels

fuse hoes hose house hulls

lose louse loves lush ousel

self sell shelf shell shoe

shove shovel SHOVELFUL

shul sloe slue sole solve

soul

MEDIUM HARD

EASY

TARGET

L E O

H S F

L U V

Good 14

Very Good 20

Excellent 25+

ALL PUZZLES © THE PUZZLE COMPANY

How many words of four letters or more can you

make? There is at least one nine-letter word.

Each letter may be used only once and all

words must contain the centre letter.

No words starting with a capital, no plurals

ending in s unless the word is also a verb, e.g.

he fires the gun.

Mon-Thurs: 7am - 4pm

Fri-Sun: 7am - 5pm
---
2013 Volkswagen

Tiguan TSi

h tp: /kaywa.me/8aVDQ

Download the Kaywa Qr Code reader (A p Store &Android market) and scan your code!

my Kaywa Qr-Code

w.valuecarswarehouse.co.nz

CELLULAR

See page 5 for more info!

2

h tp: /kaywa.me/8aVDQ

Download the Kaywa QR Code Reader (a p Store &android Market) and scan your code!

REVERSE CAMERAS

My Kaywa QR-Code

w.valuecarswarehouse.co.nz

PARKING SENSORS

0800 212 777

Ce l 021 855 884

GPS/TRACKING

motor vehicle purchase

See our ad on page 2

Latest Canterbury news at starnews.co.nz

Wednesday October 27 2021 Bay Harbour News 25

Big Highlander V6 leads the charge

TOYOTA COULD well have

been excused for abandoning its

popular large sport utility vehicle,

the Highlander.

You see, the V6 version is a

car that is going to get clobbered

in January by the Government's

Clean Car Programme tax, it will

certainly cop a $4600 price rise

that will be used to fund rebates

on electric cars and hybrids.

However, Toyota is in tune with

market demands and the new

Highlander is not only available

with just that wonderful V6 engine,

there are also three hybrid

variants that have just landed.

The five-model Highlander

range goes something like this,

the GXL entry-level model this

evaluation focuses on comes in at

$60,990, while an extra $3k will

buy you into Limited specification.

There are three hybrid

models that utilise an uprated

2.5-litre, four-cylinder/electric

drivetrain that we first saw in

RAV4 hybrid. The GXL hybrid

also lists at $63,990, a Limited ZR

sits at $74,990, in-between sits a

$66,990 Limited.

All have four-wheel-drive and

all are seven-seat models, which

is one of the reasons why Highlander

has been such a popular

model in the past. As such, it

could well be regarded as the

quintessential large SUV.

The Highlander V6 has lost

none of the credentials that have

appealed to drivers who like the

freedom of petrol power up front,

and power that is quite substantial

– Toyota claiming 218kW and

350Nm.

Toyota is also fully aware a big

engine in a big car never looks

good for fuel economy. However,

the company has decreased the

newcomer's consumption remarkably

thanks to clever engine

management mapping and the

introduction of an idle stop-start

system.

Fuel usage is now rated at

8.8-litres per 100km on a combined

cycle average, down from

9.5l/100km. I spent a lot of time

commuting in city traffic, so

my overall average didn't match

Toyota's, but when I took the

test car back to the dealership it

was still showing a respectable

10.2l/100km. On my highway run

the engine sipped fuel instantaneously

at the rate of 7l/100km at

100km/h, the engine turning over

barely above idle at just 1400rpm.

The big V6 engine has served

Toyota well, its origins hark way

back to early Prado, Camry and

Aurion days, the Blade Master

(pre-owned import), Hilux and

several Lexus models. As such,

it has been constantly refined

to the point where it is very

FAMILY-FRIENDLY: Toyota's Highlander SUV offers room

for comfort and cargo space.

TOYOTA HIGHLANDER GLX: Powerful petrol engine or hybrid driveline to choose from.

much a market leader in terms

of sophistication. Such is its

smoothness it's hard to fathom

with a displacement of 3456cc all

that reciprocating mass could be

so unflustered. It is also a flighty

engine when required, it sings

freely through the rev band and

likes to show off its strength.

Drive is carried through an

eight-speed automatic transmission,

once again it is a beauty

with undetectable shifts and a ratio

structure that promotes quick

acceleration and relaxed engine

operation at highway speed.

The more ratios that are

packed into a gearbox always

provide a smoother driving

experience, and the Highlander's

driveline is a beauty, it also ushers

in quick acceleration with a likely

standstill to 100km/h time of

8.5sec and an overtaking time of

5.5sec to make 120 from 80km/h.

I took the test car on my usual

loop west to Windwhistle, utilising

a short shingle section near

Glenroy to scope out the road to

the Washpen Falls walking track.

There are a few corrugations on

that road, but from the outset the

Highlander impressed with its

suspension control over the ruts

and its ability to put power to

ground. The tyres on the test car

were a Toyo compound (235/65 x

18in) and they extracted grip well

along with providing a quiet ride

• Price – Toyota Highlander

GLX, $60,990

• Dimensions – Length,

4950mm; width, 1930mm;

height, 1730mm

• Configuration – V6,

four-wheel-drive, 3456cc,

218kW, 350Nm, eightspeed

automatic

• Performance – 0-100km/h,

8.5sec

• Fuel usage – 8.8l/100km

on sealed surfaces.

The same could be said of the

entire vehicle, it sits on the outer

periphery of the luxury car market

so its levels of noise, vibration

and harshness are extremely low.

That makes for a relaxing highway

cruise.

The steerage and suspension

combine to provide an almost

sporty sensation from behind the

wheel, and that takes into account

that at just under two-tonne it is a

heavy wagon, yet it feels composed

and far from bulky when a

tricky corner presents itself.

Toyota has built the new

Highlander on a completely new

platform that makes it a little bigger

than before, but still offers the

fundamentals underneath that

give it cross-country prowess. For

those who want to take the family

camping to those high country

lakes or tackle the skifield access

road, the Highlander is vastly

capable with various driver-selectable

modes depending on the

surface ahead and the speed at

which it can be challenged.

While many of the Highlanders

mechanicals are a carryover, the

shape of the newcomer is more

dynamic and bolder, Toyota are

making no excuses for the size of

the vehicle, they want it to look

big and it is.

Even in GXL form it reeks of

sophistication, it is comfortable

and has a wealth of specification.

If you want leather trim you'll

need to opt for the Limited variant,

but I far prefer cloth and the

GXL's trim is still very inviting,

especially on a frosty Canterbury

morning. It must also be said

the Highlander in this form has

a high grade interior, the plastics

and trim elements are all high

grade and the layout of the controls

is intuitive and user-friendly.

The Highlander has long been

sourced from Toyota's United

States manufacturing operation,

and nothing has changed there.

Quality is high and the familyfriendly

sport utility vehicle

concept hasn't been altered.

Look soon for an evaluation

on the hybrid Highlander,

I'm scheduled into it and I'm

really looking forward to that

experience.

has motoring covered!

Incorporating

ISSUE 667 | FrIday 20 novEmbEr 2020

sherborne st, edgeware

iggest range of vehicles

location!

2011 Jaguar

XF Premium

$18,999

See inside for this week's

4WD feature!

se Ave | P: (03) 366 7768 | www.valuecarswarehouse.co.nz

See page 4 for more info!

free

best motorbuys

Incorporating

ISSUE 668 | FrIday 27 NovEmbEr 2020

275 Colombo street, Christchurch

For more see their advert on pages 6 & 7

Ce l 021 855 884

Incorporating

ISSUE 669 | FrIday 4 dEcEmbEr 2020

See inside for this week's

Classic Car feature!

PH 03 web

www.drivesouth.co.nz

One Owner!

40 Years Finance

Experience

Cannot be Beaten!

• Talk to us about finance for your next

motor vehicle purchase

Specialising in Finance for Private Purchases

Very quick approvals, sensational interest rates

• From no deposit (terms & conditions may apply)

Hiace spares

Cnr Main South Rd and Epsom Rd, Christchurch

Ph: 03 348 4129 | avoncityford.com

2015 IsuZu D-mAX

4WD Ls D/CAb

NZ new, 3.0 intercooled turbo/dsl,

auto, rare flatdeck with ladder/pipe

racks, reverse cam, service history.

$34,995 $192pw

For more see their advert on page 31

free

best motorbuys

www.drivesouth.co.nz

See inside for this week's

marine feature!

free

best motorbuys

The South Island's leading motoring resource,

filled with news, reviews and dealer listings.

From family cars to work trucks, and supercars

to SUVs. No matter what you're looking for,

you can find it all with Drivesouth.

Magazine available for FREE every Friday

at a convenient pick up point near you!

The biggest range of vehicles

in one location!

Now Available @ NZ Van Spares

www.drivesouth.co.nz

2.4 auto, alloys, ABS, twin airbags.

2005 toyota rav

$20,999

$9,990

40 Years Finance

2008 bmW 320i

2.0lt Petrol, 5 Dr Station wagon,

Climate Control, ABS Braking,

.nz

CAR AUDIO

AUDIO VISUAL

CAR SECURITY

32 Moorhouse Ave | P: (03) 366 7768 | www.valuecarswarehouse.co.nz

MOBILE INSTALLATION SERVICE

RADAR DETECTORS

DASH CAMERAS

Cannot be Beaten!

$10,974 NoW $7,974 + orC

Experience

Automatic. $34.63pw.

AERIALS

• Talk to us about finance for your next

Specialising in Finance for Private Purchas

• Very quick approvals, sensation

• From no deposit (term
---
26 Bay Harbour News Wednesday October 27 2021 Latest Canterbury news at starnews.co.nz

152,504 reasons

to advertise with us!

2021 ABC average issue circulation — Star Max vs Press

200,000

The Star

Max *

152,504

circulation

100,000

The Press *

The latest NZ Audit Bureau of

Circulations report is out and

it shows that The Star Max

provides you more circulation

than any other newspaper in

New Zealand.

0

30,256

circulation

Grow more customers, sales and profits for your business,

Call us now for a free advertising consultancy.

Here's what our customers have to say:

We advertise Affordable Furniture specials

in The Star every week and are extremely

pleased with the results.

We find that the large circulation and

readership, really works for reaching our

target market and growing our customers.

We get people coming in with our ad and

asking about the specials we advertise.

We have been benefiting from the

Christchurch Star and Community papers

for 20 years and see no end to it.

Andrew Idour – Managing Director,

Affordable Furniture

After 4 years advertising in the Bay

Harbour News, I decided to widen

my audience by using the Star.

I am very happy with new ad

placement.

My husband Tim was in the shop

today and 2 ladies had come in

to check us out because they had

seen the ad!!! Oh yes they did buy

some goodies!!

Rose Lindley – Mumma Bear

We have advertised with The Star

over the years.

Advertising in The Star we feel we

get more response and feedback

than any other marketing.

We are lucky to have such a great

free paper in the community.

Thanks team Star.

Mark Glanville FDANZ CERT

– Manager and Funeral Director

Phone 03 379 7100

Email shane@starmedia.kiwi

Office Level 1/359 Lincoln Road, Addington

*Source: 2021 ABC Audit Report — Star Max vs Press ANP average total circulation each issue

*Star Max — The Star, Bay Harbour News, Selwyn Times, North Canterbury News
---
Latest Canterbury news at starnews.co.nz

Wednesday October 27 2021 Bay Harbour News 27

Classifieds Contact us today Phone our local team 03 379 1100

Real Estate

HOME WANTED 3-4

bedrooms. Looking in Nor

West areas, Beckenham

or Somerfield. Prefer

permanent material brick

and post 1990 build. Don't

mind if it needs some TLC

- anything considered.

Cashed up buyer. Phone

021 372 479

Trades & Services

CARPET LAYING

Exp. Repairs, uplifting,

relaying, restretching.

Phone John on 0800

003181, 027 240 7416

jflattery@xtra.co.nz

CHIM CHIM CHIMNEY

SWEEPS

We'll sweep your

logburner's flue, check

firebricks, baffles, airtubes

& controls. We're experts

on coal-rangers, and can

sweep any sized open fire.

We quote & undertake

repairs, flue extensions &

install bird netting. 0800

22 44 64 www.chimchim.

nz

ELECTRICIAN.

JMP Electrical.

Experienced & registered..

Expert in all home

electrical repairs &

maintenance.Call James

027 4401715

ELECTRICIAN

Andrew Martin Electrical.

25 years experience.

Specialize in home

renovations, repairs and

maintenance. Call Andrew

0274 331 183

GUTTER CLEANING

HOUSE WASH

Total gutter / spouting

clear out & clean. House

wash & windows. For a

professioanl & reliable

service call Greg Brown

A1 Spouting Cleaning 027

616 0331 or 384 2661

GUTTER CLEANING

SUMMER SPECIAL

Total gutter/spouting

cleaning and repairs.

For Fast and friendly

Service call Canterbury

Spouting Services on 0508

SPOUTING or 022 375

8506. FREE QUOTES

HOME

IMPROVEMENTS

Decks, fencing, retaining

walls, kitchens, sleepouts,

kitsets, renovations and

more. Greg 022 475 8227

LAWNMOWING

You Grow I Mow. Free

quotes. Phone Chris 021

252 1801

To Let

RENT ME!

Ideal as an extra

bedroom or office.

no bond required

Fully insulated and double glazed for warmth.

Three convenient sizes from $80 a week:

Standard 3.6m x 2.4m

Large 4.2m x 2.4m | Xtra-large 4.8m x 2.4m

Visit our website

www.justcabins.co.nz

for display cabin locations

www.justcabins.co.nz

DIRTY TILES

& GROUT?

Our unique restoration

processes will make your

tiled areas look NEW again!

We specialise in professional

cost effective solutions for

all your tile & grout issues.

• Tiled shower makeovers

• Re-colouring old grout

• Mouldy silicone replacement

• Professional tile/grout

cleaning, sealing & repairs

Call today for a FREE quote on 0800 882 772

www.theprogroup.co.nz/dpc9385

Your local professional

FOR ALL YOUR

PLUMBING,

GAS &

DRAINAGE

• Bathroom repairs

• Renovations

• Leaks

• Blocked drains

• Gas and drainage

Carol and Chris

Phone 376 5322 or email

chcheast@laserplumbing.co.nz

Trades & Services

Atkinson Construction Ltd

• Local qualified builder

• Over 30 years experience

• Building alterations

• Maintenance

• No job too big or small

Dean: 021 480 093

atkinsonconstruction@xtra.co.nz

SCRAP METAL

Dominion Trading Co Ltd

• Scrap metal buyers

• Canterbury owned & operated

• Top prices paid $$$

• Open Saturday morning

Open Mon-Fri 8am – 4.30pm Sat. 8.30am-12.30pm

www.happyscrappy.co.nz

03 343 9993 333 Blenheim Rd

WINDOW TINTING

tintawindow

advanced film solutions

99% uv block

fade protection

heat control

reduce glare

25 Years Experience

privacy films

frosting designs

non-darkening films

Workmanship Guaranteed

Lifetime Warranties on Most Films

UV

block

Free Quotes Canterbury and Districts

03 365 3653 0800 368 468

Trades & Services

PLUMBER

Do you need a reliable

plumber? Quality and

timely services. No job

too big or small. Phone

V Plumbing Ltd. 022 351

4125

ADD SOME

COLOUR

TO YOUR ADVERT!

Wanted To Buy

AAA Buying goods

quality furniture, beds,

stoves, washing machines,

fridge freezers. Same day

service. Selwyn Dealers.

Phone 980 5812 or 027

313 8156

Situations Vacant

Local Democracy

Reporter

- North Canterbury

Job type: Fixed term – 24 months

Location: Rangiora

Closing date: October 29, 2021

Are you an outstanding reporter looking for a new challenge and wanting

to serve your community?

Allied Press, with the support of RNZ and NZ On Air's Public Interest

Journalism Fund, is hiring a journalist to join Local Democracy Reporting in

2022 and 2023 from the North Canterbury News office in Rangiora.

You will be covering local authorities and other publicly-funded

organisations, but also going out and talking to the people affected by

these organisations' decisions, sharing their stories, and coming up with

your own stories on similar topics.

Your focus will be providing great public interest journalism coverage daily

throughout the North Canterbury region including Waimakariri, Hurunui

and Kaikōura. This is a multi-media role so experience in video, audio and

photography would be an advantage.

You will report to Allied Press' North Canterbury bureau chief. You will

receive extra training and support from RNZ, and your work will be made

available at the same time to all of the programme's media partners,

including RNZ.

This could be a junior, intermediate or senior role depending on the

successful candidate. We are looking for someone with as many of the

following qualities as possible. You don't need all of these to apply, but you

do need to have at least two years' reporting experience (although in some

cases we may also consider exceptional applicants with only one year's

experience).

• Able to spot a strong story and make it come alive for your audience

• Able to meet the highest standards of accuracy, fairness and balance

• Understanding of Te Tiriti o Waitangi

• Some knowledge of local government

• Excellent writing skills

This is a full-time role for a fixed term (through to 31 December 2023).

Assistance with relocation costs may be considered.

Applications close October 29, 2021.

Please submit your CV along with your cover letter and work samples to

recruitment@alliedpress.co.nz

Visit RNZ's website for more

information about the LDR service:

Thursday, August 2, 2018 | Issue 808 | www.ncnews.co.nz

https://www.rnz.co.nz/news/ldr

ADVERTISE YOUR

BUSINESS HERE

Phone for further details

(03) 379 1100
---
28 Bay Harbour News Wednesday October 27 2021 Latest Canterbury news at starnews.co.nz

STYLE & QUALITY

FOR LESS

STOREWIDE SALE

SALE

Dark Green

Golden

Greenery

WAS $1539

$

1279 Madison 3 Seater

Armchair $999 $899

WAS $1899

$

1799

Vana 3 + 2

SALE

Rustic Bar

Stool

SALE

Marley Outdoor Dining Chair

Gunmetal & White

Haus Bar Stool

Avalible in:

Vintage Grey, Cognac,

Dark Brown, Black

WAS $1899

$

1799

WAS $199

$

179

WAS $249

$

219

Piha Extension

Outdoor Table Black or White

W207-267 x D105 x H74 CM

WAS $179

$

149

Sardinia Living

Collection

Nova Bedroom

Collection

Buffet $1429 $1269

Hall Table $719 $629

Coffee Table $839 $739

Bedside $239 From $219

Bedframe $939 From $889

Under Bed Drawer $179 From $169

6 Drawer Tallboy $879 $829

6 Drawer Lowboy $769 $739

Floor Stock Bedroom Clearance

7 draw Highboy Mega Queen Bed

3 draw

Bedside

Pop-Up Bed and Trundler -

King Single

WAS $979

$

899

WAS $159

$

139

WAS $399

$

339

WAS $949

$

849

FREE

CARPARKING

SOUTH CITY

BATH ST

WE ARE

HERE

255 MOORHOUSE AVE

REBEL SPORT

COLOMBO ST

MON-FRI 9:30AM – 5:30PM

SAT-SUN 10AM – 5:30PM

0800 268 264

www.affordablefurniture.nz
---
Latest Canterbury news at starnews.co.nz

Wednesday October 27 2021 Bay Harbour News 29

T H I S IS US | OU R LI F E | OU R ST O R Y | O U R H O M E

60 MAJOR HORNBROOK ROAD | MT PLEASANT

HOMECHRISTCHURCH.CO.NZ

HOME CHRISTCHURCH LIMITED, LICENSED REAA 2008
---
30 Bay Harbour News Wednesday October 27 2021 Latest Canterbury news at starnews.co.nz

H O M E

MARKET UPDATE | SUMMER IS COMING

Do we stay or do we sell?

This is a question that we get asked daily, as we get closer to summer we are seeing more properties

coming to the market. The bays have seen "all-time highs" when it comes to property prices, but is now the

right time to sell?

When you are selling you are also buying back into the same market, unless you make the choice to wait

and see what the market is going to do later down the track. This is a very tough one to navigate because

the majority of properties are going to auction which means you have to be unconditional unless you do

find a property that is a deadline sale where you can submit an offer subject to sale of your home. If you do

sell, you run the risk of not securing a property and having that impending move date looming over your

head. And ultimately you might buy something because you have to, not because you want to or it's the

right choice.

Make your move the right move.

If you want the right honest advice, reach out to your local HOME specialist today and see what their

thoughts are.
---
Latest Canterbury news at starnews.co.nz

Wednesday October 27 2021 Bay Harbour News 31

H O M E

60 MAJOR HORNBROOK ROAD

#LIST WITH THE LOCALS

AUCTION | 11AM, 20 NOVEMBER 2021

ONSITE (UNLESS SOLD PRIOR)

Luxury family living in sought after location

Designed by Bespoke Architecture & built by John Ross Architectural

Builders they have thoughtfully combined high-end sophistication

alongside family practicality, the exterior showcases artisanal finishes in

a warm brown with a gray undertone, the coastal palette reflective of

the pacific ocean which can be seen twinkling from the windows of the

upper level.

Set over two levels, the luxurious interiors of the upper floor are

perfectly designed to maximise natural light. Grand expanses of glass

are pronounced throughout, and an open-plan living and dining room

delivers great family flexibility and largescale entertaining potential.

Outside, generous flat lawns confirm immediate alfresco enjoyment for

the whole family. Shelter from the easterly wind and all-day sun makes

this a sought-after indoor-outdoor flow.

4 BED 3 BATH 2 CAR

825 M2

(MORE OR LESS)

• Architectural design, built in 2020

• Tightly held hill position

• Zoned for Mt Pleasant Primary School

• Sheltered entertainers dream

• Abundance of off-street parking

60 MAJOR HORNBROOK ROAD
---
32 Bay Harbour News Wednesday October 27 2021 Latest Canterbury news at starnews.co.nz

SOLD PROPERTY

211 PINE AVENUE

$629,000

10 ENGLAND STREET

$551,000

4 COTTON STREET

$690,000

51 NORTH AVON ROAD

$715,000

2/122 COLOMBO STREET

$707,000

95 MARLOW ROAD

$580,000

YOUR HOME SPECIALISTS

EDDIE SPRY

021 156 5884

EDDIE@HOMECHCH.CO.NZ

KIEREN GRAY

021 363 944

KIEREN@HOMECHCH.CO.NZ

KIERAN BALL

021 281 1220

KIERAN@HOMECHCH.CO.NZ

KURT POLSON

027 465 6797

KURT@HOMECHCH.CO.NZ

ABEL GORE

022 375 9971

ABEL@HOMECHCH.CO.NZ

1 8 6 MA I N RO A D , RE D C L I F F S

03 930 1323

HOMECHRISTCHURCH.CO.NZ

HOME CHRISTCHURCH LIMITED, LICENSED REAA 2008