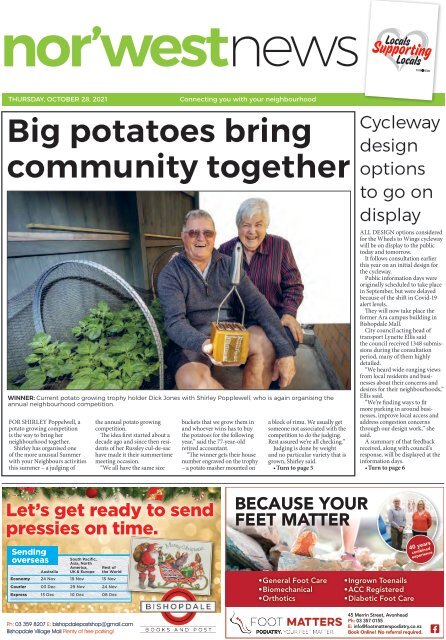 Nor'West News: October 28, 2021
Create successful ePaper yourself
Turn your PDF publications into a flip-book with our unique Google optimized e-Paper software.
Locals

Supporting

Locals

THURSDAY, OCTOBER 28, 2021

FOR SHIRLEY Poppelwell, a

potato growing competition

is the way to bring her

neighbourhood together.

Shirley has organised one

of the more unusual Summer

with your Neighbours activities

this summer – a judging of

the annual potato growing

competition.

The idea first started about a

decade ago and since then residents

of her Russley cul-de-sac

have made it their summertime

meeting occasion.

"We all have the same size

Connecting you with your neighbourhood

Big potatoes bring

community together

WINNER: Current potato growing trophy holder Dick Jones with Shirley Popplewell, who is again organising the

annual neighbourhood competition.

buckets that we grow them in

and whoever wins has to buy

the potatoes for the following

year," said the 77-year-old

retired accountant.

"The winner gets their house

number engraved on the trophy

– a potato masher mounted on

a block of rimu. We usually get

someone not associated with the

competition to do the judging.

Rest assured we're all checking.''

Judging is done by weight

and no particular variety that is

grown, Shirley said.

• Turn to page 5

Cycleway

design

options

to go on

display

ALL DESIGN options considered

for the Wheels to Wings cycleway

will be on display to the public

today and tomorrow.

It follows consultation earlier

this year on an initial design for

the cycleway.

Public information days were

originally scheduled to take place

in September, but were delayed

because of the shift in Covid-19

alert levels.

They will now take place the

former Ara campus building in

Bishopdale Mall.

City council acting head of

transport Lynette Ellis said

the council received 1348 submissions

during the consultation

period, many of them highly

detailed.

"We heard wide-ranging views

from local residents and businesses

about their concerns and

desires for their neighbourhoods,"

Ellis said.

"We're finding ways to fit

more parking in around businesses,

improve local access and

address congestion concerns

through our design work,'' she

said.

A summary of that feedback

received, along with council's

response, will be displayed at the

information days.

• Turn to page 6

Let's get ready to send

pressies on time.

Sending

overseas

South Pacific,

Asia, North

Australia

America,

UK & Europe

Rest of

the World

Economy 24 Nov 19 Nov 15 Nov

Courier 03 Dec 29 Nov 24 Nov

Express 13 Dec 10 Dec 08 Dec

BECAUSE YOUR

FEET MATTER

• General Foot Care

• Biomechanical

• Orthotics

• Ingrown Toenails

• ACC Registered

• Diabetic Foot Care

40 years

combined

experience

Ph: 03 359 8207 E: bishopdalepostshop@gmail.com

Bishopdale Village Mall Plenty of free parking!

45 Merrin Street, Avonhead

Ph: 03 357 0155

E: info@footmatterspodiatry.co.nz

Book Online! No referral required.
---
2

Thursday October 28 2021

Advertise locally and

target customers most

likely to shop with you!

Effective Ad packages start from just $99

(inclusive full colour ad, creative setting,

photography and proofing).

No contracts required.

Your local community newspaper connects

neighbours in the following suburbs

Harewood • Burnside • Bishopdale • Bryndwr

Fendalton • Merivale • St Albans • Mairehau

Papanui • Casebrook • Redwood • Styx Mill

Regents Park • Northwood • Belfast • Strowan

28,748 homes every week.

ADVERTISING

Monique Maynard

Ph: 021 372 481

monique.maynard@starmedia.kiwi

NEWS

Fiona Ellis

Ph: 021 914 407

fiona.ellis@starmedia.kiwi

GENERAL INQUIRIES Ph 379 7100

CLASSIFIED ADVERTISING Ph 379 1100

www.starmedia.kiwi

what's on

this week

Housie

Thursday, 12.30– 2.15pm

Mary Potter Community Centre, 442

Durham Street North,

To participate, take $2 per housie

card or bring a prize to the value of

the card. Afternoon tea to follow. Go

along, meet new people, have some

fun. Gold coin donation for nonresidents

attending the community

centre please. Inquiries, phone 372

9224.

Pot-luck Lunch, All Souls Day

Sunday after the 10am service

All Souls Anglican Church, 30 Church

Lane, Merivale

Join us for our All Souls Day parish

pot-luck lunch. Please take a plate

of cold food or sweets to share, and

don't forget to RSVP to help with

planning. Phone Christine Wood 355

4340 or Victoria Wales 021 777 040,

or email viclcwales@gmail.com

Bible Reading Group

Mondays 10.30am-noon

Abberley Park Hall, 15 Abberley Cres

A small non-denominational

group reading the Bible for hope and

encouragement. For more details

phone Veronica on 960 7655 or 021

022 92613.

Cards at the Papanui Club

Monday, 1.15-3.15pm, Tuesday,

1-3.15pm, Wednesday, 1.15-

3.15pm

Halloween Pawty, Sunday, 10am-4pm, Pet Central 11 Langdons Rd

Papanui. Go along to this annual super spooky Halloween Pawty. Take

your doggies down in their spookiest costume to this free event and be in

to win a lot of fun prizes. Sniff out all of the clues on the trick or treat hunt

to enter the pawsome grand prize draw. Doggie playgroups and games will

run from 10am in the Central Park Pet Daycare and Spa. Current Covid-19

alert level measures will be in place.

Papanui Club, 310 Sawyers Arms Rd

Join others for a different card

game each day. Monday is Flag 500,

Tuesday is Cribbage and Wednesday

is Euchre. All welcome for $2. Masks

are required to attend under Alert

Level 2. Phone Alan on 0211733388

for more information.

Scottish Country Dancing

Tuesday, 7.45-9.45pm

Heaton Intermediate School hall, 125

Heaton St

Go along if you want to take part

in the fun exercise. All you need

to take is some soft shoes. The first

night is free for beginners. Phone 021

480 802 for more information.

Elizabeth Bridge Club

Wednesday, 1-4pm

Christchurch Bridge Club Rooms, 21

Nova Pl

Go along and join others for a

game of bridge every Wednesday.

Arrive at 12.50pm for a 1pm start.

If you do not have a partner, phone

Maureen at 021 646 123.

Not-for-profit organisations can

send their What's On listings to

norwest@starmedia.kiwi

GROW YOUR CUSTOMERS

SALES & PROFITS WITH ME

I have been successfully working with local businesses,

offering advice and effective marketing solutions across

a range of media platforms for over 25 years.

CALL me today to personalise a

marketing plan to grow your business.

Phone Monique

DDI: 03 364 7474 Mobile: 021 372 481

Email: monique.maynard@starmedia.kiwi

NUMBER ONE SUPPLIER

TO THE NZ JET BOATING

COMMUNITY FOR OVER

50 YEARS

• Part Boats & Hulls

• Turn Key Packages

• New Jet Units

• Custom Fabrication

• Expert Advice

SERVICING

Peter Tonkin

03 962 0505

peter.tonkin@hamiltonjet.nz

• Spare Parts Retailer

• Jet Unit Refurbishment

• Engine Tune-Ups

• Insurance Repairs

• Impellor Reconditioning

'CEREC' & cosmetic dentistry

Wisdom tooth removal

Painless, high quality dentistry

Sedation dentistry

Experienced, conscientious team

Experienced hygienists

OPEN SATURDAYS

355 9380

144 Cranford Street

www.stalbansdentalcentre.co.nz

SaVe $100'S bUy now at 2021 prices

AVAILABLE NOW

$1,099

prism Frame round pool

4.57m x 1.22m

AVAILABLE NOW

$1,499

Ultra Xtr Frame round pool

4.88m x 1.22m - Sand filter incl

127 Blenheim Road | 03 343 9820 | www.pararubber.co.nz

No rainchecks. Pools arrive mid November. Secure yours with a deposit.

OPEN: Monday - Friday 8.30am-5pm, Saturday 9am-4pm & Sunday 10am-4pm

$1,899 $2,999

Ultra Xtr Frame pool

18ft x 9ft

Ultra Xtr Frame pool

24ft x 12ft

Matipo

blenheiM

clarence

Matipo

pool

chlorine

10 kg

$99

para

rubber
---
Thursday October 28 2021 3

Survey prompts action plan

A DECLINE in satisfaction

ratings has prompted the city

council to implement a fivepoint

action plan responding

to the findings of its annual

residents' survey.

City council

assistant

chief executive

Lynn

McClelland

said the city

council was

determined

Lynn

McClelland

to turn

around the

trend of the

past few years.

The 2021-2022 residents'

survey is now being carried out

until March 2022.

"We also want to help residents

understand the realities

of the financial, legislative and

other trade-offs and challenges

that form the context of the

council's decision-making,'' Mc-

Clelland said.

The plan involves improving

existing work programmes and

adding new initiatives to help

lift the city council's performance.

"There will be a stronger focus

across the council teams on

ensuring that level of service

targets are met. We will also

be improving our processes for

dealing with customer service

requests,'' McClelland said.

COMMUNICATION: Engagemnet will be a focus of the city council's annual residents'

survey has found a decline in satisfaction ratings over the past few years.

Communication would also

be a focus.

"We will be providing people

with regular updates on how we

are performing in the areas that

they have identified as being of

particular interest to them, such

as roading infrastructure, water,

safety and sustainability,'' Mc-

Clelland said.

The city council is also

exploring how it can improve

its engagement processes and

residents' understanding of

decision-making.

"Options we are exploring

include making greater use of

local community board forums

and working more closely

with community groups and

institutions, such as schools and

universities.

"We are also considering

giving people more options on

how they can provide feedback

and at potentially changing

the way we operate hearings so

they are less judicial in style,''

McClelland said.

"As an executive leadership

team we are committed to

working with councillors to

improve our communities'

understanding and engagement

with council decision-making.''

The 2021-2022 residents

survey covers services such

as parks, libraries and service

centres and is distributed to a

wide range of people via email,

letter and feedback at city

council facilities.

In Brief

NORTHERN CORRIDOR

SEAL TO BE APPLIED

The final chip seal layer will

be applied to the Christchurch

Northern Corridor from Sunday,

weather permitting. Low noise

asphalt is likely to follow in late

November.

DULLES PLACE

ROADWORKS

Papanui's Dulles Place will

be closed until November 12

between 7am and 2pm on

weekdays to replace sewer mains

and laterals. The road will be

open on Sundays and some

Saturdays, although on-road

parking will be limited.

GARDEN PRIDE AWARDS

GETS FUNDING

The Fendalton-Waimairi-

Harewood Community Board

has allocated $3000 from its

2021-22 discretionary response

fund to its Community Garden

Pride Awards. Judging will be

undertaken by the Christchurch

Beautifying Association in

January or February.

CORRECTION

The Fendalton-Waimairi-

Harewood Community Board

has made a submission to the

city council on its proposal for

the third and final section of

the Nor'West Arc cycleway, not

the Papanui-Innes Community

Board as reported last week.

Nor'west News apologises for any

confusion.

P 03 352 0352

M 027 517 5645

nikila.creagh@harcourts.co.nz

LICENSED SALES CONSULTANT REAA 2008

Considering

a real estate

move and wish

to maximise

current

conditions?

If you wish to achieve

a PREMIUM result, it

is essential to connect

with an agent who has

a wealth of experience

and expertise across

all markets and

demographics.

Call me to discuss

how my 17+ years of

industry experience

can assist with your

decision making.

Harcourts gold Redwood

280 Main North Road

www.harcourtsgold.co.nz

CH-9086171AA

Who knew there is so much more

to cleaning your heat pump than

just vacuuming the filters?

Who knew there is

so much more to

cleaning your heat

pump than just

vacuuming the filters?

Think a quick dust or vacuum of your heat pump

is enough to keep it in top condition? Taking the

time to regularly clean your filters can certainly

help – but having a professional service every

year is the only way to ensure your heat pump

stands the test of time and is working at fullefficiency.

CH-9086171AA

ADVERTISEMENT

ADVERTISING

Who knew there is so

to cleaning your heat

just vacuuming the fi

Think a quick dust or vacuum

is enough to keep it in top co

time to regularly clean your fi

help – but having a profession

year is the only way to ensure

stands the test of time and is

efficiency.

At Airify Christchurch,

Think a quick dust or vacuum our professional of your heat heat

pump is enough to keep pump it in top cleaning condition? experts

Taking the time to regularly do more clean than your simply

filters can certainly help –

clean

but

the

having

filters!

a

Our

Premium Heat Pump

professional service every Clean year & is Service the only

way to ensure your heat includes pump stands more than the

test of time and is working 30at checks full efficiency. on your

heat pump system

At Airify Christchurch, our – inside professional and outside

unit – to ensure peak

heat pump cleaning experts do more than

performance, and energy / cost-effectiveness.

simply clean the filters! Our Premium Heat

Our technicians use high pressure cleaners and

Pump Clean & Service includes more

disinfectants to remove the growth of bacteria

than 30 checks on your heat and improve pump system air flow, and treatments are applied

– inside and outside unit to – both to ensure the indoor and outdoor unit for maximum

peak performance, and energy efficiency. / costeffectiveness.

Want to learn more about how we can help you

create a healthier home, go to www.airify.co.nz.

Our technicians use high Or pressure get in touch cleaners today on 0800 24 74 39

and disinfectants to remove the growth

of bacteria and improve air flow, and

treatments are applied to both the indoor

and outdoor unit for maximum efficiency.

Want to learn more about how we can

help you create a healthier home, go to

www.airify.co.nz. Or get in touch today

on 0800 24 74 39

At

ou

pu

do

cle

Pr

Cl

inc

30

he

– i

un

pe

Ou

dis

an

to

effi

W

cr

Or
---
4

Thursday October 28 2021

My favourite

kind of fast

food!

Online shopping

now available at

Northwood

and Prestons
---
Thursday October 28 2021 5

Event cancellation criticised

A COMMUNITY board

member is criticising

the Government

following the

cancellation

of a popular

community event,

wasting city

council money

that had already

been spent.

Fendalton-Waimairi-Harewood

Community

Board member Jason Middlemiss

is disappointed

in what he describes as a

lack of clarity provided by

the Government around

rules for events that have

Rose garden a place to gather

• From page 1

She has won the competition

once before but the

current trophy holder is

Dick Jones.

In Linwood, it is not

potatoes bringing people

together but heritage roses.

The Beverley Park

Heritage Rose Garden

volunteers will get together

in December to prune the

rose bushes and afterwards

set up trestle tables in the

park where neighbours

gather for a shared lunch.

Organiser Henrietta

Hall said the volunteers

and local community have

Jason

Middlemiss

Belfast

Community Trust

Applications open on 1st November

2021 to appropriate charitable

organisations in Belfast. The grant

is for the purpose of benefiting the

residents of Belfast.

For more information and to apply,

please refer to our website:

https://www.perpetualguardian.

co.nz/philanthropy/grant-seekers/

grants-open-upcoming/

Completed applications are due no

later than 26 November 2021.

led to the cancellation of

Celebrate Bishopdale.

The annual

community event

was established

by the board in

2013 after local

residents wanted

a fun, family

event to be held

in the area, and

been gathering in the rose

garden to share food since

it was first planted in 2000.

"It's really lovely.

There are lots of people

bordering the park and

it brings the community

together – it's such a

beautiful space."

Neighbourhood gettogethers

have also been

organised for little folk.

Richmond locals under

the age of five are invited

to a Teddy Bears Picnic

where they eat homemade

teddy bear biscuits and

honey sandwiches and are

entertained by the Natural

features stallholders,

children's

entertainment

and individual and group

performances.

This year's event was set

to take place in Bishopdale

Park on November 20.

"Costs have been incurred

by city council staff

and participants organising

this local event which

has now been wasted due

to the lack of clarity and

timeliness around rules

for events," Middlemiss

said.

Throughout the year,

area residents would tell

him of the value they

found in local events, he

said.

"The South Island

deserves clarity around

Covid rules so that we

can adequately plan and

minimise wasted cost

on both city council and

stallholders."

Magic Pirates.

Neighbourhood Week

was the brainchild of

the Shirley-Papanui

Community Board back

in 1998.

It was extended for the

entire summer in 2018 and

is now known as 'Summer

with your Neighbours.'

Anyone can apply to

their community board

for a subsidy to help host a

local gathering.

Applications for this

summer closed last month

and a total of 243 events

were approved across the

seven board areas.

Simply great kiwi cuisine

100% owner operated

Products made by our own

team of qualified bakers

Classic kiwi

cuisine at an

affordable

price is our

formula for

success

135 Farrington Ave, Bishopdale

P 03 359 1020 E mabaker@mabaker.nz

Also at 1066 Colombo St, Edgeware

Bishopdale Pharmacy

New Christmas items in our giftshop!

As we get closer to the end of the year,

we are excited to be stocking new Christmas

items in store.

These fabulous light-up cushions are

battery powered and priced at only $27.99,

perfect for yourself or a present!

Pop in and check out the cushions along with

the rest of our Christmas gift range – but get

in quick because these are selling fast.

For more information give us a call or come

and speak to our friendly staff.

Follow us on facebook

37 Bishopdale Court, Bishopdale Village Mall | Phone 03 359 8302

PLENTY OF FREE PARKING www.bishopdalepharmacy.co.nz

Monday - Friday 8.30am - 6pm Saturday 9.30am - 4pm

BISHOPDALE Burnside

Rotary has been supporting

the community and greater

Christchurch for close to

50 years, through a number

of well-known projects,

Bookarama and Artarama

are probably the most

recognised.

Funds raised from these

projects have enabled

the club to give major

monetary support to

organisations such as the

Charity Hospital, Nurse

Maude Hospice and

Odyssey House.

Bishopdale Burnside

Rotary invite members of

the community to join the

organisation and help the

community that has supported

many of us over the

years.

• Bishopdale Burnside

Rotary welcomes men and

women of all backgrounds

and cultures to join

• Meeting weekly from

late January to early December,

the club recognises

that we lead very busy lives,

with family and work commitments

and ask members

attend at least 50 per cent

of meetings throughout the

year.

• Rotary offers of a variety

of events, with members

enjoying the benefits of

business networking,

friendship, fellowship,

family involvement and

involvement in community

projects.

Bishopdale Burnside

Rotary is committed to

playing its part to ensure

needy organisations gain

the support they need to

function effectively, with

a key focus on youth.

However, to continue to

CONTENT MARKETING

Rotary – an opportunity to help

and give back to your community

BOOKARAMA

Just one of the annual

projects to raise funds

for worthy community

projects run by members

of Bishopdale – Burnside

Rotary Club

Worthy recipients of one of

the Community Awards

BUSY: From

delivering

food to

working

bees, the

Bishopdale

Burnside

Rotary is

involved

in all

manner of

community

projects.

provide these services it

needs the support of the

community and currently it

is asking men and women

committed to helping

others to join the club.

•If you are interested

or would like to know

more, phone Garry

Hampton on 027

2717 033 or visit www.

Bishopdale-Burnside-

Rotary.com

Want to be part of a progressive

and supportive organisation?

We would welcome you

joining our team.

Presented by:

Bishopdale - Burnside Rotary

Promoting Business Excellence

in our community

If you are interested or would like to know

more please contact Garry 027 271 7033 or visit

www.bishopdale-burnside-rotary.com
---
6

Plan for safe cycling route

• From page 1

Over the past few months

city council staff have been

analysing the submissions,

continuing to meet with

businesses and submitters, and

looking at design options to

address as many of the issues

raised as possible.

The Wheels to Wings cycleway

aims to provide a safe cycling

route for people travelling

through Papanui, Bishopdale,

Harewood and in the airport

area.

About 7000 people work at the

airport campus and the airport

has reported that there is strong

demand for safe cycling routes.

It also provides benefits to the

wider community through additional

crossings for pedestrians

and safety improvements at

intersections.

This cycleway is part of a network

of cycleways that is being

constructed to make it safer and

easier to bike around Christchurch.

"The public information days

are an opportunity to discuss

the feedback from consultation,

share the design work we've been

doing and for people to provide

feedback on the additional work

we've done," said Ellis.

"We'll display all of the options

we've considered including

our preferred design that has

incorporated the feedback we

received."

ON DISPLAY: The city council's proposed Wheels to Wings

cycleway.

"The extra information will

also help people to prepare

their comments to the hearings

panel who will make a

recommendation to the

council."

Wheels to Wings cycleway information days will

be held at the former Ara campus building in

Bishopdale Mall on:

Today, October 28, noon to 7pm

Tomorrow, 9am to 3pm

•Due to Covid-19 restrictions, people are asked to

book a time to attend an information day on the

Wheels to Wings web page.

•https://www.ccc.govt.nz/the-council/haveyoursay/

show/454

•For those who are unable to attend the information

days, the information is also available on the same

web page.

WINNING TEAM: Richmond Bowling Club's fours team,

skippered by Bev Morel, retained the South Island fours

crown. They are (from left) – Jan Shirley, Tania Woodham,

Bev Morel and Theresa Woodham.

Another South Island

bowls crown for Morel

A COUPLE of lucky breaks

helped secure an eighth win for

Bev Morel when she skippered

the Richmond Club's fours team

to the Clubs' NZ South Island

women's fours tournament

crown in Ashburton.

Morel, who lives in Redwood,

and her team of Jan Shirley,

Theresa Woodham and Tania

Woodham, played in tricky

wind conditions to record a

come-from-behind win,

scoring 21-15 over Julie Dalley's

Hornby Club team of Liz

Rossiter, Kay Wallace and

Sonia Butler.

Thursday October 28 2021

Dalley's team had looked

promising for the first 10 ends

leading 12-6 but Morel's team

fought back, buoyed on by a

four and a five on the 14 th and

16 th ends, to move away to a

comfortable win by five shots by

the 18 th end.

For Morel, this was the closest

margin she and her team had

faced over the four previous

matches during the tournament,

her earlier wins were 22-9, 21-13

and 25-14.

The annual club tournament

attracted 44 entries from around

the South Island.

Clare Reilly

Calming the Wild Heart

Water Song of the Fiords

Little River Gallery October 30-November 23

Clare Reilly has been exhibiting at Little River Gallery for

almost 30 a October decade. Her - work 23 is November in hot demand, 2021 her serene and

meditative paintings sent all over the world.

'This collection of paintings has been inspired by a seven day

boat trip in Fiordland that I went on last October 2020. This Kotare watching the incoming tide

complete contrast of landscape to most of the rest of New Zealand,

has started my journey of exploration into these paintings.

The wild Southern Ocean acts as a protective barrier to the rugged

land of the fiords.

A vast place of vertical steep land, dense forest and huge volumes

of precipitation and very few landing spots have saved this extensive

area from exploitation.'

'Eye of The Calm' book launch

At the Main exhibition Rd, opening Little River October | 030 325 at 11.30am, 1944 'Eye of the Calm'

book will be launched. It is a celebration of artist Clare Reilly's life

art@littlerivergallery.com

and work. Reilly's passions for coastal New Zealand and the country's

wildlife are brought to life in this beautiful collection, which explores

themes of habitat destruction and renewal, grief, finding new paths,

and the joyful movement of birds in flight. Experience a sense of calm

and hope with this story of a fascinating life told through both words and imagery. A beautiful,

meditative exploration of a life's work. Available at Little River Gallery, limited edition leather

bound and hardback versions.

Korimako in the Puysegur Forest

Clare Reilly

Calming the Wild Heart

30 October - 23 November 2021

Water Song of the Fiords

Main Rd, Little River | 03 325 1944

art@littlerivergallery.com
---
Thursday October 28 2021 7

RAY WHITE BISHOPDALE & STROWAN PROUD TO PRESENT

100% AUCTION SUCCESS RATE

"Our house has sold and the Gold Card

discount was a real bonus"

Ask us about our Super Gold discount today.

Since July 1st 2021

Let us write your next real estate success story

Call 0800 YELLOW today

Are you part of a local

community group?

Ray White Bishopdale & Strowan believe in giving back to our

community and we want to help you.

If you need help getting your word out, get in touch with us

today to see how you may be able to advertise here for free.

Call 0800 YELLOW for more information.

Word Hunt

Competition

Thank you to everyone who entered

our word hunt competition!

Congratulations to Kevin White for winning

the Willowbank family annual pass!

We hope you and your grandchildren enjoy.

Support us so we can continue to support your local community.

Ray White Bishopdale and Strowan - Winners of the REINZ and Ray White NZ Community Service Award.

Ray White BS

Bishopdale & Strowan

0800 YELLOW (0800 935 569)

5/333 Harewood Road, Bishopdale | 55 Blighs Road, Strowan

rwbishopdale.co.nz | rwstrowan.co.nz

Inline Realty Limited (Licensed REAA 2008)

Proudly owned by

Karen Ellis

021 519 275

Barry Ellis

021 519 274
---
8

Thursday October 28 2021

CHRISTCHURCH

CREMATORIUM

FUNERAL SERVICES

SUDOKU

Every row, column and box should

contain the digits 1 to 9.

WORDBUILDER

WordBuilder

116

6

O L P

L G A

CROSSWORD

1 2 3 4 5 6 7

8 9

216

words of three or more letters,

How many words of three or more

including plurals, can you make from the six

letters, using including each letter plurals, only once? can No you foreign

words or words beginning with a capital are

make from the six letters, using

allowed. There's at least one six-letter word.

each only once? TODAY

No Good words 10 beginning Very Good 13 with Excellent a capital 17

Solution 115: ash, ashy, fay, fays, flash, FLASHY, flay,

are allowed. There's at least one

flays, fly, half, has, hay, lah, lash, lay, lays, sal, say,

shaly, shay, shy, sly, slay, yah.

six-letter word.

Good 10 Very Good 13 Excellent 17

10 11

12 13 14 15

16

DEC

1

17 18

19

20 21 22 23 24

25 26

27 28

29 30

31 32

SOLUTION

No.116

14 15 16 17 18 19 20 21 22 23 24 25 26

S G N C H L O B Z J E A P

33 34

1 2 3 4 5 6 7 8 9 10 11 12 13

X M R W D Y Q K U T F I V

Decoder

Across

1. Land surrounded by water (6)

5. Vocation (6)

10. Cause of someone's

downfall (7)

11. Ancestry (7)

12. Bicycle for two (6)

15. State of starvation (6)

16. Competition (7)

1 2 3 4 5 6 7 8 9 10 11 12 13

O T R

14 15 16 17 18 19 20 21 22 23 24 25 26

A B C D E F G H I J K L M N O P Q R S T U V W X Y Z

8 22 9 1 15 15

17. Listen (4)

18. Military dining room (4)

19. Budding (7)

20. Curved structure (4)

22. Difficult (4)

25. Unbranded (7)

27. Lasso (6)

28. Force to do something (6)

31. Squirm (7)

32. Bombardment (7)

33. Emphasis (6)

34. Scabbard (6)

We're

dOnaTinG

$4

$1

26 5 2 20 16 4 10 21 10 2 1 10

10 10 20 1 10 2 23

13 5 8 5 13 2 3 16 6 3 4 25

R O T

8 9 5 19 10 13 4

9 20 25 10 13 23 18 5 10

25 13 24 9 12 9 25

4 1 1 12 7 3 17 1 4

All puzzles copyright

T H E P U Z Z L E C O M P A N Y

FrOm every

subscriPTiOn

FrOm every

maGaZine sOLd

TO The PrOsTaTe cancer

FOundaTiOn nZ

Down

2. Training meeting (7)

3. Solution (6)

4. Work station (4)

5. Composed (4)

6. Landing area (6)

7. Shifty (7)

3 8 13 7 12 15 16

18 20 9 19 10 4 12 13 1 11 1 13

8. Grab (6)

9. Niche (6)

13. Tower on a mosque (7)

14. Small axe (7)

15. Distraught with fear or rage (7)

20. Permits (6)

21. Relating to the heart (7)

23. Side by side (7)

24. Intensify (6)

25. Collective term for group of

geese (6)

26. Rough (6)

29. Twisted (4)

30. Wading bird (4)

www.thepuzzlecompany.co.nz

DECODER

Each number in our DECODER grid represents a different

letter - there is a number for all 26 letters of the alphabet.

Each Enter number the given represents letters into a different all squares letter with of the matching alphabet. numbers. Write the

given The challenge letters into now all squares is to work with out matching which letters numbers. are Now represented work out

which by the letters other are numbers. represented As you by the get other numbers. letters, enter As you them get into the

letters, the main write grid, them and into the main reference grid and grid. the To reference keep track grid. Decoder of the

uses letters all you 26 letters have of found, the alphabet. cross them off the alphabet provided.

15 25 11 20 26 24

25 16 15 24 19 4 18 25 3 13 24 14

22 24 12 19 3 25 24

24 9 16 9 17 18 14 25 5 5 24 5

A D D

21 5 8 5 24 15

26 19 12 10 10 11 10

20 13 25 19 14 17 12 20 16 24

14 7 9 1 4

21 3 9 15 21 6 10 18 9 15

3 11 12 23 12 12

12 2 25 15 24 20 26 20 14 14 9 2

16 12 10 9 12 10 19

15 25 3 15 19 24 14 14 20 19 13 24

6 6 10 10 24 10

A B C D E F G H I J K L M N O P Q R S T U V W X Y Z

1 2 3 4 5 6 7 8 9 10 11 12 13

D

14 15 16 17 18 19 20 21 22 23 24 25 26

A

SOLUTION

No.115

8 13 5 14 10 4 6 20 4 3 9 18

1 16 13 25 14 26

The challenge now is to work out which letters are represented

by the other numbers. As you get the letters, enter them into

the main grid, and the reference grid. To keep track of the

letters you have found, cross them off the alphabet provided.

Each number in our DECODER grid represents a different

letter - there is a number for all 26 letters of the alphabet.

Enter the given letters into all squares with matching numbers.

117

116

1 2 3 4 5 6 7 8 9 10 11 12 13

L E X G A F J I M R N V B

14 15 16 17 18 19 20 21 22 23 24 25 26

P Z O U Q T C H Y D K S W

Rugby News magazine is proud to be collaborating

with the Prostate Cancer Foundation.

DECODER

117

For every retail copy sold, and for every new or

renewed subscription made between September

20 - November 3, 2021 we'll be donating to a

much needed cause.

Subscribe today and let our award winning sports

journalists bring the atmosphere from the field to

your home!

Crossword

Across: 1. Island, 5. Career,

10. Nemesis, 11. Lineage,

12. Tandem, 15. Famine,

16. Rivalry, 17. Hark, 18.

Mess, 19. Nascent, 20.

Arch, 22. Hard, 25. Generic,

27. Lariat, 28. Coerce, 31.

Wriggle, 32. Barrage, 33.

Accent, 34. Sheath.

Down: 2. Seminar, 3.

Answer, 4. Desk, 5. Calm,

6. Runway, 7. Evasive,

8. Snatch, 9. Recess, 13.

Minaret, 14. Hatchet, 15.

Frantic, 20. Allows, 21.

Cardiac, 23. Abreast, 24.

Deepen, 25. Gaggle, 26.

Coarse, 29. Bent, 30. Ibis.

WordBuilder

ago, all, alp, gal, galop, gall,

GALLOP, gaol, gap, glop,

goal, lag, lap, log, lop, opal,

pal, pall, poll.

Sudoku

subscribe and suPPOrT a GreaT cause!

www.rugbynews.co.nz 0800 77 77 10
---
Thursday October 28 2021 9

Village centre

now open!

Image indicative only

Summerset at Avonhead's village centre

is now open!

Our brand-new village centre is the heart of our village,

providing a multi-purpose community hub and a

spectacular range of resort-style facilities.

Our village centre is also home to our fully-certified,

industry-leading memory care centre especially

designed for those living with dementia, and our serviced

apartments which are selling now from just $350,000.*

We'd love to show you around at one of our October Open

Days. Open Day tour numbers are limited in Alert Level

Two, so call Anne today on 03 357 3202 to secure your

spot, or to book a private appointment.

Village Centre

Open Days

Every Sunday in October

10am - 3pm

Summerset at Avonhead

120 Hawthornden Road, Avonhead

03 357 3202

*Licence to occupy.

If we are in Alert Level 2, an RSVP will be required due to

restricted numbers, please call the sales manager to RSVP.

For event information, visit www.summerset.co.nz/events

03 357 3202 | summerset.co.nz/avonhead

SUM3430_8X8
---
10

Thursday October 28 2021

Nest for less this season with up to

60 months interest free finance.

Queen, King, Super

King. Same price.

Chiropractic HD Limited Edition

9069927 | 9069926 | 9069928

Up to

68% off

All sizes

$2499

Love every detail.

Especially the price.

48" OLED TV

9070152 OLED48A1

$1798

Limited Stock

Air Fry Crisp'n Bake Toaster Oven

9060751 RHTOV25

$139

was

$199

less than

$13

per week for

36 months on

interest free*

50% off

Amble Dining Suite #

Amble 5 Piece Round Dining Suite 9066934

$649

was

$1299

$6

less than

per week for

36 months on

interest free*

30% off

selected Dining & Bedroom furniture #

Nevada 6 Piece Dining Suite 9064698

$2309

less than

$10

per week for

60 months on

interest free*

was

$3299

Big bargains on big

brand whiteware.

7.5kg Front Load

Washing Machine

9026624 WW75J4213IW

$899

$7

less than

per week for

36 months on

interest free*

Alberta Outdoor 7 Piece Dining Setting 9067498

$1999

Lisbon 3 Seater Sofa

9068728

was

$2859

$9

less than

per week for

60 months on

interest free*

$1399 $1999

was

$1049

Matching Ottoman available for $379

Valid until 9th November 2021.

Lisbon 2 Seater Sofa

9068727

was

$1549

LIMITED STOCK

Desire Matte Black Hand Mixer

9064801 RHMX5BLK

$44 99

was

$99

HomePod Mini

9070097

$150

Raidmax Drakon

Gaming Chair

9066714

Available in Blue

and Red.

$199

$5

less than

per week for

52 weeks on

EasyCard**

60

months 36 months

INTEREST FREE

INTEREST FREE

on beds & furniture $1499 & over* on everything $499 & over*

Offers valid until Tuesday 2nd November 2021, while stocks last, unless otherwise stated. Some products on display in selected stores only – please call 0800 764 847 to check availability. Personal shoppers only. *Apple, selected computers, game

consoles, gift cards, clearance items and some promotional items are not available in conjunction with interest free offers. Flooring available on a maximum of 18 months interest free. Exclusions, fees, terms, conditions and credit criteria apply.

Available in-store only. Equal instalment amounts include one-off booking fee of $45.00, annual fees of $45.00 p.a., and security registration fee of $8.05, and exclude insurance. Current interest rate of 23.95% applies to any unpaid balance and

after expiry of (any) interest free period. See in-store or visit smithscity.co.nz/interest-free for details. # Discount is off our full retail price and not available in conjunction with any other offer.
---
Thursday October 28 2021 11

Classifieds Contact us today Phone our local team 03 379 1100

Real Estate

HOME WANTED 3-4

bedrooms. Looking in Nor

West areas, Beckenham

or Somerfield. Prefer

permanent material brick

and post 1990 build. Don't

mind if it needs some TLC

- anything considered.

Cashed up buyer. Phone

021 372 479

Wanted To Buy

AAA Buying goods

quality furniture, beds,

stoves, washing machines,

fridge freezers. Same day

service. Selwyn Dealers.

Phone 980 5812 or 027

313 8156

TOOLS Garden,

garage, woodworking,

mechanical, engineering,

sawbenches, lathes, cash

buyer, ph 355-2045

Trades & Services

30 years + experience

Older house

restorations:

no problem!

Quotes: FREE!

Rates: Reasonable

Paint supplied at

trade price!

NO JOB TOO SMALL

Light industrial also

Roger Brott

Painter & Decorator

021-1966-311

Trades & Services

ROOF

PAINTING 24/7

Rope & harness

a speciality,

no scaffolding

required,

30 years of

breathtaking

experience.

FREE QUOTES

20% OFF other

roof quotes

Exterior staining,

exterior painting,

water blasting.

Moss and mould

treatment $300.

Phone Kevin

027 561 4629

BETTER

LAWNMOWING

Better job. Better

Price. Better ring Grant

0277402508

BRICKLAYER

George Lockyer. Over

40 years bricklaying

experience. UK trained.

Insurance work, EQC

repairs. Heritage

brickwork & stonework

a speciality. No job too

small. Governers Bay.

Home 329 9344. Cell

027 684 4046. E mail

georgelockyer@xtra.co.nz

BUILDER

New builds, alterations,

decks, fencing. 30 yrs in

the trade has given me

ability to build to a high

standard. Free quotes. Ph

Brent 027 241 7471

Trades & Services

CARPET LAYING

Exp. Repairs, uplifting,

relaying, restretching.

Phone John on 0800

003181, 027 240 7416

jflattery@xtra.co.nz

ELECTRICIAN (CERT)

Prompt, quality. Call Jack

027 206 0080

GUTTER CLEANING

SUMMER SPECIAL

Total gutter/spouting

cleaning and repairs.

For Fast and friendly

Service call Canterbury

Spouting Services on 0508

SPOUTING or 022 375

8506. FREE QUOTES

LAWNMOWING

You Grow I Mow. Free

quotes. Phone Chris 021

252 1801

PAINTER, QUALIfIED

local professional, int/

Ext,roofs,wallpaper, call

or text Corban 027 846

5035

STUMP GRINDING

Best price guarantee Tony

0275 588 895

STUMP GRINDING

Best price guarantee Tony

0275 588 895

TILING

Flooring - Splashbacks -

Wall incl tile removal, reg

master tiler, ph Dave 027

334 4125

VHS VIDEO TAPES

& all camera tapes

converted to DVD or

USB. Video taping

special occasions, www.

grahamsvideo.co.nz ph 03

338-1655

Trades & Services

• Father & son Plumbing

Business with over 40

years experience.

• Bathroom alterations a

specialty.

• Cylinder replacements.

• We do all small jobs.

PLUMBER

Trades & Services

NEED A PLUMBER?

It's time to

SPRING CLEAN

the exterior of your

property

We are your local specialists

in House Washing and Moss

Treatments, including paths,

roofs and decks and much more.

Rejuvenate and prolong the life of

your paint work – saving you money!

Call us today on 0274 907 364.

Call us now for fast friendly service.

Get your problems sorted out

quick smart - on time!!

THOMSON PLUMBING

Phone Eugene now.

Phone 03 377 1280 | Mobile 021 898 380

FURNITURE

EXCLUSIVE. STYLISH.

HANDCRAFTED.

Solid timber furniture

A fantastic range

of traditional and

contemporary

furniture designs.

We can also help you

with any custom made

furniture requirements.

19 Elgin St, Sydenham. Ph: (03) 366 9219

www.gavincoxfurniture.co.nz

Up to

50 % Off

Off

*

*Call for Terms

& Conditions
---
12

Thursday October 28 2021

Vanessa Golightly

I'm delighted to be able to offer you a

SuperGold card discount

Vanessa Golightly is proud to offer a 10% discount on her service fee to SuperGold Card holders.

The SuperGold Card program acknowledges the contributions made by seniors and veterans to New

Zealand society and is one way the New Zealand government and business communities can say

'thank you' or 'tēnā rawa atu koe' to older New Zealanders for the work they have done raising

families, supporting communities and contributing to Aotearoa

Vanessa Golightly

Ray White Papanui

M 027 664 9292 | B 03 352 0567

vanessa.golightly@raywhite.com

Ray White Morris & Co Limited Licenced (REAA 2008)