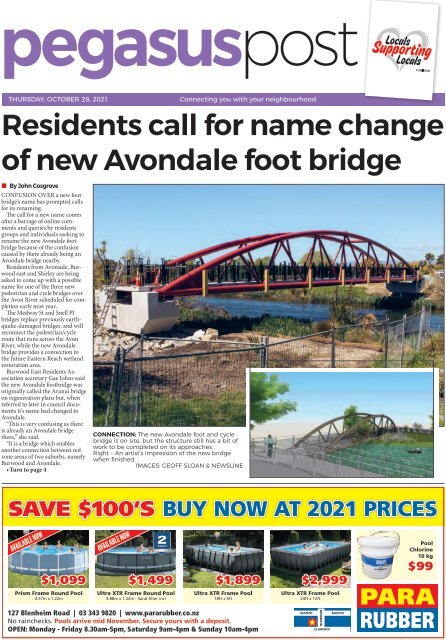 Pegasus Post: October 28, 2021
You also want an ePaper? Increase the reach of your titles
YUMPU automatically turns print PDFs into web optimized ePapers that Google loves.
Locals

Supporting

Locals

THURSDAY, OCTOBER 28, 2021

Connecting you with your neighbourhood

Residents call for name change

of new Avondale foot bridge

• By John Cosgrove

CONFUSION OVER a new foot

bridge's name has prompted calls

for its renaming.

The call for a new name comes

after a barrage of online comments

and queries by residents

groups and individuals seeking to

rename the new Avondale footbridge

because of the confusion

caused by there already being an

Avondale bridge nearby.

Residents from Avonside, Burwood

east and Shirley are being

asked to come up with a possible

name for one of the three new

pedestrian and cycle bridges over

the Avon River scheduled for completion

early next year.

The Medway St and Snell Pl

bridges replace previously earthquake-damaged

bridges, and will

reconnect the pedestrian/cycle

route that runs across the Avon

River, while the new Avondale

bridge provides a connection to

the future Eastern Reach wetland

restoration area.

Burwood East Residents Association

secretary Gae Johns said

the new Avondale footbridge was

originally called the Aranui bridge

on regeneration plans but, when

referred to later in council documents

it's name had changed to

Avondale.

"This is very confusing as there

is already an Avondale bridge

there," she said.

"It is a bridge which enables

another connection between red

zone areas of two suburbs, namely

Burwood and Avondale.

• Turn to page 4

CONNECTION: The new Avondale foot and cycle

bridge is on site, but the structure still has a bit of

work to be completed on its approaches.

Right – An artist's impression of the new bridge

when finished.

IMAGES: GEOFF SLOAN & NEWSLINE

SaVe $100'S bUy now at 2021 prices

AVAILABLE NOW

$1,099

prism Frame round pool

4.57m x 1.22m

AVAILABLE NOW

$1,499

Ultra Xtr Frame round pool

4.88m x 1.22m - Sand filter incl

127 Blenheim Road | 03 343 9820 | www.pararubber.co.nz

No rainchecks. Pools arrive mid November. Secure yours with a deposit.

OPEN: Monday - Friday 8.30am-5pm, Saturday 9am-4pm & Sunday 10am-4pm

$1,899 $2,999

Ultra Xtr Frame pool

18ft x 9ft

Ultra Xtr Frame pool

24ft x 12ft

Matipo

blenheiM

clarence

Matipo

pool

chlorine

10 kg

$99

para

rubber
---
2 Thursday October 28 2021

Advertise locally and

target customers most

likely to shop with you!

Effective Ad packages start from just $99

(inclusive full colour ad, creative setting,

photography and proofing).

No contracts required.

Your local community newspaper connects

neighbours in the following suburbs

Linwood • Avonside • Richmond • Shirley • Bexley

Burwood • Dallington • Wainoni • Bromley

Aranui • Avondale • New Brighton • Northshore

Queenspark • Parklands • South Brighton

17,598 homes every week.

ADVERTISING

Frank Greenslade

Ph: 364 7441

frank.greenslade@starmedia.kiwi

NEWS

John Cosgrove

Ph: 021 195 0284

john.cosgrove@starmedia.kiwi

GENERAL INQUIRIES Ph 379 7100

CLASSIFIED ADVERTISING Ph 379 1100

www.starmedia.kiwi

what's on

this week

Circus troupe

Today, Friday and Saturday, 7.30pm

Roy Stokes Hall, 146 Seaview Rd, New

Brighton,

Christchurch Circus Trust troupe

shows are a thrilling and spectacular

adventure through dreamscapes and

nightmares. An ensemble of wicked

witches, grotesque gremlins, flying

ghosts, spirited dolls, zany acrobatic

pranksters, creepy creatures and terrifying

towering monsters on show in

New Brighton. PGR, recommended

for ages 8 and older. Tonight's

performance will be a filmed dress

rehearsal. Tickets at www.eventfinda.

co.nz/2021/spooky-circus/christchurch/tickets

SeniorNet New Brighton

Monday – Thursday 10am-noon

202 Marine Pde, New Brighton

Go along and learn how to use

modern technology and the internet,

such as your computer, smartphones,

tablets, laptops, and discover how to

capture and send digital photos, apps

and programs. Bookings required.

Phone 382 6048 to register.

Dallington Clean Up Day

Friday, from 10am-noon

46 McBratneys Rd, Dallington,

This event is part of the annual

Keep New Zealand Beautiful Clean

Up Week. The purpose of Dallington

Clean Up day is to get around the

neighbourhood and clean up rubbish.

Help the Conducted by the Dallington

Residents Association to keep the

Aranui Bike Fixup, Thursday, 3pm, Breezes Road Baptist Church, 153

Breezes Rd. Take your bike and have it fixed and learn repair skills. Second

hand parts are available to replace things that are broken. For more

information, check out the Facebook group. Aranui Bike Fixup is free. If you

have unused bikes that you would like to donate the group would welcome

them.

suburb looking beautiful. Meet at the

Dallington Community Shop on the

corner of McBratneys and Gayhurst

Rds. Take gloves, a bag and a map

will be supplied. Free.

Dallington Car boot Skip Day

Saturday, 9am-noon

174 Gayhurst Rd, Dallington,

It's that time of year again. If spring

cleaning, take a boot full of rubbish

down to the Trade Aid car park on Skip

Day and we will take it away for you.

The skips will be available until noon

or until they are full. Conducted by

the Dallington Residents Association.

Don't take concrete, bricks, sand or

soil, stones, shingle, plaster wall linings,

compost, lard, tyres, hazardous waste,

liquid, chemicals, asbestos, whiteware,

lounge suites or large furniture. No

loaded trailers, utes or trucks.

Parklands Toy sale

Saturday, from 10.30am-12.30pm

75 Queenspark Drive, Parklands

The Parklands Toy Library is having

a sale of withdrawn and donated

toys and books. Grab some bargains

as everything is priced to go. There

will also be a $1 sausage sizzle. Profits

from the sale will be used to replace

worn out or broken toys and to expand

collection areas.

Lions Club of Christchurch

Pegasus monster garage sale

Saturday, 10am-2pm

332 Linwood Ave

The annual fundraiser for the Lions

club attracts up to 3000 people to

forage through the hundreds of stalls

and items on sale. Covid alert level 2

restrictions will apply.

Up to

50 % Off

*Call for Terms

& Conditions

Off

*
---
Thursday October 28 2021 3

New liquor outlet prompts calls

for city-wide alcohol policy

• By John Cosgrove

CALLS FOR a city-wide local

alcohol policy are mounting

following the approval of the

latest off-licence application.

In spite of 50 written objections

and presentations from concerned

citizens and community

board members, a new Bottle-O

off-licence will

open within the

next six months on

Prestons Rd.

Coastal-Burwood

Community

Kelly

Barber

Board chairman

Kelly Barber

said he was not

surprised by

the decision and while the city

council has some "good by-laws"

governing public drinking, it is

time for it to step up and create a

city-wide alcohol policy.

He said without such a policy,

which many other cities have,

it is basically impossible for a

community to stop a liquor outlet

from being opened.

Under the Sale and Supply

of Alcohol Act 2012, councils

can develop local alcohol policies

(LAPs) to influence the location,

number and trading hours of

businesses licensed to

GREEN LIGHT: A new off-license has been approved on Prestons Rd, in spite of 50 written

objections.

sell alcohol.

Barber and fellow community

board member Linda Stewart

attended the hearing and told

the Christchurch District Licensing

Committee that the board

doesn't usually comment on

applications for new licences or

renewals, but in this case there

was "surprise and concern" from

the community.

He said the board was concerned

about the number of alcohol

outlets within a five-kilometre

radius of the proposed site.

Barber told Pegasus Post:

"People told me it was very hard

to stop a bottle store opening and

a lot of the information we heard

[at the hearing] was against

the application.

"I feel that if a community

wants to stop something in their

area, their opinions should be

taken into consideration.

"Without the city having a

guiding alcohol policy, at the end

of the day all they are doing is

looking at the point of law and

the point of law pretty much says

you can open a bottle store as

long as you fulfil the criteria," he

said.

The criteria includes trading

only between the hours of 9am

and 10pm, and no alcohol to be

sold or supplied on Good Friday,

Easter Sunday, Christmas Day

or before 1pm on Anzac Day.

Other discretionary conditions

include no advertising of alcohol

products on the outside of the

premises.

City council community support,

governance and partnerships

acting head Matt McLintock

said the number of written

objections was considered at the

hearing.

"One of the objectors appeared

and was heard, along with

the local community board

chairman [Barber]and one of

their members [Stewart] who

presented their submission

in person at the hearing to

convey the concerns of the local

community.

"The application for an offlicence

was granted subject to

conditions as detailed in the

decision," McLintock said.

The application was not

opposed by the district licensing

inspector, the police or the

medical officer of health.

CH-9086171AA

Who knew there is so much more

to cleaning your heat pump than

just vacuuming the filters?

Who knew there is

so much more to

CH-9086171AA

ADVERTISEMENT

ADVERTISING

Think a quick dust or vacuum of your heat pump

cleaning

is enough to keep ityour in top condition?

heat

Taking the

time to regularly clean your filters can certainly

help – but having a professional service every

pump

year is the only

than

way to ensure

just

your heat pump

stands the test of time and is working at fullefficiency.

the filters?

Established in 1996 by Paul and Leanne

vacuuming

Who knew there is so much Southorn, more Southbuild is a reputable,

At Airify Christchurch,

Think a quick dust or vacuum our professional of your heat to cleaning your heat pump professional thanand experienced building

heat

company. Our predominant expertise

pump is enough to keep pump it in top cleaning condition? experts just vacuuming the filters? lies in extensions, renovations (including

Taking the time to regularly do more clean than your simply

Think a quick dust or vacuum of your accessible heat pump bathroom modifications),

filters can certainly help –

clean

but

the

having

filters!

a

Our

is enough to keep it in top condition? commercial Taking the fitouts, light civil construction

Premium Heat Pump

professional service every time to regularly clean your filters can certainly

Clean year & is Service the only

and project management.

help – but having a professional service every

way to ensure your heat includes pump stands more than the

year is the only way to ensure your heat pump

test of time and is working 30at checks full efficiency. on your

stands the test of time and is working

Why

at full-Southbuildefficiency.

Experienced

heat pump system

At Airify Christchurch, our – inside professional and outside

As Registered Master

unit – to ensure peak

At Airify Christchurch,

Builders, we have a broad

heat pump cleaning experts do more than

and sound knowledge of

performance, and energy / cost-effectiveness. our professional heat

the carpentry and building

simply clean the filters! Our Premium Heat

pump cleaning project management experts required

Our technicians use high pressure cleaners and

Pump Clean & Service includes more

do more for than commercial simplyand home

disinfectants to remove the growth of bacteria

renovations, alterations and

than 30 checks on your heat clean the filters! Our

and improve pump system air flow, and treatments are applied

extensions.

Premium Heat Pump

– inside and outside unit to – both to ensure the indoor and outdoor unit for maximum

Clean & Service

peak performance, and energy efficiency. / costeffectiveness.

Want to learn more about how we can help you 30 checks Cost onEffective

your

includes more than

create a healthier home, go to www.airify.co.nz. heat pump It is system important that you feel

Our technicians use high Or pressure get in touch cleaners today on 0800 24 74 39

– inside and

assured

outside

of the quality of

the materials we supply as

and disinfectants to remove the growth

unit – to well ensure as the peak high standard

performance, of our workmanship. and energy We / cost-effectiveness.

of bacteria and improve air flow, and

prepare detailed quotes and

treatments are applied to both the indoor

and outdoor unit for maximum efficiency.

Want to learn more about how we can

help you create a healthier home, go to

www.airify.co.nz. Or get in touch today

on 0800 24 74 39

ADVERTISEMENT

Efficient

We pride ourselves on tight

co-ordination and good

communication so your

project is completed quickly

and efficiently minimising

inconvenience to you. Our

builders realise their building

site is your home or business

and show respect at all times

being punctual, polite and as

tidy as possible.

Skilled

We are able to complete to a

very high standard large and

complex building projects such

as major renovations, structural

extensions and structural

and internal changes. We

also take on smaller projects

such as renovating kitchens,

bathrooms and installing

window joinery. We can work

with a wide range of different

Our technicians endeavour use to price high jobs pressure with cleaners and

disinfectants

the best

tomaterials remove

at the

growth of bacteria

best price. Where possible

and improve we request air flow, as many and as three treatments are applied

to both the competitive indoorquotes and outdoor before unit for maximum

efficiency.

selecting our final suppliers. building products.

Helpful

At all times Paul and Leanne

are available to discuss any

concerns or questions that

may arise during the job and

appreciate any feedback you

offer.

Flexible

Over the years Paul and

Leanne have developed

positive relationships with a

variety of reliable suppliers

and subcontractors you

may need to complete your

project. Or if you prefer we

can work with your existing

suppliers. We can work with

or without involvement of

architect depending on the

scope of work.

Want toPhone: learn Paul: more027 about 441 how 2228, we Leanne: can help 027 648 you3574 | Email: lee@southbuildltd.co.nz

create a healthier home, go to www.airify.co.nz.

Or get in touch today on 0800 24

www.southbuildltd.co.nz

74 39
---
4 Thursday October 28 2021

No bridge renaming process established

• From page 1

"Some of our residents have

queried the reasons behind

the naming of this bridge, as

have we.

"Perhaps it could reflect

the areas on both sides of the

bridge rather than a suburb

name," Johns said.

Coastal-Burwood Community

Board member Bebe

Frayle asked city council

officers at a recent meeting,

if a process for the naming of

the Avondale Bridge has been

Anzac Fronds

back in

place ready

for unveiling

established.

Council officers advised

her that no process has been

established.

They then advised the

meeting that if the Burwood

East Residents' Association,

other groups or individuals

wanted to propose names for

the bridge, they were welcome

to send their suggestions

through to council for consideration

when the naming

process is established.

Names mooted so far have

With only weeks to go before their

official unveiling, the large metal

fronds located at the intersection of

Anzac Drive and New Brighton Rd,

are attracting interest from passing

motorists. Repurposed to honour the

Anzac story, the new-look fronds will

align with the Poppies over Gallipoli

sculpture on the corner of Anzac Drive

and Travis Rd. The Anzac Fronds were

originally installed on Anzac Bridge

light poles, and have been in storage

for several years. PHOTO: GEOFF SLOAN ​

included the Amelia Rogers

memorial or Evan Smith memorial

bridges.

All three bridges have been

funded by earthquake appeal

trust at a cost of $11.5 million

and will be single-span, made

from steel truss, with concrete

decks and sliding, and jackable

abutments to avoid lateral

spread.

Right – Artist's

impression of the new

Snell Pl bridge.

IMAGE: NEWSLINE

Serving the Trade &

Public for 30 years in

town

The original 'Painters

Warehouse' with the

biggest range

Stocking Paint,

Accessories and much

more

OPEN TO THE PUBLIC

www.rstradecentre.co.nz

FREE CHRISTCHURCH DELIVERY

0800 99 99 76

LOCATIONS:

484 Papanui Road, Papanui

68 Montreal Street, Sydenham

HOURS:

Monday - Friday 7.00am - 5.00pm
---
Thursday October 28 2021 5

Jordan's community garden idea

grows after getting green light

• By John Cosgrove

HELPING OTHERS is a calling

for Chisnallwood Intermediate

pupil Jordan Wilson.

If he's not helping his grandfather

clear fallen branches from

his farm, or giving his dad a hand

around the house, the 12-year-old

is helping others at school.

In June, while cycling from his

home in Shirley to school via the

Avondale red zone, Jordan had a

brainwave.

Why not get a small part of the

huge open spaces there and build

a garden to feed those in need.

"I wanted to do something, so

I started asking people online

what I had to do to get a small

plot of land there to grow vegetables

on – a community garden."

Jordan said he was eventually

put onto Land Information New

Zealand.

"It turned out to be a lot of

paperwork but everyone loved

the idea," he said.

His proposal was given the

green light by LINZ in July, and

Jordan became the youngest person

to be granted a temporary

land use licence for the Avon

River corridor regeneration area.

(Since 2016, LINZ has made

former residential red zone land

available to community groups

and organisations for more than

3000 short-term projects, events

or land uses.)

From then, Jordan's small

community garden project

grabbed the attention of sponsors,

community organisations

and high profile supporters, who

donated materials and time to

help him achieve his goal.

"City councillor Phil Mauger

donated the timber, Citycare

staff helped me construct the

first four garden beds," Jordan

said.

When the soil for the beds was

delivered, Jason spent a tiring

afternoon moving it by himself

from the side of the road to the

HANDY

GARDENER:

Chisnallwood

School pupil

Jordan Wilson,

12, with his

community

garden

beds in the

Avondale

red zone.

PHOTO: JOHN

COSGROVE ​

beds in a wheelbarrow.

Now there are six beds on site,

and Jordan is propagating plants

at home for the coming growing

season.

"I'm hoping to have tomatoes,

carrots, lettuces and cauliflowers

in the first crop. Now that we

have a water system in place I

will soon be transferring them to

the beds," he said.

Water was always going to be

an issue, as all infrastructure has

been removed from red zone land.

Jordan's father Matthew

Wilson said his hard-working

son spends hours each day either

tending the beds after school

or online answering the many

emails and messages he gets

from his Avondale Community

Garden Facebook page.

"His grandmother even came

down from Blenheim to help

him with his seed propagation

over the school holidays," Wilson

said.

Chisnallwood Intermediate

principal Justin Fields said setting

up the garden was a huge

undertaking for anyone, let

alone a year 8 student.

"Jordan set up this garden

because he wants to give to the

community.

"Even when faced with

bureaucracy, he pushed on and

won. He shows that any tamariki

with leadership can find a place

in this world," Fields said.

Jordan said: "It feels good to

be doing something good for the

community, and now the hard

work starts as I have to figure out

how to distribute the food once

it's grown."

Trust Law Expert

Zara Tonks joins

the team at

Summit Law

Zara is a Senior Associate of our firm

and a trust law expert. She studied

law at the University of Canterbury

and was then admitted to the Bar as a

Barrister and Solicitor.

She has over a decade of legal

experience and has followed her

passion for tailored and personal

solutions to protect intergenerational

wealth making sure individuals

and families position themselves

well, whatever their circumstances,

especially as legislation is updated.

She arrived at our firm after years in

a large accountancy firm where she

ran the trustee services part of the

business. She has a broad range of

experience in trust establishment

and management, and succession

planning for a wide variety of clients

from individual family to large wealth

international investment trusts.

Summit Law is located at The

Sails,just along from the Ferrymead

Countdown. The firm provides advice

in most areas of general practice

with an emphasis on residential

conveyancing, particularly for first

home buyers looking to get their first

step into the property market. Other

areas of advice include wills, EPA's,

estate administration, relationship

property and some commercial

transactions. Summit Law is the local

"go to" law firm in the eastern, hill

and seaside suburbs. Summit Law

welcomes all enquiries.

More information can be found on

our website www.summitlaw.co.nz

Summit Law, Units 7 & 8,

1025 Ferry Road, Ferrymead

Ph. 384 3880 www.summitlaw.co.nz

Do you have a

compliant trust?

Did you know that approximately 90% of trusts in

New Zealand are non compliant?

Trusts require meticulous management to ensure

they are and continue to protect your assets.

Zara has reviewed many trusts in New Zealand, and

swiftly made the necessary changes to ensure their

legal compliance.

We are passionate about

helping people and ensuring

their futures are protected.

We are here to create a movement

of bright financial futures, and we

do this through partnering with

our clients to ensure their futures

are protected.

Following the new Trusts Act 2019

implemented earlier this year, we

are offering a specialist 2019 Trust

Review with Zara to review your

trust and advise on the required

changes to ensure your trusts

compliance.

GET YOUR NO-OBLIGATION FREE ONE-HOUR CONSULTATION

Phone Zara (03) 384 3880 or 021 0257 4784

Email zara@summitlaw.co.nz
---
6 Thursday October 28 2021

Group has large range of women's products

• By Tina Grumball

IF THERE'S anything the

women of the MacFarlane Park

neighbourhood centre can do

better than friendly smiles or

great baking and coffee, it's

fighting period poverty.

After struggling with it herself,

and listening to fellow women,

Shirley resident Toni Orchard

set out to provide another option

than staying at home or lining

themselves with bulk rolls of

toilet paper.

"That's why I started it – to

make sure everyone's on an even

footing," she said.

Along with Debbie Delany

and Jenna Huffam, Orchard

launched the 'Supporting Sisters/

Tuahine Tautoko' to empower

women and their periods.

"You have to empower

women," Orchard said.

"We want to include everybody.

It's not about what nationality

you are, what ethnicity you

are – it's for everyone."

In their mission to include

every woman, they provide a

wide range of products, through

various donations, ranging from

maternity, regular pads and tampons,

super pads and tampons,

and liners.

The initiative has been running

for about a year now, but

Orchard does not have numbers

on how much product has gone

through because the service

that some people take a lot, while

others take one or two.

Community worker Sharyn

Burnett said women were

welcome in, with no shame or

is confidential, and they don't

63

measure

x

how many

180

women are

coming in.

However, she said they have received

'really good feedback' and

From left to

right – Toni

Orchard, Jenna

Huffam, and

Debbie Delany.

judgement.

"When you're older, things

don't happen as they should,"

she said reciting a story about

an older lady coming in because

she'd been caught out.

The Supporting Sisters initiative

is not the first to identify a

problem.

It comes after the successful

installation of a similar scheme

by the Auckland Council and

the non-profit organisation The

Period Place.

Earlier this year, the New

Zealand Government joined

Scotland and England to provide

free sanitary products to primary

and secondary schools.

This came after a 2017 survey

by KidsCan that showed 53.1 per

cent of those interviewed found

it difficult to access sanitary

items due to cost at some point.

Provided with the sanitary

products are two pamphlets

written by the Shirley Community

Trust nurse to give some

education for those who need it.

"Some girls, if they're not comfortable

talking to their mums,

or they're on their own with

their dad and he doesn't know

what to do, at least they can

come to the centre and figure

out what works for her and what

doesn't," she said.

•If you need sanitary

products, or just need

someone to talk

to, the MacFarlane

Neighbourhood Centre

is open on Monday,

Wednesday, and Friday,

9am-3pm.

Up to

50 % Off

*Call for Terms

& Conditions

Off

*
---
Thursday October 28 2021 7

Sports funding award

for Bromley School

• By John Cosgrove

DETAILING HOW Bromley

School pupils would benefit

from an injection of cash

won the school a major sports

funding award.

When Bromley School principal

Scot Kinley called a selection

of pupils from the school into a

special assembly there was first a

sense of anticipation then plenty

of excitement.

''They entered to find a

videographer standing there in

front of the TV," Kinley said.

"They soon got pretty excited

when they discovered they were

being filmed for an online presentation."

The children soon discovered

their school had won a $10,000

sports grant as the first ever

South Island winner of AA Insurance's

Big Little Sponsorship.

"It was a big surprise for the

children, and everyone was

further surprised when teacher

Cathy Baker was selected for

a tour of Eden Park at a later

date," he said.

Because Auckland is in Level

3, AA Insurance had to make

the announcement a virtual one.

The children gathered in

their bubbles for the reveal

party that began with a prerecorded

video from Campaign

PEDAL POWER: Bromley School principal Scot Kinley

makes a smoothie on stage during the revel party held

at the school to announce that they had won a $10,000

sports funding grant.

Ambassador former All

Black Keven Mealamu, AA

Insurance's head of brand and

marketing Melodie Vickars, and

Eden Park chief executive, Nick

Sautner.

Organisers said they received

over 3200 nominations from

771 school nationwide and were

impressed at how the Bromley

nominations talked about

providing more opportunities

for students by upgrading

sports equipment and using the

funding to get teams to regional

events.

"Some very excited children

talked about how the money

could be used and then we all

went outside for the reveal party

which was held for the whole

school during the morning tea

break.

"They had smoothie bikes

on a stage and everyone had

the chance make smoothies by

human power and enjoying the

party," McKinley said.

WINNING TEAM: Richmond Bowling Club's women's fours

team, skippered by Bev Morel, retained the South Island

women's fours bowls crown. They are (from left) – Jan

Shirley, Tania Woodham, Bev Morel and Theresa Woodham.

Another South Island

crown for Richmond

RICHMOND CLUB'S women's

fours bowls team, skippered

by Bev Morel, has retained the

clubs' South Island women's

fours bowls crown.

At the Ashburton tournament,

Morel's team of of Jan Shirley,

Theresa Woodham and Tania

Woodham played in tricky

wind conditions to record a

21-15 victory over Julie Dalley's

Hornby Club team of Liz Rossiter,

Kay Wallace and Sonia

Butler.

Dalley's team had looked

promising for the first 10 ends

leading 12-6 but Morel's team

fought back as they had done in

the previous tournament, buoyed

by a four and a five on the 14 th

and 16 th ends, to move away to a

comfortable win by five shots by

the 18 th end.

This was the closest winning

margin Morel had faced over the

four matches her team played

in during the tournament, her

previous wins were 22-9, 21-13

and 25-14.

The annual club tournament

attracted 44 entries from around

the South Island.

Jim Beam

+ Coke

1.75L +

1.5L

$

66 99

both

Spirits

700ml

$

39 99

ea

Heineken

15 Pack

330ml

$

29 99

ea

Fiji Gold

& Fiji

Bitter

12 Pack

750ml

$

65 99

box

DB Draught/Tui/Export Gold

24 Pack 330ml

$

36 99

box

Vailima

12 Pack

750ml

$

68 99

box

QEII 251 Travis Road

Richmond 68b North Avon Road
---
8 Thursday October 28 2021
---
Thursday October 28 2021 9

Sweet treats for dessert or a snack

With daylight

saving here, there's

a promise of

summer and warm

temperatures to

come. These cold

desserts are plentiful

for when visitors are

due

Cheesecake slice

Serves 10

Ingredients

Base

2 packets Super Wine or plain

Digestive Biscuits, place in food

processor

2 teaspoons cinnamon

250gm butter (melted)

Process the biscuits into fine

crumbs and tip into large bowl,

add cinnamon and butter and

mix together thoroughly. Press

crumbs into largest springform

pan (or even bigger container if

one is available) that has been

well greased and lined baking

paper, chill in the fridge while the

filling gets made.

2 teaspoons vanilla paste

6 eggs (beaten)

Zest of four lemons

Directions

Beat caster sugar/cream cheese

until smooth, add sour cream,

vanilla paste and eggs, mix well

until smooth and well blended.

Add lemon zest and mix

through thoroughly. Pour mixture

over base, place in oven on a biscuit

tray to allow for any spillage,

and bake for 1hr and 50min, or

until golden, puffed and set in the

centre, turn oven off and leave in

oven to go cold (overnight is fine).

When cold, cut into wedges.

Blueberry cheesecake

Serves 6

Ingredients

125gm cream cheese, place in

mixer bowl with

1 egg

¼ cup caster sugar

30g butter

1 teaspoon vanilla bean paste

1/3rd cup blue milk

1 cup self-raising flour (sifted)

125gm (1 punnet) blueberries

Filling

2 cups

263

caster sugar, place in

x 180

mixer bowl with

1kg cream cheese

500g sour cream

FLAVOURS:

Use

blueberries as

a garnish for

cheesecake

or as an

ingredient.

Directions

Mix cream cheese/egg/caster

sugar/butter/vanilla bean paste

together for 2-3min until light

and creamy.

Add milk and beat on low to

combine, add flour, mix through

thoroughly, then fold blueberries

through.

Melt butter onto and drop large

serving spoonfuls of batter onto a

hot surface. Cook through.

Whipped cream cheese topping

Ingredients

125gm cream cheese, place in

mixing bowl with

2 tablespoons caster sugar

2 teaspoons blue milk

2 teaspoons vanilla bean paste

Extra blueberries

Directions

Beat cream cheese/caster sugar/

milk/vanilla bean paste for 1-2

minutes until fluffy. A little more

milk may be added to make

the mixture more spreadable, if

desired.

Easy pavlova

Serves 6

Ingredients

8 large egg whites, place in mixer

with two cups caster sugar,

1 desert spoon malt vinegar, 1

desertspoon vanilla essence

Directions

Beat a full speed for 12-15min

until very stiff.

Mould mixture into shape

on a well greased tray that has

been lined with at least two

thicknesses of baking paper and

splashed with a tiny amount of

water.

Bake at 150 deg C for 30min,

then reduce temperature to 100

deg C or 1 hour.

Let it go completely cold in the

oven.

Need To Get Fit Fast?

Tone Up or Body Build, Get A Total Body Workout

One Machine...

That Does it All

Easy Storage

Easily Folds Away

Effective Workout

Fun, low impact workouts.

For All Ages

Personalised Settings For

Beginners and Advanced

Includes

Pilates Kit

& DVDs

Up to

50 % Off

Off

*

*Call for Terms

& Conditions

Call Now! 0800 665 665
---
10 Thursday October 28 2021

CHRISTCHURCH

CREMATORIUM

FUNERAL SERVICES

CROSSWORD

1 2 3 4 5 6 7

8 9

216

SUDOKU

Every row, column and box should

contain the digits 1 to 9.

WORDBUILDER

WordBuilder

116

6

O L P

L G A

words of three or more letters,

How many words of three or more

including plurals, can you make from the six

letters, using including each letter plurals, only once? can No you foreign

words or words beginning with a capital are

make from the six letters, using

allowed. There's at least one six-letter word.

each only once? TODAY

No Good words 10 beginning Very Good 13 with Excellent a capital 17

Solution 115: ash, ashy, fay, fays, flash, FLASHY, flay,

are allowed. There's at least one

flays, fly, half, has, hay, lah, lash, lay, lays, sal, say,

shaly, shay, shy, sly, slay, yah.

six-letter word.

Good 10 Very Good 13 Excellent 17

10 11

12 13 14 15

16

DEC

1

17 18

19

20 21 22 23 24

25 26

27 28

29 30

31 32

SOLUTION

No.116

14 15 16 17 18 19 20 21 22 23 24 25 26

S G N C H L O B Z J E A P

33 34

1 2 3 4 5 6 7 8 9 10 11 12 13

X M R W D Y Q K U T F I V

Decoder

Across

1. Land surrounded by water (6)

5. Vocation (6)

10. Cause of someone's

downfall (7)

11. Ancestry (7)

12. Bicycle for two (6)

15. State of starvation (6)

16. Competition (7)

1 2 3 4 5 6 7 8 9 10 11 12 13

O T R

14 15 16 17 18 19 20 21 22 23 24 25 26

A B C D E F G H I J K L M N O P Q R S T U V W X Y Z

8 22 9 1 15 15

17. Listen (4)

18. Military dining room (4)

19. Budding (7)

20. Curved structure (4)

22. Difficult (4)

25. Unbranded (7)

27. Lasso (6)

28. Force to do something (6)

31. Squirm (7)

32. Bombardment (7)

33. Emphasis (6)

34. Scabbard (6)

We're

dOnaTinG

$4

$1

26 5 2 20 16 4 10 21 10 2 1 10

10 10 20 1 10 2 23

13 5 8 5 13 2 3 16 6 3 4 25

R O T

8 9 5 19 10 13 4

9 20 25 10 13 23 18 5 10

25 13 24 9 12 9 25

4 1 1 12 7 3 17 1 4

All puzzles copyright

T H E P U Z Z L E C O M P A N Y

FrOm every

subscriPTiOn

FrOm every

maGaZine sOLd

TO The PrOsTaTe cancer

FOundaTiOn nZ

Down

2. Training meeting (7)

3. Solution (6)

4. Work station (4)

5. Composed (4)

6. Landing area (6)

7. Shifty (7)

3 8 13 7 12 15 16

18 20 9 19 10 4 12 13 1 11 1 13

8. Grab (6)

9. Niche (6)

13. Tower on a mosque (7)

14. Small axe (7)

15. Distraught with fear or rage (7)

20. Permits (6)

21. Relating to the heart (7)

23. Side by side (7)

24. Intensify (6)

25. Collective term for group of

geese (6)

26. Rough (6)

29. Twisted (4)

30. Wading bird (4)

www.thepuzzlecompany.co.nz

DECODER

Each number in our DECODER grid represents a different

letter - there is a number for all 26 letters of the alphabet.

Each Enter number the given represents letters into a different all squares letter with of the matching alphabet. numbers. Write the

given The challenge letters into now all squares is to work with out matching which letters numbers. are Now represented work out

which by the letters other are numbers. represented As you by the get other numbers. letters, enter As you them get into the

letters, the main write grid, them and into the main reference grid and grid. the To reference keep track grid. Decoder of the

uses letters all you 26 letters have of found, the alphabet. cross them off the alphabet provided.

15 25 11 20 26 24

25 16 15 24 19 4 18 25 3 13 24 14

22 24 12 19 3 25 24

24 9 16 9 17 18 14 25 5 5 24 5

A D D

21 5 8 5 24 15

26 19 12 10 10 11 10

20 13 25 19 14 17 12 20 16 24

14 7 9 1 4

21 3 9 15 21 6 10 18 9 15

3 11 12 23 12 12

12 2 25 15 24 20 26 20 14 14 9 2

16 12 10 9 12 10 19

15 25 3 15 19 24 14 14 20 19 13 24

6 6 10 10 24 10

A B C D E F G H I J K L M N O P Q R S T U V W X Y Z

1 2 3 4 5 6 7 8 9 10 11 12 13

D

14 15 16 17 18 19 20 21 22 23 24 25 26

A

SOLUTION

No.115

8 13 5 14 10 4 6 20 4 3 9 18

1 16 13 25 14 26

The challenge now is to work out which letters are represented

by the other numbers. As you get the letters, enter them into

the main grid, and the reference grid. To keep track of the

letters you have found, cross them off the alphabet provided.

Each number in our DECODER grid represents a different

letter - there is a number for all 26 letters of the alphabet.

Enter the given letters into all squares with matching numbers.

117

116

1 2 3 4 5 6 7 8 9 10 11 12 13

L E X G A F J I M R N V B

14 15 16 17 18 19 20 21 22 23 24 25 26

P Z O U Q T C H Y D K S W

Rugby News magazine is proud to be collaborating

with the Prostate Cancer Foundation.

DECODER

117

For every retail copy sold, and for every new or

renewed subscription made between September

20 - November 3, 2021 we'll be donating to a

much needed cause.

Subscribe today and let our award winning sports

journalists bring the atmosphere from the field to

your home!

Crossword

Across: 1. Island, 5. Career,

10. Nemesis, 11. Lineage,

12. Tandem, 15. Famine,

16. Rivalry, 17. Hark, 18.

Mess, 19. Nascent, 20.

Arch, 22. Hard, 25. Generic,

27. Lariat, 28. Coerce, 31.

Wriggle, 32. Barrage, 33.

Accent, 34. Sheath.

Down: 2. Seminar, 3.

Answer, 4. Desk, 5. Calm,

6. Runway, 7. Evasive,

8. Snatch, 9. Recess, 13.

Minaret, 14. Hatchet, 15.

Frantic, 20. Allows, 21.

Cardiac, 23. Abreast, 24.

Deepen, 25. Gaggle, 26.

Coarse, 29. Bent, 30. Ibis.

WordBuilder

ago, all, alp, gal, galop, gall,

GALLOP, gaol, gap, glop,

goal, lag, lap, log, lop, opal,

pal, pall, poll.

Sudoku

subscribe and suPPOrT a GreaT cause!

www.rugbynews.co.nz 0800 77 77 10
---
Thursday October 28 2021 11

Classifieds Contact us today Phone our local team 03 379 1100

Real Estate

Trades & Services

Trades & Services

HOME WANTED 3-4

bedrooms. Looking in Nor

West areas, Beckenham

or Somerfield. Prefer

permanent material brick

and post 1990 build. Don't

mind if it needs some TLC

- anything considered.

Cashed up buyer. Phone

021 372 479

HOME WANTED 3-4

bedrooms. Looking in Nor

West areas, Beckenham

or Somerfield. Prefer

permanent material brick

and post 1990 build. Don't

mind if it needs some TLC

- anything considered.

Cashed up buyer. Phone

021 372 479

Wanted To Buy

TOOLS Garden,

garage, woodworking,

mechanical, engineering,

sawbenches, lathes, cash

buyer, ph 355-2045

Trades & Services

FOR ALL YOUR

★Garden Clean-ups

★Pruning

★Lawn Mowing

★Garden Maintenance

Call us today for a FREE quote

PH 0800 4 546 546

(0800 4 JIMJIM)

BRICKLAYER

George Lockyer. Over

40 years bricklaying

experience. UK trained.

Insurance work, EQC

repairs. Heritage

brickwork & stonework

a speciality. No job too

small. Governers Bay.

Home 329 9344. Cell

027 684 4046. E mail

georgelockyer@xtra.co.nz

CARPET LAYING

Exp. Repairs, uplifting,

relaying, restretching.

Phone John on 0800

003181, 027 240 7416

jflattery@xtra.co.nz

ELECTRICIAN

Prompt & reliable

registered electrician

with 24 years experience

for all residential and

commercial work, new

housing and switch board

replacements. Phone Chris

027 516 0669

GUTTER CLEANING

SUMMER SPECIAL

Total gutter/spouting

cleaning and repairs.

For Fast and friendly

Service call Canterbury

Spouting Services on 0508

SPOUTING or 022 375

8506. FREE QUOTES

VHS VIDEO TAPES

& all camera tapes

converted to DVD or

USB. Video taping

special occasions, www.

grahamsvideo.co.nz ph 03

338-1655

• Father & son Plumbing

Business with over 40

years experience.

• Bathroom alterations a

specialty.

• Cylinder replacements.

• We do all small jobs.

SCRAP METAL

Dominion Trading Co Ltd

• Scrap metal buyers

• Canterbury owned & operated

• Top prices paid $$$

• Open Saturday morning

Open Mon-Fri 8am – 4.30pm Sat. 8.30am-12.30pm

www.happyscrappy.co.nz

03 343 9993 333 Blenheim Rd

PLUMBER

NEED A PLUMBER?

Call us now for fast friendly service.

Get your problems sorted out

quick smart - on time!!

THOMSON PLUMBING

Phone Eugene now.

Phone 03 377 1280 | Mobile 021 898 380

WINDOW TINTING

tintawindow

advanced film solutions

99% uv block

fade protection

heat control

reduce glare

25 Years Experience

privacy films

frosting designs

non-darkening films

Workmanship Guaranteed

Lifetime Warranties on Most Films

UV

block

Free Quotes Canterbury and Districts

03 365 3653 0800 368 468

ADVERTISE YOUR BUSINESS HERE

Phone for further details

(03) 379 1100

Bobbi | Bowflex Max Trainer User

I lost 15kg in 10 weeks. That is ridiculous. The fat just

melts right off. I mean, it absolutely changed my life!

CALL NOW! 0800 665 665
---
12 Thursday October 28 2021

Finance

available

(conditions apply)

WE BUY CHEAPER JAPANESE CARS!!

WANTED TO BUY!!

SMALL JAPANESE VEHICLES!

4Wd

loW kmS

2007 toYotA BlAdE g SPEC

$7,995

2.4 auto, 5/hatch, 143,000kms, back camera.

1999 toYotA PlAtZ

$3,995

1.5 auto, 4 door, low 111,000kms, drives well.

2002 toYotA iSt 5/HAtCH

$3,995

1.5 auto, alloys, 175,000kms, new WOF.

2005 HoNdA fit 5/HAtCH

$3,995 1.3 auto, 143,000kms, new WOF,

not perfect but drives fine.

2007 toYotA BB 5/HAtCH

$6,295

1500cc, auto, 149,000kms, versatile unit.

NZ NEW

REdUCEd!

NZ NEW

2011 toYotA VitZ 5/HAtCH

$7,995

1.3 auto, 92,000kms, alloys, economical.

2008 toYotA CoRollA gx

WAS $7,995 NoW $6,995

1.8 auto, NZ New, 157,000kms, alloys.

2010 SUZUki Sx4 glx 4 dooR

$8,995

2.0L, Auto, 108,000kms, nice car, alloys.

2016 toYotA CAmRY 4 dooR

$12,500

NZ New, 2.5 auto, 154,000kms, nice car!

loW kmS!

REdUCEd!

SUPER loW kmS!

NZ NEW

2015 NiSSAN lAtio 4 dooR

WAS $9,495 NoW $8,995

1200cc, Auto, low 66,000kms.

2014 NiSSAN NotE 5/HAtCH

$11,500

1.2, auto, low 28,000kms, 4 Star safety, extras.

2007 NiSSAN tiidA ti NZ NEW

$6,995

1.8 Auto, 115,000kms, one owner, alloys.

2008 NiSSAN mARCH 5/HAtCH

$5,995

1.3 automatic, 105,000kms.

REdUCEd!

NZ NEW

REdUCEd!

2013 NiSSAN NotE dig-S

WAS $9,995 NoW $8,995

1200cc, auto, low 49,000kms.

2007 SUZUki SWift glx

$6,995

1.5 auto, NZ new, 112,000kms.

2008 mAZdA mPV 23t S/W

WAS $10,500 NoW $9,995

2.3, auto, turbo, 7 seater, 130,000kms, nice unit!

2006 mitSUBiSHi Colt

$4,995

1500cc, auto, 124,000ks, sporty look.

- 281 Ferry Road - 03 389 1121 - dougdrake@xtra.co.nz

View our cars at www.dougdrake.co.nz
---
Thursday October 28 2021 13

T H I S IS US | OU R LI F E | OU R ST O R Y | O U R H O M E

50 LONSDALE STREET | BUILT TO ENJOY, LOCATED FOR LIFESTYLE

*ARTIST IMPRESSION

HOMECHRISTCHURCH.CO.NZ

HOME CHRISTCHURCH LIMITED, LICENSED REAA 2008
---
14 Thursday October 28 2021

H O M E

Yes, you can have it all; New Brighton's newest boutique development offers

elegance and beachside living on a family-friendly street. These 6 HOMES are

all set over two levels with the living on the ground level and bedrooms and

bathrooms on the first floor, with an additional guest toilet on the ground floor.

Open-plan lounge, dining and indoor-outdoor flow allow for seamless

entertaining. Each kitchen features ample storage, contemporary appliances,

stone-topped benches, and natural timber reminiscent of the coastal

surroundings.

50 LONSDALE STREET | 6 NEW HOMES

On the upper level, you'll find three generous bedrooms and two bathrooms.

The master bedroom features a private ensuite and walk-in-wardrobe while the

two bedrooms are serviced by a centrally located bathroom.

Situated in New Brighton's much sought-after beachside neighbourhood, living

here allows you to have a family HOME in your own slice of coastal paradise.

Located on one of the area's most family-friendly streets, the location boasts

multiple schooling options; with New Brighton Catholic Primary School only a

short stroll away, Shirley Boys and Avonside Girls High School are just 2.9km

away, and it is 1.6km from Rawhiti Primary School.

KIEREN GRAY

021 363 944

kieren@homechch.co.nz

HOMES 5 & 6 Overlooking the cricket grounds

offers over $759,000

HOMES 1 & 4 Offers over $699,000

HOMES 2 & 3 Offers over $$685,000

Coastal lifestyle

Modern design

Zoned for SBHS & AGHS

Backing onto Rawhitit Domain

Minutes walk from He Puna Taimoana Hot Pools

Tight knit community

HOMECHRISTCHURCH.CO.NZ

HOME CHRISTCHURCH LIMITED, LICENSED REAA 2008
---
Thursday October 28 2021 15

H O M E

MARKET UPDATE | SUMMER IS COMING

New Brighton Redevelopment Pushes Ahead

Several small local developers are pushing ahead with smaller boutique developments, the first of several planned for

the coastal suburb. Demolishing old run-down homes and making way for new beachside homes.

Whilst developments in town have a lot of townhouses crammed onto a section with limited to no car parking spaces the

developers in New Brighton are appealing to families, couples and anyone looking to downsize without compromising

space, practicality and style.

Two of the most thoughtful developments are Coastal Sands located at 143 & 144 Marine Parade and 50 Lonsdale Street

overlooking the New Brighton Cricket grounds.

Coastal Sands offer Contemporary two-bedroom, three-bedroom and four-bedroom architecturally designed apartments

that allow for luxury modern living all offering garages and off-street parking.

Four bedrooms - Offers over $1,050,000

Three Bedrooms - Offers over $750,000

Two Bedrooms - Offers over $640,000

50 Lonsdale Street New Brighton's newest boutique development offers elegance and beachside living on a familyfriendly

street. These three bedroom HOMES are all set over two levels with the living on the ground level and bedrooms

and two bathrooms on the first floor, with an additional guest toilet on the ground floor.

All three bedrooms, two bathrooms, one car garage HOMES start from $685,000

The renewed surge in interest from developers comes from the value on offer that so many builders and developers in

Christchurch have overlooked in the past.

With anchor projects such as the playground, He Puna Tai Moana Hot Pools, New Brighton Surf Life Saving Club as well

as Shirley Boys High School and Avonside Girls High School there is an absolute surge in interest in living by the beach.

Whilst locals know that New Brighton is the place to live and raise your family Fast forward two years from now and it

will be sought after by people not only Citywide but also Nationwide.
---
16 Thursday October 28 2021

SOLD PROPERTY

211 PINE AVENUE

$629,000

10 ENGLAND STREET

$551,000

4 COTTON STREET

$690,000

149 ROCKING HORSE RD

$760,000

165C ROCKING HORSE RD

$725,000

103A ORAM AVENUE

$629,000

YOUR HOME SPECIALISTS

EDDIE SPRY

021 156 5884

EDDIE@HOMECHCH.CO.NZ

KIEREN GRAY

021 363 944

KIEREN@HOMECHCH.CO.NZ

KIERAN BALL

021 281 1220

KIERAN@HOMECHCH.CO.NZ

KURT POLSON

027 465 6797

KURT@HOMECHCH.CO.NZ

ABEL GORE

022 375 9971

ABEL@HOMECHCH.CO.NZ

1 8 6 MA I N RO A D , RE D C L I F F S

03 930 1323

HOMECHRISTCHURCH.CO.NZ

HOME CHRISTCHURCH LIMITED, LICENSED REAA 2008